Hang in there, we're not done yet. What's the best aspect of this roundup? The ingredients are perfectly economical and easily available.
And that's a big part of what, in our opinion, makes for excellent meals and snacks.
I personally love easy to follow recipes that can be made on a whim, so I was pretty stoked to see how simple and time-saving most of these lovely recipes are.
Let's dig in!
Wonderful Brownie Recipes
Raspberry Brownie Ice Cream Sandwiches (Gluten-Free)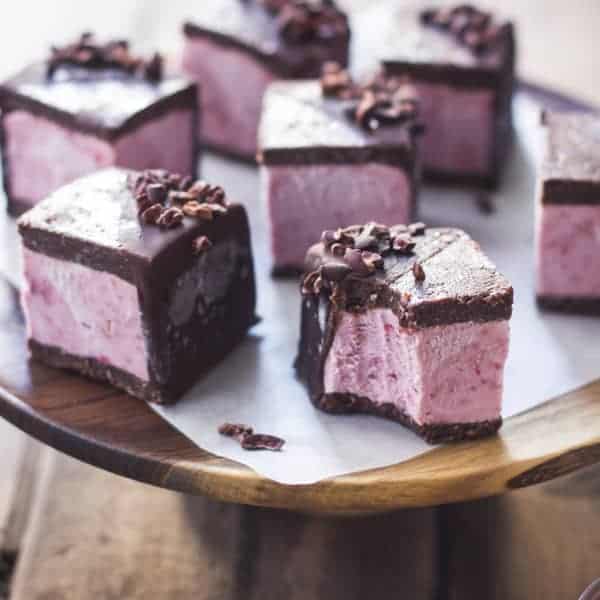 Drool-worthy brownie? Check. Natural raspberry ice-cream? Check.
Am I dreaming? No, because this recipe is the perfect party-starter during a hot summer's day and an absolute hit!
This recipe deserves a medal of honor because of how simple and delicious it is. The focus, of course, lies in healthy eating.
Freeze-baked using ingredients such as dates, almonds and cocoa, the brownies are amazingly natural and wholesome. The ice-cream is made with fresh raspberries, vanilla bean, full-fat coconut cream and cashews.
Once stacked like a sandwich, you need to dip them in a melted chocolate, blend and voila, you're done! Make this a grown-ups party by adding a bit of bourbon or vodka to the ice-cream mix!
Walnut Bean Brownies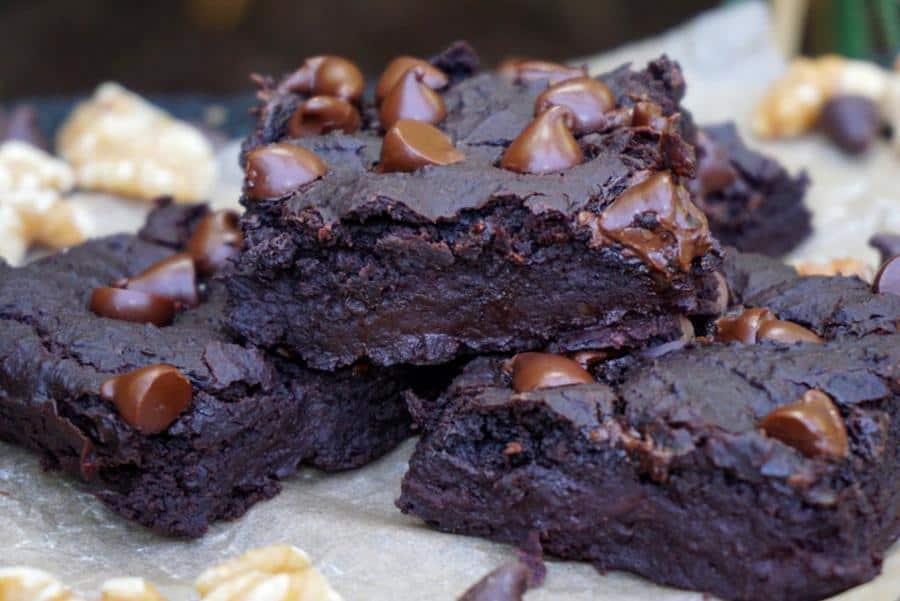 For all those who struggle to integrate beans in their daily meals, especially parents with kids who can be fussy-eaters, this recipe is a life saver.
Not only do you manage to trick them into eating healthy, but you'll soon have them begging for this recipe!
The brownies are made using kidney beans, date syrup and cocoa powder along with flax "eggs" mix to give it a smooth consistency. The mix is also topped with crushed walnuts and chocolate chips.
It all takes just 30 minutes to get a batch done, which is more than anyone could ask for. Three cheers for smart, tricky recipes!
Cake Brownies (Gluten-Free)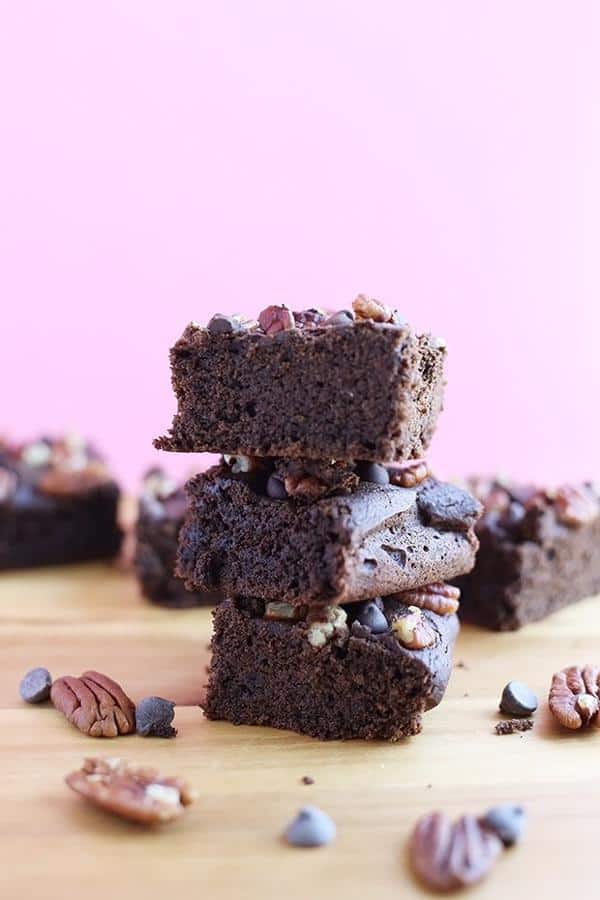 I'm sure you've had cakes and brownies, but how about cake brownies? This recipe is a fusion between the best of both and you will love it!
The ingredients are healthy and free from refined sugars, which adds to my appreciation of these yummy delights.
They're used making tapioca and buckwheat flour along with chocolate chips and pecans.
The wet ingredients recommend silk almond milk, but you can use whatever you find or according to your preference.
My suggestion would be to heat these lovelies up, serve them with a bit of ice-cream and your mid-week cravings are sorted!
Salted Caramel Almond Brownie Granola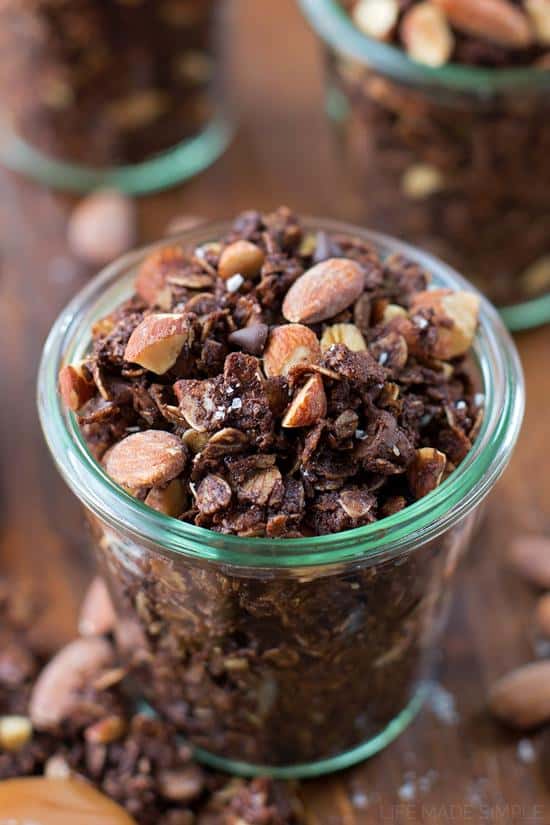 I personally dislike granola bars because of the sugar content, so here's a recipe way healthier than the factory sold ones!
Rolled oats, shredded coconut, and cocoa powder are the basic ingredients, all blended with maple syrup, vanilla and brown sugar to sweeten and flavor the granola.
You can add more than just almonds and chocolate chips by using other dry fruits too.
The best part of this recipe is you can make a batch and store it in the fridge for your weekly supply!
Peanut Butter Blondie Brownies (Gluten-Free)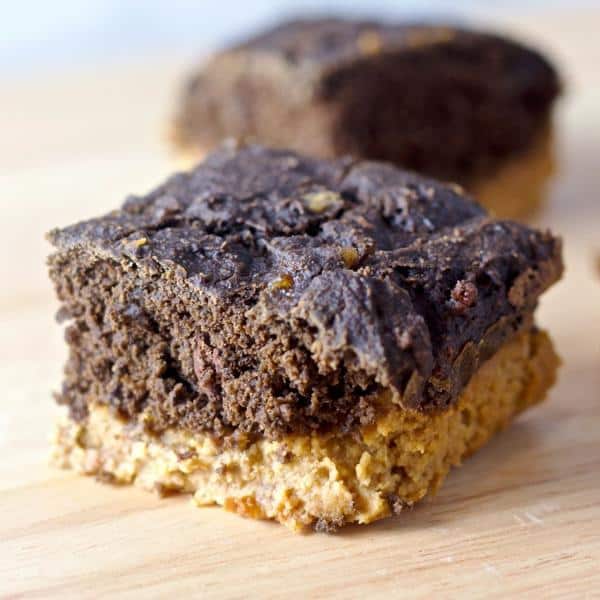 If you're the kind to eat on the go and always in a rush, this recipe is made for you. The natural ingredients make it a very healthy way so you can carry a few pieces in a container.
The brownie layer is made using oat flour, cocoa powder, dates, and dark chocolate chips among other ingredients, while the blondie layer uses peanut flour, chickpeas and applesauce.
The recipe has an additional spread of peanut butter on top of the brownie, so you're a fan of peanut butter, get to it!
Chocolate, Courgette and Pecan Brownies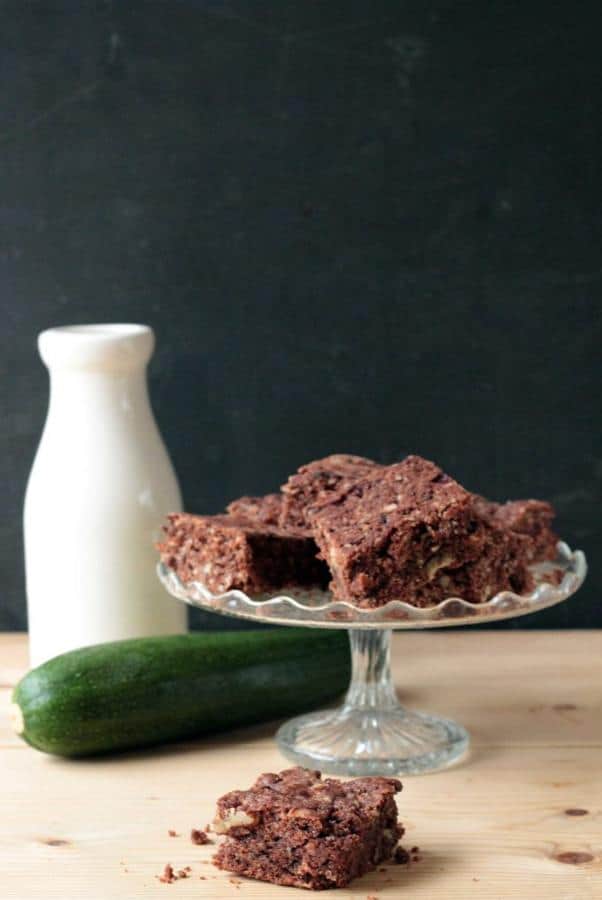 This since it's sinfully delicious and healthy. The brownies are made with such simple ingredients you could wake up in the middle of the night craving a bite and would be able to bake some!
Made from shredded zucchini, flour, cocoa powder and sugar, they make in a snap. You can switch the sugar to maple syrup or brown sugar if you prefer.
The sweet delight can be coupled with fresh fruits to make it a balanced dessert for the family after dinner and you won't even have to push them to eat their vegetable!
Perfect Caramel Date Brownies (Gluten-Free)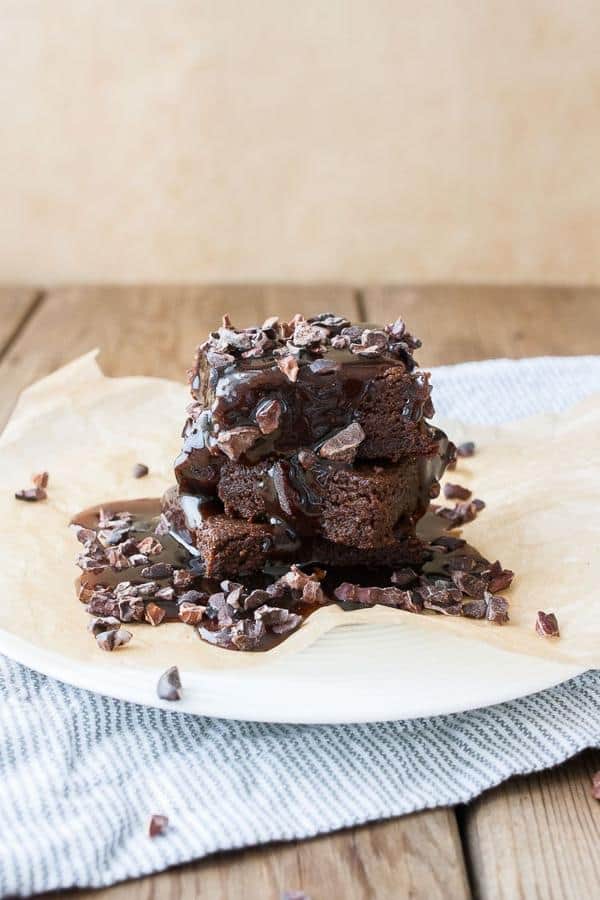 These brownies taste so good and they're super healthy too!
These delightfully sweet-salty brownies are also nut-free, which is great if you have an allergy. So this is no coconuts, no nuts, just plain, delicious and chocolatey brownie recipe to make shivers run down my spine!
I'm sure you will appreciate the healthy ingredients like rice flour, tapioca starch for days when you just want to treat yourself with no guilt.
Raw Chocolate Brownie Bites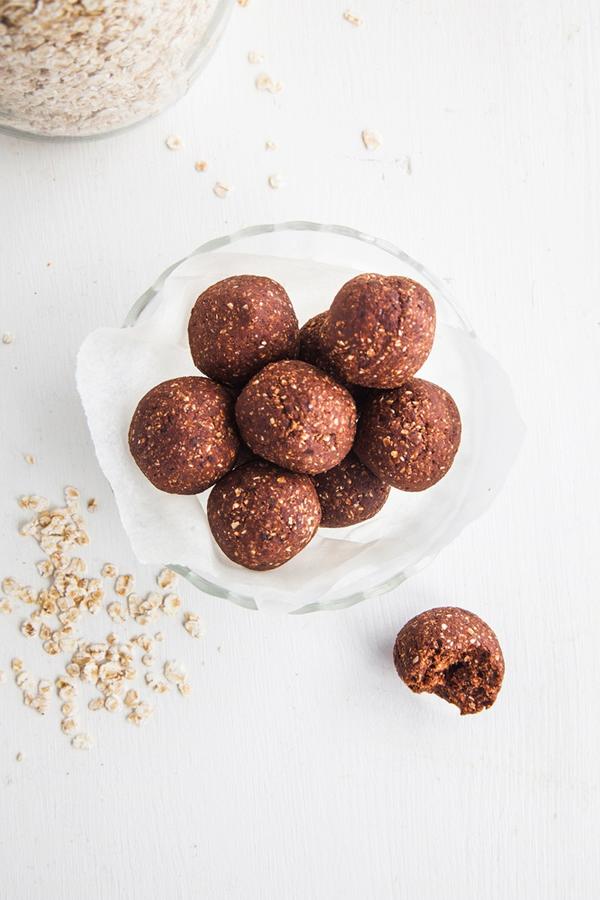 These little bite-sized spheres downright delicious.
Being dairy, nut, fat and gluten free, they're probably something you'll be making a lot if you have a constant yearning to eat sweet treats.
The recipe is easy using just four ingredients. Oats, dates, cocoa powder and vanilla extract are mixed with water to be formed into spheres and you're done!
No-Bake Strawberry Brownies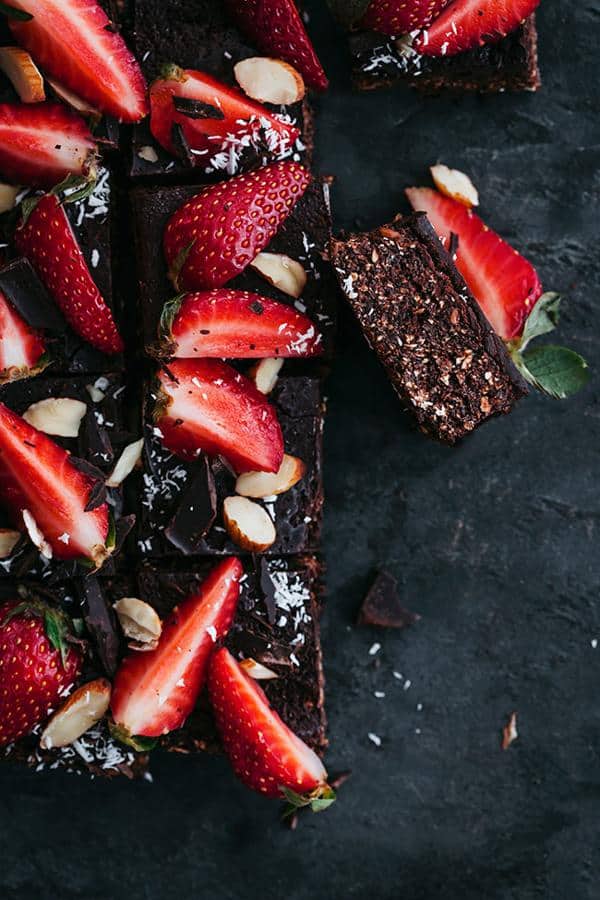 All hail this no-bake piece of perfection on a plate! They're delicious, look amazing and are worthy to be served at parties and one of your fancy dinners!
The recipe takes about 5 hours of your time, but it is going to be worth it once dessert is served, trust me.
The highlight of this recipe is how your friends who don't follow a vegan or vegetarian diet will love this too! So go ahead and shock them with a glimpse of your world!
Superfood Brownies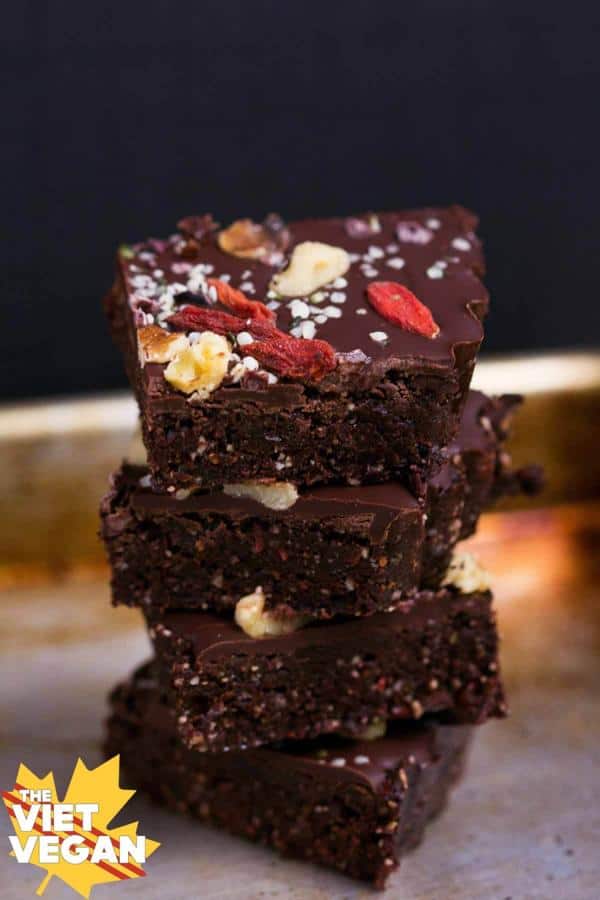 If you're someone who likes their brownies dense and fudgy, you've found the right match for you!
The base is made using a lot of ingredients known as superfoods. Dried goji berries, hemp seeds and walnuts are a few of them.
Within 40 minutes, you can set yourself up for at least a few days, if you don't finish them all at once. They won't even last a day if you're anything like me, did I just write that?!
Brownie Chocolate Ice Cream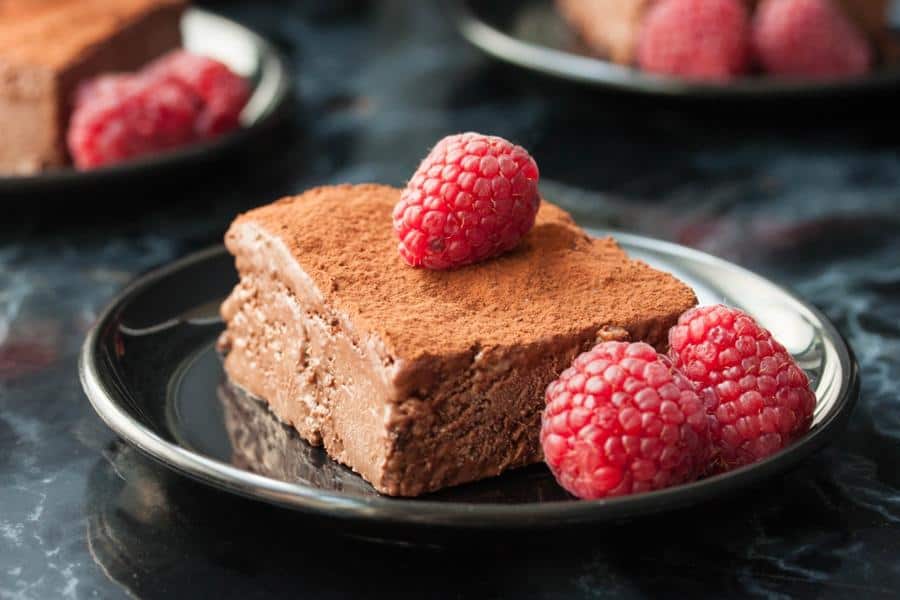 A freeze set brownie recipe loaded with gooey chocolate is welcome any time of the year right? I bet you'll fall for the sticky dough once you take a bite!
The base of the brownie chunks is made using walnuts, agave, dates and cocoa powder to give a it a crunch. The ice-cream is smooth, thick and sinful made from scratch rich with full-fat coconut milk and dark cocoa.
If you're in a hurry, you can use store-bought plant-based ice-cream as well. My favorite tip is how you can replace this ice cream in your cookie dough treats to keep things healthy!
Rainbow No Bake Brownies (Gluten-Free)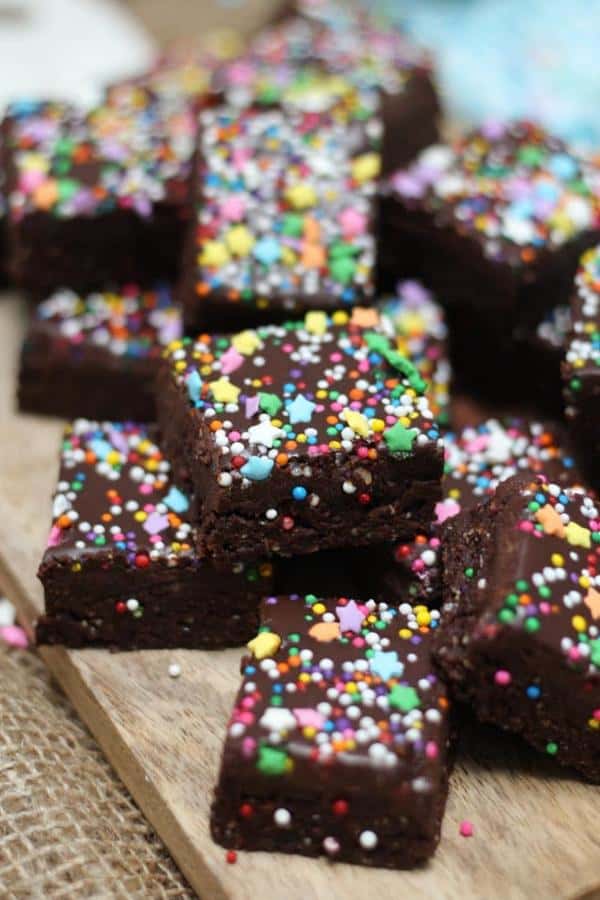 These amazing brownies look as if they've been brought right out of our favorite storybooks. I got some serious Hansel and Gretel vibes with the pretty rainbow toppings!
The cake is made using soft dates, almond flour and cocoa powder topped with a delicious chocolate ganache and a mouth-watering aroma.
This recipe would be perfect for your kids bake sake as it is bound to be a hit among everyone. Plus, you can use this as an introductory lesson into no-bake desserts for other people to try!
Gooey Brownies with Almond Butter Frosting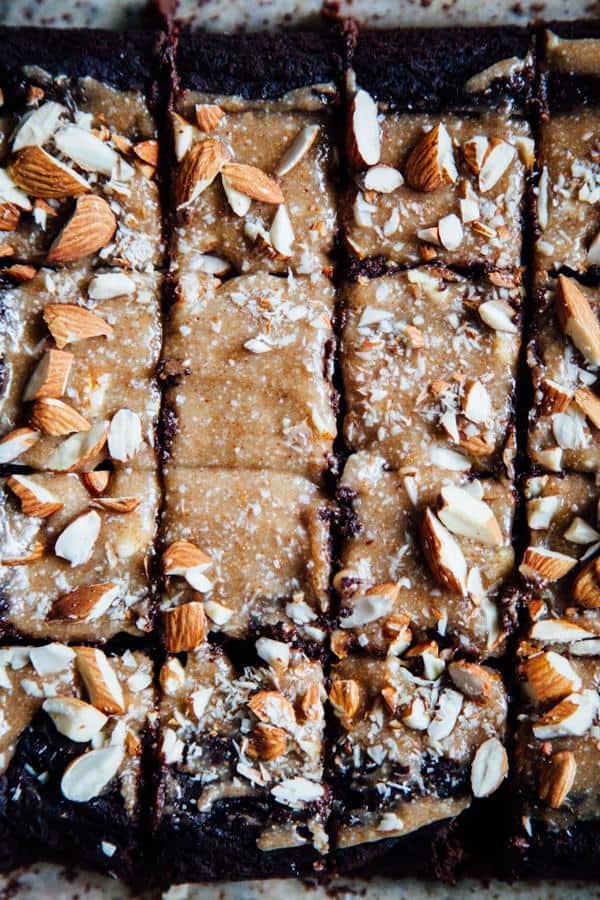 If you're having a bad day, these yummy little brownies cheer you up. You can't possibly stop at one, so I suggest you make enough for an all-out emotional eating session!
These delicious treats are made using sweet potatoes, tiger-nut flour and black beans which are an interesting choice of ingredients. There are a few more surprises thrown in, but you will love the nutritional value!
With its no bake feature, you'll be done in no time. Also, not many excuses can stop you from feasting on these brownies given how super healthy they are!
Berry Cheesecake Brownies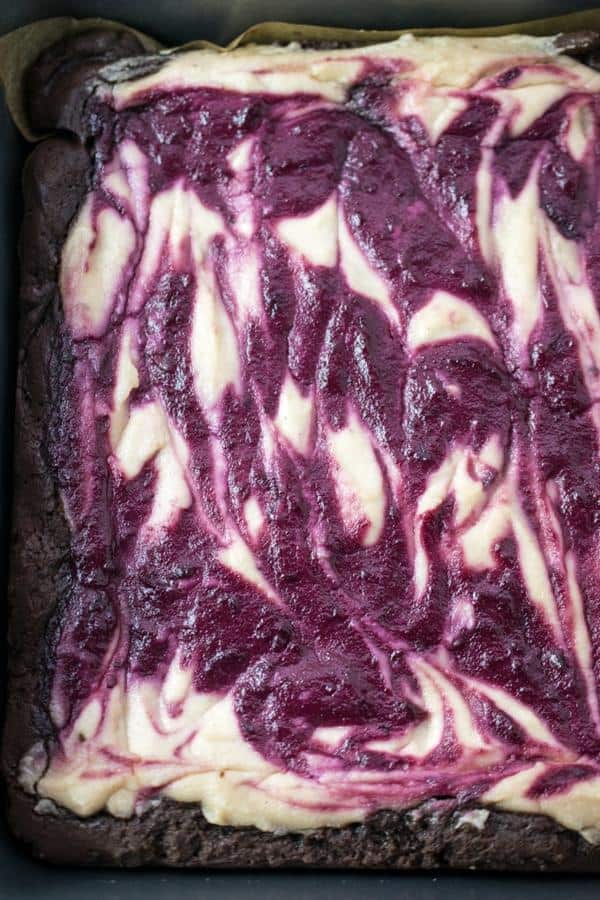 Many a time you're left with an extra batch of ingredients that could go bad and eventually in the trash if not used quickly. Soaked cashews and cashew cream fall into that category.
The brownies use aquafaba and melted dark chocolate, but the other ingredients are easily found in your kitchen. The berry swirl is prepared using cashew cream cheese, fresh cherries and vanilla complement the chocolate really well.
So if you're left with some extras from a leftover kitchen expedition, this recipe is what you need! And even if it's not the case, it really is an amazing brownie you must try.
Healthy Fudge Brownies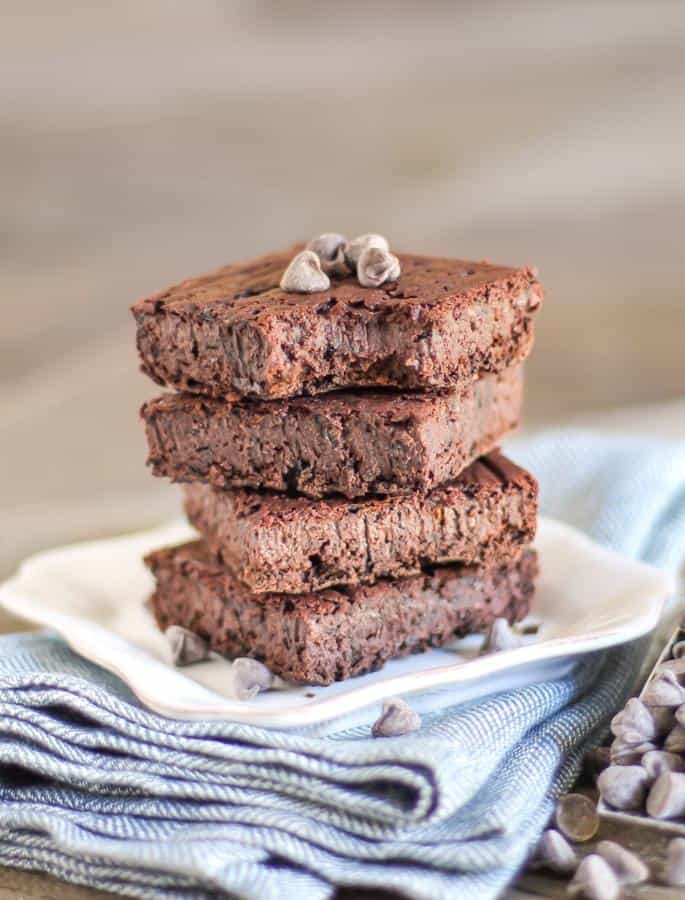 Apparently, I was late to join the black bean brownie bandwagon. Wow, that's a lot of B's for a sentence too!
Black beans, fresh blueberries, quinoa flour and cocoa are the main ingredients to give the dessert its rich, fruity flavor without compromising on the chocolate. All of them blend together really well but you can experiment with other berries as well.
These little squares are the real winners because they turn out to be the perfect specimens of how well-baked, moist, and chocolaty brownies are supposed to taste!
Raw "Skillet" Brownies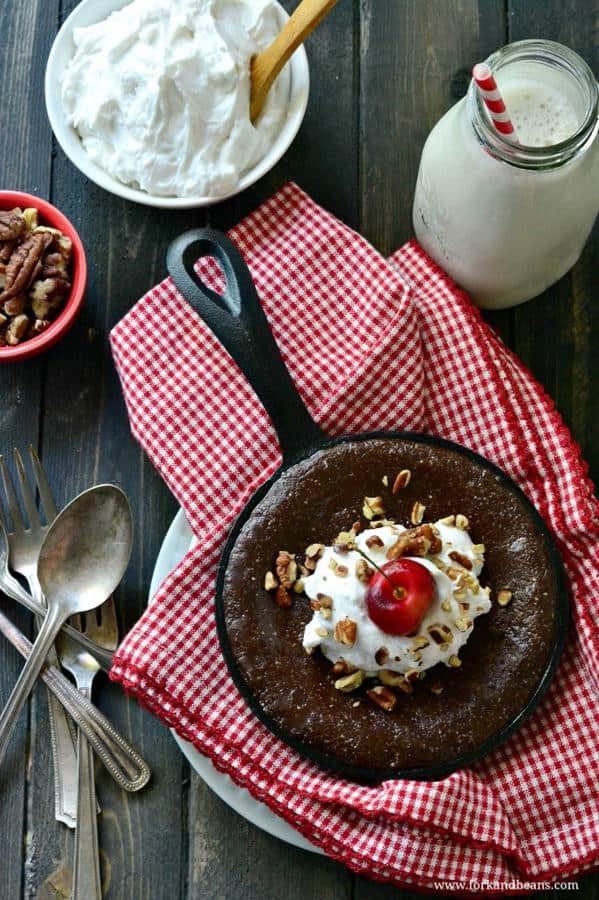 There's so much to love about raw food. Such a diet is often time-saving and you don't need to turn your oven on!
This quick recipe needs soaked cashews, walnuts and flour meal for the basics. You can use dates, maple syrup or any berries to sweeten the mix. They'll all taste just as scrumptious.
Whether you follow a raw diet or not, recipes like these are for everyone to love!
Tinder Brownies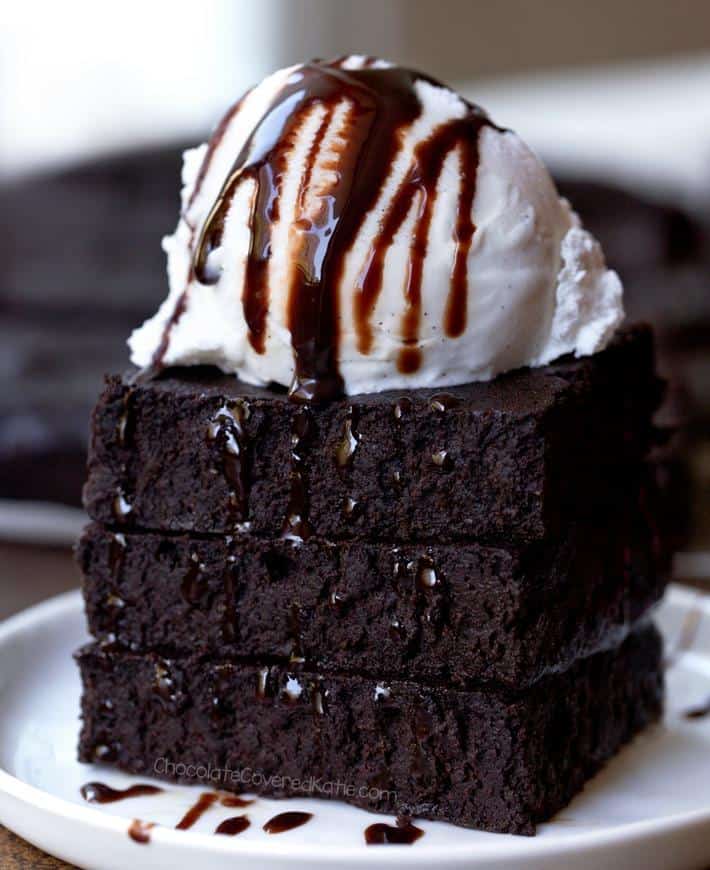 My past tinder experiences have been, well… but one time I met a really decent person when I wasn't even looking. Brownies can be like that as well, no wonder I fell in love with this recipe!
The brownies taste so chocolaty it's ridiculous! Dutch chocolate, chocolate chips and cocoa powder are the bomb together. For a gluten-free version of this recipe, you can use black beans instead of flour.
Top these with a scoop of vegan ice cream and chocolate sauce and you'll have everyone wanting more. The way they look so rich, you better snatch your share off the table before someone grabs them!
Chocolate Black Bean Brownie with Fresh Strawberry Sauce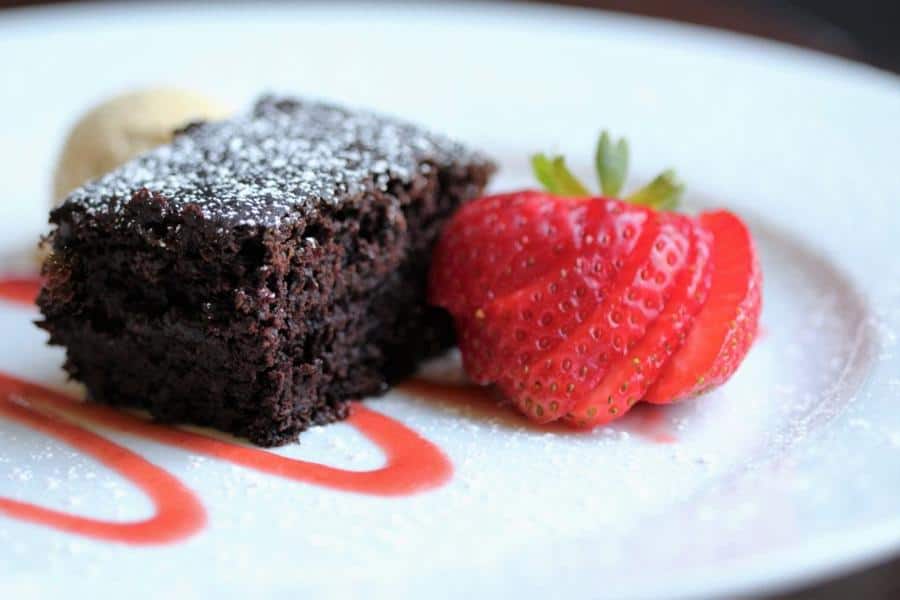 My ears perk up at the mention of fat-free desserts. When my sweet tooth cravings hit, it's hard for me to stop!
I love body positivity but being careful about adding unwanted pounds is a form of self-care, I'm sure you love to look good and healthy too.
This recipe uses such healthy ingredients you'll make it a regular in your household. Black beans and oat flour mixed with a generous share of cocoa powder make a very soft and chewy brownie.
You can use a chocolate ganache to make these a bit more festive if you're expecting guests. Serve it with a bowl of fresh fruit and you'll end up with a healthy dessert.
Dark Chocolate Zucchini Brownies (Gluten-Free)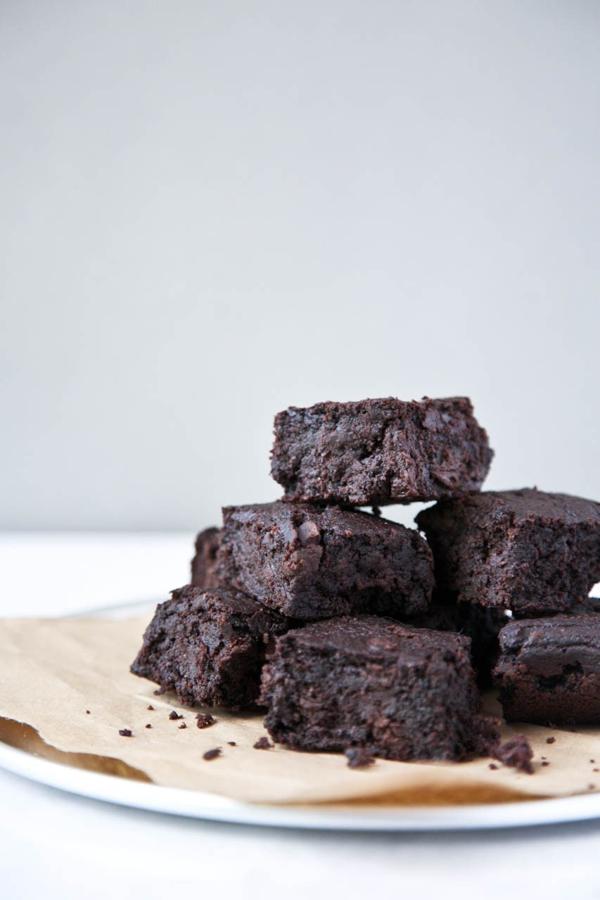 Sneaking veggies into your desserts may just get you a seat in heaven because you're helping your family and friends eat healthier. Or you may have an instant reward when picky eaters just eat their veggies without a clue!
This recipe is many things, healthy and sinful is at the top of the list! Zucchini, cocoa powder, ground flax and others form perfectly moist and smooth brownies for you to feast on without guilt.
You can also sneak black beans or chickpeas in there since they're excellent binding agents. Nobody will know of your wickedly healthy schemes!
Bite-Size Brownies (Gluten-Free)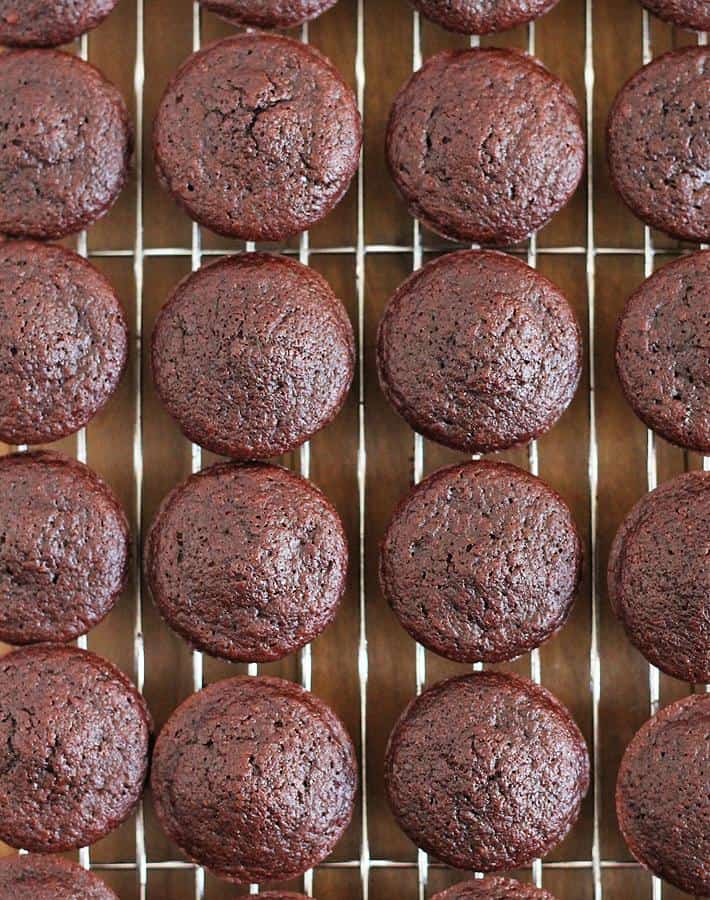 Anything bite-sized is dangerous, especially brownies. You make them to keep a watch over how many you have, then you lose control and eat too many. Or is it just me?
These little monsters are made of black coffee, chocolate ganache, chocolate chips and other ingredients. You can try switching the flour for zucchini if you want to make them gluten-free.
This will bring out the kid in you so don't be surprised if you fight over the last one.
They're done in just 25 minutes so you can use this as a quick dessert recipe, just remember to bake them for no longer than 10 minutes to keep the fudgy texture intact.
Purple Sweet Potato Brownies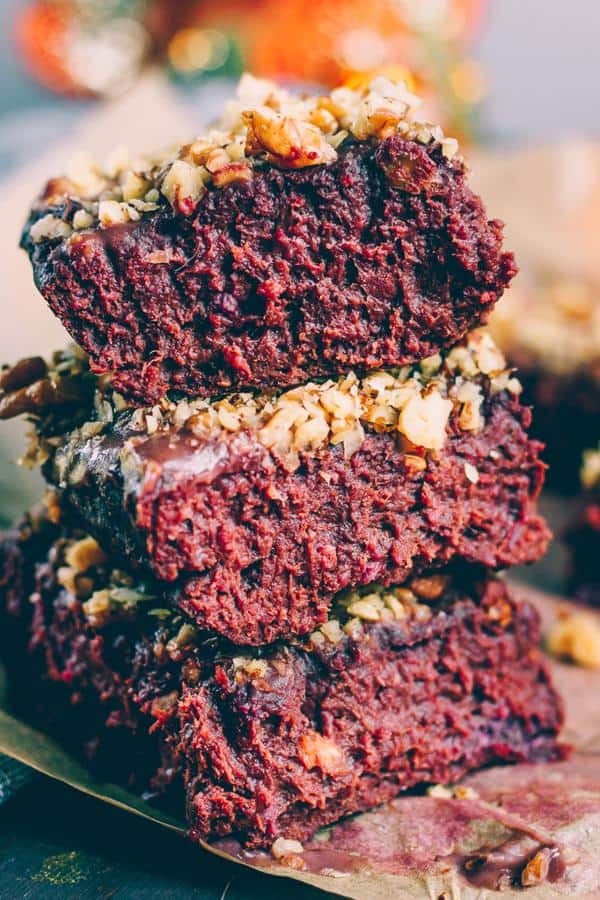 What could be meaner than normal brownies that add loads of calories you don't need? Healthier brownies that taste even more delicious knowing you don't have to watch your weight!
Purple sweet potatoes, chopped walnuts and cocoa are few of the ingredients on the list while there's a lovely frosting to make the dessert a solid 10.
I'm just sad the brownies don't come out baked purple because that would be the coolest, but that's just my inner emo talking! Jokes aside, this recipe is simply amazing with its texture and smooth flavour.
Black Bean Pumpkin Brownies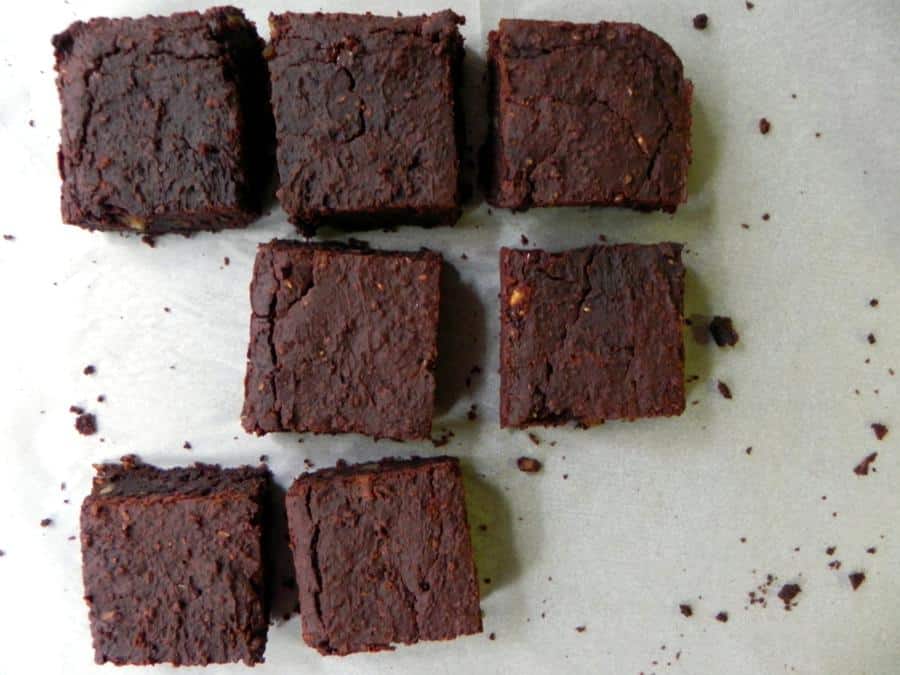 There's a different kind of smugness when you manage to create something delicious and healthy without making it boring right? Your taste-buds are about to rejoice in being fooled, again.
These scrumptious brownies have not one, but two ultra-healthy ingredients. Black beans have been your go-to during baking, now try adding pumpkin to the equation and you'll end-up with pure genius.
Apart from being ridiculously healthy, this recipe will also wow you because of how rich and smooth they turn out. You can also experiment with zucchini and black beans in the same way!
Dark Chocolate and Sea Salt Almond Butter Brownies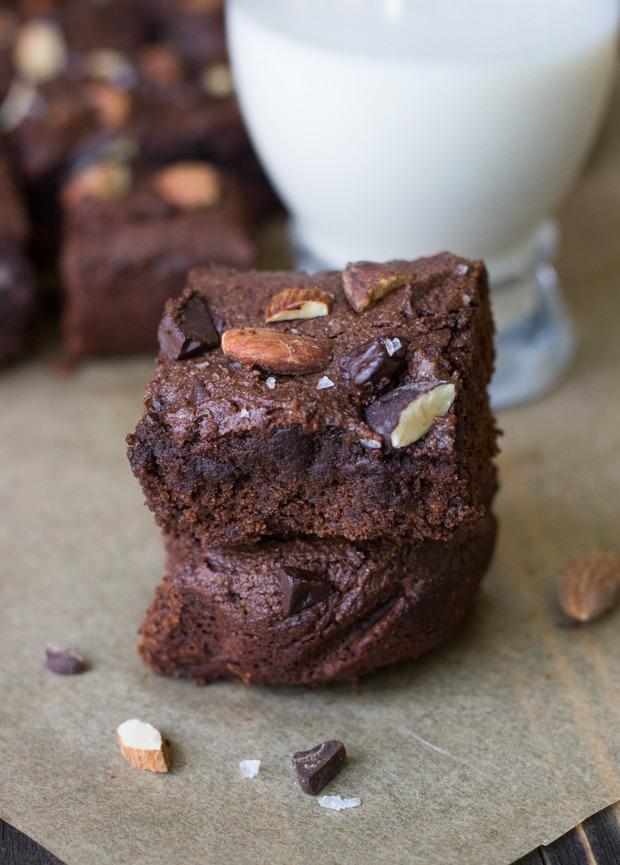 My mother says everything sweet needs to have a pinch of salt and she's absolutely right. Especially when we talk about sea salt in chocolate-based desserts, the flavor will keep you coming back for more.
Cocoa, dark chocolate and sea salt almonds bring the soft and moist brownies to life. The spelt flour can be replaced by black beans buckwheat flour if you want a gluten-free option.
These brownies are simply delicious! The upside here is how the salt keeps this from tasting too sweet all the time. Try these for the next cookout!
Top Deck No Bake Brownies (Gluten-Free)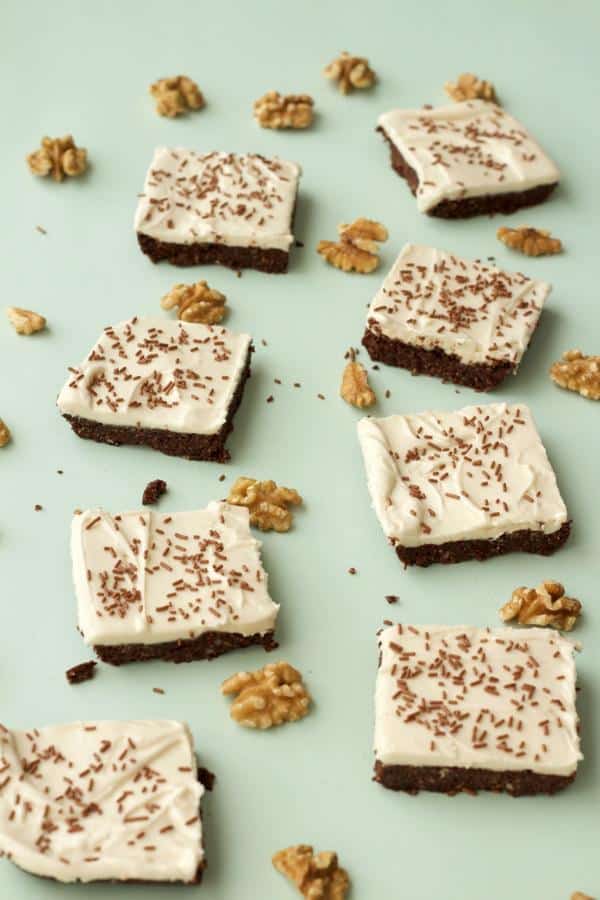 These somehow made me nostalgic when I saw the pretty pictures. Dark and delicious brownies topped with snowy white chocolate give you two different experiences in a single bite.
The ingredients used are macadamia nuts, walnuts, and dates for the brownie layer.
The white vanilla frosting has confectioners' sugar and vegan butter but can be replaced by a vanilla cashew cream to keep the theme healthy.
Since Top Deck was a rage, I'm guessing you're already clicking on print and well on your way to the kitchen! Onward, my friend!
Sweet Potato Walnut Skillet Brownie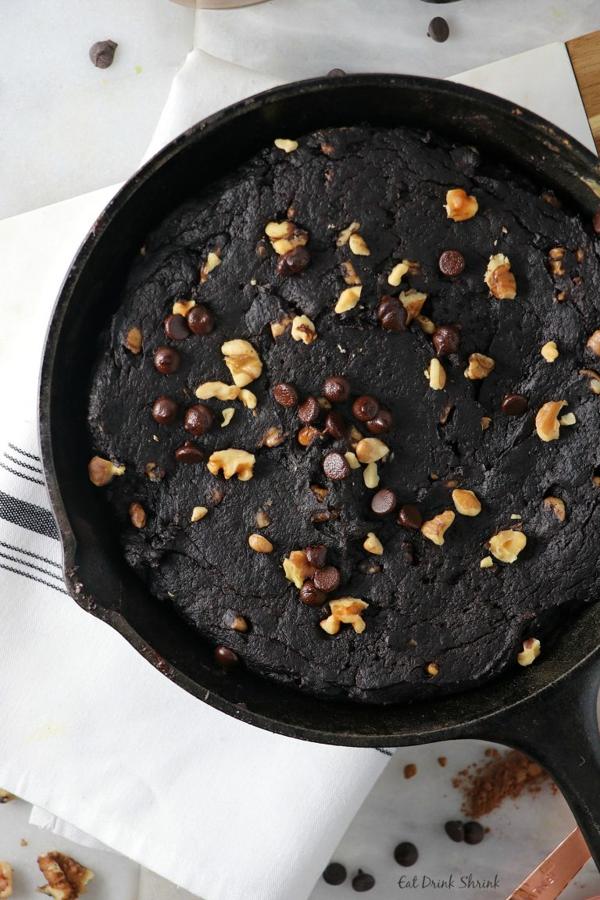 Baking in an oven and raw-baking are great, but have you ever tried a skilled made brownie recipe? Check this out!
This is a soft and fudgy dessert naturally sweetened to tantalize your taste buds. You'll be blown away by the texture and richness because it's so delicious.
The skillet makes the brownies a bit crispier on the outside and moist on the inside.
Triple chocolate and caramel make the chewy treats feel like heaven once they simply melt in your mouth. Your weekends are set and sorted if you have these on your table!
Matcha Brownies (Gluten-Free)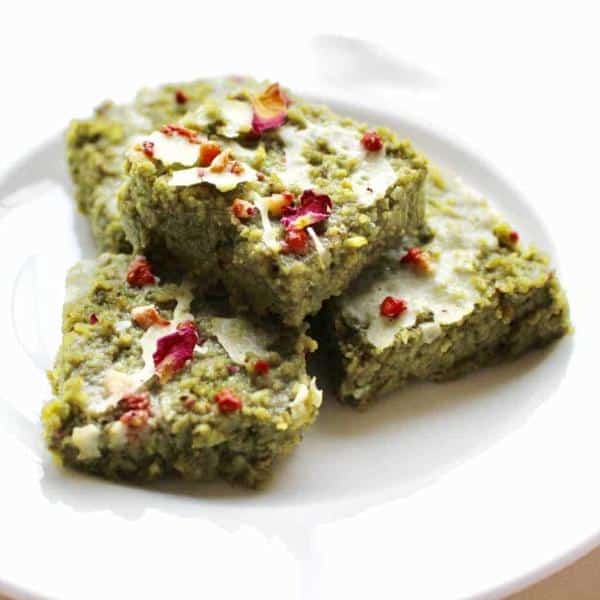 Matcha has a very exotic taste and nowadays it's in vogue. If you haven't tried integrating the healthy green powder into your desserts yet, start with this wonderful little recipe.
The ingredients are easily available and don't need multiple bowls, so you'll be saving yourself from a lot of mess while you bake these. They look gorgeous and use dates, matcha, and desiccated coconut to add flavor and sweetness.
Be careful not to use too much matcha as it can be strong. Once baked, spread a generous amount of chocolate icing topped with rose petals and freeze-dried fruit bits!
Raw Walnut Brownies (Gluten-Free)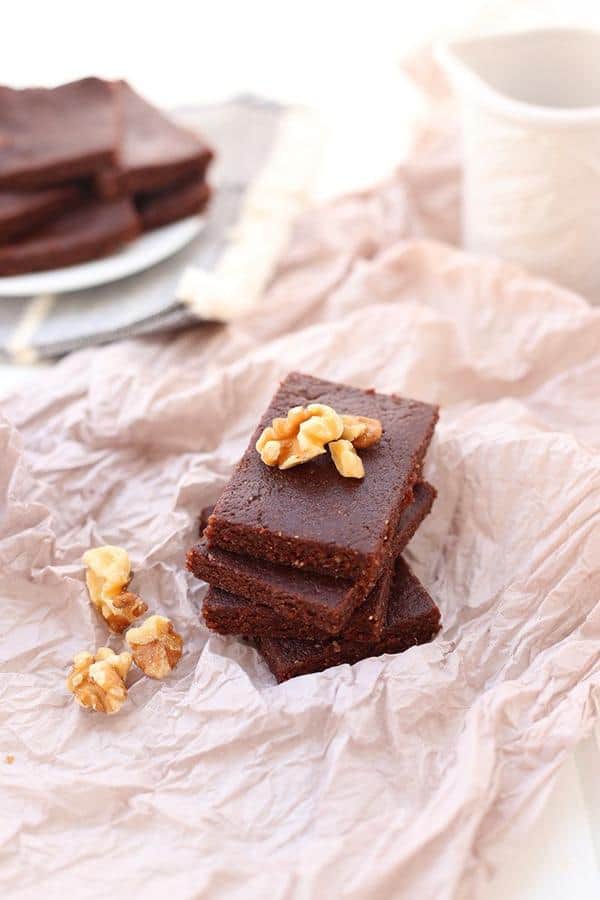 The all-time classic walnut brownie can be made in so many ways, here's another delicious recipe to add to your list.
All you need is a food processor to blend walnuts with dates, cocoa powder and a dash of sea salt.
This is easily customizable so go ahead and make it your own by experimenting playing with the multiple ingredients!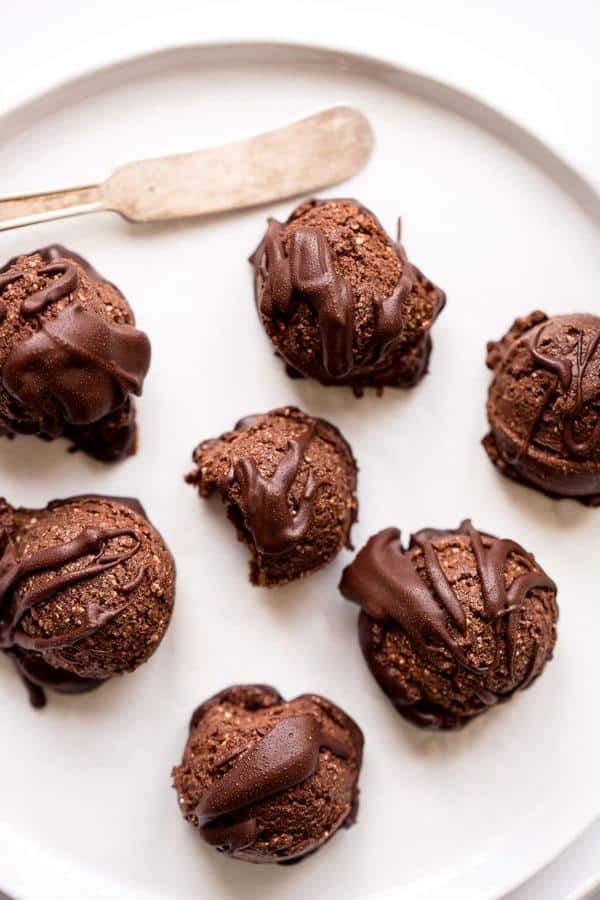 I love my desserts to be a dense, fudgy and gooey affair! This recipe delivered!
The no-bake brownie cookies are made using mulberries, buckwheat groats and dates. You can use dark chocolate instead to make it richer but in the end, you'll be left with your lips-smacking in anticipation.
This recipe also makes a lovely cookie dough delight. You can add a bit of almond cream or milk to smoothen the texture. Mulberries taste lovely with chocolate, so do blueberries and strawberries, so experiment your heart out!
Single Serve Brownie (Gluten-Free)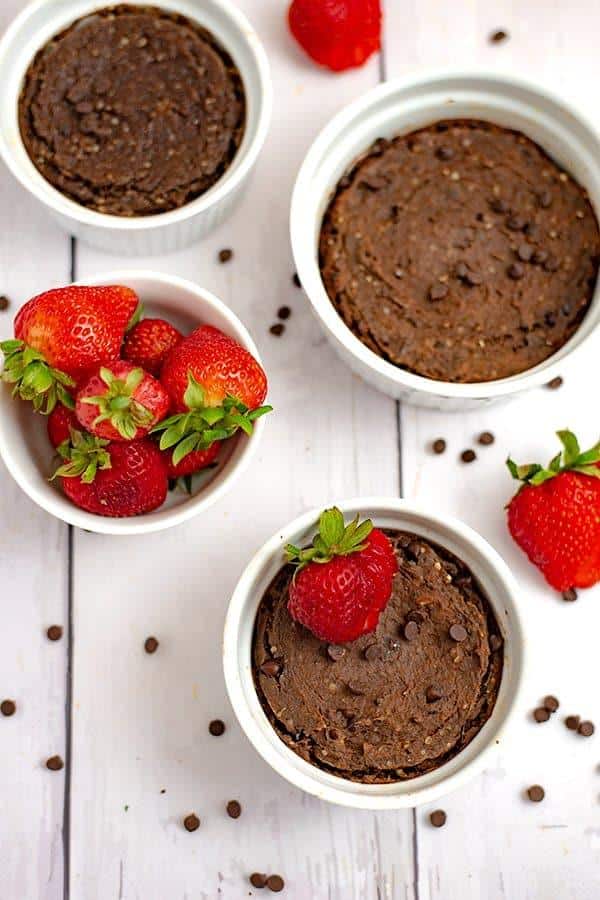 Sometimes you just need a bit of sweetness in your life am I right?
Healthy and wholesome, this brownie can be eaten for breakfast because they're downright lovely to start your day with.
Bananas, chocolate protein powder and hemp hearts are just the tip of the iceberg.
A dessert for one doesn't sound so lonely when it comes to this chocolaty affair, in fact, you'll be glad you tried it.
It's okay to be selfish at times and this dessert is a perfect reminder of you treating yourself right!
5-Ingredient Paleo Brownies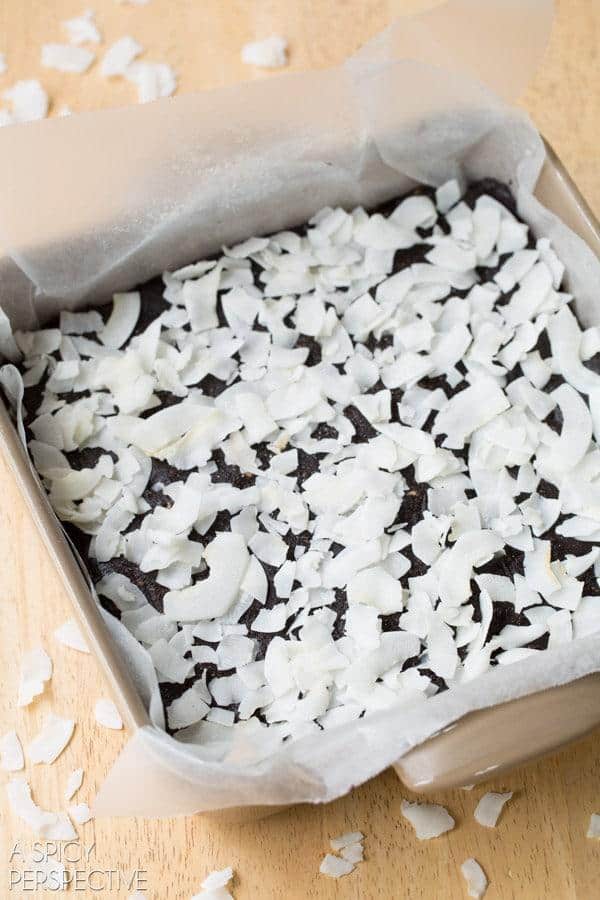 When in a hurry, turn to this recipe. It takes just five ingredients and a blender, sounds unreal, doesn't it?
Dates, nuts, vanilla, cocoa and raw dried coconuts are all you need to bake yourself a brownie when you can't hold your sweet craving any longer. The prep time is just 10 minutes!
These will taste lovely with a bit of fruit mashed and mixed along with the batter, so if you have bananas or berries lying in the pantry, add a sixth ingredient to switch things up a bit.
5-Ingredient No Bake Brownies (Gluten-Free)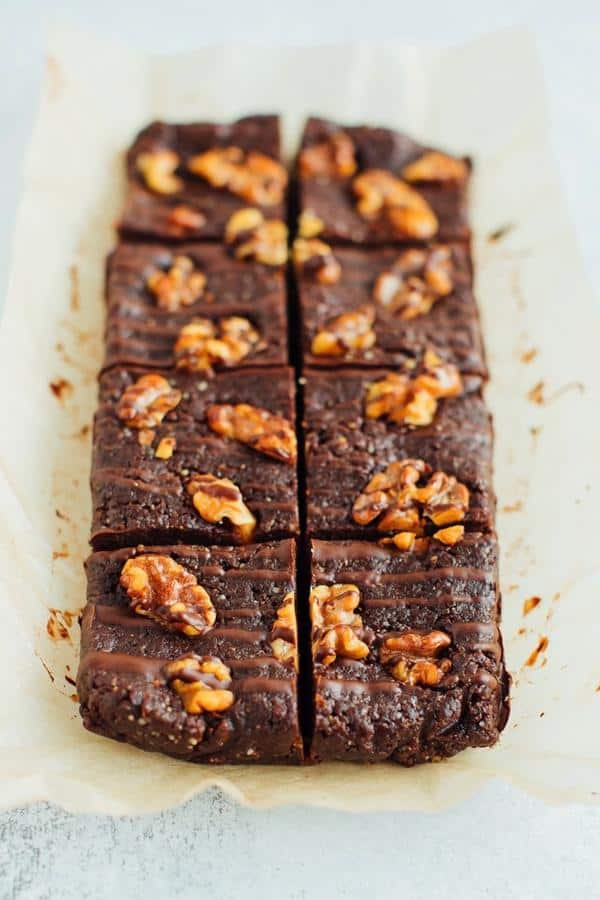 Saving time is high on your list of priorities if you're busy. This is where this recipe comes in.
Welcome to the 5-ingredient world where everything is easy and done in a flash. What better than a no-bake recipe?
Loaded with walnuts and dates, this recipe doesn't compromise on its rich chocolaty flavor. The texture is smooth, dense and chunky, just like any special brownie.
I'd advise you to go a bit overboard and top the mix generously with melted chocolate and chopped walnuts before you freeze them!
Sweet Potato Brownies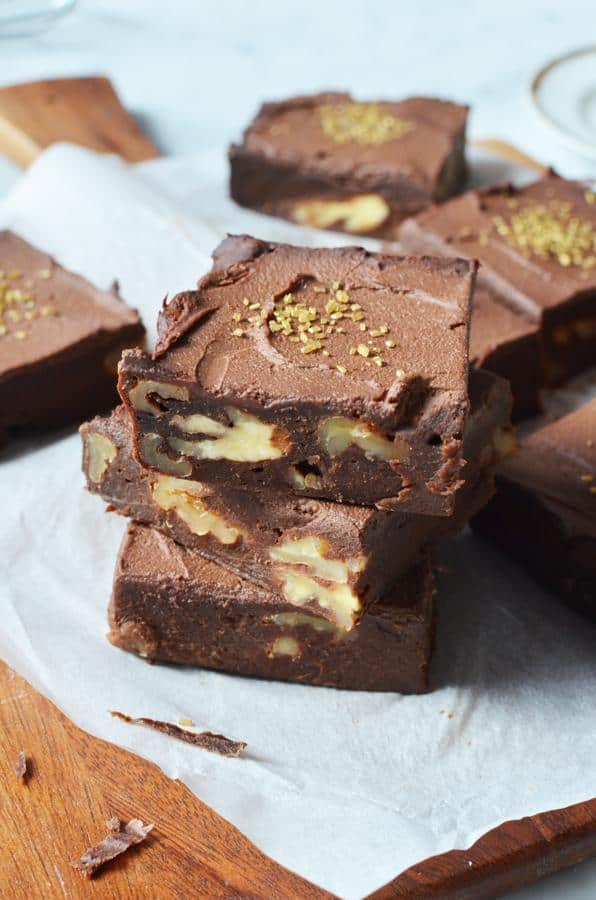 Some seek nirvana, and sometimes it finds you in the little things. This recipe is a sure-shot way to heavenly delight for your inner chocolate freak!
The brownies are made with healthy sweet potatoes, dates, cocoa and a pinch of cinnamon. You'll get a serving of drool-worthy smooth, dense and fudgy pieces of sin in less than an hour, just don't forget to share!
The sweet potatoes are what make them so evenly textured so be sure to mix well. You can try topping the brownies with homemade chocolate ganache instead of a normal frosting to make things fancier.
No Bake Chocolate Coconut Brownies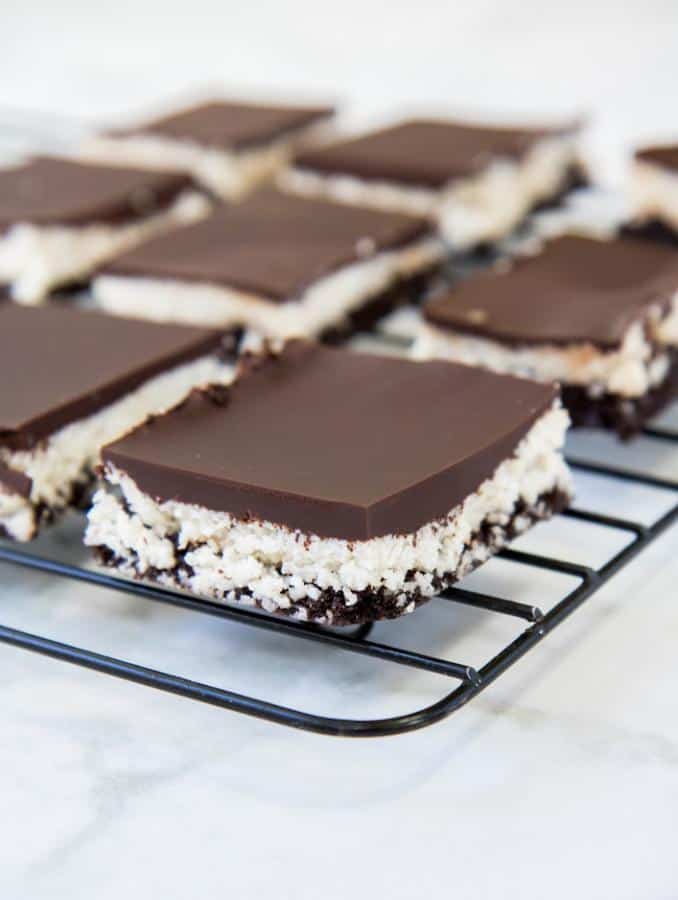 Fall desserts are my favourite because I adore comfort food. As someone who always feels too cold too soon, this recipe is a lovely way to feel better all bundled up.
Also, I'd do anything to stay away from the pumpkin spice overload, so this one is my go-to!
The brownie has three parts which are the base, coconut layer and a chocolate top. The base is made of dates, walnuts and cocoa. Shredded coconut and brown rice flour make the second layer while 70 per cent dark chocolate offers a great finish!
A no-bake recipe is a great option when you have such healthy ingredients in place. Go forth and indulge to your heart's fullest without a speck of guilt!
Yogurt Brownies with Cherries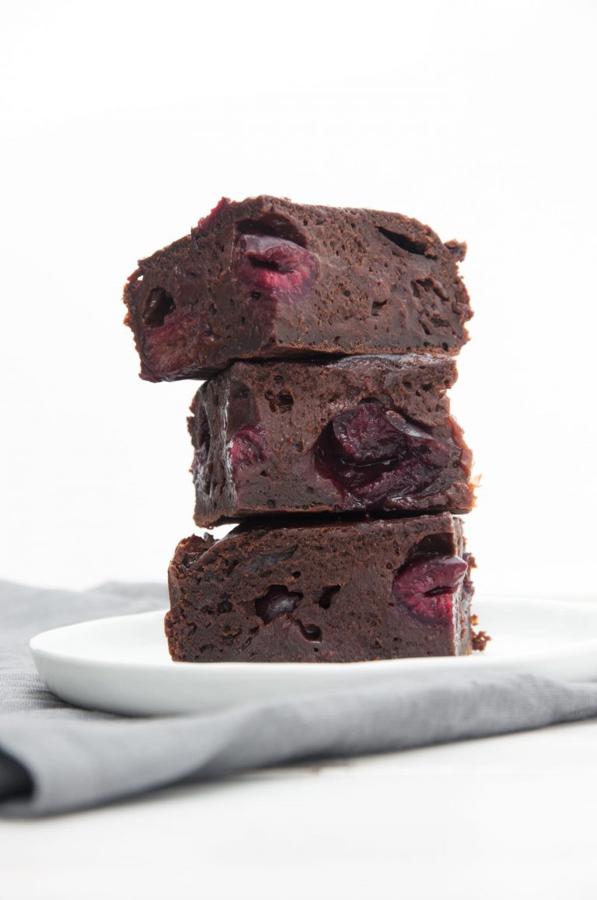 I know it may sound cliché, but these are simply amazing! The recipe is a big yes for me since I'm a sucker for smoothly textures.
Made with flour, fresh cherries and yogurt among other ingredients, things are kept simple and elegant. You can use other berries if you prefer but be assured they all taste wonderful.
The chocolate and cherry flavours are highlighted, so you can pour a rich cherry sauce to create a super dessert!
Chickpea Brownies (Gluten-Free)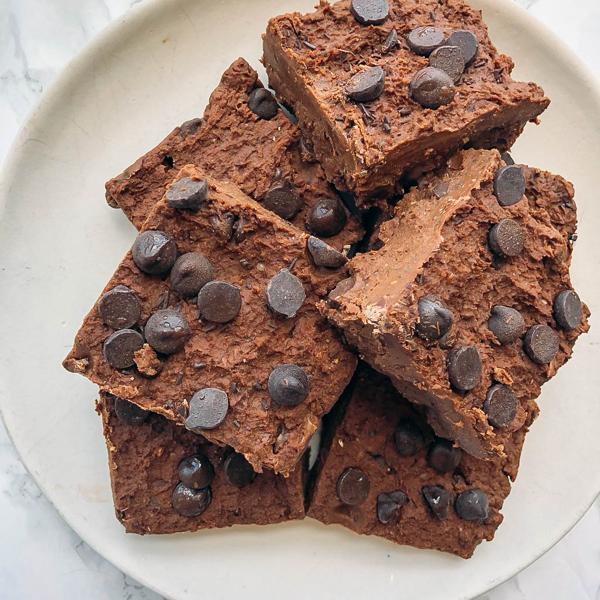 We've seen black bean brownies, so why not try the chickpea version too? You won't be disappointed with the results!
Chickpeas blended with dates, chia seeds make the recipe healthy. Add the protein powder and these brownies are an absolute powerhouse!
The trinity of chocolate chips, cocoa powder and dark chocolate will give you absolute bliss in a bite!
These brownies take just 25 minutes to be prepped and a bit more to freeze set, so feel free to indulge yourself as much as you'd like. I'll admit it makes a great post-workout treat!
Flourless Paleo Pumpkin Brownies (Gluten-Free)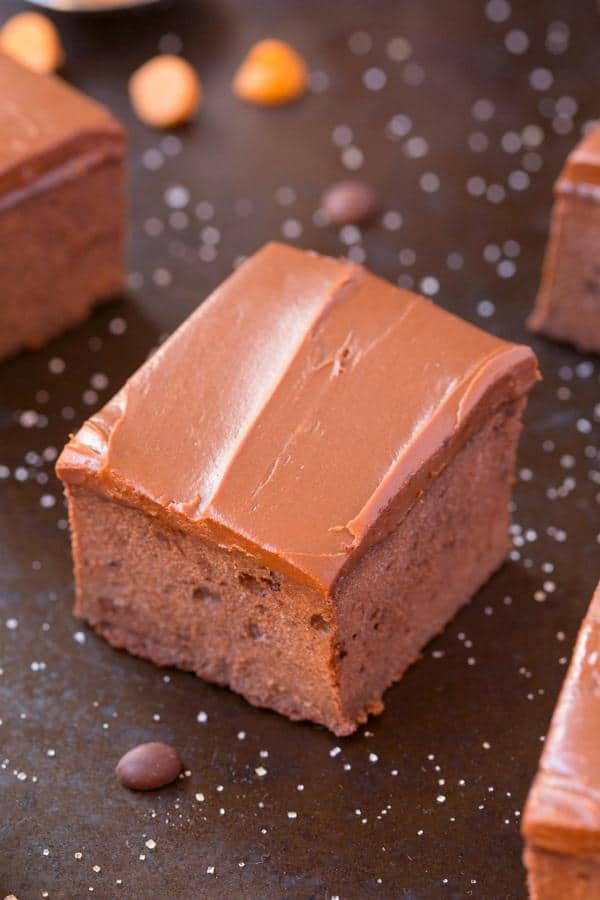 If you're aware of a keto diet, you'll adore this recipe. It has very low carb content but is packed with protein.
Pumpkin is such a good choice of an ingredient when it comes to desserts because it has a smooth texture that binds all the ingredients really well.
All you need to do is mix pumpkin, nut or seed butter and cocoa powder to whip up a batch.
Consider this one as a treat to yourself for holding up a strict diet. You don't have to obsess over your weight with this one!
Small Batch Brownies in Your Air Fryer (Gluten-Free)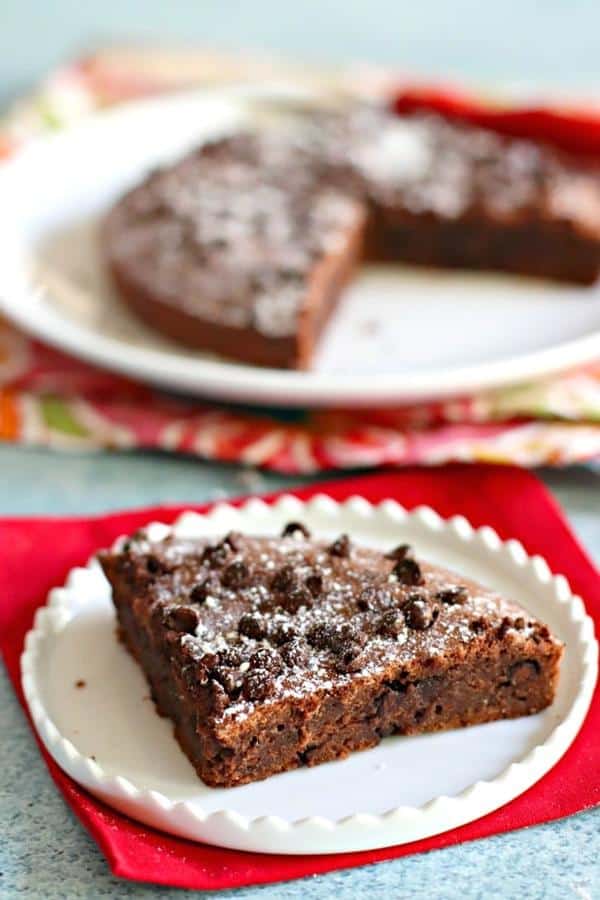 It is great to learn all techniques of baking brownies, be it in an oven, skillet or freezer. Today, I'm adding another one to the list which uses an air fryer.
Using basic ingredients to make your batter is easy, so you can be fancy by adding pieces of berries and nuts to add to dimension and texture. It all takes just about 30 minutes!
Fascinating and not messy, this recipe is just awesome! The batch is small in size, so it's ideal for those who don't want to end up with a huge serving stored away.
Frozen Chocolate and Hemp Brownie Bites (Gluten-Free)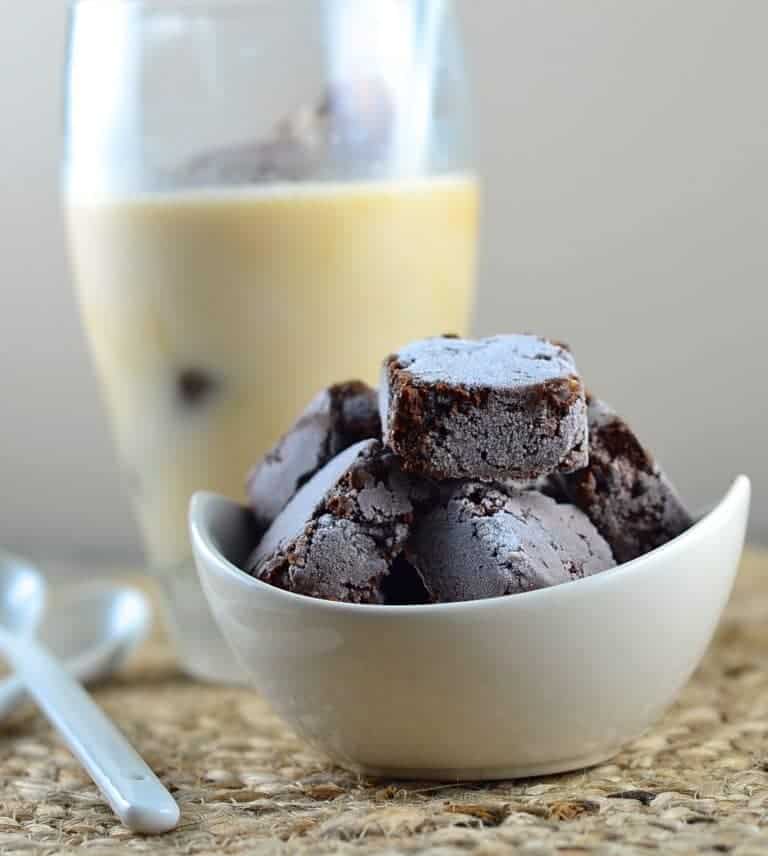 These super simple frozen treats are a lifesaver when you have a dessert emergency or surprise guests.
Hemp seeds, chia seeds, and hemp milk are what makes this recipe so special. Also, the triple power of chocolate did not come to play. The brownies are mildly sweet, rich and delicious in all its glory.
You'll be delighting guests with these little bites and probably have a permanent set of visitors once they have a taste!
Raw Peppermint Brownies (Gluten-Free)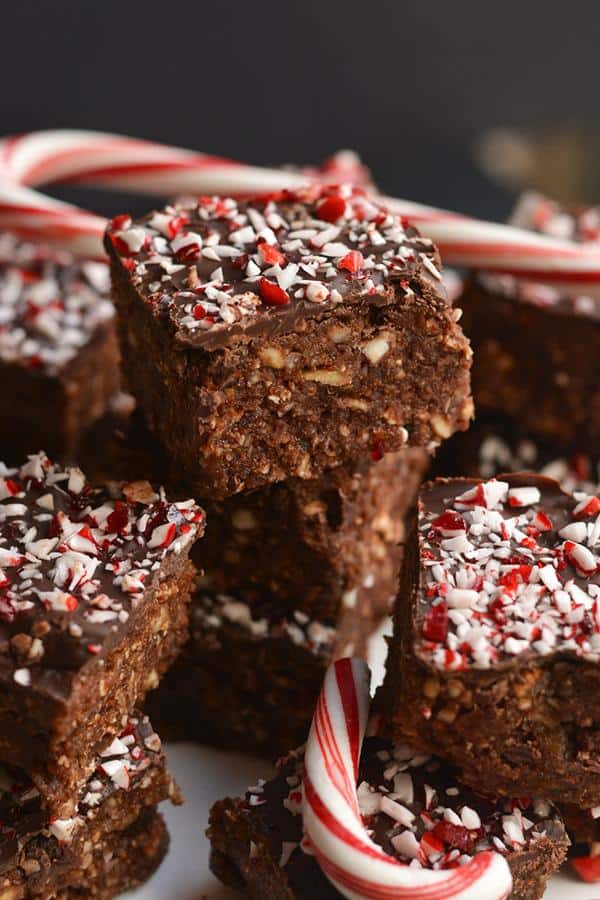 Peppermint is an all-time favorite for me when it comes to chocolate combinations. While there are plenty of ice-creams and fudges out there, a brownie recipe like this is a catch and I know you'll love it too!
The brownies have two parts, the base and chocolate topping. The rich and chocolaty batter is infused with peppermint extract to fill the kitchen with its heady aroma. The topping has enough crushed candy cane to bring Christmas home early!
The best aspect of this recipe is how healthy it is. Raw with a lot of nuts like almonds and walnuts, you won't be compromising on your health with this one!
Easy 'Nutella' Brownies (Gluten-Free)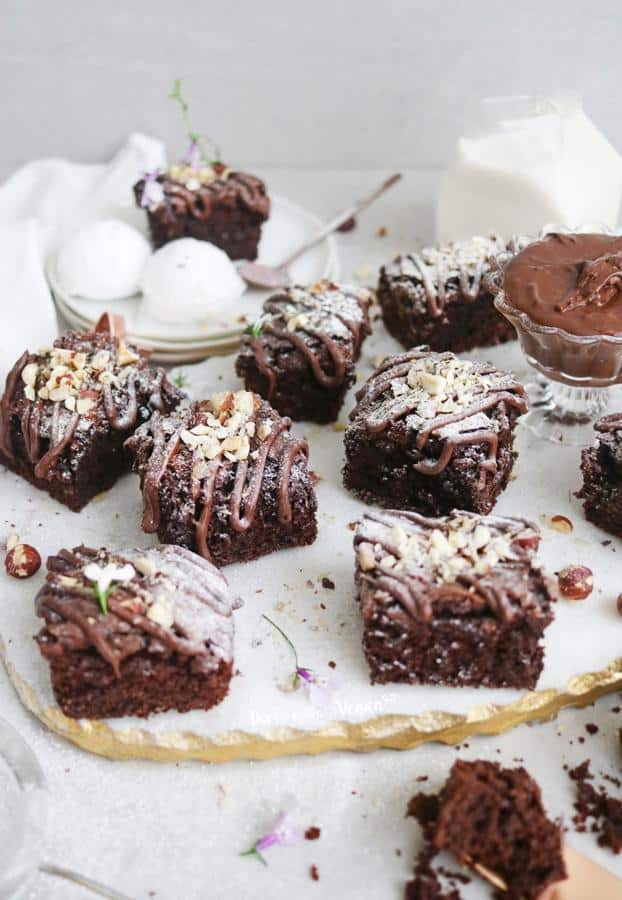 We all swoon at the mention of Nutella, you and I are on the same boat, my friend! Let's make this party bigger by bringing in the bad boys: Nutella brownies!
Ready to eat within an hour, the recipe uses, dark chocolate, cocoa powder and Nutella making it a treat fit for the kings! Apart from the brownies, a thick topping with chopped hazelnuts makes this recipe an absolute party monster.
You want to win over your family, friends, colleagues or even a random person? Make them fall at your feet with these brownies and you'll never be able to get rid of them!
Brownie Petit Fours (Gluten-Free)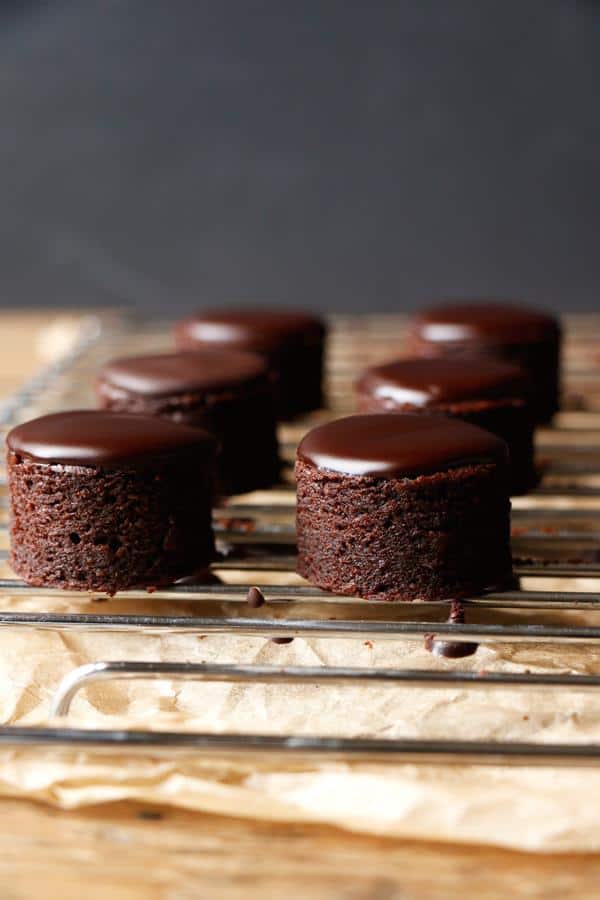 Oh my, this recipe! This can be your next dessert at a festive dinner, you'll have an instant fan club.
Luxurious, dark and sinful, Amore di Mona chocolate is the secret to the flavor of these brownies. The taste is unlike any other and beyond anyone's wildest brownie fantasy.
Once the brownie has been cut from the mold and topped with rich melted chocolate, decorate it with edible flowers to create a party on plates. You will create a high-fashion and elite vibe right in your home!
Triple Chocolate Brownies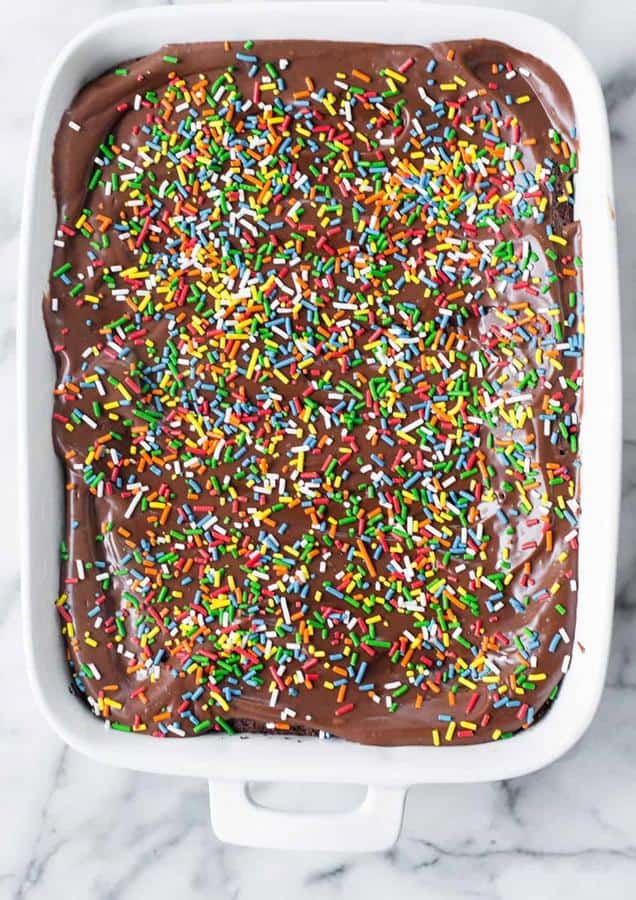 Some days just ask for a chocolate fest and the craving cannot be denied! You can thank me later for this gem of a recipe.
Chocolate on chocolate might sound a bit over-the-top till it involves a brownie. Then you can't just have enough!
Delicious chocolate brownies topped with chocolate ganache and icing sounds like your fantasy come true?
Yes, they're as rich and delicious as they sound. You will probably kiss your own hands once you have a bite, but you do deserve all the credit!
Raw Cinnamon Brownies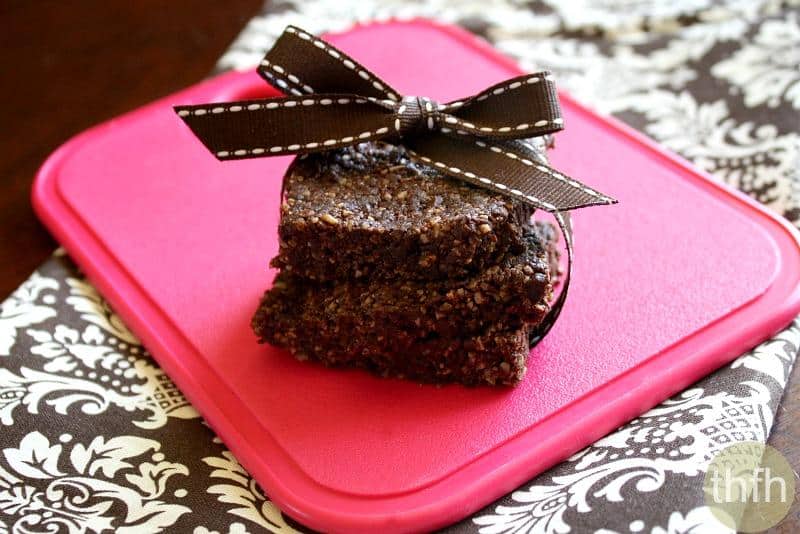 When the cravings hit, they hit you like a freight train and you end up spending unwanted money. Save your time and hold your budget, thanks to this little recipe.
This sports healthy ingredients like raw pumpkin seeds, sunflower seeds, dates and more. Cinnamon and pink Himalayan salt add to the magical factor by giving a unique taste to these brownies.
All you need is 5 minutes and a food processor or a blender. How convenient is that? Save your cash for better things and treat yourself to healthy desserts right at home!
Black Bean Brownies (Gluten-Free)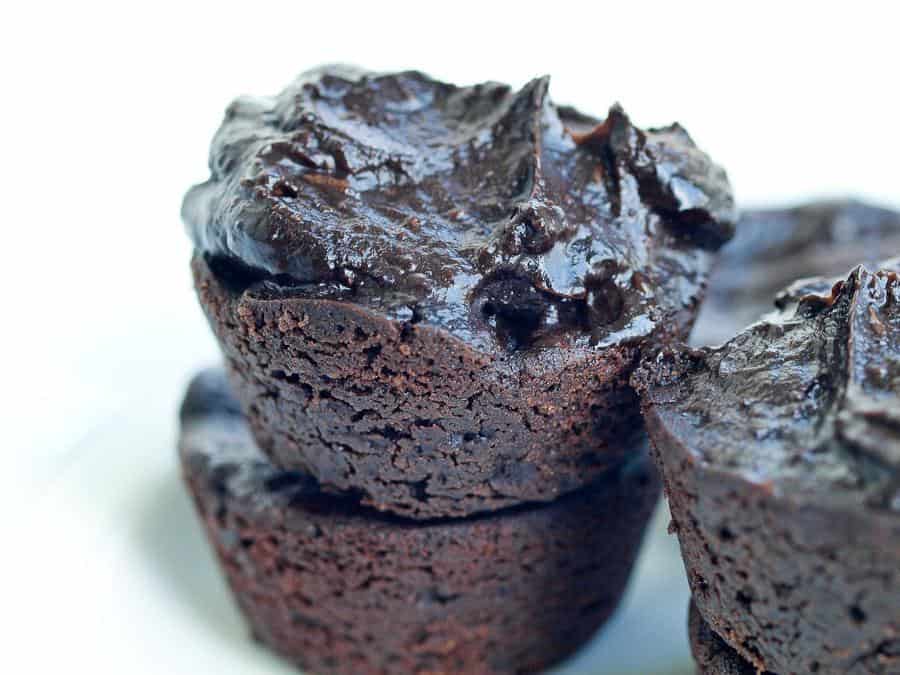 Black bean brownies bring out the chocolate flavor because of its neutral taste. I also have to admit they have a richness to them that flour doesn't have!
Rolled oats, black beans and cocoa powder are among the list of ingredients. You can also sneak in avocado into the recipe to get a gooey-dense texture once baked!
Liking my food gluten-free, I always prefer healthier choices and this recipe is one of them. I love to binge on these sweet bites and hardly feel weighed down. They are chocolaty, not too sweet and always satisfying without a trip down the guilty lane!
Dark Chocolate Espresso Brownies (Gluten-Free)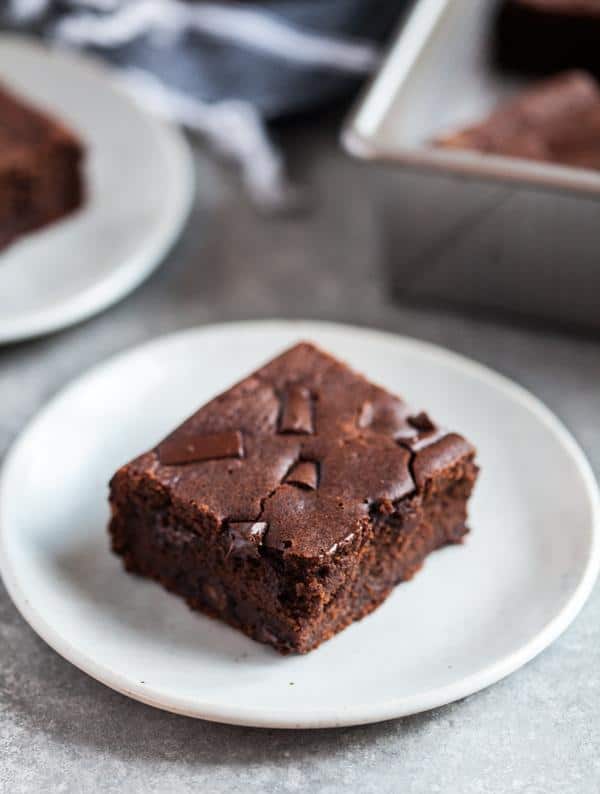 If you're a brownie buff and coffee lover, you'll love this recipe. The rich dark chocolate with espresso is a must try for special occasions!
The recipe uses sorghum flour, oat flour and rice milk topped with espresso and dark chocolate. Things just get better when the batter is sprinkled with more pieces of dark chocolate before baking.
What comes out of the oven is nirvana! You'll never regret trying this brownie because it's probably the best you've ever had!
Pumpkin Swirl Brownies (Gluten-Free)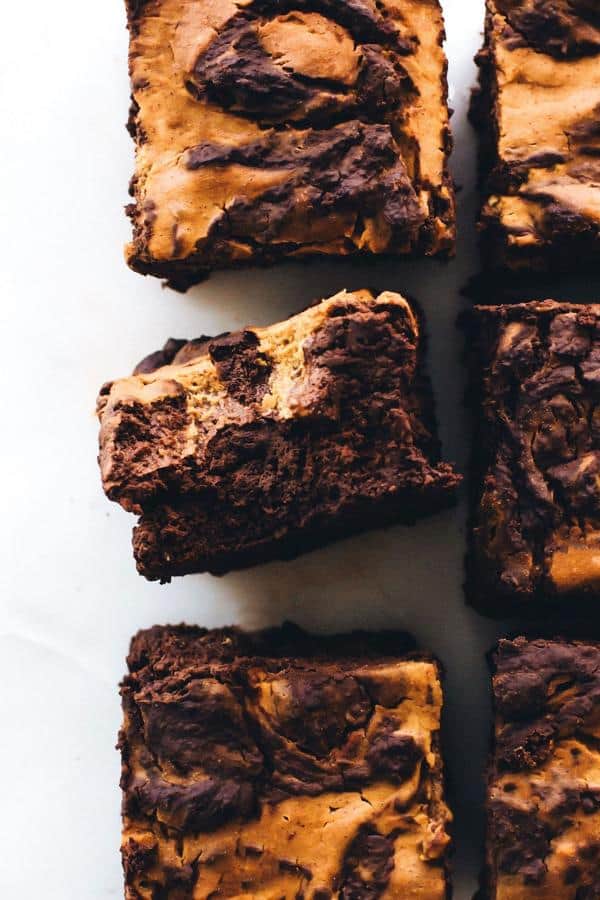 These brownies are the perfect holiday dessert. You can whip up a batch for your family, only to have the baking tin wiped clean in minutes!
The two aspects of the recipe are the chocolate brownie batter and the pumpkin spice swirl. The recipe uses pumpkin puree in both the parts that blend really well and provide a velvety texture.
They are amazingly rich and chocolaty, but not overkill. The pumpkin and spice are set in a swirly pattern to merge beautifully with the chocolate, so not does it only look lovely, but the taste matches the aesthetics.
Raspberry Black Bean Brownie Bites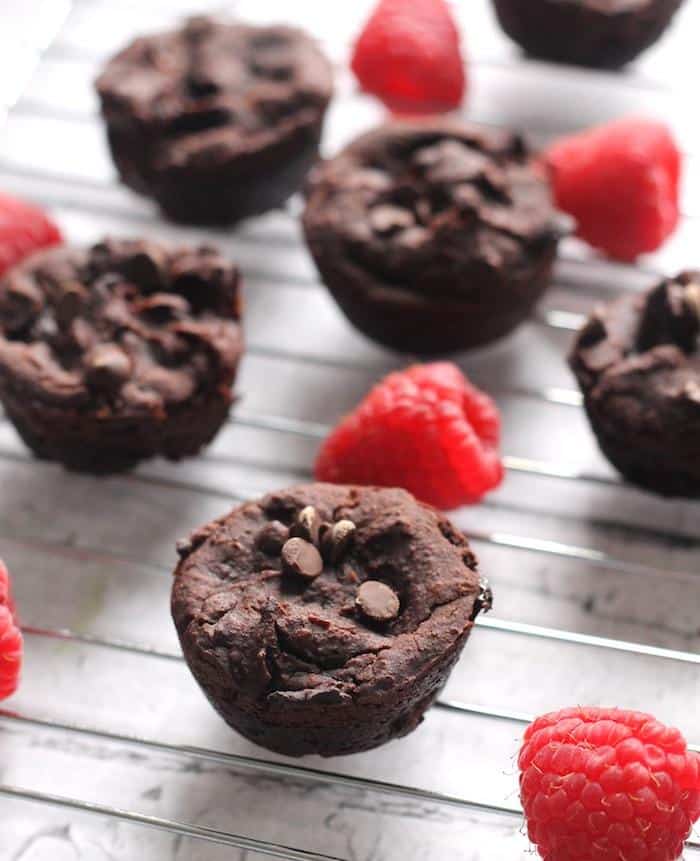 These little chunky bites are super easy to make and take just about 45 minutes. If you want dessert on your table within an hour, this recipe is your new best friend.
Fresh raspberries blended with smooth black beans, dates and cocoa powder to give you a fruity yet chocolaty experience. These brownie bites also have coffee and chocolate chips which add to the richness in its taste.
You'll be amazed at how much flavour a small piece of dessert can hold when you bite into this one. Let's say you'll be baking more often than before!
Pumpkin Fudge Brownies (Gluten-Free)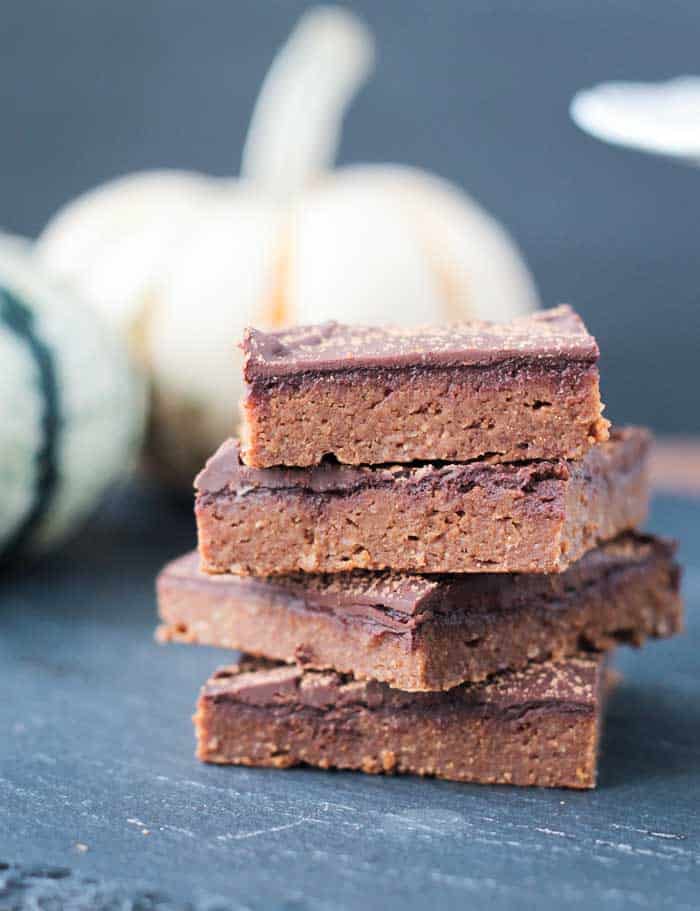 Delicious, dense and chunky brownies made from scratch are on my must-try list. Given the use of pumpkin, it will be no surprise they are damn scrumptious!
The recipe takes only 35 minutes so you can whip up a batch quickly when your kids deserve a treat for finishing their veggies, only to be sneakily fed another veggie!
Pumpkin puree is blended with oat flour, cocoa powder and other minimalistic ingredients to give you a healthy and delicious warm fudge brownie. You can also add a dash of cinnamon to add to the flavor if you're feeling experimental.
Protein Brownies (Gluten-Free)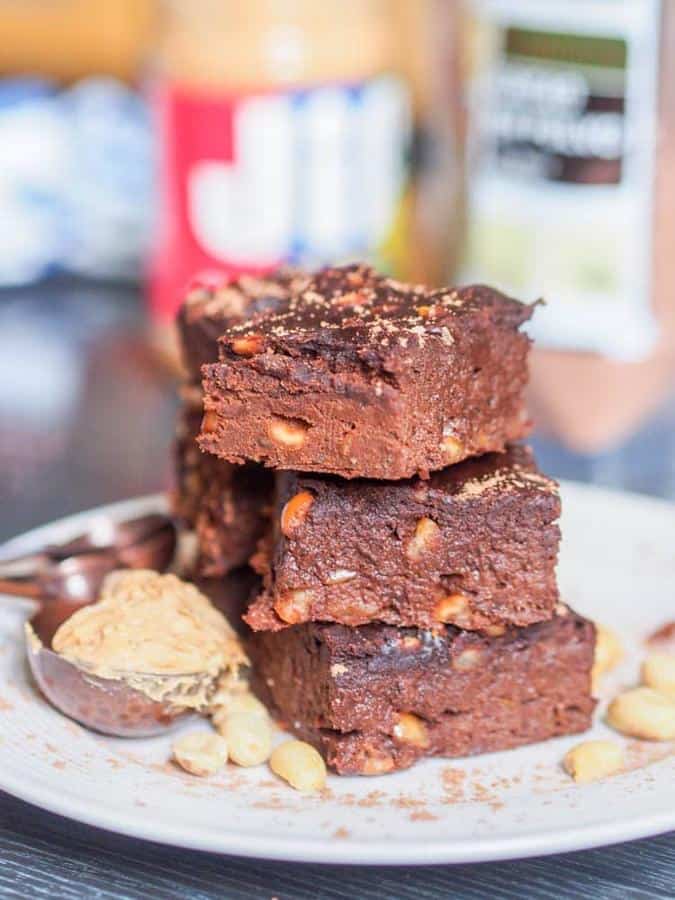 If you're hunting for a guilt-free healthy dessert, you've found it! These protein-rich brownies not only satisfy your sweet tooth but also provide a huge source of protein.
Using just 6 ingredients you can create perfectly dark, chocolaty and fudgy brownies. To name them, bananas, peanuts, cocoa and protein powder are the base ingredients.
Instant coffee and coconut add to liven the flavors and make them wholesome.
You can make a batch big enough to last a few days since these are just like soft protein bars. Grab a piece for breakfast along with cornflakes and fruit, you're good to go!
Cheesecake Topped Fudgy Brownies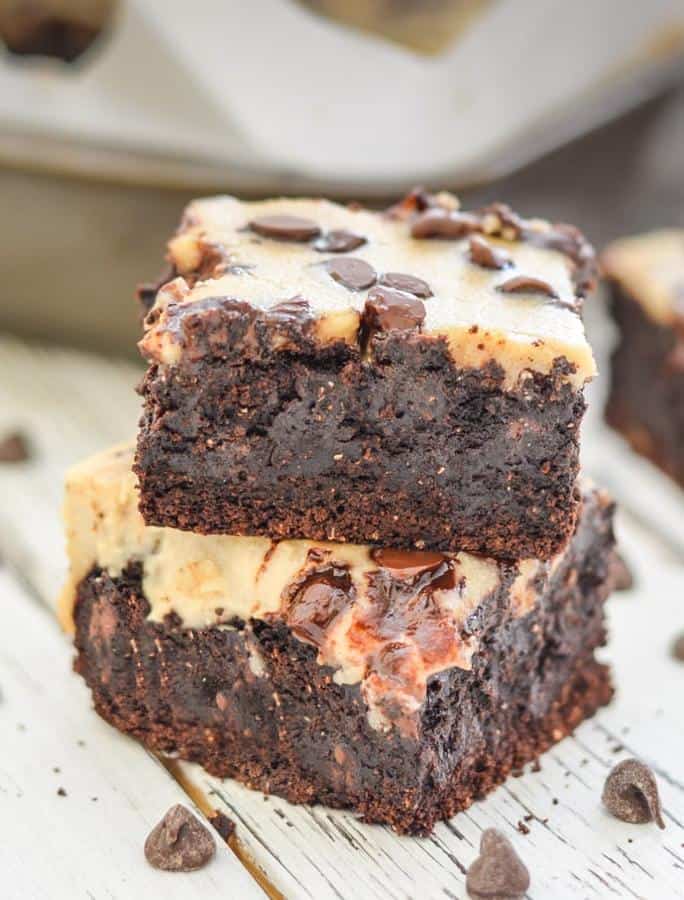 You may like brownies, but you'll be obsessed with a cheesecake topped brownie. This recipe is crafted to drive you nuts and it delivers as well!
The brownies are perfectly gooey and the cheesecake a winner in its own right. Together they form a reality-altering experience!
These rich, fudgy brownies are topped with delicious and light cheesecake and a sprinkle of chocolate chips. This sounds like heaven to me!
Wrapping Up
Hopefully this roundup gives you all the goodness minus the guilt! You can enjoy an extra piece of your sweet creations from this collection as many of them lean on the healthier side.
Be it a bad mood day or a celebratory party, we've got you covered in every way and hope you keep trying them out, treating yourself and your loved ones.
The magic about baking is how, once you start, you'll soon realize you're in love with it. When finding a brownie recipe to match your mood is easy and baking is fun, what sign are you waiting for? Bake, set, go!