Many of these recipes have ingredients you probably already have lying around!
Have a quick scan, see what you like and get eating!
Simple Vegan Avocado Recipes
Spinach Tortillas Filled with Mashed Avocado and Shredded Veggies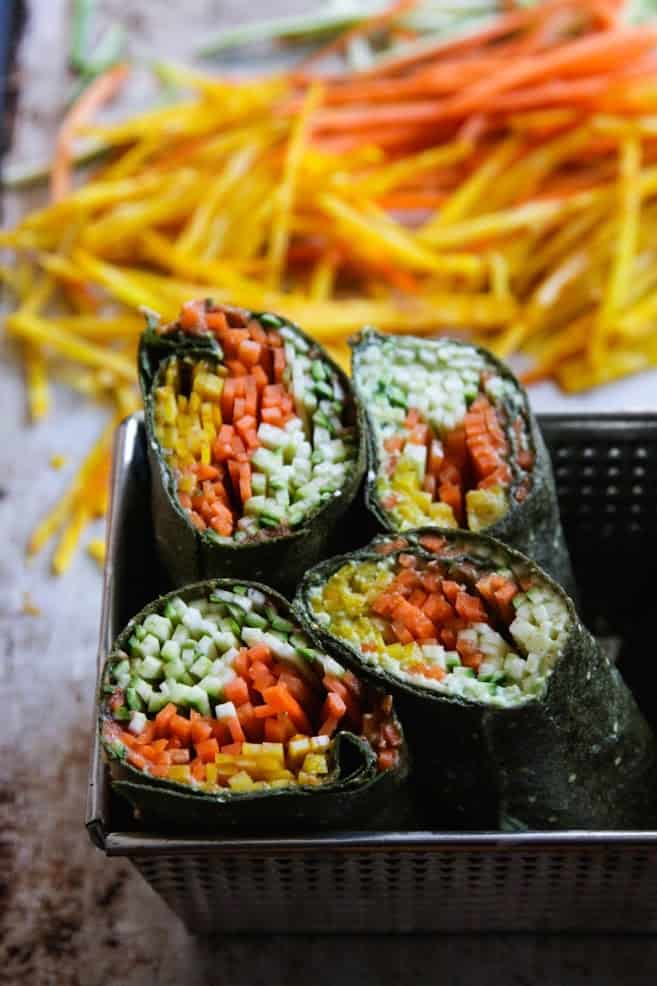 I've made dishes similar to this before but as soon as I saw this with the shredded vegetables, I needed to add it to my repertoire!
This is a really simple and straightforward recipe. Having the vegetables shredded makes it really easy to wrap the tortillas. It's one of those recipes where you can easily swap things around depending on what you have in the kitchen. You can use regular tortillas instead of the raw wraps or have hummus instead of the avocado.
The Best Avocado Toast Recipe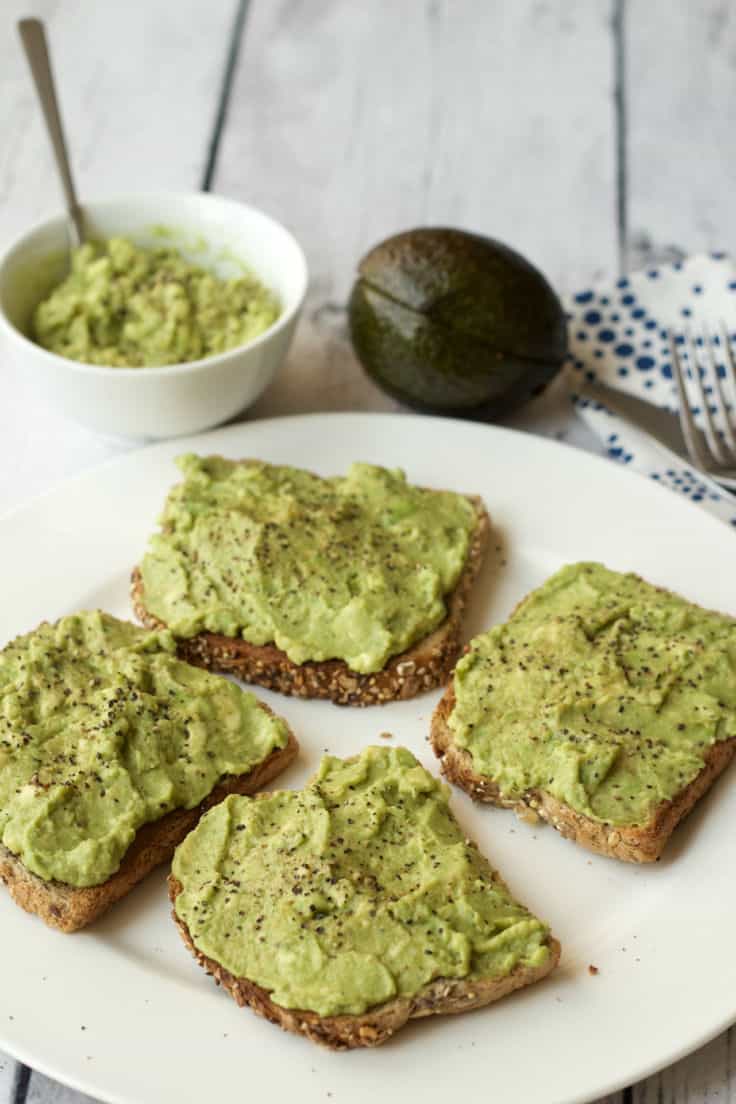 Have you ever had avocado on toast? If you haven't, you can literally just put avocado on toast! It's that simple. Like most things, I think a little tweak goes a long way and this is what we have here.
I would say this is a really great classic recipe and perfect as it is. If you want to add anything to it such as chopped peppers, shredded carrot and so on, then use this as a great starting point. Either way, you win!
Oil Free Pesto with Basil and Avocado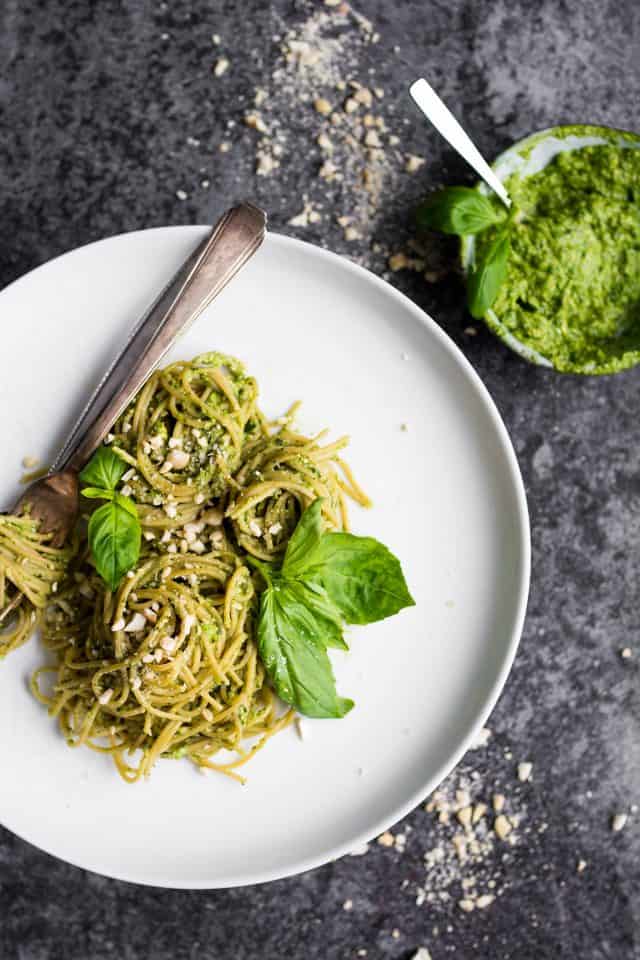 This recipe is about the pesto itself as opposed to the delicious looking spaghetti in the picture! Traditionally, pesto does contain extra-virgin olive oil and there's nothing wrong with that. However, a lot of people are trying to cut down on oils so we thought this recipe was a really good idea for when you want the flavor but perhaps you want a lighter dish.
The oil is substituted with a ripe avocado and a few cashew nuts and if you can't imagine how that works, trust me, it works just fine! The great thing about this recipe is you can swap nearly every ingredient for something else depending on what you have or whatever you may prefer.
Smashed White Bean, Basil, and Avocado Sandwich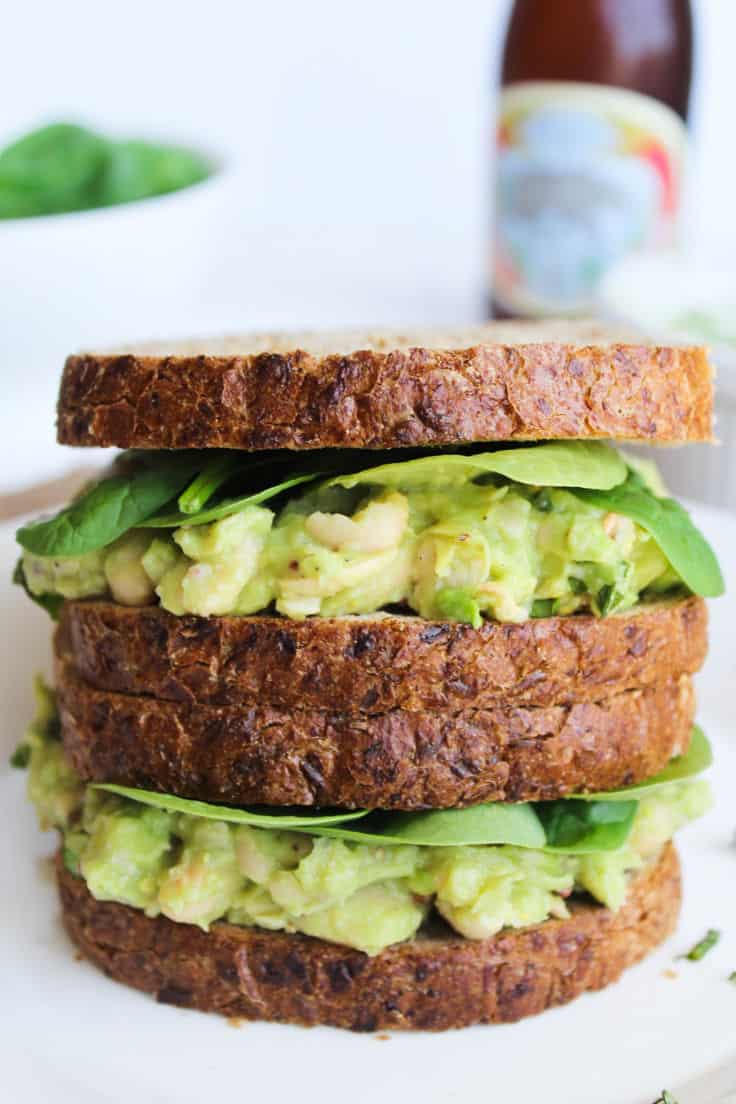 We've already seen avocado on toast, now we are going to move up a gear and give you an amazing variation where you add white beans.
I wasn't sure how white beans and avocado would go together but my uncertainty melted away as I tasted this combination. It's amazing and I can't think why this hasn't been around for years, maybe it has? If you need something a bit heavier, a bit more hearty then definitely give this a try.
Avocado Chickpea Salad Sandwich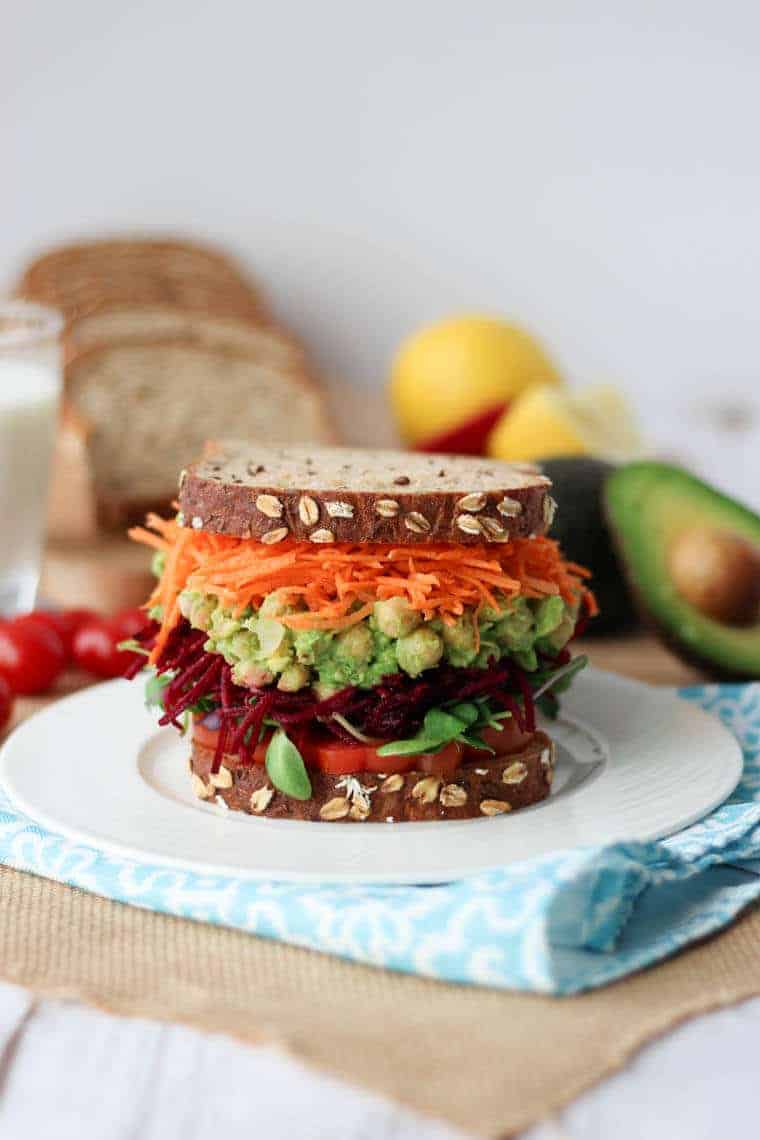 Oh my goodness, there is nothing in this world better than an amazing sandwich when you're hungry, am I right? Better yet, is one that's loaded and colorful!
This sandwich looks huge and obviously, you can regulate the portions, but why would anyone do that?! I do urge you to go to the effort of making this recipe, the beets and carrots have a similar texture and the flavors blend together so well. The chickpeas give you that satisfying feeling and the tomato just moistens everything up a treat. Probably one of the best sandwiches ever!
Simple Vegan Bread Recipes
Pumpkin Cornbread Muffins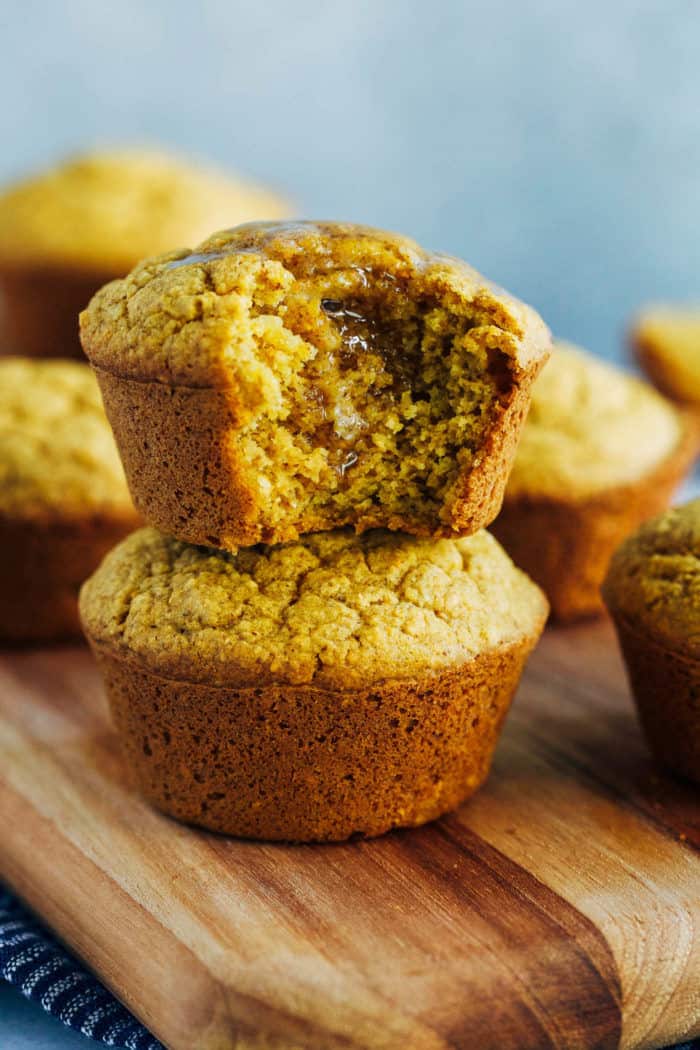 I'm one of those people who prefer savory over sweet. But, come on now, even us savory people like something sweet once in a while and here is an absolute treat. It's gluten-free too!
Of course, like all cakes these will last a good few days so make lots because once your friends and family see them, they'll be gone! The prep and cooking time is under 30 minutes so you have no excuse not to treat yourself!
Easy Homemade Naan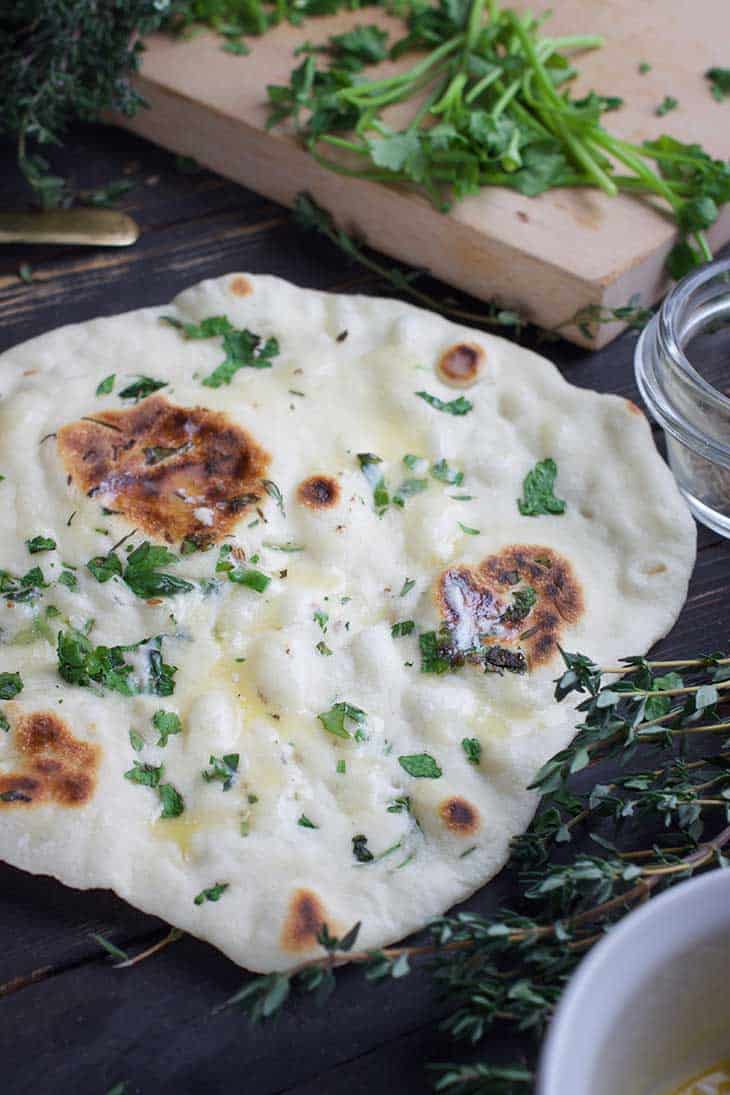 People sometimes get confused about whether naan bread is vegan or not.
You would think it would be right? Well, it is usually coated in butter or ghee (clarified butter) so you have to be very careful.
However, it's not difficult to make it vegan as you may imagine, so here is a delicious recipe so you can enjoy amazing naan with great curries!
What I really love about this, not only do you get to know how to make it from scratch but you get to add whatever you like.
Here, for example, I love the coconut yoghurt.
To be honest, you don't taste any difference between this and the non-vegan naan bread.
Keep this recipe, I promise it's worth the effort!
Rosemary Chickpea Flatbread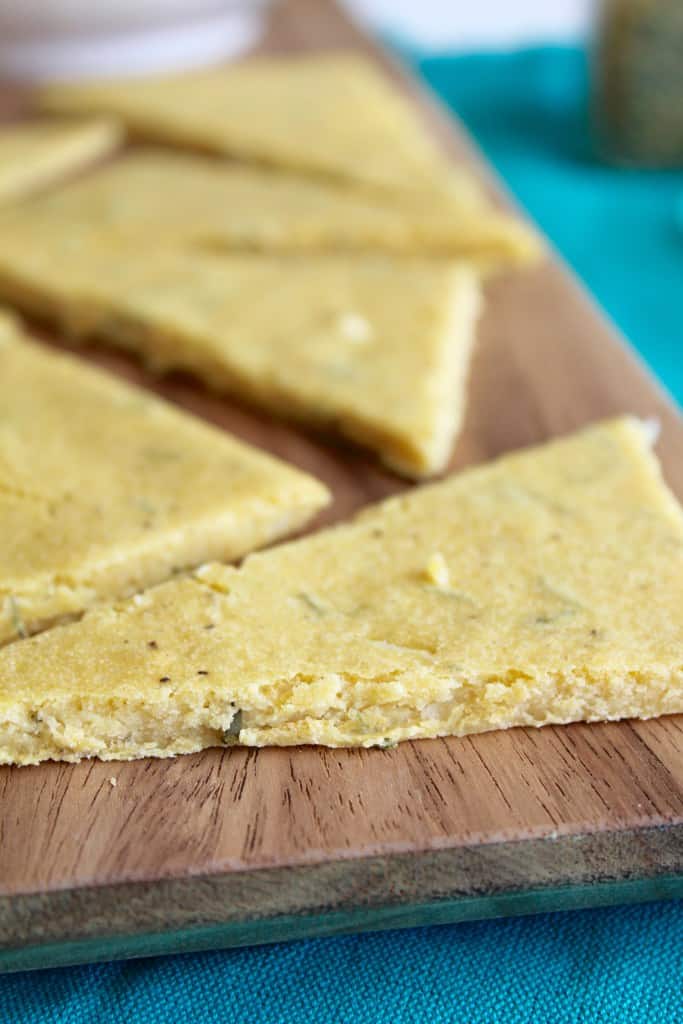 For those of you who know Italian recipes, you may have heard of Farinata.
This is like a naturally vegan chickpea pancake made in the north-west of Italy.
Well, this flatbread recipe we have here is a variation of that and as soon as I saw it, I knew I would like it.
This is so easy to make. If you haven't made anything like this before, the only challenge is knowing where to get chickpea flour from (also known as garbanzo fava flour).
When you mix it with water it'll seem like you'll never manage to get rid of the lumps, but I promise you, they'll dissolve!
This flatbread goes really well with salads.
VegByte Tip: If you leave for a few hours, or even overnight, you'll find all the lumps gone.
Glazed Gingerbread Loaf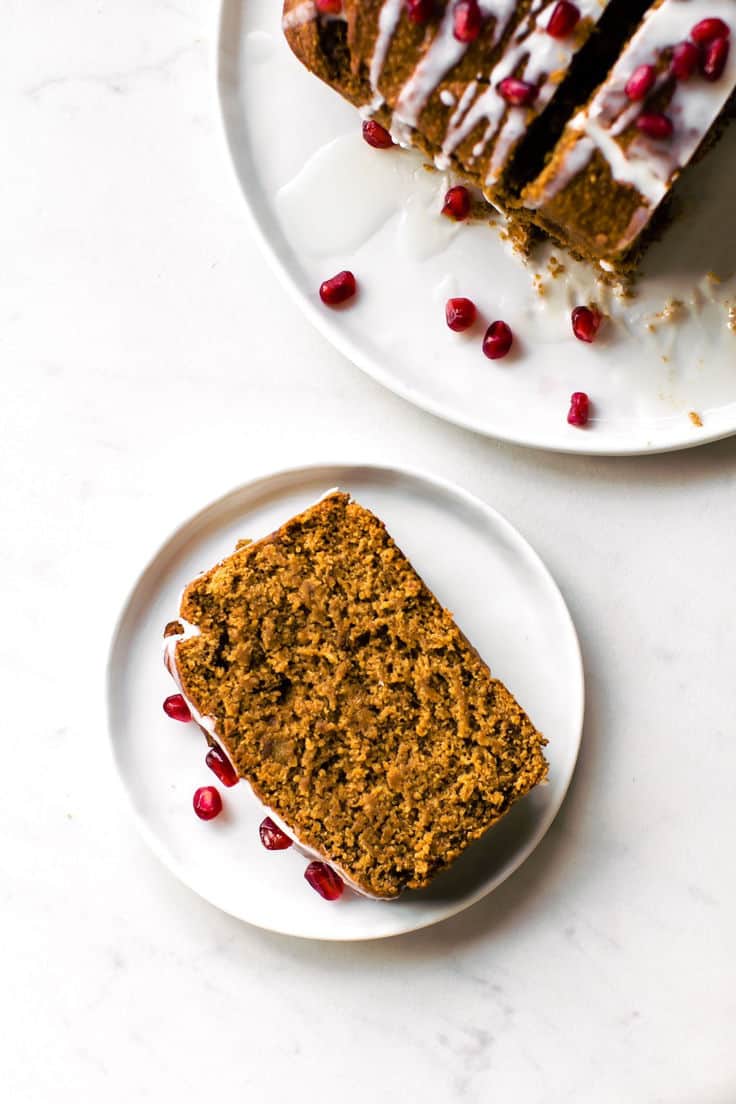 When you need something a little lighter and definitely healthier for the holidays, this gingerbread loaf recipe is it! The total prep time is 45 minutes. If you bake occasionally, I'm sure you'll have most of the ingredients in your cupboard already.
Do go to the effort of making the glaze as it's a really lovely addition to an already great recipe. I'm not going to tell you how much I ate when I first made it. The recipe says it serves six slices…
Cinnamon Streusel Zucchini Bread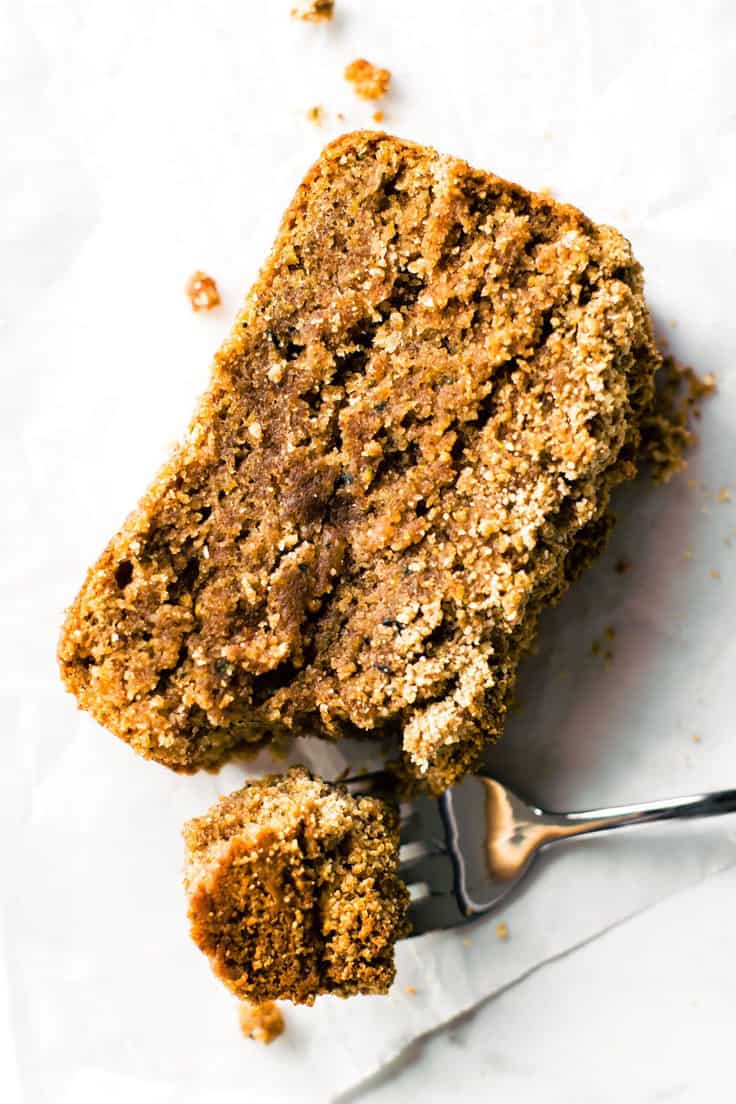 When I first saw this recipe I scratched my head. Cinnamon and zucchini? Well, they say the proof of the pudding is in the eating so who am I to argue with that! Natalie absolutely hit the spot with this recipe.
This is one of those dishes where you get your friends and family to try it and then ask them what they think is in it. I bet none of them will believe you when you tell them! It really is amazing and I would definitely keep this on file for when you want to try something different and delicious at the same time.
Simple Vegan Breakfast Recipes
Sweet Breakfast Tostadas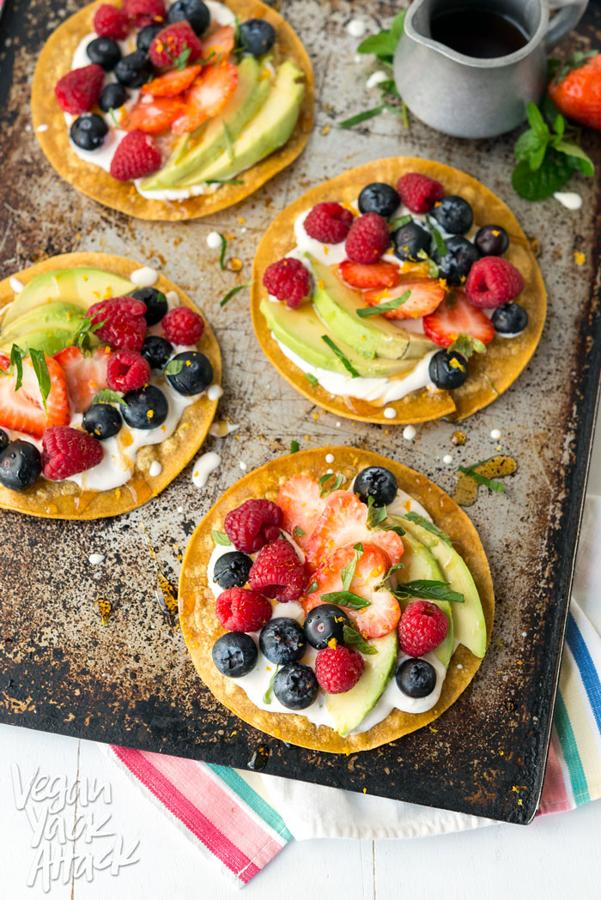 Breakfast tostadas? Why haven't I thought of this before? What a brilliant idea and a super easy way to make a filling and hearty breakfast! I love the thought of having a breakfast tostada bar! How fun is that?
If you've only had savory or spicy tostadas, I implore you to try out these sweet ones. This recipe is such a delightful twist on a Mexican classic, making it even more fun to eat (especially with a group or with kids).
These would be perfect for a potluck or a community picnic event. Simply pre-cook the tostadas and set out the toppings. So many ways to create a fun, fruity fiesta. Not just for breakfast either! Afterschool, brunch, anytime at all is the right time for these!
Two-Ingredient Raw Mango Pudding with Mint Simple Syrup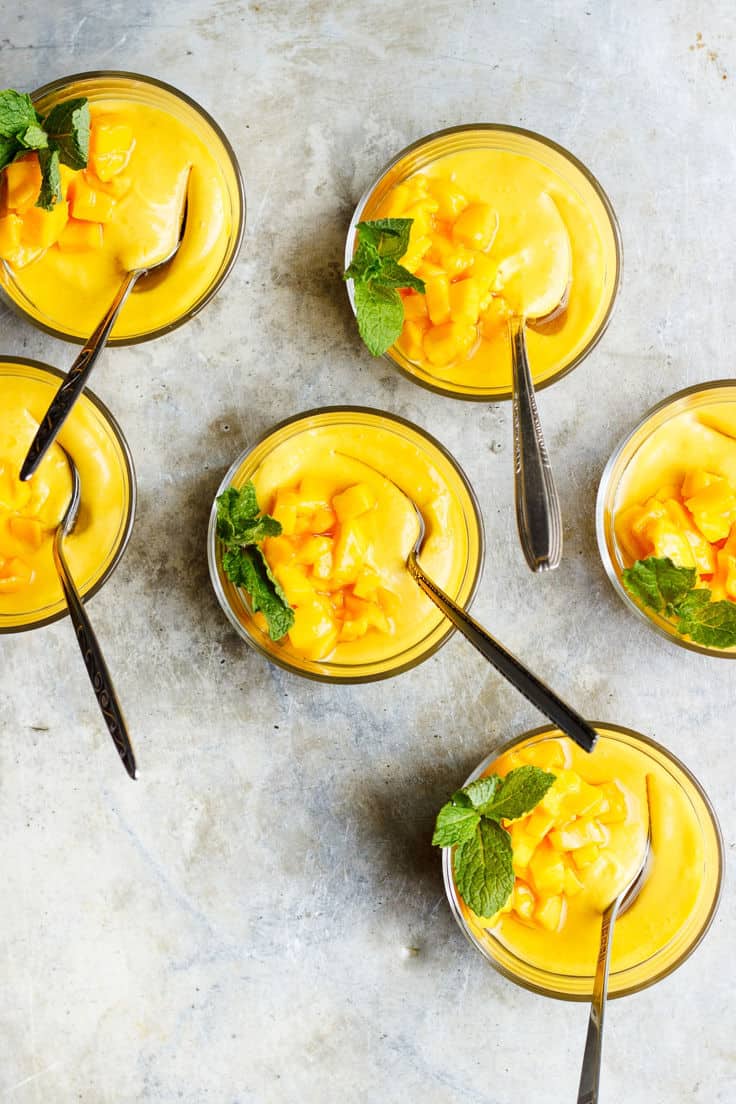 I had never eaten anything like this before so when I saw the recipe, I just had to try it. You already know you don't need a list of ingredients a mile long and you know that it's really easy to make.
The slight hint from the Himalayan pink salt works amazingly well with what otherwise is a sweet recipe. Total prep time is 10 minutes with simple ingredients, do try it!
Simple Amaranth and Millet Blueberry Porridge (Gluten Free)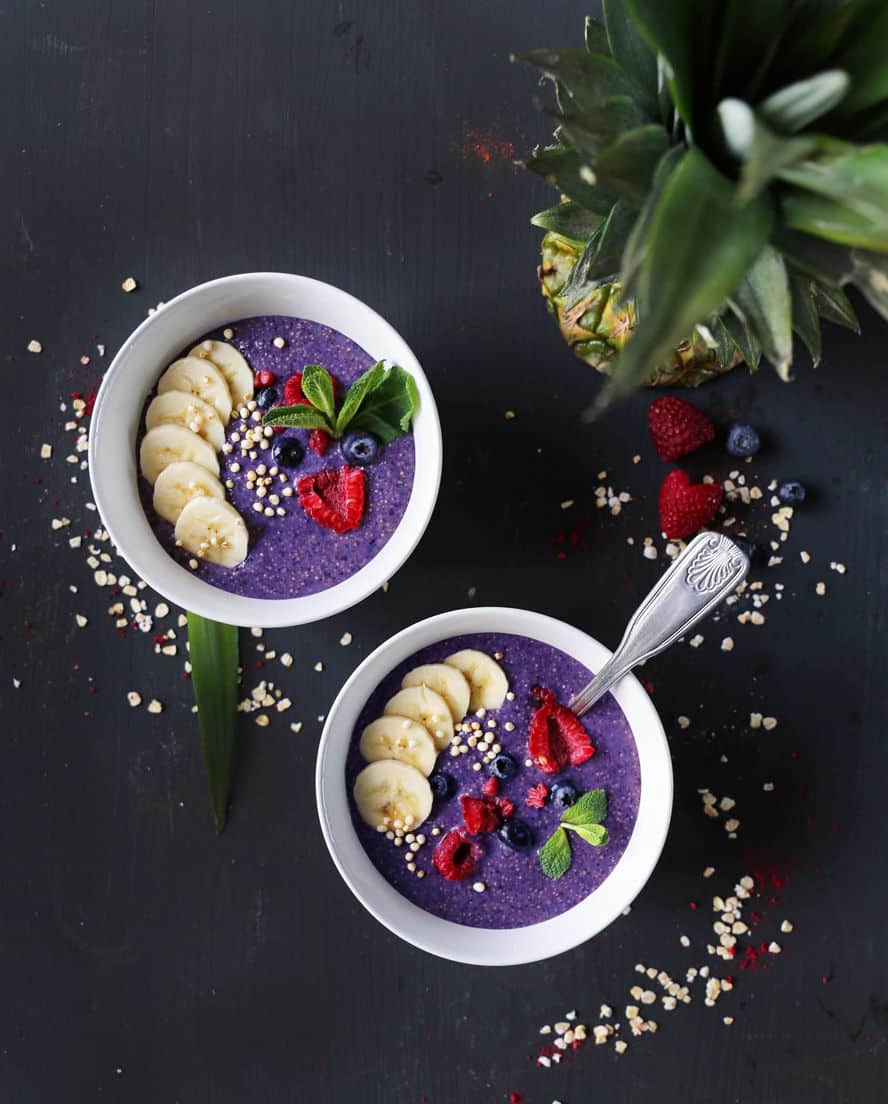 I had never heard of amaranth before we started collecting recipes, so this was a learning experience for me. I was never keen on porridge, even after I went vegan many years ago I didn't still like it as it reminded me of wallpaper paste! So, I'll admit, I was apprehensive of trying anything having the word porridge in its name.
How wrong was I?! I feel like I'm forever indebted to Lara for making this recipe. It's delicious, healthy and definitely does not remind me of glue! If you have friends or family staying over, surprise them with this. They'll definitely thank you and so will your body.
Healthy 5-Ingredient Vanilla Tahini Granola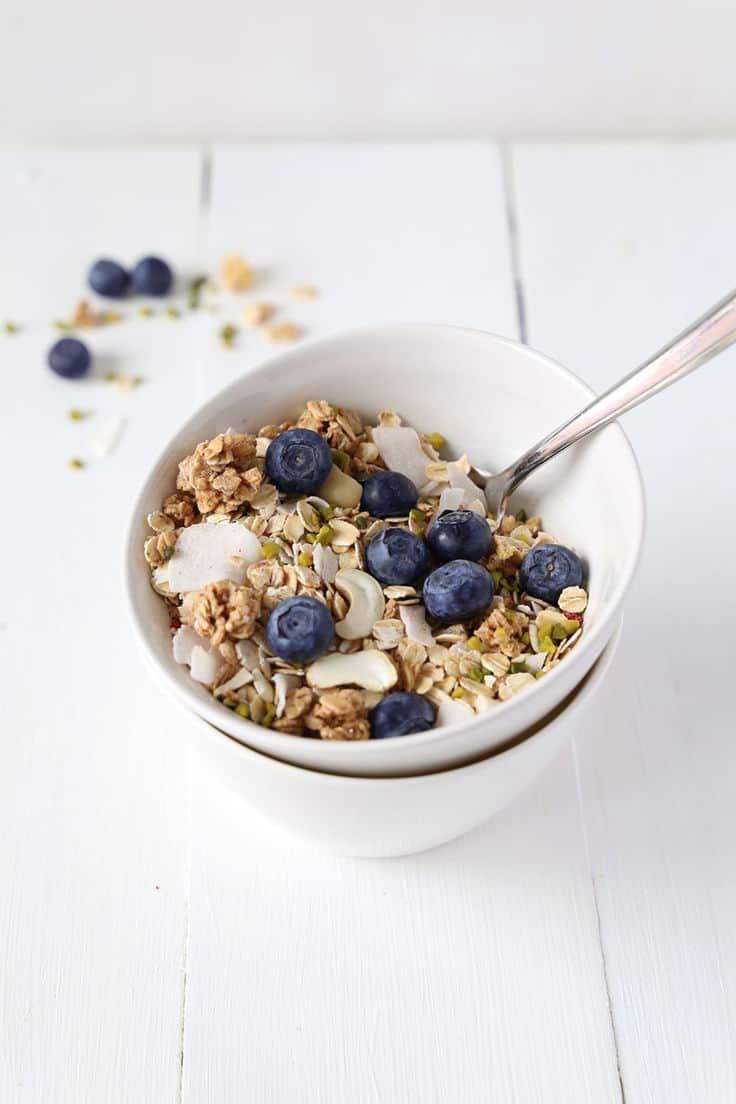 If you're one of those few people on this planet that have not tried granola, now is the time to start. This dish gives a slow release of sugar so you'll not want snacks still lunchtime, and you'll have all the energy you need.
I would definitely urge you to go that extra mile and get the optional extra of cashews and pistachios as they add an unmistakable and delicious crunch to what is already a fantastic recipe. Prep time is five minutes with a 30 minute cooking time. Stores in an airtight container for up to one week.
Acai Bowl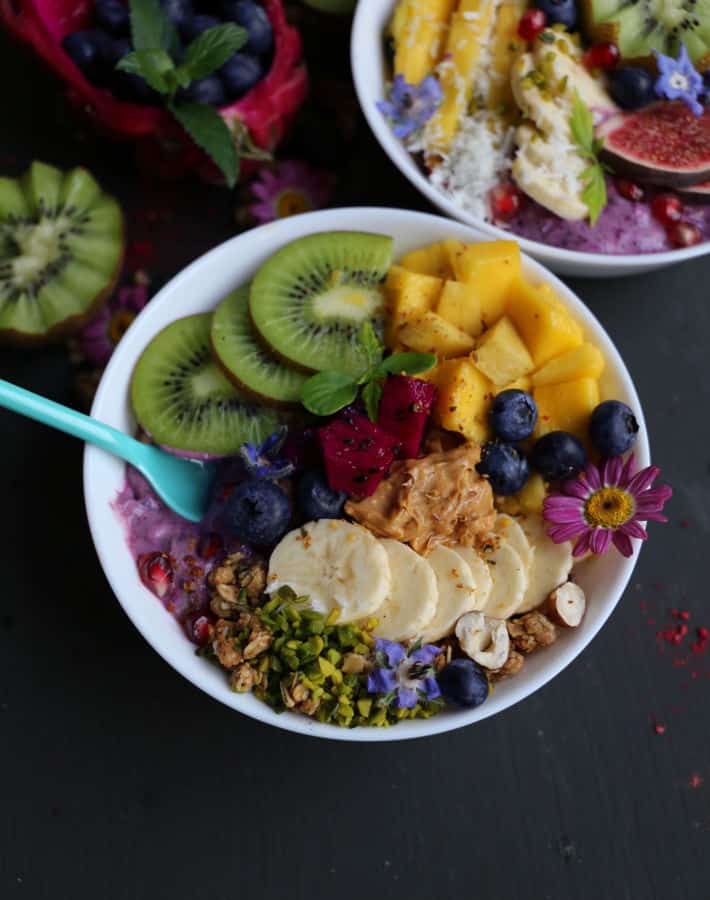 The ingredients here are really straightforward and so is the method. It takes very little effort with great reward!
I really would go to that extra effort for presentation. Even if it's just for yourself, why not? This is one of those things that is satisfying yet surprisingly light so you'll not feel like you have a sack of potatoes in your stomach after eating! It would definitely keep you going all morning. Absolutely delicious and your body will be smiling too.
Easy Potato Pancakes (Gluten Free)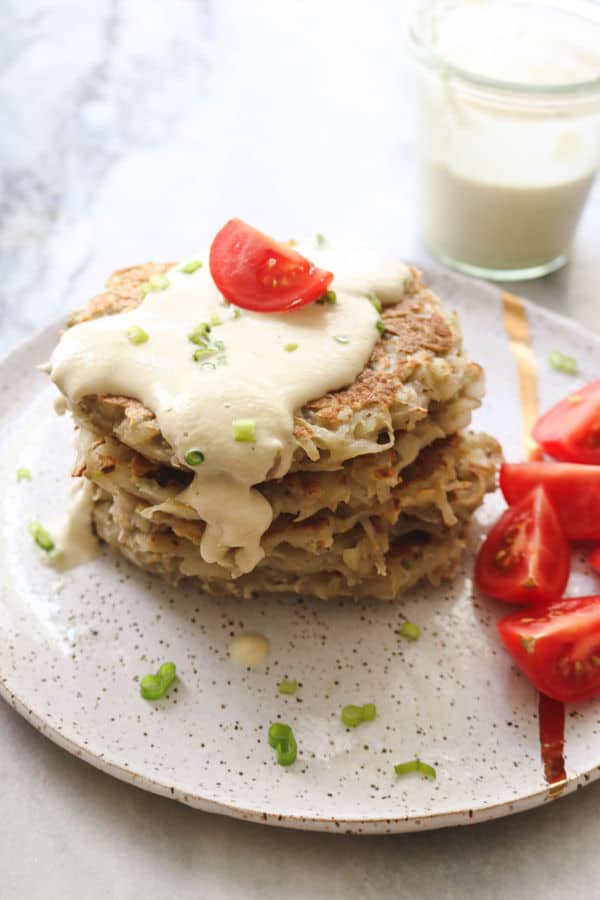 Have you ever made potato pancakes before? I have and I love anything potato. In fact, I don't think I've ever had anything made with potato that I haven't liked. I also thought that I had already tried nearly every potato recipe in the world, but not this one!
This is certainly one of the very best. The green onions, the nutritional yeast and especially the dill pickle juice in the plant-based sour cream spread, make this an outstanding recipe. If you don't want to make the spread, don't worry but I would urge you to at some point. You can never go wrong with potato pancakes, this one is most definitely a keeper!
Broccoli and Quinoa Breakfast Patties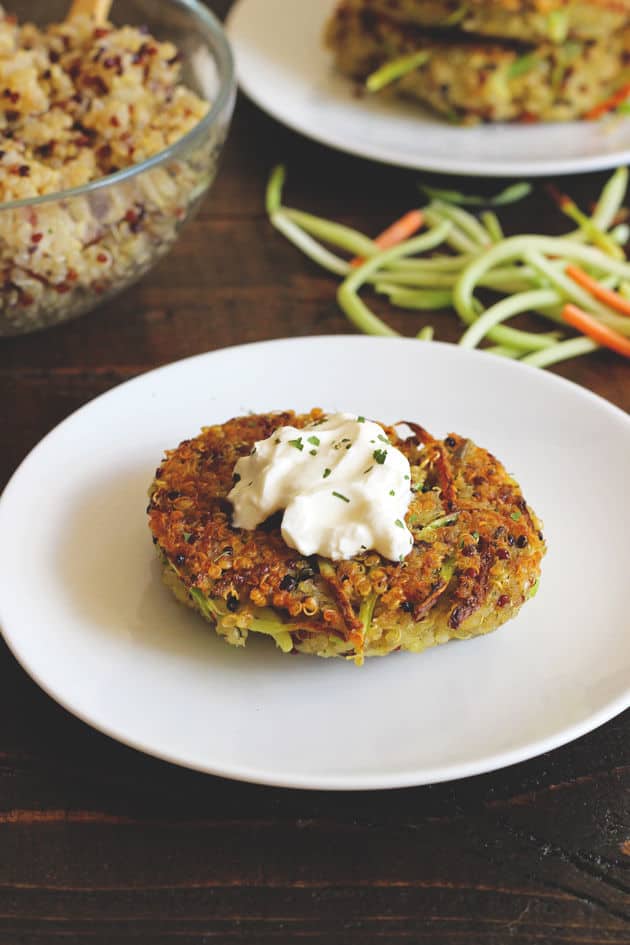 I thought things like broccoli and quinoa were for lunchtimes or dinner. But, as I like anything savory, I thought this was worth a try.
The most time-consuming part of this recipe is the cooking time of 20 minutes otherwise, it really is just a few minutes prep time.
If you have a long day ahead of you, or if you think you're going to have a late lunch, then have a bunch of these puppies.
These patties are amazing! I went the whole way too and made the optional topping which was really easy as it's just vegan sour cream with parsley and green onions. The patties will also make a good addition to any lunch or dinner.
VegByte Tip: The topping is delicious and a really good salad dressing in its own right.
Maple Walnut Noatmeal (Oat Free Oatmeal)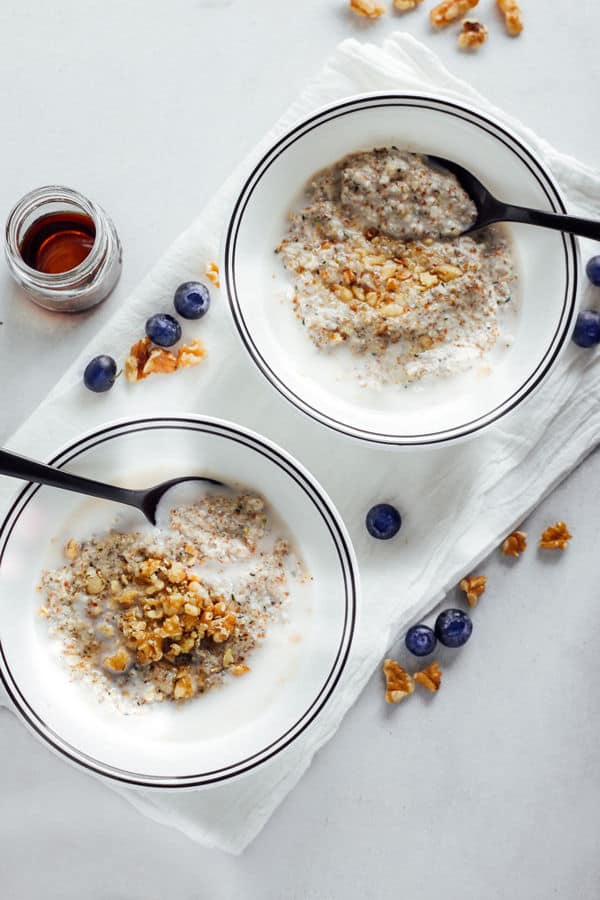 Oh my goodness, oh my goodness (that needed saying twice). This recipe is just what you need if you want that porridge type of breakfast. But this is better than anything you've ever had before.
I love the walnuts which, of course, go so well with maple. It cooks real quick and what I love about this, is you just throw all the ingredients in and cook them for five minutes. Serve, then add the toppings which you can also customize to your taste. Worth every moment and we want to thank Jenn for this recipe!
Watermelon Basil Cooler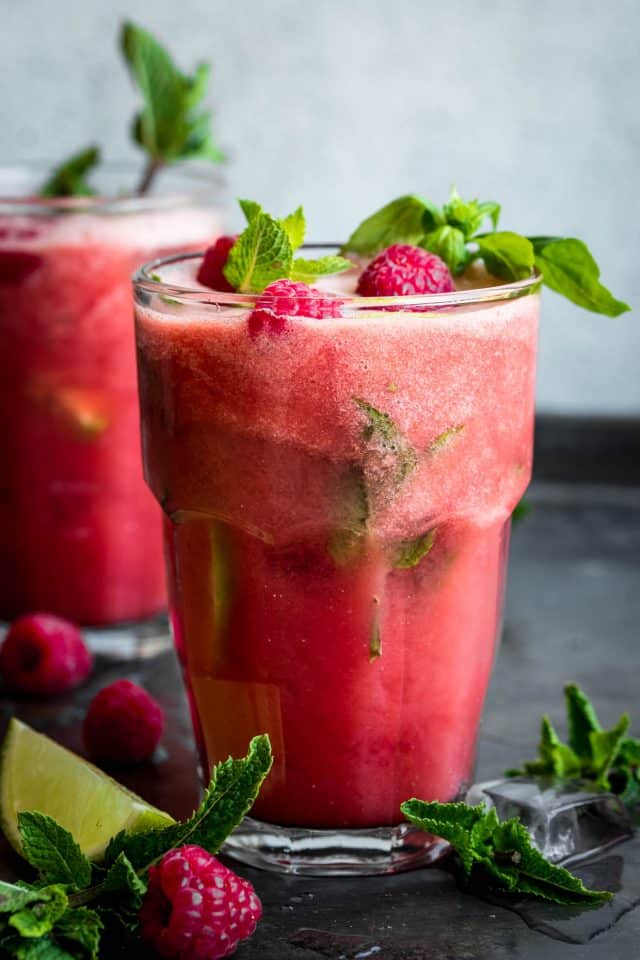 It's the height of summer, it's breakfast or the middle of the afternoon and you want something cooling, healthy and refreshing?
I was intrigued at how watermelon would go with the basil. It was an interesting taste and one that I would definitely try again. I made this recipe for the second time and left out the basil which I think I preferred. Either way, I suggest you try this for yourself and see what you decide. Do let us know!
Bircher Muesli (Ultimate Breakfast Prep!)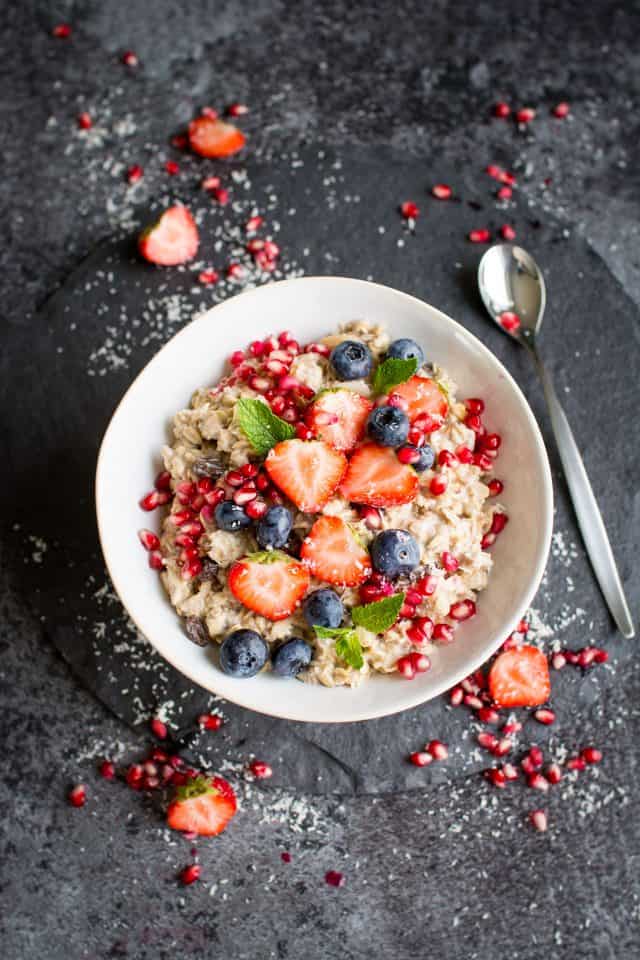 This recipe is for when you really need to treat yourself. As recommended, do make the base in advance the previous day, then make sure you have all the fresh fruit when you're ready to serve.
I've never eaten anything quite like this before.
If you want to treat yourself or the whole family, then definitely make this.
It's really very satisfying, so plan ahead as you'll only want a very light lunch after having this for breakfast.
Thank you, Lauren for this amazing recipe, brilliant!
Black Rice Pudding with Mango Puree or Trail Mix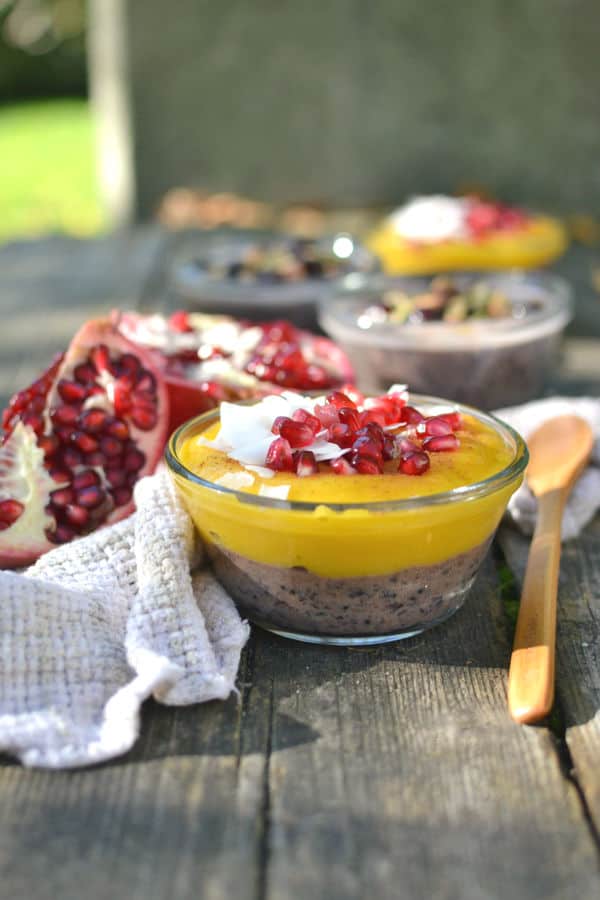 This is one of those really inventive recipes that looks stunning too! I've had black rice before but would never have dreamt to have it for breakfast, let alone a sweet dish.
I love the variations both the Rachels have made with this recipe and really like how you can make the batches ahead of time. The toppings are listed as "ideas" so they leave it up to you which I think is a really lovely touch. Great as a grab-and-go breakfast!
Simple Breakfast Hash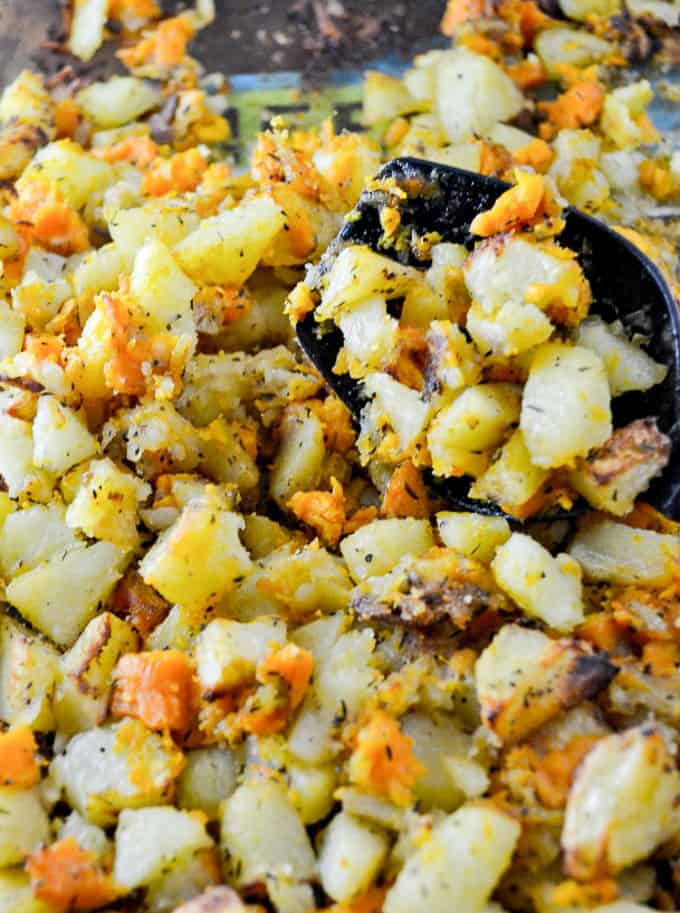 If you've been reading with me so far, you'll know that I adore potatoes and I love satisfying breakfasts. Of course, you can make this for dinner, too.
The Russet potatoes go so well with the sweet potatoes and I really like the 'slow roasting' method.
Absolutely delicious served on its own as it is, as an accompaniment to something else, or as a filling in some kind of wrap.
If I could only have one breakfast for the rest of my life, it would be this!
Vegan Butter Substitute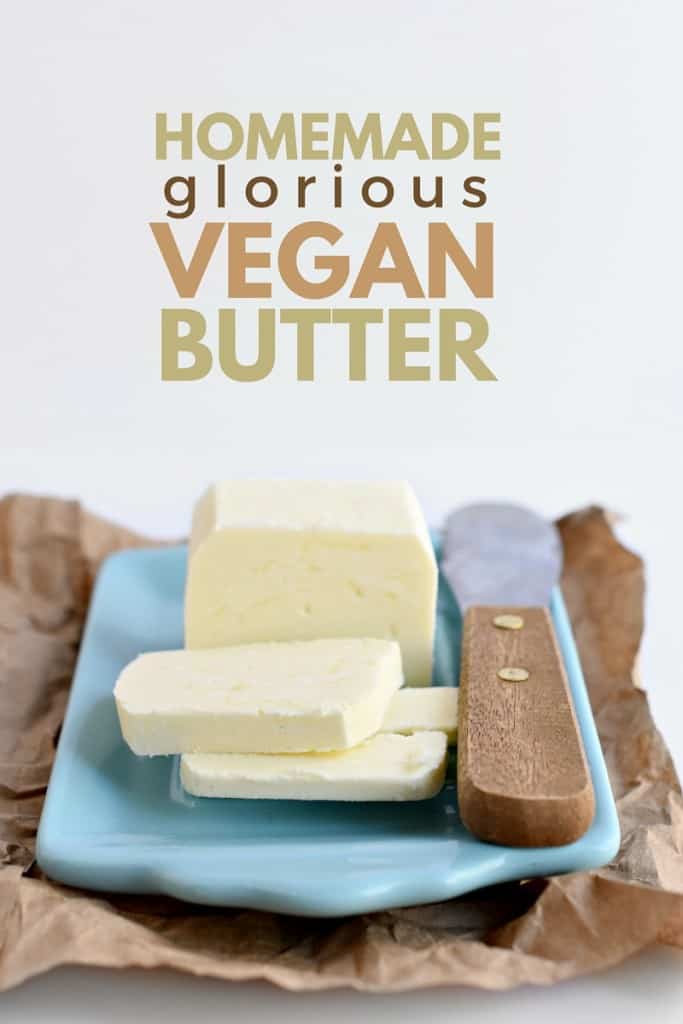 There are so many vegan butters out there and we usually just buy them from the store.
As with most things, when you make something yourself with great ingredients, it somehow always tastes better than store-bought, you know what's inside and that's really important whether you're feeding yourself or your family.
The ingredients here are simple and so are the instructions and prep time.
I really recommend you make this. Mine is in the freezer right now and it's going to be delicious!
Tofu Scrambled Eggs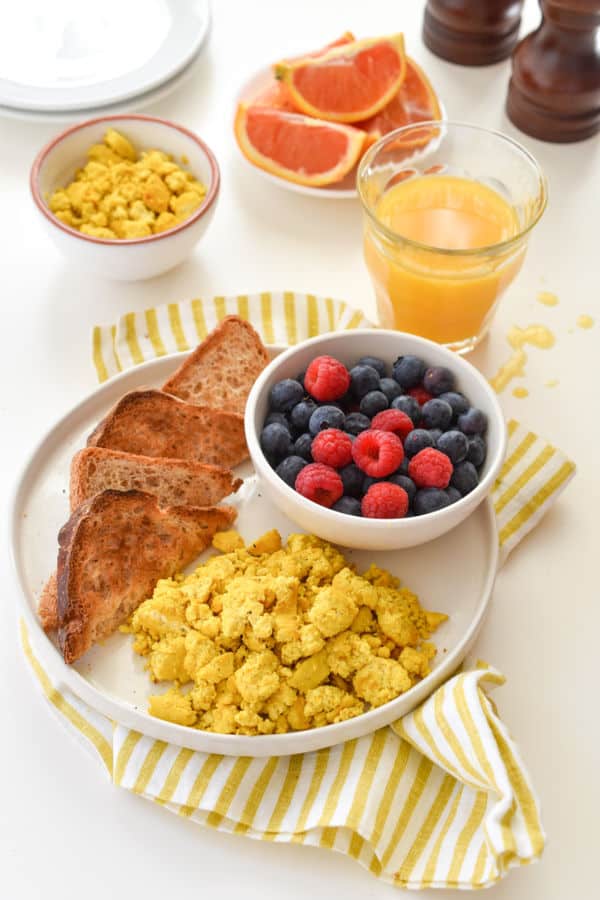 I've had a few variations of tofu scrambled eggs and this is another great one. This has something I have not seen before which is vegetable broth which soaks into the tofu during cooking.
If you miss that scrambled egg texture then this is for you. The turmeric powder adds the perfect color and more importantly, it's really good for you! Simply eat on its own or as part of your favorite breakfast! Delicious.
Chai Spiced Waffles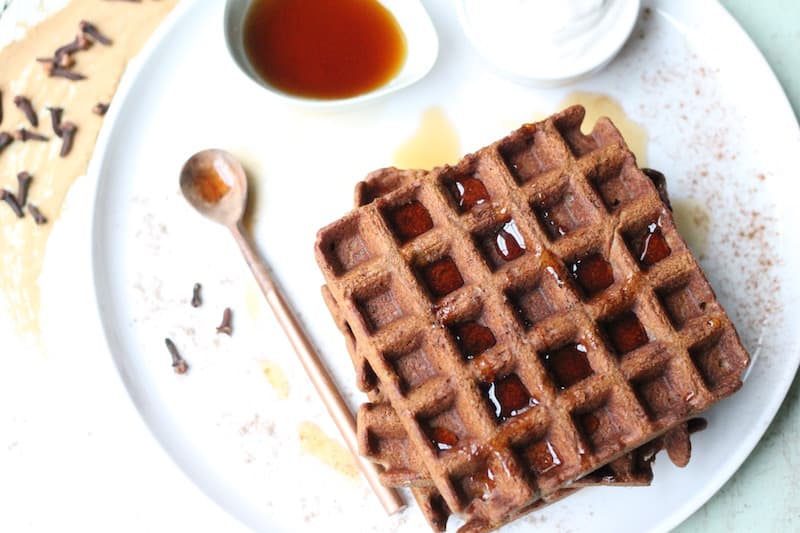 The recipe here tells you, you need a waffle maker, and, you know, you do. But if you don't have a waffle maker you can just make this into a pancake and it'll be just as delicious. But if you do need a reason to buy a waffle maker, here it is!
This is a delicious recipe and if you have children why not get them involved in making them! What surprised me was how light the waffles were as I was expecting them to be quite heavy. This was good news actually as I could eat more of them! We don't see many waffle recipes around so this one needs to be cherished. Thank you Jess for its creation!
Vanilla Chia Pudding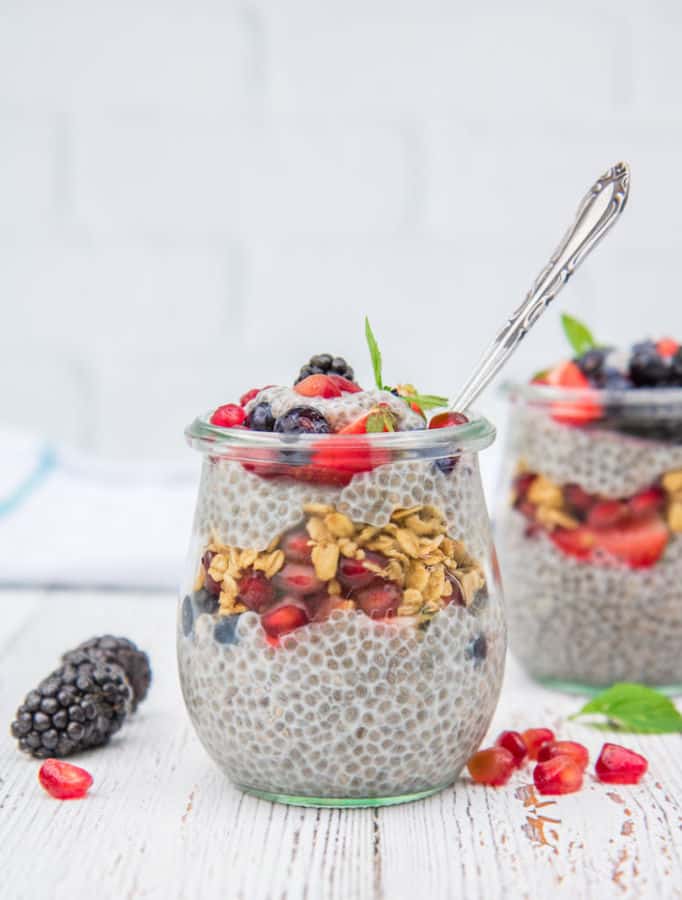 We'll give you the honest stuff, which means we're not going to tell you every recipe is the best thing ever.
Personally, I'm not a fan of Chia seeds but I know I'm the odd one out as they're very popular and are also very good for you.
I did try this pudding and I've got to admit it was really good. I probably wouldn't have it again but that's my own personal thing with Chia seeds. If you like them, then you must try this; I'm sure you won't be disappointed.
Nourishing Breakfast Bowl with Tempeh Bacon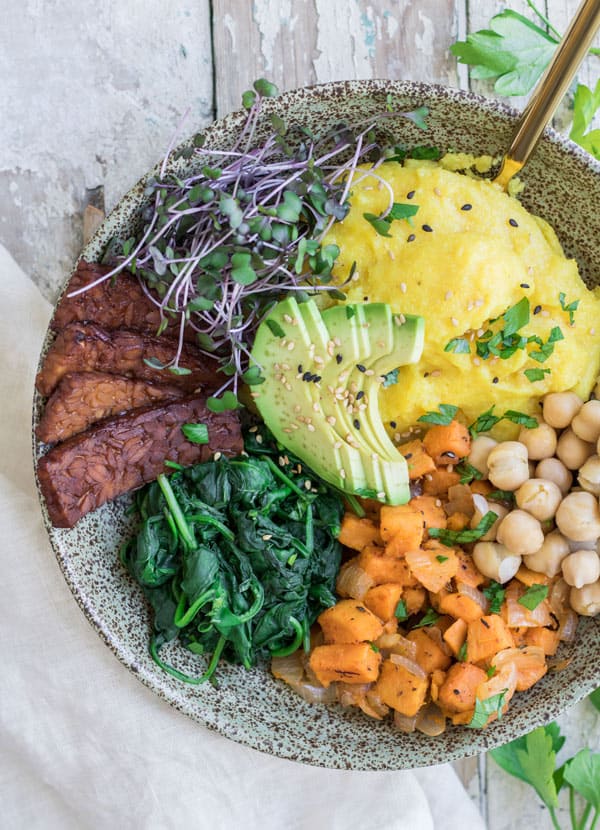 If you want a full breakfast but you're tired of the standard, hash browns and all that kind of stuff, then this is a real treat.
There are several parts to this recipe and it's really worth taking the time to make them because you can use them individually in your day-to-day cooking.
For example, the tempeh bacon is going to be the next thing I put in a sandwich! Polenta is gluten-free and you can just do so many things with it.
And sweet potato hash? I have never eaten it before I came across this. Put them all together and you have a really lovely bowl and a satisfying start to the day.
Slow Cooker Breakfast Quinoa with Blueberries and Bananas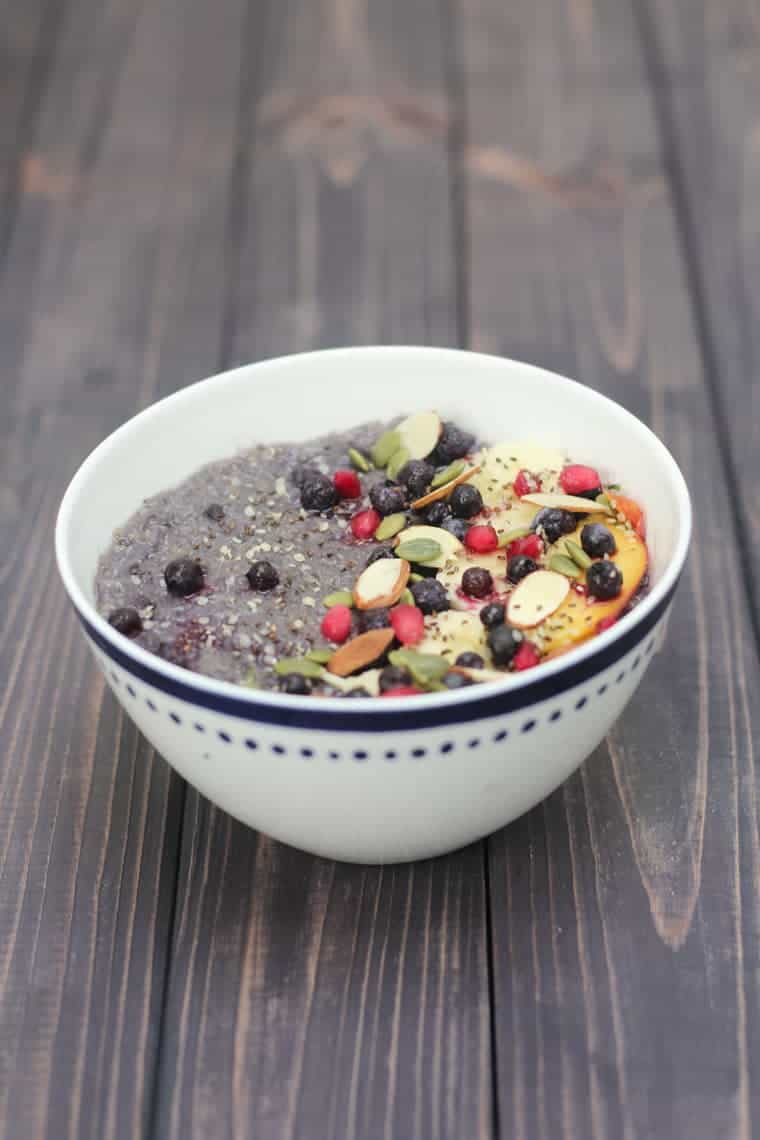 I think this is the first time we have come across a breakfast using a slow cooker. Slow cookers don't seem to be a big talking point these days but if you have a busy schedule then they are something you should definitely look at.
I love quinoa anyway and usually eat it as part of a savoury dish.
I was really excited to try this version with blueberries and bananas. If you want something different that is good for you and will give you fuel for the rest of the morning at least, then do go for this. It tastes great, is super healthy and totally satisfying. Thank you, Abbey!
Crepes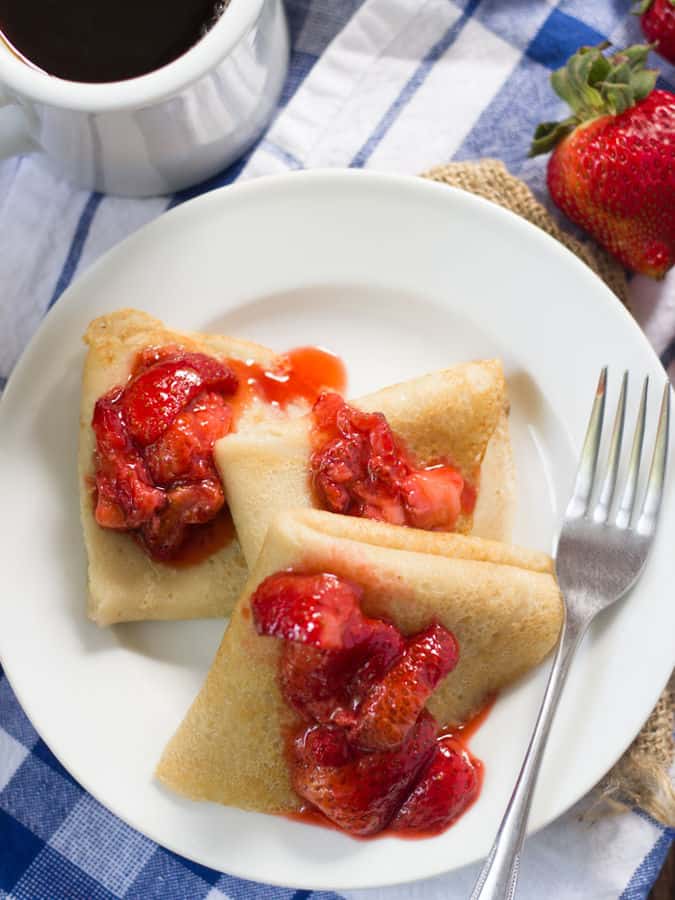 Traditional Crêpes are not vegan, so this recipe was certainly welcomed by our plant-based family! The beauty with these, they can be made surprisingly quickly and are totally versatile.
You can put your favorite fruit or sweet topping on top, or they go just as well with savoury. Of course, they are not limited to breakfast only! Surprise your friends with these and they'll keep coming back, which may or may not be a good thing!
Fruit and Yogurt Breakfast Tart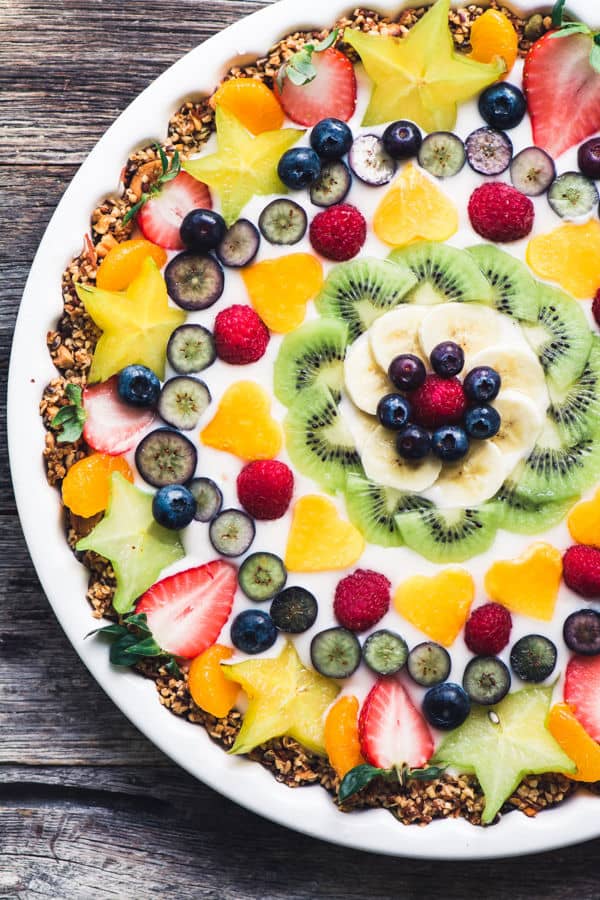 Doesn't this just look amazing? Okay, the reality is, you probably won't go to the effort of making this just for yourself. Well, from a philosophical point of view, why not? We should treat ourselves from time to time too, right? I think so.
If you need something for a dinner party though, this is perfect! I guarantee that everybody will say 'Wow' when they see it! Of course, it tastes great and is good for you too! Honestly, if you have recipes for those family gatherings or celebration meals, add this to the collection and you'll be the star of the show!
Simple Vegan Dinner Recipes
Stir Fried Udon Noodles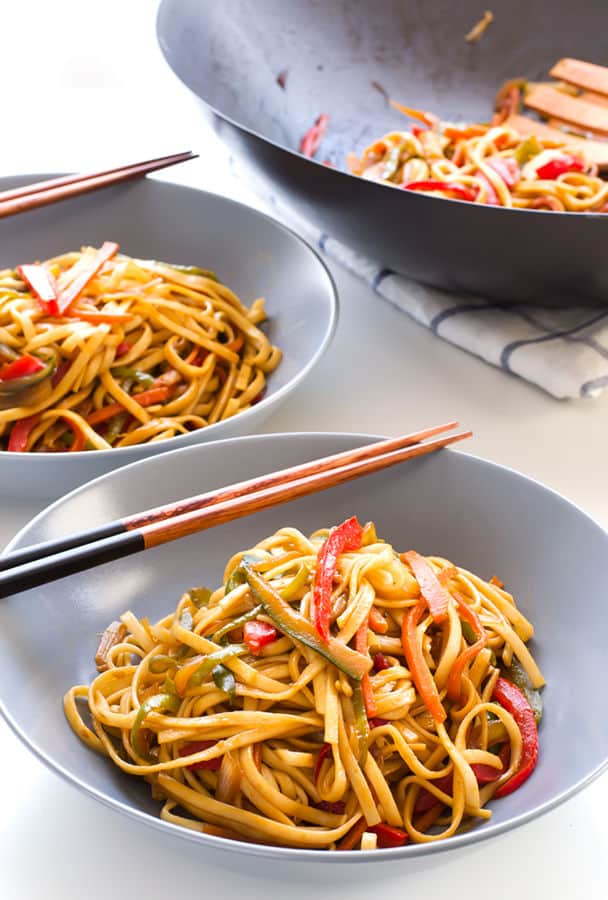 I just can't get enough of noodles, can you? They are one of those amazing things you can make an endless number of dishes with. Here we have a pretty classic recipe and remember, these are classics for a reason.
It's important you julienne all the vegetables as instructed so you have a consistent texture. The ingredient calls for 1 teaspoon of ground ginger although I used finely chopped fresh ginger. Definitely, try to find tamari sauce as I think it makes all the difference. There are many variations of udon noodles on the market so now you have an excuse to keep trying them!
VegByte Tip: A great dish for using up leftover vegetables too. Fantastic!
Simple Stuffing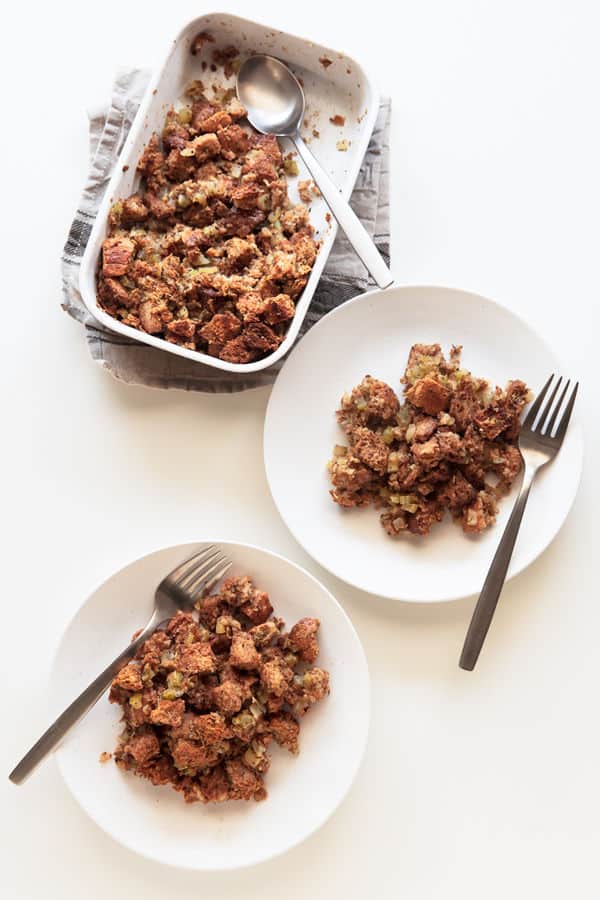 There are some staple recipes we all need in our vault and this is one of them. We can't get away from Thanksgiving or Christmas and you usually need stuffing, right?
This is a plant-based version and I think it tastes amazing. It only has nine ingredients which is fantastic as it's not too much. The recipe states you can add other veggies or dried herbs, or even dried fruits to the stuffing. You can even use other types of bread. This is definitely a keeper and one you'll use at least once or twice a year.
BBQ Lentil Stuffed Sweet Potatoes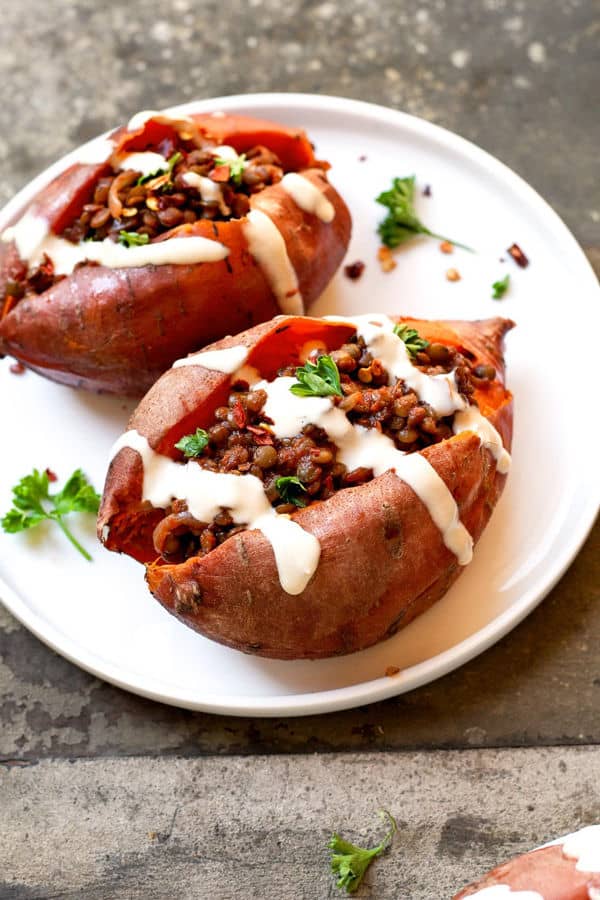 I didn't even have to read the ingredients and I knew that I had to eat this. Sweet potatoes are not only delicious, but they are less starchy than a white potato, so you feel less heavy after eating them. I use them a lot.
I don't think this is a common recipe so if you serve this up to family or friends I'm pretty sure they'll mention they've never seen this combination before.
The tahini sauce complements the hearty dish perfectly. A splash of hot sauce for some kick and you have a dinner for champions!
Easy Stovetop Stuffing (30 Minutes)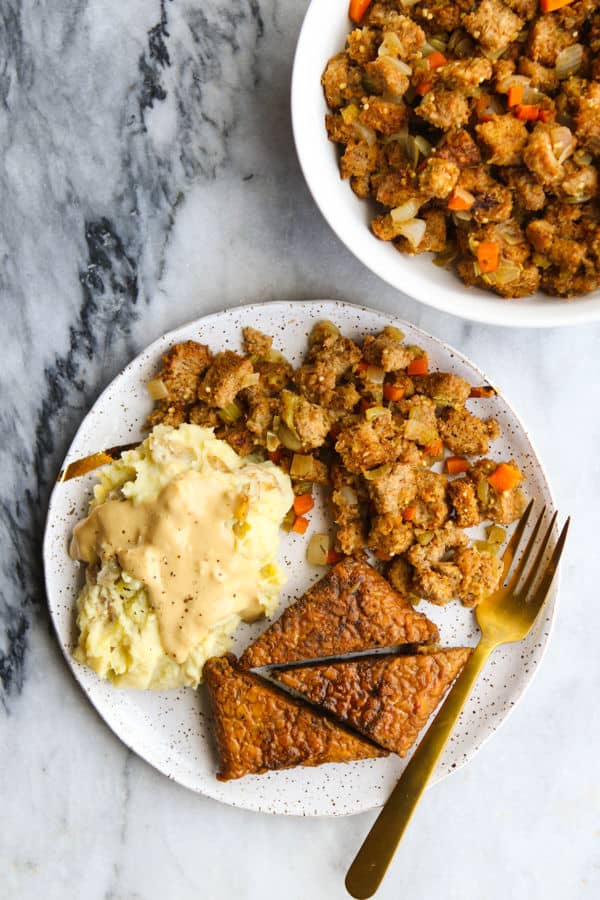 Don't you sometimes wish there was an easy version of a classic recipe that doesn't take a long time to prepare and cook? Take stuffing, you can't just throw a bunch of ingredients together, mix them all up and bake them in 30 minutes right? And you certainly can't make stuffing without an oven right? Wrong!
A vegan stuffing made on the stovetop? That's right! Sometimes shortcut recipes taste like they are shortcuts but this one is fantastic. Home-made so you know the ingredients are great and total time including cooking is 30 minutes! I'm keeping this one, it's mine!
One-Pot Mushroom Stroganoff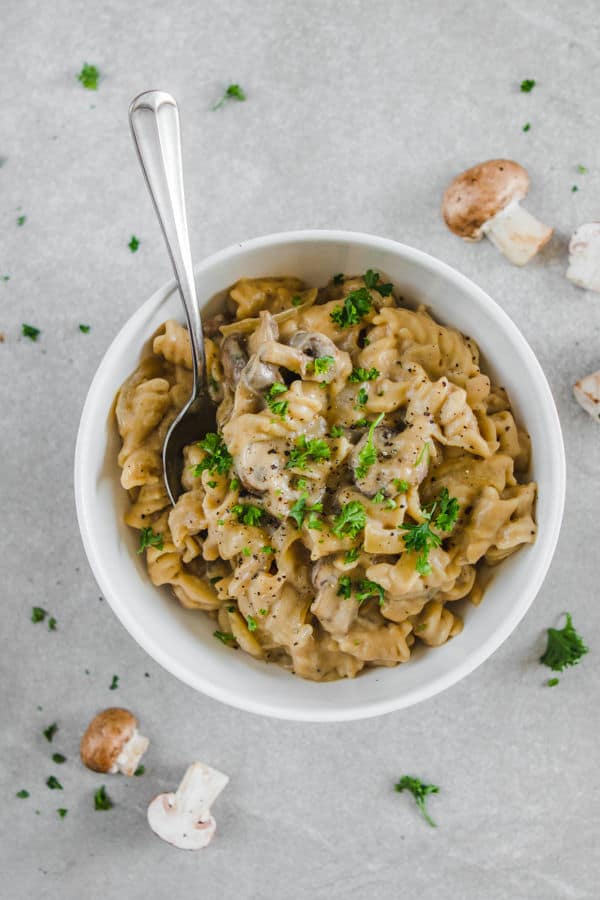 Do you like mushrooms? If you're a mushroom nerd this is going to be part of your repertoire you'll amaze your friends and family with. This isn't just a mushroom recipe, this is real stroganoff with real mushrooms and it's going to handle your healthy appetite.
This recipe is so awesome because it's comfort food at its finest. Unusually, you also get a video so that's great! Total time, including prep and cooking, is 20 minutes and the result is something spectacular that tastes like it took a lot longer to create. Absolute heaven!
Wild Rice with Black Beans, Cherry Tomatoes + Steamed Potatoes
Sometimes you need a simple meal that'll satisfy you, comfort you and just make you feel better. Well, here we have it. You instantly recognise all the ingredients, so you know it's not complicated to make and you'll love the recipe's simplicity.
After prepping the rice, potatoes and beans, do you cook them all separately, some in the oven, some on the stove? No, as the recipe says, "throw it all in a bowl"! This is fantastic because it allows you to add your favorite spices and flavorings. If you don't have black beans, you can use another type of bean or even use tofu. Obviously, the potatoes can be swapped for sweet potatoes and if you want to try something different, why not bake them. I love simple recipes as they are the foundation of our ancestors' diet.
The Easiest Vegan Lasagna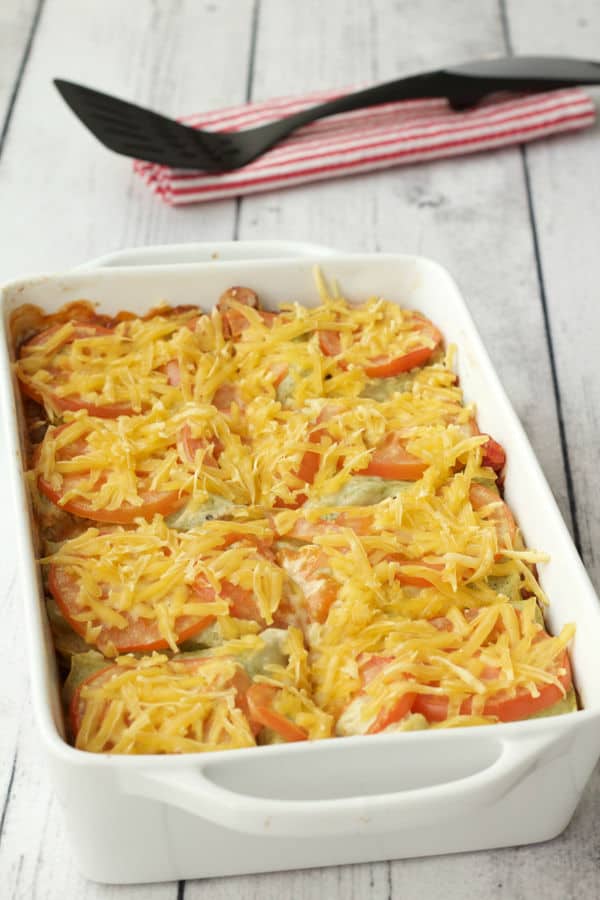 This section is all about simple and easy. But what about complicated recipes we love, like lasagna? Well, we have that too with a total prep time of just under an hour.
I can tell you this isn't far from an authentic Italian recipe. And there are many variations as dishes tend to vary from region to region in Italy, so there is never just one recipe of anything. This is a great entrée and real comfort food. It'll be great the next day as well. This recipe states it serves eight but if you make this and I come to your house, don't invite six other people, that's all I'm saying!
Chickpea Meatballs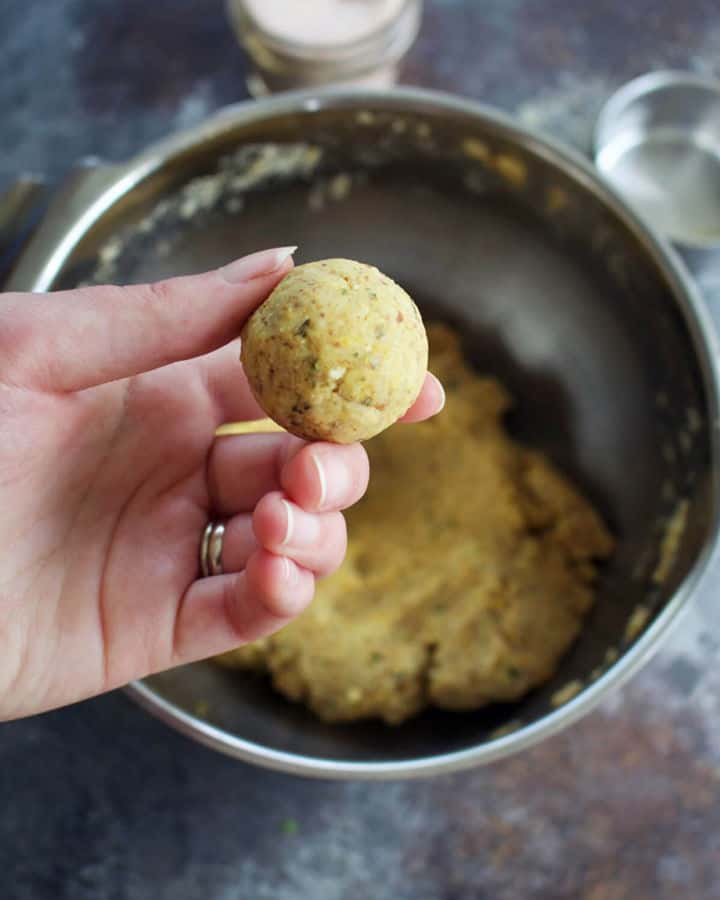 Karissa has really pushed the boat out and made a fantastic recipe. In fact, this is an updated version from 2015 and she has added a video as well. You can see how delicious they look!
I'm going to tell you, you'll love this recipe! Not just for making meatballs either, you can easily make them into burgers too. A very versatile dish that goes well with pasta or whatever else you like meatballs with. You can even put them in bread, it'll be like a plant-based variation of Sloppy Joe's! Do let us know your creations.
Roasted Asparagus with Cream Sauce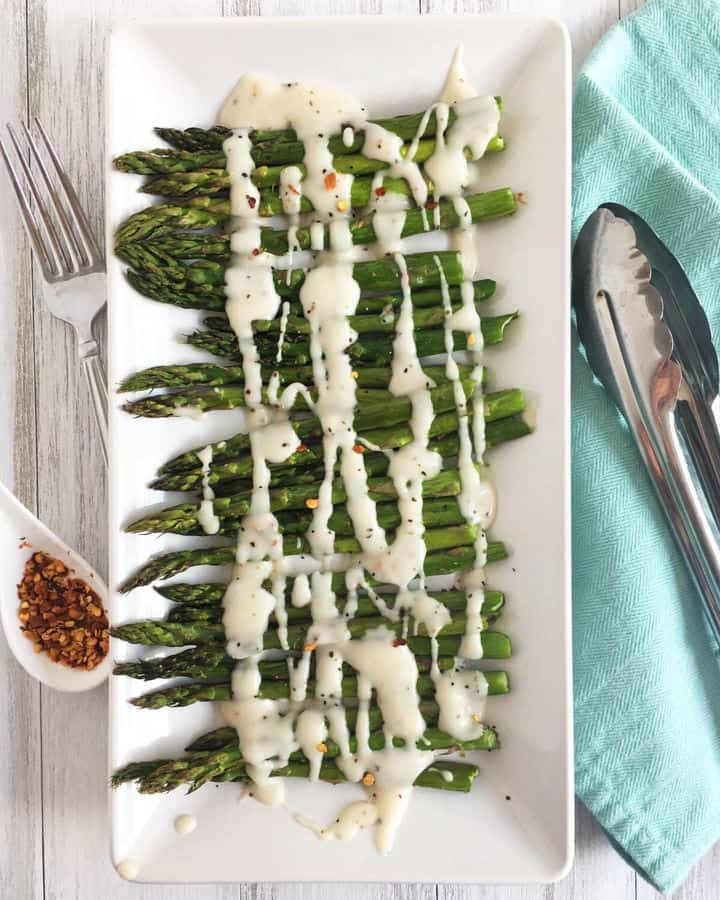 I'm surprised how many people I meet people, who've never had asparagus. When I ask them why most people say they don't know what to do with them. Well, now you do.
For me, we have two recipes here as the plant-based cream sauce which will go well with any vegetables, so keep that in mind. This dish is perfect for Thanksgiving too. Eat your asparagus, they're good for you!
Simple Celeriac Steak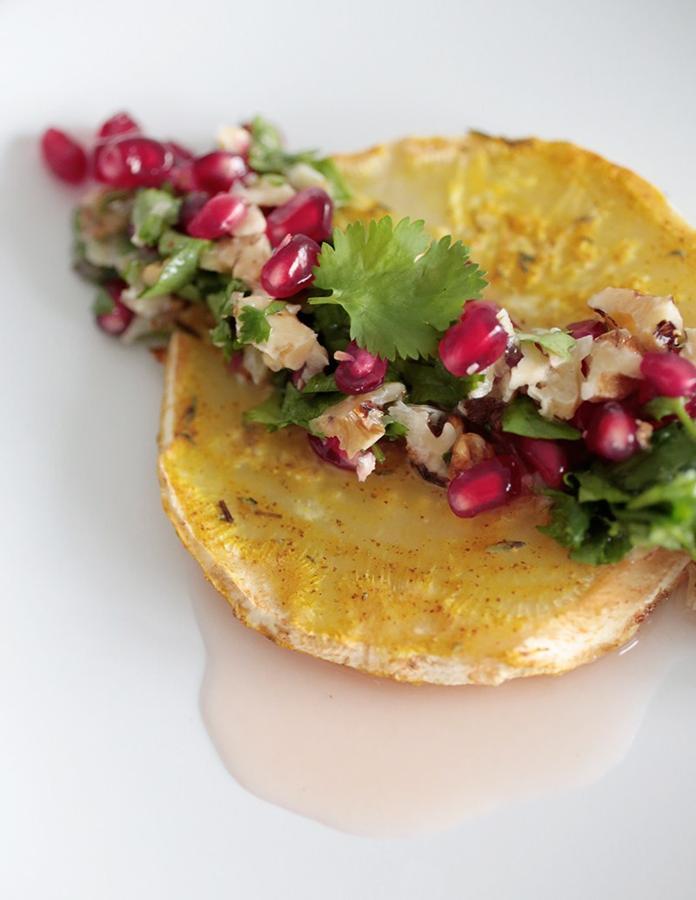 If you've never tried celeriac (or have never even heard of it!) this is a great recipe for you! Celeriac is simply celery root, and it has a lovely flavor just perfect for roasting. You won't be disappointed with this dish.
This recipe uses the celeriac as a main course, marinated and roasted like a steak. It's then garnished with pomegranate and walnuts, making it into a breathtaking dish. It's a modern take on an oft-forgotten vegetable and it's worthy of the centerpiece for your holiday table. It also makes a great everyday meal!
Easy and Delicious Tomato and Basil Penne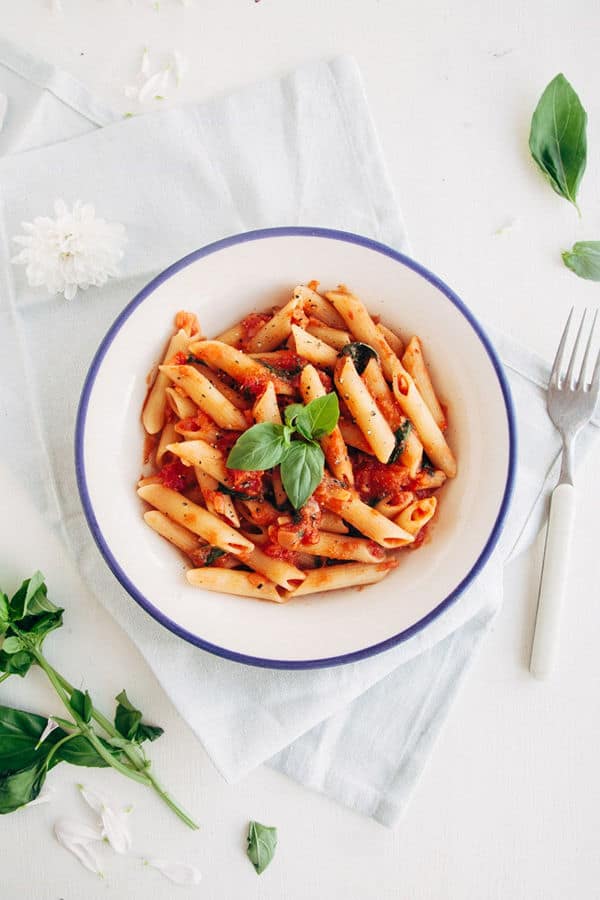 Sometimes you need recipes for special occasions, sometimes you need recipes for something different and sometimes you need the old standbys.
In my kitchen, I make sure I always have, rice, pasta and some other staples. With those, you can make something easy. Italian cooking is all about amazing flavors made from simple rustic ingredients and that's what we have here.
In some parts of Italy, the Ragu sauce is naturally vegan, it can be as simple as tomatoes, garlic and olive oil and nothing else. This recipe just adds a couple of other things and it's absolutely delicious. This is a classic and you need to eat it today!
Creamy Mushroom Risotto (Gluten-Free)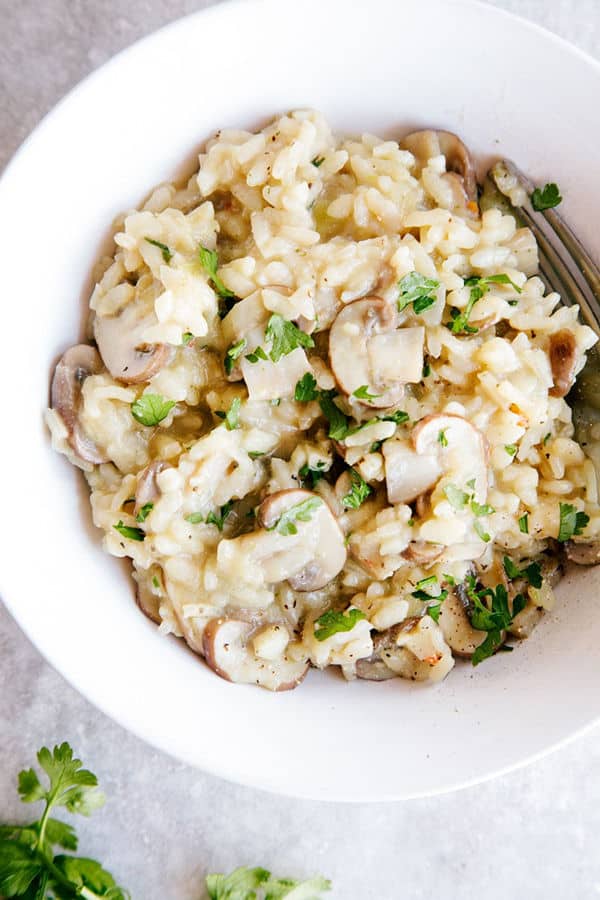 It shouldn't be difficult to come across a vegan risotto yet somehow it seems to be, which I think is a real shame. Here we have sourced just that, it's a delicious plant-based version of a classic. People don't often make this because risotto rice is not like other rice. It soaks up the liquid so is full of flavor.
Normally with risotto, you add a little water while stirring and then keep adding and stirring so all in all it can take some time. Here the recipe suggests putting all the liquid in and simmering for 30 minutes or until the liquid has been absorbed, and this method works really well. Remember the whole point of risotto is it should be thick and creamy, the rice should not separate. A real comfort dish for when you need it.
Beet Patties with Tzatziki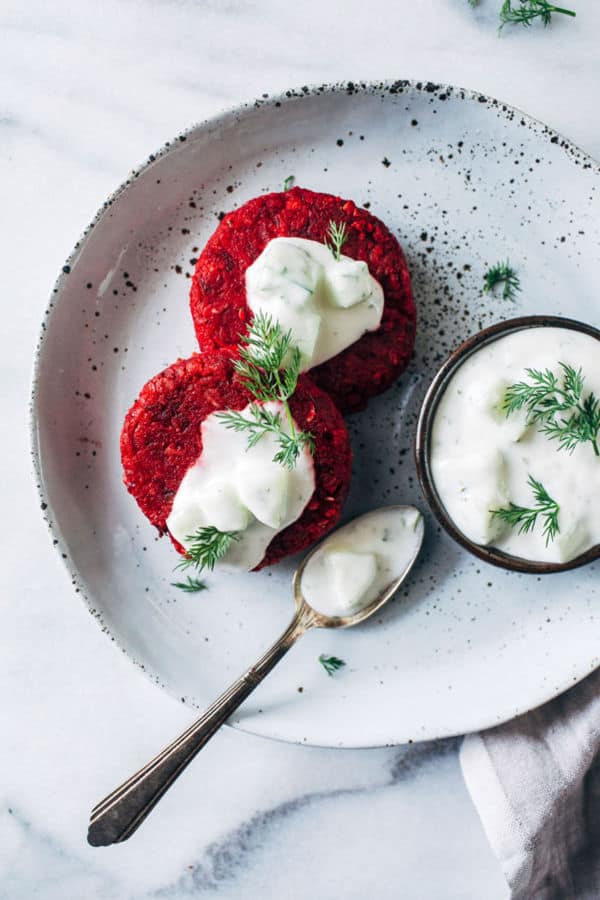 I want to thank Sarah for making my day when she created this recipe! The patties are a very simple combination of chickpeas, beets and fresh dill.
The dressing is just to die for and complements the patties perfectly.
Next time, I'm going to make the patties larger and call them burgers, and I may add some pickles. I'm thinking out loud here aren't I? Oh, the possibilities! But that's what great recipes make you do, and this is what we have here!
Healthy Zucchini Corn Fritters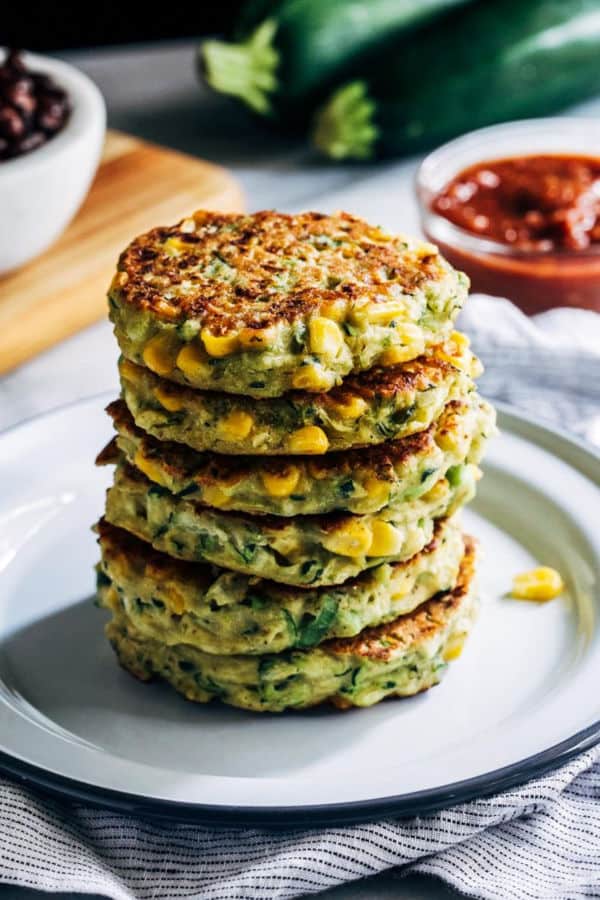 My Mom used to make me a variation of this when I was a kid and I loved them then as I do now. They are so easy to make, and this recipe only has eight simple ingredients.
You can do so many things with these, you probably know by now I'm going to say to make them into a burger! They can also be a main or a side dish and have vegetables on the side. You can eat them with salsa, ketchup or really just about anything you like!
Coconut Curry Bowls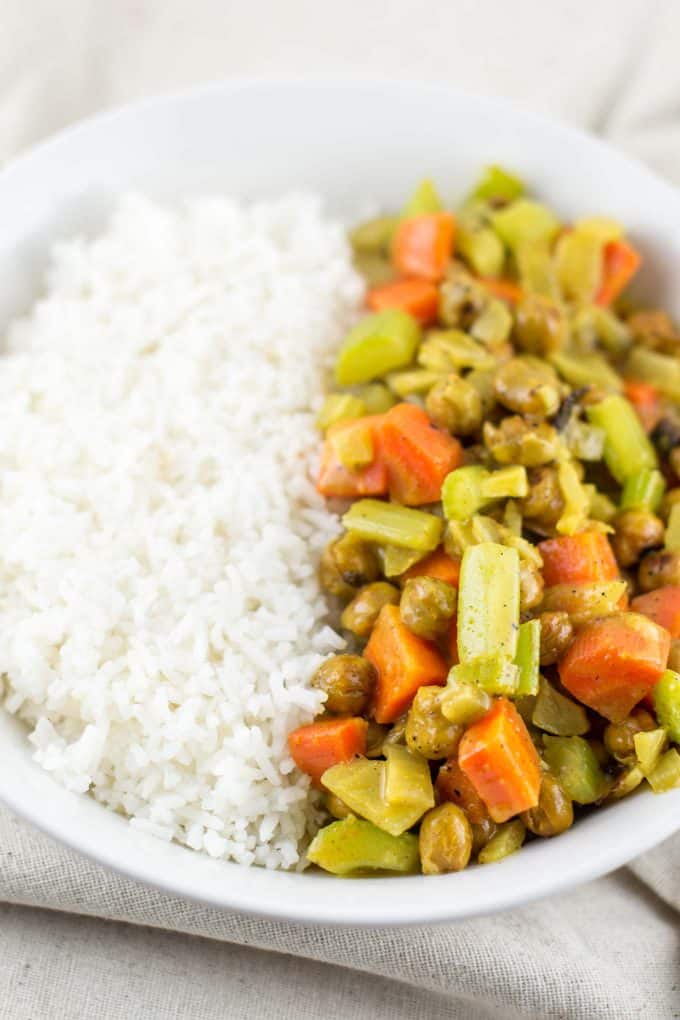 I know some people that have never had curry. Can you believe it? I can't. Are you one of those people? You need to not be one of those people! I think curry is one of the best dishes ever and somehow because the recipe has the word, 'bowl' in it, it's going to be even better!
Again, this is a really straightforward recipe and that's what this is all about. Don't forget you can add or change it as you please depending on what you have and what you prefer. Just imagine adding baked tofu to this or even just plain. Did I tell you I love curry?
Eggplant Stir Fry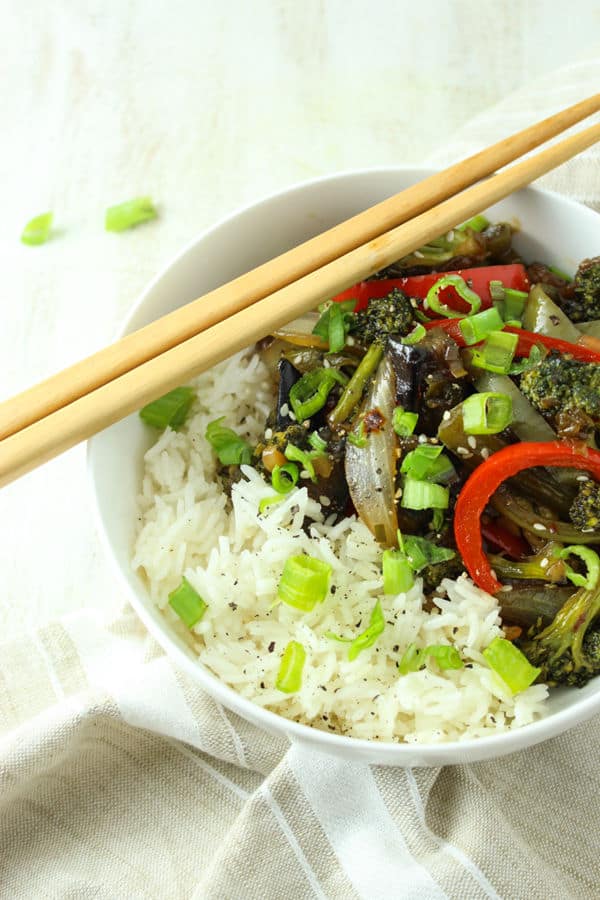 Stir-fries should be easy and quick. This looks just incredible. As with so many other recipes we have featured, you can change the ingredients depending on what you have and what your favorite ingredients are.
I think stir-fries are the ultimate because it's a good way to use up any leftovers. Having said that, this is a great recipe deserving to be followed as created by Jordan and Clark Cord (and their dog, Scout!) It's really light yet totally satisfying. If you need a snack, this is it. If you need a hearty meal, then make more of it and this is still it!
Simple Slow Roasted Leeks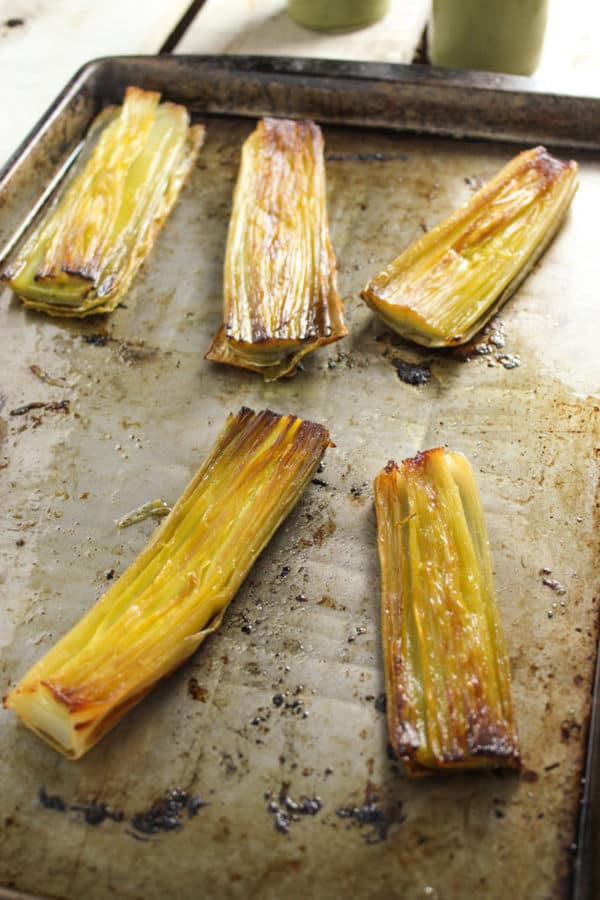 Most people I've met either don't know what to do with leeks or they always eat them the same way. They really are great and if you don't know what they taste like, they are a lot like really mild onions.
Often, leaks contain 'grit or 'sand' in between their leaves so make sure you wash them properly just to remove this. After, follow this recipe to the letter and make it either for yourself or for friends, I guarantee they have never had them like this before!
Southwestern Veggie Bowl with Black Bean Hummus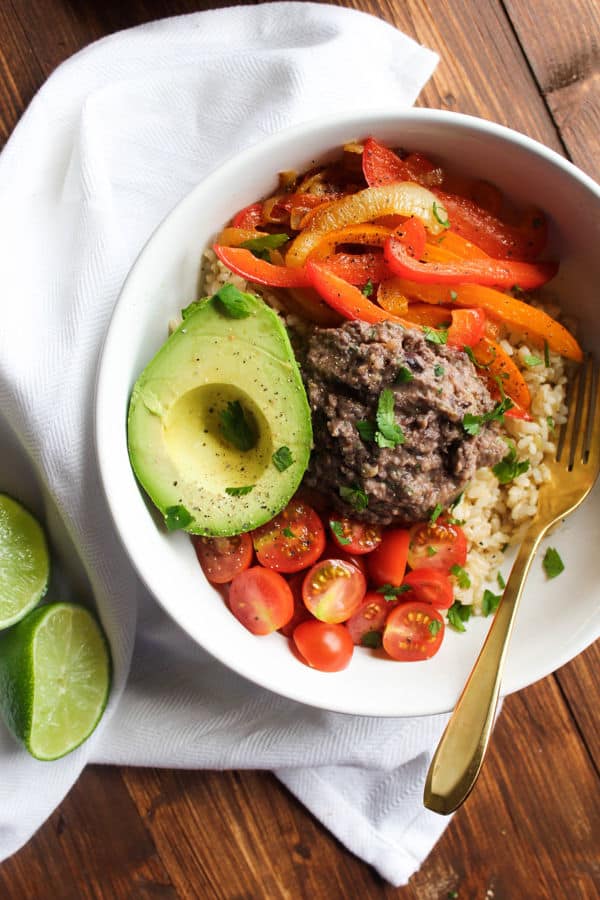 Hummus and I have been married for many years now, didn't you know? We are like best friends and everything! Over the years I have had so many different hummus flavors, variations and textures. I thought I had tried everything, but I hadn't!
This recipe is lovely and if you want to surprise friends when you have a movie night then this'll knock their socks off! Of course, one of the best things about it, is it's so easy to make. I recommend you make the complete recipe like Liz created and have that first just so you can appreciate it rather than just going straight to the hummus.
Buffalo Cauliflower and Chickpea Hard Tacos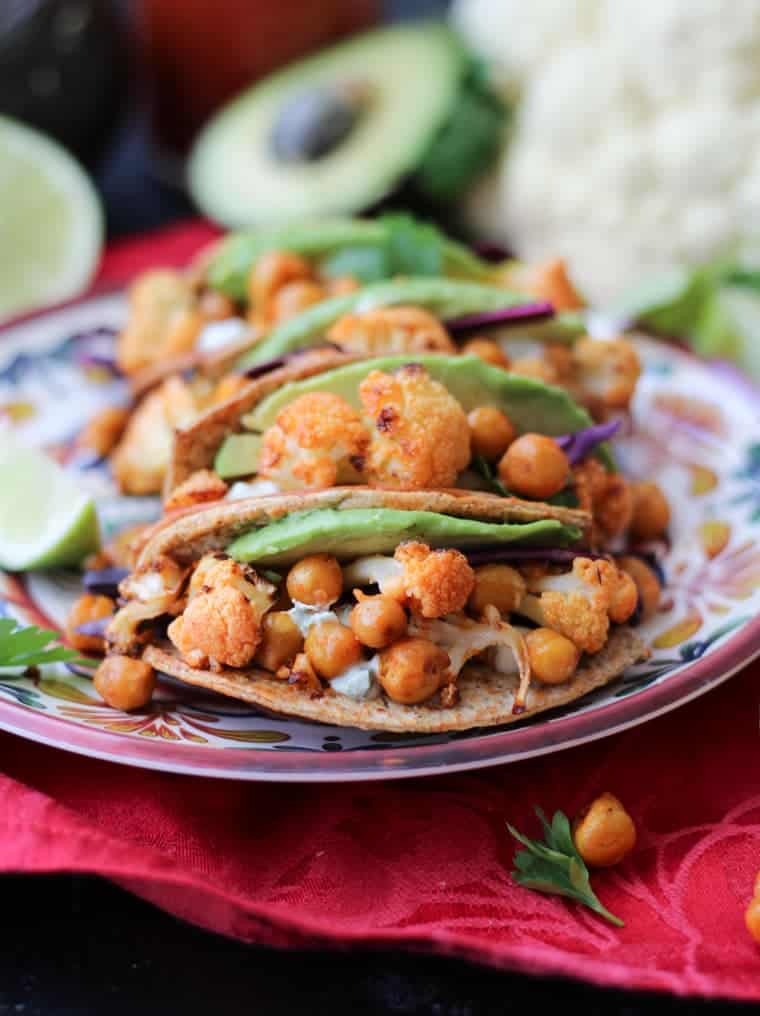 If you want something different, something totally healthy and fun, then you just have to make this!
We love how the cauliflower is made and how it goes so well with the chickpeas. Great for Super Bowl night! Okay, that only happens once a year, you need to make this more than once a year.
Totally simple to make and if you have children they'll have fun mixing all the ingredients together but even more fun eating them!
This is real hearty comfort food and the only problem I see here, is you'll never make enough.
Peanut Noodles with Mixed Vegetables and Peanut Sauce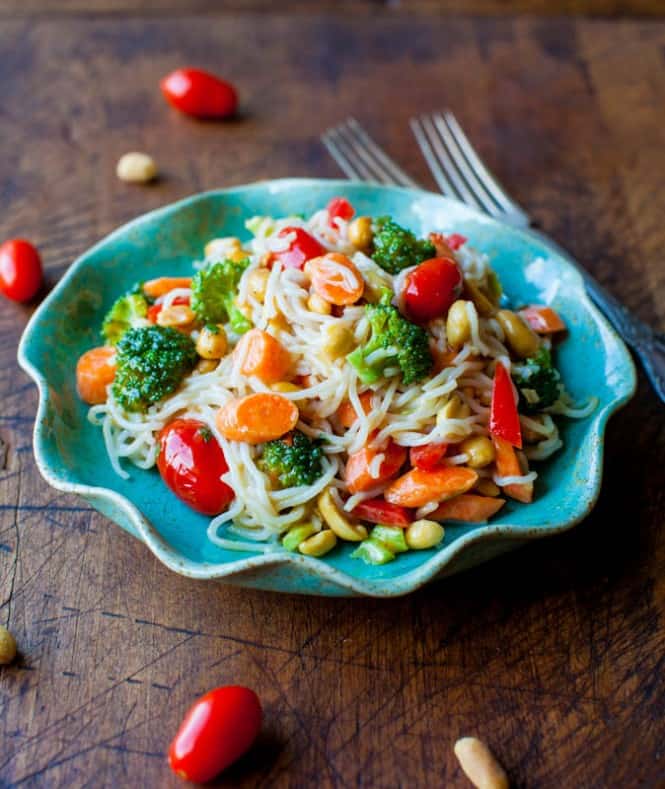 If you like peanuts you're about to be on cloud nine! You cannot get enough of this dish and when you start eating it, don't expect to be in conversation with other people around you. The only sound they'll hear is the sound of you eating!
Like all our recipes in this section, this is super easy to make, totally healthy and you can use whatever vegetables you have in the kitchen, so perfect to use up any leftovers! Your children will love it too as it's like a takeout without the dubious and unknown ingredients! Great way to get them to eat vegetables as well. Thank you, Averie!
Chinese Garlic Tofu Stir-Fry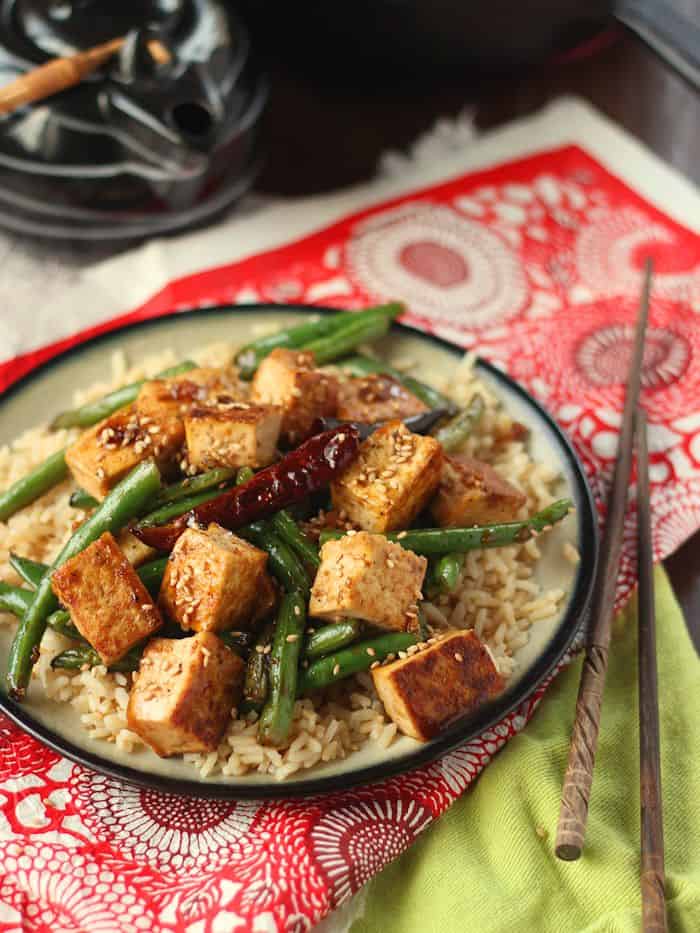 If you have seen dishes like this before or something similar, perhaps at a Chinese restaurant or take out, you'd be forgiven for thinking it's quite difficult to make at home. Generally speaking, it isn't, and you don't even need a wok. Even so, this recipe is one of the most simple ones around.
The ingredients are straightforward and the preparation is something anybody can do, best of all, it really doesn't take long. The dish is really healthy and you can make as much or as little as you want. For me, it's real comfort food!
Simple Vegan Ice Cream Recipes
Easy Blueberry Blender Nice Cream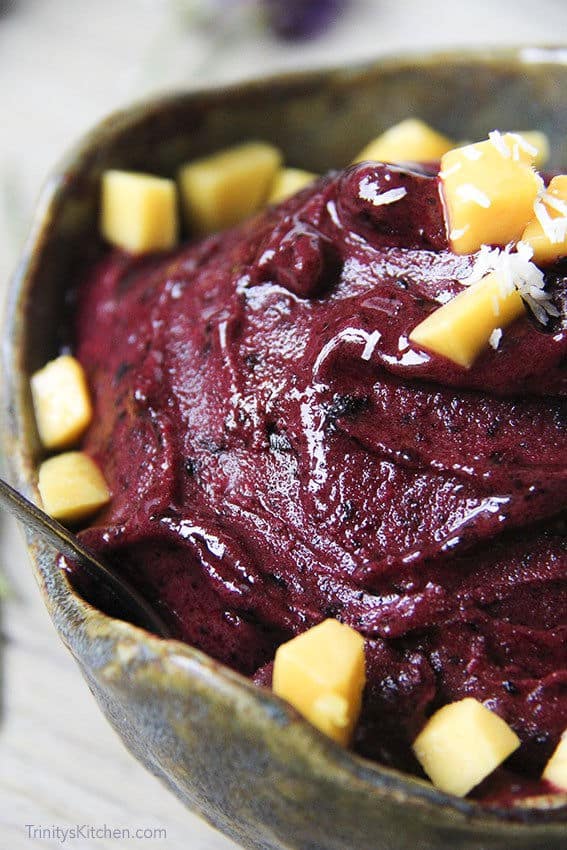 If you've never had banana ice cream before, where have you been? Seriously, this non-dairy ice cream not only tastes amazing but is really good for you as well!
Make sure you have at least three frozen bananas (peel them and store them in an airtight container before freezing).
The recipe suggests you can use a blender or food processor. My advice is, unless you have a high speed and powerful blender, such as a Vitamix, I would use a food processor instead.
Regular blenders often have trouble churning frozen banana into a smooth ice cream. A food processor will do it with much less effort although you have to give it time for the magic to happen!
This recipe is sugar-free and your kids will love it!
Two Ingredient Strawberry Ice Cream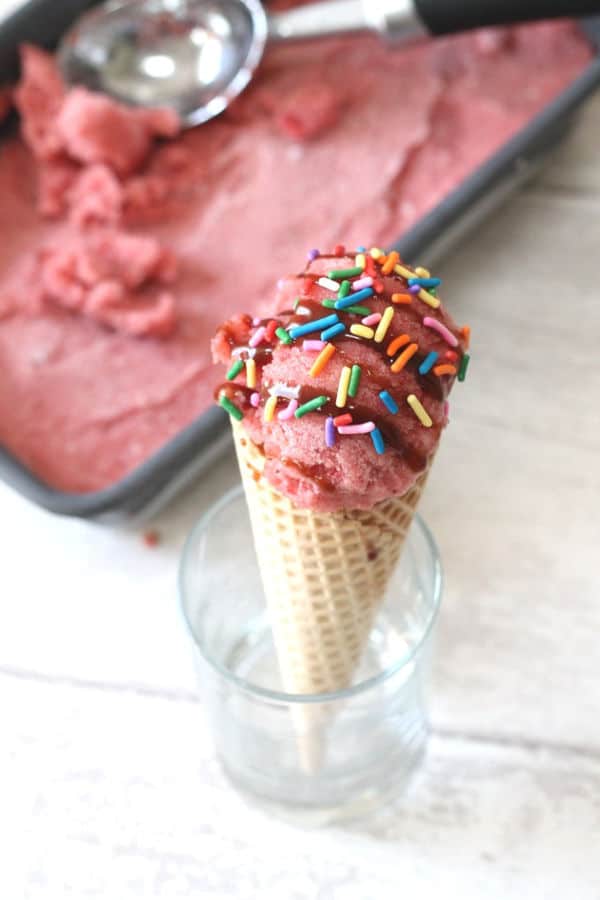 Another great plant-based ice cream. The base is frozen bananas as usual, then you just add frozen strawberries!
In my experience, the fruit you add to the frozen banana doesn't necessarily have to be frozen. I would experiment and see what you come up with. These vegan ice creams are totally guilt free so make sure you make lots because they'll disappear quick!
Chocolate and Vanilla Nana Ice Cream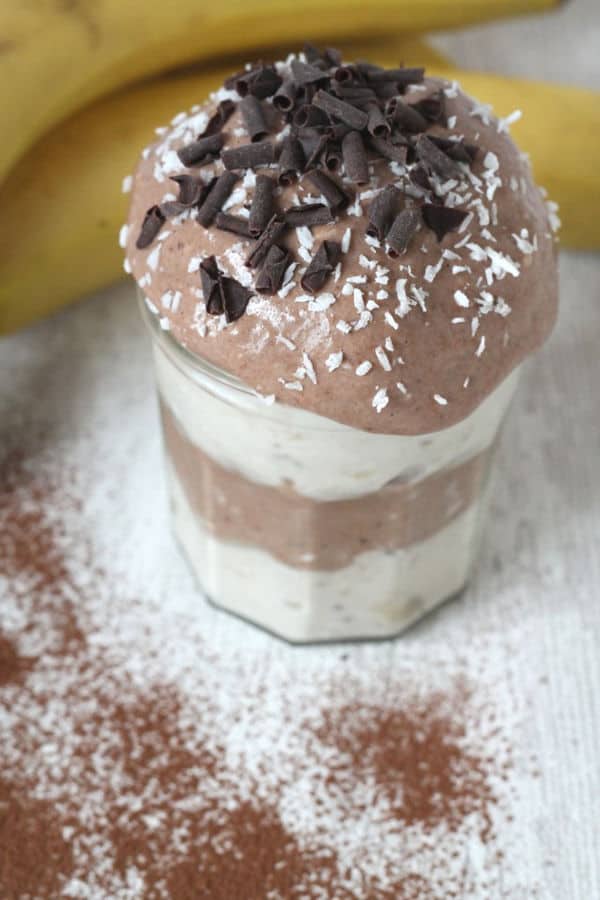 You see, with vegan ice cream, you know everything that's gone into it, and they are so easy to make. It's healthy and won't clog your arteries! What's not to love?
This recipe is another simple classic, chocolate ice cream! I love the dark chocolate curls and desiccated coconut for decoration. Of course, you can skip these, but I really would go to the trouble because it'll add that extra pizzazz!
Peanut Butter and Banana Popsicle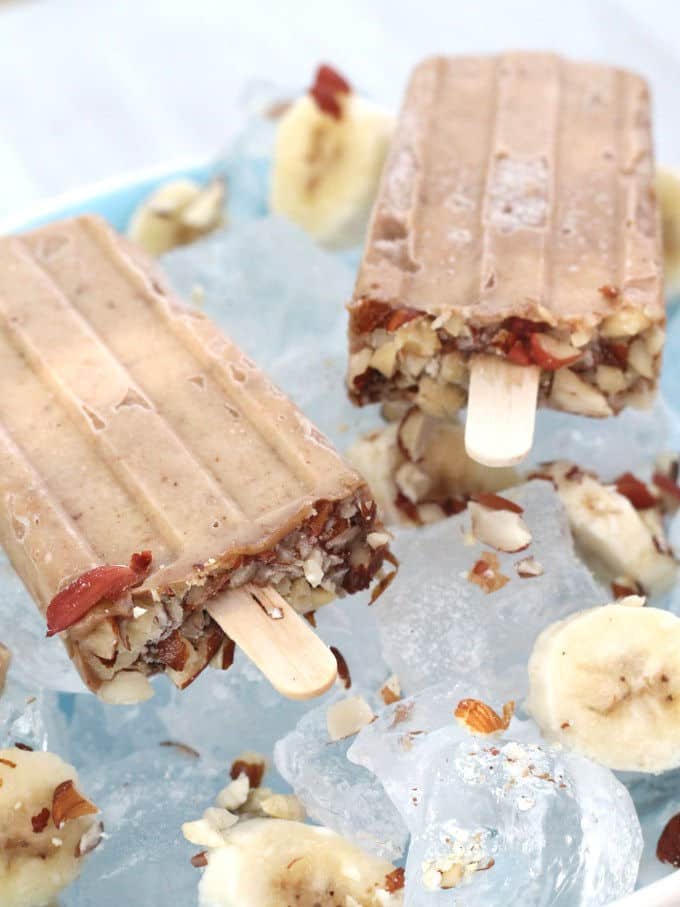 Having a plant-based ice cream is just fantastic, but what about popsicles? And while we're at it, what about peanut butter? This recipe gives you both!
Unlike the regular vegan ice cream recipes where you have to blend frozen bananas and other fruits, this is even better because once you have made the popsicles, you put them in the freezer using popsicle molds and then whenever you want them they are sitting there waiting for you! Perfect for all the family!
Creamy Peach and Walnut Ice Cream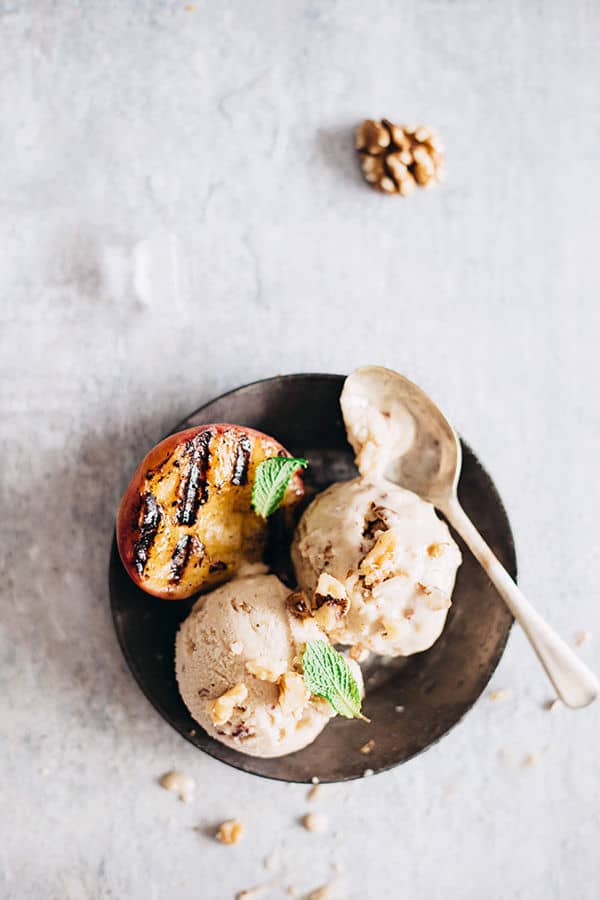 Vegan ice creams are always fantastic! The base tends to be frozen banana then you add one or more fruits of your choice. But what about if you want to add something else?
Here we have a fantastic twist and something really quite different. I certainly have never had this before. The peach is a fantastic addition and of course the walnuts give you that crunch. Walnuts have a particular flavor and they lend themselves really well to this healthy dessert. I would definitely try this if I were you, you won't be disappointed.
Simple Vegan Lunch Recipes
Sautéed Salt + Vinegar Brussels Sprout Leaves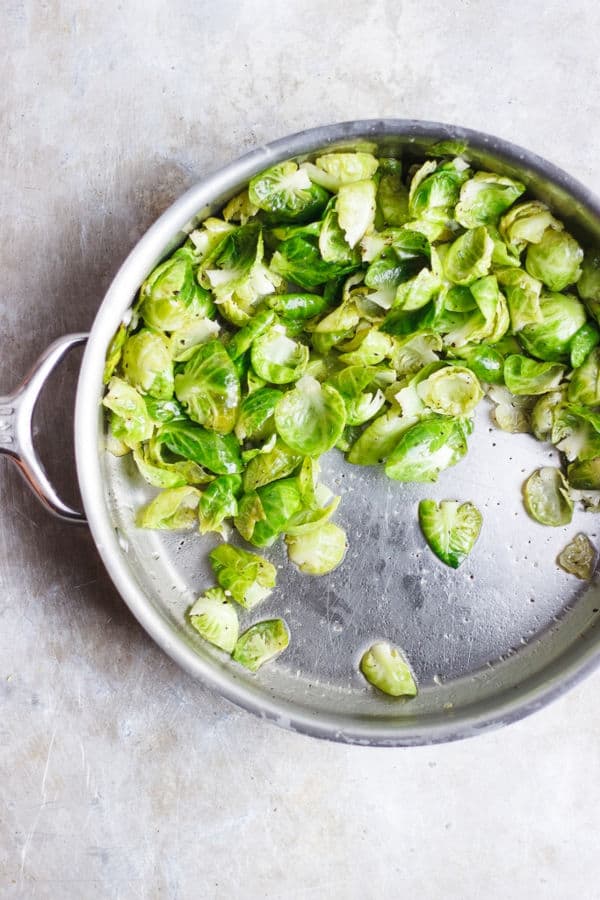 Brussel sprouts are commonly had at Thanksgiving, maybe Christmas, I wouldn't imagine they would be one of the most regular vegetables that people buy. Even if I'm wrong, you normally boil them or if you're feeling particularly adventurous, you can roast them, both of which are delicious!
If you go to the trouble of removing the leaves and then following this recipe, especially with the vinegar which is really the magic ingredient here, you end up with either a snack, or a side dish where your guests will ask you for the recipe! This is delicious, healthy and light and won't take away from whatever else you're having for the main part of the meal.
Simple Sautéed Zucchini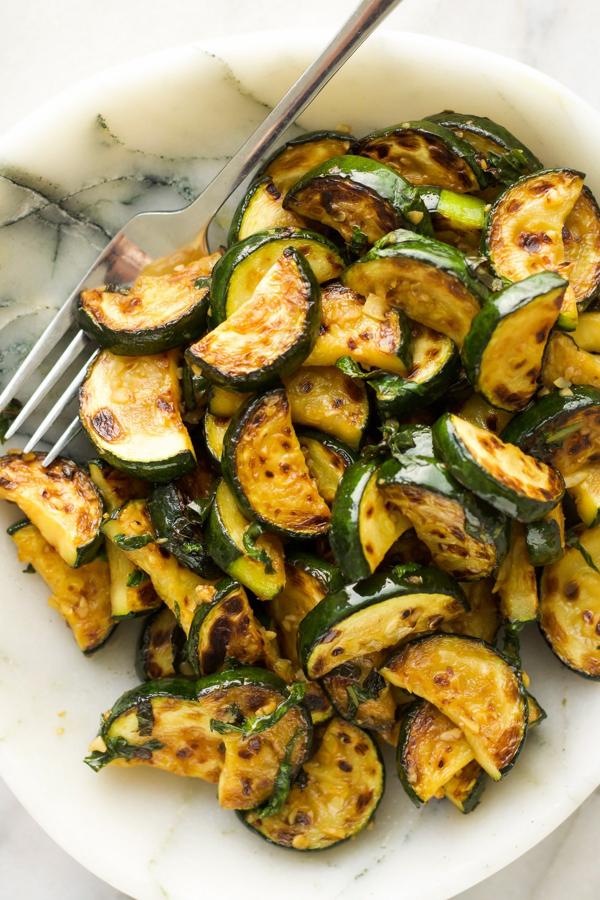 This is a great quick dish you can make in a snap. It's perfect as a tasty lunch and makes a great side for a more extravagant dinner. It's also lovely when combined with noodles or rice. You can even try it in a wheat wrap for lunch on the go!
This simple sautéed zucchini can be as basic or complicated as you want by changing up or adding to the seasonings. It's a great starter recipe to experiment with!
Portobello Chop Suey Bowls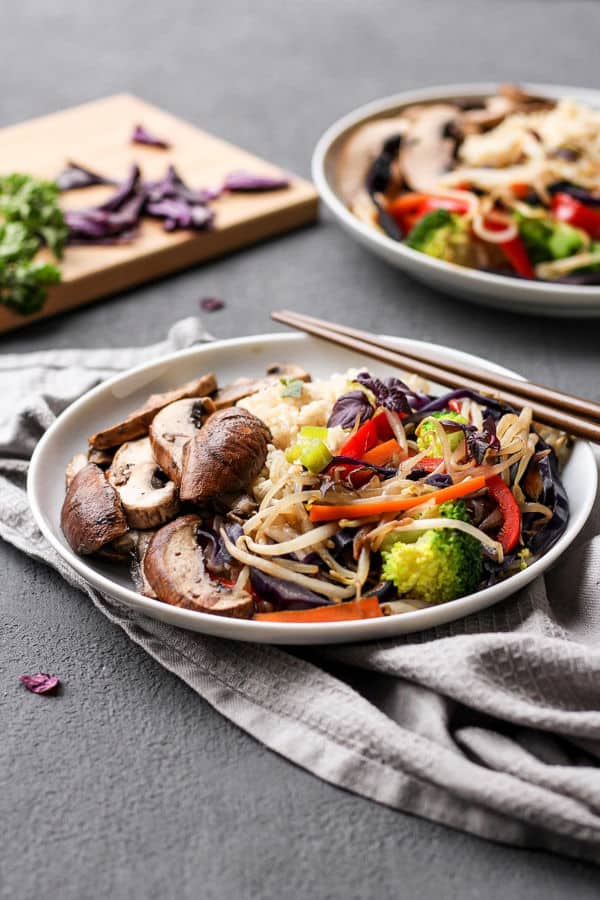 This recipe from Thomas is a simple yet satisfying meal which can easily be turned into a very healthy snack just by making a smaller portion, which I really don't recommend!
Portobello mushrooms are fantastic for their flavor and texture. Add some delicious side vegetables and rice and you have the ultimate meal which costs the fraction of a take-out. The other difference is knowing all the ingredients that have gone into it, which to me is a big plus!
Super Simple, Super Tasty Grilled Cheese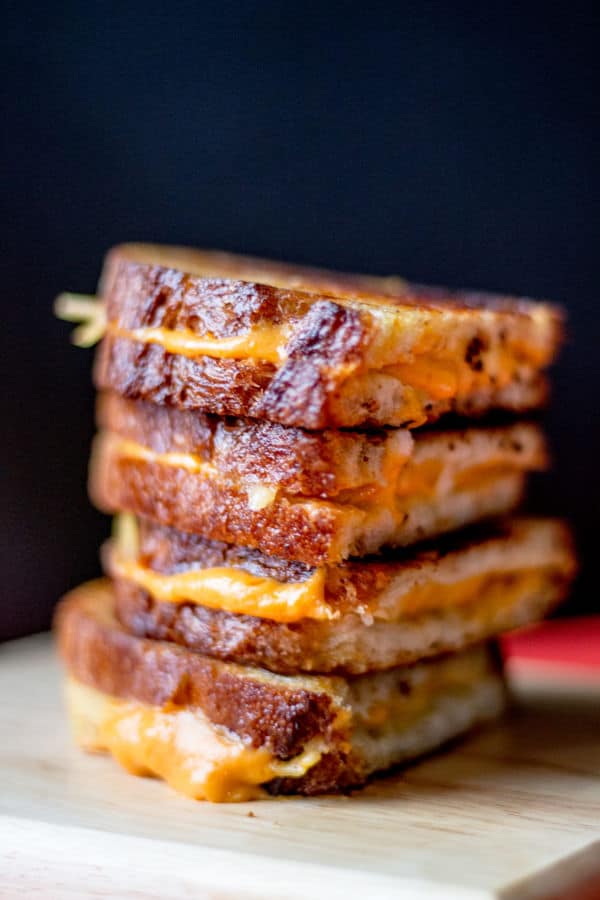 This plant-based version of the classic grilled cheese sandwich is something that I'm sure many vegans welcome. This particular recipe contains Daiya Foods Cheddar Style slices although if you have trouble sourcing this, just use an alternative.
The total prep time, including cooking is 15 minutes. You can eat these delicious grilled cheese sandwiches as they are, or of course, you could get some vegan tomato soup to go with them and think about days gone by.
Korean Tempeh Lettuce Wraps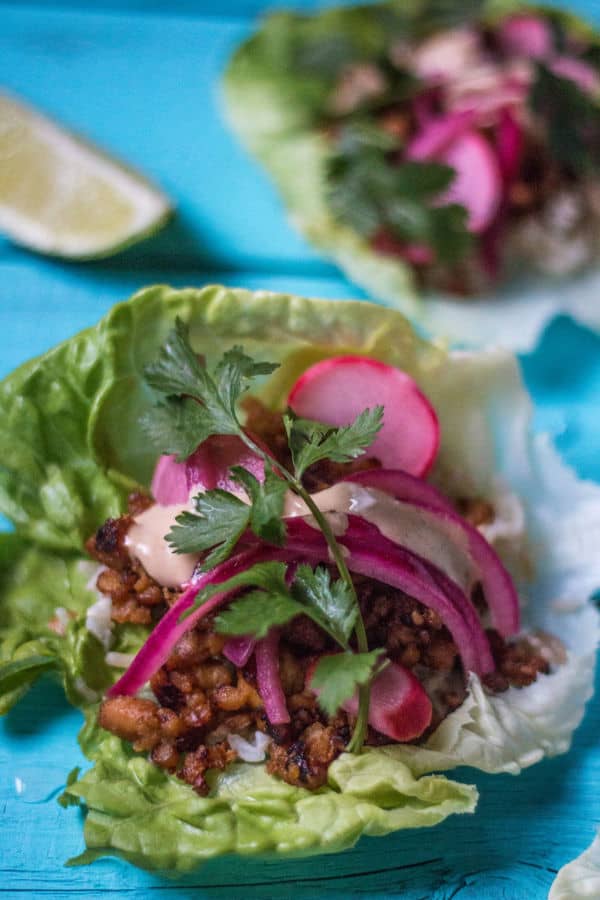 When I first heard about the idea of lettuce wraps a few years ago I must admit that I wasn't filled with excitement. This all changed the first time I tried them. They are amazing and everything but boring. I'm sure you can eat more wraps because they are made of lettuce too!
This has a really wonderful twist because of the pickled onions and radishes. The Korean influence and the sriracha mayo make this unique and totally delicious. If you want something different to amaze your friends with, you can't go wrong with this.
Super Easy Tzatziki Sauce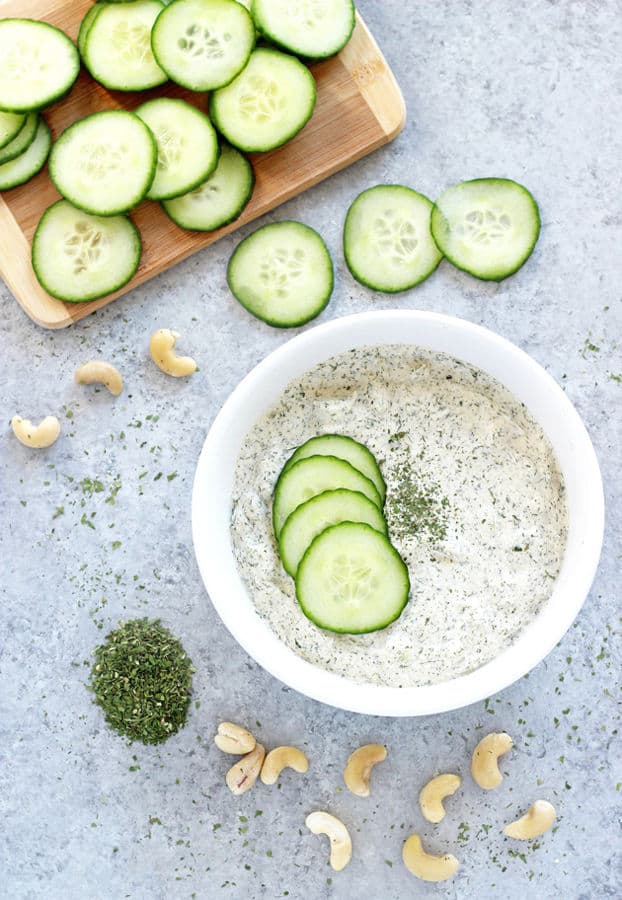 Sometimes you need plant-based versions of classics and this is one of those moments. The recipe has the words Super Easy in it and we can promise you that it's absolutely true.
The total prep time is 10 minutes from start to finish although do make sure you have one cup of cashews soaked for 2 to 4 hours ready. Other than that, you're good to go with this delicious recipe that goes amazingly well with falafel or simply vegetables!
Stuffed Delicata Squash with Holiday Rice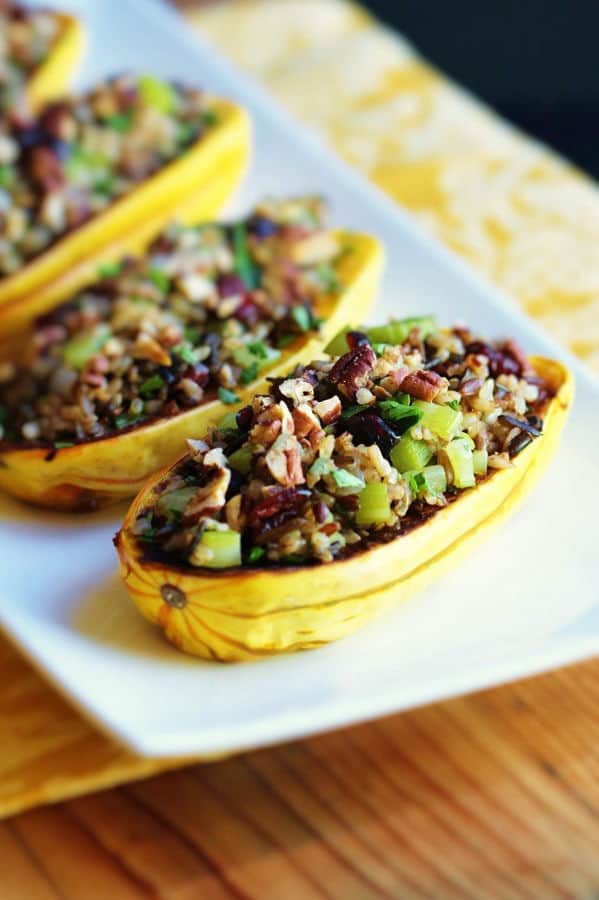 Emily has given us here two recipes in one! The entire recipe is fantastic. There certainly is a little prep time of about 1 hour 10 minutes but you could make them beforehand if you have guests coming over for the evening. They'll absolutely love how the stuffed squash looks, just loaded with color!
The second part of the recipe is the rice. I love how it has been prepared and it's an excellent accompaniment to any other dish. Thank you Emily! When can we come around for dinner?
Butternut Squash Fries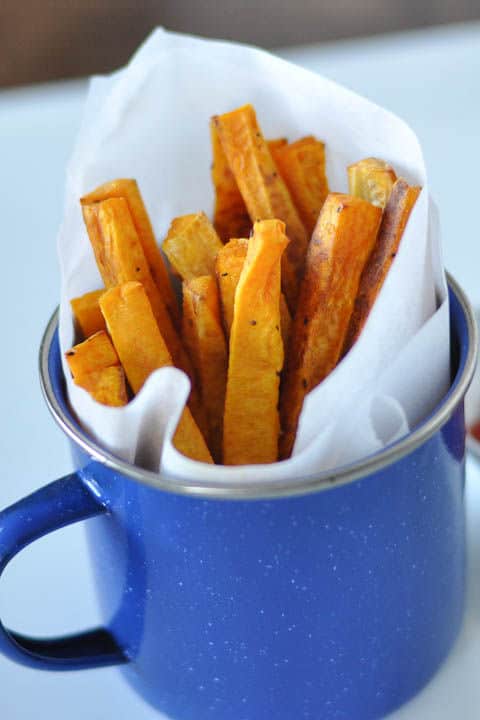 This recipe is not just simple, it's ridiculously easy! It only has three ingredients and one of them is salt-and-pepper. We don't always want to give our kids fries, especially when they are deep-fried, so this is a great alternative.
All you need is butternut squash cut into the shape of fries, drizzle with olive oil and then season! That is it! Bake them in the oven and what comes out are delicious looking and yummy tasting fries. Serve as a snack or an accompaniment to a vegan burger. Don't forget the ketchup!
Buddha Bowl, The Ultimate Vegan Protein Source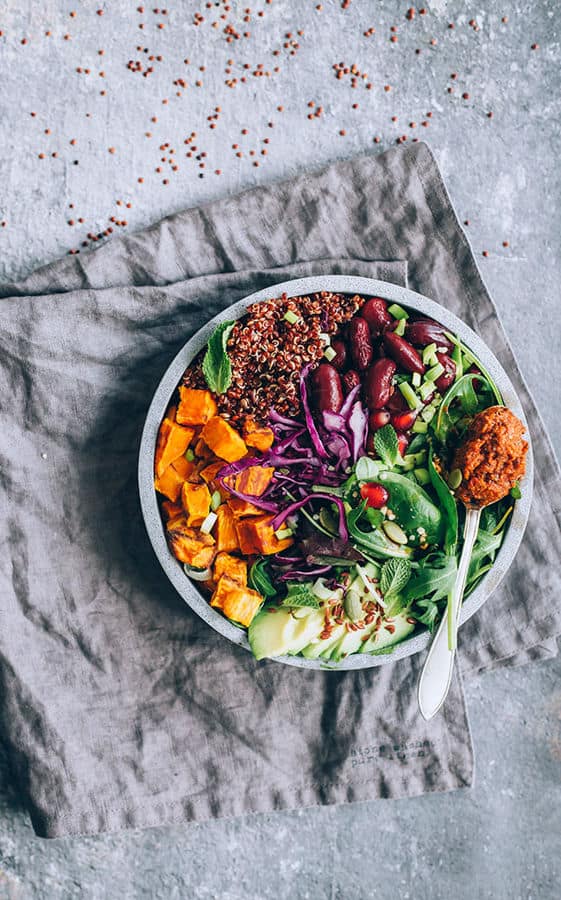 If you want a great looking meal that is also so satisfying, we have the perfect dish for you! There are a few ingredients here but overall the recipe is simple to make and you can substitute anything you need to.
When serving, you can mix it all up or lay out the ingredients so you have a rainbow of colors in the bowl. I prefer this method as it looks as though it was served in a restaurant. Treat yourself!
Healthy Falafel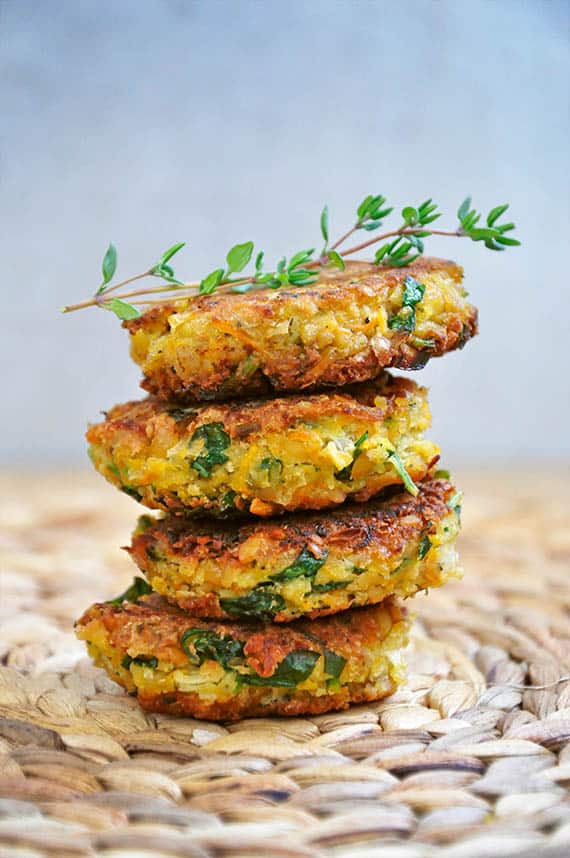 Falafel are just fantastic and so versatile. In salads, in wraps, in pitta bread or just on their own with a dip. It's like the ultimate food!
This recipe has no deep frying and you can easily make these into amazing burgers as well! Super easy to make and your kids will beg you for more day after day. Make sure you have enough for everybody, including yourself!
Creamy Korma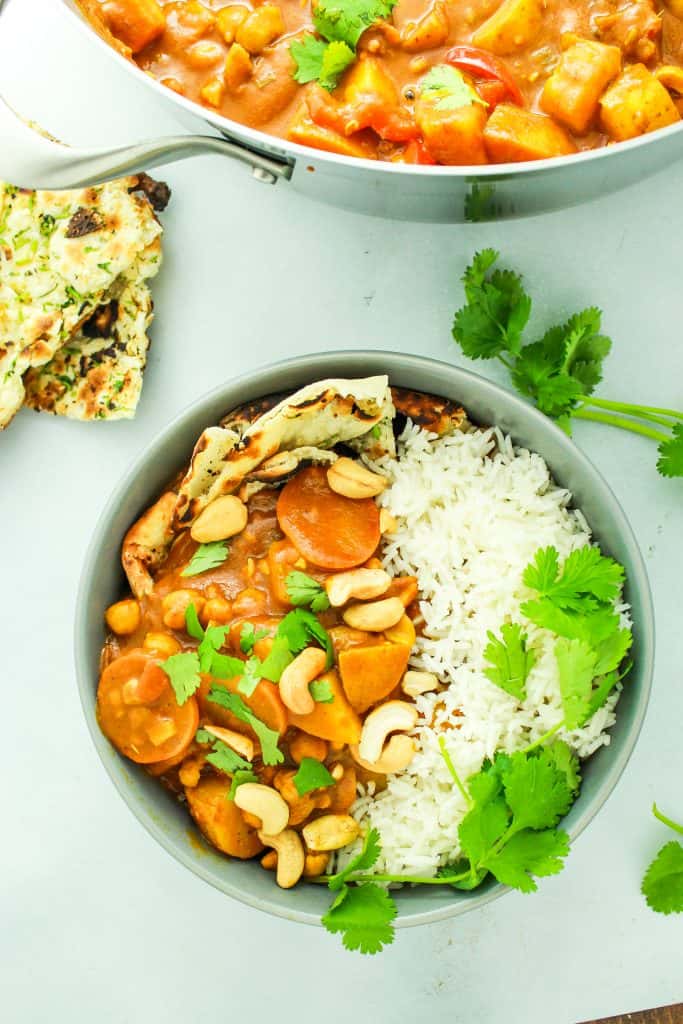 Regular korma contains dairy and, therefore, can feel heavy, your arteries aren't too keen on that dish either! However, this plant-based version makes your arteries smile!
If I could come around your house right now as you're reading this, drive you to the store to get the ingredients, and then cook this for you, then I would. I absolutely adore curry and this korma recipe is totally delicious. Serve with your favorite rice, I recommend Basmati.
VegByte Tip: Add in some Indian bread too!
Raw Vegan "Goat" Cheese Dip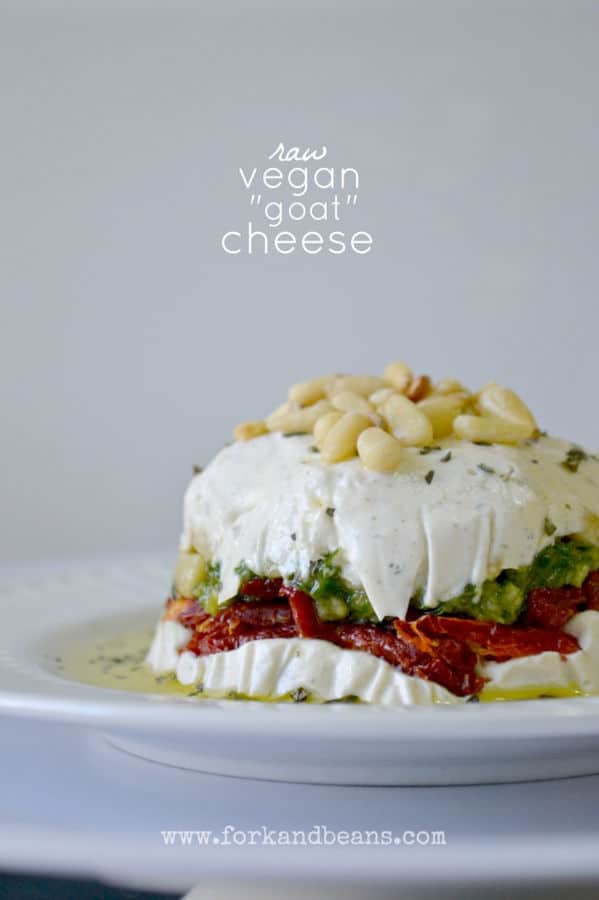 There are many cashew-based cheeses around and this is a fantastic alternative to the dairy version, so you can use it for salads or in any number of ways.
This is soy and gluten free and of course, plant-based. The pesto is simple and classic and the 'cheese' itself is light. The coconut oil is a lovely touch and we think it's the magic ingredient.
Simple Vegan Pasta Recipes
Spaghetti and Easy Meatballs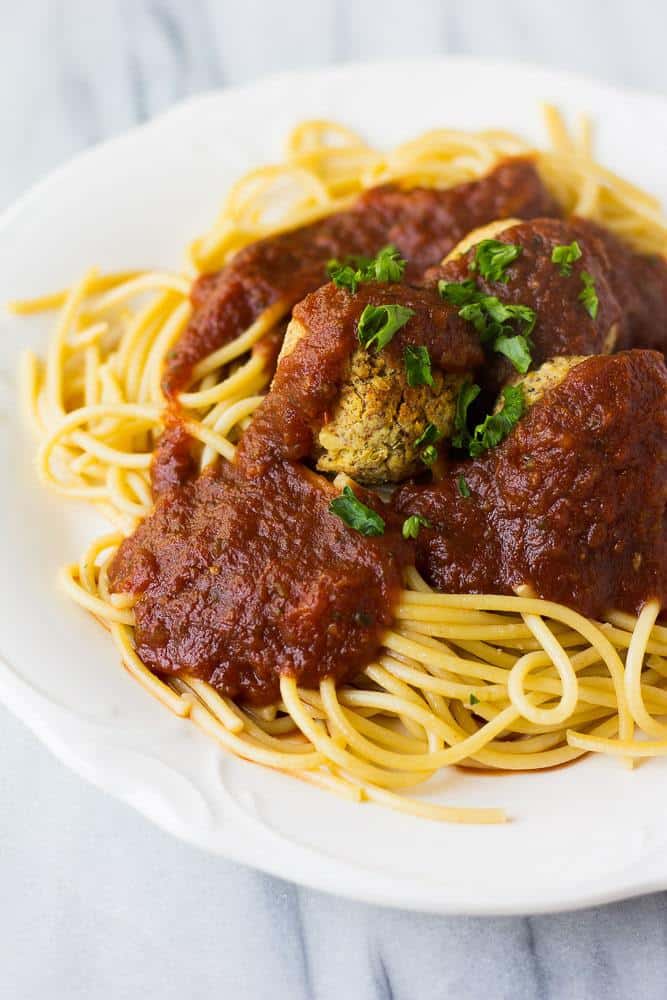 These are chickpea-based meatballs and totally delicious. They go well with marinara sauce and the flavors combine like they have been forever friends!
Make an entire batch and you'll have them on standby all week. One of the ingredients for the meatballs is breadcrumbs which is the only gluten in the meatballs so if you use a gluten-free alternative they become gluten-free as well!
Italian Spaghetti Squash Bake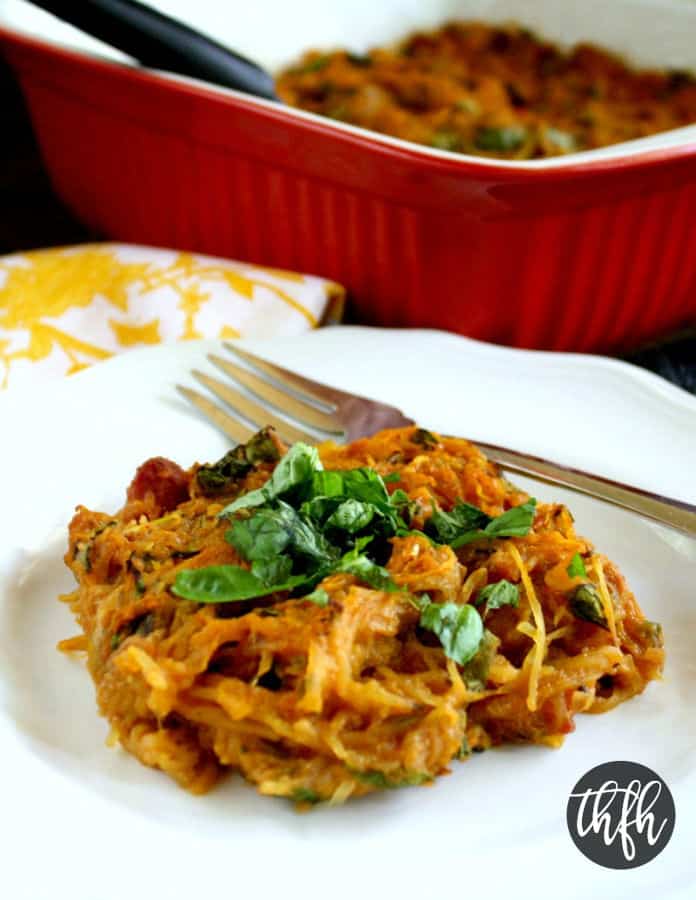 This is real comfort food and something that'll warm you during those cold winter nights. It freezes well so make a bunch, divide into portions and then just take out and bake whenever you need an easy meal.
Although you could use regular spaghetti, this recipe uses actual squash as the noodles that's why the photo may look a bit unusual if you haven't seen anything like this before. We really recommend this rather than the wheat version as you'll be left feeling much lighter although totally satisfied. Prep and cooking time is about an hour although as I said, make a nice amount to freeze and you'll thank yourself again and again.
Cheesy Pasta Casserole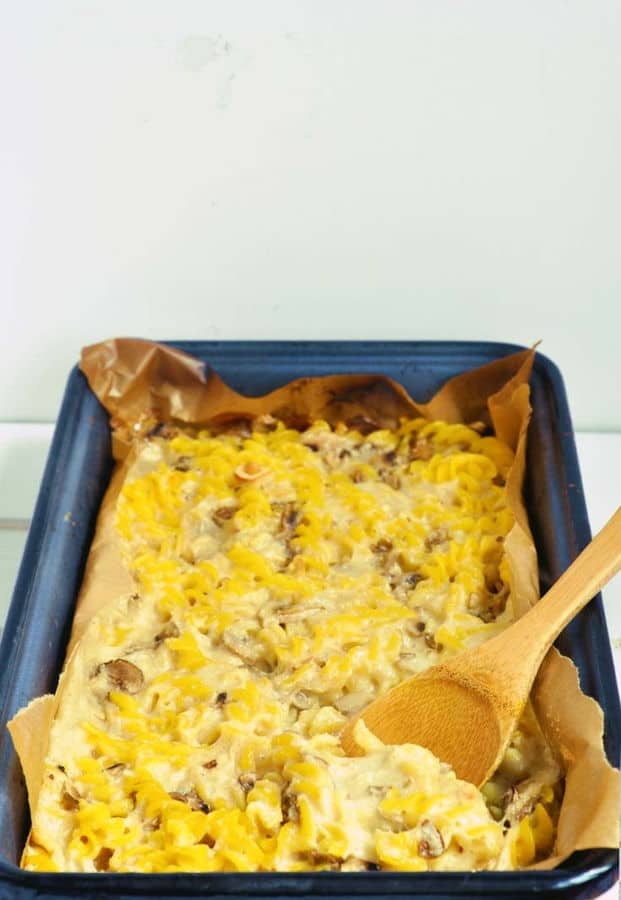 There's nothing more comforting than cheesy pasta, am I right? That's rhetorical which means don't you dare answer no!
We love this plant-based version as it's so simple to make, just throw in all the ingredients and bake.
Let me tell you, although this is not in the recipe, I have used uncooked wheat pasta and baked it which came out just fine, but that could have been the type I was using.
If you don't feel like experimenting, just follow the recipe.
The total time including prep and cooking is about 50 minutes so this isn't the quickest meal in town, but like all good things, it's worth the wait!
Simple Vegan Smoothie Recipes
Simple Melon Smoothie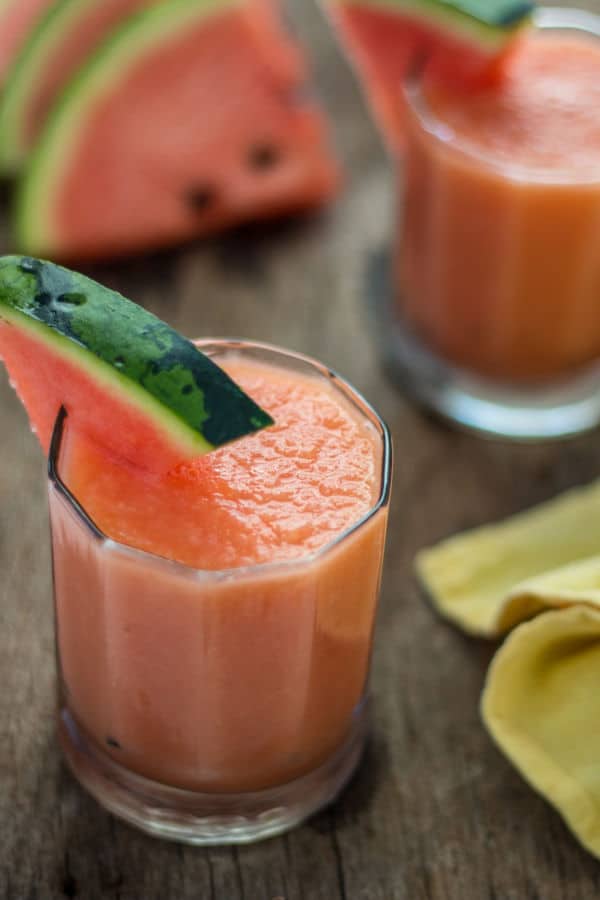 The thing is with smoothies, if you're not careful, you keep trying different combinations and then after a while you stop having them because you never settled on a recipe. And you don't want recipes to be complicated right? Especially smoothies.
The ingredients in this recipe are watermelon, cantaloupe. Also we think the secret ingredients of coconut milk and agave make everything come to life! Of course, you can leave one of the melons out if you want but if you don't have any objection to either, you must try this recipe in its entirety. You'll want to give it a double thumbs up! Really refreshing and great for the summer.
Simple Berry Banana Smoothie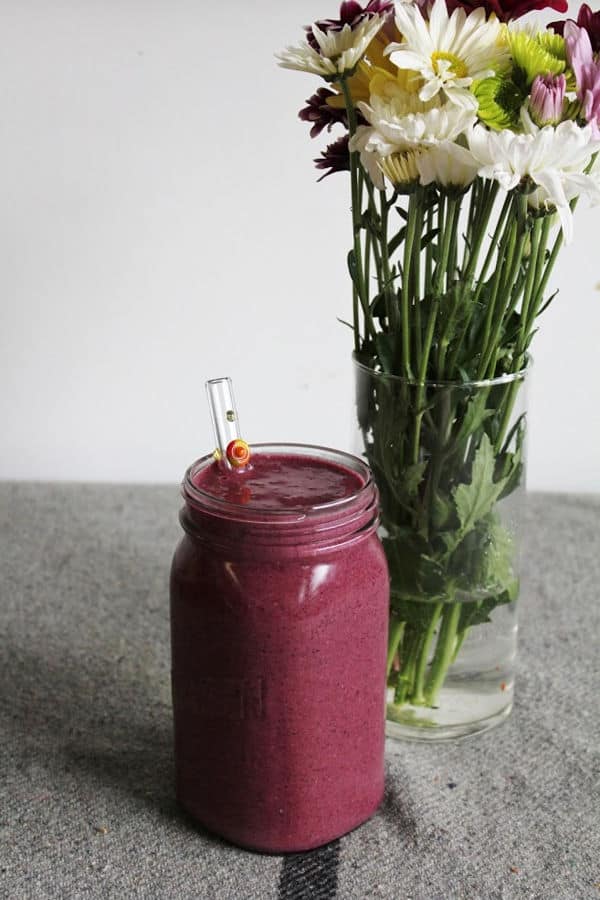 Everybody loves a smoothie, well they should! Smoothies sometimes get a bad rap nowadays from some lazy journalists because of the sugar content. But you can never have too much fruit, just avoid refined sugar and there's none of that in this recipe.
This smoothie calls for one peeled banana and 2 cups of frozen berries.
You could, of course, have a fresh banana and use frozen berries, if you're anything like me, I always have frozen bananas in the freezer for smoothies or vegan ice cream.
Personally, I always have the bananas frozen and the berries fresh but honestly it doesn't really matter which way you do this.
The recipe indicates one or two dates as being optional, I recommend getting them and do make sure they are Medjool dates and ensure you pit them before blending!
Pumpkin Spice Vanilla Smoothie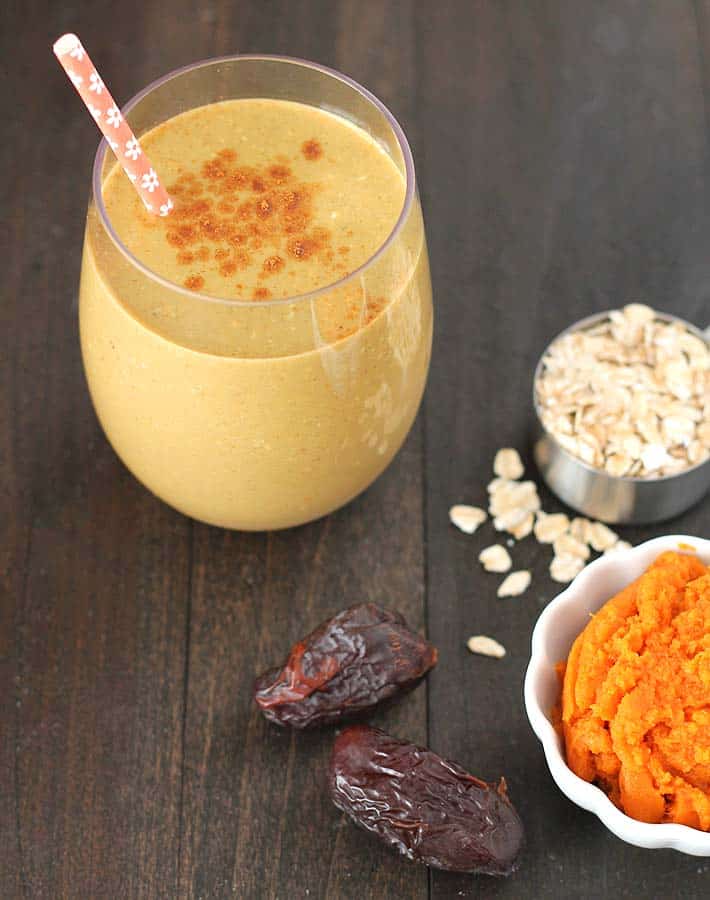 This recipe uses a brand of smoothie powder although it just adds a French vanilla flavor so if you don't have it or want to look for an alternative, we think you could easily leave it out.
This is not only a great replacement for your favorite coffee drink, it's also fantastic around Thanksgiving. It's light and totally moreish! Your body will thank you, and your friends will say they are not worthy!
Blueberry Muffin Smoothie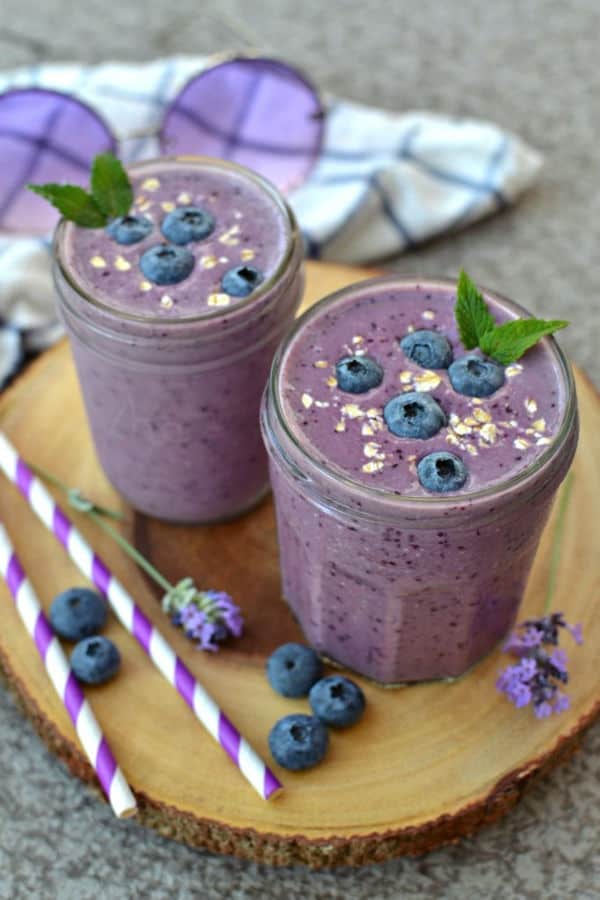 Before you start to wonder, you're not blending a blueberry muffin in a high-powered machine! The ingredients here are fantastic and will leave you with a delicious and satisfying smoothie. Plant-based milk, blueberries, banana, oats and a dash of cinnamon is all you need.
Blend everything together and off you go! The cinnamon is a wonderful addition that I wouldn't have thought of. Serve ice cold and let your senses be revitalized.
Green Protein Smoothie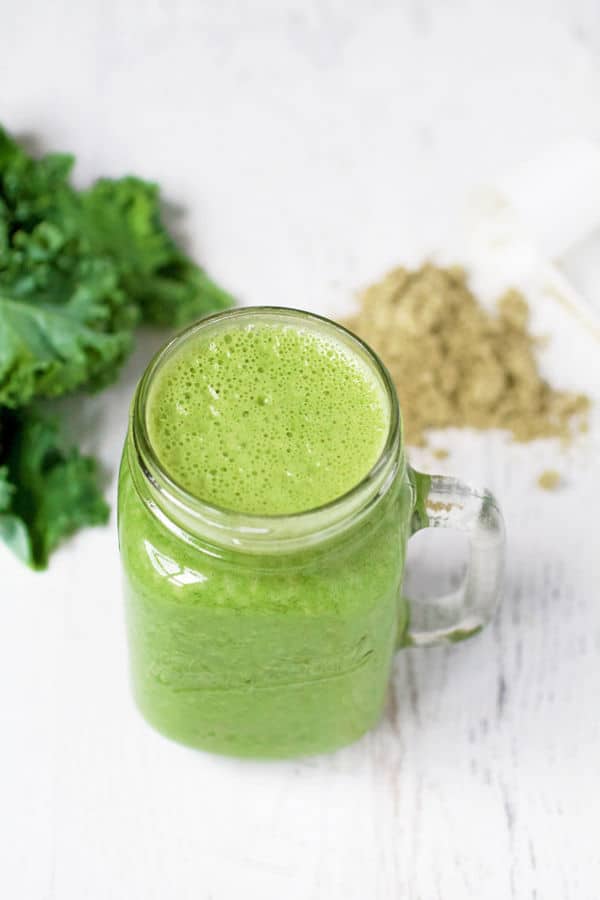 When I first heard about green smoothies years ago and even after I tried one, I'll admit that it really wasn't for me.
It was like drinking a salad!
But occasionally you come across a great recipe that makes all those nightmares go away. This is one of them and it's definitely not like drinking anything you're not supposed to be drinking!
The green here comes from two large handfuls of spinach which will give you an amazing amount of nutrients and the rest is banana, mango, even some almond butter amongst other things.
Not only for you, but great for your kids to get fresh greens in them.
Totally recommended and top marks!
Simple Vegan Soup Recipes
Broccoli Cheese Soup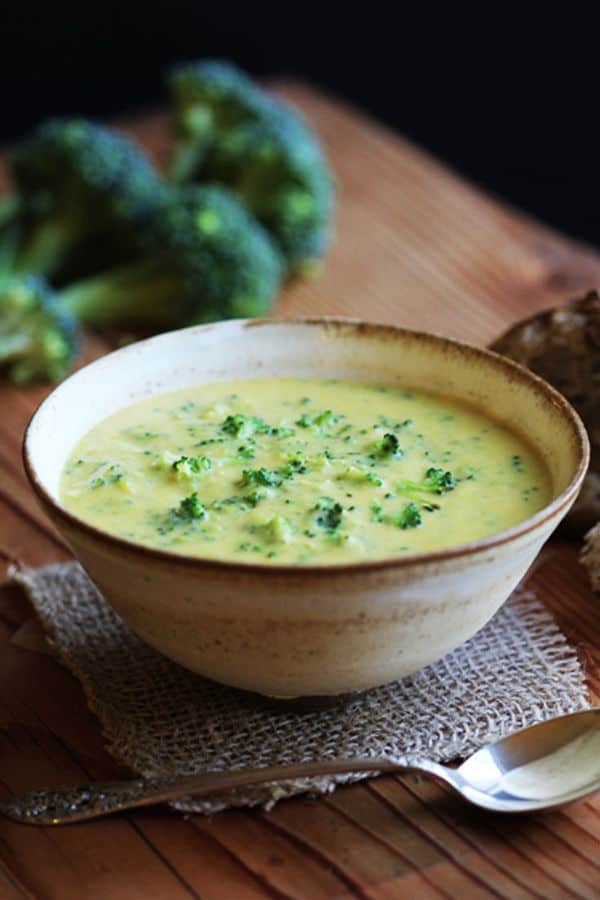 Doesn't this dish look absolutely delicious? I can tell you that it is! Not only that, it's super easy to make and your kids will love it which is great as it's healthy and packed with good ingredients. And we all need great stuff from time to time, am I right?
Despite the list of great ingredients such as, russet potato, carrots, cashews and so on, the total time from prep including cooking is about half an hour.
Once you've prepared everything the cooking is easy. For those times of year when it's not so warm, this is your perfect soup.
Healing Red Lentil Soup with Turmeric and Ginger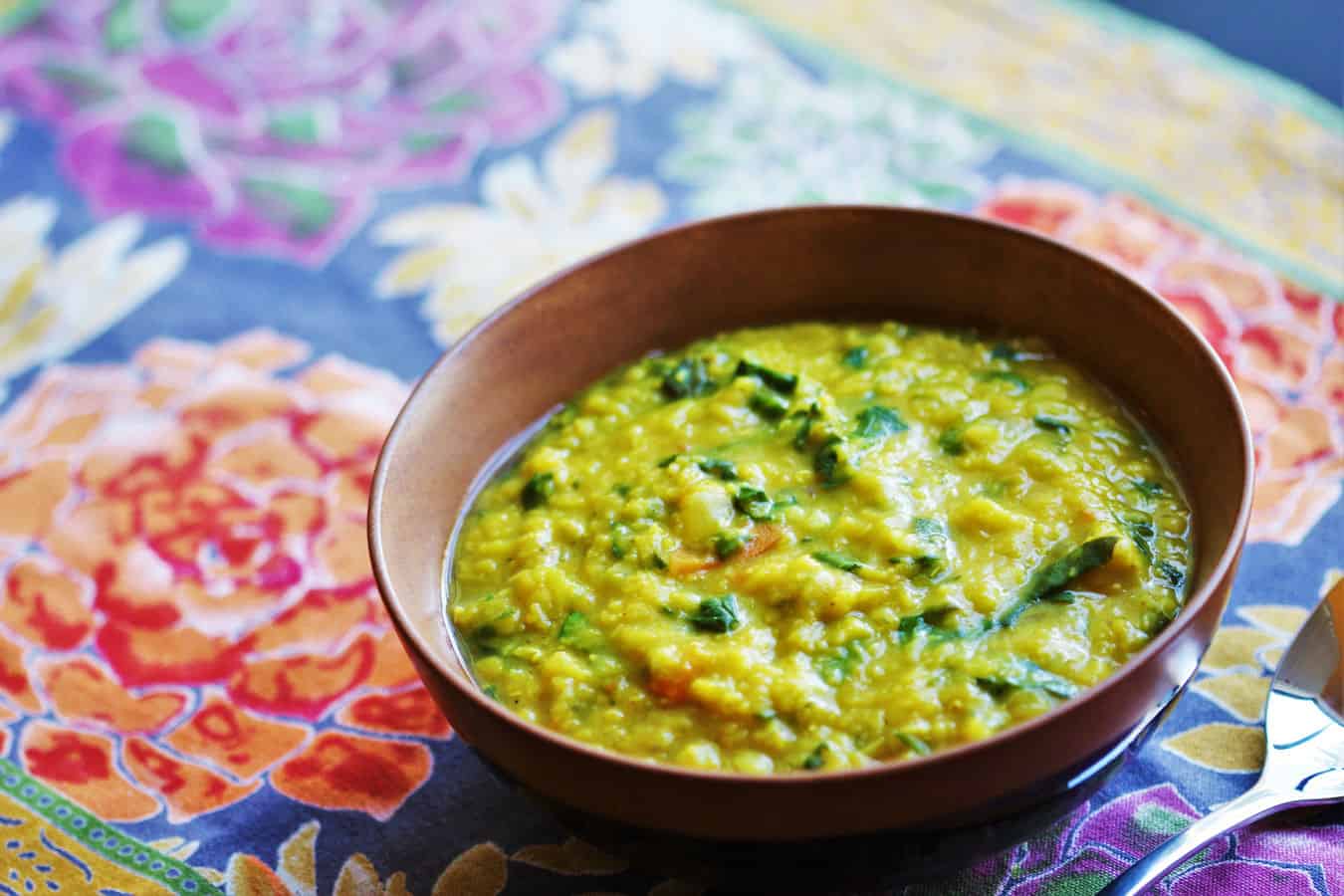 Before even looking at the amazing picture, what about the title! That just about tells you everything. You know you're getting a hearty soup but it also contains ingredients that we keep hearing are really good for us.
Emily has done a great job here and we love the yellow onion and celery. It has four garlic cloves in this recipe so you could reduce it if you're working the next day, but we recommend having all the garlic, it's good for you!
Black Bean Soup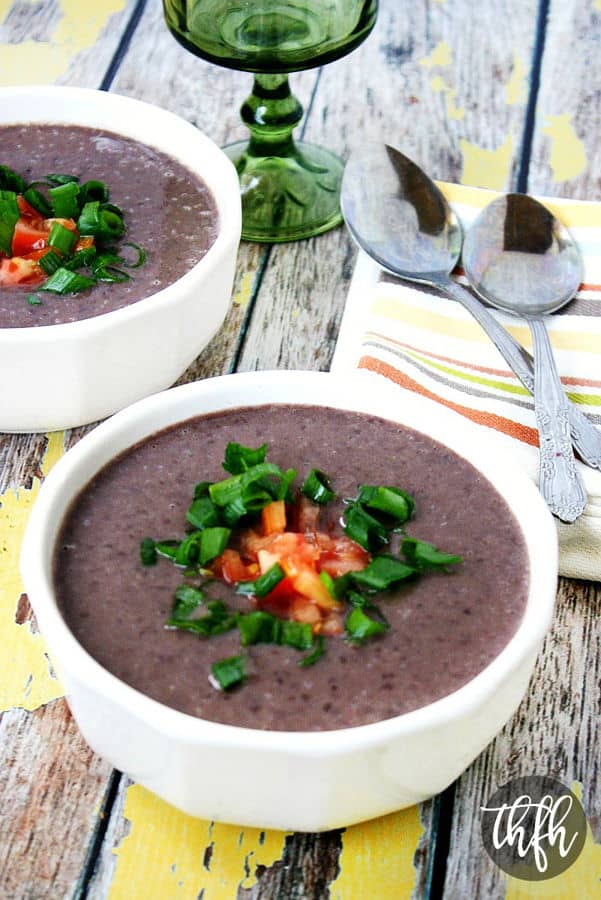 You think this is just a regular plant-based black bean soup right? Wrong! Apart from the beans, which come from a can, this is actually a no cook recipe.
In case you don't fancy having this cold, obviously you can heat it on the stovetop. Although, even the instructions do say to warm the soup in your blender. The particular blender referred to in this recipe is a Vitamix and the newer models have a soup setting which warms the ingredients for you.
Carrot and Coriander Soup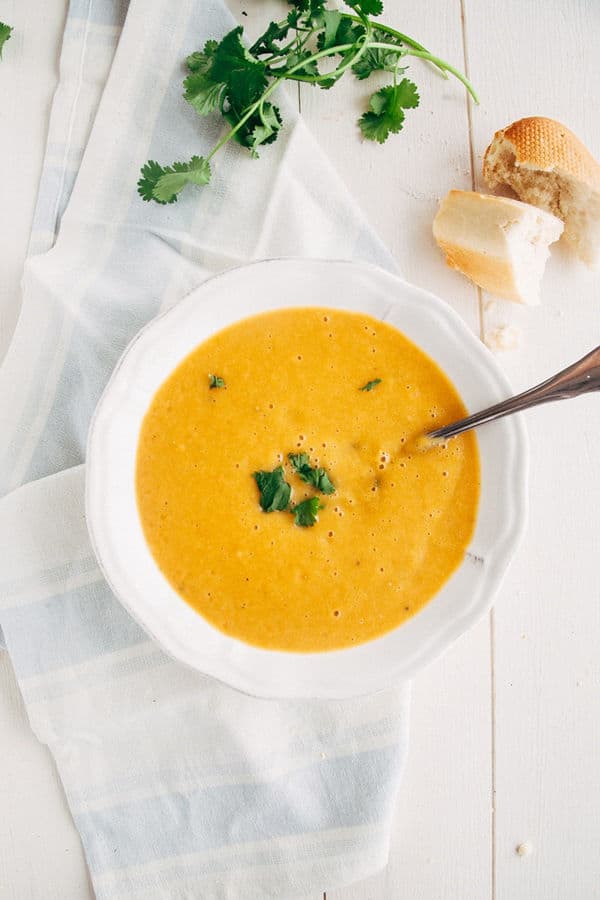 This is a classic recipe and I think one of the easiest I've ever seen. It's gluten-free as well! You simply boil all the ingredients and then transfer to a blender.
Even though there are so many classic dishes around as we have been eating them for decades, it doesn't mean we know how to make them. Carrot and coriander is like Batman and Robin so keep a note of this recipe in your classics section. If you don't have such a part in your notebook, time to start one!
Roasted Tomato Soup with Basil (Gluten-Free)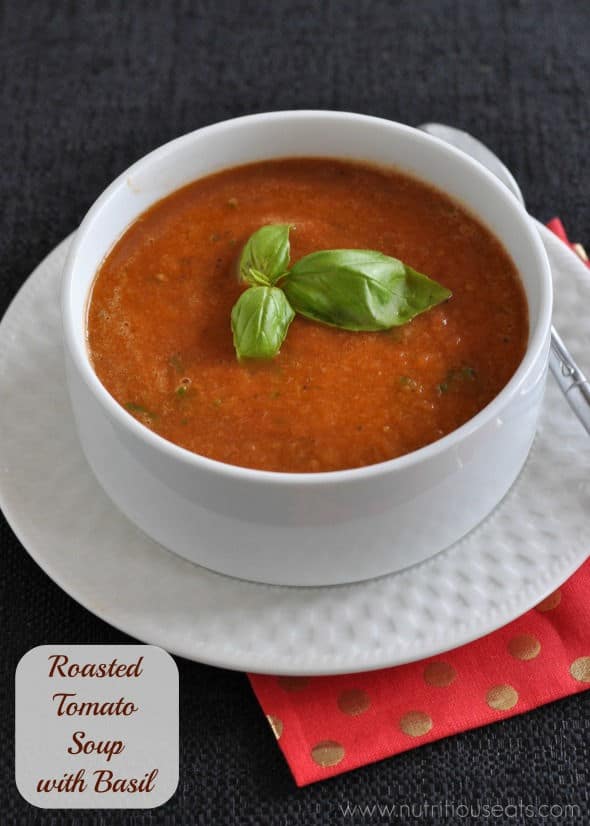 Tomato soup doesn't always sound that exciting unless you have vegan grilled cheese sandwiches to go with it, right? Well, this one is going to go with those sandwiches even better I think!
Yes the total time from prep and cooking is just under an hour but it's totally worth it. Do not scrimp on the 8 cloves of garlic, and don't omit on the teaspoon of balsamic vinegar. Sure you have to roast the tomatoes with the garlic before you do anything but the end result will show you that it was all worth it. If you have guests or just serving to your family, just tell them it's regular tomato soup and then watch their faces when they first taste it!
Slow Cooker Lasagna Soup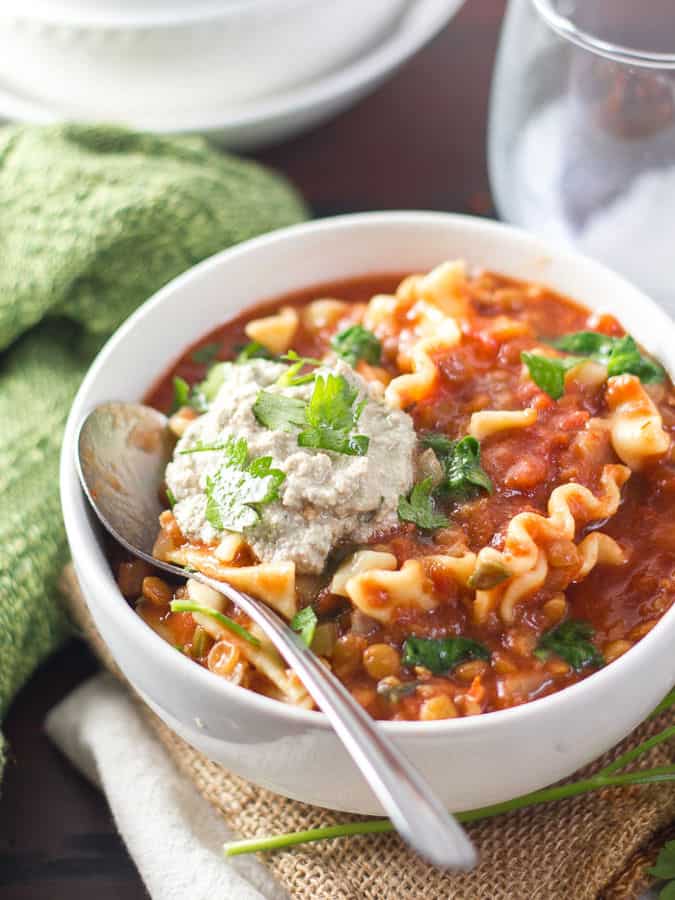 Okay before you screw your face up at the thought of blended lasagna, this is not what you're thinking! It's just another way of eating that great dish but the pasta is not blended!
This is a really interesting twist and I must say a lovely recipe. You essentially make the Ragu as directed and then you cook the pasta in that Ragu so it absorbs all the flavor.
Then, instead of being layered, it is just served as a soup, with pasta. The creamy vegan pesto is a delicious addition as well. A seriously well thought-out recipe.
Simple Vegan Snack & Treat Recipes
Easy Orange Cake Balls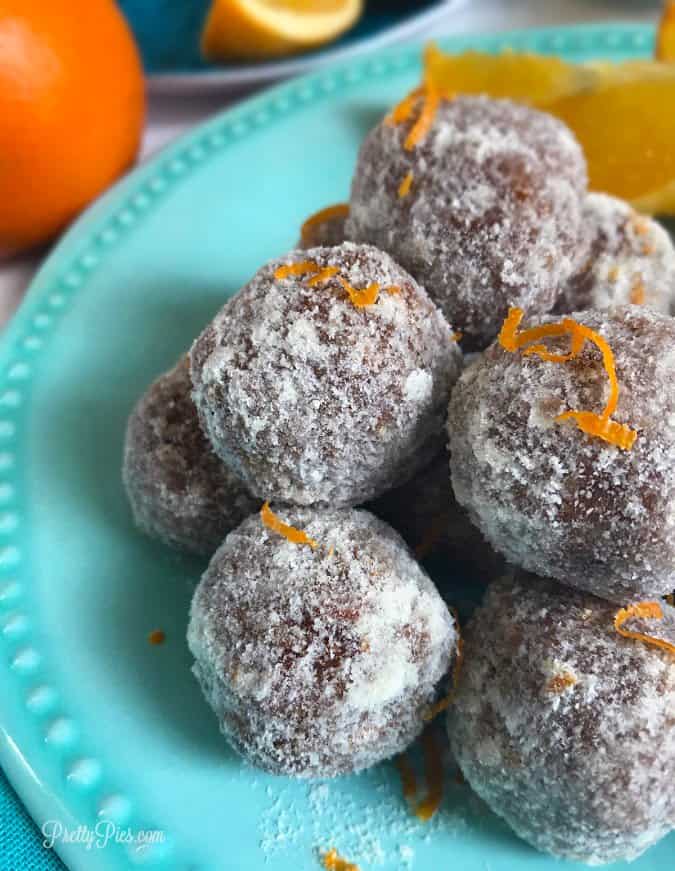 Okay, listen up! These orange cake balls are the best things ever. Good for snacks, make them into a dessert to have with something else or on their own with a cup of tea. There are so many options.
Get all the ingredients together, mix and make the balls. You can refrigerate them for up to 10 days or even freeze them for up to 6 weeks and eat them straight out of the freezer. They are of course, healthy and your kids will absolutely love them. Make sure you make a lot!
Peppermint Grinch Pops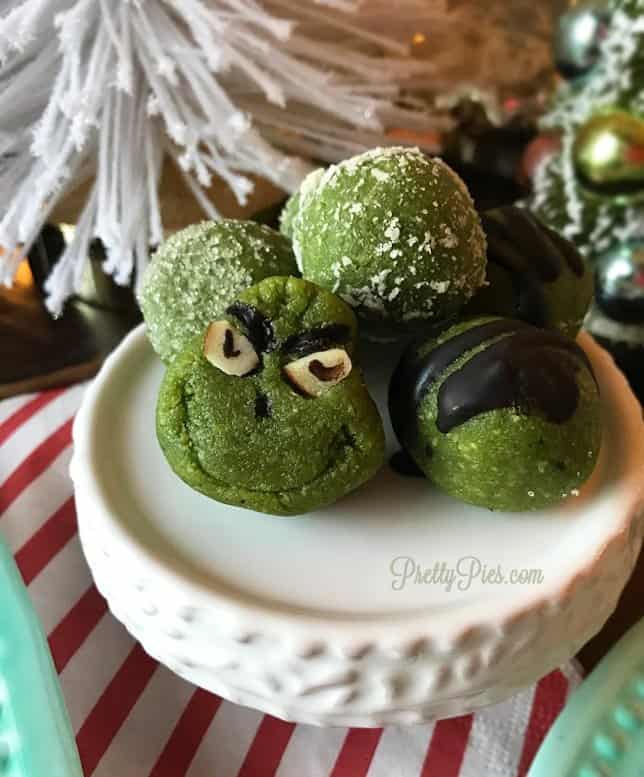 Doesn't this look like the most fun thing ever? And to think there are no nasty additives, no refined sugar, obviously vegan, and gluten/grain and soy free!
When you're talking of a total prep time of 10 minutes to make 15 balls you really can't go wrong. Why not get the kids involved in making them as well? The green comes from baby spinach so no weird additives. This is all real food! Great for the holidays!
60-Second Brownie Bites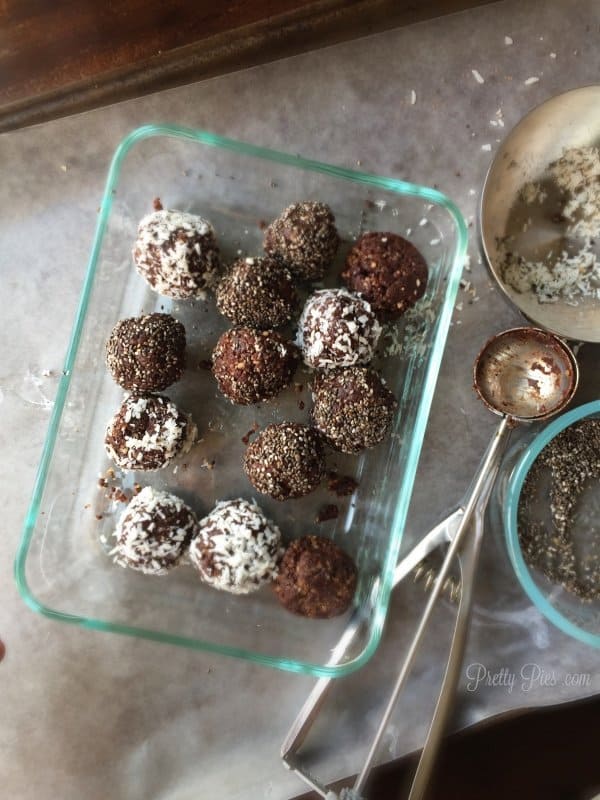 Yup, you read that right, the prep time for these really is 60 seconds. You just get everything together and whizz it all up in a food processor. These delicious brownie bites will last in the refrigerator for at least a week kept in an airtight container.
We recommend always using Medjool dates in any recipe that calls for dates. The walnuts in the recipe are a fantastic touch. I have personally made date balls lots of times and had never considered adding walnuts. Do note that when in the food processor, it does not immediately turn into dough, just give some time and you'll see it begin to form.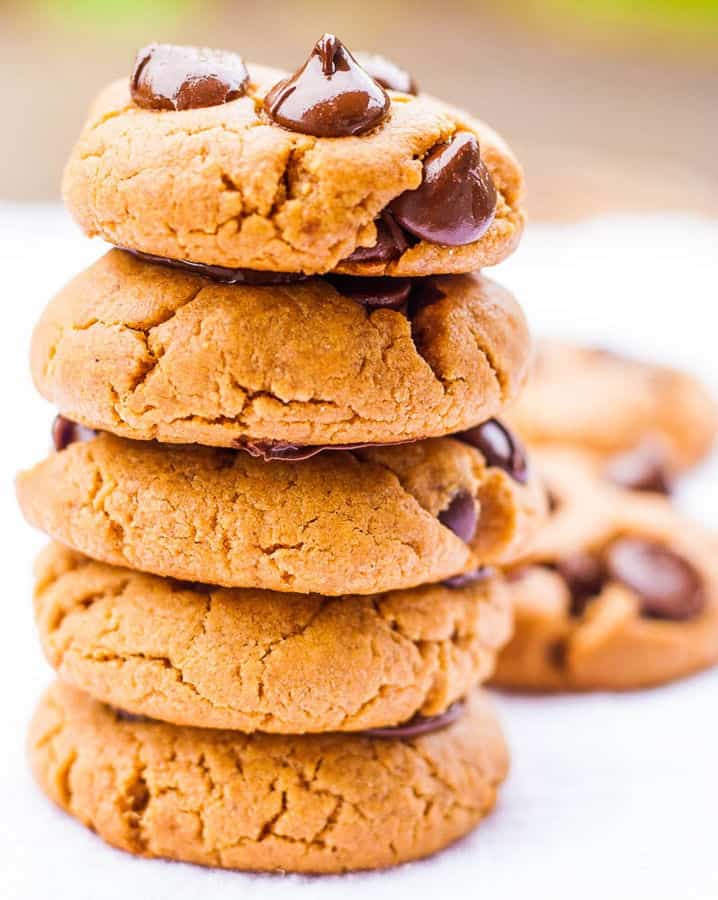 If you don't like the look of these cookies then you're not human, come to think of it you're not a dog either, dogs love cookies! Although we don't recommend giving these to dogs as they contain chocolate!
So, how is this oil free? Well, as you may have guessed, the peanut butter does a fantastic job of bonding all the ingredients together. You don't need to add the chocolate chips if you don't want to, but I would!
1 Bowl Double Chocolate Chip Pancakes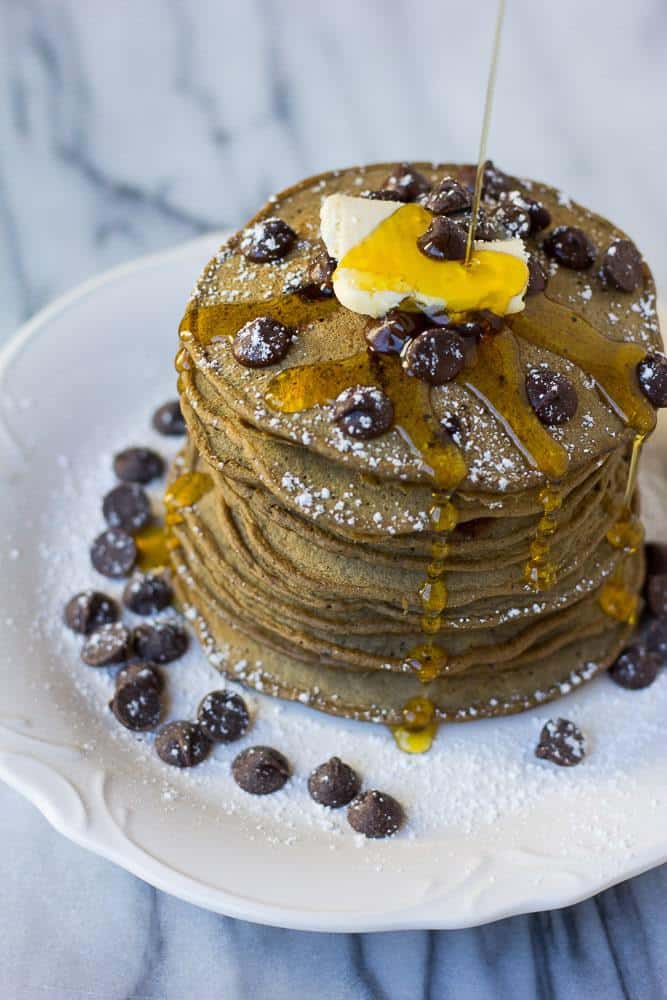 Okay, you need to make this puppy and real soon. Can you believe pancakes made with pastry flour? I couldn't so I had to try and I'm totally sold!
These are very satisfying but you don't get that heavy feeling you sometimes experience with regular pancakes. Of course, if you want to balance out the chocolate chips you can have fruit instead or as well as. I recommend leaving the chocolate in and add blueberries as well.
Caramelized Shallots Hummus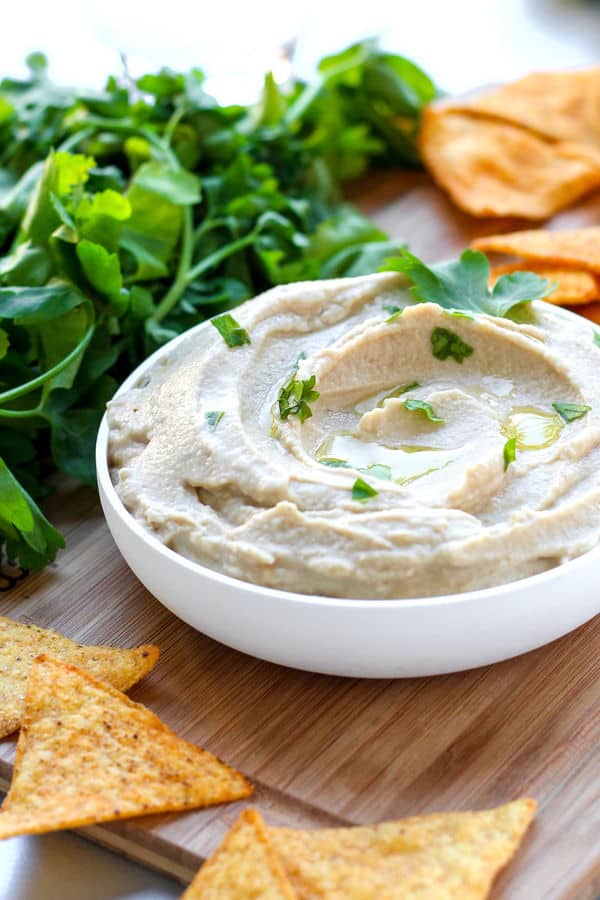 I'm a big hummus fan and I thought I had tried every variation there was. But I hadn't! The caramelised shallots that Thomas came up with make this hummus recipe absolutely outstanding.
I always look for magic ingredients, and by that I mean the one or two things that may not be obvious, yet bring the recipe to life. Here I have three magic ingredients! In the caramelised shallots Thomas adds maple syrup, balsamic vinegar and ginger amongst other things. If you like hummus you must try this. Thank me later!
Easy Walnut Truffles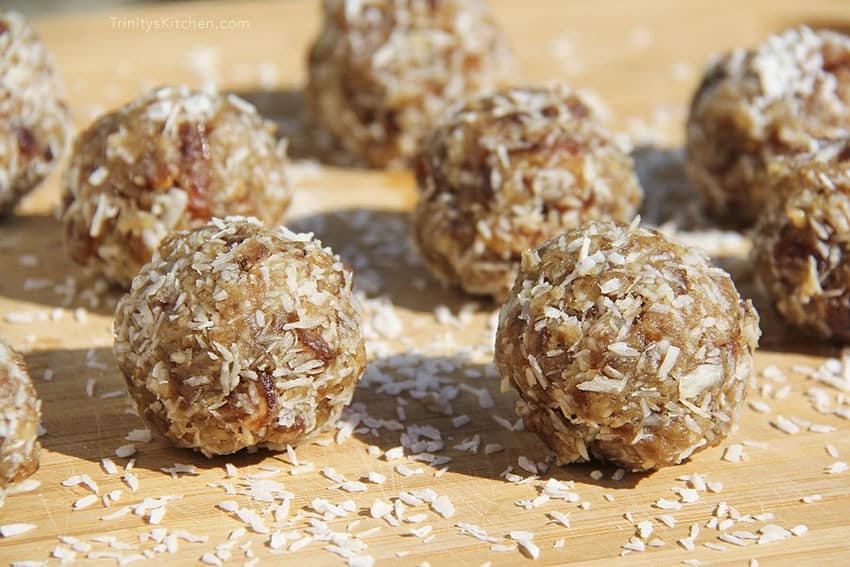 If you're getting into raw food then this one's for you. If you're looking for really simple recipes that are easy to remember, then this one's for you too. I hope I've convinced you that this one's for you!
Here we have pitted dates (personally I always recommend Medjool dates), walnuts, desiccated coconut and vanilla extract.
Put them in your food processor and wait for it to turn into dough, and you're ready to go. Hey that rhymes!
Well, the desiccated coconut can go in the dough but make sure you leave enough to roll the truffles into as well.
Put them in an airtight container and they'll last in the refrigerator for at least a week.
Alternatively, you can freeze them. I actually eat date balls straight from the freezer though to be honest with you, it's more sensible to give them a good hour to defrost. I'm just not often sensible!
Blueberry and Lemon Fudge with creamed coconut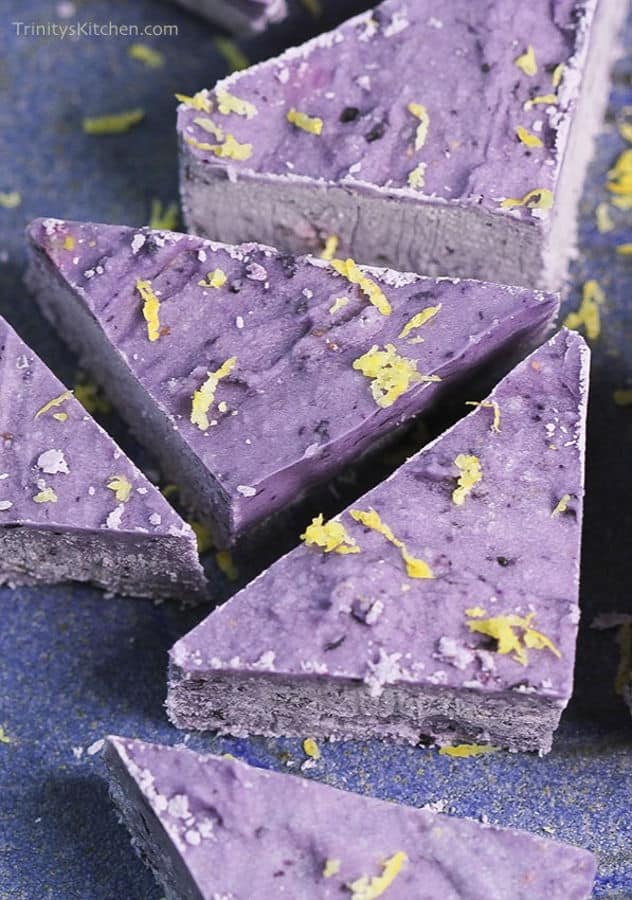 Time to do a happy dance! This recipe is so simple it's just ridiculous. Four ingredients, seriously just four.
Make sure you have organic frozen blueberries. In this recipe Trinity recommends frozen rather than fresh because they work best to reproduce this color for the fudge. Also note you need to let them defrost first before blending. What you end up with is fudge from heaven! Remember, vegan fudge does not contain any dairy so is practically guilt free!
Simple Guacamole Recipe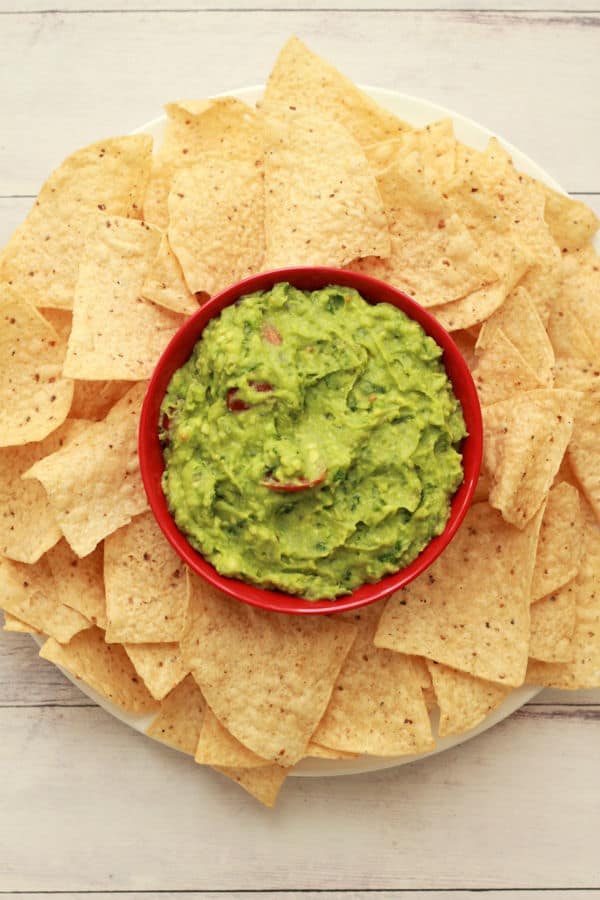 This is one of those recipes that is an old standby, a classic and you absolutely need to have this in your collection, no question.
Home-made guacamole is always better than store-bought as you know the ingredients are fresh as nature intended. Remember the lime juice and we really like that Alison recommended smashing the avocados with a fork. Often people use a food processor to make guacamole. Hey, there's nothing wrong with that but I prefer the rustic texture you get when using a fork. Some bits are smooth and you get some chunks of avocado as well. Great!
Baked Cucumber Chips Recipe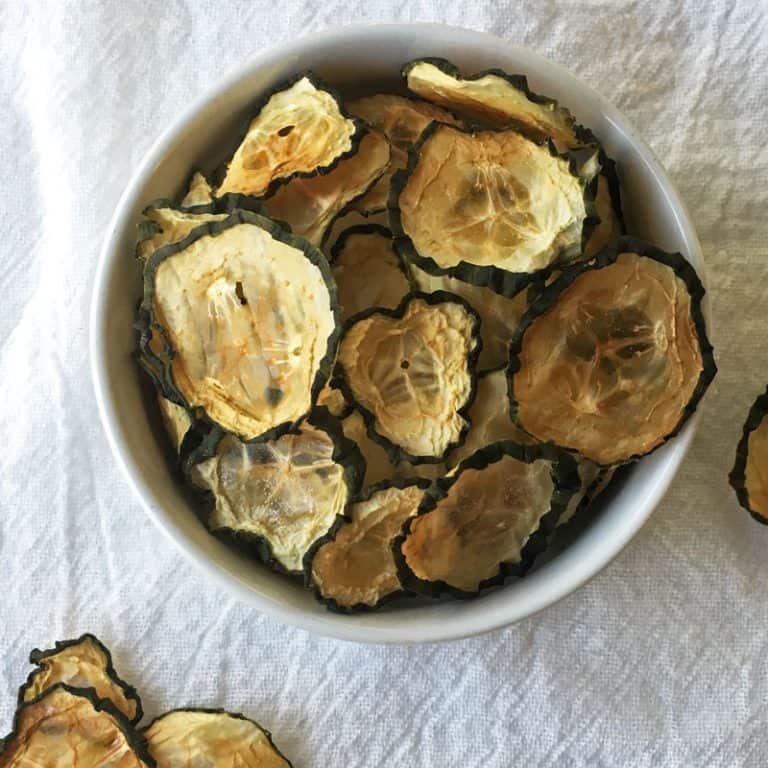 When I first saw this recipe I thought, what? Then I thought about it for a moment and I quickly began to like the idea. Now I've tasted it, it makes total sense. The recipe here has four options for seasoning and the beauty of it is, you could use all of the options after you bake the cucumber to see which you prefer.
Divide the cucumbers into four portions and try one of the seasonings on each portion. Alternatively, you're completely free to make your own seasoning. Why not experiment? Remember, because these are healthy, get the kids involved, they'll love them!
Simple Granola Squares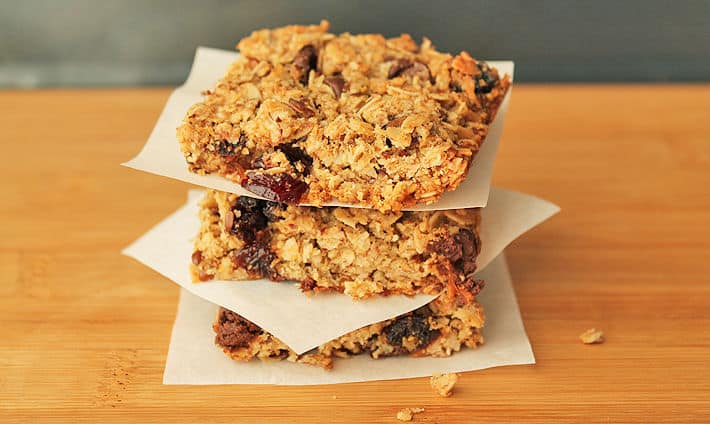 This recipe is plant-based and gluten-free! Gwen has done a really great job at not only creating a simple recipe but also giving you the flexibility of adding your favorite ingredients as well.
The total time to produce these beauties is just under 45 minutes and that includes prep and cooking time. Get the kids involved and you'll have a fun time making and eating these delicious bars!
Carrot Coconut Muffins (Gluten-Free)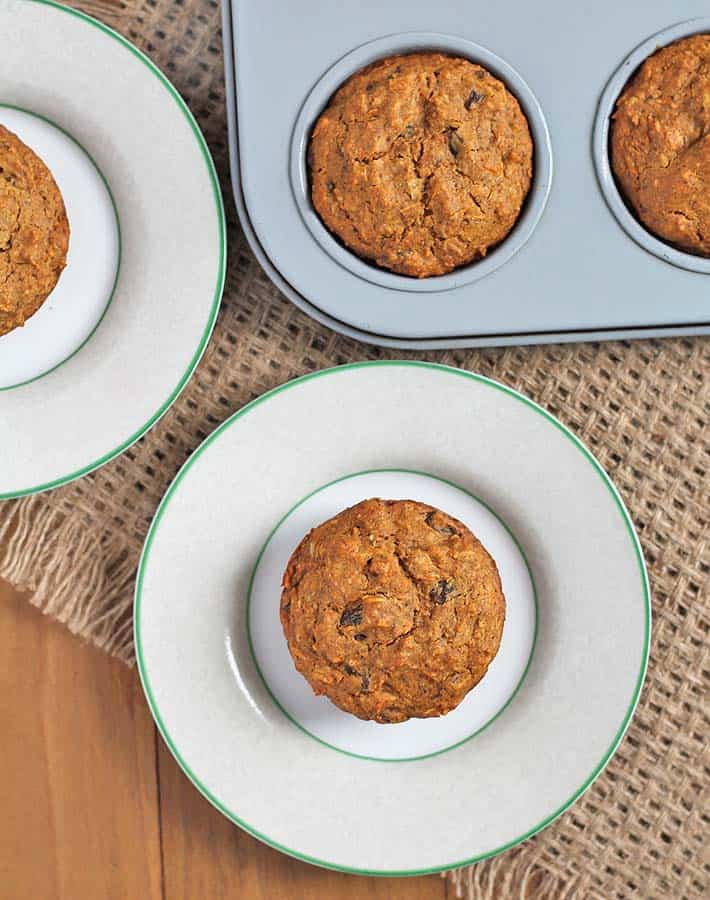 I think everybody has tried carrot cake but what about carrot muffins? These are really quick and easy to make and will last all week, though not in my house!
Gwen has done a great job of producing these vegan muffins that are gluten-free as well. This recipe includes coconut, fresh or dried will work fine. You need some gluten-free flour and unsweetened applesauce. This recipe is definitely a keeper because everybody likes muffins!
Chai Sweet Potato S'Mores Bars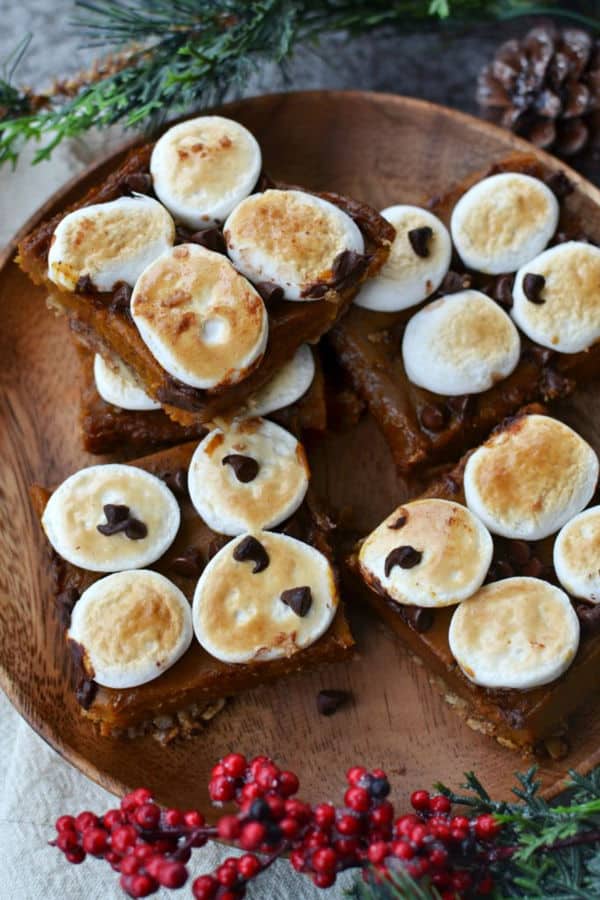 Oh my goodness, this recipe by Rachel is just something else! To think the filling contains sweet potato amazes me. The crust is just delicious and the topping of vegan marshmallows gets a double thumbs up from me!
This is well worth the effort if you have friends or family coming over or if it's the holidays. The coconut milk for the filling gives the bars that distinctive flavor. Remember, being plant-based it may as well be guilt free.
Simple Homemade Dried Fruit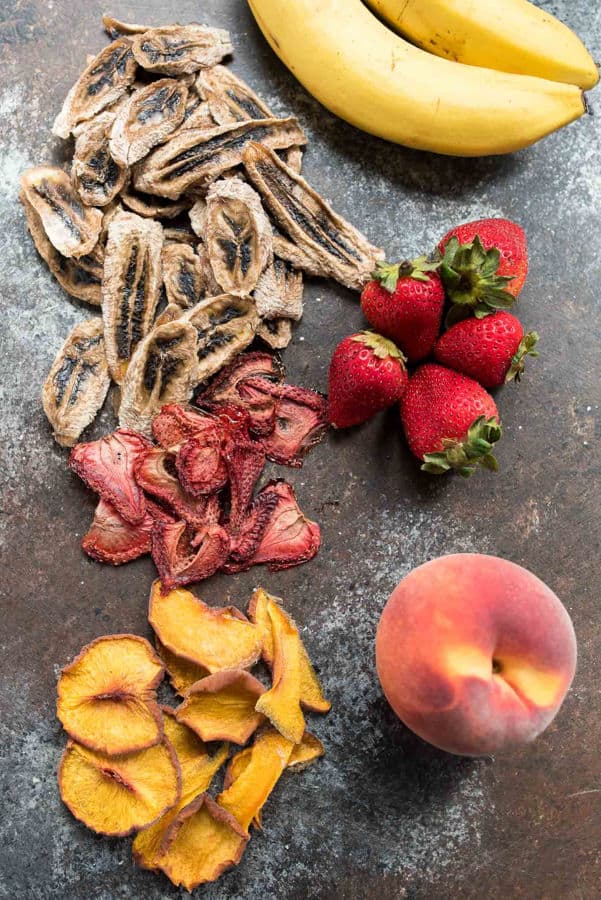 Dried fruit is fabulous and we normally get it from the store. Some is organic, some is not, some are even coated with oil and because it's dried fruit we rarely check the ingredients. So how do you make this at home?
Well, Melanie very simply lays out great instructions on how to dry fruit in your oven. If you enjoy doing this I would seriously consider investing in a dehydrator.
Chocolate Cake, Simple and Delicious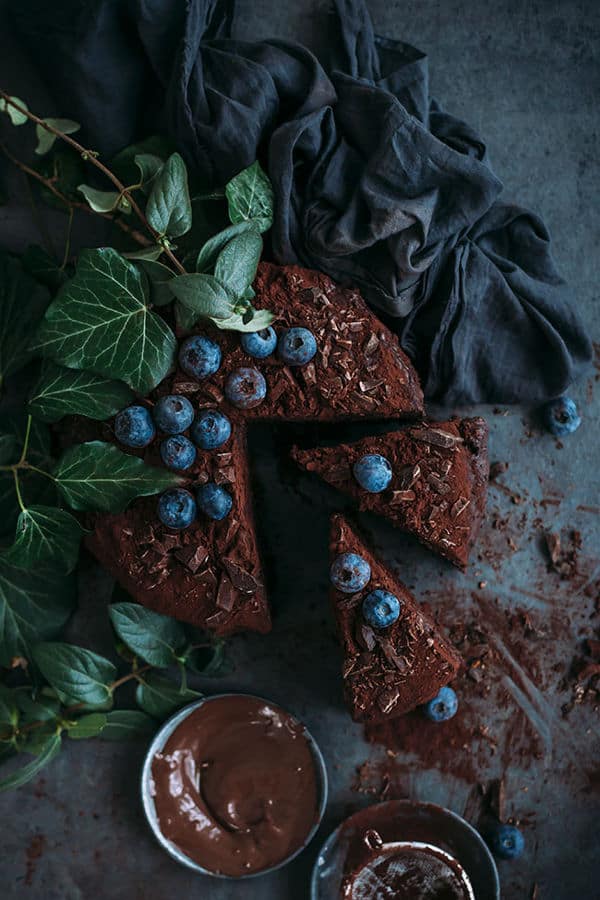 Chocolate cake! Come on now, this is what we need! If you have been reading my descriptions you'll have noticed that sometimes we come across classic recipes that I advise you to keep. This is definitely one of them!
Total time for this simple and delicious cake is 50 minutes and that includes 10 minute prep time and 40 minute cooking. We love having plant-based alternatives to classics. This recipe also includes a vegan chocolate frosting!
Fancy Sauteed Snow Peas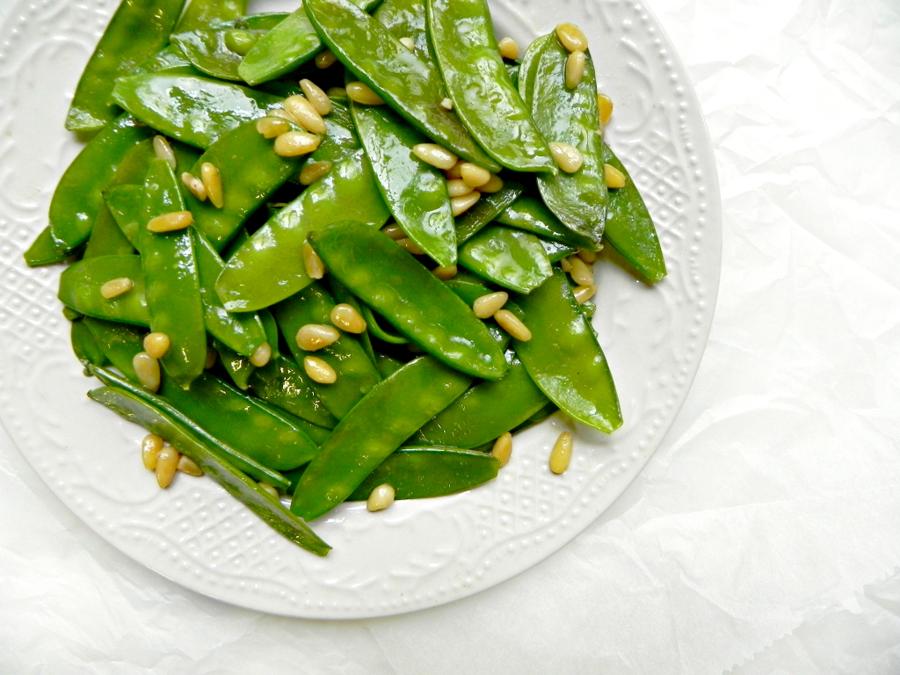 This is a wonderfully easy recipe for this delicious vegetable. It's a fantastic side dish and it also adds vibrant color to your plate.
The truffle oil makes this unbelievable. This is an ingredient you do not want to skimp on. Make sure you get the best quality oil. A little goes a long way, and it's a great investment for your spice cabinet.
If you can't do the truffle oil, you can sub in a good quality extra virgin olive oil, but I promise you, the truffles make this dish. It just isn't "fancy" without it!
Maca Date Balls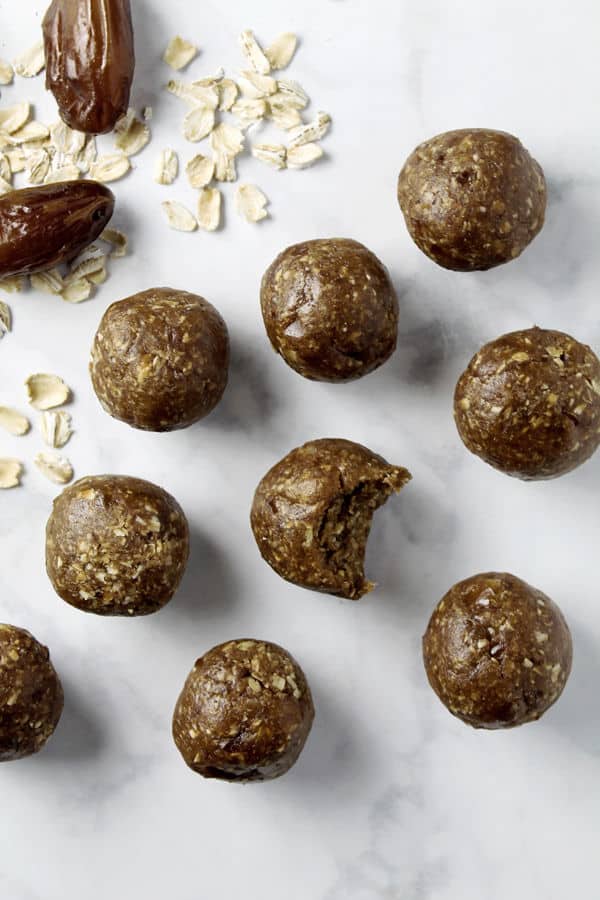 You can never have enough recipes for date balls. Sometimes people call them energy balls as well. Love the addition of the Maca powder which sets this apart from the rest. Okay, the peanut butter has something to do with this as well!
I would recommend using pitted Medjool dates. The instructions in this recipe say to use a food processor or high-speed blender. I recommend a food processor. Remember to give it a good few minutes whizzing before it starts to turn into dough. Absolutely delicious.
Best Vegan Apple Crisp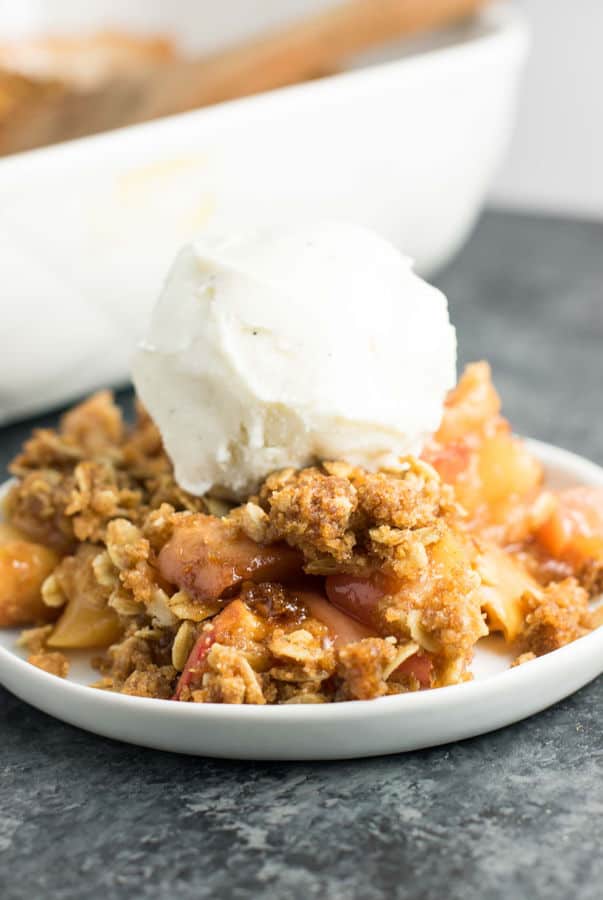 This simple recipe I think is the best apple crisp you'll ever eat. Joy has put together an ingenious combination and method to bring you this beauty in just 15 minutes!
The ingredients are divided in two, the filling, which is made from fresh and simple ingredients and the topping which is to die for. You need to make this!
Easy Vegan Oreos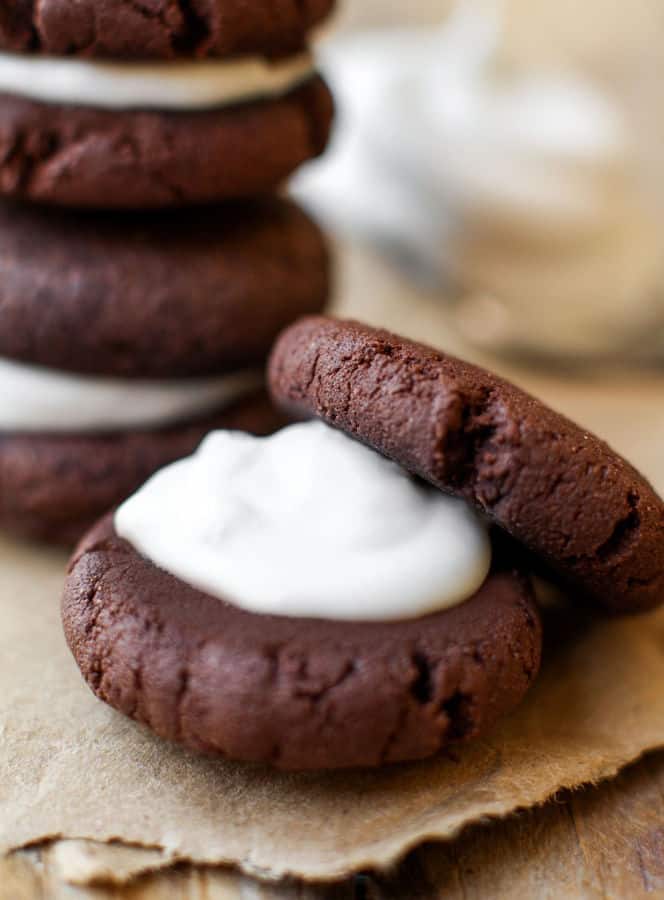 Can you believe that these tasty pieces of heaven only contain three ingredients! Not only are they easy to make, Natalie, the recipe creator, has also made this flexible so you can choose your own fillings as well.
Now, do take note that these are not only gluten-free but oil free as well. You'd be surprised how many times oil adds taste to food. Personally, I think we're addicted to it a bit too much so seeing this recipe put a big smile on my face. Get the kids involved in making them. These are great snacks to have!
Wrapping Up
We hope you enjoy these recipes!
We've gone through each one to bring you only the very best.
We're not all great cooks or professional chefs and most of us rarely have a lot of time to spare.
Having a collection of handy recipes, which are easily accessible, is what we always wanted for ourselves, so now we've curated them for you.
Let us know what you think and which are your favorite dishes!