We wanted to give as much coverage as possible to these great recipe developers, while at the same time giving you the very best sweet potato recipes.
Potatoes are fabulous, versatile and can be used in so many different ways.
Here, we're focusing on recipes containing sweet potatoes because we especially love them! Generally speaking, sweet potatoes are less starchy than white potatoes, so you don't get that heavy feeling after eating.
We've worked hard finding you the best recipes, and we have them all here conveniently in one place for you, so have a blast and bon appétit!
Vegan Sweet Potato Burger Recipes
Sweet Potato Mushroom Guacamole Burgers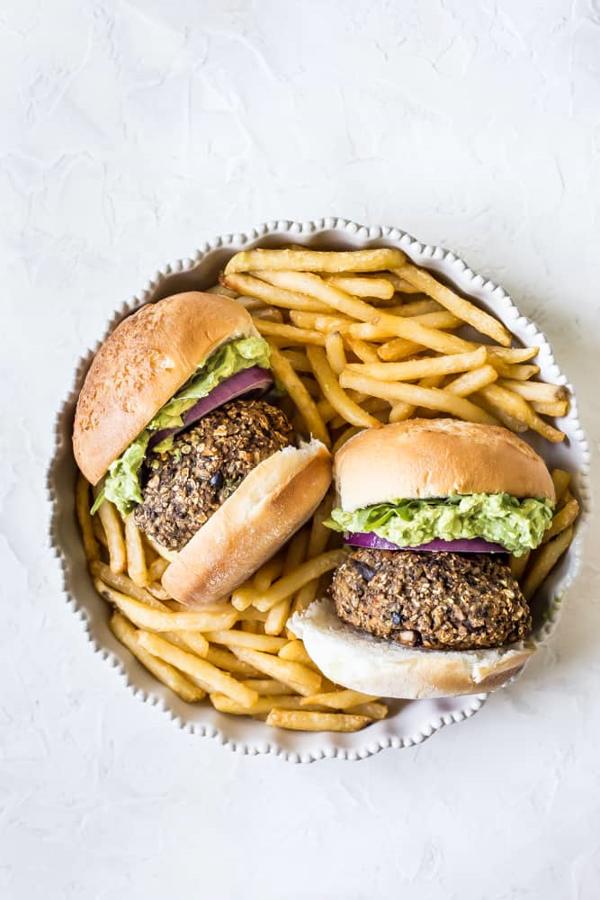 If you love a good, hearty burger then Gina at Healthy Little Vittles has got you covered. These burgers are cook-out worthy but require no grill! Win! You can make these beauties any day of the year! These burgers are great for meal prepping, as the sweet potatoes can be pre-roasted.
If you do this, the whole meal comes together in a snap and you'll be a dinner (or lunch) hero! The mushroom and sweet potato combo makes for a filling burger and it will please even the pickiest member of your family.
Not only are these burgers yummy, they're also way better for you. You'll feel full of energy and not weighed down by this amazing burger recipe. You'll never believe a homemade plant burger can taste this good!
Superfood Veggie Chia Seed Burger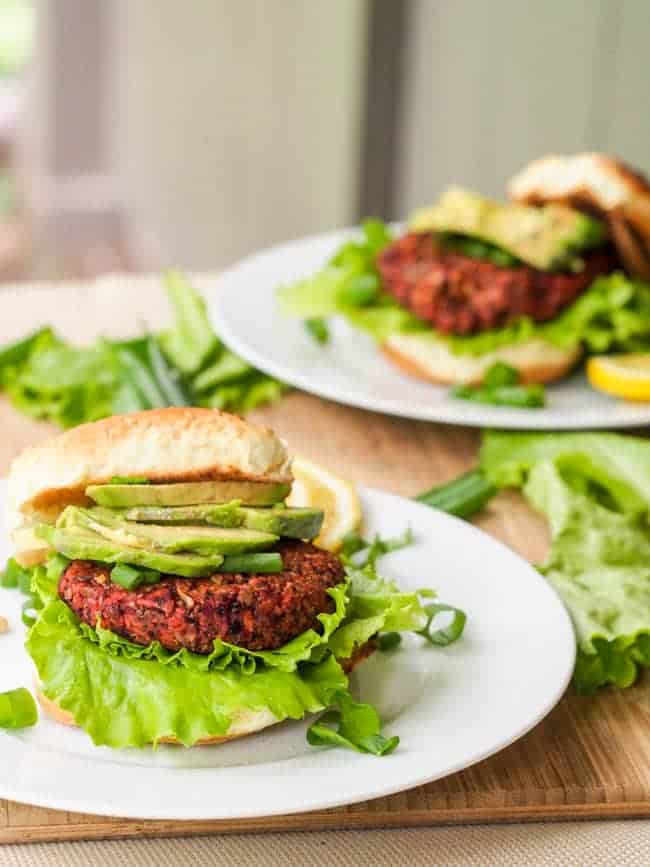 There seem to be an endless number of plant-based burger recipes out there and I don't think I've ever tasted a bad one. But, this is one of the best ones! Vicky has created a burger that doesn't just taste great, it's also extremely nutritious.
When you look at the list of ingredients, you can see a lot of thought has gone into this.
From the different seeds, herbs and even smoked paprika, they all play their part in creating a simple recipe you'll want to eat again and again.
Vicky recommends refrigerating the patties for about thirty minutes to help them stay firm and I think this is good advice, so factor this into your prep time. Serve with your favorite garnishes and if you've never put sliced avocado with your burgers, now is the time to try!
Quinoa and Sweet Potato Veggie Burgers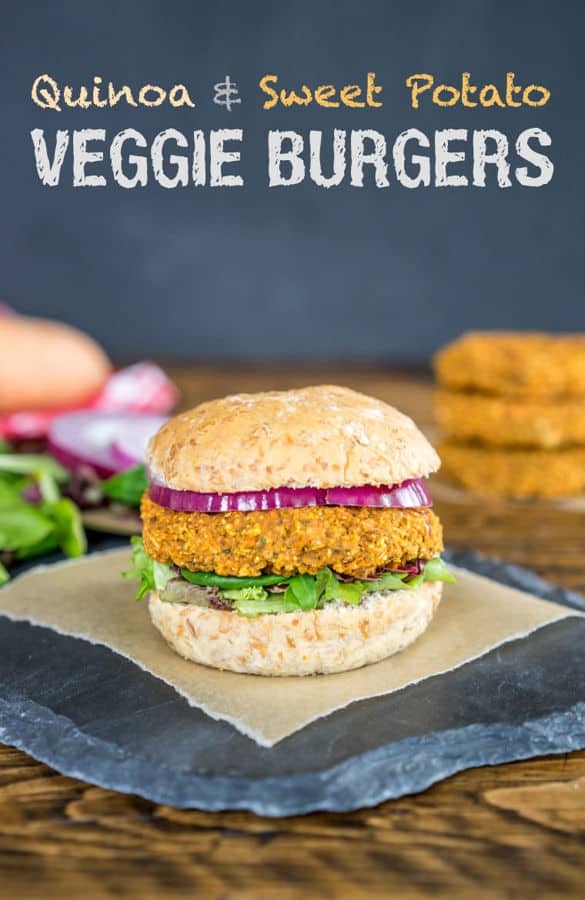 Andrew, the One Ingredient Chef, has a great burger primarily made from sweet potatoes and quinoa. The ingredients are simple and straightforward. The end product is a really great looking burger you can serve just how you like.
The recipe page is something else I love, and I don't say this often. Rather than a list of ingredients and then a wall of text as directions, Andrew takes you through each step with photos along the way, so you know just what you're supposed to be doing and when.
It takes more effort to create things like this as you need to take photos as you go along but it's so helpful!
If you want a wholesome tasting burger that's easy to make, look no further!
Easy Grillable Sweet and Spicy Black Bean Burgers with Mango Habanero Cream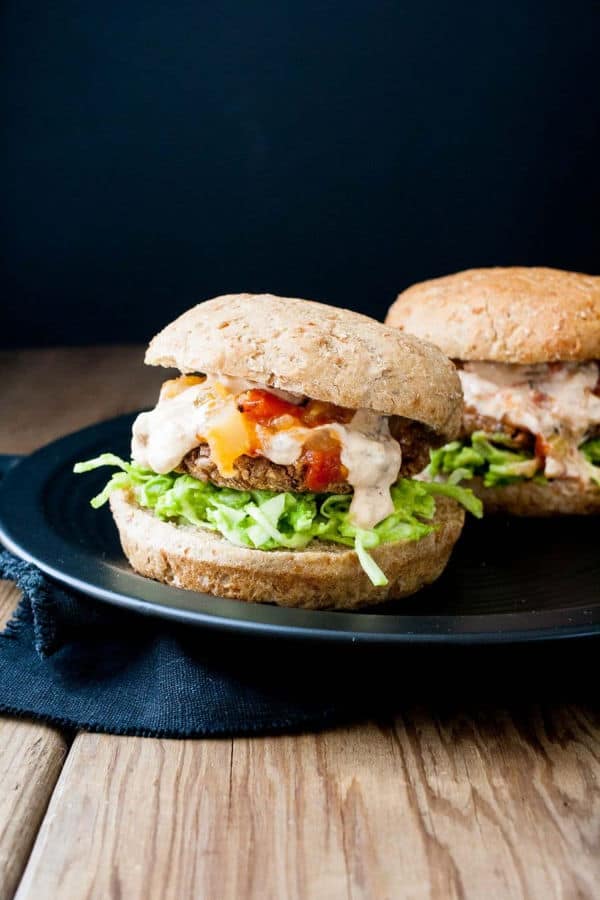 Plant-based burgers are normally baked as if you're not careful with some recipes they can easily fall apart, which is why it's common to put them in the oven as there's less physical movement during the cooking process. Sophia, though, has created a burger you can grill. Imagine this on the barbecue in the Summer!
Take note, Sophia recommends you prepare the mixture the day before, so it can sit overnight for the ingredients to marinate and combine.
This makes a significant difference to the flavor of the burger. The recipe also includes optional toppings which I think should be renamed, Imperative Toppings!
Also, the Mango Habanero Cream, I can't say enough about this other than you just must make it. Is it appropriate I beg you to do this? A lovely recipe complete with a handmade garnish.
Easy Sweet Potato Black Bean Burgers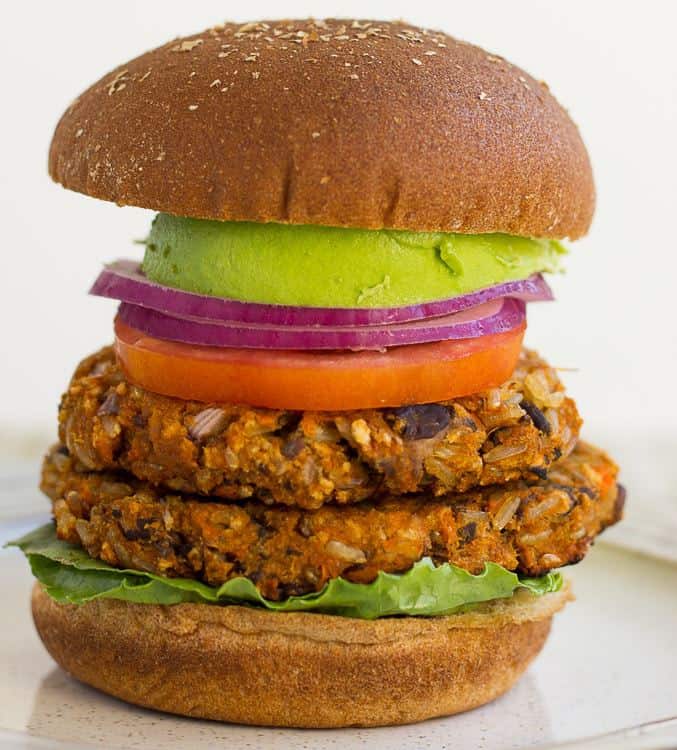 As well as black beans with the sweet potato, there's also brown rice and breadcrumbs, these make up the base of this burger. Other than this, it's literally onion, cumin, smoked paprika and seasoning. That's it! With so few ingredients it'll be easy to get the kids involved in the preparation.
Nora, who created this recipe, gives lots of advice; and the best for me, is these burgers freeze well!
That's always important when you're busy. The flavor is wholesome and totally satisfying and I can imagine it going with any accompaniment whether it be pickles or just the standard lettuce and tomato.
Because of the smoked paprika, you could say it's slightly spicy, so if you or your kids don't want this, just leave it out. The prep time is just ten minutes and with these real food ingredients you certainly may as well double the recipe and freeze them. It would be rude not to!
Shiitake Mushroom Sliders on Sweet Potato Bun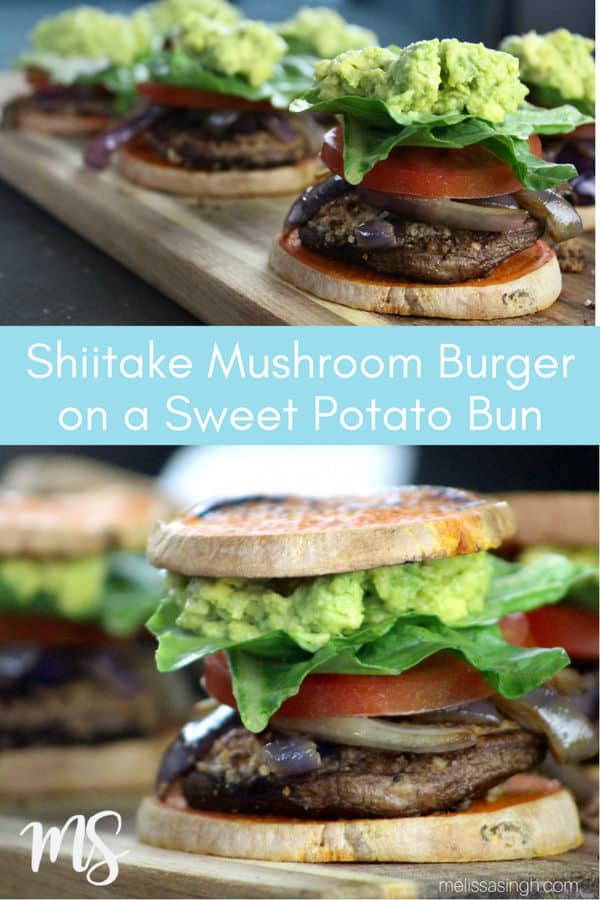 If you want something different, healthy and totally delicious, then here it is!
To put it simply, the burgers are large shiitake mushrooms which are just bursting with flavor and great texture! The "bread" is sliced sweet potato that's baked to just the right consistency.
There are also little extras like garlic, walnuts and more, making this very special. If you're unsure about the sweet potato "bread", trust me, it not only works by adding great flavor (which bread doesn't always do), it also leaves you feeling much lighter!
I really love Mel's recipe because it just shows what you can do with real food rather than processed foods. I really love the recipe page as you can just the number of sliders you want to make, and this changes the recipe amounts automatically. Very nice touch!
Vegan Sweet Potato Casserole Recipes
Marshmallow-Topped Sweet Potato Casserole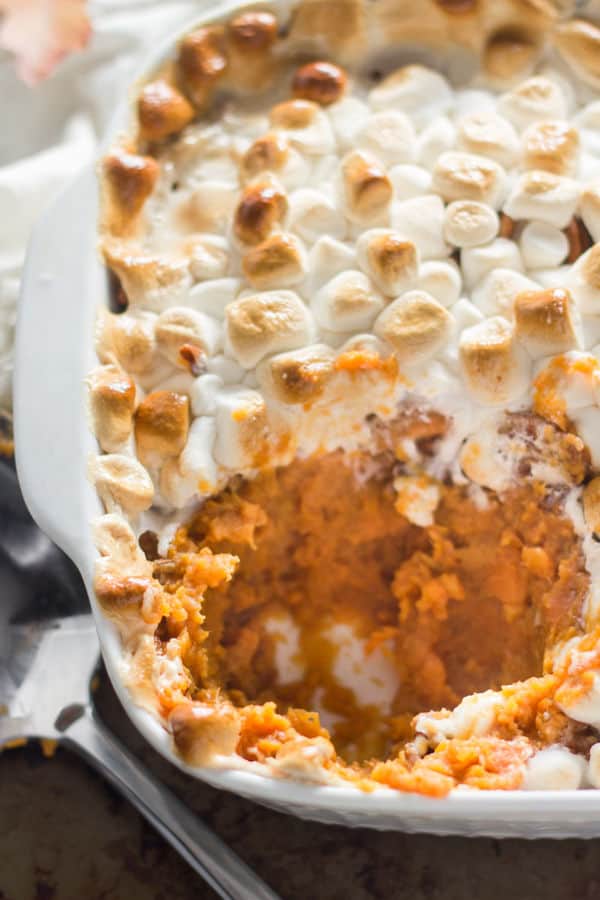 This recipe works an absolute treat! There are crunchy pecans, coconut milk and even maple syrup! The ingredients are simple and so is the preparation.
Casseroles are always great, especially for leftovers. But what about if all your leftovers are just sweet potatoes? You could bake them, but you've done that before.
Here, Alissa uses ingredients you're likely to have in your kitchen already and creates a hearty and simple casserole which just takes you about fifteen minutes to prepare (then thirty minutes to cook). The result is a moreish treat that'll quickly become a favorite. This can also be used as a side dish as part of a meal.
Sweet Potato Butternut Squash Gratin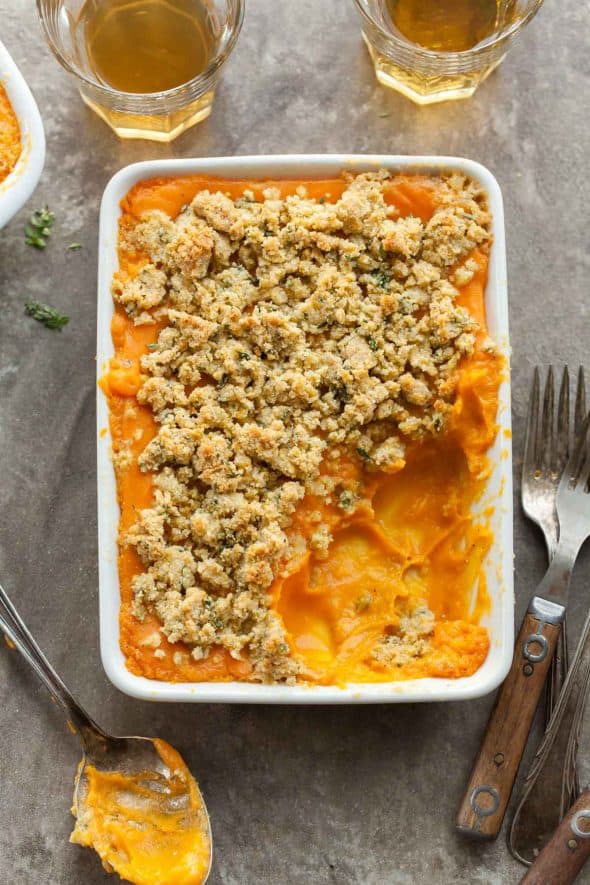 During the holiday season a lot of people make sweet potato casserole which is one of my favorites. But what happens when you want to make a classic dish but want a slight twist on it to surprise your friends and family? Well, Sylvie has come up with the answer.
The sweet potato casserole is scented with thyme which is the first thing you notice. It's not overpowering and is just a part of the overall flavor.
I think the magic ingredient is the coconut yoghurt, it's a great touch. In the ingredients list there was one clove of garlic which you can easily double if you wish and it won't be anywhere near too much. The topping is fantastic, and I could eat it by itself! A perfect dish for the holidays or any family gathering.
Healthy Sweet Potato Casserole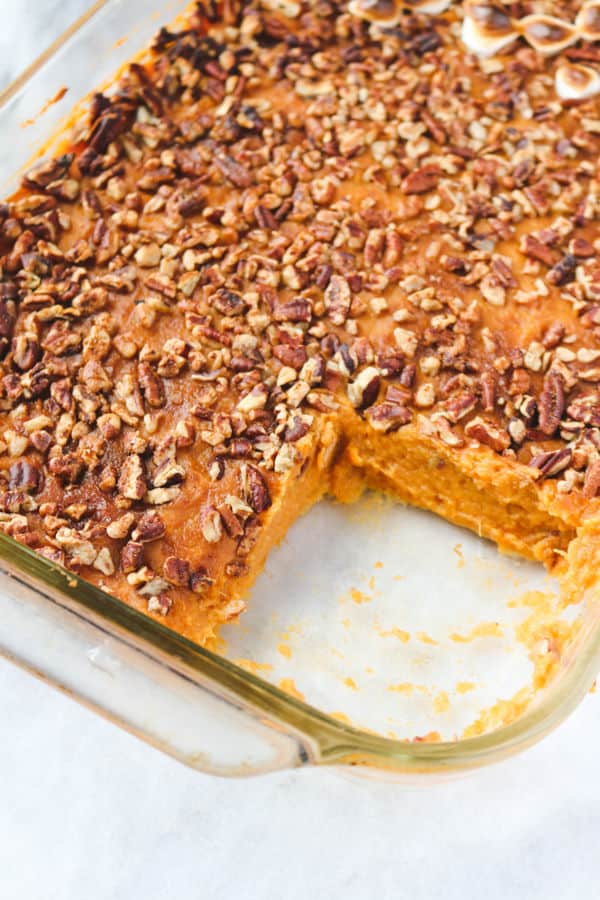 Caitlin has recreated a vegan, gluten-free and refined sugar free, sweet potato casserole which gets a thumbs up from us!
We love the simplicity of the entire recipe from start to finish. We especially love that you can store any leftovers in an airtight container that'll last for up to a week in the refrigerator.
I love the pecan toppings and will sheepishly admit I used two cups rather than one! Personally, I'm not a fan of nutmeg so I left out the half a teaspoon, but I know I'm probably the odd one out here. But, just so you know, it worked just fine without it.
As if all this goodness wasn't enough, from start to finish your looking at just over half an hour which includes prep and cooking time. How amazing is that!?
Vegan Chickpea Sweet Potato Recipes
Sweet Potato, Chickpea & Spinach Empanadas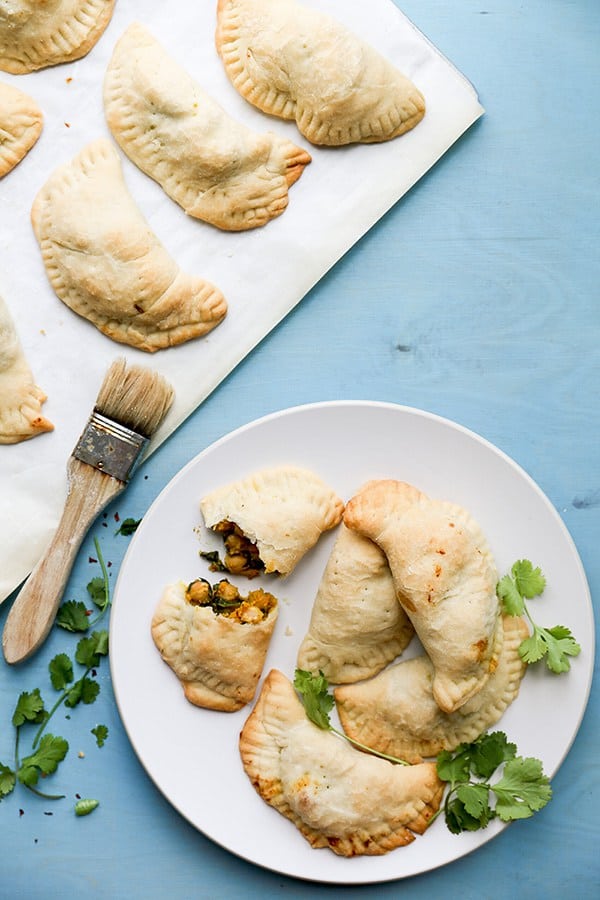 When you're trying to stay healthy and everyone around you is having all sorts of snacks, sometimes you want something more than a healthy wrap, even if it's tasty! Well, the good people at Oh My Veggies have created the Olympic champion of snacks!
Now, making everything here from the dough to every part of the filling, the total time will be two hours and twenty minutes.
You could buy some frozen dough but honestly, if you're going to the trouble of making the filling then you may as well make the dough, and you'll know everything that's gone into this. A word of warning, even though this recipe will make twenty empanadas, they'll not last long!
Sweet Potato Chickpea Curry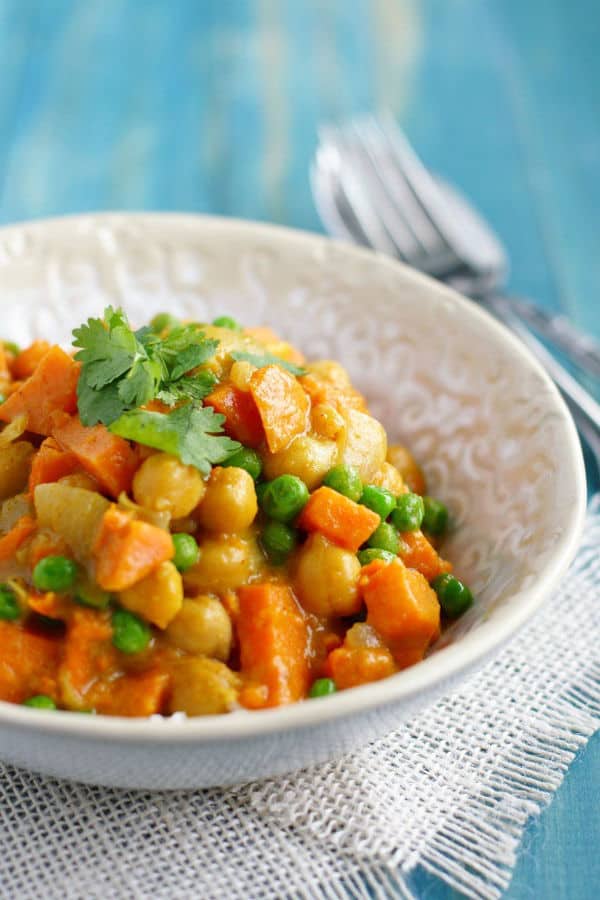 Whenever we come across a good curry recipe, my team knows to pass it to me! A good curry is quite easy to make but great curries don't come around very often. Here, Kelly has produced a really great curry. Please give me a moment while I assume the, "I'm not worthy," position!
I'll tell you right off the bat you should double the ingredients, although full disclosure, this could just be my appetite talking.
The ingredients here are simple, wholesome and classic. Why should you make twice the amount? Well, curries are often served over rice (basmati) although this isn't the case in certain parts of India.
This curry is so good you actually don't need the rice, hence why you may want to consider making more. This recipe will make about six servings.
The dish is quick and will be ready in less than three quarters of an hour from start to finish. Kelly, thank you!
Sweet Potato Broccoli Chickpea Bowls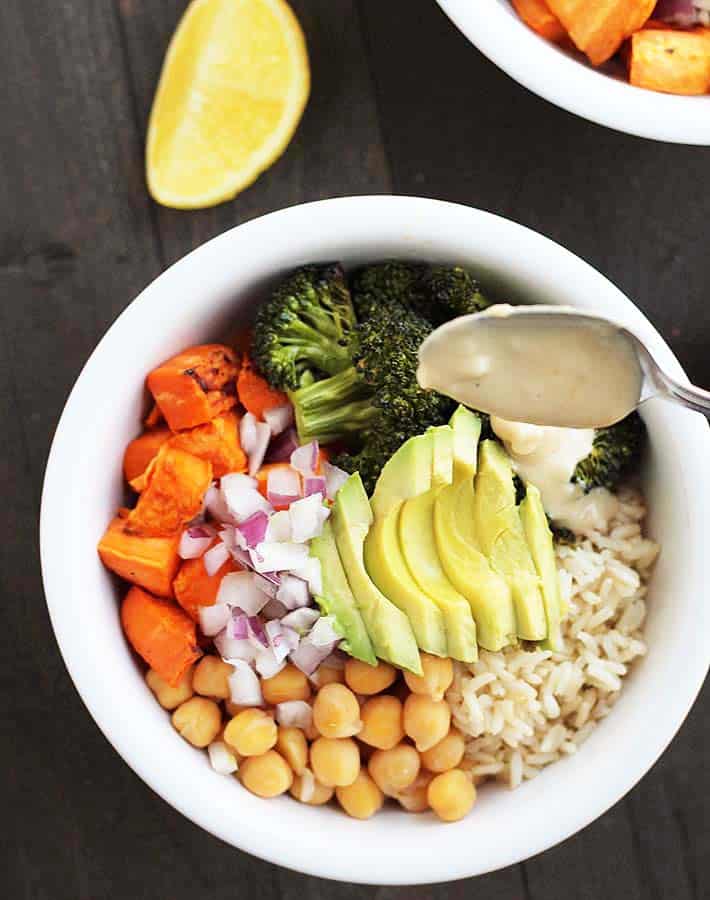 Gwen, from Delightful Adventures, has given us a very versatile recipe where you can mix-and-match the ingredients depending on what you have available. The sweet potatoes baked in the oven with the broccoli are at the heart of this dish for me.
I love these kinds of recipes, especially the presentation as you separate all the ingredients in the bowl. I think it looks great. The magic in this recipe is the Garlic Tahini Sauce, which tastes so fresh and creamy, yet not heavy.
Do add the maple syrup which will counteract any bitterness tahini sometimes has. This recipe makes a great lunch or dinner, and will be ready in about forty-five minutes from start to finish.
Chickpea, Spinach & Sweet Potato Brown Rice Bowl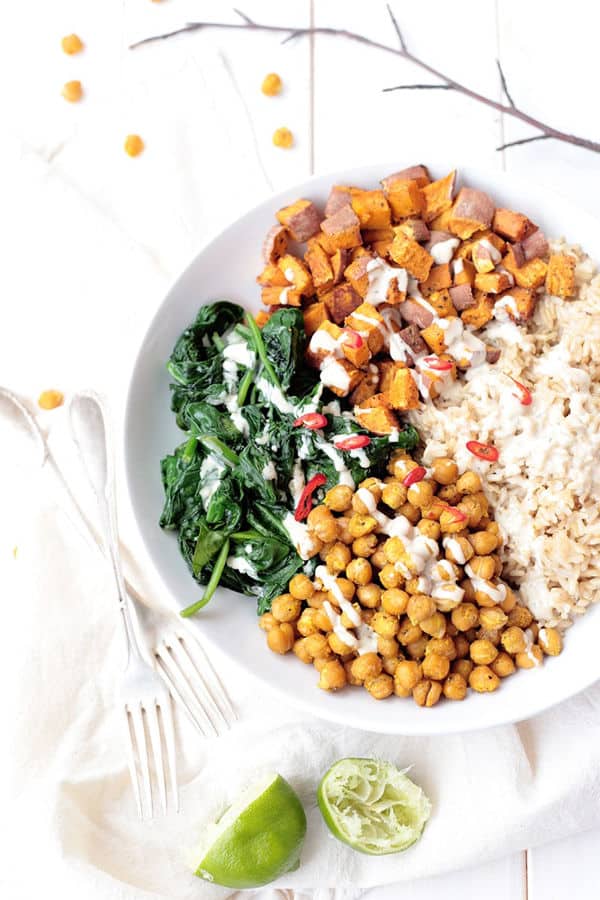 Evi is a Hungarian photographer who loves food which means we get great tasting and fabulous looking recipes, the perfect combination!
This is another one of those recipes where you can easily substitute the ingredients depending on what you have in the kitchen. My favorite part of this recipe is the cooked spinach which complements the other ingredients beautifully. Evi's tahini dressing is so simple and yet so tasty.
I'll use it as a salad dressing and probably on everything else too! Did I just say that out loud? Most of the time needed to make this dish will be the forty-minute cooking time with only a quarter of an hour on preparation. It's extremely satisfying, and you'll make it again and again. Köszönöm Evi!
Vegan Sweet Potato Dinner Recipes
3-Ingredient Sweet Potato Gnocchi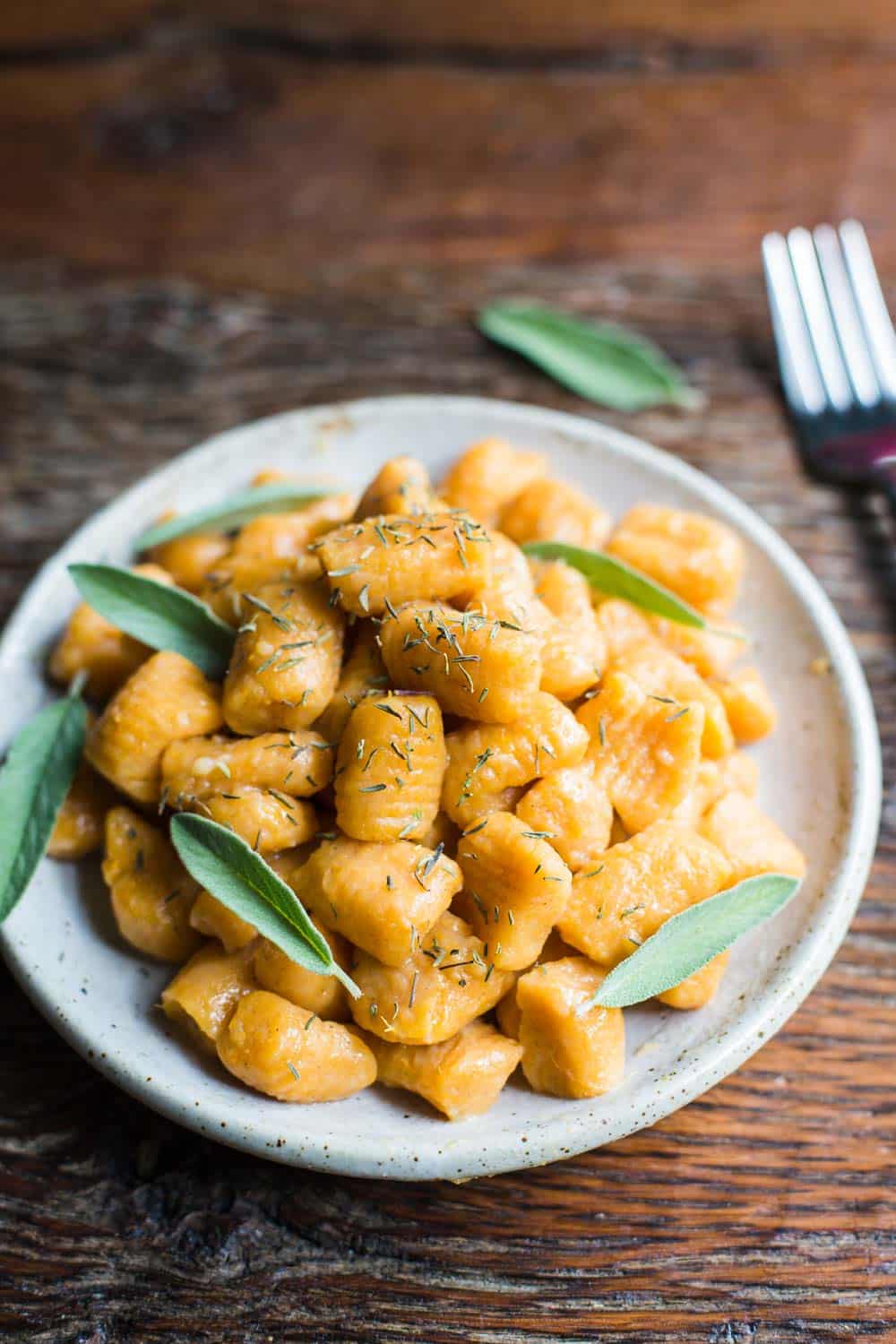 For those of you wondering what gnocchi are, they're a variation of classic pasta. The only difference being, when making the pasta, you include cooked potato along with the flour to make the dough.
When the dough is ready, you create long cables which you cut into pieces of about an inch or so in length. Then, usually with the back of a fork, you gently push the dough ball a little while pulling the fork towards you to create this unique shape. That's it!
Here Brita is using sweet potato rather than regular white potato. The end result is a dish which is very much lighter than the standard recipe. As a lover of Italian food, I really appreciate this recipe a lot.
I can tell you, your gnocchi will easily freeze and cook straight from frozen. Just lay them on a tray, preferably with a tea towel or something as a base so they don't stick, then cover before freezing. Serve with your favorite pasta sauce and you'll have a delicious and satisfying, light meal.
Macro Veggie Bowls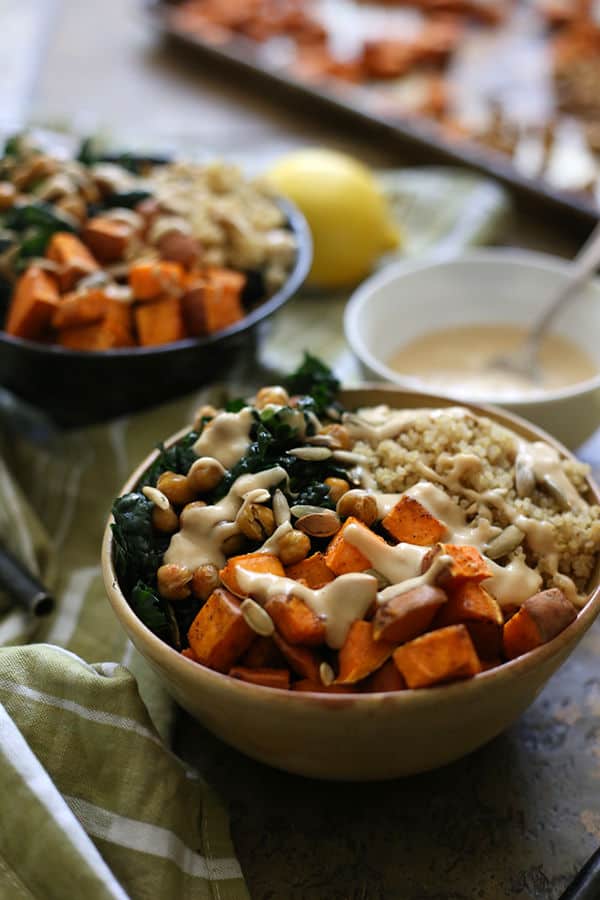 It's going to be difficult for me not to keep talking about the sauce as I write this. Oh, my goodness, the sauce!
Davida has not just created another veggie bowl, which would be great anyway, but she has provided us with a unique way of preparing the chickpeas which will give you a different texture you may not be expecting.
Sauces can easily make or break a dish and this one is the pièce de résistance! The ingredients are simple, and my advice is to make at least double the amount to keep back, and store in a container for later. I have used it on salad and a regular baked potato, it was a hit both times!
Swift Sweet Potato Curry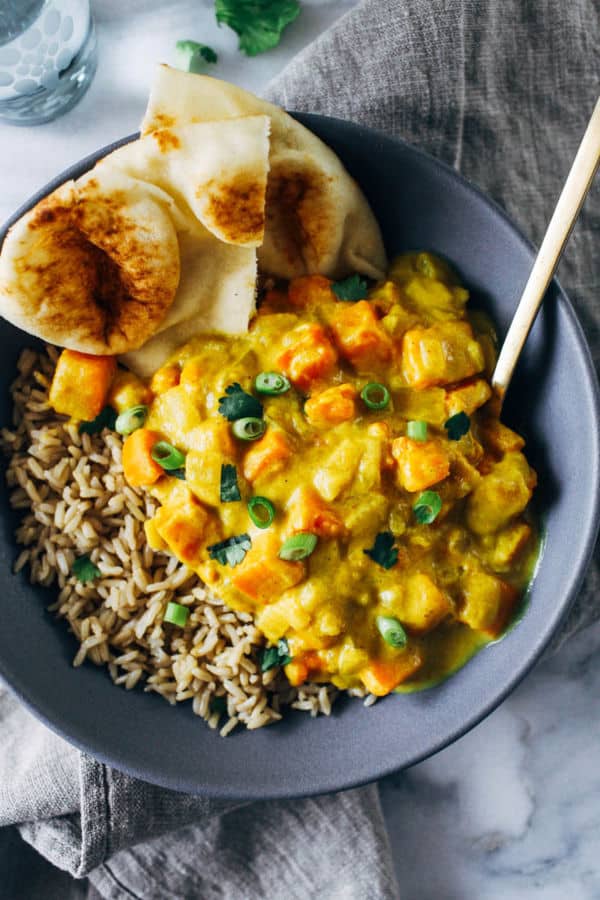 It's curry time again and I couldn't be happier! This time, however, we have a creamy curry that's not only plant-based, but it's gluten-free and oil-free. Yep, don't adjust your devices, I did say oil-free!
As I was reading down the list of ingredients, Sarah put together for this dish, I found myself nodding and thinking how good this'll be!
Best of all, you can have this on the table ready to eat in about half an hour. Serve with either your favorite basmati rice or vegan Indian bread. You can also do what I did and have both!
Sweet Potatoes with Candied Pecans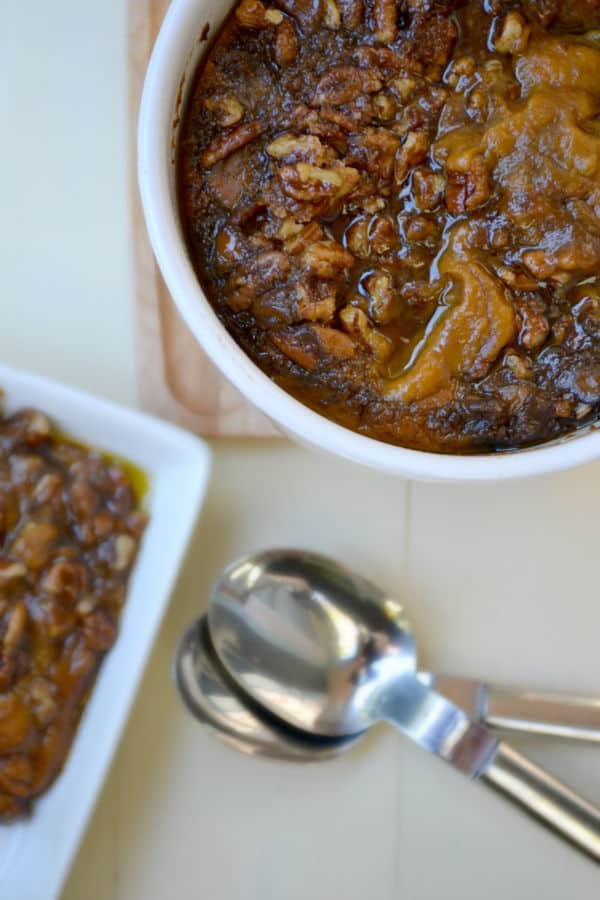 Cara, who created this dish, is the first to tell us this dish doesn't look overly appetizing.
Just because of what it is, I don't think any amount of photography or effects is going to make it pop. However, for what it lacks visually let me tell you, it packs an absolute punch when it comes to taste, and then some!
The dish is quite simple, and you probably have many of the ingredients in your kitchen already.
In with the sweet potatoes there are some really tasty additions such as ground ginger, orange rind and even some brandy! The topping has just four ingredients you pour over the mashed sweet potato, which is where the magic begins.
Well, strictly speaking the magic happens when you actually eat it!
You can make it the day before, which is what I'd recommend and then when ready bake for about twenty-five to thirty minutes until brown and bubbly, then serve.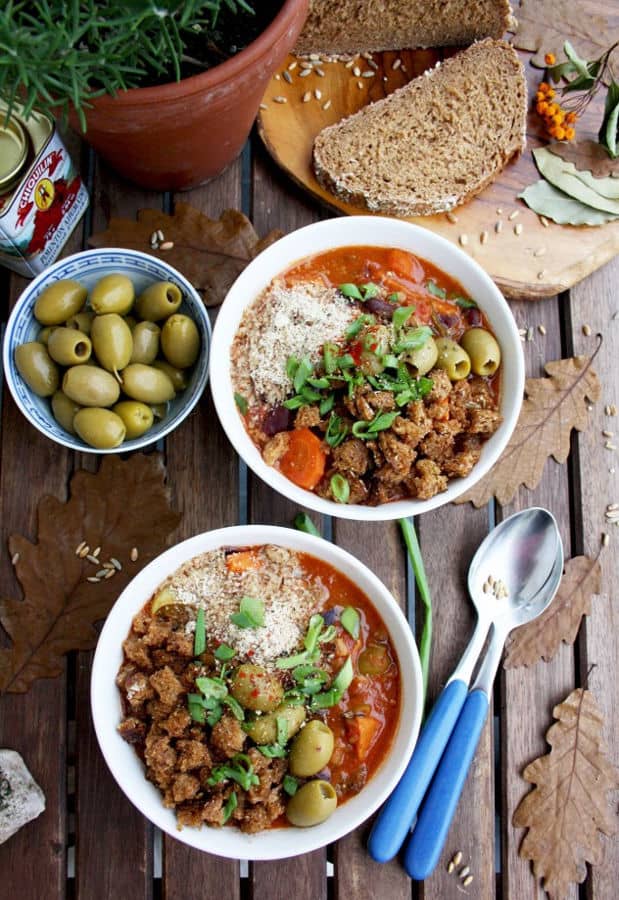 This is a great winter stew although, it's so delicious it's good for any time of year. Elena, from Happy Kitchen, has really created something tasty and a little different which is always great to see.
You're looking at about one hour to get this dish to the table and given what it is, that's really not bad.
It's very versatile so you can mix-and-match some of the main ingredients depending on what you have in the kitchen.
The secret here, which makes this dish stand out, is the hazelnuts and crispy bread crumbs. I've never had anything like this before and it was absolutely wonderful. You can adjust the servings on the recipe page which will change the ingredient amounts, very handy!
Sweet Potato, Coconut + Red Lentil Dal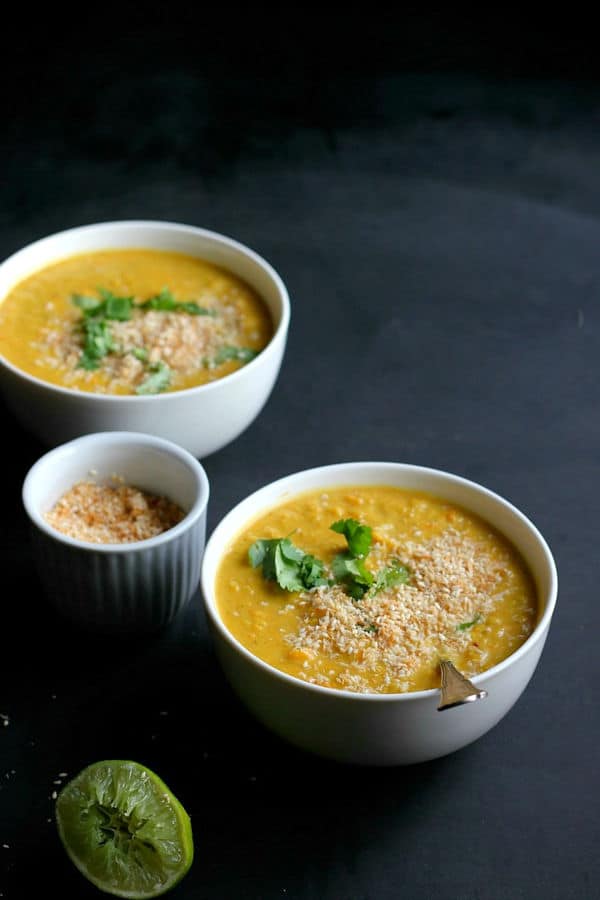 I love dal dishes, and the good news is they're often naturally vegan. Jodi, from Happy Hearted Kitchen, created a classic dal with a slight twist, which makes it a bit different but not so far away from the familiar, yet enough to make it unique.
I think the secret ingredients for me are coconut and freshly grated ginger. The three cloves of garlic are a win and you absolutely must have the fresh cilantro and lime. You can serve with your favorite rice or some good plant-based flat bread for dipping!
One-Pot Coconut Curry Quinoa Lentil & Sweet Potatoes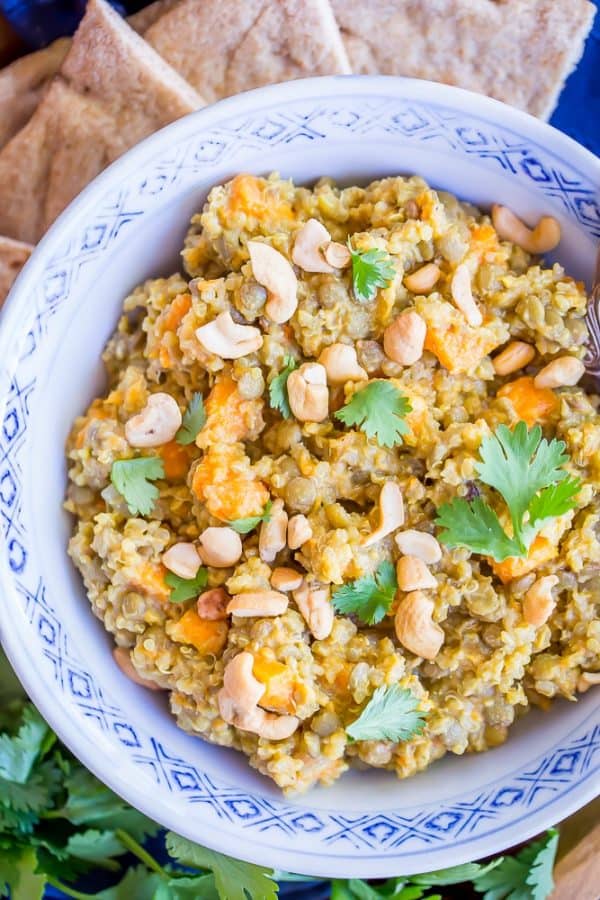 I really love one pot meals as they can be easier when you have little time, but you still want something nourishing to reward yourself with. Izzy from She Likes Food has the answer!
The sound ingredients already tell you, you'll end up with a very tasty dish that's both gluten-free and oil-free! it'll take about an hour to cook.
It doesn't really need much attention while simmering, just keep it on a low heat and it'll be ready when the liquid has absorbed, and the lentils and sweet potato are cooked. I really love the optional garnish of chopped cashews, great touch!
African Sweet Potato Peanut Stew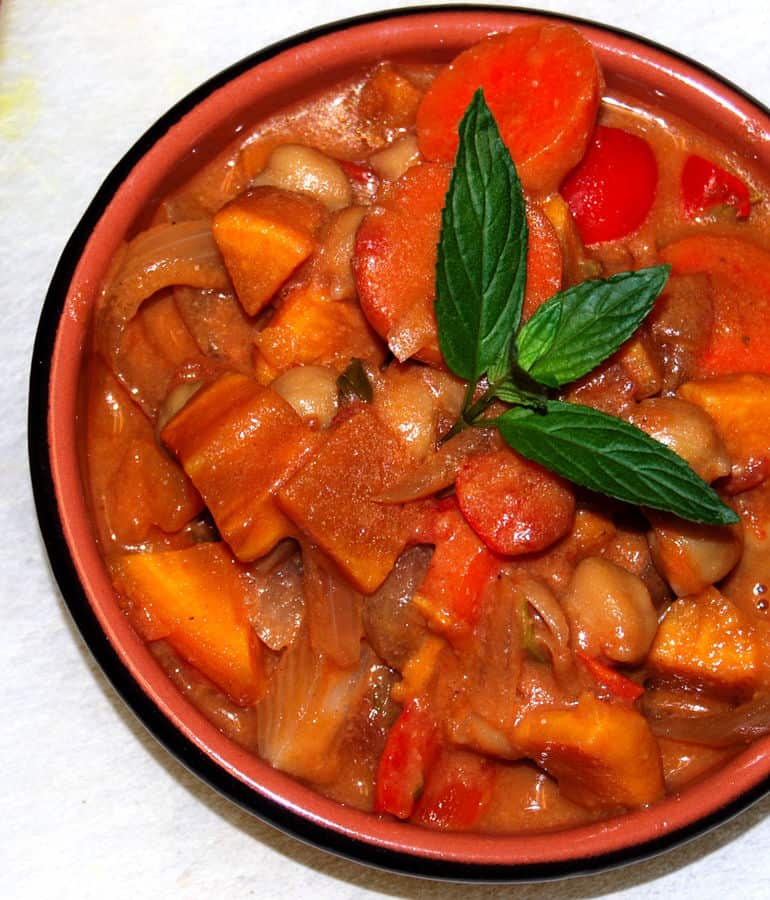 Vaishali, from Holy Cow, has been a vegan since 2007. Before I get into the recipe, I just want to mention, Vaishali was helped onto her vegan lifestyle by her beautiful dog, Lucy, who passed away in 2012. This was very touching and part of the reason we wanted to feature her, along with this being a great recipe.
You wouldn't believe this dish can be brought to the table in less than three quarters of an hour!
It's so simple both in the ingredients and the method and I believe this is what makes it so special. Great food always comes from simple ingredients.
The magic ingredient for me is the small amount of peanut butter which you can just about taste, and that's the way it's supposed to be.
There are eight servings, and if you have any leftovers, after cooling, store in an airtight container in the refrigerator overnight, then just bake the next day in the oven. Perfect!
Cajun Split Pea & Sweet Potato Stew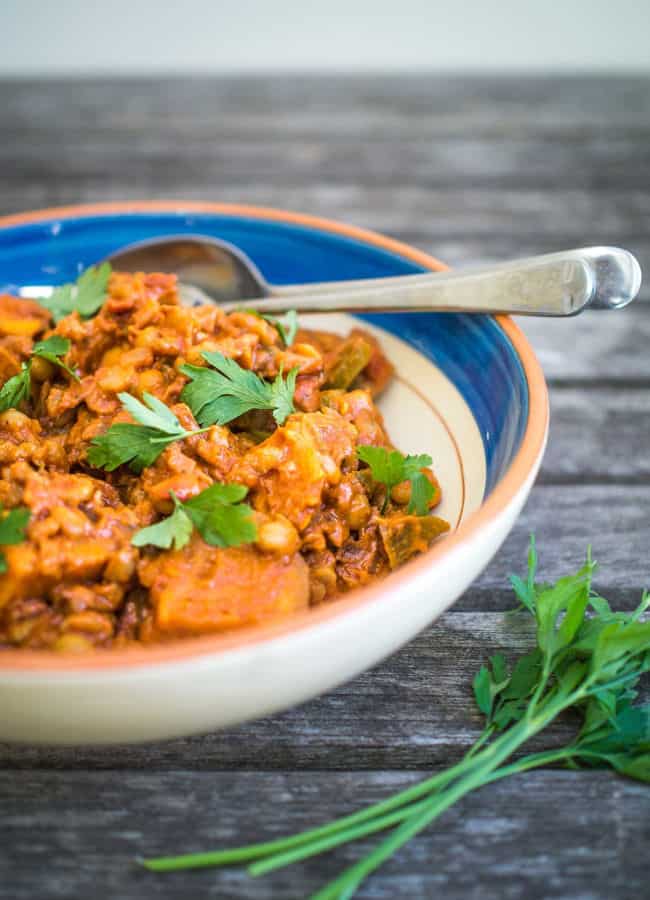 Michael, from Discover Delicious, is a photography expert, so he not only produces stunning images of his food, his recipes are pretty special too. The base for this stew are two of my favorite ingredients, sweet potato and split peas.
Don't be put off by how long it takes to make this dish as half of the time is for the cooking itself. This stew is very versatile, so you could add any vegetables you need to be use up. You can easily add in some tofu too.
My favorite thing about this, is the Cajun spice mix, which Michael has created himself. It's listed at the end of the recipe for you to make and can be used with other dishes too. It's totally versatile so you can change the strength of any of the ingredients according to your taste.
Turmeric & Sweet Potato Falafel Bakes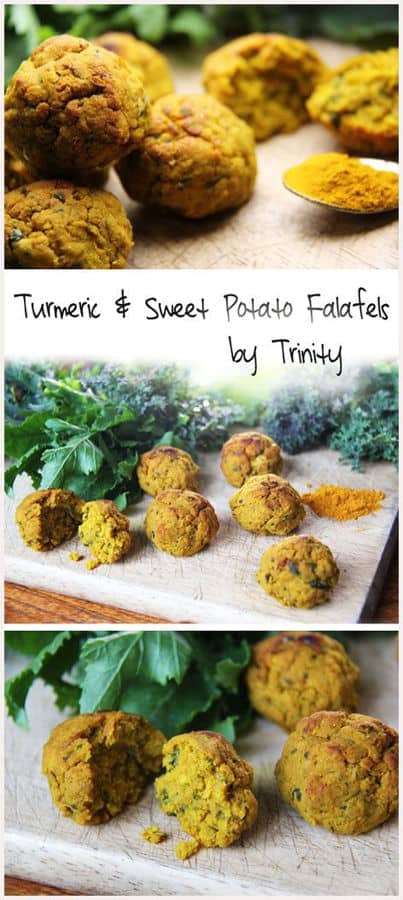 We love Trinity's recipes because she's a very spiritual person who thinks deeply about each recipe she makes.
For example, these falafel bakes are healthy versions of the classic deep-fried originals. To make them even lighter and more nutritious, Trinity has added sweet potato to the mix which adds extra flavor and texture.
It's very apparent the ingredients are authentic and can only produce a great taste. I especially love the turmeric which adds a lovely glow to the falafel with its very subtle flavor. The prep time is only about fifteen minutes which you then you bake for about half an hour.
Of course, you could also make these into burgers or smash the falafel to have in a sandwich or pasta dish. Serve with hummus or your favorite dip.
Curried Zucchini Noodles with Sweet Potato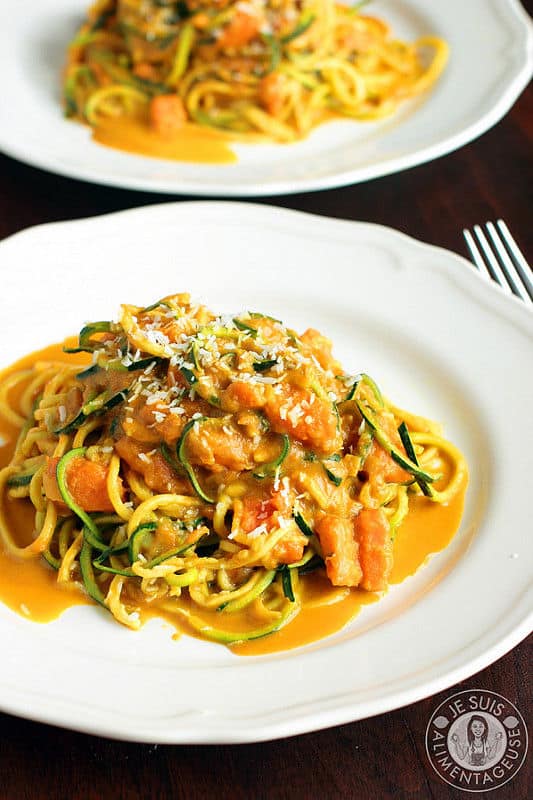 Lisa, from The Viet Vegan, has recipes where she adds this beautiful East-meets-West twist to her food. Everything always looks so delicious and appetizing.
I know zucchini noodles are really popular and I'm probably the odd one out in saying sometimes they make me feel slightly heavy.
But then if you cook them it's all too easy to have them overcooked if you're not careful. Lisa has found the answer! In this recipe, you cook all the ingredients in a pan, then right at the end you turn off the heat and add the spiralized zucchini.
What this does is break down a little of the raw fibrous texture without the noodles losing their integrity. This genius idea results in a totally satisfying meal which digests easily. Whatever you do, don't skip the coconut milk, this is the secret ingredient!
Kale and Sweet Potato Pizza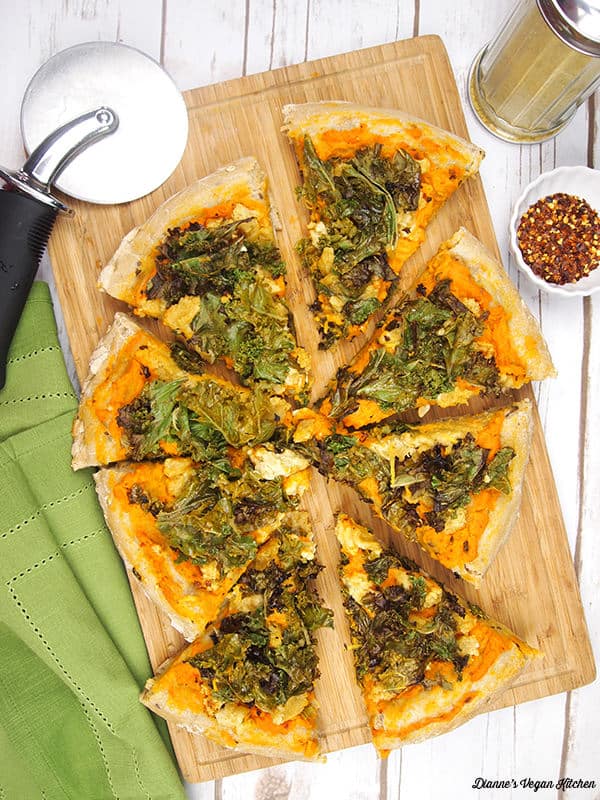 Dianne Wenz has everything! Not only is she a trained artist, she knows about nutrition and her recipes have even been featured in the New York Times! When we came across her Kale and Sweet Potato Pizza, we knew it had to be something special.
One of the wonderful things about this recipe is you choose your own crust, which means you can easily make this gluten-free if you need to. There's a never-ending combination of pizza toppings out there and you know, it's very easy to make a bad pizza!
If a pizza tastes great without being buried in cheese (and not many of them do) then you know you're onto a good thing. Dianne's pizza isn't just good, it's awesome! She has found the perfect combination of simple and few ingredients, that's the key. The diced sweet potato, the kale and a small handful of rustic ingredients, produce a delicious and healthy pizza.
Of course, you even have the option of adding Dianne's vegan parmesan and cashew ricotta as well. They're delicious, but I can tell you, they're not necessary because this pizza is so full of flavor!
Vegan Sweet Potato Fries Recipes
Sweet and Spicy Baked Sweet Potato Fries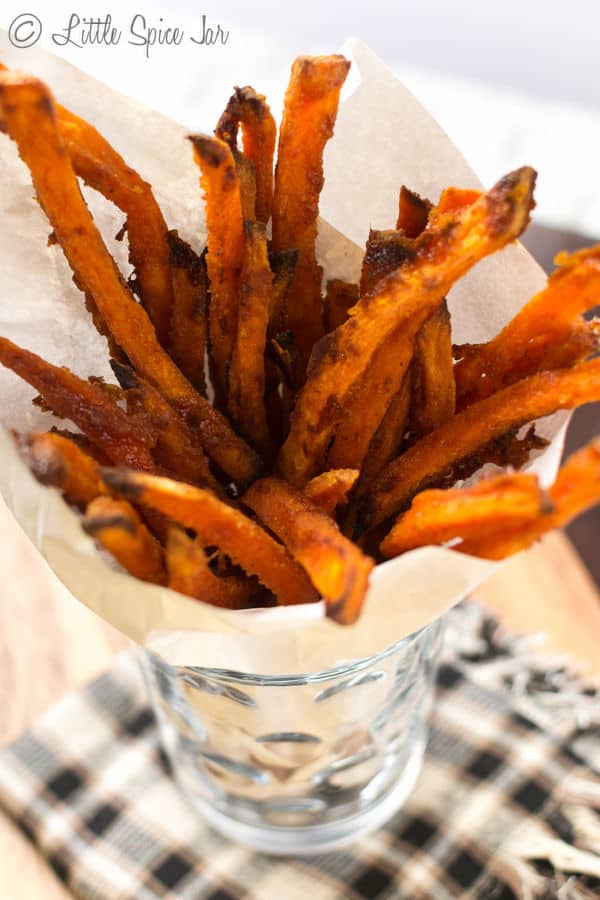 Marzia and her husband Anees have a passion for food and this is obvious in all their recipes. Apparently, Anees has a theory that chocolate is a vegetable, and because of this, he's welcome to work at our offices any time he likes!
We taste test a lot of recipes. It's a hard job, but someone has to do it! Sweet potato fries are delicious, but they're difficult to get crispy as they simply seem to have a different texture to regular white potato fries.
They taste so good it almost doesn't matter, and for a long time we thought it was just the way it was. When we came across this recipe, we knew it was going to be good, but what we didn't know was the outcome of the fries.
Not only is the texture crispy on the outside and fluffy on the inside, with the little additions of sweet paprika, garlic powder and the magic ingredient of brown sugar, you end up with fries from heaven.
It's one of those recipes where you'll be comparing all fries to these fries from now on. Your life will never be the same again!
Chili Fries with Avocado Cream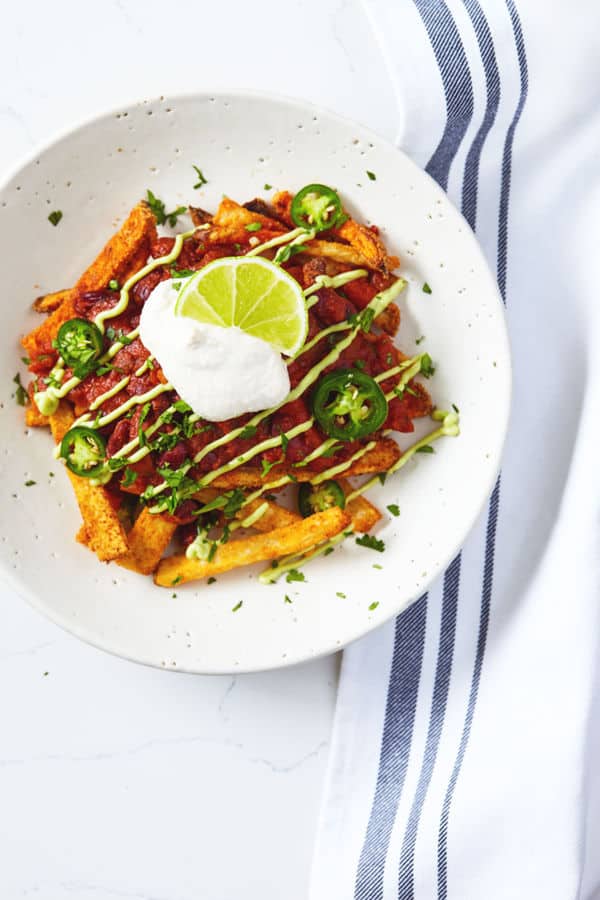 Brianne and Anguel from the Evergreen Kitchen like to go on hikes and to explore. One day when they were out on a long walk they came up with the best snack in the world! Okay I totally created that story, but it sounds feasible right?
It feels totally inappropriate to call this a snack, so I think I'm going to retract that statement. What we have here are fries made with a combination of the sweet potato and russet potato. Mix together and they make a wonderful couple!
The fries are seasoned with some terrific spices and at this point I'd already be telling you this is for the win. But there's more! Bri's recipe also includes Easy Chipotle Chili and Avocado Cream with a recipe on how to make both.
This is like Christmas day and my birthday all rolled into one! If you make this for a family gathering it'll be gone in seconds!
Yukon Gold & Sweet Potato Home Fries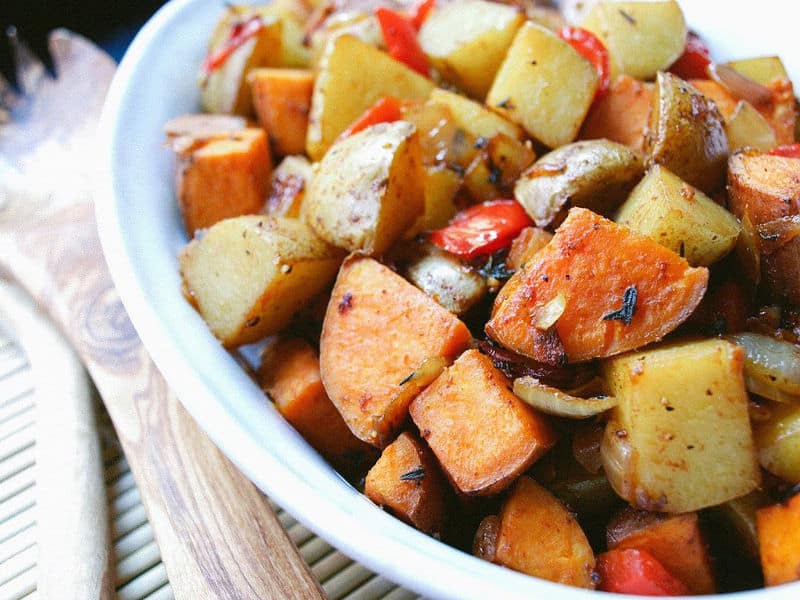 I remember being in Boulder, Colorado many years ago having a delicious breakfast of home fries in a place called Le Peep, and every so often I remember the dish with romantic nostalgia!
Julie from the Simple Veganista has come along and totally quashed that memory as I now have a new barometer on how home fries should taste!
The fries themselves are a combination of sweet potatoes, Yukon gold potatoes, herbs and seasoning.
This recipe also calls for onion and bell pepper but the secret for me, is the oil. Julie recommends either olive or sesame.
Normally, I'd go for olive oil in these types of recipes, which is more than satisfactory, but if you use sesame oil, it adds a slight aromatic hint that's just unmistakable. Serve either as they are or with some scrambled tofu for the perfect breakfast, lunch or dinner!
Sweet Potato Fries with Lemon Cashew Chipotle Dip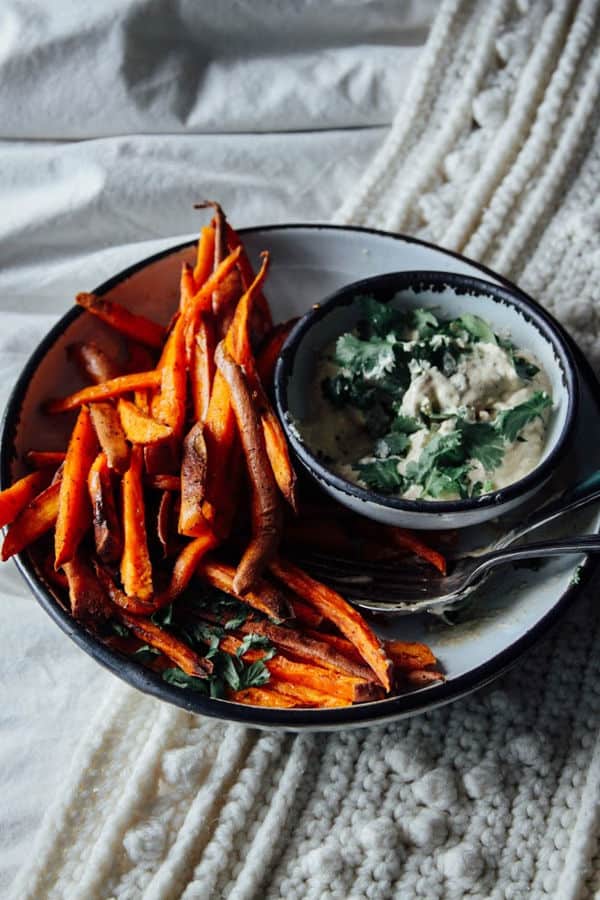 Every so often you come across a recipe where the garnish is just as good as the main event. Em, from This Rawsome Vegan Life, has given us just that.
Em had an awakening at 16 years of age when she realized she had to be vegan for all the right reasons; her health, our fellow animals and the planet. Her recipes are inventive so if you're looking for something a little different, Em has the answer!
The sweet potato fries are baked without peeling and are coated in just four magical ingredients. The dip has a base of cashews (ideally, these should be soaked for six hours beforehand) and along with the other ingredients, you get an explosion of flavors, both savory and sweet.
You'll definitely be having this as a salad dressing or over baked potatoes, I guarantee it! If you want comfort food which tastes great and makes you feel good, then this is it!
Tex-Mex Loaded Sweet Potato Fries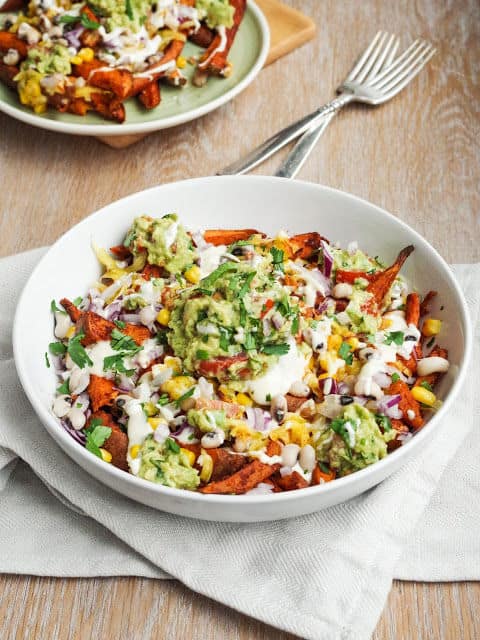 Cassidy is from the UK and not only is she a committed vegan, she also has a degree in nutrition and is a registered associate nutritionist.
We're pretty sure she knows everything! For this dish, she has kept in mind that everybody loves nachos loaded with stuff!
Unfortunately, this stuff is usually anything but healthy. Let's face it, even tortilla chips are deep-fried. Here, Cassidy is using spicy sweet potato fries as a base and these are loaded with great and healthy ingredients.
Very often with "healthy" versions of great snacks you feel like you're missing out on something. This is the complete opposite, and that's a promise!
Not only do you get great toppings such as black-eyed beans, onion and sweetcorn, but there's also guacamole and even Cassidy's own recipe for vegan sour cream! This is comfort food at its finest!
Vegan Sweet Potato Lunch Recipes
Sweet Potato Fajitas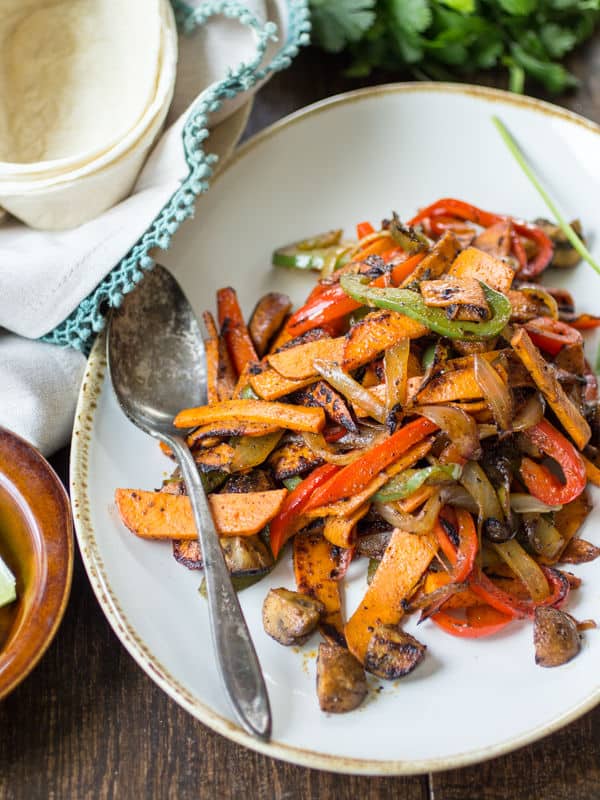 Anetta from The Wanderlust Kitchen loves to travel and along with her interest in food, her adventures shine through in her recipes.
Here, we have a very slight twist on classic fajitas and this really illustrates how versatile sweet potatoes are. Anetta doesn't try to reinvent the wheel with this dish, she has made the wheel better!
The ingredients are simple and straightforward and just by looking at them you won't wonder how it'll taste because you already know it'll be great.
You can easily add other ingredients to this recipe as well, depending on what you have in the kitchen. You can make everything in thirty minutes so it's good for a quick lunch and will keep you going easily for the rest of the day!
Clean Eating BBQ Rosemary Sweet Potatoes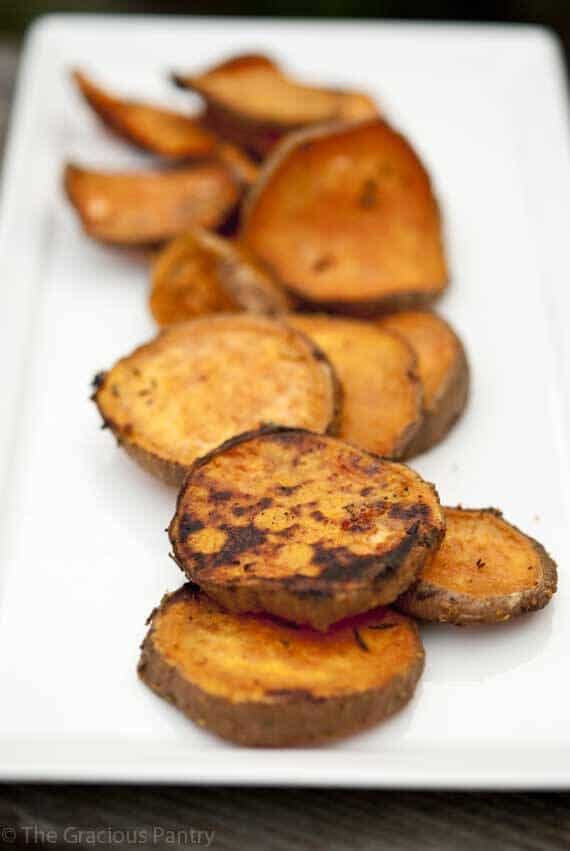 Tiffany used to be a restaurant manager, and after the birth of her son, she decided her health needed attention so she could be the best Mom ever. She has co-authored two cookbooks and has been featured on MSN and the Huffington Post to name just a few.
With Tiffany's focus on clean eating, you know that this recipe is going to taste great and be good for you. The ingredients here could not be simpler and you should know this means the chef knows what they're talking about!
You make these sweet potatoes under the grill and what you get are delicious golden nuggets, which can be used as a light snack or on the side of your main meal. When you next buy sweet potatoes, you must make this!
Quinoa and Sweet Potato Bowl with Chimichurri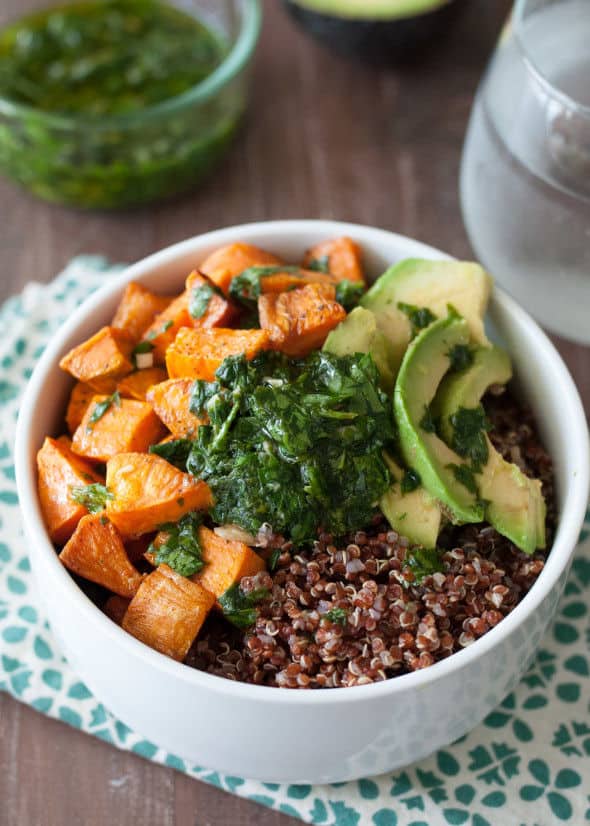 Melanie from Nutritious Eats serves up what can only be described as a dish we're pretty sure you've never had before. She's a registered dietician, so you already know this is going to be good for you.
There's a little prep time of twenty minutes and a cook time of thirty minutes, but every moment is worth the reward you get at the end.
Melanie also provides a recipe for chimichurri so if you're not sure about this she has you covered.
The responsible part of me will rightly tell you this'll make a delicious lunch, though I want to make a lot more!
Sweet Potato Noodles Bowl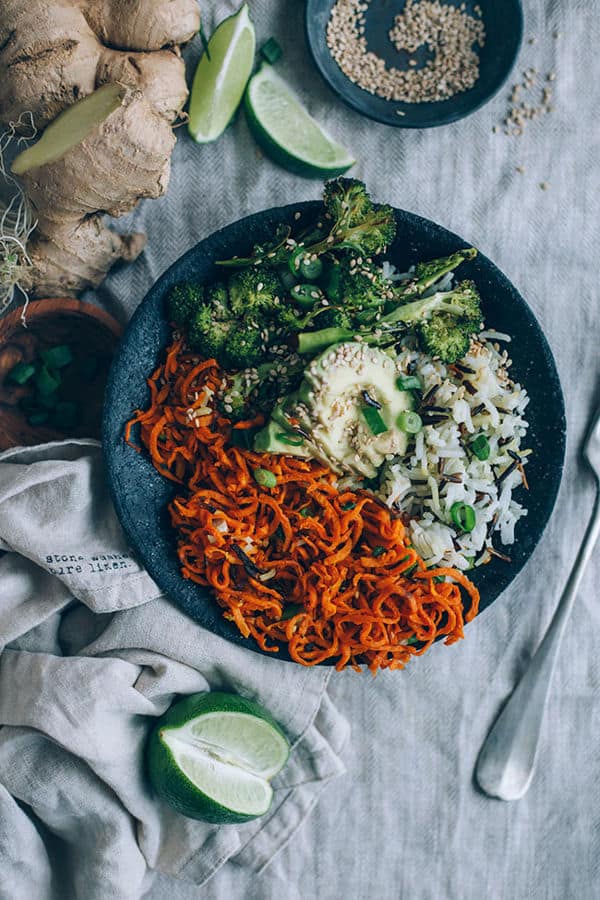 Ana is from Bucharest, Romania, and she's the owner of The Awesome Green. As well as being a wonderful chef, she's also into photography and I totally respect how much she loves natural light.
I see so many photographers with all sorts of special lightbulbs when the best light is natural. This philosophy is apparent in Ana's cooking.
I thought I had tried most things but spiralized sweet potato somehow eluded me. Here, Ana bakes them with a coating of olive oil and cornmeal.
The end result is astonishing. Along with the broccoli florets, the rice and the avocado, this hearty bowl is ready to serve within twenty minutes! Add the dressing and you're good to go! Mulțumesc Ana!
Sweet Potato Rice Pilaf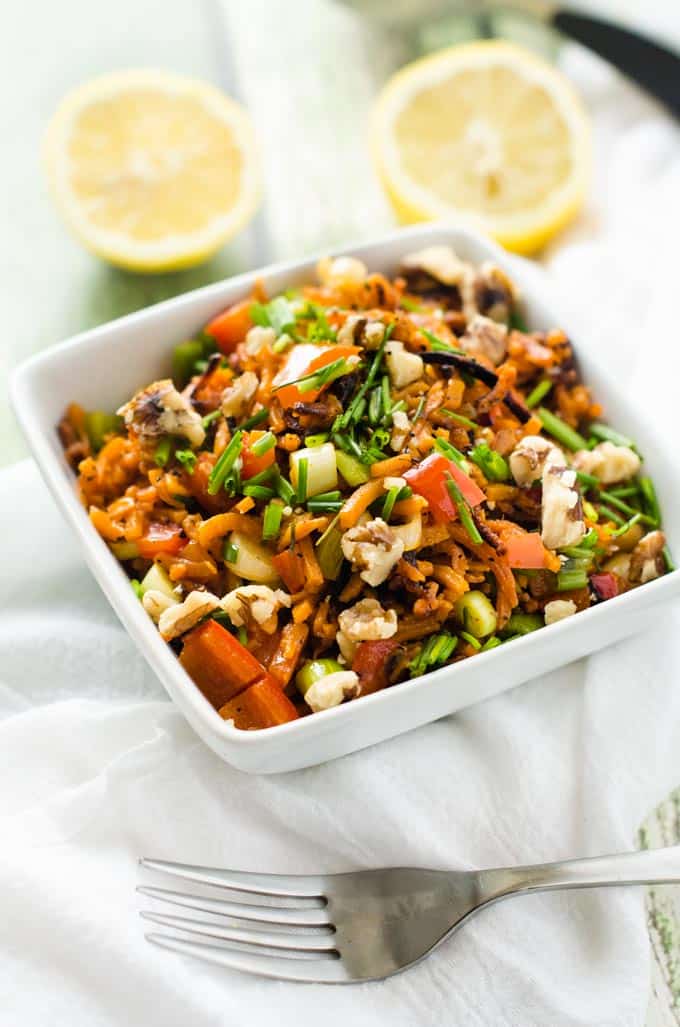 Wendy is a busy mom and by all accounts, a karate expert. She'll get no arguments from me! Here she creates a delicious side dish that's gluten-free and without doubt good enough to be a meal in itself.
The "rice" is sweet potato cut with a julienne peeler. Using Wendy's method, the sweet potato strips will begin to break down after just five minutes of cooking which becomes rice-like. You also have bell pepper, shallots, amongst a whole host of flavoring.
We especially like the walnuts at the end which adds great texture to an already fabulous meal. This is easy to make with simple ingredients.
You'll have it ready to eat in less than twenty-five minutes which includes prep and cooking time!
Raw Food Sweet Potato Mushroom Sliders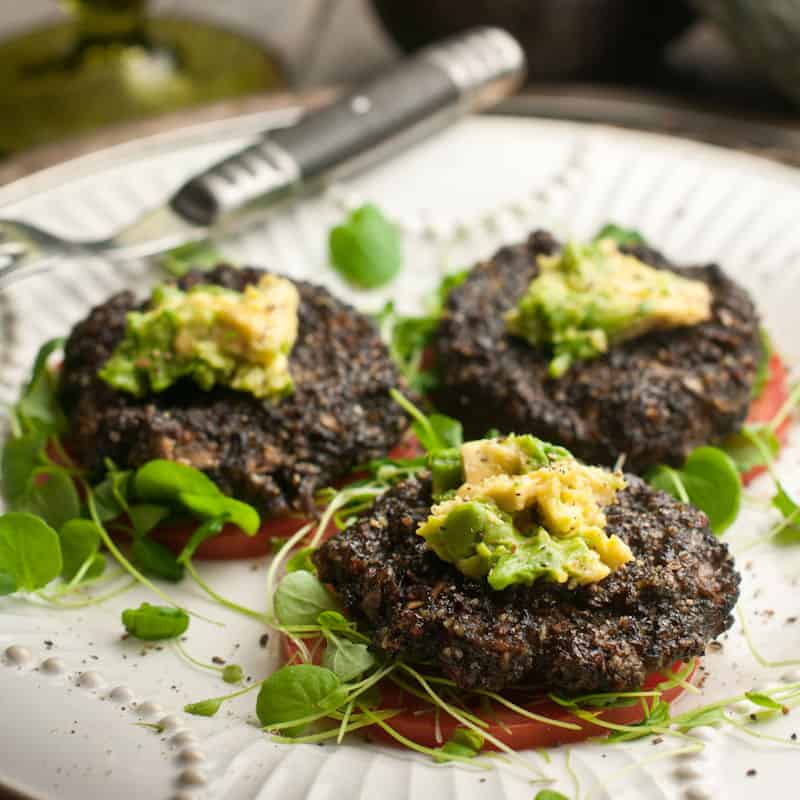 Susan from Rawmazing has a Plant-based Professional Cooking Certification and turned her life around by changing her diet. Her passion for healthy food is obvious and this recipe is first-class.
The dish does involve a dehydrator. You arguably could use your oven on the lowest setting and experiment to see what happens but it's not the same. These sliders are just bursting with flavor, as well as the sweet potato and mushrooms they also have onion, pumpkin seeds, shoyu and a whole host of wonderful natural flavorings.
They're served on tomato and sprouts with avocado. All the different textures combine so well together.
It's important not to let the sliders dry out completely in the dehydrator, they must contain a little moisture for best results. If there was ever an argument for getting a dehydrator, this is it!
Sweet Potato Noodle Bowl with Peanut Sauce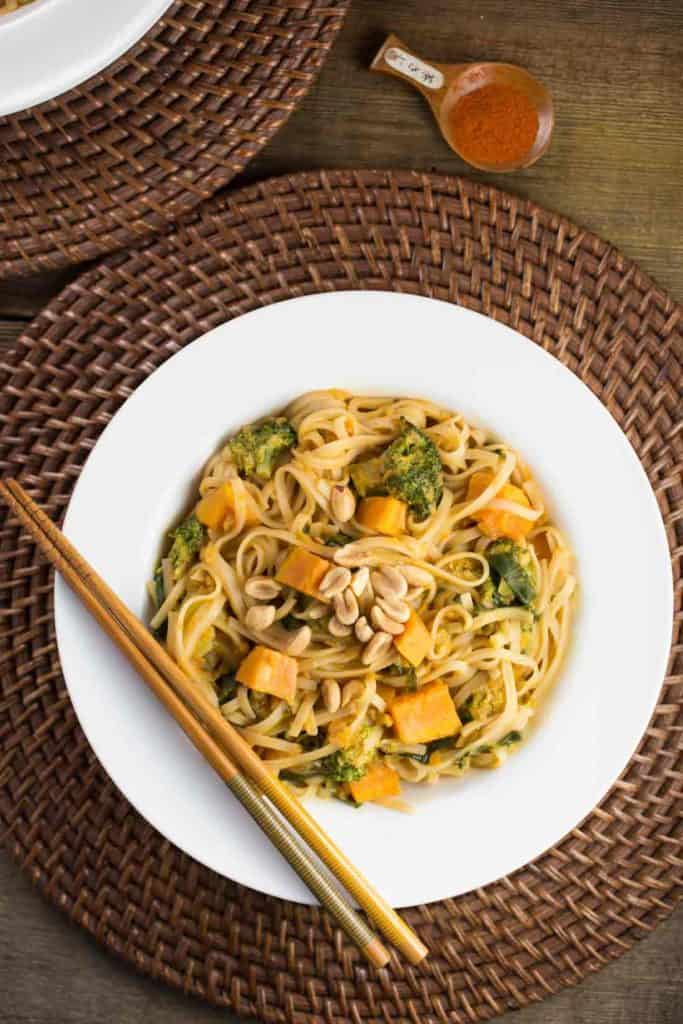 Christin, is a wellness blogger who's been evolving her whole life. Like so many of us she started out with a regular diet without thinking too much about what she was eating, then transitioned to vegetarian and then vegan.
She has done various plant-based nutrition and cooking certifications and her learning never stops!
If you've caught up on some of our other recipe roundups, you'll know I love curry, and I love all kinds of potato dishes.
The other thing I absolutely adore are noodles. Christin's recipe is easy to make, nutritious and one of those meals you just can't wait to eat when you know it's coming!
The sweet potato combines so well with the rice noodles and broccoli. The plate also has other fresh ingredients such as onion and bok choy not to mention all the other goodness.
Please do go to the effort of adding the peanuts and fresh cilantro at the end, which really makes magic!
Winter Vegetable Bowl with Apple Sage Sausage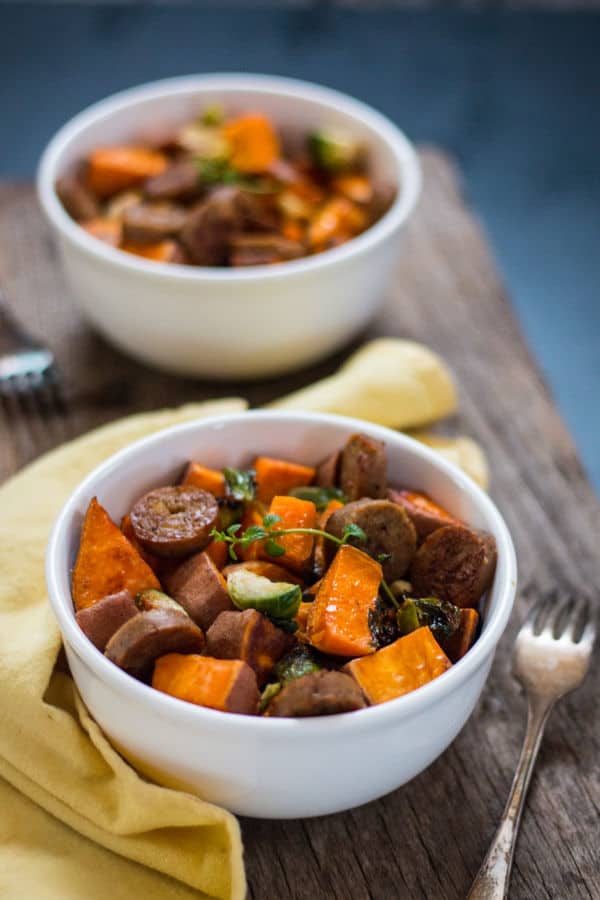 Steven has a nut allergy. In recognizing the complications from being a vegan with allergies he decided to start his own recipe blog in order to help others. As well as being a great chef, he is also pretty handy with a camera so all of his recipe pictures look fantastic!
This winter vegetable bowl is comfort food heaven. This is great for Thanksgiving but really perfect for any time of year.
The ingredients couldn't be more simple as there's just a handful of them. You can also mix-and-match the vegetables depending on what you have in the kitchen so perfect for dealing with leftovers.
However, as it is, you get the perfect meal. If anybody says this is a snack they'll have me to answer to. This is just too good to eat as a snack!
Vegan Sweet Potato Pie Recipes
Pot Pie with Sweet Potato Crust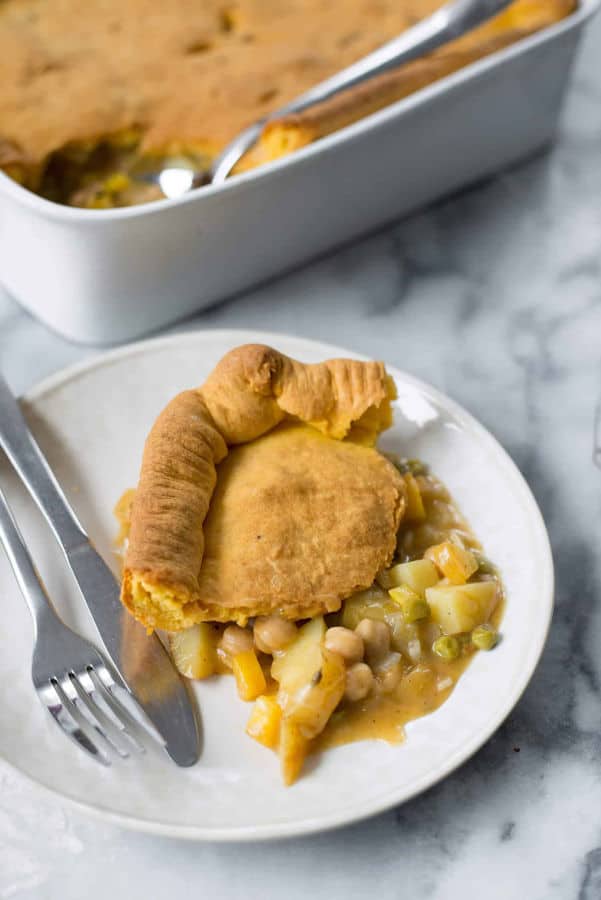 Alexandra is the owner of Delish Knowledge. She knows about food and is also a yoga teacher.
We really love her goal of making healthy eating, simple and accessible. It really doesn't have to be complicated and this approach is evident in Alexandra's recipes.
There's really nothing like a good pie. It's comforting, filling and you just want to keep eating. The basis of the filling is new potato, carrot, onion and a whole bunch of great stuff! At the time of writing the ingredients list doesn't include chickpeas (garbanzo beans) or peas yet these are in the photo.
Alexandra simply missed them out, so make sure you include them when you make this. The pie will keep well in the refrigerator for a day or two which is great! The world is full of great pies, and this is one of the best!
Purple Sweet Potato Pie with Granola and Vegan Whipped Cream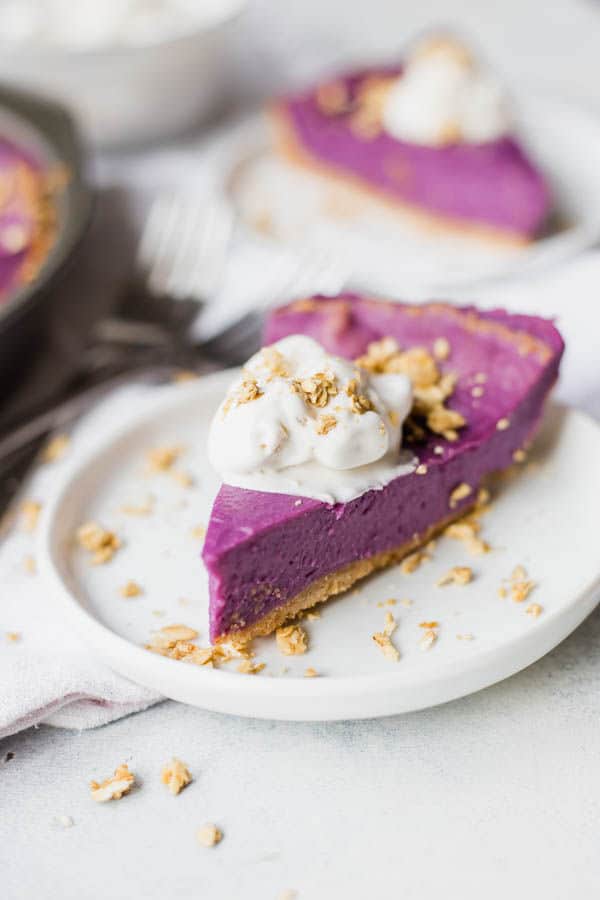 Alex from Fooduzzi has lived abroad and when she came home her cases were packed with ideas and inspiration from her travels, so her recipes are just fabulous!
Okay so, purple sweet potato? Until seeing Alex's recipe I have never come across these before. Should I hide behind the couch in shame? I think I probably will, just to be on the safe side. I really love pumpkin pie and everything but I'm not sure I can have it again after seeing this.
The delicious pie is naturally gluten-free and contains no refined sugar. Obviously, it's great for the holidays but really, you need to make it as soon as!
Grandmother's Sweet Potato Pecan Pie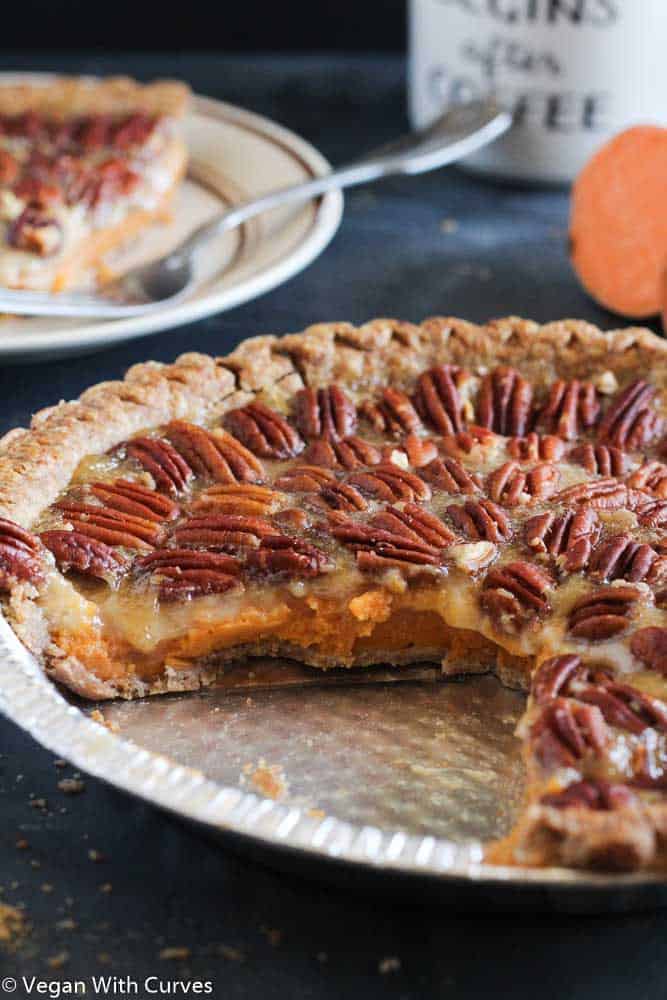 We love Gina from Vegan With Curves. She has been through a lot in her life and is using her experiences to help people switch to a plant-based diet, while at the same time encouraging them to be happy with who they're right now.
We really love the different layers of this pie. From the sweet potato filling, the applesauce and of course, the great topping!
This is a southern traditional recipe now made vegan and perfect for the holidays.
The ingredients are wholesome and straightforward. Real old school cooking! We really urge you to go to the effort of laying the pecan halves just as Gina did as it makes all the difference. Thanks Gina!
Mini Sweet Potato Pies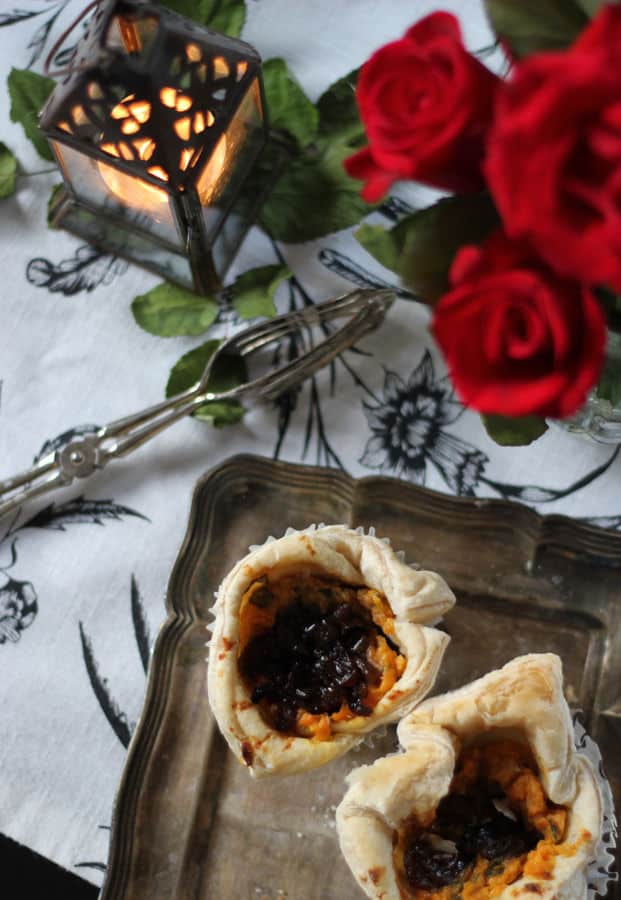 Veronica from Elegantly Vegan, stopped eating meat when she was just thirteen. She's out to make sure everyone knows how exciting food is on a plant-based diet, and for this, we salute her!
These little pies have a really small amount of ingredients and bake for just thirty minutes. If you want to speed up the prep time you can use ready-made puff pastry rather than making your own dough, but it's really up to you, and that's one of the things I really like about this recipe.
Obviously, these are holiday favorites though I think will be particularly perfect for Christmas!
Purple Sweet Potato Pie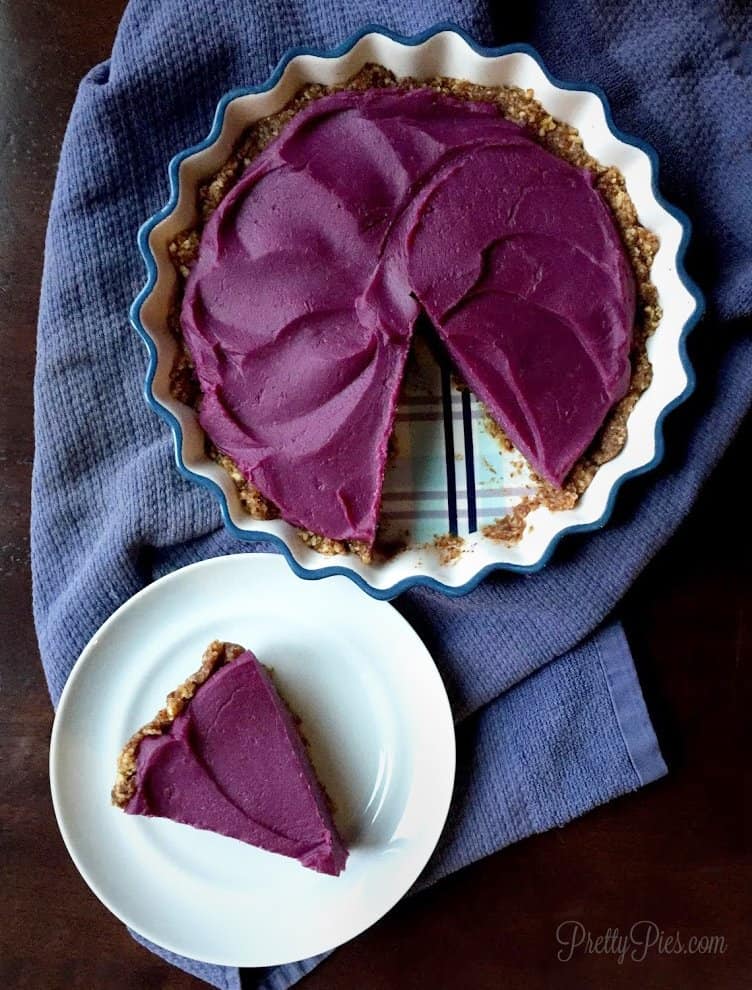 Just a few moments ago I did not know purple sweet potatoes existed, now I have seen multiple recipes containing them! Emily from Pretty Pies is all about desserts so I'm already on-board!
As Emily is really into real, natural food you know the ingredients here are going to be first class.
The filling includes coconut oil, vanilla extract and even a little ginger! The crust is simply outstanding containing just three ingredients; you heard it right, just three!
What you end up with is a vibrant looking dish everyone will want to eat right away. As well as being vegan, this is also gluten-free! Please note, the ingredients will make one small pie so double them to make a standard size pie.
Store in the refrigerator once cooled and it'll last about a week, though not in my house! This also freezes well too!
Sweet Potato and Lentil Shepherd's Pie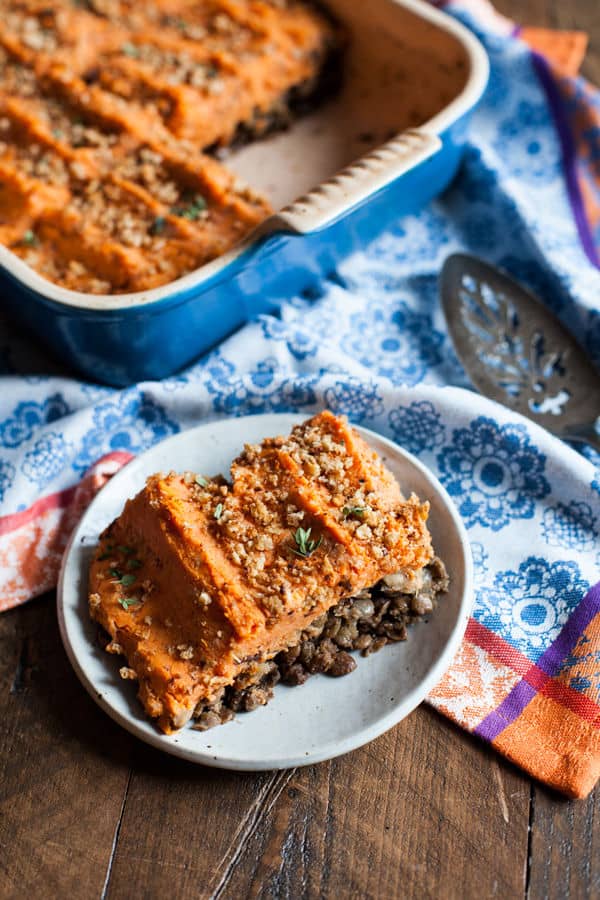 Gena from The Full Helping is my BFF, she just doesn't know it yet! Anyone that can produce a shepherd's pie like this is my friend for life. Having experienced a lot of issues around food in her early life, Gena gives great advice and wonderful recipes to help others.
This dish makes eight servings and is full of everything you could possibly want from a pie like this.
It's satisfying, full of flavor and the mashed sweet potato topping is a recipe unto itself! If you have any leftovers I'm going to have you arrested!
Okay seriously, they'll keep for up to three days in an airtight container in the refrigerator. We saw this recipe a short time ago and have been excited ever since to bring it to you. Thanks Gena!
Vegan Roasted Sweet Potato Recipes
Roasted Sweet Potato Bites with Guacamole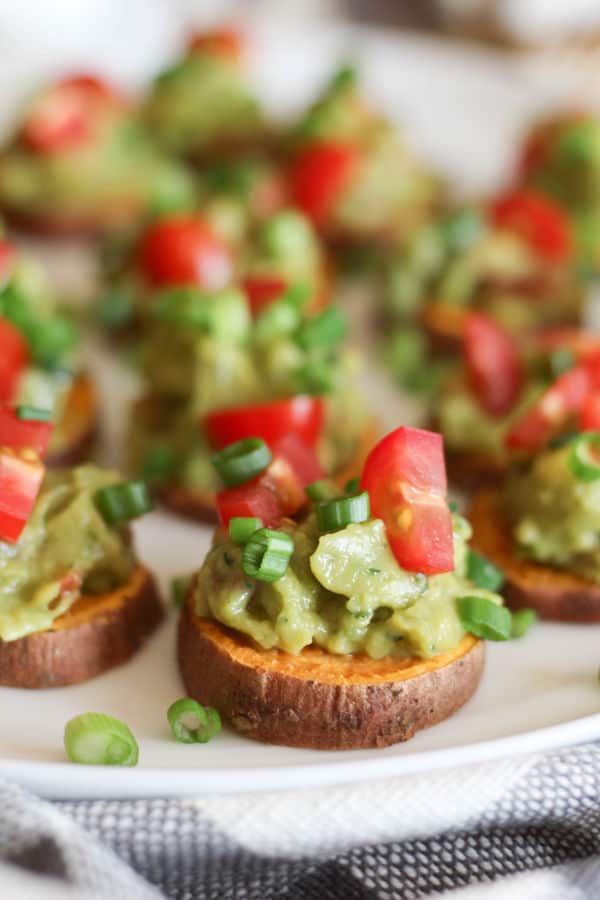 Liz from Pumpkin and Peanut Butter is an elementary school teacher who simply has a passion for cooking. Her blog isn't just about recipes, it's also about her life, past, present and future so you really get to know about the real person behind these amazing dishes.
This recipe has six ingredients, and this includes the seasoning!
Good food should be simple and this is what we have here. Sweet potatoes are the base for this great snack. You can very easily customize and add anything you like. When we made this, we added fresh cilantro to the guacamole and lime juice. What will you add?
Spicy Roasted Sweet Potatoes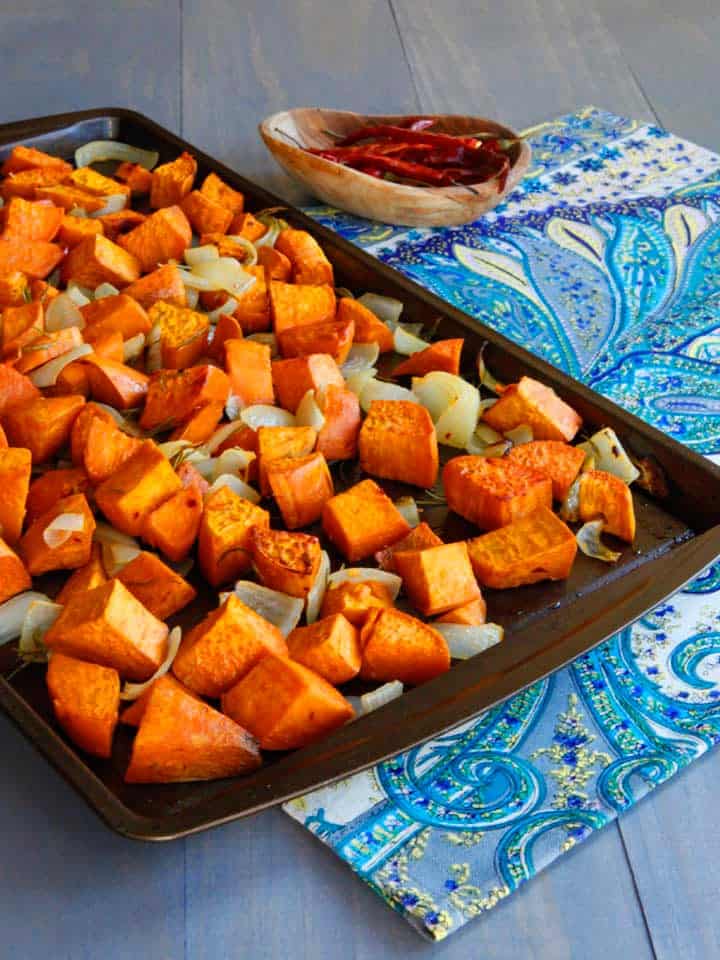 Tori has lived a wonderfully rich life already and uses this experience to inspire her dishes. As well as food, she's an expert on the home, garden and arts and crafts!
This dish could not be more simple and makes for a wonderfully traditional accompaniment to your main meal, and even a delicious snack on its own.
You simply roast sweet potatoes and sweet onions with olive oil, rosemary and some seasoning. Obviously, you can add any other vegetables you have so perfect for leftovers! Make this at any time of year and don't forget the red pepper flakes for an extra kick!
Roasted Sweet Potatoes, Cranberries and Pineapple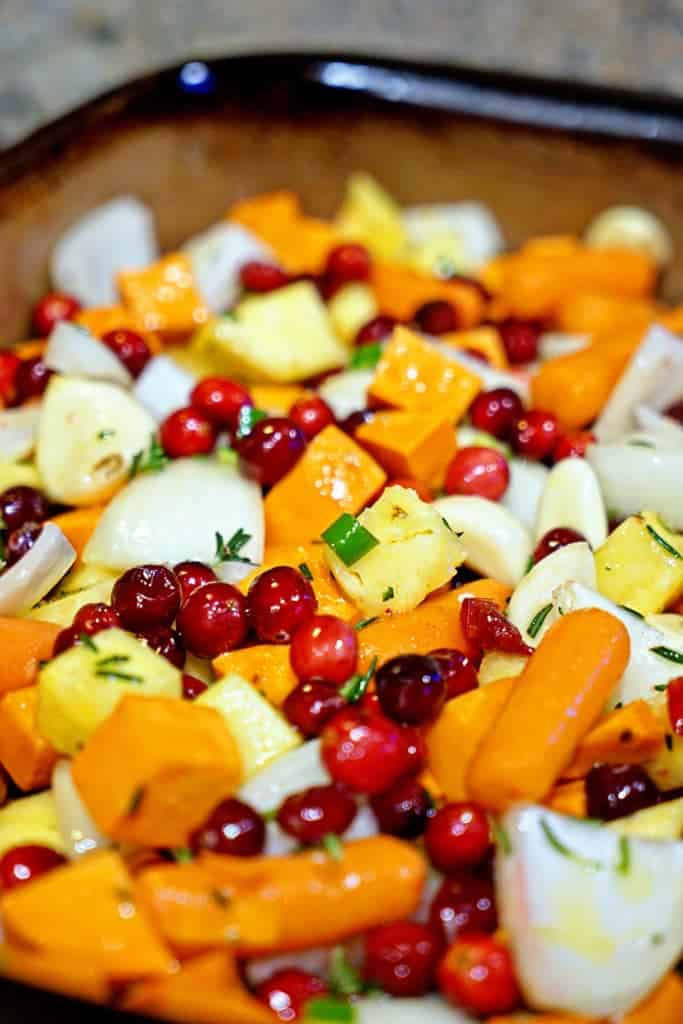 Kevin from Kevin Is Cooking has been interested in food since he was a teenager, how cool is that!? He loves dishes packing a strong flavor so his recipes will knock your socks off!
This is one of those ultimate side dishes and arguably perfect on its own. I bet you would not have thought of combining these ingredients? I certainly didn't. You're looking at a ten-minute prep time and the rest of the magic happens in the oven.
What you end up with, is just how Kevin describes all his recipes. It's delicious and the ingredients seem to slap you around the face when you're eating them, reminding you they exist. Yet, at the same time, they combine together beautifully. Thanks Kevin!
Sweet Potato Casserole With Pecan Crumble
Melissa Huggins from Vegan Huggs is a passionate vegan. She can teach you about ethical clothing as well as the best advice on everything else. From make-up to non-toxic and cruelty-free choices for your home, Melissa knows her stuff.
With only a twenty-minute prep time and twenty minutes in the oven, this is a wonderful holiday dish. It's also great for those times when you need the ultimate comfort food.
The roasted sweet potatoes come with an abundance of flavors, everything from cinnamon to nutmeg! This is the flavor of the holidays!
The pecan crumble contains a similar array of delicious ingredients. Your friends may think this is only sweet potatoes with crushed pecans on top but watch their faces when they try it! A sure hit for every occasion.
Maple and Thyme Potato-Beet-Sweet Potato Stacks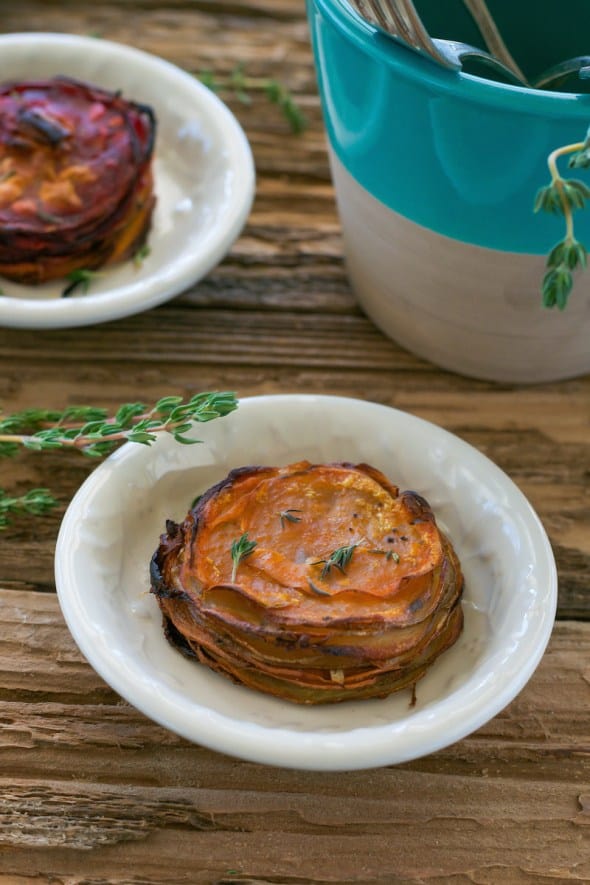 Annie from Anun Refined Vegan used to be part of, what some of us refer to, as the rat race; a great job, nice clothes, and lots of purses and shoes. She then moved several times, not just within the US, but also Russia, Armenia and Iraq.
Realizing there was more to life, Annie and her husband moved west and took in the open space and now share a very different life with their two beautiful dogs, Ike and Willa.
Annie's blog is completely plant-based with a lot of the recipes being oil-free, as well as not containing refined products, like white flour and white sugar. She really focuses on eating "whole" foods and this is what you will find on her incredible blog.
This recipe came from 'Pomme Anna', with Annie putting a great twist to it. The stacks are constructed of extremely thin slices of potato, beets and sweet potato.
The seasoning is primarily from thyme with a little maple syrup amongst some other familiar favorites. To achieve the required thinness, you will ideally use a mandolin although if you are confident, you could use a good knife. In total, you are looking at a prep time of fifteen minutes followed by an hour in the oven.
The result is this beautiful dish that is both slightly moist and crispy around the edges. It's extremely satisfying and perfect for when you want to treat yourself. Thank you so much, Annie!
Vegan Sweet Potato Salad Recipes
Three Bean Sweet Potato Salad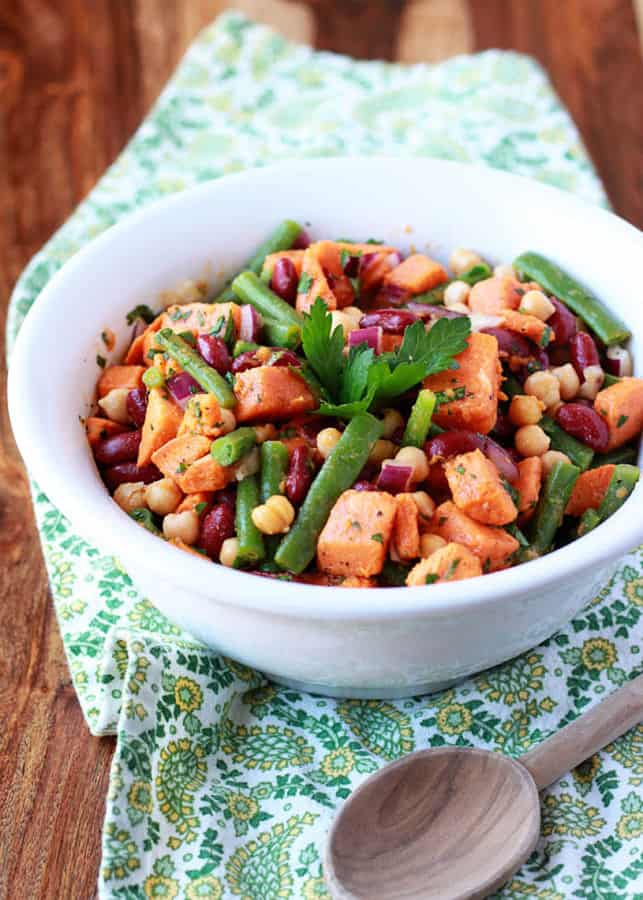 Kare from Kitchen Treaty has a mission to bring peace into the kitchen and we think she's a long way into achieving her goal. Her blog's original focus was intended for people who don't eat meat living with people who do. It has since evolved into so much more!
There isn't anything more comforting than beans and potato. We love this salad because it's really simple and contains real food. You can swap some of the ingredients around depending on what you have, so perfect for using up leftovers. Kare uses stone ground mustard along with maple syrup, with a bunch of other great tasting flavors, which makes this so much more than you think it might be. You can have this ready in thirty minutes, who can argue with that!?
Nourishing Buddha Bowl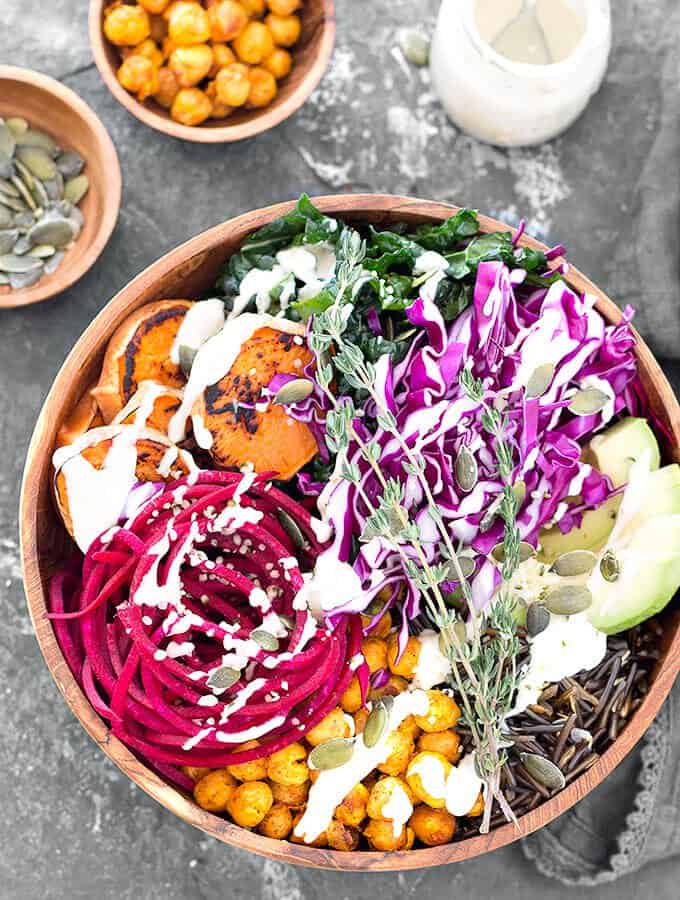 Elena was born in Italy, has travelled like a million miles as a flight attendant and now lives in Bahrain. Now with more time in her life, she has a spontaneous passion for cooking and created As Easy As Apple Pie.
Buddha bowls are a nourishing meal made of small portions of whatever you have, and this is the idea behind the definition.
You already know, before you start, the ingredients can be swapped according to any leftovers you have, because this is the underlying concept of what a Buddha bowl actually is.
This recipe is filled with colors and textures and my favorite is the lemon tahini dressing. It's so simple and I made a lot because it's going to be my salad dressing for the foreseeable future!
If you eat Buddha bowls often, then I'd seriously think about buying a dish specifically for this, the food looks great, why not have a fancy looking dish to go with it!
Southwestern Grilled Sweet Potato Salad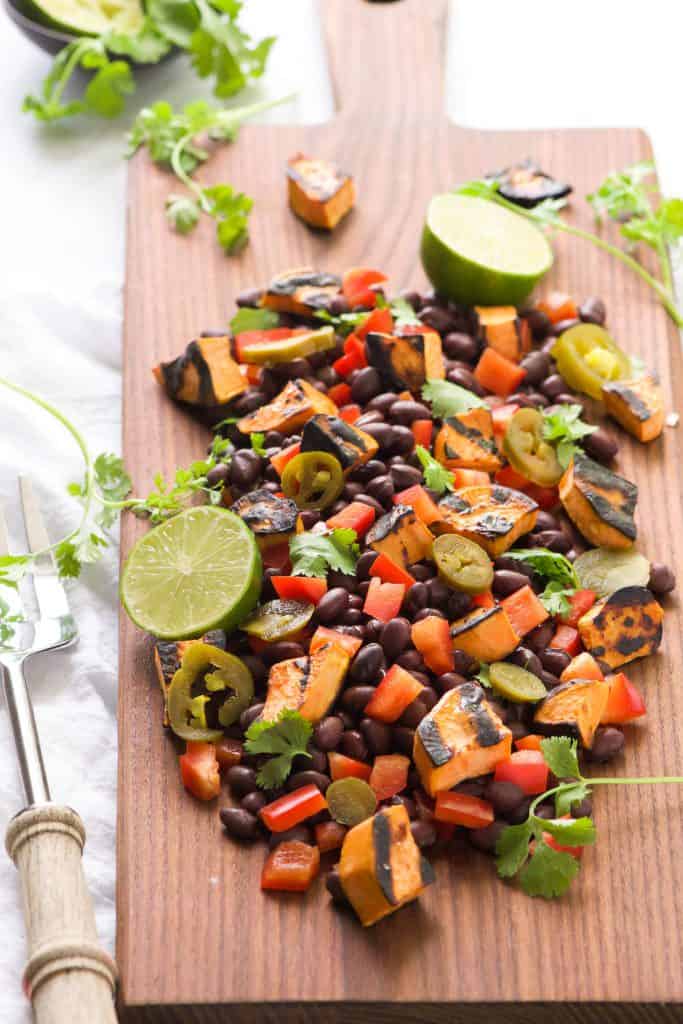 Megan from With Salt and Wit is a culinary trained chef. In her life she experienced all sorts of health issues which ended up being the driving force motivating her to think about her lifestyle.
Megan's blog is much more than a collection of great recipes, she has sound advice on saving money with meal plans and buying food. Something we could all benefit from.
This salad is delicious hot or cold and can be even prepared on the barbecue during the summer! It's ready in thirty minutes or less and full of protein.
You may have an idea on how you think the sweet potato is going to taste but I believe you'll be more than pleasantly surprised with the outcome! Full of fresh ingredients your body and your family will love.
Indian Mint and Sweet Potato Salad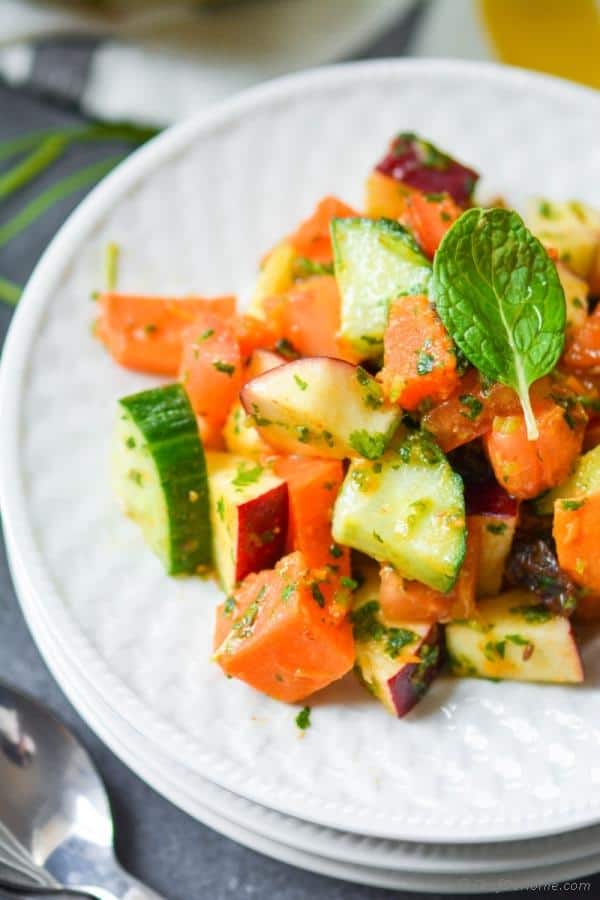 Savita is laser focused on healthy meals and saving you money so created Chef de Home to keep all her ideas together. Her recipes have not only come from her life experiences but by simply eating out too.
Why pay more at a restaurant and wait in line when you can make it yourself with fresh ingredients at a fraction of the cost? That's Savita's philosophy and we love it!
Most people don't think of Indian food and salads at the same time. Here, we have a very simple salad that's different, authentically Indian, and probably as healthy as you're going to get.
It's extremely easy to make and you can bring it to the table in twenty minutes! We really recommend you try this. There are so many delicious salad recipes around yet this one is unique as it stands out from the rest.
Fall Harvest Buddha Bowl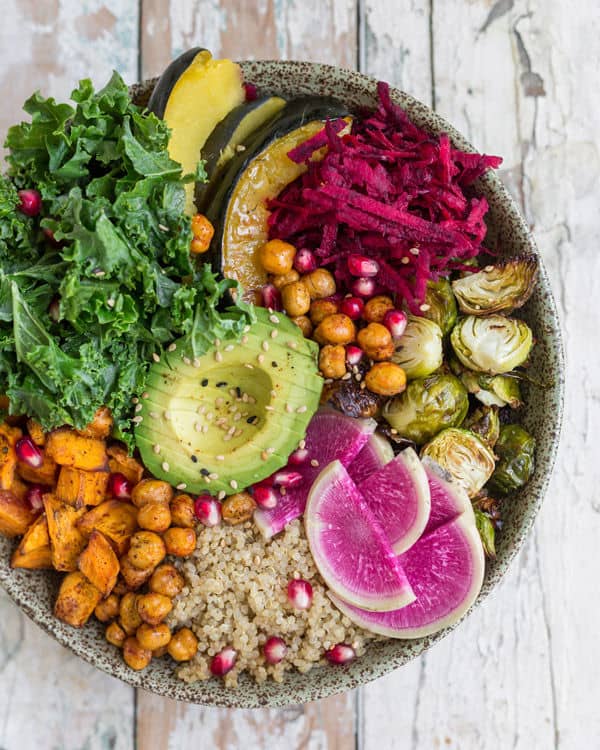 We love Jess's recipes and her outlook on life. It's all about eating plants, not being too hard on yourself and never forgetting to have fun, because that's what life is all about! This is why Jess started Choosing Chia, and it's full of great tasting dishes.
This bowl is bursting with colors and goodness. Everything from the quinoa to the brussel sprouts are prepared with simplicity and taste in mind. Jess's Maple Dijon dressing is an absolute must and I'd make a note of this separately, as it'll go well with anything from a baked potato to a simple salad.
Do go to the trouble of the presentation, even if you're just making this for yourself. Remember, they say we eat with our eyes as well, so don't forget to make it look great, it's literally no extra work. As with all Buddha bowls you can also use whatever you have. Enjoy!
Autumn Superfood Kale Salad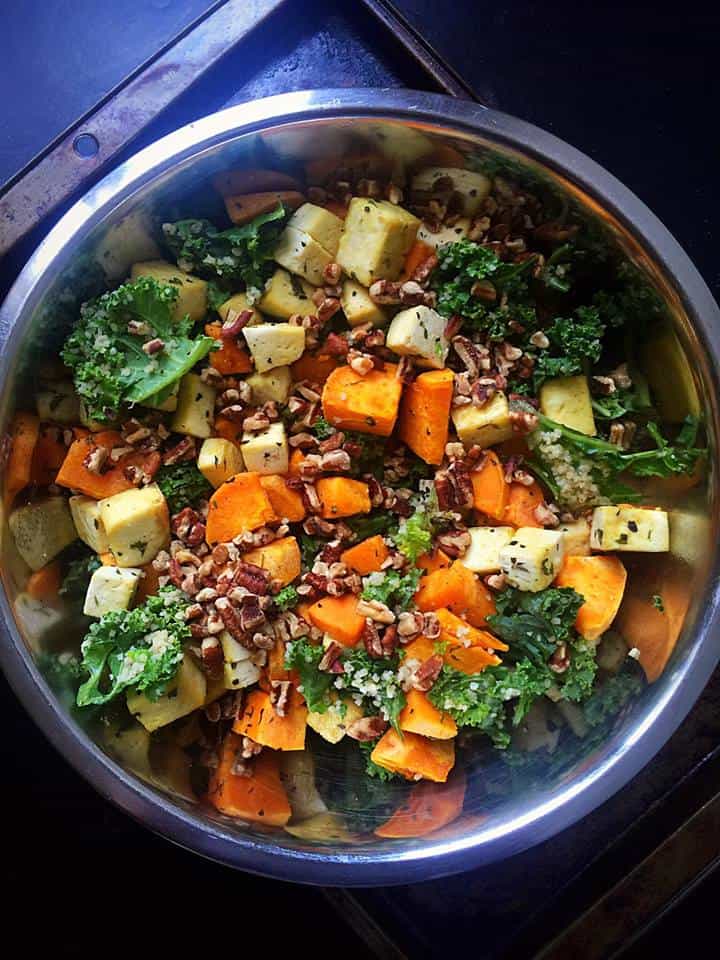 Medha from Whisk and Shout has been vegetarian since birth and then became vegan. Not only are all her recipes her own but she cares as much about the process as she does about the end result.
The best thing about Medha's website and recipes, is all the photos are taken with her iPhone 6 Plus!
This salad is great for lunch, dinner or even as an appetizer. It's filled with super foods and an amazing number of herbs which blend well together.
The tofu and quinoa add the heartiness to this meal and the pecans create a lovely texture. Great recipe, thank you Medha!
Raw Beet and Sweet Potato Salad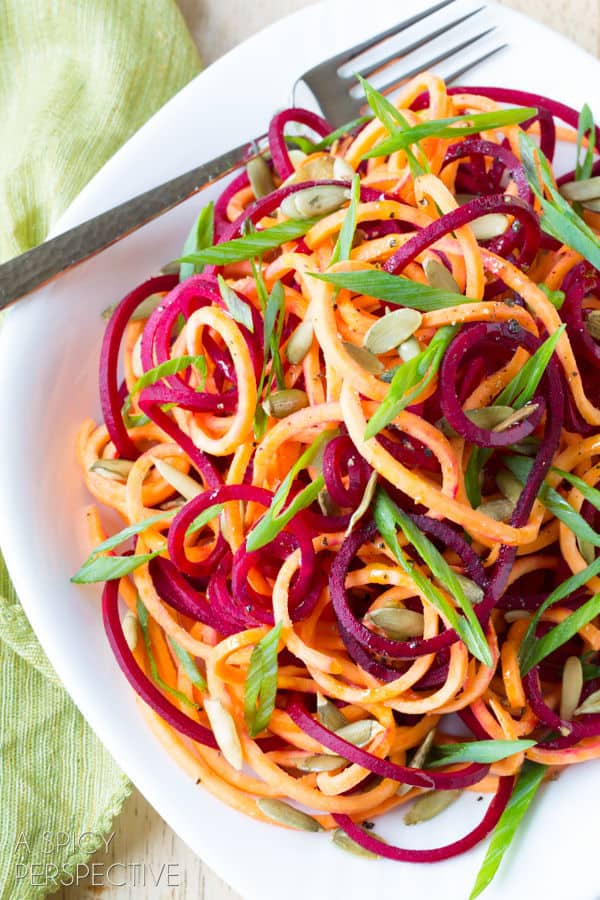 Sommer is the wife of Prince William's long-lost twin! Well, so she says, and who are we to argue with that? She's a professional food writer who makes amazing recipes at A Spicy Perspective.
Like us, Sommer thinks life is too short and it's important you enjoy yourself. That's what her recipes are all about while being healthy and easy!
More and more people are getting into raw food nowadays and experiencing the energy coming from eating this way. You don't have to be totally raw, just having the odd raw meal is great!
Here, we have a simple recipe of spiralized carrots and beets. If you don't have a spiralizer they can be quite cheap to pick up. Alternatively, you could also use a julienne peeler. Add your favorite dressing and you have a healthy meal which not only looks great but tastes amazing too.
Snappy Italian Sweet Potato Spaghetti Bowls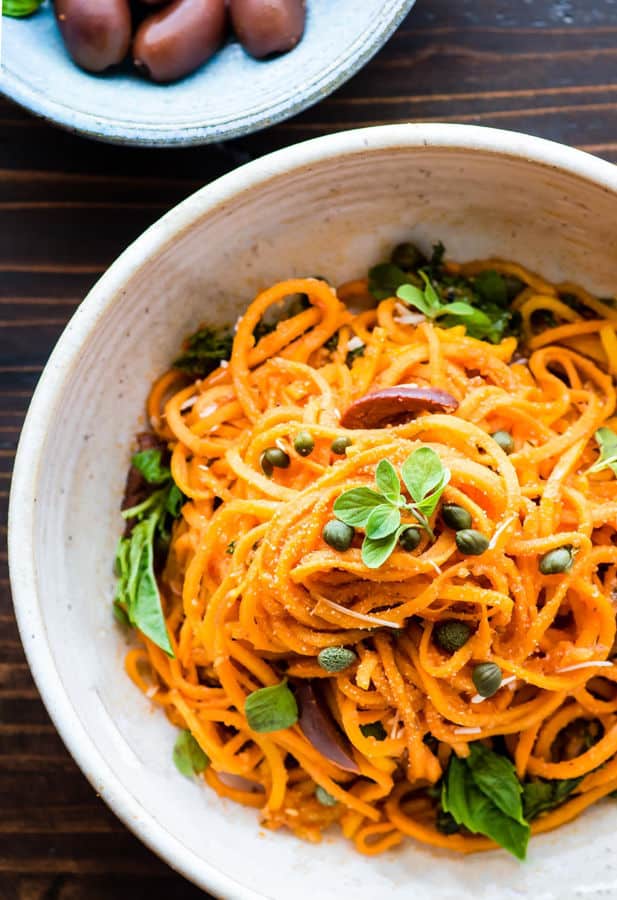 Lindsay Cotter from Cotter Crunch, knows all about nutrition from a gluten-free perspective. She's married to a former pro athlete, so her focus is sports nutrition and health.
I know sometimes people who are transitioning to eat more and more raw food, sometimes tell us they've got problems digesting some raw spiralized vegetables in the beginning (it's not an issue, once your body has adapted).
Lindsay here gives us the best of both worlds. You get a great spaghetti bowl without the wheat but with cooked spiralized vegetables instead.
The tomato sauce is so good too and includes artichoke hearts amongst the ingredients. This dish is all you need whether it be a for a snack or a delicious entree.
Creamy Sweet Potato Salad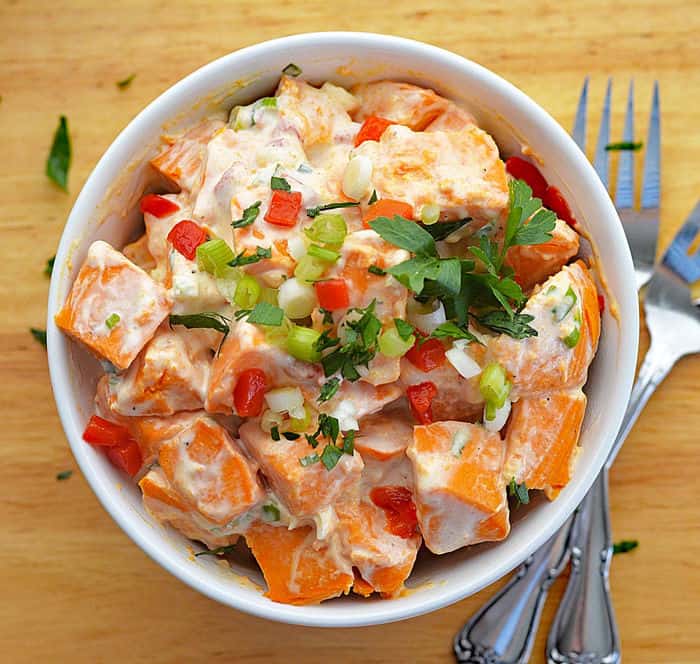 Living Vegan isn't just about great recipes, it's about educating as well. It has such a diverse range of dishes and is filled with great advice, especially if you're new to a plant-based diet.
Sometimes salads leave you feeling hungry but with this recipe you'll be left feeling totally satisfied. It makes a great side dish, but I think it can be a great lunch that would keep you going for the rest of the day.
The amount listed in the ingredients serves four as a side dish, so we think it'll be great for two people if you're looking for a lunchtime treat. It's ready in less than half an hour and the ingredients are really simple. Make sure you have your favorite vegan mayonnaise on hand. We're keeping this one for the summer!
Sweet Potato & Pesto Buckwheat Salad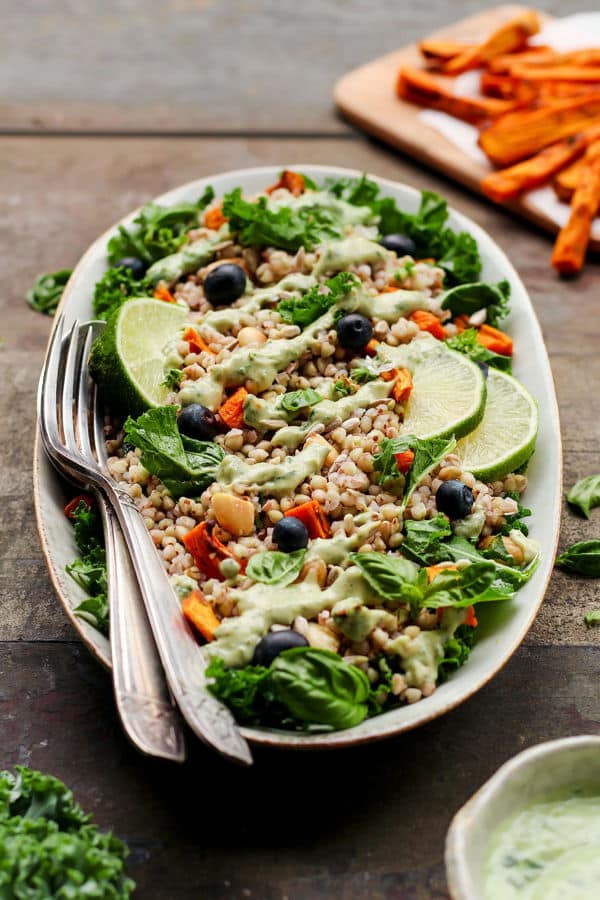 Thomas is a real inspiration to young people switching to a plant-based diet. Thomas lives in France and enjoys sharing his ideas about getting healthy using mostly vegetables, delicious grains and of course, fruit.
This salad is great for you at any time of year. We especially love the way Thomas has presented it and can see it's a great centerpiece if you have a family gathering or special occasion.
It's very easy to make with straightforward ingredients you're familiar with. The pesto dressing is a win! Merci, Thomas!
Mexican Sweet Potato Bowl with Cashew-Lime Cream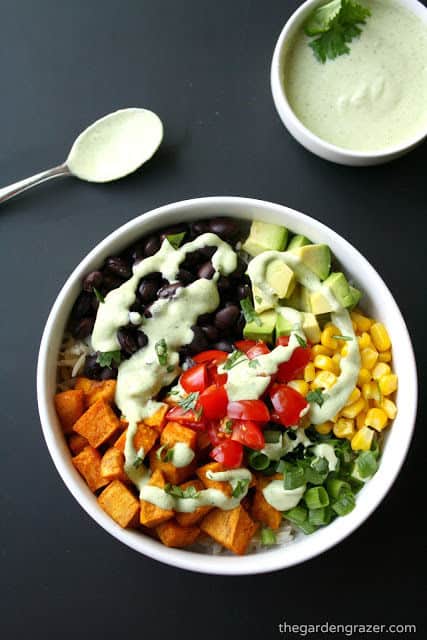 Caitlin grew up with her parents growing vegetables in the family garden, so she has always seen where real food comes from. She's all about nature and bringing great food into the home. She graduated in environmental biology/zoology so knows all about the natural world.
This bowl could not be more simple to make and it certainly could not be any more satisfying and tasty.
As with all the bowls we've covered, the ingredients are flexible, so use what you have. Caitlin's cashew lime cheese really makes everything come together and it'll work regardless of what you have in the bowl.
Easy to make and I recommend doubling the ingredients to keep in the refrigerator for the next day. Great recipe Caitlin!
Spiced Sweet Potato and Freekeh Salad with Pomegranate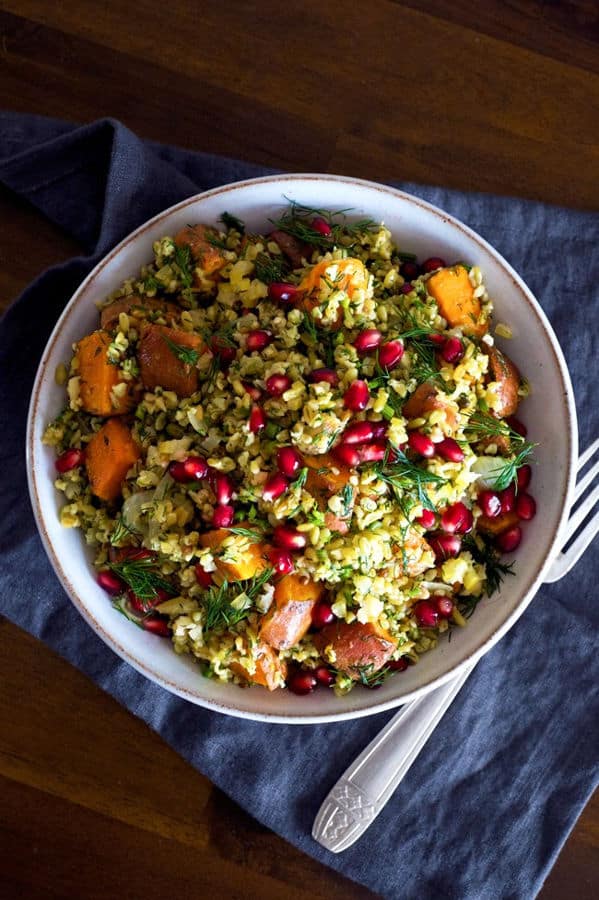 Liberty from Homespun Capers was brought up as a vegetarian. A plant-based lifestyle is something she has always known and increasingly cherished with her love of cooking.
Liberty focuses on dishes that are naturally meat-free rather than trying to create some kind of substitute, so her recipes are all about whole foods with well thought out combinations of great flavors. If we ever go to Melbourne, Australia, we're going to give her a call to say hi!
Freekeh is a great grain that's becoming increasingly popular. It's very easy to prepare and combines well with sweet potato. As you can see, just adding something simple like pomegranate makes the visual appeal just come to life!
The amounts in this recipe serves four to six and the entire dish can be prepared in just over half an hour, which includes cooking and prep time. It keeps in the refrigerator for four or five days so perfect for packed lunches or a trip out! Thank you, Liberty!
Sweet Potato Noodle Salad with Creamy Chipotle Miso Sauce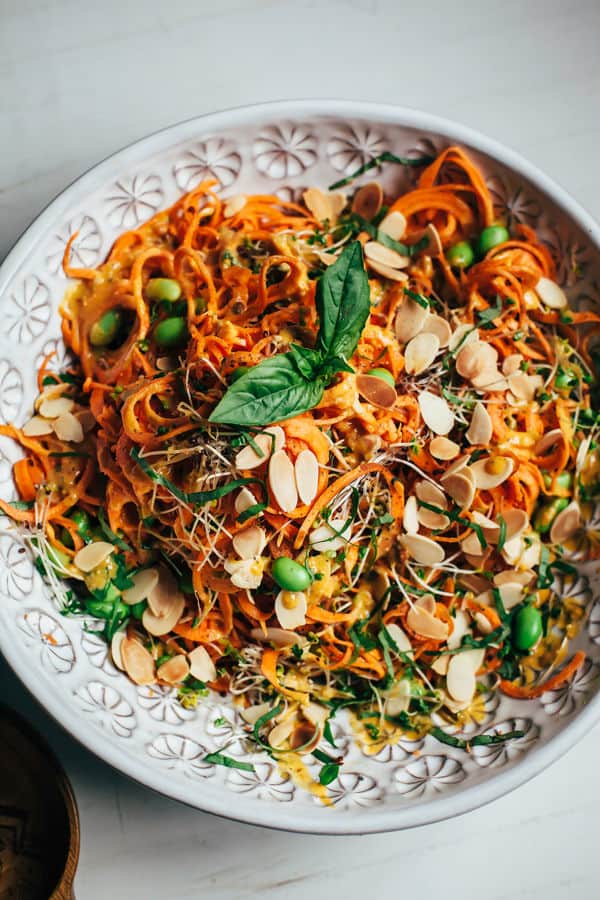 Laura lives in the Niagara region of southern Ontario. As well as going to culinary school she has also worked in restaurants. She has a huge amount of cookbooks! Her work has been featured in the media not only in Canada, but the United States and United Kingdom amongst other places.
This dish really made me think, when I saw it. Bearing in mind we've literally seen thousands of recipes, yet looking at Laura's recipe it was somehow classic and unique at the same time. The sweet potatoes with the sprouts and slivered toasted almonds is something we've not seen before together.
The Chipotle miso sauce is something you have to taste to believe. It's astonishingly good and with so many sauces we see, is a superb recipe in its own right. Laura, a big thumbs up from us!
Vegan Sweet Potato Snack & Treat Recipes
Oven-Baked Masala Sweet Potato Chips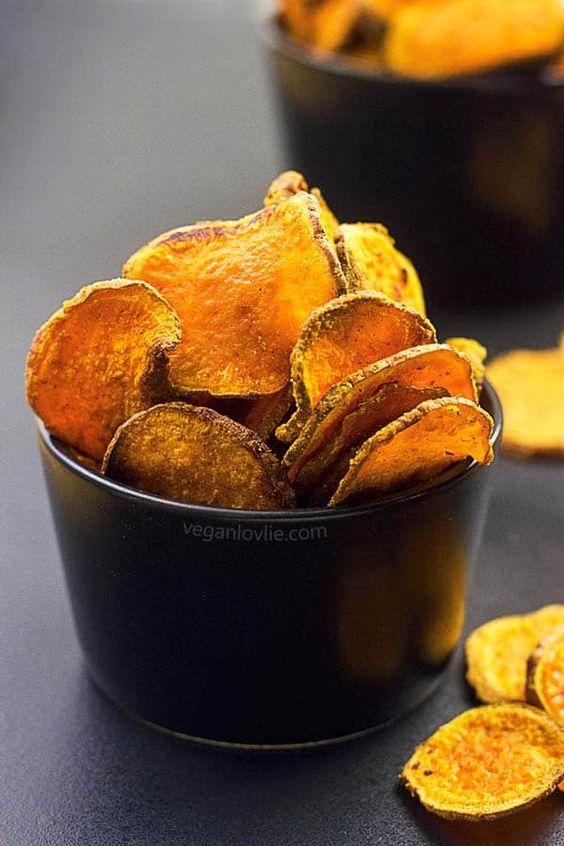 Veganlovlie is the foodie blog of Teenuja and Kevin, a vegan couple from the island of Mauritius. Together they share their passions for food and their culture. This beautiful melding of cuisines is a unique taste sensation.
These oven-baked sweet potato chips are a healthier version of the salty fried chips so many of us crave. We know we should avoid such snacks, but with baked alternatives you can make at home, it's a win!
These Masala infused sweet potato chips will give your mouth a quick trip to Flavorville and you'll never want to come back! These chips will please just about everyone and should definitely be part of your next party platter.
3-Ingredient Sweet Potato Pizza Crusts (Gluten-Free)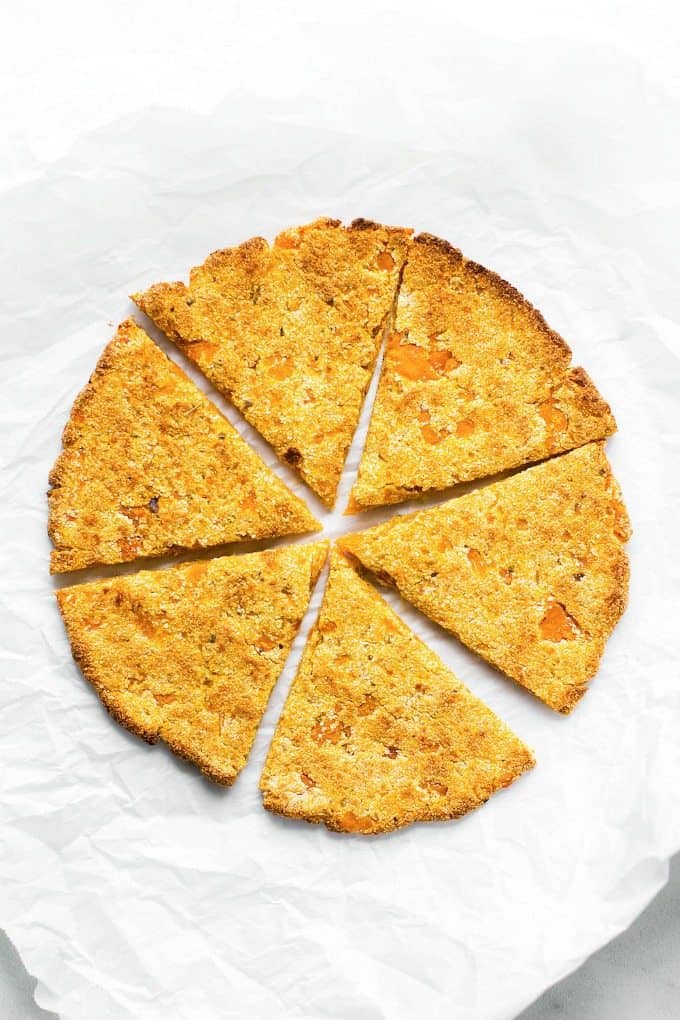 Arman is from Australia and is the creator of The Big Man's World. Since 2014, his website has focused entirely on gluten-free recipes and he certainly has some fantastic creations worth checking out!
Everybody loves pizza but sometimes some of us don't want to eat a lot of wheat, and if you're gluten-free that's not even an option for you, so what you do?
Well, other than herbs and seasoning, as the title suggests, this really does have three ingredients and is ready in ten minutes which includes prep and cooking time!
Not only is this super easy to make and goes with literally any topping of your choice, the crusts freeze perfectly (wrap them individually). What more could you want?
Sweet Potato and Cranberry Mousse Bites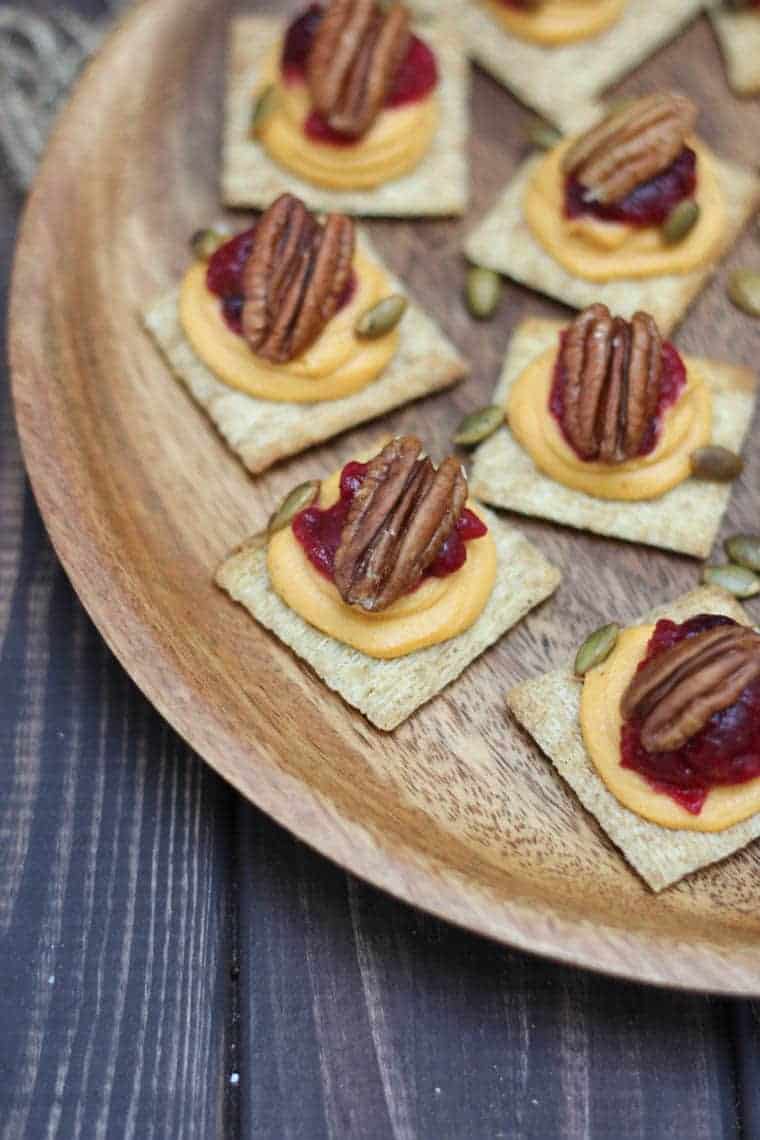 Abbey is a registered dietician and has appeared on TV, is a YouTube host and all-round foodie! Her recipes are diverse and are great for snacks, parties and the holidays.
This recipe was made in partnership with a cracker company, so if you're unable to obtain this particular brand, you can obviously use your favorite type. The sweet potato mousse is deliciously savory as it includes a vegan cashew cream cheese and a couple of other exciting flavors.
The cranberry sauce you make on the stovetop and is totally worth the effort as it has a distinctive flavor and the fresh ginger gives it a great zing! Couple that with the crunchy cracker at the bottom, and the pecan at the top and you have yourself a winning party snack!
Sweet Potato Maple Beer Bread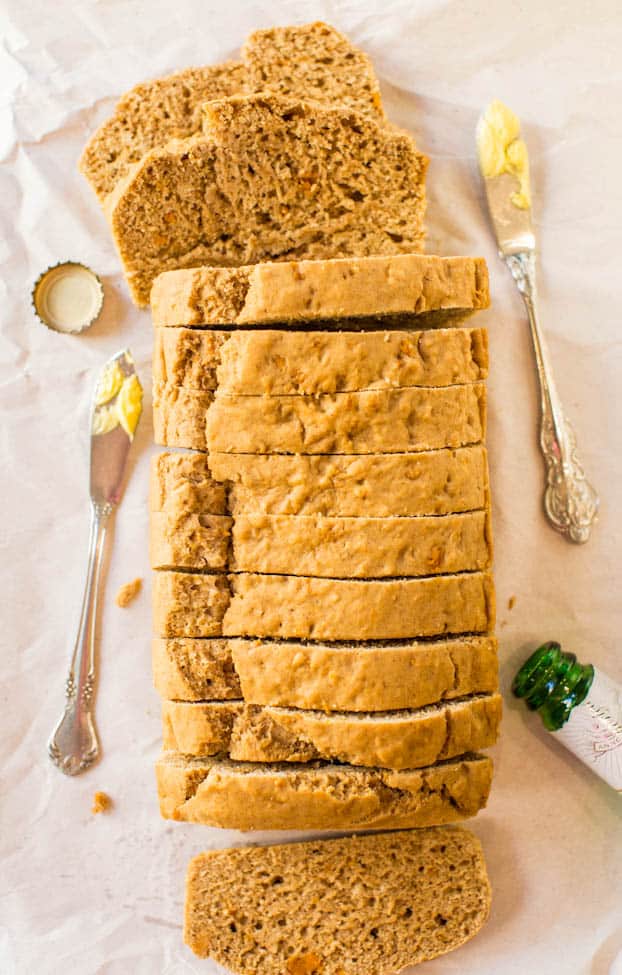 Averie has been blogging since 2009 on Averie Cooks. What we love about her, is she focuses on the likes of you and me. The average person who has a busy life and isn't so interested in exotic recipes; we simply don't have the time, and more importantly, we want good food created with everyday ingredients.
Bread is so cheap, we hardly ever make it. The thought of all the messy flour and the hard work kneading the dough, sounds all too much doesn't it?
Well, whether you make good bread at home or buy it, you pretty much know what it's going to taste like. Not with this! there's no kneading involved, it's vegan, contains no refined sugar and is naturally sweet from the sweet potato, maple syrup and dash of dark molasses (don't use blackstrap as it's too bitter).
It's so easy to make and the taste will blow you away. Eat as you would any bread, even toasted, and it keeps really well in an airtight container for up to 4 days. Awesome Averie!
Sweet Potato Avocado Toast with Hemp Seeds and Pistachios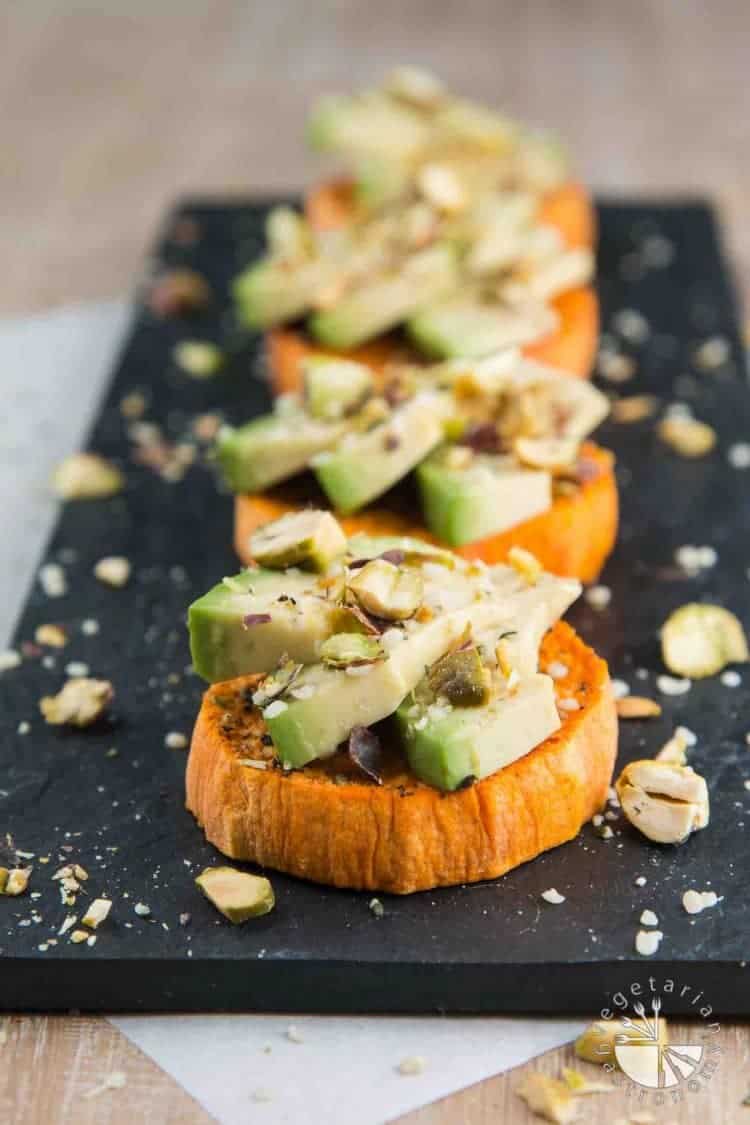 Anjali is dedicated to vegan cooking. Her aim is to inspire people to cook and create themselves. This was lovely to hear because normally recipe creators want you to eat their food, and there's nothing wrong with that. Anjali wants you to do that but encourages you to get in the kitchen yourself, which can only be a good thing.
We've seen a few recipes where sliced sweet potatoes are baked and served as a base for snack bites. They have all been great and easy to make, as is this. Anjali's recipe, however, contains pistachios and hemp seeds and I never realized how well these went together.
This makes for an amazing treat, perfect for parties, family gatherings and the holidays. This makes eight toasts with a prep time of five minutes and cooking time of twenty. Healthy, simple and fast!
Sunrise Sweet Potato Smoothie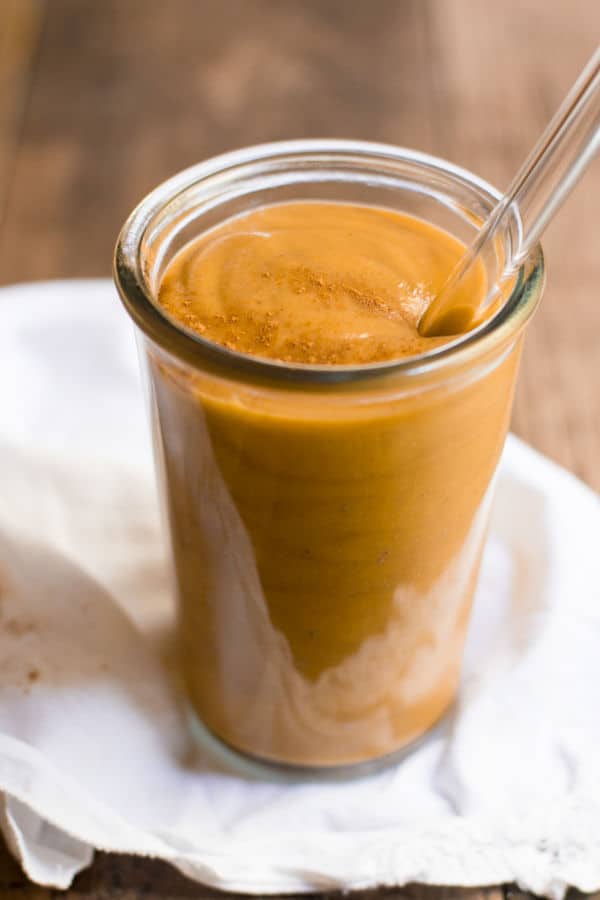 Cassie had her life changed by eating whole foods and she's on a mission to show you not only how easy it's, but how you can do it on a normal budget and without, as she says, "eating like a bird"! That phrase alone was a hit with us!
Okay, let's cut to the chase, sweet potato in a smoothie doesn't sound great does it? Well, there was a time when potatoes had nothing to do with dessert or sweet stuff. Cassie accurately describes this smoothie when she says it's like drinking a pie in a glass.
We completely agree but remember, this pie is healthy! It contains fruit and other good stuff. Because it's so quick to make, if you do one thing this week, try this. Let us know what you think.
Caramelized Sweet Potatoes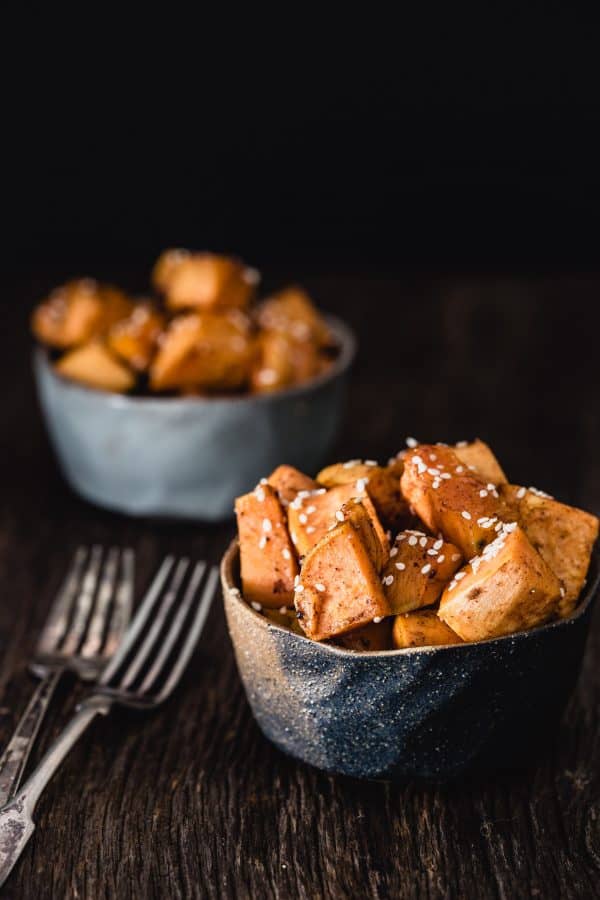 Miriam is a clinical dietician, born and raised in Spain. As you may imagine, places like Spain and Italy have food as an integral part of their culture, so when Miriam came to the United States, she was already hungry to share her knowledge with the world.
Her blog, Eat Good 4 Life, is filled not only with great recipes but also tips on how to live with a minimal carbon footprint, something we could all benefit from.
This recipe contains only five ingredients and other than chopping the sweet potatoes in the shapes you want, has virtually no prep time.
It's a classic way to bake this delicious and healthy vegetable. You can change some flavorings and add your own, but we recommend following Miriam's recipe.
Moroccan Sweet Potato Hummus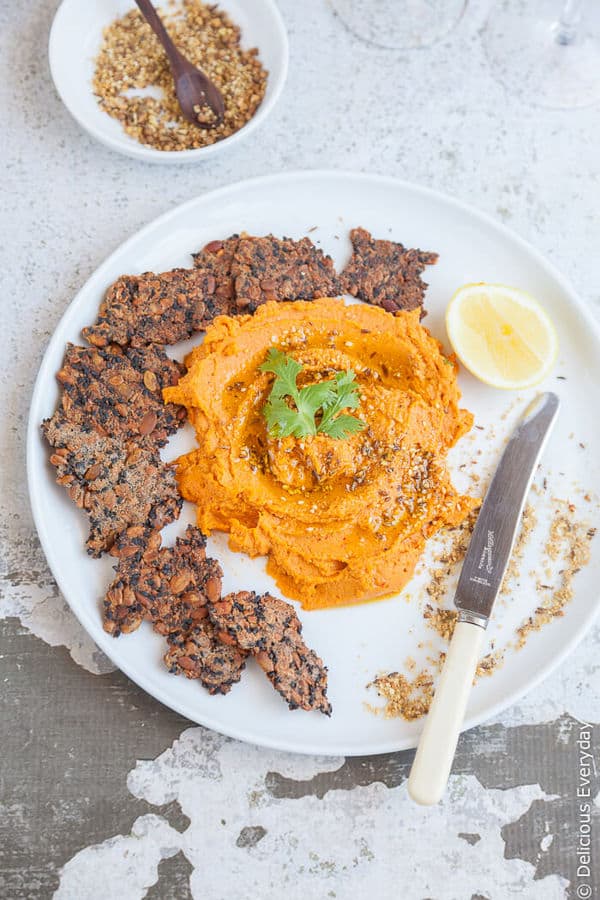 Nicole from Delicious Everyday, has a great awareness about food and life. She talks about the judgement we place on ourselves as well as feelings of guilt, and how this often is centered around food.
In this recipe, Nicole gives us a great twist on so many people's favorite dip. I'd have never thought of adding sweet potato to hummus and this has quickly become a favorite.
We always recommend making your own hummus because, no matter how good a store-bought version can be, there really isn't anything quite like making it yourself.
Add the sweet potato and the rest of Nicole's recipe, and you have yourself an addictive dip that's based on a classic with a fantastic twist. For yourself or to surprise your friends with. Either way you win!
Miso Glazed Sweet Potatoes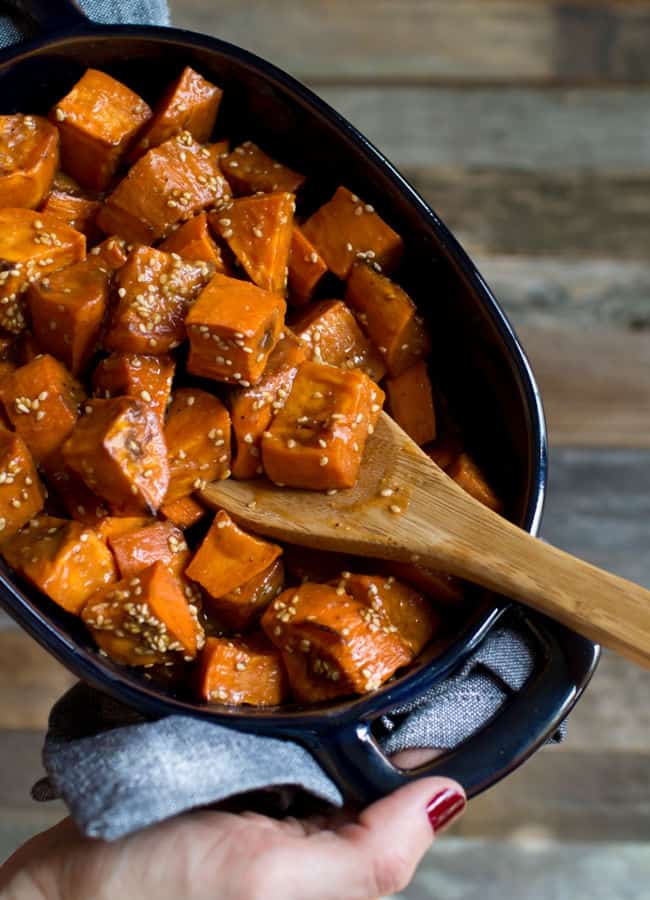 We love Brandi and her blog, The Vegan 8. Why 8? Because, other than seasoning, every single one of her recipes contain only eight ingredients or less.
Brandi is an expert baker and knows about the simplicity of food and the effects it has on health. As well as having so few ingredients, her recipes are all vegan, oil-free, and if that wasn't great enough, they're nearly all gluten-free as well.
This dish contains two of my favorite ingredients, sweet potatoes and miso. What you end up with is a fantastic side dish that can also be used as a base for a complete meal very easily. Being oil-free does make a difference.
I tend to feel it if I avoid oil just for a couple of days. This recipe is sweet and savory at the same time and if you want to add a little hot sauce, you're absolutely free to. Thanks Brandi!
Veggie Pakora with Sweet Potato and Broccoli (Gluten-Free)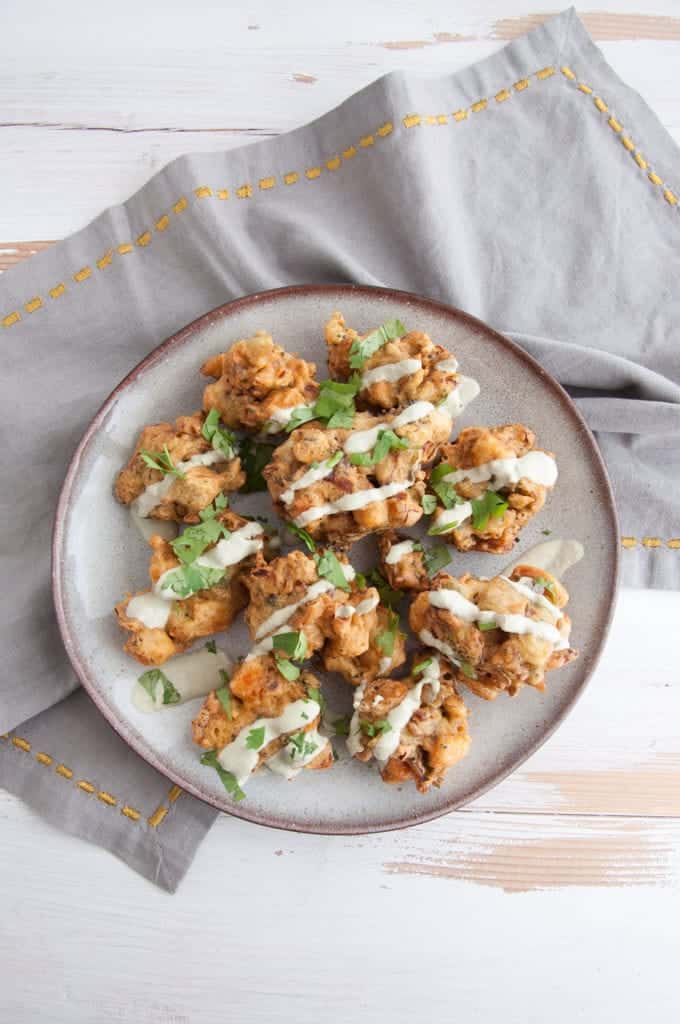 Bianca is from Austria and first learnt about veganism on a vacation in the US in 2012. She had what so many of us have experienced when we were brought up in a society that forces the consumption of animals to be a common thing (as opposed to a normal thing!).
That trip for Bianca was obviously a moment of awakening and we send her virtual hugs for joining us on our quest of helping people switch to a plant-based diet.
As some of you know, Indian food is a favorite to us and this is certainly no exception. Pakora is a traditional Indian dish of vegetables battered in chickpea (garbanzo bean) flour.
It's usually an appetizer or snack, and is always outstanding! This dish is classic, and I'd go to the effort of making a note of it in your personal recipe book.
If you don't have some kind of place where you write notes of your favorite recipes, today is the day you need to start one!
Sweet Potato Pizza with Guacamole Topping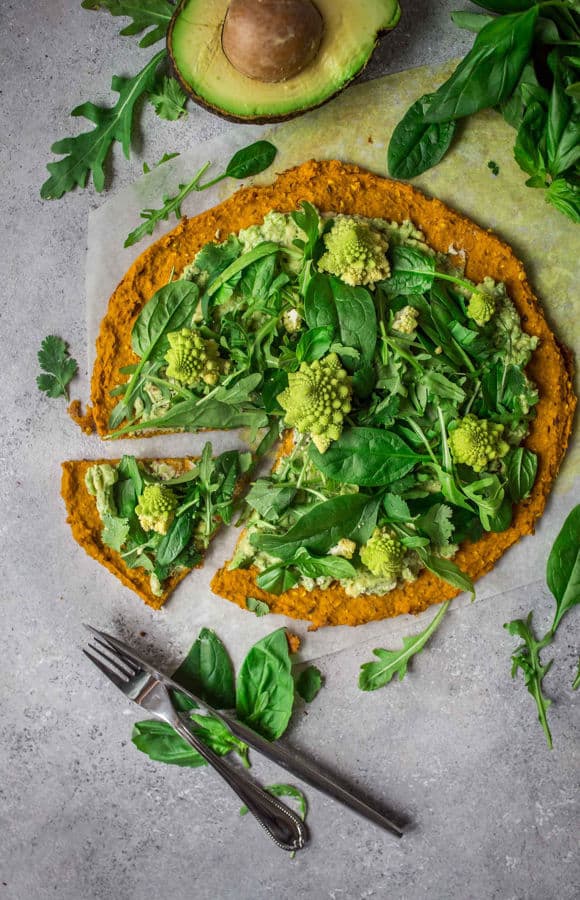 Lara from Vanilla Crunch is from Switzerland and used to work for Google, so she knows all about programming and stuff.
But more than anything else she knows about great dishes, and her travels inspire her cooking and her philosophy as a nature lover.
Often with pizza bases like this, you need a dehydrator. Lara has created this dish using just a regular oven which most of us have access to! The crust is absolutely delicious; just a few ingredients which blend together so well.
The topping couldn't be simpler and, of course, you're free to add your own ideas as well. That's what home-made pizza is all about! Wonderful and unique idea from Lara, thank you!
Sweet Potato Cinnamon Rolls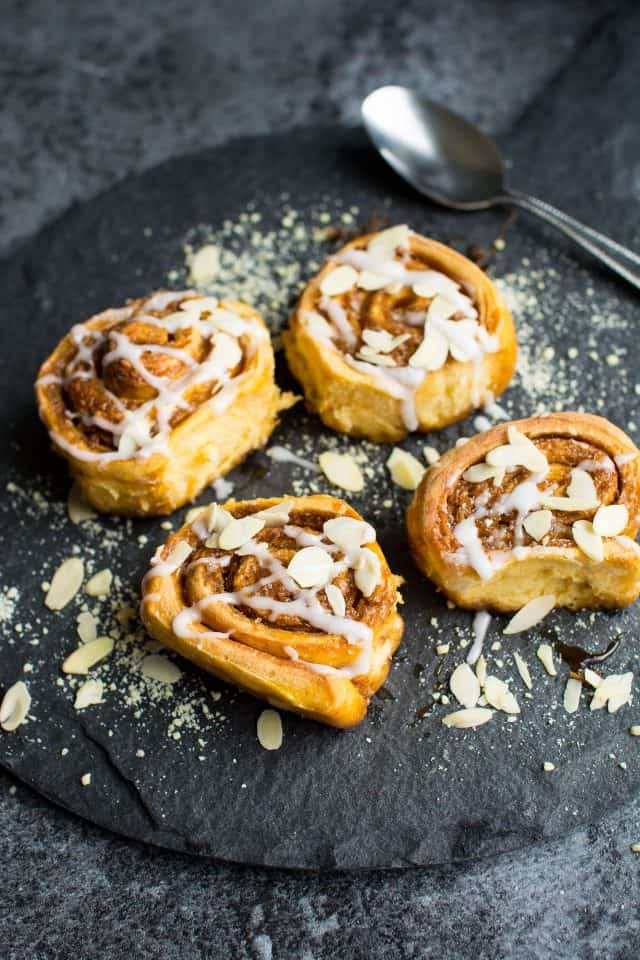 Lauren started her blog in 2015 just after she moved from London to Switzerland. Her philosophy is simple in providing a wide range of vegan cuisine using ingredients seasonally sourced and easy to obtain. She supports the environment and the homeless amongst other things and this is great to see.
There are some things in life we just don't tend to make because we buy them instead; cinnamon rolls are one of those very things.
I wouldn't have known how to start making a roll, let alone one containing sweet potato! The ingredients in this recipe are split into three: the rolls, filling and frosting.
You get sixteen rolls with these amounts, something I was delighted about! The instructions are super easy and if you don't mind a bit of mess, get the kids involved too!
Delicious Sweet Potato Pie Smoothie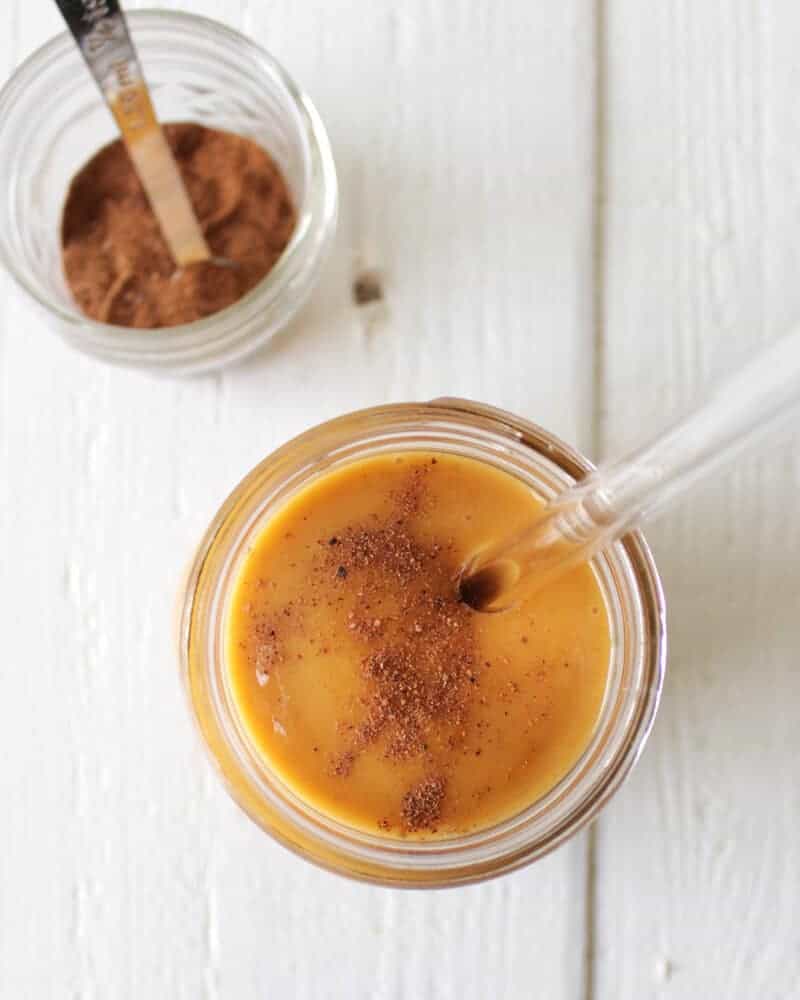 Karissa from Karissa's Vegan Kitchen, acknowledges the anguish many people go to when wanting to turn vegan in an environment which is quite the opposite.
She's obsessed with potatoes so is instantly my best friend! Her favorite emoji is the eye rolling guy so she gets a double thumbs-up from me!
At the start of the day I had never heard of a sweet potato smoothie and, at the time of writing, as the day is nearing its end, I have come across two delicious recipes. Isn't that always the way?
After baking the sweet potato and letting it cool in the refrigerator, ideally overnight, you blend it with the rest of the ingredients. The taste is just adorable!
Purple Sweet Potato Tapioca Pudding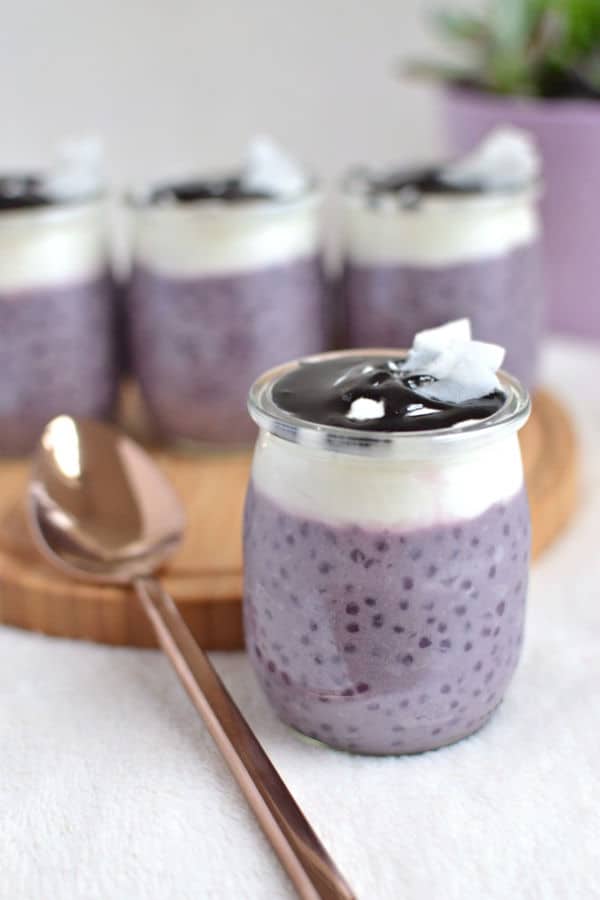 Rachel and Rachel created their blog to show you how easy and fun it's to experiment with unique flavors. Their blog, Radiant Rachel is filled with not just great dishes but also really useful information about switching to a plant-based diet.
Everybody loves a great dessert but sometimes we have a certain amount of guilt attached to them. Not this time! With just a handful of ingredients you can make six servings of this vibrant looking pudding.
Ideally, you make these and then chill them overnight in the refrigerator for best results. You could easily double the ingredients and have a dozen, great for a family gathering or special occasions. Everybody will be asking you for this recipe. We'd like to thank Rachel, and to thank Rachel as well!
Sweet Potato Blueberry Chocolate Cake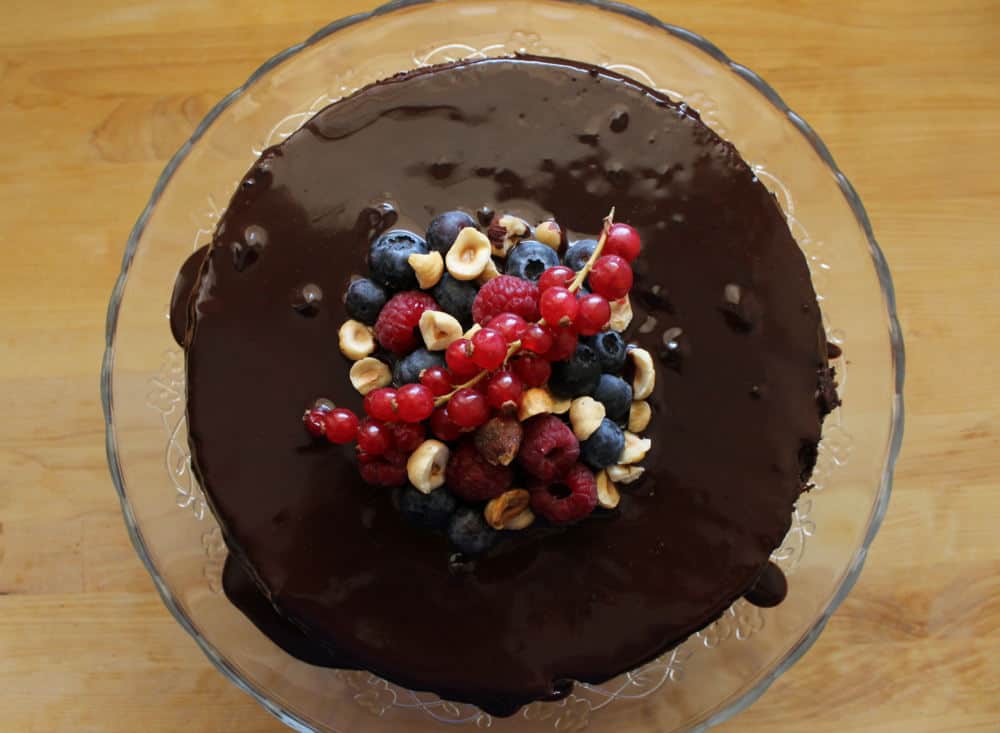 Kim from Brownble, has an inspiring story. Kim, when you read this, know that we think you should write a book about your life and we'd be the first to buy it! Seriously.
This is another recipe you should definitely keep. Everyone needs to know how to make a chocolate cake; it's like the law!
Take a look at the ingredients here and you'll be pleased to see you probably have everything already. Do notice there's a little preparation that ideally would be done overnight.
What you end up with, is one of the best cakes we've ever tried. Definitely a keeper, thanks Kim!
Oven-Baked Sweet Potato "Toast" with Spicy Guacamole (Gluten-Free)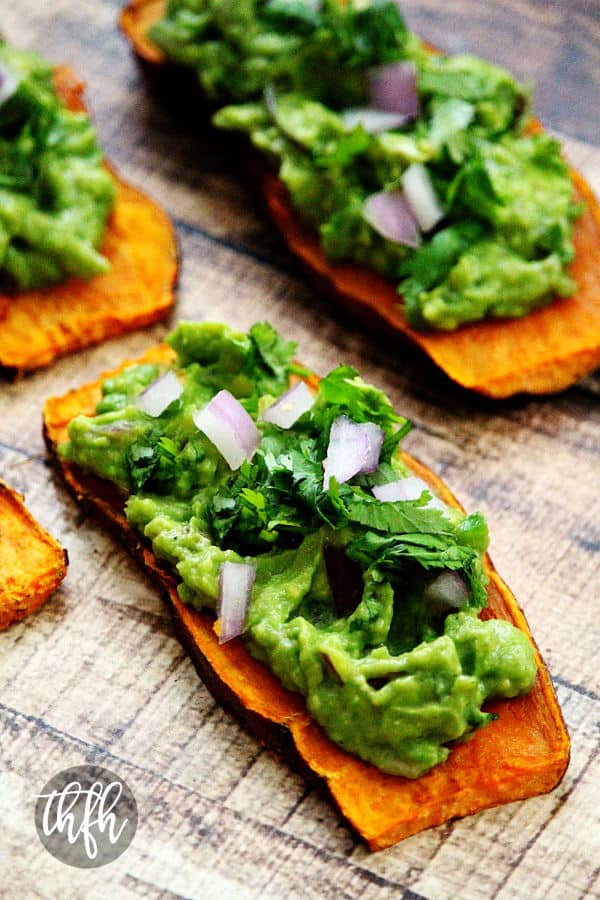 Karielyn from The Healthy Family and Home, can teach you a thing or two about how to get smart, living the plant-based way.
Like us, she's very aware of the food industry and the methods they use not only to confuse us about what to eat and what not to eat, but the sheer hypocrisy of saying things like butter, refined sugar and unpronounceable ingredients are very often labelled as "healthy".
Her blog is full of great recipes made from natural whole foods. You won't find any GMO's, MSG and all the other nasties you so often see at the store.
This isn't the first time we've featured sliced oven baked sweet potato as a base for a snack, but you can never have too much of a good thing. This recipe will yield 4 to 6 slices, so we recommend doubling it.
Why that recommendation? Because this is so delicious and one thing you cannot accuse us of being is sensible! With just a five-minute prep time and the rest cooking, you'll have this brought to the table in a snap. Perfect for family gatherings or special occasions. Thanks Karielyn!
Coconut & Purple Sweet Potato Ice Cream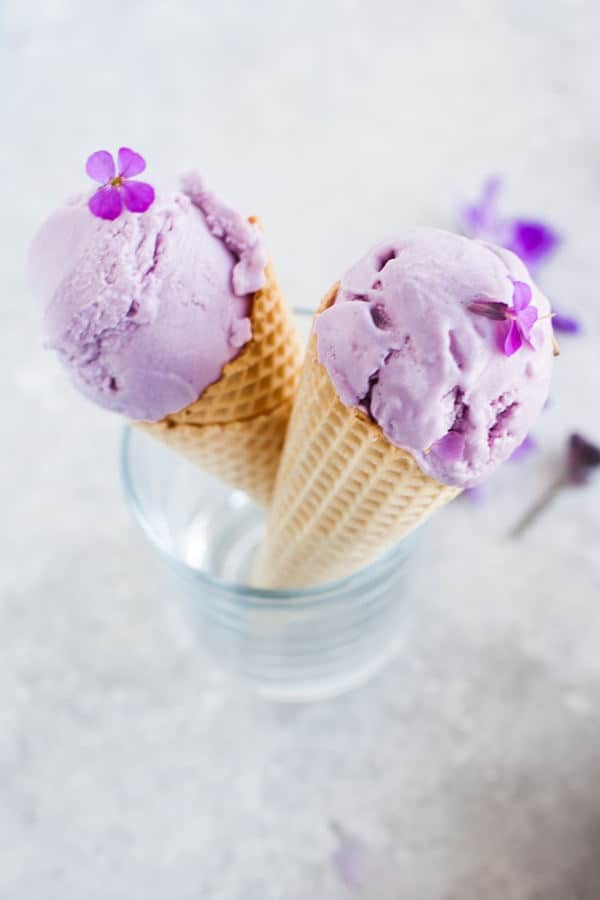 Aimee lives in the fabulous city of Brighton in England. If you ever go to the UK, Brighton is one place you must visit. It's extremely vegan friendly with a very diverse community. You can feel the vegan vibe just being there. The Wallflower Kitchen started out as storage for Aimee's recipes and has now turned into a successful blog.
In this recipe, Aimee shows us something we've never seen before and that's a vegan ice cream recipe made with sweet potato, how fabulous! It's really worth hunting down purple sweet potatoes because of their vibrant color.
In addition to that, the ingredients contain real food you should easily be able to get without any problem. There's a tiny amount (1 tablespoon) of alcohol included and its purpose is to prevent the ice cream from freezing too hard. You can make this really quickly; your friends will be amazed and so will you! Thanks Aimee, say hi to Infinity Foods from us!
Baked Sweet Potato Pancakes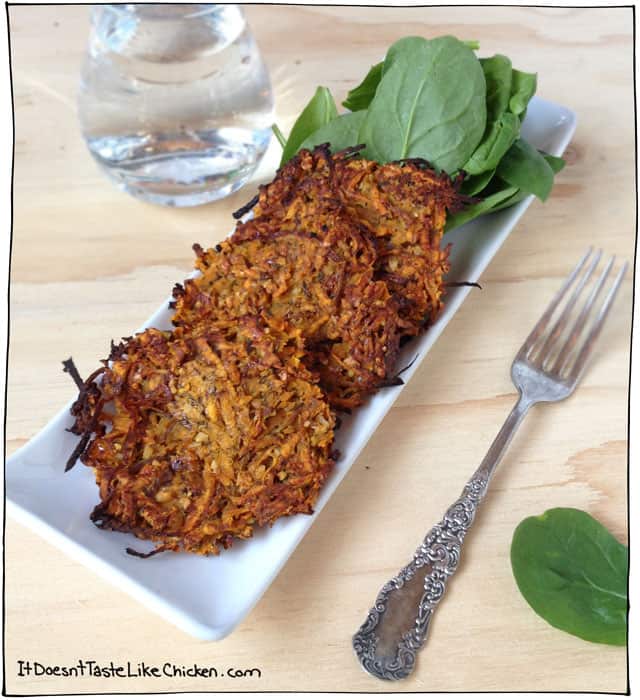 Sam is living her dream with her blog, It Doesn't Taste Like Chicken. She used to be a devout carnivore until she made the connection. She watched documentaries, such as Earthlings, read relevant books and has never looked back since. She now has a book deal with Random House. Congratulations Sam!
We see a lot of vegetable fritter type of recipes, but they're nearly always fried which is the last thing you need if you're on a health kick. Sam's sweet potato pancakes are baked! The ingredients are super easy, and the amounts listed make eight pancakes.
These are perfect for breakfast or even better for a lunchtime snack. Sam's secret ingredient is the fresh thyme (you can use dried) which goes so well with the baked pancakes and adds that sophisticated touch. Excellent job Sam, keep living your dream!
Sweet Potato Toast Bruschetta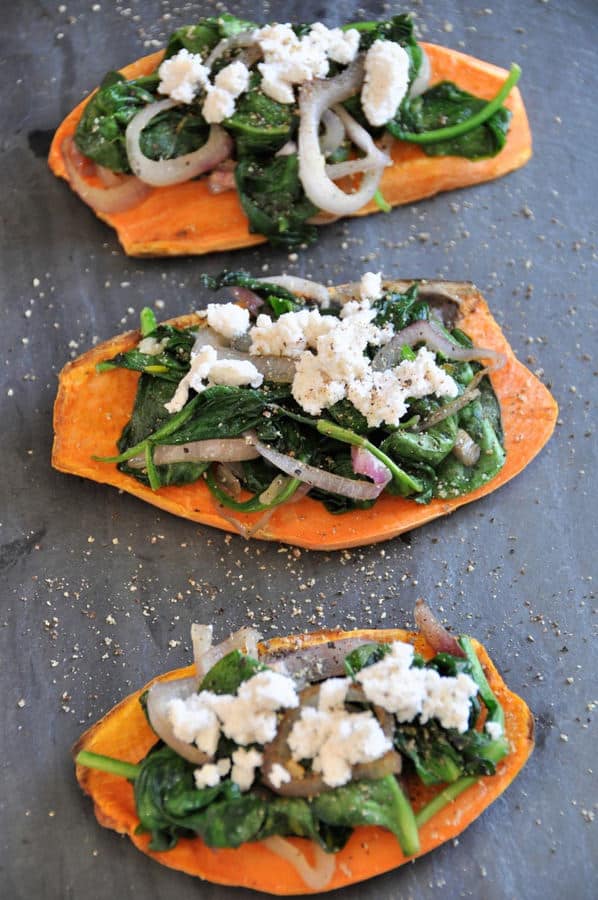 Alex has a Master's degree in health psychology and if she's not cooking, she's taking care of her fur babies, Hooper and Chief! Linda also has two fur babies, Gizmo and Coco and is a tennis ace! she's Alex's Mom and together they run Veganosity.
This is a fantastic twist on bruschetta which is normally served on some kind of toasted bread. If you're trying to avoid gluten, however, things start to get complicated, so this recipe is for everybody!
Best of all, other than seasoning, there are just five ingredients, and you can bring it to the table in just fifteen minutes!
The sliced sweet potatoes are toasted, you can serve with your favorite vegan ricotta or other topping of choice. Of course, if you want to make a lot of these babies, you can easily do so.
A big thank you to both Linda and Alex; we wish you continued success!
Sweet Potato Sausage Rolls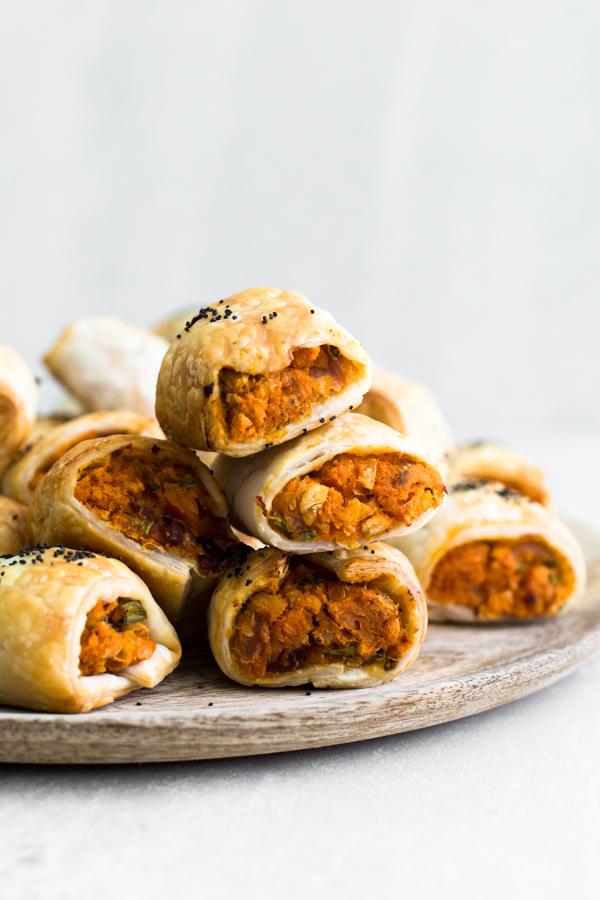 I know people sometimes miss a particular dish since becoming vegan and it's difficult to find an alternative which satisfies you in the same way.
These Sweet Potato "Sausage" rolls are as satisfying and flavorful as the original, and so much better for you. There's no actual sausage, but you won't miss it a bit.
55 minutes from start to finish and you've got yourself a tasty little treat, perfect for snacking! These would also be great to pack in a lunch or for a picnic.
Sweet Potato Toast with Caper Tapenade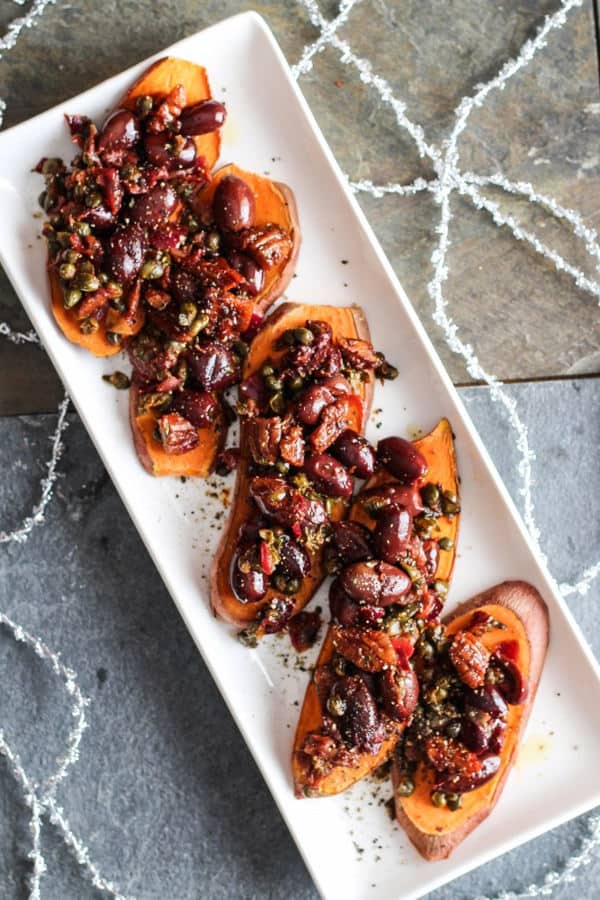 Stephanie creates great recipes and is a registered dietician living in Colorado. She said she used to be the teenage Queen of boxed mac and cheese and then learned how to cook in her late twenties.
Her mission now is to show you wholesome cooking can be easy and exciting, and she wants to take the intimidation out of cooking. She does all this at The Grateful Grazer.
We've seen a few dishes featuring sweet potato toast, but there's always room for another!
The caper tapenade is one of the best toppings we've tried. It's absolutely bursting with flavor and ingredients are top quality with things like kalamata olives and Dijon mustard to name but a few.
Including prep and cooking time this'll be ready in twenty minutes which makes it a perfect appetizer or snack. It's also gluten-free!
Sweet Potato Biscuits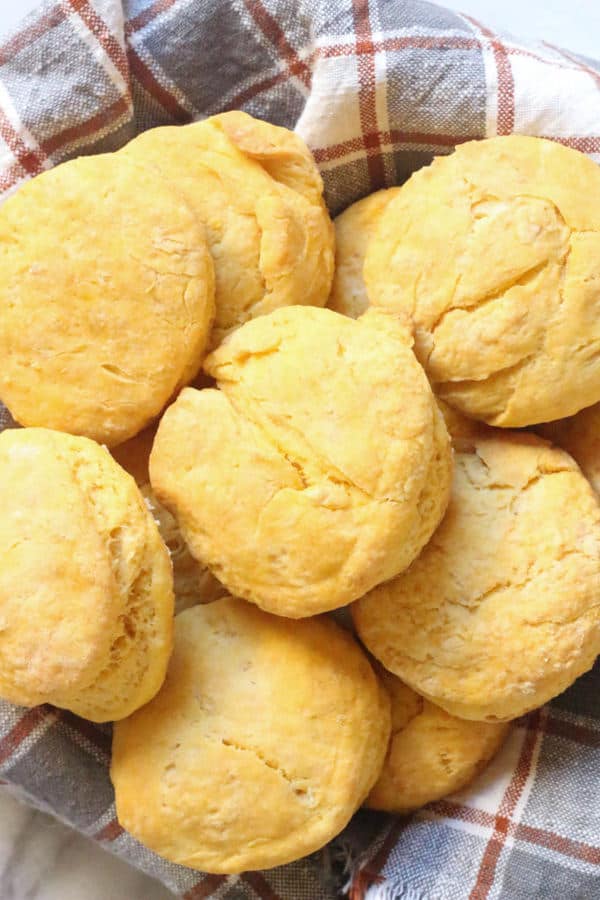 Kristie runs The Mostly Vegan and has suffered with diet issues in the past but has come out of it with something really positive with her blog.
These sweet potato biscuits are delicious. On one hand, everything you would expect from biscuits, yet on the other hand, a slight uniqueness.
We love how the recipe page takes you through each step showing you photos along the way. The amounts here make ten to twelve biscuits and what you end up with is a delicious snack you can use as you wish.
Perfect for any time or for the holidays. The recipe is so easy you'll be making these again and again!
Almond Crusted Sweet Potato Tenders + Mint and Pistachio Chutney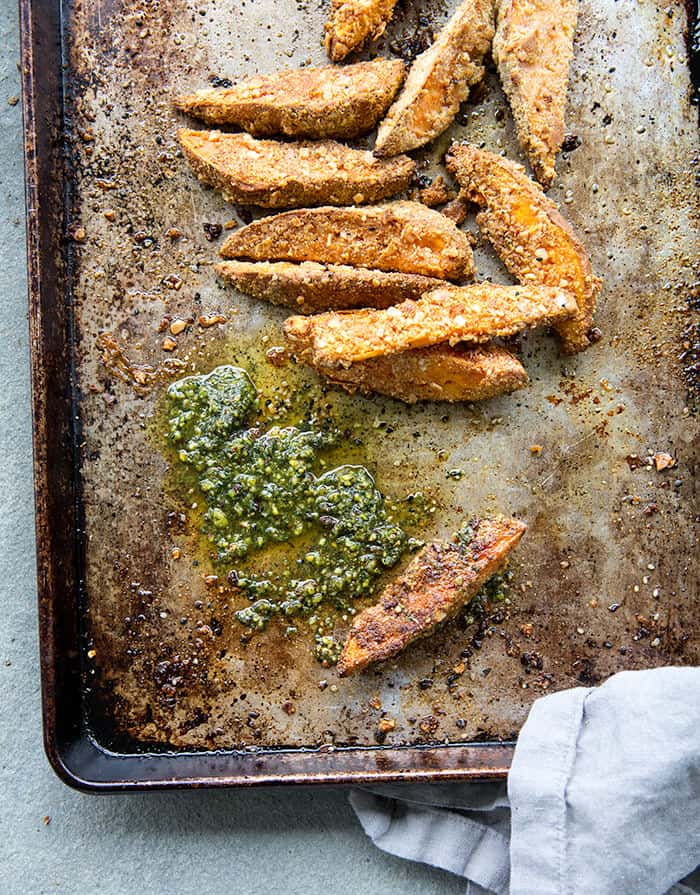 Jodi graduated from a natural foods culinary program and runs What's Cooking Good Looking. Everything Jodi makes in her kitchen is taken from her garden as much as possible and if not, a local farmers market. She's also an expert photographer and takes all the pictures you see on her blog.
The sweet potato tenders are an amazing creation and certainly worthy just on their own. So, if they weren't enough Jodi, goes and adds the pistachio chutney which is jaw dropping stuff.
You might think I'm getting too excited, but once you try this recipe, you'll understand why.
Together they're a marriage made in heaven. One of the greatest snacks ever. You need to print out this recipe because people will keep asking you for it.
Vegan Sweet Potato Soup Recipes
Sweet Potato and Roasted Red Pepper Soup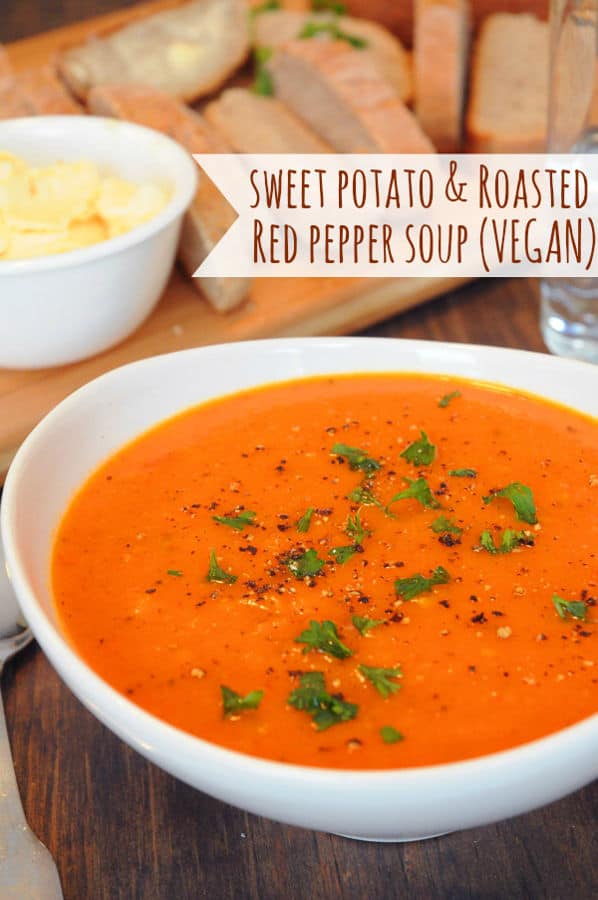 Cassie from Vegan Insanity is a Canadian vegan food lover and animal rights activist. She also has some great tattoos! Since turning vegan her relationship with food has completely changed which has transformed her life and she wants to share that inspiration with others.
Her blog is filled with handy tips and a great run down on all the tools she uses in the kitchen.
This soup is wholesome and incredibly tasty. Often, soups are nice, and they do the job of warming and satisfying you at the same time.
This recipe takes a unique twist. The ingredients are top-quality, everything from the carrots, garlic and coconut milk to name but a few. This is a seriously delicious soup and one you definitely need to have on your favorites list!
Sweet Potato Black Bean Soup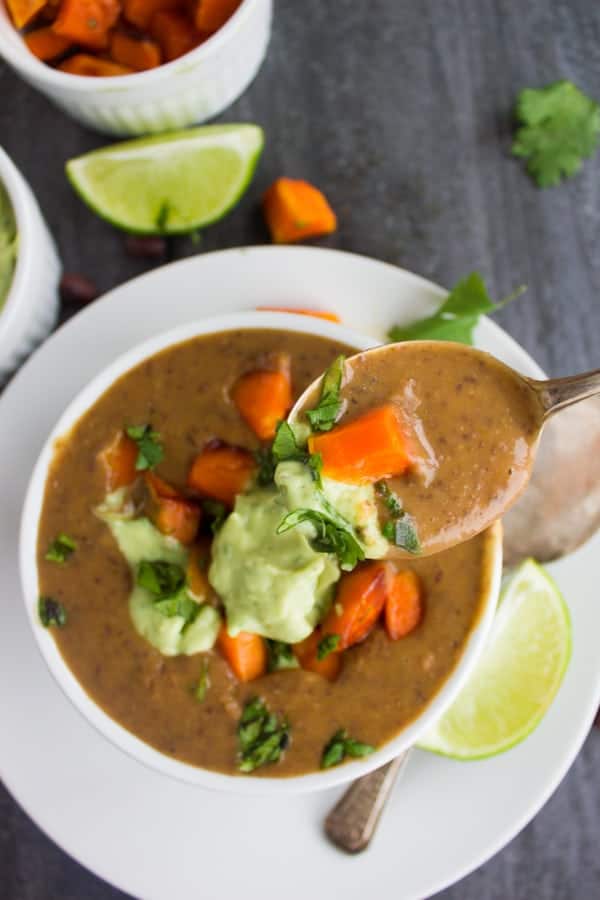 Mahy from Two Purple Figs grew up in a dozen different countries across four continents, how's that for international experience!? She's really into classic recipes and especially loves putting her own twist on them.
She used to be a pharmacist and used her analytical background to learn about food science and recipe development. Apart from working pretty much everywhere, she now teaches cooking classes in Toronto!
This soup has a fabulous twist using avocado crema which is like the icing on the cake. Or rather, the avocado on the soup! The dish itself is really satisfying and perfect for those cold winter nights.
Having a base of sweet potato and black bean ensures you won't feel hungry any time soon after eating it. The ingredients are delicious with things like onion, bell pepper and garlic to name but a few.
I think the little dash of cumin really makes all the difference. Above all, this can be prepared in about twenty-five minutes, including prep time. There aren't many soups you can say that about!
Sweet Potato Soup with Carrot and Ginger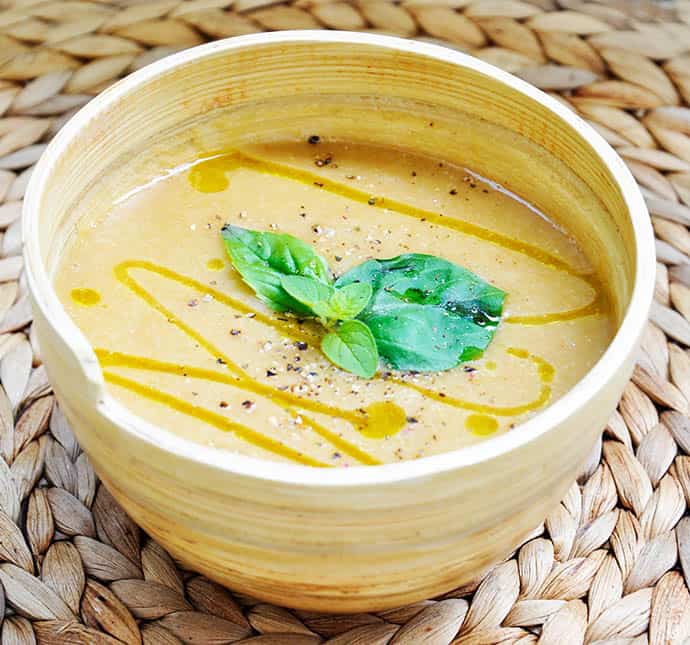 Ruxandra, from Gourmandelle, is a food blogger who is an expert in marketing and design. She also knows a thing or two about nutrition as well. In her spare time, she's a freelance graphic and web designer. Her recipes have an aim of inspiring people to live a healthier life.
If you're looking for a really quick soup, then this one is for you. It's hearty with sweet potatoes, onion, carrots and much more.
The little piece of magic in this dish is the grated ginger which makes this so much more than a regular sweet potato soup.
The amount serves eight small bowls and you can bring the soup to the table in about thirty minutes. Serve with your favorite crackers or bread.
Slow Cooker Sweet Potato Chili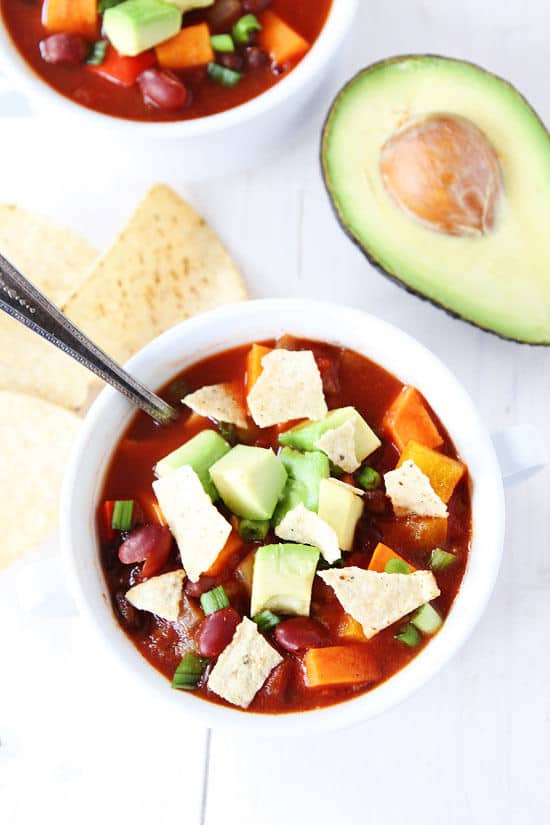 Maria and her husband Josh, both run Two Peas and Their Pod, which is a fantastic blog featuring great desserts. Would you believe they have a cookie section with over two hundred cookie recipes! They both love food and share their culinary delights with everybody they know.
Having a family means you're always on the lookout for recipes which save you time. This dish not only saves you time, but it's also incredibly healthy.
It's prepared using a slow cooker and once the ingredients are ready, the cooker does nearly all the work for you! You can use this chili as an appetizer or serve larger portions as it makes a fantastic meal in its own right.
Best of all, it also freezes well so make sure you take advantage of this! Serve with your favorite bread or even tortilla chips!
Roasted Acorn Squash and Sweet Potato Soup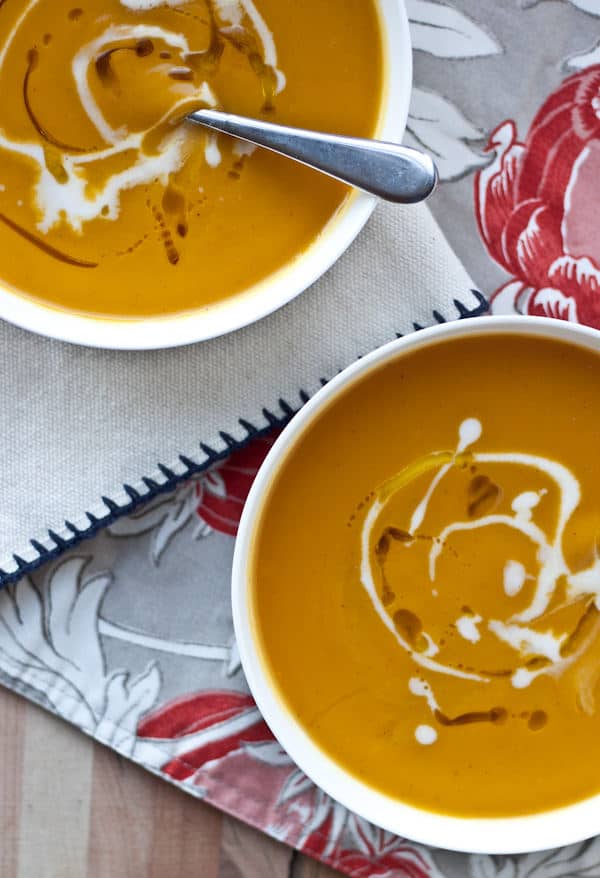 Laura from A Beautiful Plate is a trained chef as well as a food photographer. Even during childhood, food was the center talking point for her entire family so it's no wonder she loves it so much!
She takes her profession extremely seriously which shows throughout her blog. If you're needing inspiration for a family gathering or special occasion, there's a lot to learn here.
Before seeing this recipe, I had never considered buying an acorn squash. Treat it just like any other squash and don't be intimidated to use it in your recipes.
This soup is made with just a handful of ingredients and the teaspoon of garam masala is the secret that makes this very special indeed.
You could absolutely make this for yourself, and you should. But, if you ever need to impress anybody, then pull this recipe out and you'll win!
Jerusalem Artichoke and Sweet Potato Soup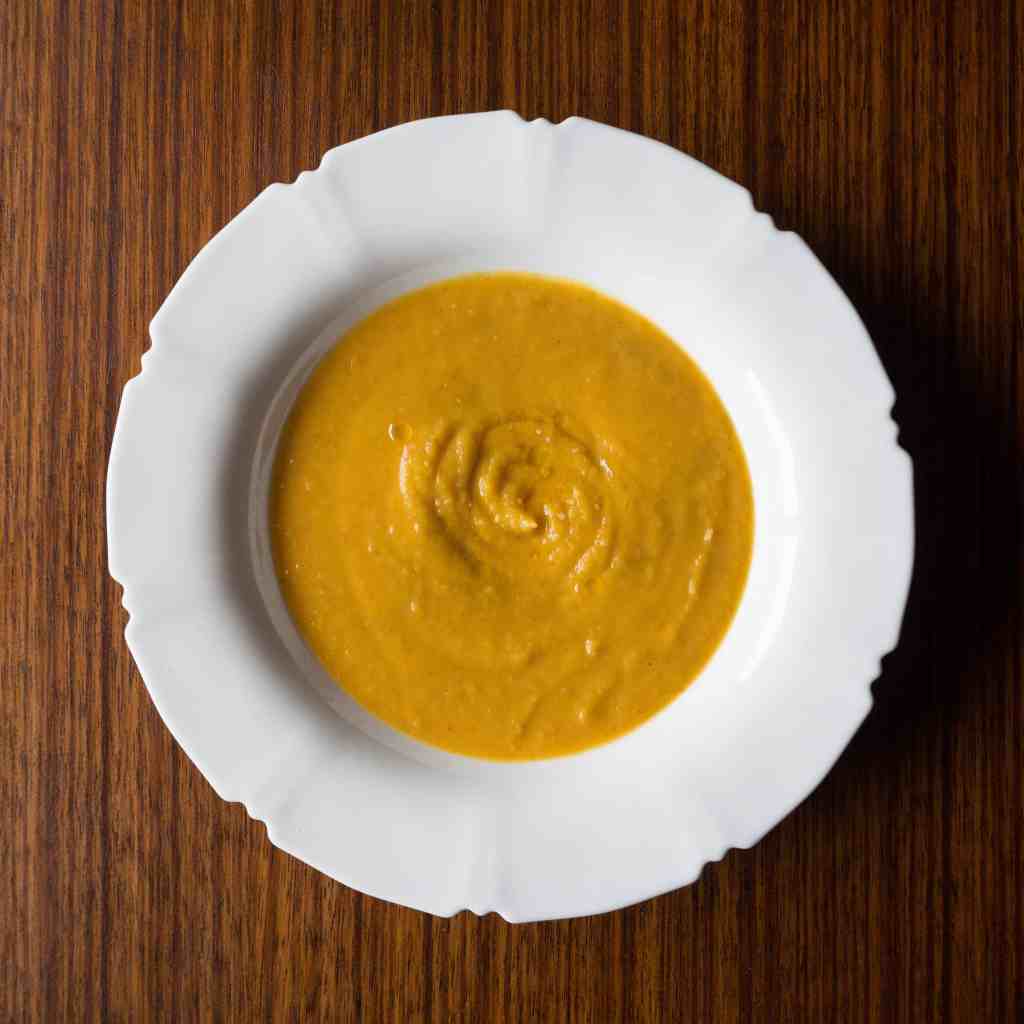 Julia lives in London and has a Ph.D. in concrete. Okay, her Ph.D. is in engineering materials, but I think she specializes in concrete! Hey, don't knock it! Serious buildings are made from concrete and you need to know what you're doing to build buildings.
Outside of this Julia, has been a vegan for over twenty-five years and more recently has gone gluten-free.
Julia's recipes are all high-quality and filled with great ingredients. I can assure you, you'll be motivated to try something you probably have never had before.
Perfect for dinner parties or a romantic meal, this soup is really satisfying using sweet potatoes and Jerusalem artichokes as a base.
Ingredients are well thought out and you end up with a delicious soup which takes only ten minutes to prepare and about twenty minutes to cook. It also freezes well so divide into portions so definitely take advantage of that. Thanks Julia!
Amazing Creamy Carrot and Sweet Potato Soup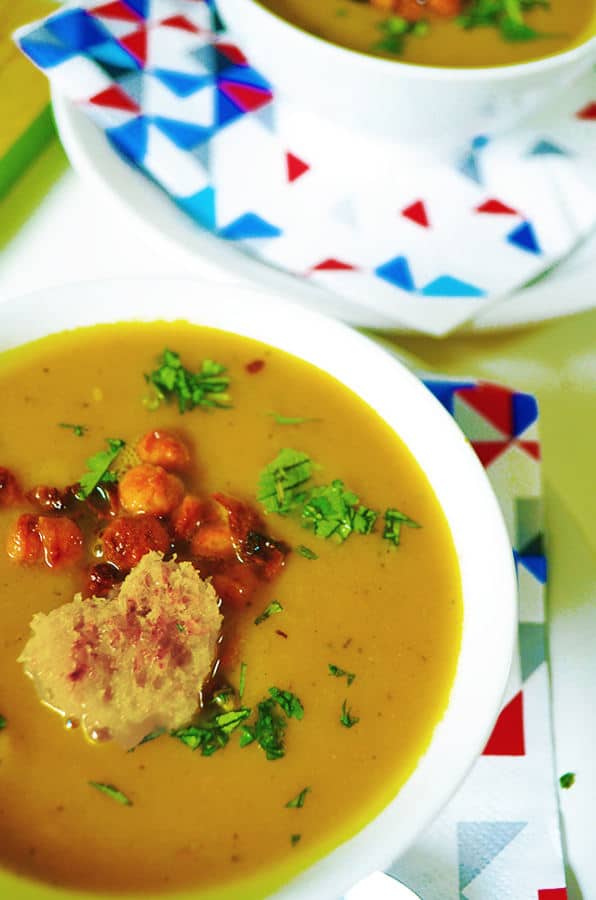 Hannah will be the first to tell you she cooks a lot and eats a lot, so she's already an honorary member of our team! Hannah's recipes have been featured in the media and she has also worked with brands you have probably heard of.
We love her blog, House Vegan, because it particularly focuses on people who've just started following a plant-based lifestyle and is just full of ideas no matter how much of an experienced cook you are.
This soup is exactly as described although you'll be even more surprised at the taste. Hannah's secret ingredient is leaks, which add a very mild onion flavor.
You can add hot sauce if you wish, although we like it as it's with the included half a teaspoon of smoked paprika. Delicious!
Spicy Thai Carrot and Sweet Potato Soup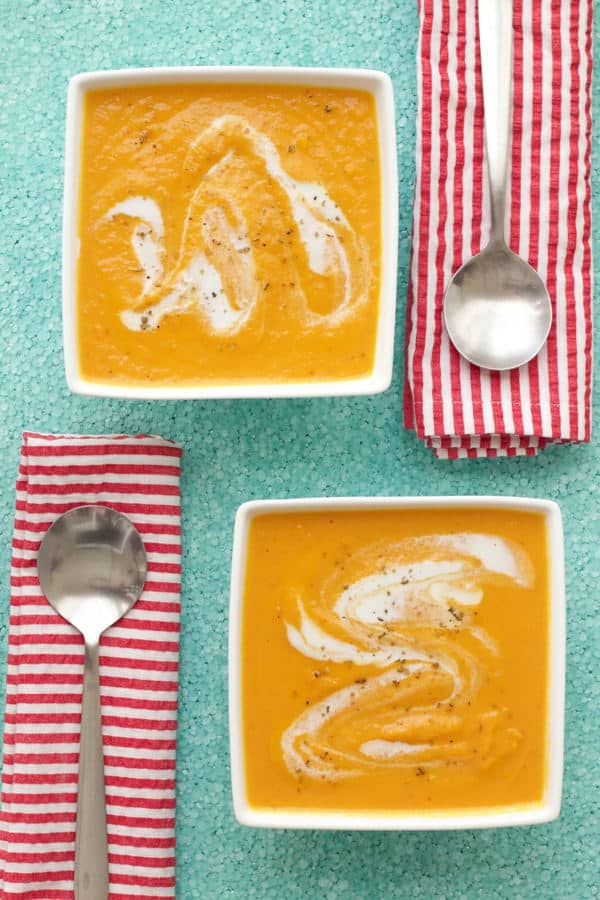 Alison from Loving It Vegan is a singer-songwriter along with her partner Jaye. Apart from making music they share their home with their two fur babies, Frankie and Ernie.
There's a lovely story on their blog on how they came to adopt these beautiful cats. Alison and Jaye did live in Dubai but now reside in South Africa which they consider home. They're both passionately vegan and this shines through in all their recipes.
Personally, I love really thick soups. I also want them to be simple, and that's just what we have here. There are just eight ingredients and I think you can taste each and every one of them when you taste this soup. This makes four appetizers or make for a light meal for two people. Serve with your favorite bread or crackers. Perfect!
Sweet Potato and Rice Noodle Soup with Broccoli and White Beans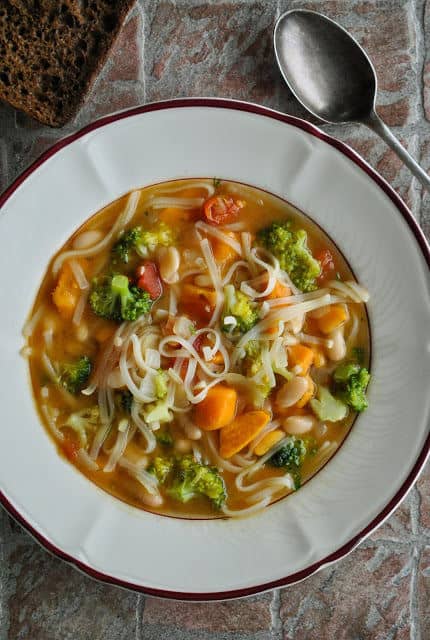 Sandra lives in Estonia and is an absolute foodie! She runs Vegan Sandra and has been featured in the media many times giving great advice and showing her fabulous recipes. She lives in a fantastic cabin which I'm sure is a dream for many of us.
Her cabin is right in the middle of the woods which might be just as well, as she plays the drums in a death metal band! All of Sandra's recipes are easy and, most importantly, affordable.
Soups are great and everything but what about if you want to mix it up a bit? In this recipe you have a great soup but then Sandra puts in beans, broccoli, noodles and all sorts of things which not only makes it look fantastic, but it tastes absolutely incredible and satisfies you like nothing else.
It's incredibly easy to make and very versatile so you can swap any ingredients depending on what you have, and we think these are the best recipes!
Vegan Stuffed Sweet Potato Recipes
Southwestern Sweet Potato Skins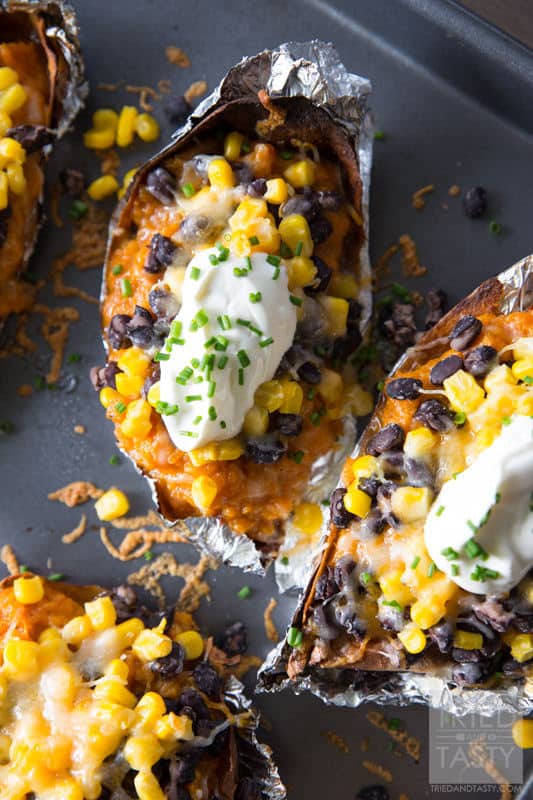 Yvonne from Tried and Tasty has spent her whole life around delicious food and now uses her blog to share her amazing recipes.
She has travelled and uses her adventures to introduce you to an even wider variety of flavors you may not have thought of. Yvonne loves Netflix, so we're keen to swap our favorite shows with her!
These loaded Sweet potato skins are surprisingly easy to make. I had to do a double take when I first saw the ingredients list because I couldn't believe it was so small. The amounts serve six (or two of you, especially when it's movie night!).
We recommend the vegan sour cream and fresh chopped chives as the optional toppings, they're a must. You can serve with your favorite nachos but really, these are totally satisfying on their own, especially if there are just two of you!
Loaded Sweet Potatoes with Shredded Zucchini, Mushrooms, and Onion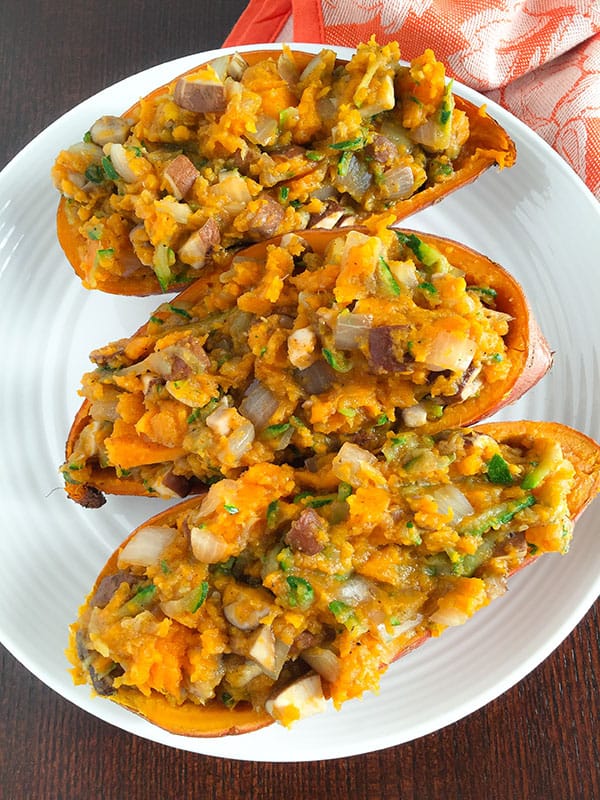 Julie, from Table For Two Blog, has always had a passion for food and you can feel this in her recipes. Her blog started out as a personal food journal and has now grown into something she never expected.
Her meals are dedicated for the ordinary person who wants something quick and delicious. No weird ingredients nobody has ever heard of, and where you need to travel half of the country to find!
You can never have enough loaded potato recipes. They're wholesome, always bursting with flavor, and I've never met anybody who doesn't like them.
You just can't eat this recipe with a knife and fork; pick these babies up, get your hands dirty and enjoy. Incredibly easy to make and ready in just over half an hour, which includes prep and cooking time.
If you don't have everything listed in the ingredients, you can easily swap some things around depending on what you have. This recipe serves two so, obviously, you need to at least double it, especially if you invite me for dinner!
Kale and Quinoa Stuffed Sweet Potato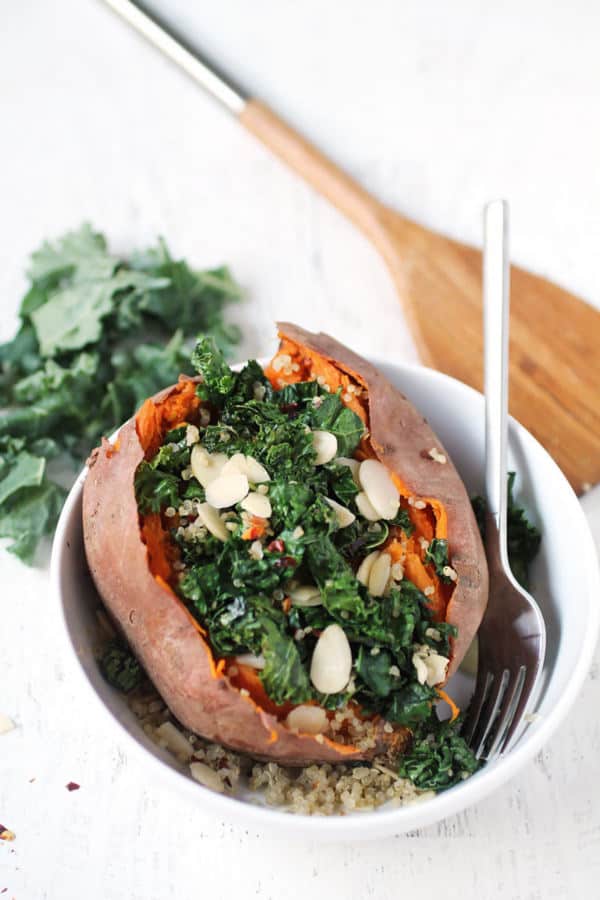 Alyssa and Maria are the sisters behind Spinach 4 Breakfast. They live in Manhattan and they want to inspire you to live a healthy life with clean eating, while at the same time, maintaining a realistic balance.
As well as great recipes, the blog is filled with fantastic information about beauty, spirituality and so much more!
This recipe is a slight twist on a loaded sweet potato. As well as kale, there's delicious quinoa and just a small handful of other ingredients. Very easy to make and no mess.
It's very likely you have everything in your kitchen cupboard already. You can make these in a snap, so perfect for a quick lunch or if you have an unexpected guest. Fantastic!
Mexican Stuffed Sweet Potato Skins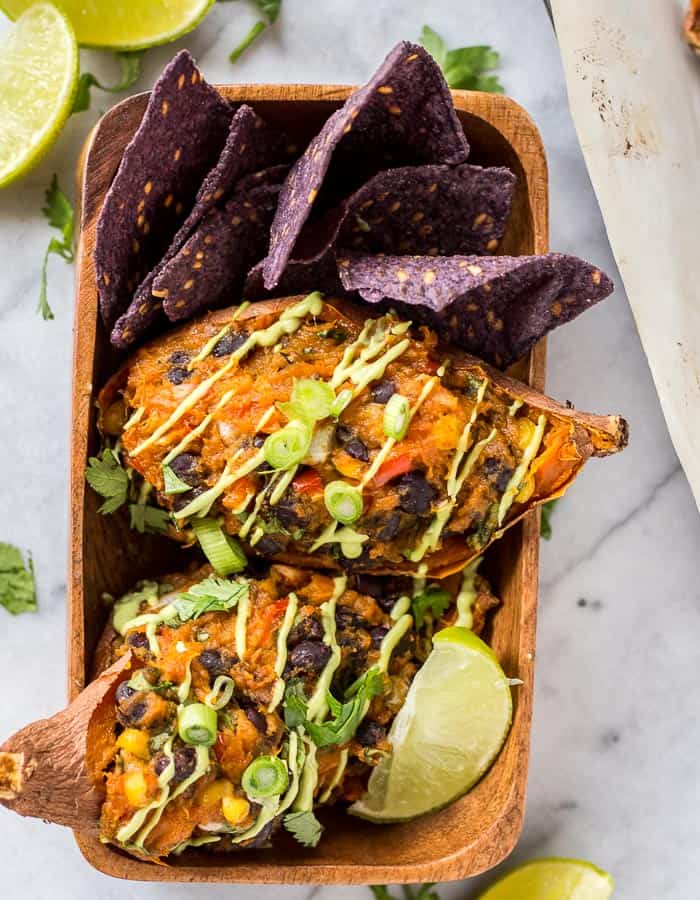 Savanna has four fur babies and she binge watches Netflix; she sounds like she's already part of our team! Her blog, Gluten-Free Vegan Pantry, is all about sharing her journey with you. The recipes are inventive and at the same time lend themselves to everyday life.
These stuffed sweet potato skins are serious business and the avocado drizzle is simple, but an absolute classic. It also makes a great salad dressing. As with most recipes of this type, you can swap any of the ingredients for whatever you have. Perfect for a Netflix binge night!
Baked Sweet Potato Supreme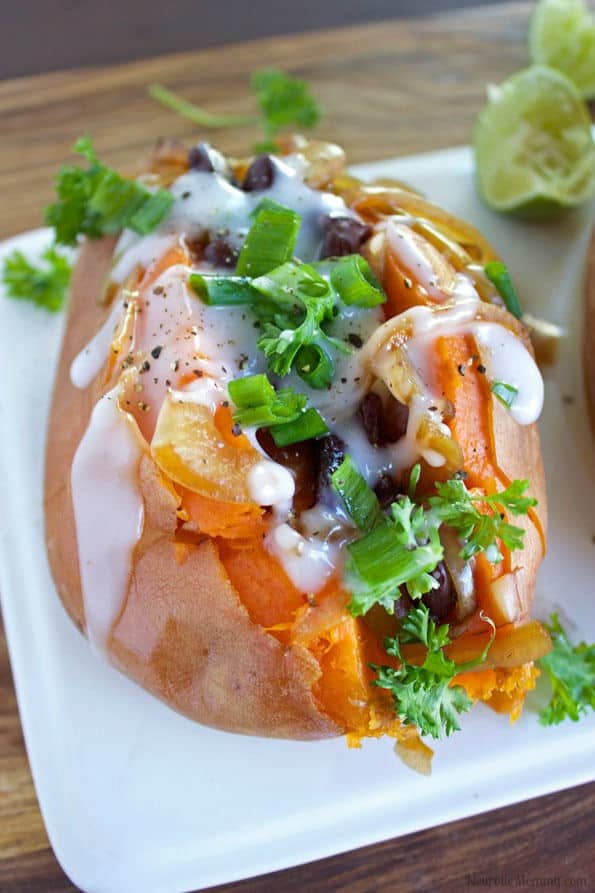 Jenn from Neurotic Mommy has experienced a lot of hardships in her life and has an inspirational story to tell about how she turned it all into something positive.
She understands we have our own struggles and she has been there, learning about food is what changed her life around.
It would be a shame to call these baked sweet potatoes a snack. If that's what they're going to be, then it's time for a big snack!
This recipe takes a little longer to prepare than some other loaded sweet potatoes, but you'll understand why, when you taste them. These really are for the special occasions.
There's no guilt here, just great food that's healthy and nutritious. Get the kids involved, too, when loading them up; they'll love it! Thanks, Jenn!
Loaded Sweet Potato with Spicy Black Beans and Green Chiles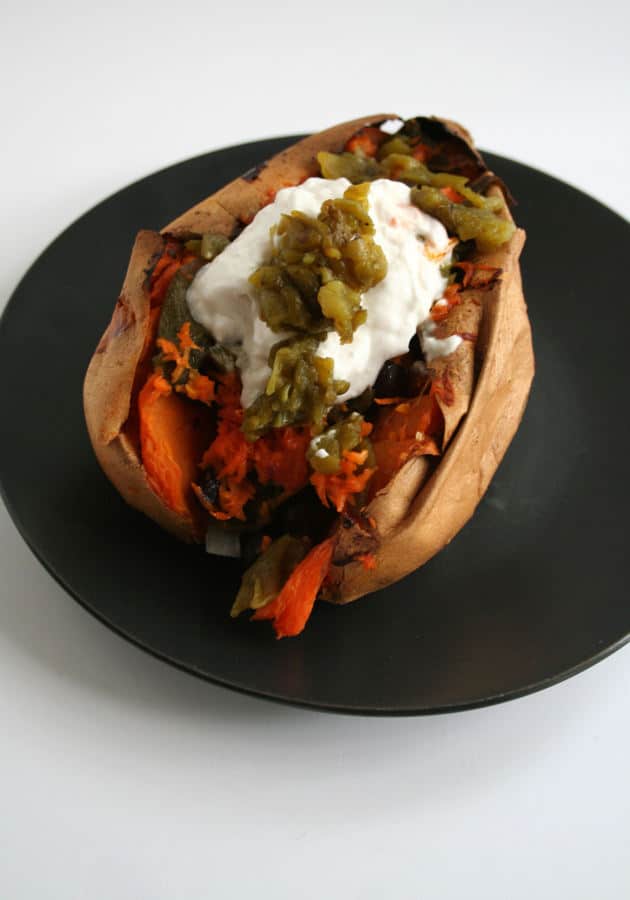 Willow from Create Mindfully, is a long-time vegan and dedicated to this philosophy and lifestyle.
This site doesn't just contain great ingredients, but as Willow describes, her recipes are thought out for people who're into natural living and healing foods.
As well as being an expert vegan chef, she knows all about living with a minimal carbon footprint, creating her own facemasks and body butters to name a few. She also sculpts and is a painter!
This dish is one of those recipes you can serve to carnivores and they'll be so satisfied and not think of asking if it was vegan.
We love the roasted green chilis because the flavor they add is second to none. The ingredients page for this recipe is really good because it takes you through every step of the way and holds your hand, so you don't feel like you're alone creating something new. Thank you, Willow!
Taco Stuffed Sweet Potatoes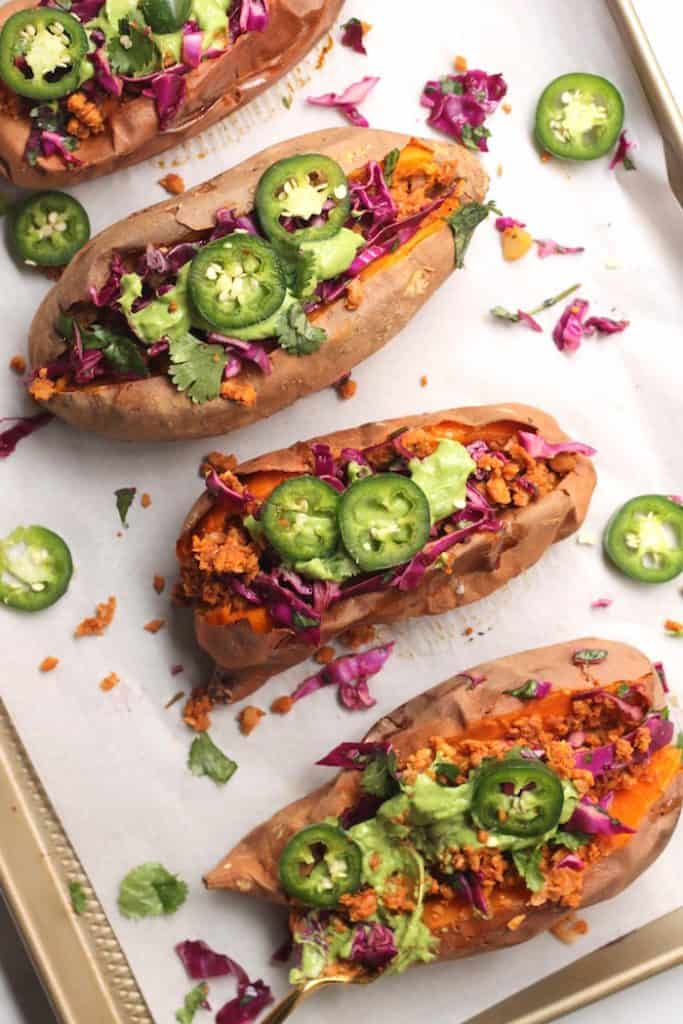 Alexis is a dietician and lifestyle coach and wants to inspire and educate you about the simplicity of eating healthy food.
She doesn't just give you a list of instructions, she makes you think about how you prepare your food and why you do it the way you do. There's also great humor peppered throughout her blog, Hummusapien.
These loaded sweet potatoes have so many elements that each one is worth waving the flag for! The cilantro lime slaw is amazing, as is the crema. Alexis warns us the taco filling makes a lot, so you might want to consider reducing the ingredients.
I say make all of it! These are one of the best loaded sweet potatoes we've ever had and cannot recommend them enough. Great blog and fantastic dish, Alexis!
Wrapping Up
We hope you enjoyed these recipes as much as we enjoyed curating them. Whatever your budget and whatever the occasion, if you like sweet potato, there's something here for you.
Each dish is from a different author, which adds fascinating diversity to the collection. You arguably have a great cookbook right here!
Let us know which are your favorites, and when you make some of these dishes, send us a photo!