Our recipe roundups focus on bringing the best recipes to you and avocados have earned their rightful place. They have very versatile uses and can be a main or side dish with almost every meal!
But apart from that, there are several other amazing vegan recipes that can make the perfect companions.
These 50 recipes are all so delightful, you won't be able to help yourself from the "Gotta Catch Em All" frenzy. This is a healthier hobby to chase than hunting imaginary Pokémon down busy streets.
I hope you enjoy eating the ones you choose as much as I have!
Savory Avocado Recipes
Healthier Avocado Vodka 'Cream' Pasta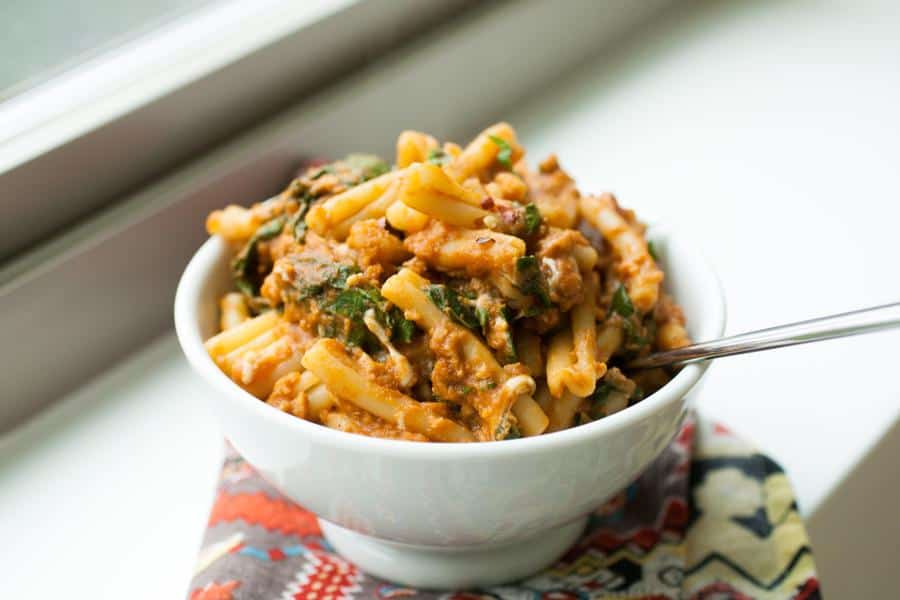 Day drinking has always been frowned upon by the masses, but hey, who said you can't eat vodka!
This is exactly what a responsible adult like me would eat for lunch on a stressful day; the vodka cream pasta is a very comforting dish.
The cream from avocado gets its smoky taste from liquid smoke and the plant-based mozzarella adds a lovely cheesy texture to the pasta.
I'd add broccoli to this recipe because I love them in my pasta!
The Best Avocado Toast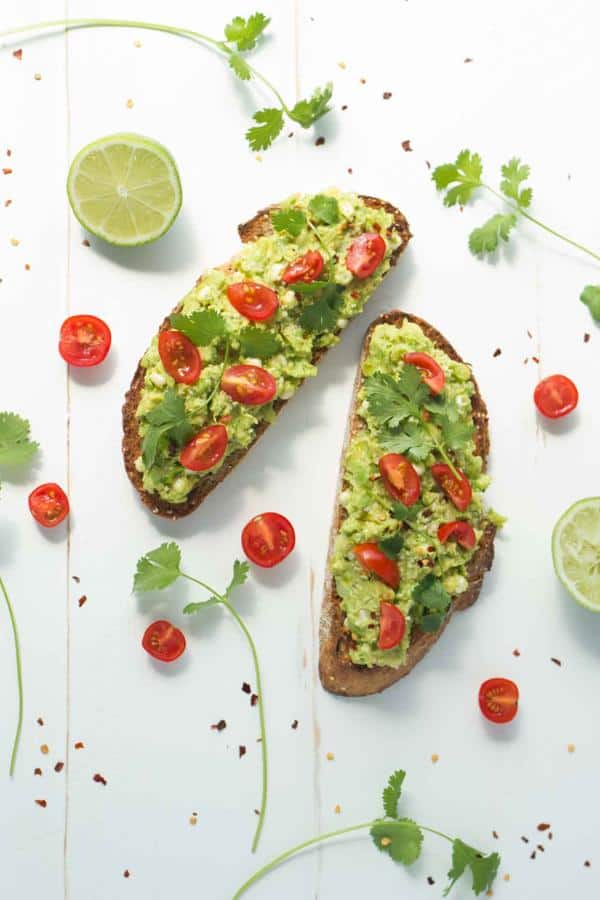 Avocados on toast are a common breakfast for a lot of people, but they probably haven't seen a recipe as tasty and crafty as this one!
The healthy toast sports a few surprises in the ingredients like edamame and raw corn. Add olive oil, lemon juice and chili flakes among other seasoning and spread this mix on warm toast.
You can use the mix minus the chili as guacamole as well!
Avocado and Heirloom Tomato Toast with Balsamic Drizzle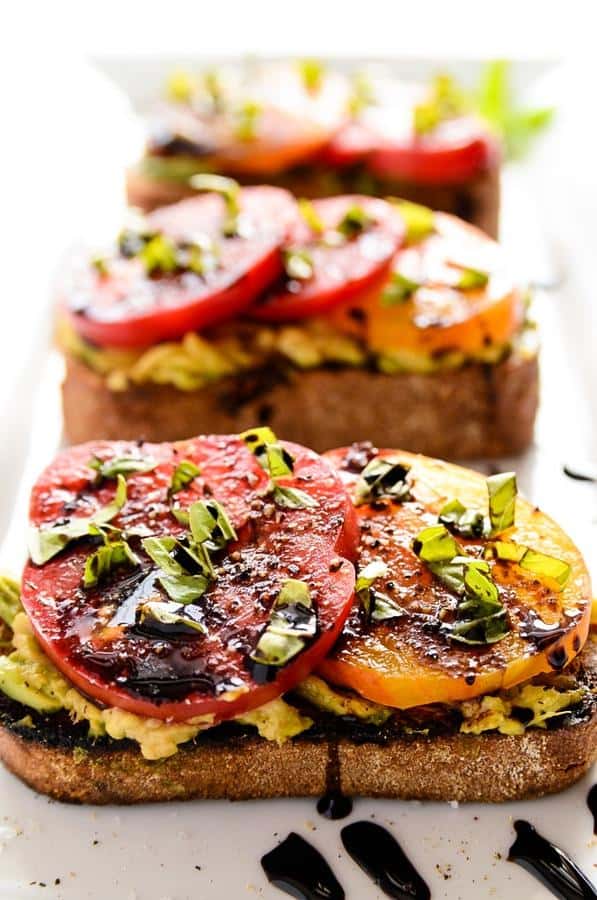 Your summers are sort of a waste if you don't put all that fresh garden produce to good use.
There are so many delicious and light recipes you can integrate your veggies in; this toast makes the perfect cut for brunch with the family.
The toast toppings include seasoned avocados, juicy heirloom tomatoes, and chopped basil. The balsamic reduction is made from scratch and brings such a beautiful flavor to the toast; you won't be able to stop at one!
Avocado Toast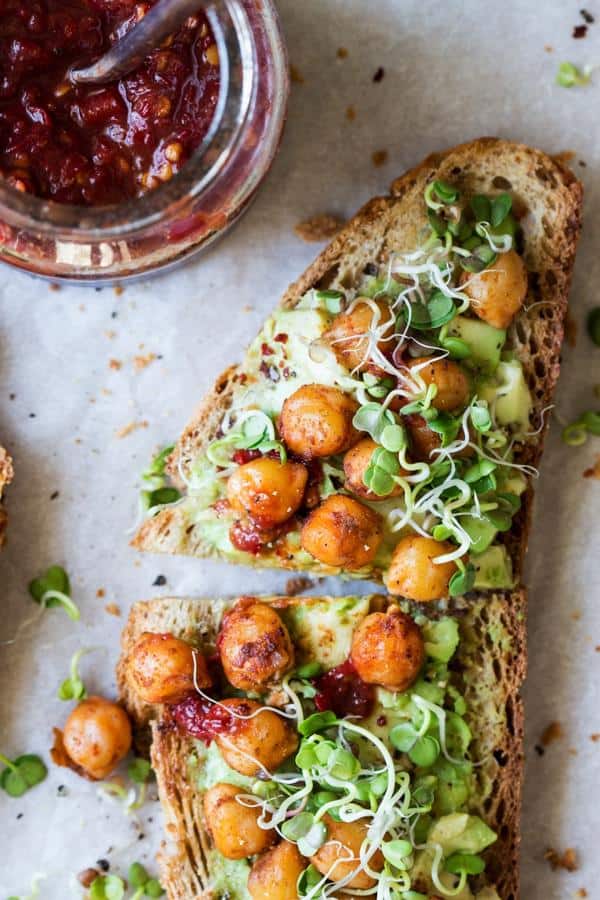 I love tweaking my toast every single day so it doesn't always feel the same. Thankfully, we have another avocado toast recipe to shine its hunger banishing powers!
Roasted and spiced chickpeas make their debut along with mashed avocados. The former is seasoned with smoked paprika, cumin, and chili powder among other seasonings to give you a lovely, spicy flavor.
Another surprise is the healthy sprouts on toast, I'm positive you'll love it!
Avocado Toast with Cucumber and Lemon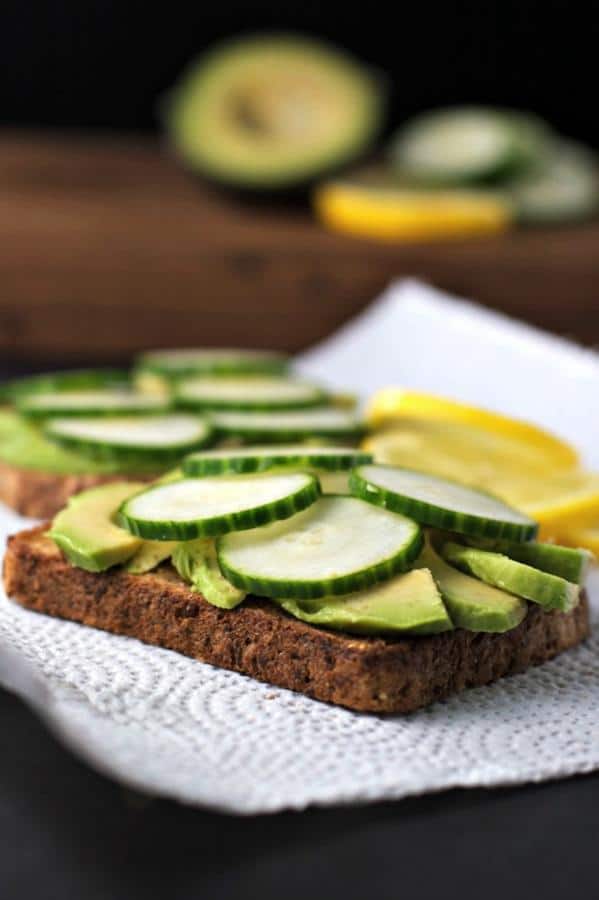 This is the recipe that every parent with a fussy eater at home should try! Your kids will demand these once they get a taste of it!
Creamy avocados are topped with fresh cucumbers and spritzed with lemon juice. You can try adding a bit of maple syrup as a light glaze on the toast if you want to introduce a bit of sweetness.
Club these together with a thick shake and you're all set for a filling lunch!
Avocado Tofu Toast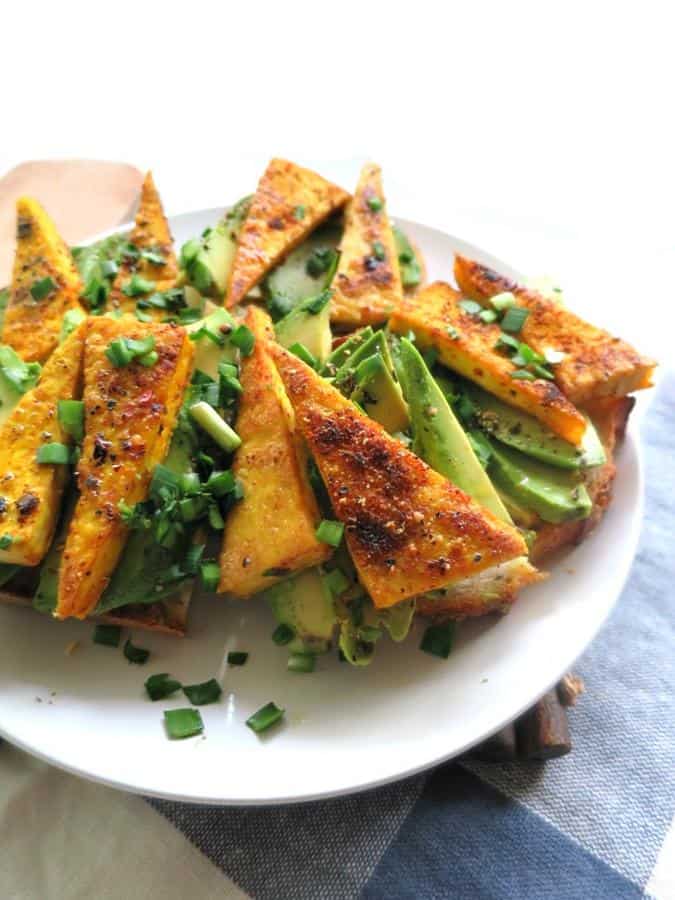 Tofu fans can rejoice because there's always a way to include it in your meals, even on toast for breakfast!
This is a healthy recipe that'll keep you full until lunchtime so you can power through the first half of your busy day!
Slices of avocados are topped with pan-fried tofu which is spiced with turmeric, salt, and pepper.
Chives are garnished generously over the toast; you can grate plant-based mozzarella over it, too, if you like!
Sweet Potato Avocado Toast with Hemp Seeds and Pistachios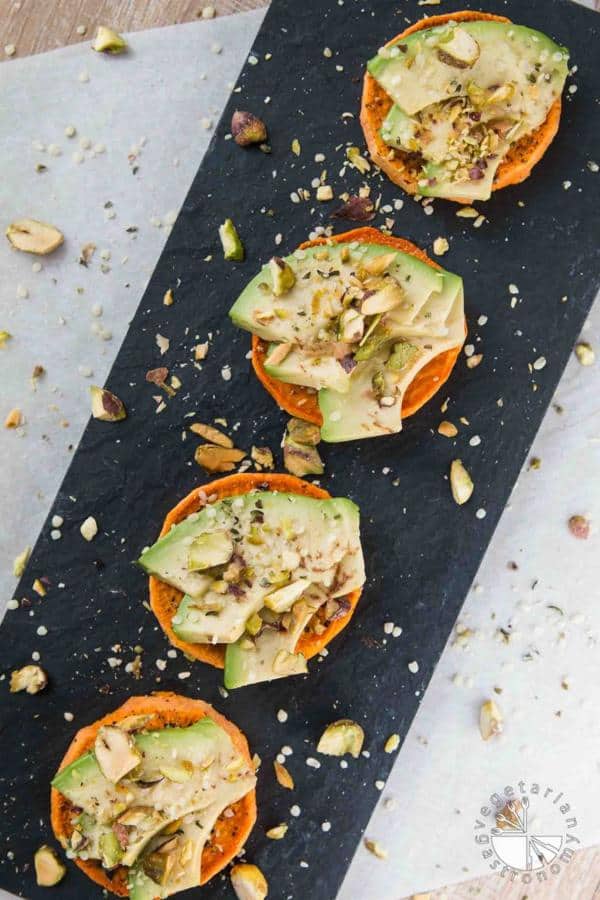 When I think of a substantial breakfast, this is what I want. I don't like to snack between meals and getting hungry before lunchtime lowers my productivity. This recipe manages to keep me full and locks my crankiness away.
Baked and caramelized sweet potato slices are served with mashed avocados, chopped pistachios, and hemp seeds.
The dried fruit and seeds bring a nice and crunchy texture to the toast. You can also add chili if you want some heat to it.
Seedy Sprouted Avocado Toast with Mango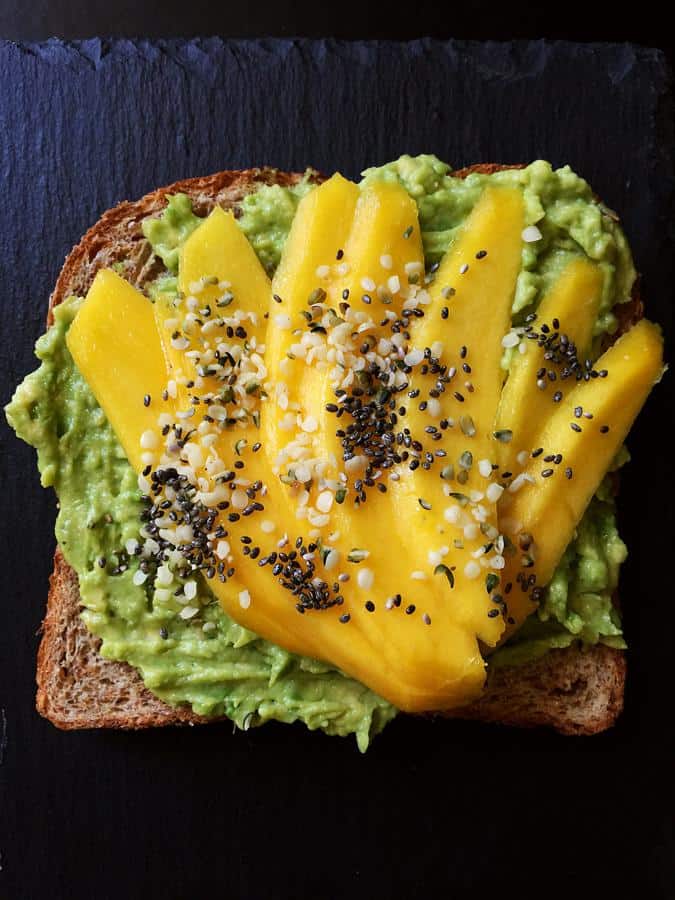 Mangos are my favorite fruit and I wait eagerly each year for them to arrive; eating them out of season doesn't have the same aroma and flavor.
Here's a recipe I'd definitely try for one of my abrupt hunger pangs during a very busy day.
Sweet-sour mango slices are added on top of avocados, mashed with salt and lemon juice. Chia and hemp seeds add more crunchy texture to the toast.
The sprouted bread offers a different flavor to your taste buds to appreciate!
Panko Baked Avocado Tacos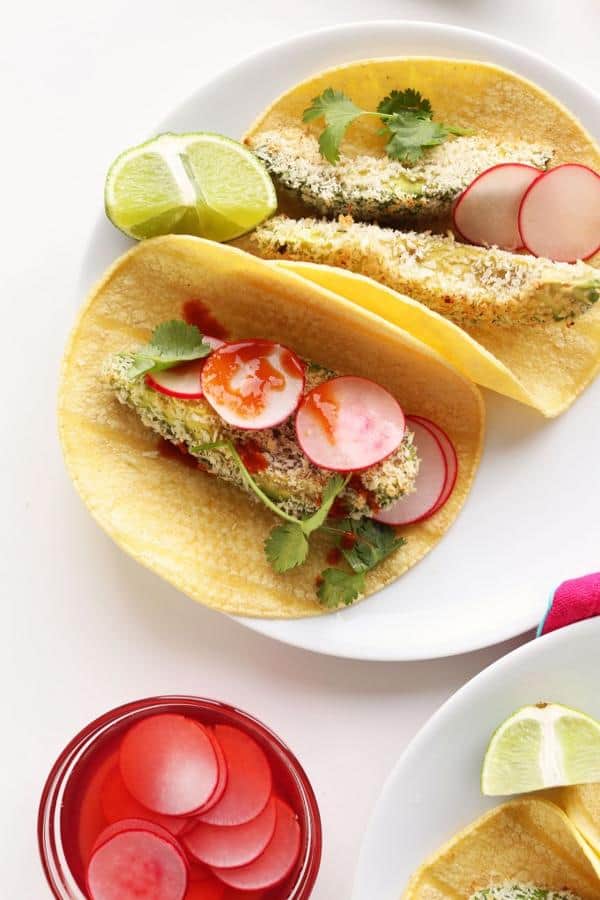 Taco Tuesdays and avocados absolutely gel together, this recipe is proof enough!
Thick slices of the savory fruit are dipped and coated in spicy panko bread crumbs and baked to golden perfection. The crumbs are seasoned with chili, garlic and cumin powder.
Once baked, the avocados are topped on tortillas with black beans, hot sauce, and cilantro. The radishes pickled in red wine vinegar complements the flavors of the taco very well.
You can add a dash of lime juice to make the tacos zesty!
Baked Avocado Tacos with Roasted Veggie Salsa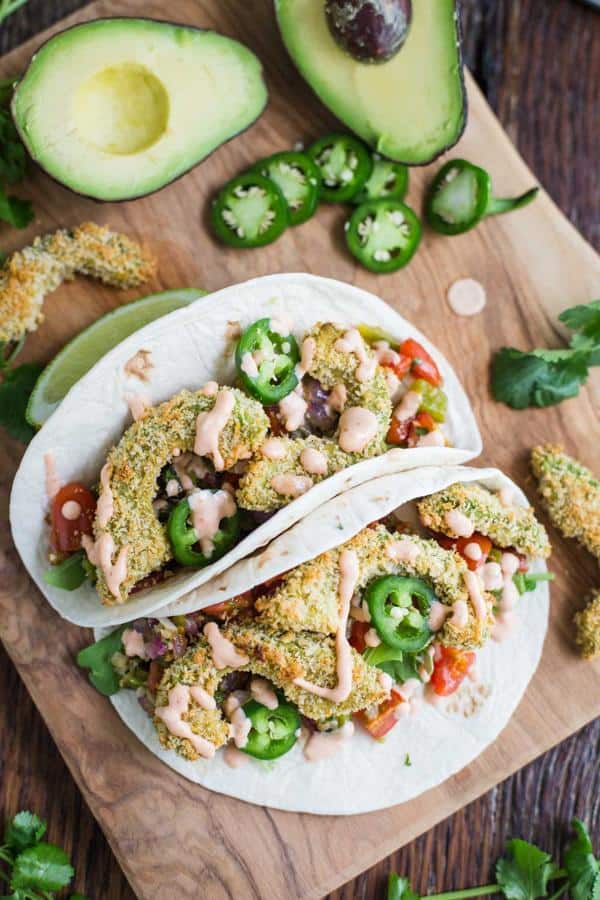 This is a brilliantly executed dish with a very impressive presentation.
The recipe has three parts: the baked avocados, salsa, and the sriracha mayo.
Avocado slices are dipped and rolled in spiced panko bread crumbs to be baked until golden. The sriracha mayo is made out of mixing plant-based mayonnaise with sriracha.
The veggie salsa is made of cherry tomatoes and bell peppers with just a couple of other things. The plates look very exotic when everything is put together.
Use jalapeños and lettuce as an additional garnish for your Tacos.
Falafel Tacos with Avocado Sriracha Cream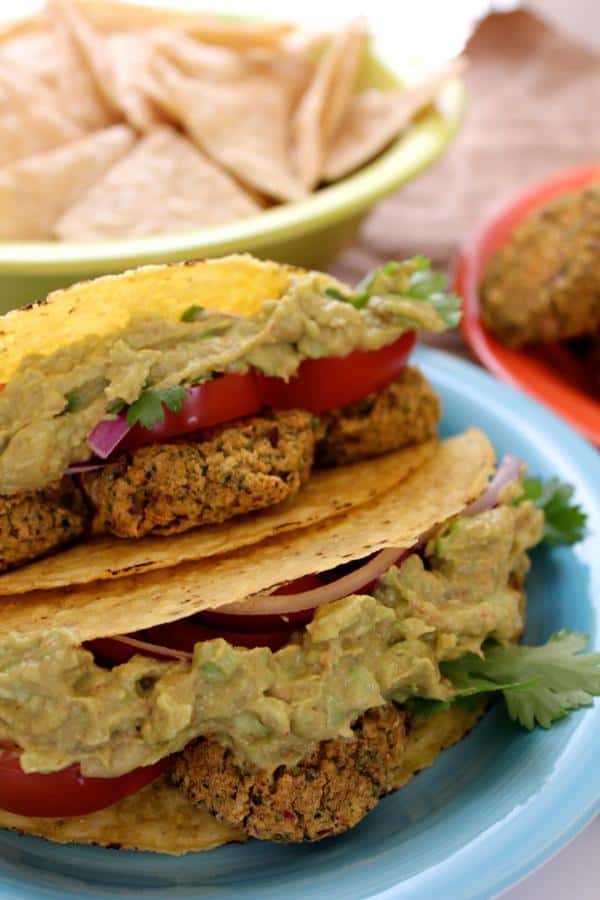 Who said Mediterranean and Mexican cuisines can't be intertwined? This recipe shows you exactly how fabulous they both can be.
Oven fresh falafel tacos, soft on the inside and super crispy on the outside are a definite party hit you can serve to your guests.
The falafels are baked, not fried. The simple but flavorful avocado sriracha cream is made from avocado, sriracha and lime juice.
Why not throw in a few olives and mushrooms as well?
Avocado Mayonnaise with Roasted Garlic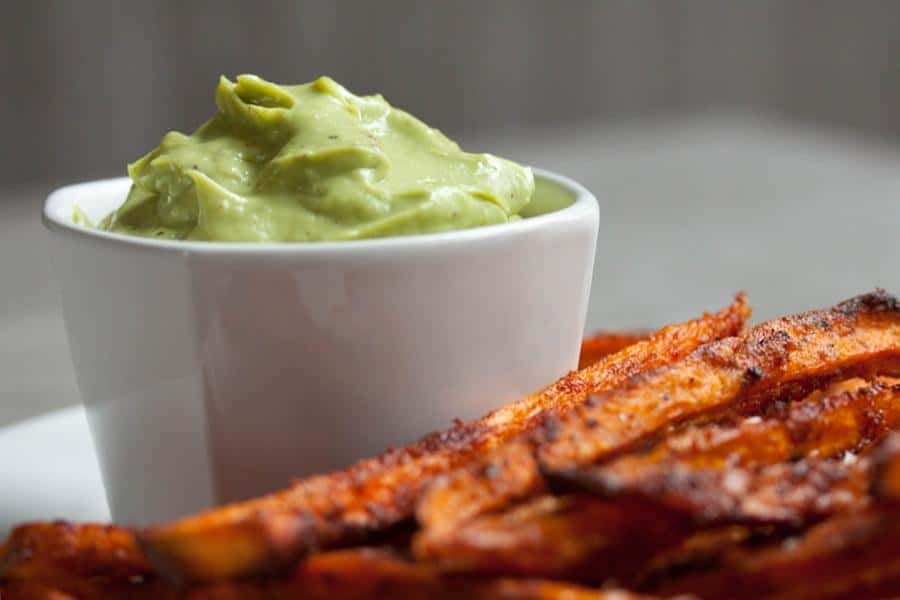 Garlic is unparalleled by any other herb. This recipe shows you how to make the perfect dip for your fritters and patties.
Garlic is roasted whole, peeled and ground to a paste along with avocados. The mix is seasoned with pepper, salt and a dash of vinegar.
You can also use this dip for your roasted veggies and fries!
Avocado White Bean Wrap with Spinach and Cucumber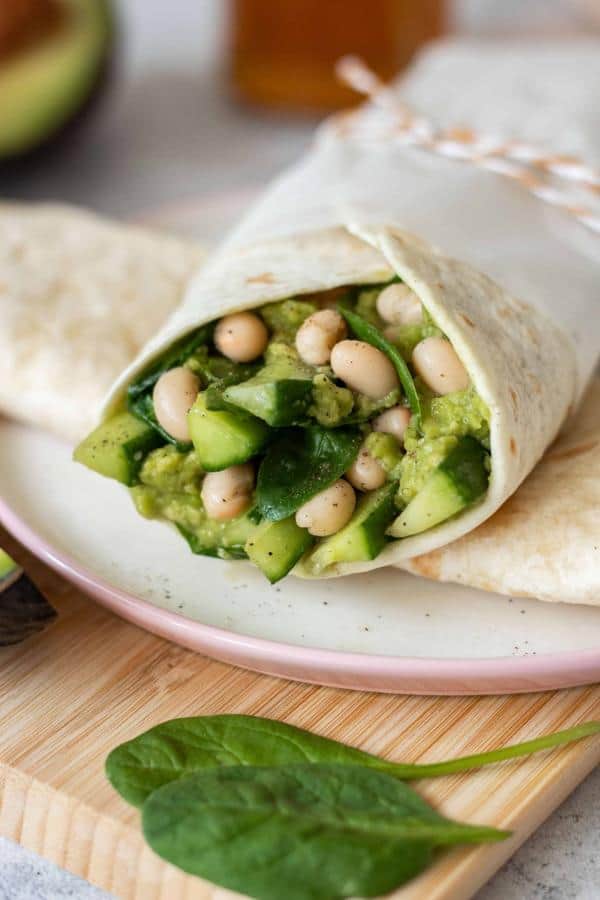 Here's a super green, healthy wrap that can easily fit into your weight loss diet program. It's packed with protein and makes the perfect lunch for workdays.
All you have to do is make an avocado spread by blending it with lime juice, then season. The tortilla wraps are filled with spinach leaves, white beans and slices of cucumber.
This only takes 10 minutes to make!
Cilantro Avocado White Bean Dip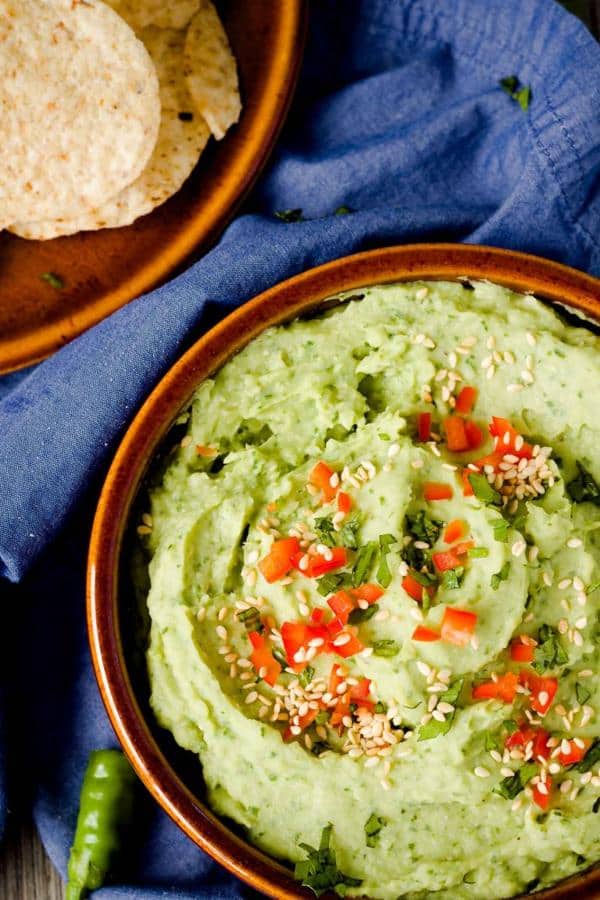 Dips are so underrated, they never really get the recognition they deserve. I consider them a lifesaver because they're so versatile.
This recipe is spicy, savory, and all things delicious. Made out of blended avocados and white beans, the mix packs ingredients like green chili, cilantro, lemon juice, and others.
Serving it with a garnish of red sweet peppers and sesame seeds will draw out the flavors beautifully.
Black Bean and Avocado Quesadillas with Grilled Shiitake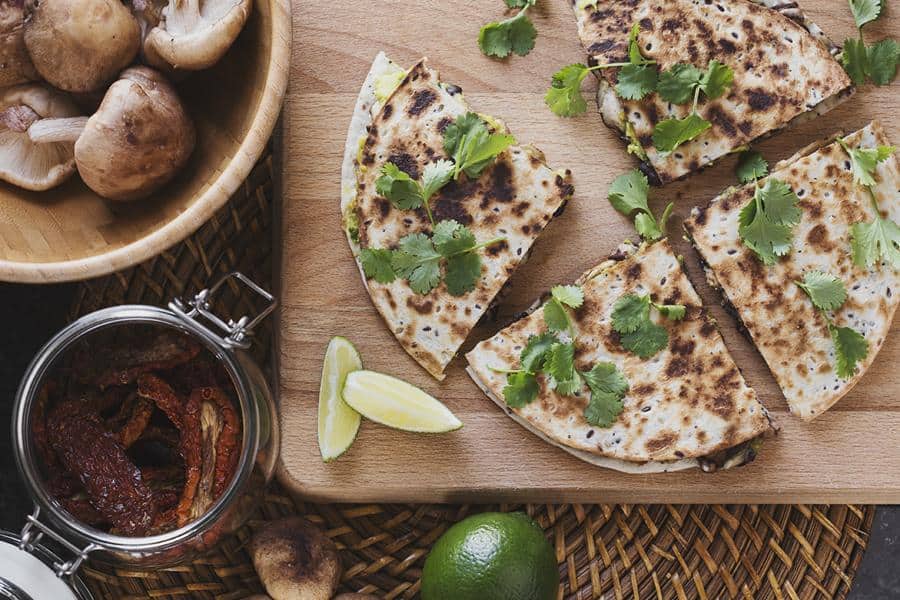 These quesadillas are a triple whammy and I adore how good it all looks.
The recipe has three parts to it: the guacamole, black beans, and grilled shiitake. A great blend of spices such as cumin, chili flakes, and more, explosive combinations at play!
You can definitely expect these quesadillas turning into a family favorite!
Avocado Truffles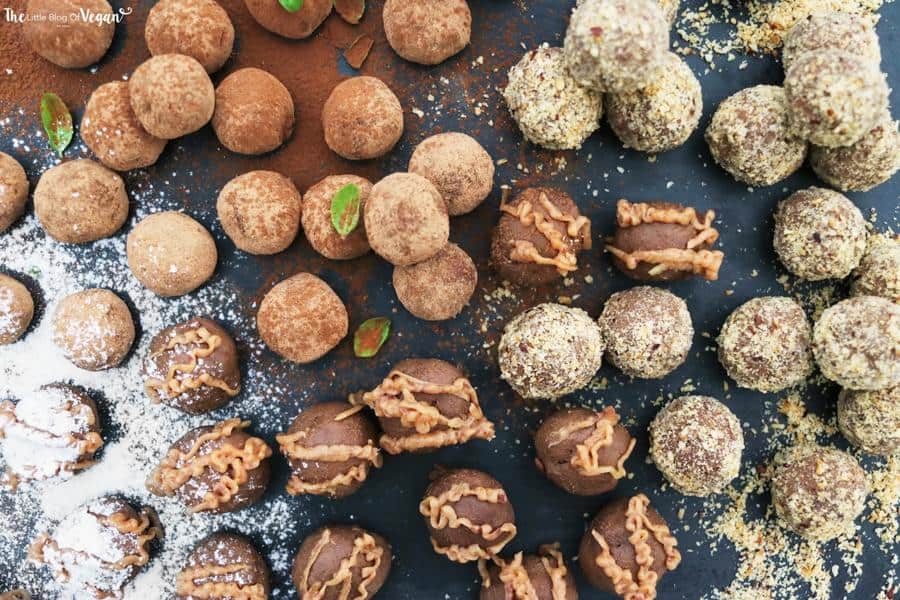 Avocados make an excellent healthy ingredient in desserts. Truffles are a gifting favorite during the holiday season. In this recipe, we have three differently flavored truffles.
These truffles have a silky-smooth texture that makes eating them a delight. The flavors are divided into three parts, hazelnut, mint, and caramel.
Each of the ingredients is a bit different from the other but it's safe to say your gift baskets will be the most popular ones this holiday season!
Baked Avocado Fries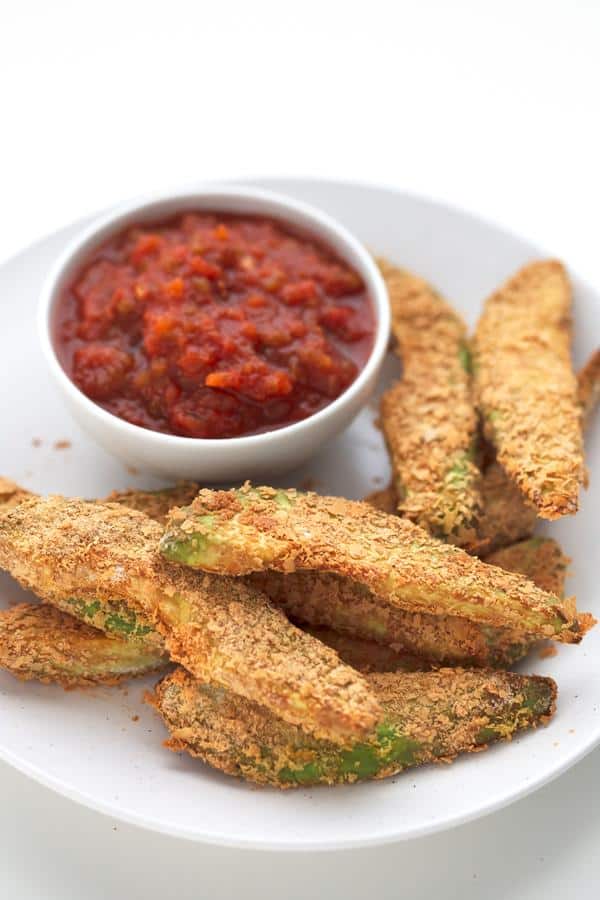 Your greasy French fries can be tossed to the side now; there's a healthier replacement on the block!
These avocado fries taste just as good and you can gorge on their deliciousness, guilt-free.
The recipe involves coating slices of avocados in plant-based milk and spiced flour before placing them into the bake.
The dip used is a simple salsa but you can go ahead and use any other of your favorite dips as well!
The fries make a great snack or entrée.
White Bean and Avocado Baked Burritos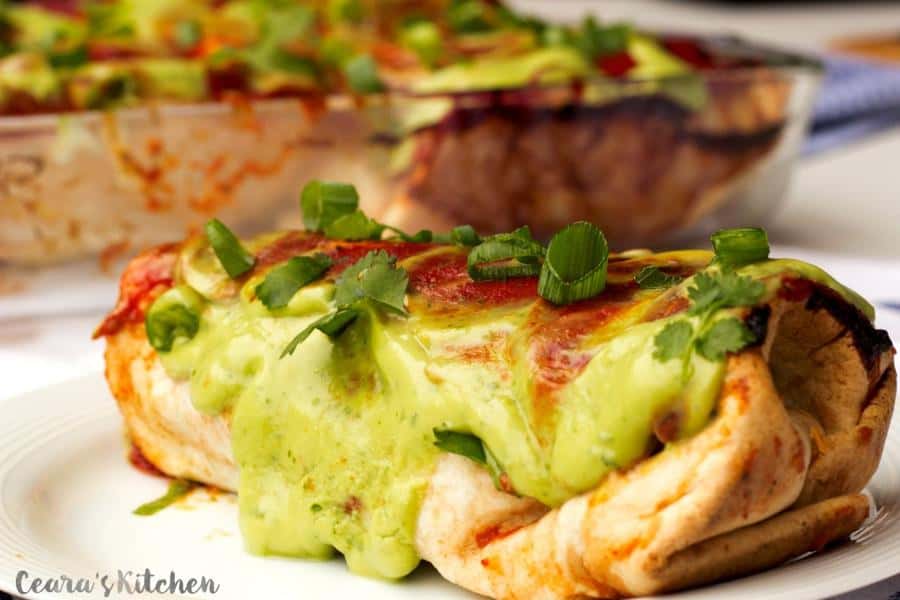 If I could, I'd drown in the taste of these burritos; they're that good!
They're baked and use ingredients like beans, a hearty dose of mushrooms and corn. They're also stuffed with chopped avocados and cilantro to add to the jazz.
The rolls are piled together in a dish and covered with a savory tomato sauce that'll leave you wanting more of its lip-smacking tang.
Avocado Ice Cream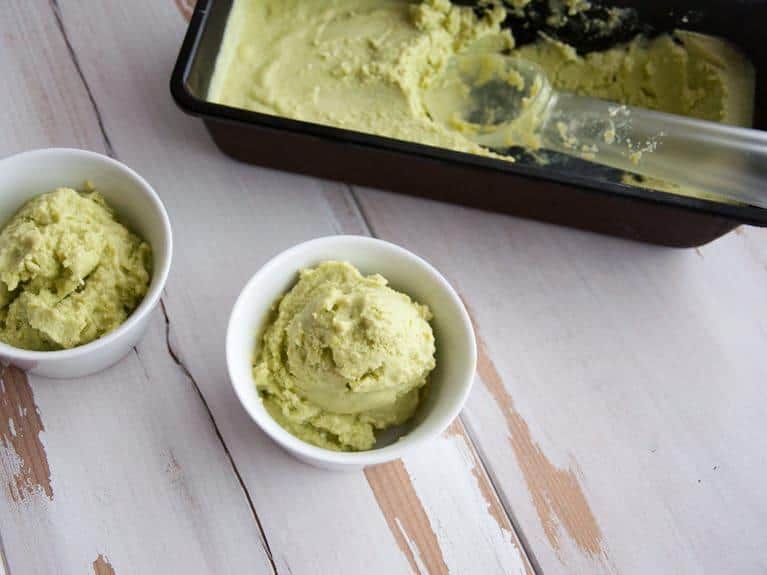 Ice cream is the traditional and globally accredited way to beat the heat. It doesn't matter if it's gourmet quality or a simple, homemade one, ice cream has one purpose, which is to provide comfort.
This avocado ice cream recipe is economical and easy to make in case you're craving a little sweet something.
There are only four ingredients involved and it takes just 25 minutes to whip up a batch.
The coconut cream, lemon juice, and brown rice syrup combine with avocado paste and form your homemade treat.
Why not garnish your bowls with pistachios and almonds?
Mexican Bean Soup with Avocado Cream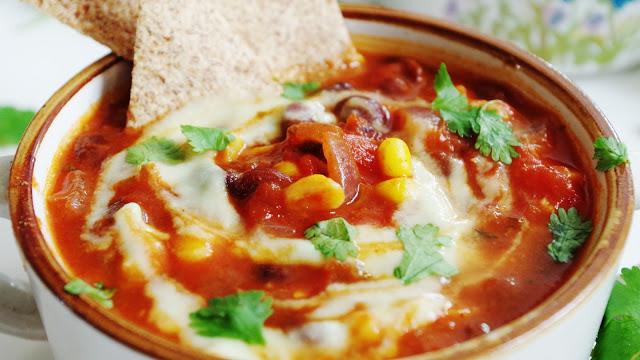 Soups are my favorites during the autumn and winter seasons. A hearty soup with lots of veggies can give you warmth and comfort like a warm blanket.
This recipe is perfect for those cold nights. Made using sweet tomatoes infused with chilies, lime juice, and coriander, the soup gives you the perfect Mexican flavors.
The beans add wholesomeness, making it highly nutritious and filling. You can have a side of warm garlic bread, too!
Chocolate Avocado Mousse Tart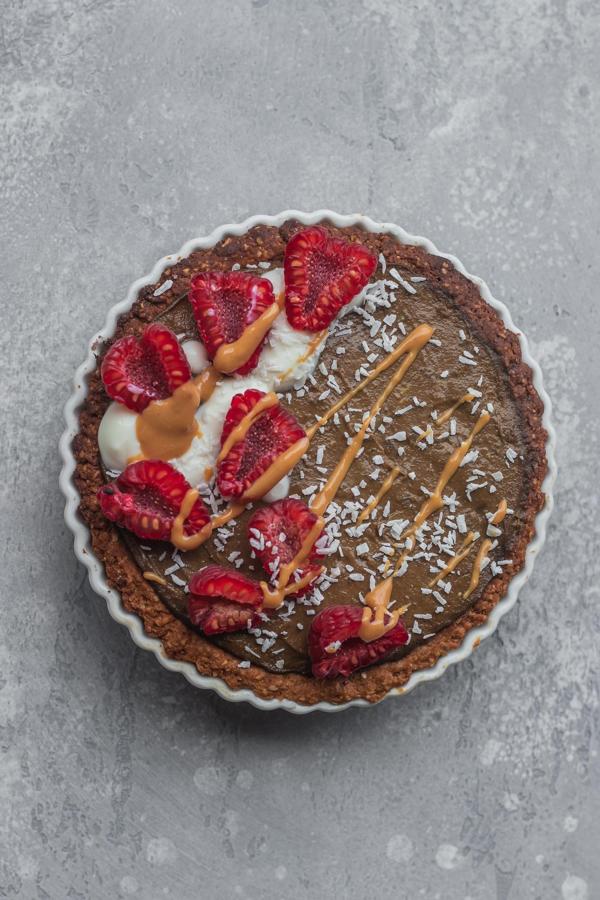 If you're searching for a party dessert, look no further. Your search ends here because this is the perfect showstopper.
The crusts are made from a blend of gluten-free flours, tahini, peanut butter, and coconut sugar. These are baked and cooled to make little nests for the creamy, dreamy mousse.
The mousse is created by using a simple technique which requires you to whip together avocado, cacao powder and maple syrup. Then add Agar Agar to create the perfect mousse texture.
The presentation is made fancier by adding fresh raspberries, a dusting of coconut and a swirl of peanut butter. Divine.
Healthy, No-Bake Chocolate Avocado Mousse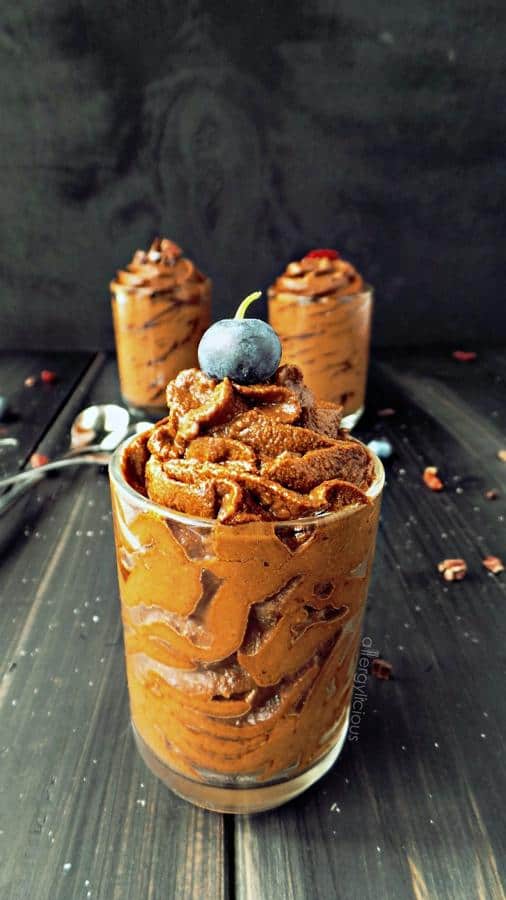 Eating too much candy can be a cause of sudden weight gain which everyone dreads.
There are alternatives you can find that are healthier and can be made in the convenience of your kitchen with normal ingredients that don't need special trips to the grocery store.
This recipe uses avocado, dates, and cocoa powder for the basic texture. Vanilla extracts, coconut milk, and cacao nibs are added to the mousse. Garnish with coconut sprinkles for a frosty finishing.
Avocado Vegan Chocolate Truffles with Champagne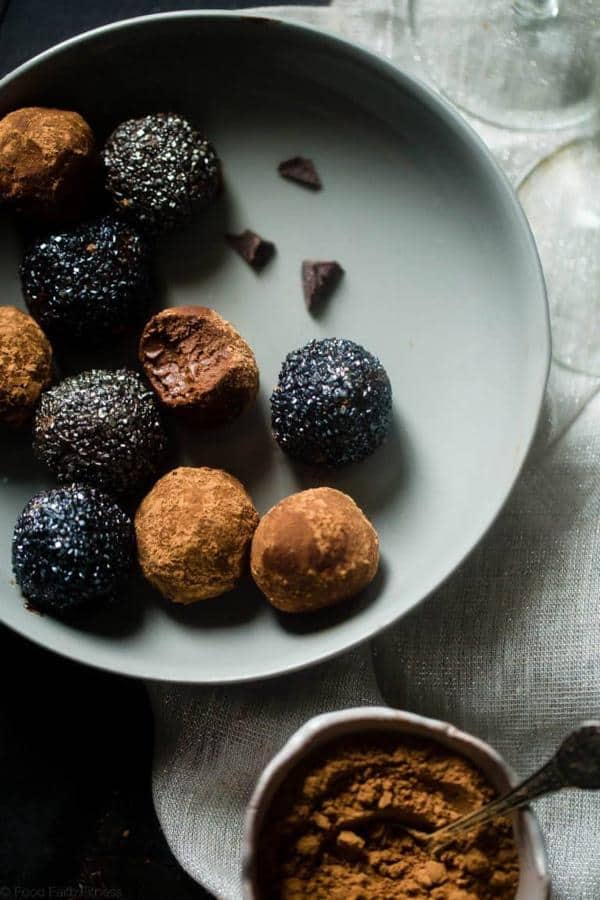 You don't really need an excuse to involve champagne with desserts during the holiday season. Let me introduce you to champagne in truffles!
The method of preparation involves blending together avocados with cacao powder, agave and champagne.
The magic begins when you add melted chocolate to the mix; completely irresistible, especially with the extra cacao powder dusting!
No Bake Chocolate Avocado Pudding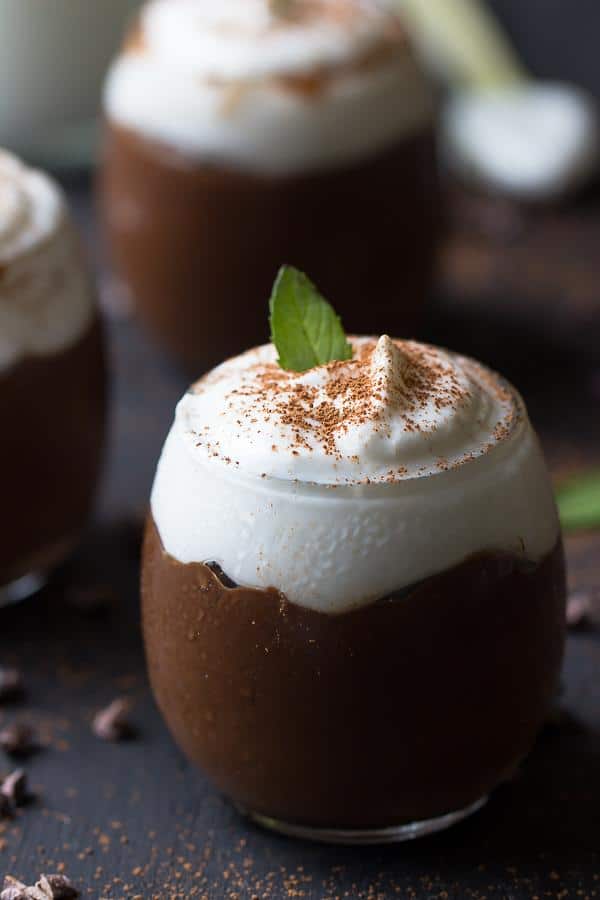 No bake recipes are close to my heart because there's always a time that my parents choose to sleep when I want to have a midnight snack.
Maybe it's me who has all the extravagant cravings when the house is asleep? Recipes like this save me from an unwanted scolding by two hibernating bears at 2 AM and I'm grateful!
The pudding is made by blending avocados with bananas, coconut cream, and cocoa powder. The natural sweetness of the bananas means you don't need to add any other sweeteners, leaving you with a perfectly healthy pudding to calm your inner craving monster!
Avocado Pasta with Smoky Pecans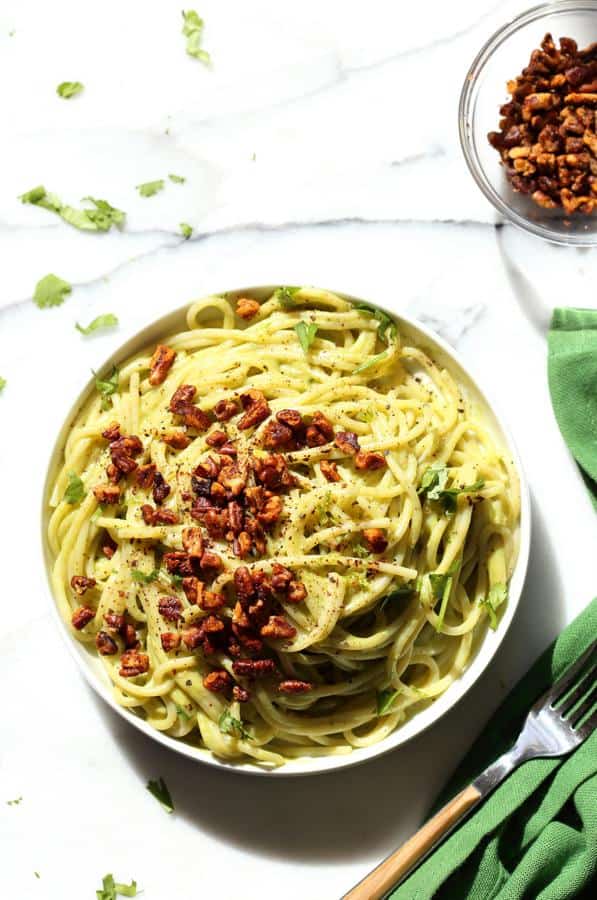 Pasta is a dish I turn to when I don't know what to eat; girls can get like that! So, rather than waiting until my hunger pangs turn into a cranky and hangry fit, I make myself some pasta.
This recipe uses avocados blended with spices and herbs like pepper, garlic, basil, among others.
The smoky pecans are made by mixing smoky paprika along with the listed spices and baking them.
You can also use smoky tempeh or vegan bacon instead of pecans.
Fresh Corn, Black Bean and Tomato Salad with Avocado Lime Dressing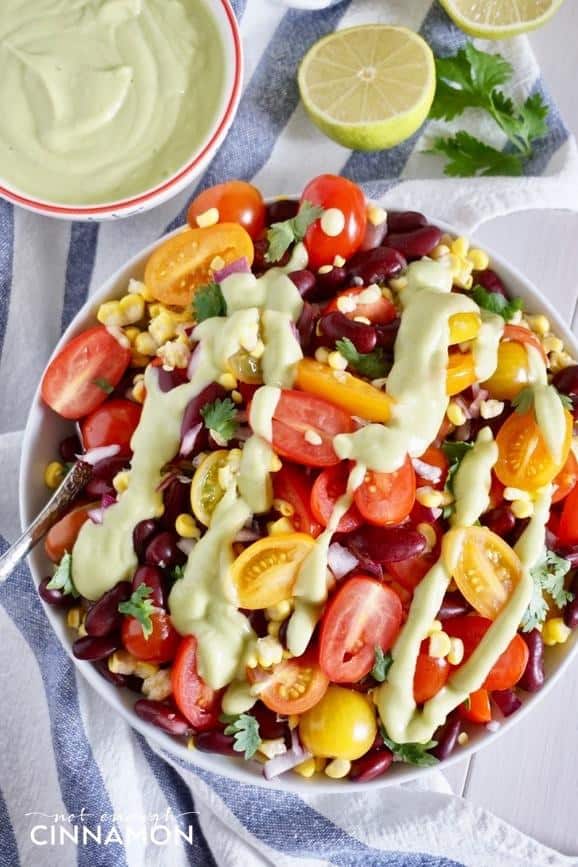 I could eat chopped tomatoes with lime, salt, and pepper every day! Good for me and my allies, there's a salad with tomatoes as the main veggie.
The salad is fresh and colorful with corn, onions, and black beans.
The dressing with jalapenos, avocado puree and lemon juice, among other herbed seasonings, gives the recipe a spicy-tangy flavor everyone would savour.
Avocado Chickpea Salad Collard Wraps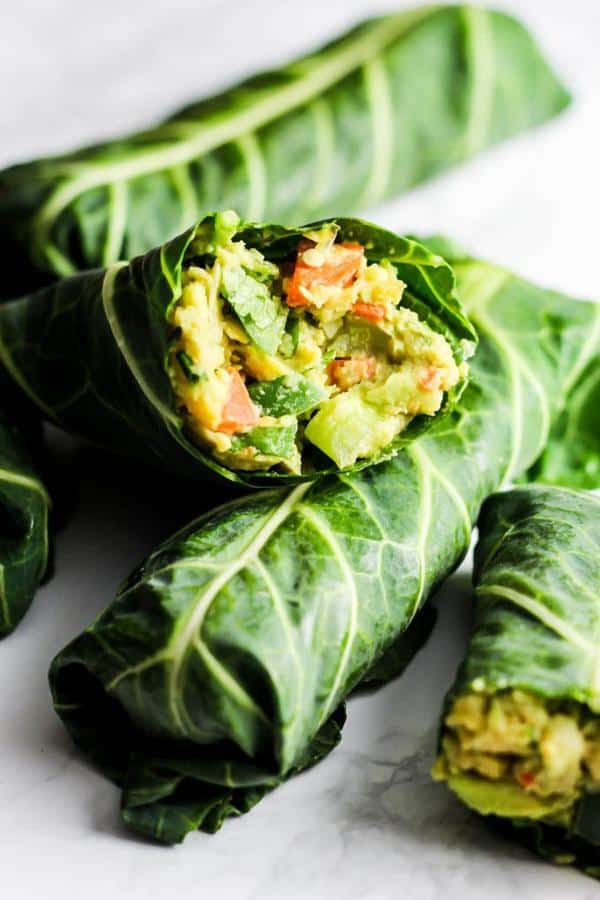 A crunchy collard wrap that keeps you full for a good amount of time is every person's dream lunch. Anything that avoids me from snacking too much is a welcome dish.
The filling is prepared with mashed avocados and chickpeas. Lime juice, cilantro, and seasonings give the base a zingy freshness.
Veggies like bell peppers and celery are also chopped and mixed into the mix.
These are also incredibly neat, so you won't have to bother about messing your work clothes up due to spilling fillings.
Grilled Broccoli, Carrot and Avocado Salad with Sesame Dressing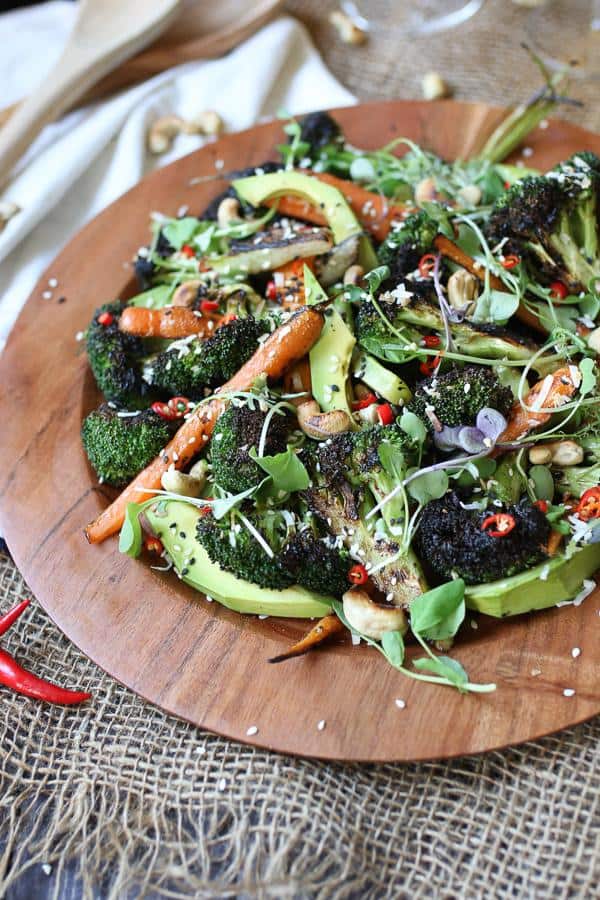 This takes just 10 minutes to prepare and acts like a lifesaver for anyone who might be running late for work.
The dressing is prepared with tamari, rice wine vinegar, and maple syrup among a few other ingredients.
The salad needs grilled carrots and broccoli to be mixed with sliced avocados, microgreens, and the dressing.
Garnish a generous amount of sesame seeds, red chili, and cashews. You can add a healthy shake for a substantial meal.
Smashed Chickpea & Avocado Salad Sandwich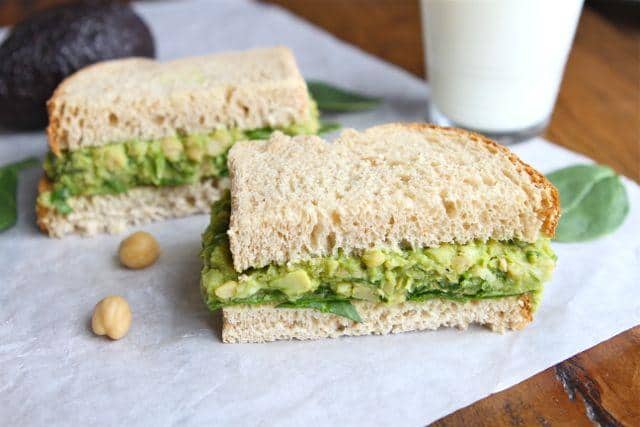 Ignore this blog's non-vegan recipes and you'll strike gold in terms of plant-based food!
This recipe is refreshing for me since I've never been fond of mayonnaise. An avocado base with chickpeas, cilantro, and lime juice makes for a salad spread that goes incredibly well on bread for a savory sandwich.
You can also use the dressing as a dip for your wraps and rolls, too!
Raw Beetza with Avocado Pesto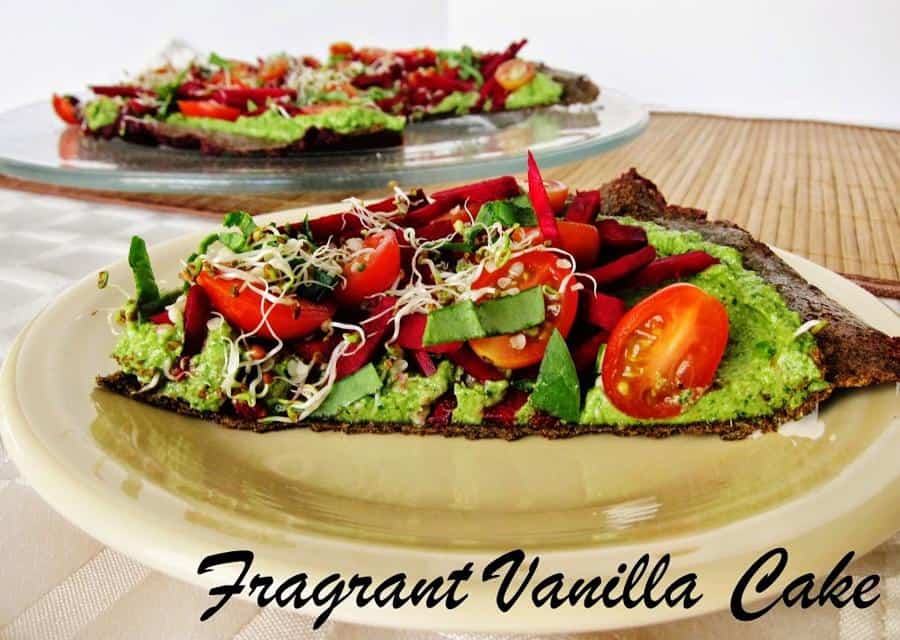 Craving a pizza while dieting? Try making a beetza!
This is a cross between a delicious pizza and beetroot salad; the beet pulp is mixed with ground flaxseed, dried herbs, and spices.
The pulp is processed and spread over a large dehydrator sheet for 12 hours; a long waiting time but worth the effort.
Once the crust is ready, you can spread on the avocado pesto and top it with tomatoes, alfalfa sprouts, spinach, and hemp seeds.
Avocado Ranch Dressing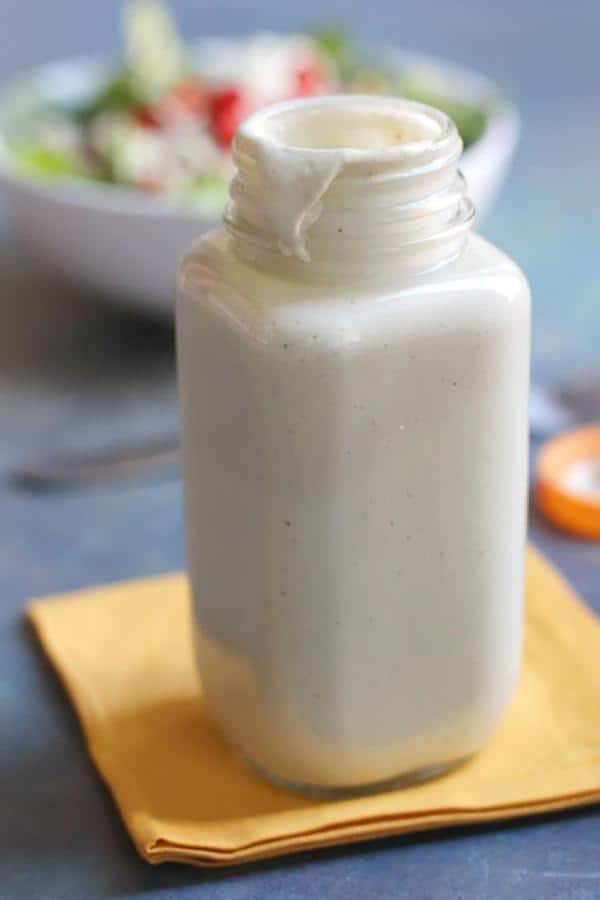 There are several varieties of salad dressings you can find in stores, but making your own comes with unparallelled satisfaction. What do you think of an avocado ranch dressing?
This is super easy to make and just needs you to throw all the ingredients into a blender.
Combine raw cashews, your plant-based milk of choice, and avocados together with vinegar and seasonings.
You'll get a smooth and creamy dressing to use with your tacos and salads; it can be bottled and stored easily as well!
Beet Carpaccio with Avocado and Chia Seed Dressing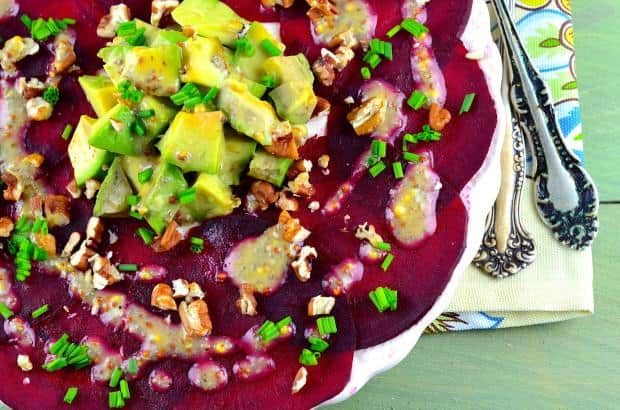 The trick to not have beetroot bleeding all over your dishes and making them look less flattering is to keep them simple, which is exactly what this recipe will teach you.
Baked beet is sliced and arranged on a platter. The dressing made from olive oil, Dijon mustard, and lime juice is shaken well to be topped with chia seeds later.
Diced avocados are then added and garnished with chopped chives and nuts.
Grilled Corn on the Cob with Creamy Avocado Dill Dressing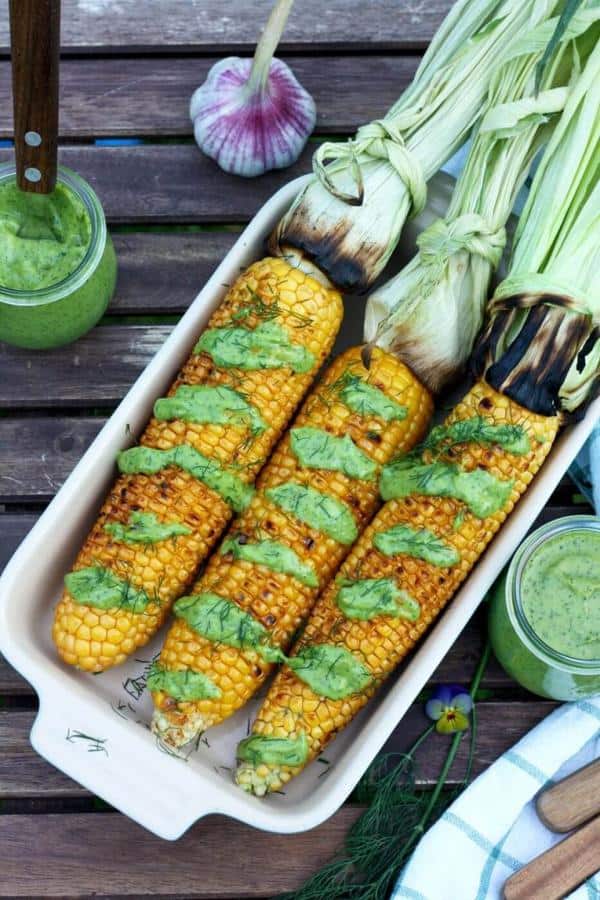 If you like grilled corn on the cob with almond butter dressing, you'll love this one even more.
The dressing tastes tangy and is highly appetizing for a summer outdoors cookout! It's creamy with a base of dill chimichurri to which avocado, agave syrup, and cumin are added.
The lemon juice, vinegar, and jalapeños make it taste zingy and spicy.
All in all, you'll love the taste of this lovely combination.
Avocado Caesar with Shiitake Bacon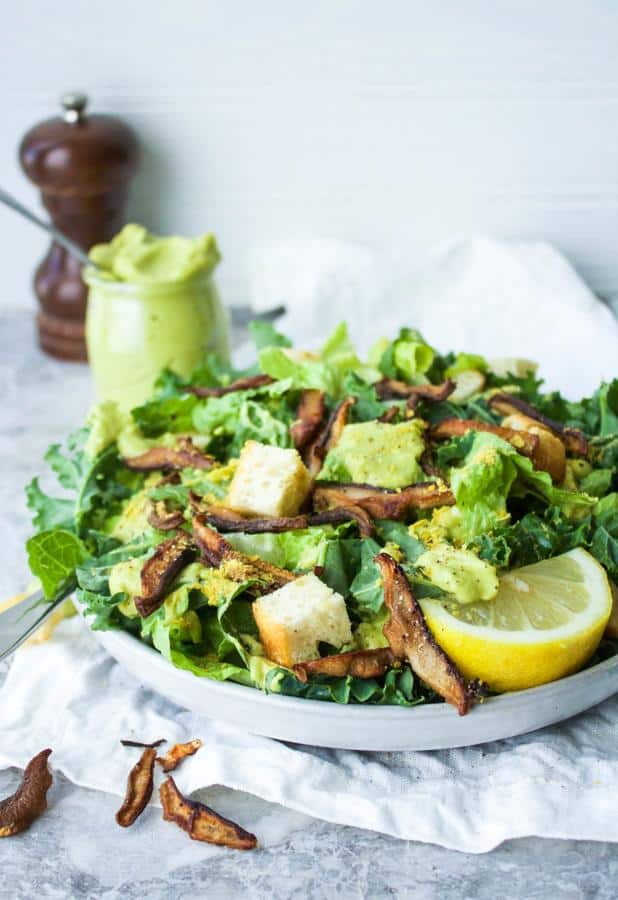 This dressing is simply incredible!
The umami flavor in the Dijon mustard gives the avocado dressing a memorable punch; the chopped garlic and zing of lemon provide the rest of the taste that's strong enough to be noticed, how wonderfully they mix with all the ingredients.
The 'bacon' is made from shiitake mushrooms with great texture. They're smoky and chewy, making them the perfect meaty part of the salad.
Creamy Lime and Avocado Tart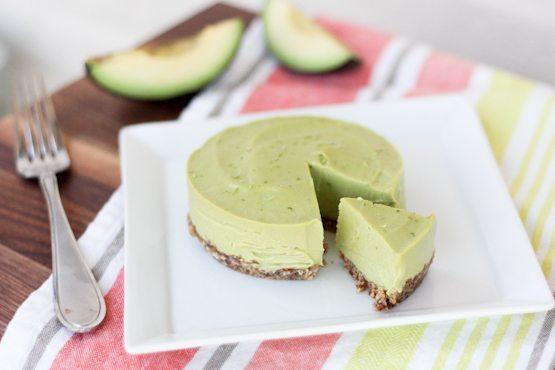 You ever see a cute little dish and almost don't want to eat it because you'd ruin it?
These pretty looking tarts are just that but they taste too good to be true! They also would be a nice touch to your St. Patrick's Day green-themed celebrations!
The crust is coconut-based and uses pecans and dates; lime zest gives it a fresh kick. The filling is made by blending avocados, agave and lime juice.
The dish is frozen for 2 hours and needs to be served chilled. Perfect!
Avocado Pesto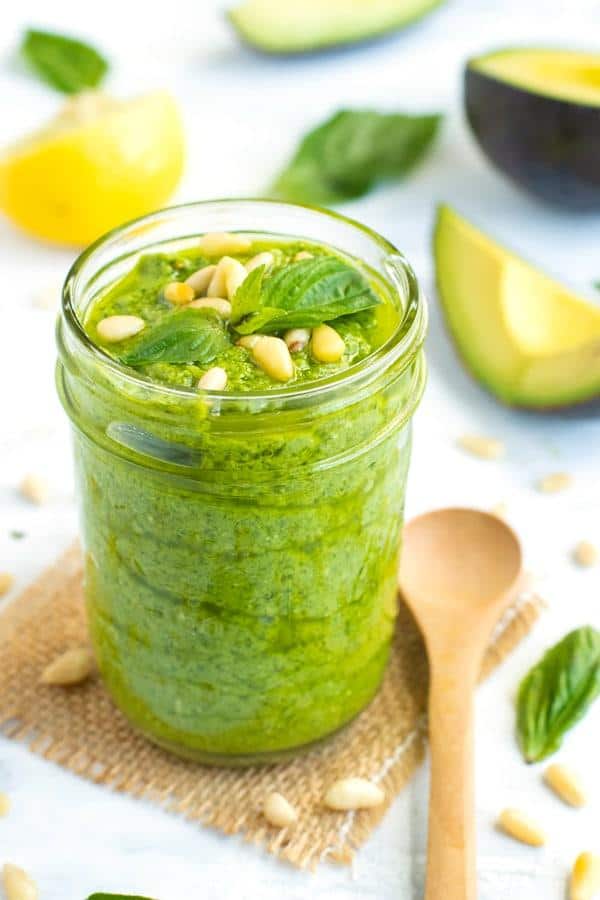 How about one more pesto recipe? It makes your pasta more interesting and less repetitive!
The recipe is so good and it tastes amazing without any cheese at all!
Made from basil, pine nuts, and lemon juice, the star ingredient—avocado—simply blooms with flavor when combined with these three.
It takes literally 5 minutes to prepare and can be used as a dip, sandwich or wrap spread apart from being just pesto.
Raw Avocado Pesto Zucchini Noodles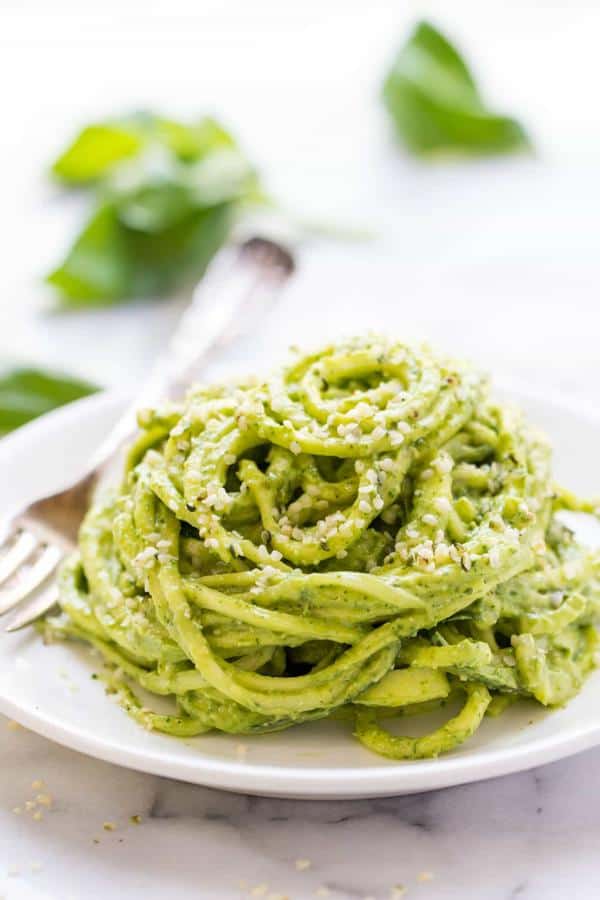 Aren't there enough zucchini noodle recipes out there already? Oh ye of little faith, this recipe will take the cake and the icing along with it.
The dish takes around 10 minutes to make, so yeah it's a clear winner in every procrastinator's book.
The base of the pesto is avocados blended with basil, garlic, and cilantro.
All that's left is for you to cook your zucchini noodles to perfection and toss them in the sauce!
Adding a side of boiled and seasoned veggies like broccoli, carrots, and peas makes this an even better meal!
Avocado Veggie Spring Rolls with Sweet Thai Mango Sauce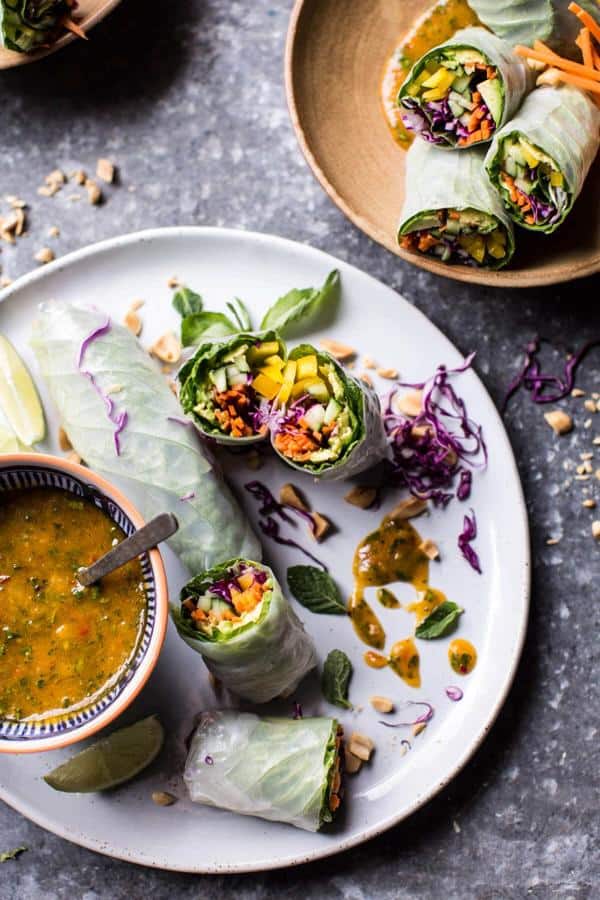 These rolls are light, crunchy, sweet and savory, ideal for a wholesome meal.
The rice papers are packed with avocados, bell peppers, cucumbers and more!
Since the rolls are low on spice and seasoning, the Thai mango dipping sauce is the perfect match.
It's made using ripe mango, Thai chili sauce, lemon juice and a few other ingredients that make this beauty a sweet and savory dip.
Since wrap recipes are very flexible with respect to fillings, you can use any combinations of veggies you fancy!
Avocado Paratha Flatbread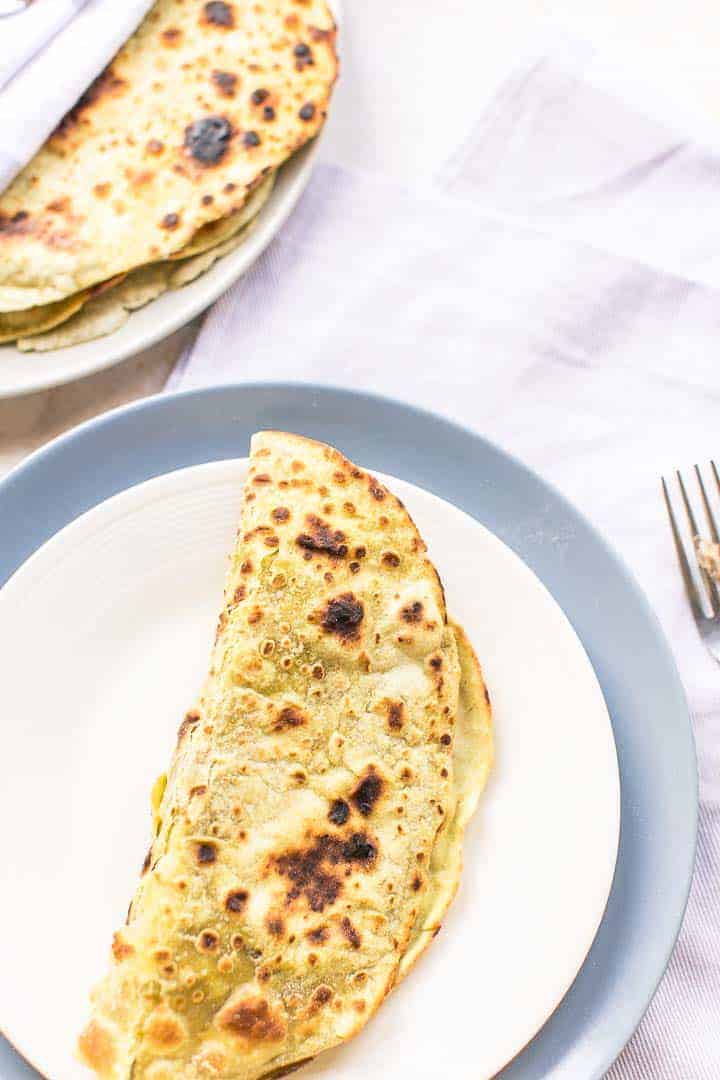 I can't go a day without eating parathas for breakfast because that's a staple among Delhi raised people.
My mom was raised there, and, well, she loves parathas. Dad likes South-Indian; so we came to an agreement and now all love parathas for breakfast!
This avocado paratha is a great option for those who need a super-filling and heavy breakfast because they take their lunch breaks late.
These ones are made by adding mashed avocados to flour with all the spices such as chili and garlic powder.
The dough is broken into small balls and rolled out like flat tortillas. Pan-fried in healthy oil, they taste great with almost anything, so you can use a mint and lime chutney to go with it.
Blackened Tempeh with Avocado, Kale and Cajun Ranch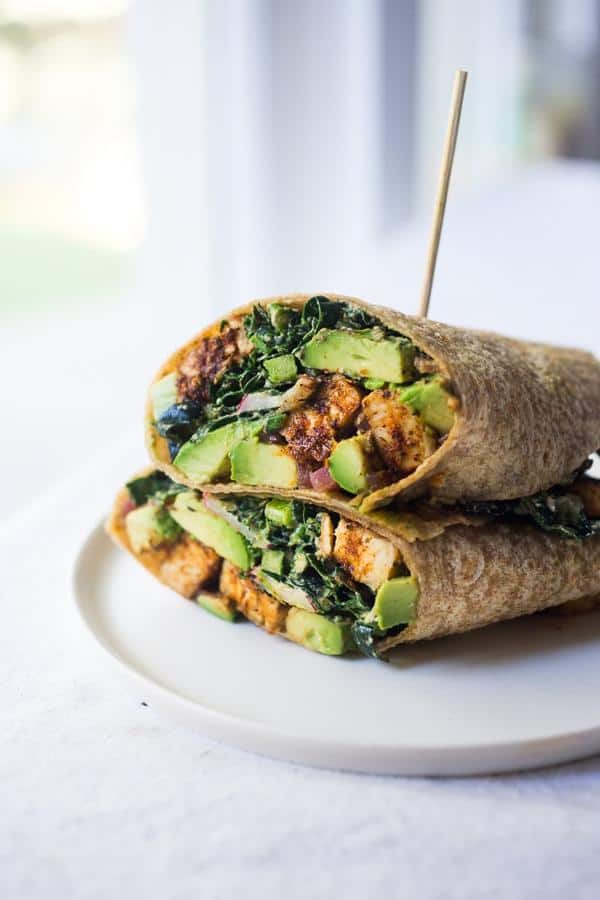 Don't think for a second that the term blackened means charred; this recipe has none of that but all the creative expertise of a seasoned chef like Sylvia.
Cajun-coated tempeh is seared to a crispy texture and served with an easy Cajun ranch dressing. Serve them with veggies like radish, kale and green onion and you have a hearty salad.
They also make a great tortilla filling for lunch so you can use the refrigerated leftovers easily.
Avocado Soup Chilled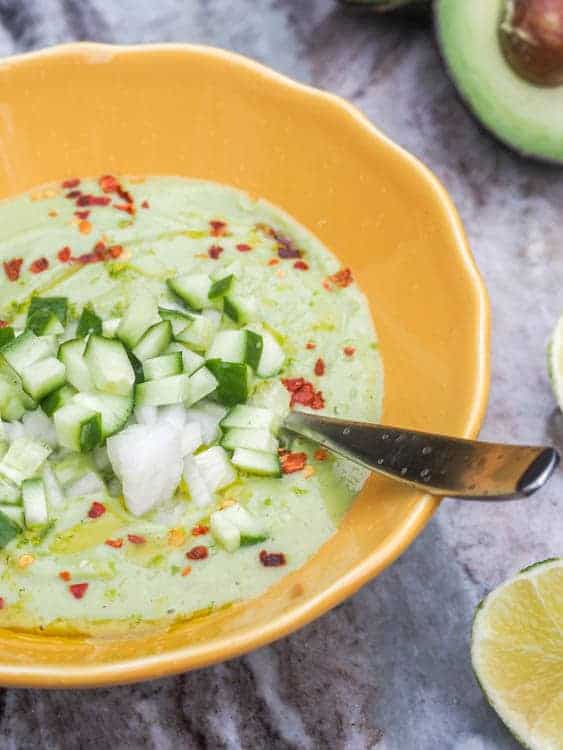 Chilled soup gave me the chills until I educated myself about them! It seems like I judge too quickly as I now love them, they make refreshing meals during hot summers.
The recipe is light yet creamy and a different take on the tomato-based gazpacho. The savory soup includes blended avocados, cilantro, and cucumbers among a long list of healthy ingredients.
Red pepper flakes and chili oil lend their spice to the soup along with the diced veggies that make the recipe filling.
Avocado Butter Mashed Potatoes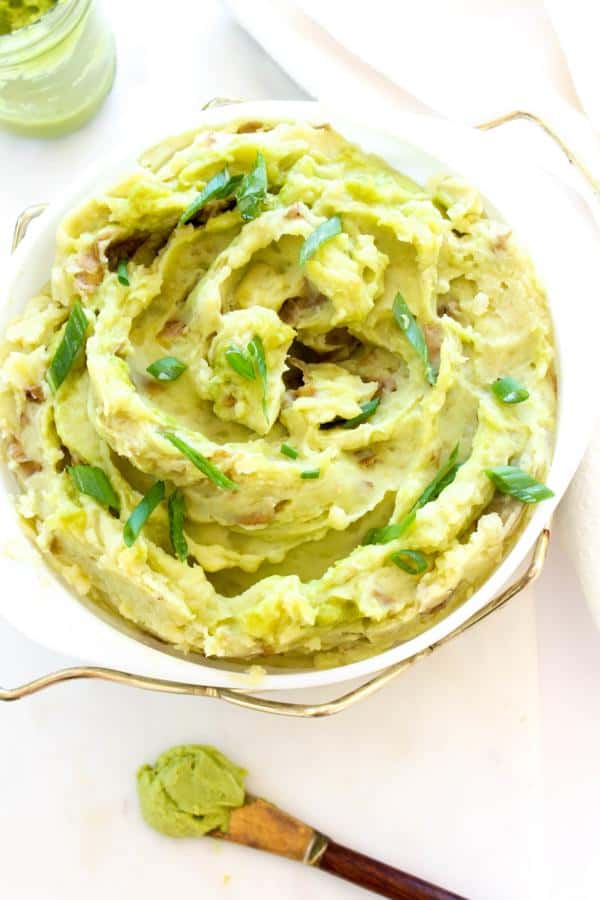 Mashed potatoes make a great sidekick to practically anything during holidays!
Here's a twist to the conventional recipe that tastes just as delicious.
Here, they're mixed with scallions, dairy-free milk, and avocado butter; a vegan replacement of dairy butter made from scratch by Laurel.
Why not add some mint along with salt and pepper if you're up for experimenting some more!
Avocado and Hazelnut Milk Coffee Smoothie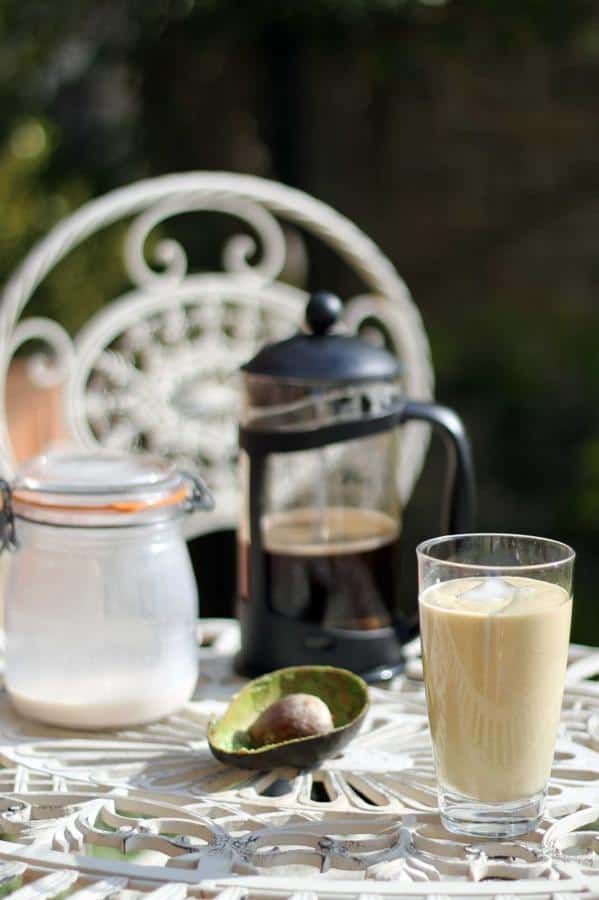 Covfefe makes me think I can conquer the world. Oops, I meant coffee; looks like I need a cup again!
Glad this recipe is here to help me with my grammar today!
This coffee is a modern twist on Sinh To Bo, which is a traditional Vietnamese avocado shake. Avocados are blended into a silky mix with hazelnut milk and vanilla extracts.
A cup of strong, cooled coffee is added to the shake and it magically turns into the lifesaver of billions around the world.
Add ice cubes to your coffee and thank the heavens for this recipe!
Avocado Pancakes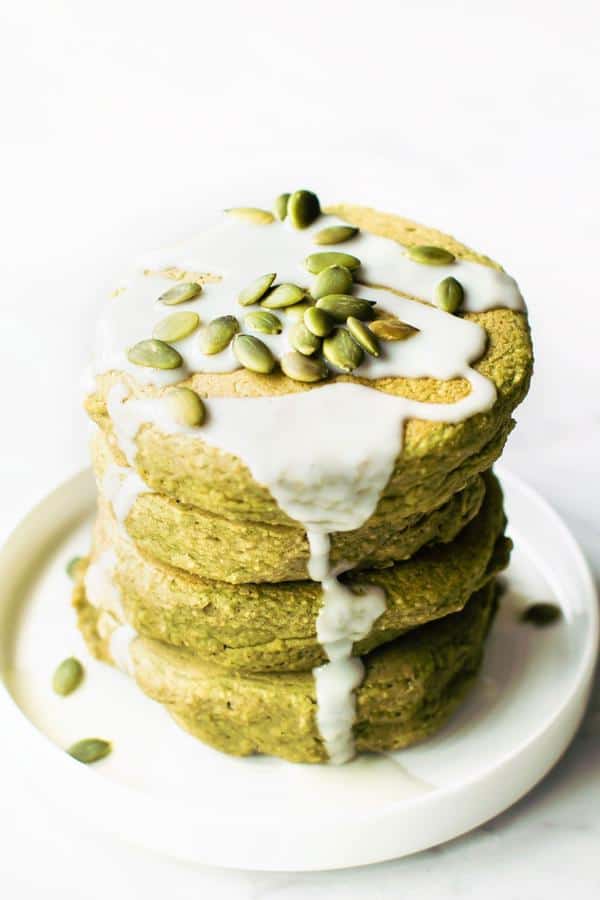 Pancakes are the ultimate weekend breakfast special! Natalie has a new recipe for those of us who like to get adventurous with our food: avocado pancakes you'll fight for!
Ripe avocados and oat flour are mixed with baking soda, lemon juice, and non-dairy milk. Maple syrup gives it a slight sweetness and green matcha powder.
The pancakes are cooked and served with fruit slices or berries; you can use coconut cream with vanilla essence and a hint of sugar for the sauce.
Use greens powder instead of matcha if you think the flavor is too strong.
Avocado Melt with Coconut Bacon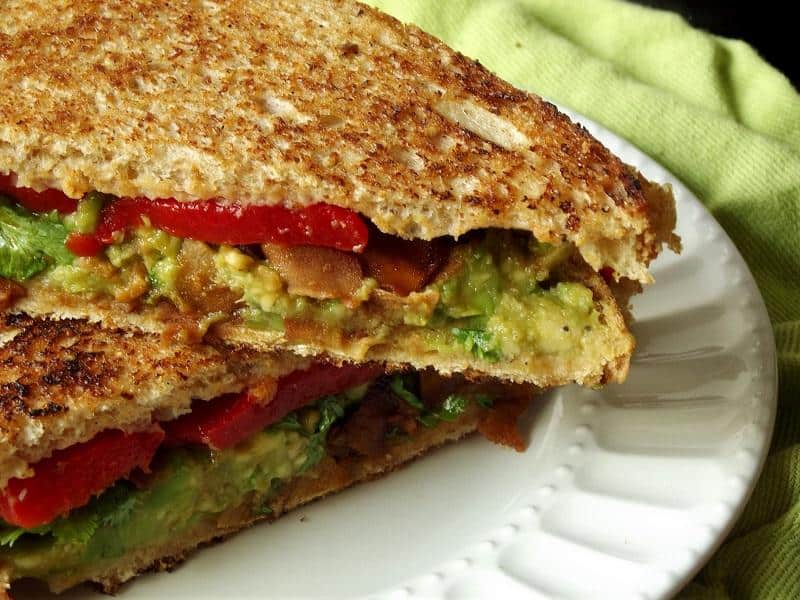 I had heard about rice bacon before, but coconut bacon sounds just as interesting, and I'm sure makes for a brilliant substitute!
These lovely sandwiches would make the perfect picnic platter for you and your family. You should definitely carry a batch of this snack for your next hike.
The sandwiches are made using smashed avocado, store-bought coconut bacon, peppers, and cilantro.
Next, they're toasted with olive oil over a skillet until crispy-brown.
It takes just 15 minutes to prepare. Better yet? These sandwiches are customizable when it comes to the veggie fillings.
Kale and Avocado Pesto Pasta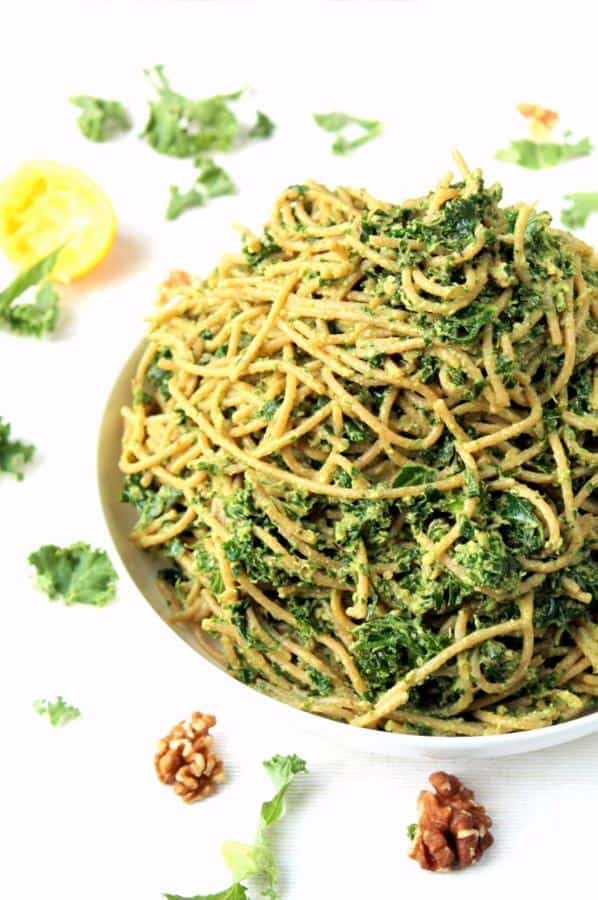 Pasta dinners make me feel like a happy child all over again. It's great when you can find a quick recipe like this; you won't have to suffer gripes waiting for the dish to cook!
The spaghetti has a lovely textured pesto to complement the kale and chunky walnuts.
There's a lot of garlic and lemon in there as well, don't be stingy about the herbs!
This dish tastes amazing with boiled veggies like peas, carrots, broccoli and the lot!
Avocado Hummus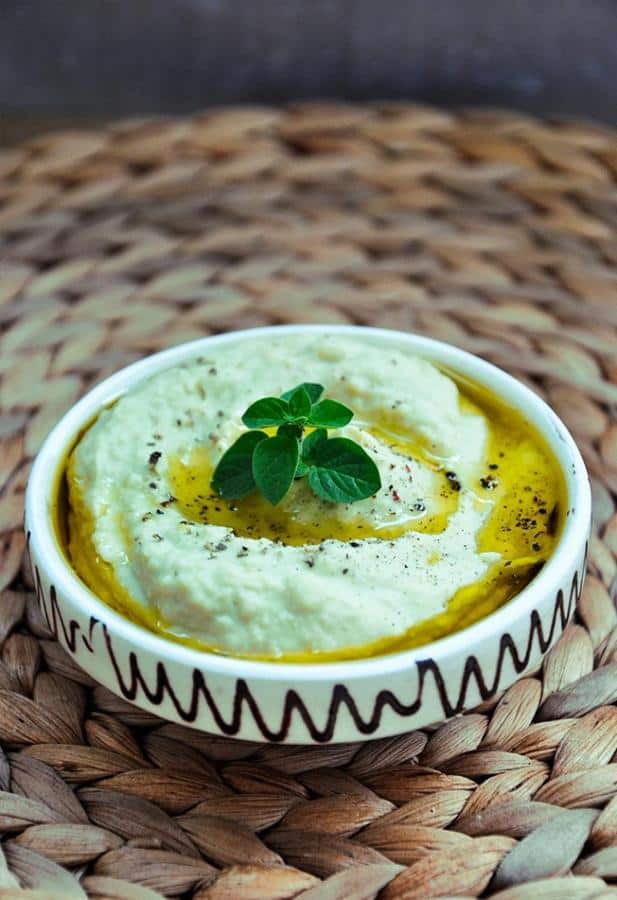 Hummus can be made in a lot of tasty combinations so why not add avocados to the mix? They're super creamy and are perfect in texture for a mean hummus!
The recipe just needs you to throw all the ingredients like avocados, chickpeas, tahini and other seasonings in the blender and hit the power button!
The secret to the extra fluffy texture of the hummus here is running the blender for a little longer than required.
Add fresh mint or cilantro for a fresh flavor that goes well with lime juice.
Avocado Semifreddo with Strawberries and Basil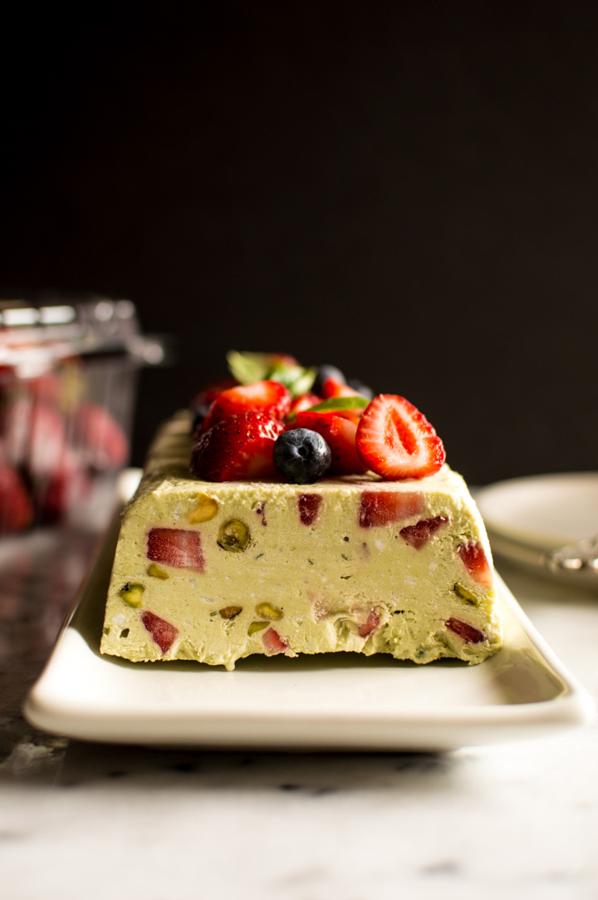 Frozen treats for scorching summers are mandatory in every home.
What if I told you, you don't have to spend a trip to the closest ice-cream outlet and hunt for expensive vegan desserts? I have a lovely recipe to share that you'll go gaga for!
This recipe uses whipped coconut cream and a plant-based milk to make the base; avocados blended with maple syrup, basil and lemon juice are combined with the whipped cream.
All that's left to do is add chopped strawberries and pistachios.
You can serve the semifreddo with kiwis instead of strawberries!
Healthy Zucchini Avocado Soup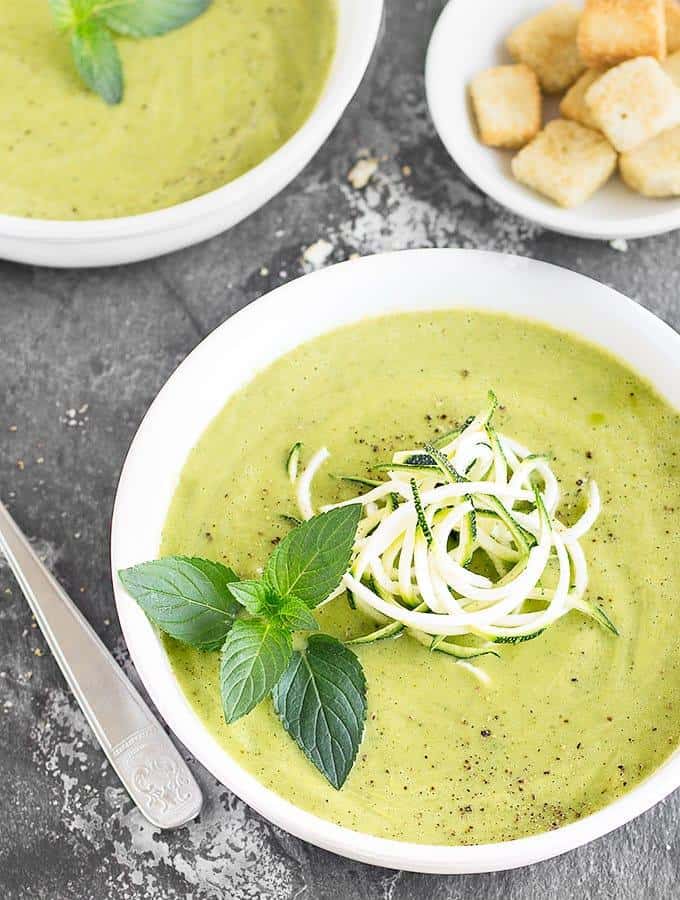 You're never too healthy for a nice hot bowl of soup.
You also don't need a particular season to make this. Summers bring in a bounty of fresh zucchini and it would be a shame to not put them to good use!
This is a very simple recipe, needing just a few ingredients. Zucchini and avocados sautéed and boiled with onions, garlic and vegetable stock. The mix is blended into a thin soup and seasoned with salt and pepper.
The mint in the soup gives it a perfectly fresh flavor for the summers.
The prep time takes all but 20 minutes, so this one goes to my mental notes of light dinners I need when I'm really hungry after work.
Cajun Chili Fries with Avocado Coriander Sauce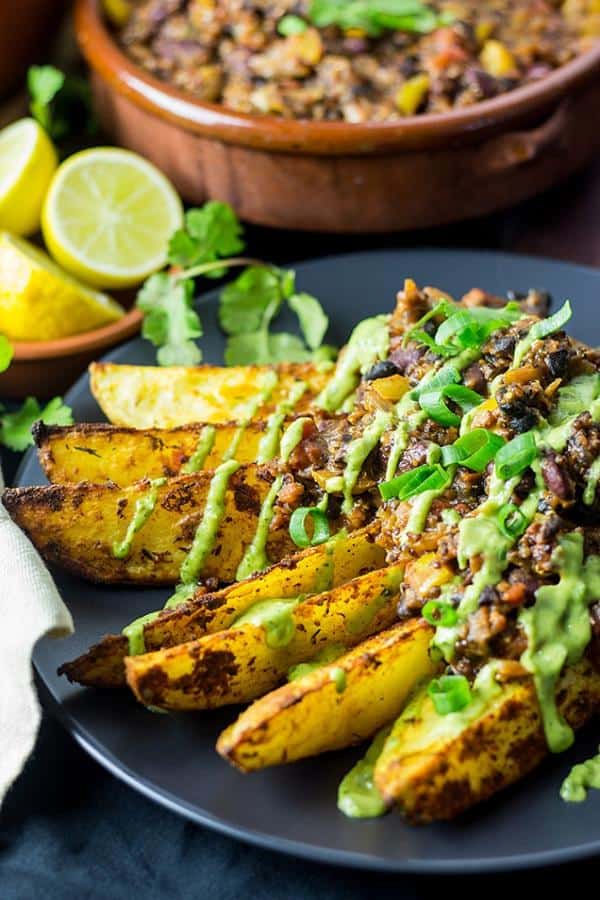 What's a better party starter than freshly baked agria potatoes with a smashing bean chili?
The recipe is familiar for chili lovers, but what makes this even better than the others is the canned chipotle chili in adobo sauce!
These smoke-dried jalapeños are added to a base of onions, garlic and bell peppers cooked with ground cumin. The avocado sauce with lime and cilantro is refreshing and cuts out the spice from the chili.
Leave the skin on the potatoes; they give the wedges a crispy texture and are healthy, too!
Wrapping Up
Avocados are super healthy and should be included in your diet whenever possible, and thanks to our creative food bloggers, we have a plethora of recipes to choose from rather than eating simply slices of avocados.
Our search for the best 50 avocado recipes was met with high standards and we're thrilled we could find so many recipes even though only a few could make it in this roundup.
We'd love to know which of these make it to your favorites list!
Send us your thoughts, opinions, and feedback; we always love to hear from you guys and improve!
A lot of you are talented cooks; so by all means, send us pictures of the dishes you try, test and improvise on!