In this roundup, we're expanding on that section ten-fold.
For now, if you want a vegan burger, it's here; if you fancy a sandwich, we've got that too. Different ingredients, different occasions, we've got you covered!
I guess the only question remaining is… do you want fries with that?
Breakfast Sandwich & Burger Recipes
Mac Daddy Breakfast Sandwich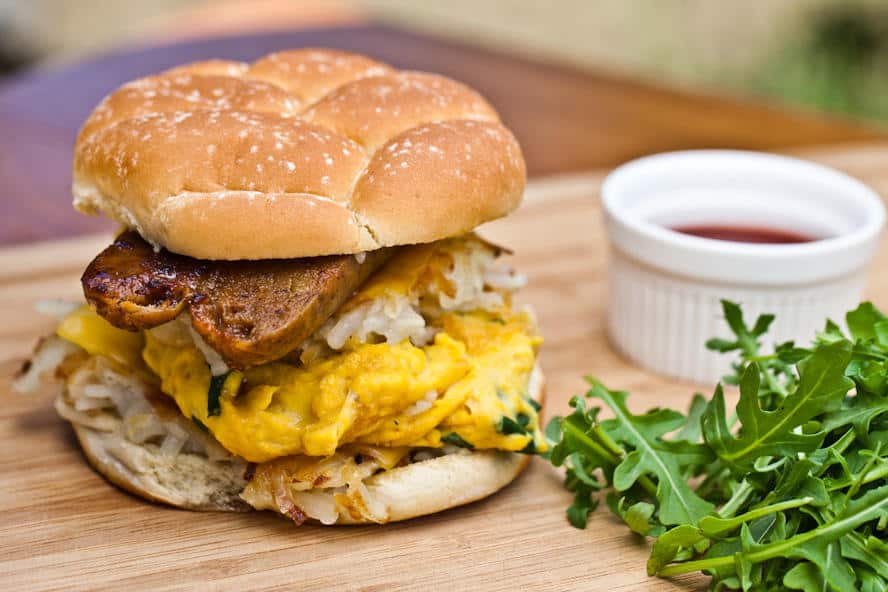 Just by looking at the photo we already know the recipe title is absolutely correct, this is the daddy!
Cheesy hashbrowns, sausage, eggs and yes, it's all vegan! The sausages used are a branded variety, if you're unable to source them just use your favorite. Guaranteed to keep you going all day long!
Blueberry Grilled Cheese Sandwich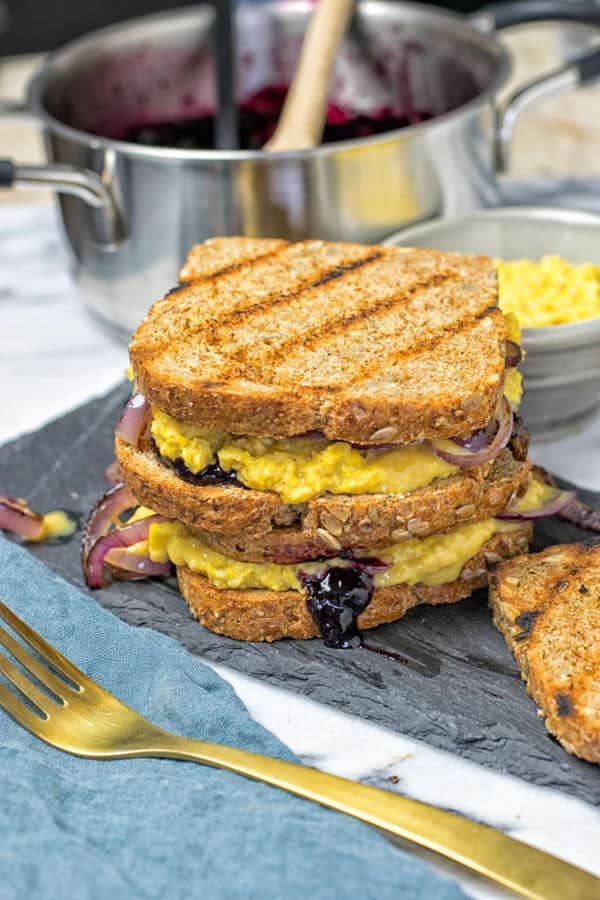 Florian from Contentedness Cooking creates this monster sandwich with just 4 ingredients. I never thought blueberry and grilled (vegan) cheese would go well.
You're looking at a max of 20 minutes to bring this together. If you want to be satisfied, this is it!
Grilled Nutella Banana Sandwich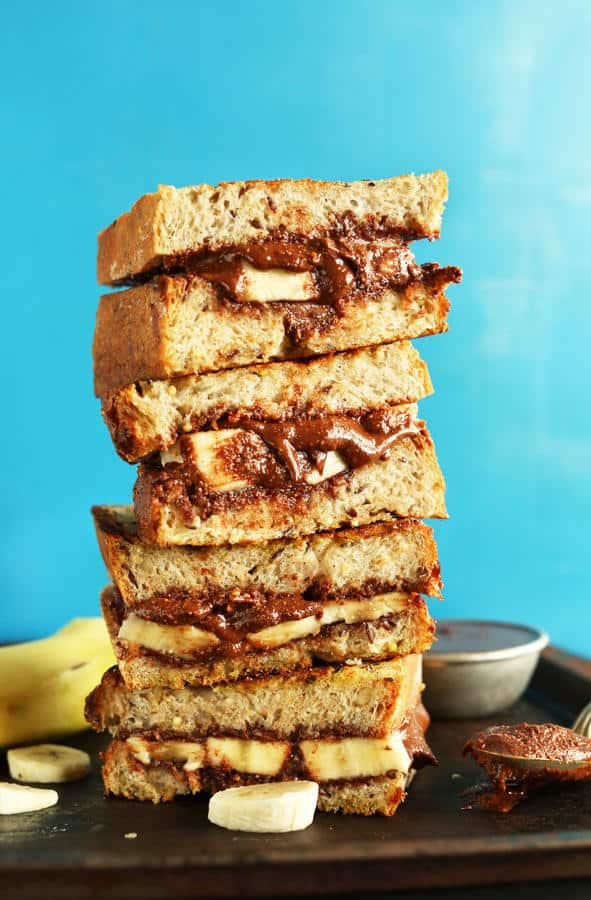 If you didn't already know, chocolate spread and bananas were made to go together. This takes it one step further by grilling it as a sandwich.
The recipe contains a link to 'Vegan Nutella' although you could save yourself some time and use a store-bought spread that you know is vegan. Delicious!
Roasted Tofu and Guacamole Sandwich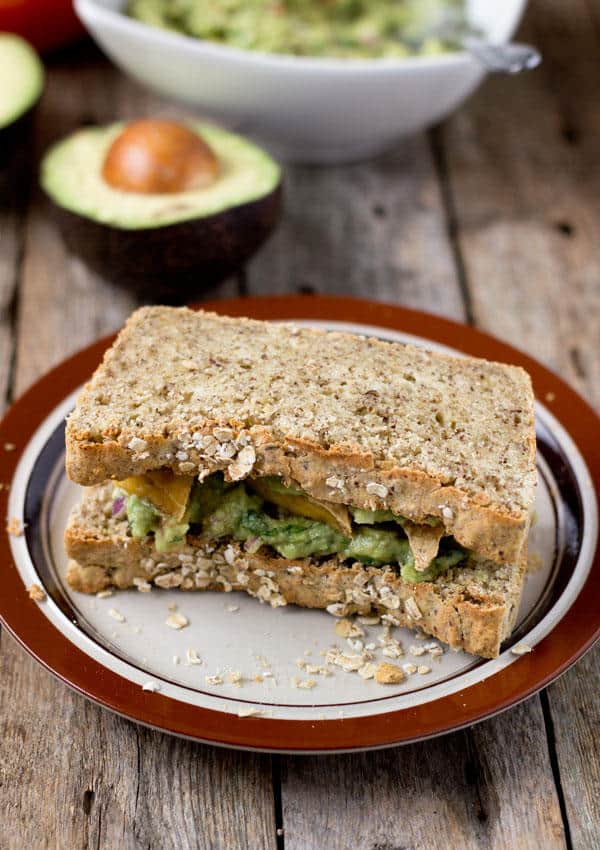 Two of the heartiest ingredients in a sandwich at the same time!
The recipes divided in two, the guacamole and the tofu which is roasted.
You could save yourself some time and simply smash avocado and then drizzle with lemon or lime juice before seasoning. Get yourself the best quality bread you can and enjoy.
Roasted Red Pepper Sandwich with Vegan Mozzarella and Pesto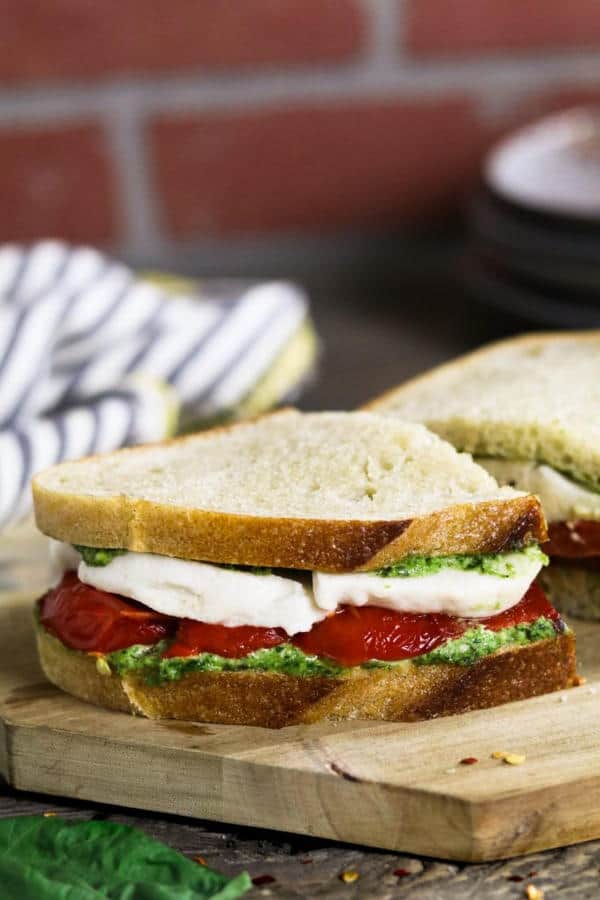 If you have any Italian ancestry, this is a sandwich that contains all the colours of the Italian flag!
The ingredients contain two links, one for the zucchini pesto recipe and the second on how to make vegan mozzarella.
If you wanted to save yourself a little time and can source store-bought versions, go right ahead. Although as a side note, the vegan mozzarella cheese recipe is worth a shout-out!
Eggless Tofu Salad Sandwich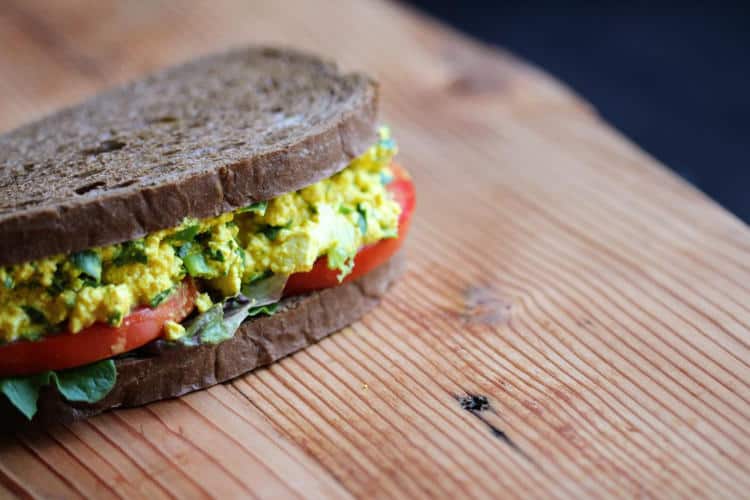 At the heart of this recipe is a great way to make tofu scramble. It contains a link to a separate recipe on how to make your own vegan and oil free mayonnaise. Check that out or use a store-bought version.
Put the scramble in a sandwich or even a wrap and enjoy! I splash some chili sauce on mine!
Tomato Cucumber Sandwich on Onion and Corn Bread with Olive and Kale Tapenade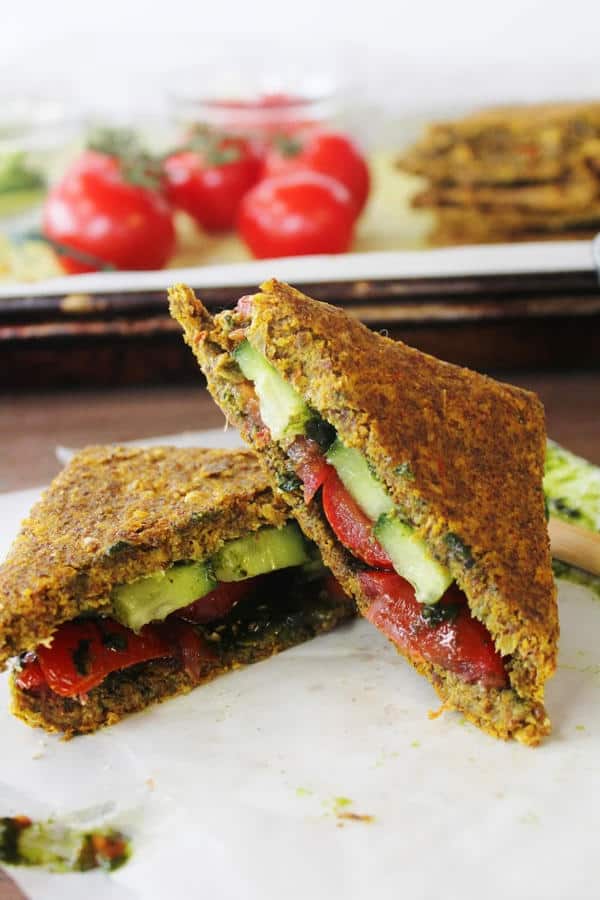 A sandwich that contains lots of goodness! The entire recipe is 'raw' including the bread, meaning you will need a dehydrator.
If you don't have one, you could experiment using your oven on its lowest setting. If you're not following a 100% raw lifestyle, simply use your favorite bread.
Lots of parts to this sandwich which make it fantastic.
Ultimate Breakfast Sandwich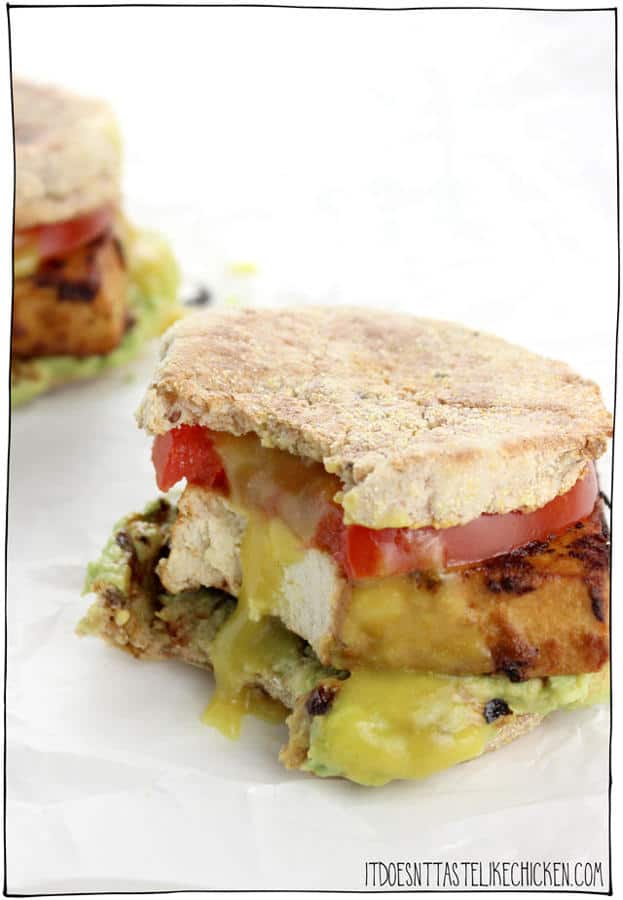 That's quite a claim, the 'ultimate' breakfast sandwich, is it? I think so.
For me, the best part is how the tofu has been marinated and prepared.
If you've never been sure about tofu, then you will be a convert after trying this. If this isn't the ultimate, it's close to it!
Buffalo Tofu Chicken Sandwich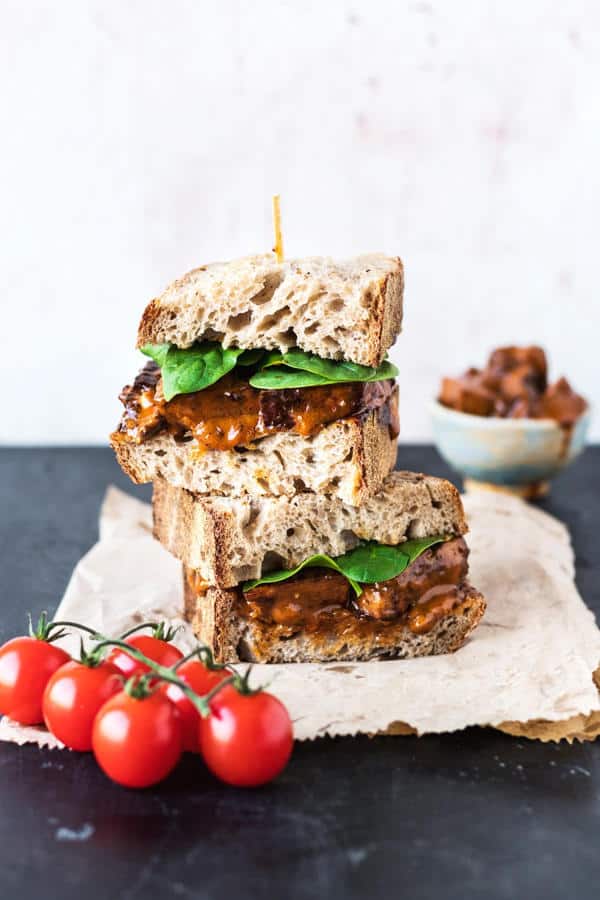 While these sandwiches make for a savory breakfast, they can be eaten at any time of day (or night!). In terms of breakfast, lunch or dinner, this recipe leads the pack!
Big and bad and sure to tame the largest appetite in the West (or the East!)
Burger Recipes
Wild Rice Burgers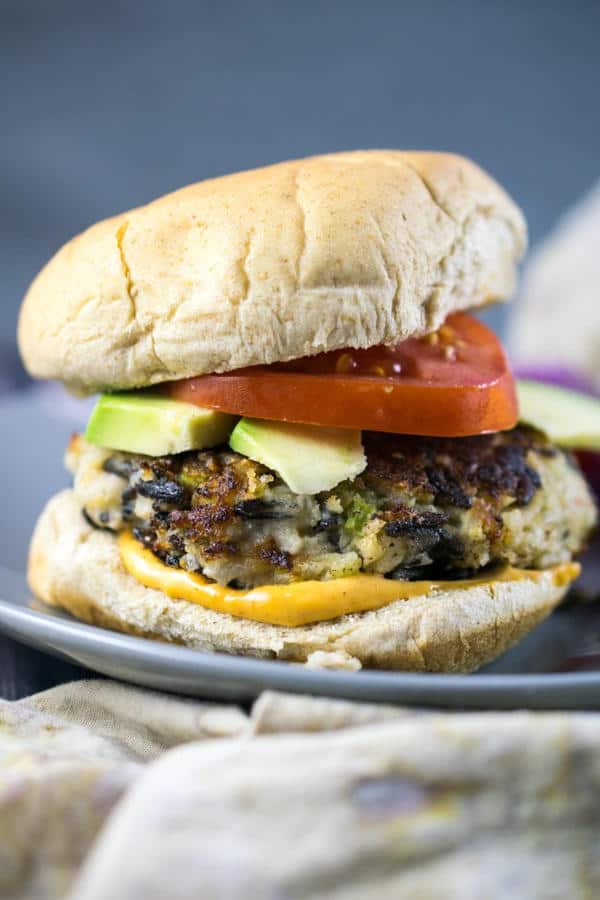 You love burgers, but you don't want to eat store-bought processed fake 'meats' and you're tired of bean burgers? Check this out.
Not like your regular vegan burger recipe, this is wholesome, satisfying and full of great ingredients. This is a real treat!
Sprouted Mung Bean Burger with Mint-Cilantro Chutney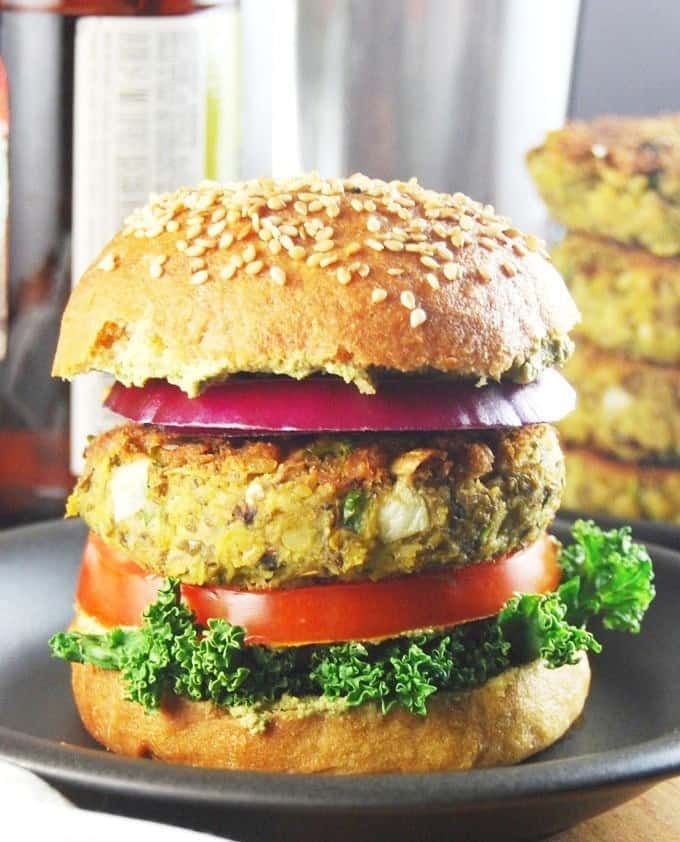 If you grow your own sprouts, this is the recipe for you. The burger is versatile, you can make the patty any size you like.
You also get to learn how to make a wonderful chutney. Use the best quality bread as this burger deserves it, and so do you.
Avocado Veggie Sandwich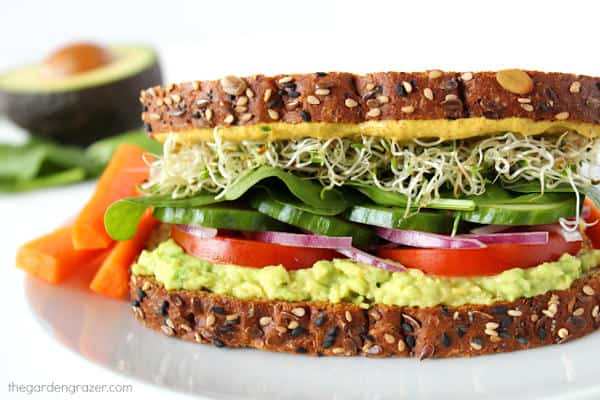 I compare this sandwich to springboard. In terms of health, this must be one of the best fillings out there.
Why the springboard? Well, this should launch your imagination into how many other different variations of this sandwich you create? Let us know!
10-Minute Bean Burgers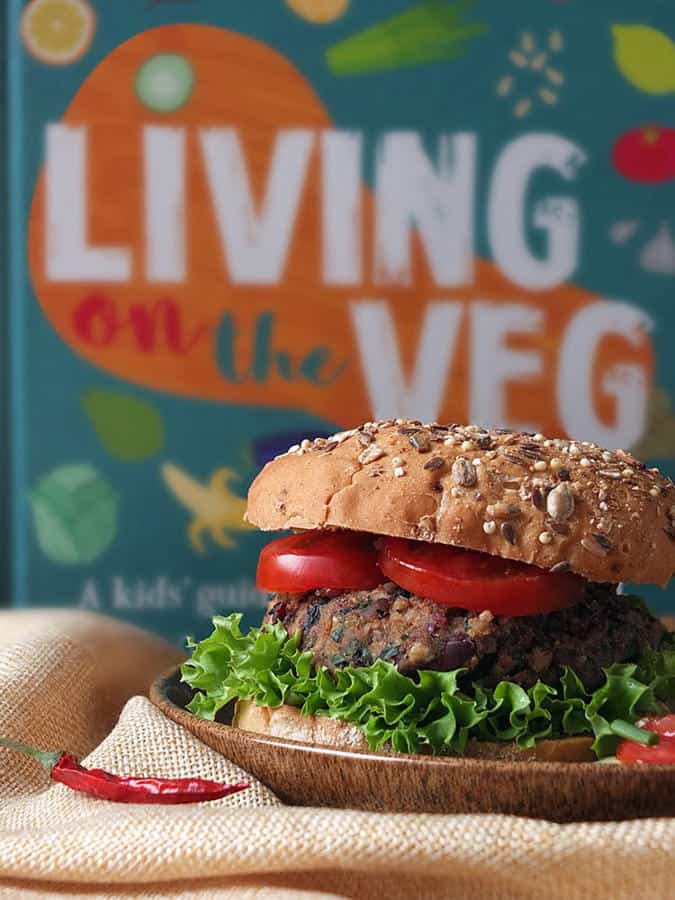 I'll admit I'm never being huge fan of bean burgers, if you're a little like me, you must try this recipe.
What I don't like are bean burgers that simply taste of nothing other than red kidney beans. This recipe really is unlike that.
Coriander, herbs and spices and even porridge oats make this a seriously good burger. Try it and tell me how right I was.
Black Bean Veggie Burgers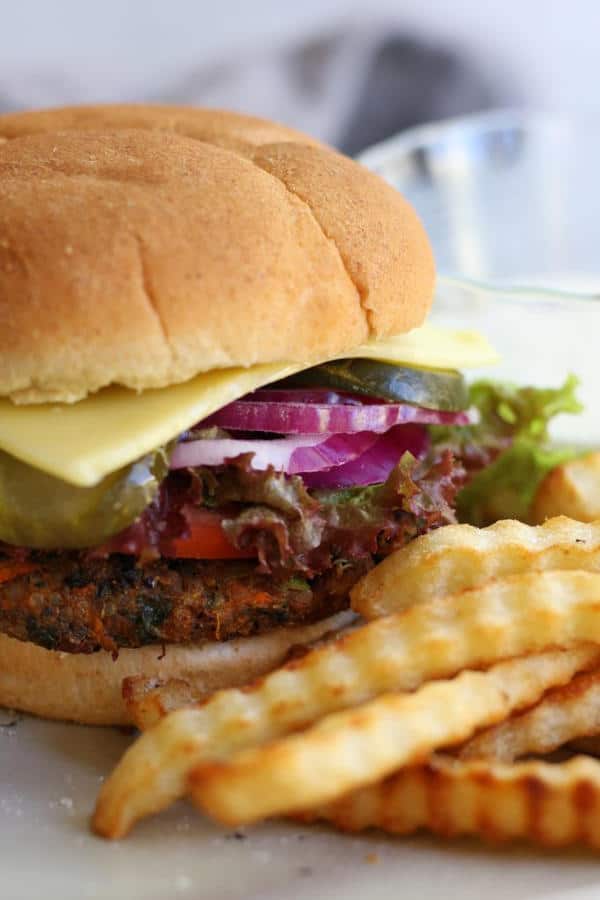 Take a look at that picture because what you see really is what you get.
I've seen recipes before where bean burgers contain very few ingredients and it may as well be just mashed up beans. Not here.
Sweet potato, almonds, carrots, onions and so much more. The only thing you have to worry about is the type of pickles you want.
Quinoa Burgers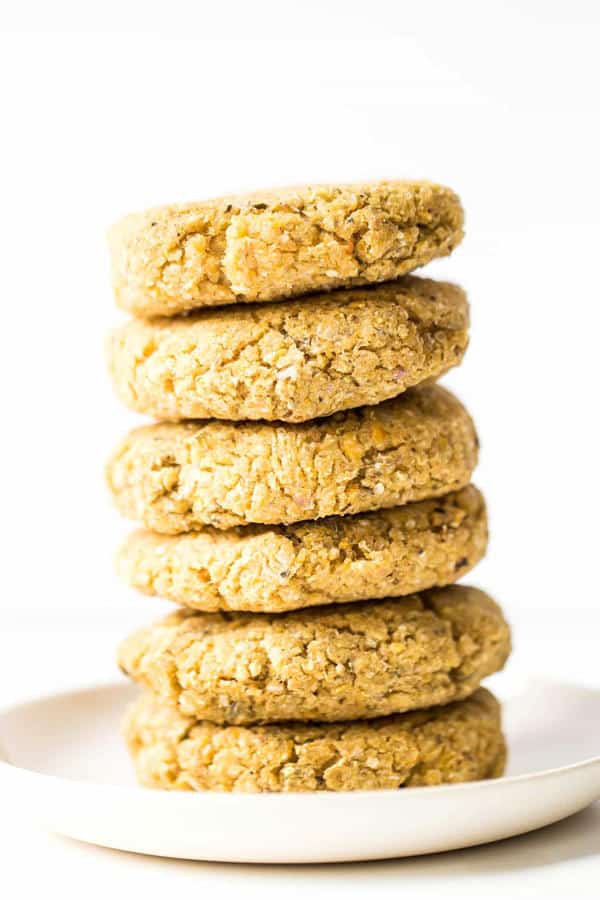 Quinoa as an ingredient for burgers is a great idea. If you've never used it before, now is the time to start.
Throw in chickpeas (garbanzo beans), garlic, and more and you get yourself the perfect accompaniment to a salad or go all-out get your fries on!
Mushroom Millet Burgers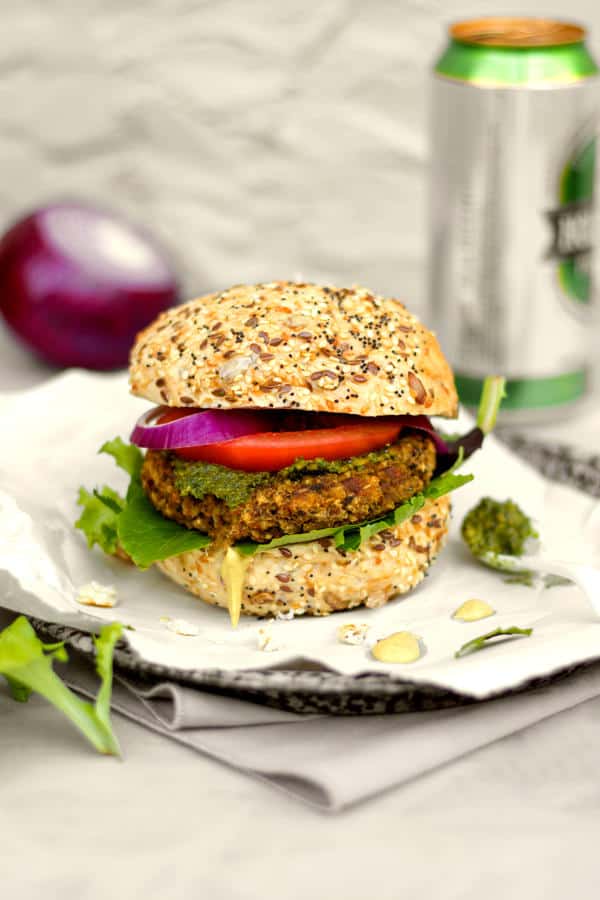 Just by looking at the photo you can see this burger is of the highest quality.
Not just mushroom and millet, but onion, Dijon mustard and a whole host of herbs and spices. Keep this recipe for when you want to treat that special someone, and that includes you!
Tofu Hemp Burger (Gluten Free)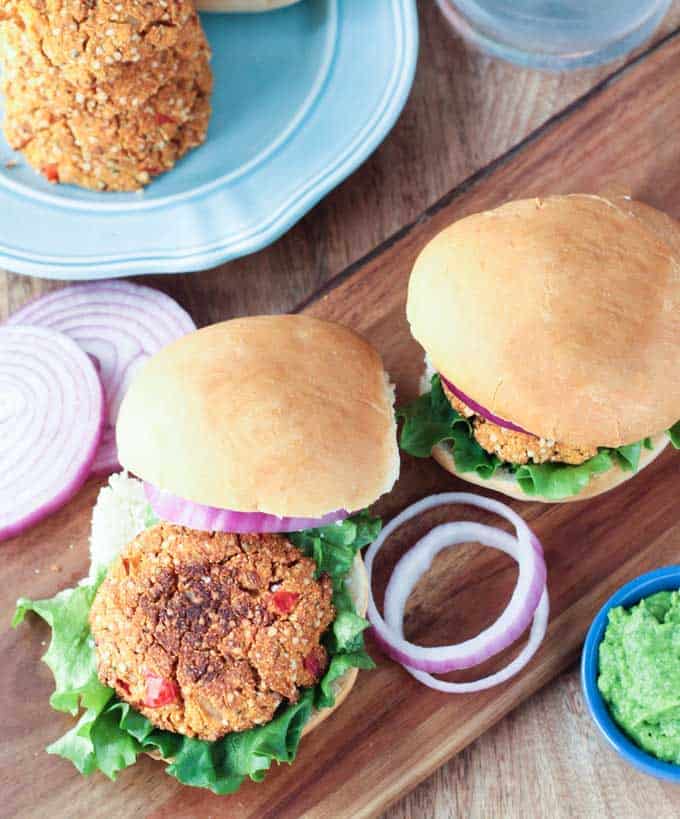 If you want to stretch out and make something adventurous and incredibly delicious, go for this tofu hemp Burger.
The recipe is divided into three sections: burger, some ideas for serving and finally the herbed white bean spread. Remember, if you get gluten-free bread the entire meal will be suitable if you are unable to tolerate gluten. Very tasty.
Healthy Kale and Portobello Veggie Burger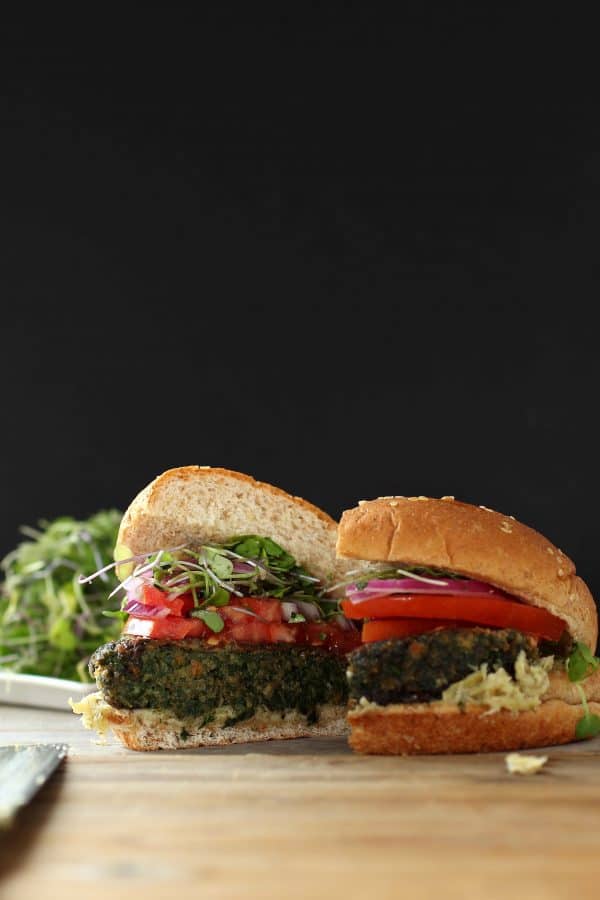 If you want a burger that is incredibly healthy and yet satisfying, take a look at this.
This hearty patty is bursting with flavor and beautifully moist. Grab yourself some sliced tomatoes, fresh onion and maybe some mustard. Have a ball!
Chickpea Sandwich & Burger Recipes
Easy Turmeric Chickpea Salad Sandwich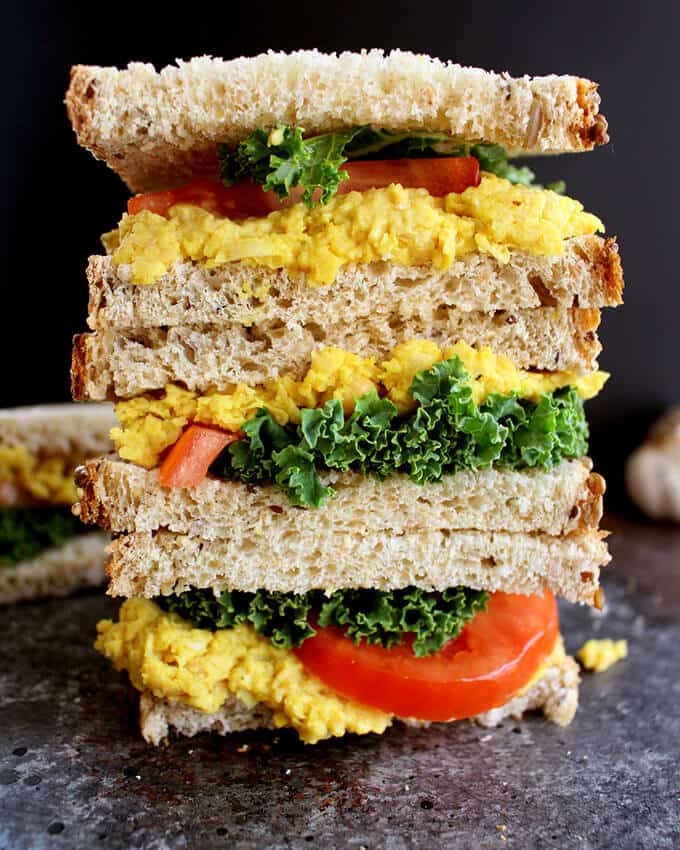 Smashed chickpeas are so versatile, you're halfway to making hummus, or you can make this tasty sandwich bread with turmeric.
Just a handful of ingredients and a very easy to follow recipe page with photos along the way.
This is a beautiful spread that you can use as the only filling or add your favorite salad accompaniments.
Slow Cooker BBQ Chickpea Sloppy Joes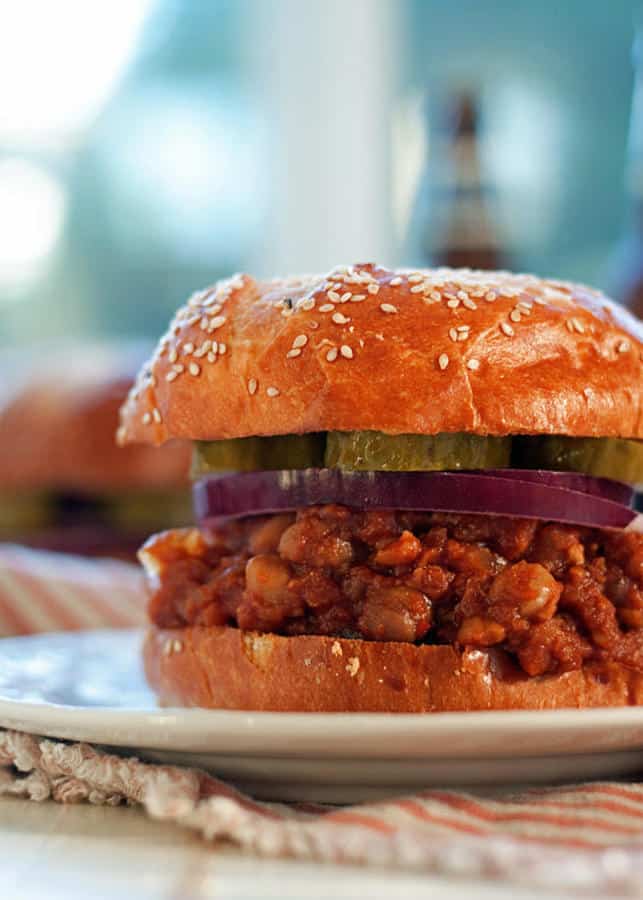 What about a vegan sloppy Joe? As you can see from the title, this recipe is designed with a slow-cooker in mind, having said that, it doesn't take much imagination to create this without one.
Lots of flavorful ingredients make this plant-based alternative hit the mark with great accuracy! By the end of the meal you'll be completely satisfied and maybe a little messy!
Beet Chickpea Burgers with Harissa Spread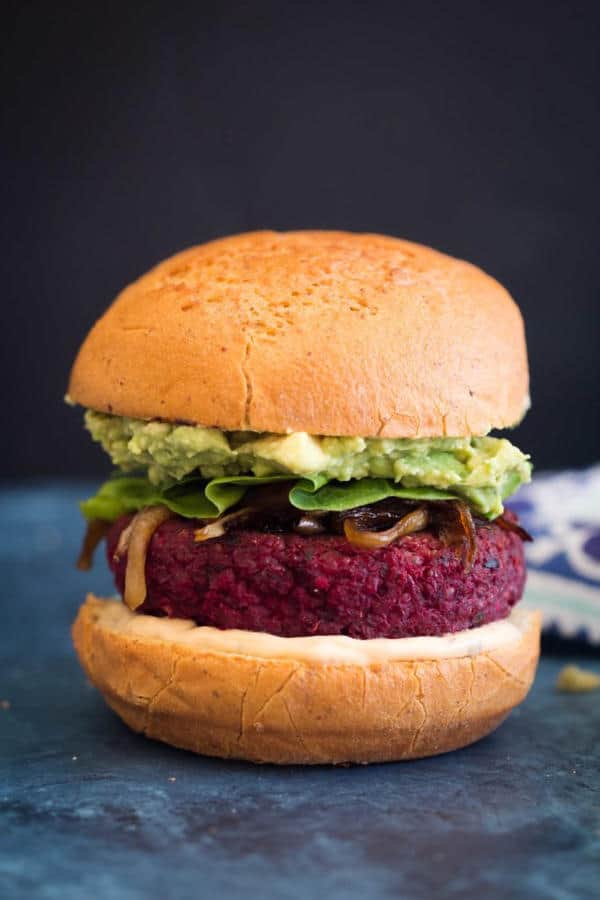 If you want a burger for your carnivore friends, one that is incredibly satisfying and deep red, you can't go much wrong with this.
The harissa spread just has 4 ingredients and is one of the tastiest I have ever had. This a serious burger!
BBQ Chickpea Walnut Burgers (Gluten-Free)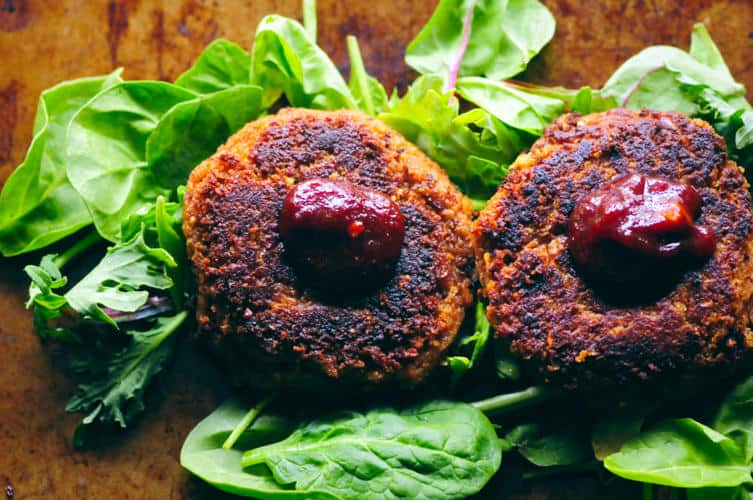 I don't think I've ever had a burger that contained chickpeas and walnuts. The combination is outstanding and so are the flavors.
These burgers can be pan-fried or grilled. Add your favorite sauce, maybe some pickles, lettuce and a slice of tomato and you're good to go.
Broccoli Cheeze Chickpea Burgers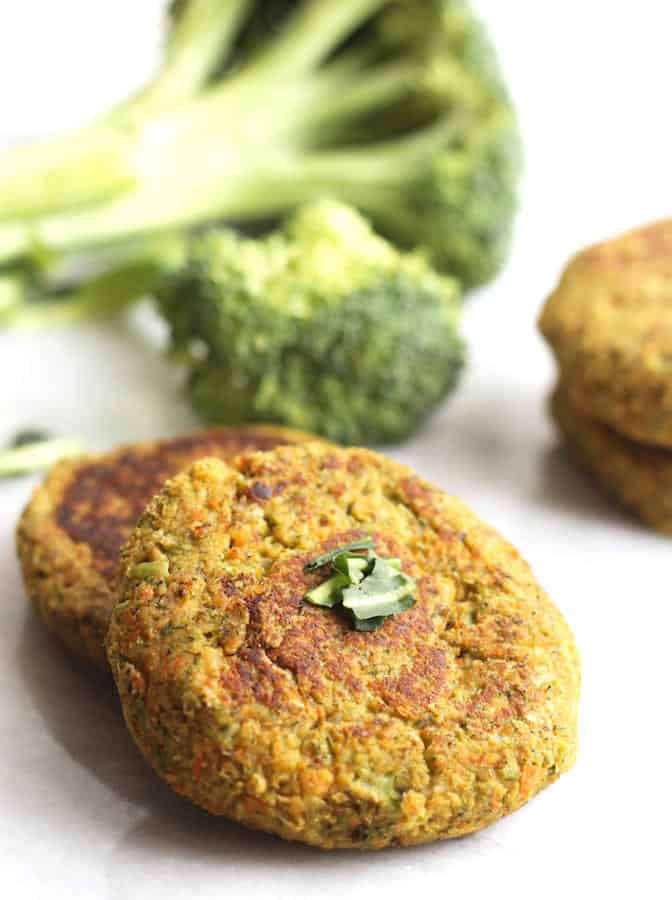 An incredible recipe that creates cheesy patties thanks to the nutritional yeast.
Expect just over an hour prep time as you prepare and put everything together.
Serve on your favorite buns or sliced into quarters and throw in a huge salad. Either way you're in for a treat.
Southwestern Black Bean Burgers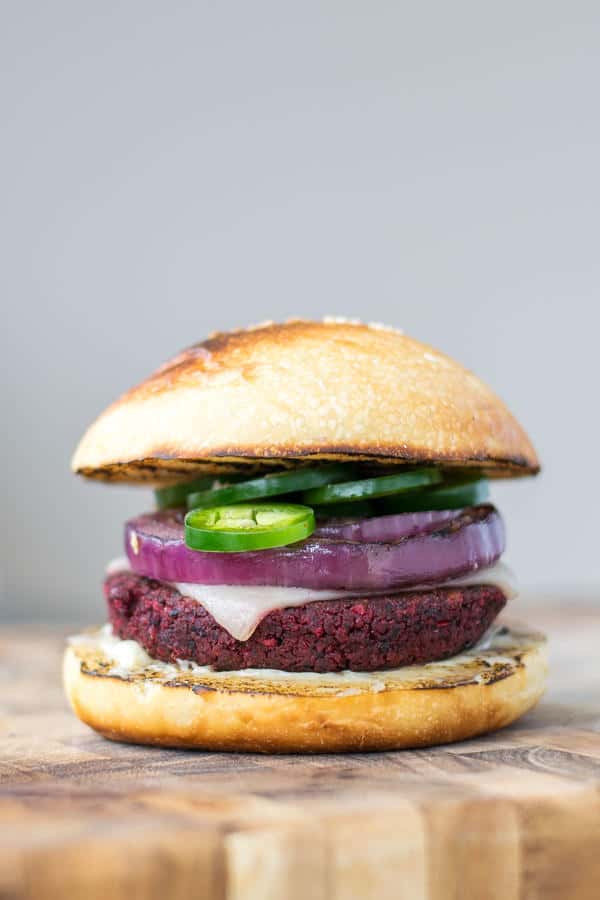 I love these burgers! Definitely a south-western feel and so much more than a bean burger. You have beets, herbs and spices and jalapenos.
Everything comes together in less than an hour. Serve in a bun and definitely with your favorite fries!
Mediterranean Chickpea Burgers (Gluten-Free)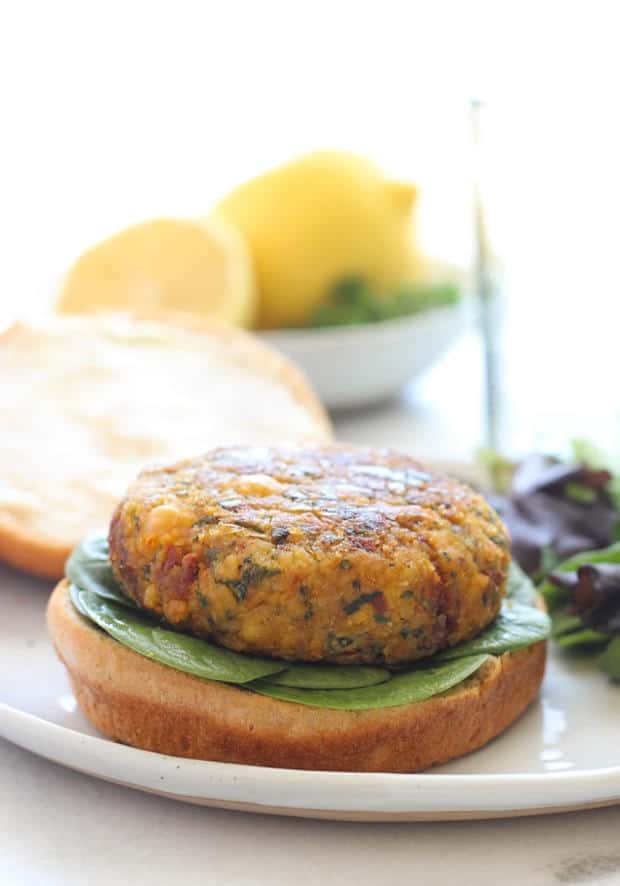 The most amazing thing about this burger for me, is its lightness.
Sometimes you come across a recipe for a vegan burger where the ingredients are so packed tight that the patty becomes heavy, not just in weight but digestion as well. This is not the case here.
Everything from nutritional yeast to garlic creates this wonderful golden burger. Delicious.
Vegan Chickpea "Tuna" Sandwich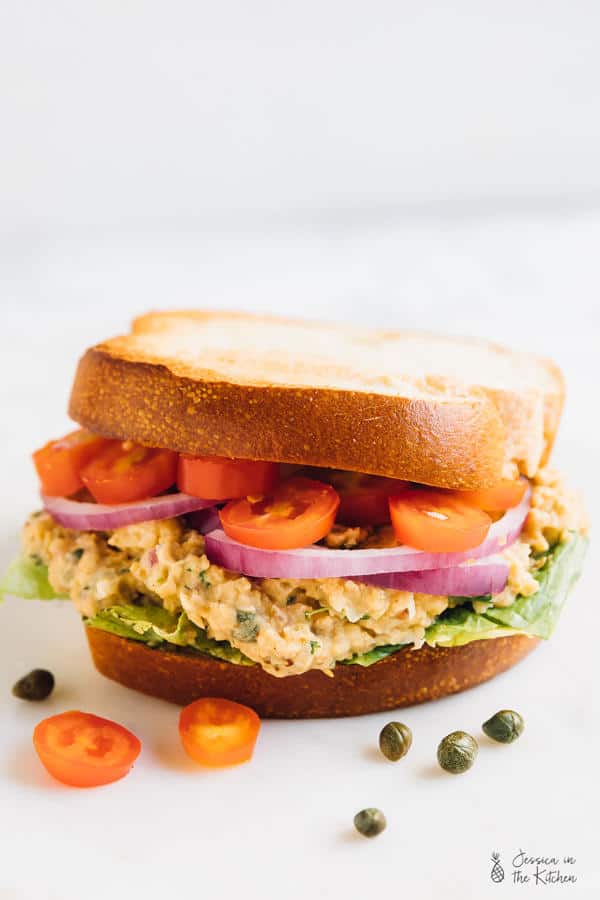 Is it impossible to achieve a tuna-like taste that is vegan? Well, maybe you're never going to exactly hit the spot in terms of taste, however, try this out and see what you think.
Grab all the ingredients and pulse a few times in a food processor.
Serve in a lettuce wrap or your favorite bread. I think the lime and the capers make this special.
Stores in the refrigerator for a few days in an airtight container. A great sandwich filling.
Caesar Smashed Chickpea Sandwich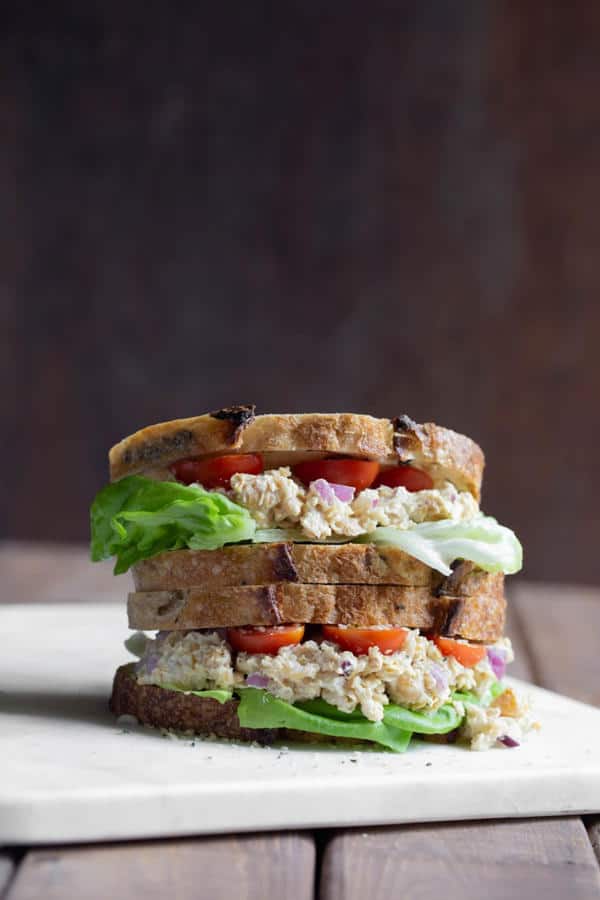 I really love this. If you love the flavor from caesar salad you need to check this out.
Ingredients are divided into two sections: the vegan caesar dressing and the sandwich filling.
The dressing would be great on salads. If you want a hearty and satisfying sandwich, you can't go much wrong with this.
Dinner Sandwich & Burger Recipes
Barbecue Ranch Tempeh Burgers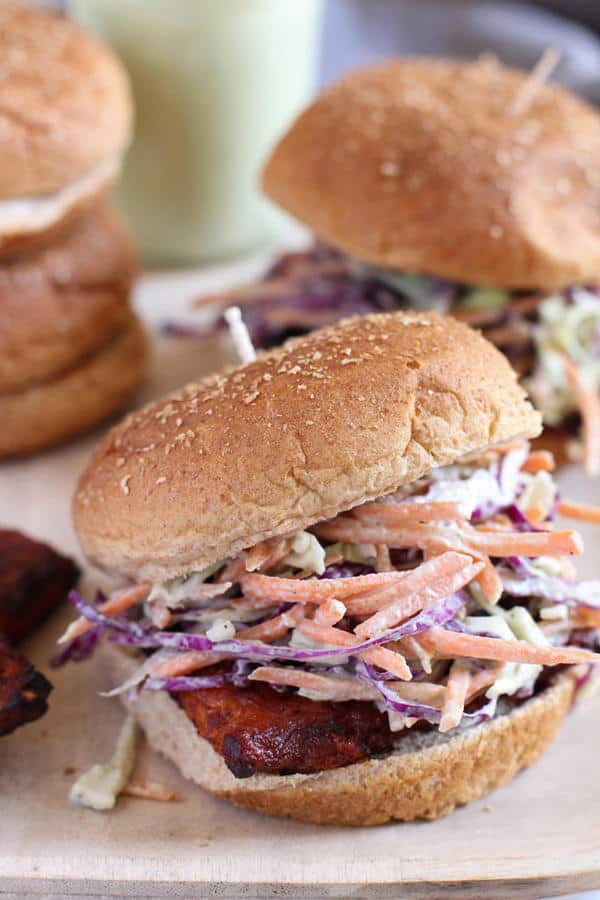 You've had a really long day and you want to treat yourself with a seriously satisfying dinner, this will check all the boxes.
The recipe has sections for the ranch dressing, barbecue sauce and the sandwich filling itself (including the tempeh patties).
You could save yourself some time by using your favorite vegan sauces although I completely recommend making these, the barbecue is outstanding!
Spicy Miso Portobello Mushroom Burger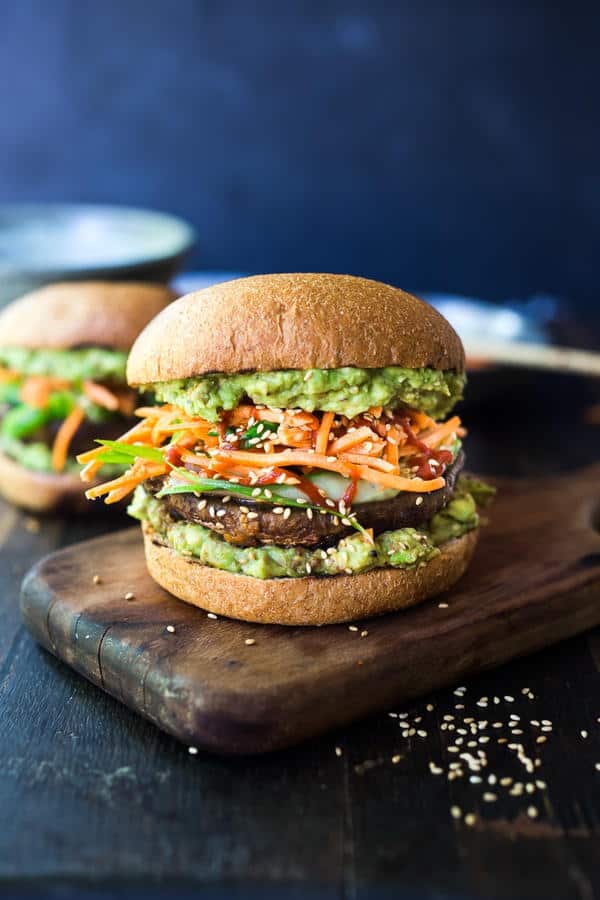 Here's the deal with recipes for portobello mushroom burgers; as the mushroom lends itself well to being a burger, people don't tend to do much else other than cook it. Not here, this is a deluxe sandwich.
The mushroom is cooked with great flavors, then make me slaw, guacamole and a salad. Put all that in a bun and you better be sitting down when it's time to eat!
Protein-Packed Red Lentil Burger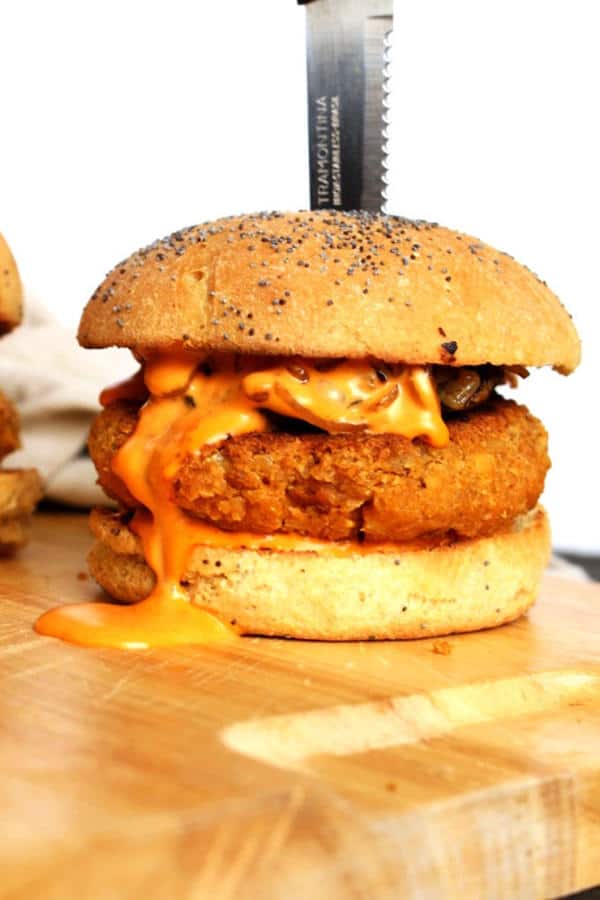 In terms of price, this is probably the most economical recipe I have seen.
Here you make a burger patty from tofu and a bunch of other ingredients.
In the bun you also have onion, portobello mushroom and the best spicy mayo ever. Give it a try, you won't be sorry.
White Bean Buffalo Ranch Burger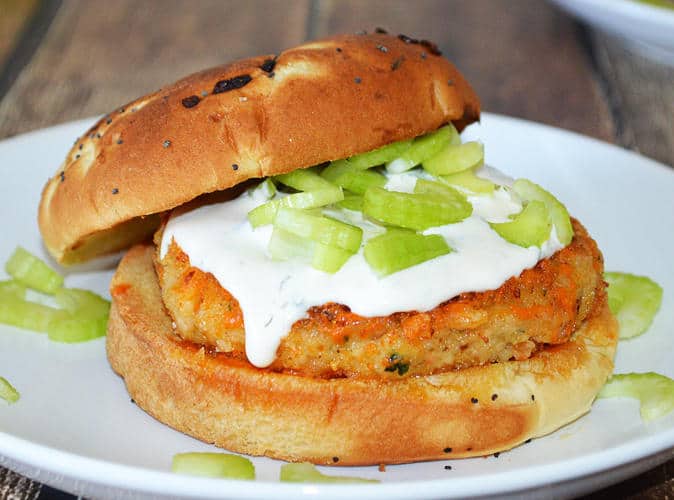 I haven't noticed many white bean burgers around, but I tell you, the ones I have seen have all been awesome and this is no exception.
Along with your white beans you have things like garlic, vegan parmesan and so much more. If this isn't my favorite burger so far, I'm not sure what is.
Hearts of Palm BBQ Sandwiches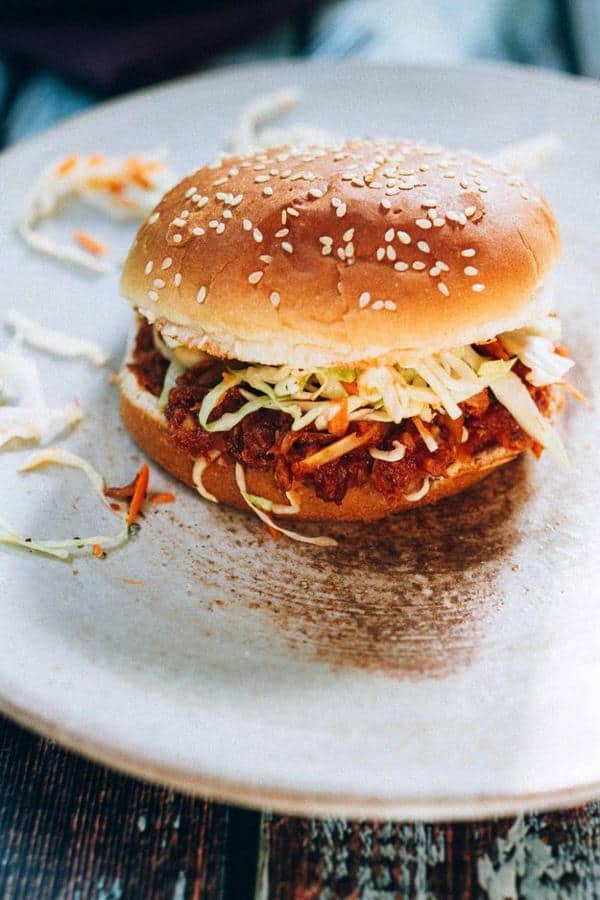 If you've never used hearts of palm before, now is the time to start.
You need just four ingredients and one of them is the bread, that's how simple this is.
Wonderful texture and the taste is full. You will be satisfied, and that's a promise!
Spicy Lentil Veggie Burger with Pickled Cabbage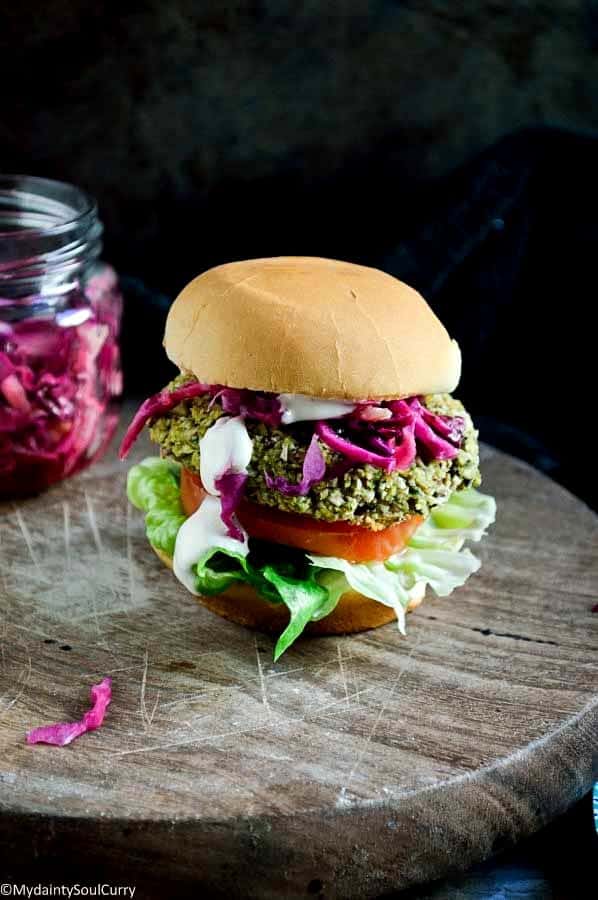 Two recipes in one! The lentil burger is so easy to make, you'll fall in love with its simplicity as well as its taste.
The added bonus is that you learn how to make super quick pickled cabbage.
You'll eat it with a burger, but you'll end up making it all the time as well! 30 minutes is all you need from start to finish to make everything.
Cajun Split Pea Po' Boys with Spicy Avocado Sauce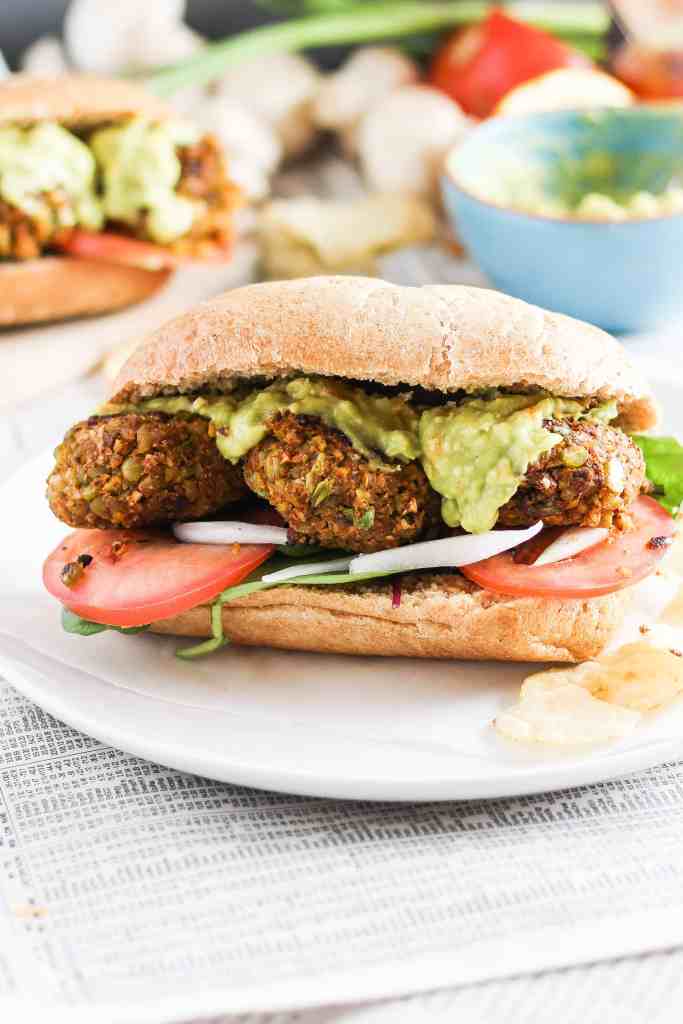 In less than 30 minutes you can make these incredible po'boys as well as the spicy avocado sauce.
Get yourself some hoagie sandwich rolls and make sure your appetite is ready!
If you want something that will keep you going for the rest of the day, this is it!
Philly Portobello Steak Sandwich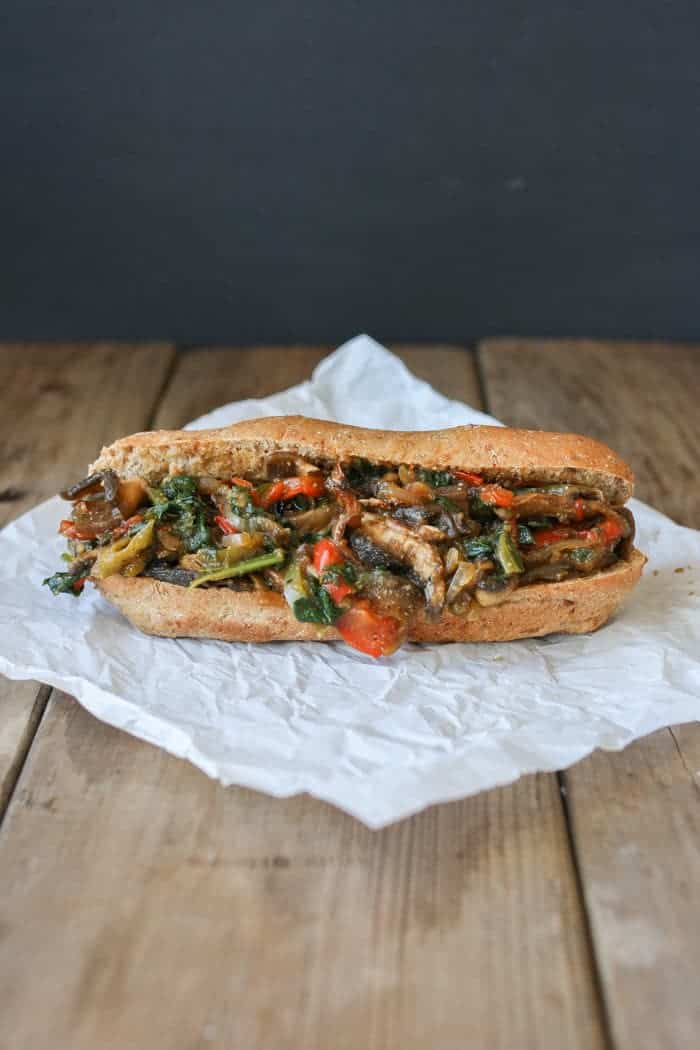 Would you just look at that photo! If you want all the satisfaction from a Philly sandwich, with a vegan-friendly twist, make this today.
Usually I see portobello mushrooms used as burgers, here they are cut into strips and the sandwiches filled with just about everything you could want. Satisfying and awesome!
Vegan Crab Cake Burgers with Spicy Chipotle Cream Sauce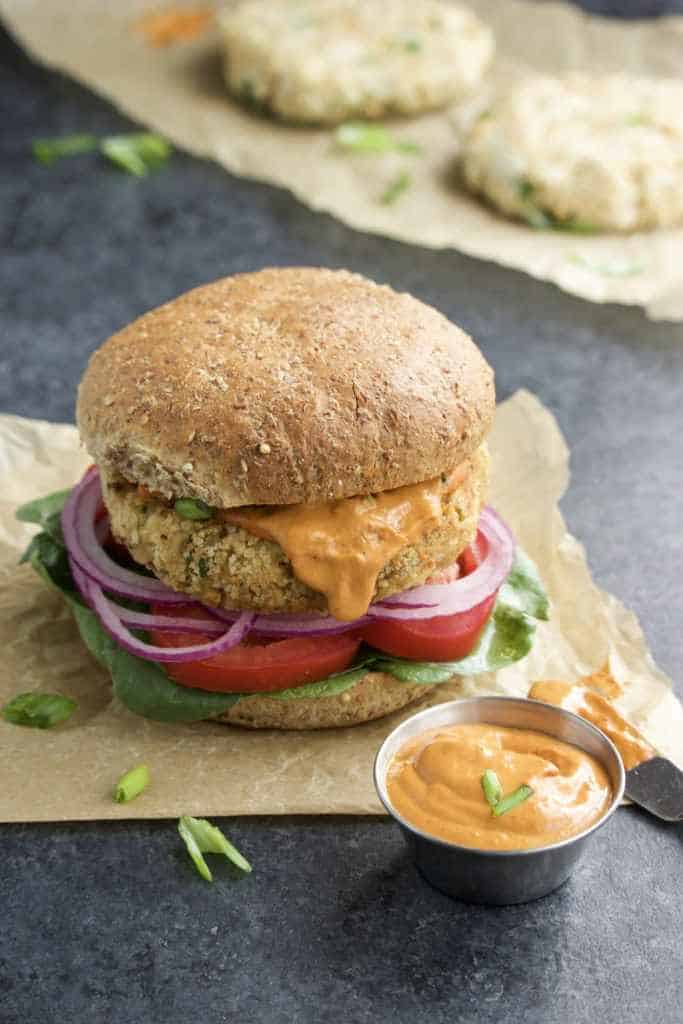 How do you make vegan crab cake burgers? You simply won't believe how straightforward this recipe is.
Raw cashews (soaked) peppers green onions and just a few other flavors. Follow the instructions and prepare to be amazed!
Gluten-Free Sandwich & Burger Recipes
Italian Meatball Sandwich (Gluten-Free)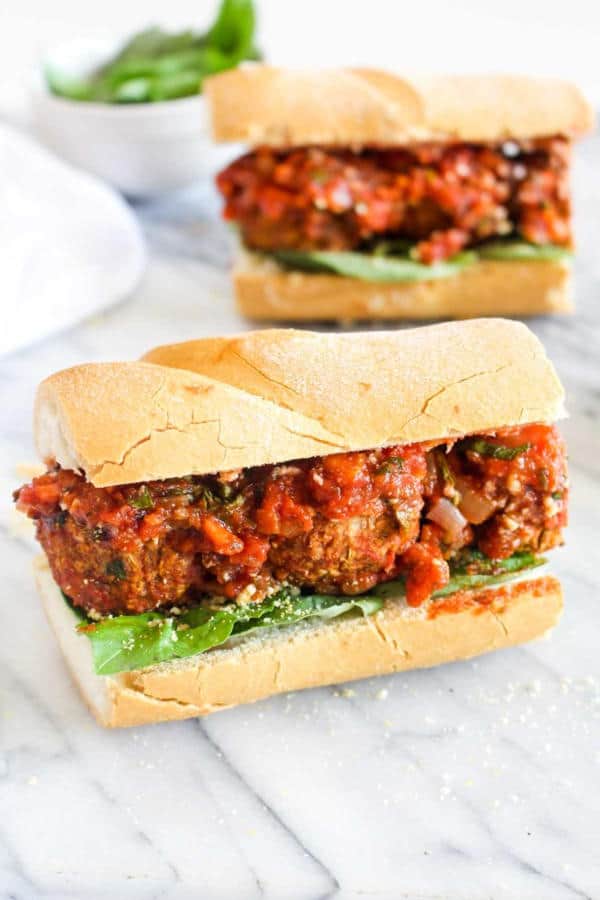 Here you get a recipe for the spicy basil marinara and then a section for the 'meatballs' that are made from cannellini beans, fennel seeds, mushrooms and more!
Put everything together and I promise you will make this again very soon!
BBQ Jackfruit Pulled 'Pork' Sandwiches (Gluten-Free)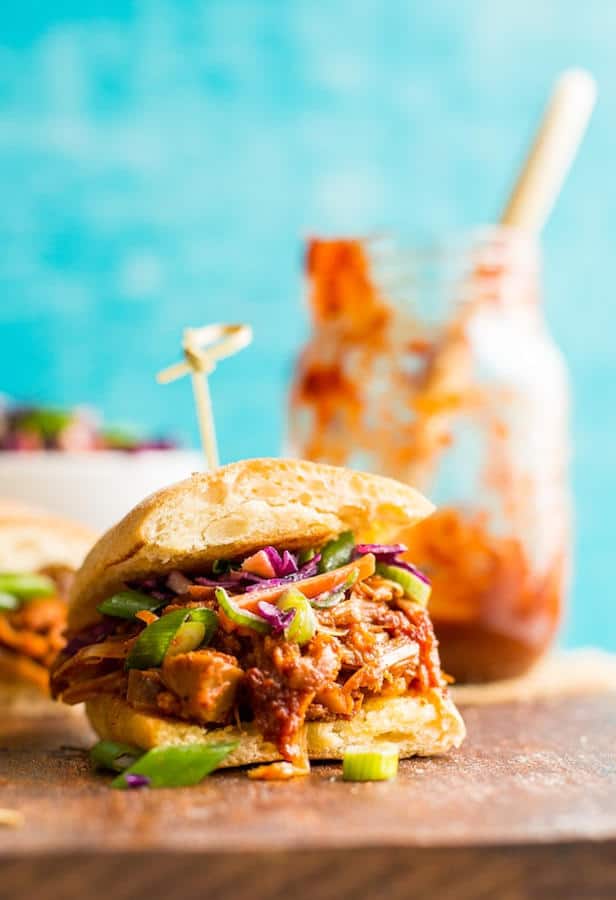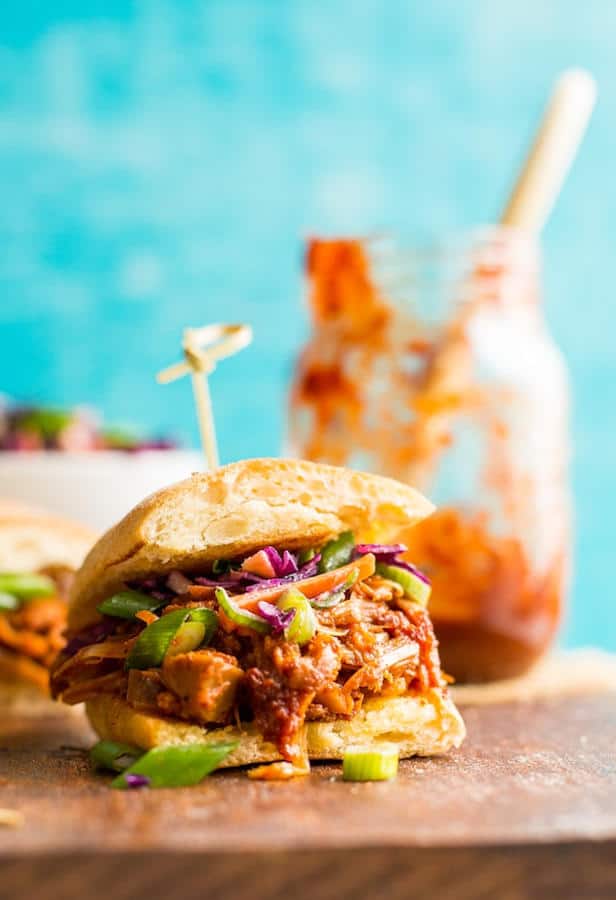 Jackfruit is being used increasingly as a meat alternative. You don't need to go into the jungle to find it, a can of it will do! It has a very benign taste so is perfect for adding sauces to it.
Here you get to make a barbecue sauce and there is a section on how to prepare jackfruit.
If you already love a store-bought version of barbecue sauce, feel free to use that. Wonderful and satisfying sandwich.
Baked Falafel Burgers (Gluten-Free)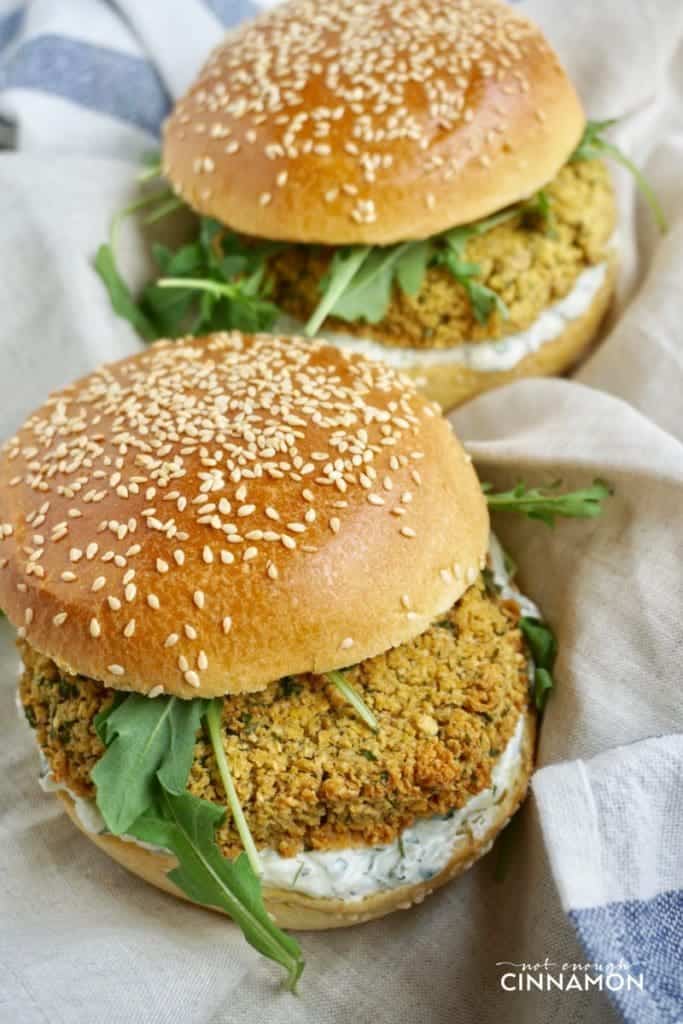 Falafel has been a vegan favorite for some time as it is a naturally plant-based recipe.
Here you get to make them yourself with great ingredients.
The base of these patties is from chickpeas (garbanzo beans), then add onion, garlic and some wonderful herbs and spices. Delicious.
Asian Bean Burgers & Wasabi Slaw (Gluten-Free)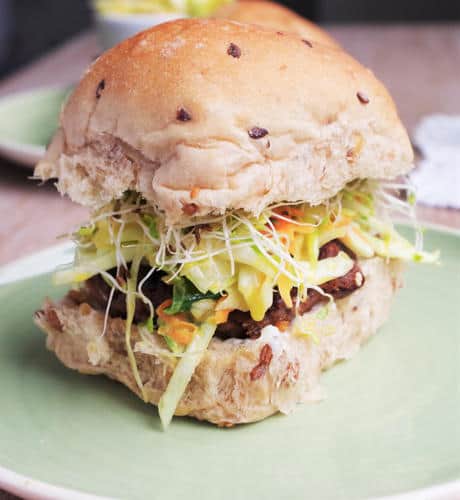 A wonderful Asian twist on bean burgers made with black beans, chickpea flour (sometimes referred to as 'gram' flour) and so much more.
The wasabi coleslaw is seriously delicious. You will need some wasabi paste and if you've never had this before, be warned as it is seriously (seriously) hot in a mustard-type way. Put it all together and enjoy.
Super Food Black Bean Burgers (Gluten-Free)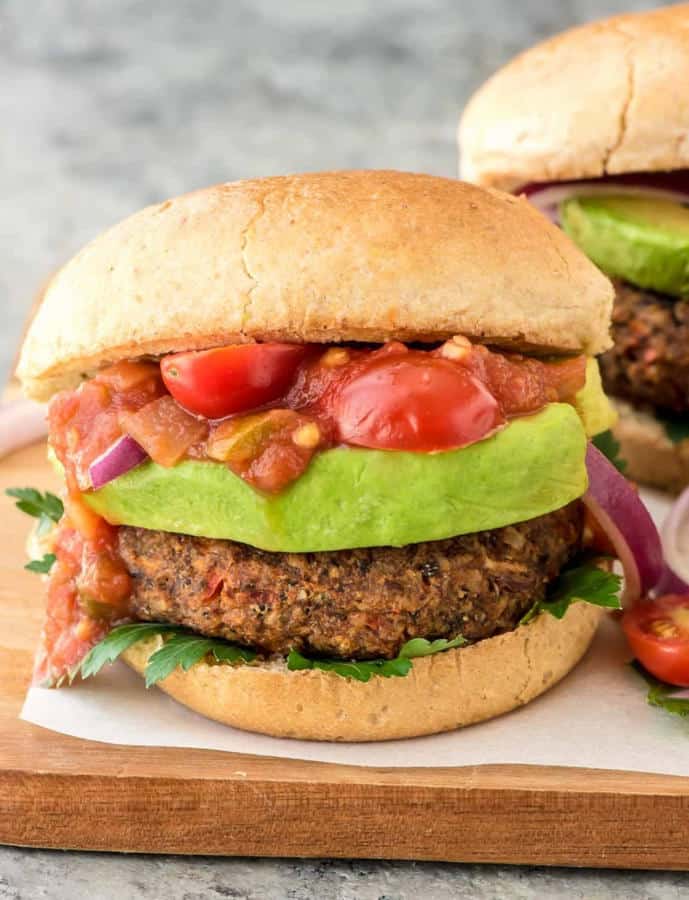 I don't like bean burgers that taste of nothing but beans so if you're like me, I've got you covered!
This burger uses black beans as a base for the patty and then includes some amazing ingredients. This is bursting with flavor and in a good way.
You will need a food processor but other than that just grab the ingredients and the instructions take you through everything step-by-step. Wonderfully satisfying and easy to make.
Crispy Mushroom Avocado Sandwich with Chipotle Green Onion Aioli (Gluten-Free)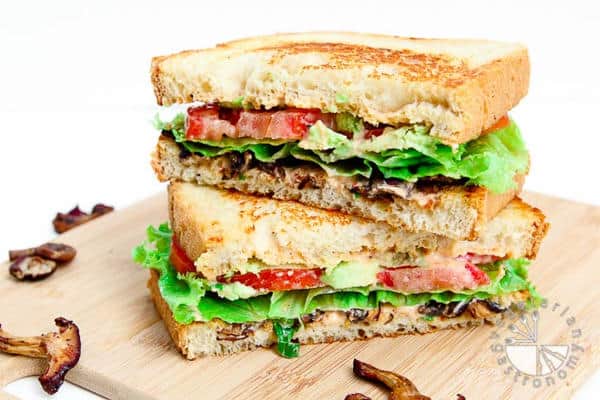 This is a special sandwich believe me. Get your favorite gluten-free sliced bread and make sure it's toasted because this entire recipe is all about the crunch.
I have never seen mushrooms used in a sandwich filling where they are crunchy! That's right, crunchy mushrooms.
Add your avocado, romaine lettuce and everything else and prepare to be amazed.
Vegan "Chicken" Patty Sandwiches (Gluten-Free)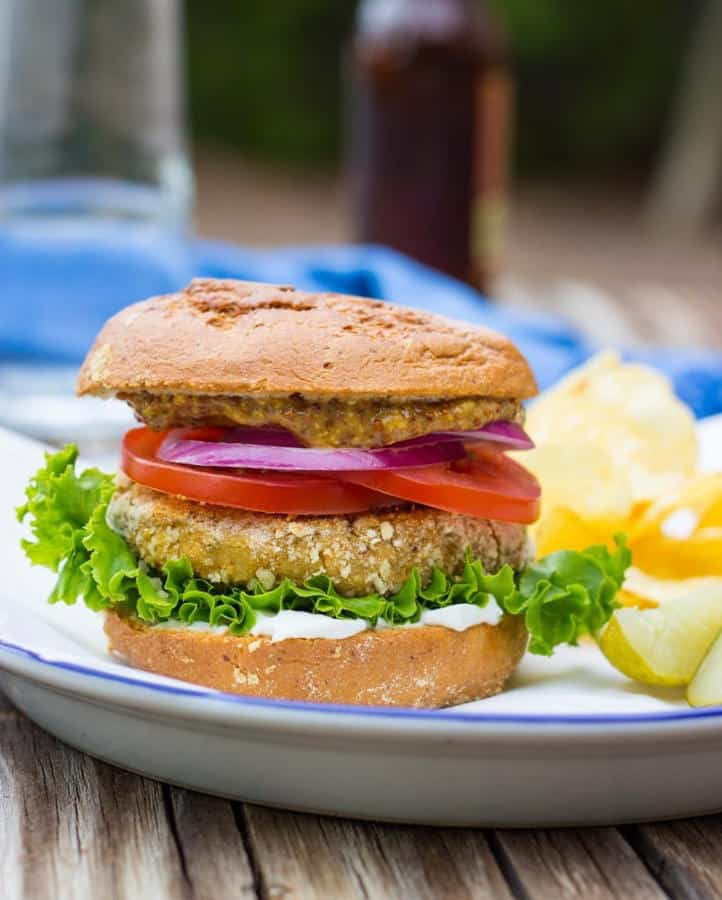 How do you make vegan 'chicken'? Well, this recipe makes it easy with brown rice, sweet potatoes and chickpeas (garbanzo beans).
Add a handful of wonderful herbs and spices, a few dashes of Tabasco and you have yourself a satisfying sandwich that will keep you going for the rest of the day.
Red Lentil Burgers with Cucumber Raita (Gluten-Free)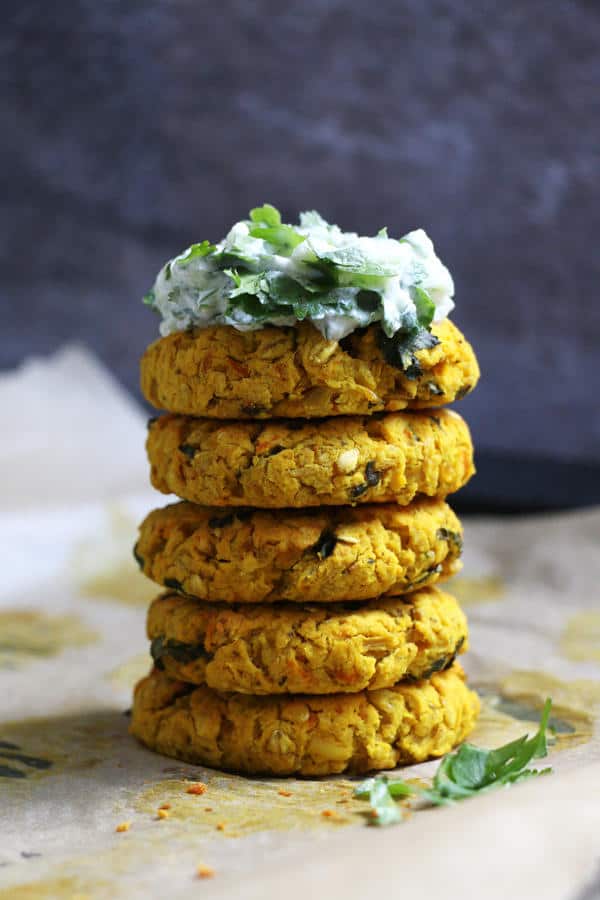 When everybody talks about lentils it always seems to be the green or brown variety. Here the red lentils get some love and consequently you create some mighty fine looking burgers.
Do note that the amounts listed in the ingredients make 12 burger patties.
Add the cucumber raita (totally delicious) or save yourself some time and use your favorite vegan mayo and you have yourself a healthy and satisfying burger.
Hemp & Beet Veggie Burger Recipe (Gluten-Free)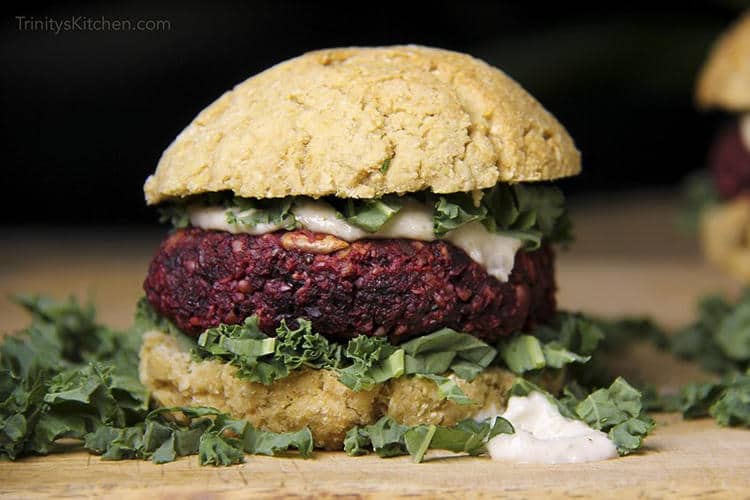 If you like your burgers to be a deep red color, check out this hemp and beet burger.
Everything comes together in 30 minutes and that includes prep and cooking time.
Even if you cook just occasionally, I imagine you already have ingredients. Easy to make and tastes amazing.
Lunch Sandwich & Burger Recipes
Mushroom Burgers with Garlic, Onion, Cilantro and Parsley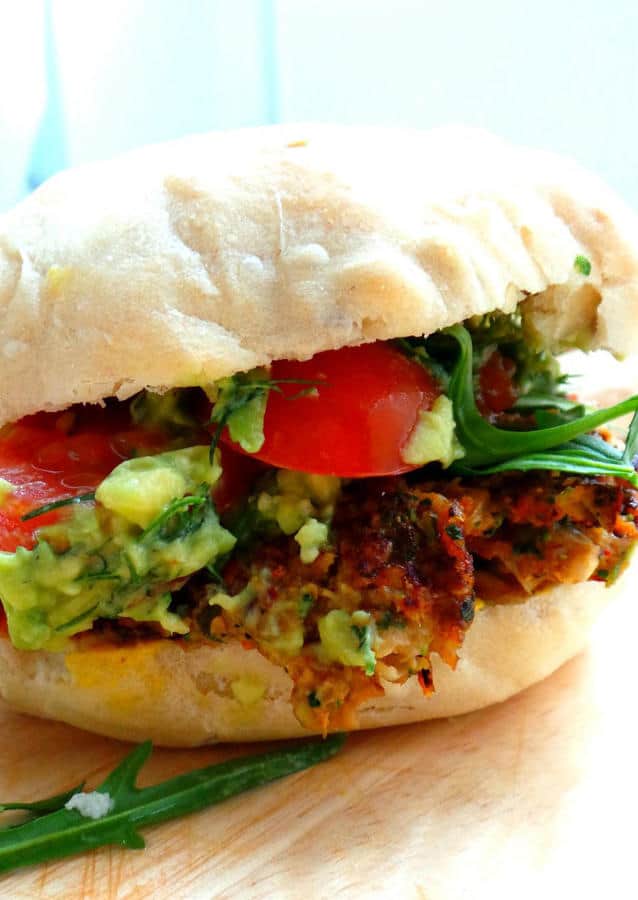 What captured me about this burger is that it simply looks beautiful, not just when it's prepared and ready to serve, but just everything about it.
Add the rest of ingredients and you have yourself a fresh and wholesome sandwich that you and your family will love.
Instant Pot Lentil Sloppy Joes Recipe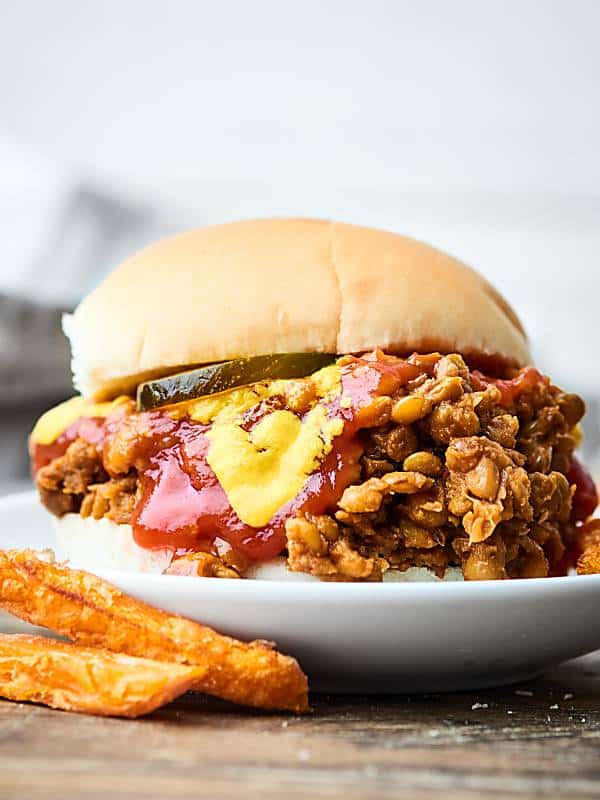 Sloppy Joes means it's time to get messy! This is an Instant Pot recipe.
With wonderful ingredients such as onion, mustard and, of course, lentils, new get yourself this satisfying sandwich filling.
You have to serve it with your favorite buns although it works just as well over rice for a less messy experience!
Nooch Tofu Burger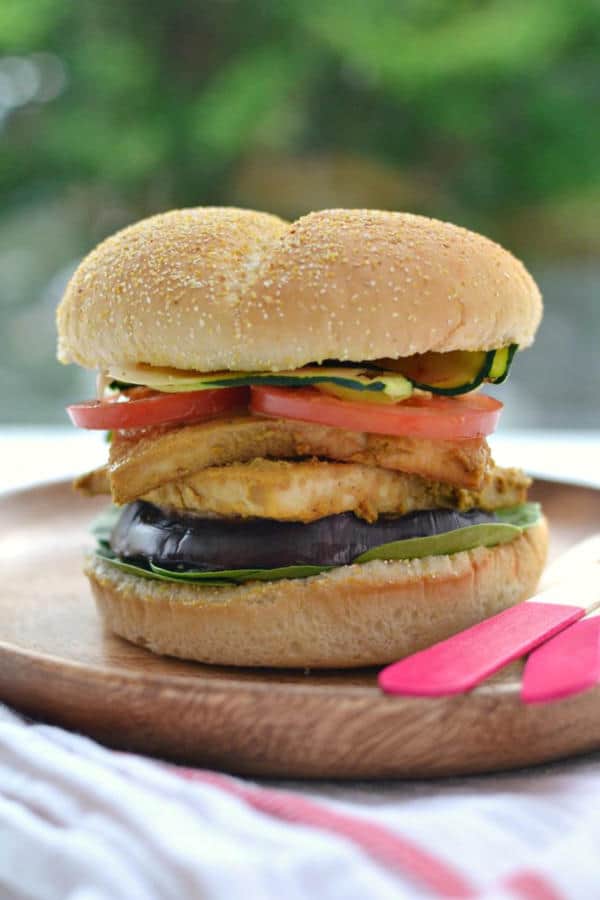 When it comes to tofu, it's all about how you prepare it. When I first tried tofu many years ago, I hated its texture.
I quickly learned how to make it awesome. And that's what this recipe is all about.
Not just a perfect burger, you'll probably be making tofu like this all the time from now on. Get your condiments ready and get eating!
Crunchy Baked Eggplant Sandwich Melts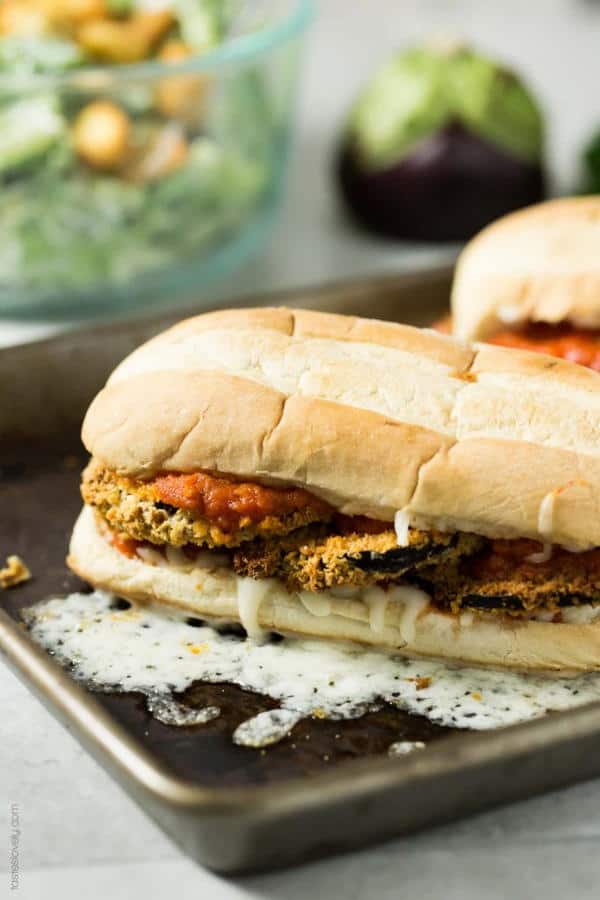 Baked eggplant is awesome. With this recipe they are made crunchy and topped with an amazing marinara sauce.
Would you believe this comes together in 15 minutes and that includes prep and cooking time.
Get your favorite vegan cheese and lay over the top of the sauce before closing that sandwich.
Eggplant Burger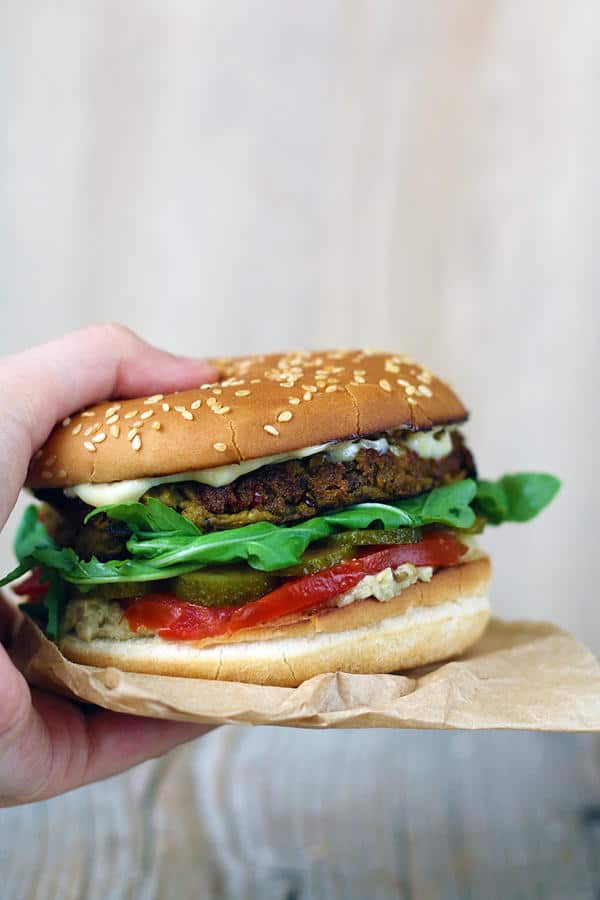 If you want a great wholesome burger but you're avoiding soy, go for eggplant.
Extremely easy to make with a slight hint of garlic that will leave you wanting more.
One of the best eggplant burger recipes I have seen, leaves you with a wonderful crunch and perfect to go along with your condiments. One of the best.
Barbecue Pulled Jackfruit Sandwiches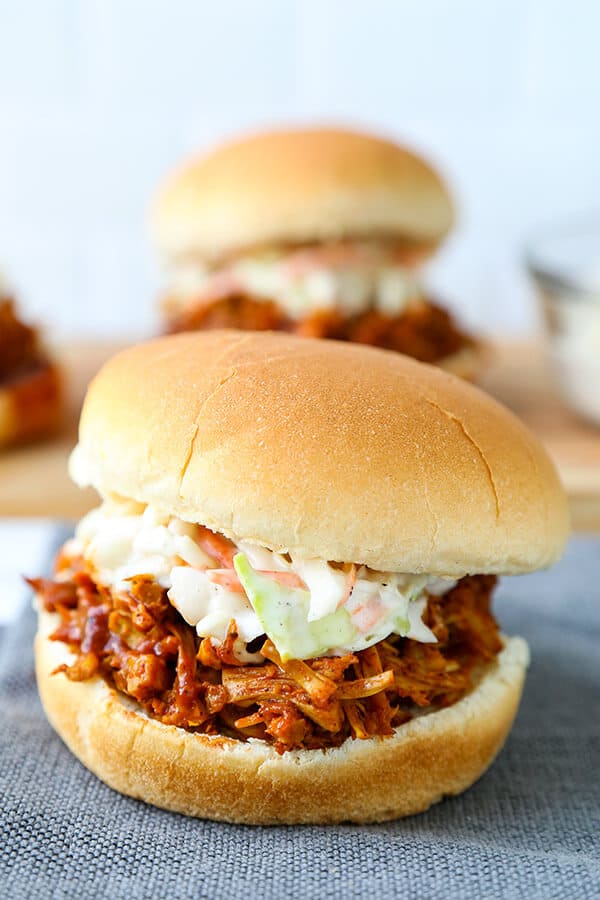 Jackfruit is an excellent substitute for when you want that meaty texture. This sandwich illustrates it perfectly.
You just need a can of jackfruit with just a few other spices. Most importantly, get your favorite barbecue sauce ready.
I urge you to make the vegan coleslaw to go along with this as it partners perfectly.
Get burger buns or your favorite crusty bread and you'll have the sandwich of champions!
Red Lentil Kofta (Mercimek Köftesi)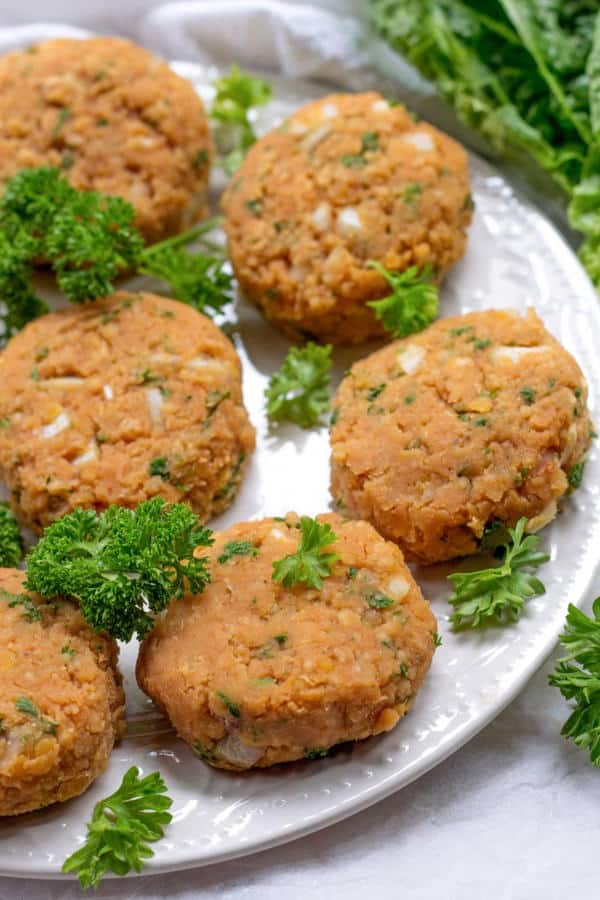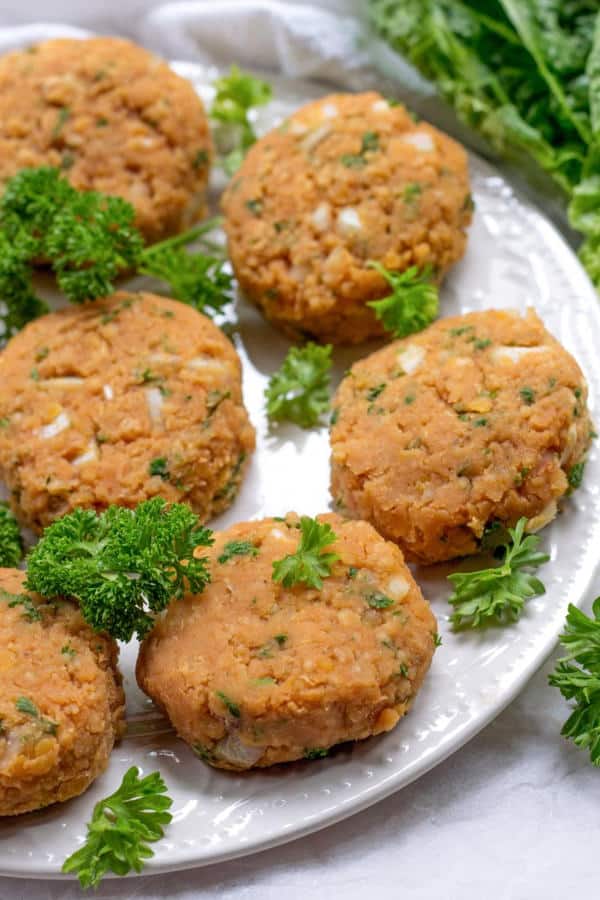 A wonderfully easy recipe to make kofta patties. I bet you have most of ingredients already.
2 cups of red lentils, some garlic and the rest is herbs and spices. Add some tomato paste and you're good to go.
You can bring these to the table in 25 minutes or less. Enjoy as burgers or throw them in a salad.
Broccoli Burgers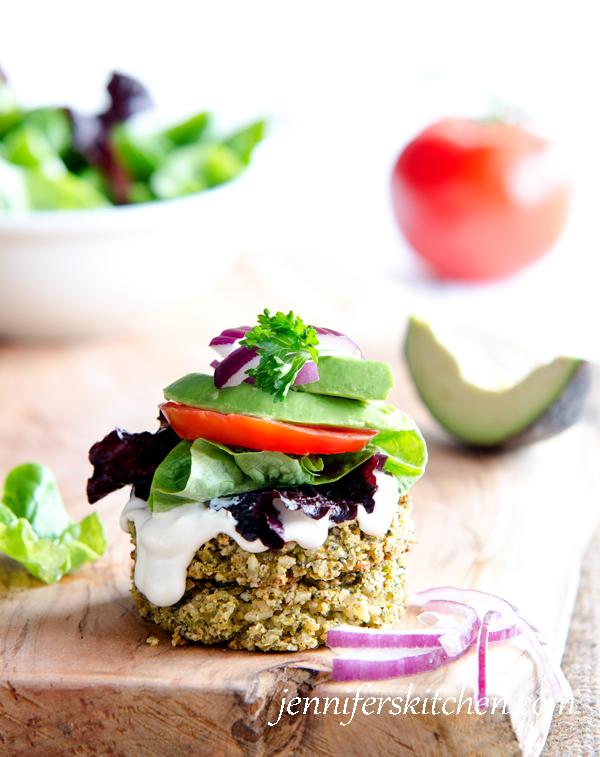 This is a great way to pack in more veggies into your (or your kiddos) day. These burgers freeze beautifully, so they are ideal for prepping food for the week.
For a little prep work, you'll have a satisfying and yummy burger which will please everyone! Your belly will feel full without being heavy, and you'll be getting more healthful broccoli benefits in every bite.
Party Sandwich & Burger Recipes
Mexican Burger Recipe (Gluten-Free)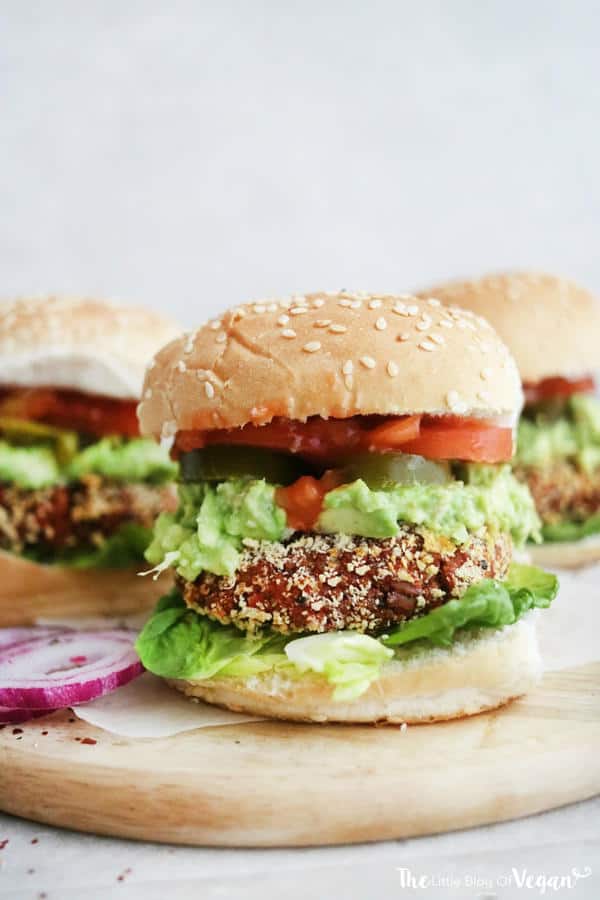 A vegan burger inspired by the taste of Mexico. This is packed with protein, nutrients and all the flavor you could want.
You're looking at a 10 minute prep time followed by about 20 minutes for cooking.
For garnish use your favorite salsa, guacamole and burger accompaniments. Delicious.
Grilled Tempeh Sliders with Pesto Spread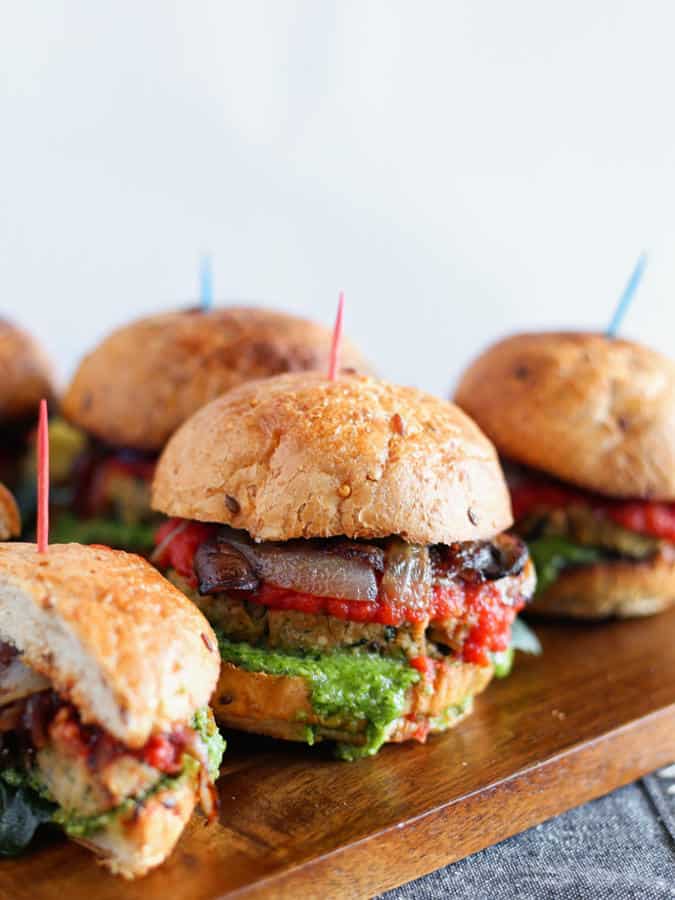 Sliders are like miniature burgers so if you're looking for something perfect for a party, this is it.
Ingredients make for six sliders although there is a tool where you can change the amounts you need and this will alter ingredients for you.
Get your tempeh on with these fantastic burgers. Shape into whatever size you need, add your liquid smoke, red pepper flakes and you're good to go!
Vegan Boardwalk Italian Sausage & Peppers Sandwiches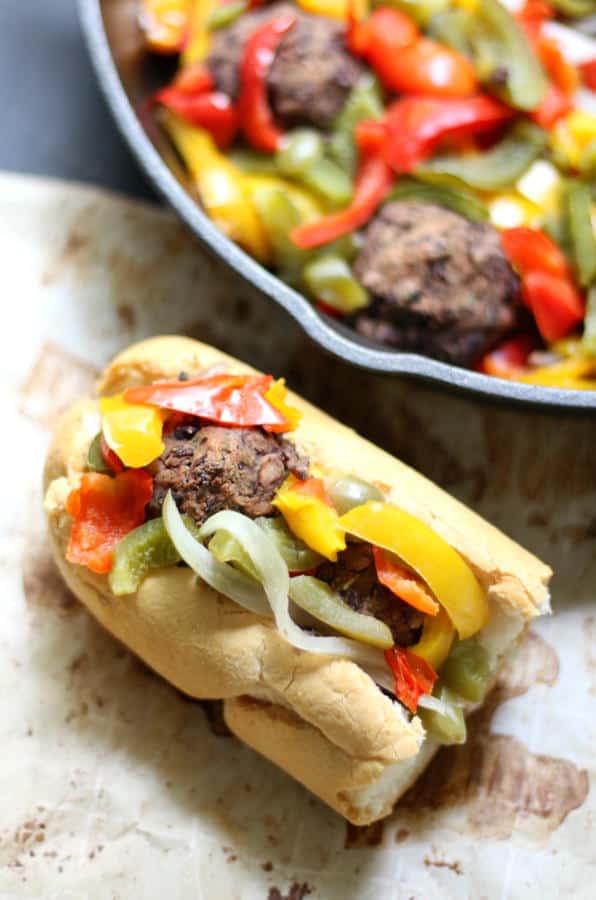 The Jersey Shore is all about great Italian recipes and this is no exception.
You get to make your 'sausage' from scratch using black beans and a bunch of herbs and spices. Everything comes together in 25 minutes or less.
Very easy to make and when you add the cooked bell peppers your taste-buds will be happy to say the least!
Falafel Burger Sliders with Cashew Tzatziki & Sumac Fries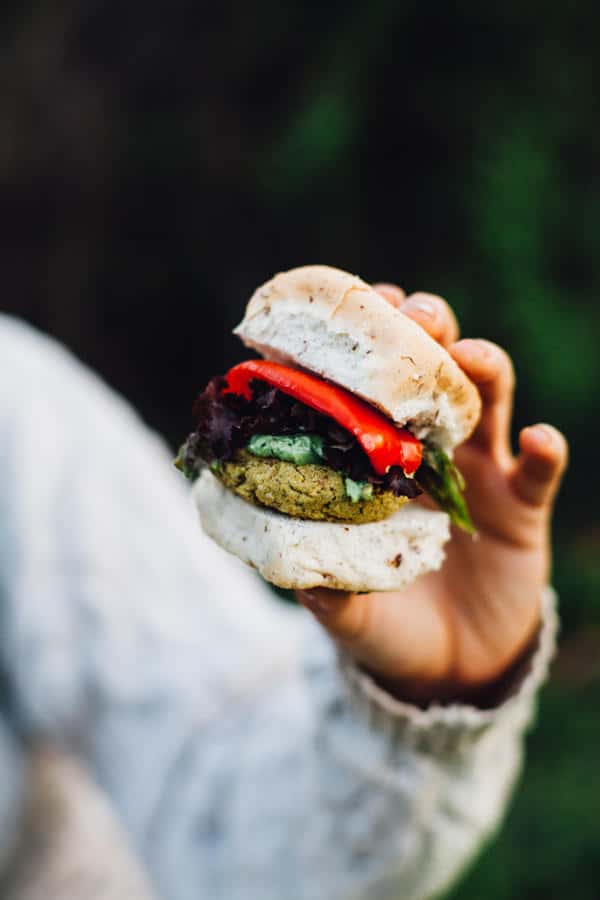 Not just falafel burgers but the accompaniments that go along with this are outstanding and of the highest quality.
I love how the recipe page is filled with lots of photos and ingredients and instructions are right beside them to keep you motivated along the way.
When I first saw this recipe, I thought it would be a little complicated, I was completely wrong, it's easy, fast and delicious!
Vegan "Lobster" Roll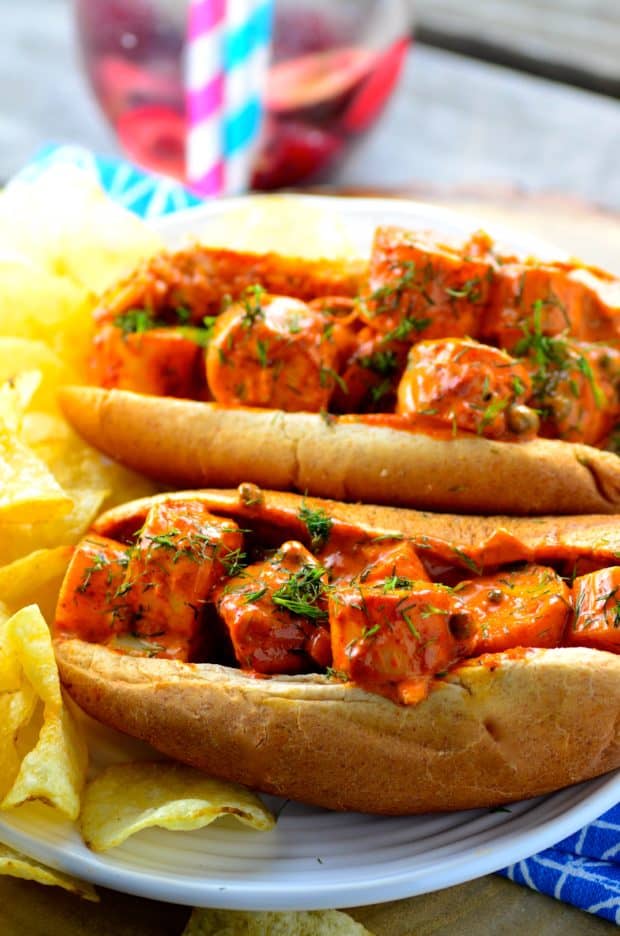 How do you make vegan lobster? As often the case when looking for a plant-based alternative to seafood, you're looking at hearts of palm.
Add the herbs and spices and in literally 10 minutes (no cooking!) you'll be eating the best sandwich you've had in a very long time.
BBQ Tofu Burger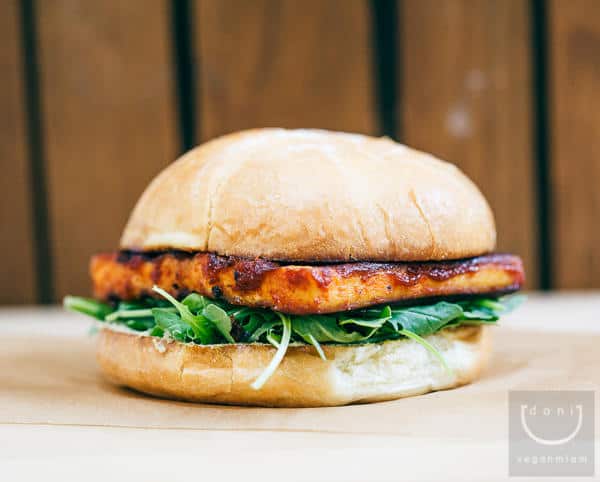 A straight up tofu burger and this one is all about the barbecue sauce!
If you want to know how to prepare tofu in a way that everybody will love, follow this recipe.
It does include links to home-made vegan mayonnaise and you could use your own store-board version to save yourself some time.
The barbecue rub is onion, mustard and some herbs and spices. The best way to prepare tofu!
Kidney Bean and Pumpkin Seed Sliders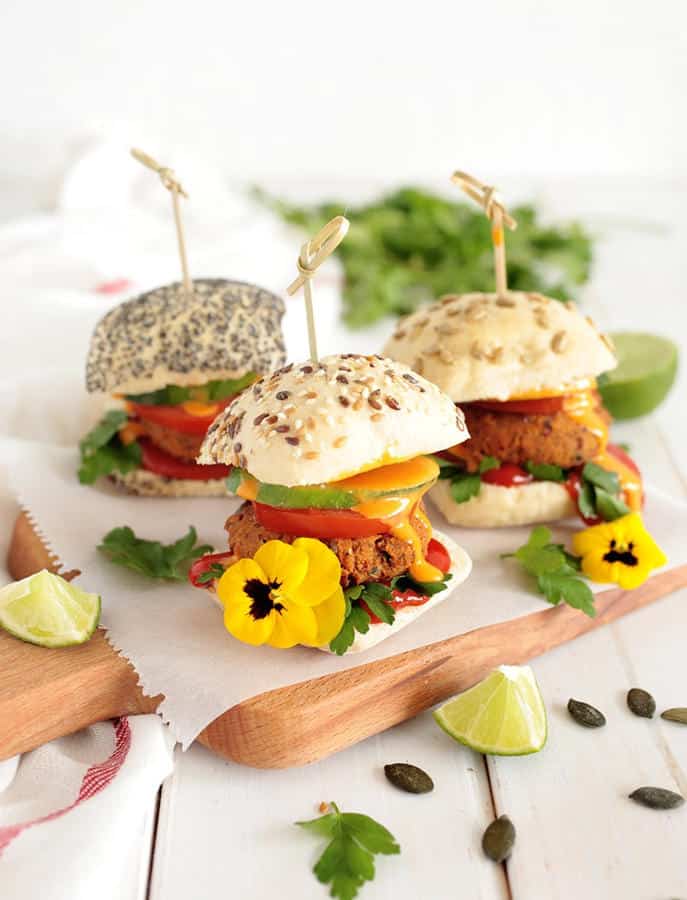 You have a party coming up and you want something easy but fun. These are both of those things although it will look like you spent hours preparing them. Whether you tell your friends the truth is up to you!
The base of the sliders is kidney beans and tofu. Add some grated carrot, garlic and a handful of other ingredients and combine everything in a food processor.
Before you know it (less than an hour) you have these amazing sliders that everyone will enjoy.
Power Burger with Beet Slaw and Horseradish Sauce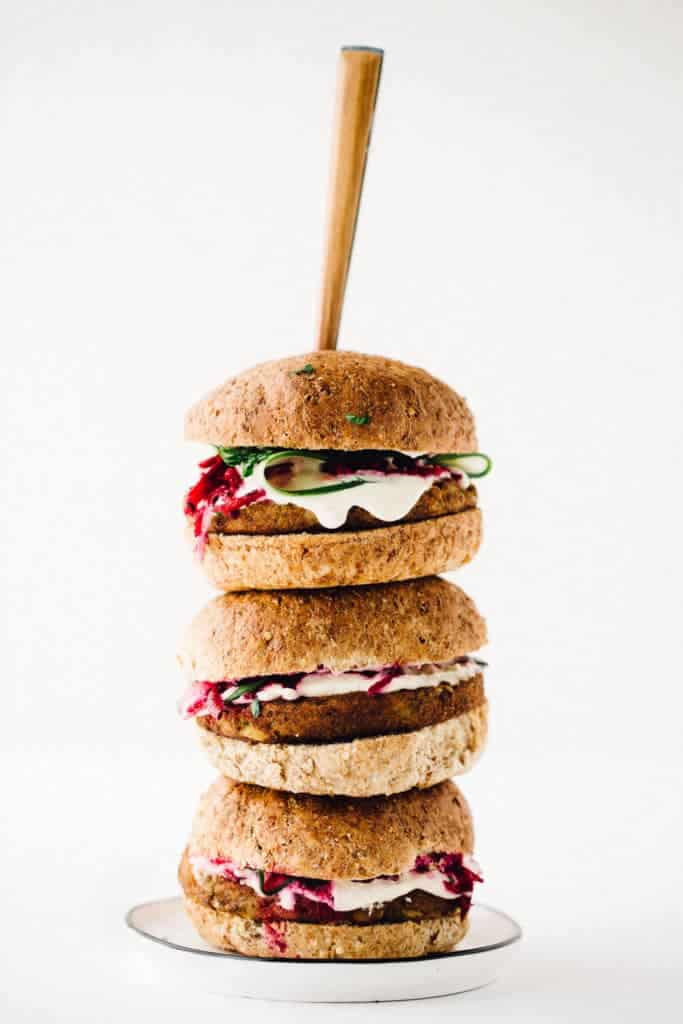 This recipe uses a brand name of veggie bean burgers. If you can source this, great. If not, feel free to use your favorite vegan burgers.
The recipe includes a creamy cashew horseradish sauce, and this is the first time I have ever seen anything like this before.
You also get a great beet slaw. Add them all together and you're in for a treat.
Tahini Lentil Veggie Burgers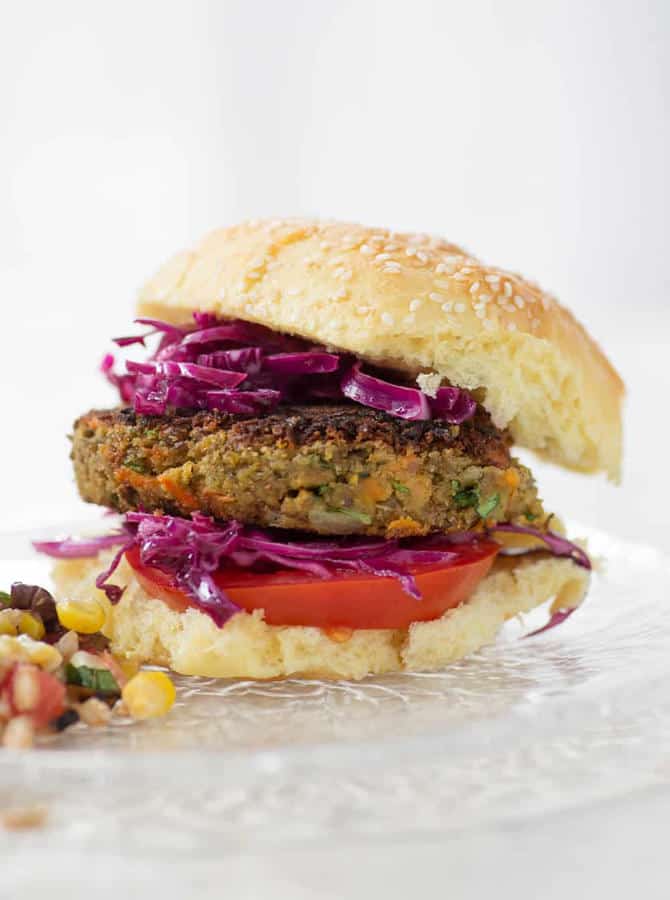 A burger made with cooked lentils, freshly grated carrot, breadcrumbs and all sorts of other great ingredients.
Whether it's for a summer cookout or you just want to treat yourself, these are perfect.
Ingredients listed make 4 burgers and from start to finish they come together in 25 minutes or less. Perfect.
Lemongrass Beef Banh Mi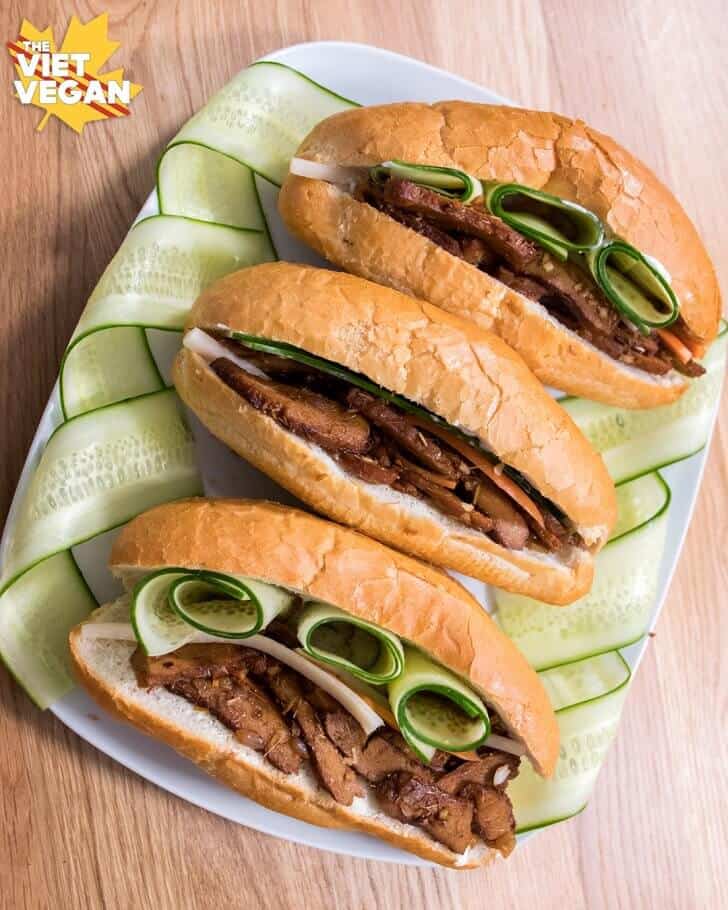 Seitan is fantastic as a meat alternative and one of the closest products that resembles meat, in my opinion.
Here you have a whole bunch of authentic parts to this recipe which makes for a great East meets West meal.
Bursting with flavor and totally satisfying!
Potato Sandwich & Burger Recipes
Sweet Potato Burger Buns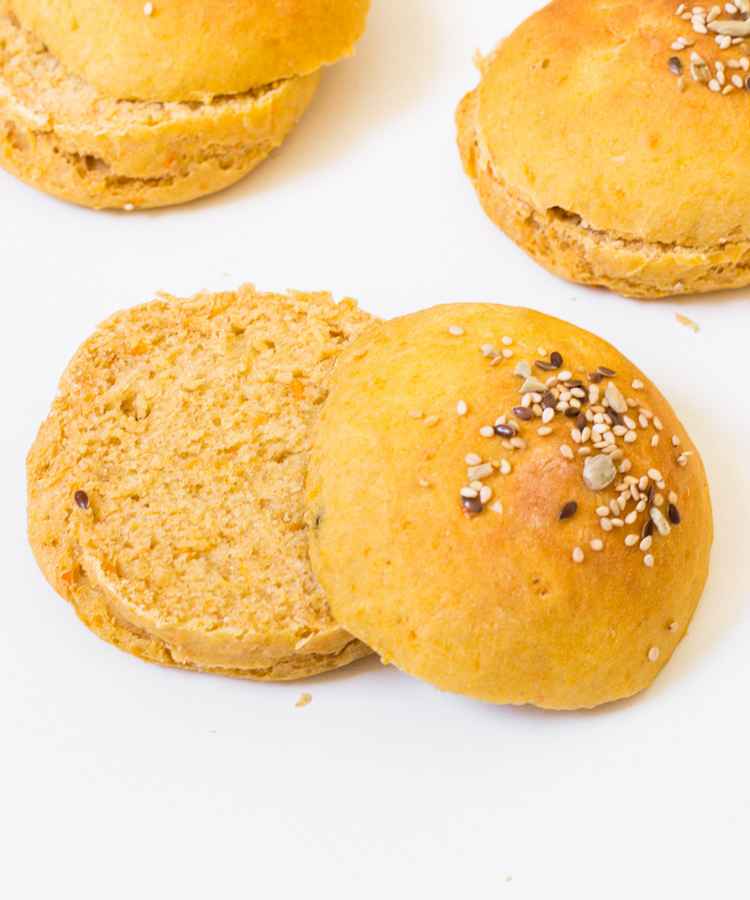 The burgers are the hero, but the bun makes all the difference! These are vegan burger buns with a twist. The base of these beauties is all about sweet potato. The result is a soft, fluffy, beautiful bun you will be proud to serve any burger on!
When I saw the ingredient list, I had to do a double take. How can just six ingredients combine to make such soft and perfect buns? They are just mind-blowing.
These are made with real food, nothing processed, and they taste delicious. You'll be hard-pressed to find a better bun to serve your entire family.
Smoky Sweet Potato and Lentil Burgers (Gluten-Free)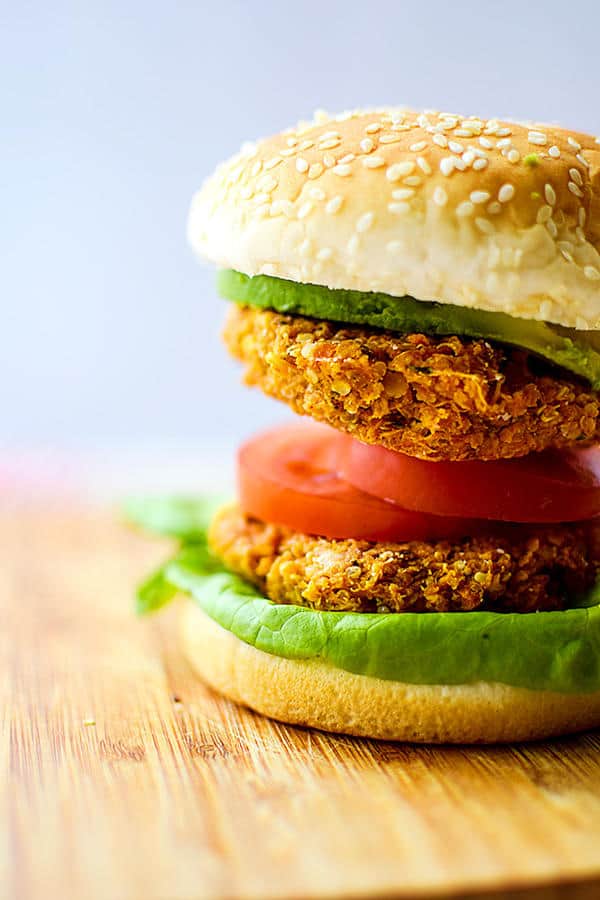 Sweet potatoes and lentils are two of my favorite foods and here they come together to make an incredible vegan burger.
Add some quinoa, carrot and a handful of other ingredients and follow the simple instructions to make these beauties.
Note these are baked and not fried. Perfect with literally any accompaniment you can think of.
Sweet Potato Black Bean Burger with Quinoa (Gluten-Free)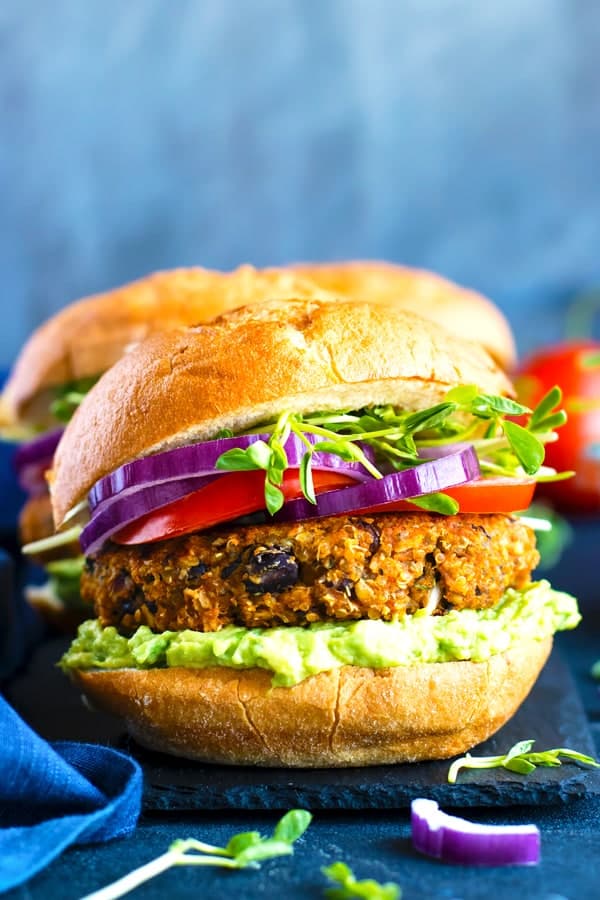 I love quinoa not just when it's used in a similar way to rice, but it makes a great ingredient, and this is no exception.
You're looking at a very high-quality burger and what I love especially is that you can bake this in the oven or, sear on the stovetop.
Add guacamole, sliced tomato and onion, just add anything and everything!
Sweet Potato Squash Burgers (Gluten-Free)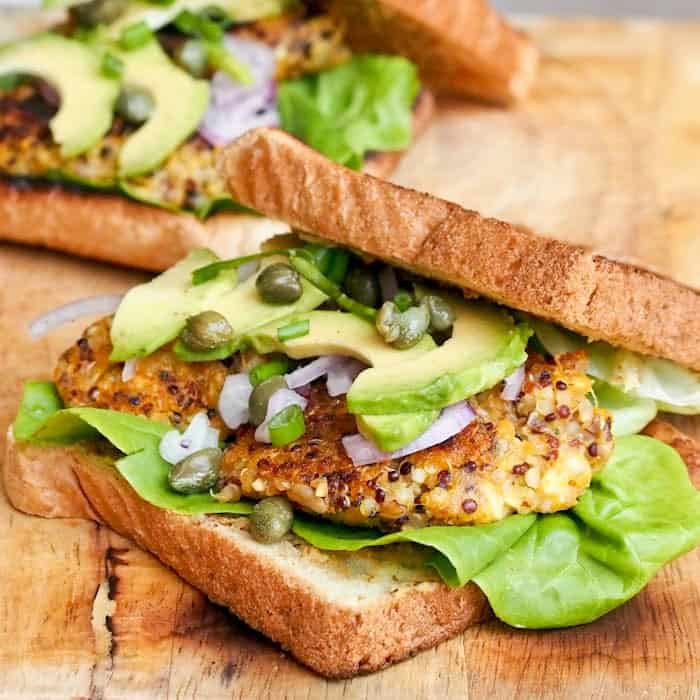 Probably one of the easiest burger recipes I have seen. Get your favorite squash, mash it up with sweet potato and combine with a bunch of other ingredients.
Use burger buns or some good quality bread. You could even have these in a wrap. 30 minutes is all you need from start to finish and that includes prep and cooking time. Are you going to have fries with this?
Avocado Chicken and Potato Salad Sandwich on Rye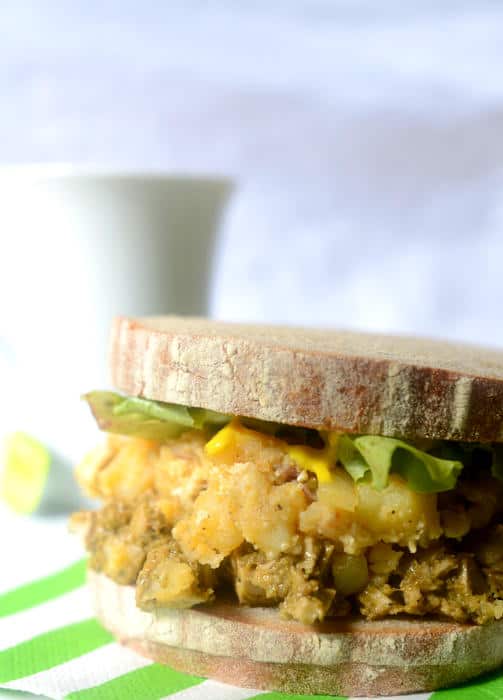 If you're intrigued about this recipe, you should be. This is unlike anything I have ever seen before.
Amazing flavors that combine beautifully to make this wonderful meal.
The recipe is divided into two sections: the roasted garlic potato salad and the vegan avocado chicken. Individually they are wonderful, together they are incredible. You must try this.
Quick Sandwich & Burger Recipes
Freezer Friendly Homemade Veggie Burgers (Gluten-Free)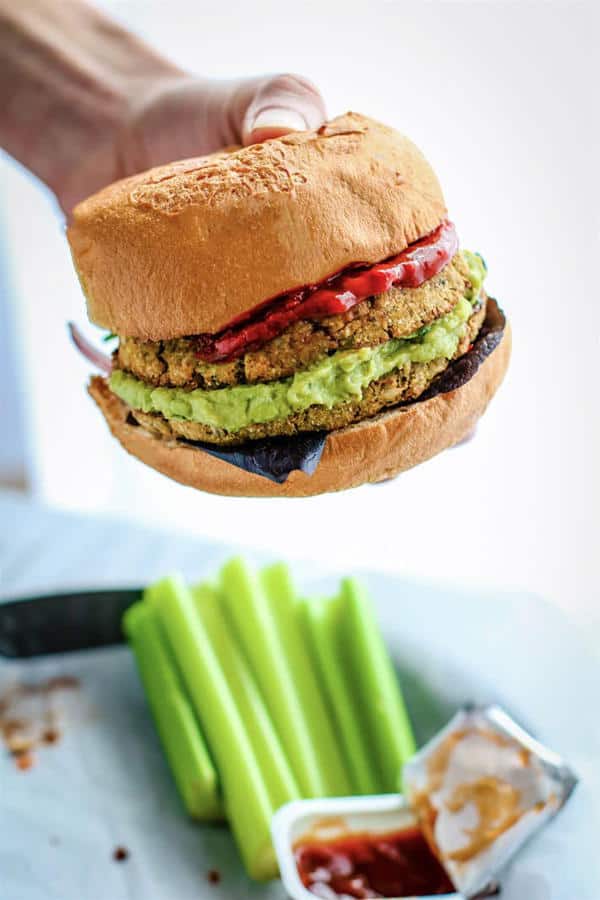 I know any recipe is all about the taste and for many of us, about our health as well.
This dish checks both of those boxes but also has something else, as the title suggests, it's freezer friendly! I love convenience!
These are grain free and made with chickpeas (garbanzo beans) and some wonderful herbs and spices. Simply too easy to make.
White Bean and Artichoke Sandwich Filling (Gluten-Free)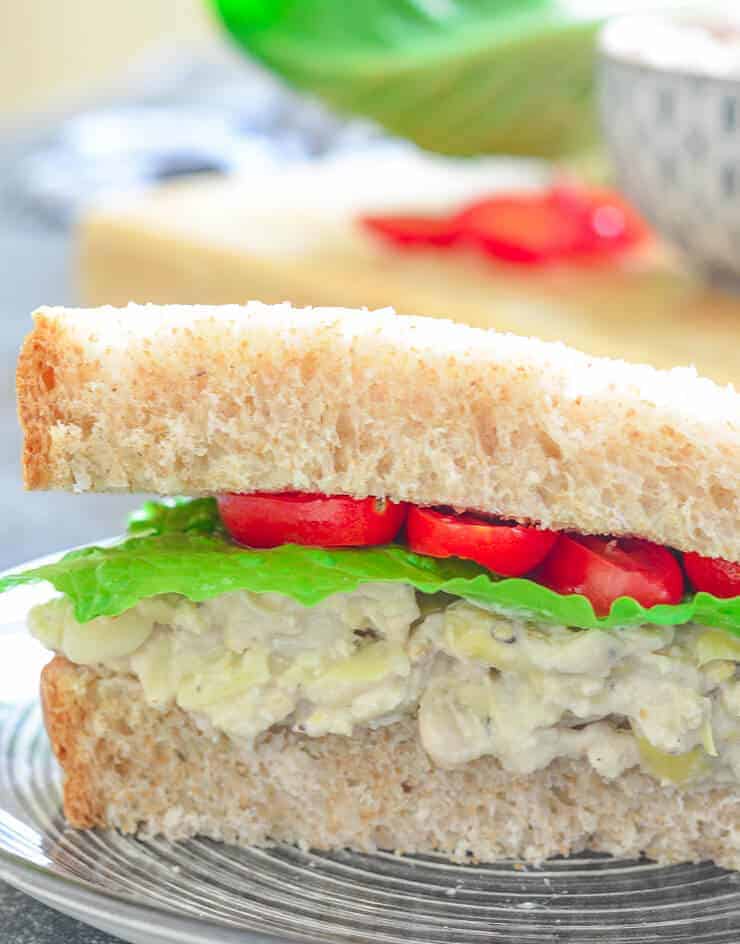 Seriously, smashed white beans are awesome as the basis for a sandwich filling. Artichokes are always first-class whether alone or as part of something else.
Together these two champions make for a seriously good sandwich filling.
This may get messy so be prepared! Add your favorite accompaniments such as romaine lettuce and sliced tomato. If you want a kick add a dash of your favorite chili sauce.
Use the highest quality bread you can find because the filling deserves it.
Green Pea Fritters (Gluten-Free)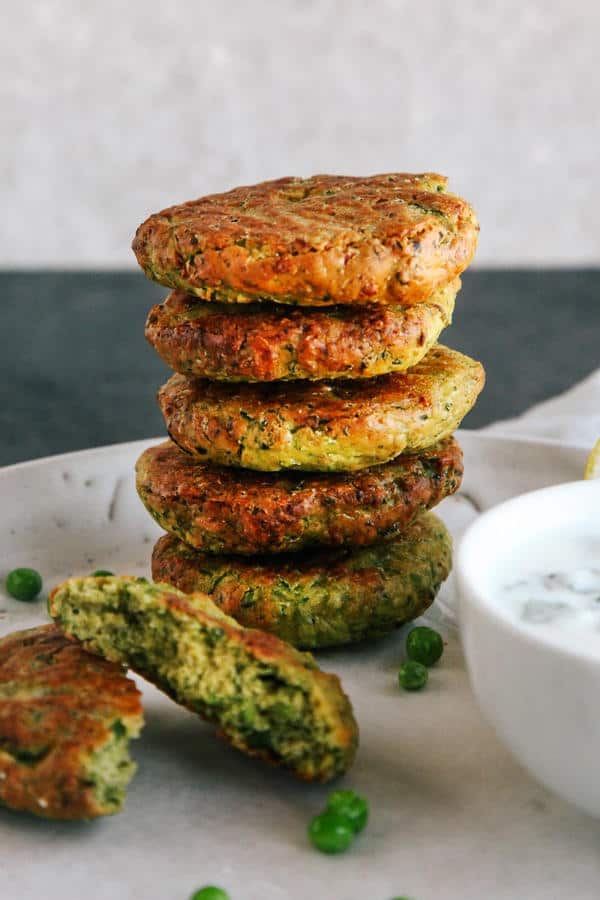 When was the last time you had some fritters? For me it was a while, so I was super excited to see this.
From start to finish you're looking at 30 minutes to bring this to the table. Frozen peas, onion, garlic and a whole bunch of great stuff.
The amounts listed make for about 10 fritters so adjust accordingly. Serve as burgers or with your favorite dip. The recipe includes a vegan herby yogurt dipping sauce which is delicious.
Walnut Quinoa Burgers (Gluten-Free)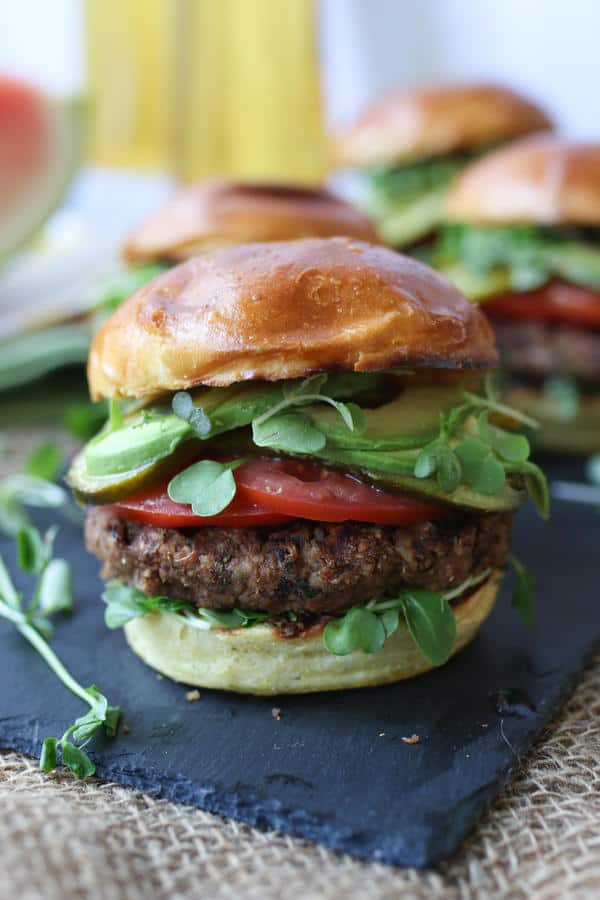 Because of the walnuts and the quinoa combined, this is one of the best burgers I have ever had. Great texture and wonderfully satisfying.
I love plant-based burgers made with real food and this must be up there as one of the best. Serve as part of a meal or get your buns on and French fries ready!
Guacamole Crunch Burgers (Gluten-Free)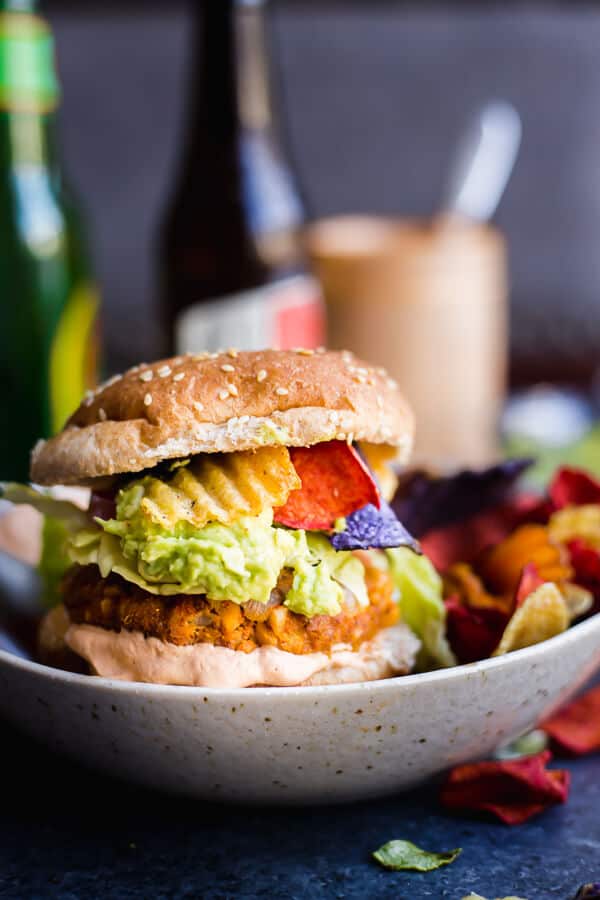 The title of this dish intrigued me so kudos to the author! This is a fun burger recipe which is so versatile.
You're looking at bringing this to the table in 30 minutes or less.
Serve with toasted buns and French fries, or with a salad. Let us know what you did and send us pics!
Sloppy Joes with Baked Onion Rings (Gluten-Free)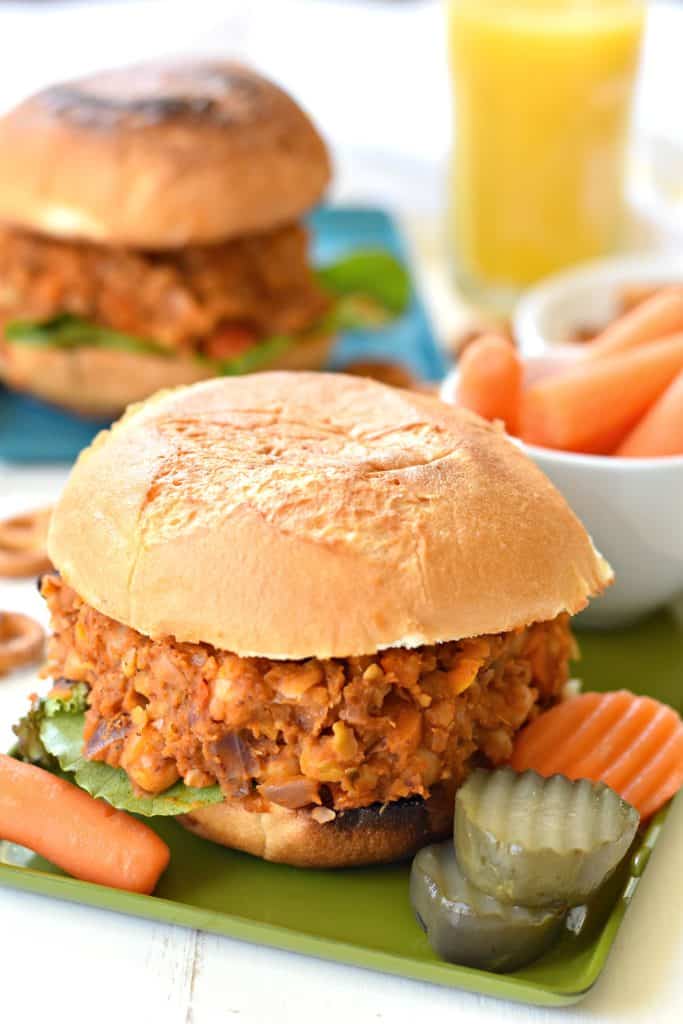 That's right, you get to make fantastic sloppy Joes and baked onion rings. Incredibly quick recipe; you're looking at 30 minutes from start to finish and that includes everything.
Will you put the onion rings in the buns and make a huge messy and delicious burger? Or will you eat them as an accompaniment? Do both!
Eggless Egg Salad Sandwich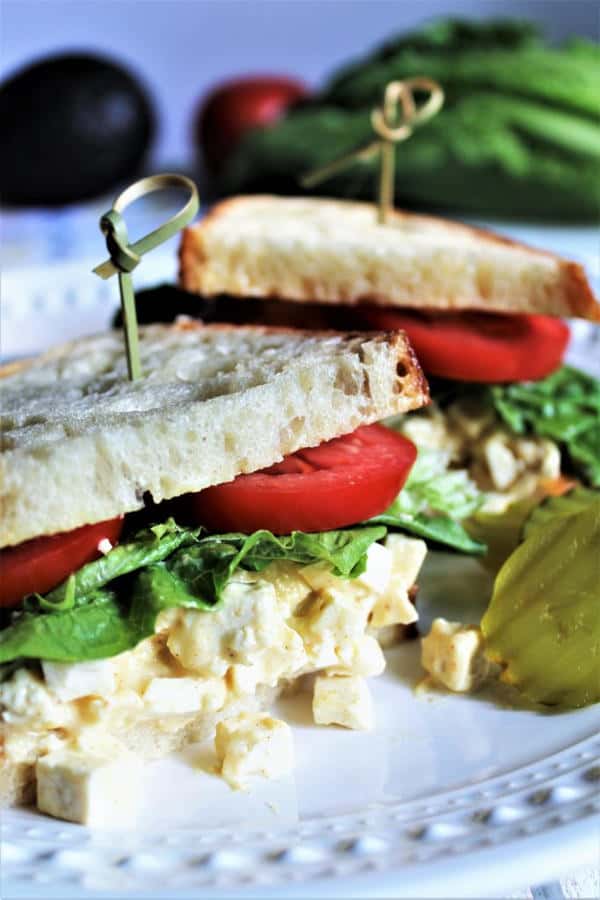 If you miss egg sandwiches and are looking for a vegan alternative, you have found it!
Would you believe this takes 10 minutes from start to finish! You'll need some extra firm tofu and a few herbs and spices.
The ingredients list includes a link to make your own vegan mayonnaise which is fantastic although you could save yourself some time and by your favorite plant-based store-bought alternative. Served with lettuce and tomato or simply on its own.
Falafel Spice Lentil Salad Sandwich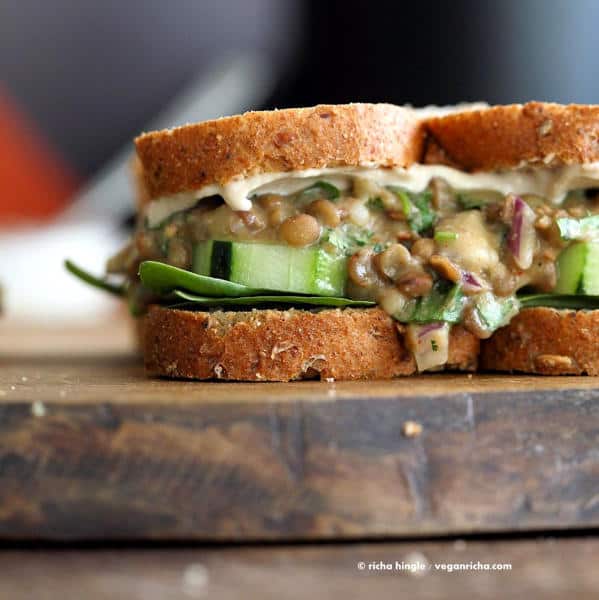 There are so many best parts to this sandwich, I don't know where to start. The falafel is one of the best I have had, and the lemony tahini dressing deserves an award.
I recommend you get the best quality bread you can as this is a first-class sandwich filling. Absolutely delicious.
BLT Sandwich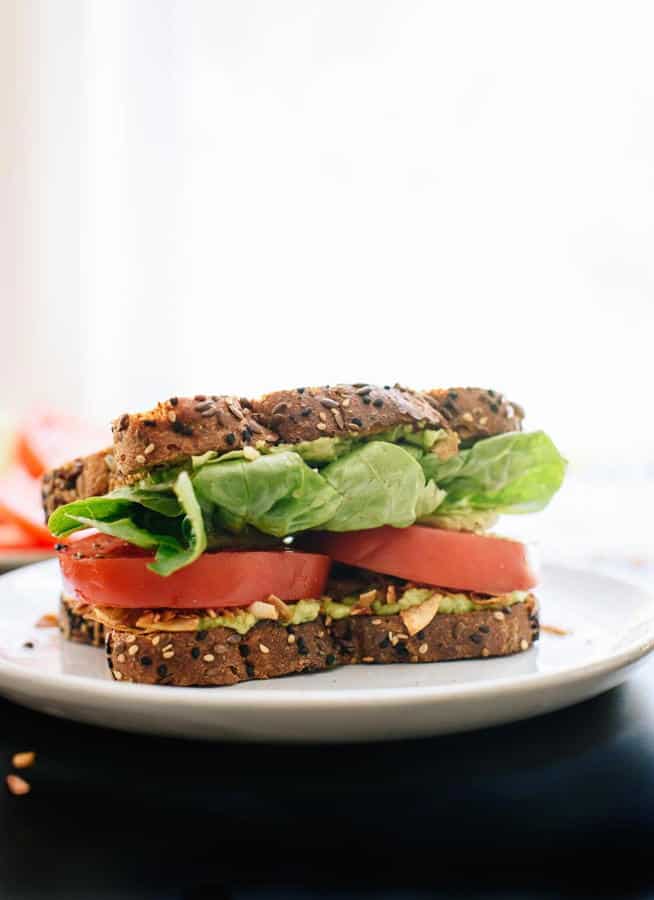 I think the best part about this recipe is the 'coconut bacon'. It's listed as one of the ingredients although there's a link to a separate recipe on how to make it.
Whether you go with that veggie bacon or another, this is a mighty fine sandwich. The addition of the avocado makes it that extra special.
Sandwich Recipes
Toasted Avocado-Tofu Sandwich with Caramelized Onions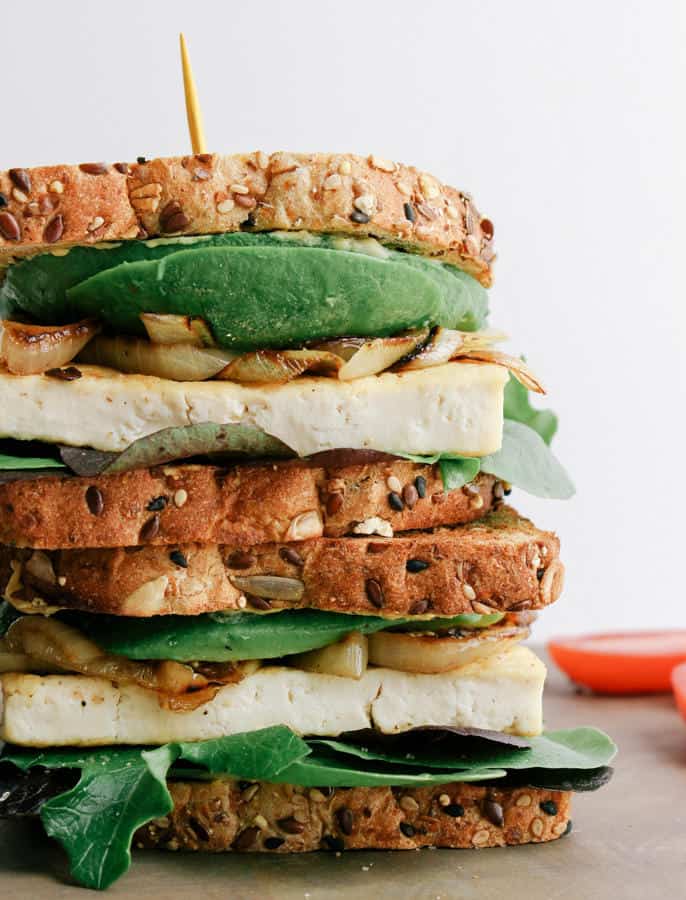 If you love tofu that has been pan-fried, make a note of this recipe. You also have caramelized onions and some great accompaniments.
To make this extra special, do follow the instructions and toast the bread as it makes all the difference. Whenever I have a sandwich I always toast the bread now. Great recipe!
BLT Sandwich with Maple Tempeh Bacon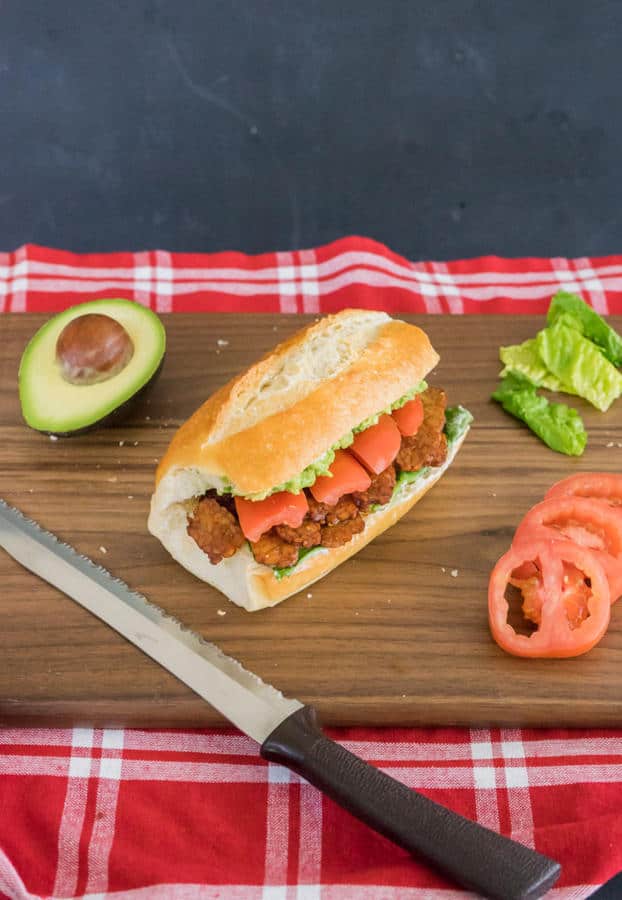 If you've never had tempeh bacon, make this recipe the first time you try it. It satisfying, has a wonderful texture and is bursting with flavor.
Obviously, you can have this sandwich without the lettuce and tomato and something else instead, though I really recommend you try it like this. The best recipes are simple, let's keep it that way.
Vegan Cream Cheese Sandwich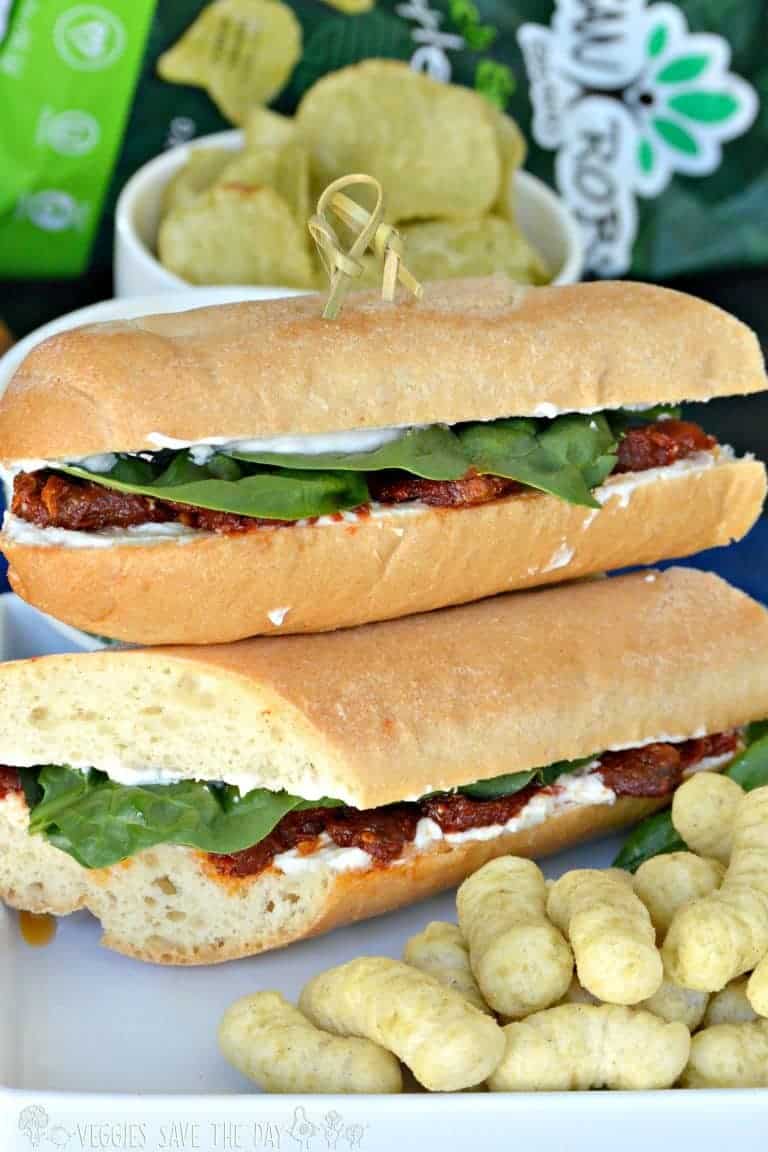 This is a great recipe, two of the ingredients are recipes themselves so it's like a bonus for free.
The vegan cream cheese is wonderful and I totally recommend you try it.
You also get a link on how to create sun-dried tomatoes in olive oil, another great recipe. So, this is like three recipes in one, fantastic!
Jalapeno Tempeh Cheese Sandwich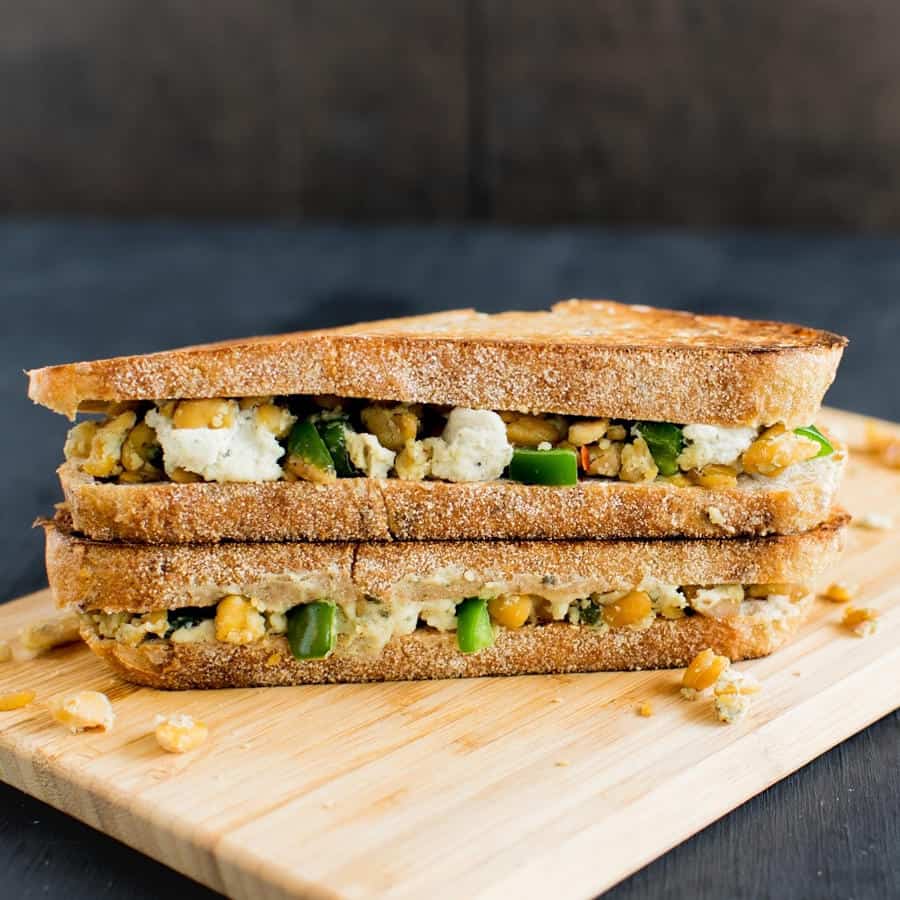 What a lovely simple sandwich this is. There are about half a dozen ingredients and this includes the seasoning and the bread.
Healthy and full of flavor, you will make this again and again. Check out the video on recipe page which takes you through everything step-by-step, I really appreciate when authors go to the trouble of making a video.
Bagel Sandwich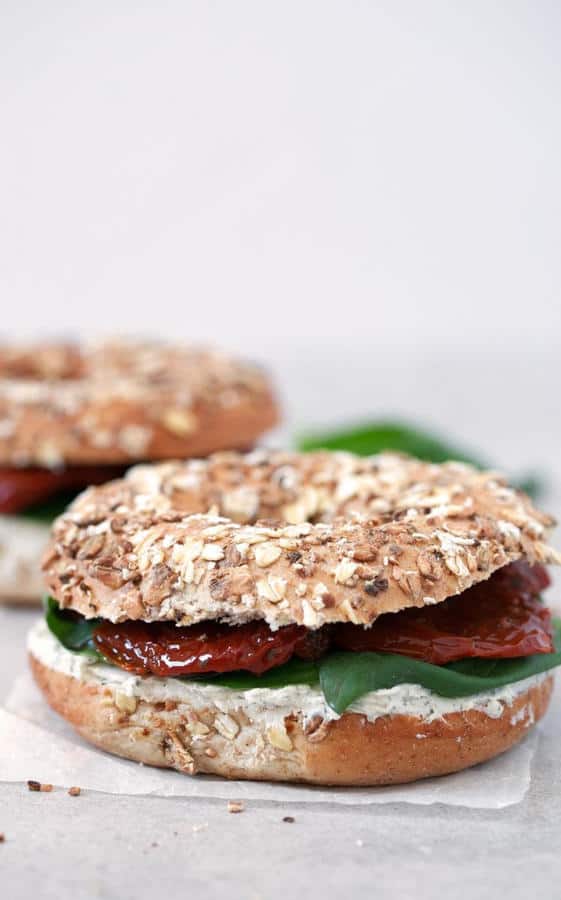 This bagel sandwich is all about the vegan cream cheese. There's a link in the ingredients which takes you to its recipe.
I recommend you keep and try it although if you want to save yourself some time and you already have some vegan cream cheese in the house, you can use that.
Whether you use bagels or your favorite bread, this will quickly become your go-to sandwich.
Easy 6-Ingredient Hummus and Avocado Sandwich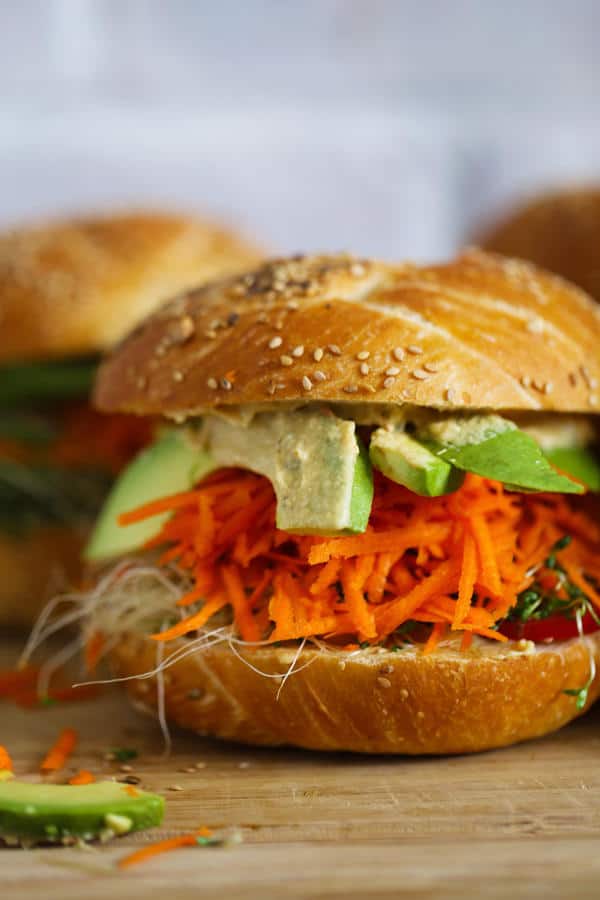 When this recipe says 6 ingredients, it means everything including the bread (or wrap), that's how simple this is.
You're looking at a 2 minute prep time and, that's it! Wonderfully straightforward and versatile so you can swap out anything you like. Delicious.
Tofu Sandwich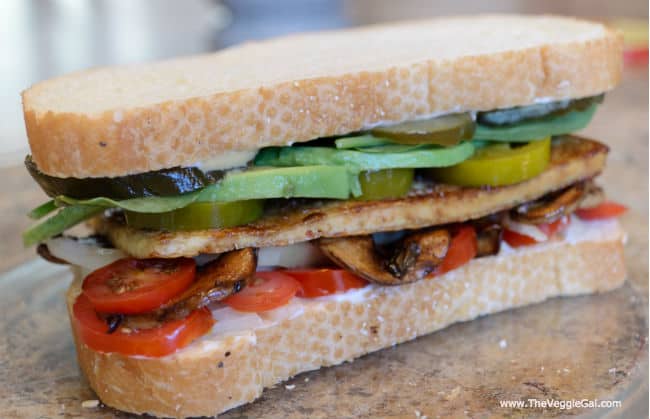 I promise you, once you get hooked on pan-fried (or baked) tofu, you'll quickly realize there aren't enough recipes in the world for it.
Stack this puppy as high as you can with onions, tomatoes, avocado and even pickles. I recommend you toast the bread for that extra crunch. Send us a pic to show off your sandwich creation!
Buffalo Tofu Sandwich with Homemade Ranch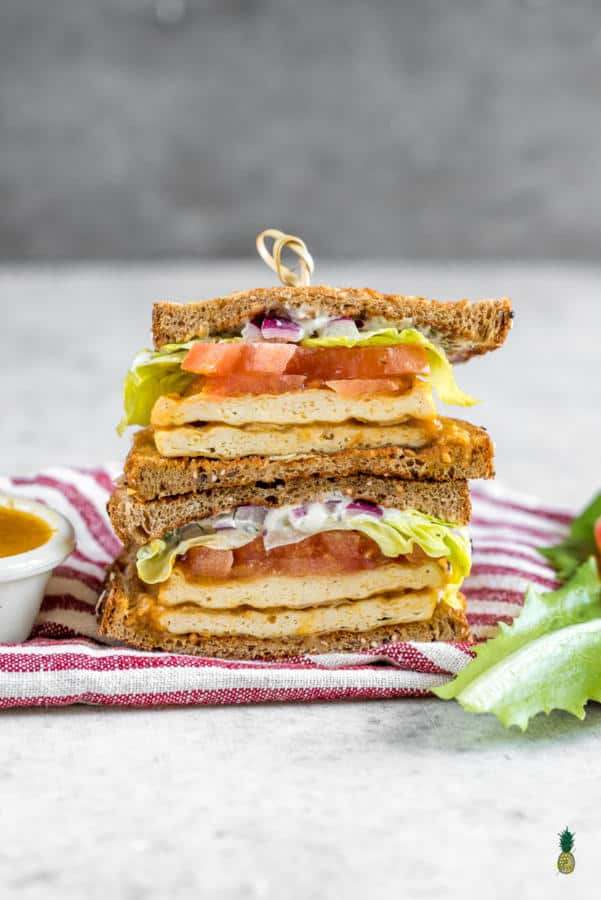 Now this is what I'm talking about, double layered tofu, lettuce, tomato and onion.
Every part of this sandwich recipe is awesome. You get to learn how to make buffalo sauce which I know you will use just about on every sandwich you make.
The tofu is prepared beautifully. Put everything together and you're good to go.
Special Picks
Kohlrabi Schnitzel Burger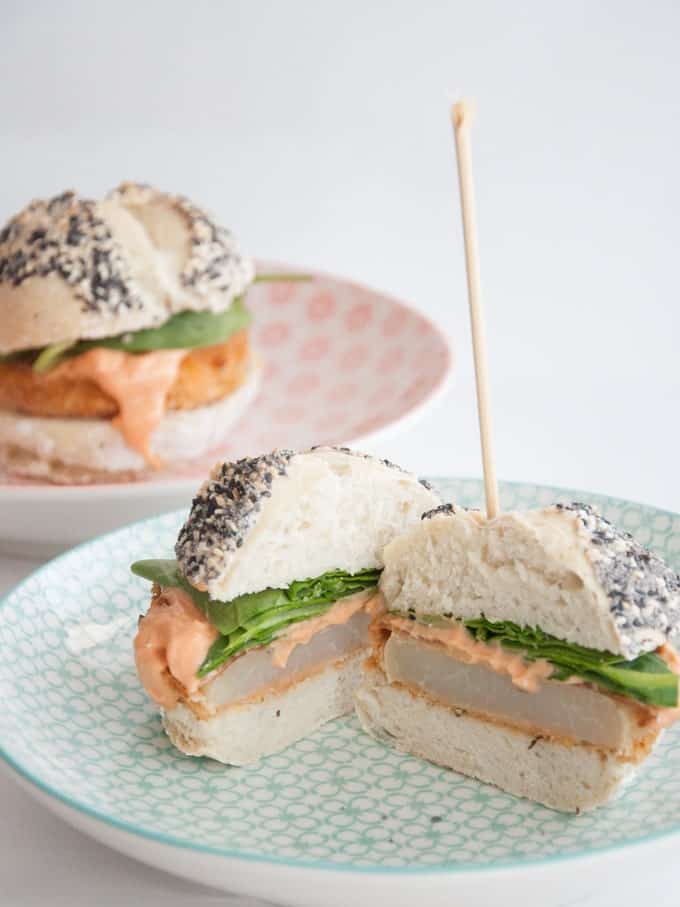 Wow what a sandwich! The schnitzel listed in the ingredients is a link to a recipe on how to make them from scratch. This may seem a lot of work, but I promise you, go to the effort and you won't regret it.
Add the vegan mayo, ketchup, baby spinach and the all-important fresh lime juice, don't be tempted to skip this as it brings everything together. Wonderful.
Reuben Sandwich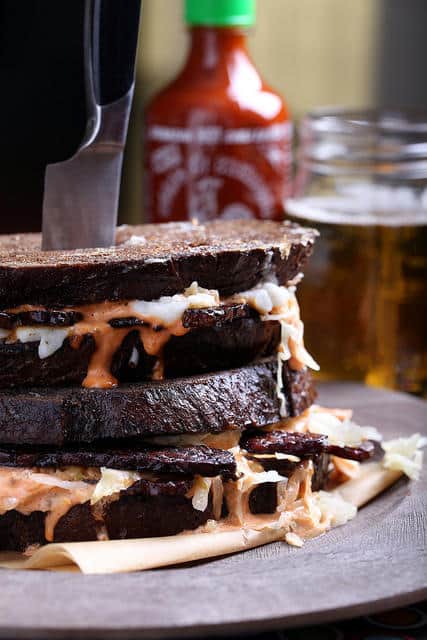 When you want to make something special, this is it, trust me. Just look at the photo of that sandwich. This will impress anyone.
Most people think sandwiches are convenience foods and that is certainly true. This takes it to the next level and reinvents the whole idea. Try it and you'll know what I mean.
Golden Beet Burgers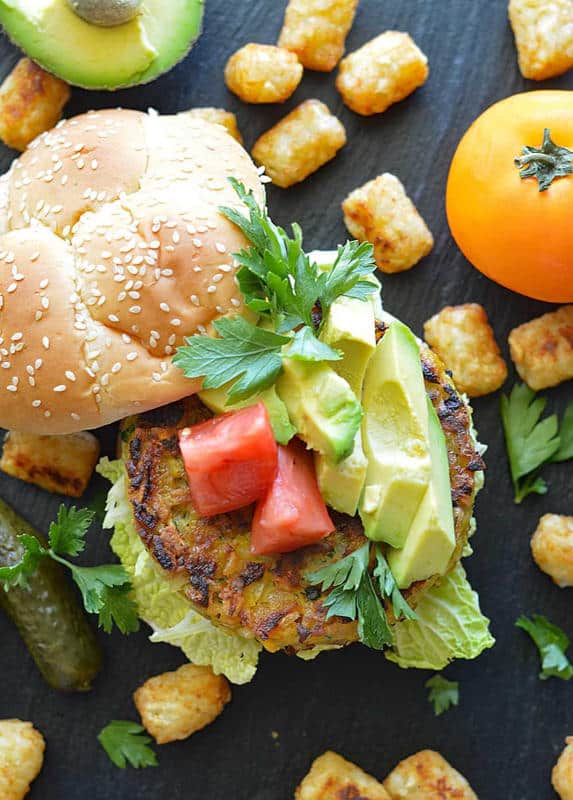 A burger which is made from diced golden beets, chickpeas, brown rice and more. You only have to look at the photo to realize the quality of this recipe.
The secret ingredient for me is the teaspoon of ground mustard powder. It is ever so subtle and, in the background, yet it exists in every bite.
Sabich Sandwich with a Twist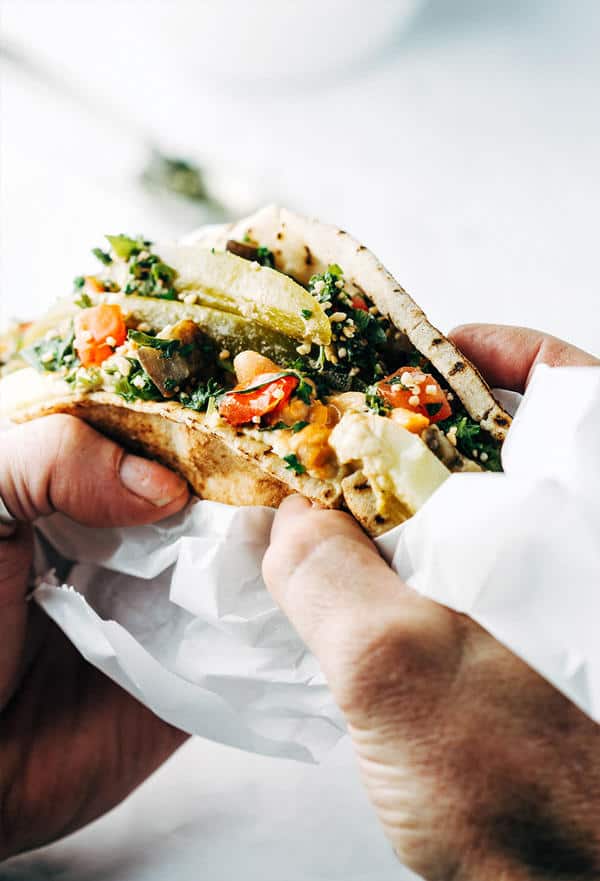 I love messy sandwiches, lots of different ingredients, amazing sauce as well as vegan mayonnaise to bring all the flavors together.
Grab your favorite dill pickles, pitta bread and stuff it with everything!
Instead of egg this recipe uses white beans which are perfect adding that wonderful texture of theirs.
Have this for lunch and you'll be full of energy for the rest of the day.
Meatball Sub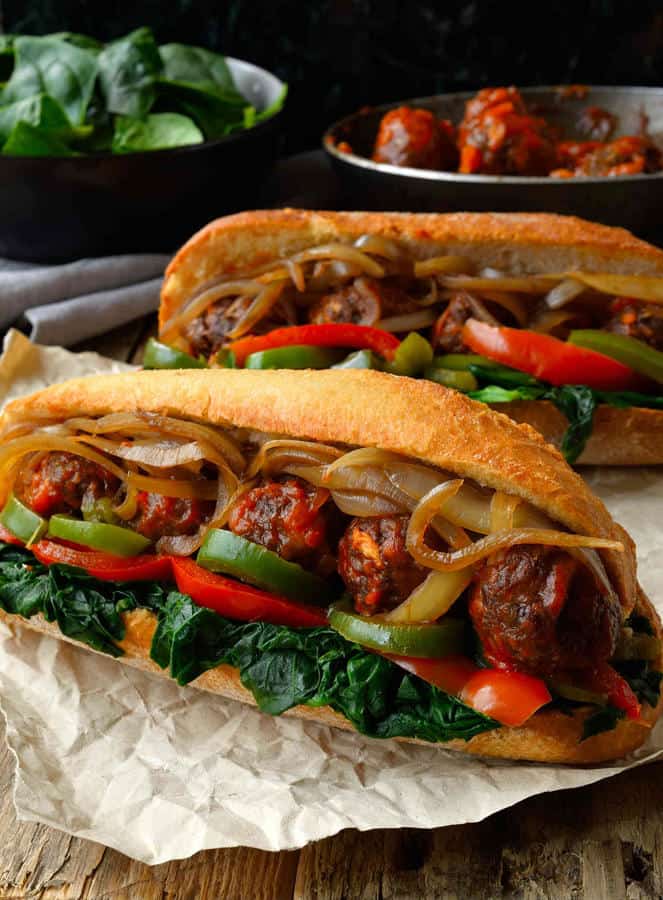 Oh my goodness, if you want a sandwich that has everything, look at that photo. Yours will end of looking exactly the same.
You create the meatballs from scratch using lentils, onion, mushrooms and a bunch of herbs and spices.
I urge you (I'll even beg you!) to go to the effort of making everything else, the cooked onions, spinach and then add your favorite marinara sauce.
Get the best quality sub buns you can and then, simply, enjoy!
Mega Burger with Seitan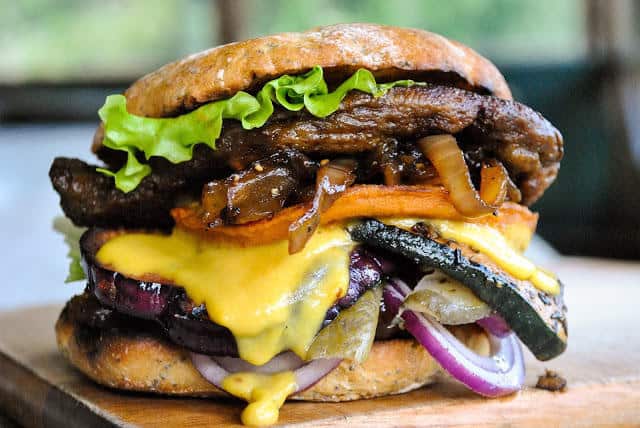 If you like meaty tasting burgers with everything, plant-based melted cheese, onions and a lot of mess, you need to check out this sandwich.
It looks awesome and yet comes together in just minutes.
Make sure you're not wearing your favorite top because it will get messy. Napkins at the ready!
Hot Garlicky Broccoli Rabe Sandwich with Smoky Tahini Cheese Sauce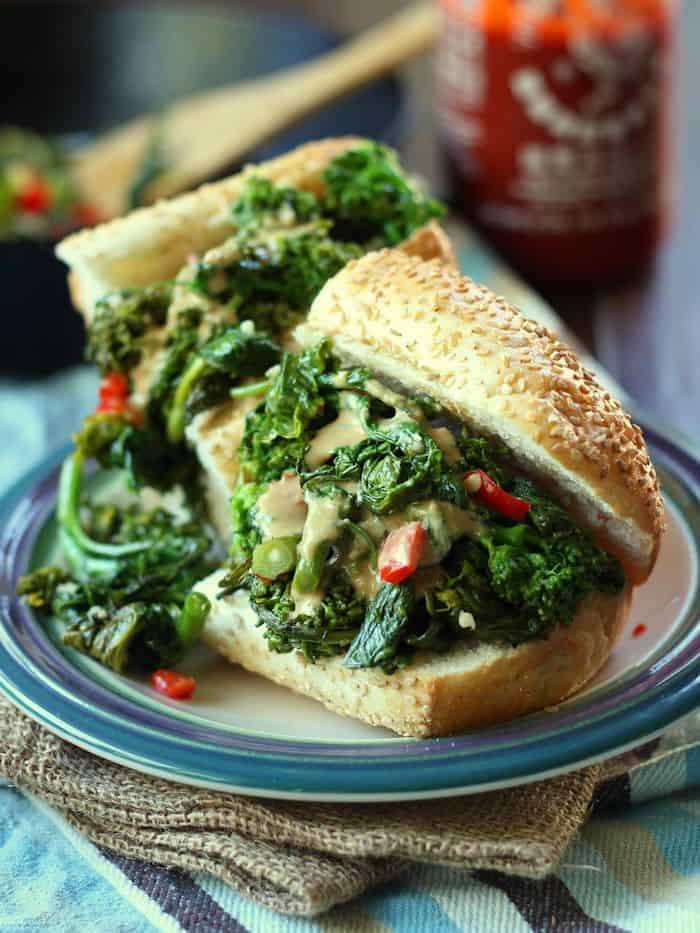 This sandwich is for you, the gooey cheese lover! The greens are prepared with garlic and the vegan tahini sauce is smoky!
Prepare all the ingredients and then sit down to enjoy. As delicious as this is, what I really took away from this recipe was the knowledge of how to make smoky tahini cheese sauce. It's amazing and so simple.
Tofu Bánh Mi Sandwich with Lemongrass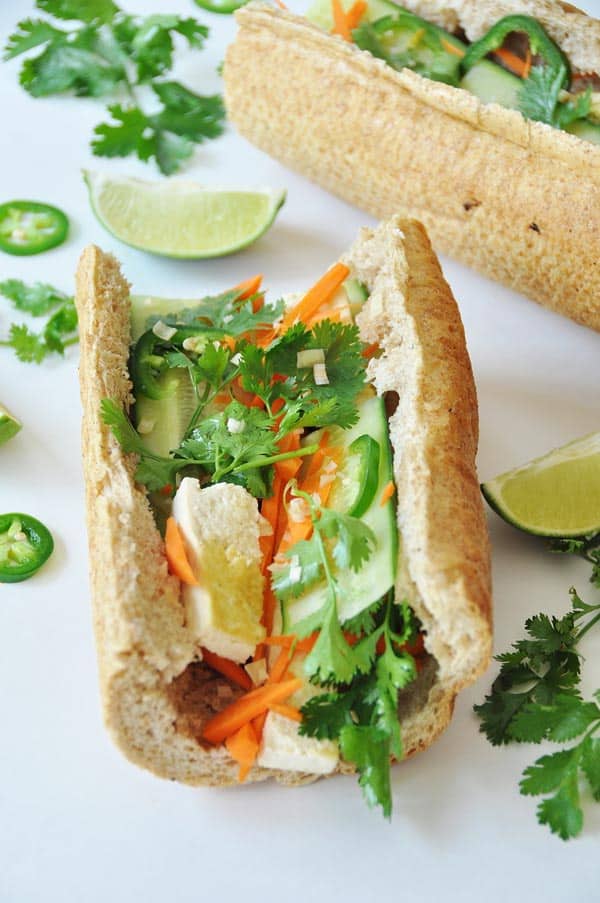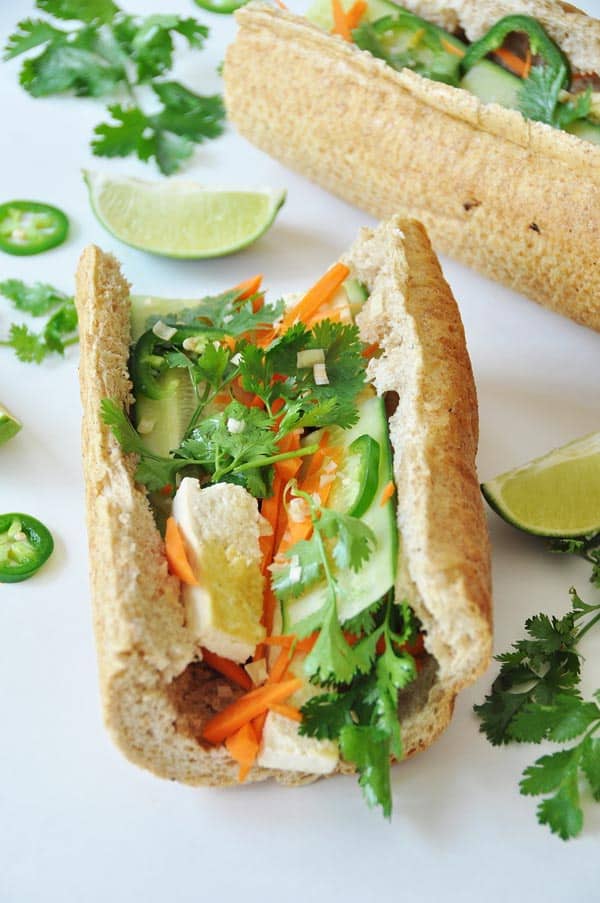 Whether you're into meatless Mondays or just trying to go more plant-based, check out this simple and healthy sandwich.
Wonderful herbs such as cilantro and lemongrass are a part of this great creation.
Add a dash of balsamic vinegar and you're good to go. You probably have most of the ingredients already and anything you don't have will be easy to source.
Spiced Chickpea, Carrot and Coriander Burgers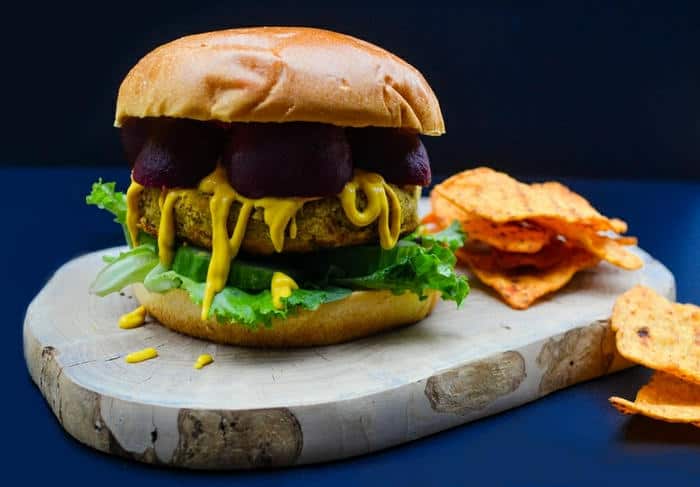 Okay so you have a friend coming out this weekend and you want to impress them. Don't go out and buy the food, make it yourself with this great recipe.
You will need a blender or food processor to whizz all the ingredients until they are fairly smooth. Shape into burgers (amounts listed make 6) and then fry or bake.
Grab your favorite toppings and be prepared for your friend to want to visit again soon!
Onigirazu (Sushi Sandwich, Gluten-Free)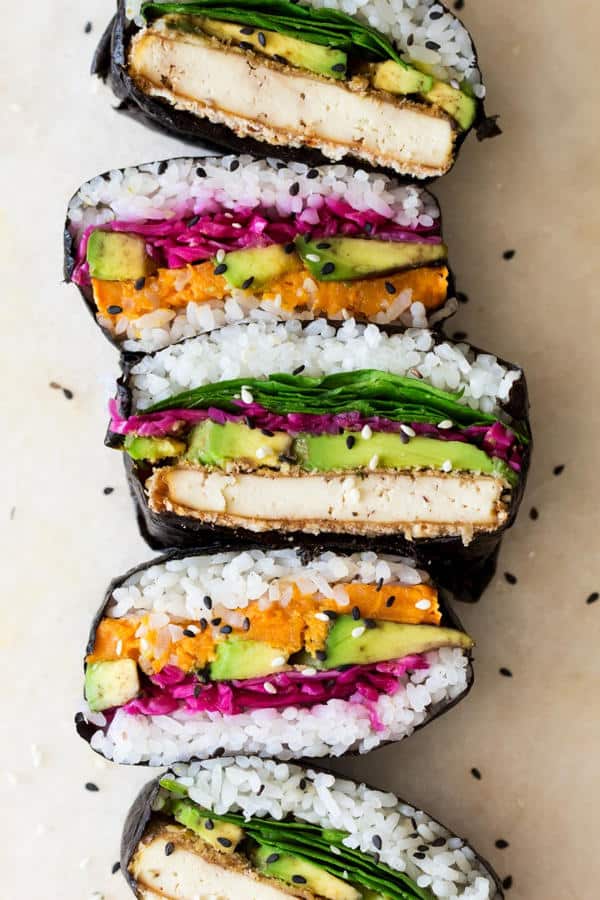 You can immediately see why this is in the 'special picks' section! This is like a giant sushi that has become a sandwich!
You don't lose that oriental influence in this beautiful meal.
When I first saw the ingredients, I thought it would take hours to create, you're looking at 30 minutes prep time and of course, you have to cook the rice (or sweet potato depending on what you choose, choose both!) Tasty, satisfying and looks phenomenal.
Spreads & Sauce Recipes
Killer Burger Sauce (3 Ingredients)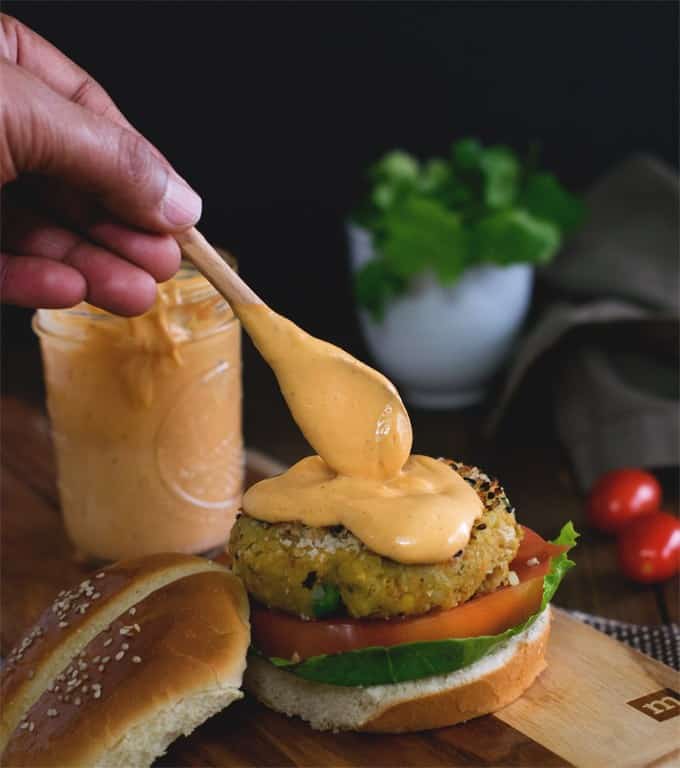 I know it's super convenient to buy all our sauces from the store, but so often, we don't really know where they are made or even how long ago!
This isn't to mention the ingredients that sometimes contain dubious substances.
We may not care for ourselves, but when we have kids we need to think twice.
This burger sauce also makes for a great salad dressing I think. Just three ingredients and a little seasoning to taste, blend until the consistency becomes thick and refrigerate for at least 4 hours (this makes it even thicker).
Stores in an airtight container in the fridge for up to a week.
Cucumber Sauce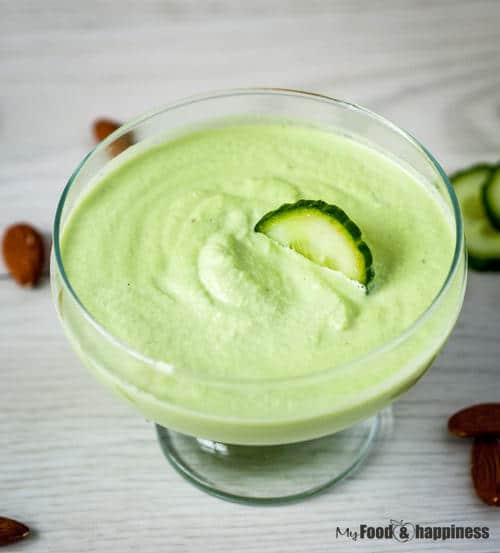 Sometimes you want a great tasting sauce but without all the fat and calories. Check out this recipe.
If you love cucumber, then you just have to make this. Just a handful of ingredients and seasoning to taste creates this great creamy texture. Use as a dip or makes for a great salad dressing.
Best Vegan Tzatziki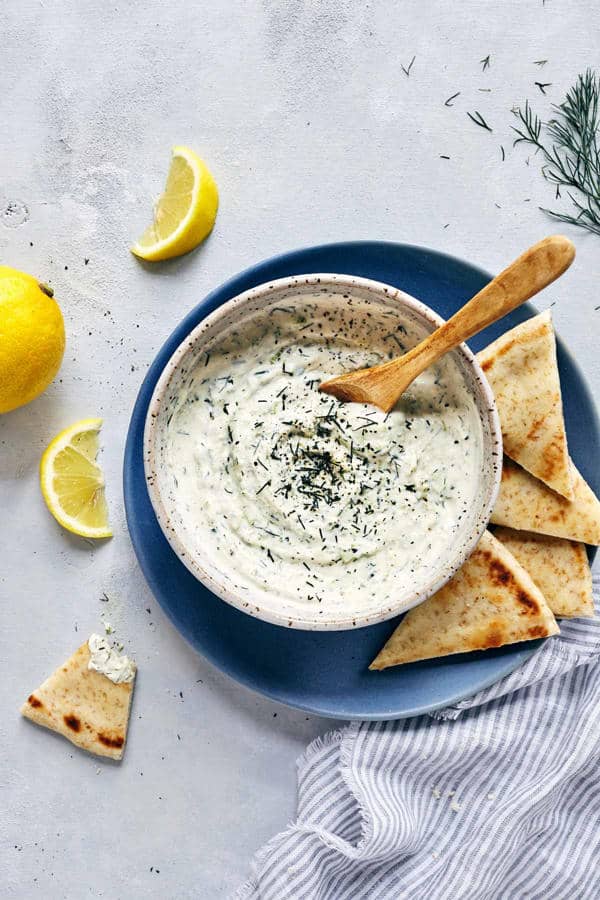 Trying to find a vegan tzatziki can be like trying to climb Mount Everest. Then even if you find one, is it any good? This one is!
The base of this is cashews, soak them overnight before making this recipe.
Add the other ingredients in a high-speed blender until smooth and creamy (this may take a couple of minutes) and you're good to go. Serve in your favorite sandwich or drizzle over falafel!
Basic Vegan Cheese Sauce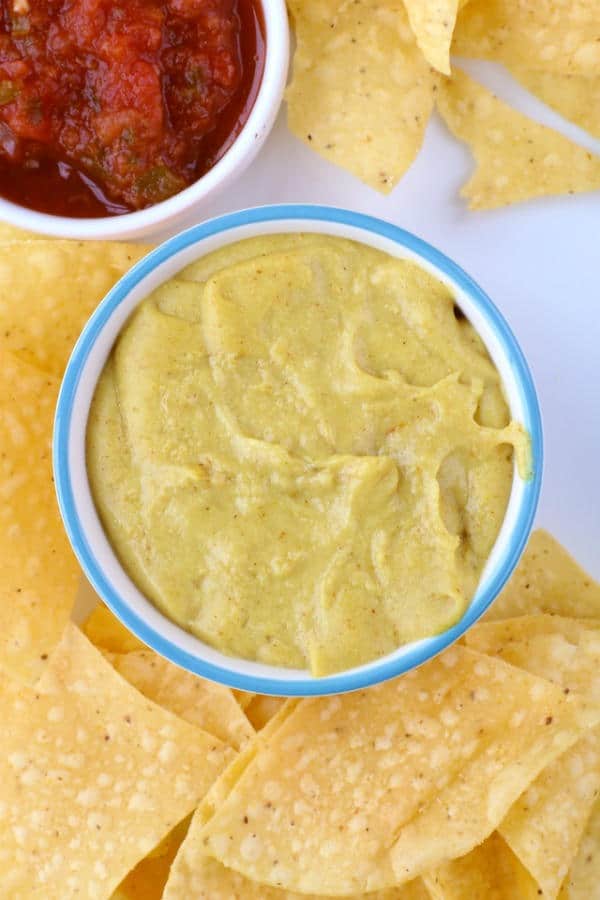 Just because the word 'basic' is in the title of this recipe, don't let that fool you into thinking it's of a low quality, it's quite the opposite to say the least.
There's about half a dozen ingredients in this (not including water) and it's all real food.
The end-result is perfect for nachos, pasta dishes and just about anything you can think of.
If you and your family suffer from allergies, knowing all the ingredients is super important. No need to miss out on the fun stuff now!
Healthy Homemade Barbecue Sauce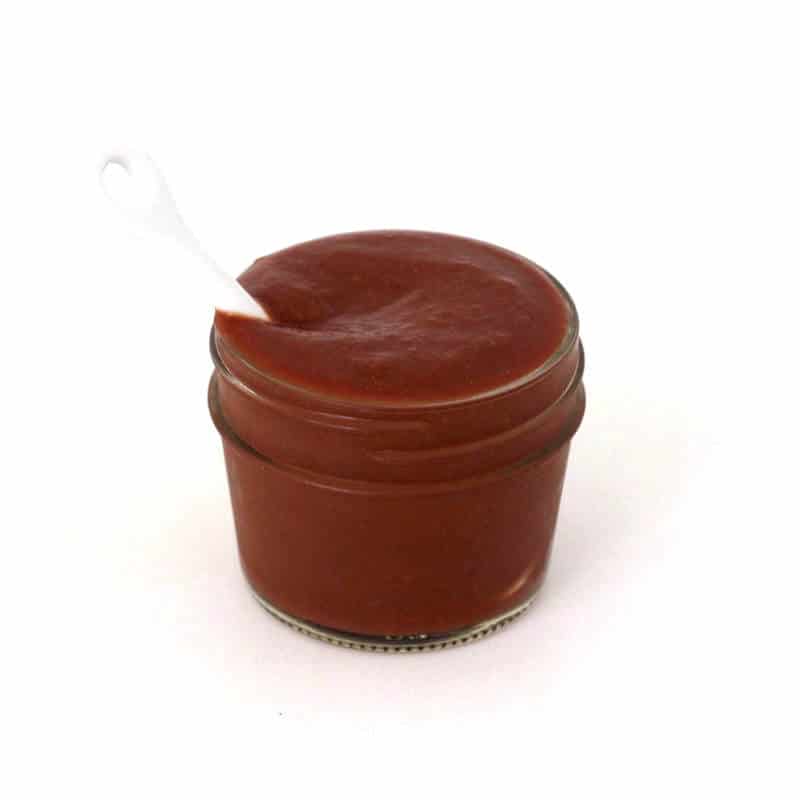 Okay so I normally buy a barbecue sauce and never thought about making my own.
I checked the ingredients in my store-bought version and must admit there was one of two things in there that I would have preferred didn't exist in the jar.
Now you can make your own using Dijon mustard, soy sauce and just a few other ingredients.
They say that food that you create at home tastes better and this is no exception. Even if you just make it for special occasions, keep this recipe because it's impressive.
DIY Vegan Mayonnaise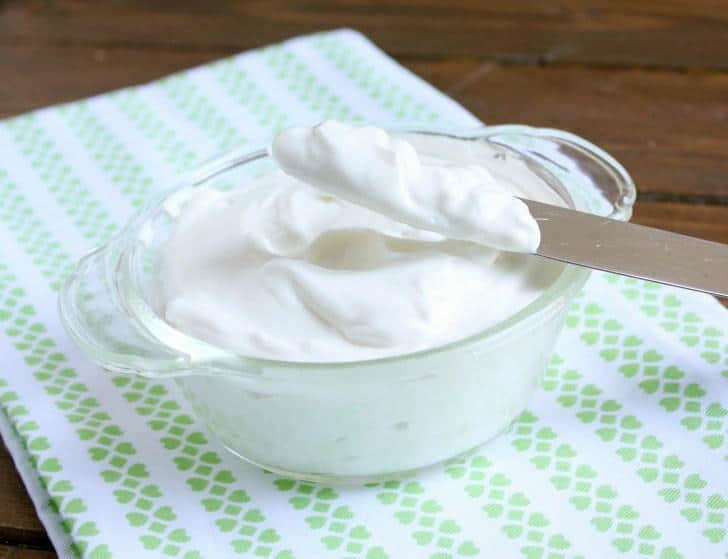 I think everybody loves mayonnaise, it's so versatile and great in sandwiches and on salads.
When I became vegan, I don't think you could buy a plant-based version like you can nowadays. The trouble is, it can be so expensive!
Why not make your own with this simple recipe? Just four ingredients and five minutes later and you have this thick creamy mayo that's just fantastic.
The author suggests that you may have to juggle with ingredients a few times to get the taste just how you like it so don't give up straightaway. I promise you the end-product is more than worth it.
Wrapping Up
When we created this roundup, we had one thing in mind…
Take burgers and sandwiches to the next level!
They're so much more than just convenient snacks to take to work or eat in a hurry.
Everything is covered here from special occasions to different base ingredients such as potato and quinoa. Whatever you like, we have it!
Some of the sandwiches contain what people call 'fake meats' like seitan and tempeh. If you're into these meat substitutes, or prefer tofu, you're covered here.
Make sure to grab a sauce recipe to go along with your chosen sandwich or burger!
Sandwiches can be incredibly personal and we all have our own ways of making them. Let us know your favorites in the comments below!