If you want to use this alongside other type of recipes, I recommend you check out our best vegan recipes roundup as the two together are a great combination.
Whether you're a regular at your local gym or just love plant-based proteins, you have everything here!
High-Protein Vegan Balls & Bar Recipes
Quinoa Protein Power Bars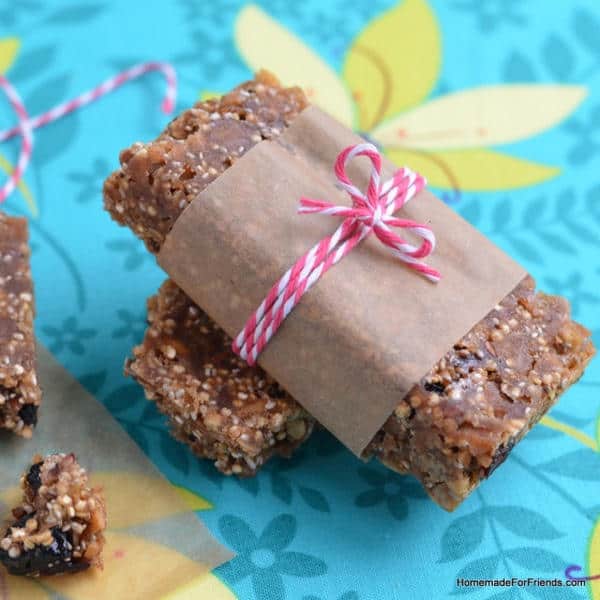 We can buy energy bars from the store, but they can be expensive. It may be just a couple of dollars here and there but it all adds up.
Is making your own so complicated?
In less than 25 minutes you can make 12 bars which contain peanut butter, cinnamon, and so much more.
They taste great and the best part is they last up to 4 weeks stored in an airtight container.
When you add up the cost of the ingredients, it's so much more economic than buying bars from the store where they're made in a factory somewhere. Excellent recipe!
Chocolate Cherry Protein Balls with Chopped Almonds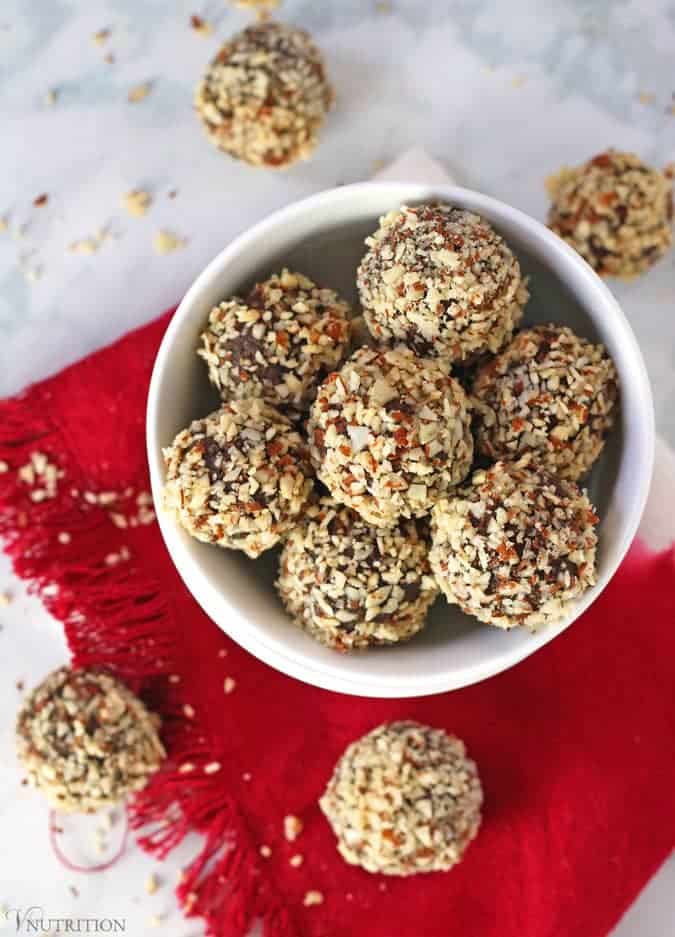 Have you ever seen date balls? I've made them on numerous occasions and they're always delicious.
This is a great recipe and I love how the balls are covered in chopped almonds.
You're looking at about 15 minutes to make these and the amounts listed in the ingredients make 20 balls.
They'll keep in the fridge for up to two-weeks. Perfect as a treat or for a post-workout snack.
Raw Sunflower Seed Protein Balls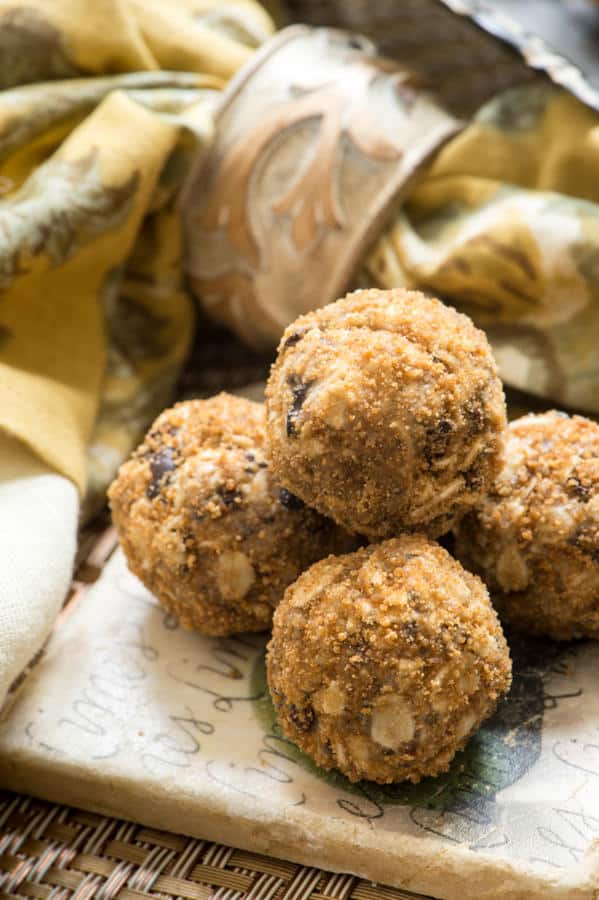 A lot of home-made protein balls are created primarily using dates which is OK but what happens when you want to try something different? These are the perfect catch.
Made with almonds, seeds and just five other ingredients (one of which is salt), these come together in a snap.
Not overly sweet and extremely moreish.
Tahini Cardamom Protein Balls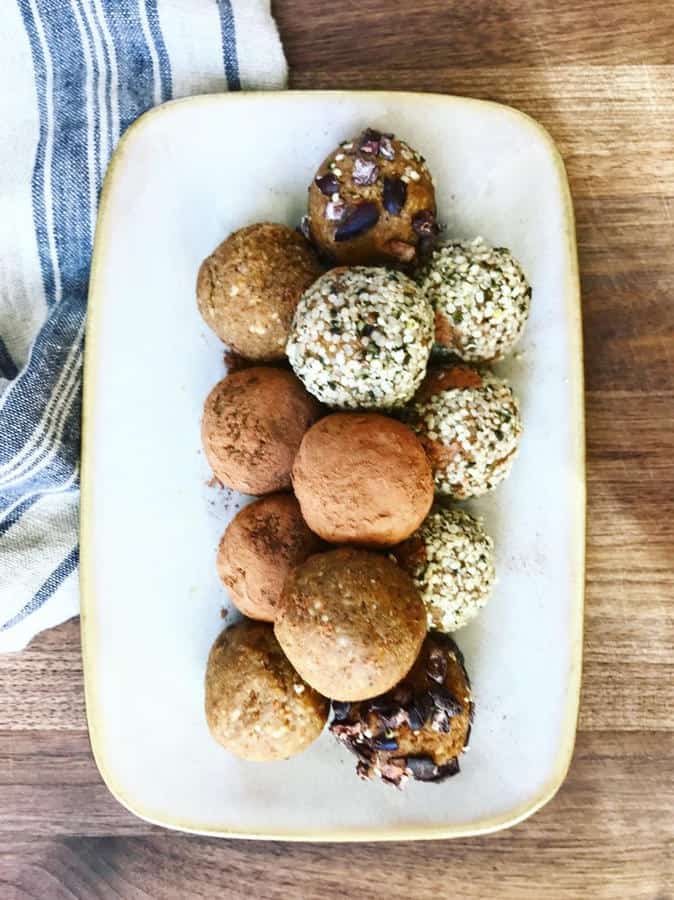 A great recipe for protein balls made with raw almonds, tahini and just a couple of other ingredients.
You just need a food processor to simply whizz everything together and you're done. The amounts listed in the ingredients make for about 12 balls.
Fast and easy to make and my advice would be to double the ingredients and put what you don't need in the freezer. Perfect!
Peanut Butter Oatmeal Protein Bars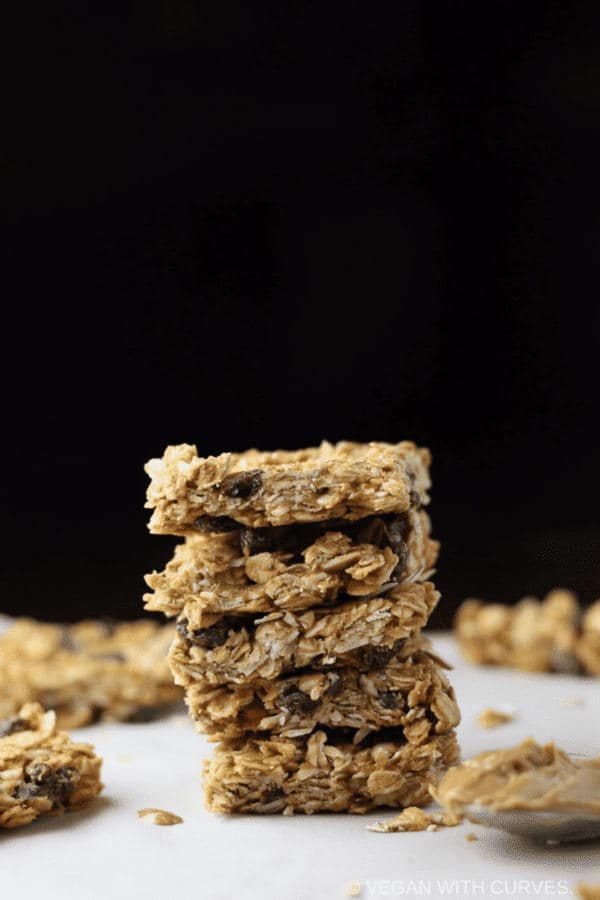 Just five ingredients make these incredible protein bars. Easy to make and great for taking to work or just to have as a snack when you need something quick and healthy.
After you've mixed all the ingredients, press down firmly in a pan and store in the fridge for about an hour before cutting into bars.
After that you may store in the freezer for up to a month. So convenient, healthy and delicious.
Carrot Cake Protein Bars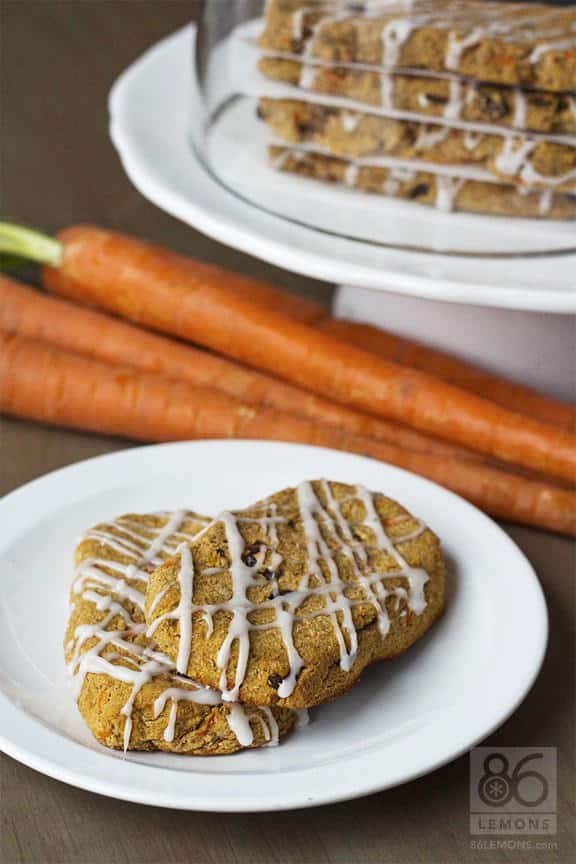 Okay, in terms of protein bars, these are my favorite. Not only in the way they taste but also in the way they look.
Easy to make and the amounts listed in the ingredients make approximately eight bars.
Because they look so good, these bars make a perfect gift too!
Peanut Butter No Bake Protein Balls with Superfoods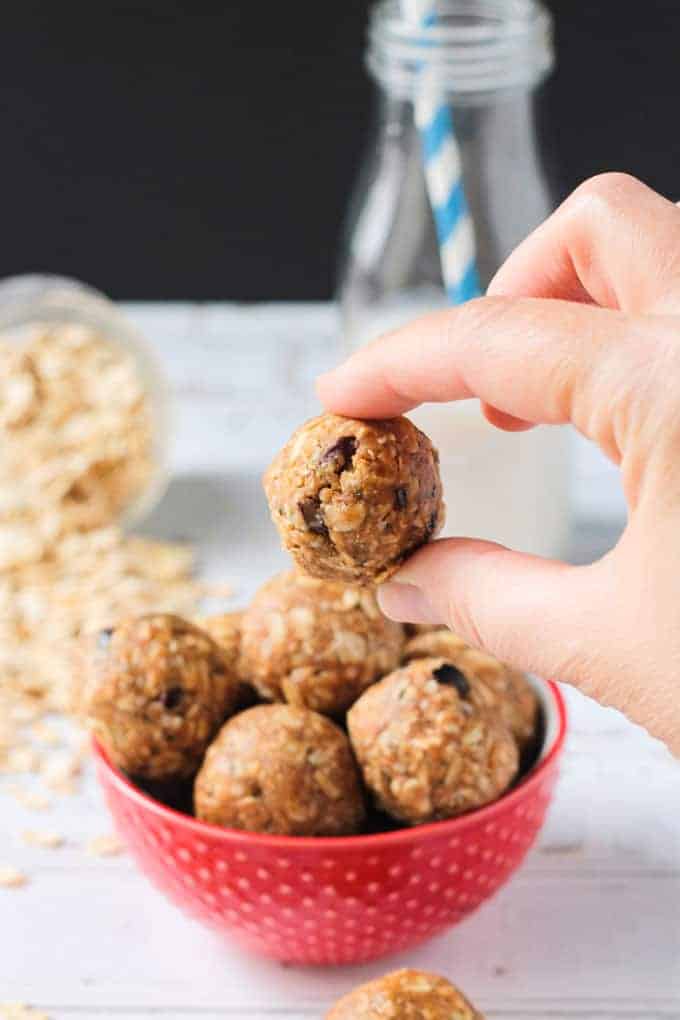 If you want a great breakfast snack or something to take with you to the gym, check out these peanut butter protein balls.
With ingredients such as hemp seeds, flaxseeds and more, they will definitely be a great part of your workout program, although you don't need to go to the gym to enjoy these!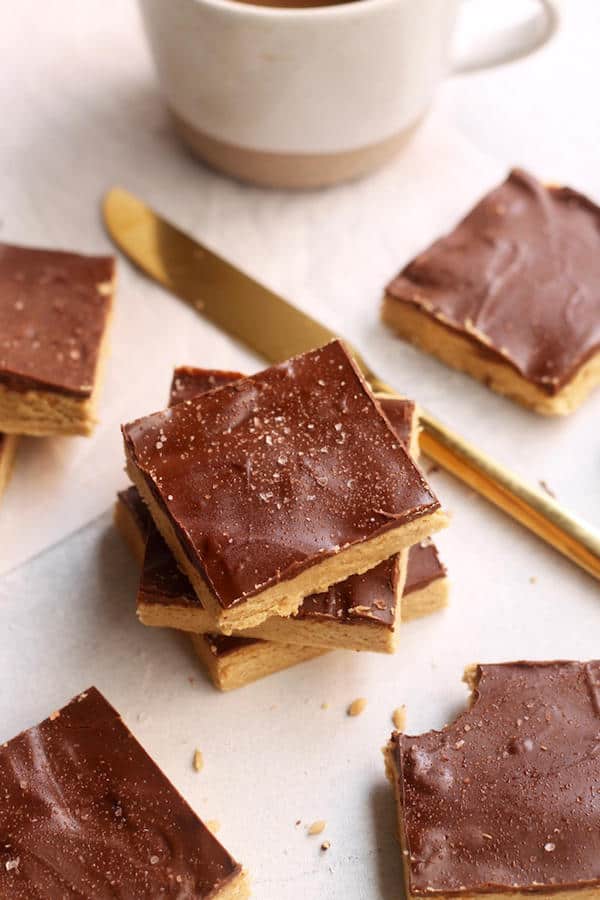 This cookie dough tastes just like a real cookie! The difference is they are not loaded with refined sugar and are super healthy!
Very easy to make and with the smooth chocolate coating, they look great too! Do note this recipe is made with a brand-named protein powder.
If you are unable to source this, just use your regular protein powder and it will work out just fine. Tastes great, looks great!
Protein Balls with Sesame Seeds and Raisins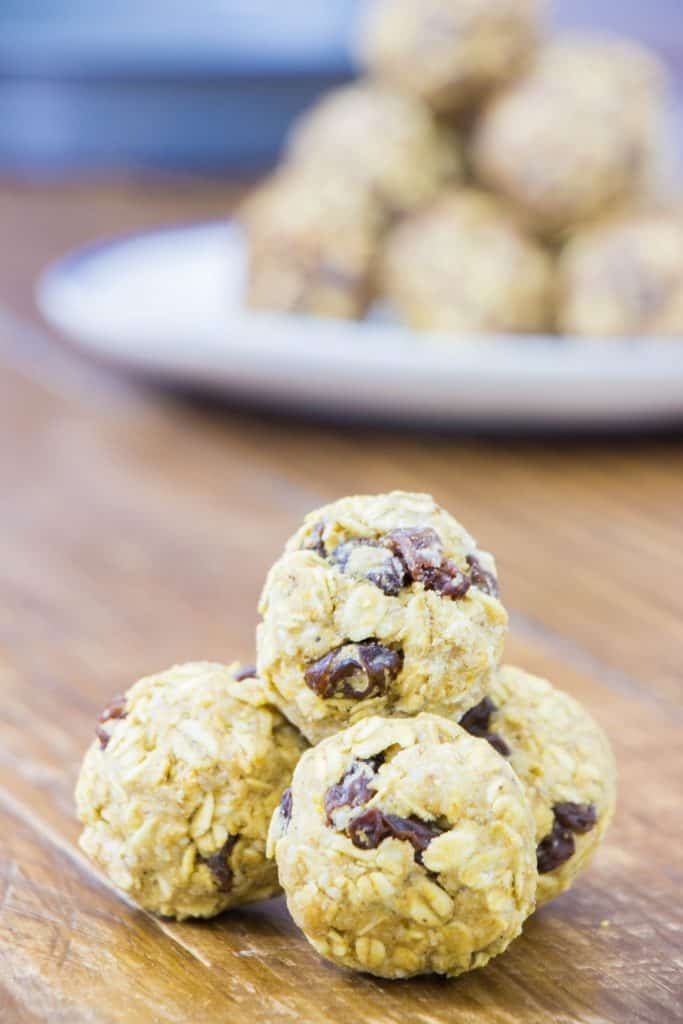 What first attracted me to these was simply the way they look! Normally these kinds of foods are made with dates and more or less all look the same. These are different, and different is good!
With just seven ingredients and 10 minutes you can make 10 protein balls. One of the easiest recipes I have seen and super healthy.
Mango Hemp Protein Breakfast Bars (Gluten Free)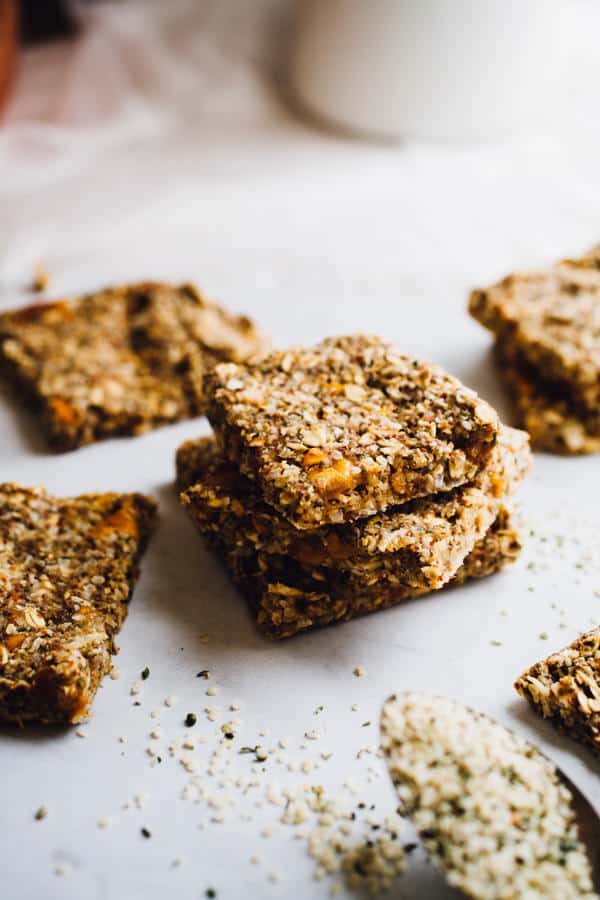 When the recipe world is filled with similar combinations of protein foods filled with dates (and delicious they all are), what do you do to stand out from the crowd?
Add mango!
An incredible flavor due to the unique combination of ingredients in these wonderful breakfast bars.
Freshness from the lemon zest, a hint of ginger and moistness because of the applesauce, these are just some of the reasons to make them!
High-Protein Vegan Breakfast Recipes
Chocolate Marble Protein Waffles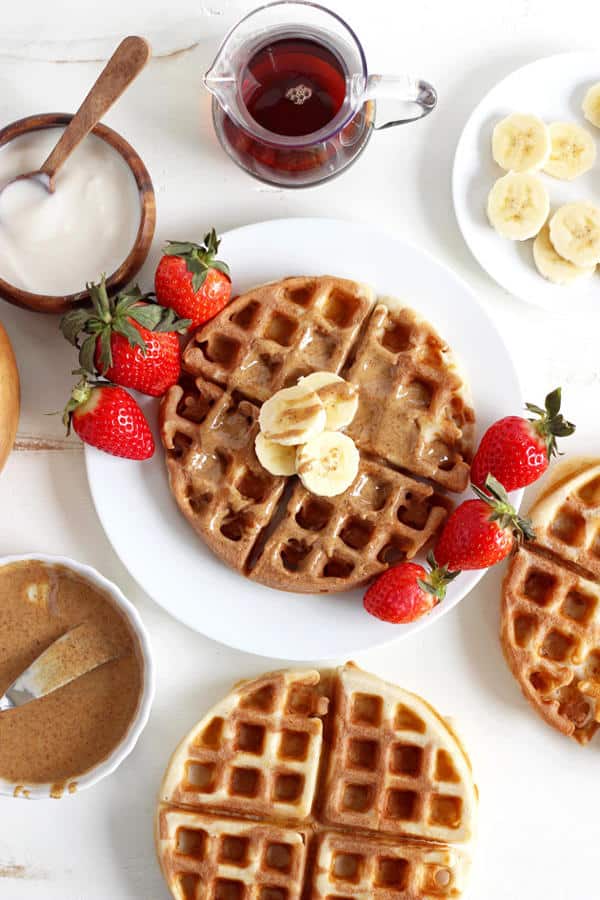 These waffles contain just a handful of ingredients. Incredibly easy to make and best of all have an amazing flavor.
One of ingredients is a brand-name chocolate protein powder. If you are unable to source this, just use what you can get, and it will work out perfectly.
If you don't have a waffle maker, you could make the mixture into pancakes! Although if you ever needed a reason to invest in a machine that makes waffles, this is that reason!
Savory High-Protein Mungbean Waffles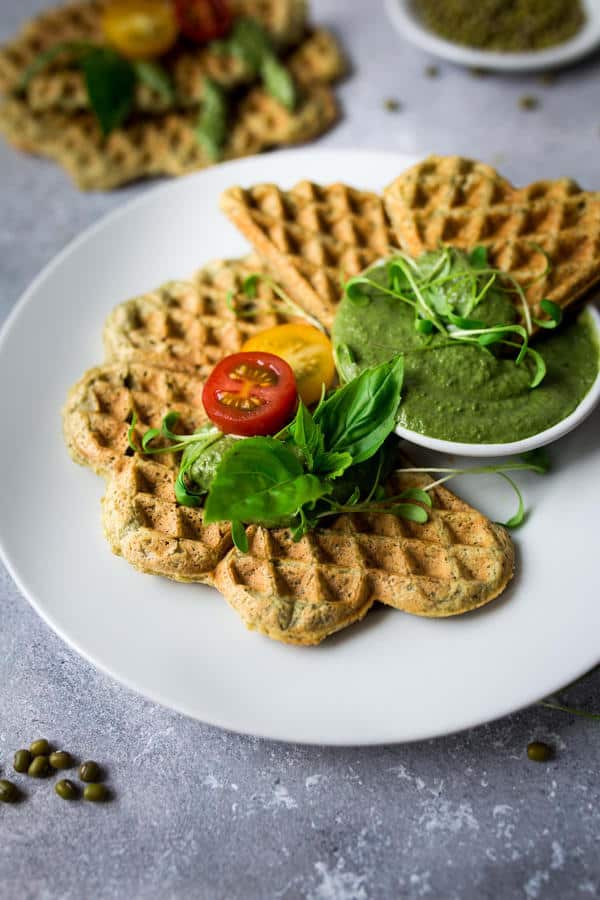 If you love mung beans, these are definitely for you as this is the main ingredient in these protein packed waffles.
My favorite ingredient in this recipe is the chickpea flour (garbanzo beans), it just adds that perfect flavor to make these one of the best savoury waffle recipes.
Carrot Cake Protein Pancakes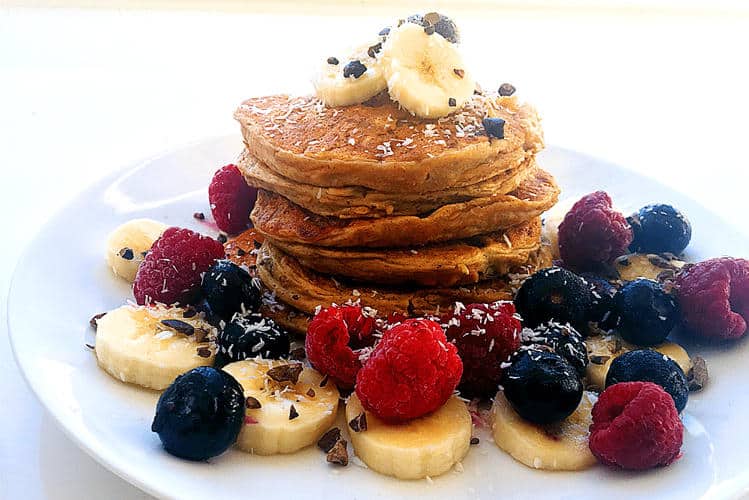 I can never have enough pancake recipes. There are a few on my recipe list although none of them are quite like this one.
Pancakes that taste like carrot cake? Could it be true? You bet, and it's easy to make as well! You're looking at a total of 15 minutes and that includes prep and cooking time.
No special equipment required, just use your frying pan and you're good to go. Cook for two minutes on either side and serve with your favorite fruit, syrup and stuff!
Broccoli Leek Frittata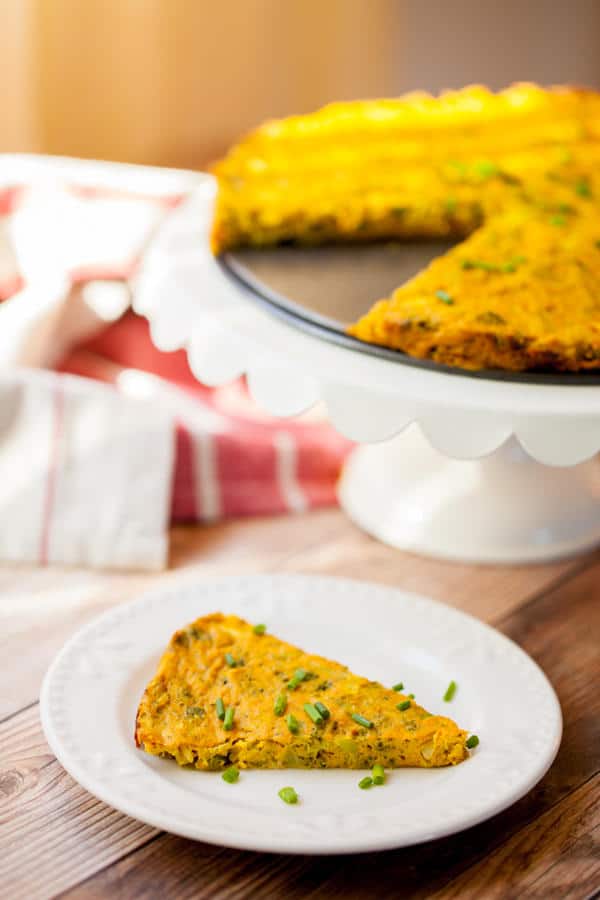 When I first saw this recipe, I was really interested in it. A 'frittata' is an Italian dish similar to an omelette.
I was intrigued as to what the author used as an egg replacement.
I was expecting to see chickpea flour as the main ingredient as this is a fantastic way of achieving that egg texture.
This recipe simply sets out to be different from the onset. You know what? It works and tastes great!
Vanilla Protein Pancakes (Gluten-Free)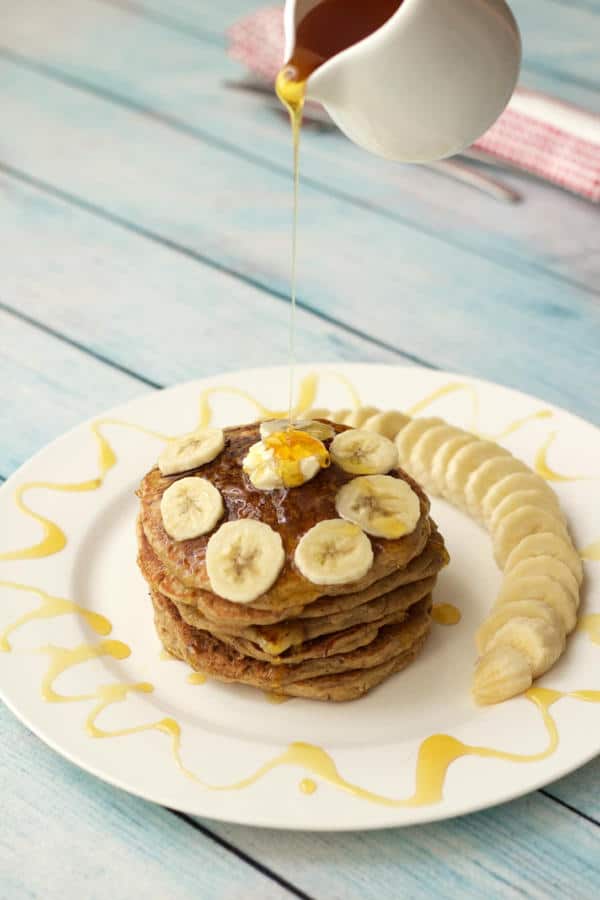 You'll need some vegan vanilla protein powder as well as all-purpose baking flour.
Throw in the rest of the ingredients, including a flax egg, and you're good to go.
The secret ingredient for me is the mashed banana, it provides a light and fluffy texture to these incredible pancakes. Serve with your favorite fruit, coconut cream, or both!
Stovetop Protein Granola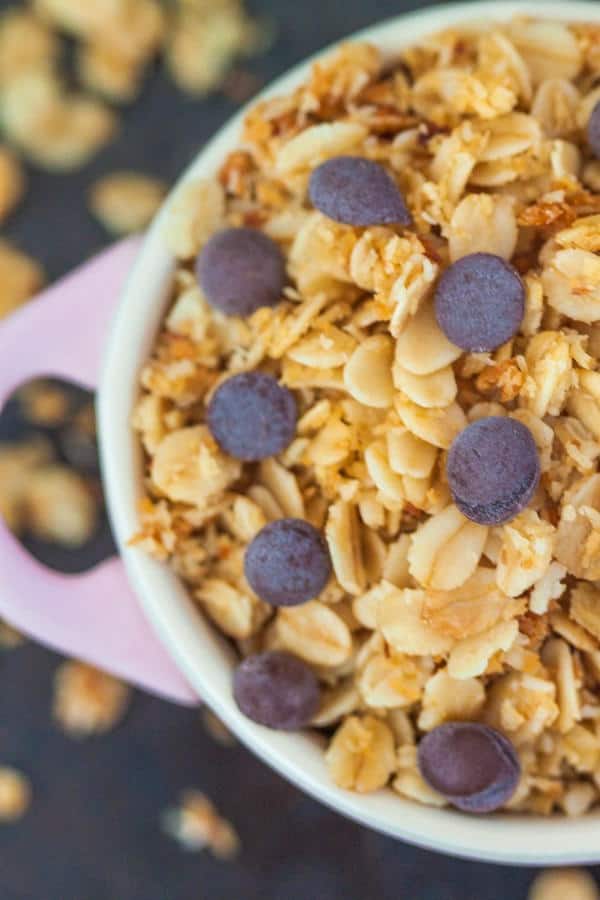 If you like granola, this recipe is a must. High in protein and low in added sugar and takes less than 10 minutes to make this single serving.
I love the shredded coconut in this, it's not overpowering and just there in every mouthful. Serve with vegan yogurt or plant-based milk.
Oat, Apple and Walnut Protein Flapjacks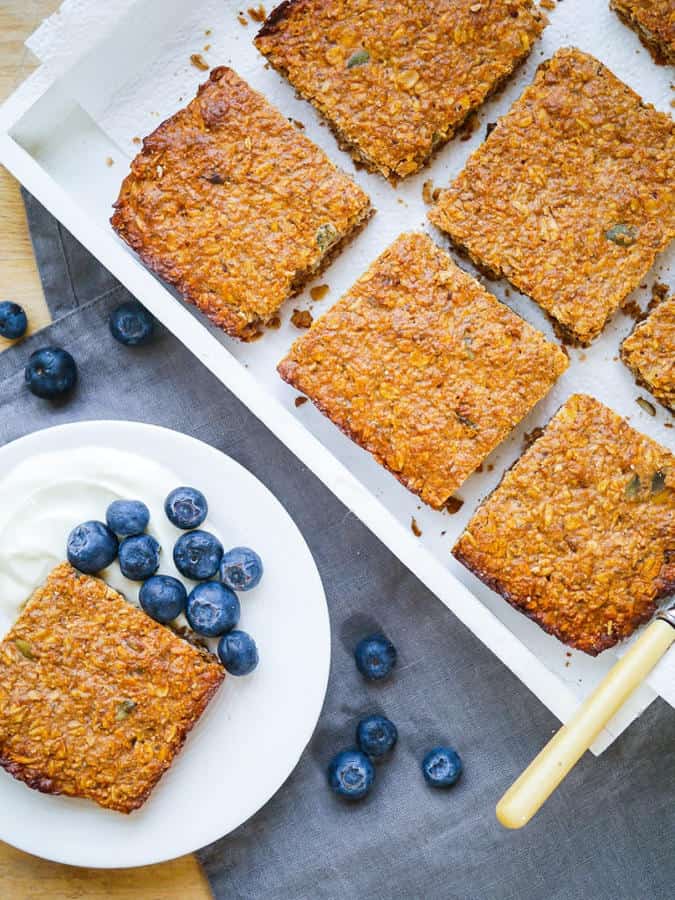 Flapjacks have always been one of my favorite snacks and I must say, this recipe takes it to the next level.
I think we all agree that Apple and Walnut go together perfectly, and this is what this recipe is all about.
The flapjacks are perfect, they have the right amount of moistness and are bursting flavor.
Chocolate Peanut Butter Protein Overnight Oats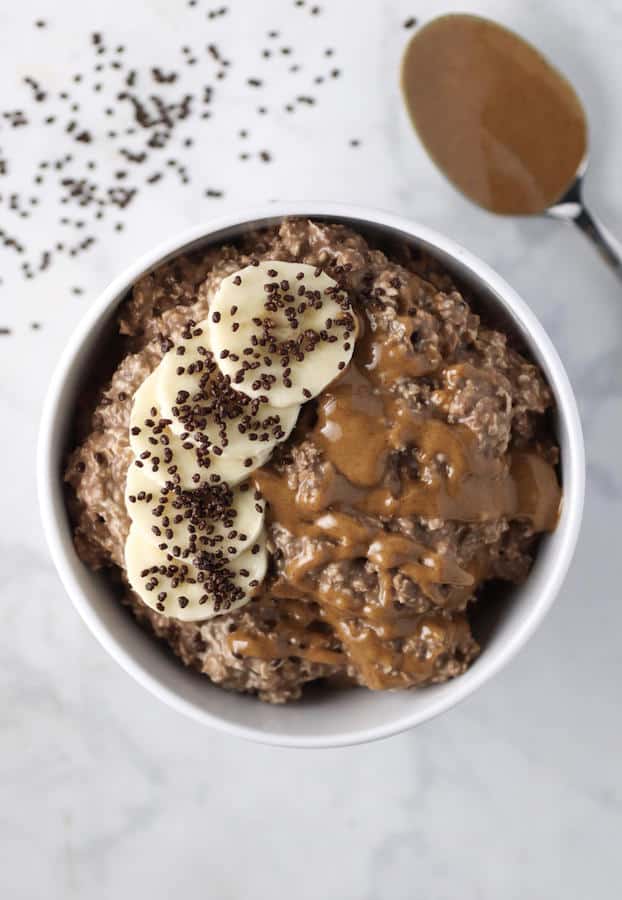 I don't know if you've ever made anything like this before, it's a great method of having oats but without cooking them.
You do need to prepare this the night before and then place in the fridge for all the ingredients to marinate and absorb into each other.
The next morning your breakfast is waiting for you! Add your favorite fruit, vegan yogurt or plant-based milk. Perfect!
Chocolate Protein Zucchini Oatmeal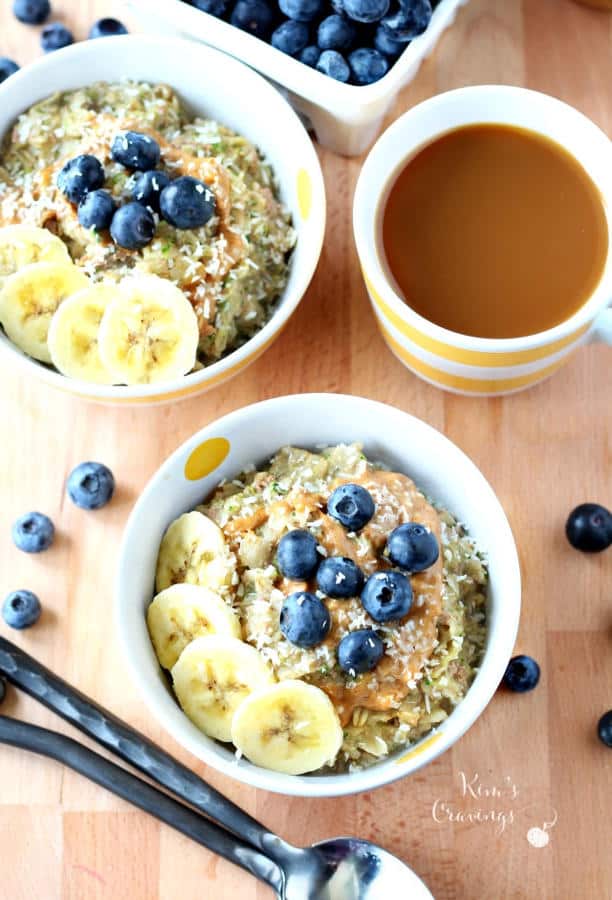 When I first saw this, I was intrigued. Zucchini in a chocolate oatmeal recipe? How would that work?
Top marks for the recipe author, this is a success. It tastes great and is packed with protein and nutrients.Just five ingredients is all you need to bring this together. Serve with your favorite fruit.
High-Protein Three Seed Avocado Toast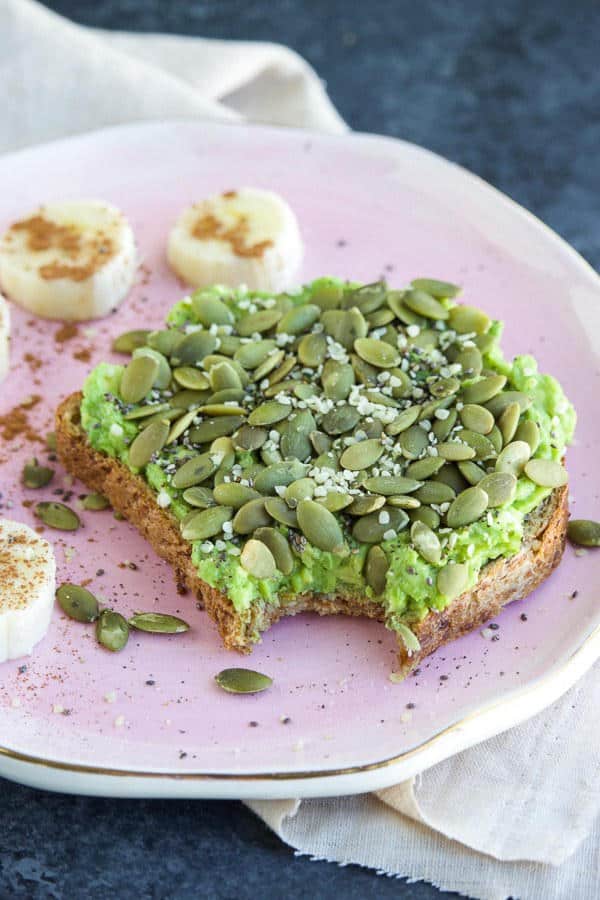 Everybody has heard of avocado on toast, you just mash it all up, spread and eat. This recipe adds a new texture!
You add three types of seeds and end up with a snack or lunch that has so much protein all from natural and unprocessed foods.
Absolutely delicious.
High-Protein Vegan Dessert Recipes
Cinnamon Carob Marble Fudge Protein-Packed Cake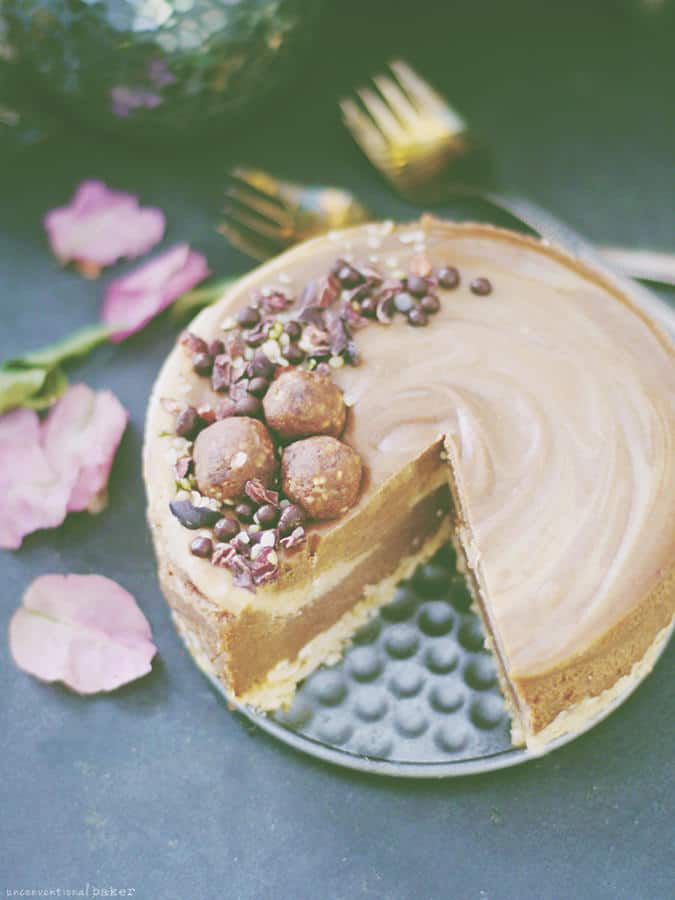 Marble cake is one of those treats thought of in terms of delicious, but not too much because it's unhealthy. Well, let's blow all of those negatives away.
The recipe is divided into three sections, the crust, the filling for the base, and then the carob topping.
You're looking at cashew nuts (no need to soak them), medjool dates and so much more. Finally, a healthy dessert packed with goodness and flavor!
Black Raspberry Chip Protein Nice Cream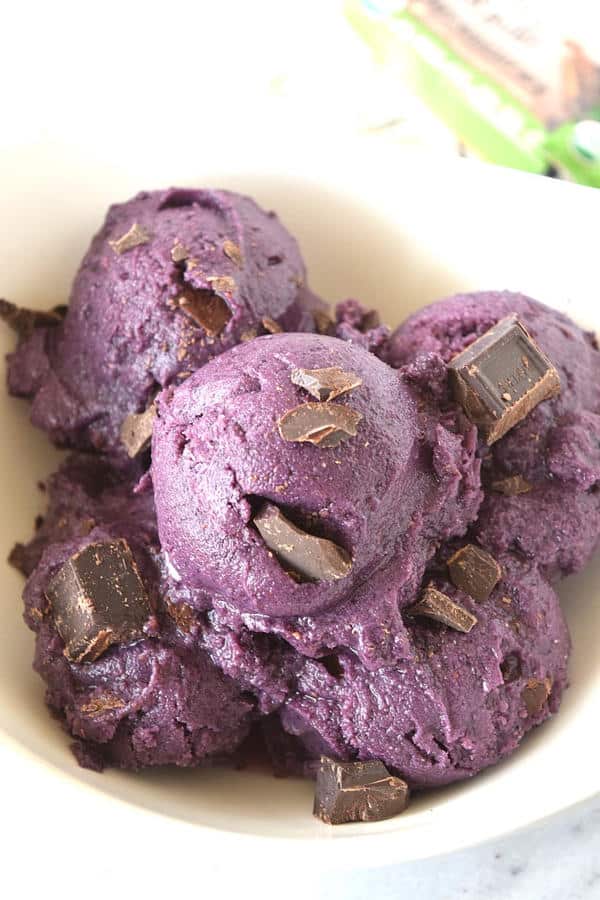 Some people describe Nice Cream as a vegan alternative to dairy ice cream primarily made with frozen bananas.
This isn't always the case as this recipe shows. Just four ingredients is all you need.
Do note that ideally you'll have a high-powered blender to make this, if you don't have one you could use a food processor, just keep whizzing for a few minutes and it will turn into an ice cream consistency.
This is so delicious!
Baked Rhubarb Vanilla Cheesecake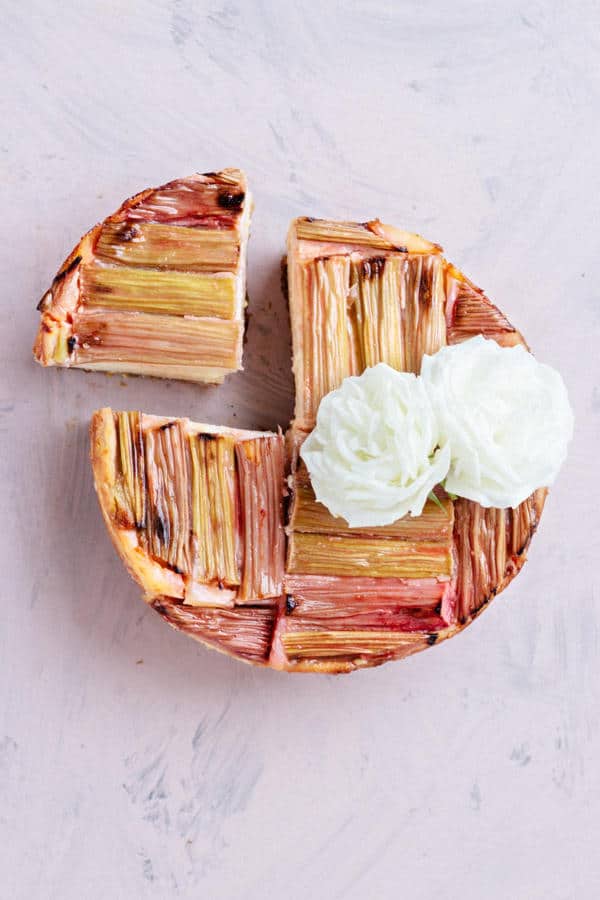 Doesn't the top of this cake look just amazing? For some reason, rhubarb seems to be largely forgotten, at least in my experience.
This recipe brings it back in style!
A great cheesecake made with silken tofu and a bunch of wonderful natural ingredients. If you want to impress someone, this is the recipe to go for!
Mint Chocolate Chip Avocado Protein Ice Cream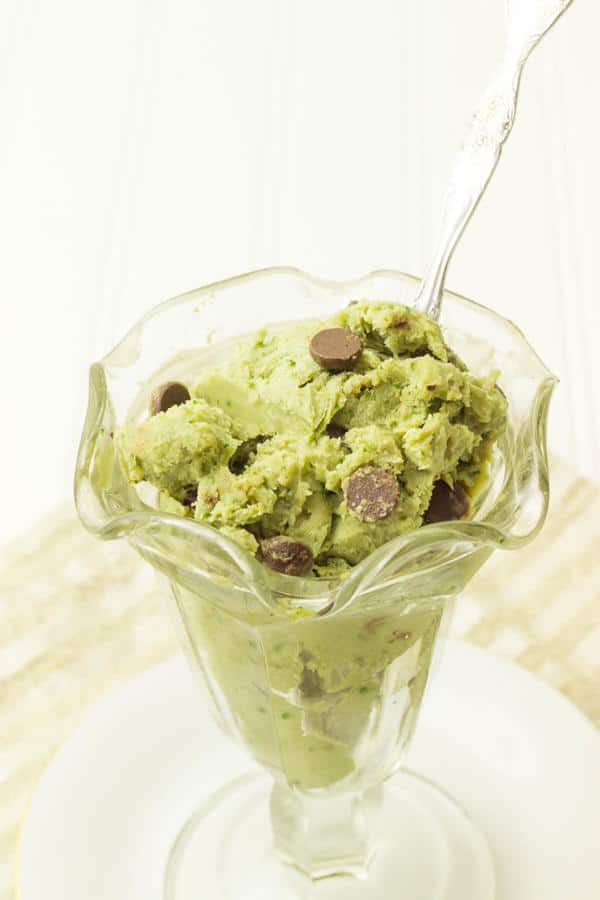 As a child this was my favorite flavor of ice cream. It's great to now have so many dairy-free versions so we can enjoy it without the health concerns.
I've never had a vegan mint chocolate chip ice scream that has contained avocado before.
Having said that, we often see avocado in pudding recipes and it works perfectly, to say the least. And that's a great way to describe this recipe too, perfect!
Berry Cherry Protein Chia Pudding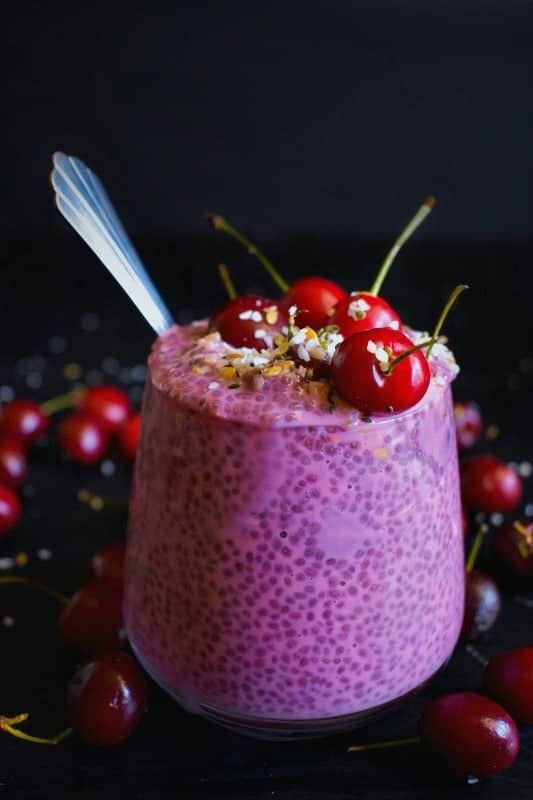 Chia seeds are perfect for making puddings as they contain natural properties that replicate the pudding texture.
This healthy and delicious dessert is ready in five minutes and uses a selection of berries, coconut and more.
It's also versatile so you can swap out the berries for another fruit. Wonderful!
High-Protein Chocolate Chia Pudding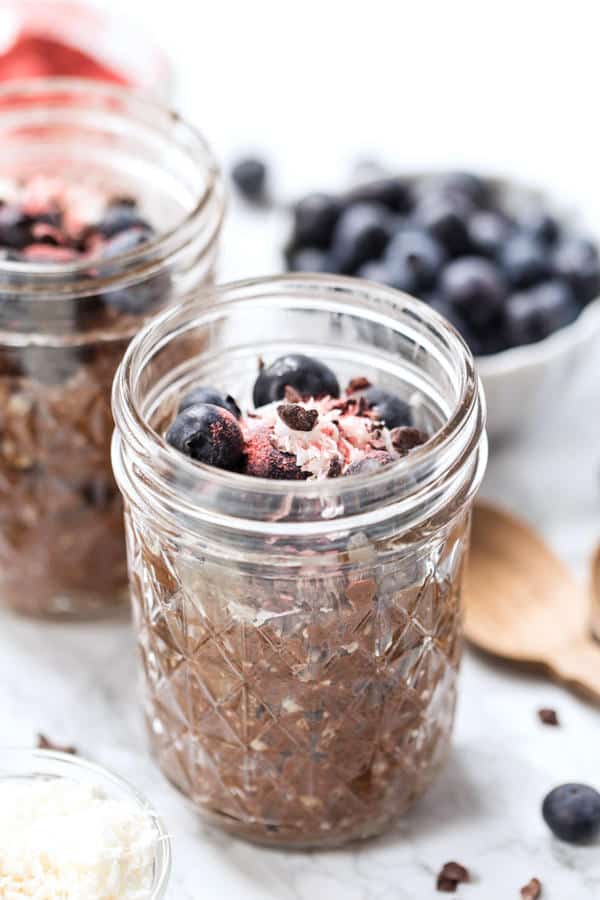 An incredibly healthy dessert that is decadent and delicious. Not only is this high in protein, it is loaded with fibre and omega-3's. A great breakfast.
I was pleasantly surprised to learn this dessert contained 2 tablespoons of cooked quinoa, this makes it more satisfying.
Don't worry, it doesn't add any savoury flavoring, this is all chocolate, trust me!
Dessert Pizza with Raspberry Sauce (Gluten-Free)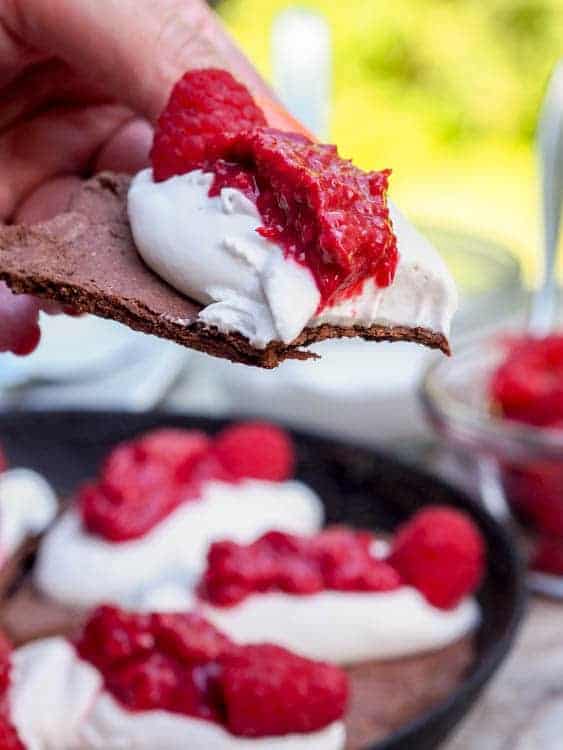 A guilt free dessert, who doesn't want that? This is labelled as a pizza for a bit of fun in my opinion, and why not.
You have a crust, some cream that is made with coconut cream and two other ingredients and finally the raspberry jam/jelly.
Whether you decide to call it a pizza or not, this is healthy and delicious!
Banana Peanut Butter Protein Pudding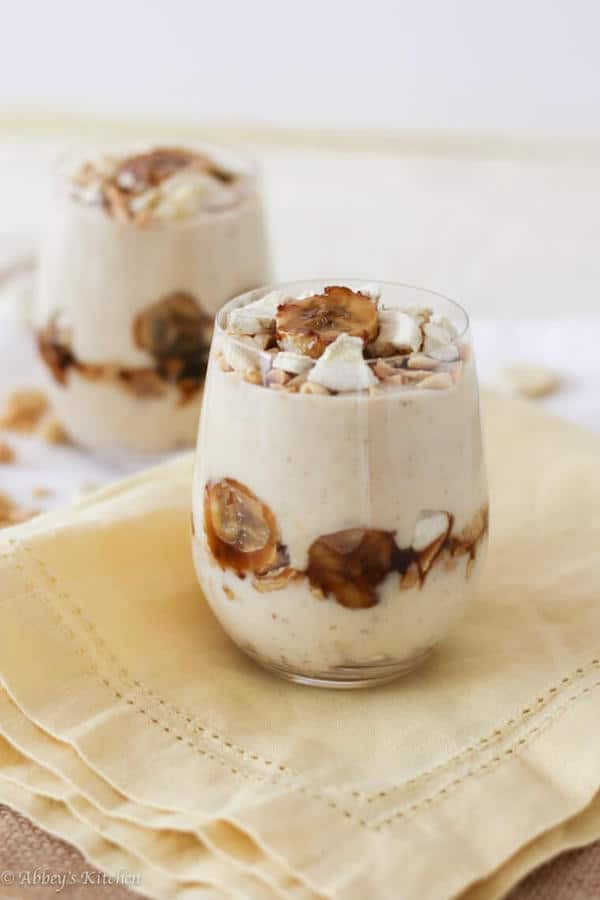 If you've read some of my roundups, you'll know that I love peanut butter. So, you can imagine the look on my face when I saw this recipe!
The pudding itself is made with soft tofu, banana and 4 other ingredients.
To top everything off you have the garnish, I think it's perfect as it is, but you can easily swap out the toppings with whatever you prefer. Either way, you win!
3-Ingredient Peanut Butter Pie Dip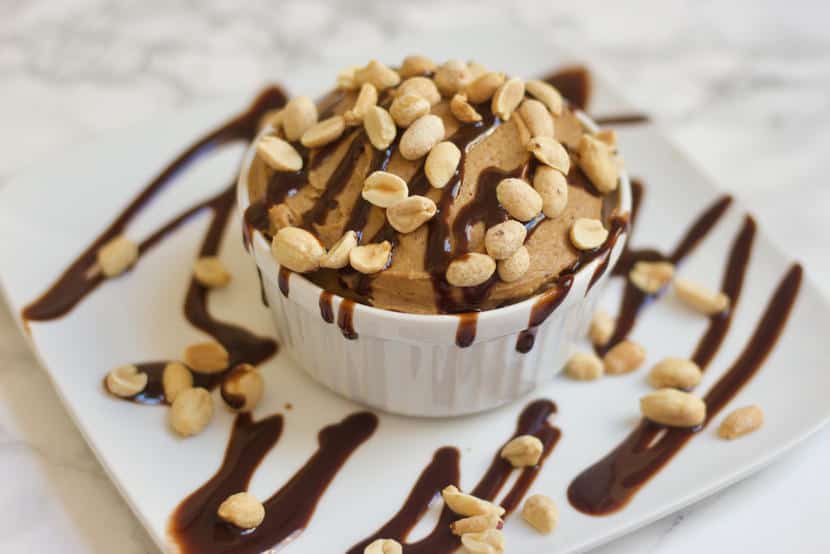 This really is like a pie or a dip, it largely depends on how you choose to have it. For me it's definitely a pie.
I couldn't believe this was made with just three ingredients, that's insane!
You'll need a food processor or blender to create the texture. Just throw everything together and you're done. Top with your favorite sauce and peanuts!
Butternut Squash Chocolate Mousse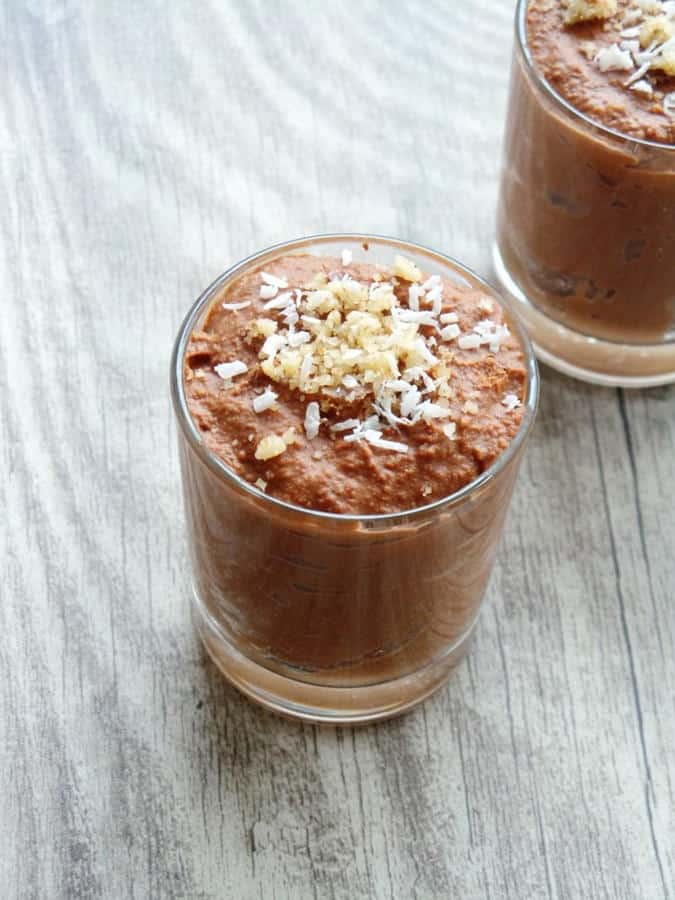 This is one of those recipes that you simply must try. Normally butternut squash and chocolate are two things that would motivate me very much. But when I tried it and was sold.
Just six ingredients is all you need to create this fantastic mousse. Once you've mixed everything together you need to chill it in the fridge for about two hours.
This would be perfect to take to a party and then tell everybody, after they've eaten it, it was made with butternut squash. They'll all be asking you for the recipe!
High-Protein Vegan Dinner Recipes
Protein Packed Broccoli Pesto Pasta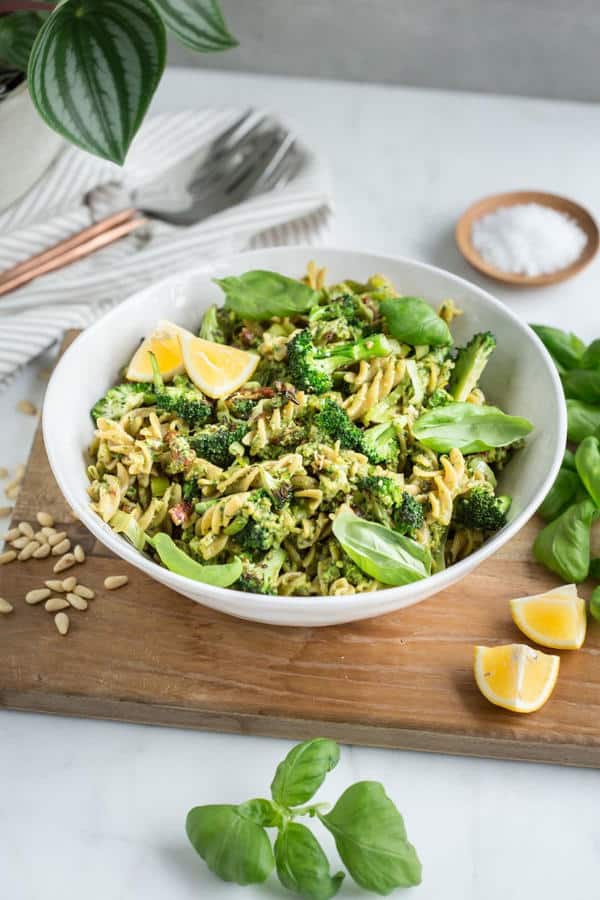 Pasta is great, we all know how versatile it is. You can have it hot, cold and with just about an infinite amount of sauces.
What I love about this recipe is that it shows you how to make a great pesto from scratch.
It's really good! Add the other ingredients and you have yourself a satisfying and tasty meal that's so easy to make.
High-Protein Filo Lasagna with Roasted Veggies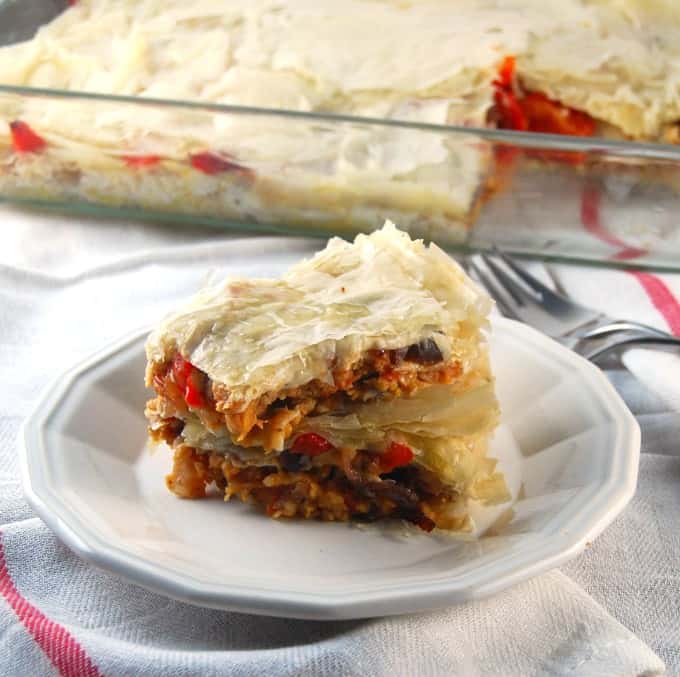 Lasagna is that wonderful dish we all know about. This is a twist on what you're familiar with by using filo pastry.
You need to buy 20 sheets of filo pastry and looking at the other ingredients, I imagine that if you cook at least a couple of times a week, you'll have most of the them in the kitchen already.
The end-product naturally looks like a restaurant quality dish and yet it's incredibly economical. Most of all, it's delicious.
Protein-Packed Persian Jeweled Pilaf (Gluten-Free)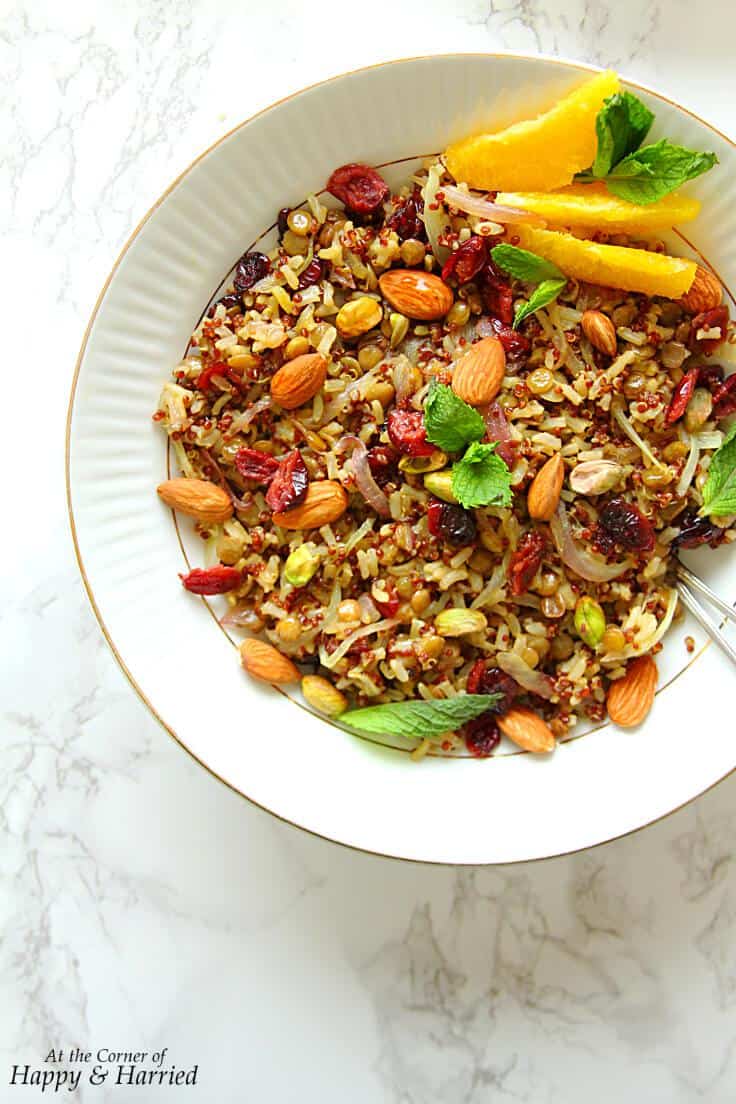 What an incredible recipe this is! So many colours, an endless array of textures and flavors awaits you.
Surprisingly easy to make, this dish contains everything from onion, cranberries, pistachios and more.
Just a few minutes prep time and cooking for about 25 minutes yield you this fantastic plate of goodness.
The amounts listed in the ingredients make for 3 to 4 servings so adjust as necessary.
Black Bean Protein Burgers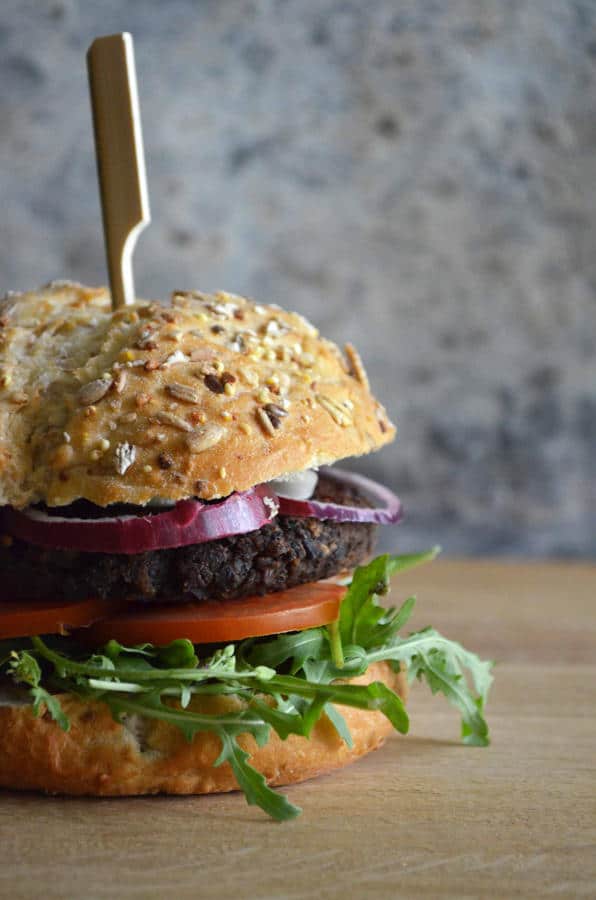 Right now, there are a lot of vegan burgers out there that are doing everything they can to resemble meat.
This is great for carnivores and people transitioning toward veganism. But some people don't want their burgers to look or taste anything like meat, and this is where a great recipe like this comes in.
Personally, I prefer a burger made from black beans rather than kidney beans, there's just something about both the taste and texture of black beans that lends itself perfectly for this kind of recipe.
This is a high-quality burger that you need to try!
High-Protein Burgers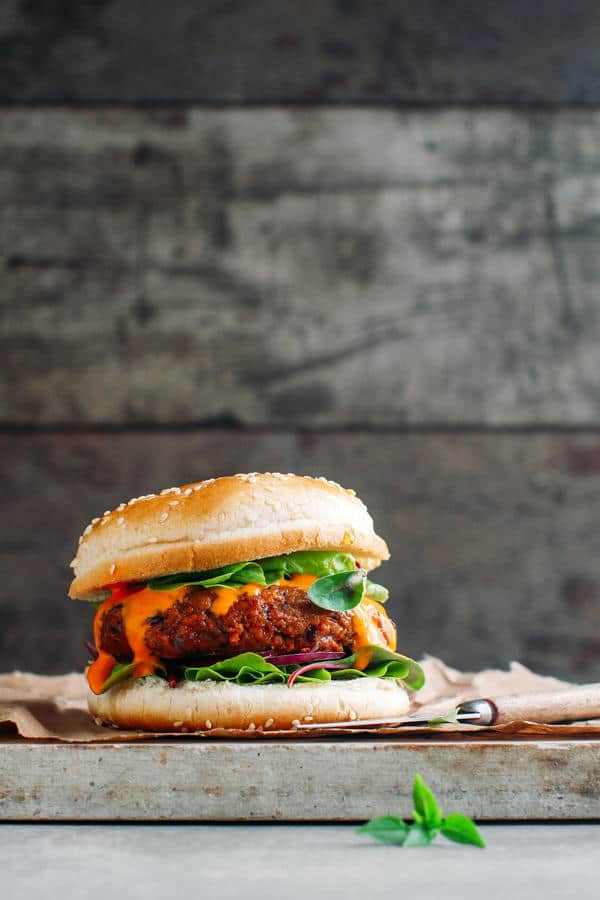 This is a great recipe! I don't normally enjoy burgers made with red kidney beans too much as the flavor seems to mask everything else.
Not here, you have some great ingredients such as soy sauce, herbs and spices and even a little maple syrup!
Make yourself this great vegan burger that is 'meaty', juicy and hits the spot!
Fall Farro Protein Bowl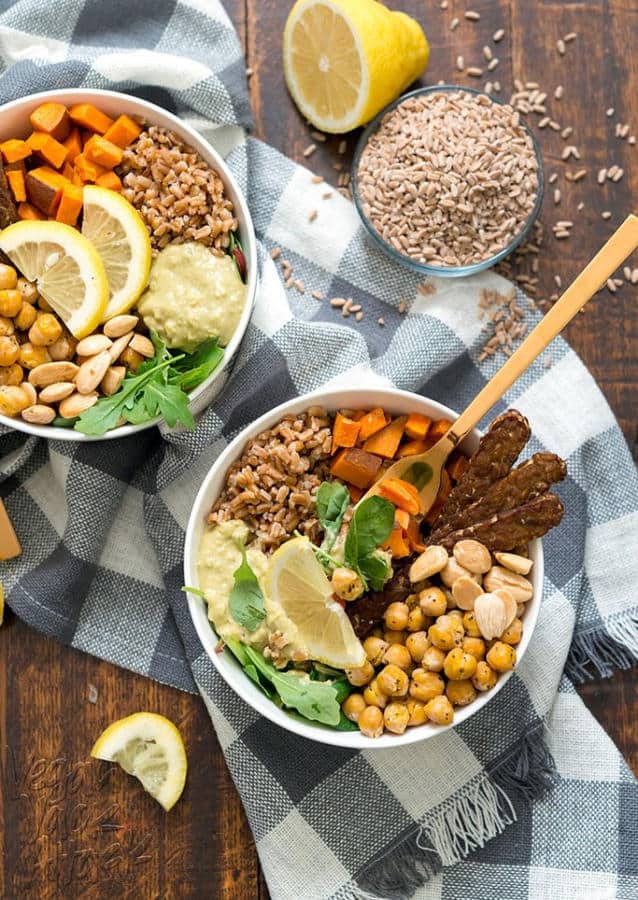 This protein bowl is probably one of the easiest recipes of this kind I've seen.
The most important thing to note here is some of the ingredients are seasonal and this is a good thing. Just swap out anything you like for another vegetable.
If you're avoiding nuts, you could replace the almonds with pumpkin seeds and if you want to make this dish soy-free, use nuts and seeds instead of tempeh.
My favorite part of this bowl is the hummus!
Quick Red Lentil Chili (Protein-Packed)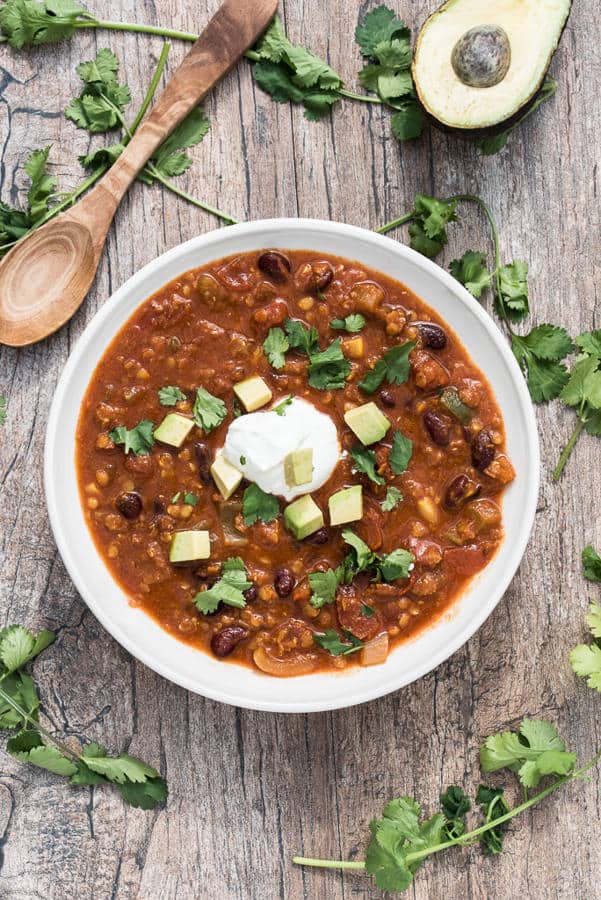 I really love vegan chili dishes. Sometimes, however, they are not quick or easy to make, this is both!
One of the best things about this recipe is that it's made in one pot. Just throw everything in and let it cook while you get ready for dinner.
Top with avocado and your favorite herb such as cilantro. If you can source some vegan sour cream, add a dollop at the end! Serve with your favorite bread but good enough to eat on its own.
Summertime Chili (High Protein)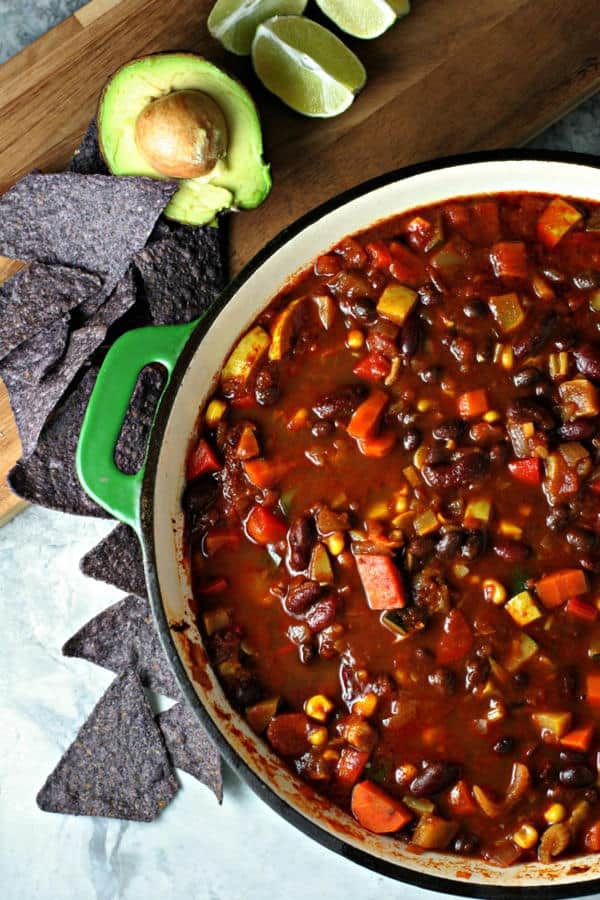 This is a serious chili recipe. Just take one look at the photo and check out all the ingredients.
There's honestly nothing quite like a dish you made yourself at home. No preservatives, no weird flavorings, just real food.
The ingredients to make this are all easily sourced so you won't have any problems.
Do note there is a pinch of cayenne pepper in this so adjust as necessary. Serve over rice or just eat as it is.
High-Protein Lasagna Soup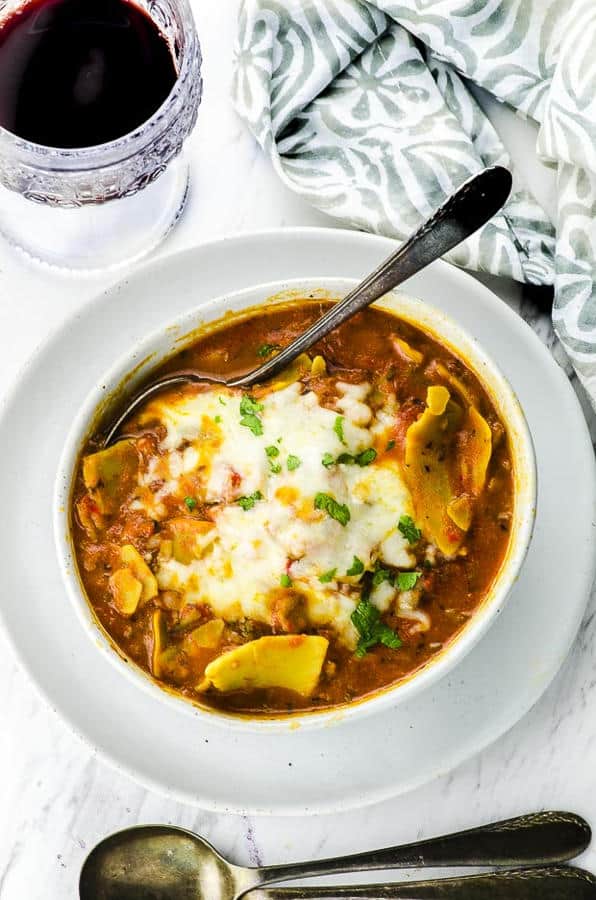 I know what you're thinking, lasagna soup? Don't worry, this is not a lasagna that has been blended!
What you get here is an amazing soup recipe that includes portobello mushrooms and some wonderful flavors.
Then you add the pasta sheets just as another ingredient. A wholesome meal that is satisfying, warming and delicious.
The Green Warrior Burger (Gluten-Free)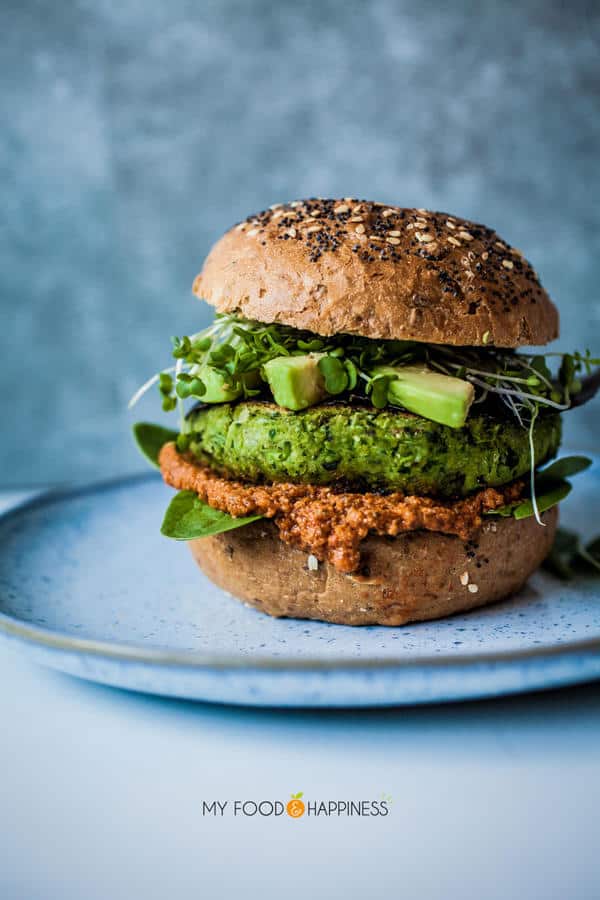 As soon I saw the picture for this recipe, I knew I had to make it! The green patty alone sold me. So often we see patties that resemble meat. Why not a green one?
Butter beans are one of my favorites. Here the author has added spinach, fresh parsley and just a handful of other ingredients to make this awesome looking and tasting burger. Go for it!
High-Protein Vegan Gluten-Free Recipes
Bounty-Licious Chocolate Protein Waffles (Gluten-Free)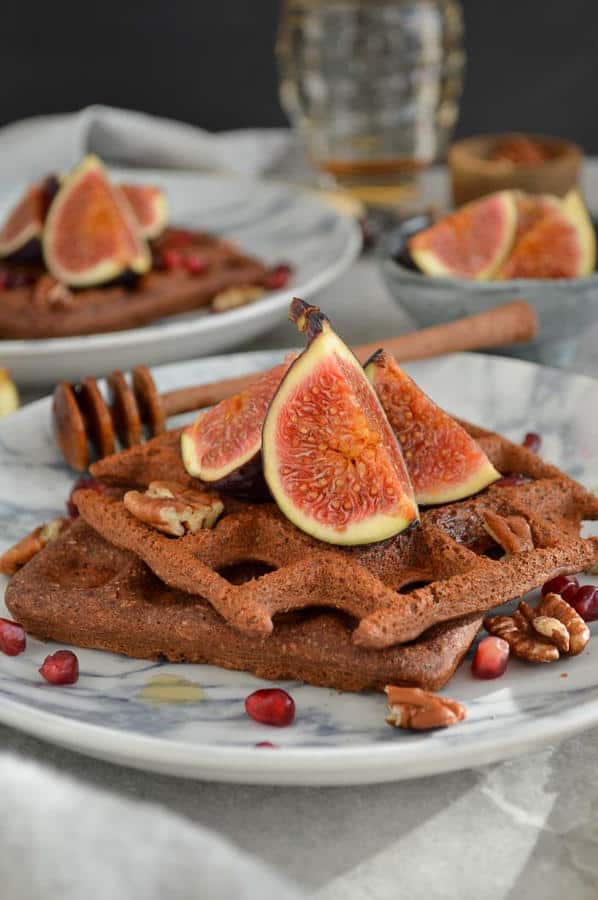 If you want waffles with a difference, check this out. These high-protein beauties are filled with chocolate but at the same time they are gluten-free.
It takes just 15 minutes to bring this to the table. Obviously, you will need a waffle maker but if you don't have one, you could just use a griddle and make into pancakes.
If you want a reason to buy a waffle maker, this recipe is it!
Healthy High-Protein Banana Nut Bread (Gluten-Free)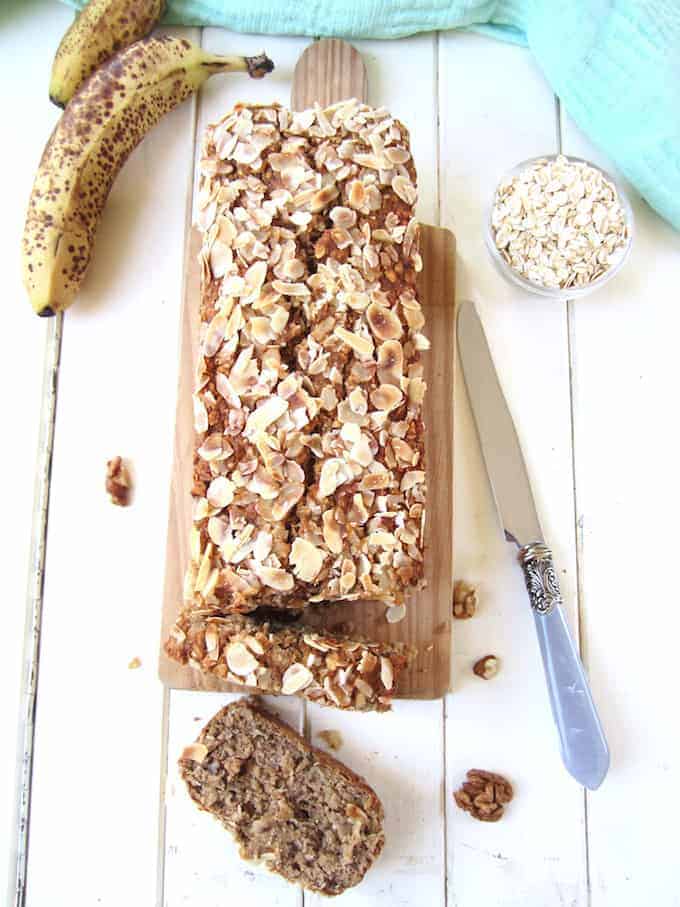 You can never have enough banana bread. When I saw this recipe contained nuts as well, I was eager to try it out.
The first thing I want to tell you is that this is not dry, it's beautifully moist and has a wonderful hint of cinnamon in every bite.
The author has used walnuts and pecans although you could use whatever you prefer. If you want to treat somebody, including yourself, this is it.
Healthy Protein Pancakes (Gluten-Free)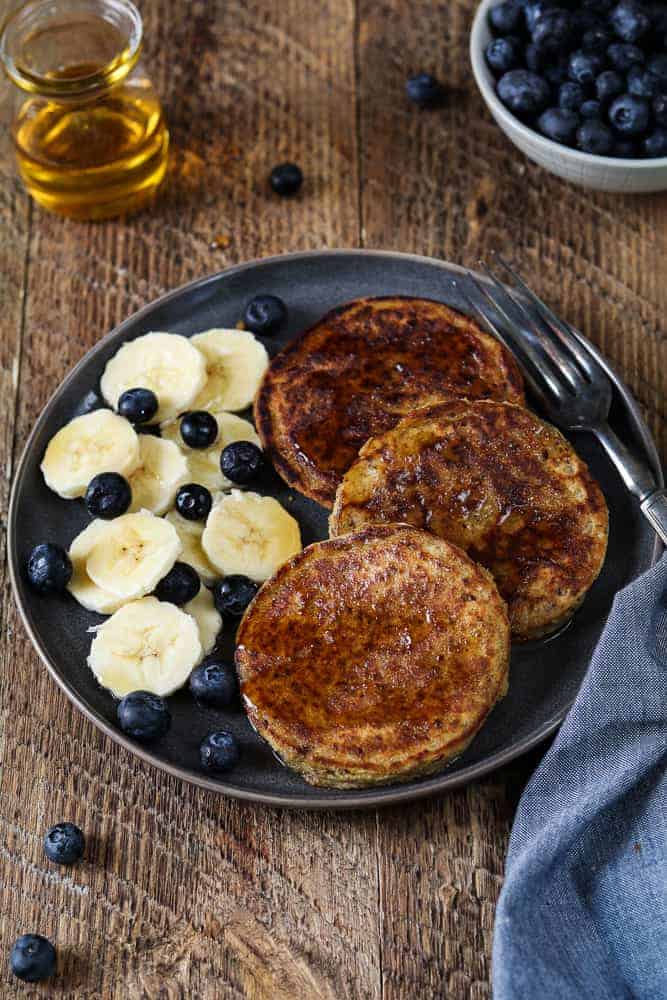 Look at that picture and tell me you don't want to make these pancakes! That's my challenge to you!
The simple and healthy pancakes are made with just nine straight forward ingredients. Do note, one of the items on the list is a protein powder of a particular brand.
If you're unable to source this, just use whatever protein powder you can get and it will work out just fine. Top with fruits, nuts and coconut whipped cream!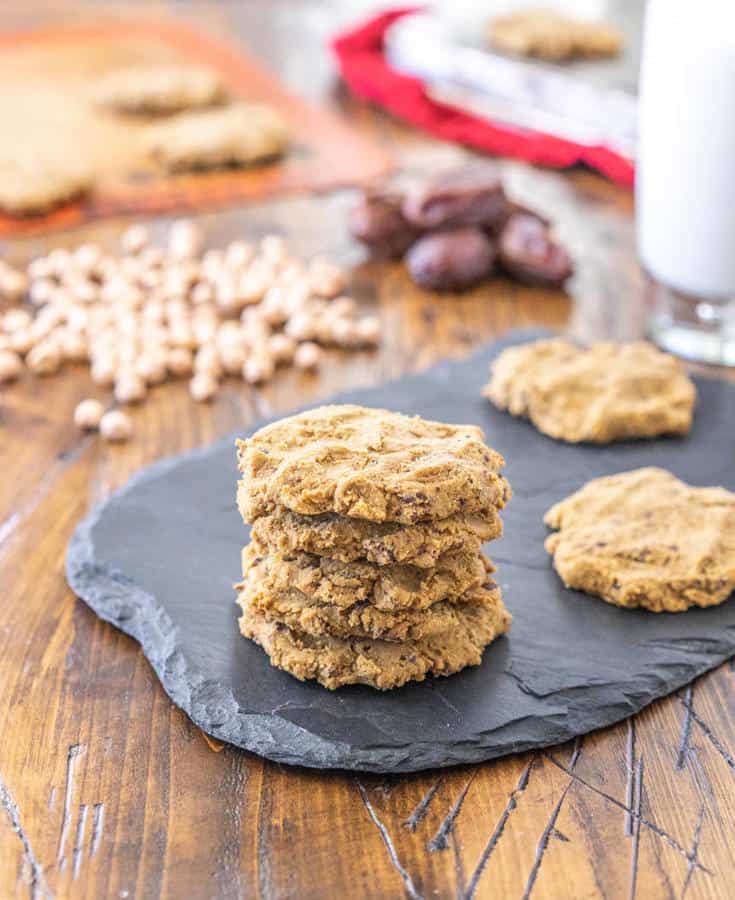 Can you believe these cookies are not made with flour? Just eight ingredients that you whizz together in a food processor (except the cocoa nibs) and you're good to go.
Shape into cookies or get the kids involved with some fun cookie cutters.
After baking allow to cool and knock yourself out. Will store in an air-tight container in the fridge for up to 5 days.
Sweet and Spicy Green Power Tofu Quinoa Bowl (Gluten-Free)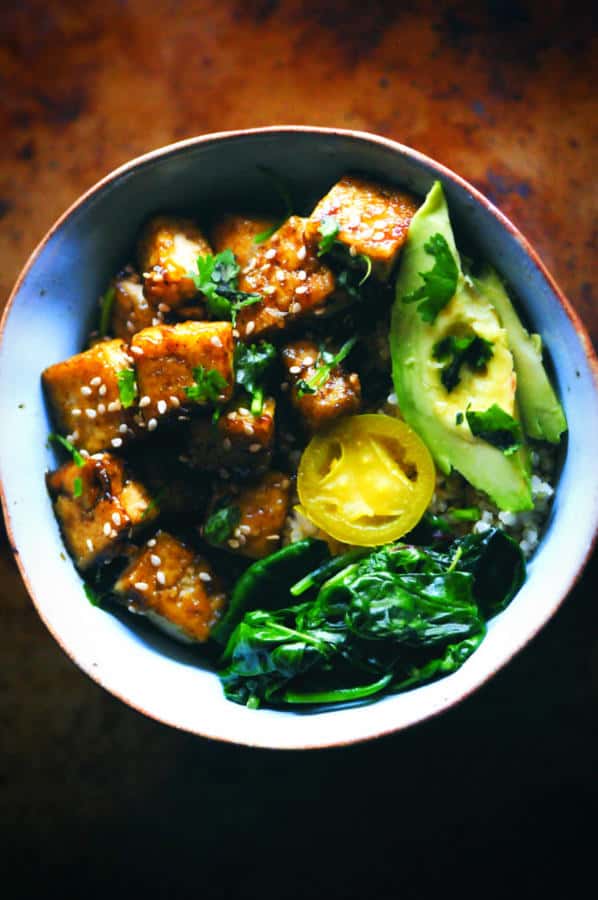 Okay, this recipe has my name written all over it! It contains tofu prepared perfectly, quinoa and is both sweet and spicy.
Don't worry, this isn't difficult to put together. Getting a take-out is great but you don't always know about the ingredients.
This will definitely give you that take-out fix, will taste better and is healthy. Make this once and I guarantee you'll make it again!
Mediterranean Picnic Muffins (Gluten-Free)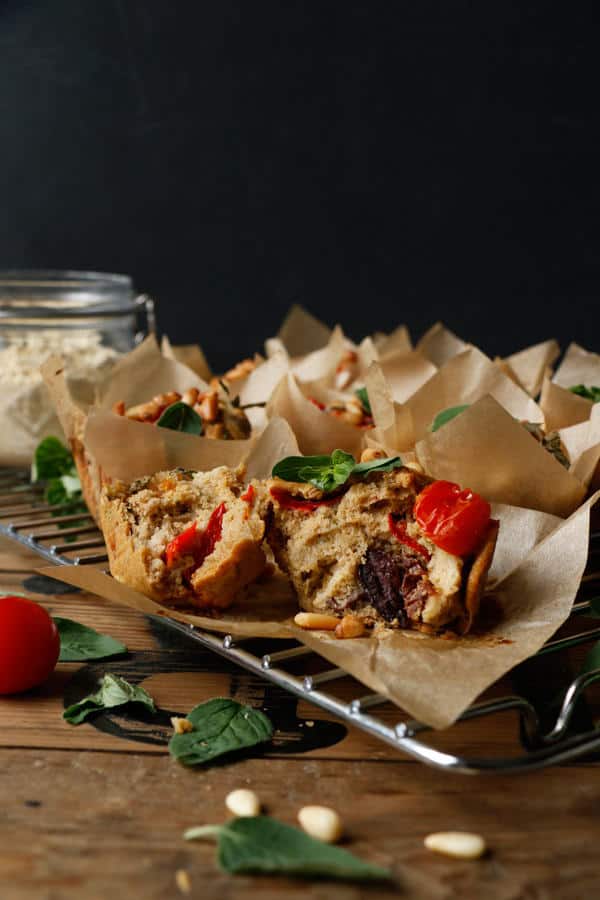 Great muffins for a dinner party or to take with you for a picnic or road trip.
These have wonderful flavors such as sun-dried tomatoes, roasted bell pepper, kalamata olives and more.
The amounts listed in the ingredients make 12 muffins, one thing is guaranteed, they will go quick so double up!
Sweet Chilli Lime Tofu (Gluten-Free)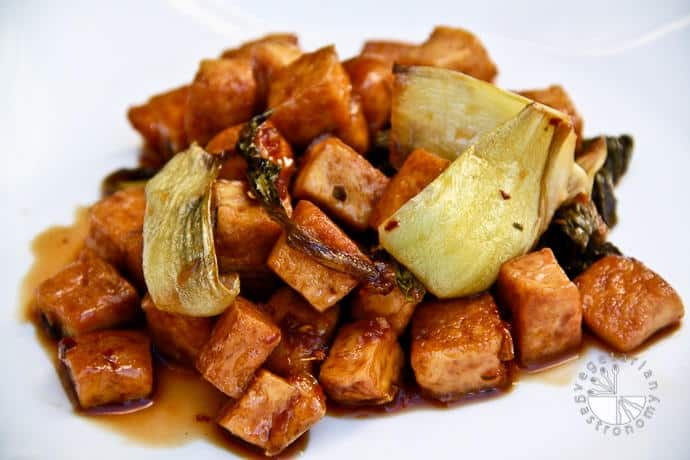 A lot of people are down on tofu and I think that's because they've never had it made right, when it's cooked properly, it's incredible and this is what we have here.
When you're looking for that take-out fix at just a fraction of the cost, more flavor and no concern about mystery ingredients, make this.
It has more flavor than you know what to do with! Serve over rice or makes for the perfect side dish.
Barbecue Brussels Sprouts Tacos (Gluten-Free)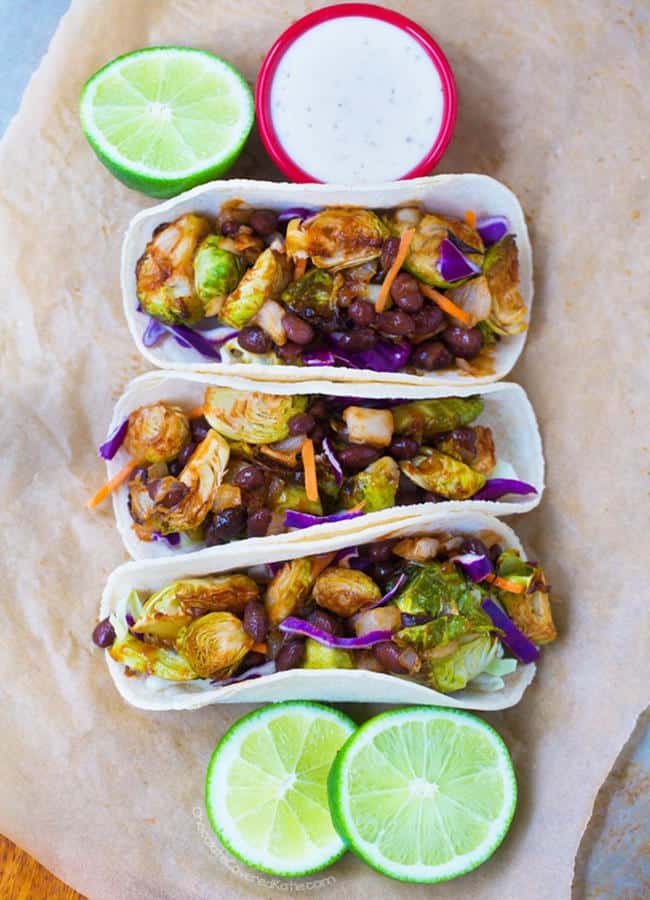 I think Brussels sprouts get a bad rap. Most people think all you can do is boil them and that's it.
This dish is sweet, savoury and most of all, it's super easy to make.
Perfect for those times you want some tacos and you're trying to avoid processed meat substitutes. Nothing but real food in here!
Sriracha Roasted Nuts (Gluten-Free)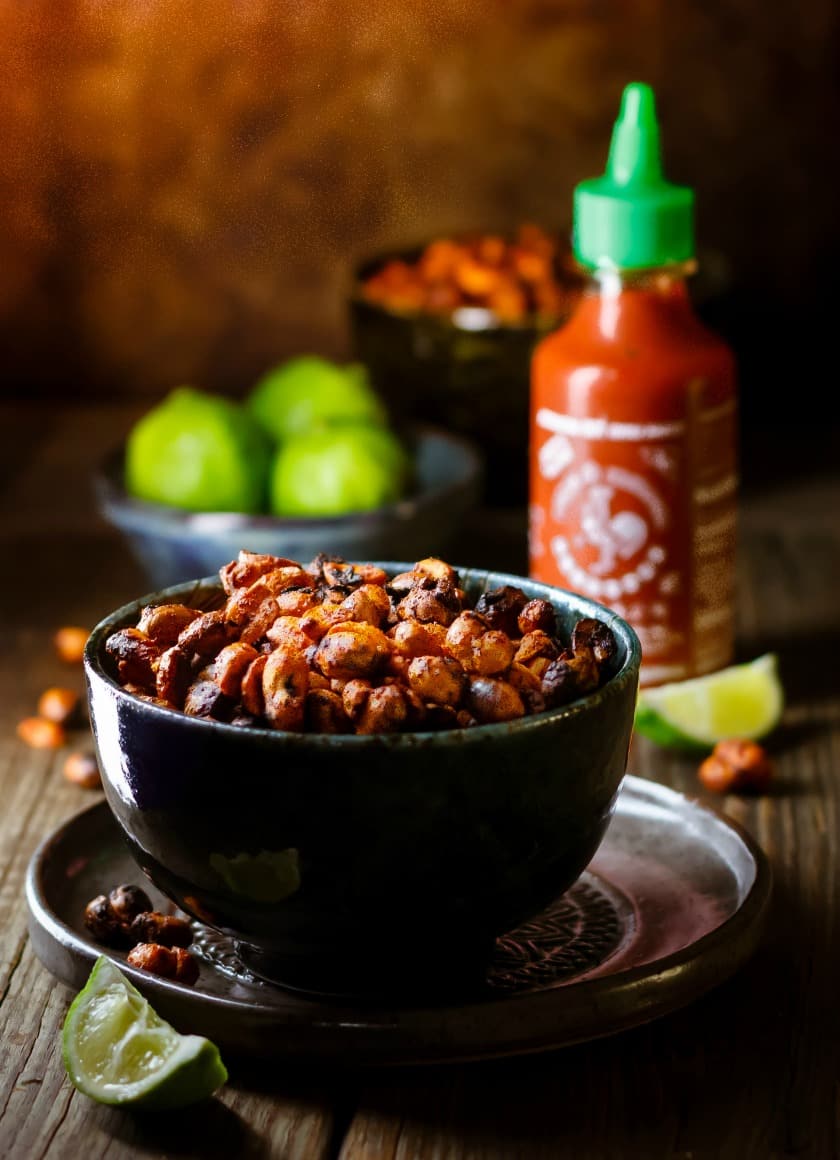 You have some friends coming over for the evening and you want to do more than just grab a bag of nuts and empty them into a bowl.
Wow your guests with these delicious roasted nuts.
You're looking at about 25 minutes to prepare these. There is certainly no problem serving these cold although if possible, serve slightly warm. Your friends will ask where you got them, and you can reply, 'I made them!'
Classic Banana Bread (Gluten-Free)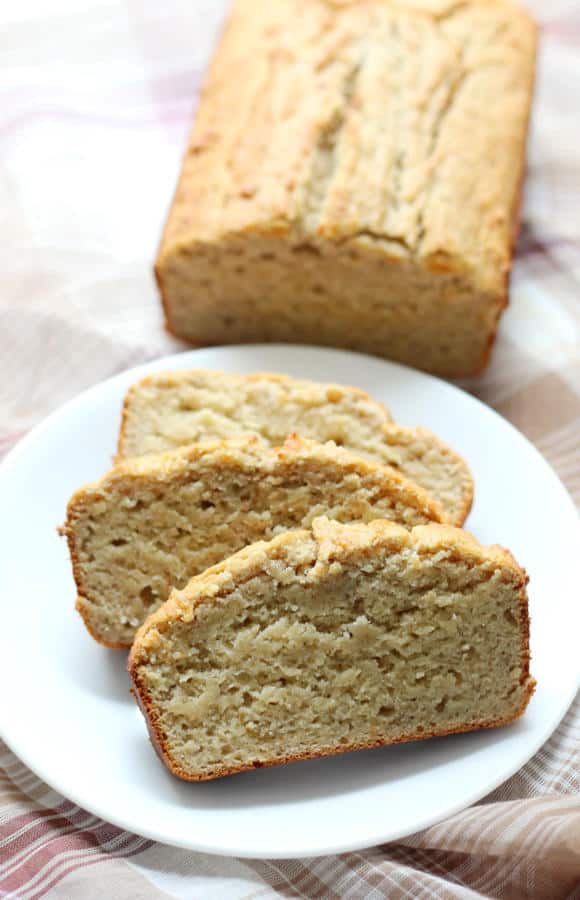 You know, the majority of the time we see incredible recipes and many of them are taken from a classic dish where the author then adds a twist.
This is great and all, but what happens when you want that classic recipe? Here we have a fantastic allergy-free and vegan banana bread!
This is moist and flavourful and has a wonderful hint of cinnamon and vanilla. The author uses quinoa flour to make this gluten-free.
After baking, allowing to cool on a wire rack. Store in an airtight container or you can even freeze it. Fantastic!
High-Protein Vegan Lentil Recipes
Warm Lentil and Tomato Salad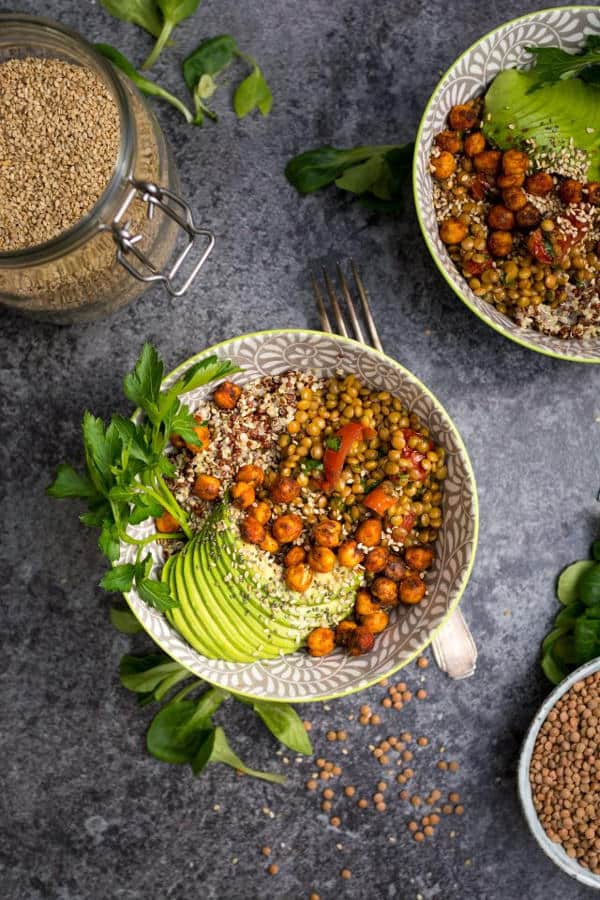 Lentils are one of my favorite foods. They are so versatile and there aren't too many foods you can say that about.
This salad is divided into two sections. You're looking at about a 20 minute prep time and then 30 minutes to cook.
The ingredients page has a tool where you can alter the amount of servings you need, and this will change the amounts listed in the ingredients. A wonderful salad perfect for the spring and summer.
Lentil Taco Salad Bowls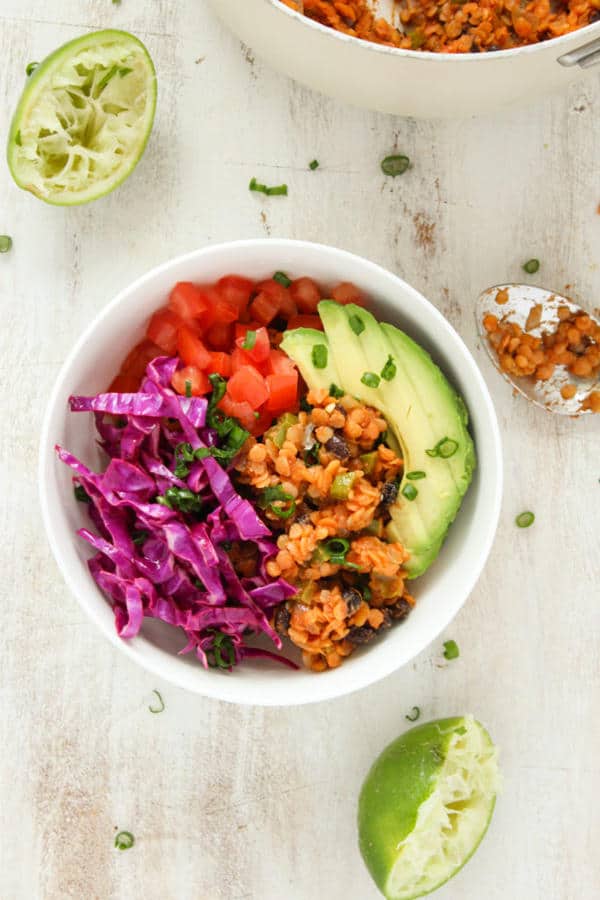 If you've never heard of a taco bowl before, it's essentially everything that would be in a taco and more, simply in a bowl. This recipe also adds some great salad items.
As you've probably heard before, a big part of a great recipe is making it look great.
The red cabbage and other salad items give this an almost rainbow array of colours. Looks as good as it tastes!
Amaranth Cakes with Lentils, Kale & Chipotle Aioli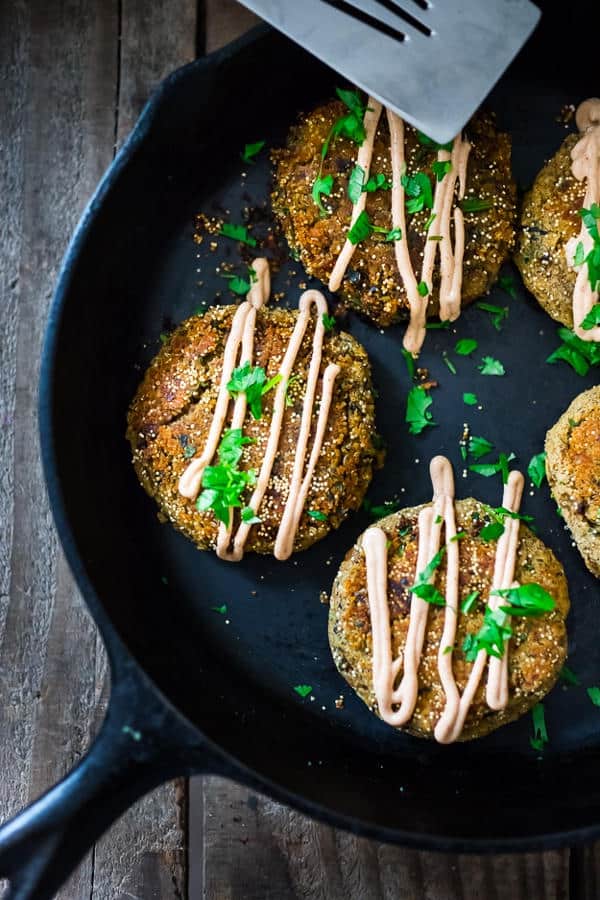 If you've never heard of amaranth before, it's a wholegrain that is extremely versatile and used in many dishes.
These 'cakes' are essentially savoury patties that include lentils, kale and a whole bunch of herbs and spices. Also included is a recipe on how to make a great aioli.
Add them both together and you have a wonderful lunch or dinner. Perfect on their own, maybe even better in a bun!
Vegan Meatloaf (Chickpeas and Lentils)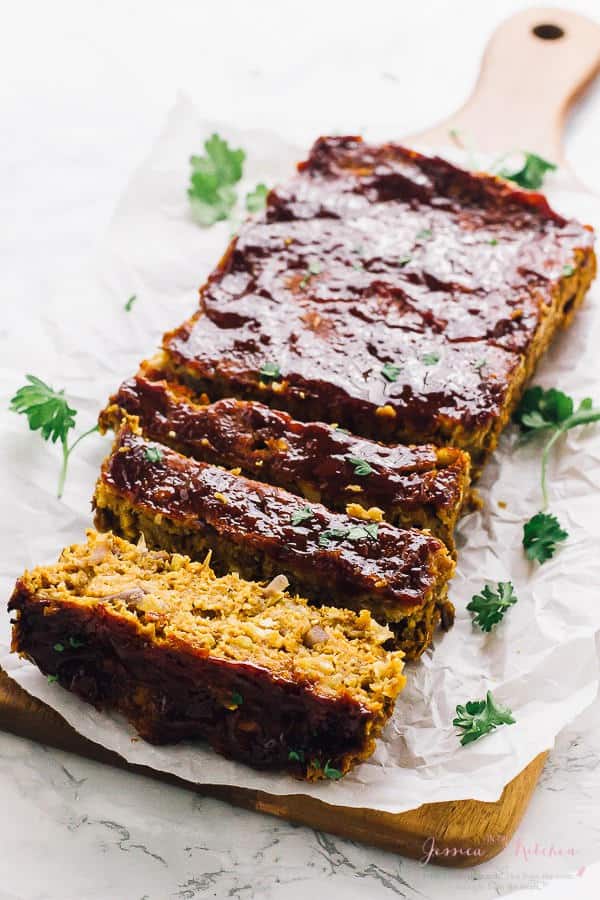 I've had a few vegan meatloaf recipes in the past and some of them were a bit dry. I love the concept so was eager to check out this dish.
This is incredibly moist and has some great flavors. I love the addition of the tomato glaze that contains just four ingredients.
What makes this 'meatloaf' even better is that it stores perfectly in an airtight container in the fridge for at least a week.
After a day or so it will become more firm but this won't affect the flavor. Perfect also as a sandwich filling!
Tomato Lentil Soup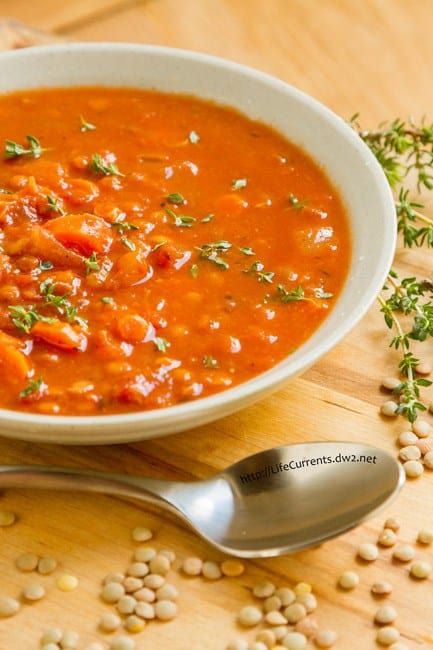 In my experience it is quite difficult to get an amazing tomato soup. Not only is this soup incredible, it also contains lentils which makes it into a hearty lunch or dinner.
Just take one look at the ingredients and you'll see this contains nothing other than good quality food.
No preservatives or colouring anywhere. Just above the ingredients there is a tool where you can change the amount of servings you need, and this changes the amounts listed in the ingredients.
This is perfect on its own although if you want to treat yourself, warm some crunchy French bread in the oven.
High-Protein Vegan Lunch Recipes
High-Protein Mushroom Burgers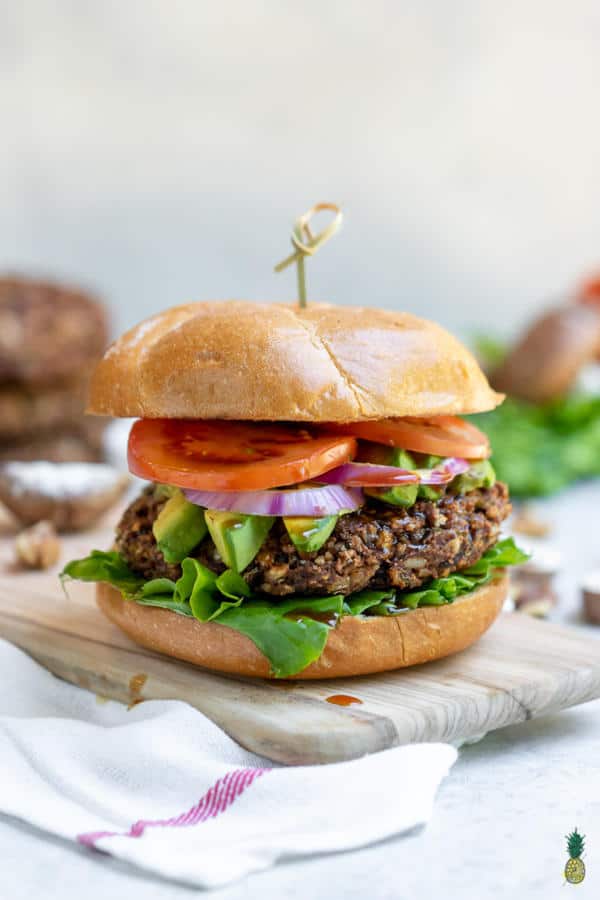 It's not often I come across a recipe for a mushroom burger. Do note, I am differentiating between a veggie burger that contains mushrooms and an actual mushroom burger which is what this is.
This contains some great ingredients such as walnuts, readcrumbs, smoked paprika and more. On the recipe page there is a video that takes you through everything step-by-step.
This also shows you how to make a vegan pizza, but if you want to jump straight to the mushroom burger part of the video, fast-forward to 11 minutes, 11 seconds. Perfect!
BBQ Tofu Protein Bowl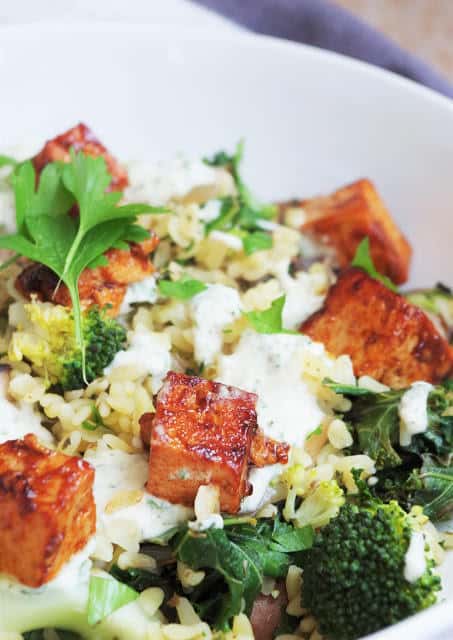 This dish is one of those bowls that contains a little bit of everything. The recipe is divided into three sections, the dressing, the BBQ tofu and the rest of the dish.
If, for any reason, you don't like bulgar wheat, you could swap this out for rice or quinoa.
When you put everything together, you have a wonderful mixture of flavors and textures and will just want to keep eating it. The barbecue tofu is cooked to perfection and tastes great!
The Ultimate Vegan Protein Burrito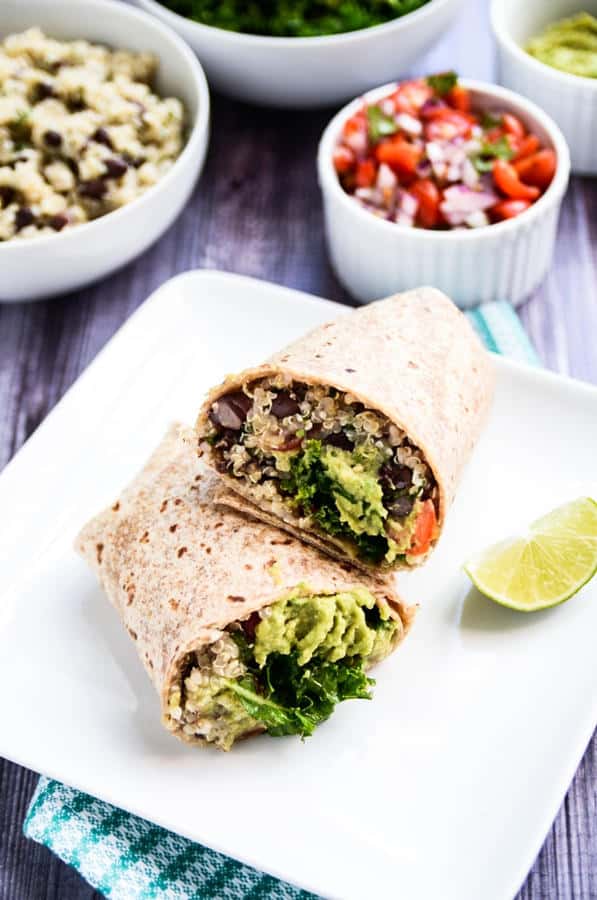 Oddly enough, we don't see too many vegan burrito recipes, so I was delighted to come across this.
The recipe is divided into four sections, one of them being a very simple guacamole.
If you want to treat yourself to a satisfying burrito that's bursting with flavor, you can't go wrong with this.
The amounts listed in the ingredients serve four so adjust as necessary. For yourself, your family and also great for dinner party.
Creamy Potato Leek Soup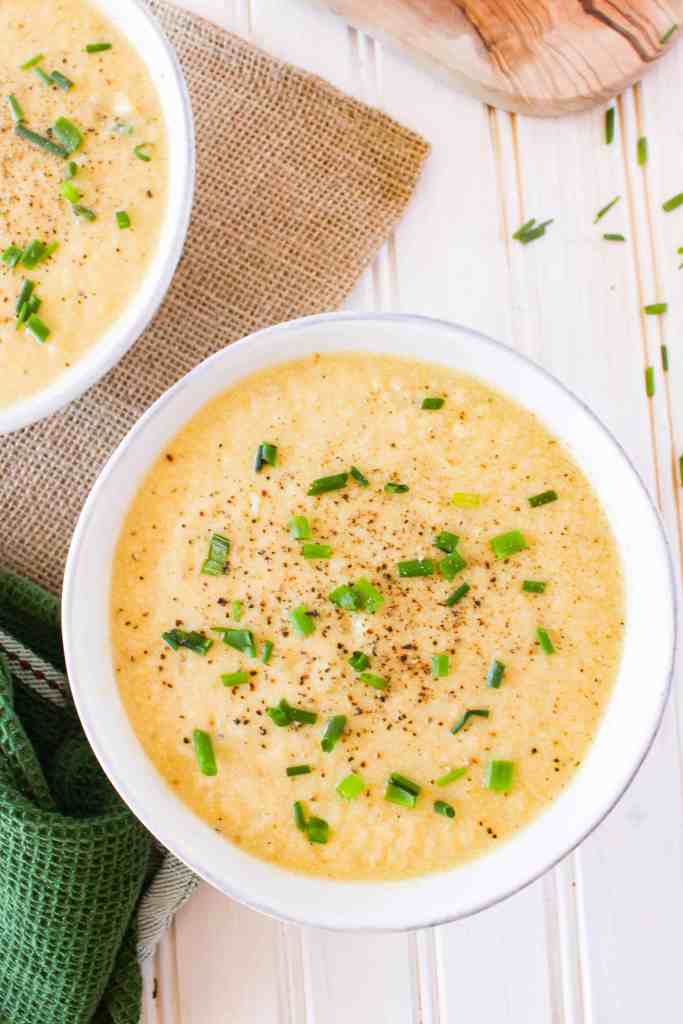 A great recipe for that classic dish of potato and leek soup. This is real comfort food packed with protein and flavor.
I was surprised to see so few ingredients for this recipe and ultimately, that's a good sign as all the best recipes are simple.
From start to finish this takes just over half-an-hour so is perfect for weeknights or weekends. Enjoy!
Sweet Potato Tacos Recipe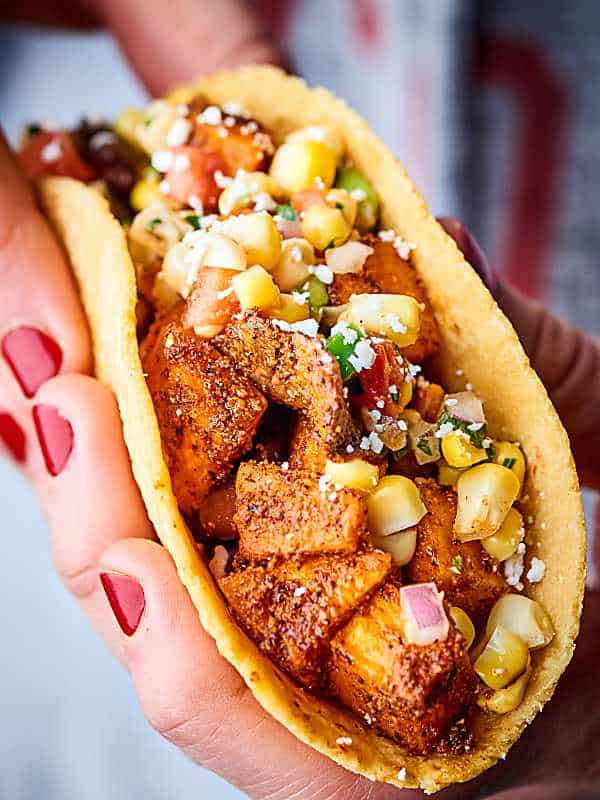 What an amazing recipe this is. The filling is centred around sweet potatoes, sliced mushrooms and black beans.
The main ingredients are cooked with some wonderful herbs and spices.
Serve with your favorite tortillas, salsa and all the vegan cheese you can get. Perfect for a dinner party or game night!
Famous Vegan Kale Salad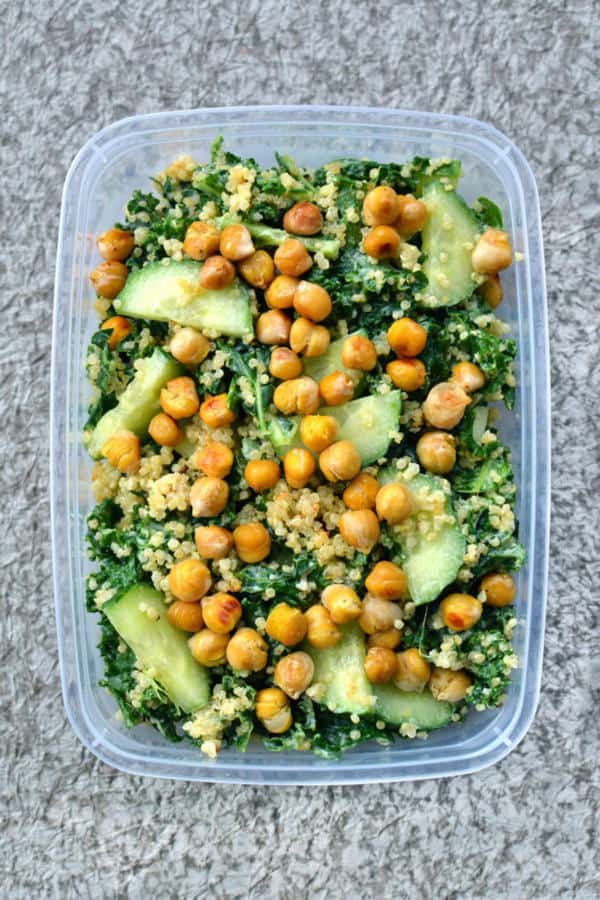 Salads can often be complicated, I don't mean overly so but when you want to make your own, it's not the sort of thing you can put together in a snap because you have a few ingredients that need preparing.
This recipe is a little different, there only four main ingredients for the salad.
The other part of the recipe is the dressing which is incredible, although you could skip this and use a vinaigrette if you prefer.
You make this ahead of time and take to work or a picnic. Delicious and super healthy!
Mexican Vegan "Tuna" Salad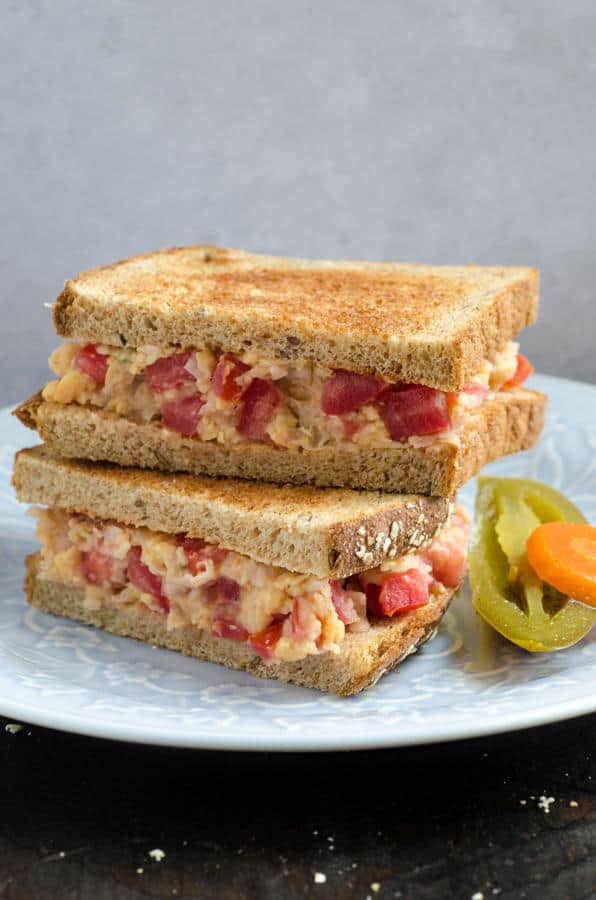 Vegan tuna? Absolutely! This is a great salad in its own right and also makes for a wonderful sandwich filling.
Just six ingredients is all you need. Mash the chickpeas (garbanzo beans) with the back of a fork to get that rustic texture, add the other ingredients and you have yourself something very special.
This will soon become one of your favorites!
Loaded Veggie Fried Rice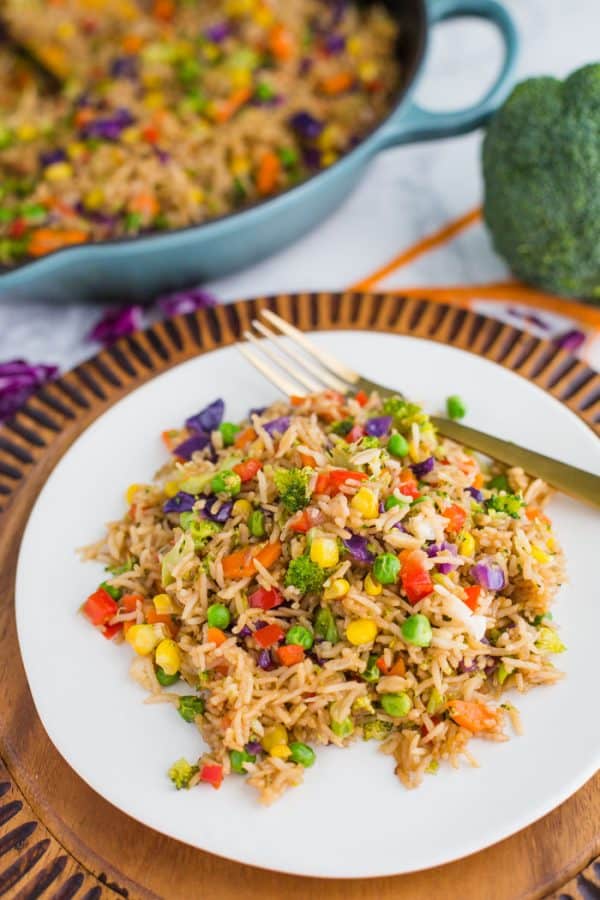 Fried rice is one of my favorites so as soon as I saw this, it made its way to the top of my list!
Don't you just love the colours? This contains everything from ginger, garlic, peas and so much more.
The prep time is simply preparing the veggies, cook for about 15 minutes and you're ready to rock! Great for leftovers too!
Southwest Sweet Potato Meal Prep Bowls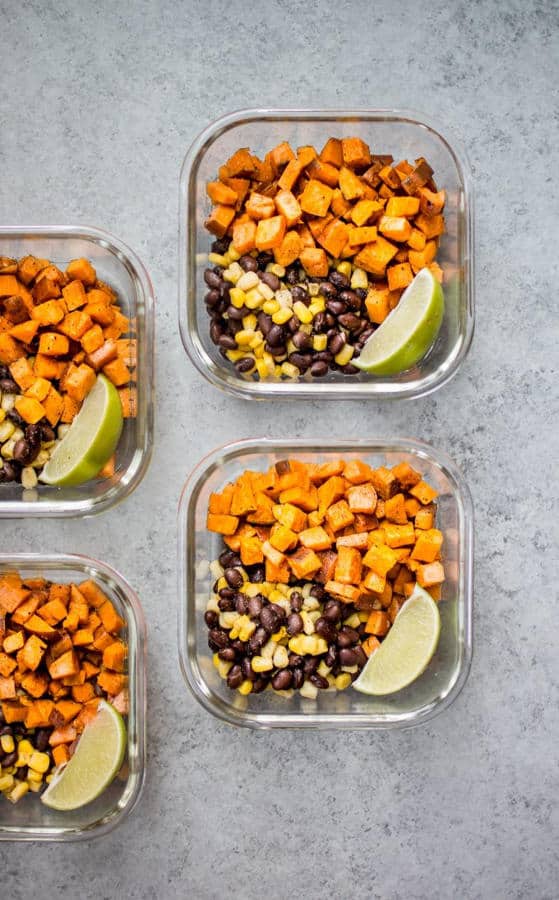 The main thing that attracted me to this recipe was how efficient it is, you can have four meals ready in under 45 minutes!
There really isn't that many ingredients, sweet potato, a can of sweetcorn and one of black beans and then some great flavoring.
Follow the instructions and you'll have yourself some great meals that can be eaten hot or cold.
They are also versatile where you can add rice or quinoa, the only limit is your imagination. If you're busy, this is for you!
High-Protein Vegan Quinoa Recipes
Protein-Packed Black and Kidney Bean Quinoa Salad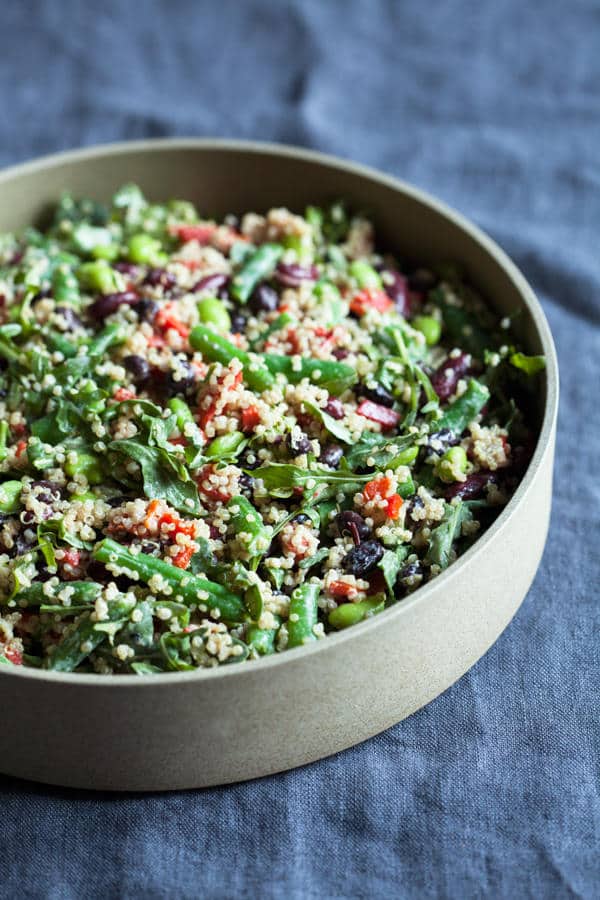 I love all dishes with quinoa, seriously, I haven't seen one yet that I haven't adored. This not only adds to that list, it's one of the best.
The beauty of this recipe is in its simplicity, both savoury and sweet and can be easily adapted to suit your taste and is great for using up leftovers. Check it out, you won't be sorry.
Avocado Quinoa Salad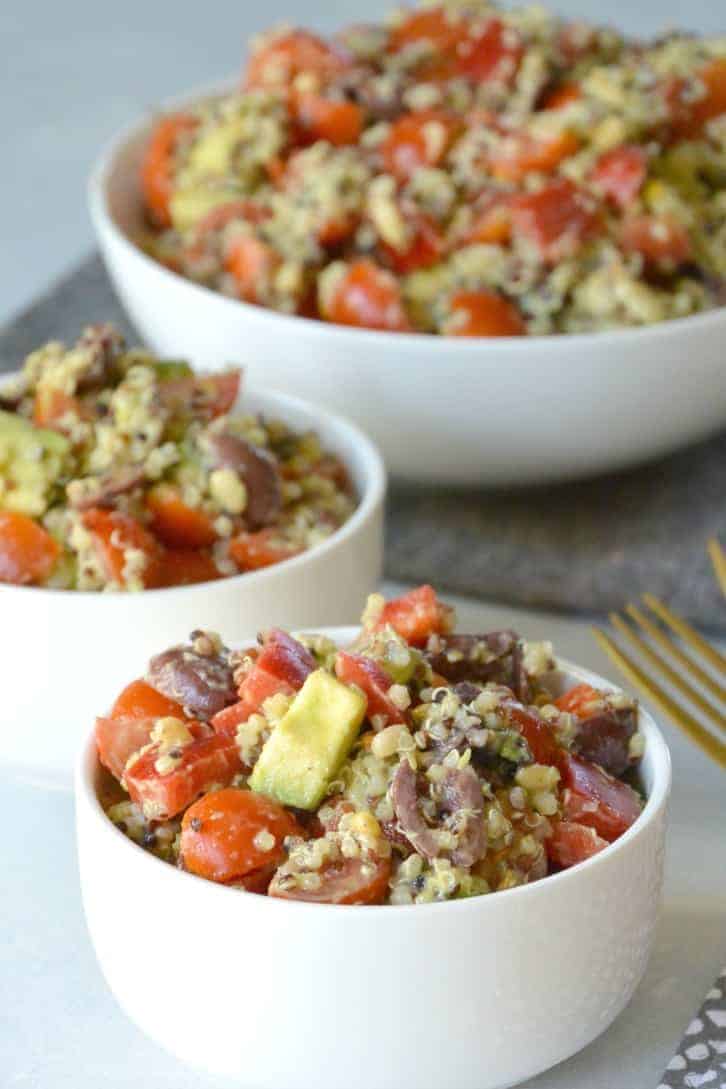 If you've never got into quinoa before, or you just had it a few times, it's one of the most versatile foods out there. It's so easy to make and you can do just about anything with it.
This recipe is gluten and oil-free in that there is no added oil. I thought I'd mention that because avocado is a big part of this dish and, of course, this contains oil although does so naturally as part of the fruit.
It tastes fresh and is wonderfully satisfying. Perfect for that summer lunch.
Kale and Quinoa Salad with Maple Mustard Tempeh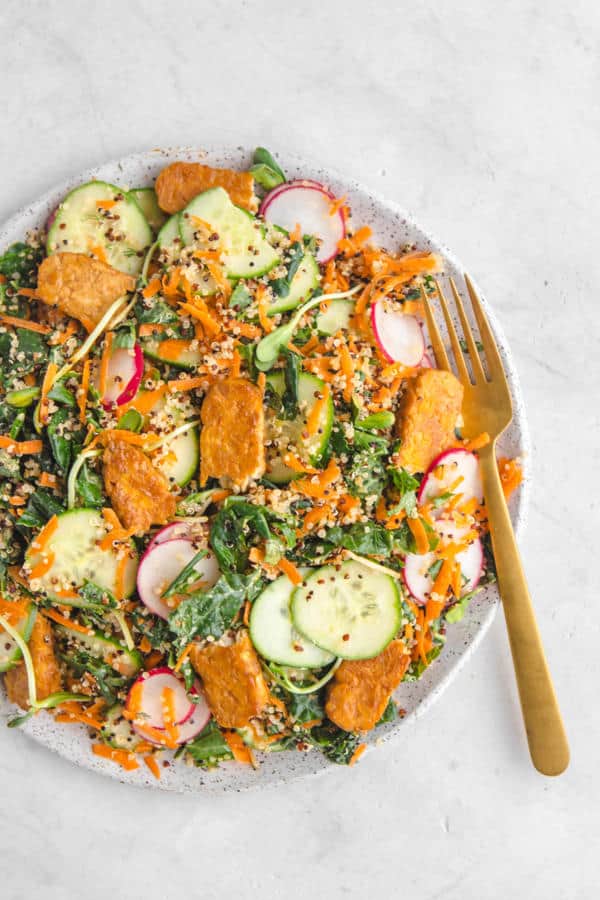 Isn't this a great looking salad? If you think it's complicated to make, nothing could be further from the truth.
What makes this dish extra special is the maple mustard tempeh, it has its own section in the list of ingredients and contains things like smoked paprika and Dijon mustard.
The rest of the salad looks incredible and, of course, any ingredient can be swapped out depending on what you have.
Put everything together and you'll have yourself a great meal.
Blood Orange Quinoa Salad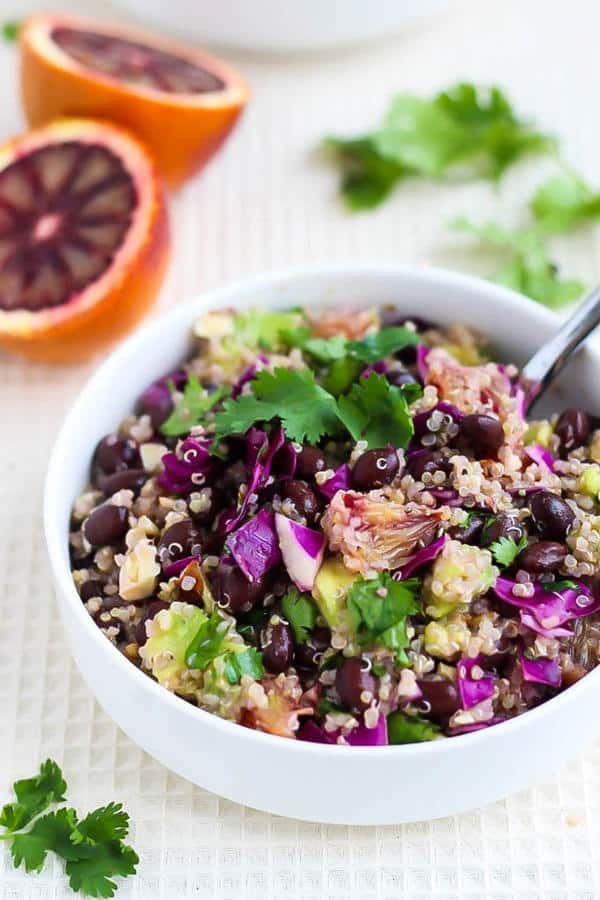 I've seen and have eaten many quinoa salad recipes, but I don't think I've ever seen one made with citrus fruits, what a great idea!
With ingredients such as walnuts, avocado and more, you know you're going to get a salad full of different textures, colours and flavors.
The oranges really give this a fresh taste. If blood oranges are out of season just use regular and you'll good to go!
Quinoa Bowl with Chilli Spiced Chickpeas, Wilted Kale, Pear, and Garlic Chipotle Mayo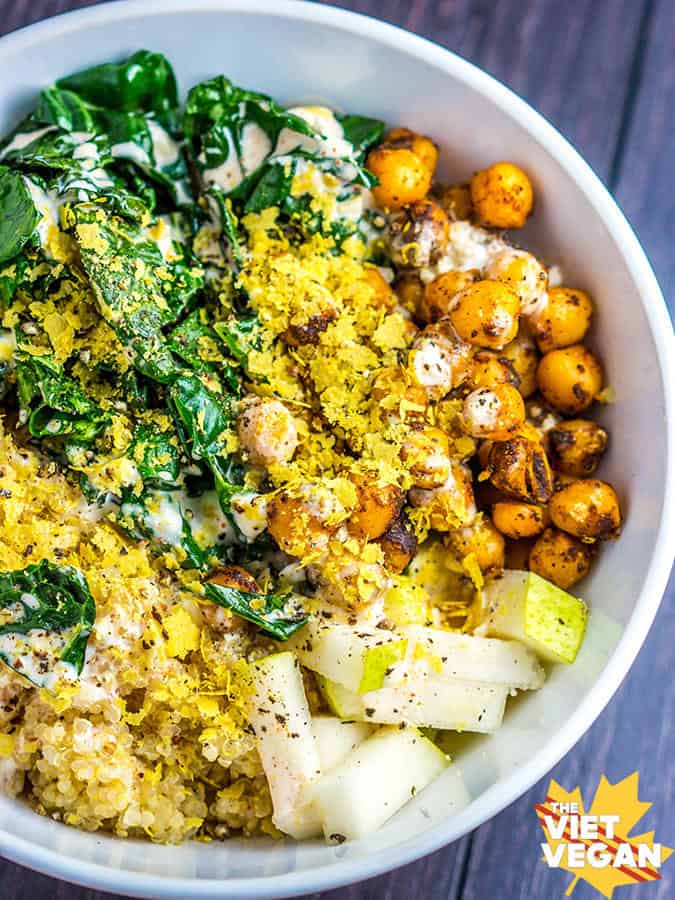 Isn't this a lovely looking bowl! As with all recipes like this, it's extremely versatile so you can swap out the ingredients with anything that you have that needs eating.
The magical part of this recipe is the sauce. Made with chipotle chili powder, vegan mayo and just a few other ingredients, it comes together easily and quickly, and you'll be using it for other salads in no time.
High-Protein Vegan Salad Recipes
Power Protein Salad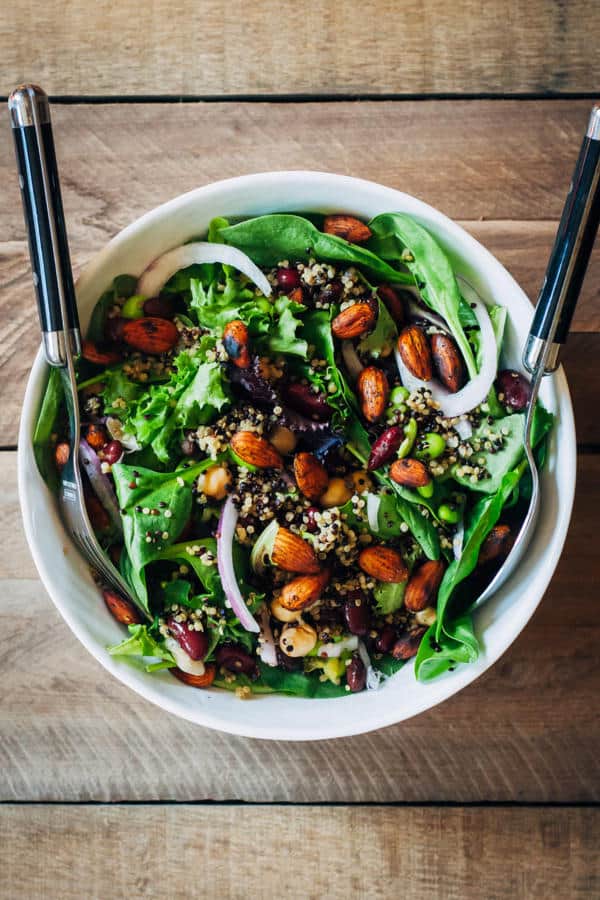 If you're into greens, then you certainly need to check out this salad.
Certainly, a super healthy recipe, you have everything from beans, quinoa and your favorite mixed greens.
I love how the author is simply telling you to add your favorite salad dressing. The best part of this recipe, for me, are the chili roasted almonds.
Just five ingredients and a little prep time turn this great salad into something spectacular.
Protein Superfood Bean Salad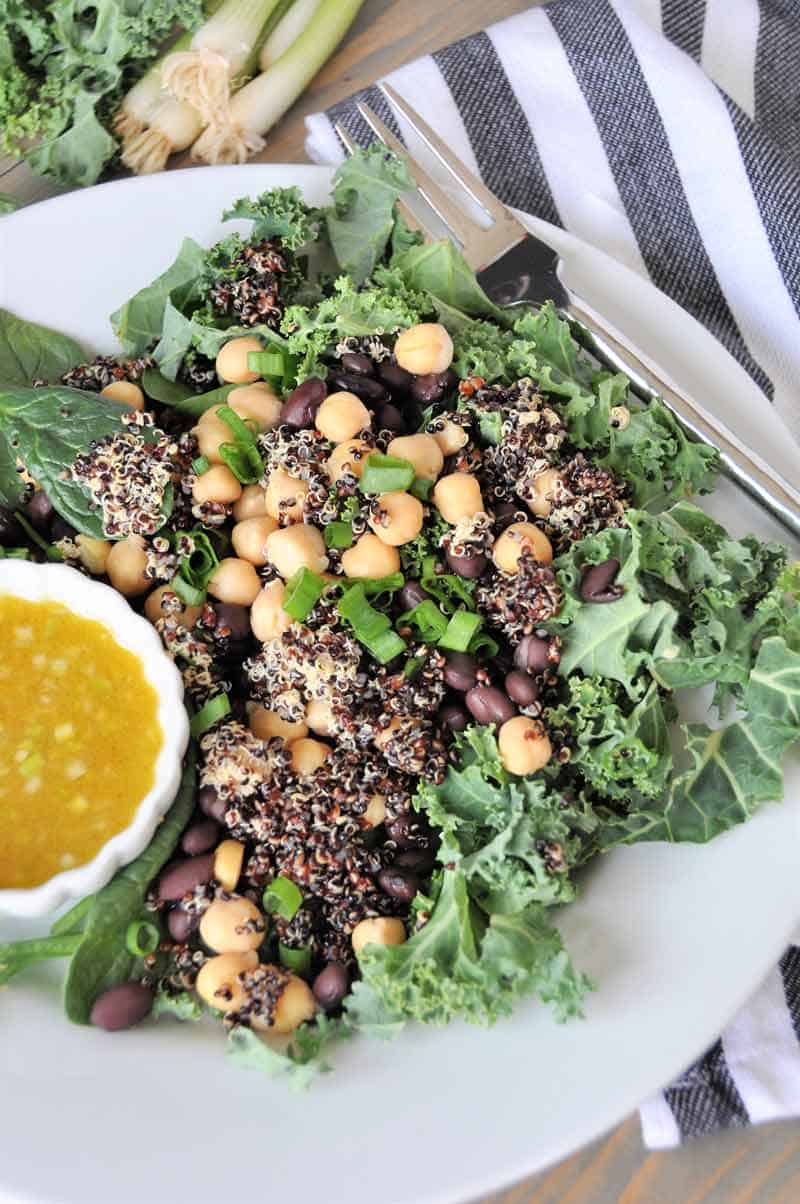 If you're looking for a superfood salad that is packed with protein and is both delicious and easy to make, look no further.
You can bring this to the table in 25 minutes and this includes all the prep and cooking time.
It's a versatile dish so feel free to swap out any beans or leaves depending on what you have.
The dressing which is made from white wine vinegar and extra virgin olive oil has five other ingredients that make this so much more than a vinaigrette.
Creamy Potato and Chickpea Salad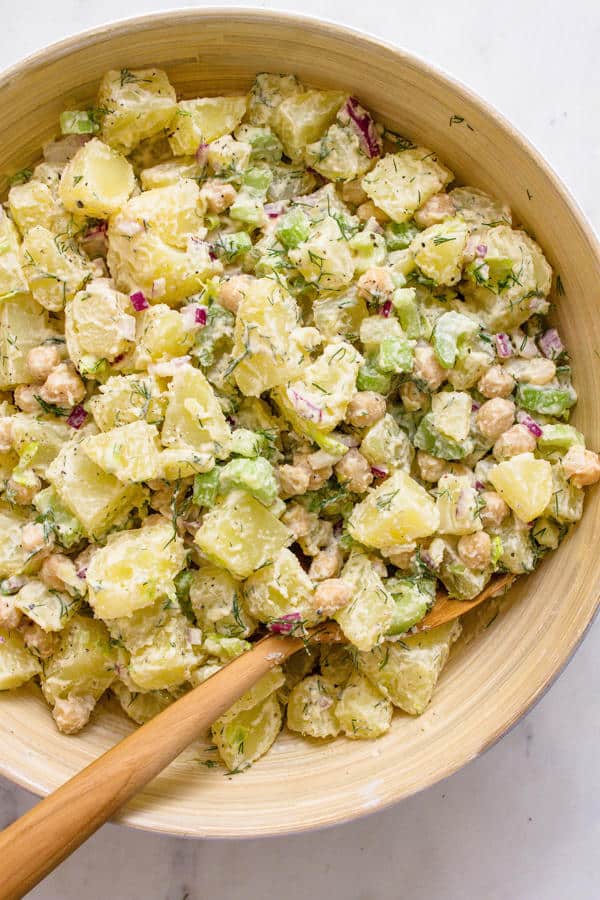 Although I never had it very often, I really used to love potato salads. This recipe brings that memory back for me but turns that salad into a wonderful meal.
There are just five foods in the salad and then you have the dressing which is made from tahini and three other ingredients.
After you've cooked the potatoes and prepared the veggies, put everything together and have yourself one of the most satisfying meals you can get.
If that wasn't enough, leftovers store in the refrigerator for up to 5 days.
Warm Buckwheat and Beetroot Salad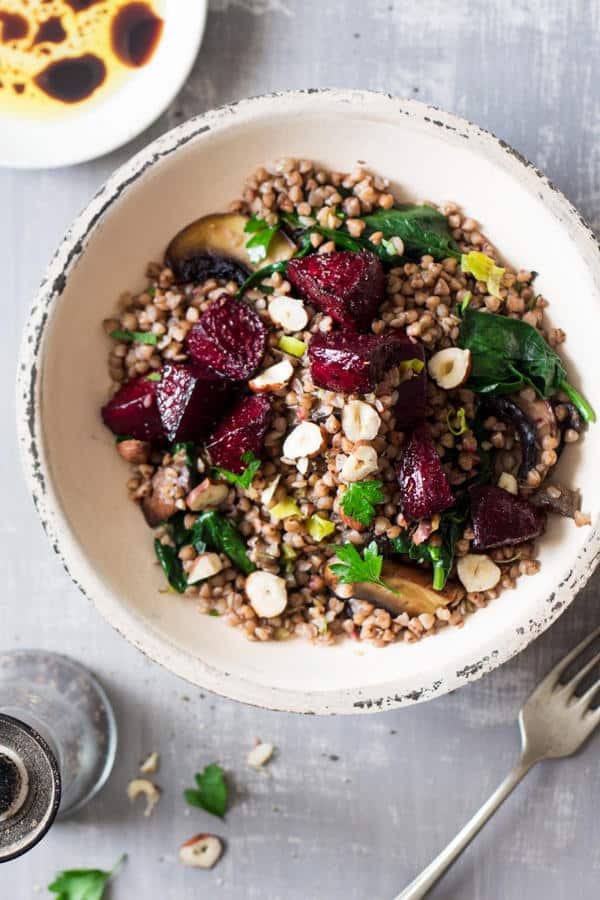 Beets are so good for you and this protein filled salad uses them perfectly.
The warm and roasted buckwheat (also known as kasha) makes this recipe for me.
I know some people who aren't keen on buckwheat, if you feel the same way, you can easily use quinoa instead and not lose the essence of this recipe. Delicious, healthy and looks great!
White Bean and Artichoke Salad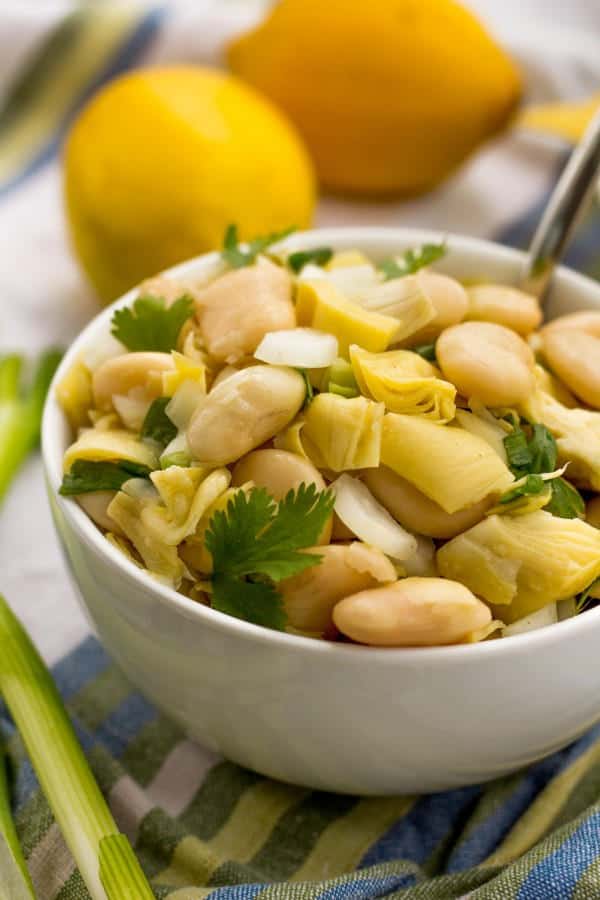 Have you had artichokes? I ask because I know a few people that have never had one! If you're new to this yourself, now is the time to start.
There is no cooking for this recipe, it's all prep and takes about 15 minutes or less.
The best part about this dish is the lemon Dijon dressing, just six ingredients mixed together, and it brings all the flavors and textures into harmony.
Absolutely satisfying and will quickly become your favorite.
High-Protein Vegan Smoothie & Shake Recipes
"Peanut Butter" Banana Chia Protein Shake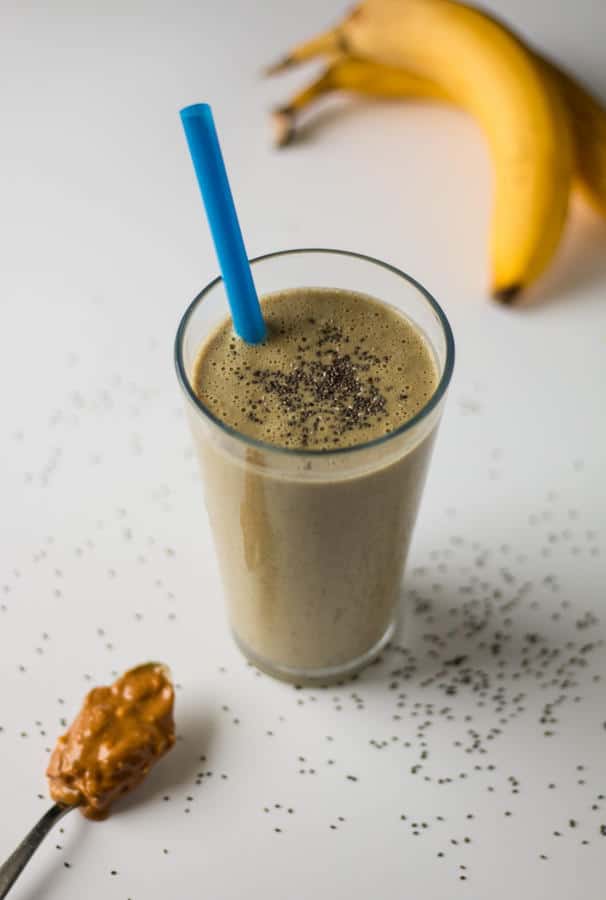 Protein shakes are perfect for breakfast and for a post-workout snack.
This shake uses a frozen banana, you could use fresh and add a few ice cubes but if you don't have some frozen bananas in your freezer, now is the time to.
Once ripe, peel and cut into 1-inch slices, store in an airtight container in the freezer for up to a month.
Other than the banana and the protein powder, just three other ingredients.
Whizz everything up in a blender and you'll have yourself a tasty shake that is good for you.
Chocolate Peanut Butter Protein Smoothie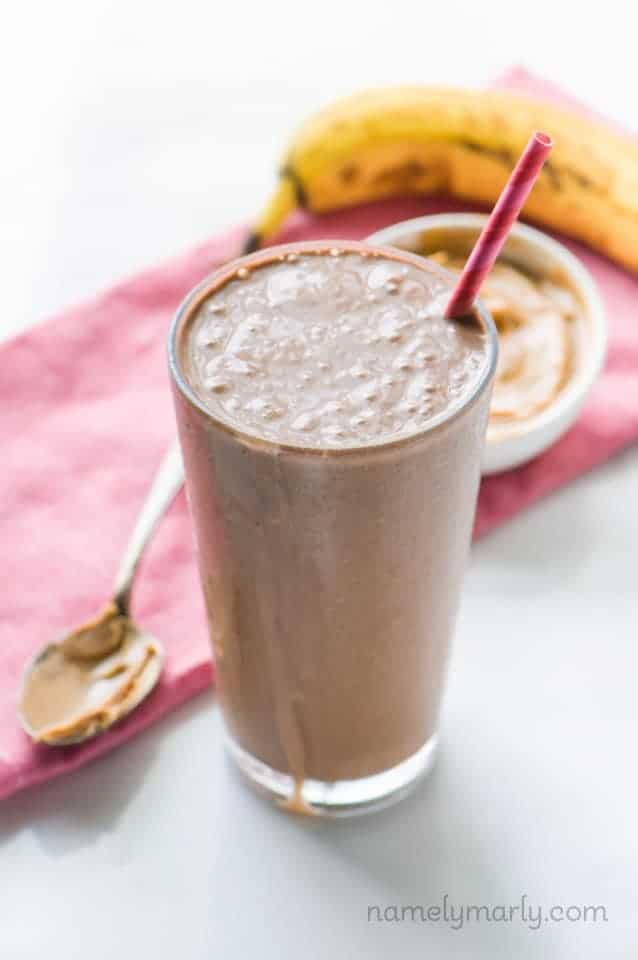 Chocolate and peanut butter always go well together so as soon as I saw this recipe, I knew it was a winner!
Everything in this smoothie makes me want to drink it! Banana, cocoa powder and more.
Whizz everything up in your blender and you'll have yourself a great treat. Perfect for breakfast!
Green Kiwi Matcha Protein Smoothie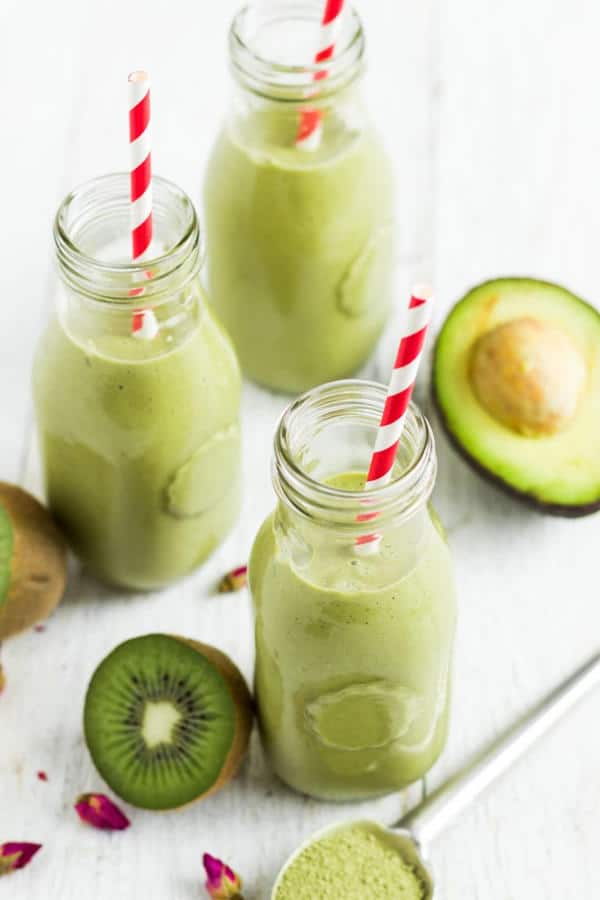 If you love matcha green tea, you're going to love this smoothie. But wait, there's more!
This also includes kale and even kiwifruit, if that wasn't enough, check out the ingredients list to see the other great surprises. I'll tell you something, it tastes great!
Hemp Protein Smoothie with Matcha and Avocado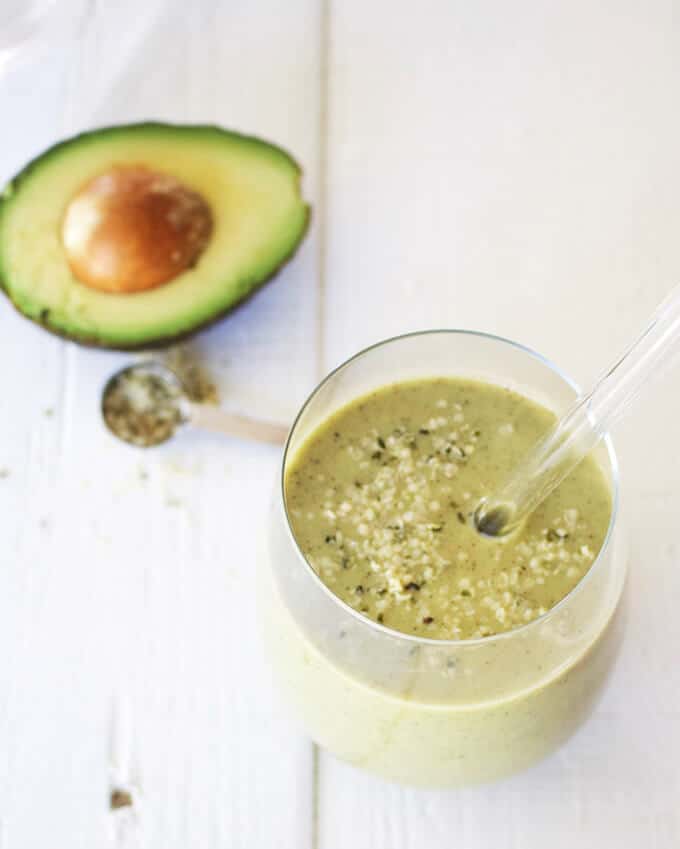 If you're looking for that perfect smoothie after you have put in a serious session at the gym, you may very well have found it.
This contains pineapple and coconut along with some other goodies to give your body everything you need after a strenuous workout.
Makes for a great breakfast, too!
Green Protein Smoothie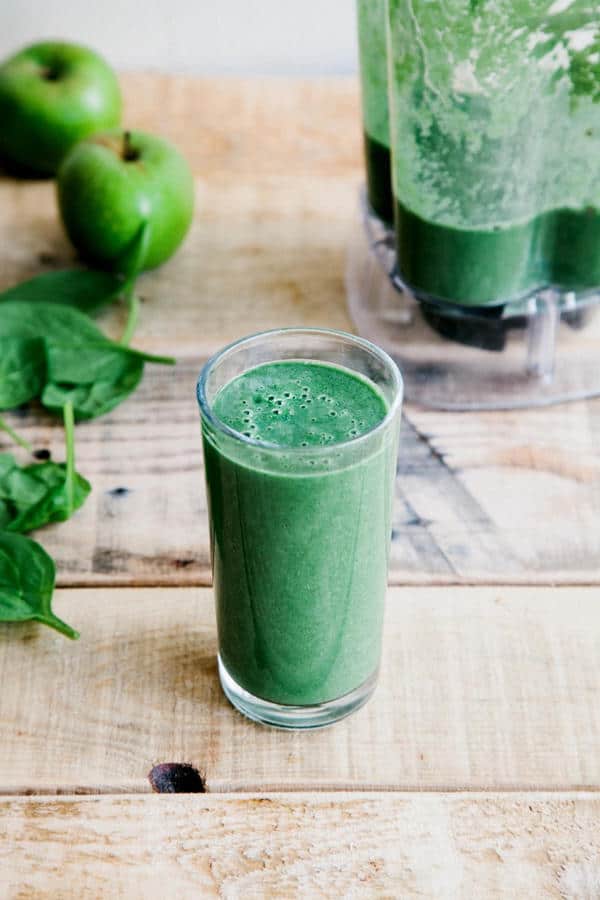 I admit that when I first started having green smoothies, I wasn't their biggest fan.
Looking back, it was purely down to the recipes at the time. I wish I had tried something like this instead.
As well as spinach, this also contains apples and mango along with just a few other ingredients.
You'll get the goodness from the greens, and the sweetness from the wonderful foods. Whizz everything together and you'll be good to go.
Chunky Monkey Protein Smoothie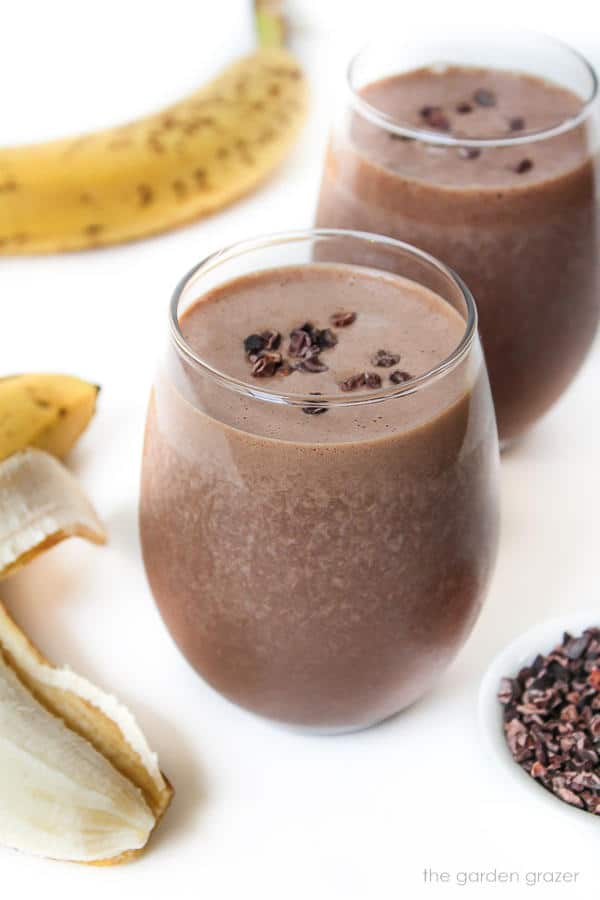 Let's face it, any recipe that is called 'chunky monkey' and is vegan just must be eaten, right? I'm sure it's some kind of law, well, it should be!
This protein packed smoothie has 20g of plant protein and does not use any powders! That's pretty awesome.
Using just natural foods including banana and peanut butter, this gives you one of the best smoothies ever. Delicious!
Sweet Potato Protein Smoothie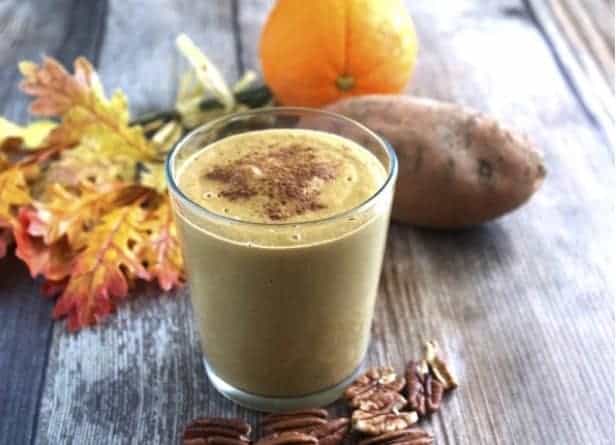 If you're worried about this smoothie containing sweet potato, I promise, don't be!
Once you've blended all the ingredients including cinnamon and pecans, you not only have a tasty smoothie, you'll see how it digests incredibly quickly and easily.
This makes it perfect for breakfast and great for a quick something before you head out of the gym. By the time you arrive, you'll be ready for your workout.
Vegan Protein Blizzard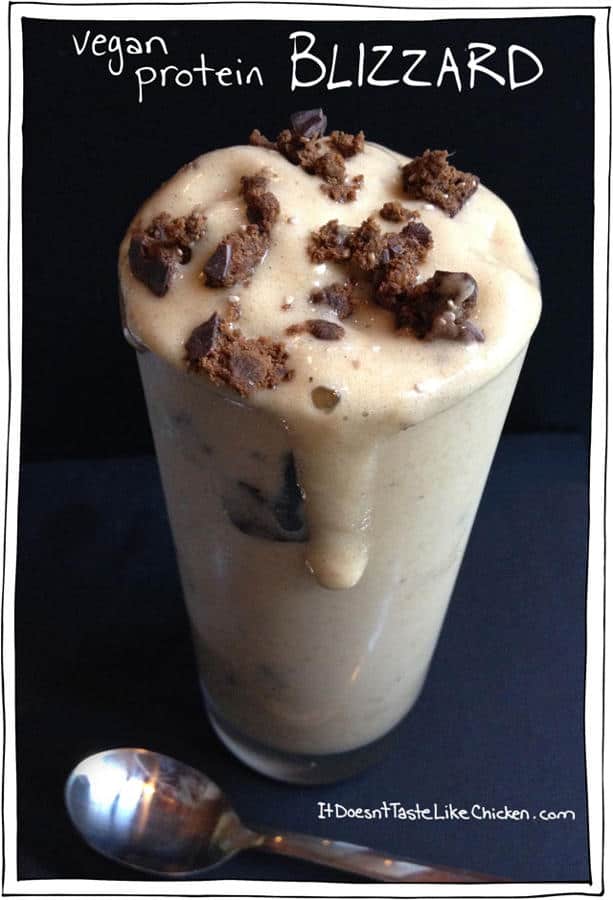 I love the name of this smoothie, a blizzard!
Get your frozen bananas and just three other ingredients for this delicious smoothie.
As well as being a great breakfast, it's a perfect meal replacement as well. Very tasty and good for you!
Protein Shake with Chia and Cocoa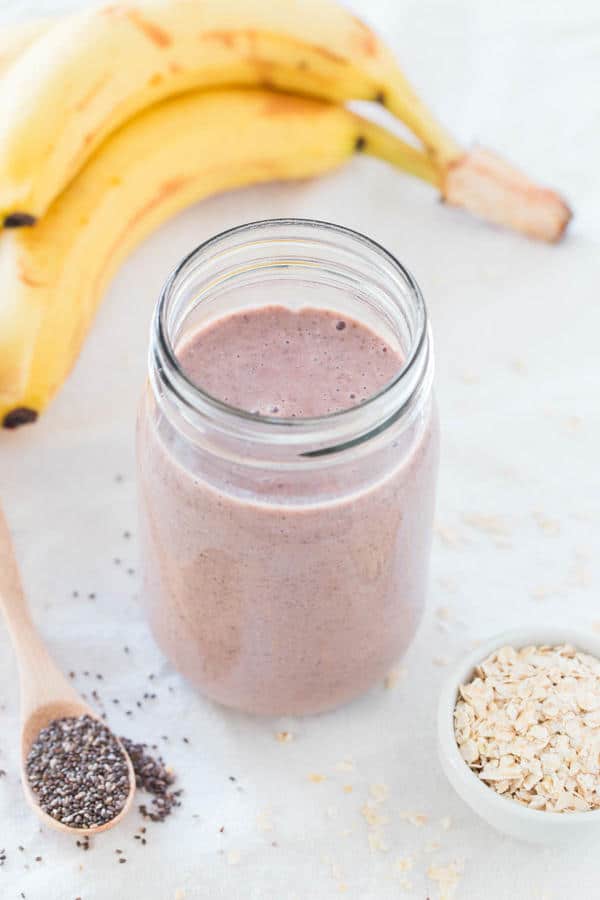 If you've never had chia seeds in a smoothie before, start with this recipe.
Chia seeds have a natural property, which is great for puddings and used in many vegan desserts.
In a smoothie, they add a natural creamy texture that absorbs all the other flavors.
Just five ingredients is everything you need to make this wonderful smoothie.
Wild Blueberry and Mango Protein Smoothie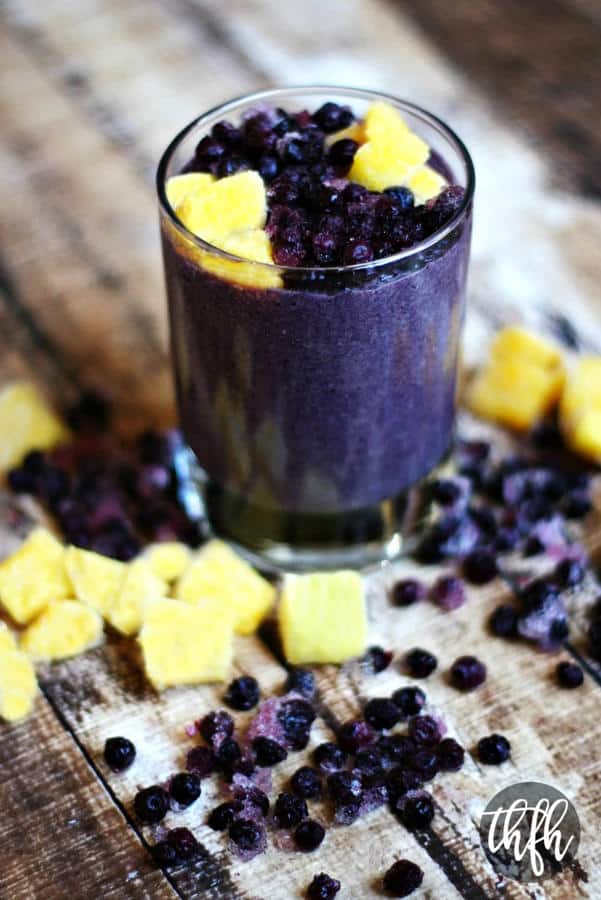 I absolutely adore blueberries so as soon as I saw the title of this, I knew I had to try it.
This recipe uses almond milk, but when I made it I didn't have any to hand but did have coconut milk which worked perfectly so use what you have and what you like.
Just a handful of ingredients make this not only tasty but packed with protein and super healthy. If you're looking for a smoothie to start your day with, this is it!
High-Protein Vegan Snack & Treat Recipes
Protein Power Snack With Chocolate and Cashew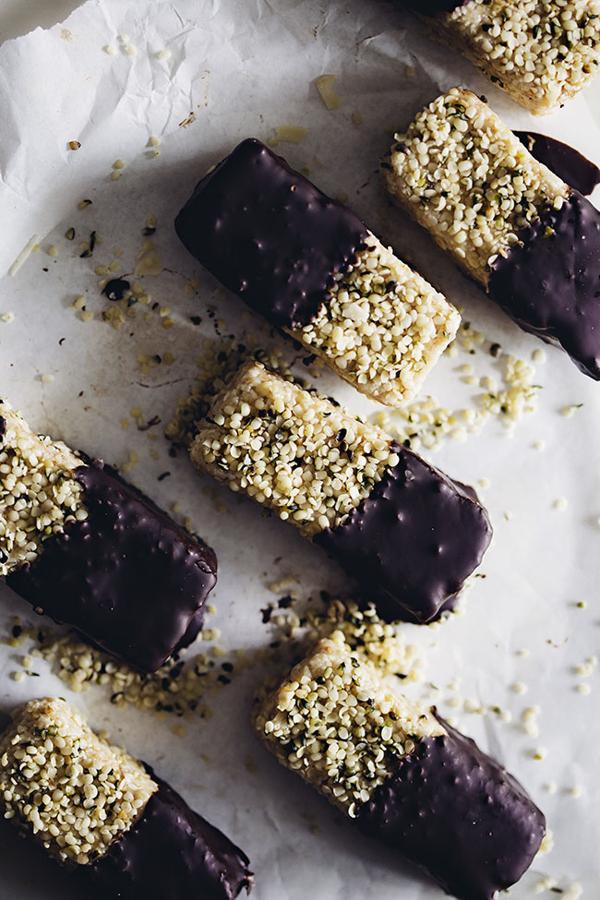 Protein bars are something you normally buy from the store, right? Here's a quick and easy way to make them at home instead. Now you'll know exactly what is in your new favorite bar!
These little bars are packed with protein and teeming with sweet satisfaction. Pack these in your bag for a quick and easy pick-me-up any time of the day. They're perfect for your kiddos at their soccer game or playdate too.
Make these in a double or triple batch and you're set for a while! They freeze beautifully, so you'll always have some on hand in a pinch!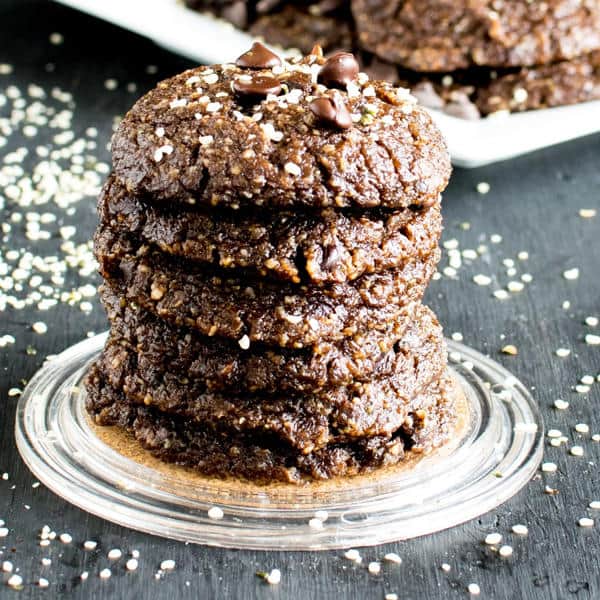 I know some people who don't really like cauliflower so avoid anything containing it.
For these cookies, it is used as an ingredient to give it a certain texture. I can assure you it does not taste of cauliflower!
These are definitely chocolate cookies and they look great, taste great and are super healthy.
The amounts listed in the ingredients make for 11 cookies, I would double that because they go quick.
Store in an airtight container for up to 3 days, but I promise you, they'll be gone long before!
Spiced Boiled Brown Chickpea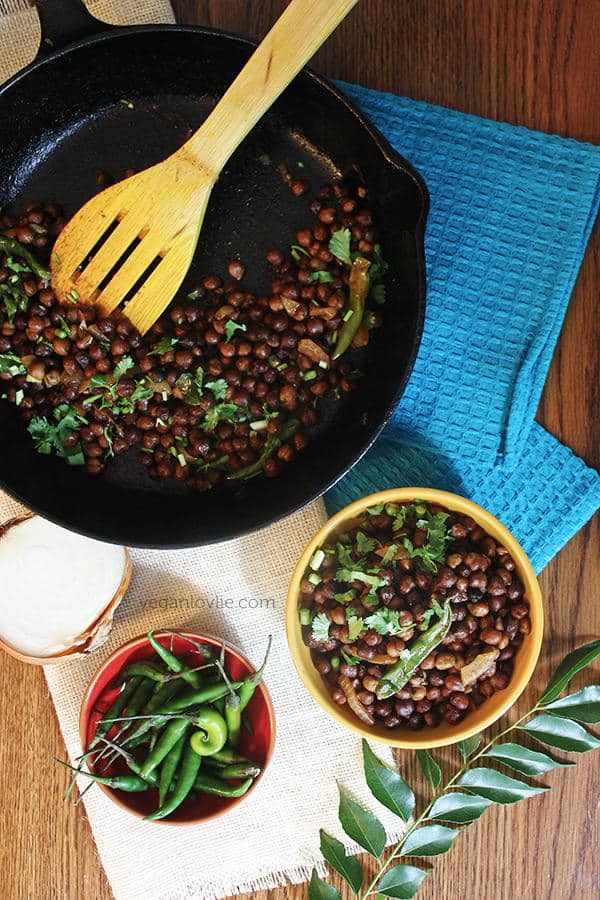 This recipe is inspired from a traditional dish from Mauritius.
A great snack made with chickpeas (garbanzo beans) and just a handful of other ingredients including some great herbs.
Great for when you get the mid-afternoon munchies!
Adaptogenic Protein Latte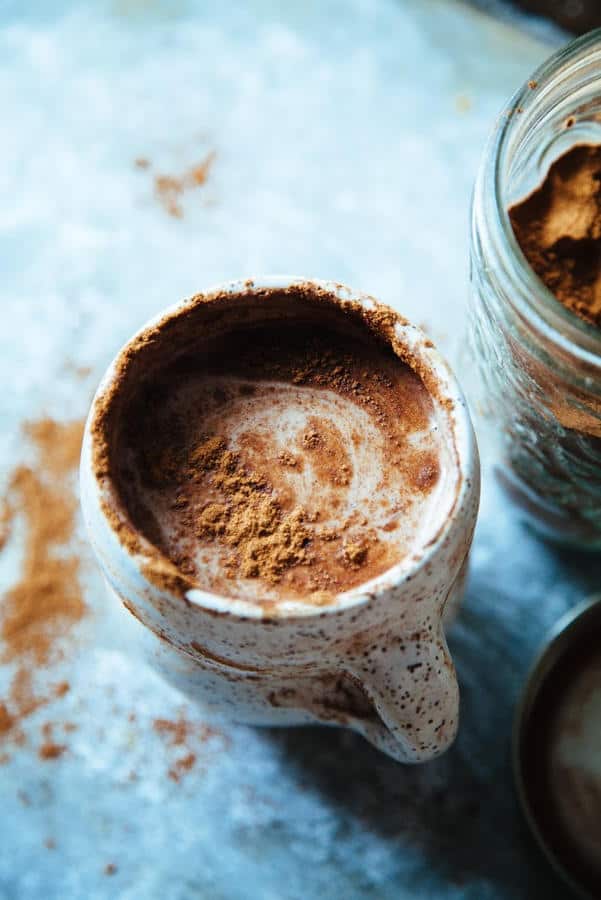 I must admit I've never heard of adaptogenic before coming across this recipe. You learn something new every day!
Whatever your reasons for having this latte, you're sure going to enjoy it.
With coconut milk, dates, cinnamon and a few other ingredients, you're in for a treat.
Vanilla Protein Cupcakes with Chocolate Frosting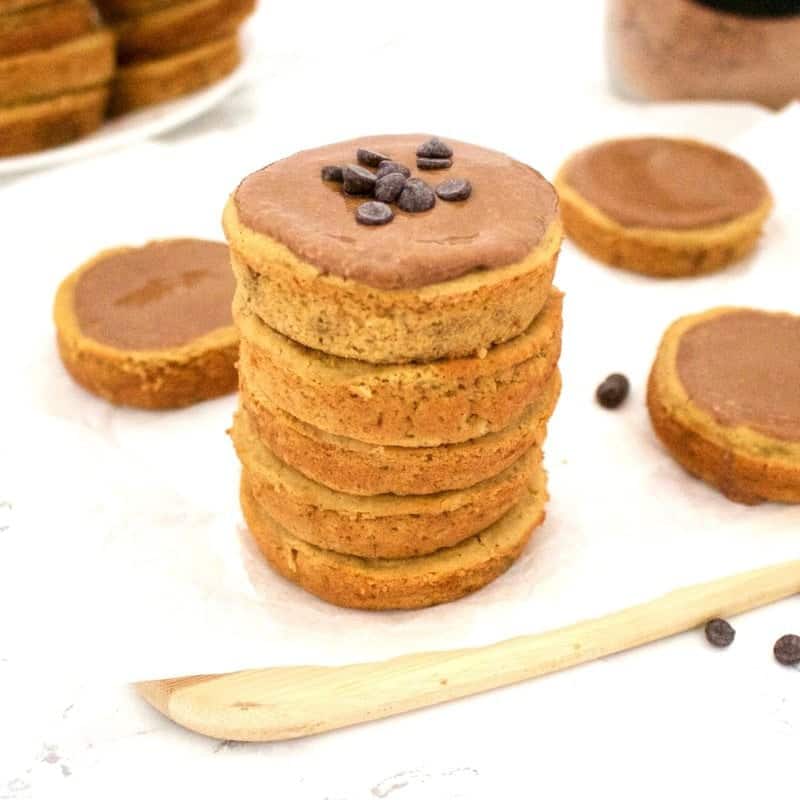 Not only are these cupcakes packed with protein, they are also low in fat and sugar. Who's ever heard of that?
The recipe author, Annie, has done some arithmetic for us and each cupcake costs $0.38 to make and is just 54 calories!
With numbers like that and such an easy recipe, how can anyone resist?
Strawberry Jam Flourless Protein Muffins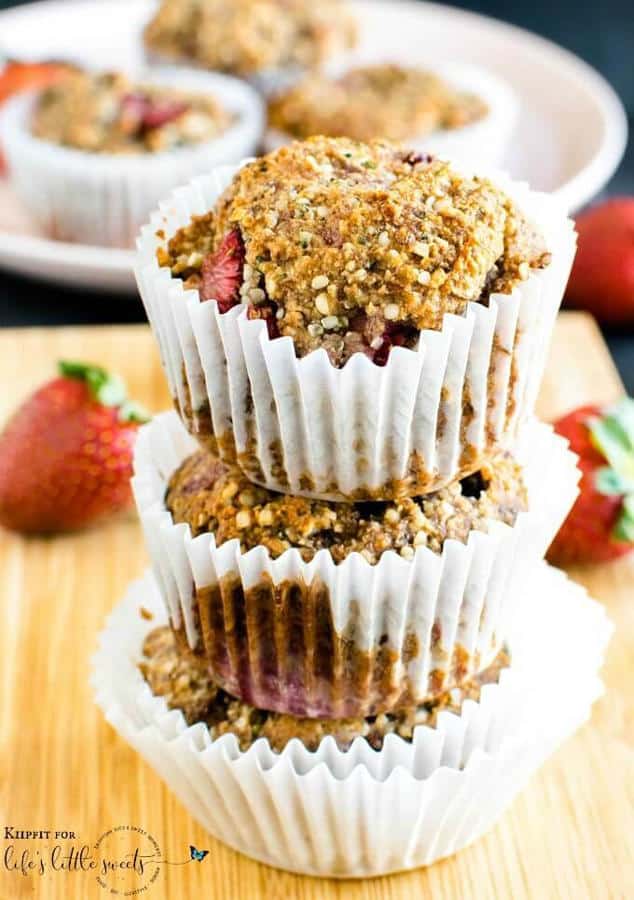 If you've ever wanted a guilt free sweet treat, you've just found it right here.
The recipe is divided into two sections, everything you need for the muffins, and then the ingredients on how to make the strawberry jam. I couldn't believe how easy this was to make.
They are tasty and personally, I think they are the best breakfast ever.
Aussie Protein Bites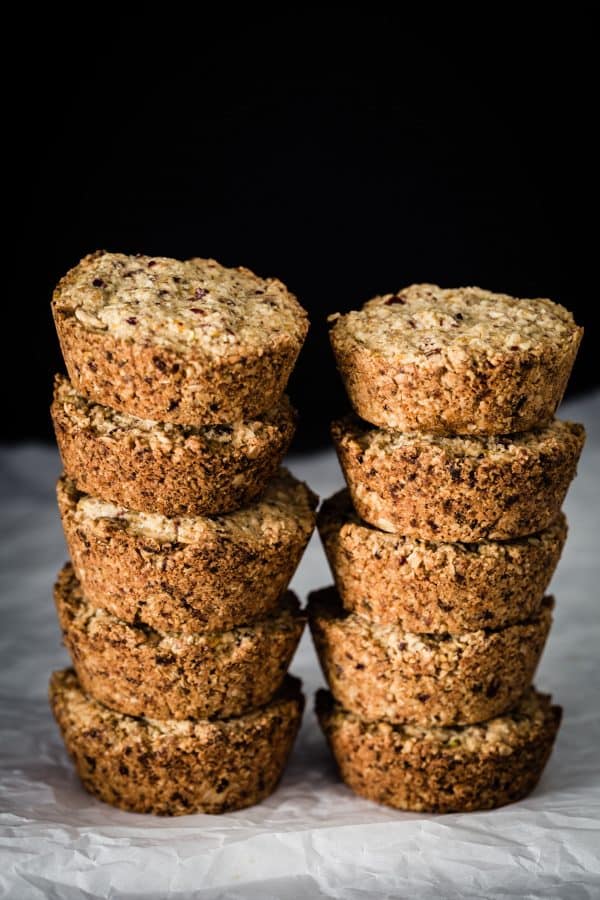 Let's go visit our friends Down Under with these great Aussie protein bites.
These are made with gluten-free rolled oats, some dried fruits and just a couple of other wonderful ingredients.
You just bake them for around 15 minutes and allow to cool in the pan before removing them.
The amounts listed in the ingredients make for approximately 12 'bites'. Delicious.
Special Picks
High-Protein Tacos with Vegan Taco Meat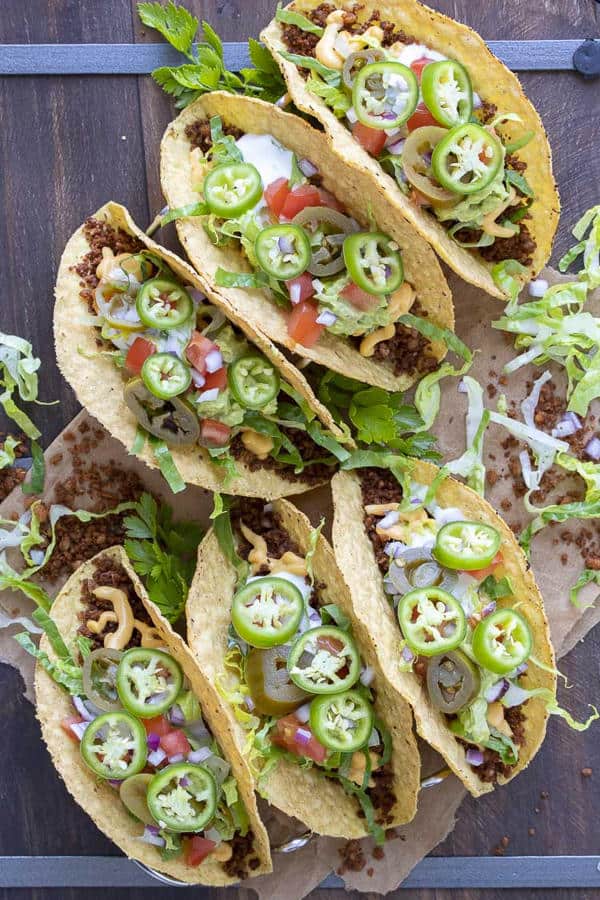 This is one of those recipes where you simply have no idea that it's low-fat and contains no oil.
With only seven ingredients you can create this taco meat made purely with whole foods.
There is nothing processed here, so if you're avoiding soy and other meat substitutes, this is perfect.
Smoky Tofu Bacon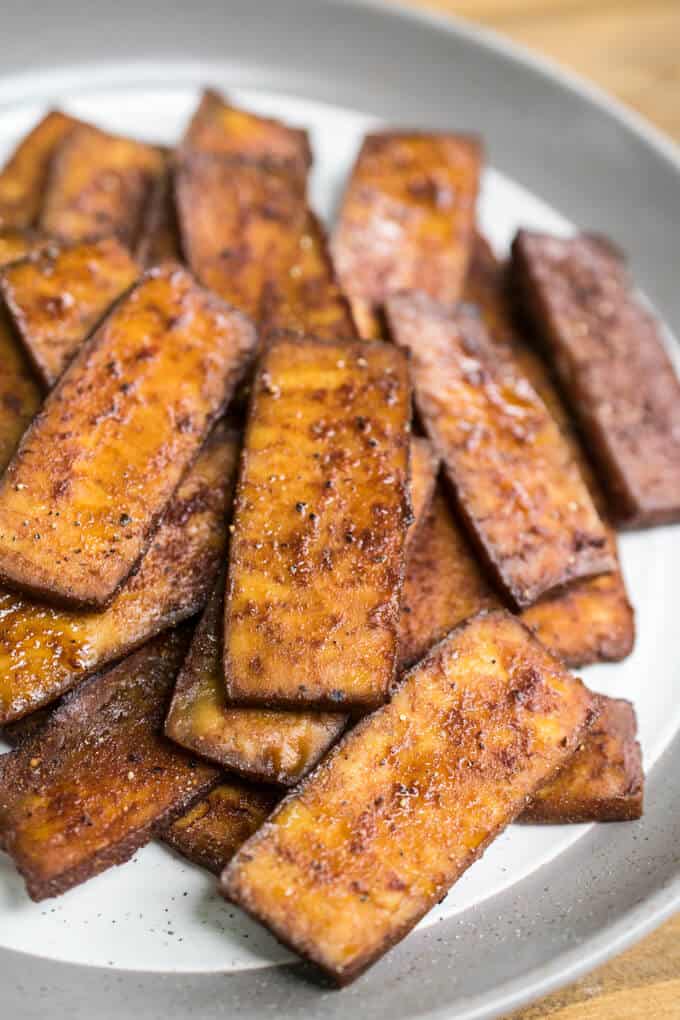 There are a few bacon alternative recipes out there. Everything from strips of coconut, eggplant and, of course, processed products.
If you're a fan of tofu and are looking for something different and incredibly tasty to do with it, check this recipe out.
You'll end up with delicious strips that would be perfect for stir-fries and amazing as sandwich fillings.
High-Protein Chickpea Crostini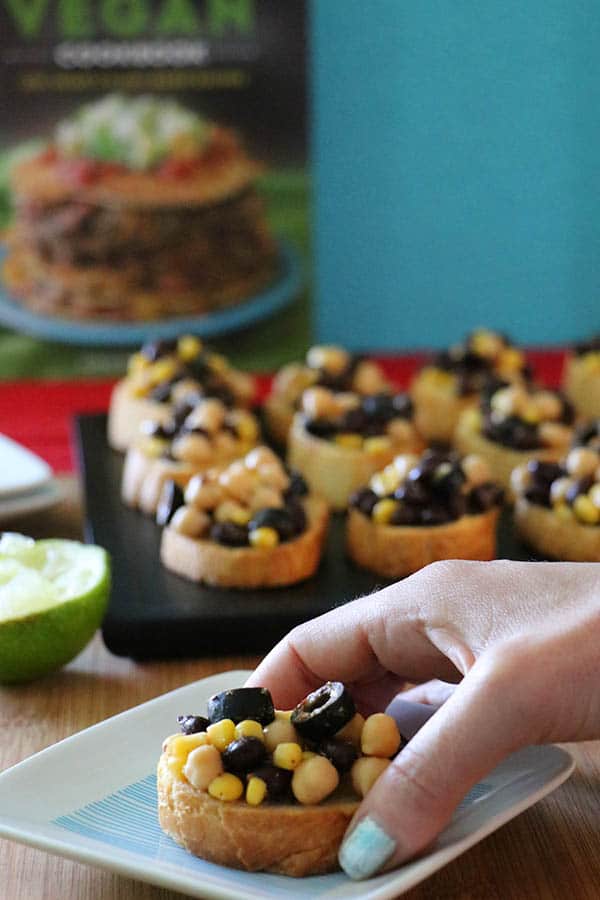 I'm a sucker for anything on crispy bread. Crostini has always held a special place in my heart. Sadly, it's often full of dairy and not super healthy. Not this reipe!
This chickpea salad crostini takes everything you've ever thought about the snack and turns it upside down. The result is a flavor and protein-packed bite sized morsel which doesn't disappoint.
Serve these as appetizers, mid-afternoon snacks, or at your next picnic. They are surefire crowd pleasers and will keep everyone coming back for more. Make sure you have extras as these will go fast!
Methi Thepla (High-Protein Savory Herbed Flatbread)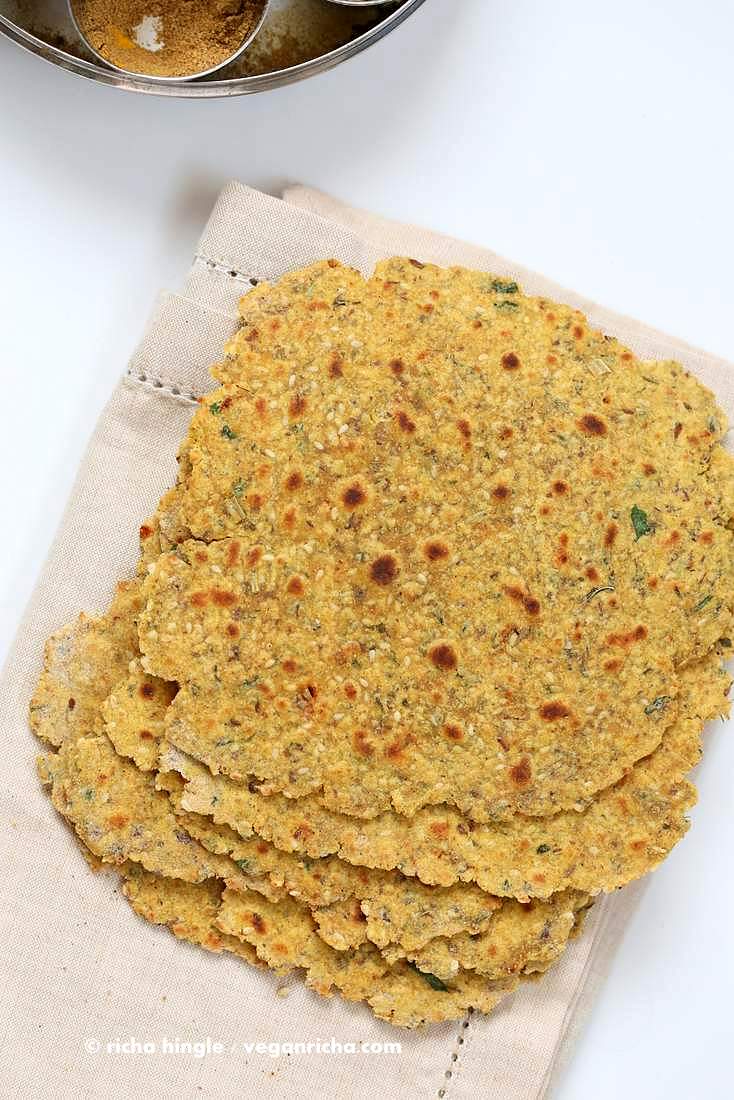 Flatbreads are very common with Indian food as well as Mexican. This recipe is great for any dish although lends itself well to Indian curries.
This can easily be made gluten-free and as it stands, is soy and yeast-free!
You won't need any special tools to make these other than a blender and standard kitchen equipment.
The taste is divine and if you like Indian food, this recipe will have to be on your list immediately!
Spiral Seeded Protein Bread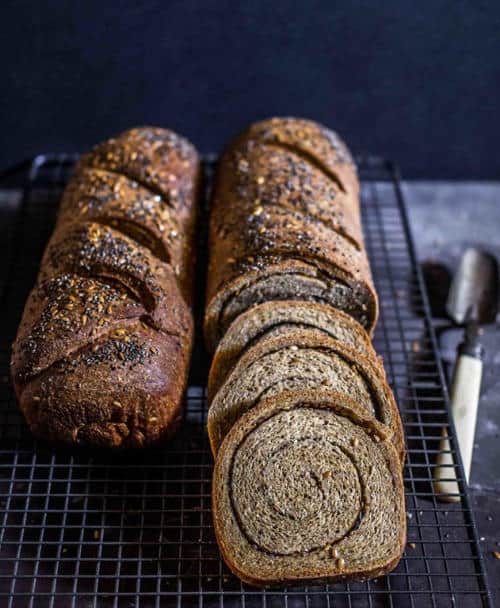 I've never really seen a recipe like this before so was very excited when we came across this. We just knew we had to feature it.
Bread is normally thought of as a carbohydrate, this recipe also packs a truckload of protein as well!
You need to make this over a couple of days as it requires some preparation the day before while you make everything the following day.
Not only does it taste great, but you'll have made it yourself and it simply not your standard bread, at all!
Healthy Microwaveable Carrot Cake Quinoa Flake Protein Loaf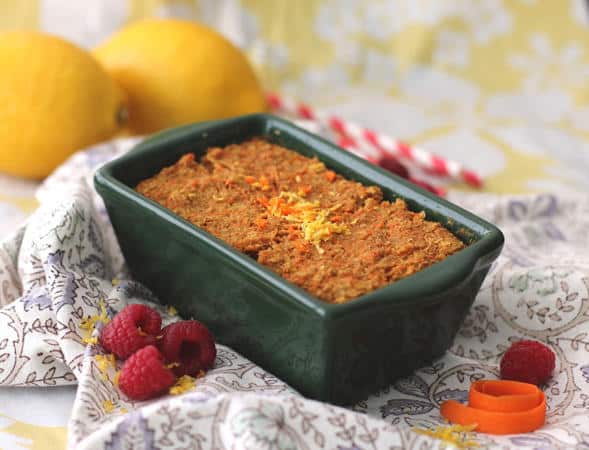 If you're a microwave fan and like collecting recipes dedicated to using it, this is one for you.
It's all about the oatmeal, quinoa and zest! Just a handful of ingredients creates delicious protein loaf that can be made in just six minutes.
Allow to cool slightly before serving. Delicious and surprisingly light!
Skinny Peanut Butter Protein Smoothie Bowl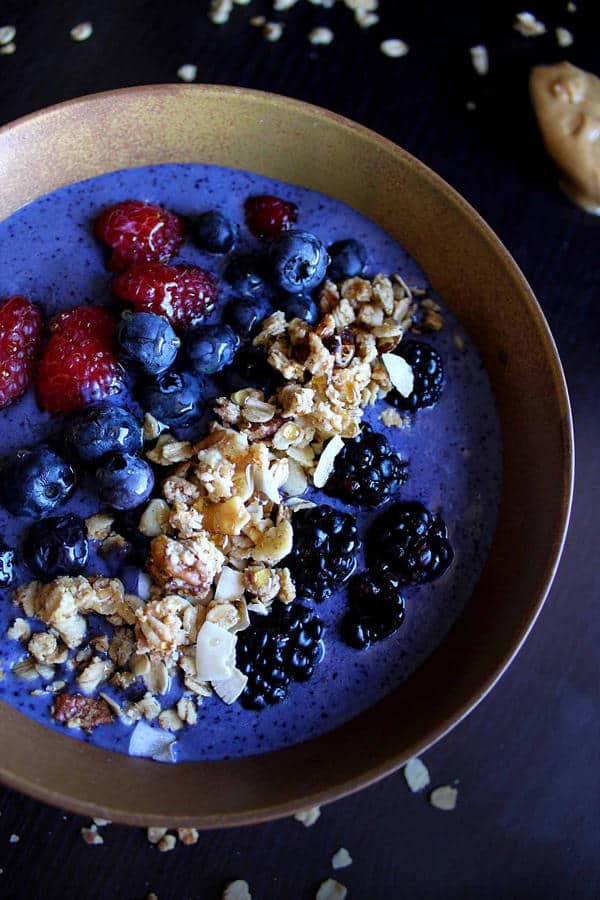 Smoothie bowls are like regular smoothies, but better!
Whizz up your blender with just a handful of these ingredients and then top with your favorite fruit, granola, or simply anything you like.
The color of this smoothie is so vibrant, it has to be seen to be believed!
Chickpea Scramble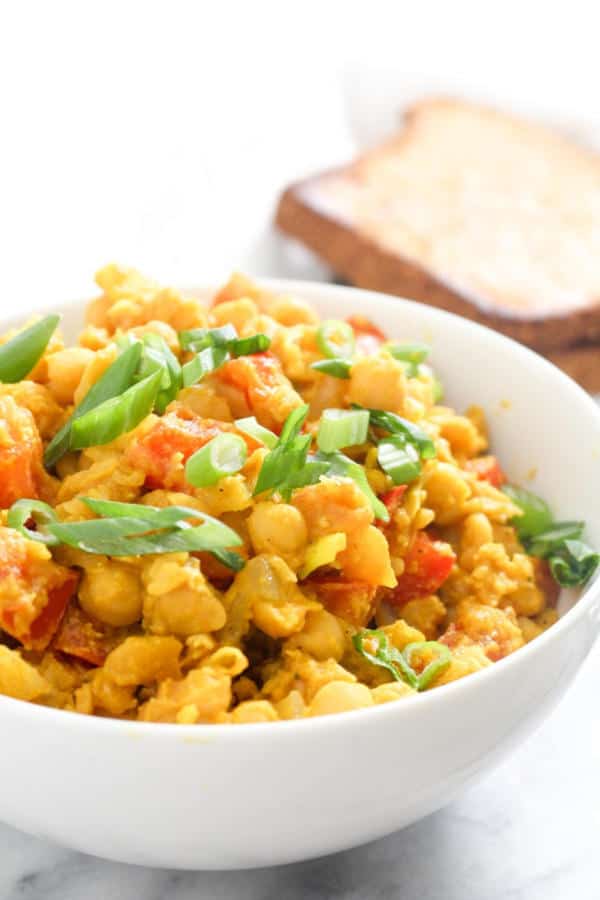 If you used to be a fan of scrambled eggs and you want an alternative that is a striking resemblance, check this out.
Made with real foods including smoked paprika, nutritional yeast and chili powder (to taste).
The amounts listed in the ingredients make for three servings.
This takes just 5 minute to prep and about 10 minutes to cook. Serve over toast or with vegan sausages for a full breakfast!
Tofu Breakfast Tacos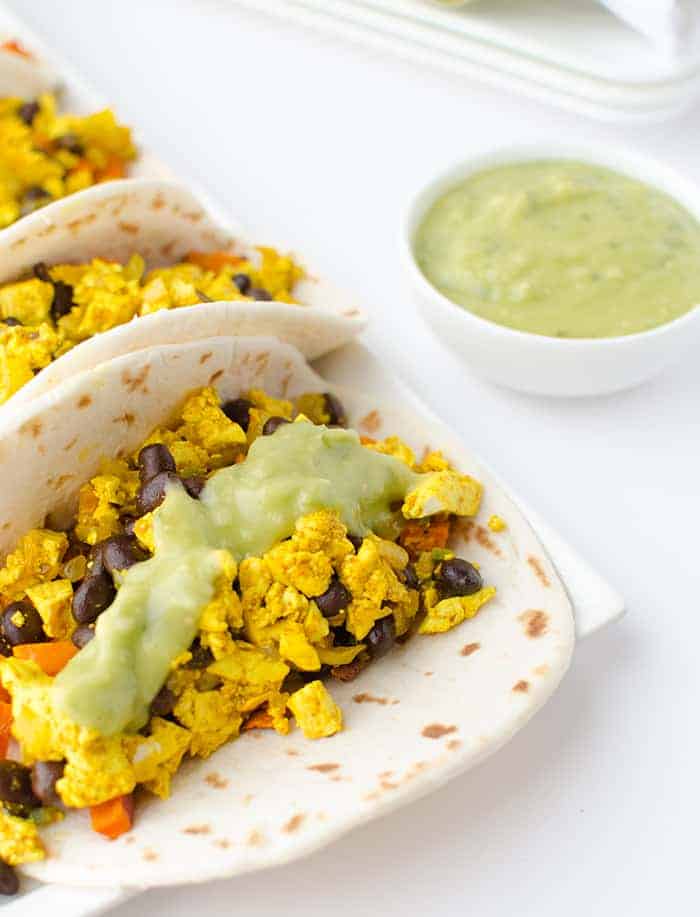 These breakfast tacos are full of protein and easily digestible. They will not leave you feeling lethargic and you'll be bursting with energy for the rest of the day.
Just a handful of ingredients and a very quick cooking process make these beauties.
The recipe is quite versatile, so you can swap out or even add in anything that you have that needs eating. Serve with your favorite salsa, guacamole, or both!
Protein Power Enchiladas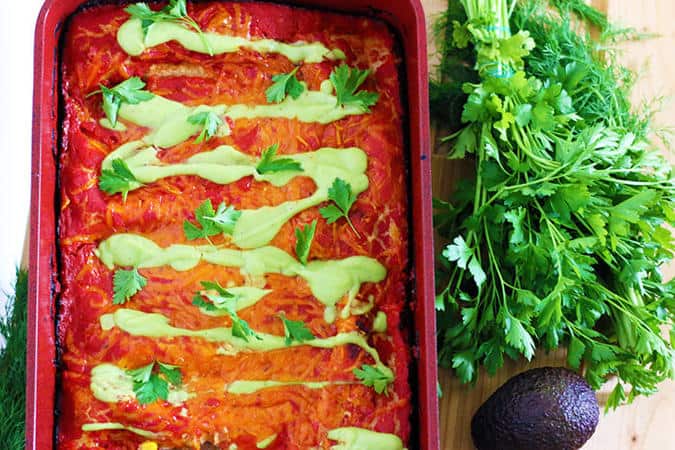 One of the best enchilada recipes I have ever seen. Perfect comfort food and very easy to make.
The surprising ingredient for me was the quinoa, I have never seen this in enchiladas so was excited to try it.
Serve these with a hot sauce which is included in the recipe and only has two ingredients, and an avocado sauce also mentioned.
You're going to love it!
Wrapping Up
This roundup has been one of my favorites to cover. Although most of us don't look for high-protein foods all the time, it's really handy to have a list within easy reach.
If you're familiar with our roundups, you'll know we have some buttons right at the top listing the categories that take you straight where you want to go.
We always try and cover gluten-free recipes but do note that other dishes not listed in that category may also be gluten-free, which we try to highlight where possible, so do have a good browse if you're interested in these types of dishes.
We appreciate all your feedback, we get so many positive messages from our roundups that it inspires us to keep going trying to provide you with the very best recipes.
We hope you enjoy these as much as we did!