Here, we've worked hard to find the best gluten-free vegan recipes out there. And not just dishes either, we wanted to cover as much possible.
You have everything from breakfasts, snacks, pancakes, pizza and even recipes on how to make your own gluten-free bread.
All recipes featured are plant-based and all in one place; enjoy!
Gluten-Free Vegan Bread Recipes
Grain-Free Carrot Banana Bread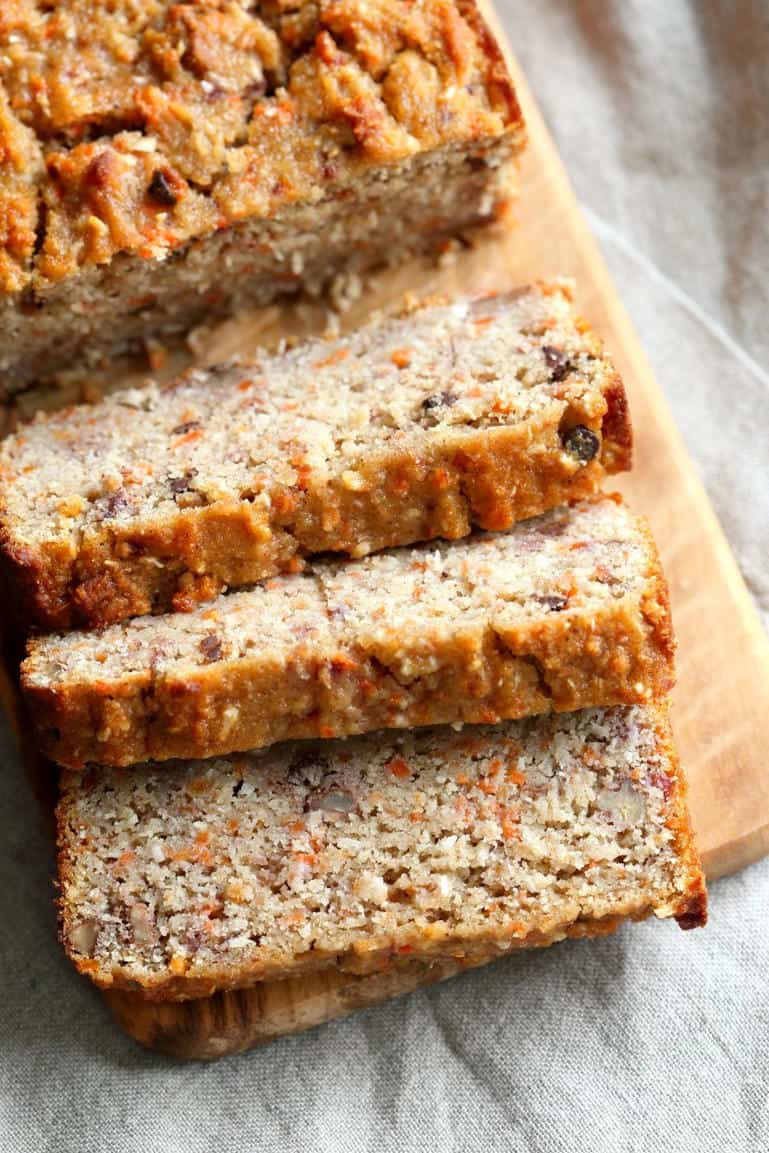 Richa has gone all out and produced a banana bread that's not only vegan and gluten-free, but also grain free. No strange ingredients, everything here you can totally recognize as real food.
The total time including prep and cooking is just under an hour. The result is a wonderful bread that's much lighter than you expect it to be.
It tastes great and for variation you can always add seeds, nuts and oats to the batter. It's great for a dessert and even for breakfast. You can certainly call this comfort food.
Pumpkin Bread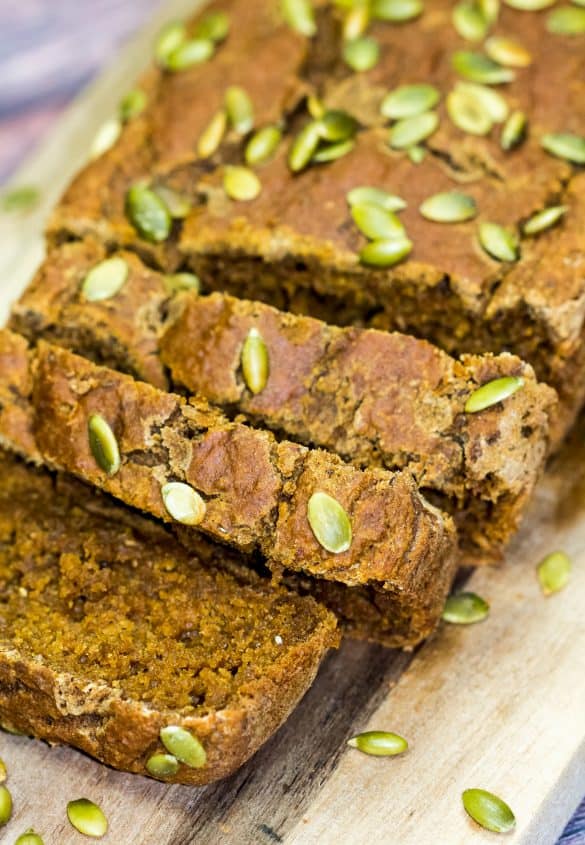 Before I talk about this recipe, I'd like to give you a tip. As well as a few recipe books most of us have lying around, nowadays we also have collections of our favorite dishes in digital form.
If you have thought about this a lot, you may have organized your favorite recipes in terms of meals and snacks. Consider creating a seasonal section as well so you become more accustomed to what foods are in season.
Back to the recipe! When pumpkins are in season, it's time to make this. It's a classic recipe made with simple ingredients, yet it does not use any oil or nuts. Absolutely everybody can enjoy this. Here the ingredients are grouped into two categories, wet and dry.
After you have mixed them together, all you need to do is get baking! What you end up with is honestly so delicious, you can eat it plain, with your favorite nut butter or topping! Definitely highlight this recipe!
Squash and Chickpea Flatbread with Tomato Relish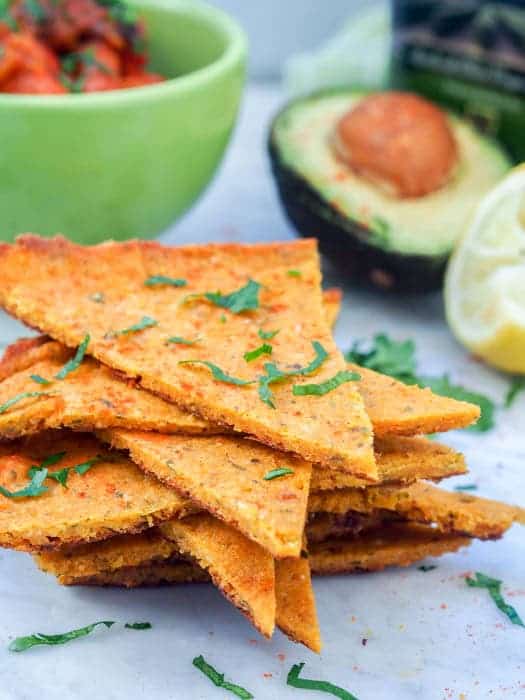 This is an updated recipe from Vicky. Chickpea flat bread is ridiculously easy to make. It originates from an Italian recipe called Farinata.
Essentially, it's garbanzo bean flour mixed with water and baked. You can even make it as a gluten-free pizza base! You're looking at about a 45-minute prep time, which includes cooking.
While it's baking you can prepare the relish. The magic ingredient in this beautifully fresh relish is the smoked paprika.
If you don't have it already, be sure you get some for when you make this. The relish includes a thinly sliced avocado that makes for the perfect accompaniment. Eat this with your flatbread and you're pretty much in heaven.
Make as a snack for yourself or for a party of friends.
Cinnamon Raisin Pumpkin Seed Bread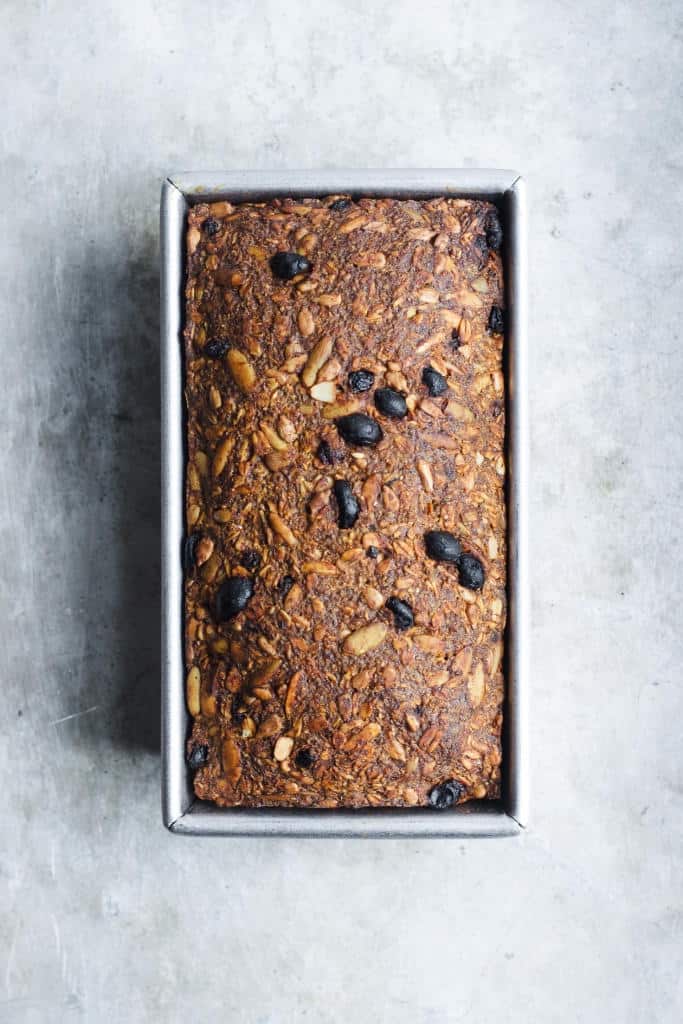 This recipe takes some prep time as you should ideally make the bread and allow it to sit, preferably all day. This isn't a savory bread but it's not overly sweet as you often get with these types of breads.
Please don't be put off by all the preparation. In fact, I'd make a whole bunch because this'll last you.
Spread your favorite butter on the bread or toast it first. I'd put this down as something to make for special occasions for two reasons, firstly the prep time and secondly, most importantly, it really does taste like a special occasion bread!
Gluten-Free Vegan Breakfast Recipes
Tortilla or Spanish Omelette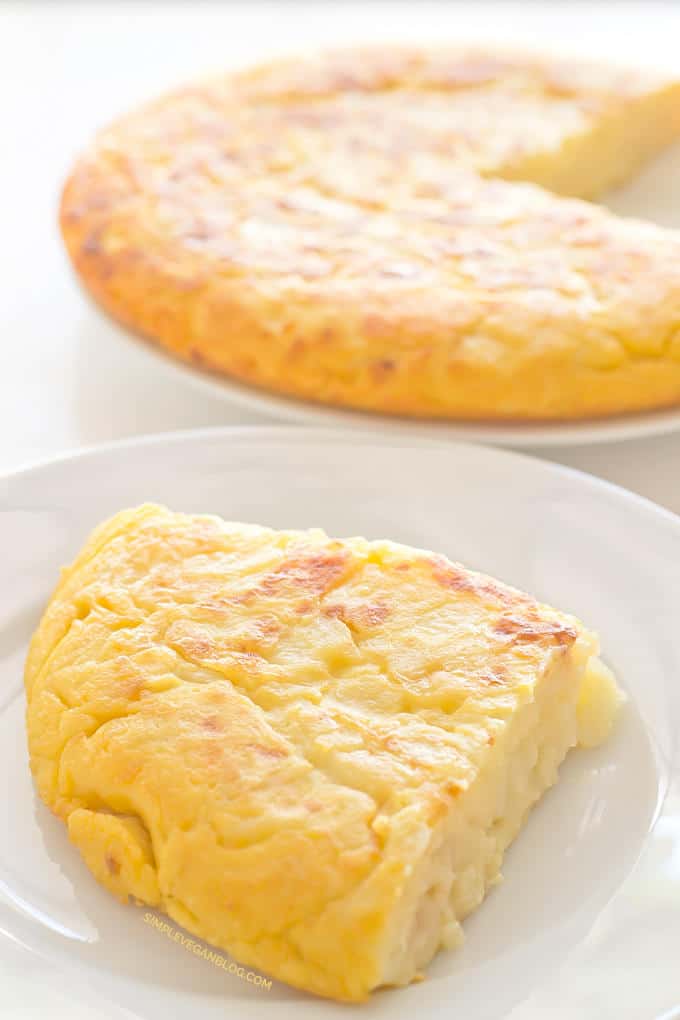 If you're confused about the title, a Spanish omelette is another name for a tortilla. This is a vegan version of a typical Spanish recipe.
Make sure you get some garbanzo bean flour. It's sometimes called gram flour or chickpea flour. Other than this, I'm confident you'll already have the ingredients in your kitchen.
This recipe takes about forty-five minutes although the majority of that's cooking time.
As it's plant-based it's not only healthy but tastes absolutely amazing too. Great for breakfast or brunch!
I'd recommend having a nonstick frying pan when making this, just to make your life easier.
Easy Peasy Banana Milk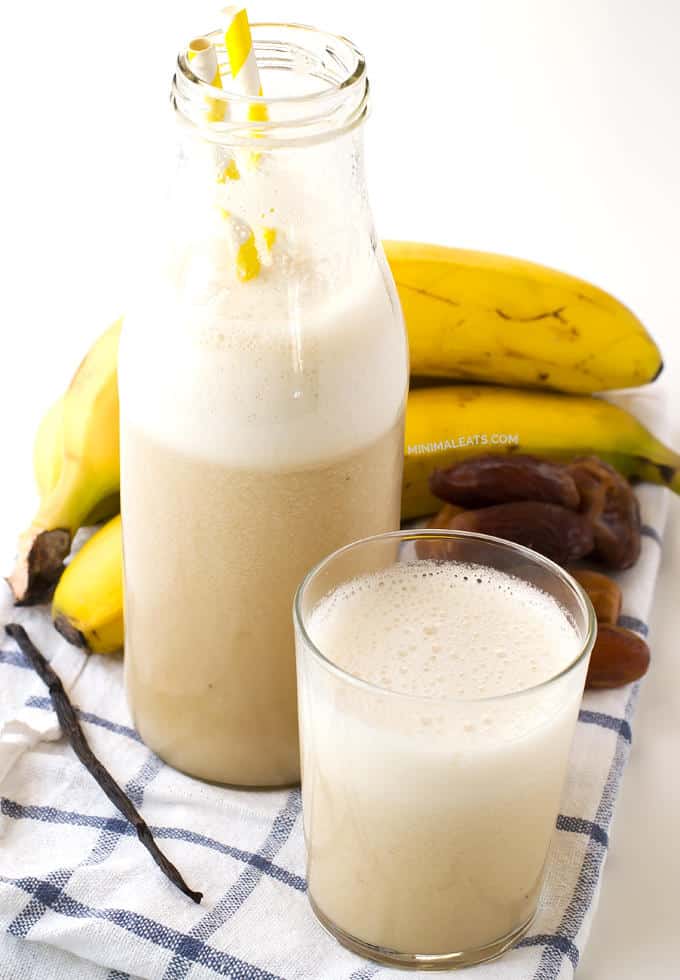 Nowadays there are lots of choices regarding plant-based milks. The different brands and milks vary so if you have tried one you didn't like it, don't despair and just try another one.
I love this variation as it's not made from nuts and can be used as a milkshake as well used as regular milk.
The ingredients couldn't be simpler with bananas, water, dates, vanilla extract and ice. We recommend using medjool dates but do make sure you pit them first.
Blend all the ingredients together and what you'll end up with, is a light and healthy milk that tastes delicious!
Coconut Mango Parfait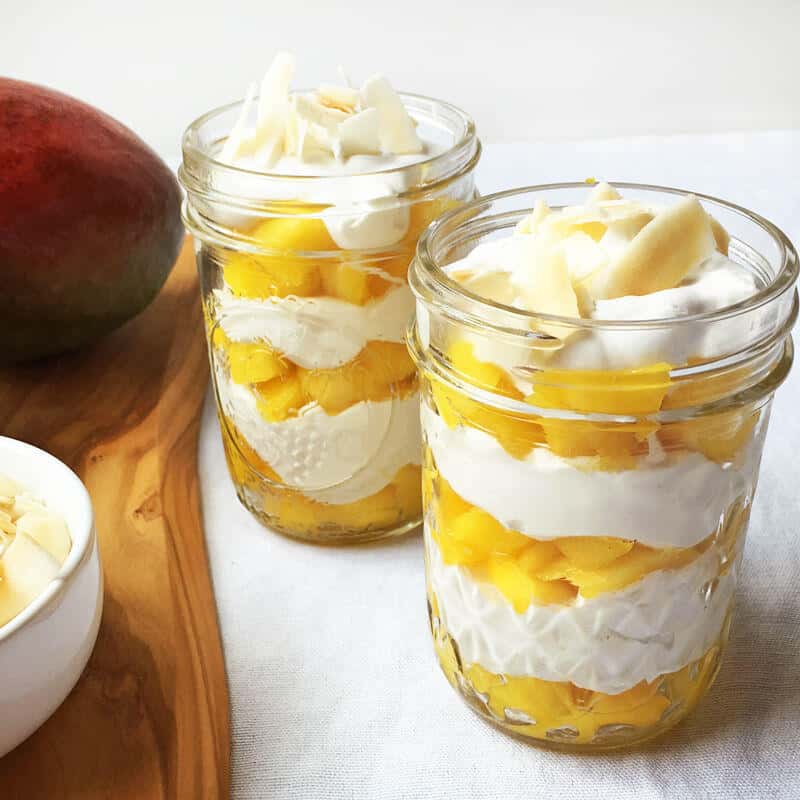 Doesn't the picture just look delicious? Breakfasts aren't always this healthy! Not only is this one good for you, the ingredients couldn't be simpler.
There are a good few plant-based creams on the market, but I think nothing tastes better than cold coconut cream.
Of course, you don't have to present them in the way suggested but I think it's a lovely touch, especially if you have friends or family over.
This'll make two small mason jars but feel free to make more as I do!
If you don't have any mason jars simply put the cubed mangoes in a bowl and cover with the coconut cream and toasted coconut flakes. You won't believe this is guilt free!
Breakfast Bowl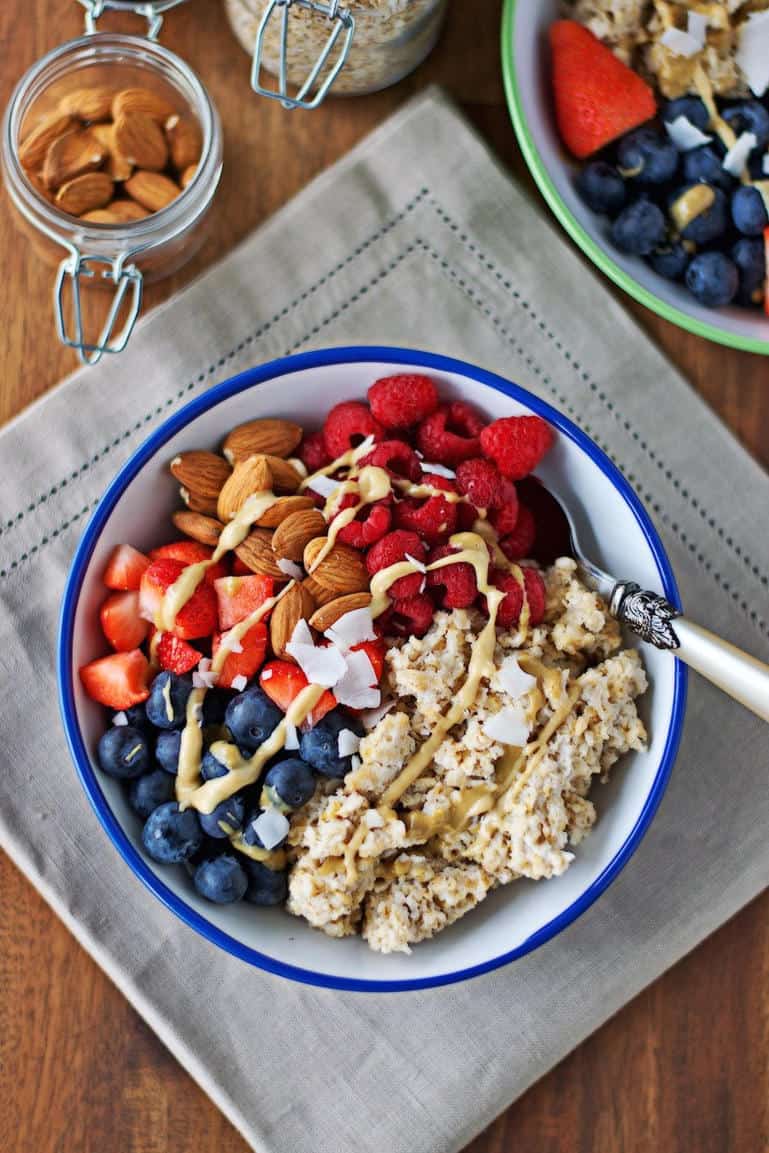 This breakfast bowl recipe is so easy you don't even have to go to the effort of remembering anything. It's totally versatile so you can mix-and-match the ingredients.
Fresh fruit, nuts and oats! Florian Nouh from Contentedness Cooking suggests using your favorite nut butter which I'd not have thought of. Of course, you can also use any plant-based milk or even juice!
I really love all the colors and textures here. You can substitute the oats for quinoa if you like although I prefer it as it's… perfect!
No-Bake Peanut Butter Breakfast Bars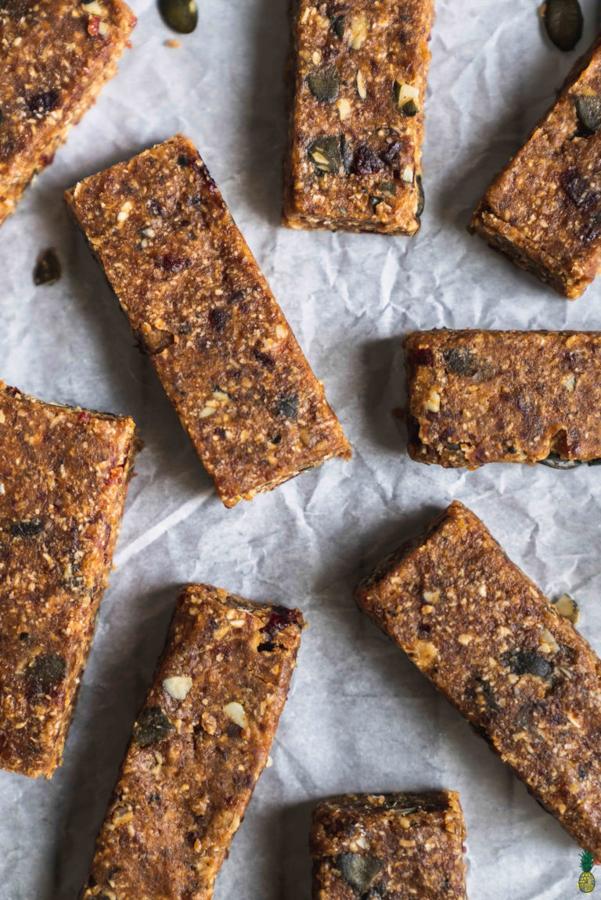 Breakfast doesn't have to be served in a bowl to pack a nutritional punch. These simple and delicious peanut butter bars prove food on the go isn't always junk.
With wholesome ingredients and no bake prep, these bars are the answer to your breakfast boredom blues. These nutty and sweet bars will be a hit with everyone in your family.
Have allergies? No problem! These bars taste amazing with any type of nut or seed butter. I like to make a batch of different flavors for more variety. They store in the fridge for a week or can be frozen for longer. Score!
Gingerbread Granola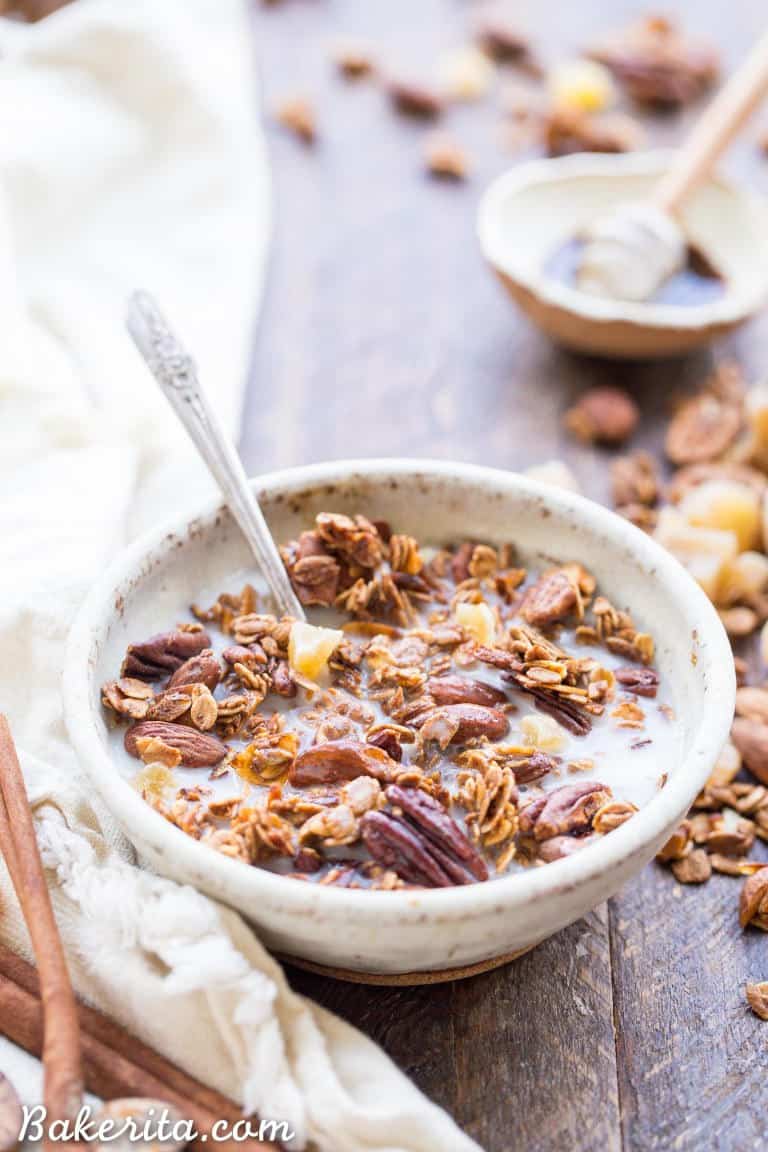 Rachel has created what I think is one of the best granola recipes I have ever seen.
There's no doubt if you follow everything in this recipe it's going to take about an hour, so maybe this is something for the weekend. However, I really urge you not to skip any part, you'll thank me.
With the rolled oats, nuts and all the other ingredients, you can probably guess how they're going to taste.
But when you take the entire recipe, with lots of warm gingerbread spices and the molasses, you'll be completely blown away. As well as making this for yourself you can package it up in a decorative jar and give it as a gift!
Gluten-Free Vegan Cake Recipes
Healthy Banana Muffins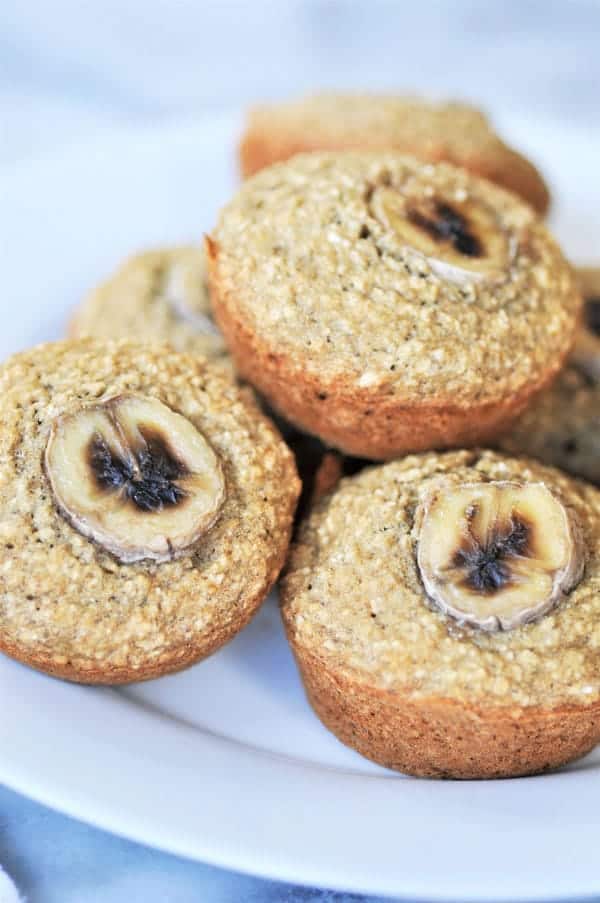 My goodness, these muffins taste so delicious! With a total of 30 minutes which includes prep and cooking time, and the small number of simple ingredients needed, you have no excuse not to make these.
Great for breakfast or for a snack at any time of day. Why not get the kids involved in making these too? they're so easy to create.
Especially great for the holidays!
Earl Grey Lemon Cheesecake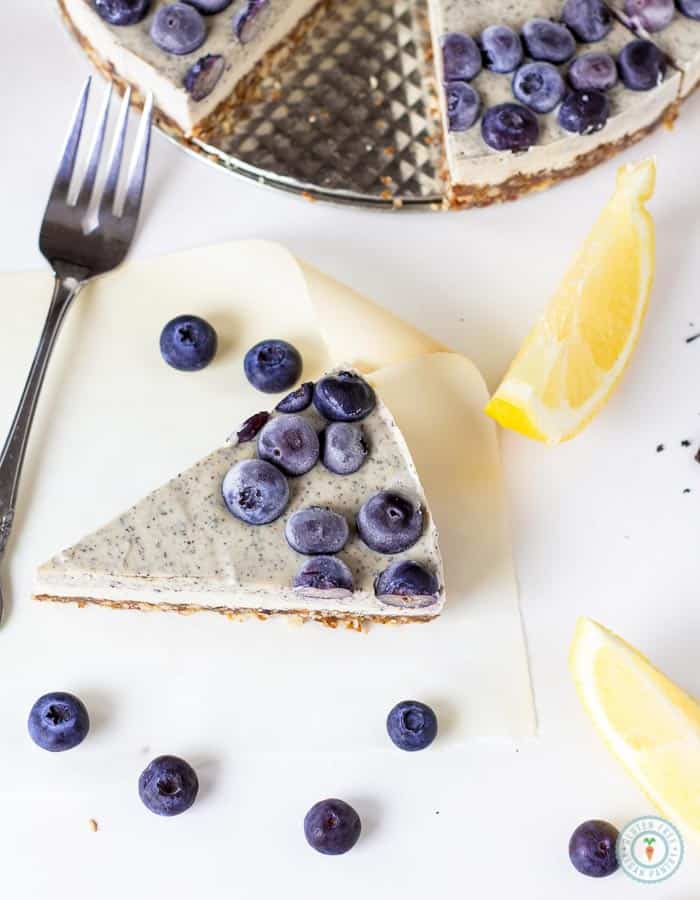 There's something very special about this cheesecake. It's vegan, obviously gluten-free, and it's raw! I mean, how often can you say cheesecake is good for you?
The crust has literally two ingredients, almonds and medjool dates. The filling is just a mouthwatering shortlist of complete goodness! Of course, the secret ingredient is the earl grey tea leaves.
This is a very special cake you absolutely must bring out for those very special occasions. If making cheesecakes was an Olympic sport, you know what I'm going to say right? That's right, this would be a gold medal winner!
Carrot Cake Cupcakes with Cashew Cream Frosting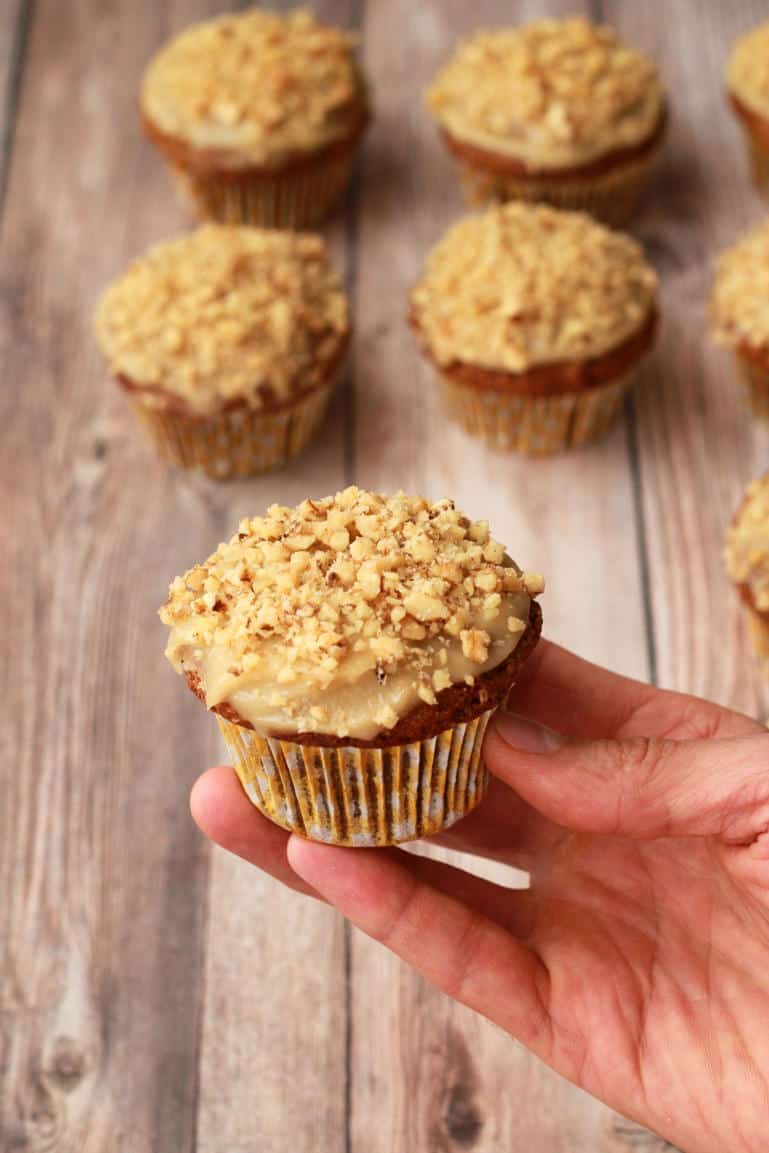 This irresistible recipe makes the perfect cupcake. Sometimes I find cupcakes a little dry, but this is a well-thought-out list of ingredients.
It makes twelve cupcakes with a prep time of thirty minutes, which you cook for twenty-five minutes.
I think the secret ingredient here is the two tablespoons of applesauce which makes everything blend together perfectly. I'm not too keen on nutmeg personally, so I left it out. I can be a bit strange like that sometimes.
You can easily make double the quantity as they would make great gifts for family and friends. Delicious.
Raw Strawberry Cheesecake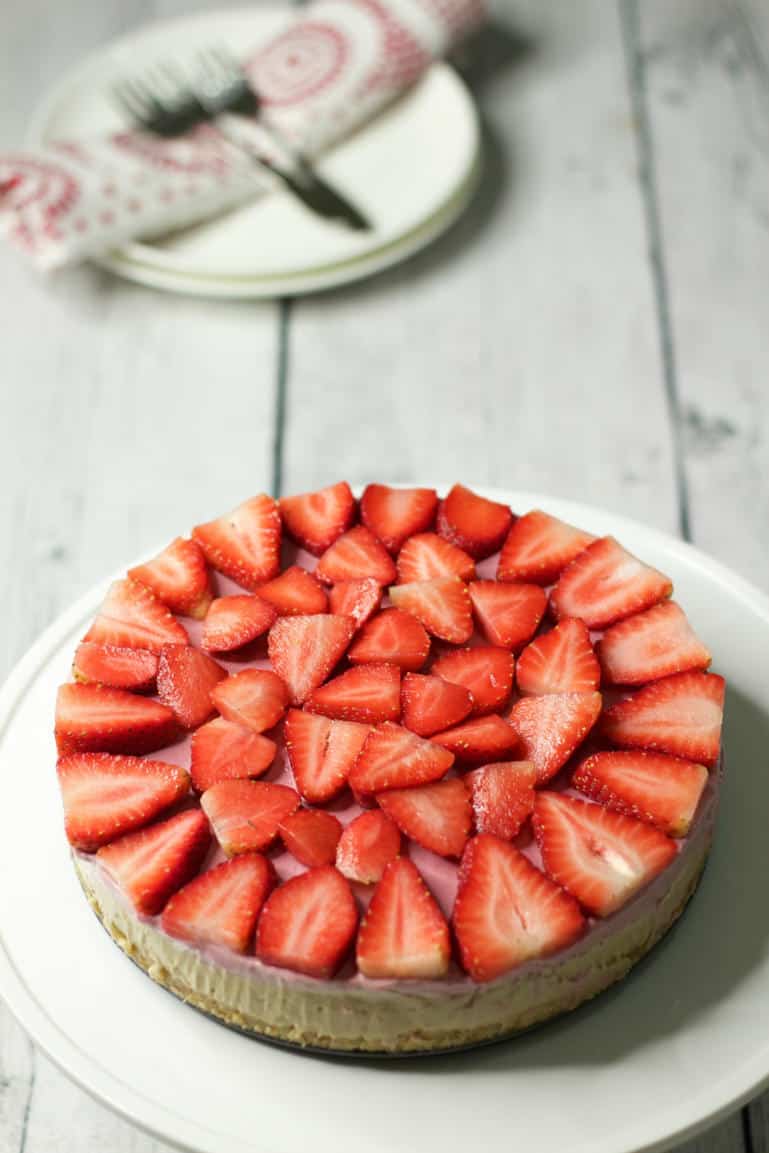 Whether you are into raw food or not, you need to try this recipe. When it comes to things like cheesecakes, I think the 'raw vegan' variety tastes much fresher than anything cooked as they don't leave you with a heavy feeling.
You just have to look at the list of ingredients, everything from a very simple crust containing just macadamias, cashews and pitted dates to a fresh filling.
The topping contains whole strawberries and the decoration can be any sliced fruit you like.
I'd recommend sticking with strawberries as it's a strawberry cheesecake after all! Wonderful to have with a cup of tea in the middle of the afternoon.
Birthday Cake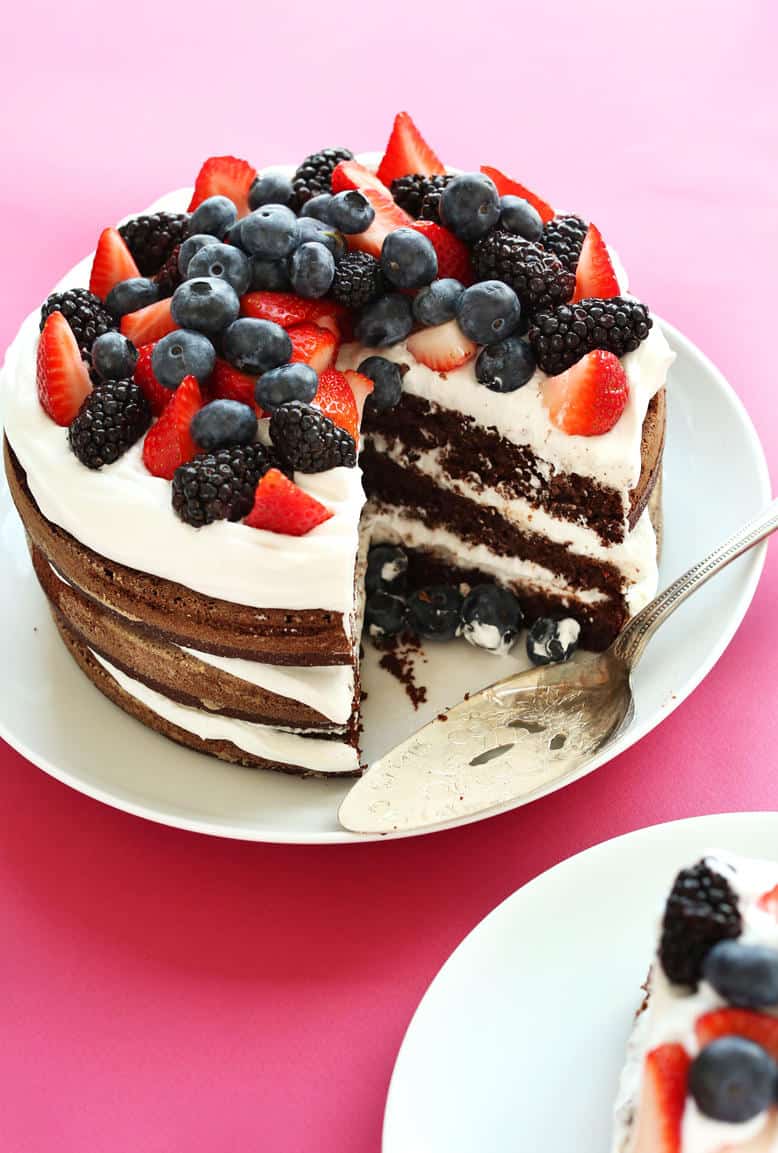 Happy birthday to you, happy birthday to you… Please don't wait until your birthday to make this though!
This triple layered cake topped with fresh fruit's the real deal. In between each layer there is coconut whipped cream, and lots of it. It would be great to eat during the summer.
Please note the prep time listed in the notes does not include chilling the coconut cream or cooling the cake, both of which are essential. This makes about twelve servings (or six servings if you invite me!)
Sweet Potato Pecan Crumb Cake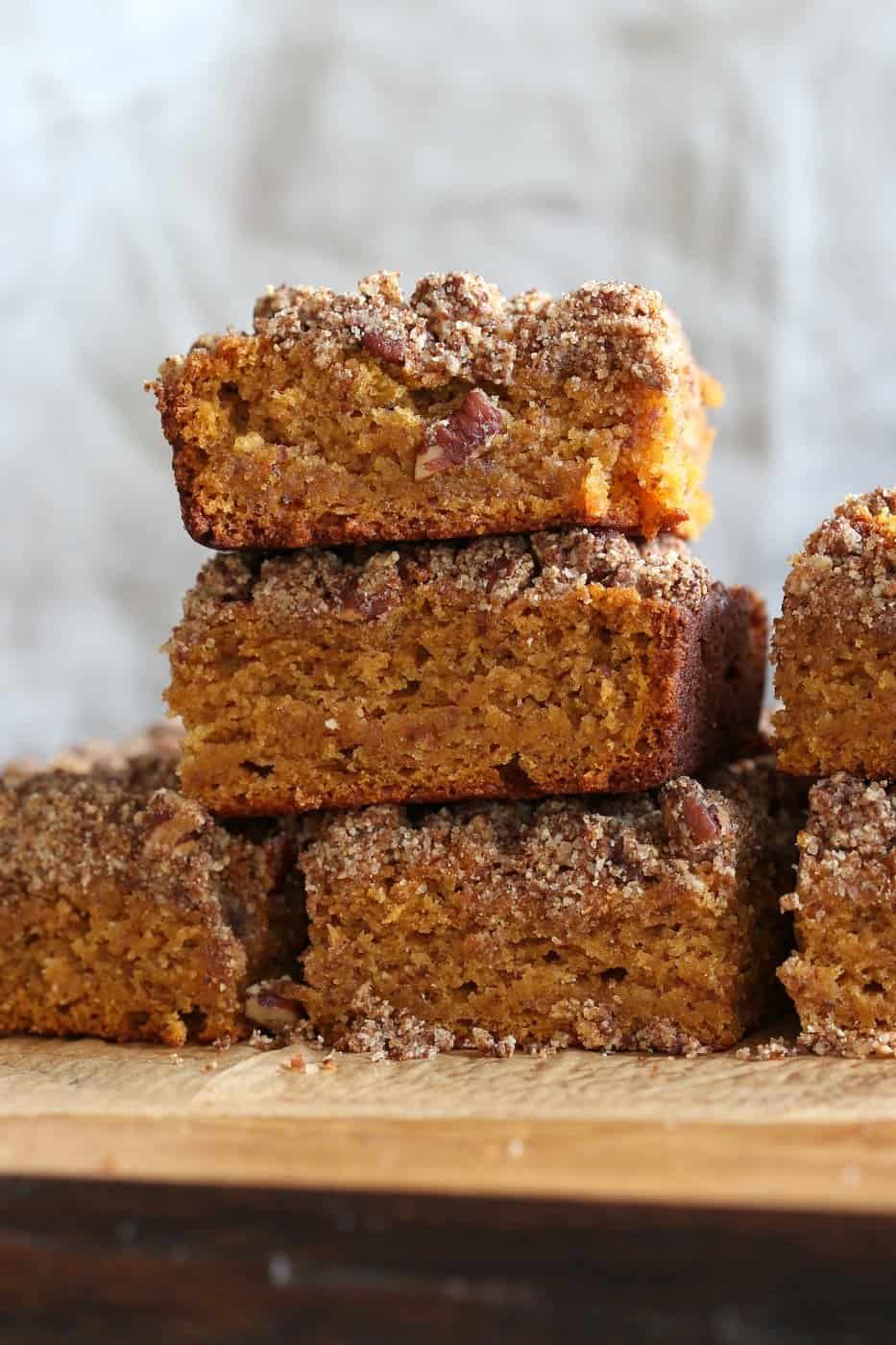 Sweet potato and a cake? I hesitated for a couple of seconds when I first saw this but honestly, if you have any reservations, throw them out of the window as this works and works well.
The total time to make this cake is about fifty minutes. Most of this involves cooking because the prep plan only takes about five minutes.
You don't have to get fresh sweet potatoes, the purée from a can will work perfectly and will save you a lot of time.
The topping just blends so well with the rest of the cake, it all just melts in your mouth. Test it on your friends and see who can guess the ingredients!
Almond Butter Blondies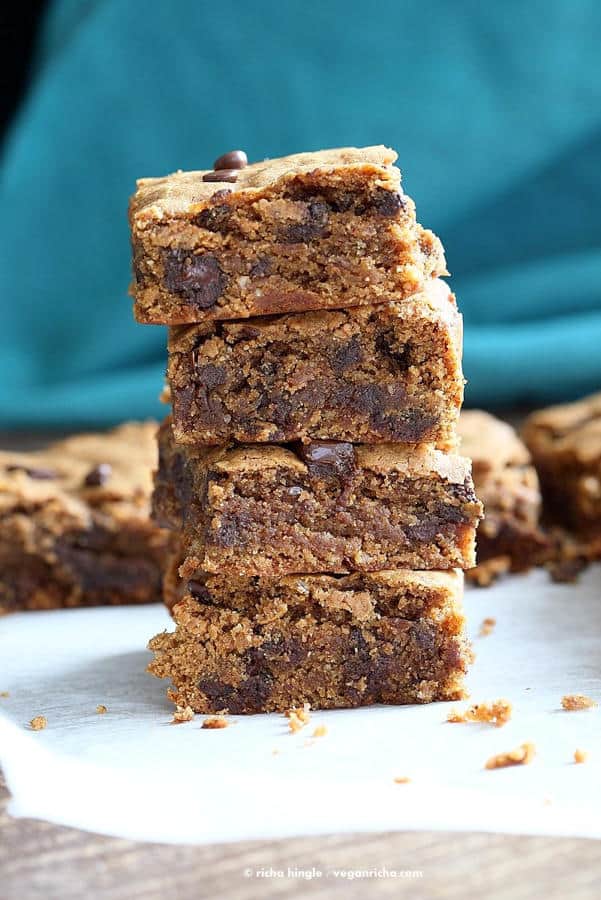 This recipe is soy free, palm-oil free, gluten-free as well as being plant-based of course. I love the chocolate chunks that are randomly sitting there waiting for you.
Really easy to make and I think something children would enjoy preparing as well. They store easily and are great for lunch boxes.
You can make them at the weekend, for a special occasion during the week or give them away as gifts. Okay, only give some of them away as gifts!
Fudgy Walnut Brownies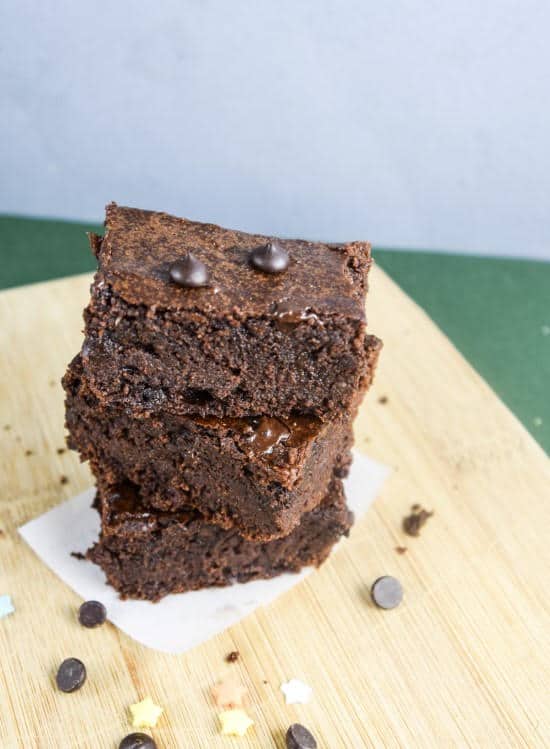 You know we love classic recipes and the reason they're classic is because they have stood the test of time. This is a vegan and gluten-free version of a classic recipe and I tell you, you need to keep it.
These are moist and chocolatey without being overly sweet. Total time to produce them is about forty-five minutes, most of which is cooking time.
Get the kids involved during preparation and you are sure to have a big mess, but it'll be great fun and they'll love the end result.
Single-Serving Chocolate Chip Banana Baked Muffin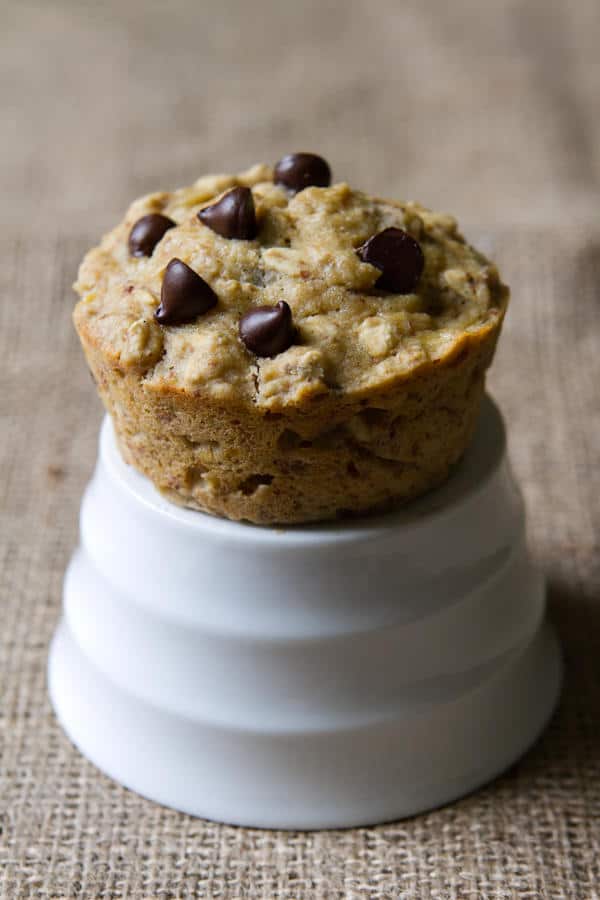 This may seem a little unusual, a recipe for one muffin. There are two variations you'll see when you click on the link.
Don't get too worried about the ingredients just yielding one serving because you can easily make more without any effort.
What you end up with is a really tasty muffin that has this wonderful banana flavor, with a hint of vanilla.
Couple this with the dark chocolate chips and I'm pretty sure you'll be making more than one. It's a must!
Mummy Cupcakes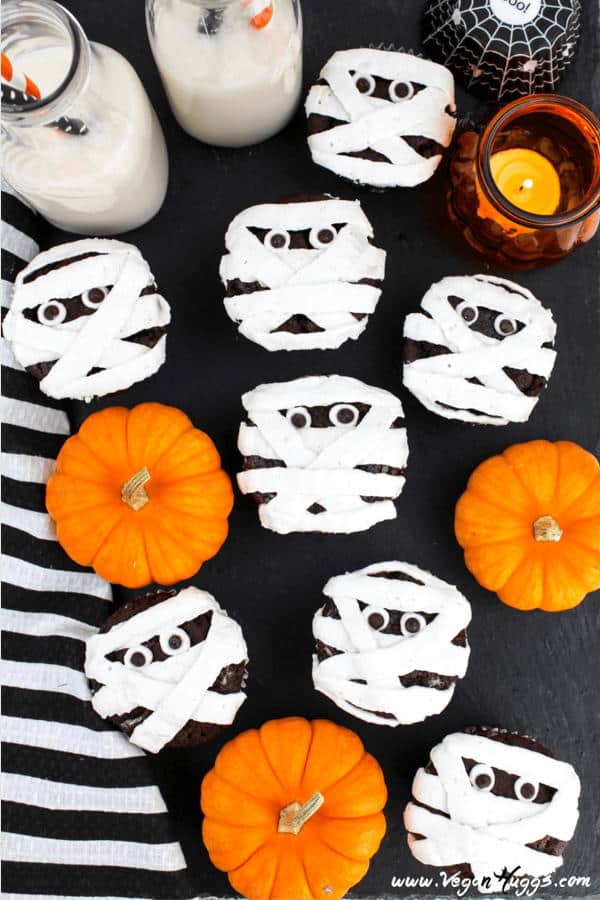 These cupcakes are really fun to make and the decoration Melissa came up with is just brilliant. Of course, you can get creative and make up your own decoration.
This recipe has a total time of forty minutes of which twenty-five minutes is cooking time. It yields sixteen cupcakes which is a pretty good number.
I know I'm in the minority here, but I don't like coffee cakes too much, so I left out the two teaspoons of espresso powder but if you don't mind it, leave it in.
The frosting is based on a can of coconut cream that should be chilled in the refrigerator overnight. This is certainly something where you get the kids involved in the decoration.
Cake with Coconut Whip, Baked Apples and Walnuts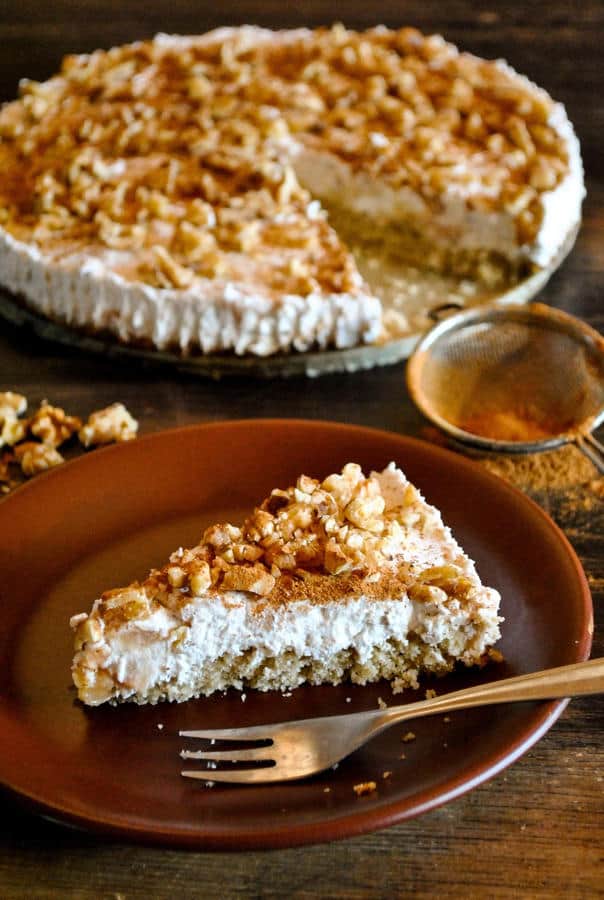 Sometimes you come across a recipe we just have to hold our hands up and just shout stop to everybody. Well, stop! Try this and your life will never be the same again.
I was thinking of saying this would be great for a special occasion but it would be wrong unless you think every day is a special occasion!
If you don't mind the prep time of ten minutes and thirty minutes baking, which is certainly not bad, then please do make this.
Think about it ahead of time because it does need to chill in the refrigerator overnight. It would be inappropriate for me to recommend this for breakfast… Or would it?
Spiced Carrot Cake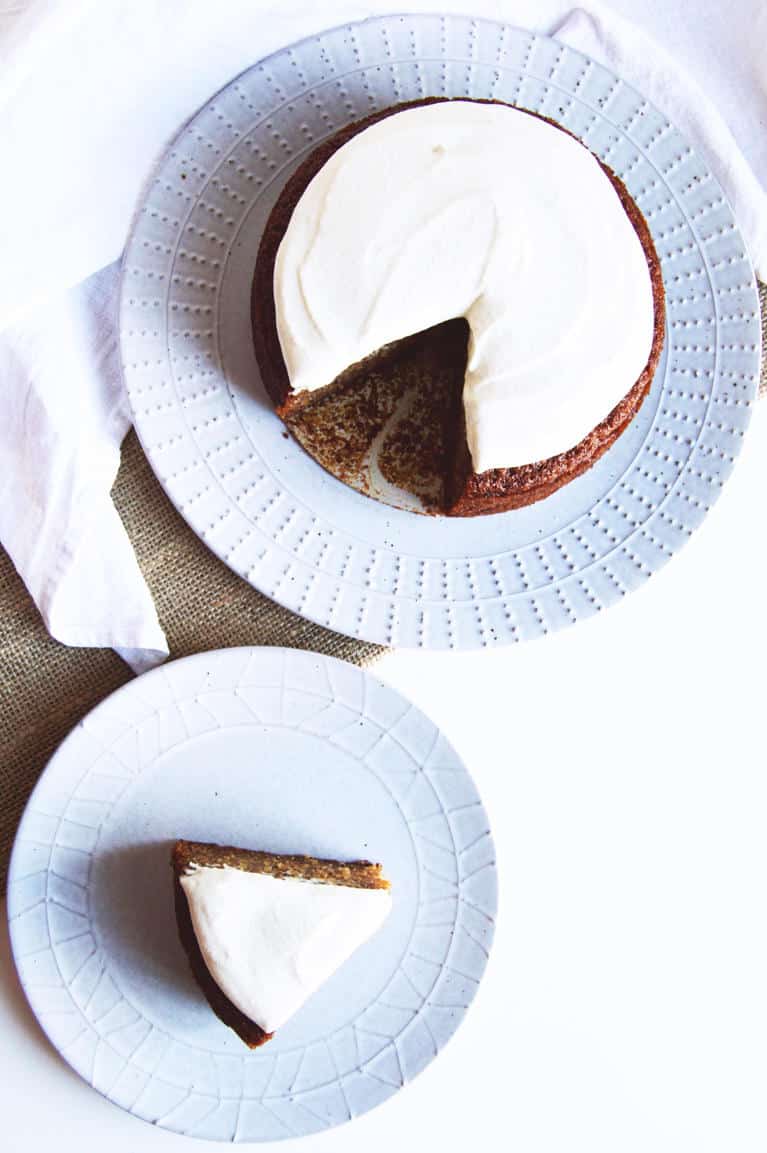 Carrot cake has been with us for many years now and this is a wonderful vegan and gluten-free recipe.
It's very much based on a classic recipe, so you should be familiar with the taste.
What I particularly love about this recipe, is the nice balance of spices which I find too much sometimes in carrot cake.
It's totally delicious. When you need carrot cake and nothing but carrot cake, here is your answer!
Gingerbread Muffins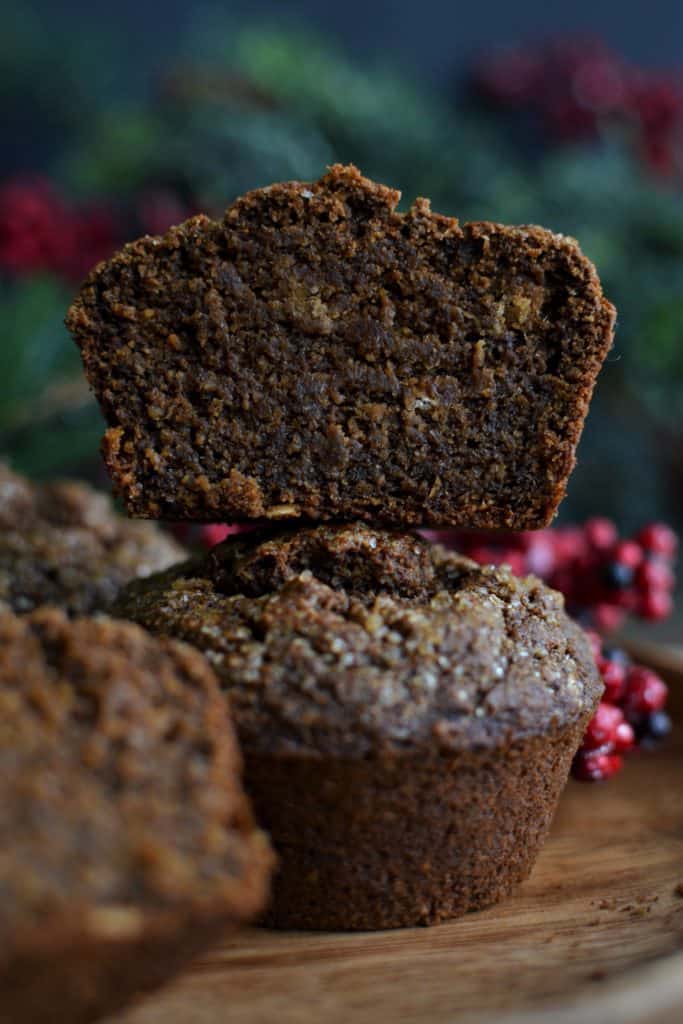 This is another classic recipe you should have in your repertoire.
If you follow this recipe you'll have ten muffins. I say make twenty! If you don't have a muffin tray don't forget you could just make this into a cake.
It's absolutely delicious and how can it not be with ingredients like coconut oil, molasses and allspice. The gluten-free flour is made from oats and quinoa.
When it comes out of the oven remember to let it cool for a good fifteen minutes before removing from the pan and placing onto a cooling rack, this is a really important step. Enjoy!
Gluten-Free Vegan Dinner Recipes
Crispy Eggplant Parmesan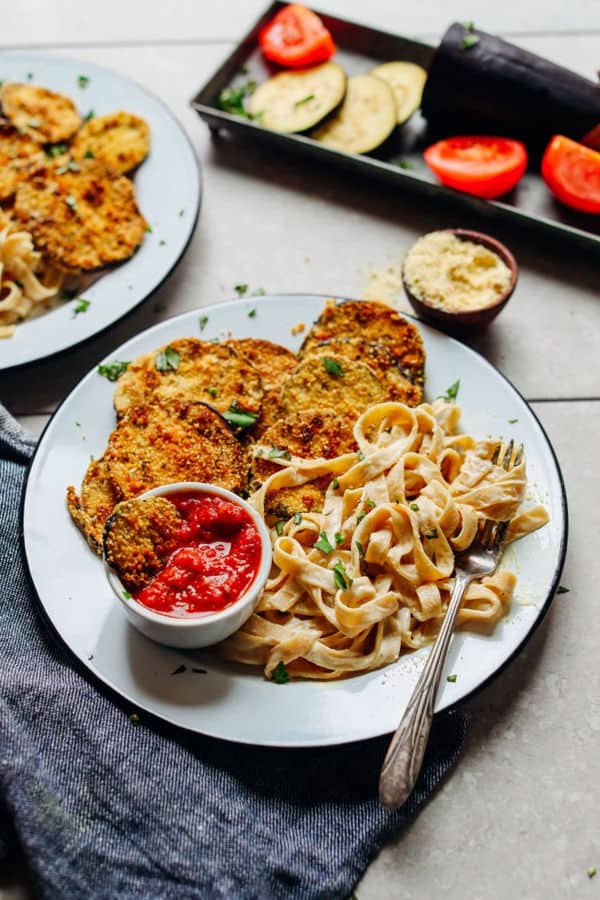 We've all heard of Eggplant Parmesan where you make something similar to a lasagna and use eggplant instead of pasta sheets. Well, these are like eggplant fritters that will be a fabulous snack or be part of a main dinner.
As you can imagine there is some prep to do here but it won't take long. I think more and more people are going back to making food at home using good basic ingredients that perhaps our grandparents grew up with.
So much food nowadays in the supermarket contains ingredients we've never heard of and we're becoming more aware of this when we feed our families.
This is an Italian inspired recipe and if I may, I'd like to suggest using the crispy fritters as sandwich fillers as well!
Easy Mushroom Gravy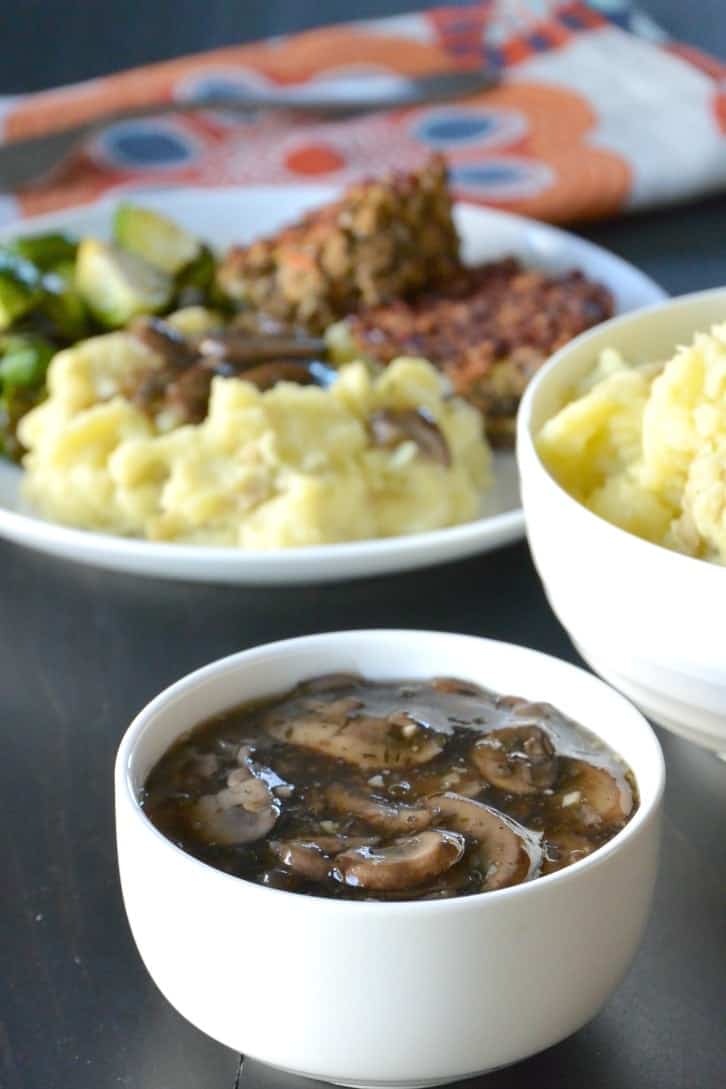 Classic recipe time, notebooks at the ready! So, you got your creamy mashed potato as part of your meal and you want a tasty gravy that isn't complicated to make, but it needs to be full of flavor. We've got you covered!
Not only is this easy to make, it tastes absolutely amazing. Obviously, you need to like mushrooms, that's a given, and if you don't you probably want to skip this recipe totally.
But if you don't mind them or love them, then make this very soon and have with mashed potato. You won't be sorry!
Thai Basil Eggplant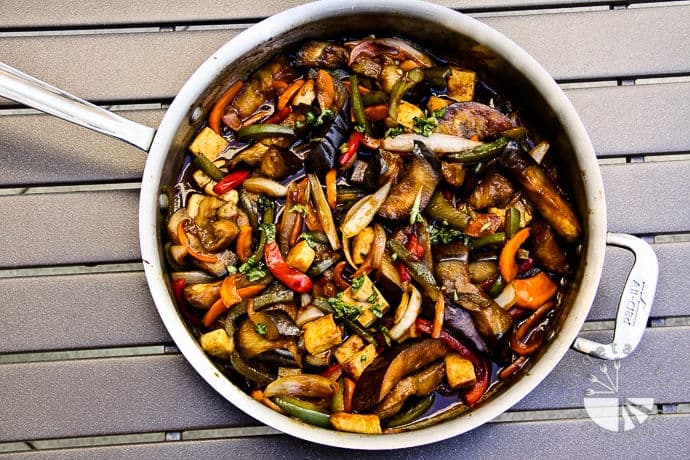 Sometimes you need comfort food and you don't want to think too hard about the recipe. This is one of those dishes where you prepare everything and just cook it all up.
It's super healthy with lots of vegetables and tofu, cooked in such a way, creating great flavor and texture.
Do be aware, if you are strictly gluten-free, this recipe contains Koon Chun Hoisin Sauce which does contain gluten, so do make sure you have an alternative.
This dish is a complete meal and I can just imagine eating it on a cold winter's night.
Creamy Pesto, Tomato and Sausage Lasagna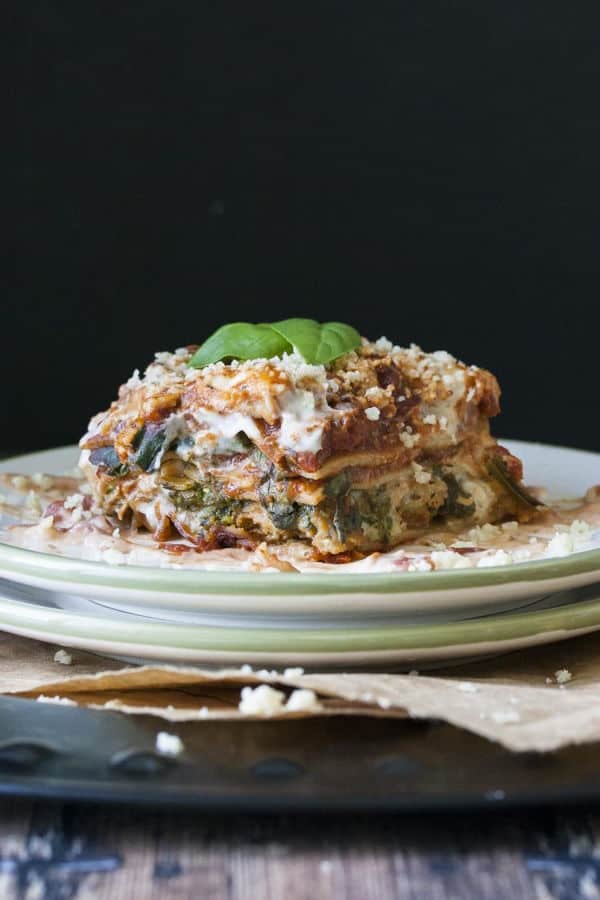 This is a really interesting twist on the classic lasagna recipe. I'll warn you, though, you'll need to have at least two hours and fifteen minutes of prep and cooking time ahead of you, so this isn't something you're going to think about at the last minute.
There are many steps to this recipe. I don't want to put you off, sometimes we need recipes for special occasions, and for that, this is absolutely ideal.
I can tell you, each part of this recipe is incredible.
For example, the crackpot red sauce is absolutely delicious and bursting with flavor. The broccoli spinach pesto you can just use on its own with pasta.
These are just two examples, so you can see that this recipe is a collection of smaller recipes. Definitely worth checking out!
Trumpet Mushroom Bowls with Herbed Lentils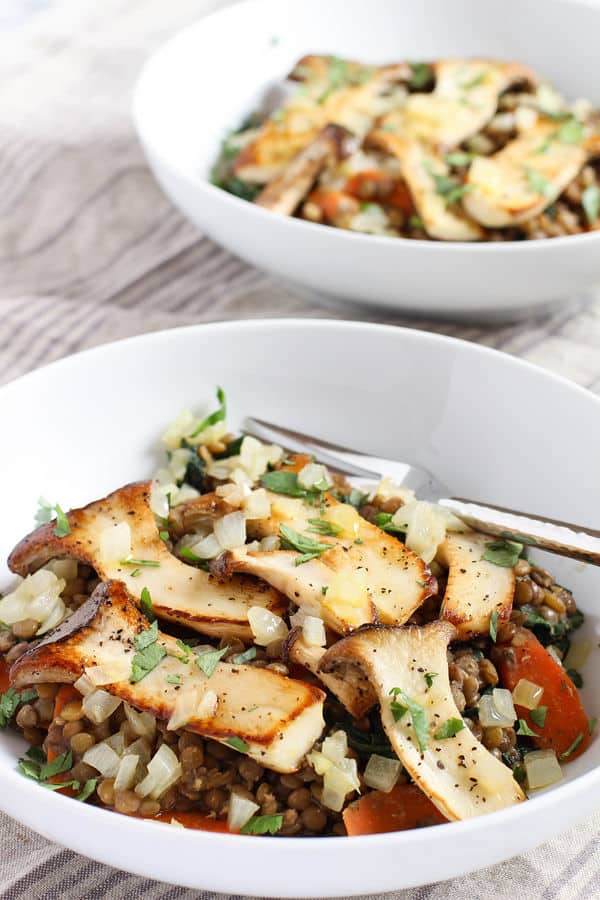 If you've never tried trumpet mushrooms before, this is a great opportunity.
They're sometimes called king oyster mushrooms. For this dish, they're sliced in half lengthways and cooked on a skillet with olive oil and seasoning.
If you don't like mushrooms just follow the recipe and use either tofu or eggplant.
The herbed lentils are really something. People often just cook lentils according to the packet and that's already great because they absorb other flavors.
But, if you cook them with vegetable broth, herbs and a bay leaf, and then add even more ingredients as per the instructions, you're going to end up with the best lentils you've ever had.
The apple cider vinegar sauce just tops everything off a treat. If this was a cake, I'd say it was the icing on the cake!
Creamy Mushroom Risotto with Peas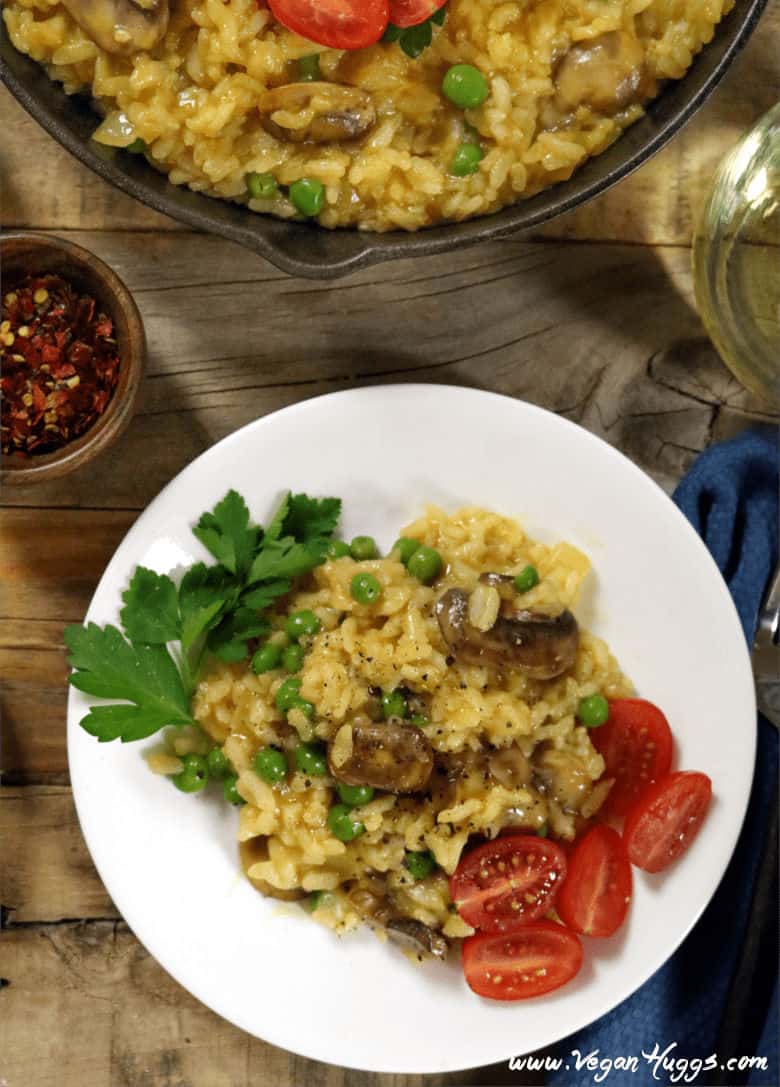 Risottos are great for people that want to avoid gluten as they're easy, nutritious and totally satisfying. In many ways this is a classic dish and one that you should have in your classic section.
You can adapt this recipe quite easily, so don't be put off if you don't like mushrooms.
I love peas because they're always so flavorful and so easy to add to just about any dish. Thank you, Melissa, for making this wonderful recipe!
Lentil Loaf with Cabbage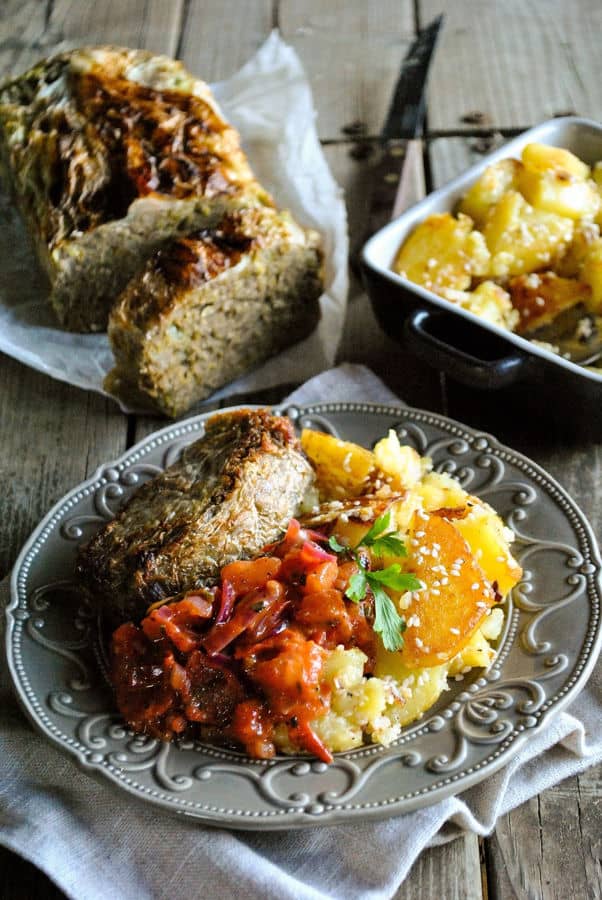 Here is a unique recipe that'll be the main event of a wonderful meal. Total comfort food and I can see this going with many things such as mashed potato and peas or even roast potatoes with brussels sprouts.
You'll be surprised how small the ingredients list is and for that alone, this is worth a look. There is a little preparation time as you need to prepare the cabbage separately at first, but I promise you it'll be worth the effort.
If you want to surprise guests with something they're not expecting, then this delicious dish will serve you well.
Mushroom Lasagna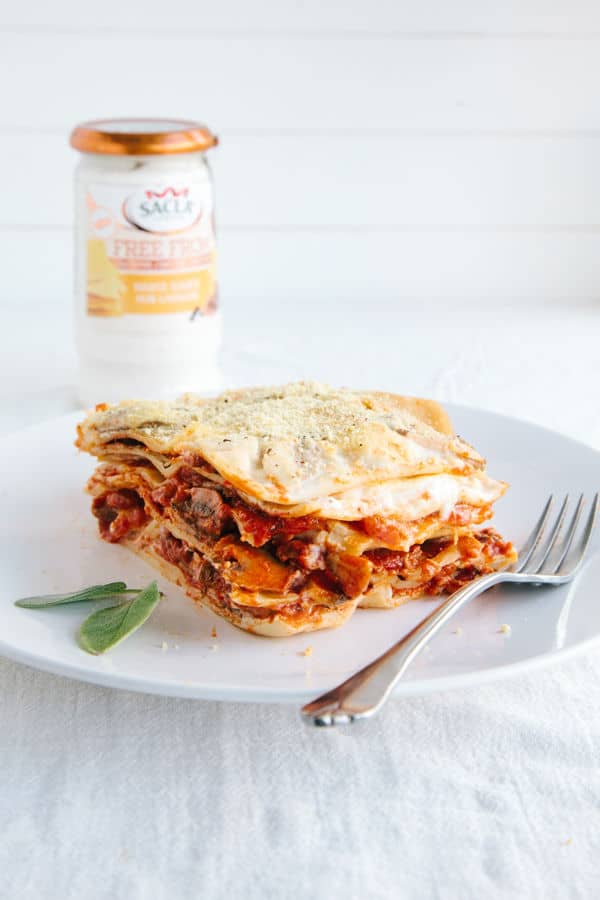 A little history lesson, before Italy became the country it's today, it was a bunch of regions all with their own traditions and ways of living life. When Italy became a country, that essence carried on to this day.
The end result is a country where something like a simple recipe we think is standardized, such as a 'ragu' sauce, actually doesn't exist in Italy because each region has its own way of making it.
And so, we come back to lasagna and how there isn't one recipe for lasagna in Italy, there are many. And here we have another!
As with all lasagnas, this isn't going to be made in five minutes. You're looking at about forty-five minutes total time including prep and cooking.
You need gluten-free lasagna sheets and vegan cheese, otherwise the rest of the ingredients you can pretty much find in any store. This is comfort food at its finest.
Quick Curried Veggie Brown Rice Bowls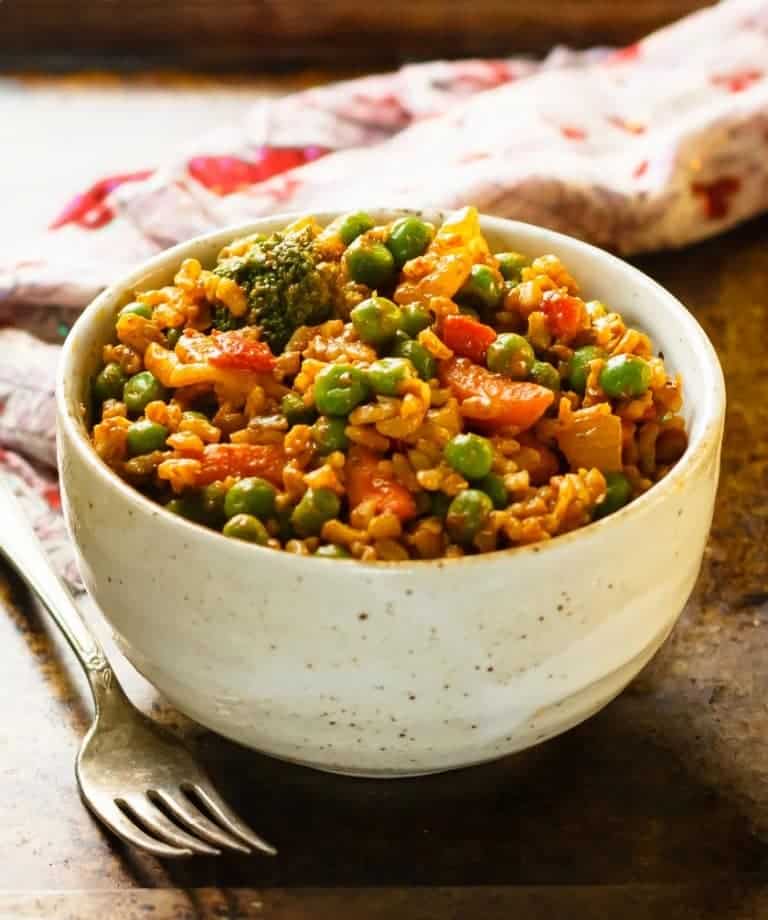 What can I say… I'm a fan of curry! Gin, who created this recipe (along with her wonderful dog, Fi), has made a super easy-to-follow recipe that you'll love.
What I adore about this recipe, is it uses great simple ingredients I'm sure most of us have already.
It doesn't even tell you to buy a bunch of fresh vegetables and spend hours chopping everything up. It just calls for a bag of frozen veggie mix! You also need brown rice, which is so good for you.
If you're not sure what to make, this is it. It's so easily adaptable depending on what you have, so make a note of it, you won't be sorry.
Quinoa Power Bowls with Avocado Sauce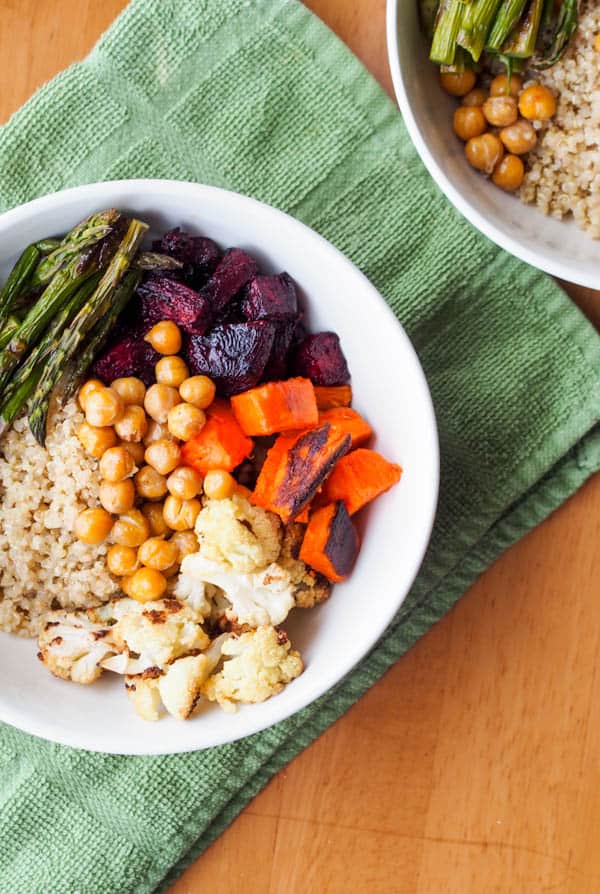 Comfort food alert! There are so many good things to say about this recipe I literally don't know where to start. It's really easy and adaptable depending on what you have and what you like.
Each part of this recipe is a side dish in its own right, so bear this in mind when making notes.
The avocado dressing is just incredible and I can see it going well over so many other dishes, even salad!
You could mix everything up and pour over the dressing, but I really recommend you separate the ingredients in your bowl because it looks fantastic and I feel, even more appetizing!
Coconut Curry Chickpeas with Wilted Greens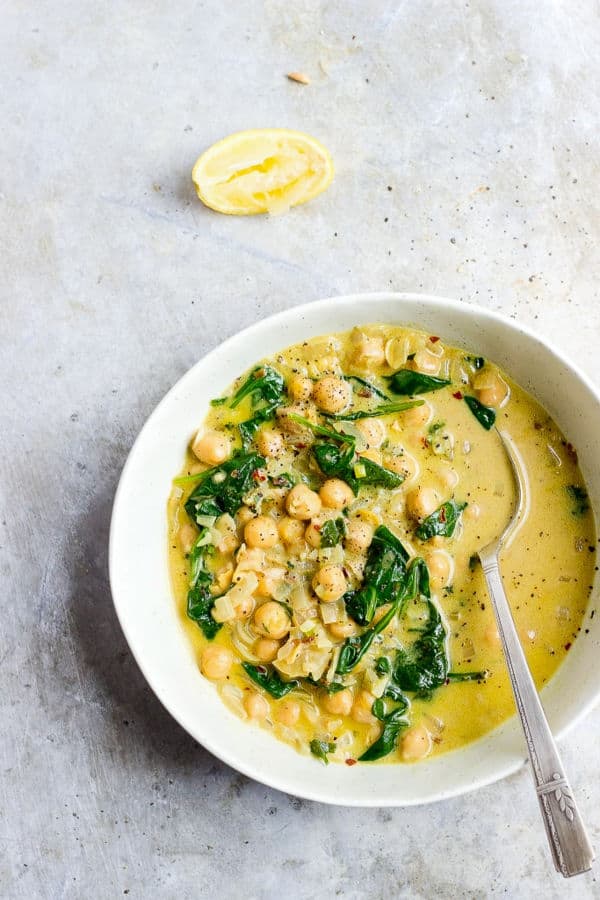 Excuse me while I put on the sirens and flashing lights, it's curry time!
Chickpeas (sometimes called garbanzo beans too) and coconut are often part of curry dishes in India, so this is very much a traditional recipe.
It's really easy for you to make and if you have tinned chickpeas (always have some in your cupboard) it'll take about twenty minutes from start to finish.
The lemon juice adds a nice touch to this recipe and I love it. Serve with your favorite rice or another grain.
Mac and Cheese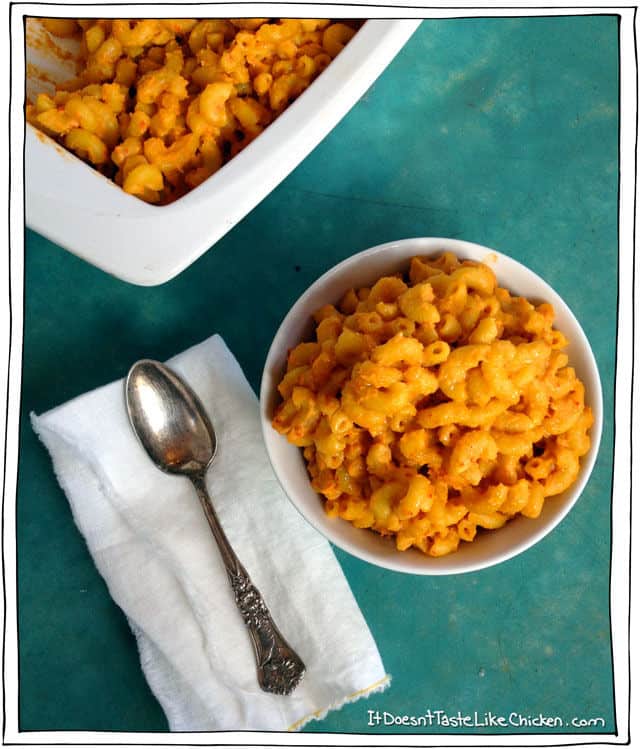 You already know I'm excited about this, right? You should be too and if you're not, please go and see a doctor!
Obviously, you need gluten-free pasta which you probably already have if you are avoiding gluten. It's not difficult to get nowadays.
What I really love about this, is it's oil free so won't leave you with a heavy feeling you often get if you eat too much. Your kids will love this, your family will love this, and so will you!
Silky Cauliflower Soup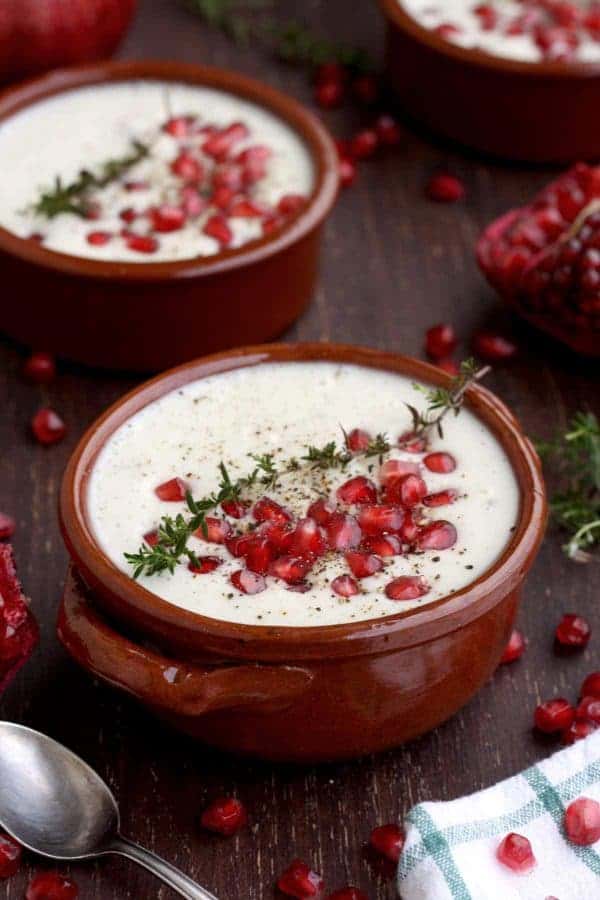 So, you're having some friends around and you want to impress them. What do you start the meal with? Tomato soup? Okay, but they probably had it.
A light salad? Lovely but hardly inspiring. Well, this rich and creamy soup will make you seem like a Michelin star chef! I love how it'll be ready in less than thirty minutes.
This soup is inventive, and the flavors go so well together. The other wonderful thing about this recipe, is I imagine you have all the ingredients already.
Okay, maybe you need to go and buy a cauliflower, but other than that, it's a perfect combination of herbs, minced garlic and olive oil. Keep a note of this recipe, you won't be sorry!
Gluten-Free Vegan Lunch Recipes
Thai Pumpkin Black Rice Burgers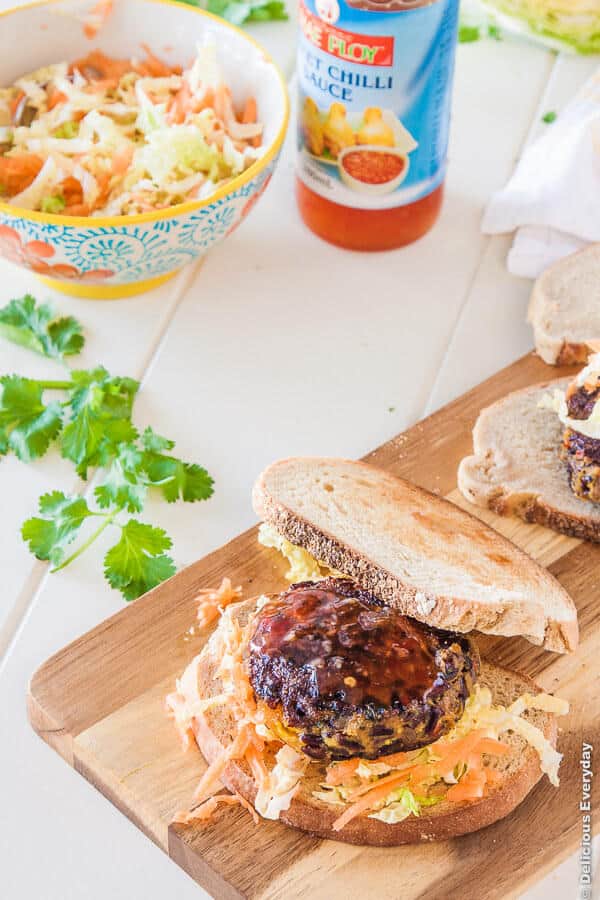 Burgers means happy kids, right? Well, I'm a big kid! These are easy to make and so versatile. Serve as a dish with fries and vegetables or really, anything.
Of course, you can get some gluten-free bread and some fresh accompaniments, and you'll have yourself a tasty burger meal right there!
The total time for these burgers is one hour and thirty minutes. Part of that is because of the rice and the pumpkin, but that doesn't mean this isn't an easy recipe.
There are quite a few ingredients, but I urge you not to skip anything because Jennifer Schmidt, who came up with this recipe, went to a lot of effort in creating the perfect vegan gluten-free burger, and the Thai curry paste which is an absolute must.
Don't skip it otherwise I'll visit you and want to know why!
Garlic Bok Choy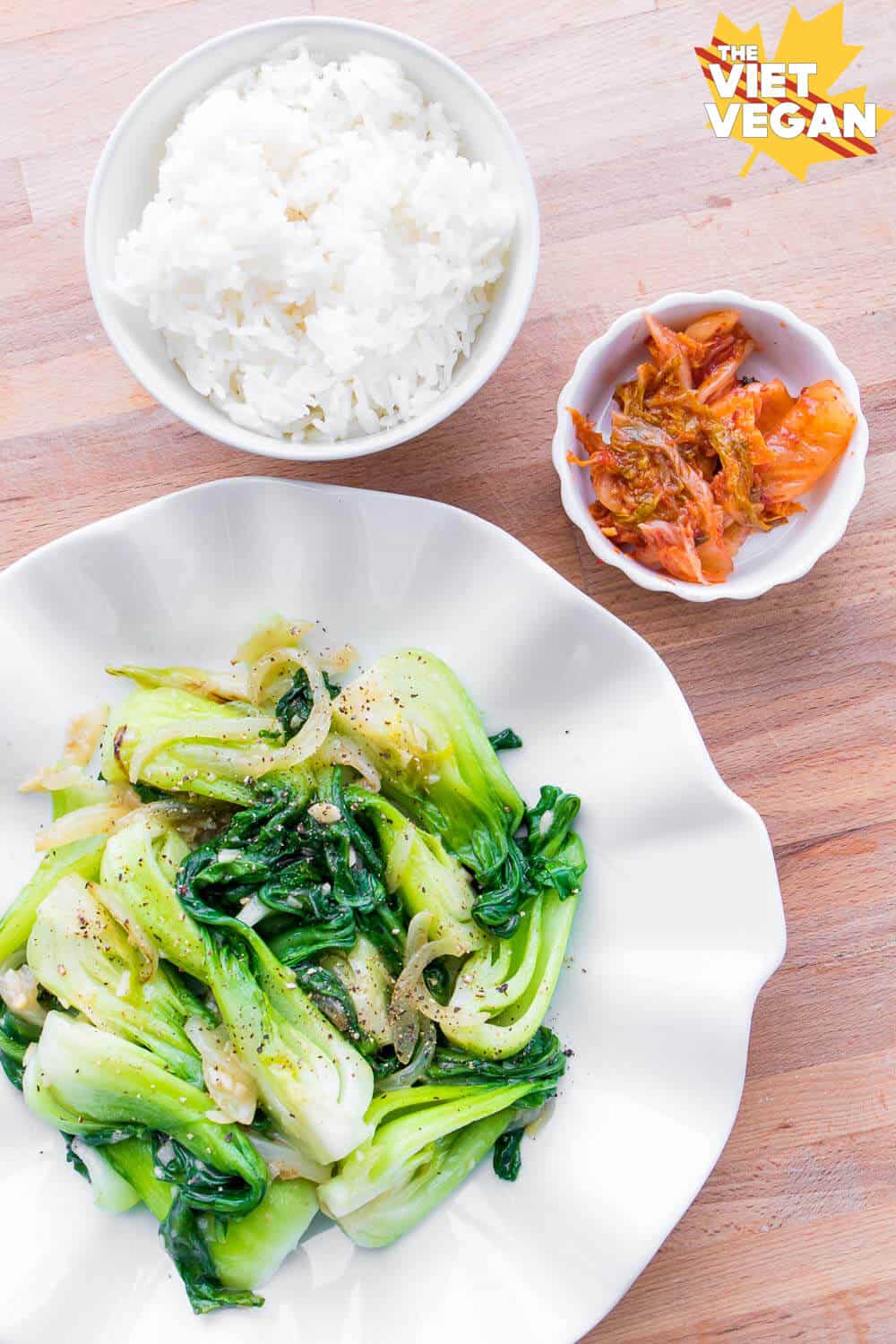 Bok choy tastes great on its own but sometimes you want to do something else with them. These greens are so good for you and this is a great recipe you'll use again and again.
The sauce here is very garlicky so maybe this is good for a Friday night when you don't have work the next day.
Don't be afraid though because it's just too tasty. Certainly, these are a great accompaniment to any meal, but they taste so good they're a snack in their own right. Serve with a cup of rice and you already have a great dish.
Carrot Gnocchi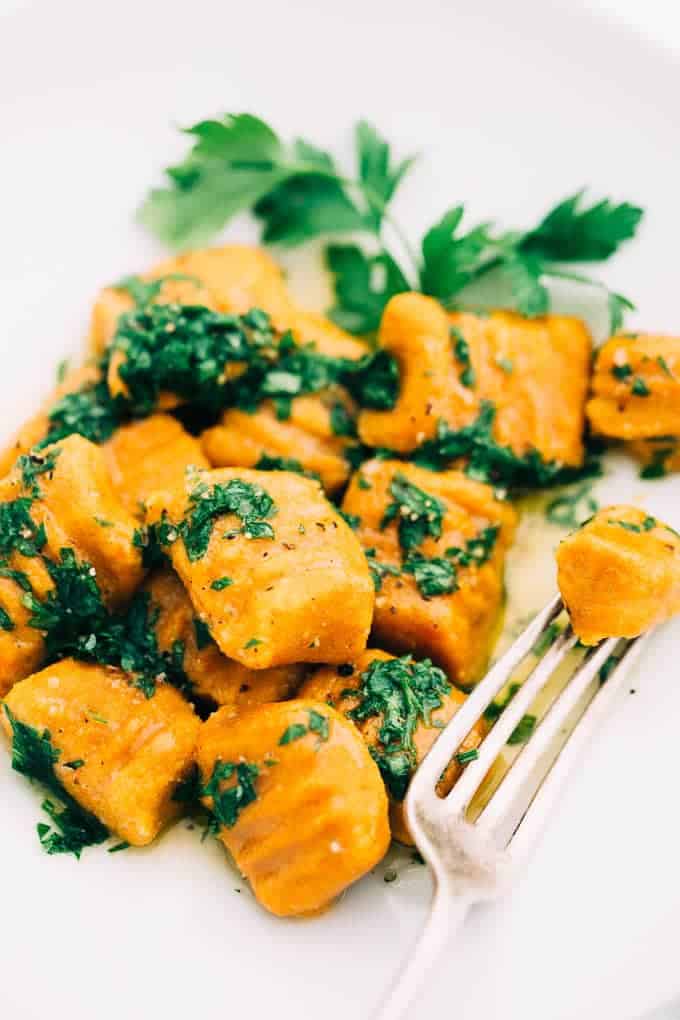 This is a wonderful gluten-free version of an Italian classic. The recipe has oat flour which is a great alternative and full of flavor.
Not many people make gnocchi these days because you must roll each one by hand. Most people buy them ready-made I'd guess, if at all, which is a great shame as it's a fantastic dish!
I love how the carrots are a part of this recipe which give the gnocchi a wonderful orange color.
In the recipe notes, it does urge you to use oat flour and not to substitute it with coconut flour and I recommend adhering to this. Serve either with an herb infused olive oil or your favorite pasta sauce.
Although this isn't listed, you can freeze these on a tray that's covered. You can also boil them straight from frozen. I speak from experience!
Baked Italian Rice Balls (Arancini) with Creamy Marinara Dipping Sauce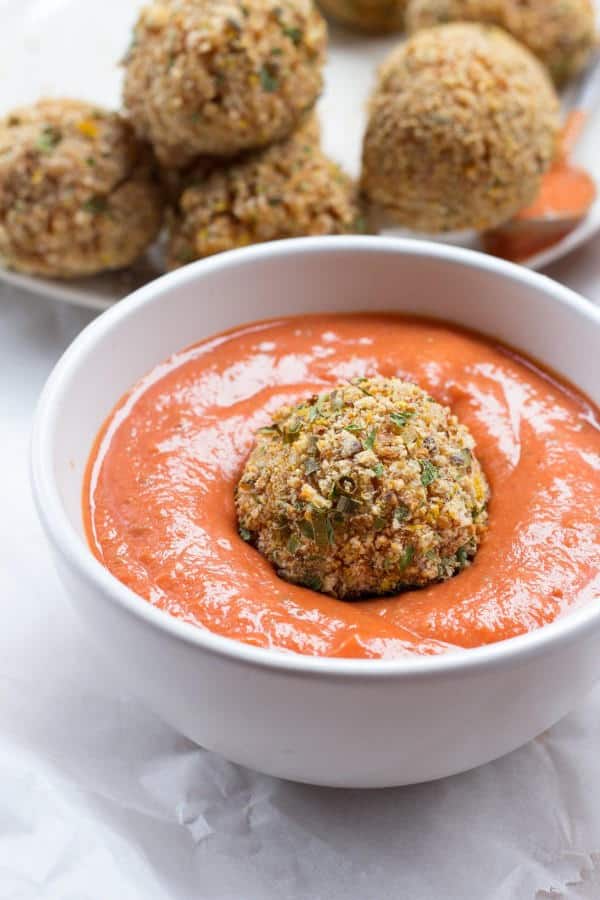 You're looking at about an hour to make these little bundles of joy! There are three parts to this recipe, the cheesy risotto rice, the bread crumb mixture which makes up the baked rice balls, and the unforgettable creamy marinara dipping sauce.
These are perfect for a movie night or parties, and your kids will absolutely love them too! If you want to change the shape of the balls, you know I'm going to say you can make them into a burger, right? It feels like we know each other already doesn't it? The marinara dipping sauce gets a double thumbs up from me. The garlic and tahini are the winner ingredients!
Easiest Chickpea Burgers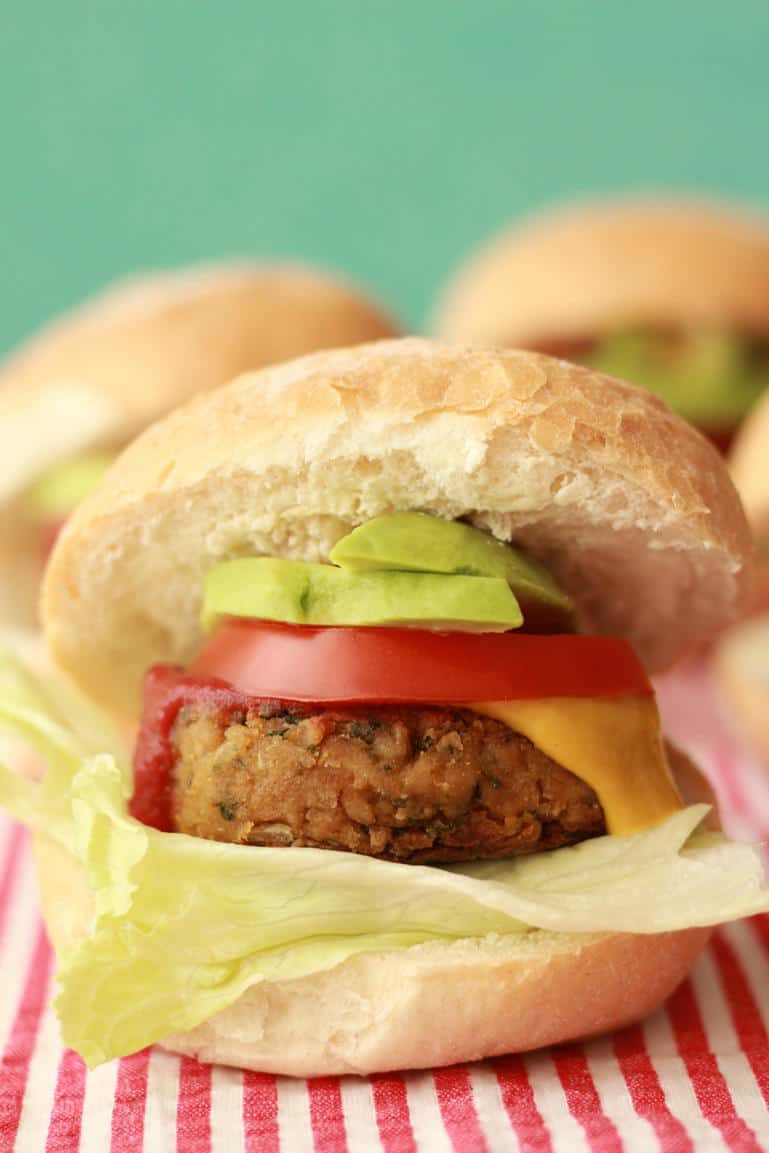 I see burgers, I see burgers! Excuse me while I do a happy dance. You can never have enough vegan burger recipes. Easy ones should always be at the top of the list and here we have a strong contender to be number one on the list!
These are so easy to make, and I'm going to say I think they'll freeze well too, although don't quote me on this, as I'm yet to try doing so. Let me know! Serve with your favorite burger accompaniments and have a blast.
Ramen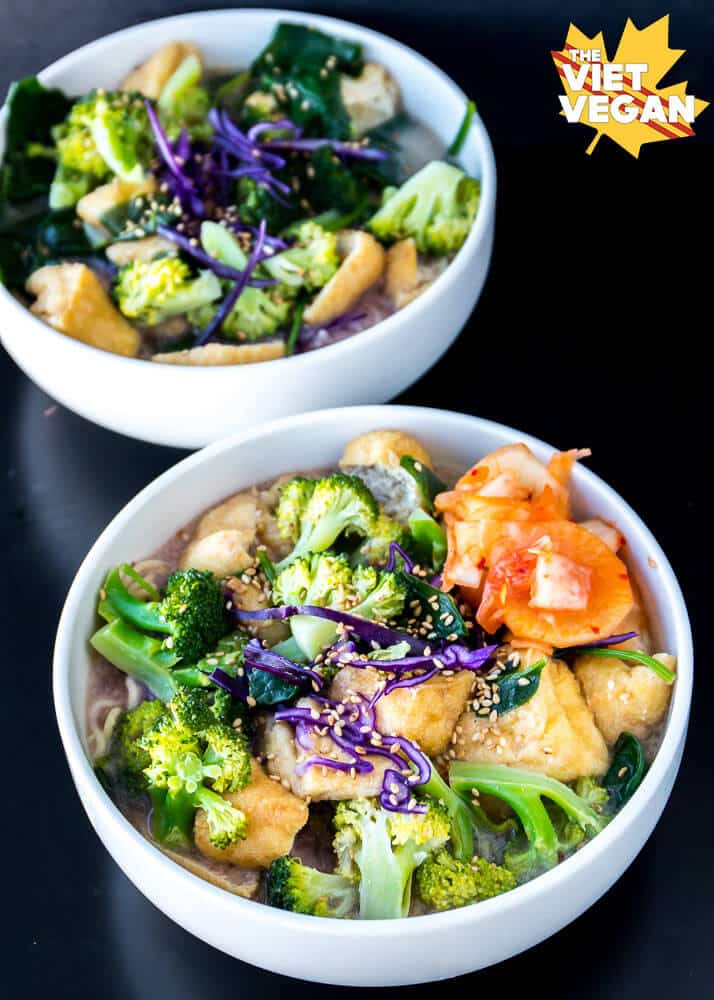 Look at that photo, seriously, look at it again! Oh, my goodness, this must take a good hour preparation time, right? Wrong. With all the ingredients you're looking at having this puppy in your bowl in about twenty-five minutes. Who's going to argue with that?
When you read down the list of ingredients everything looks so yummy. There are some optional ingredients of green onion, kimchi, sliced red cabbage and toasted sesame seeds to garnish. Warning, if you ask me, these are not optional! Especially the kimchi. Make this quick delicious dish and I promise you'll be making it many times over.
Creamy Leek and Wild Rice Soup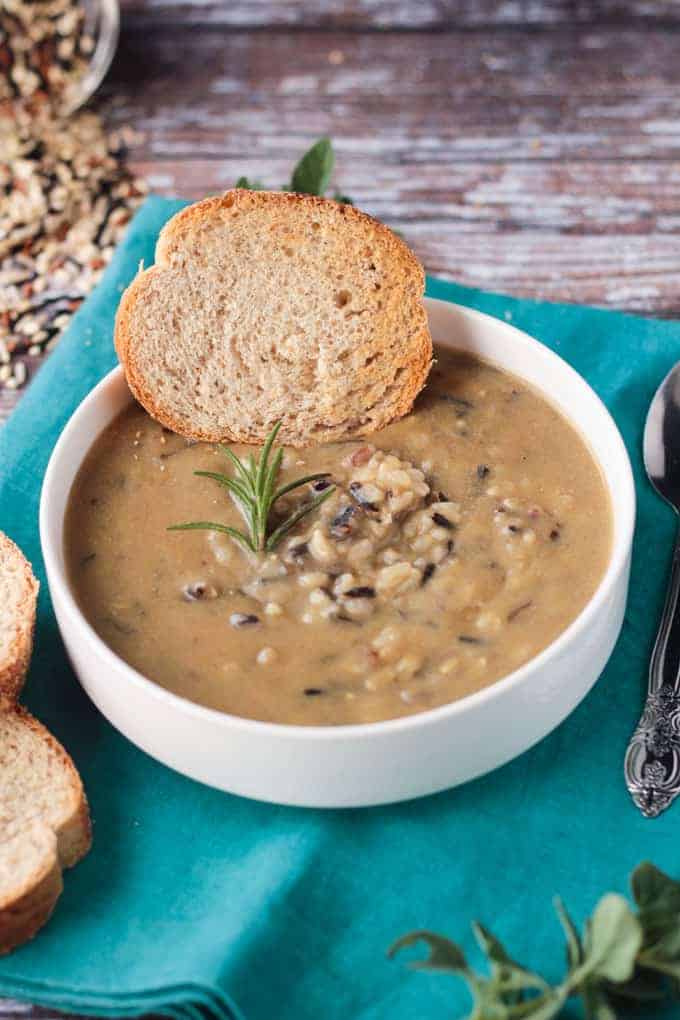 You can never have enough soup recipes. This is so creamy and yet not heavy at all. It's hearty and terrific with your favorite soup accompaniment although it's perfect on its own.
You're looking at about fifty-five minutes from start to finish and most of this, is cooking time. The ingredients are really quite simple without much prep to do. Please note it does list bread for serving and if you are avoiding gluten, obviously make sure you have your favorite gluten-free version.
Easy Falafel with Tahini Sauce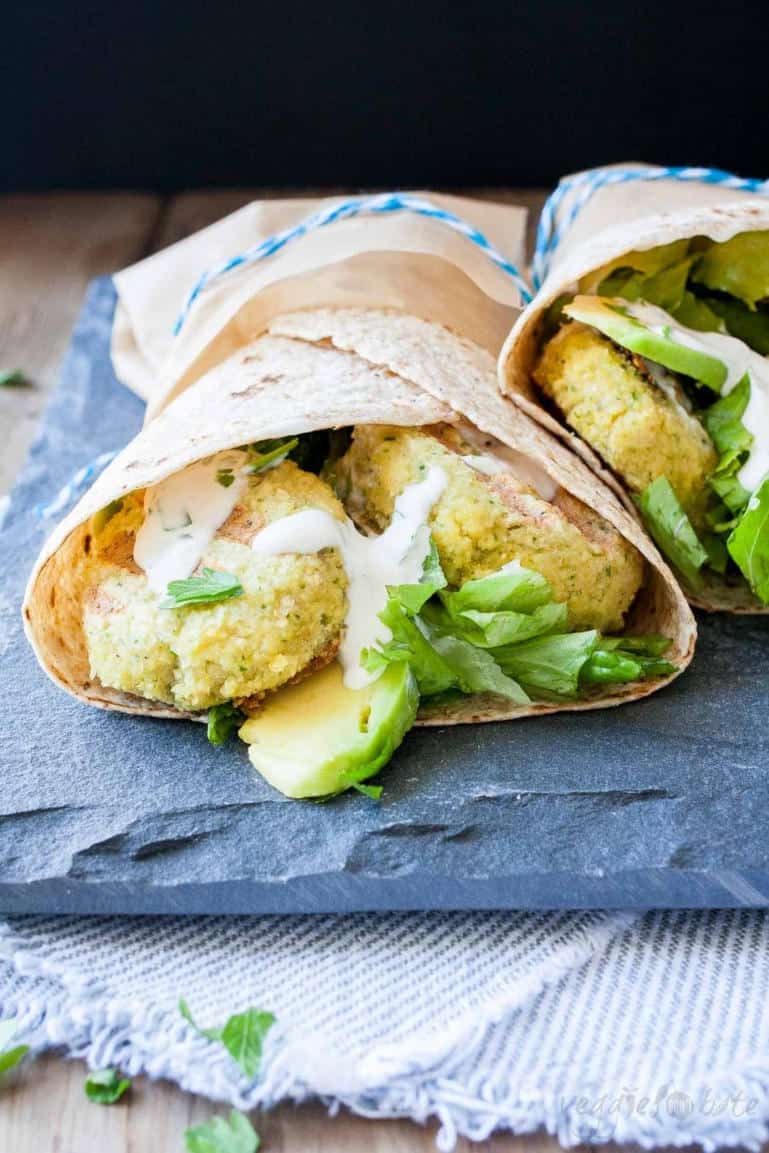 I hate to blow the trumpet, okay I don't, and I'll do so at every opportunity!
The recipes we chose for our roundups, we did so by going through each and every one and we make sure we were all enticed. The downside is I want to scream you must make this recipe every time! Maybe I should just surrender to it? You must make this recipe!
Falafel are just awesome and a great standby. I have seen many recipes for them over the years. Sophia has given us a wonderfully easy recipe and let me tell you the tahini sauce is an absolute must. It's also a wonderful salad dressing in its own right!
Fresh Grilled Veggie Tacos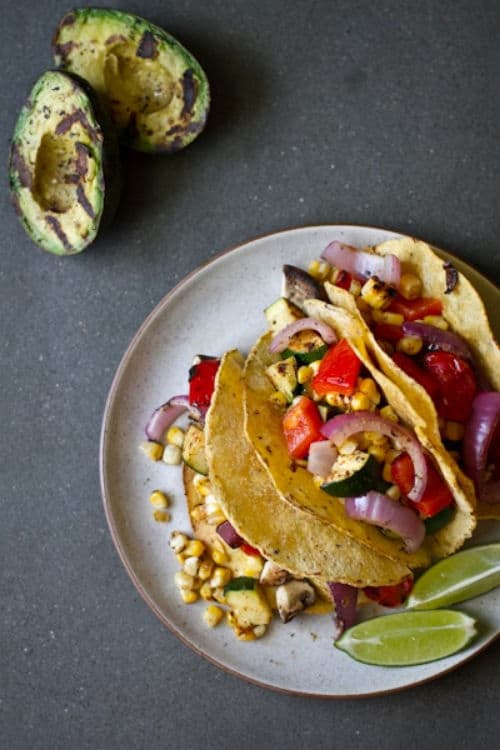 Tacos are great especially when you have friends around or you just want to have a fun dinner with your family.
The ingredients here are so simple and versatile as you can use your favorite vegetables. Everything is grilled so just bursting with flavor. No hidden ingredients, just great fresh food that's healthy and satisfying!
Tuna Salad Sandwich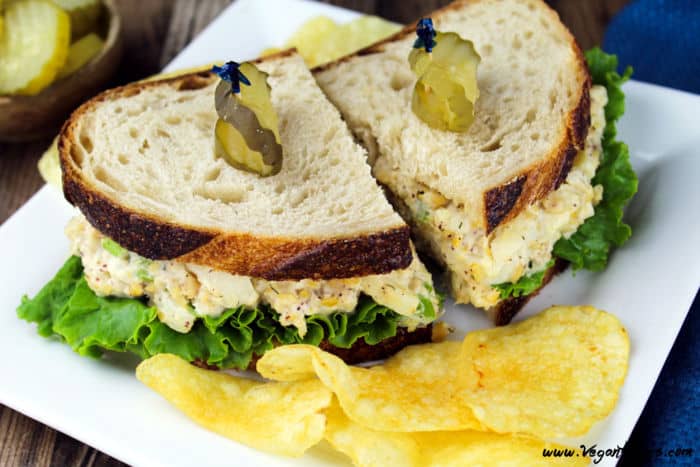 I just love sandwiches. The more packed they're, the more satisfying they're, the better. The recipe here is all about the filling so make sure you get some gluten-free bread to complete the meal.
The "tuna" has a base of hearts of palm (canned) and a tin of garbanzo beans (chickpeas). Mix everything up with all the other ingredients in a food processor and you're good to go. The amount in this recipe will make about three or four sandwiches.
Bean and Zucchini Patties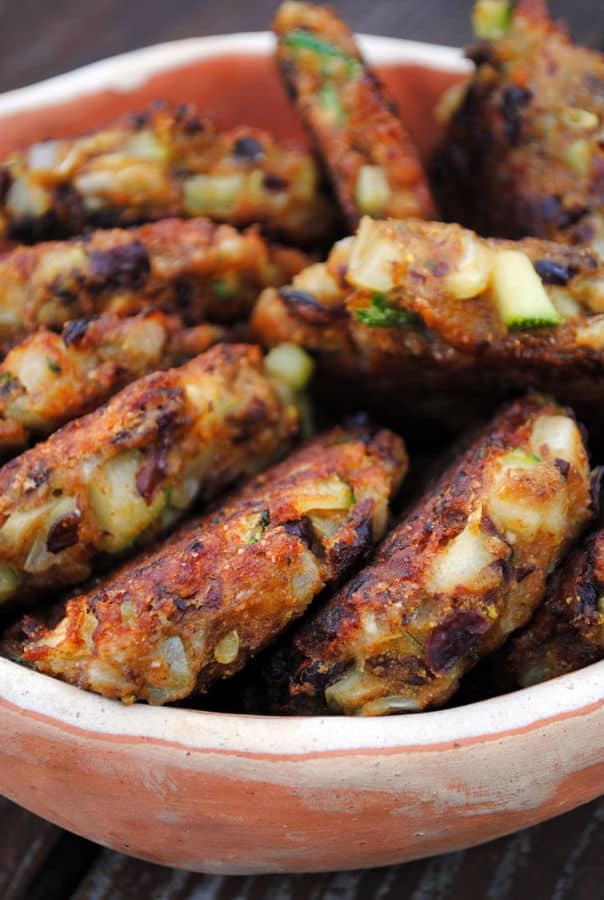 Whenever I see the word patties I'm first in line. Zucchini fritters are great, and this is an amazingly tasty and healthy recipe. Please note Sandra includes a video in this recipe as well!
You are looking at about forty minutes preparation time to get everything done.
You'll be surprised when you look at the ingredients how short the list is, so even though this isn't a five-minute dish, it's still very easy to make. Being patties, you can serve them with your favorite vegetables or with some gluten-free bread and favorite dressing.
You can use whole wheat flour, or oat flour if you are avoiding gluten, which works just as well or arguably better!
Stuffed Portobello Mushrooms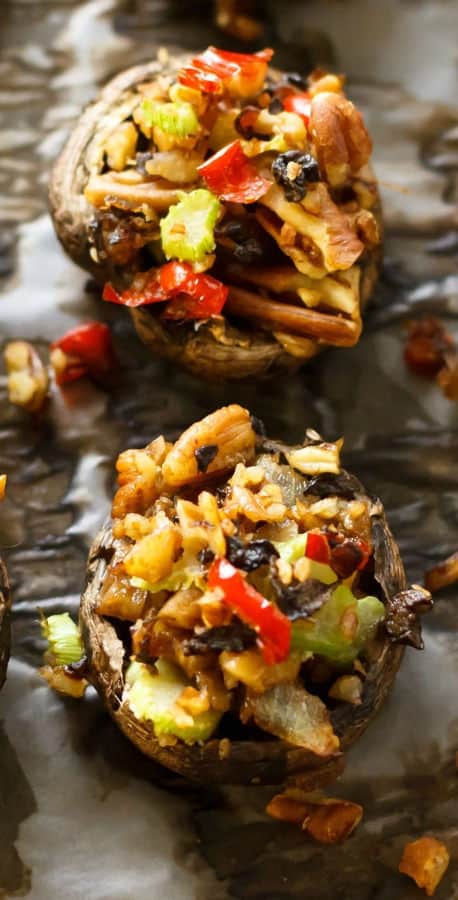 Portobello mushrooms are one of those gifts nature provided so it's our duty to eat them! they're great on their own with some garlic and oil, but I digress. The stuffing here is full of flavors which work really well with the mushroom.
Alternatively, just use whatever ingredients you have, so you can easily use leftovers. I actually have a category in my 'online recipe book' dedicated for recipes that are good for leftovers. If you use Evernote or something, just use the tags!
Carrot Ginger Soup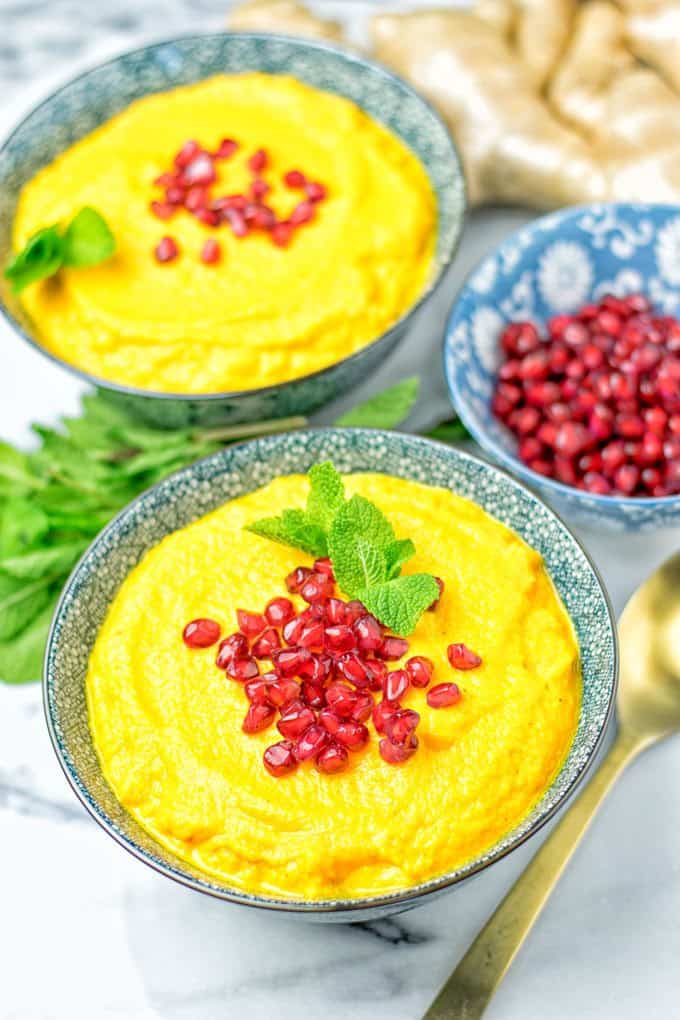 Florian Nouh from Contentedness Cooking has come up with a real gem here. This soup is super healthy, looks absolutely amazing and of course, is vegan and gluten-free.
The ingredients call for seven cloves of garlic but don't be afraid of this as when cooked, it's not as potent as when it's raw, and it'll make it so flavorful. The secret ingredient here is the half a cup of macadamias. Double thumbs up for this. Don't forget the lemon juice either. It might not seem much, but it's an essential part of what makes this just a fabulous recipe. Thank you, Florian!
Harissa Roasted Carrots & Chickpeas with Pomegranate, Tahini & Dukkah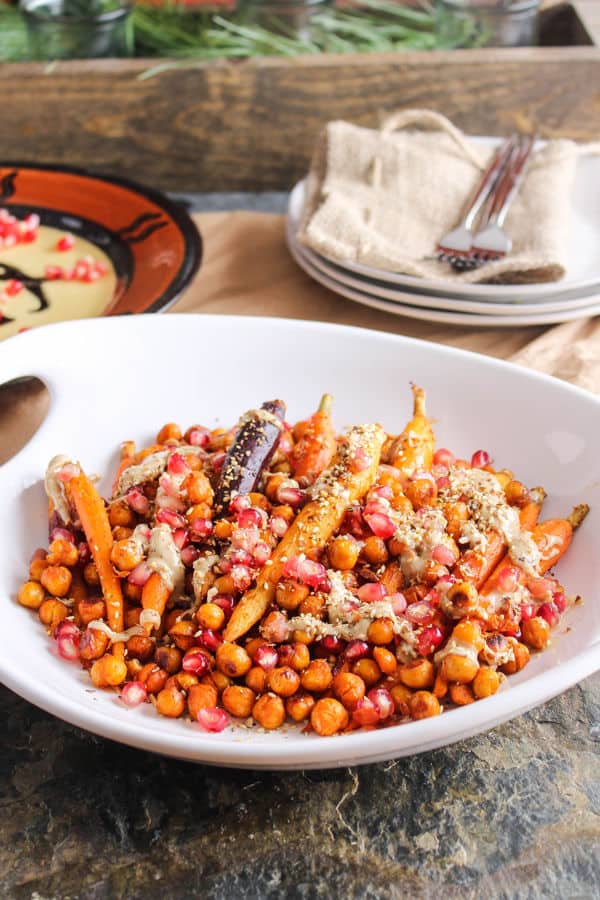 Harissa and Dukkah are two ingredients that seem to be coming more and more popular. And this is the beauty of a plant-based diet, there are so many different foods we never ate growing up.
This recipe serves three and is super easy to make. A prep time of just ten minutes and thirty minutes for cooking.
The secret ingredient is the balsamic vinegar. Honestly, don't skip on this. You always need balsamic vinegar in the house anyway. Just add to olive oil and you have an instant classic salad dressing. This dish also has toasted sesame oil, just a tablespoon, but again this is an essential ingredient making this recipe absolutely delicious.
Roasted Turmeric Black Pepper Fingerling Potatoes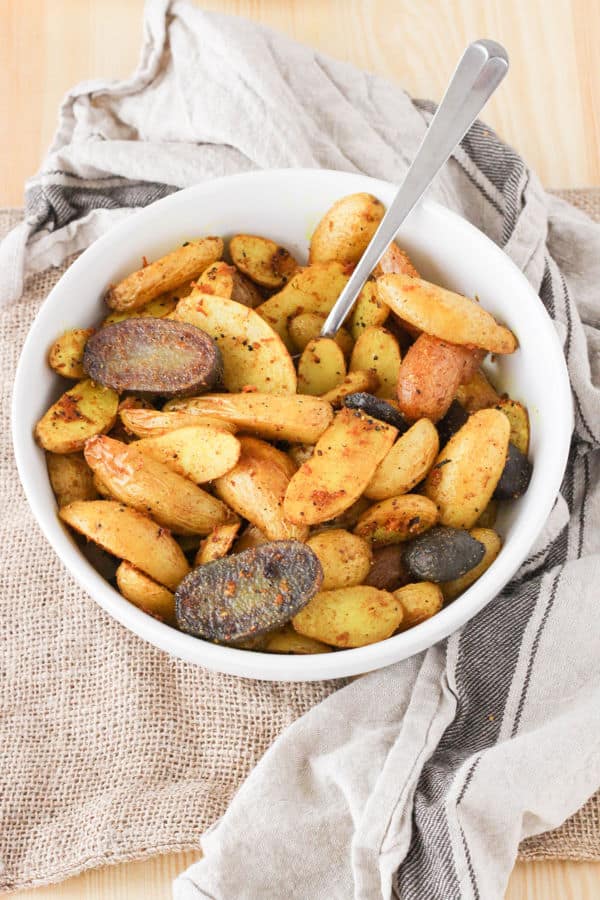 First of all, you should always make roast potatoes yourself. I see them sometimes in the supermarket, precooked and frozen or something. Then you look at the ingredients and there's all this weird stuff in them. Don't do it! Stephanie has provided a unique and easy recipe that's based on simple classic roast potatoes.
The turmeric and black pepper is something I'd never have thought of. The ingredients include garlic and ground coriander amongst some other little pieces of magic. The taste is divine. I don't think it would be ethical if I say this is a meal in its own right, I mean who would just eat roast potatoes?
Baked Sweet Potato Falafel
Regular falafel is often deep-fried which make them taste great but we all know the frying isn't good for you. Well, this recipe not only avoids that, it's also completely oil free!
This recipe will create eighteen falafels and is based on a cup of baked sweet potato and a can of chickpeas (garbanzo beans). You have about a thirty-minute prep and twenty-five minutes of cooking time. There are some great herbs in this recipe such as cumin, cilantro and parsley.
You can really serve them however you like. I usually smash mine a little and have them as some sort of sandwich. Also great with a salad with your favorite dressing. You decide!
Cheesy Quinoa Grits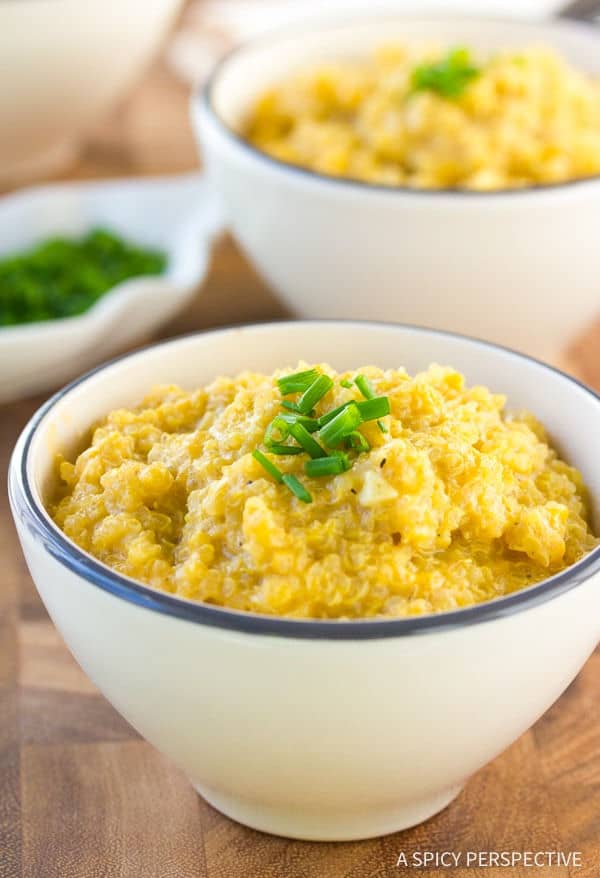 Grits are the sort of things people tend to love or hate. Nobody can say they're bursting with flavor because well, they'ren't. This vegan and gluten-free version is made with quinoa and all sorts of other goodies.
Serve with absolutely anything. I promise you, once you make this once, you'll be making it again and again it's so simple and quick. When you invite your friends over, tell them that they're having grits and watch their faces drop. Then see what happens when they actually try your version!
"Tuna" Sushi Rolls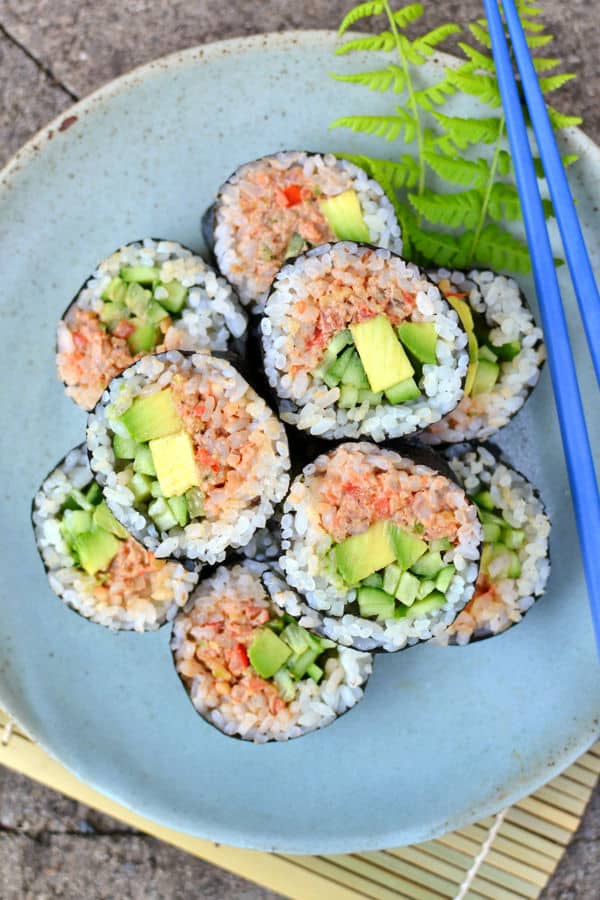 I think plant-based sushi is the best thing ever. By the time sushi became popular in the West, I had stopped eating fish a long time before, so I never tried the "real" sushi. However, I've always loved all the different variations with rice, cucumber, vegetables, avocado and so on. It's light, healthy and so delicious.
For the "tuna" part of this recipe there are only four ingredients: walnuts, a shallot, celery and red bell pepper. Seasoning to taste. Together you'll not believe what these combinations of foods turn into! You can also prepare them in advance.
Gluten-Free Vegan Pancake Recipes
Blueberry Protein Pancakes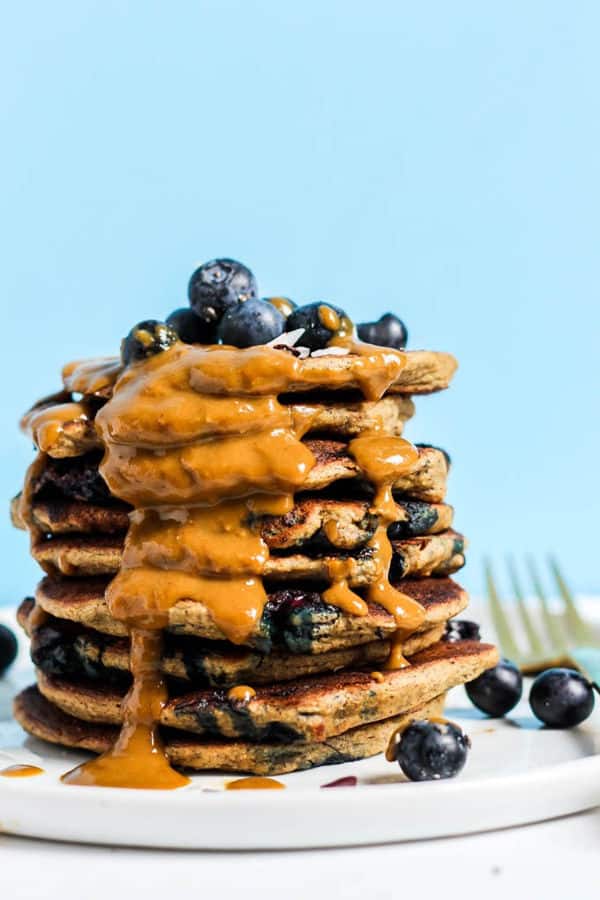 These are amazing and so quick to make. You just put all the ingredients in a blender and then just cook them! we'ren't talking about some special weekend fancy breakfast, this is everyday stuff that's super healthy.
The recipe calls for half a cup of unsweetened applesauce. I didn't have any to hand so used mashed bananas instead and it was delicious. The teaspoon of vanilla extract must not be missed! Garnish with blueberries or your favorite fruit, and for the topping use maple syrup or peanut butter. Or, if you are me, both!
Buckwheat Pancakes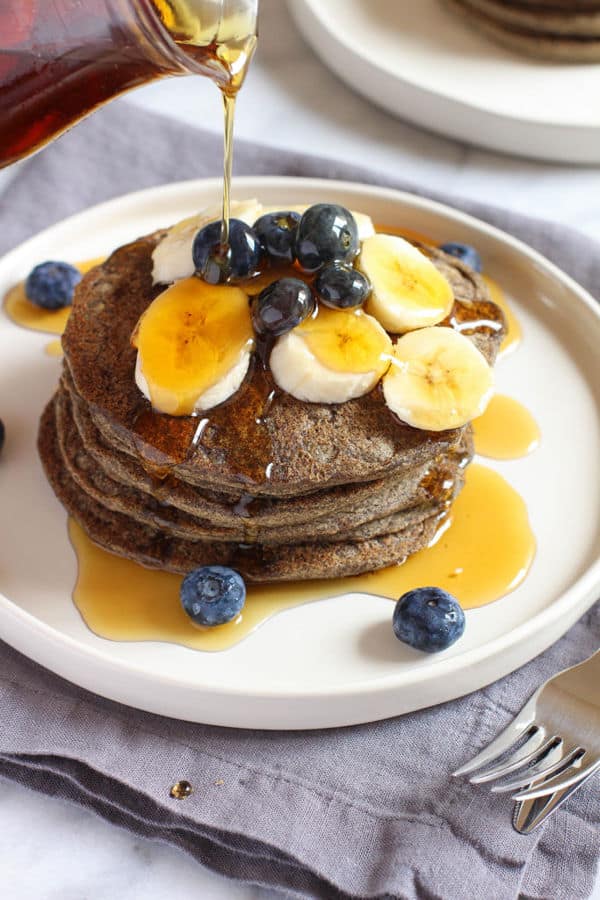 I have had store-bought buckwheat pancakes before and they were okay, but the ingredients weren't as simple as I'd have liked. The ingredients in this recipe couldn't be simpler and most importantly, it's all real food!
This makes about eight pancakes and is easy to make. It has that distinctive flavor you get with buckwheat which is really delicious. I used melted coconut oil on the skillet to cook these which added the slightest hint of awesomeness. Serve with your favorite fruit and/or maple syrup!
Lemon Poppyseed Pancakes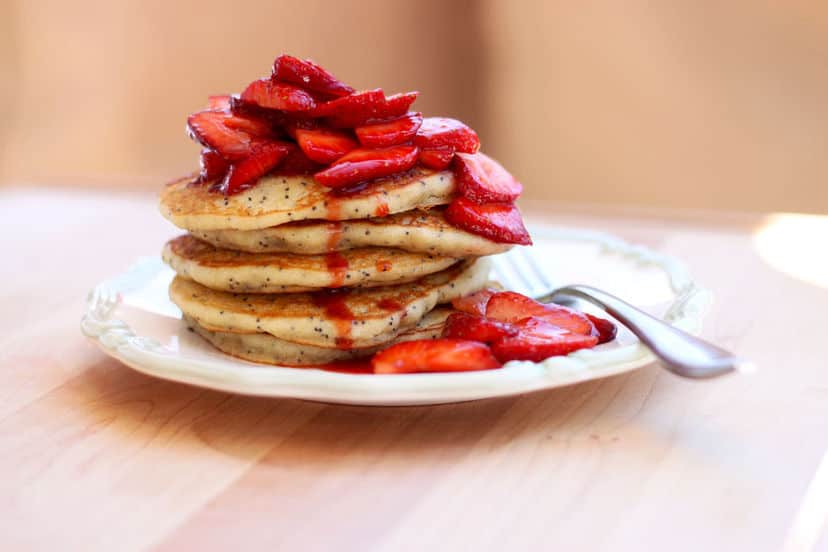 I love this recipe because of the poppy seeds and because they're quick to make!
The pancakes are so light and digest very quickly too. Keep an eye on the pancakes as they cook, as you don't want to burn them. I found, that as soon as they start to brown, it's time to flip them.
Your friends will be impressed as this isn't your standard recipe. Serve with your favorite fruit, or maple syrup. I also recommend having some whipped coconut cream too. Time for breakfast, am I right?
Gluten-Free Vegan Pasta Recipes
Mushroom Spaghetti Squash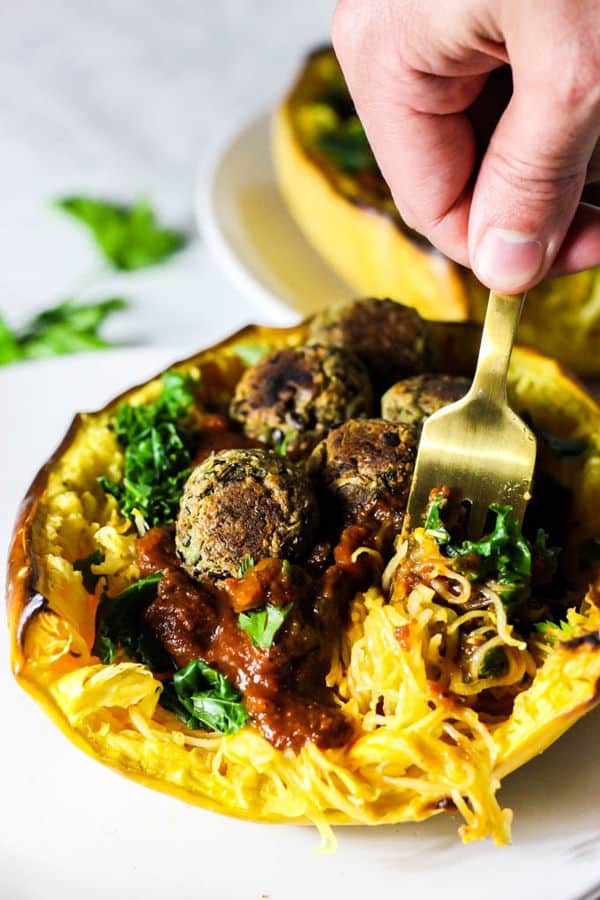 This is one of those recipes for when your friends come around or you have a special occasion. It's so unique and looks absolutely fantastic when presented. Emilie really has put a lot of thought into this and it shows.
It's one of those dishes where there are two or three recipes in one. For example, you have the spaghetti squash, and then you also have veggie burgers, which you shape into balls. Obviously, these can be served separately.
The recipe calls for a specific make of veggie burgers, but you can choose your favorite type if you cannot find what is recommended. Most of all, I really like the uniqueness of this recipe, it's really the last thing you would expect to see and most importantly, all the flavors combine perfectly. Thanks Emilie!
Creamy Spinach Pasta with Vegan Chicken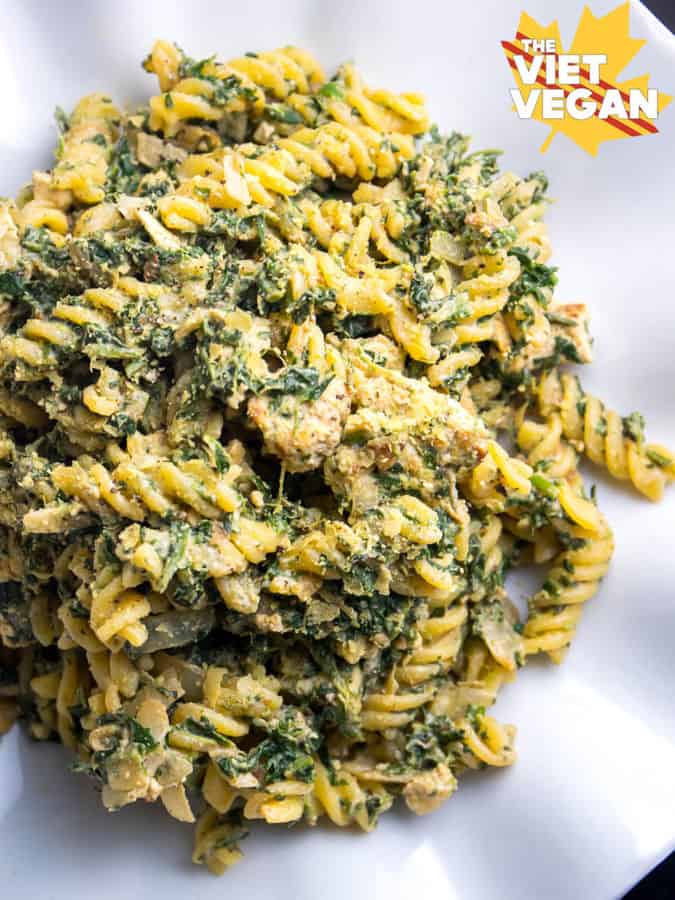 This recipe is one of real comfort food and is totally satisfying. It's pasta based so I'm already interested!
Please take note, the ingredient list does mention "poultry seasoning". This isn't referring to an animal-based product. It's a seasoning containing herbs and spices.
I really love that there are so many elements at work. The "chicken" is made from firm tofu which is cut into rough pieces.
Then with vegan cream cheese, unsweetened soy milk and the nutritional yeast, you end up with a creamy sauce that blends together the tofu and the pasta, not to mention the spinach!
Don't forget a splash of your favorite hot sauce.
One-Pot Ratatouille Spaghetti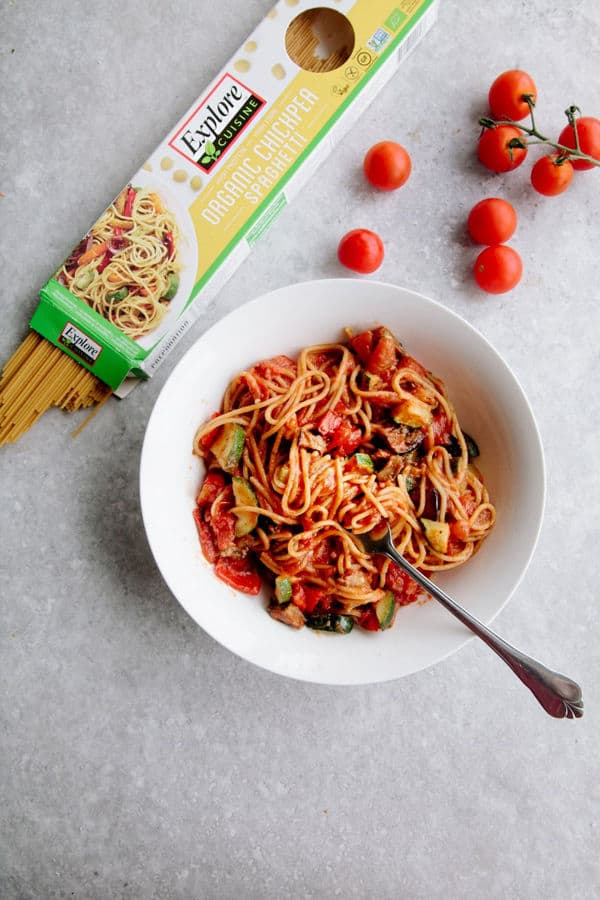 Whenever you see any recipe that's called one-pot you should run like the wind to grab it. It means the dish is going to be super easy to make with the minimum of dishes to wash.
What you have here are two great foods that have been put together in such a way, that it feels like they should have always been in the same dish! Ratatouille is wholesome and one of those classic dishes that has been around for years, and so has spaghetti! Would you believe you only have a total time of less than twenty-five minutes which includes prep and cooking?
The amazing thing is, the ratatouille, despite looking complicated, is a naturally easy dish to make and great also for using up leftovers. Make this, you won't be sorry!
Lemon Basil Pasta with Walnut Parmesan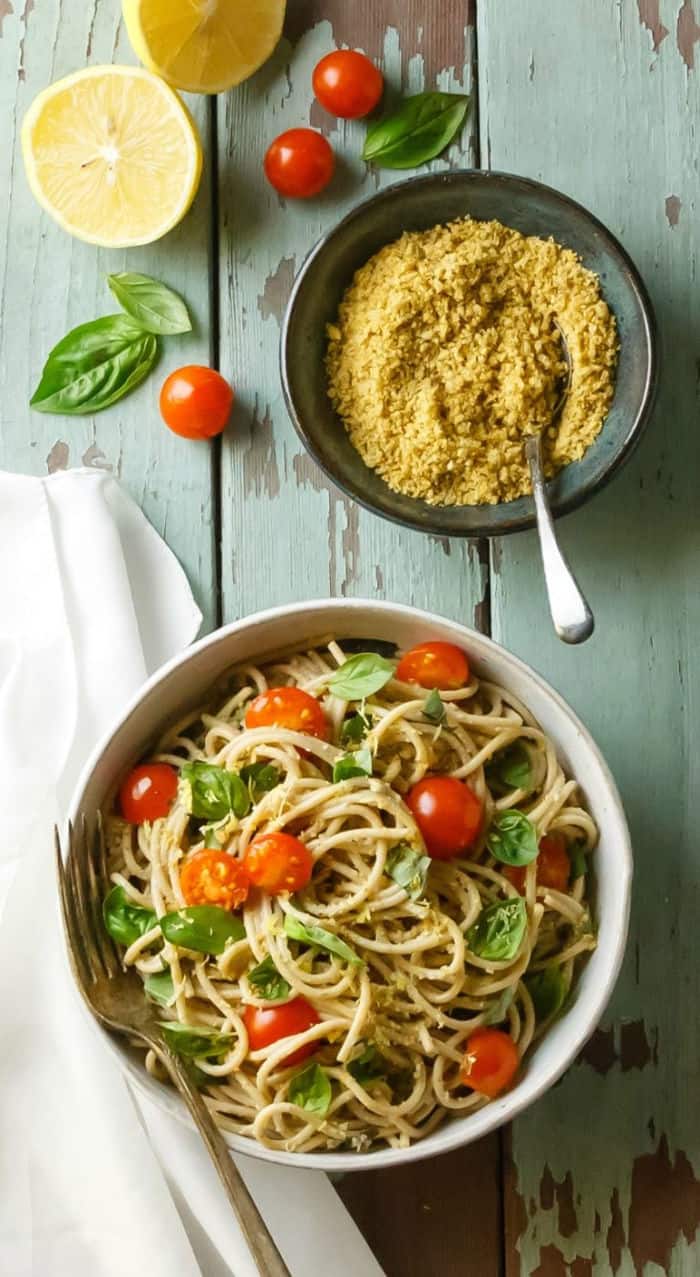 The wonderful thing about pasta dishes is they're really easy to make. Pasta cooks quickly, and the accompanying sauces usually are very simple yet bursting with flavor.
What I really love here is the zest from the two lemons. It might not seem much, but it adds a real freshness.
The parmesan is made from walnuts, nutritional yeast, garlic, onion powder and seasoning. I was really excited to see this because personally, my go-to vegan parmesan is nutritional yeast and pine nuts. So now I have two go-to variations! As you'd expect, this has a total time of twenty minutes using nothing but the best ingredients!
Roasted Garlic & Cauliflower Pasta with Walnuts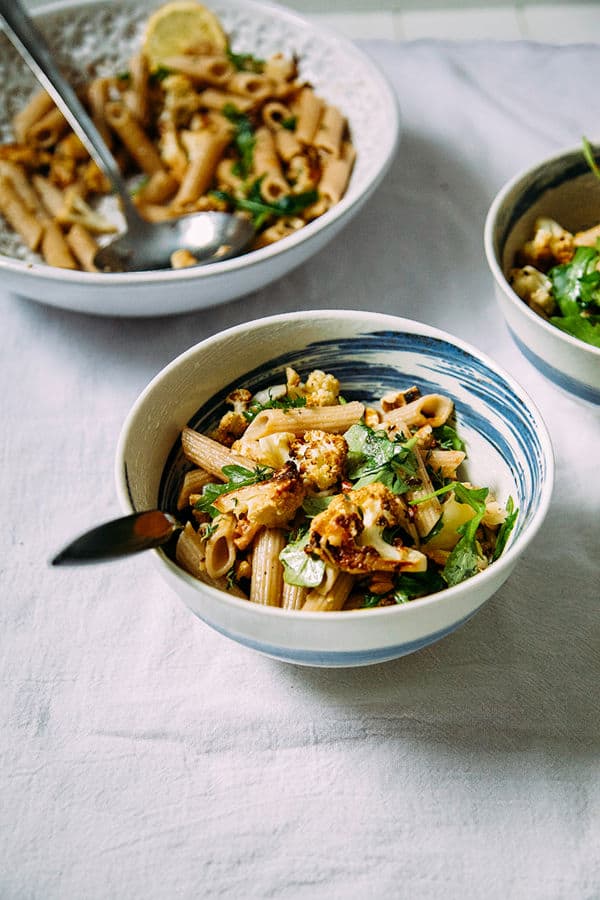 If you've never had roasted garlic, then you really haven't lived! It's so easy to make and doesn't leave you with that heavy garlic odor, which lasts forever.
You get a bulb of garlic and with a sharp knife cut off the top, so you slightly reveal all the cloves. Drizzle with olive oil and seasoning and just place in the oven with its skin. After baking you simply squeeze the garlic which comes out like butter.
Here, not only do we have roasted garlic, but we have baked cauliflower heads and walnuts. When you put everything together you have an amazing rustic dish bursting with flavors and textures. This serves four to six!
Gluten-Free Vegan Pizza Recipes
Green Split Pea & Spinach Pizza Crust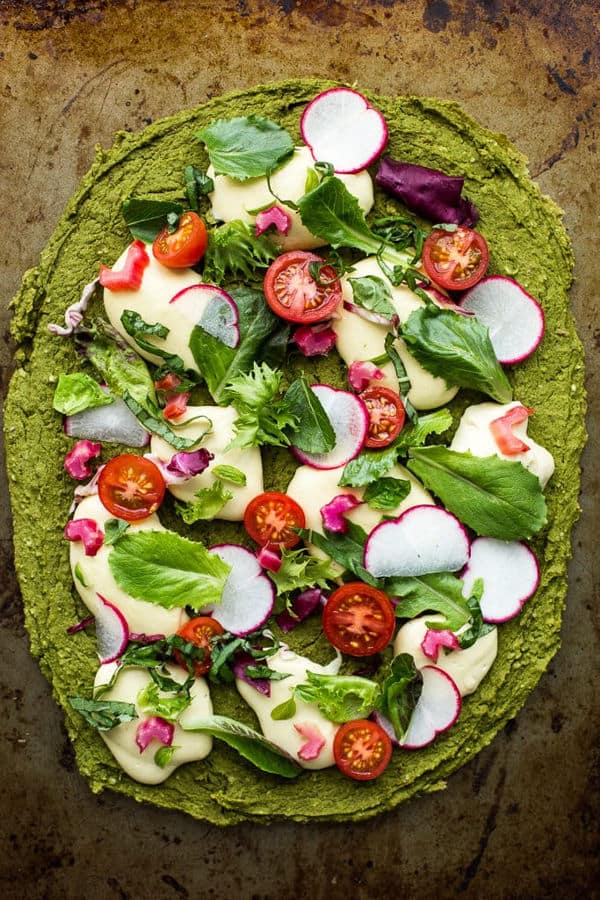 This is a pizza, but not as you know it! This recipe is all about the pizza crust which is made with split peas, baby spinach, almond flower amongst other things. You simply combine everything in a food processor and then bake. It couldn't be easier.
For the topping it really is up to you. You can go with traditional and have a tomato base or take ideas from the picture here and have an all-raw-array of crunchy fresh vegetables. If it was me, I'd double the ingredients and make two pizzas, just to try different toppings… of course!
Pizza Crust with Coconut Yogurt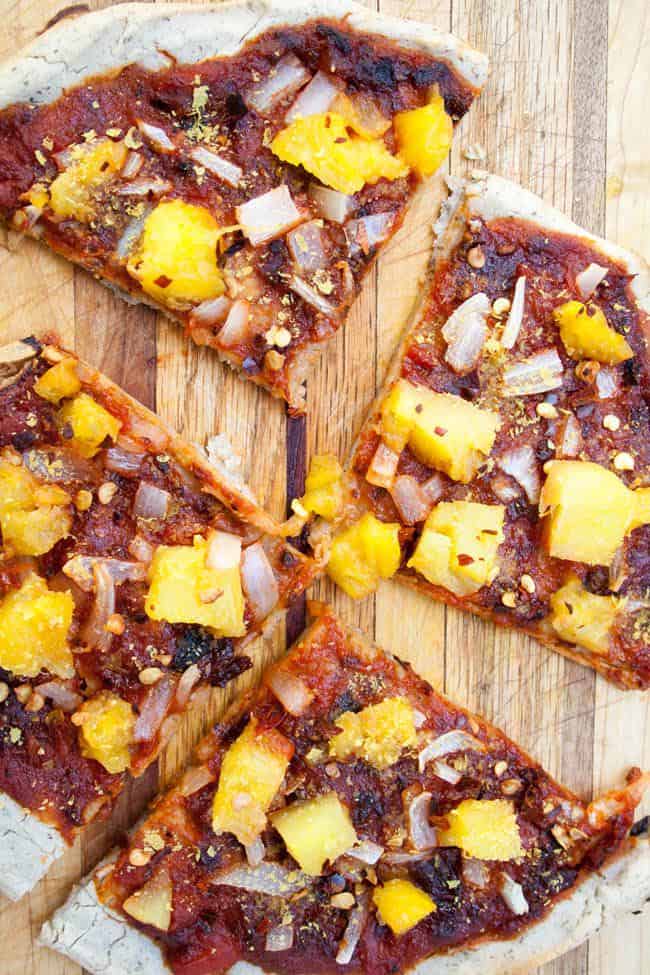 This crust is fantastic as it's simple to make with only five ingredients, and it doesn't need time to rise.
As there isn't any yeast involved, you save a lot of time when making this crust. It's so easy too, you mix all the dry ingredients together in a food processor then add the coconut yoghurt. When everything is mixed you just place everything on parchment paper, brush with olive oil and bake.
You end up with a really fantastic pizza base ready for your favorite toppings.
Because it doesn't contain wheat and gluten you'll not be left with that heavy feeling. Why not get the kids involved in the process as this would be a wonderful way to get them to eat their veggies!
(Very Green) Pesto Pizza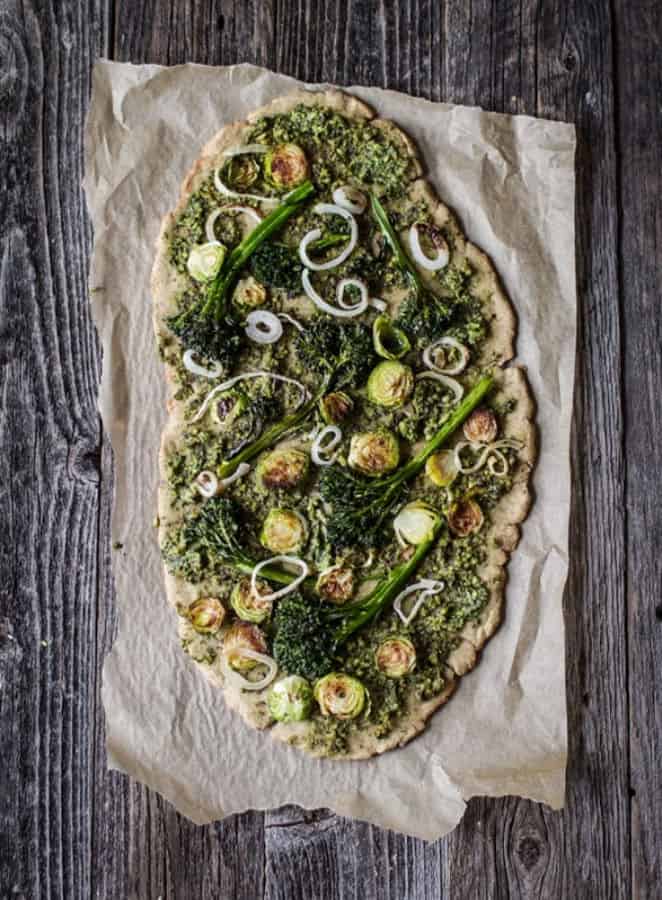 If you like pesto and you like pizza, then this is for you! don'te this recipe is more about creating the topping on the gluten-free base itself. To find the recipe for the pizza crust, check out the ingredient list and you'll see the last item is a hyperlink taking you straight there.
Traditionally, pesto is made with olive oil, pine nuts and basil. There are different variations all over Italy and even more further afield.
This recipe contains roasted pistachios and baby greens, and it's absolutely delicious. Be sure not to leave the food processor running too long, otherwise you end up with a very smooth pesto.
This is of course fine if this is the texture you are looking for, but I personally I'd only whizz this for a moment to retain some of the crunch from the pistachios. The rest of the toppings are broccolini (sometimes known as broccoli stems), but of course you can use your favorite toppings.
You'll have a blast making this and even more of a party eating it!
Gluten-Free Vegan Salad Recipes
Chipotle Green Onion Aioli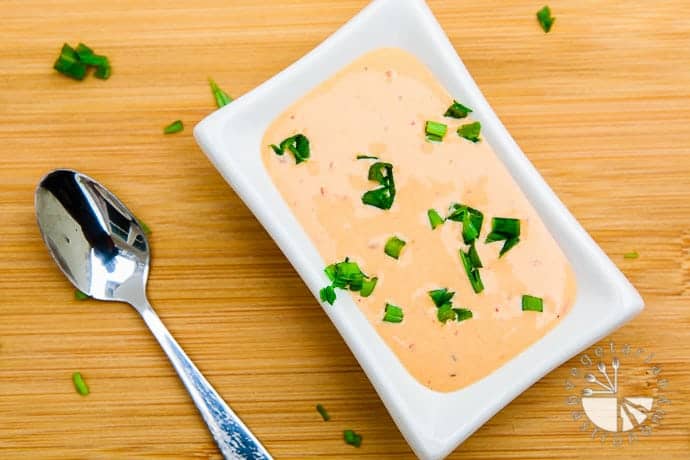 This veganized aioli only takes ten minutes to prepare. You just put all the ingredients into any blender and it's ready to go.
You can use this as a dip with raw vegetables, with nachos or it makes one of the best salad dressings ever! The amounts listed in the ingredients makes about one and half cups. Personally, I'd make a little more to store in the fridge and use during the week.
Quick & Easy White Bean Salad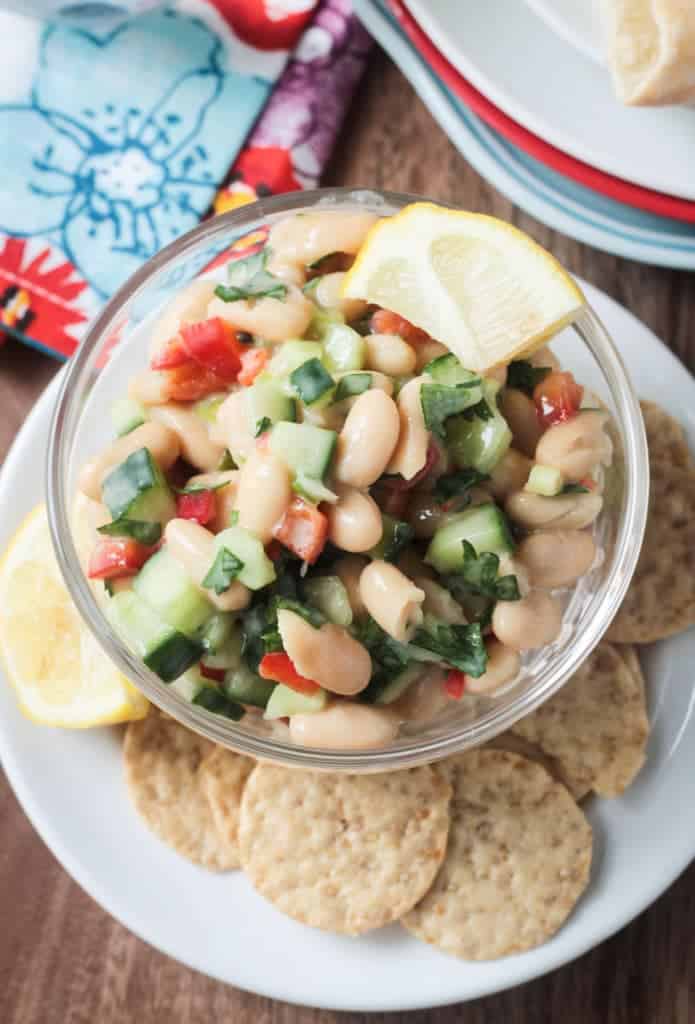 There's nothing quite like white beans. It's almost why tinned food was invented. Sure, we don't want our diet to comprise of tinned food, but for something like beans, garbanzo beans (chickpeas) and so on, the tin variety is just perfect. It keeps for a long time in your kitchen cupboard which means you always have something on hand that's ready to go.
The salad here is so fresh including leaves, cucumbers and herbs, and the dressing blends everything together so well. You can eat it on its own or as an accompaniment. You can also make ahead of time, so great for packed lunches or picnics.
Roasted Potato Pesto Salad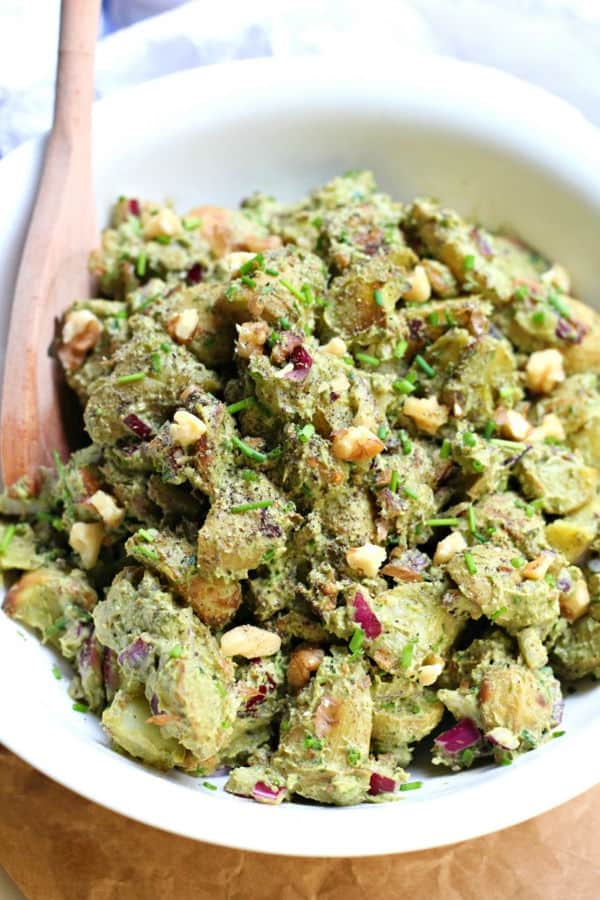 Roasted potatoes? Just name the date and I'll be there!
This is a wholesome meal you can eat as an accompaniment or as a side dish. I had never thought of combining roast potatoes with pesto, but they go so well together and Ceara has done an excellent job.
The pesto is made with avocado and the walnuts are chopped roughly which gives it a great texture to an already tasty meal. The recipe indicates nutritional yeast is optional but if you can, do add it. Don't forget your hot sauce for a little kick!
Olive Cucumber Chickpea Salad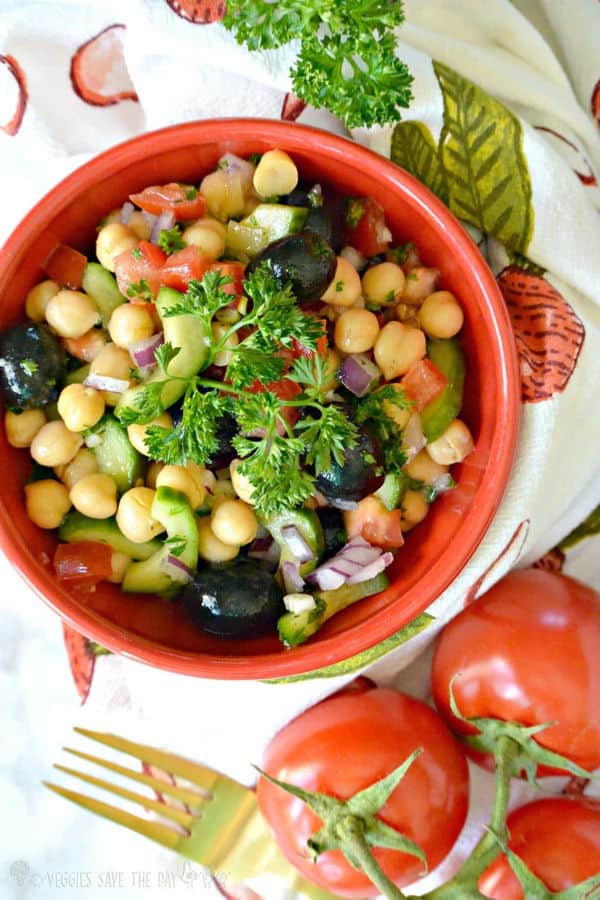 Many people freeze when you say salad to them. They think it's just a few lettuce leaves and that's it. Us salad connoisseurs know different! The combinations are infinite, and you can nearly always make a salad with whatever fresh ingredients you have in the kitchen.
The combination here gives you a really satisfying meal. Olives and chickpeas are the foundation of this salad, add in the tomatoes and cucumbers and you get that amazing freshness. I'd definitely prepare the cucumbers as directed, by cutting them lengthways and removing the watery part in the middle before slicing. This way they remain crispy longer. Feel free to add in your own herbs and anything else you have in the refrigerator!
Roasted Red Pepper Salad Dressing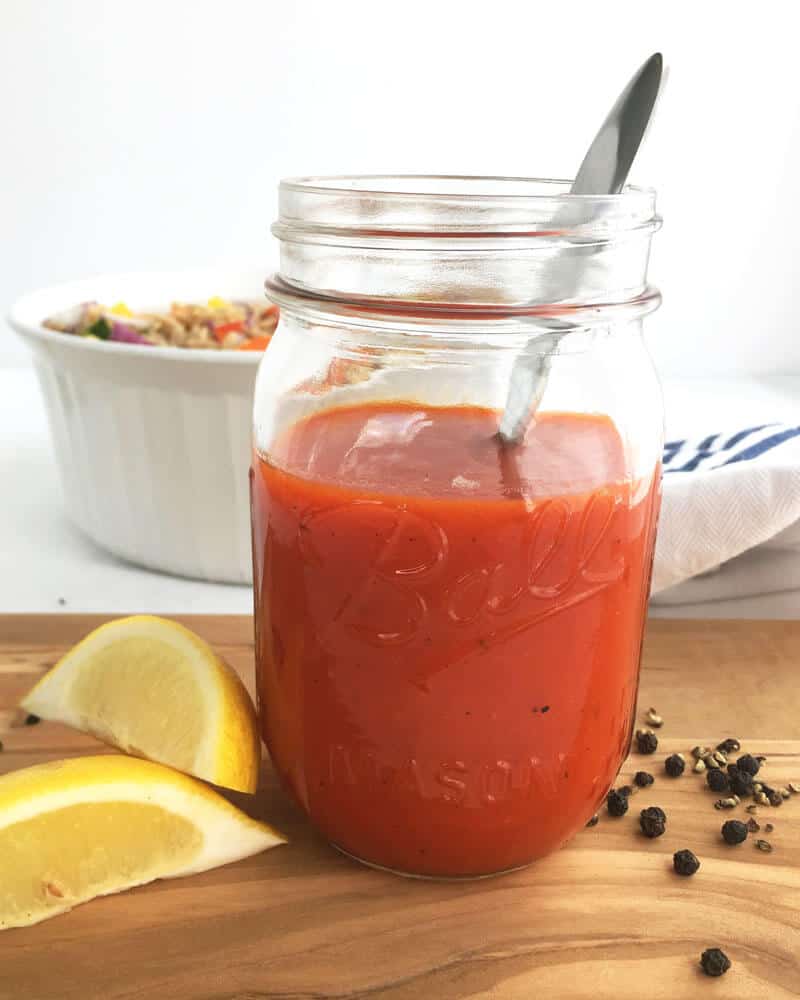 Really good salad dressings can be difficult to come by and I think you can never have enough of them. Sure, there are classics like olive oil and lemon juice, it's difficult to get tired of these but sometimes you want something a little different, yet still good enough to provide that satisfaction. This is what we've got here.
The secret ingredient with this dressing is the roasted red peppers. You certainly can roast the peppers yourself, but you can simply just buy a jar and use those. Then, along with the other ingredients, blend everything together and you end up with a salad dressing that's so good, it can also be used as a dip!
Quinoa Taco Salad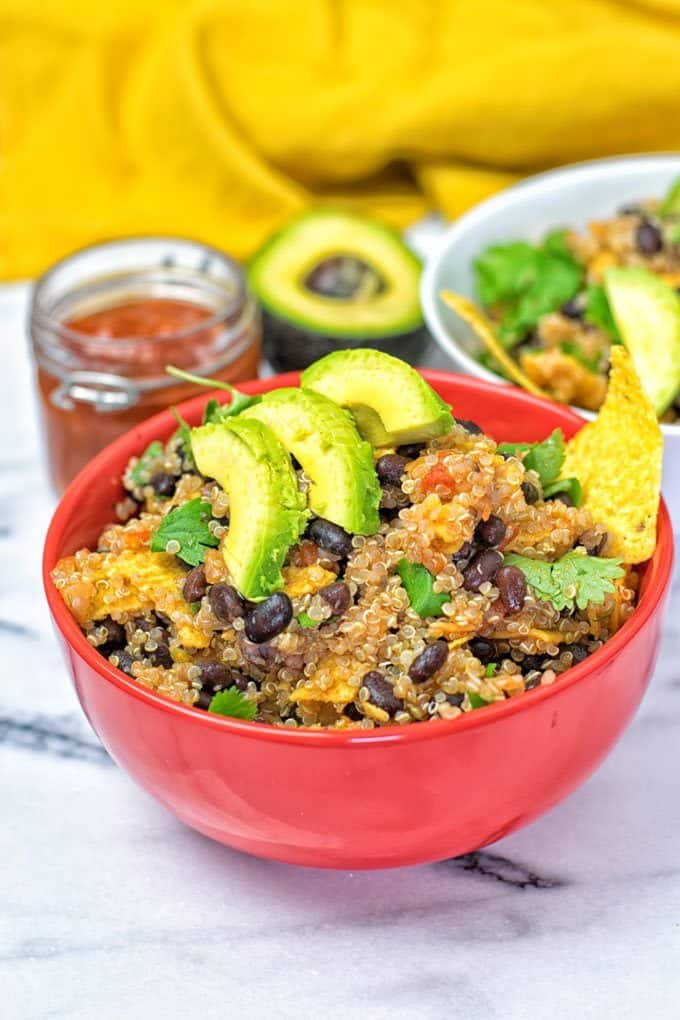 This recipe from Florian Nouh from Contentedness Cooking, uses one of my favorites ingredients, quinoa. It's so versatile and can be used in an endless number of ways.
This salad recipe only has five ingredients with two simple steps. Along with the quinoa, you have black beans and avocado, giving it a real Mexican flair! Of course, you can have this as a snack, but this is a really satisfying meal!
Gluten-Free Vegan Snack & Treat Recipes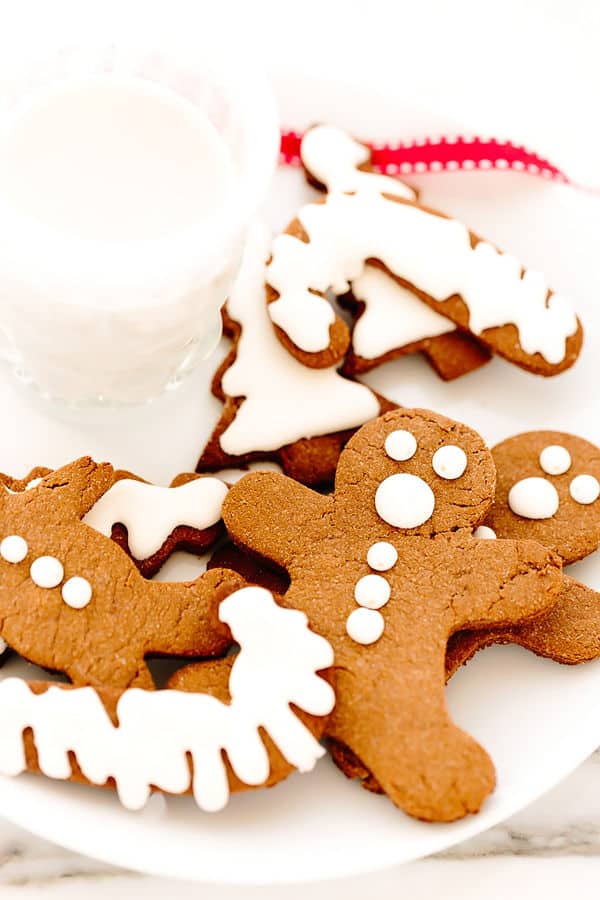 If you follow our roundups, you'll eventaully realize we like highlighting classic recipes. Remember, they're classic for a reason!
Here, Ashley has provided a lovely and simple variation on how to quickly make gingerbread cookies.
This is one where you need to get the kids involved! After baking you can have fun decorating all the different shapes you have baked with the icing. Do note the last item on the ingredient list is Vegan Royal Icing, and there is a link to a video which shows you how to make it. Now I really want a cookie!
Sweet Potato Shepherd's Pie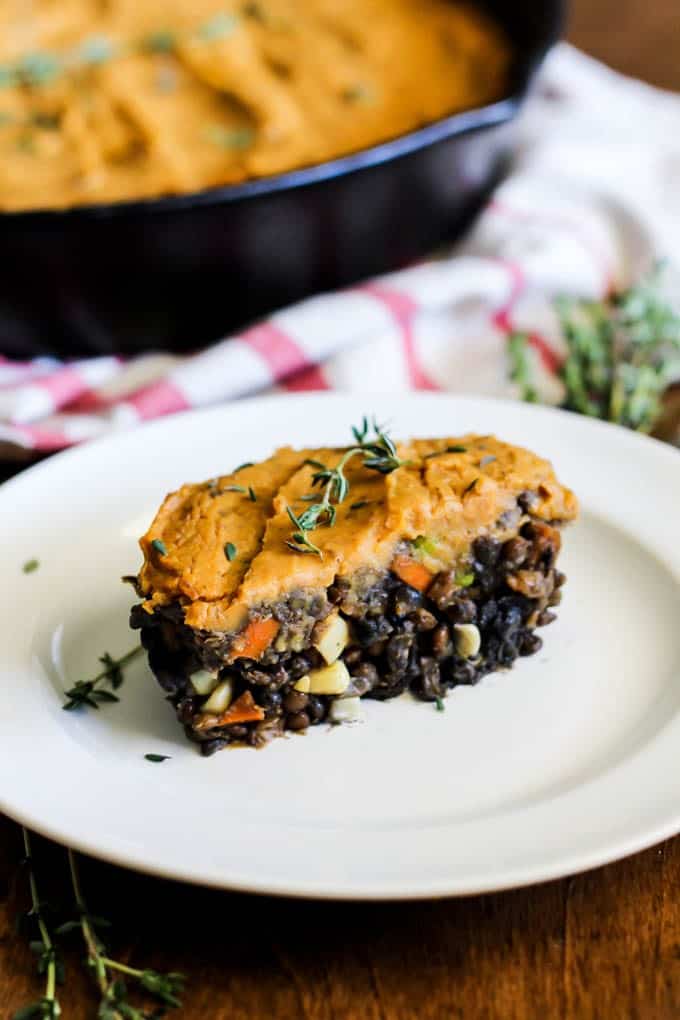 This vegan version of shepherd's pie is an absolute must. It does take a little time to prepare and cook, you're looking at a good one and half hours.
The main body of the pie comes from lentils, mushrooms and carrots, along with herbs and spices.
With the other ingredients, everything blends together like poetry! What I especially love about this pie, is the topping is made from sweet potato. It seems to me, sweet potato nowadays is just as popular as white potato.
I love both, but sweet potato not only has a distinctive flavor but it's less starchy than white, so you're not left with that heavy feeling after eating. This dish freezes well, so after making you can divide into portions, seal and freeze.
Baked Onion Strings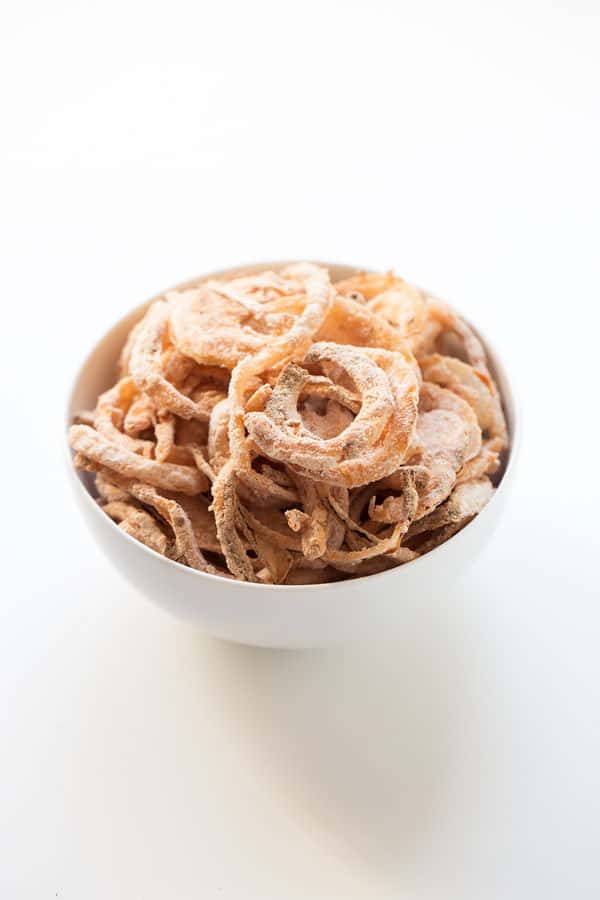 Don't adjust your sets! The title does say onion strings and not onion rings! I have never seen anything quite like this before and I can tell you, these onion strings get the seal of approval from us!
These are super easy to make with great ingredients such as your favorite plant milk, apple cider vinegar and paprika, along with just a couple of other things you use as batter for the onion. You then bake and that's it!
It can take a little time with the batter and slicing the onions, so you are looking at around forty minutes, including twenty minutes baking time.
What you end up with are delicious onion strings which can be used as a snack, appetizer, add them to your burgers or on top of salads. This one's a keeper!
Dukkah Sprinkled Chickpea Crackers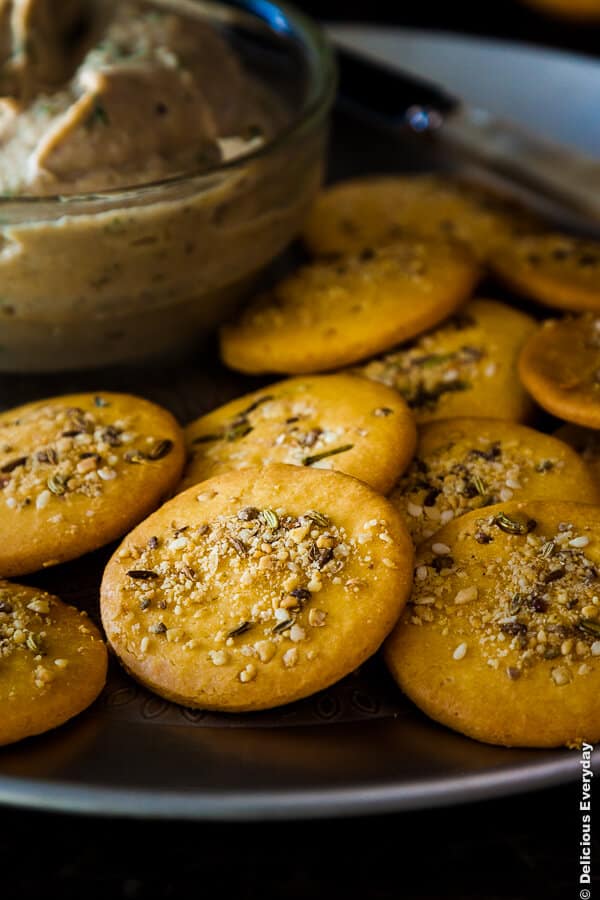 We don't often see recipes for crackers, let alone simple gluten-free ones, so when we came across this, we really wanted to bring it to you.
If you've never had Dukkah before, now would be a great time to try it. Other than this, you just need chickpea flour (also known as gram flour) and I'm pretty sure the other ingredients are already in your kitchen. You just put all the ingredients in a food processor and then bake. It really couldn't be simpler, and they last for a good few days!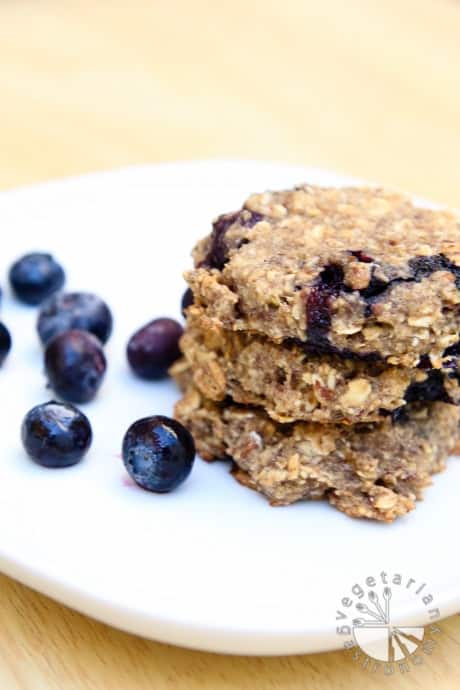 This recipe uses two of my favorite fruits, bananas and blueberries. It's so easy to make and uses rolled oats with other ingredients you may already have in your kitchen.
The recipe recommends using frozen fruit for these cookies, so the fruit used doesn't mix in the batter.
So, it's important you take the fruit out of your freezer at the last minute because you don't want it to thaw at all.
You can use fresh blueberries, just fold them very gently with something like a silicon spatula to reduce the chances of them breaking and the juice mixing into the batter. Make a bunch and you have breakfast all week!
Strawberry Dessert Tamales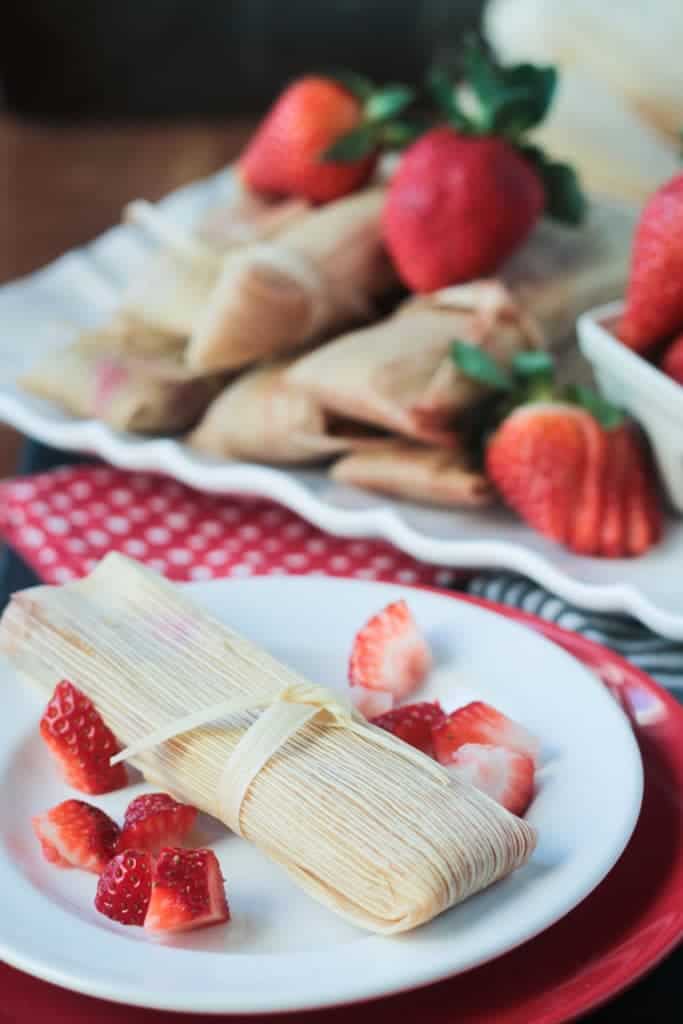 Wait a minute! Tamales with strawberries… What? Tamales for breakfast… What? Sure thing! You may think this is complicated to make as you have to wrap all the ingredients in the corn husks but believe me it's easier than you think!
If you're looking to make these for breakfast, then you need to be up early as you need a good two hours to put everything together.
I honestly would not recommend doing this because the tamales need time to firm up (refer to the recipe notes).
So, I'd make them the day before at least. It might seem like a lengthy process, but it does yield twenty-two tamales, so you certainly do get something for all your effort. I think for a special occasion is when this recipe will really shine!
Apricot Crumble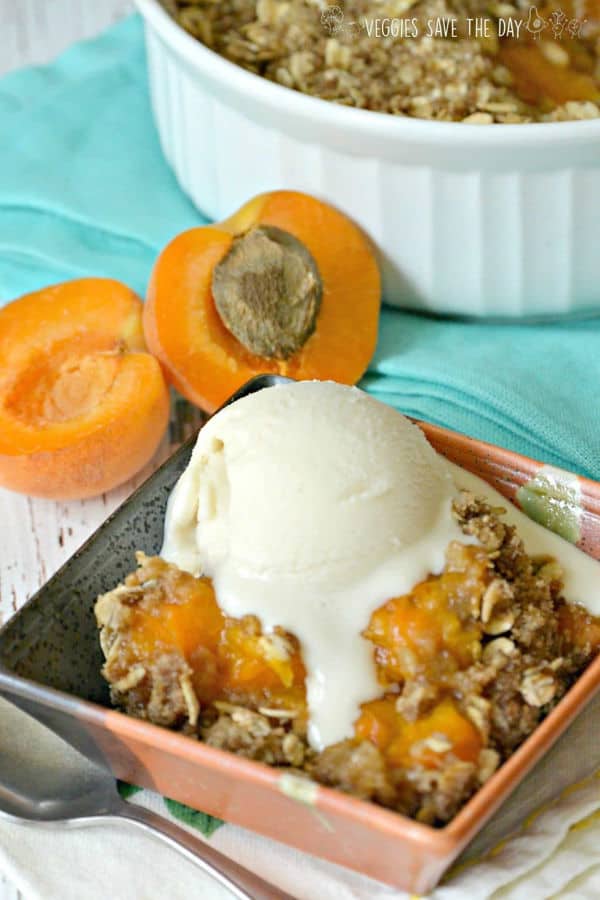 You may have had this type of dessert already. If anything, I imagine you had apple crumble which, of course, is the classic.
You're looking at about an hour to make everything, but this does include a 40-minute cooking time, so not bad. The ingredients are divided up into the filling, we only have four ingredients, and the topping where you also have four ingredients (other than seasoning).
So, you can see, overall, it's not too difficult. You can make this in advance as well. What you end up with is a delicious dessert. It's fruity, it's satisfying, and your friends will ask you for the recipe!
Vegetable Fritters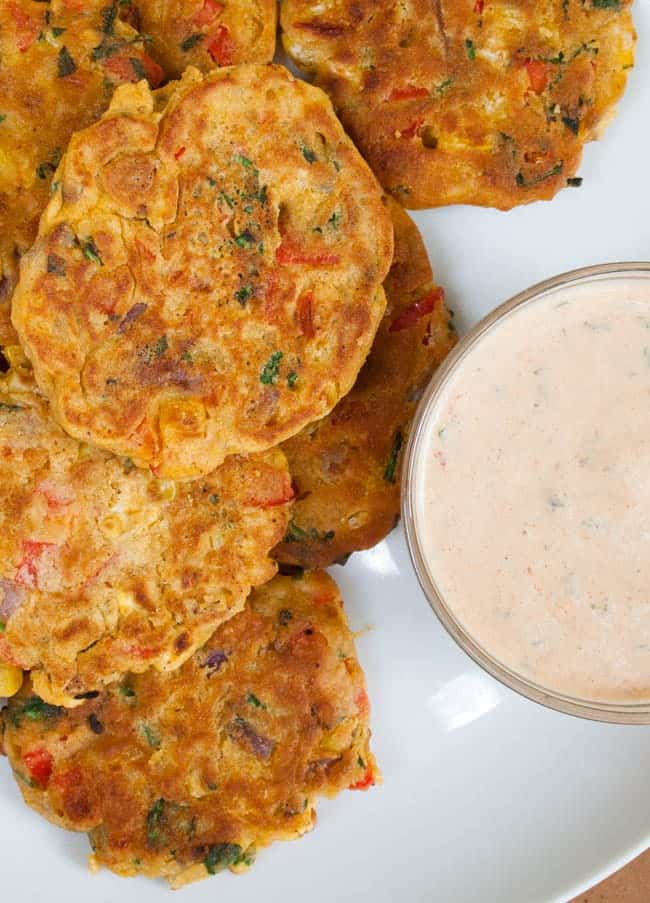 If you've never made vegetable fritters before, now is the time to start. This is a great basic recipe and I really recommend you memorize it. If you have a bad memory, just make it a few times!
The reason this is so good is because it's a fantastic way to use up leftovers. You can literally put any vegetable or selection of vegetables in the mix, and you'll always end up with something great. You can use them as appetizers or the main part of a meal. It's a terrific way to get your kids to eat vegetables too!
Mummy Dogs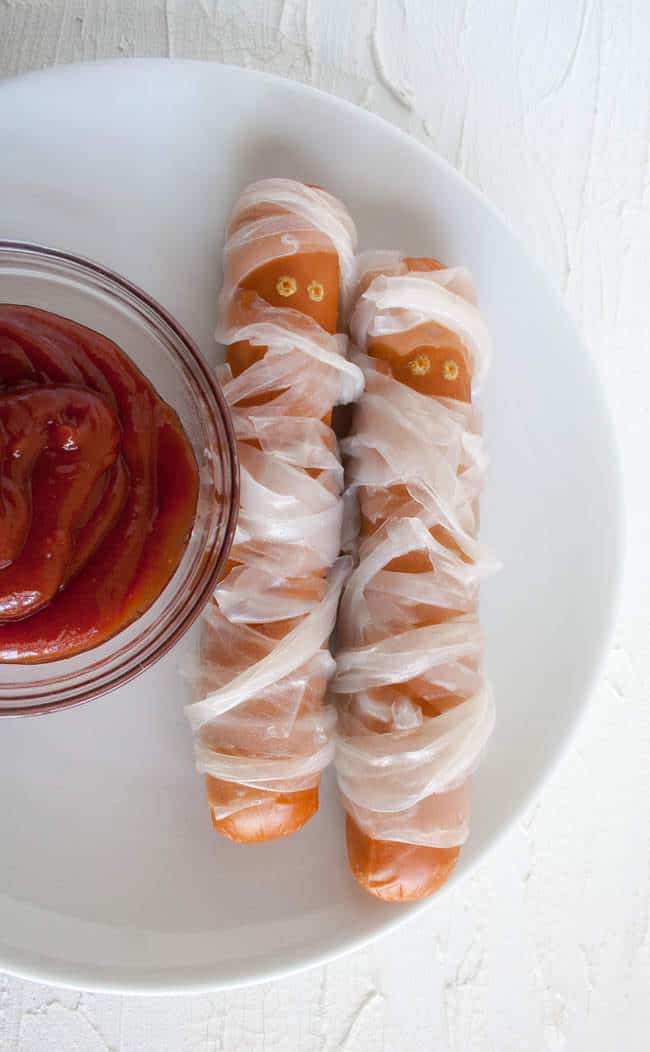 This is a really fun recipe for any time of year but if there's one recipe absolutely made for Halloween, it's this one! Willow, created an ingenious idea with this!
You do need to check the instructions but basically, you get your favorite vegan hotdogs and you wrap them in rice paper, which has been prepared beforehand. It may seem trivial, but I really would go to the effort of putting two little eyes on the hotdogs. Maybe get your kids to help mummify the hotdogs, they'll love it. One thing's for sure, these will not last long in my house!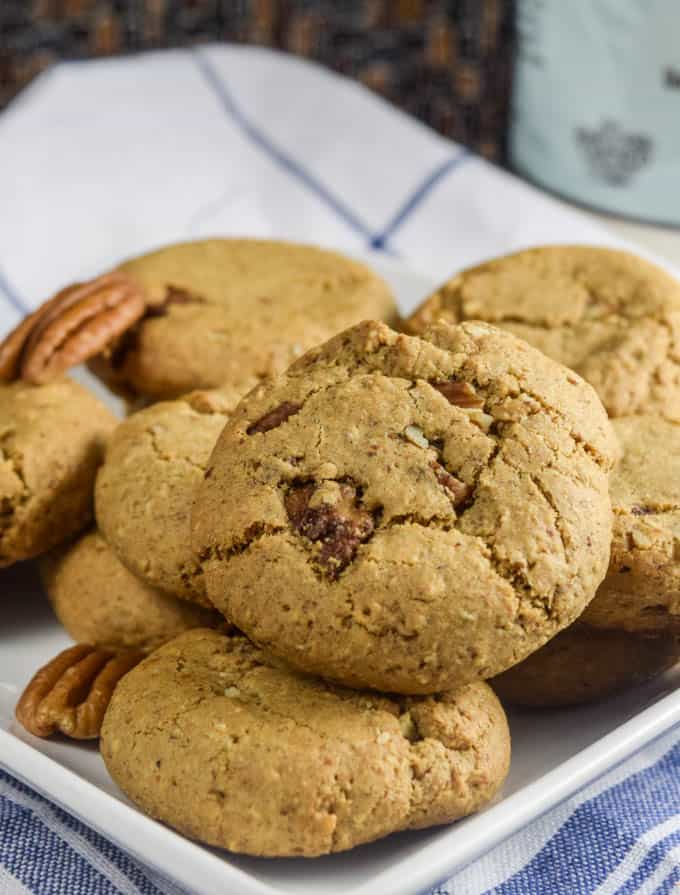 Everybody say cookies! But, no matter how many cookie recipes there are in the world, it's just not enough. Shannon who created this recipe has put together everything that I like in a cookie.
We all know pecans and maple syrup go well together, just like peanut butter and jelly.
It's like they were invented to be together! Don't be mistaken, these are serious cookies. What do I mean by that?
Well, if you follow the recipe, which should take you less than forty minutes including fifteen minutes baking time, you end up with twenty-four big cookies.
If you want to make thinner cookies, then obviously just roll out a thinner shape and you'll have even more, do have a few baking dishes at the ready! I'd definitely follow the instructions because these are totally delicious.
Pistachio Sesame Seed Balls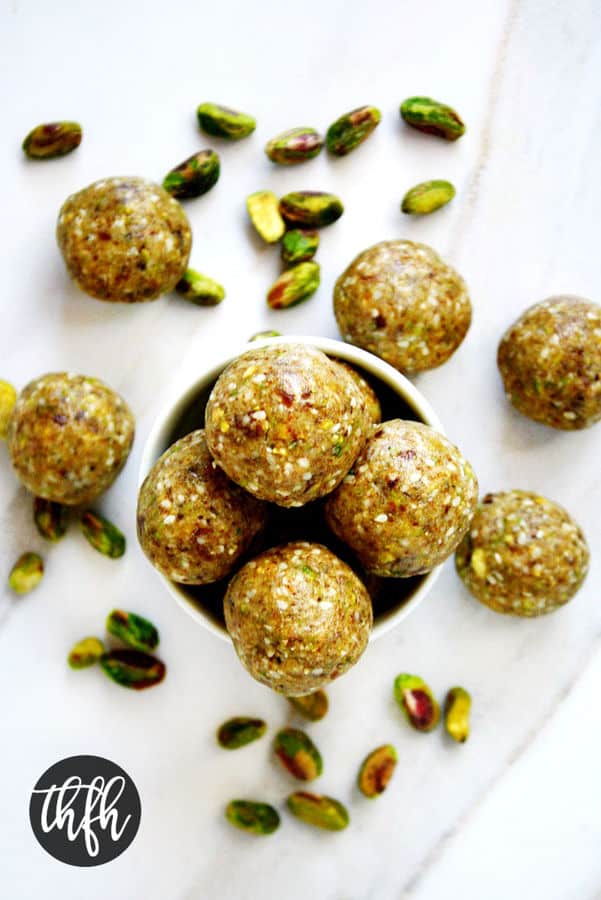 These are little bundles of heaven! You're looking at three ingredients that mix together in the food processor, shaped into balls and then rolled into sesame seeds.
There is no baking in this recipe. You just refrigerate for about thirty minutes to firm up and they'll keep for about a week stored in an airtight container in the fridge.
Although, let's be serious, these puppies won't last a week in your house or mine!
Apple Crumble with Caramel Sauce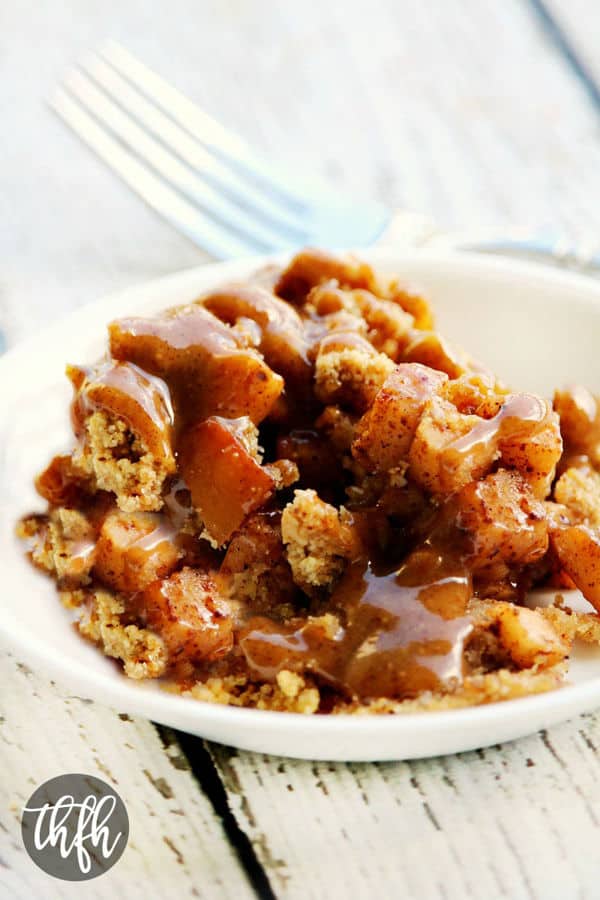 This is a healthy version of a classic dessert. When you look at the ingredients for the filling you'll see exactly what I'm talking about. The entire recipe contains no refined sugars whatsoever.
You may be forgiven for thinking this may take a good hour to prepare, but it's actually half of that!
It yields about four to six servings. It's delicious in its own right but don't forget to make the plant-based caramel sauce, which is also included in this recipe. A wonderful dish your body and your family will love.
Pumpkin Spice Caramel Popcorn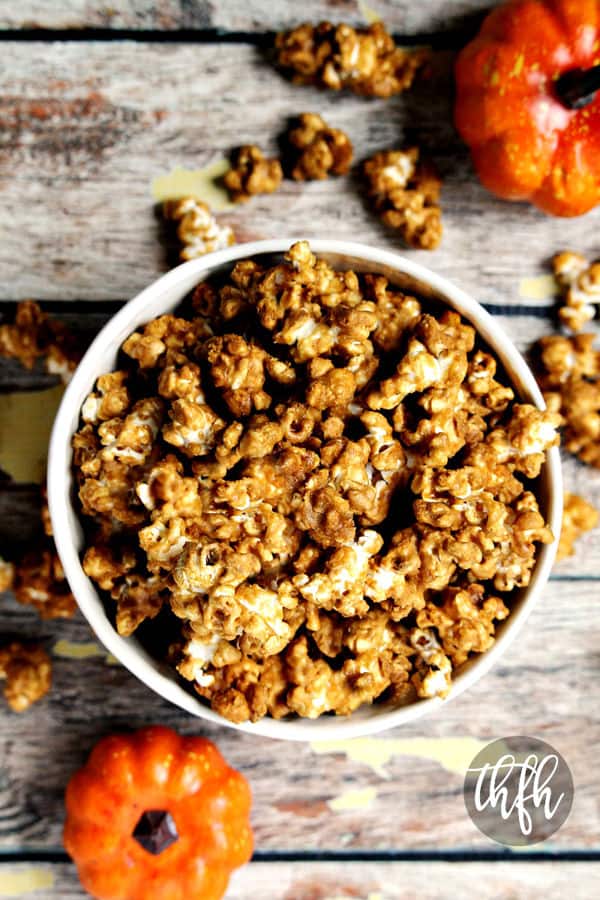 Who doesn't like popcorn? I guess us popcorn eaters are divided into two categories? Those who like sweet, and those who like savory. I prefer savory, but give me a bowl of sweet popcorn glazed in something great and I'm good too!
This dish could not be easier to make, and you'll know everything going into it, no nasty ingredients.
You essentially make your favorite popcorn and then coat with a paste of about five or six ingredients, with seasoning. You then bake in the oven for about thirty minutes.
The pumpkin spice is a nice twist to the standard caramel which I think most of us have tried. The recipe does warn you to make sure the popcorn has completely cooled before consuming.
This is sound advice because hot sugar could certainly cause serious burns. However, the devil in me wants to try it when it's just a little bit warm!
Crispy Baked Mac and Cheese Balls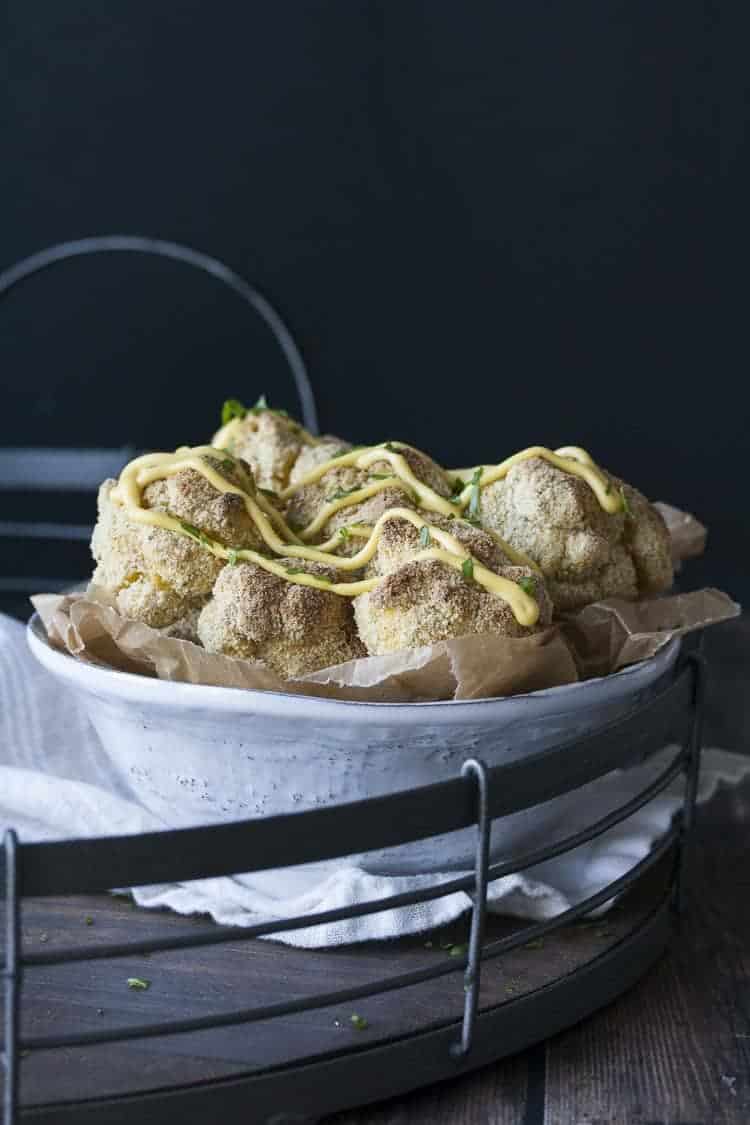 Want to impress your friends with something they have never had before? We've got you covered!
Everybody loves mac and cheese, especially when it's plant-based. It's the ultimate comfort food that most of us grew up with.
Here we have that, but with a twist you would never have dreamt of, they're baked as nuggets with a crispy coating.
Don't be put off by the nearly two-hour total time to make these, as Sophia has included the one-hour cooldown time, so in reality, it's a lot less.
Whether it's for a special occasion or just a get together, everybody will love these!
Chickpea Flour Mini Veggie Frittatas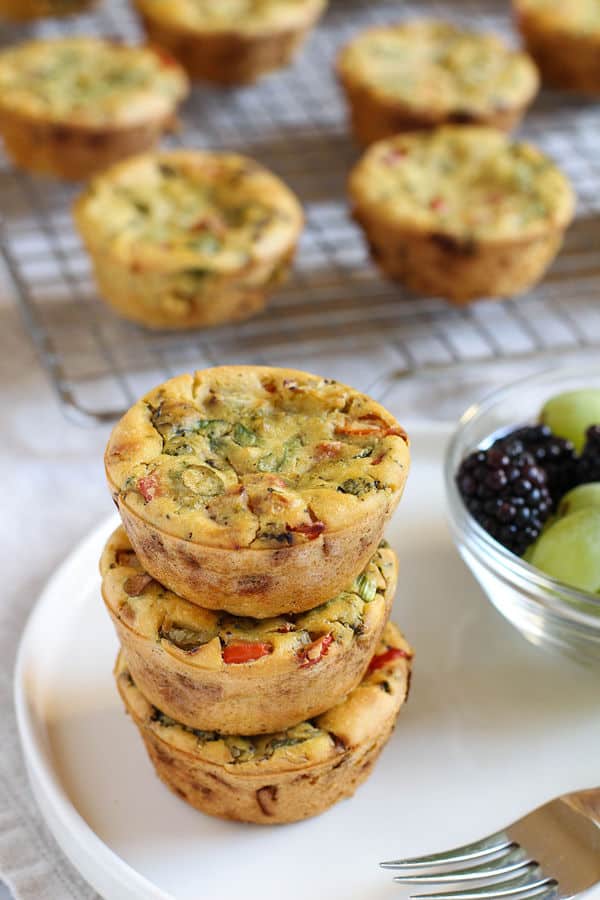 Traditionally, frittatas are bite-size pieces of goodness great for when using up leftover vegetables.
They're always delicious, and everybody loves them! I have never seen them made quite like this before, so I was excited to try them out.
Being gluten-free, you use chickpea (garbanzo bean) flour which is becoming more and more popular year-on-year.
I think the secret ingredient here is the nutritional yeast which arguably is unnecessary, although I think is a winner.
If you don't have a muffin tin, you could just lay these out like thick pancakes and will work just as well.
This kind of dish is traditionally filled with egg, so this is a guilt-free version you can enjoy again and again.
Apple Pie Porridge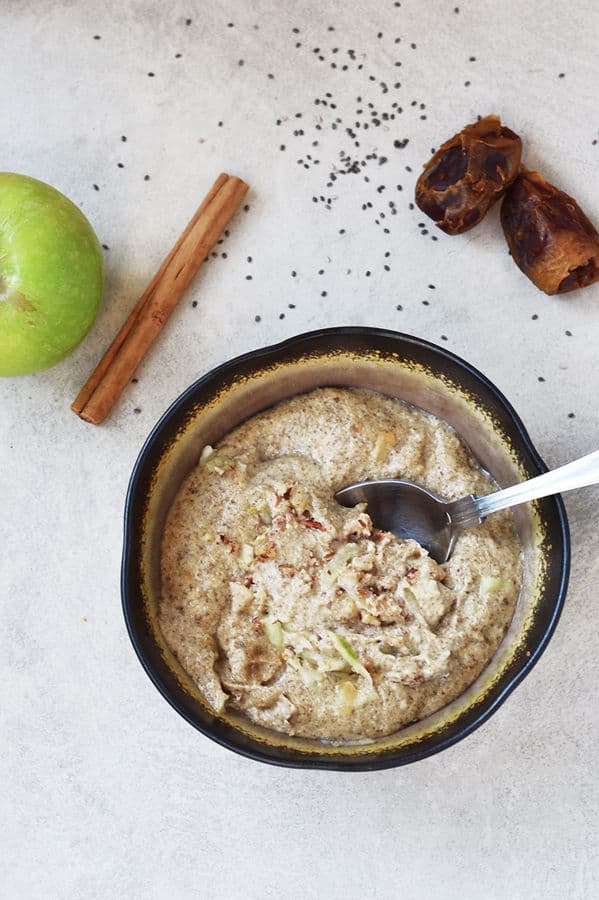 Porridge is one of those breakfasts lending itself well to traditionalists or people who like to experiment. You can have the sweet version or the very traditional salty porridge, I prefer the former.
What made us pick this recipe? It's raw! It was like a double contradiction, Apple pie which is cooked and porridge which is also cooked. Put them together and make something raw and delicious! Raw does not necessarily mean completely uncooked. The idea is, if you heat your food, it must stay below 104°F (40°C).
So, if this is a concern to you, make sure you have a food thermometer on hand when gently heating, according to the instructions. It'll be the consistency of porridge, but it'll taste like apple pie, what more could you want?!
Carrot Cake Waffles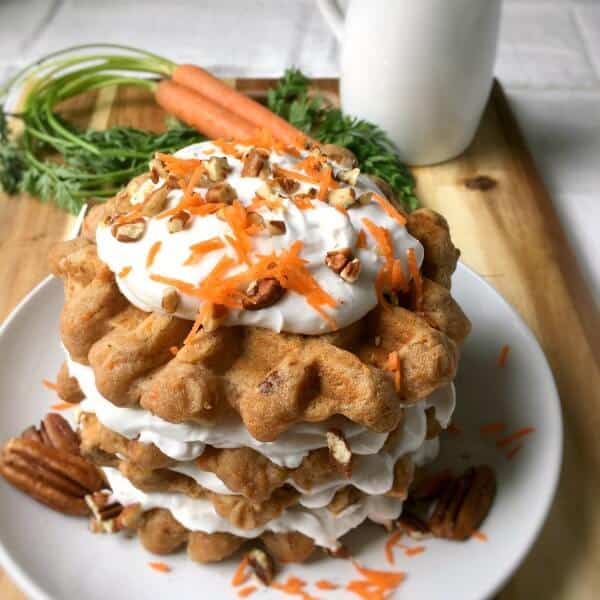 I had never heard of carrot cake waffles so certainly wanted to try when this came across the desk. When you first see the ingredients and instructions it may seem overwhelming, but don't let this put you off.
Please take note the coconut cream frosting, which you absolutely have to make, should be chilled overnight in the refrigerator. I completely recommend this as it helps with the consistency as well as the temperature, both of which are important. Other than this, it really is a quick recipe to make full of nothing but great ingredients. Your family will love this!
Ideally you would have a waffle maker but if you don't, you can make these as thick pancakes over the griddle just fine.
Golden Berry Granola Bars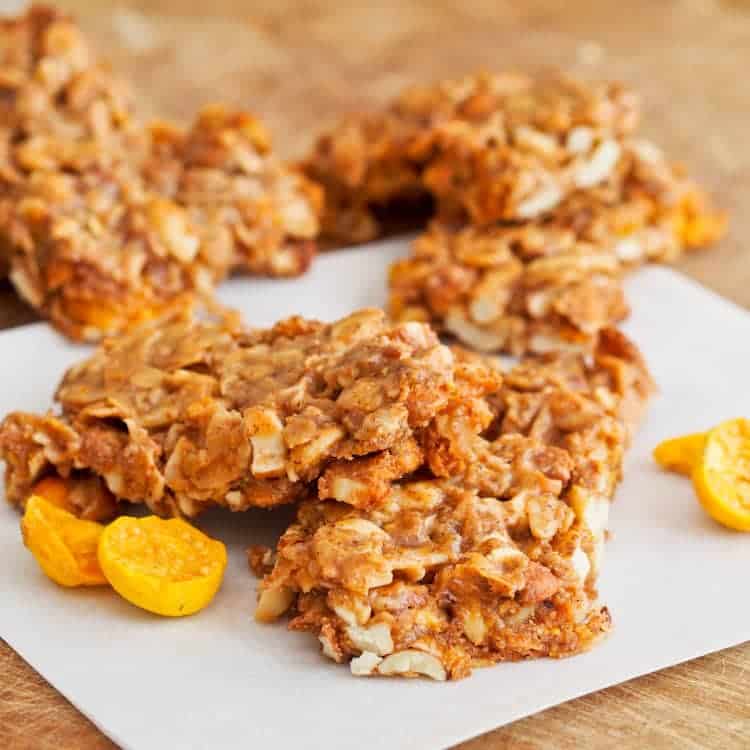 Granola bars are just fantastic. You can have them for breakfast, an anytime snack, and they're especially great if you go on a hike or picnic. Of course, you can make them in advance and they'll store for at least a week in an airtight container.
Recipes for granola bars are inevitably sweet, and that's okay because that's what the snack is. This however isn't only sweet, it's also a tiny bit sharp and savory all at the same time. Trust me, you have to really experience it. As you can see from the ingredient list, it's all really good quality and probably one of the easiest granola bars to make.
There is a prep time of fifteen minutes and then you just bake for another ten to fifteen. You should wait until the mix has cooled before slicing into bars. Operative word is, should!
Banana Coconut Waffles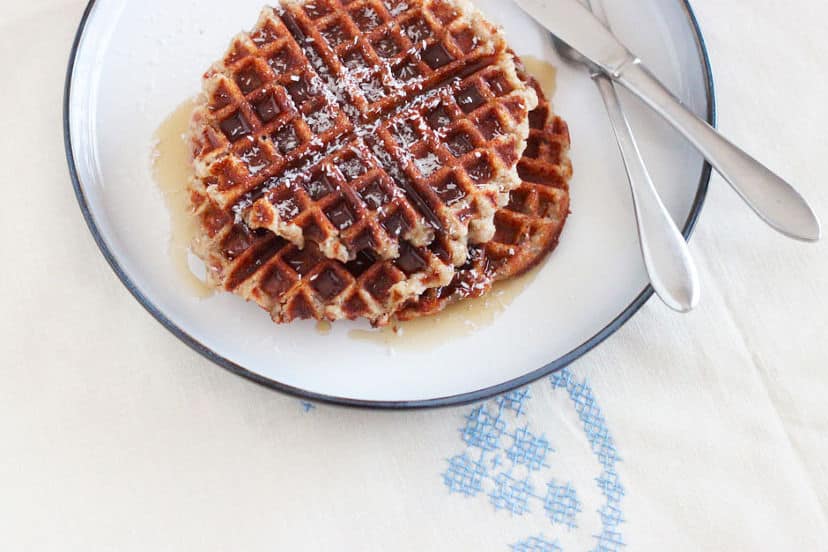 Waffles are a bit like pancakes, you can never have enough different recipes for them. This had two of my favorite things ever so absolutely had to be on this list, banana and coconut, a taste of the tropics!
The ingredients may have some things you might not have in the kitchen, such as arrowroot powder, but I'd really urge you to go to the effort of getting everything because you'll really appreciate how all the flavors blend.
As with any waffle recipe, a waffle maker is essential for making the classic waffle shape. But if you don't have one don't worry, just cook on a griddle as pancakes and you are good to go. Serve with maple syrup and/or your favorite fruit!
Raw Chocolate Tart with Cashew Coffee Crust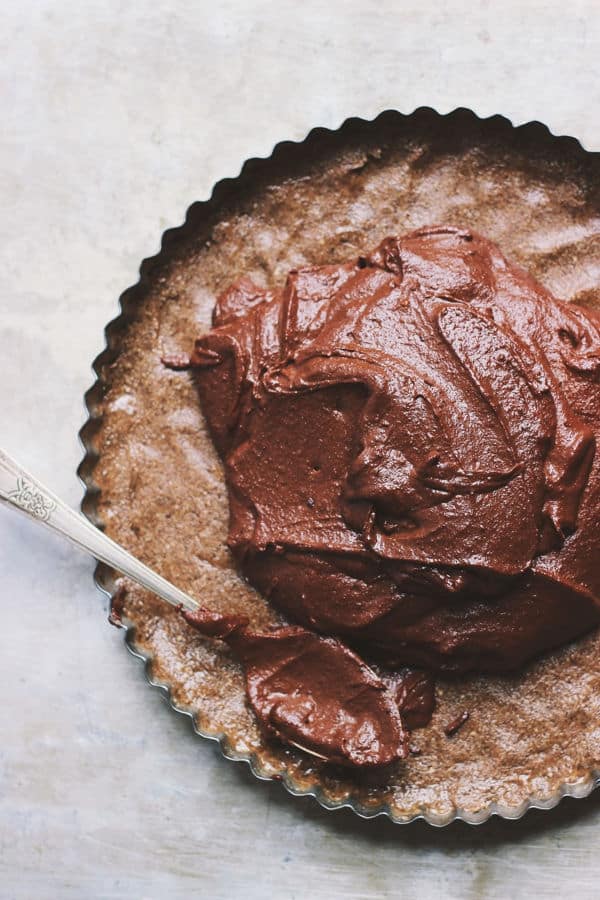 Raw food is really popular, and I think it's a good idea for all of us to have some raw in our diet. Where I think it really comes into its own, is with desserts. I honestly believe raw desserts are better than the cooked versions.
Looking at the ingredient list you'll be forgiven for thinking, where's the rest of it?
But that's the beauty of this, it's simple and honest ingredients that make the best dishes, and this is certainly one of them. You're looking at a total time of about one hour and ten minutes, which does include one-hour cooking time, so it's actually not that bad at all.
Do note you should have your cashews soaked for at least one and a half hours before beginning this recipe.
The pièce de résistance here, is the cashew coffee crust, trust me, it's to die for!
Sundried Tomato Sweet Potato Bites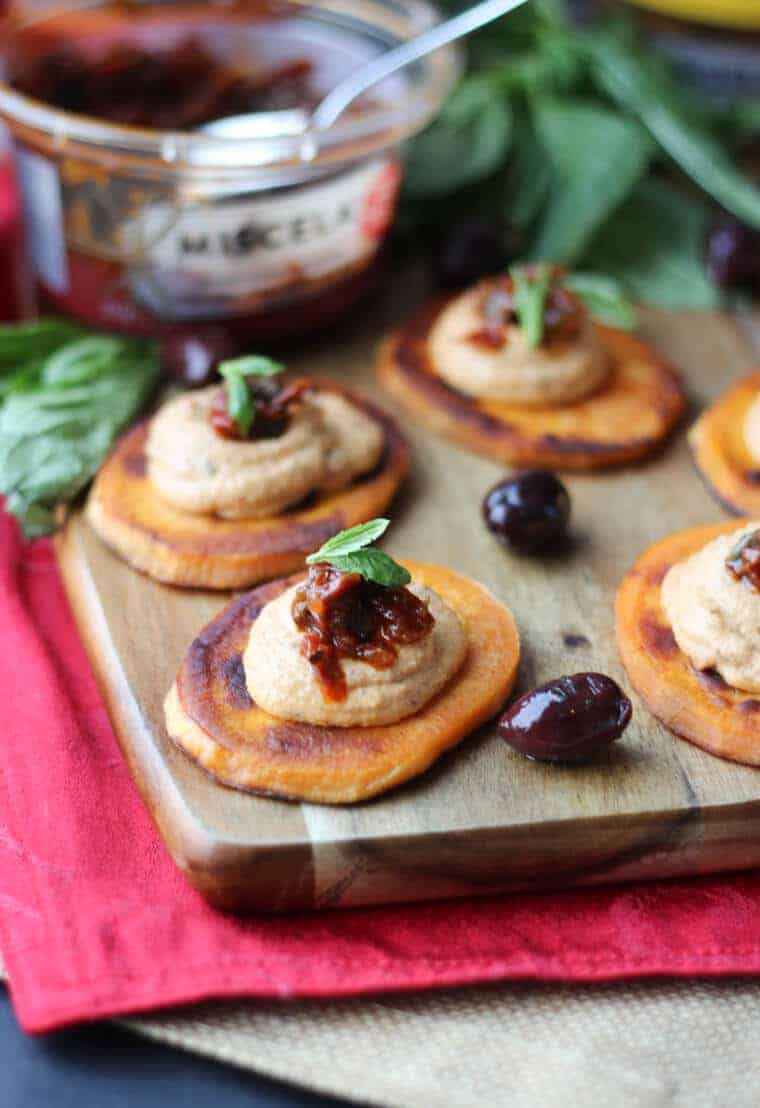 When I first saw the pictures of these delicious bites I thought it was some kind of cookie or something. Then I looked at the ingredients and was scratching my head until the penny dropped. I can be a bit slow sometimes!
If you've been reading with me so far you'll know we love simple recipes because we're all busy and we all need hacks to help us through our lives.
This is probably the most simple recipe I have ever seen. The end product looks fantastic and if you make these for a social gathering, be sure to make many because they'll be the first to go!
Unicorn Nice Cream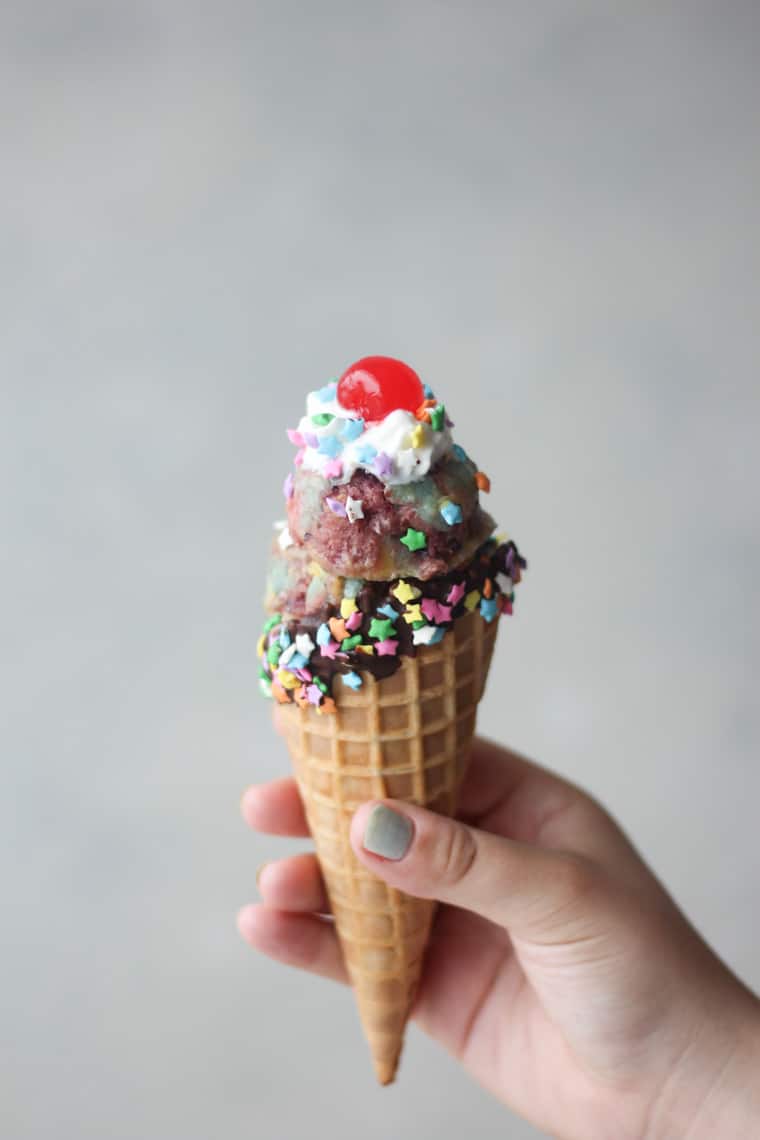 This is an amazingly simple idea. If you've had vegan ice cream before, you'll know it's nearly always frozen banana being used as its foundation. This is no different, why fix something that isn't broken, right?
What's great about this recipe is it's essentially a bunch of different ice creams put together to create a wonderful multicolored fun dessert. Why not let your kids choose the colors? Great for birthday parties or if you want to challenge yourself, get creative for Halloween!
Chocolate Almond Snack Bars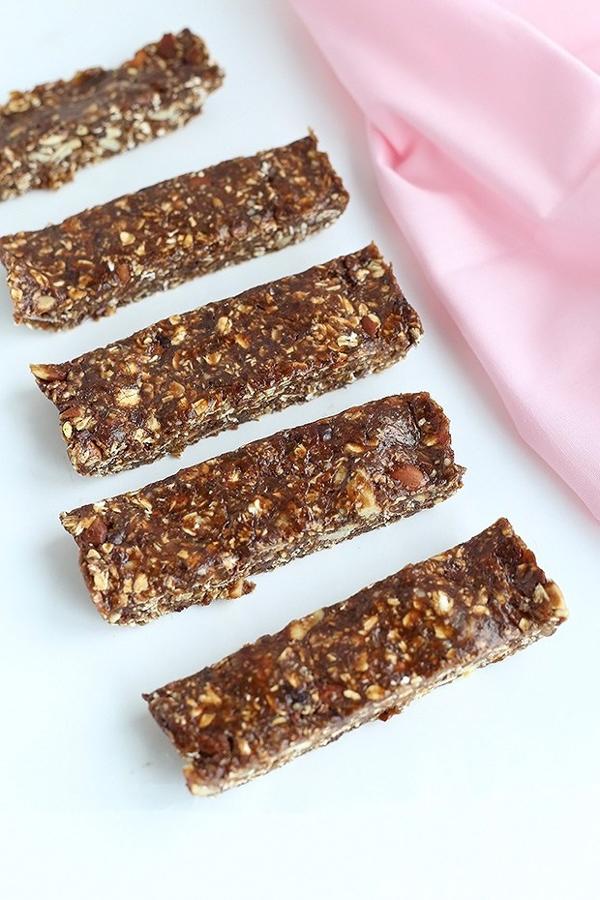 There are so many good things to say about these snack bars, I almost don't know where to start. First, they're so simple yet totally satisfying. Next, they're healthy and they taste good too! You can't go wrong here!
Nine wholesome ingredients and you've got a snack you'll be proud to serve to yourself, your kids, or anyone else. Sticky, sweet, so so so good! I love how you can add more things to change the flavors and amp up the nutrition.
I can't say enough about these bars. They are simply perfect! Make a big batch and wrap them in parchment paper to take on the go. You won't regret it!
Plum Crisp with Coconut
I'm not sure there are many recipes you can say are good for breakfast or a dessert. This fits the bill on both occasions.
The Plum base has a very simple recipe list and the topping is something you have to try to believe how good it really is.
At first glance it does look complicated with the old-fashioned oats, the coconut flour, the chopped almonds and all the other ingredients. But, you've heard the saying, great things in life are worth the wait, right? Well, the proof of this pudding is in the eating. You see what I did there?
Healthy Mini Pecan Pies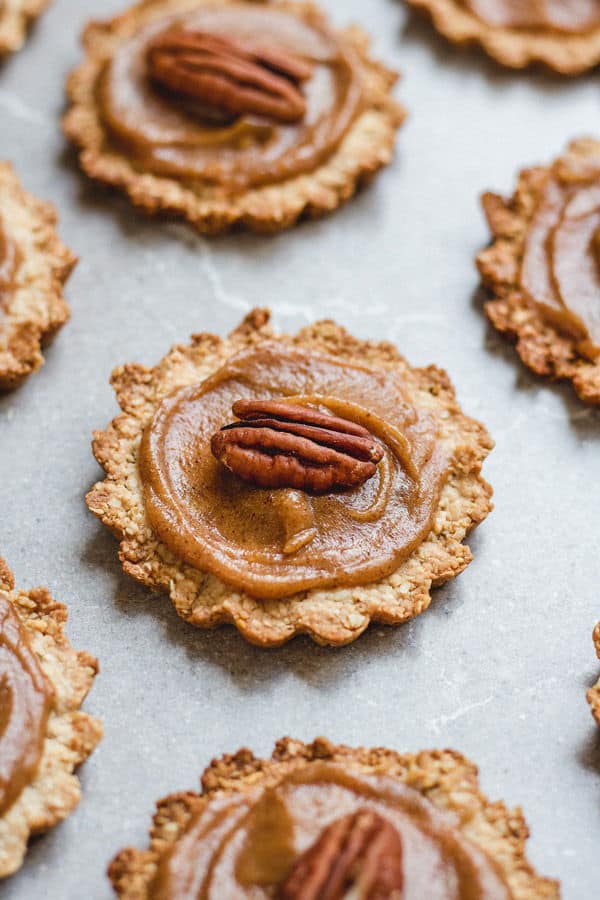 In an ideal world, you want something really easy to make, tasty and when you give them as a gift, your friends ask you if you really made that yourself! Well, I present you that very thing!
These mini pies are a perfect treat for the holidays or for any special occasion. This is so easy to make, comprising of just the base and the filling. You have a total time of just over half an hour which will make you about a dozen of these little gems. Really delicious!
Homemade Nutella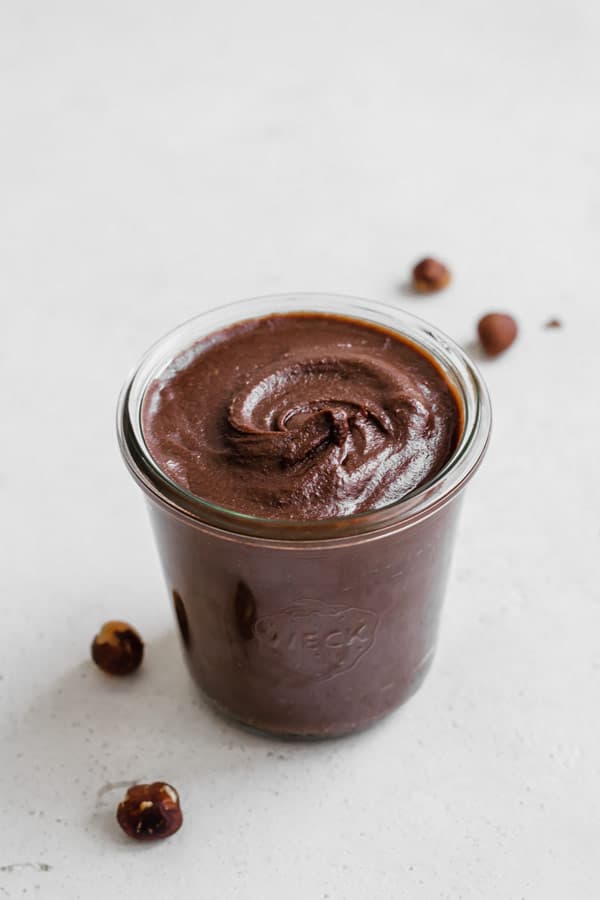 Store-bought chocolate spread tastes great and all, but you have to search pretty hard to find one with great ingredients. Even then it might not be ideal. At the end of the day, you just can't beat something you make yourself with real ingredients.
There's a little effort here where you need to bake the hazelnuts and then remove the skins, etc., but I promise you it'll all be worth it. The taste is better than you can ever imagine, and it knocks all the store-bought spreads out of the park. You can keep in a jar in the refrigerator. The ingredients yield one jar so, if it were me, I'd at least double and make two jars or more. You don't need to see if you like it first, just look at the ingredients, you'll!
Healthy Twix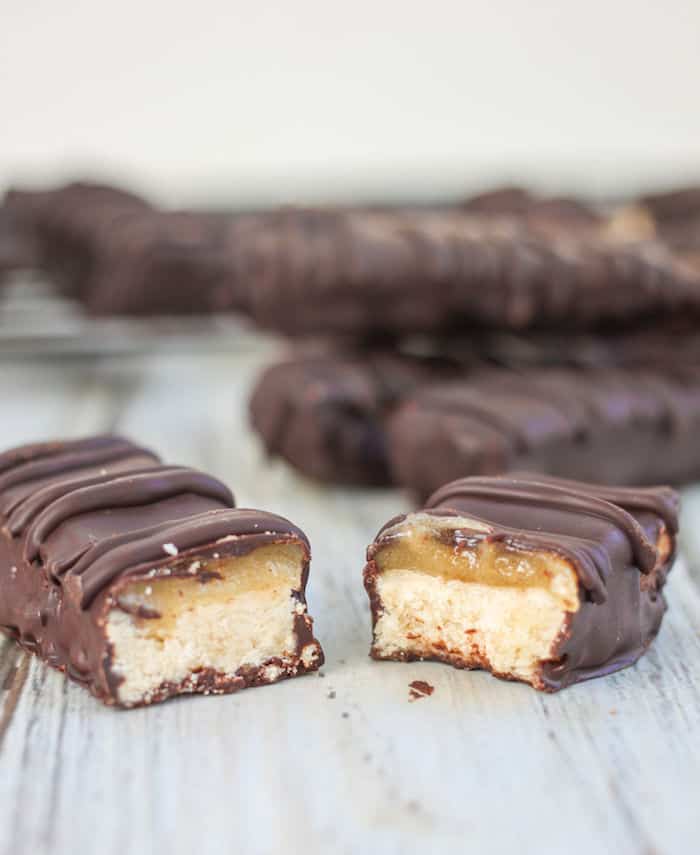 If you're on a health kick or you avoid junk food, I'm sure somewhere in your past you had some favorite snacks you wouldn't dream of eating now. I used to love Twix but this was a long time ago!
Well, we can now take a trip down memory lane with guilt-free healthy alternatives that taste even better.
I'm not just saying that! There are three parts to this recipe, the cookie layer, the caramel layer which couldn't be simpler, and the chocolate coating which is, just chocolate!
These will keep in the fridge for a good week in an airtight container. Your kids will love them, your family will love them, and you'll love them!
Creamy Avocado Edamame Hummus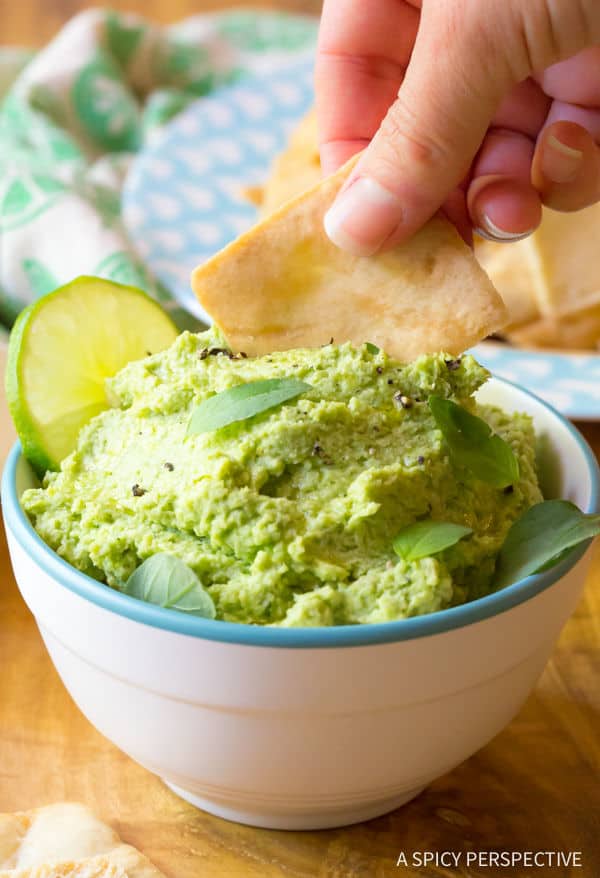 Hummus is amazing in its own right and there are so many different variations of it. I love all of them. So, when I came across this I was excited, especially as it contained avocado.
I can't tell you the amount of flavor that's bursting from this spread. The avocado, surprisingly, makes the hummus lighter. Maybe it's not surprising, I'm not sure! It's healthy and packed with protein. I had never tried hummus like this before and I'm glad I went for this. You'll be too!
Super Seed Crackers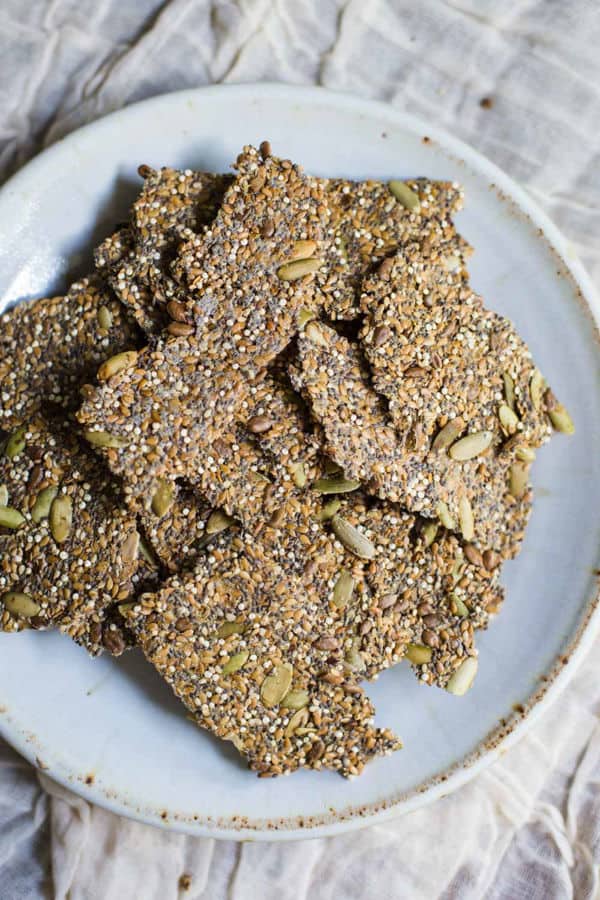 There are so many delicious and healthy crackers nowadays I don't remember the last time I made some from scratch. I don't have a dehydrator at home as this seems to be the essential tool for making the type of crackers I like, so I normally buy them. Then I came across this recipe!
You can buy all of the simple and delicious ingredients from a health food store and then you just mix them all together, spread out and bake in your oven at 200°F. What you end up with is an extremely healthy cracker that's good enough to be eaten without any topping. There aren't many crackers you can say this about!
Cranberry Coconut Energy Bars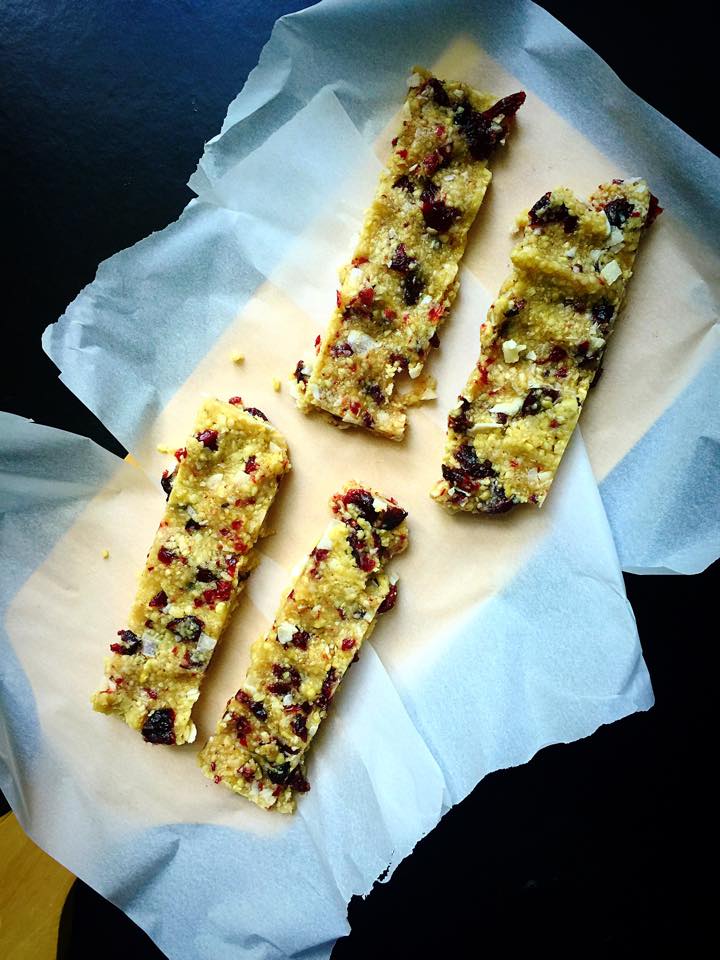 I know that Michelin star chefs are really good at what they do, to say the least. But, to be honest, I think there is a new generation of chefs doing something so inventive and so different that we have never seen before.
If you seriously look at raw food chefs you'll see they're producing amazing food that tastes superb and is healthy at the same time. And isn't this what food should always be about?
These coconut and cranberry bars are so delicious, and you can vary the recipe somewhat depending on your favorite flavors. They keep really well in an airtight container and whether you are studying for an exam, or going on a long hike, these will keep you going right up until the end!
Wrapping Up
We had a lot of fun putting together this gluten-free vegan recipe roundup for you.
So many different variations of classic dishes and new and inventive ones as well.
Many years ago, my doctor told me to avoid gluten for six months and it was really quite difficult finding gluten-free food at the time.
Nowadays, that sounds absurd!
As with everything we do, we want to make your plant-based lifestyle as easy as possible. We've curated, what we think, are the best gluten-free recipes for you.
Drop us a line and let us know your favorites or, if you have a recipe of your own you'd like to share, we always love hearing from you!