This time we've put together some incredible vegan breakfast ideas to inspire you.
Whether you fancy pancakes, waffles, toast, smoothies, "egg" scramble with or without tofu, gluten-free, crackers, granola, oatmeal and more, it's all here!
Pick your favorites and start your day off perfectly!
Vegan Blueberry Breakfast Recipes
Blueberry Zucchini Protein Smoothie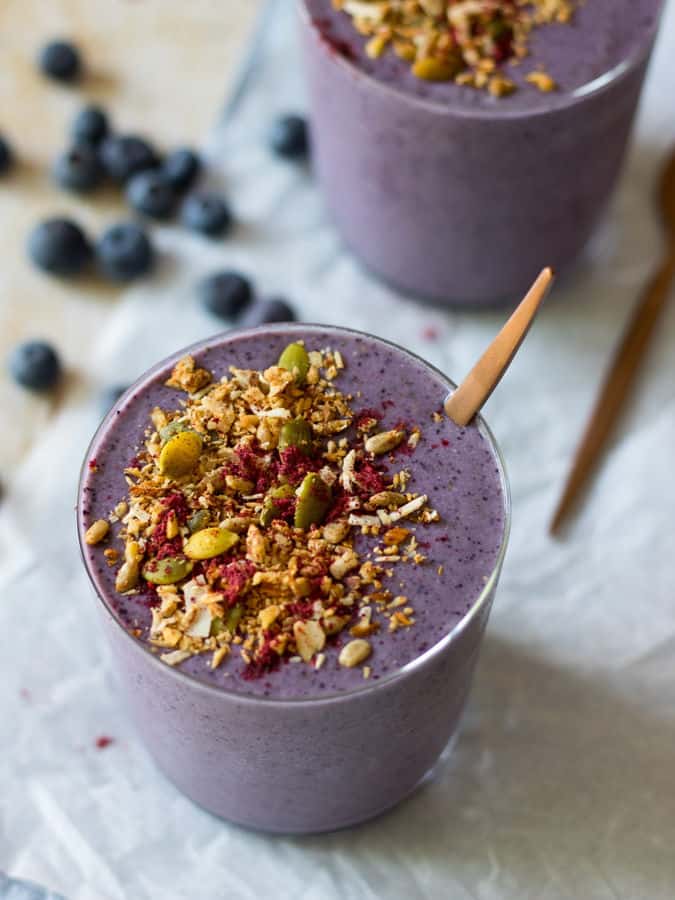 Smoothies are a fantastically quick and nutritious way to kick off your day. All you need is the perfect recipe, the ingredients, and a sufficiently powerful blender.
Got the blender already? Then check out Monique's blueberry zucchini protein smoothie, a 5 -minute rich and creamy treat packed with protein.
To make it even more interesting, you can add your favorite crunchy or fruity topping. Enjoy!
Blueberry-Oat Breakfast Squares (Gluten-Free)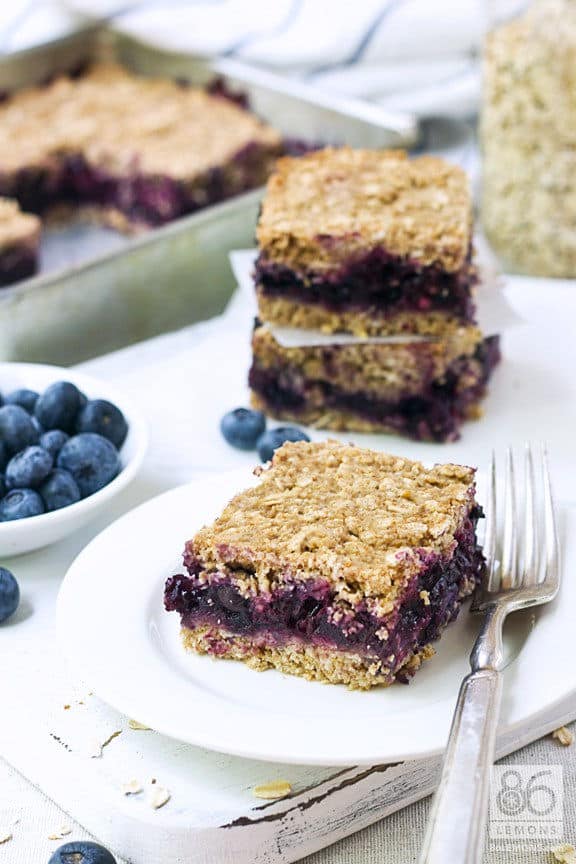 There are mornings when you really feel like making yourself a sweet treat—and why not make it gluten-free too?
That's the magic you'll be able to achieve with Aaron's blueberry-oat breakfast squares; the kind of recipe that'll get you excited to get up in the morning!
Blueberry Mango Banana Breakfast Pops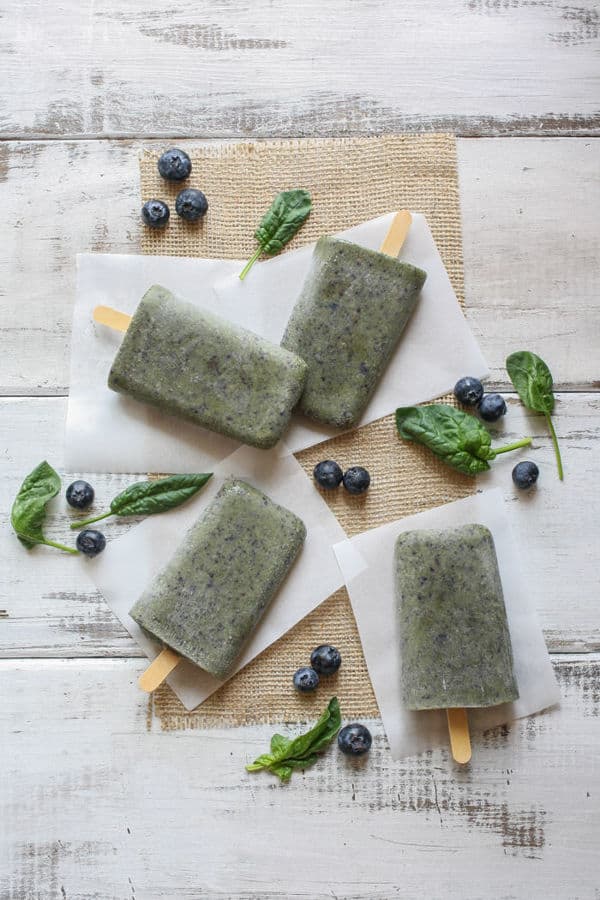 How about popsicles for breakfast? Yeah, I understand if you're on the fence about that. Perhaps I can persuade you by saying they're totally healthy, packed with protein, nutritious and totally yummy!
Sound good? Then you need Sophia's blueberry mango banana breakfast popsicles in your life.
Deep Dish Frosted Blueberry Tart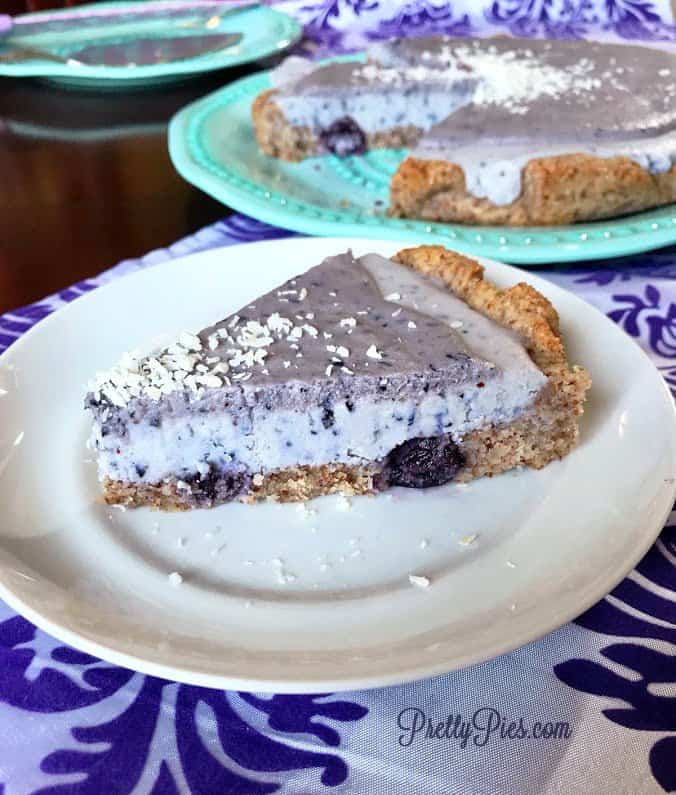 We love Emily from Pretty Pies because she has truly honed in on how to make guilt-free cakes, pies, tarts and more that are about a million times healthier than what you typically purchase from a bakery or pastry shop.
Here we've got yet another of her dessert marvels, a deep dish frosted blueberry tart with no added sugars or weird ingredients. Instead, it's sweetened with stevia drops.
You can make your own dreamy tart in about 50 minutes!
Blueberry Banana Baked Oatmeal
Emily has confidence in her blueberry banana baked oatmeal, to the point of claiming it'll convert even oatmeal haters!
That tells me this recipe has to be good. It blends together a nice symphony of sweet and crunchy, packed with fruits and nuts.
In an hour's time you can make your own baked oatmeal treat, ready for serving!
Lemon Poppy Seed Cornmeal Pancakes with Blueberry Compote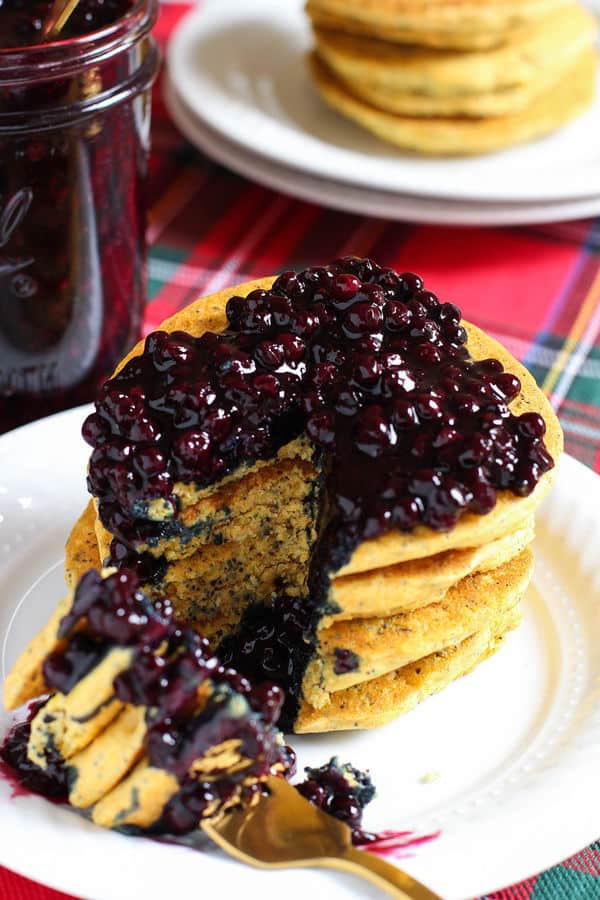 When you go plant-based, you MUST learn how to make decent pancakes. And the fact is, you can make ones which are better-tasting than regular ones–WITHOUT dairy and eggs.
And with Kristie's delicious lemon poppy seed cornmeal pancakes, you'll be well on your way to impressing everyone at the table–especially after you've loaded on the homemade blueberry compote!
Blueberry Pop-Tarts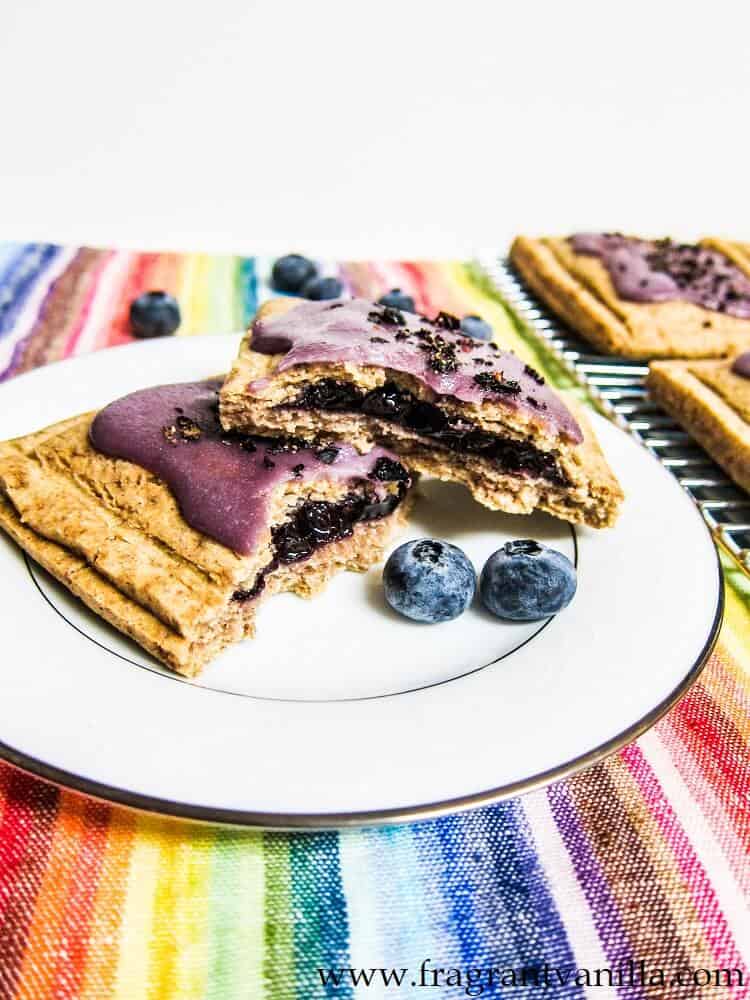 Being vegan doesn't mean you can't have pop tarts. And pop-tarts don't have to be seriously unhealthy for you either.
So you'll nail two apples with one stone when you follow Amy's blueberry pop-tarts recipe. From crust to filling to glaze, you'll in for a serious treat!
Vegan Bowl & Cereal Breakfast Recipes
Paleo Nutty Protein Cereal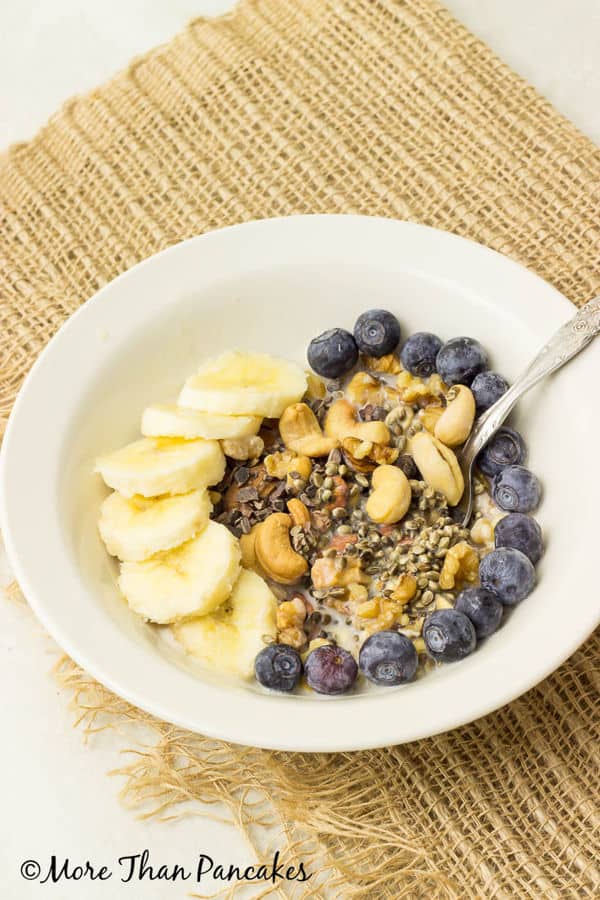 When you're short on time but want to start the day off on the right foot, definitely go for Ashley's 5-minute paleo nutty protein cereal recipe.
It's quick, simple and very nutritious, using 7 straightforward ingredients including nuts and plant milk with your own choice of fruits. Enjoy!
Maple Pecan Granola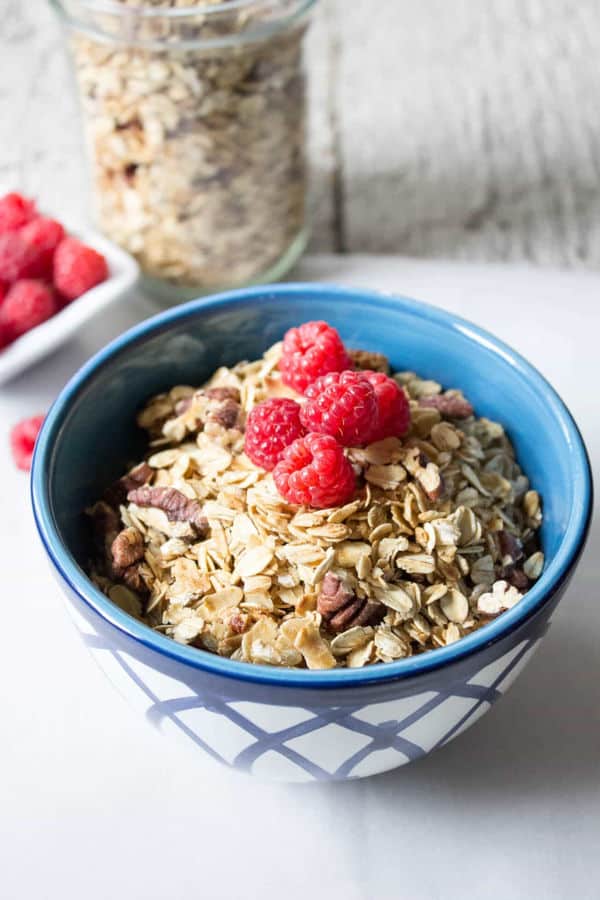 When you want simple, kathy's got you covered with her maple pecan granola, boasting just 4 ingredients.
While the granola does take roughly 70 minutes from start to finish, you just store it in your favorite jar or container and it's ready to eat whenever you crave it!
Add your favorite plant milk, top with some fruit and you're golden at the breakfast table!
Easy Gingerbread Protein Overnight Oats (Gluten-Free)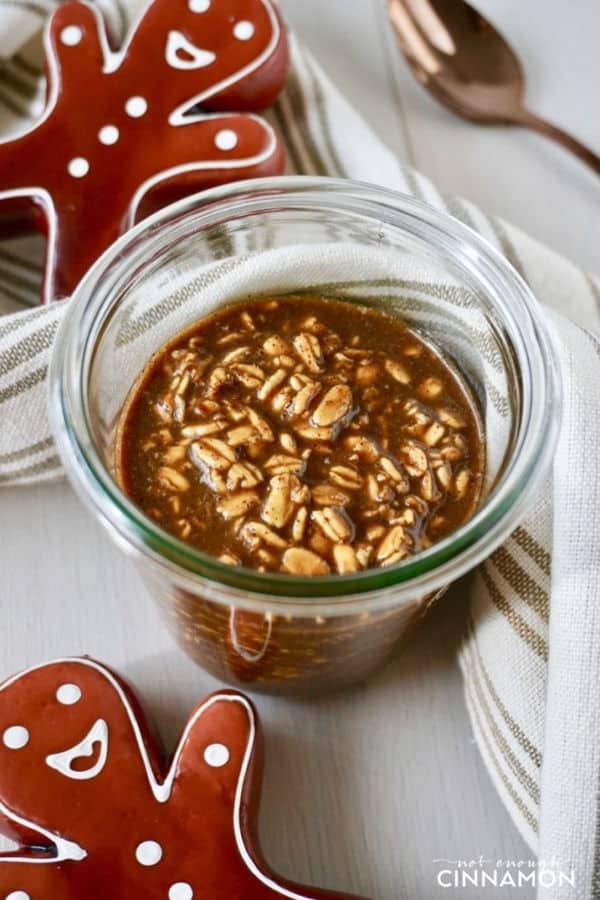 Marie says it best: "Overnight oats are perfect for busy or lazy mornings!"
She's absolutely right, and with her gingerbread protein overnight oats recipe, you'll have a convenient breakfast treat that's both gluten-free and easy to make.
For a protein boost, simply add your favorite protein powder.
Acai Bowl with Strawberry, Banana and Coconut Flakes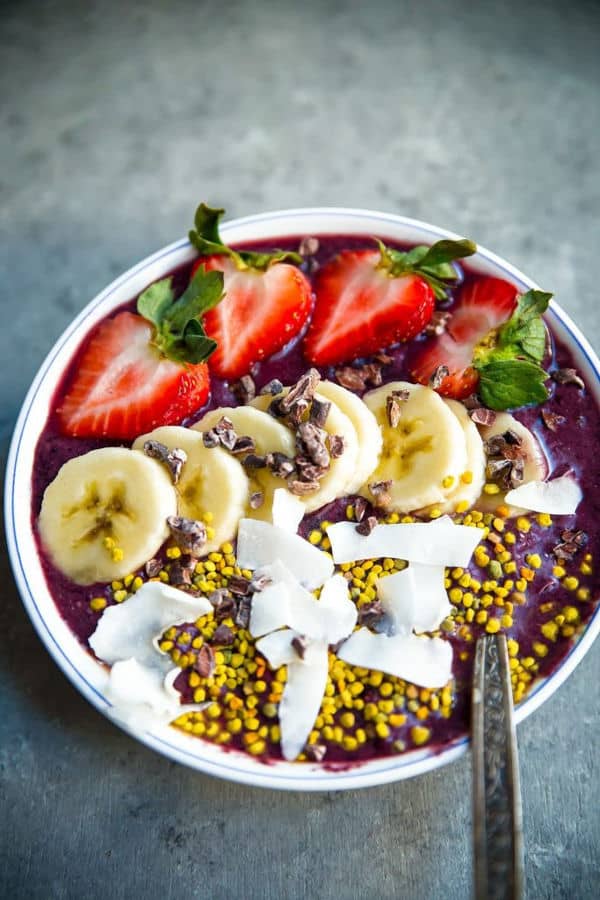 Acai bowls are one of my favorite treats, especially in ice cream form with granola crunch.
But sometimes you just want the quicker smoothie version and Monica has just the right recipe for you.
This acai bowl is rich in health-boosting nutrients and fats, while also letting you get creative with the toppings for a colorful and great-tasting breakfast.
Cauliflower Breakfast Bowl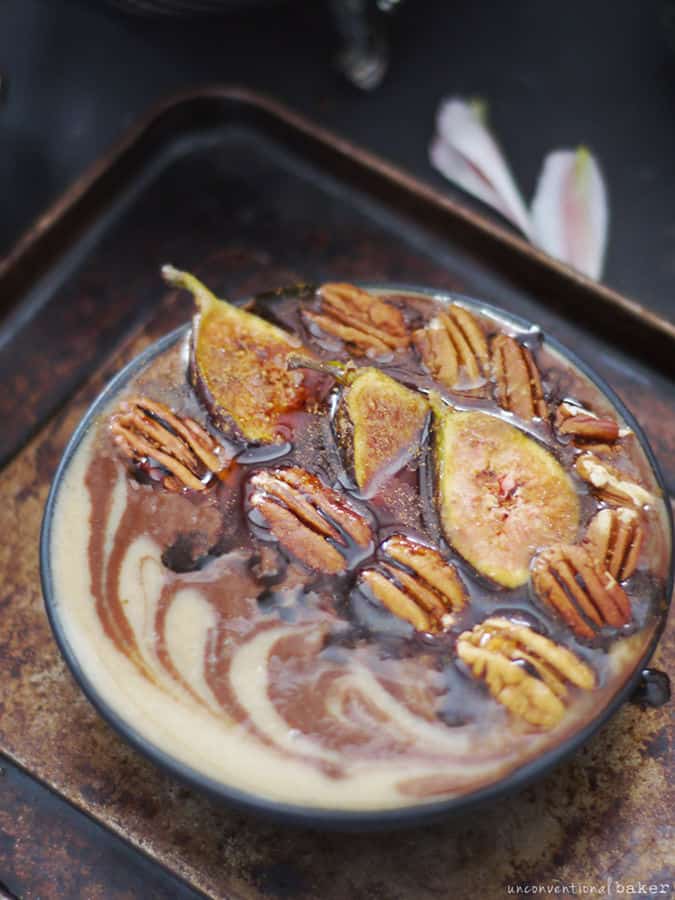 I've got to admit, I've never seen anything like this before. But Audrey's recipe is as beautiful as it is creamy!
Okay, once you realize it's based on cauliflower, you might feel hesitant, but you'd be making a mistake–because this recipe is extremely customizable so you can add in almost anything you fancy from nuts and fruit all the way to tahini and granola.
When you feel like getting creative and experimenting, this is the perfect 15-minute recipe!
Sweet Potato Breakfast Bowl
Sweet potatoes for breakfast? Gina says, "yes!" They're sweet, savory, satisfying and so good for you, so why not? Smooth and creamy sweet potatoes paired with the crunch of your favorite toppings. Seeds, nuts, fruit. Whatever you've got a hankering for, add it on!
I love this fresh take on the traditional breakfast bowl. I tend to get in a breakfast rut, and this is a sure-fire way to get out of it! This is a breakfast winner you won't regret!
The Best Healthy Breakfast Bowl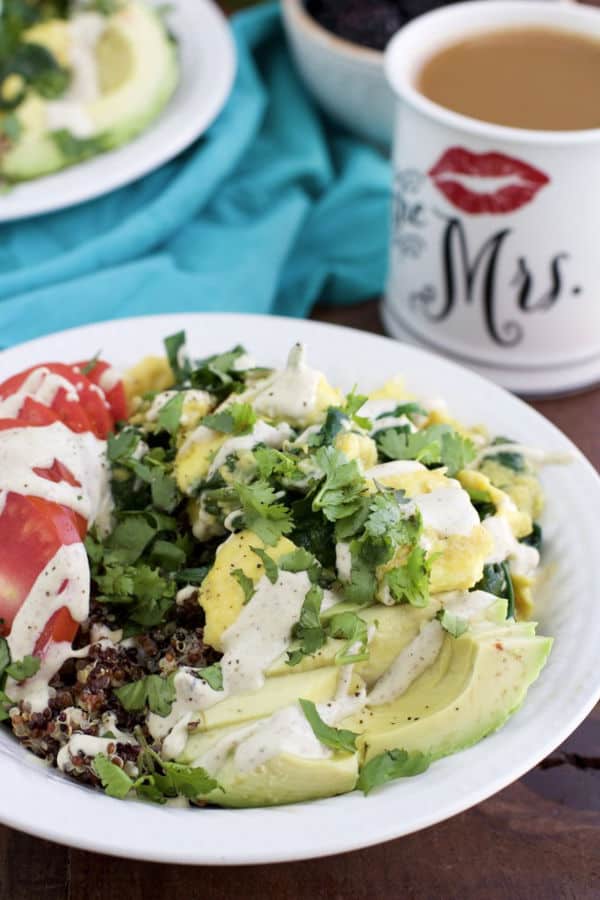 I love this healthy breakfast bowl recipe from Stacey. It's incredibly satiating and is jam-packed with protein and great flavor.
If by chance quinoa and spinach aren't your thing, you can easily swap these out for other veggies and grains or legumes.
Prefer brown rice or lentils? Kale or mushrooms? No worries, go for it.
In 20 minutes time, you'll be enjoying a breakfast of champions!
Cheap and Easy Breakfast Burrito Bowl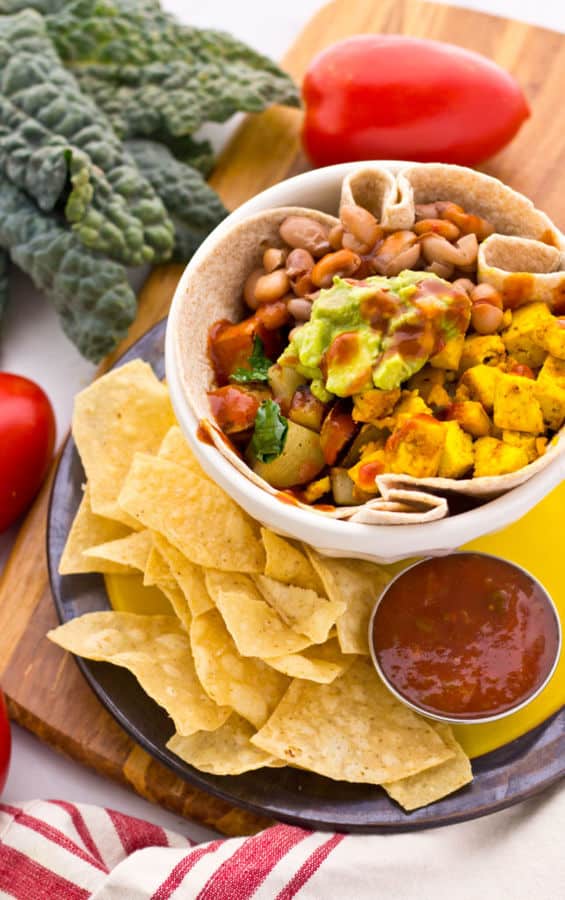 When you or someone you know has a ravenous appetite, this is the "Bad Boy" breakfast recipe you need to pull out.
And here's the real kicker: Each serving amounts to less than $5. A king's breakfast at a budget-friendly rate. You can't argue with that!
Nick's cheap and easy breakfast burrito bowl recipe features a veganized cheesy egg scramble with potato wedges, beans and guacamole. How's that for a savory meal?
Savory Potato Breakfast Bowl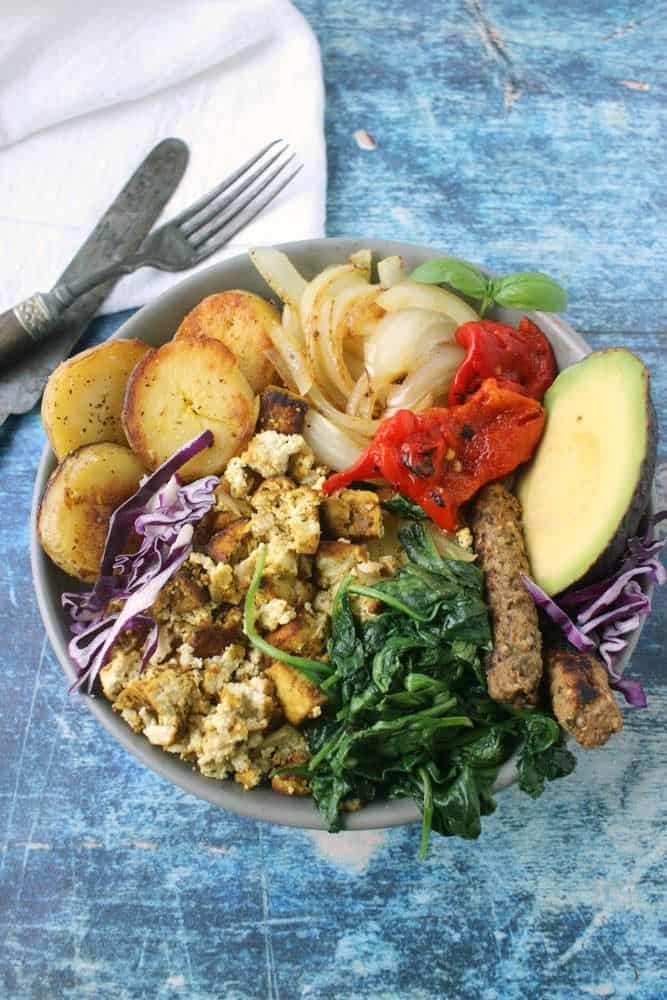 A "breakfast worth waking up for" is exactly what can do the trick for pulling you out of bed early.
And Nicole's savory potato breakfast bowl might just be the winning ticket.
This is a 30-minute customizable and jam-packed meal featuring crispy roasted potatoes and tofu scramble among other delectable ingredients.
Get up, make this, and have an awesome day!
Japanese-Style Breakfast Bowl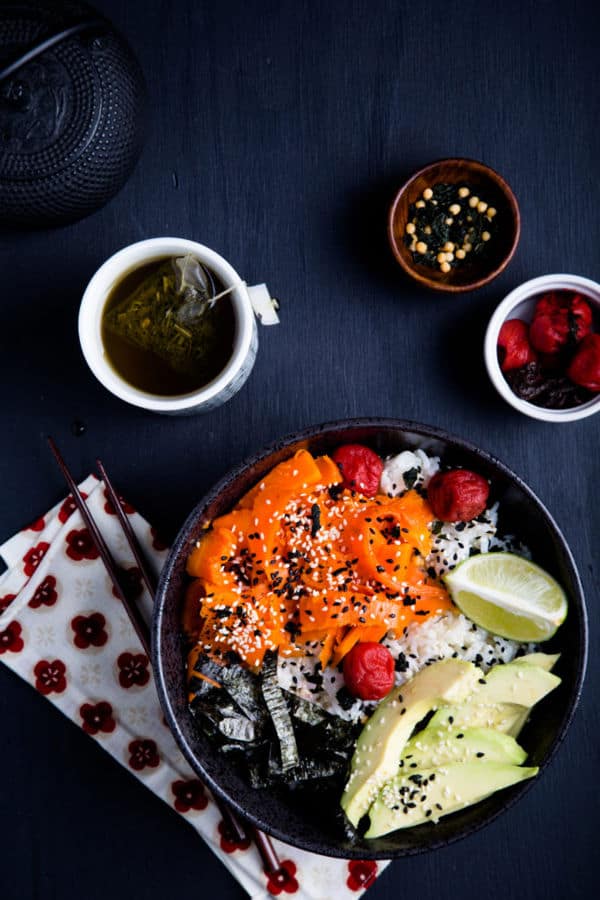 Breakfast bowls also come in Japanese style, and Erin's recipe is a perfect introduction to the cuisine.
This recipe combines salt cured carrot lox with rice, creamy avocado and toasted nori sheets, all finished with complementary seasoning for a creative and enjoyable breakfast.
If there's a breakfast bowl you won't want to miss, this is the one!
Cultured Breakfast Macro Bowls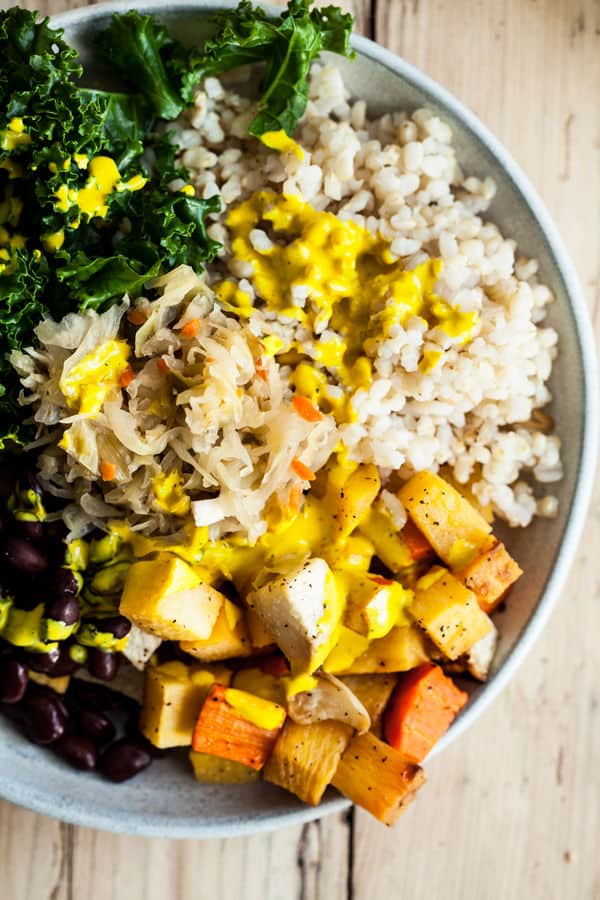 Gena has embraced the health benefits and importance of getting enough probiotics and prebiotics into your diet on a regular basis.
And with this in mind, she's come up with various recipe ideas, including her aesthetically pleasing cultured breakfast macro bowls, which feature various root veggies, kale, black beans, and brown rice, as well as Farmhouse Culture's Kraut and Kimchi food products.
Overall, this 55-minute recipe makes for an incredibly delicious and nutritious way to start your day!
Pecan Cranberry Granola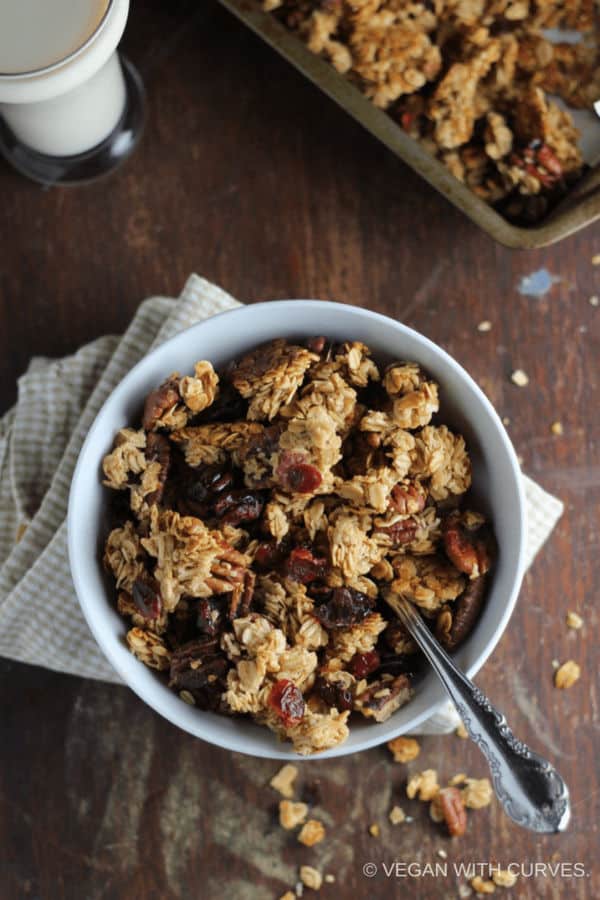 Granola goes a long way when you're looking for a flavorful combination of crunch and sweet.
Sweet dried cranberries and pecan nuts are the star of Gina's granola recipe. While inspired by fall, you can easily enjoy it year-round if you end up "fall-ing" in love with it!
With just 8 ingredients and 25 minutes from start to finish, you'll be enjoying a fabulous granola in no time.
Loaded Potato Breakfast Bowl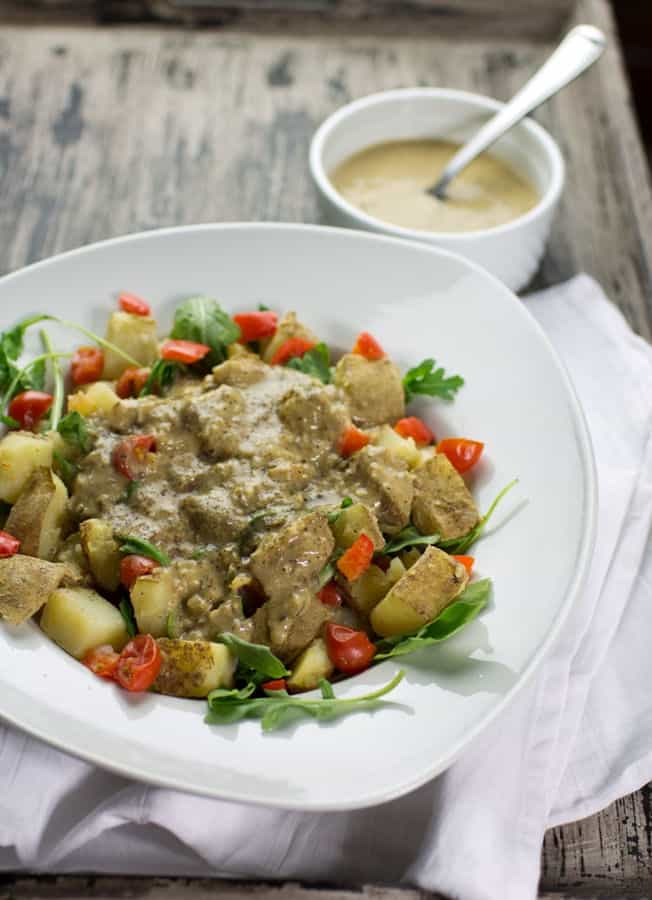 Brandi shares with us a savory loaded potato breakfast bowl from Jackie Sobon's incredible cookbook, Vegan Bowl Attack.
We're talking russet potatoes sautéed together with onion in coconut oil, seasoned and placed on a bed of greens, then covered in a mouthwatering gravy and optionally topped with vegan cheese shreds.
Of course, you don't have to make this just for breakfast. You can enjoy any time of day as it makes for a satisfying lunch and dinner, too!
Pomegranate Molasses and Tahini Breakfast Bowl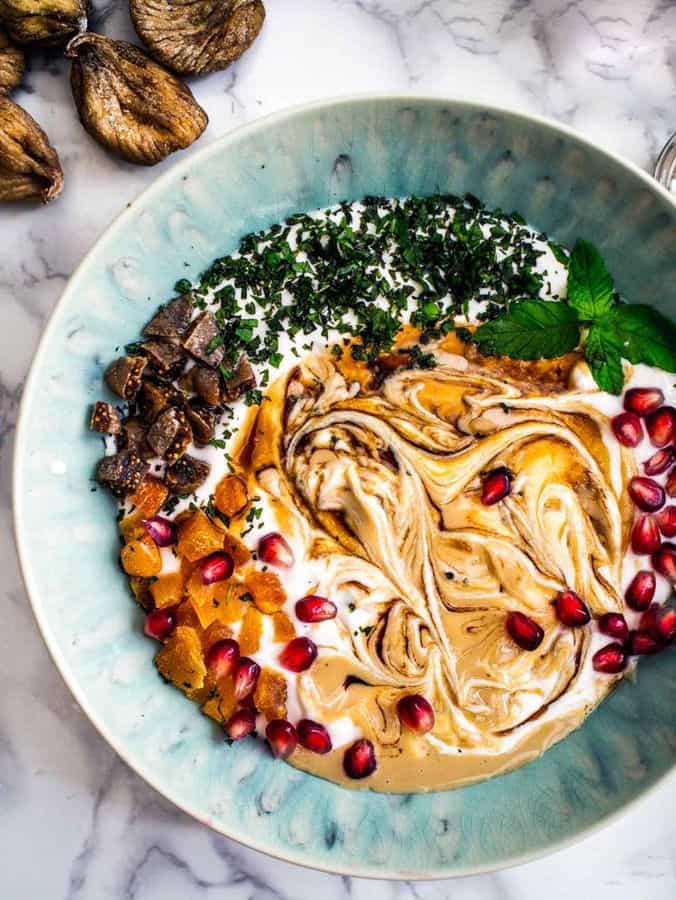 Michael's pomegranate molasses and tahini breakfast bowl MIGHT jolt your day full of beauty and joy. Or, as his disclaimer goes, it might not…
Either way, you can't help but be enthralled by this 7-ingredient beautifully marbled and highly delectable mixture that'll be a super treat for your next breakfast!
It starts with a base of yogurt topped with dried fruit and fresh ingredients and then drizzled with tahini and pomegranate molasses. Yum!
Crunchy Holiday Spiced Granola (Gluten-Free)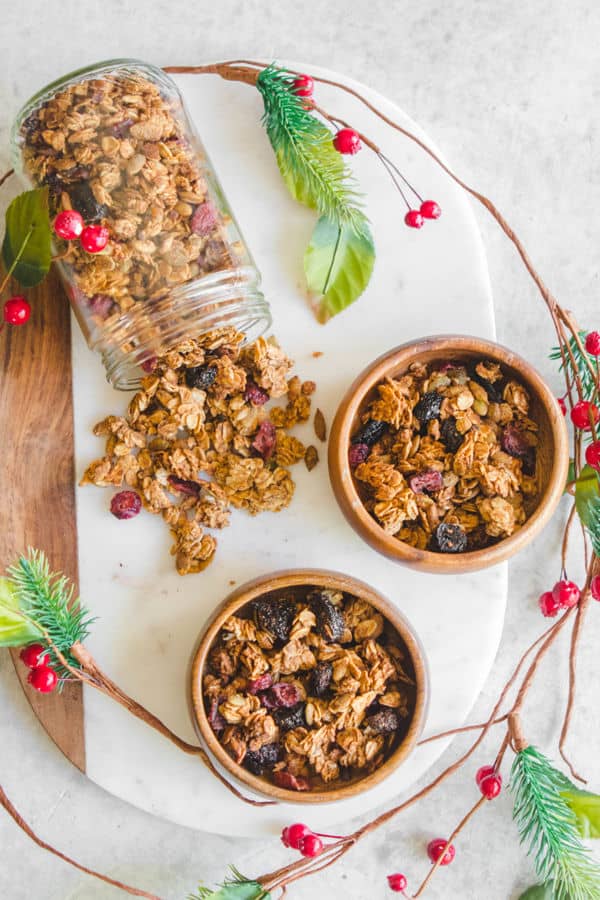 We've come across and curated a lot of plant-based milk and yogurt recipes.
But some of those recipes are either served plain or may require topping ingredients you simply can't get or don't want.
In either case, Caitlin's crunchy holiday spiced granola might just be the recipe you need to satisfy your crunchy craving in a guilt-free way!
Caitlin used her wizardry to come up with a granola recipe free of gluten, oil and refined sugars. That's a win!
Almond Butter Overnight Oats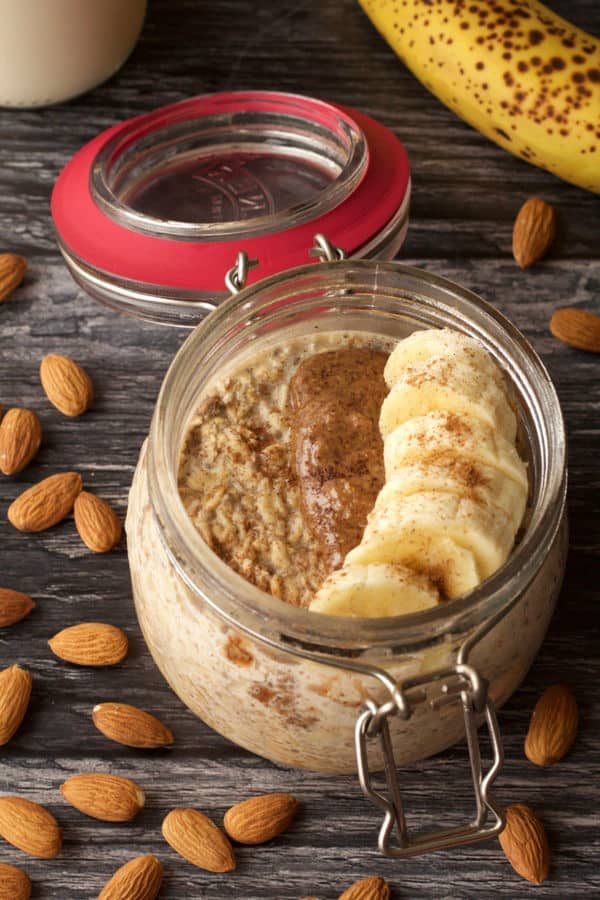 When you've got a family member singing praises of overnight oats, it might just get you curious enough to see what it's all about—and that's exactly what drew Alison to experiment and come up with her own twist on an overnight oats recipe.
The result? A filling breakfast treat featuring 7 ingredients including almond milk, almond butter and chia seeds.
Once you've finished the preparation, simply top your oats with fresh fruit and voila, a filling, sweet and satisfying breakfast you'll keep coming back to!
Vegan Bread & Toast Breakfast Recipes
Banana French Toast With Strawberries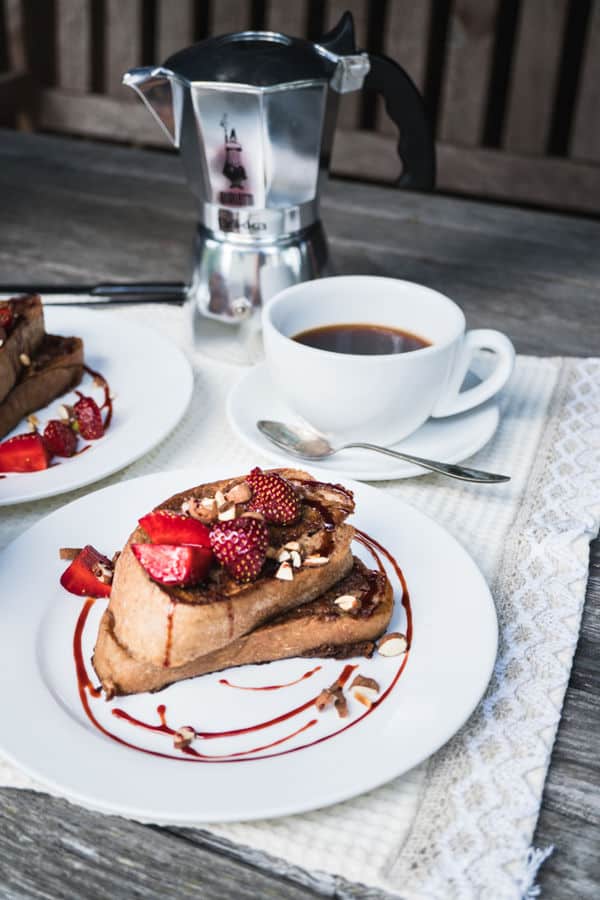 So, you've finally gotten yourself out of bed and you're hunting for breakfast. You dream of 3 things: simple, quick and TOAST. And not just any toast; French toast!
If that's you, then pull up Laine's banana French toast with strawberries recipe and get going!
This easy recipe will give you moist, spongy and crisp banana French toasts which you top with your personal choice of fresh fruits and nuts, and add the final touch with some date syrup. Epic or what?
"Sausage" Sweet Potato Breakfast Sandwich with Sriracha Maple Aioli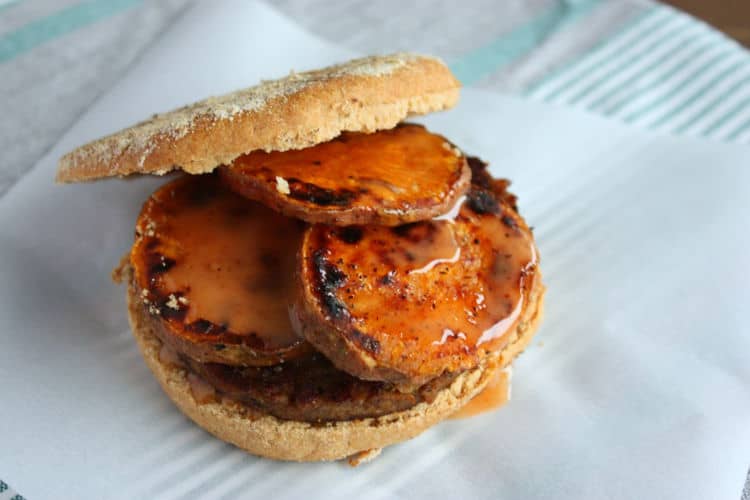 I agree with Jenn that we need more veggie breakfast sandwiches in our lives; hence, she's come up with this 25-minute "sausage" sweet potato breakfast sandwich recipe featuring a sriracha maple aioli.
This sandwich yields a versatile combination of flavors and textures, being salty, sweet, saucy, spicy, and throw in chewy while you're at it!
The sriracha sauce and maple syrup will make you experience a satisfying balance between spicy and complementary sweetness.
All in all, a seemingly innocent yet flavor-packed 7-ingredient sandwich worth every bite!
The Perfect Vegan French Toast
When I'm looking for something a little more puffy than pancakes, and with a chewier texture than regular toasted bread, French toasts are indeed the perfect middle-path.
Andrew's creatively devised "perfect vegan French toast" recipe is easily amongst our favorites in this category.
And if you want, it doesn't have to end with the plainly prepared French toasts.  You can take it to a whole other level by pairing the toasts with a fruit and nut butter filling to create a sandwich!
Orange Almond Breakfast Loaf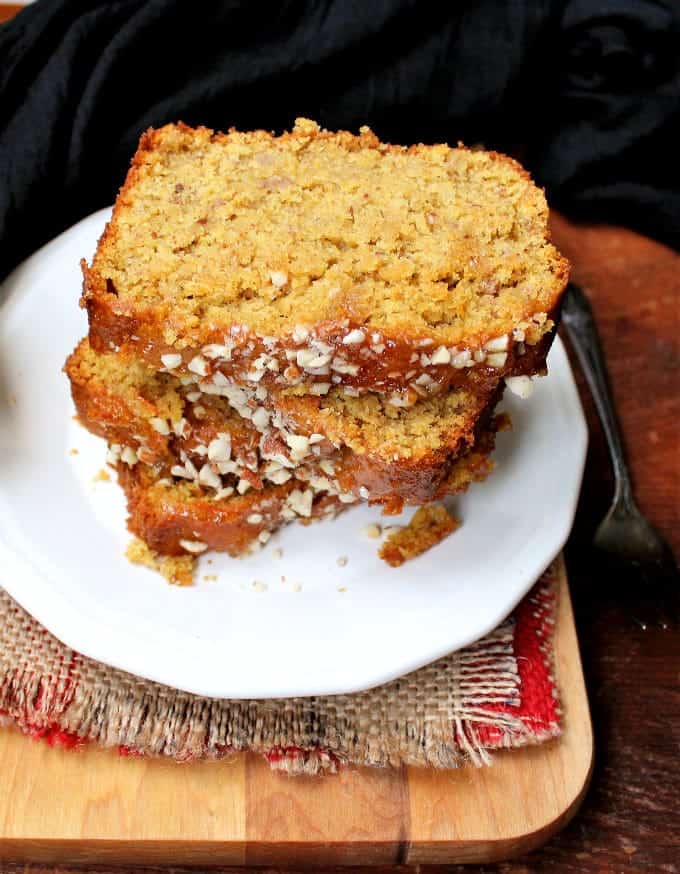 It's been a hectic week and Friday concluded with a bang. So, what do you need next? A lazy weekend? You need to prepare Vaishali's "make-ahead" orange almond breakfast loaf to go along with it!
This loaf is delicately glazed with a orange marmalade that'll have you yearning for the next bite.
Once you've got the ingredients, all it takes is a 20-minute prep time to put the ingredients together before letting the oven take over and finish the loaf for you. You need this. So go make it!
Tofu Faux French Toast (Gluten-Free)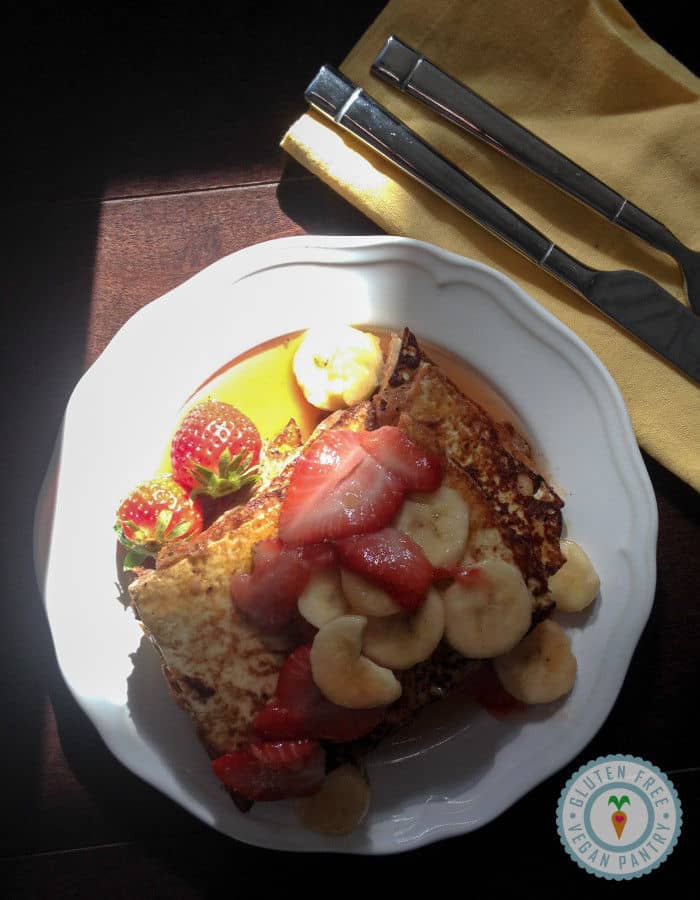 As you can probably tell from the photo, things are about to get real dreamy around here!
And Savanna definitely wants you in the mood for a groove when you make her tofu faux French toasts, which are both incredibly delicious and also gluten-free thanks to the creative use of tofu.
This recipe requires 45 minutes and, apart from rum extract, which you might've never heard of, you'll need just a handful of basic ingredients.
You'll be well-rewarded for making these!
Bagel Thin Pesto Sandwiches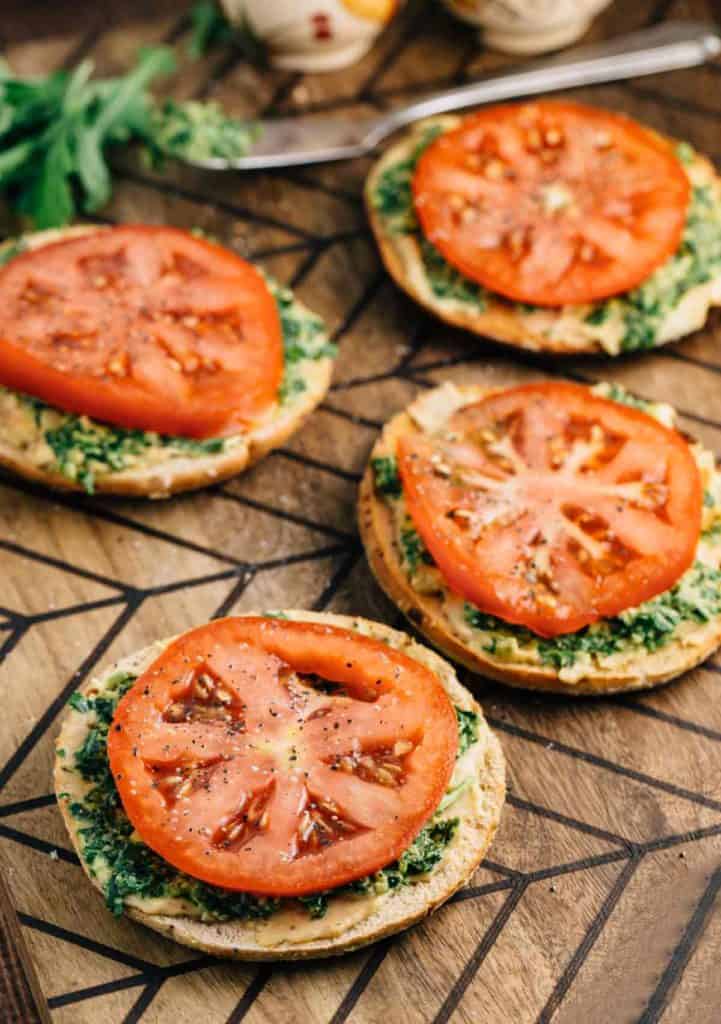 Sometimes you're bestowed with the perfect inspiration you need from traveling the world and seeing new and different ways of doing things.
These bagel thin pesto sandwiches were the result of Christin's trip to Hawaii and were served bagel sandwiches at a coffee shop.
With this recipe and ingredients in hand, you'll be able to make some seriously tasty breakfast sandwiches in just 15 minutes.
The process is simple, too; make the pesto, toast the bagels, then spread on hummus and pesto before topping with tomato, greens and seasoning!
Bodega Breakfast Sandwich with Avocado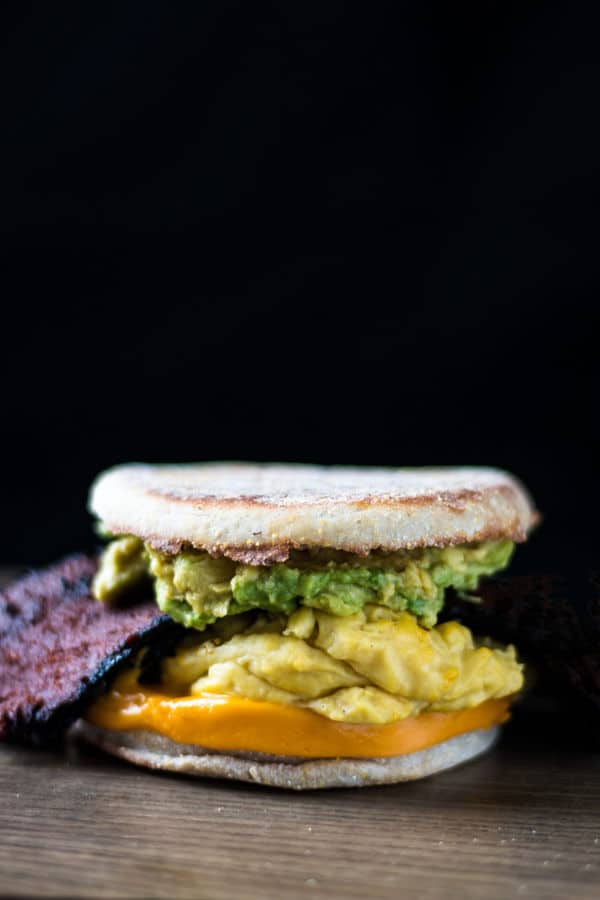 How about a classic bodega breakfast sandwich without any animal-based ingredients? I'd definitely grab one of those! If we're on the same page, then look no further than Steven's recipe and get busy!
Having seen his fair share of bodega breakfast sandwiches while living in New York, Steven decided to whip up his own veganized version featuring vegan bacon, egg and cheese.
And what could be better than adding in some avocado for extra satiety? Enjoy!
Baked Berry French Toast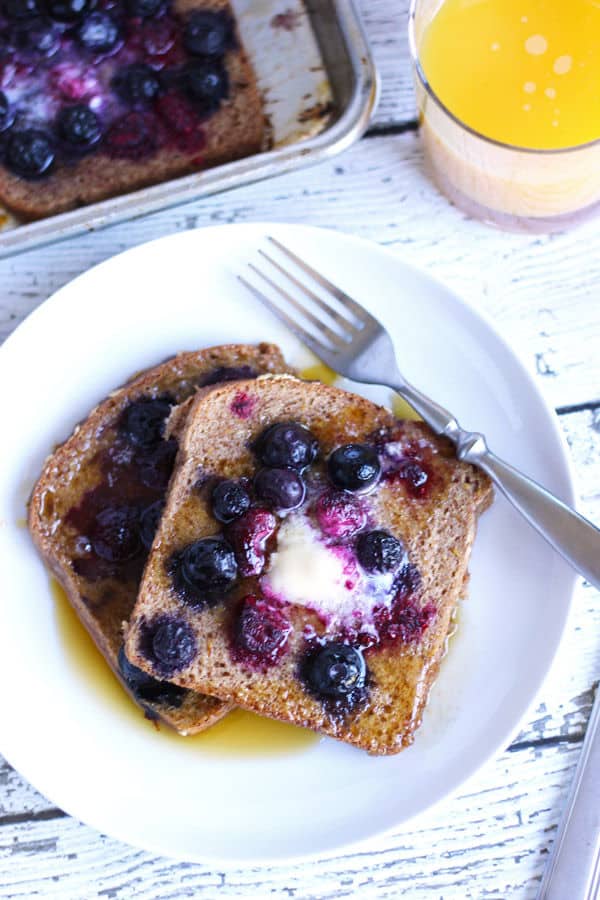 For those mornings when you wake up with a real sweet tooth, Jenn's baked berry French toast recipe might just be the exact treat you need as part of a hearty breakfast.
In 45 minutes, you'll have prepared French toasts soaked in a mouthwatering batter, topped with frozen berries and toasted in the oven before being drizzled with maple syrup for that extra sweet touch.
You'll be humming while eating these!
Sweet Potato Toast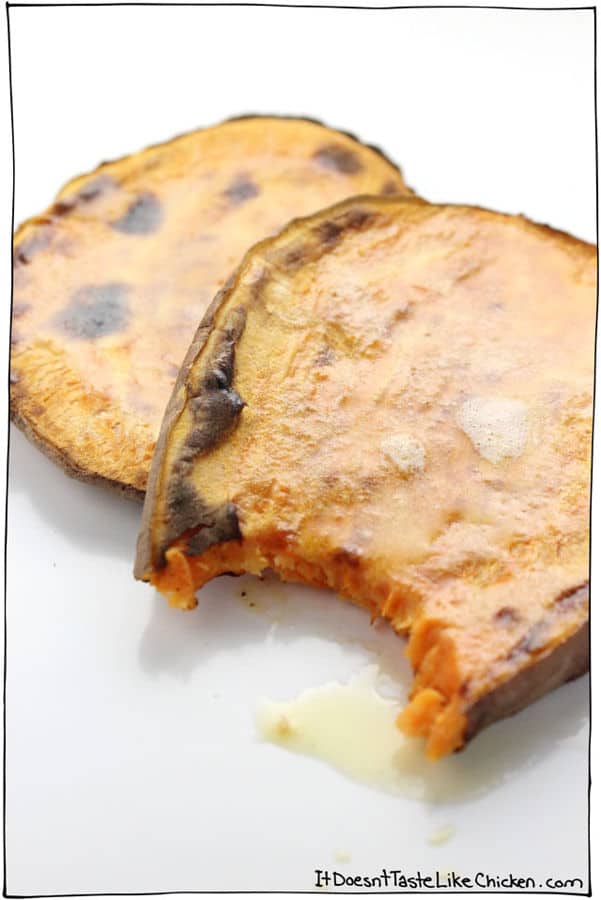 Okay, so here's something I could never have imagined. There's apparently a trendy wave going on with making toast out of sweet potato slices. But hey, if it works, then why the heck not!?
If you fancy trying this, then get yourself started with Sam's "mini recipe" (essentially 1 ingredient + anything you'd like to add). The only equipment you'll need is a toaster. Oh yes, and 15 minutes.
Chickpea Flatbread with Garlicky Spinach (Gluten-Free)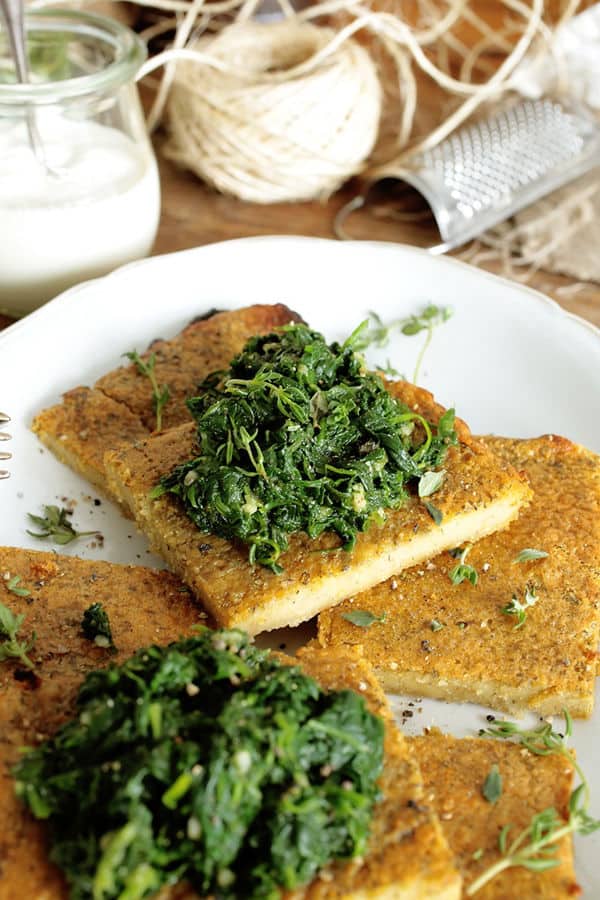 I'm always excited to find healthier alternatives to wheat, rye and spelt-based breads, and Evi's chickpea flatbread with garlicky spinach is a superb option that's both gluten-free, high in protein, and customizable to your liking.
Get this; apart from water, salt and pepper, the flatbread itself requires only 2 ingredients! Can't get much simpler than that.
The garlicky spinach uses a few more ingredients, yet they're all everyday items most of us already have in the kitchen.
40 minutes and you'll have your very own homemade and healthy flatbread to enjoy!
Cheesy Tofu Breakfast Sandwiches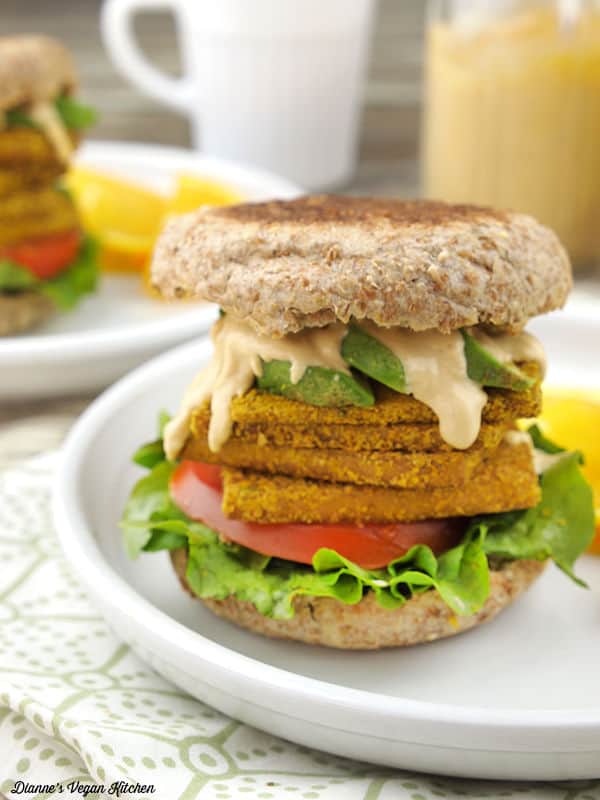 Have a ravenous appetite and want to start your day off on the right foot? If so, then you need to be biting into Dianne's incredible cheesy tofu breakfast sandwiches!
These sandwiches feature baked tofu dipped in nutritional yeast for a cheesy flavor. And my, oh my, the cheesy goodness doesn't end there, because you'll also have a jar of Dianne's delicious cashew cheese sauce to drizzle over the baked tofu.
So, if you've been hunting for a satisfying plant-based breakfast, this is by far one of your best bets!
Smashed Avocado Toast with Wilted Spinach and Cherry Tomatoes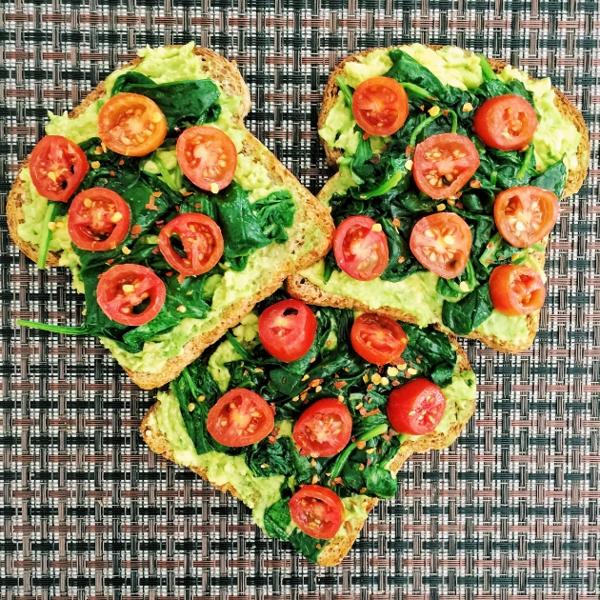 Even with so many incredible vegan butter recipes out there, we still feel like you don't need butter when you have avocados! Avocado toast is not only for hipsters and millennials, it's a savory and filling breakfast (or lunch) and perfect for everybody.
Carina's recipe packs a super powered punch with spinach and tomatoes. It's nutritious, affordable, and lip-smacking delicious. It will give you the energy boost you need to take on your entire day.
Coconut Turmeric Bread Loaf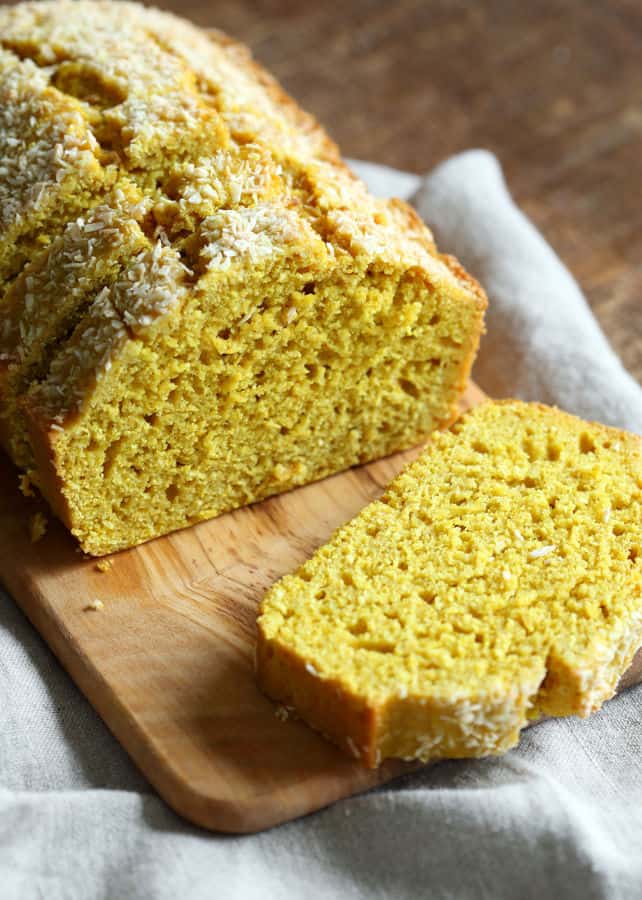 Feeling adventurous enough to make your breakfast bread loaf? Then make sure to try Richa's coconut turmeric loaf.
The batter comes together nicely in 10 minutes, then you simply let your oven handle the rest for the remaining 45 minutes until you have a beautifully golden loaf ready to fulfill your breakfast dreams!
Vegan Brunch Breakfast Recipes
Plantain Tempeh Breakfast Hash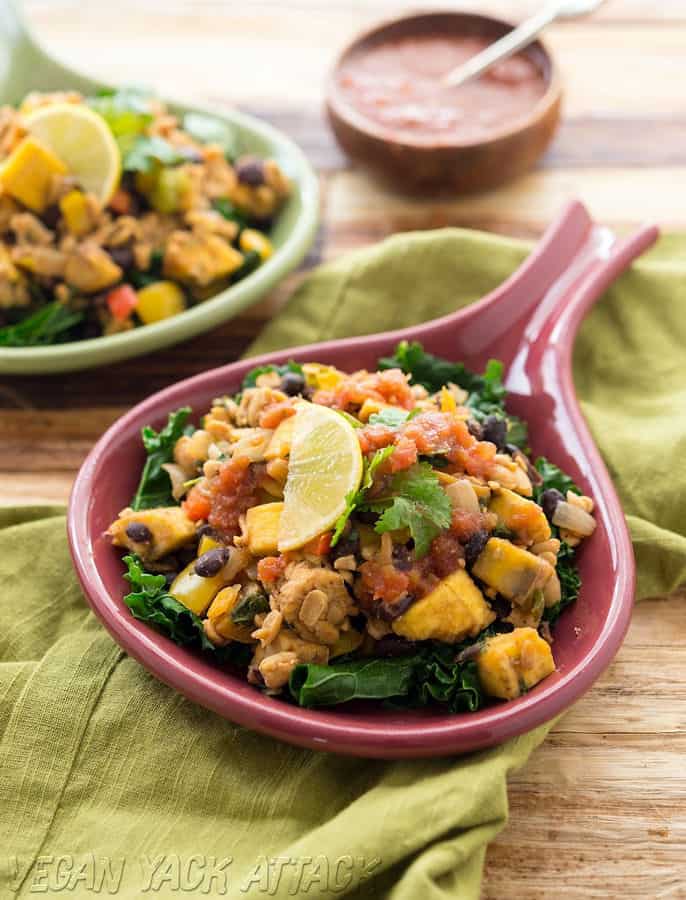 By self-admittance, potato hash can put a generous smile on Jackie's face; heck, it might do the same for you too! BUT, I agree with her that we should switch things up and go for new experiences occasionally.
And hence this formidable plantain tempeh breakfast hash recipe, which is rich in good nutrition and a satiating way to kick off your morning with style!
Big Vegan Breakfast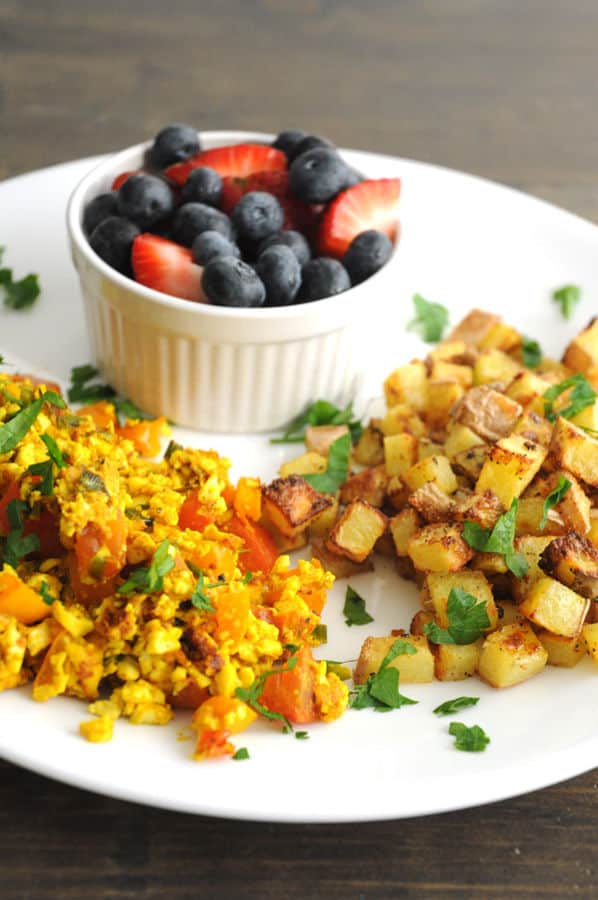 If you've got a partner with a roaring morning appetite, pull up Cassie's big vegan breakfast recipe, which is sure to settle anyone's hunger and cravings for a savory meal!
Here's the quick low-down: a savory portion of baby roasted potatoes fit for a champion; a lovely-golden tofu scramble that'll satisfy your cravings to the brim; and—finally—round everything off with a healthy bowl of mixed berries!
At 55 minutes total, it takes a little time to prepare, but the end-result is worth it!
Brunch-Stuffed Peppers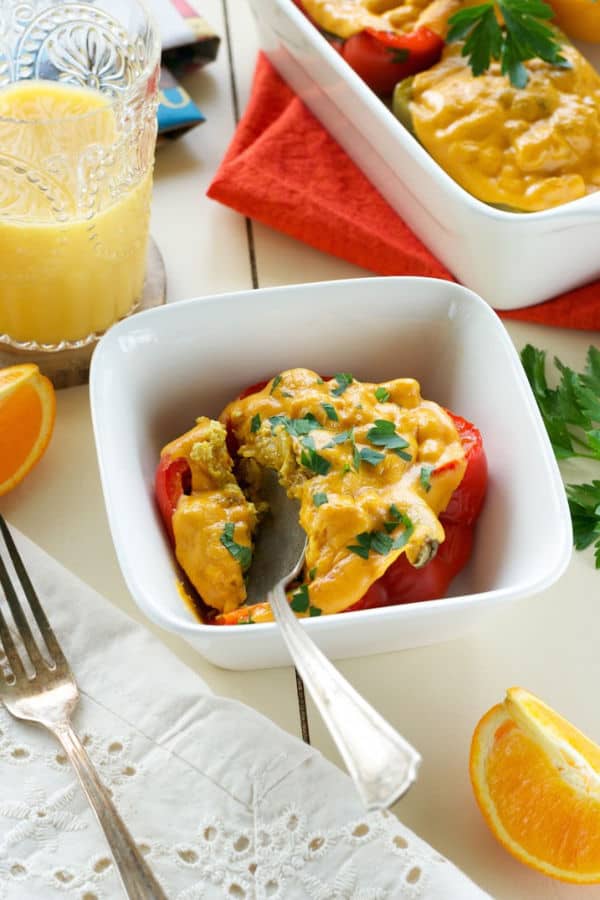 Inspired by Paula Deen's brunch-stuffed peppers, Annie brings you all the tasty goodness with her veganized recipe, meaning no need for eggs, cheese and dairy products.
This version packs serious flavor with a creamy tofu mixture, yet is much healthier for you.
Breakfast Tacos with Cauliflower (Gluten-Free)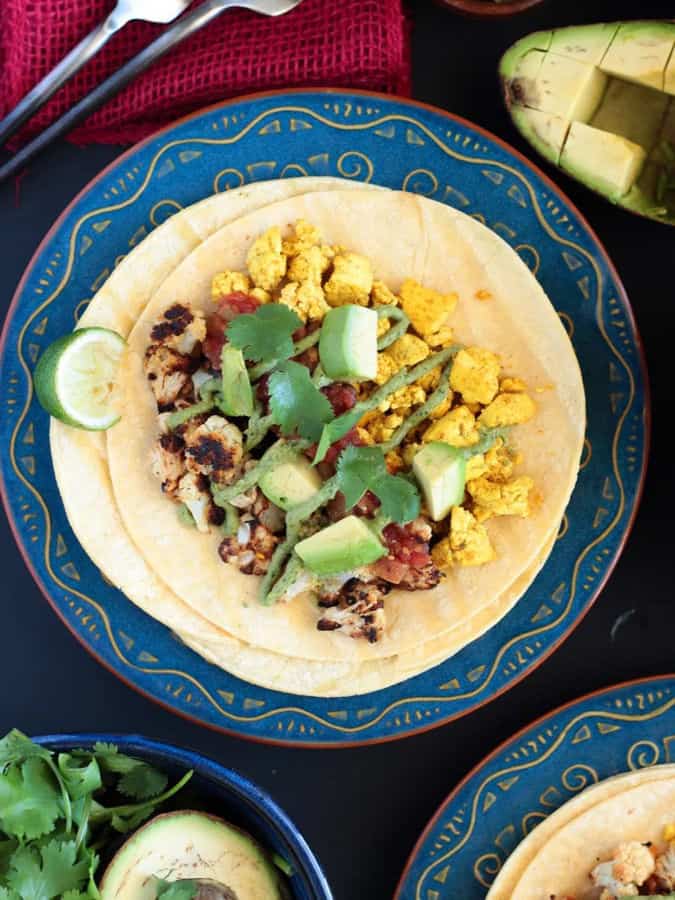 If you like tacos and Italian cuisine, you'll yearn for Stephanie and Matt's breakfast tacos with cauliflower!
It features spicy scrambled tofu, lime roasted cauliflower and cilantro avocado pesto, all delicately prepared with an Italian twist for an amazing and nutritious gluten-free breakfast.
This recipe is perfect for a family breakfast or a party where you can get multiple people involved in the kitchen!
Chorizo Breakfast Tacos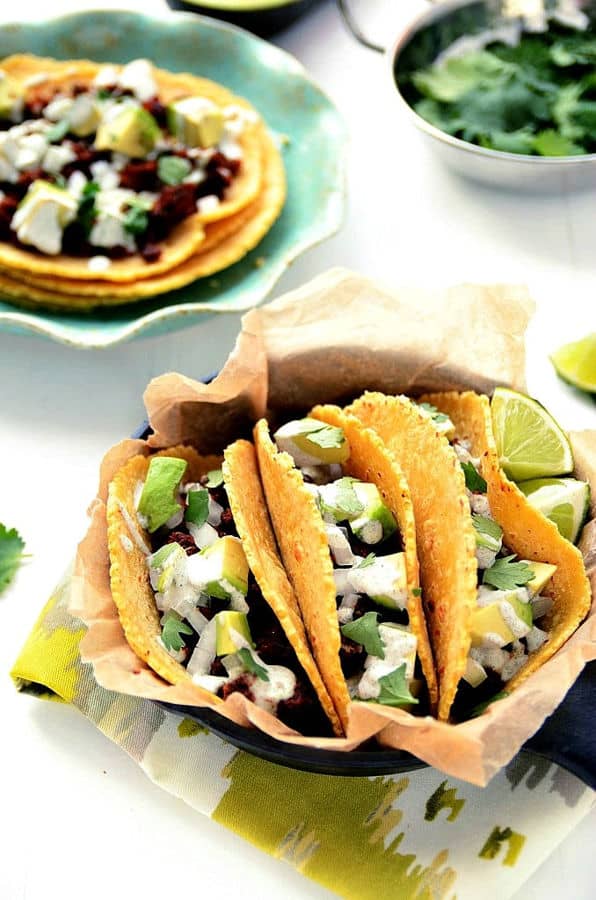 When you want to invite some friends over or treat your family to an epic morning meal, vegan tacos are a perfect choice for the occasion.
Why not have have a go at Ashley's chorizo breakfast tacos? You'll be missing out if you don't!
You probably won't believe what the "meat" is made from. Nope, it's not tofu or seitan. In fact, it's a combination of finely grated cauliflower and sundried tomatoes mixed with oil and spices.
What are you waiting for? Go get busy!
Black Bean and Mushroom Tostadas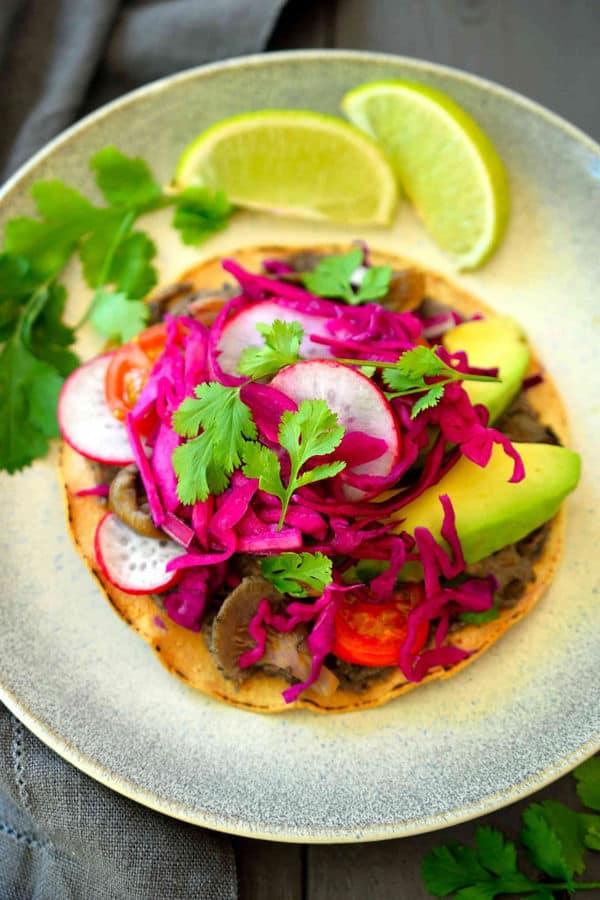 Some recipes lend themselves pretty well to being customized with what ingredients you have available at home.
Melissa's black bean and mushroom vegan tostadas are one such option, and they're both healthy as well as free of oil, featuring pickled red cabbage and refried black beans.
You'll have 4 delicious tostadas ready for breakfast in roughly 45 minutes from start to finish!
Vegan Chia Breakfast Recipes
Sweet Cherry Chia Breakfast Jar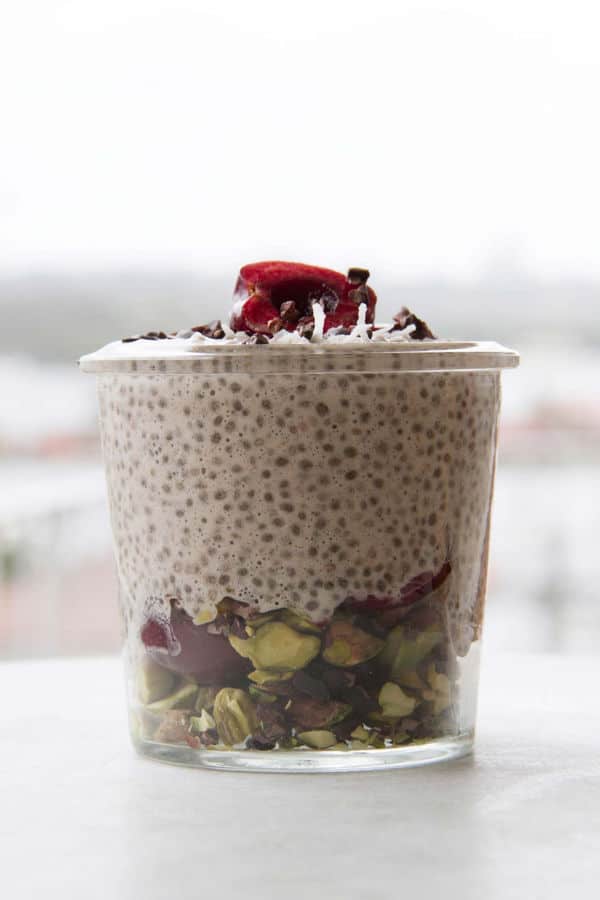 Here's a handy recipe for those of you who like to have your meal a little later in the morning, something that you can take with you on the go.
Lauren's sweet cherry chia breakfast jar gives you a super healthy and filling meal with a porridge consistency, thanks to the thickening nature of chia seeds once soaked.
It's delicious and will sustain you with energy throughout your day.
Quinoa Granola with Coconut and Chia Seeds (Gluten-Free)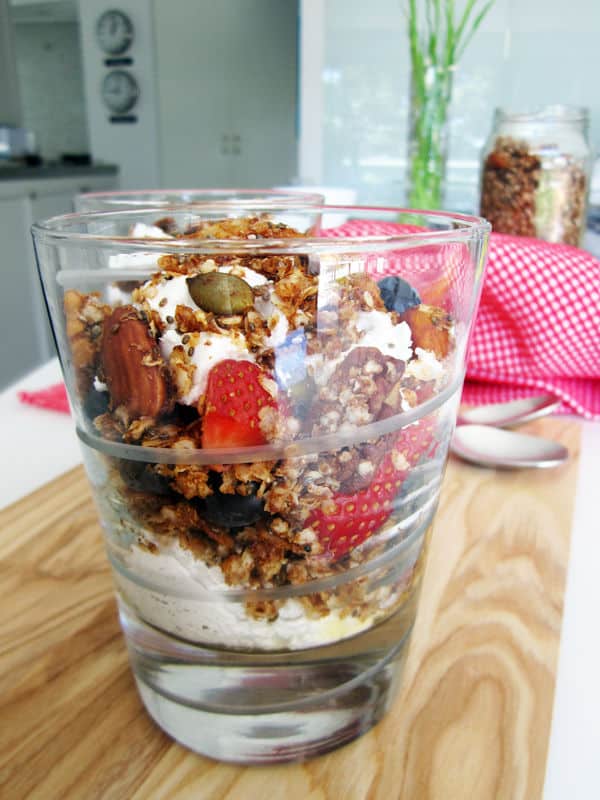 When you need gluten-free granola, Angela's quinoa granola with coconut and chia seeds is an excellent choice, being just as delicious as it is crunchy—and pairs perfectly with yogurt for a breakfast parfait or milk for a cereal.
It features various nuts and seeds, including pecans, walnuts, chia and pumpkin seeds and will last for up to a couple weeks.
Chia Pudding with Figs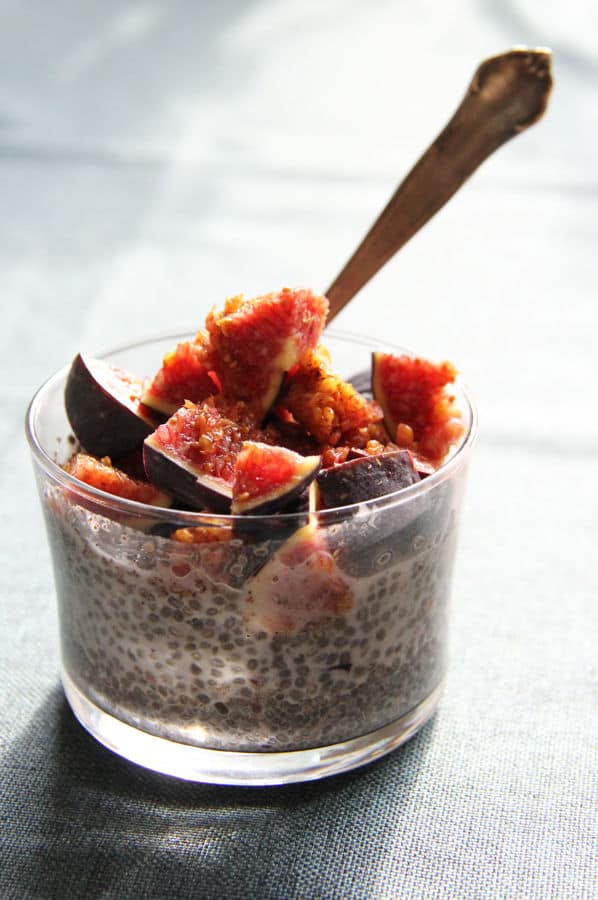 I don't often have access to fresh figs, but next time I do, there's no doubt I'll need to try Veronica's chia pudding recipe.
The recipe is simple, requiring 5 simple ingredients. You mix together the chia seeds and spices with your chosen plant milk, then leave it overnight in your fridge and it'll be ready for serving the following morning.
Chia Pudding with Berry Layers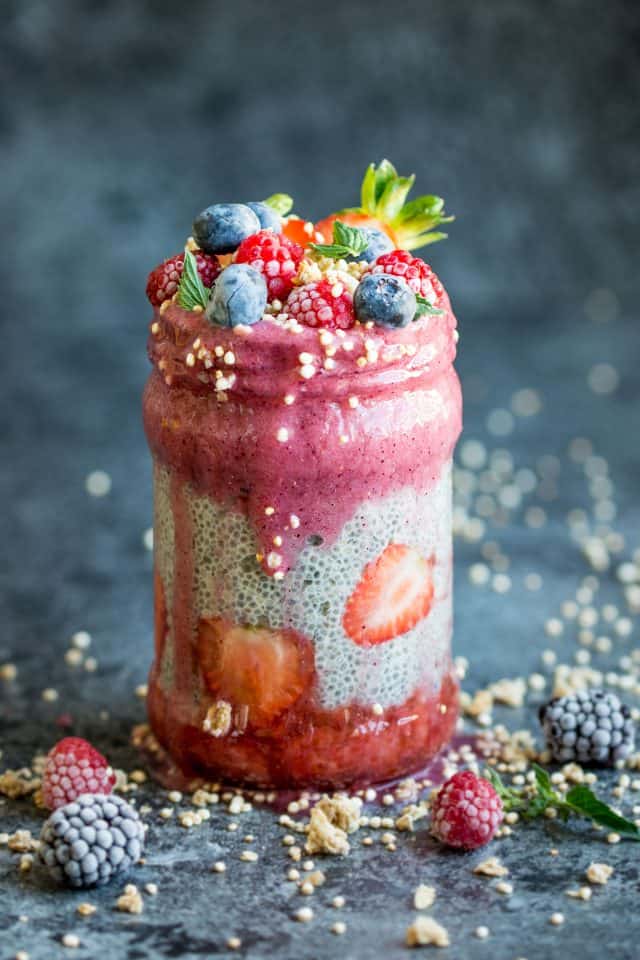 Should you ever be in the mood to impress someone at the dinner table, Lauren's chia pudding with berry layers is your 1st class ticket to an enticing home run.
This is an aesthetically appealing pudding layered in a lusciously rich berry smoothie.
Despite her own scepticism toward chia soaked in plant milk, I'd say Lauren really outdid herself on this breakfast and dessert recipe!
Pineapple Protein Chia Seed Pudding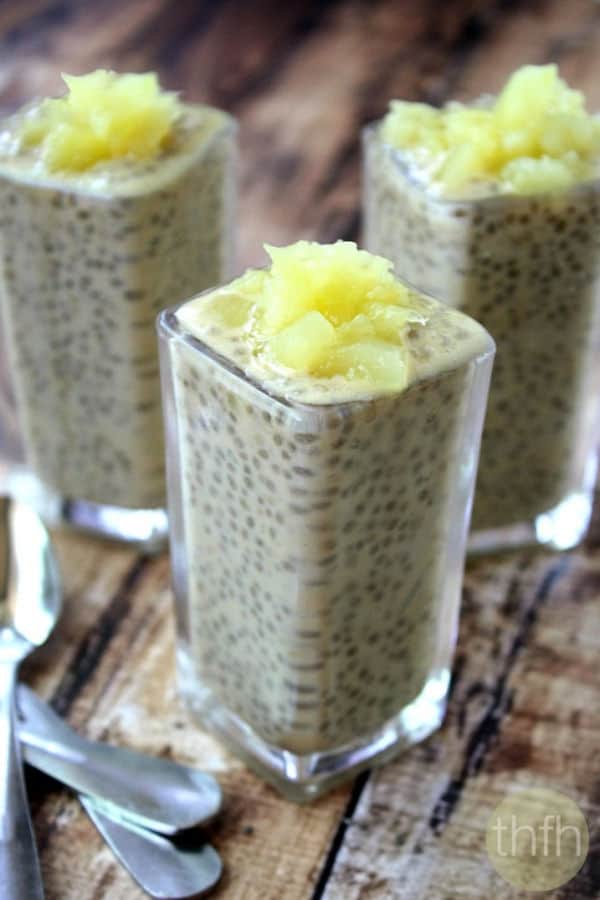 Katelyn's pineapple protein chia seed pudding will give you a nice protein kick at breakfast. It features one of the EPIC Protein's plant-based protein powders providing 19 grams of high-quality protein per serving.
On top of this, you'll reap a bounty of health benefits from the other healthy ingredients like almonds, chia seeds and pineapple. Enjoy!
Blueberry Chia Jam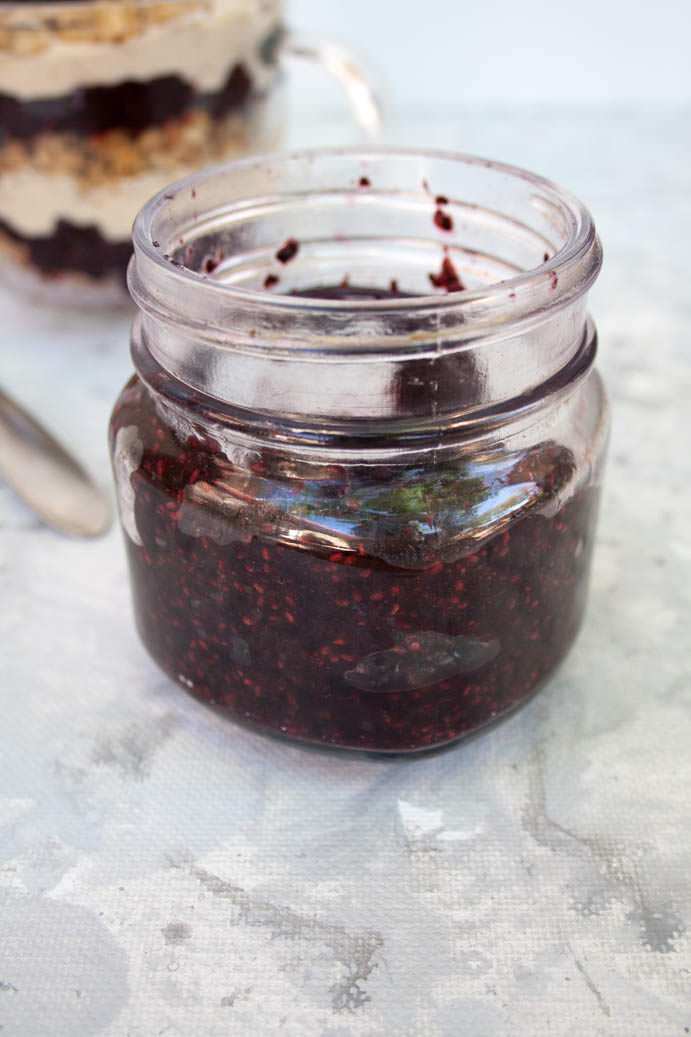 There are mornings when you'll wake up craving something don't normally have in the kitchen. And sometimes that's a nice and sweet jam you can spread on toast.
So, what can you do? Well, you can either make a quick trip to the local store or—better yet—make your own in just 30 minutes with Willow's blueberry chia jam recipe.
This simple jam takes barely 35 minutes to make from start to finish and features 3 simple ingredients; you'll have no excuses to make this!
Vegan Egg Breakfast Recipes
White Bean Scramble with Almond Bacon (Gluten-Free)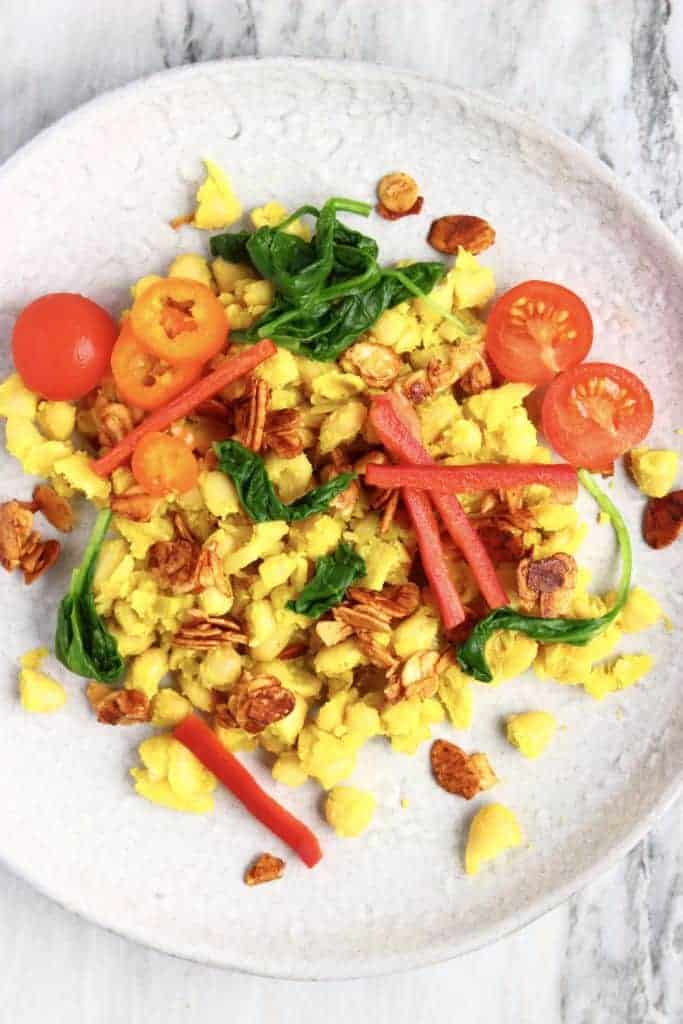 As Rhian has discovered, white beans are indeed a very versatile ingredient to have in the kitchen and can be used to prepare many different types of dishes. In this case we have an incredible white bean scramble with almond bacon!
If you're tired of tofu scramble or just want to reduce your dependency on soy-based products, white beans can make for a fabulous alternative.
This savory breakfast comes together in just 30 minutes; you'll love it!
Chickpea Omelet Mix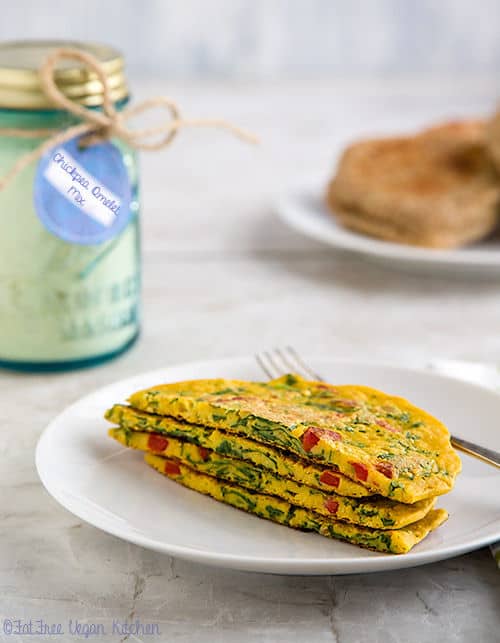 I always welcome veganized "egg" recipes that don't include tofu, as it leaves us with more options to choose from, especially for those with certain food sensitivities.
So, instead of tofu, Susan has come up with an omelet recipe based on chickpea flour mixed with nutritional yeast, condiments and various spices amongst other complementary ingredients.
One key aspect of this recipe, is that it's prepared to easily adapt to any cuisine you're serving it with.
How long does it take to make? How does 15 minutes sound? Go for it!
Basic Tofu Scramble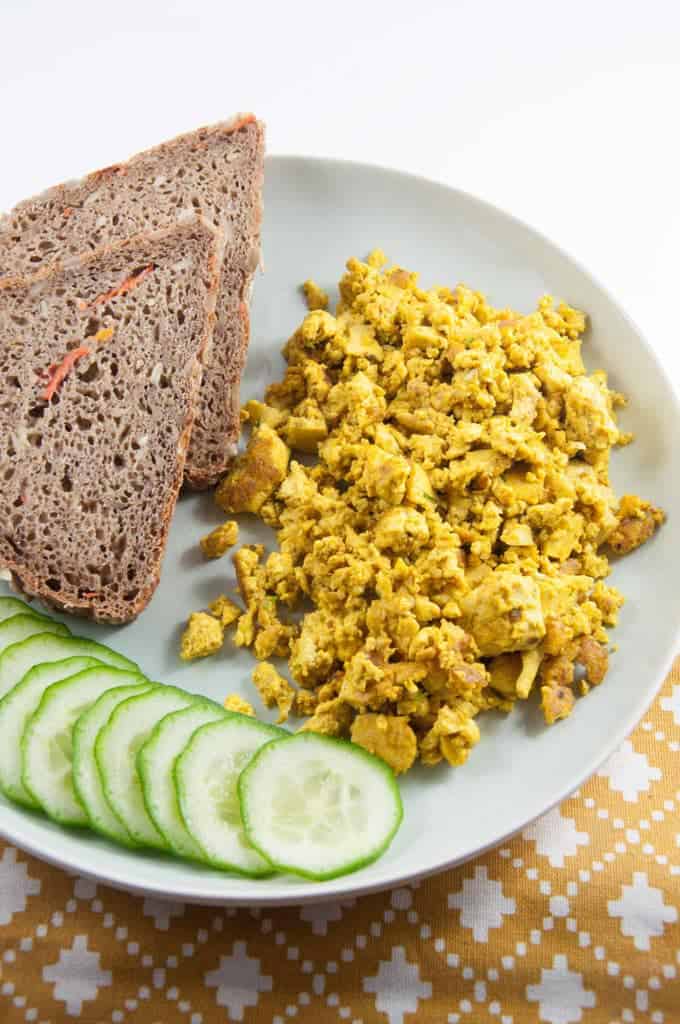 Personally, I had never tried Kala namak, or black salt, until a special someone introduced it to me in 2017. I was told it had undertones of eggy flavor and that was absolutely correct!
So, guess what, Himalayan black salt is also the superstar in Bianca's basic tofu scramble, which she says gives the scramble an egg-like aroma and taste.
This epic vegan egg scramble takes 12 minutes with a small handful of ingredients, so you'll be enjoying a delicious meal in no time!
Southwest Tofu Scramble Breakfast Tacos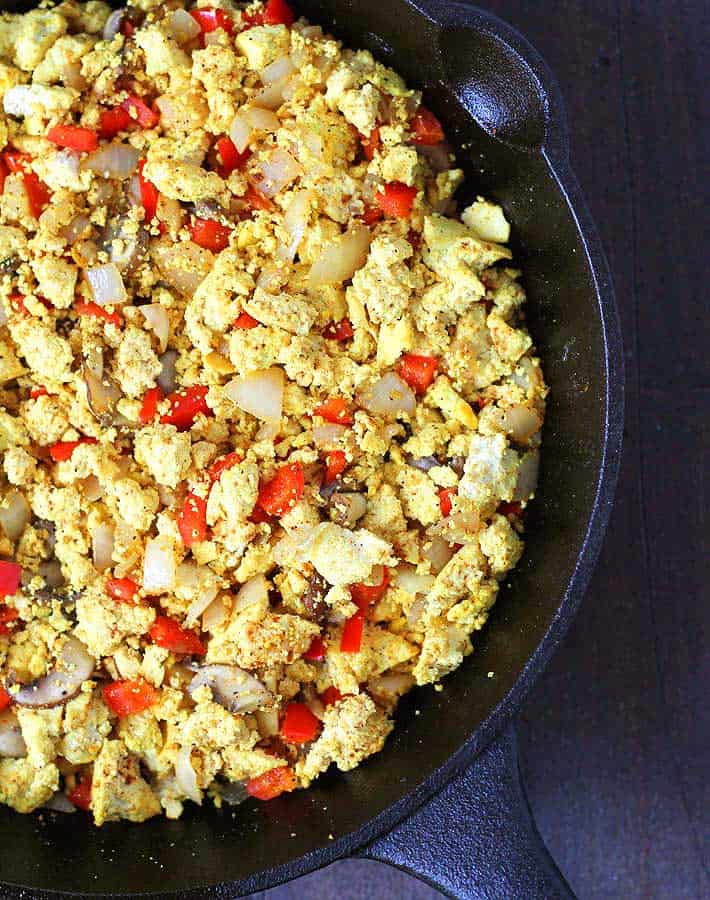 If you were ever a fan of egg scramble, you'll have nothing to worry about after adopting a plant-based diet. All you need is the right recipe to get started, and you may even wonder why you bothered eating eggs in the first place!
And what better place to begin with Gwen's divine Southwest tofu scramble breakfast tacos.
These tacos are quick and easy to prepare with just a few basic ingredients. To save yourself from gathering a range of individual spices, you'll have everything you need if you a get a bottle of  Simply Organic's Southwest seasoning.
Breakfast Quesadilla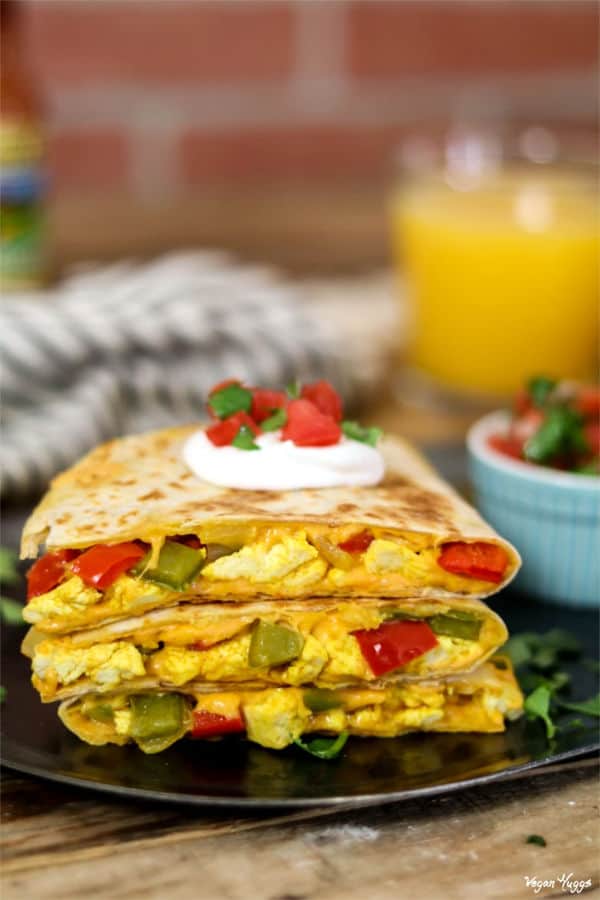 When you've got a serious morning appetite and a tight work schedule, you need a filling breakfast that'll keep you satisfied for hours and hours.
Melissa's vegan breakfast quesadillas recipe is the answer you're looking for!
Not only are they extremely tasty, they're also perfect for a grab-and-go breakfast or lunch you can take with you, and they require just 25 minutes to prepare, yielding 4 servings.
If you're not a fan of tofu, Melissa suggests using tempeh, vegan sausage, beans or legumes as alternatives.
Chickpea and Onion Omelette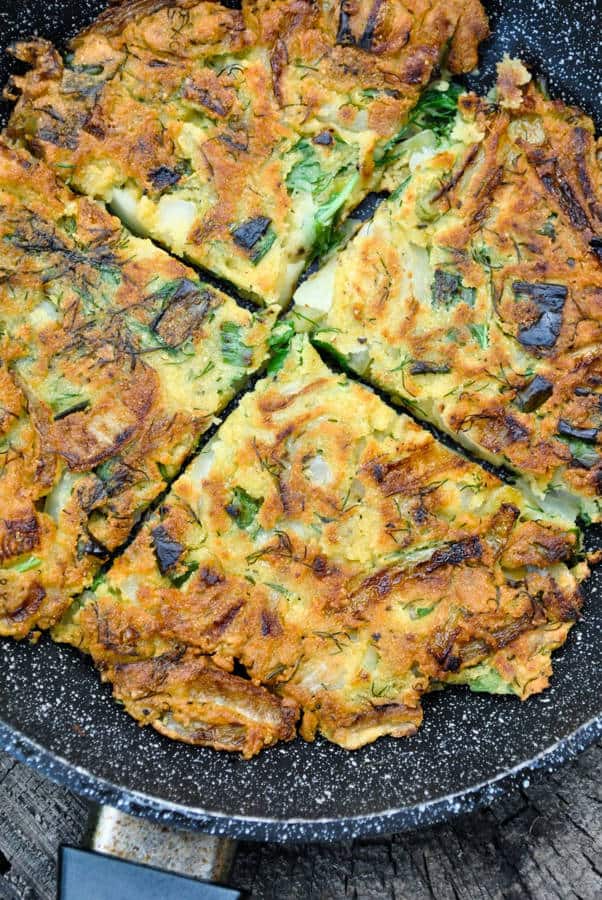 Chickpea, onion and fresh herbs are brought together in Sandra's recipe to form a spectacular omelette free of raising agents to preserve the best flavor and textures.
This omelette recipe is also quite customizable, so feel free to substitute other fresh ingredients for onion and use your desired combination of herbs.
Asparagus and Mushroom Quiche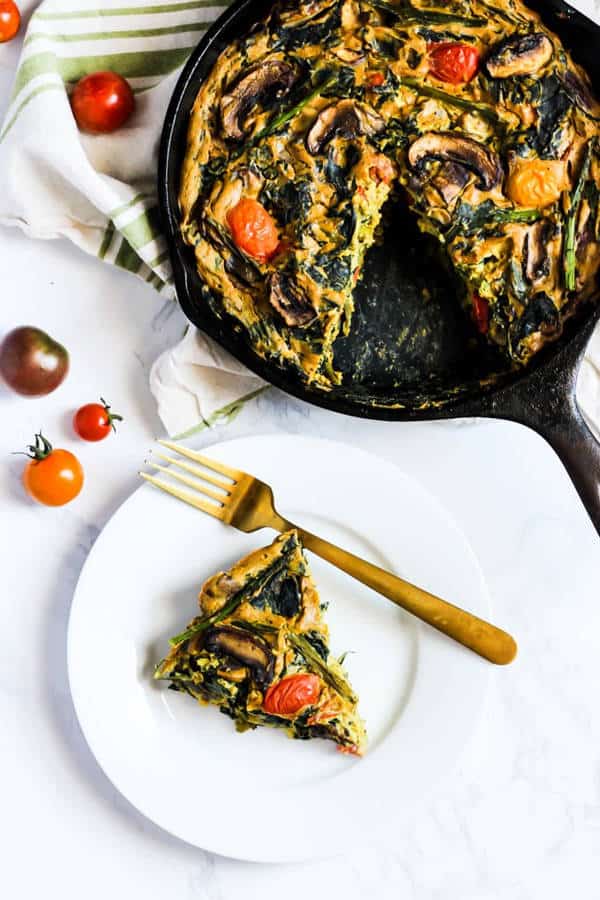 A sweet and sugary breakfast can be a dream treat—and can in fact be made quite healthy and nutritious too!
But if you're like Emilie, you sometimes want to take a break from the sweetness and cater more to your savory side, which is exactly what Emilie's asparagus and mushroom vegan quiche will help you do.
The quiche takes 50 minutes to prepare and will give you 6 servings, plenty for a delicious small family breakfast.
Veggie Chickpea Tofu Quiche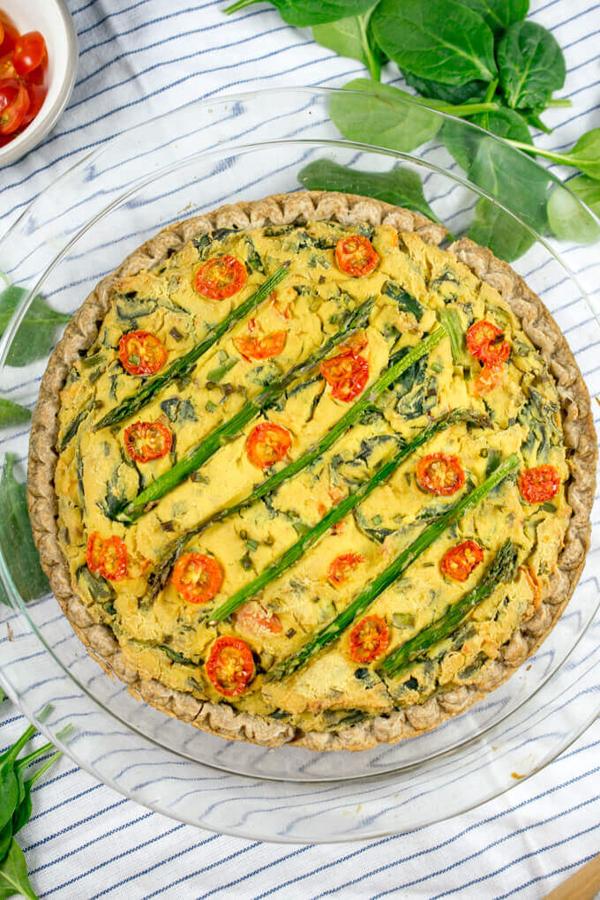 If you miss the soft, fluffy texture and savory satisfaction of a homemade quiche, fear not. Going vegan and plant-based doesn't mean you'll be missing out on omelets and quiches. Far from it!
In fact, it's easy to learn how to make veganized versions of these popular brunch time favorites. So easy and delicious even non-vegans can't help but admire and enjoy!
Shannon's veggie chickpea tofu quiche is a fabulous dish you can whip up in about an hour. It's sure to impress everyone at the table with its bright colors and delicate, savory flavors.
Vegan Fruit Breakfast Recipes
Watermelon Bowl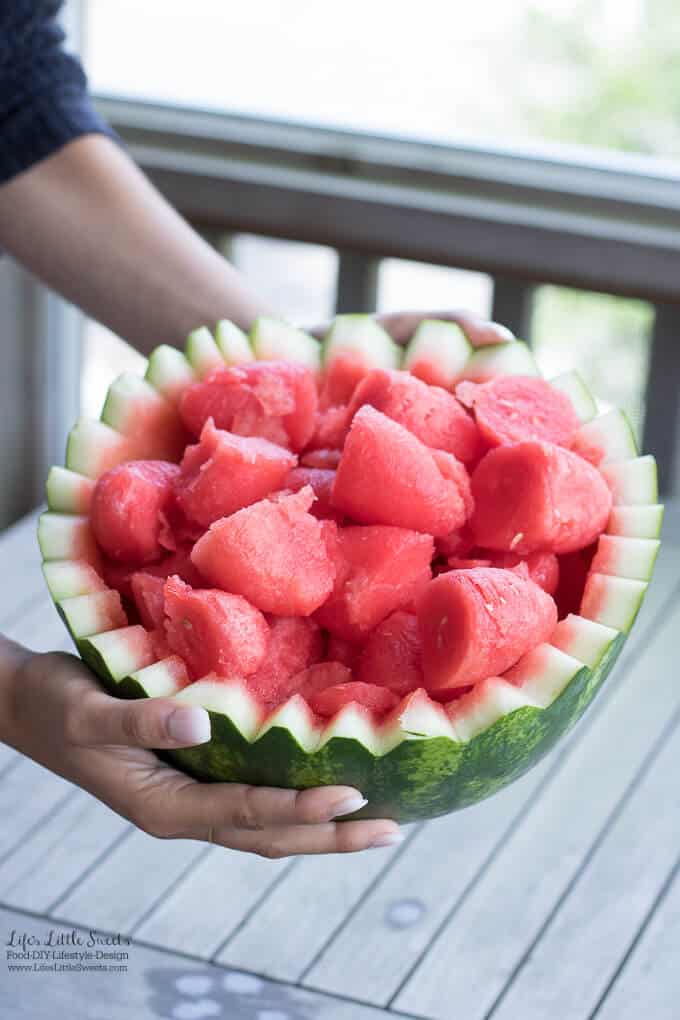 This is by far going to be one of the simplest recipes we'll ever feature. Preparation time is 15 minutes and requires… 1 ingredient!
Sara calls it the "watermelon bowl, quite a suitable name.
Watermelons are a refreshing way to kick off your morning when you want something light and hydrating. And—as you can see—you can easily add a creative touch to your fruity breakfast.
Bionico Mexican Fruit Salad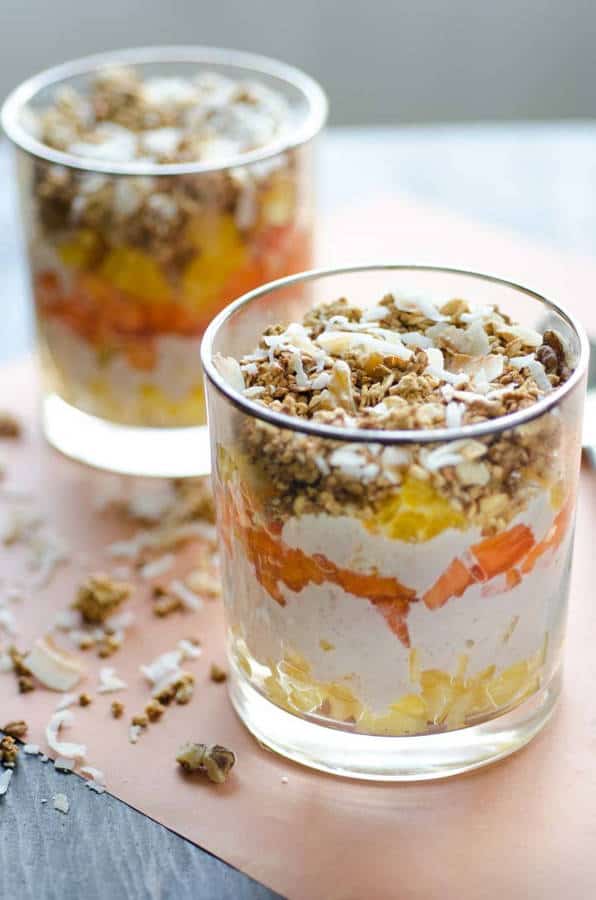 Dora's Bionico Mexican fruit salad is an elegantly colorful summer breakfast recipe, combining yummy sweetness from pineapple, papaya and orange with delicious granola crunch and coconut flakes.
While Bionico traditionally includes a sweet, milky sauce, Dora's version is completely plant-based so you'll have nothing to worry about!
Go ahead and treat yourself to a lovely Mexican breakfast in just 30 minutes!
Rainbow Fruit Kabobs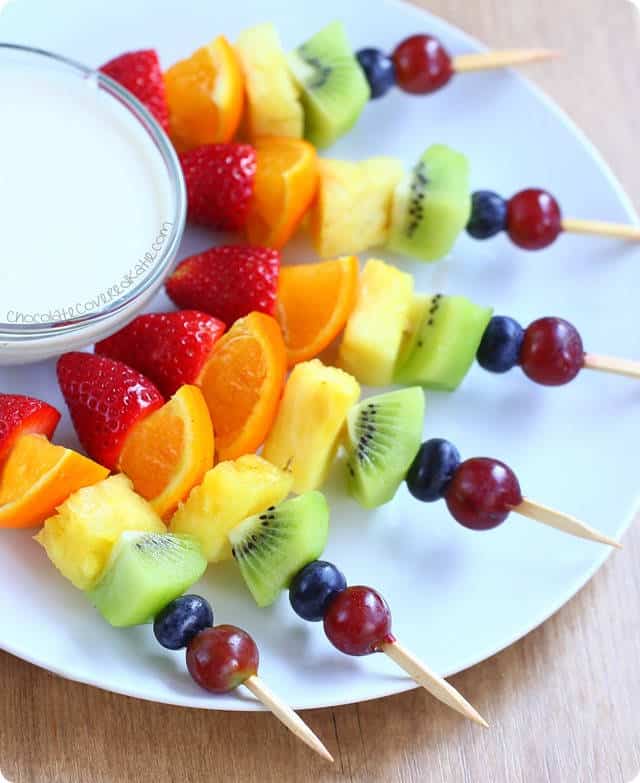 Want to prepare a healthy breakfast for your kids? Well then you absolutely won't go wrong with Katie's rainbow fruit kabobs.
As Katie says, colorful, sugary candy can never match wholesome, ripe fruit, bursting with natural sweetness and health-promoting nutrients.
Get your choice of fruit, put on some skewers and voila, a quick and tasty breakfast or snack for the little ones!
Almond Banana Dragon Fruit Bowl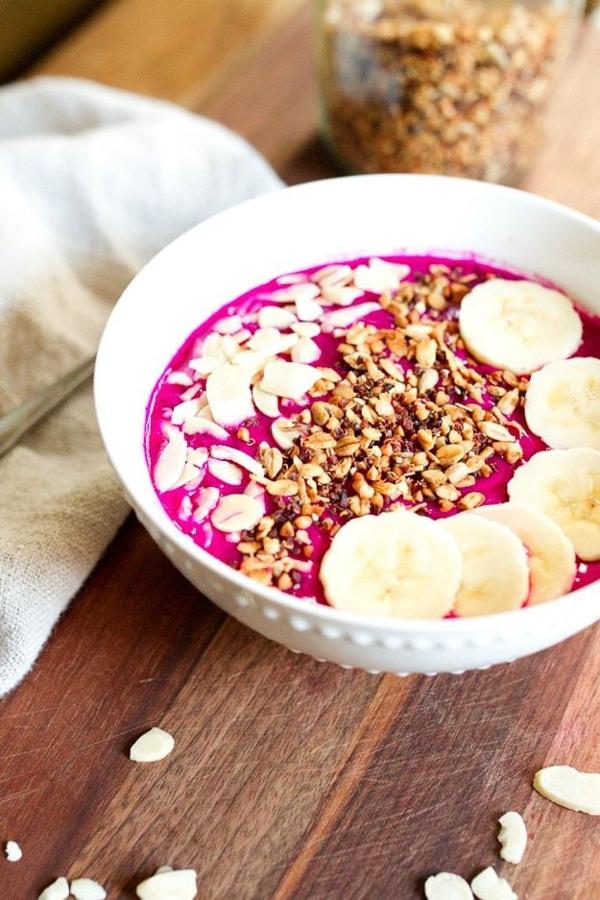 Here's a fabulous morning breakfast recipe loaded with antioxidants and other nutritional benefits. Plus, it's just so beautiful! If you've marveled at the beauty of acai bowls, this one is even more brilliant!
All you need is five ingredients and then load up with your favorite toppings. This is a smoothie in a bowl, and it's far more satisfying to devour.
One size doesn't have to fit all for your life, or your breakfast bowl!
Fruit Salad with Strawberry Vinaigrette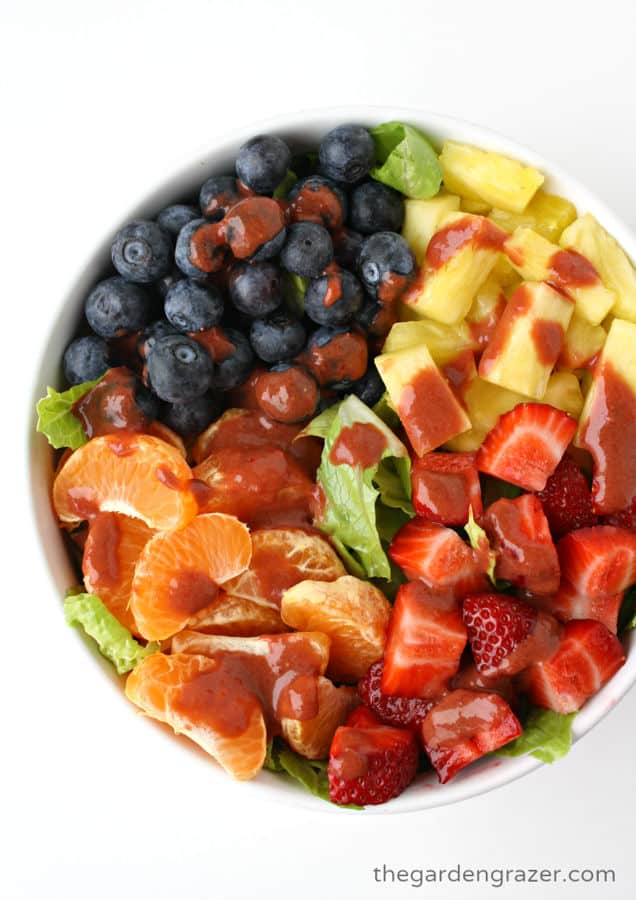 Kaitlin helps you kick off your mornings in a super nutritious way with her fruit salad recipe featuring a lovely strawberry vinaigrette you can't help but fall in love with!
The salad itself stars an array of awesome fruit such as blueberries, pineapple, clementines and strawberries.
This is a salad/vinaigrette combo you won't want to miss out on!
Vegan Pancake Breakfast Recipes
Banana Oat Pancakes (Gluten-Free)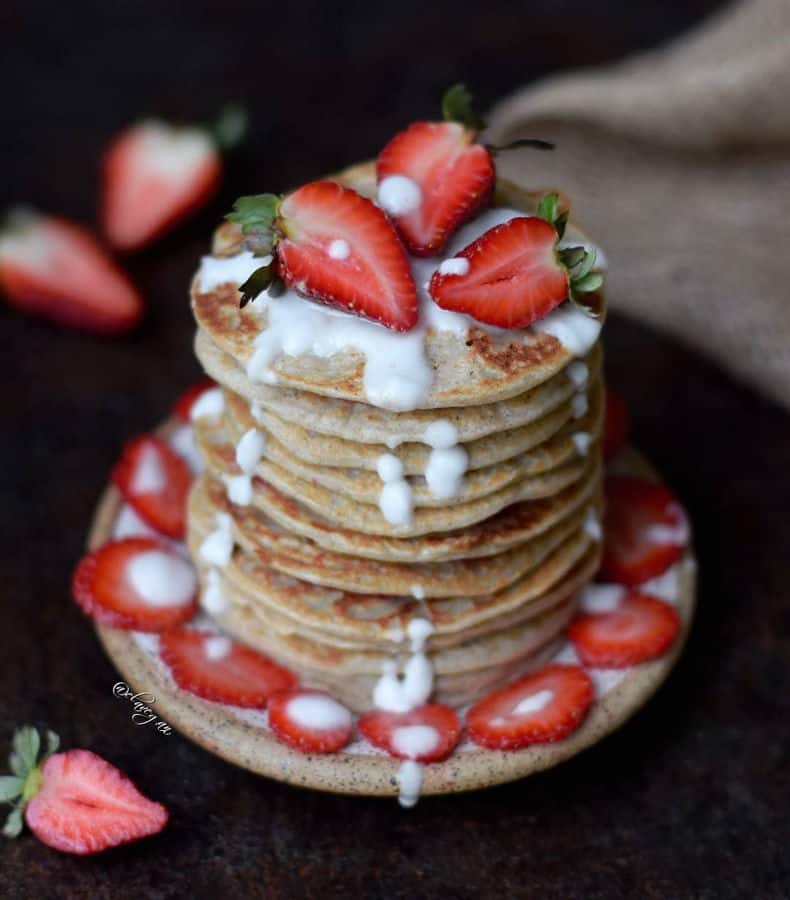 Personally, I'm not the biggest fan of combining fruit with non-fruit items as part of the same meal. But, my goodness, Michaela's banana oat pancakes could force me to make an exception!
There's just something so gratifying about making great looking pancakes, then stacking them into a tower!
Michaela shows you how to make some delicious, gluten-free pancakes requiring 3(!) ingredients and 20 minutes. I mean, who can argue with that?
Healthy Protein Pancakes with Raspberry Chia Jam (Gluten-Free)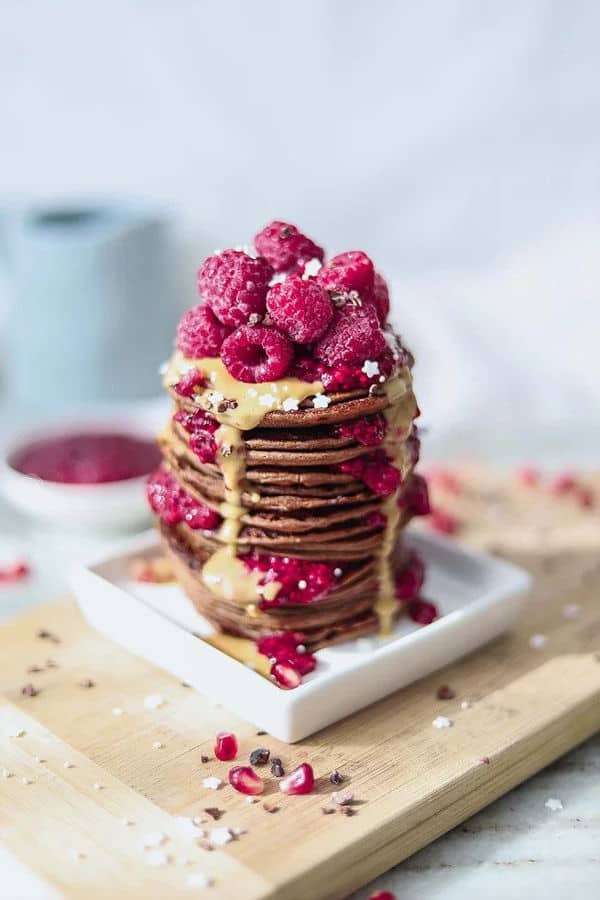 I know. This is one heck of a gorgeous recipe, so I'll let you drool over it for a minute.
Done? Great, now you just need to gather the ingredients to make Hannah's epically healthy and gluten-free vegan protein pancakes, which feature a delicious raspberry chia jam you can make and store up to a week.
But hey, the jam is only part of this incredible formula; how about a dreamy peanut butter drizzle to top it all off with?
Silver Dollar Pumpkin Pancakes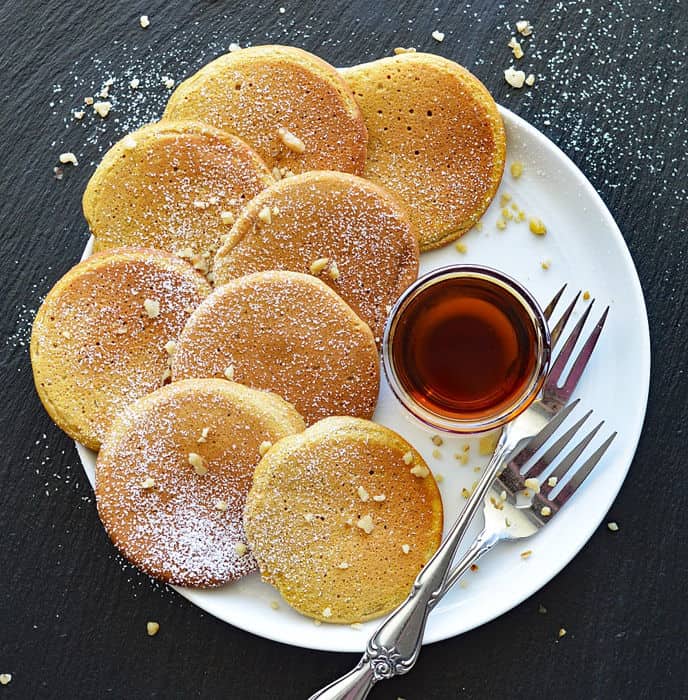 What a name! "Vegan silver dollar pumpkin pancakes." These lovely pancakes are born from Aimee's terrific recipe, which takes only 10 minutes to prepare.
As she suggests, these "mini pancakes," complemented with chopped walnuts and maple syrup, would be a brilliant breakfast for kids. So please do give these a try!
Pumpkin Spice Pancakes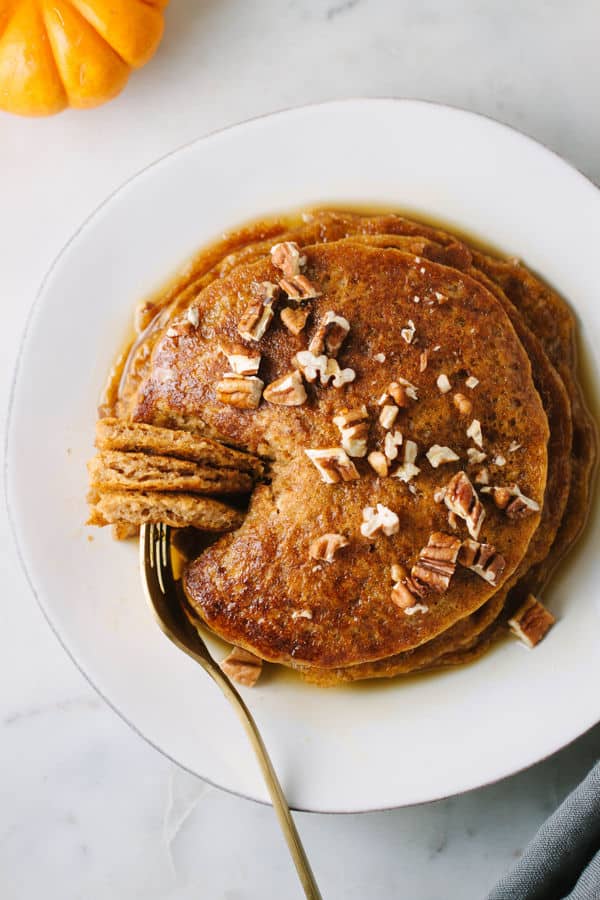 You'll love Julie's gorgeous and delicately flavored pumpkin spice pancakes.
This is a flexible recipe, leaving you room to decide just how thin or fluffy you desire your pancakes to be, and you can replace the spelt flour with a suitable substitute. Enjoy!
Pumpkin Chocolate Chip Sheet Pan Pancakes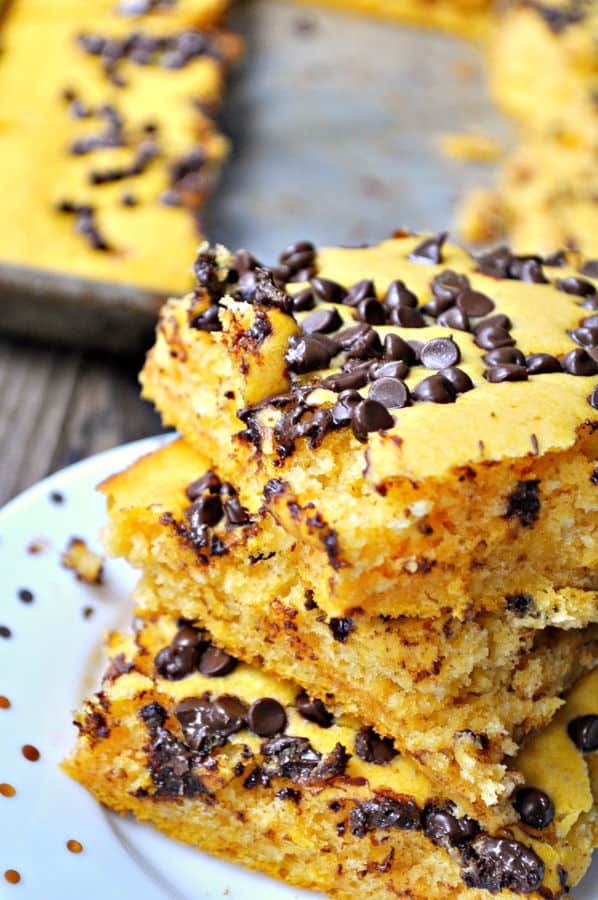 Here, Lauren promises you the fluffiest and easiest breakfast pancakes of all time, done in 20 minutes.
These pancakes certainly are fluffy and "pimped out" with dark chocolate chips.
If you don't manage to eat everything in one sitting, these pancakes can be frozen and reheated whenever you're ready to enjoy them!
The Fluffiest Vegan Pancakes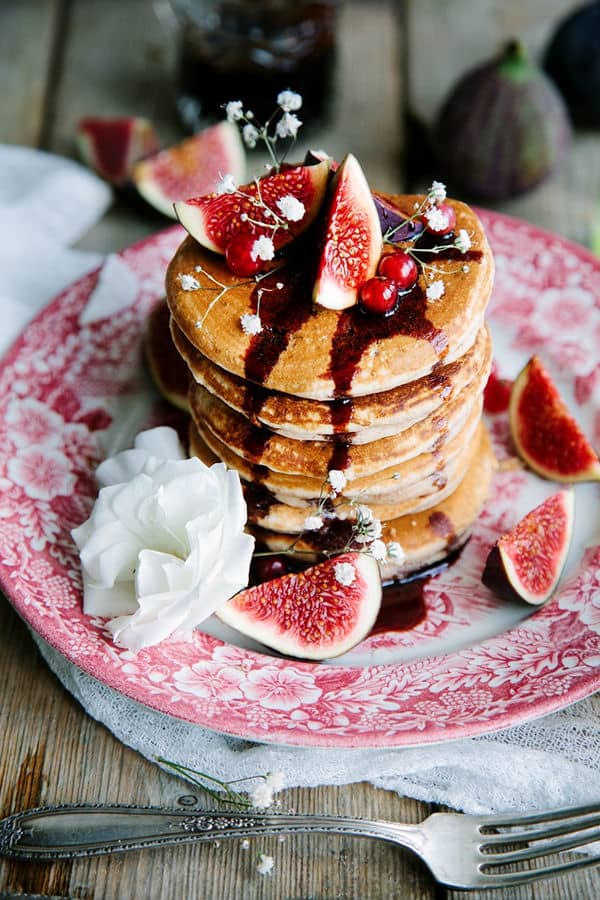 Many vegan pancake recipes include bananas as a core ingredient; but not this one!
Aimee's fluffiest vegan pancake recipe is tastefully flavored with notable ingredients like orange zest, cinnamon and cardamom, and beautifully decorated with date syrup and fresh figs.
When you want to prepare a delightful breakfast to share with a special someone, this is the pancake recipe you need!
Eggless Crêpes with Cinnamon Apples and Caramel (Gluten-Free)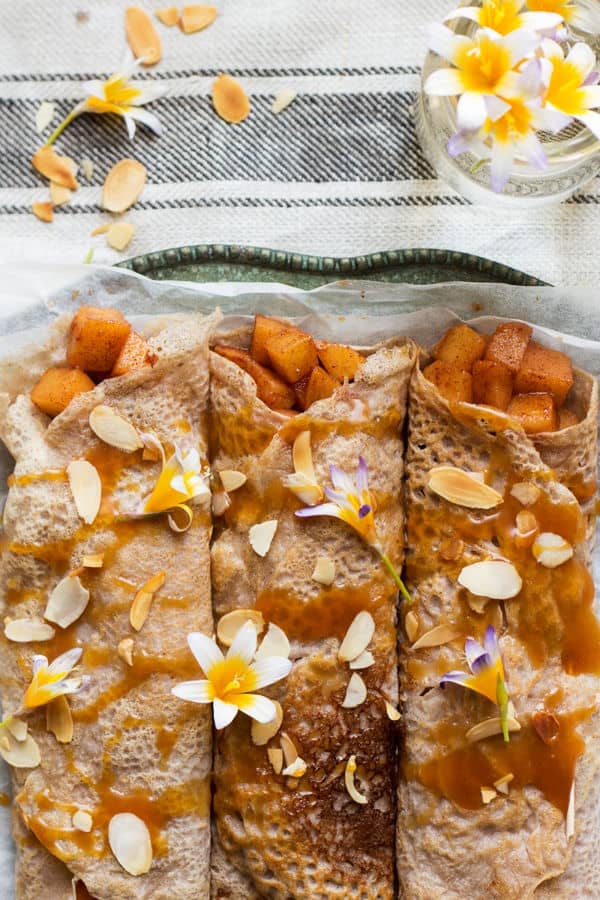 Craving some crêpes? Ania might just be able to help you out with her eggless crêpes with cinnamon apples and caramel recipe, which takes about 75 minutes to prepare but is worth every moment spent!
These pancakes are gluten-free, sweet and savory. They're filled with delicious cinnamon apple and drizzled with a caramel sauce that is to die for!
Ania knows the caramel sauce can be a bit unhealthy, so she gives you two recipe options to choose from, just in case you lean more to the "healthier side."
Potato Pancakes (Kartoffelkuchen)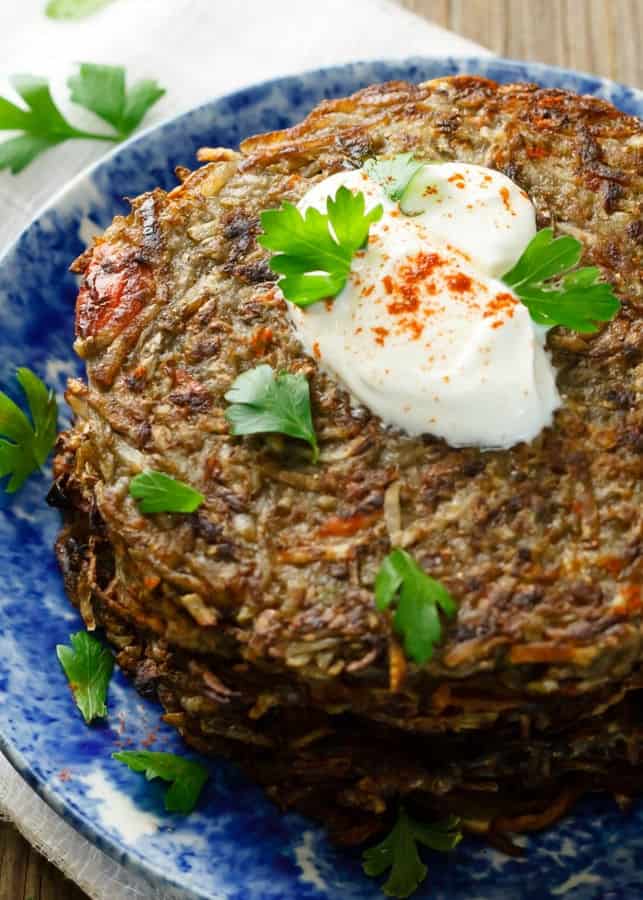 I was very new to the idea of potato-based pancakes when I first saw this one from Gin's potato pancake recipe. So when she says it's a fairly unique way to use potatoes, I can't help but agree.
Tofu is creatively used instead of egg as a binder. And thanks to tofu's neutral flavor, the taste of potato is allowed to fully come through.
While these special pancakes do take 75 minutes to prepare, you should definitely consider giving them a try, at the very least for a special breakfast occasion with friends or family!
Vegan Porridge Breakfast Recipes
Spiced Breakfast Quinoa Porridge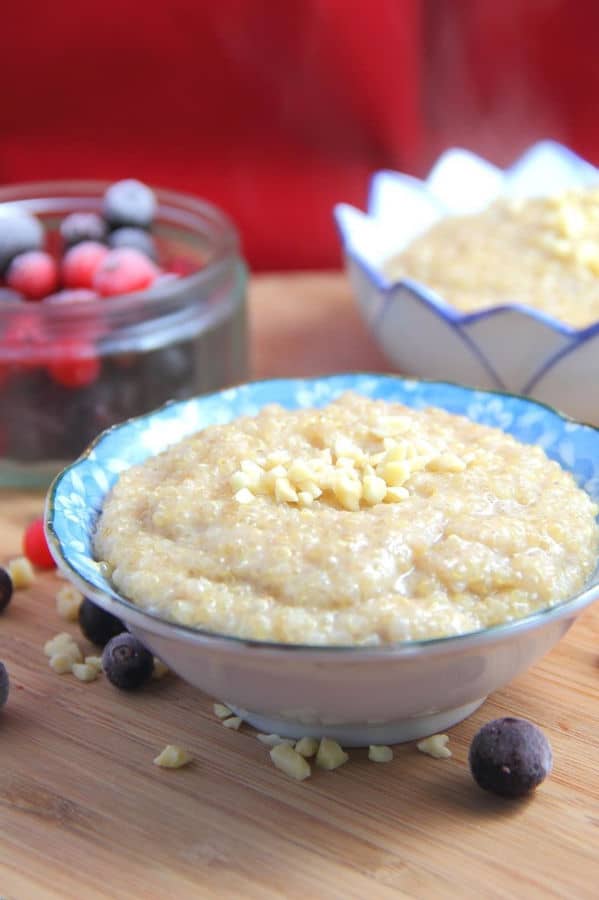 If you're a porridge-person, chances are you've only experienced porridge made from oats. But did you know you can also make this classic breakfast meal from quinoa?
Indeed you can, and with Natalie's spiced breakfast quinoa porridge recipe warmly flavored with ginger, cinnamon and nutmeg, you'll be off to a great start.
This lovely porridge requires 7 ingredients and about 30 minutes to prepare.
'Carrot Cake' Millet Porridge (Gluten-Free)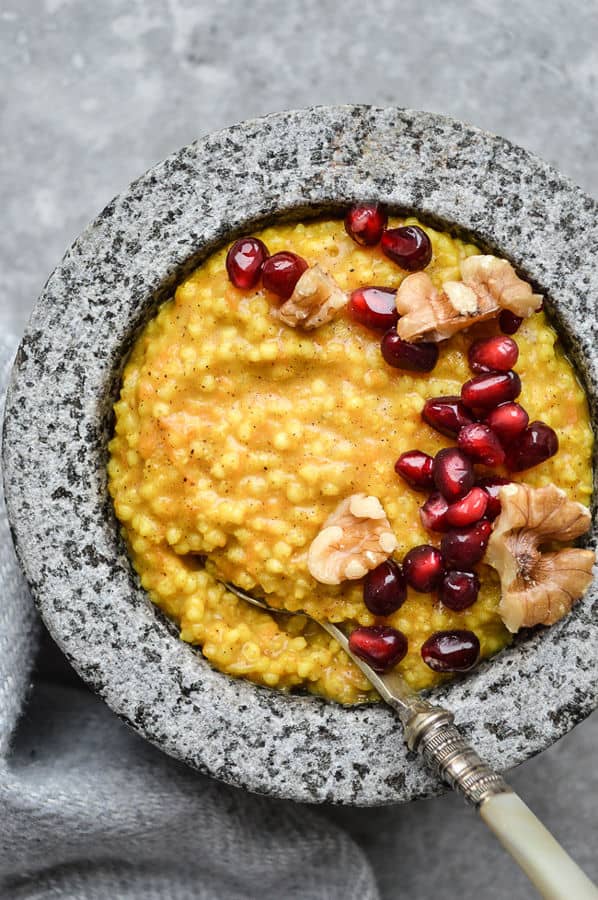 A "Carrot cake" millet porridge; it certainly can't get more fancy than this, can it?
Either way, Lee has come up with a core warming and highly nutritious breakfast recipe topped with walnut pieces and perhaps your favorite fruit of choice.
In case you've heard of phytic acid and enzyme inhibitors, Lee does recommend you soak the millet overnight to reduce these components. But if you don't have time for soaking, just make sure to rinse well before putting the millet to use.
Peanut Butter Oatmeal Blondies (Gluten-Free)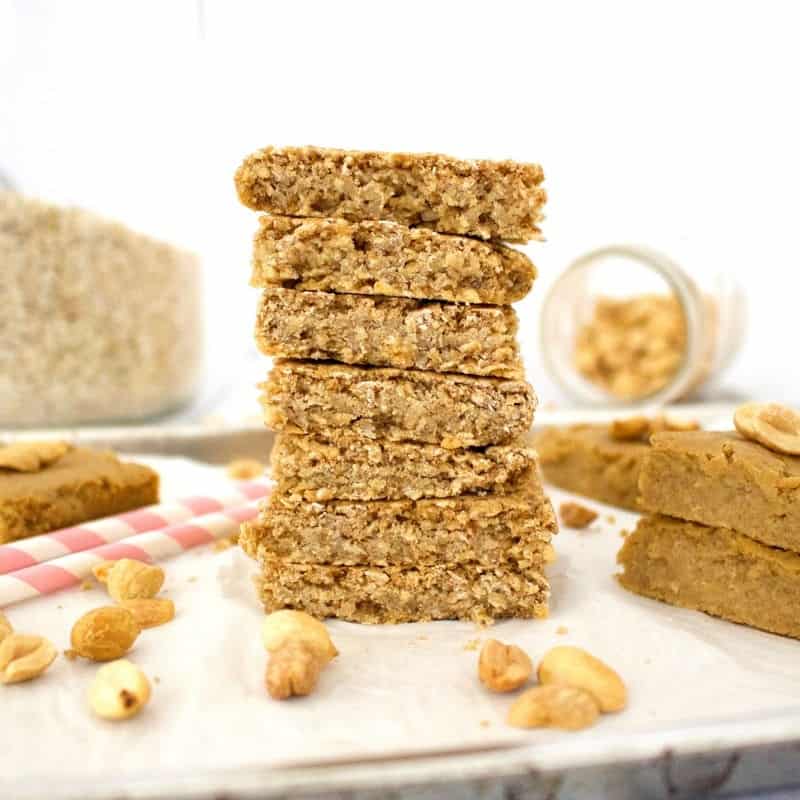 Do you ever wish you could hold oatmeal in your hand like a bar, carry it with you and eat it on the go?
No, you probably haven't, but I thought I'd let you know you now have the choice with Annie's lovely peanut butter oatmeal blondies, which are free of oil, gluten and sugar, as well as being low on calories!
If you have kids, you should definitely try serving these blondies—they might just become a crazy hit!
Oatmeal Breakfast Bowl (Gluten-Free)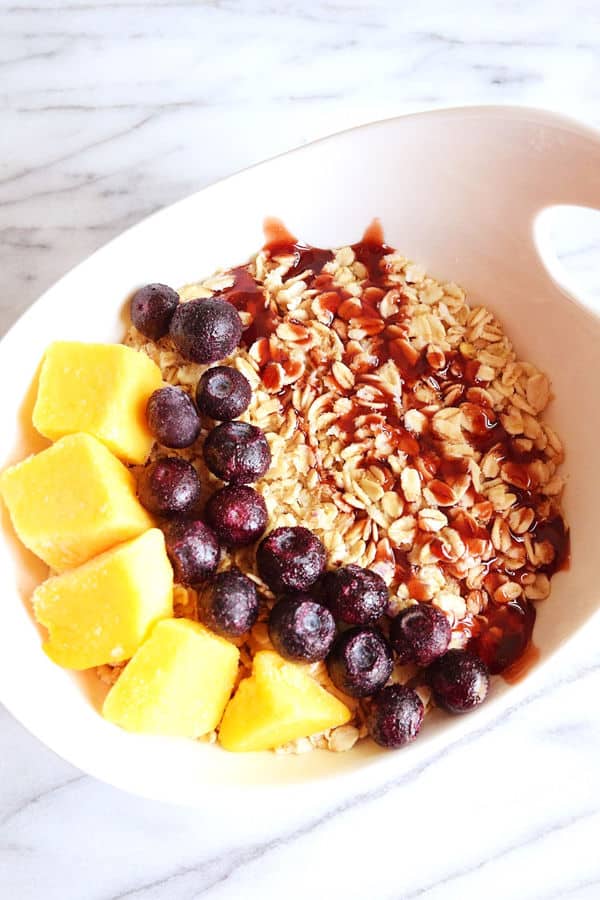 Oatmeal has always been known as a simple, inexpensive and filling way to feed yourself for breakfast.
If you've been growing tired of basic oatmeal with milk, sugar and cinnamon, then allow Sara to show you a way to spice up your breakfast (in a gluten-free way, too!) with her breakfast bowl recipe.
The core recipe appears quite standard but here comes the fun part, you get to customize the recipe by adding in your favorite toppings of choice. Go for it!
Champorado (Filipino Chocolate Rice Porridge) with Salted Tofu Chips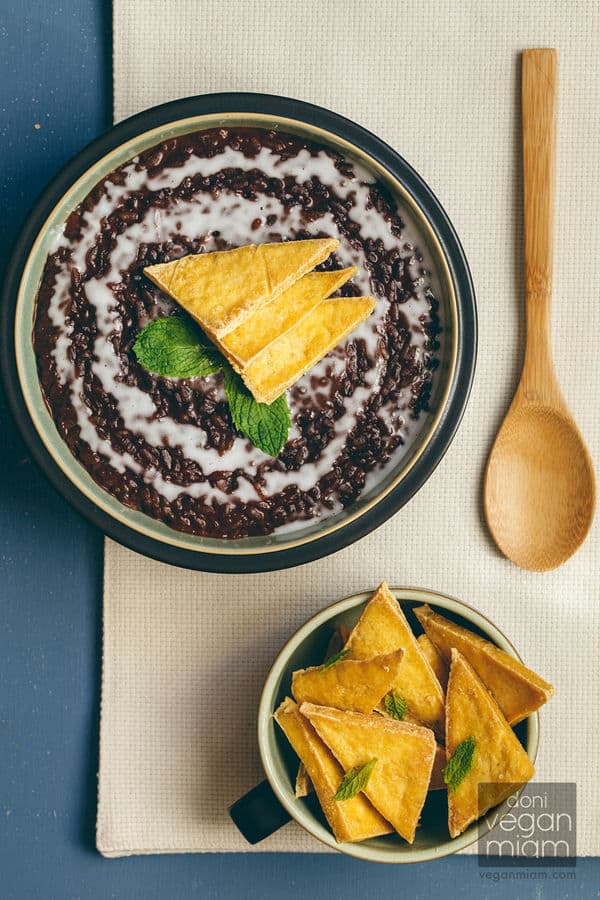 Feeling like going on an adventure in your kitchen? Then you can always count on Rika and Doni to take you on an exploration into a world of exotic cuisines, from Italian to Asian, and their vegan champorado recipe with salted tofu chips is no exception!
If you don't know what champorado is, it's a Filipino chocolate rice porridge.
Not a fan of tofu? No worries, you don't have to miss out; they recommend substituting king mushrooms or seaweed for tofu.
Oatmeal Baked Apples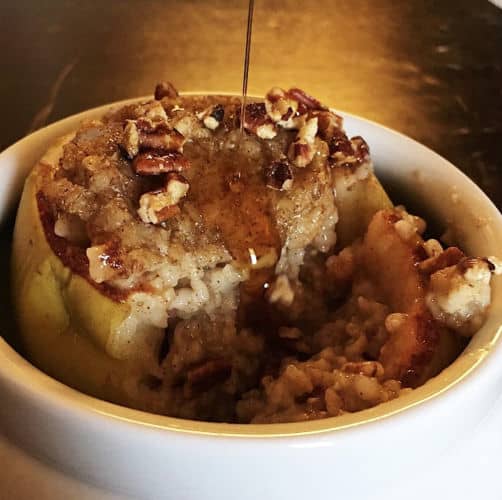 Imagine yourself treading outdoor through a dark, rainy or winter day, yet what keeps a bright smile on your face is knowing you'll be coming home to a warming dish of Brittany's oatmeal baked apples.
You could though just start your day with this Granny-Smith-apple-cinnamon-rolled-oats goodness, which takes about an hour to prepare, a perfect way to start your day!
Apple Pie Teff Porridge (Gluten-Free)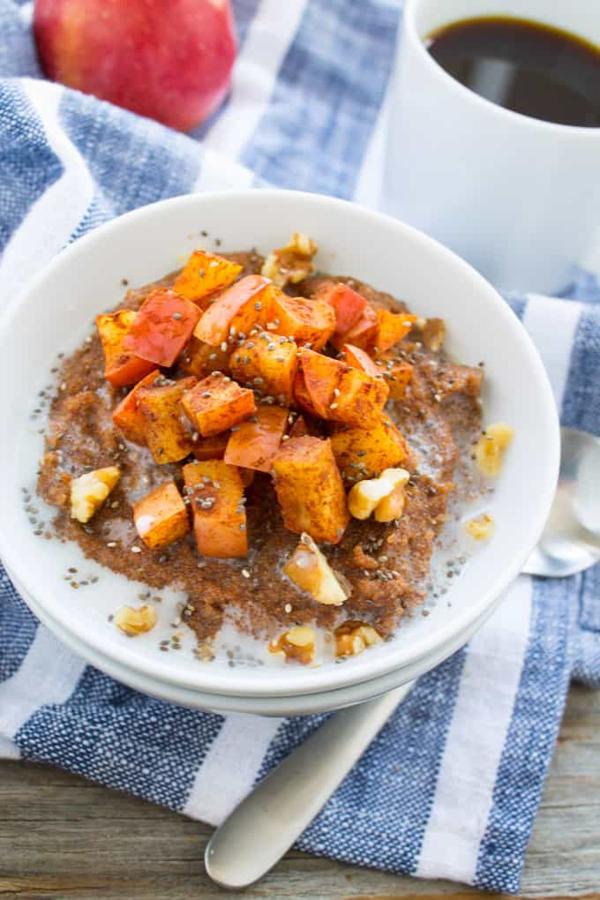 If you thought porridge always had to be oats, Kara is here to prove otherwise. This recipe takes the ancient grain Teff and makes it into a beautiful breakfast dish with apples and cinnamon. Teff is a super tiny grain, which makes this dish smooth, creamy, and naturally nutty.
This is a fantastic way to swap out your boring oatmeal for something deliciously different and packed with protein. You'll be looking for other ways to get this often forgotten grain into more of your meals.
Coconut Cream Baked Oatmeal (Gluten-Free)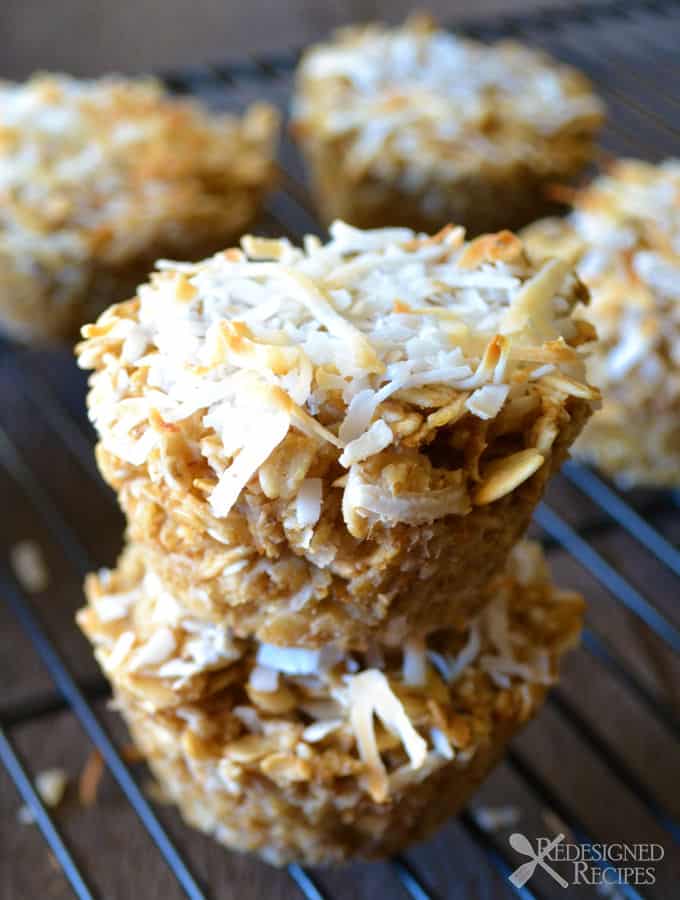 There are times when stores are closed or you're too preoccupied to stock up your kitchen pantries.
Such situations can push you to improvise with whatever you have on hand—and sometimes this produces miracles like Juli's coconut cream baked oatmeal.
This 30-minute muffin-like baked oatmeal is gluten-free, rich in fiber and very handy as an on-the-go breakfast or snack.
Ginger Turmeric Oatmeal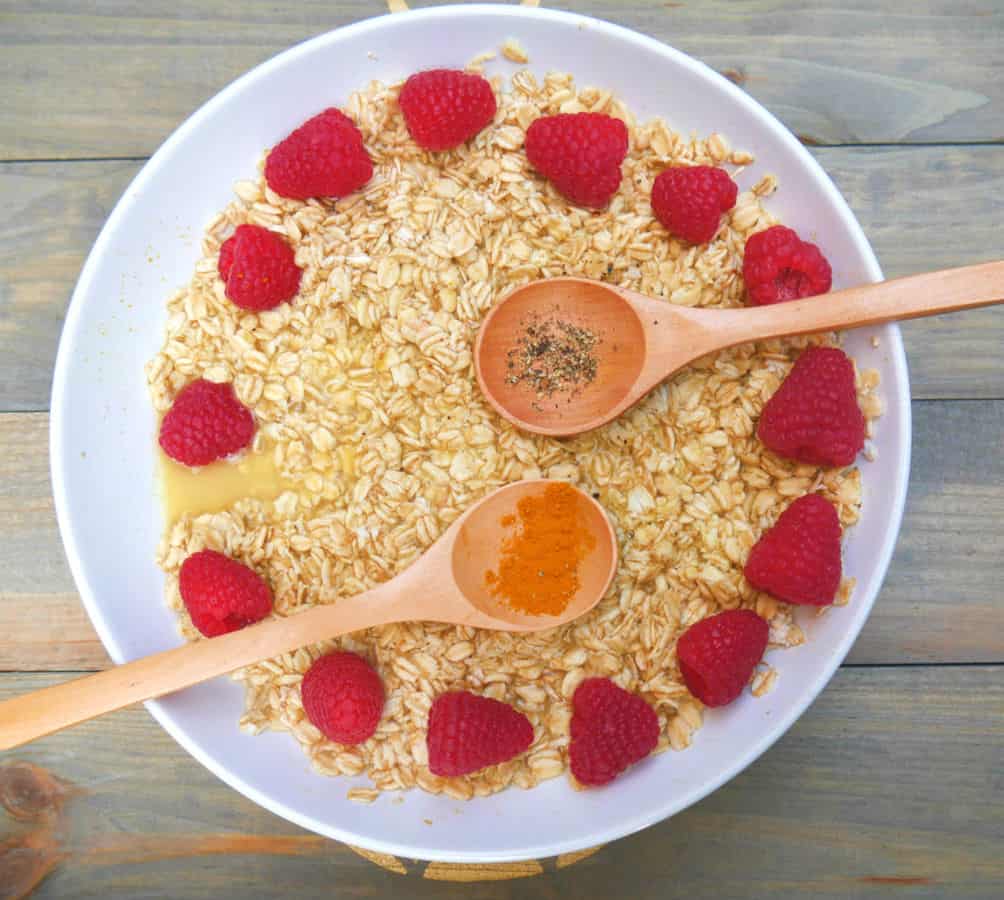 If you've been fighting inflammation, you might want to learn about some of nature's most potent anti-inflammatories, turmeric and ginger being two top choices.
Marina has decided to come up with an oatmeal breakfast—her ginger turmeric oatmeal recipe—which combines both of these super roots into a fabulous breakfast, sweetened with maple syrup and your preferred berries.
Carrot Cake Baked Oatmeal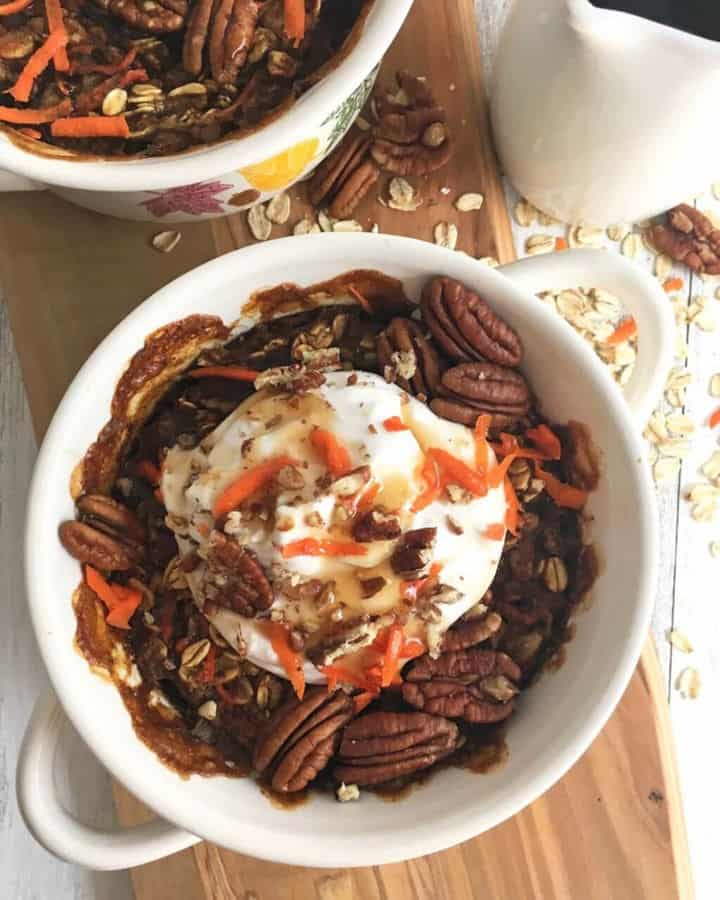 Say hello to carrot cake baked oatmeal, Karissa's really delicious and filling breakfast recipe that came about after she found a way to prepare oatmeal—by baking—that didn't make it gooey or slimey.
This breakfast features shredded carrot, chopped pecans, various spices and maple syrup for added sweetness.
You're highly recommended to top the oatmeal with a heavenly coconut whipped cream to absolutely spoil yourself!
Savoury Marmite Porridge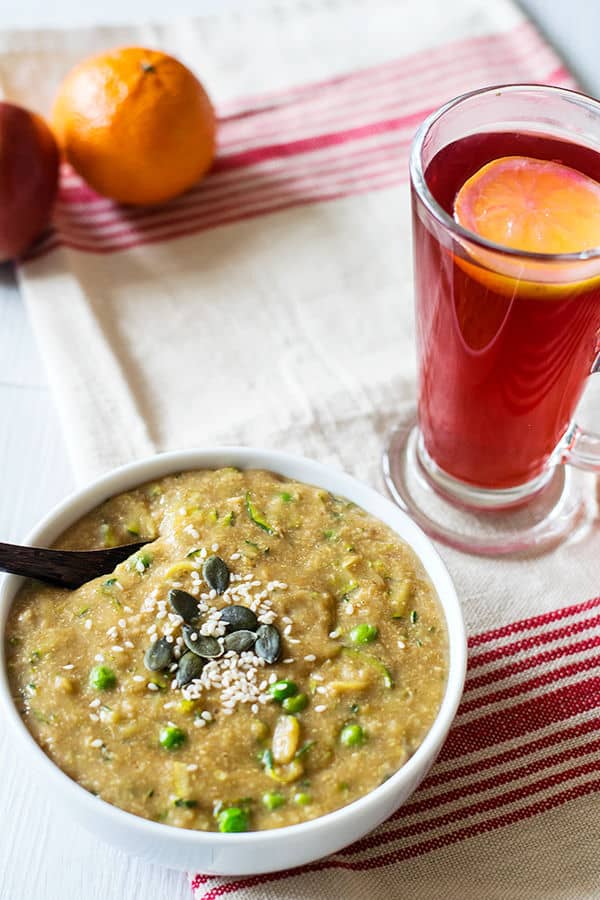 If you're a fan of marmite, you'll want to dig into Luci's savoury marmite oatmeal.
It requires just a handful of unexpected, yet wonderfully combined ingredients and about 5 minutes of your time; who can't afford that?
Vegan Smoothie Breakfast Recipes
Easy and Quick Strawberry Coconut Milk Smoothie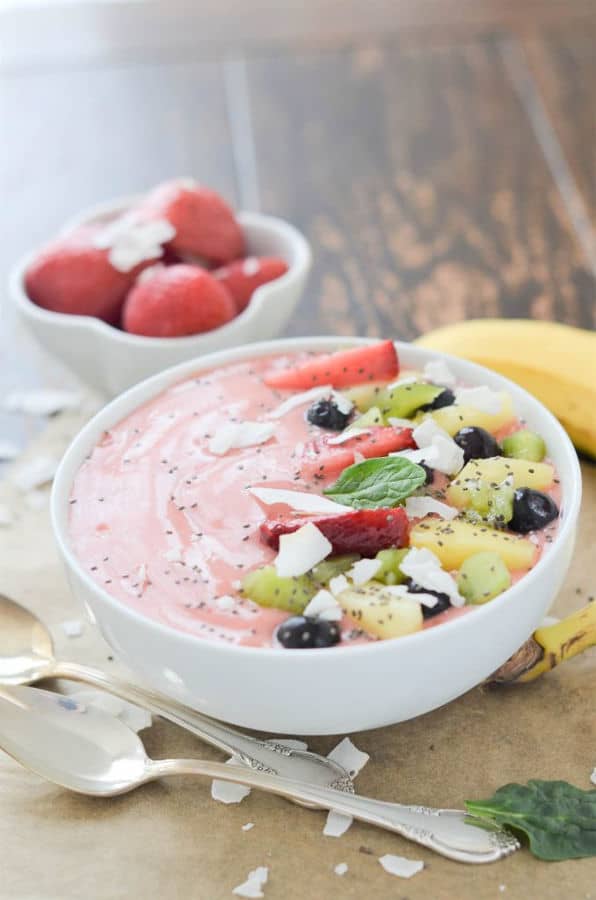 How about a good 'ol classic strawberry milkshake/smoothie with coconut milk? An unbeatable beverage for a hot summer morning!
If that tickles your fancy, then allow Christine to hook you up with her quick and easy strawberry coconut milk smoothie, featuring 5 simple ingredients transformed into a luscious drink in just 10 minutes.
Citrus Zing Green Smoothie Bowl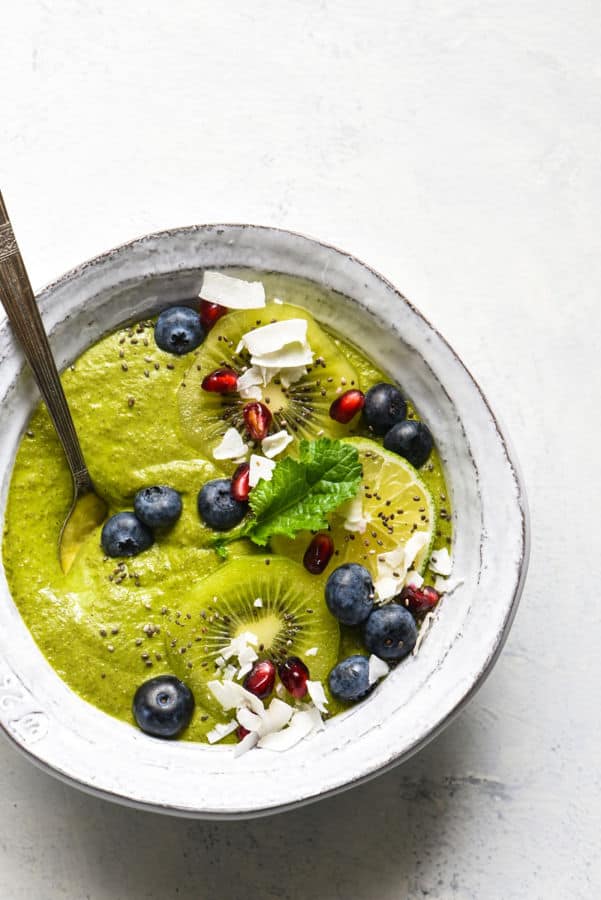 When you struggle to get enough greens into your diet, green smoothies—and smoothie bowls—are an effortless way to up your intake.
Green smoothies work exceptional well for this purpose because you use some type of sweetener, usually fruit, to mask the earthy, bitter or otherwise pronounced flavors from veggies.
So, if you're looking for a healthy smoothie recipe, and a fancy one at that, you need to try Lori's citrus zing green smoothie bowl, featuring baby kale and fresh lime amongst other nutritious ingredients that'll supercharge your day!
Blueberry Pie Smoothie Bowl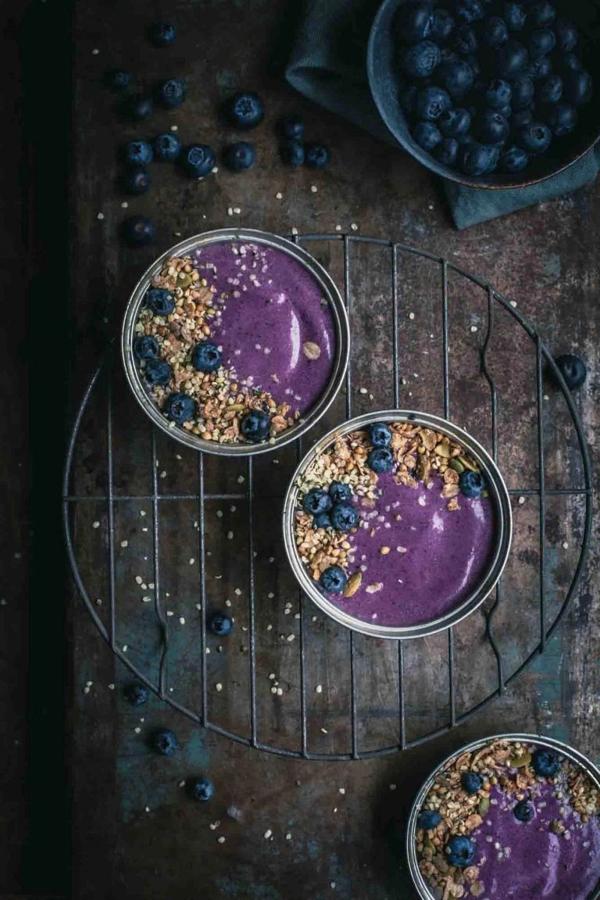 This smoothie bowl absolutely exudes beauty! One look at this gorgeous bowl and your mouth will be watering! One taste, and you'll be hooked!
Amanda's blueberry smoothie bowl is super nutritious, high in antioxidants and takes only 5 minutes to prepare! Plus, it's got hidden cauliflower to pack an even bigger punch. You won't taste it, but you'll feel it!
Forget bagels, cornflakes and sugary stuff; this right here is what you need in your life!
Chocolate Berry Smoothie Bowl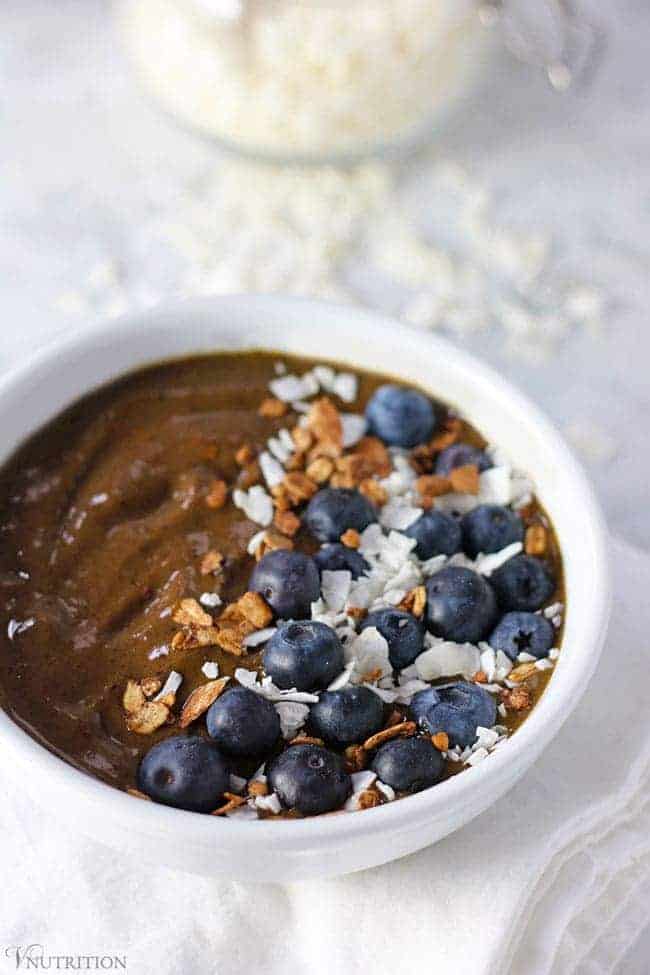 If smoothies and chocolate are both your thing, then you need a magic formula that ties together the best of both worlds in to the same meal.
One way to do so, is with Mary's incredible chocolate berry smoothie bowl; an excellent breakfast recipe which easily doubles as a dessert.
Top with your favorite ingredients (this recipe suggests blueberries, coconut flakes and chocolate-flavored granola) and you're ready to rock!
Key Lime Pie Smoothie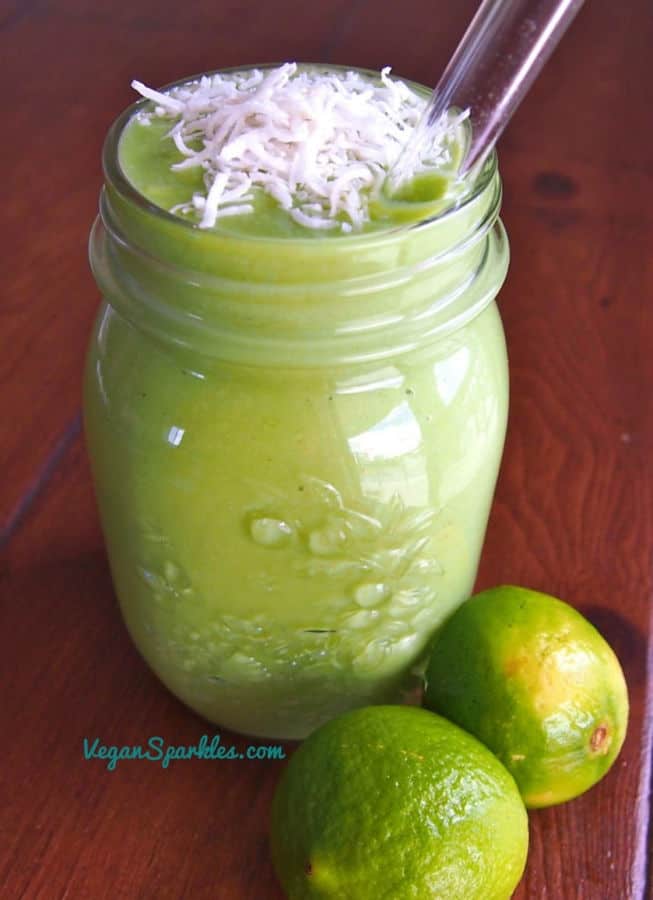 Key lime pie in smoothie form, who would've known!?
Well, Rebecca made it reality with her creamy smoothie recipe, beautifully decorated with shredded coconut.
Smoothies are just fantastic breakfast meals because they're usually incredibly healthy and quick to make. Rebecca's smoothie takes just 10 minutes of your time for a delicious treat!
Peanut Butter and Jelly Smoothie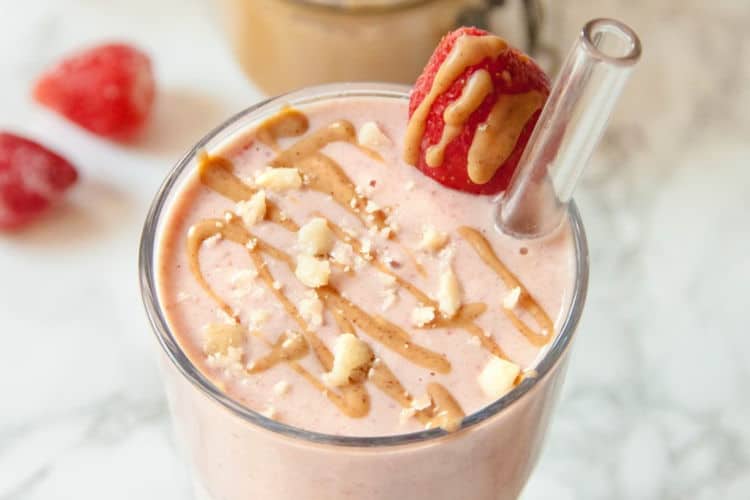 It's peanut butter and jelly smoothie!
You heard that right, Gloria has found just the right way to transform a typically dry and sugary snack sandwich into a fashionable breakfast smoothie that can double as a protein shake!
5 ingredients simple ingredients, including peanut butter and strawberries, and you're on your way to enjoying a dreamy beverage.
Strawberry Mango Spinach Smoothie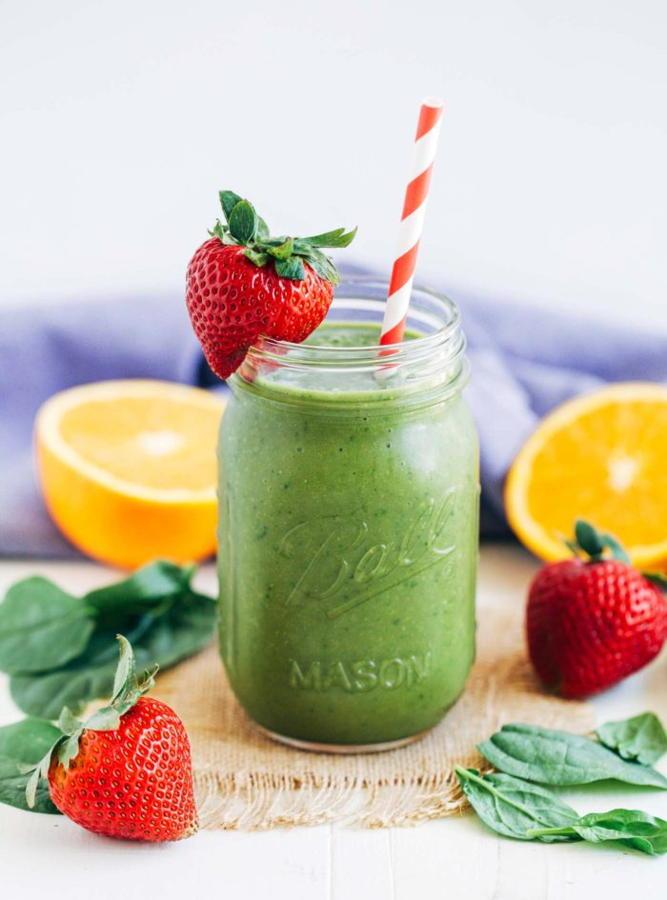 Sarah's strawberry mango spinach smoothie recipe is packed with iron and vitamins. It's delicious and nutritious! When you're feeling down, this is a delightful way to drink up your vitamin C.
Strawberries, mango and spinach (fresh or frozen) blend together with almond milk for a lovely green drink. You can omit the nutrient booster powder, or experiment with your own favorite. Enjoy!
Maca Mango Smoothie for Natural Hormone Balance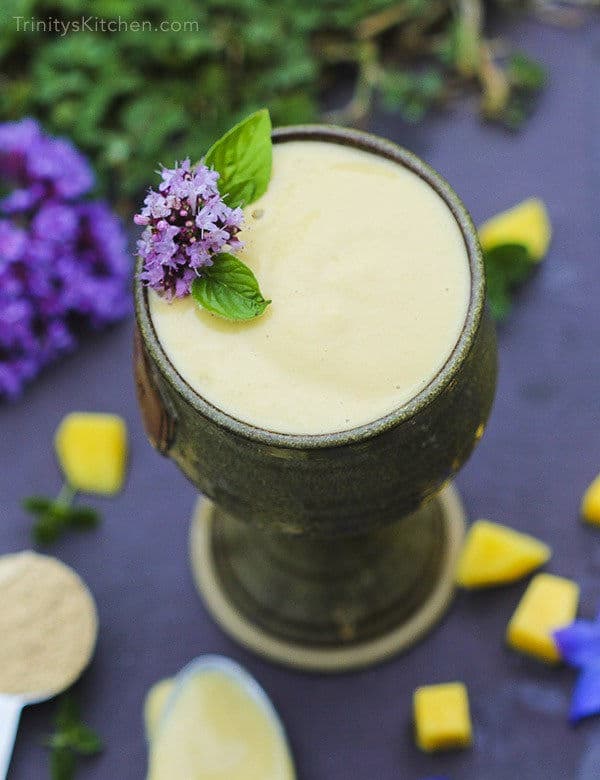 Woah; the presentation of Trinity's maca mango smoothie looks almost surreal, like a magical elixir right out of an ancient mythology movie or video game.
This smoothie is a great way for you to consume maca, a nutrient-rich "superfood" root widely known for having a balancing and regulatory effect on hormones.
How long does it take to prepare? Let's say not much more than 2 minutes tops!
Perfect Raw Granola and Persimmon Strawberry Smoothie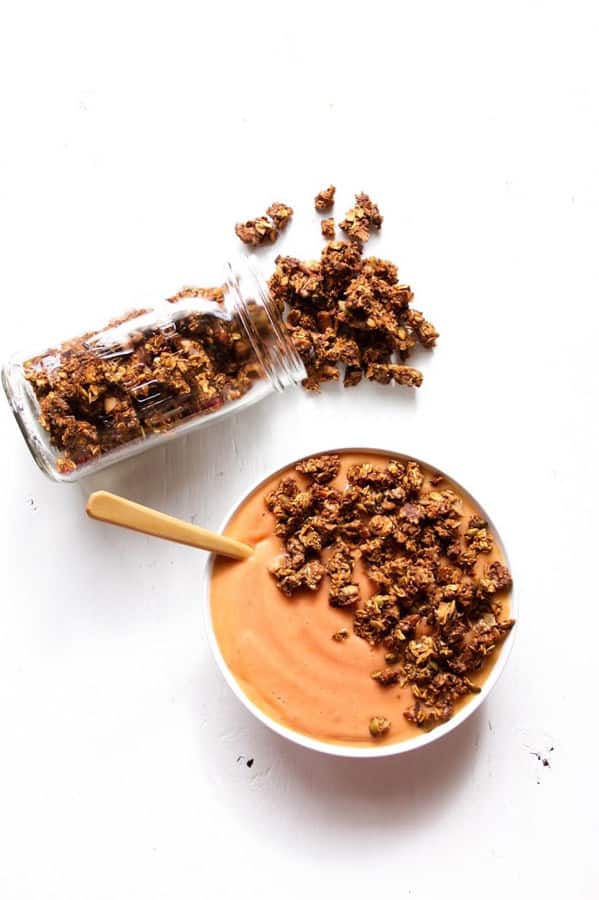 Emily will take you from nothing to a homemade raw vegan granola. This makes a crunchy addition to the the glorious persimmon strawberry smoothie.
While making your own granola can seem time-consuming, it's definitely worth it for your health considering most of the cereal granolas in stores are loaded with low quality oils, refined sugar and such.
This granola and smoothie combination yields a delicious symphony of sweet and crunch.
Matcha Milkshake Shakes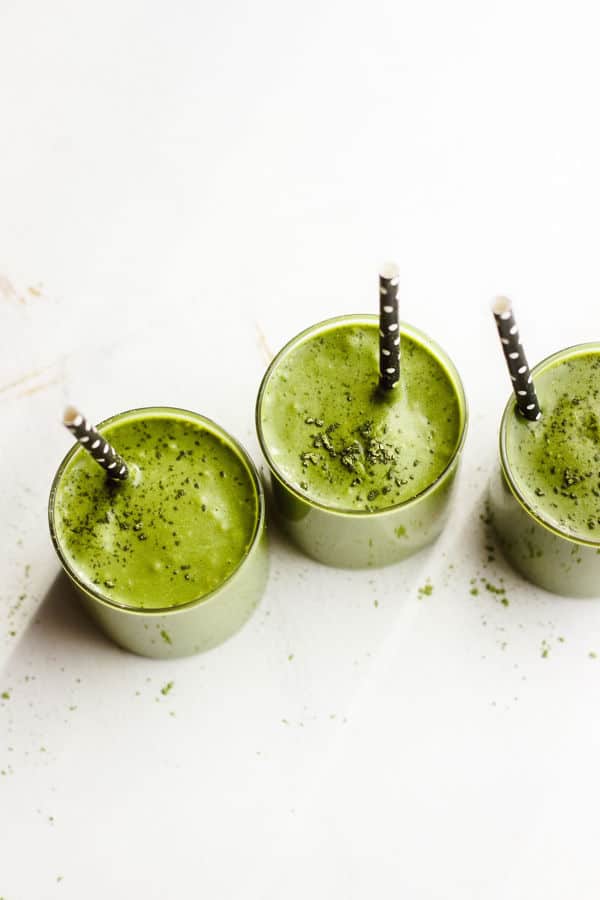 When you're ready to reduce and eventually quit your coffee consumption, healthy and energizing green smoothies and milkshakes are ideal beverages you can incorporate into your daily routine.
In Sherrie's "matcha milkshake shake" recipe, you get to kick things up another notch with matcha, which boasts a unique amino acid that can help regulate your energy.
What other good stuff is in this shake? Vanilla protein powder, coconut oil, zucchini and baby spinach. These are just some of the fantastic ingredients featured! Set aside 6 minutes and go make this green goodness for yourself.
Special Picks
Easy Breakfast Peach Cobbler (Gluten-Free)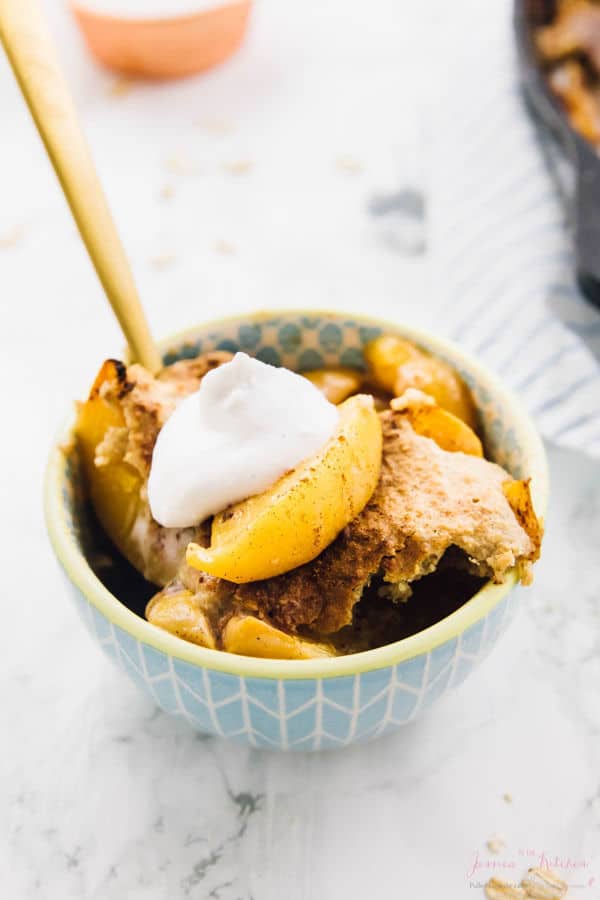 Here's a fabulous recipe and a divine breakfast!
Jessica's easy breakfast peach cobbler uses canned peaches so you save time on having to pre-cut peaches yourself.
This is a pretty epic gluten-free "breakfast dessert" you can prepare within 10 minutes and bake until ready within 35 minutes.
Once ready, you can take it even further with a homemade coconut cream. Mmm!
Cruciferous Crackers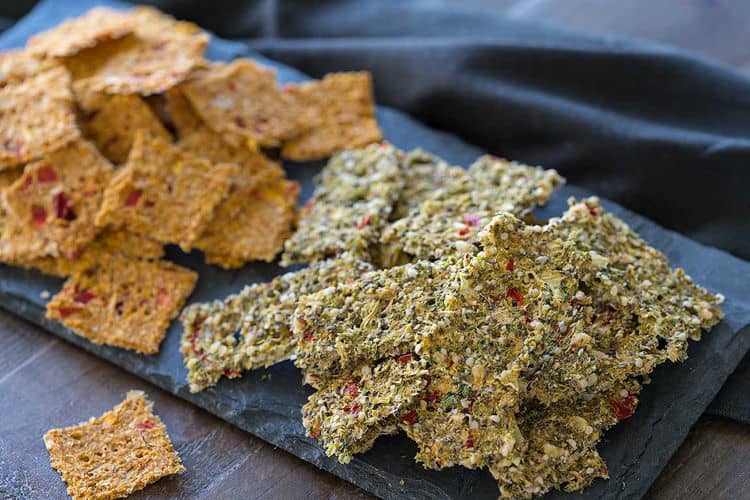 So, apparently raw broccoli might have superior effects against cancer when eating raw as opposed cooked; interesting!
If that's true, then you'll have just one more reason to make Susan's tasty and raw cruciferous crackers, which'll help you enjoy the benefits that cruciferous veggies bring to the table.
You'll need a food processor and possibly a dehydrator to get them just perfect.
Caramel Monkey Bread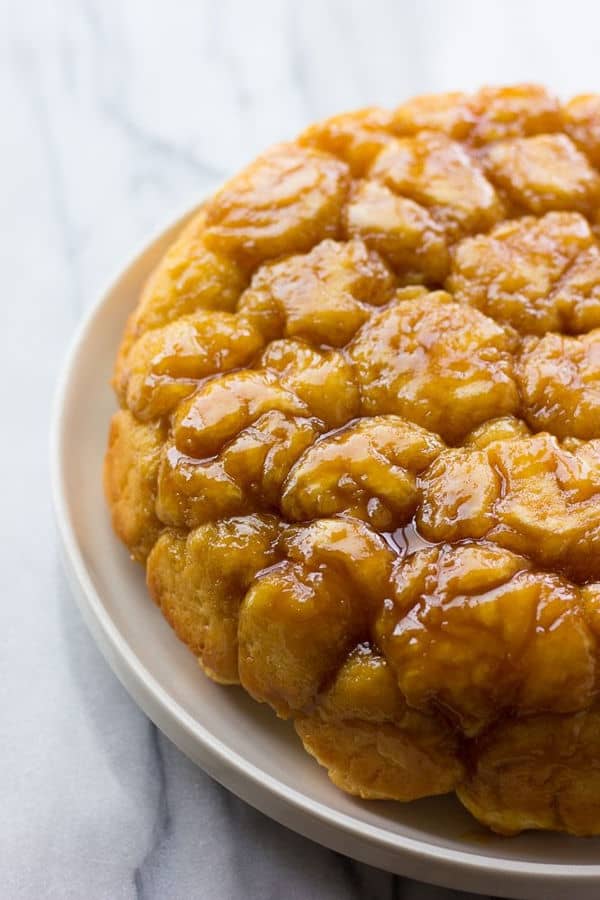 Feeling like making yourself the ultimate bready accompaniment to your breakfast?
There's no monkeying around with Nora's monkey bread recipe, this is pretty serious business in the taste and texture department, especially once you factor in how incredible it'll be after you've glazed it in caramel sauce.
Mango Coconut Yogurt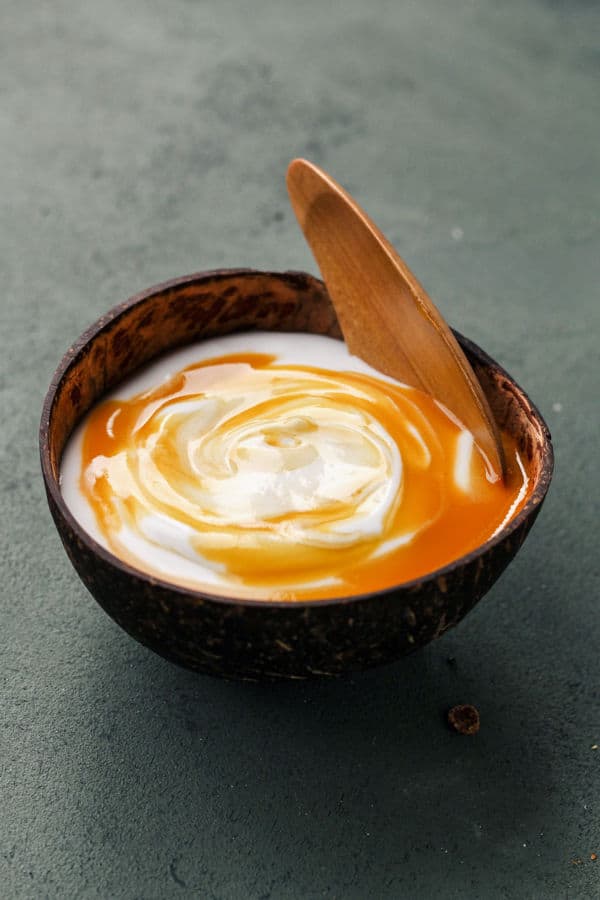 Once you go dairy-free, you'll realize it can be difficult sometimes  to find plant-based yogurts with healthy ingredients.
The solution? Make your own! And what to use if you don't want to use soy? Coconut!
Thomas is the person you go to as he's pretty much mastered the art of making vegan cultured food, and this wonderful mango coconut yogurt recipe, is no exception.
Roasted Pears with Dark Chocolate Hazelnut Sauce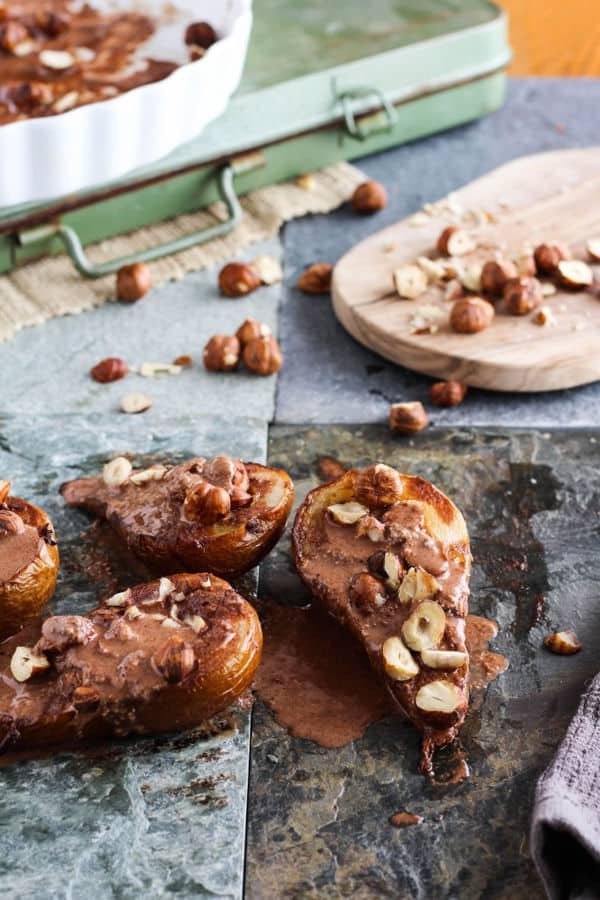 In Stephanie's own words, "When in doubt, add chocolate."
Pears may not always be the most appetizing fruit, especially since it's hard to find nice and sweet pears with the right tenderness or crispy texture.
This means you may have to come up with a workaround to make whichever pears you do have, more enticing.
And what better way than to roast the pears and glaze them in a dark chocolate hazelnut sauce before topping them off with chopped hazelnut!
Feeling compelled yet? Then pull up Stephanie's roasted pear recipe and get going!
90-Second Easy Nut Butter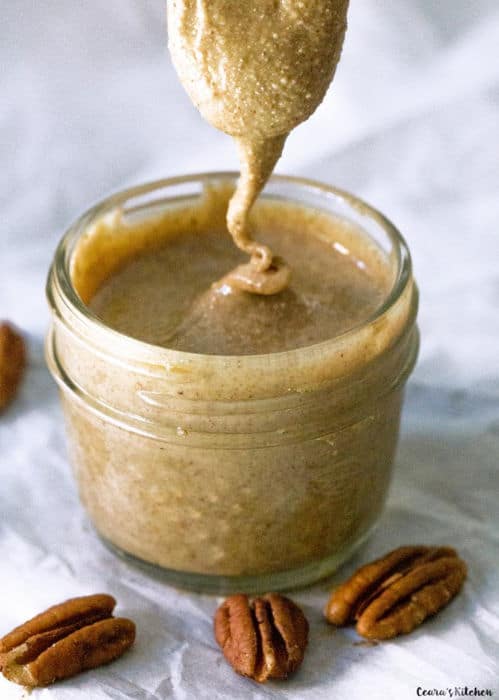 You know how nut butters are usually incredibly expensive? Well, if you've got yourself a powerful blender, then save the extra cash, purchase suitable nuts in bulk and take a stab at making your very own nut butters right at home!
It's not a difficult or lengthy process either. Just grab Ceara's 90-second easy nut butter recipe and you'll moments from a luscious, spreadable butter you can use on bread, crackers, in smoothies, or as a veggie dip.
Vegan Waffle Breakfast Recipes
Banana Waffles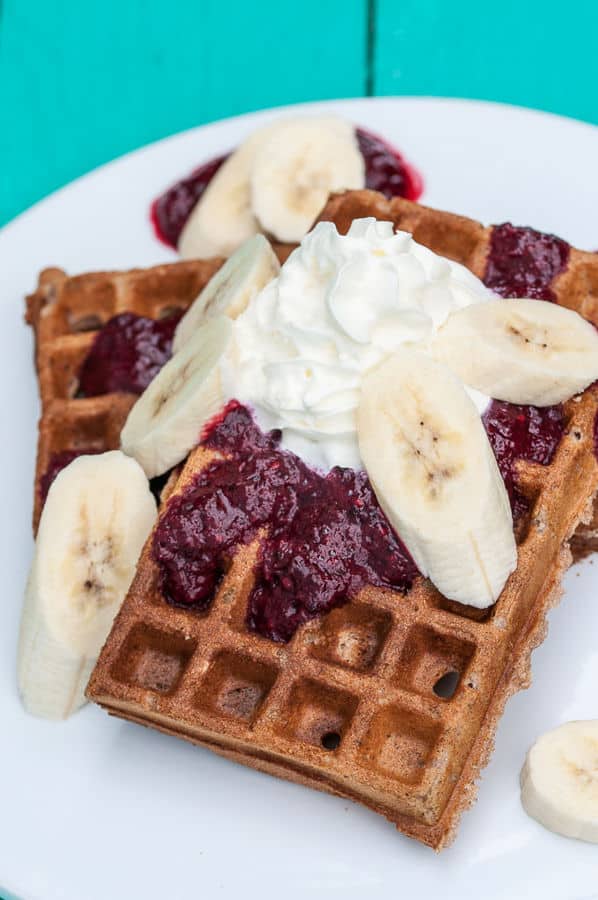 Waffles in 10 minutes? Oh, you bet! And Vanessa will show you exactly how to do it with her banana waffles recipe.
Once you've made them, you'll have a tough decision to make: What kind of topping will you use? Whipped coconut cream, puréed frozen berries, sliced banana or something else altogether?
I will leave you with that dilemma!
Blueberry-Orange Buckwheat Waffles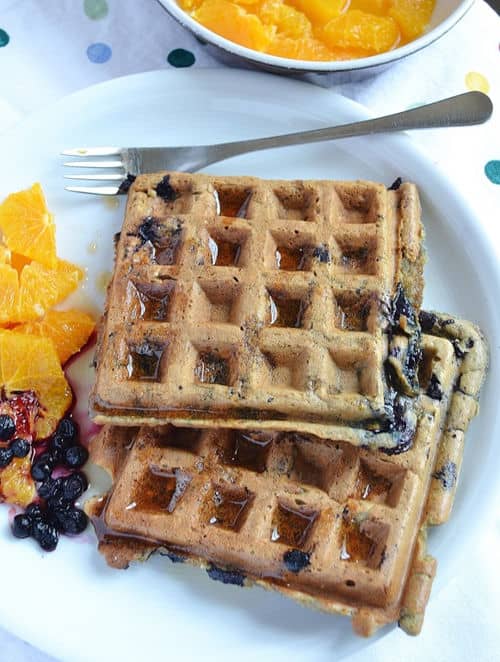 Emma's waffles are a perfect companion to a summer breakfast, featuring fresh blueberries and orange.
They can easily be frozen and reheated at a later time, so you can always make a big batch for a whole week (or for whenever you crave a waffle or two).
Once ready, spice them up with your favorite choice of topping such as maple syrup, coconut whipped cream, fruit or jam. Yum!
Peanut Butter and Banana Waffles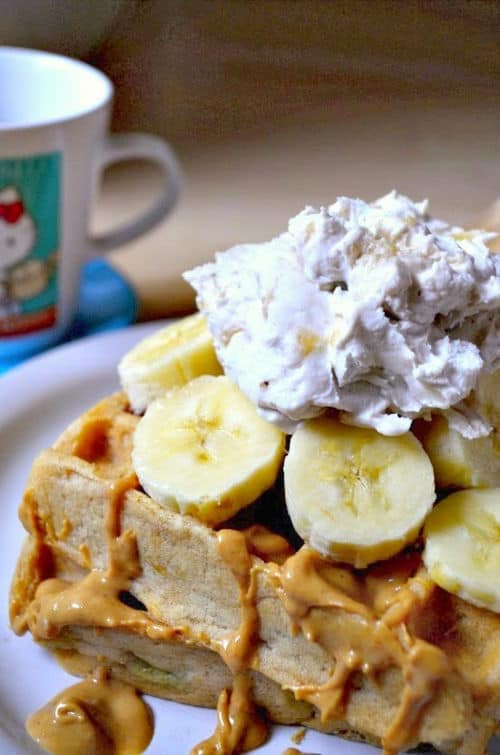 Just when you thought you had run out of ways to use your peanut butter, here comes yet another one—courtesy of Hannah and her peanut butter and banana waffle recipe adapted from Isa Moskowitz' Vegan Brunch cookbook.
As you can see, these mouthwatering waffles are almost drenched in a delicious peanut butter and well-decorated with sliced banana and coconut whipped cream.
Basic Vegan Waffles for Beginners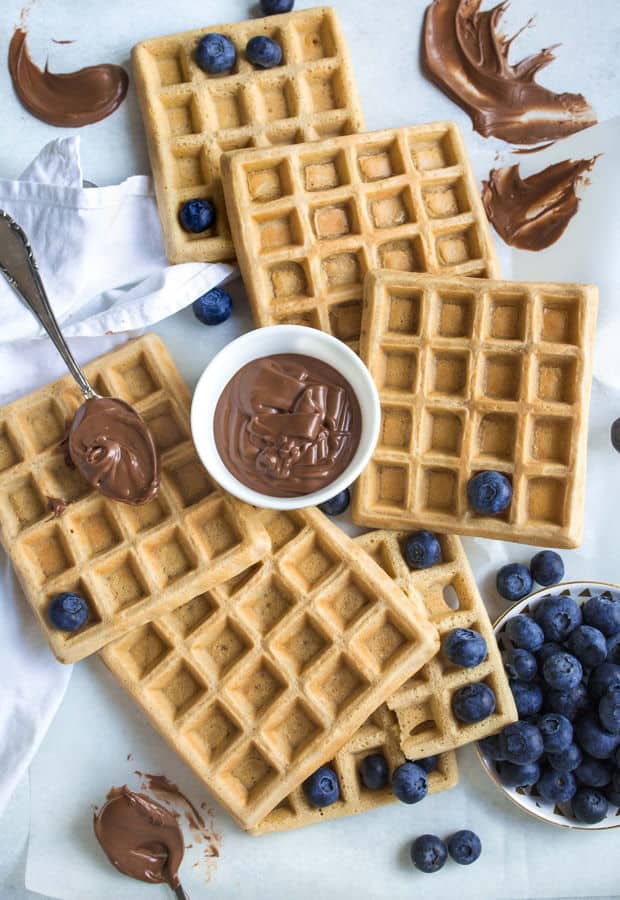 Right, so, you've never actually made a waffle in your life before? Ah, don't sweat it—fortunately, Lara will show you how to make a basic vegan waffle and you'll quickly become a master at it.
These waffles are wonderfully gluten-free and take only 20 minutes to make from start to serving.
Enjoy them with jam, homemade vegan Nutella, coconut whipped cream, ice cream, or whatever else tickles your fancy!
Pumpkin Waffles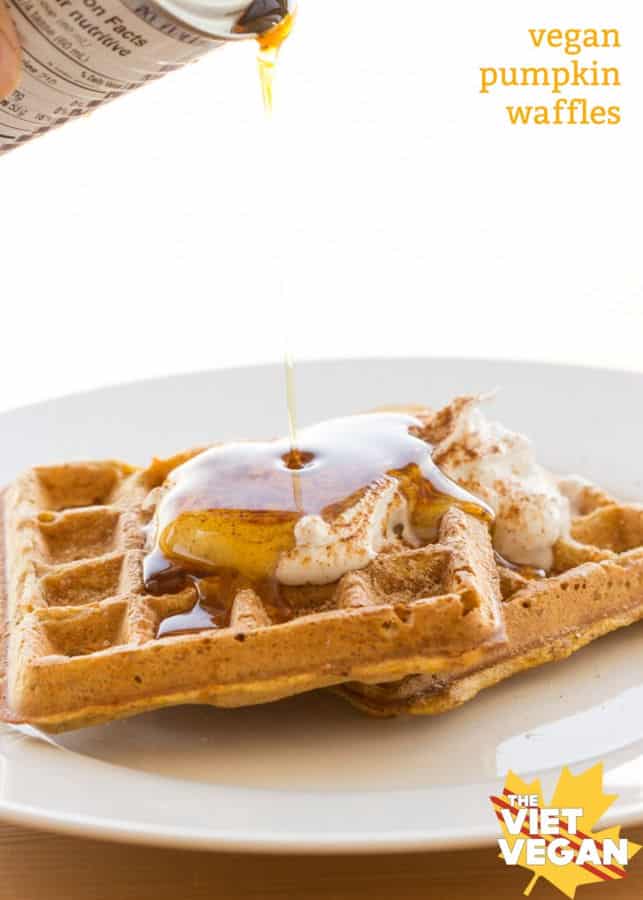 In 25 minutes, you can have a stack of warm and delicious pumpkin waffles. The special ingredient, as the title implies, is pumpkin purée, giving you one more idea for how you can flavor your waffles.
Lisa's delicious recipe yields 6 waffles ready for your choice of topping. Bon appetít!
Wrapping Up
Okay! I think we just about robbed you of any excuses for not knowing what to eat for breakfast on a plant-based and vegan diet.
Many of us have been there. You drop the meat, eggs and dairy, and suddenly realize those were the foundation of every breakfast you've ever eaten.
Then, it's like you're stuck on an island with no idea what to eat. But we're changing all of that, one recipe roundup at a time.
If you try any of these recipes, please do let us know how it was in the comments below!