What we have here caters for a wide selection of tastes and occasions and they all contain some fruit, or a lot of it!
If you're transitioning onto a plant-based vegan diet, we can help you out with a collection of some of our absolute favorite recipes.
Afterward, you've got the perfect roundup right here to find fruity recipes for a special treat or dessert. Or, even better, use them both at the same time.
Either way, we can all use a little more fruit in our lives, so let's get busy and find out some exciting ways about how we can do that.
Check it out!
Fruity Breakfast Recipes
Banana Coconut Pancakes with Passion Fruit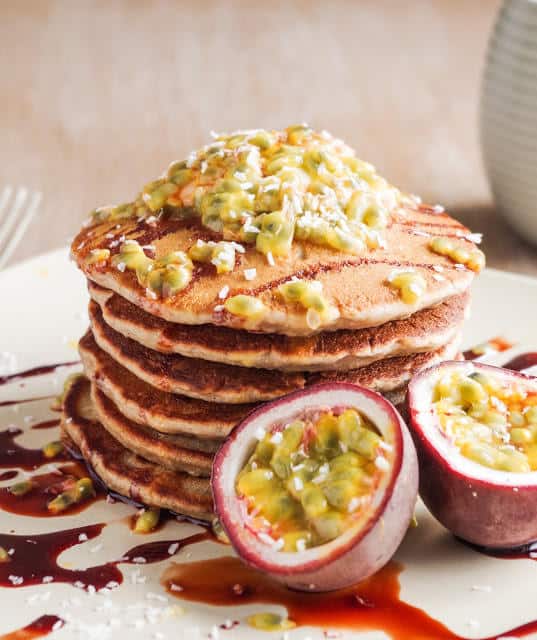 There's nothing quite like home-made pancakes, they are easy to make, you know all the ingredients used to make them and they're fun!
You need a blender and a large non-stick frying pan or skillet to make these beauties along with some straightforward ingredients.
If you are unable to source passionfruit, go with any kind of berries, banana and anything else you like. Straightforward recipe the whole family will enjoy.
Jumbo Fruit Cups with Coconut Yogurt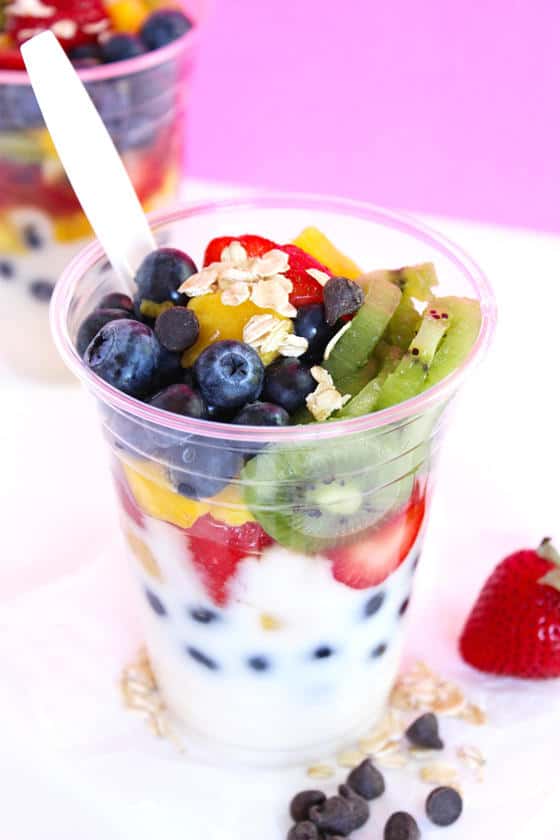 When was the last time you had a fruit cup? They are easy to make, look amazing and you can prepare them beforehand.
In this recipe the base of the cups is coconut yogurt, so far, I have found some areas where this can be difficult to source.
I hope you can get it easily, if not use your favorite dairy-free yogurt and don't be afraid to add a little maple syrup if you like. Colourful, delicious and healthy.
Oahu Acai Breakfast Bowl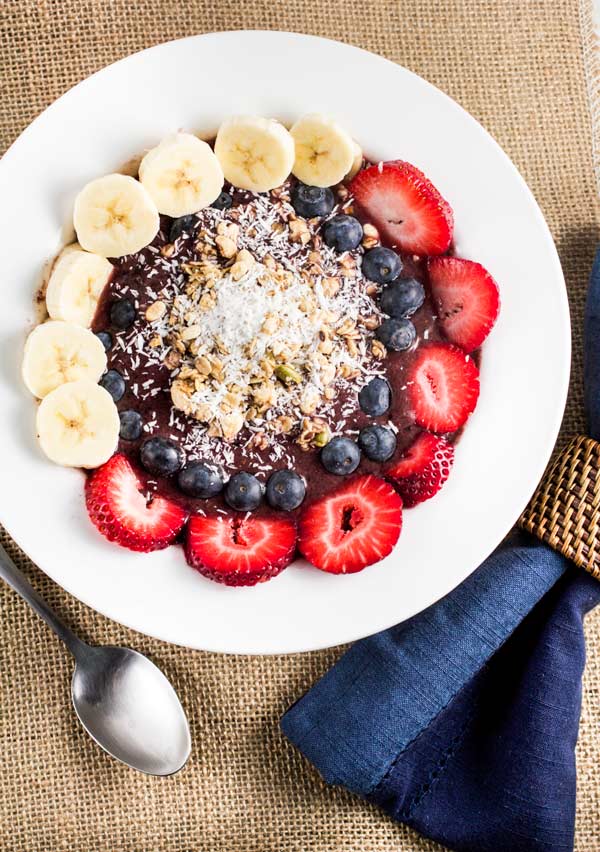 What a wonderful start to the day it would be with this super breakfast!
You'll need a blender to create the smooth 'soup' consisting of beautiful fresh fruit and acai berries.
Simply pour into your favorite bowl, add granola, you could even add chopped nuts if you like, then finish with the remainder of the fruit. Do go to the trouble for the presentation, even if it's just for you. Delicious!
Blueberry Cinnamon Porridge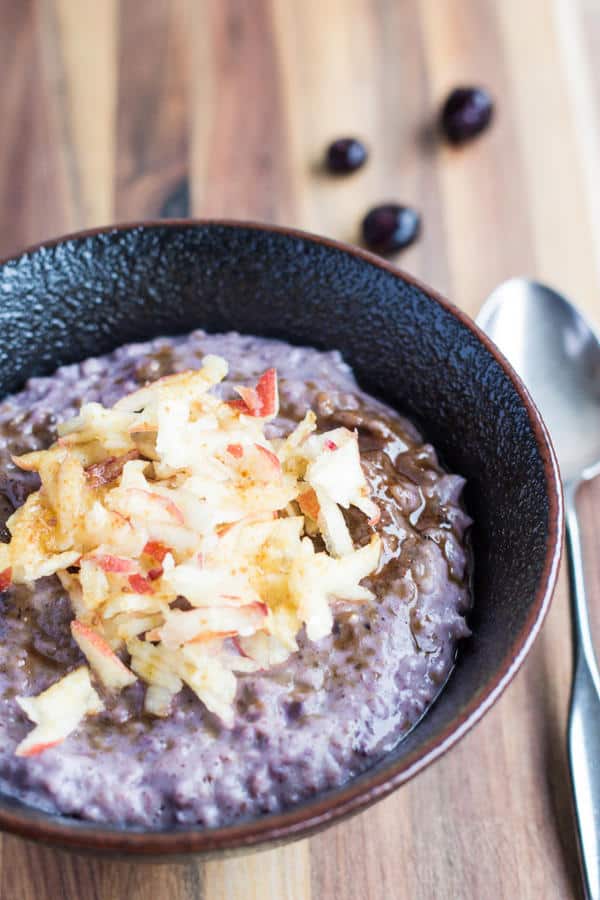 What I love most about this porridge is the color, don't get me wrong, it tastes amazing, but the presentation steals the show for me.
Normally porridge is an off-white, grey sort of color and hey, who's complaining, it is what it is.
The author uses blueberry jam/jelly but of course you could use fresh or frozen blueberries if you like. A great start to the day your body will thank you for.
Homemade Raspberry Pineapple Chia Seed Jam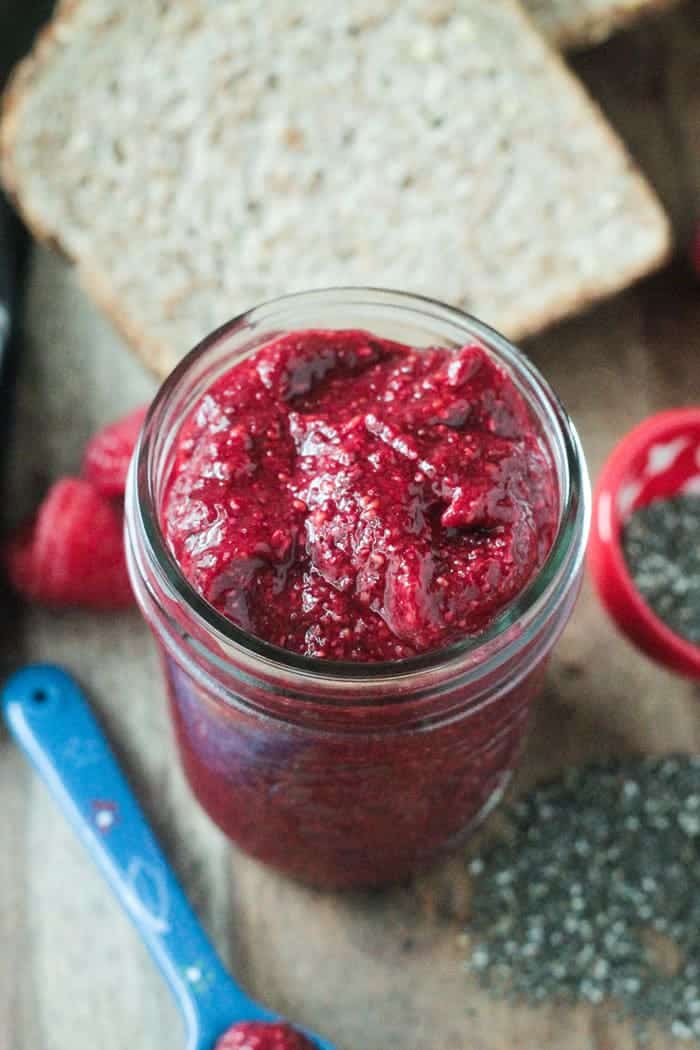 Home-made jam, fantastic but who wants to make it? It seems to take hours and then you need like 15 trucks of sugar. Not here, no sugar and five minutes. What?
That's right, you're looking at four ingredients and one of them is optional (maple syrup).
To get that jam consistency the author uses the natural properties of chia seeds. This stores beautifully in the fridge and is a wonderful, raw jam.
Roasted Stone Fruit Oatmeal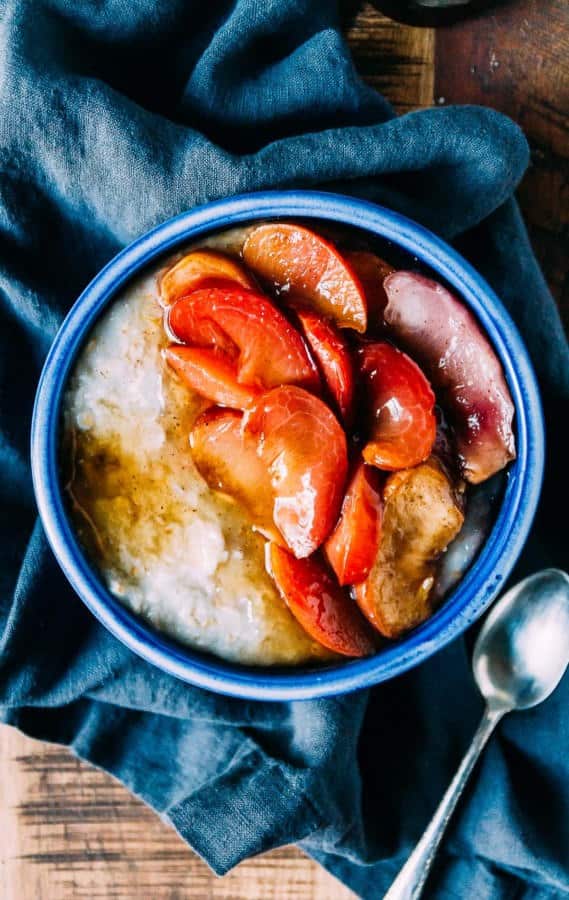 This recipe was a great surprise to see, something completely different and in good way!
You need 2 lbs. of stone fruit sliced and pitted that you then roast with sugar and vanilla extract.
While that is doing its thing in the oven, you prepare the oats.
Bring everything together with your fresh fruit and a little maple if you like and you have a breakfast of champions!
Dragonfruit Strawberry Jam (With Chia Seeds)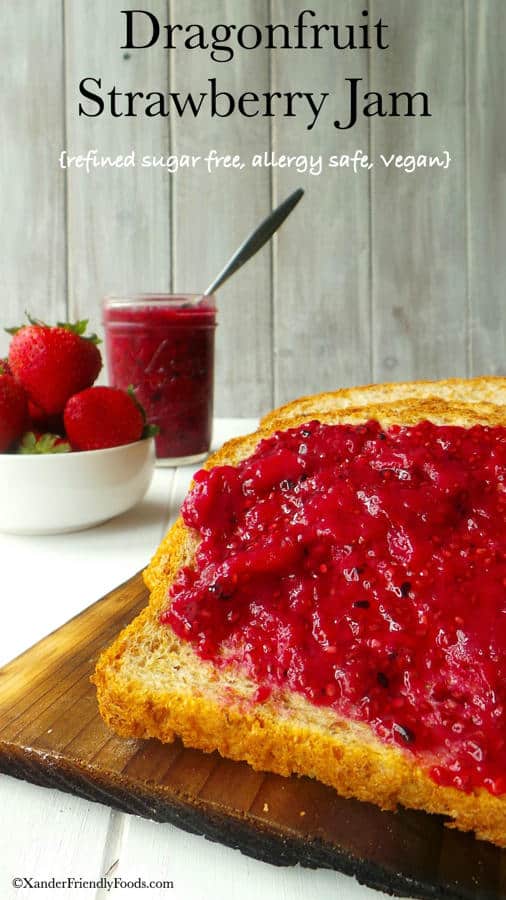 As we were preparing this collection of fruit-based recipes for this roundup I learned about these types of jam where chia seeds are used as the binding agent. It couldn't be more natural!
If you can get dragon fruit then great, though if you experience any problems don't worry and just use your favorite fruit.
Follow the instructions and you will have this amazing jam for of antioxidants and above everything, it will taste great. Stores in the refrigerator for up to 2 weeks, what's not to like?
Blueberry-Turmeric Breakfast Bowl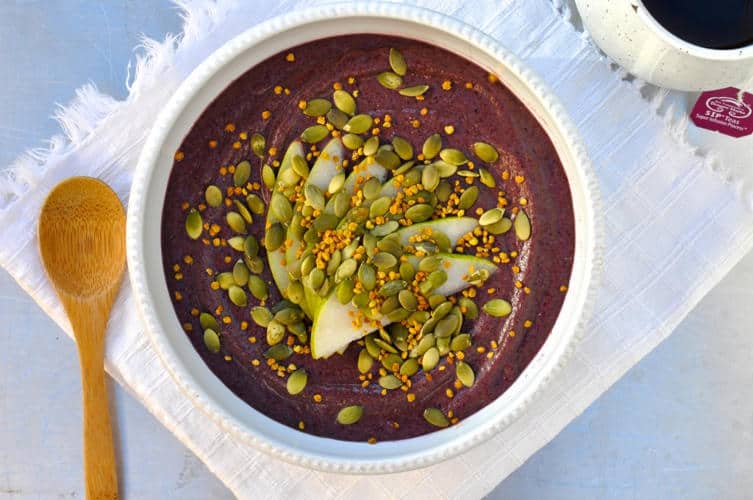 This is a thick smoothie that is beautifully vibrant in color, not overly sweet and has a hint of spice.
I love how the author makes this breakfast completely versatile. You can top it with anything you like whether it's fresh fruit or your favorite dairy-free yogurt (mine is coconut yogurt!).
Have fun and be healthy.
Fruity Dessert Recipes
No-Bake Fruit Pizza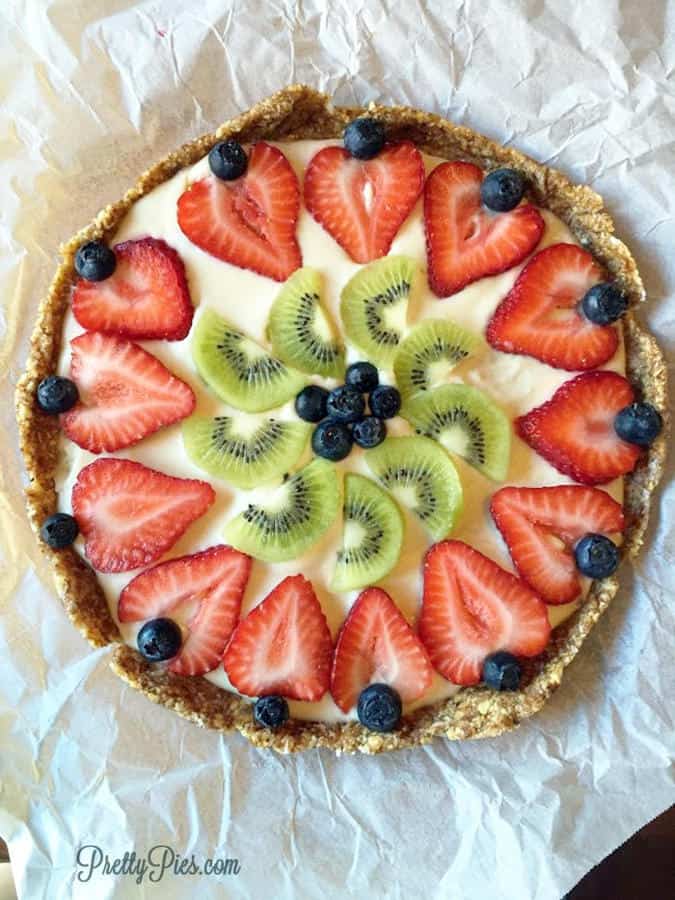 We can call this a fruit pizza although really it doesn't matter what you call it.
What I love about this most of all is that it's no-bake. Just check out the 'crust' section of the ingredients list, all you do is put everything together in a food processor and whiz until it becomes like a dough, that's it! You don't need me to promise you how wonderful this tastes and how healthy it is, I'm sure you can already guess.
Despite everything, I think the key to this is presentation so let your imagination run wild and go to the effort of presenting the sliced fruit on top in a fun way. Perfect for a family gathering or a summer cookout!
Strawberry Mousse Cake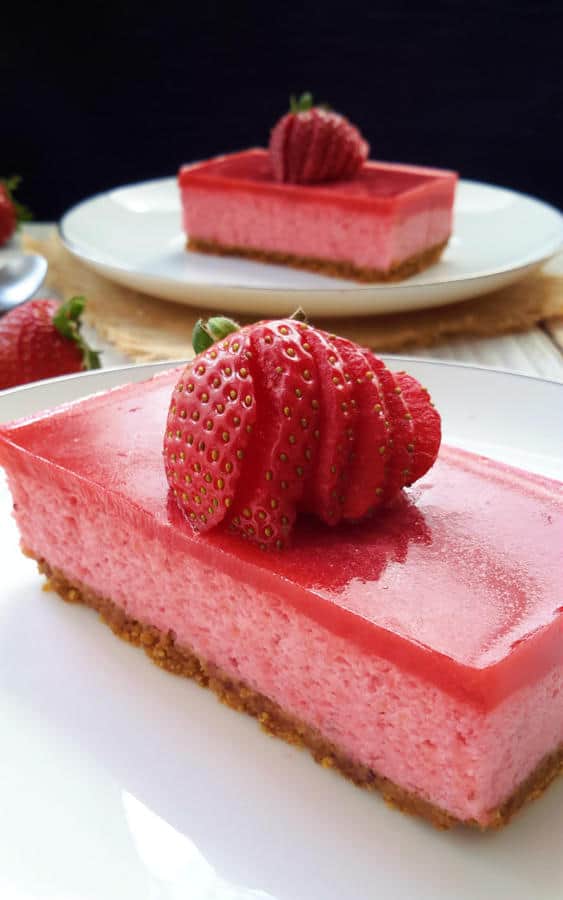 One of the best mousse cake recipes I have ever seen, and I don't say that lightly.
As you'd expect, this takes a little preparation although I do stress the word 'little'. There's really not much to it which is surprising given the quality of the mousse cake.
The ingredients are easy to source and I imagine you have most of them in the kitchen already. Make this for that special someone.
Strawberry Pie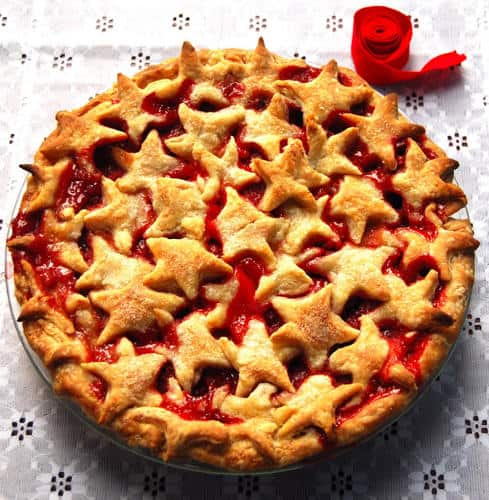 This is a real deal pie! As well as being vegan it is also soy and nut-free so perfect if you suffer from these types of allergies.
You're making everything from scratch and this is how it should be. The crust is old school so can be easier, all-purpose flour, a little powdered sugar, water and Earth Balance (or dairy-free butter equivalent).
Get out your favorite cookie-cutter for the toppings and then bake away for about 20 minutes. As I always say, when things get tough, eat pie!
Grab this Recipe
Mango Coconut Chia Pudding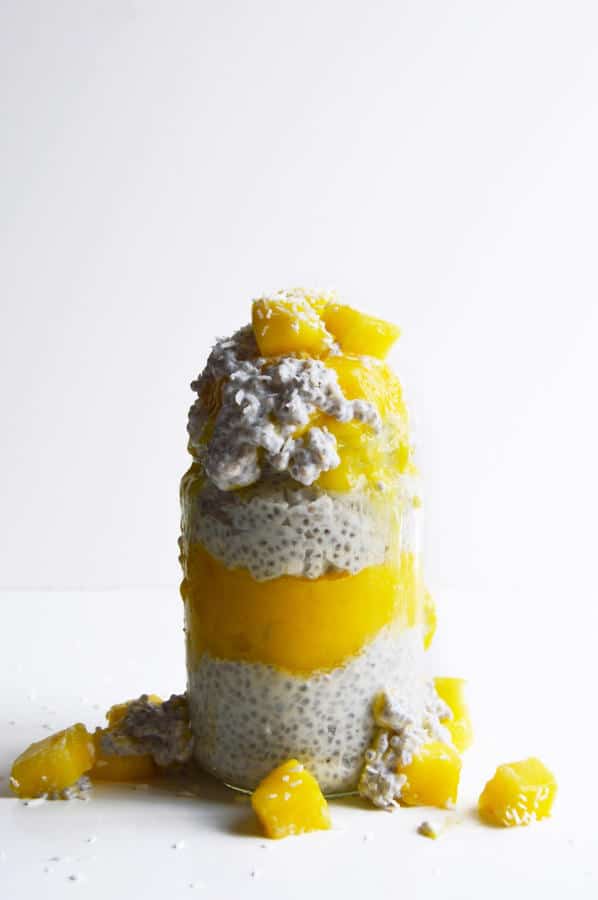 Oh my goodness, if you like chia puddings, I'm going to bet this will quickly become your favorite. If you never had a chia pudding before, start now, like, today!
The secret ingredient for me in this recipe is the coconut milk, it brings all the flavors together without homogenising them, you really taste everything individually and together at the same time.
This is a simple recipe although I recommend you read the four-point instructions all the way through first because there is a little preparation that needs to be done preferably the night before.
One thing I will guarantee you is that it's worth it!
Strawberry Aquafaba Mousse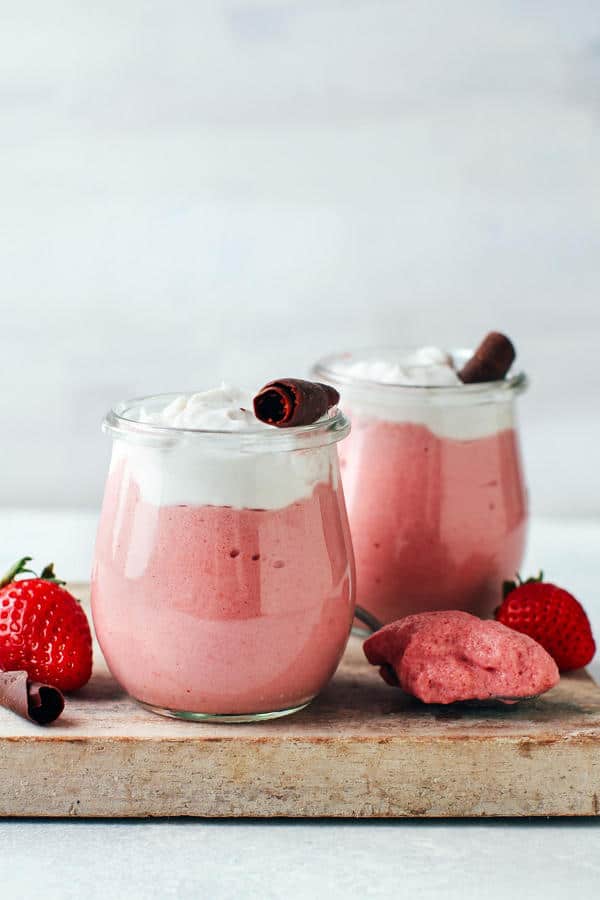 If you never had anything like this before, please do give this recipe a look. It's going to be perfect for making something a little different you know will taste great.
Aquafaba is the name given to the liquid in a can of chickpeas (garbanzo beans), I can promise you the desert will not taste of chickpeas! Put everything together, including the whipped coconut cream and you will put this recipe at the top of your list within minutes!
Mango Sorbet with Banana and Pineapple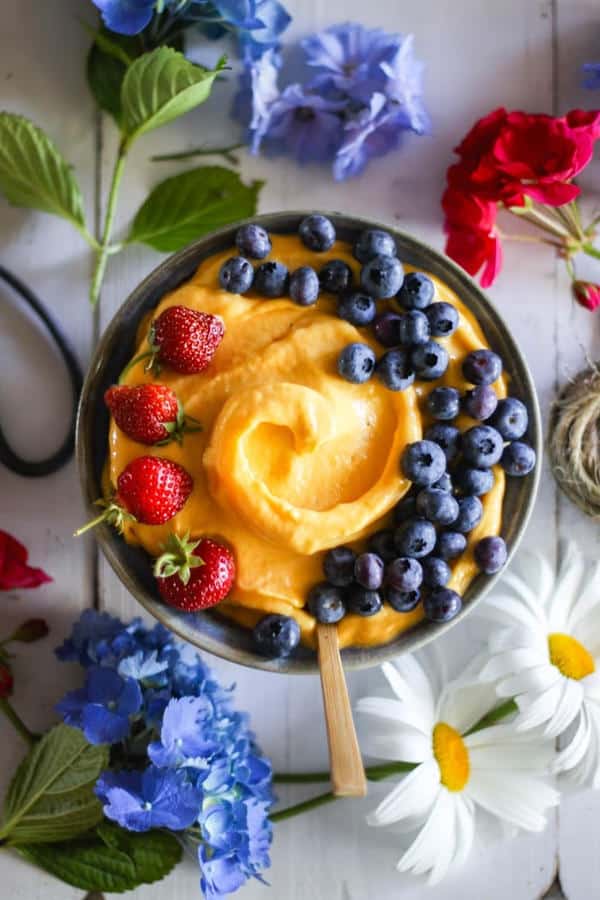 Did you know that some store-bought sorbets contain dairy? Obviously, not all of them but I can't believe sometimes when I look at a sorbet in the store, it looks delicious, I flip over the packaging to get the ingredients and I see something like, milk powder.
What are they thinking? That's why making dishes at home always wins, you know what's gone in them!
This dish has just three types of fruit. You need a powerful blender although if you don't have one, or your blender struggles with frozen fruit, use a food processor.
The fruit goes through different stages although after a few short minutes turns into a beautiful thick sorbet. Top with fresh fruit of your choice.
No-Bake Strawberry Pie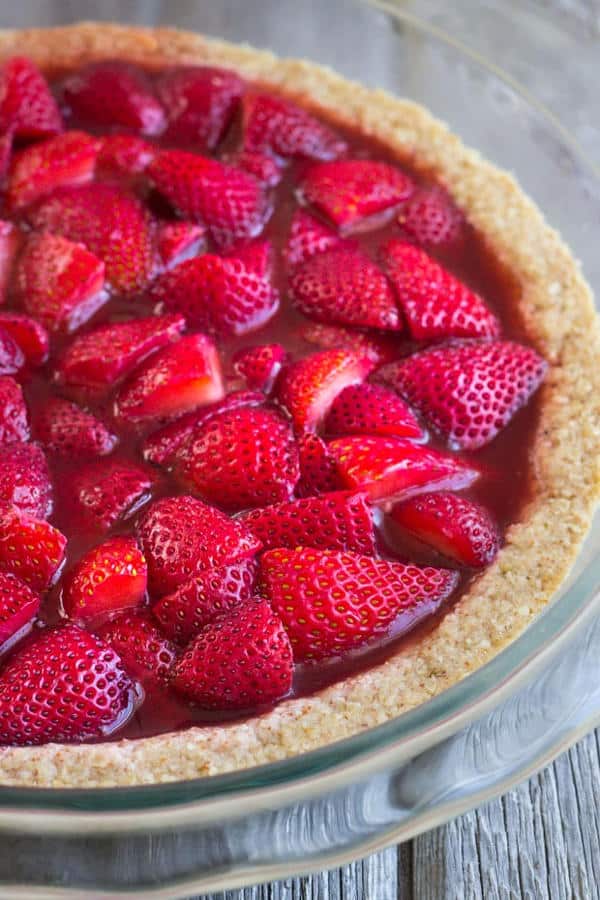 One of the reasons I love pies are the crusts. I just love crusts! This one is especially good with nuts, maple syrup, oats and a little unrefined coconut oil (as well as another couple of ingredients), put them all in a food processor or blender and bam!
I will say one thing about this recipe, the author has labelled it 'No-Bake' but there is baking involved.
It's just labelled incorrectly, and I thought I should warn you but don't let that put you off, it's a wonderful strawberry pie and if you have the whipped coconut cream for topping, whoever you give this to will love you forever.
Refreshing Kiwi-Coconut Tart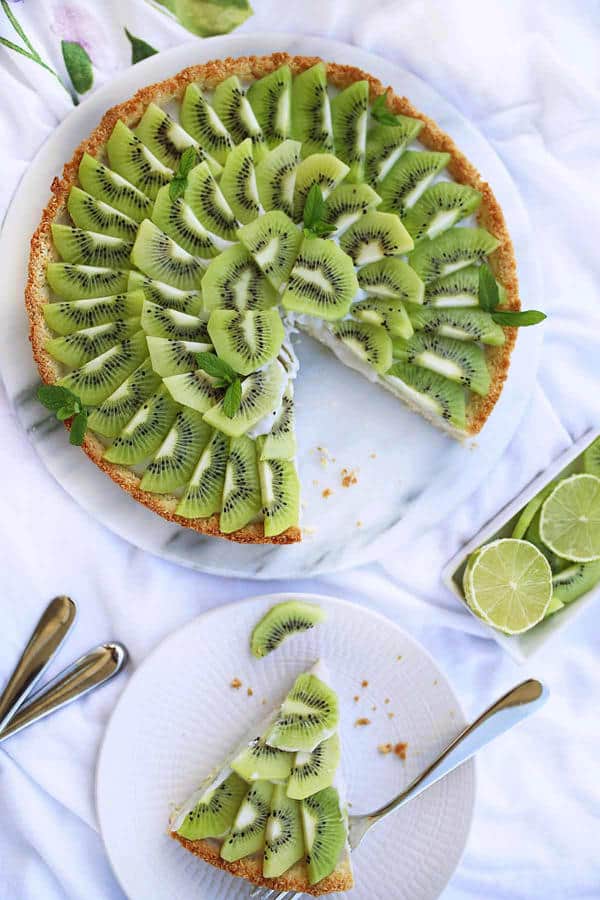 This is a real summer dessert! It's all about the Kiwi and what a great fruit to celebrate.
Very simple ingredients and I love the crust that includes shredded coconut! The filling is just made from dairy-free yogurt and vanilla paste, literally, that's it! As you can see, this is all about the topping and what could be more simple.
I do know some people that don't like kiwi fruit, if you are one of them, simply use anything you prefer.
I would advise going for something vibrant and also a fruit that doesn't oxidise quickly like apples. The presentation is easy and yet looks professional. Make it, you know you want to!
Fruity Dinner Recipes
Fruity Couscous Salad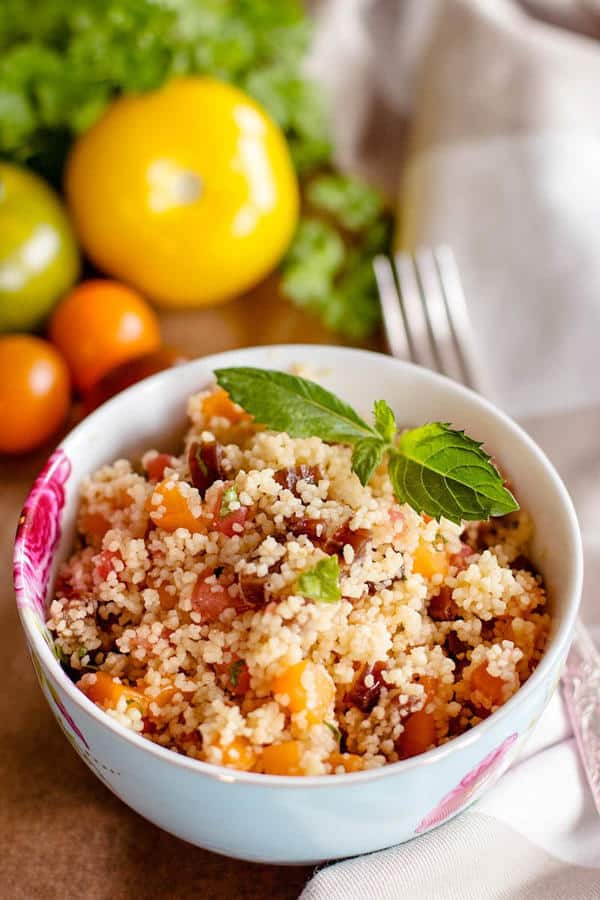 Couscous is used, 99% of the time as the main ingredient for an entrée or starter, what I'm saying is I have never seen it as part of a fruit dish. Well, this recipe has broken that!
This is a wonderful appetiser or salad and is both savoury and sweet at the same time. If you're looking for that Mediterranean flavor, look no further.
What I love about this dish is the flavors are all familiar, yet rarely seen in this combination.
It all works perfectly so if you're looking to impress someone, this is the dish to go for.
Slow Cooker Black Bean and Mango Caribbean Chili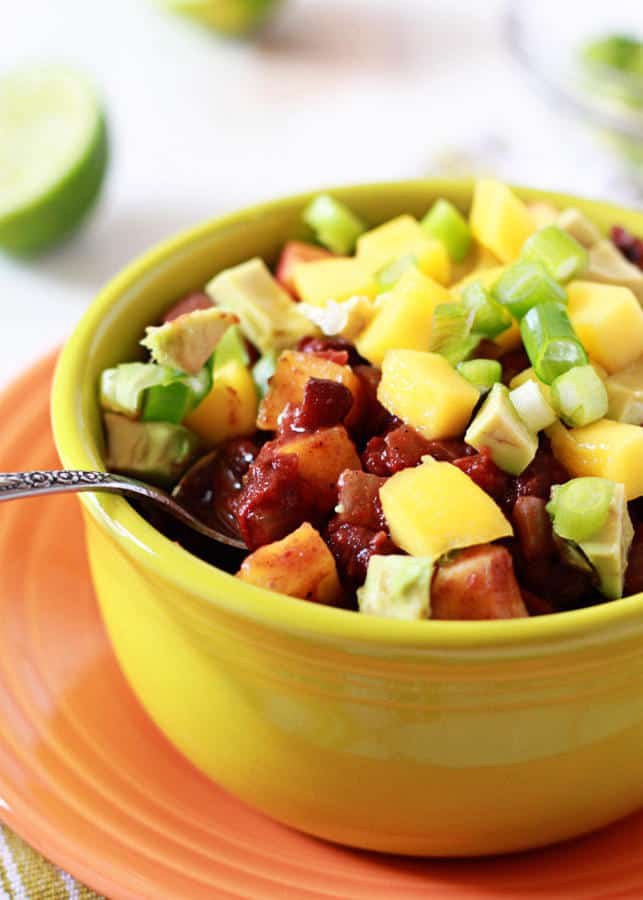 As the title suggests this recipe is made in a slow cooker. If you don't have one you could use a little imagination and still have the same results so don't worry, give it a read through and see what you can come up with.
This is a wonderful vegan chili that is made lighter (digestive-wise) due to the fresh mango!
The flavors worked together beautifully and the fruit just makes the whole dish taste fresh and I swear you eat more than you intended! Love it.
Spicy Jackfruit Salad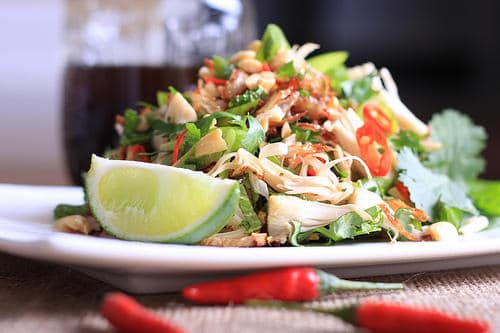 Jackfruit is incredible, and I see it used more and more in vegan dishes. Due to its texture, jackfruit is a good 'meat' replacement.
Its taste is benign, and it absorbs other flavors well.
I guess you could say this is the vegan alternative to a 'chicken' salad.
A wonderful light salad that is tasty, satisfying and will keep you going for the rest of the day.
Pulled Jackfruit Enchiladas Verdes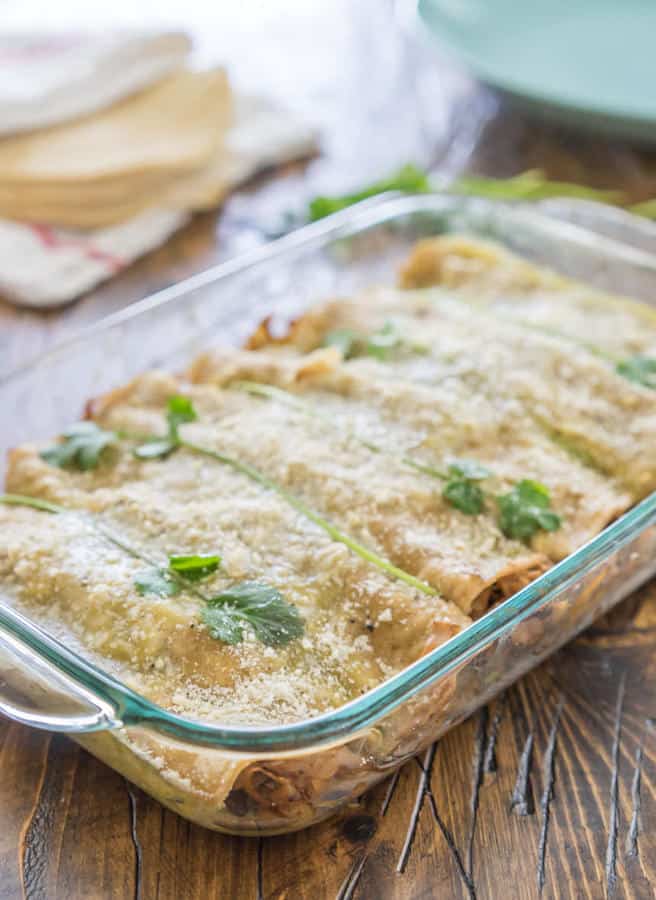 If you are transitioning from a standard American diet and you still miss that 'meaty' texture, this dish is for you.
In fact, you can serve it to any meat eater without mentioning that it's vegan and they'll love it, feel satisfied and wouldn't know the difference.
Get yourself some jackfruit, corn tortillas and all the other ingredients, and have yourself a Mexican evening with these tasty enchiladas. They really are the real deal!
Curried Quinoa Salad with Fruit and Almonds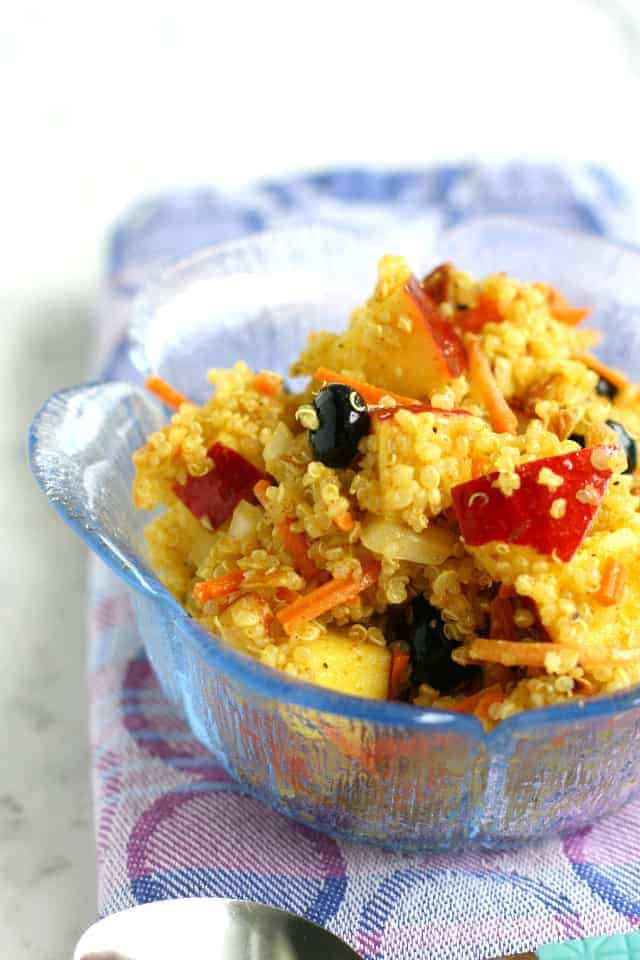 If someone says 'curry' to me, I'm in! I feel the same way about quinoa, its light, incredibly easy to make, healthy and doesn't leave you feeling lethargic.
This dish is a twist on what you'd expect because of the fresh fruit and almonds.
These add wonderful textures and somehow make the whole meal lighter. As well as being vegan, this is gluten-free, too.
The recipe page has a special tool under 'Servings' where you can change the number of portions you need, and it will change the amounts listed in the ingredients. Wonderful dish.
Teriyaki Jackfruit Sushi Bowl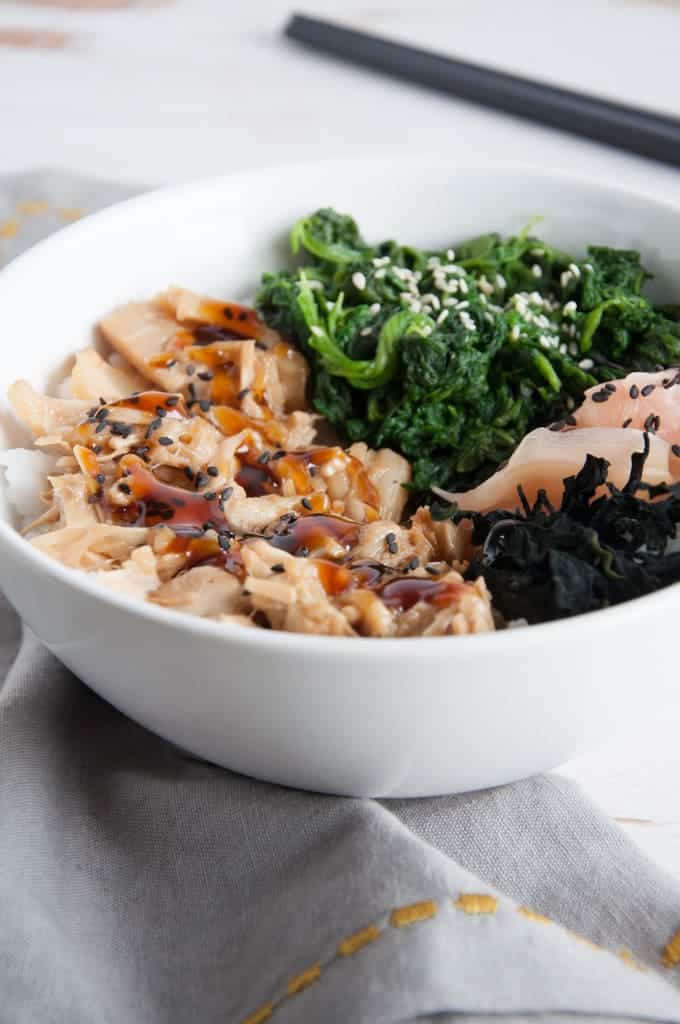 Jackfruit is the name of the game in this great dish. It's called a sushi bowl because it contains all the ingredients that would be in sushi.
The recipe is divided into three sections, the ingredients for the teriyaki jackfruit, sushi rice and then the rest of the bowl.
Really simple as you just use a can of jackfruit which very often in these kind of recipes, is all you need.
I hope some of the ingredients aren't too difficult to source as everything has its place, from the fresh spinach to the pickled ginger. If you have any problems, try an Asian store or look online. Delicious!
Jackfruit Carnitas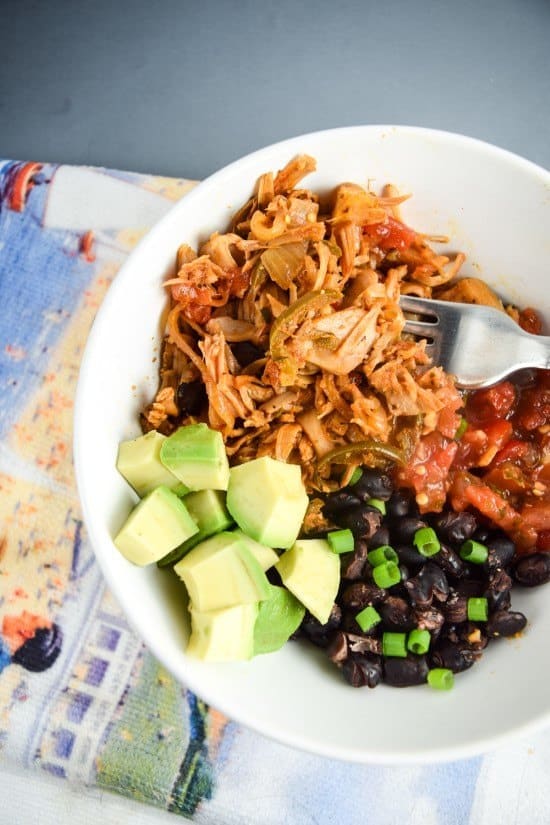 If you have recently switched to a plant-based diet, or you simply miss that texture, check out this recipe.
At the beginning of the page, the author openly states that she is not trying to replicate the texture of meat, I really like that approach.
Having said that, the texture is certainly there so if you like that kind of thing, you must make this.
The rest of the ingredients are fresh, simple and super healthy as is the whole recipe. Fantastic!
Slow Cooker Whiskey Pineapple Vegan Pulled Pork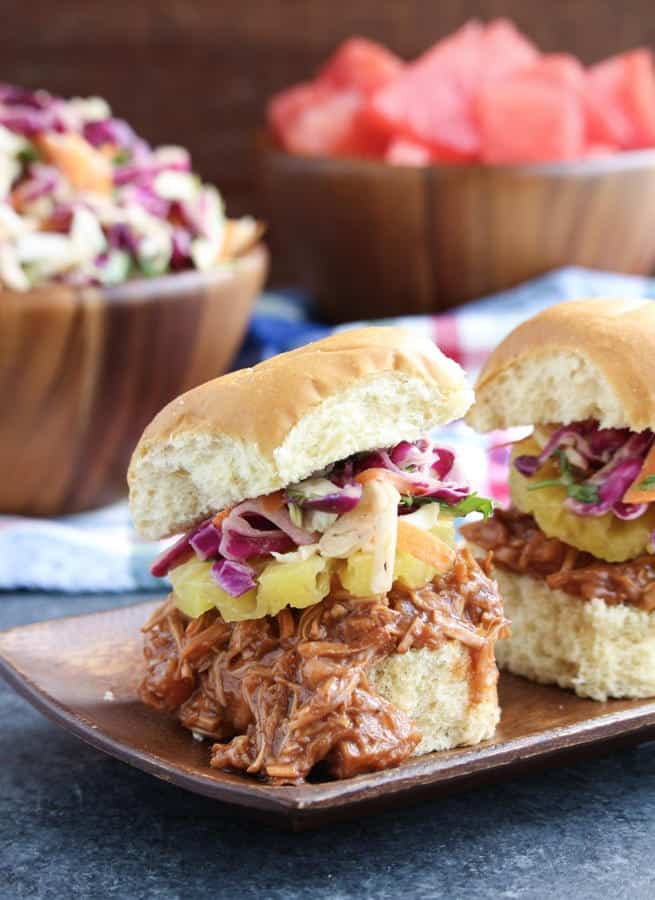 This recipe is one designed to be made in the slow cooker. If you have one, pull it out from the cupboard as you'll be guaranteed something special.
If you don't have one, you can still achieve the same results with a little imagination and expertise so don't worry.
I was quickly attracted to this recipe for the very personal reason that only yesterday I had a sandwich that had the very same filling, that's a really weird coincidence! If you miss that meaty texture or, you're having some people round that are not vegan, make them this.
I have not met one person that doesn't think jackfruit is one of the best meat alternatives out there. It's natural, non-processed and unbelievably versatile. You can use the jackfruit in this recipe in any way you prefer so, have fun and enjoy!
Fruity Gluten-Free Recipes
Strawberry Crumb Bars (Gluten-Free)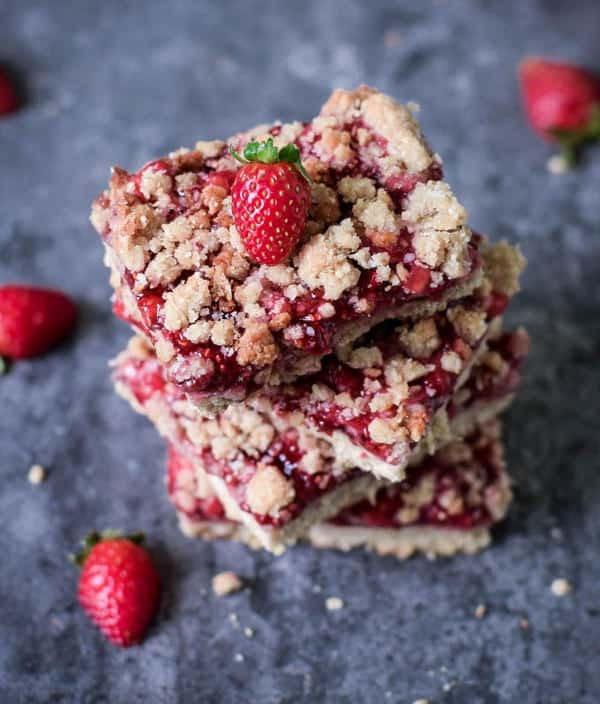 These bars are just awesome, low in fat, free from gluten and refined sugar with a taste that will truly amaze you.
The recipes divided into two sections, the dough and the filling. Both contain straightforward ingredients that you will not have any problems sourcing.
The secret ingredient here are the chia seeds, it's not about their flavor as they don't have much anyway, it's about what they bring to the table and that is their binding properties which grab all the other flavors and hold them together perfectly.
Get the kids involved as they will love making these.
Fruit Cake (Gluten-Free)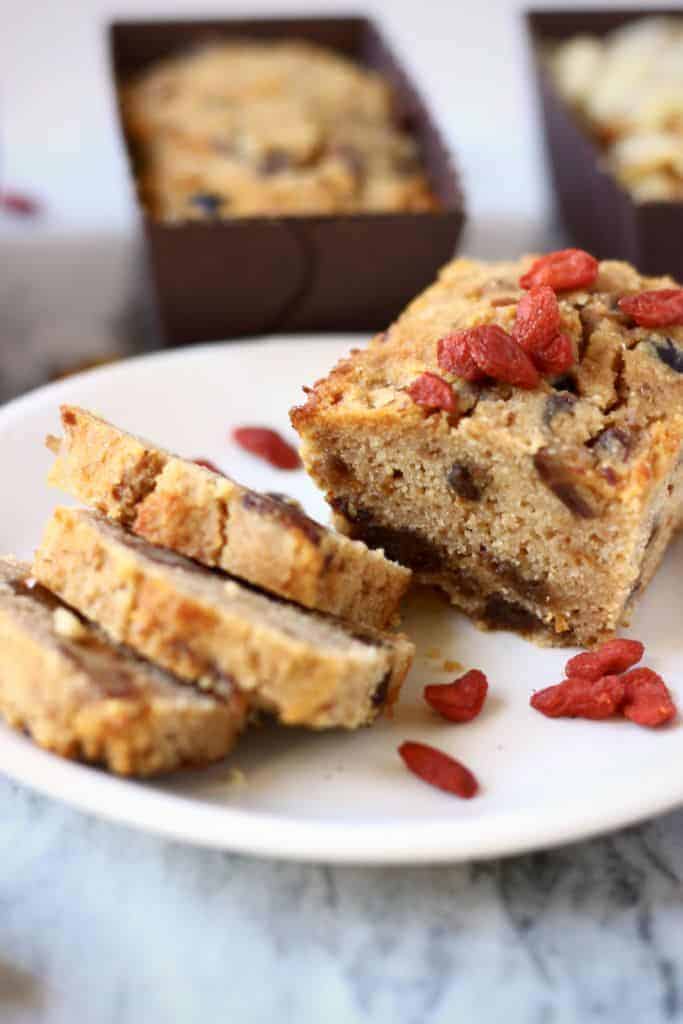 Fruitcakes! They are classic, timeless and everybody needs to know how to make one.
What a wonderful recipe this is, the cake is extremely aromatic, beautifully moist and what I love most of all, it's sweetened naturally.
I must tell you that this cake does contain, as the author describes, a 'generous amount' of brandy or sherry (make sure it's vegan) and if you're avoiding alcohol, feel free to use fruit juice.
This cake is surprisingly easy to make, you're looking at a 20 minute prep time and the same for cooking which is not like any fruitcake recipe I remember! Fantastic.
Pitaya Dragon Fruit Chia Pudding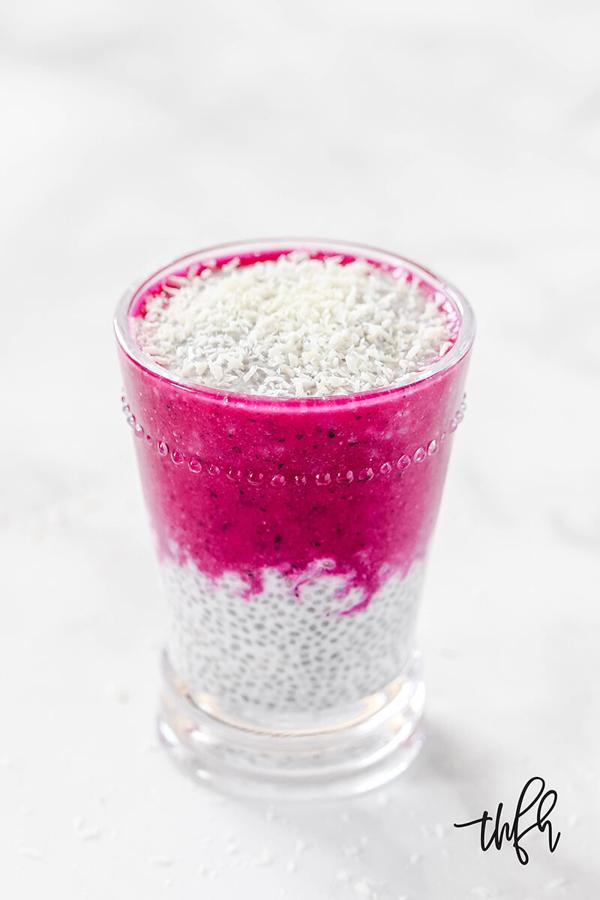 The first thing I always notice in any dish made with pitaya is its amazing color. There is nothing in the world quite like the rich, vibrant purple-pink color. And the flavor is out of this world. These weirdo looking fruits are a delight for the eyes and a veritable feast for your taste buds.
Paired with the creamy, seedy texture of chia pudding, this snack has a wholesome feel which will blow you away. How does it taste? Think kiwi and strawberry with a hint of watermelon and lime. It's unusual, yet so familiar. Refreshing. Delicious. Satisfying.
Summer Fruit Galette (Gluten-Free)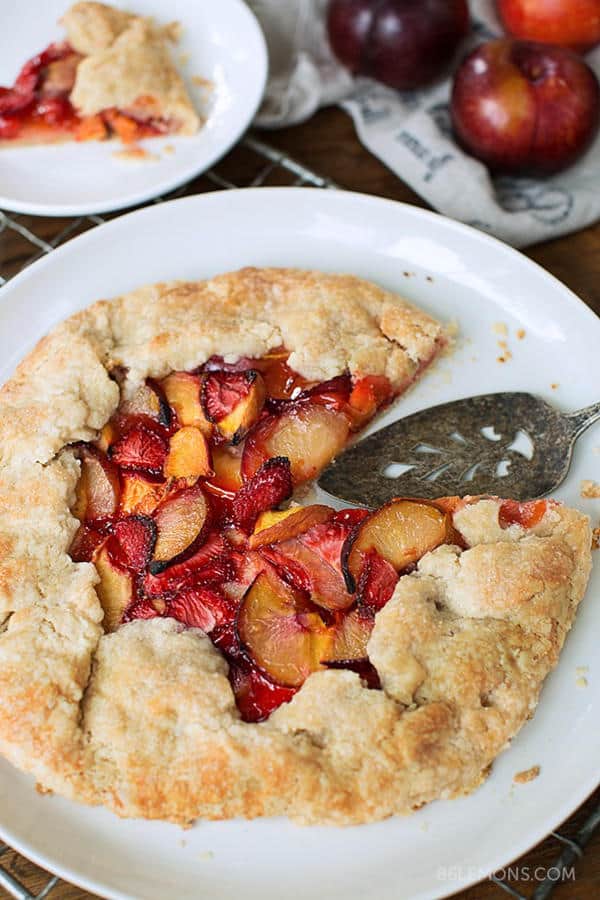 A wonderful rustic looking dessert that you can make your own. What I love about this galette is that it doesn't have to conform to any shape, its beauty (other than taste) is in its simple presentation.
The recipe is divided into two sections, the dough and the filling. You could save yourself some time and purchase a store-bought dough although I would urge you not to, it is as important as the filling and no matter how we dress it up, nothing beats home-made.
Once out of the oven, allow to cool for at least 15 minutes before serving. Amazing!
Plum & Mango Tart (Gluten-Free)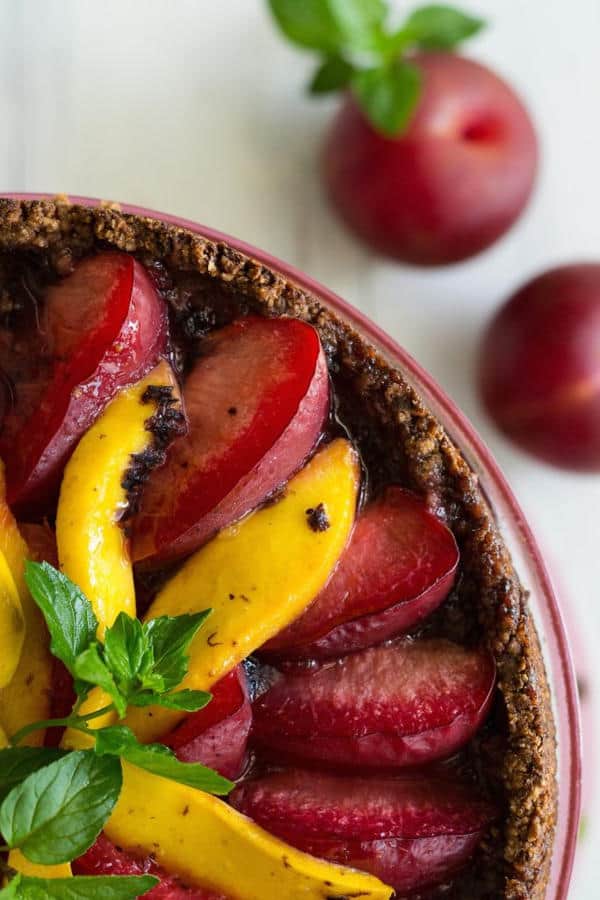 What a wonderful recipe this is, full of summer flavor but also perfect at any time of year.
The crust is exceptional and has some ingredients that I would not have expected such as rye crispbreads and tahini.
The other ingredients such as dates cinnamon and a few others bring everything together using a crust that is better than you can imagine, and I mean that sincerely.
Add the filling, make the simple glaze and you have something very special.
Red, White, and Blue Fruit Terrine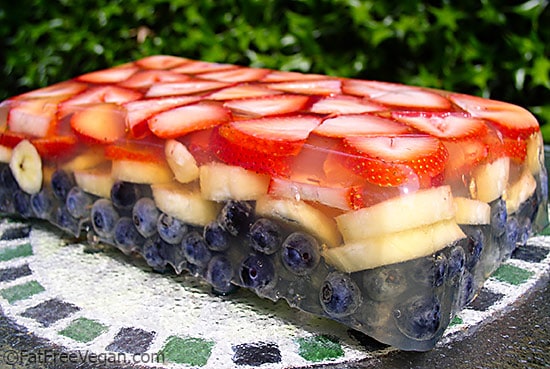 Whether you're on a diet, a detox or, the weather is so hot you just need something fresh and nutritious, come to this recipe.
I'm sure you'll agree this will look amazing on any table and the best part about it is that you can use your favorite combination of fruits.
My own advice is to keep it simple and layer the fruits because as important as the taste is, presentation is also an important factor.
You could throw in a whole bunch of fruits randomly and have a rainbow effect, I think this layered method perhaps is more striking. I don't know, what do you think? Send us your creations. Perfect for the summer!
Everyday Quinoa Breakfast Bowl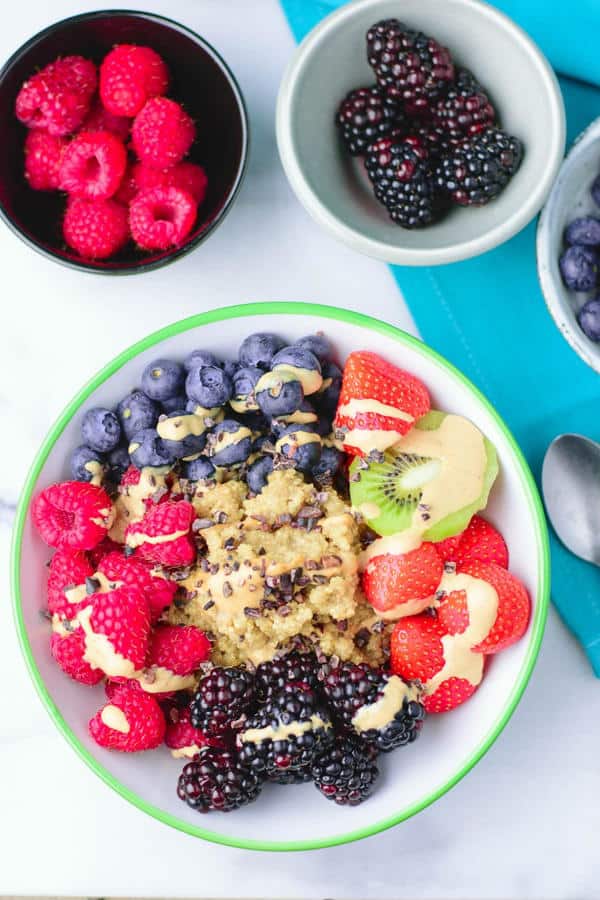 Florian from Contentedness Cooking makes incredible gluten-free recipes and here we have an easy breakfast bowl made with quinoa!
As you can imagine, this is very versatile so do use your favorite fruits, particularly ones that are in season.
I love how the quinoa is cooked with almond milk, it completely changes into a perfect ingredient for this type of dish. I love it.
Chili Pineapple Mango Salsa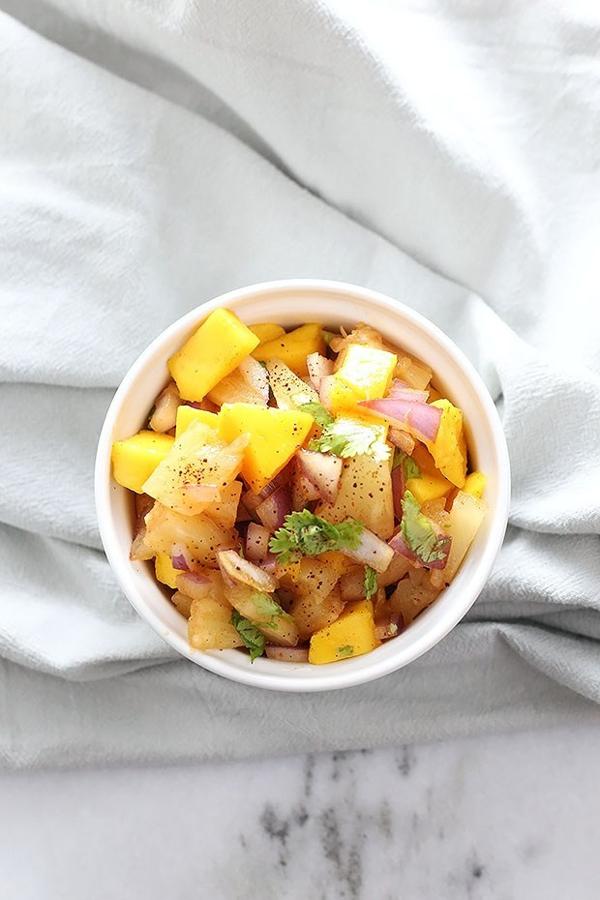 I know what you may be thinking, another salsa recipe! Well, this one is a bit different, and it's also very versatile and delicious.
The unique combination of sweet and spicy is a real treat for your taste buds. And you can play with the intensity of heat by adding your favorite peppers, too. Try to mix up the textures by using both canned and fresh fruits or thawed frozen.
This would make a great salad on a bed of fresh greens, as well as a topping for rice or quinoa. It would also make a tasty filling for tacos or burritos! This isn't your typical salsa, so you can afford to be adventurous!
Strawberries and Cream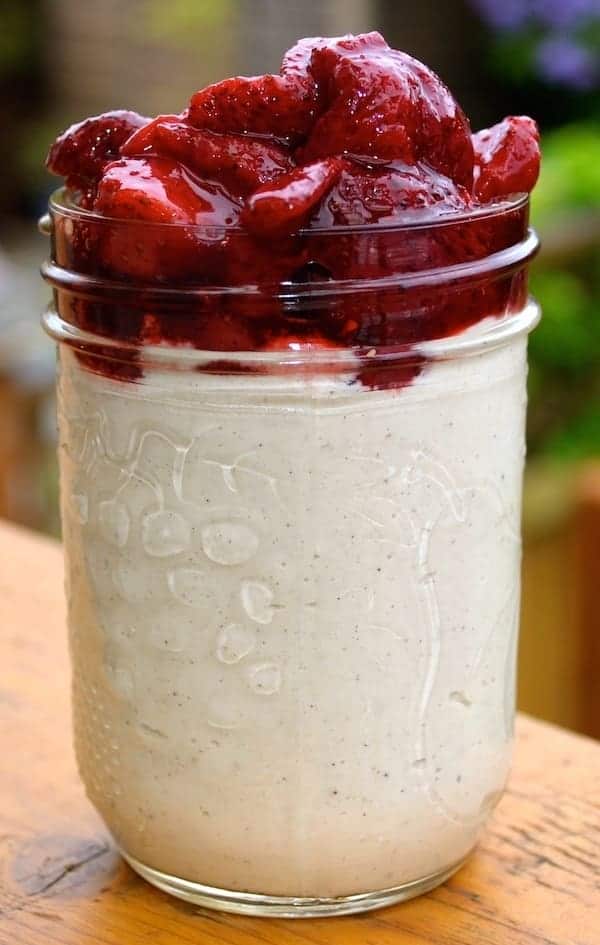 Strawberries and cream are classic and for anybody that loves tennis, you'll know it's a Wimbledon favorite!
Here we have a vegan version that's really quite nice!
The vanilla bean cream has a base of cashew nuts. The recipe recommends soaking them for at least 2 hours, my recommendation is to leave them in water overnight.
Follow the instructions and have a guilt free bowl of perfection. Anyone for tennis?
Fruit Layered Chia Seed Pudding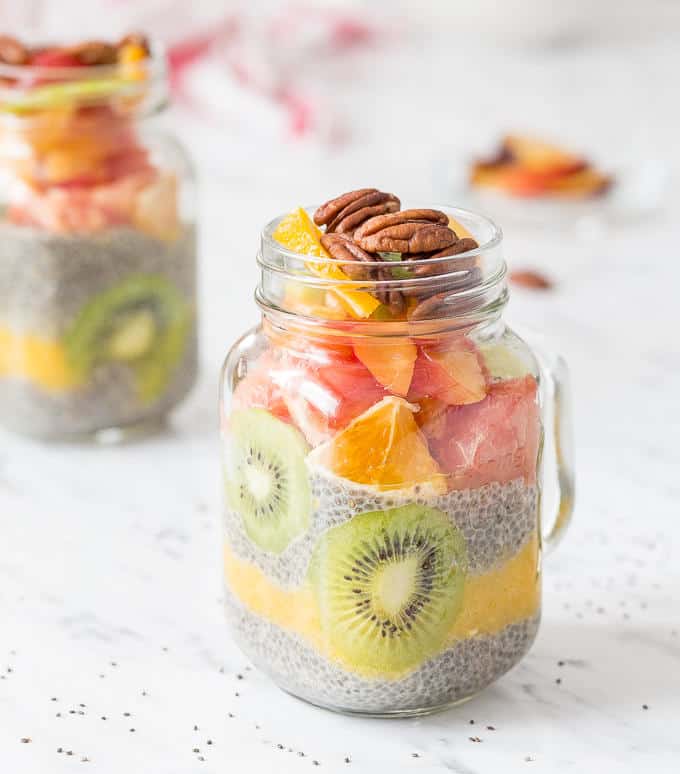 I never used to like chia seeds, looking back I can't believe it now but then again, I'm sure all of us have been through something like that.
This pudding is so easy and is so much more than a bunch of fruit thrown into a jar, the author has put a lot of thought into it. The recipe is divided into 3 sections, the chia pudding layer, the orange layer and the toppings.
I think the secret ingredient for me is the cane sugar and remember you can substitute this with any sweetener of your choice such as maple syrup or something. This tastes better than it looks, and it looks great!
Fruity Ice Cream Recipes
Apple Cinnamon Ice Cream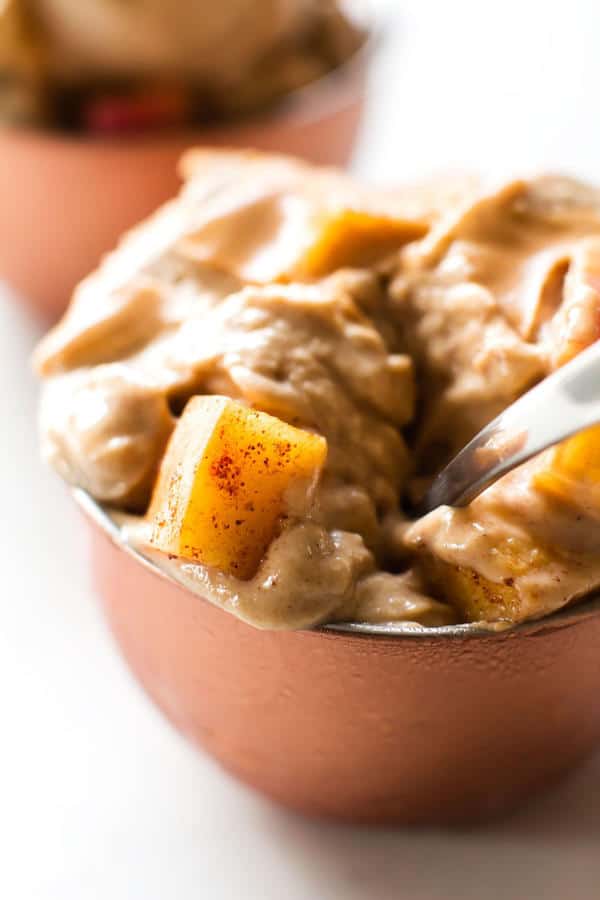 Normally with vegan ice cream dishes you need an ice cream maker for the churning and although there are ways around it, this is somewhat inconvenient as I don't think most of us have ice cream makers. With this recipe you need a blender, and a freezer!
The ingredients are divided into 2 sections, the ice cream and the cinnamon apple chunks. The ice cream is made with coconut milk.
A particular brand is listed but if you are unable to source this, any coconut milk will do. We used peanut butter when making this and it was divine.
It's the first time I've ever made a vegan ice cream without using frozen bananas. Follow the instructions and you'll have the creamiest and tastiest dessert ever!
5-Minute Very Berry Ice Cream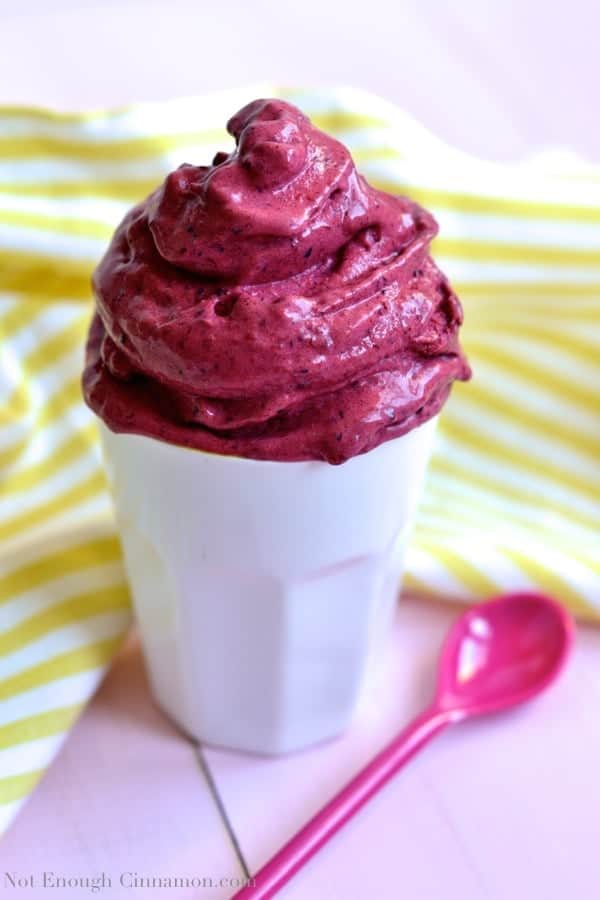 Another great vegan ice recipe that doesn't need special machinery!
My favorite part about this dish is the lack of ingredients. Lack of? That's right, just three! Blend all the ingredients in a food processor and add your favorite sweetener to taste, if necessary.
You will need to freeze for about two hours stirring occasionally if you want a smooth texture.
Other than that, it stores perfectly in the freezer, just take it out about five or 10 minutes before serving and it softens perfectly. Wonderful.
Easy Blackberry Ice Cream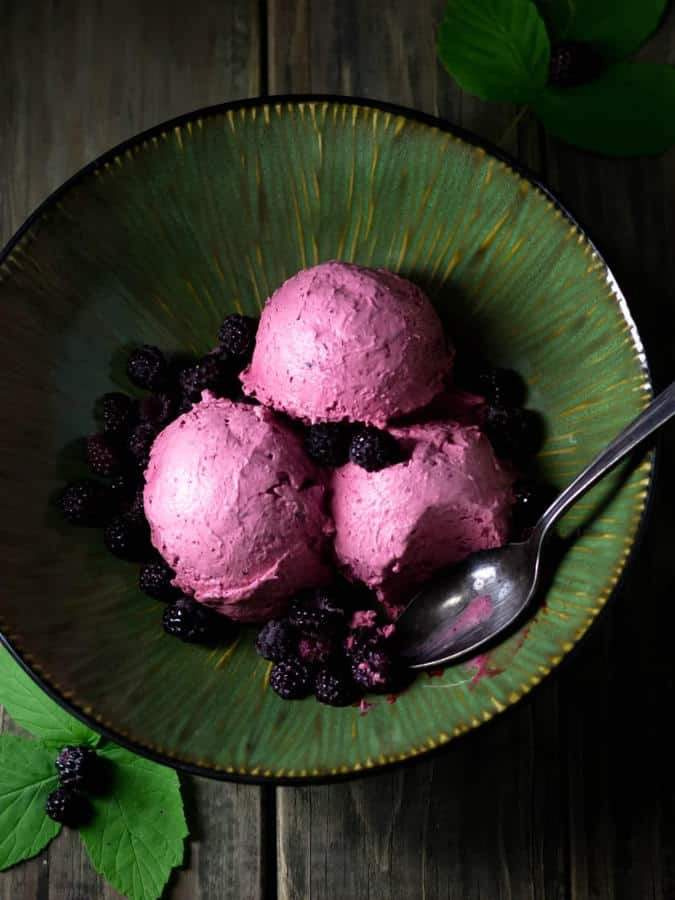 Why is this recipe called 'easy'? Because it is, no need for an ice cream maker or a special churning machine. You just need a blender or food processor and your freezer.
You'll need a couple of cans of coconut milk (chilled overnight in the fridge), your favorite berries fresh or frozen and just a couple of other ingredients.
Whizz everything up together and freeze for 1 to 2 hours before serving and you're good to go. This recipe used blackberries and I love the vibrant color of the ice cream.
Mango Ice Cream Pops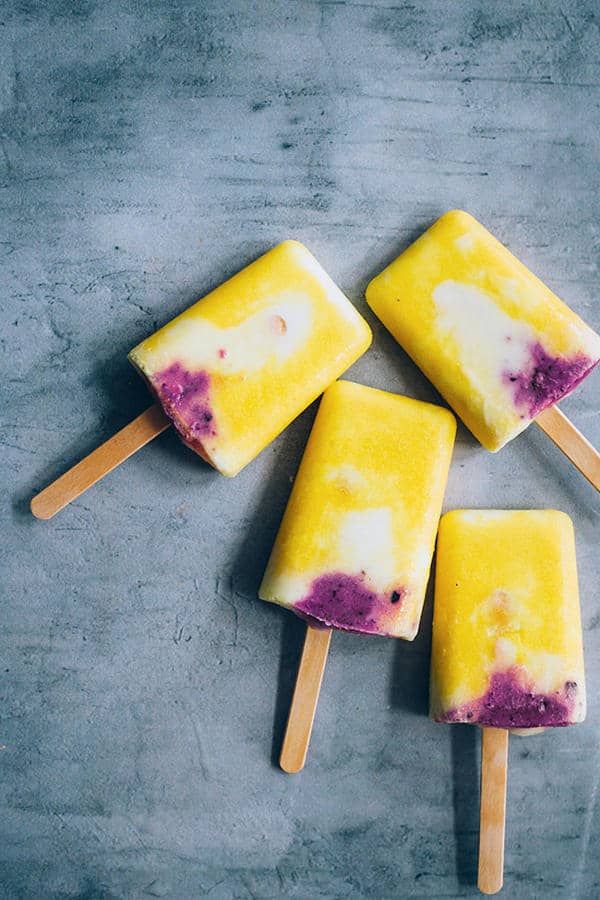 Grab yourself some popsicle molds! They're cheap and always handy. Sure, you can buy store-bought popsicles, but have you checked the ingredients?
Often, they contain weird stuff and I don't know about you, but I wouldn't feed it to my worst enemy, let alone my children. Popsicles are one of the easiest things you can make and when made at home, you know all of the ingredients!
This recipe contains some really good stuff, not just fruits and a sweetener (maple syrup) but also coconut milk and turmeric! Whizz everything up in your blender and pour into the molds, don't forget the sticks!
Blueberry (Nice) Ice Cream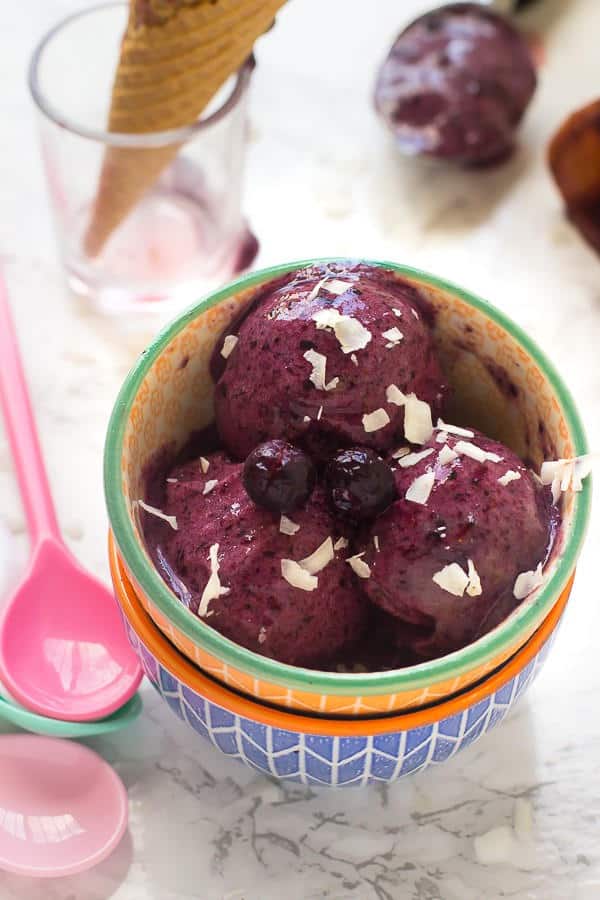 How many ingredients does this ice cream have? Just 2! The main ingredient is frozen bananas and if you've never made ice cream with this before, you are seriously missing out.
As well as the bananas knew looking at frozen blueberries. You can use a blender although it must be a dedicated powerful machine such as a Vitamix or equivalent, do not use a regular blender.
If you don't have this, a regular food processor will do just fine. You just need to give it a few minutes of whizzing before your see the consistency change to ice cream so, be patient!
Garnish with fresh blueberries and coconut flakes. The recipe page has a great video so be sure to check that out!
Chunky Strawberry Ice Cream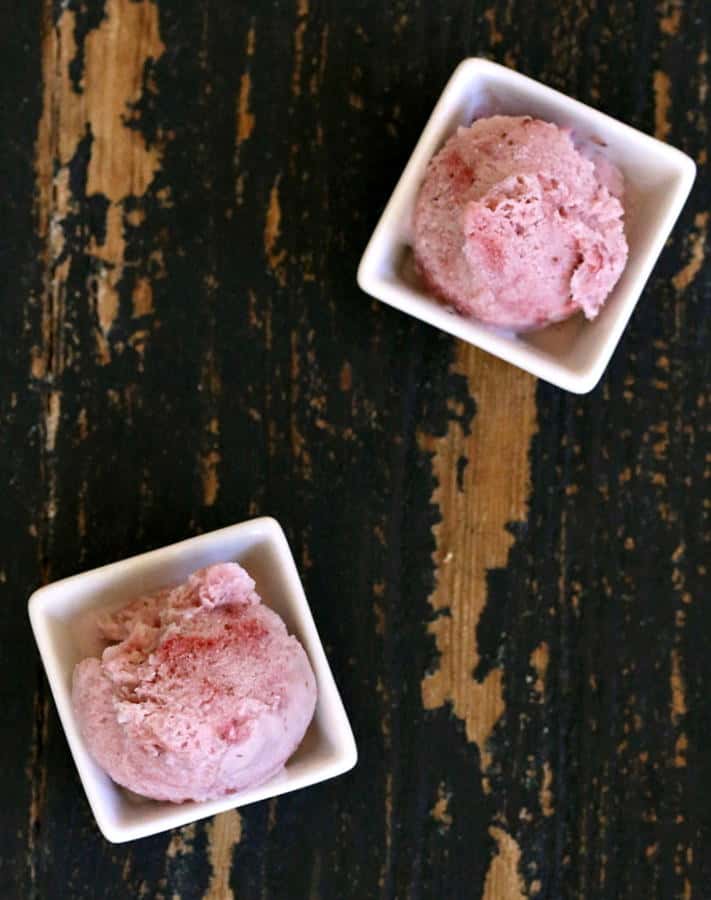 All these whizzed up ice creams are all well and good, but what if you want such a dessert with chunks? Is a valid question!
This recipe is a little different as it involves some cooking to breakdown the strawberries. Usually, with vegan ice creams you just use fresh or frozen ingredients and that's pretty much it.
If you want to impress someone with a dairy-free ice cream they are not expecting, go for this. The creaminess of the full fat coconut milk ensures the creamiest texture ever!
Watermelon Ice Cream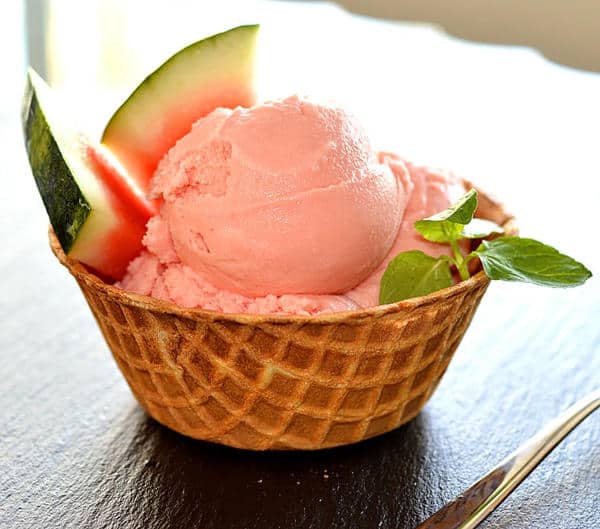 This is one flavor you don't see very often, watermelon!
A unique vegan ice cream recipe where a couple of ingredients are cooked to thicken. You also need some chilled watermelon that needs to be strained and then you combine everything together.
Certainly, more effort than the usual dairy-free ice cream recipe but the end result is worth it. Keep this recipe for that special occasion when you want to pull something out of the bag that nobody has ever had before.
Mixed Berry Ice Cream Cake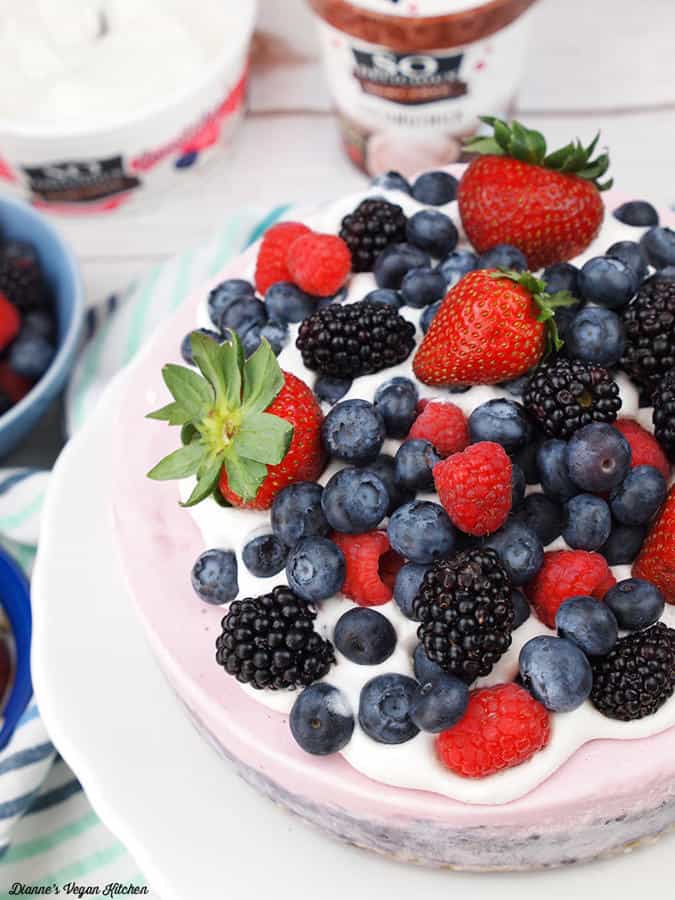 When I first saw this, it reminded me of Italy because ice cream cakes are very common there.
The photo is one of the most appealing I have seen for this kind of dessert, there's just something about the darkness of the blueberries and blackberries contrasting with the vibrant strawberries!
This is a serious recipe and one you need to keep for that someone special. It is divided into three sections, the crust, the cake and the crunchies!
You're now ready create this in 5 minutes, it will need a little preparation, but less than you imagine. The end result is an extremely fancy restaurant quality dessert that will wow from the moment it is presented.
Raspberry Swirl Chocolate Chip Ice Cream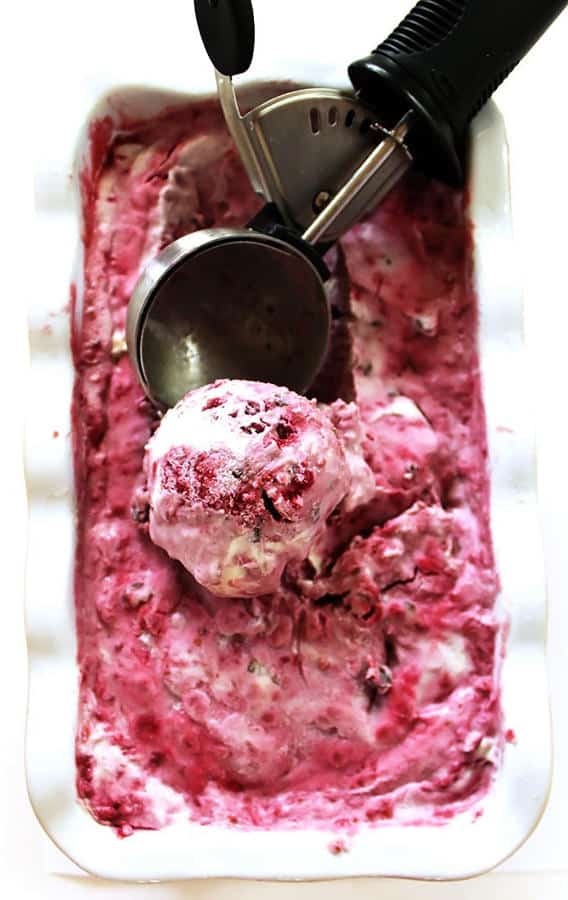 This nothing quite like an ice cream that has swirls!
The base of this dessert is cashew nuts (soaked overnight) and coconut milk. It also has a little whiskey, this is optional although it does have a purpose as you won't be able to taste the alcohol.
Mixed in with the other ingredients, it prevents ice crystals from forming which is common and this may spoil the creamy texture you are trying to achieve.
You're looking at about a total of 40 minutes to make this ready before freezing. When you want to go that extra mile for someone special, this is it.
Peach Ice Cream Made with Fresh Fruit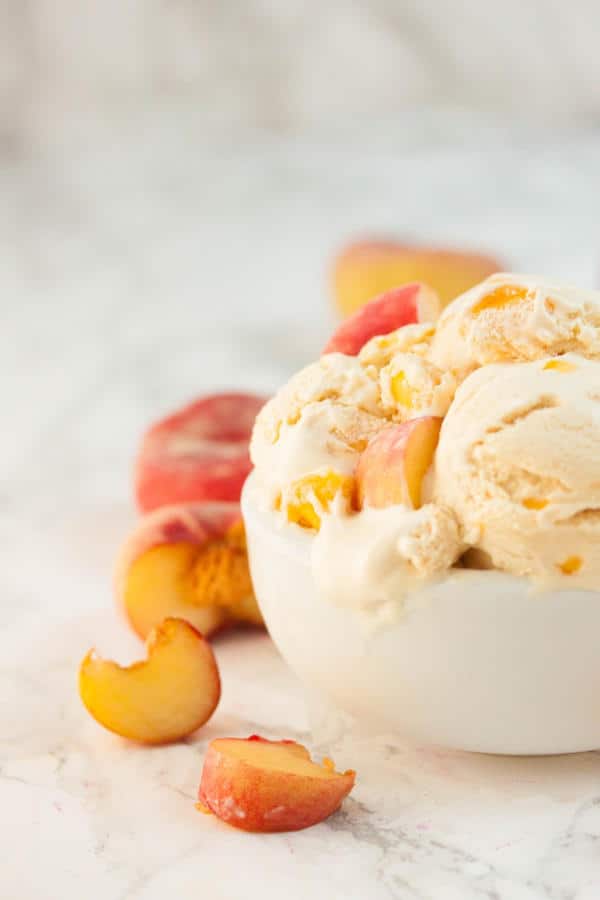 Ice cream comes in a bunch of flavors and we can often name the common ones such as vanilla, chocolate and strawberry. What about peach?
There are just 6 ingredients and, as you can see from the ingredients page, a lot of steps are needed to create this.
Don't let that put you off, it's not as bad as it appears, and I encourage you to give the instructions a full read through first.
The way I see it, the classiest recipes don't make themselves. The end result is the most silky and smoothest ice cream you've ever had!
Fruity Juice Recipes
Ravishingly Red Juice (Pomegranate, Beet and Red Cabbage)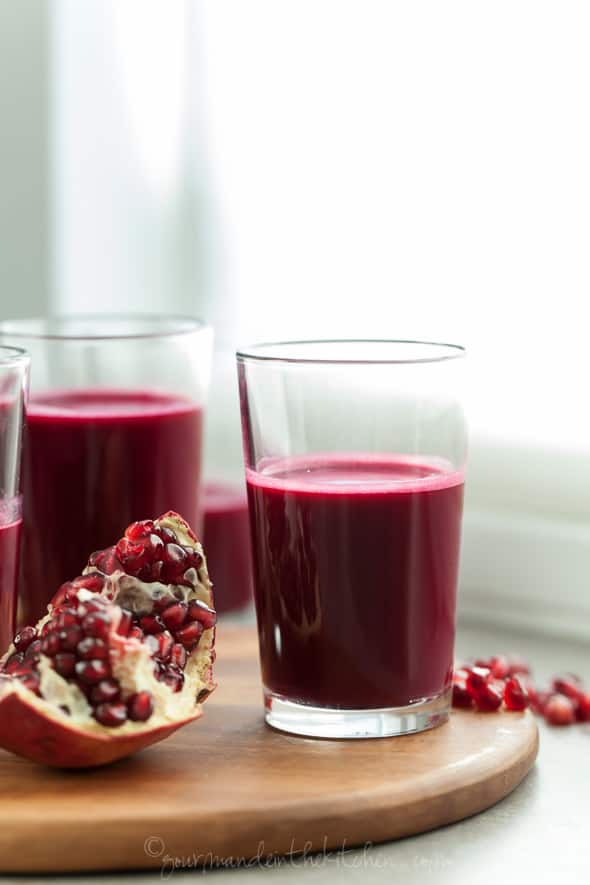 If you're on a health kick and I looking for good detox juices, check this out.
Nothing but the juice of real food as nature intended. This is a proper juice recipe (as opposed to one blending) so you will need a juicer.
I recommend a slow masticating juicer rather than a centrifugal machine. Check out our juicer review pages for the best juicers on the market.
Prepare all your produce and simply juice. As with all such recipes, the fresh juice is best enjoyed immediately although you can store in an airtight container and it will refrigerate for up to 3 days (providing the juice was made in a masticating juicer). Totally recommended recipe.
Strawberry Sunrise Juice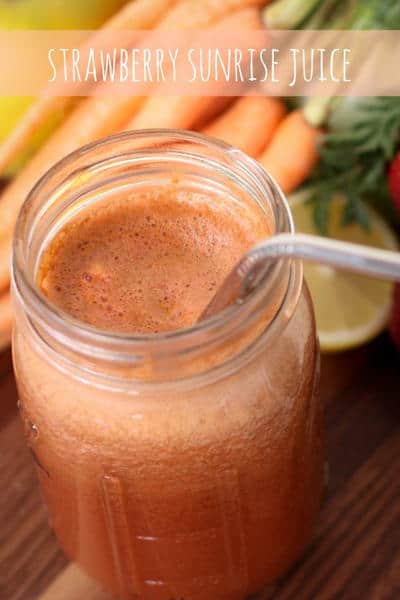 There's nothing quite like having seasonal produce. When it's time for strawberries, get out your juicer and make this!
As well as strawberries, this contains three vegetables (and an apple). If you're new to juicing a lot of vegetables, feel free to leave one or two of these out and go heavier on the fruit. Either way, a perfect start to the day!
Beet and Pineapple Juice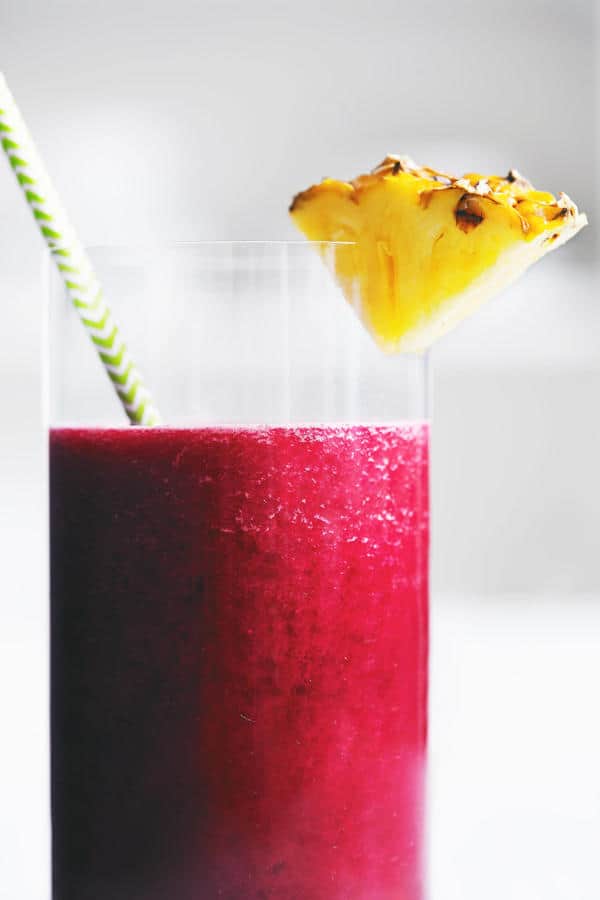 Fancy a luscious juice with a tropical touch and a trusty bite of ginger?
Then get ahold of this lovely beet and pineapple juice, which is a great way to nourish your body with the powerful nutrients found in beetroots.
It's a simple 4-ingredient juice recipe you'll want to enjoy over and over!
Bloody Good Watermelon Juice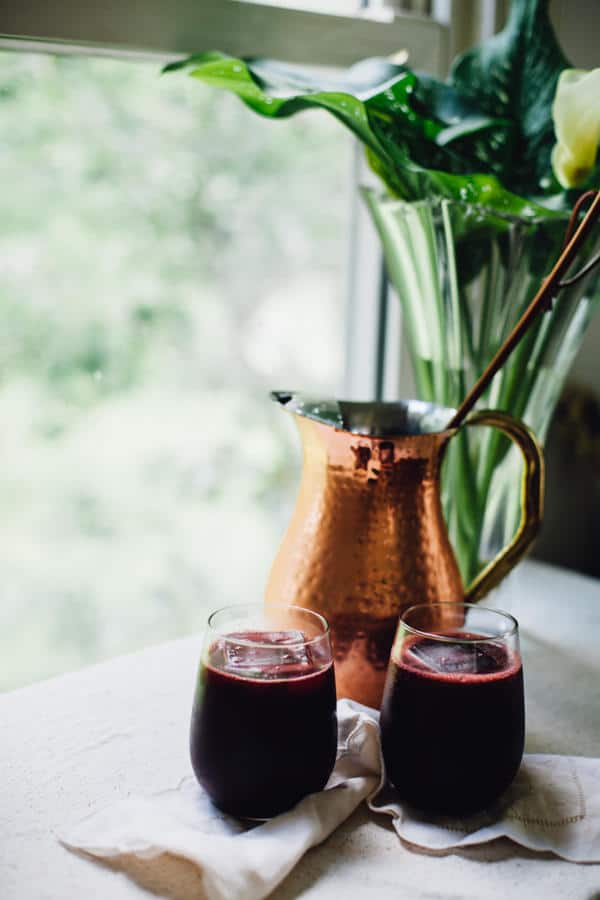 An amazing recipe that yields a juice so dark, it resembles wine!
Here the author recommends juicing also the rind of your watermelon. To be honest, I've never done this, and I didn't do it on this occasion.
My philosophy is if you're not supposed to eat it, I'm not going to juice it! Having said that, that is just me and you should do whatever you feel resonates with you the best.
Either way this is a great recipe that is good for you.
Strawberry Watermelon Juice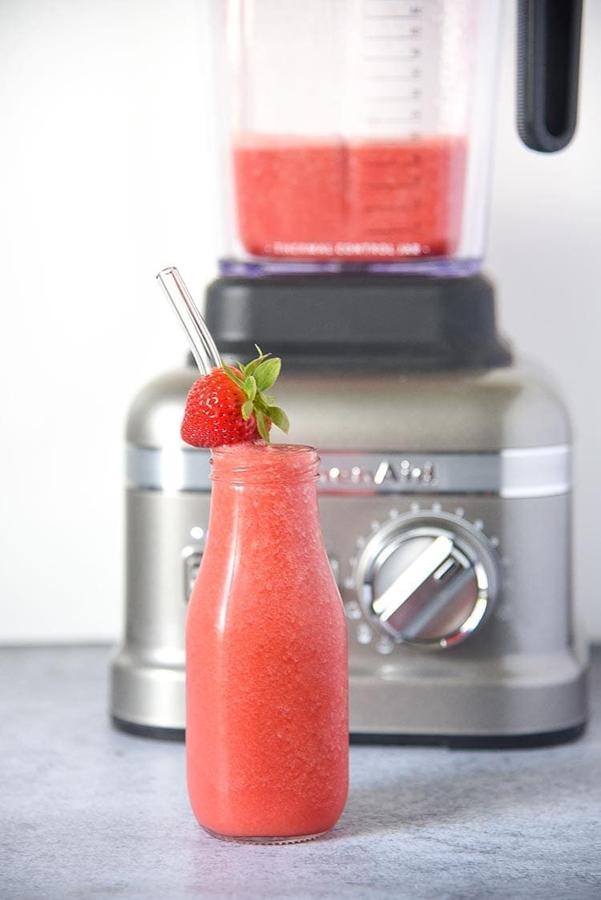 This simple three ingredient juice is the perfect pick-me-up! Everyone in your family with love it, and you won't have to worry about what's in them. It's raw and preservative-free.
Packed with lycopene, it's sure to help quench your thirst and fuel your body. This is a juice which can be enjoyed year-round. Simply swap out fresh and frozen fruit according to what's available.
You can strain the juice through a nut bag if you want a pulp-free experience or drink it as is for a satisfying treat. Either way, it's delicious!
Orange, Lemon, Carrot & Ginger Zinger Juice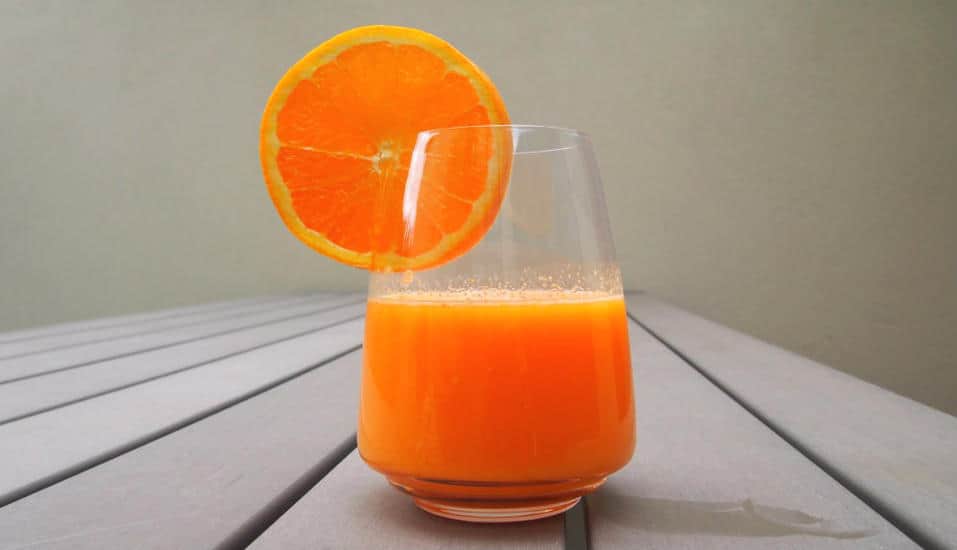 This is certainly a zinger and will start your day like a dragster.
You can see the ingredients in the title, they are full of vitamins and antioxidants amongst other things and to say this is healthy is an understatement.
If you are used to starting your day with coffee to get you moving, this is the perfect replacement, and it's good for you! Try it once and you'll be hooked.
Harry Potter Inspired Pumpkin Juice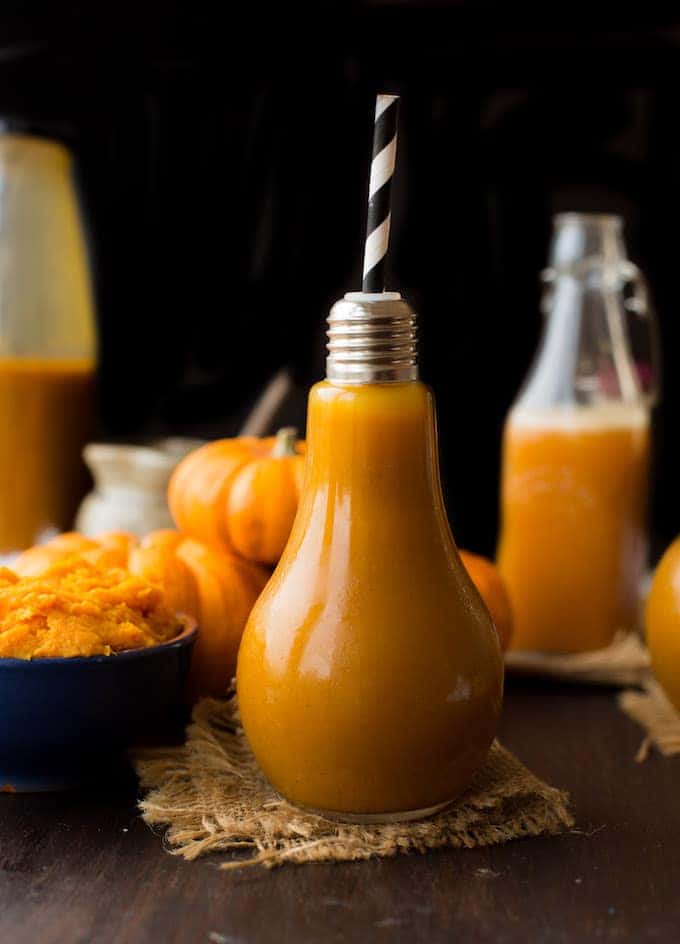 If your kids are into Harry Potter, this is a must. This is also the perfect recipe for Halloween or any of the holidays around that time of year.
Get yourself some pumpkin purée and either make your own or buy some apple and apricot juice.
Add a few other ingredients and follow the instructions and you'll be guaranteed a fantastic pumpkin juice.
Do read the recipe notes at the end of the instructions as there are some useful tips there. Fantastic!
Kumquat Carrot Orange Juice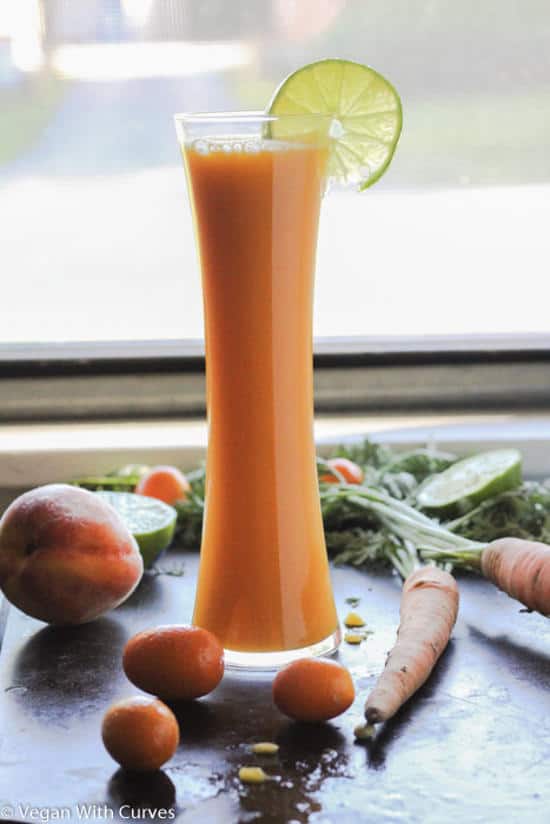 Have you ever seen or had a kumquat? These little fruits are native to South Asia and are tiny citrus bundles of joy that can be eaten, including the skin.
They are literally like miniature oranges.
Our taste-buds, especially in the West, may need a little time to adjust to the taste because at first, some people complain that it's sour.
I never had this problem, I just love them. If you can source these I recommend you follow this recipe and give your body some goodness. Looks as good as it tastes.
Tropical Pineapple Orange Mango Juice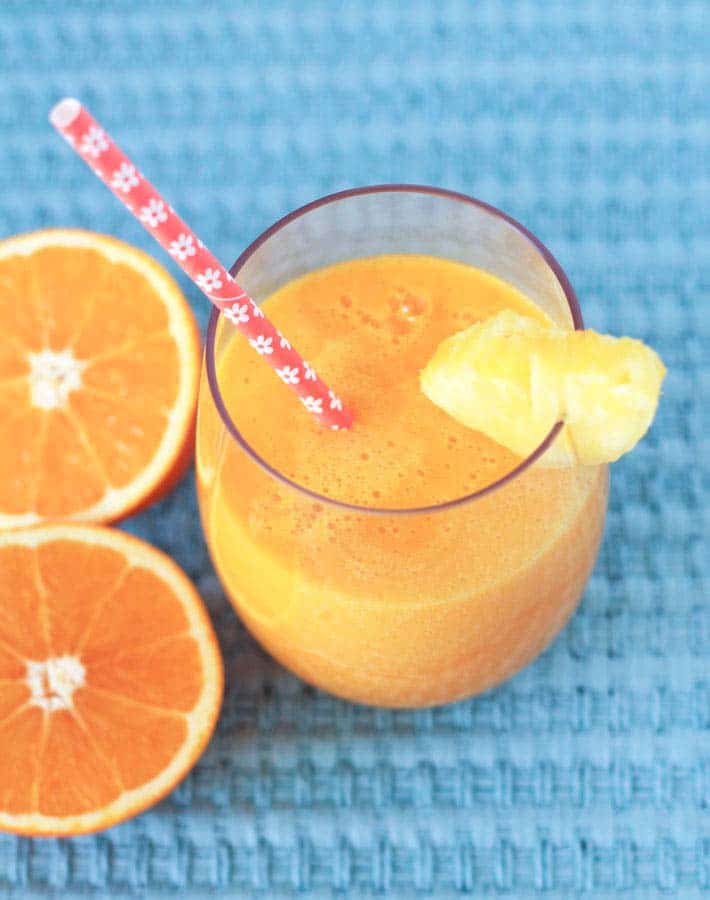 There's nothing quite like a tropical juice and this is what we have here!
You know, with any juices (and smoothies) you must have a good recipe. I know so many people that don't follow any recipe and just keep throwing random fruits into their machines, sometimes they like the juice, other times they don't, and this doesn't help their motivation to keep going.
You don't need a huge collection of recipes, just a few. This one needs to be on your list. Three ingredients, pineapple oranges and mango. Juice, put your shades on and lay back in your hammock!
Watermelon Juice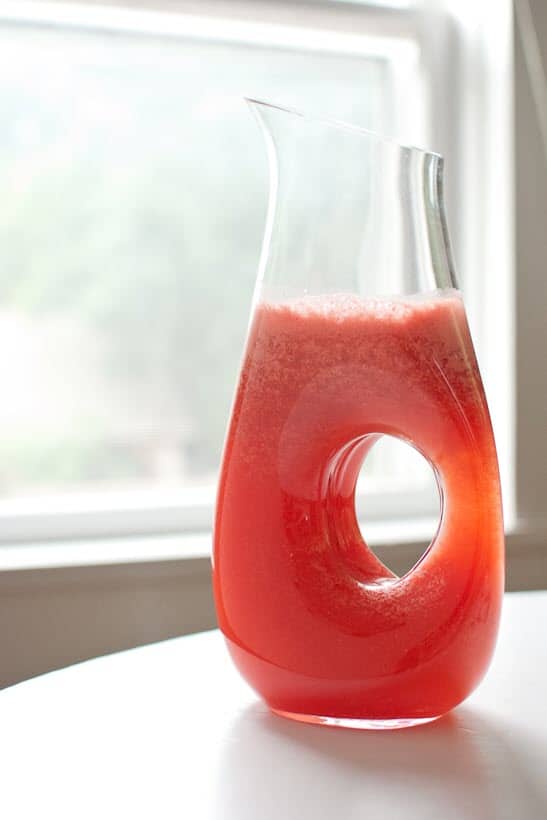 Sometimes, you just need the simplest of juices.
A few months ago, a friend of mine who knows I like watermelon, told me to try squeezing lemon or lime juice on fresh watermelon.
I thought he was nuts, why would I want to do that? Not only was he right, but making it into juice is even better.
If you don't have a juicer, use a blender for this recipe. The pulp from watermelon is so slight that it really doesn't matter. Delicious and refreshing!
Fruity Lunch Recipes
Jicama Kiwi Mango Salsa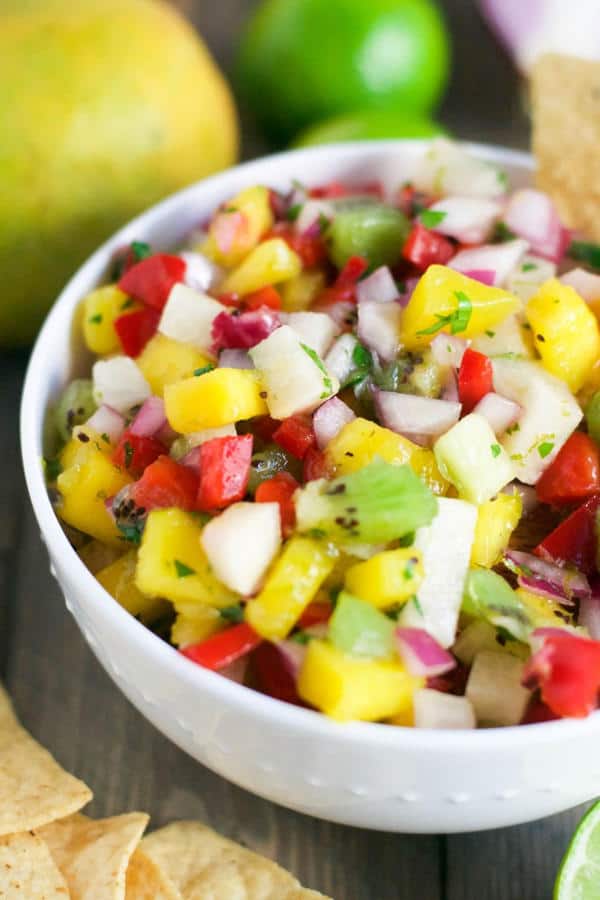 I have never heard of jicama until this recipe. I went to the store and there it was. It's amazing what you miss when you're not looking for it.
If you want a salsa that is different yet somehow familiar, check this out.
I love the Mango and the Kiwi and how they mix beautifully with the onion, cilantro and other ingredients.
Most of all I love how this salsa doesn't turn watery and mushy. Awesome not just with nachos, but for any Mexican dish!
California Cling Peach Hand Pies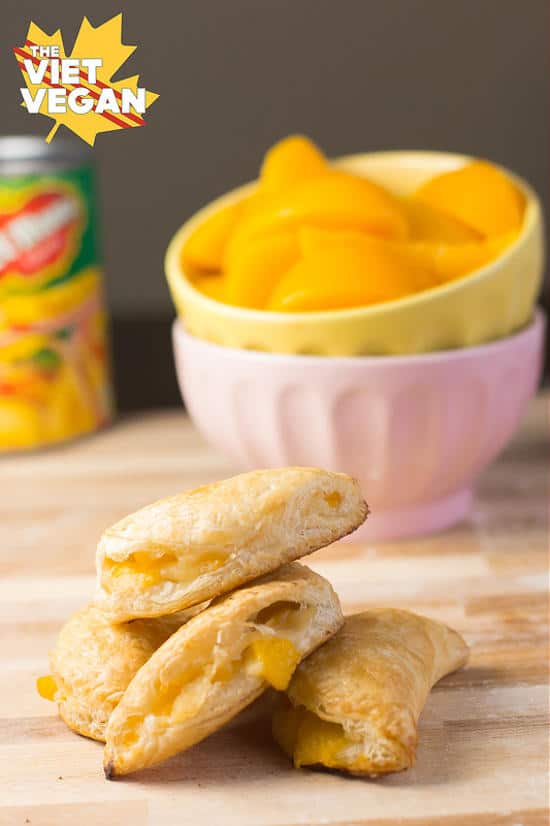 In the UK they have these 'hand' pies called pasties. They originally come from the south-west of England, the edges of these pies are crimped, and they were originally made like this for miners that would be deep underground all day.
Because they were so dirty and had little washing facilities, the crimped edges of these pies would be the 'handles' where they held their lunch.
They would eat the pie then discard the crust, and this is how they got to eat great food and keep it clean. Nowadays, everybody eats the crimped crust, it is delicious!
These are like miniature versions of these types of pies and what I love most about them is that they contain peaches!
In addition, there is a hint of ground ginger which adds a little zing. You're looking at 30 minutes prep time and the same for cooking. However many you make, it won't be enough!
Simple Pawpaw Salsa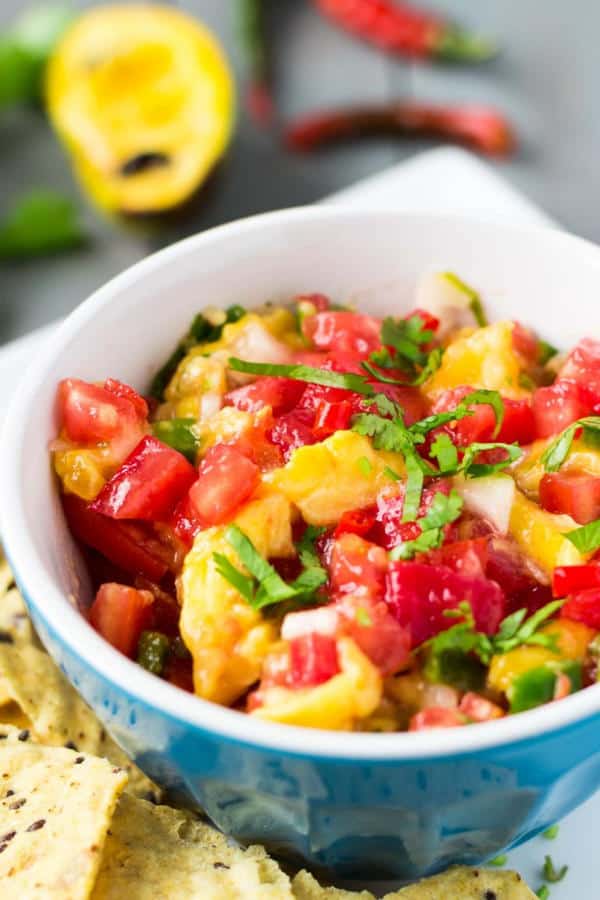 I have a very good friend that was brought up in Guyana and she refers to pawpaw fruit as papaya and I have known others in the past that call papaya by this name.
However, pawpaw is a fruit in its own right and if you've never tried it before, now is the time to start.
Grab yourself all the ingredients and within 10 minutes you can have the sweetest and creamiest salsa ever.
It's refreshing and with the cilantro, for me, is the best salsa ever. Want to surprise someone with something different? Go for this.
Pineapple Poppy Raspberry Dip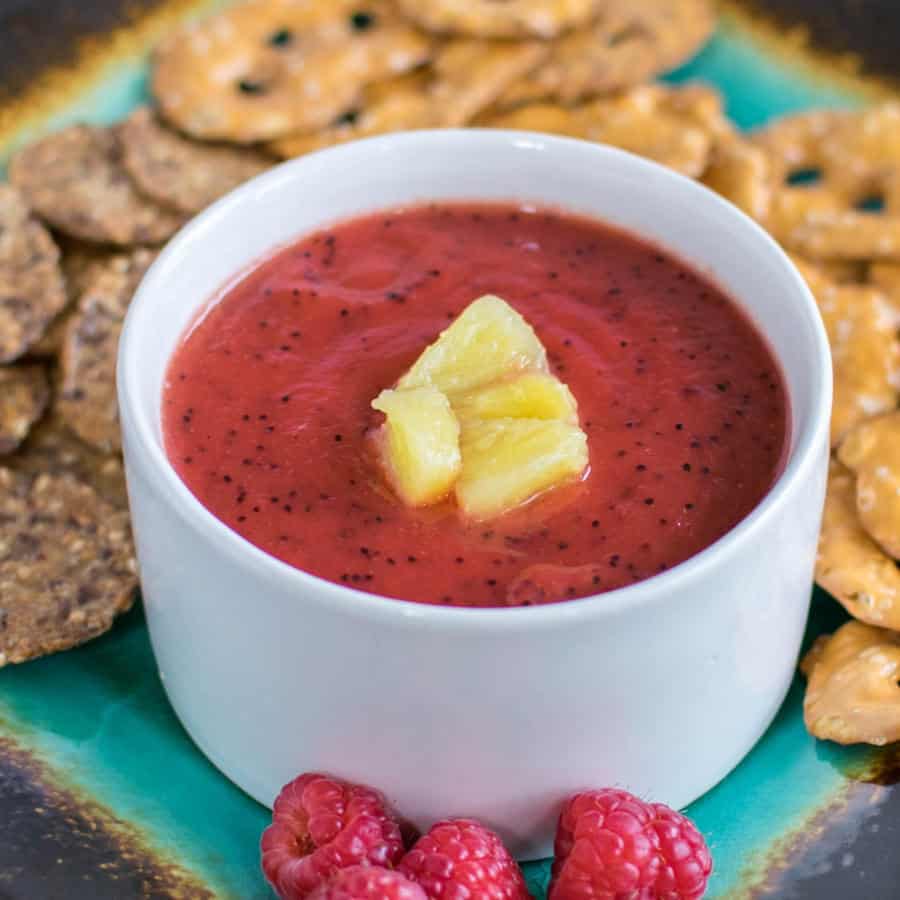 If you want a fruity dip that goes perfectly with cookies, check it out. We don't normally eat cookies with a dip, but this recipe inspired me to do so and I've never looked back!
Despite what you may think, this recipe is not overly sweet, is just mild and this is what makes it perfect for something like cookies or even any kind of cracker.
Mix everything up your food processor (or blender) and you're good to go. Store in an airtight container in the refrigerator for 3 days. Perfect.
Pomegranate Persimmon Salad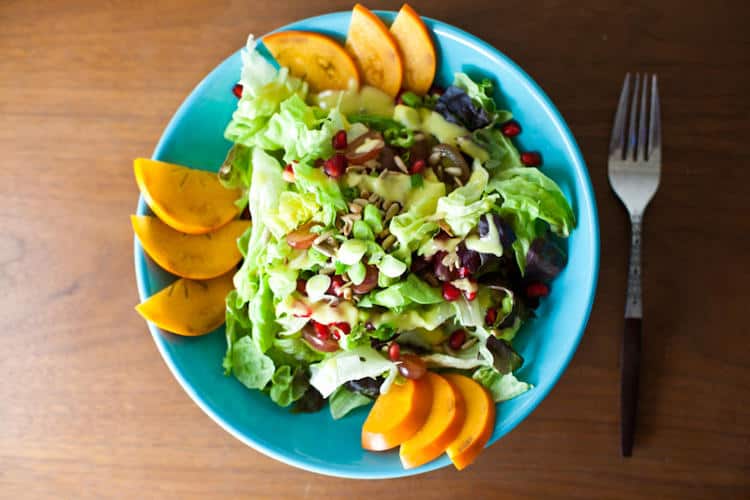 There's nothing quite like a really good quality salad that contains fruit. These types of recipes are difficult to come by and part of the reason is because it needs to be well thought out. You can't just randomly throw in fruit with lettuce and hope for the best.
Here, however, we have a superb recipe for a great summer salad.
Some wonderful fresh ingredients, everything from grapes, two green onions and so much more.
The recipe is divided into two sections, the salad and the Creamy Champagne Dressing made from champagne vinegar. This is amazing and will go perfect on any salad. Altogether a wonderful meal that will keep you going for the rest of the day.
Mango Cucumber Salad with Jicama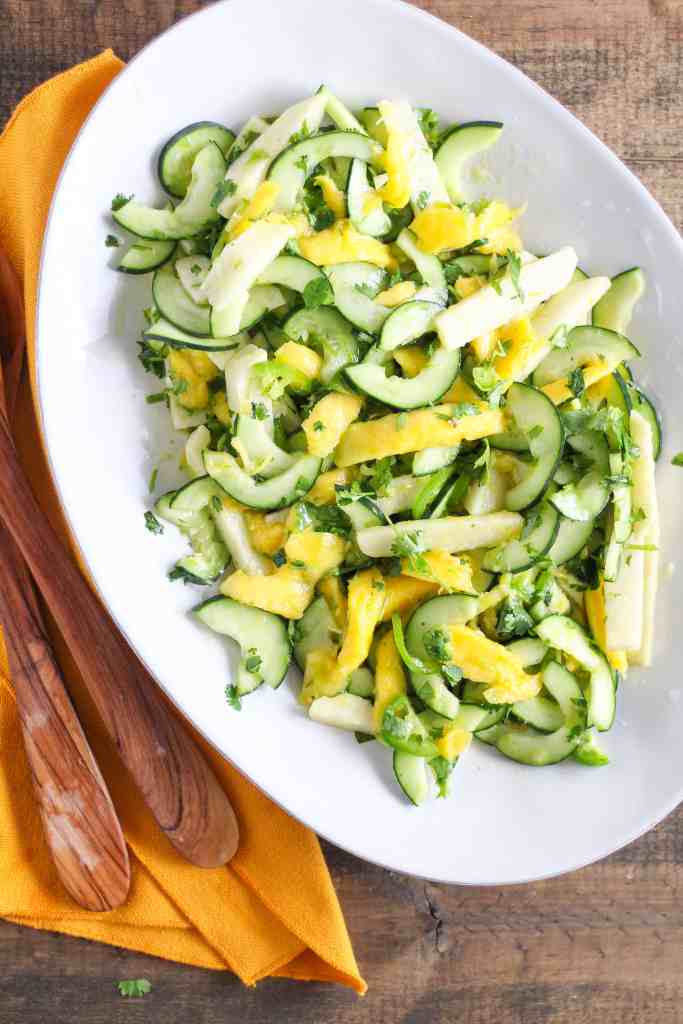 What attracted me to this salad initially was simply the picture. Two simple colours from nature's creations.
There are just a few ingredients and the prep time is literally preparing and tossing everything together.
It's beautiful to look at and super healthy. Unlike many salads, this stores in an air-tight tight container in the refrigerator for up to 2 days. Perfect!
Grilled Pineapple, Black Bean and Jicama Salad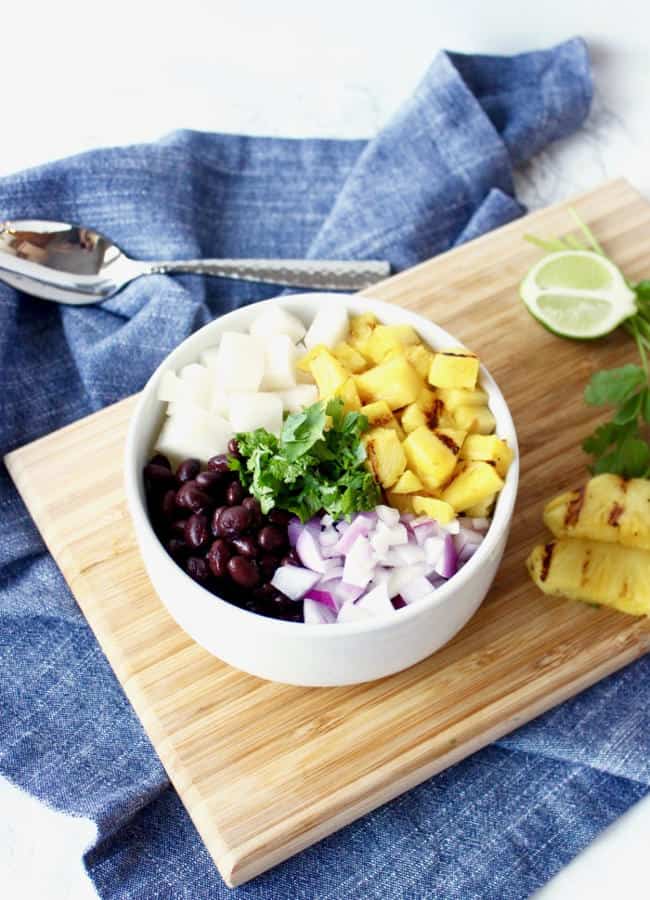 Have you ever had grilled pineapple before? It's really quite something and this dish contains a perfect combination of flavors to have it with.
Easy to make, fresh and looks amazing. Perfect for that summer's day and you can eat this on its own, or with a wrap or your favorite bread.
I prefer it as it is, it's just perfect!
Fruity Party Recipes
Coconut Rice Pudding with Mango and Kiwi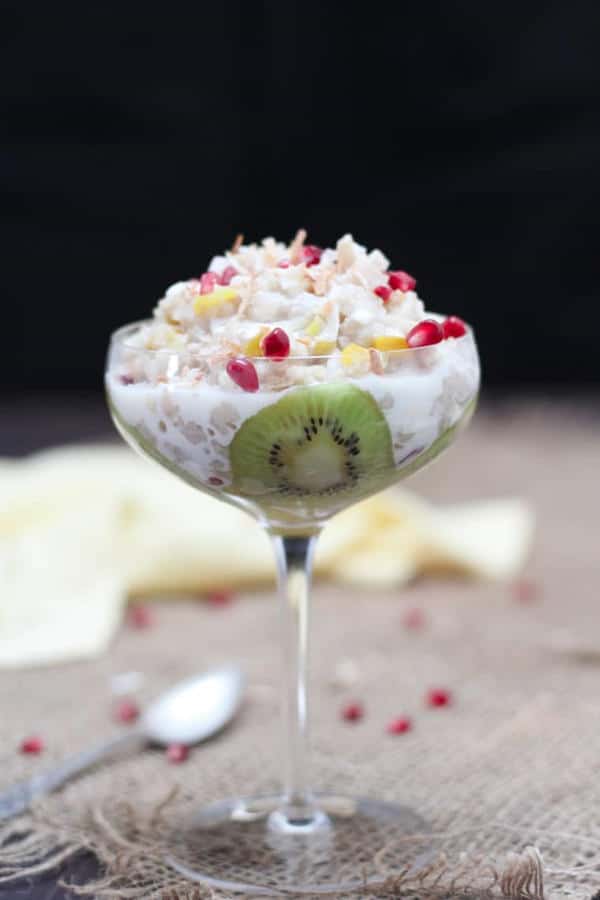 As a child I always used to love rice pudding, it was my favorite! This is not only a vegan version, it is bursting with incredible flavors.
The basmati listed in the ingredients is of a certain brand, I couldn't source this and in reality, you don't 'need' to, any will do.
The rest of the ingredients are straight-forward and easy to source. This is wonderful and incredibly healthy, and I like that you can prepare it beforehand and store in the refrigerator, say, for an evening meal.
I urge you to go to the trouble for the presentation, it's virtually no effort but the rewards are worth it. Looks outstanding, tastes even better.
Raspberry Cheesecake Bars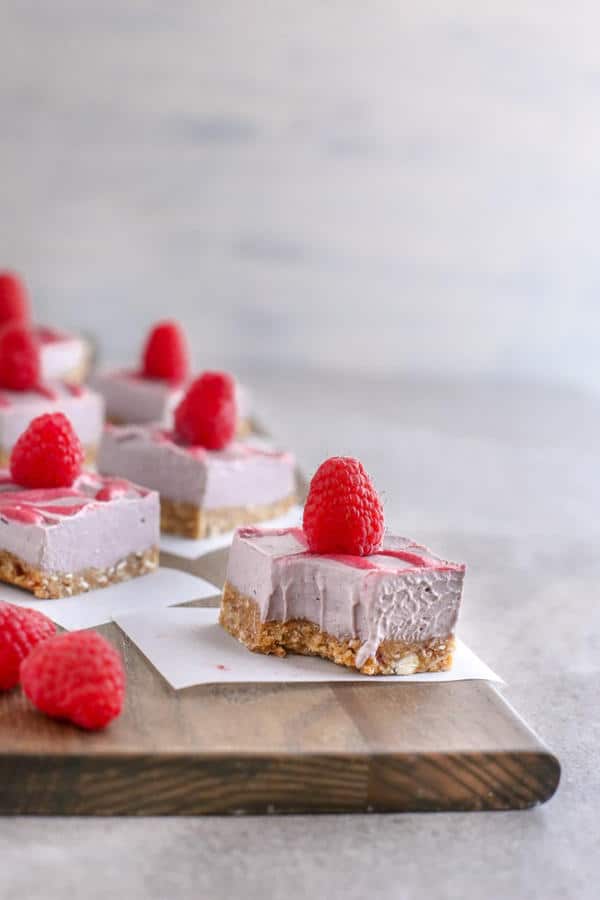 Don't these cheesecake bars look great? I love them, especially the raspberry drizzle.
The ingredients are divided into three sections, the crust, the filling and the sauce.
There is no baking involved, you just whizz up the crust ingredients in a food processor and chill in the refrigerator. The filling is made with soaked cashew nuts and I recommend you soak them the night before.
Once everything is prepared you need to freeze them for about 20 to 25 minutes. They will store in the freezer for up to 2 weeks or for up to 5 days in the refrigerator.
Make them any time and they will be on standby waiting for you.
Fruit Kabobs with Vanilla Dip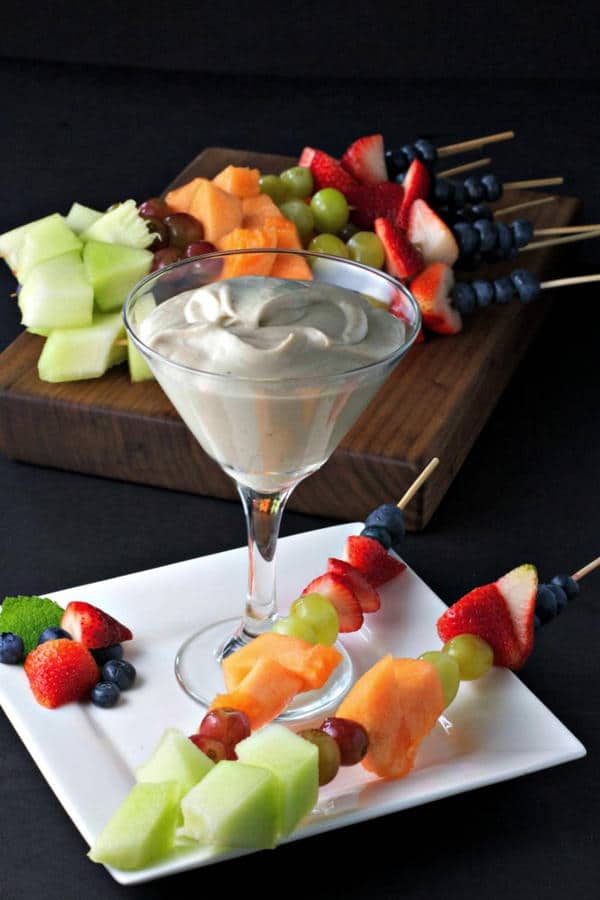 If you're having a dinner party and you want something colorful and healthy, take a look at this.
As you can imagine, the recipe is very versatile so you can use your favorite fruits. The dip is creamy and delicious.
It was so good that I didn't make the kabobs, instead I put all the chopped fruit in a bowl and poured the dip over the top. Delicious and I will definitely be having it again!
Antioxidant Cherry Fruit Salad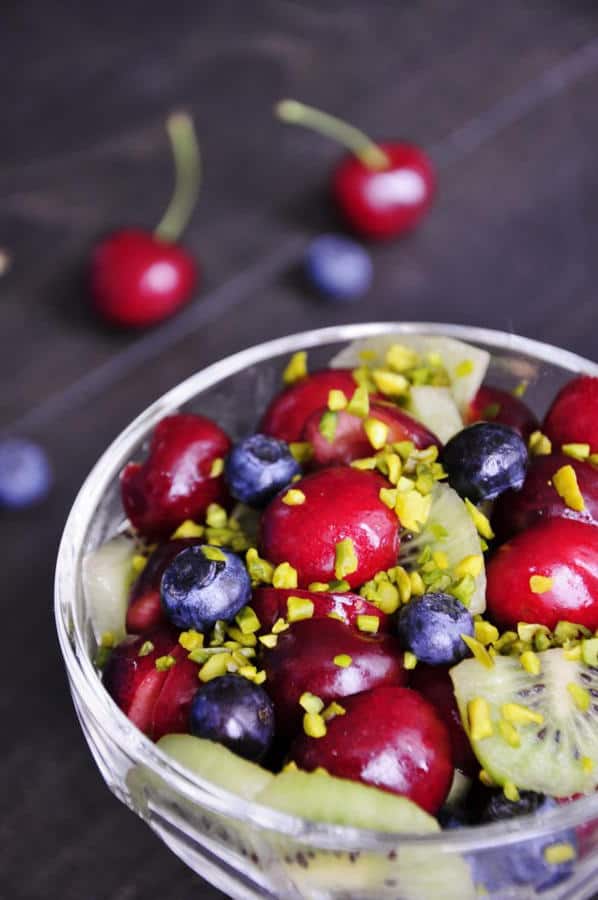 You know, it's incredible how something so simple can be made to be amazing.
It's easy to create a good fruit salad, but more difficult to make a great one. A lot of thought has gone into the combination of the three types of fruit and how they go together.
The winning ticket for me is the chopped pistachios sprinkled over the top. All the flavors work so well together. Make this as a starter or just eat as a healthy snack.
Peach Blueberry Sangria Mocktails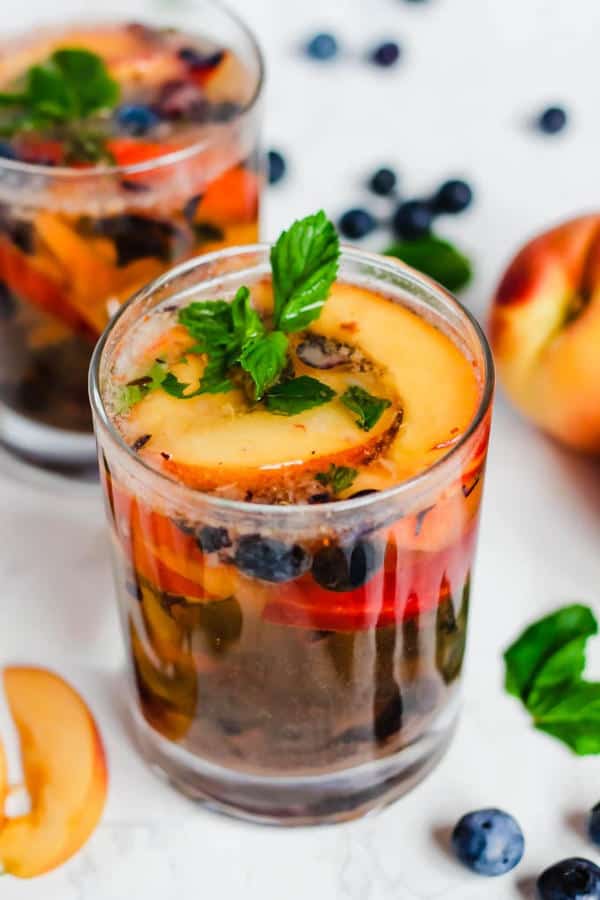 You have some friends coming over the weekend and you want to give them something refreshing they have never had before as a welcome when they arrive, go for this!
Some blueberries, peaches and a couple of other ingredients including white grape juice will make one of the best summer drinks you have ever had.
The secret ingredient for me is that dash of apple cider vinegar as it provides a little twist. Fantastic and the presentation will be first class, every time.
Chili Cauliflower Chickpea Tacos with Mango Salsa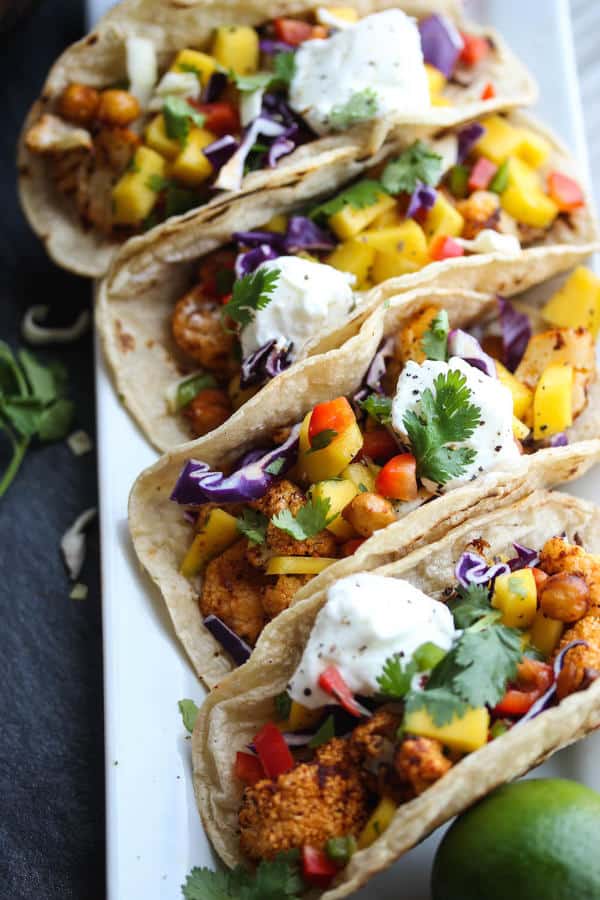 It's party time and what better to give your guests than these amazing tacos, which'll show you just how impactful something as innocent as cauliflower can be.
You'll need to at least double the ingredients because however many you make, it won't be enough.
The chili cauliflower is incredible, and the mango salsa steals the show. You're going to love this!
Melon, Mint and Kiwi Fruit Salad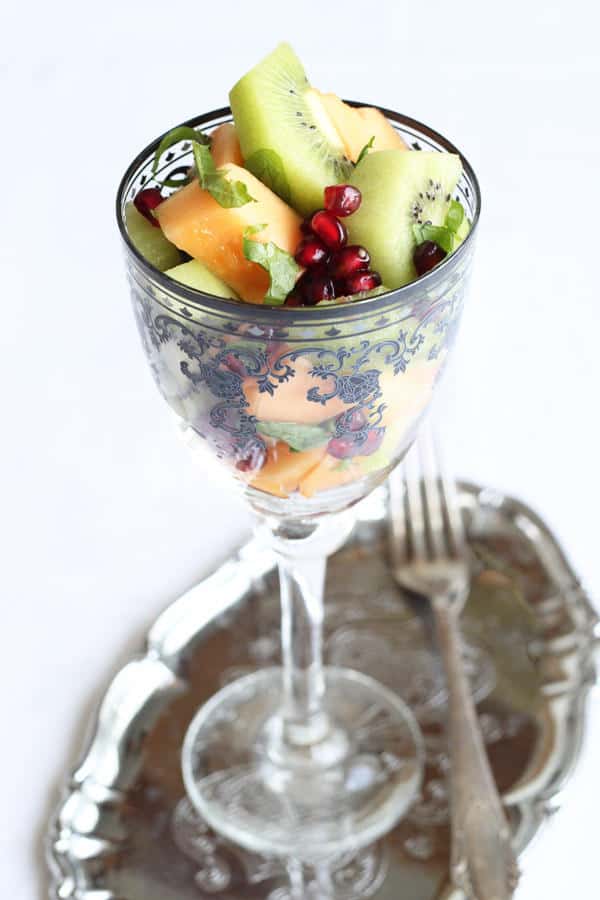 Have you ever heard the idea that fruit should be eaten before a meal and not afterwards? It's true and after you do this for a month, your digestion will never want you to go back.
Fruit digests very quickly and therefore travels along your digestive tract probably faster than any other food.
But if you've already had a meal, it's unable to do this so it sits on top and then starts fermenting in your GI tract, which can lead to all sorts of issues such as abdominal gas and chest pains.
So, educate your friends and family and turn tradition on its head by having fruit salads as a starter to your meal before the entrée.
This recipe is perfect, and the tweaks of fresh mint somehow makes the dish a starter rather than just a regular 'fruit salad'.
Looks and tastes great so get yourself some fancy serving bowls or even oversized wineglasses for presentation.
Fruity Salad Recipes
Nectarine Salad with Raspberry Balsamic Vinaigrette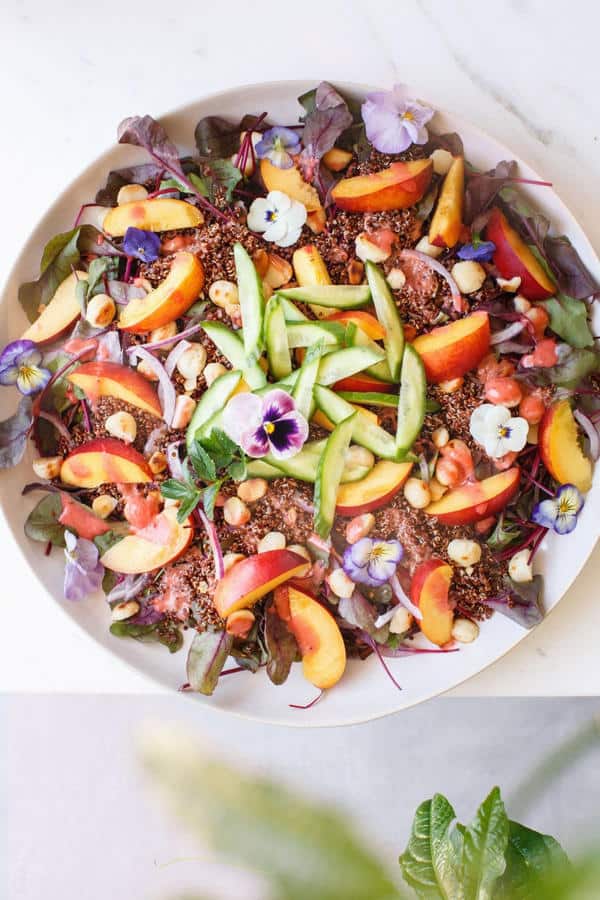 This salad is much more than it seems. It's a meal in itself so worth all the preparation (20 minutes).
The ingredients are divided into two sections, the main salad ingredients and then the star of the show, the Raspberry Balsamic Vinaigrette.
Let me tell you, I never saw this one coming! It's amazing and on its own works perfectly on any salad.
If you're looking to impress someone, look no further. The recipe page has a tool located above the ingredients where it says, 'Servings'; click or tap the number of people you'll be serving and change accordingly, this alters the amounts listed for the ingredients. Perfect.
Festive Fruit Salad with Rosemary & Vanilla Rooibos Syrup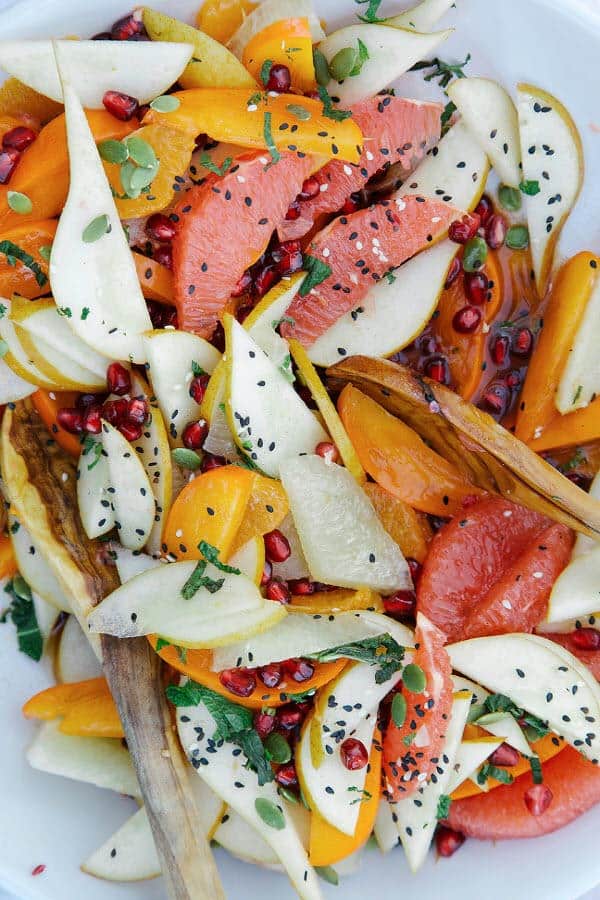 Doesn't this just look incredible! When you want to push the boat out for that special someone, reach for this recipe.
The salad is full of wonderful and fresh ingredients that you probably would not have put together, but this is why we look for recipes, right?
Then you create the most amazing dressing that complements this dish and you can bet it was made especially for each ingredient. It's like a family!
Healthier Vegan Ambrosia Fruit Salad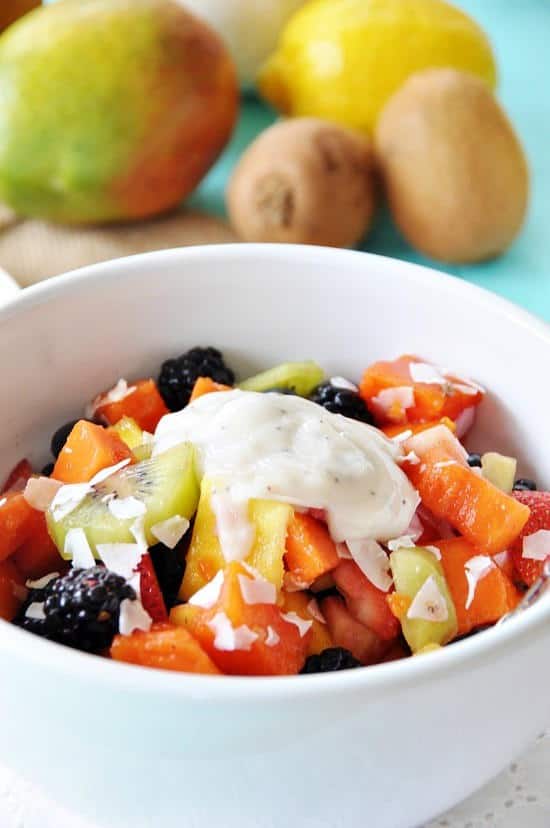 I will admit right now that I have never had an ambrosia fruit salad so had to look it up. The traditional recipe seems to be full of heavy cream and marshmallows loaded with sugar. There's none of that here!
The ingredients are perfect, not too many but just the right amount of fruit variation. The dressing made from 4 ingredients and is mainly coconut yogurt. Perfect for that summer afternoon or if you just want to have the perfect start to the day.
Beet Salad with Berries and an Avocado Basil Vinaigrette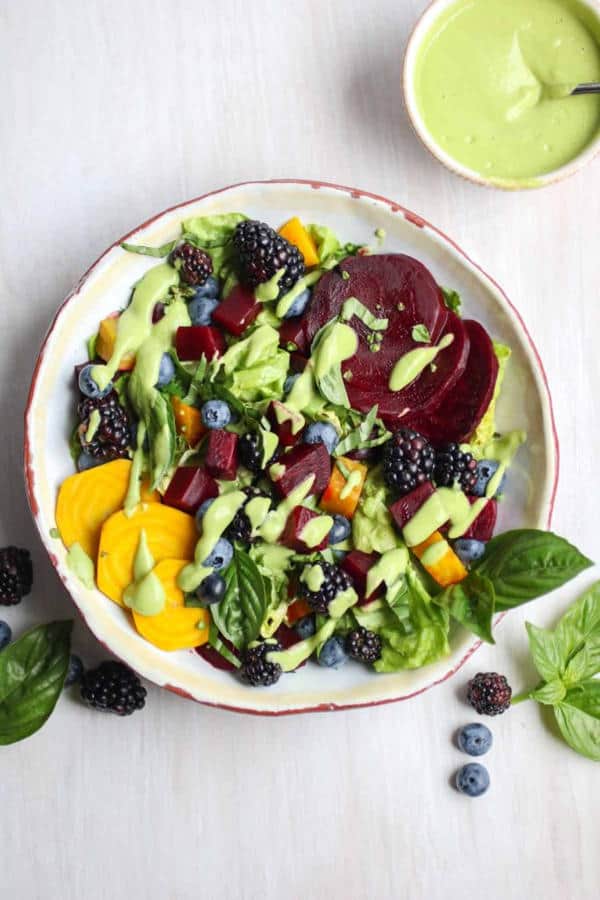 If you're looking for the Queen (or king!) of salads, look no further.
Whether you're on a health kick or just want to eat something wonderful to treat yourself with, this ticks all the boxes.
The ingredients are well thought out and go perfectly well together.
Having said that, depending on the season, if you have trouble sourcing one or two things, just swap them with something similar.
The avocado vinaigrette is stunning, I just know it's going to coat the next salad I have as well! Satisfying, full of flavor and looks incredible.
Mexican Fruit Salad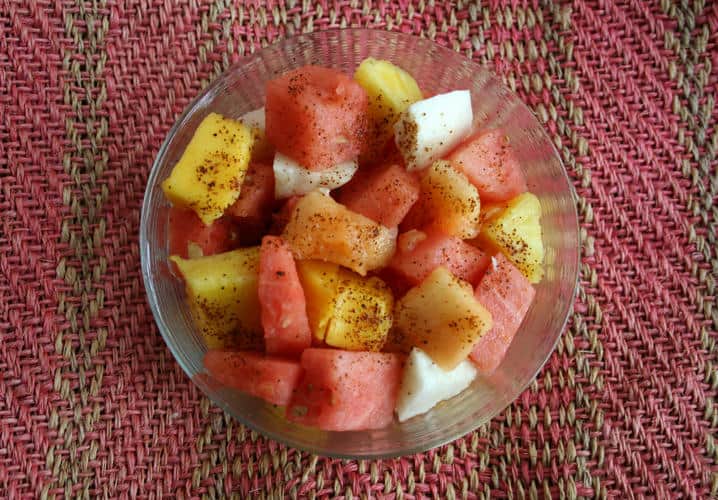 Never in my life have I eaten something like this! It's amazing and I can't wait to try it out on my friends and family.
Just a small handful of fruits, a little lime juice and, wait for it, chili powder! Obviously, you'll need to adjust this according to your preference and you could leave it out altogether.
If you can, have at least a tiny amount as it makes everything outstanding.
Ancient Grain Salad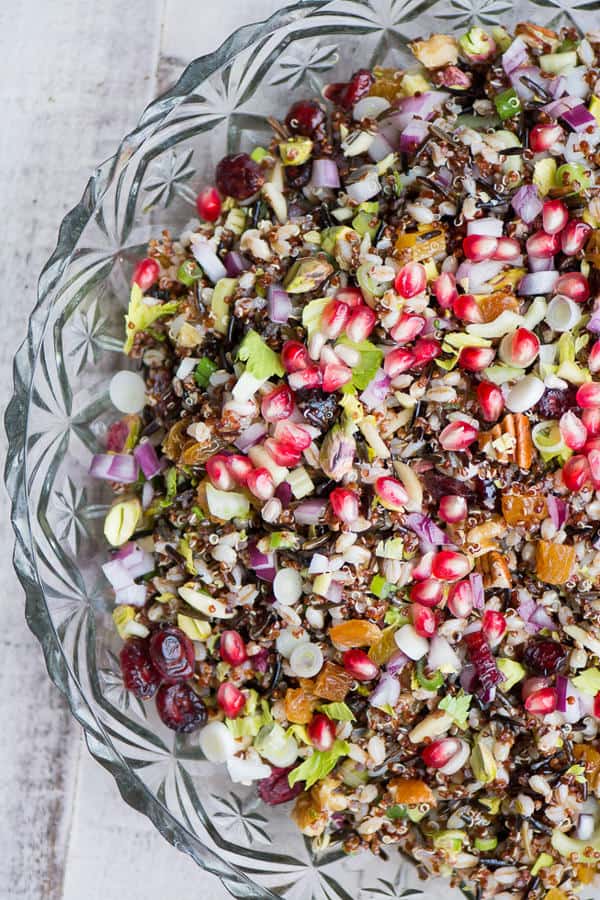 Ready for a protein packed salad? This has everything for everyone; fruits, nuts, red onion and an amazing vinaigrette and mustard dressing.
To date, I have not come across any recipe that contains quinoa that I have not fallen in love with.
I think it's probably my favorite ingredient as you can do so many things with it.
If you love salads that are easy to eat and full of goodness, you've come to the right place. So many flavors and textures!
Healthy Fall Fruit Salad with Creamy Dressing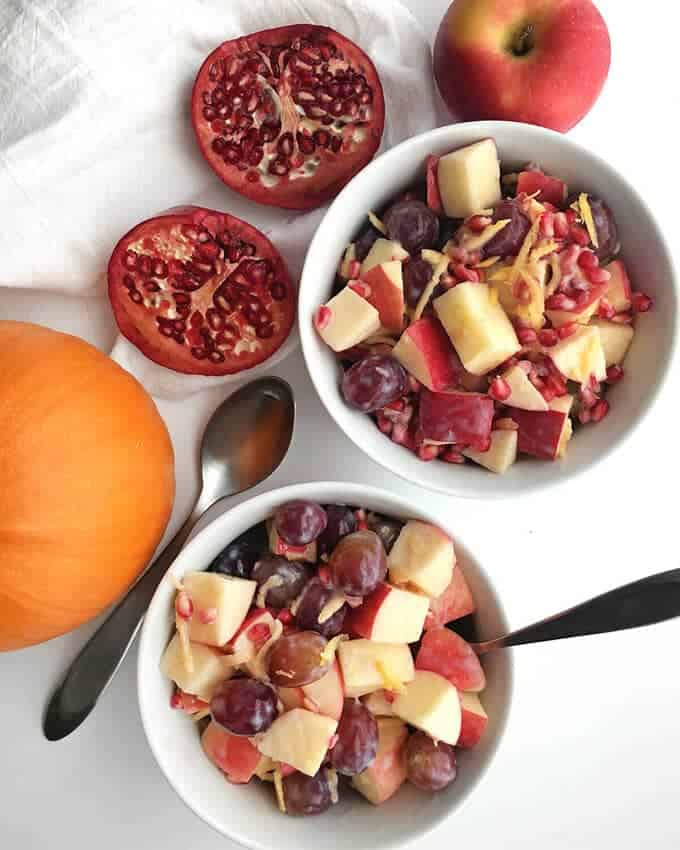 Everybody (including me) seems to equate fruit salads with the summer. What about poor old winter?
Well, I get it, there aren't too many fruits in season at that time of year. But, we do have apples and most of us have access to a supermarket. Check out this recipe.
A crunchy fruit salad with a beautiful creamy dressing made with vegan unsweetened yogurt and just a couple of other ingredients that contain maple syrup, lemon juice and ground cinnamon.
Pour this over the fruit you have yourself an amazing meal. Whether you're on a health kick or not, go for it!
Fruity Smoothie Recipes
Patriotic Smoothie Bowl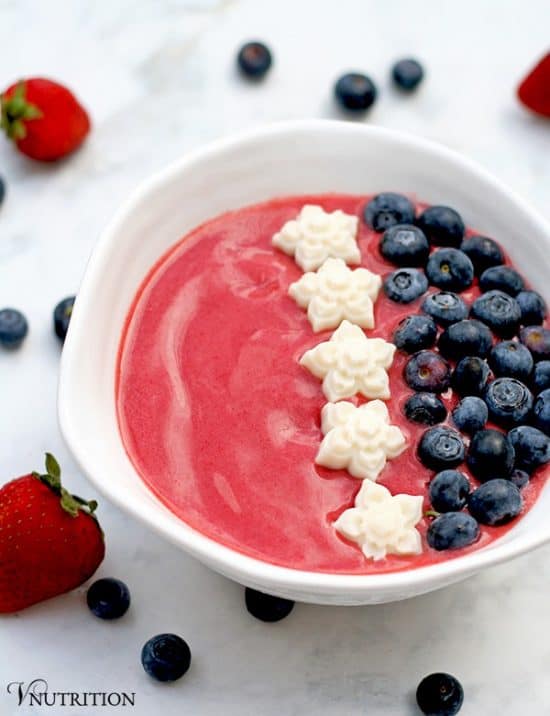 Come on now, who wouldn't want to eat this? Doesn't it just look so much fun!
Obviously, you can get creative and make your own design with the toppings, and even try out different fruits to see what you can come up with, and send us pictures!
Full of flavor and super healthy. What a perfect start to the day!
Who am I to tell you not to? Get the kids involved too!
Sweet Vanilla Fruit Smoothie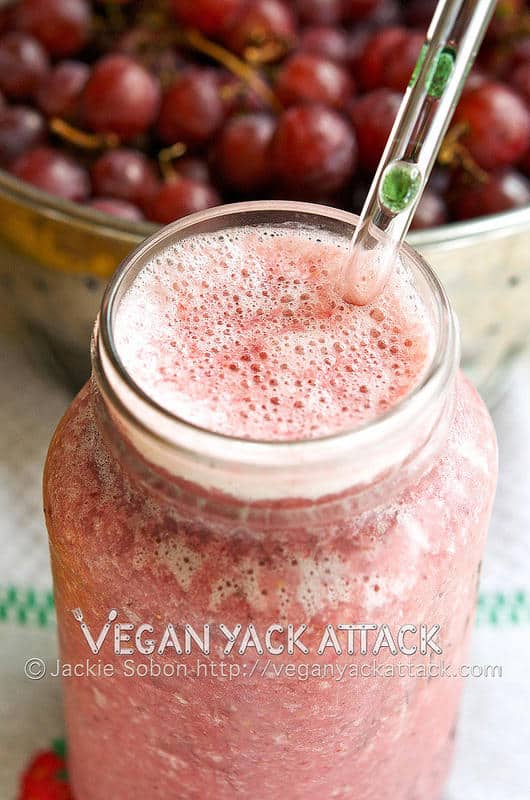 Something I never use enough of is vanilla. I think it's one of my most favorite ingredients and flavors and I hardly ever come across ingredients that use it. Now I have!
Just six ingredients (one of them is ice, which is optional) makes this amazing fruit vanilla smoothie.
You don't need a high-speed blender for this one, if you have a trusted friend of a blender in the corner of the kitchen that you've had for years, let it make you this beautiful blend of fruits, coconut water and vanilla.
Please note that the vanilla flavor comes from a vegan protein powder, if you're not into this just use regular vanilla, either the pods, powder or in liquid form as an extract.
This smoothie is vegan, raw, gluten and soy-free!
Creamy Dragon Fruit Smoothie Bowl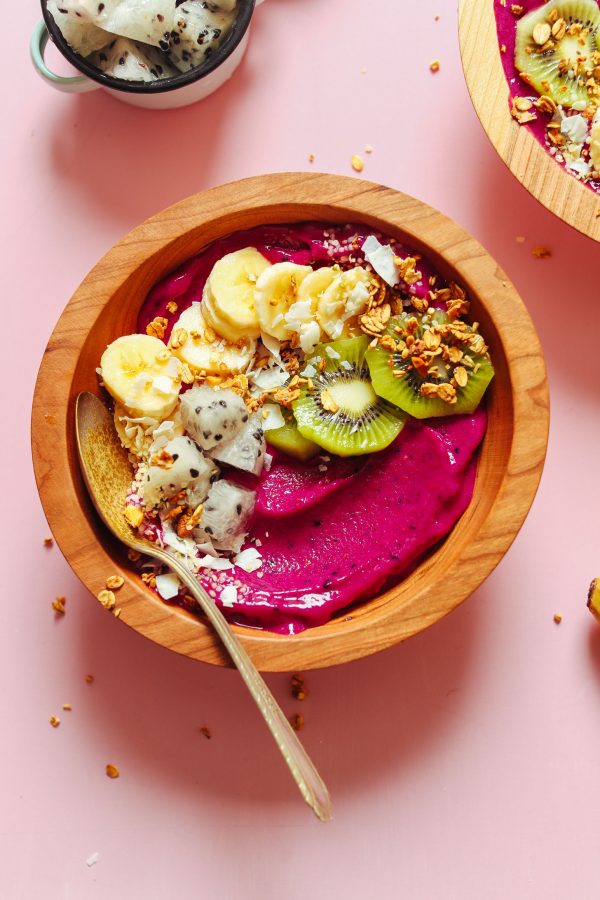 Have you ever had dragon fruit? Now's the time to try!
I don't know anybody that doesn't like dragon fruit. I do know a few people that have yet to try it. If you fall into either category, I urge you to try to this great recipe from Minimalist Baker.
Five simple ingredients and you're on your way to flavor town! You can use fresh or frozen fruit whichever is readily available. Adjust the amounts of your favorite flavors for the yummiest smoothie ever.
Apple Pie Smoothie Bowl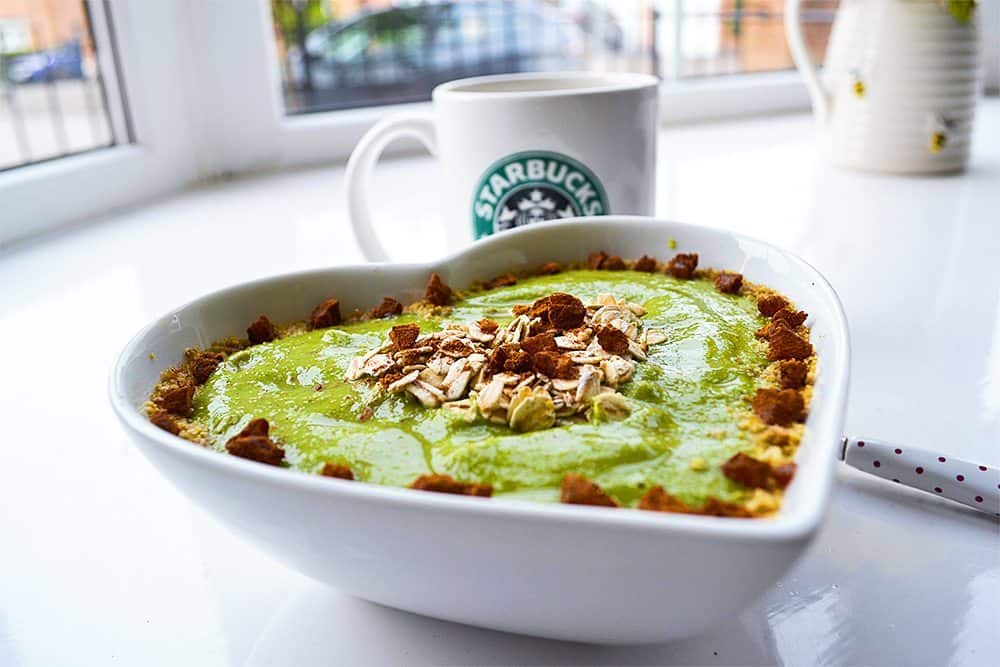 Everybody loves apple pie I think. Well, how about all flavors of our favorite pie combined in a bowl of goodness.
Get yourself some dairy free vanilla yogurt, ground cinnamon and a few other ingredients and make yourself this super healthy bowl.
Have it as a lunch or as the perfect start to the day. You just need a blender, and a little imagination as to what toppings you choose.
Berry and Yogurt Smoothie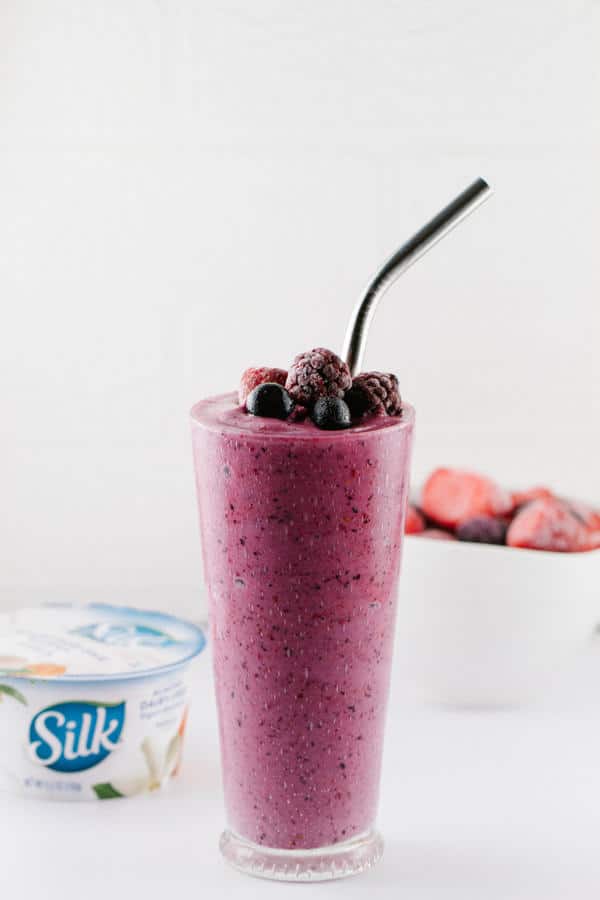 We all know that berries are so good for us. How about this as a smoothie, doesn't it look just great?
There's no doubt about it, this is a great smoothie recipe. Most of us will just grab the main ingredients, blend together and enjoy it (after all, it's totally delicious).
However, even if you make this just for you, I urge you to get all the ingredients, particularly the toppings, and treat yourself.
Healthy Frozen Peach Mango Smoothie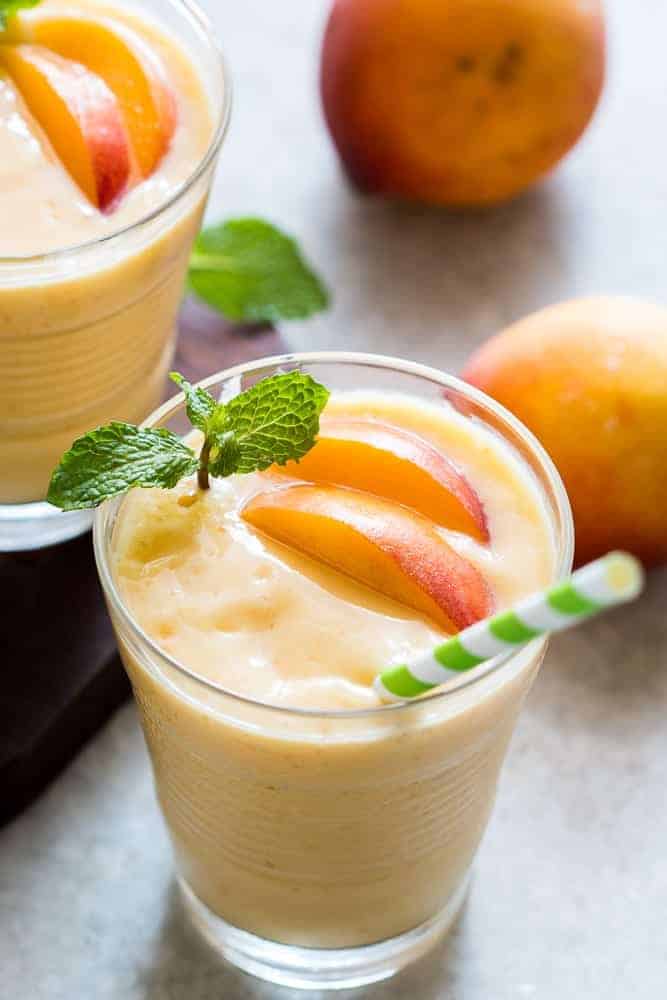 Peach and mango go together perfectly. I have had this combination a lot of times before so I knew we were onto a winner as soon as I saw this.
The ingredients are simple and there are just 5 of them.
Blend them altogether and you will win every time. As the author suggests in the notes, you can use fresh fruit or frozen, if you go for fresh, add a bunch of ice cubes to the blender.
One of my favorite smoothies!
Tropical Fruit Smoothie Bowl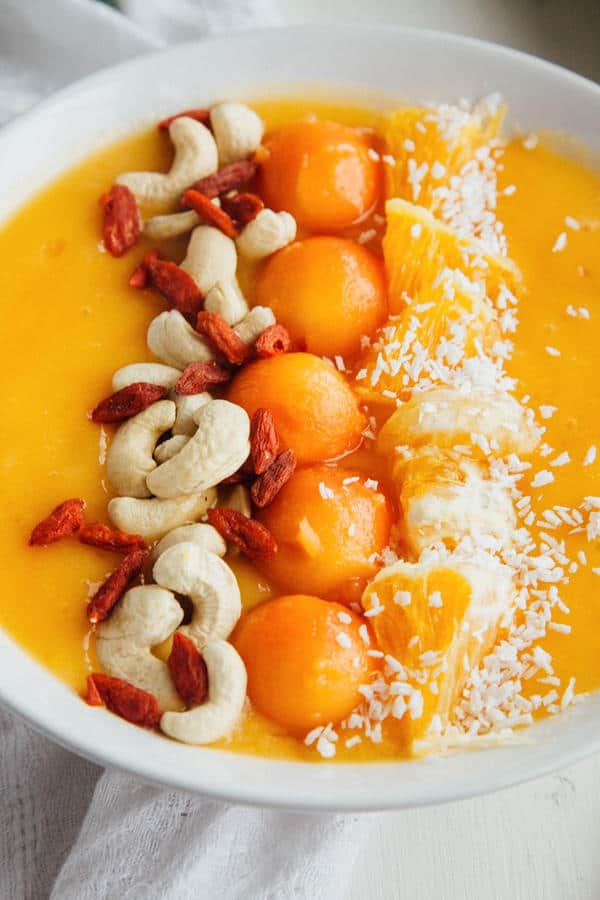 If you've never had a smoothie bowl before, yes, it is a smoothie and served in a bowl. Why? Well, a bowl is wider than a glass meaning you have a lot of surface area for toppings!
I can't recommend enough to have toppings. I didn't have the balled melon, but I certainly went for the coconut flakes and cashew nuts (I also had pistachios!). Make it today!
Cherry and Date Smoothie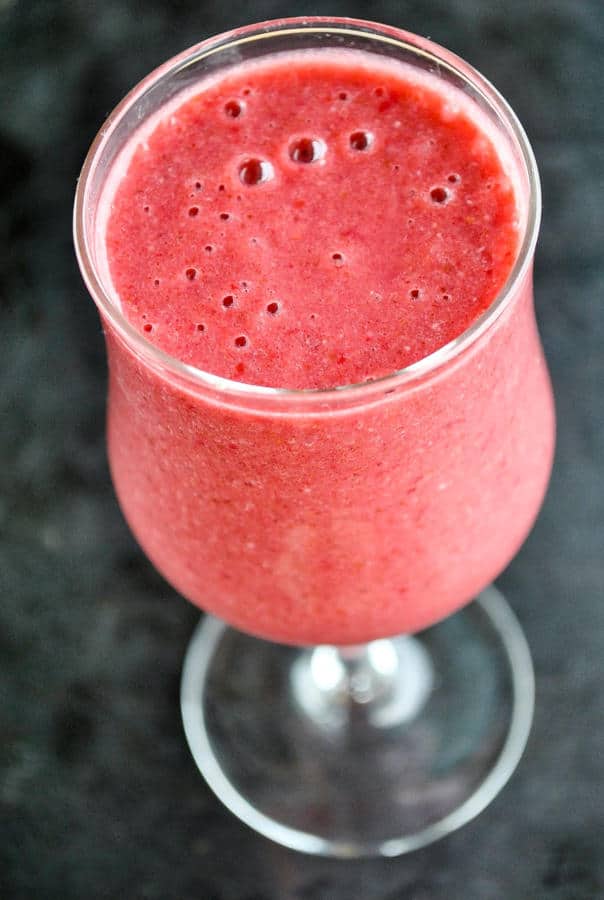 Cherries and dates are two things I never imagined putting together. Here they work perfectly.
The main base of this smoothie is bananas and other than that, what is listed in the title of the recipe.
You may want to soak the dates before blending, I didn't, and it worked fine although I did have some little 'bits' in my smoothie but they don't bother me. A delicious smoothie!
Pink Passion Fruit Smoothie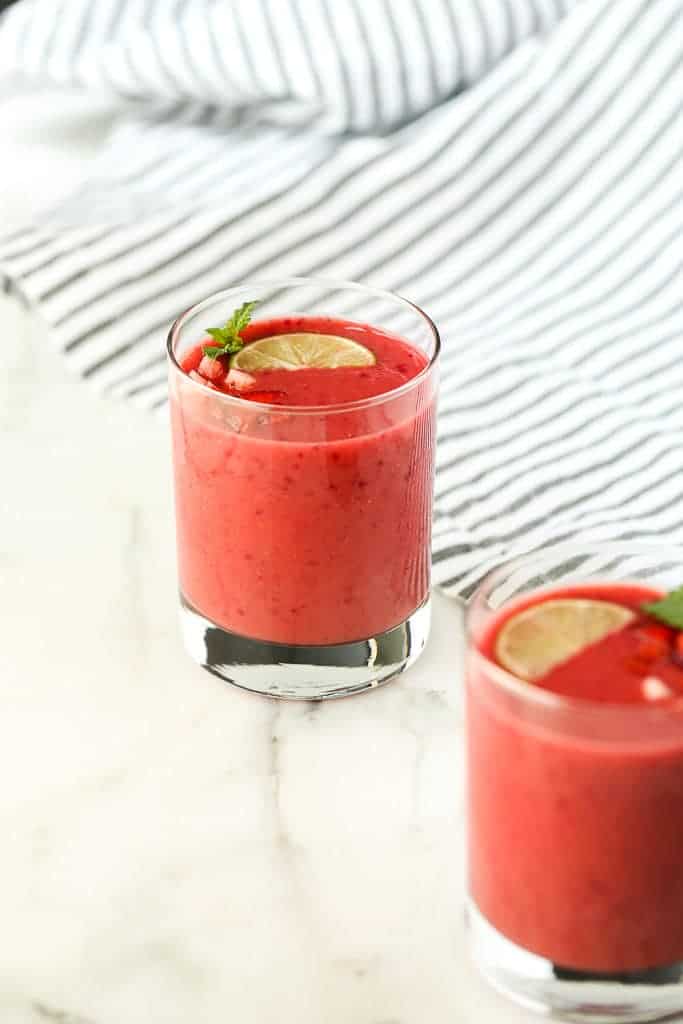 I really loved researching and collecting these smoothie recipes. You can never have enough and, in my experience, it's always best we follow a recipe when it comes to a smoothie, it's been tried and tested!
Get yourself some ripe speckled bananas and freeze them. Perhaps I should say always make sure you have bananas in your freezer ready for smoothies and ice cream.
Just peel them, slice them into about 1 inch chunks and place either in an airtight container or Ziploc bag.
Here we have passionfruit, strawberries and, purely for color (so it's optional) a tablespoon of finely diced beets. Beautifully smooth and super healthy.
Refined Sugar Free Cherry Lemon Smoothie Pops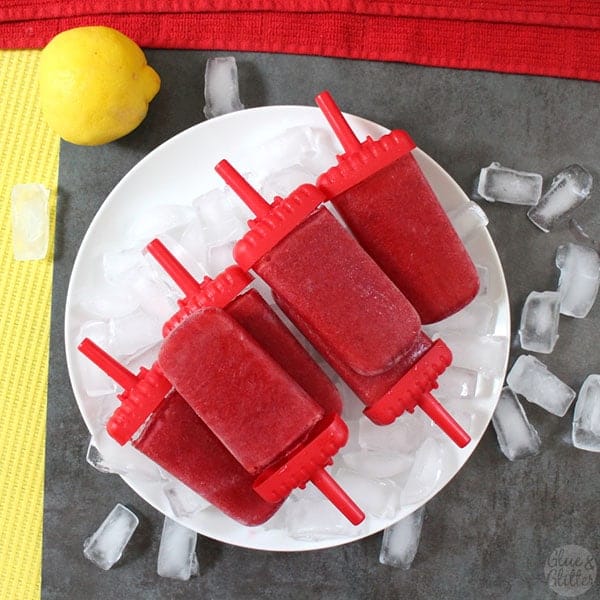 With just three ingredients you can make these amazing popsicles. Get your kids involved and they will love them.
Don't they look just amazing? The ingredients couldn't be more simple.
Blend altogether and pour into popsicle molds, and then freeze until ready to eat.
Perfect every time and no nasty ingredients, just nature's goodness.
Special Picks
Fairytale Sweet Fruit Popsicles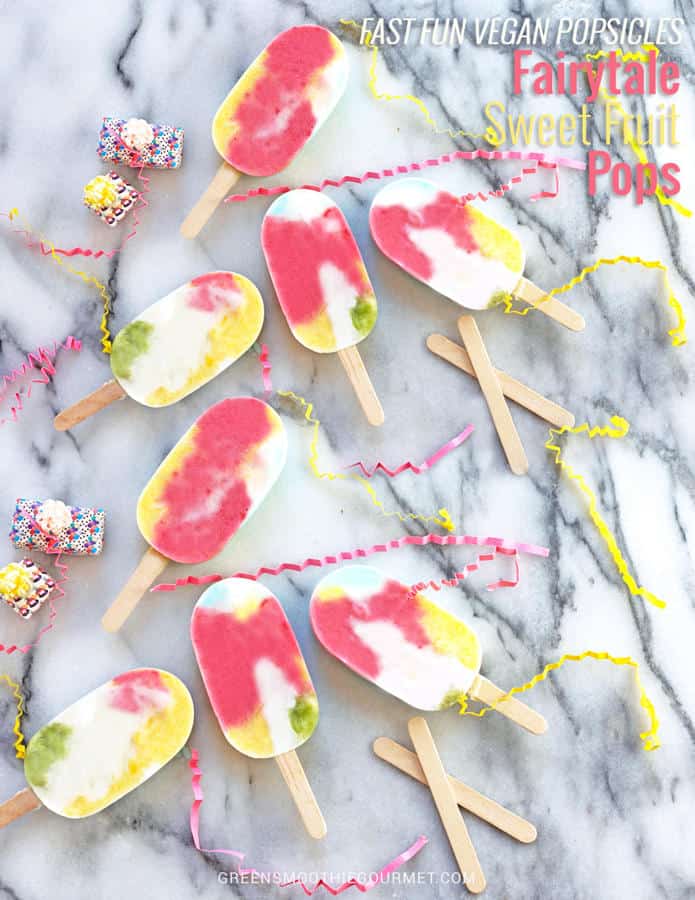 If you haven't got yourself some popsicle molds, you really ought to. So many good recipes out there and you can even get creative and make something up as you go along. Before you do, check this one out.
The main ingredient that combines all the other flavors is vegan milk and yogurt.
Blended with the fruits you have something so delicious that you'll probably want to eat it before pouring into the molds! Who am I to tell you not to? Get the kids involved too!
Peach Tart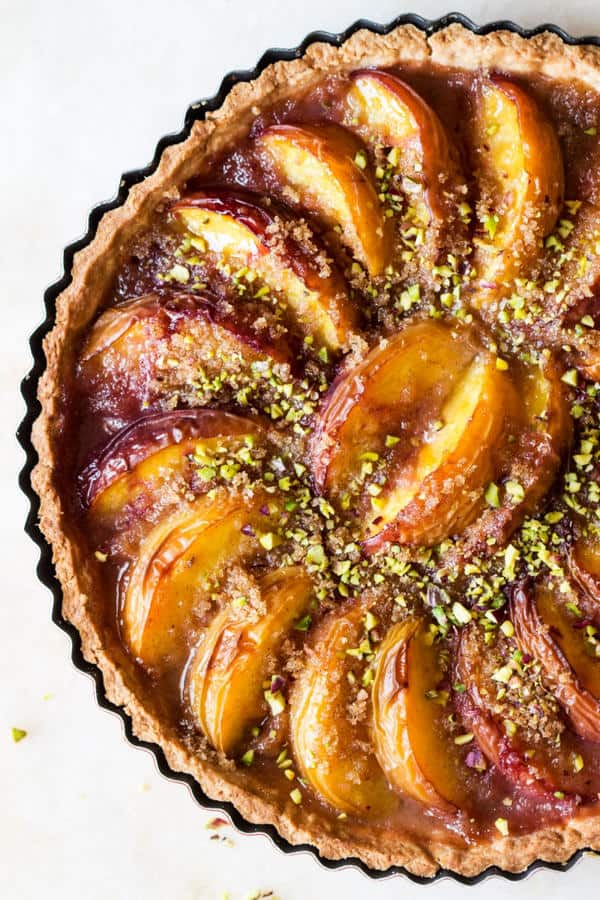 When you are having somebody special around for dinner and you want to pull all the stops out, you need something impressive and this is what this is.
This really is a special dessert and however good you think it tastes, I promise you it's better.
To get everything exactly right, I recommend you read the whole of the recipe, especially the notes as they give you the dimensions for the size of the tin.
It's not like you have to follow everything to the millimetre, it just gives you a good guideline. This is seriously the best.
Fully Raw Fruit Pizza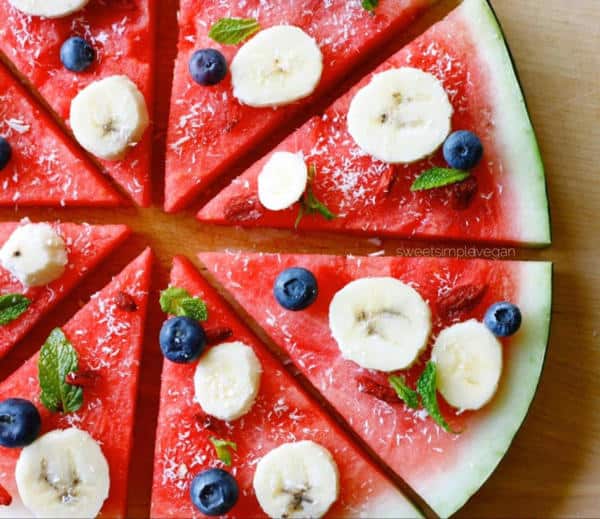 To some, they seem a little silly as as they're called a pizza despite being nothing close to a real pizza, but why not have a little fun. It's colorful, it's healthy, so, yeah, why not?
The beauty of this is you can use your favorite fruit as the toppings. Banana definitely goes well, I think kiwi would be awesome too.
Little tip, sprinkle a little lime juice over your slices just before serving.
Tropical Fruit Platter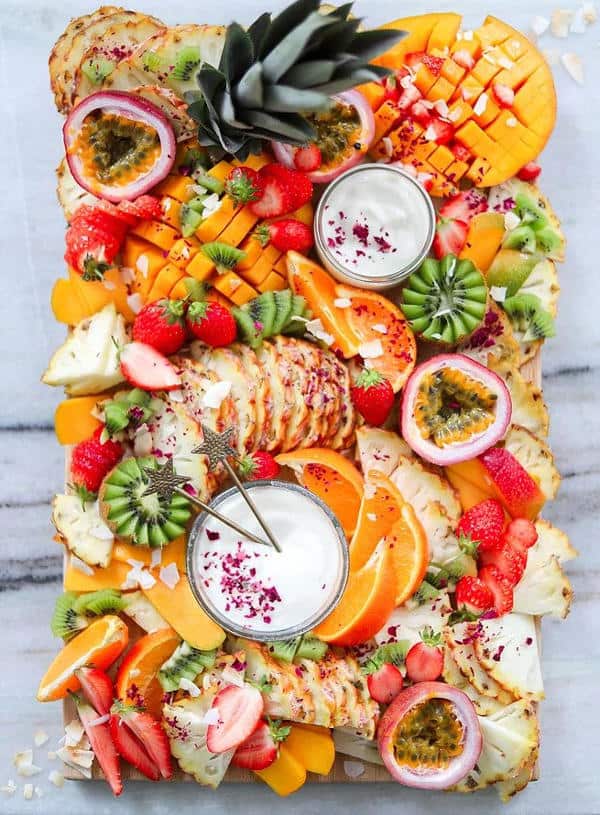 There's nothing quite like tropical fruits to make you smile. I love the presentation and the coconut yogurt dip could not be simpler.
If you want to have the perfect centrepiece for a party, especially if all your guests are on a health kick, go for this, you simply can't beat it.
Mango Tarts with Vanilla Pastry Cream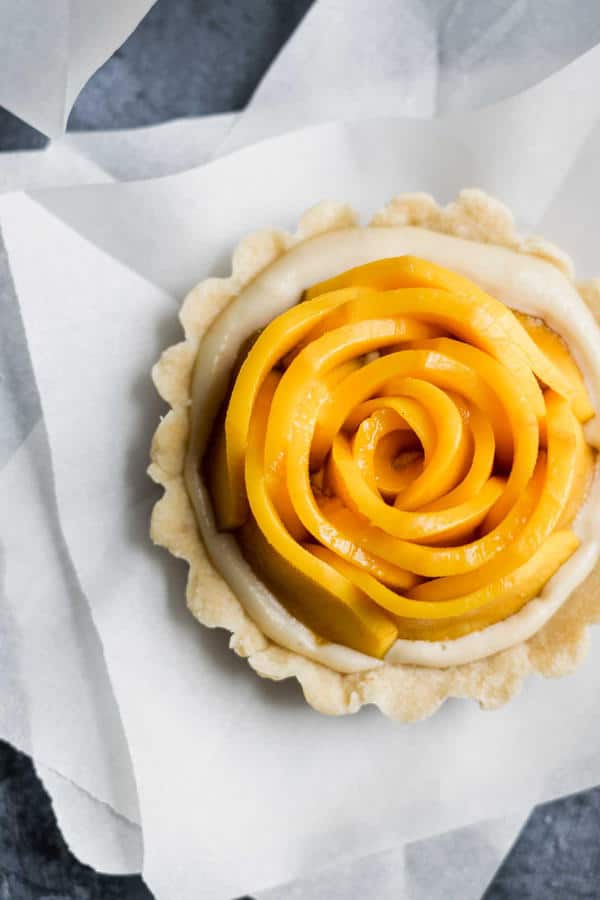 If the photo alone doesn't motivate you to go out and buy the ingredients as soon as possible, please see a doctor immediately.
Everything about this is perfect, the crust is outstanding. You can save yourself some time and buy a store-bought version, if you do this, check the ingredients to ensure they are suitable for your requirements.
The pastry cream, I simply don't know where to start describing this one, it's just outstanding.
Put them both together and you'll quickly understand why this recipe is in the 'Special Picks' section!
Spicy Strawberry Barbecue Sauce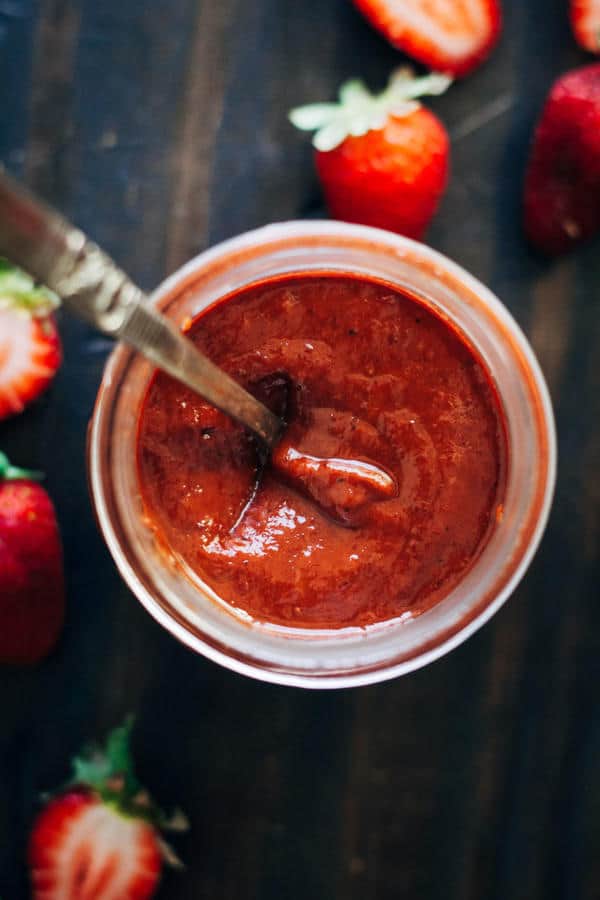 Strawberry and barbecue are two words you hardly ever see together, I don't think I ever have!
This barbecue sauce is outstanding, it's vegan and full of nothing but great ingredients.
You see so many store-bought versions filled with weird looking numbers.
Just a hand-full of ingredients, from red onion, apple cider vinegar, paprika and of course strawberries, to name but a few. Follow the instructions and this will quickly become your own famous sauce recipe!
Mangonada (Mango and Chamoy Slushie)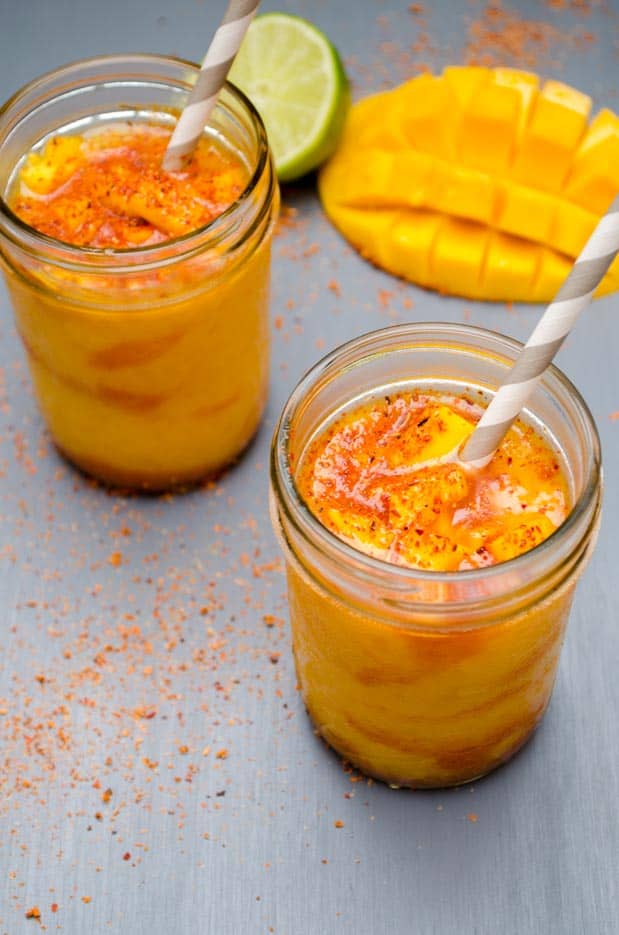 When the weather is hot, and you want something other than water or just a regular smoothie, reach for this.
So many different ingredients, I don't mean there are many ingredients, I'm just saying they are so varied.
Everything from apricots to Chile ancho powder, how often have you ever seen those two together? Be adventurous, go for this!
Spicy and Easy Mauritian-Style Jicama, Pineapple and Mango Pickle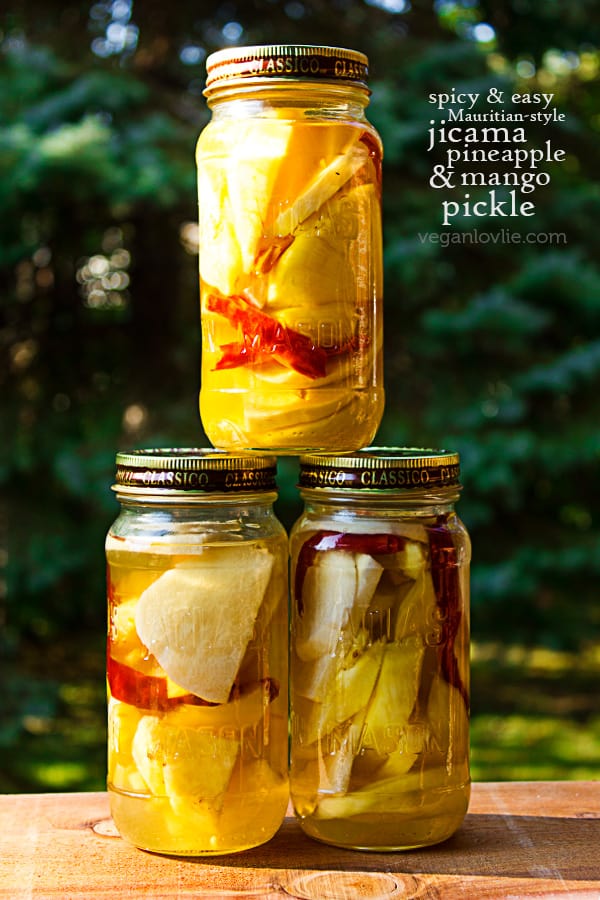 Do you love pickles? I have several books dedicated to the subject so when I came across this my eyes lit up.
This is inspired by a traditional recipe from Mauritius. Just a handful of ingredients including pineapple and mango among other things, follow the instructions and you will have a great treat.
If you're new to this kind of process, don't worry as the author has gone to the trouble of adding a video to the recipe page which takes you through each step. Fantastic!
Lemon Glazed Fruit and Custard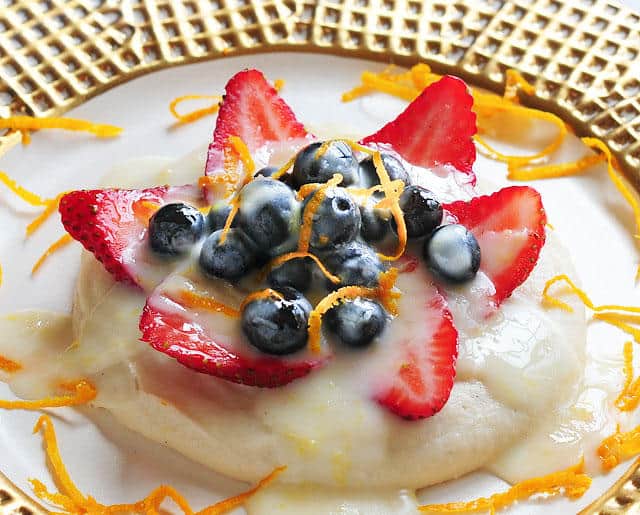 Have you ever had custard before? It's certainly an old school recipe and this dish gives it a little twist.
We have three separate sections, the vanilla custard (100% vegan, of course), the lemon glaze and what is described as, the 'clouds'.
Follow the instructions and then all you'll have to think about is how many of your friends will you show this off to.
Quick Mango Chia Jam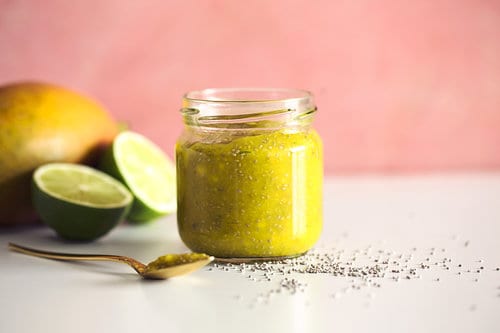 Jam is the type of thing we normally buy, making it is quite a process and usually involves lots of sugar.
This recipe is nothing but easy and super healthy. The jam stores well and I love how the author tells you from the onset that this recipe works well with any fruit, so you almost have a whole bunch of recipes in one.
Treats
Spiced Caramel Pears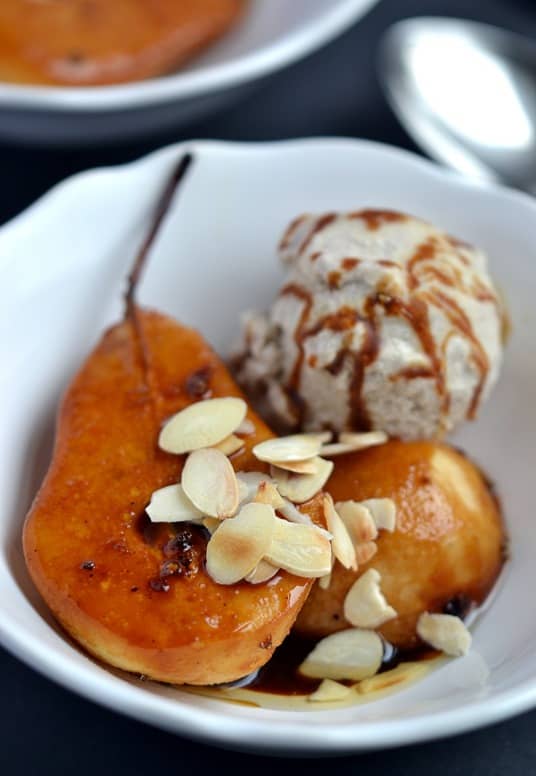 Every so often you'll see a single cooked pear as a dessert, they often do this in fancy restaurants and charge you the earth for it. Here you can make your own, you'll know the ingredients and it's amazing value!
There are just six ingredients (one of them a pinch of salt) to create this beautiful dish. It's tasty and I can't imagine one person not liking it.
I think it's better than anything I have ever seen. Serve with your favorite dairy-free ice cream and enjoy!
Fruity Frozen Yogurt Popsicles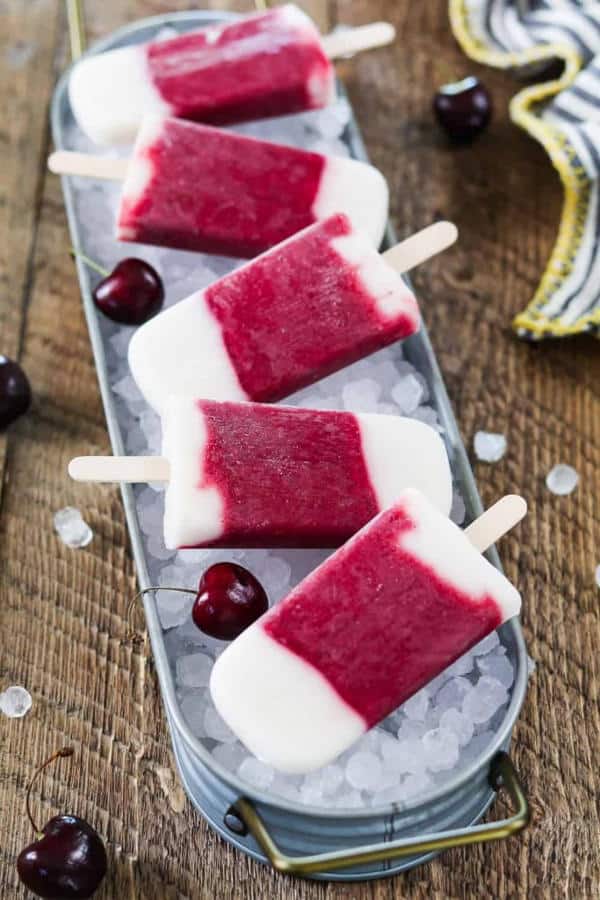 Get your popsicle molds out and try this!
Just three ingredients and I love how the author has layered them in the molds so the two colours are separate.
Get the kids involved and try something different. Maybe you could stack the colours over and over? Let us know what you create! Perfect for those long hot summers and healthy too!
Fruit Salad Kabobs with Sweet Sunflower Balsamic Dip & Sunflower
Chocolate Dip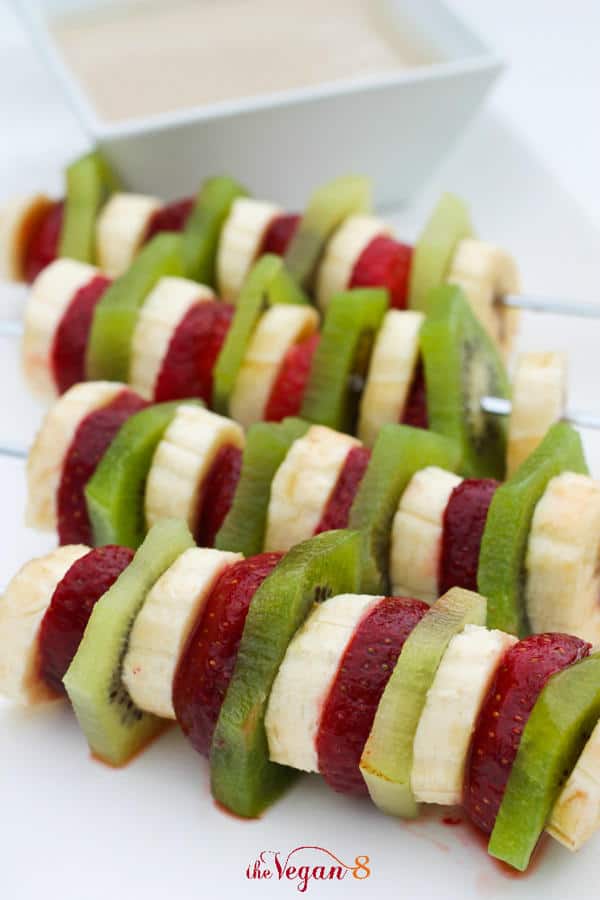 This is amazing. I'll admit right at the start I didn't have the skewers to make these kabobs, I just put all the fruit in a bowl and then had the dips poured over, one side of the plate with the sunflower balsamic dip, and the other side with the chocolate dip.
I thought chocolate would be my favorite, the balsamic dip surprised me. Try them both and let us know what you think.
Berry Popsicles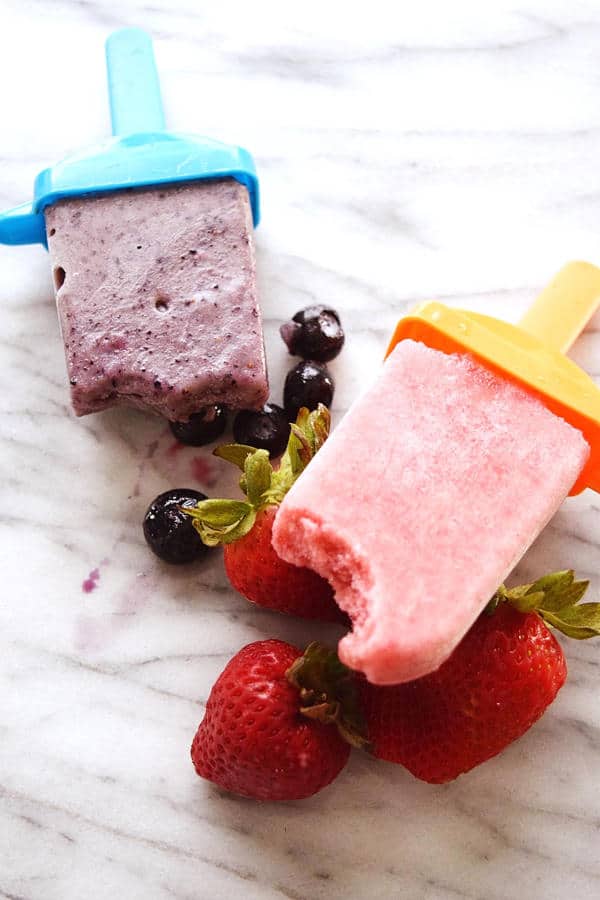 If you've read a few of these recipes, you'll know that I advise always having frozen bananas in the freezer. They are so useful for making a bunch of things from vegan ice-cream, smoothies and so on.
This recipe has 3 ingredients, blend them all together, pour into popsicle molds and keep in the freezer. Your kids will love them, and you'll rest assured that they're only consuming natural foods. Wonderful!
Fruit Roll Ups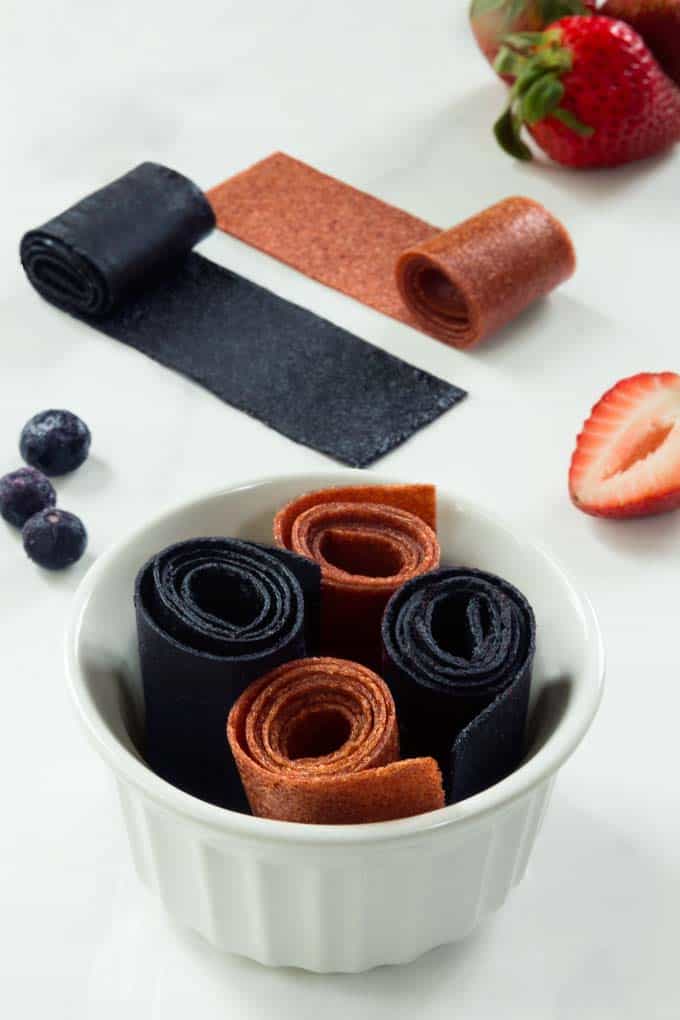 Want snacks ready for when you're on the go? Something healthy, easy to make and delicious? Here it is.
Now, I'll tell you that you'll need a dehydrator to create these roll ups/sheets.
If you don't have one, I know many people that use their regular ovens on the lowest setting and it works out great.
It'll take much less than the few hours needed for a dehydrator so keep an eye on it as you don't want the strips to be hard and crispy. Try it out. These are great and nothing but 3 ingredients!
Diy Fruit Roll-Ups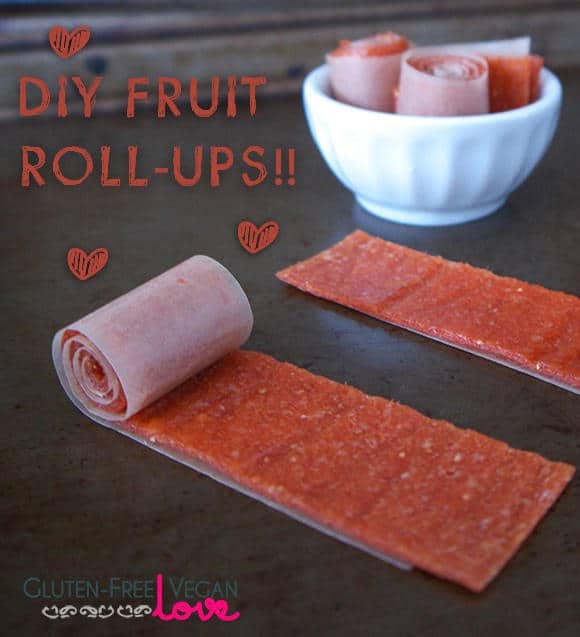 Just two ingredients will create these great roll-ups. Fruity and healthy!
You'll need a food processor to combine the fruit into a pulp then a dehydrator or oven to make the strips.
My favorite thing about this is the author! Audrey appreciates not everyone has a dehydrator, so she has set out specific instructions on how to use a regular oven.
Fantastic! As are these roll-ups.
Wrapping Up
We created this round-up for those of you transitioning into having more fruit and vegetables in your diet.
There's everything from salads, recipes for parties, smoothies and even a dedicated gluten-free section.
Despite the wide selection of dishes here, fruit is in all of them whether it's as the main part of the recipe or as part of other ingredients.
Many of the dishes here are versatile so you can use other ingredients as you see fit depending on availability and preference.
Let us know your favorites and do send us pics, and above all, get fruity!