Those that are veterans of a plant-based lifestyle, know all too well the choice of food is vast, and our diet is incredibly varied.
Check out our Best Vegan Recipes roundup which covers dishes for every occasion and your kids will love them too!
Whether you have a fussy eater, or you're just looking for ideas to improve your family's health and make mealtimes more fun, we have found the very best and it's all here for you.
Kid-Friendly Vegan Breakfast Recipes
Chocolate Chip Banana Pancakes (Gluten-Free)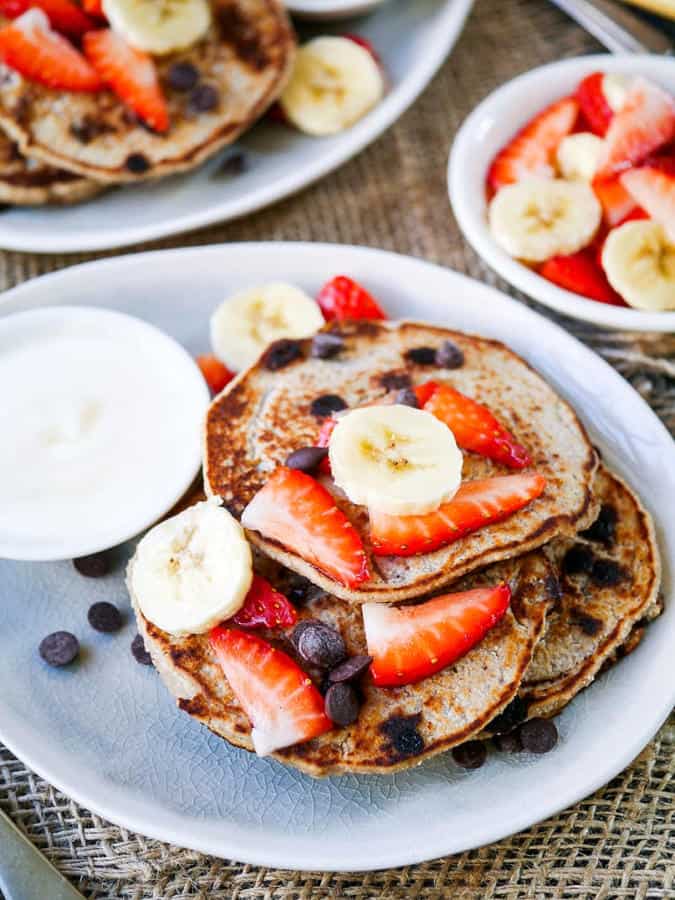 Everybody loves pancakes but when it comes to kids, you need something flavourful, healthy and most of all, exciting!
This recipe comes together in 30 minutes and that includes prep and cooking time. It contains coconut flour, cinnamon, vanilla and, of course chocolate chips!
Pancakes are light, fluffy and would go perfect with fresh fruit, maple syrup or anything!
Bruleed Grapefruit (Pamplemousse Brûlé)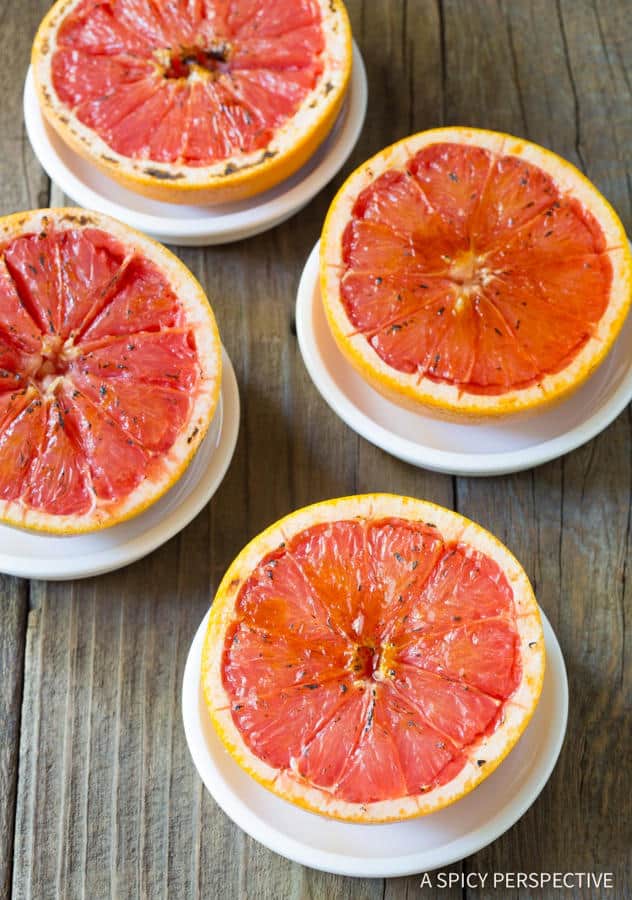 I really didn't like grapefruit when I was a kid, my Mom tried to get me to eat it a few times, it was futile!
To make this, you are going to need a food flame torch. If you don't have one, they're extremely economical and you can get some incredible results.
Follow the simple instructions and you'll have this healthy breakfast ready in no time.
Fabulous Fruit Salad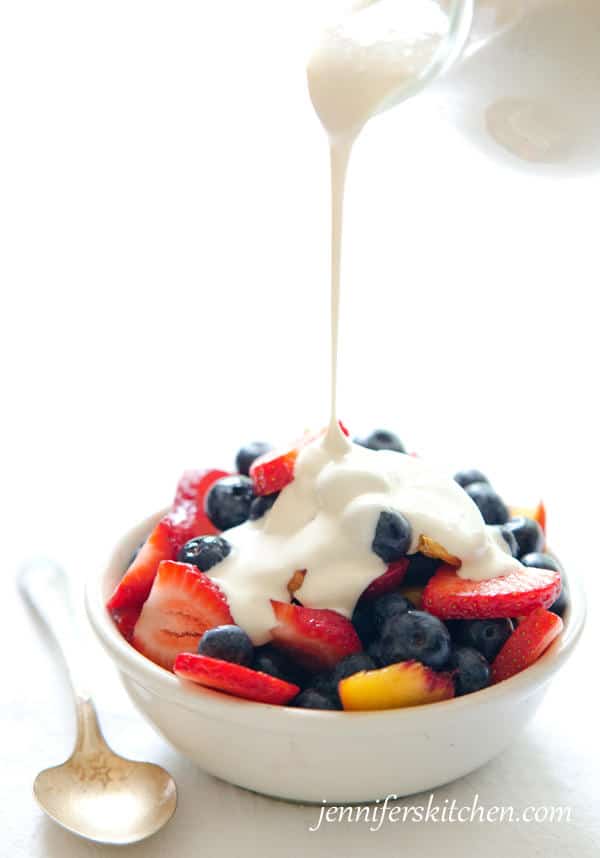 A lot of people think a fruit salad is just random pieces of fruit chopped up and put together.
Hey, there's nothing wrong with that but when it comes to feeding your kids, you can't go random!
The icing on the cake for this recipe is the plant-based cream poured over the fruit salad. You'll need a blender to whizz together the coconut milk, vanilla and a couple of other ingredients.
It has a silky texture with a great flavor and will encourage your children to eat fruit without even knowing it!
Cashew Cream Cheese Recipe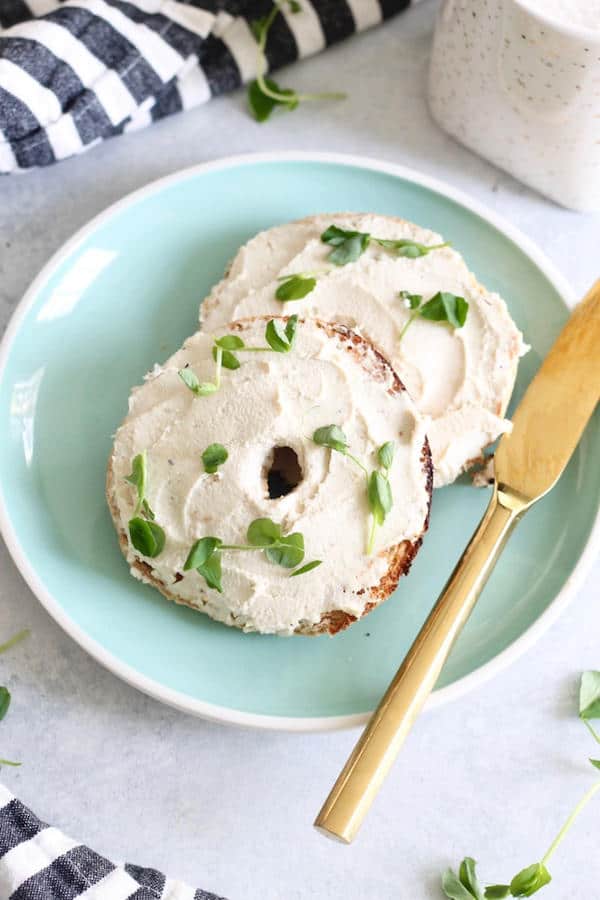 Sometimes we don't have much time for breakfast, maybe it's a late start to the day, there's school and all the preparation for that too!
Make this cream cheese ahead of time (you'll need to refrigerate for 36 hours as part of the process) and it makes the perfect accompaniment to toast, crackers or bagels!
Anybody tasting this for the first time will be hard pressed to tell the difference between this and a dairy-based cheese.
The difference is, this one is likely far healthier and contains just four ingredients!
Rhubarb Pancakes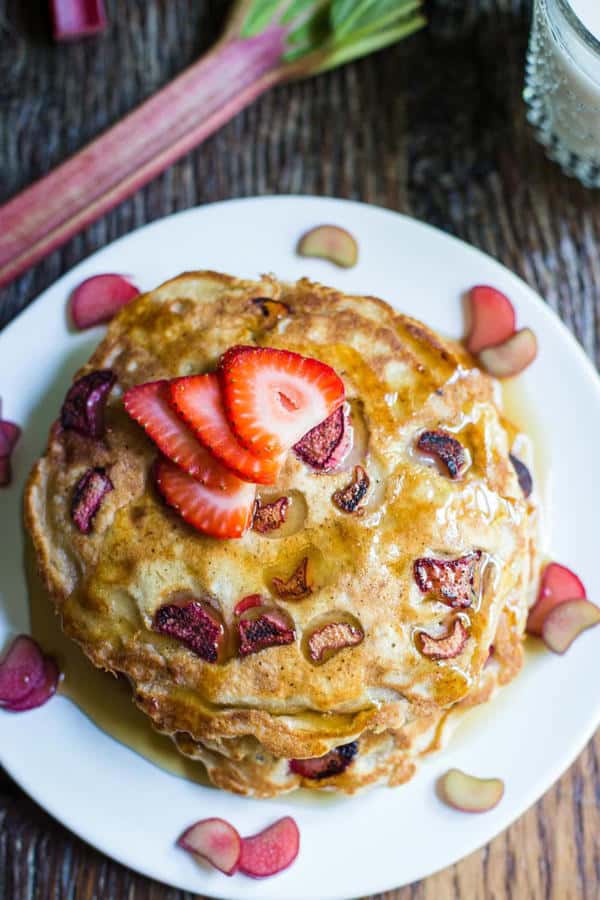 Rhubarb is one of those things often left behind and forgotten about. Yet it's super healthy and has an incredible flavor.
These pancakes are so good, if the kids don't eat them, you certainly will! Everything from cinnamon and banana are in these.
They're easy to make and go with your favorite pancake additions. Stack them high!
Mango Lime Sunshine Chia Pudding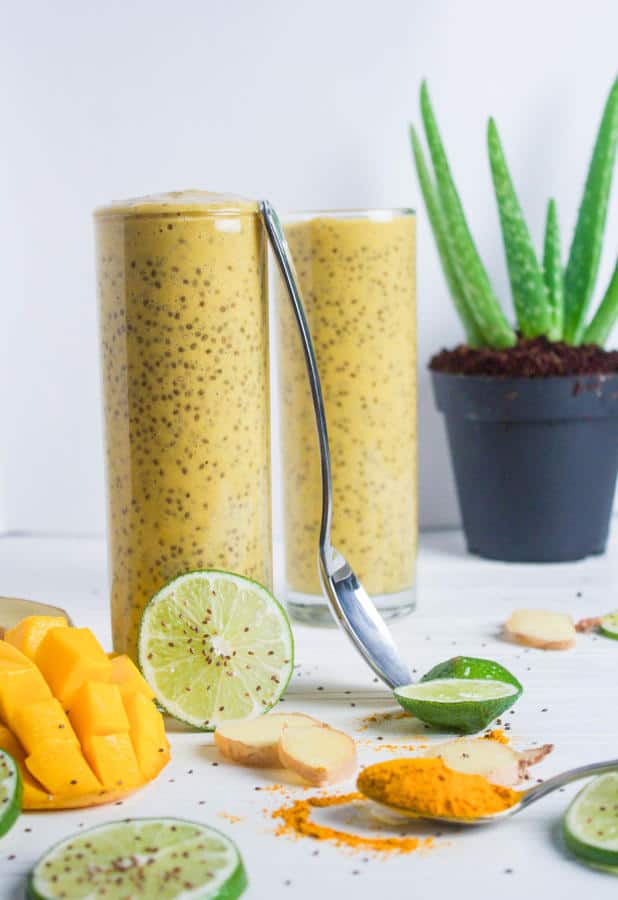 Chia seeds have natural properties which lend themselves perfectly to creating plant-based puddings.
With just a handful of ingredients you can easily create this beautiful pudding that is both fruity and zesty!
I love this because it needs refrigerating for at least 20 minutes although the author suggests overnight is ideal, meaning you have a ready-made breakfast waiting for you!
Multigrain Summer Porridge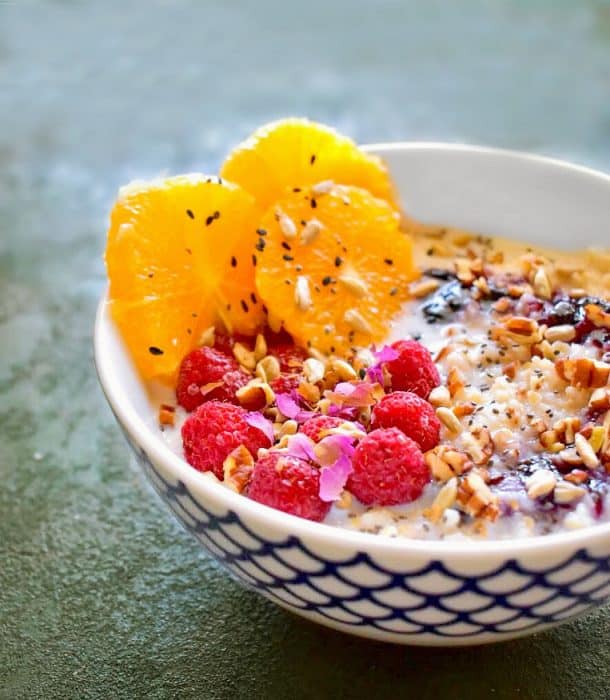 I didn't like porridge too much when I was a kid, it was sort of grey and didn't taste of much!
If someone would have made this for me I would have eaten porridge every morning!
Not only filled with nutritious ingredients such as fruit and seeds, would you believe it comes together in 15 minutes and that includes prep and cooking time. Perfect for when you're in a hurry!
Chickpea Scramble (Gluten-Free)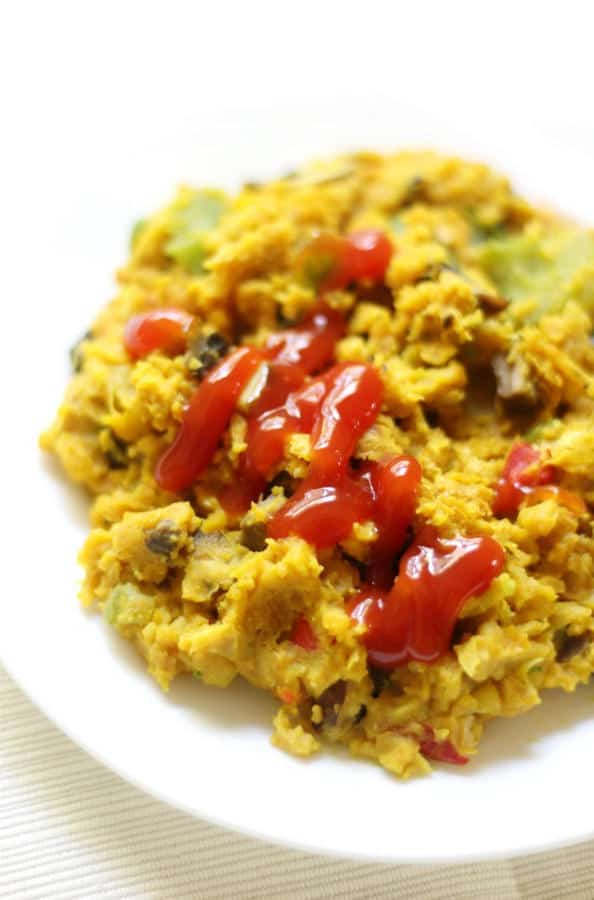 If you want to get a nutritious, protein-filled breakfast into your kids to start the day off, you can't get much better than this.
Just a handful of ingredients makes this delicious scramble breakfast. It contains mushrooms, bell peppers, turmeric and sweet onion, to name just a few of ingredients.
Feel free to add your favorites too! Not just for the kids, but for you as well!
Classic Overnight Oats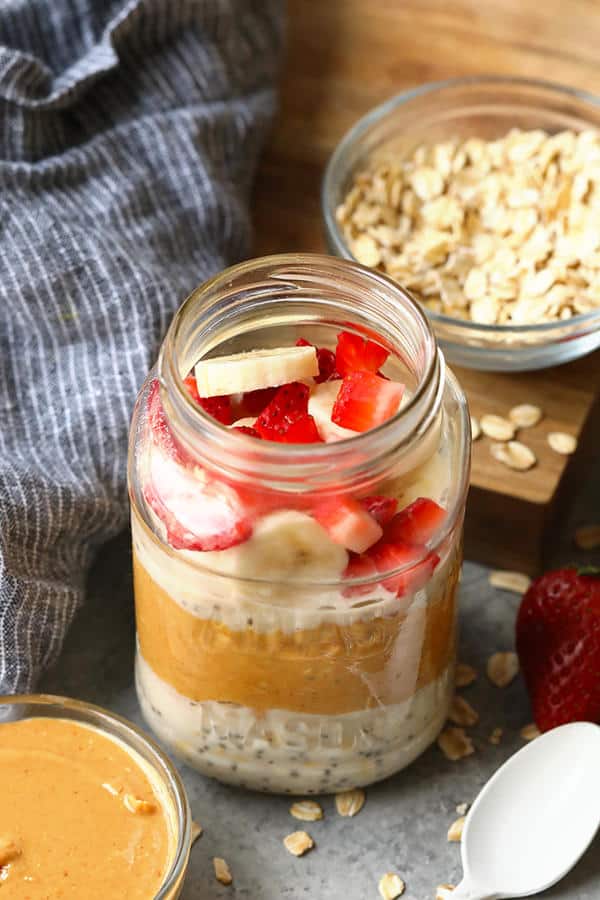 Overnight oats are perfect for that very reason, you create them beforehand and the next morning breakfast is waiting!
This recipe has just five ingredients, and one of them is a pinch of salt!
It's versatile so feel free to add your own toppings. Doesn't get any better than this!
Homemade Vegan Greek Yogurt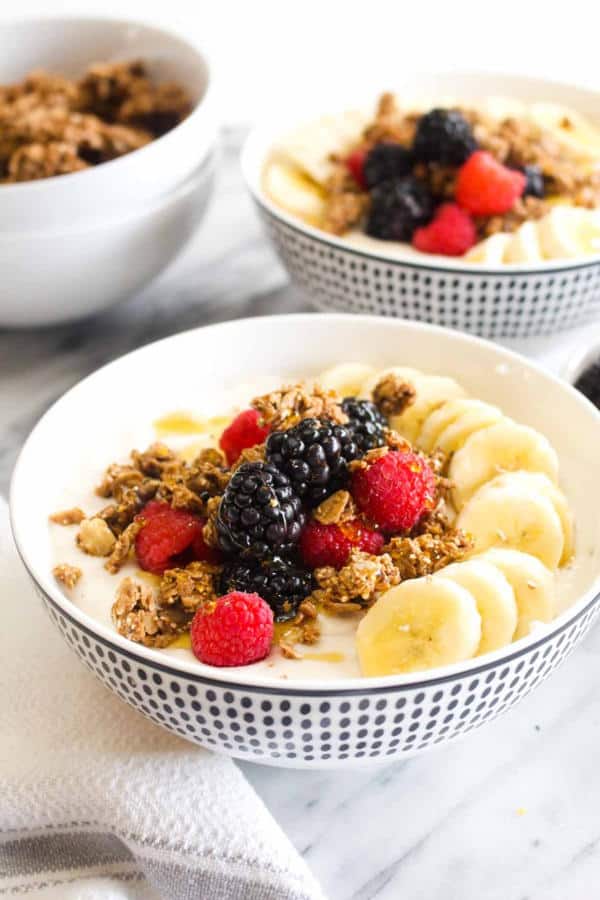 I must admit, when I first saw this recipe I was curious and excited to see how you could create a real plant-based Greek-style yogurt.
Just follow the instructions with these four ingredients and you honestly have an incredible tasty yogurt.
To ensure the smooth texture, soak the cashew nuts the night before you prepare this.
The yogurt itself needs to sit for about 36 hours until it's ready. The instructions are incredibly simple and are the easiest ever seen for this type of dish!
This kind of preparation for a breakfast is actually a great thing, it means that breakfast is waiting for you with zero prep time! Served with fresh fruit, granola, or both!
Kid-Friendly Vegan Chocolate Recipes
Healthy Chocolate Tart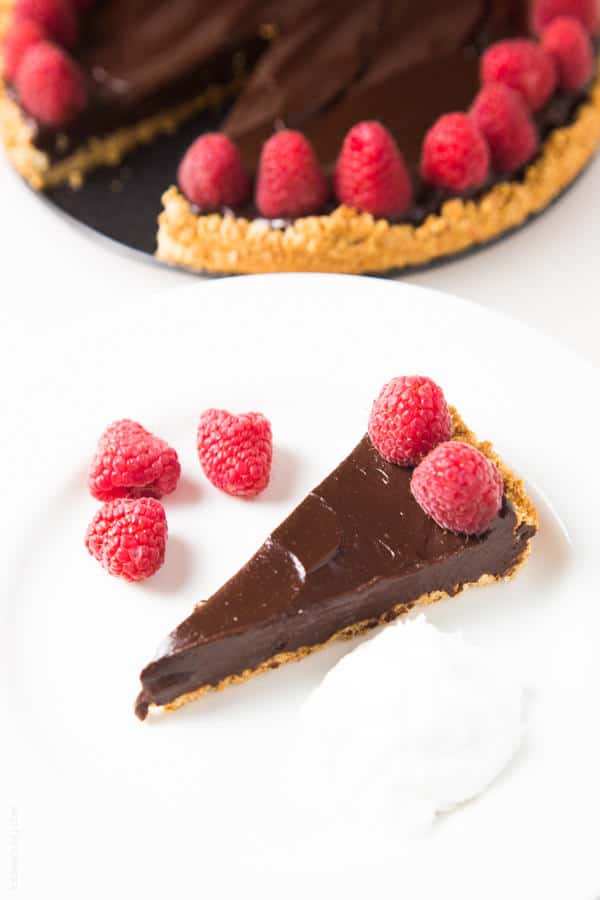 Could this be true, a healthy chocolate tart? This is like the holy Grail or something!
This recipe is amazing for two reasons, the first is the tart itself which is more than you could ever anticipate!
The second reason is the author has gone to the trouble of making a video which takes you through the entire recipe step-by-step.
We don't see this very often but when we do, it's worth highlighting. Try it, you won't be sorry!
Chocolate Cupcakes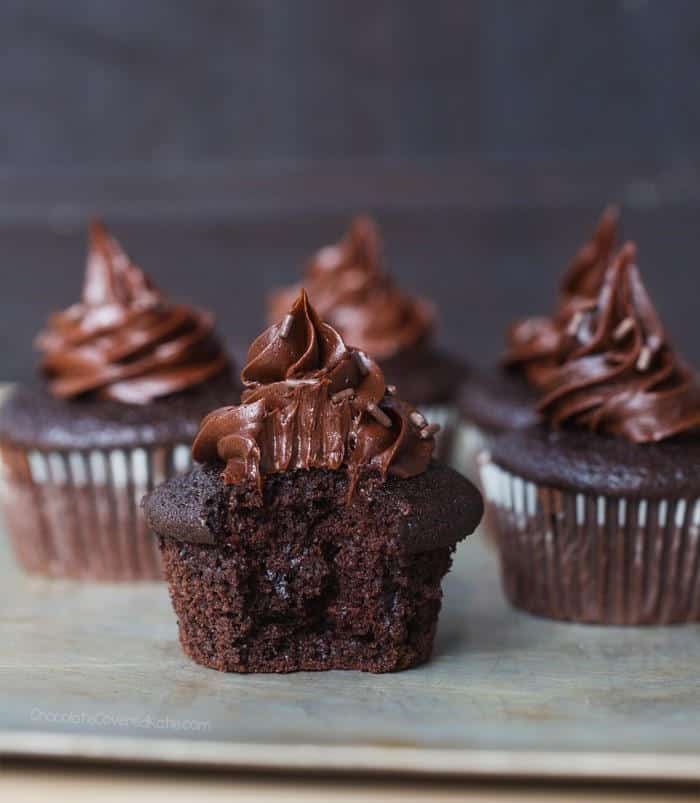 One of the best things about living a plant-based lifestyle is the desserts, without the dairy they are healthier and some of them are guilt free.
This chocolate cupcake recipe is no exception! It contains just a handful of ingredients and you can bring them together in a snap.
The amounts listed make 9 to 10 cupcakes so adjust as necessary. Delicious and fun!
Chocolate Fondue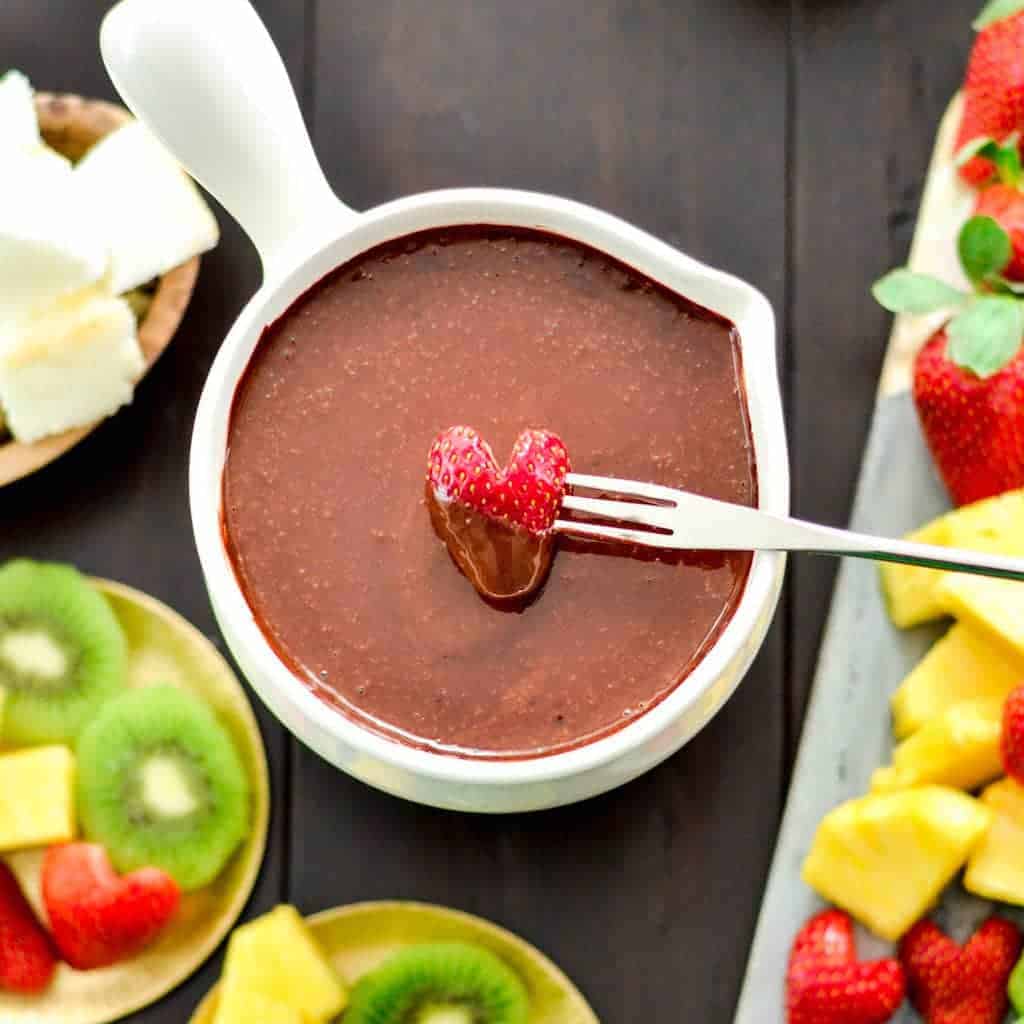 I'm sure that fondues used to be a thing some time ago, it's about time we brought them back!
Just five ingredients and a little seasoning is all you need. This chocolate sauce tastes of coconut and you don't need to heat it, just blend all the ingredients together and you're done! Get your fruit ready and dip all day long!
Low-Carb Avocado Chocolate Cake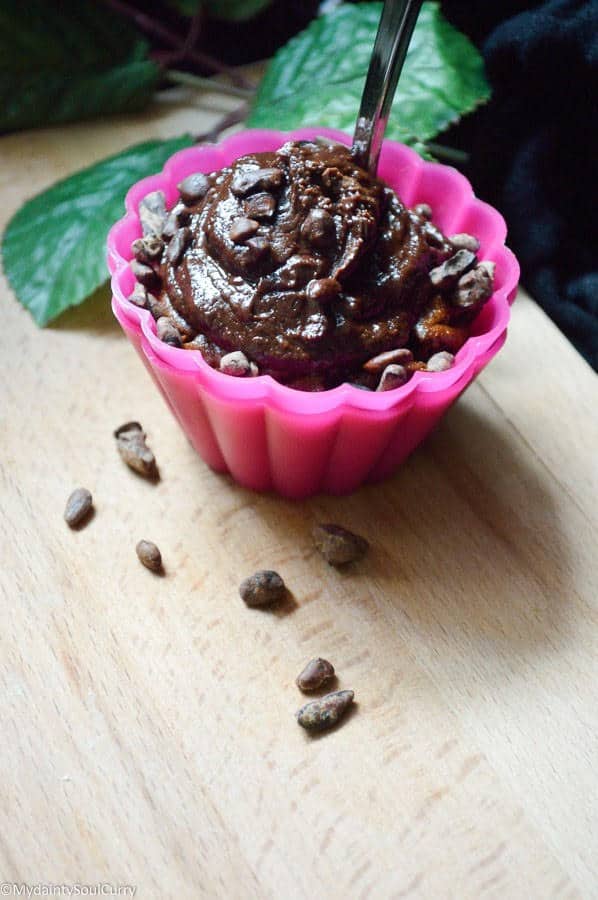 If you didn't already know, avocado is often used to make mousse desserts and cakes, don't worry, your sweet goodies do not taste of avocado, we're just borrowing the creamy texture from the avocado fruit!
The entire recipe page is dedicated to taking you through each step of this dish and this is something we don't see very often.
This has photos along the way, so you just can't go wrong, it's fantastic and so is the cake.
Bounty Bars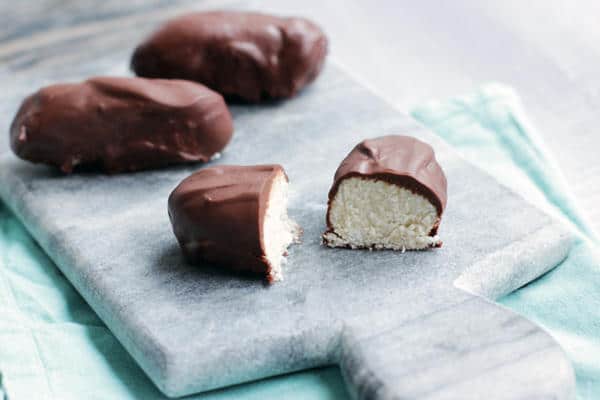 This is all about the coconut and the chocolate. Make your own bounty bars at home where you know what all the ingredients are.
Even though these bars have two parts to them, the chocolate coating and the filling, would you believe the entire recipe only has four ingredients!
The total prep time is just 30 minutes and the bars store in the fridge for up to 5 days.
Best Chocolate Chia Pudding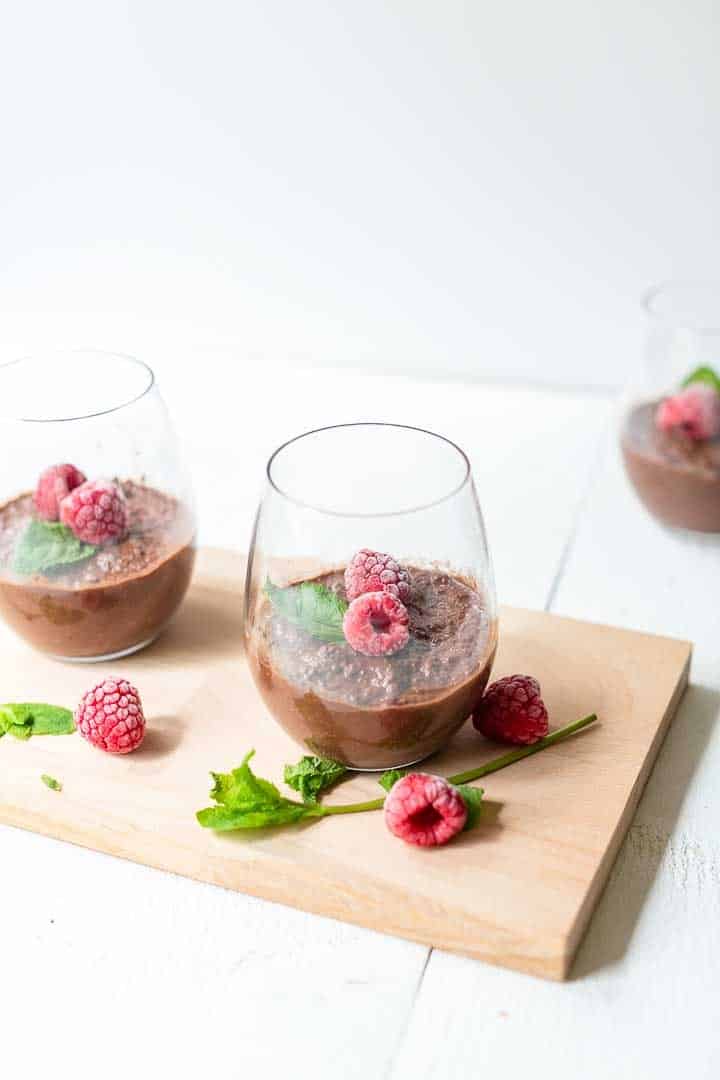 It's worth repeating that chia seeds are great additions to puddings because of their natural properties that help create a great mousse consistency.
This has six ingredients with the option of adding your favorite fruit. Prep time? 5 minutes!
Date Caramel Energy Balls with Dark Chocolate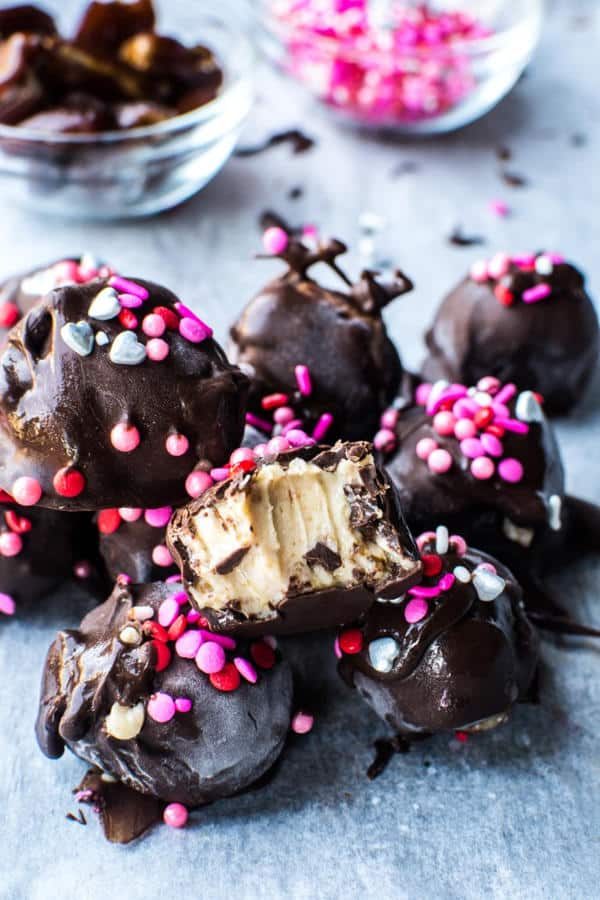 If you've never had medjool dates, let this recipe be your excuse and reason to buy some.
They're nature's answer to caramel. Don't be mistaken, nothing other than medjool will do.
These date balls are so much better than your regular recipe. You also get coconut, vanilla and more! Get your blender on and make these bad boys.
Just pop in the freezer to firm up the chocolate coating and you're good to go.
Easy Chocolate Pumpkin Cupcakes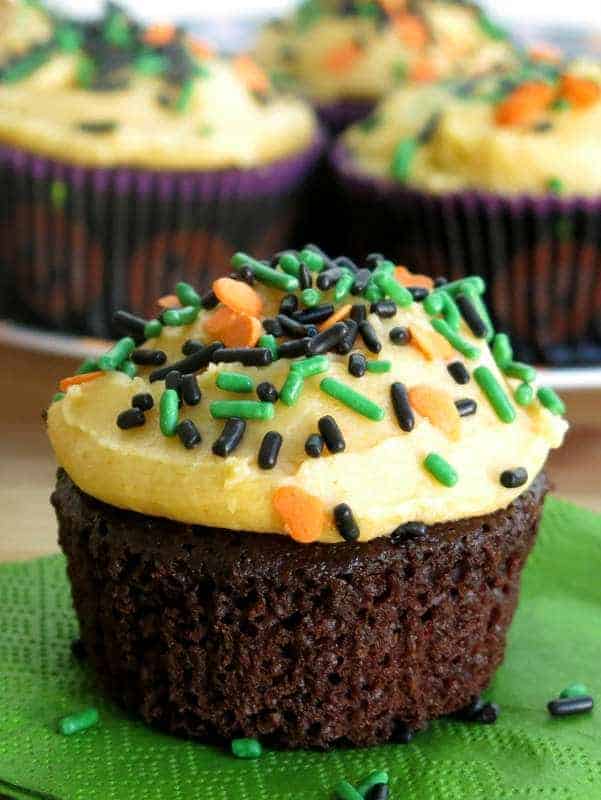 When you want something fun for the holidays that even the kids will enjoy being a part of making, grab this recipe.
The ingredients are divided into two sections, the cupcakes and the frosting. Incredibly easy and fun to make, get creative with the decorations on the frosting.
With ingredients such as cinnamon, nutmeg and ground ginger, these are super delicious!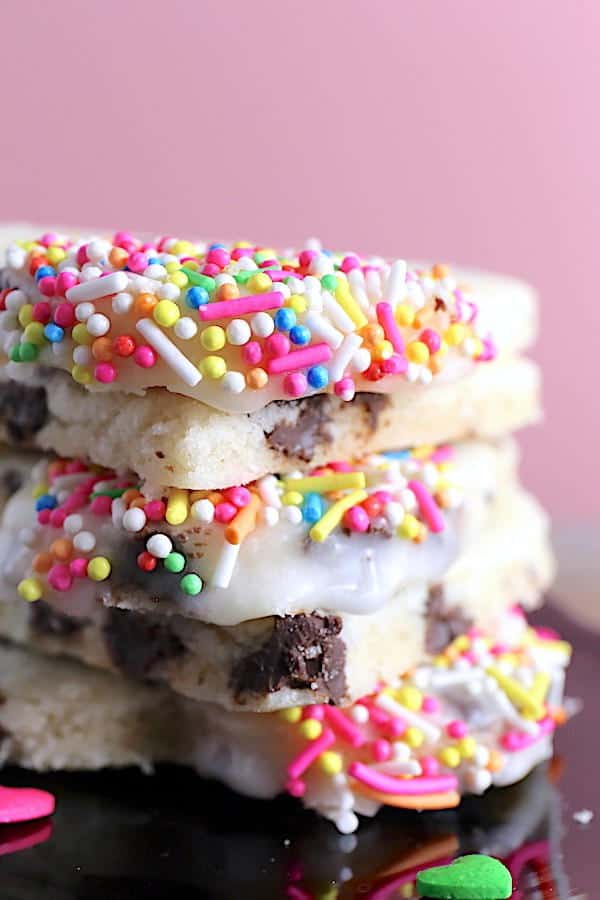 Aren't these just so much fun! The recipe is divided into two sections, the cookies and the glaze.
Have a blast with your kids making these delicious cookies. Make your own shapes and decorate the glaze. Great for the holidays and any celebration.
Raw Mylk Chocolate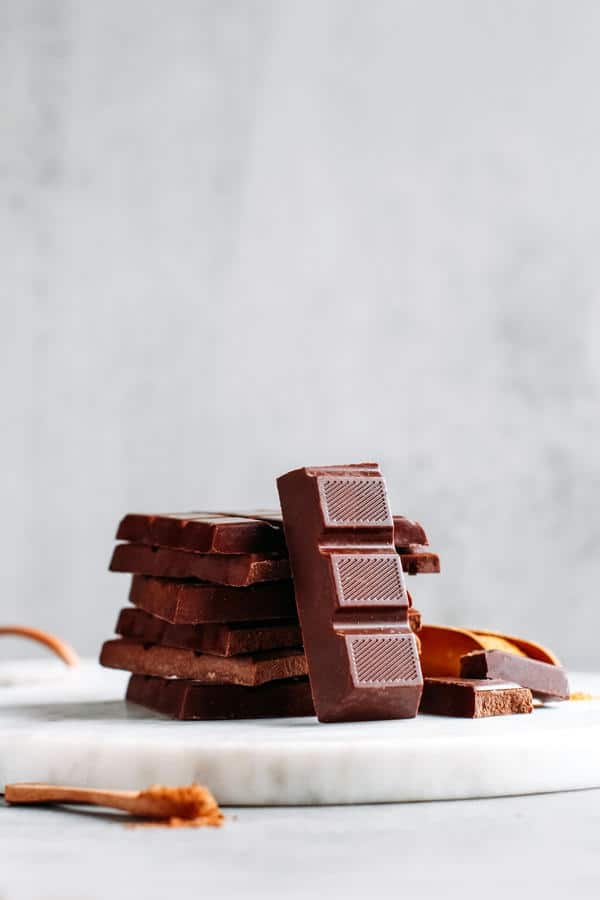 This is an incredible recipe! So easy to make and the end-product is so much better than you could ever imagine.
Ideally, if you want to create a traditional looking chocolate bar, you will need a mold.
They are cheap and any baking shop, or even the cooking section of a supermarket, will store these.
If not, you'll easily get it online. Much better when you know all the ingredients that have gone in what you're eating.
Kid-Friendly Vegan Dessert Recipes
Easy Banana and Coconut Unicorn Dessert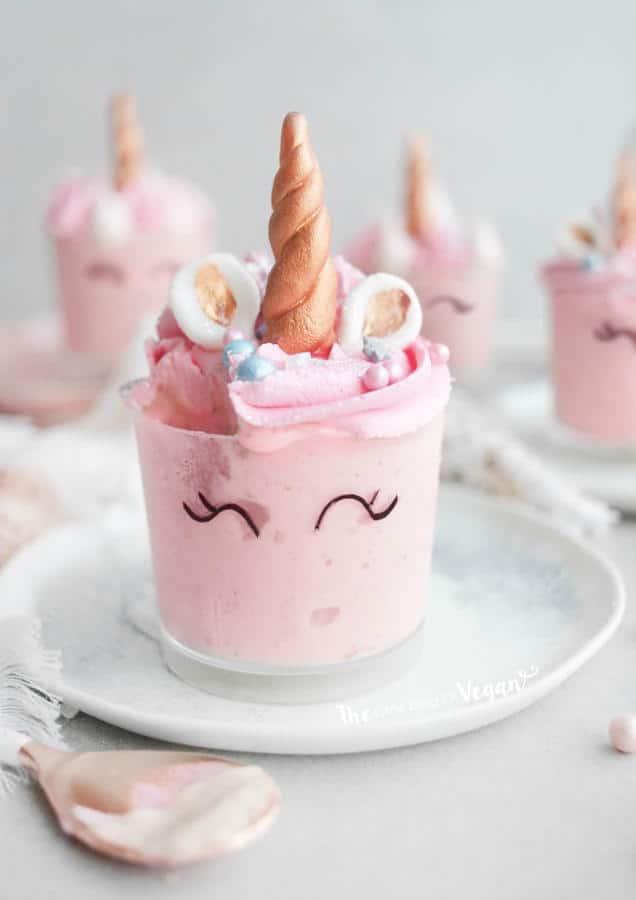 Looks like unicorns are coming back! Did they ever go? If unicorns are a thing in your home, you need to make this dessert.
The 'nice-cream' contains fruit and dairy-free milk. The decoration is all about coconut whip.
Unlike store-bought versions, here there's no E numbers in sight! Fantastic! I know a special little person that would love these!
Strawberry Rhubarb Crisp (Gluten-Free)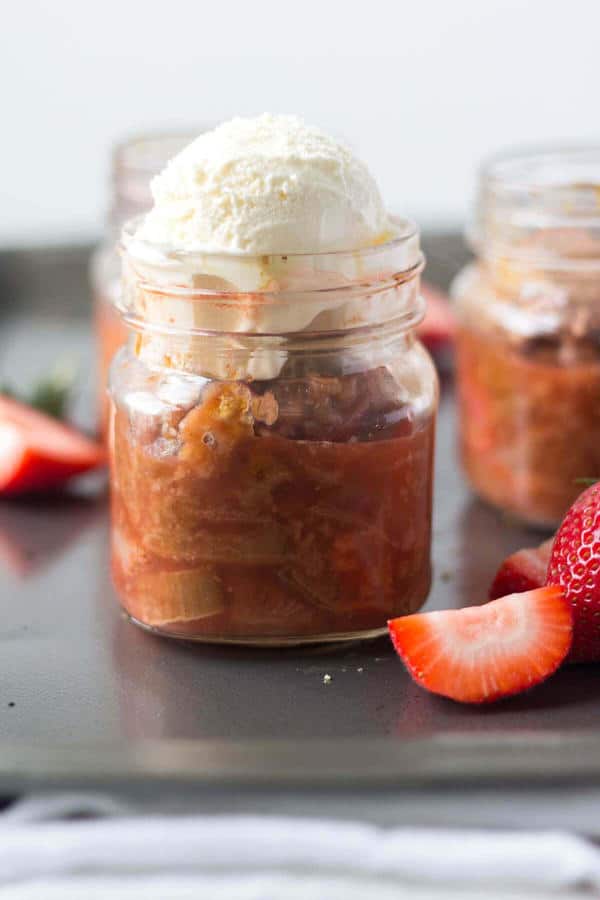 During those summer days you can't beat a food crisp! I love how this recipe includes rhubarb as well.
Rest assured, there is no refined sugar in this crisp dish. The recipe has two sections, one for the base which includes orange zest, and one for the crumble which tastes of coconut and cinnamon. You really can go wrong, delicious and healthy!
Strawberry Protein Donuts with Coconut Cream Frosting (Gluten-Free)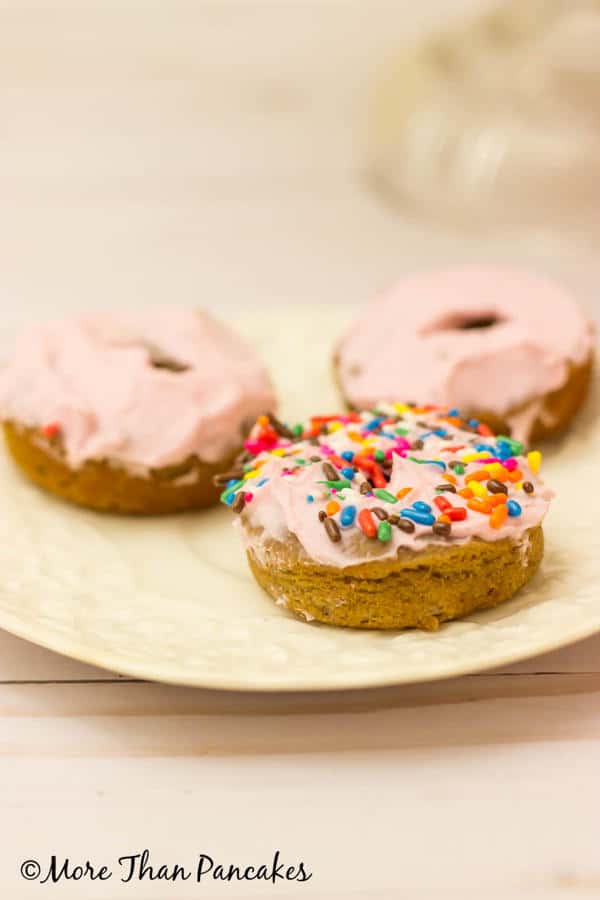 What happens when you're trying to be healthy, but you have a craving for donuts! Major alert, right?
Let's face it though, they're deep-fried and nutritionally empty. They may taste great, but they're the opposite of healthy. Until now!
These donuts are baked and contain fruit, almond flour and more. Even the frosting is great although you could skip that part if you want.
You should honestly try these, they taste great and they fix your fix!
Chocolate Mousse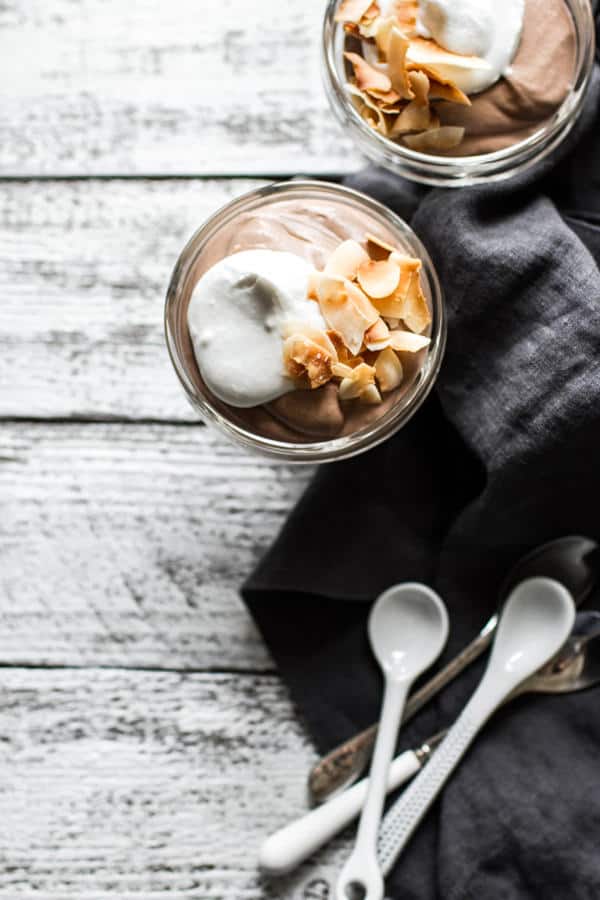 One of the best vegan mousse recipes I have seen. There are five main ingredients and if you're one of those people that don't want to have avocado in your pudding, this is for you.
Just five main ingredients created this mousse primarily made from silken tofu. You get a hint of vanilla and coconut in every bite. Delicious!
Strawberries and Cream Cupcakes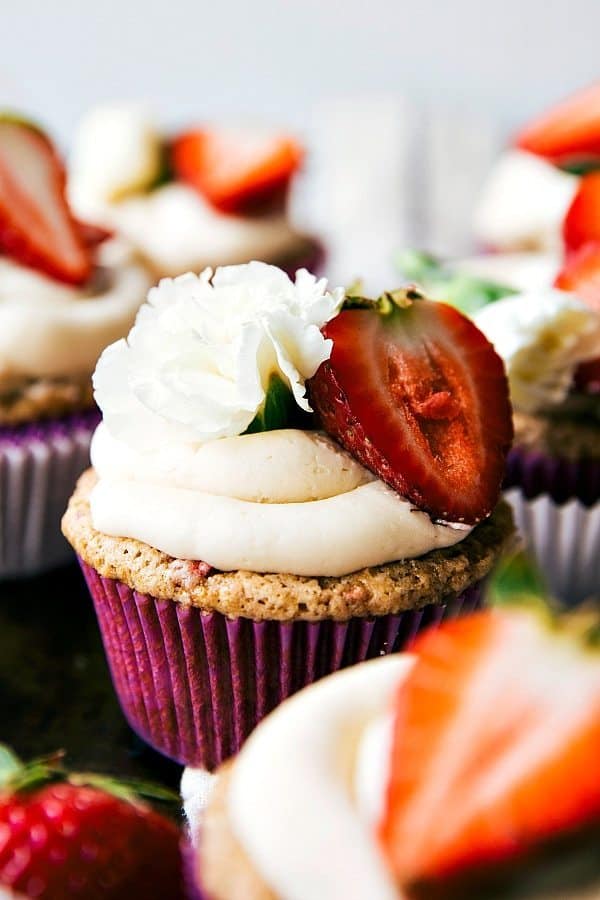 Kids love making cupcakes! They're fun and you have an infinite number of ways to decorate them.
This recipe is so good, even if you don't decorate the cupcakes with any frosting they are delicious.
But why not go the whole hog and do the decoration thing! Fruit, smiley faces, what will you do? Be sure to let us know!
Carrot Cake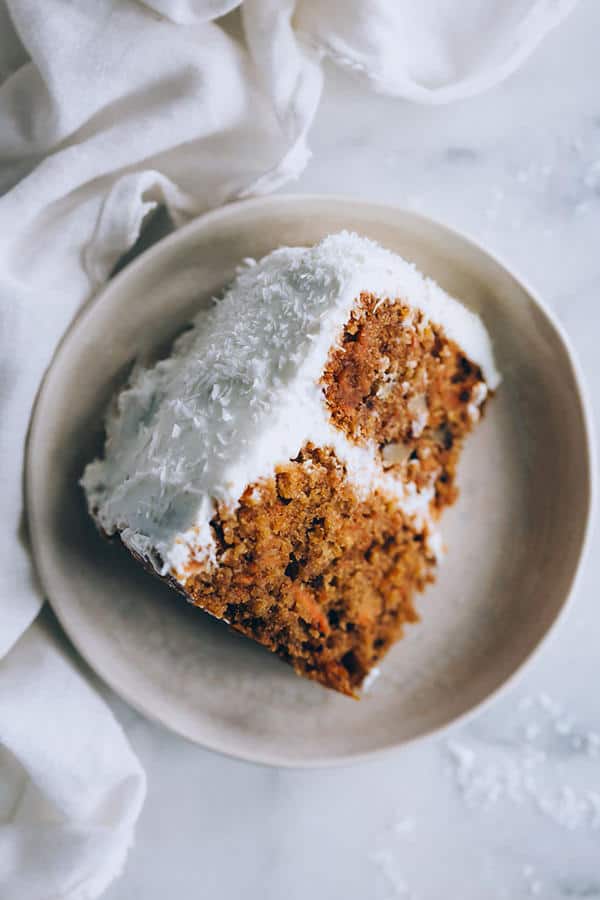 There are about the thousand carrot cake recipes around and I'm sure I've seen every one of them!
I'm not just saying it when I claim this is one of the best, it truly is. You're going to create this with whole wheat, coconut, toasted walnuts and more.
Be sure to soak your cashew nuts overnight before making the frosting.
This is a lot lighter than I expected which is great. If you like carrot cake, you're going to love this.
Super Easy, Healthy Baked Fruit Dessert (Gluten-Free)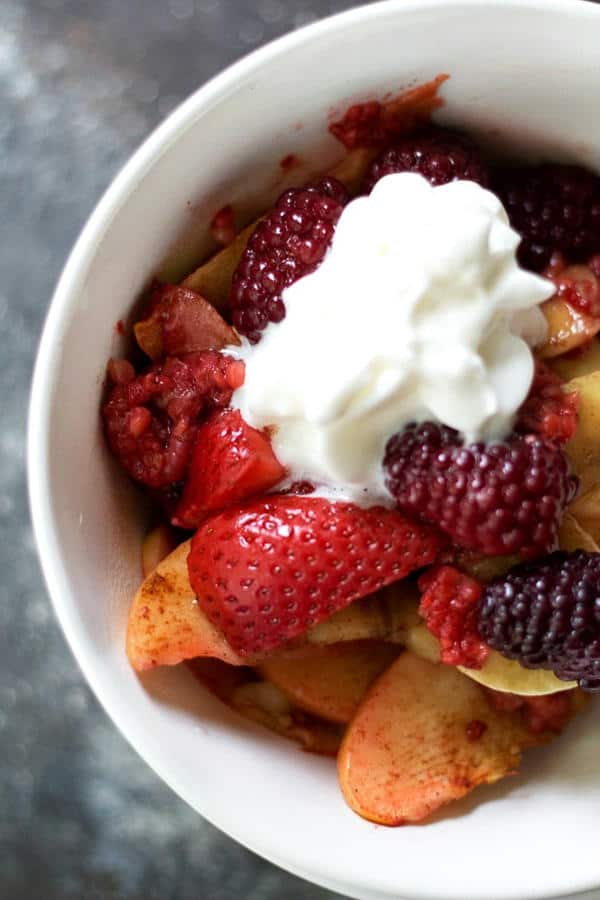 I don't think I've ever seen a recipe quite like this, it's unique, healthy and a sure way to get your kids eating fruit.
As this is a fruit bake the recipe is versatile, so you can use your favorite fruits.
If you're inventive, I see these baked fruits going well with another type of dessert. However, on their own they are fantastic. Serve with whipped coconut cream or a vegan yogurt.
Blueberry Crisp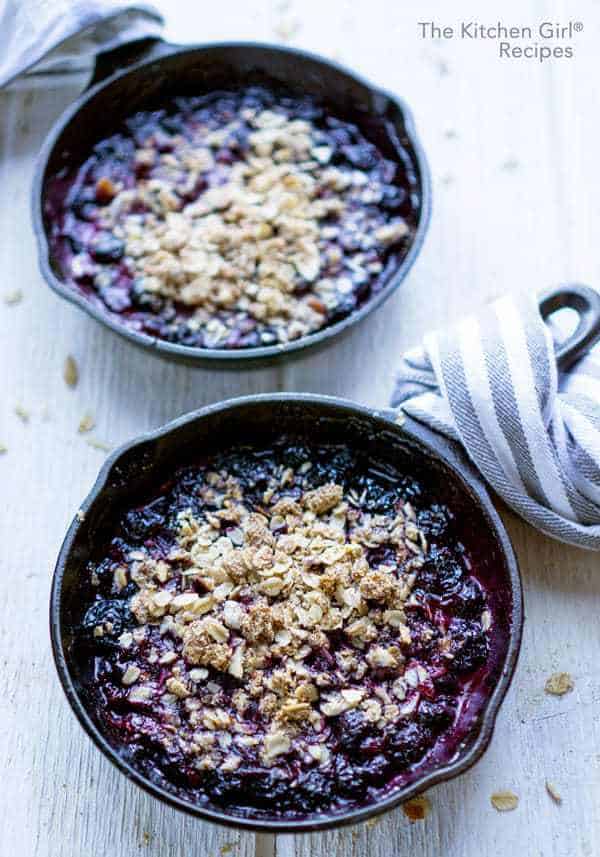 What a wonderful looking crisp this is! You can use fresh or frozen blueberries and sweetened with maple syrup, agave or even dates.
The topping made from rolled oats, sliced almonds and more is the perfect accompaniment.
The contrast between the blueberry crisp and the topping is striking in the way they look. It makes it even more appetizing!
Banoffee Pie Cheesecake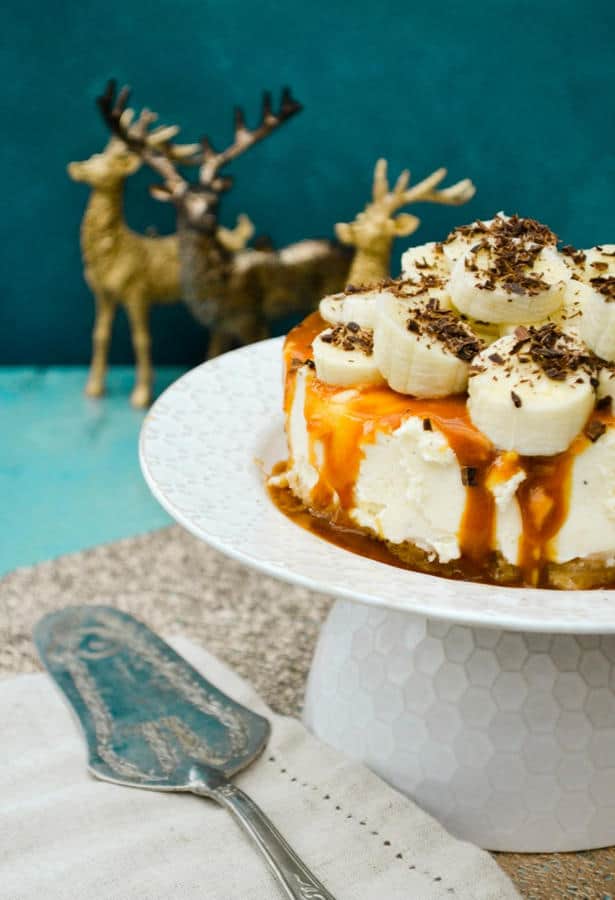 If you want to win me over, just say banoffee pie and I'll be there! It really is my favorite dessert.
This has everything, a cookie base, coconut, bananas and more. The list of ingredients is surprisingly small and best of all, you don't need to bake! Try it, you'll love it!
Strawberry Crème Brûlée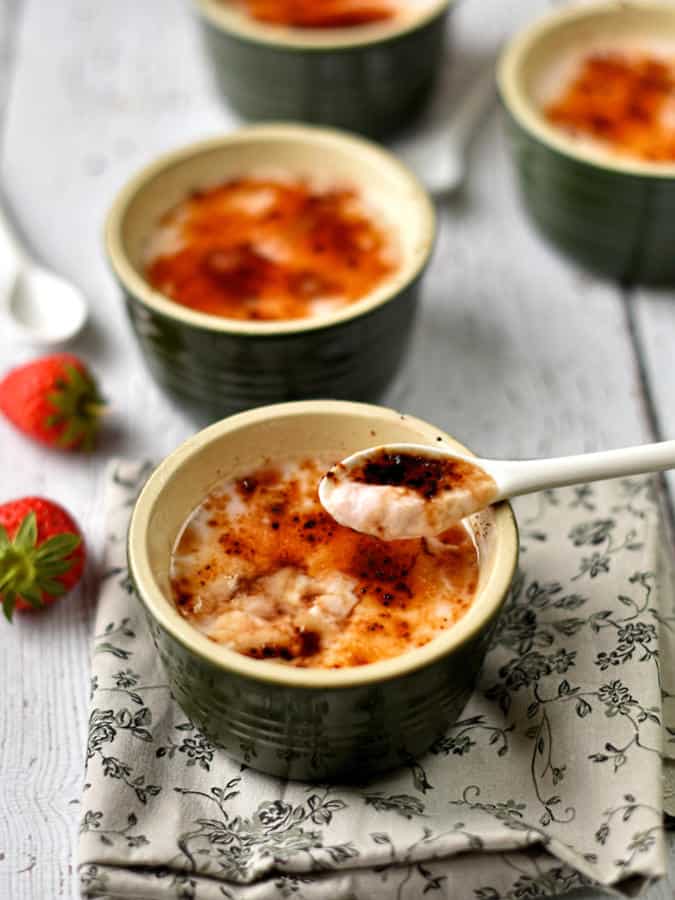 I always thought crème brûlée was something complicated that only top chefs could make!
If you have a birthday coming up and you want a create something really special, this recipe was designed for just that.
Surprisingly few ingredients and so much easier than you imagine, this will certainly make someone feel special.
Kid-Friendly Vegan Dinner Recipes
Mediterranean Grilled Avocado Stuffed with Chickpeas and Tahini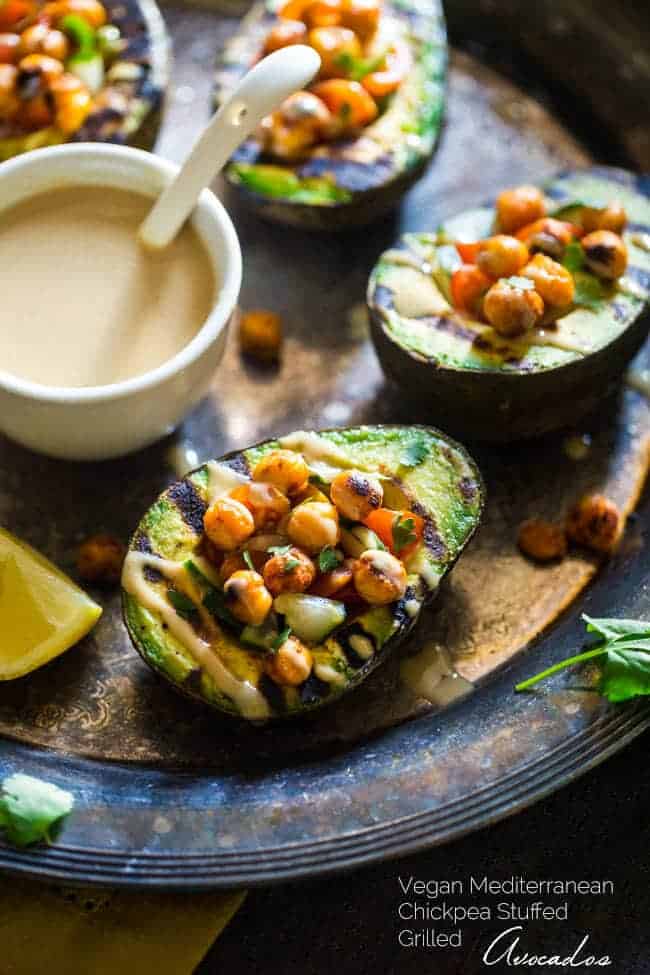 Grilled avocado! I had no idea you could do this! Doesn't the photo look just great? I love it.
If you want to create a fun dinner that looks incredible and tastes even better, go for this.
The tahini topping makes everything come together perfectly. A great way to have a super healthy dinner that, at the same time, is comforting and bursting with flavor.
Creamy Ginger Carrot Sweet Potato Soup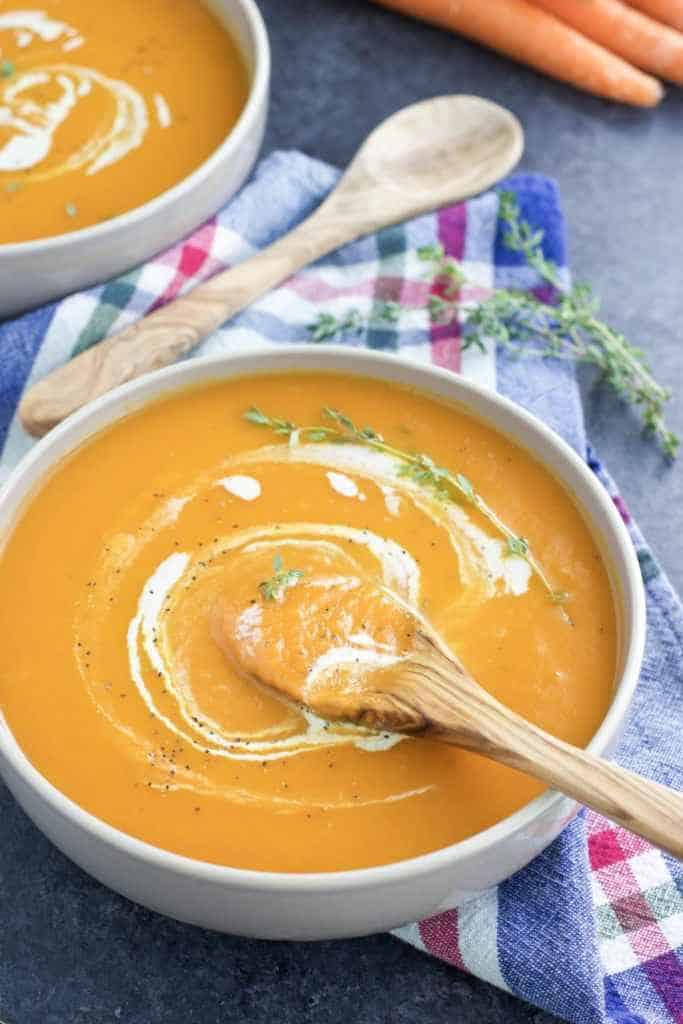 I was never too keen on soup when I was a kid. Then, when I became vegan, I thought it was all about vegetable soup and more vegetable soup.
Soups are a great way to get vegetables into kids and this recipe is certainly no exception.
It is a carrot soup but not as we know it! It contains sweet potato that has a zing with ginger!
Lentil Veggie "Meatballs" with Tomato Coconut Sauce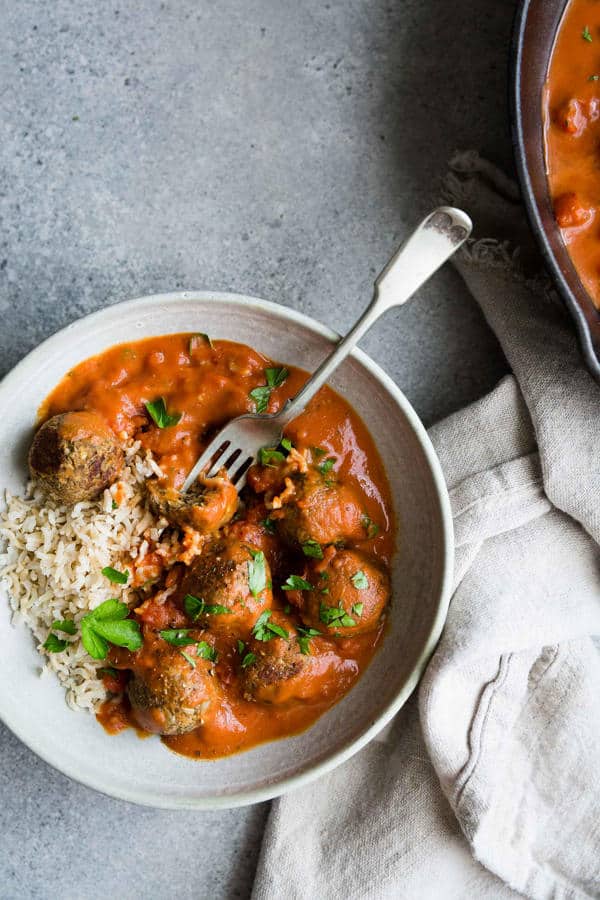 Do your kids love meatballs? Or perhaps, did they used to love them before you switched your family to a plant-based lifestyle? What you do now?
Don't miss out on that meatball fix, use this recipe. This dish is divided into three sections, the 'meat' balls made primarily from lentils, mushrooms and carrot.
Then you have a section for the sauce and this is all about the coconut. Lastly, you have a list of all the different herbs and spices!
Obviously, you could make your own marinara sauce if you prefer which makes this dish very versatile.
Above all, it's bursting with flavor, very meaty and goes great with rice, noodles or anything you like. Your kids will eat vegetables without even knowing it!
Zucchini Noodles with Pesto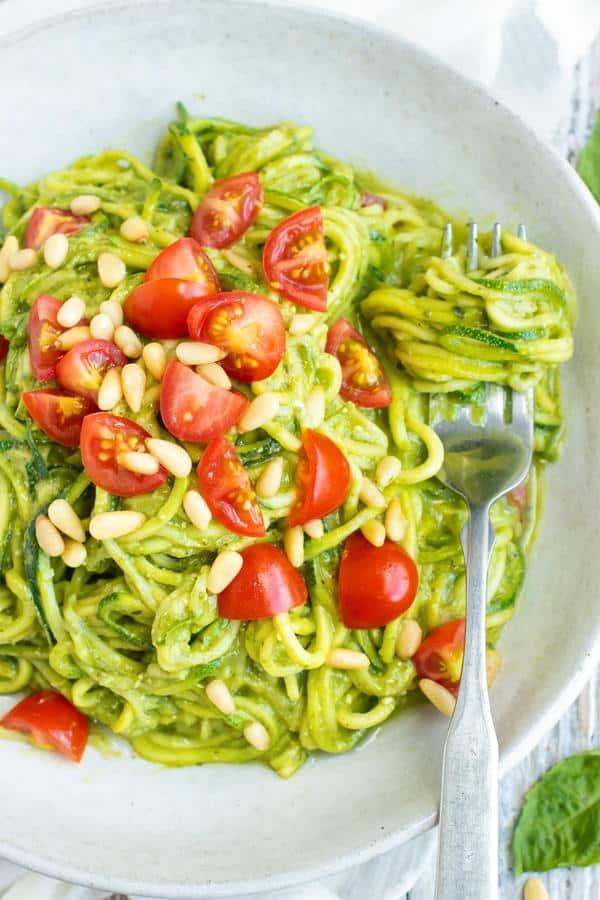 If your children are getting into their late teens and are wanting to experiment with health food recipes, check this out.
Incredibly easy to make and just six ingredients for the entire recipe.
You will need a spiralizer and if you don't have one, you could just as easily use a julienne peeler for the zucchini. Wonderful!
Easy Manicotti with Tofu Ricotta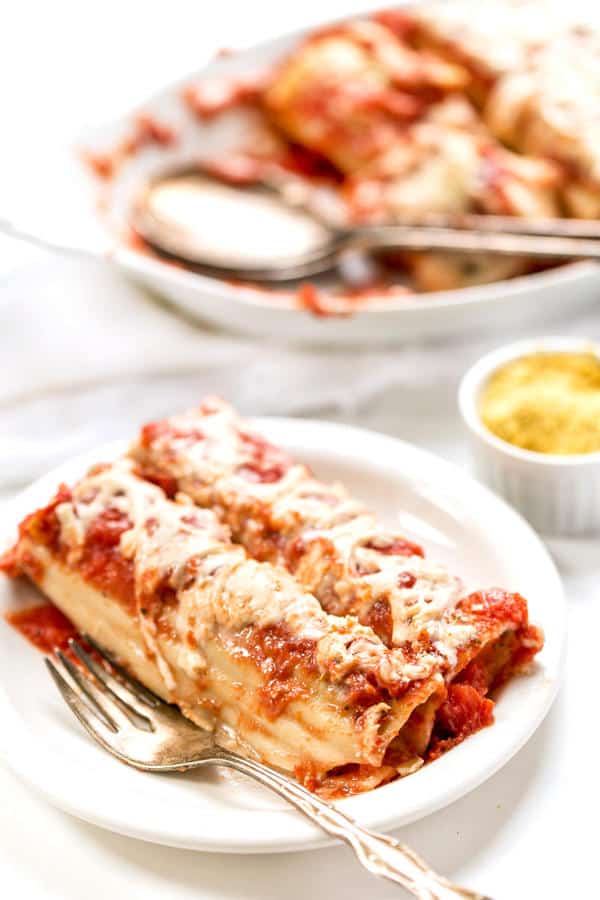 Manicotti are very similar to cannelloni. This may look and sound like a complicated recipe, but you'd be surprised how easy is.
The filling is made with tofu and the sauce is a simple marinara recipe. It comes together in 45 minutes from start to finish and is simply delicious.
If your children like cooking, get them to make this for the whole family. You can supervise!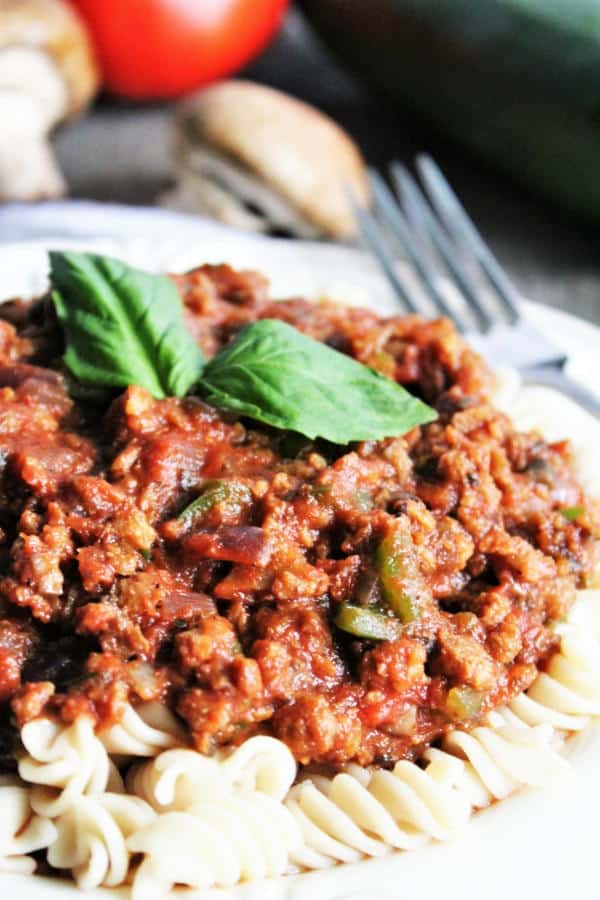 I think it's safe to say most kids love pasta. Why not use their favorite dish and sneak in a few veggies?
This recipe has a section that gives you three substitutes for 'meat' and all of them are really good ideas. You could leave them out, the recipes good enough without any of them.
However, if you do have a hard time getting your family to eat more vegetables, by including one of these meat alternatives, it gives more body to the recipe.
Whether you're trying to do vegetables by stealth or not, this is a great meal.
Easy Spinach and Mushroom Lasagna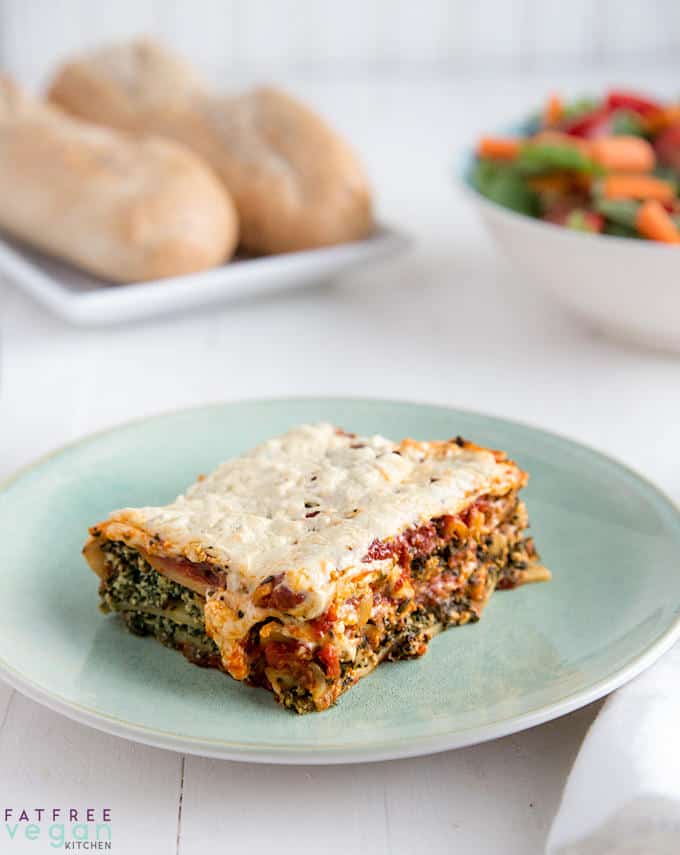 I love Susan from 'Fat Free Vegan', she always makes wonderful recipes and this one in particular struck a chord with me.
Both my parents and all my family are Italian, so I have had my fair share of lasagna.
I have never cooked the noodle sheets (referring to the dried store-bought variety) and have never understood why people do that.
Susan says the same thing in the introduction for this recipe, they soften as the recipe bakes, so you save yourself some time.
This recipe really is first class and I wouldn't change it one bit. It is versatile so you're free to add your own vegetables but if you don't feel inventive, just follow this and you can't go wrong.
Healthy Onion Rings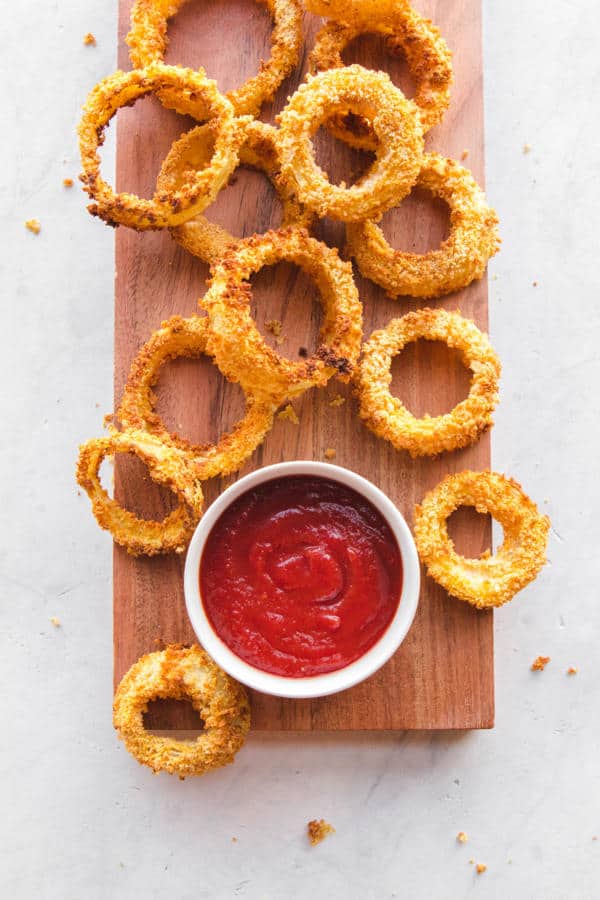 Onion rings are like the best thing ever, right? The problem is, traditionally they are deep-fried and we all know (whether we'd like to admit it or not), anything deep-fried is unhealthy.
The great news is that your kids don't have to miss out! These are baked and taste outstanding.
Great herbs and the wet mix gets lovely and crispy in the oven. Perfect!
Easy Vegan Meatballs Using Chickpeas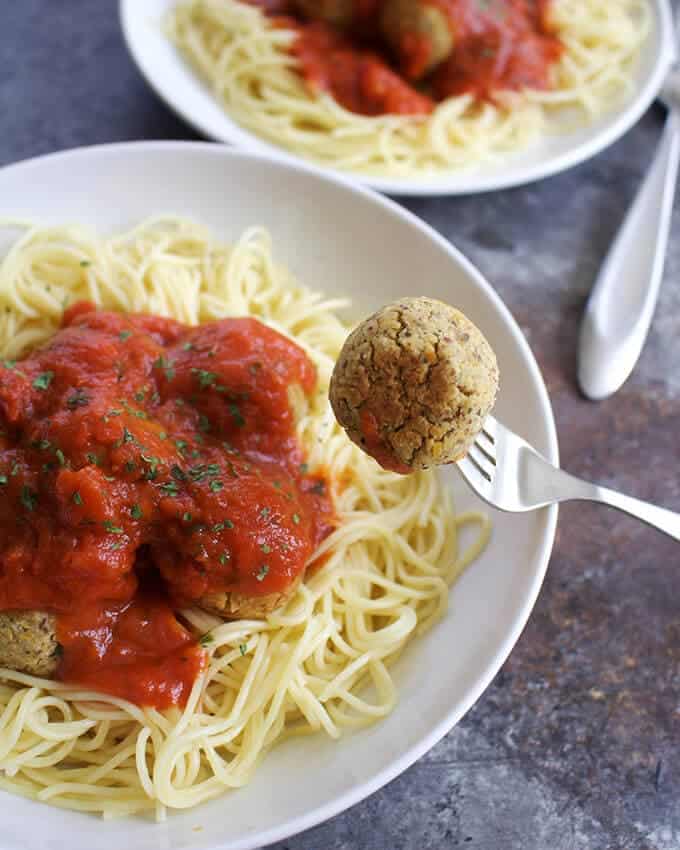 Add more substance to your Italian dishes with these wonderful plant-based meatballs using chickpeas (garbanzo beans).
The recipe page is just fantastic, you couldn't get any more help on how to make this if you tried.
You get step-by-step instructions and photos along the way, and if that wasn't enough, there's even a video! Why not get the kids to make them? Wonderful dish.
Quick and Easy Red Curry Rice Noodle Bowls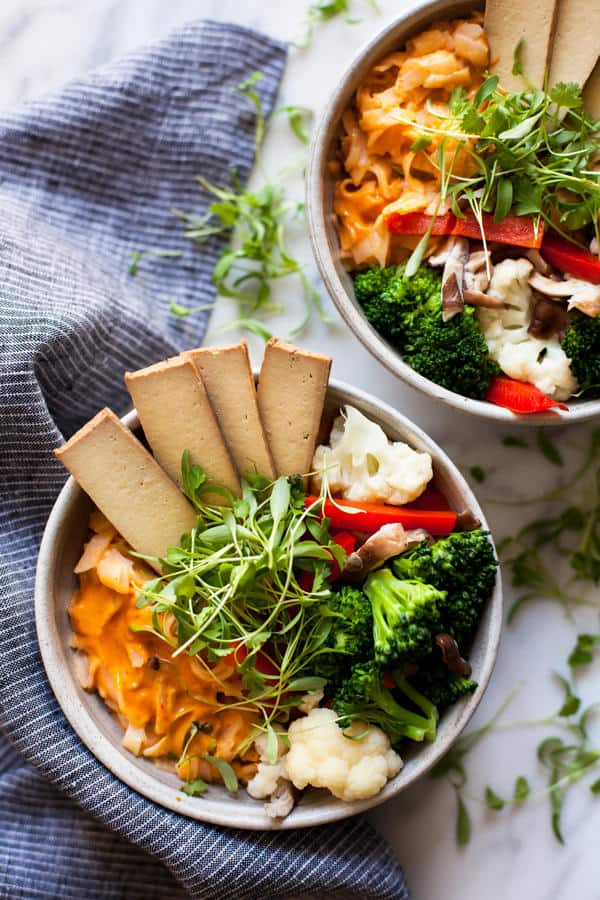 If your family loves Asian food, check out this great recipe. It's easy to make and is loaded with vegetables and all sorts of goodies.
The best part for me is the curry peanut sauce. It's outstanding and bursting with flavor so it accompanies any vegetable in style.
Kid-Friendly Healthy Vegan Recipes
Healthy Baked Doughnuts with Maple Cinnamon Cashew Frosting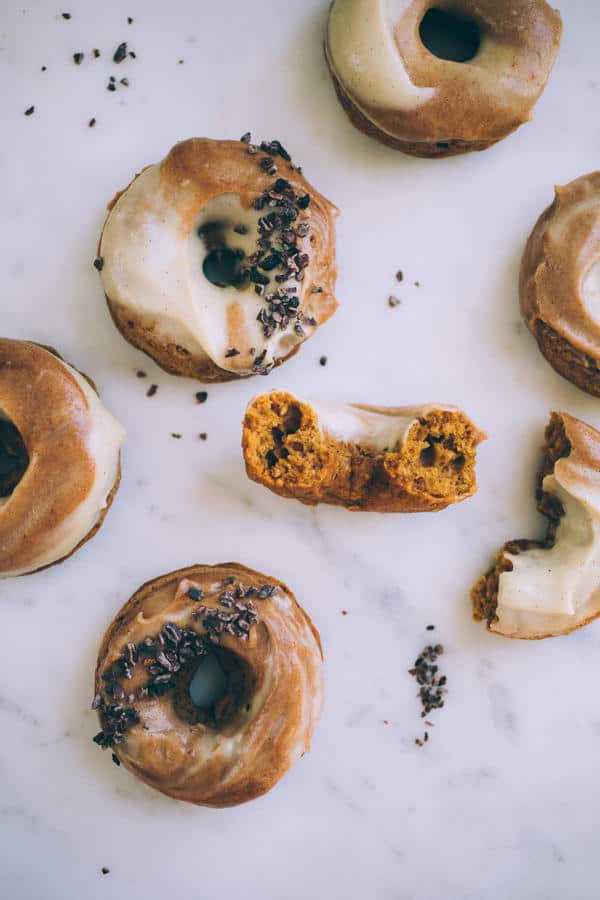 Baked doughnuts! I should be telling you these gems are perfect for the holidays, because they really are. Made with pumpkin, spice and vanilla. But it would be such a shame to restrict them to that time of year.
When you're craving doughnuts, this is one of the best baked recipes I have seen.
The cashew frosting contains maple and cinnamon and really is the icing on the cake.
Solal's Summer Chickpea Salad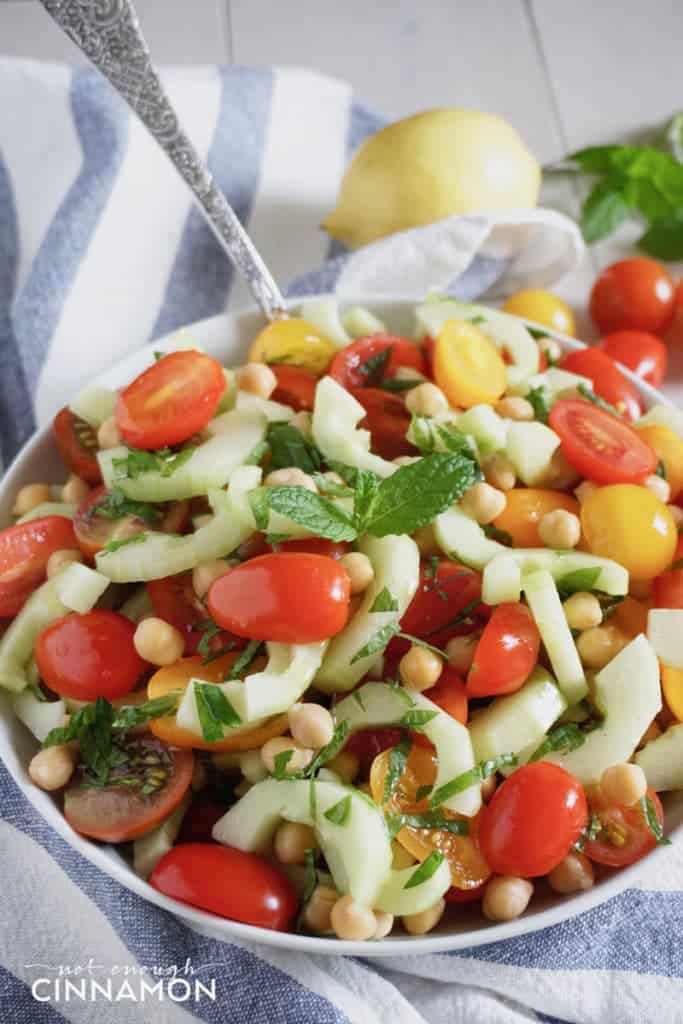 If your kids are starting to get into healthy food, check out this colorful salad that is loaded with flavors and texture.
Because of the chickpeas (garbanzo beans) this is hearty and completely satisfying. How long does it take to prepare? As long as it takes you to cut up the vegetables!
Heirloom Tomato and Beet Salad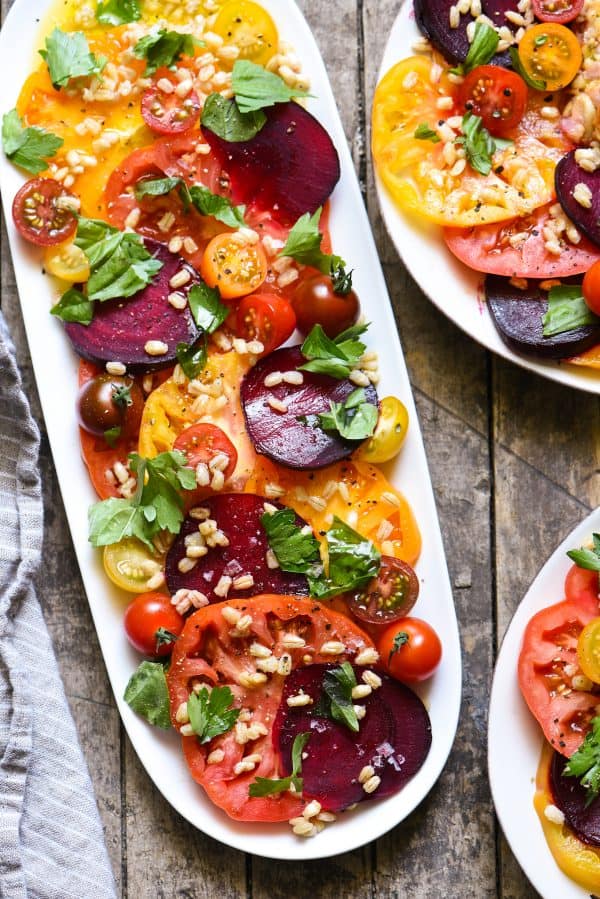 This is a delicious salad, this no doubt about it. It looks great, is simple to prepare and tastes wonderful.
It can be eaten on its own, of course, but I'm going to suggest that if you serve this to your kids, it would make a great accompaniment to something like, pizza etc.
Whatever your reasons or even if it's just for you, this is a win.
Healthy Baked French Fries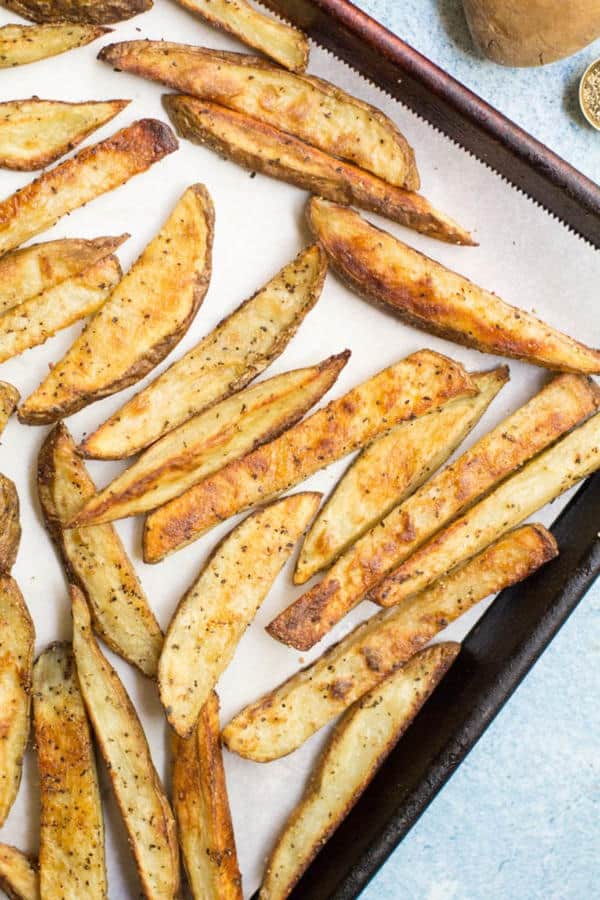 Do you know anybody that doesn't like French fries? I don't. But we all know that deep-fried food is something that should rarely be eaten, if at all. What do we do?
I've seen a few baked recipes of this kind and the fries always come out a little dry. To be honest, I was expecting something similar with this, but it wasn't the case.
You get tasty and crunchy rustic -looking French fries and they do the job in style!
Tomato Chickpea Salad Recipe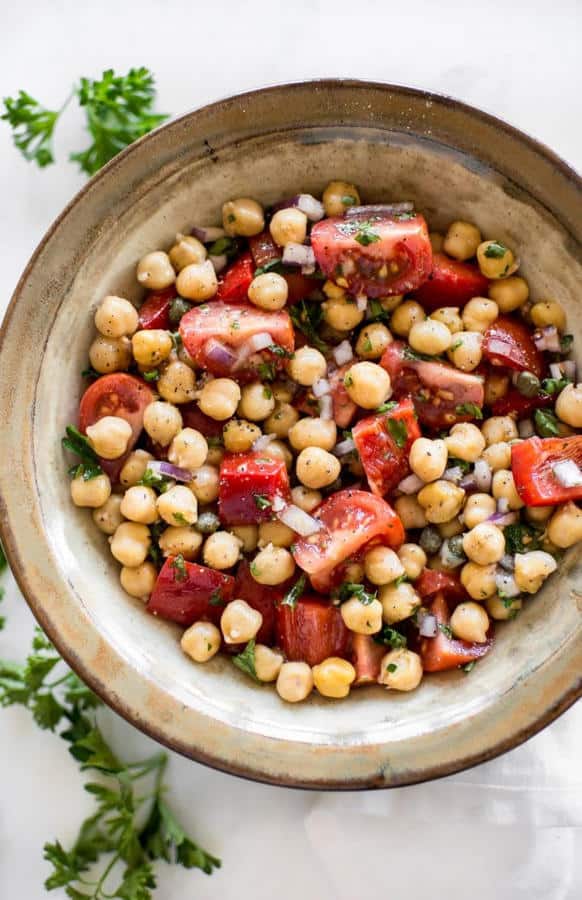 This is the perfect salad if your teenagers want healthy food, but they complain that salads aren't satisfying enough?
Chickpeas (garbanzo beans), tomatoes, bell pepper and some great herbs and spices.
The author has listed this recipe as Mediterranean, and it really is authentic. Serve on its own or with your favorite bread to mop up the dressing afterwards!
Healthy Baked Plantain Fries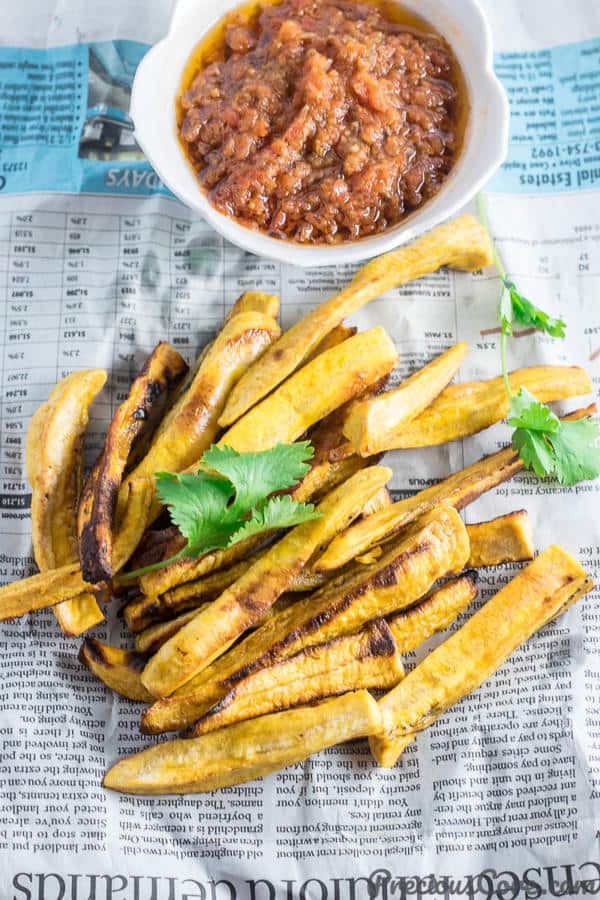 If you have teenagers that are adventurous with their food, or they like surprises when it comes to the kitchen table, check out this recipe for plantain fries.
If you're anything like me, you've probably never had plantain before and if someone gave you one, you wouldn't know what to do with it.
The recipe page contains a great video that talks you through everything step-by-step so there's no need to be nervous, go for it and enjoy.
Healthy Strawberry Truffles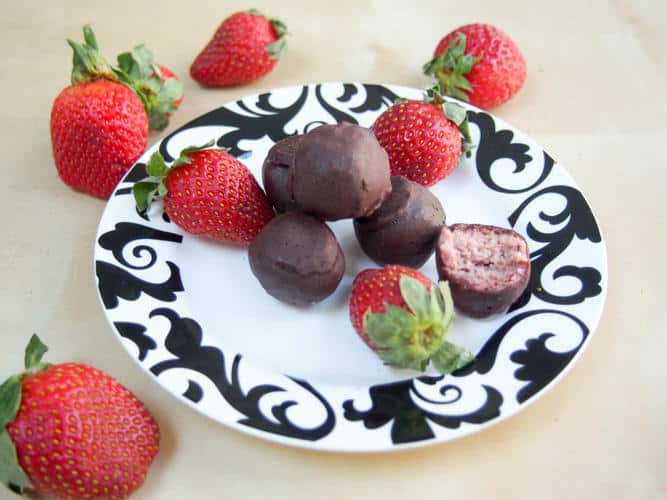 These are a real treat and surprisingly easy to make.
I thought the prep and cooking time for these truffles would be at least 45 minutes. Can you believe, in total, is just 15!
The amounts listed in the ingredients make for 12 small truffles although if you click or tap on the number in the 'Servings' part, you can change the value, and in turn this will change the amounts listed in the ingredients.
Handy tool and delicious truffles, perfect for a celebration or even a gift.
Healthy Hot Chocolate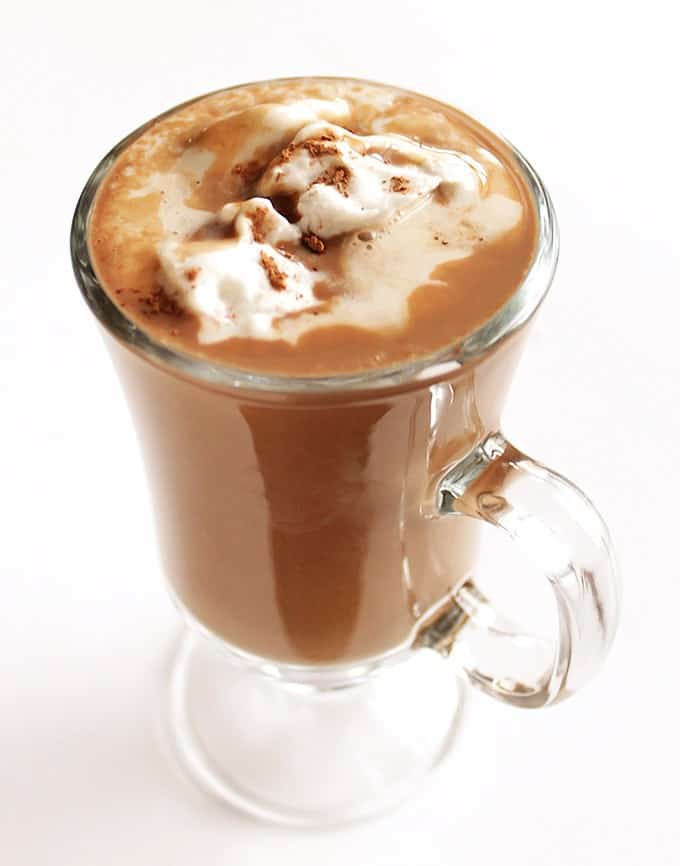 Here's the perfect comforting drink. Not only are the negatives such as dairy removed, this has the added bonus of having many positives.
Do check out the optional ingredients as they really add healthy aspects and make this delicious drink super healthy.
Healthy Pasta Sauce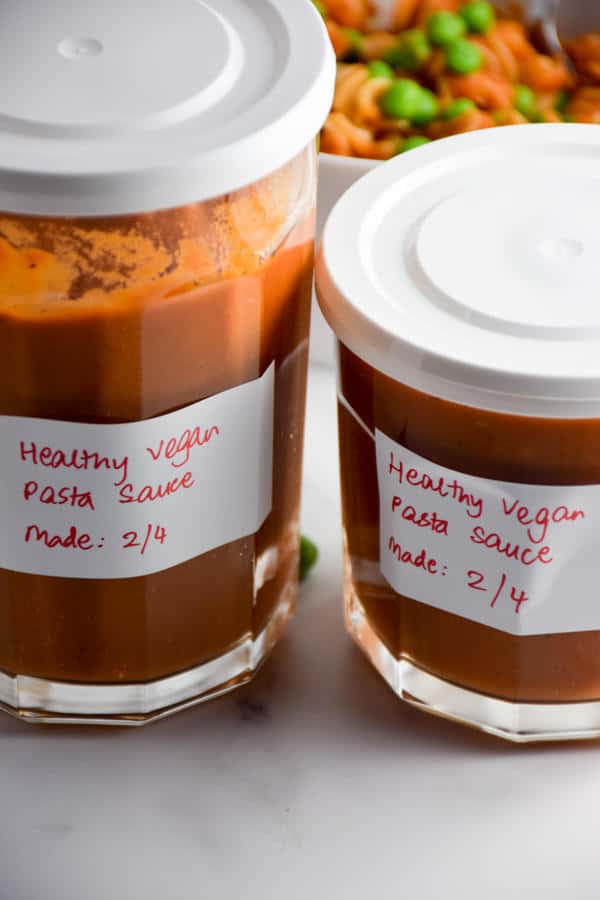 If you already have a favorite store-bought vegan pasta sauce, this method adds more body to it.
You'll need a blender and one other ingredient that makes the sauce more comforting and satisfying than regular tomato-based sauced.
Not only is it quick, it stores in an airtight container in the fridge for up to 5 days, so you always have it standing by for a super quick meal.
Healthy Banana Nut Chip Ice Cream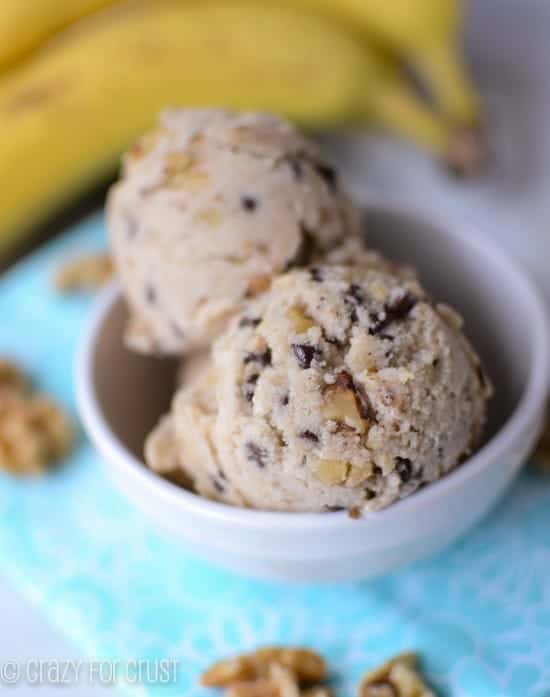 You know sometimes people get you to try a recipe that is some kind of substitute from traditional ingredients and you're told, 'you won't taste the difference'?
And you kind of do! Well, with this, you really won't, and more importantly, all your kids.
Frozen bananas have been vegans' answer to delicious ice cream for some time.
You just need a high-speed blender or food processor (I prefer the latter) and you're good to go. This is rich, creamy and believe it not, super healthy!
Kid-Friendly Vegan Ice Cream Recipes
4-Ingredient Chocolate Banana Ice Cream (Gluten-Free)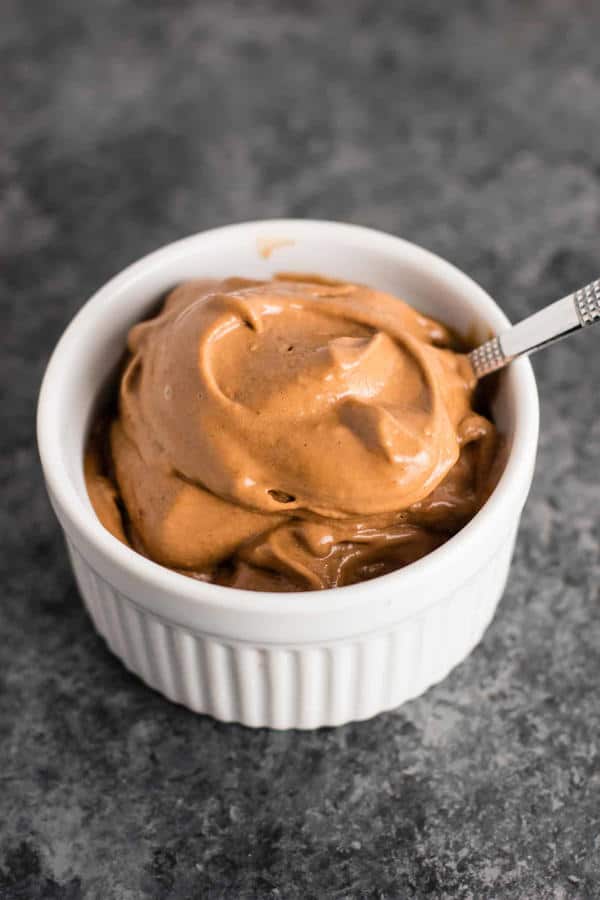 Frozen banana ice cream just got better! If you've never made frozen banana ice cream before, now is the time to start.
Make sure you have some peeled bananas cut into about 1 inch chunks, in an airtight container, stored in your freezer. Always have them on standby!
Grab some peanut butter and two other ingredients and whisk together in a food processor. It will take a few minutes for the consistency to form, but when it does, you and your family are in for a real treat.
Vanilla Bean Soft Serve Ice Cream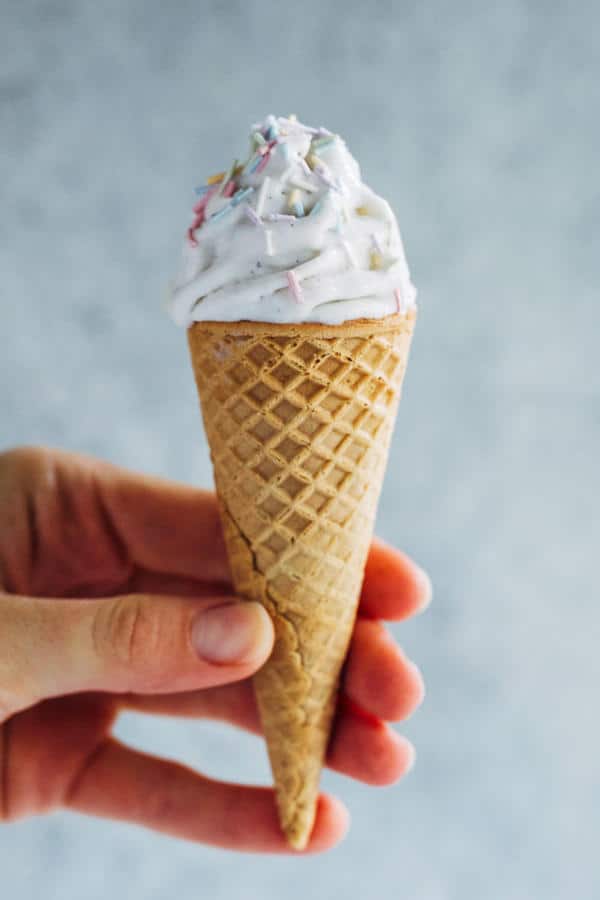 When you want to try a vegan ice cream that is different from the frozen banana method, check this out.
You're looking at coconut heaven with this puppy! Just five ingredients and a few minutes prep time creates this tasty treat.
It stores in the freezer for up to a month so make a truckload because it'll go quick!
Creamy Minty Mango Popsicles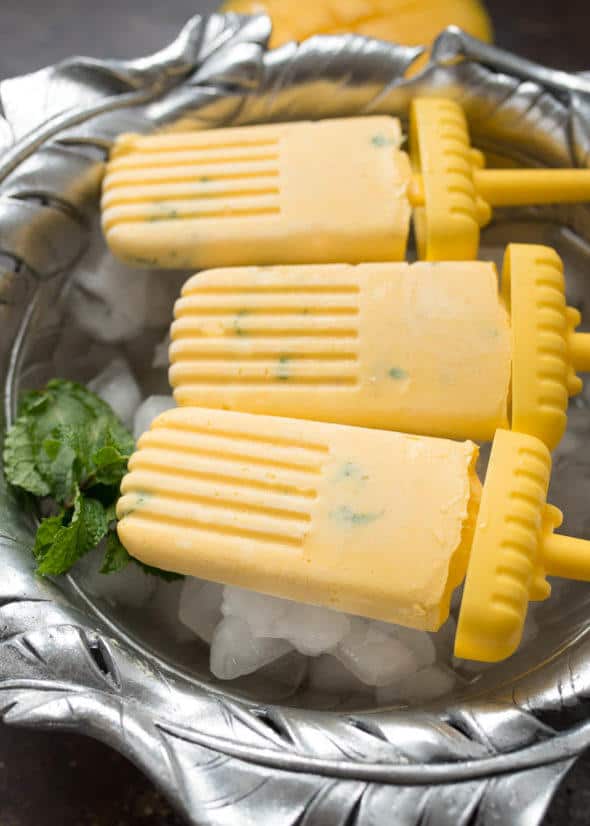 Get your popsicle molds at the ready! These Mango flavoured beauties are going to be a hit.
Not only are they creamy but they have this beautiful hint of mint, hey that rhymes!
If you think your kids won't appreciate the mint too much, you could simply leave it out.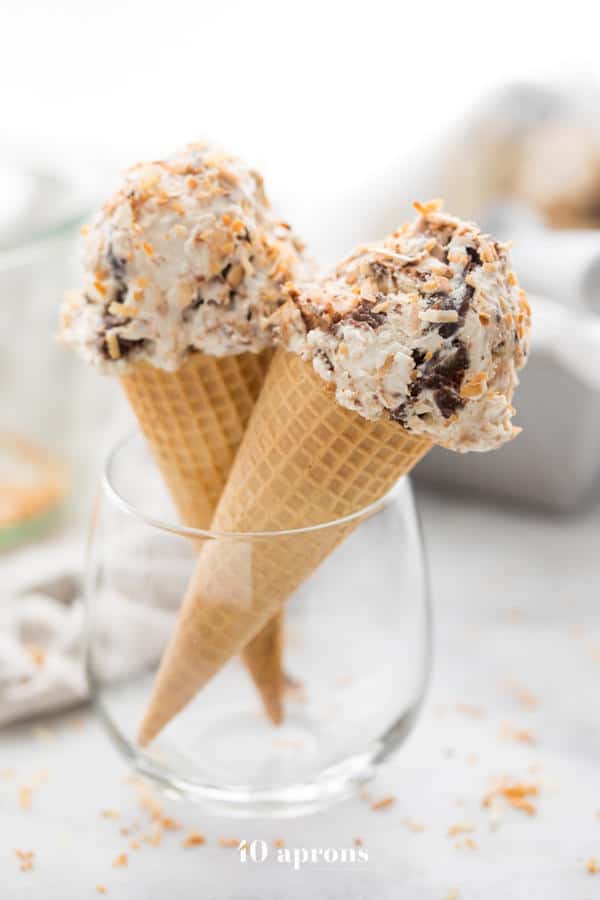 Vegan ice cream has just gone to the next level!
If you have a celebration coming up and you want something extra special, give this recipe a try.
Super luxurious, an array of textures with cookie pieces and layers of fudge, this is not only the best plant-based ice cream ever, it's also healthy!
Homemade Ice Cream Sandwiches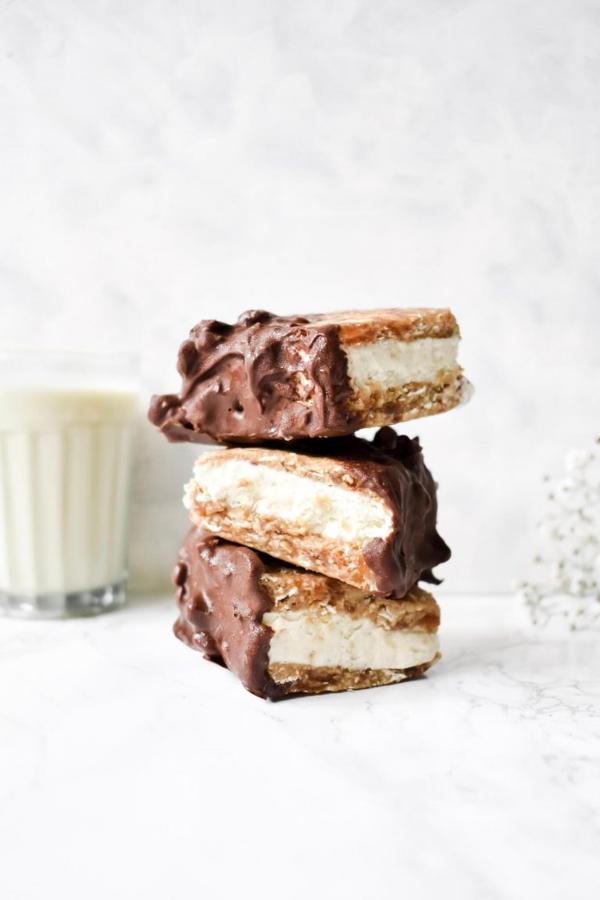 These ice cream sandwiches couldn't be simpler. And unlike store-bought varieties, these actually have nutritional value. Who knew?
The sandwich part of these is made up of oats and dates. It makes a surprisingly delicious cookie-like base and beats anything I've ever eaten before.
Add the chocolate dip or drizzle, and you have an ice cream sandwich to please even the pickiest snack connoisseur. You're the real winner here!
Chocolate Ice Cream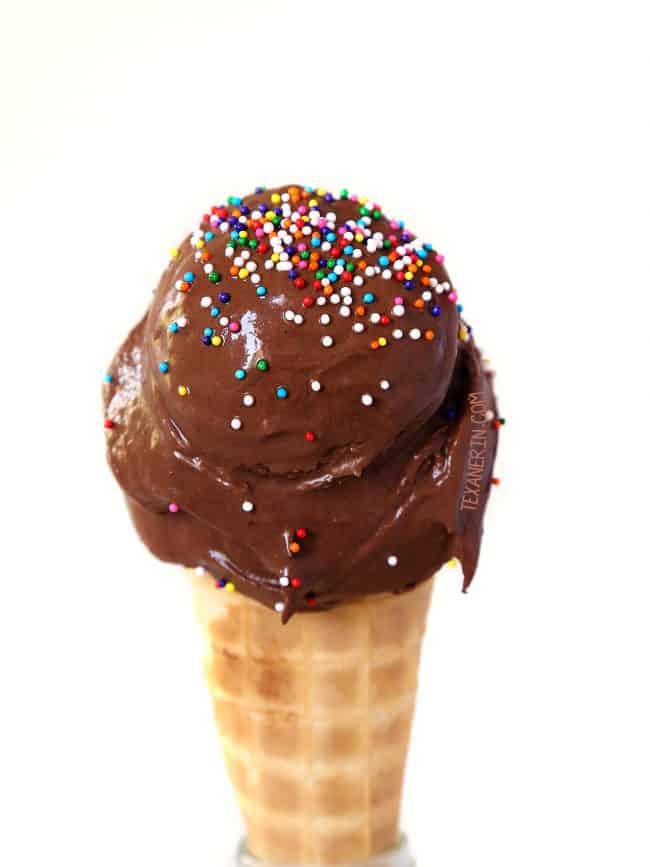 Just look at the title, sometimes there's just nothing else to say!
This recipe is nut-free and paleo friendly.
The sweetness comes from pitted dates and if you love coconut, you're in for a treat.
Chocolate through and through with a hint of vanilla in every lick, this is heaven!
Raspberry Coconut Fudgesicles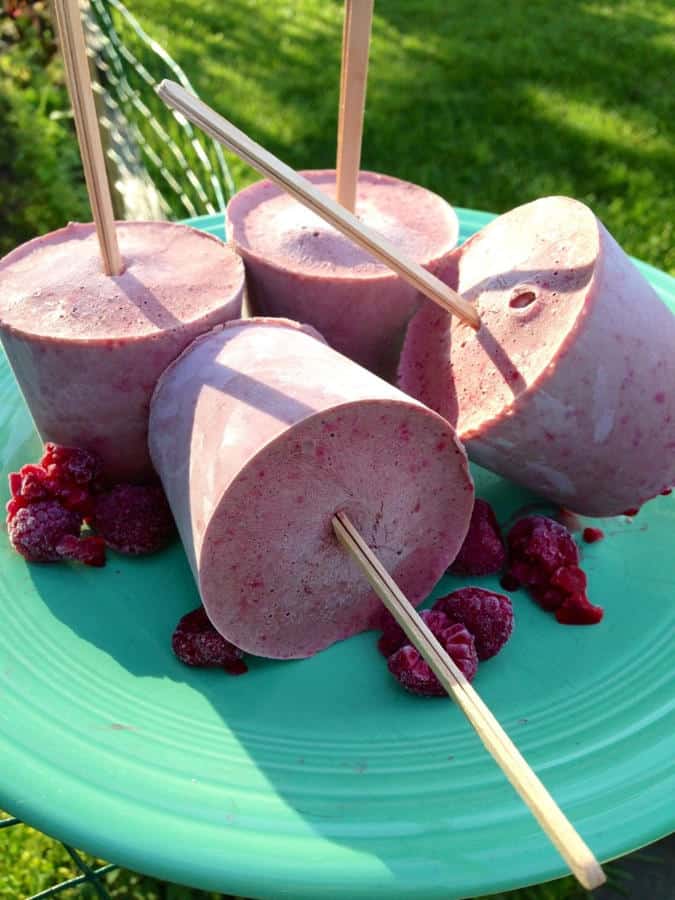 Don't these look just incredible! If you want to wow somebody with something they've never had before, this would be it.
Just blend all the ingredients and use paper cups as molds. Pop in the freezer and you're good to go.
Raspberry Coconut Smoothie Popsicles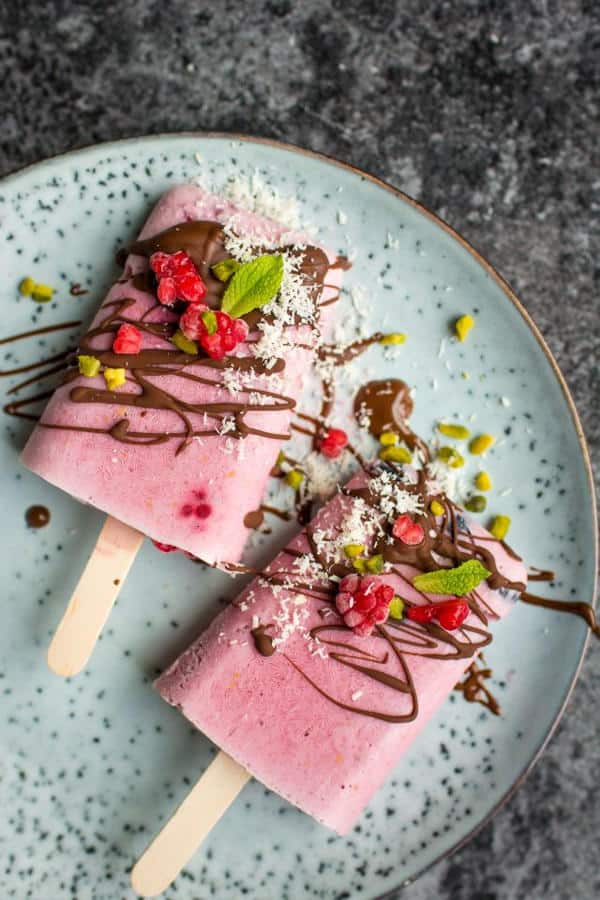 I love the presentation of these popsicles, it's something you don't need to do but it's cheap, easy and makes them a hundred times more attractive.
The recipe is divided into two sections, the popsicle and the toppings. The popsicle ingredients are good enough to be a smoothie so give it a taste and you might want to use a straw rather than freezer!
Kid-Friendly Vegan Juice Recipes
Carrot Apple and Celery Juice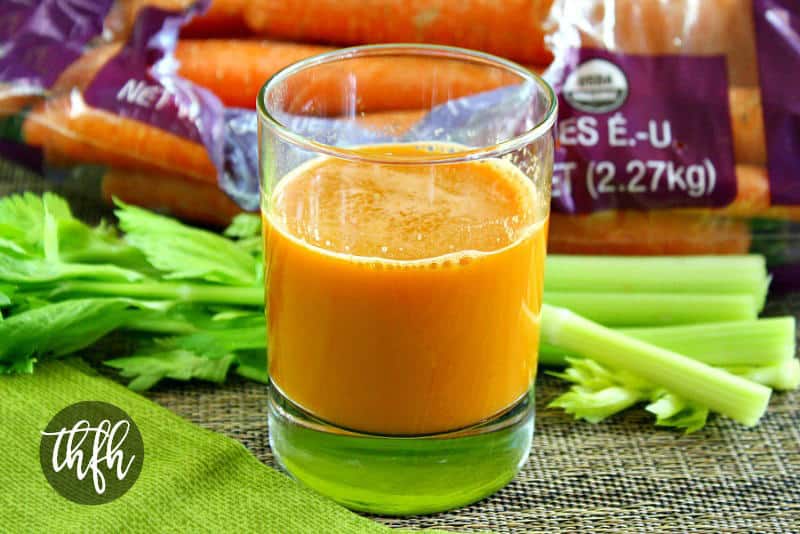 If you have teenagers and their exploring health and getting into juicing, you'll need some good recipes.
Trust me, successful juicing is all about the recipes, you can't do it randomly!
This is a tried and tested juice. There are all sorts of benefits in this drink and the sweetness simply comes from apples.
Strawberry-Watermelon Refresher Juice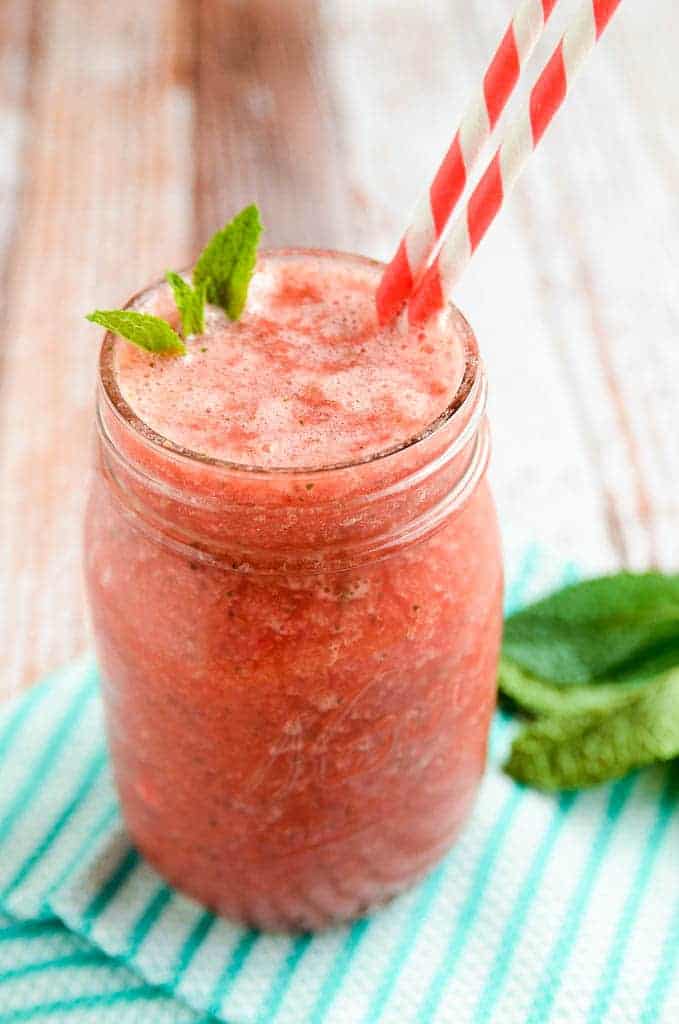 This drink is full of energy and is alkalising. If green juices are too much for your kids, go for this glass of sweetness, just as nature intended.
As well as mint leaves, you need just two other ingredients to make this glass of deliciousness.
Follow the instructions and whizz everything up in your blender and you're good to go.
Non-Alcoholic Sangria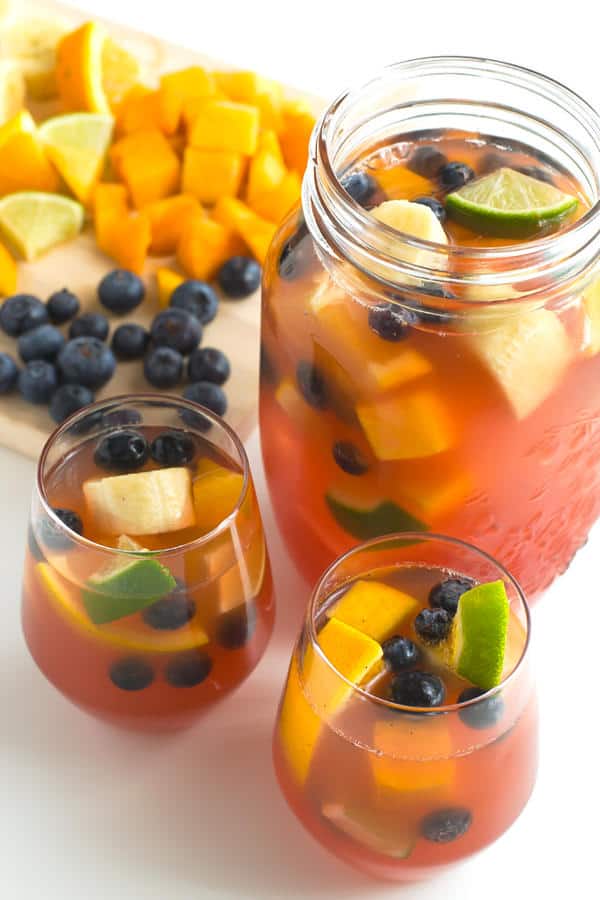 If you have kids and you're having a bunch of friends coming over where you think alcohol is expected, make this for everybody instead.
It's a fruity recipe, delicious, and the kids won't feel left out. More importantly, everybody stays alcohol-free and has a great time.
Tasty Carrot Pineapple Juice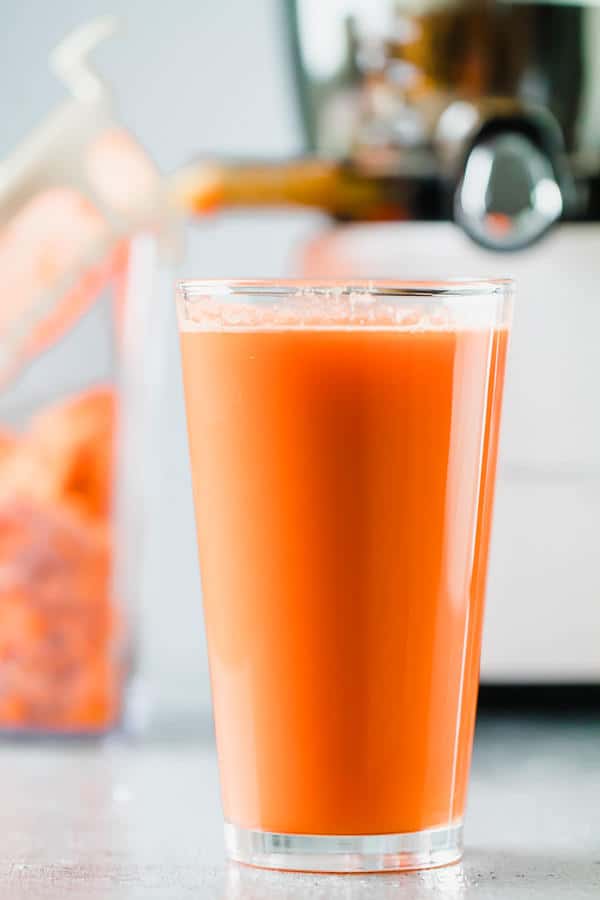 If you don't have a juicer, they're a great idea for the health of your entire family.
Generally speaking, they come in two varieties, high-speed and slow masticating machines. We certainly recommend the slow variety.
This recipe is one I have not seen before, but it makes carrot juice taste even better. Just two ingredients, check it out!
Cantaloupe Juice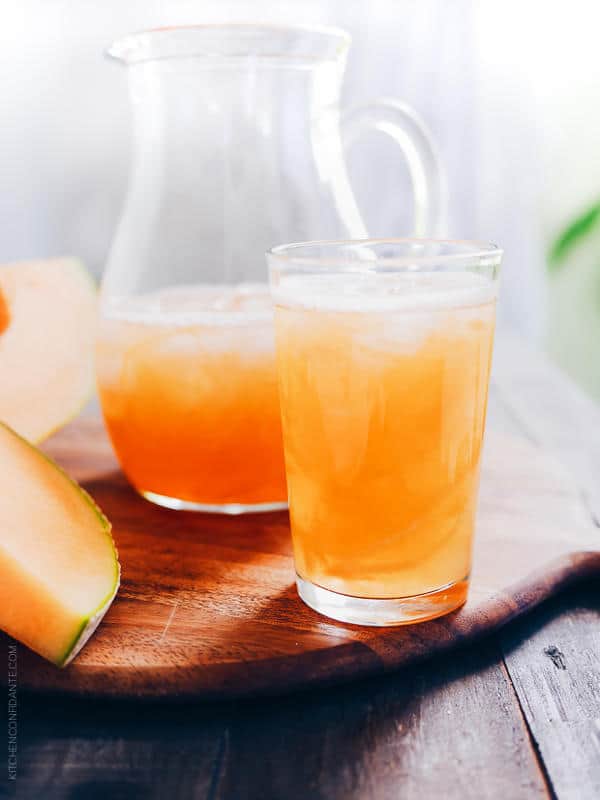 If you don't have a juicer and you want something classy to serve at a party or just on a summer's afternoon, check this out.
It couldn't be simpler, you just need a sieve and a few minutes to make this wonderful refreshing drink. It looks great too!
Kid-Friendly Vegan Lunch Recipes
Cinnamon Roasted Sweet Potatoes and Cranberries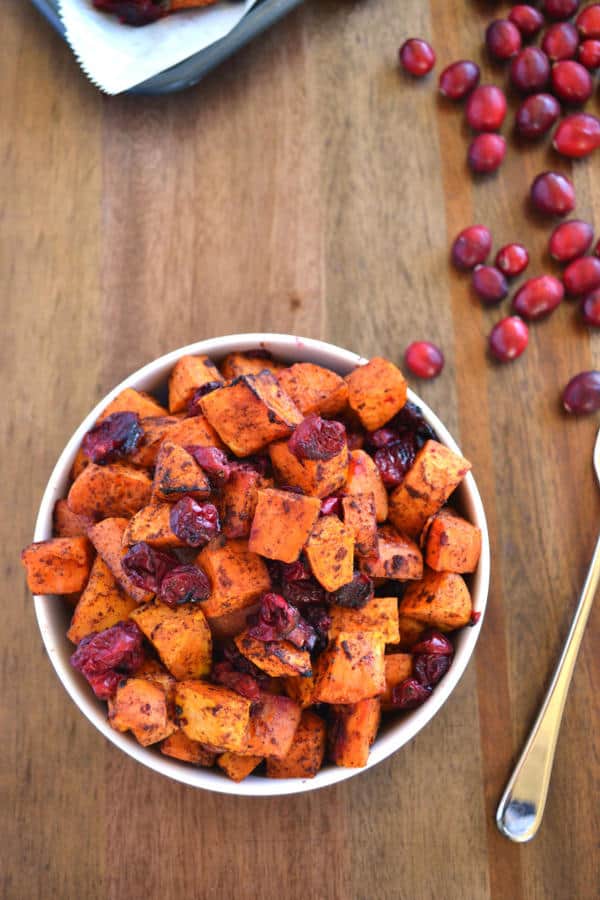 Obviously perfect for the holidays, this is an awesome way to have sweet potato.
With Cranberries, a hint of cinnamon and a little coconut oil, these are going to taste fantastic.
It sure beats just baking them. Surprise your family and friends with this recipe.
Mashed Potatoes with Fried Onions and Coconut Oil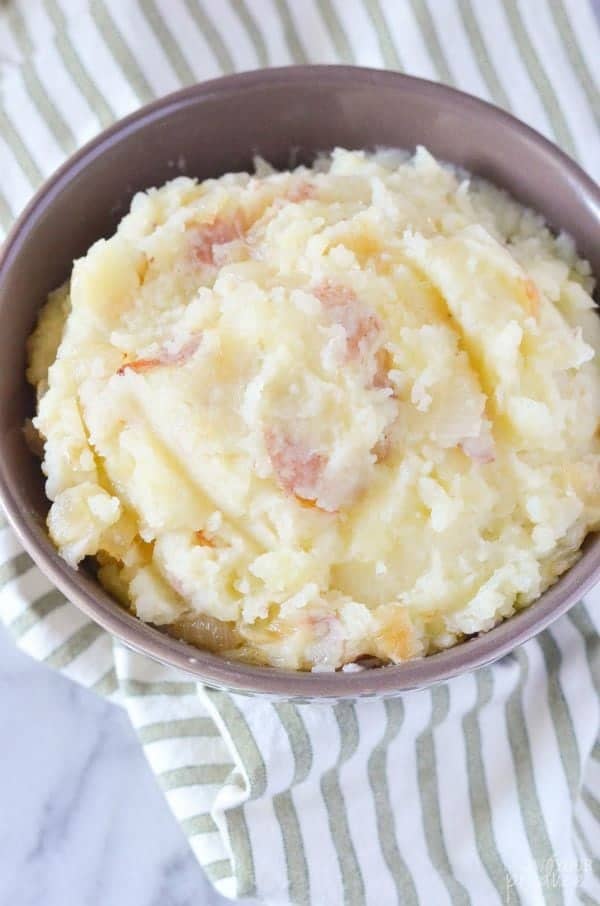 A perfect side dish I think everybody will love.
The beauty of this recipe lies in its simplicity.
Just four ingredients and your trustworthy method of mashing. Every mouthful gives you irresistible cooked onions and a hint of coconut.
Make a few copies of the recipe because everybody will ask you for it. Best of all, the kids will love it.
Roasted Red Pepper Cauliflower Soup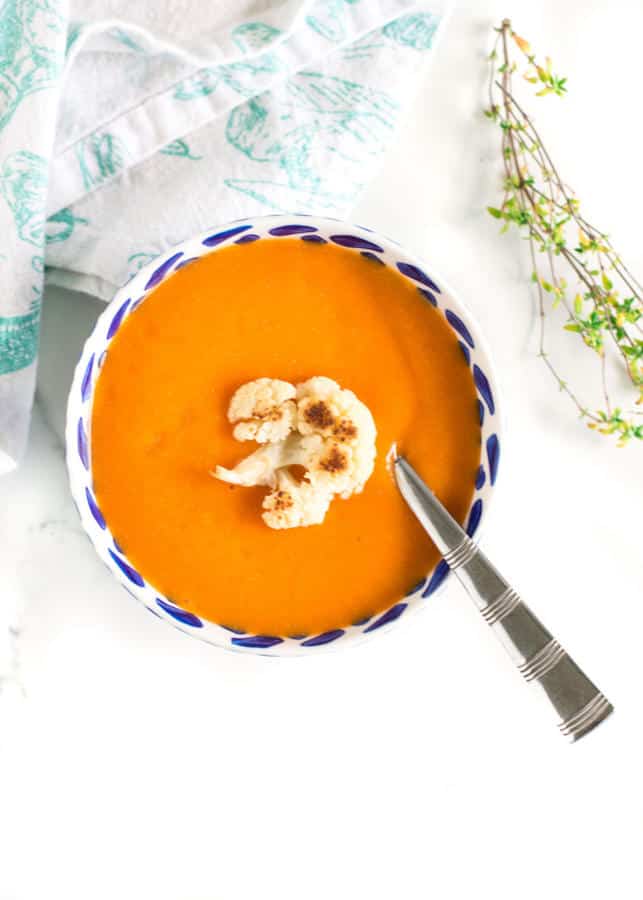 If your kids aren't into soup that much, try this recipe.
Not just bell peppers and cauliflower, this also has garlic, a hint of thyme and more.
It's perfect for those cold winter months and extremely satisfying.
Butternut Squash Macaroni and Cheese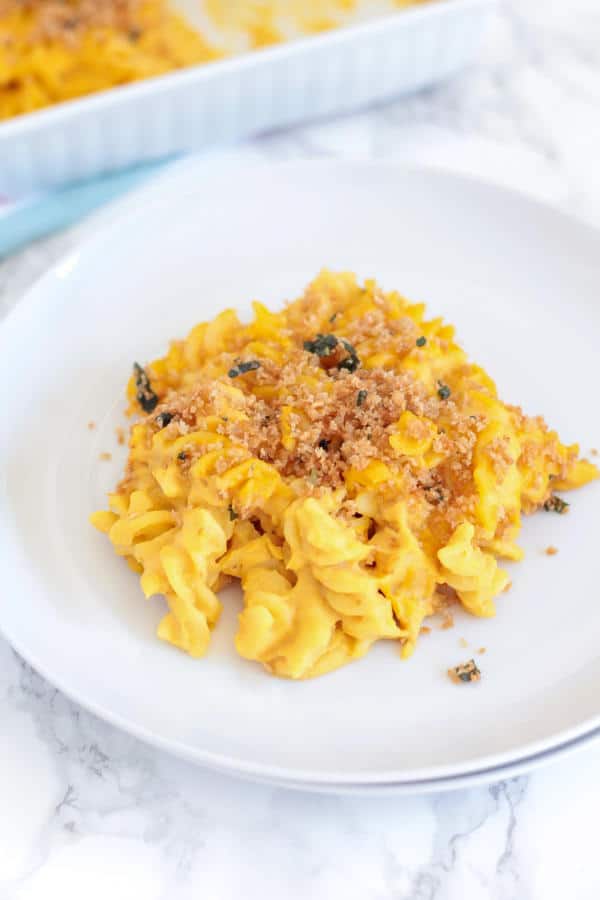 You don't want your kids to miss out on mac and cheese but at the same time you don't want to clog them up with all that cooked dairy, what do you do?
This recipe has nutrition filled ingredients such as butternut squash, nutritional yeast and more.
Do note the ingredients list a pinch of cayenne pepper so adjust as necessary.
Extremely tasty and the breadcrumbs add that extra texture. Definitely a win.
Mashed Chickpea and Avocado Sandwich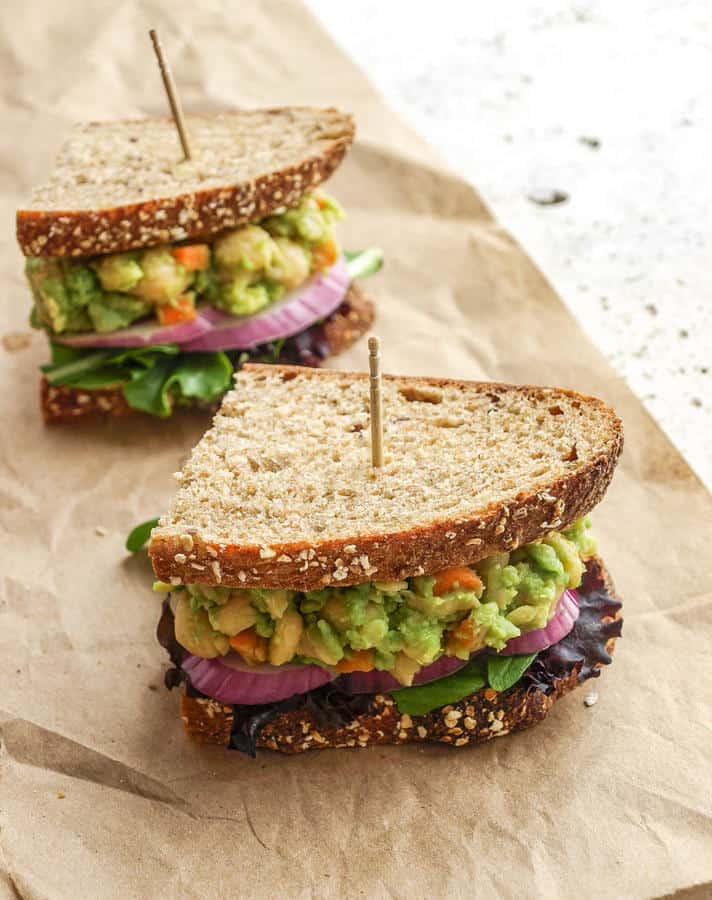 When your children are excited about food and want to try something new, go for this hearty sandwich.
I think the photo tells you all you need to know! It's filling, has great textures thanks to the chickpeas (garbanzo beans), and all the flavors merge into one wholesome sandwich. Great for days out or just a fun lunch.
Favorite Sweet Potato Hummus Sandwich (Gluten-Free)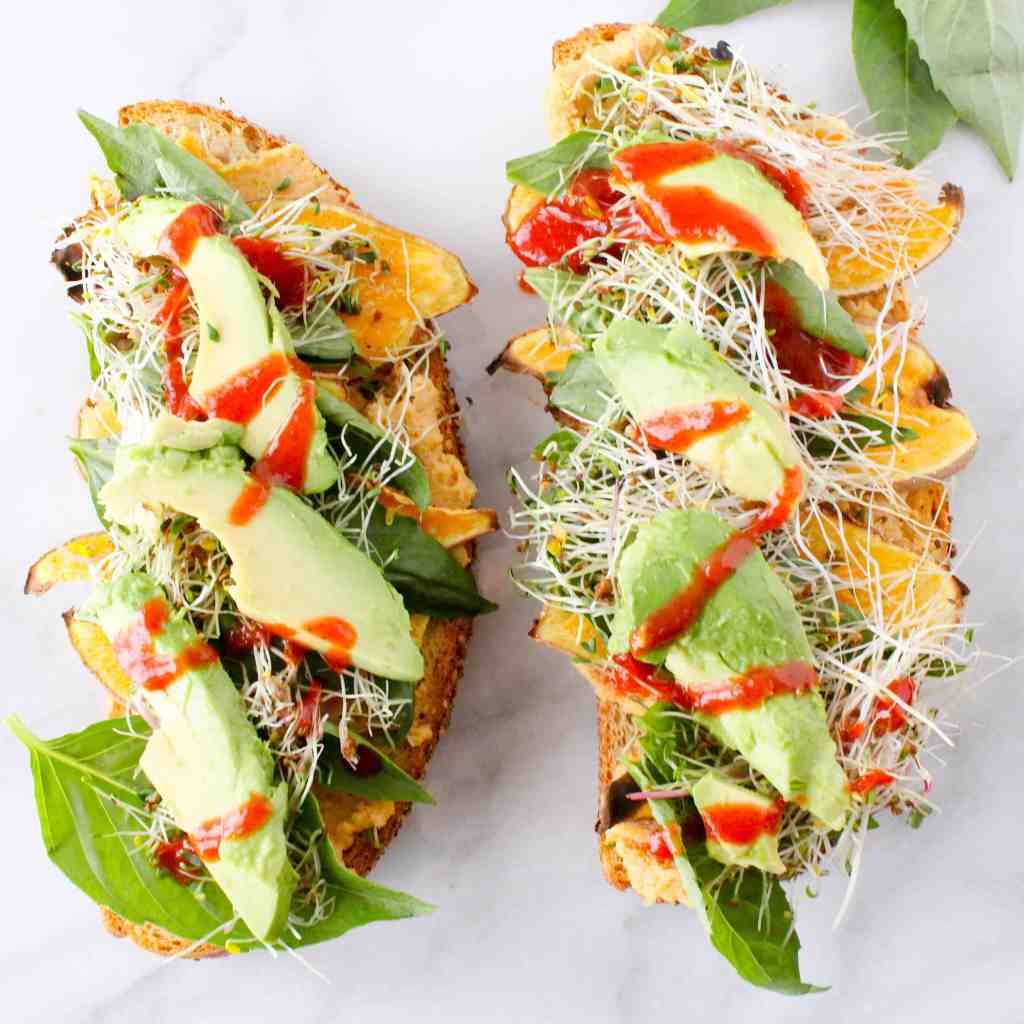 This sandwich looks and tastes exceptional as though it has been made and served in a first-class hotel as room service.
I love that the recipe author gives you the option of making your own hummus or using your favorite store-bought.
The ingredients are fresh and the sandwich is incredible. Get the best bread you can!
Cauliflower Sloppy Joes (Gluten-Free)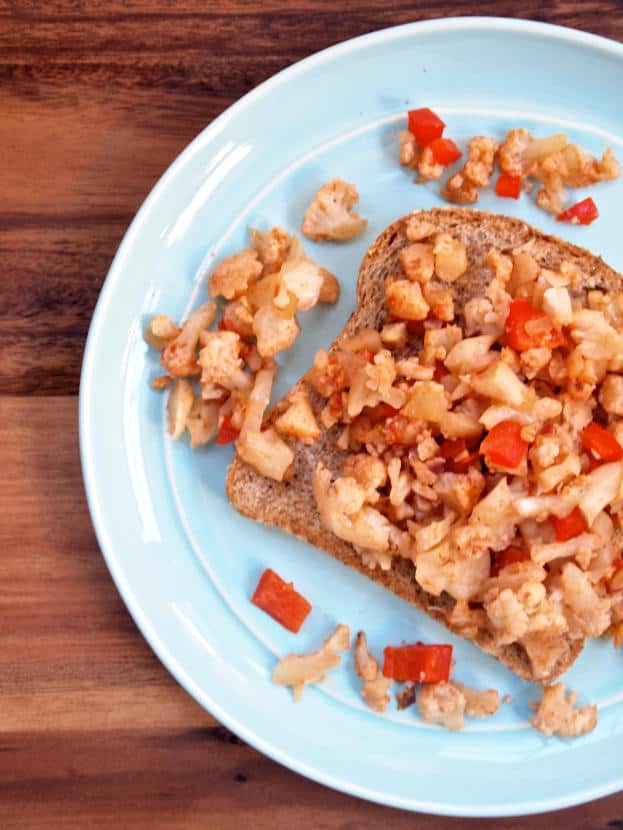 I must admit, I think some kids will go with this while others may not. If you think yours will, it's certainly a great recipe.
This version is much lighter than the classic meat-based dish. If you use it as a sandwich filling I think it's even better as it's hearty and extremely satisfying.
Loaded with all sorts of great flavors, if your kids don't like it, you certainly will!
Easy Bulgur Tabbouleh Recipe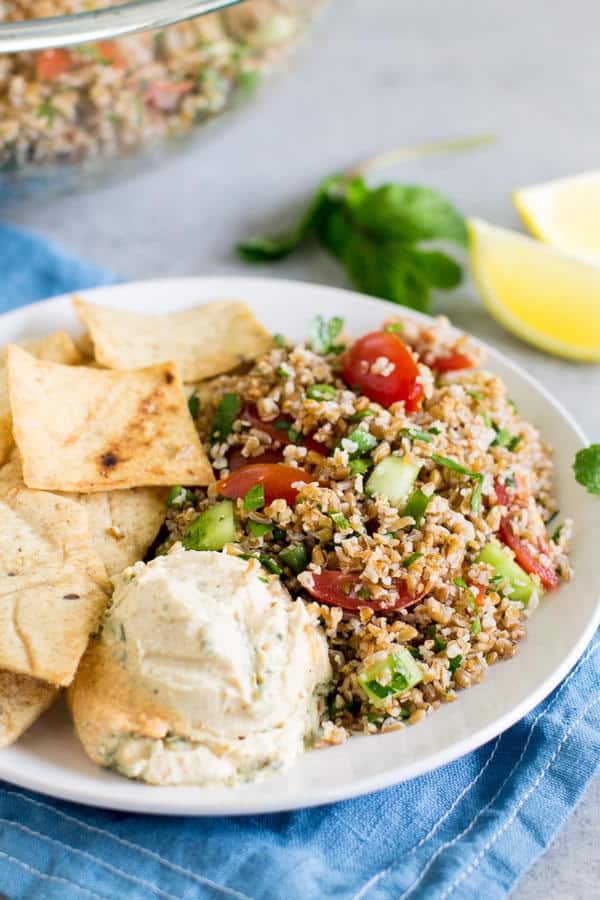 One of the best recipes I have seen for this traditional dish.
This is easy to make and loaded with fresh herbs and summer veggies.
It's extremely versatile so use whatever vegetables are in season or simply anything you have that needs eating. Serve with hummus and pitta!
Chickpea Mayonnaise Salad Sandwich (Gluten-Free)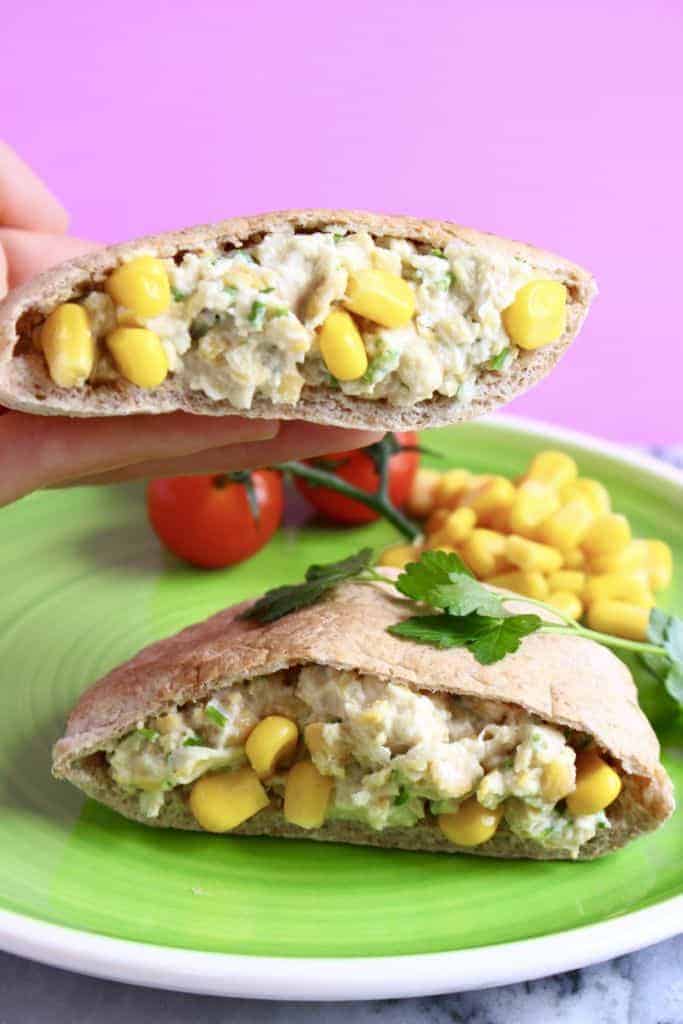 This is one of those sandwich fillings you're going to have again and again.
Both comforting and satisfying you have chickpeas (garbanzo beans), sweetcorn and more. Just use tins for both of those to save yourself a bunch of time.
For the mayonnaise, either make your own as suggested in this recipe (delicious by the way) or again, to save time, use your favorite store-bought version. Serve in your favorite bread, you're going to love it!
Kid-Friendly Vegan Pasta Recipes
Olive and Mushroom Tomato Pasta Sauce (Gluten-Free)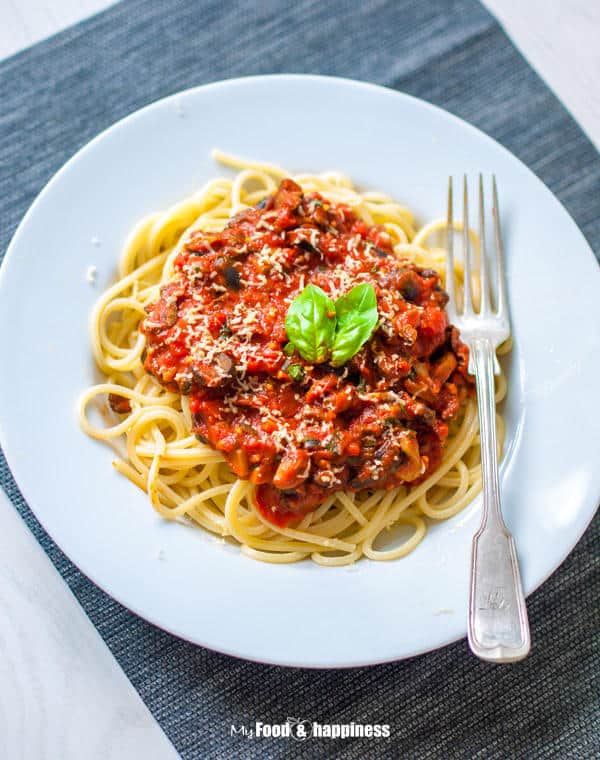 You can never have enough recipes for pasta sauce. Just when you think you've found your favorite, along comes another, and this is one of those occasions.
This is all about mushrooms, olives and even red wine (the latter is optional and don't worry about the alcohol as it burns off during cooking).
If your family like pasta, go with this sauce for that special occasion.
One Pot Pasta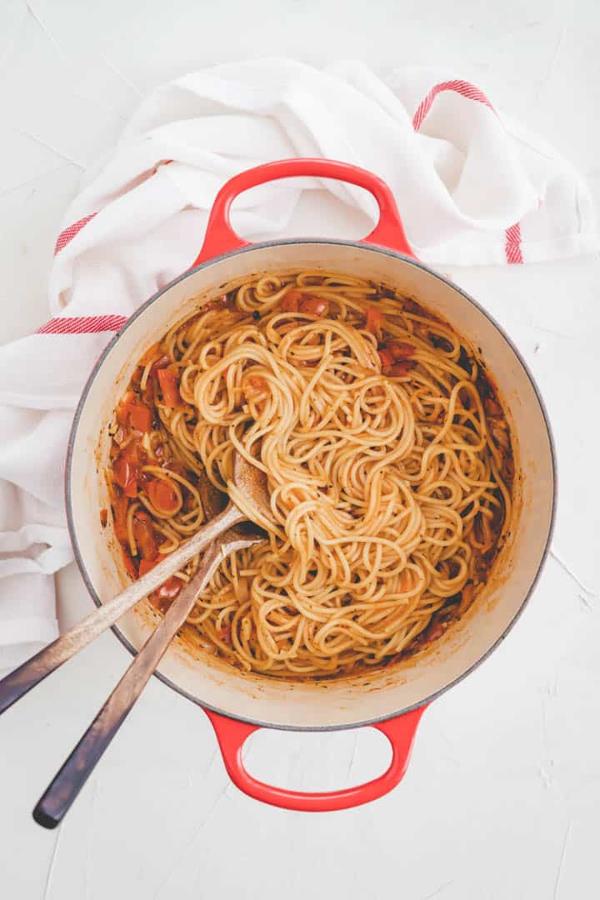 I love making fresh pasta dishes, but sometimes they can be time-consuming. If you're in a rush or are simply too distracted to tend a pasta meal for any length of time, this is the dish for you.
With this dish, you add only the amount of water needed to soak into the pasta, no draining required. Then, toss in the rest of the ingredients, close the lid and walk away. In less than 15 minutes, you've got a gourmet, family pleasing meal!
What could be easier?
Butternut Squash Mac and Cheese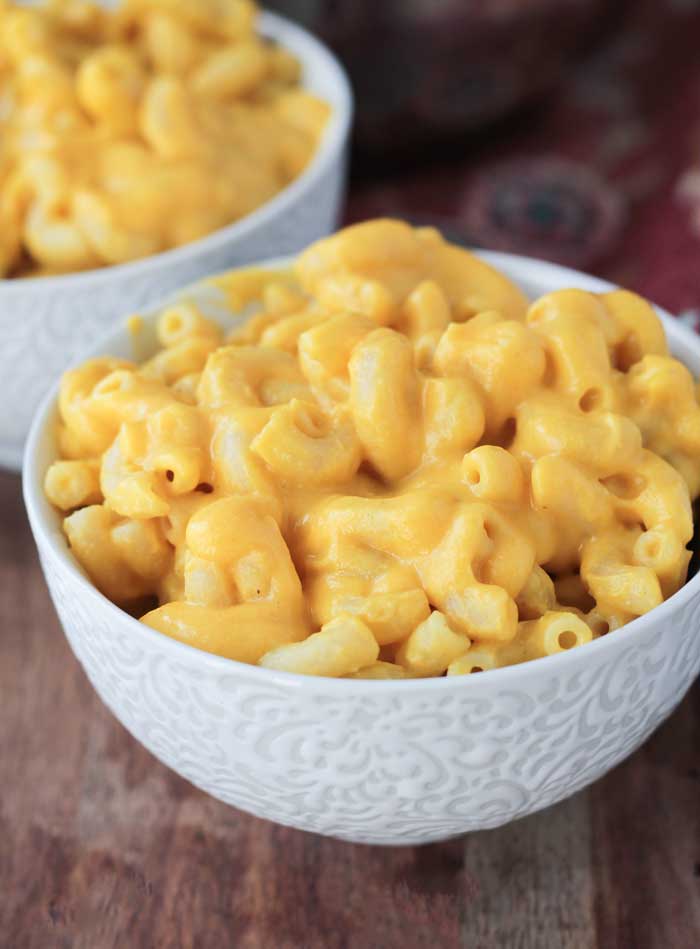 This is a classic mac and cheese but without the dairy!
According to the recipe page, this dish was featured on a TV show with the author talking about it. There's a link at the top of the page so be sure to check it out.
With flavors such as Dijon mustard, a little garlic, turmeric and so much more you simply can't go wrong.
If you want to treat your kids with mac and cheese, this is the recipe you need.
Green Mac and Cheese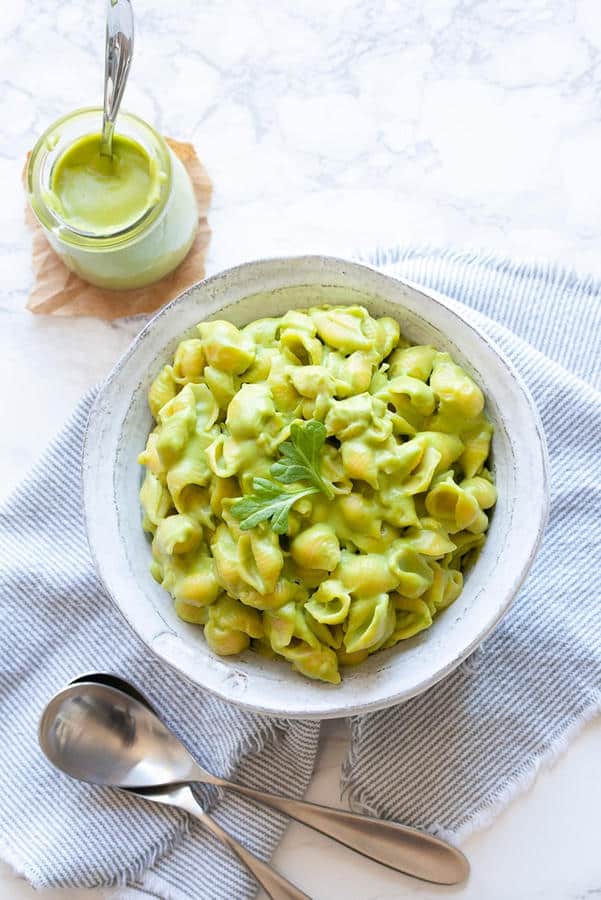 Green Mac and cheese? Absolutely and why not. If your children have adventurous taste buds, they're going to love this. It's super healthy too!
The green comes from the fresh spinach and that's it. Other than that, you have some great ingredients which makes this one of the most comforting meals I've ever had.
If you want something unique, you have it here.
Creamy Sundried Tomato Pasta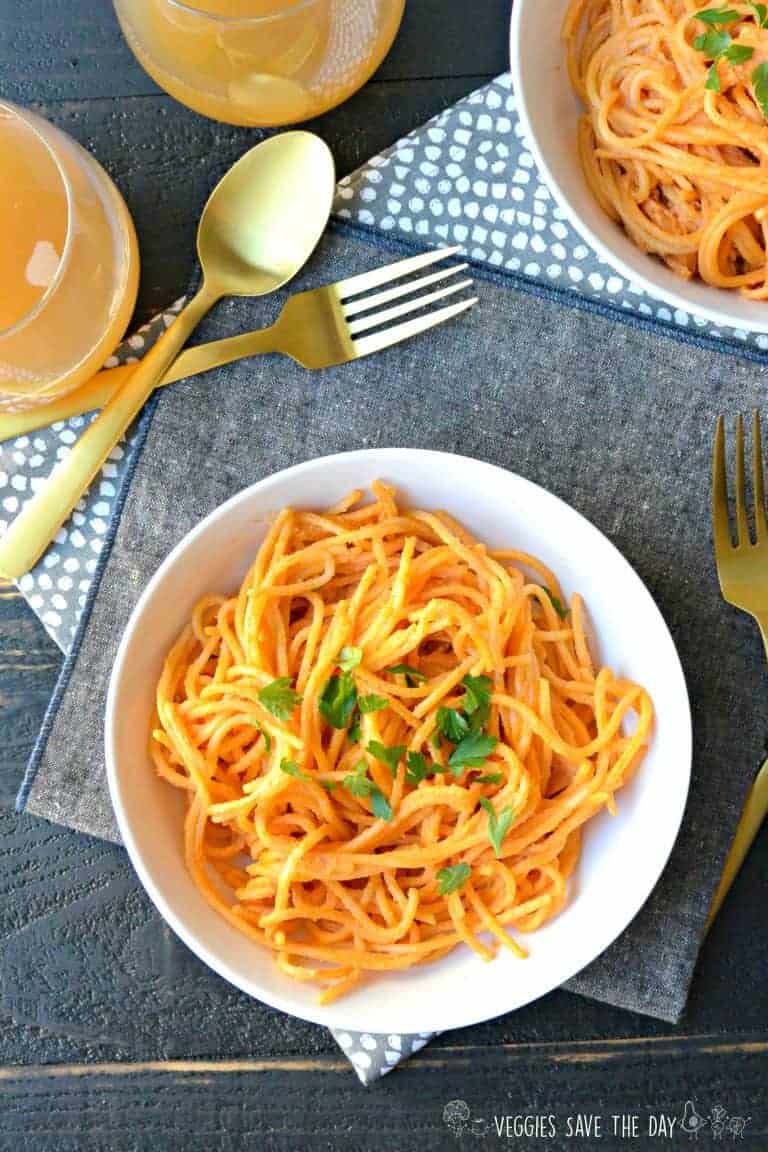 I love sun-dried tomatoes but sometimes I find them a little too strong and I avoid them which is a shame.
This recipe grabs the flavor of them without having that overpowering taste. It's like the best of both worlds.
The ingredients are extremely simple and there's just a handful of them. Blend together as instructed and you have yourself an outstanding sauce that has a hint of lemon and fresh parsley!
Kid-Friendly Vegan Smoothie Recipes
"Orange Julius" Smoothie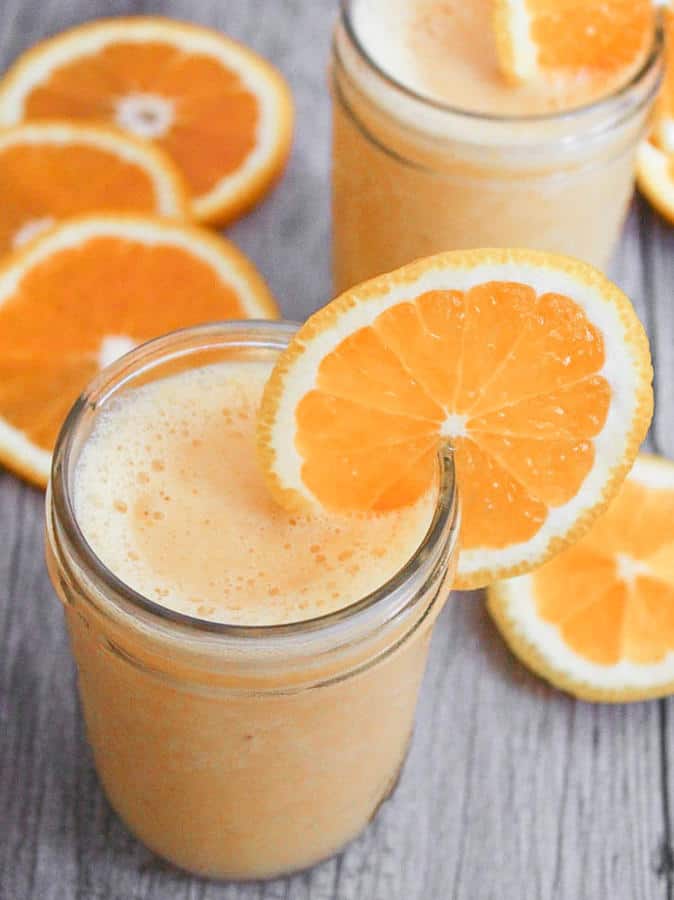 Smoothies are a great way to get fruit into your kids. They are super healthy and are wonderful for hydration.
This smoothie is beautifully thick and creamy due to the bananas and almond milk (feel free to use your favorite non-dairy milk).
Add the rest of ingredients and you have yourself a smoothie of champions!
Pumpkin Protein Smoothie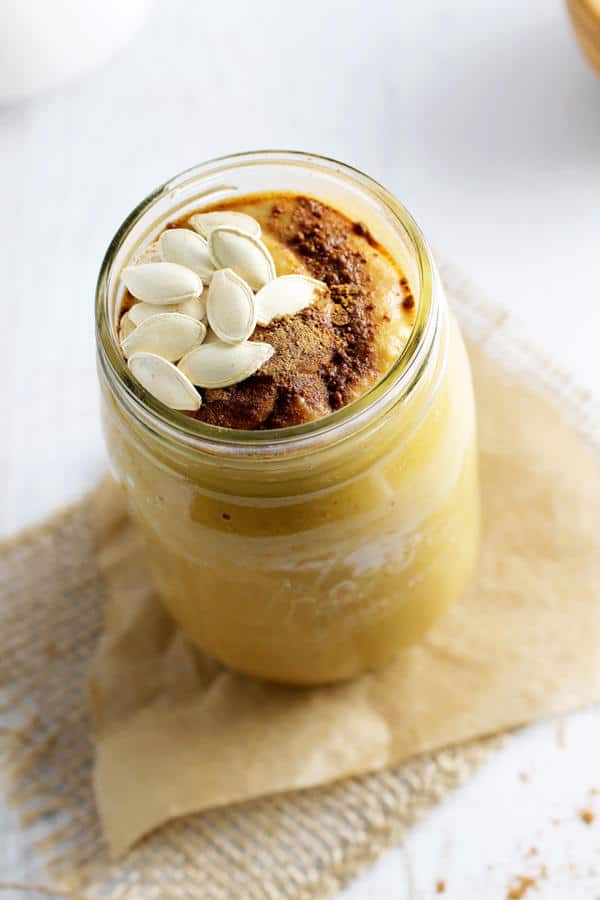 When it's that time of year for everything pumpkin, grab this protein smoothie.
This is super easy to make and tastes of the holidays, cinnamon included!
Just whizz everything up in a blender until smooth and you're good to go.
Coconut and Berry Smoothie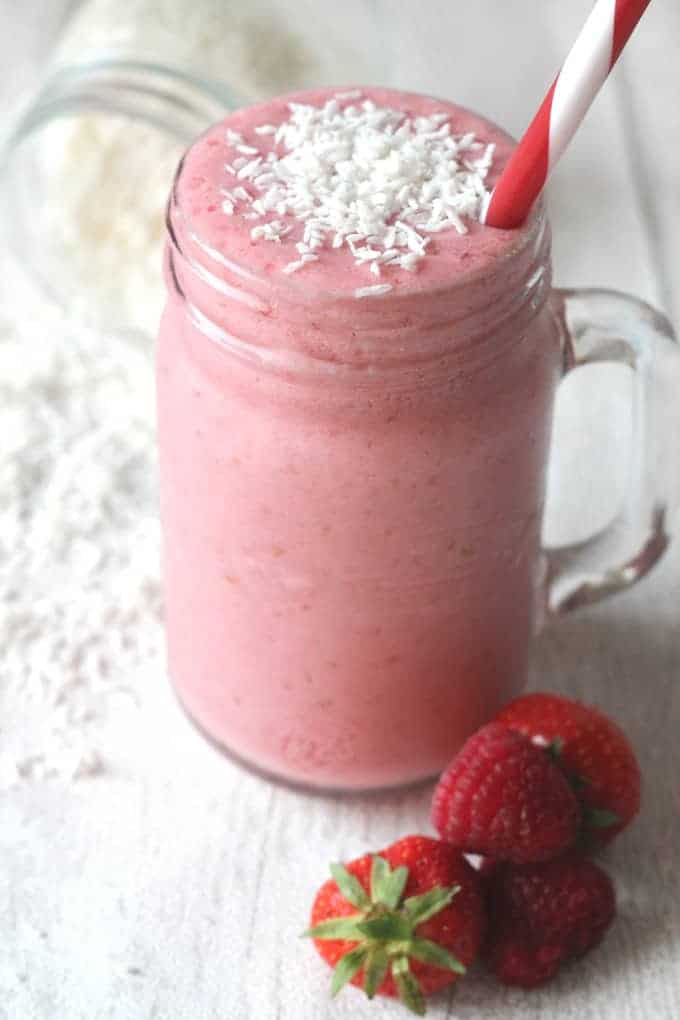 This smoothie is so refreshing and fruity!
True smoothies are great and all, but what happens when you want to go tropical? You add coconut and that's what this recipe is all about!
The recipe author, Ciara, has a website dedicated to make food fun and interesting for kids so we're definitely onto a winner here!
Pumpkin Pie Smoothie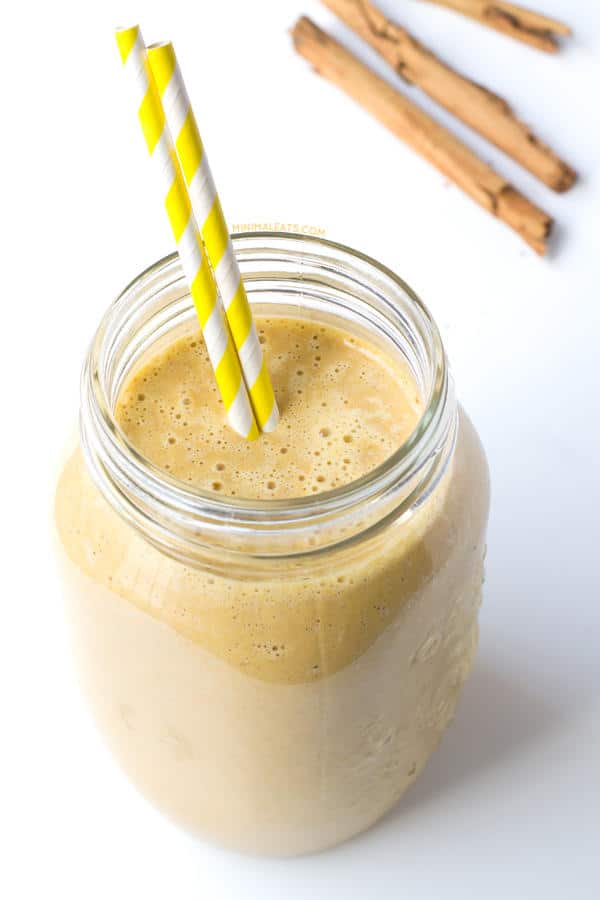 Definitely one for the holidays and boy, it's a good one!
This contains cashew milk, ground cinnamon, ginger and so much more. It is sweetened with dates so no refined sugar here.
Not only vegan, but gluten-free as well. It's sweet and creamy, everybody's going to love it.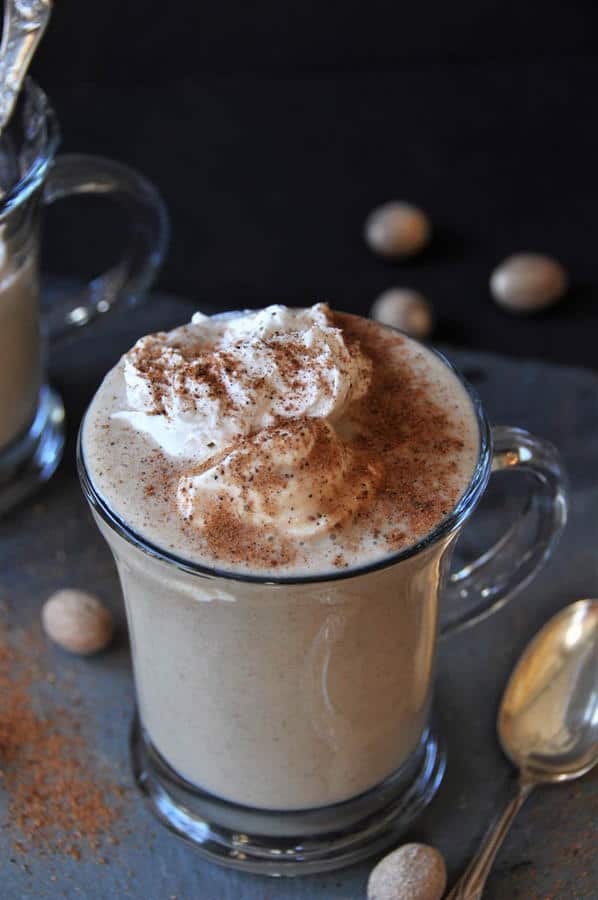 Everybody loves gingerbread right? And everybody loves cookies, so how about putting them both together making a smoothie?
With banana, ginger and even a little blackstrap molasses, this is going to be a hit.
I never had a smoothie quite like it, it really is like drinking a gingerbread cookie! It's awesome.
Power Green Pineapple Smoothie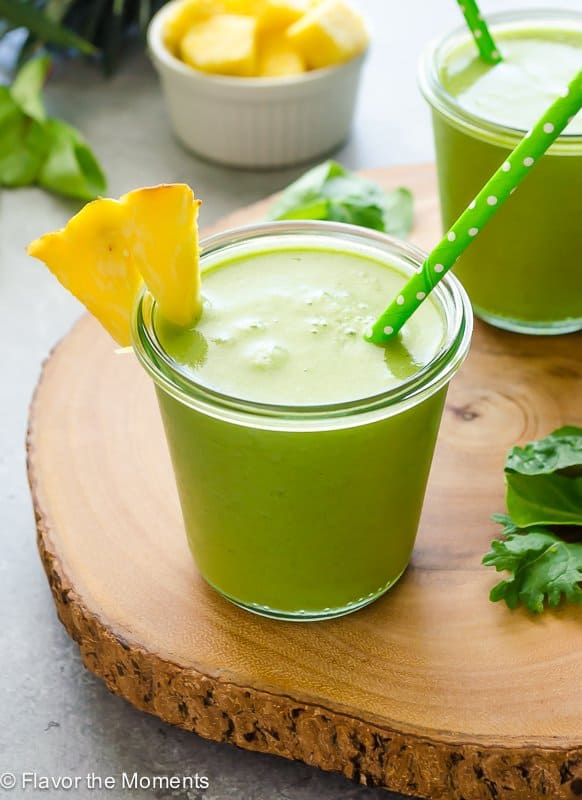 If you want to get your kids into green drinks, this must be step one.
Made with fresh pineapple and chia seeds to give it that creamy texture, this is going to be a hit.
The green comes from a brand-name power greens blend powder. You could just as easily use baby spinach leaves as well.
Other than that, you're looking at pineapple, coconut water and a couple of other goodies.
This is sweet and delicious and a great way to introduce your kids to a healthy lifestyle.
Kid-Friendly Vegan Snack & Treat Recipes
Hazelnut Truffles Rolled in Goji Berries (Gluten-Free)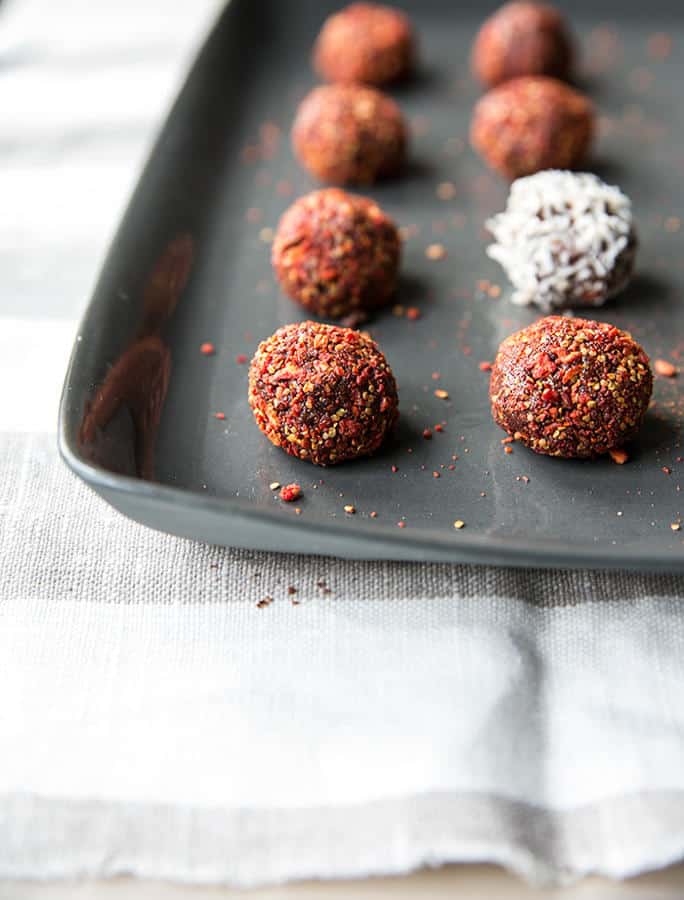 If you have a celebration coming up and you want to make a fancy treat, go with this recipe.
Your need some medjool dates, hazelnuts, a little cinnamon and just a couple of other ingredients.
The hazelnuts get baked, so you get this wonderful flavor with every bite. These are so good it's like they've been store-bought. Great for a gift too.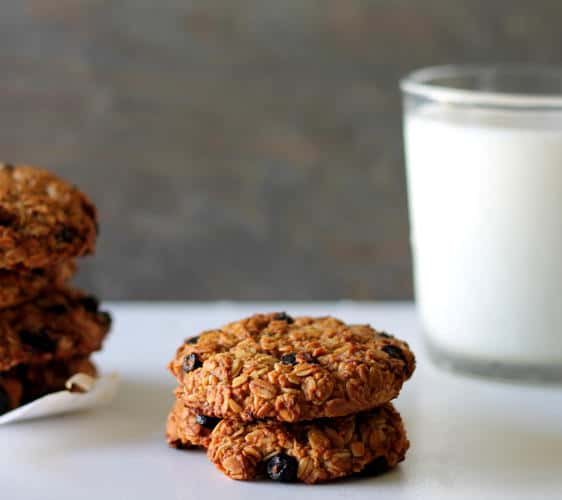 There's nothing quite like making cookies with your kids. This is an easy recipe that even the youngest ones will enjoy making.
There are just a handful of ingredients which makes the process straightforward and the cookies taste great!
There is a video on the recipe page that takes you through everything step-by-step, not many recipe authors do this as it takes quite a bit of work, however, when it's there it's a welcome addition, so thumbs up to Dixya!
Soft and Chewy Blueberry Almond Granola Bars with a Vegan Yoghurt Coating (Gluten-Free)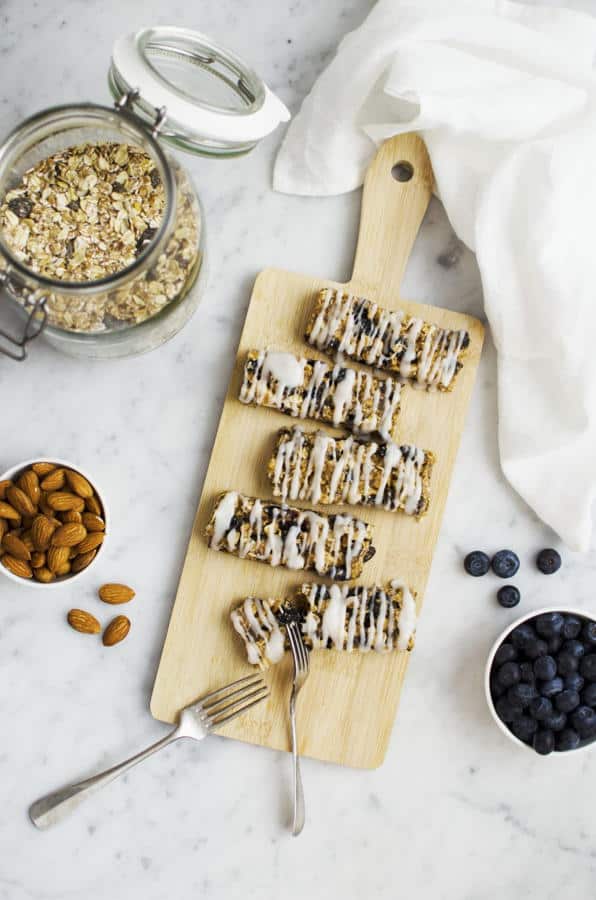 Granola bars are super healthy but, for me, there are two things I don't like about them.
Some of them have, 'natural flavoring' which can mean all sorts of things and often it's not good. Secondly, they can be hugely expensive. Maybe just a few dollars here and there, but it all adds up.
Making your own is surprisingly easy and you know all of the ingredients.
Get your kids involved and this will encourage them to get into a healthy lifestyle. A really good recipe for home-made granola bars.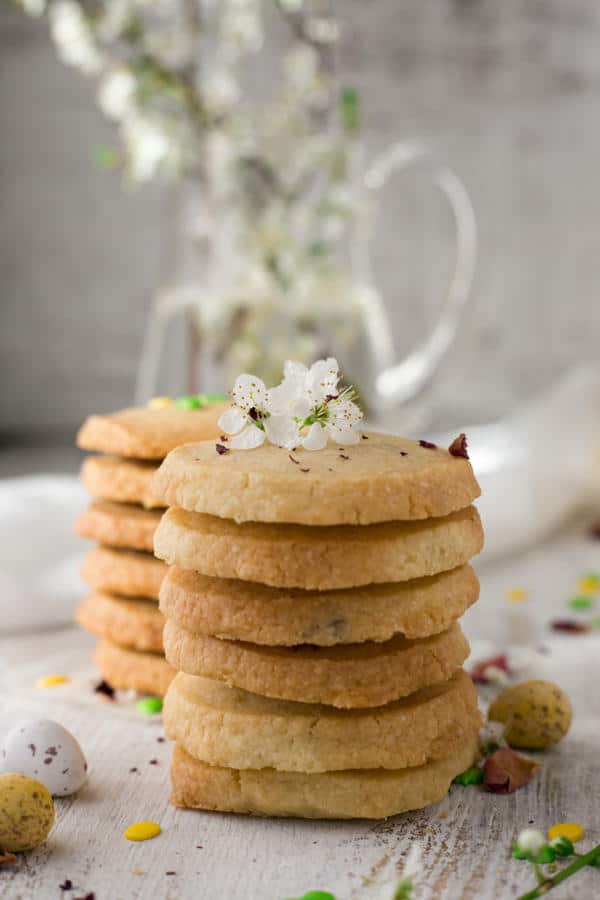 The best shortbread comes from Scotland, the downside is that the traditional recipe is not vegan. Now we have a plant-based version that is delicious and does justice to the original.
Would you believe this has just three ingredients! You can bring these out of the oven in just over 20 minutes and that includes prep and cooking time.
They melt in your mouth and are totally delicious. Allow to cool on the baking tray before serving. Will keep for a few days, will definitely not last that long!
Easy Strawberry Cheesecake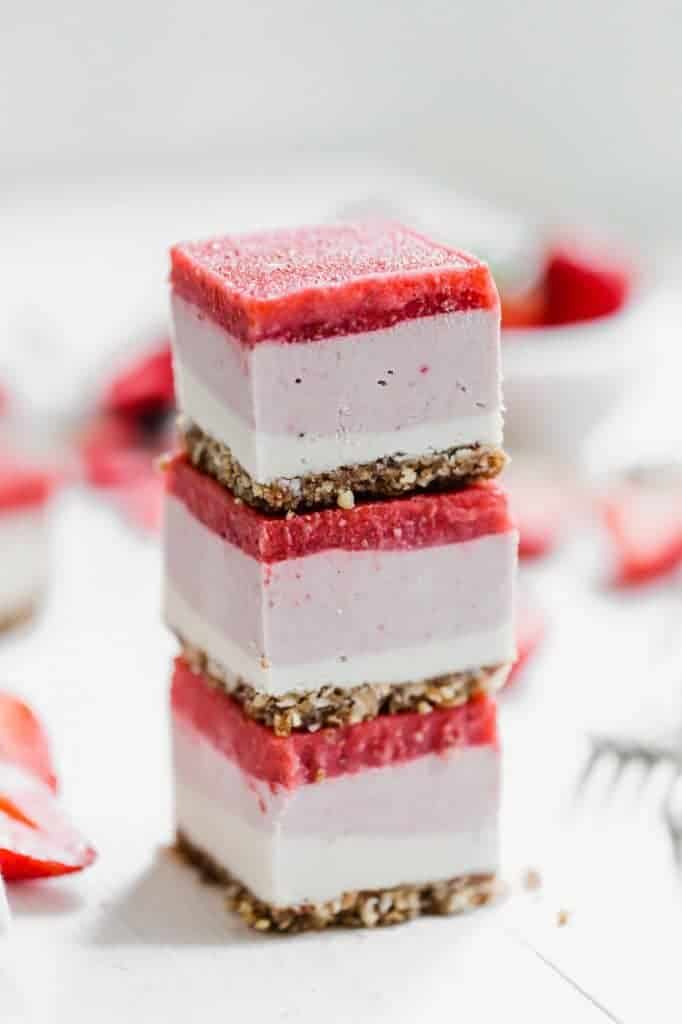 Cheesecake is just awesome, but we know regular versions have ingredients which we don't want.
I'll let you in on a secret: the best cheesecakes aren't only vegan, they're surprisingly raw and uncooked. Honestly, trust me on this.
The recipe is divided into three sections, the crust, the cashew cheese layer, and the strawberry topping. Follow the instructions and you'll have yourself the tastiest pie you've ever made.
Stores in the freezer for up to 2 weeks. When you want to eat a slice, allow to sit at room temperature for about 15 minutes and dig in!
Healthy Homemade Oreos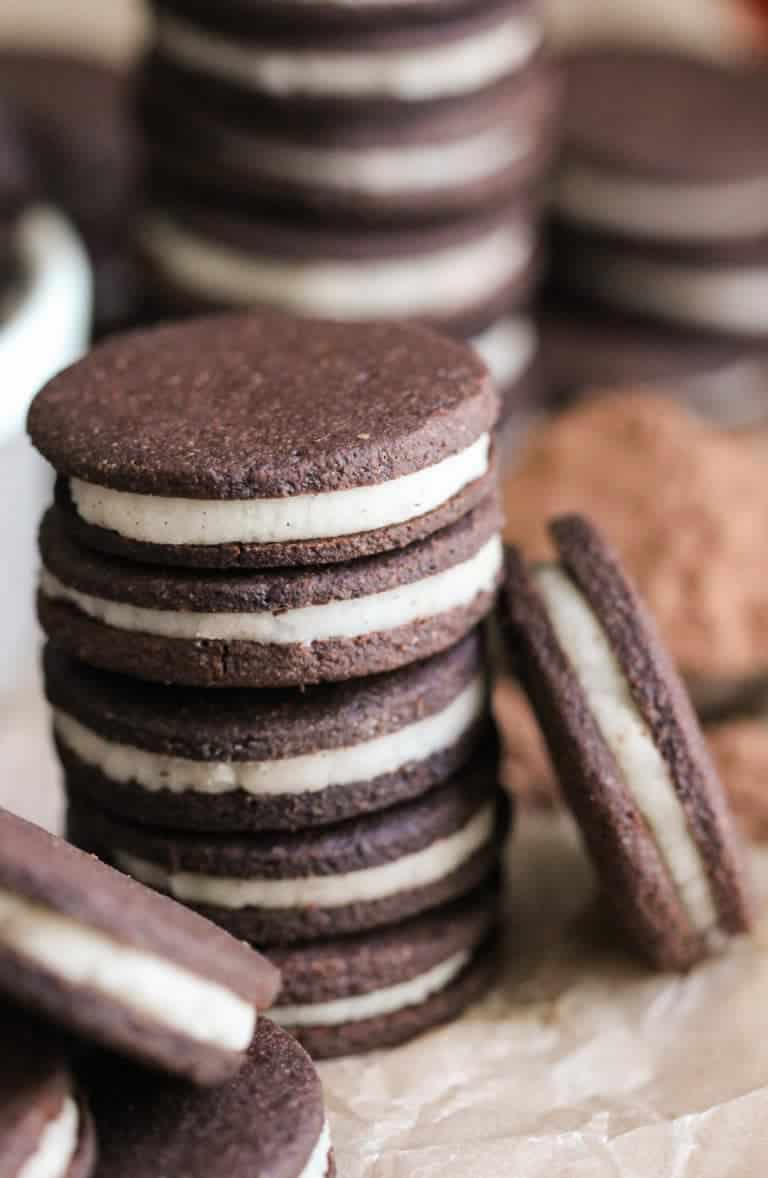 Most of us know that Oreos are vegan and that's something to celebrate! I don't often eat things like this but the other day I wanted to treat myself and I went to the store to get some.
I checked the ingredients and yes, they are vegan, but there was some stuff in there that had no business being in my body. I had no idea what some of ingredients were. So, what we do in a case like this? We make our own!
The ingredients is divided into two sections, one for the wafers and one for the filling. The filling is primarily vanilla bean paste and there's even a link on how to make it yourself at home.
They really are awesome and if you want that Oreos fix, this will do the job and your body will thank you.
Snickerdoodles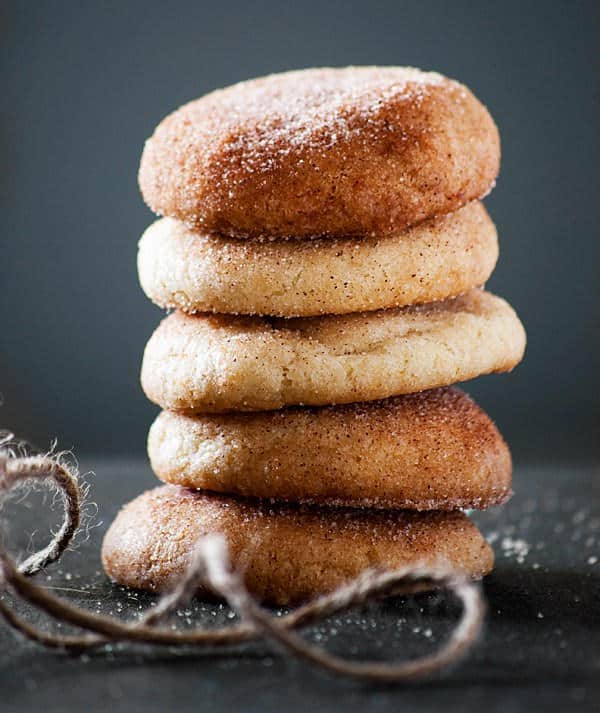 So, what's a snickerdoodle? I have never heard of one before seeing this recipe, if you want to roll your eyes at me for living a sheltered life, now is the time!
These are baked to perfection and have a hint of vanilla, coconut and banana in every bite. They really are fantastic and more importantly, I now know what a snickerdoodle is!
Homemade Fruit Roll-Ups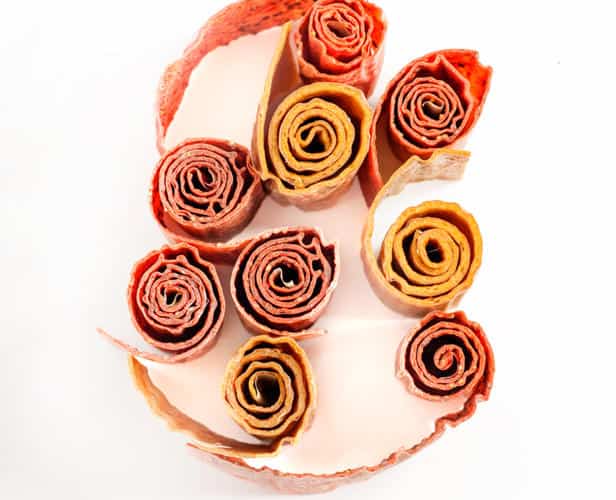 Fruit roll ups are a great treat for you and all the family. They last for ages and you can take them with you anywhere.
Ideally, you're going to have a dehydrator to make these. If you don't have one, you could use your oven at the lowest setting, but you'll need to keep checking them.
They are chewy, bursting with flavor and great to take with you on a hike!
Sweet Potato Brownie Bites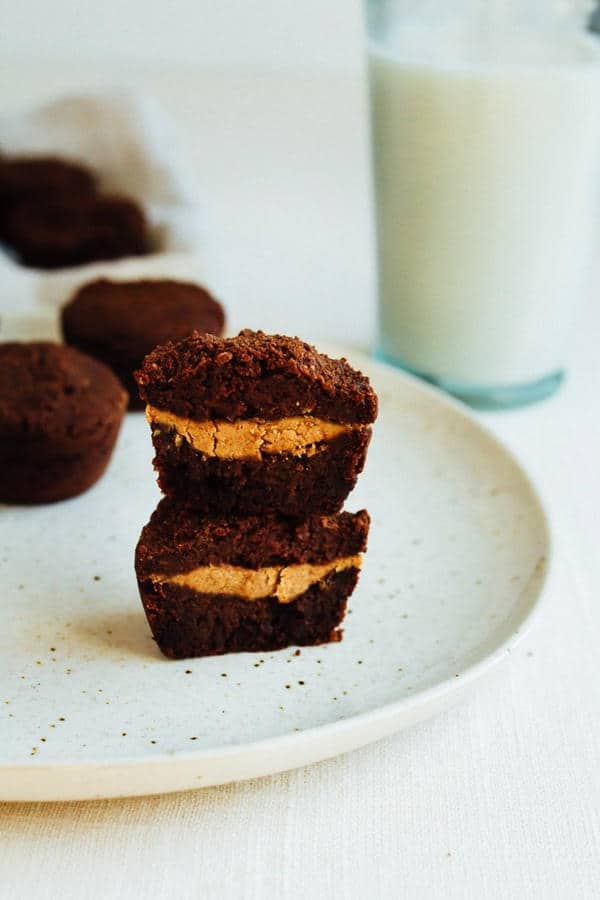 Oh my goodness, make these, please make these!
If you've never made brownies with sweet potatoes, they are a thing, and this is a superb recipe to get you started.
If you're worried about these little bites tasting of sweet potato, I promise they really don't. They are light, fluffy and super healthy.
Lemon Pound Cake Cupcakes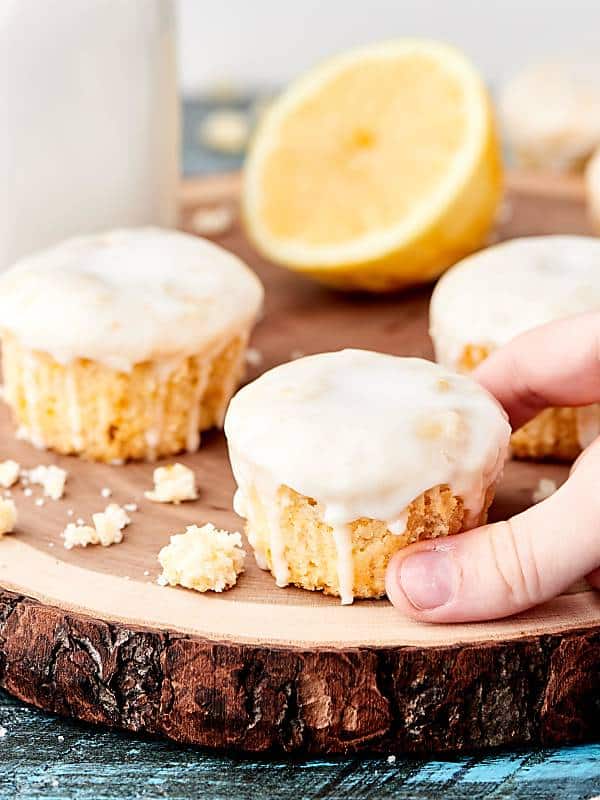 Well, I absolutely adore lemon cakes of any kind. I don't often like the glaze on cakes as it can be overpowering and takes away from the cake.
Honestly, this is the perfect cake and the perfect glaze.
Great for the summer, these cupcakes are dense yet not heavy.
They have that zesty flavor in every bite and if you're anything like me, you'll eat more than you should!
Special Picks
Blueberry Coconut Frozen Cake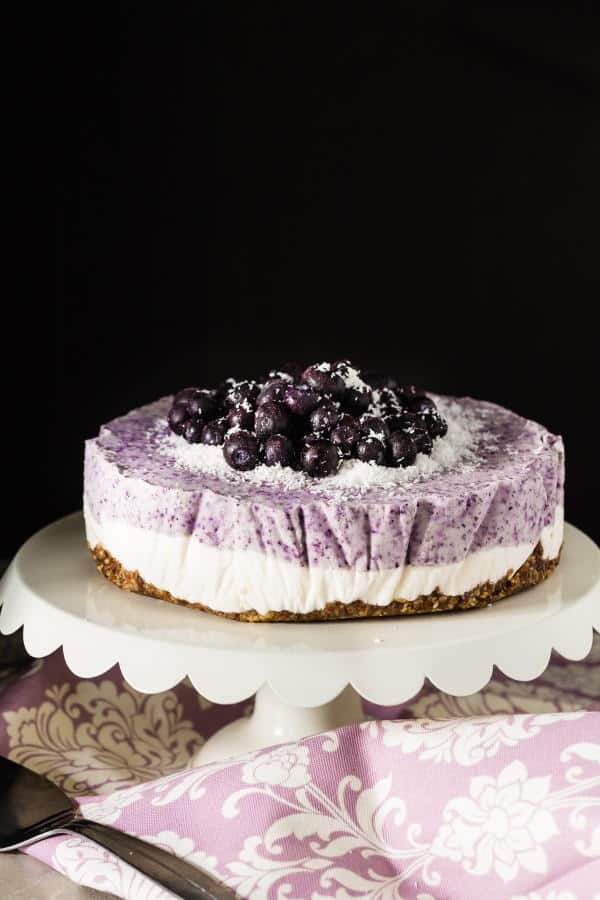 This is a low sugar frozen cake that would be perfect for any celebration.
I love cakes like this because they are virtually guilt free! Incredibly easy to make and you don't need all sorts of complicated tools.
Ingredients are fresh, and the cake is totally yummy. Just keeps in the freezer until you need it.
Sparkling Sugar-Frosted Cranberries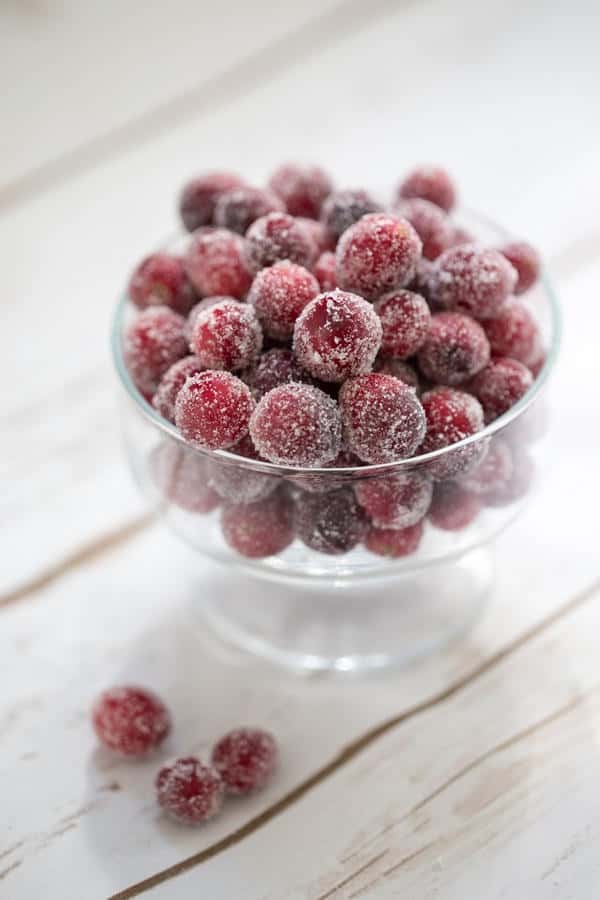 If your family is due for a celebration or you want something special for the holidays, check this out.
Just four ingredients (and one of them is water) make these fantastic sugar frosted cranberries. I would say get the kids involved in making them, but I think this is for older children as the recipe involves cooking sugar and we don't want any accidents.
The process retains that cranberry taste yet adds sweetness from the sugar. Perfect.
Caramel Sauce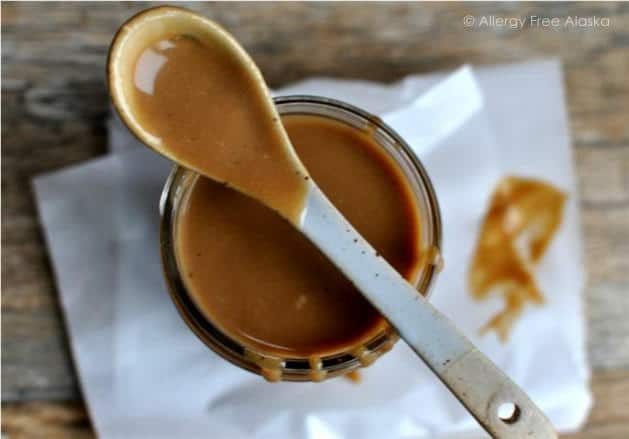 If you want something to go with virtually any pie or even a home-made ice cream, you've come to the right place.
Just a handful of ingredients gives you this caramel sauce that is free from refined sugar while also being paleo friendly.
Read the instructions carefully, especially the notes from the recipe author, Megan, as she gives some great tips.
Salted Caramel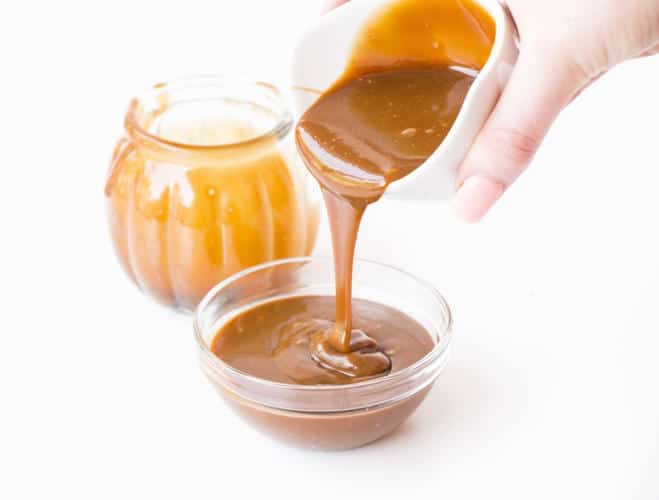 If you love salted caramel, why not make your own with this delicious recipe.
This is made with coconut and coconut sugar. The tastes heavenly and spot-on when comparing it to the original recipe.
This stores easily in a glass jar for when you need it, which will be often!
Triple Berry and Chocolate Slice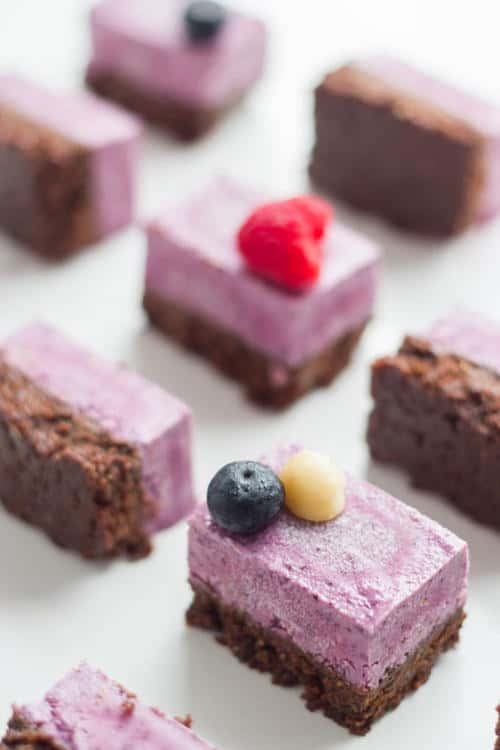 A triple berry and chocolate slice, who could possibly resist?
The best thing about this is that it's no bake.
Ingredients are divided into two sections, the chocolate layer and the berry part. You will need a food processor for both the top and the bottom layer.
When ready place in the freezer for at least two hours to set. You only need to take it out five minutes before serving. How awesome is that!
Oreo Brownie Bottom Funfetti Cake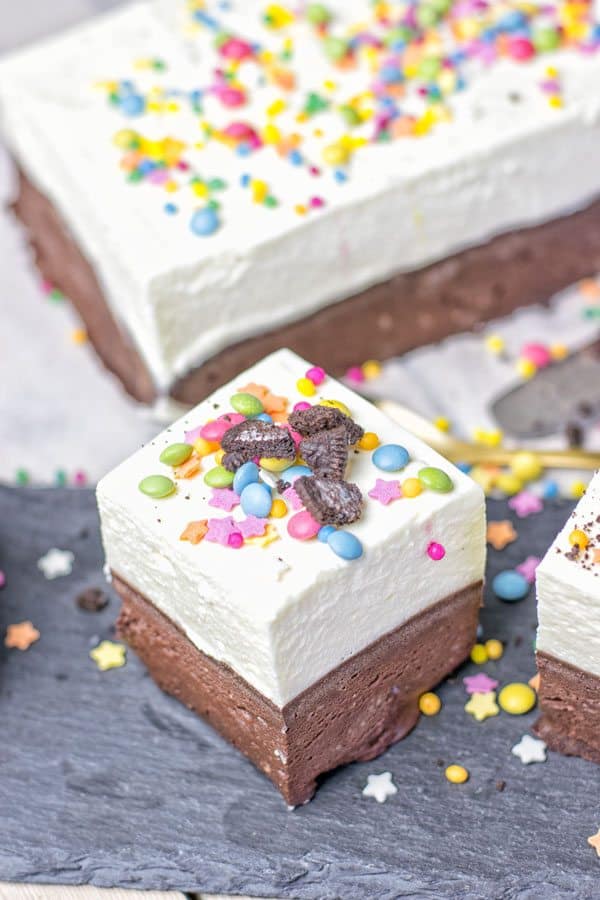 Well, would you take a look at this. Whatever you are celebrating, make this dairy-free treat using coconut milk and raw cacao.
Florian from Contentedness Cooking makes great recipes and all of them contain six ingredients or less and this is no exception.
Perfect for any children's party or let's face it, we're all kids at heart right?
Cake Batter Waffles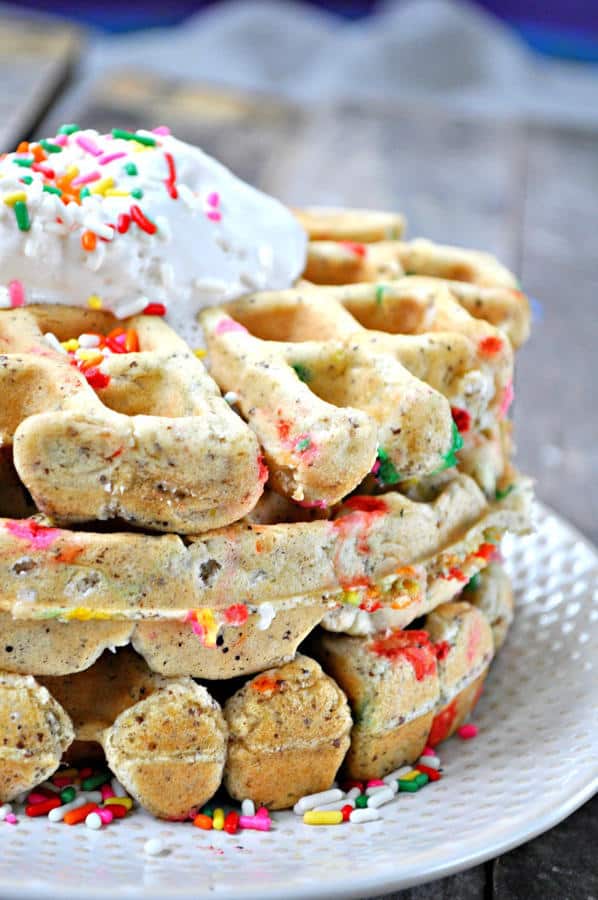 I guarantee you've never seen anything like these waffles, they look great!
They are crunchy and yet fluffy on the inside. Incredibly easy to make with straightforward ingredients.
You'll need a waffle maker to create this although if you don't have one, just use a griddle or your pan and make them into pancakes.
Bounty Slice with Brownie Base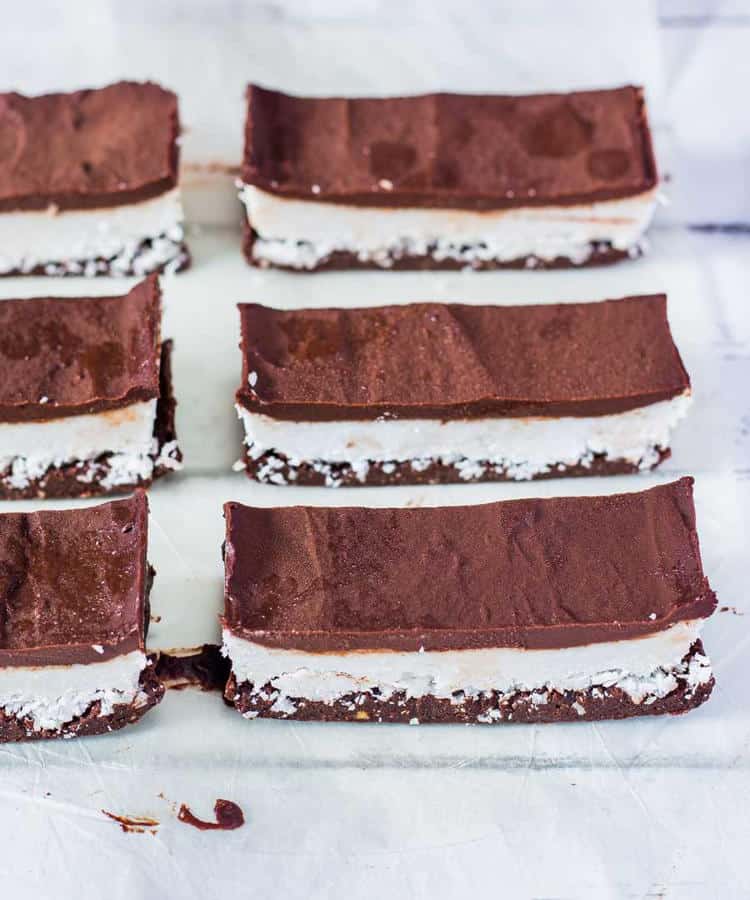 I've seen a few bounty bars and slices and they've all been good. This one is not only great, it's gluten-free as well.
Ingredients is divided into three sections, two of them have three ingredients each and the last just has two ingredients. If you've never made anything like this before I urge you to try.
The author has gone to the trouble of making a video you can see on the recipe page and this is always welcome. Take a bite, close your eyes, and you're in the tropics!
Wrapping Up
We tried to get a great variety of recipes for you. Whether it's for the holidays, or a celebration, there's something for you here.
Some of these dishes focus on ways to sneak veggies and fruit onto your family's plate without them noticing too much, other recipes are all about getting the kids involved in the cooking process as well.
We were also mindful of the different stages of childhood so there's something here for younger children and also for teenagers who are getting into cooking and a healthy lifestyle.
Of course, whether you're looking for recipes for your family or friends, we've got you covered. Do let us know which are your favorites and most of all, enjoy!