Tempeh is an Indonesian food made from fermented soybeans.
Some people that have problems digesting tofu, for example, report no problems with tempeh.
Use it in the same way you would with any meat alternative product. This roundup will help you find some tasty ideas!
You could always mix-and-match any recipe here alongside our most popular roundup.
Let's see what we have!
Trusty Tempeh Recipes
Homemade Tempeh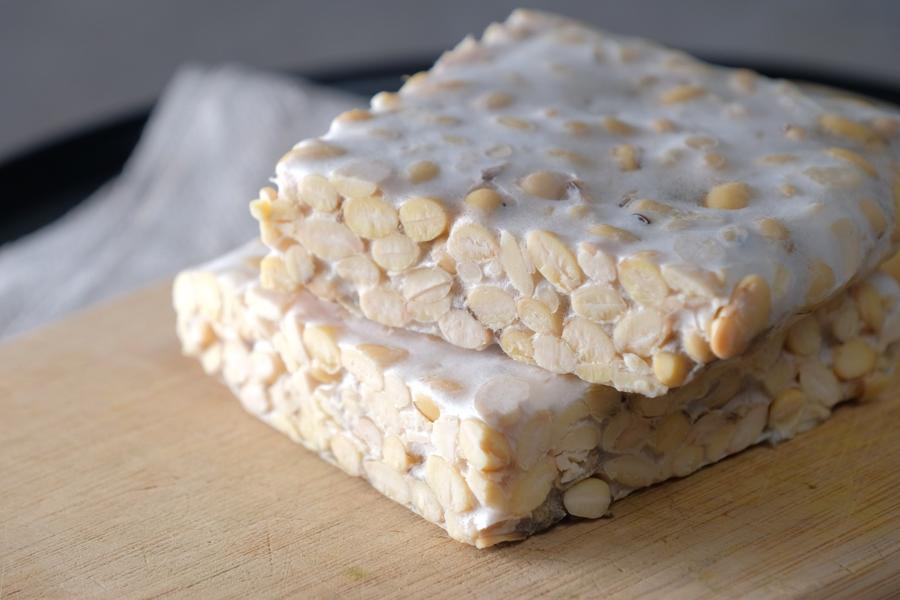 Let's start how we mean to go on. It's certainly easier to buy tempeh, although you could make it yourself at home.
It isn't that complicated, and this recipe is a great starting point if you want to give it a try. Why not?
Polynesian Tempeh Wings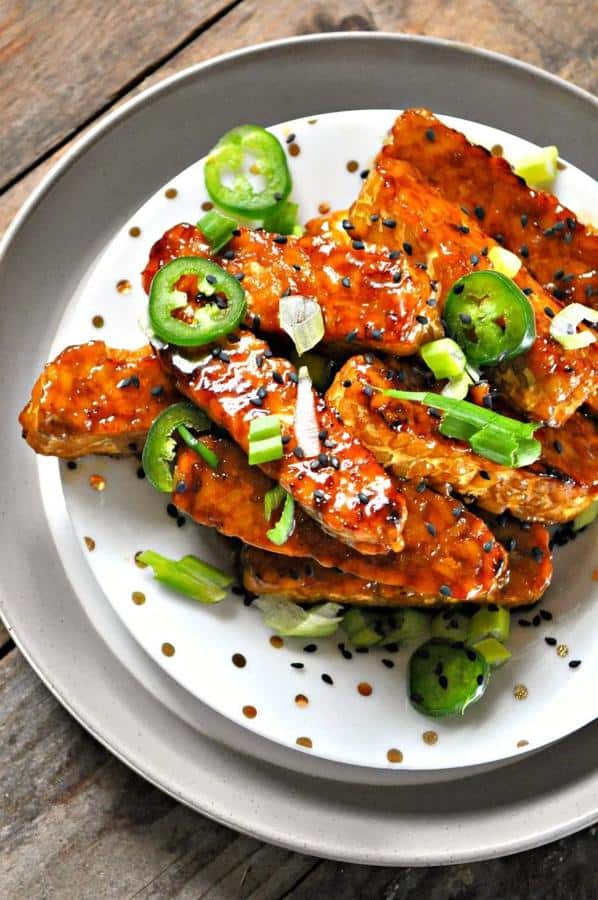 Don't these look just delicious?!
Look no further for the best appetizer ever. To be honest, I think it's too good to be an appetizer. Give me this served over rice any day of the week, actually, every day of the week!
Buffalo Tempeh Wings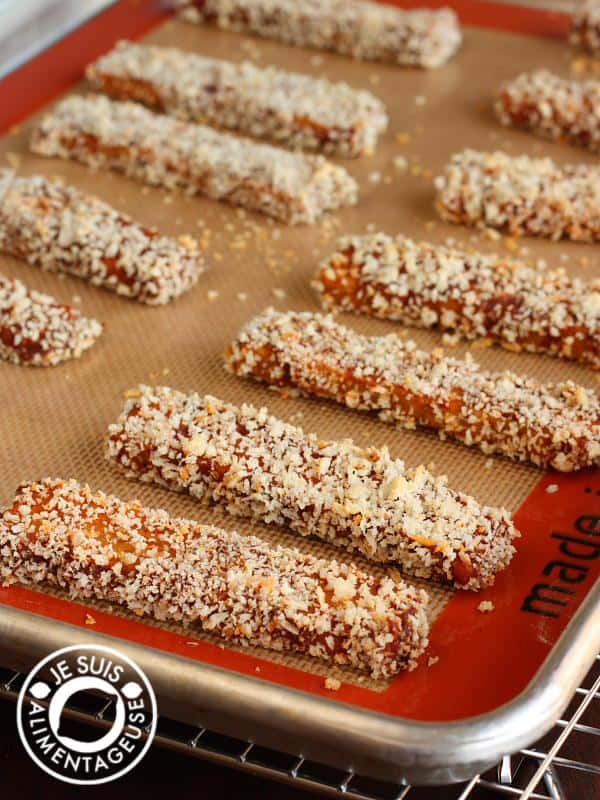 I love this recipe because of the Panko breadcrumbs coating!
You're looking at just 15 minutes prep time and the same for cooking. First make the sauce, then bake the tempeh, put them together and you won't look back!
Tempeh Stir-Fry in a Gingery Coconut Sauce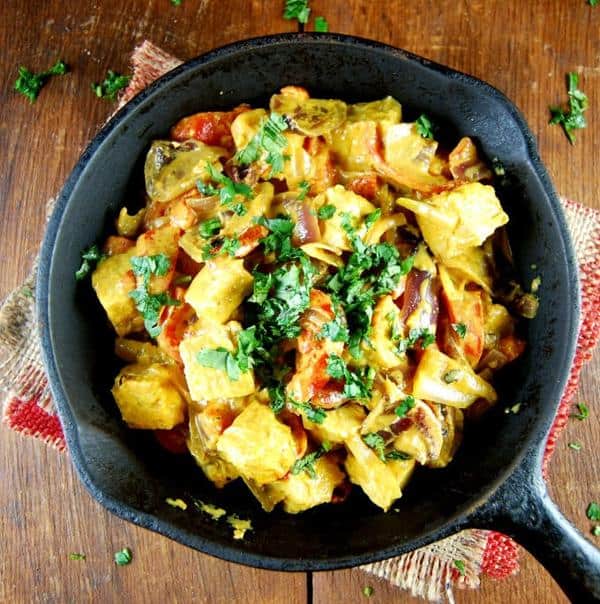 Where to begin with this recipe?
The tempeh stir-fry is magnificent to say the least, however, what really brings this recipe alive is the sauce. If you love ginger and coconut, there is no other recipe!
Avocado and Maple Glazed Tempeh Sandwich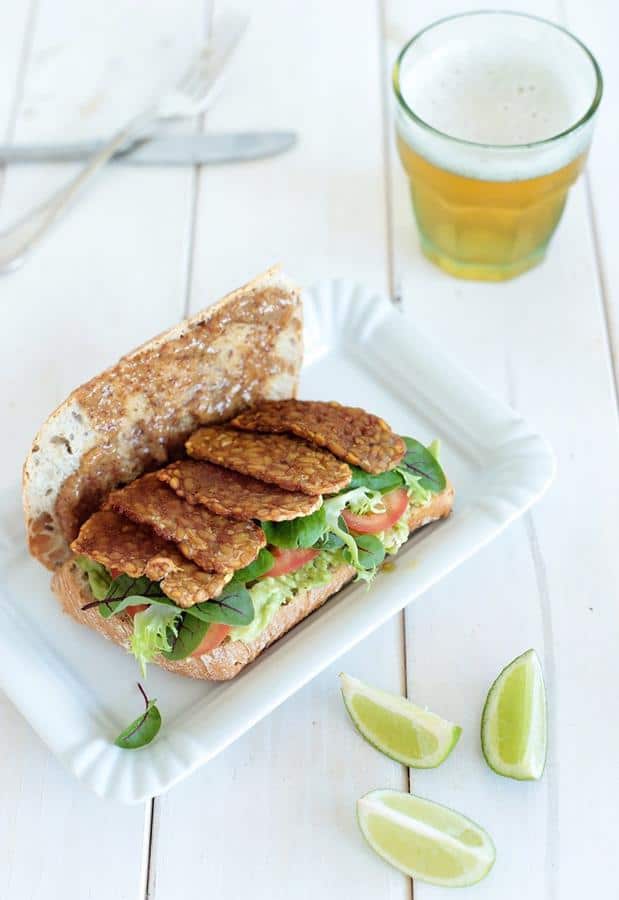 You can't beat a good sandwich. And this is a great sandwich!
The avocado and salad already guarantee healthy goodness, bake your tempeh with maple syrup, tamari and just a couple of other ingredients I guarantee you'll probably have this sandwich the next day as well. Will you share? Don't!
Cheese and Tempeh Stuffed Portobello Mushrooms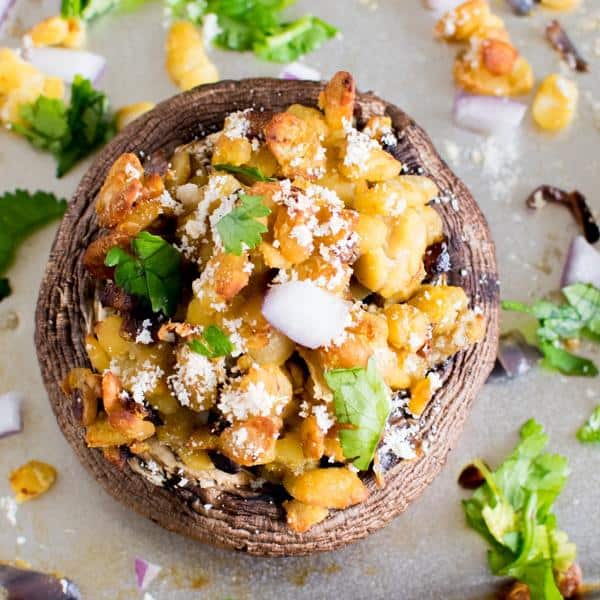 These stuffed mushrooms are delightful.
Of course, the cheese is vegan so grab your favorite variety. Then we just a handful of other ingredients, get chopping and bake for just 20 minutes.
Bursting with flavor, these will look great on the table and taste even better.
Grilled Tempeh Sliders with Pesto Spread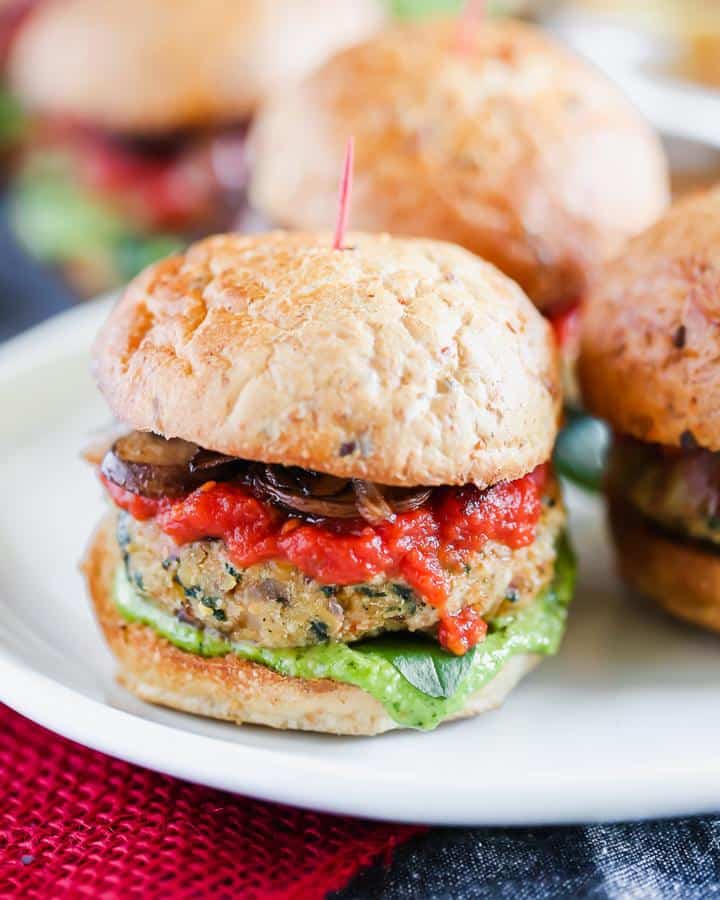 These taste so good you'll eat a hundred of them!
For parties and celebrations, the sliders are perfect. They look good and taste great. If it's for yourself, I would go all out and make a full-size burger.
Sheet Pan Tamari Glazed Tempeh and Broccoli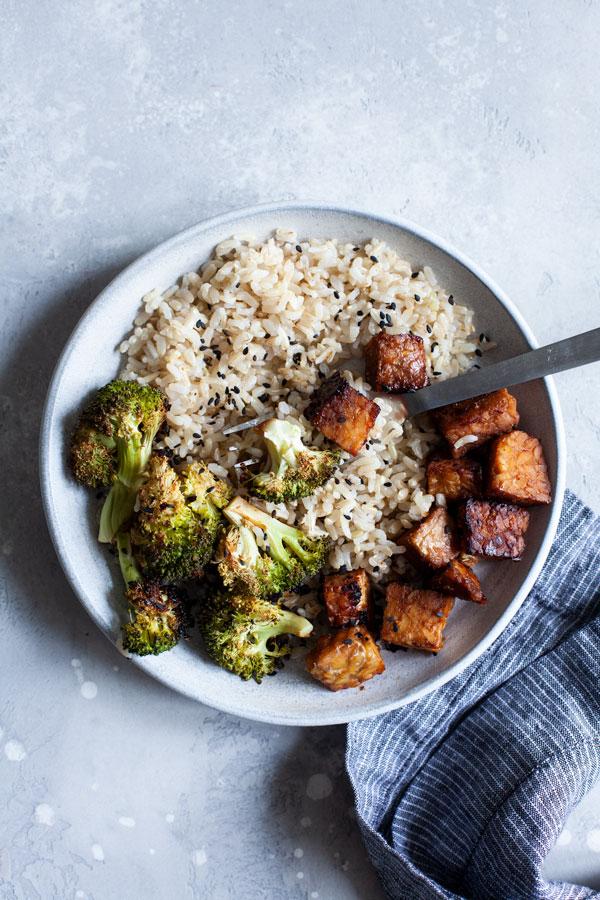 This is my kind of recipe, rice, tempeh and broccoli.
I love this kind of meal because it's so versatile. You can swap the rice with quinoa and, of course, the broccoli with any other kind of vegetable.
The glaze on the tempeh is just yummy. You have to make this!
Roasted Cauliflower and Tempeh Tacos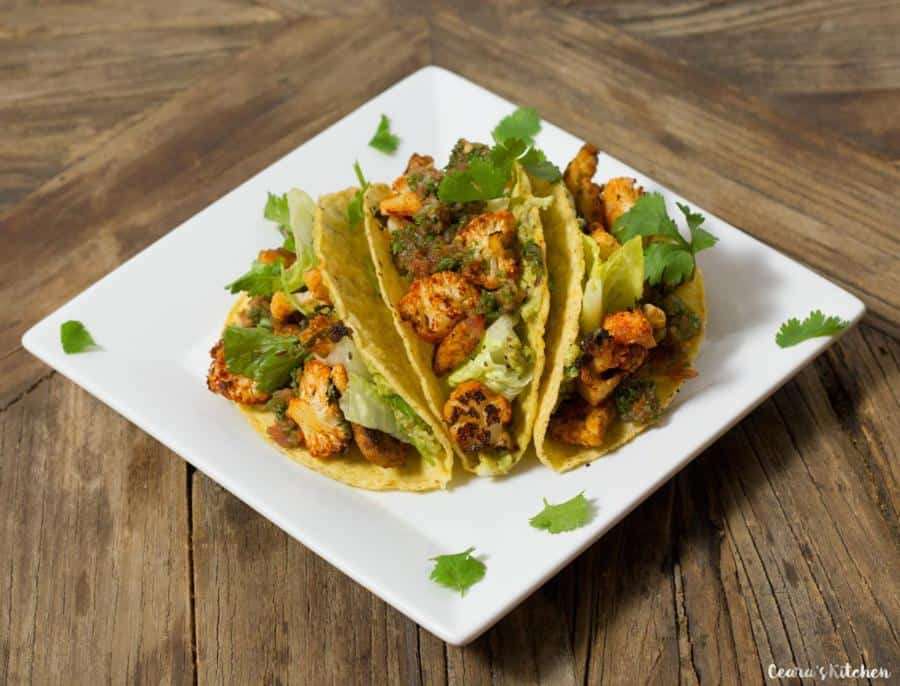 If you've never had roasted cauliflower before, this is the recipe for you. If you've never had tempeh before, this is also the recipe for you!
Whether it's for movie night or just a simple and super healthy dinner for all the family, reach for this recipe. The kids will love it!
The Best Marinated and Grilled Tempeh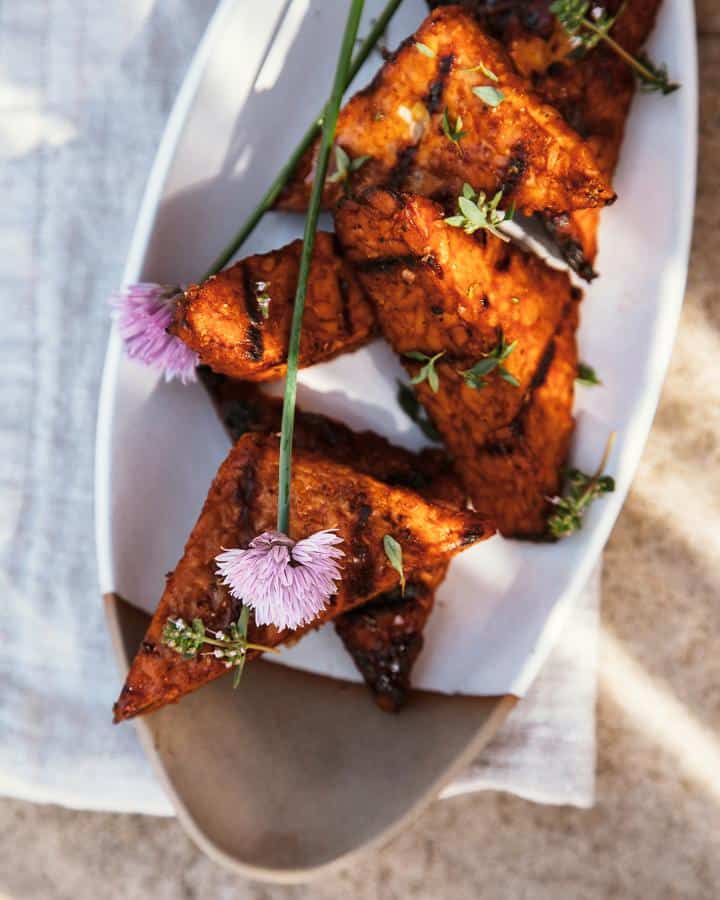 This recipe claims this tempeh is the best, is it right?
There are eight spices used to make this and it's clear a lot of thought has gone into this recipe. If you want to impress, this is certainly going to guarantee you a winner!
Tempeh Umami Bowl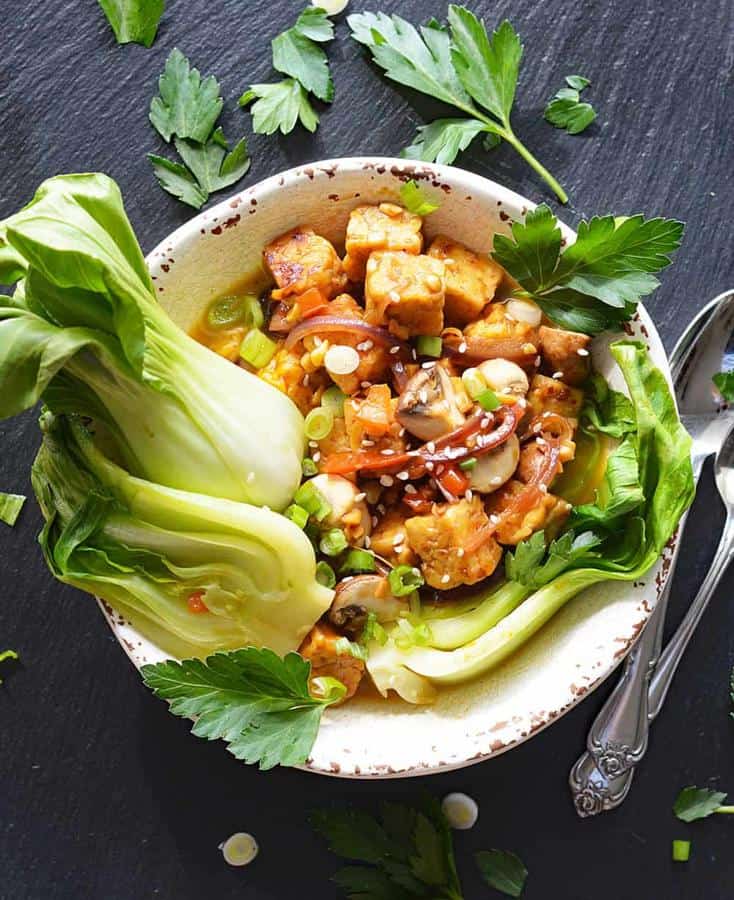 The recipe author says she was inspired to create this dish by, The How Not to Die Cookbook, by Dr. Michael Greger, M.D.
It's a lovely recipe because not only does it make the best of tempeh, it also uses lovely vegetables and wholesome ingredients. Super healthy and bursting with flavor.
You're looking at just 10 minutes prep time and the same for cooking, the amounts listed in the ingredients make one generous bowl. If you make just one recipe from here, choose this.
Apple, Arugula and Smoky Tempeh Sandwich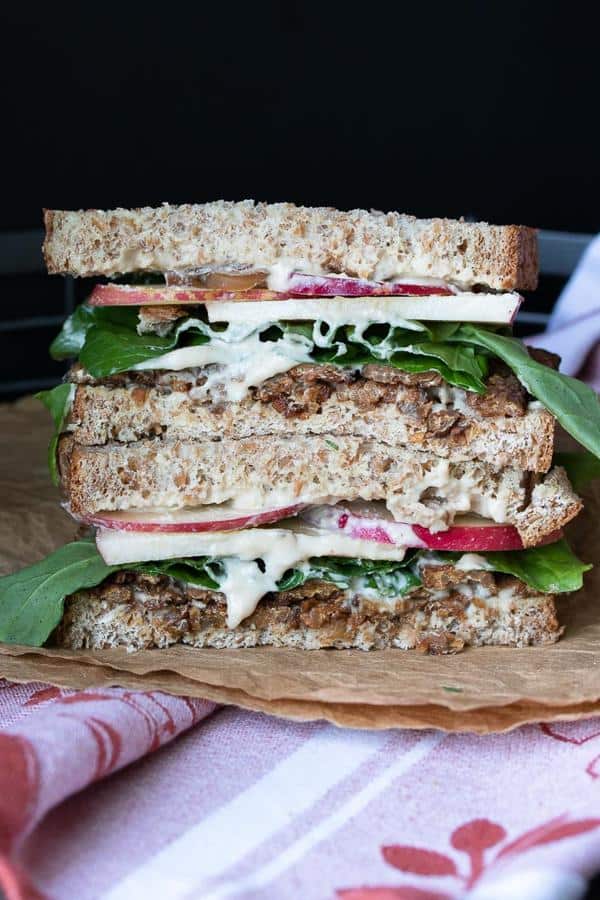 You can't beat a good sandwich, this is fact and I think it's the law as well!
Tempeh makes a great sandwich filling. Here it is beautifully prepared with a great smoky taste. Add the accompaniments, great bread, and you're good to go.
Whole Wheat Roasted Veggie and Tempeh Pizza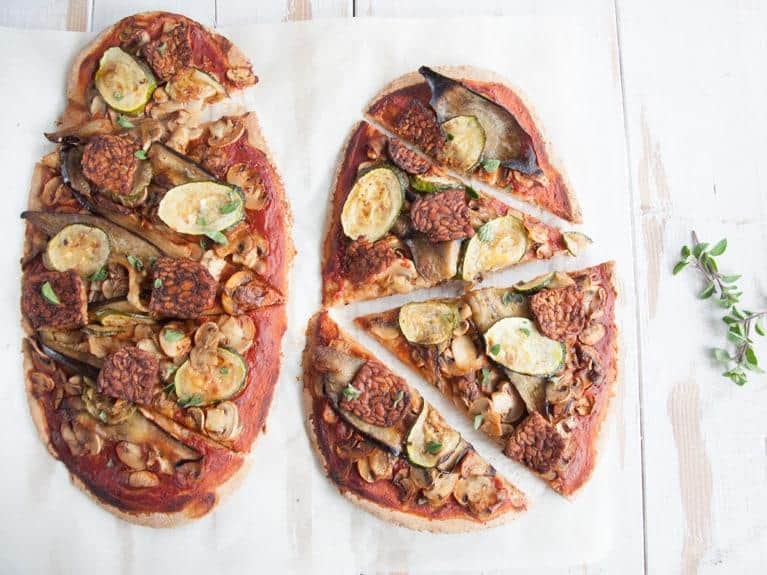 If you're looking for a great pizza recipe, look no further.
A hearty and rustic pizza made with whole wheat, roasted vegetables and tempeh. You certainly won't be missing out, in fact, you'll have more!
Fried Tempeh Bowls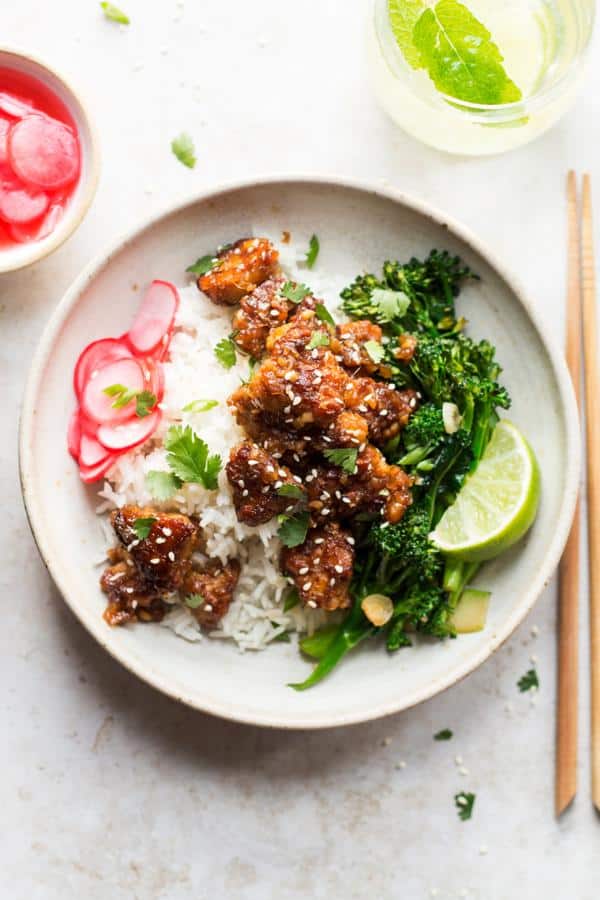 Tempeh can be cooked in a variety of ways, this dish shows off just that!
Here, it is shallow fried and served with rice and vegetables. It's a great treat and one you need to try!
Maple and Mustard Glazed Tempeh with Crunchy Pistachios and Scallions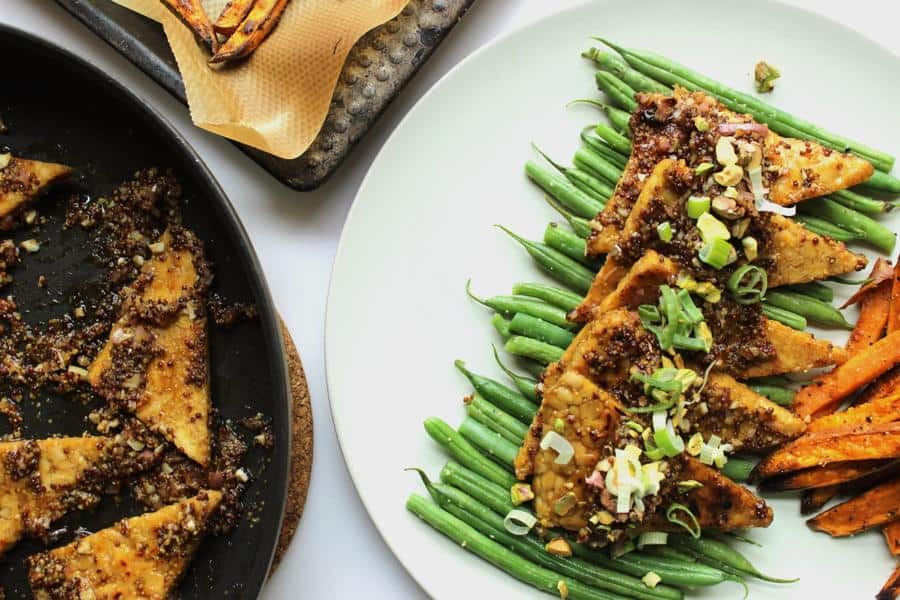 If you've never cooked anything with the glaze before, this is awesome!
The maple and mustard go so well together and create a classy and sophisticated taste that is coupled with great texture from the pistachios. This dish simply is perfect!
Tempeh Meatballs with Tomato Sauce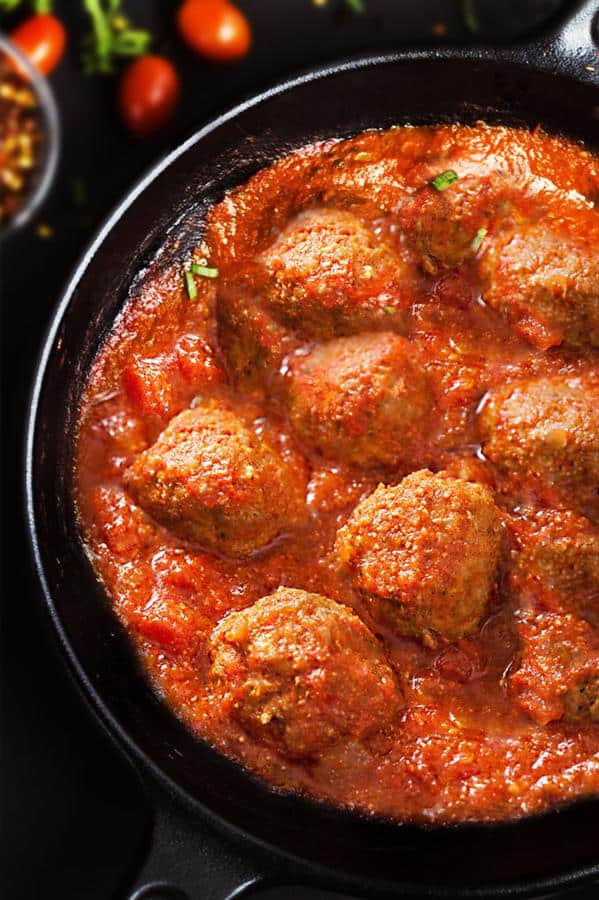 If you thought tempeh was all about slicing, cooking and eating, think again.
These 'meat' balls are amazing, and I would say the sauce is even better! The recipe page contains a video which I really appreciate.
Smoky Broccoli Soup with Crispy Tempeh Croutons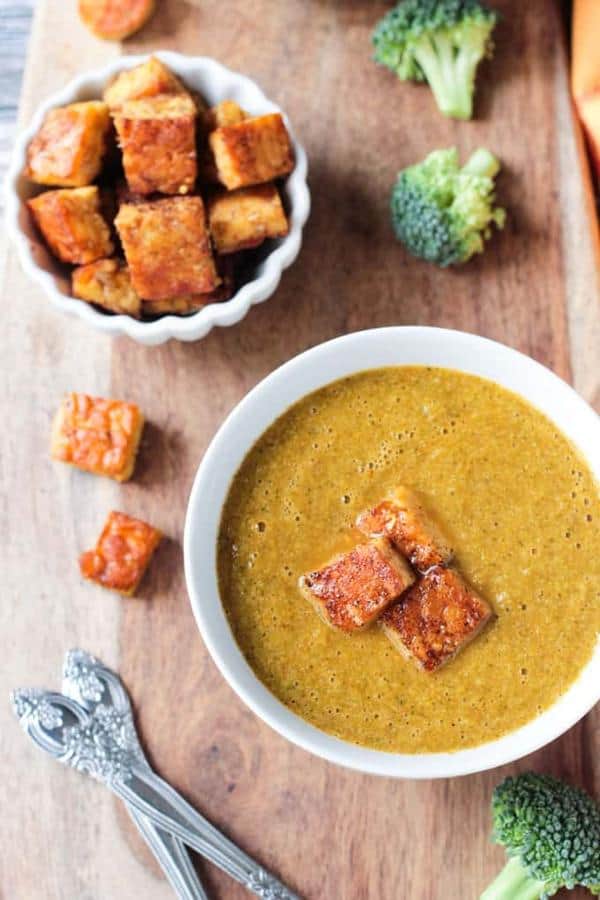 As the colder time of year begins to creep up on us, there's nothing like a good soup.
Personally, I'm quite fussy with soups. However, this was a real hit as the soup itself is bursting with flavor and the tempeh croutons add extra heartiness ensuring you won't be snacking after.
Black Pepper Tempeh Bacon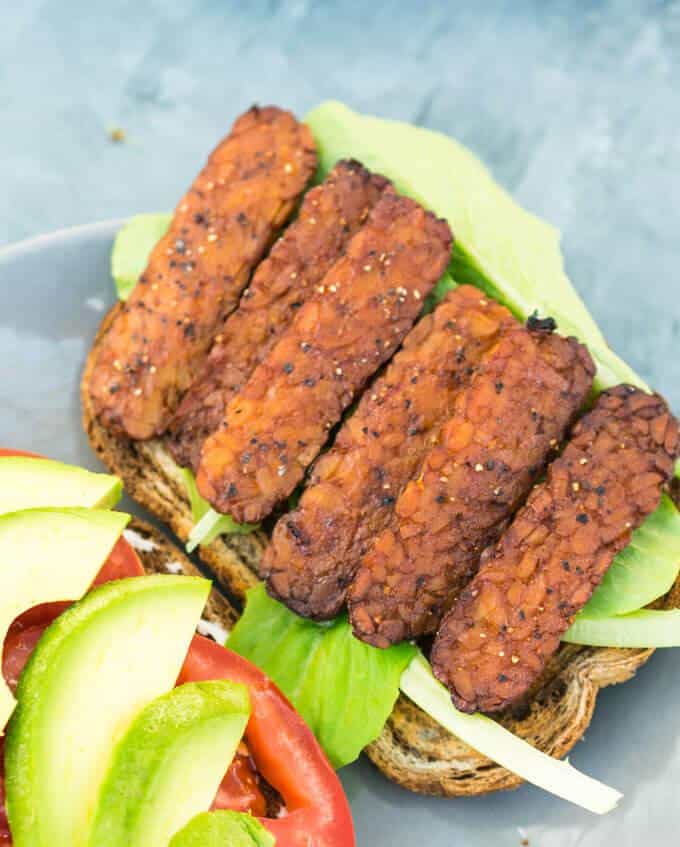 In terms of 'fake' meats, tempeh is one of the best foods. You just need a good recipe and this is what we have here.
You're looking at just 10 minutes prep time, a little marinating and a little cooking.
Now you have the perfect sandwich filling, breakfast food or wherever else your imagination takes you! Eat and enjoy.
Tempeh and Kale Steamed Gyoza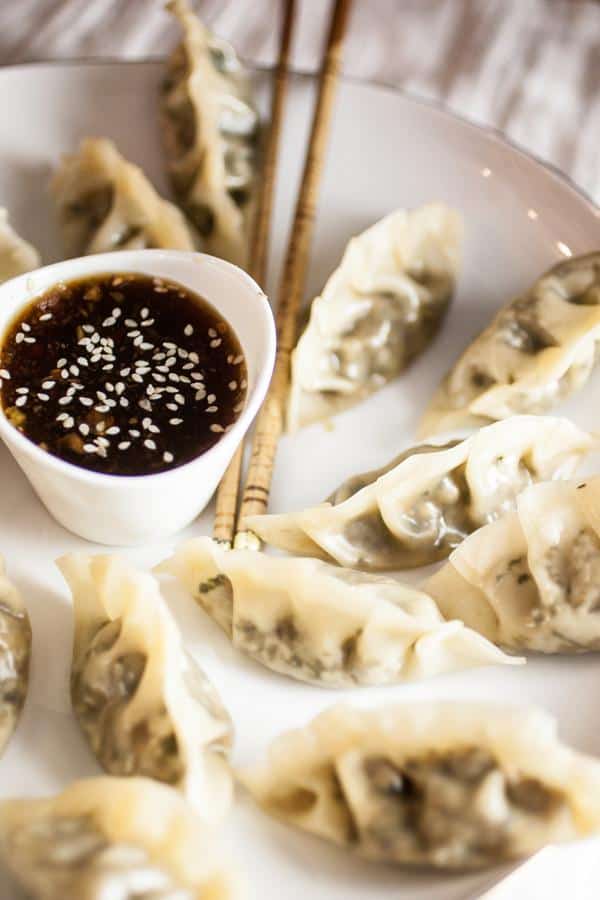 If you're a gyoza fan, you absolutely must try this.
Whether you're new to these dumplings or a seasoned pro, this is going to be one of the best recipes you've tried.
So easy to make, and yet the taste is sophisticated. Perfect for yourself, your family or if you want to make a lasting impression.
White Bean, Tempeh, and Fennel Ravioli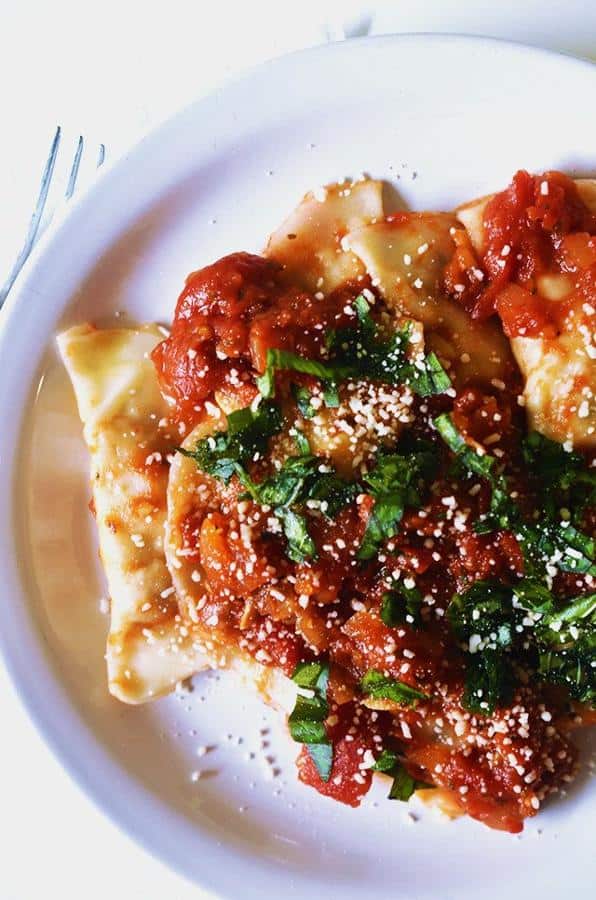 I know some people that avoid vegan ravioli because they think it's 'just' filled with vegetables and so assume it must be bland.
If you have such apprehensions, this dish throws them all out of the window. Filled with flavor, you'll be eating more of these than you should! Nonna would be proud!
Mustard Maple Tempeh Sandwich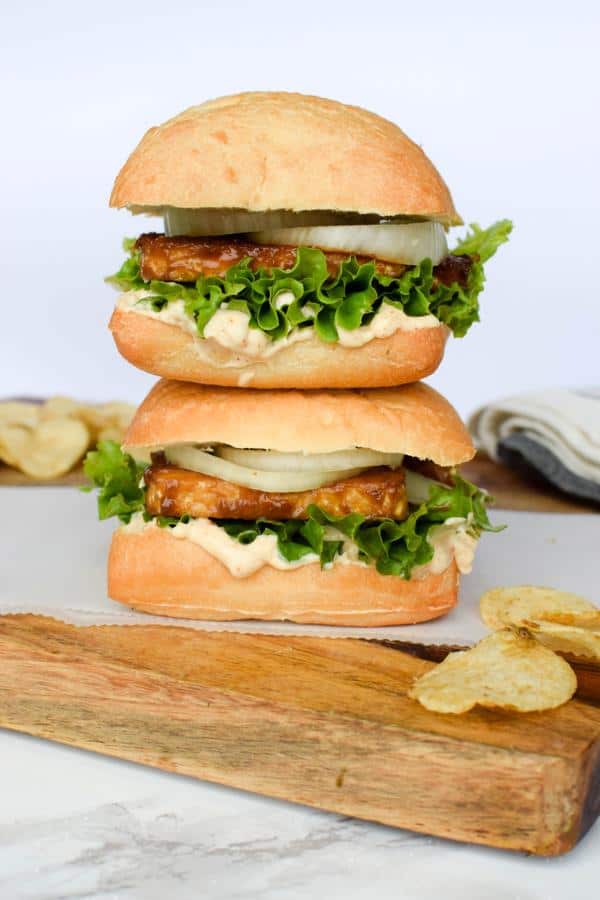 One of the best sandwiches you can have. Why? Because of its versatility.
The mustard and maple are perfect partners making the tempeh so delicious.
Whether you want to make a burger with onion, relish and lettuce, or simply any other kind of sandwich, this is the recipe you need.
BLT with Baked Tempeh Bacon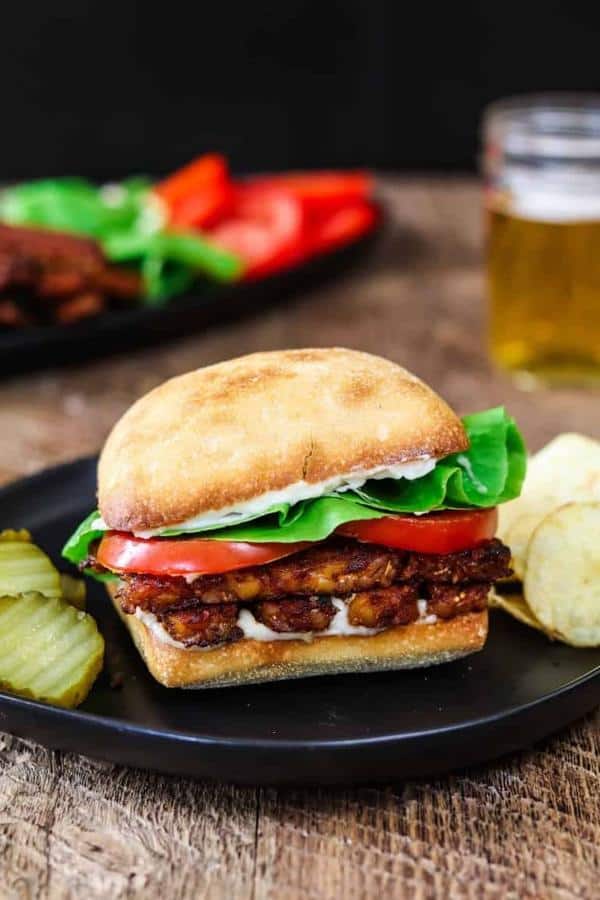 There's nothing like getting the BLT fix without the cruelty!
I think tempeh is much better for this kind of recipe than tofu or anything else like it. It's hearty, flavorsome and simply goes well, however you like your BLT.
Harissa Tempeh Pizza with No-Knead Dough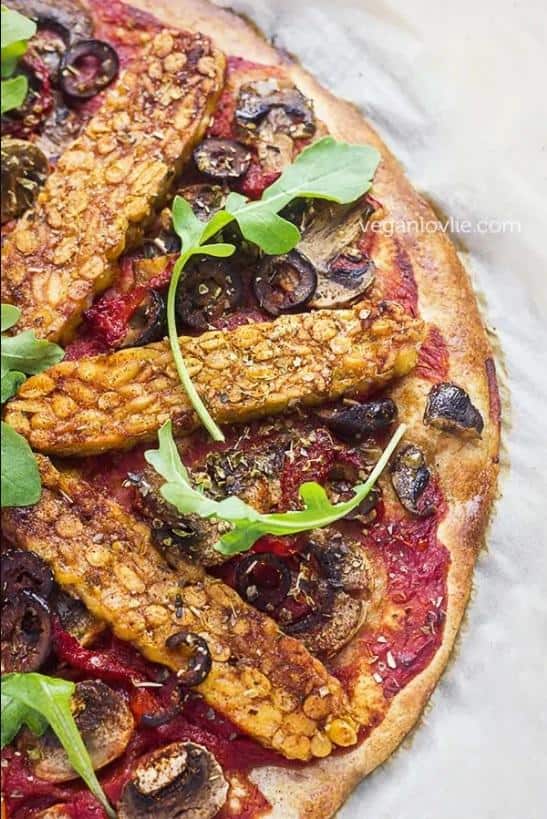 Most of us buy our pizza because it's so much easier than making it. But, I think we all have to agree, store-bought foods often contain ingredients we'd never use at home.
In addition, a pizza made at home is infinitely more economical than anything you can buy. The best part about this? You don't need to knead the dough.
Quinoa and Tempeh with Tomato Sauce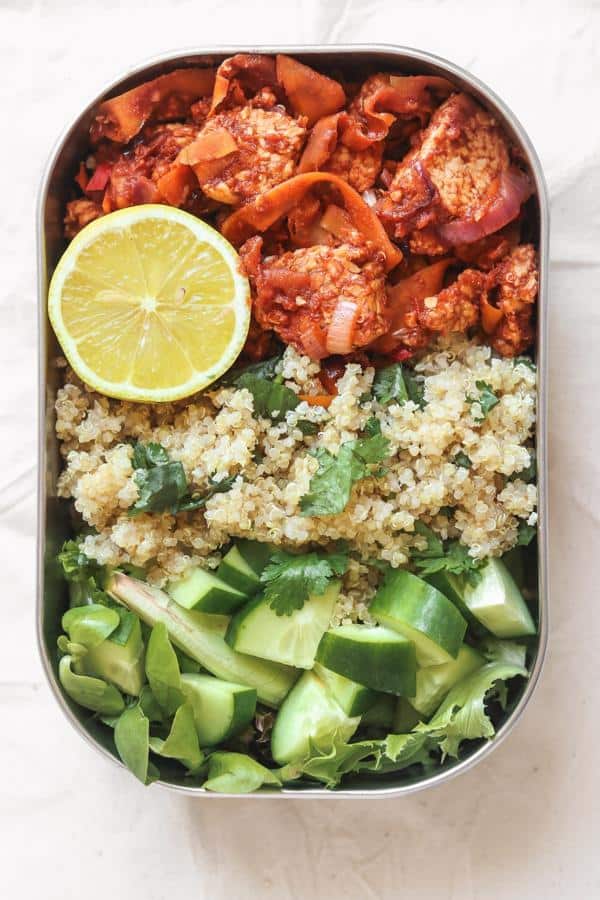 Whether it's a quick lunch, or you just got home from work and you want something healthy without the bother of ordering take-out.
Simple ingredients and all the satisfaction you could want. The tempeh is cooked to perfection and the tomato sauce is its perfect partner.
Black Bean Tempeh Tacos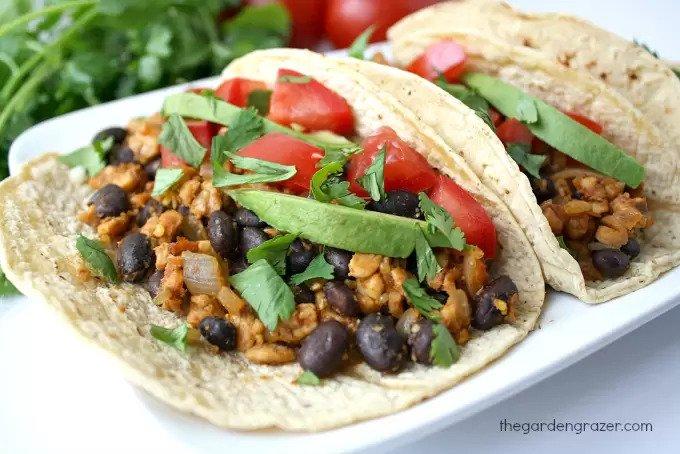 Taco night just got better!
Usually, plant-based tacos have beans and some kind of sauce as the main event, this recipe includes tempeh which adds to the heartiness and satisfaction.
Throw in some tomatoes for freshness and avocado for creaminess, and you're good to go!
BBQ Tempeh Rice Bowl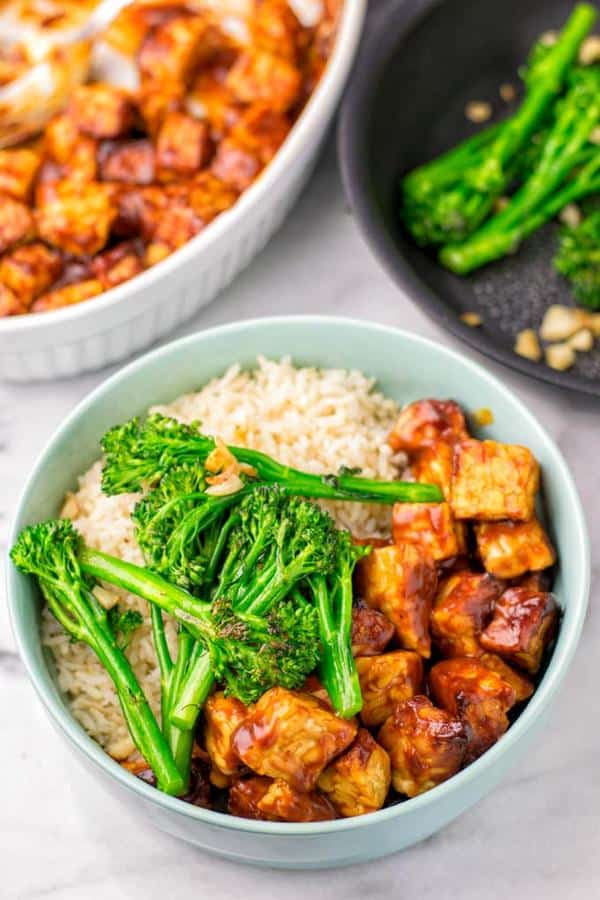 Florian from Contentedness Cooking makes wonderful recipes which all have six ingredients or less. This is one of his best!
Super healthy, tasty and quick. What more could you ask for?
20-Minute Tempeh Taco Meat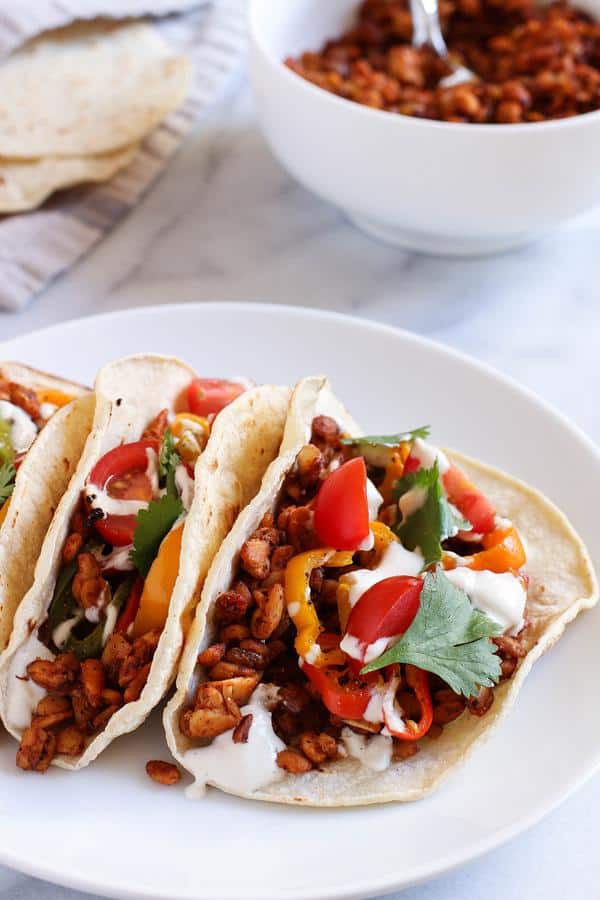 Certainly, the first thing that attracted us to this recipe title, 20 minutes!
All of us have little time so a recipe such as this is perfect. Soft tacos are my favorite and they just got even better!
Vegetable Tempeh Spring Rolls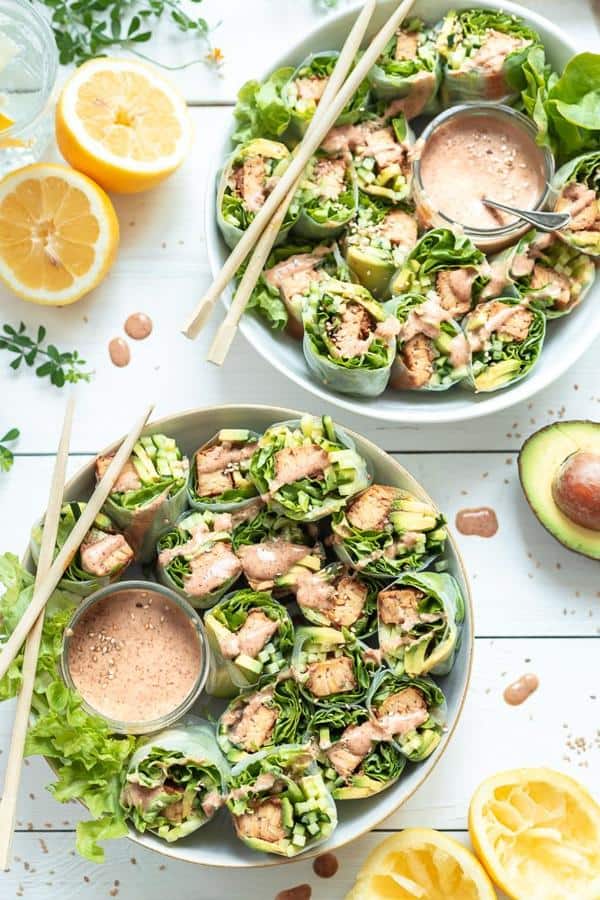 Maybe not what you were expecting but, believe me, worth checking out!
The dipping sauce made with just three ingredients (I'm not including the water) is just incredible.
These are more satisfying than you think. Bursting with flavor and if we really do eat with our eyes, you'll need to make double because it looks so great on the table!
The Ultimate Tempeh Chili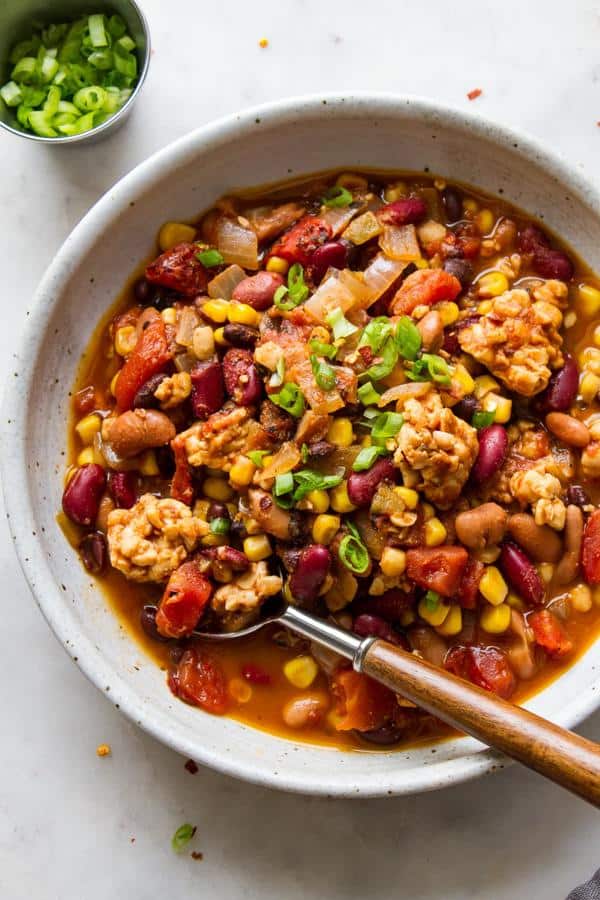 Who doesn't like a good chili? There are so many variations of what has now become a plant-based classic, it's hard to know which to choose.
If you're looking for something with extra heartiness, this dish is for you.
The tempeh adds so much more to this meal. It's good enough to be eaten as is although, of course, you can serve with rice.
Tempeh Reuben with Sriracha-Vegenaise Dressing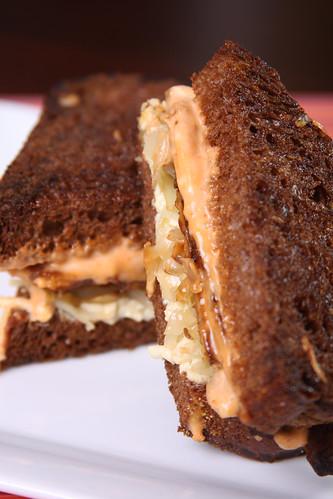 Erin, the recipe author, has a lovely story about how this recipe came to be.
If you're looking for an unusual sandwich that perhaps you wouldn't have thought of, this is it. Despite its uniqueness, there's plenty here to make you come back to it again and again.
Caesar Salad with Tempeh Bacon and Hemp Seed Parmesan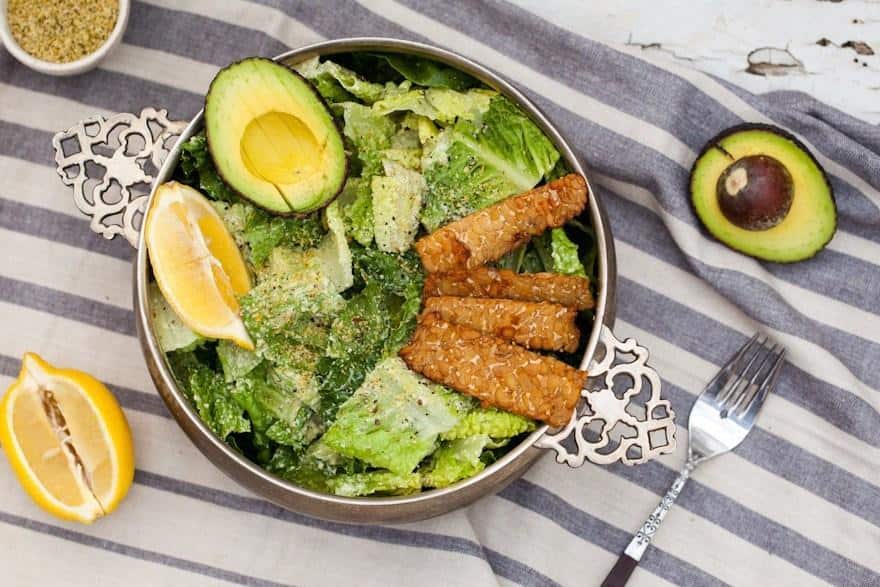 If you're looking for a delicious plant-based Caesar salad, look no further!
This recipe goes one step further with delicious tempeh and the hemp seed Parmesan will quickly become your favorite, you'll be sprinkling it over everything!
The Buffalo Tempeh Ranch Wrap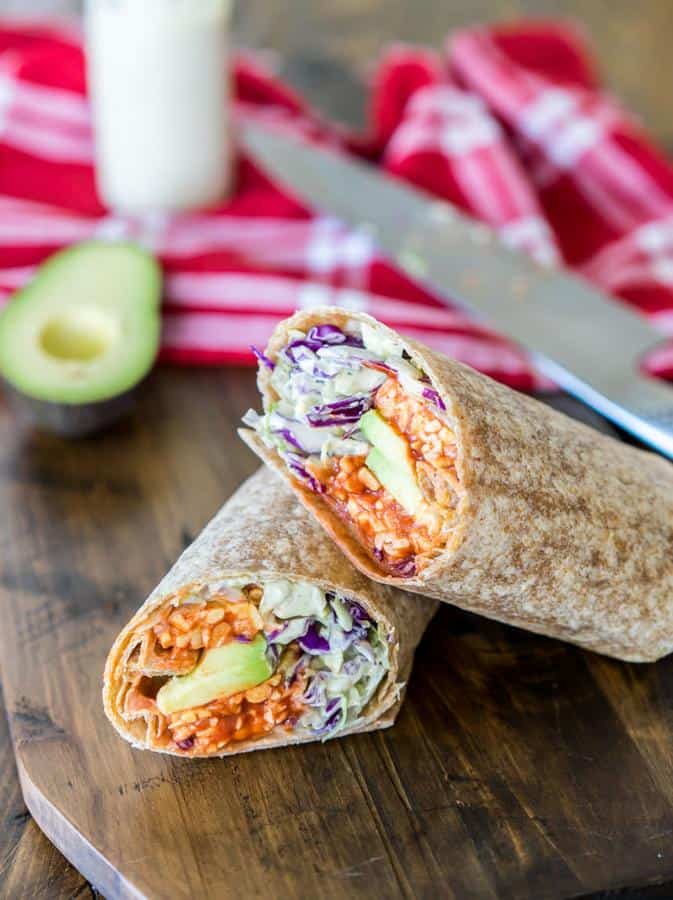 This is tempeh at its best!
Along with the tempeh you get some wonderful ingredients all topped with a delicious drizzle made with cashews. Wrap it, eat it!
Tempeh Kale Taco Salad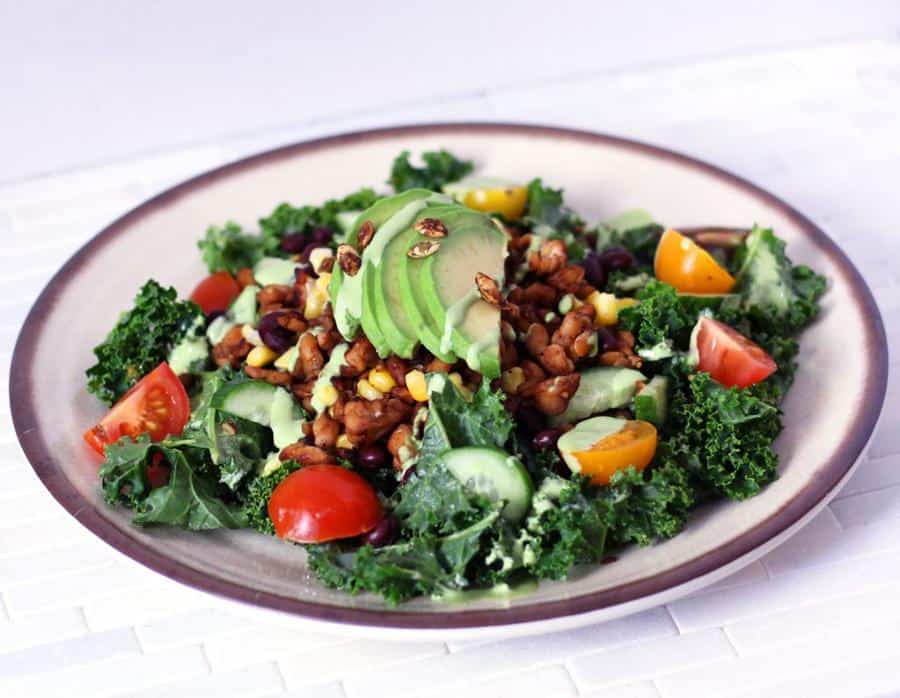 If you're into superfood salads, you must check this out!
Kale and beautifully prepared tempeh make this a great treat.
Whether you're on a health kick or just want to eat more healthy meals, you simply can't get better than this!
Bao Burger with Peking Tempeh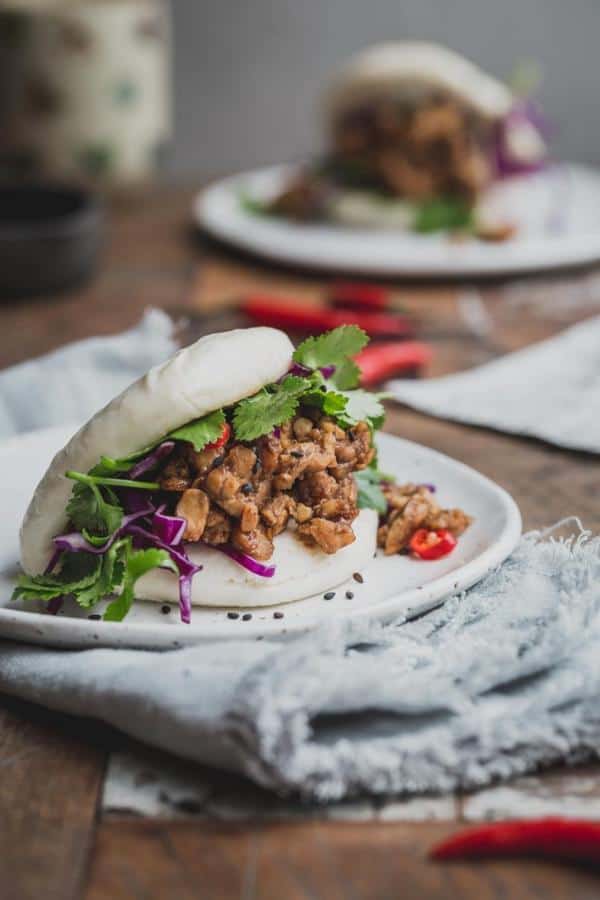 A burger, but probably not what you were expecting!
This is a must, believe me! I urge you to make the steamed buns as well although, strictly speaking, they aren't necessary. If you're looking to impress someone, this will exceed every expectation.
Hoisin Glazed Tempeh Bowls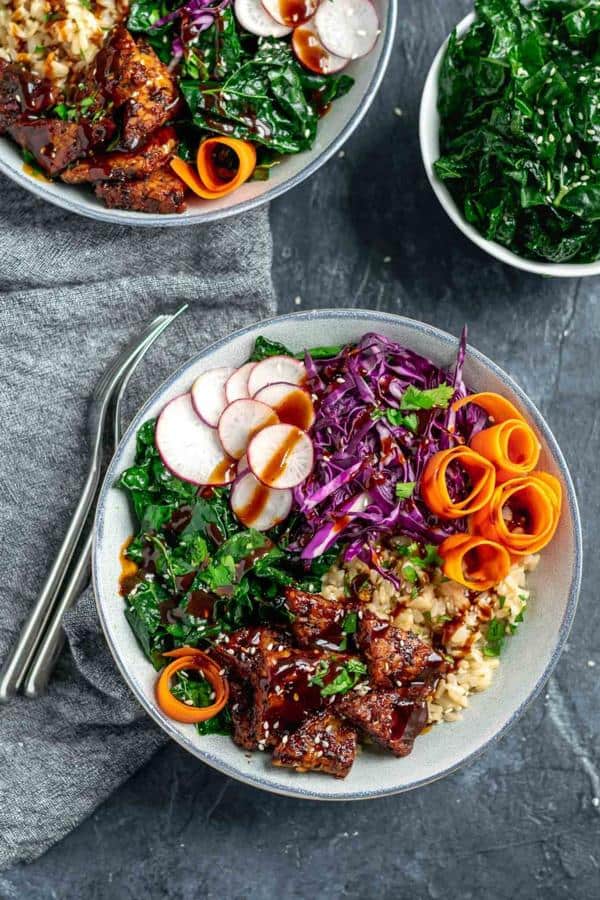 Don't get Chinese take-out, make this!
You've got to admit, it looks outstanding, to say the least. Super healthy and so flavorsome, it's incredible. And, unlike take-outs, no hidden MSG!
Easy Tempeh Burrito Bowls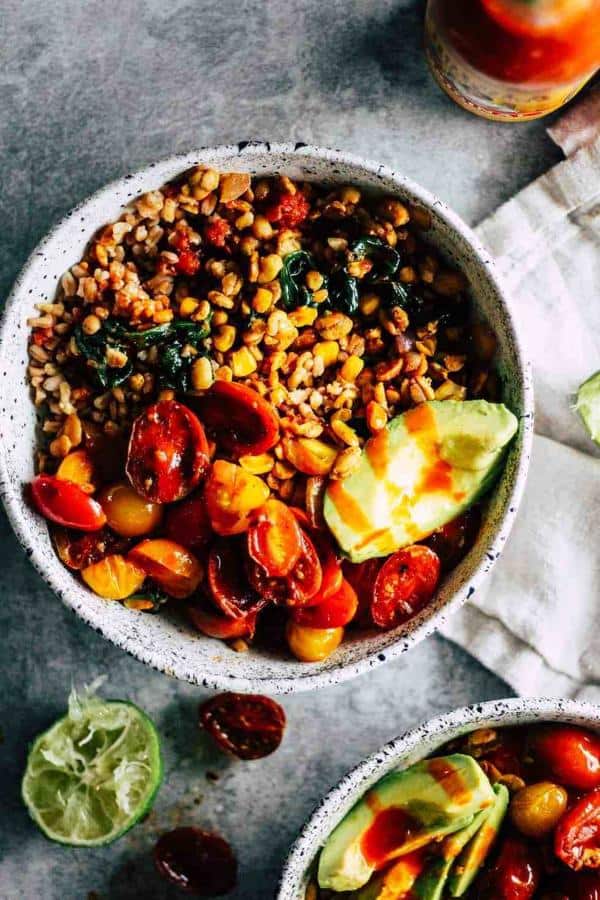 This recipe takes just 30 minutes from start to finish.
It's versatile so you can swap out some things for whatever you have. It's tasty, extremely affordable and super healthy!
Chili Con Tempeh with Lime Creme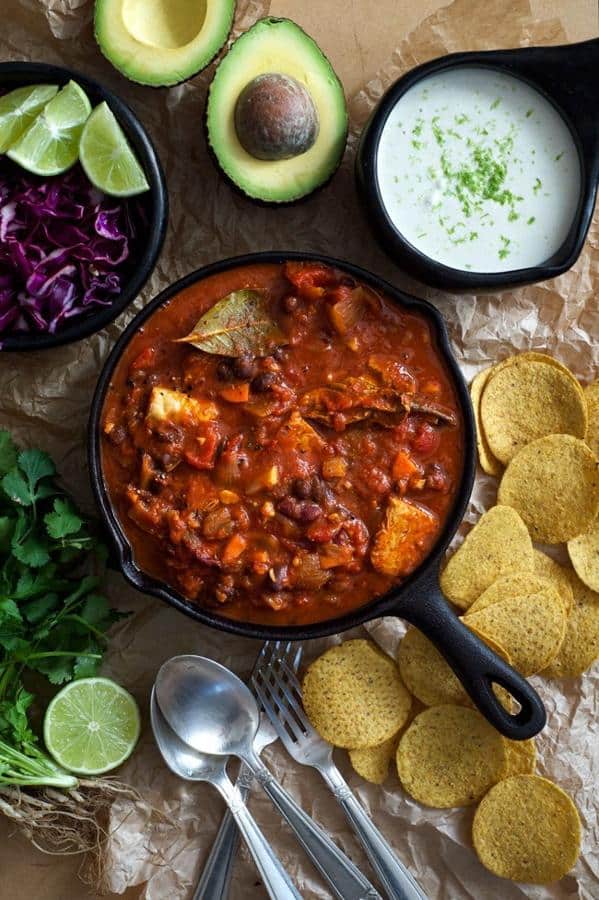 You know, I love a good chili, but I don't often eat it as I get bored with beans, beans and beans!
This dish still uses beans, which I do love, but with the added tempeh it changes everything. Great wholesome ingredients and the best crème you've ever had!
Tempeh Cacciatore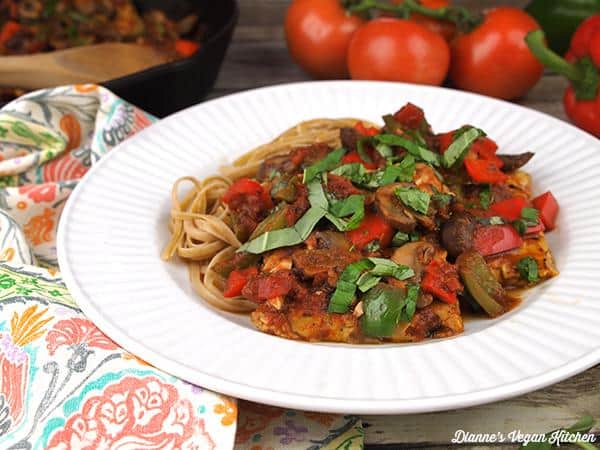 The classic just got better!
Tempeh replaces meat in this wholesome recipe. The amounts listed in the ingredients make for about 4 servings. Home cooking at its best!
Crumbled Tempeh Sausage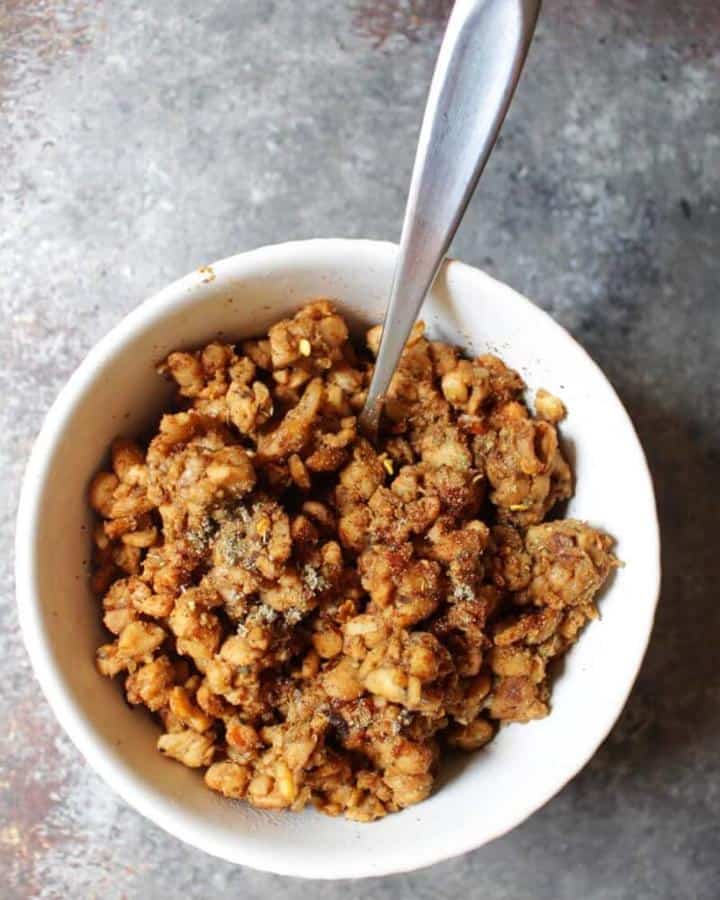 Super simple recipe with just 4 easy steps.
This is perfect if you're looking for the base of a meal. You can go in so many directions with this; eat with pasta, a chili or as a sloppy joe. How will you have yours?
Baked Sticky Tempeh Potstickers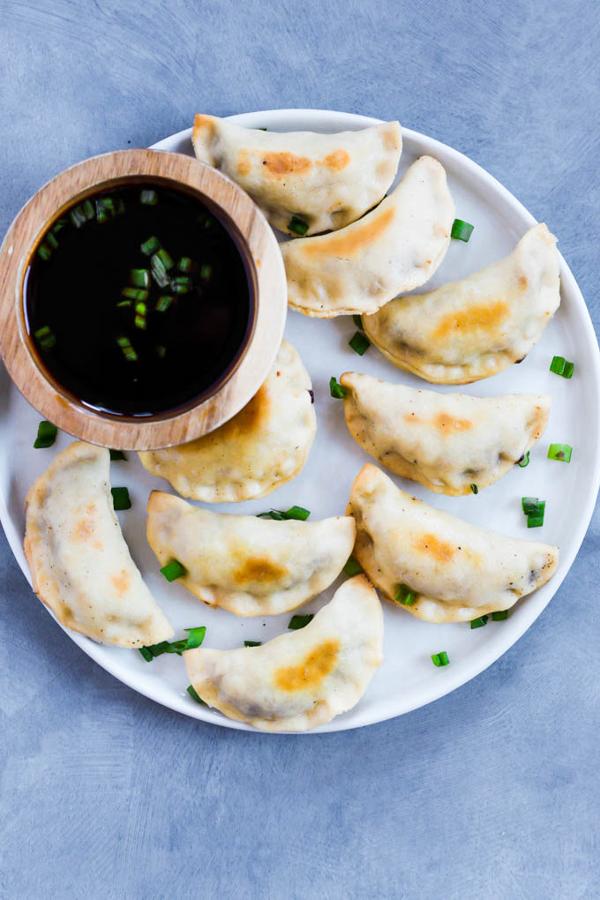 Make this! This is the best advice we have here.
These are baked, not fried. Use soy sauce or tamari for dipping and yes, they will make a great appetizer, but for me, I'll have twice as much and no entrée please!
Gochujang Glazed Tempeh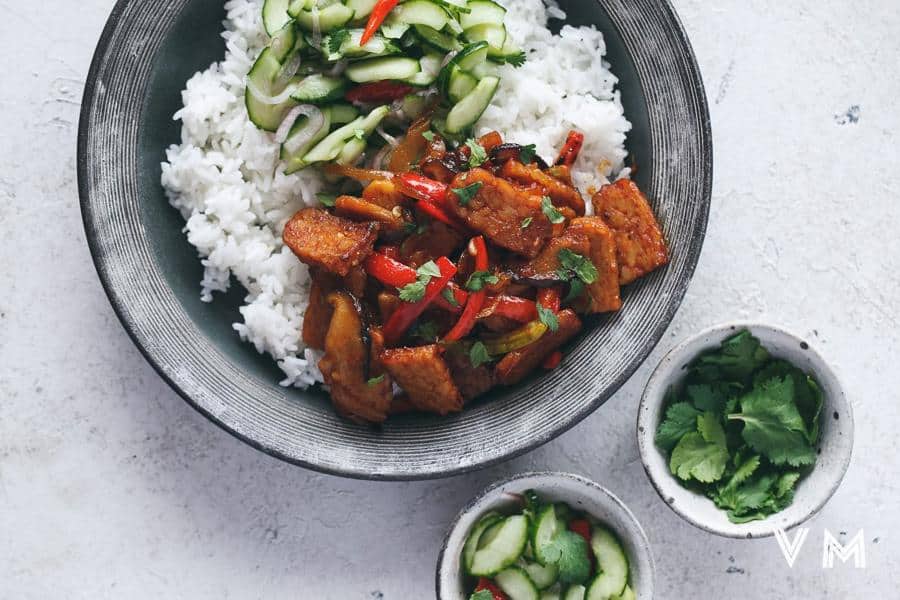 This is so tasy and healthy.
I must admit what I love most are the different colors.
Served as suggested and you can see the beautiful tempeh marinade and how it contrasts with the greens and how they both look against the white rice. Looks lovely, tastes even better!
Easy Baked Tempeh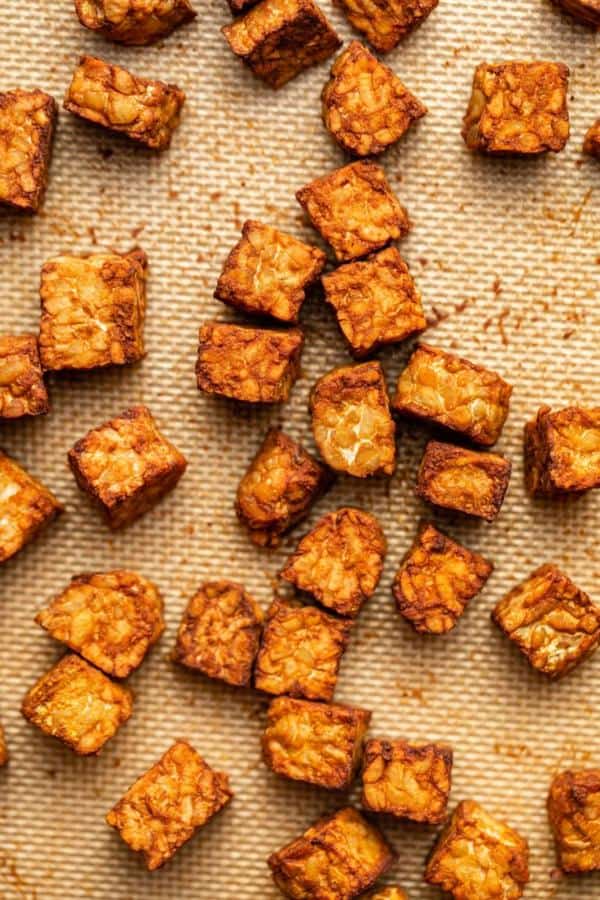 This recipe is great as it gives you a base idea on how to prepare tempeh (there are many!).
Baked to perfection this can be used for a variety of dishes. Pasta, rice, salad… you're only limited to your imagination. Me? Throw this into a sandwich with fresh salad, a drizzle, and I'm good to go!
Smoky Tempeh and Roasted Sweet Potato Hash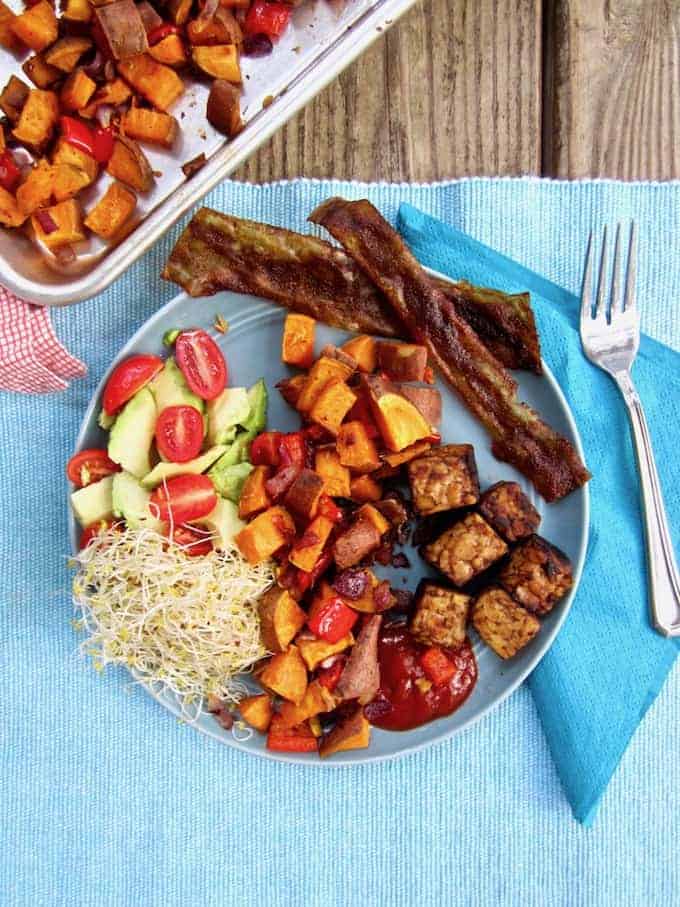 We haven't seen many breakfast recipes with tempeh, this is perfect!
It comes together in a snap so it's perfect for a weekend where you want a hearty start to the day without being held up.
Follow the recipe or change it up with whatever you have that needs eating.
Marinated Tempeh Veggie Skewers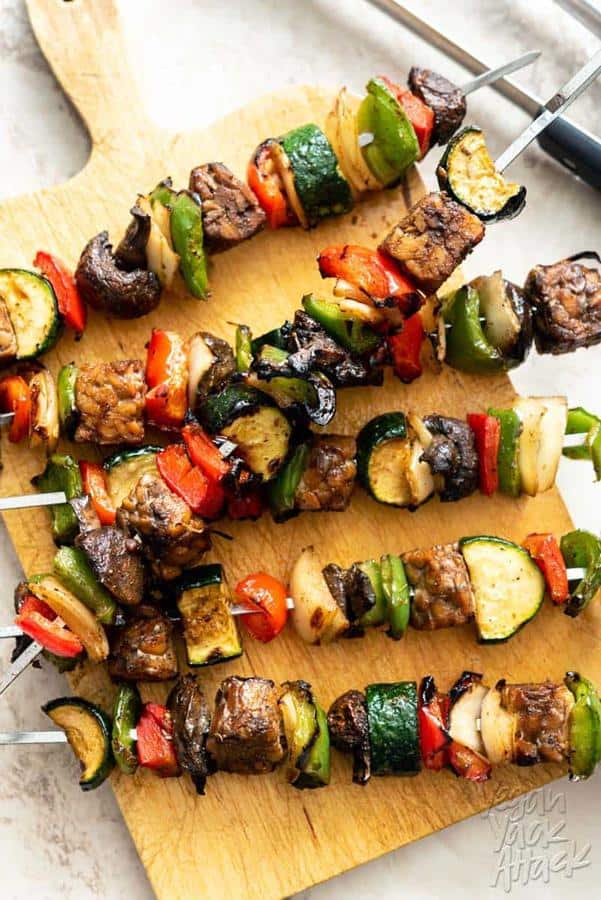 Whether it's for a summer cookout, or we want to remind ourselves of better weather, these skewers are delicious!
Obviously, the marinade is the secret to this being super tasty. Eat as they are or serve with rice, quinoa or salad.
I'm tempted to cram the tempeh and vegetables in a bread roll and have a great sandwich!
Korean Fried Tempeh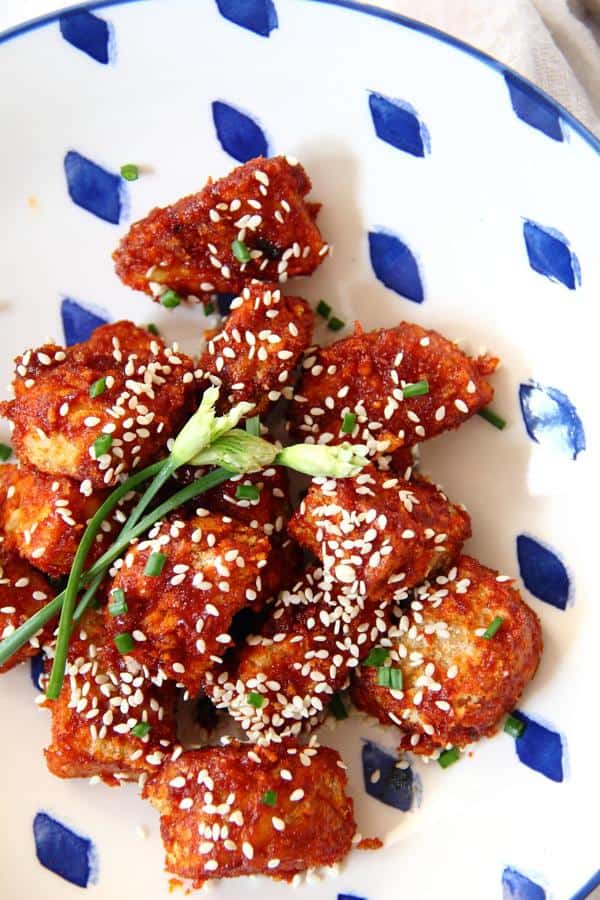 Let's go international with this Korean inspired recipe.
It is made in an air fryer so if you don't have one, you have to get creative.
Oil-free and packed with protein, this tempeh is good enough to eat on its own as a great appetizer. Alternatively, serve with rice and vegetables as an entrée.
Tempeh and Pesto Butternut Squash Lasagna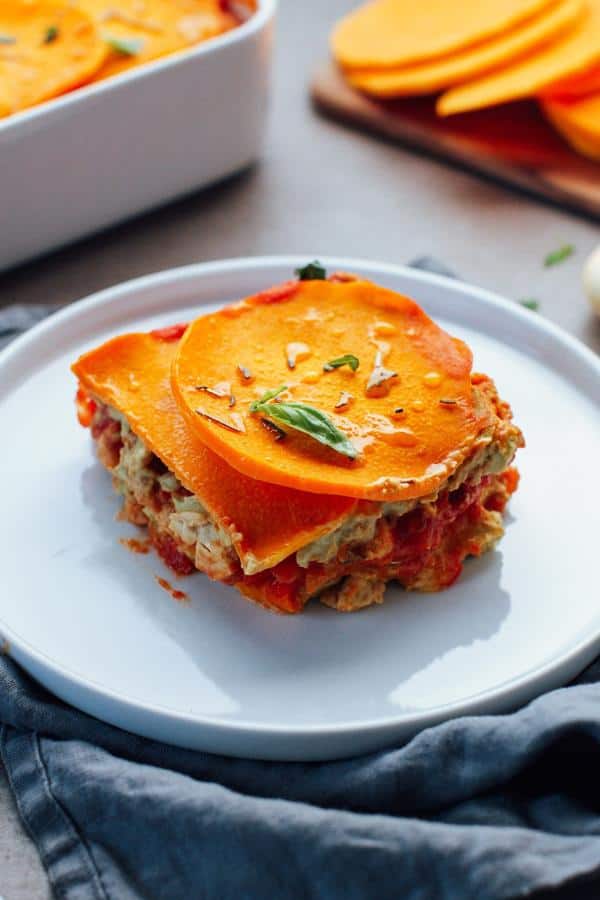 We love Thomas here at VegByte as his recipes are always so inventive, affordable and accessible to everyone.
This lasagna is home cooking at its best. Pesto sauce made with cashews (soaked overnight), a delicious tomato sauce and of course, the beautifully prepared tempeh. Put it all together and you have a match made in heaven.
Lemon Tempeh Air Fryer Sheet Pan Dinner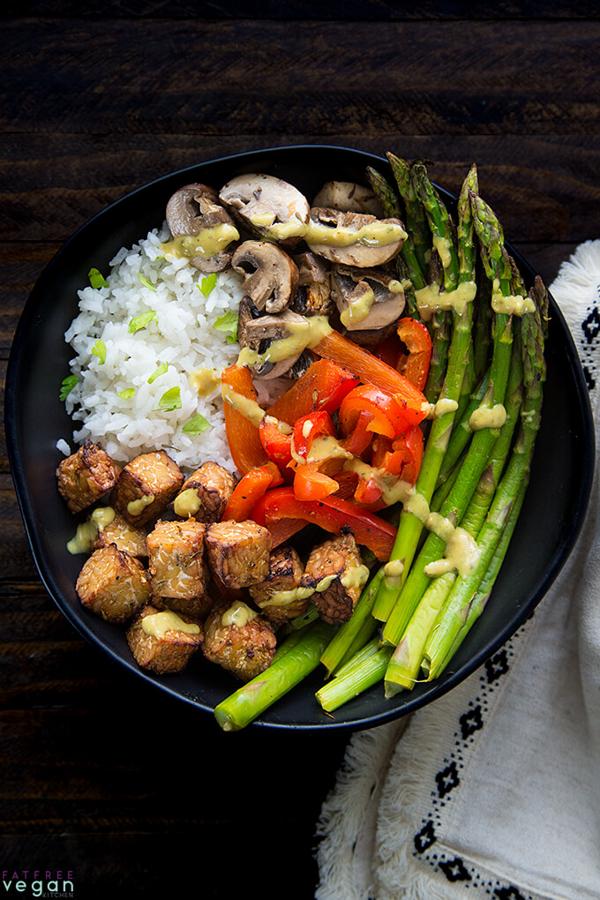 If you need a reason to get an air fryer, this recipe is it!
Versatile enough so you can use your favorite vegetables or anything you have leftover in the kitchen that need eating.
However you eat yours, the tempeh is cooked to perfection. Delicious!
Orange Glazed Tempeh Tacos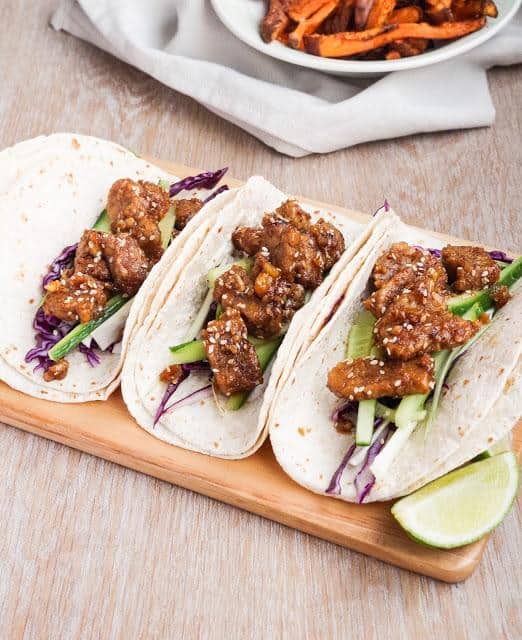 Taco recipes sometimes leave you feeling unsatisfied like they're missing something, this recipe corrects that assumption!
The secret winner here is the orange glaze which makes the tempeh sweet and delicious.
Serve with fresh cucumber, red cabbage or anything else you have. Squeeze lime juice over the top and enjoy!
Tempeh Bacon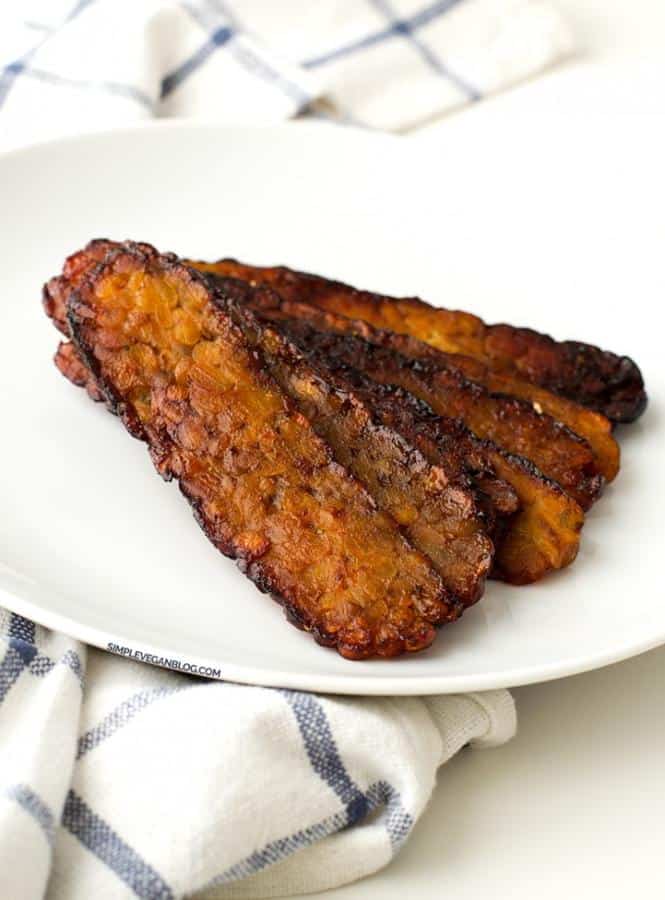 One of the things tempeh is really good for is this kind of recipe.
Bacon without the cruelty! Much better than any fake meats made in a factory.
With ingredients such as tamari (or soy sauce), olive oil, maple and just a few more, you can't go wrong. BLT anyone?
Teriyaki Tempeh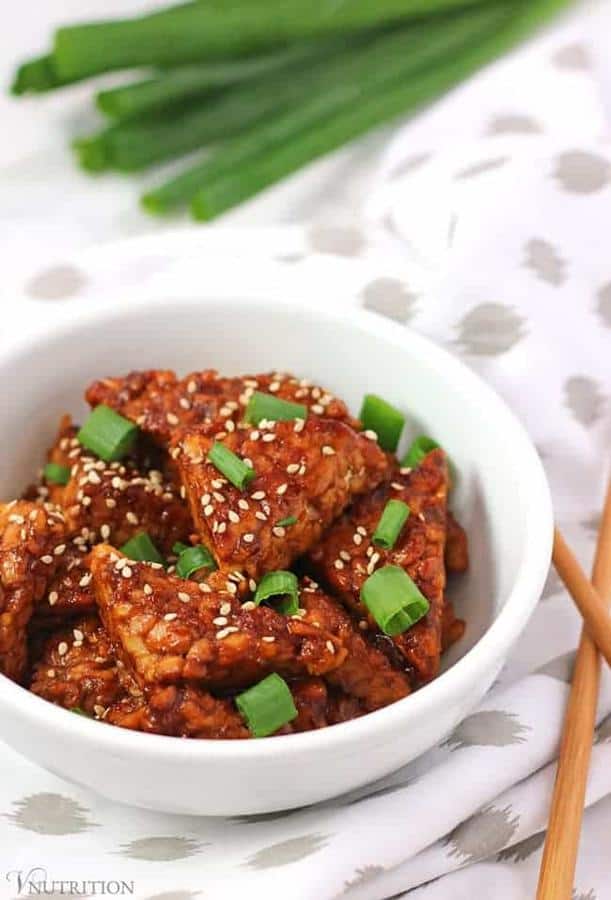 Don't have take-out, make this!
With the taste like it came from a fancy Oriental restaurant, this teriyaki tempeh is the best.
Would make a great appetizer although personally, I would have with rice and vegetables because it's so good!
Wrapping Up
We hope this roundup has inspired you to get into tempeh.
Tofu seems to get a lot of limelight and attention but there's no reason tempeh should be in the background.
Just as versatile, you can make it in so many ways and nearly all of these recipes can be adapted depending on whatever you have.
Best of all, tempeh is good for you, affordable and you can make it to suit your taste, whatever it may be.