Ideally, you'll have a waffle maker and if you don't have one, we'd definitely recommend this model as it does the job well, every time.
Here are 50 plant-based waffle recipes so we can enjoy them more and more!
Wondrous Waffle Recipes
Raspberry Champagne Waffles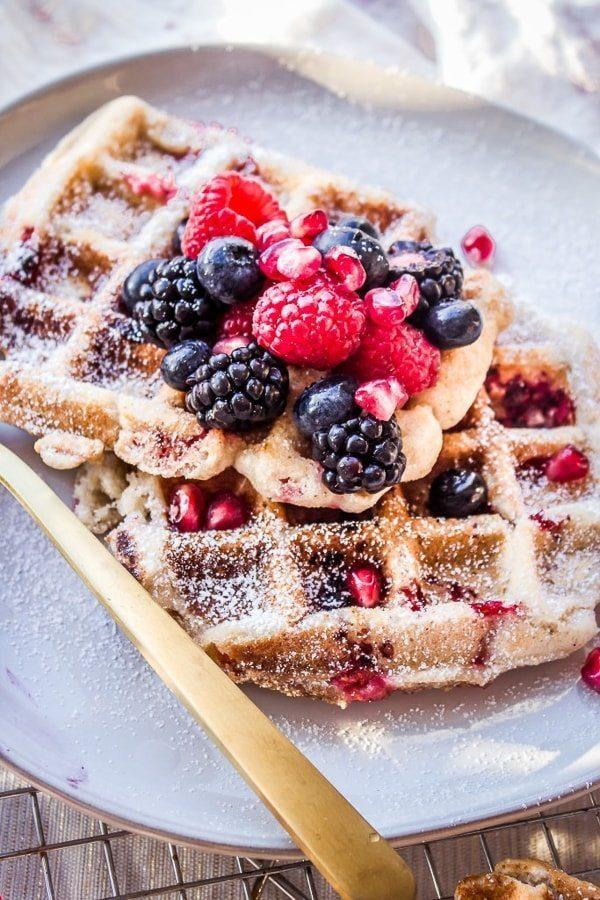 If you feel like celebrating something special, this is the recipe for you.
That's right, this really does contain raspberry champagne! The alcohol is burned off during the cooking so nothing to worry about there.
Looks amazing, tastes even better!
Lemon Blueberry Waffles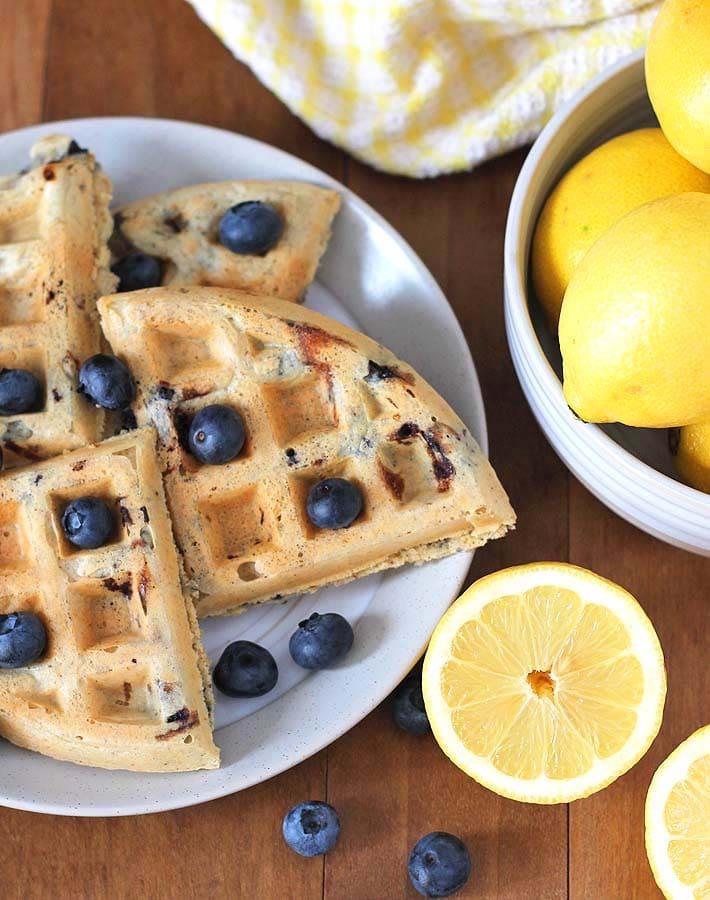 I love how this recipe is naturally gluten-free!
The secret ingredient, for me is the teaspoon of vanilla extract.
It's subtle and there in every bite. Fantastic!
Vanilla Protein Applesauce Waffles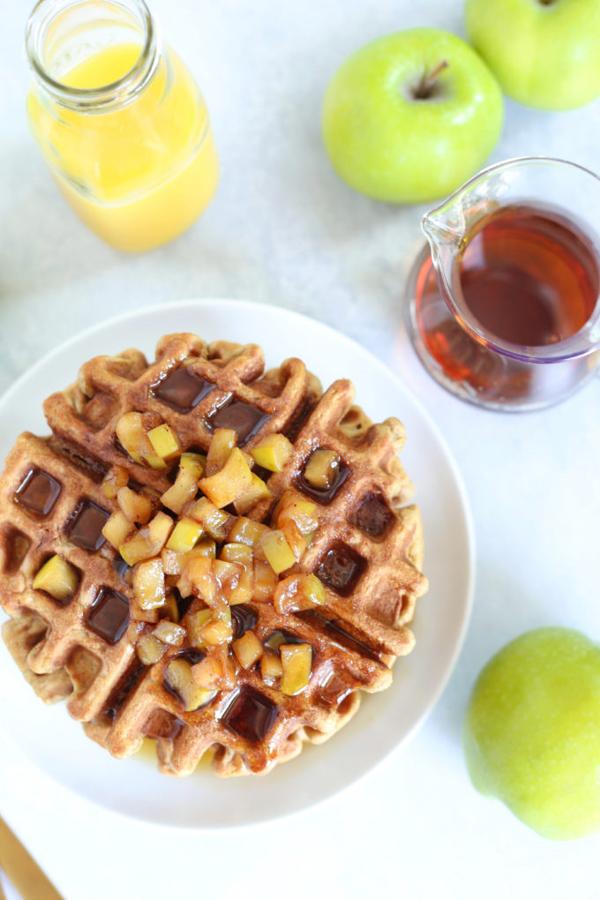 This recipe uses a brand-name vanilla protein powder although, as the author suggests, you could leave this out if you prefer.
As well as the waffles, the warm apple topping is to die for! Yum yum!
Pizza Waffles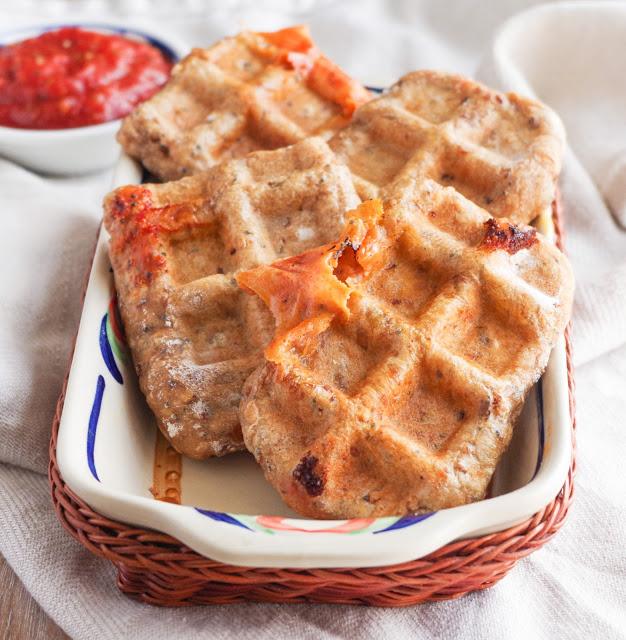 The name first attracted me to this recipe!
Each bite contains melted vegan cheese, and this makes the entire recipe even better than you can imagine!
Banana Bread Waffles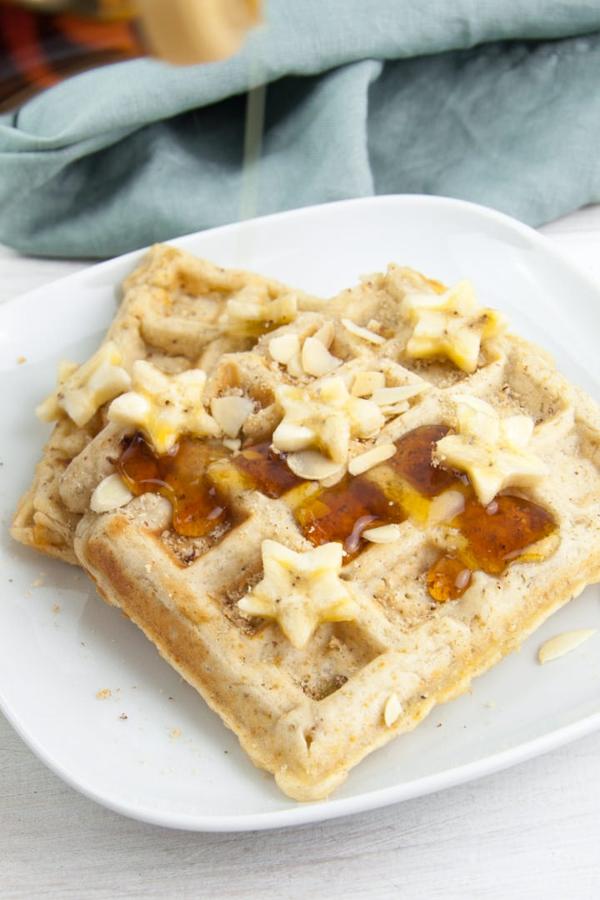 I couldn't believe how easy this was to make!
Even though banana is in the recipe itself, don't be afraid to top with sliced banana as a topping.
After all, if you're eating this you must love them, I certainly do!
Berry Pineapple Belgian Waffles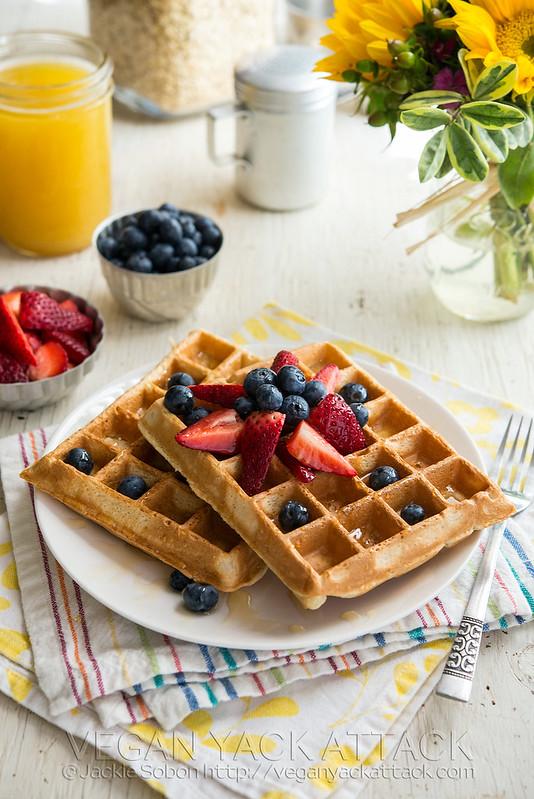 If you're looking for a traditional Belgian recipe, look no further!
Obviously, this uses plant-based milk, but other than that, it's like you're in Belgium!
Zucchini Oat Protein Waffles
Zucchini in waffles? Absolutely!
You won't believe how great this is until you try it. Easy to make and filled with nothing but the finest ingredients.
It says the chopped walnuts are optional, I think they are mandatory!
Brioche Waffles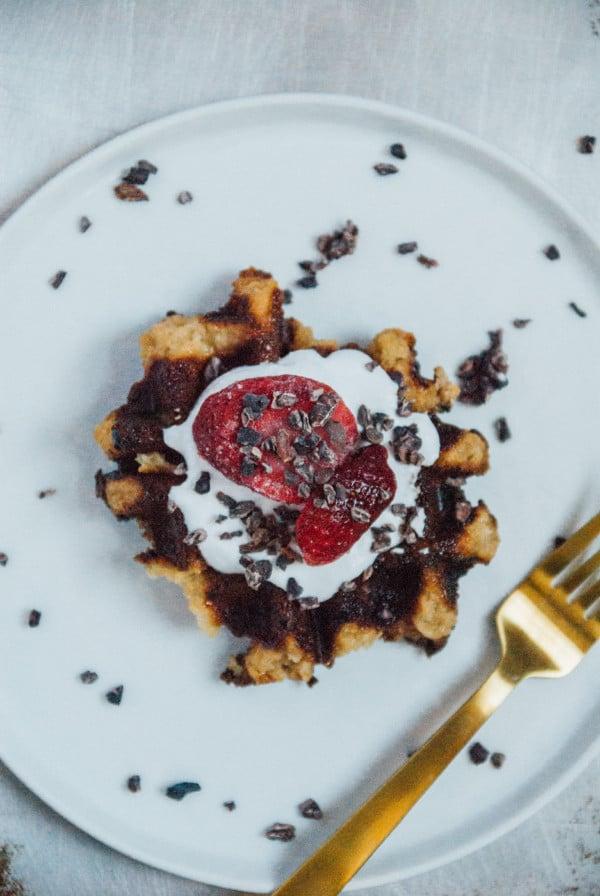 Plant-based just got taken to the next level with this recipe!
That's the way the author describes these waffles and we completely agree.
Sophisticated, yet these couldn't be simpler!
Chai Spiced Waffles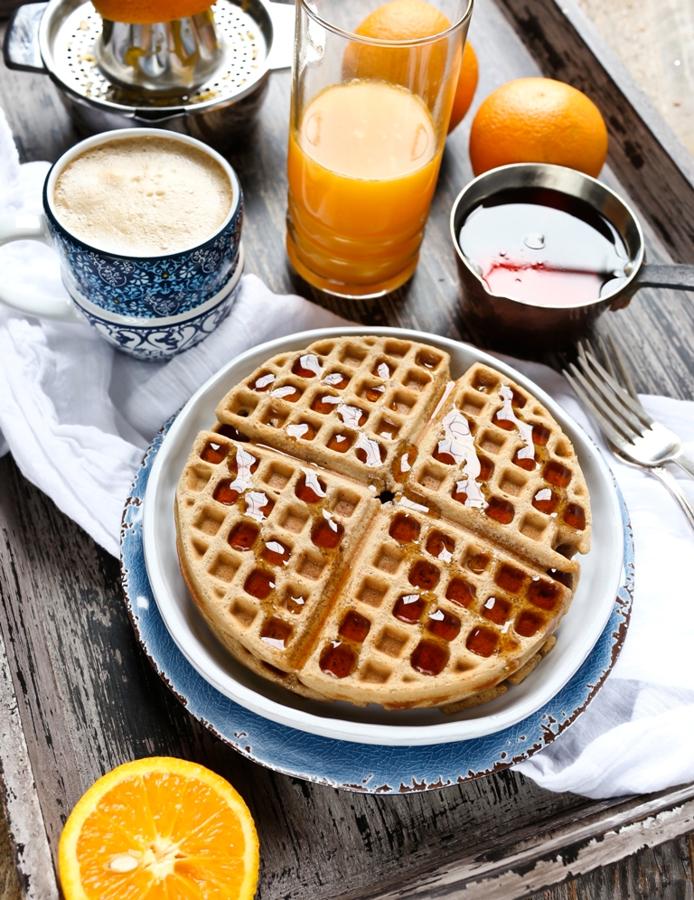 The author boasts a website where all her recipes have 8 ingredients or less.
Another quality dairy-free recipe with a fantastic blend of spices.
If you're looking for something healthy and wholesome made with oat flour, this is it!
Blueberry Spelt Waffles with Rhubarb Cashew Cream & Turmeric Granola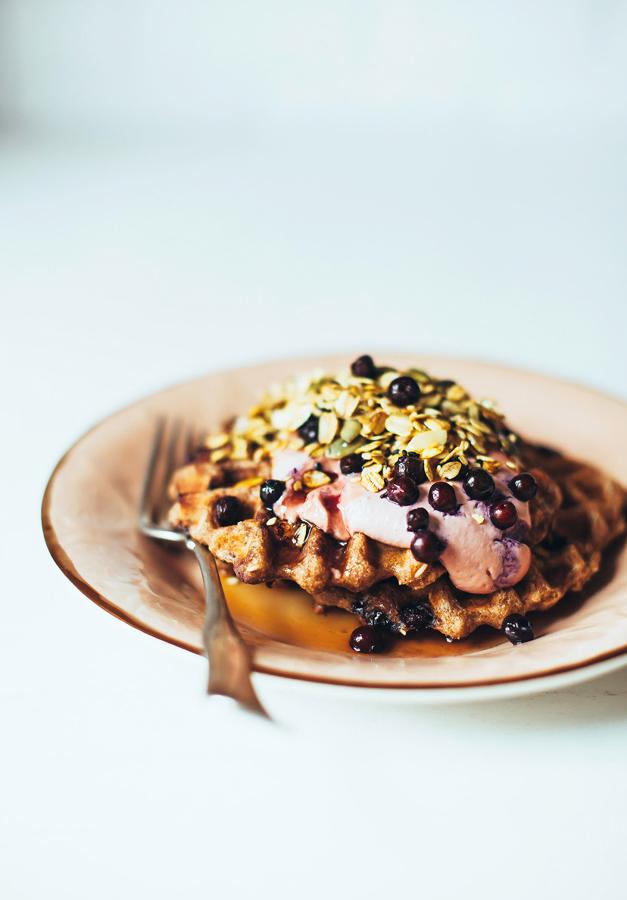 If you're looking to impress family or friends, this is just the ticket!
Waffles just got better with this simple recipe. Made with whole spelt flour (the author recommends sprouted), rolled oats, a little vanilla extract and just a handful of other ingredients.
You better printout this recipe because everybody will be asking you about it!
Lavender Lemon Waffles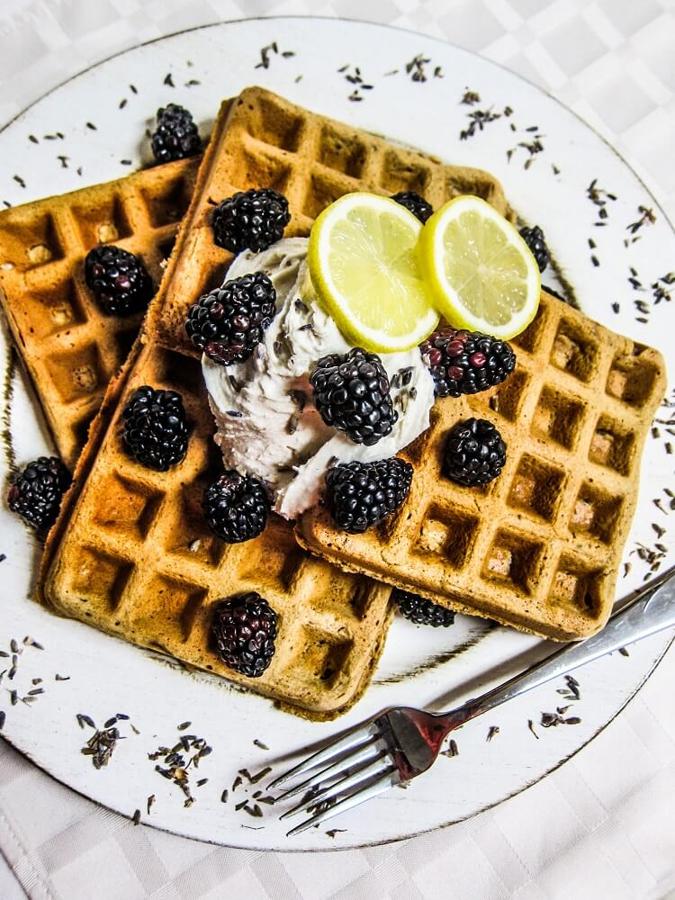 If you're a lavender lover (see what I did there), this is the recipe for you.
The ingredients are divided into two sections, the waffle batter and the lemon cream made with coconut milk.
Follow the instructions, put a dollop of cream on top and enjoy!
Buckwheat Waffles with a Rhubarb-Raspberry Compote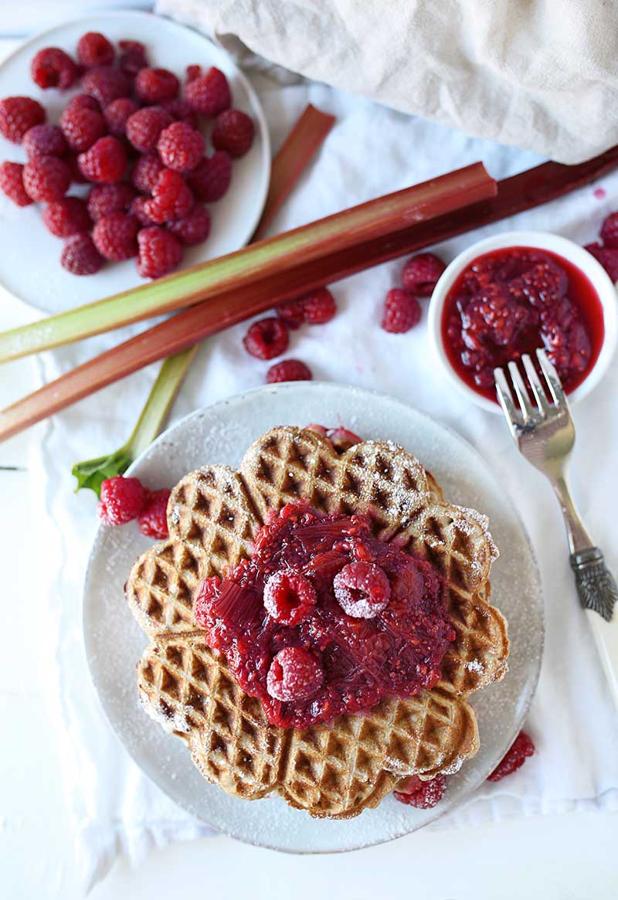 Make no mistake, this is a solid waffle recipe and is absolutely delicious!
However, I think the real icing on the cake for me is the compote.
Rhubarb, raspberries and just two other ingredients make one of the best toppings you've ever had!
Pumpkin, Apple, and Pecan Pie Waffles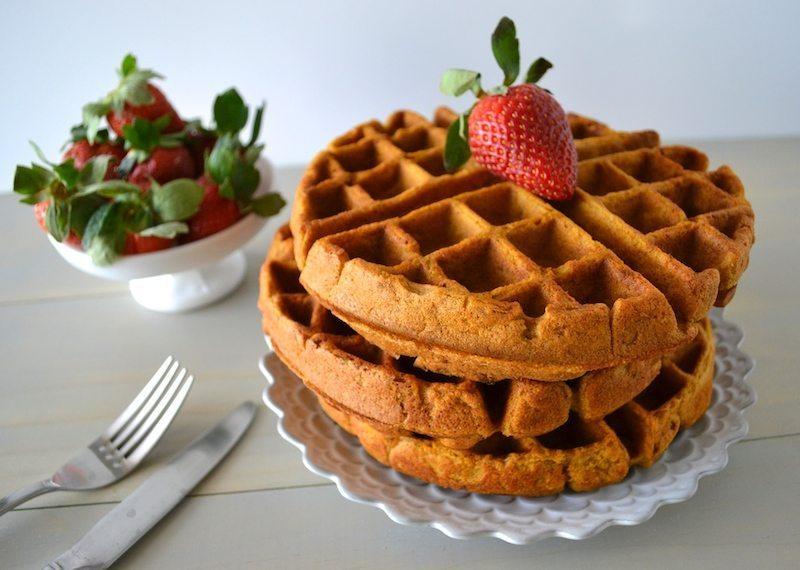 This has got to be one of the tastiest waffle recipes ever.
It's true, in every bite you can taste all the ingredients, it's simply delicious.
Perfect for when the holiday season is upon us!
Chocolate Buckwheat Waffles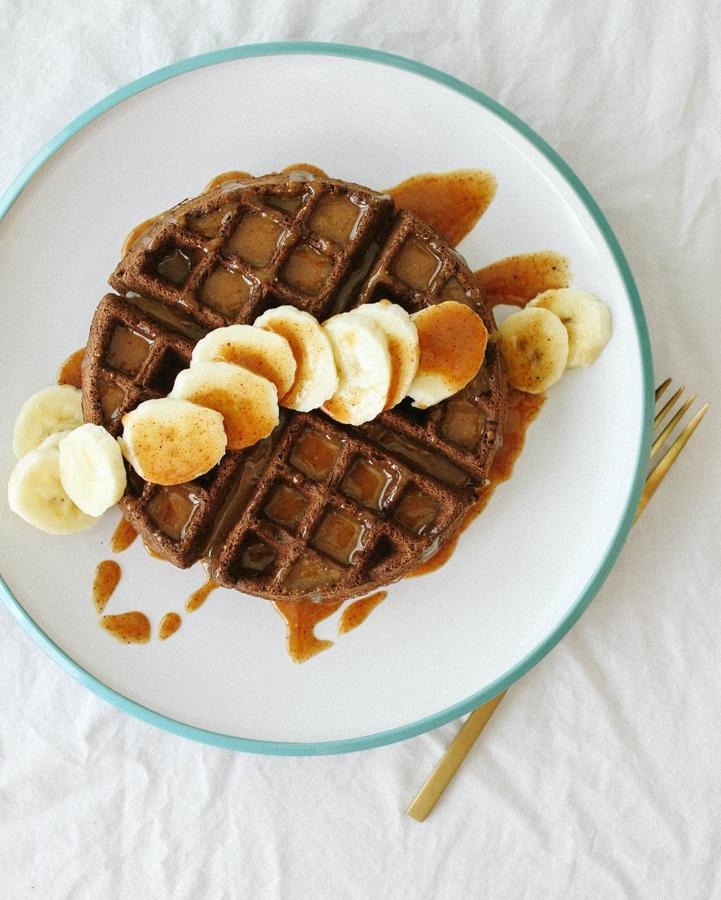 I'm not sure if it's just me, but I never had chocolate waffles before. Is that bad?
Well, I certainly have now with this super easy recipe.
Made with buckwheat flour, raw cocoa powder and just a handful of other ingredients, this recipe is a must.
Healthy Pumpkin Waffles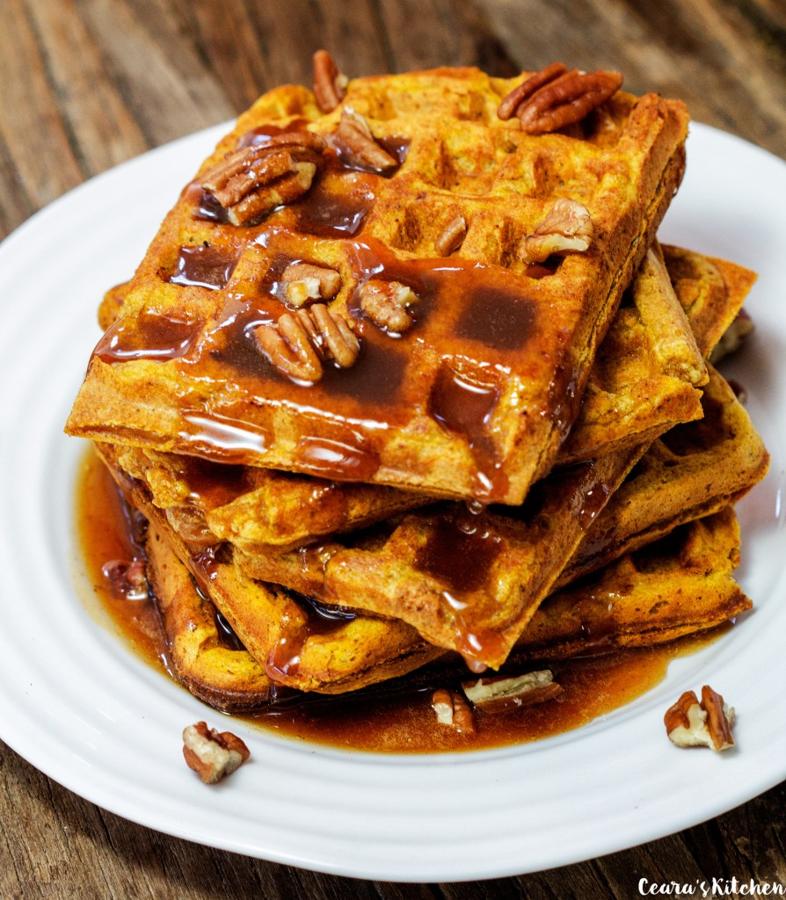 If you're reading this around pumpkin season, what better time is there to reach for this recipe.
The caramel sauce is nothing short of amazing, it's so good you'll probably eat more waffles than you intended!
Easy Waffles with Strawberries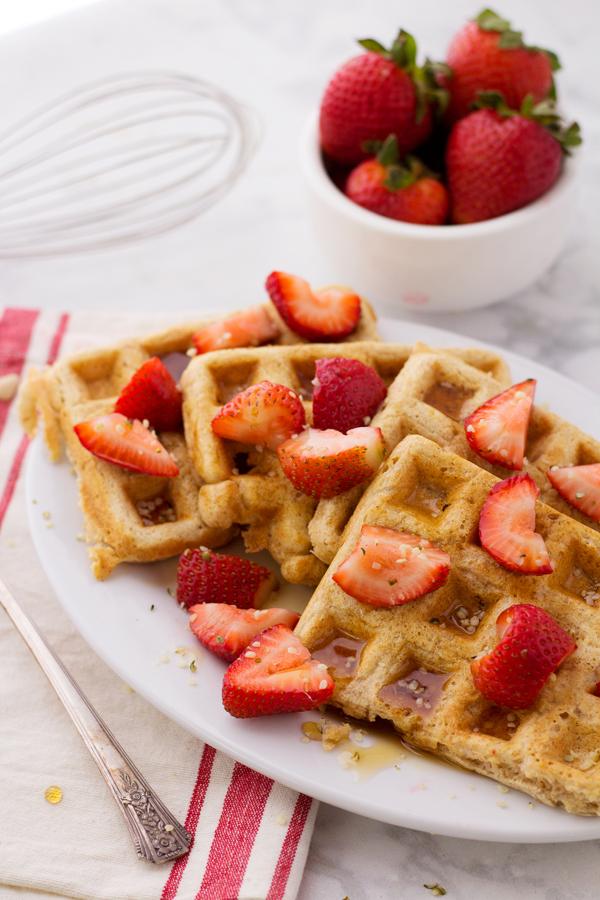 As the title suggests, this recipe is quick and easy without missing out on flavor and goodness!
Nick, the recipe author, has got the consistency of ingredients just right.
These waffles are crispy on the outside and beautifully fluffy in the middle. Make them, you must!
Millet Almond Butter Waffles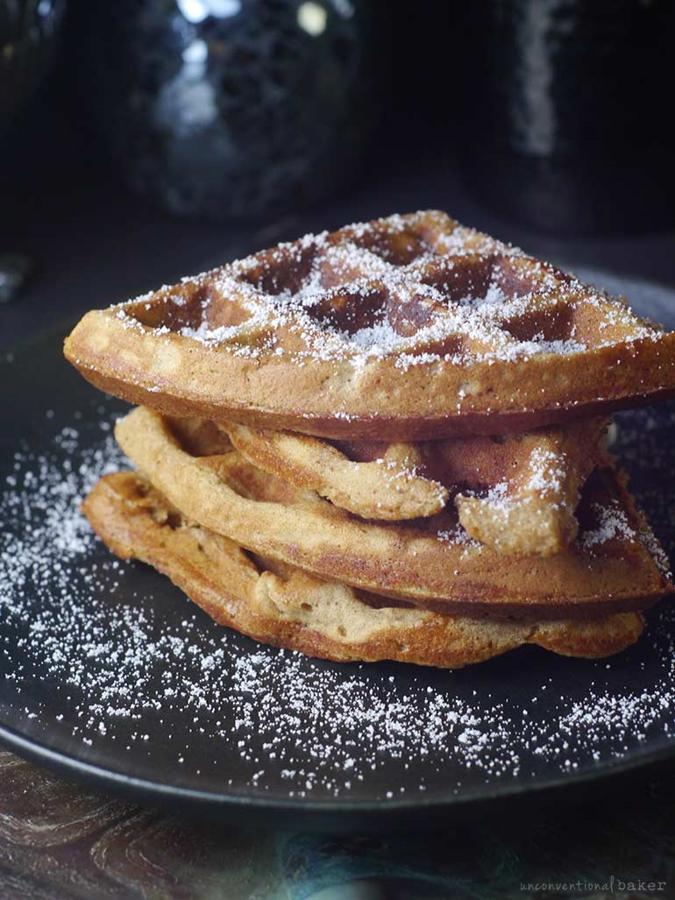 The first thing that surprised me about this recipe was the small number of ingredients.
Don't count the pinch of salt and you're looking at just five ingredients and I think that's fantastic! You can't beat simplicity.
If you're wondering how they taste, make them and you'll know why we featured them in this roundup!
Sweet Potato Dessert Waffles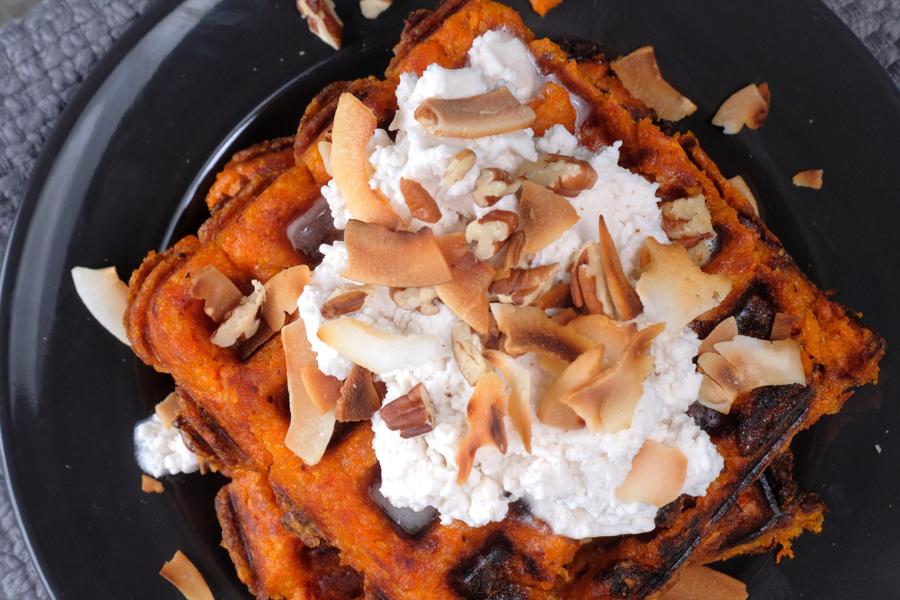 Whether you have these waffles for breakfast or as a snack, they will quickly become your favorite.
Perfect for the Fall and Winter, this easy-to-make recipe will get you in the mood for the holidays!
Sourdough Waffles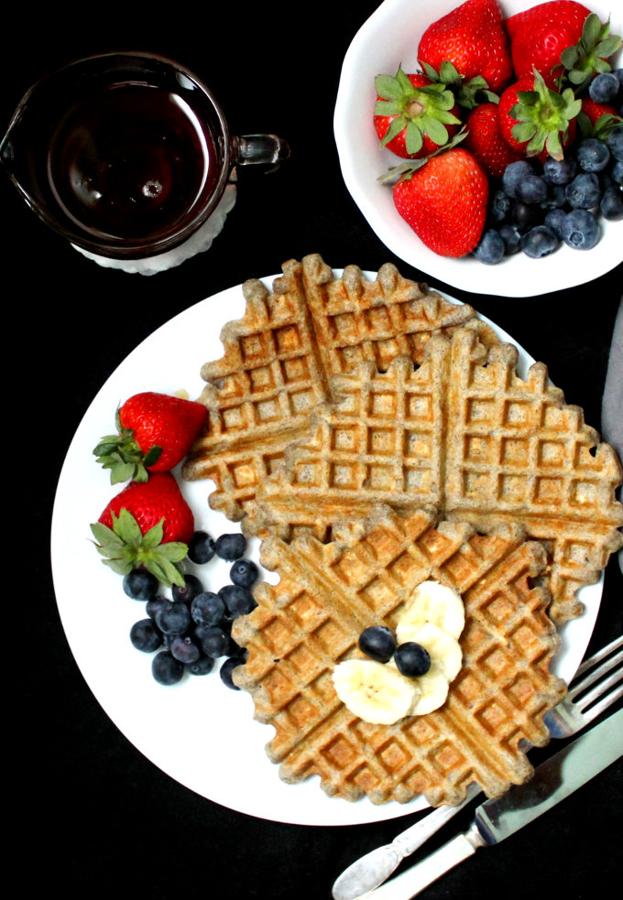 If you like sourdough bread, you have to try these waffles.
They melt in your mouth and are so versatile.
Easy to make and so good they can be eaten without any topping, and there's not many waffles you can say that about!
Pumpkin Waffles Benedict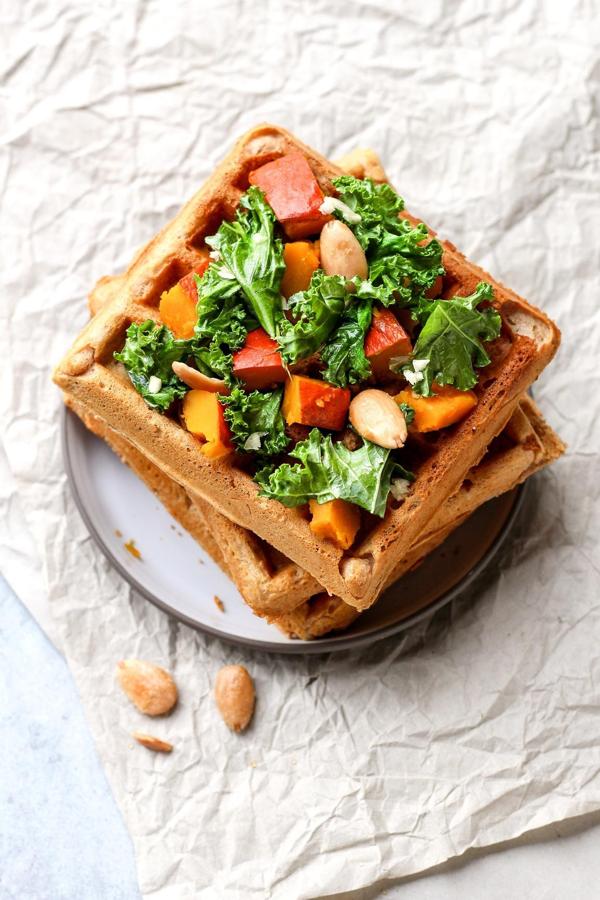 You've heard of the classic breakfast recipe? Well, not only is this plant-based, it's also stunning in both looks and taste.
A meal in itself, this savory recipe has everything you could want and believe me, the holiday sauce is better than the original!
Chick'n and Waffles with Sriracha-Maple Syrup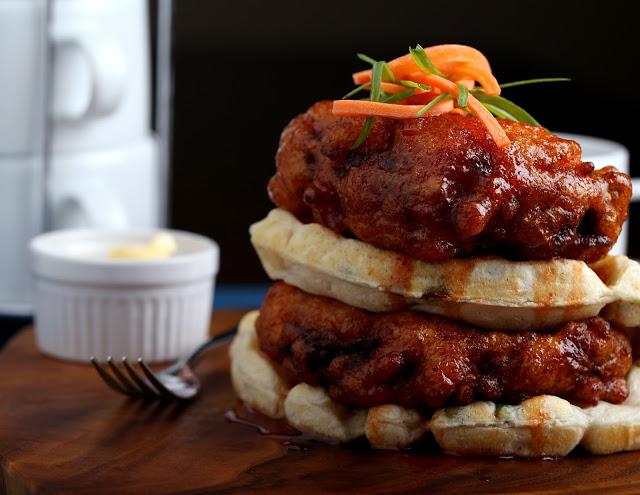 Want something more than just waffles? I think we have the answer!
Made with thick-cut cauliflower, the "chick'n" is so delicious and I know I'll be eating it without the waffles as well.
They'll also go perfect with a big fresh salad! Delicious!
Southern Fried Vegan Chik'n and Waffles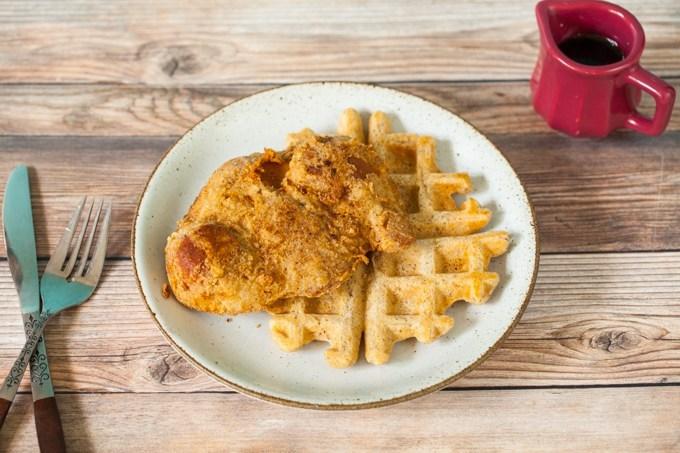 This recipe uses your favorite vegan 'meat', whatever it may be. Along with ingredients to make the waffles, you also get a fantastic batter for your chik'n.
If you like something with your waffles, this may very well be what you're looking for!
Spiced Apple Pie Waffles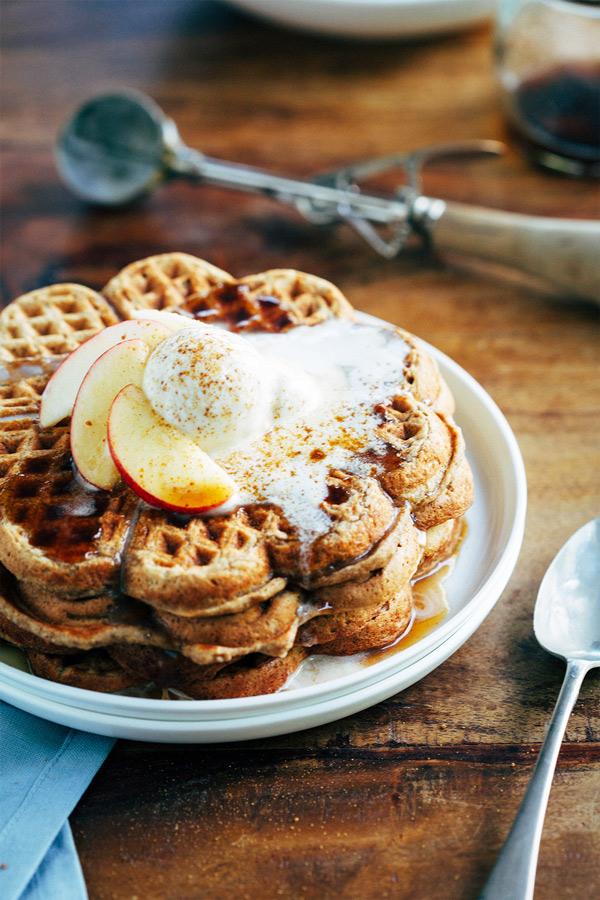 You like apple pie, right?
Along with the obligatory cinnamon, you get a delicate blend of other flavors in this delicious recipe.
The amounts listed in the ingredients make four servings although this can be changed on the recipe page. You're going to love it!
Minestrone Waffles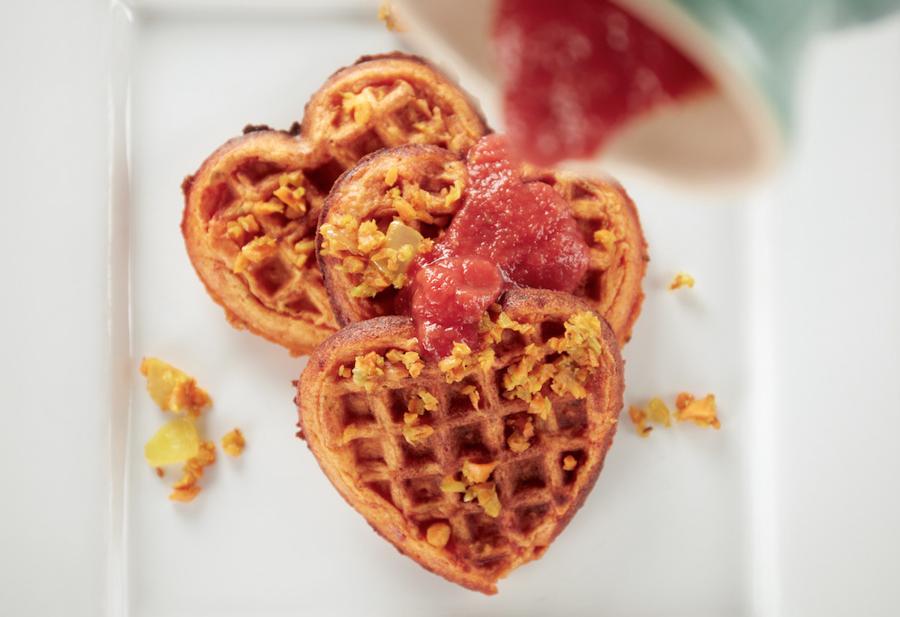 When I first saw this recipe title I was like, huh? You know what? It's awesome!
This is so much more than a breakfast. If you like savory over sweet, this is definitely for you!
Original and yet familiar. Comfort food at its best.
Strawberry Cream Cheese Waffle Sandwiches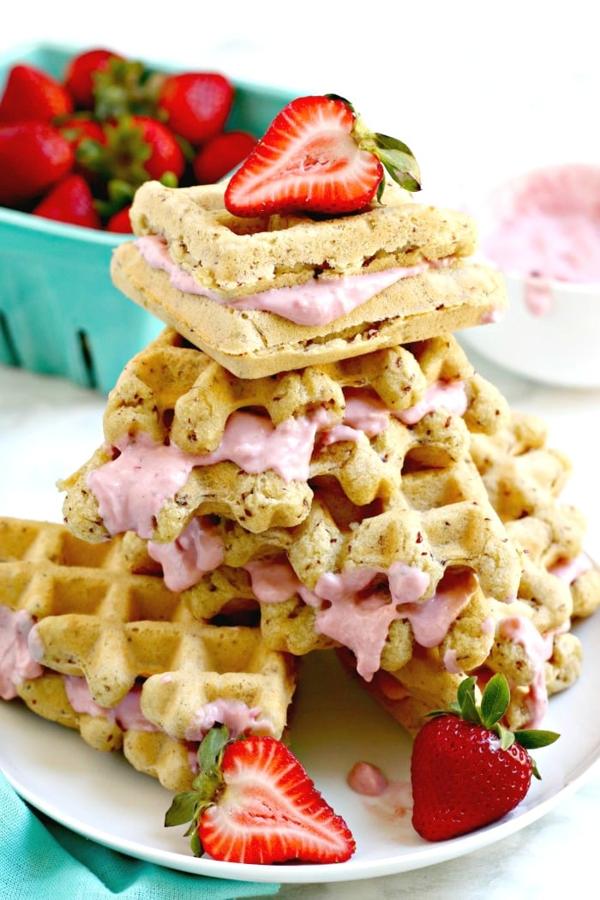 If you want something fun to eat, this is the recipe for you.
Perfect for birthday morning or ideal as lunch to go as they pack and keep really well a few hours.
Gorgeous!
Gingerbread Waffles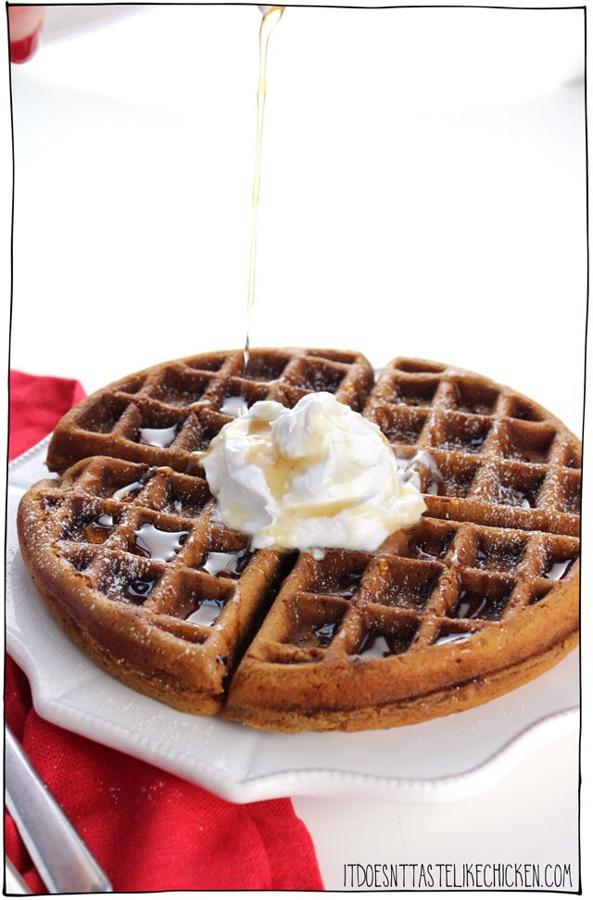 Time to get back to basics, but that doesn't mean boring or plain.
Do you remember gingerbread when you were a kid? These waffles bring those memories back with their delicate and sophisticated taste. However, the recipe is easy and quick to make.
If you have one waffle recipe from this list, make it this one!
Coconut Yogurt Waffles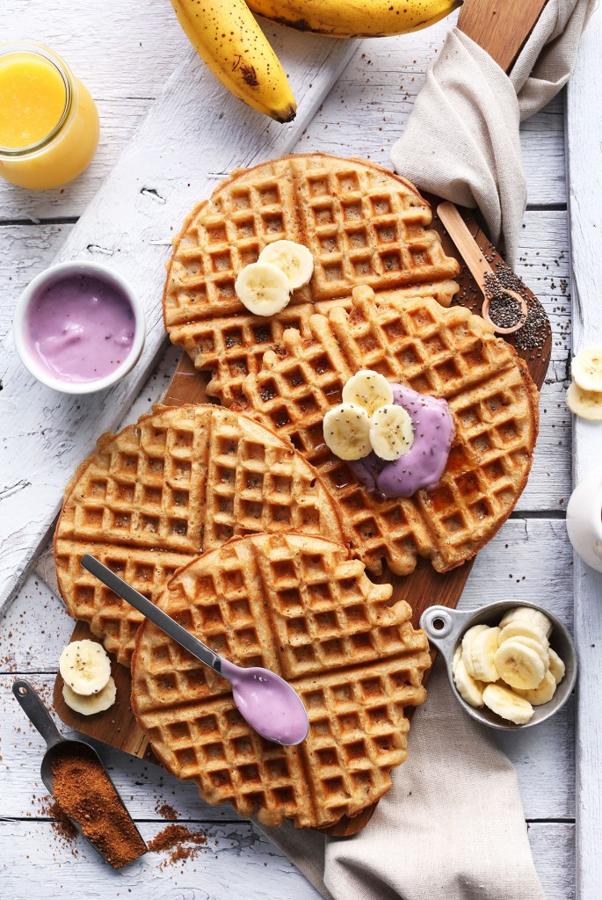 I love this recipe because everything clicks into place; it's quick, easy and the waffles taste great.
The perfect combination of ingredients make these waffles one of the best I've ever had.
Be sure to check out the optional add-ins and topping ideas!
Chocolate Chip Brownie Waffles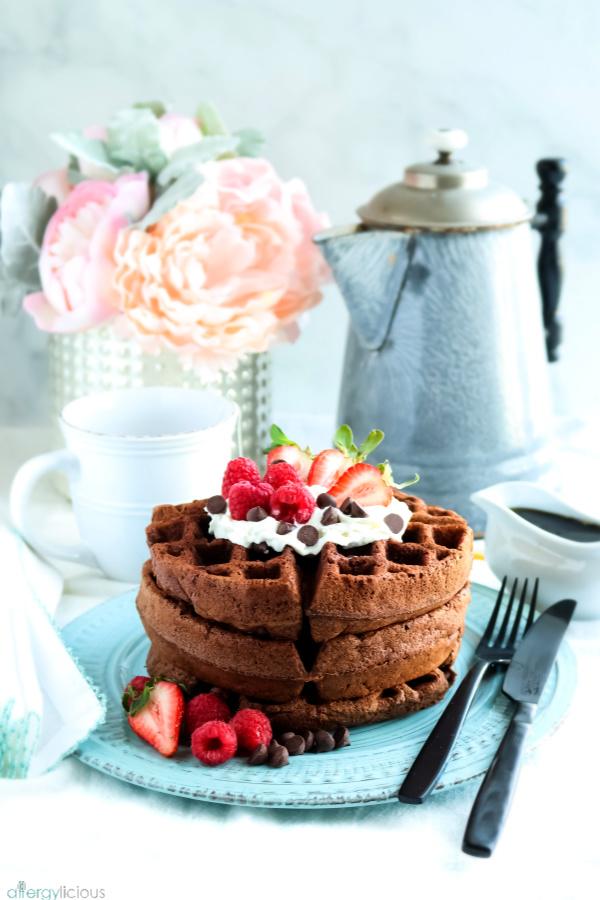 If you're a chocoholic, or even if you're not, this is where it's at!
Seriously, everybody needs to have this for breakfast.
Nicole, the recipe author, has created these crispy beauties that contain gooey melted chocolate chips in every bite!
Oatmeal Pumpkin Waffles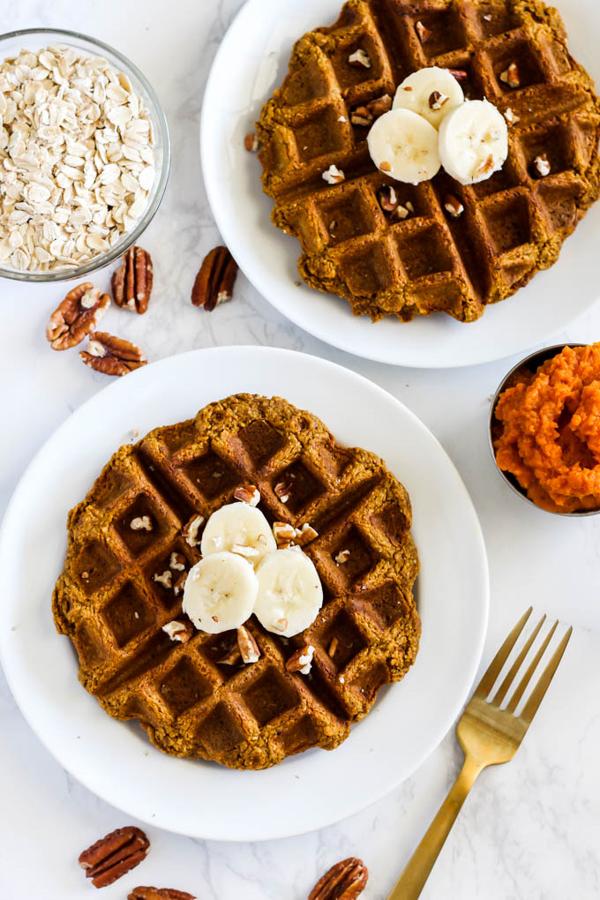 This is one of those rare recipes where the end-product looks and tastes like it was served from a fancy restaurant. Yet, the process and ingredients are quick and simple.
Whether you're looking to impress, or you just want to treat yourself, this should be your go-to recipe!
Vanilla Waffles with Vanilla Maple Cashew Cream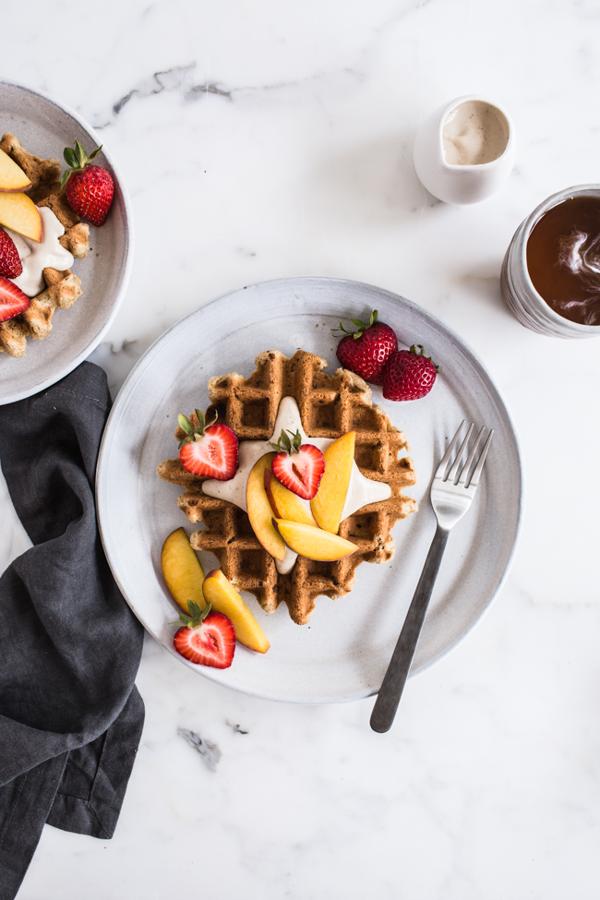 Who doesn't love vanilla, right?
If you love it half as much as I do, you're going to adore this recipe.
The waffles are moist enough to eat alone, but don't miss out the maple cashew cream, as they say, OMG!
Falafel Waffles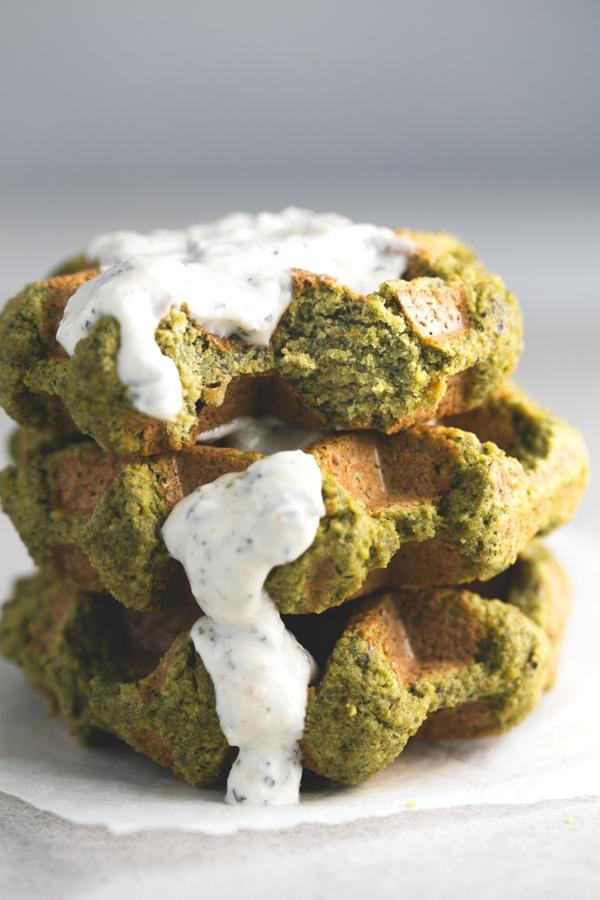 This recipe takes your snacking to the next level!
Waffles and yet falafels, at the same time, in the same bite! I think it's pretty awesome to be honest and something you have to try at least once.
When you do, you'll be hooked!
Southern Strawberry Pecan Waffles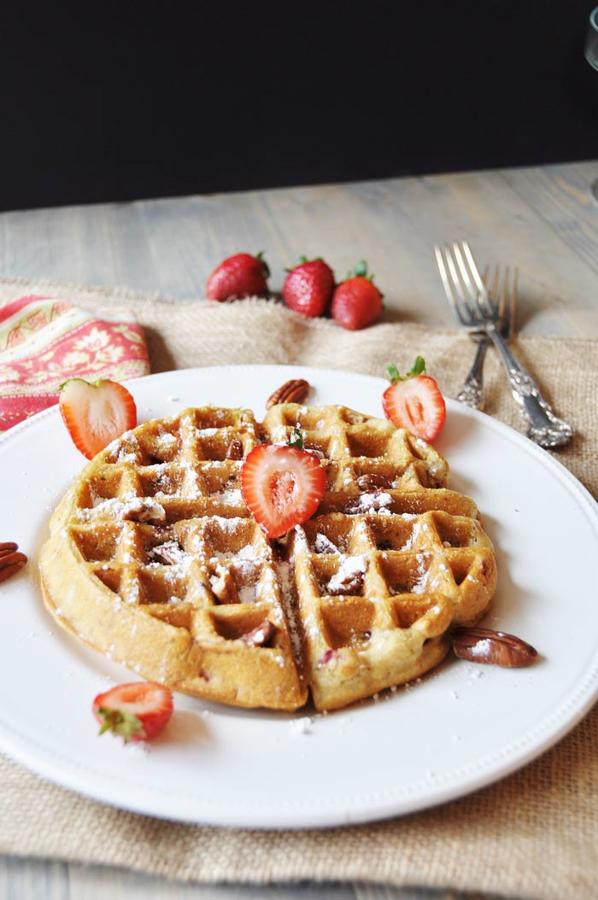 If you like your waffles with that southern twist, this is definitely for you.
Cinnamon sugar, pecans, banana and a hint of vanilla are the stars of the show that make this the best you ever had and that's a VegByte guarantee!
Barbecued Waffle Iron Tofu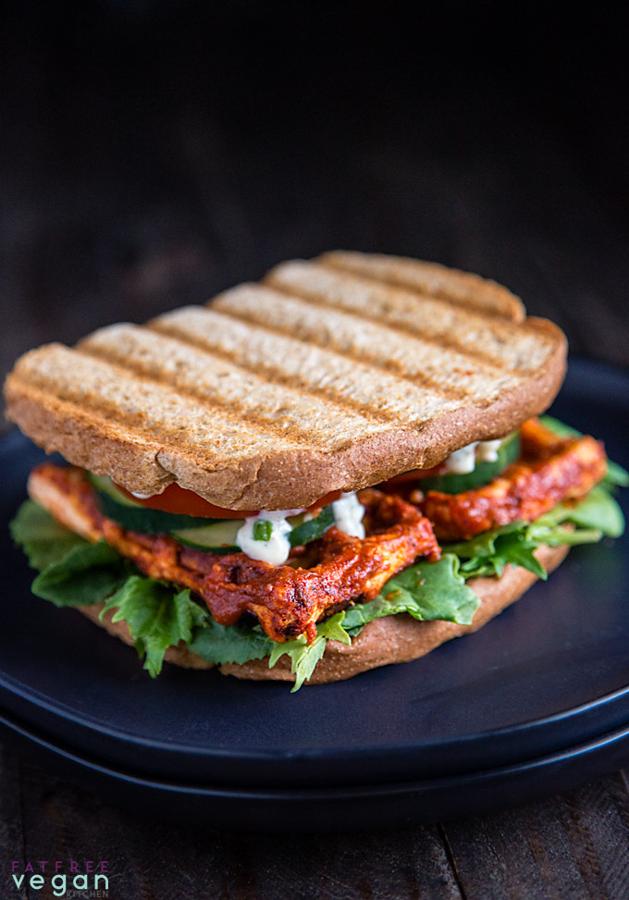 Wait, we cooking tofu in a waffle maker? Absolutely!
Take your sandwich to the next level with this great recipe. Pour on your favorite barbecue sauce and yum this puppy right up!
Golden Brown and Crispy Banana Waffles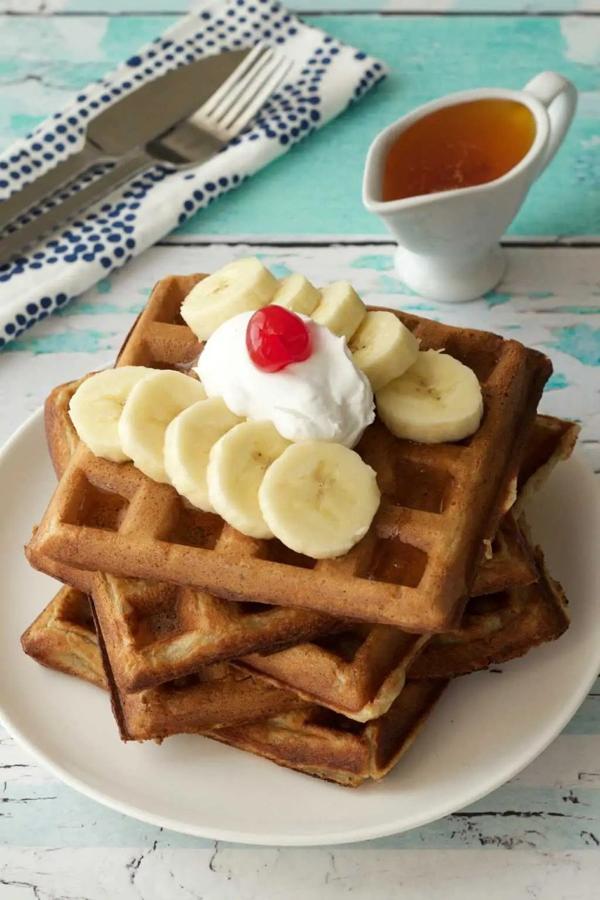 Need a great waffle recipe? This is what you're looking for.
It's simple, just a handful of ingredients and can be used as a base recipe to add other flavors.
On its own, it's gold!
Aquafaba Blender Waffles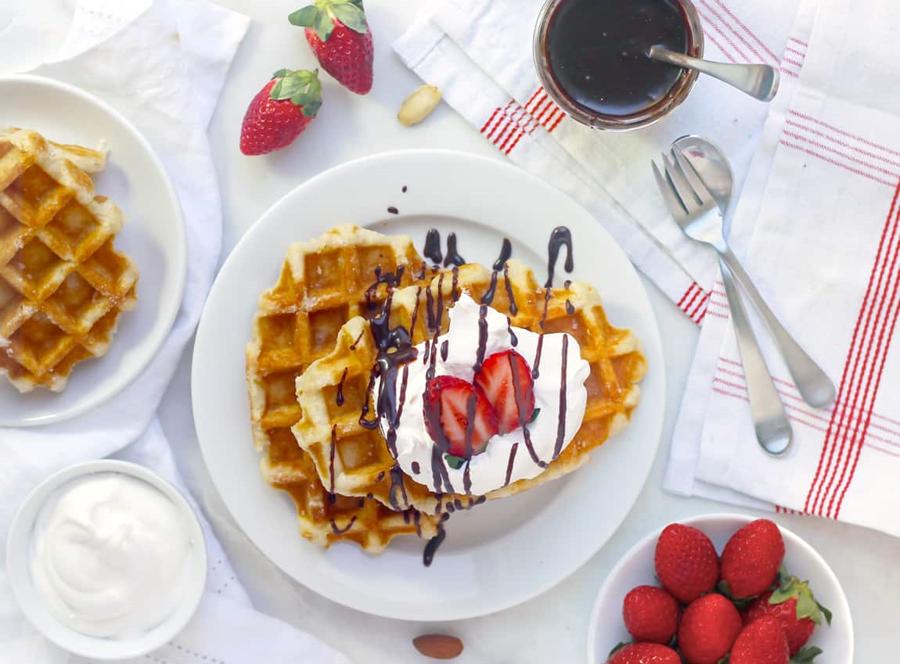 If you've never heard of Aquafaba before, it's simply a liquid inside a can of chickpeas (garbanzo beans). It has great qualities and is used in a variety of recipes.
Here, it adds body and substance to your waffles making them suitable if you're on a weight-loss program. Perfect!
Crispy Cornmeal Waffles with Heirloom Tomato Peach Salsa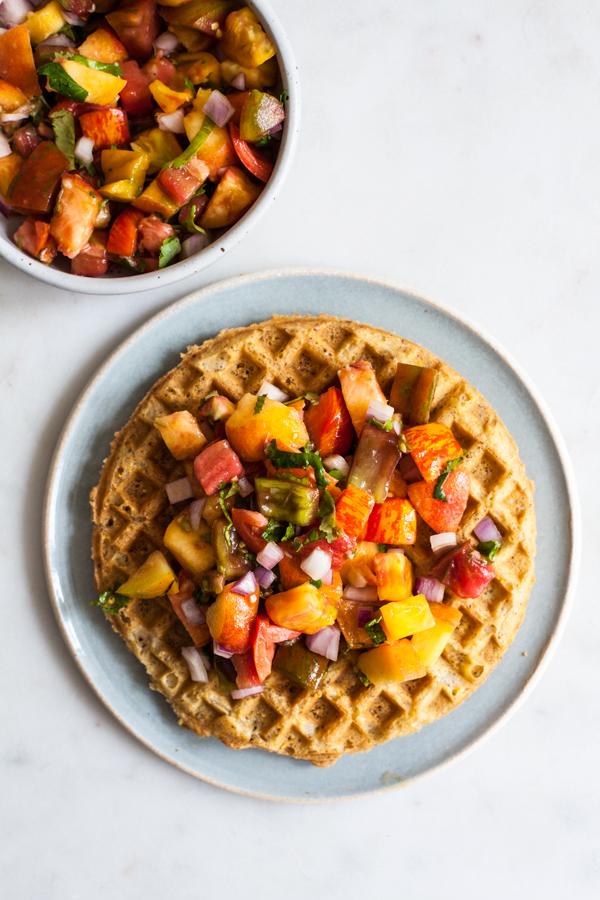 If Gena, the recipe author, just served up the waffles on the recipe page, it would have been perfect. She goes that extra mile to also give us amazing heirloom tomato peach salsa!
This recipe is soy and tree-nut free so it's excellent if you need to avoid those.
Pumpkin Spice Snickerdoodle Waffles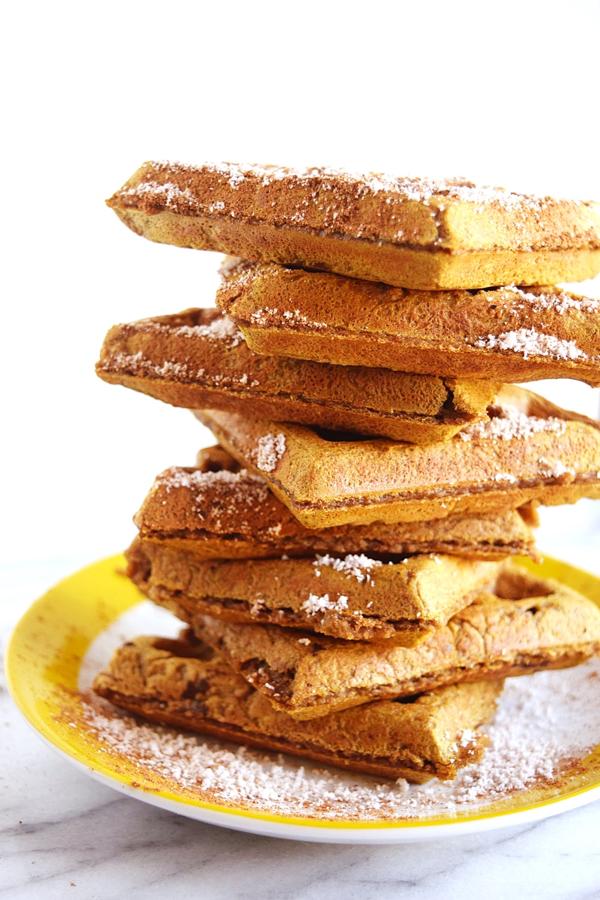 If it's pumpkin time of year, this recipe is all you need.
With the perfect balance of natural sweetness and gorgeous spice, this naturally gluten-free batch of waffles taste great and will be loved by all the family!
Crispy Waffles with Lentil Protein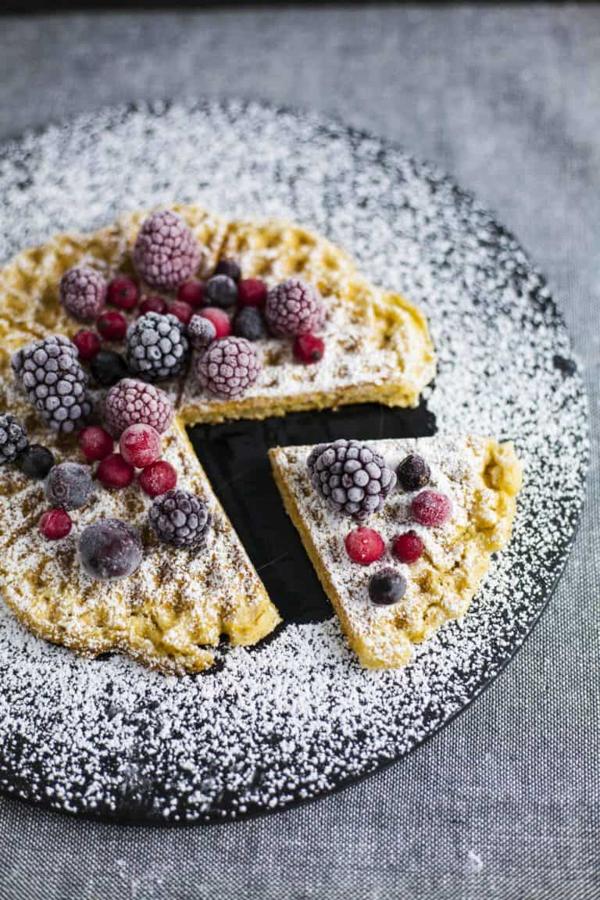 If you love waffles and yet are looking for a protein packed breakfast, this is all of your dreams come true!
The recipe author describes these as no ordinary waffles, and they are absolutely correct! Added red lentils make them taste great and filled with protein. Eat them!
Apple Oatmeal Blender Waffles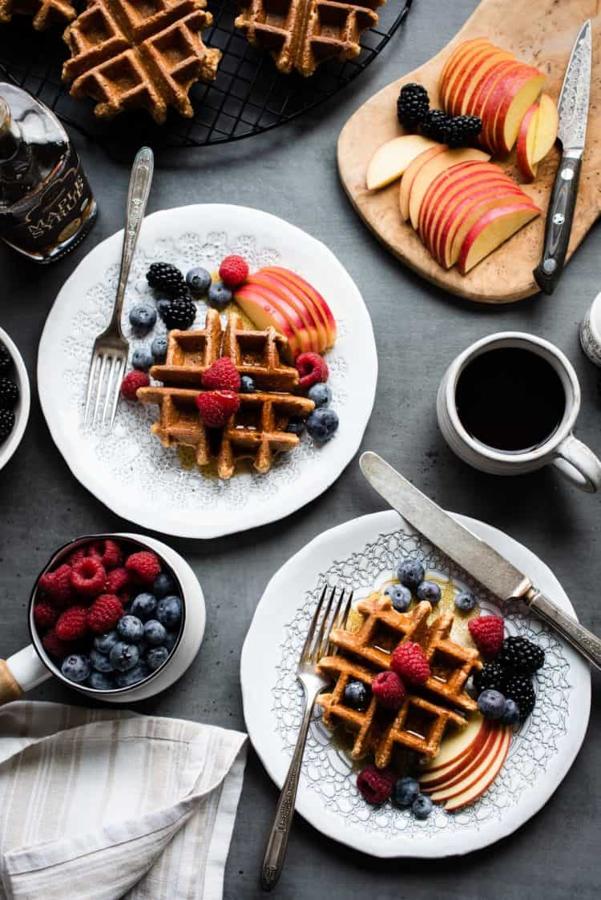 Love oats for breakfast but are stuck in an oatmeal bowl rut? This recipe takes your favorite oats through a spin in the blender to make a delicious and hearty waffle batter.
You won't feel guilty serving these wholesome and delicious waffles to your family day in and day out. You'll feel like a superhero! Whip out a few batches and freeze them for those days when time is of the essence.
They freeze beautifully and are easy enough for even your littlest to pop in the toaster for a nutritious breakfast or snack. No processed junk in the trunk here!
French Toast Waffles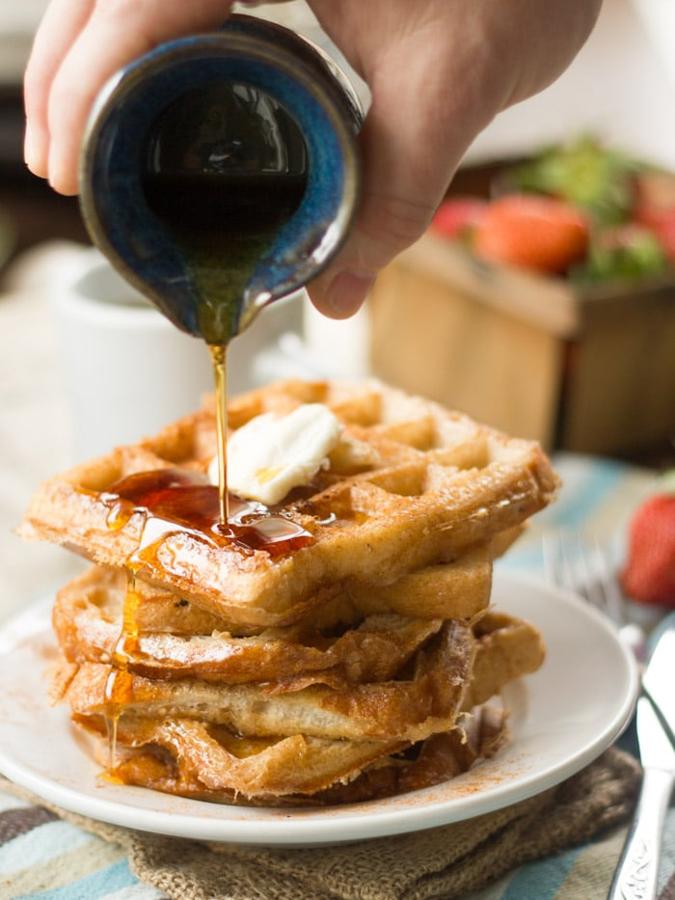 No really, it's true! Alissa, the recipe author, has managed to combine plant-based French toast and waffles!
You've never had anything taste this good. They certainly are waffles and yet taste just like French toast. Serve them up and watch their faces.
Waffle Smashed Potatoes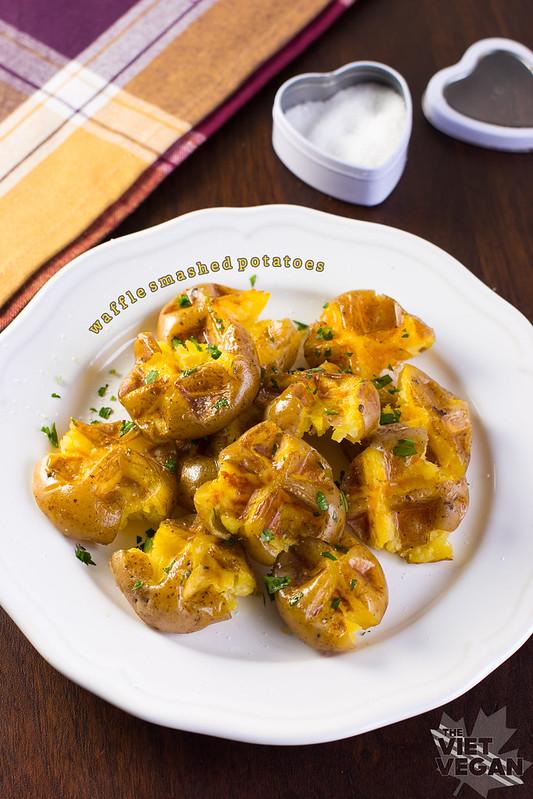 This recipe is not waffles, let's get that out of the way. But, what's a waffle anyway?
If you love potatoes as much as I do, then you're always looking for new ways to eat them. I never seen anything like this before and it's great! Four ingredients and that includes seasoning.
Yes, you can eat potatoes cooked in a waffle maker. Try it!
Black Sesame Waffles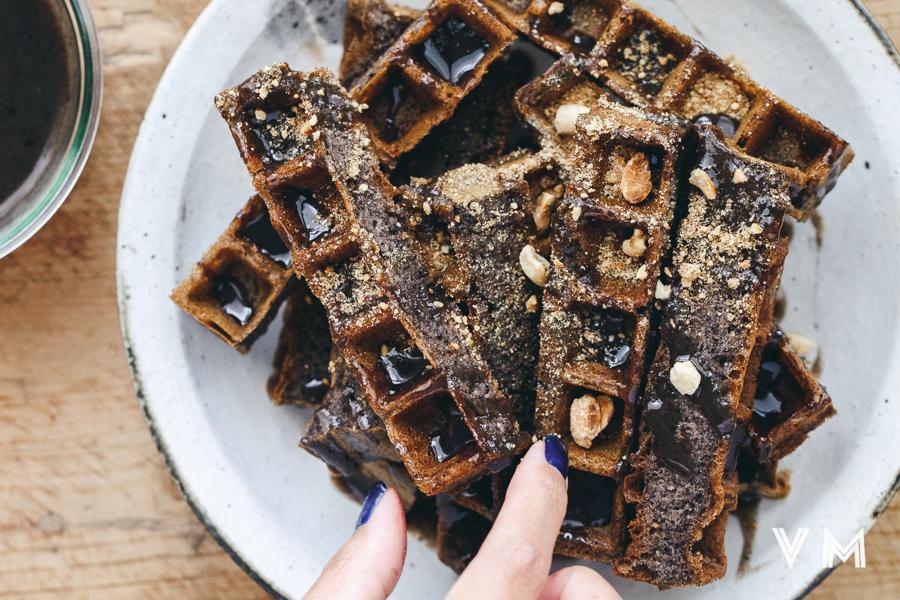 If you want to try something different both in terms of look and taste, you must give this a go.
I'll be honest, this isn't the sort of recipe you can make real quick.
However, just takes a few moments longer and is so good, I keep it for the weekend or if you want to surprise the family or friends. What I will tell you is they'll be a hit!
Sweet Potato Waffles with Cherry Pie Compote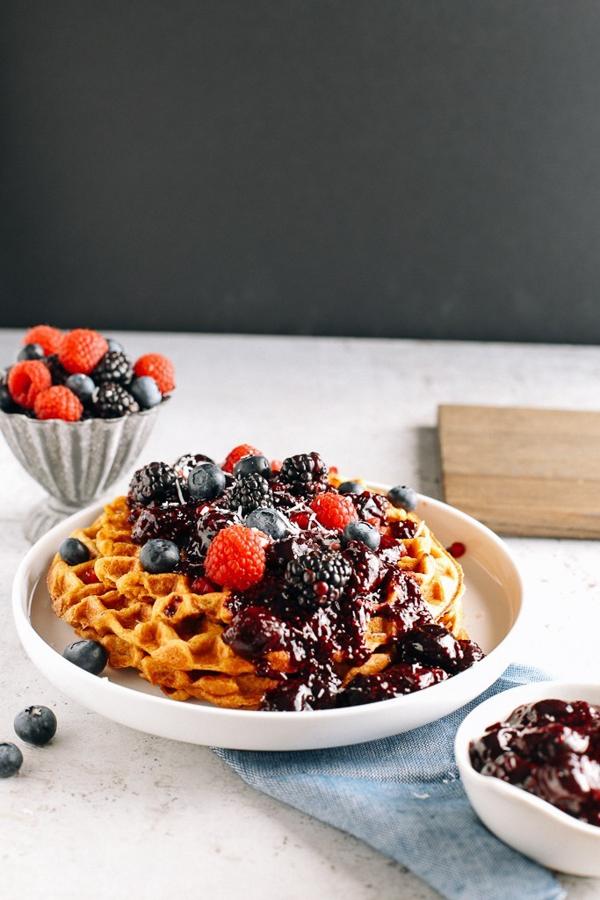 The waffles are amazing alone, add the compote and you have something quite extraordinary.
Ashley, the recipe author, has created an absolute gem with this recipe. Whether you're treating yourself or someone else, reach for this and you can't go wrong.
Simple Mashed Potato Waffles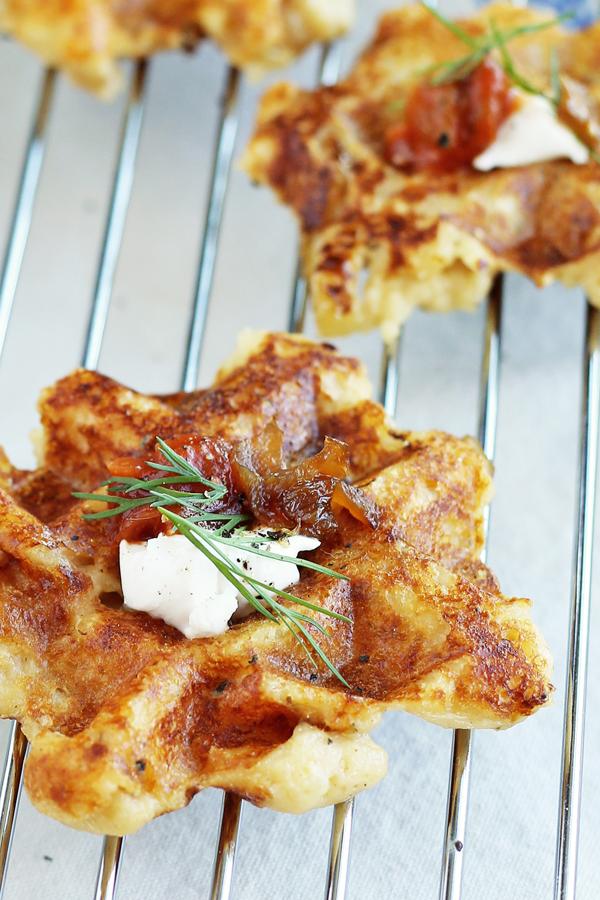 That's right, you're looking at potatoes mashed and cooked with the best ingredients ever.
Serve with just about anything, these potato waffles will definitely impress.
Hearty, bursting with flavor and everybody's favorite. Make twice as much because that's how much you'll eat!
Peanut Butter Bulgur Waffles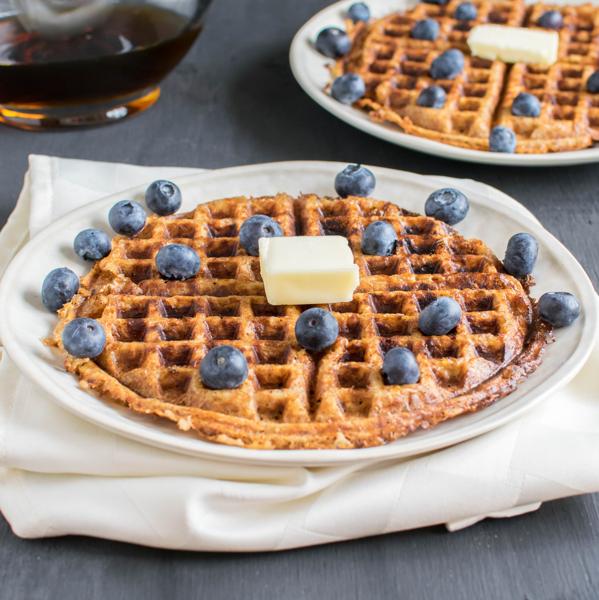 This is a classy recipe, would you believe you can almost count ingredients on one hand!
Friends and family will ask you where you bought them, they taste that good!
As well as the ingredients and instructions on the recipe page, do pay attention to the, 'Notes' as they have really useful information.
Cinnamon Roll Waffles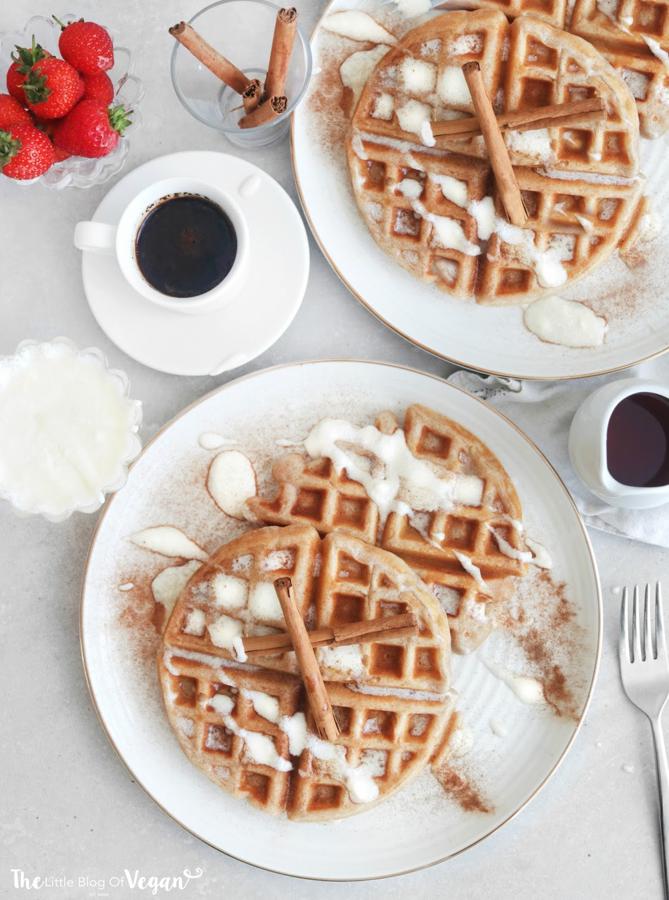 If you just bought a waffle maker and are looking to make your first batch, definitely go with this recipe!
Crispy on the outside while being soft in the middle, these puppies are incredible.
Look like waffles, taste like cinnamon rolls!
Sweet Potato "Buttermilk" Waffles and Veggie Scramble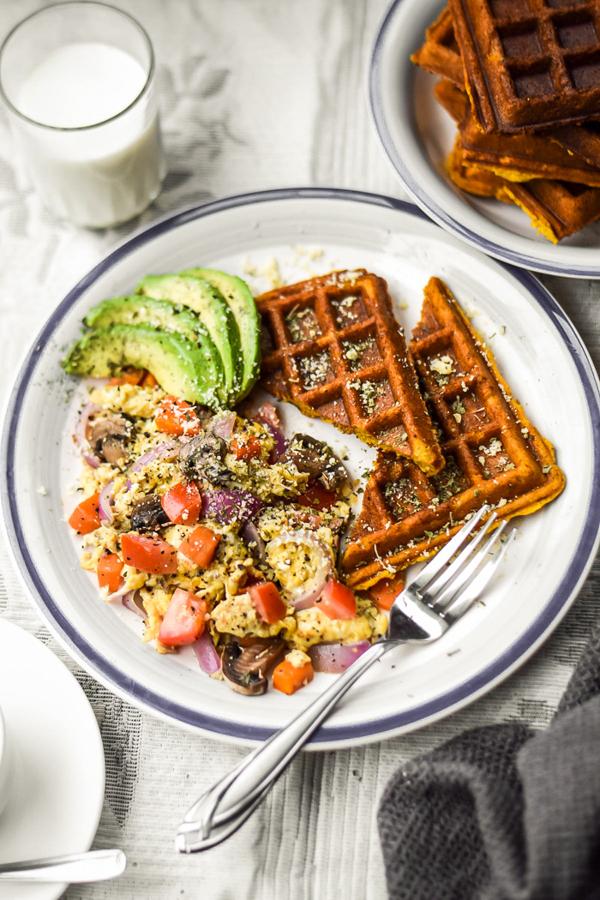 Waffles, okay, but I want more! Well, here you have it.
This is two recipes in one, both are amazing. The waffles aren't just ordinary, they knock it out the park.
Then, if that wasn't enough, the veggie scramble made with tofu, portobello mushrooms and more, makes this into a complete meal. Honestly, it's the best!
Whole Wheat Waffles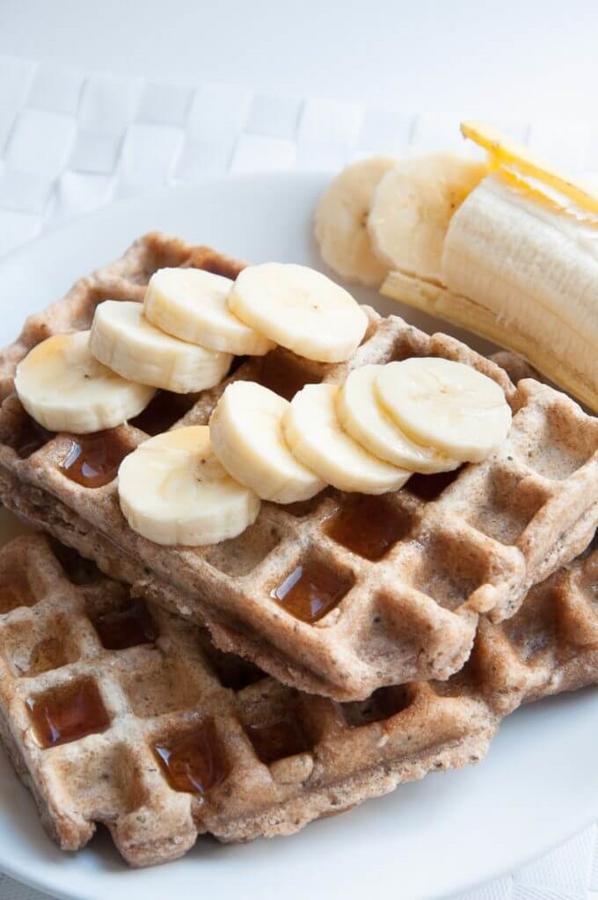 Perfect waffles for all the family made with whole wheat.
I love how the recipe page has photos for each step of the way.
If you don't count the pinch of salt, you're looking at just six ingredients. Can't beat it!
Eggnog Waffles with Chocolate Chips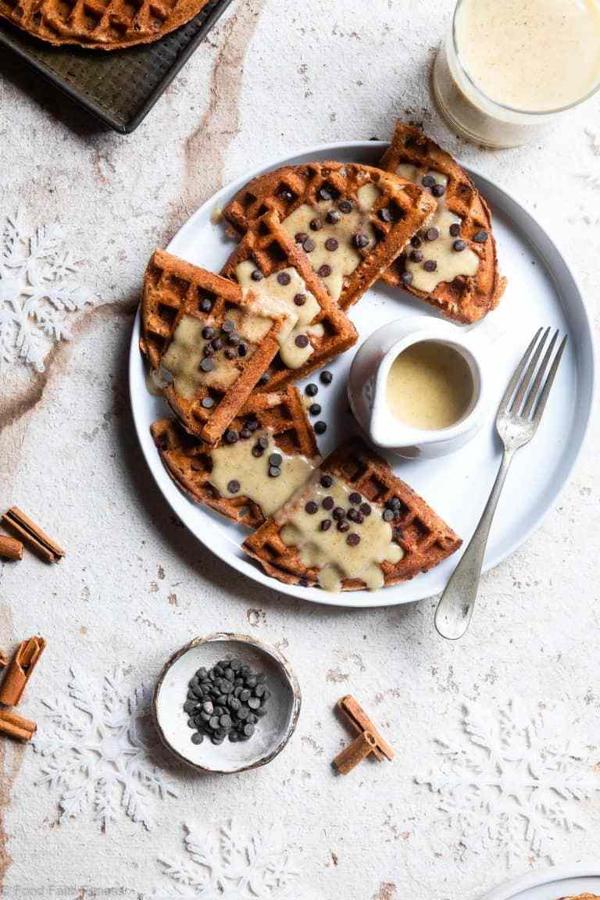 Ready for the festive season? You will be when you take one bite of these beauties!
This gluten-free recipe is perfect for all the family and the vegan eggnog 'cream' sauce is the perfect accompaniment.
Vegan Chicken and Waffles Wings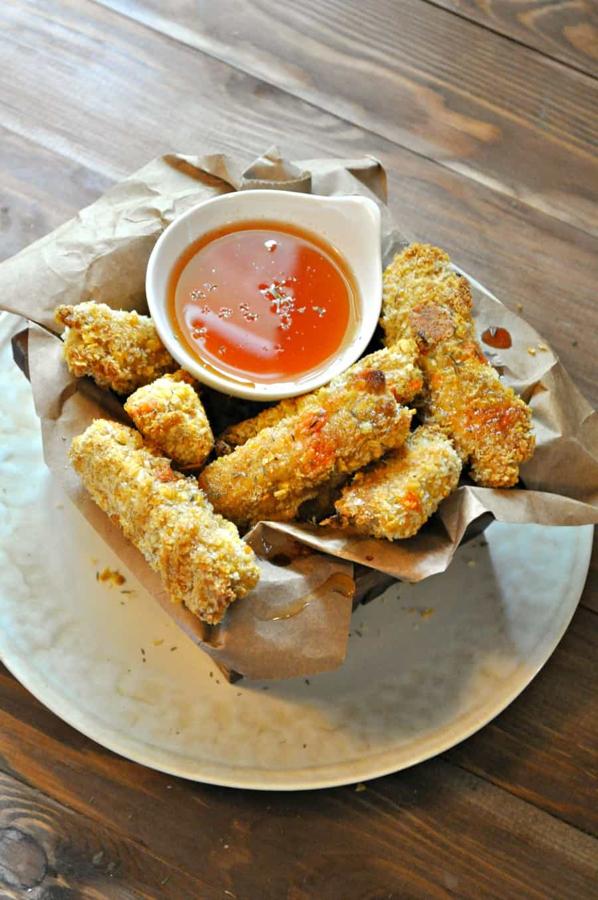 Not waffles in the traditional sense although they are made of waffle batter!
Tofu is the star of the show in this amazing dish. Whether you eat it as an appetizer or, like I did, an entrée, you won't be disappointed.
Delicious and trust me, you need to make double!
Wrapping Up
As you can see, there's so much more to waffles than just waffles!
Made with different ingredients than plain or waffles made from just potatoes, it's all here.
Most of these recipes are naturally gluten-free so look out for that.
At the time of writing, the holiday season approaches, and this roundup contains just what you need for that as well!
Don't waffle, just waffle!