While you use them as an ingredient to your mains, you may also wonder what to cook for sides and that's where our favorite picks for best vegan recipes sweep-in to help you decide!
The dishes in this roundup cover everything from hurried lunches to hearty breakfasts and party platters; you'll be covered for a long time.
We hope you enjoy them as much as we did!
Filling Black Bean Recipes
Cuban Black Bean and Plantain Plates with Mango Salsa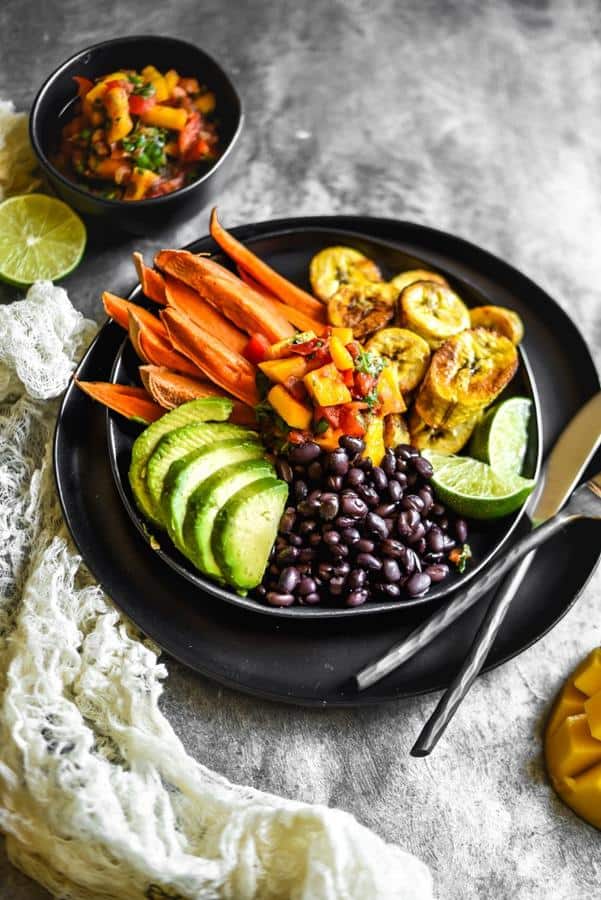 This dish has a unique combination of fruits and looks great!
I was really impressed by the presentation and interesting textures the plate had to offer. The black beans are kept simple with just taco seasoning; they go well with the crisply baked plantain and sweet potato slices.
The mango salsa is sweet and herbaceous, courtesy to the sriracha, green onions, cilantro and other seasonings.
This would make a lovely party starter because of its color and variety of flavors.
Black Bean Brownies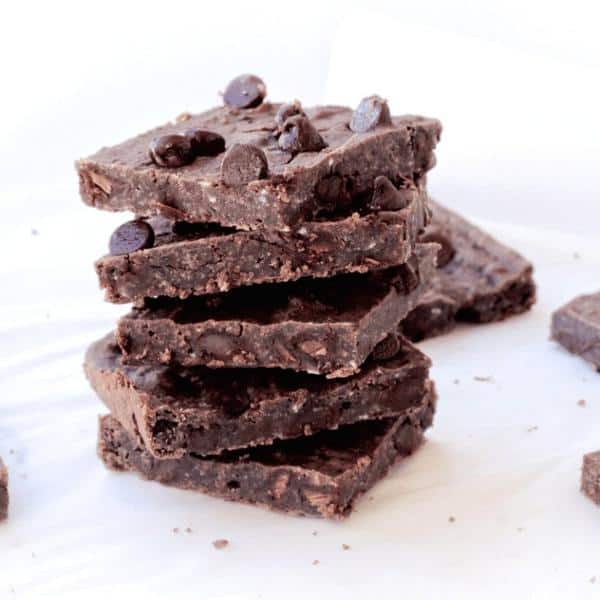 I don't have a sweet tooth, but my exceptions are chocolate cakes and brownies.
The title of this recipe made me feel like my cat standing on his hind legs trying to figure out if what he saw really happened. But yep, this is a legitimate dish and yes it tastes great!
The only difference between a normal brownie recipe and this one is how it uses black beans as a base instead of flour.
All the other parts like maple syrup, cocoa powder, chocolate chips, etc., are the same; you'll have nothing to complain about!
5-Ingredient Black Bean Burger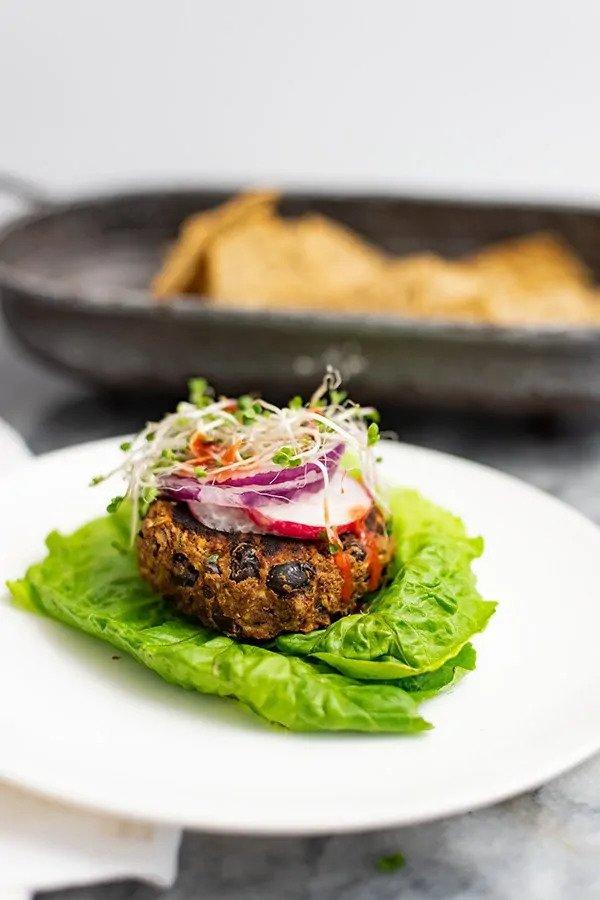 5 ingredients to a burger? That's all? They'll be your go-to because it takes just 15 minutes to make. I hear you parents rejoicing in the corner; I feel your joy!
Black beans and flax seeds are mashed together and cooked on a skillet with zucchini shreds and spices. The mix is divided into patties and pan-fried. You can layer them with your favorite burger toppings and you're all set.
Just make sure to squeeze all the excess water from the zucchini shreds really well and you'll be good to go!
Tex-Mex Quinoa Salad with Black Beans and Corn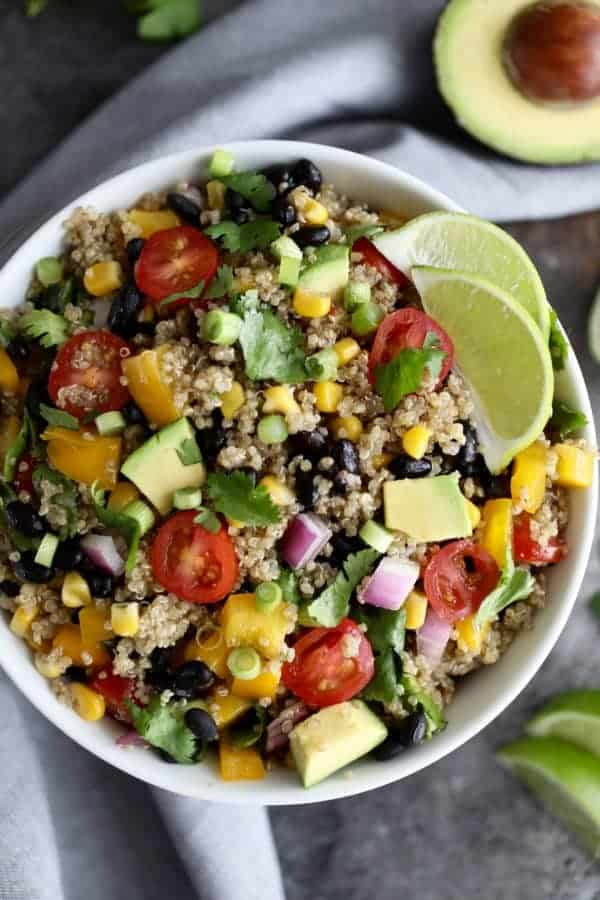 Spring-based dishes really have the tendency to pep you up. The flavors in this recipe are fresh and zingy enough to brighten your mood!
A simple salad recipe with garden fresh veggies like grape tomatoes, bell peppers, green onions and more, tossed with cooked quinoa. The dressing provides all the jazz to the salad with its lemony zest and herbs.
This salad is filling enough for you to power through work post lunch when accompanied with a healthy juice or shake.
Black Bean Farro Burger
It's always better to make your own veggie burgers, especially if you're feeding your family. Let's not forget about the oil they use in fastfood burgers ruining your health one bite at a time!
This recipe is packed with amazing flavors. Cooked faro and black beans are mashed with liquid smoke, steak seasoning, and other ingredients to be fried as patties.
The best part is how meaty these taste; you'll look forward to eating these at least once a week!
Black Bean Salsa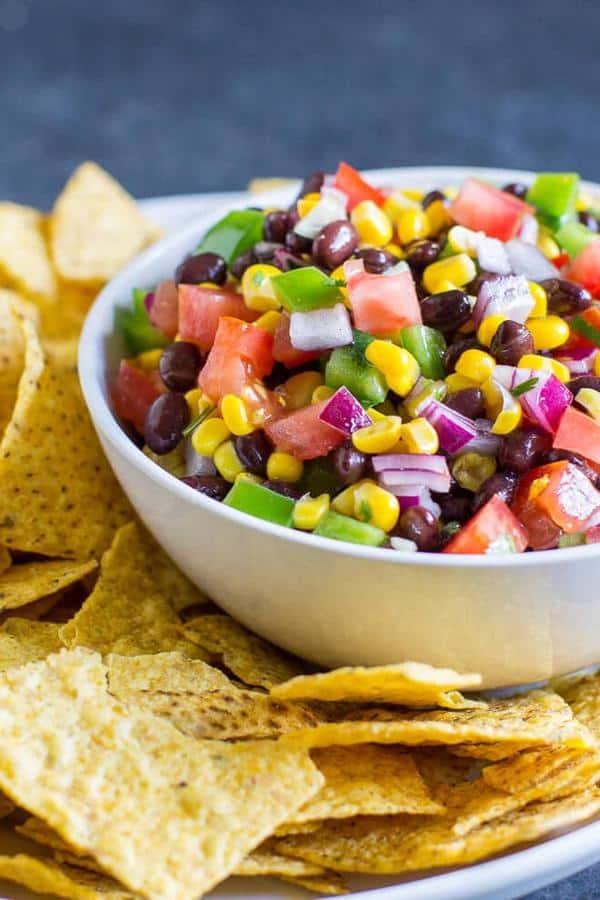 I love to bring a dish of something I made out of outpouring love and affection when I go to parties and this salsa might just be the next thing I whip up!
Black beans are tossed into a bowl with corn, tomatoes, avocados, and more fresh veggies. The red wine vinegar and lime juice give it a zing; you can use jalapeño or Tabasco sauce to make it spicy!
It's easy to make and takes a very short time; the appetizing taste will have everyone coming back for second helpings in 2 minutes.
Sweet Potato Black Bean Tortilla Soup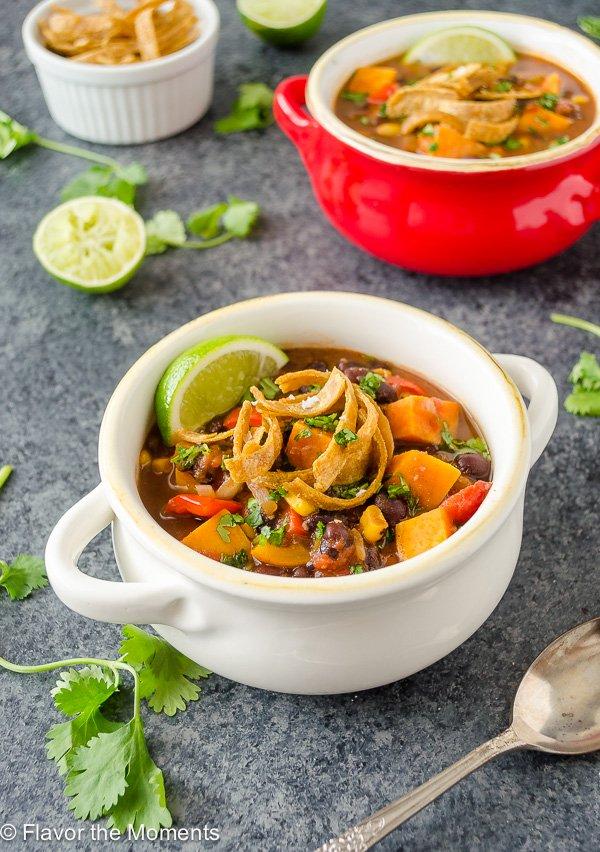 A hearty soup nourishes your body while warming your soul on any given day. That's what is best about comfort foods; you can always rely on them.
This wholesome soup uses ingredients like sweet potatoes, black beans, jalapenos and other veggies boiled in a broth. The seasonings are very simple and the baked tortilla strips make it heartier!
This is perfect for cozy dinners with your family and friends.
Sweet Potato and Black Bean Breakfast Burritos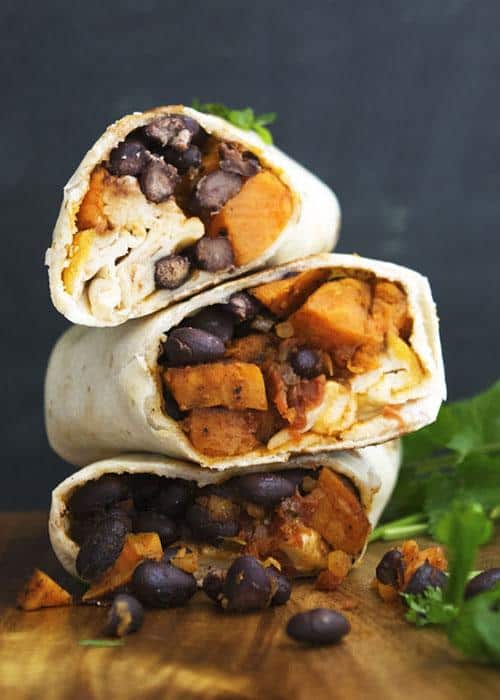 Breakfast burritos remind me of my hostel days when everyone was in a rush at 6 AM to get to their respective colleges.
Add a nervous caterer and 100 hungry young ladies running late because of the universal pull of "5 more minutes" and you'll understand why they'd often serve us burritos to go!
This recipe is filling and can keep you energetic during the first half of your day like nobody's business.
With fillings like black beans and sweet potato seasoned with paprika, chili powder, cumin and others, to give it a spicy flavor. The sour cream and salsa complement the filling very well and make a happy breakfast together!
Spicy Black Bean Hummus Without Tahini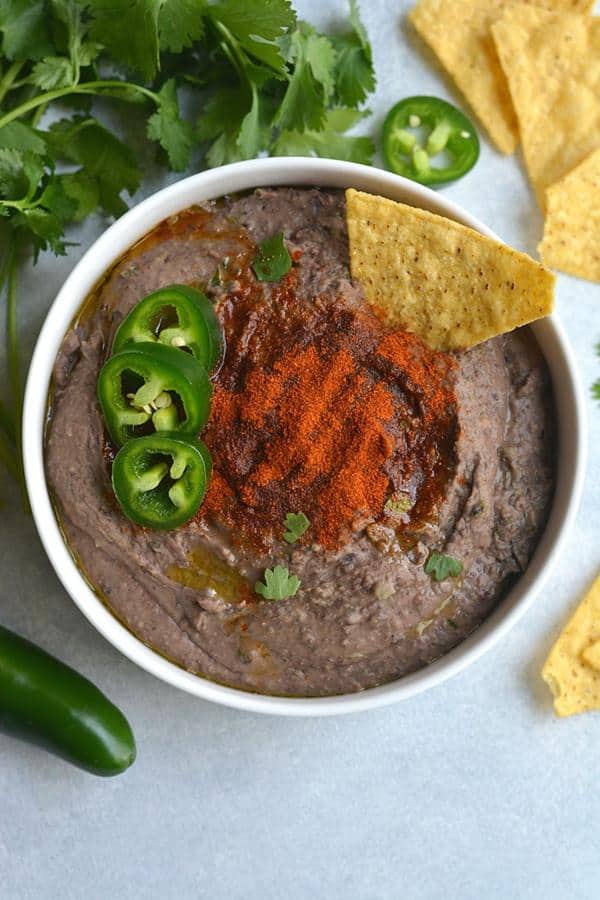 This hummus is a gorgeous recipe and I was very excited to try it.
It doesn't use the conventional soaked chickpeas. Black beans are the replacement used instead and are an equally healthy ingredient.
Spices like ground cumin, cayenne pepper and paprika give it heat while the lime juice lends a fresh and zesty flavor.
Add sliced jalapeños, garlic, and cilantro to the blend; I think it'll be your new favorite hummus recipe!
Enchiladas with Tofu and Black Beans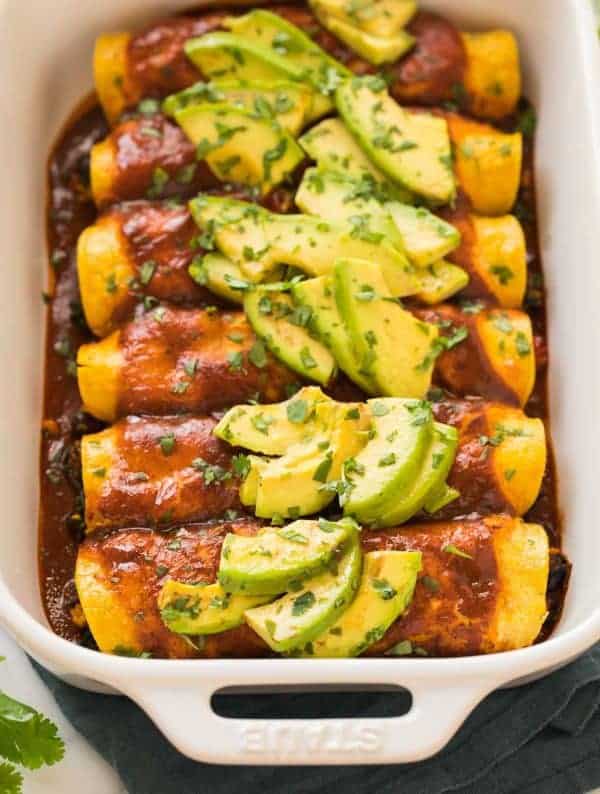 This Mexican recipe has a different twist from the regular creamy and heavy ones you order with much excitement at restaurants.
The symphony of ingredients is wholesome and hearty but at the same time fresh and energizing. In short, you're going to love it!
The tofu is a part of the veggie scramble that involves bell peppers, black beans, and spinach. The enchiladas sauce takes 15 minutes to make from scratch and have a lovely smoky chipotle flavor.
Avocados are used as a garnish instead of cheese but you can replace these if you don't want to be very experimental with your food.
Black Bean Roasted Sweet Potato Salad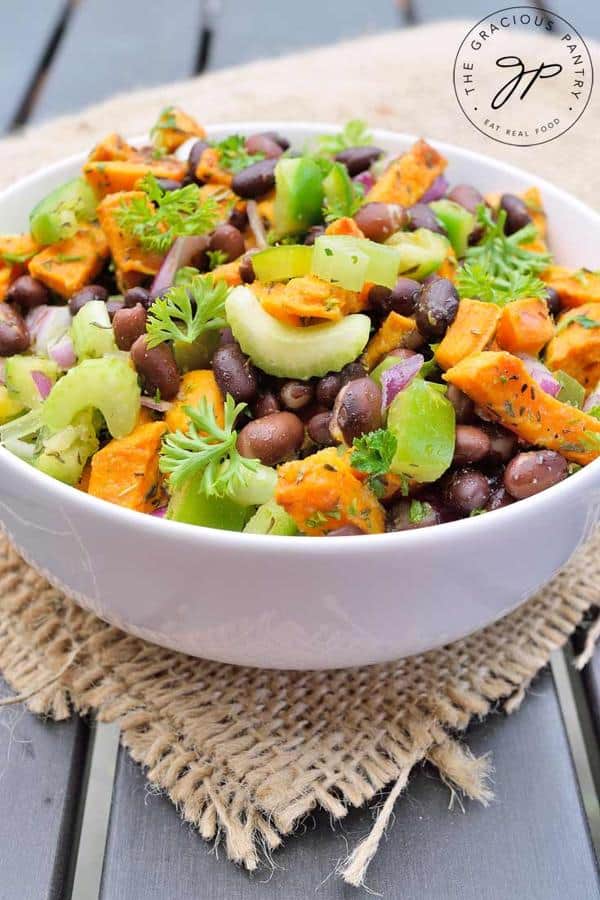 If you're trying to fix your unhealthy diet into a cleaner one, this is a must-try.
Sweet potatoes are coated in olive oil and garlic powder to be roasted on a baking sheet.
In the meantime, chop veggies like bell pepper, onion, and celery for the salad. Toss them up with black beans, the potatoes, and herbs to serve a fresh salad.
You can make this recipe your own by adding veggies you like.
Bbq Black Bean and Sweet Potato Sliders with Crispy Shallots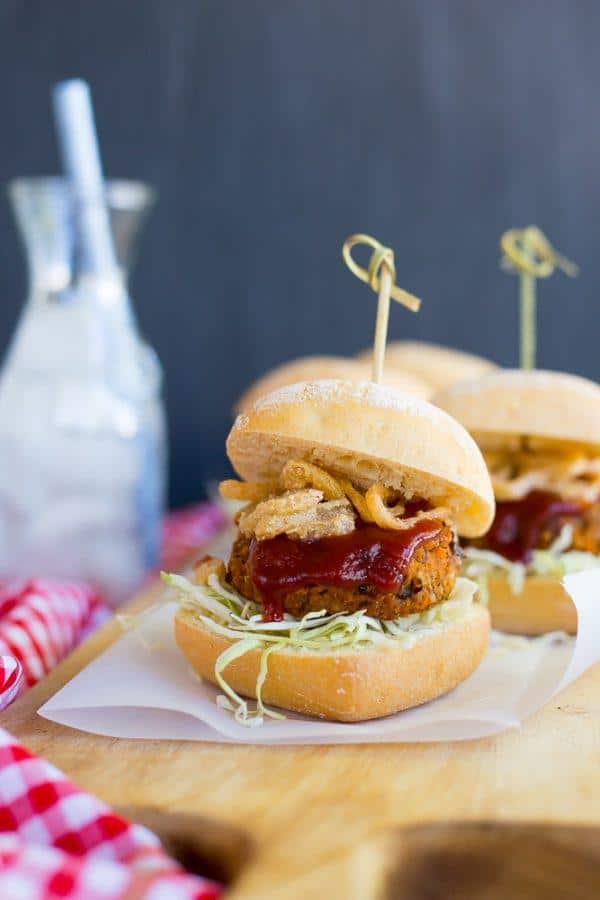 These sliders require a little effort, but are worth every minute spent.
Cooked brown rice, black beans, and sweet potatoes make the base of the patty mixed with a long list of ingredients such as breadcrumbs, garlic, ketchup, and many spices.
The patties are pan-fried and served with crispy shallots. Use your favorite veggies as toppings and serve with a dipping sauce.
Korean Noodles with Black Bean Sauce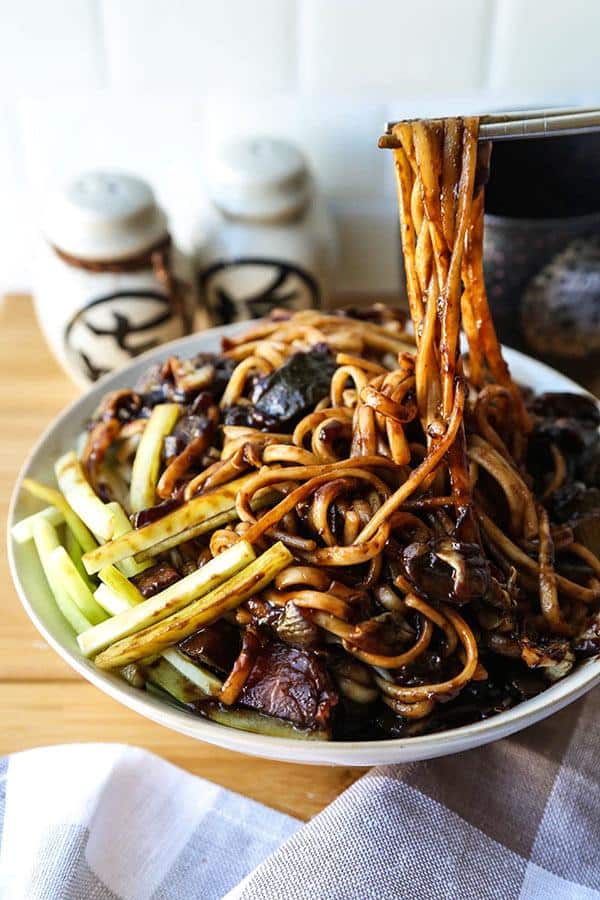 This Korean jajangmyeon tastes spectacular and offers a bit of new cuisine we probably haven't tried before.
The heart of the dish is chunjang, which is fermented bean paste. All you have to do is sauté veggies like onions, mushrooms, zucchini and more to be cooked in the bean paste.
Next, boil the udon noodles and put some in a bowl. Pour some of the sauce and slices of cucumber and you're all set!
Black Bean Ceviche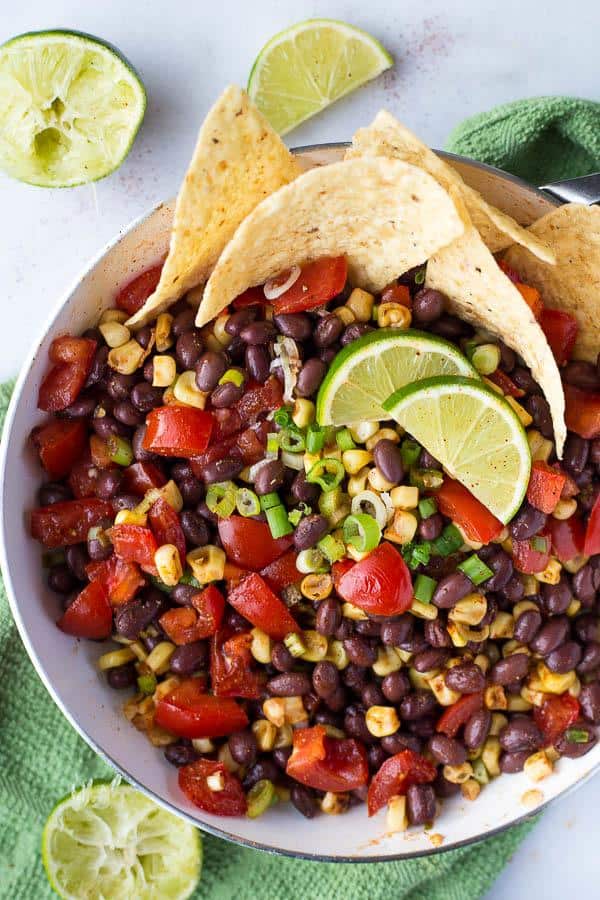 Fancy terms aside, this is a lovely recipe you'll enjoy for a light lunch.
Black beans are mixed with chopped Roma tomatoes, corn kernels, green onion, and a few other veggies. Seasonings like smoked paprika, chili powder, and others give the ceviche a spicy taste.
Lime juice leaves a lasting fresh tang you'll appreciate while eating these loaded on tacos!
Feel free to add olives or jalapeños, too!
Black Bean Tamale Pie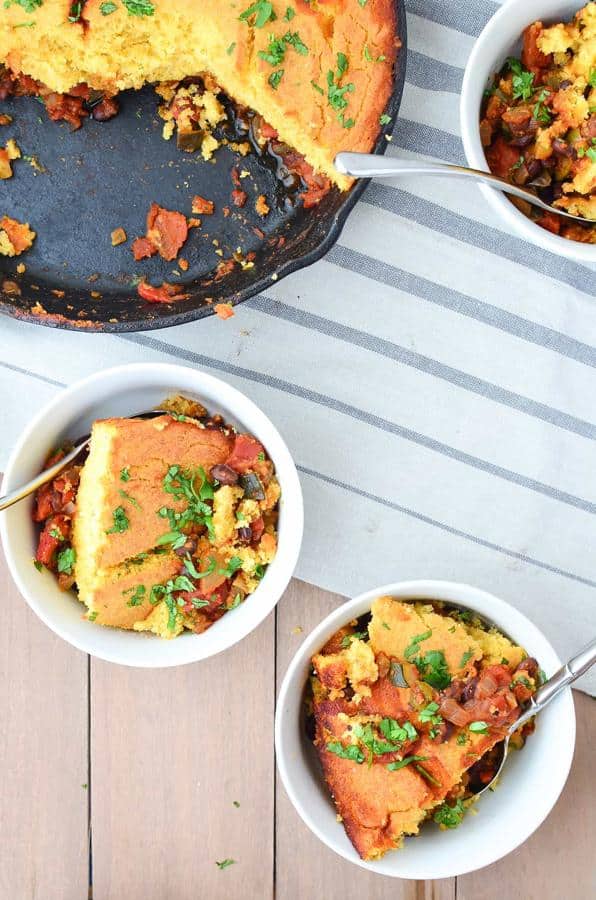 Okay, looks like I found the apt recipe to welcome my festive fat suit! Pies are hearty and all things wonderful; they just make you want to hug yourself.
This includes cornbread crust which is made using ground cornmeal, whole-wheat flour, soy milk, and a few other ingredients.
The filling is made by cooking seasoned veggies and black beans on a skillet. Both parts are layered and baked to a beautiful golden brown color.
Serve a slice for lunch and enjoy the happy daze that follows!
Pumpkin Black Bean Chili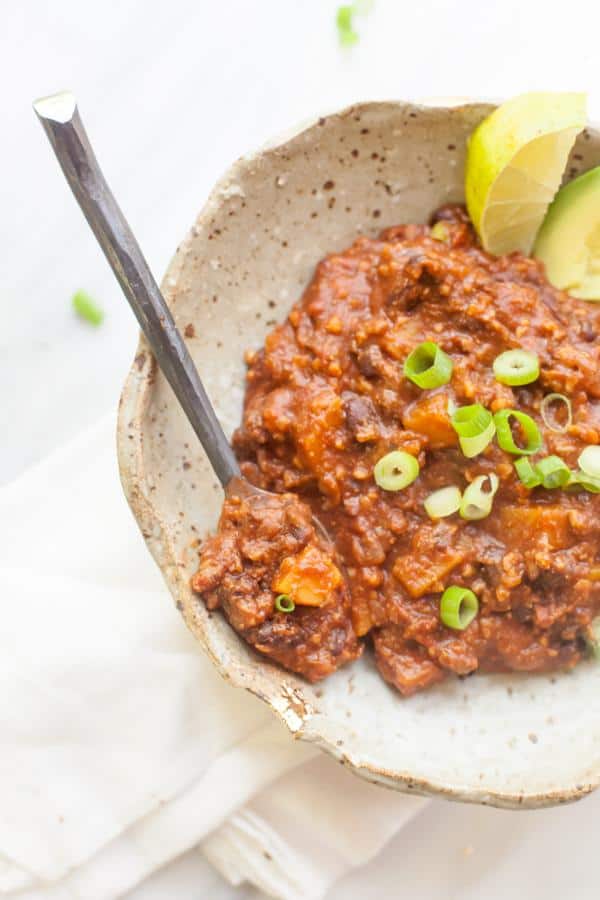 Winter is coming, and so are chili recipes to drive away the white walkers that we turn into due to the cold!
Unlike a lot of other chili dishes, this one is rich and hearty instead of being light.
The steel cut oats offer a chewy texture, the black beans, and its liquid make the dish starchy and the chopped mushrooms give a meaty texture that makes you happy at first bite!
Avocado Rice Bowls with Black Beans and Tomato Salsa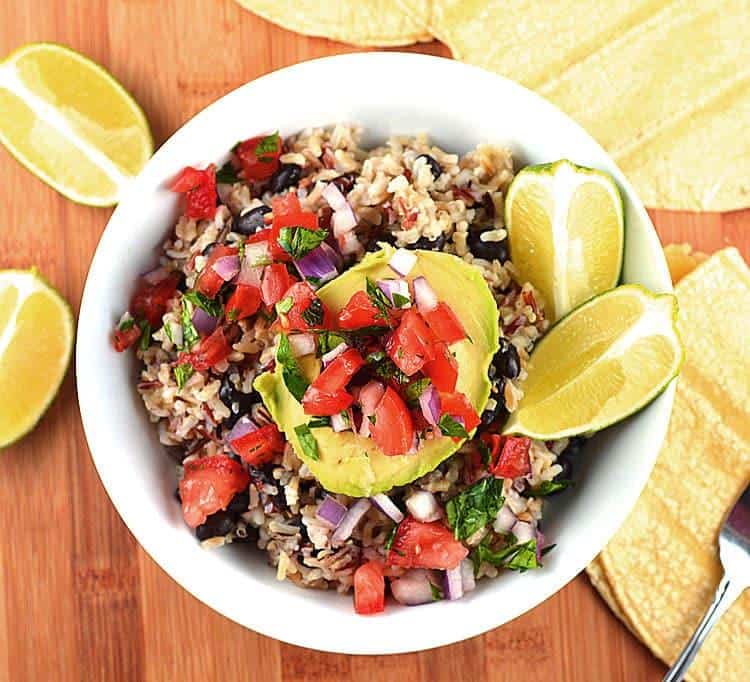 We all have days when we want a quick yet delicious lunch. Since ordering out isn't always ideal, this recipe is your new savior!
Cooked rice and beans are topped with a salsa made out of chopped onions, tomatoes and parsley with lime juice.
The seasonings are simply salt and pepper while the garnish is freshly sliced avocado.
Serve a warm bowl and enjoy this lovely rice meal!
Black Bean and Corn Nacho Soup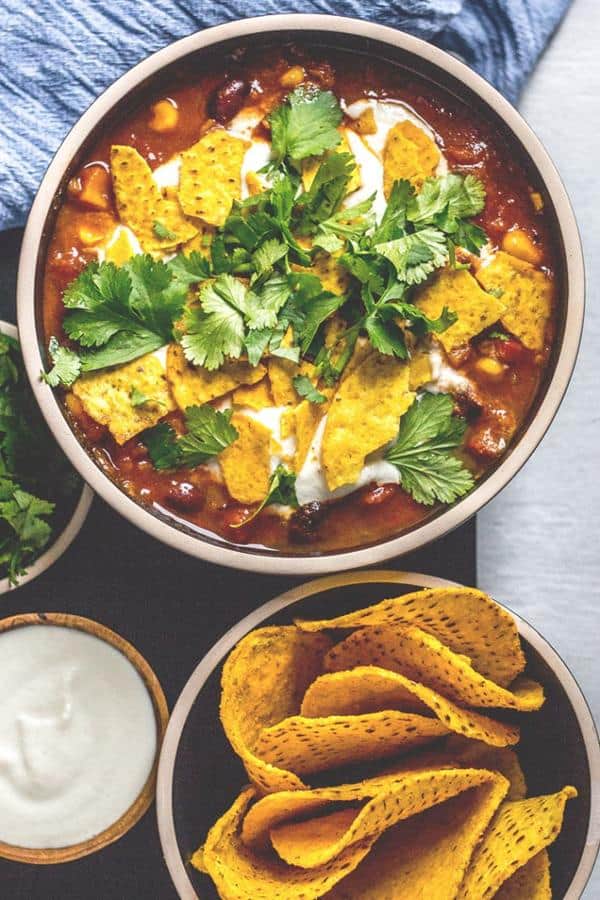 A nacho soup sounds like a great idea for all those who are searching for more Mexican-inspired recipes this winter.
Onions are sautéed with veggies like carrots and capsicum along with herbs such as thyme and oregano. Canned black beans, tomato paste and vegetable stock make the base of the soup.
Broken corn chips are served over the soup with a dash of hot sauce and lime.
The dish uses cashew cream, which gives it added richness.
Kale, Black Bean and Avocado Burrito Bowl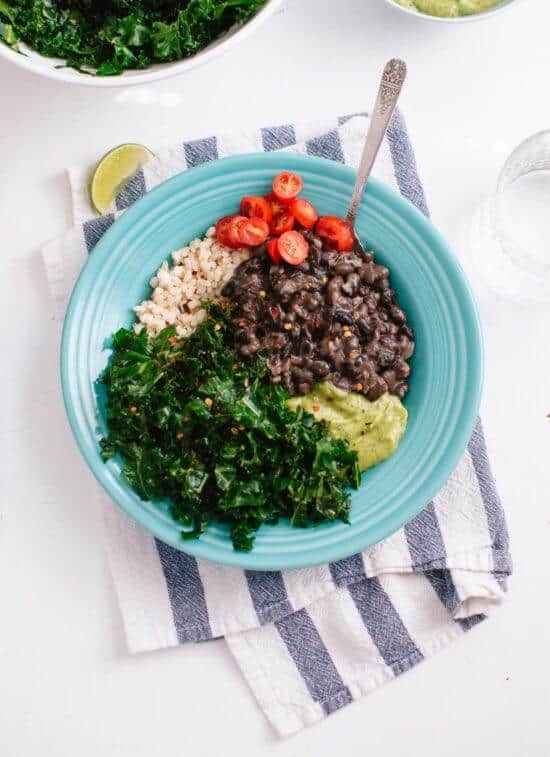 A burrito bowl makes a good lunch for you as it has five parts.
It's served on a plate with lime marinated kale, seasoned black beans, avocado salsa verde, and a garnish.
You'll be surprised to see how well these taste together; the cooked rice makes the entire bowl so hearty!
You can easily store the leftovers in the fridge for your next meal since the ingredients are fresh.
Mexican Quinoa Black Bean Enchilada Casserole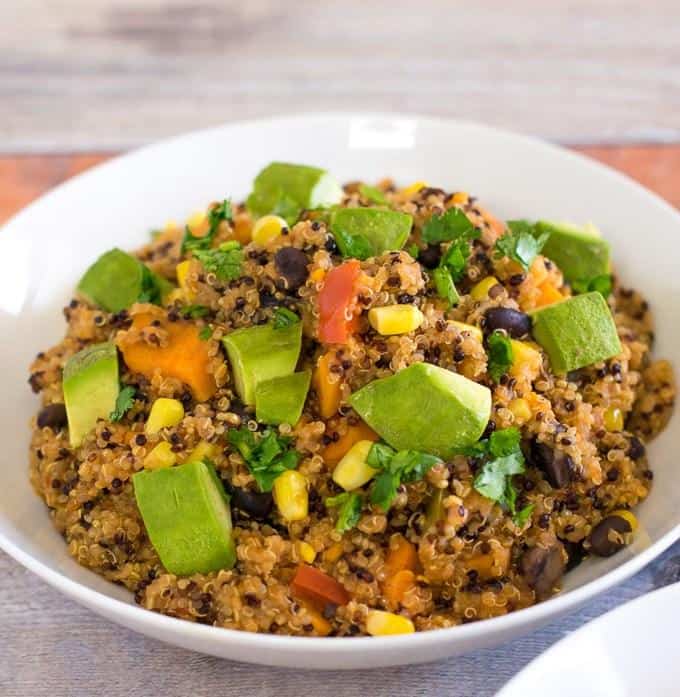 You may not realize it yet, but you're looking at the recipe you'll be trying out for your next potluck!
This is a wonderful casserole requiring 30 minutes to make and uses the stovetop method, so you don't have to fret about preheating the oven, etc.
There are a lot of vegetables used such as sweet corn, fresh tomatoes, sweet potatoes and more, making this dish healthy and hearty.
Spices and herbs like garlic, oregano, smoked paprika, and others make the casserole taste like a bestseller!
You can substitute quinoa with brown rice if you're a rice fan!
Instant Pot Easy Detoxing Black Bean Soup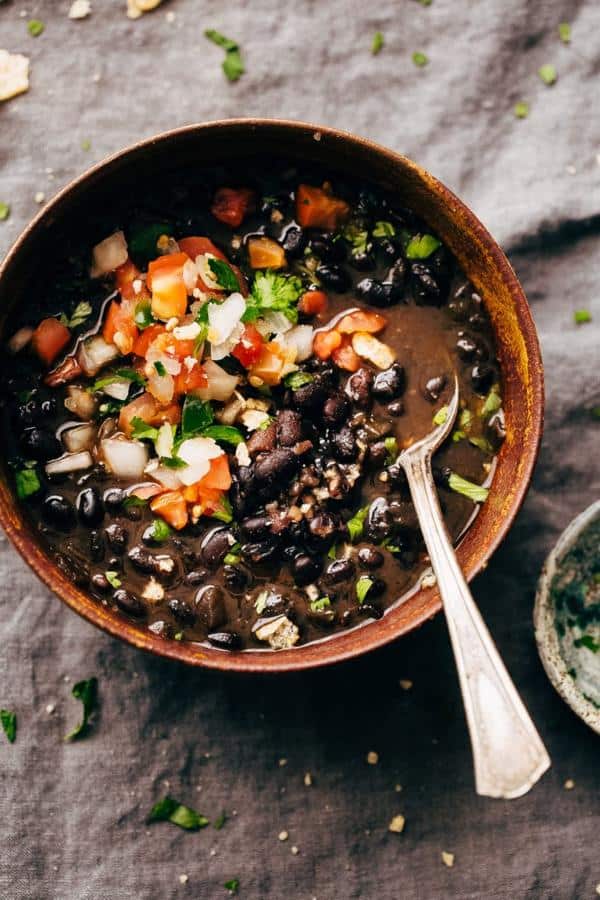 Trying to wash away the sins of the junk food you've been gorging on? Try this recipe; it's light and tastes even better the following day! Cheers to leftover lunches!
You just need to sauté the veggies like onions and peppers along with garlic until they soften.
Add the other ingredients such as black beans and spices to a pressure cooker and wait it out!
The soup is best served with lime juice, cilantro and a side of tortilla chips!
Mexican Black Bean Salad with Cumin, Lime and Smoked Paprika Dressing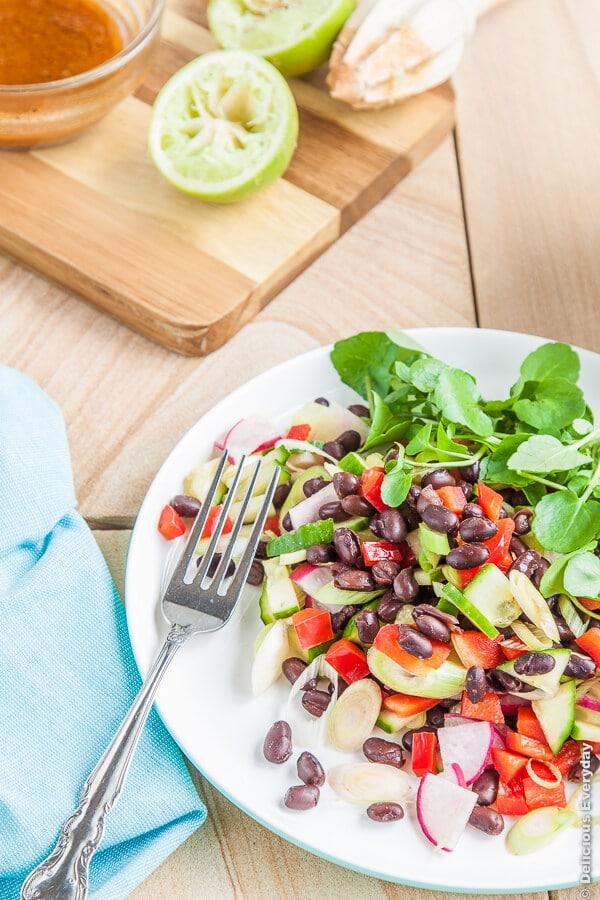 Going hungry isn't really an option for me because the struggle with acidity and crankiness is real. This is a quick salad for busy people who are short on time to grab a bite.
The salad sports fresh vegetables such as radishes, onions, capsicum, and others combined with black beans and watercress.
The dressing is simple yet packs powerful flavor with ingredients like lime juice, smoked paprika, cumin, etc.
Add a healthy shake with this salad and you're good to go!
Black Bean Fried Quinoa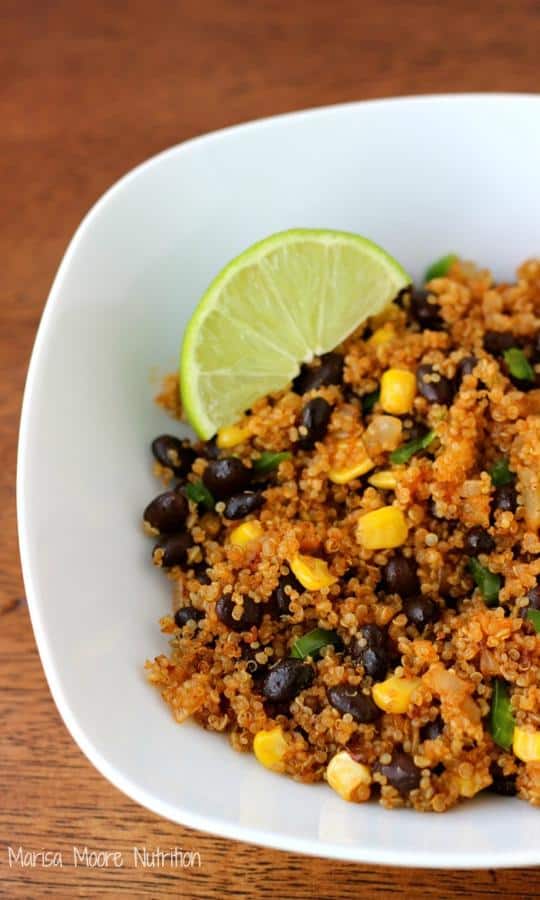 A hearty meal in just 15 minutes is exactly what I need on evenings when I want nothing to do with the kitchen.
Toasting cooked quinoa with onion and chili powder first, you just have to add diced veggies of your choice and black beans to cook them until slightly soft.
You can serve the fried quinoa with either a tasty salad or hot sauce.
Mexican Black Bean and Berry Salad with Avocado Lime Dressing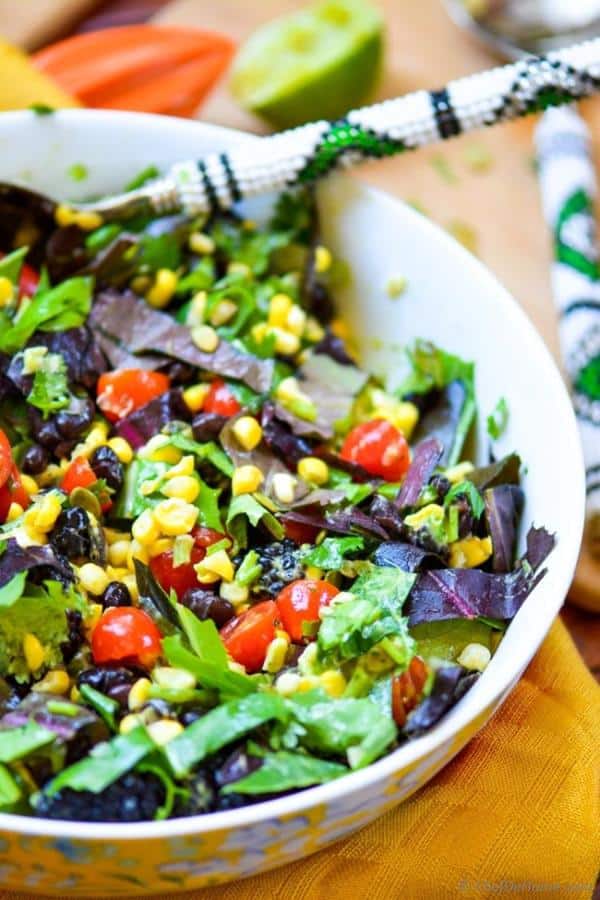 This is probably the freshest and most colorful salad you'll ever lay your eyes on; the presentation is so good you won't be able to resist digging in right away!
The salad has an interesting choice of ingredients like blueberries, black beans, corn, and others that add to the appeal of the dish.
The avocado lime dressing is creamy and sweet-savory with a kick of jalapeño to surprise you.
Why not add a handful of corn chips over the salad for a crunchy texture.
Roasted Veggie Black Bean Bowls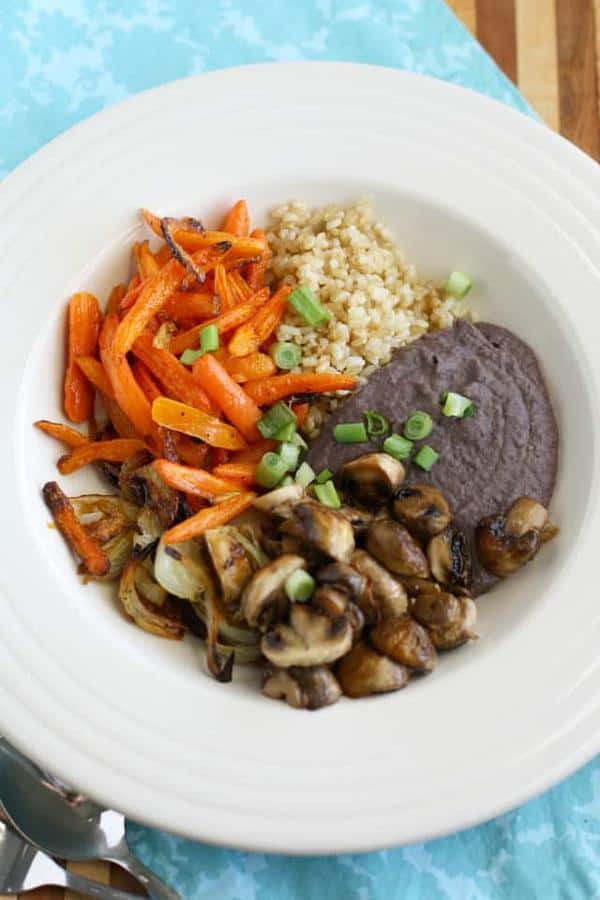 This is a lovely portion of comfort food for anyone needing a bit of self-care. It's a simple recipe that's quick to make.
Onions and carrots are roasted and browned at the edges. Black beans cooked with onions are blended into a thick paste.
The dish is served with the roasted veggies, bean paste, cooked brown rice, and delicately sautéed mushrooms.
A cup of hot cocoa later is a perfect way to end your evening!
Southwest Black Bean Pinwheels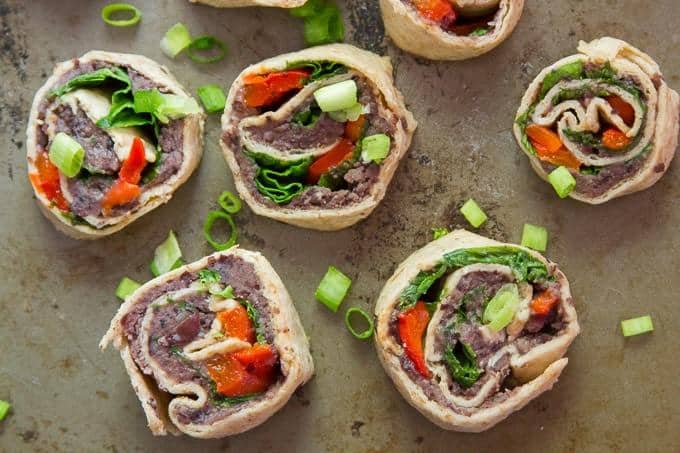 These pinwheels are an awesome idea for your party as an appetizer.
The process to making them is straightforward. Tortillas are loaded with a black bean and garlic paste and baby spinach leaves.
The other chopped veggies like tomatoes, scallions, and olives are garnished over the leaves. Finally, the tortillas are rolled up and cut into small pinwheels.
Leftovers can be packed for lunch the following day!
Spicy Black Bean Caesar Salad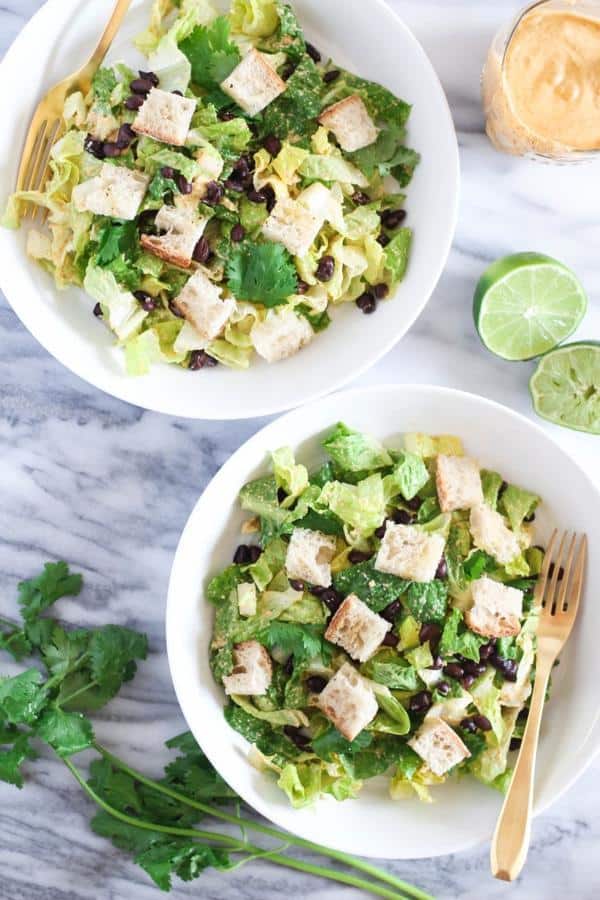 Everyone appreciates a Caesar on their plates as long as it doesn't scream "Et Tu, Brutus?" while you stab it with your fork.
The salad has parts like romaine lettuce, black beans, sourdough bread and more which makes it substantial. The dressing is made with ingredients like cashew cream, Dijon mustard, garlic, and others.
Feel free to throw in a few olives and cherry tomatoes if you feel like it!
Black Bean Quinoa Burgers with BBQ Sauce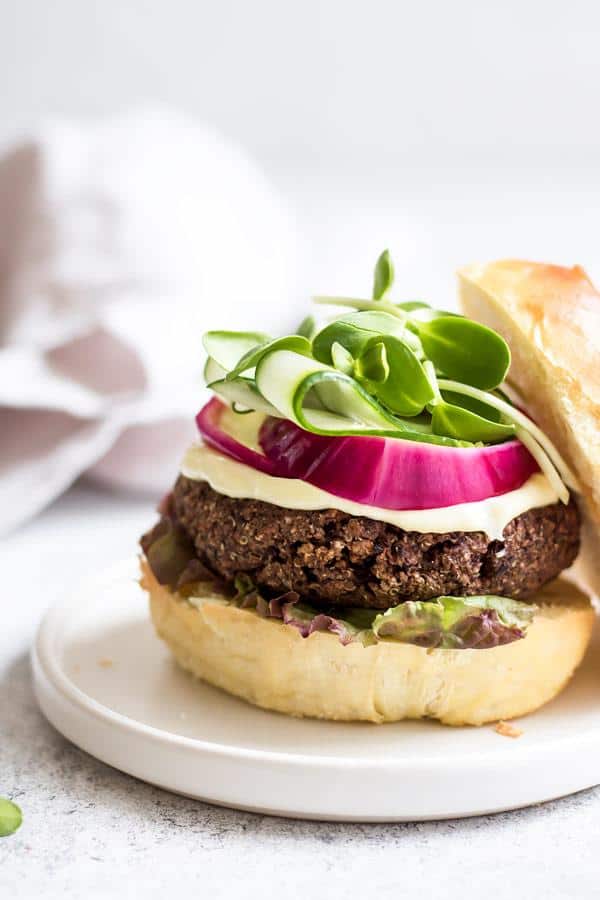 These neat burgers fit the bill of party food, so go right ahead and add them to your list.
All you need to do is add all the ingredients like cooked quinoa and black beans into the food processor with spices and herbs and give it a few pulses.
Once you form the patties, brush them with olive oil and pop them in the oven.
The burgers taste great with your favorite veggie toppings, coleslaw and BBQ sauce!
Sweet Potato Black Bean Collard Wraps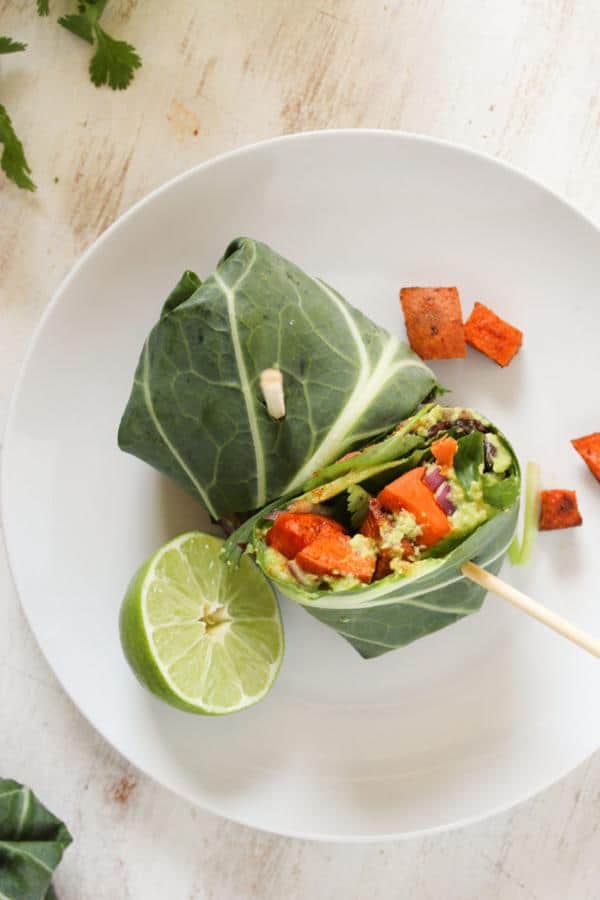 Black beans have always tasted great in a collard wrap; the combination is one the first that strikes me if I ever think of it.
The recipe involves baked sweet potatoes and seasoned black beans packed neatly in a wrap along with mashed avocado, onion, and cilantro.
You can also use tahini or jalapeños for added spice and a little tang!
Sweet Potato Casserole with Black Beans, Kale and Buckwheat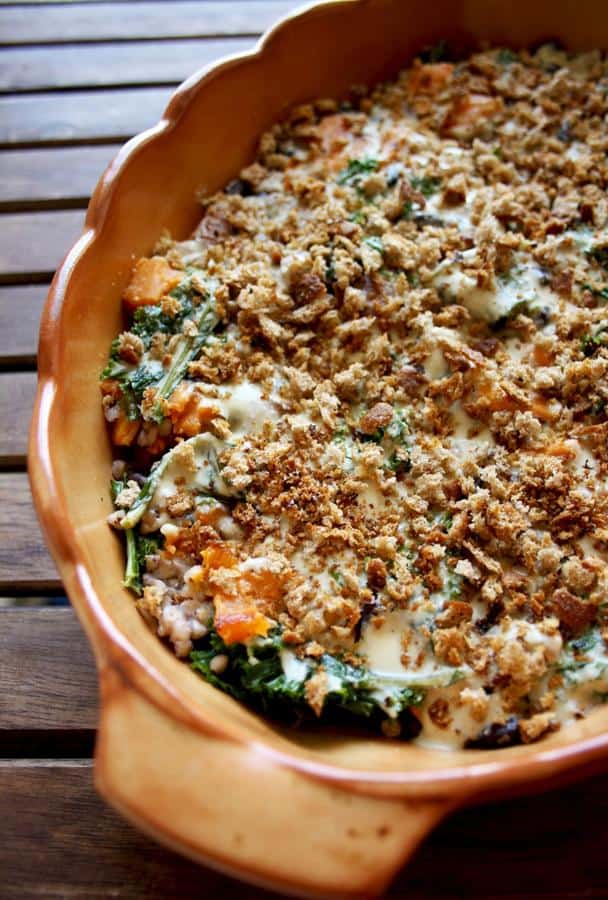 This dish has all the textures and flavor you'd look for in a perfect holiday casserole; it's creamy, crispy and hearty.
The ingredients are rich and healthy so you have one less worry on your diet-conscious mind.
Black beans are mixed with sweet potatoes, chopped kale, buckwheat and others to be layered and baked to a golden crisp.
You can add to the richness by including cashew cream in the mix!
Quinoa Black Bean Roasted Bell Peppers
Stuffed bell peppers have been my school-time favorite dish that my mom made on an extended holiday.
Quinoa is cooked with sautéed onions, black beans, sun-dried tomatoes and spices to be filled into halved and baked bell peppers.
Garnish them with parsley and pepper with a dash of lime. Perfect!
Wrapping Up
We're always looking for great recipes to include in our roundups and struggle to fit in just the best. Honestly, it gets hard to choose because all the recipe developers are greatly talented and creative.
We hope you love what we bring for you to read; please share your thoughts and feedback with us if there's anything in particular you loved or would like to see in the future!
We're always thrilled to receive pictures of dishes you tried out and modified. What would you like us to write about next? Feel free to reach out to us!