We first noticed the many ways in which they can be used when we made this selection of recipes.
Let's celebrate our pointy friends because not only are they super healthy, they're also incredibly inexpensive.
Clever Carrot Recipes
Carrot Cake Pancakes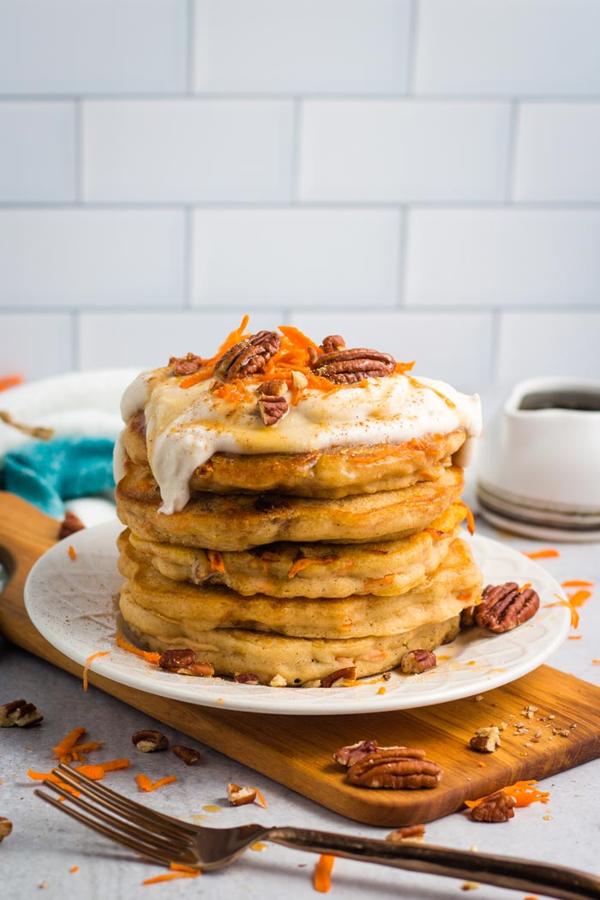 This pancake recipe is delicious and I'm not just saying that!
It's easy and only uses a handful of ingredients. Top with the sweet coconut whipped cream and my goodness me!
Roasted Carrot White Bean Spread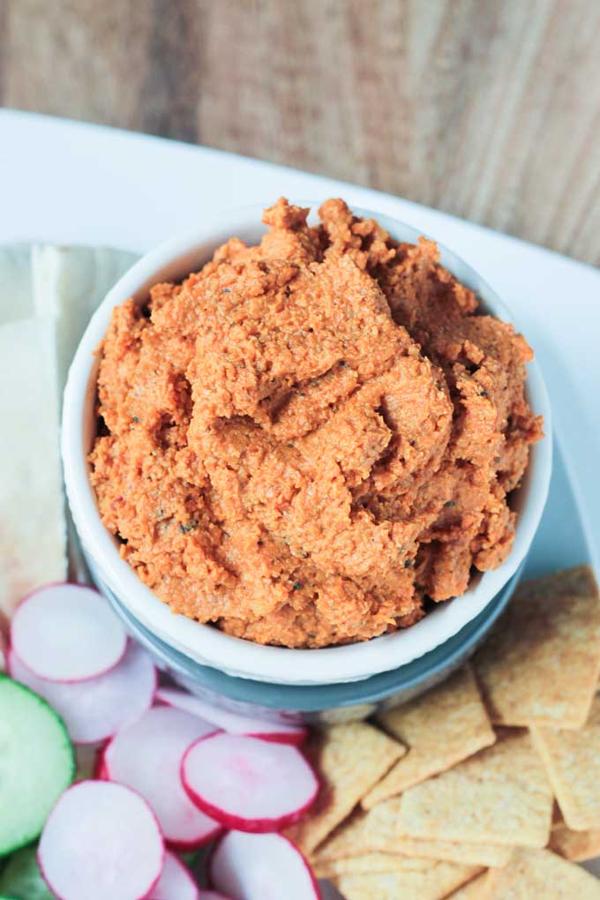 I love hummus although despite its different varieties, sometimes I need a complete change.
As the title suggests, the base of this spread is white beans, so you're guaranteed this is packed with protein.
Add your carrots along with all the other flavors and you have a serious contender for hummus. Delicious!
Roasted Rainbow Carrots with Maple and Dill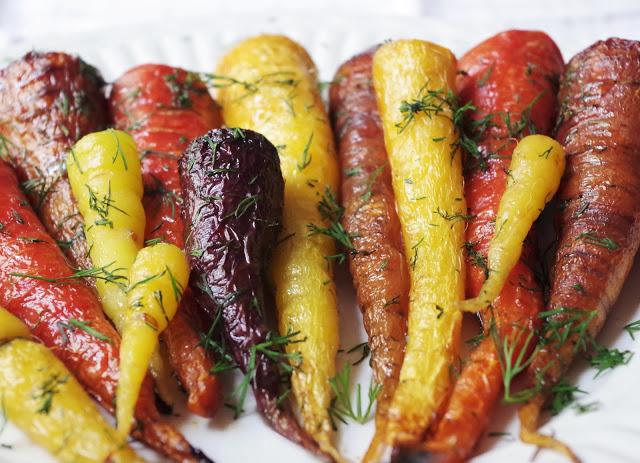 I think I recently read that the original carrots were not orange, but purple on the outside and orange on the inside.
With starting to see different variations of carrot, just be aware that some of them are actually the original type!
This recipe is super easy and if you don't count the salt or carrots, you're looking at just three ingredients! Bake and eat!
Sesame Bok Choy and Carrot Salad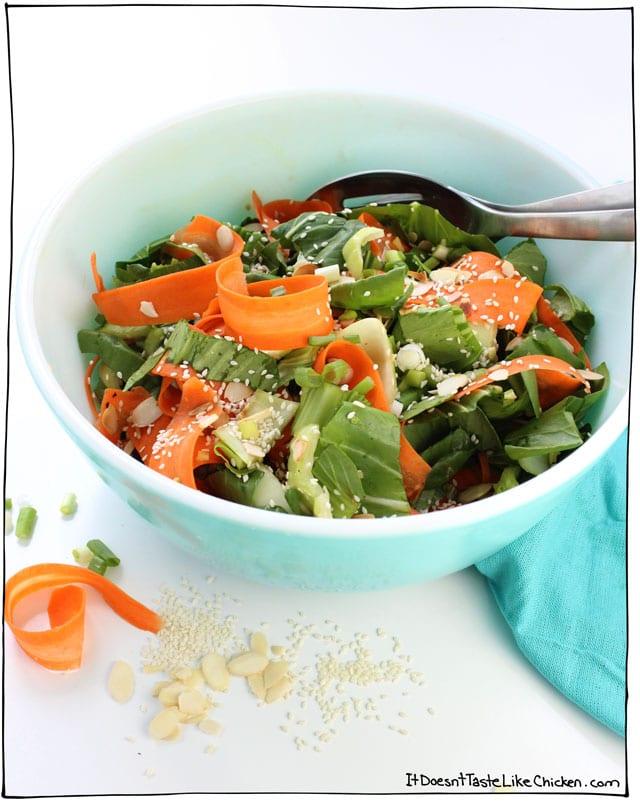 Carrots are amazing in salad as they add a unique texture that nothing else can replicate.
Get your vitamin A of with this delicious Asian-inspired salad.
The dressing steals the show 100%!
Healthy Pumpkin Carrot Muffins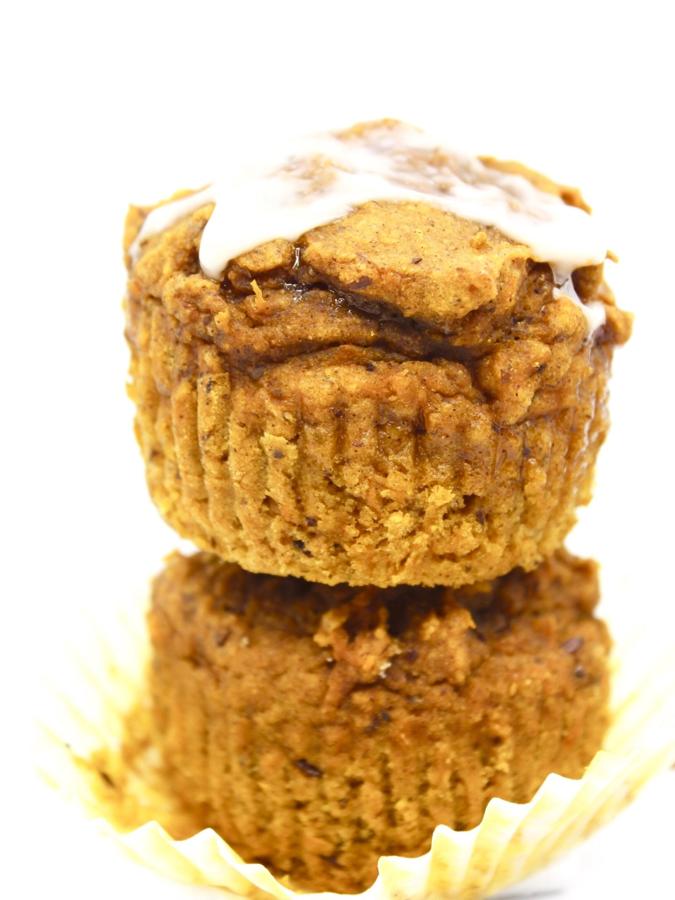 You've heard of carrot cake, carrot muffins anyone?
If you've never had carrot muffins, this would probably be one of the best recipes to try.
Made with whole wheat pastry flour, ground ginger, cinnamon and all the other ingredients, this will be a guaranteed hit with all the family.
Red Panda Carrot Soup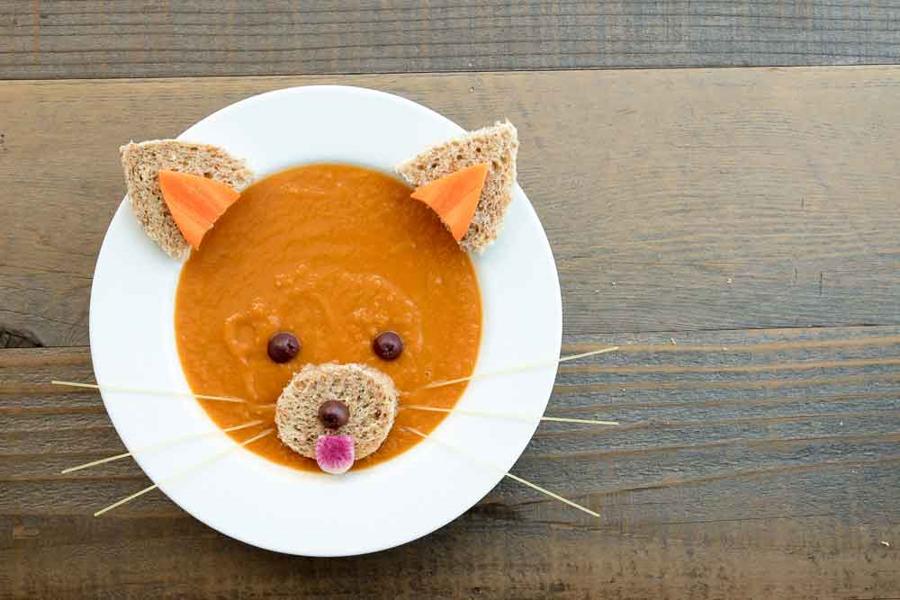 I'm not really into soups so to get one appearing in a roundup means it has to be really good!
What I love about this dish is the simplicity of ingredients.
Seriously, I bet you have nearly everything in your kitchen already, that's how easy this is. Best of all? It tastes great!
Carrot and Avocado Gazpacho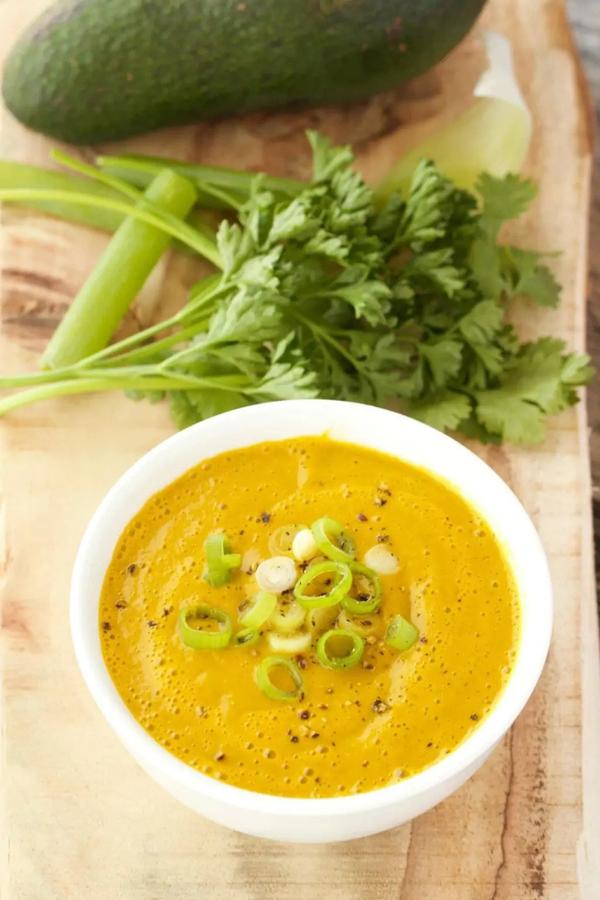 If you've never heard of gazpacho, it's simply a raw and cold soup.
Don't let that put you off because we are talking super healthy, and that's an understatement!
This recipe does require the carrots to be juiced so if you don't have a juicer, you could blend? Let us know what you come up with.
Creamy Carrot Mac with Walnut Herb "Parmesan"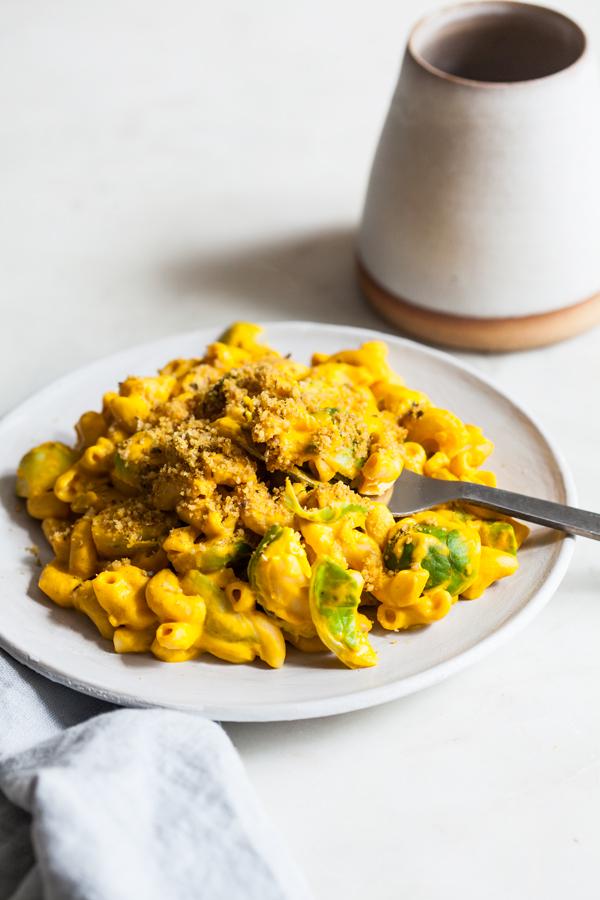 Now this recipe is all me!
Everything from the mac sauce to the walnut parm is simply perfect.
You simply need to make this, comfort food at its finest!
Moroccan Carrot Salad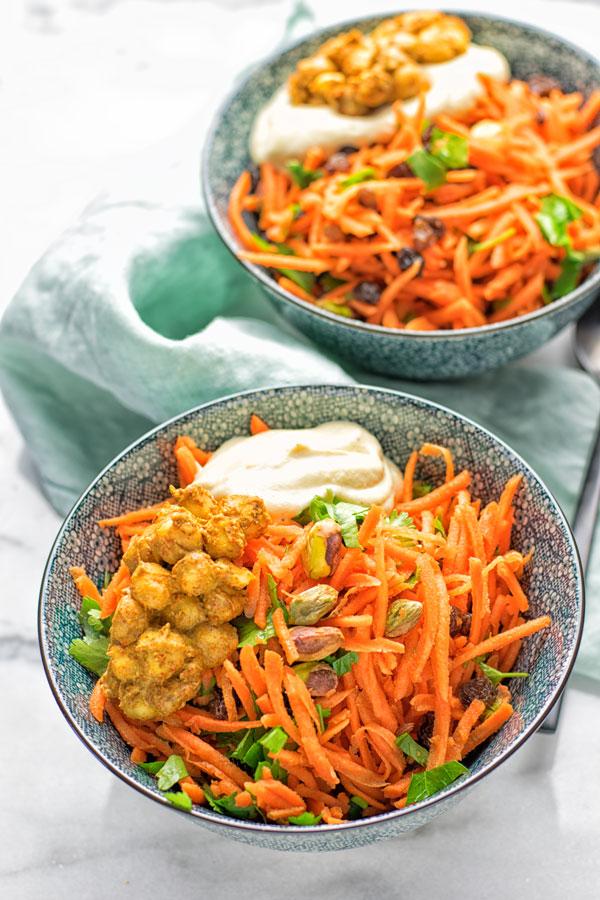 Another fantastic recipe from Florian from Contentedness Cooking.
We love Florian's recipes; they are all gluten-free and contain six ingredients or less.
This salad is loaded with textures, flavors and goodness. The only thing I'd say is that the bowls are too small, make double!
Carrot and Lemon Baked Falafel Salad Bowl with Lemon and Tahini Dressing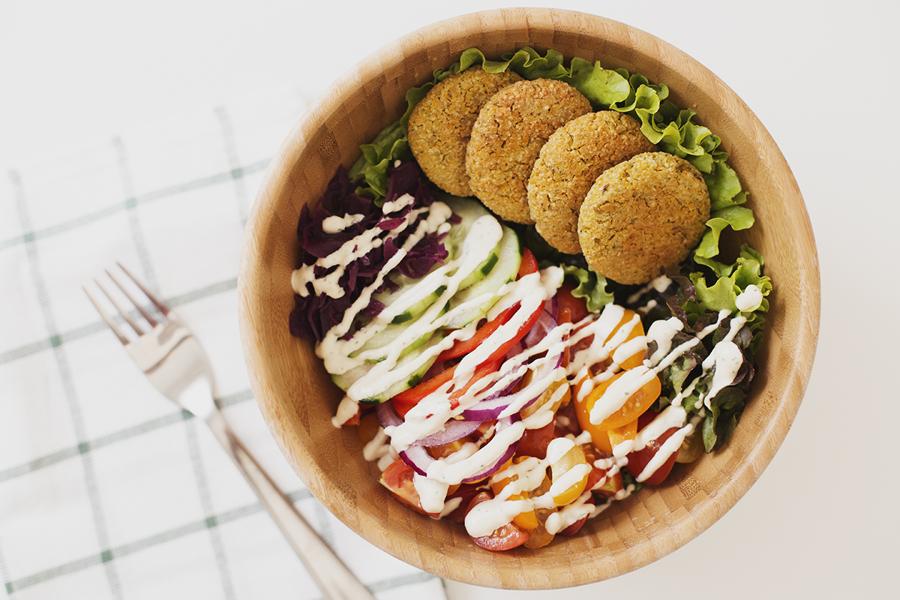 This recipe is a complete meal and it has everything!
These falafels are one of the best recipes I've had, perfectly moist and bursting with flavor.
The dressing isn't just good for this recipe, it will go with any salad, over tofu, in sandwiches, everything!
Easy Savory Carrot Balls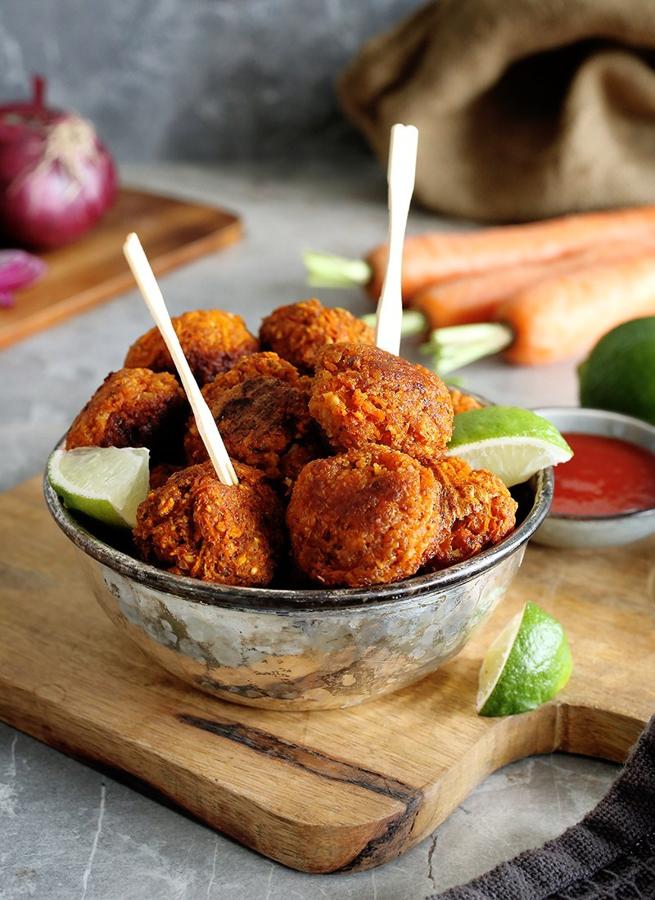 These little snacks are baked, not fried!
To be honest, I'm never had anything like them before.
They're totally delicious and will be perfect as an appetizer or thrown on a big salad to make the perfect main meal.
Carrot-Lentil Cakes with Garlic-Herb Tahini Sauce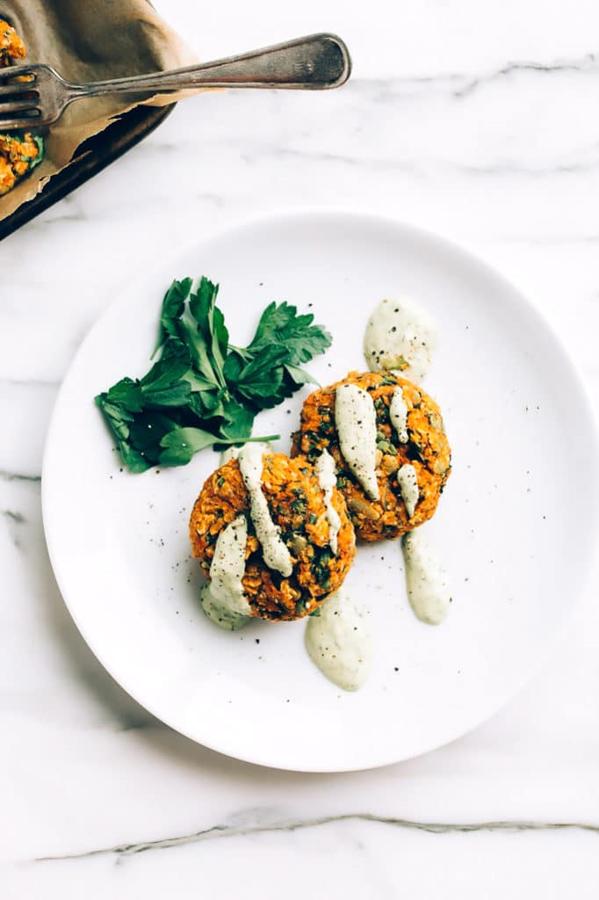 This recipe is when you want to take it up a notch!
Gluten-free and bursting with flavor and protein, these cakes will impress every time.
No-Bake Carrot Cake Bites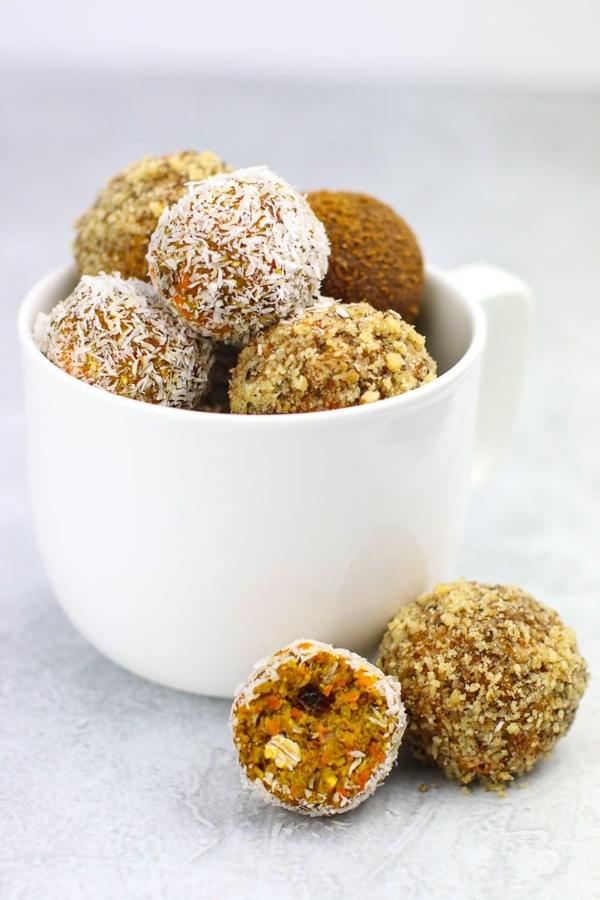 The best part about this is the no cooking!
Call them energy balls, carrot bites or anything. The fact is they are loaded with wholesome ingredients.
You're looking at just 15 minutes prep time and the same for resting. Budget friendly and delicious!
Mixed Flour Carrot Bread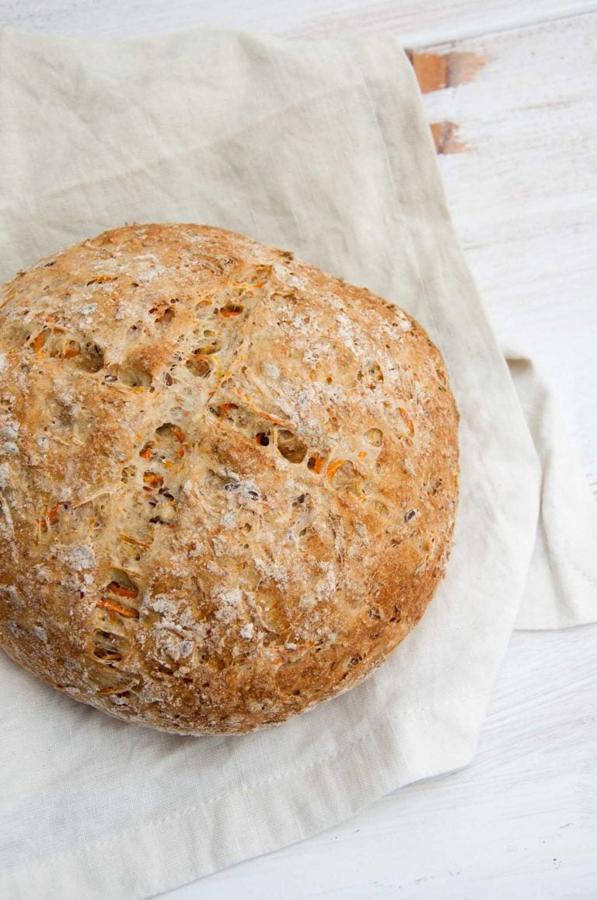 I don't think I've ever heard of carrot bread before, not sure. I have now and I'm sure glad we found this recipe!
We normally buy a bread from the store as it's cheap and the thought of making it yourself seems like too much hard work.
However, I urge you to have a go and even if you want to cheat, use a breadmaker! This recipe will show you it was all worthwhile!
Daikon and Carrot Salad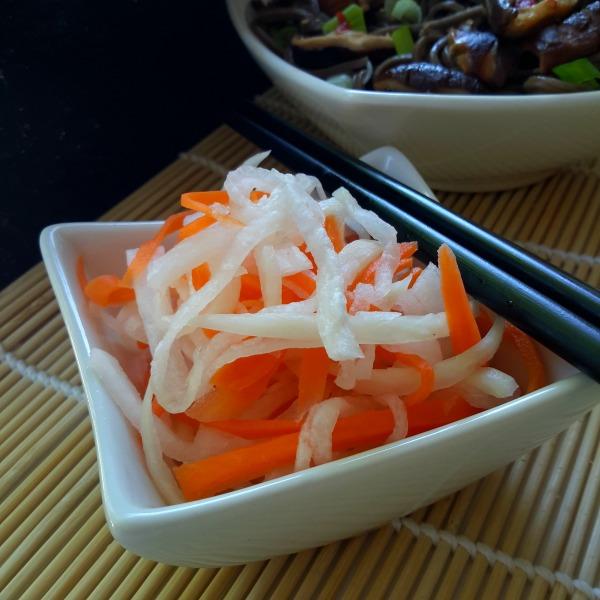 This Japanese recipe is what I'm talking about!
It looks simple because it is and that's the beauty of it.
If you've never had a daikon before, this is the place to start.
Crispy Carrot Patties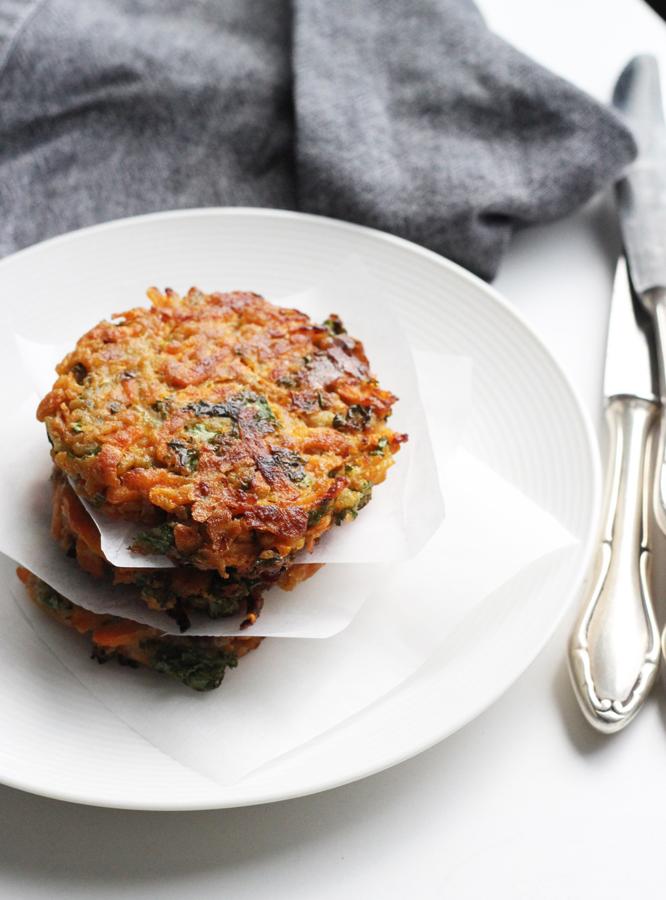 As a special treat, this is it!
Whether you eat these as burgers or on a salad, you're going to love them!
Crispy on the outside, and bursting with flavor and goodness on the inside. Make them, trust me!
Carrot Beetroot Cake with Buttercream Frosting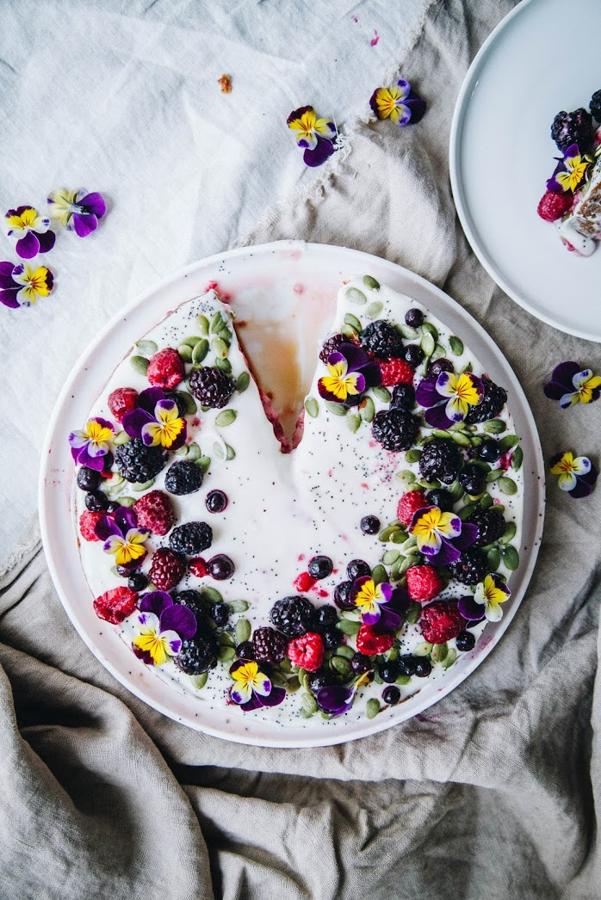 Carrot cake just got the whole lot better! An all raw recipe!
If you're unsure about the beets in this cake, don't be. Not only does it add color it has a very subtle flavor.
Whether it's for a party, or just because, this cake will not disappoint!
Carrot Passionfruit Muffins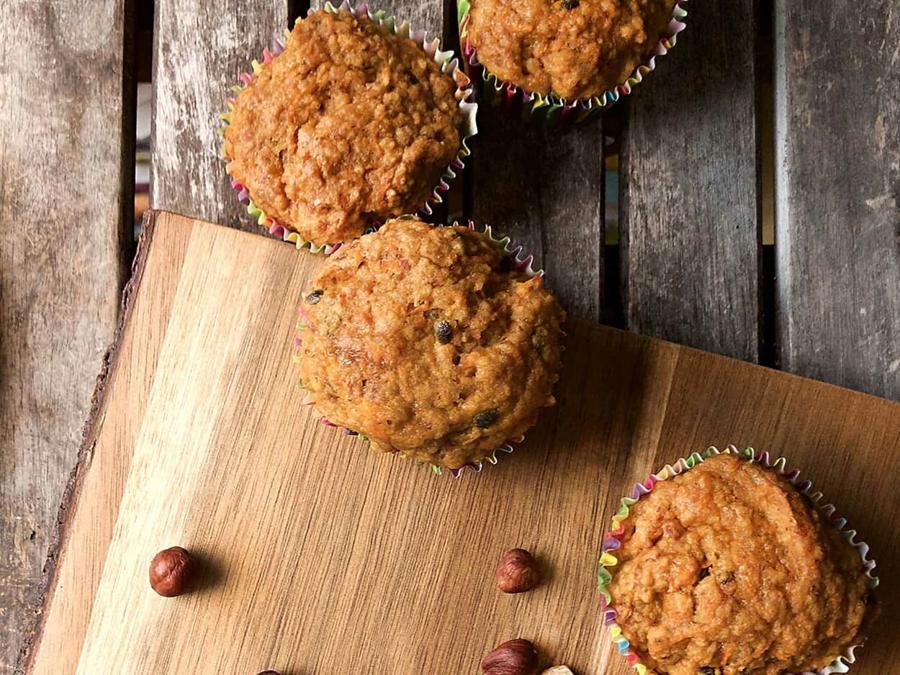 These muffins are not only vegan, they are gluten, nut and oil-free as well as not containing any white sugars.
Are they lacking anything, certainly not!
Easy to make and the most fluffy and tasty muffins you've ever had. Wonderful!
Carrot Cake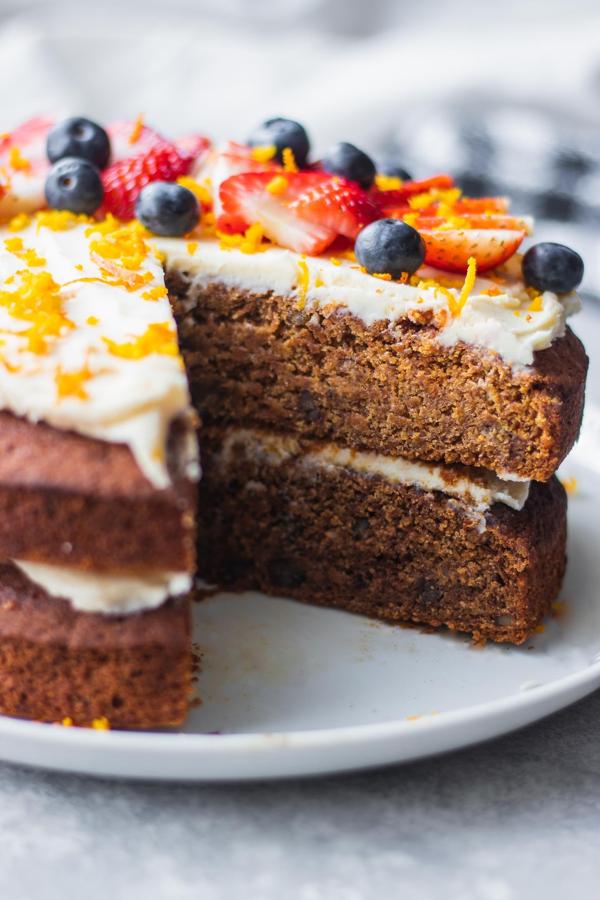 There are many carrot cake recipes out there, believe me, hundreds!
This is certainly one of the best we've had; it's easy to make and the frosting has a zesty background due to the orange juice.
Cinnamon, ginger and coconut sugar, this will soon be your favorite carrot cake recipe!
Bbq Pulled Carrot Tacos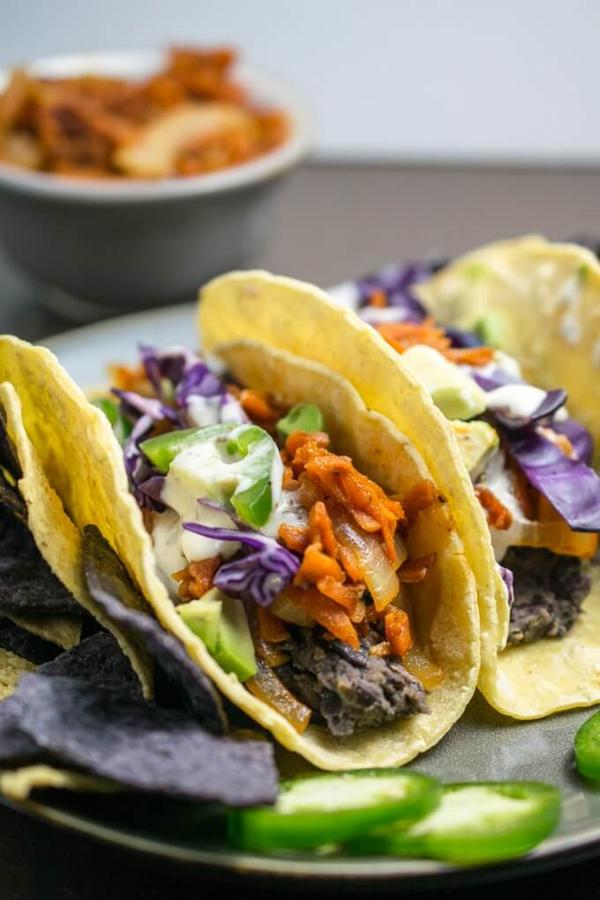 Everybody seems to be eating jackfruit nowadays as a meat alternative. Hey and why not.
Having said that, personally I'm not a big fan and this is where this recipe comes in!
Shredded carrots braised in the barbecue sauce is the basis of this fantastic taco recipe. You will enjoy it, that's a guarantee!
Carrot Dogs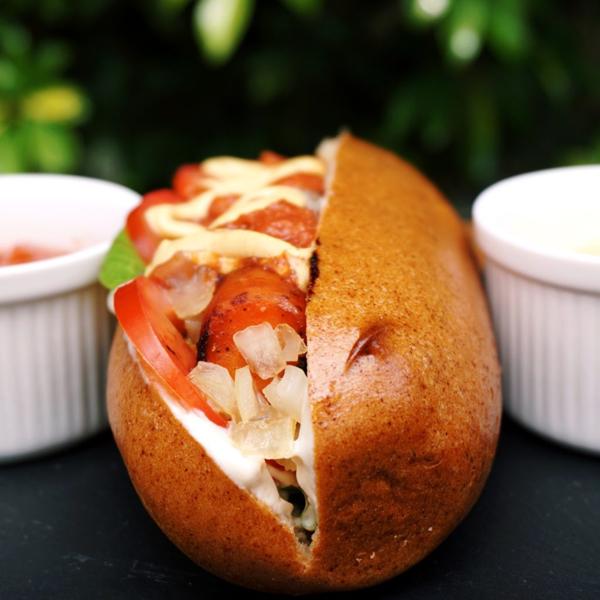 Have you heard of this before? Using carrots instead of hotdogs? I think it started out as a thing on social media.
I'm tried a few of the recipes around, some are okay while others simply taste of a boiled carrot!
We wanted to find the best one and we think we have! Follow the simple instructions and wait to be amazed! Guilt free and bursting with health and flavor!
Carrot Coconut Soup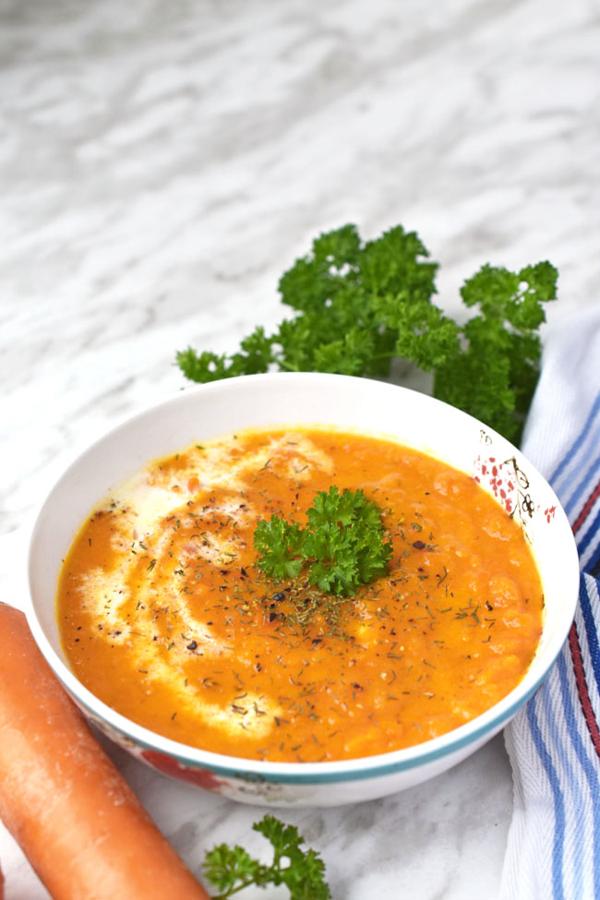 This recipe is nut and gluten-free!
Whether it's for Thanksgiving, Christmas or simply around that time of year, this soup will be a hit.
Go to the recipe page and check the ingredients, nothing but whole foods can only yield something delicious and that's what you have here!
Tropical Carrot Cake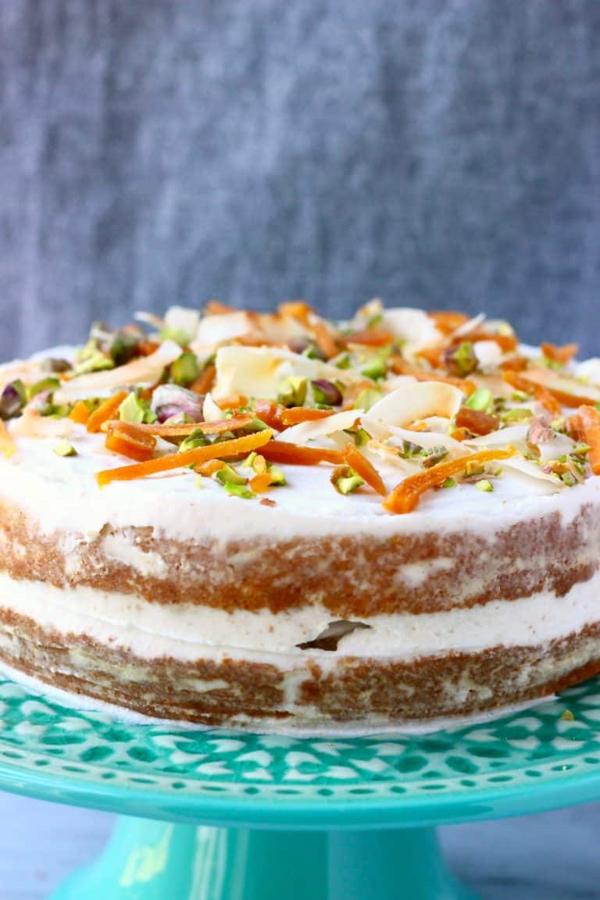 Carrot cake but with a twist!
What makes this tropical? Well, dried mango for a start! You could use papaya if you prefer. Add some desiccated coconut and you can already see the beach!
The frosting is made with just four ingredients and based on full fat coconut milk. Put everything together and you have the bomb!
Spicy Roasted Carrot and Eggplant Salad with Puy Lentils and Preserved Lemon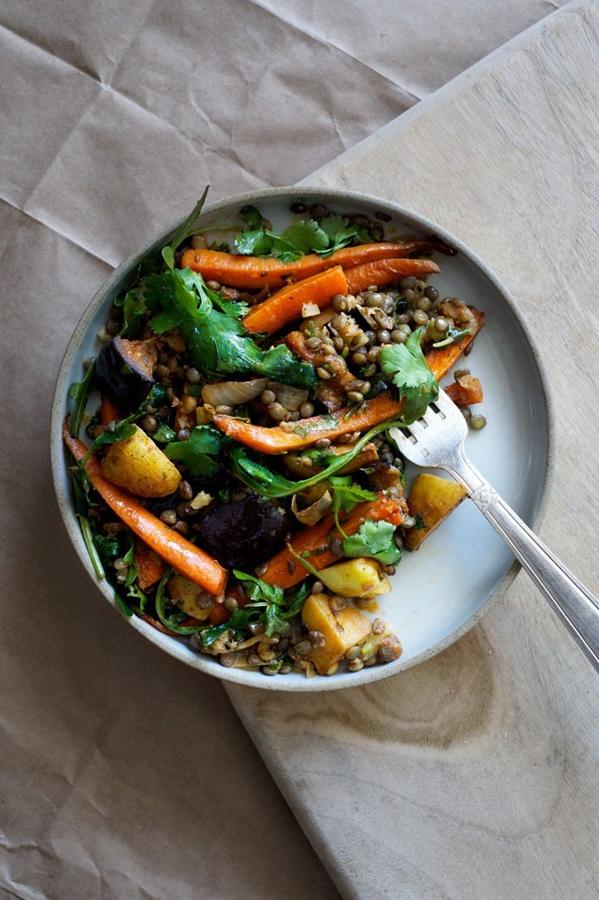 If you're a carrot lover and simply want a meal with a feature as the main event, you can't go wrong with this.
Potatoes, onion, eggplant and a bunch of amazing ingredients make this hearty and satisfying dish. One look at the photo tells you all you need to know.
Carrot Cake Donuts with Gingerbread Flavor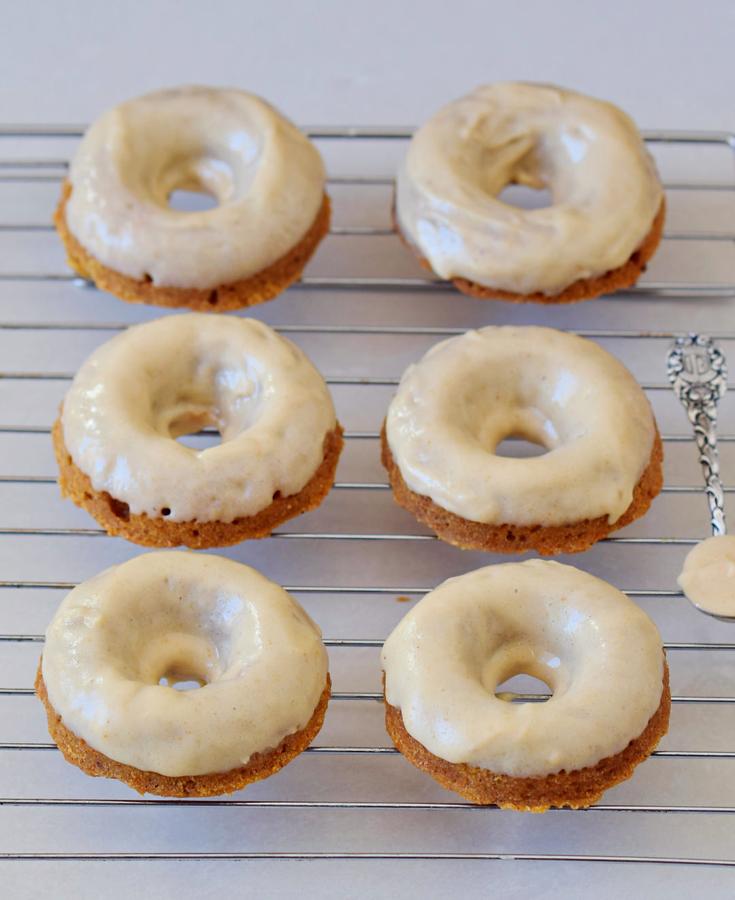 These donuts are perfect in every way!
They are baked, not fried, they do not contain any refined sugar or oil and they are gluten-free!
This shows you can have all the taste and all the goodness!
Roasted Carrot and Garlic Hummus Dip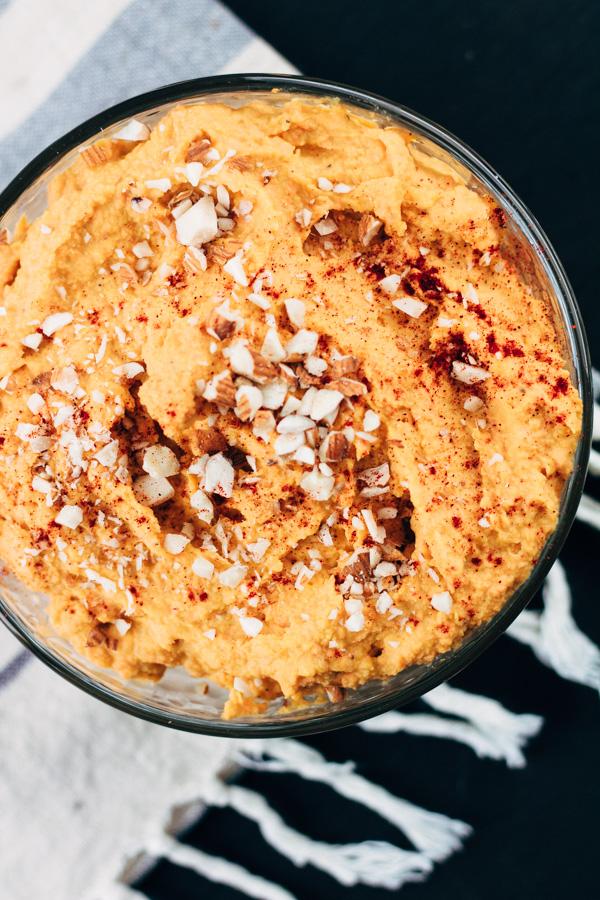 There are so many variations of hummus and I think one of my favorites is with caramelized onion.
Having said that, I think I just found a new favorite!
The roasted carrot adds a hearty flavor while the garlic is exactly the icing on the cake, well, the hummus. I just can't stop eating it!
Oven Roasted Tri-Colored Carrots with Toasted Pumpkin Seeds, Pomegranate, and Garlic Tahini Yogurt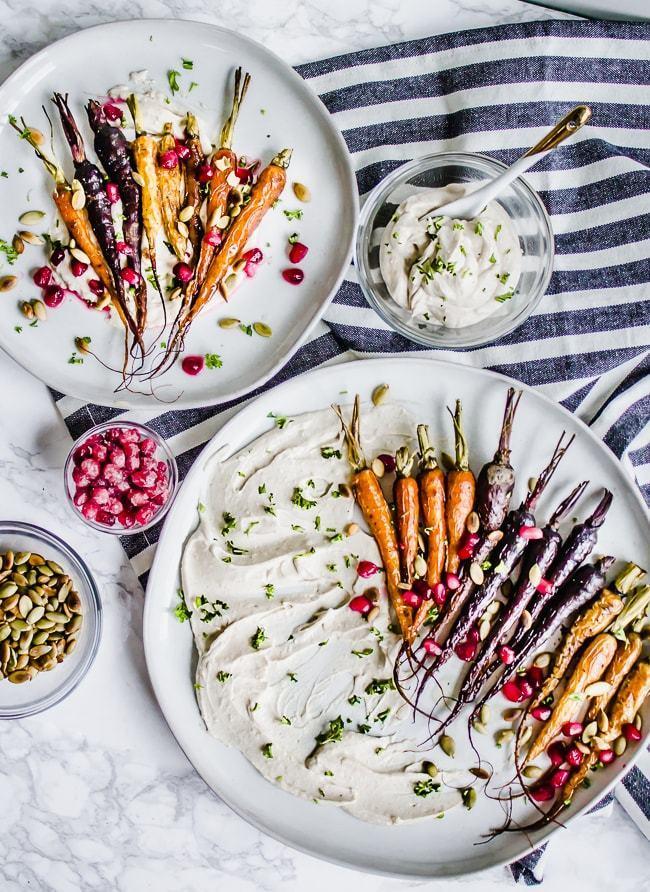 If it seems like there's a lot to this recipe, there really isn't.
Take one look at the ingredients and you'll see there's just a handful for the main part.
The garlic tahini sauce is extraordinary! This recipe will seem as though it came out of a super expensive restaurant and yet it's easy to make and extremely inexpensive!
Carrot Cake Smoothie with Sweet Lemon Cashew Cream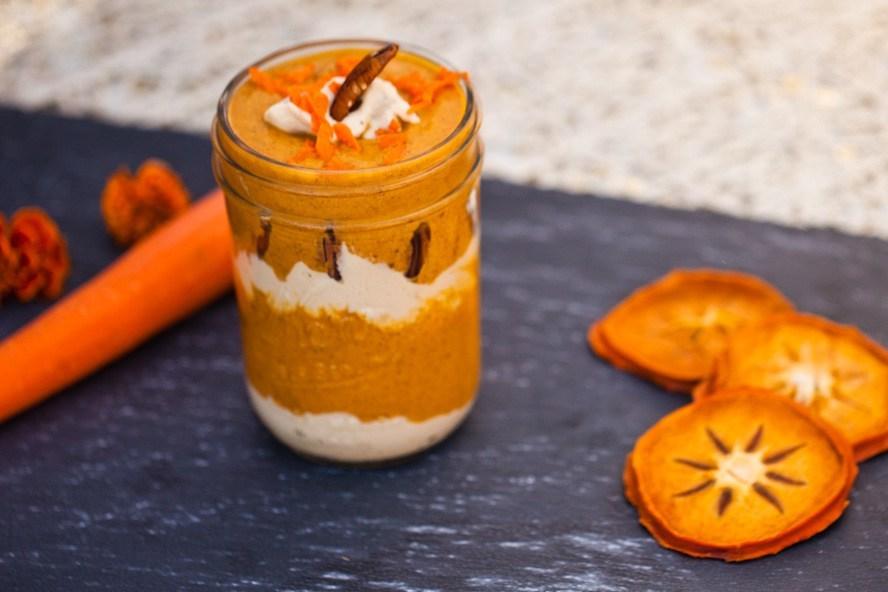 Yes, this smoothie really does taste like carrot cake!
I can only describe this as a real treat. It's not too sweet, it looks fantastic and the sweet Lemon cashew cream is nothing short of indulgent. You must try it!
Carrot, Ginger and Orange Soup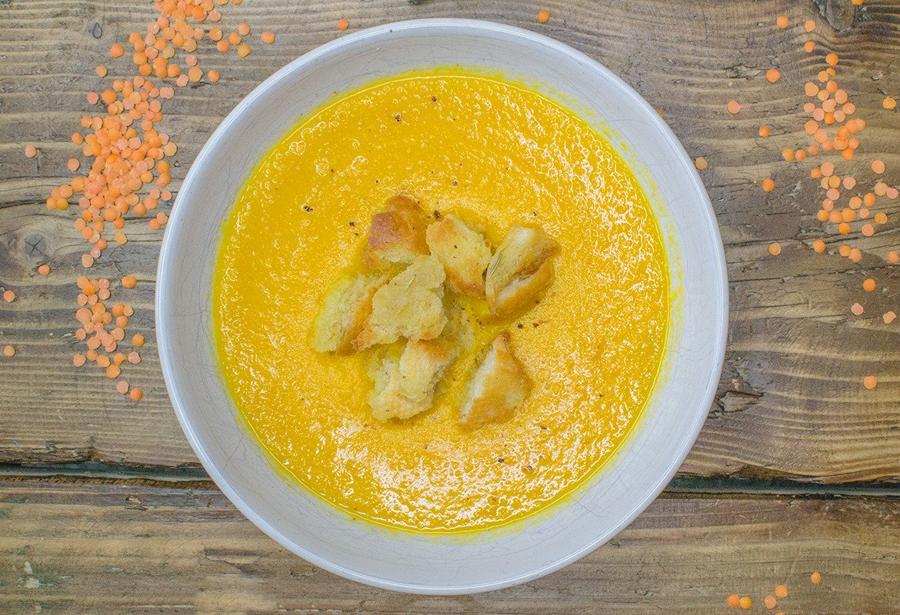 Carrot and ginger made to go together; everybody knows that!
This vibrant looking soup is simply delicious. Talking of which, it couldn't be simpler to make.
Made with onion, red lentils and just a couple of other ingredients this will be a definite hit. Don't forget the croutons!
Carrot Cupcakes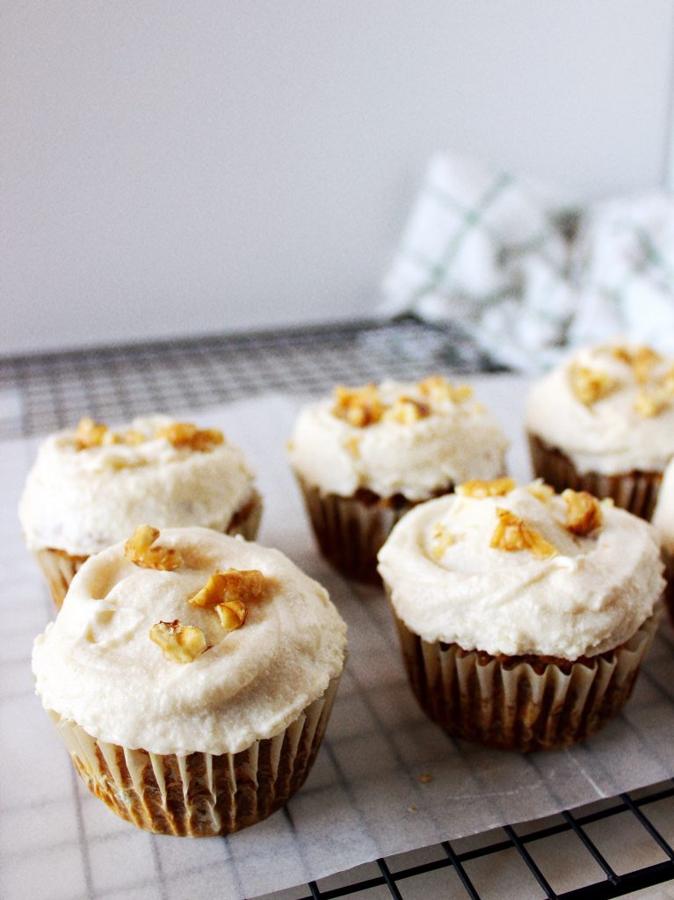 Birthdays, celebrations, do we need an excuse to have cupcakes?
The cream 'cheese' frosting brings all the flavors in these moist cupcakes together.
Easy and fun to make, get the whole family involved!
Lemon Carrot Muffins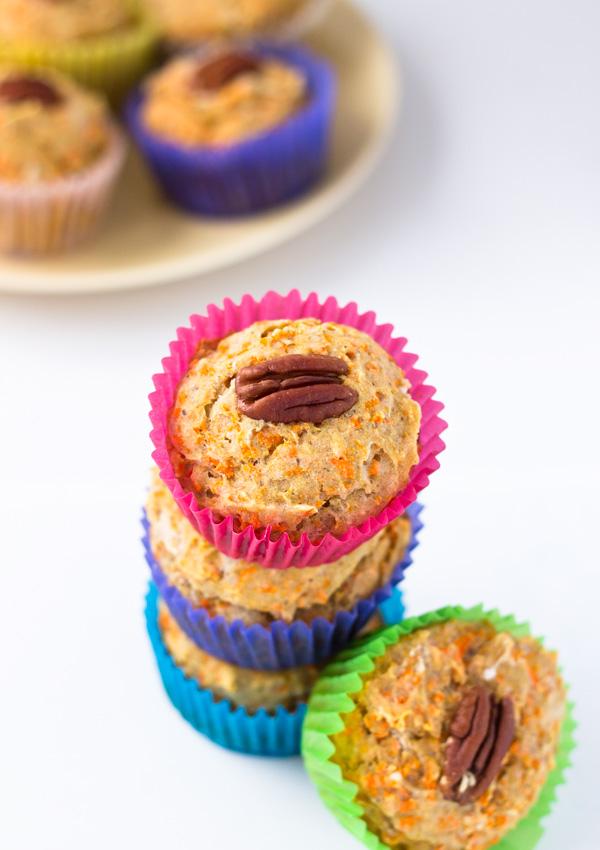 These gluten-free muffins is one of the easiest muffin recipes I've ever seen!
Throw everything together, bake and eat.
If you're new to homemaking, this would be the perfect place to start.
Oven-Baked Curry Carrot Fries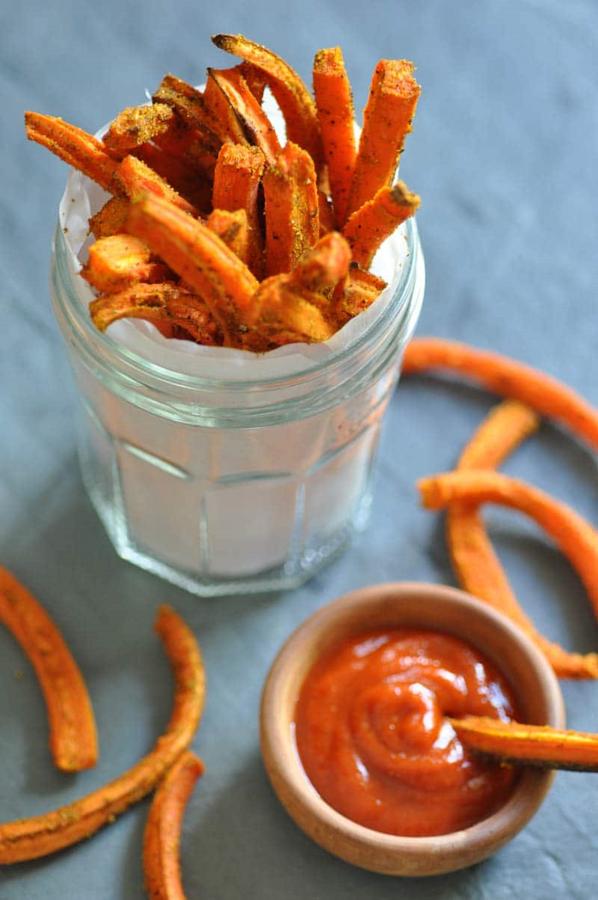 If you're anything like me and you like curry, you're going to love these!
Normally you'd look at this and be forgiven into thinking it's sweet potato fries.
Wait to see the look on your friends' faces when they take the first bite!
Coated with the perfect blend of herbs and spices, this is probably the best 'fries' alternative recipe I have seen so far!
Glazed Carrots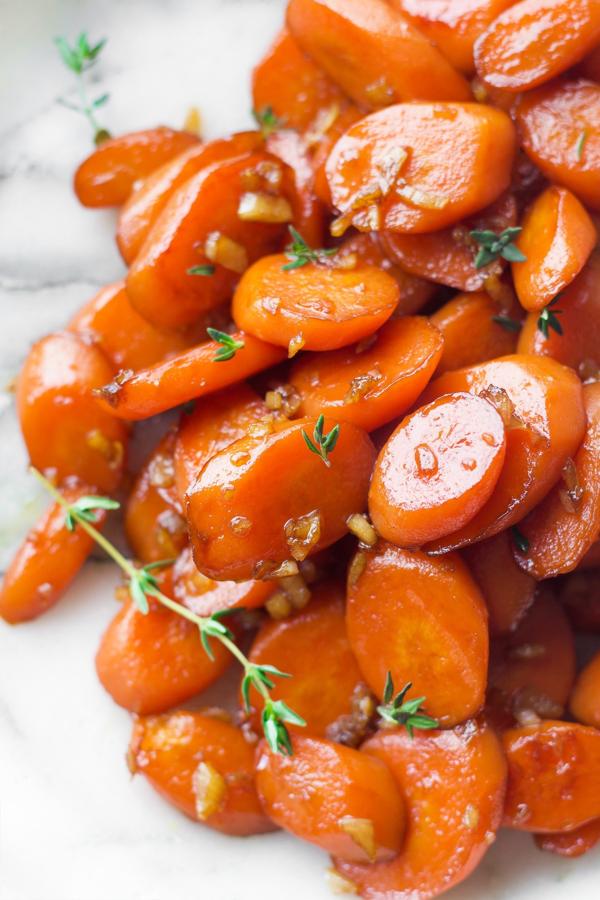 Sometimes you just need a simple recipe; one that will become your standby, one that's easy and you go to every time.
Whenever you have a bunch of carrots lying around, make this recipe as it's easy and they with anything. Delicious!
Super Moist Carrot Cake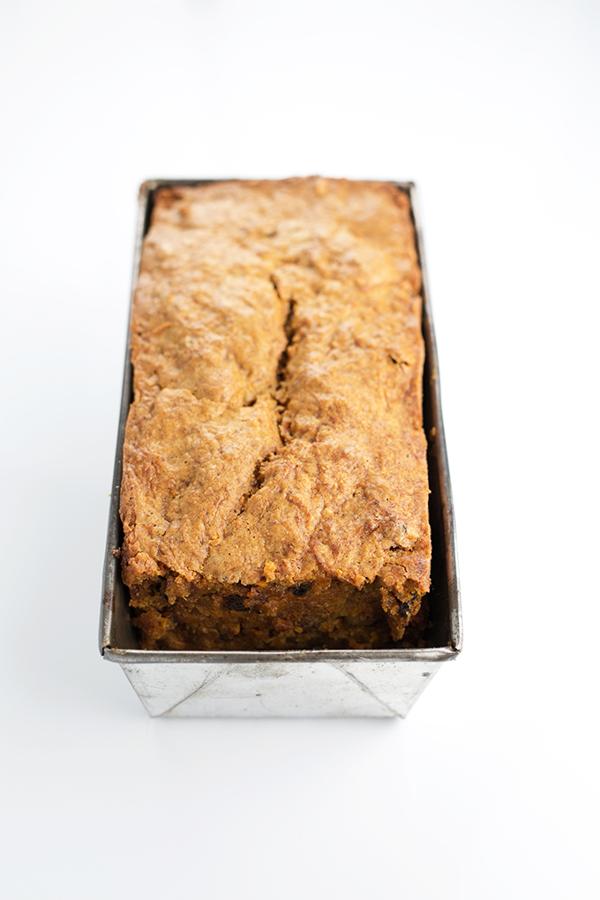 This is a very special carrot cake.
There's a hint of vanilla in every bite as well as a little ginger and cinnamon. It really is wonderfully moist and melts in the mouth.
The icing/frosting is what makes this recipe for me. It's made with Tofutti Cream Cheese as a base and has little orange zest and vanilla as well as a couple of other ingredients. Super cake!
Roasted Carrot Fry's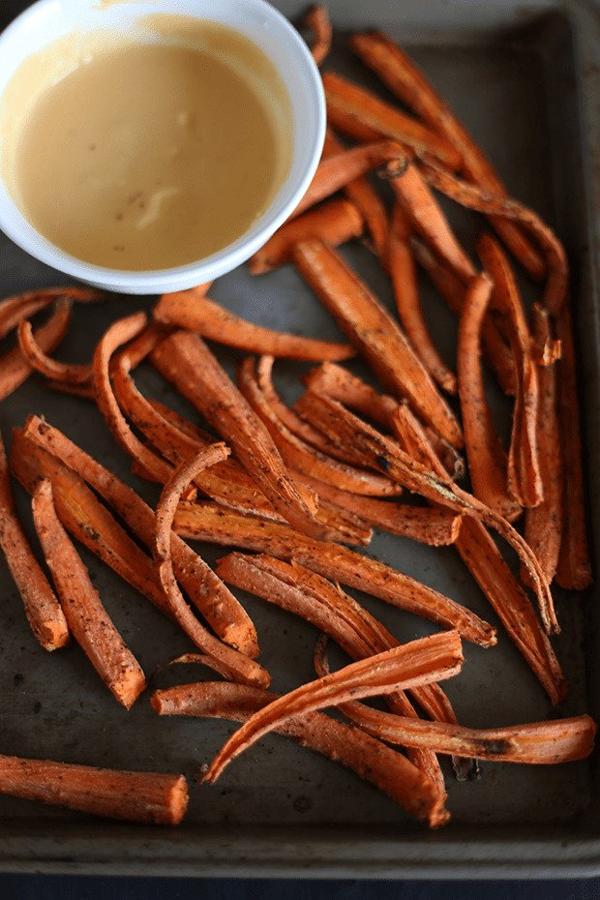 Forget your sweet potato fries, this is where it's at!
Oil-free and super healthy and you literally won't believe how easy they are to make. Serve with the dip to make a great snack or serve as you would potato fries.
Apple Cider Glazed Carrots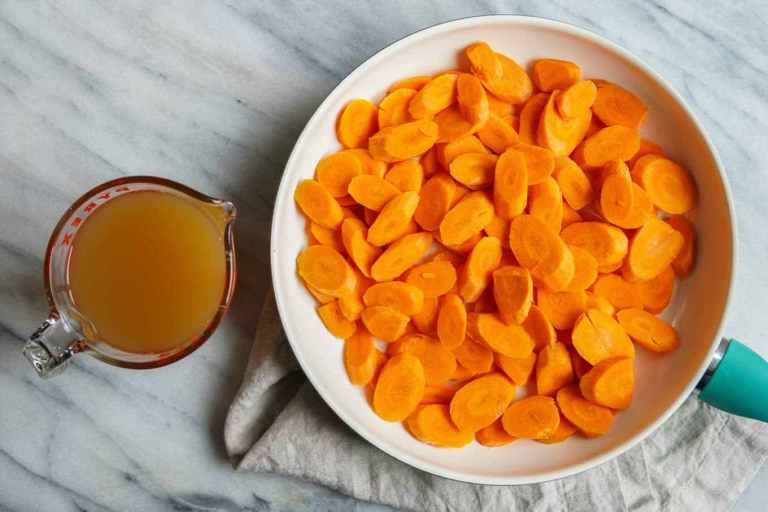 This recipe has two ingredients and one of them is obviously carrots!
Carrots are so cheap, however, I think we often overlook them because we just usually steam or roast them.
This is a simple recipe on how to take carrots to the next level, they'll go with just about anything and everything!
Carrot Oatmeal Breakfast Patties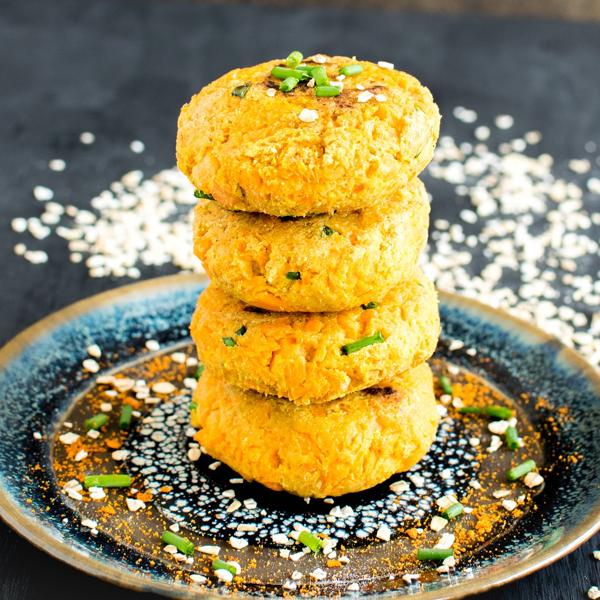 Gunjan makes and photographs all the recipes on her website!
This breakfast is packed with nutrition although they're so good, you could have them any time.
Inexpensive, easy to make and totally delicious!
Carrot Lox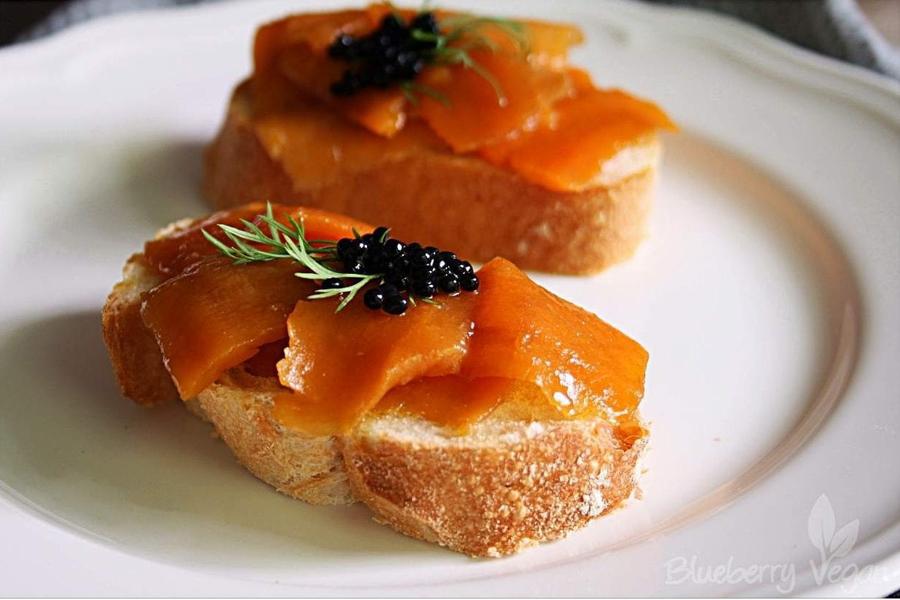 If you like creating plant-based versions of recipes usually made with animal products, this is for you!
Just five ingredients make this delicious fish alternative, no cruelty involved!
Serve on bread or even toast!
Curry-Glazed Carrot Tofu Tacos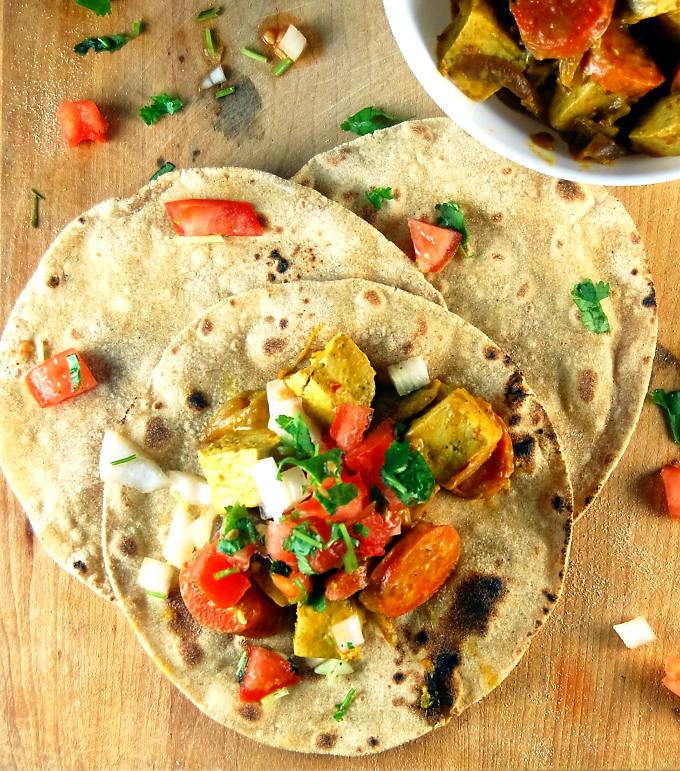 If you don't feel hungry by looking at that picture, please make an appointment to see your doctor!
Carrots have never tasted so good with this curry glaze! The tofu is cooked to perfection as well.
This takes tacos to whole new level!
Carrot Coconut Muffins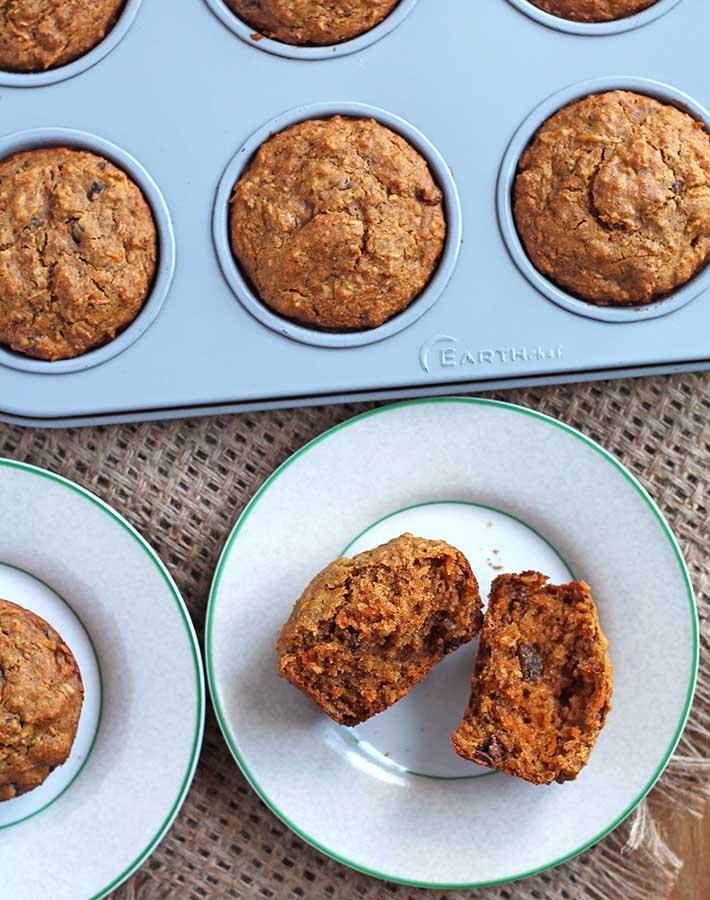 You've made carrot muffins before, right? Well, this is a new twist on the classic recipe.
Whether it's for a snack, a party, or just something to go with a cup of tea or coffee, these muffins are just the ticket.
Just 15 minutes prep time and about 25 minutes baking and you're good to go!
Roasted Carrot White Bean Hummus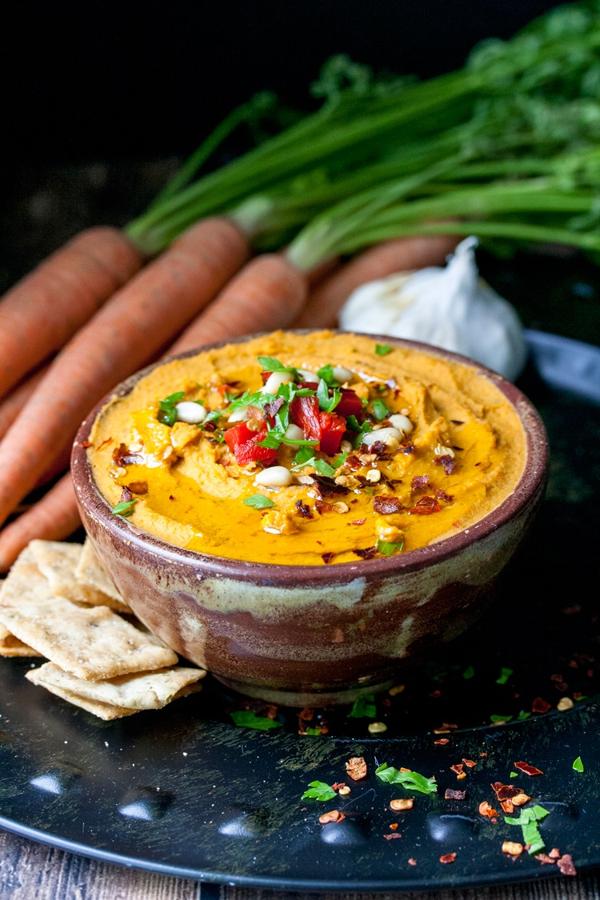 This is one of those recipes where you really have to try it because no words can describe the flavor.
Made with white beans, this dip is made even better with carrots.
The perfect appetizer!
Moroccan Carrot Salad with Oranges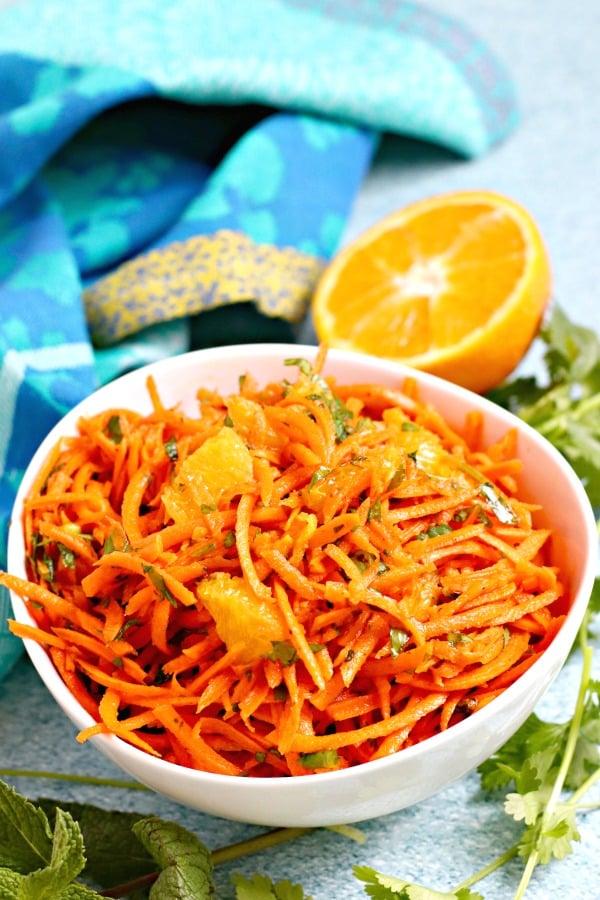 Let's head to North Africa for this incredible and simple salad.
Nothing but freshness is the name of the game here.
The secret is in the dressing, check out the recipe page and make a note to make sure you have all the ingredients because this is a must!
Carrot Cake Muesli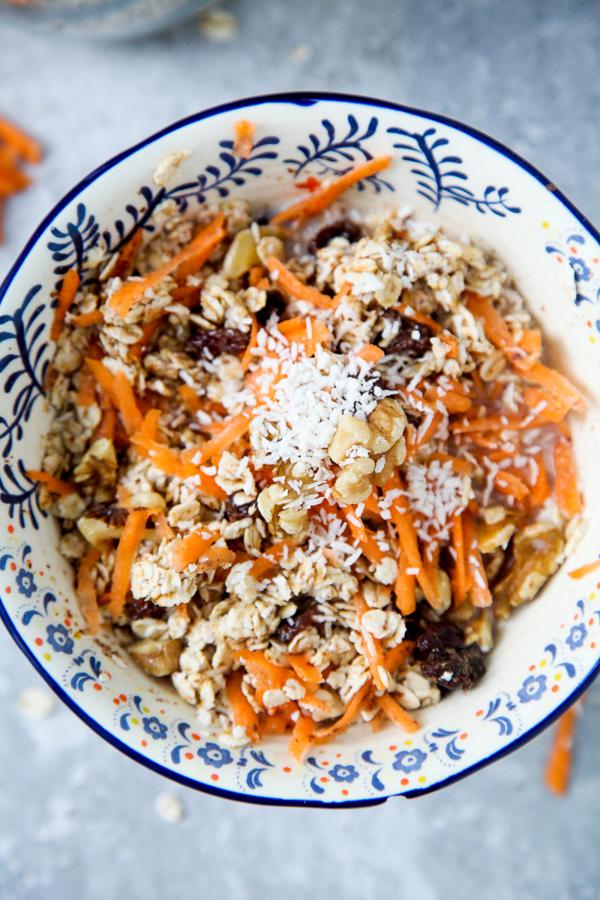 This gluten-free recipe is simply stunning!
I never would have thought to put carrot in something like this. Honestly, it works really well.
The author has put a video on the recipe page that walks you through each step. Easy, delicious and delicious again!
Carrot Cake and Zucchini Bread Oatmeal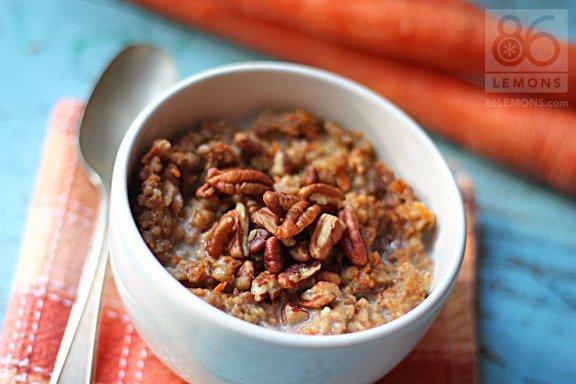 You just have to trust me on this recipe, make it!
All the ingredients are things you can simply pick up anywhere.
Do a little preparation the night before and you'll be rewarded with this incredible breakfast!
Roasted Heirloom Carrots with Black Pepper Pasta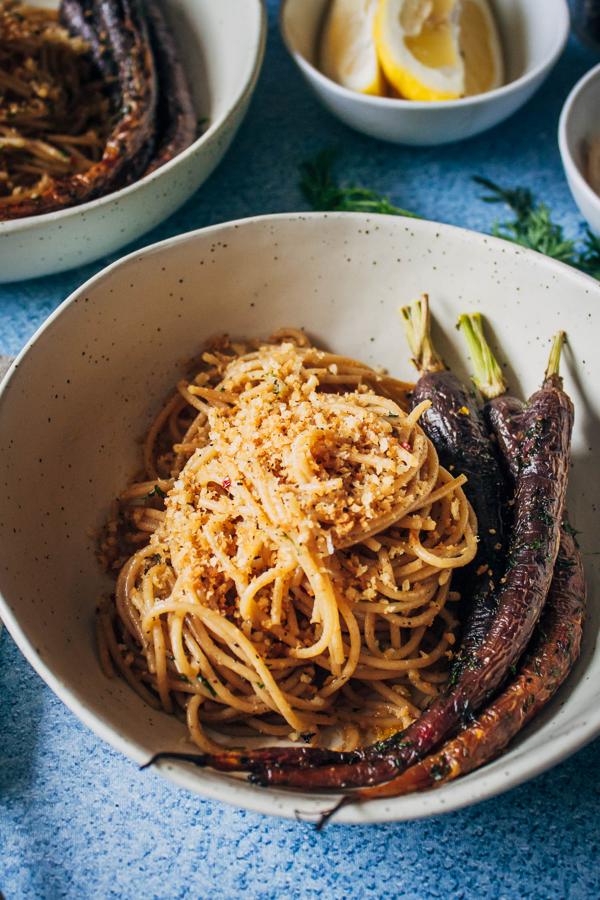 Who doesn't like a good pasta dish? I certainly do!
The presentation is stunning and easy to achieve, even that is an understatement!
Whether you're doing this for yourself, your family or friends, you're looking at a winner!
Maple Roasted Carrots with Cranberries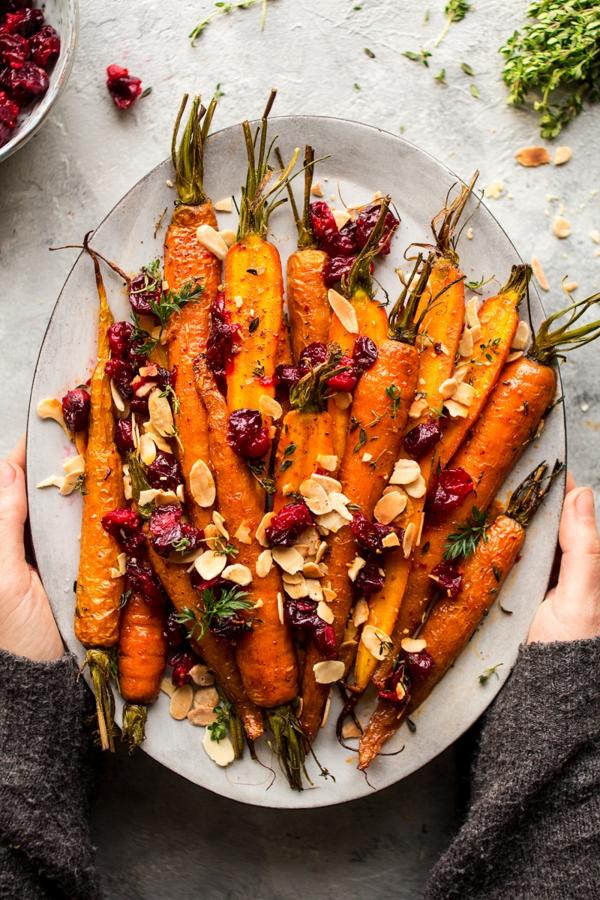 Looking for a great recipe for the holiday season? You just found it!
Even the kids will devour these carrots like never before!
Mix everything up, bake and enjoy!
Apple, Beet, Carrot and Kale Salad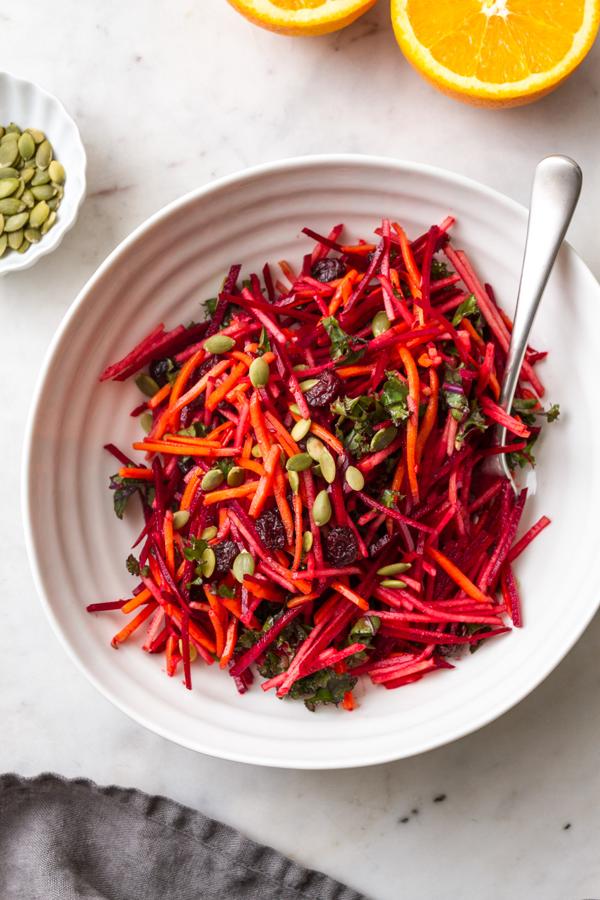 Probably the most vibrant looking salad I've ever seen!
This is a super salad in every sense; it's easy to make incredibly healthy and simply lovely.
Filled with textures, flavors and nature's goodness!
Spicy Carrot Lox and Avocado Sushi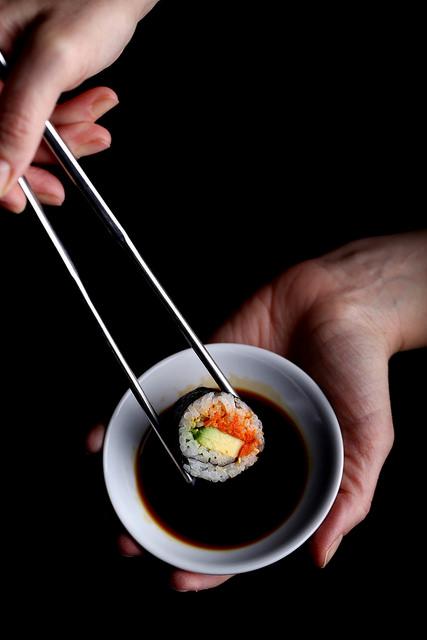 Take your plant-based sushi to the next level!
If you're a vegan sushi lover, this is definitely the recipe for you.
Add this colorful roll to your next selection and don't forget to share!
Carrot Cake Granola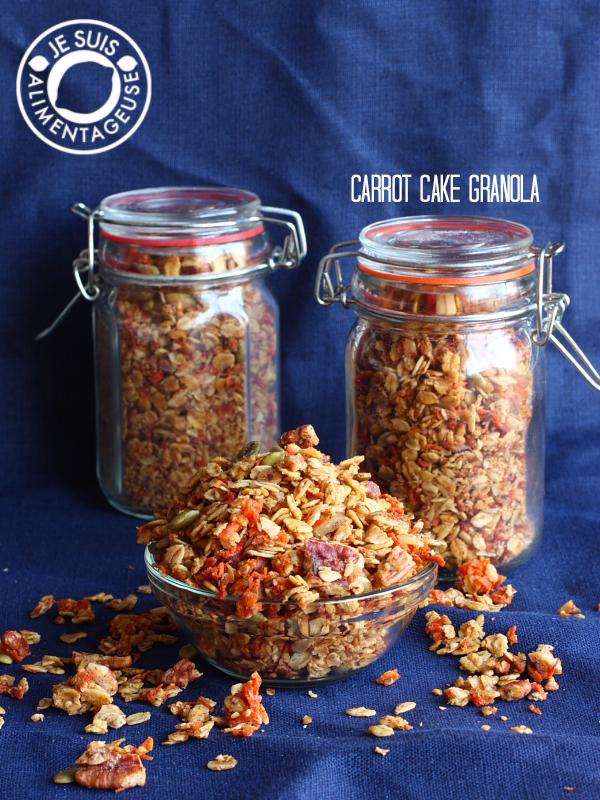 You can never have enough granola variations and I love this one!
The carrot takes it to a whole new level without interfering with the flavor, it simply enhances it!
Carrot Cake Scones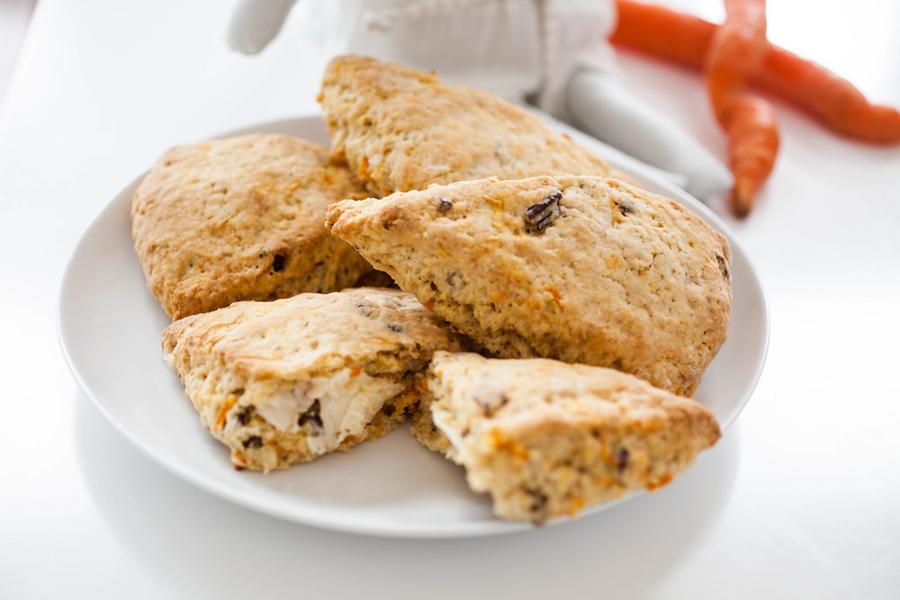 I don't think I've ever seen scones made like this before.
Katie, the recipe author, has made the perfect snack here. It's unique yet somehow feels familiar.
This isn't the type of recipe you'll make once and then forget, it's definitely a keeper!
Wrapping Up
Good for your eyes, good for your health, we need more carrots!
Whether you eat them raw as they are, or you have something sweet or savory as an ingredient, we know you'll find something that will tickle your taste buds here!
You knew carrots were versatile, did you know they were this versatile? 50 recipes celebrating our orange and purple friends.
Good for you, in every sense!