With that in mind, let me help make it a little easier for you to improve your diet with this massive collection of tasty and nutritious plant-based recipes.
From chocolate to soups, smoothies to dinners, snacks to salads. It's all here.
Take your time and find a healthy treat or dish you'll enjoy!
Healthy Vegan Avocado Recipes
Seasoned Chickpea Taco Salad with Avocado Ranch Dressing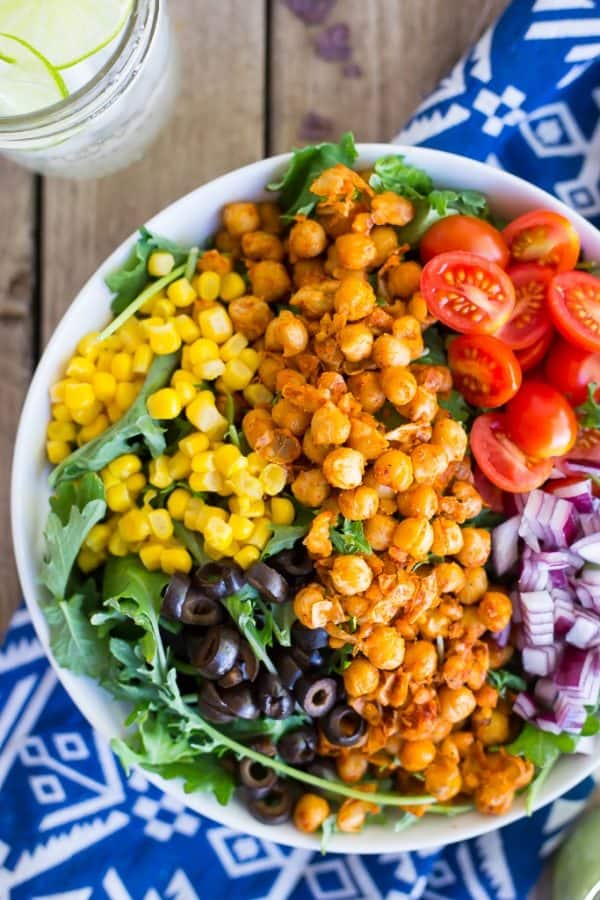 There's nothing like complementing a lunch or dinner with a beautifully colorful salad, combining a range of fresh and tasty ingredients.
Izzy's seasoned chickpea taco salad gets even better than that, because she'll show you how to make a delicious avocado ranch dressing to accompany the salad.
All in all, you're looking at 25 minutes for a bowl of goodness with enough for 4 servings.
High-Protein Avocado Toast with White Beans and Roasted Tomatoes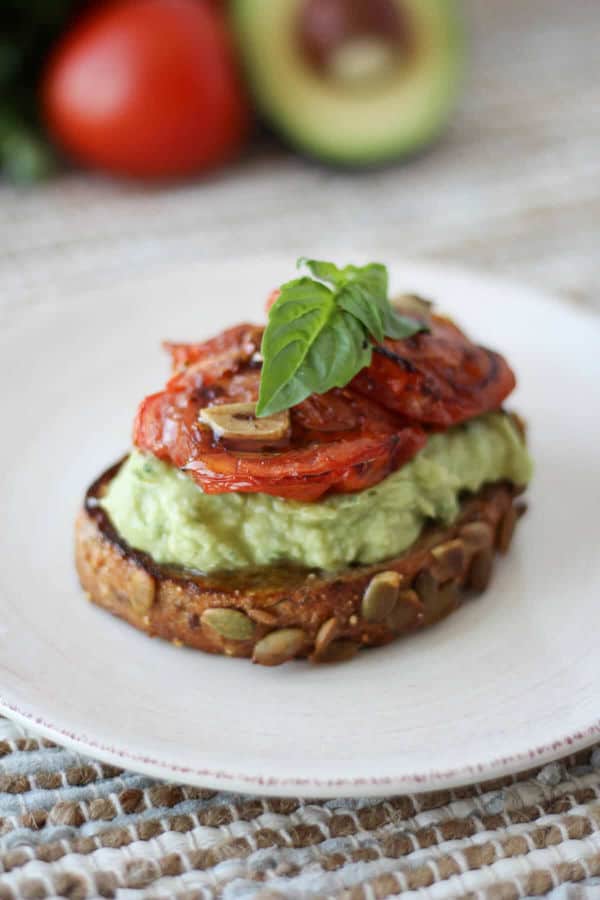 Just imagine it… a slice of bread lightly coated with oil and toasted, then topped with a drool-worthy avocado mash and seasoned tomato.
If this appetizer picks your fancy, make sure to save Abbey's high-protein avocado toast with white beans and roasted tomatoes recipe, and you'll have 4 elegantly topped toasts prepared within an hour.
Grilled Avocado and Tomato Grain Salad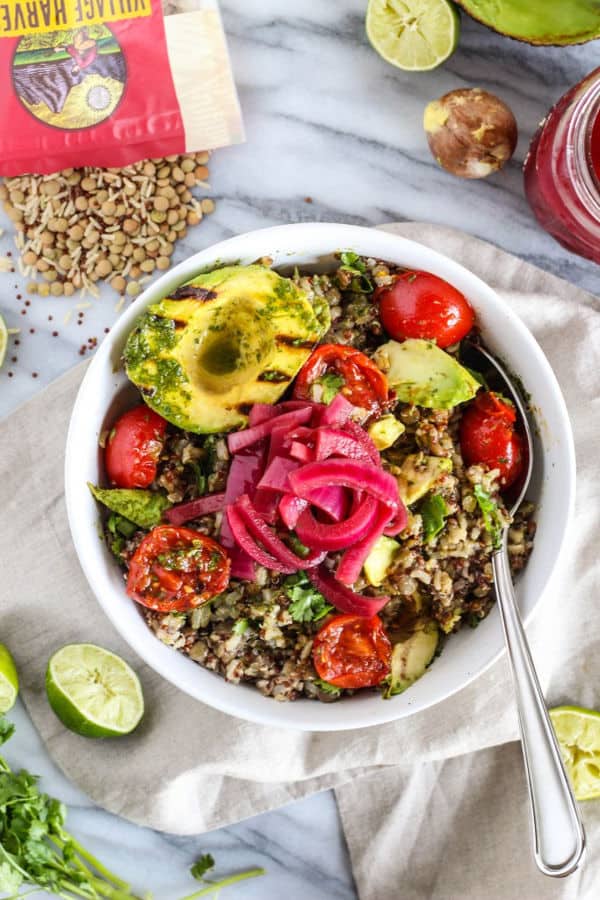 Liz's Grilled Avocado and Tomato Grain Salad recipe introduces you to Village Harvest's "Benefit Blends" products, each mix featuring different types of rice and grains.
For this salad recipe, Liz used the Organic Protein Blend and topped it all off with flavorful grilled avocado, tomatoes, pickled red onion and cilantro.
This is a recipe worth saving!
Avocado Corn Tomato Salad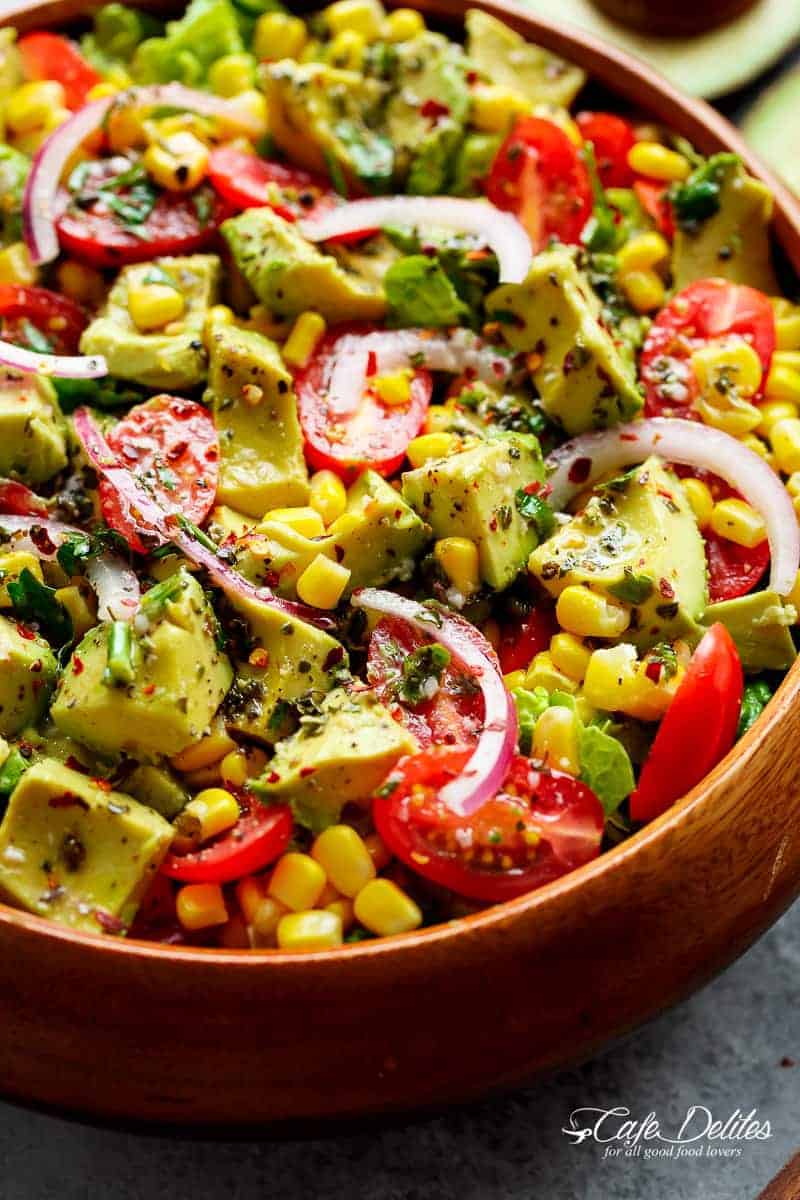 "Guaranteed to please even the pickiest of eaters". That right there, is Karina's promise with her eye-catching avocado corn tomato salad.
Hey, just take a quick glance at the recipe photos and you'll know she's absolutely right.
This salad can be served as a delicious side to a main course, or you can treat it as a meal in itself, and why wouldn't you!?
And get this… 7 minutes and 11 ingredients. That's all you need. There goes your excuses, so get started!
10-Minute Grilled Lettuce and Avocado Salad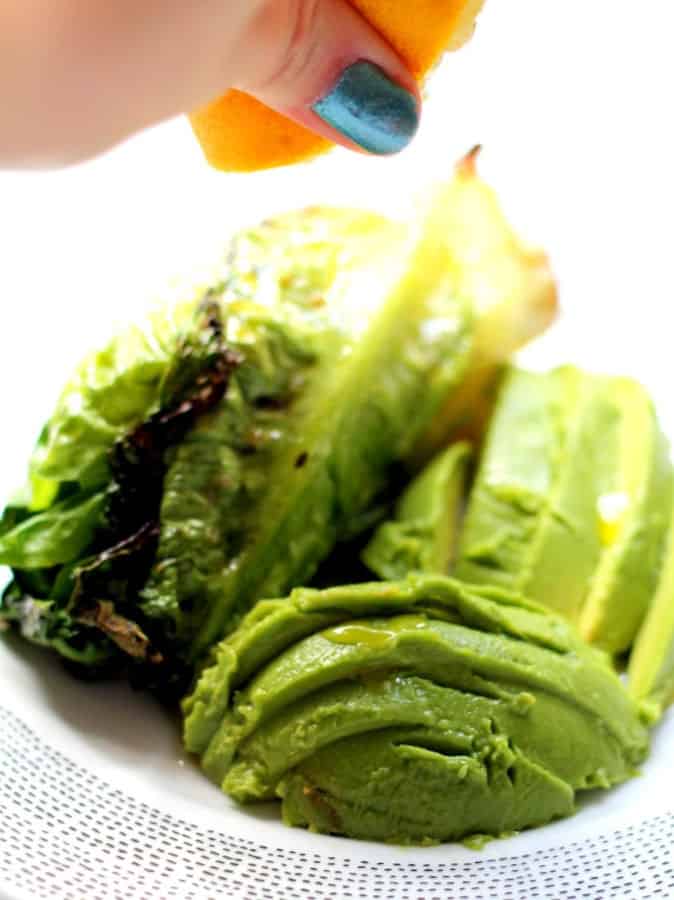 Christine's 10-minute grilled lettuce and avocado salad recipe is ripe for the taking when you're craving a quick and healthy lunch or side dish.
6 ingredients and a few minutes and you'll have a petite plate of lightly smoky flavored lettuce head and avocado.
If you thought lettuce could only be bland, you'll be in for a surprise!
Southwest Salad with Creamy Avocado Chipotle Dressing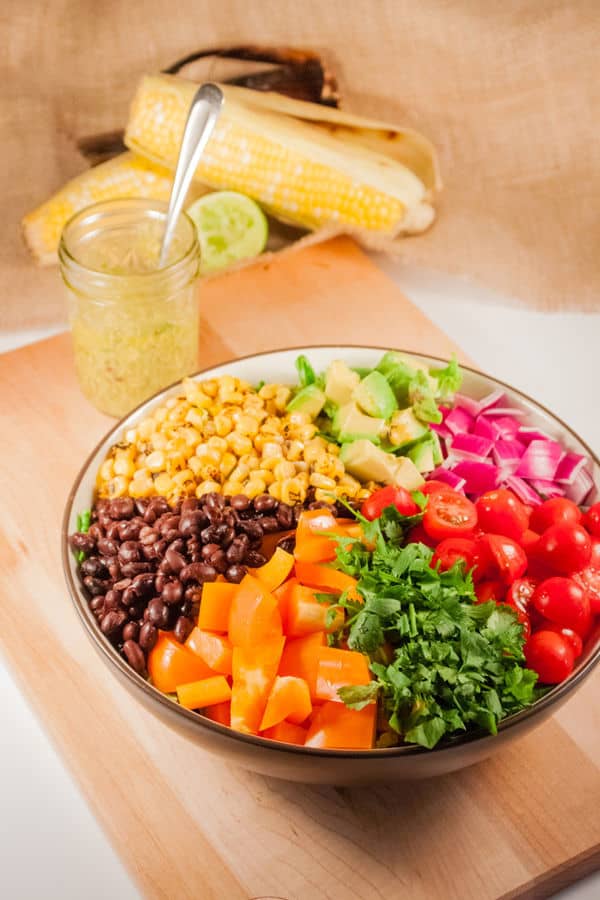 Maggie's take ON a vegan southwest salad spares you from unhealthy and calorie-excessive dressings, yet brings you all the fresh and nutritious flavors you love.
In fact, her recipe comes with a proprietary avocado and chipotle pepper dressing for that perfect touch!
Healthy Vegan Chocolate Recipes
Healthy Chocolate Ice Cream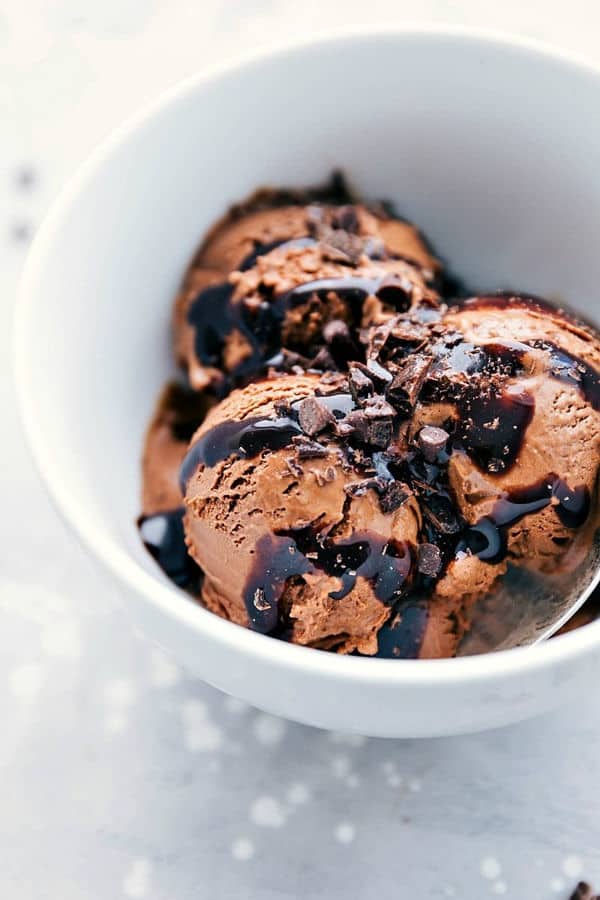 Say it with me: Healthy. Chocolate. Ice cream. (Based on sweet potato or yam, whichever you choose.)
You read that right! Chelsea brings you this luscious chocolate treat for those hot summer days, and you can make it right at home with 6 ingredients!
According to Chelsea, this is also the best healthy chocolate ice cream you'll ever have, so save this recipe and make it happen!
Healthy Baked Chocolate Donuts (Gluten-Free)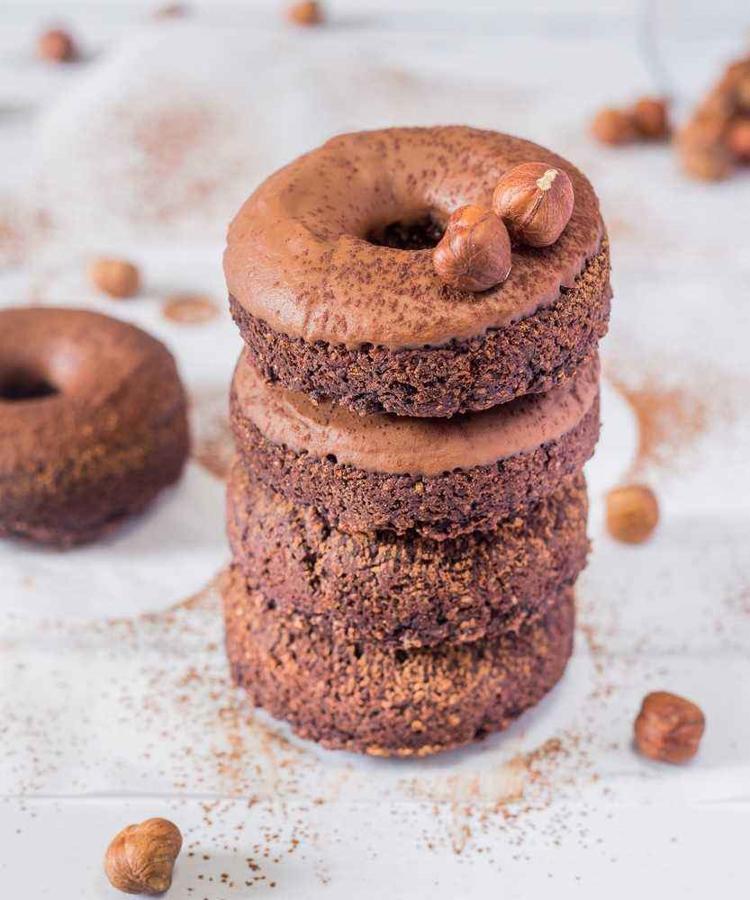 Some words you might not expect to see in the same sentence. Healthy, chocolate, and donuts. But here they are, and hello! My new favorite thing in the world.
Nolwenn combines wholesome, whole food ingredients such as oat flour, dates, and cacao to make a donut which tastes good, and is healthy too. It's a dream come true and not a moment too soon.
Now you can feed your family the tasty treats they crave for breakfast without the guilt. Everyone wins!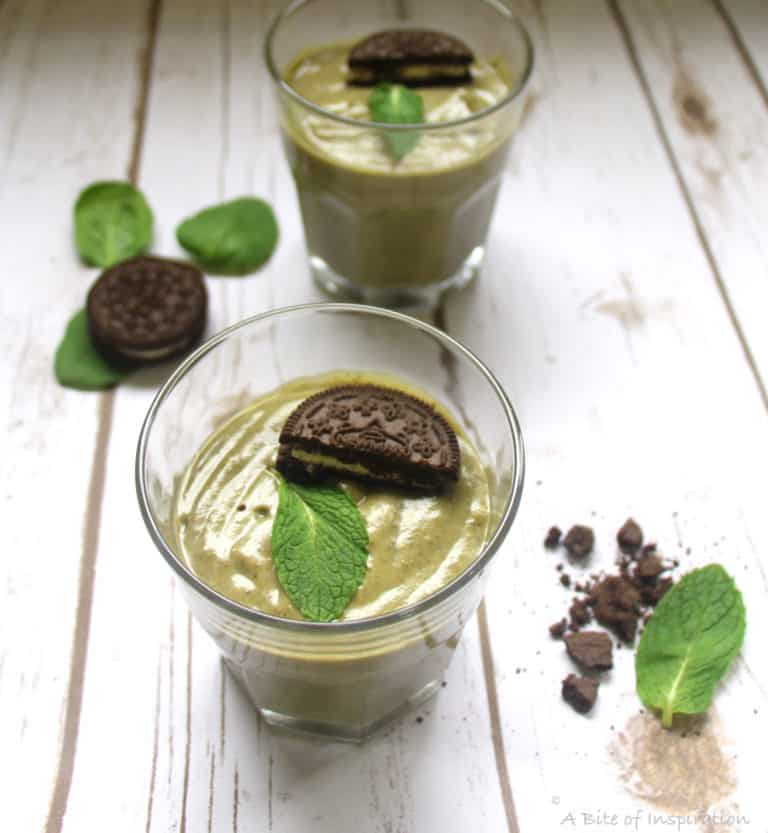 Here's a green, yet somehow cute drink inspired by St. Patrick's Day.
Alyssa's 6-ingredients healthy mint chocolate cookie shake is the recipe you resort to when you're in need of a delicious and minty chocolate fix.
And each serving also features a vegan sandwich cookie to go along with the shake. It certainly adds a decorative touch!
Avocado Chocolate Mousse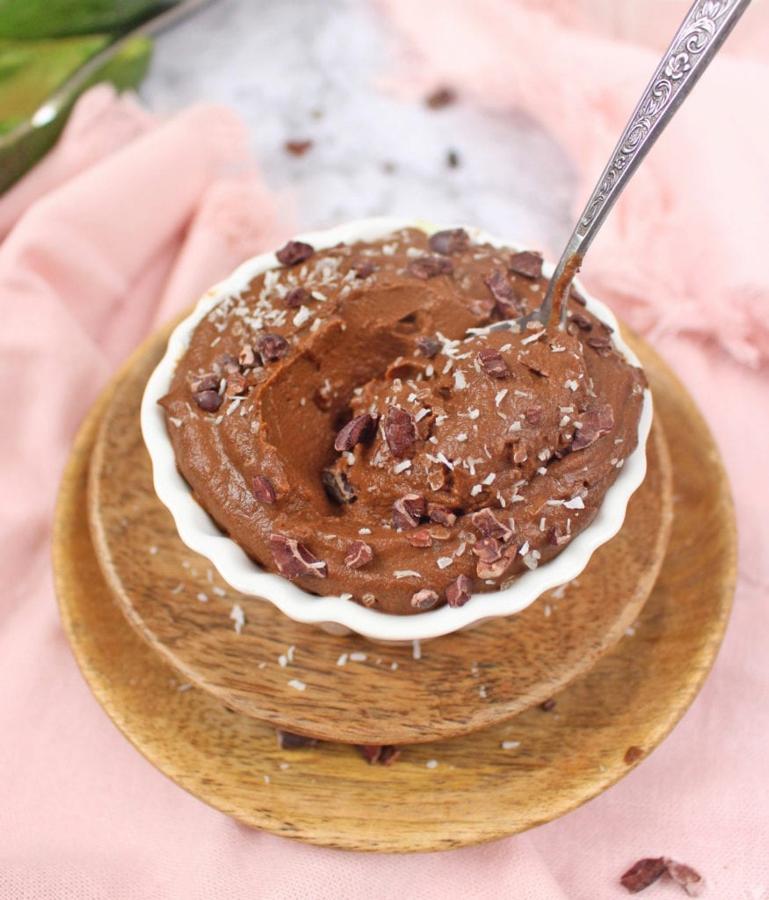 Look, I'm not a chocolate person. But even I can imagine having a hard time resisting Sylvie's vegan chocolate mousse recipe. With avocado as a main ingredient, it's a delicious and sneaky way to get more veggies in your day.
No one will suspect this mousse is a healthy treat. And it couldn't be any easier to prepare. The instructions are as simple as "put everything in the blender." Easy as can be.
Chocolate Chip Banana Bread Baked Oatmeal (Gluten-Free)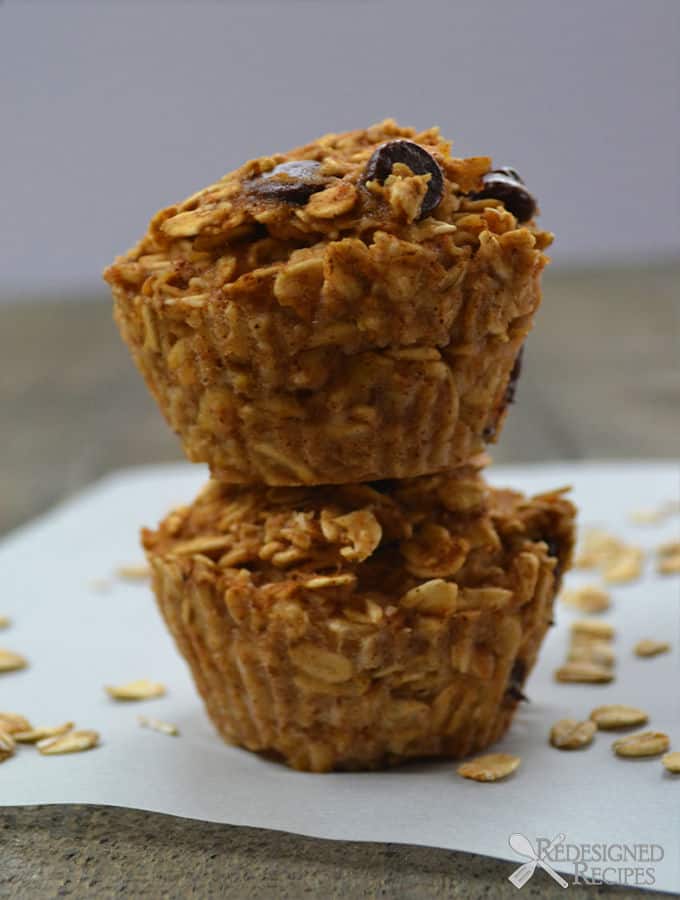 Fancy banana bread in muffin form? Then you've come to the right place!
Pick up Juli's 'chocolate chip banana bread baked oatmeal' recipe, which involves 8 basic ingredients, and you'll have a bounty of healthy and gluten-free snack cups ready for yourself in about half-an-hour.
Healthy Chocolate Cherry Ice Cream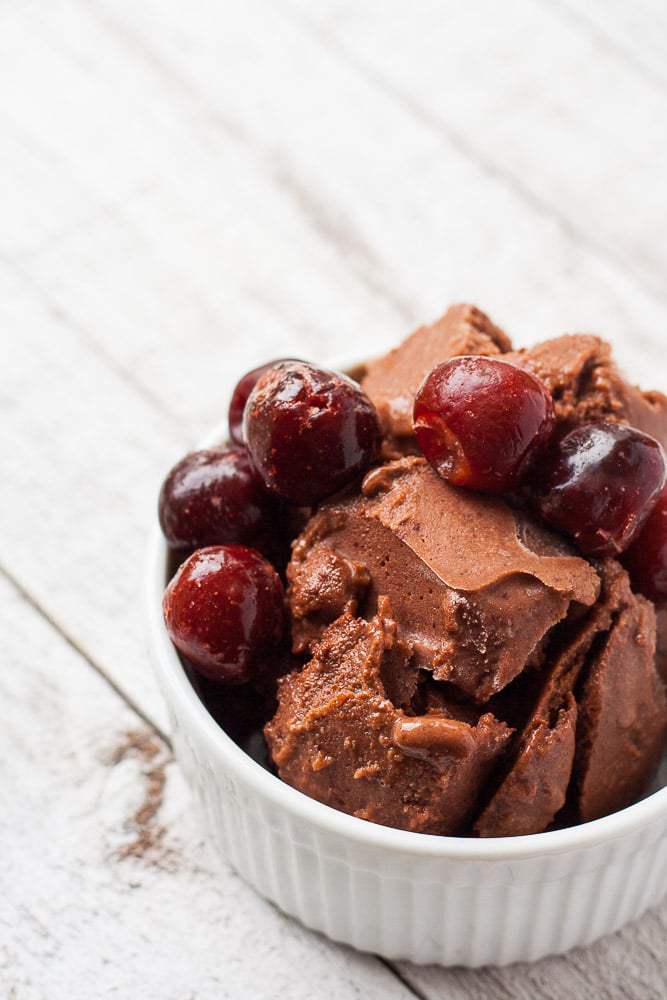 If there's one thing you should learn about food preparation, it's that you can go very far with just a few ingredients.
Nora's healthy chocolate cherry ice cream is one of those recipes that prove this to you.
With just 4 ingredients, you can prepare not just ice cream, but HEALTHY, chocolate ice cream in a matter of 5 minutes.
Bear in mind, though, you do need a powerful blender, which, if you're looking to become a plant-based kitchen connoisseur, you should have anyway!
Chocolate Turtle Pie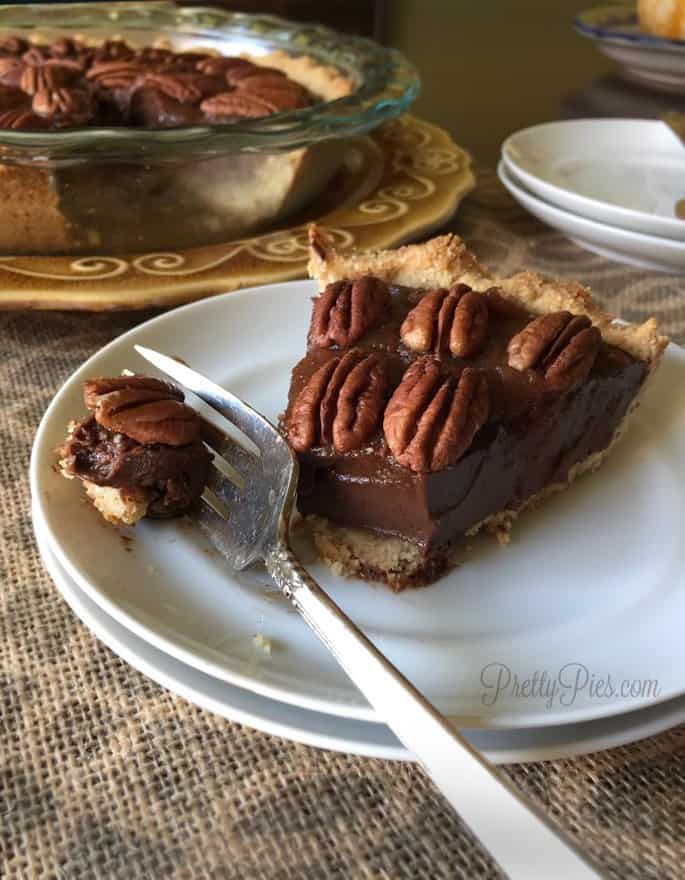 Emily got the spark to recreate one of her fabulous recipes, the chocolate turtle pie.
The improved version is now much healthier! So, as Emily eloquently puts it, "You can have your pie and eat it, too!"
This delicious dessert pie is made with almond flour crust, delicious avocado, a cacao powder chocolate filling, plus a to-die-for medjool date caramel layer.
Set aside 45 minutes to prepare this tasty pie and 3 hours later you'll have a pie ready for devouring!
Healthy Vegan Dinner Recipes
Chana Masala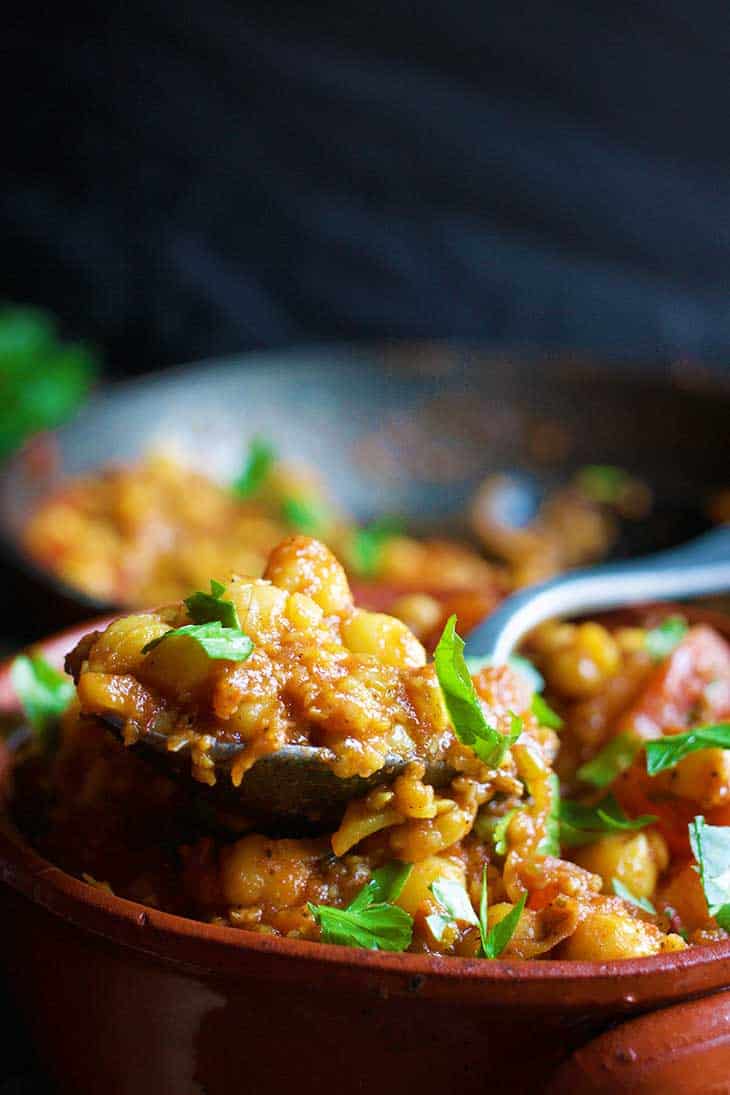 Indian cuisine can often impress with its variety of tasty spices and seasonings.
Inspired from an Asian food preparation challenge, Ruxandra has come up with a fabulously delicious chana masala you need to try.
As Ruxandra says, serve it with a side of rice and you're set for a perfect dinner.
Black Bean Burgers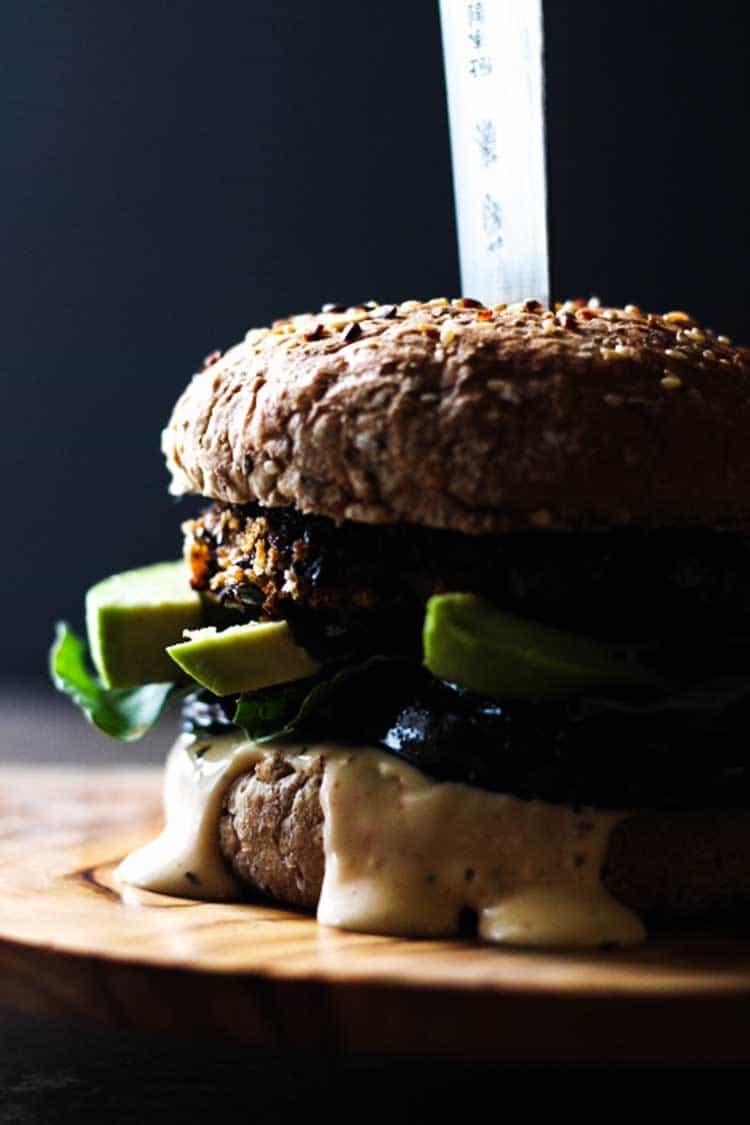 After many attempts at creating a burger that hit all the right spots, Amber finally nailed it with her black bean burger recipe.
The main highlight of this burger is that it's completely vegan, stays firm while cooking, and manages to impress with incredibly delicious flavor.
The best part? You'll be ready to rock n' roll in just 30 minutes.
Healthy Vegetarian Pho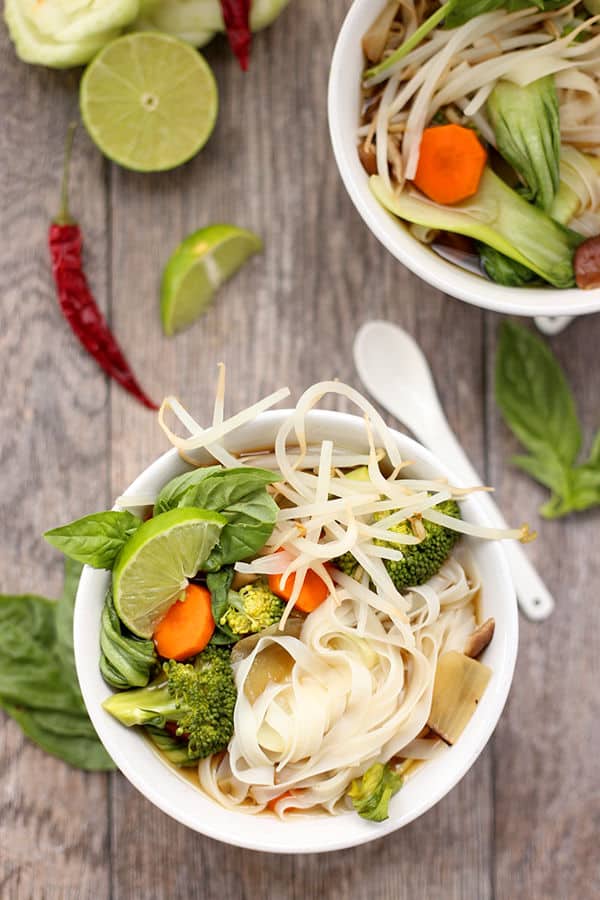 If you're health-conscious and fancy a vegetarian pho, Davida's got you covered with her healthy vegetarian pho recipe.
I often opt out of eating at typical Asian-style restaurants, because most of the menu dishes feature loads of additives, preservatives, and who knows what else.
That's where much healthier recipes like this one come in to save the day.
If you've got 90 minutes to spare, Davida will have you treating yourself to a delicious veggie soup for dinner.
Tempeh Chili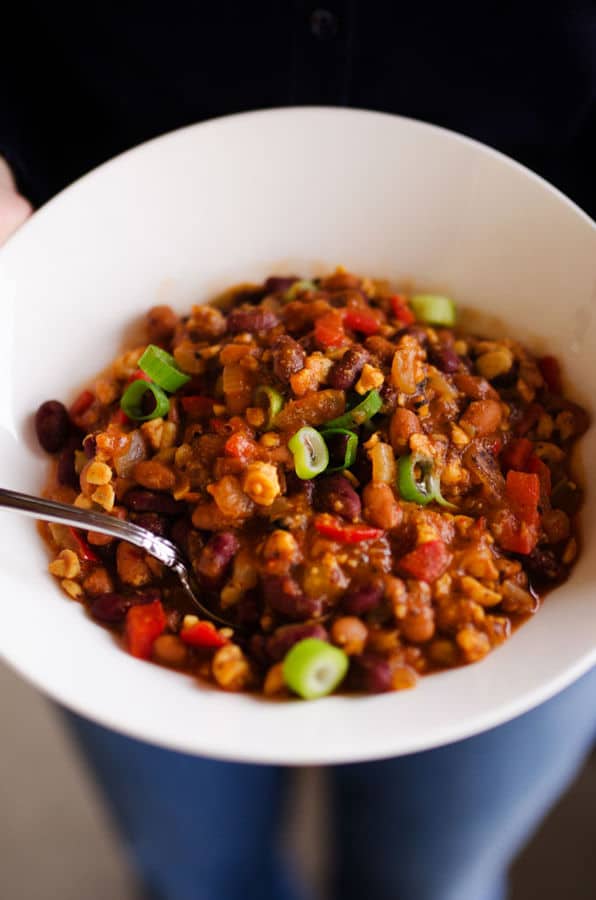 Sarah had one of those world-changing moments when, in search of an alternative to tofu, she came across tempeh just in time to make this flavorful tempeh chili recipe.
Along with beans, fresh vegetables and spices, Sarah shows you how to make a fantastic chili in just 30 minutes—a perfect meal for dinner.
Rich and Creamy Corn Chowder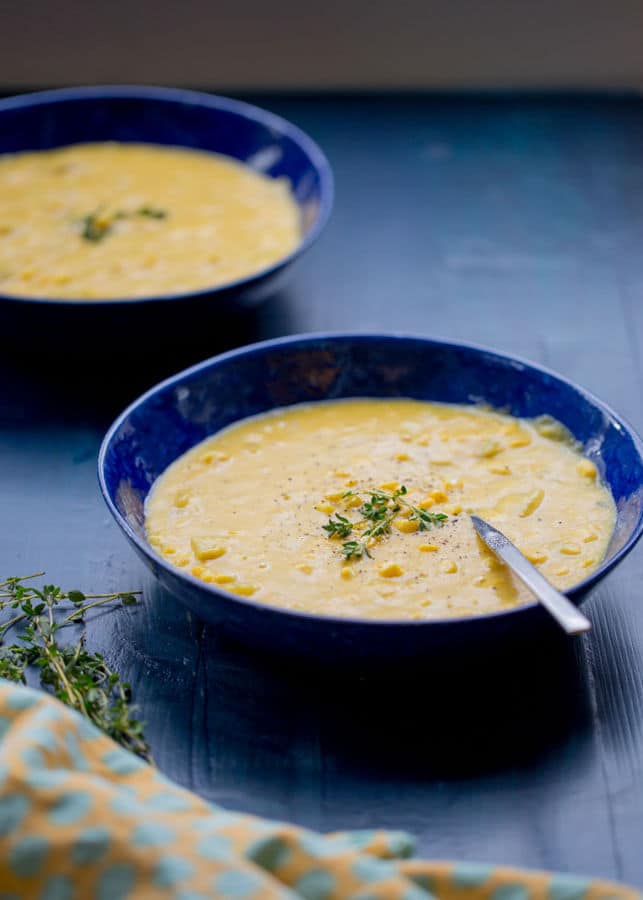 "Warm, rich and creamy" only begins to describe the delicacy that Kare has created with her rich and creamy corn chowder recipe.
This savoury meal takes 40 minutes to prepare and makes for a decadent combination of Yukon gold potatoes, coconut milk, various spices and more.
Easy Thai Pumpkin Curry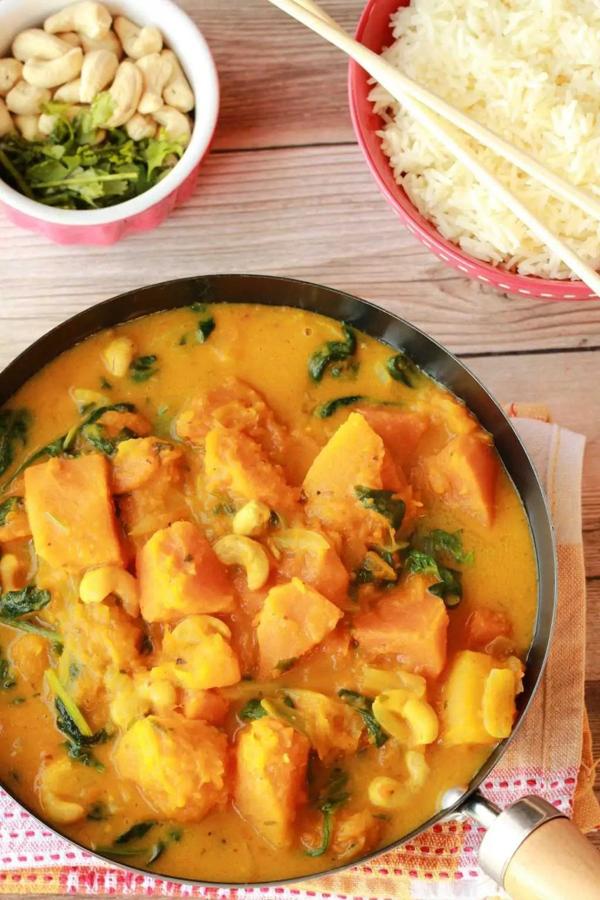 Curry has become a staple meal in many households. Families love the exotic yet approachable flavors and it's so easy to make. Curry is one of those dishes everyone should master! It's easy to personalize and experiment with, and almost always has fantastic results.
Alison's pumpkin curry is no exception. It's easy to make and although not a typical curry, it's flavorful and even the pickiest of palates will gobble it up. The addition of pumpkin makes it a seasonal delight and the perfect meal to make after you've carved a jack-o-lantern!
Choley or Chana Masala (Indian Chickpea Curry)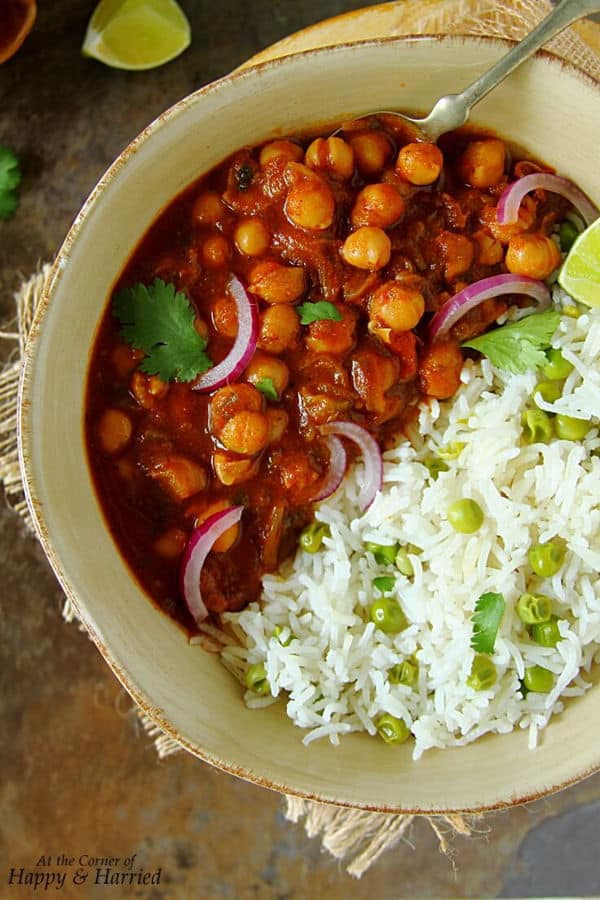 Here's your chance to learn everything you need to know about cooking up a delicious chana masala the right way.
After you've got the basics down, Anjana takes you through the steps to create her version of the popular chickpea curry.
Brace yourself for a classic Indian spiced dish, ready in 40 minutes.
Raw Pizza with Butternut, Flax and Sunflower Crust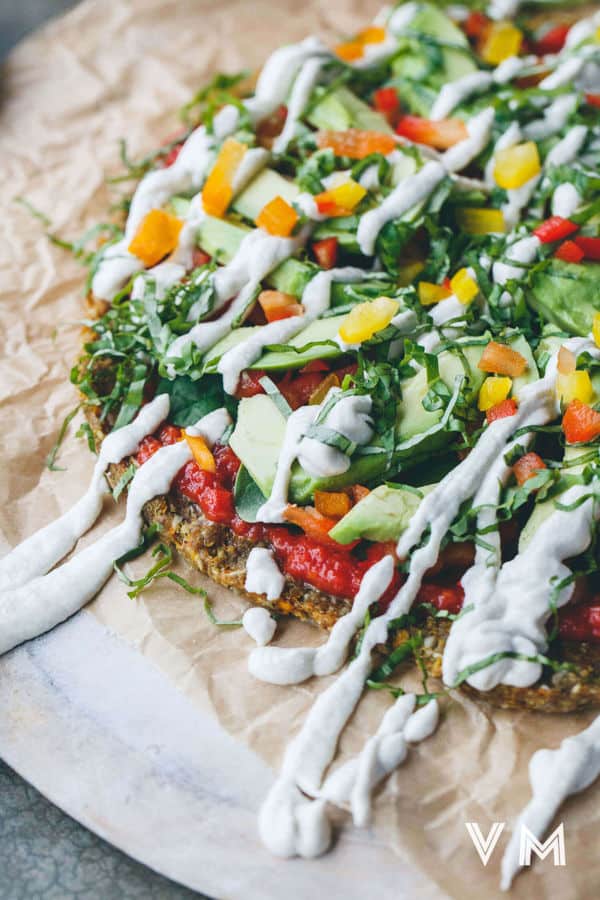 Satisfying and visually appealing pizza with no baking involved. Do you think it's possible?
Well, Rika and Doni are here to show it's possible with their jaw-dropping raw vegan pizza recipe you absolutely need to try.
It features a homemade tomato sauce and a tasty cashew cheese drizzle that'll catapult your taste buds to the moon!
Ridiculously Healthy Millet, Kale, and Yam Burgers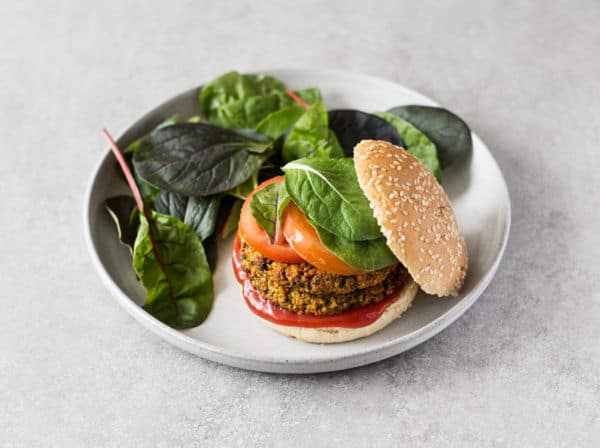 Up for some healthy vegan burgers? I think i've got just what you're looking for!
Gena's gluten-free millet, kale and yam burgers are both healthy and protein-packed, containing about 10 grams of protein each.
From start to finish, you'll have 6 savory burgers ready for serving in 1 hour and 15 minutes.
Healthy Vegan Lunch Recipes
Roasted Broccoli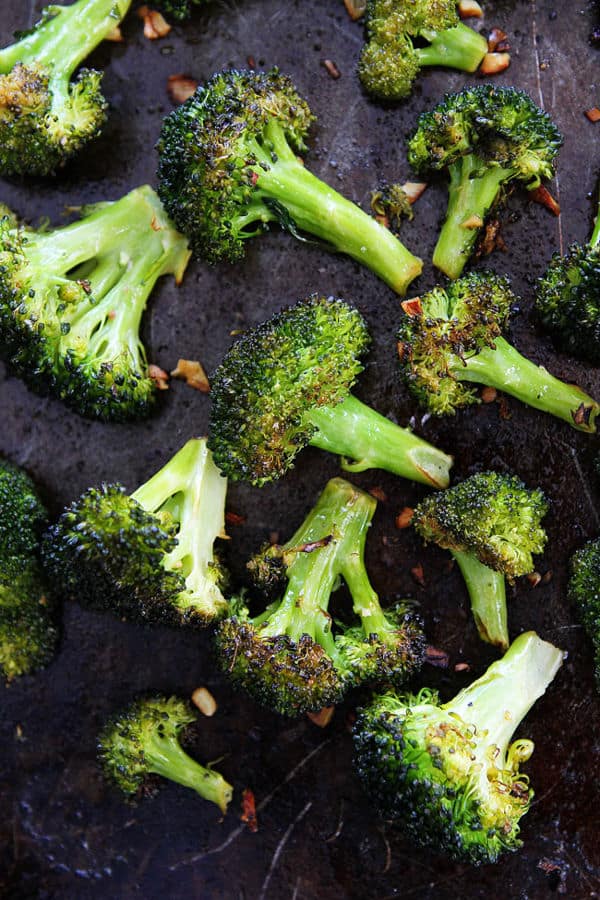 For those of you that have kids, how many times have you tried to get them to eat broccoli to no avail?
If that's you, then arm yourself with this secret weapon from Maria and her roasted broccoli recipe, which has passed the test with her young boys.
With just a handful ingredients and 25 minutes, you'll be making some really delicious broccoli florets which'll be hard to resist once tried.
Healthy Veggie Rolls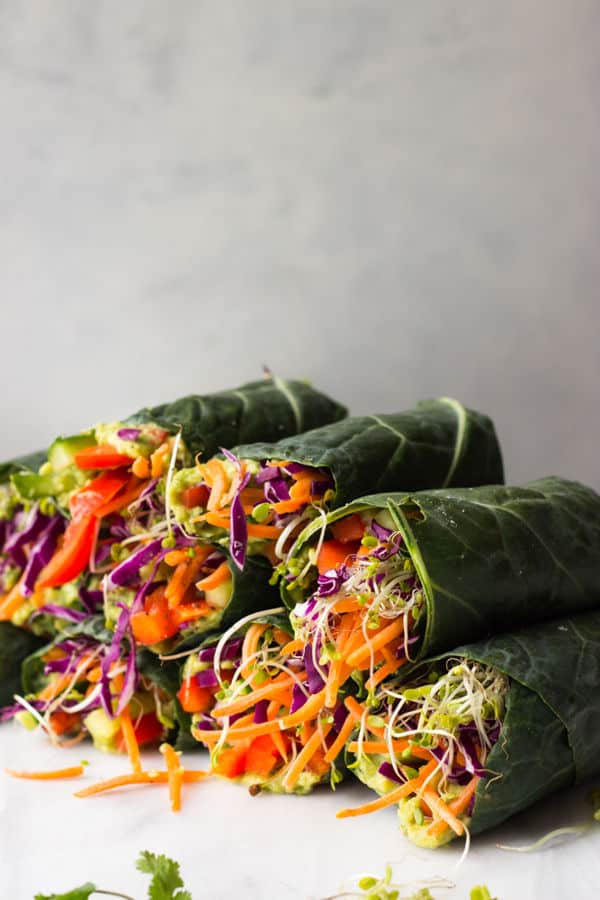 Hey, forget spring rolls. What you really need, is Katya's awesome and super healthy veggie rolls. Consider them lightweight snack rolls bursting with colors and flavor.
30 minutes is all you need to make 10 rolls for you and your family who are sure to be impressed. Enjoy!
Cucumber Sushi Rolls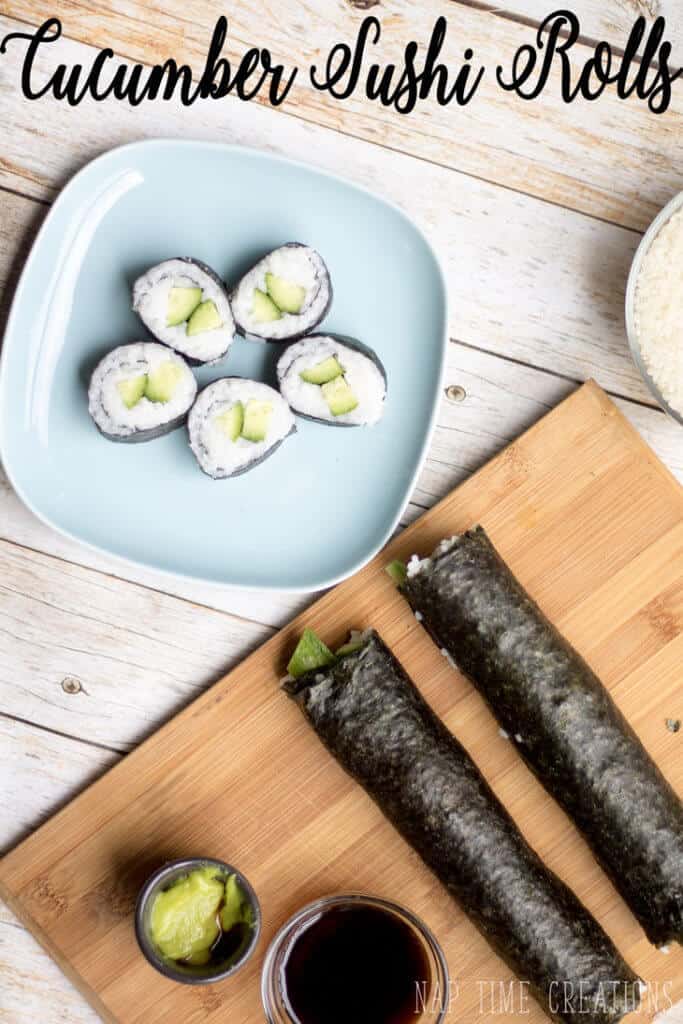 Emily's kids are enrolled in an international school in Hong Kong.
To help them "fit in" with their classmates at lunch time, while avoiding having to prepare warm food, she creatively devised a cucumber sushi rolls recipe.
These easy sushi rolls consist of 5 simple ingredients and are perfect for a quick lunch.
Greek Veggie Bowls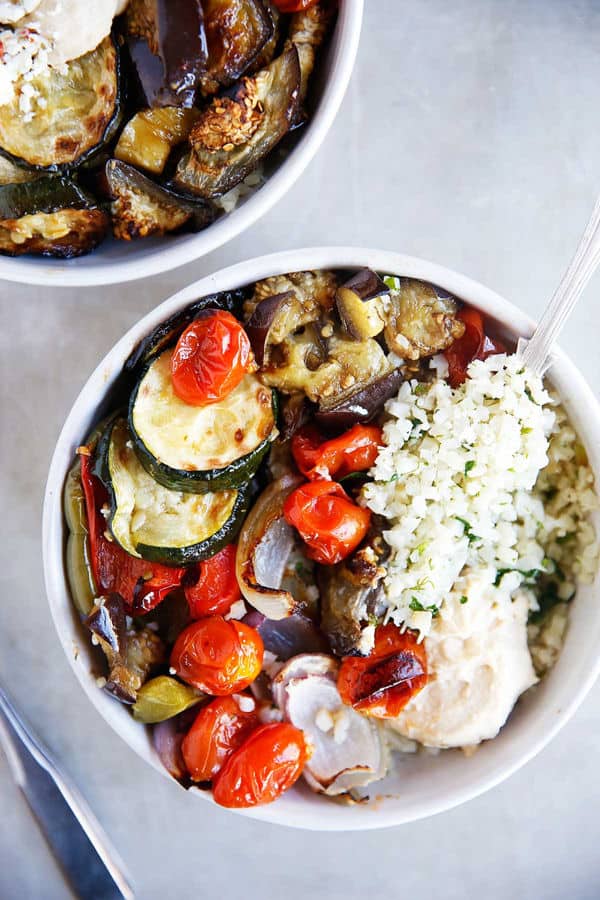 Inspired from Greek Mediterranean cuisine, Lexi has come up with an interesting recipe, which combines various veggies with fresh herbs, hummus and "rice" made from cauliflower.
This delicious recipe will have you serving up to 4 people in just 50 minutes, and I'm sure it'll be a hit!
Pineapple Teriyaki Chickpea Zoodles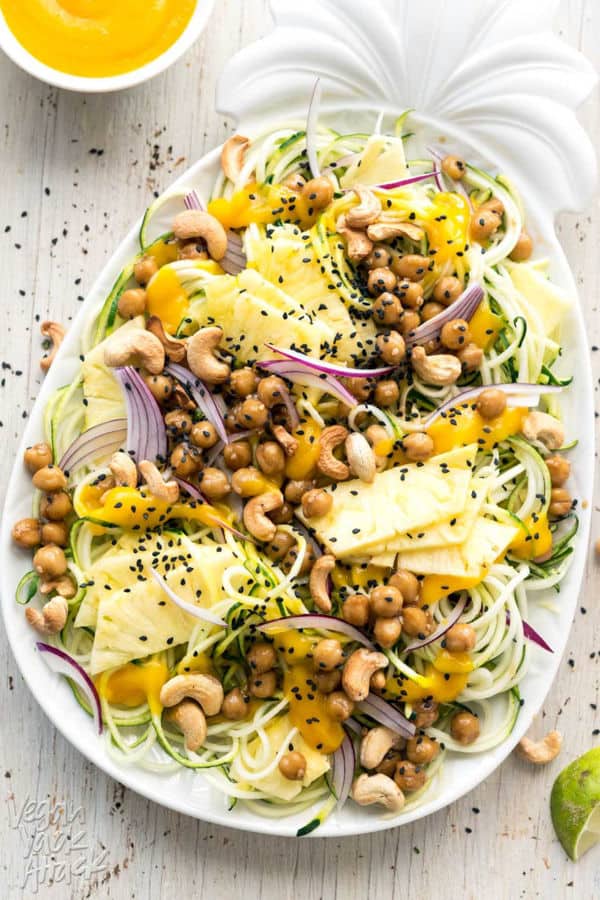 Hosting a dinner or special party and really want to impress your guests? Then make sure to hit up Jacki's attention-grabbing pineapple teriyaki chickpea zoodles recipe.
This dish is not only healthy but also allergy-friendly.
And the total time to prepare it? You'd probably think at least an hour.
Nope, 25 minutes. That's it. Fantastic, right?
Barbecued Garlicky Mushroom Kebabs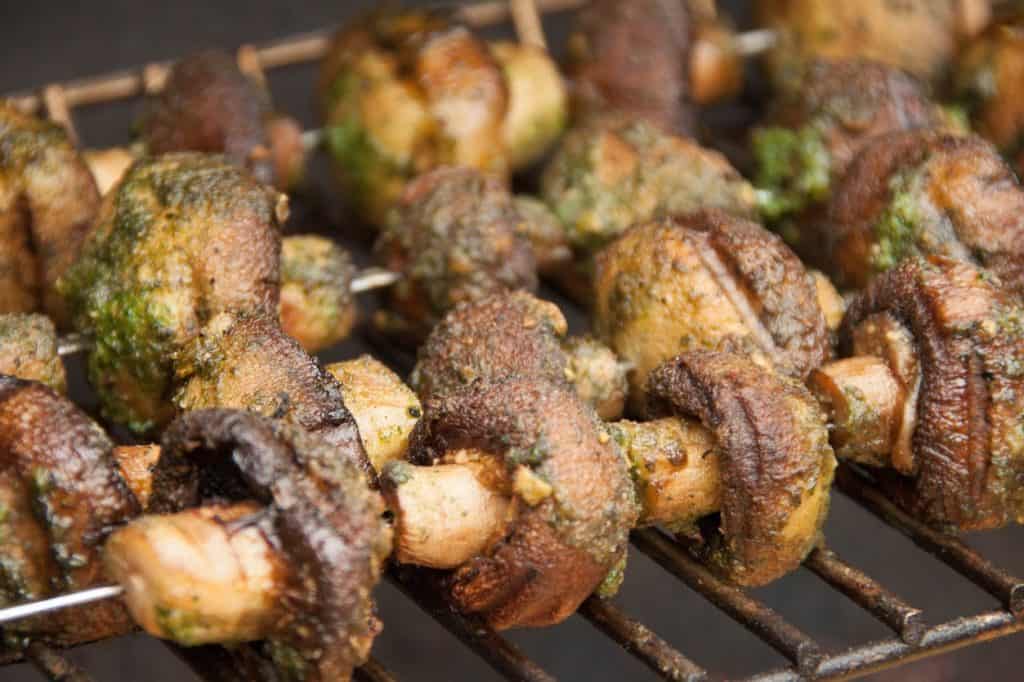 If you're hosting a barbecue grill party, or you've been invited to one, you need to bring Gloria's barbecued garlicky mushroom kebabs to life. You won't regret it!
They work perfectly as a side dish, as a pizza topping, in salads and more. You can enjoy them both warm or cold.
All you need is 7 ingredients and 20 minutes to make these awesome mushroom kebabs for your next party!
Amazing Veggie Quesadillas (Gluten-Free)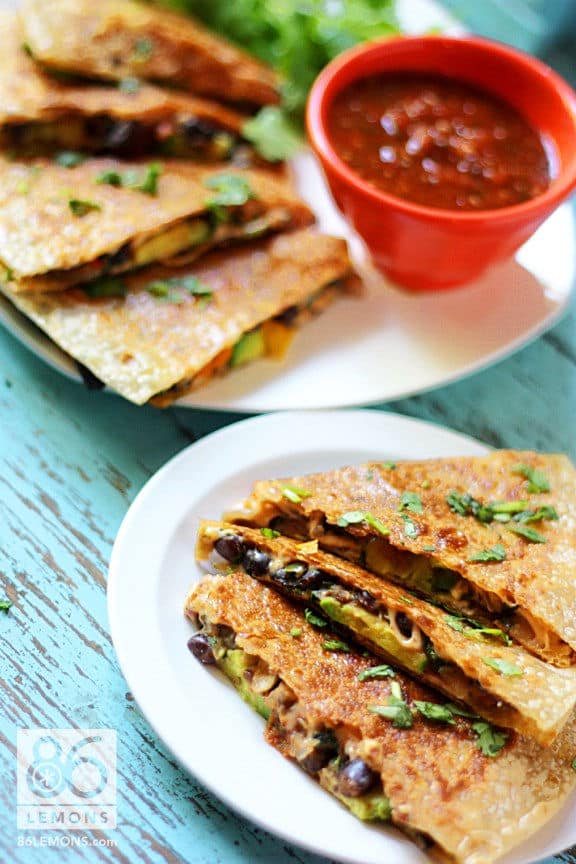 If Aaron's enthusiasm over these amazing veggie quesadillas is any indication of how much you'll enjoy eating them, then you really ought to give this recipe a try!
These quesadillas are healthy and perfect for a party, a casual lunch or dinner.
If you've got time to make a salsa to dip the quesadillas into, you won't regret it!
Mini Cauliflower Crust Pizzas With Sun-Dried Tomato Sauce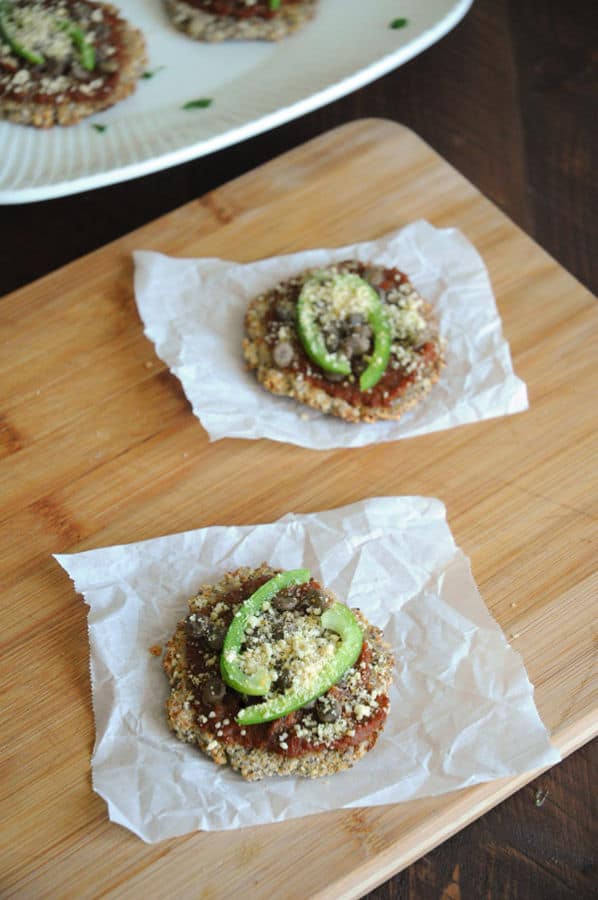 After much frustration with full-size pizza crusts falling apart, Cassie devised a recipe for mini cauliflower crust pizzas.
And that was a great success! The best part? These mini crusts are healthy and gluten-free.
The total prep time is 1 hour and that includes the flavorful marinara sauce!
Creamy Coleslaw (Gluten-Free)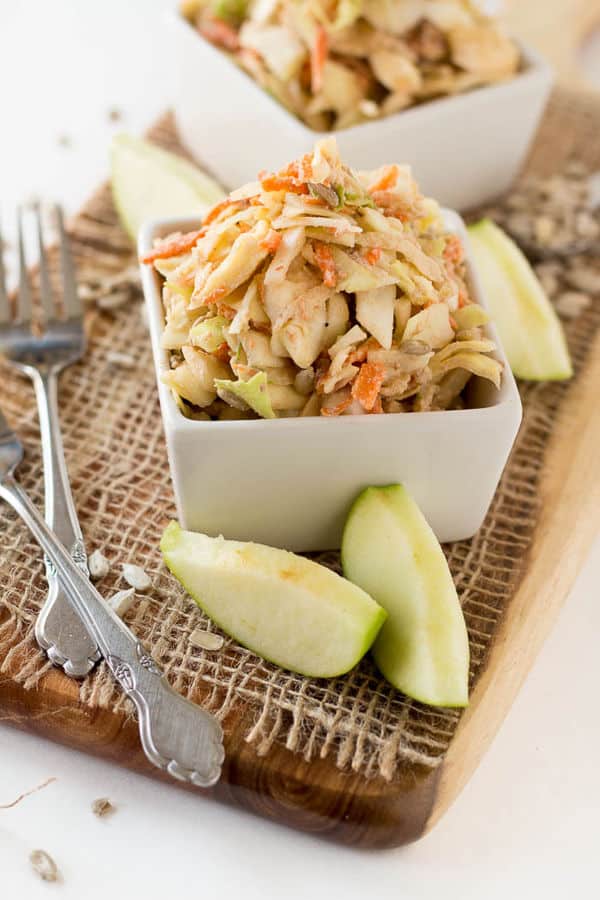 Coleslaw, vegan style? And creamy to boot?
Savanna recommends you prepare and serve her vegan coleslaw recipe as a summer side dish for barbecue parties or picnics.
The coleslaw base consists of 5 ingredients including cabbage, carrots and granny smith apples.
To pour over the coleslaw, a delicious cashew and vinegar based dressing.
All in all, you're looking at 15 minutes from start to finish and you just can't beat that!
Sweet Potato and Black Bean Bowl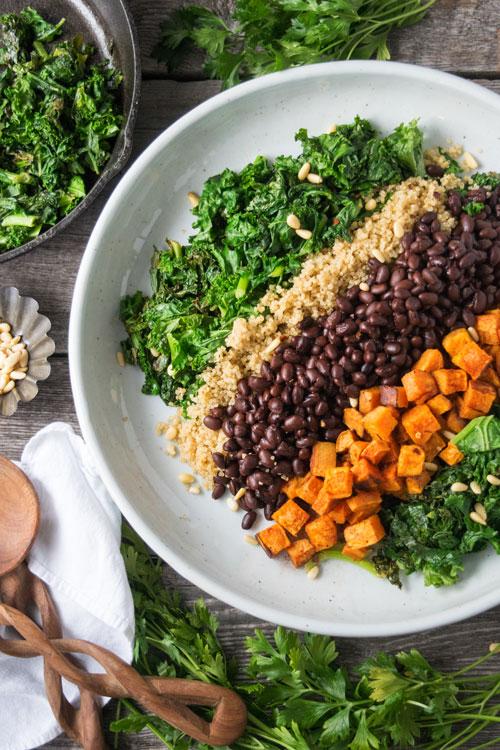 Leanna brings us a recipe which offers a fantastic break from a ho-hum week of healthy meals. It's both beautiful and delicious. Plus, it features sweet potatoes, which are so nutritious and satisfying, yet often overlooked.
Prep extra sweet potatoes to reserve for other meals later in the week, and you'll be sure to indulge more in these tasty tubers. Having them already baked up makes it easy to slide them into more meals.
This bowl also makes a great wrap or sandwich. Simply add the leftovers to your favorite tortilla or bread and away you go.
Fall Harvest Burrito with Homemade Vegan Mayo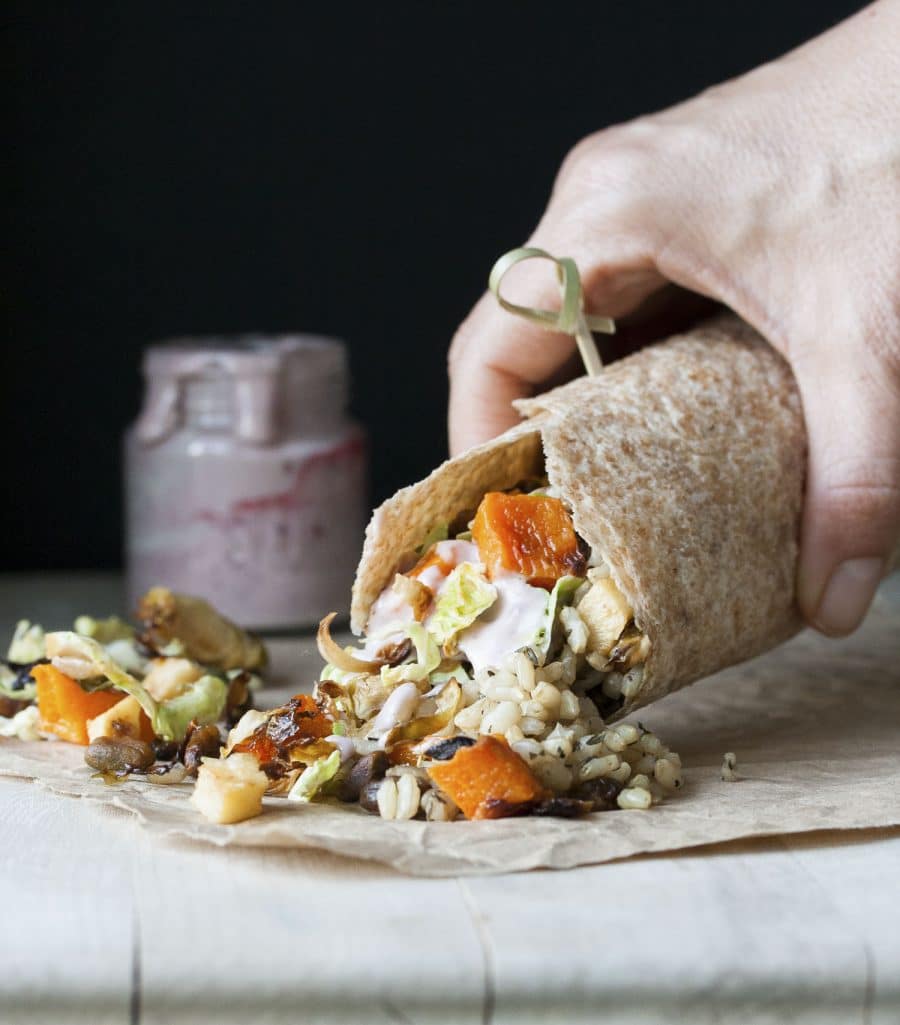 Here's a dream come true, a vegan burrito PLUS a homemade vegan raspberry mayonnaise sauce!
In just 1 hour after following Sophia's recipe, you'll have a meal of champions, featuring a symphony of delicate flavors with fresh ingredients inspired by the fall.
Cobb Salad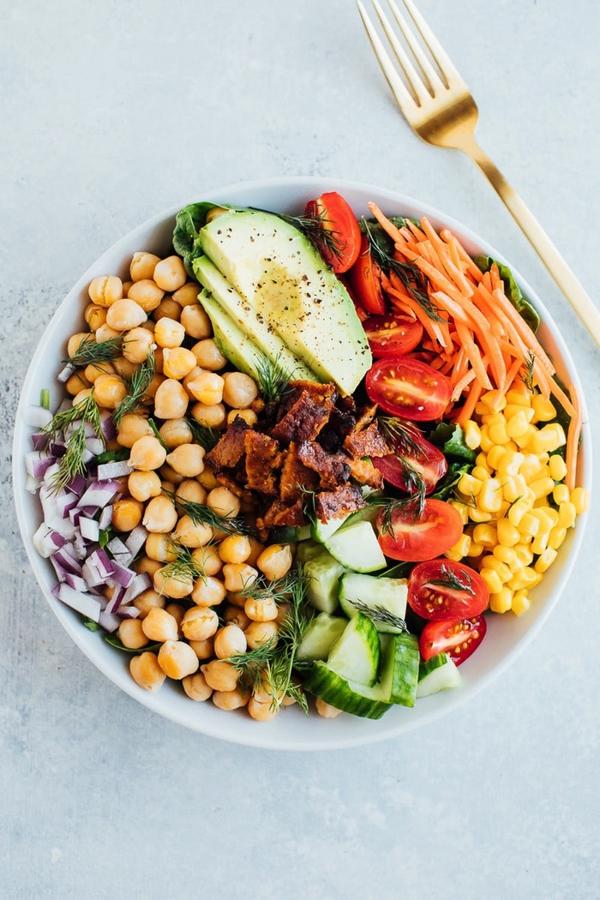 Is there anything better than a Cobb Salad? Well, yes. It's a Vegan Cobb Salad. Brittany's gorgeous plant-based version will leave you full and satisfied. It's the perfect salad to serve skeptical guests.
No one will be missing a traditional Cobb salad if you place this in front of them. It has the perfect balance of vibrant colors and belly filling protein. She even explains how to make it into a Mason jar salad, ideal for food prepping and lunches!
Healthy Vegan Potato Recipes
Moroccan Stuffed Sweet Potatoes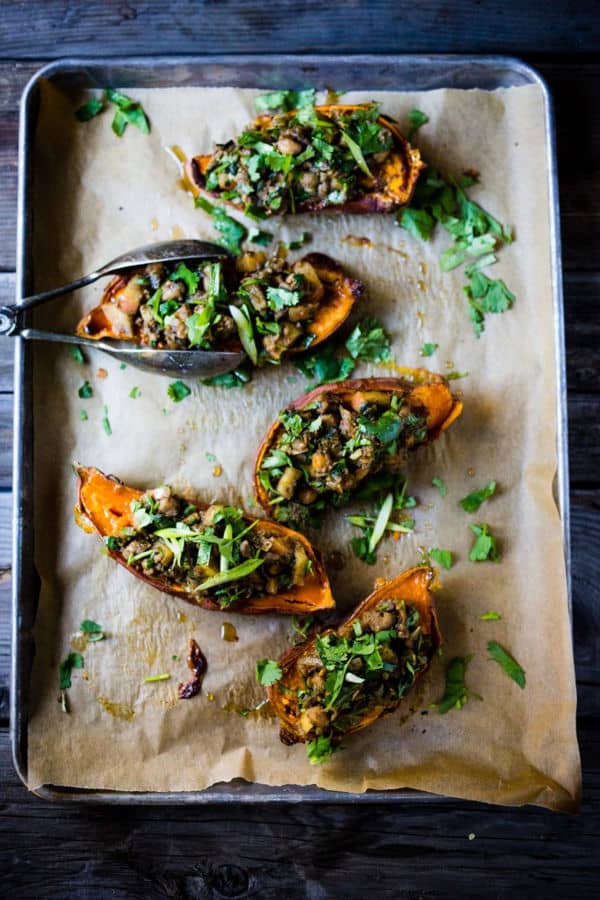 Healthy and delicious sweet potatoes stuffed with all manners of goodness such as chickpeas, onion, garlic, cilantro, and more! Not only that but kicked up another notch with a spicy Moroccan spice blend.
That's what you're in for with Sylvia's stuffed sweet potato recipe, perfect for a grill party or dinner table.
Kale Salad with Roasted Sweet Potato and Cranberries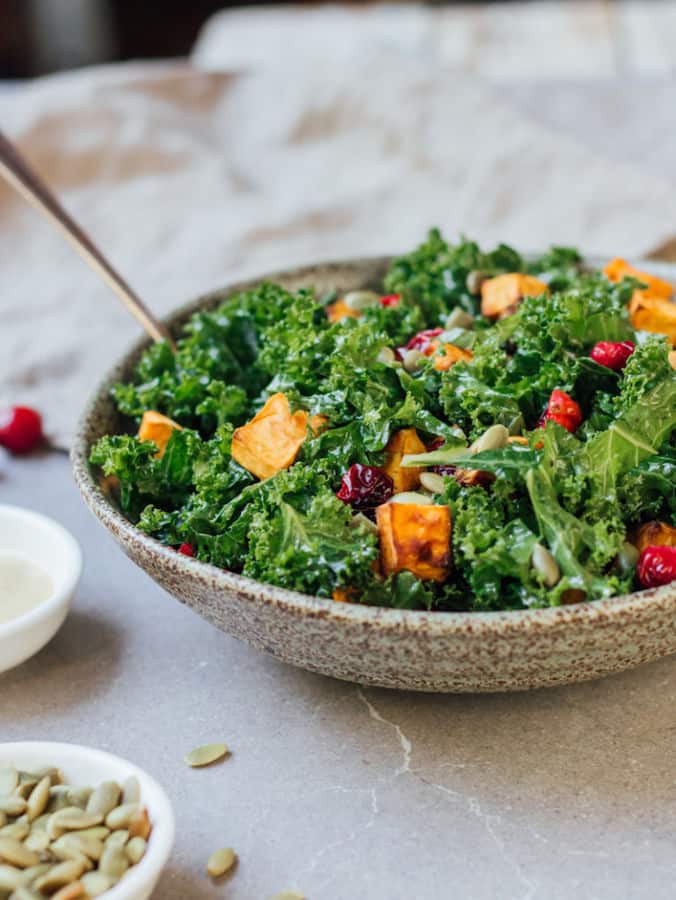 I have to agree with Jessica, it can be hard to intuitively know how to incorporate fresh cranberries into your cooking and food preparation.
And while I've personally made my own kale salad recipe with dried cranberry, I never would've thought of using fresh ones!
With that said, Jessica's kale salad also features roasted sweet potato and toasted pumpkin seeds along with a delicious vinegar and Dijon mustard dressing. This all comes together in 40 minutes.
Don't wait, go make this ASAP!
Apple Sweet Potato Toast with Maple Tahini Drizzle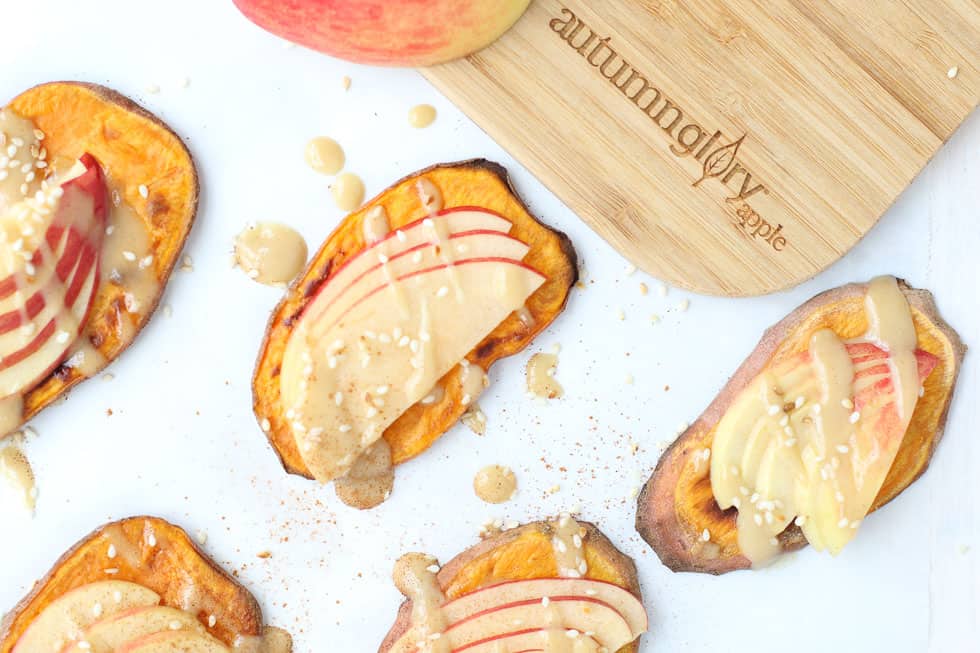 Sweet potato with sliced apple layers and drizzled with a yummy maple tahini sauce. I didn't see that one coming, did you!?
Either way, if you're planning a special snack appetizer for any occasion, you need Marisa's attention-grabbing recipe, which you can whip up in 25 minutes with 8 simple ingredients.
Indian Potato Chickpea Stew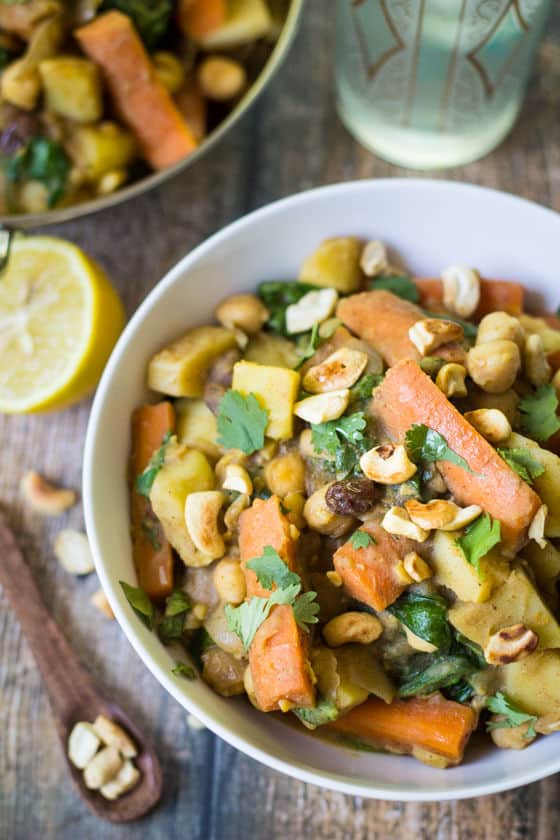 Anetta admits to being obsessed with Indian food and I don't blame her one bit! We love Indian food, too!
So, she's come up with this successful Indian potato chickpea stew recipe which oozes flavor and brings a pleasurable combination of soft and crunchy textures.
This vegan stew takes only 30 minutes from start to finish and if you dig Indian food, you'll be in love with this creation!
Healthy Red Potato Salad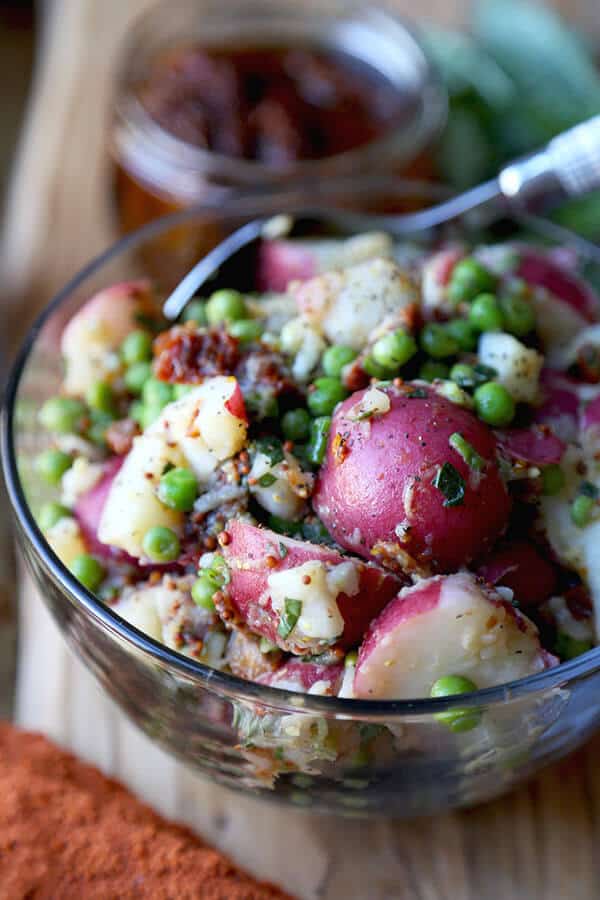 Looking for a quick, easy and healthy side dish or appetizer? Then you've struck gold with Caroline's healthy red potato salad recipe!
One of Caroline's most favorite foods is, you guessed it, potatoes, which she says she can eat all day long.
And with a 15-minute red potato salad like this one, you might just end up treating yourself many times!
Roasted Brussels Sprouts with Sweet Potato Mash and Hazelnuts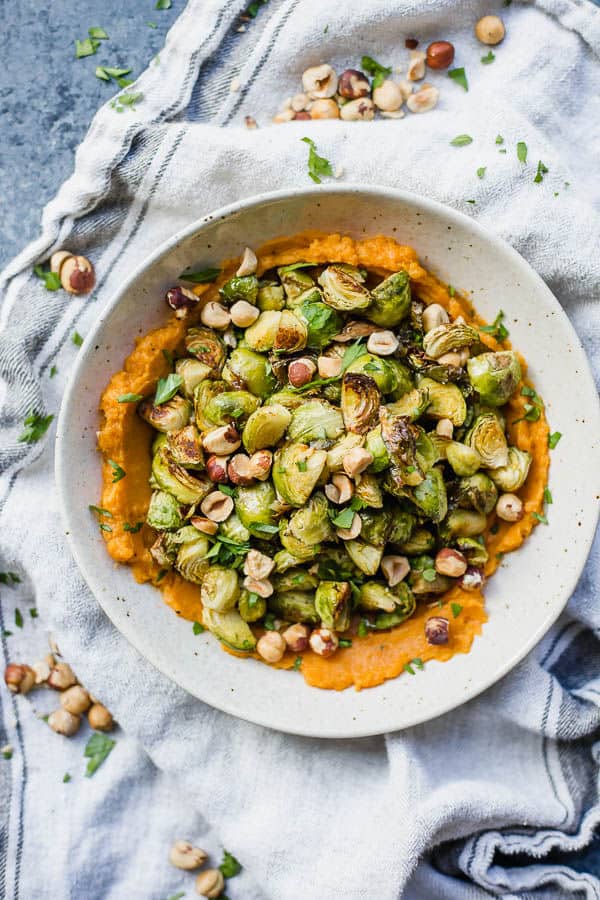 Creamy, smoky, roasty, and crunchy—imagine having these flavors and textures all in one dish!
That's when Alexa's roasted brussels sprouts with sweet potato mash and hazelnuts recipe enters your life.
In 1 hour and 10 minutes, you'll have an amazing dinner of roasted brussels sprouts placed on a bed of sweet potato mash ready to be devoured.
Healthy Vegan Pumpkin Recipes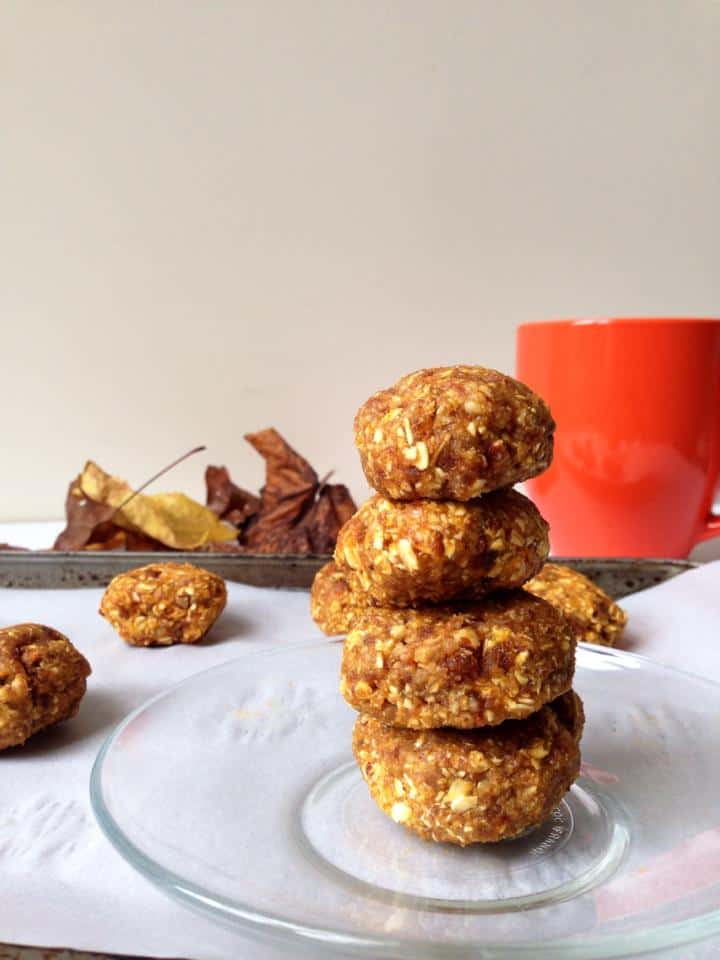 Who said you can't have cookies for breakfast?
Well, if you know someone who did, Medha's raw and healthy pumpkin pecan breakfast cookies will help you convince them otherwise!
These aren't your typical unhealthy cookies tainted with additives, dairy, white flour and boatloads of refined sugar or high-fructose corn syrup.
In fact, these gluten-free cookies only have 5 straightforward ingredients AND require no baking. If you had these for breakfast, it would be about 10 times healthier than what most people are having!
Healthy Pumpkin Spice Latte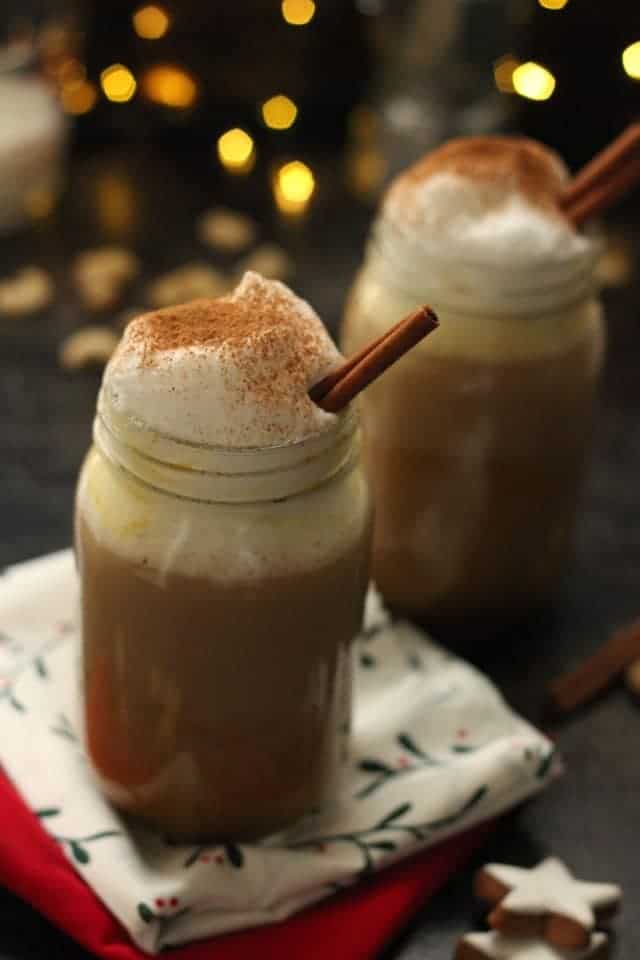 Are you a coffee lover? Then here's the recipe you need to jumpstart your day on a healthier note. Introducing Elena's healthy pumpkin spice latte!
This latte brings together homemade cashew milk, freshly brewed coffee, a luscious pumpkin purée, amongst other delectable ingredients, creating one of the best lattes you may ever try in just 15 minutes!
Healthy Pumpkin Skillet Granola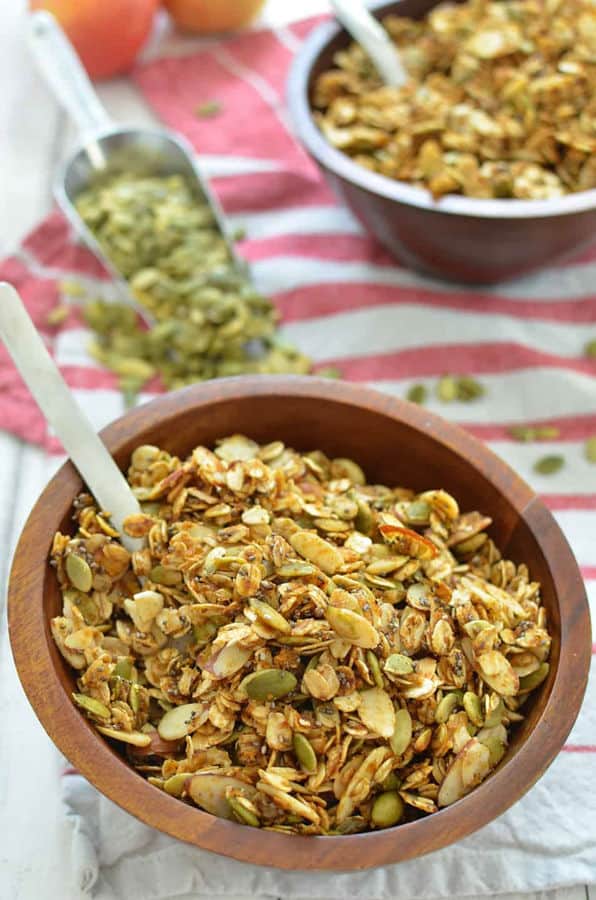 Inspired by a skillet granola recipe from the Almond Board of California, Alexandra ventured to make her own pumpkin version.
The result is a super tasty pumpkin granola you can use as a topping on fruit salads, yogurts, smoothie bowls, ice creams, or simply combine with a plant-based milk for a delicious cereal.
20 minutes is all it takes and you'll have a fabulous addition to your breakfasts and desserts!
Quick N' Healthy Creamy Pumpkin Sauce with Kale, Sausage and Zucchini Noodles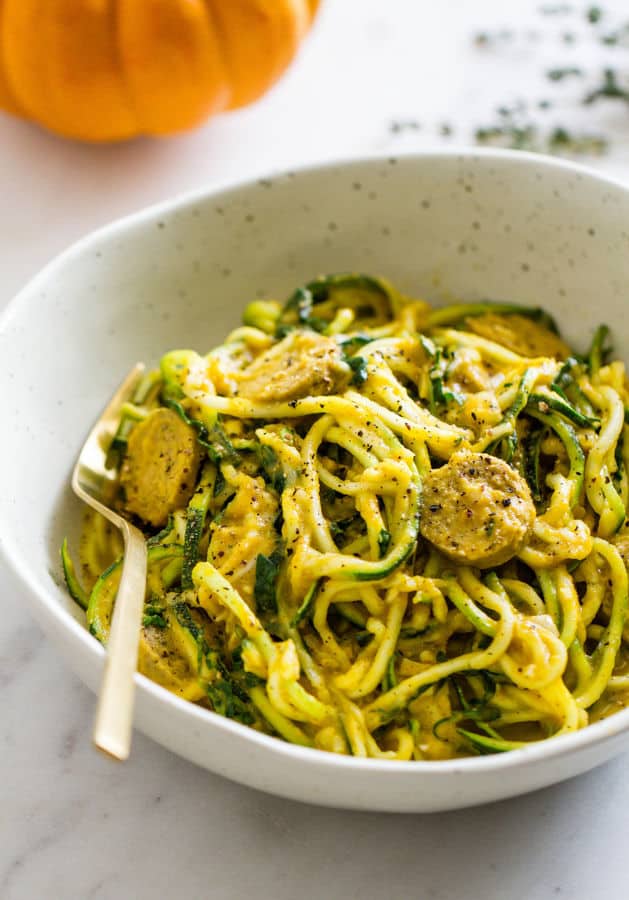 How about some zucchini noodles marinated in a flavorful, creamy pumpkin sauce? Sounds good? Then you should tag along with Julie's recipe, which also features vegan sausages!
This delicious sautéed dish can be ready on the table in about 30 minutes, giving you no excuse to make yourself an awesome dinner!
Healthy Vegan Rice Recipes
Cilantro Lime Cauliflower Rice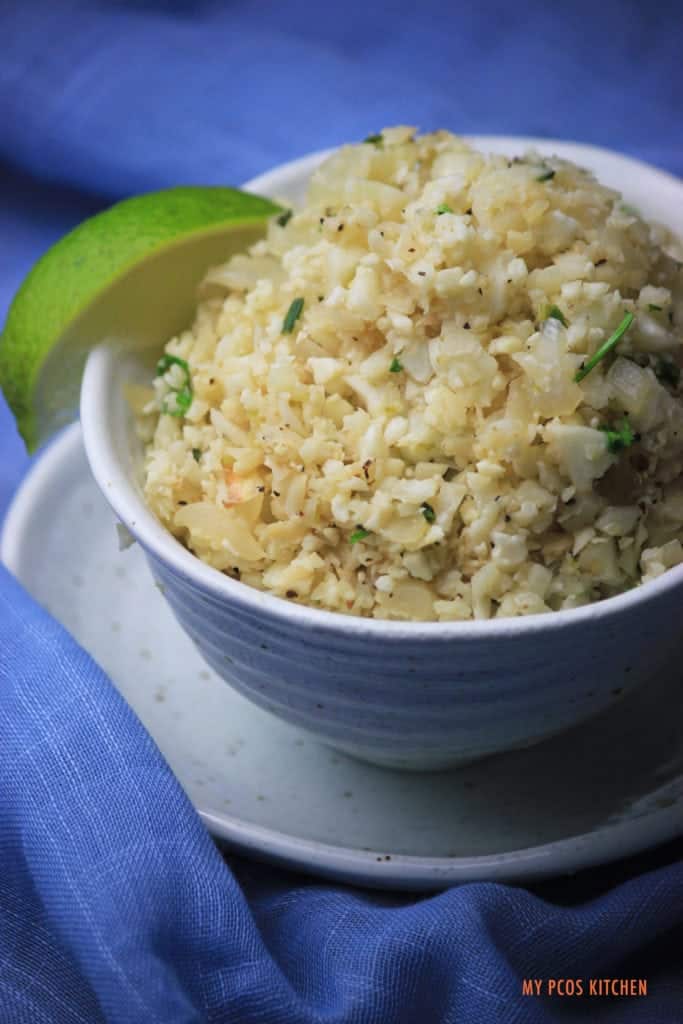 If you're looking for a healthy alternative to regular grain rice, then be sure to try out Mira's simple cilantro lime cauliflower rice recipe.
This is a quick and easy side dish you can make in 20 minutes.
And apart from cauliflower and maybe cilantro, you're very likely to have all the ingredients in your kitchen already. If not, they're everyday ingredients you should have no difficulty finding.
If you've never tried "cauli rice" before, definitely make this at least once!
Jollof Rice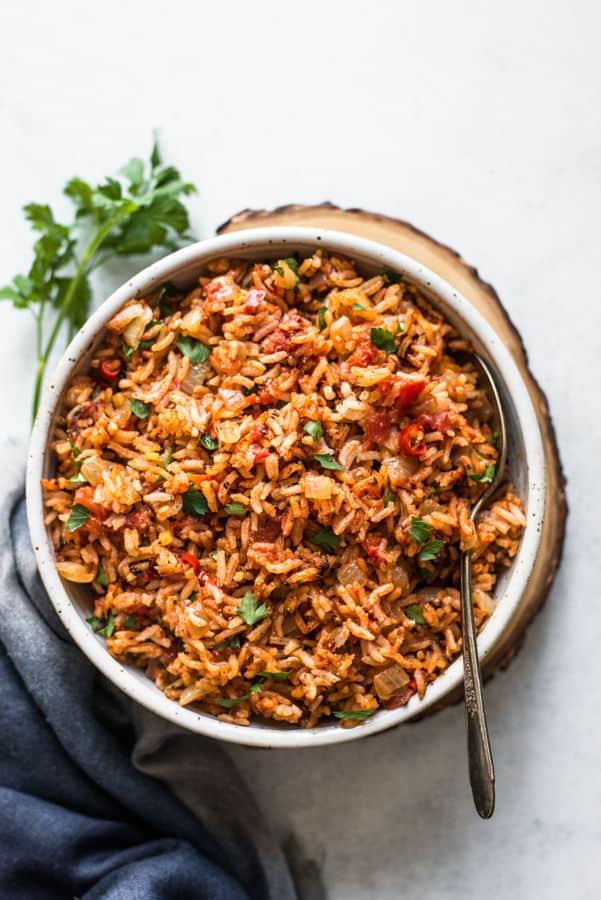 Lisa has come up with a great twist on the West African jollof rice dish that you can prepare and serve as a nifty side dish in 45 minutes. She'll also prepare you with a few tips to make the perfect rice without mistakes.
This dish features a variety of spices and herbs which are sure to add great flavor and taste. I can guarantee you'll enjoy every single mouthful!
Healthy Horchata – Cinnamon Rice Milk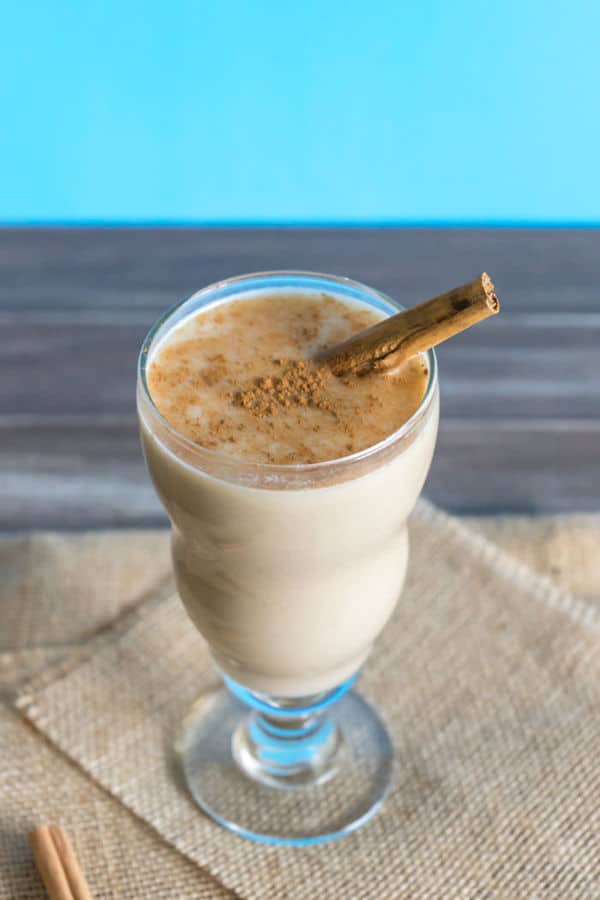 Ready to try the world's most refreshing beverage? At least that's what you'll be in for according to Andrew with his cinnamon rice milk recipe, also known as "healthy horchata".
Andrew's take on a vegan horchata features all the creamy goodness minus all the stuff you don't need, like refined sugar, dairy, additives, etc.
Be sure to try this with your guests!
Ricepaper Bacon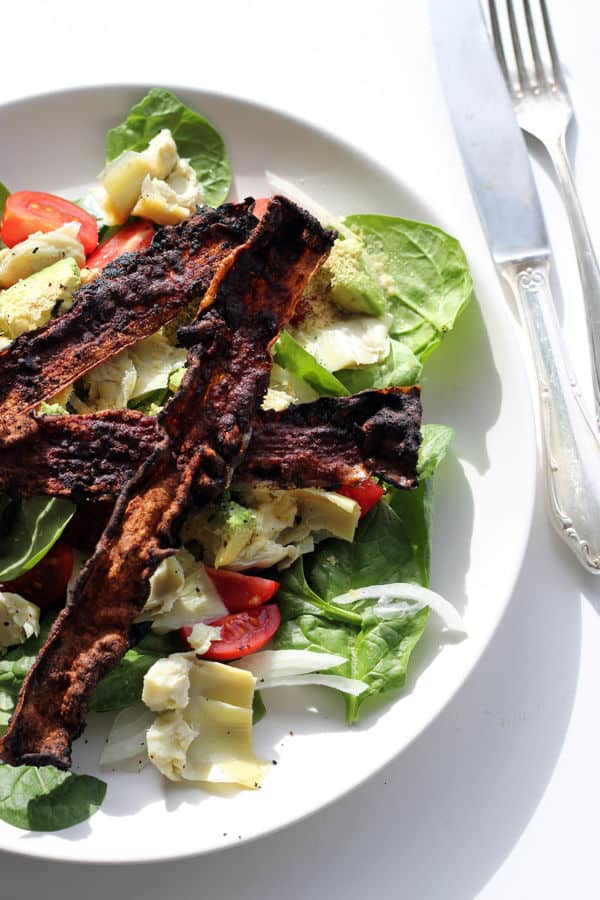 After much experimentation, Veronica has nailed a perfect version of vegan bacon using rice paper.
And those of you who are into spicy food will appreciate this ricepaper bacon recipe.
And if "spicy" isn't exactly you're thing, Veronica recommends replacing the chipotle powder with smoked paprika powder, which'll maintain the recipe's smoky flavor.
So, if you've been dreaming about bacon, now you have a way to realize that dream!
Healthy Carrot Rice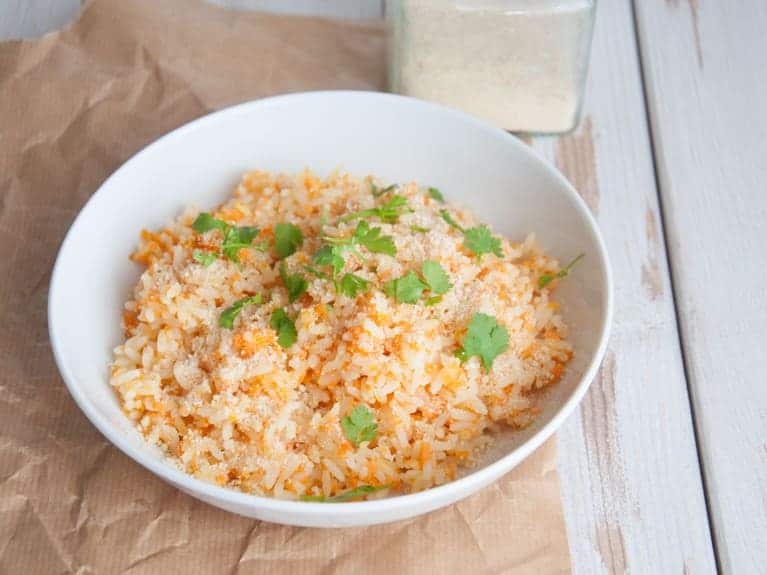 When you think rice sounds like a boring idea, I highly recommend you pull out Bianca's healthy vegan carrot rice recipe.
This dish combines rice and shredded carrot, mixed with a tasty homemade cashew parmesan cheese, garnished with cilantro. Mmm!
You'll need 20 minutes and 8 easy-to-find ingredients to achieve this awesome recipe!
Healthy Vegan Salad Recipes
Simple Seedy Slaw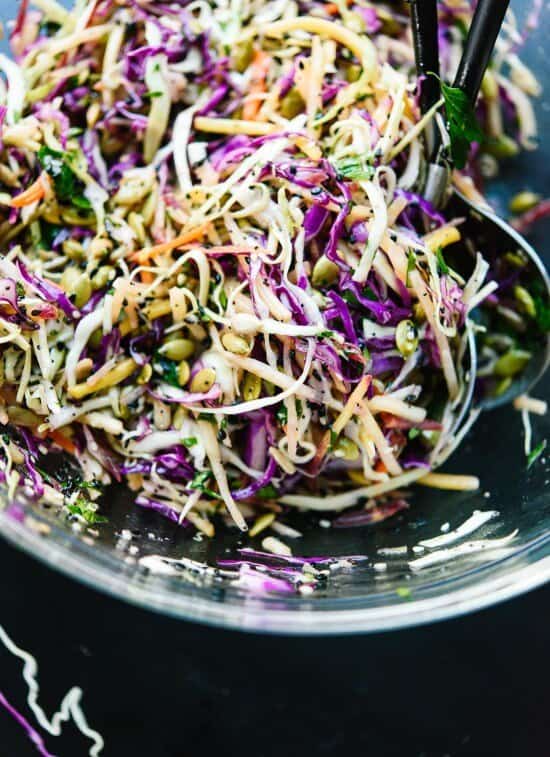 When you're in need of an easy and straightforward salad, hit up Kate's simple seedy slaw.
With 5 ingredients and 20 minutes of your time, you'll have a colorful bowl of cabbage, carrots and parsley amongst other fresh ingredients.
Kale Waldorf Salad Recipe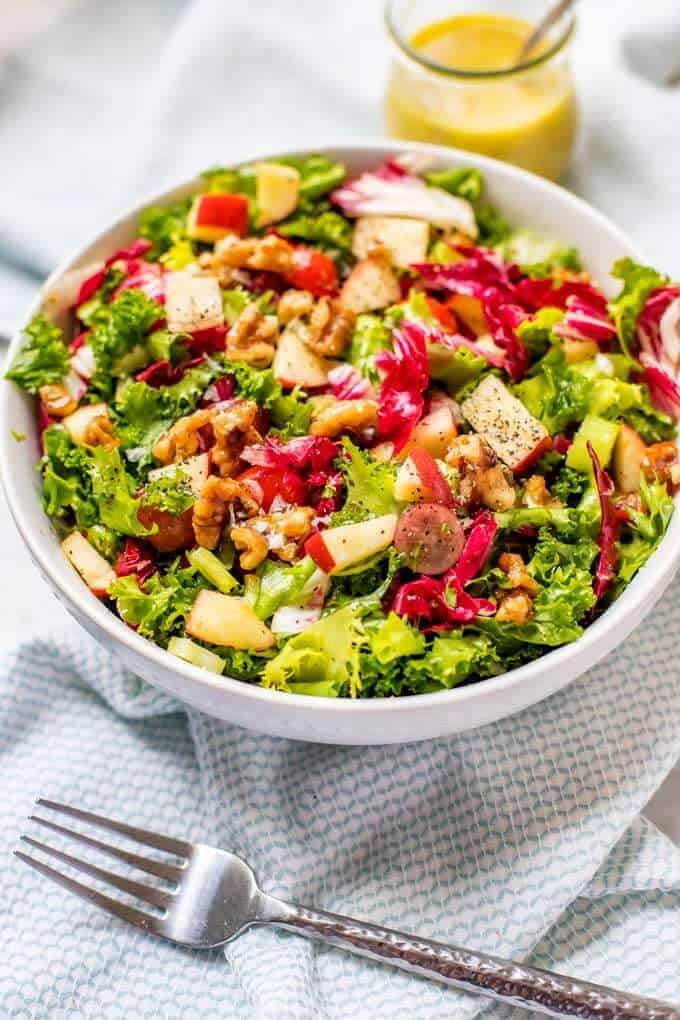 Wendy's veganized kale waldorf salad recipe is a striking summer salad that's both delicious and crunchy.
To kick the salad up another notch, you'll also be making a fabulous lime vinaigrette with ginger and sesame oil, adding that extra edge.
In 25 minutes, you'll have a vibrant salad that'll lighten up a room.
Everyday Lentil Salad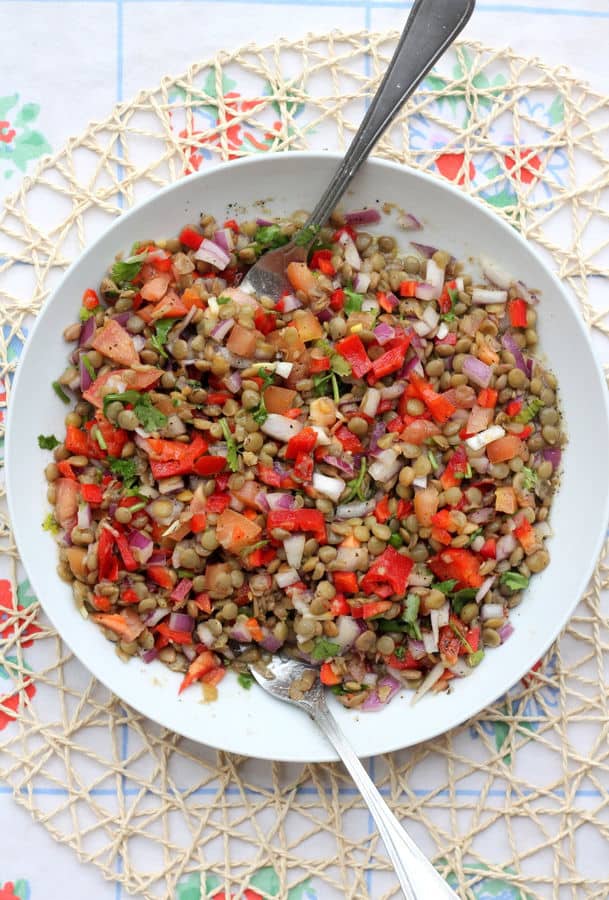 With her everyday lentil salad recipe, Dixya gives you a quick guide on how to cook lentils, preparing you for the actual recipe.
This 9-ingredient salad takes roughly 65-70 minutes and as you'll see, it's a perfect fit for a pita bread and hummus platter. Yum!
Quinoa Salad with Black Beans, Apples and Red Grapes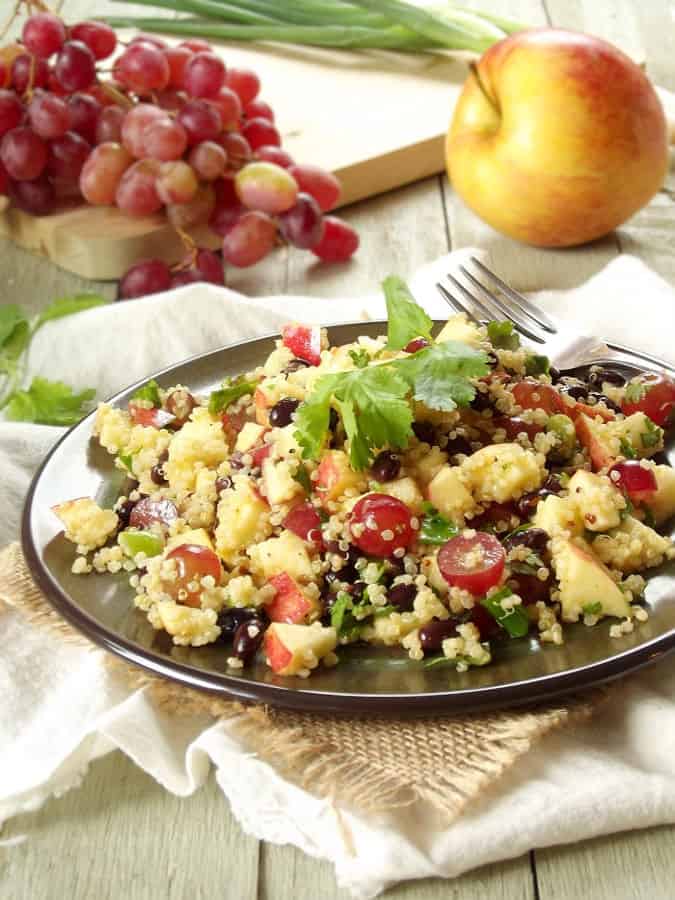 When I saw this recipe, I thought, "What an interesting combination!"
Alissa's quinoa salad recipe features black beans, apples, red grapes and broccoli. I can only imagine the combination of delicious flavors.
Total time from start to finish? 30 minutes!
5-Minute Raspberry Balsamic Salad Dressing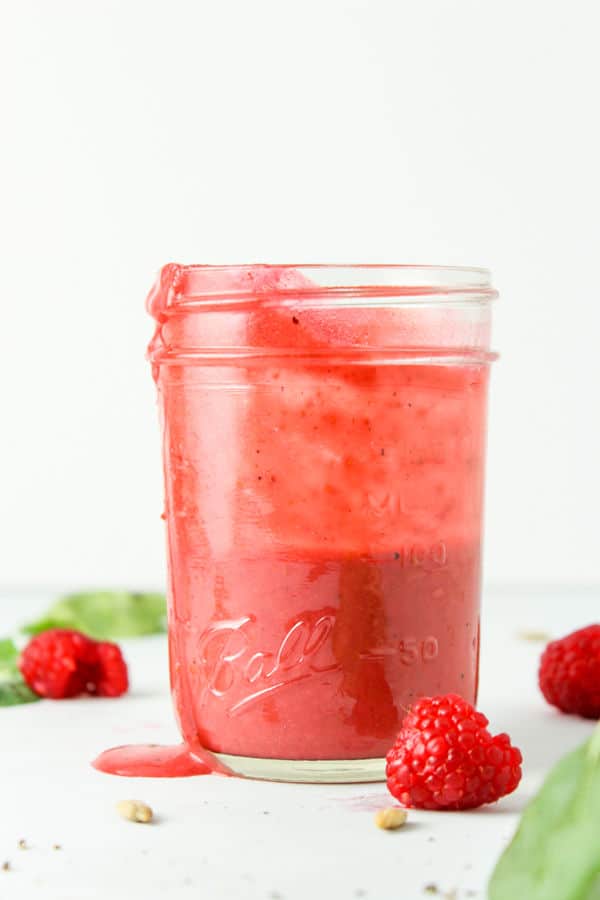 When you go plant-based, you're likely to find that delicious and healthy dressings are quite difficult to come by. And I mean dressings without additives, preservatives, dairy or high-fructose corn syrup.
Well, if you're on the lookout for dressings, The Fitchen has come up with an amazing contender with their colorful 5-minute raspberry balsamic salad dressing.
This beautiful requires just 8 simple ingredients, most of which you probably have in your kitchen already.
Grain Salad with Fresh Lemon and Herbs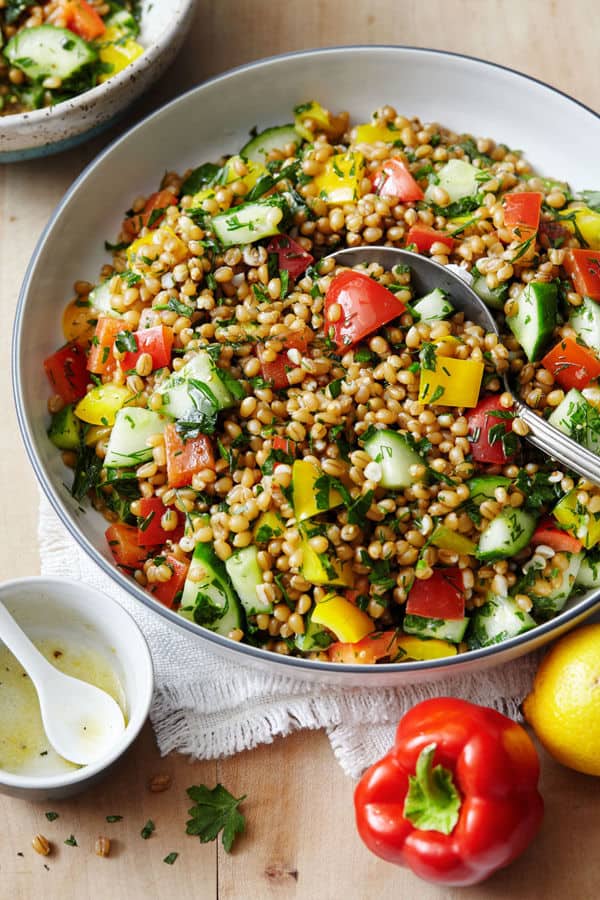 "Dinner and tomorrow's lunch, solved." That's Anguel and Bri's promise to you with their incredible (and HUGE, might I add) grain salad with fresh lemon and herbs. They absolutely aren't holding back with this recipe.
The salad features an assortment of colorful, fresh ingredients and you get to make your choice of grain, too. Enjoy!
Clean Eating Sweet Carrot Raisin Salad Recipe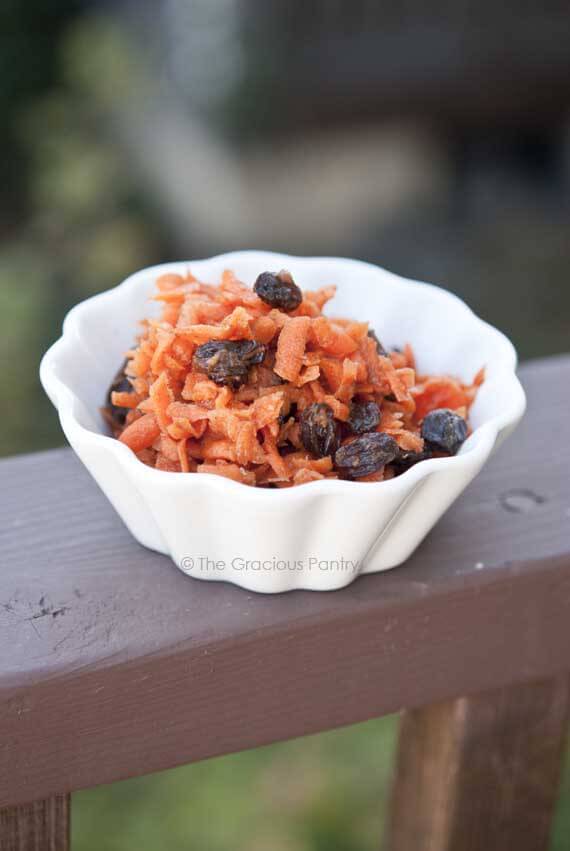 Tiffany is spot on that a side dish or appetizer shouldn't be treated as an insignificant part of the entire course.
It should be thought through in such a way that it adds to the rest of the meal.
While Tiffany's sweet carrot raisin salad may seem innocent, make no mistake, it packs a punch in the flavor department. So if there are kids at the table, you might want to omit the ginger or prepare a separate version.
This is a deliciously healthy salad you can have as a light lunch or to enjoy as part of your dinner.
Healthy Summer Glow Lentil Salad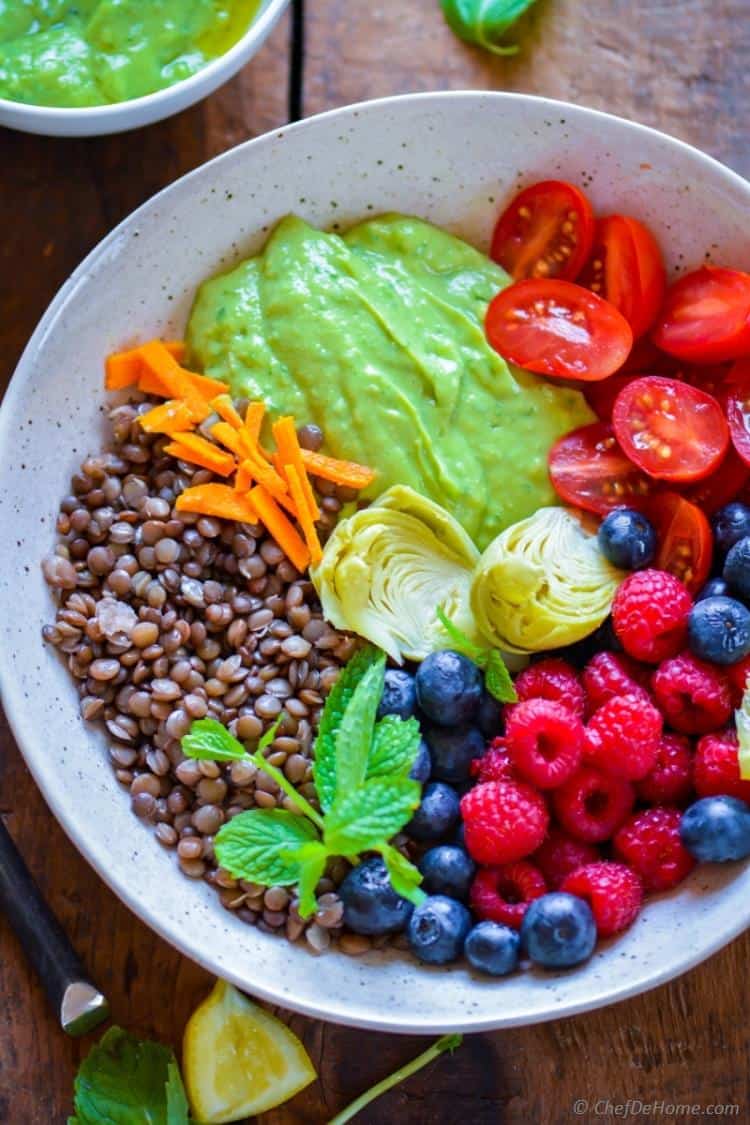 Having nice quality skin, hair and nails is something many of us care about at one level or another.
Savita has created a nourishing summer glow lentil salad which boasts the benefits of nutritional powerhouses like avocado, blueberries and raspberries, along with lentils, artichokes and other fresh ingredients.
And did I mention, the lemony avocado, garlic and mint dressing is to die for!? You need this in your life!
Veggie Quinoa Chopped Salad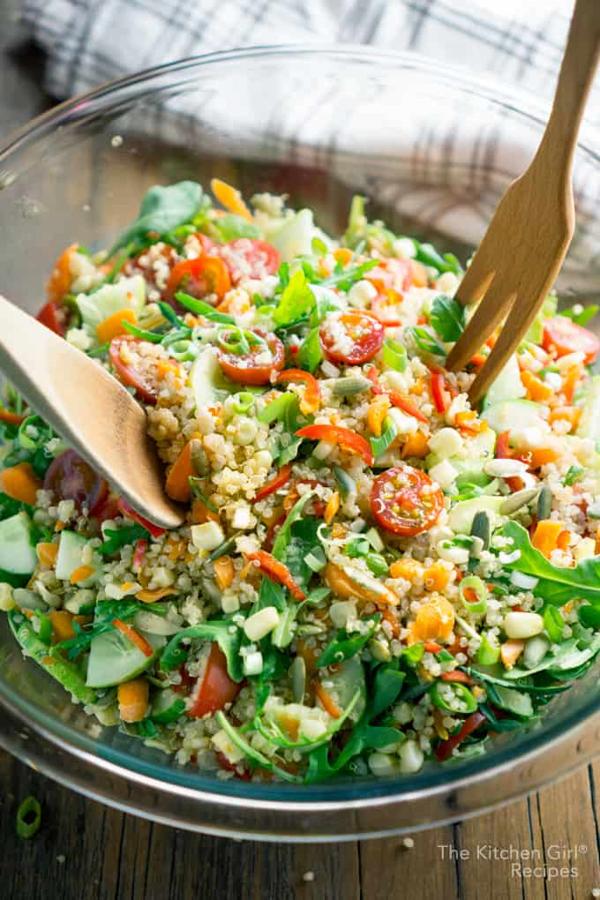 This chopped salad with quinoa is the perfect meal prep recipe for an entire week's worth of tasty lunches. It also makes for an eye-popping huge salad for dinner or for a picnic potluck you forgot about!
This salad packs a nutritional punch with a variety of fresh vegetables on a bed of cooked and cooled quinoa. The optional pumpkin seeds boost its impact up another notch. Try out other seeds and nuts to vary the flavors.
You're in for a nutty, crunchy, lip-smacking delight with Traci's gorgeous salad!
Quinoa Corn Salad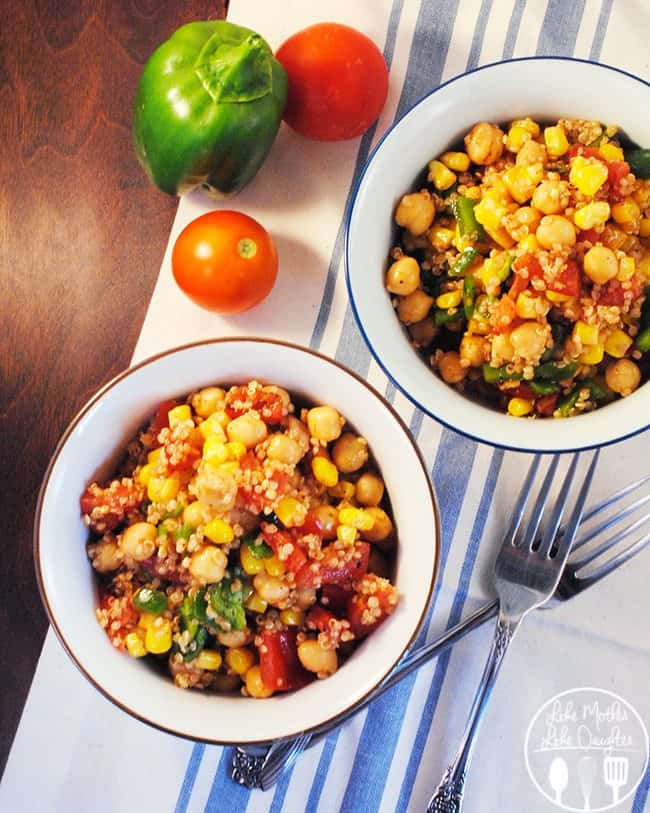 Looking for an easy and protein-rich colorful bowl of deliciousness you can prepare for dinner?
Then Ellen's quinoa corn salad recipe is the one for you!
This dish brings together quinoa and chickpeas mixed with sweet corn, flavorful bell peppers, tomatoes and various spices and seasoning. This is a very satisfying meal!
Green Goddess Detox Salad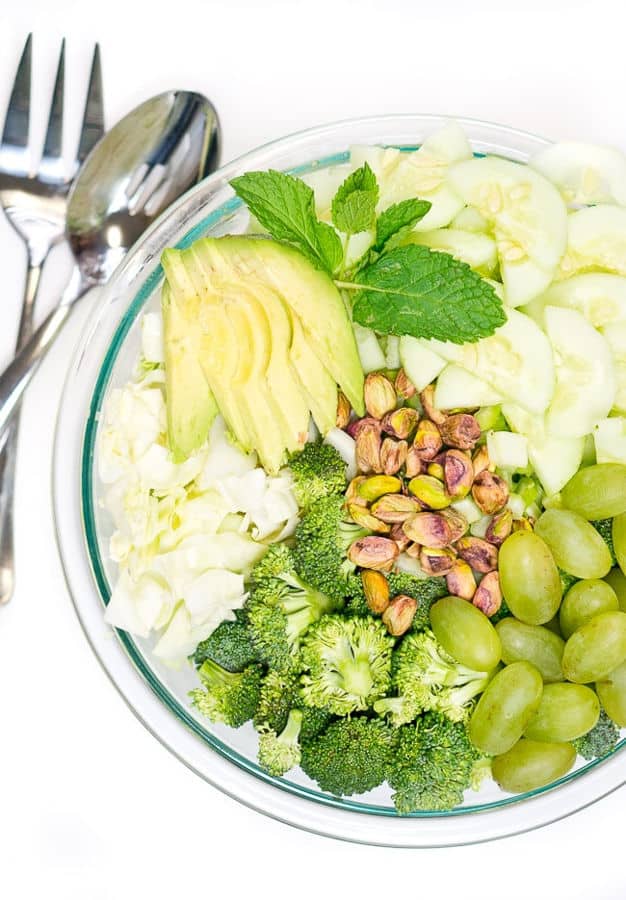 It's green, it's worthy of a goddess, and it inspires detox through nutrient-rich ingredients. What more could you ask for?
Neli's salad recipe is perfect for an easily prepared lunch and the salad itsef is made up of just 8 ingredients, all of which you should be able to easily find. We're talking stuff like avocado, cucumber, broccoli and grapes.
If you yearning for a way to nourish your body, this salad is a great start!
Taco Salad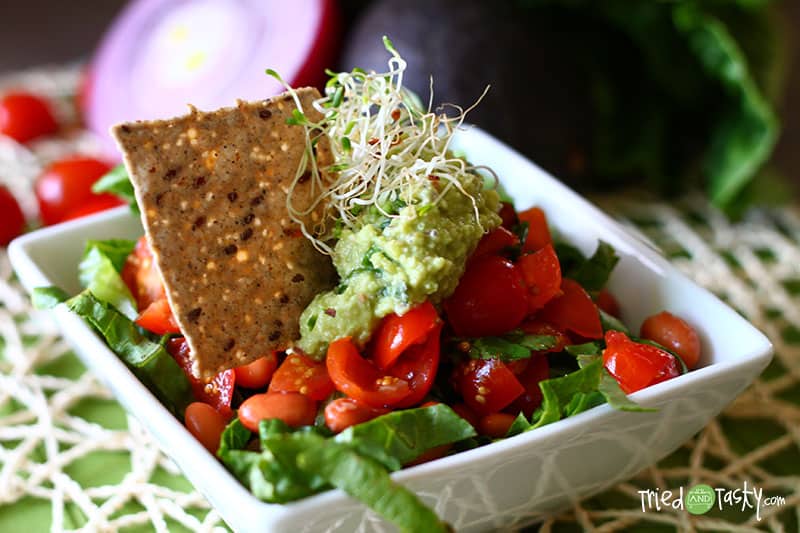 Yvonne knows that sometimes you're just longing for a meal or recipe that doesn't involve meat, which, for those of us on a plant-based or vegan diet, is every meal.
Hence, she's come up with a praiseworthy and tasty vegan taco salad you absolutely need to fit into your schedule ASAP.
Something new you'll see, is what Yvonne calls "guacamame," with core ingredients of avocado and edamame.
Grain Salad with Raspberries, Basil and Walnuts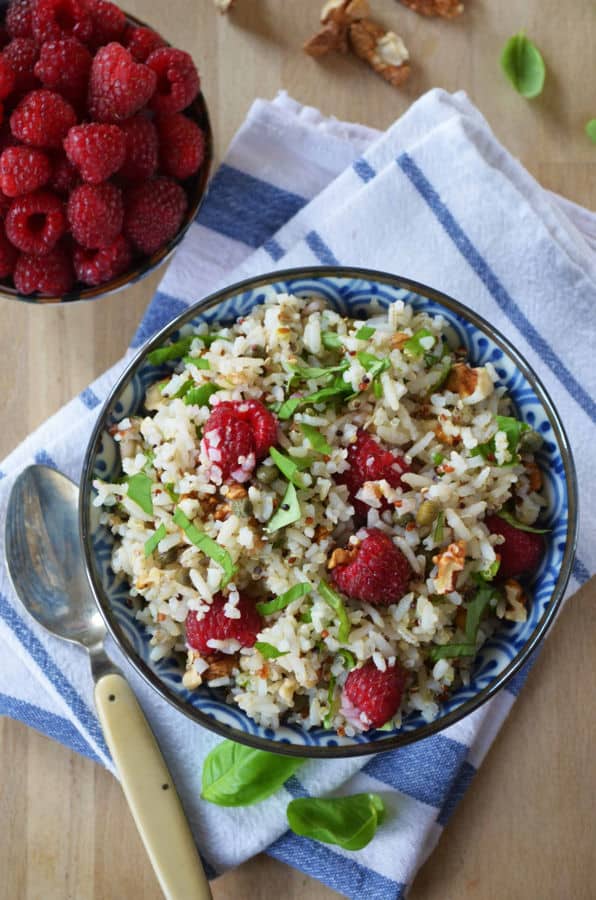 Emma absolutely loves grain-based salads because they're quick to prepare, store well for a grab-and-go lunch pack, and can easily be made super delicious.
And that's exactly what Emma has shared with us, a fabulous grain salad with raspberries, basil and walnuts.
In 25 minutes, you'll have a large and healthy salad ready to go!
"Curried Chickpea & Veggie "Noodle" Salad"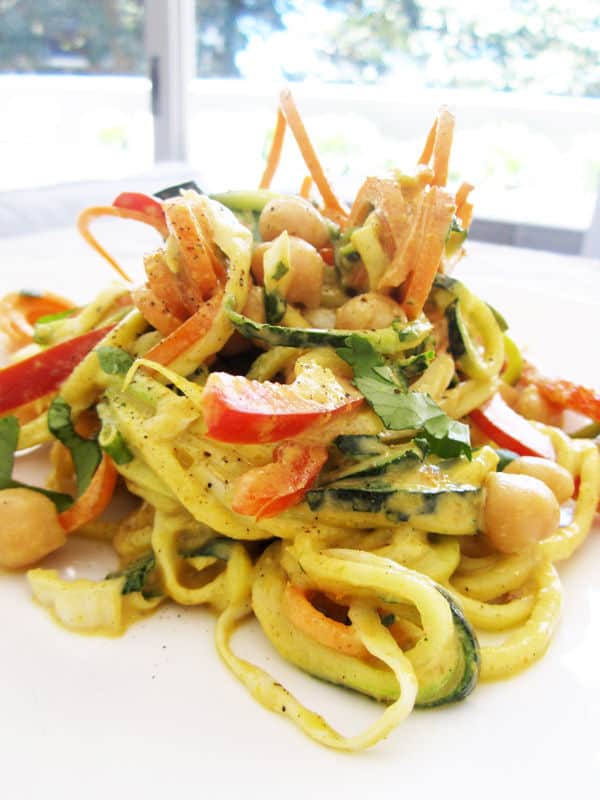 Angela isn't much for gimmicky kitchen gadgets, but once you realize the doors that open with a spiralizer, you know you've got to get one for your kitchen!
And once you have it, then all you need is Angela's curried chickpea and veggie noodle salad recipe. Not only will you end up with a beautiful and delicious salad, you'll see just how easy it is to turn veggies into noodles with the right equipment.
To mix in, you'll be adding a drool-worthy tahini and lime curry dressing. Enjoy!
Radicchio, Fennel and Orange Healthy Dinner Salad with Tahini Dressing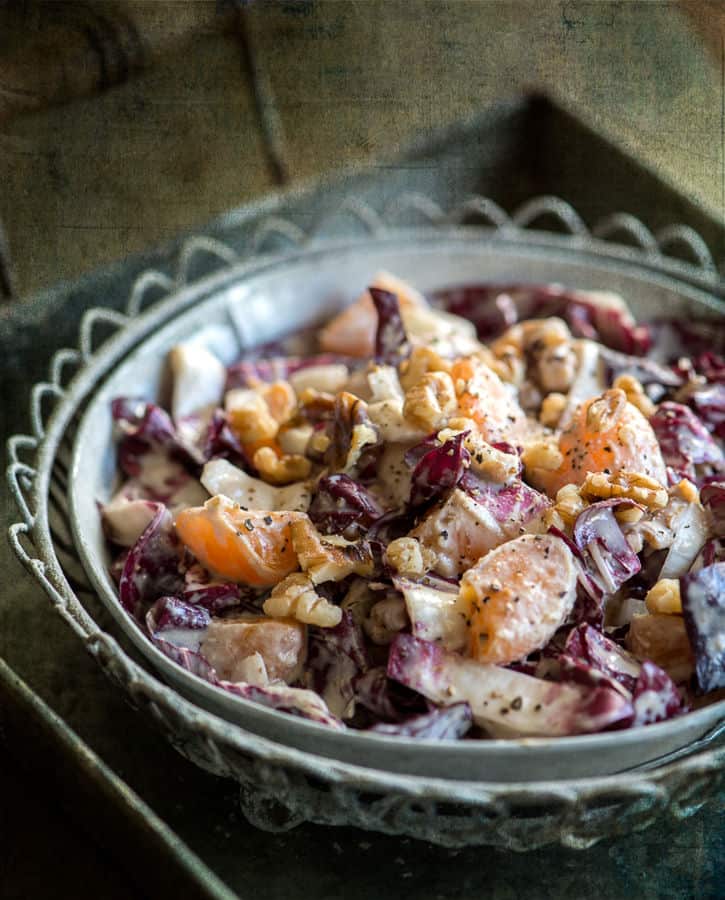 I'm totally with Susan that we all need to get more greens into our diets. But what keeps a lot of people from incorporating more fresh veggie produce, is the lack of inspiration and ideas in what to actually make.
With this salad recipe however, Susan is definitely making her contribution to changing all that, so if you're craving a nutritious and healthy salad (that isn't green but purple), then this is the recipe for you!
Healthy Vegan Smoothie Recipes
Tropical Turmeric Golden Milk Smoothie (Anti-Inflammatory Booster)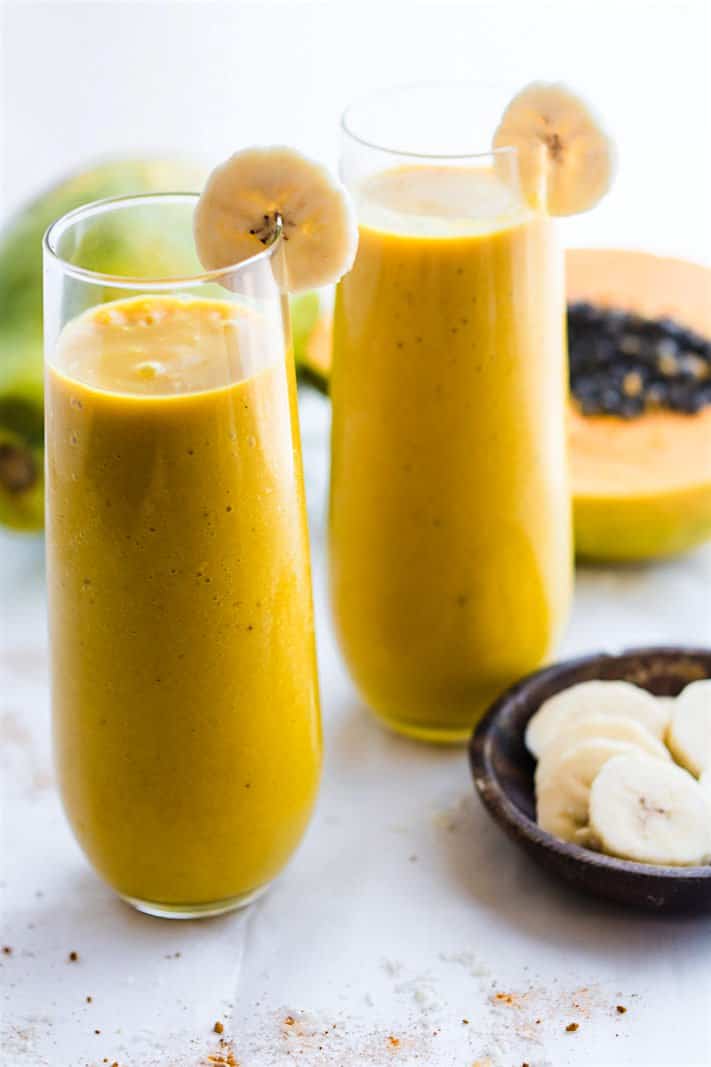 While I've never tried turmeric golden milk, I've tried making a popular turmeric paste that you're supposed to mix into a milk base (which would then become golden milk) and eating that for its anti inflammatory effects. Warning: It wasn't tasty!
But, as soon as I'm ready to hop back on the turmeric train, it'll be tropical, it'll be milky, it'll be Lindsay's tropical turmeric golden milk smoothie!
This vibrantly-colored smoothie takes just 10 minutes to make and will fill your body with nourishing goodness.
Healthy Peanut Butter Cup Smoothie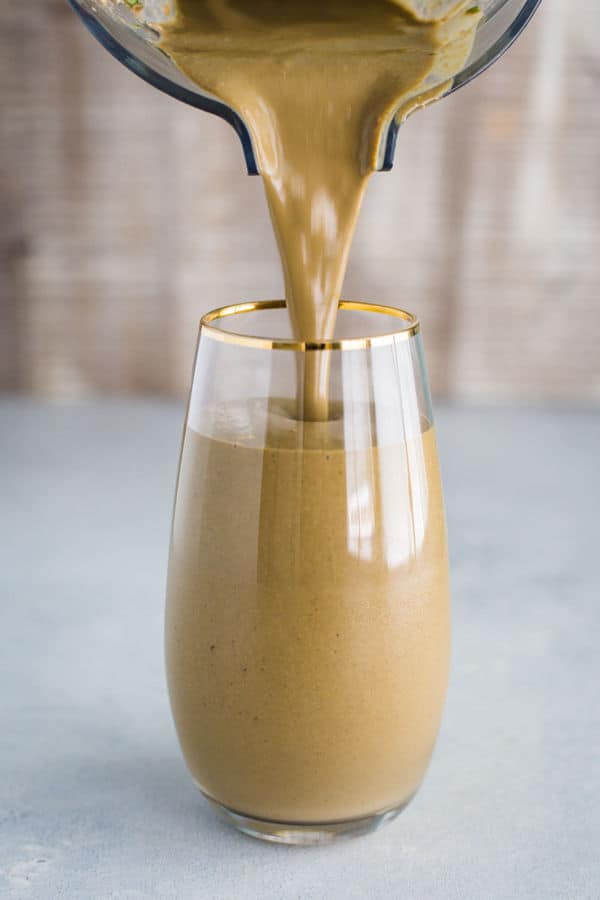 Do you like peanut butter? Then brace yourself for Brita's 4-ingredient savory peanut butter cup smoothie!
This drink is sure to give you that peanut butter fix you crave. And if you want to kick things up another notch, feel free to add hemp seeds for a nutritious protein-boost.
Tropical Green Smoothie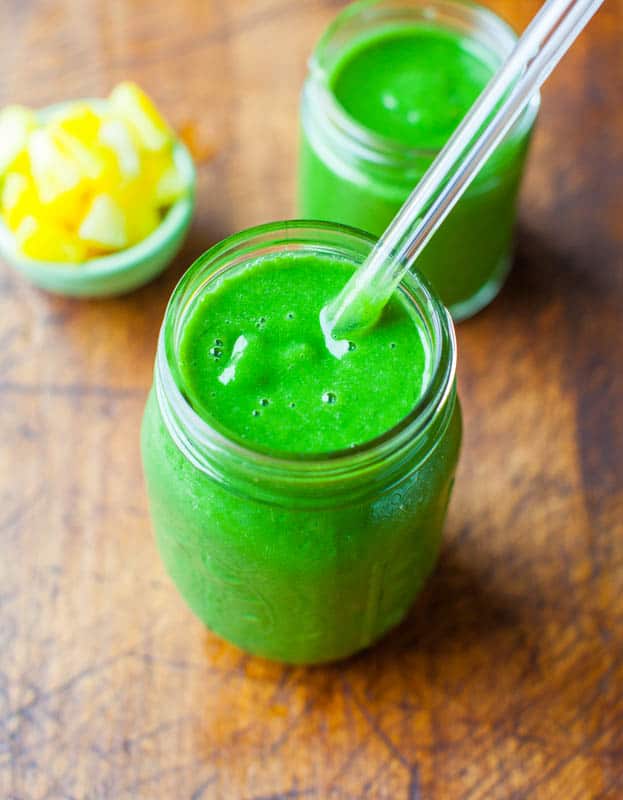 So you've probably heard all the craze about green smoothies and how they're so great for you. Then you take it upon yourself to make your first one and it ends up being one of the worst flavor experiences you've ever had… nightmare!
But, really, all you needed was the right, beginner-friendly recipe, which is what you're getting with Averie's beautiful tropical green smoothie.
This recipe will yield you about 12 ounces in just 2 minutes of preparation; and the taste? Out of this world!
Sun Salutation Mango Pollen Smoothie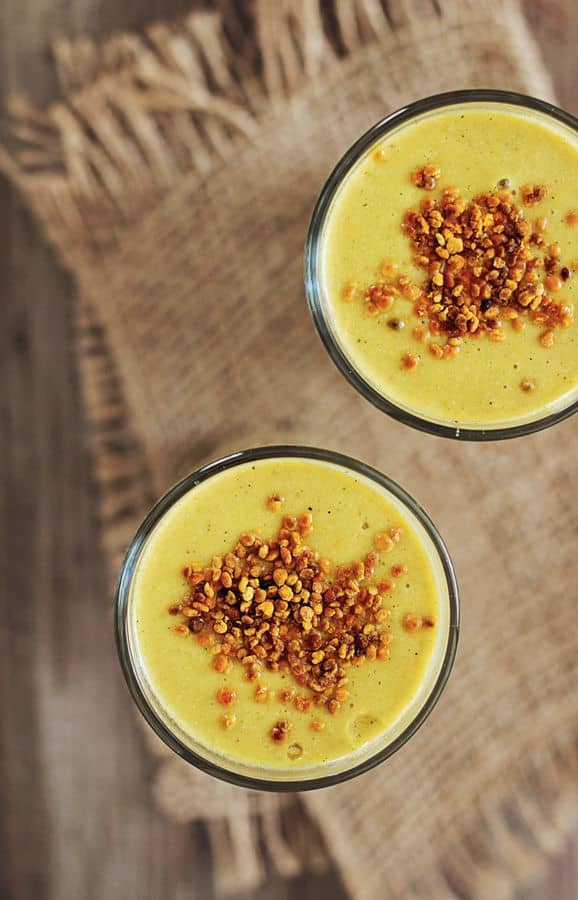 If you're someone who likes to start the day on the right foot, nutritionally speaking, gaze your eyes at Ana's eye-catching sun salutation mango pollen smoothie.
This is a simple yet very nourishing and anti inflammatory smoothie that's both customizable (depending on what fruits you have available) and takes only 4 minutes to make.
The stars of this smoothie are turmeric, mango, and—you wouldn't have seen this one coming—pollen!
Healthy Salted Caramel Mocha Smoothie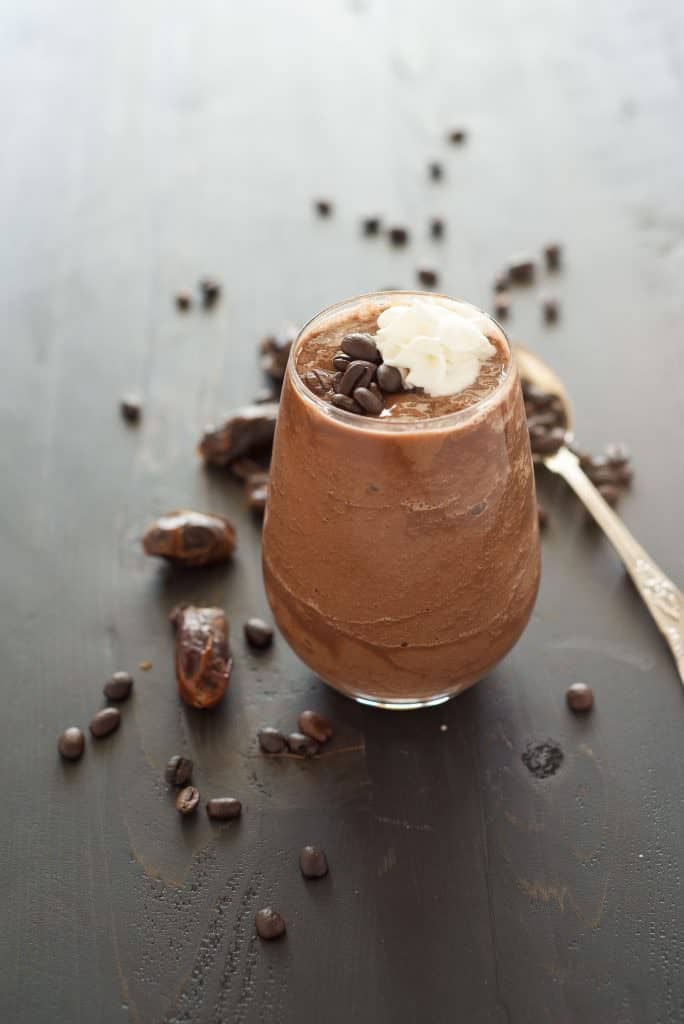 Coffee lovers rejoice! Because you're in for a dream treat with Megan's healthy salted caramel mocha smoothie.
This 9-ingredient luscious and guilt-free smoothie is full of quality ingredients and is quite healthy too! This is a cream-topped recipe you absolutely won't regret!
Raspberry Mango Tango Smoothie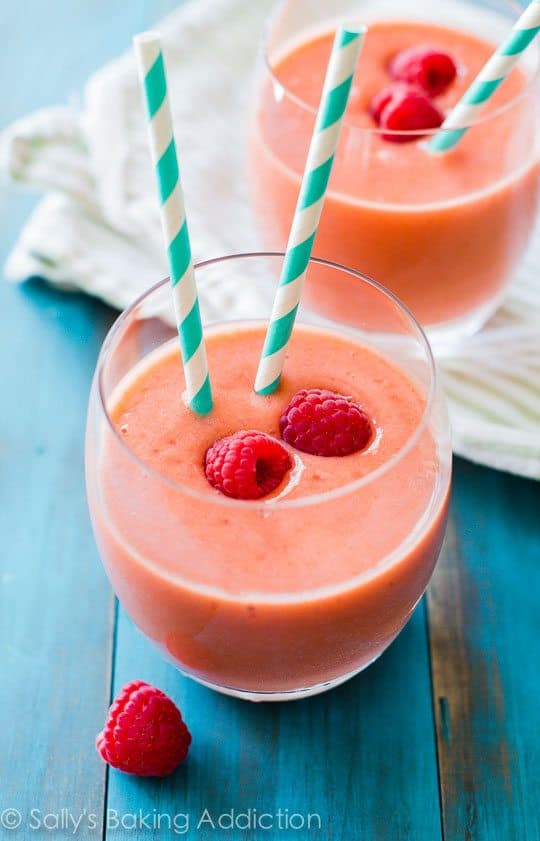 Are you ready for an easy smoothie? How about the easiest smoothie ever? At least according to Sally, that's what you'll be getting with her delightful raspberry mango tango smoothie, which sports Bai's popular Malawi Mango drink.
Other star ingredients in this smoothie include mango and raspberry.
How long does it take to make? How about 5 minutes from start to finish!
Banana Peanut Butter and Date Smoothie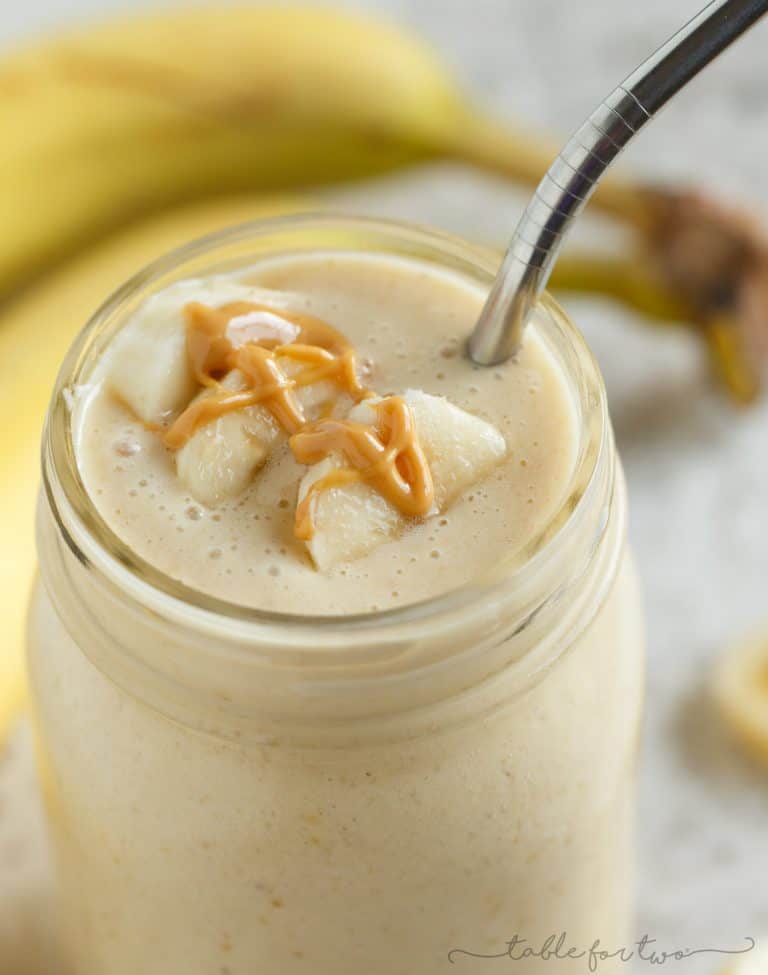 When you're on a processed sugar-free challenge, like Julie was, you have to be a little creative with how you're going to satisfy those sugar withdrawal cravings you'll end up having.
And what better way to do this than a smoothie sweetened with natural sugars from fruit!
Julie's smoothie recipe is so freakin' delicious and even features creamy peanut butter.
If you're looking for a protein boost, she recommends you adding your favorite protein powder to the mix!
Purple Sweet Potato Smoothie Bowl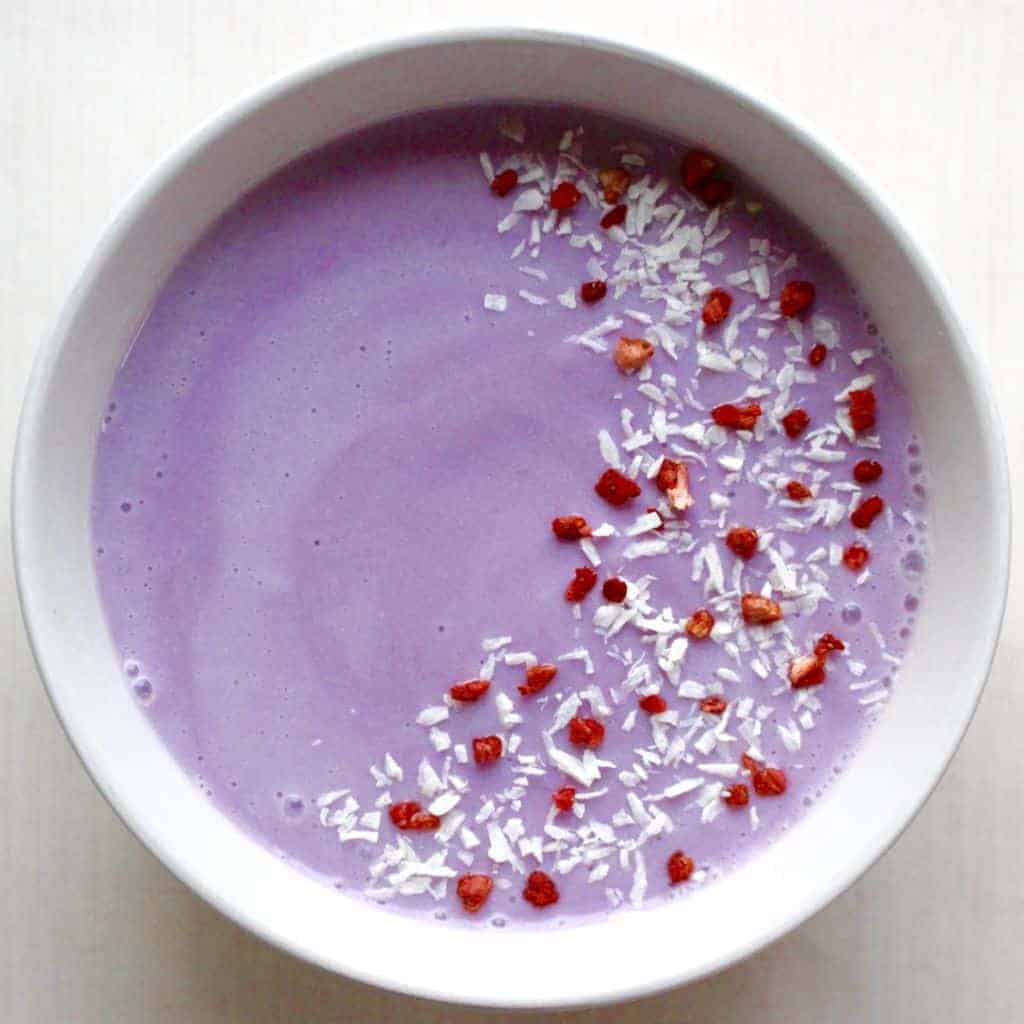 I love smoothie bowls and often have them as an alternative to yogurts (because finding dairy-free yogurts is tough and I'm not always too excited about making my own vegan version).
Rhian brings us a special treat with her purple sweet potato powered smoothie bowl recipe. While the 30-minute base recipe can suffice, you can transform it into something more incredible by adding any toppings you fancy!
Cherry Smoothie Bowl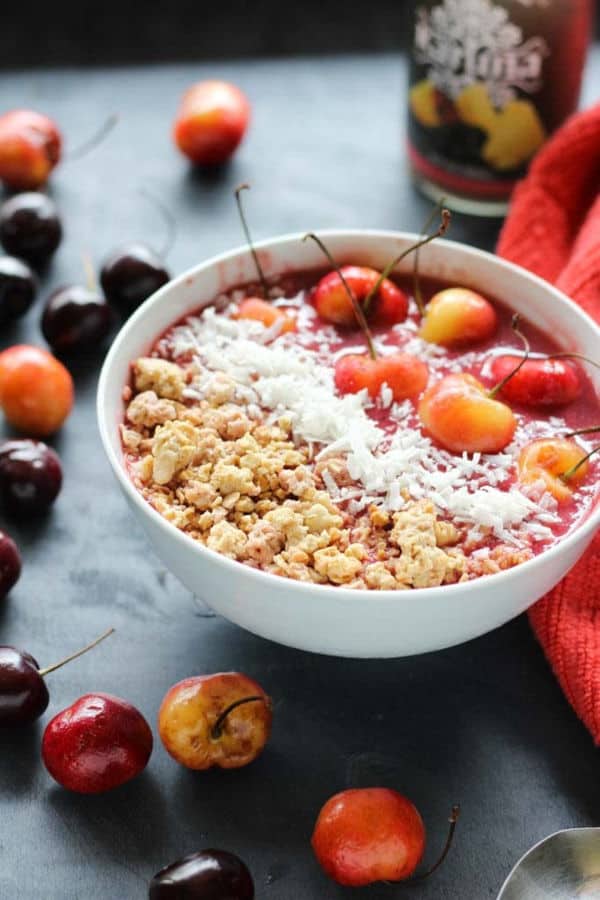 Need more ideas for smoothie bowls? Then make sure to add Gina's cherry smoothie bowl recipe to your favorites collection.
This tasty pink-colored delight requires only 4 ingredients, including a "special guest," Karuna's Divine Pinkalicious drink.
Once ready, following the 10-minute preparation, simply decorate the smoothie bowl with your favorite additions!
Very Berry Blue Smoothie with Blueberry Whipped Cream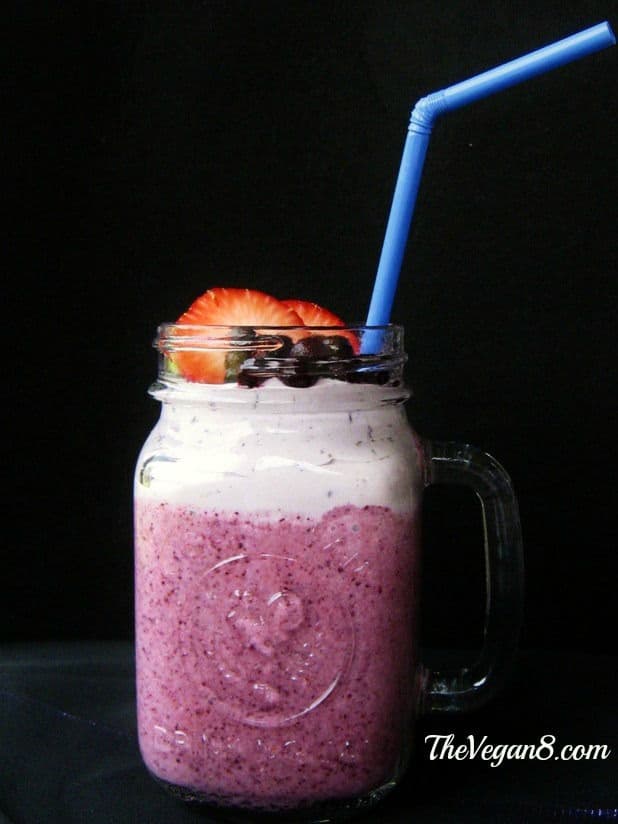 Blueberry whipped cream… sounds dreamy, right? And then layered on top of an enticing smoothie!
Want to realize this dream in your own kitchen? Then you need to grab Brandi's very berry blue smoothie recipe. She even describes this as an ice cream dessert if you top it with fresh, whole berries!
Healthy Vegan Snack & Treat Recipes
If you fancy the taste of gingerbread, you'll love Erin's ginger cookie healthy energy balls recipe
They take just 25 minutes to make and—hold on to your seat—they require zero baking; they're in fact all raw!
Are they high in protein, too? Check. How about free of gluten? Absolutely!
Now go make them!
Healthy Baked Carrot Chips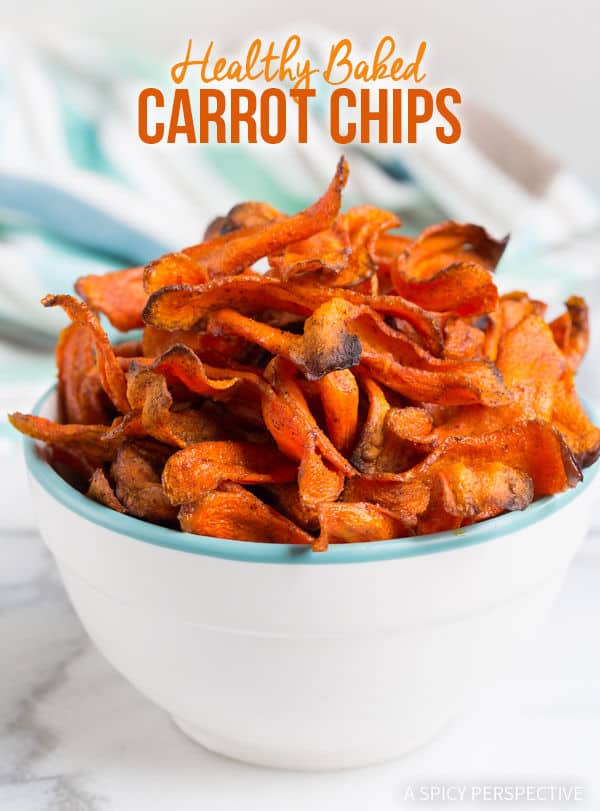 I swear when I saw these I thought they were sweet potato chips, which I've had plenty of in recent months I may add!
But Sommer's chips are indeed made from strips of carrot!
These delicious chips are sweet and crispy and require just 20 minutes and 5 commonplace ingredients.
So, when you're looking for both a crunchy snack and a much healthier alternative to regular potato chips, Sommer's recipe is the clear winner!
Healthy Buffalo Cauliflower Dip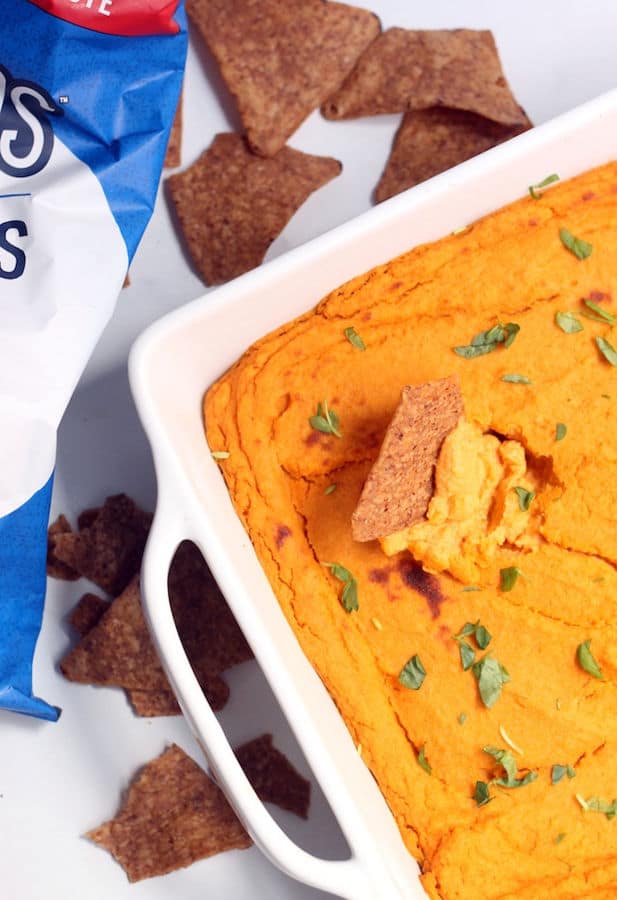 Seriously, who would've known you could make such a killer dip based on cauliflower? But as they say, the only limit is your imagination!
Alexis has come up with one heck of a healthy party dip you can make to impress your guests with.
Her buffalo cauliflower dip is creamy, gluten-free and ready to serve in 40 minutes..
Make the dip, open the tortilla chips, then band together for an awesome treat!
Spring Pea Guacamole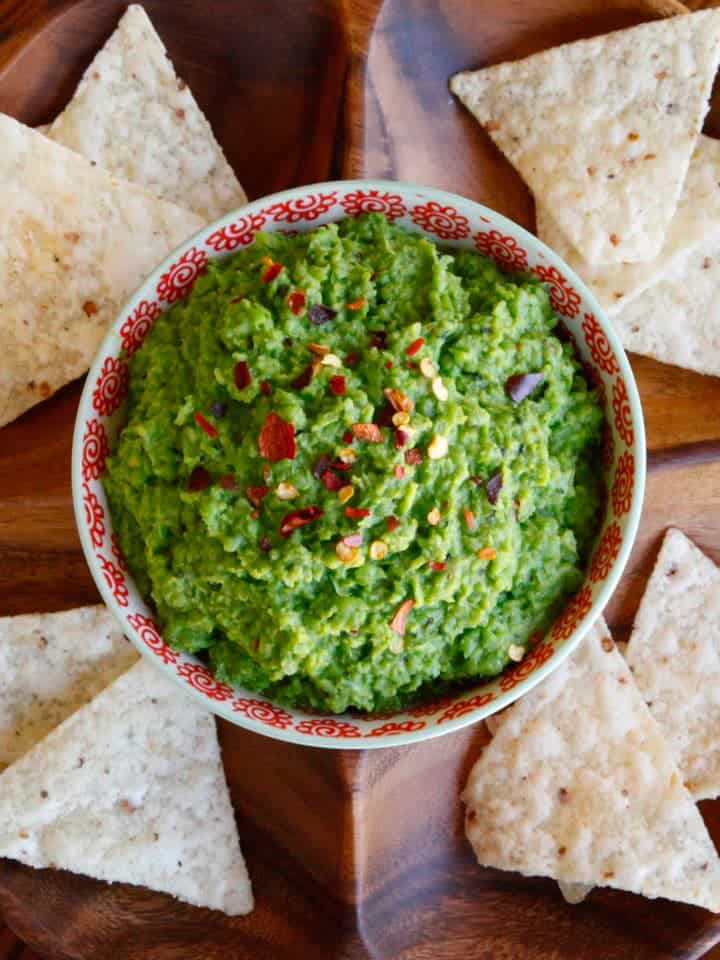 Listen up, if you're in a panic because you absolutely need to make a guacamole, but you can't find avocado, then rejoice, there's another option!
And that option is spring peas. Now, you might think there's no way on earth spring peas could replace avocado, and you're right, but you'll be surprised to find that they'll get you 70% there.
And with Tori's 15-minute guacamole recipe in hand, the result is a satisfying, sweeter and bright-green guacamole that doesn't oxidize into a brown goo after a couple hours.
So, don't give up all hope yet when avocados are nowhere to be found!
Passion Fruit and Coconut Milk Pops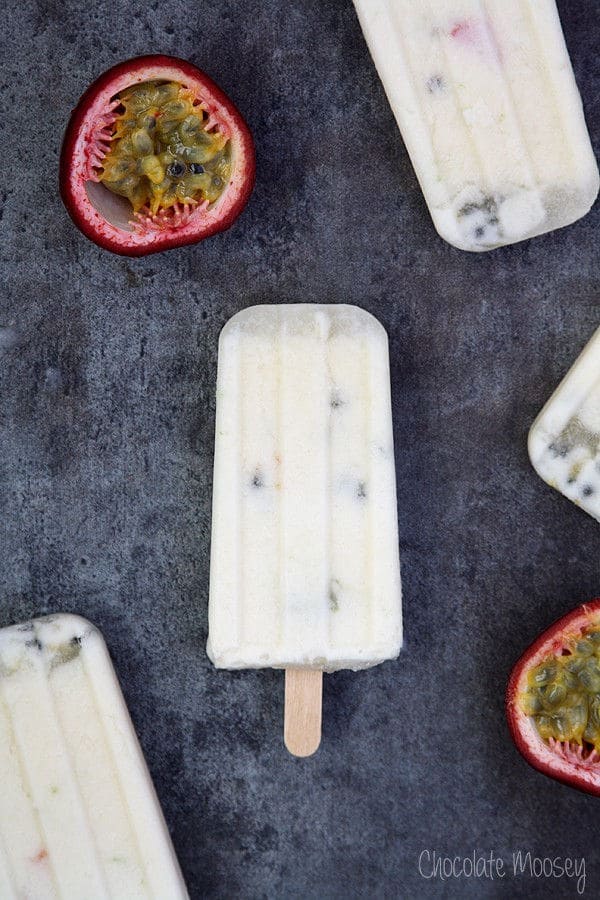 Fancy a tropical experience?
That's exactly what Carla reckons you'll get with her passion fruit and coconut milk popsicles recipe, which'll take you barely 20 minutes to prepare and just a few hours in the freezer.
These 5-ingredient popsicles are really delicious and very easy to make.
Best of all, they're a healthy treat you can enjoy every day!
Rainbow Popsicles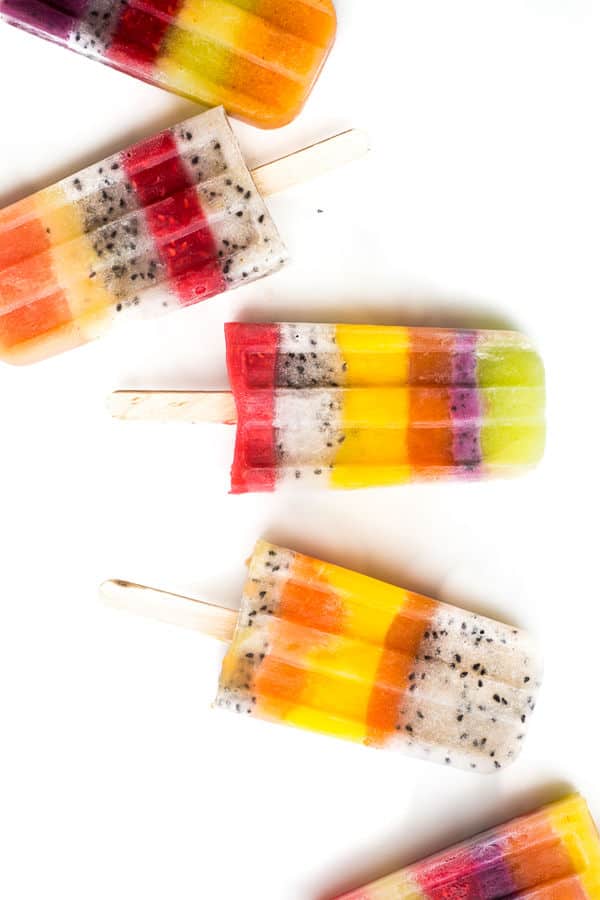 Have kids around? Then this is a fabulous popsicle recipe you can make for them on hot summer days. Better yet, get them involved in the process!
These colorful and cooling popsicles will give you an almost tropical experience, as they include fruity ingredients like papaya, mango and dragonfruit.
They're of course dairy-free and with no synthetic ingredients or processed sugars. Perfect!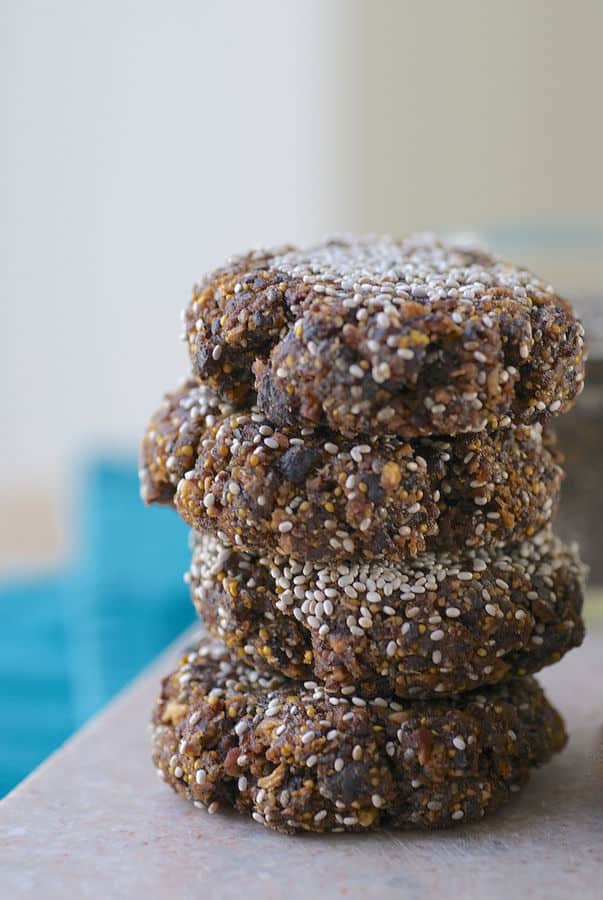 What if I told you, you could make finger-licking and comparatively super healthy cookies right at home, using only 3 ingredients and zero heat?
That's right. You can! And if you've got a food processor, Natalie's fig chia cookies recipe will show you exactly how it's done.
Healthy Guacadile Dip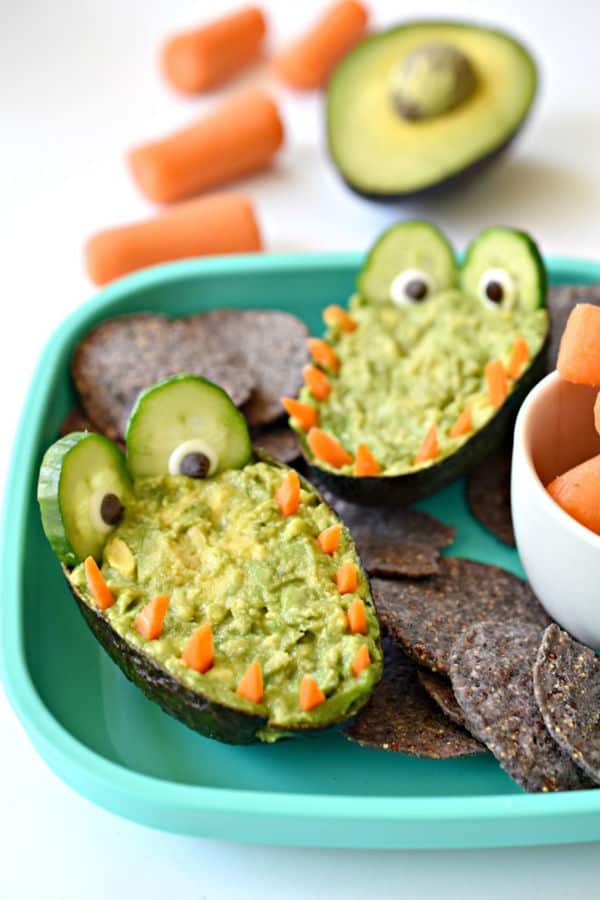 This recipe right here is the one you need to make for your kids!
These "guacadile" dip boats are cute, fun and—best of all—healthy and nutritious. This is a perfect snack dip for everyone to enjoy!
Once you've got the ingredients, set aside 5 minutes and you're good to go.
Healthy 3-Ingredient Cranberry Sauce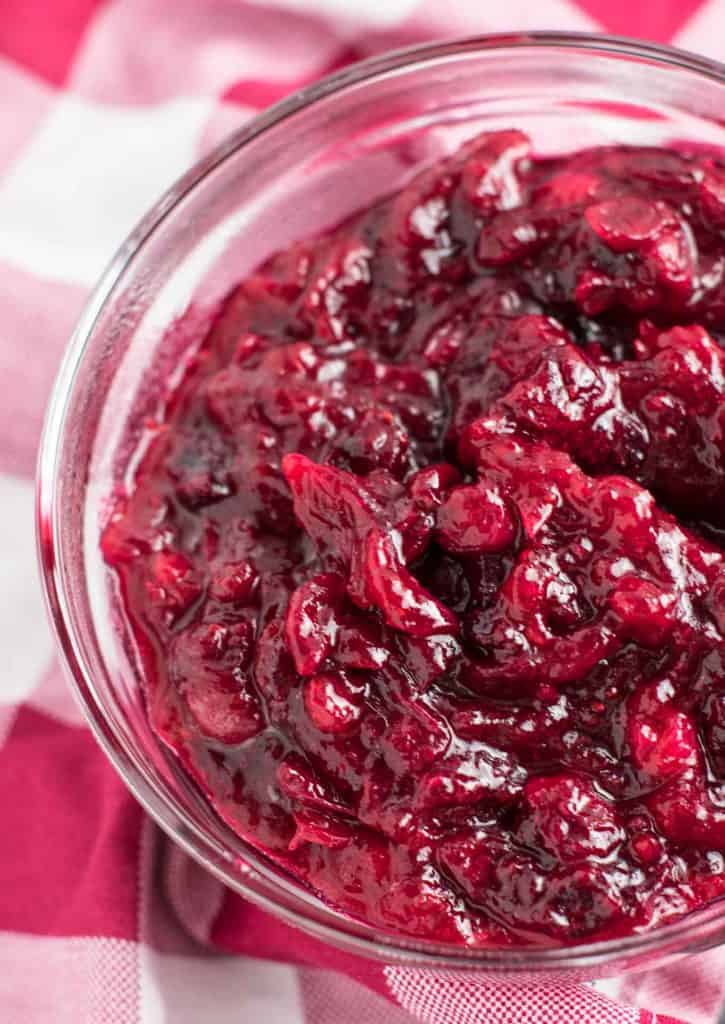 Looking for a sweet and tangy sauce to go with the rest of your dinner? Or, perhaps, you need some inspiration for some cranberries you've got laying around in the kitchen?
In either case, you need to try Joy's exquisite 3-ingredient cranberry sauce, which is ready for serving in less than 20 minutes.
This sauce is perfectly simple and healthy. Give it a go!
Healthy Vegan Queso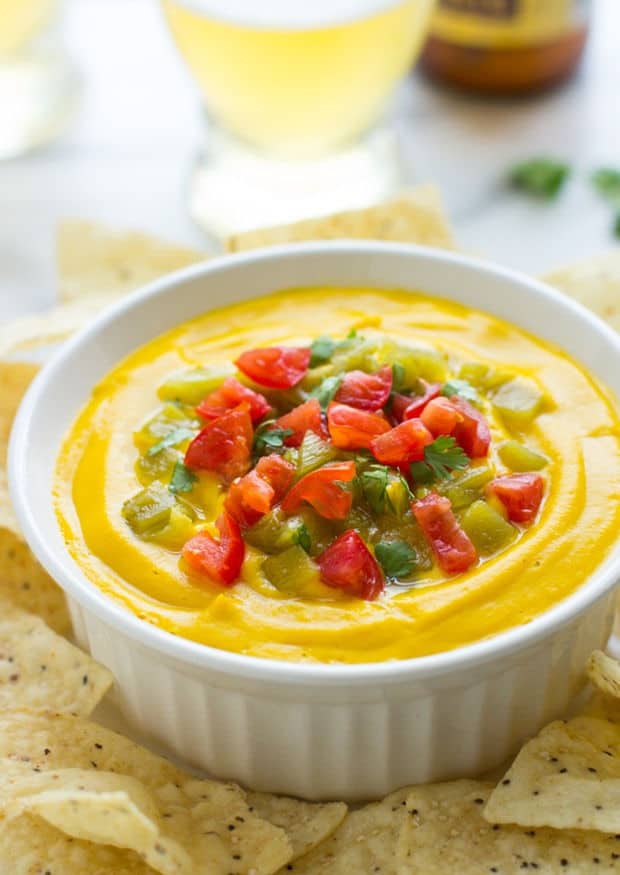 When you're in need of a cheesy dip—without any of the dairy stuff—you need Sarah's vegan queso recipe.
While Sarah doesn't claim this recipe will taste EXACTLY like cheese, it'll get you close enough to be a very satisfying and delicious alternative.
Made from such ingredients as carrots, butternut squash and russet potato, this is a healthy dip choice you can easily impress with at parties!
Crispy Asian Roasted Chickpeas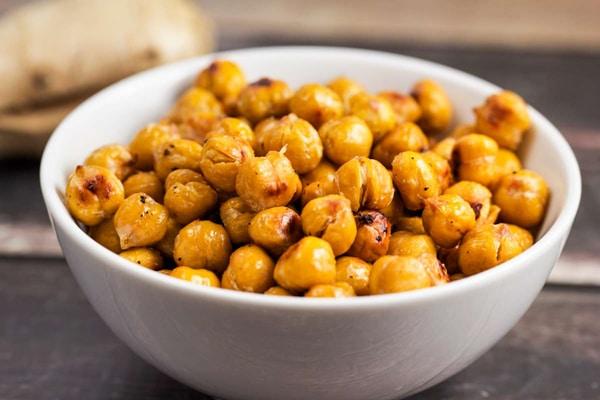 These roasted chickpeas make a quick and easy crunchy snack. With only five ingredients and an oven, you're on your way to a protein-packed treat as it satisfies your cravings in a big way.
Christin's Asian inspired chickpeas are better than any store-bought salty snack. You're going to want to always have a batch of these on hand.
No Bake Cheesecake with Raspberry Compote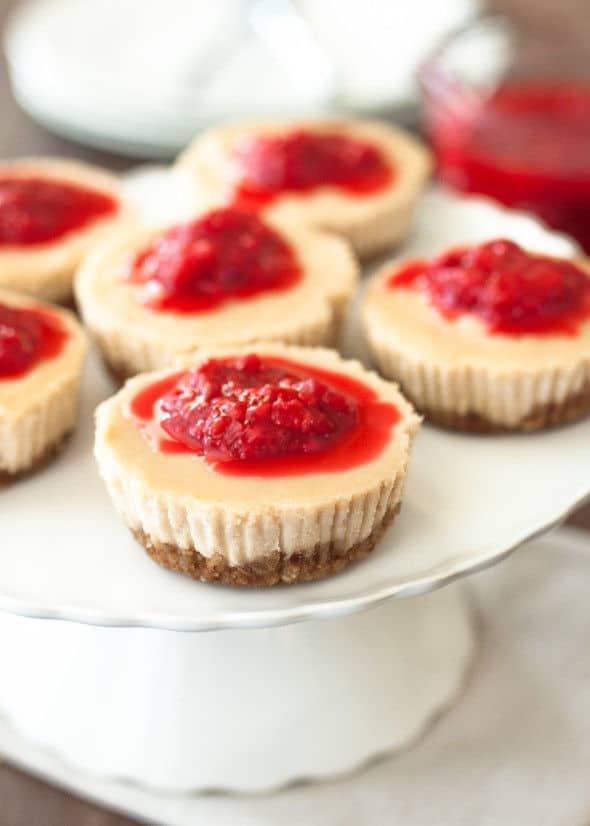 Whether you're visiting family or friends, you need to bring a batch of these yummy delights with you.
Melanie's no bake cheesecake recipe is perfect for when you want a healthy, gluten-free and raw dessert, that'll be a hit with everyone.
We're talking a savory raw almond and date crust, upgraded with a cashew and coconut milk filling, and completed with a sweetened raspberry and lemon topping. So good!
Middle Eastern Pickled Turnips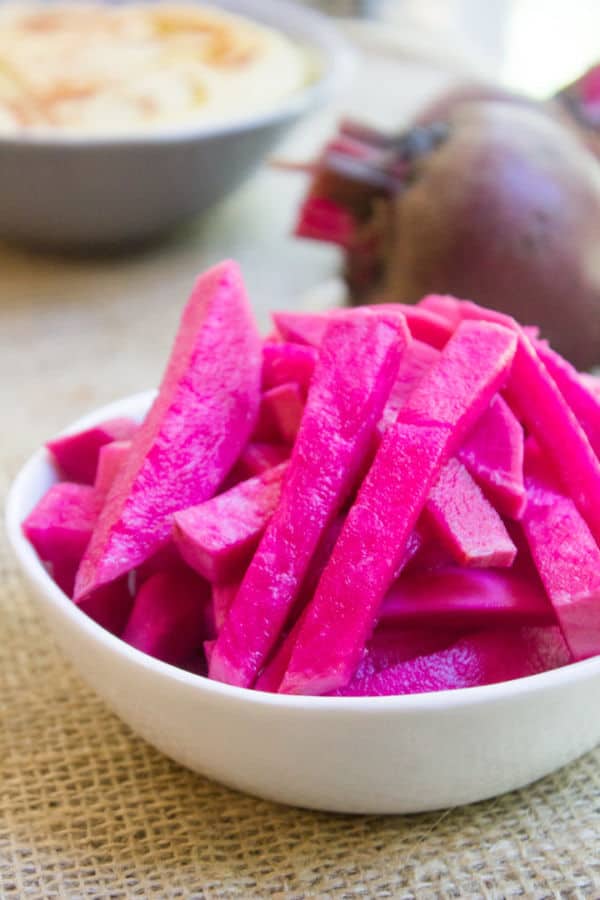 Ever heard of pickled turnips? No? Well, don't worry, I hadn't either. But Sabrina is about to show you what it's all about with her Middle Eastern pickled turnips recipe.
While most of us are used to pickled cucumber, beets and garlic, the pickled delicacy of the Middle East happens to be turnips!
And they're popularly used in gyros, falafels and kebabs.
So, whatever you do, make sure you try them!
Carrot Cake Granola Bars with Cream Cheese Frosting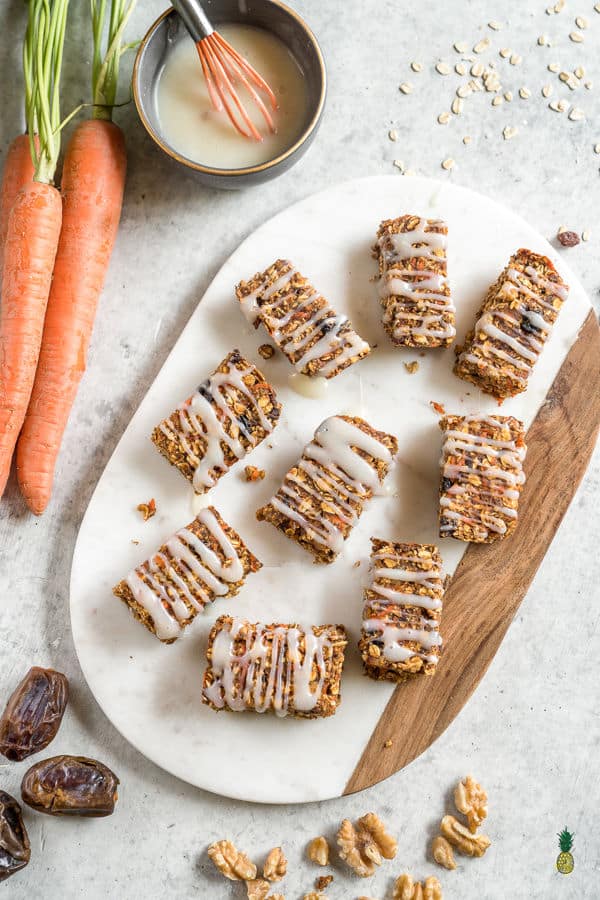 When you're looking for a quick grab-and-go snack you can bring with you to work, or you just want to treat yourself at home, Jasmine and Chris have just the right recipe for you.
These are carrot cake granola bars, which you can optionally take to the next level with their complementary cream cheese frosting.
In about 40 minutes, you'll have 10 healthy snack bars to share around or munch on by yourself in secrecy!
Healthy Cheese Sauce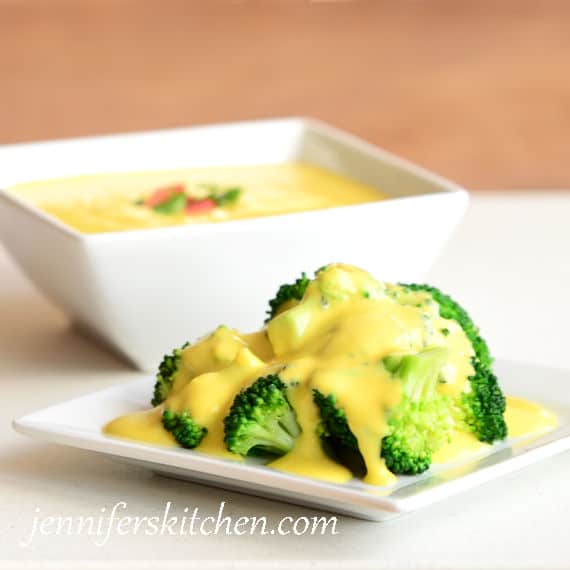 When you're in a need of a vegan cheese sauce, one of your best options is Jennifer's healthy cheese sauce recipe. This is both healthy, low-fat and of course devoid of any dairy.
While the flavor doesn't match up 100% to real cheese, this is still a deliciously brilliant alternative you'll love.
Gochujang and Peanut Butter Broccoli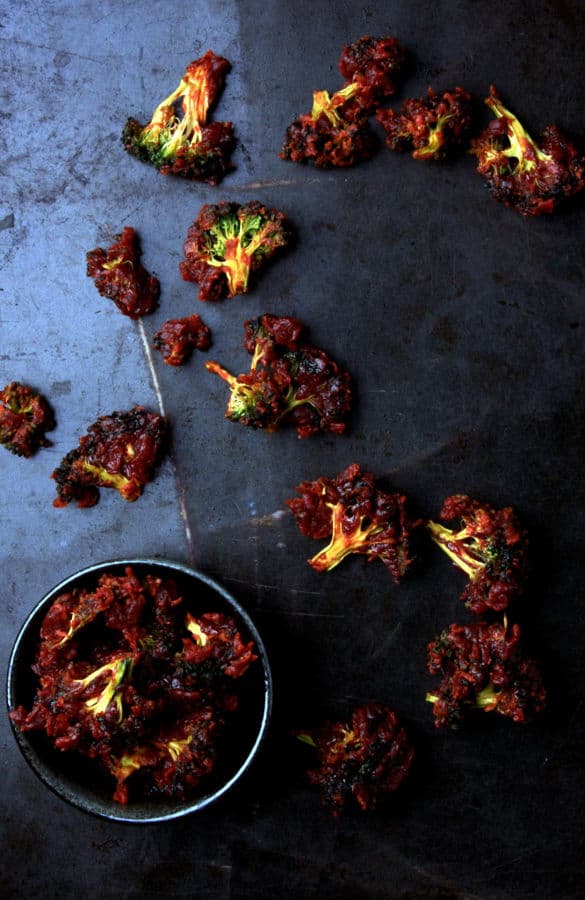 Erin brings us an unusual snack delicacy, which is a homemade gochujang and peanut butter paste with broccoli.
Once you've coated the broccoli florets with the paste, you then dehydrate the florets into an addictively spicy snack.
Healthy Pineapple Banana Ice cream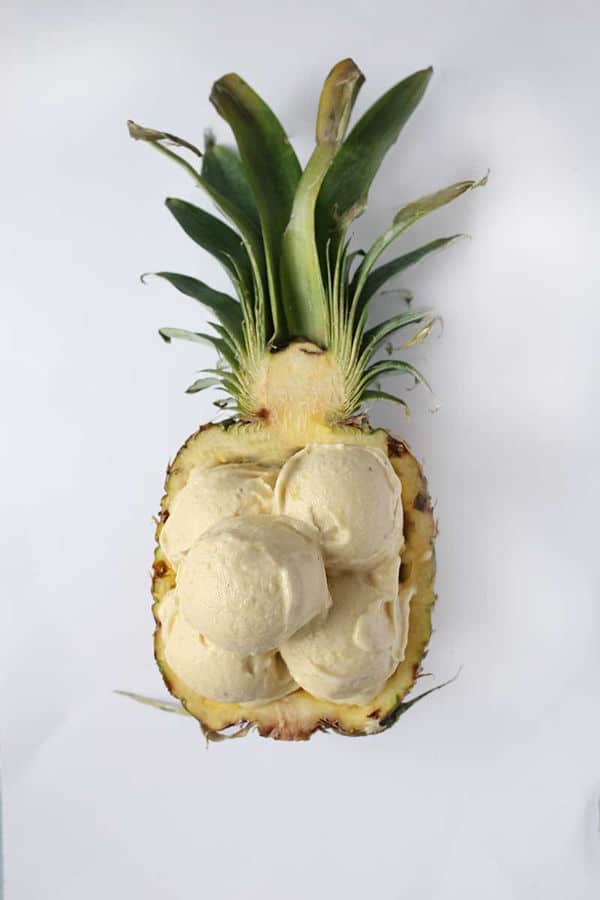 Want to get a bit more fancy with your vegan ice cream? Then add a tropical touch with Lara's healthy pineapple banana ice cream!
Incredibly enough, this is a 3-ingredient ice cream, which should take you no longer than 10 minutes to prepare from start to finish (provided you've got some frozen bananas!).
Healthy Vegan Soup Recipes
Pho Soup Recipe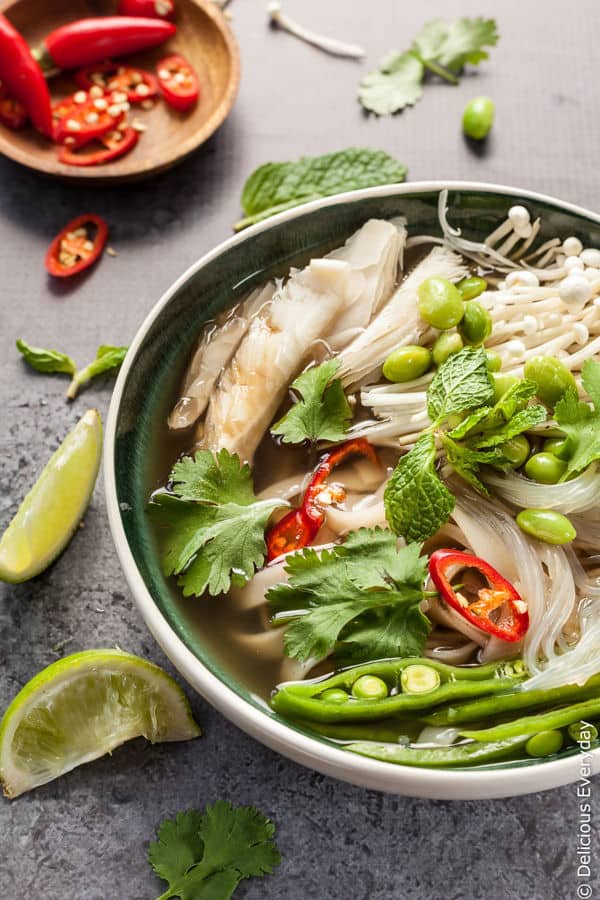 When you're up for an Asian style meal and you want to head down the adventurous path, pull out Nicole's 30-minute vegan pho recipe and get busy!
This healthy and gluten-free pho features a vegetable stock filled with rice noodles, all manners of fabulous veggies and delicious spices.
Thai Red Curry Lentil Carrot Soup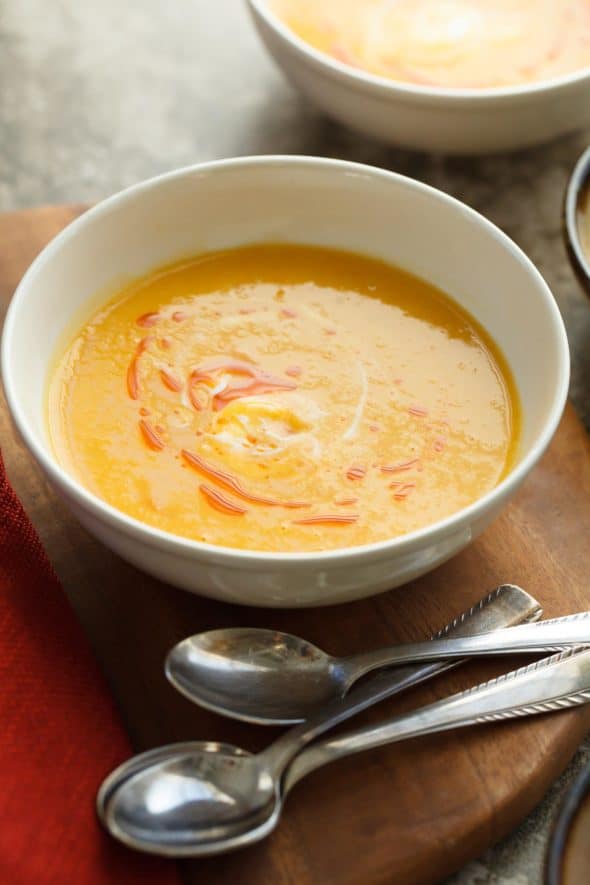 Seriously, when it comes to making a vegan soup, I run out of ideas pretty quickly. Tell me to make an Asian-style soup and I'll be on the run!
However, there might just be hope for me with Sylvie's thai red curry lentil carrot soup recipe.
This is a delicious and warming soup with a nice bite. And if you love extra spicy, you can easily achieve that by adding extra chili of your choice.
Asparagus Broccoli Soup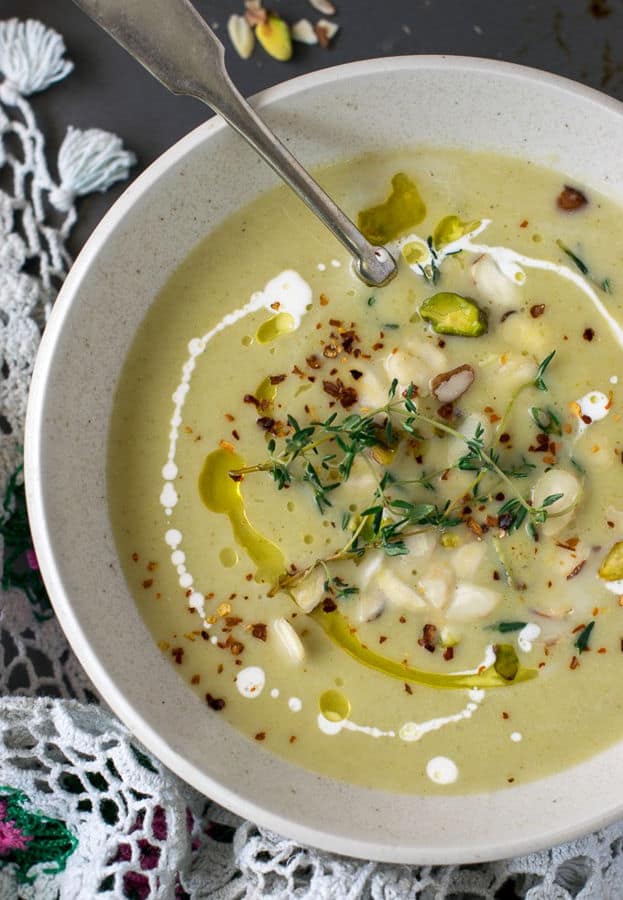 Own an Instant Pot? Then, any time you're craving a savory soup, look no further, Khushboo will save your day with her vegan asparagus broccoli soup recipe.
The soup takes about 30 minutes to make. Part of the magic lies in puréeing the soup contents into a silky smooth and dreamy texture.
Super delicious and healthy!
Easy Turmeric Broth Soup with Wild Rice and Vegetables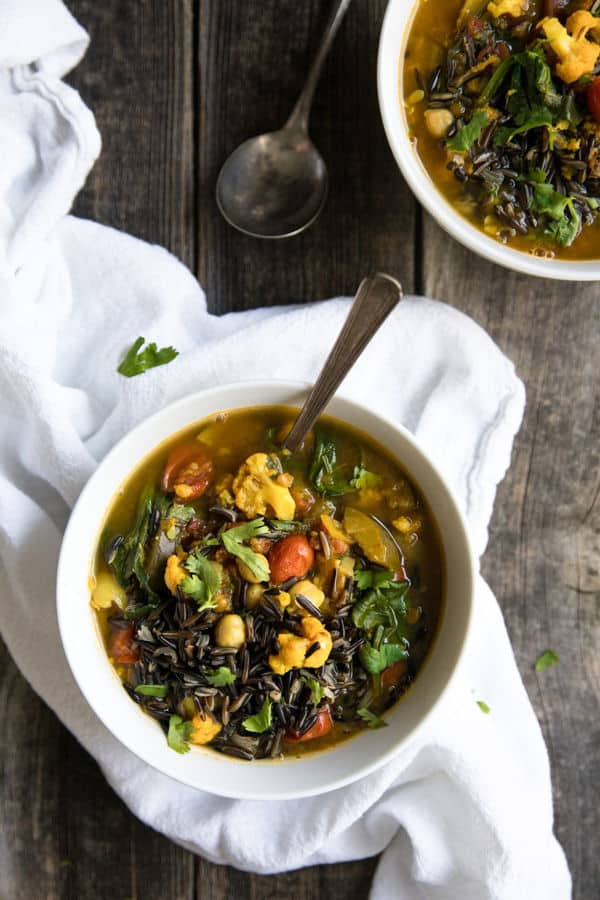 When you're feeling cold, there's nothing like a nourishing veggie soup with a bit of substance to it.
And that's what Jessica brings to the table with her turmeric broth soup with wild rice and vegetables
While it takes an hour and 15 minutes to prepare, it's worth every moment you put into it. Bon appetìt!
Simple Instant Pot Black Bean Soup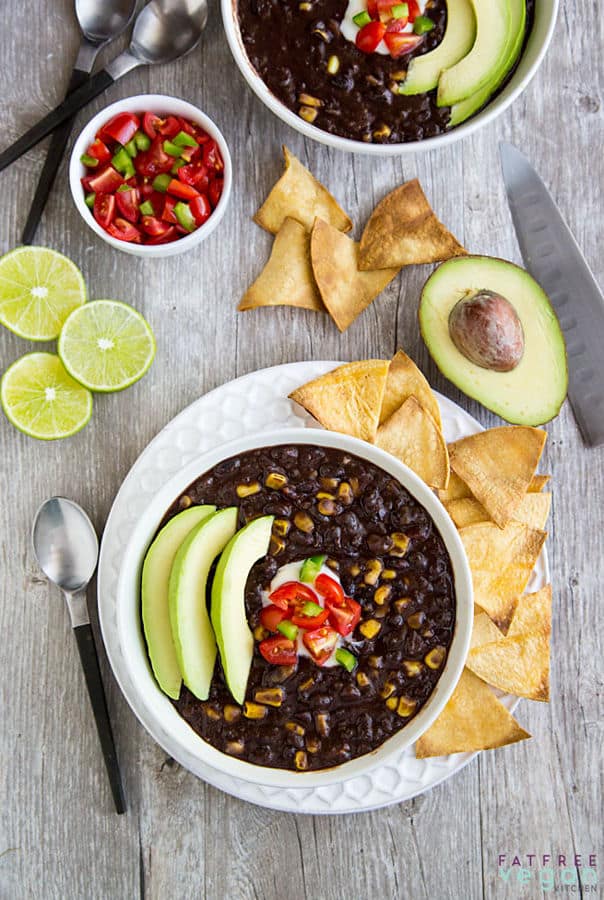 Feel like flexing some pressure cooker muscle? Well then here's your chance to do just that with Susan's simple instant pot black bean soup!
But wait up, if you don't have a pressure cooker, you don't have to miss out, just follow the instructions.
The soup itself is a delectable blend of beans, corn, spices and seasoning. It's filling and hearty, and you're free to add any additional items to the recipe that you fancy.
Healthy Vegan Strawberry Recipes
Strawberry Hemp Milkshake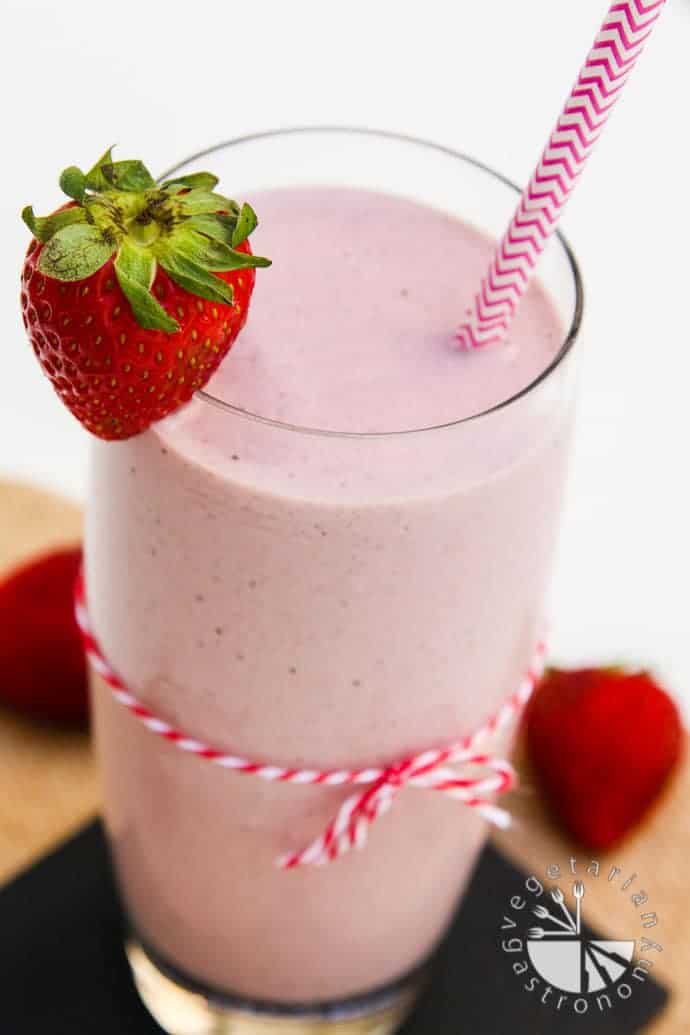 Adopting a plant-based or vegan lifestyle doesn't mean you have to miss out on a luscious milkshake. No way!
So, what you need to do is pull up Anjali's strawberry hemp milkshake recipe.
This milkshake boasts the thick creaminess you know and enjoyed from dairy milkshakes—but without the dairy and refined sugars!
With 5 ingredients and 10 minutes, you're in for a delicious treat. Perfect for breakfast, dessert and for the kids!
Spinach Strawberry Salad with Orange Poppy Seed Dressing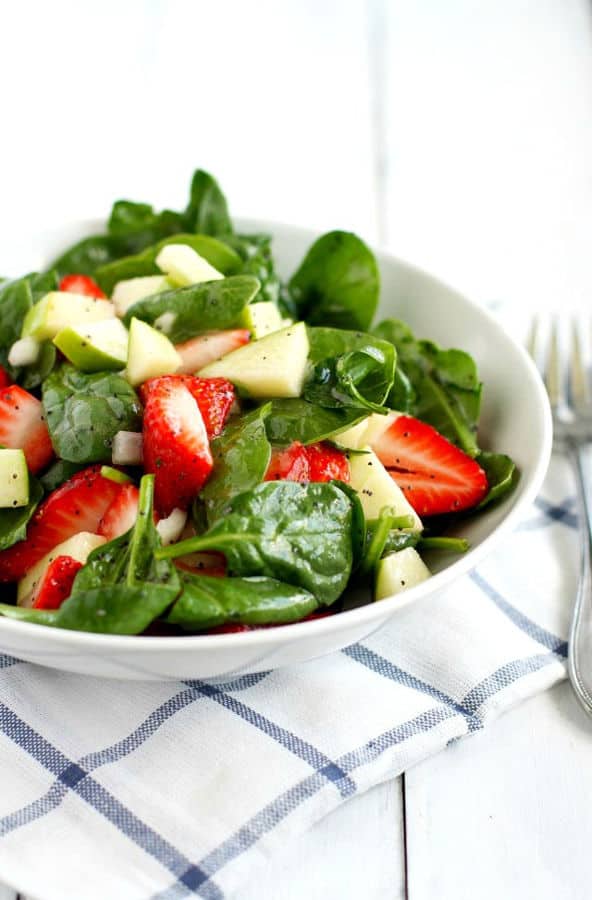 When you crave a fresh summer salad, Kelly has come up with a nice and simple spinach and strawberry salad recipe anyone can follow.
To Kelly, strawberries and spinach go together like peanut butter and jelly, and after you've had this salad, you might just be inclined to agree!
The salad is topped with chopped apple and drizzled with an excellent orange poppy seed dressing.
Healthy Strawberry Sorbet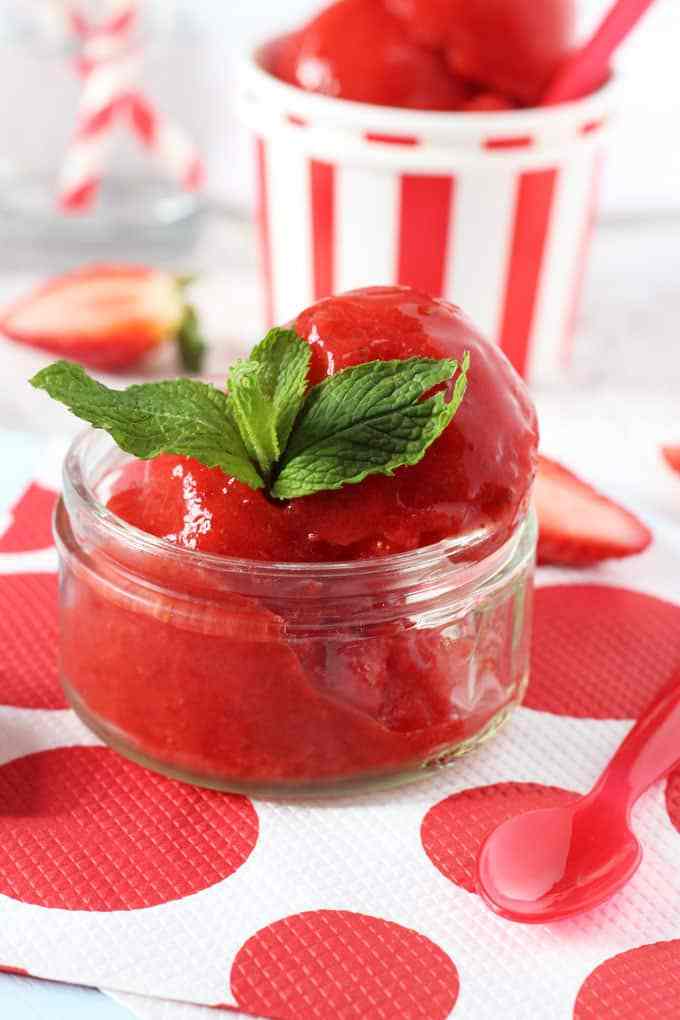 Simple recipes are almost always winners in my book, and Ciara's healthy strawberry sorbet recipe is near spectacular for its simplicity!
It requires just 3 ingredients and 3 minutes to prepare. Did I just say you can make an epic dessert in 3 minutes? That's right.
So, if you've got a blender, you've got what it takes to make a delicious treat everyone will enjoy!
Just make sure to go with the maple syrup option (or your own choice of vegan sweetener).
Best Strawberry Corn Salsa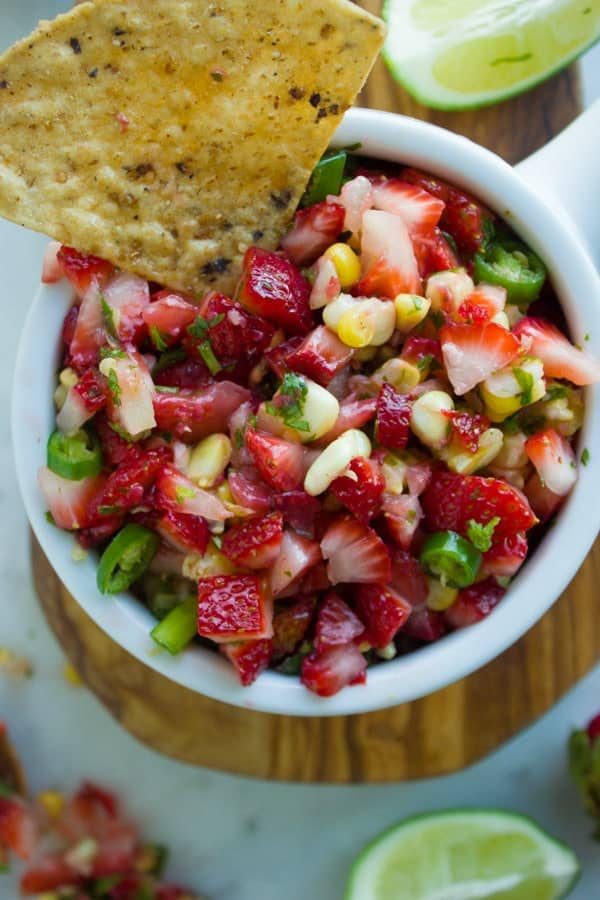 I couldn't ever imagine seeing strawberry used as part of a salsa, and yet Mahy accomplishes this so elegantly with her appetizing strawberry corn salsa recipe.
This is a brilliant party recipe that brings sweetness with a bit of spice to the table.
Lovely, colorful and super healthy to boot! Plus it takes just 5 minutes to prepare!
Fresh Apricot Salad with Strawberry Dressing & Pecans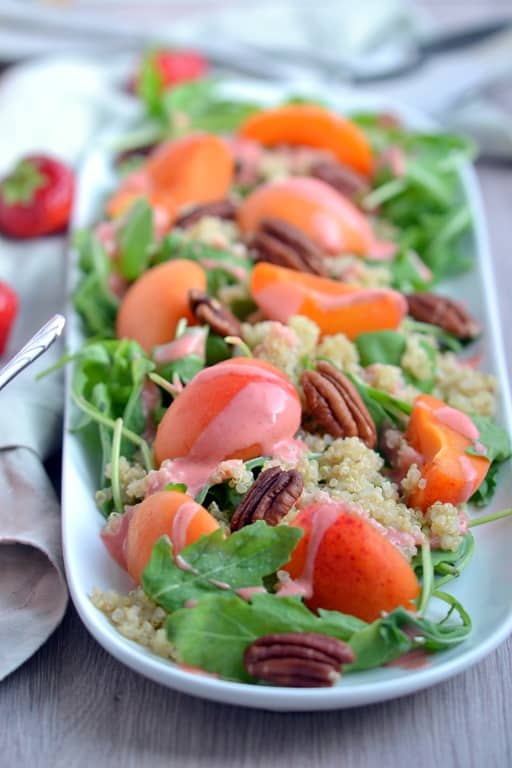 Want your dish to draw attention at the table? Here's a little trick, make Emma's fresh apricot salad recipe!
Personally, I'm intrigued, because I've never seen apricot used in this way; in fact I don't really see anyone use or even eat fresh apricots.
But this gorgeous salad recipe looks appetizing, and you can only imagine what the combination from the strawberry dressing will taste like!
Wrapping Up
And there you have it! 101 healthy vegan recipes from 101 different recipe creators.
There's guaranteed to be something here for everyone, whether you want to boost your protein intake, get a good dose of anti-inflammatories, give your body a nourishing supply of minerals, or simply make a healthier version of your favorite meals!
Hope you found this roundup resourceful and do drop a comment and let us know which recipe(s) is your favorite!