The web seems infinite and having the best of what we like in one place helps solve endless searching.
This is what we want for ourselves and it's why we do what we do. These recipe round-ups are our way of making your life a little easier.
We like to categorize recipes according to ingredients or occasion, so you can pick and choose your favorites.
But what happens if you just want the best of the best? What happens when particular ingredients are not that important to you, you simply want the most delicious vegan recipes, dishes that are a cut above the rest?
This is exactly what we've got here; a collection of some of the best vegan recipes out there! This was a special project where the only focus was top quality dishes made with everyday ingredients.
We hope you enjoy them as much as we did collecting them!
Vegan Breakfast Recipes
The Best Sugar Free Berry Chia Porridge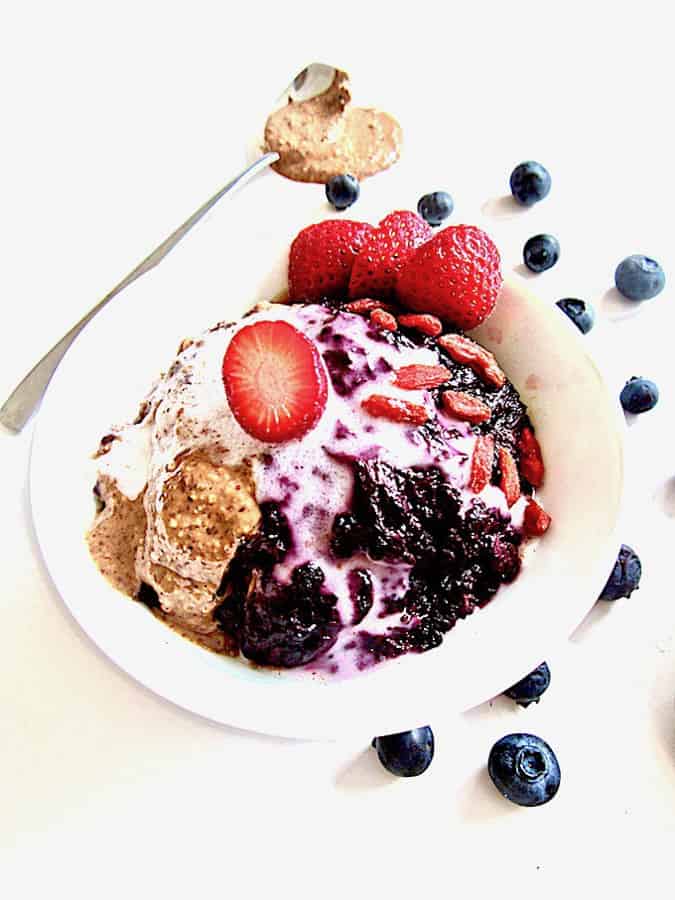 This fantastic breakfast recipe was created by Sarah from Vegan Chickpea. Sarah is both vegan and gluten-free and has a goal to use her recipes to give people different ideas and inspiration to change their lifestyle.
Her blog is full of lovely dishes. Perhaps more importantly, rather than just having a blog filled with great recipes, Sarah is truly living this lifestyle and her philosophy on why she's eating a plant-based diet is part of who she is as a person and it permeates every part of her life. Truly inspirational.
What I love about this recipe is it's really sweet but has no added sugar! Of course, it's dairy and gluten-free and also doesn't contain any grains.
It has a lovely thick consistency which makes it really satisfying. You just cook everything on the stove and it's ready in just fifteen minutes!
A really flexible recipe, too, as you can put in your favorite fruit. Best of all, I love that you can eat it warm or cold, so it's perfect if you have any leftovers.
This is great for when you have really ripe bananas that need eating. Got any dried fruits or nuts lying around? Add them in too! A wonderful healthy breakfast you'll make again and again.
The Best Gluten-Free Waffles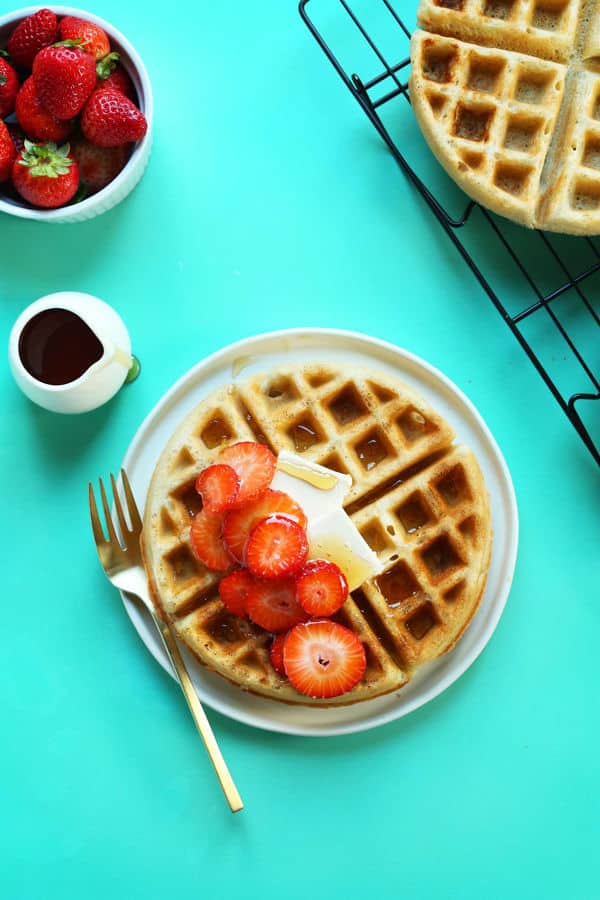 Dana and her husband, John, run the Minimalist Baker website. This is a great blog where their original recipes fall into three categories. You can make a dish in thirty minutes or less, everything goes in one bowl, and lastly, the remaining dishes have ten ingredients or less.
They also have a shop and an interactive course to help you cook. One of the things I really love about Dana and John is their recipes aren't sponsored.
They really focus on great dishes while wanting to remain true to their audience; we appreciate their integrity.
What I really love about this recipe is the speed! Everything comes together in thirty minutes or less including prep and cooking time.
You'll need gluten-free flour as well as oat and almond flour. The secret ingredients for me in this recipe are the coconut milk and the vanilla extract. Together they create a great consistency that makes the waffles really satisfying.
Something interesting I noted is you'll also need the liquid from a can of cooked chickpeas (garbanzo beans), so perhaps you can plan to have this breakfast on the same day you use chickpeas. Serve with your favorite fruit and maple syrup!
VegByte Tip: If you don't have a waffle maker, you can use this recipe to make fantastic pancakes on the griddle!
Raspberry and Coconut Porridge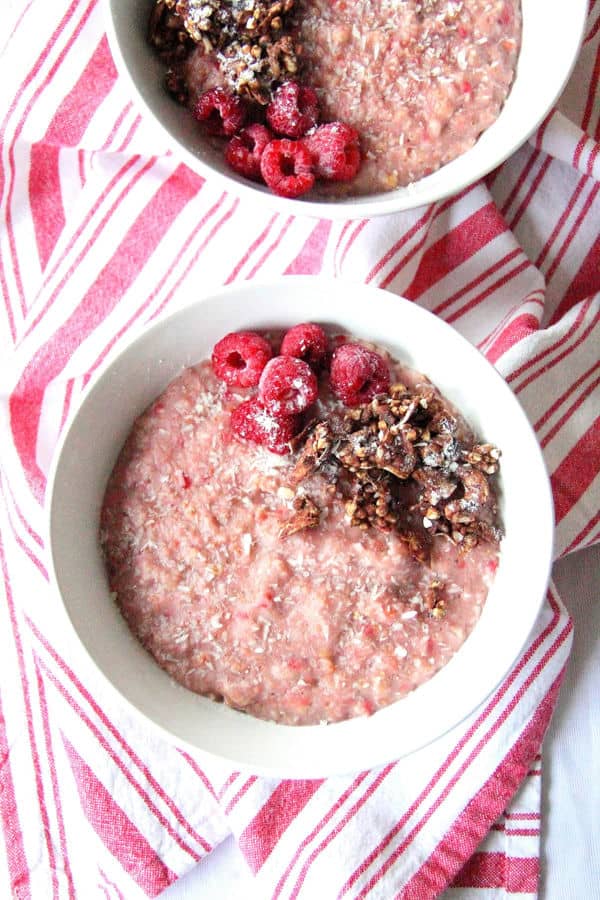 Natalie runs The Tofu Diaries and is based in the UK. She's been a vegetarian for as long as she can remember and even then, ate vegan most of the time.
She officially made the switch to an all plant-based diet in 2016. As you look through her blog, you'll see her recipes transition as her life did. She loves travelling and uses her adventures to inspire her recipes.
The great thing about vegan porridge is it can be made ahead of time and reheated. Here we have just that, a delicious hearty recipe you'll love.
The ingredients are simple although you may not have some of them. The base of this porridge is coconut, everything from coconut milk, desiccated and even coconut sugar, great!
We made this as it is, although you could easily substitute the fruit for your favorite if you don't get on with raspberries.
The result is an extremely creamy breakfast bursting with flavors. It's very satisfying and we guarantee you won't need any snacks between breakfast and lunchtime if you eat this! Thanks Natalie!
Almond Joy Oatmeal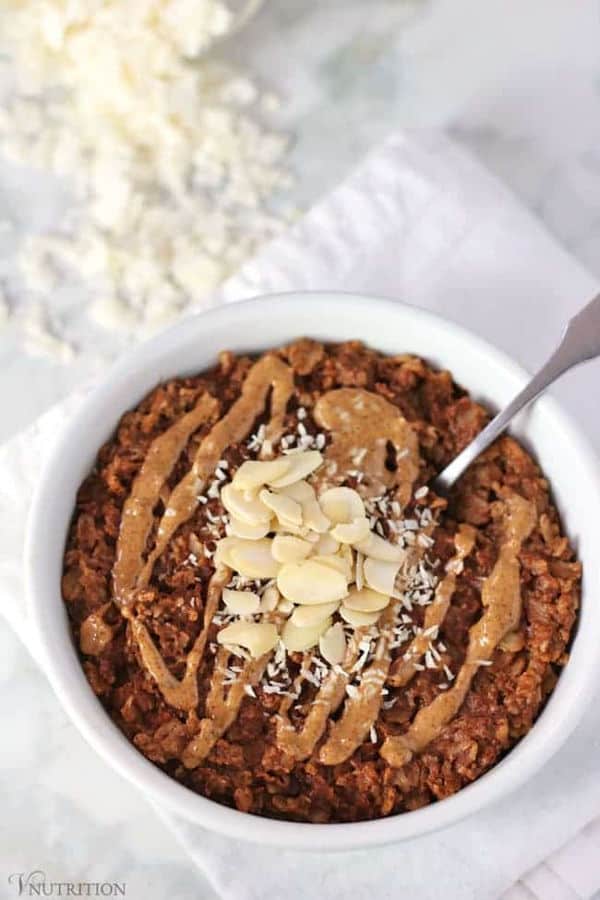 Mary Ellen has been through a journey and is using her experience to help others. Her website, V Nutrition Wellness, is full of delicious and incredibly tasty recipes.
She's an animal lover which means we love her! In the past, she suffered health problems because of her diet but overcame this with a plant-based diet. Mary Ellen now wants to inspire everyone to include more plants in their diet. Fantastic!
If you've heard of Almond Joy candy, this recipe is a healthy version of that, and is a delicious breakfast at the same time. Can you believe this is made on the stovetop? One of the easiest cooked breakfast recipes I've ever seen!
The consistency is perfect, and the coconut flavor is in every mouthful. Close your eyes and you'll be in the tropics! Make sure you have the sliced almonds and shredded coconut for the topping. You're going to love this!
Chia Seed Pudding (Two Ways)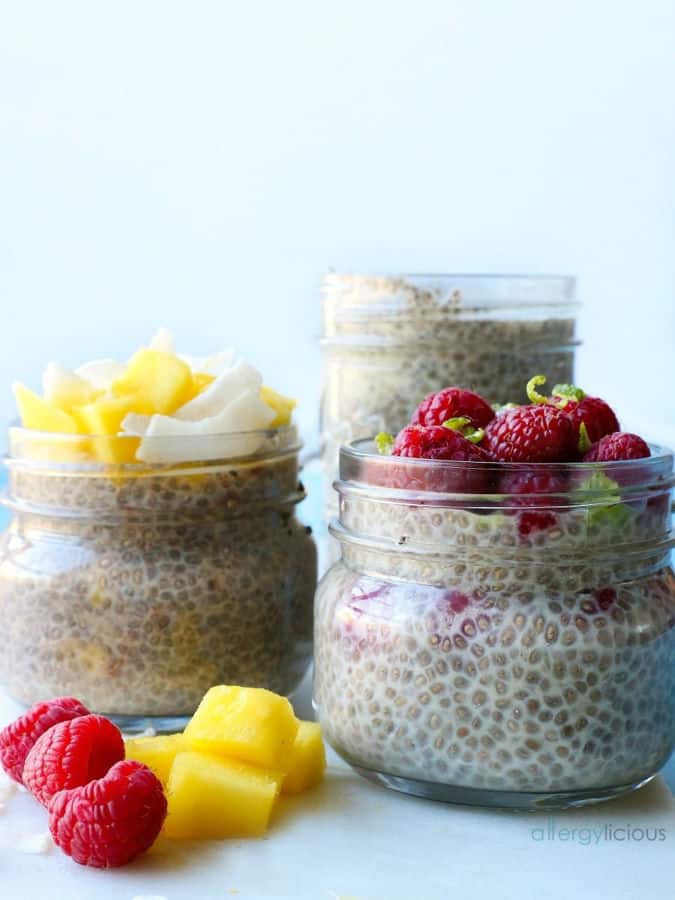 Nicole runs Allergylicious and shares her knowledge through her website with great resources concerning food allergies and delicious recipes not just for those that have to be careful about foods, but for everyone!
After Nicole's second son was born she got to know first-hand about the dangers of food allergies, especially when left undetected.
Her journey led her from being worried that her son would never eat the same as other children, to that of becoming a food expert and creating wonderful dishes that are both healthy and great for people that suffer like this. This is an inspiring story of how you can turn a negative into a big positive!
This is actually two recipes in one and both are incredibly tasty. The Chia seeds create a velvet smooth texture in both of these puddings. The Berry Lime option is both sweet and zesty!
The raspberries work very well and if you don't have fresh, frozen is good too, you just need to thaw first. The second recipe of Coconut Mango takes us back to the tropics!
Because of the nature of both recipes, these aren't the types of dishes you can make at the last minute. You do need to plan ahead so bear this in mind. When you want that pudding texture, you can't go wrong with this!
Tofu Scrambled Egg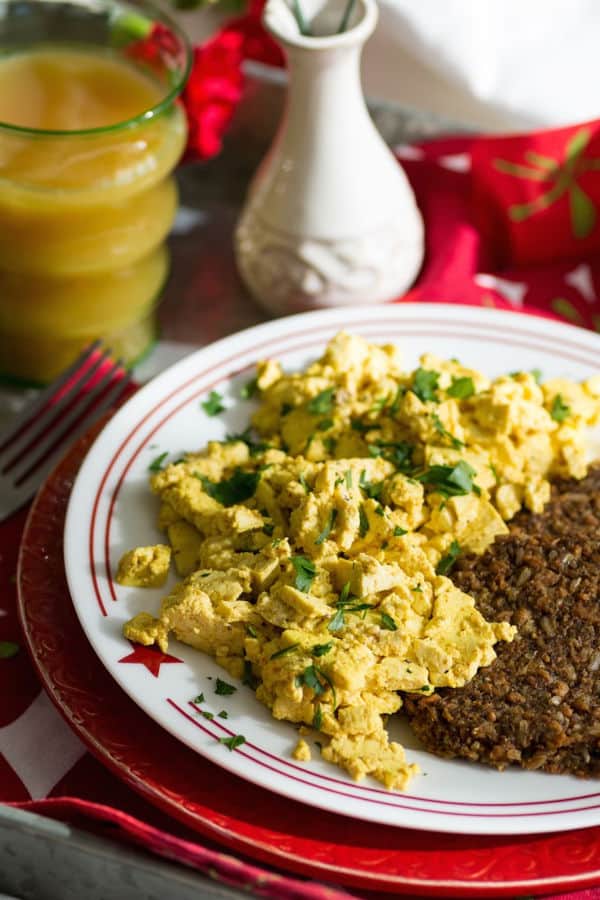 You've heard of those people with great jobs, good income and then they give it all away in exchange for a quieter and more simple life? Annie did just that and started her amazing blog, Unrefined Vegan.
Her profile is inspirational and it's like she had an awakening and wanted to move away from consumerism and what many of us refer to as, 'the rat race'. She even gave away most of her stuff as part of the transition. Now she lives her dream life with her husband and two beautiful dogs, Ike and Willa.
Her blog only has plant-based recipes. In addition, many are oil-free and she hardly uses refined products like white flour and white sugar. Where I particularly resonate with Annie, is she doesn't buy or eat processed foods.
As veganism continues to grow, there are an increasing amount of meat 'alternatives' available and as great as this is, I do worry we they're going from one junk food to another. Real food grows from the ground and is living food, there simply is no substitute.
Annie's scrambled egg recipe takes little time to prepare and cook and is well worth the effort. There's just a handful of ingredients and I'd be surprised if you don't have nearly all of them in your kitchen.
In the recipe notes there's a piece of advice well worth paying attention to; it suggests not starting with a skillet that's very hot as this causes the seasonings and the non-dairy butter to stick together and cook before the tofu is even added. If you want a scrambled egg fix, not only is this it, it's super healthy and extremely delicious. Thanks Annie!
Pumpkin Pie Chia Pudding with Caramelized Pears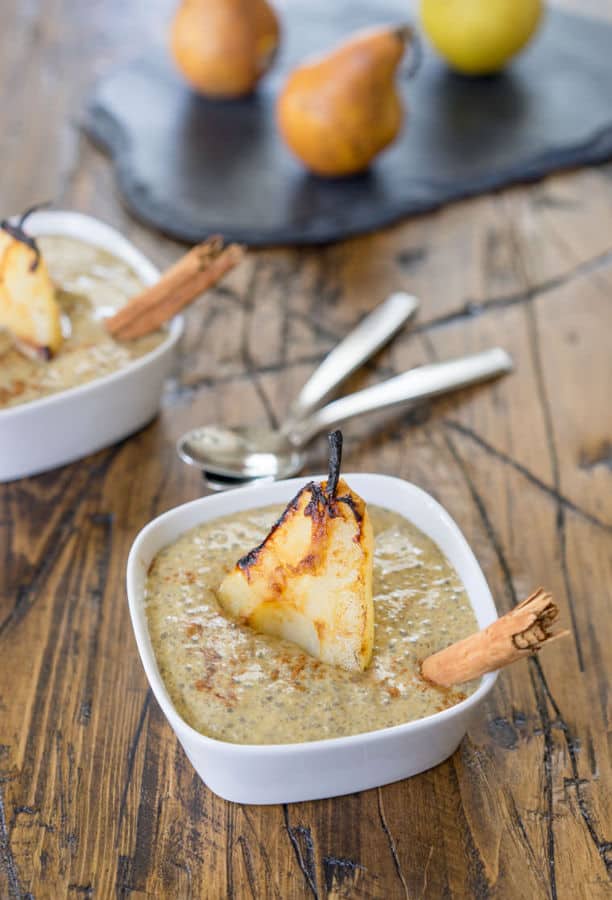 Andrew is the owner of One Ingredient Chef. He's been a vegan for six years and we love how he's into everything from wine to economics to sarcasm! Reading his profile, you can see how he's always had an awareness about him.
As life went on, he started to look at food people eat and how this relates to health.
Andrew's philosophy is now his website. He's a long-distance runner, so his recipes are all about health and vitality.
This pudding is unique, but most of all it's incredibly delicious. It's perfect for the holidays when everybody's having pumpkin this and pumpkin that, all you can see is the orange from the pumpkin! If you want to remain traditional but want something completely different, this is it.
The vanilla and the maple syrup make the pudding beautifully sweet. It's good enough by itself without needing the pear.
However, this piece of fruit really makes it all stand out, so I urge you not to omit it. The recipe has just a few ingredients and Andrew gives you very easy to follow steps. Not just for the holidays, but perfect for any time of year. If you want to impress, go with this!
Maple Vanilla Quinoa Porridge with Fresh Figs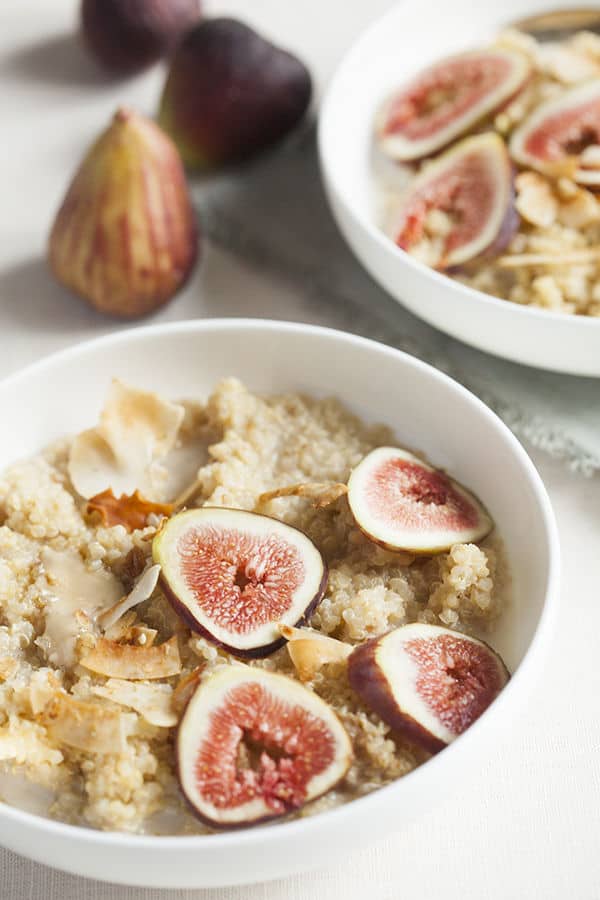 Gena really started to enjoy cooking when she became vegan. By reading her profile, you'll see she's faced a lot of challenges in her life.
Her blog, The Full Helping, is the culmination and the reward for overcoming all of her battles. Whether you're already vegan or looking for plant-based recipes, Gena's blog has it all.
She cuts through the confusing messages we get nowadays in the media about what's healthy and what isn't, and simply brings you nourishing recipes that aren't just good for you, but they're tasty and fun as well.
Personally, I love the idea of porridge but very often I find it stodgy. This recipe uses quinoa so no sticky mess here! There are so many textures and the flavors of the simple ingredients intertwine beautifully. There are some optional ingredients and I went for the toasted walnuts as that's what I had.
Their crunch and flavor went perfectly with the vanilla and cinnamon from this superb breakfast. Don't miss out on this fabulous treat!
Farmers Market Breakfast Bowl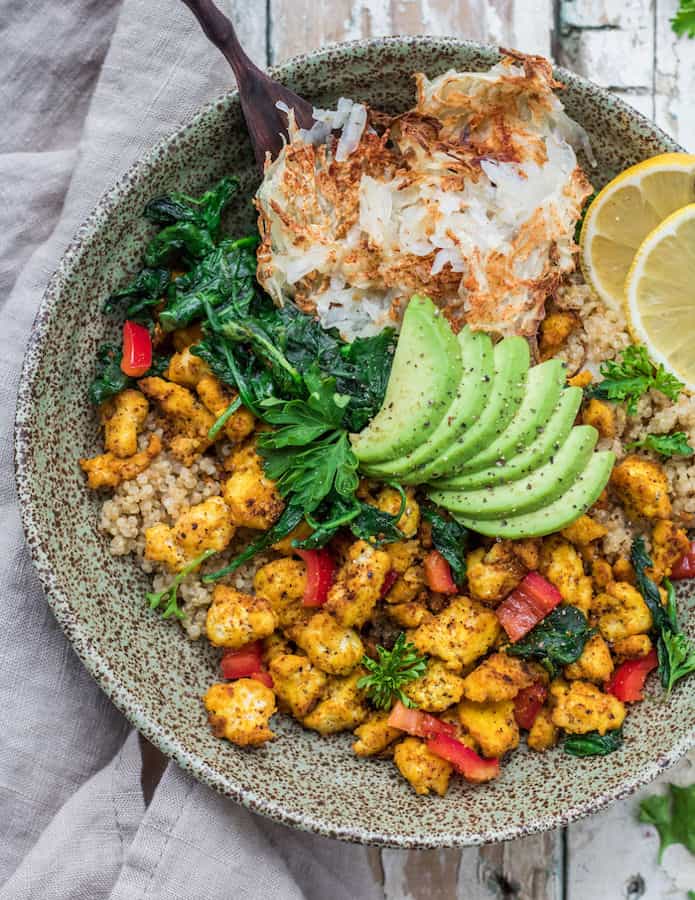 Choosing Chia is Jess's blog and we love it. No matter where you are on the site, you can always see her philosophy on every page and every recipe.
Jess lives by the notion that we should eat more plants, obtain food grown locally and to eat according to seasons. This may sound simple, but it's solid.
Very often you'll find that the most powerful things in life are the most simple. At the same time, Jess stresses we shouldn't be too hard on ourselves and we mustn't forget to live and enjoy life.
She says, "what is life without chocolate?!", who can argue with that!
Breakfast bowls are a fantastic concept. We normally see them as a lunch or dinner recipe.
The idea behind anything resembling a Buddha bowl is you use whatever you have to make a meal.
The food in the bowl is presented individually; you'll have say, a segment that is rice, adjacent to some leaves and so on, essentially, they're not mixed.
To have such a bowl as a breakfast really intrigued me. Of course, like any great breakfast, you can have this at any time of day.
If you're looking for a hearty cooked breakfast that's healthy and satisfying, this is it. You have everything from potatoes, tofu, spinach and so much more.
There is about fifteen minutes prep time and you'll be finished cooking in around twenty-five minutes or less. The only problem is, you'll probably want it for your next meal as well! After a short time of contemplation, we decided this wasn't problem!
Vegan Dessert Recipes
Orange Polenta Cake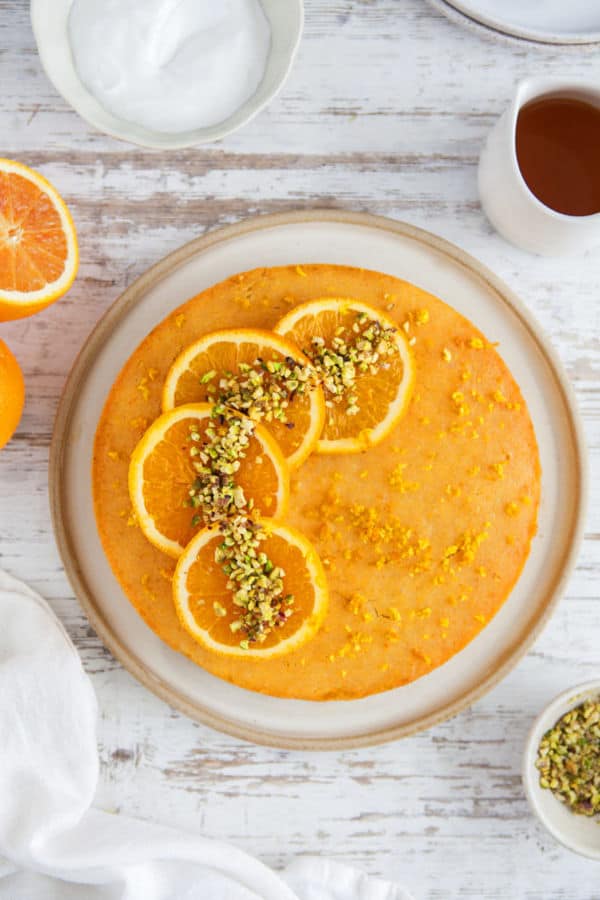 Stacey lives in London and loves 90s music! Her blog, Goodness is Gorgeous is the result of her life journey. Growing up she ate little fruit and hardly any vegetables. Her diet consisted of meat, fish, dairy and fast food. As her health continued to deteriorate she realized it was time to act and here we are today, a healthy Stacey with a fantastic blog filled with recipes that are both delicious and good for you!
Having Italian parents with my father from northern Italy, I grew up with polenta. Traditionally, it's used in variety of ways as a savoury dish, especially in the winter.
Nowadays, we see how versatile it's and has spread all over the world. In this dish, it's a lovely dessert! What I love most about this cake is it's ready in fifty minutes!
The ingredients are simple, and I imagine you have most of them in your cupboard already. Follow the instructions and create yourself a fantastic breakfast, I mean dessert!
Pumpkin Cake with a Cashew Frosting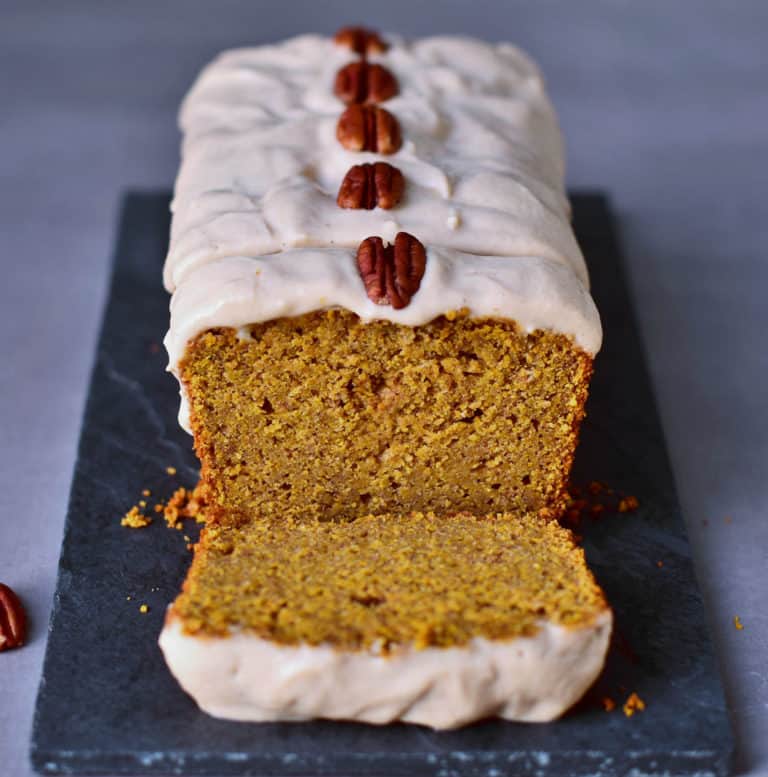 Michaela, or Ela, as she's known, runs the fantastic blog, Ela Vegan. She loves animals, so we already love her! She stopped eating meat when she was six years old, obviously an old soul in a young body!
The aim of Ela's blog is to show you that switching to a plant-based lifestyle isn't only good for your health and the planet, but it can be more delicious than you ever dreamt of! By the way, if you can speak it, Ela's website has an option to switch each page to German. Great!
This is fantastic for the holidays. Not only is it easy to make, it can be done and dusted in an hour! The recipe is divided into three: the dry ingredients, the wet and the optional cashew cream frosting.
Let me tell you, that frosting is anything but optional! The instructions are incredibly easy to follow, and of the seven steps, six of them are just one sentence!
This'll make eleven slices and I think would be perfect for Christmas as well as Thanksgiving. If you're reading this at another time of year, don't wait for the holidays! Danke Ela!
Chocolate Chip Banana Bread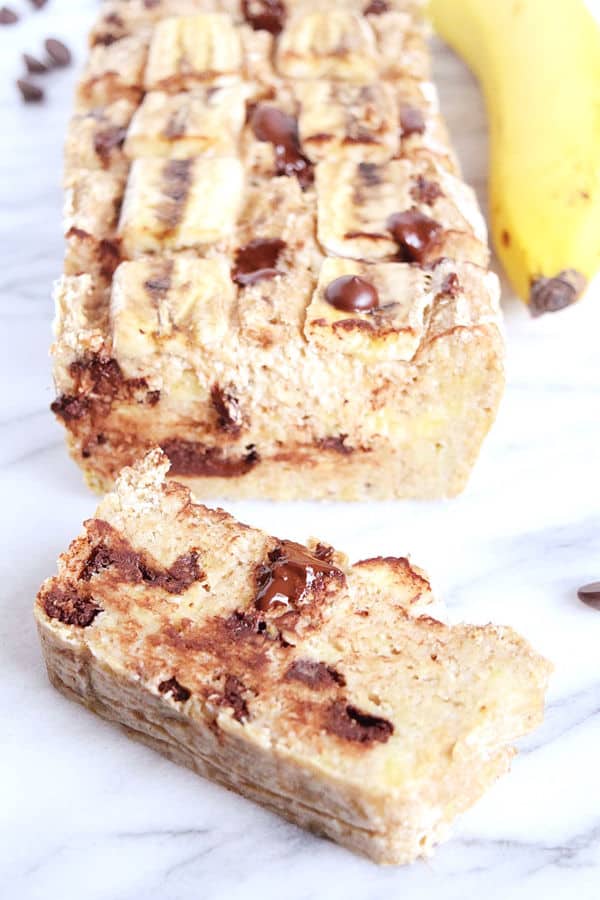 Sara is just bananas about bananas! Her blog, Sweet Vegan Sara, is the place to go to if you're looking for plant-based desserts that are healthy and delicious.
There are some savory recipes as well, however, the majority are dessert-based dishes. Sara is passionate not just about each one of us being healthy and being kinder to the planet, but she firmly believes all animals should be treated with respect and compassion.
On that note, Sara, we salute you! Some fun facts about Sara are she's obsessed with Christmas, she has an addiction to candles and one day she hopes to open a vegan bakery. We will be the first visit!
When you first taste Sara's banana bread, it'll be one of those OMG moments. I mean, banana bread is delicious at the best of times and this one has vegan chocolate chips, too!
I love that this recipe has just five ingredients. The prep time is fifteen minutes and then you bake for half an hour. Nothing could be simpler.
As you scroll down to the end of the recipe, Sara has other recipes for banana bread that are worth checking out as well. This'll easily store but, honestly, there won't be much leftovers. It really is that good!
Mango Berry Cheesecake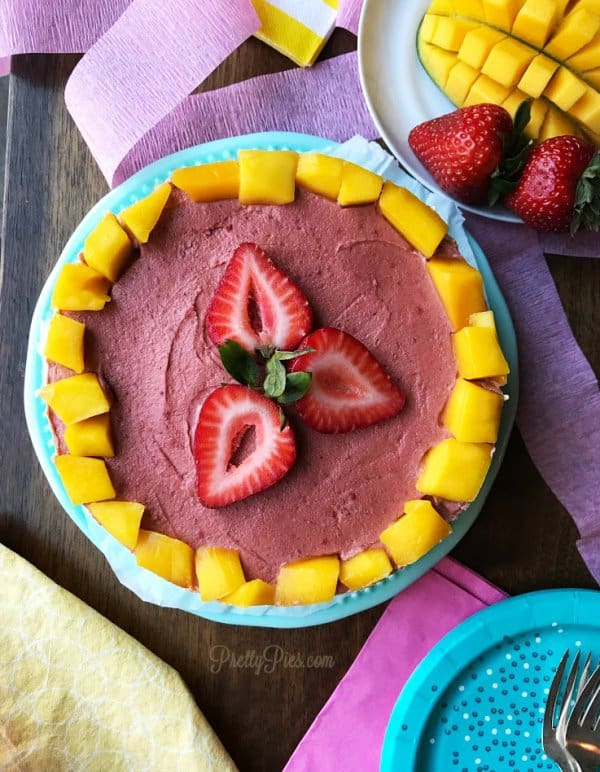 Emily is from Dallas, she loves coffee and the color purple! Her blog, Pretty Pies, is all about sharing her recipes which are based on what she refers to as 'real food'. By that she means, nothing processed or made in a factory. It's all fruit, veggies and nuts, just as nature made them.
We love this approach because, at the end of the day, it really is the only food that exists as far as we're concerned.
Emily likes all things beautiful. She's a graphic designer so not only expresses herself in her work, she also extends this to her home and, of course, her recipes.
It is obvious Emily thinks a lot about presentation in her dishes. The food on her blog isn't just delicious, the presentation and the colors always complement each other beautifully. If you want a dessert that'll make your guests' eyes open wide, check out Emily's recipes!
This cheesecake is outstanding. Not just because it's vegan, but can you believe no sugar has been added? It's true!
The recipe is divided into four sections, the coconut flour crust, mango cashew cream, the layer of fresh fruit and the strawberry cream. If you don't want to eat it just based on that previous sentence, please visit your doctor immediately!
Bear in mind this is a raw recipe, meaning all the ingredients are fresh and real. Keep refrigerated and if you have any leftovers they'll store for about 4 to 5 days. One of the best for cheesecakes we've ever had! Thanks Emily!
Boozy Creamsicle Milkshake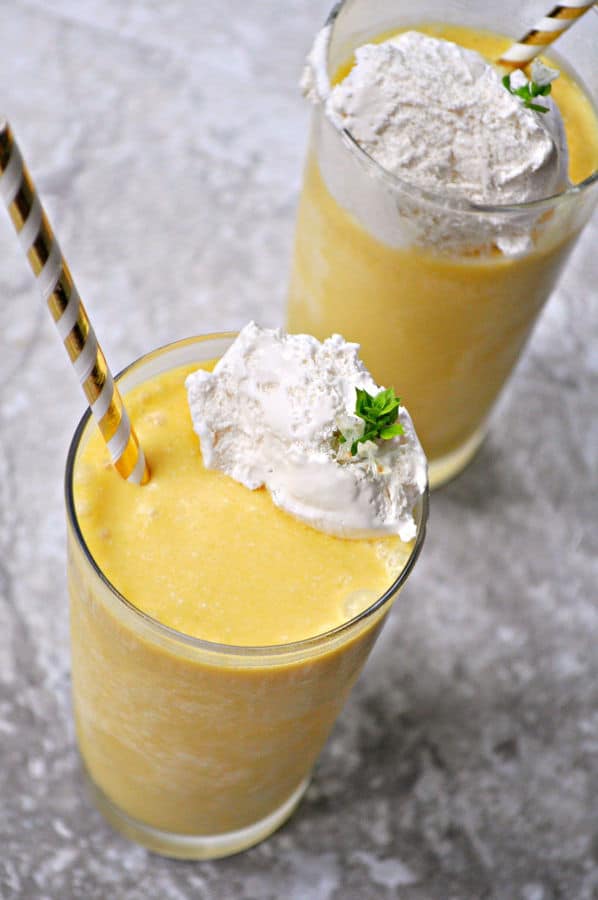 Lauren and Chris run the website, Rabbit and Wolves. Lauren is a trained chef and is vegan for the animals so a big double-thumbs up to you, Lauren, from us! Her husband, Chris is an omnivore but loves turning all his favorite meaty dishes into plant-based alternatives not just for Lauren but for their five-year-old daughter as well.
Personally, I love that her recipes don't include nutritional information.
Like Lauren, I've seen people obsessed with counting calories which is all well and good, but it takes no account into the quality or type of food you're eating. Check out Lauren and Chris's 'About' page on their website, it's full of lovely family photos!
This recipe for milkshake is a godsend. We don't come across too many vegan milkshakes, so were very excited to see this. It's both sweet and a little tart at the same time. Do note this recipe includes a little vodka so if you want to avoid the alcohol just leave it out.
The ingredients are simple and the whole thing comes together in just minutes. The dollop of cream on the top is the thick part of the coconut cream you usually get at the top of the tin, it's delicious, as is the entire shake. Make a note of this recipe, you'll come back to it again and again.
Perfect Vanilla Sheet Cake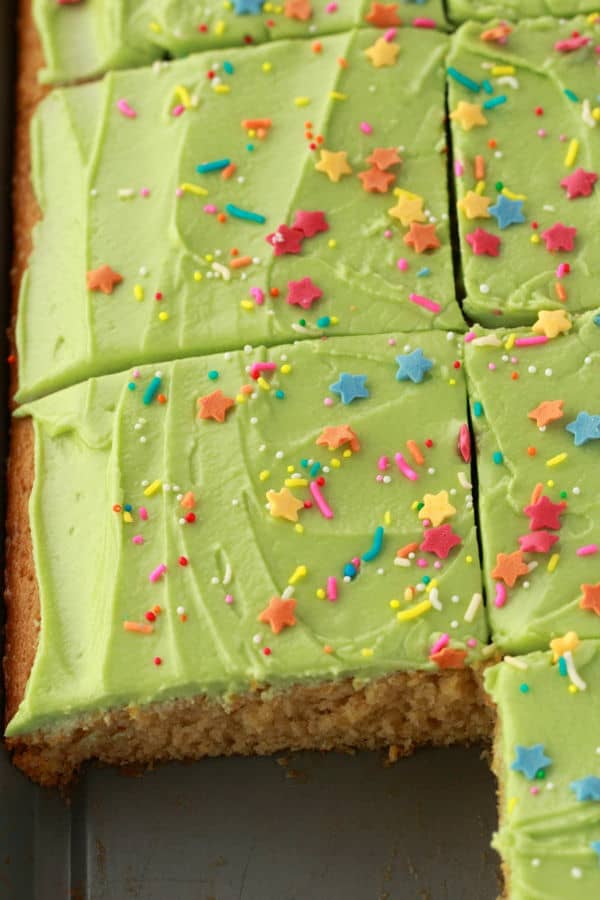 Alison and Jaye have a fantastic blog called Loving It Vegan. Alison went through much of her life in the same way many of us have, surrounded by advertising and 'official' guidelines giving conflicting information about what to eat and what not to eat.
A different diet seemingly every five minutes. Then, you wake up and realize that there's no such thing as a diet, the only thing that really works is a change of lifestyle. We're completely with Alison in that she's very much anti-diet!
Jaye is the photography and videography guy, he also plays guitar! Now we come to the most important part of their blog, just scroll down on the about page to see two of the world's cutest looking cats! Ernie and Frankie are just adorable!
So, what's a sheet cake? Well, it's just as you imagine, it's a cake like a sheet and takes just fifteen minutes to prepare and twenty minutes to cook. Fantastic for children's parties or just a fun cake to make. Obviously, you can decorate however you wish.
What I really love about this cake is it's incredibly light and the vanilla is there in every bite. The frosting isn't overly sweet and has the same hint of vanilla. The food coloring is optional. This is a great cake to make for any occasion and can easily be adapted to suit your needs. We love it!
Lemon Strawberry Cheesecake Bites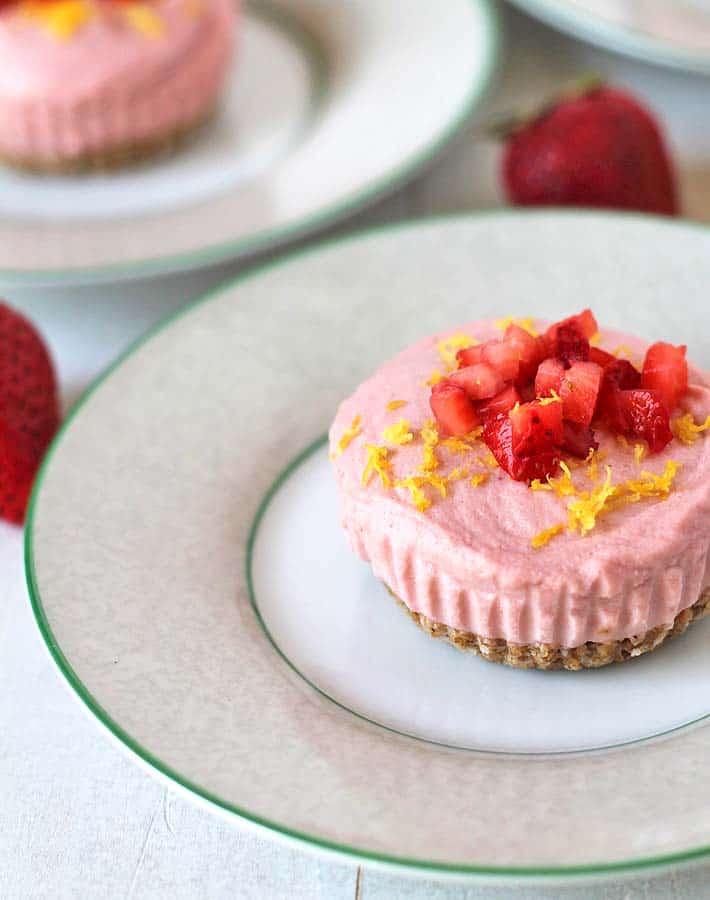 Delightful Adventures is a blog run by Gwen. We think Gwen is awesome because when she wants something done, she just does it. She's a tech nerd which is great, well, I think so.
There are so many great gadgets around nowadays! Gwen is all about real home-made food and you just can't beat that.
Supermarkets try to imitate this with an endless choice of ready meals but at the end of the day, you simply can't beat making your own food and anyone who promotes that is a winner in our book!
Do note you need a high-speed blender for this recipe. Whenever I think of a powerful blender, I always think of Vitamix or Blendtec and it just so happens Gwen says the same.
I have a Vitamix and wouldn't be without it, I know somebody with a Blendtec that feels the same way. This recipe is divided into two, the base and the cheesecake filling.
There are surprisingly few ingredients in this dessert, which should immediately tell you it's of the highest quality.
The prep time is just fifteen minutes and the rest is freezer time! Great for a party or just when you want something sweet that's also nutritious. Thanks Gwen, you're a star!
Cherry Bakewell Ice Cream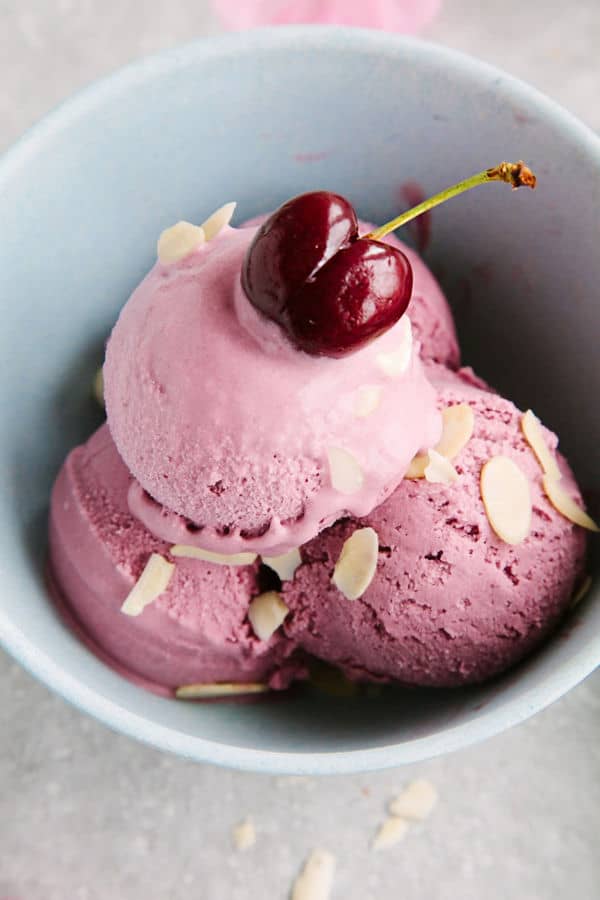 Aimee is from Brighton in England and has been running her blog, Wallflower Kitchen, since 2012. If you ever visit the UK, then you need to go to Brighton. It's sometimes referred to as, London by the sea.
It is wonderfully diverse and one of the most vegan friendly cities ever! Aimee's recipes are all plant-based, and as she admits, some of them are healthy and some of them maybe not so much! But hey, we all need to be a little cheat sometimes, right?
What I love most about this recipe is it doesn't have any refined sugars. It's gluten-free as well. But, enough about what's not in it! This vegan ice cream is based on coconut milk so already you should know how delicious it's going to be. There's just a small handful of ingredients in the entire dish.
Do note this recipe does include a tiny amount of alcohol which is there solely to stop the ice cream freezing into a rock! The coloring is from beetroot juice and you can leave this out if you want to. There's just ten-minute prep time and the rest is churning!
Aimee has been excellent in providing two sets of simple instructions, one if you have an ice cream maker, and one if you don't. There's no excuse not to make this and when you do have it, you'll be making it again and again!
Vegan Dinner Recipes
The Best Vegan Lasagna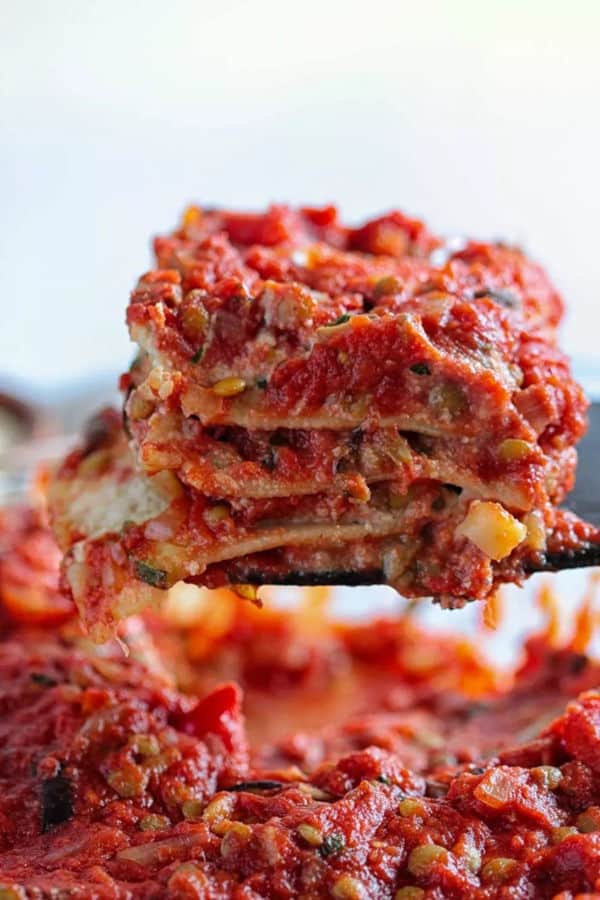 Pasta Based is one of my favorite blogs because it's devoted to one of my favorite foods! Stephanie is a graphic designer who dedicates her weekends to her fantastic recipes. She grew up in an Italian family, as did I, so loves Italian food as well as cuisine from all round the world.
Matt works in the Wine and Spirits industry and loves playing sports and hiking. They live in Denver, so hiking is one of the things you just have to do!
What I really love about Stephanie and Matt is they don't shy away from recipes that traditionally contain meat, they just 'Veganize' them and create new ones. Fantastic!
Just look at the title of this recipe, that's a bold statement, right? Well, why not strive to be the best! This recipe certainly is made from real food. I had one or two lasagnas in my time and this ranks as one of the best.
The eggplant adds a lovely touch and the almond ricotta cheese is absolutely delicious. If you love pasta and you love satisfying dishes, then you simply have to make this.
From experience, I'm going to tell you this'll keep in the refrigerator for 2 to 3 days although if I'm perfectly honest, if I do have leftovers I definitely don't the next day! Keep this recipe, it'll become one of your favorites.
Creamy Beetroot and Buckwheat Risotto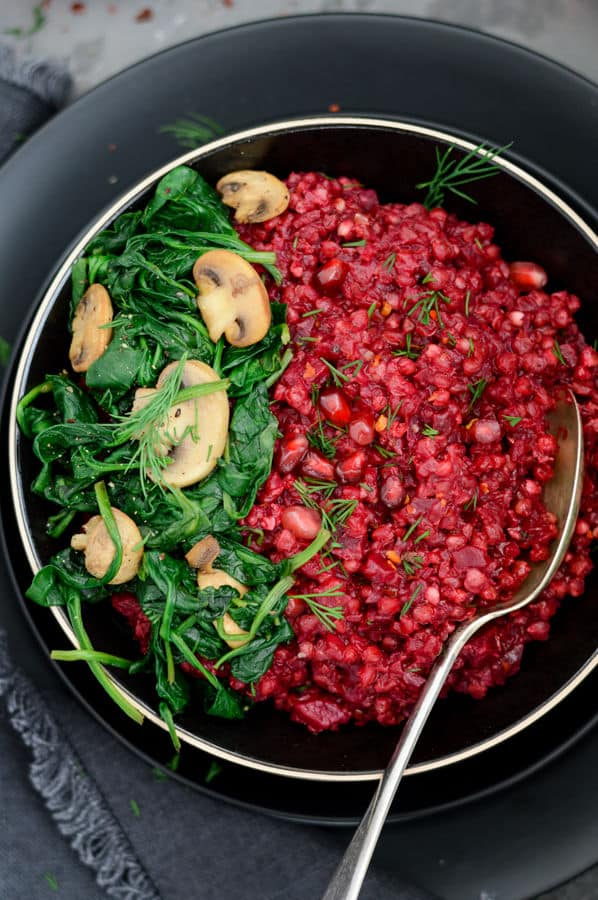 Tania was brought up in Russia but now lives in the South-East of England. She's a graphic designer that has a family so appreciates how time is precious. Therefore, all of the recipes on her blog are quick to prepare and easy to follow. Her website, Fit Foodie Nutter, is dedicated to sharing her passion for sharing healthy meals using organic and seasonal ingredients.
This dish is incredible because it's unbelievably satisfying yet somehow, it's light at the same time. If you're having trouble figuring that one out, imagine how I felt trying to describe it.
It's true and above all else, the flavors in this recipe are incredible. This may look like one of those dishes that takes hours to prepare, especially for the risotto.
But, with just a ten-minute prep time and the rest cooking, you'll have this at the table in just over half an hour! The recipe is divided in two parts, the risotto and the garnish.
If you're tempted to leave the garnish out, don't! It's too delicious and arguably a dish in its own right. Together they're a match made in heaven! Thanks Tania!
Roasted Carrots and Creamy Quinoa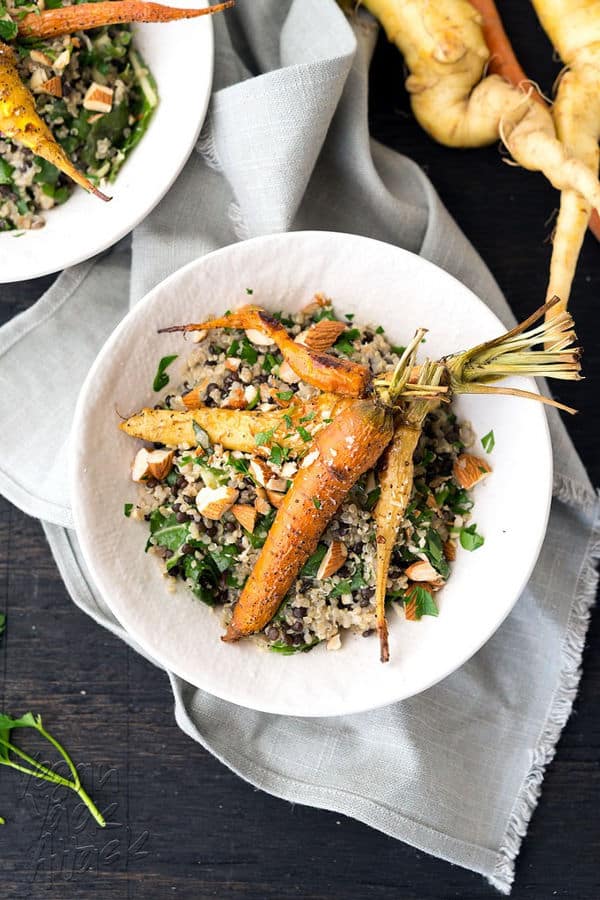 Jackie runs her fantastic blog called Vegan Yack Attack. Isn't that just the best blog name ever? We think so. There's a story in how that name came to be and you can check it out on Jackie's 'About' page.
Like so many of us, Jackie became curious about where our food and other products we use come from. For those want to look, you'd be horrified as to how many strange additives some organizations seem to willfully put in our food.
More to the point perhaps, they're allowed to! We really want to thank Jackie in the way she spreads awareness through her website and her recipes!
This healthy recipe defines food satisfaction. It has roasted carrots which can be substituted depending on what you have. The creamy quinoa is something we've never seen before. It's incredible and filled with different flavors and textures that come together beautifully.
Do note this recipe uses a certain brand of almond coconut milk. If you can't get it, substitute it with a homemade version or your usual brand. This serves four and will be ready in one hour or less and that includes prep time! Absolutely delicious!
Quick and Easy Focaccia Pizza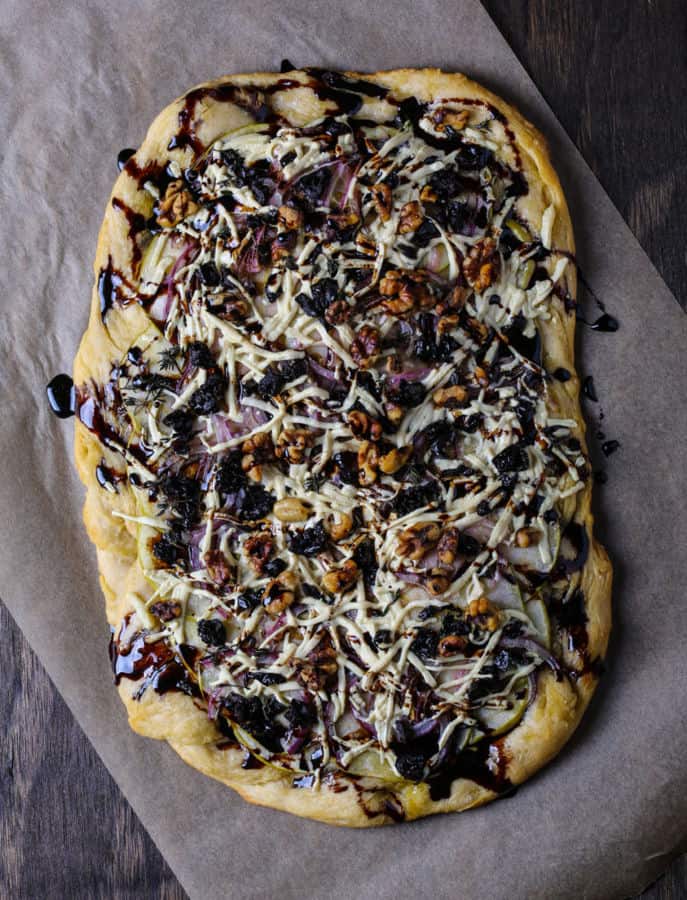 Erin has a great website called Olives For Dinner. She describes herself as mentally 'always being vegan', even before she was. She says she just didn't know it at the time. Then one day she just announced it and the rest is history.
Erin's blog is fantastic, especially if you haven't been vegan for long or are looking for inspiration and you miss that meat and cheese taste. Her dishes are creative, she likes to experiment and makes her own mock meat and 'cheeses'.
I know some people aren't into that, yet others are. I'll controversially say real chefs don't complain about meat or dairy being taken away, they can always create great dishes from whatever they're given because that's the point.
If you have a vegan customer in your restaurant, it's still your job to make them a great dish whatever their dietary preference. We see some incredible people creating dishes that are just off the charts, and Erin is one of them.
Oh my goodness, there are so many things I could say about this pizza. It's just amazing, bear in mind I'm Italian so have had a pizza or six in my time! This recipe is divided into three sections; the dough, the balsamic glaze and the toppings.
Obviously, there's a lot of flexibility here although if you can, I'd follow this recipe as near as possible because the results are so good. You make everything from scratch, the dough to the glaze. Don't skip any part of this, I promise you it'll be one of the best pizzas you've ever had.
"Beefy" Lentil Loaf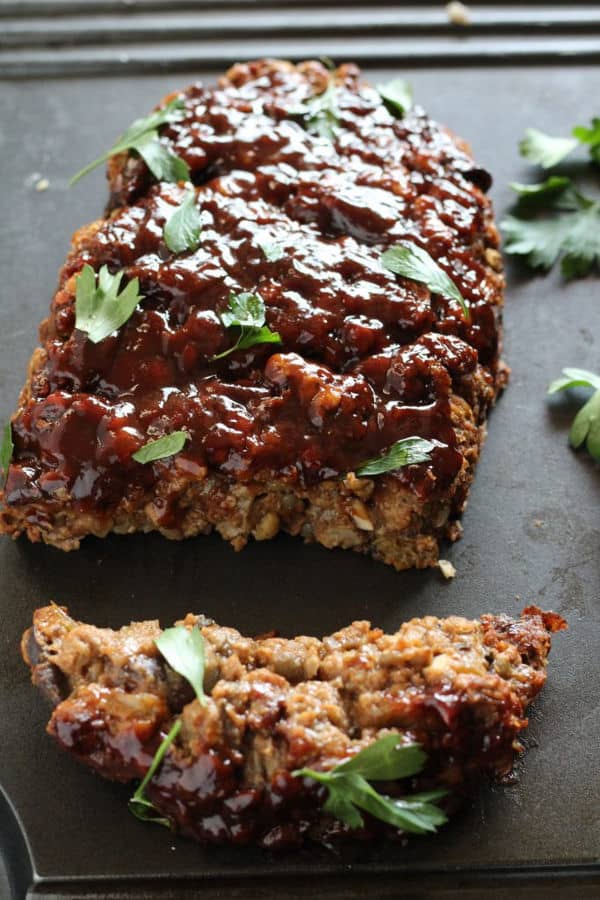 Gina Marie is just awesome and so is her blog, Vegan With Curves. This website is specifically geared towards women who want to be healthy while keeping their 'curvaceous figure' while eating a vegan diet. Gina's website profile page has pictures from when she was on a complete junk food and meat-eating diet to now. It's truly inspirational and I love how positive she is in encouraging you to be yourself.
We see so much of the opposite nowadays, we're supposed to look like this or like that. What about just being you? We completely support Gina and what she stands for, just fantastic!
This recipe is it!
Gina describes it as the best vegan lentil loaf ever and I don't think many people are going to argue with that, we certainly aren't! Not only is it plant-based, it's also gluten and soy-free! The ingredients are simple, and you won't have any problems sourcing anything.
It all comes together in fifty-five minutes and that includes prep and cooking time! it's hearty and bursting with flavor. There are some really good recipe notes and we encourage you to read the 'Substitutions and Additions' section as there's very important information to give you more choices in how you prepare your loaf. Gina, you're awesome!
Down Home BBQ Burger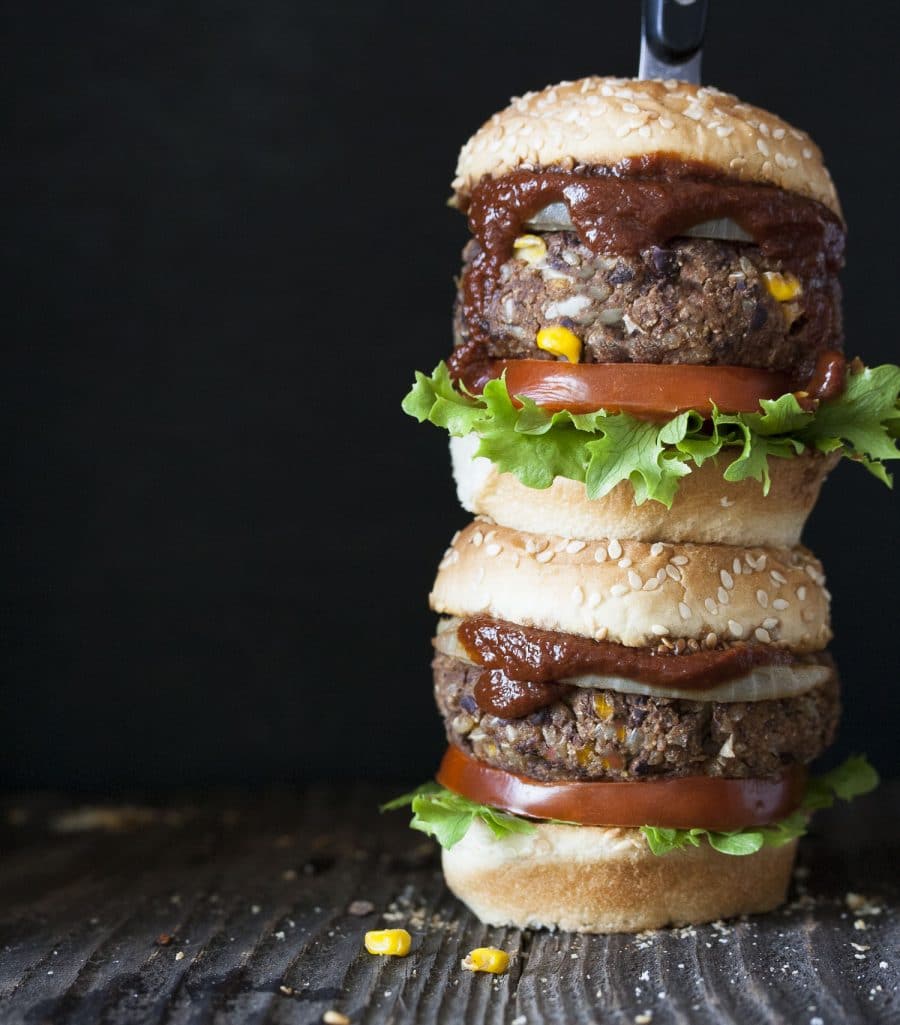 Sophia has a fantastic blog called Veggies Don't Bite. Her philosophy is doing the best you can. She's a vegan but she doesn't get overly stressed about treble checking everything. I've known people that get very worried about what they eat, every meal becomes a source of anxiety.
Sophia's blog is aimed at families who want to get healthier one step at a time. It doesn't matter what your diet, there's something delicious for you.
Seriously now, look at that burger! This is one tasty bad boy. As you can imagine, eating this puppy is going to be messy so get your napkins and get ready! This is what eating burgers is all about. Make sure you get the best quality burger buns you can as this recipe deserves it.
The ingredients are simple as are the instructions. You won't have any problems finding anything which is the sign of a great dish. You certainly could save time and just use your favorite store-bought BBQ sauce but trust me, Sophia's recipe knocks it out of the park. The sauce alone is worth keeping, let alone the burger recipe. Go on, treat yourself!
Easy Glass Noodle Miso Bowl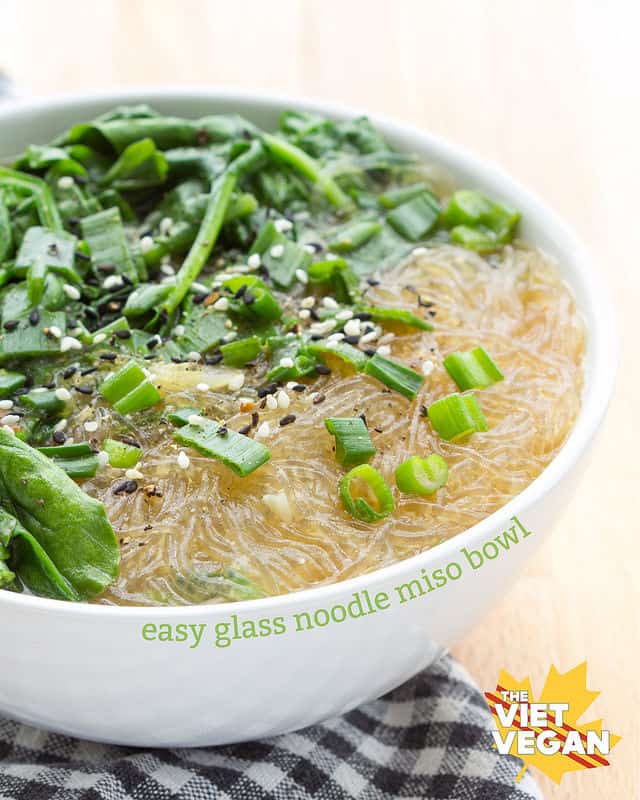 Lisa lives in Mississauga (just west of Toronto) and runs the fantastic website, The Viet Vegan. Her favorite food is vegan mac and cheese and, like me, she loves food in bowls.
She has studied her family history and how her parents were both refugees from Thailand. They went through a lot like so many others to start a new life.
Lisa uses her blog to spread the vegan message, and also to shed light on the struggles of the South Vietnamese. By the way, if you're a camera nerd, make sure you check out Lisa's 'About' page as she tells you all about it!
This recipe is very simple and will leave you feeling great. Lisa described it as something she goes towards when she's feeling a little off. I can imagine it being very comforting. I almost want to be struck down with a cold or something.
Okay, that's a little weird so forget I said that! When you're ill, the last thing you want to do is go shopping for weird ingredients you've never heard of, let alone cook for hours. This is where this dish comes into its own.
The ingredients are simple, and Lisa makes everything flexible, so if you don't have kale or spinach, she tells you to use whichever green you have. The instructions are also very straightforward.
You're looking at five minutes prep time, then ten minutes cooking. That's right, in just fifteen minutes, this is ready to eat while you watch Netflix on the couch! Thanks Lisa, you're awesome!
Spicy Vegan Orange Ground Chik'n Bowls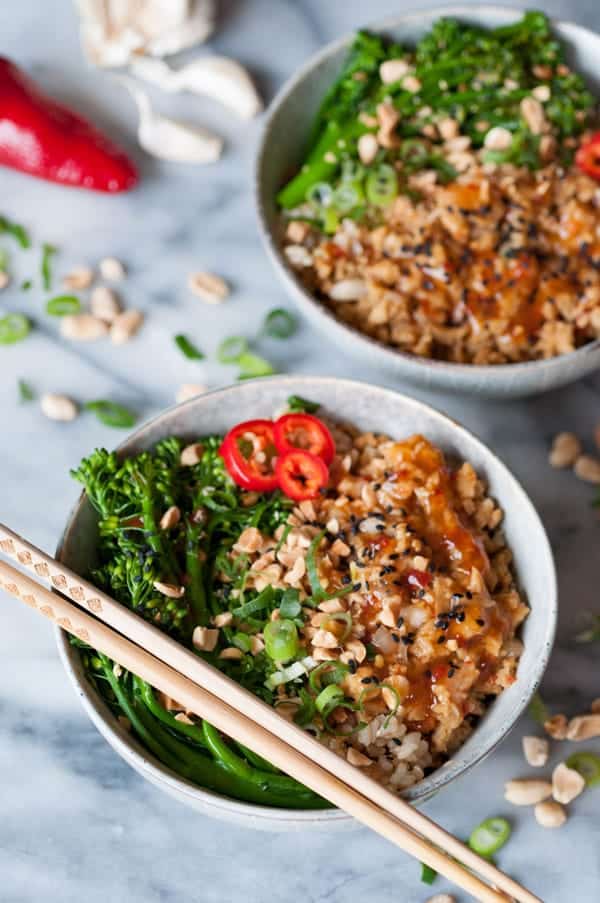 Alex and her mother, Linda, run a wonderful blog called Veganosity. For Alex, it's all about the animals and we can certainly connect with that.
She's a certified personal trainer and has both a BS degree in psychology and an MA in health psychology. Linda is the best friend of two adorable little dogs called Gizmo and Coco. You really must go to their 'About' page and check them out, they're the cutest!
Together, Alex and Linda created this blog to document their transition to veganism. They make it clear they're non-judgmental, everybody is welcome, and I think that's a great approach to have.
This recipe does use a brand-name for the orange and lemon extract in the orange chili sauce section. If you can't get this brand, don't worry, just use whatever you're able to source. Alternatively, you could just use your favorite store-bought chili sauce and save yourself some time.
However, if you can, I really urge you to make it because you have never had anything so good! The 'chicken' is based on seitan and is good enough to satisfy any meat eater. Serve with your favorite rice and greens. Whatever you do, don't skip the garnish of crushed peanuts! Fantastic dish!
Vegan Dressing & Dip Recipes
The Best Ever Homemade Vegan Spinach Dip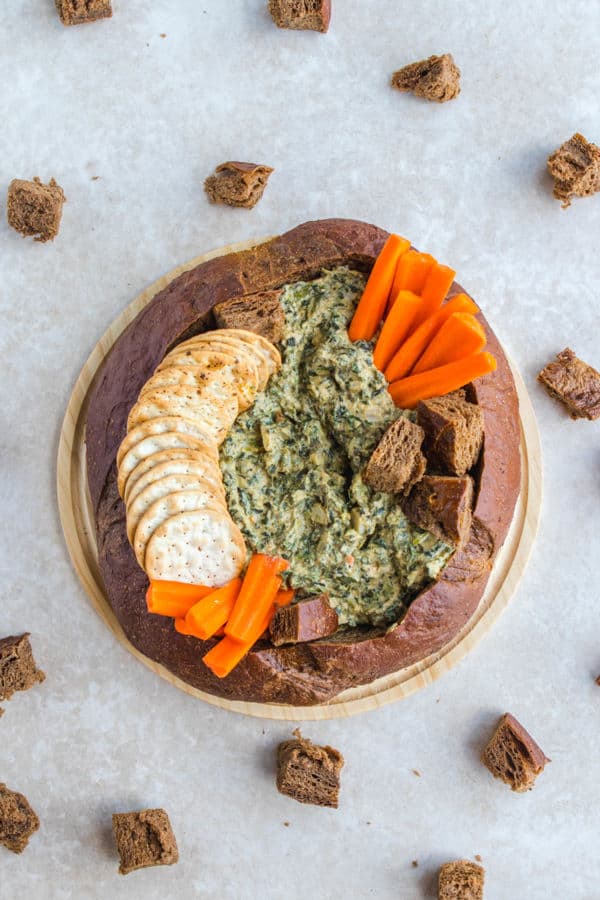 Caitlin's blog is called From My Bowl and is packed with great vegan dishes. We just love the logo! All of her recipes are really easy to follow and use everyday ingredients. Caitlin has been a vegan since 2015 and started her blog a year later.
She's really into yoga, has a great Instagram account and most of all, we love her YouTube channel. Her blog focuses on whole plant foods although she recognizes that we all like a treat from time to time so there are a few of those thrown in too! It's all about the yin and yang, right?
This spinach dip is really something. Caitlin describes her mother's version as the best one ever although it was store-bought and in powder form, but it tasted great way back then. Now she has created her own version that, of course, is vegan and there's no powder in sight.
What I love about this, is the ingredients are simple but varied. I mean, whoever thought of water chestnuts in a spinach dip? Trust me, Caitlin has done her homework on this. There are some great dips out there but rarely do you find one you can eat straight with a spoon.
This is hearty and it goes great with anything, from raw vegetable croutons, to crackers, to nachos. You can make it in less than ten minutes and the amounts listed in the ingredients are for eight people, or considerably less if you invite me! Great job, Caitlin!
Best Vegan Ranch Dressing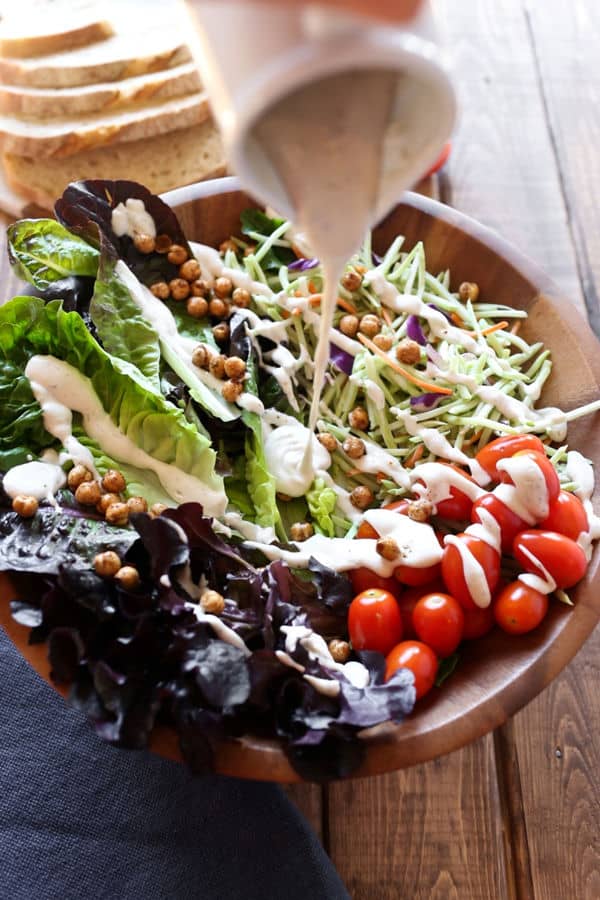 Brandi got into veganism because of her husband's health problems. They were facing a lot of challenges and were understandably reluctant to start taking endless medications with no end in sight. Brandi researched and subsequently switched the family to a plant-based diet and her husband is now better because of this.
Moving forward, Brandi became very aware of other challenges people face with food allergies. Her website, The Vegan 8, is all about good, honest food.
If you have any food allergy, check out her recipes. Not only will you find great dishes that'll likely help you, they're all delicious as well.
The '8' is because every single recipe on her blog has eight ingredients or less. How fantastic is that?! Most of the dishes are gluten-free and all are oil and tofu-free. This is one great food blog!
Salads are great but what do you do about dressings? So many contain dairy and, as good as a vinaigrette dressing is, what happens when you don't want oil? This recipe is incredibly creamy with a base of cashews and non-dairy yoghurt.
Everything comes together in five minutes and best of all, this keeps great in the fridge for up to a week. Make a lot, you'll need it! Be sure to make a note of this recipe because you'll come back to it again and again. Brandi, thank you for all the work you do in helping people.
Best Guacamole Ever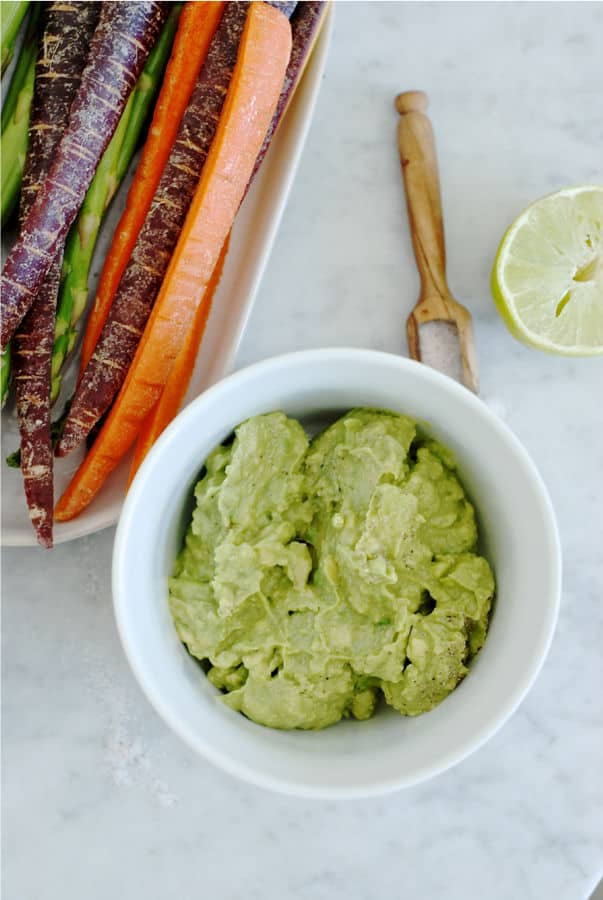 Juli is on a mission! Her blog, Pure Mamas isn't just filled with great vegan recipes, she also wants to inspire you to get creative with plant-based foods. Like us, Juli believes in fresh home-made food and none of this, 'salty oily processed junk', as she puts it.
She has a fantastic raw vegan cleanser e-book that helps you detox. Juli is living this, it's not something she does at the weekend.
She takes this completely seriously and has even taken an intensive course in plant-based nutrition with Cornell University.
What can you say about guacamole? You may as well buy it from the store, right? Wrong. You should always try to make food yourself, and as this is so easy, even more reason to do so.
On a side note, would you believe that I was once in the supermarket and saw what looked like guacamole, I say 'looked like' because when I checked the ingredients it did not contain any avocado, I mean, nothing!
That may be an extreme example (and a true one) but the point is, even many store-bought versions that are okay aren't good with weird ingredients you can't even pronounce! There are so many recipes for this classic dip, it's difficult to know where to start.
Well, Juli has I think the most straightforward recipe I've ever seen. There are four ingredients and two of them are salt and pepper! If you think it sounds too simple, I urge you to try it first. You won't be disappointed!
The Best Damn Vegan Sour Cream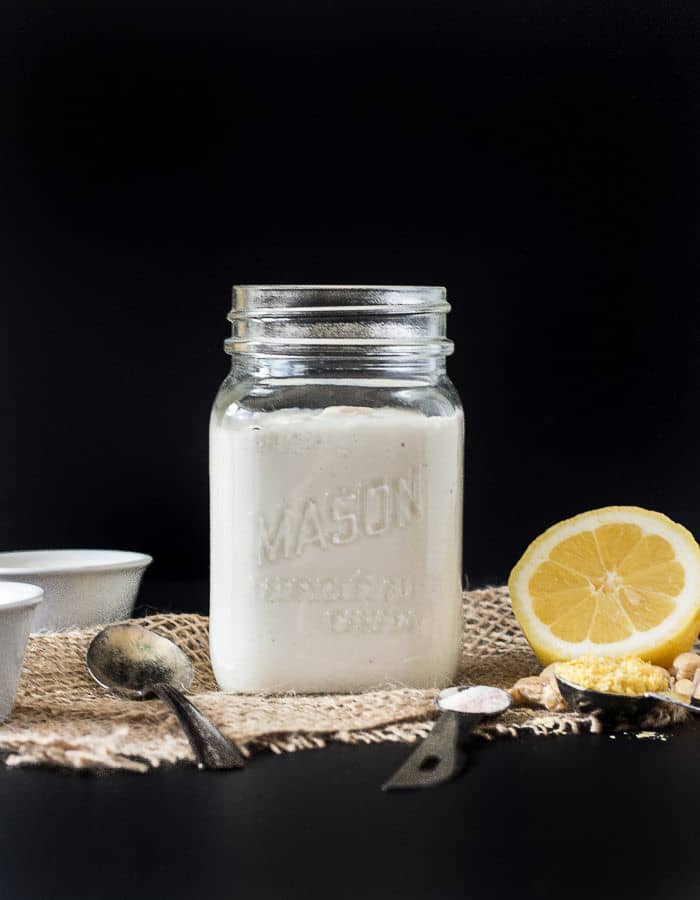 Savanna has a fantastic blog that isn't only vegan, but gluten-free as well. It's called Gluten Free Vegan Pantry.
After seeing how different she felt by being vegan and gluten-free, she decided to share her experiences and so her website was born.
What I love about this website is Savanna is openly sharing her experiences and her journey.
She isn't pretending to be the best chef in the world or an expert on everything. Like the rest of us, she's living her life and simply wants to take you along for the ride. We think this approach is really cool. Sour cream is so versatile.
But what you do when you're vegan? Do you buy a plant-based version from the store? Well, you can but as with most things in life, when it comes to food, you just can't beat making it yourself. This recipe has just five ingredients and takes ten minutes or less to make.
It's perfect for any Mexican dish and I can confirm it's a great salad dressing too!
Be aware you need cashews that have been soaked overnight before you start preparing this so plan ahead. It stores well in the fridge for 1 to 2 weeks so make plenty. When the rest of your family and friends taste it, it'll be gone in a flash!
Oil-Free Spinach Hummus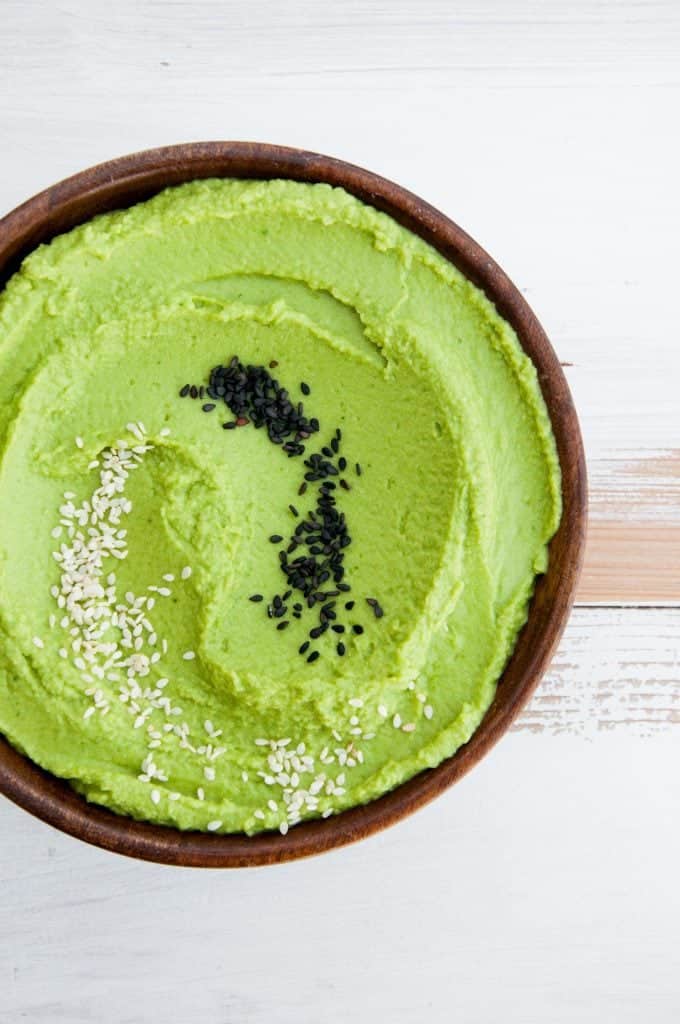 Bianca is from Austria and loves vegan food so much she started her own blog to share her adventures. Her blog is called Elephantastic Vegan and is full of inspiration. The first time she experienced veganism when she was on a trip to the US and was in Philadelphia.
She ate in the Loving Hut and loved all the dishes. This set off a string of thoughts, for the flight home she bought a book by Jonathan Safran Foer called Eating Animals and then a short time after arriving back home she watched the now famous documentary, Earthlings. As they say, the rest is history. Bianca's blog began in 2014 and now she's all over social media sharing her culinary creativity.
This hummus recipe is green because spinach has been added. Do note this dish is gluten and oil-free as well as being plant-based. I was intrigued when I first came across it.
Hummus without oil? Not only does it work, it works well and best of all is ready in five minutes, literally! When you taste it, you don't feel like anything is missing.
This works well with crackers, vegetable croutons, whatever you like. I imagine it's a great salad dressing too! Thanks Bianca!
Dreamy Oil-Free Mayo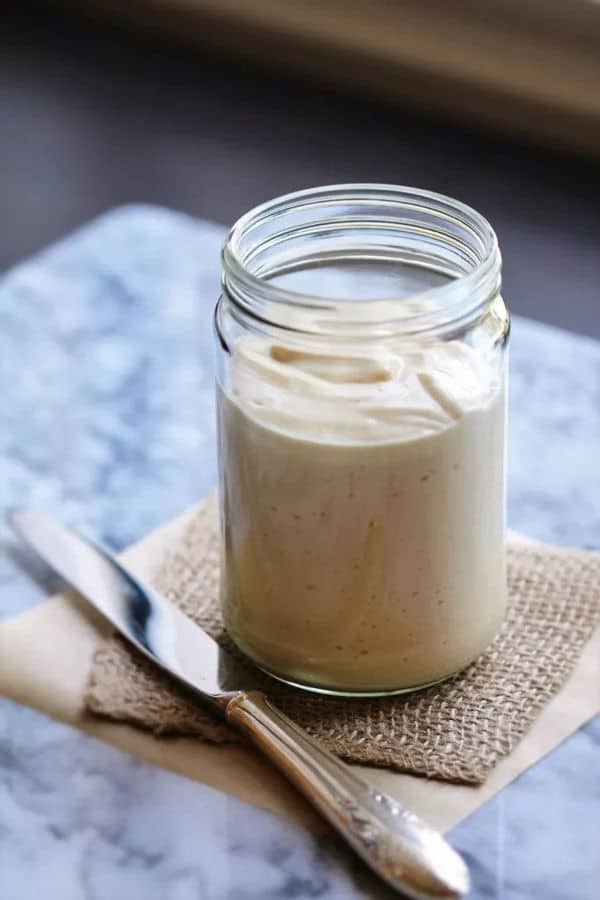 Emily discovered the plant-based lifestyle back in 2002 which changed her life and health. She always was a fan of gourmet cooking, and this gave her a new passion for health and nutrition.
This started a new career and now she has an amazing blog called Emily Honey Cutt. In 2010 Emily started working with the Physicians Committee for Responsible Medicine (PCRM), and since then has been writing for various magazines.
In 2017, she joined the Food Revolution Network as a Content and Outreach Associate. If you're looking for great recipe ideas, Emily has everything and more!
I don't think you can never have too many vegan mayo recipes.
Mayonnaise is one of the most versatile foods around. Great in sandwiches, as a condiment, and so much more. This only takes about ten minutes to prepare and yields about one and a half cups.
The ingredients are simple and I imagine you have most of them already. Note, the organic firm silken tofu listed in the recipe is of a certain brand type. I could not source this so used what was in my local supermarket and it was delicious!
This mayo stores in a jar in the refrigerator for up to 5 days. Make a note of this recipe, you'll come back to it again and again.
Clean Eating Watermelon Vinaigrette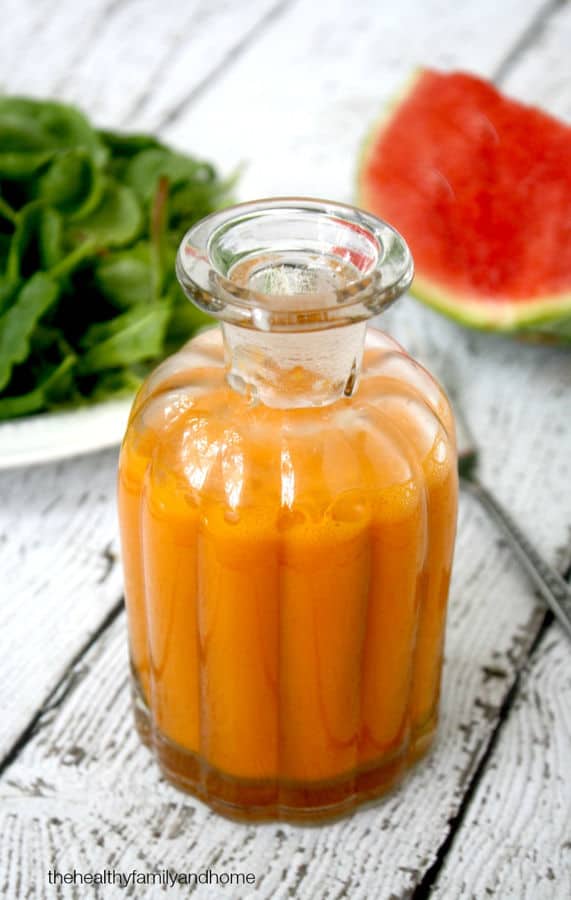 Karielyn has a great blog called The Healthy Family and Home. We love her because she appreciates the importance of what we eat and how it affects our health. On her website she has, "eat like it matters… because it does!" and we couldn't agree more.
As well as being vegan, all of Karielyn's recipes are gluten and sugar-free. Many are raw and even alkaline. If this is all very new to you, she even has a small section for transitional recipes if you're moving towards a plant-based lifestyle.
Watermelon vinaigrette, who would've thought? It's the last thing I'd have imagined but you know what? It's amazing! Karielyn has done her homework and you'll see she has listed all the health-related facts about each of ingredients.
This is a raw recipe and I urge you to try it. Just throw everything into your blender and you're good to go. This'll yield about 2 cups. It stores fine in the refrigerator although do note that it does separate so give it a good shake or stir before use.
It's fruity, creamy and has the perfect blend of the sweetness from the watermelon and medjool dates versus the tartness from the organic apple cider vinegar. One of the best dressings we've ever had.
VegByte Tip: Whenever you see dates in a recipe, always go for the 'medjool' variety. They simply are the best quality and there's no substitute.
Caramelized Onion Dip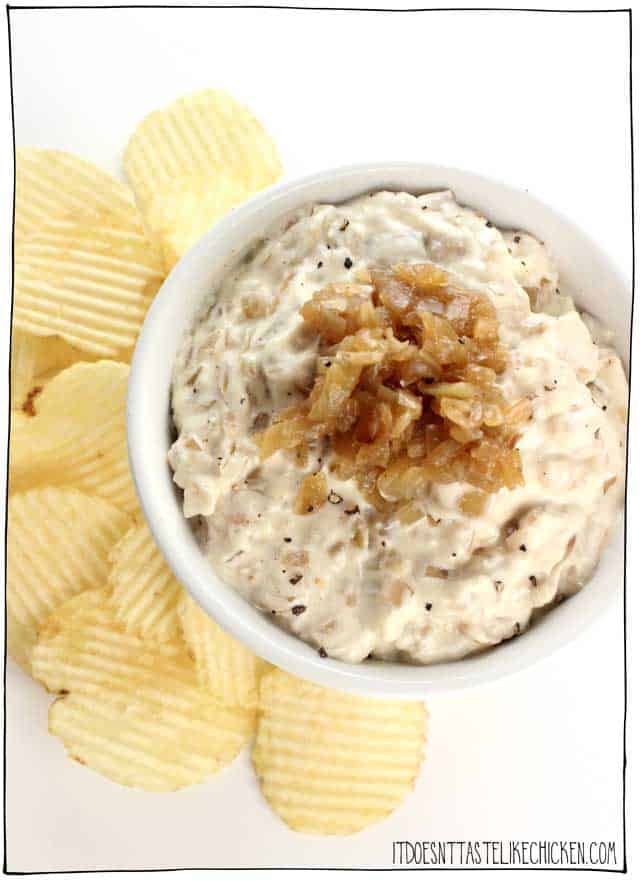 Sam has a great website called It Doesn't Taste Like Chicken and we also recommend you subscribe to her YouTube channel! Sam says she's probably the last person on earth who thought she would become vegan! She grew up surrounded by family who were really into food; chefs, hunters and butchers.
She was happy in her life until 2012 when she watched the documentary, 'Vegucated' which made her ask yourself some uncomfortable questions. Many of us know there's cognitive dissonance in our society, we love our dogs and if we go to a petting farm will even stroke the cows, then we go home and eat them.
Sam was brave enough to confront these issues many people choose to ignore. After she watched the documentary, 'Forks Over Knives' her fate had been sealed! Here we are today, and Sam is all over social media doing her thing!
You can never have enough dip recipes and this one is delicious! The ingredients are simple and there's just a handful of them. I'd say this is the perfect dip for a family gathering or party although to be honest, it would be a shame to leave it just for those occasions.
It's far too good! When you prepare this dish, be sure not to burn the onions and garlic, it's easily done and if you do, it can spoil the entire recipe. You can use a food processor or blender to make this. Once ready, chill in the fridge in an airtight container, preferably overnight. Serve with vegetable croutons or chips. We had it with fries and oh my goodness! Thanks Sam!
Vegan Gluten-Free Recipes
Dark Chocolate Blood Orange Layer Cake (Gluten-Free)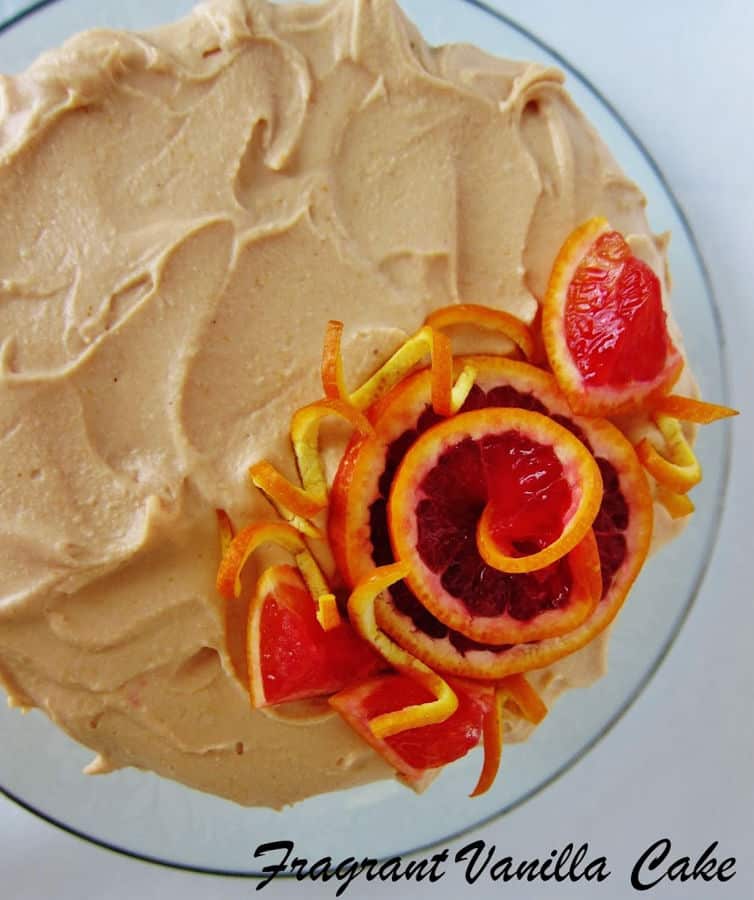 Amy has a great blog called Fragrant Vanilla. She has been vegan since 2012 and is a long-distance runner. Consequently, she takes her diet very seriously because what she eats must not only nourish her body, it also has to align with her sport.
Her blog is primarily focused on desserts which is fantastic! Because such things have traditionally been filled with dairy, we don't associate them with being healthy. Amy changes all that with her great recipes. She really has a fantastic website and many of the dishes are also raw!
This gluten-free recipe is just awesome. It's like a classic cake, hearty, fantastic for a party or even a birthday and best of all, it's vegan! The amounts listed make a six-inch, four-layer cake. The ingredients are straight forward and won't be hard to find. The frosting has a base of coconut milk and raw cashew nuts.
Do note the cashews must be soaked for at least four hours before you start. After baking, place it on a rack and allow to cool for at least one hour before you combine all the layers. You end up with a cake to die for and if you have any non-vegan friends they'll be astonished this is dairy-free. Great job Amy!
Roasted Acorn Squash with Shallots and Parsley Oil (Gluten-Free)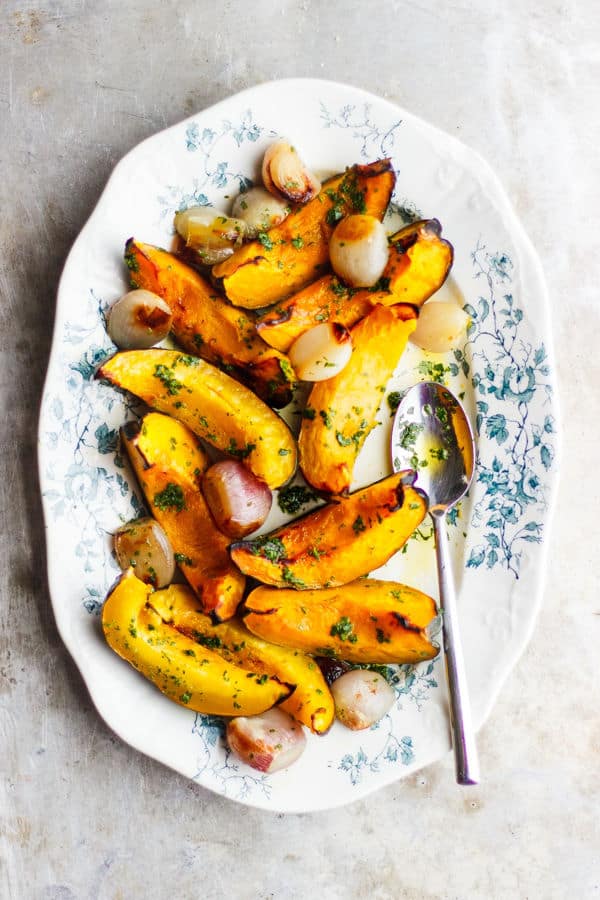 Sherrie runs a great website called With Food and Love. As she was growing up, like most of us, she didn't really think about the food she ate and the affect it was having on her health. Later in life she was diagnosed with coeliac disease and rather than take the medical route, she decided to change her lifestyle.
Part of this transition included studying nutrition where she became a Health Coach. Fast forward to today and she has a successful blog and has worked with an endless amount of companies who feature her and her dishes. This is a true success story!
This dish is awesome. Just a handful of ingredients and a five-minute prep time followed by about twenty-five minutes in the oven. You end up with a beautiful side dish and there's no reason why it can't be your main meal either.
You'll have no problems finding anything listed and straightaway you can see that this is extremely versatile so feel free to add another vegetable or three! You can make this ahead of time and just warm it to serve or, you can blend everything and make a delicious soup! Don't forget the pomegranate seeds, they're more than an optional garnish!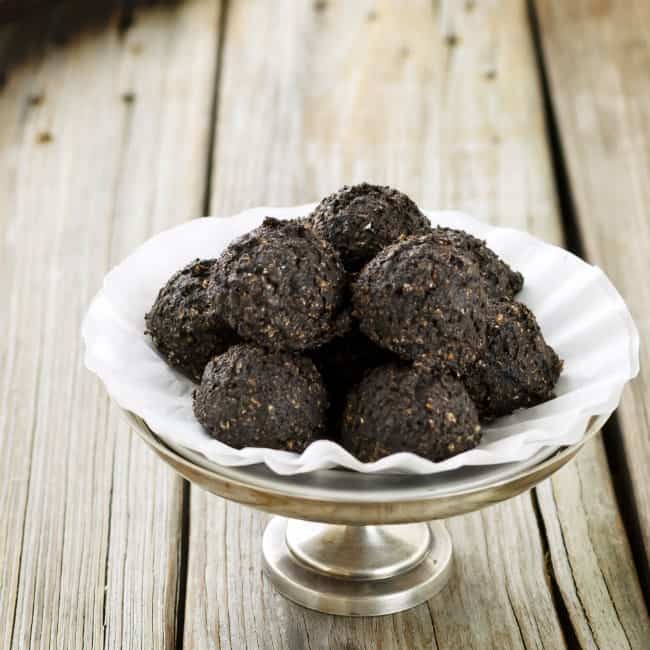 Gin grew up in rural PA which is where she lives now. I'm excited that her favorite food is Indian because it's mine too! We love her blog, Eat Healthy Eat Happy. As you read through her profile page you can see that she has thought a lot about why people choose to eat the way they do.
One of the things that stands out is the non-judgmental approach she has, and we love it because it's all about positivity. For a period of time, Gin lived in Arizona where she experienced authentic Mexican food which has stayed with her ever since. I don't blame her, it's delicious!
These cookies are gluten-free and other than some boiling water, there's no cooking involved. The ten-minute prep time is it, when you're done, you're done! The base of these cookies are dates, then you have some peanut butter and just a couple of other things. You won't have any problems sourcing anything.
You whizz everything up in a food processor and then let it stand for about five minutes before you add the rest of ingredients. You then refrigerate and you're ready to go!
VegByte Tip: If it doesn't turn into a dough-like consistency in the food processor straightaway, just give it a few minutes.
Creamy One Pot Curried Lentils and Quinoa (Gluten-Free)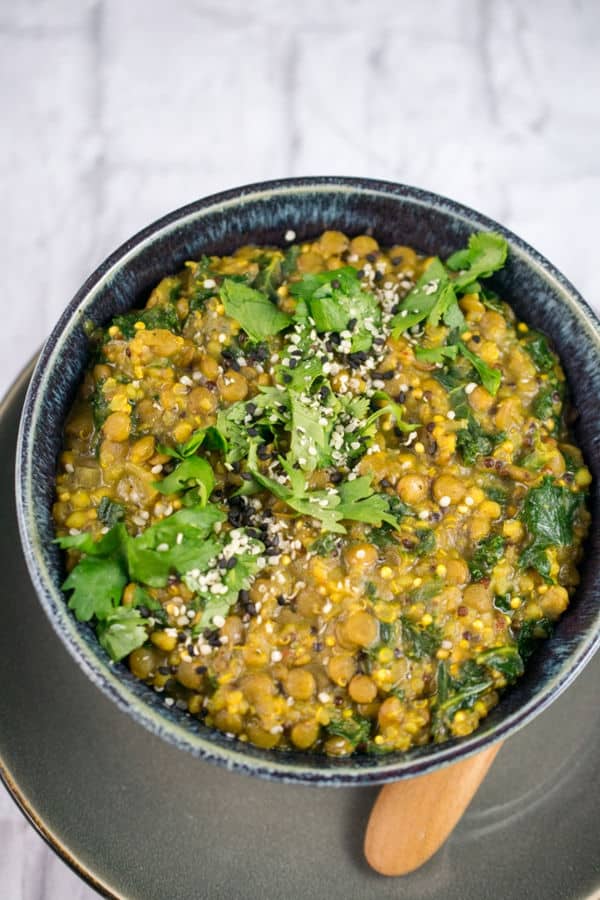 Shannon has a great blog called Yup It's Vegan (without the apostrophe!). She started exploring a plant-based way of living back in 2011 and, finding that she felt so much better, she switched from a Standard American Diet to a whole foods plant-based lifestyle.
The goal of her blog is to show you that eating this way is delicious and fun. Not only that, she encourages you to get creative. She says her recipes are fed to omnivores and they always pass the test!
It sounds like she has captured them! In her profile page, she invites you to contact her if you have any questions about living a vegan lifestyle and we think that's great!
If you've been following our round-ups, then you'll know I love curry! I also love lentils and quinoa, so you can imagine how excited I was when I saw this. One of the many things I like about this recipe is you use individual spices to create an authentic curry flavor.
There is no generic curry paste here (which would be fine, this is just better!). I think the secret ingredient in this dish is the coconut milk. Not only does it make everything creamy, you get that unmistakable hint of coconut in every mouthful. This comes together in about forty-five minutes or less which includes prep and cooking time. Shannon, thank you!
Cranberry Pecan Wild Rice Salad (Gluten-Free)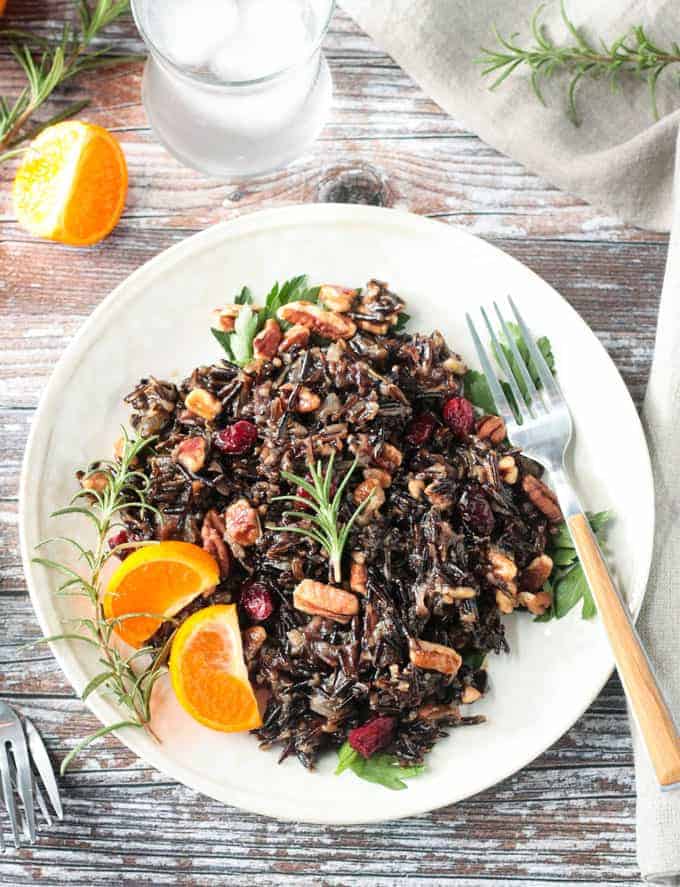 Jenn likes to sing along to the radio in her car, we're already fans! She has a great blog full of plant-based recipes for you and your entire family called Veggie Inspired. After her son was born she just happened to stumble across a book in the library and it changed her life.
She read the book in one day and by the evening she vowed never to consume dairy again. We've met so many people like this, not just from a health perspective, but when you look at how animals suffer in the industry, it no longer becomes a choice.
Jenn's blog began as a way for her to document what she was eating and now it has turned into an amazing resource!
This salad is packed with protein and is extremely satisfying. If you have it for lunch, you won't be snacking before dinner and that's a guarantee! The ingredients are so well thought-out you don't feel lethargic or tired after eating, instead you'll feel energized and ready to go!
You really won't have any problems sourcing the ingredients, it's just good food creatively put together. Not only is this delicious, it's so good for you. Wild Rice is superb and is accompanied with real orange juice as part of this dish. There's just five-minute prep time and about fifty minutes cooking. Serve warm and you'll enjoy!
Quinoa Salad with Spinach and Pomegranate (Gluten-Free)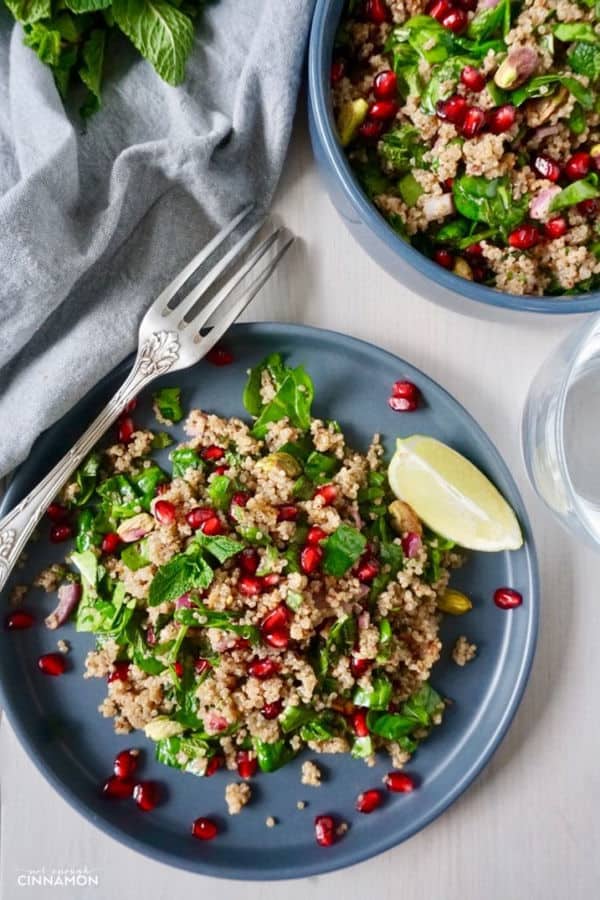 Marie is the founder of a wonderful website called Not Enough Cinnamon. She was born and raised in Paris and currently lives in Israel with her husband, they also lived in Australia for a few years too! Marie started this blog as a way of documenting her trip 'down-under' and it ended up being so much more.
Now, the website's goal is to help women in their 20s and 30s not just become healthier but also to feel empowered. We love that Marie is using her experiences to help people.
This lovely salad is inspired by Persian and Middle Eastern cuisine. Every mouthful is filled with freshness and a myriad of textures and flavors that come together beautifully. If you're gluten-free, this is for you as well! Ingredients are divided into two, the salad itself and then the dressing.
They're both fantastic recipes, and I plan to use the dressing for the foreseeable future on my salads! The salad itself has just a handful of ingredients.
Make sure you don't forget the pistachios! There's a fifteen-minute cook time and then you throw everything together for a hearty dish. Ingredients suggest it serves four as a main, so adjust as necessary for your needs. Thanks Marie!
Best Blueberry Muffins (Gluten-Free)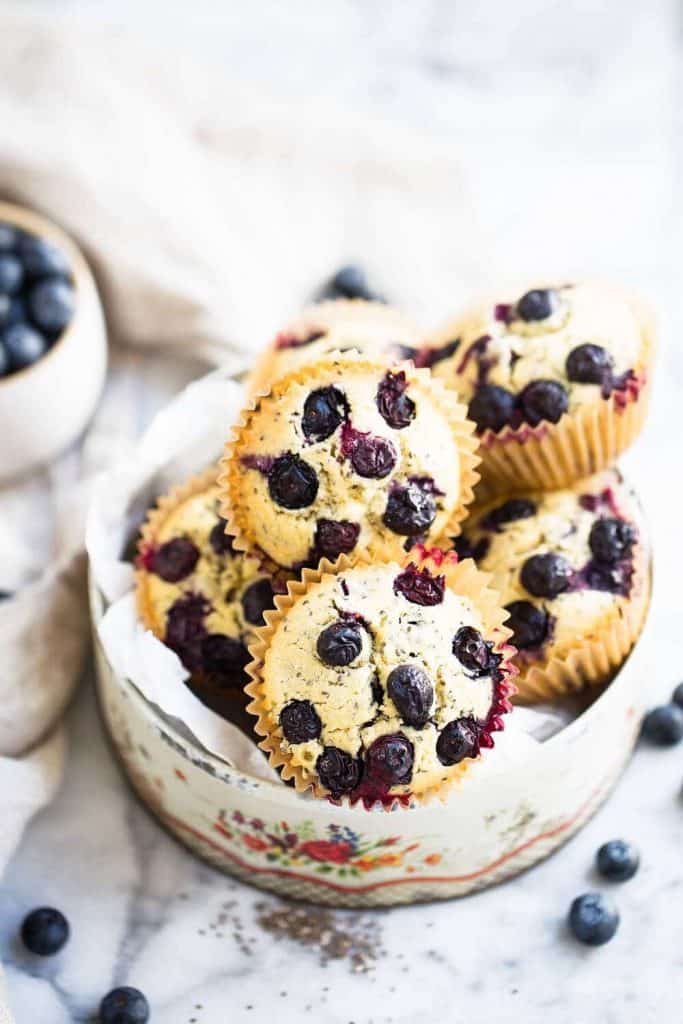 The Movement Menu is a blog run by Monica. It's one of the most well-organized websites we've seen. Everything is divided into different sections and you even have meal plans as well. The photography is excellent and if there wasn't enough to inspire you already, the pictures will be enough. Really great camera work!
These great muffins aren't only vegan, but gluten-free too!
We made them, and we seriously think they're the best we've ever had. What makes these special is the chia seeds which is a nice touch, kudos to you Monica!
The recipe page has one of those great tools where you can change the number of servings you need, and it'll adjust the ingredient amounts listed, very handy!
The ingredients are very straightforward and after a five-minute prep time you just bake for twenty-five minutes.
Make these for a party or just to treat the family, why not? We guarantee that when you've made these once, you'll make them again!
Easy Buckwheat Pancakes (5 Ingredients, Gluten-Free)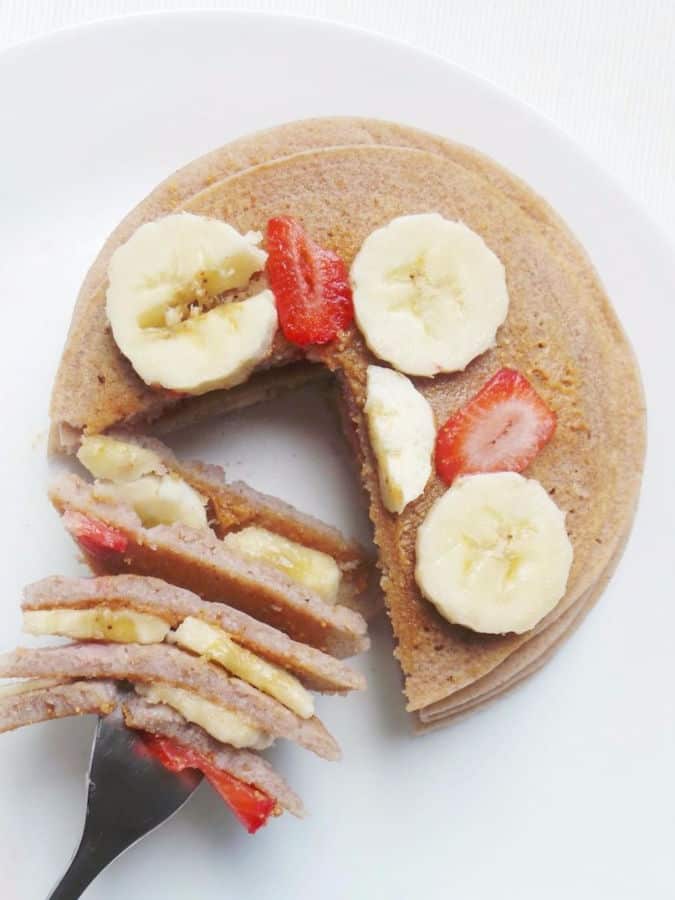 Beauty Bites is a really good website. It's so much more than a blog with resources for health, fitness, and you'll also learn how to improve your skin. Stella's aim is to simplify health.
There's so much information nowadays it's not just confusing, it's enough to send you crazy! Here, we cut to the chase and you have everything you need.
Above all, you'll realize that wanting to be healthy isn't complicated, you just stick to the basics which Stella lists on her 'About' page. The entire website is informative, and we recommend you check it out!
Pancakes are great but sometimes they can leave you feeling a bit stodgy.
Not with these! Best of all they come together in a snap. For this recipe you just need some buckwheat flour and four other ingredients which I imagine you already have in the kitchen. For toppings, we suggest you follow the recipe because the fruits and peanut butter go very well together.
There are some other suggestions too and obviously you can use whatever you like! Seriously though, the pancakes themselves are to die for. Hand on heart, these will be the only pancakes I eat from now on!
Vegan Juice Recipes
Pomegranate Juice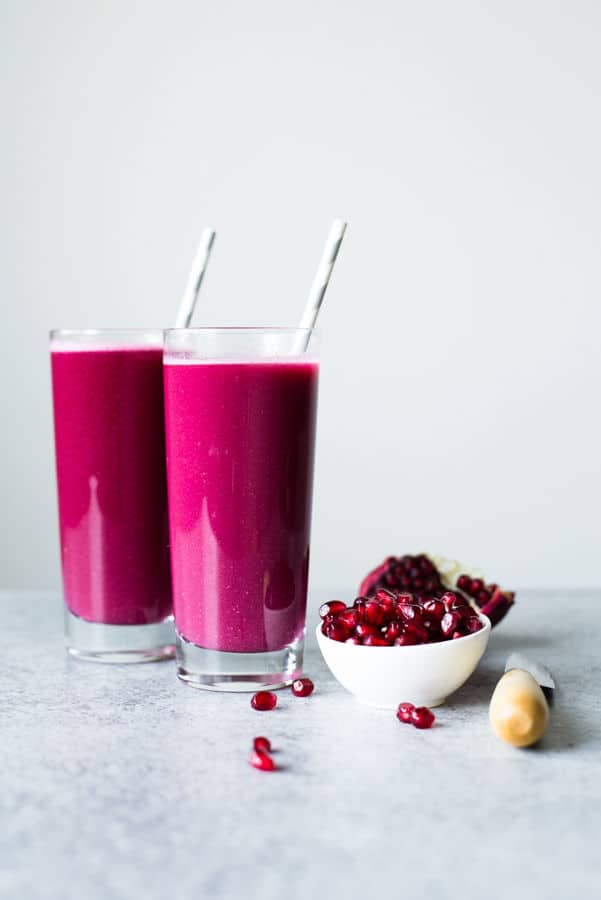 We like Lisa because she says she can talk about food all day, so can we! Her website, Healthy Nibbles and Bits is filled with inspirational recipes and the best selection of smoothies I've ever seen!
Lisa used to be a lawyer until she literally didn't want to be one any more. She's now a full-time blogger, and this is her career. We say kudos to you Lisa! Fun facts about her; she can recite all fifty states in alphabetical order and she loves British chat shows!
This pomegranate juice is so good for you it's ridiculous! You literally only need pomegranates.
It's virtually fat-free and, of course, is good for you! Follow the instructions carefully which involve cooking the pomegranate arils for about twenty to thirty minutes.
An important tip Lisa gives us, and we can certainly vouch for this, is to either wear some old clothes or don't. But, whatever you do, wear light-colored clothes. You can imagine why!
5 to 6 large pomegranates will make about 4 cups of juice. Any leftovers will store in the refrigerator for up to 6 days. Thanks Lisa!
Fennel and Apple Detox Green Juice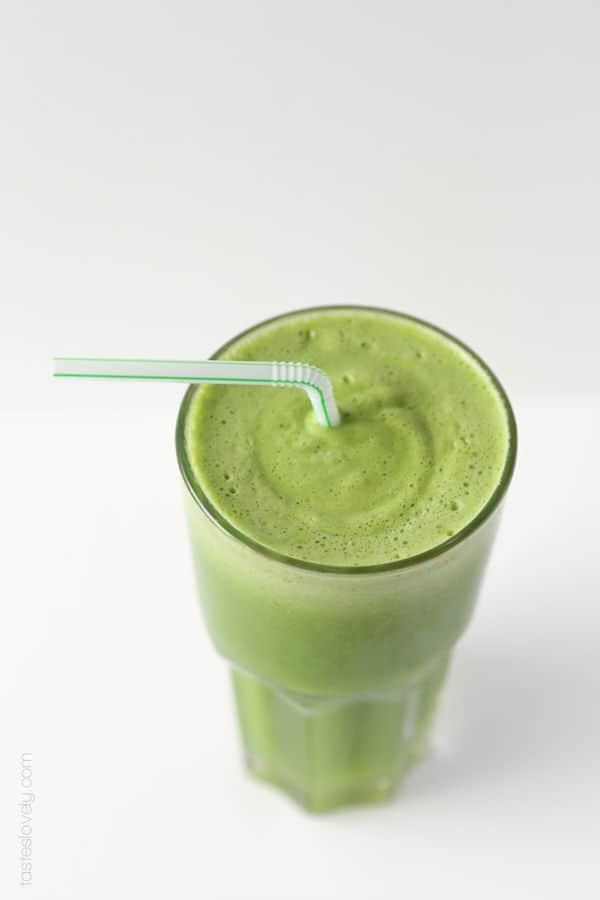 Natalie started her blog, Tastes Lovely, in 2013 as a way to document and remember all her favorite recipes. What started out as a hobby has now developed into a fantastic website. As well as being a recipe expert, Natalie knows a thing or two about photography as well, which is why all the photos on her website look fantastic.
As well as this, Natalie and her husband Shawn, also own a wedding videography business, we just can't imagine how busy they're! At the time of writing, we see that Natalie and Shawn are expecting their second child in June 2018 and we would like to offer them our congratulations and best wishes!
Personally, I've not had great experiences with green juices. The first one I had tasted like a liquid salad and that's just not right! It didn't put me off for life and I've had a few since which have been very good, however, I can't say they're my favorite. What I'll tell you is, I wish I had tried this one first.
The juice is bursting with nutrition and yet, because of the apples, tastes just fantastic. The secret ingredient for me is the mint that just adds to the already great flavor. If you don't like green drinks, have this one. Not only will you love it, your body will thank you.
Cleansing Green Juice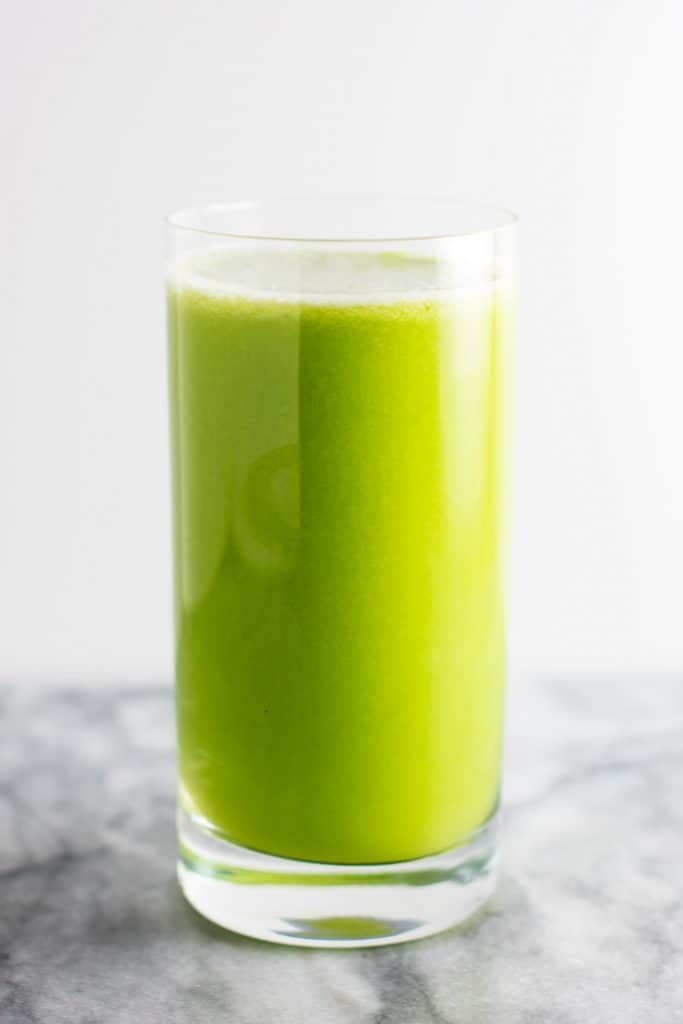 Joy did a lot of cooking growing up and still loves cooking today. You can really see it's her passion. In 2014, she decided to start her own blog, Build Your Bite, as a way of documenting her journey as she started a vegetarian lifestyle. Joy's husband is an ultra-runner who's completed 50K and 50-mile races as a vegetarian.
While they both enjoy vegan dishes, they aren't completely strict to this lifestyle. This is actually a big positive as it means if you're transitioning towards being vegan, Joy's website will have just the recipes you need!
If you're into detoxing or cleansing, then you need to add this to your list of juices. Do note you'll need a juicer and not a blender to make this drink. It's extremely alkalizing with cucumbers, celery and Romaine lettuce which are great as they have a high-water content.
The gala apples add sweetness and altogether you end up with a lovely drink. You'll not feel bloated and this'll digest very quickly. It's completely refreshing, and you'll make this again and again. Fantastic!
Basil Beet Juice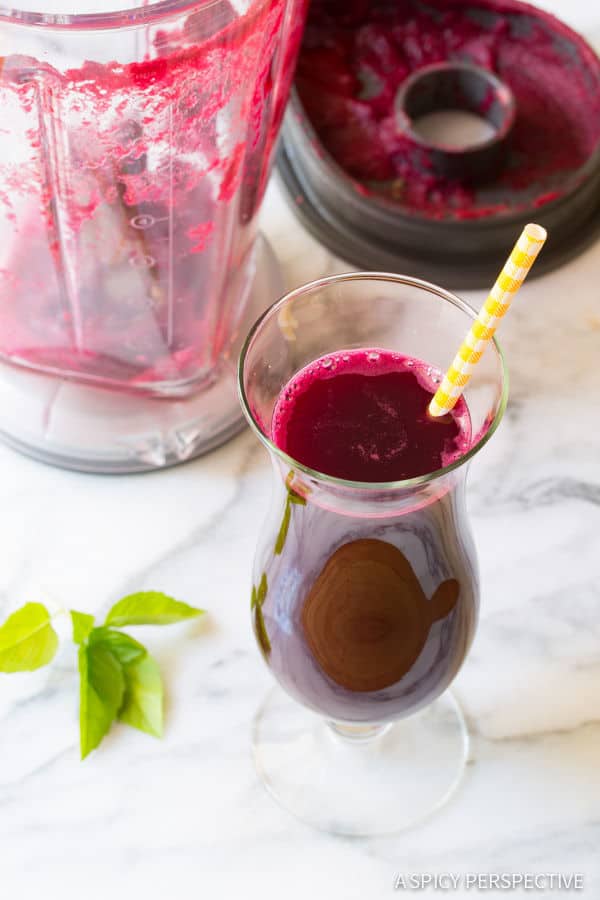 Sommer runs a fantastic website called A Spicy Perspective. I want to tell you that the best part is the amazing selection of recipes. My favorite part, though, is the Christmas photo on the 'About' page. What a great family!
Sommer's website isn't just a blog with a never-ending list of recipes, it's well categorized so you have sections for everything from breakfast to side dishes and there's even a category for ingredients and holidays! It's firmly in our list of favorite sites.
The recipe for this beet juice is full of goodness and your body will thank you when you have it! If you've never had such a juice before or you've been apprehensive about drinking beet juice, this is for you. Unusually, the instructions don't suggest using a juicer.
If you don't have a blender and only have a juicer I'm sure it'll be fine. We followed the directions just to give you an honest review and, of course, it was great so perfect for people that don't have juicers. There are just five ingredients and one of them is water!
You blend everything together and then sieve using a spatula to squeeze the pulp. Either serve immediately, with ice, or refrigerate until you're ready. Absolutely wonderful, thank you Sommer!
Ravishingly Red Juice (with Pomegranate, Beet and Red Cabbage)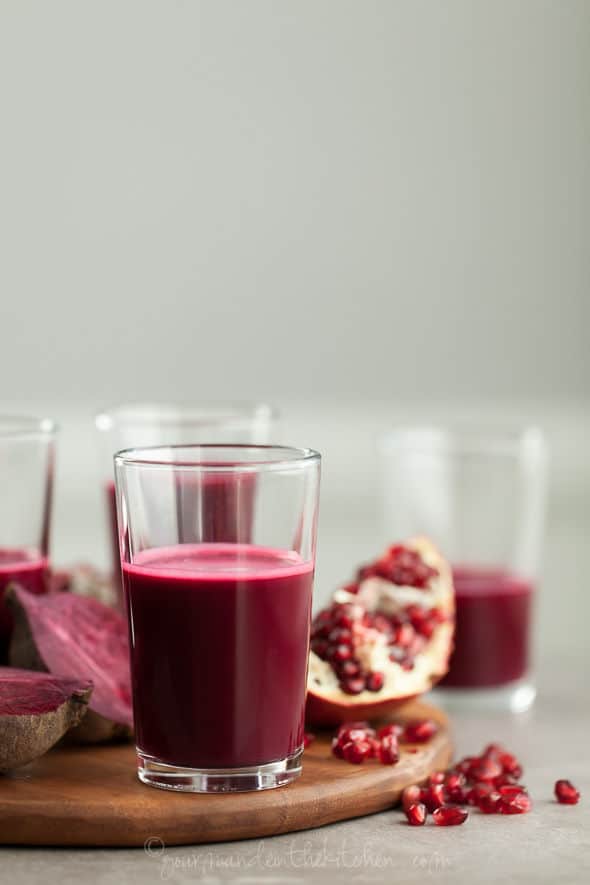 Gourmande In The Kitchen, is a great blog absolutely bursting with recipes. This site has been featured all over the media, everything from The Huffington Post to BuzzFeed.
If you want a site that has a seemingly endless list of recipes, everything from vegan to raw and even allergy-friendly, this is for you.
If you're thinking about starting a health kick and are looking for different juice recipes, this is it. The flavor is both sweet and has a little sharpness.
Every mouthful will also give you a taste of ginger which is claimed to be anti-inflammatory. Please note, you'll need a juicer for this recipe.
There are just four different ingredients and that's it. As with all juices, it's best served immediately. If you make this with a slow masticating juicer, it'll store in an airtight container in the fridge for up to 3 days. Great recipe and one worth keeping!
Orange Ginger Splash Pressed Juice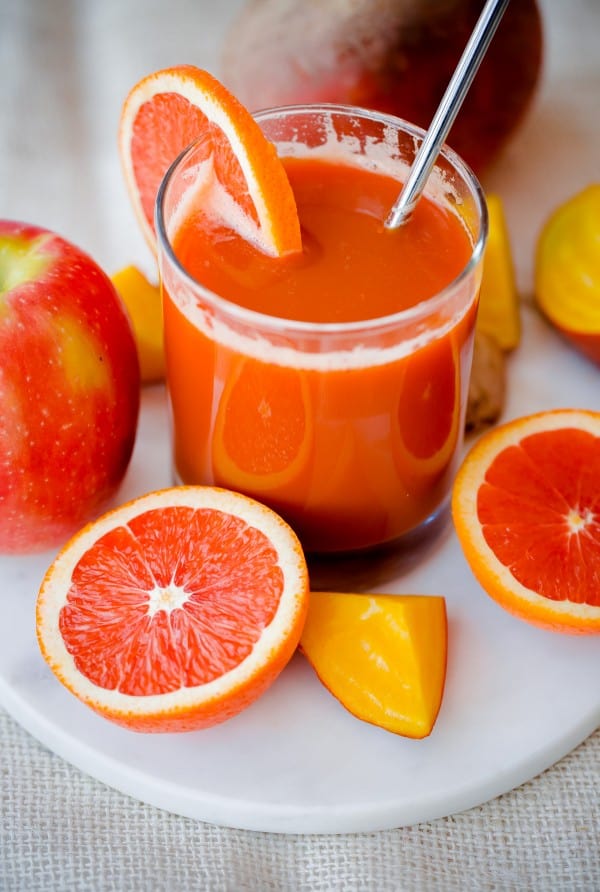 Laura is a trained chef and is the owner of, A Beautiful Plate. Because of her background, all of Laura's dishes look outstanding. She doesn't follow a particular lifestyle and has a little bit of everything, so you'll find recipes for everything, from weeknight dinners to breakfasts and even pastries!
As well as going to culinary school, Laura has also worked in marketing and communications where she designed catalogues and was involved in commercial shoots. In 2014, she quit her full-time job to pursue blogging and the rest is history! She currently lives in Chicago with her husband, rescue dog and cat!
Juices are great but if you're not careful, you can end up putting random foods in the juicer to see what comes out. Sometimes it's okay, other times you wish you'd stayed in bed, or is that just me? If you're going to get into juicing, you need some good recipes that you stick to.
You don't need a long list, just a handful, and this is one of them! Obviously, you're going to need a juicer to create this and we recommend a slow masticating juicer rather than a centrifugal version. It's very rare that I see oranges and apples in the same juice. It's clear that Laura did her homework as you get a great flavor here. If you're serious about juicing, this one's for you!
'Glow from Within' Watermelon Juice
Sarah who runs the blog, Making Thyme For Health, not only creates the recipes but she takes the photos too! Her goal is to share seasonal vegetarian recipes that inspire you to be healthy. She doesn't have any formal training but her dedication to developing recipes shines through.
We love her philosophy of trying different recipes and way of deciding what are great dishes, she'll try one and if she finds herself not eating it again, it doesn't make it to her website! The love for animals that Sarah and her husband have is obvious, and we love them for it!
One of the most refreshing juices I've ever had, full of antioxidants and great for your skin. Strictly speaking, this isn't a juice as you use a blender. You certainly can use a juicer, but, if you can, whizz it all up in your blender so you get everything.
The ingredients consist of watermelon, strawberries and an apple with just a couple of other pieces of magic. Spin it all up and you'll have a wonderful drink. If you want a juice-like consistency rather than a smoothie type-feel, but you don't have a juicer, simply strain the mixture into a sieve and press the pulp with a spatula.
Either drink immediately or refrigerate for about thirty minutes. You may want to give it a stir before drinking in case it separates. Absolutely delicious!
Immune Boost Juice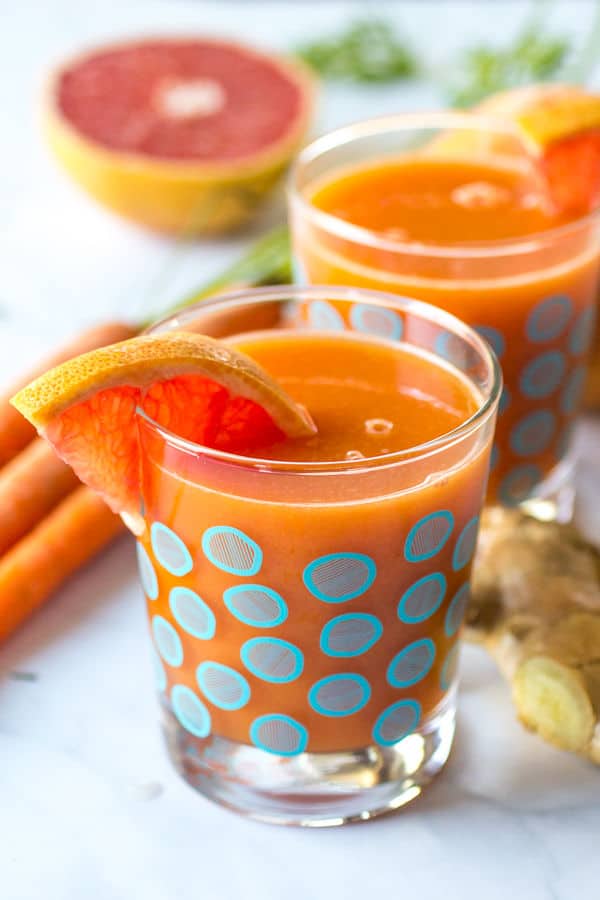 Anetta runs a fantastic website called The Wanderlust Kitchen. Aside from the food, we really like the blog's presentation! Anetta travels and as well as being into food, knows a thing or two about photography and this is apparent in the professional photos on her website. The blog was born in 2013 with an aim to share her recipes and inspire others to get in the kitchen.
Fun facts about Anetta; she brews her own beer, has travelled seemingly everywhere and she openly cried when she watched the latest Star Wars movie! Although the website does have some old dishes that contain meat, all recipes since 2016 have been meat-free!
This blend of grapefruit, carrot and mango is what you want when you feel a pick-me-up is in order. If you need comforting because you don't feel too good this not only digests easily and makes you feel good, it tastes great too!
You do need a juicer to make this so bear this in mind. It tastes so good though, it's worth getting a juicer, so if you need an excuse to buy one, this is it! For me, the secret ingredients are the turmeric and pinch of cayenne. If you don't like anything spicy, either leave that out or adjust according to your taste.
After juicing, drink right away! Serve with ice or as it is. Ideally, get someone else to clean the juicer while you're enjoying your new drink!
Fruit-Sweetened Lemonade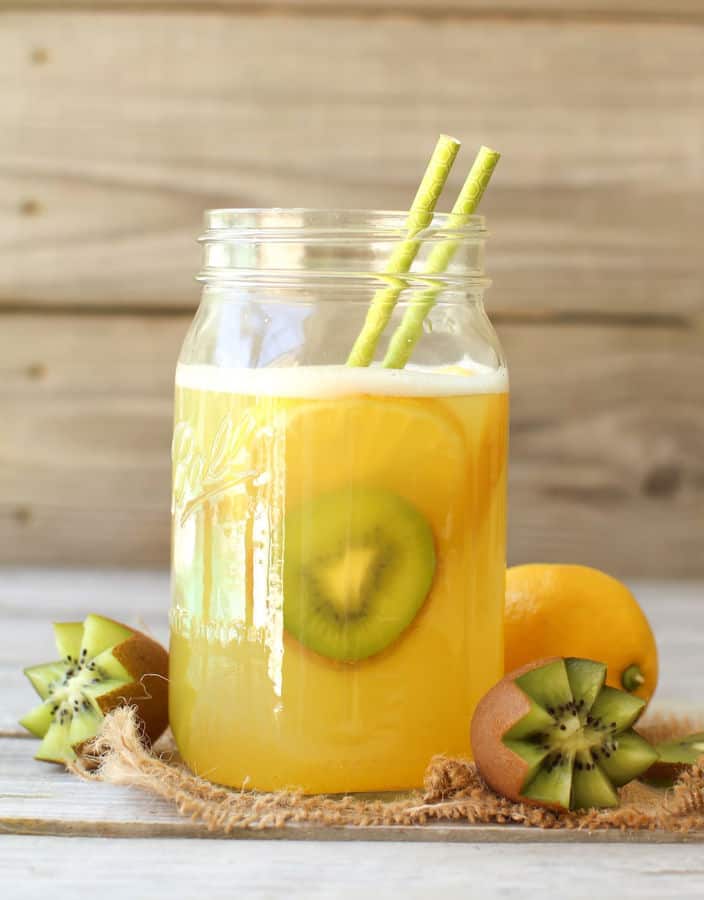 Natalie is the creator behind, Feasting On Fruit. Her inspiration is to get you in the kitchen making your own creations and we love that approach. Initially, her website started out because of her love of baking and taking pictures of food.
This is apparent as when you look at the photos, not only are they professional, they're extremely artistic. One of the best presentations we've seen. If you're looking to find a dish that'll impress, check out Natalie's blog!
Who doesn't love lemonade? The elephant in the room is that traditionally lemonade has been made with buckets of refined sugar and as acceptable as that was back in the day, now we want a different approach. I can honestly say this is one of the best lemonade drinks I've ever had.
The sweetener is white grape juice! There's a little lemon zest and some optional turmeric. You can either blend or juice everything and you're good to go. There's even a video to help make this too. Thanks Natalie!
Vegan Lunch Recipes
Smashed Eggplant Toast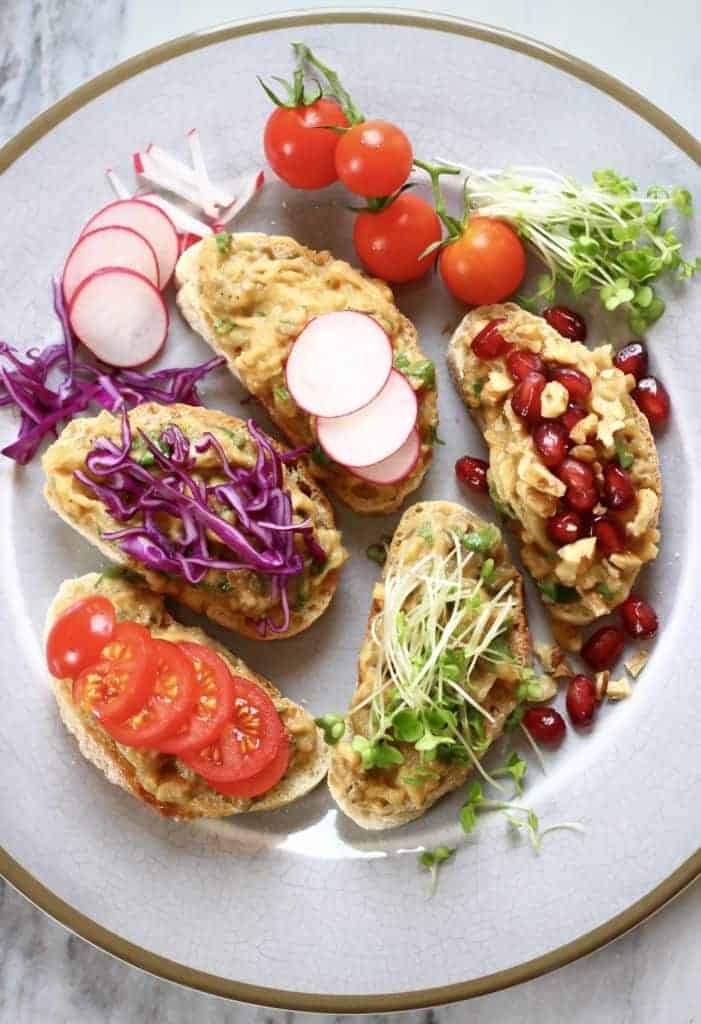 Rhian runs a fantastic vegan website called Rhian's Recipes. She's a British Cambridge graduate and loves learning languages and watching movies.
She also has published a digital cookbook containing recipes not featured on her blog.
Rhian is lactose intolerant, so she appreciates the difficulties some people have when they need to avoid certain foods.
Consequently, as well as being plant-based, most of the recipes on her blog are also gluten-free. Her mother is Japanese which has influenced a lot of her cuisine, this makes a lot of her recipes different to other similar websites. She's done such a great job!
Avocado toast seems to be a thing nowadays, and hey, it's delicious so I can see why. But what about when you want something a little different? Well, if you're into eggplant then this is for you. It's is a great appetizer or even makes for a fantastic breakfast.
The ingredients really are straightforward, and you won't have any problems sourcing anything. It takes a little time to prepare the eggplant as it needs baking first but trust me, it's worth it. Once you've made the topping and spread it on your favorite toasted bread, you have a variety of toppings that Rhian has suggested in the Recipe Notes.
There are so many ideas from sauerkraut to chopped walnuts. Take your pick or get creative! One of the most unique recipes we've seen and it's delicious!
Street Tacos with Spanish Fried Quinoa and Black Bean Salad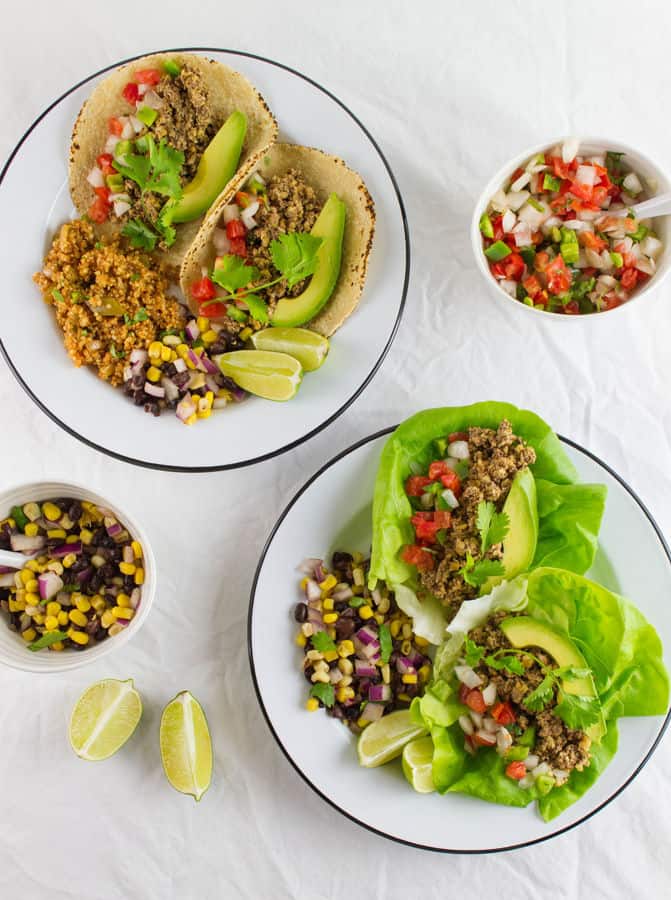 Simple-Veganista is run by Julie who's been eating a plant-based diet since the early part of 2011. Since then, she has wanted to share her passion for this lifestyle. Some of the recipes on her great website are even raw.
Initially, Julie took to this lifestyle for health reasons although when learning about the practices of factory farming, like most of us, she had a huge perspective shift in the way humans treat animals.
She has a quote on her website we absolutely love, "Eating vegan isn't about restrictions, it's about creating new habits, healthy habits that encompass the world around us making it a better place for all."
This recipe is a complete meal and one of the best I've seen. I'm going to beg you, seriously, I am. Make it! Because this dish has a few components, the list of ingredients may seem overwhelming, please don't let that put you off.
Firstly, I'm sure you have a lot of the things already. Secondly, I promise you this'll be worth it.
The quinoa is just magic. Each of the different sections is a great recipe in itself, so bear that in mind too. This is so much more than just one dish and would be great for a party or movie night. Great job Julie!
Buckwheat Crepes with Leek Fondue and Coconut Bacon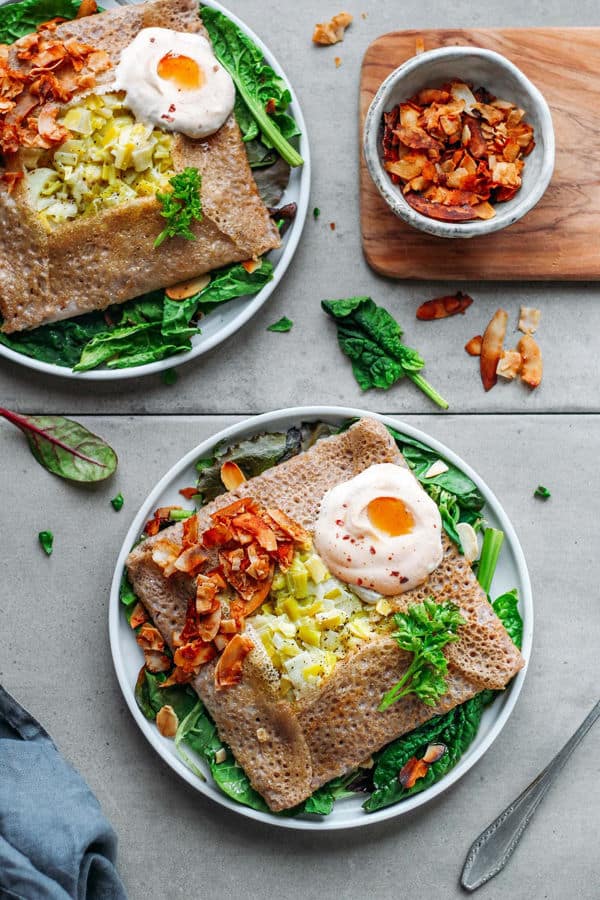 Thomas is just awesome, and we've been following his blog for some time. Full of Plants, is the name of his website and is bursting with creative recipes that are delicious and inspirational. In the past, Thomas suffered with a lot of skin problems as well as other health issues.
Changing his diet changed his life. He wants to show the world how delicious it can be eating a plant-based diet and 'it's not all about just salad and carrots' as he puts it!
This recipe is incredibly creative. I'll tell you right now, it's not an egg in the picture. I had to look twice! We go through hundreds of recipes and occasionally we do find one that's labelled as vegan but contains dairy or something not vegan!
This isn't one of them, you're safe with Thomas, he doesn't make those mistakes! This is a wonderful meal, it's so satisfying, and we imagine it being great for the summer.
As you look at the photo, you may think the recipe has a thousand ingredients, nothing could be further from the truth! The buckwheat crêpes have just four ingredients, and two of those are water and salt!
The leak fondue also has just a small collection of goodies. For the hummus you can either use store-bought, or there's a link to Thomas's own recipe. Use that! Make sure you bookmark this!
One Pot Jackfruit Quinoa Pilaf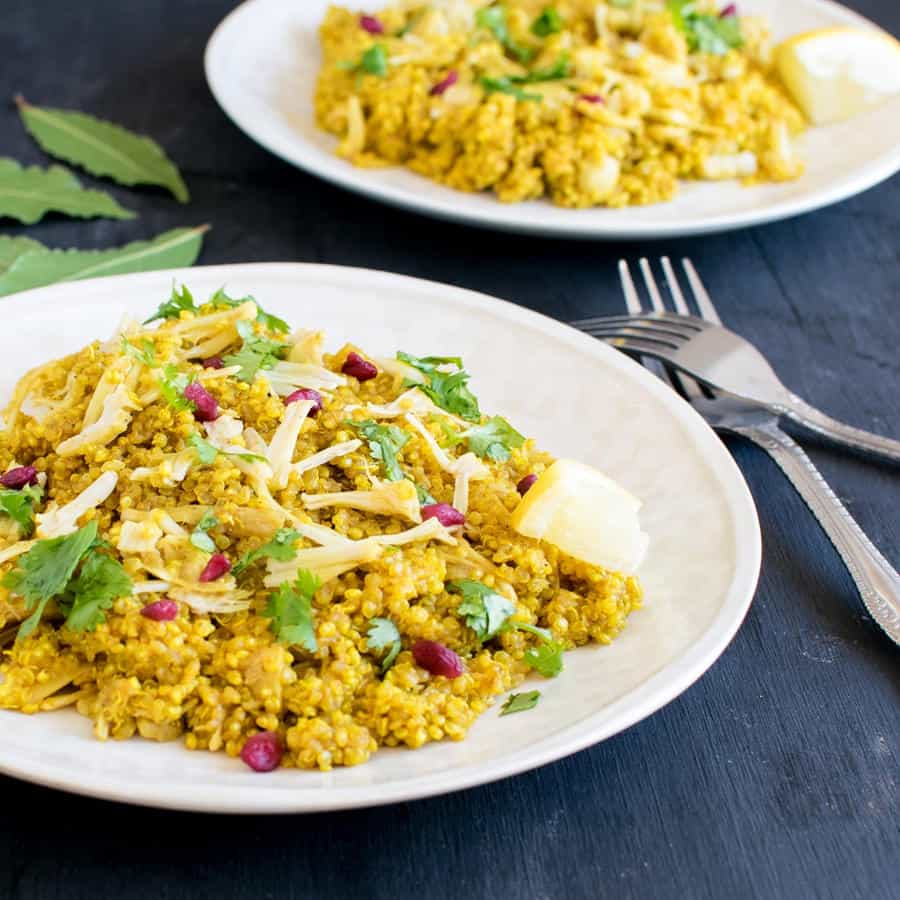 Gunjan Dudani is the founder of a wonderful blog called KiipFit. She has an amazing story and is an incredible person. With a number of health issues some time ago, one of them being a weak liver, she realised something had to change. During that time, Gunjan gave birth to her daughter and she soon realized the importance of setting a good example.
Reading through her journey reminded me of when I was at school, we had a debate about whether being rich was more important than being healthy and vice versa. I remember staring at the teacher wondering why it was even a debate because without health you have nothing. Gunjan has exactly the same philosophy and as she says, 'Health is Wealth'.
Just by changing her eating habits she lost a lot of weight (65 pounds), became healthier and all of this was without joining a special program or going to the gym.
There is no getting around it, we have to start with the basics and that is the choices we make with regards to the food we put in our bodies. It doesn't matter how many times you go to the gym, you can't exercise out a bad diet.
Gunjan now runs a successful blog (we love the logo by the way!) and is inspiring others to get healthy.
This recipe is delicious for so many reasons. First of all, anything related to Indian cuisine is my favorite so, of course, this has to be the most important reason, imagine a smiley face right here! This dish is truly authentic, no generic 'curry powder' here, you make everything from scratch using authentic herbs and spices.
This isn't a complicated recipe, on the contrary, it couldn't be simpler as it's all made it one pot. The prep time is just five minutes and then you cook for less than half an hour so you have just enough time to get changed while the food is making itself. Gunjan uses jackfruit to add that 'meaty' texture so if you are transitioning away from a meat diet you will love this.
This is super healthy, and it looks wonderful. If you're looking for a dish that is both satisfying and bursting with flavor, look no further than this. Thank you so much, Gunjan, we wish you continued success!
Cajun Split Pea Po' Boys with Spicy Avocado Sauce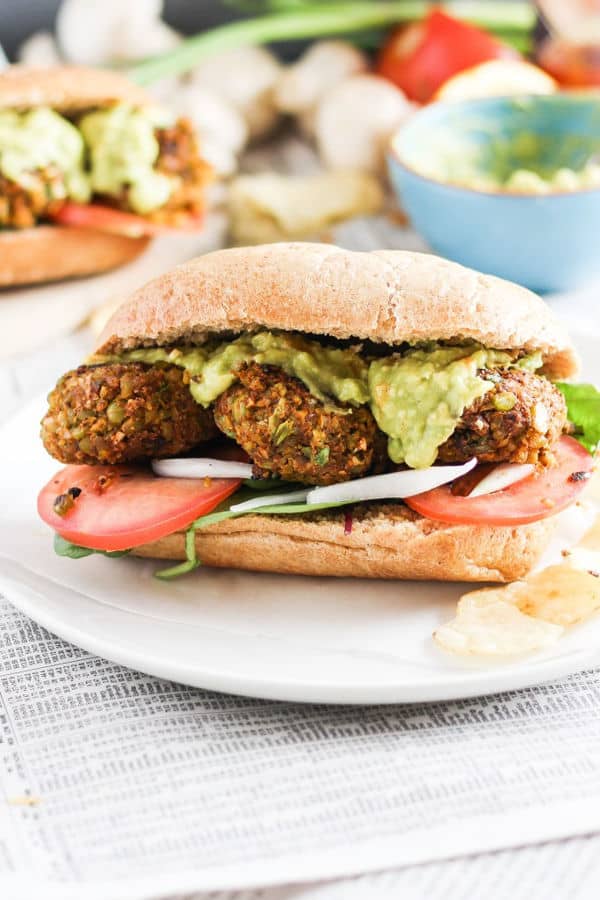 Grateful Grazer is Steph's recipe blog. She's a dietician who started this website in 2014. She has since been featured on Fox News, Food Network, Good Housekeeping and so much more! Like so many people, many years of her life were almost obsessed with dieting and anxiety about food and the way we think we should look.
She had an epiphany when she let it all go and literally changed her perspective, and that changed her life.
We absolutely love her website because not only is it full of delicious recipes, you can feel the inspiration.
Look at that sandwich, just look at it!
I imagine that you think it'll take hours to make, right? Everything comes together in less than thirty minutes! The ingredients are straightforward, and you'll have no problems sourcing everything from your local supermarket or health food store.
For me, the secret ingredient that makes everything come together is the teaspoon of smoked paprika! Serve with the best quality hoagie rolls you can find. The recipe deserves it!
Sweet & Savory Stuffed Acorn Squash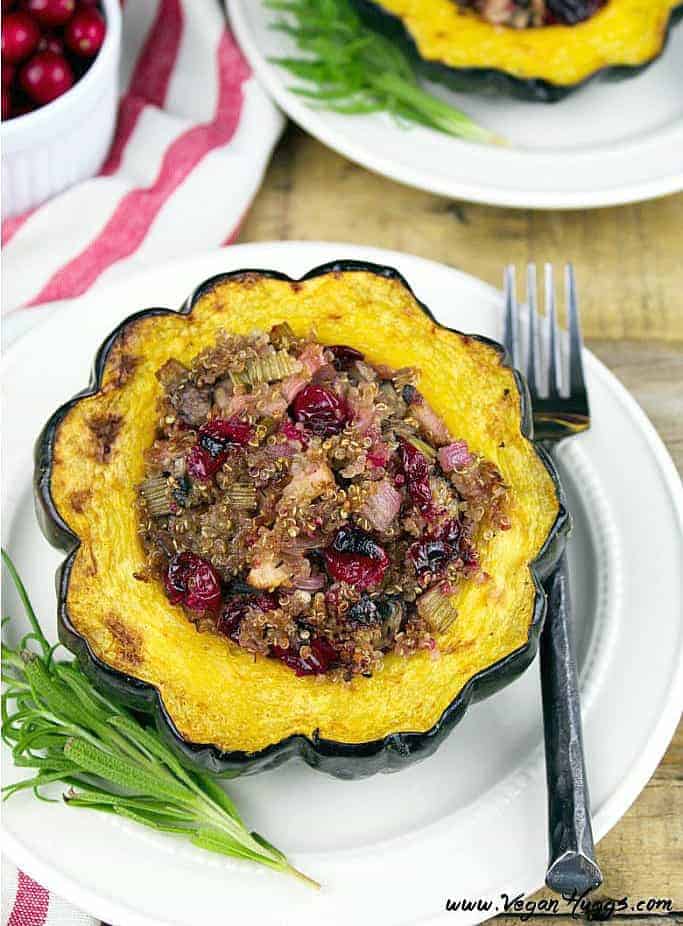 Melissa is a committed vegan through and through, we love her for it! Her great website is called Vegan Huggs and not only is it bursting with fantastic plant-based recipes, it's also a great resource for living a cruelty-free lifestyle.
There's a wonderful story on her profile page about how and why she became vegan. There are some lovely pictures of animals and best of all Cayenne, the beautiful dog that rescued Melissa!
How about the picture for this recipe? Talk about nature's bowl, right? I guess this dish is best eaten in the fall when we can get some great squash. It's a shame because it's just too good to be eaten for one season.
The ingredients are very simple and wholesome. This is completely versatile, you can easily mix-and-match according to your preference and availability of anything that needs eating. With prep and cooking, you're looking at having this on the table in less than an hour, who can argue with that? Thank you so much Melissa, give a hug to Cayenne from us!
Sesame Hemp Sea Sprinkle and Avocado Toast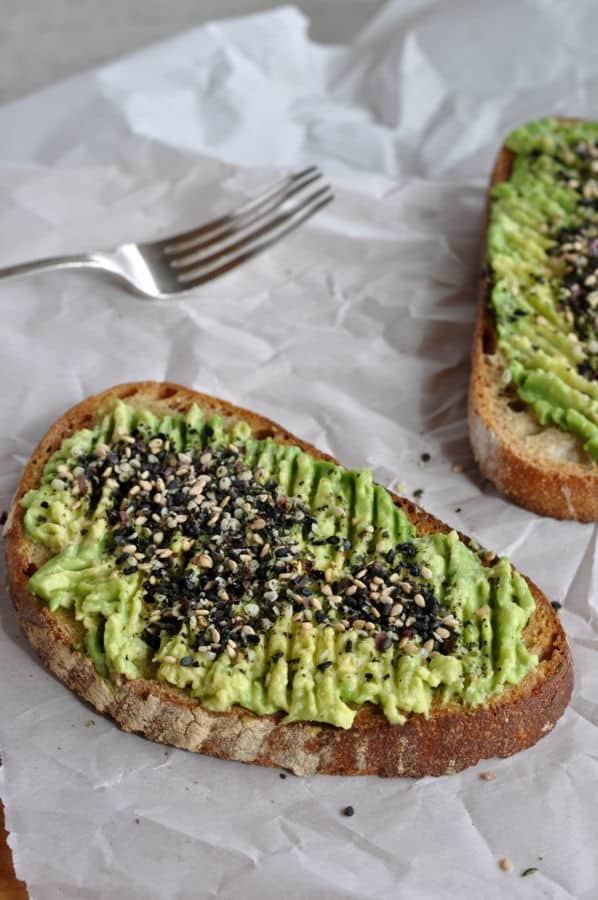 Dillon has a great website named after her favorite herb, Oh Holy Basil. Reading her profile page, you can see she's had many adventures and lived as far east in the US as you can get, and as far west as, Hawaii.
She now resides in New Mexico with her boys and dog. She's had a lot of experience with their own health issues and has learned how different foods affect the way she feels. In addition to this, she also graduated from the Institute for Integrative Nutrition in 2015.
If you're looking for inspiration with a wide range of recipes, check out her site.
Avocado toast seems to have become a cult thing and I'm one of its members!
You get your favorite bread, you toast it, and spread on some smashed avocado. Well, there's only so many times you can have that before you start wondering what else you can do with it. This recipe is your answer! There may only be a few ingredients, but each one of them packs a punch.
This makes for a wonderful snack and is completely satisfying. Do make sure you get the best quality bread you can. Next time you have a friend over for lunch, give them this, but only if you don't mind them coming back the next day!
Carrot Hot Dog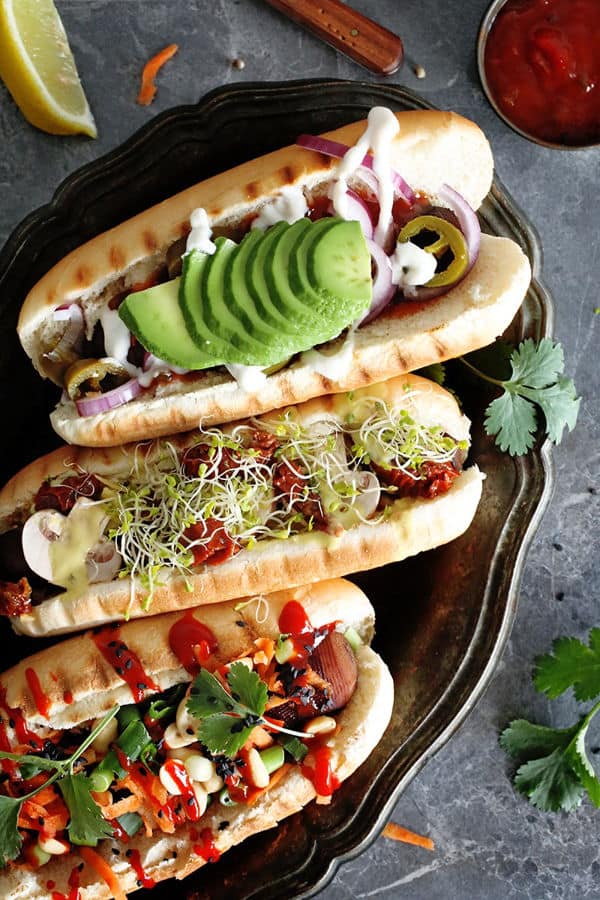 Evi is a Hungarian photographer and a skilled cooking enthusiast. She lives in Hamburg, Germany and when she isn't travelling and dancing, you'll find her in the kitchen. She likes watching cat videos and hey, that's what the internet is for right? We've certainly watched a few ourselves and will continue to do so, Evi, you're in good company! Check out her website, Green Evi.
I'm glad we found this recipe because in the last year or so there's been a big trend in hotdogs made from carrots. Not shredded carrots mixed with some other ingredients, we're talking turning a carrot into a hotdog.
I've followed a few recipes I've seen on YouTube and they came out good but this one tops them all. Obviously, you can use your favorite toppings but Evi gives you a great selection of ideas. If you have seen this dish do the rounds on the internet but have never tried it, go for this one.
Not only is it the best, you'll be more than surprised as to how you really can make a hotdog out of a carrot!
Vegan Salad Recipes
Pear Salad With Crispy Chickpea Croutons And Lemon-Mustard Vinaigrette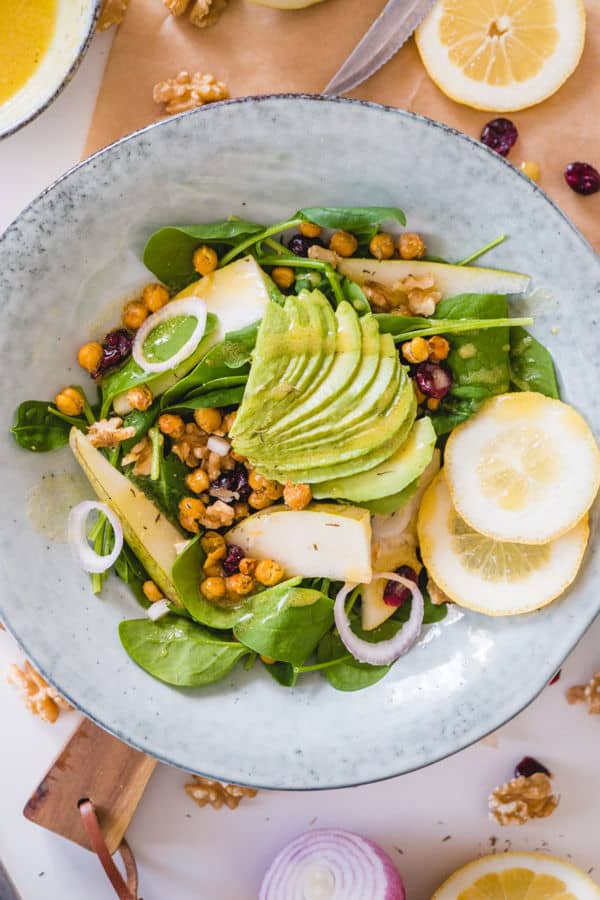 Laine has a great website called The Thriving Vegan. She lives in Latvia with her cat and cookbooks!
As well as understanding how the food we eat affects our health, Laine also believes it affects us spiritually. How we define spirituality is a completely different conversation, but we happen to agree with Laine 100%!
You're hungry and you fancy some kind of salad, but you don't just want a bunch of lettuce and cucumber. What do you do? Well, you pull out this recipe! This is so satisfying it's ridiculous and easy to make as well.
There are a few ingredients so perhaps not something you can throw together when you have little time. That's not to say this is going to take hours because it's not.
It just tastes so good you shouldn't rush it! You have everything from chickpeas, walnuts and even a pear.
The lemon-mustard vinaigrette dressing is absolutely delicious, I'll use it regularly on all my salads for sure! Thanks Laine!
Cabbage, Apple and Pomegranate Salad with Ginger-Almond Dressing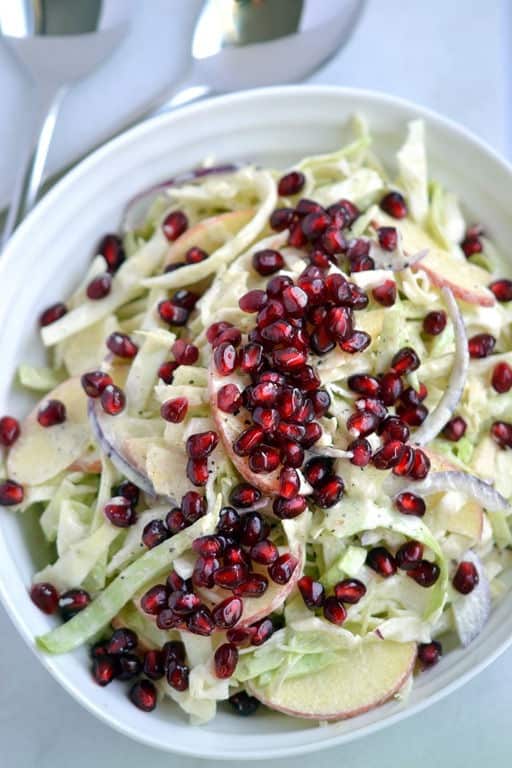 Emma's website has a wonderful name, Coconut and Berries, we love it! Growing up, Emma had a difficult relationship with food and describes herself as an extremely picky eater. In fact, for a while, plain pasta was her favorite. While at university, she encountered veganism and she has never looked back.
It's so much more than a way of eating and it has completely embraced her life as it does with so many of us. Her blog is now devoted to giving you great recipes and inspirational ideas, whether you're a new vegan or have been for some time, check out Emma's website.
I like a lot of salads and eat them most of the time, so I consider myself a sort of expert! I don't like many coleslaw type of salads and I'm not sure why, I think they always seem a bit plain to me.
I knew this recipe was going to be different by simply looking at the photo. I was right, (I don't like to be wrong!).
This is delicious and the secret ingredient for me is the almond butter as it blends all the flavors beautifully.
I'm going to use this as a salad dressing as well. But if you want something that's both completely satisfying and bursting with flavor, this is it!
Thai Cucumber Relish (Ajat)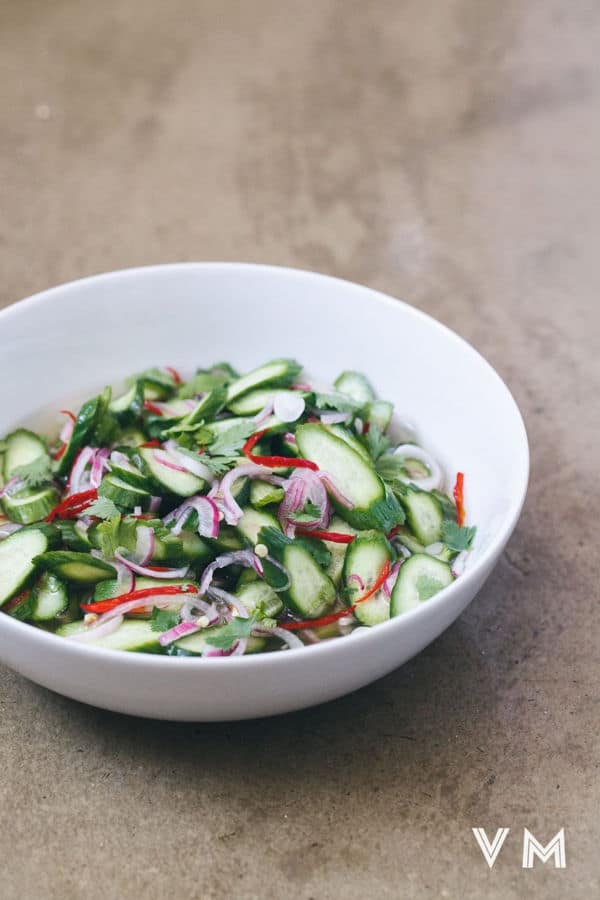 Vegan Miam, is a blog run by Rika and Doni. They've travelled a lot and use their experience to inspire their great recipes. The focus of this website is plant-based Asian food, but you'll find dishes from all around the world too.
We love how their profile page reads, Rika works full-time on the website and develops everything from the recipes to even editing the photos. Doni is described as the, 'resident second opinion' we love it!
The website isn't just about recipes, it's also filled with travel information based on their experiences, and some useful 'How To' pages describing how to prepare foods you perhaps have never dared to tackle. Now is the time!
This dish is a southern Thai recipe known as Ajat. It's naturally vegan and full of freshness.
There really are just a small number of ingredients and this is part of its beauty. Its base is cucumber with a few little pieces of magic thrown in!
The dressing can be made in advance and stored in the fridge. If you want to make this more spicy, add more chilis or try a different variety depending on availability and your taste preference.
This makes for a great side dish although I had it as a salad just by itself and I wouldn't have changed a thing! Wonderful!
Stir Fried Farro and Brussels Sprout Bowl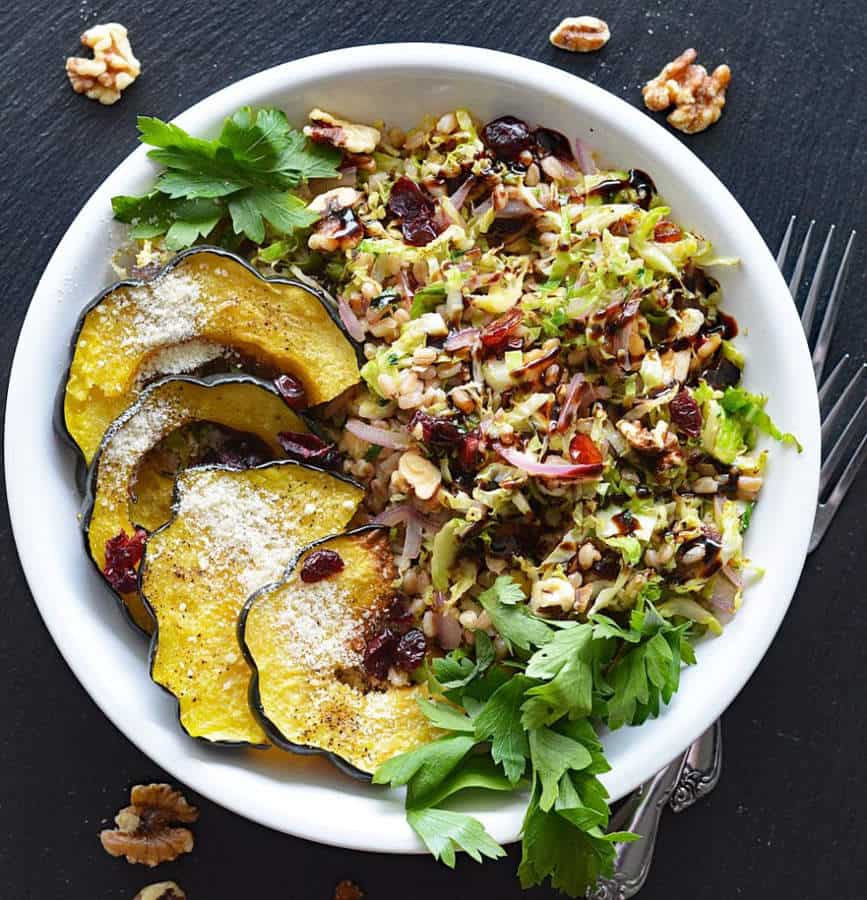 Aimee runs the website, Living Vegan. She has always been dedicated to animals and her background is in veterinary practice management. She has three rescue dogs so is officially one of our heroes! Like us, she's not big on meat 'alternatives' and mainly uses unprocessed whole foods.
All her recipes are easy to make with ingredients that you can find just about anywhere. The website isn't just about giving you great recipes, it's also there for education and inspiration too!
I think Brussels sprouts get a bad rap. Often people just eat them during the holidays and then all they do is boil them. They can be the perfect base of a great healthy salad. If you've never had anything like that before, this is where you should start.
This is a delicious main course that's satisfying without making you feel lethargic afterwards. Your body will thank you too as it's filled with wonderful natural ingredients. One of the best bowls ever, thanks Aimee!
Asparagus and Artichoke Salad with Wild Garlic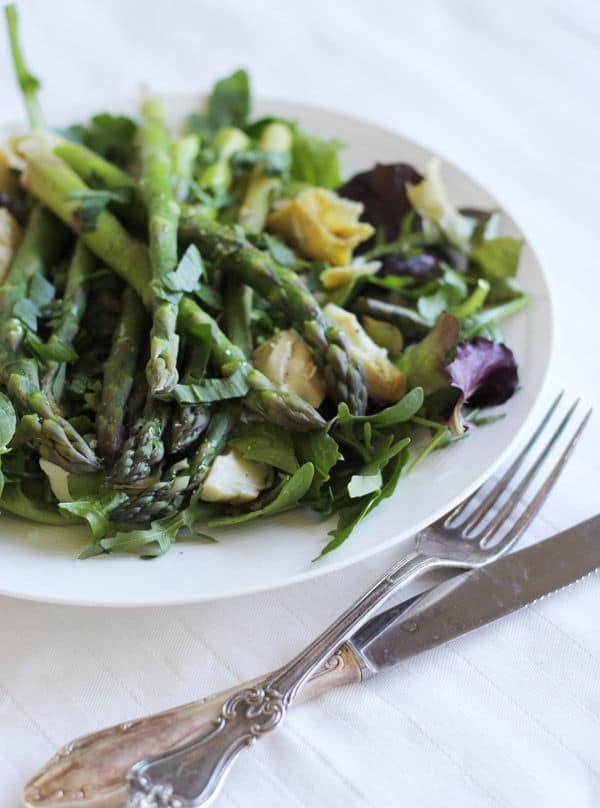 Veronica runs the website, Elegantly Vegan. She's successfully showing the world vegan food is everything but boring and depriving. If you're looking for inspiration to incorporate more fruit and vegetables in your diet, this is the place to visit.
Veronica grew up in Sweden and even lived in London for ten years which is the place where she became vegan. High five to London!
I find a lot of people give asparagus a miss.
So many have said to me they just find it boring or they don't know what to do with it. Well, Veronica has come to the rescue with this fantastic recipe. The ingredients are very simple you'll be able to source them easily.
The only item I think you may have trouble finding is the wild garlic, if this is the case, just use regular and it'll be fine. All of the ingredients come together beautifully. This is a simple dish, remember though, the best recipes always are.
Jackfruit Caesar Salad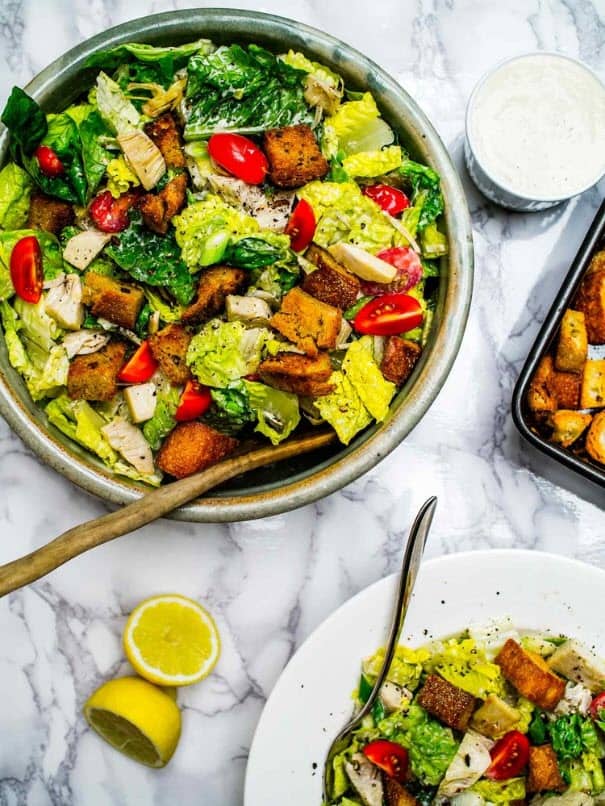 Michael describes himself as a photography nerd, a dog lover and obsessed with food. Michael, we salute you! His great website is called Discover Delicious and it's dedicated to showing you that vegan recipes aren't just healthy but inspirational and delicious.
We agree with him, obviously. His blog is extremely professional but the beauty of it is his recipes will help you look like a chef as well!
Of course, Discover Delicious, is dedicated to food but if you're also interested in the tools Michael uses, he has detailed everything, from his favorite knife to the lens of his camera.
This recipe is ridiculously good. It does use jackfruit and if you've never used it before, don't be afraid. Michael walks you through every step of the way and you'll end up looking like you've done this for years.
Whether it's to treat yourself or if you want to impress somebody, choose this recipe. Don't think this is just another salad, it really isn't. It's satisfying and unlike some other salads, you won't be looking for a snack about an hour later.
Michael may be an expert photographer but that isn't just why this dish looks so good, it's because it is. Thanks Michael!
Cauliflower Fajita Salad with Sriracha Hummus Dressing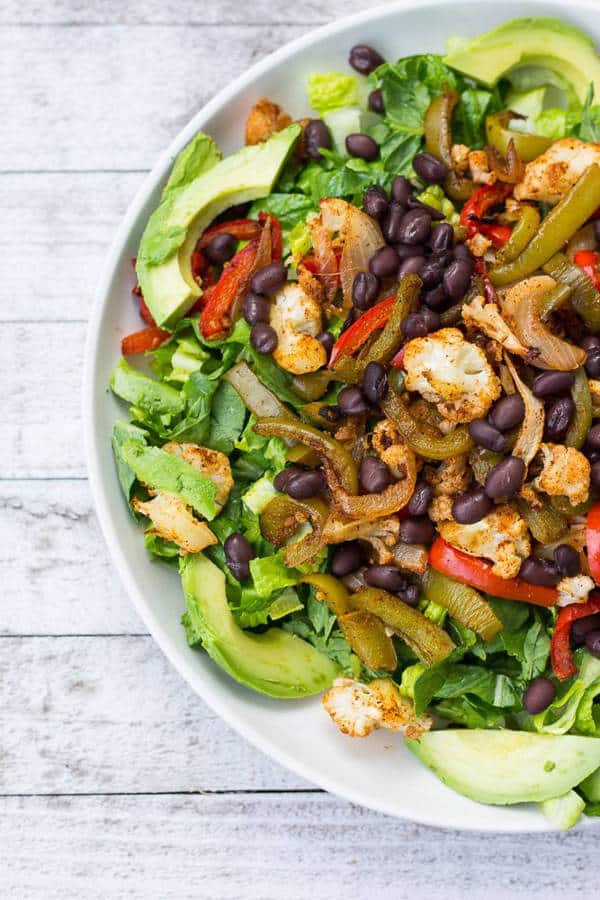 Nora has a fantastic website appropriately named Nora Cooks. She became vegan around 2009 when her twins had just turned one year old. At the time she had been suffering some digestion problems and she just wanted to see if cutting out animal foods would help.
It didn't just make her feel a little better, it cured her! Like so many of us, she then started exploring other aspects of being vegan such as factory farming and, of course, once you take a walk down this alley, your fate is sealed, and you never go back. The website isn't just a great resource, it really does have everything for the family.
This salad is a Mexican inspired dish with a dressing to die for. If you prepare the salad at the weekend you'll have something to take to work for the rest of the week!
If that isn't enough, from start to finish, you're looking at thirty minutes or less to have this puppy ready. The amounts listed in the ingredients serve four as a main, so adjust as necessary.
The salad is crunchy, fresh and the vegetables are bursting with flavor. If you can't find a store-bought sriracha hummus, simply make your own by stirring the sauce in your favorite hummus. Absolutely delicious!
Kale Quinoa Salad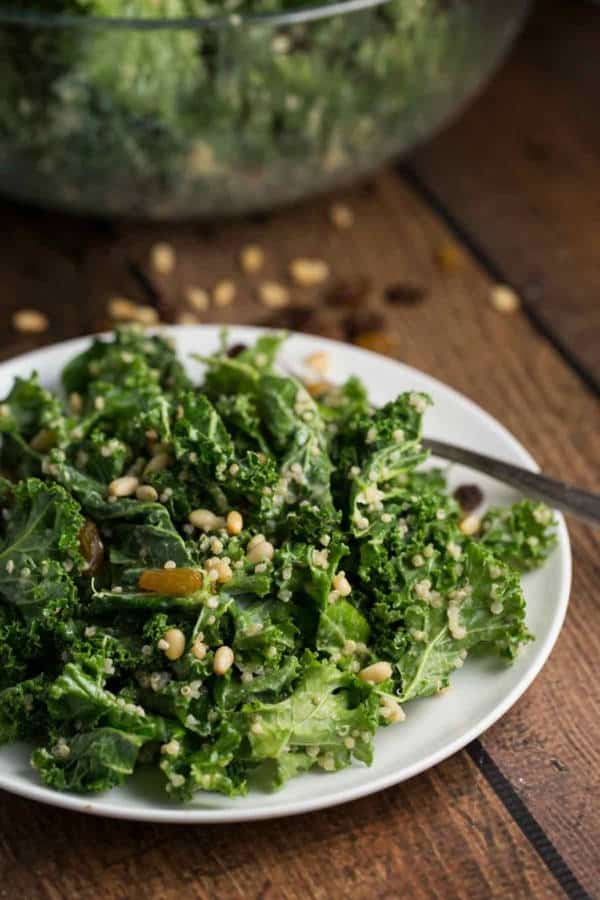 Christin is a wellness blogger and has a website called The Veggie Chick. She started out being a fast food meat eater, then drifted into part-time vegetarianism and then became a dedicated vegan.
Nowadays she's more relaxed about what she eats and doesn't feel too guilty about what she eats.
She has a certification in plant-based nutrition from e-Cornell and also from Forks over Knives Rouxbe Cooking School! There's a great section on her profile page called My Kitchen Philosophy that's filled with great advice and it's not just about the kitchen, it's about you and how to get healthy!
I couldn't believe this salad only takes ten minutes from start to finish, this is what I call a recipe! It's not just about the speed, it tastes great and is incredibly healthy. The dish is divided into two sections, the salad and the dressing.
The first has just a handful of ingredients you'll be able to find easily at your local supermarket or health food store. The dressing is the same and I can guarantee you'll be using it on all your salads. It has quickly become one of my favorites and I've shared it with friends and family members. Thank you so much, Christin!
Watermelon Salad with Quinoa and Herbed Tofu Feta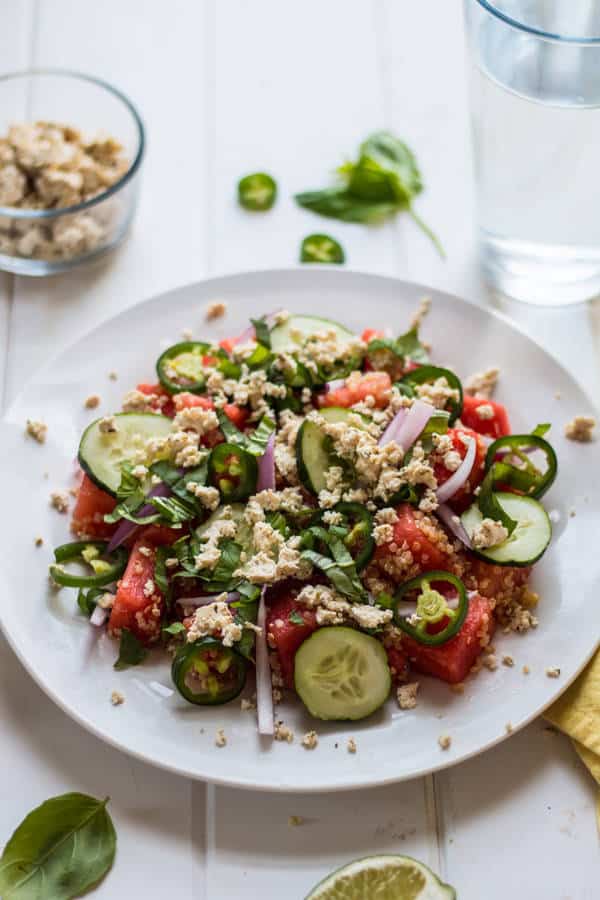 The Nut Free Vegan is a food blog run by Steven. As well as being a food expert, he's a graphic designer and photographer from New Jersey. He lives there with his wife and cat called Pinky Polydactyl (the cat, not Steven's wife!).
If you're looking for inspiration and ideas for delicious vegan recipes, then this website is for you. If, however, you're vegan and also have a nut allergy like Steven, then this website must become your Bible!
Not only are his dishes creative and healthy, he also creates allergy-free versions of recipes you thought you were not able to eat any more. He does a great job of it too!
This satisfying salad is ready in just fifteen minutes from beginning to end. It's incredibly fresh because of the watermelon and yet hearty with the quinoa and herbed tofu feta. There's a link in the listing for Stephen's own recipe for the vegan feta.
The rest of the ingredients are extremely straightforward, and you'll find everything at your local supermarket.
If you want to impress somebody with a salad they have never had before, this is it! As well as being plant-based and free from nuts, this is also gluten-free. This makes four servings so adjust as necessary. Great job Steven!
Mexican Chopped Salad with Avocado Dressing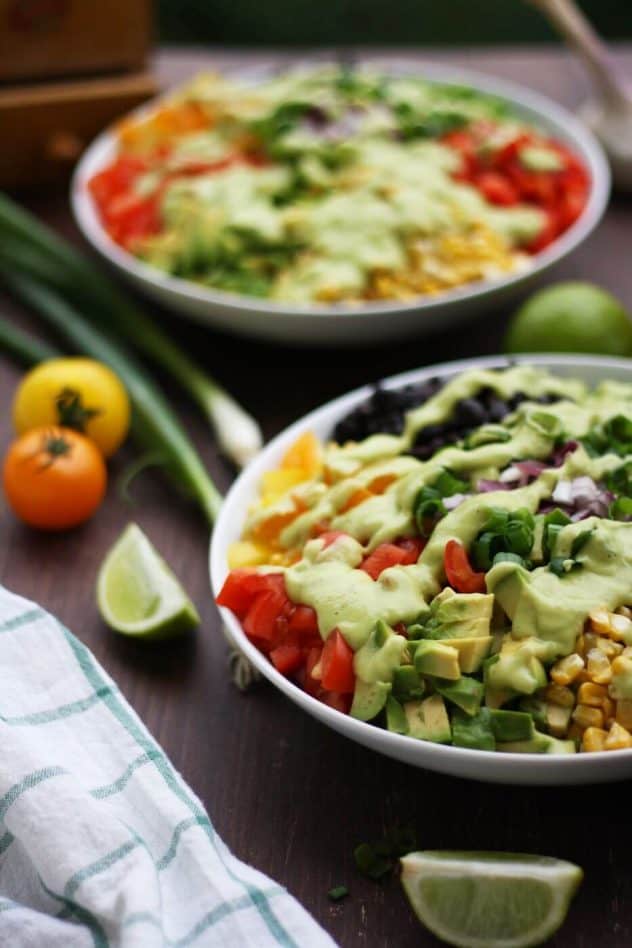 Elena lives in Germany and is the photographer and recipe developer behind the website, Happy Kitchen Rocks. She launched the blog in 2015 to share her cooking experiences. She loves to try out new dishes, to experiment and explore and see what happens.
In addition, Elena takes classic dishes and reinvents them with a modern twist, if you're looking for that kind of approach, you really do have everything here! She was brought up in Russia and married a great German guy with a Polish last name, she met in Indonesia! How about that?!
Doesn't this salad just look amazing? It's Mexican inspired and has a dressing you'll use again and again.
When preparing the salad, I really urge you to separate the ingredients as shown. It might not seem important and taste-wise it isn't, but, in terms of presentation, it makes all the difference, they say we also eat with our eyes!
Of course, this dish is very versatile so feel free to mix-and-match according to your preferences and also what you have. The ingredients are fresh and whole foods. The recipe page has a tool where you can adjust the servings you need (and also a drop-down feature where you can choose metric or US imperial) which is really handy! Absolutely delicious!
Vegan Sandwich Recipes
Spicy Avocado Chickpea Salad Sandwich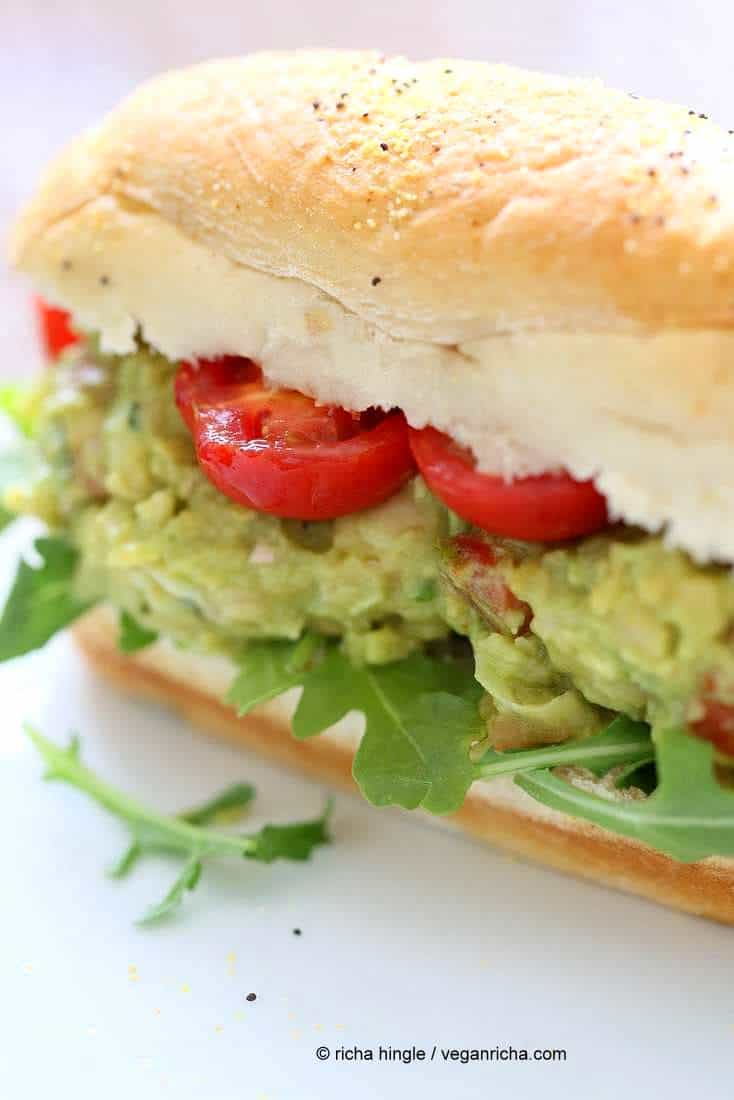 Richa's website is called Vegan Richa and it has been one of my favorites for a long time. Richa has been blogging since 2009. Before that, she was a software developer.
She started cooking and blogging as a hobby when she couldn't work due to health issues and it has become one of the best recipe blogs around.
The selection of recipes on her website is incredibly varied and all of her dishes are satisfying, easy to make and above all, delicious!
If you know me, you know I like sandwiches! Especially ones that are satisfying and… BIG! Having a lovely salad with some tomatoes and avocado already makes for a tasty sandwich, add chickpeas and it's a different ball game.
Be sure you get the best bread you can and if you want to make this sandwich extra special, lightly toast it as well. There's some cayenne pepper included in the ingredients so adjust according to your preference.
From start to finish, you'll have this ready in twenty-five minutes or less. For me, the secret ingredient is the garam masala, I love it! Richa, thank you for creating this, from the bottom of my heart, I mean it!
VegByte Tip: Don't put the chickpeas in a food processor if you want a rustic chunky texture, smash them roughly with the back of a fork.
Veggie Sandwich with Basil Pesto Hummus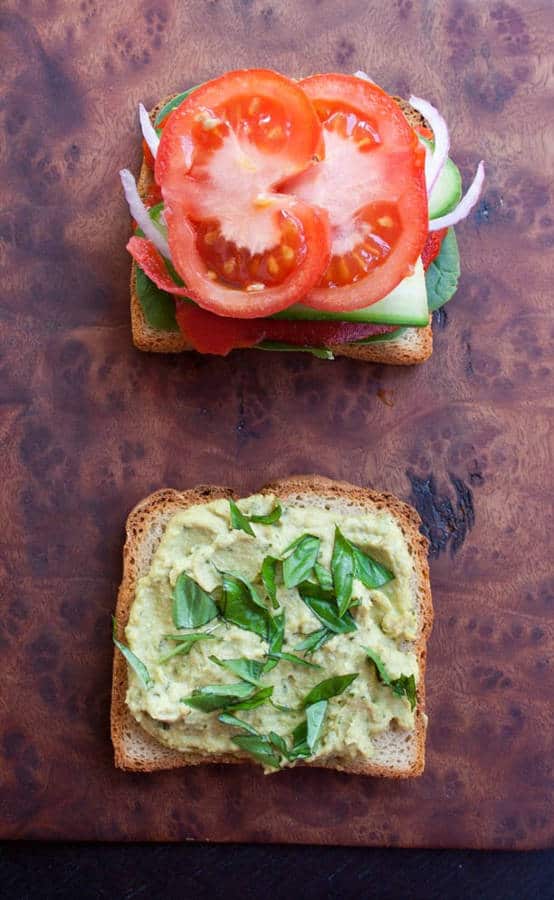 Willow Moon has been a vegetarian since 1998 and became a vegan just a year later and then soon realized she was gluten-intolerant.
Reading her profile page, it's evident Willow is good with her hands; she's great at home maintenance, makes her own facemasks, paints, and she sculpts, to name just a few! Her website is called Create Mindfully.
The home page displays the most recent posts and some featured ones too. There's also a section called Reader's Favorites. If you're looking for healthy and inspirational food, visit Willow's website!
I dare you to eat this sandwich and tell me you don't love it! If you look at the list of ingredients you may pass this recipe by. You'll recognize everything immediately and you may think, 'I know how this tastes'. Well, you may imagine it but honestly you just need to eat it!
For me, the secret ingredient is the roasted red pepper which blends everything together. You get the crunchiness from the cucumber, and along with the pepper, you get flavors from the onion, the pesto hummus… I literally don't know where to stop describing it. It's easy, straightforward and one of the best!
The Ultimate Bagel Sandwich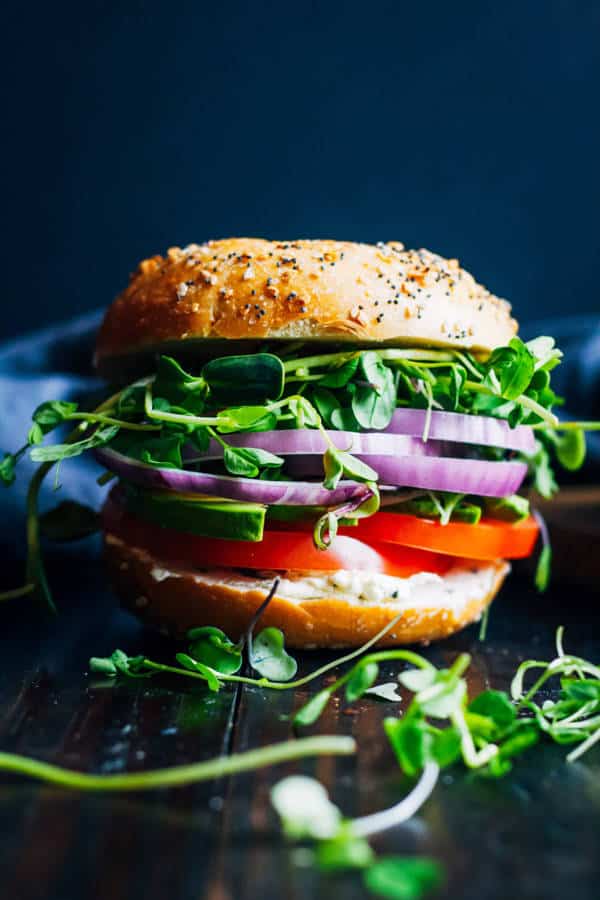 Sarah has a wonderful blog called Well and Full. This is the part where I normally tell you about how great the blog is, and believe me, it really is!
But before we dive into the recipe and all the other dishes listed on her website, I urge you to read Sarah's profile page and particularly click the link where you can read about Sarah's rescue dog called Ivy.
Not only are there lovely pictures, but the story is beautiful and Sarah's actions and love towards Ivy illustrate the wonderful person she is. Sarah, we salute and send you endless plant-based hugs. Please give Ivy lots of kisses from us!
Bagel sandwiches are great and I'll honestly say that, for me, this is the best of the best. Just look at the colors. Other than the bagel, there are just five ingredients. You've different textures, and everything is put together in a snap.
Make it in the morning or the night before to take with you to work the next day. Obviously, this is completely versatile though I urge you to stick to Sarah's recipe the first time you try it. Get the best quality bagels you can, the ingredients deserve it and so do you. Thank you, Sarah and Ivy!
Fried Tofu 'Chicken' Strip Sandwich With Sweet Mustard Sauce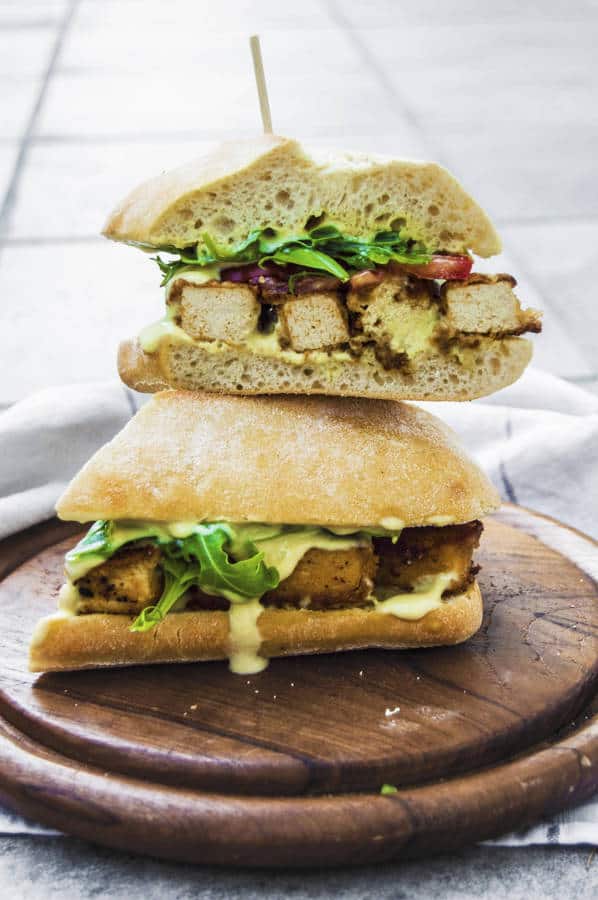 Alex is German, lives in London and since 2015 she has combined her passions of photography, food and veganism into a website, This Vibrant World. This is now her full-time career and she even gives her own vegan cookery classes in London.
Every recipe on Alex's website is easy to make with affordable ingredients, and of course, vegan. Her blog isn't just filled with delicious recipes, it's also a great resource for vegan travel, especially around London. Take a look!
As I've said a few times before, I love sandwiches. It just so happens I love fried tofu strips as well. It's not something I have very often, but when I do, the world goes quiet while I enjoy every bite!
I feel like I want to visit Alex just to thank her and get her autograph. Because of this recipe, as far as I'm concerned, her name should be in a star somewhere in Hollywood.
Okay, you think I'm getting carried away but once you try this recipe, and I mean make it to the letter, you'll know exactly what I mean.
If you do one thing this week, make it that you put the URL for this sandwich in your favorites and diary, and then get a permanent marker pen and write it on your hand as well.
Make this, then contact us and tell me how right I was. Alex, thank you, is all I can say!
Italian Red Pepper Hummus Sandwich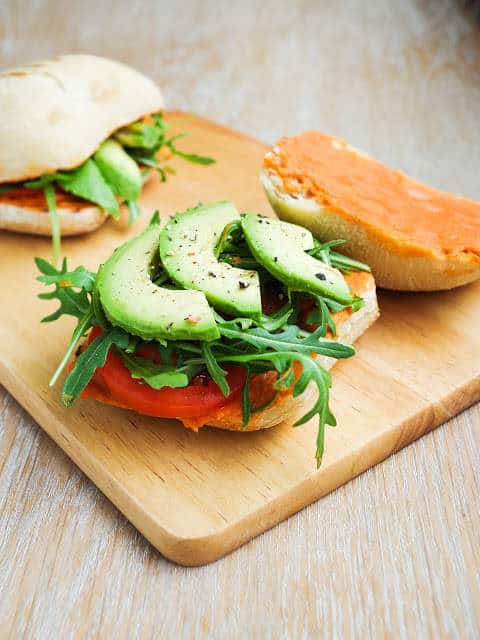 Cassidy has a great blog called Euphoric Vegan. She's British and has a degree in nutrition and is now a Registered Associate Nutritionist as well! The recipes on her website encompass her view about the importance of healthy food and she quotes Hippocrates, 'Let food be thy medicine and medicine be thy food.'
She has travelled extensively and has visited over twenty countries which have inspired and fed her passion for sharing healthy recipes. Her favorite country is Italy, so she gets a big thumbs-up from me!
This is a delicious sandwich that comes together in just ten minutes or less. You'll need a food processor unless you're pretty handy with a knife! You may want to save time and purchase your own hummus, though I urge you to make Cassidy's version.
Rather than chickpeas, the base is white beans. It's delicious, satisfying and I promise you, you'll make it again and again. Find the best quality ciabatta rolls you can. Take it with you to work or for a picnic. Absolutely healthy and absolutely wonderful!
Portobello Mushroom Sandwich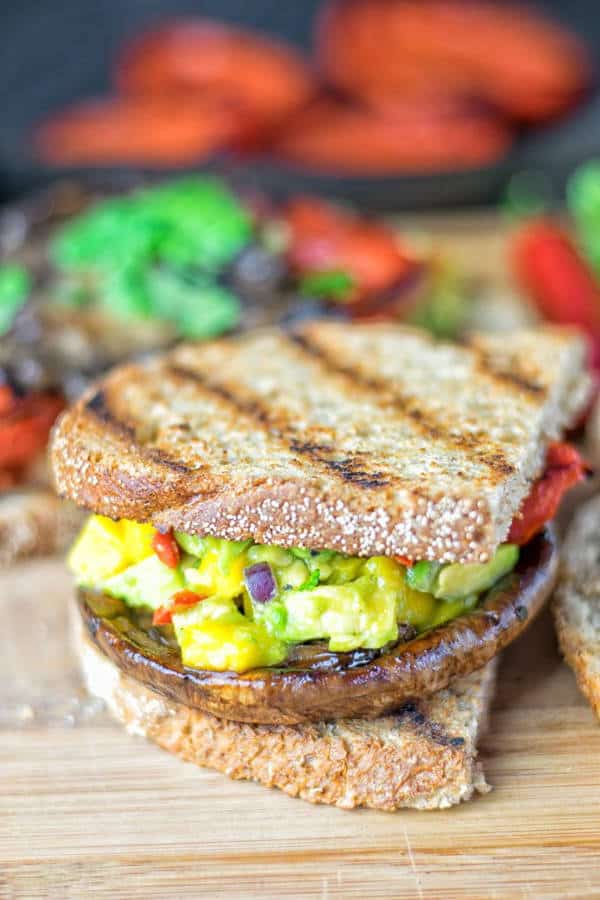 Florian has a website called Contentedness Cooking and it's one of our favorite resources. It's not only filled with great vegan dishes, but they're all gluten-free too. Florian describes himself as the guy next door.
Unfortunately, he doesn't live next door to us otherwise we would have hired him to be our resident chef!
He's had a personal journey of having bad eating habits which affected his health and then one day, he knew something had to change. Fast forward to today and he's happy, healthy and has one of the best vegan blogs around!
Sometimes I see a lot of negativity about Portobello mushrooms. Some lazy eateries that don't have many meat-free options seem to use them as an easy go-to for the vegan 'option' on the menu. I get why people criticize that, however, we mustn't let it take away from how great Portobello mushrooms are.
They are extremely flavorful, versatile and above all, big! Florian has made a great recipe here marinating the mushrooms before cooking them (you have a choice to grill, bake or fry).
Add to that some guacamole, roasted peppers and you have yourself an awesome sandwich. Would you believe this is ready in eleven-minutes! As always, thanks Florian!
Pesto, Hummus, Avocado Sandwich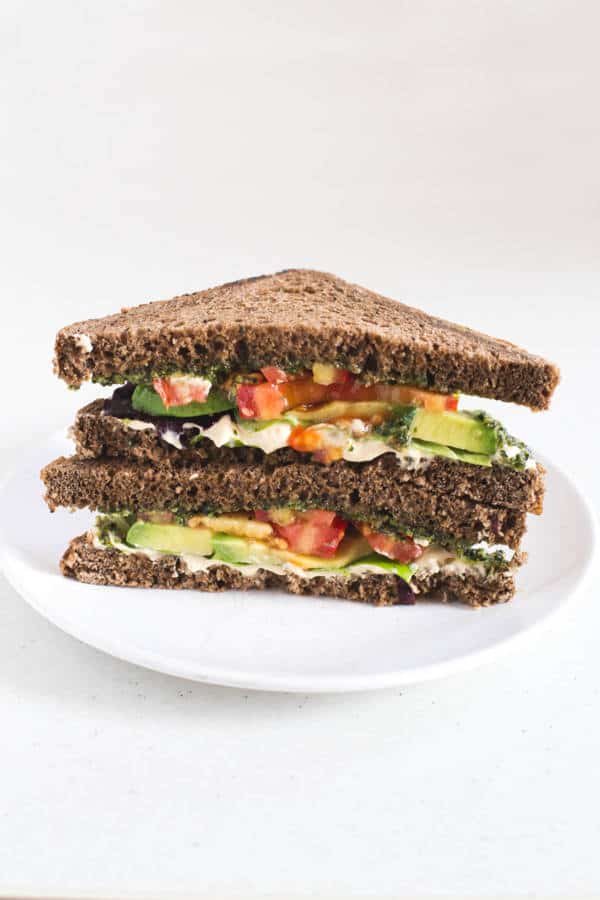 Simple Vegan Blog is run by Alberto and Iosune. Alberto is the photographer of the outfit and takes amazing pictures, which not not only look professional, they're also useful.
So often you see great looking recipe pictures of what the end-product should look like, but nothing along the way to help you make the recipe.
Not here, Alberto does a great job and we thank him. Iosune develops the recipes and manages the social media and her inventions are inspirational and above all delicious. A wonderful vegan blog by a wonderful couple!
Occasionally we see on a blog with a video on how to make that dish, it's really handy and this is what we have here. Ionsune takes you through creating this delicious sandwich, one step at a time. If you're in a hurry you could use a store-bought pesto but, you would be missing out on a seriously good recipe.
If possible, do make the pesto as well, the ingredients are simple, and I imagine you have most of them already. The hummus and the pesto flavors intertwine together beautifully, you then get the crunchiness of the lettuce and the smoothness of the avocado.
This is one hearty sandwich. Perfect for a picnic or to take with you to work. From start to finish, it takes just fifteen minutes. Delicious!
Winter Sandwich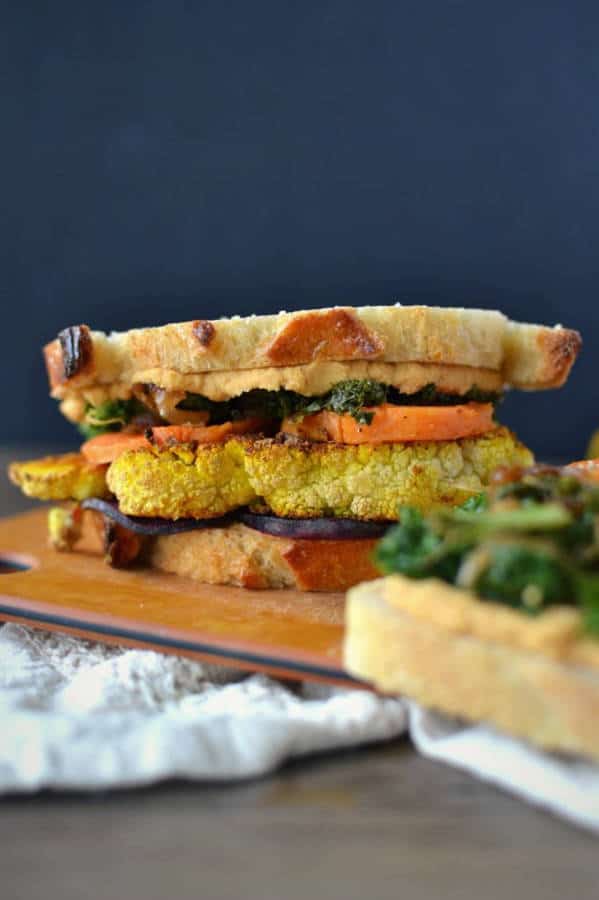 Radiant Rachels is a wonderful blog run by Rachel, and you guessed it, Rachel! They describe themselves as two friends with one name and one passion to live a radiant life. Wonderful! This website was created in 2014 for them to share their mutual passion.
The recipes are always vegetarian though most often vegan and gluten-free. Rather than perceive vegan and gluten-free as a restriction, Rachel and Rachel's approach is both positive and creative, they see it as an opportunity to create something new. Fantastic!
This sandwich is just what you want in the winter. To be honest, however, it's just what I want in the summer as well! I've never seen a cauliflower steak used as a sandwich filling before so was excited to try it. The ingredients are well thought-out and go together perfectly.
If you want to try something different, this is it. Equally, if you want to share this with somebody you need to impress, like your boss, you can pretty much guarantee yourself a promotion! Thank you, Rachel, and Rachel!
Vegan Smoothie Recipes
Pumpkin Pie Smoothie Bowl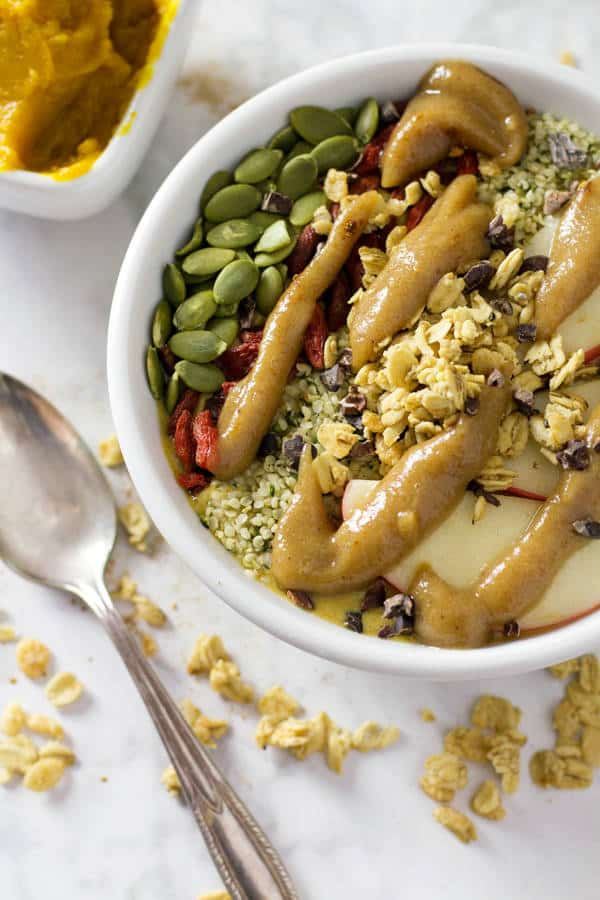 Nick is the person behind a wonderful website called Serving Realness. There's also a wonderful dingo dog called Athena and they will go and have great adventures together. Athena is the goddess of wisdom and we salute her! Like many of us, Nick's life changed after watching an undercover video of how animals are treated on farms.
When you see such things happen to innocent animals it touches your soul and you're never the same again. Nick did not just go vegan, but everything changed.
First the diet and then a passion for healthy living. Now, Serving Realness is full of inspirational ideas to help you, whether you're new to this lifestyle or just want some ideas. It's all here!
It's too easy to say this would be perfect for the holidays, it certainly would be.
But it's good for any time of year as well. The recipe is divided into two sections, the caramel sauce (which is to die for) and the smoothie base.
Follow the instructions carefully and you'll have something you'll make again… and again. An awesome recipe!
Gorgeous Pink Chia Smoothie Bowl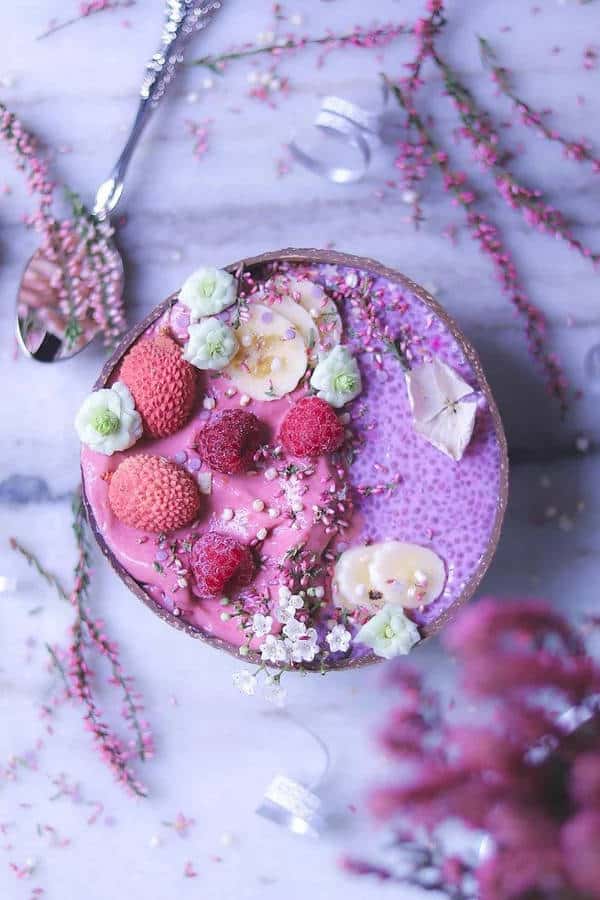 Hannah wants to inspire you to make plant-based recipes! She was born and raised in Canada and now lives in France with her husband.
Her plant-based journey started early in her 20s when she lost her first boyfriend to cancer. This started a chain of events and the stress caused Hannah to have serious stomach problems.
She was advised by specialists she would have to take medication for the rest of her life which she didn't accept, thankfully.
She switched to a plant-based lifestyle and one step led to another, today we have her fantastic website called Two Spoons. This blog is for everybody, whether you aren't sure about veganism or you're an old hand, there's something for you here.
Doesn't this dish look just incredible? We made it and I can promise you, it looks just as good in real life as it does in the pictures. You don't have to use the pink pitaya if you don't want to, or if you cannot source it. It's no problem.
There is no cooking involved, you just follow the instructions, they take no more than ten minutes. Please note, you'll need to combine some of the ingredients together and place in the fridge overnight before beginning this recipe so calculate that into your planning. If you want to impress someone, this is it! Thanks Hannah!
Super Creamy Chocoholic Smoothie Bowl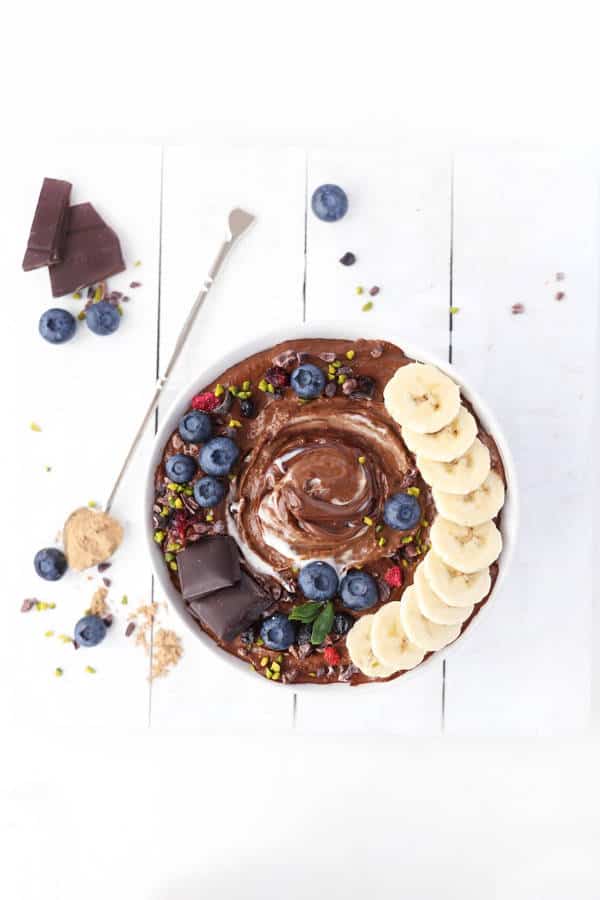 Lara is a chocolate connoisseur amongst many other things and she runs the fantastic website called Vanilla Crunnch. As you can imagine, she knows a thing or two about desserts!
She used to work for Google and uses her experience not just on her food blog but also in her writing where she likes to challenge people's thinking! This website is dedicated to the inspiration Lara gets from her travels and hobbies.
There are a million recipe websites out there but much fewer dessert websites, let alone ones dedicated to vegan desserts. Lara, you're fantastic!
Okay look, if you like chocolate, just make this, that's it.
You don't need me to tell you how good this is. Just look at it. If you think otherwise please see your doctor immediately, like, right now. Don't be put off by the avocado and spinach, everything in this dish is very well thought-out and plays its part.
I promise you're going to have a dessert that'll taste like heaven. Prep time is five-minutes, then just whizz the blender and you're done. Enjoy!
Strawberry Chocolate Dream Smoothie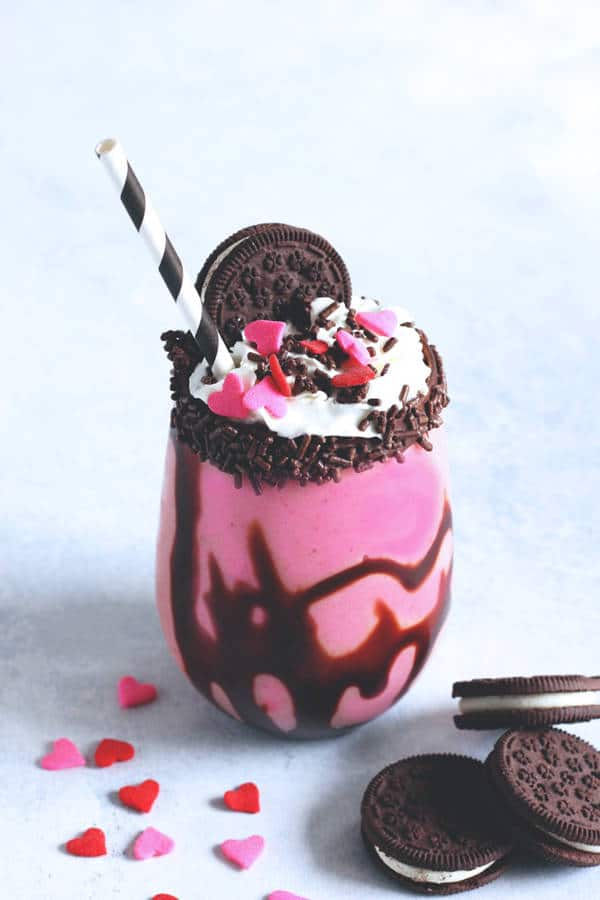 Jenn has a great website called Neurotic Mommy. She's certainly had some troubles in her life and we applaud the determination she's had to work through it and turn it into a big positive.
Not only is her website filled with fantastic plant-based recipes, it's also an inspiration for other people that have gone through psychological and physical health issues.
Jenn, you're awesome!
Isn't the presentation for the smoothie just amazing? It's not difficult and Jenn gives you easy to follow instructions to make you look like a professional. Including the optional sprinkles, there are just seven ingredients.
Great for the summer or just for that special treat. Your kids will love it and let's face it, so will everyone! Thank you, Jenn, from all of us!
Nut Butter Green Smoothie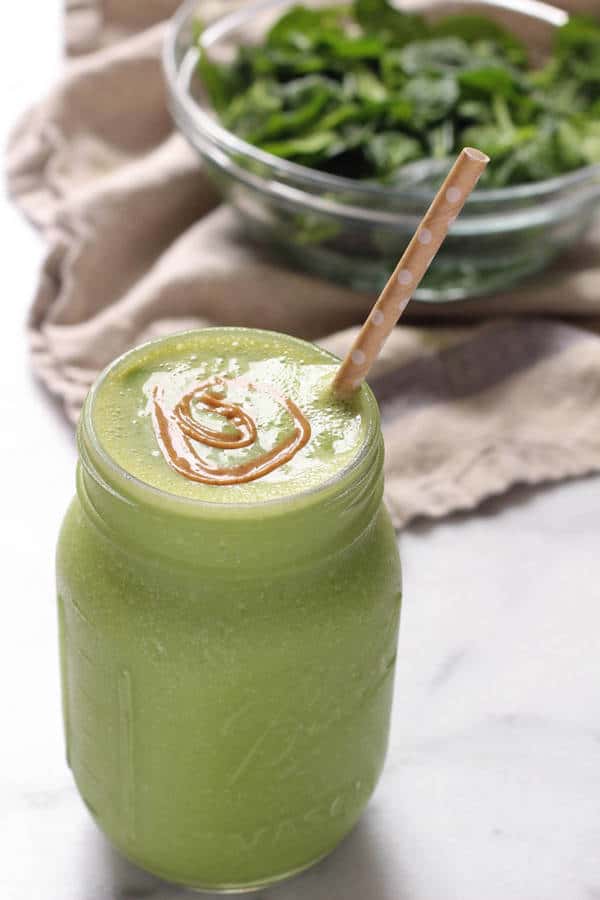 Kristie was born and bred in California and now has the blog, The Mostly Vegan. During her life, her relationship with food has been a bit of a journey. From meat eater to vegetarian and back again a few times. She now has a slightly more relaxed attitude and focuses on her love of cooking and experimenting in the kitchen.
If you don't like green smoothies, you need to try this green smoothie! It may have spinach, but it also has a banana and natural peanut butter amongst other things! The amounts make for one 16-ounce smoothie and it couldn't be simpler to put together.
You just place everything in the high-speed blender and whizz until smooth. In the notes, Kristie has written an update saying she substituted the banana with a ripe pear and the peanut butter was swapped for almond butter and it was a hit. So now you have two great smoothies!
Cherry Almond Smoothie Bowl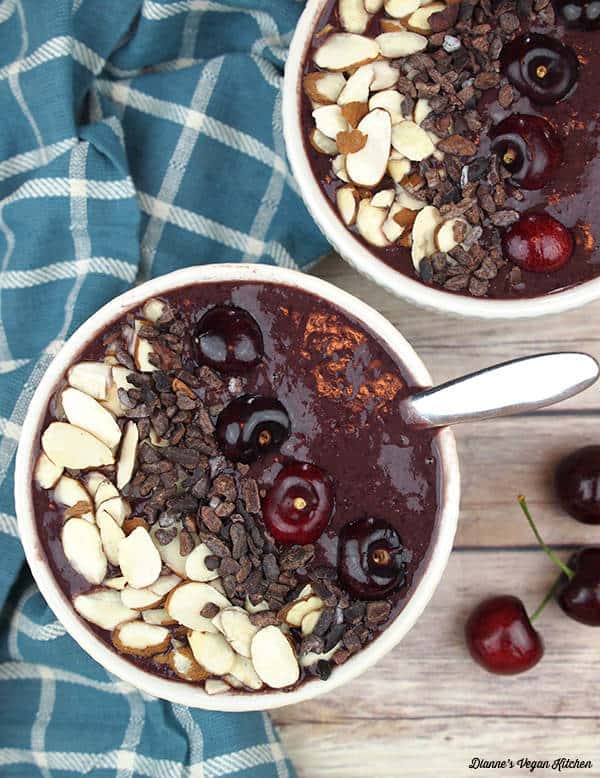 Dianne used to be a graphic designer and worked in an office, but she felt something had to change. Initially for ethical reasons she went vegan. Her health improved dramatically which initiated a passion for nutrition and cooking.
She knew she had to share her knowledge with others and part of this was studying holistic health. Her passion is now helping people and part of this is her great website, Dianne's Vegan Kitchen. She has a bunch of certifications and cookbooks too!
The amounts listed in the ingredients make two servings of this beautiful looking bowl. If you're into healthy eating, I imagine you have most of ingredients already. Dianne has included a portion of a vegan protein powder has an optional extra.
I didn't have any to hand, so my version didn't include this, and I can tell you, this is one tasty treat! It's like a pudding, ice cream, the best dessert ever… I'm not sure which superlative is best to describe it! All you need to do is make it!
Green Smoothie Bowl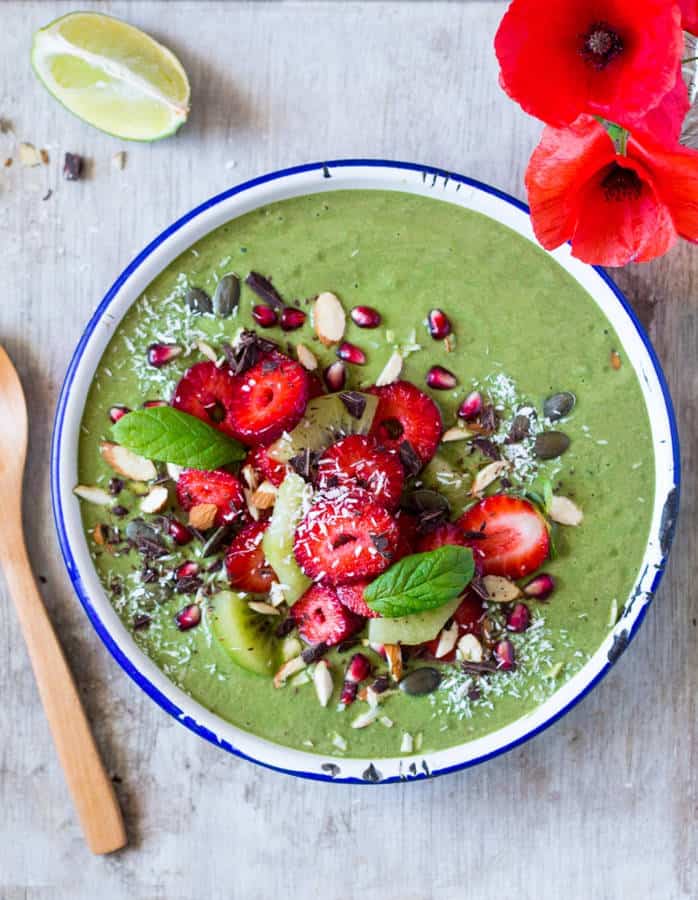 Ania used to live on a Greek island but now has moved to the city of Bristol in the UK where she resides with her fiancé and their cat called Tina. Her change to veganism was because of another cat that arrived on her doorstep.
There was such an emotional attachment it caused an epiphany about how humans treat animals, and this started the snowball of events many of us have experienced.
Ania's blog is called Lazy Cat Kitchen. It's full of inspirational ideas whether you're a veteran vegan, or just new to this lifestyle and looking for support.
For some people, the idea of a green smoothie doesn't sound too appetizing.
Well, if this is you, check out this recipe. This is incredibly healthy and packed with more flavors than you can imagine. Whether it's the bananas, the buckwheat or the chocolate, there's something here that'll make you love it.
Before you make this, do note the raw buckwheat needs to be soaked overnight first so bear this in mind. Absolutely amazing recipe!
Peanut Butter Green Smoothie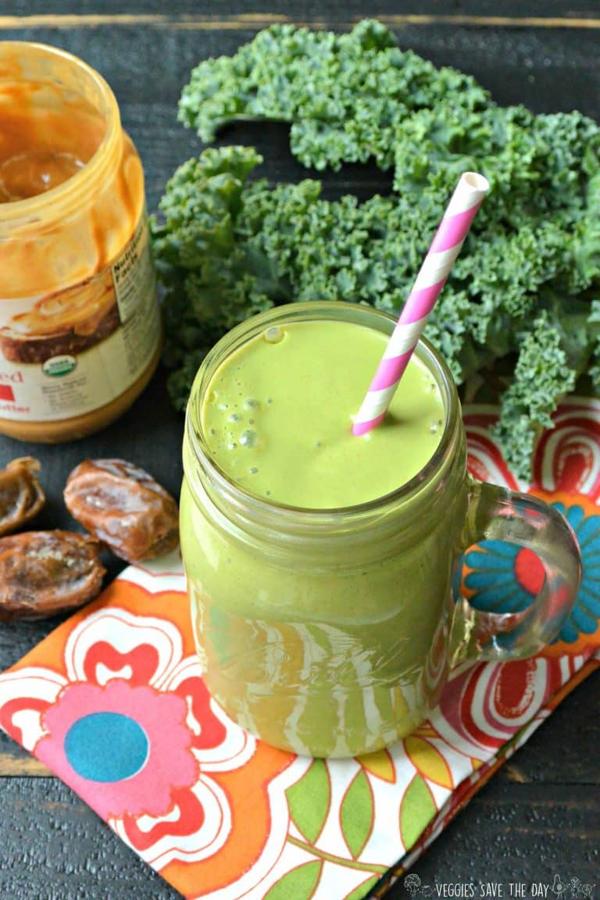 Amy lives in California and has been a vegan since 2013. She also follows a gluten-free diet. She switched to a plant-based lifestyle for animals and the environment but soon discovered the health benefits too.
One of her favorite dishes is stir-fry, it's one of mine too! Her website is Veggies Save The Day and it's full of colorful, inspirational and delicious dishes. Amy loves avocado and I must say, her Veggie Sushi is going to be the next thing I make.
You don't have to be a vegan to visit her website. As she says, we pretty much all agree having more fruits and vegetables in our diet is a good thing, and you'll find ideas right here.
This green smoothie will make a great snack as well as the perfect drink after you've been on a run. It's easy to make with only five ingredients. Kale (or spinach if you prefer) is the green base. Choose your favorite plant milk. Then the nut butter, banana and dates join in to spin everything up in a high-speed blender.
Personally, I have a Vitamix but a very close friend of mine has a BlendTec, we love them both.
If you've never had a top blender, we recommend you looking to invest in one, they're miles ahead of the competition. Amy's smoothie will not leave you feeling bloated or lethargic. You'll be full of energy and ready to go again!
Vegan Snack & Treat Recipes
Watermelon Kiwi Mango Fruit Salsa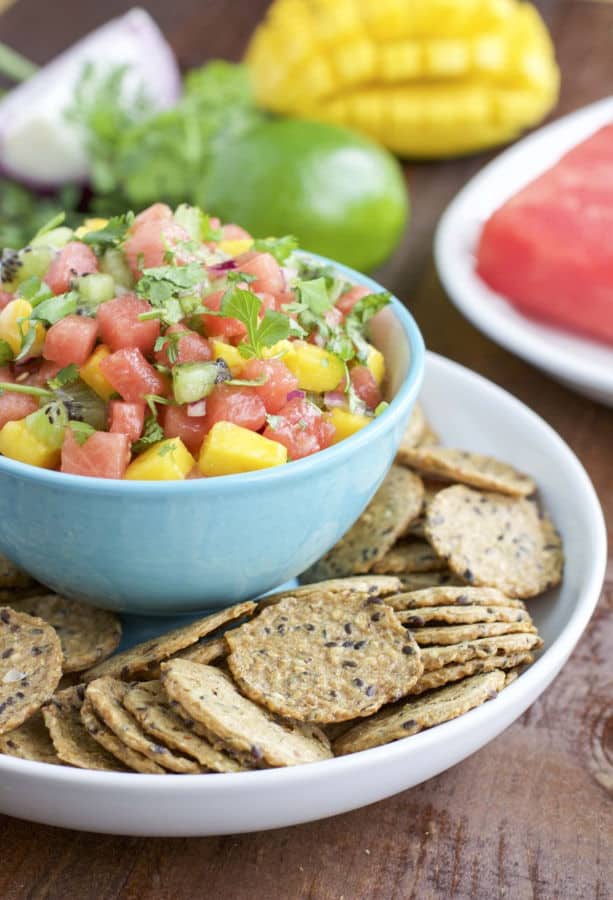 Stacey started her blog, Stacey Homemaker, in 2015, as a way of keeping all her favorite recipes. When she lived at home, her parents did all the cooking. As soon as she began her own life she discovered that, without realizing, she had taken in all of her Mom's healthy cooking tips.
Since being married, Stacey and her husband transitioned to a vegan lifestyle. Like so many of us, they want to stand up for the innocent animals unable to defend or speak for themselves; we're their voices.
Given this, Stacey's website is all about showing you vegan food isn't just healthy, it's totally delicious as well.
We really love her blog because the recipes are easy to prepare, and the dishes are what you would really eat on a regular day, nothing is weird that you would only find in some fancy restaurant!
Stacey has given us lots of fun facts about herself and here are just a couple; she hates going to the doctor's office (Amen to that), and she hates plastic!
This is one of the freshest salsas I've ever tasted. As you know, normally these recipes are tomato-based. This one is unique and completely fruity yet has a little twist of cilantro, red onion and lime.
You wouldn't believe how well it goes together. After dicing everything and mixing in a large bowl, put in the fridge for at least an hour so the flavors marinate. When ready, drizzle over the superb dressing and serve with your favorite crackers. Absolutely delicious!
Sweet and Spicy Nut Mix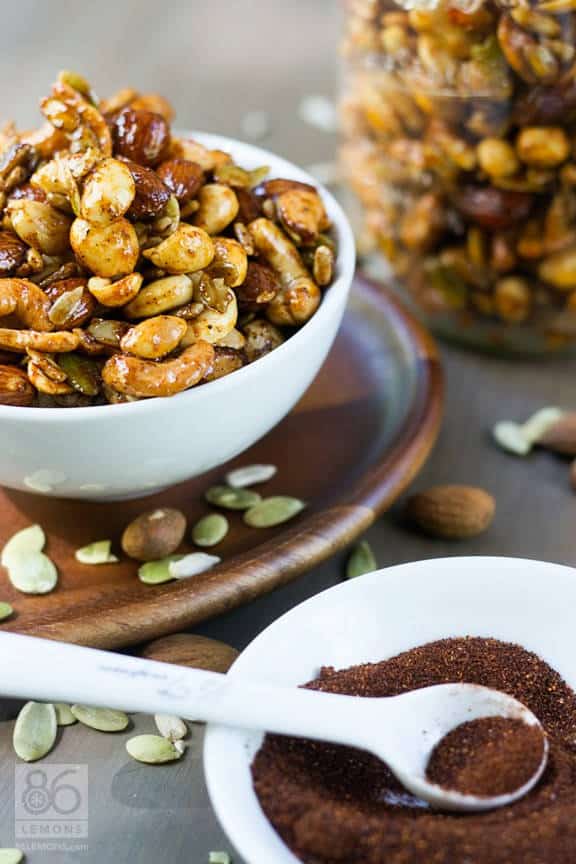 Aaron has a fantastic site called 86 Lemons. It's filled with delicious recipes that are all vegan and are sure to inspire you.
As well as cooking, he's handy around the house too. There's a section on his website called 'DIY' where he shows you some of the projects he's completed around the home.
We're not talking just a couple of fancy pictures, he gives you a step-by-step guide for each one, so you can do this as well.
Just imagine, hang around on Aaron's site and you'll not only be a great cook, you'll be making great projects for the home as well. To support his site, Aaron has a wonderful shop where you can buy vegan inspired clothing. Fantastic!
This nut mix may seem straightforward and just another snack. Don't be mistaken, it really isn't. Please note, I guess it's fair to say a large part of the idea behind this recipe is heat, we're talking a red-hot spicy sauce!
You could easily leave all that out and enjoy the rest of it although that does take away the essence of this recipe.
If you're not into that stuff, check out one of Aaron's other dishes. However, if you want some savory nuts which are going to pack a punch, as somebody once said, 'there is no substitute'. This is seriously hot and great for a party!
Portobello Mushroom Pizzas with Hummus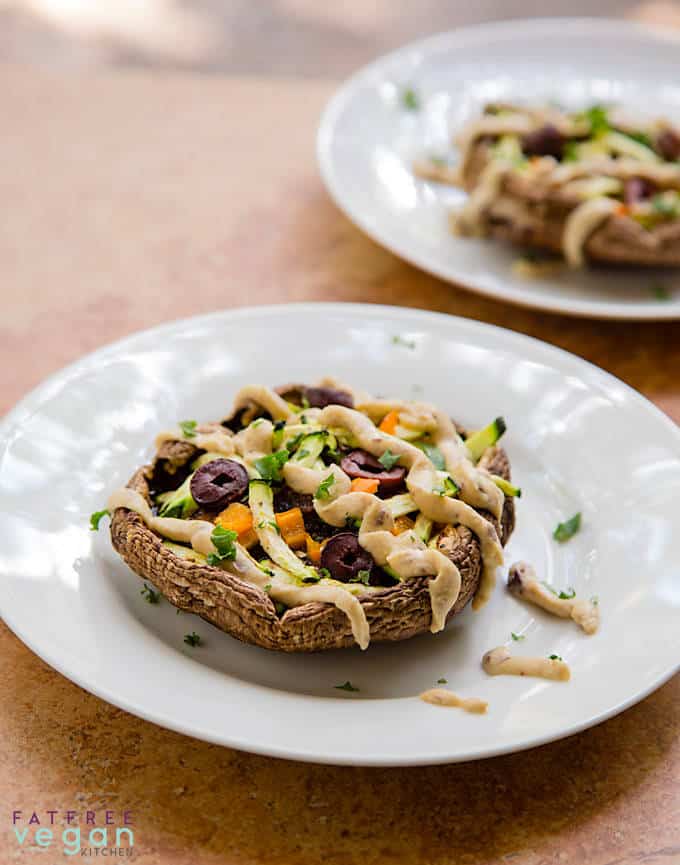 Fat Free Vegan, is Susan's website and we just love her logo. All of her recipes are made with whole foods and without added oil. I seriously think we're addicted to oil and I see more and more people reducing the amount they have.
Just imagine if there was no oil and how that would affect what we eat. Good job Susan in creating this site, not only does it show how many delicious recipes can be made oil-free, it's a great resource!
If you want to make yourself a great snack, or you'd like to impress some friends or family, go for this quick recipe. The base of the little pizzas is simply a portobello mushroom. Please note you'll need an air-fryer to make this dish.
If you don't have one you could experiment and perhaps use the grill. Let us know how creative you get.
The secret ingredient for me is the balsamic vinegar, that distinctive taste is subtly there without stealing the show. This isn't to mention the hummus which probably does steal center stage! Great job, Susan, thank you!
Cheesy Dill Popcorn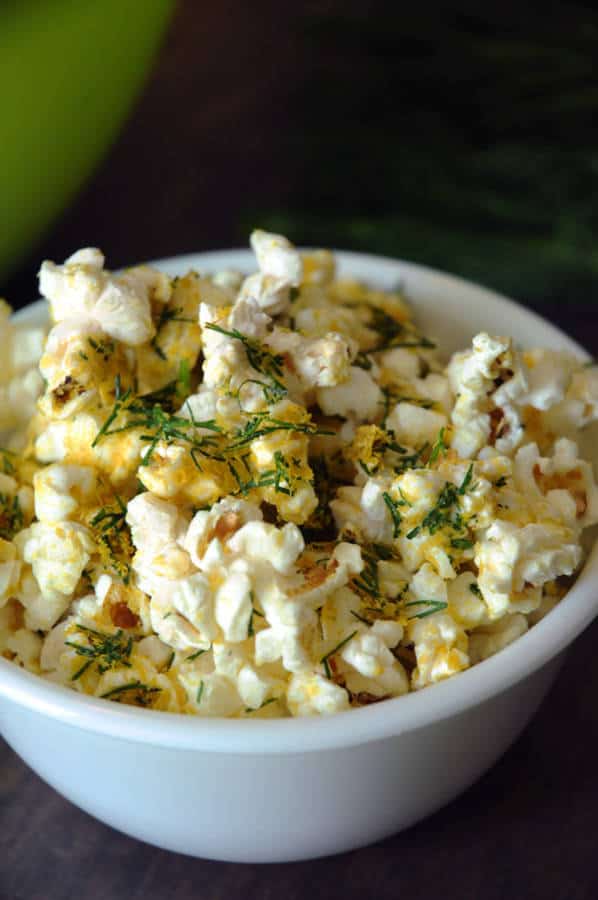 We love Cassie! She loves food and is an animal rights activist, anyone who stands up for the voiceless is automatically a friend of ours! Her great website is called Vegan Insanity and as well as being filled with delicious plant-based dishes, it's also a great resource if you're new to living this lifestyle.
Cassie's photos make her food come to life, you almost want to eat the screen! Even though I'm going to talk about her delicious popcorn recipe, I'm absolutely in love with her zucchini fritters, go check them out!
Back to the popcorn! You're only looking at fifteen minutes from start to finish to create this fantastic snack. Other than salt there are just four ingredients and if you're vegan I imagine you have them in your kitchen already. What are you waiting for?
The amounts listed make four servings which I think really means one! Whether it's for a party or movie night, you need to make this. It's completely moreish and I guarantee you'll make it again and again. Thank you so much, Cassie! Keep standing up for the animals!
Salted Caramel Pumpkin Donuts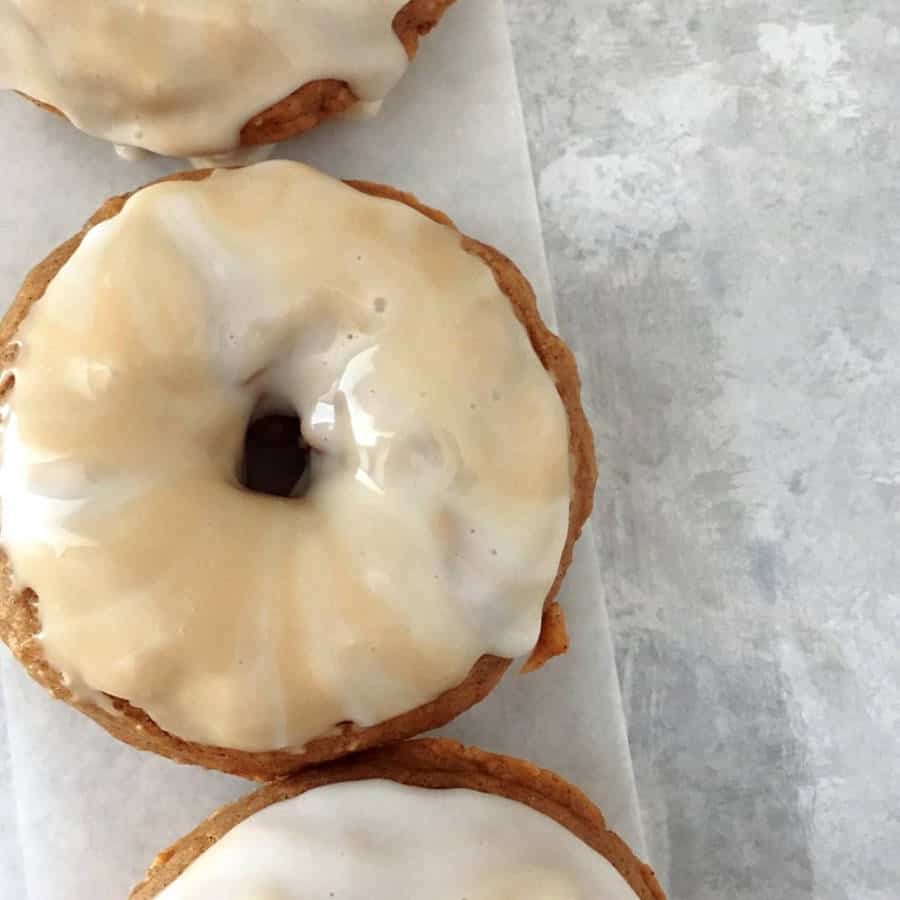 Brittany is a vegan pastry chef and freelance model living in San Diego with her cat called Cassie and her awesome boyfriend called Mike. She has a great website called Panthers & Peonies, a vegan food and lifestyle blog.
As well as being into cooking, Brittany is into video games and you can sometimes find her on Twitch streaming live! there's a link to her channel on her profile page. Her blog is filled with fantastic recipes and is a great resource for travel, beauty products and much more.
I don't know what to tell you about these doughnuts, they just melt in your mouth. Of course, they're perfect for the holidays, but you're going to want them every day, I know I do! The recipe is divided into three sections, the doughnuts (you make them from scratch), the vanilla glaze, and the salted caramel sauce.
If you've never made doughnuts before, now is the time to start. Seriously, even if you have a favorite store you need to make your own because nothing will taste as great as these. You get vanilla, a hint of coconut from the doughnuts, cinnamon and so much more. This is the ultimate comfort food!
Almond Butter Chocolate Chip Energy Bites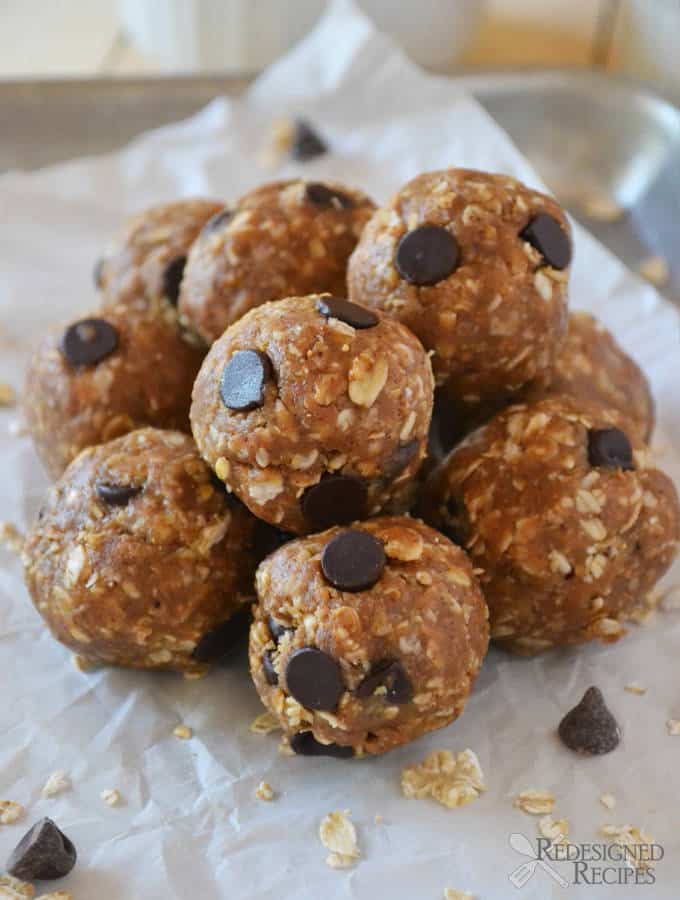 Juli has a great vegan blog called Redesigned Recipes. After her son was born in 2011, he was covered in a rash that was getting worse. Upon discovering dairy was the culprit, she cut it out completely and within a month everything was healed.
A little while later, she discovered her son was also allergic to peanuts, that had to go too. After discovering Juli's husband also had some health issues, they decided to adopt a vegan lifestyle which cured his issues too.
Redesigned Recipes has a purpose to give you inspirational ideas about adopting a plant-based lifestyle, but also has in mind people with nut allergies. Your life doesn't have to be restricted if you choose to be vegan and you have an allergy and Juli's website shows you how you can live with delicious food.
These energy bites have chocolate chips! What else you need to know? They're gluten-free and, from start to finish, come together in thirty minutes or less. There are just a handful of ingredients and I imagine you have most of them already.
If you follow a gluten-free lifestyle, you probably have everything! You have no excuse, make these today and impress your friends and family. They're packed with protein and perfect for a party or just to keep you going throughout the day. Wonderful!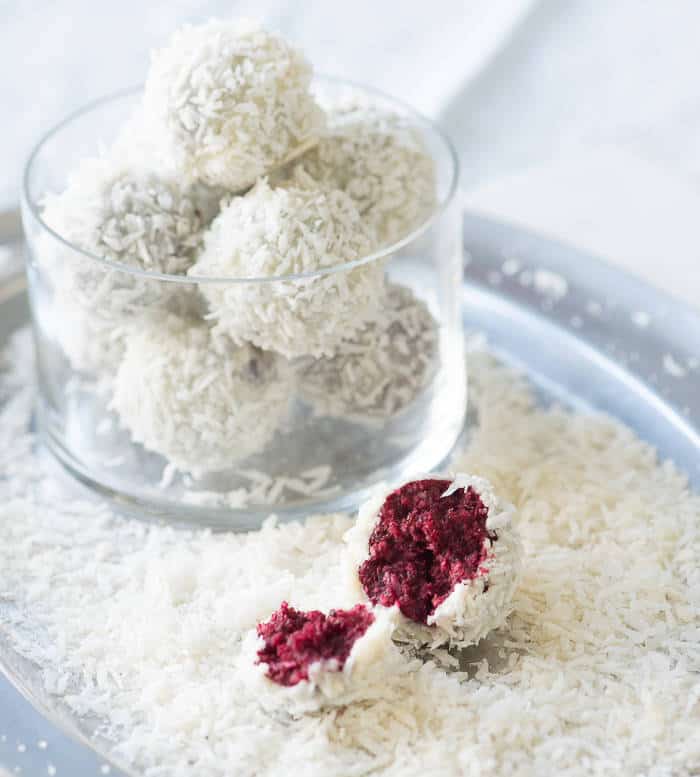 Susan's blog, Rawmazing is filled with one of the best collection of raw dishes we've ever seen. It's clear Susan is a very spiritual person and has a lot of awareness.
She is very happy in her life and wants to share everything she's learned with you. Being 100% raw, all the time, can be challenging depending on where you live and what you do occupationally.
Susan has found a balance between eating raw and eating a whole food plant-based diet which occasionally involves cooked food. The middle path of least resistance is always the way.
Doesn't this just look amazing? Perfect for the holidays or for a special treat for someone in your life that deserves it. The recipe is divided into two, the white chocolate coating and the cookie. This is easy to make and yields about forty cookies.
The chia seeds combine everything together and with flavors like maple syrup and peppermint essential oil, not to mention the cocoa butter, you know you're onto a winner.
Please note, ideally, you'll have a dehydrator to make these. Absolutely amazing and I can just imagine them at Christmas time when there's snow outside.
Winter Spring Rolls Two Ways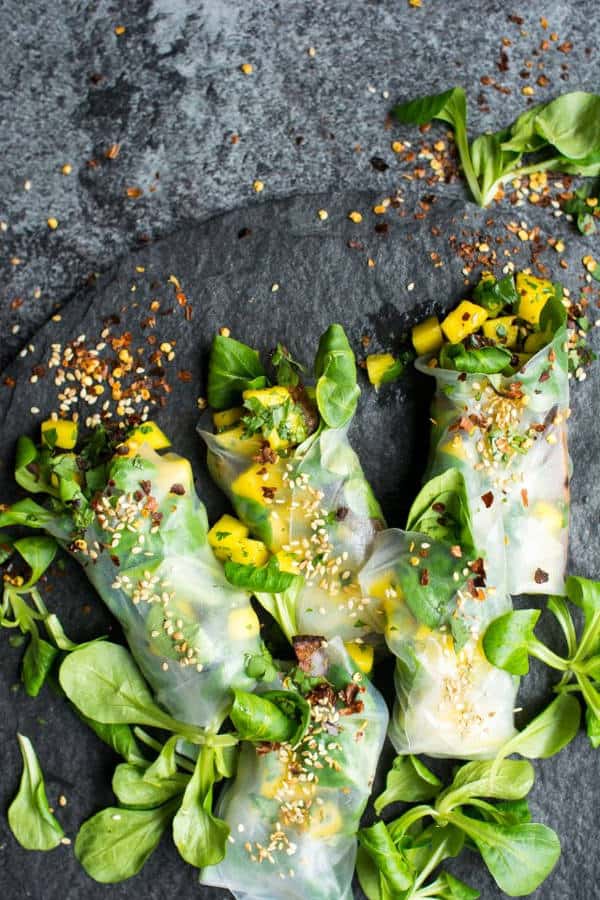 Lauren Caris Cooks is a vegan recipe and lifestyle blog, there's a cookbook too! The website was started in 2015 and has since grown to be a great resource if you're looking for food ideas. Whether you're already a vegan or just looking as you dip your toe into this lifestyle, Lauren has got you covered.
You also get a comprehensive guide to veganism and seven free and exclusive recipes from her as well! Whether it's for dinner or dessert, you'll find it on Lauren's website.
The spring rolls are healthy and deliciously delicious! There's a savory variety and a sweet apple pie recipe with lime sauce. What more could you want? These are easy to make, and you just have to take one look at the ingredients to see you're going to get a healthy and tasty snack.
The secret ingredient for me is the baked tofu. It may be the main ingredient in one of the recipes, but it makes it so satisfying you just want to eat twenty of them, did I just say that out loud?
The amounts listed in the ingredients make six servings of each variety although there's a convenient tool where you can change the amount you need, and this'll alter everything in ingredients. Fantastic!
Guilt-Free Air Fryer Fries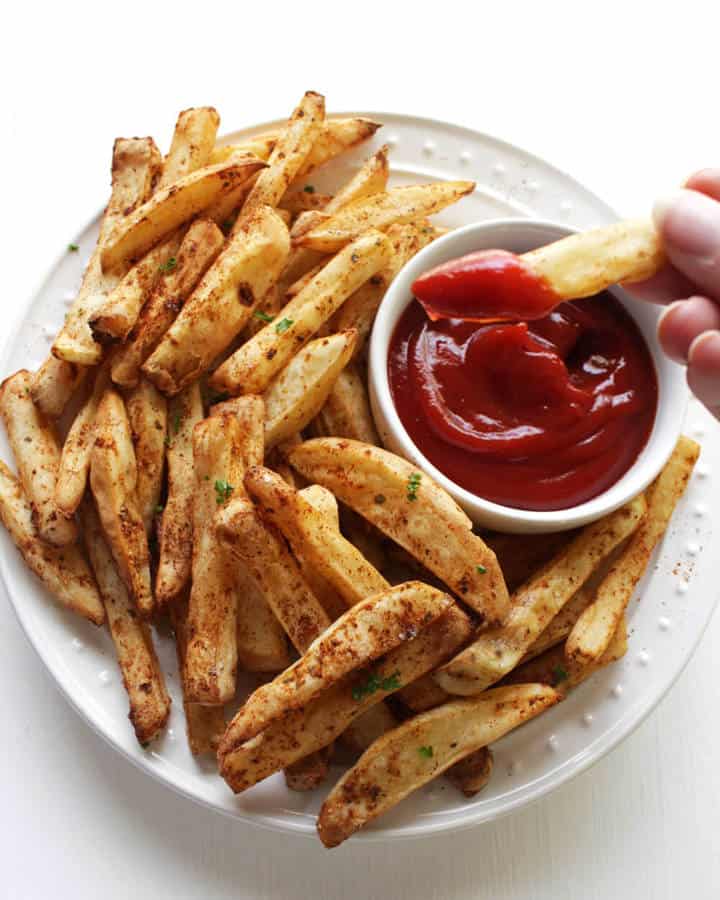 Karissa didn't become vegan straightaway, it took her two years after she decided, and she's brave enough to acknowledge the addiction humans have to animal foods.
I don't say that lightly, it's true addiction and if you think it isn't, look at the frenzy some meat eaters get themselves into at the thought of not eating meat just for one meal! She's brave to admit this and we applaud her. Her blog, Karissa's Vegan Kitchen, used to have another name and it has recently undergone a makeover.
She's very clear in that she doesn't judge anybody by what they eat, she's there to help people who are striving to eat more plant-based foods and get healthy.
Please note, you'll need an air fryer to make these fries. If you don't have one, this recipe could be the only reason you need to get one, and I'm not joking! The ingredients are extremely simple, I imagine you have everything in the kitchen already.
The instructions are straight-forward and if you need any help, Karissa has a video on the recipe page that takes you through everything step-by-step. Serve as part of a main meal, or just with salsa, however you choose to eat them, have fun! Thanks Karissa!
Vegan Soup Recipes
The Best Creamy Roasted Tomato Soup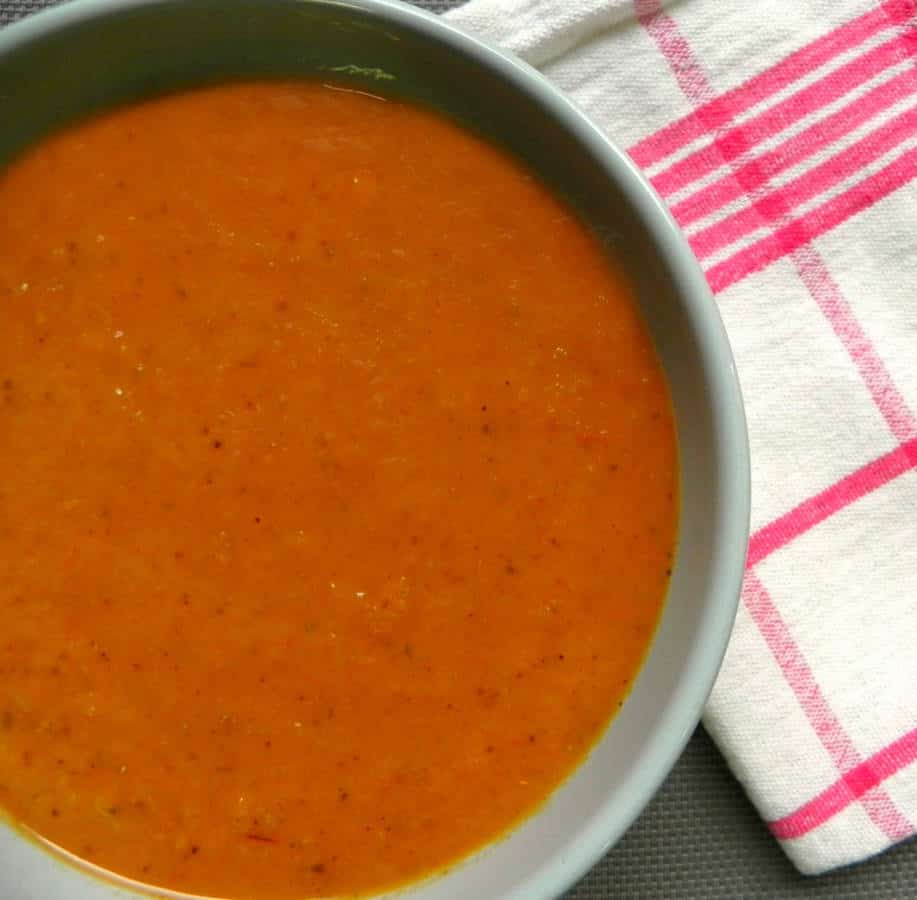 Ceara is her name and, Ceara's Kitchen is her blog. By the way, the name is pronounced, 'Key-Air-Ah' in case you're wondering, I was! She's a Toronto girl through-and-through and she loves sweet and savory foods. Whatever your taste, she has you covered.
Ceara started her website for her Master's degree she took in Belgium and she's never looked back. She loves travelling and claims you can give her any subject and she'll be happy to talk about it, fantastic!
Everybody loves tomato soup, right? It's just a standard you may as well buy from the store. Wrong! The only thing better than tomato soup, is roasted tomato soup, specifically this recipe! Perfect for the fall or when you just need something comforting.
This is a real treat and bear in mind you're making everything from scratch. If you want to impress someone just casually tell them they're having soup and watch their face when they taste this for the first time. This has a five-minute prep time and then cook for about an hour and ten minutes.
Serve with your favorite crusty bread, preferably toasted, or if you want to be adventurous, get yourself a vegan cheese toasted sandwich. Probably the best tomato soup I've ever had!
Coriander Carrot Soup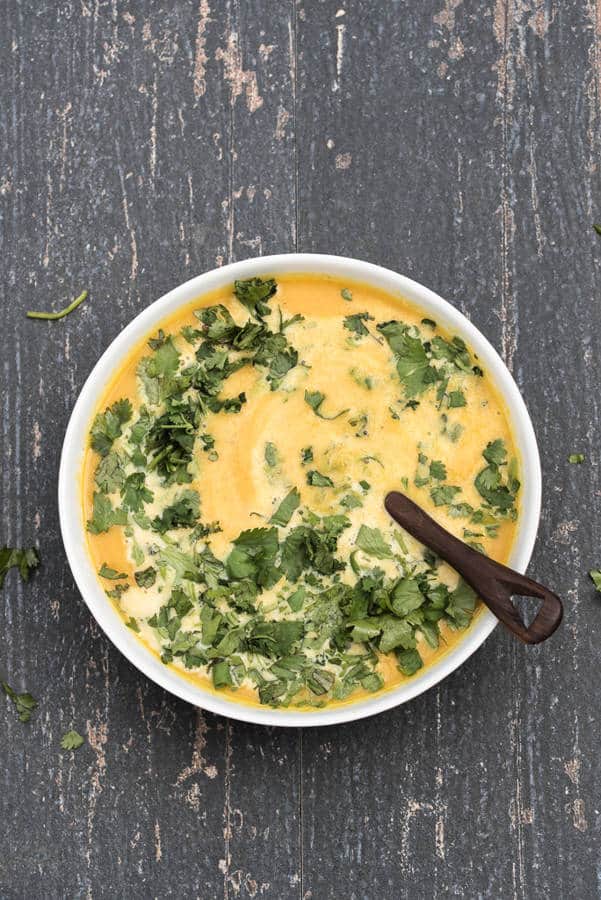 Vanessa loves coffee! She's lived in ten different cities on three different continents in seven years, that's pretty good going!
Her website, Vegan Family Recipes, started out as a way for her to gain back her individual identity after devoting herself to her family, which she still is, but this project is just for her.
As well as being an expert cook she also knows how to use an SLR camera, she says she has a lot to learn in photography but judging by the pictures she takes of her food, we think she's a professional already.
This soup is deliciously satisfying, creamy and has quickly become one of my favorites. There's only a ten-minute prep time followed by thirty minutes cooking.
The turmeric and cinnamon are amazing together, I had no idea. It's very easy to make and will store in an air-tight container in the fridge for up to 3 days.
The cilantro both in the dish and as a garnish is the icing on the cake. This soup is wonderful, it simply doesn't need anything else. Thank you, Vanessa!
Quick and Easy Pea Soup with Basil Pesto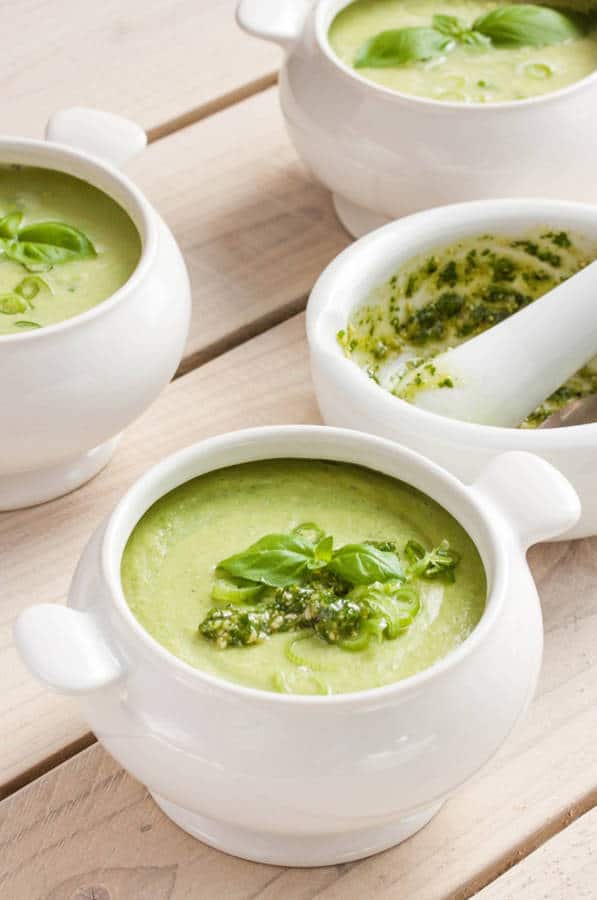 The Greedy Vegan is a food blog focusing on local and seasonal produce. Gloria has made a fantastic resource if you're looking to learn about wild foods.
We could all do with more walks in nature while picking up ingredients for our salad. It's all out there, you just have to know what to look for, by following Gloria's website, you'll start to learn.
She isn't a big fan of faux meats but uses them occasionally which pretty much describes my habits as well. All her recipes are affordable and made for everyday people like you and me. There are also some indulgent desserts for that special treat!
Pea soup may not seem exciting if you've never had it before. I've seen a few recipes in my time and they're all okay, it's difficult to get a bad one.
Nothing has ever stood out as being great until I saw this. I'm not sure if it's the quality of ingredients or the vegan pesto, either way it's a winner.
You make the pesto from scratch, be sure to keep this recipe as I know it'll be all over your pasta next time you make it. There's just a five-minute prep time and twenty minutes to cook, the amounts will serve four portions so adjust as necessary. This is just one of Gloria's great creations and her website is filled with so many others!
Butternut Squash Soup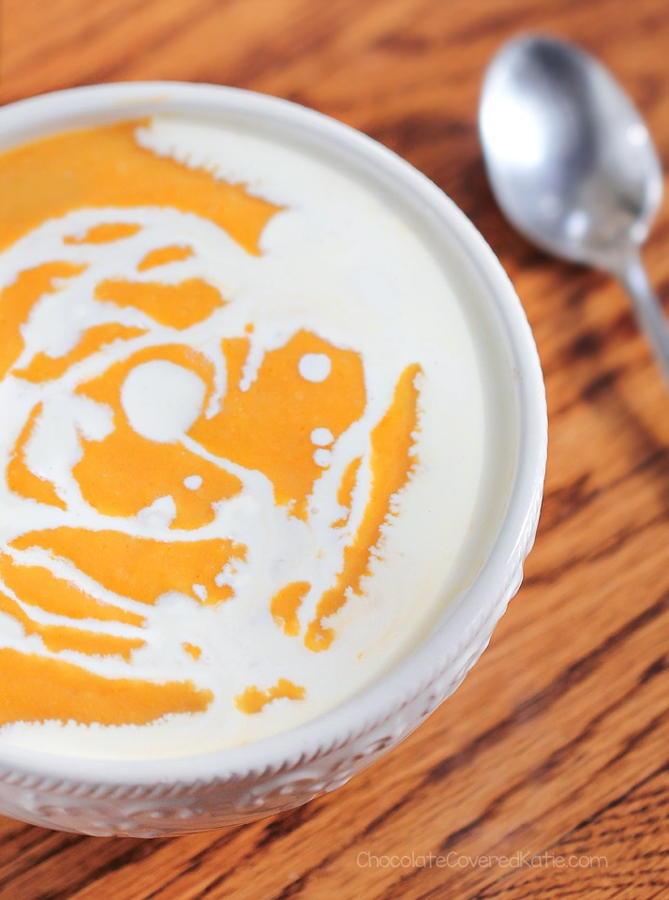 Katie is the content creator and tour-de-force behind the sweet and simple Chocolate Covered Katie blog. As you may have already guessed, Katie loves chocolate and she creates many recipes with chocolate. The unique part though, is her recipes are actually healthy! You CAN have your cake and eat it too!
Katie has a large following on her blog and Instagram page, and yummy dessert cookbook. She has been featured on many television programs, including The Today Show and Dr. Oz. She believes healthy eating can still be indulgent and even chocolate covered! Who doesn't want tasty food which satisfy cravings and is still good for you? I'm so in!
Katie's recipe for Butternut Squash Soup obviously isn't covered in chocolate. But don't let this disappoint you. It's still delicious and soul satisfying. This recipe works with both fresh and frozen squash. And Katie gives suggestions to make it even more unique to your personal tastes.
The curry and coconut cream give this soup depth and out-of-this-world flavors. And the ginger and apple add levels you won't expect but will blow your taste buds away. Simply put, it's the best butternut squash soup I've ever tasted.
Whether you make it exactly like the recipe, or add your own special touches, this soup is guaranteed to be a family favorite forever!
Spicy Noodle Soup with Mushrooms (Nepali Thukpa)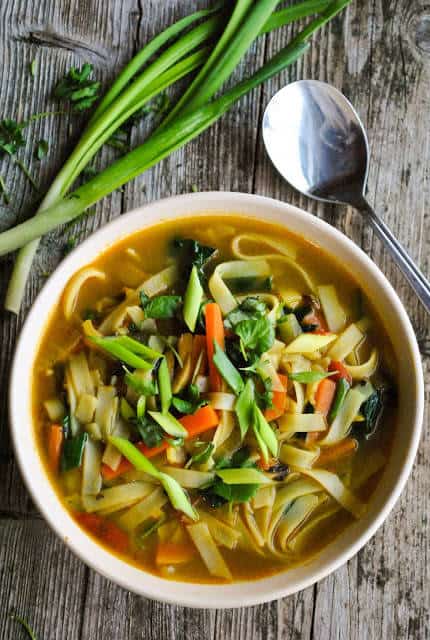 Sandra lives in Estonia in the woods! No really, she does. If you look at her profile page, you'll see this beautiful log cabin she built with her boyfriend.
It even has grass growing on the roof, how amazing is that! Her website is called Vegan Sandra and we love the logo! Sandra has been a vegan since 2007 and now features highly in the media in Estonia, whether it's television, radio or magazines, you'll see her spreading the message.
Fantastic! As well as running this website she loves playing video games and has authored five cookbooks which are available on Amazon. If that wasn't enough, she also plays drums in a death metal band!
Noodle soups are one of my favorites. You get to eat a bunch of vegetables and noodles, what more is there to life? This recipe is so versatile, you can use whichever vegetables you have that need eating. The same goes with the noodles, use your favorite. I love the broth which is warming and brings all the everything together.
This is a great dish for those cooler months as it's so warming. Do make a note of this, you won't regret it!
Healing Turmeric Noodle Soup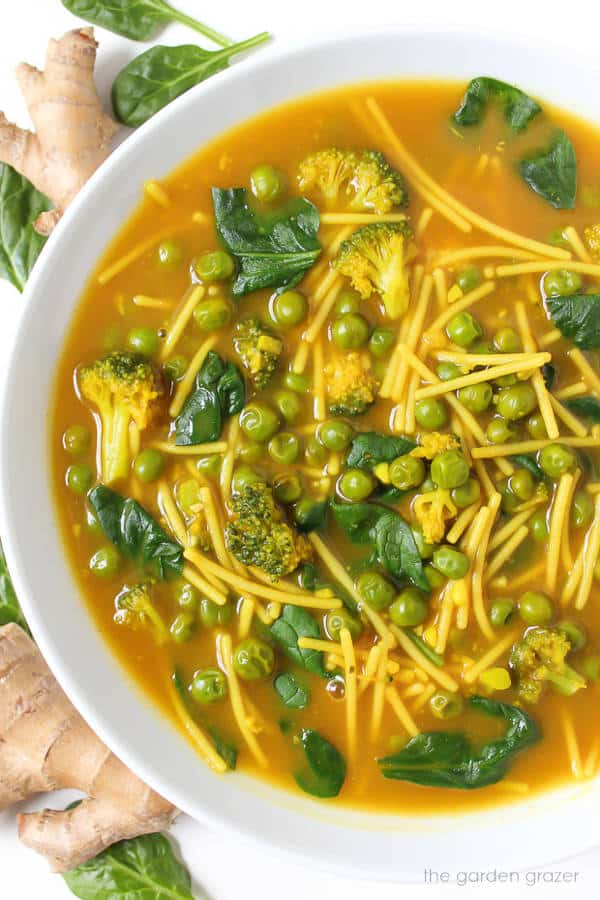 Caitlin runs the plant-based website appropriately called The Garden Grazer. Growing up her parents had a beautiful vegetable garden and much of her childhood was spent outside amongst all the foods that were going right there by the house, bliss! She graduated from Michigan State University with a BS in environmental biology/zoology.
The recipes on her website usually have one main ingredient such as rice, quinoa, etc.
They're non-GMO and don't contain any added oil. Caitlin's philosophy concerning food is meals should be simple and during the preparation she shows you how to use your time efficiently.
We love her passion for animals so featuring her recipe and her website is our honor.
You've probably heard about how good turmeric is for you. Well, this noodle soup is turmeric heaven. The broccoli and the peas are like a match made in heaven, not to mention the other ingredients.
This dish also includes fresh ginger so if you know about this kind of stuff, you'll know this recipe is great if you have inflammation. It's very easy to make and the instructions could not be simpler. Bookmark this recipe, print it, do whatever you have to do because your body will thank you and in turn, we thank Caitlin!
"Cheezy" Broccoli and Kale Soup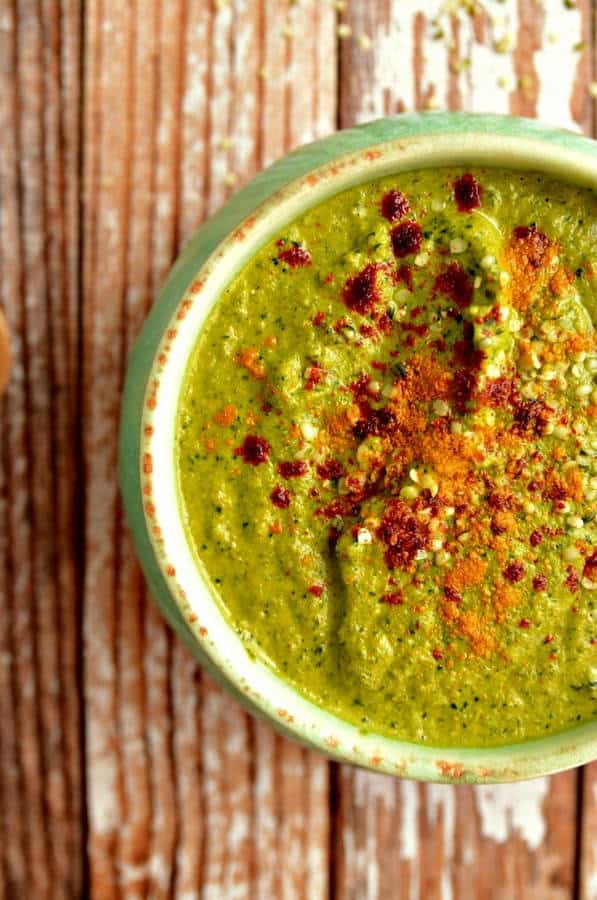 Ashley is a school psychologist by day and a plant-based blogger by night! She's also into photography which explains the great photos on her website, Blissful Basil. She has an intuitive awareness about her, and a great instinct in how food permeates every aspect of our lives.
She has been a vegan since 2014 and follows a regular exercise program. She firmly believes each one of us just needs a little inspiration to spark a flow of creativity and one of the goals of Blissful Basil is to do just that.
I really love broccoli soup, give me a vegan cheesy broccoli soup and we're cooking with gas! Just looking through the list of ingredients for this recipe you can see how healthy it is. From start to finish, you'll have this ready in forty-five minutes or less.
It's warming and extremely satisfying. There's an optional dash of cayenne pepper so adjust according to your heat preference. It's good enough to eat without any crusty bread, and that's saying something! Any leftovers will refrigerate for 2 to 3 days. Thanks Ashley!
Udon Noodle Soup with Spring Vegetables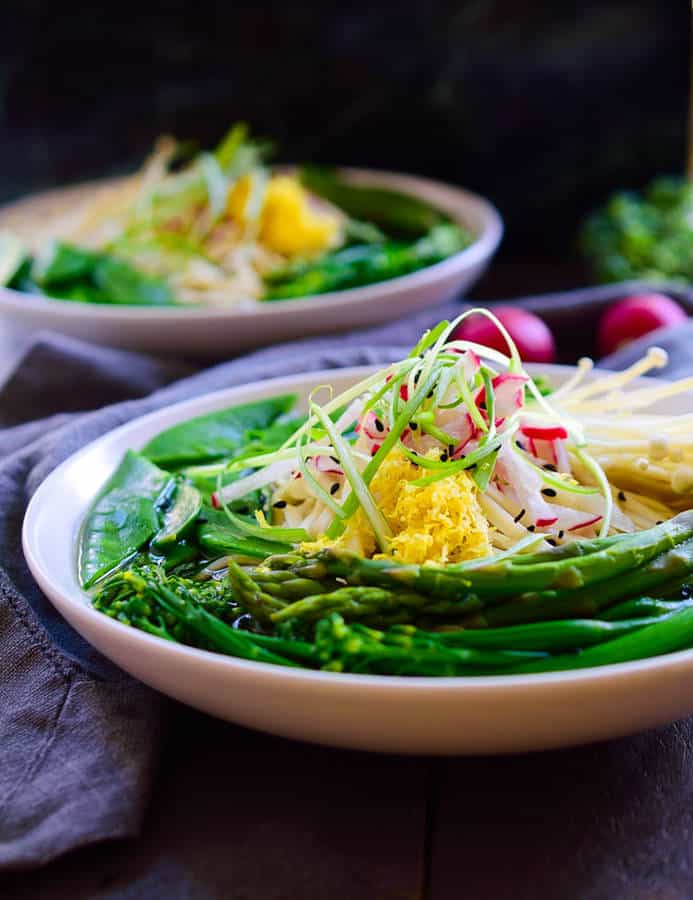 Melissa has a blog called Cilantro And Citronella. It's in both English and Spanish. She was born in Canada but now lives in Spain. Some of the dishes on her site are based on traditional recipes and others are her own creations. They look fantastic!
If you're thinking about starting a food blog of your own, there's a section dedicated to that on the website too!
This Japanese inspired dish is light but satisfying. It has crispy spring vegetables and has a great balance between sweet and savory flavors.
From start to finish, you'll have it on the table in fifteen minutes or less and that includes cooking time!
You'll immediately notice the recipe is versatile, so you could use your favorite vegetables or whatever you have that needs eating. The instructions are divided in two and are easy to follow.
Do note the base for the udon soup involves some preparation where some foods need to be soaked overnight so bear this in mind for planning ahead. Make this to treat yourself or to impress someone, either way you win! Gracias, Melissa!
Wrapping Up
This round-up is the result of endless hours of looking for the very best vegan recipes for you.
We try to cover the most common categories and have carefully studied each dish to ensure you can easily find all the ingredients locally and the meals are affordable.
Whether you're looking for ideas or even if you have food allergies, there's something for you here.
These 101 recipe authors are passionate about what they do and have dedicated their lives to helping others; we appreciate their work.
Got suggestions for round-ups you'd like to see us create? Just drop us a comment below; we'd love to hear your feedback and what your favorite dishes are!
Enjoy!