Whether you're new to raw or a seasoned veteran, we have something to suit all tastes. You'll find breakfast ideas, dinners and dressings to name just a few, just choose your category of interest and you'll be taken straight there.
If you're completely new to raw, remember this isn't something you have to switch to.
There's no 'choice' to make as it doesn't have the ethical and moral issues tied to giving up animal foods. You can use the concept of raw to simply incorporate more fresh foods into your diet.
Check out our best vegan recipes roundup for the very best plant-based dishes and use it alongside this raw round up! That way, you get something familiar and something new!
Breakfast Recipes
Banana Pudding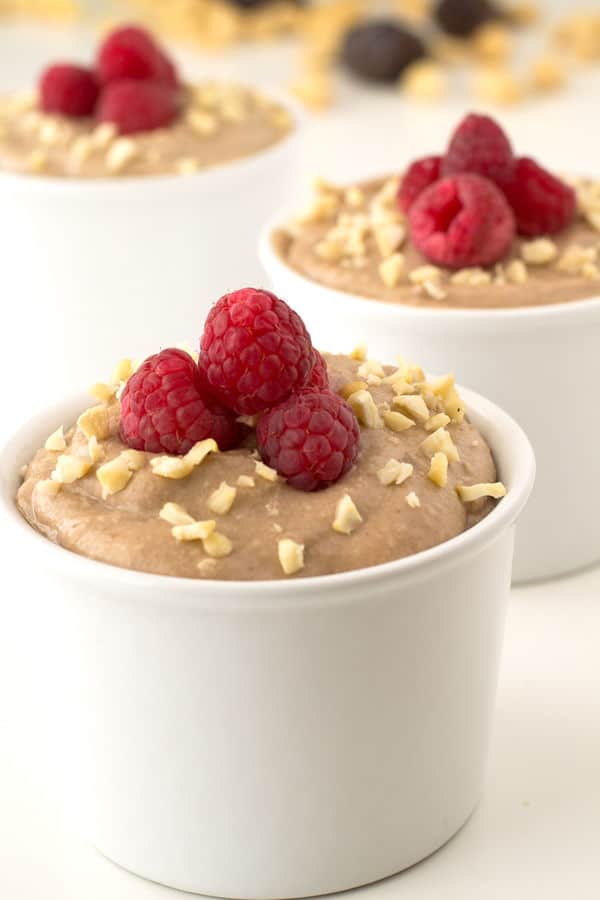 For me, a dessert is the best place to start because I'll take sweet over savory any day… and a banana pudding sounds just divine!
The ingredients are simple, and you only need very little preparation time, although I would highly recommend soaking the cashews overnight.
Add the nuts with fresh and frozen bananas, your favorite dates (Medjool for me!) and some almond milk, and what you end up with is an incredibly creamy pudding.
Finish off the dessert with a topping of your choice, perfect!
Blueberry, Strawberry & Jicama Salsa
If you are looking to celebrate the 4th July with a salsa, you need to make this! Why you may ask? It has 3 main colors, red, white and blue!
Having said that, this salsa looks amazing and could be used for any occasion.
With just a handful of ingredients including blueberries, strawberries, jicama and red onion, mix them all up with cilantro and seasoning and you are in for a treat.
This recipe is so simple, it needs just a 5 minute prep time. Enjoy the salsa with a raw dish of your choosing!
Mango Strawberry Fruity Raw Cereal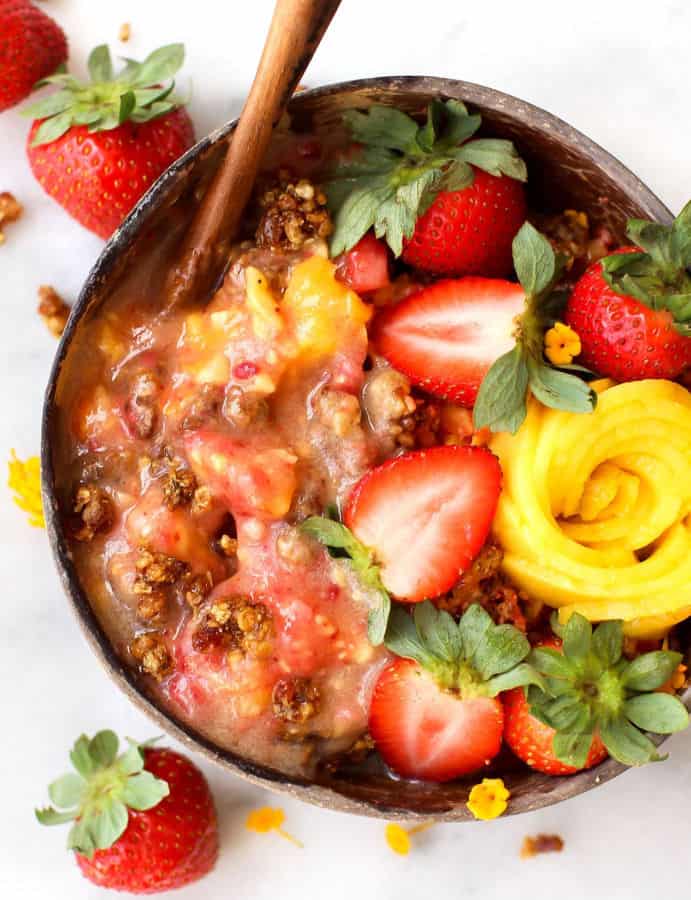 This sounds like a perfect alternative to a regular cereal when you are wanting to eat a healthy raw diet.
Mango and strawberries are also 2 of my favorite fruits! I love the textures in this dish. Natalie made the breakfast in a coconut bowl which looks incredible!
You can have this cereal ready in just 15 minutes and will serve 2 with the amounts listed.
Do check out the wonderful pictures on the recipe page and there is even a video to take you through the whole process step-by-step. A perfect start to the day!
Raw Eggnog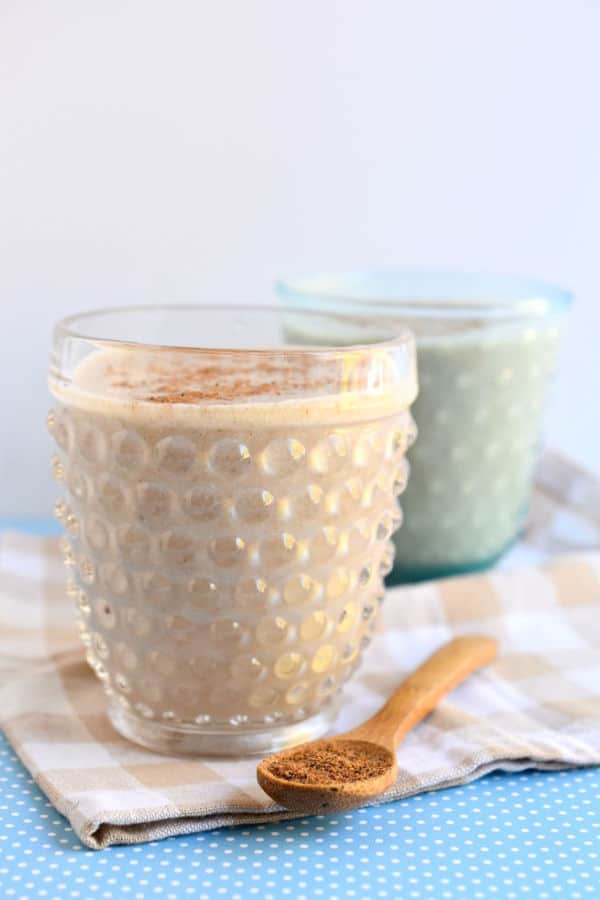 Being vegan and even before I was, the thought of eggnog was not appealing to me because I was never a big 'egg' fan.
So, if you miss eggnog or like me, are now ready to try a vegan version, this recipe hits the spot perfectly!
The ingredients in this recipe are so good and what you end up with is a creamy, vanilla concoction! The prep time is only 4 mins although you will need to soak the cashews, preferably overnight.
Present the eggnog in glassware, dust off with nutmeg and you have yourself an absolute treat. I am now a big eggnog fan!
Superfood Chia Pudding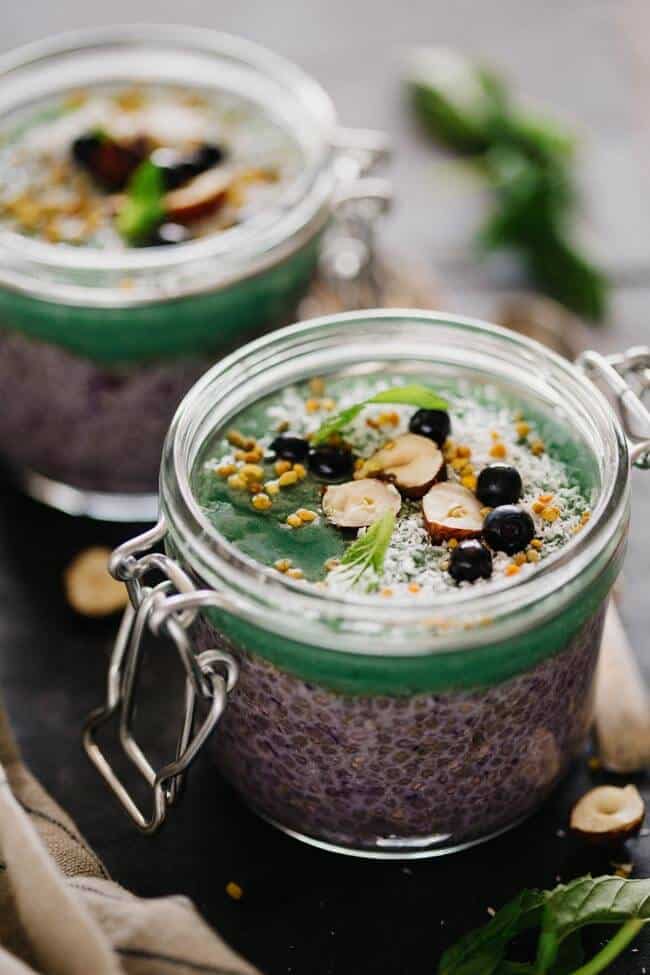 This is a stunning dish to see. A green smoothie in a bowl but dressed up like a satisfying dessert!
With some yummy ingredients in this recipe, just under a half of them you blend, and the other half use as toppings, you will have this ready to eat in just 5 mins. An impressive looking start to the day!
Instant Raspberry Chia Pudding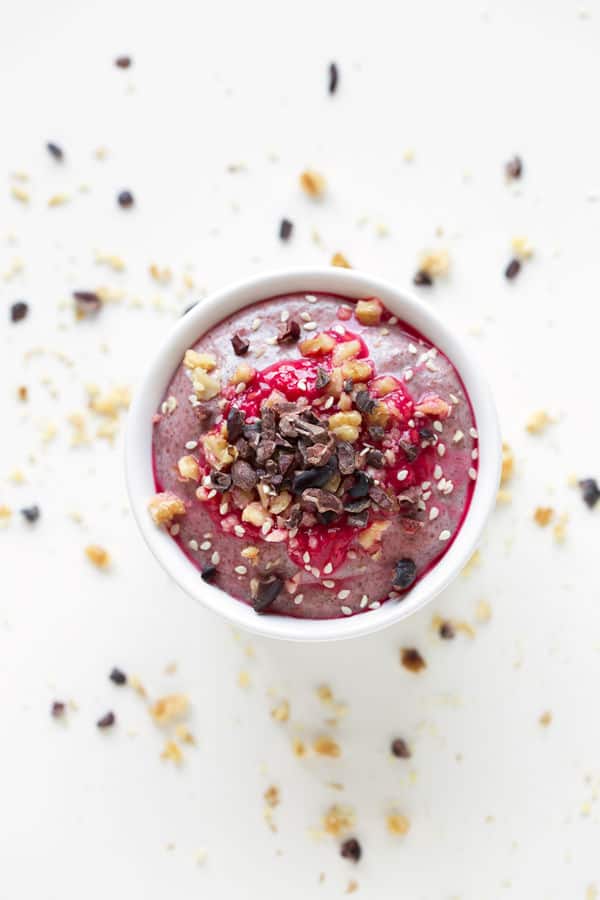 What I love about this dessert is that it's simple and quick to make with just 4 ingredients that you just blend together.
The raspberries make this a gorgeous looking pudding and I love how the chia seeds give it great texture. You can also use your favorite plant-based milk for this recipe.
Jasmine suggests chilling once made which is exactly what I tend to do with dishes like these. Finish off with your favorite topping!
Strawberry Almond Milk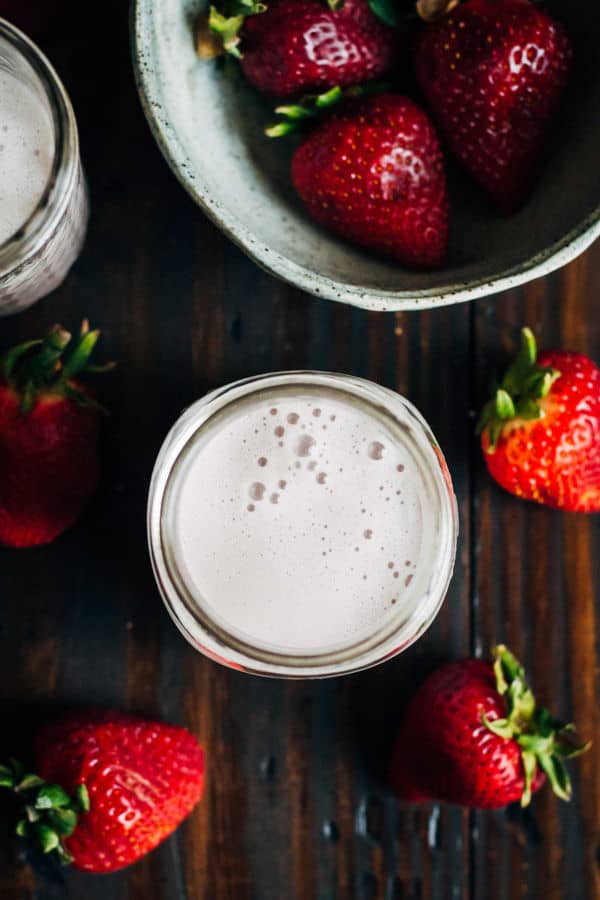 A homemade vegan milkshake of any kind sounds good to me! In this recipe, you need to soak the almonds overnight to soften them ready for blending. In addition, you will need a nut milk bag for straining.
Apart from the almonds, you are looking at just a few other ingredients. When it come to the dates, I always make sure I have medjools in the kitchen ready for an occasion like this.
Apart from soaking the almonds, overall it will be a 20 mins prep time. Making homemade milk tastes so much better than store-bought, it just may become a habit!
Dinner Recipes
Lemon-Parsley Marinated Mushrooms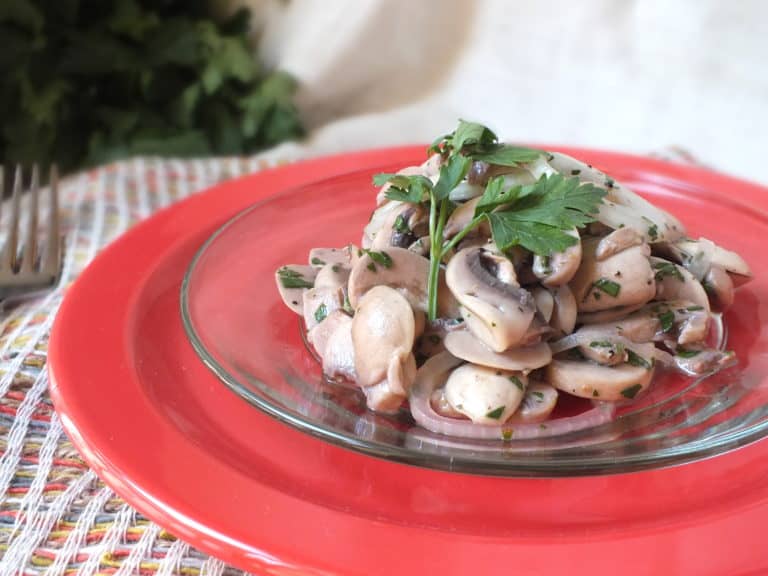 Mushrooms are interesting as they are something some people love, and others do not! For me? I am quite fussy when it comes to eating mushrooms, but I know a lot of people who enjoy them.
If you are one of them, here we have a raw mushroom recipe just for you!
The author has some step-by-step pictures to guide you through this recipe which includes marinating the mushrooms for 4 hours in the delectable lemon and parsley dressing.
If you love mushrooms, you are going to love this!
10 Minute Raw Curry over Zucchini Noodles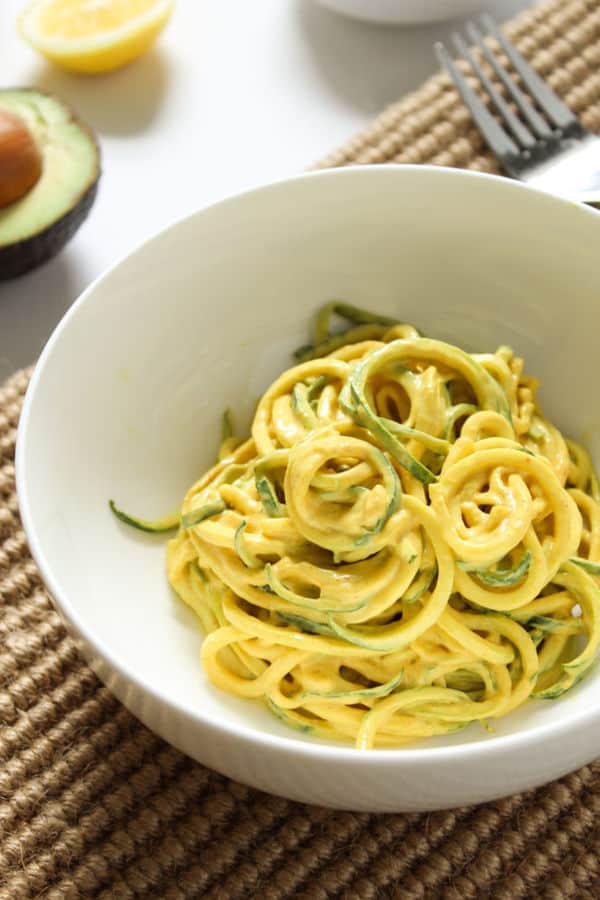 This recipe most definitely grabs my attention! I've always been a big curry fan but since getting more into health foods and eating a lot of raw foods, I sometimes miss a curry fix! I have made quite a few raw noodle dishes in my time, but I'm always ready for more!
These types of dishes always give you that feeling of 'comfort food' which is what you sometimes need.
This is a terrific recipe with just a 10-minute prep time, so you can get that curry much sooner than having to cook it! You may wish to soak the cashews overnight to make them perfect for blending.
You can adjust the heat of this dish to your liking, and I like mine hot! The author gives a great tip here of adding in some grape (cherry) tomatoes, shredded carrots or whatever you fancy, this will give more texture and add variety.
Do check out the recipe page as there is a great step-by-step video to help you create your dish!
10-Minute Zucchini Noodles with Cashew Pesto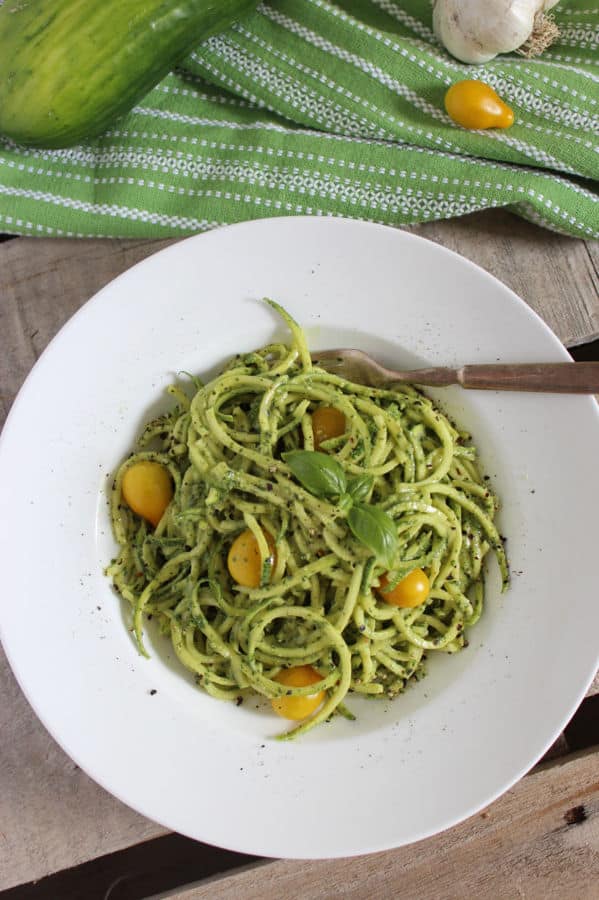 Another noodle recipe which is good news for me! This one is based on a traditional basil pesto recipe which you just cannot go wrong with.
As the title states, this has a 10 min prep time which is pretty good going for any raw meal. The most time-consuming part I have found is the spiralizing.
You'll need a food processor to make the pesto and of course a spiralizer of some kind to create the noodles. A great dish for anytime!
Rainbow "Raw-Maine" Taco Boats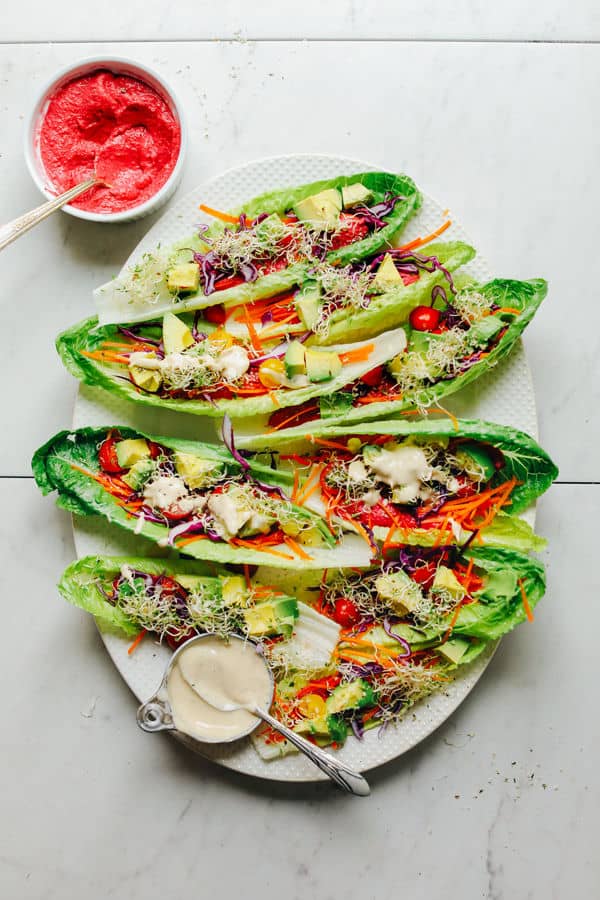 Romaine leaves are a raw and healthy alternative to taco shells. They not only work really well but the whole dish tastes so fresh which is what eating raw food is all about.
You can make these in just 15 minutes using 10 ingredients. Keep it completely raw by skipping the traditional hummus and going for sprouted instead or use an alternative spread.
Do check out the amazing photos on the recipe page as they really are stunning and full of color.
Almond Ricotta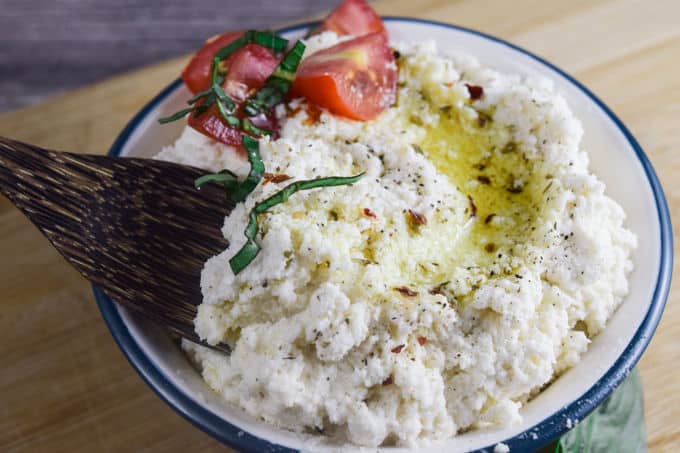 This is a simple vegan ricotta recipe which you can use for a number of foods like pizza or lasagna and don't forget those dishes can be made raw too.
With just 4 ingredients, you can have this creamy topping ready in about 15 minutes. You do need to prepare in advance by soaking the almonds for a few hours first. If you love ricotta, do try this!
Raw Mushroom and Zucchini Lasagna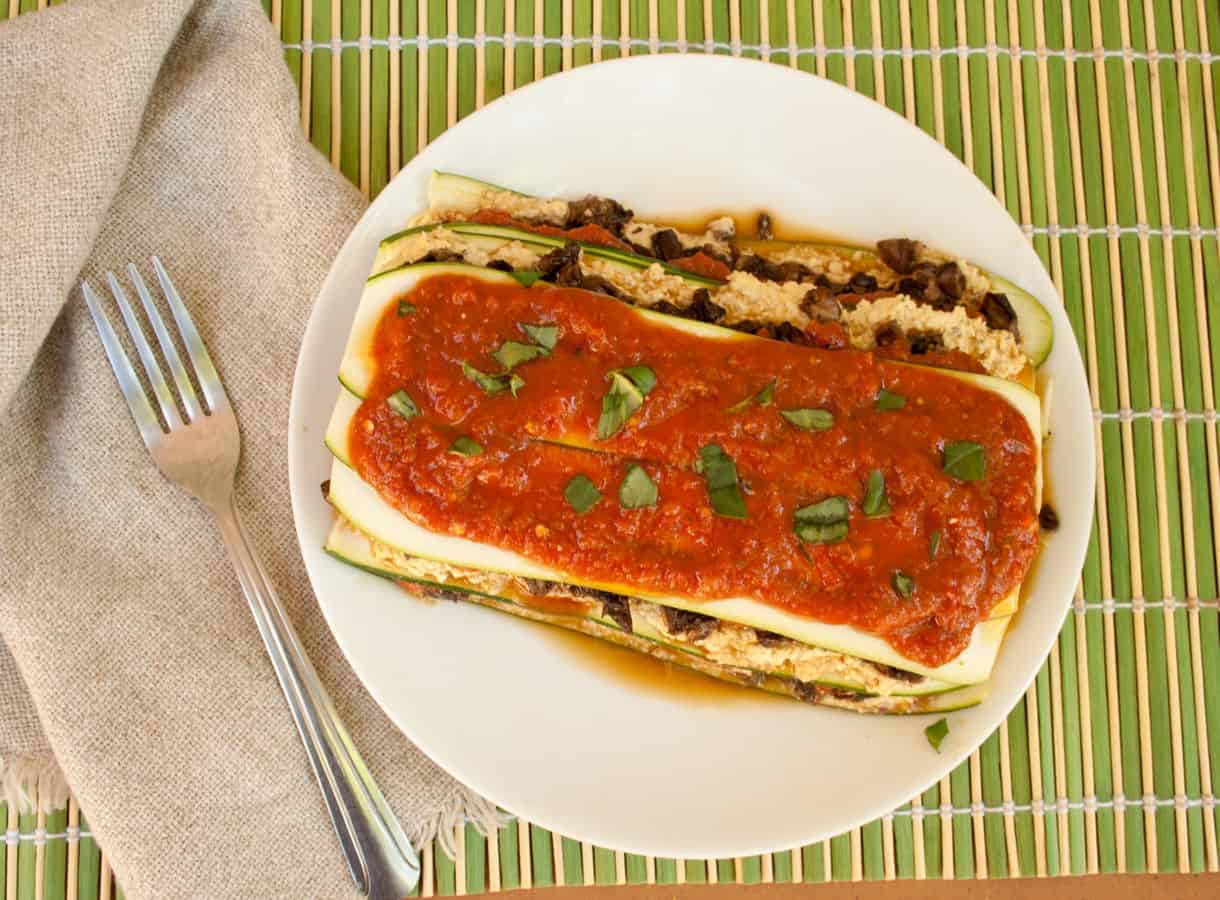 This is the kind of raw recipe that gets me excited! When I go out to a raw vegan restaurant, this is the first dish I always look for.
Willow has this being made in 15 minutes and with additional time for the red pepper sauce (which is linked on the recipe page).
I would say that's good going as my first attempt at a raw lasagna took much longer.
What I find amazing is how raw lasagna gives you the same satisfying taste as a traditionally made dish. Try it for a special occasion.
Low Fat Raw Zucchini Pizza Crust (Gluten-Free)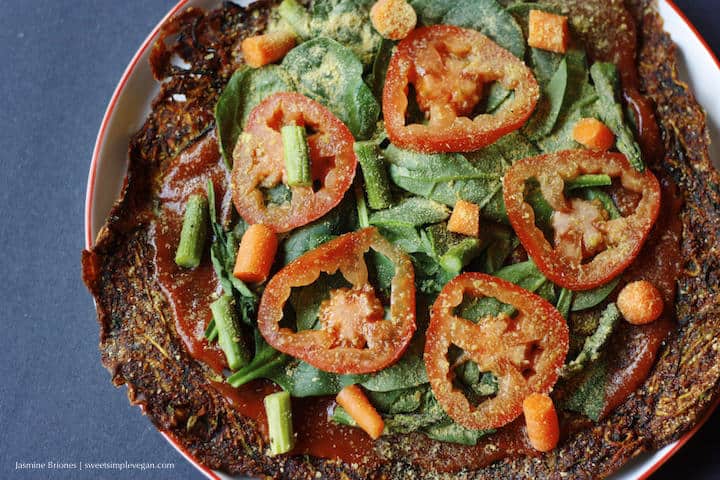 I really didn't know what to expect the first time I tried a raw pizza, but I was sold from the very first bite!
Since then, I'd always take raw over a traditional pizza, but of course, finding a restaurant that makes them is not easy. This is where making your own comes in!
Jasmine and Chris' pizza crust is perfect for the adventurous; allowing you freedom and creativity to try different topping combinations.
Dressing Recipes
Thousand Island Dressing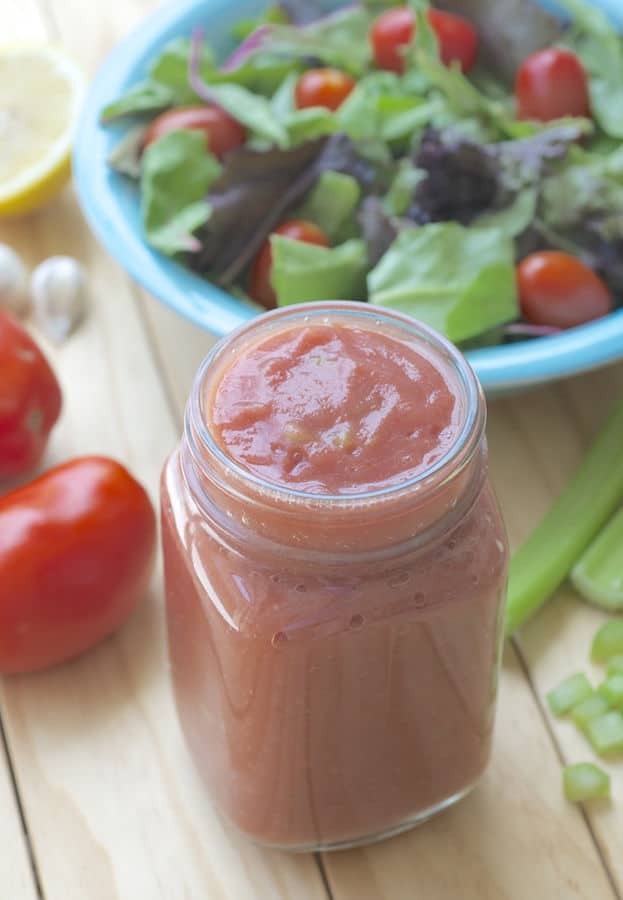 If you are a fan of this dressing, you must try this! With some wonderful ingredients including Roma tomatoes and cauliflower florets, you will have this ready in just 5 minutes.
Make this for your favorite salad and you will no doubt be making this again and again!
Creamy Cashew Caesar Salad Dressing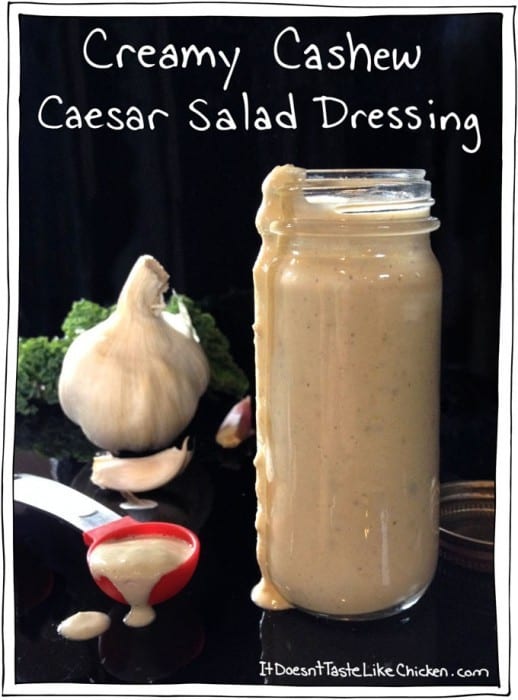 I love a dressing that includes cashews as you know it's going to be creamy and this one is no exception.
As an added bonus, this recipe is free from both gluten and oil! I suggest soaking the cashews for a few hours or overnight to soften them rather than boiling, to not only keep this recipe raw but also to keep the nutrition.
Blend all the ingredients together and you have yourself a perfect salad dressing that can be stored in the fridge in an airtight container for about a week.
Raw Creamy Chipotle Dressing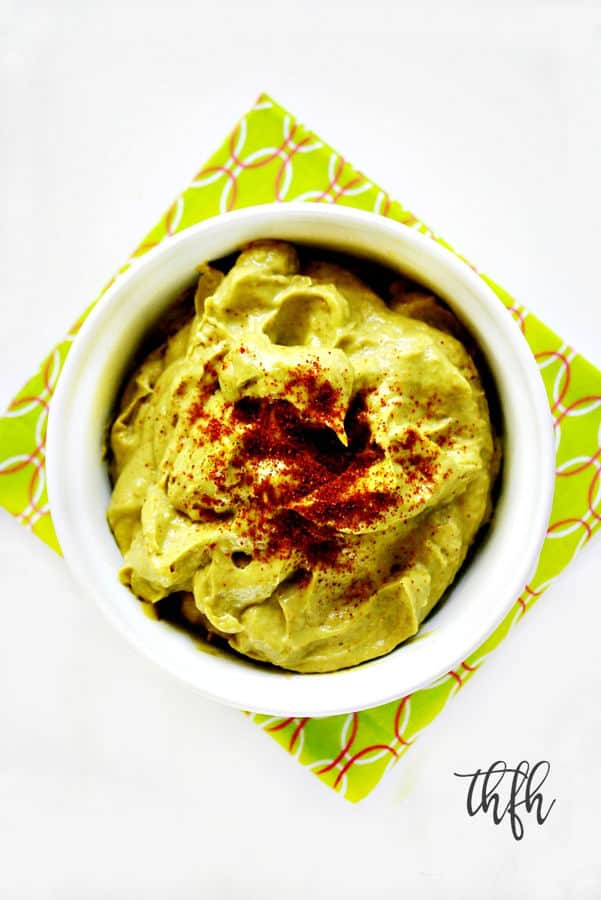 I love avocados and I am partial to some chili heat in my foods, so this sounded very good to me!
With just 4 ingredients and a quick whizz in the blender, you will have this dressing ready in just 5 minutes.
Use this over salad, as a spread or a dip.
Creamy Cumin Ranch Dressing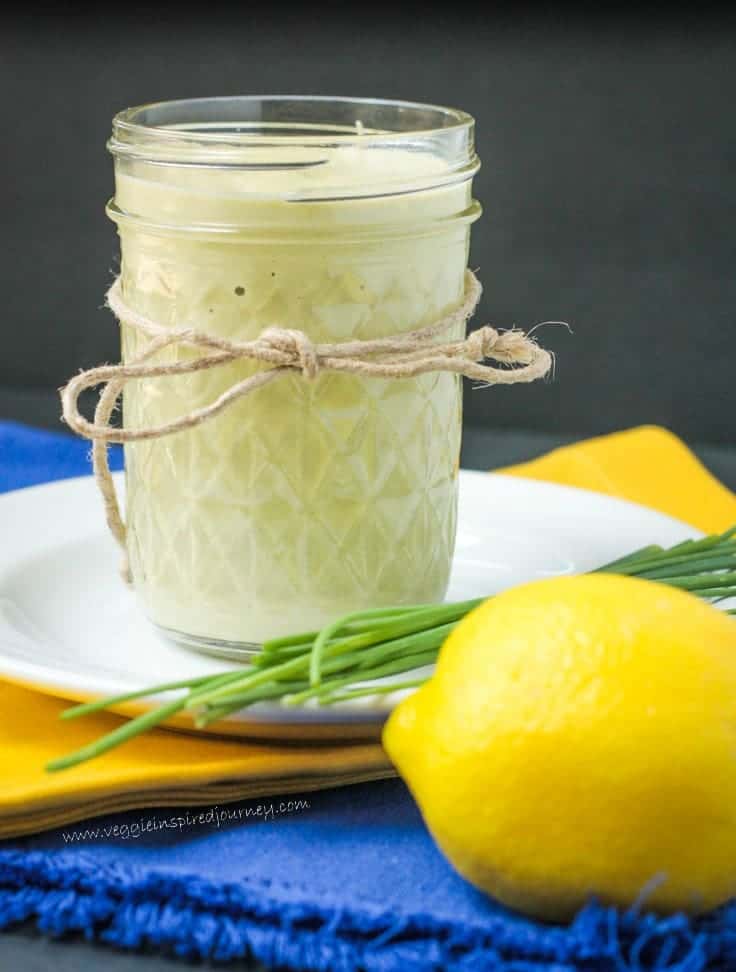 A dressing with a southwest flavor is enticing! You can use this on salads, but you can also drizzle it on all kinds of other foods such as burgers or baked potatoes.
The only preparation you need is soaking the raw cashew nuts but other than that, you just blend up all the ingredients and this creamy dressing is ready in just 5 minutes. I really like the chives and smoked paprika!
Ice Cream Recipes
4-Ingredient Orange Creamsicle Ice Cream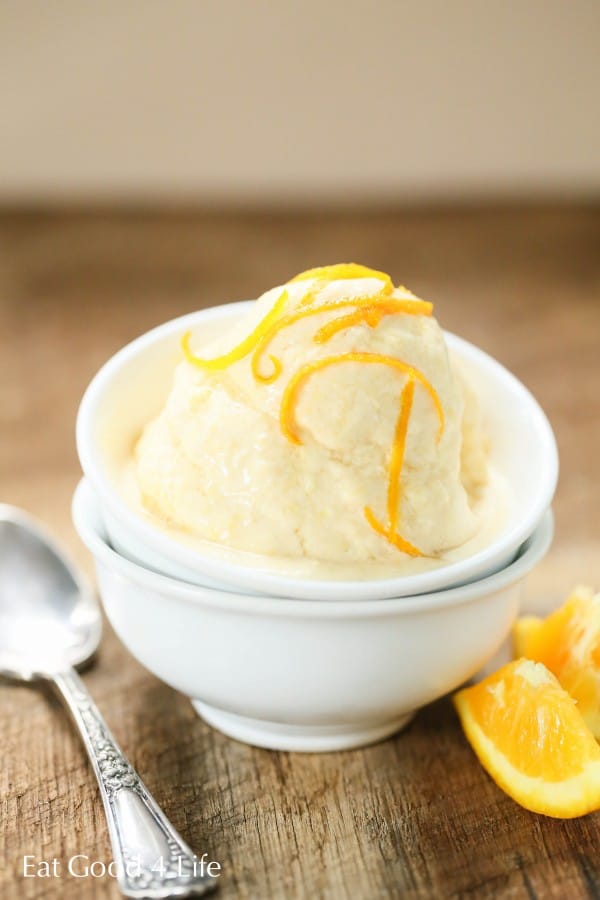 Just the word 'crimsicle' makes me want to try this… actually, the picture does too!
When I was little, I remember having orange ice cream which was always my favorite, but it was not one you saw often.
I am so glad we came across this recipe because now I can re-live that taste again. Not only that, but it will be even better and healthier.
This is made with real oranges, coconut milk and just 2 more ingredients as the title dictates! Can't wait to try this!
Tropical Ice Cream Sandwiches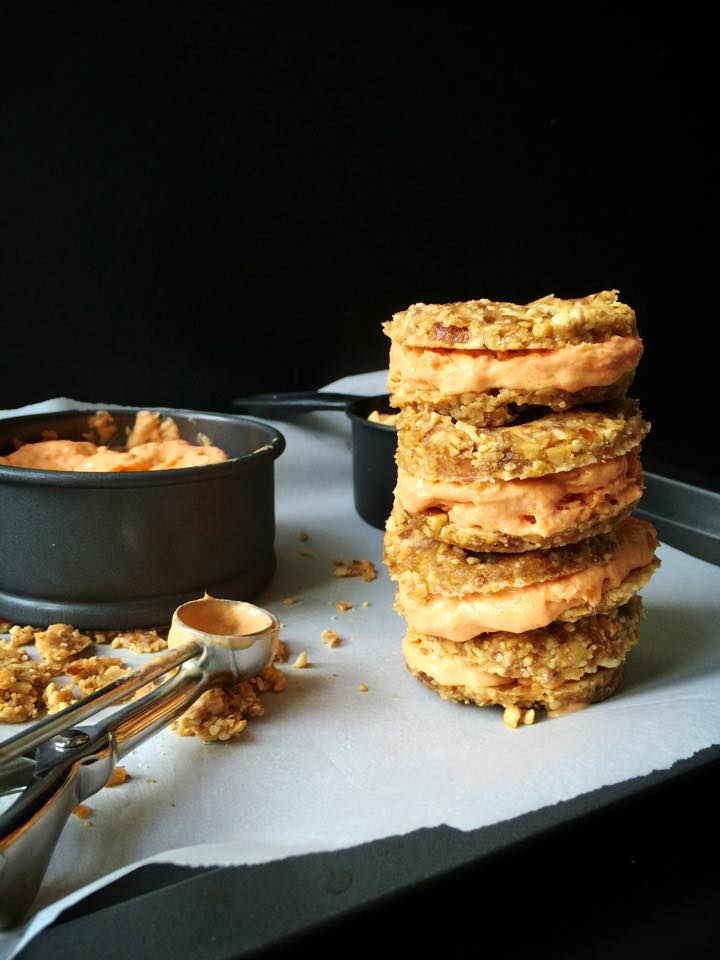 An ice cream sandwich like you've never had before!
With just a handful of ingredients, you can have this ready in just 20 mins. After making the raw base and placing in the freezer, you whizz up the mango and coconut ice cream.
Once done, make the sandwiches and place everything back in the freezer until ready to eat!
Raw & Vegan Chunky Monkey Ice Cream
Who doesn't like 'chunky monkey' ice cream? Do check out the pictures for this recipe because if you are unsure, you won't be after seeing the finished product!
You do need a little prep for this recipe as you soak the cashews to soften them and freeze the bananas in advance.
Other than that, it is all very straight forward. Once made, place in the freezer for a few hours.
Ultimate Raw Ice Cream Sandwiches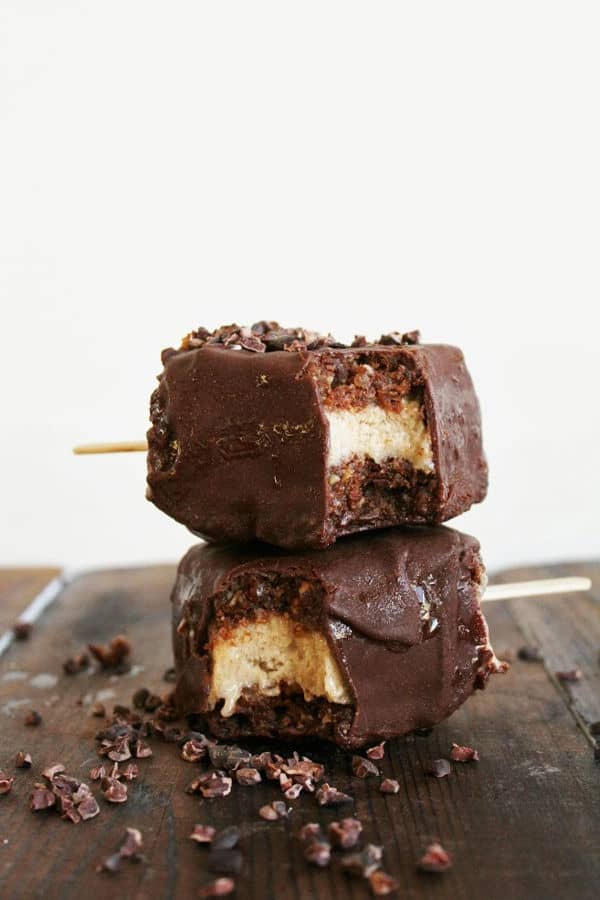 Oh my! Ice cream covered in chocolate? What we have here is banana ice cream, surrounded by a 'brownie' then encased in chocolate!
You will need a food processor to make the brownie mixture, a blender for the 'ice cream' and equipment of choice for the chocolate. Do try this, it will be well worth the effort!
Juice Recipes
Gimme Dat Sweet Hydrating Juice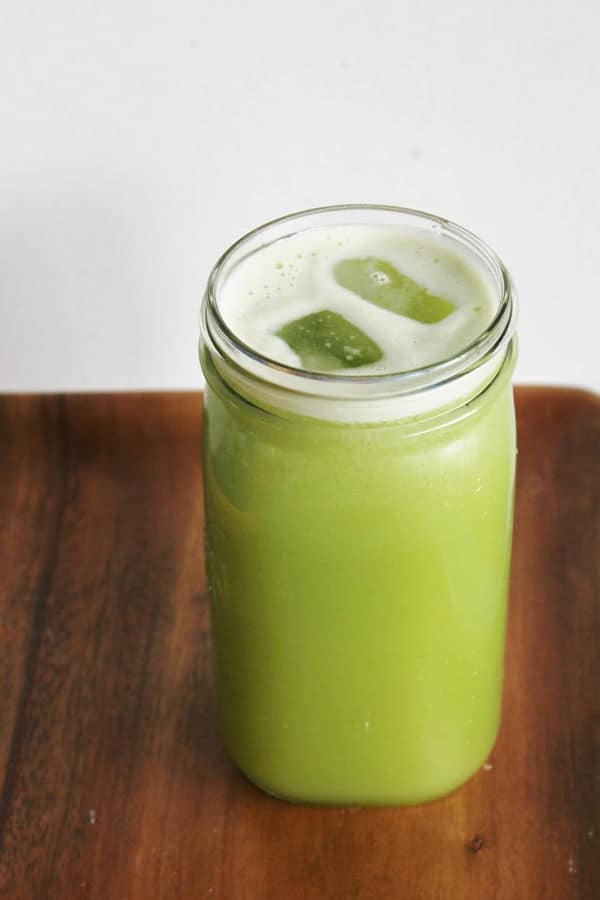 Juicing is not just packed full of nutrition, but it gives your body a rest from having to digest foods, and hydrates too.
I love the ingredients which include pineapple, apples and the magic that is, ginger! This is a perfect way to start the day.
Easy Beet Pineapple Lime Juice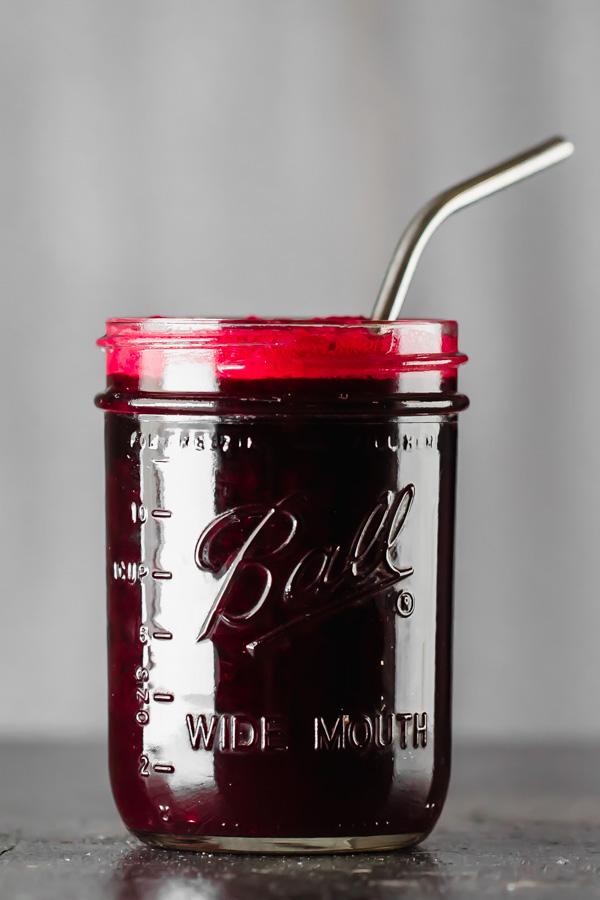 Just look at the amazing color of this juice. This is one serious purple drink with beets and pineapple at the helm! Juicing with this recipe will take you about 15 minutes, with a high-powered juicer, of course.
No juicer? No worries! It'll take a little more time to get the beets the right texture to blend in a blender, but it's not impossible. The sweet, tangy, tart mix of fruit is one you'll reach for time and again.
It will give you the pep in your step your body has been craving. If you love fresh flavors and juices that pack a nutritional punch, you will love this one!
Healthy Green Juice in a Blender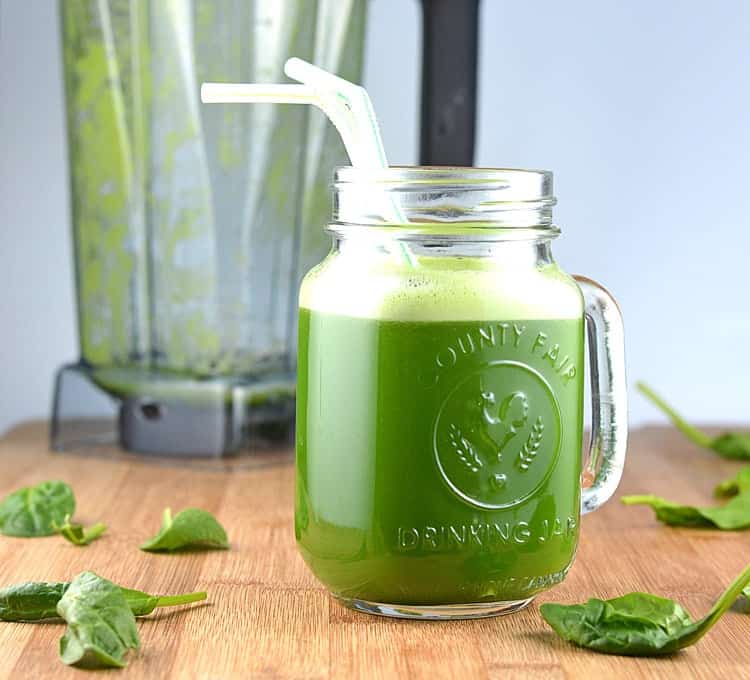 This is a great recipe for making juice in the blender! Yes… you did read that correctly!
To achieve this great feat, you will need a blender and a nut milk bag or cheesecloth.
Blend up all the ingredients, like spinach, cucumber and parsley and mix until smooth.
Now the genius part! Strain the blended concoction through the bag and you have yourself a perfect green juice!
Tropical Carrot Juice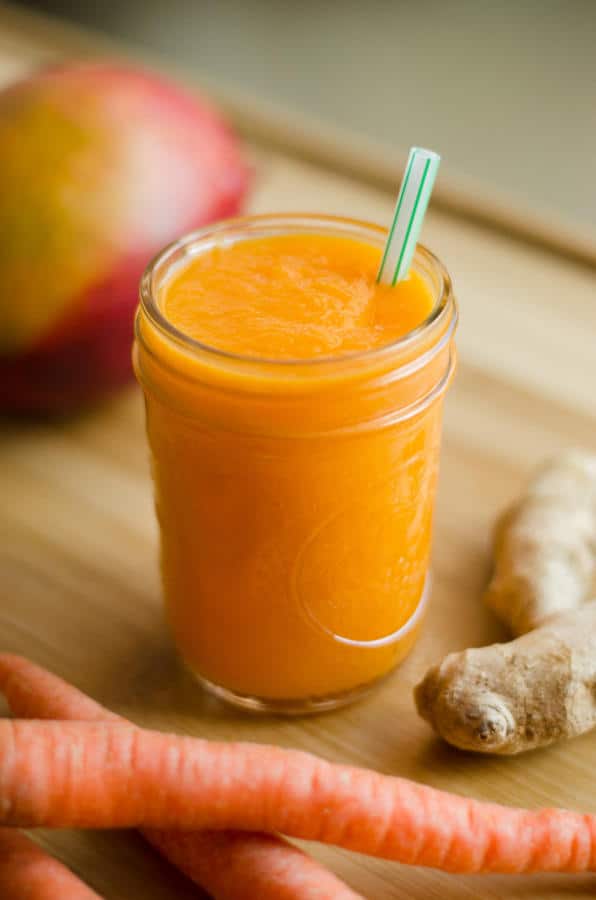 Here's yet another fashionable juice recipe which won't require fancy juicing equipment—if you've got a decent blender, you can make this!
This juice brings together very familiar ingredients, including mango and pineapple, delivering an unforgetable taste experience.
If your juice requires a bit more sugar, feel free to add a touch of sugar as Sarah suggests.
Beet Carrot Apple Juice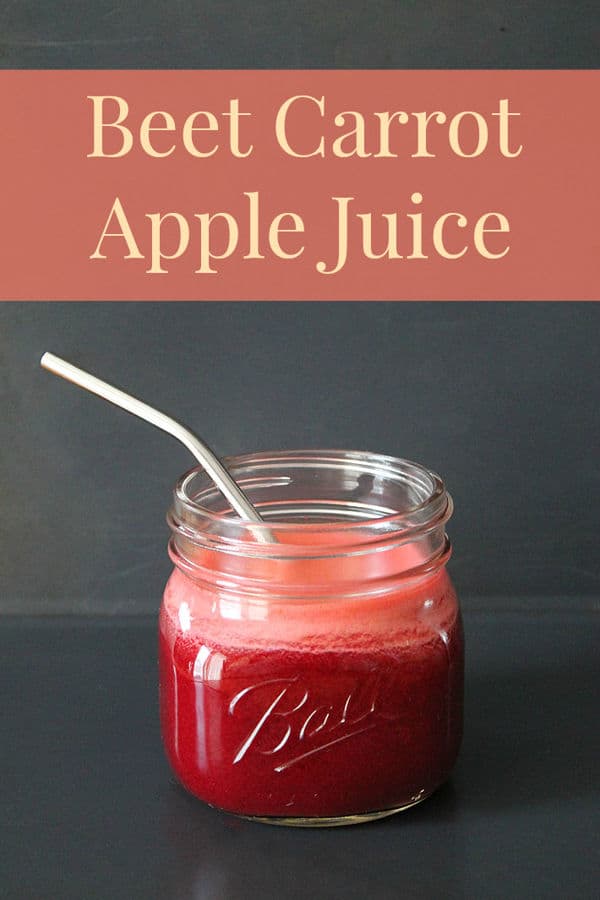 What I love most about this recipe is that, thanks to the beets, it's bright red! This juice is so healthy, I am sure you will feel the benefits, especially if you consume it on a regular basis.
With just a handful of ingredients that just need to be washed and trimmed, it'll be ready in no time at all. Starting off your day with this juice would be perfect!
Basil Beet Juice Recipe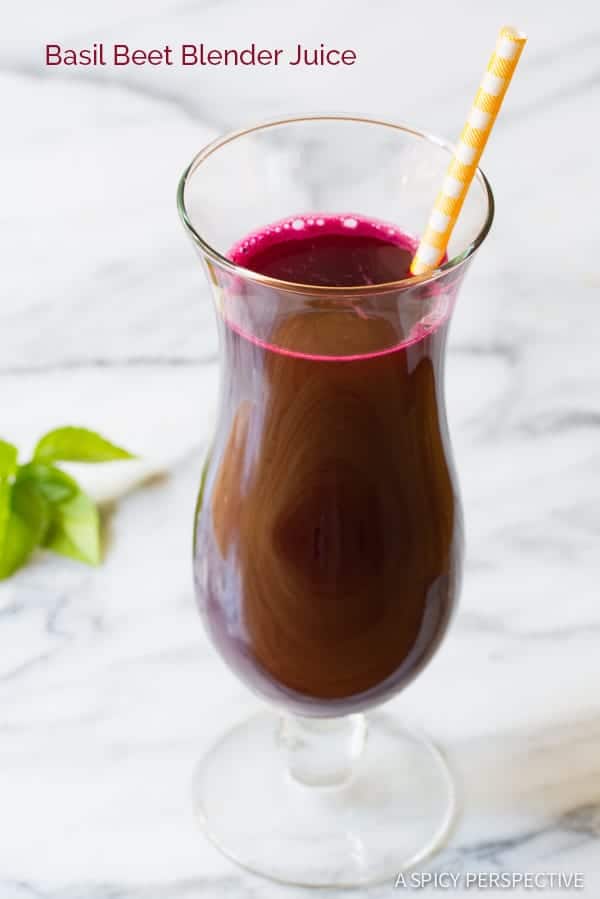 Not many know this, but you can actually make juice using your blender!
You just need a blender powerful enough to process the ingredients and a way to strain the blended result.
That's how you achieve Sommer's healthy, rich and infinitely yummy basil beet juice, which requires just 5 minutes of your time to make.
Vegetable Juice Recipe with Apple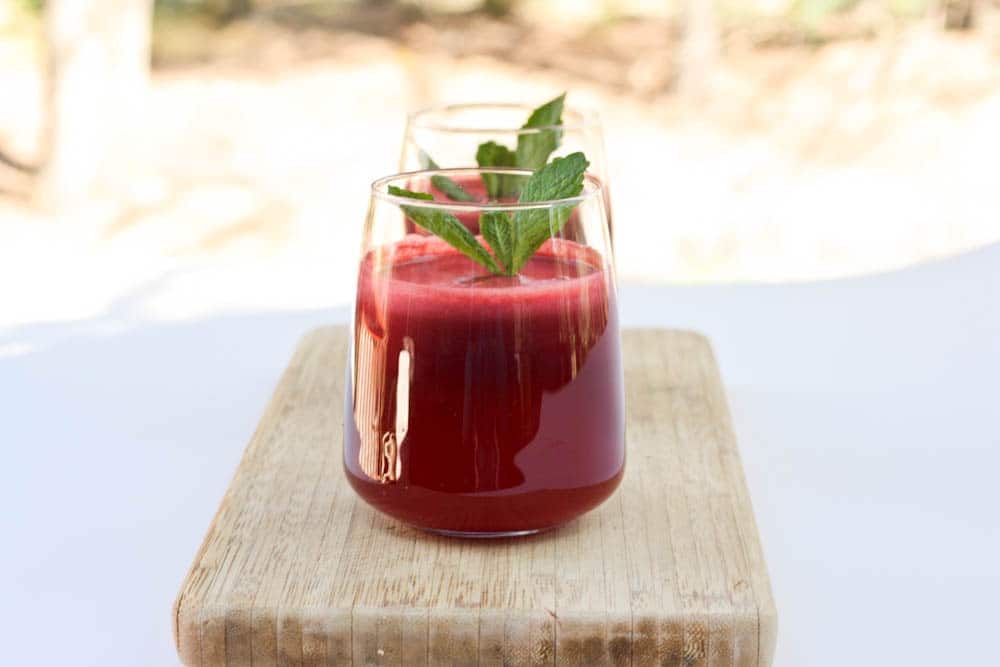 Another gorgeous red juice! What I like about this one is that it's a 'vegetable juice' and includes apples, beets, carrots and celery.
Prepare, then juice the ingredients, and get 2 glasses at the ready. You just know how good this is going taste!
Lunch Recipes
Tacos with Sweet Corn Salsa & Cashew Sour Cream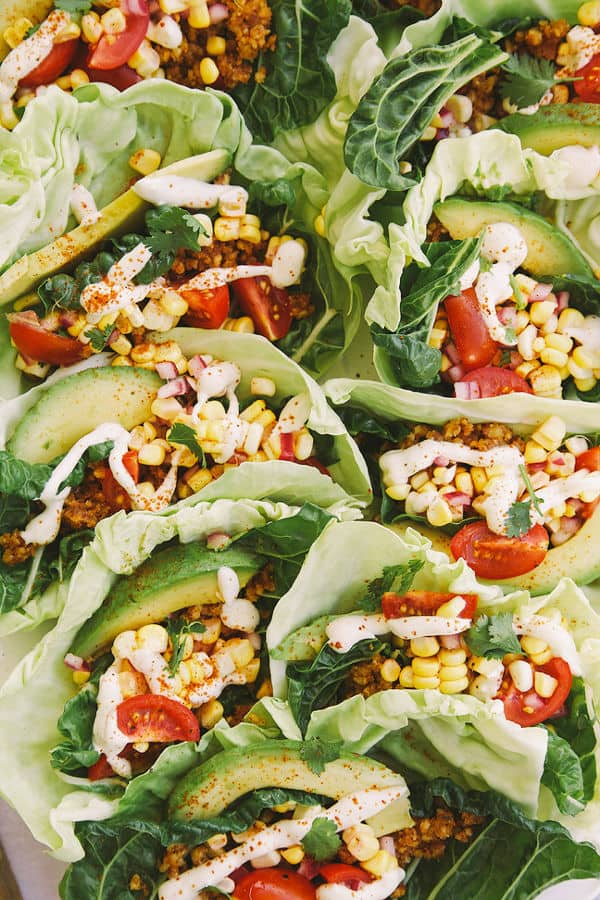 I love raw tacos and this right here is a fabulous recipe you must try.
You do need a little prep time to make the 'sweet corn salsa', the spicy nut and seed crumble, and the cashew-based sour cream.
Now all you need to do is prepare the 'taco shells' so you can layer it all in.
They really do look good so please check out the recipe page for pictures!
Raw Power Zucchini Pasta with Hemp Seed Alfredo Sauce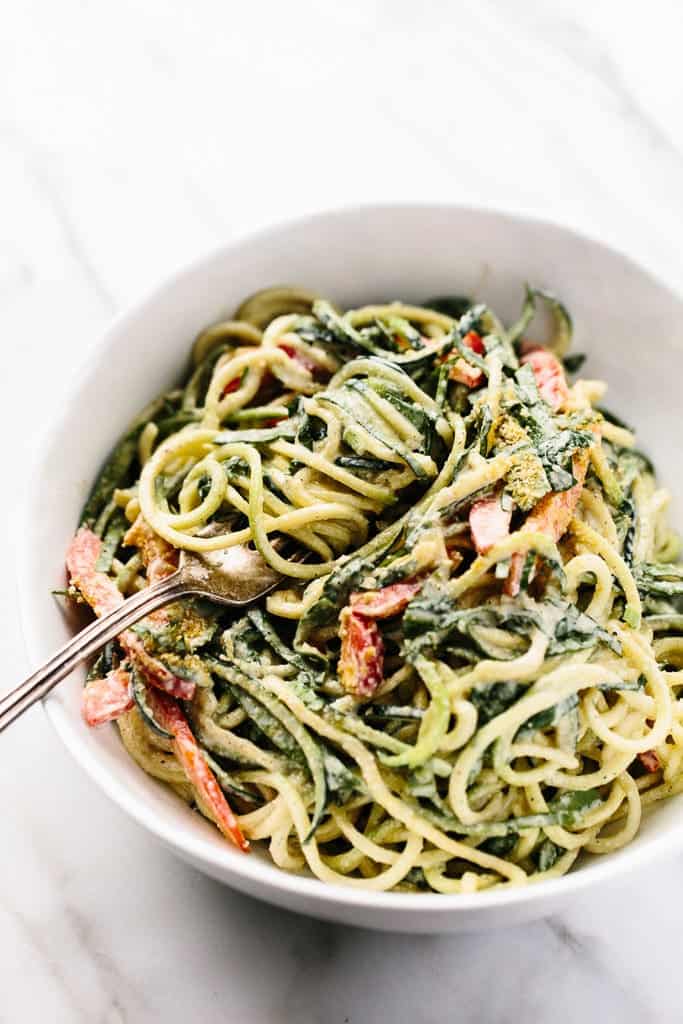 To get yourself some of these 'power' noodles, you're looking at about 20 mins prep time, and some additional time to make the hemp seed alfredo sauce, which is linked from the recipe page.
For the noodle recipe you will need the zucchini, of course, and just a few other ingredients including bell pepper and spinach.
The sauce will require soaking some nuts beforehand, so bear this in mind.
Top off the whole dish with some store-bought or home-made vegan parmesan!
Raw Super Sprouts Pad Thai with Spicy Peanut Sauce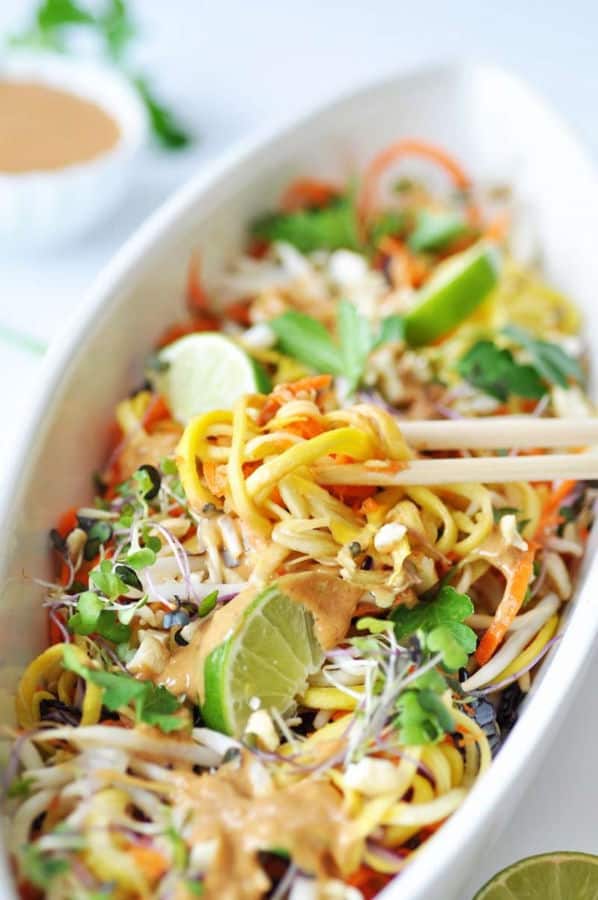 I love pad thai and I love raw pad thai even more! The reason? I relish the health benefits of eating living foods.
Here we have 2 recipes, one for the main dish and then the chili peanut sauce.
The recipe calls for the bean sprouts to be blanched so skip this to keep it raw. Total prep time is 25 mins.
I really like how the 'noodles' here are made with yellow squash which makes a nice change from zucchini.
Prepare all the ingredients then mix with the chili peanut sauce. Perfect!
Raw Tacos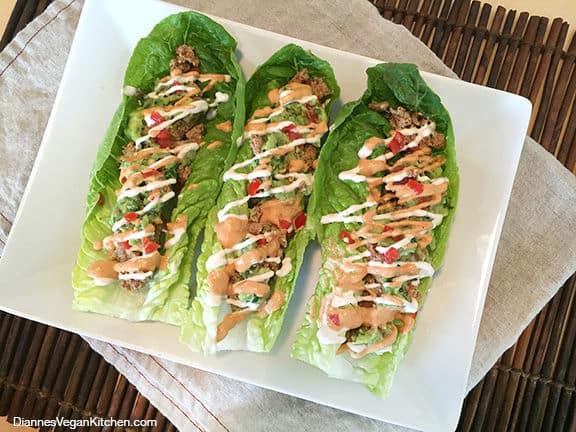 These tacos really hit the spot! The recipe is divided into different sections with the taco filling, guacamole, cashew sauce, nacho cheese and the sour cream. Don't forget the lettuce leaves for the tacos 'shells'!
You will need to soak the sunflower seeds and sun-dried tomatoes for a couple of hours before making these.
Other than that, prepare all the ingredients and assemble these tacos, you won't regret it!
Raw Collard Wraps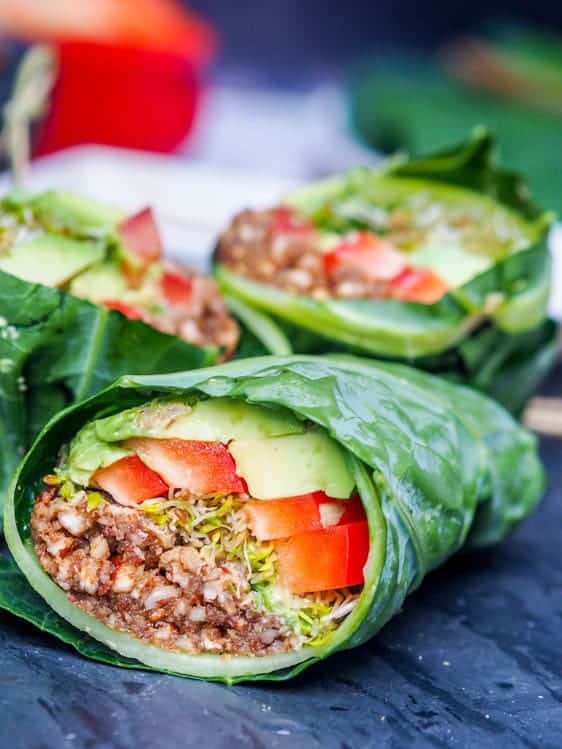 I absolutely love wraps, especially when they are collard greens.
They taste great and hold the ingredients in place really well too.
This recipe is not only delicious but also very easy to put together.
The ingredients include pecans, avocado and alfalfa sprouts. For the 'nut portion' of the recipe, use a food processor to bring everything together.
Overall you are looking at about 15 mins prep time. Healthy and fantastic!
Snap Pea Slaw Cups with Avocado Chive Cream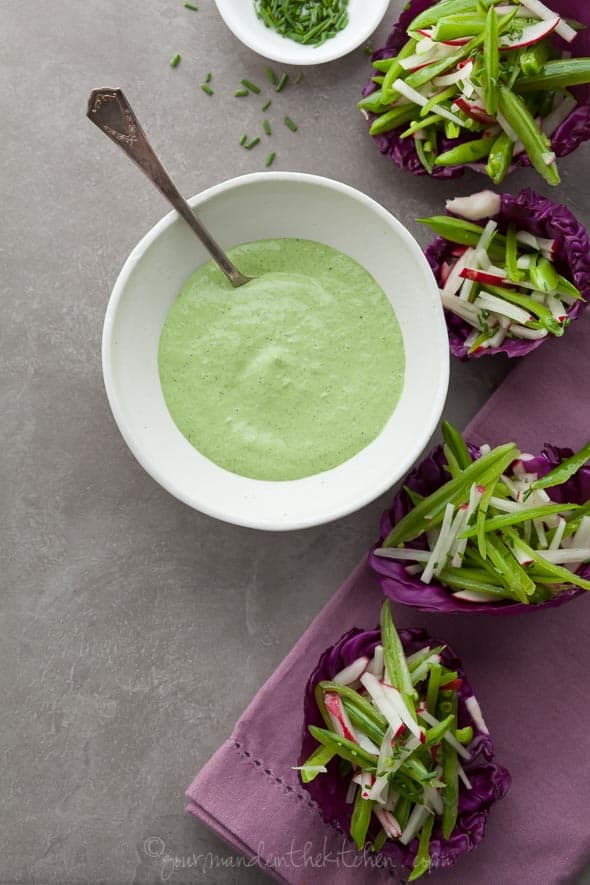 I love the look of this dish as we have the 'slaw cups' and then the 'cream' to pour over.
The prep time for this is 20 mins with the recipe divided into 2 sections. For the 'avocado chive cream', you'll need a blender, but for the 'slaw cups', a knife is all that's required!
Do check out the pictures as you'll see how this dish would be perfect for a dinner party.
Vietnamese Summer Rolls with Spicy Peanut Dipping Sauce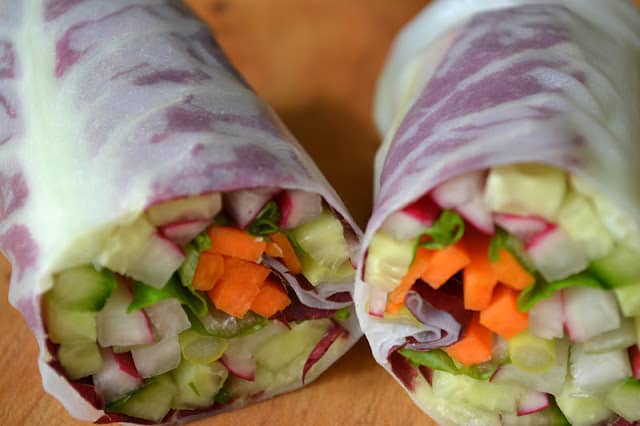 I really love summer rolls and feel like I never eat enough of them. This recipe will change all that!
Here we have 2 recipes, one for the rolls which includes spring roll wrappers and fresh salad ingredients, and the dipping sauce.
Once you have made the rolls, place the sauce in a bowl and get dipping!
Spring Rolls with Peanut Sauce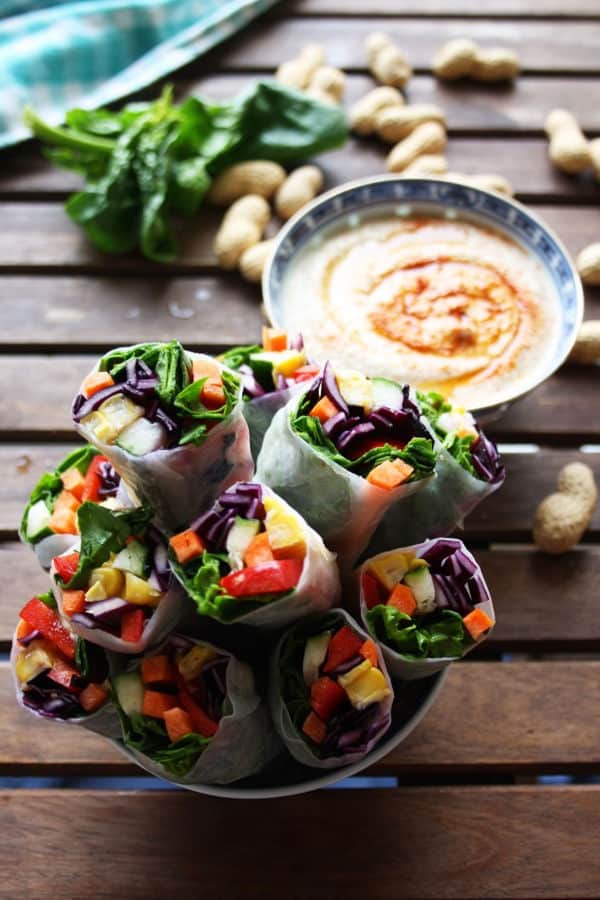 Vietnamese summer rolls with julienned salad items in rice wrappers sounds good to me!
If you've not used rice paper before, now is a good time to start. Just soak them in warm water for a few second and you're done.
What I love about recipes like these is that the filling is so versatile. The peanut sauce steals the show!
Raw Garden Herb Spreadable "Cheese"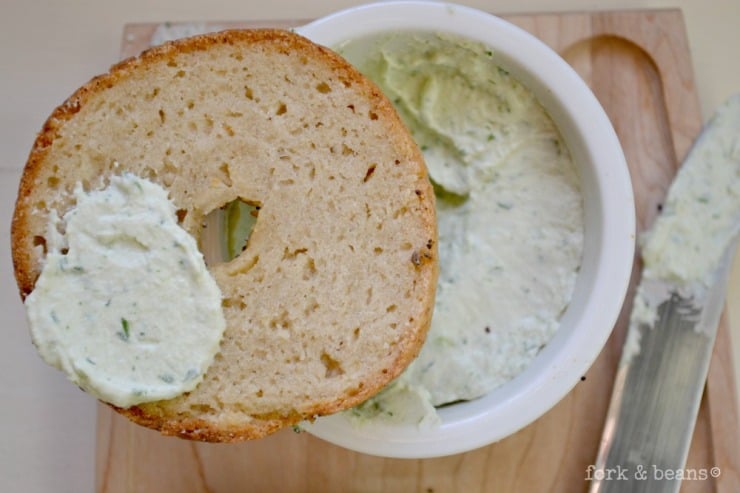 I always love to see a recipe for raw vegan cheese because it's one of those things that could be complicated. Fear not!
This is fantastically easy to make and it will taste better than you expect.
You do need a little prep time as soaking the cashews in a must.
nce made, you just need to set in the fridge for a few hours. You'll need a blender for this recipe, and something to eat your cheese with!
Raw Summer Squash Ravioli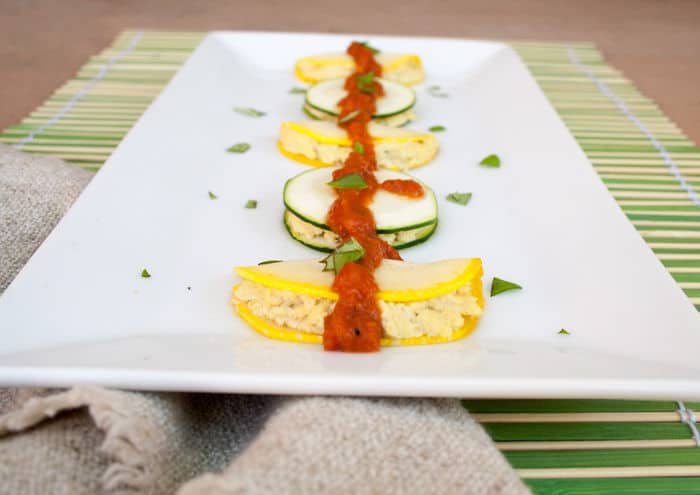 I first raw ravioli in a fantastic raw food restaurant in Florida. What amazes me is how similar raw dishes taste to cooked dishes of the same name.
The key to making good raw food, is not just the recipe, but the quality of the ingredients you use.
The ravioli here is made from yellow squash and zucchini, which adds lovely color to the dish. Next up is the cashew spread which you fill the ravioli with.
Lastly, we have the red pepper tomato sauce, drizzled over the top. The recipe for the sauce is linked on the recipe page. A stunning dish, perfect for entertaining!
Salad Recipes
Caesar Salad with Crunchy Hemp Seeds + Lemon Zest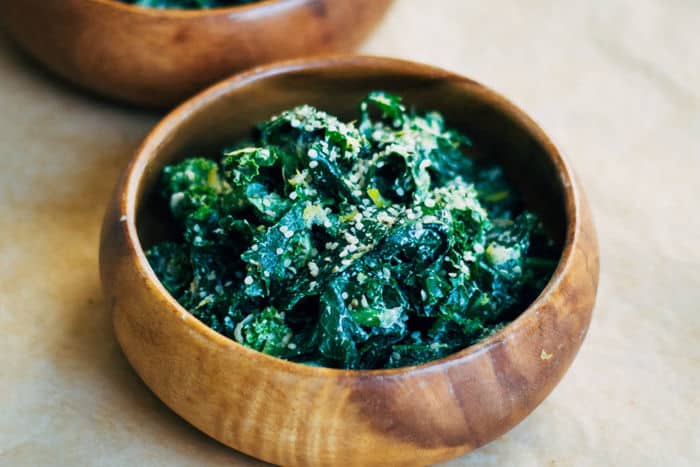 This is a gorgeous kale salad you simply must try. To prepare the kale, just chop then massage with lemon juice which makes it easier to digest.
For the raw caesar dressing, you do need to soak the cashews beforehand.
Apart from that, just blend the rest of the ingredients together. Top off with hemp seeds or other seeds of your choice!
Asian Raw Kale Salad with Red Pepper Dressing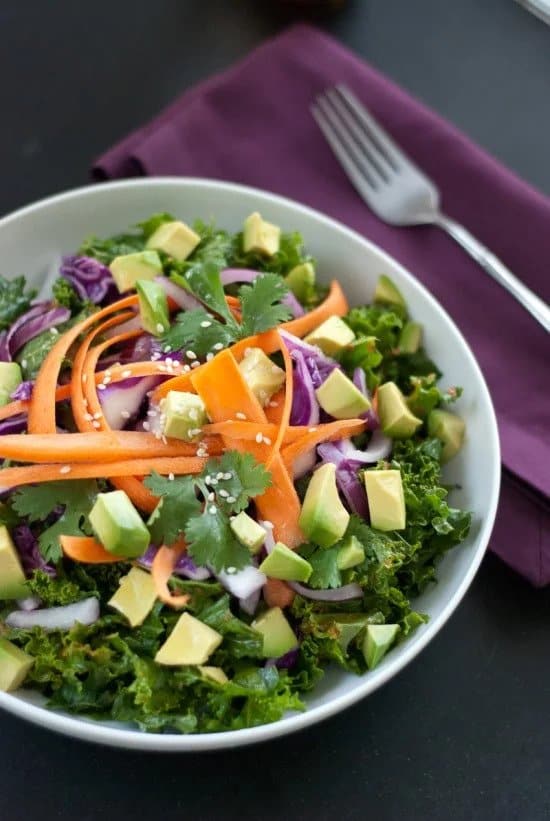 My first thoughts on seeing this salad is how appetizing it looks. I really love the ingredients as they not only taste good but add great color to the table.
The salad itself is not just about the kale, we have some carrot, avocado and more. The red pepper dressing is full of flavor which includes ginger and garlic. Delicious!
Spicy Mango Cucumber Salad Skewers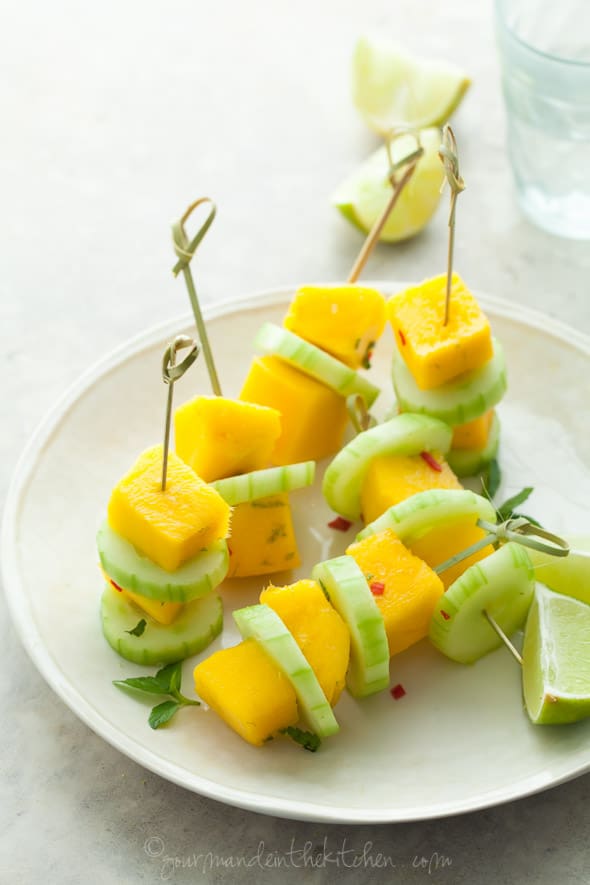 I have not seen a recipe like this before, very unique! The mango and cucumbers on the skewers are a perfect combination of flavors and colors.
The genius part of this dish is marinating the ingredients first, then placing on the skewers. A must try recipe!
Easy Sauerkraut Salad with Mango and Almonds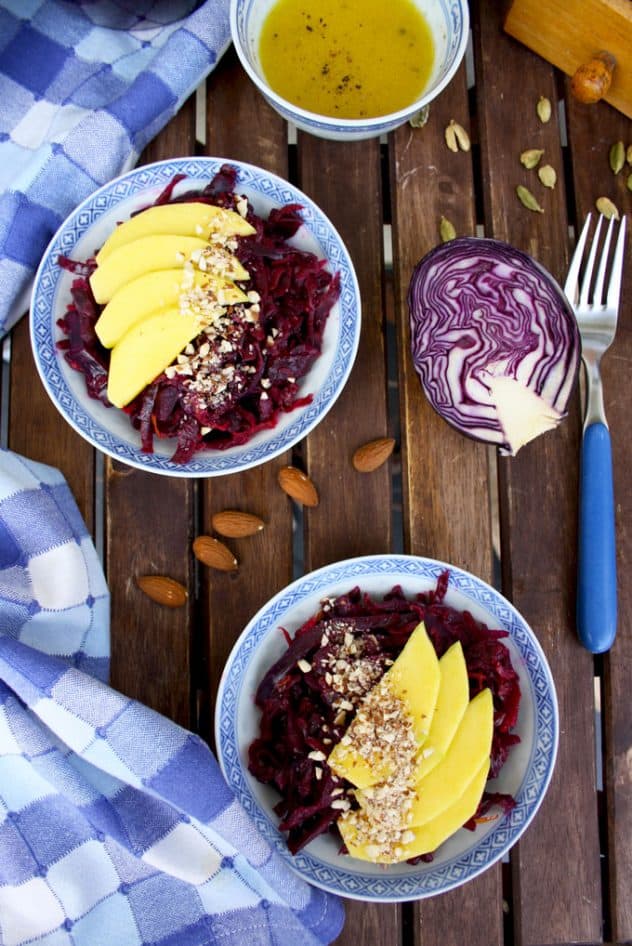 This is an interesting recipe, as we have sauerkraut mixing with fresh mango! I am not a sauerkraut fan myself, but I know people who are.
The dressing is key here, which combines extra virgin olive oil with cardamom pods, dijon mustard, brown sugar and more. If you are a sauerkraut fan, do give this a go!
Raw Veggie Chopped Salad (Oil-Free)
This dish is a nice change from a regular salad, this recipe includes broccoli, peppers, radishes, seeds and more.
What makes this veggie salad so good is the dressing!
With a great mix of ingredients, including garlic and apple cider vinegar, it's also perfect for an oil-free diet.
Chop all the ingredients, coat with the dressing and you have yourself a wonderful veggie chopped salad!
Rainbow Salad with Low Fat Raw Dressing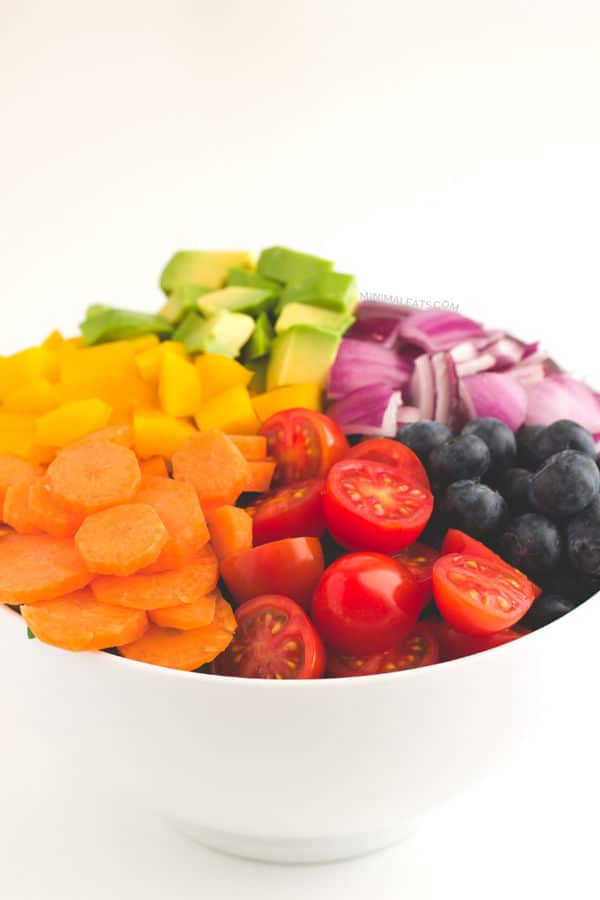 As the name implies, this is a beautifully colorful salad! With prep time looking at around 15 mins and the only equipment needed apart from you're your favorite kitchen knife, is a blender.
This salad has an array of produce from spinach, tomatoes, avocado and red onion.
The dressing itself has only 3 ingredients. Prepare the salad, mix with the dressing, simple as that!
5-Step Raw Kale Salad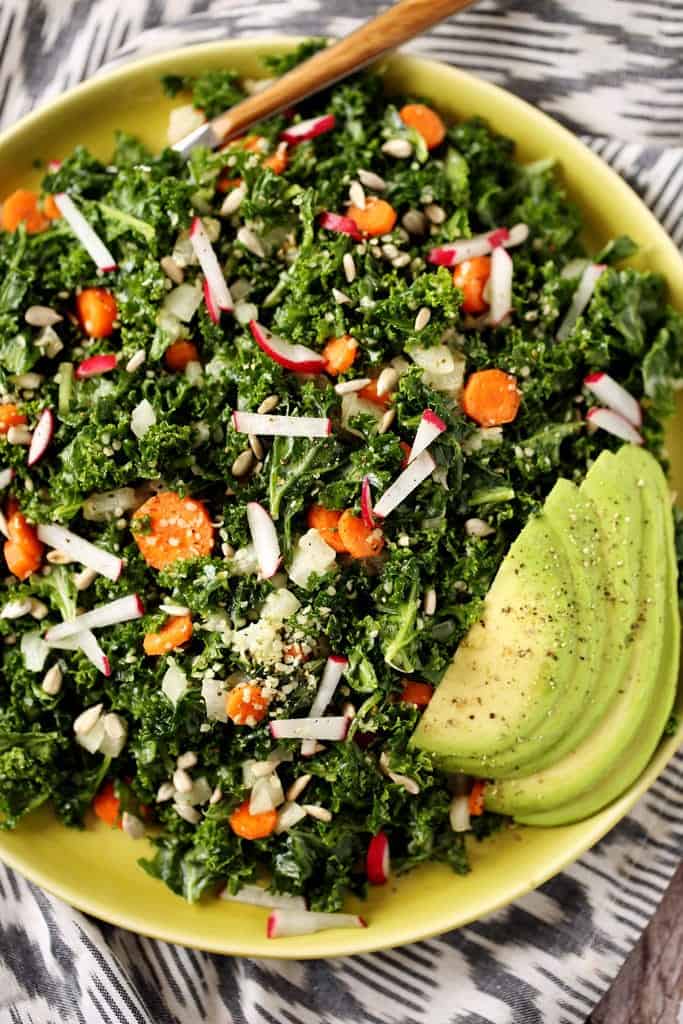 An absolutely gorgeous salad right here! Just looking at the picture had me sold on wanting to try this recipe.
It really does look like restaurant quality so it's perfect for when you want to impress!
The most time-consuming part of this salad is preparing the kale as you need to wash it thoroughly before cutting the leaves into strips, then mix with the rest of the ingredients.
Next up is the sweet tahini dressing! When ready, massage into the salad and set in the fridge for about an hour or leave overnight.
Now you have a refreshing kale salad ready to eat!
Spiralized Raw Beet Salad with Blood Oranges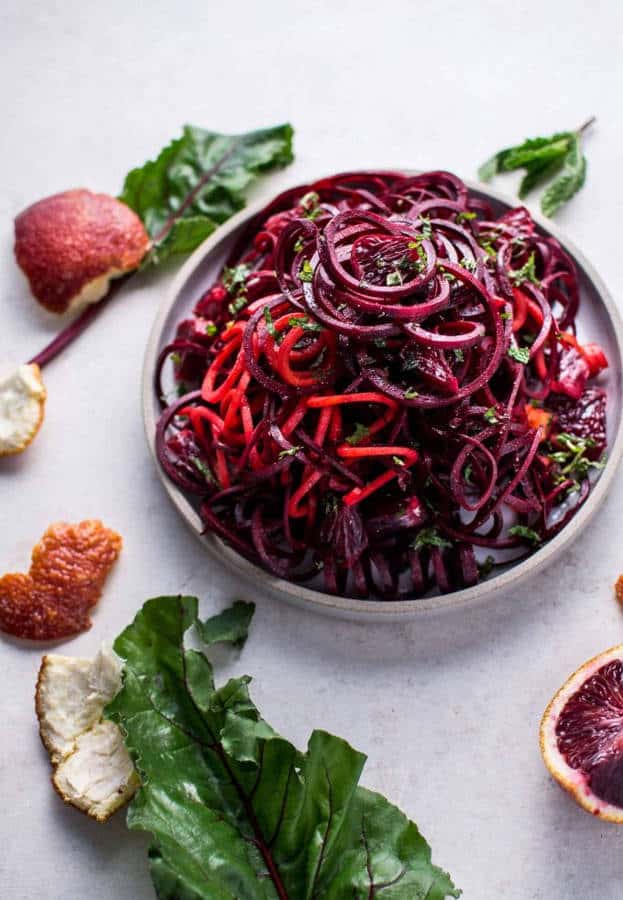 Fancy a salad that's different from the usual lettuce and kale? Then you won't go wrong with this spiralized bowl of beetroot-carrot goodness accompanied by blood orange.
This salad is raw, nutritious, nicely flavored with a touch of mint, and makes for a beautiful presentation at the table.
Raw Chard Salad Rolls with Spicy Mango Dip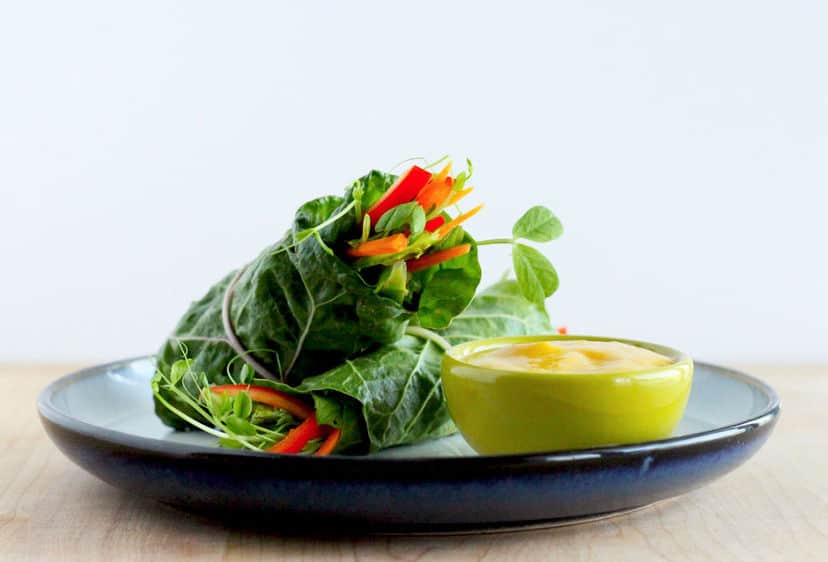 I love the title of this recipe as it is indeed a 'roll' of sorts! If you cannot source chard easily, you can use collard greens or lettuce.
There are some wonderful ingredients inside the roll including carrots, bell peppers, apples, strawberries and beets, to name just a few.
The spicy mango sauce is very enticing. Make up the roll and dip in!
Raw Brussels Sprouts & Apple Salad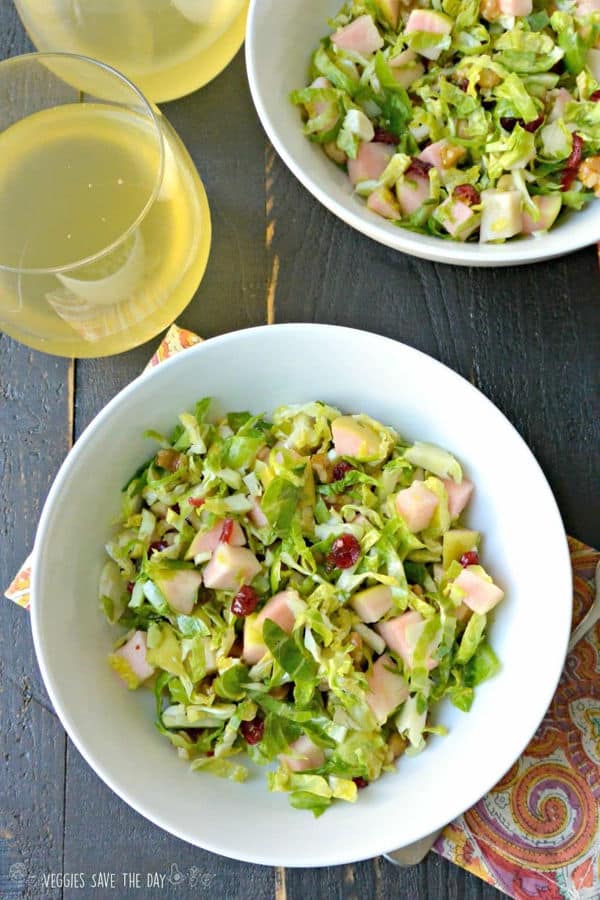 There is more to this salad than just brussel sprouts and apples as we have dried cranberries and walnuts too.
You need to shave the sprouts, chop the apples then whisk together this simple dressing.
You're looking at a prep time for this at around 20 min. A great alternative to a regular salad!
Raw Corn Radish Salad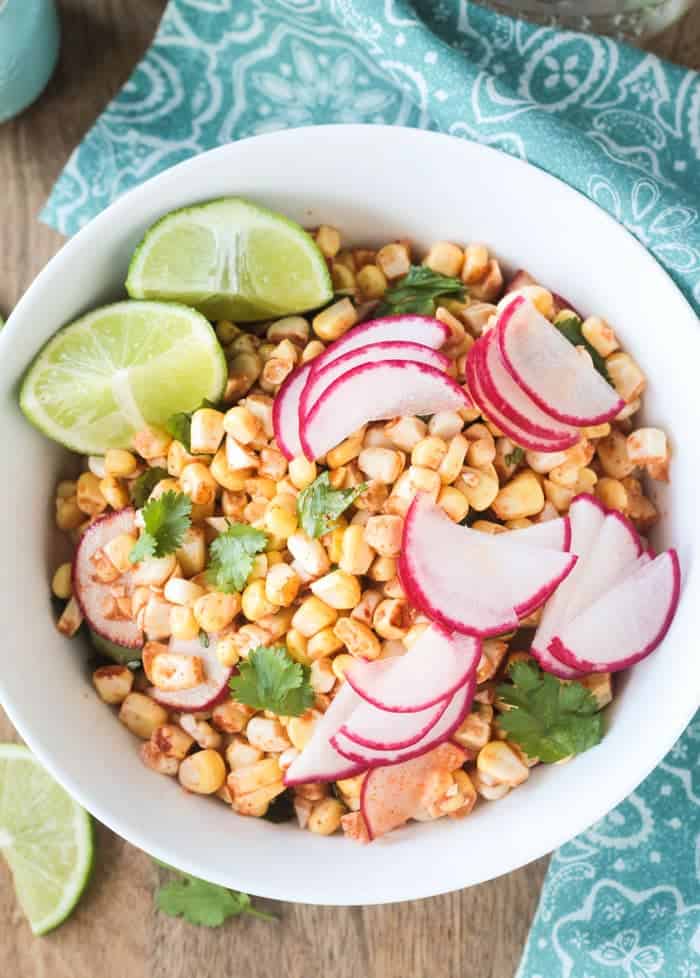 I love corn on the cob and I love eating it raw too, so this salad is very appealing to me. It's also extremely simple, perfect for days when you don't have much time.
Combine all the ingredients including limes, cumin and paprika, and you'll have this ready to eat in 10 mins. Perfect!
Raw Mock "Chicken" Salad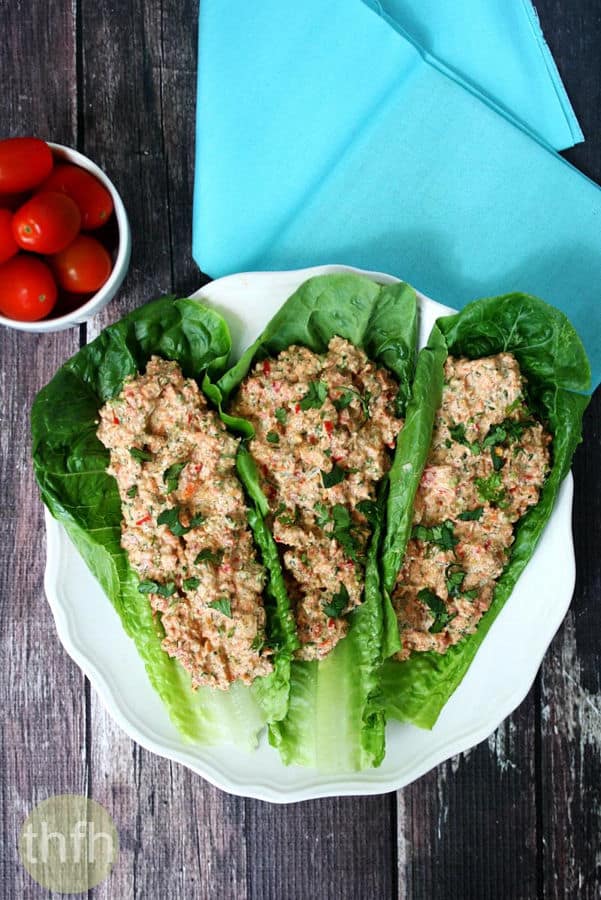 Karielyn, the recipe author, states how even though this does not taste like chicken, it does have the texture of a traditional 'chicken salad'.
You'll need to soak the cashews for this recipe but apart from that, this is quick to put together.
When you have the vegetable mixture and salad dressing at the ready, all you need now is deciding how to eat this.
Raw crackers, fresh vegetables or served on a collard green? The choice is yours!
Romaine Wedge Salad with Chive Dressing + Smoky Sunflower Bits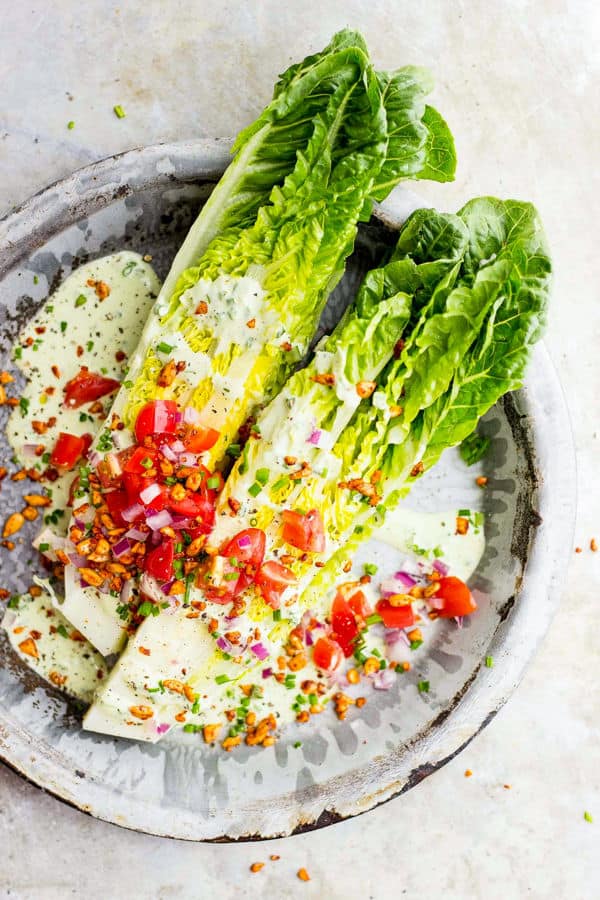 I really like the presentation of this dish! The romaine lettuce is chopped in half and laid out on the plate. Next up, making the dressing!
You'll need to soak the cashews for a few hours before making this sauce but after that, it's very straightforward.
I really like the creaminess of the dressing with the chives.
Top it all off with the smoky sunflower seeds which has its very own recipe!
Broccoli Stem Salad with Lemony Vinaigrette + Black Pepper Crumbs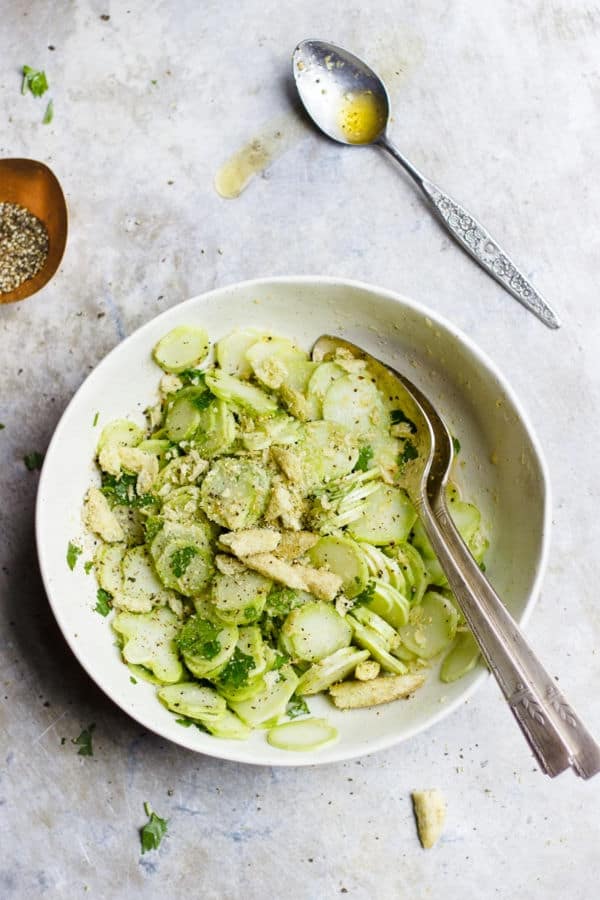 Sherrie is a self-confessed black pepper lover! This is also a recipe for broccoli stem fans! A simple recipe taking just a few minutes.
Wash and prepare the broccoli and parsley, make the vinaigrette and mix. Finish off the dish with some raw nuts or seeds!
Raw Taco Salad with Spicy Chipotle Aioli and Cashew Sour Cream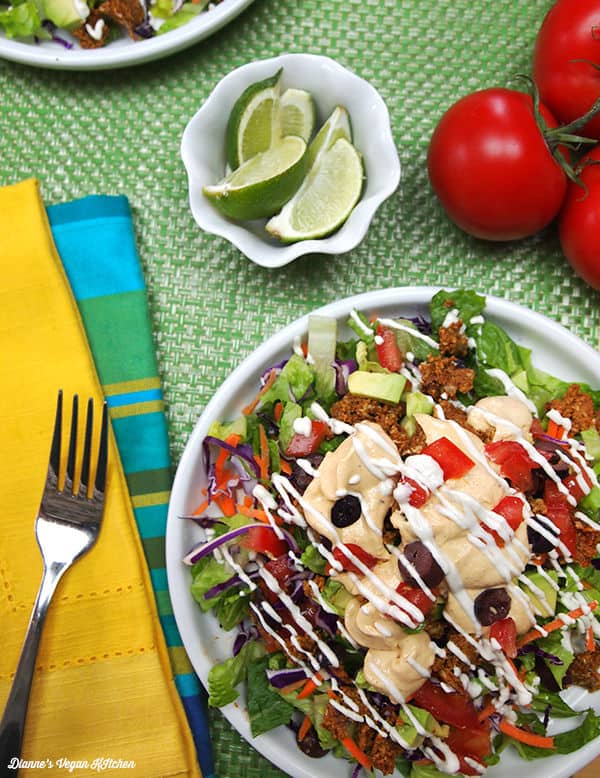 This is a gorgeous looking taco salad. I am a big fan of the flavors of Mexican food, so this is one for me!
There are 4 parts to this recipe, taco 'meat', spicy chipotle aioli, cashew sour cream and of course the salad.
You'll also need a blender and food processor at the ready!
To prepare for this dish, you need to soak the seeds and sundried tomatoes. Once all parts of the recipe are ready, create your masterpiece!
Raw Brussels Sprouts Salad with Dried Fruit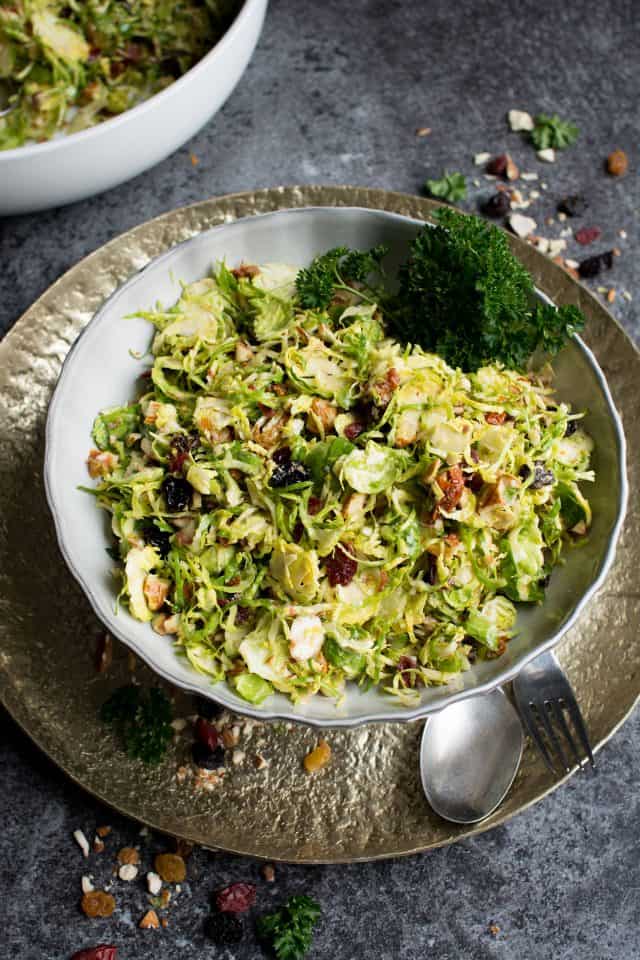 Raw brussels are all the rage! Here we have a salad containing almonds, dried cranberries, dried tomatoes and parsley.
The dressing is a lovely combination of olive oil (I always use extra virgin) lemon juice and dijon mustard.
Toss the salad with the dressing and get ready to eat!
Thai Mango Salad with Ginger-Lime Dressing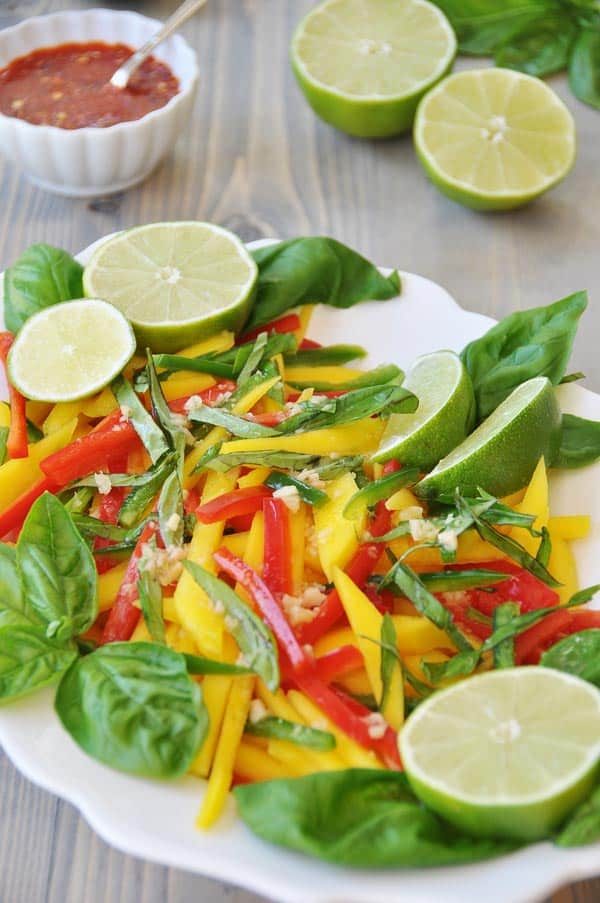 Check out the pictures on the recipe page for this dish, talk about colorful!
I really love how the lime halves are presented on the plate. You can have this ready to eat in about 20 minutes.
The salad itself is made up of just 4 ingredients, mangoes, red and jalapeno peppers and basil leaves.
Toss the salad ready to dress with the delicious fruity dressing, leaving the basil leaves until last as a finishing touch. This is fabulous and oil-free too!
Salad a Day A.K.A the Big Raw Salad Special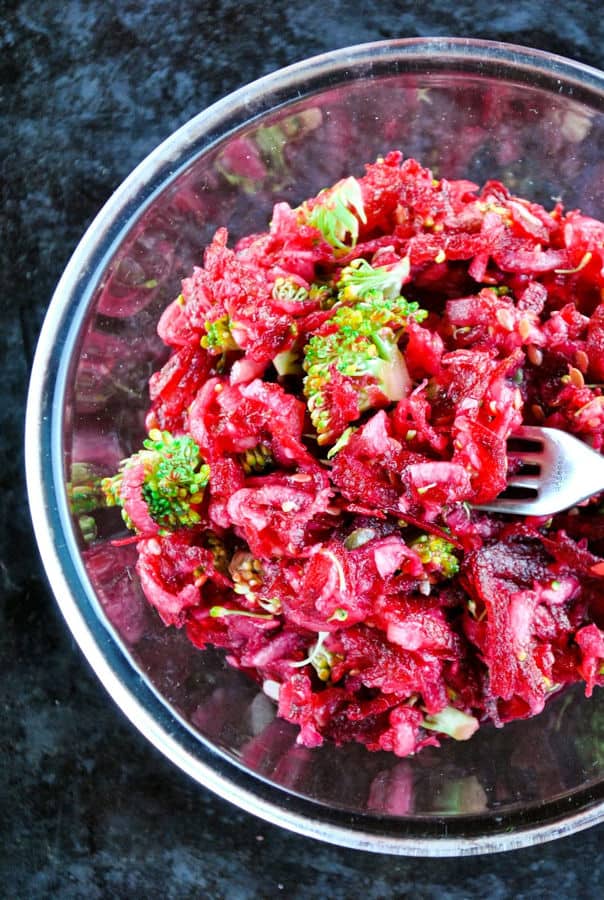 This is not a single recipe, but a big bundle of salad recipes!
Sandra wanted to include salad into her everyday life and these are the dishes she came up with:
Carrot, cucumber and tomato salad with red onions
Root celery, apple and turnip salad
Pumpkin and leek salad with a little bit of curry
Cabbage, cucumber and garlic salad with salted peanuts
Zucchini, broccoli and beet salad
Take your pick or make them all!
Shaved Fennel, Orange and Sauerkraut Salad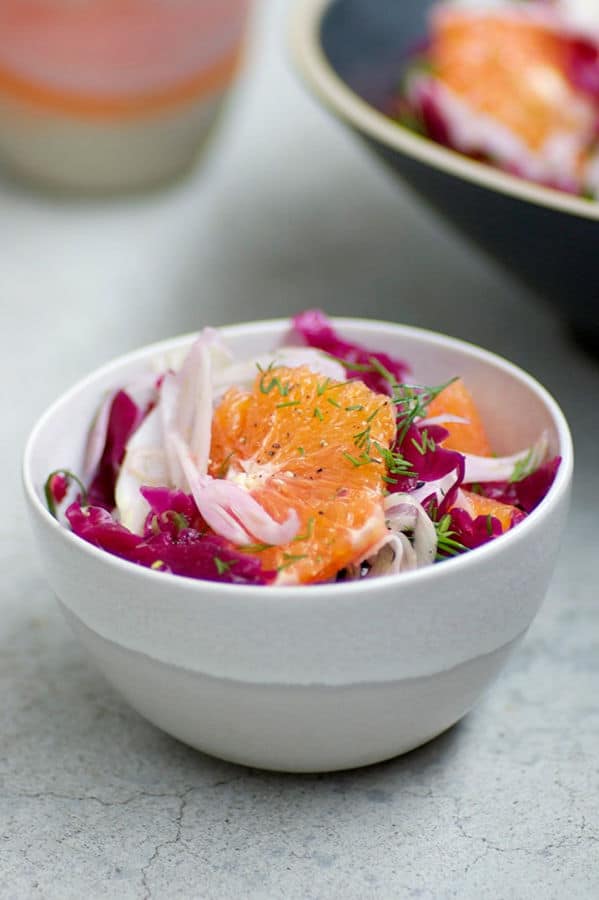 A unique dish perfect as a starter or side salad. Prep time is 10 mins and for the amounts listed, makes 4 small salads.
Mix together the sauerkraut with ingredients such as fennel, spring onion, and as the title stated, an orange! Season with black pepper and you're sorted!
Vietnamese Watermelon Salad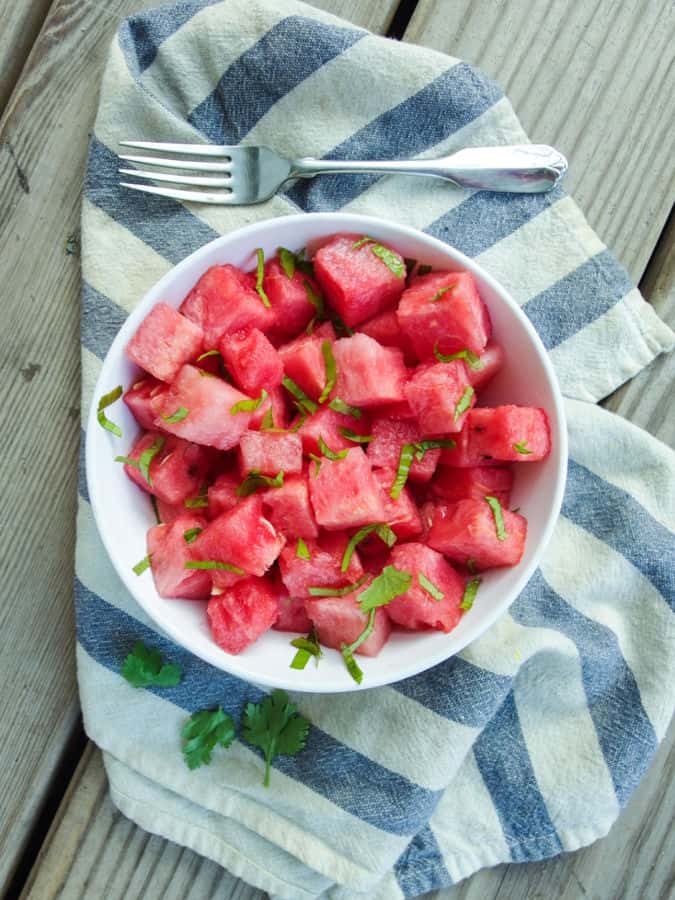 A beautifully refreshing salad! Cube the watermelon and sprinkle with sea salt before you prepare the herbs.
I love the addition of the rice vinegar in this recipe. What you end up with is a delicious salad that is perfect for a warm day!
Cashew Sesame Snap Pea Salad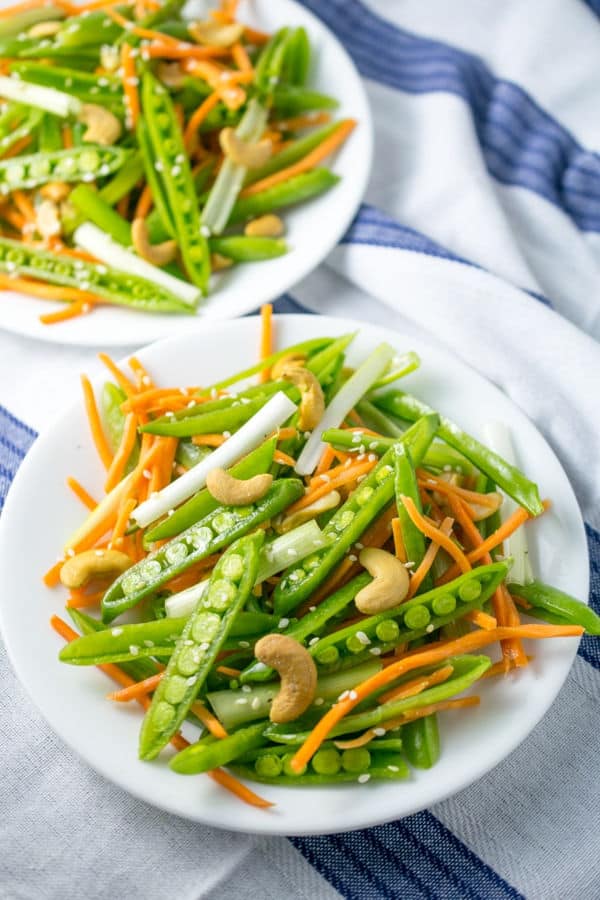 I rarely see snap peas in a salad, but they're wonderful as they add color, crunch and, of course, flavor! The prep time for this recipe, including the dressing, is 15 minutes.
For the salad, in addition to the snap peas, we have shredded carrots, chives and cashews.
Feel free to swap out any ingredients or just add more in. For the dressing, it's all about the citrus zing!
Make-Ahead Cranberry Orange Kale Salad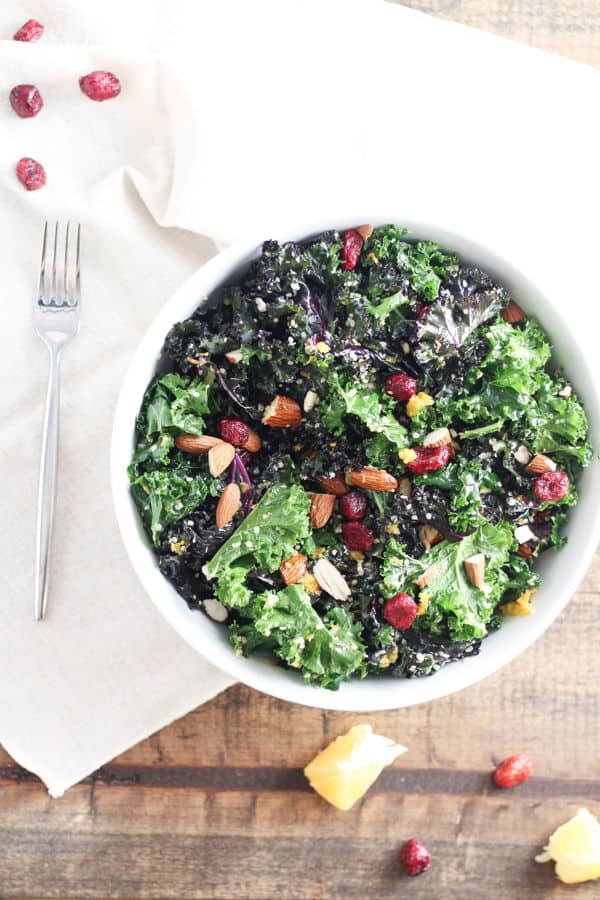 As you can see from the recipe title, this is a great salad to make and store in the fridge.
The amounts listed will get you 4 servings and you can have this ready in just 10 minutes.
Kale, dried cranberries and nuts make this salad, and the dressing is a mix of extra virgin oil, citrus, herbs and spices!
Smoothie Recipes
Mango Baobab Smoothie Bowl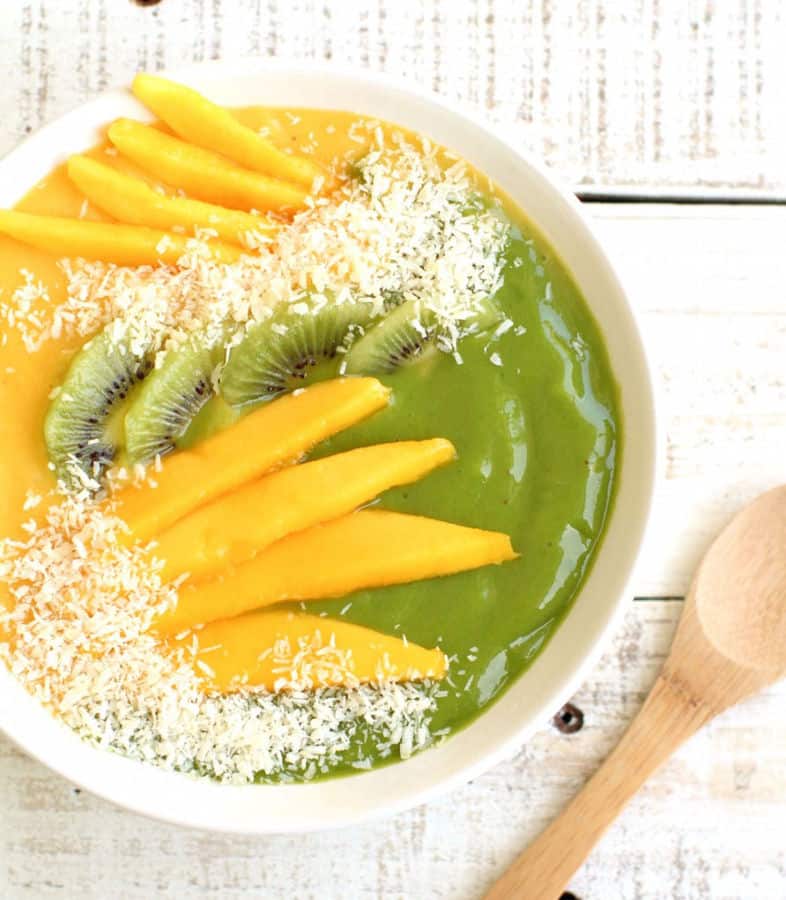 This sounds so good right now! I love smoothies so why not have a big bowl of it instead of using a glass?
All you need for this recipe is a blender and a little bit of skill!
Blend half of the ingredients first, then set in the freezer, do the same with the other half, containing the greens.
Now the skilled part! Pour both portions into a bowl on either inside to create a great effect!
Super Red Velvet Smoothie with Raspberry and Cacao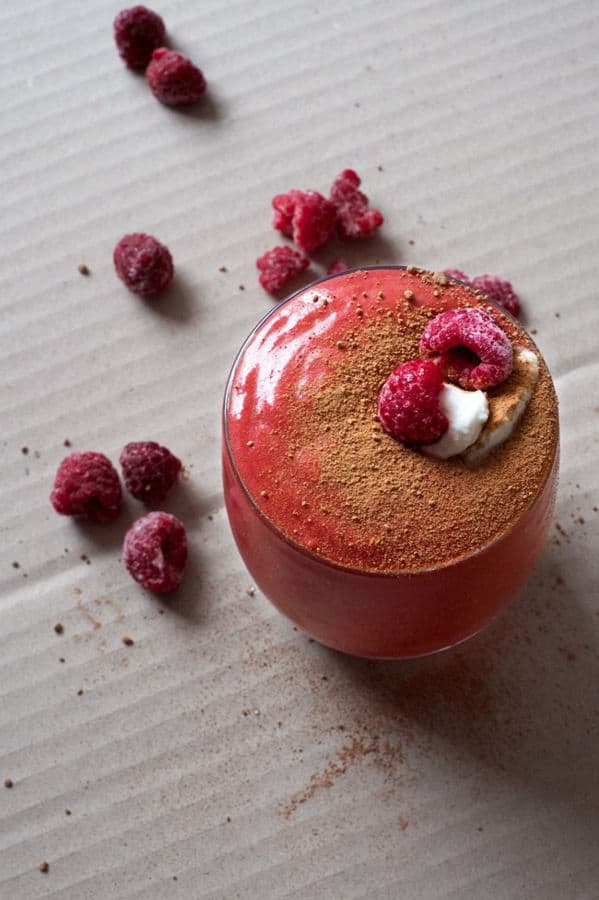 I love the name of this smoothie as it conjures up a picture of what this will taste like.
Raspberries and goji berries are wonderful in smoothies, adding color and sweetness. This recipe has some interesting additions of almond butter and cacao to the mix which work really well.
Top off with coconut cream, raspberries and a little cacao powder to boot!
Mint Matcha Shamrock Shake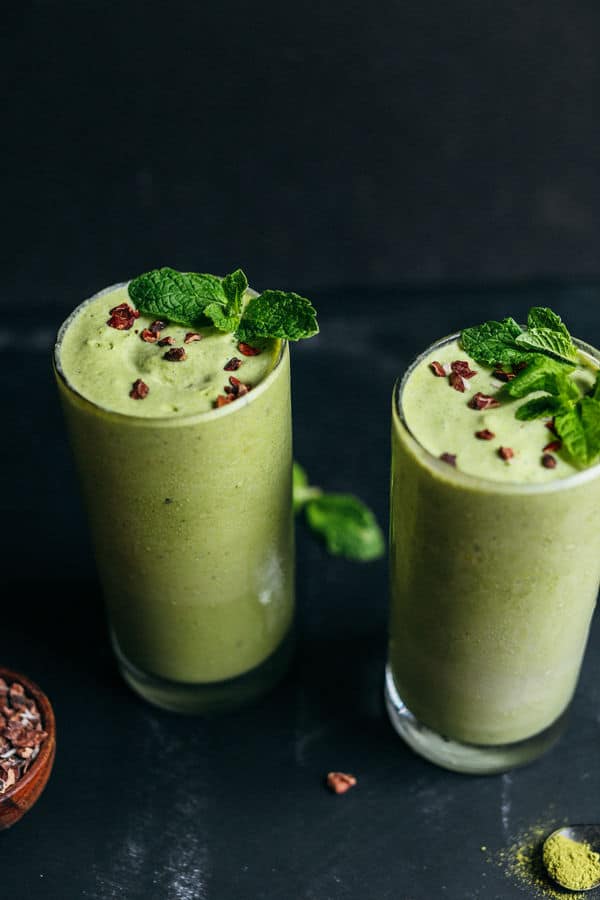 This is my kind of drink! Not just a smoothie but a smoothie made from coconut milk and mint! It reminds me of one of my favorite ice creams, mint choc chip!
I love how Dana freezes the coconut milk into ice cubes. Next up, blend other goodies like peppermint and vanilla extract, fresh mint and coconut cream. Place a sprig of fresh mint right on the top!
Mango Smoothie – 2 Ingredients and 5 Minutes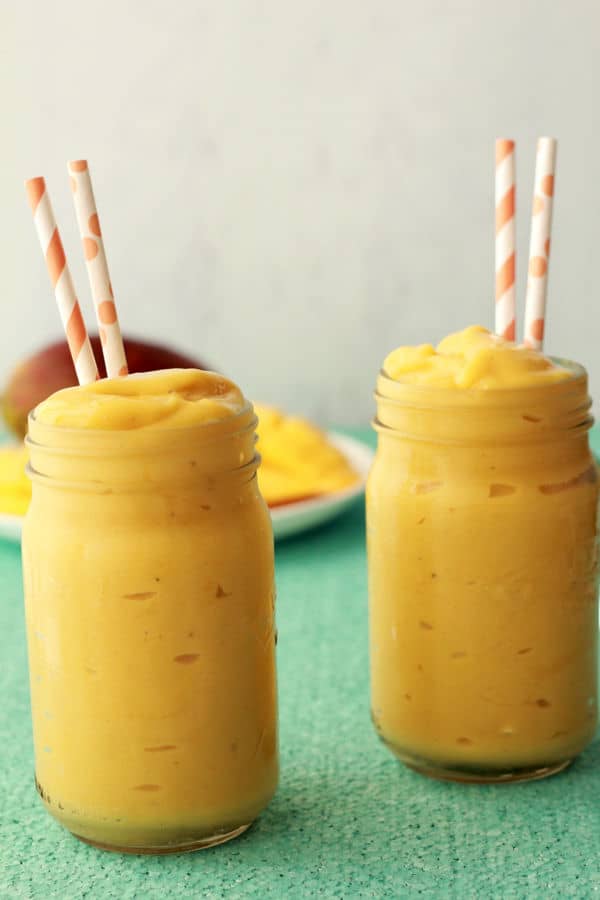 This recipe could not be simpler with just 2 ingredients.
What we have here is fresh and frozen mango and some frozen bananas. Blend it all up and you have yourself a tropical delight!
Double Thick Creamy Papaya Smoothie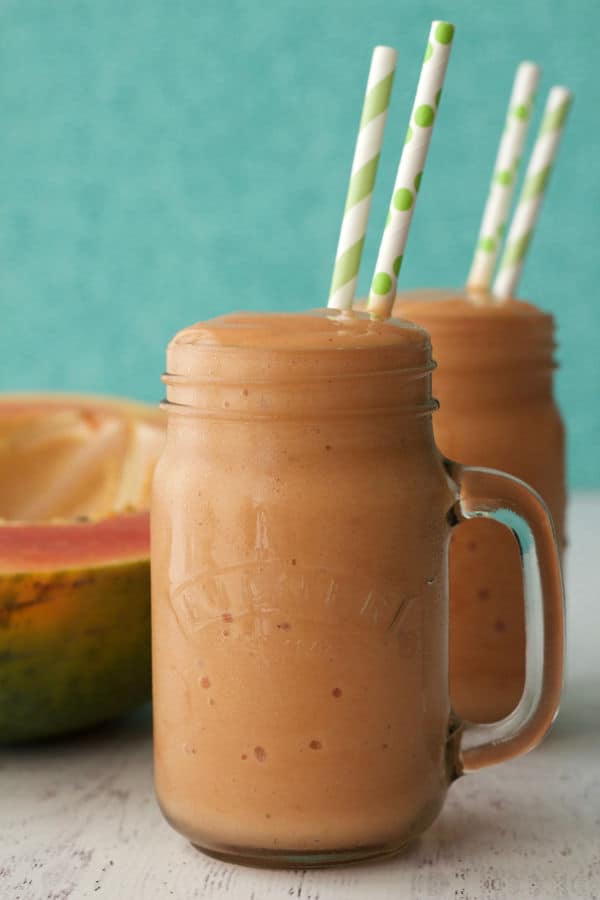 Another fantastic simple smoothie with ingredients of half a papaya and 4 frozen bananas.
Freeze the bananas ahead of time, peeled, cut into pieces and frozen.
Blend it all up and you have yourself a thick and creamy nutrition-packed smoothie!
Banana Berry Fresh Smoothie
Bananas make for a wonderful base for smoothies as they add creaminess and make it more satisfying. This one has raspberries, chia seeds and parsley too!
Place all the ingredients into the blender along with ice cubes for a prefect summer smoothie!
Green Smoothie Bowls with Mango + Hemp Seeds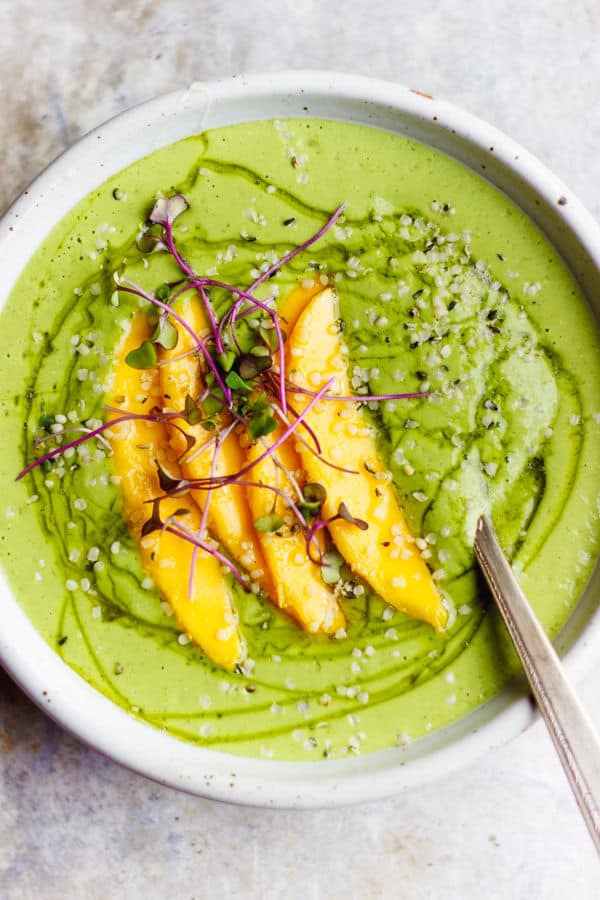 Even if you are not a green smoothie fan? This may just change your mind! Prep time for this is just a couple of mins.
With just a handful of ingredients including banana, spinach, diced mango and almond milk, mix together in a blender until smooth.
For the toppings go for fresh fruit, seeds or whatever your heart desires!
Cinnamon Apple Pie Smoothie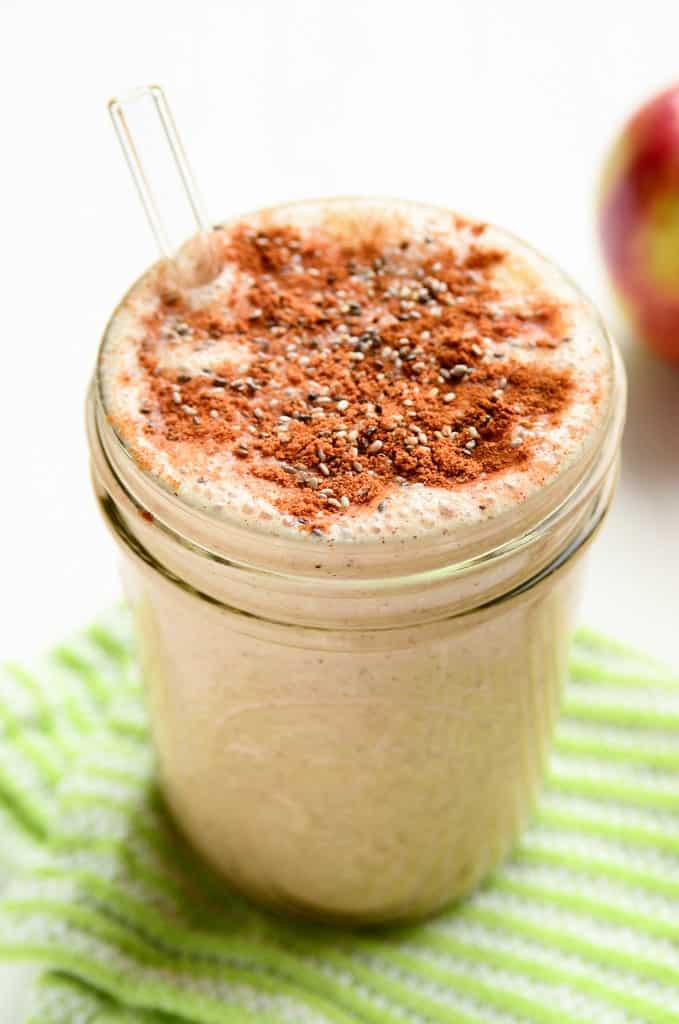 This is the recipe for me as I just love apple pie! All you need to create this is your faithful blender!
Bananas, apples, almond milk and spices make this smoothie awesome!
Once you have blended, top off with nuts, seeds or a sprinkling of cinnamon!
A Simple Green Smoothie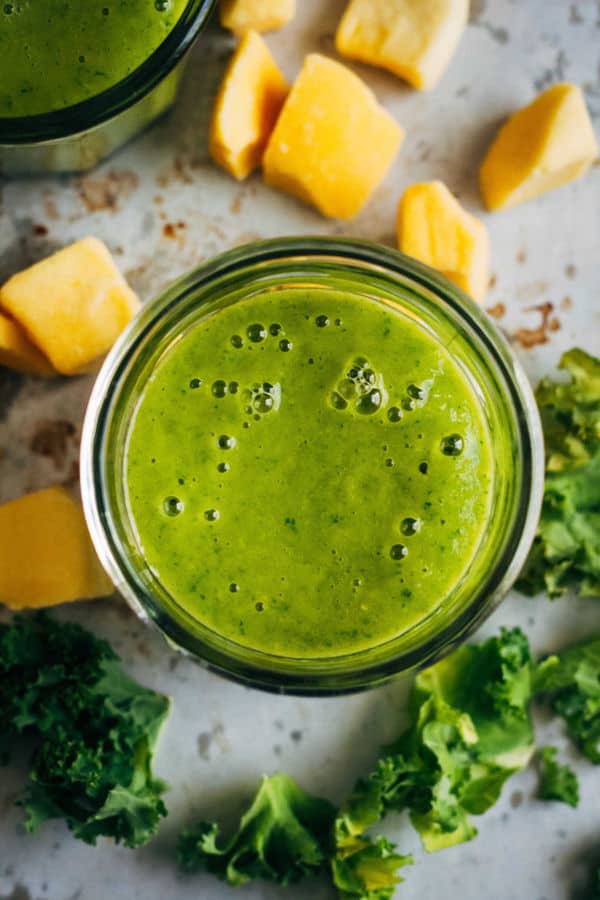 The title says this is simple and indeed it is taking just 5 mins to make.
For this recipe you need just 4 ingredients of frozen mango, banana, kale and a plant-based milk or coconut water.
This is not only tasty but packed full of nutrition too!
Peach Banana Breakfast Smoothie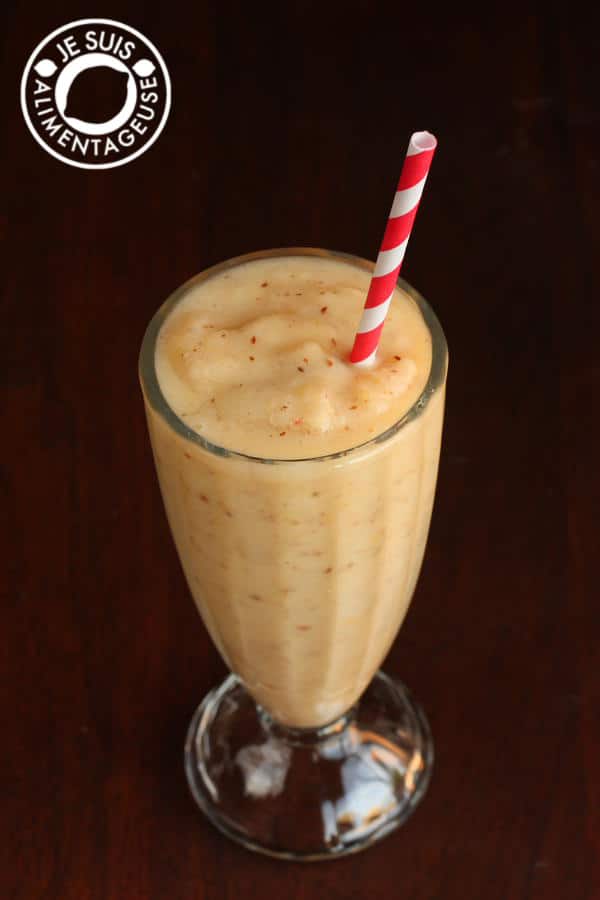 I really love peaches but it's so difficult to find a good peach sometimes. Often when it comes to making smoothies, I go for ready-frozen organic fruit as it's often a safer bet!
For this recipe we need, frozen bananas and peaches, a plant-based milk, coconut water and flax meal.
Do check out the recipe and either go with fresh or frozen, then make this great breakfast smoothie!
Wild Blueberry Beet Smoothie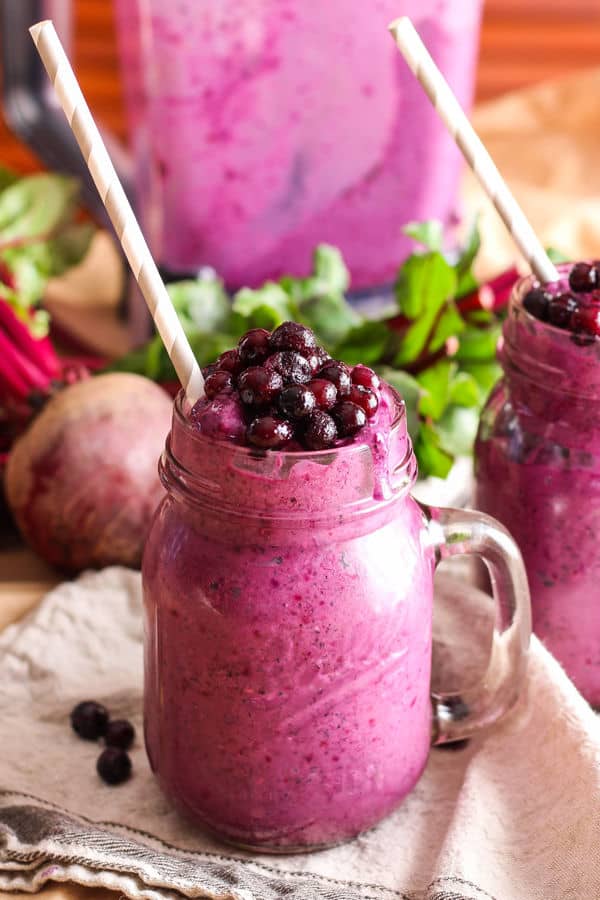 This is an incredibly good looking and satisfying smoothie. You just know how creamy it's going to be with coconut cream and oats as ingredients!
The blueberries and beets give it wonderful color and I just adore the frozen blueberries sitting right on top!
You'll need your trusty blender to whizz all the delicious ingredients together.
Strawberry Smoothie Bowl with Flax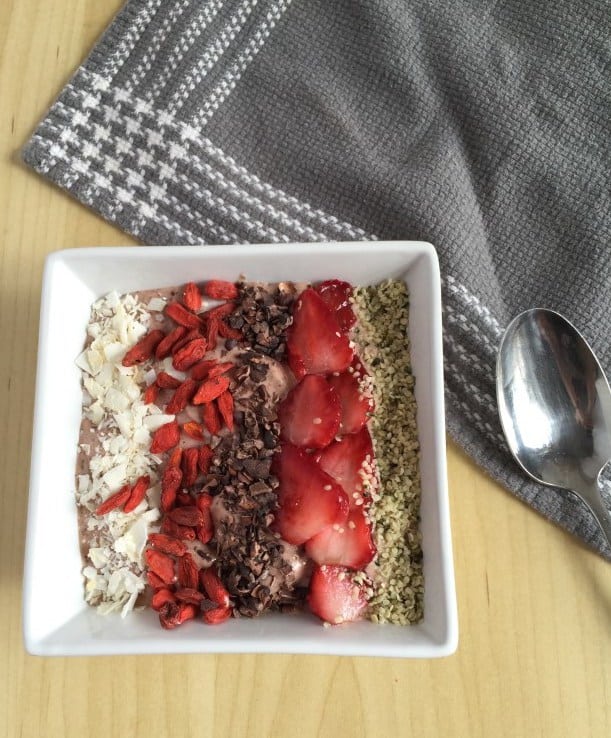 I'm really getting into smoothie bowls as they make a smoothie into a main meal. I also love the presentation which makes me think of Buddha Bowls.
Frozen bananas, strawberries, flax seeds and almond milk with a few more ingredients, make this a satisfying breakfast for any time of day!
Piña Colada Smoothie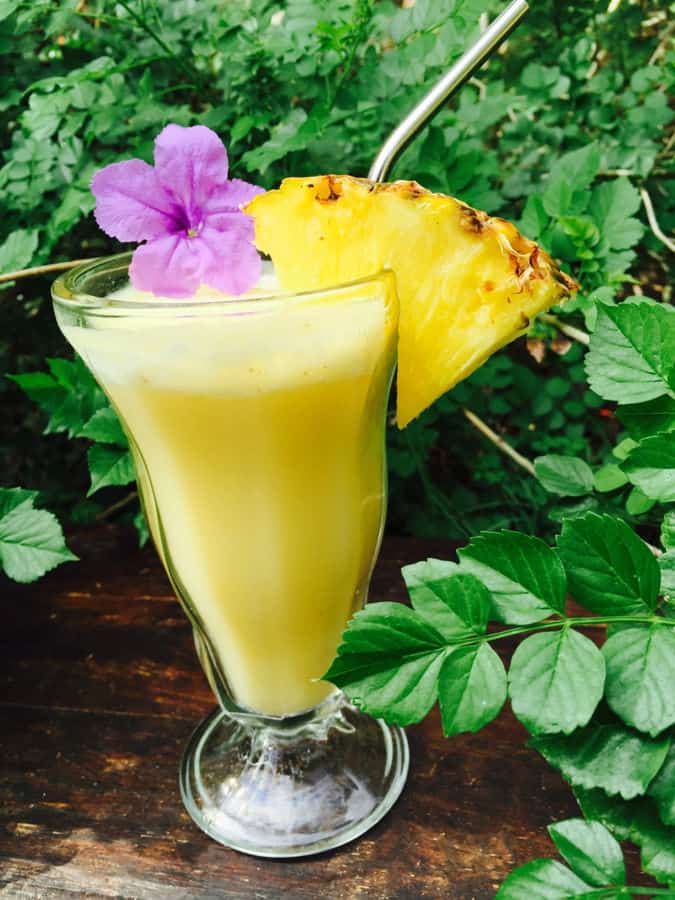 When you want a trip to the beach but it's winter and no beach is in sight, reach for this recipe!
It's sweet, creamy and full of goodness. I love pineapple in anything, so this recipe makes me happy!
Coconut milk and water added to a banana and ice cubes, makes this into a perfect tropical drink!
Soup Recipes
Raw Broccoli Soup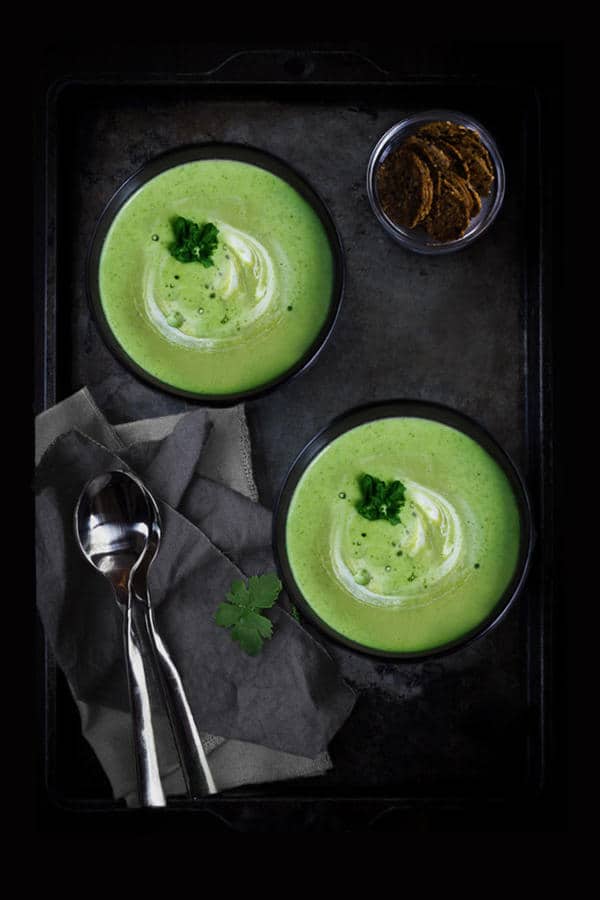 I have made a few raw soup recipes, but I've never had a raw broccoli soup before.
This soup is creamy and looks somewhat like a green smoothie. The recipe is divided into 2 sections, one for the soup itself and one for the cashew cream.
The latter even makes a great salad dressing!
The recipe page even has an instructional video that takes you through everything step by step. Fantastic recipe!
Chilled Artichoke Avocado Spring Pea Soup with Healthy Prebiotics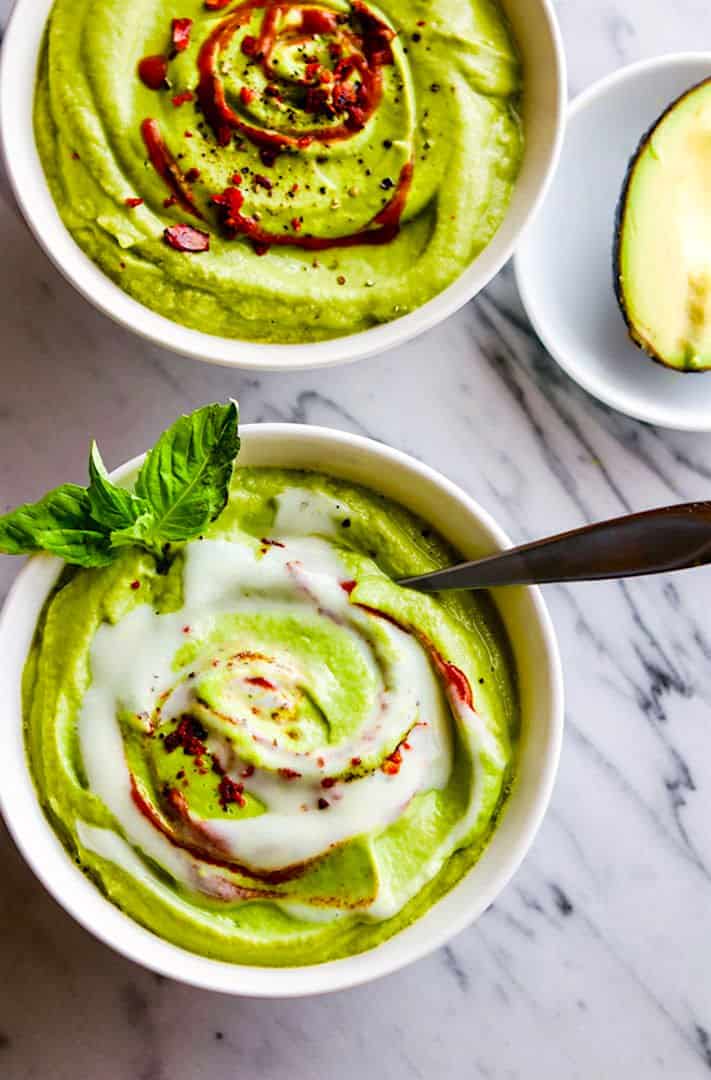 Artichoke hearts are on of my favorite foods, I eat them all the time in salads. As soon as I saw this recipe, I wanted to make it.
Lindsay has put a lot of thought into the ingredients, you can taste all of them individually but at the same time they blend together as one.
Easy to make and super healthy.
Chilled Double Tomato Soup Recipe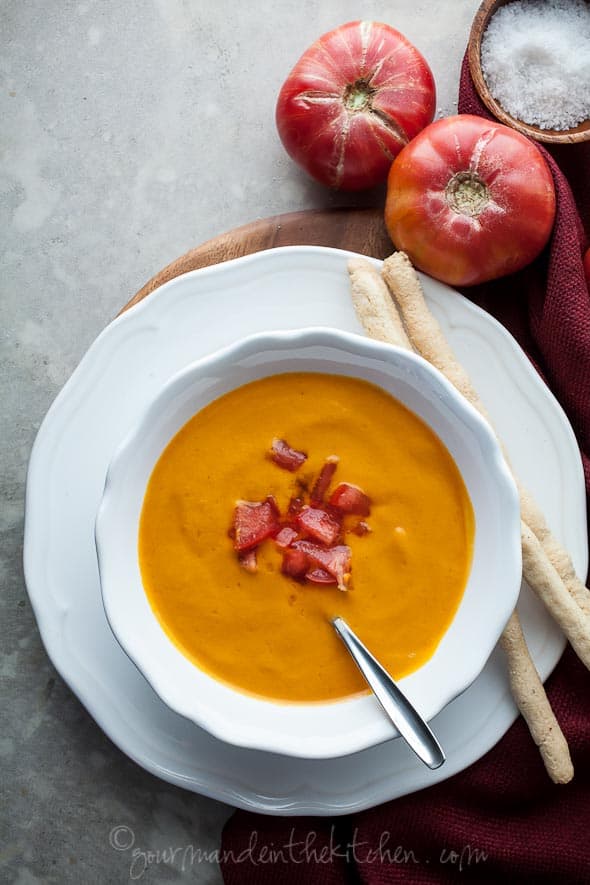 You may have heard of gazpacho soup which is a traditional Spanish recipe, this is a variation of that.
This soup is packed with goodness with ingredients such as brazil nuts, carrots and more.
Blend everything together and you're good to go! Garnish with a little extra virgin olive oil and seasoning to taste.
Chilled Avocado Pepita Soup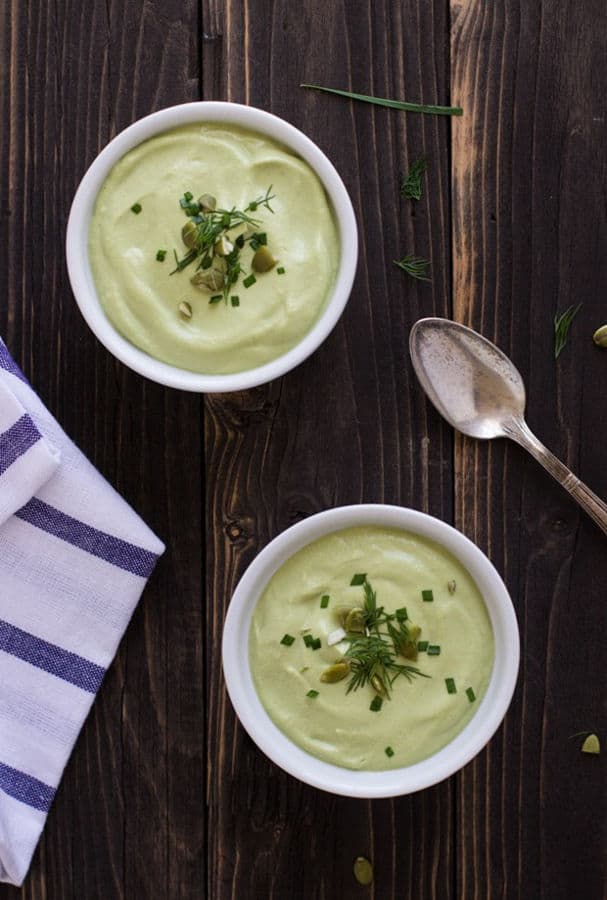 If you love avocado, you're in for a treat! This soup will be ready in just 10 mins.
Pepitas are very similar to pumpkin seeds and are a great addition to this recipe.
Sarah clearly worked hard to come up with this great combination, I love it. Perfect for lunch or a light dinner.
Raw Cucumber Dill Soup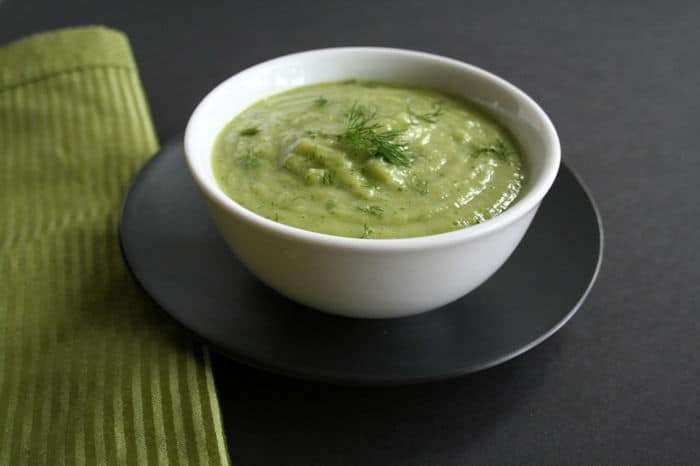 I love cucumber and I love soups, so this sounds good to me! A perfect dish for the summer as it's refreshing and satisfying.
With avocados, fresh herbs and lemon juice, you will have this ready in no time at all. Chill before serving.
Treats
Cashew Mozzarella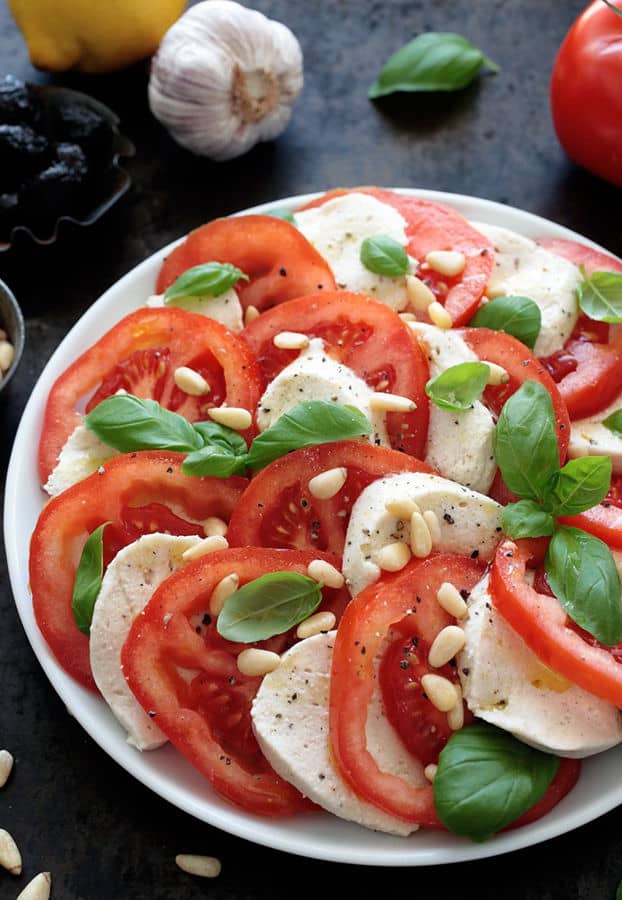 You must check out this recipe for vegan mozzarella as it looks absolutely delicious! The secret ingredient here is the psyllium husk which you need to soak in water for at least an hour
Blend all the ingredients together to form a smooth and thick paste. Next up, chill in the fridge for an hour where it will now be ready for slicing. Perfect in a salad!
6 Layer Coconut Dream Cake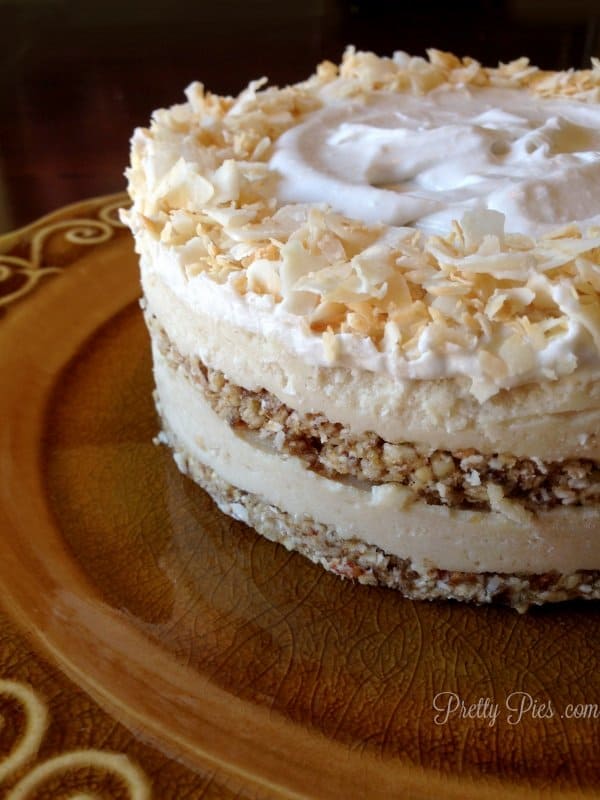 If you have a friend that isn't sure about all this 'raw' food, make this amazing looking cake and serve it to them without mentioning that it's actually raw.
This recipe showcases raw food. The crust is made from pitted dates, cashews and just a couple of other ingredients. Whisk together in a food processor and that's it!
The cake layer is made from cashews (soaked overnight) and other coconut ingredients.
The whipped cream is made from coconut and the topping is, you guessed it, more coconut with a drizzle of maple syrup. This is truly coconut heaven!
Pecan Pie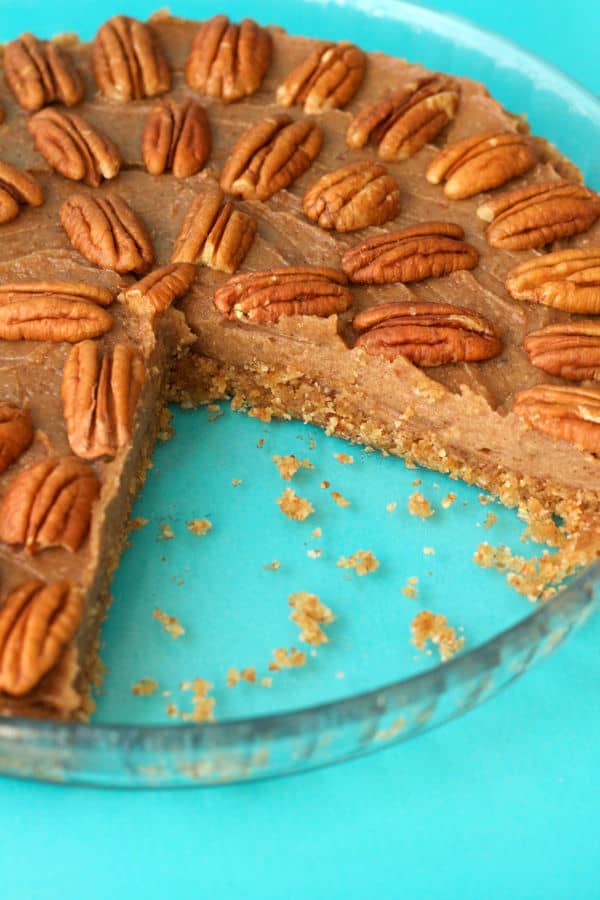 Who doesn't love pecan pie? This holiday treat is even better when it's raw, seriously.
The base is made from two different types of nuts and a couple of other ingredients that are mixed together in a food processor.
The filling contains nothing but goodness. When cakes are raw they are healthy and delicious!
Banana Cream Pie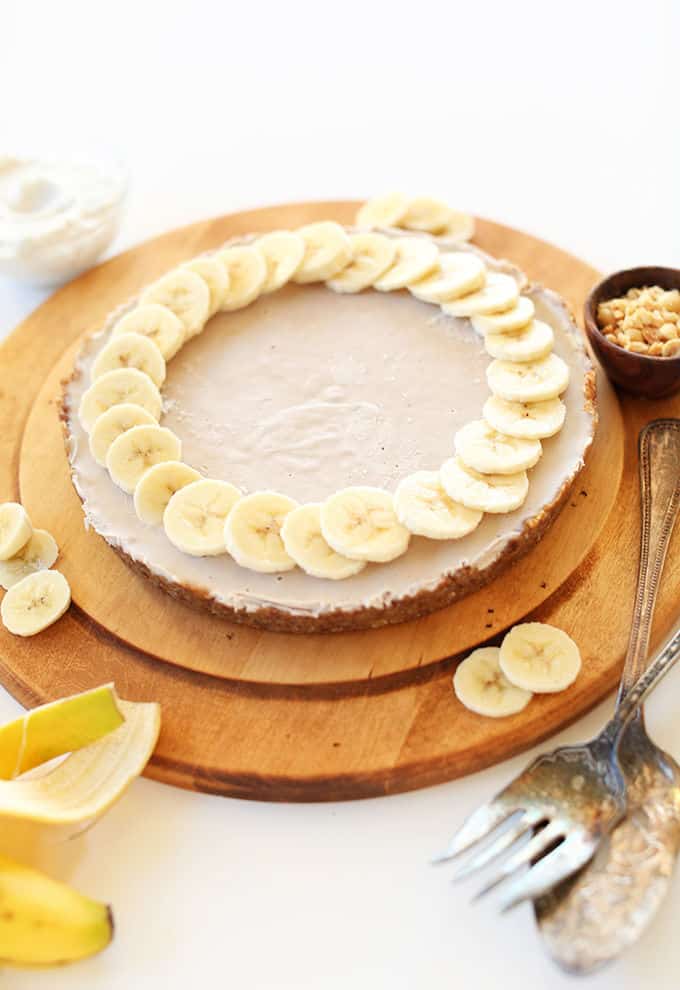 Where has this recipe been all my life?
The base of this pie is just 2 ingredients and the filling is coconut and vanilla heaven.
This is an astonishing pie that will win over just about anyone! If you want to impress someone, give them this.
If you want to treat yourself and your family, make this. Do you see where am going with this? You must make this!
Walnut Brownies with Chocolate Ganache
These chocolate and walnut brownies are so much better than I ever anticipated, and I was pretty sure they were going to be amazing to begin with!
You're looking at about 20 minutes to bring these to the table, the brownies have just five ingredients and the chocolate ganache, the same.
If you didn't know they were raw, you'd think they were just regular brownies.
Chocolate Recipe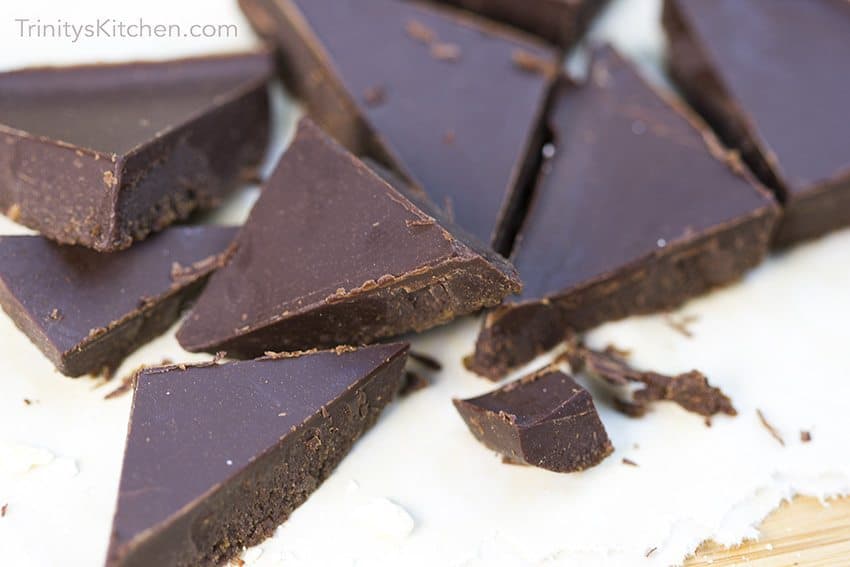 Do you want to learn how to make chocolate? With just four ingredients you can make a large bar of raw vegan chocolate that's also gluten-free!
The cocoa butter will need to be heated until it melts although it only requires around 93F which is at the bottom end of the temperature window when it comes to heating foods that can still be classified as 'raw'.
The taste of the chocolate bar is amazing and better than anything you can buy, anywhere!
Berry Sorbet Bars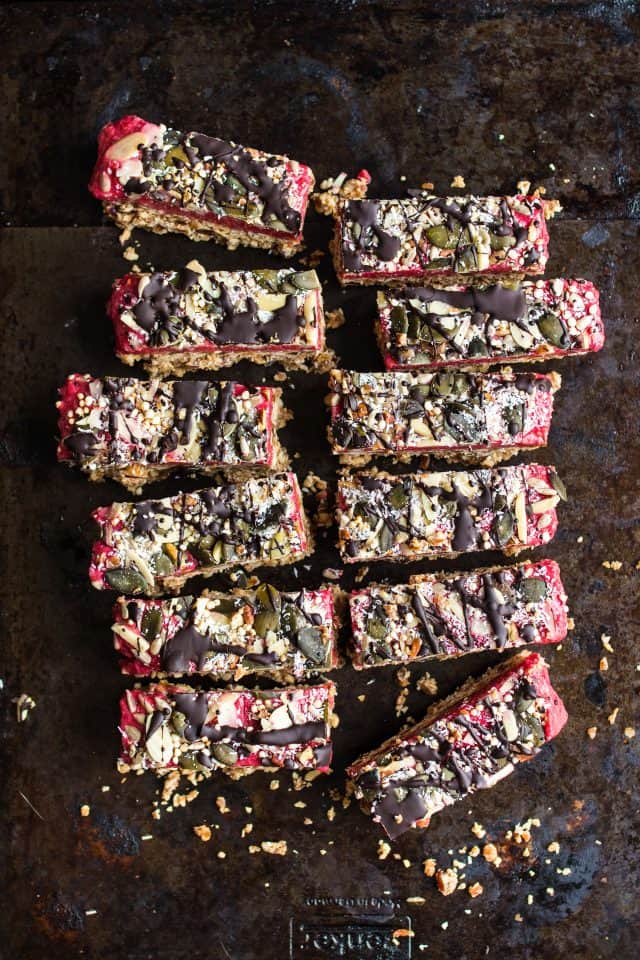 If you want to take something to a party or make someone an edible gift, these bars are guaranteed to impress.
The recipe is divided into two sections, the base and the sorbet layer.
You're only looking at about 20 minutes to bring these together and then need to be frozen for at least six hours. Remove from the freezer 5 to 10 minutes before serving. Everyone will want this recipe!
Sexy Caramel Slice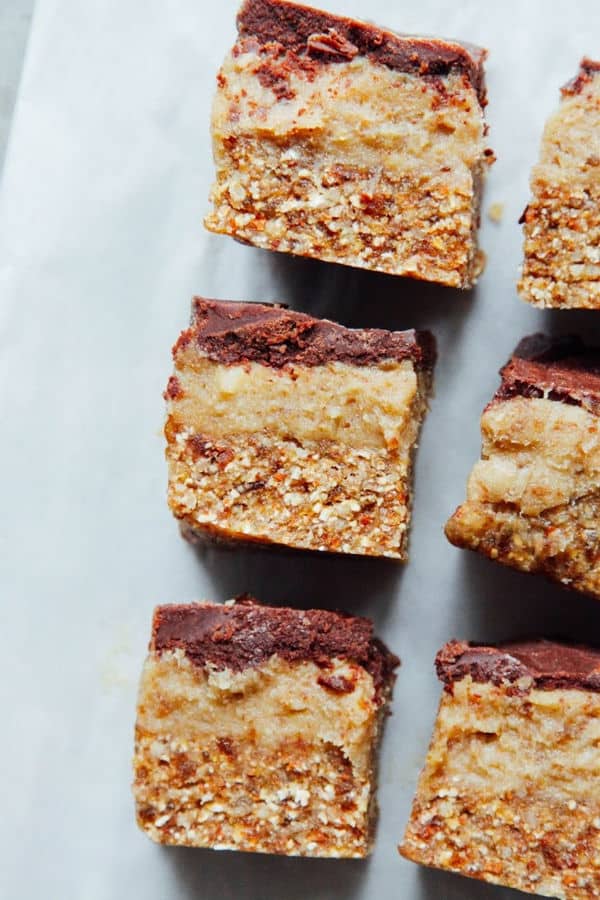 It's called sexy and you know what? It looks amazing and tastes even better!
The recipe is divided into three sections which correspond to the three different layers of the 'slice'.
It is bursting with flavor and made with real whole foods. When you want something incredible for that special occasion, this is it!
Raw Blueberry Chocolate Ganache Tart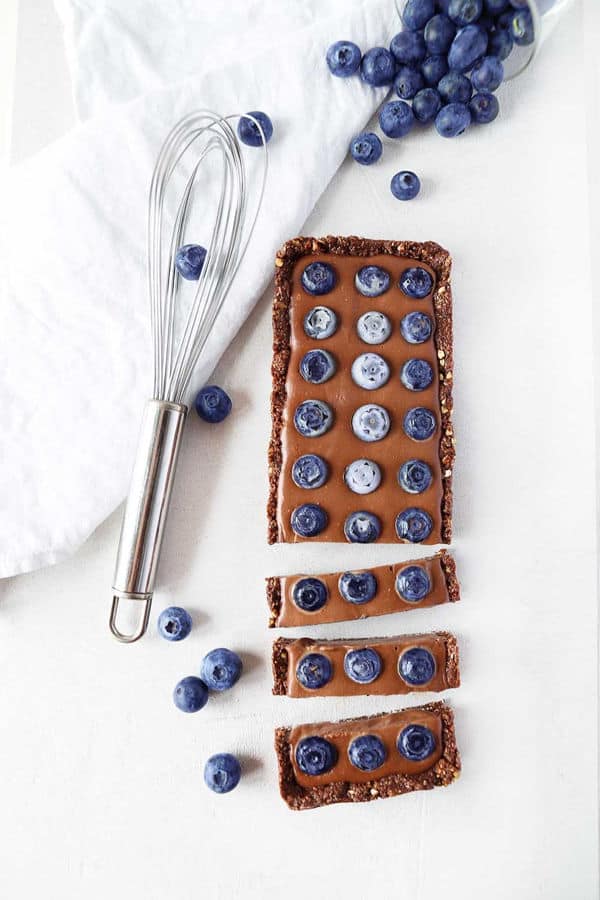 Isn't it amazing how something so simple can look so professional. Just three rows of blueberries in this luscious chocolate tart really are the icing on the cake.
You'll be surprised how easy this is to make. If you love chocolate and you really want to show off to someone, you'll win every time with this recipe!
Strawberry Peanut Butter Cheesecake
Florian from Contentedness Cooking makes this incredible strawberry and peanut butter cheesecake which, of course, is vegan, but raw too!
The crust is easily put together and is made with just 2 ingredients, the filling is made primarily with silken tofu and the delicious creamy sauce is just puréed strawberries. No bake, no hassle, just goodness!
No-Bake Spirulina Cheesecake with Spiral Spring Spirulina Maxima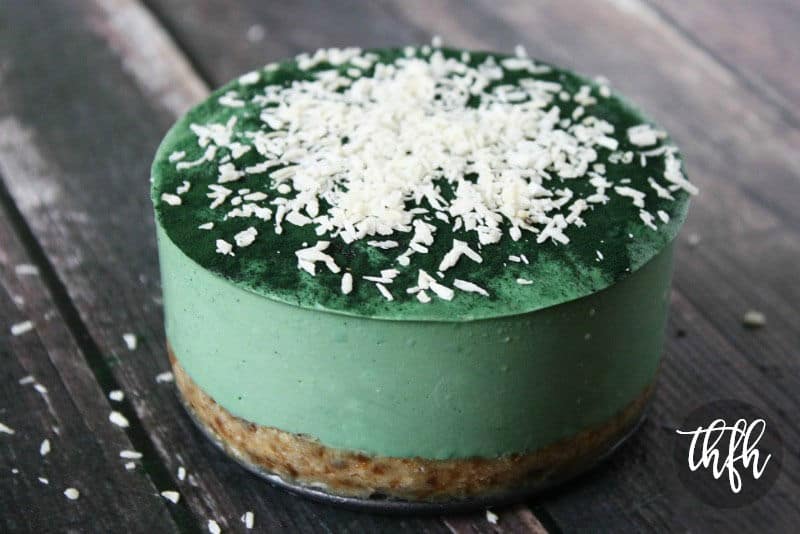 If you're a fan of spirulina, you'll be wanting to make this cake!
The amounts listed in the ingredients make 6 to 8 small servings.
The recipe is divided into two sections, one for the filling and, of course, the crust.
With ingredients such as walnuts, medjool dates and coconut, this is guaranteed to taste out of this world!
Lemon Cashew Cream Tart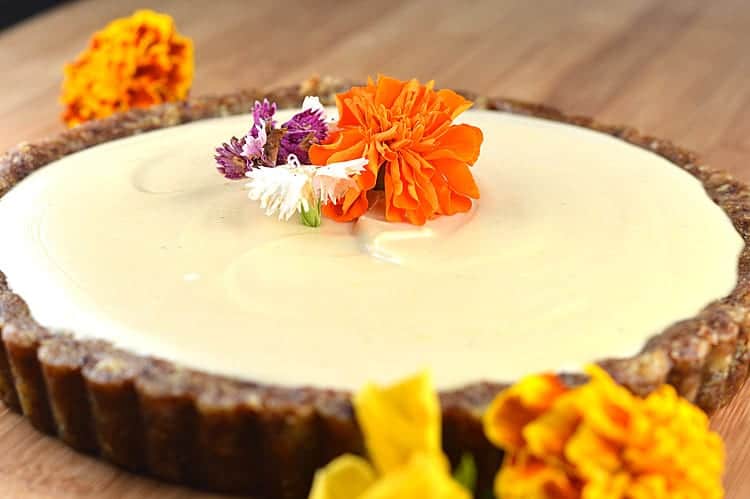 What a wonderful recipe! Aimee says this is her first attempt at making a raw dessert and let me tell you, she hit the target with this one!
The cream part of the dessert is sweet, and you can taste the lemon zest in every bite.
It is somewhat like key lime pie so that should give you an idea of what to expect. One thing is for sure, this is a first-class recipe.
No Bake Fruit Pizza (Gluten-Free)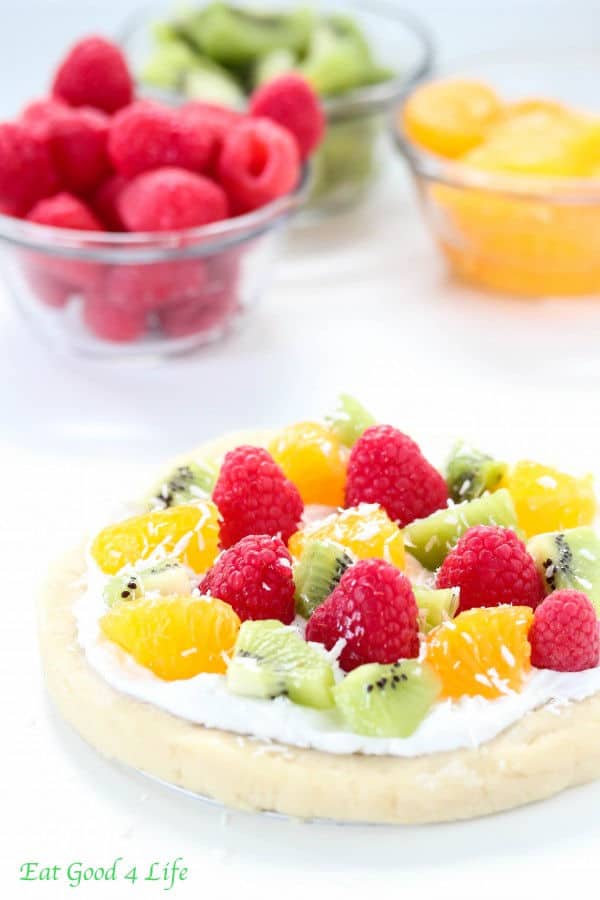 I've seen a few recipes where the author has called the dish a 'pizza' as there is a base with some kind of topping. This is what we have here, and I must say, it's really cool!
The base resembles an uncooked dough and is delightfully sweet but not overly so.
The topping has coconut cream first and then assorted fruit of choice.
You know, this is better than you may believe it to be. It looks colorful and if you want your family to eat more fruit, you can't go wrong with this!
Pistachio Date Squares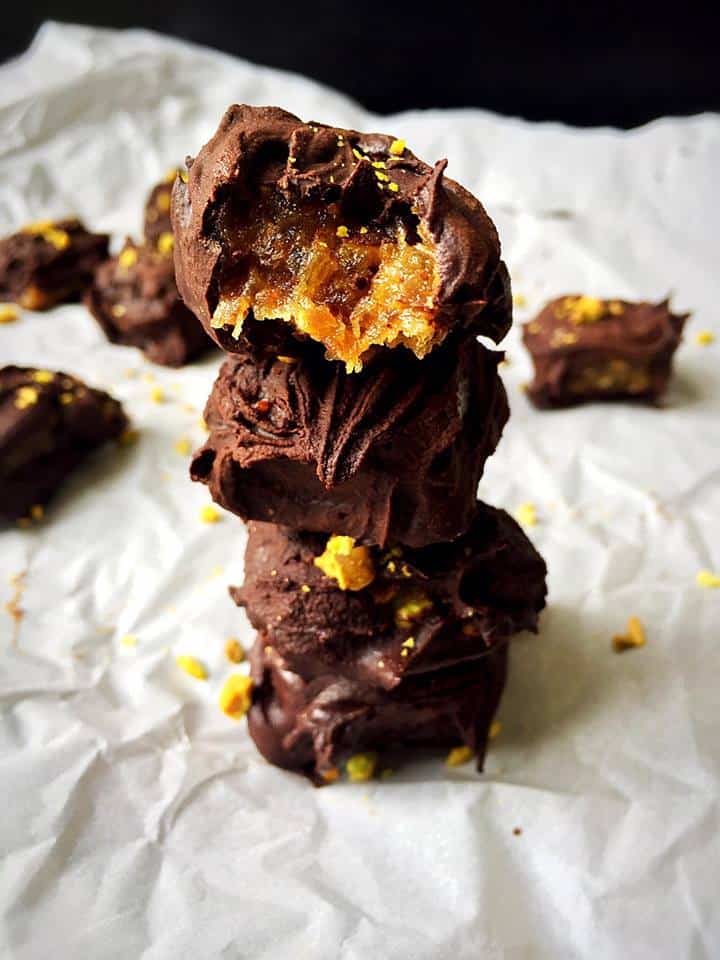 Well, where do I start? If you're a veteran raw foodie, you'll know that dates are our answer to caramel.
This recipe uses that caramel secret and then you have a chocolate coating!
If you want to make something extra special, this is an extremely high-class recipe. They look incredibly fancy and are unbelievably delicious!
Raw Carrot-Orange-Lemon Cake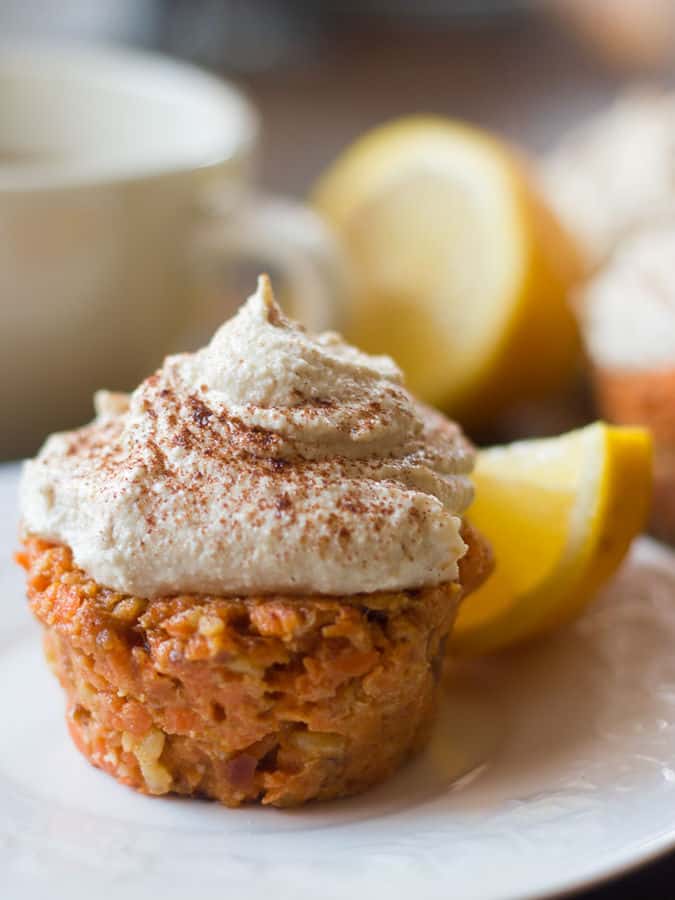 These little raw carrot cakes look great and taste even better!
Throughout every bite there is a citrus taste which makes them light and yummy.
On their own they are incredible, but this recipe adds a topping of frosting made with cashews. Delicious!
Raw Whipped Cream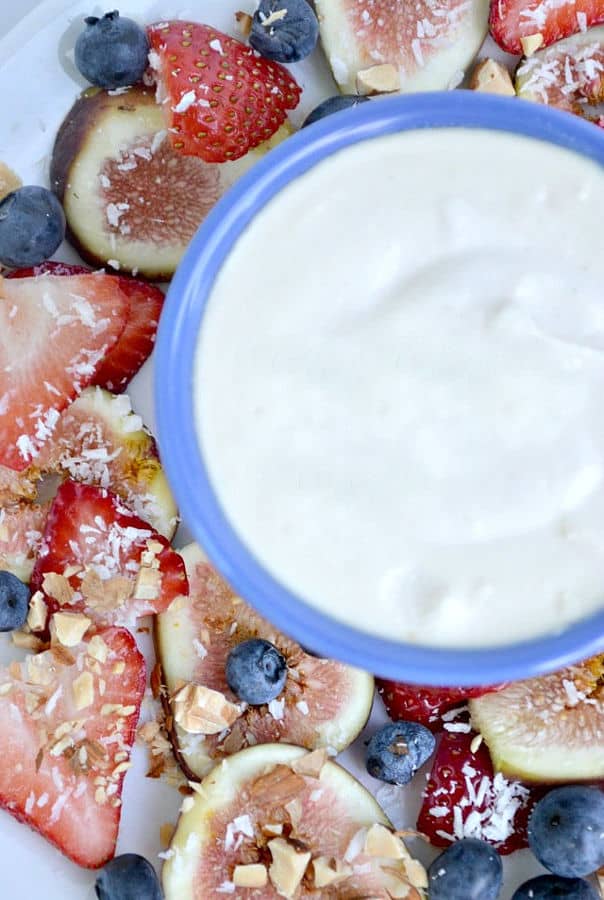 When you need whipped cream as a topping for a cake, or simply as a dip for fruits, check out this raw recipe that is absolutely stunning.
Just four ingredients (one of them is filtered water) blended together until the desired consistency is reached.
You may need a high-powered blender as the process takes a good five minutes. I won't say 'enjoy', because I know you will!
No-Bake Apricot Coconut Energy Balls (Gluten-Free)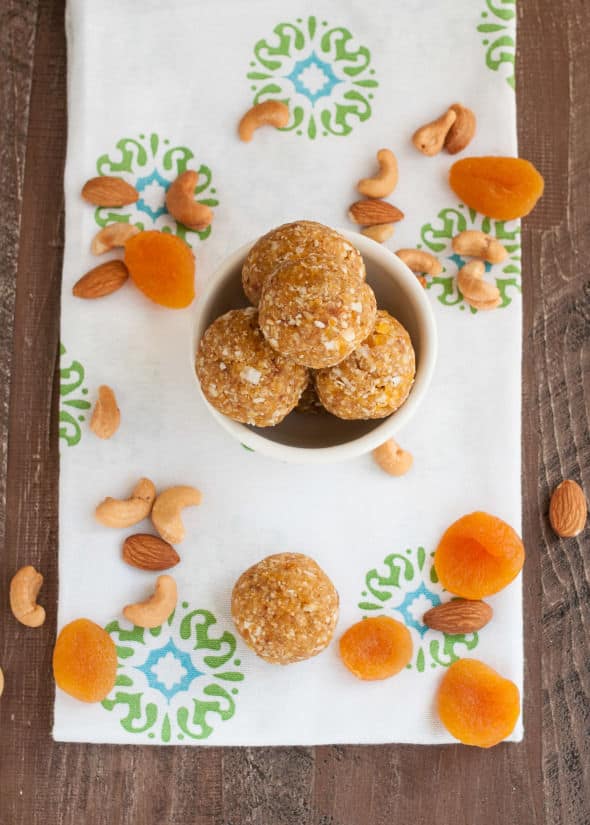 Raw energy balls are normally made with dates and this recipe uses that tried and tested method.
However, rather than a dense date ball that tastes of dates (which is great), this has some other ingredients.
As the title suggests, apricots are a big part of this recipe and they give the date balls a new dimension that I have never tasted before.
Each bite gives you those two flavors, plus a hint of vanilla, coconut and more. You must make them!
Tahini Caramel Buckwheat Balls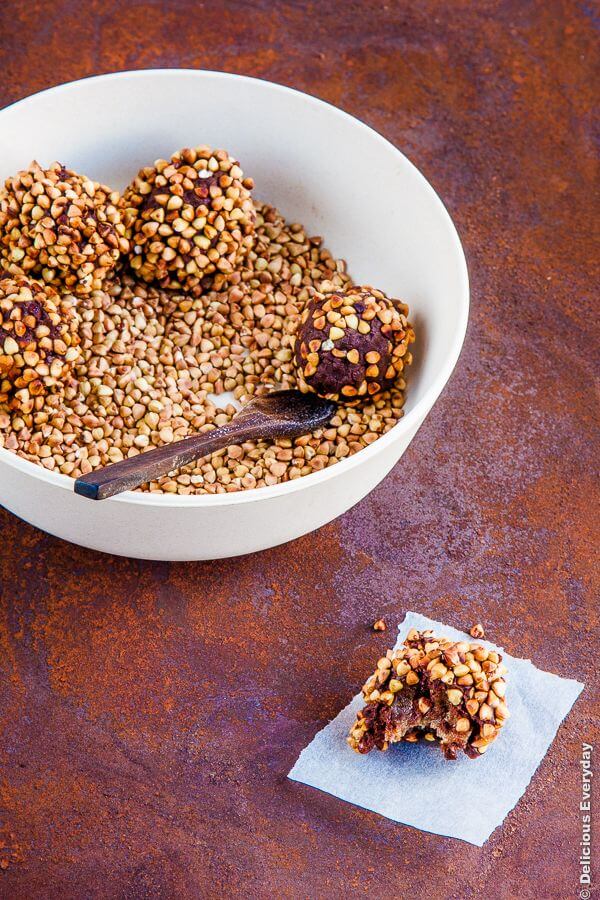 Nicole suggests this is a great Easter treat. She's absolutely right, although I wouldn't restrict this to just once a year.
These bite-size pieces of goodness are a great snack. There is a tool in the recipe section under 'servings' to change the amount you need, and in turn, this will alter the amounts listed in the ingredients. Great recipe.
Fruit and Coconut Torte on a Raw Crust
Sandra makes wonderful recipes on her blog and this torte is one of her best for sure!
This recipe could easily have been called a 'pizza'. The crust is made with just three ingredients that are whizzed together in a food processor and the topping contains just four things.
Choose the fruits you layer over the top, make them colorful and let your imagination do the rest!
Key Lime Cups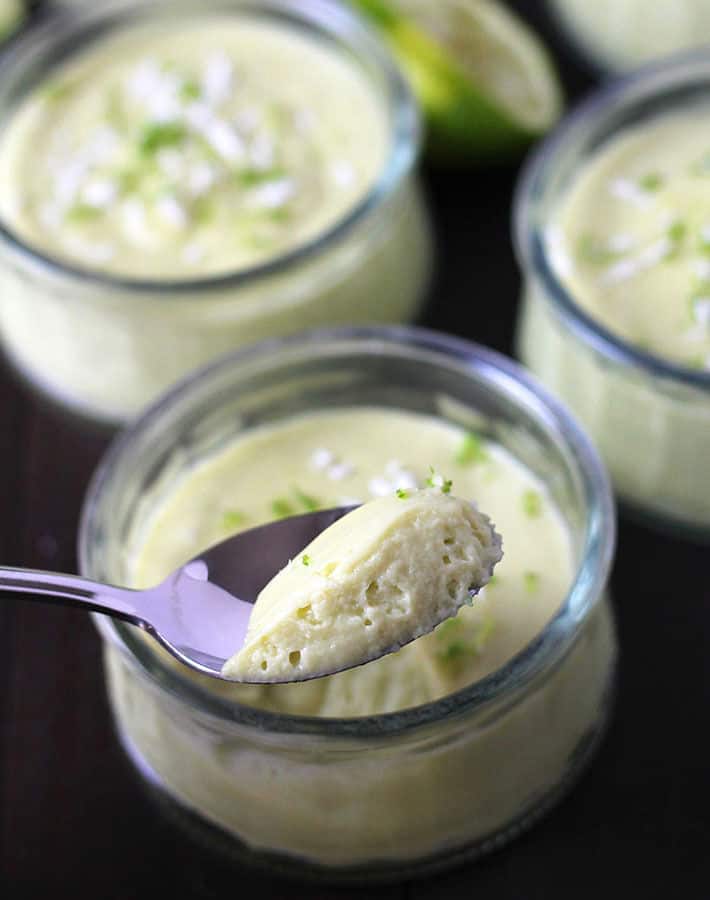 As you imagine, this is like key lime pie but without the base.
Don't think you're missing out on anything, because Gwen has put a lot of effort and thought into the ingredients.
The first thing you'll notice is how light the 'cream' is. You get a hint of coconut, vanilla and of course lime.
Once made they will keep in the fridge for up to 3 days. Make a lot, they will go quick!
Cranberry Relish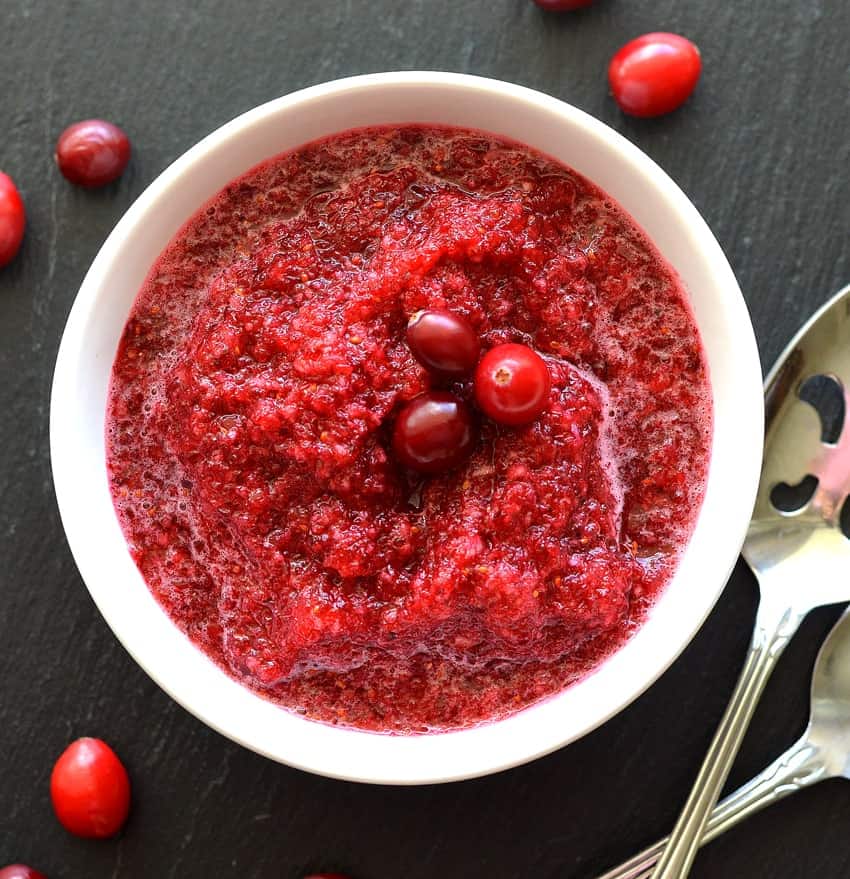 This is a super easy recipe that contains less than five ingredients!
A relish is something we normally associate with being part of a sandwich filling.
As well as cranberries, this contains an orange and a couple of other ingredients.
Pulse in the food processor and you have yourself a delicious sauce. Drizzle over vegan ice cream!
Dried Fruit and Nut Bars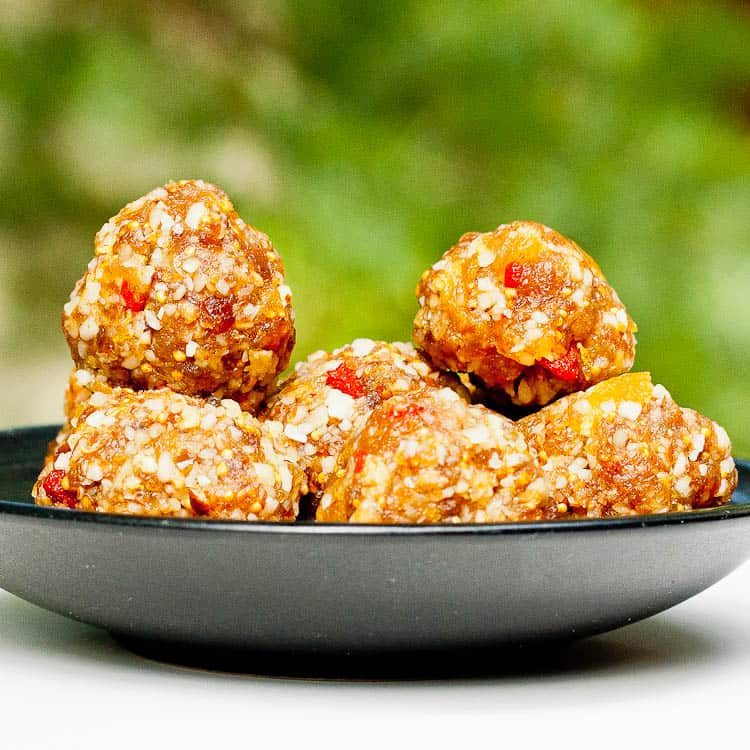 Fruit and nut bars are extremely popular. Many store-bought versions are pretty good but the cost really starts to add up.
These contain no added sugar and are filled with nothing but raw foods like walnuts, figs, apricots and more!
The amounts listed in the ingredients make 10 servings although do check the 'servings' tool where you can alter the number of bars you'd like to make, and this will change the amounts listed in the ingredients.
Make a bunch and freeze in an airtight container which will last perfectly for up to one month.
Wrapping Up
Raw food is becoming increasingly popular. More and more of us know how well we feel when we eat foods created by nature as they were meant to be.
This roundup isn't just about salads and smoothies! It has everything from desserts to special treats.
Want to bring something to a party? We've got you covered. Whatever the occasion, it's here.
Let us know your favorites and do send us feedback, we love hearing from you, especially if you're new to a plant-based lifestyle.
We remember what it was like and we wish we had a resource where everything is in one place, and this is what we're creating.
If you have any recipe ideas or you're a food blogger that would like us to feature your recipes in our roundups drop us a line!
Remember though, you don't have to own a food blog, just send us your ideas!
If in doubt, keep it raw!