Here you'll find numerous ways to prepare and eat asparagus. Grab this veggie next time you're grocery shopping and get ready to be inspired!
One of these recipes may just be what you're looking for, it might be a side dish, salad, or of course, a main course.
If you're already a fan of asparagus with its freshness, crunch and unique flavor, these recipes are just for you too. Start experimenting and add your own twist!
Admirable Asparagus Recipes
Simple and Quick Grilled Asparagus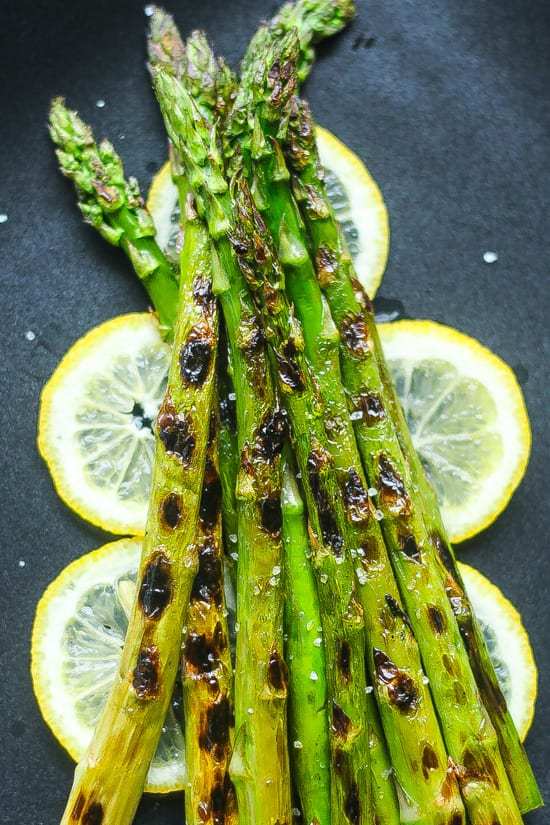 A simple 10-minute dish you'll be able to serve as an appetizer as well as a side.
Have on its own, mix with some fresh vegetables to get a healthy snack, layer it over creamy pasta dish for a bit of crunch or just serve it alongside some potatoes cooked your favorite way.
The earthiness of the asparagus and the citrusy kick of lemon are sure to elevate every meal. It's quick, easy and a tried and tested favorite of all age groups.
Oven Roasted Asparagus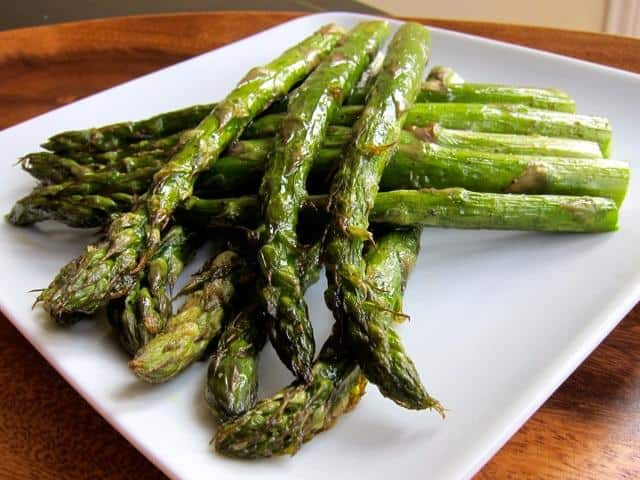 If grilling is not your favorite method of cooking, try this oven roasted version of asparagus.
This no-fuss recipe requires only 5 minutes of preparation after which it's placed in the oven for slow roasting.
For those of you who are not fans of the natural taste of asparagus, this version is worth a try.
Not only does the technique mellow down the bitterness with a hint of salt, it also makes the stems melt-in-the-mouth soft.
Air Fryer Roasted Asparagus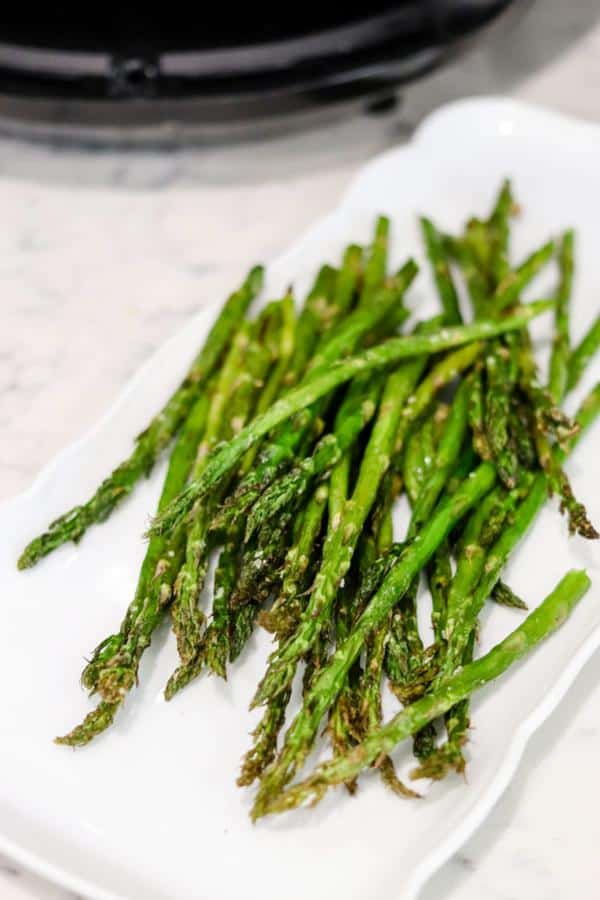 Air frying is a technique which has recently caught everyone's attention. It's a healthier and cleaner alternative to traditional frying in oil, but without any alteration to the taste and texture.
The technique is much quicker than grilling or roasting but brings a similar crispness to the asparagus when cooked.
Being vegan, keto and low-carb friendly, it's also a suitable way to add a delicious side that's in accord with your dietary preferences.
Herby Potato Salad with Asparagus and Radish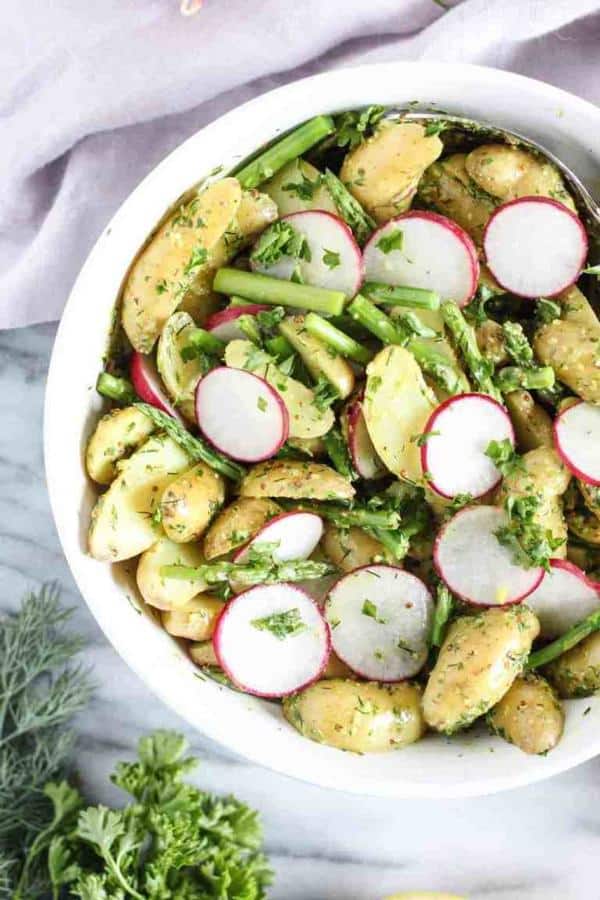 There's a reason why the combination of potatoes and asparagus is a crowd favorite.
The sweetness of potatoes is in perfect contrast to the earthy, bitter taste of the asparagus. Their softness is a perfect companion to the crunch of the green vegetables.
In this recipe, the potatoes are tossed in a light vinaigrette made with lemon and herbs, top off with sliced radish and asparagus. It's zesty, crunchy and fresh.
Asparagus Fries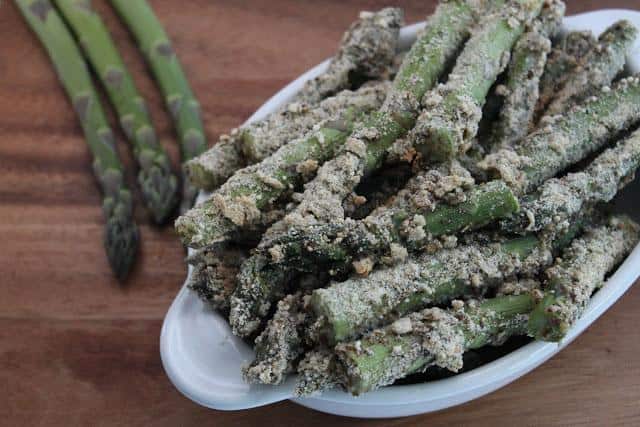 Gluten-free roasted fries? You bet! Since asparagus has a natural crunch, half the battle has already been won.
Wash, season and bake. The only difficult part of this recipe, is figuring out the dipping sauce!
Roasted Potato Salad with Asparagus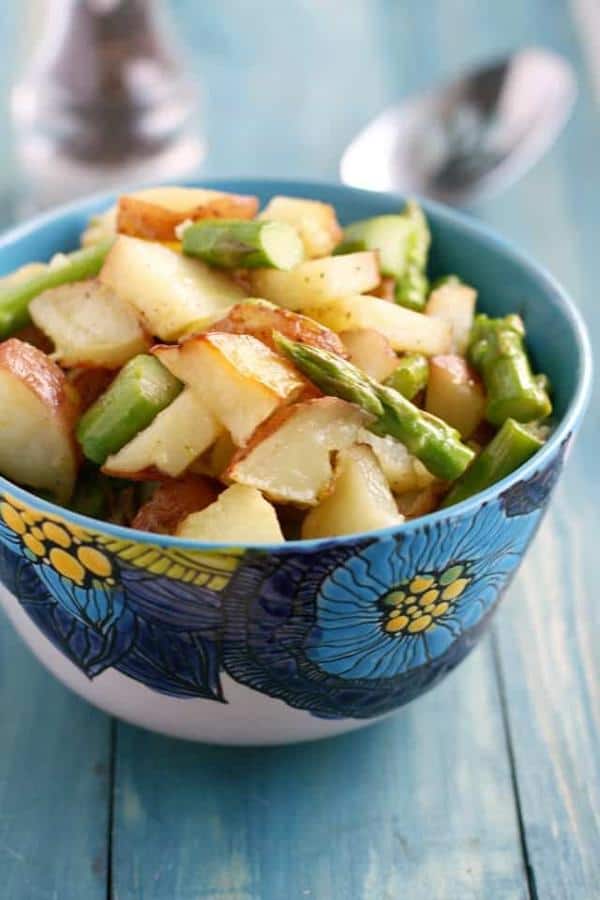 A warm, gluten-free salad made with potatoes dipped in a mustard vinaigrette mixed with roasted asparagus and sweet onions.
Let us pause for a moment and think of that amazing flavor combination!
Extremely quick and easy to make. Roasting the potatoes takes the most time, so prepare your time well in advance.
Vegan Hollandaise Sauce with Asparagus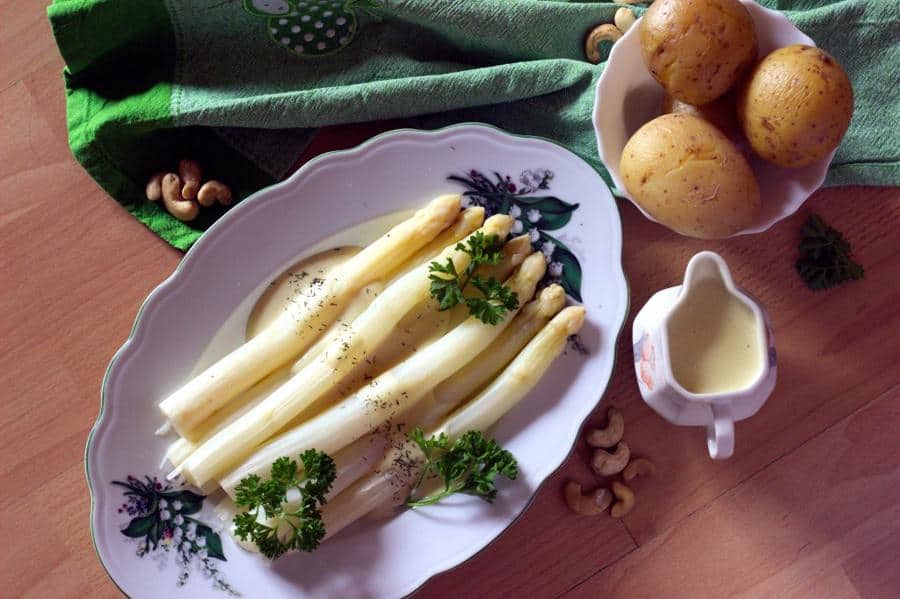 If we're talking about asparagus, can the classic hollandaise sauce be far behind?
While this classic Dutch sauce is traditionally made with egg, butter and seasoned with lemon juice, this is an easy, vegan-friendly alternative made with cashew cream, plant milk and flour.
The creamy sauce tastes great with both green and white asparagus.
Though white asparagus is slightly more bitter than its green counterpart, you can remove some of its bitterness by adding sugar. Have we got a true-life hack here?
Mushroom Asparagus Tacos with Jalapeno Cashew Crema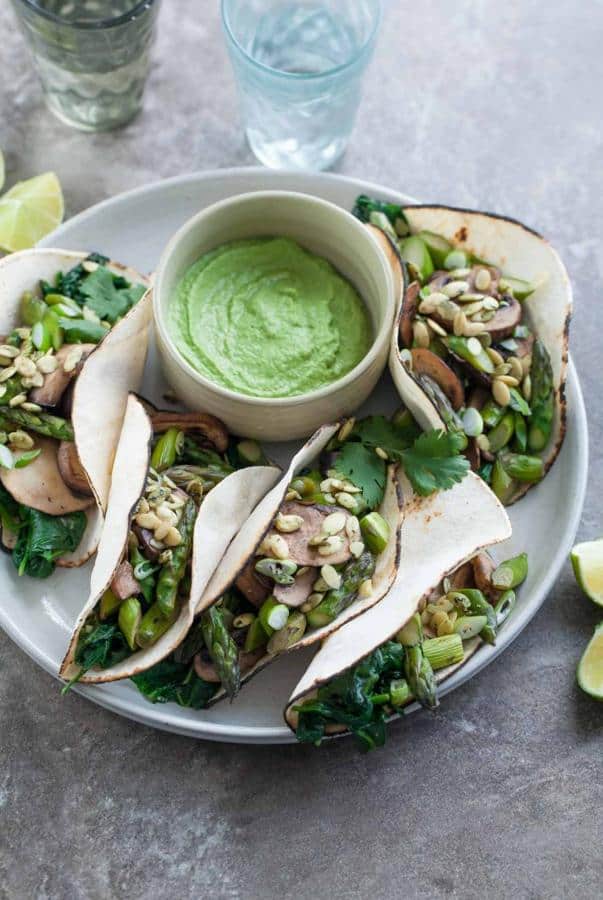 Mushroom and asparagus, who would've thought this pairing could work? But it does. And it works even better in crispy taco shells!
And guess what, with the spicy kick of jalapeños, it tastes sensational.
For people who don't enjoy the heaviness of mayo, using cashews to prepare a sauce is a great alternative.
It adds an element integral to any dip – the luxurious, creamy texture but without any of the heaviness of mayo.
Lemon Asparagus Pasta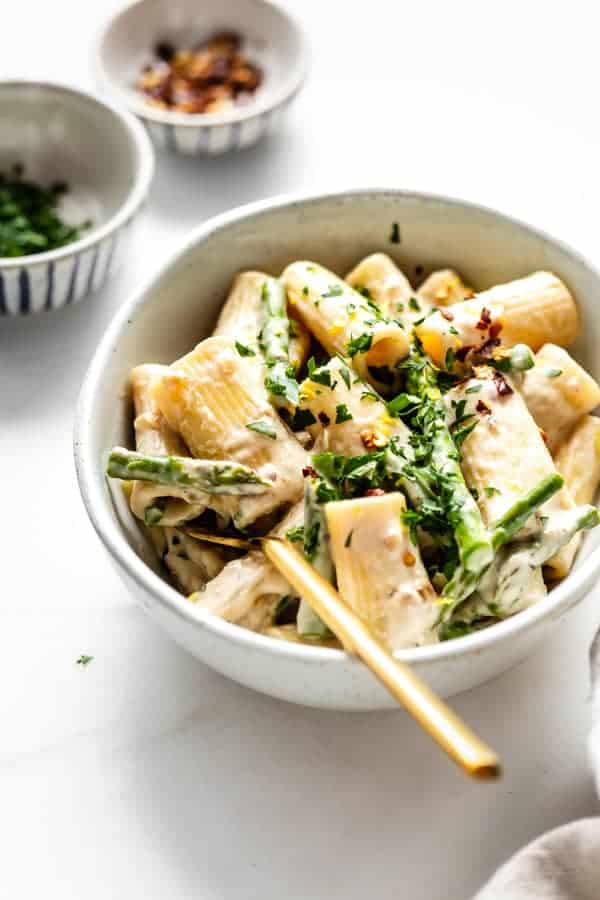 The crunch of asparagus makes it seem like it was made to be had with soft, creamy pasta. And pasta, as we know is a crowd favorite.
Whether it's a meal for children which you want to make a little healthier, a potluck with friends or a cozy dinner date with your partner, this is the dish for every occasion – wholesome yet sophisticated.
The best type of pasta to use is a tube-shaped variety such as rigatoni or penne. These are the ones which best hold the cashew cream and lemon sauce.
Grilled Portobello Mushroom Asparagus Fajitas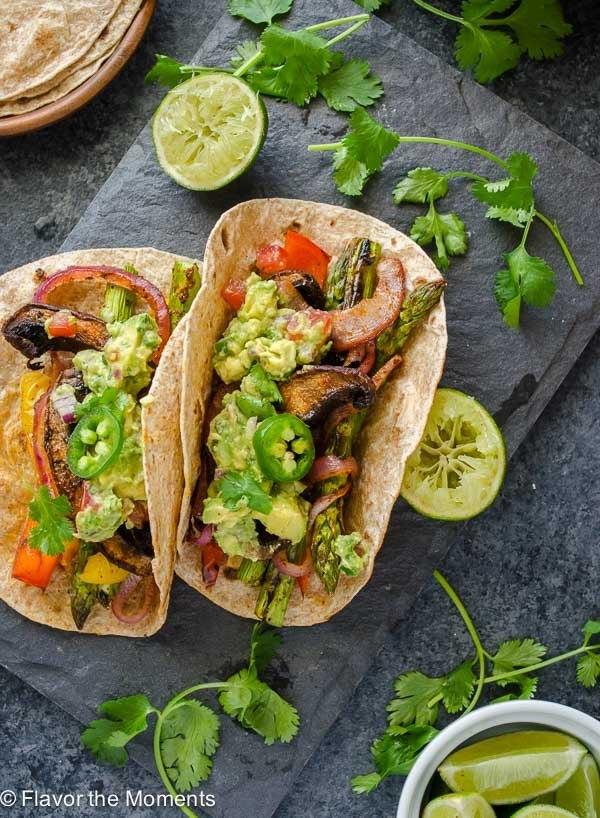 Fajitas are a delicious way to get some nutrients into your meal – fun, colorful and filled with veggies.
Fajitas are great to make for all kinds of occasions, so don't hold back!
This recipe takes a mere 15 minutes and minimal supervision to prepare.
Lemon Cream Pasta with Asparagus and Peas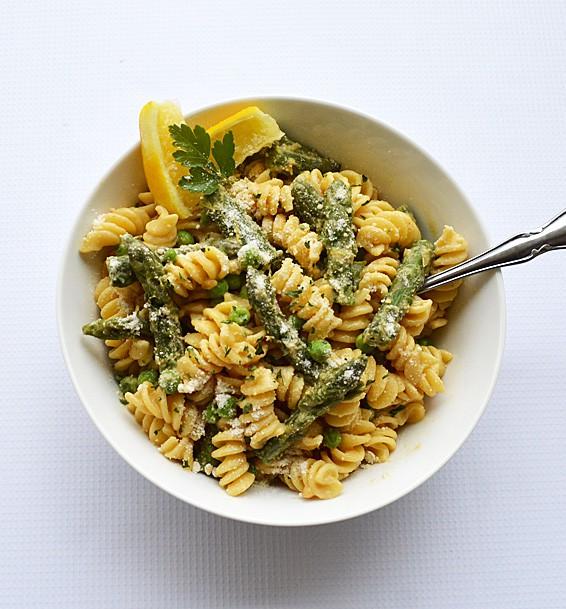 Great things come in threes – isn't that the saying? Here's another example which will prove it: pasta, peas and asparagus. This one has a guest appearance as well, a tangy hit of lemon.
The asparagus is steamed, which retains the freshness and texture of the fiber-rich vegetable.
Roasted Orange Tempeh and Asparagus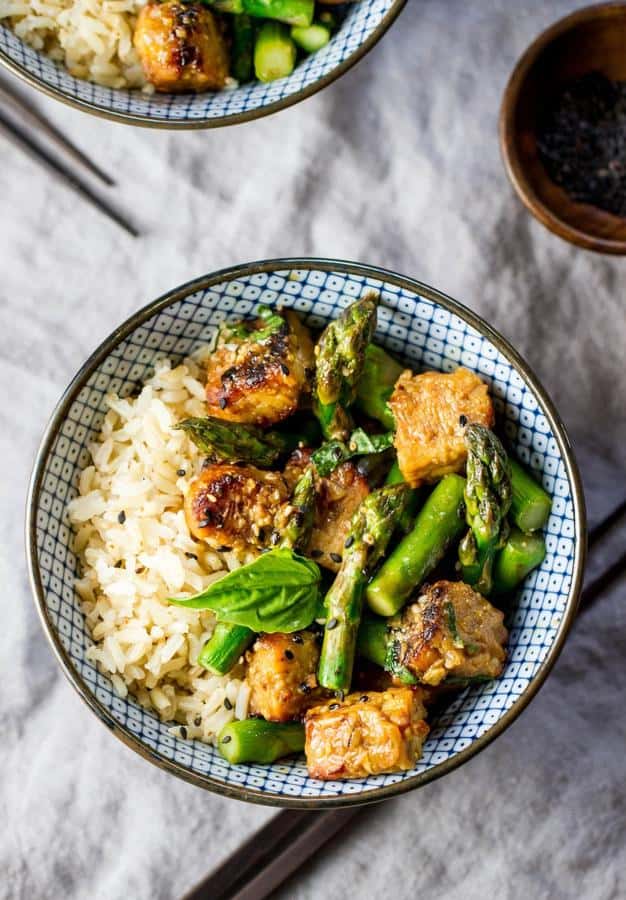 Tempeh is a traditional Indonesian fermented soy product. It's commonly available across local stores in the form of pressed blocks. Like any other fermented product, gains flavor with time.
The tempeh is cut into cubes and coated with a miso, vinegar and oil mixture, then baked in the oven with a gentle squeeze of orange juice.
This is a great recipe to bring a touch of authentic sweet and sour Indonesian flavor to your meal and it can be prepared at home with just a few, easily available ingredients.
Roasted Radish and Asparagus Tart with Kale Pesto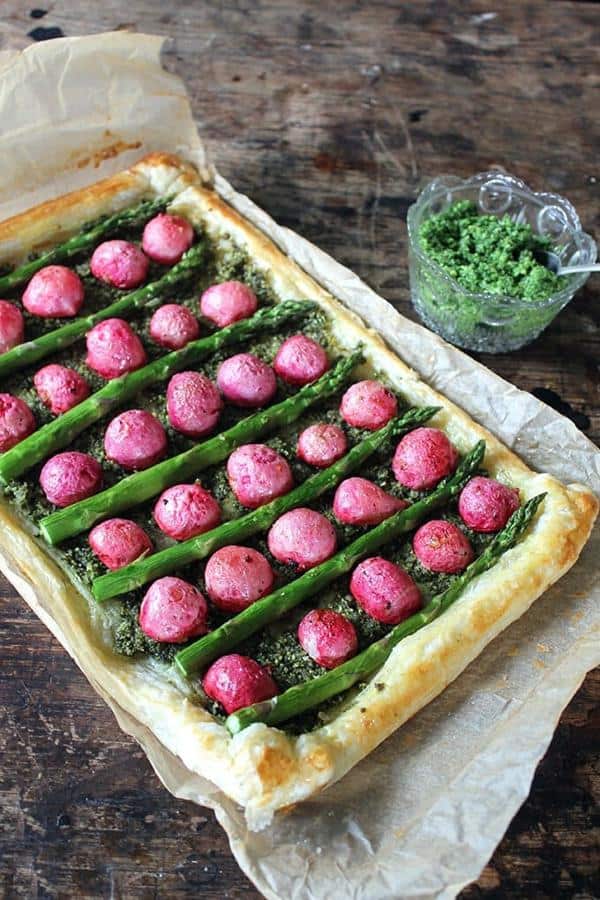 A savory tart with vegetables and a side of fresh kale pesto, this recipe makes for a vibrant and filling meal.
If you're having guests over, it's quick and easy to prepare and very convenient to serve and pass around the table.
Plan a visit to your nearest farmer's market to get some fresh vegetables, then invite some friends over for a meal. This dish is sure to be a talking point.
Creamy Roasted Asparagus Soup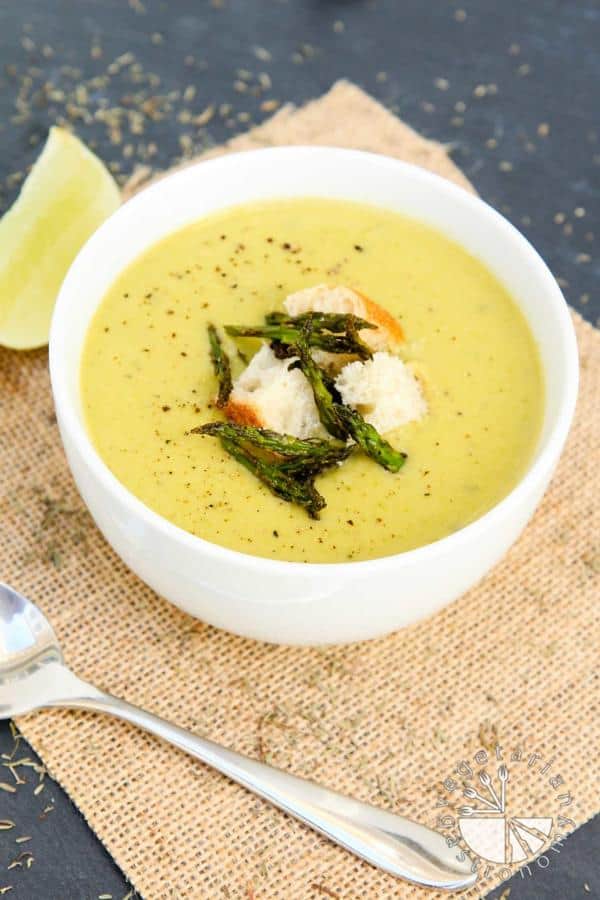 For chilly winter evenings when you just want to snuggle on the sofa, there's no better comfort food than a bowl of hot soup.
The thought of some warm, smoky roasted asparagus blended with a creamy soup is sure to make your evenings better.
While the recipe does require a good handful of ingredients and spices to create the perfect blend, it takes a mere 10 minutes of preparation after which you can leave on the stove to create!
Creamy Asparagus Pasta Alfredo Style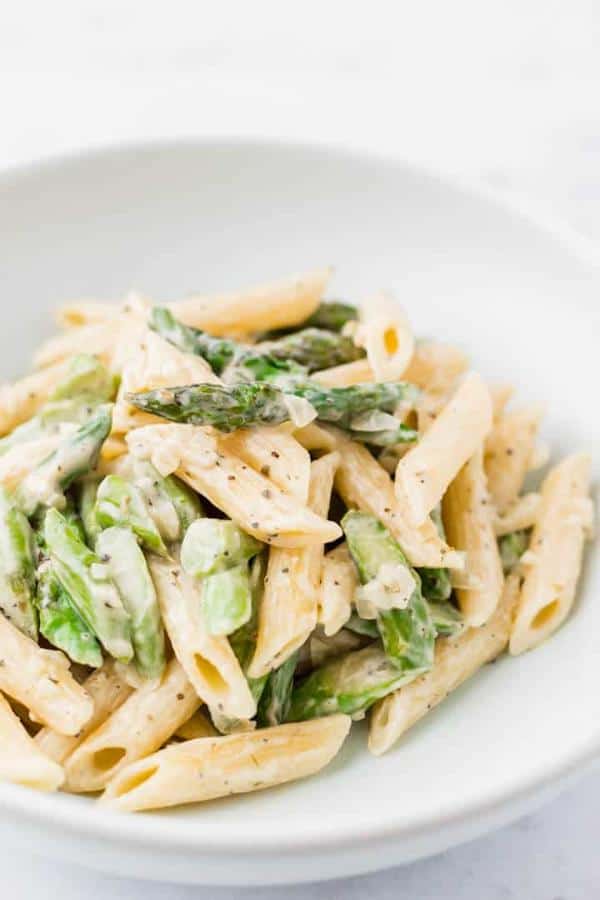 To give the asparagus an even roasting all over, the stalks are chopped into small, diagonally cut pieces.
Alfredo sauce is usually made with ingredients like butter, cream and cheese, but what about when you need a vegan-friendly alternative?
Fortunately, there are many! This recipe uses plant-based butter, soymilk and cream cheese.
Adding asparagus to pasta is an excellent way to make the meal healthier while retaining its status as a kid-favorite food.
Grilled Asparagus Tofu Spring Rolls with Ginger-Lime Dipping Sauce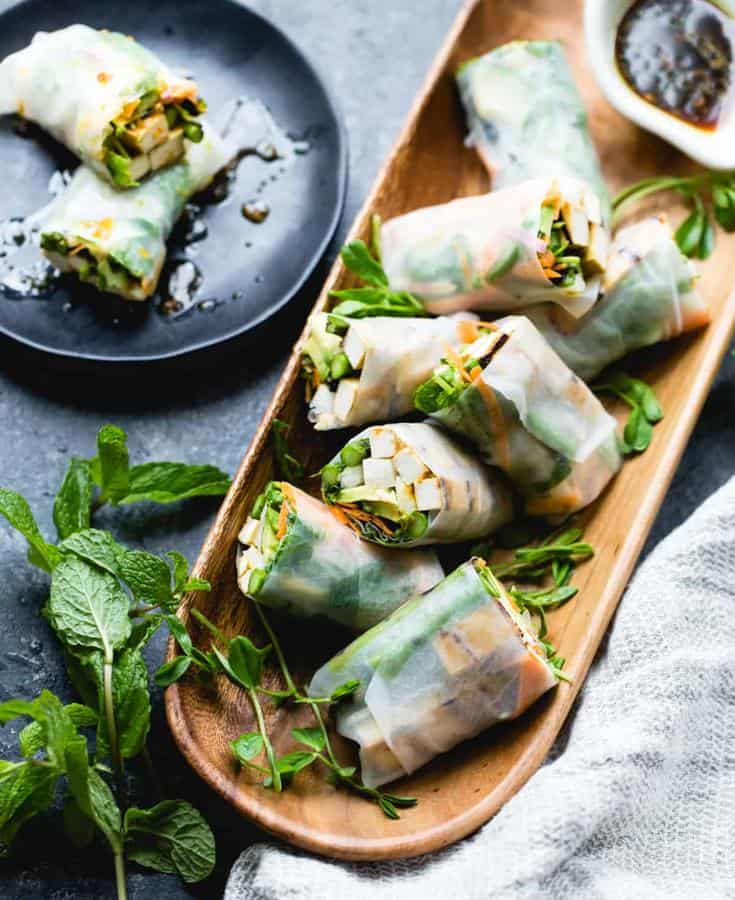 This recipe is a vegan and gluten-free version of an Asian classic, spring rolls.
They're made in a number of different ways across the continent, fried or steamed, filled with vegetables or tofu.
This recipe takes a unique twist to create a contemporary version of the classic. Grilled, filled with asparagus and marinated tofu, then dipped in a ginger and lime sauce.  So different, yet so delicious.
Since spring rolls take some time to prepare, how about making a party out of this. Gather your family and friends and bond over the magic of cooking!
Pea and Asparagus Fritters with Almond 'Feta'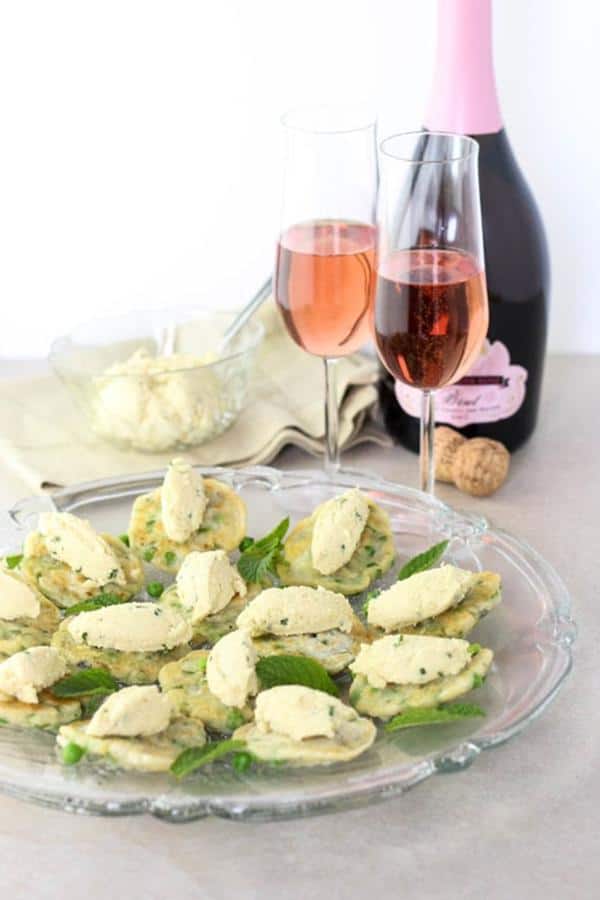 For some people who're contemplating a plant-based diet, cheese is difficult to give up.
But with this sophisticated alternative to cheese, we promise it's not going to be a concern any longer.
This homemade plant-based feta is made with ground almonds and can be refrigerated for use once prepared.
The pea and asparagus fritters, topped with a generous dollop of almond feta is a definite addition to your finger food menu for the summer!
Pesto and Asparagus Flatbread with Tahini Dressing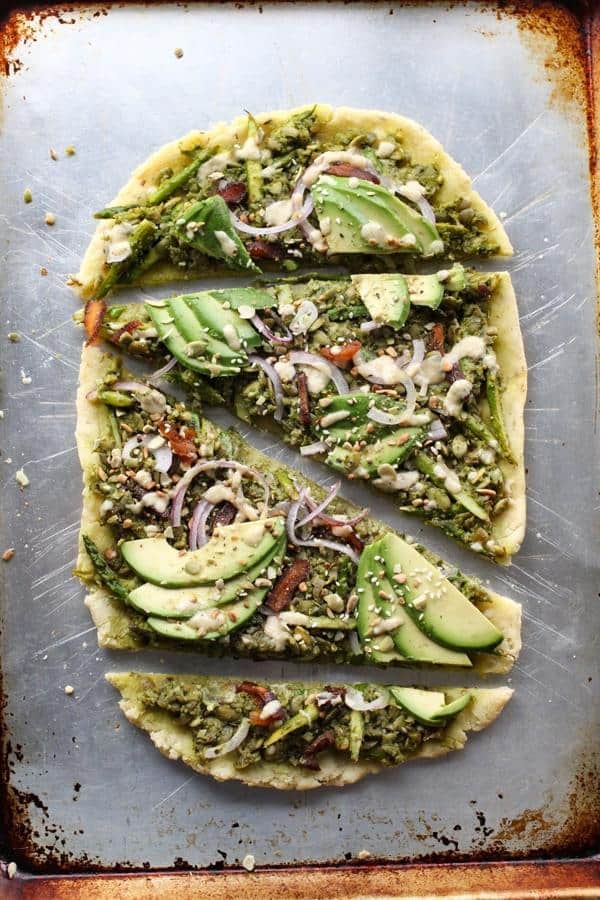 We love a crispy flatbread because it's simple, delicious and can be eaten with almost any dish under the sun.
This recipe combines some of our most beloved foods: a crispy flatbread, pizza and the tempting aroma of spices.
While making this recipe, we encourage you to pay special attention to the spices! Taste them and fall in love, they're an integral part of the dish!
Asparagus, Kale and Pea Lemon Risotto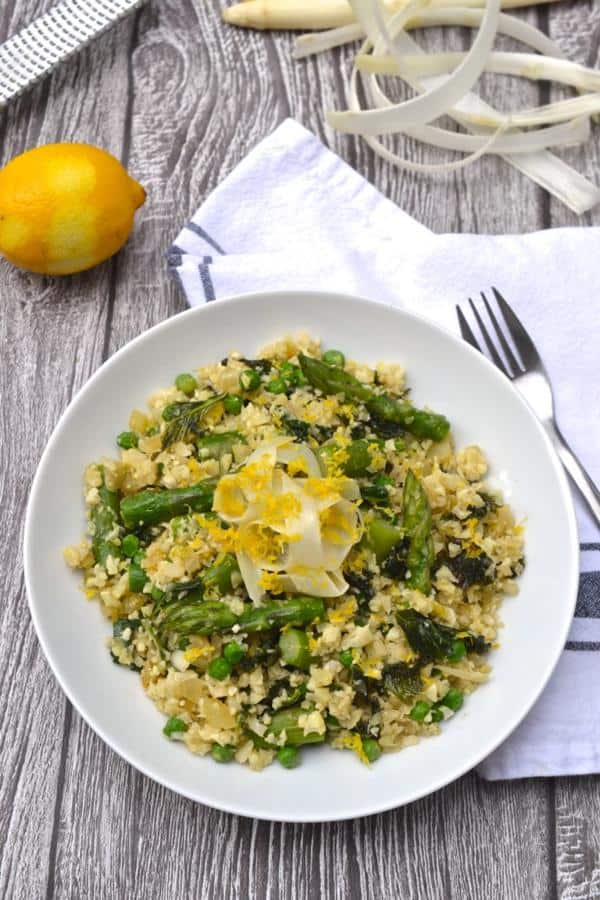 Risotto is a dish which can be difficult to cook. The rice needs to be just perfect and hopefully we can help make that 'al dente' just a little easier to achieve!
Well, this version replaces the traditionally used rice with shredded cauliflower. If that's not enough, this is not only plant-based but gluten-free too.
Easy 'Mix and Bake' Crustless Asparagus Quiche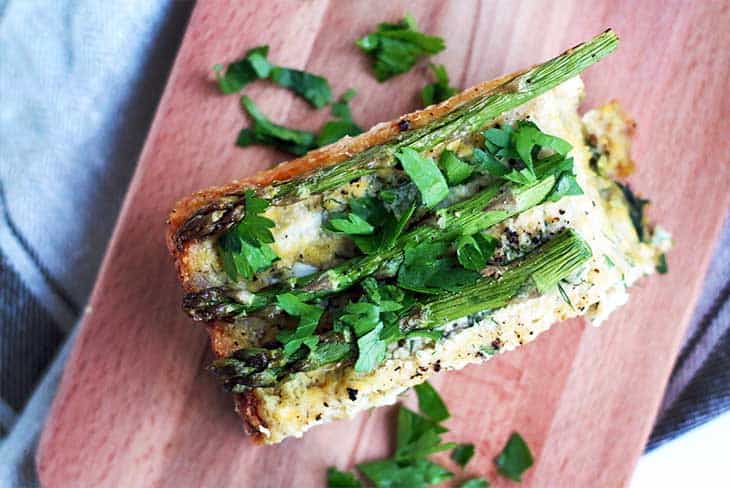 Just check out this beautiful savory tart, better known as quiche.
There are several variations which exist for this dish, any and every filling seems to work, including asparagus.
Once it's finished cooking, sprinkle on parsley and some dairy-free sour cream!
Asparagus Leek and Hemp Soup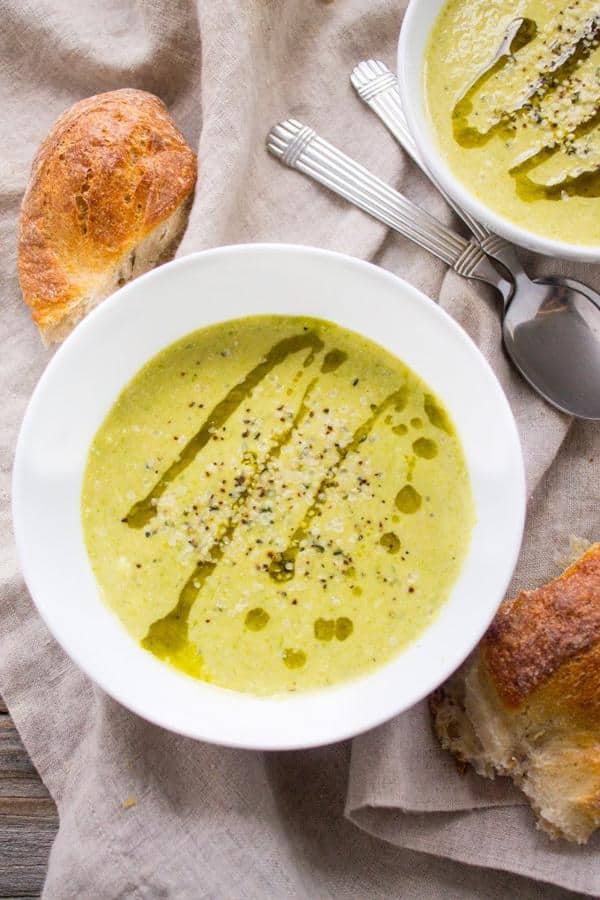 Some of us don't like compromising on taste and we end up sacrificing our quota of healthy food for this very reason.
If you are someone who just needs their nutrients to taste amazing, this one is for you.
A flavorful soup with vegetables and a generous amount of garlic hummus to make it creamy – just the way it should be.
Creamy White Bean, Asparagus and Dill Soup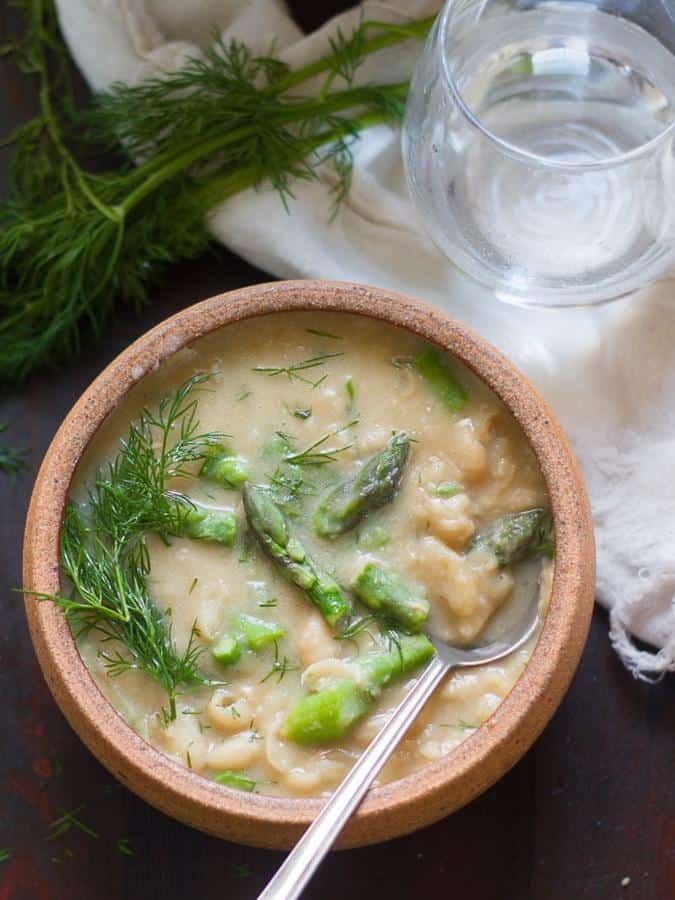 White beans are a great source of protein and they are abundant in this soup.
It's creamy yet fresh and seasoned with fresh dill leaves which lends a unique taste to the dish.
The slight bitterness of dill and asparagus is contrasted with this creamy and wholesome soup.
In summary, a fabulous and hearty meal.
Kale Pesto Quinoa with Asparagus, Avocado, and Green Onion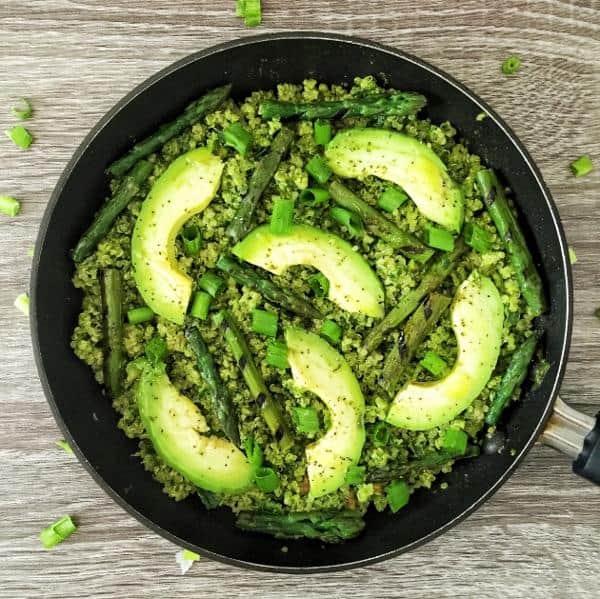 Kale and quinoa are very much happening foods and this vibrant bowl of green vegetables is another reason why we love them!
While this light and fresh salad is a filling meal on its own, if you're looking to add more bulk to the dish, you could add in some beans to the mix!
Creamy Risotto with Asparagus and Quinoa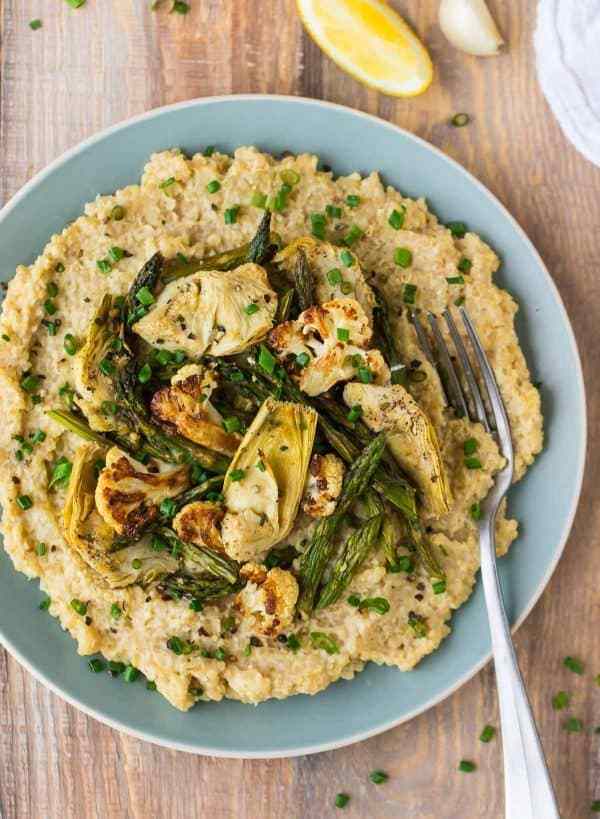 Just the title alone makes my mouth water! If you are a fan of asparagus and quinoa, you will just love this dish.
The taste of traditional risotto remains intact, but it has a quinoa twist! It's rich in protein and the best part, it takes just 15 minutes of preparation.
Asparagus and Sweet Pea Soup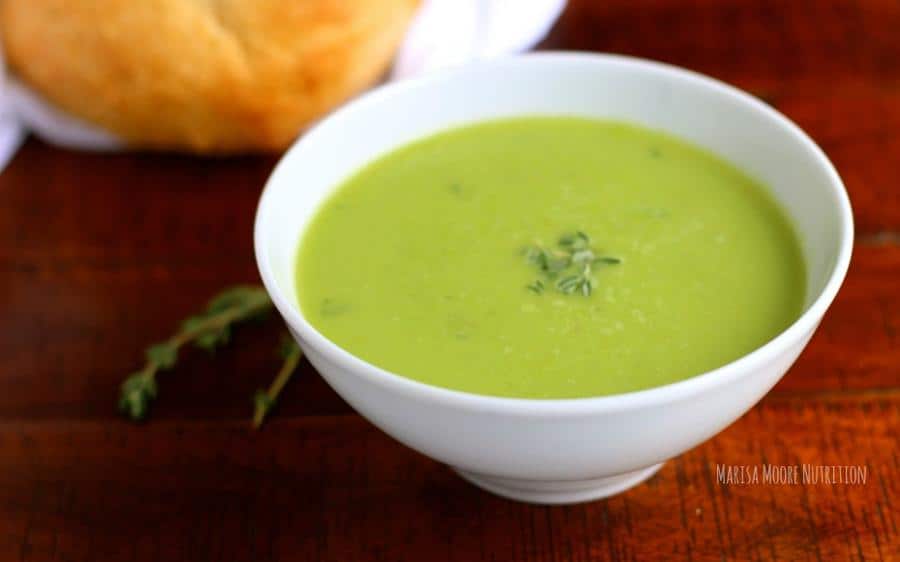 This soup might feature on the spring menu of some fancy restaurant, but there's no reason why you can't make it in the comfort of your own home too!
Surprisingly easy to prepare, this soup is light, fresh and perfect for a hot summer's day!
Roasted Garlic Asparagus and Mushrooms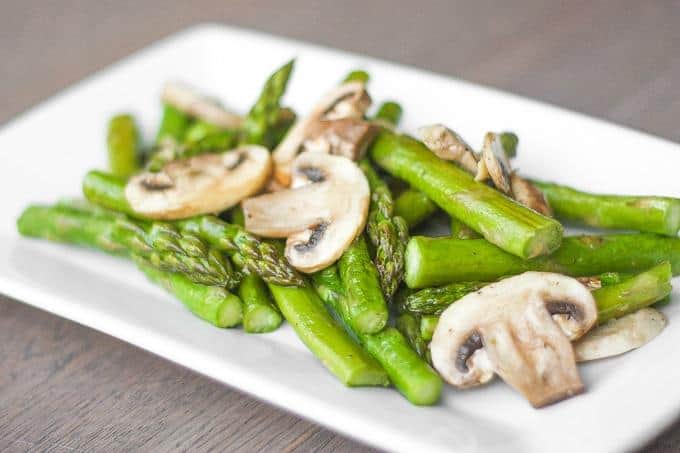 My personal opinion is that garlic has the power to make every dish just a little bit better. And roasted garlic? Even better.
If you're not a fan of the naturally bitter taste of asparagus, this is an easy way to mask it slightly behind the aroma and smokiness of roasted garlic with fresh and tasty mushrooms!
Orange Tofu Asparagus Green Beans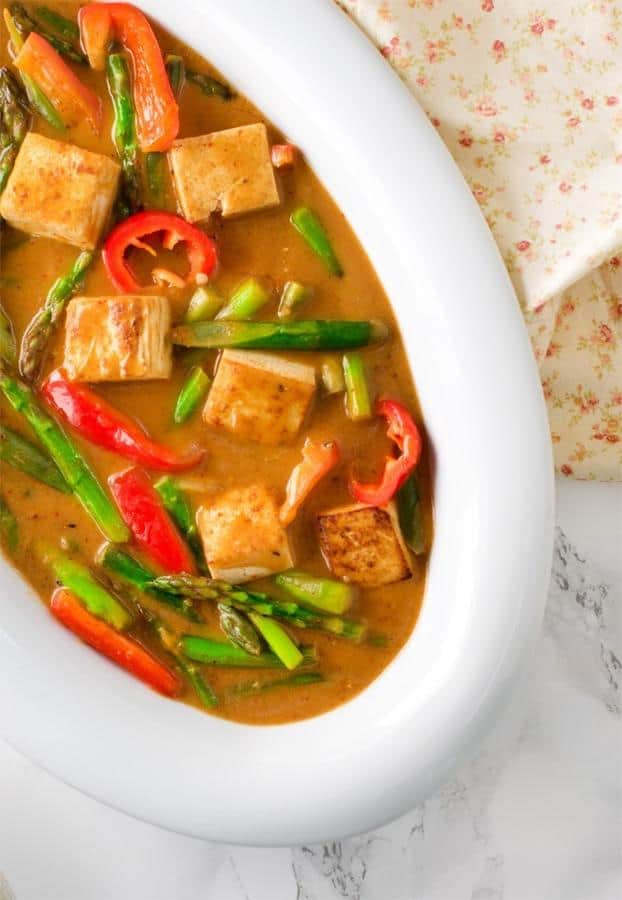 Tofu is just so versatile! It's suitable for so many cuisines and flavors from around the world.
For the asparagus, the company of tofu and sweet and sour orange is perfection!
Since the dish has notes of Thai flavor, it's only fair you make a meal of this Asian curry with some Pad Thai Noodles.
Chili Lime Roasted Asparagus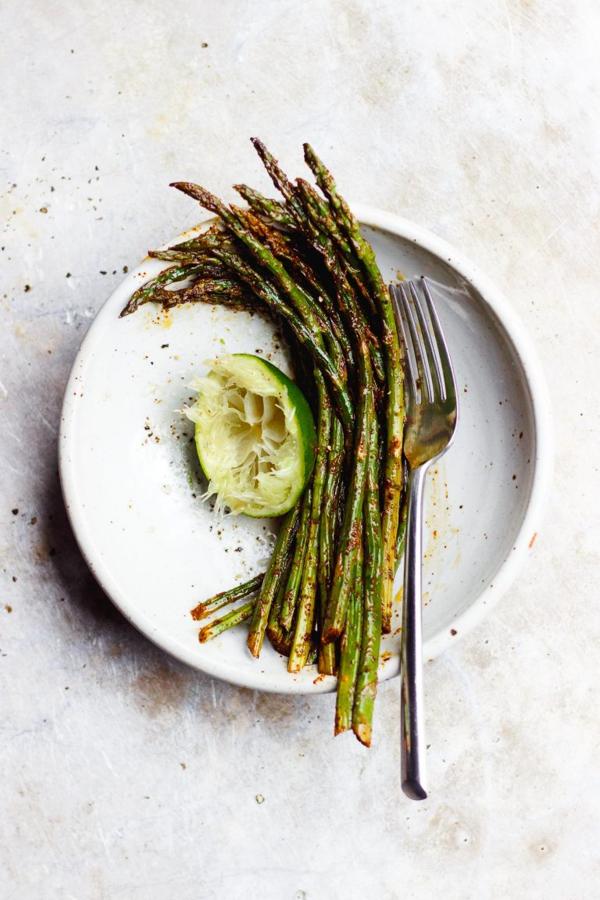 Roasting asparagus is a common technique. If you're looking to add a bit more flavor though, two words, chili and lemon!
It's a 10-minute dish with every flavor you could imagine, and can be served as an appetizer, side or pickle with your favorite recipes. Burger? Noodles? Pasta? It's perfect for all three, and more.
Asparagus Salad with Creamy Tahini Salad Dressing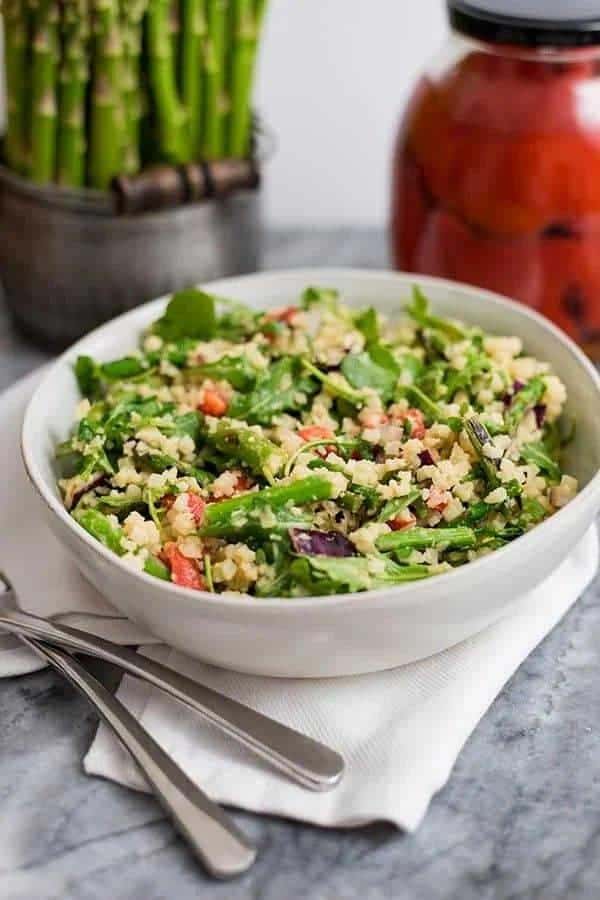 A creamy tahini sauce is a Greek condiment made from roasted sesame seeds. Its classic status is perhaps derived from the fact that it has an earthy, roasted flavor that can be added to many dishes.
You can count the number of ingredients this salad recipe requires with one hand. (Spoiler alert: It's 5!)
Make it ahead of time and refrigerate so you have no excuses to resort to unhealthy snacking when you're famished. Once you taste this, you won't be needing those snacks again!
Fennel Asparagus Salad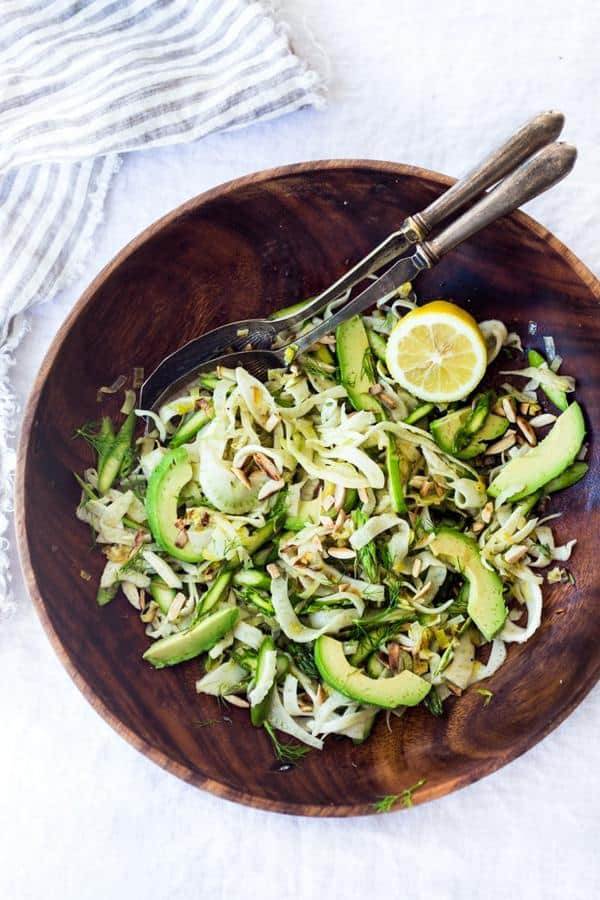 If we're talking about flavor, there's no way fennel can be left behind.
Fennel seeds are commonly used to sauté vegetables in, and in some cultures, are offered after a meal to aid digestion.
This salad makes use of the fennel bulb, which is the ingredient which deserves credit for the light and fresh nature of this salad.
It can also be served as a side to tofu, grilled vegetables and so much more.
Vegan Eggs Benedict with Asparagus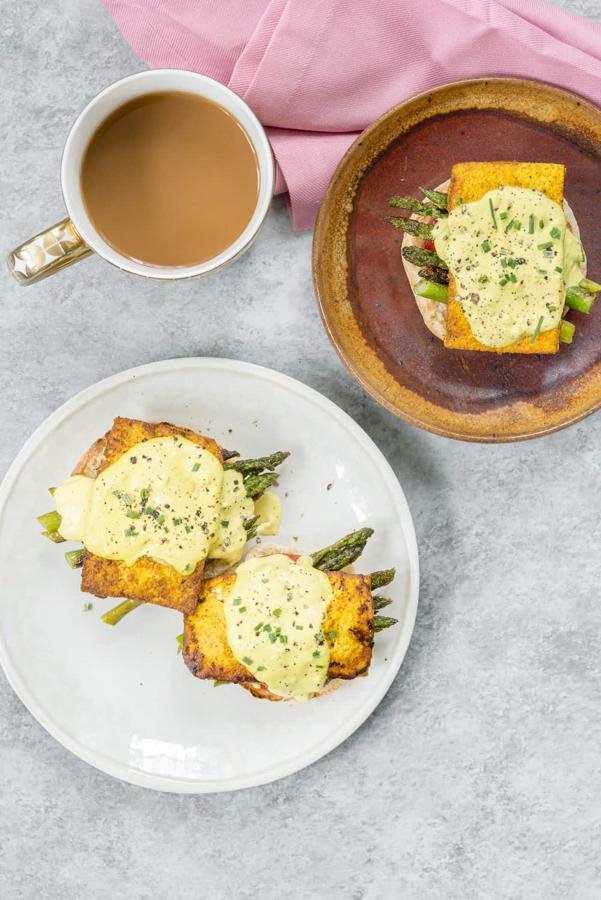 Eggs Benedict is an American breakfast favorite.
What if you could bring this classic into your plant-based diet? Right here we have a vegan-friendly Eggs Benedict which substitutes the egg with marinated tofu.
The hollandaise is replaced with a lighter, cashew-based version you will just love.
Assemble with a bed of sautéed asparagus on some English muffins, grab your fork and get ready for breakfast!
Wrapping Up
We do hope you were able to find some recipes you love and can see yourself making again and again.
Whether it's a snack, a salad, a soup or a main, we've tried to bring this vegetable into your life through your favorite meals.
Let us know if we succeeded?