So, we've found you a good handful of vegan pumpkin recipes to get you started, ranging from smile-inducing breakfasts to dishes that'll warm your core on a cold evening.
Of course, we slipped in a few family treats for the kids to get involved too!
What are you waiting for? Dive in and find your favorites!
Delicious Vegan Pumpkin Recipes
No Bake Easy Pumpkin Cheesecake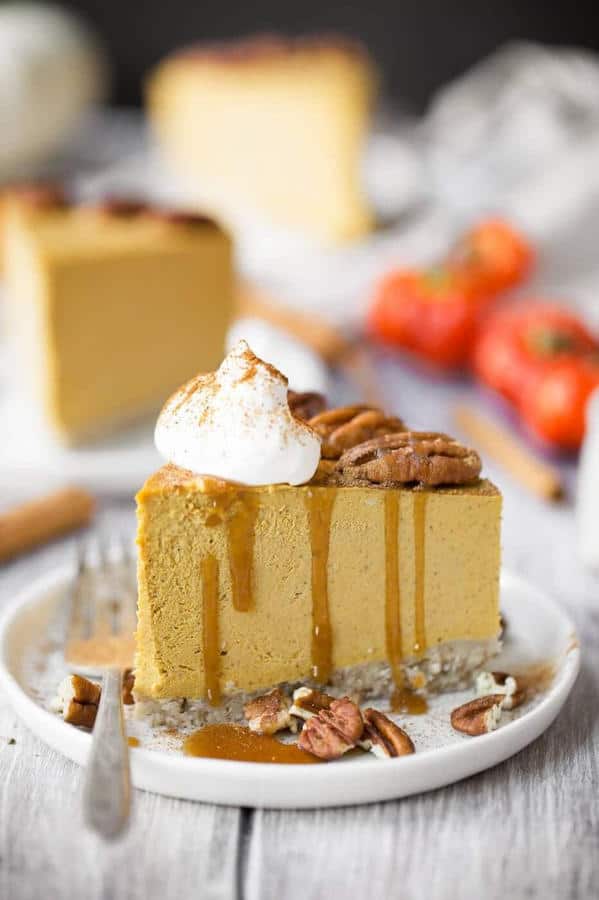 There's always a time and place for an elegant dessert, and there's no doubt that's when this pumpkin cheesecake—made without zero baking involved—comes to the rescue.
As Monica highlights, this cake is chock-full of quality fats from pecans, cashews, macadamias and coconut oil.
It also features warming spices and a decadent caramel sauce to boot.
Total time to make? 20 minutes!
Pumpkin Chipotle Chili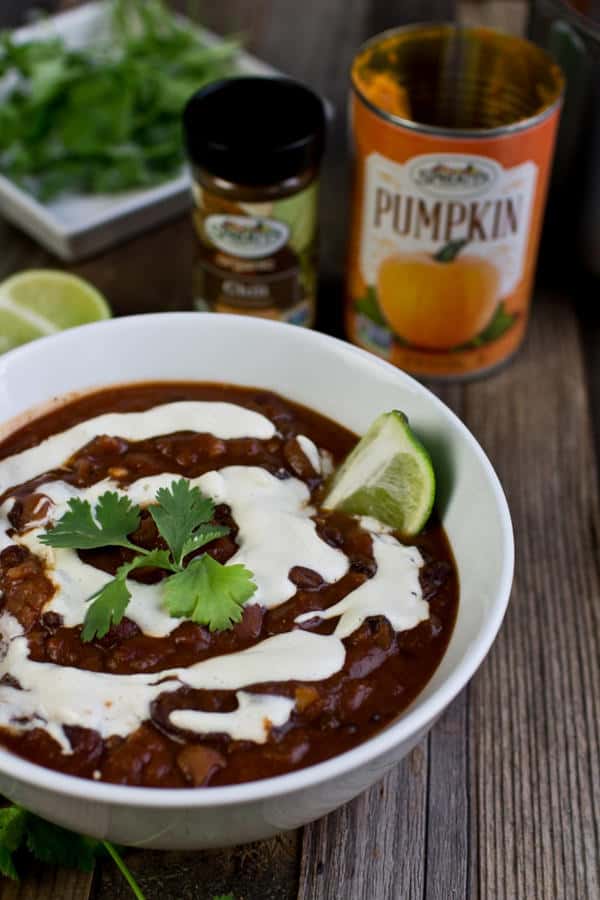 Brandi's pumpkin chipotle chili is a well-balanced recipe, both savory and spicy.
The chili comes together in 40 minutes and you can optionally take it to the next level with a complementary lemon cream sauce and optional garnishes.
Pumpkin, Apple and Caramelized Onion Quesadilla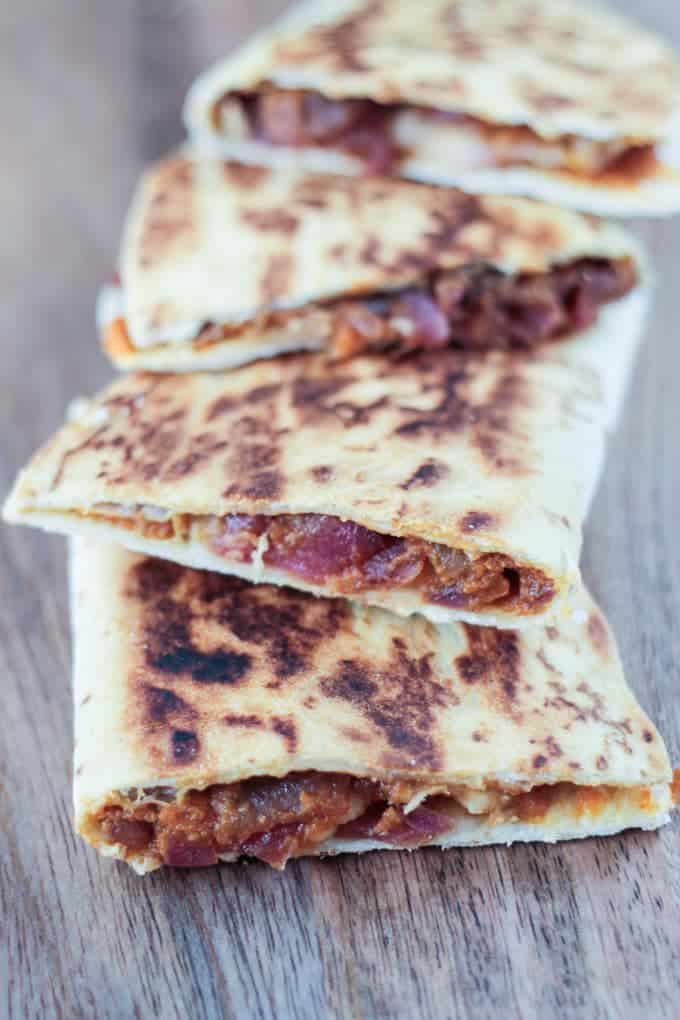 A little of everything, that's what you'll get from this vegan quesadilla recipe.
Some of the appetizing textures and flavors you'll enjoy here include crunchy, creamy, sweet, smoky and even spicy!
Quesadillas normally don't take as long as 45 minutes, but these are worth the time and effort. Make them for guests or for when you deserve an extra special meal.
The Best Vegan Cheese Sauce with Pumpkin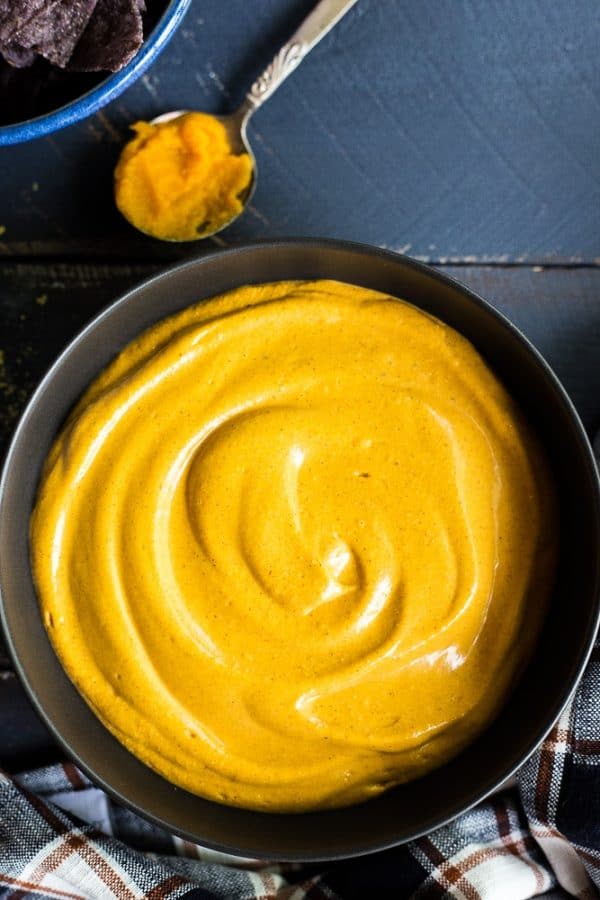 Once you go plant-based, quitting dairy cheese can be a real challenge because of its addictive nature.
So make sure you save this recipe for when you fancy a cheese kick, as that's exactly what you'll get with Izzy's pumpkin vegan cheese sauce.
Beyond pumpkin, it features nutritional yeast, garlic and a range of spices, which makes for a cheesy and flavor-packed sauce that'll curb and satisfy your cravings with ease.
Pumpkin Cupcakes with Pumpkin Spice Frosting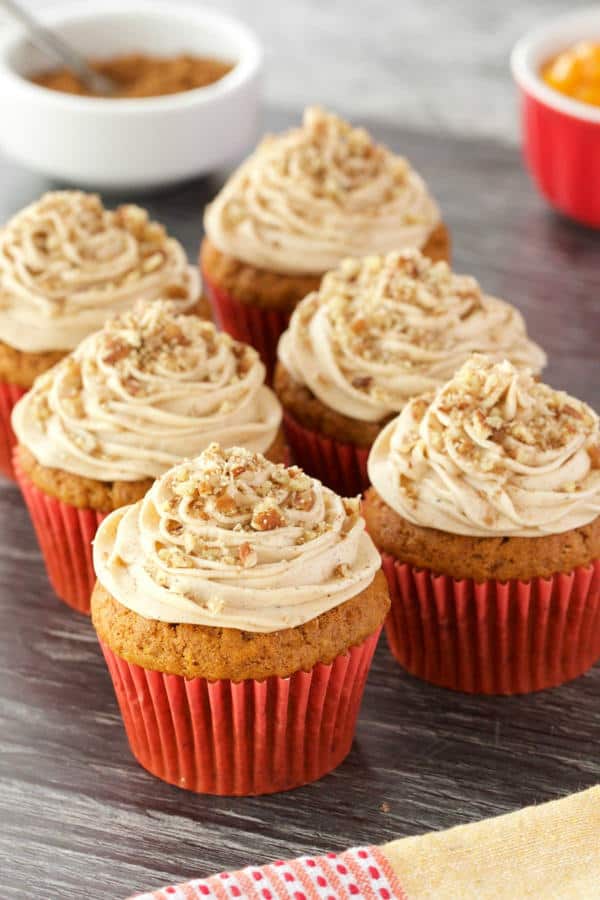 Here's a great pumpkin recipe to get kids involved in the kitchen. Alison's pumpkin cupcakes are moist, easy-to-make and feature a luscious pumpkin spice frosting.
From start to finish, you'll have 12 cupcakes ready for serving within an hour.
Healthy Pumpkin Snickers Bars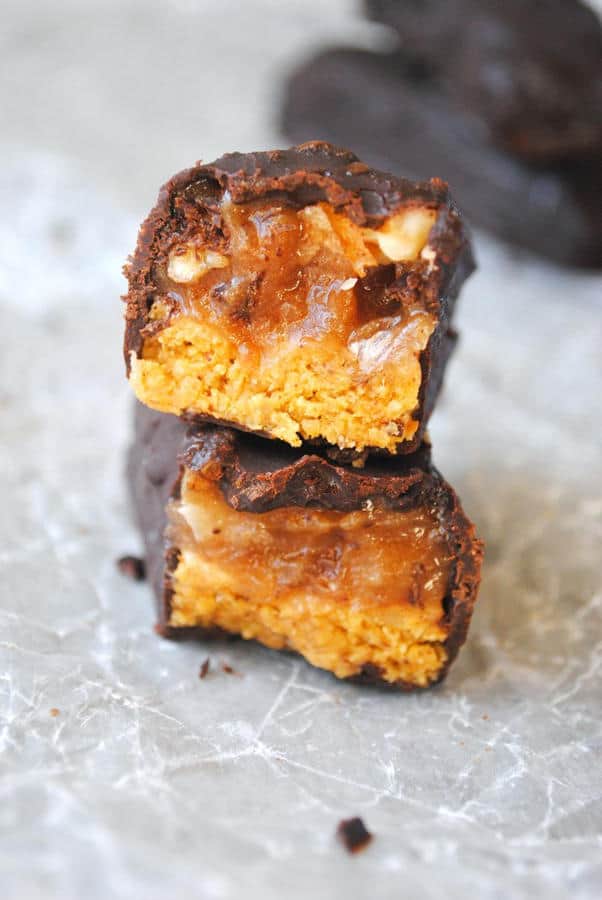 Finding a vegan chocolate bar similar to snickers is quite tough. So sometimes your best bet is to simply make your own.
Emilie gives you the perfect recipe to get you started, and you'll end up with a crunchy and healthier chocolate treat compared to those you buy at the store.
Pumpkin Nuggets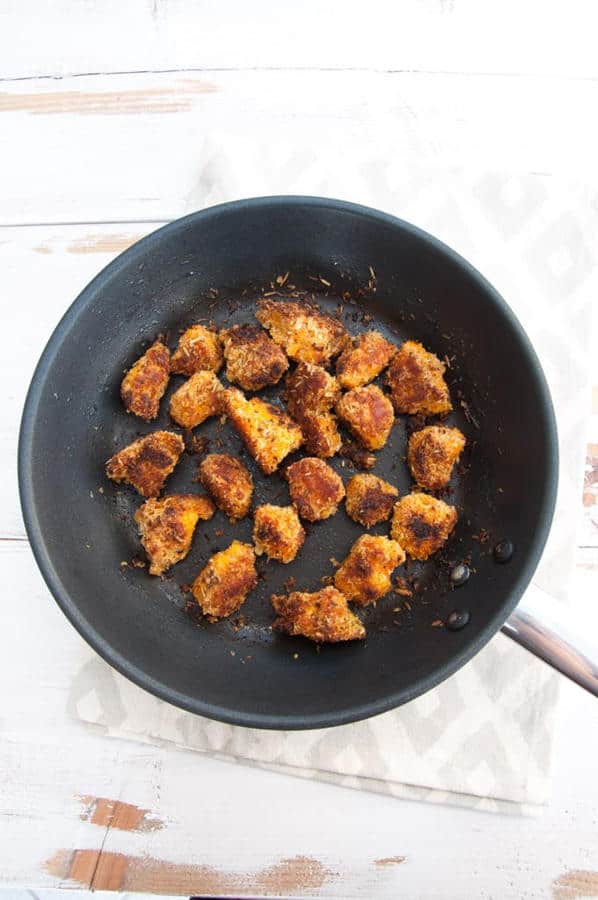 Despite having scoured the web collecting recipes for our vegan substitute recipes roundup, I still manage to come across some new and creative ways to veganize some of the most popular foods.
In this case, you're looking at "chicken" nuggets made with—you guessed it—pumpkin!
This 40-minute recipes requires 9 simple ingredients.
These nuggets can be enjoyed with a side of grains or legumes, as a salad accompaniment, or eaten in a pita. Heck, you can even just eat them on their own.
Creamy Pumpkin Risotto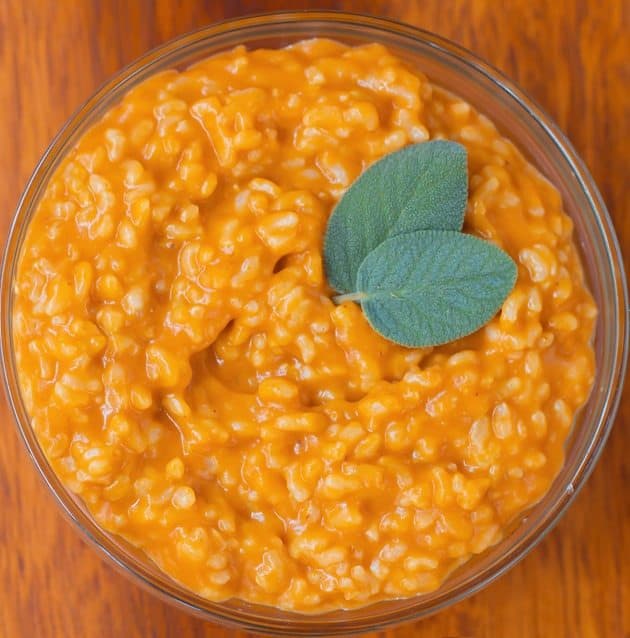 After months of experimentation, Katie came up with a delicious and creamy pumpkin risotto that's sure to brighten your day.
Interestingly, Katie recommends you have this on a date night or after watching sports on a Sunday, so perhaps you ought to give that a try!
Pumpkin Pie with Almond Flour Pie Crust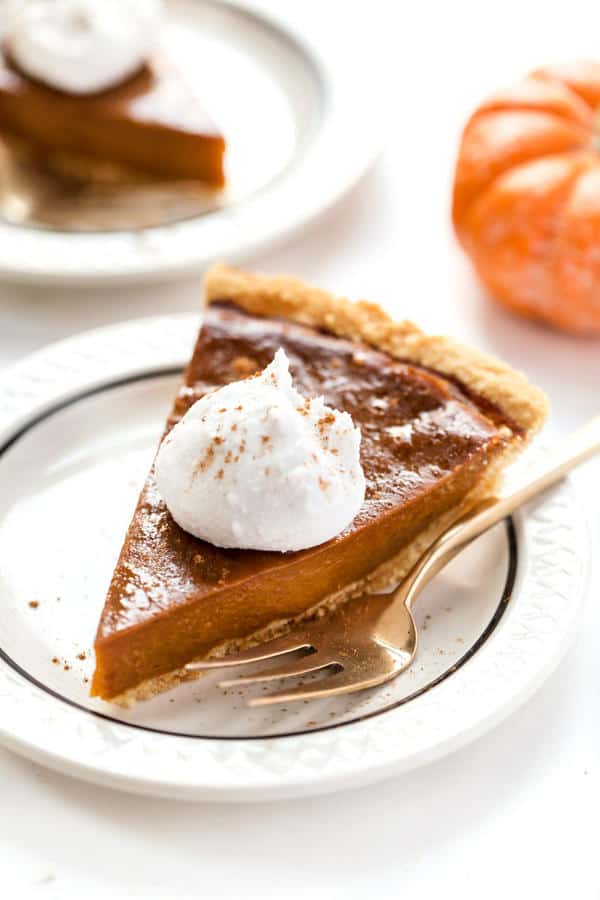 Alyssa's most favorite dessert, is pumpkin pie. And here she's made a vegan version that's simple, gluten-free and requires only a food processor.
Without a doubt, if you make this, be sure to serve with some coconut whip cream or a vegan ice cream of your choice for a dreamy treat!
Pumpkin Penne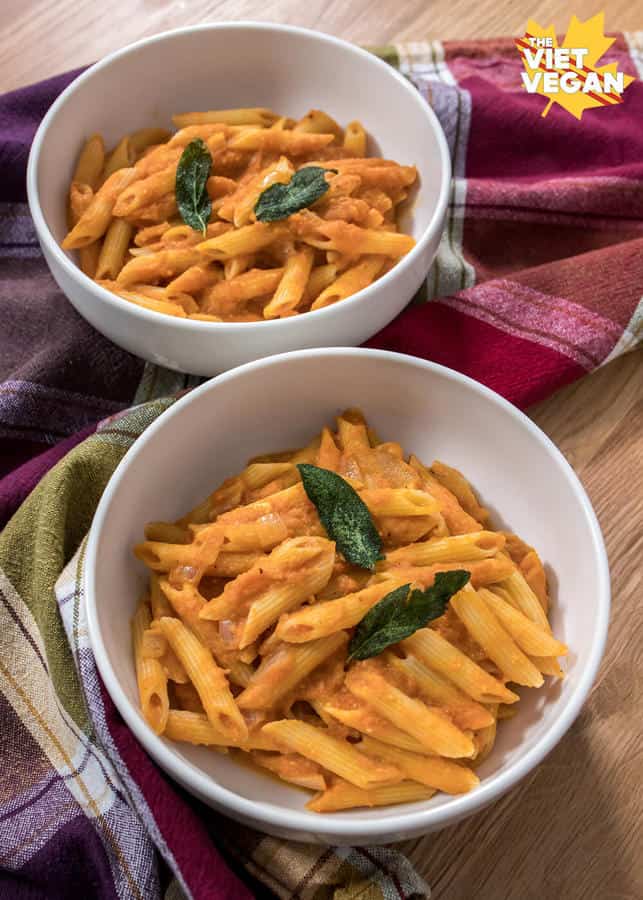 Lisa introduces you to this easy-peasy pumpkin penne recipe straight from Sam Turnbull's Fuss-Free Vegan cookbook.
This is a filling and quick meal anyone can make, and once you've done it a couple of time, feel to experiment and tweak to your liking.
Autumn White Bean & Pumpkin Veggie Burgers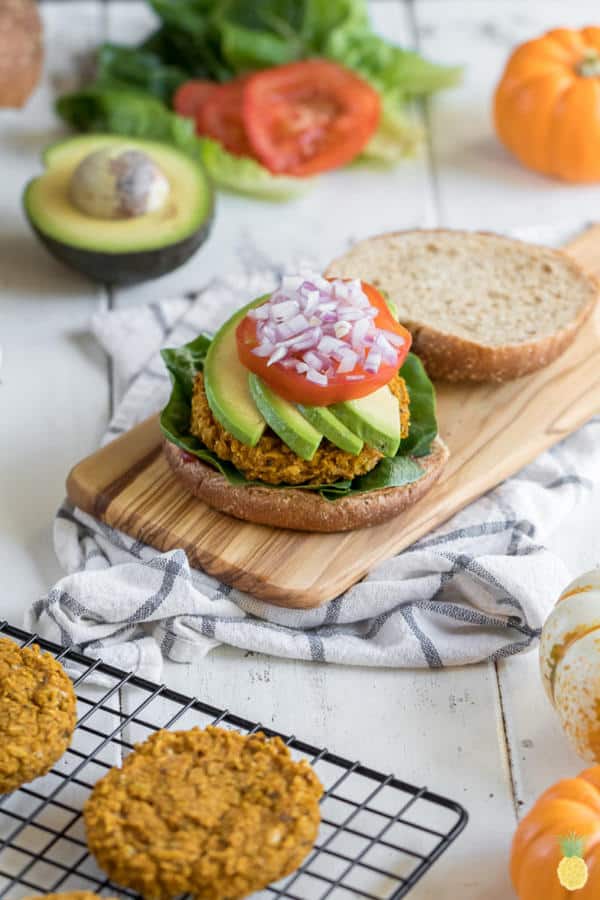 When you've got a bit of an appetite, Jasmine's white bean and pumpkin veggie burgers is the perfect recipe to satisfy yourself with.
These burgers are free of both gluten and oil, and are a much healthier alternative to regular junk food burgers.
Pumpkin, Apple & Ginger Soup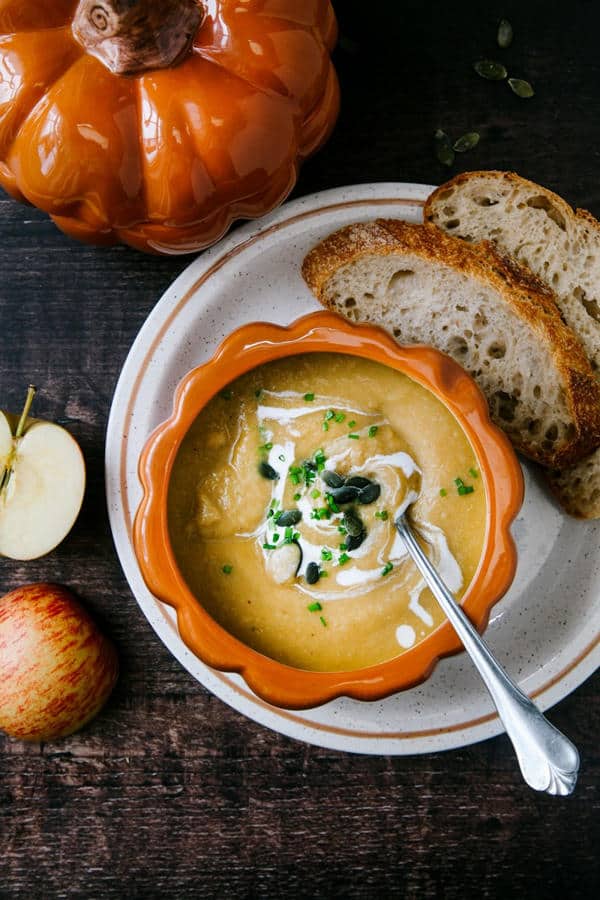 When you're looking for a simple and hearty soup recipe, this gluten-free curry peanut pumpkin soup might just be the magic you need.
Excluding water, you can count the ingredients needed on one hand. Plus, it takes only 15 minutes to prepare.
That makes for a great, straightforward recipe for lazy days or road trips.
Epic Pumpkin Tacos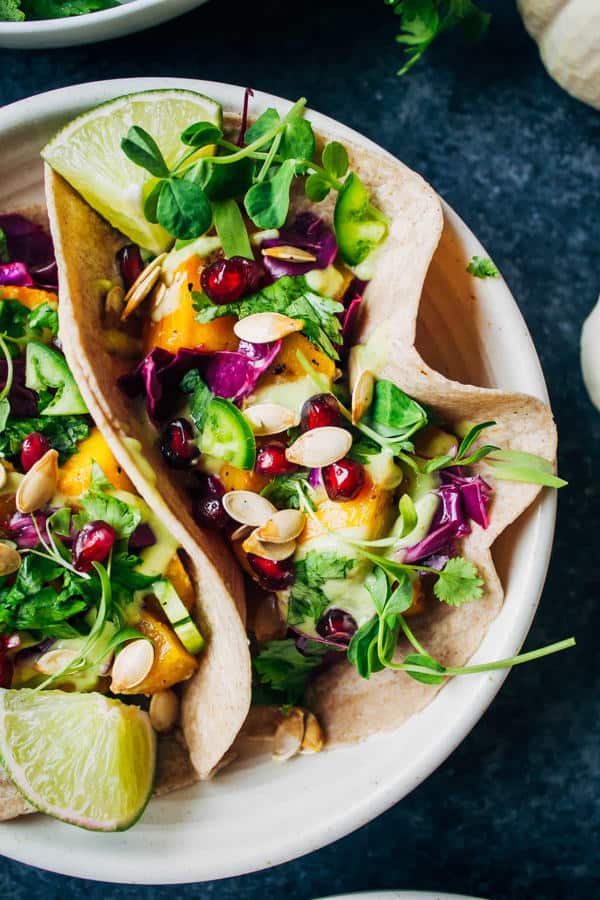 If you're attending a party and thinking of bringing something special for the buffet, Sarah's epic pumpkin tacos recipe is your winning ticket.
These colorful tacos are healthy, packed with flavor, and are sure to attract positive attention!
Thai Pumpkin Soup with Coconut Milk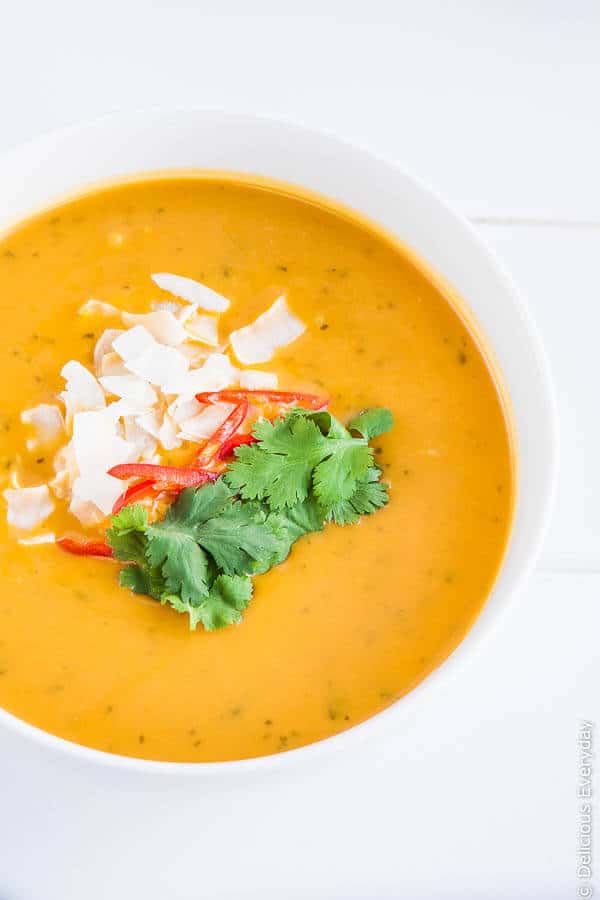 Thanks to a combination of lemongrass stalks, ginger and cilantro, this Thai pumpkin soup is both savory and refreshingly flavorful.
It comes together in 50 minutes, using 9 ingredients, including a butternut pumpkin.
Pumpkin Spice Latte Overnight Oats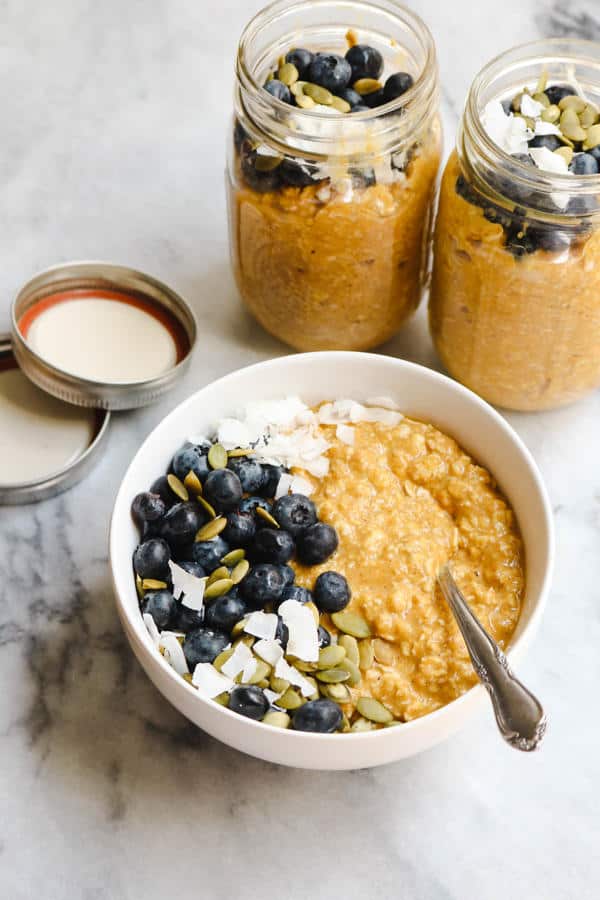 I bet this is unlike any breakfast you've ever had before, and it opens up new possibilities on what you can do with coffee.
Preparing this Overnight Oats recipe couldn't be easier. You simply combine and thoroughly stir together the ingredients. Place the mixture in food containers and store it in your fridge.
Once you're ready to eat it, get creative with your favorite toppings!
15-Minute Pumpkin Butter Recipe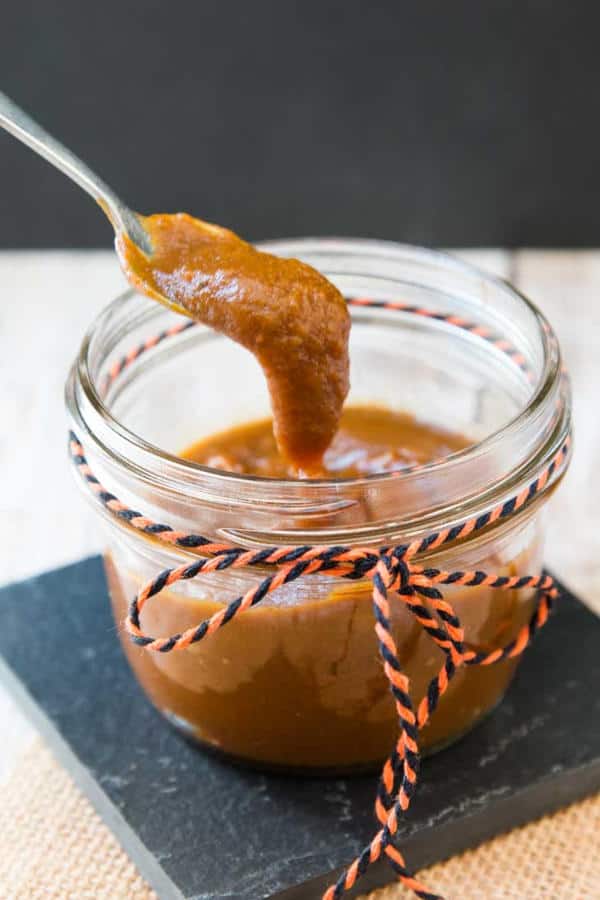 Need a versatile pumpkin butter? Then you'll hit the jackpot with Anjali's recipe.
All you need is 15 minutes and a handful of ingredients; no special equipment required, just a small saucepan.
It's a sweet and features a texture similar to caramel. Use it as a dip, pour it on ice cream, pair it with oatmeal, use it as a frosting, or, heck, whip out a spoon and eat it on its own!
Pumpkin Curry Pasta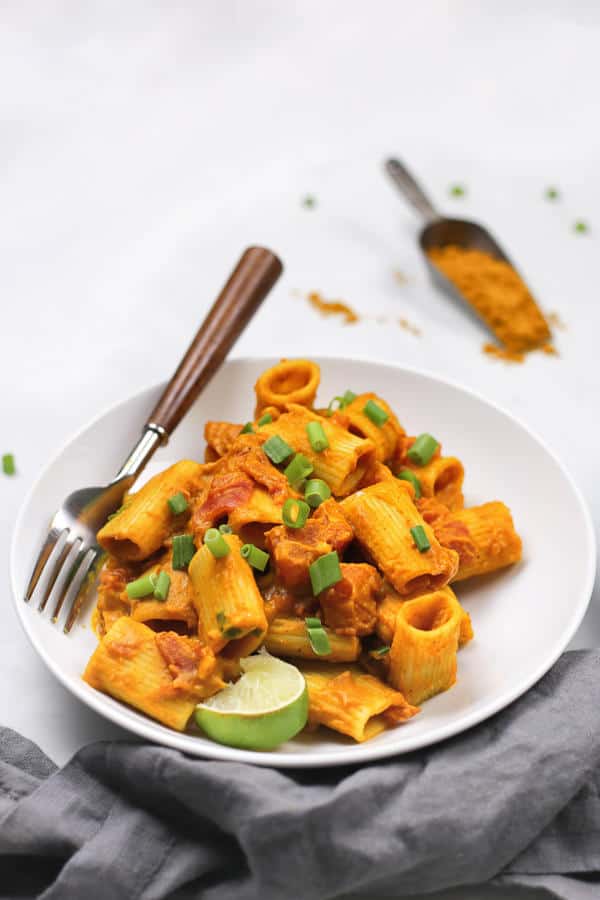 Pumpkin, pasta and curry lovers rejoice, especially if you love all three!
This is a deliciously flavored, 15-minute dish that's perfect for a satisfying lunch or dinner.
And you can use either canned or fresh pumpkin depending on your personal preference; Stephanie and Matt guide you on how to prepare the fresh pumpkin.
So, if you love a good pasta dish, this is it!
Creamy Pumpkin Bisque with Maple Cinnamon Tempeh Croutons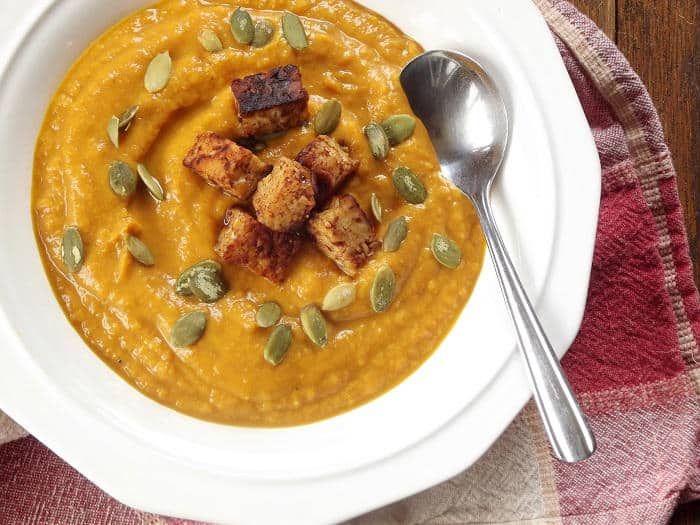 I could absolutely imagine my grandmother making this soup for me.
This is a light and creamy soup with a bit of sweetness. It combines pumpkin with Granny Smith apple, tempeh and a variety of spices and other subtle ingredients.
The result is a hearty soup ready in 45 minutes, you're bound to enjoy.
Pumpkin Waffles (Gluten-Free)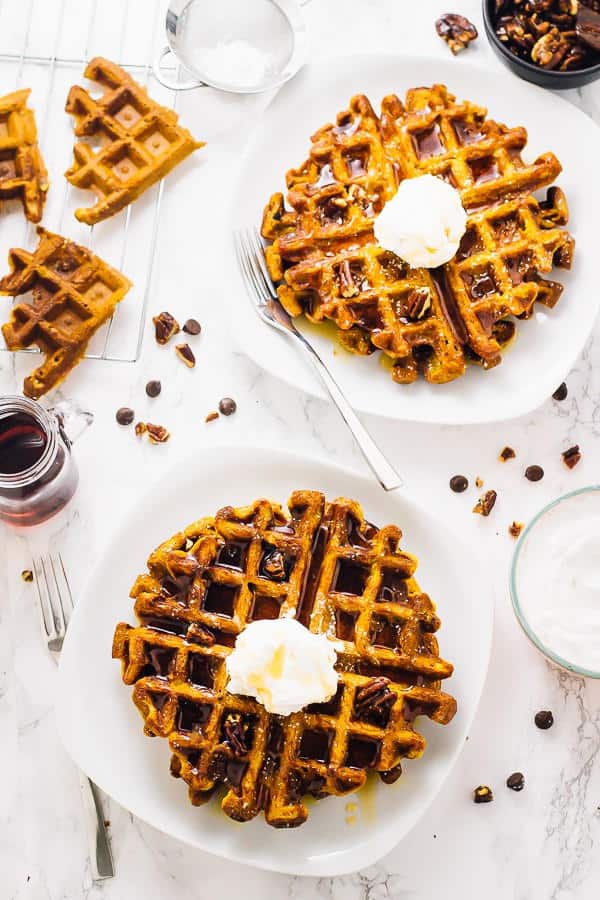 Go ahead, spoil yourself! These waffles are gorgeous and relatively healthy.
And as Jessica states, gluten-free waffles can be difficult to find, so she's got you covered with this 10-ingredient recipe.
Find your favorite toppings and go to town!
Clean Eating Pumpkin Fries Recipe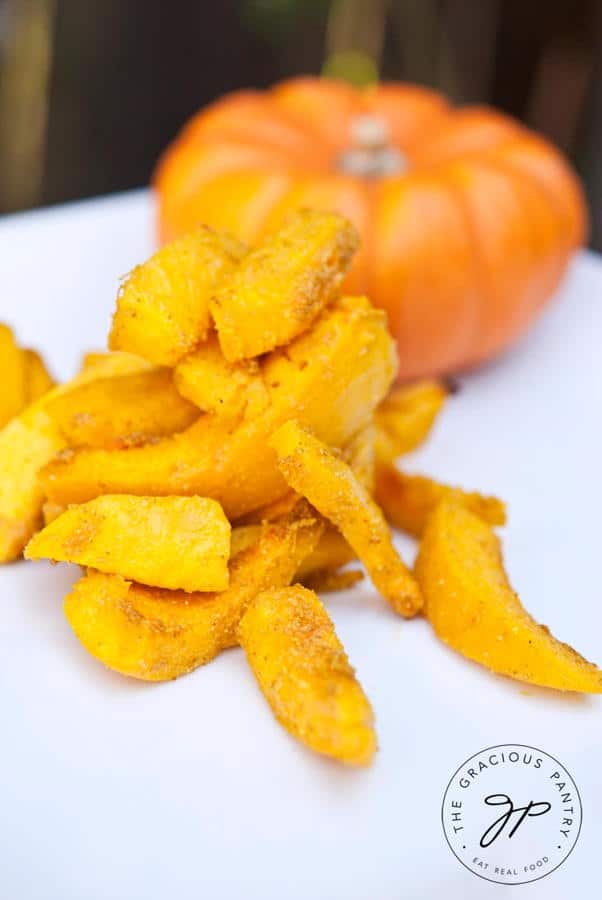 Thanks to Tiffany, I now know there's such a thing as "sugar pie" pumpkins. I'll be keeping an eye out for these the next time around.
If you're lucky to find them, go ahead and try making fries based on Tiffany's fabulous recipe.
Just 10 ingredients and 50 minutes needed!
Pumpkin Chili (30-Minute Meal)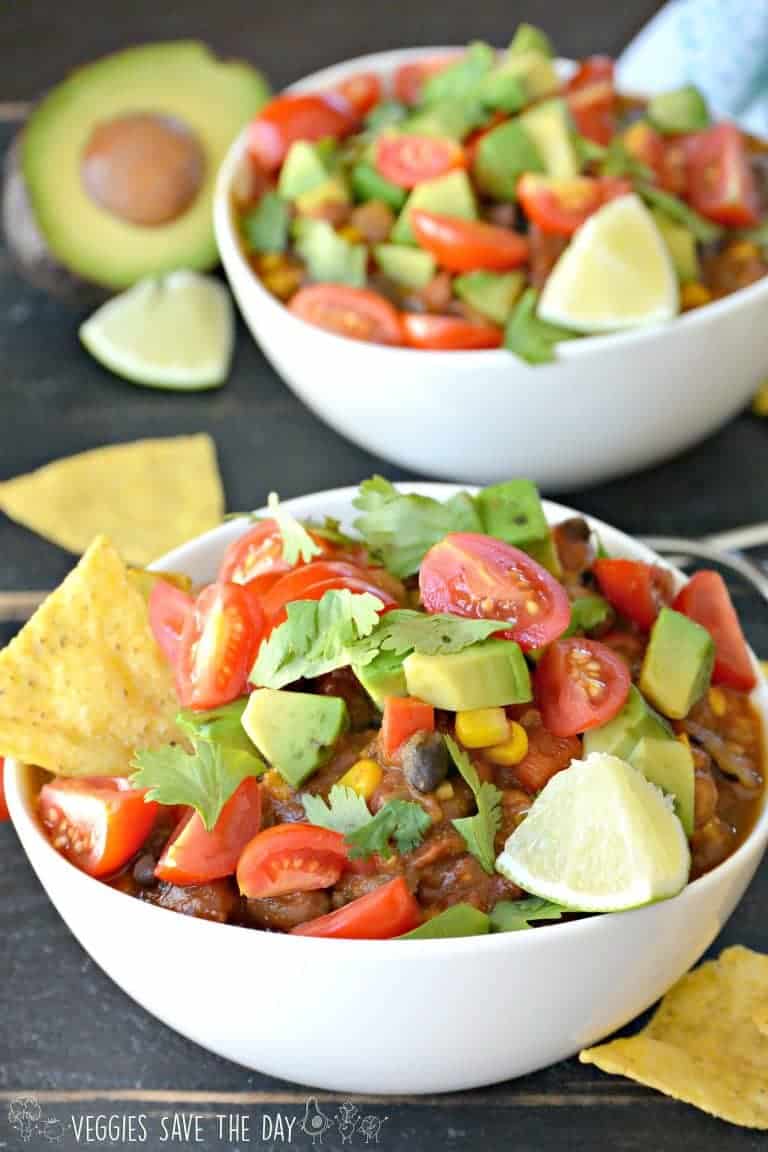 If you have guests coming over, why not make them this fabulous spicy chili, and all in just 30 minutes!
Once the chili base is ready, you're then free to get as creative as you want with topping ideas. As per the photo, avocado, tomato and some garnish, are all colorful options.
Chickpea Pumpkin Biryani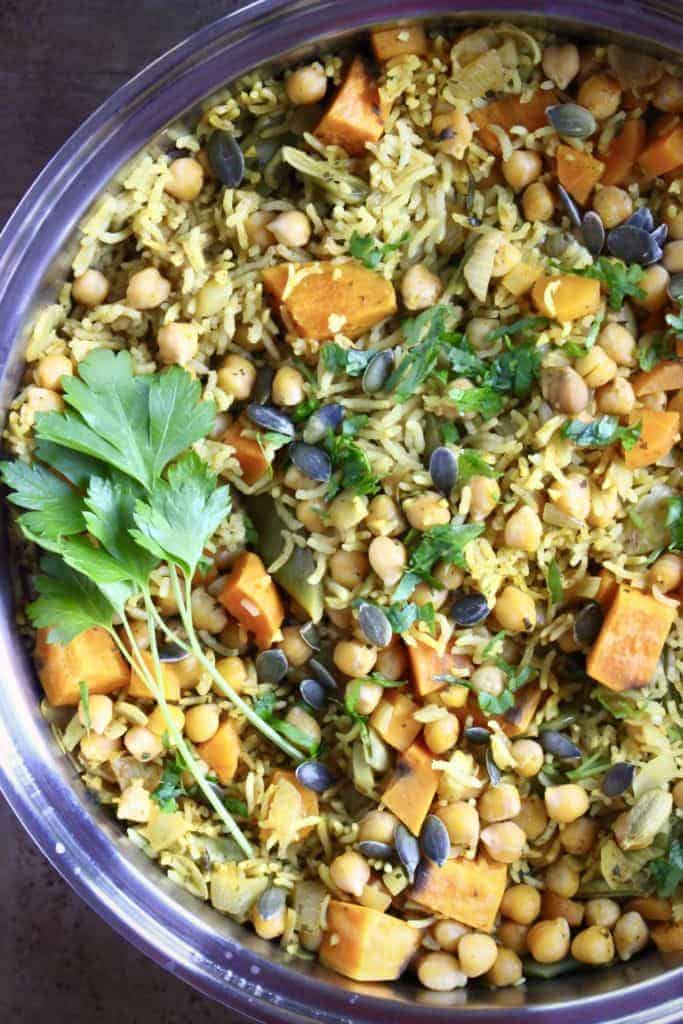 Yet another recipe that lends itself extremely well to inviting over guests for an exceptional vegan meal.
By combing chickpea and pumpkin with a range of essential Indian spices, herbs, and some additional toppings, you're looking at a filling and really tasty meal.
This 40-minute recipe can easily be supersized to serve a large table.
Pumpkin, Spinach and Walnut Spaghetti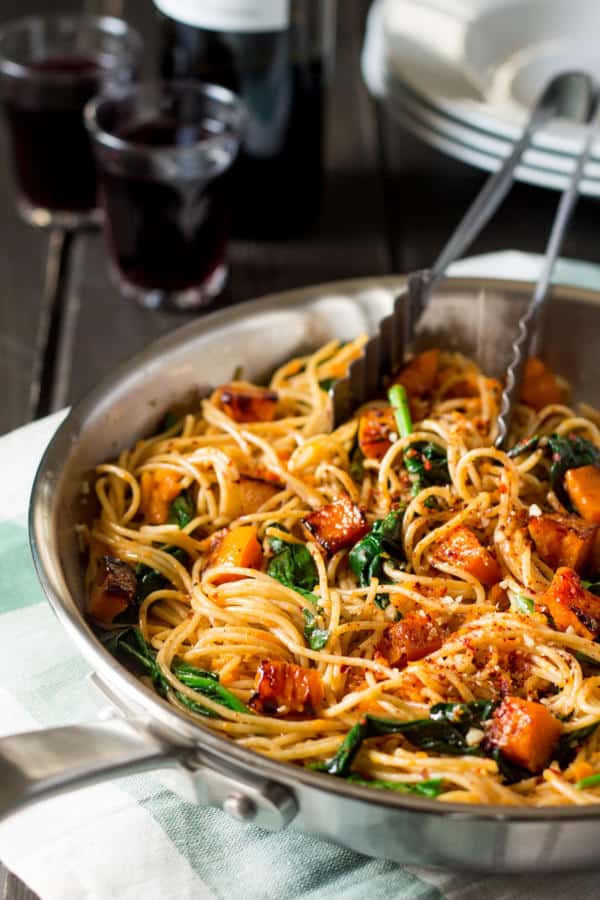 When you're "keeping it simple" or just want a splendid recipe while keeping a low budget, Ania's pumpkin, spinach and walnut spaghetti is an excellent choice.
This pasta dish lends itself well for an easy and quick dinner you can prepare in 35 minutes.
Pumpkin Spice Oreos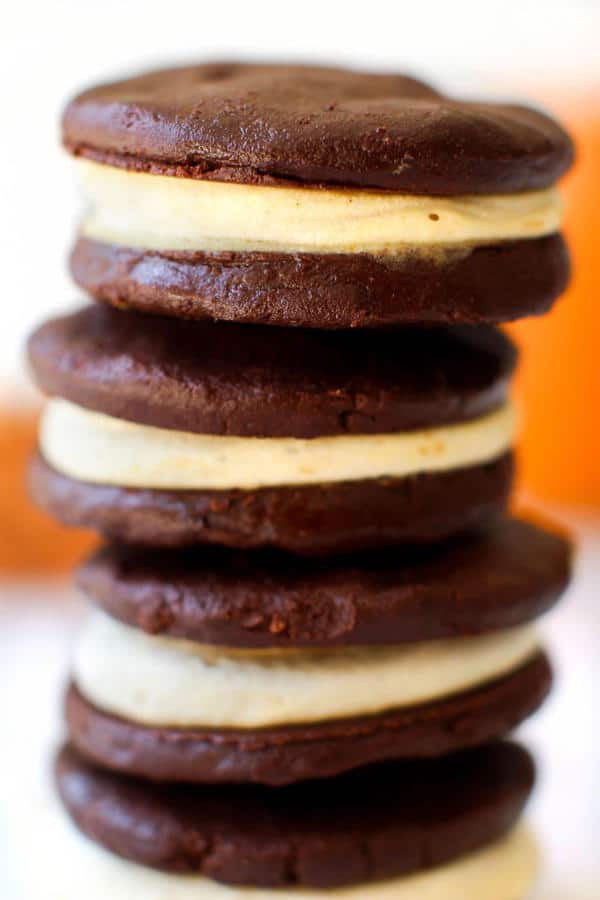 Here's another great opportunity for you to pull the kids into some kitchen action.
These 25-minute pumpkin spice Oreos are sure to be a hit, made from cacao, pumpkin pie spice, pumpkin pureé and a few other basic ingredients.
Best of all, they're pretty healthy compared to a regular Oreo and they are gluten and oil-free.
Maple Pumpkin Pop Tarts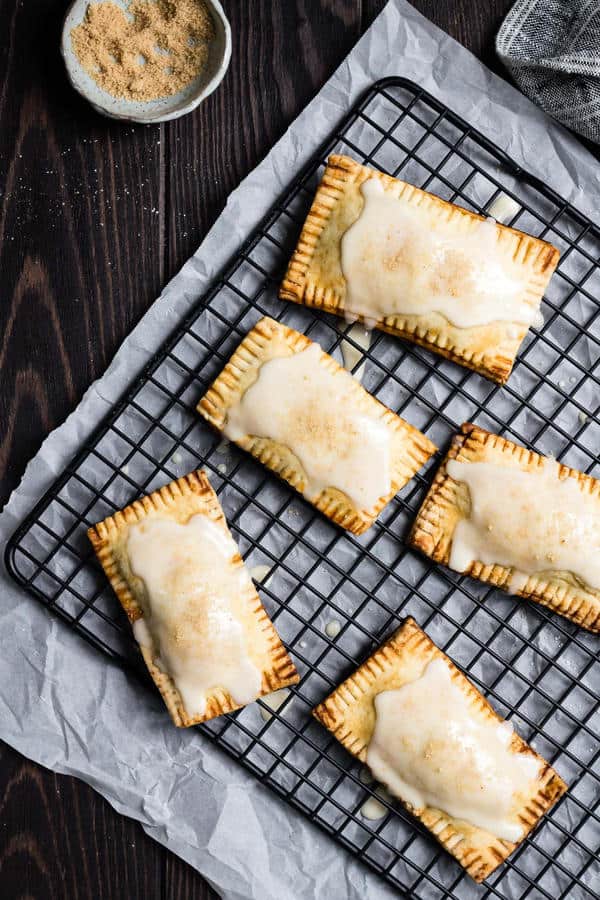 Yummy—you'll definitely be eager to stick your teeth into these insanely tasty and all-natural vegan pop tarts!
A batch of these takes just 45 minutes to make. The recipe is broken up into three parts: Filling, dough and an unforgettable icing.
If you end up getting addicted to them, well, just make more!
Spanish Pumpkin and Chickpea Stew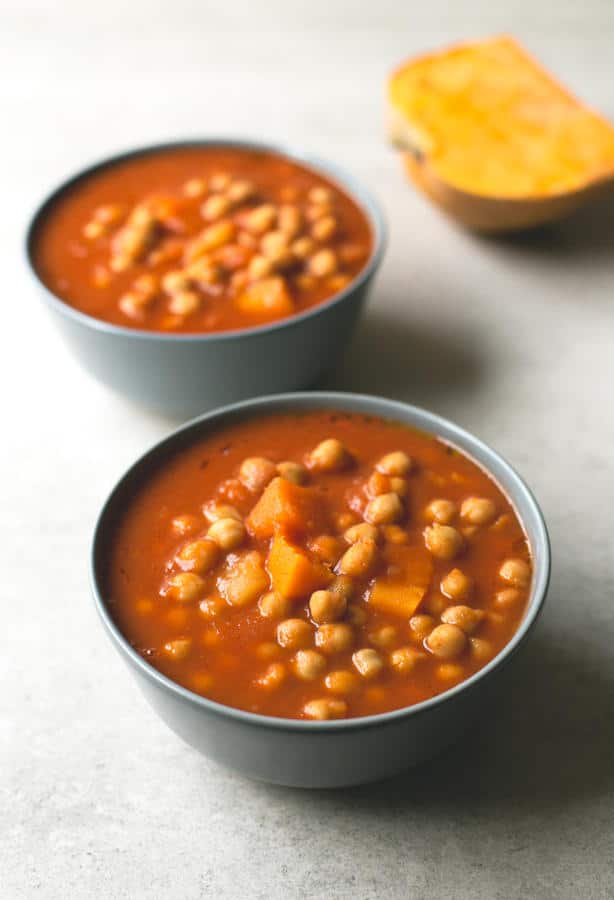 Up for a pumpkin and chickpea stew? Then check out Iosune's recipe, which is chock-full of great ingredients and makes for a satisfying meal.
If 50 minutes it too long, Iosune suggests skipping the potatoes to strip off 10 minutes.
Furthermore, you can also skip the blending part to retain the chunky veggies.
Pumpkin Pecan Cobbler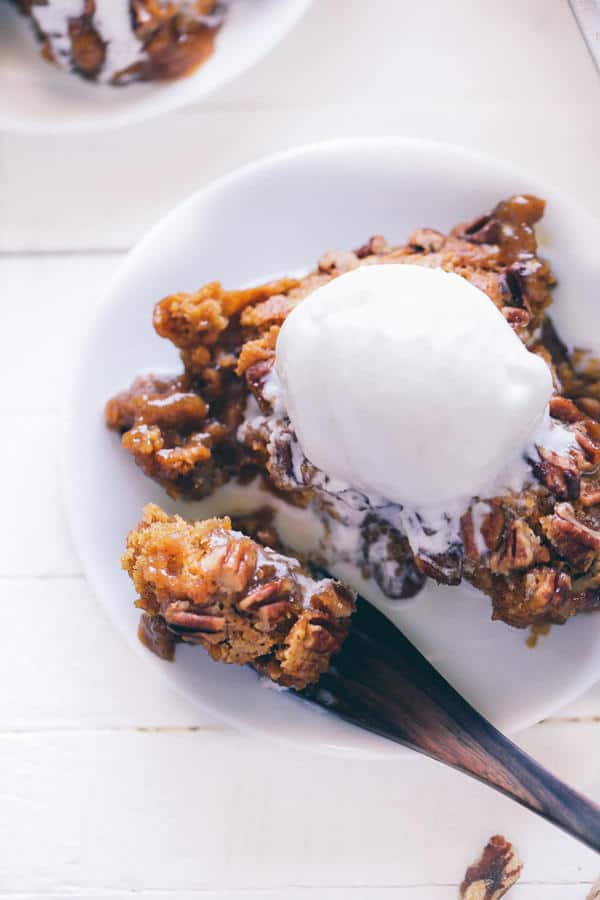 There's not a better way to end a dark fall evening, by bringing the family together for a round of Jenn's dreamy pumpkin pecan cobbler!
While it takes roughly 70 minutes from start to finish, you absolutely won't regret it.
Best of all, it's a straightforward recipe using basic ingredients you shouldn't have any trouble sourcing.
Moroccan Pumpkin & Chickpea Stew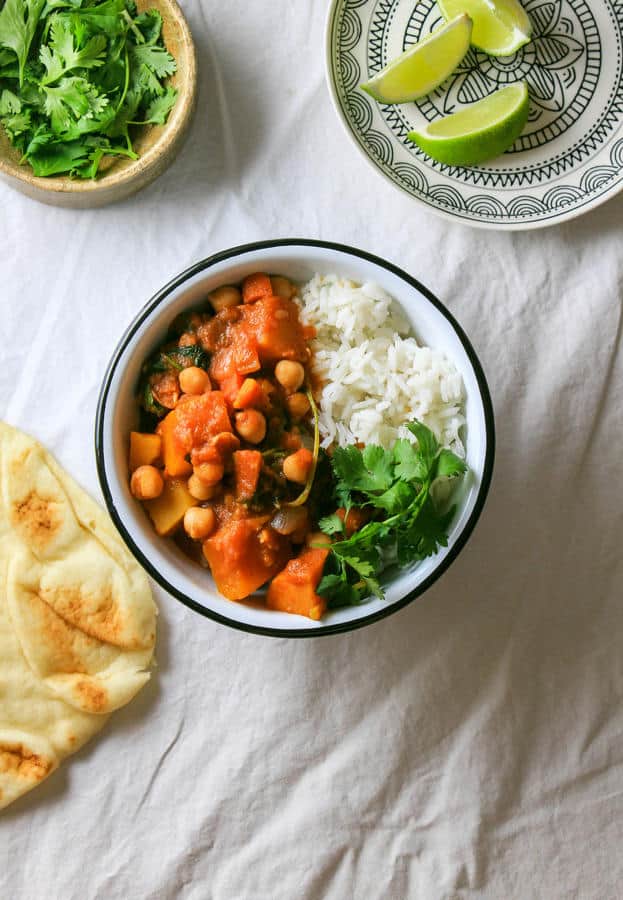 Here's a wonderful stew featuring sugar pumpkin that'll warm you to the core from a combination of great spices.
It's vibrantly colorful, definitely a healthy meal, and gives you an added protein boost from the chickpeas.
Enjoy!
Pumpkin Sage Soup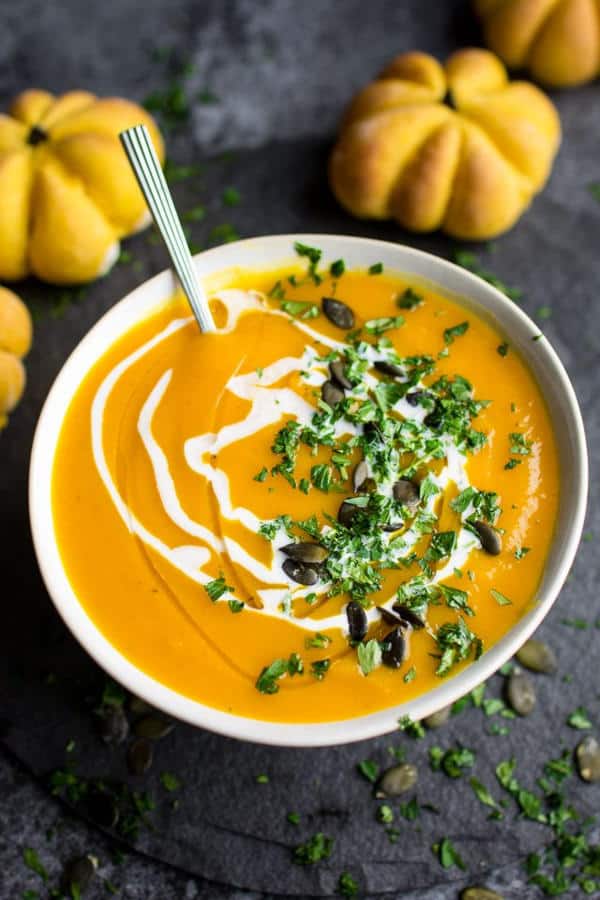 You can always count on Lauren for a killer recipe when you need one, and this pumpkin sage soup is no exception.
If you can get the ingredients and set aside 30 minutes, you owe it to yourself to try this luscious 12-ingredient soup, beautifully dressed with coconut cream, chopped parsley, olive oil and pumpkin seeds.
If a soup could make you smile, this'll be the one!
Pumpkin Oatmeal Streusel Bars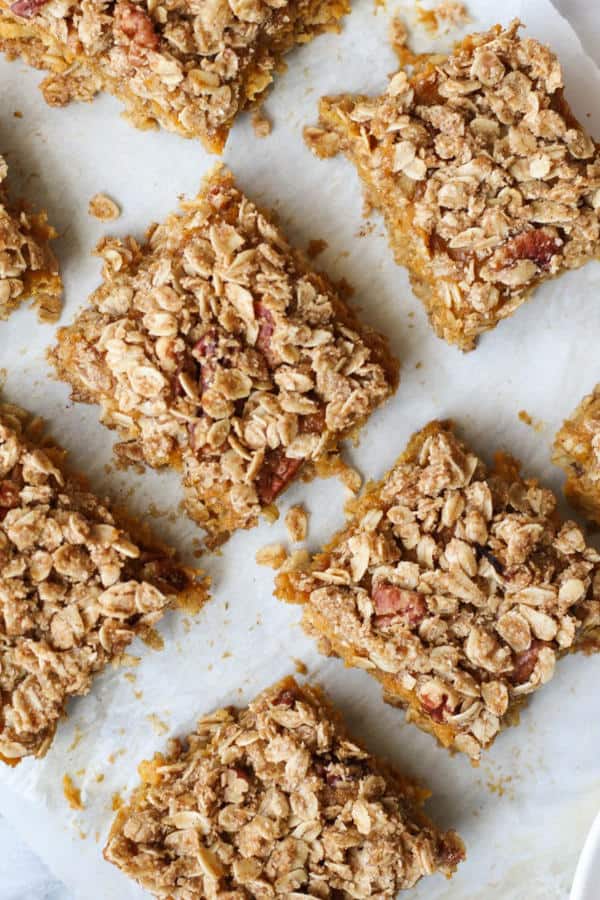 Liz goes into pumpkin mode once fall hits, and you'll find her knocking out fabulous recipes like these pumpkin oatmeal streusel bars.
She describes the taste of these bars as pumpkin pie and oatmeal cookies having a gluten-free and vegan baby. Brilliant!
Enjoy them as a delicious snack or have them for dessert; whatever floats your boat!
Fluffy Flourless Pumpkin Pancakes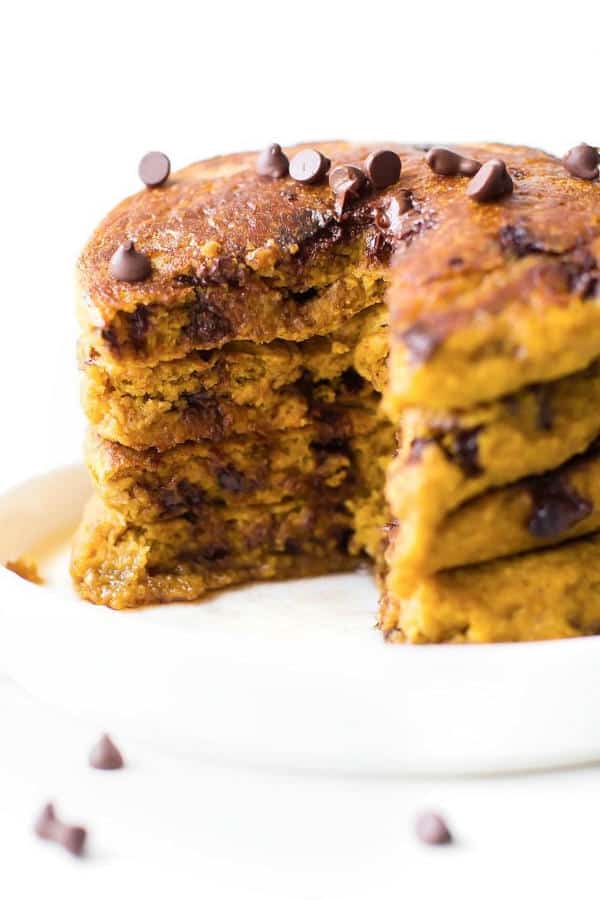 Tired of the same ol' pancake recipes? Trying to stay away from flour?
Well, your woes are solved right here with Arman's flourless pumpkin pancakes, which you can optionally top with dairy-free chocolate chips.
You won't run out of adjectives to describe this recipe: healthy, protein-rich, heavenly, filling and just so good!
What are you waiting for? Go make them!
Wrapping Up
And there you have it, 31 awesome pumpkin recipes for you to get ideas and inspiration from.
We hope this roundup helps you find a few favorites you'll enjoy time and again. Many of these dishes have a beautiful orange vibrancy, which is sure to keep your mood boosted as you prepare for the colder winter months.
As always, if you have any tips or if you make any of these recipes, do let us know in the comments below!