Some restaurants and stores seem to use this same recipe and the whole thing can get old quickly. Where's their imagination?
Here, you have 50 different recipes so you can enjoy falafel in all their variations!
Why not couple a recipe in this roundup with this list of recipes too?
Let's do it!
Frisky Falafel Recipes
The Best Homemade Falafels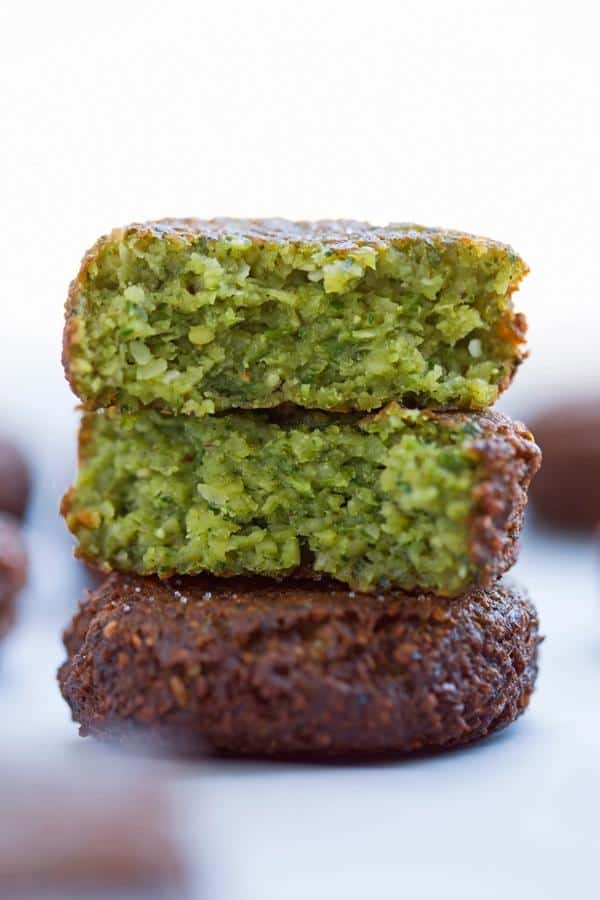 Here's the thing, most of us buy falafels as they're relatively cheap, and ingredients read well. Easy to make at home? Yes!
This recipe shows you how easy it is to make falafels at home. The green color comes from the parsley which adds a unique and yet, familiar taste. Super affordable and super healthy.
Classic Falafel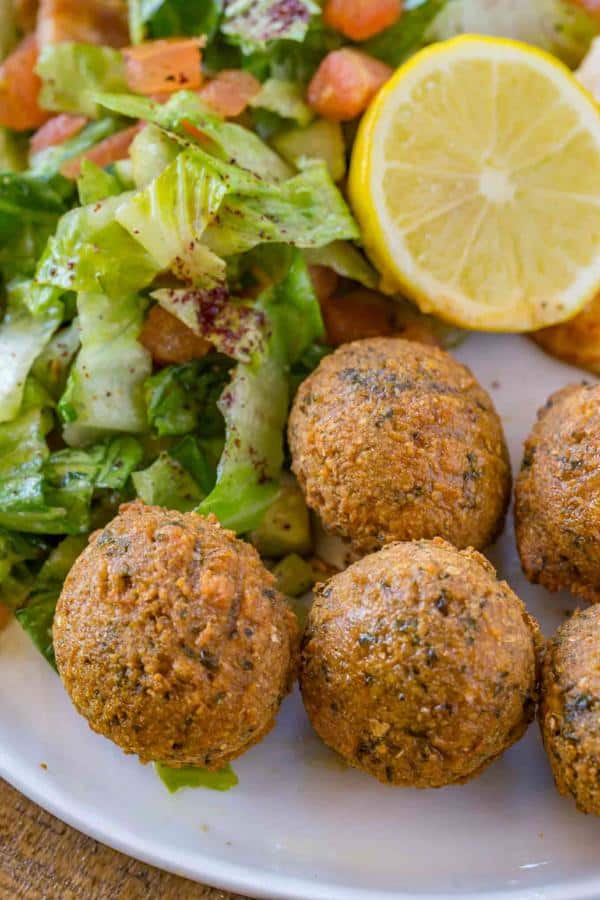 There are lots of different variations of falafels and why not. But what if you want a classic recipe?
Sabrina brings us classic falafels from the Middle East. If you love your falafels straight (even though they're round!) then this is the recipe for you. Delicious!
Magical Green Falafels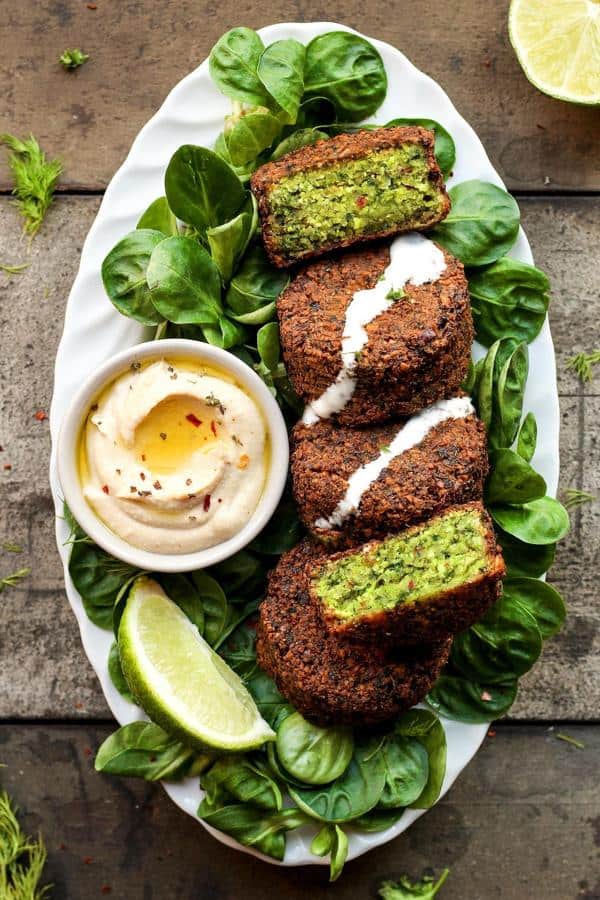 We love Thomas, he always brings us inventive, economical and super healthy recipes.
These falafels are so easy to make and bursting with flavor.
Be sure to check out the notes after the instructions on the recipe page as they provide great information such as how long your falafels will store in the refrigerator.
Healthy Baked Carrot Walnut Falafel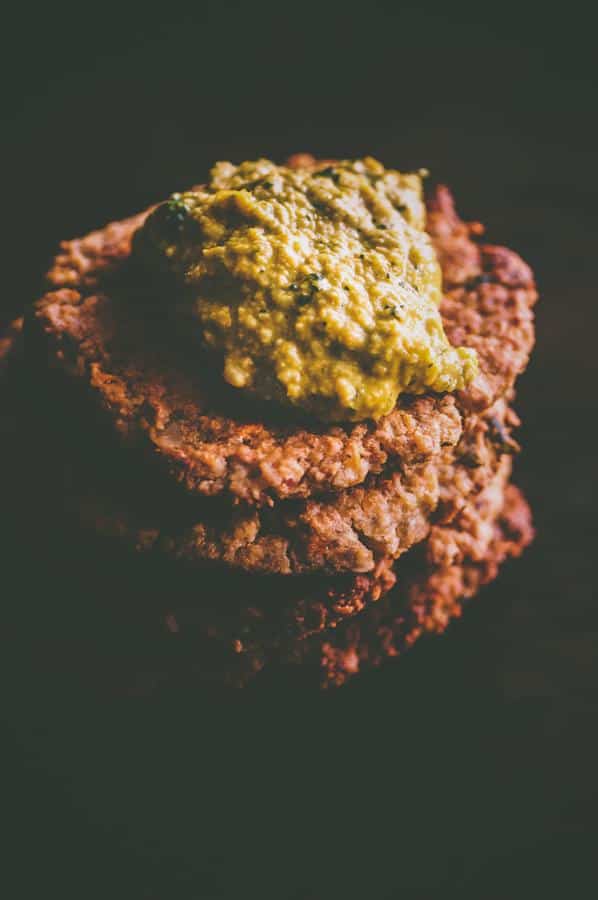 Falafels with a difference!
The carrot and walnuts provide great texture here. The falafels are great but what makes this dish really stand out is the turmeric and cilantro sunflower seed sauce, it's awesome!
Cauliflower Falafel Veggie Burgers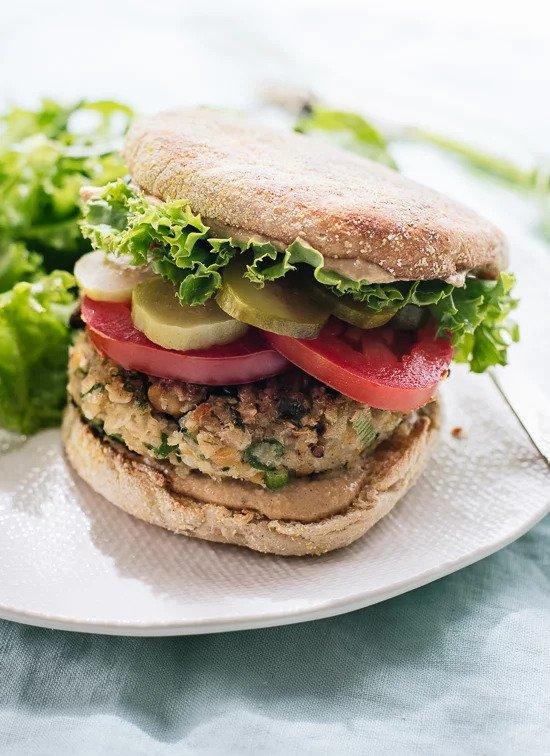 Kate reminds us that falafels don't have to be round, they easily make the best vegan burgers instantly!
With added cauliflower this recipe is light yet really satisfying.
Beautifully moist, these burgers can be eaten traditionally with pickles, tomatoes and everything! Alternatively, eat them with your salad to make a superb meal.
Beets and Carrot Falafel Tacos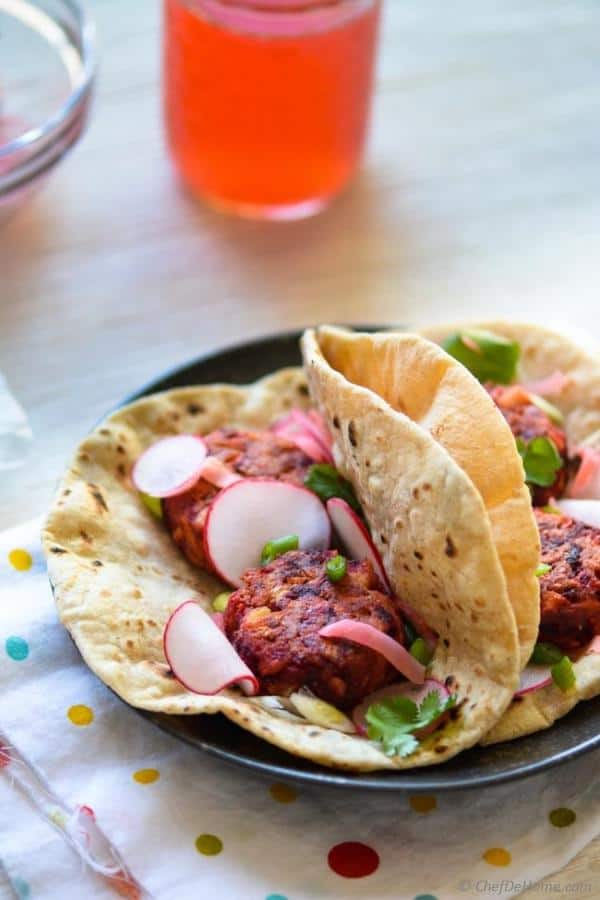 The beets in this recipe make the falafels totally vibrant!
They look so different and yet the flavor is somehow instantly familiar. Very easy to make and super quick as well.
Have in a wrap, with a salad or shape them into burgers. How will you eat yours?
Falafel Burgers with Tzatziki Sauce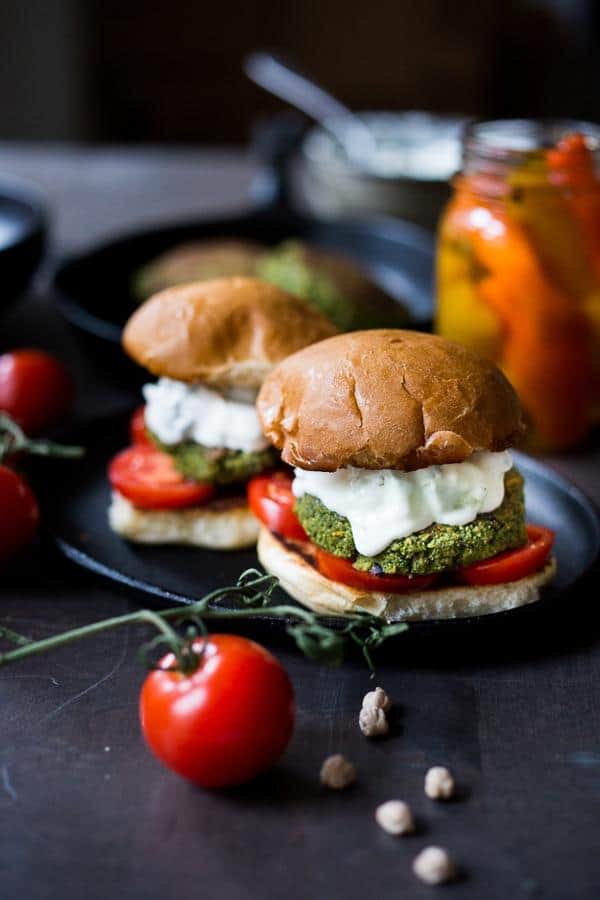 Healthy and delicious is all I can say about this recipe!
Grab some vegan tahini sauce and make this restaurant quality dish right in your own home.
Despite its simplicity, these are good enough to serve for a dinner party if you're looking to impress. Fantastic!
15-Minute Falafel "Wraps"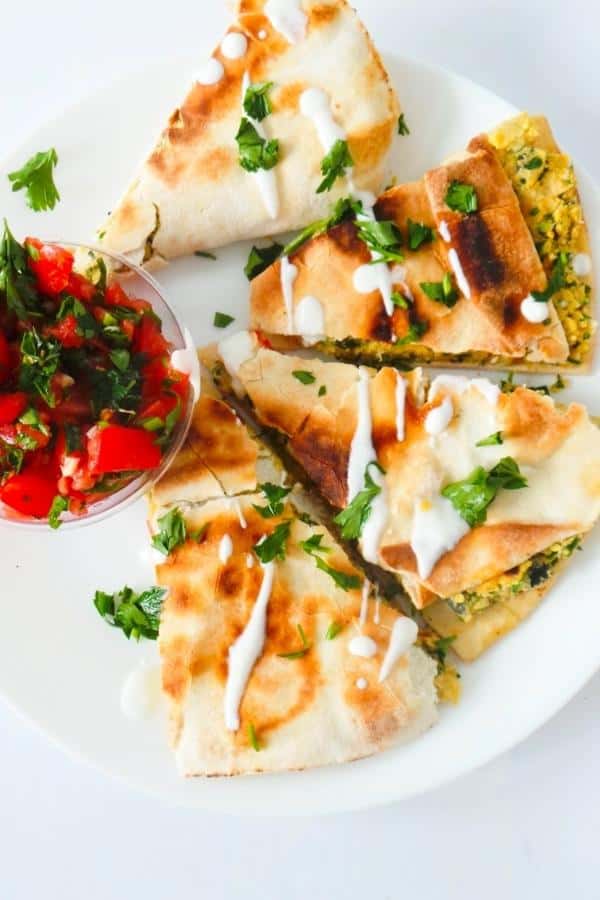 This is like the Middle East meets Mexico! That's my take on it because the wraps resemble quesadillas.
This really does take 15 minutes to make. Every ingredient has its place in this delicious recipe.
Served with home-made salsa and I guarantee you'll be making it again very soon.
Amaranth Baked Falafel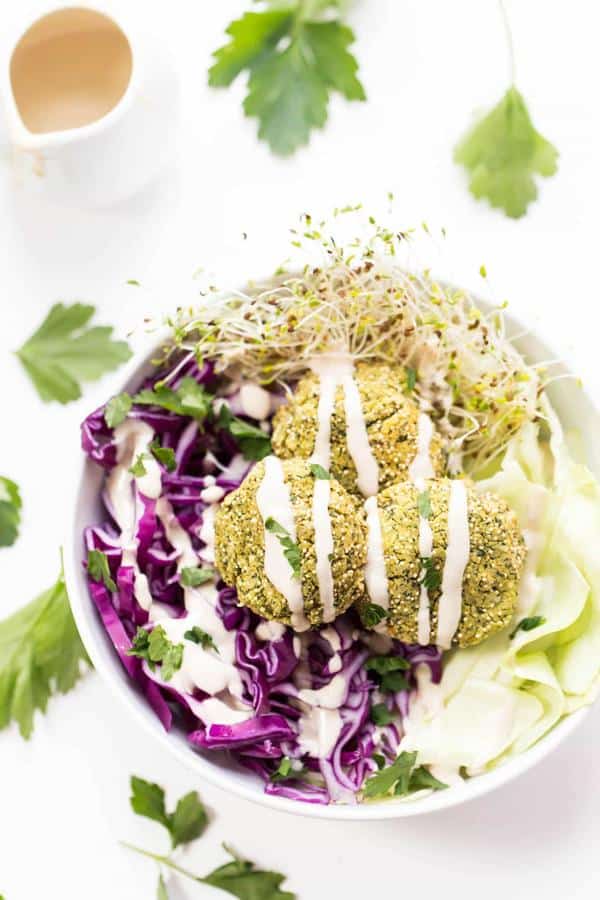 Traditional falafels are fried and most healthy versions are baked, this is one of them!
What I love about this recipe is not just the falafels, but the recipe page itself.
Alyssa has gone to the trouble of making a video which is a lot of work and most recipe authors don't do this. Check it out and you won't look back!
Roasted Eggplant Falafel Bites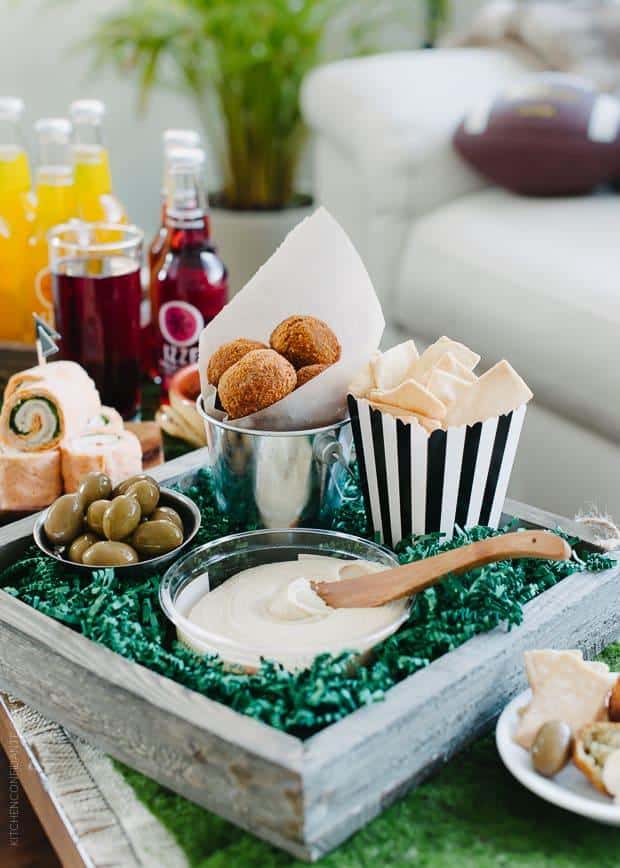 Eggplant and falafels are two things I've never seen together, does this work?
It most certainly does! The taste is unique and yet there's nothing unfamiliar about any of the ingredients.
The falafels are beautifully moist and one of the best I've had.
Oil-Free Lentil Falafel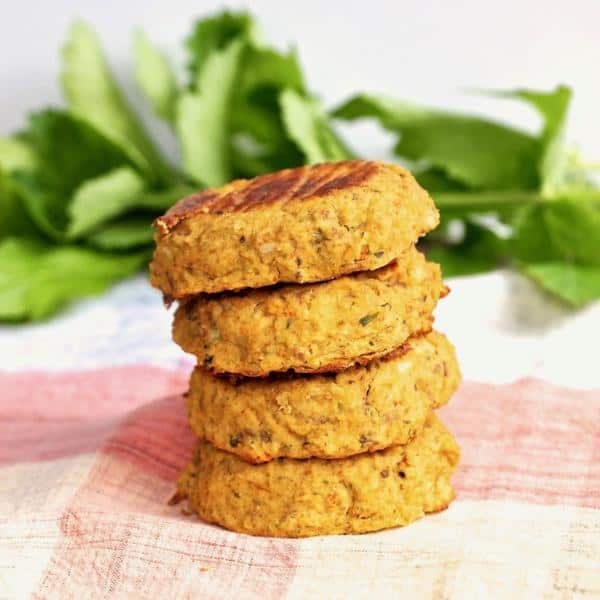 A wonderful alternative to traditional falafels.
Using lentils rather than chickpeas, this recipe is filled with great ingredients such as garlic, onion, carrot and a bunch of herbs and spices.
Oil-free and baked rather than fried. Fantastic!
Falafel Cabbage Bowls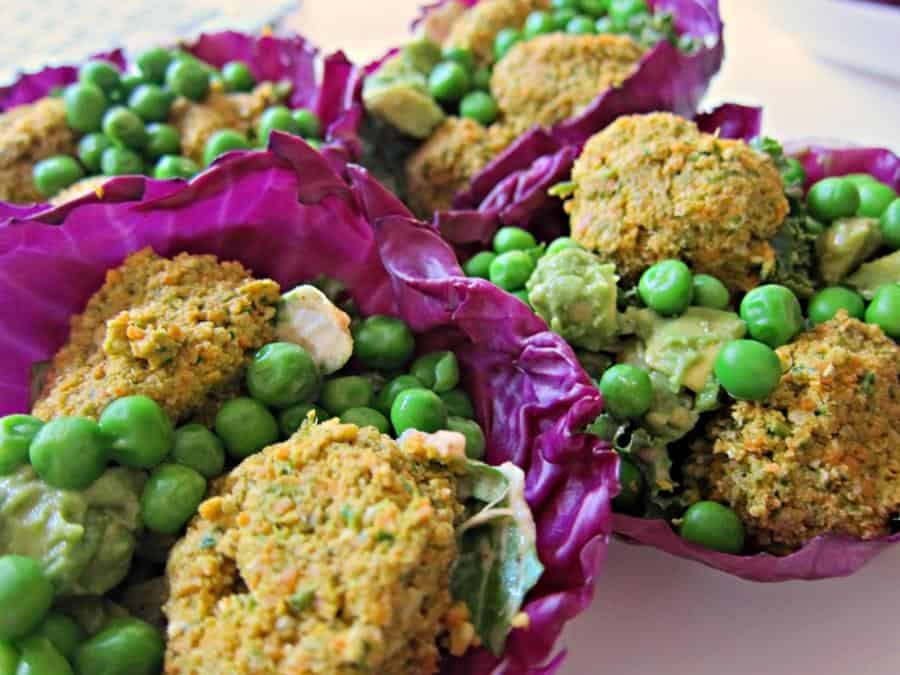 Doesn't this just look fantastic! Great presentation and perfect for parties or celebrations.
Super easy to make, these little delights are packed with protein and bursting with flavor. Check it out!
Falafel Pizza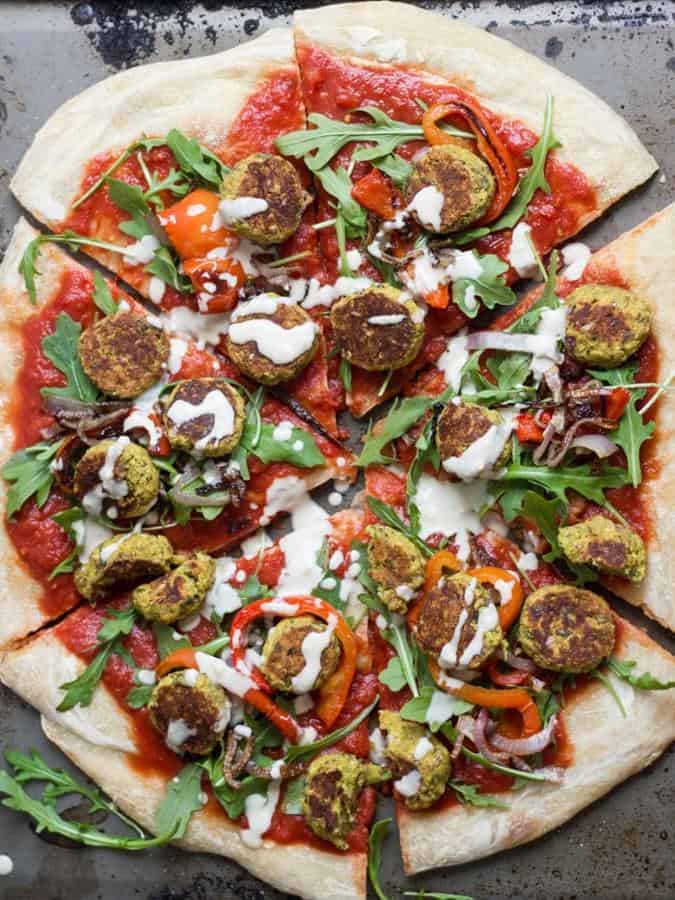 Did you know this was a thing? It really is and it works.
If you're not sure what to put on your home-made pizza, follow this recipe. Easy to make and really satisfying.
The two go hand-in-hand as though they were made for each other!
Healthy Falafel Pizza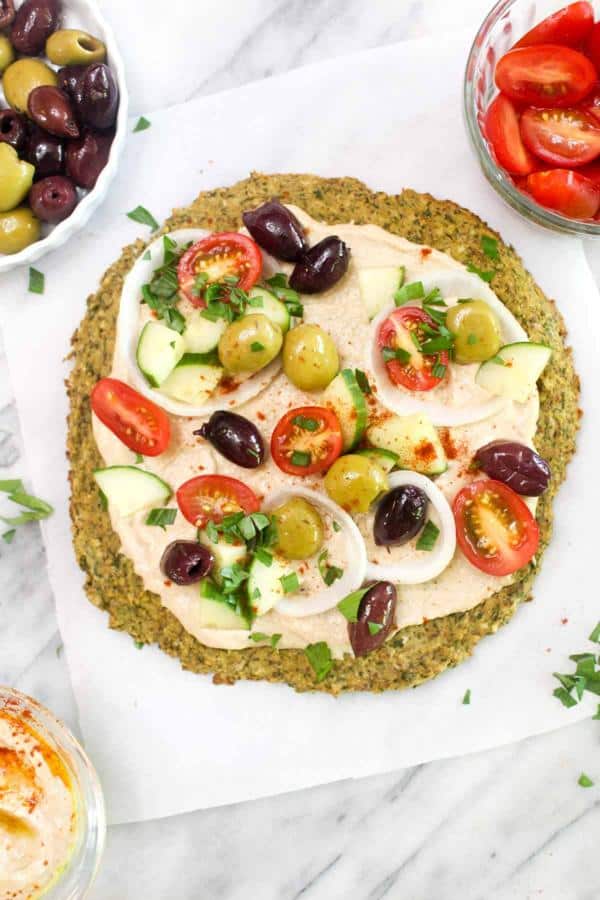 I really love this recipe!
Here, the falafel mixture is made into a pizza crust and then topped with your favorite Mediterranean goodies. Hummus, onion, olives and more. What will you put on yours?
Split Green Peas Falafel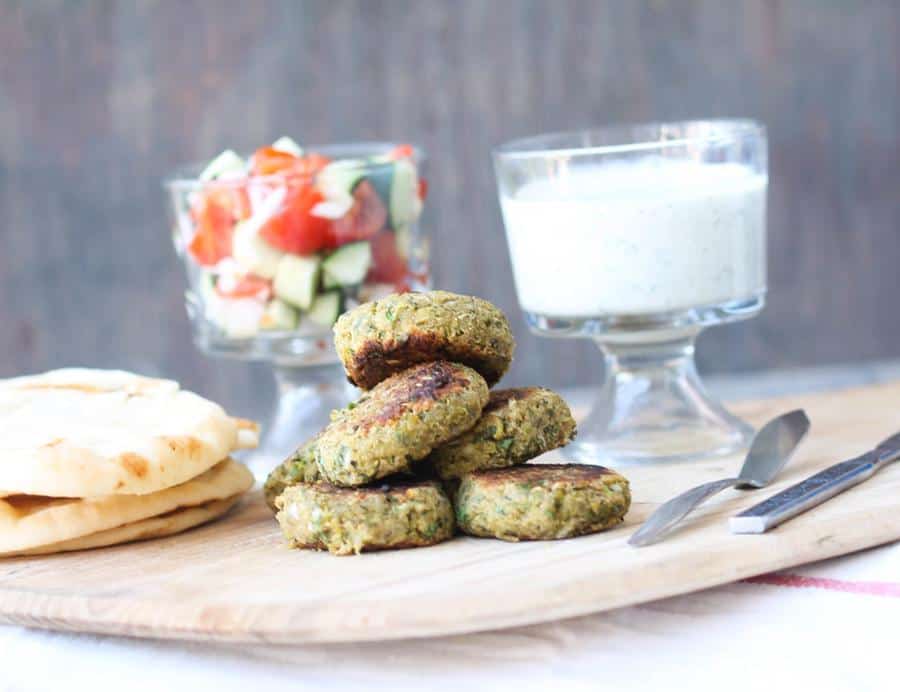 If you're a fan of split peas, this is the recipe for you.
Gluten-free and super healthy, these make the perfect snack or lunch to-go. Great for taking to work and they store well in the refrigerator. Fantastic!
Roasted Butternut Squash Falafel Bites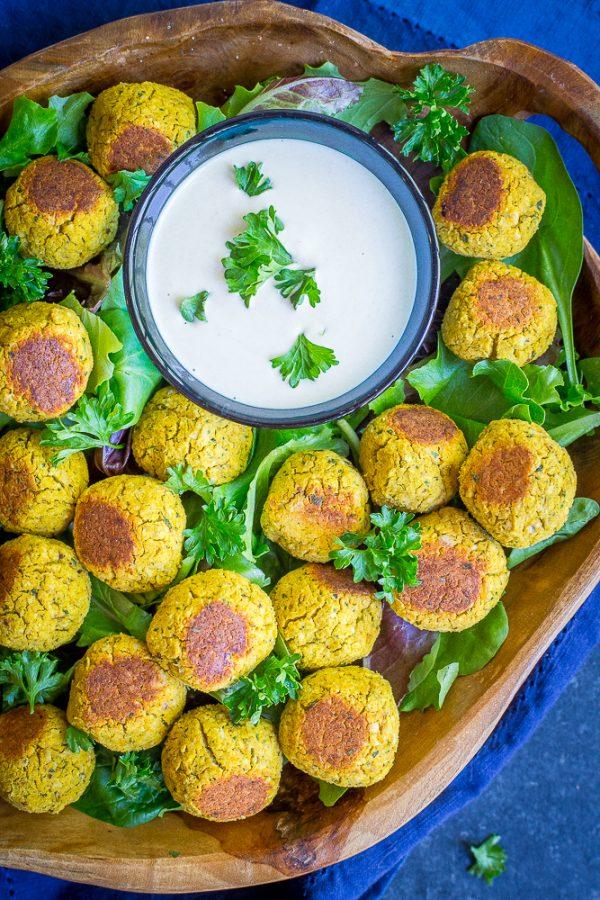 Whether you make these as an appetizer or a treat for yourself, you'll definitely be making them again soon!
Butternut Squash is added along with wonderful ingredients such as parsley, cilantro and more.
The citrus tahini sauce is a delicious dip which also makes a great salad dressing. Perfect!
Mini Falafel Bites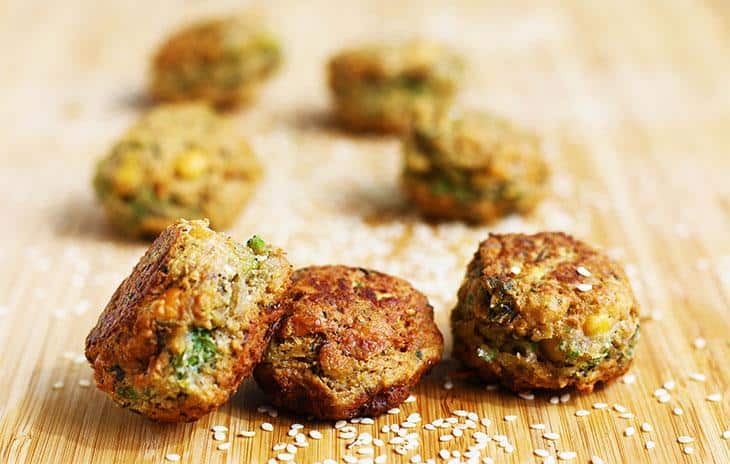 If you're looking for the perfect party snack, your search is over.
This Lebanese inspired dish is so easy to make you'll be asking yourself why you should ever make any other kind of falafels again.
Make into bites or patties for the perfect burger. They are awesome!
Southwestern Salad with Black Bean Falafel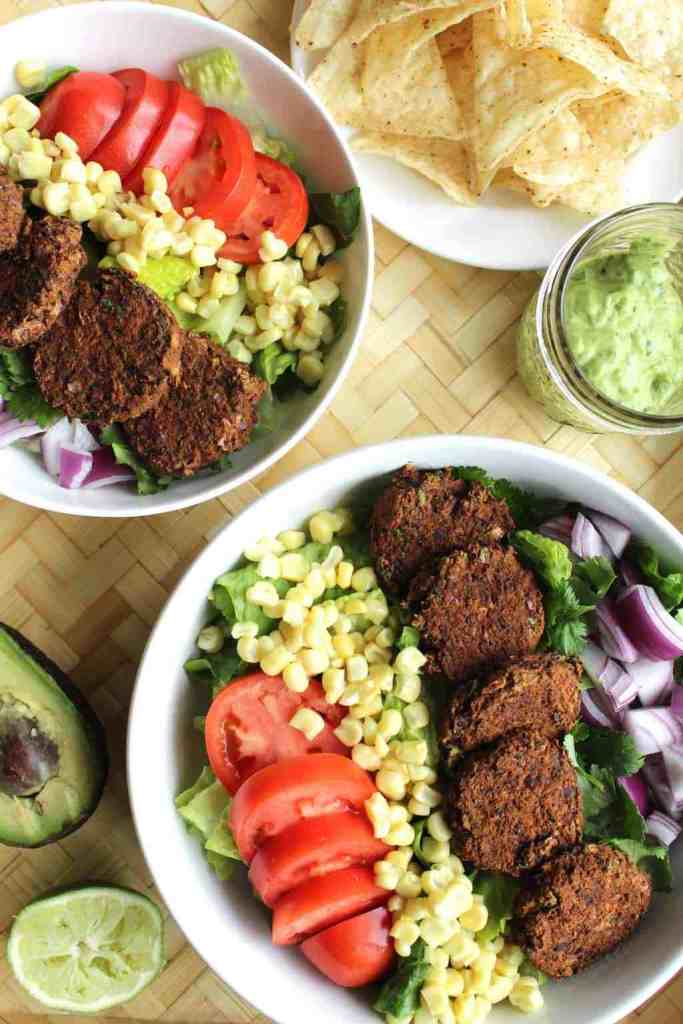 If you're looking for a great salad that will leave you feeling satisfied, this has everything.
The ingredients are divided into two sections, the falafels and the salad. There's also a link to the cilantro lime dressing which is outstanding.
Baked Falafel with Silk-Y Smooth Tzatziki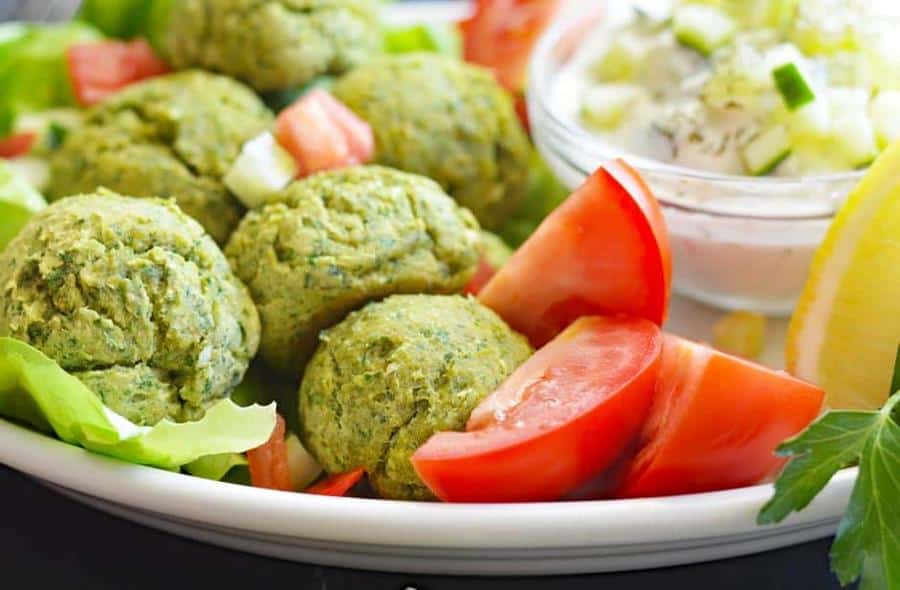 This is a great recipe!
The falafels are easy to make. With lots of fresh parsley, they have a vibrant green color to them and are beautifully moist.
For the vegan tzatziki sauce, the author uses a brand-named product which you can replace with an alternative if you wish.
Put everything together and you have a fantastic meal!
Rainbow Falafel Wrap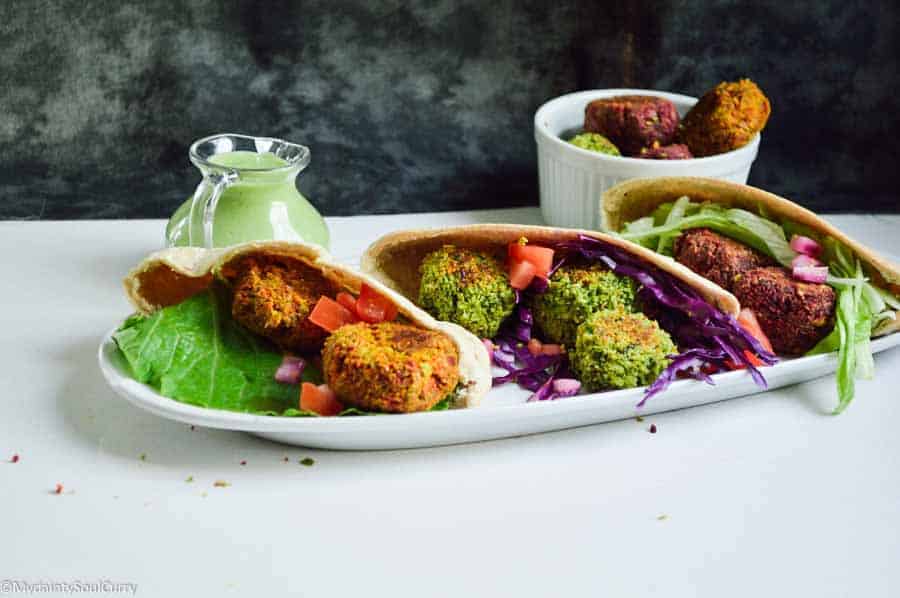 Here, we had to great things; a wonderful dish which really stands out from the crowd, and a great recipe page with photos showing you every step of the way.
These falafels taste so great your friends and family will ask you which store you bought them from. So quick, they're perfect for a weeknight.
Black Eyed Pea Falafel Cakes with Spicy Tahini Sauce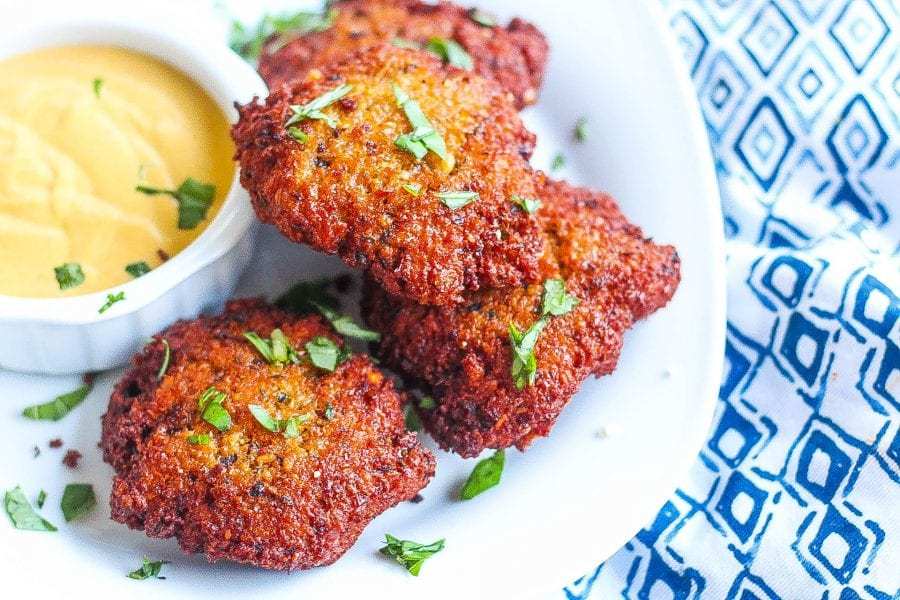 The first thing I should tell you about this recipe is that the falafel cakes are fried. However, don't skip it!
This dish is so tasty it's bordering on the unbelievable!
If you want to follow the instructions literally, then it'll be okay to have once and awhile.
But why not get inventive and try baking them? A tahini sauce gets a big thumbs up from us, it's delicious!
Baked Falafel Muffins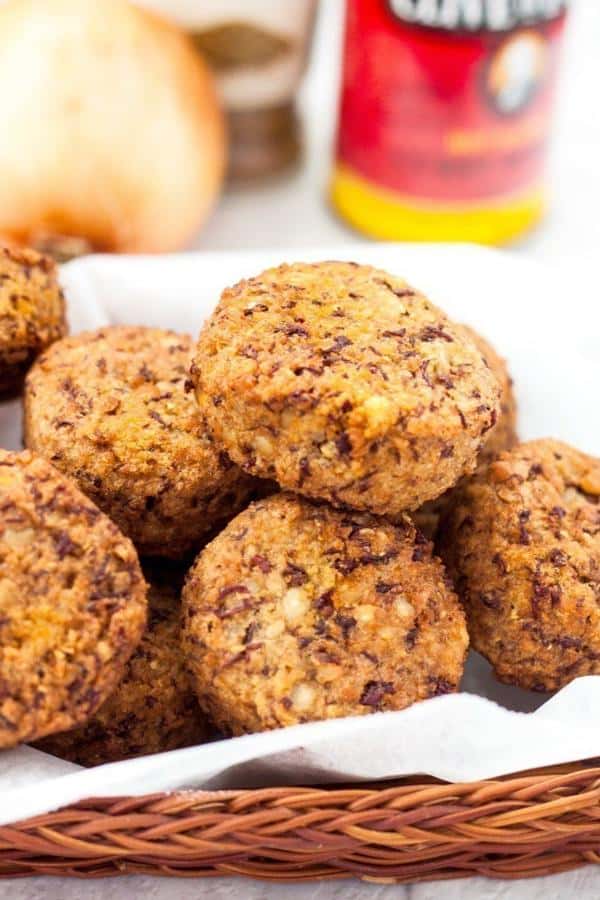 These falafels are fantastic, going off on their own tangent.
Packed with protein, these fluffy gems are light, moist and totally delicious.
Make ahead of time and store in the fridge to take to work? Make them for movie night? Yes and yes!
Oat and Chickpea Falafel Waffles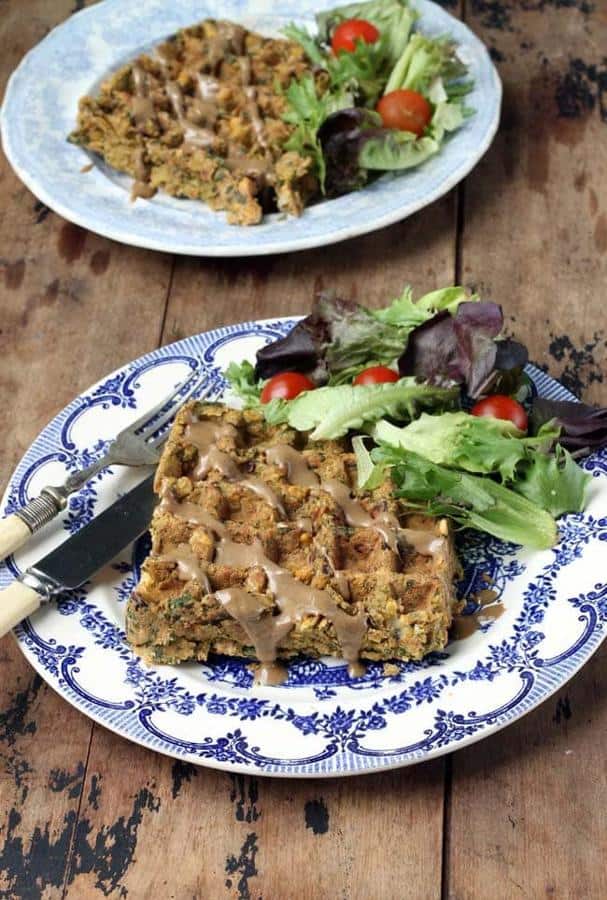 How original is this?!
I always recommend to people to shape their falafels into patties as they make great vegan burgers.
This goes one step further and makes them into waffles. Awesome!
Broad Bean Falafel with Tahini Sauce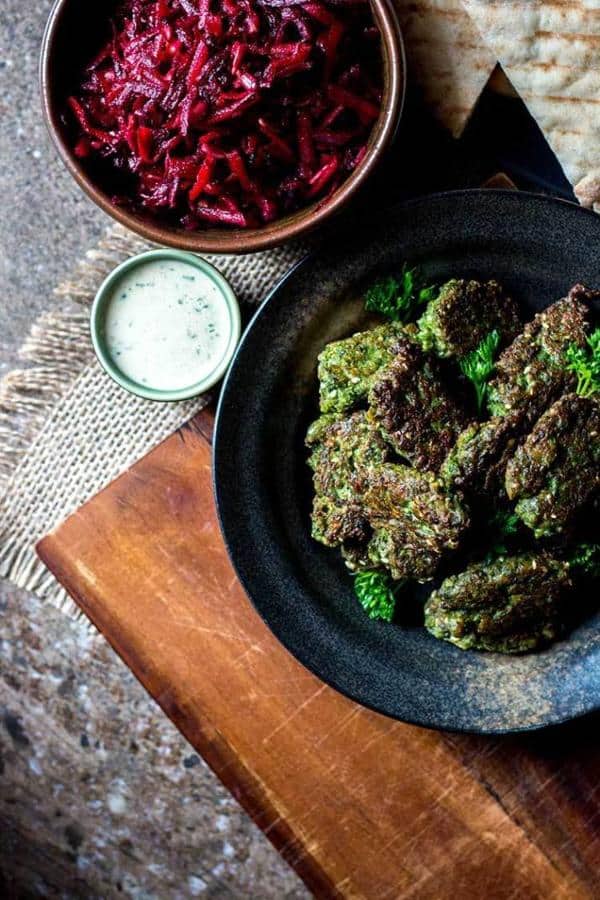 These fried falafels are delicious and absolutely packed with greens.
Incredibly easy to make, these will be on your table in no time.
They have a distinct flavor and, dare I say it, I think I prefer them to the originals. Don't forget the tahini sauce!
Green Edamame and Pea Falafel with a Yoghurt, Cucumber and Mint Dip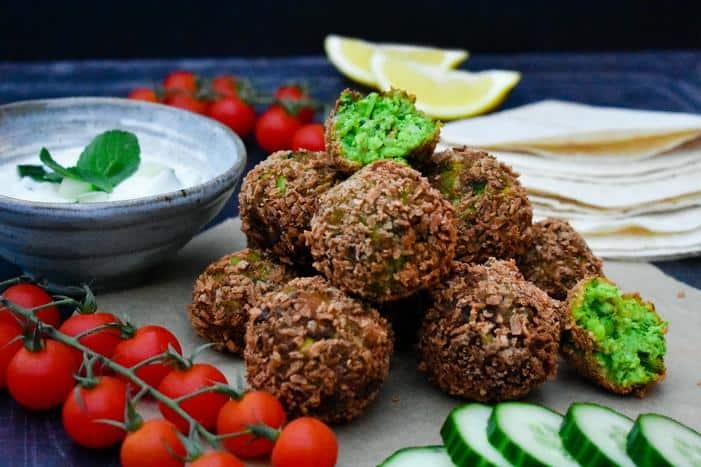 This recipe has so much! Not just the falafels but the dip is just exquisite.
They are crispy on the outside while inside they are soft and moist. Definitely moreish, they are the perfect party snack. Fun to eat and 100% good for you.
Curry Basil Falafel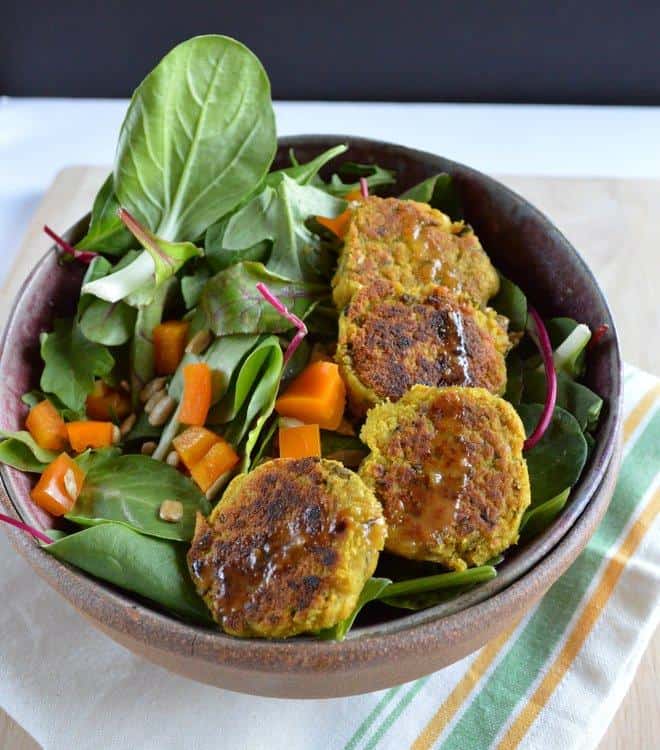 India meets the Middle East in this wonderful fusion of flavors. Arguably, with the basil, perhaps a touch of Mediterranean there as well? Maybe I'm stretching it.
If, like me, you're a curry fan, you're going to love these. Not only are they bursting with flavor and super healthy, they are incredibly easy to make.
Oven Baked Falafel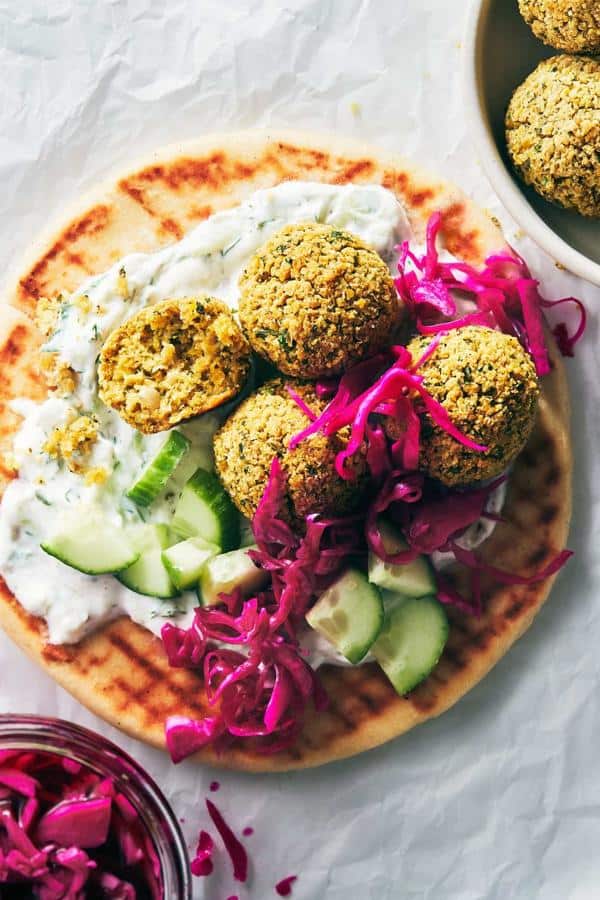 It's all very well having different versions of the classic recipe, but what happens when you want the original without it being fried? Enter this dish!
Packed with herbs and spices, these falafels will go with just about anything and everything.
Full of flavor, easy to make and perfect in a salad, wrap or just straight up!
Kale Sundried Tomato Falafel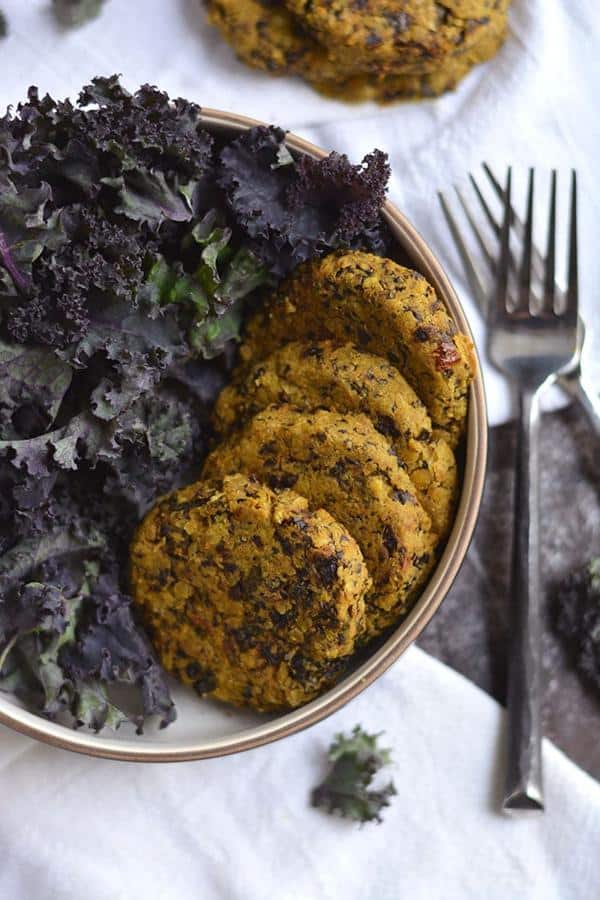 This gluten-free recipe is fantastic. I've never seen sun-dried tomatoes in falafels!
With a beautiful vibrant color, these falafels are moist and extremely moreish. If you make them into patties, they will make an outstanding burger!
Edamame and Kimchi Falafel Wrap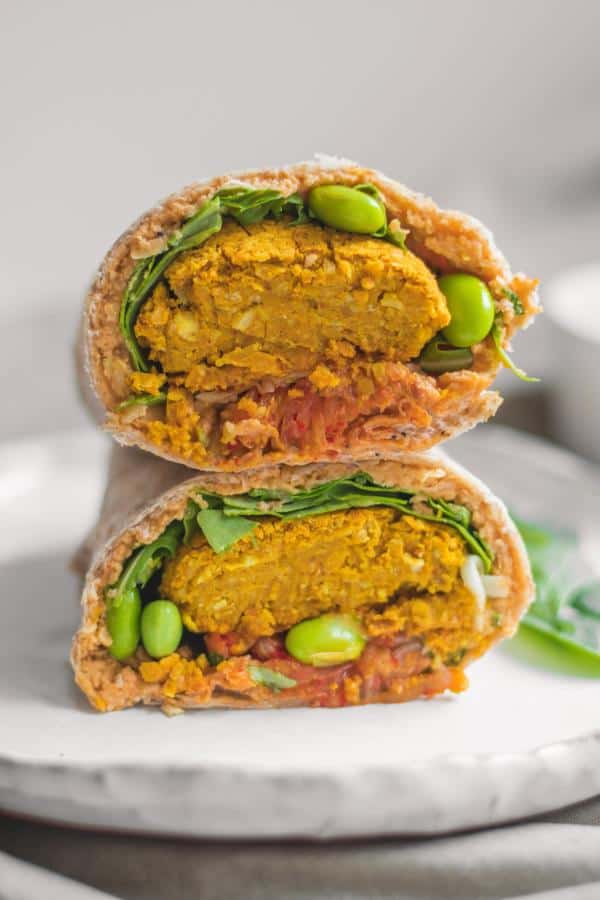 This isn't just falafels; this is a complete meal perfect for a Sunday afternoon or to go!
Not only do you get a great recipe for falafels, you also learn how to make the best hummus ever.
Throw them together in your favorite tortillas, arugula, a couple of other goodies and you have heaven!
Falafel Sliders (Mini Burgers)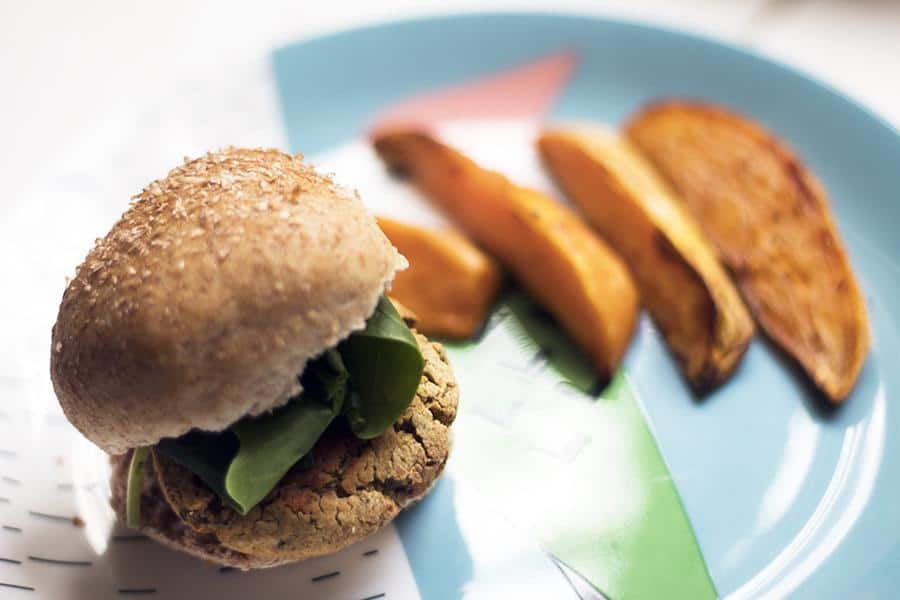 Sliders are indeed mini burgers and here we have cute little sandwiches that would be perfect for any party.
Whether it's for a birthday celebration or you just want to make something fun, this is the recipe for you.
Why? Because ingredients are affordable, available in any store and if you add prep and cooking time together, you're looking at just over half-an-hour.
What's not to like?
Crispy Baked Falafels with Winter Tabbouleh, Tahini and Za'atar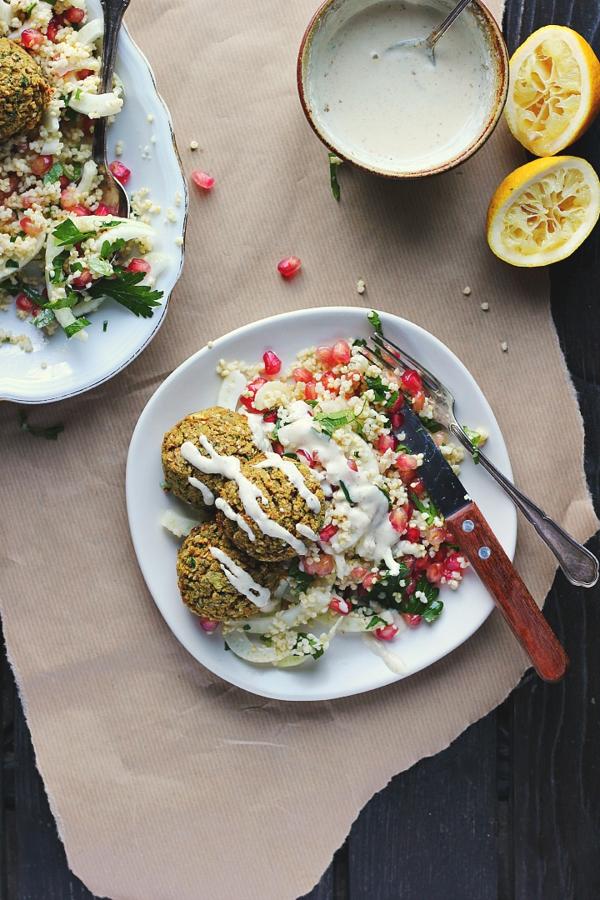 A taste of the Middle East without any frying!
These baked falafels really are crispy and full of flavor.
You must check out the recipe page as you get the complete meal with the Winter tabbouleh, tahini, everything! Definitely a must.
Falafel Crackers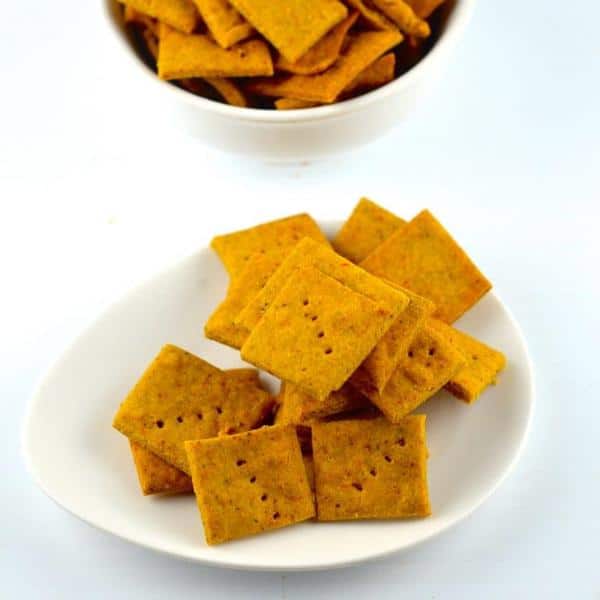 If you're a falafel fan but just want something different while still getting your fix, look no further.
This gluten-free recipe is so easy to make and the crackers taste like you bought them from the store.
The ingredients are easy and straightforward, you probably have most of them in the kitchen already. Get baking!
Herb Walnut Falafel Bowls with Cashew Tahini Dressing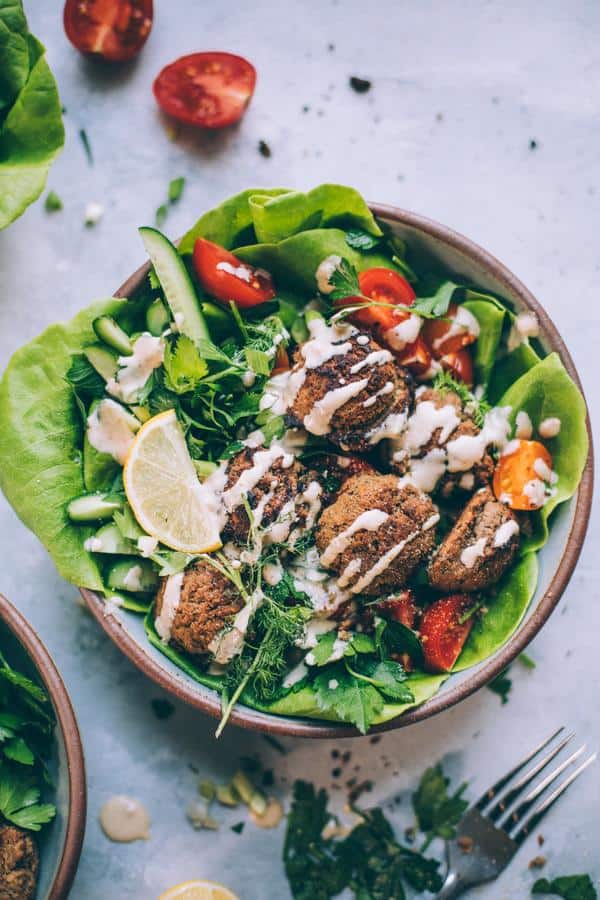 If you're looking for reasons to eat more salad, I think this is the jackpot!
Easy to make falafels with herbs and walnut, they taste amazing! If that wasn't enough cashew tahini dressing deserves a shout out as well.
Whoever said salads were boring simply didn't know what they were talking about.
Healthy Spinach Falafel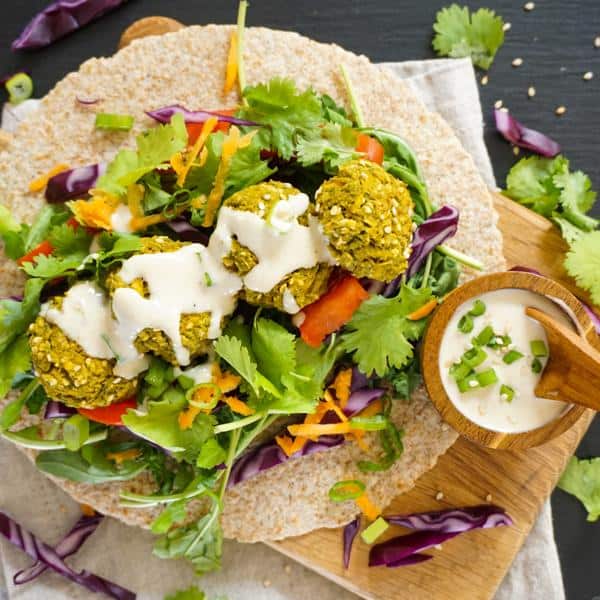 The falafels are baked and not fried in this wonderful dish. I love how they contain spinach, carrots and even rolled oats!
This really is a super healthy meal and doesn't need any accompaniment. If you're looking to treat yourself with something that is healthy and hearty, this is it!
Baked Lemon Herb Quinoa Falafel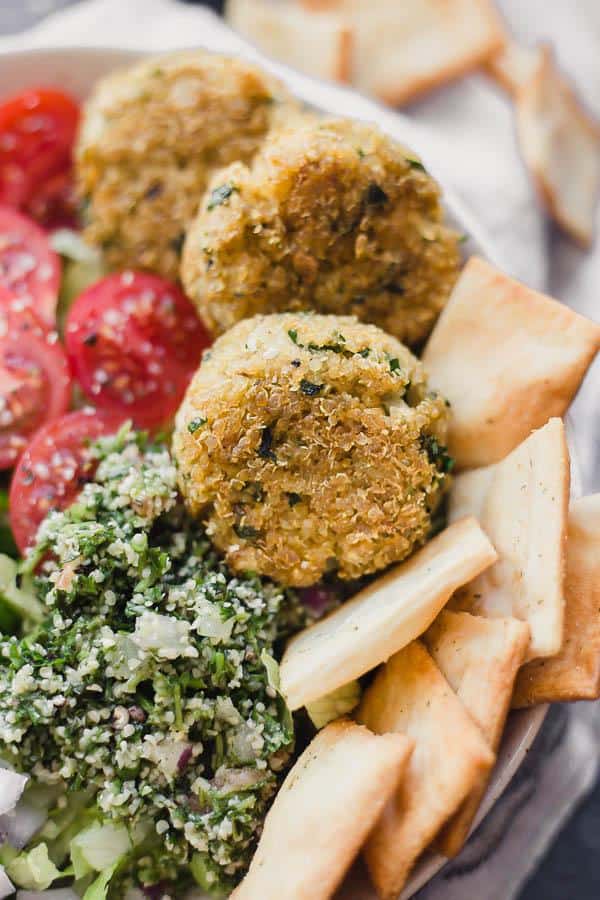 I've never had falafel quite like this and I love it!
Naturally gluten-free, this dish is perfect for sandwiches, Buddha bowls and anything you can lay your eyes on.
So easy to make and the lemon makes every mouthful taste fresh and zesty!
Caribbean Jerk Spiced Sweet Potato Falafel Gyros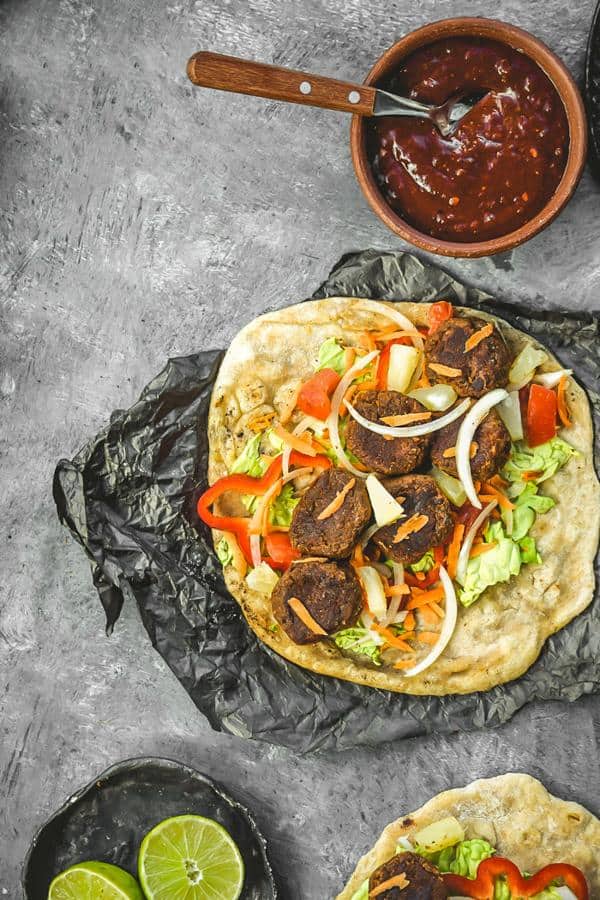 Here the Middle East travels to the Caribbean!
If you're into gyros, this recipe is a must. Follow the instructions step-by-step and I promise you'll be finding excuses to make them the next day too!
Baked Lentil Chickpea Falafel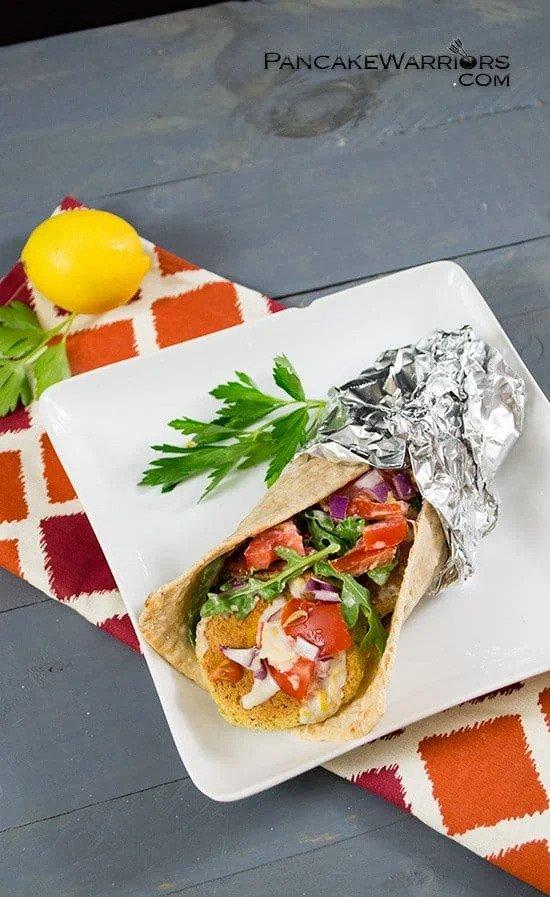 If you want a good and solid falafel recipe, this is it.
With the added extra of red lentils, these puppies have a beautiful color, not to mention the hearty texture. Whether you eat them in a salad or a wrap, you win!
Falafel Stuffed Peppers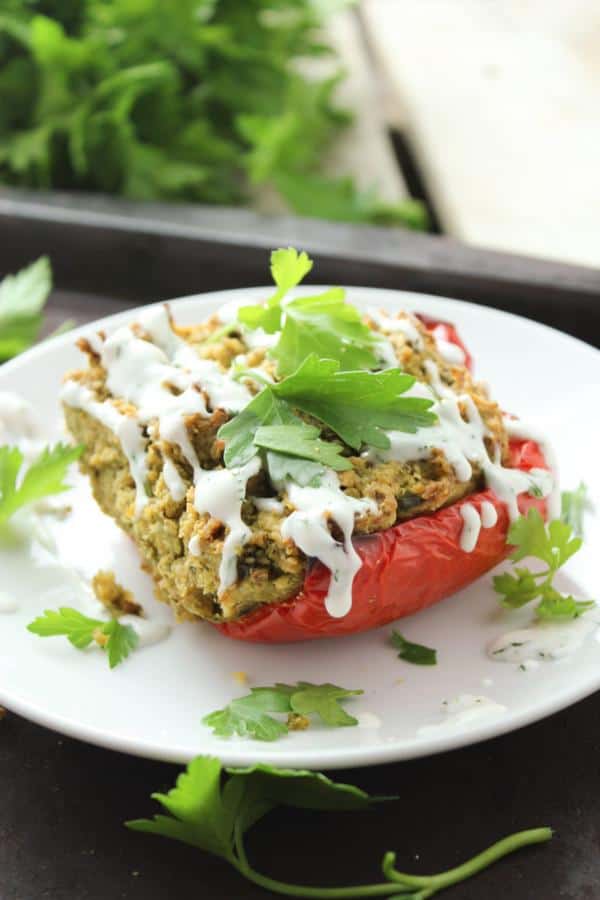 We've seen falafels in all sorts of shapes and sizes, but never used as stuffing!
Looks like I just found my favorite food to stuff things with! It's perfect and the ideal alternative during the holidays to stuffing.
The stuff in the stuffing tastes great. Yes, you guessed it, I'm trying to see how many times I can say stuff and stuffing.
Don't let me distract you, make this recipe today!
Sesame-Crusted Carrot Falafel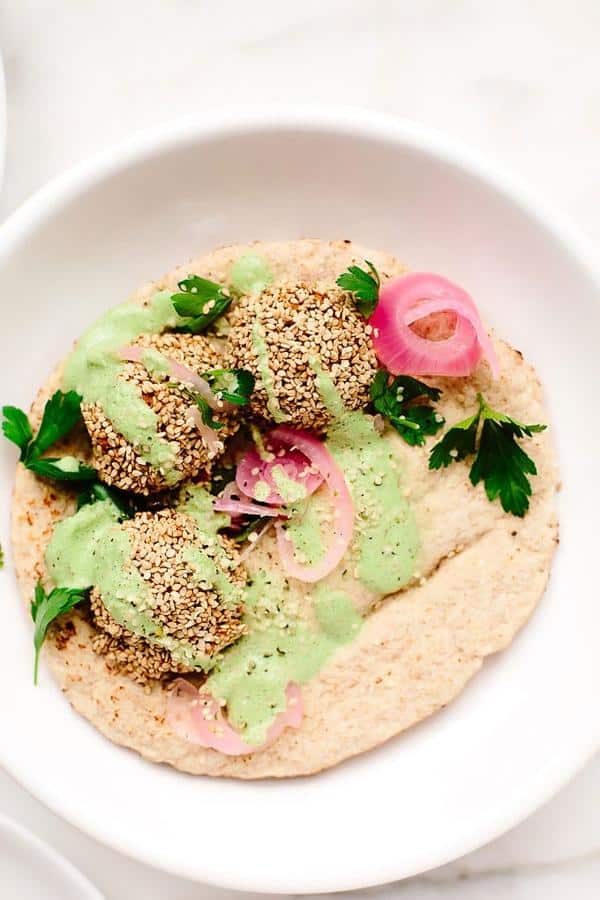 Falafel just went up a level!
The sesame seeds surrounding each of these falafels is a game changer! It doesn't end there, you must check them out as they'll delicious.
What the title of the recipe doesn't tell you is you also get to make a great tzatziki as well!
Easy 6-Ingredient Beetroot Falafel Burgers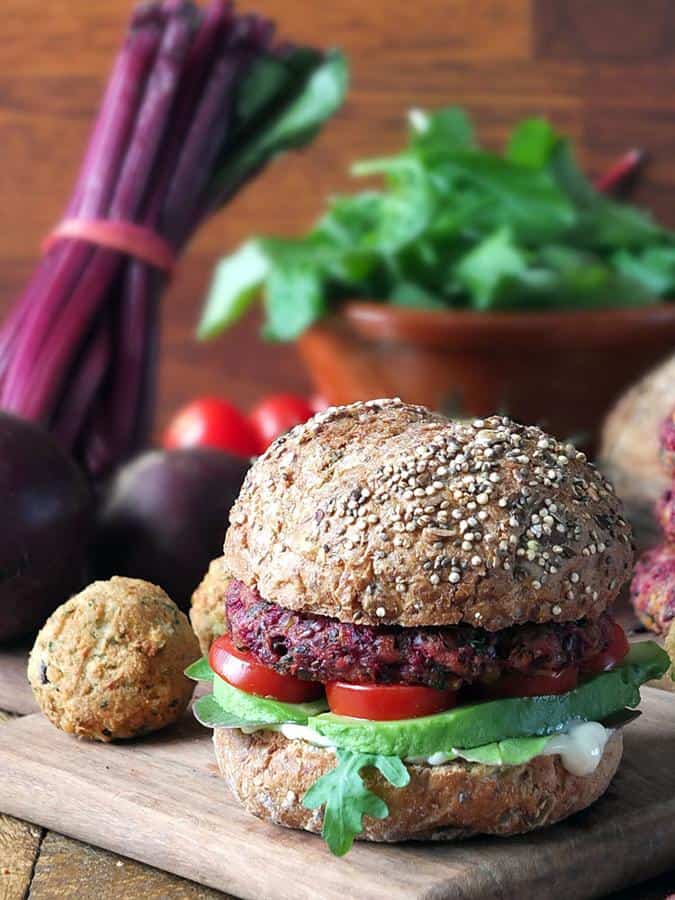 Don't these burgers just look great?!
Just six ingredients make one of the best vegan burgers I've ever had. The beets give them a wonderfully vibrant color. Hearty, great texture, simply everything you could want.
Falafel with Fresh Mint, Cilantro and Pistachios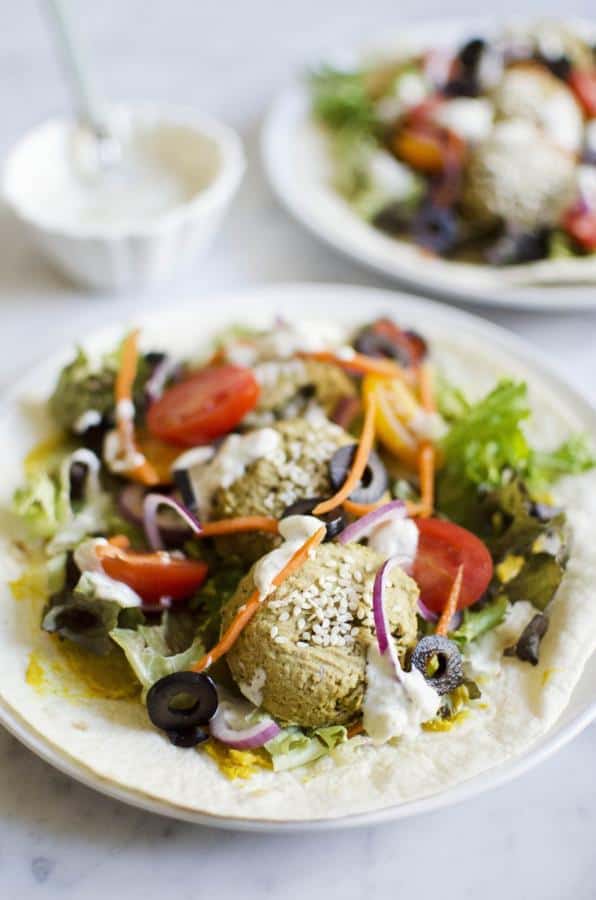 If you love cilantro, this recipe is for you! If you're not a fan, simply swap with parsley and you still get the benefit of this wonderful recipe.
Emma, the recipe author from the Netherlands brings you wonderful falafels made with pistachios.
This gives them great texture and that unmistakable pistachio flavor although it isn't overpowering at all. Totally delicious!
Butternut Squash Falafel with Maple Tahini Sauce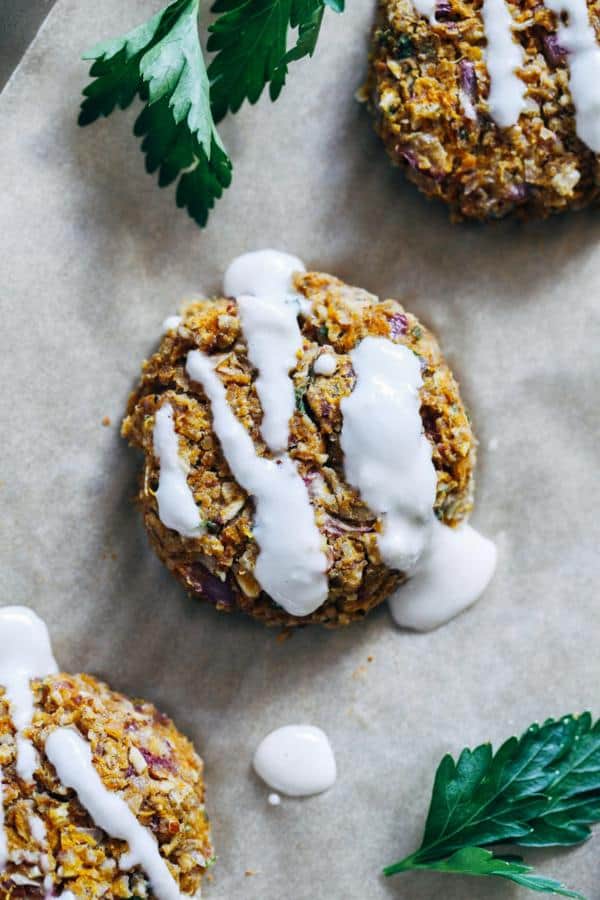 I've seen Butternut Squash falafel before, but never quite like this!
The Maple tahini sauce is one of the best I've had, and believe me, I've had many.
The falafels are light, moist on the inside while having that crunchy texture on the outside. Delicious!
Baked Falafel with Zucchini and Mint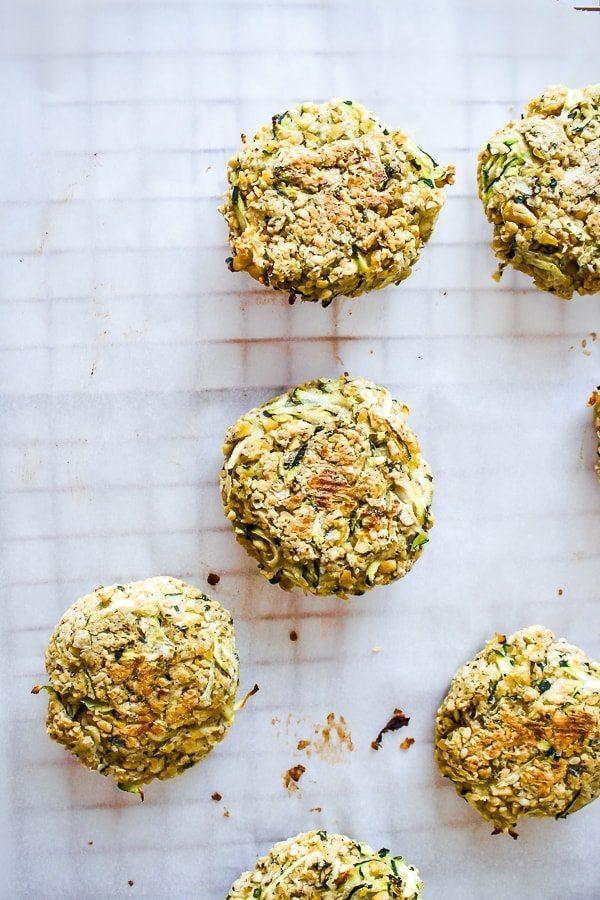 Baked, zucchini, mint? Yes, all three in our favorite little ball!
If you love falafel but want to change it up a little, this recipe does the trick.
They are lighter without losing any of the satisfaction. So easy to make and super healthy. Check it out!
Falafel Burgers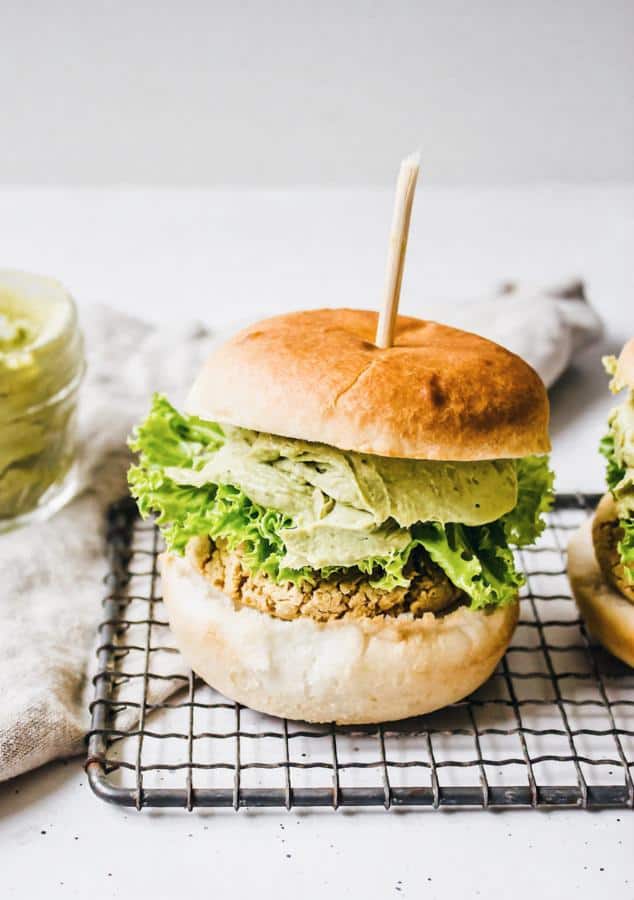 I've always said falafel make the best burgers and this recipe proves me right!
The recipe couldn't be simpler, 5 ingredients (not including seasoning) is all you need.
Add your own toppings in the bun or if you're stuck for ideas, the recipe page has got you covered there too!
Falafel Burger with Pita Bread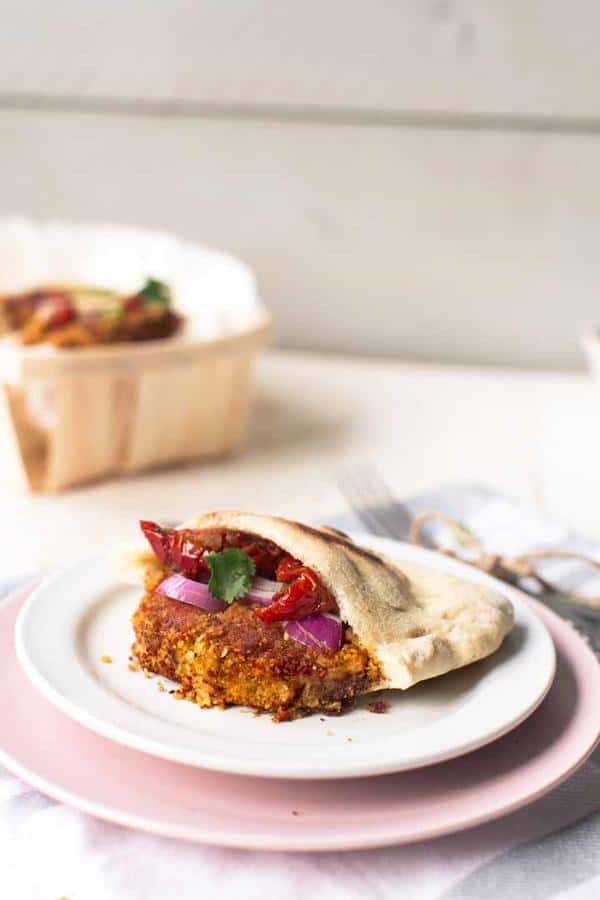 Burgers, but with a difference, and a great one too!
If you usually have pita with your falafel then this takes it one step further.
Sit back and dream of the Mediterranean with this wonderful recipe. Yeast free as well as you're using pita rather than regular bread!
Raw Falafel Wraps with Parsley Tahini Sauce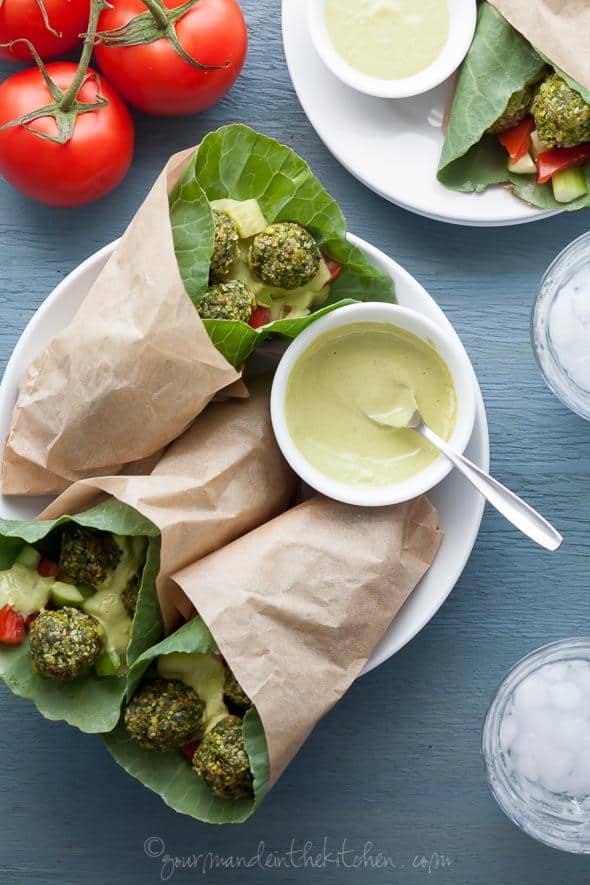 We all know baked falafels are better than fried, this dish goes one step further, we're talking all raw!
Made with pistachios, chives, herbs and spices, the little falafels are better than anything you've ever tasted.
The recipe includes a luscious parsley tahini sauce. I'm loving it!
Spicy Sweet Potato Falafel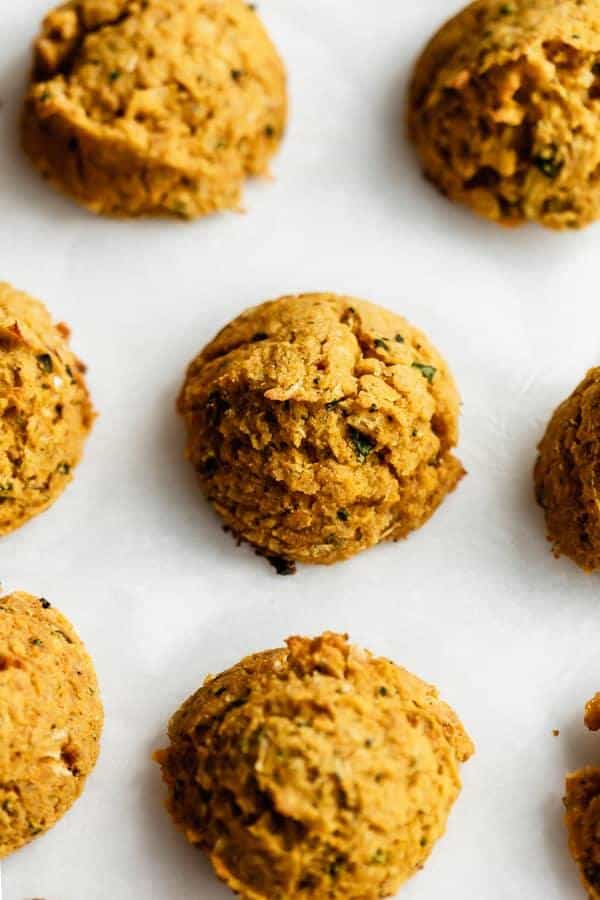 This recipe couldn't be easier to make. You do need a food processor although if you don't have one, get creative with mashing things up!
Bake for about 30 mins and you're good to go. Serve with salad, in wraps, or both!
Mexican Falafel Bites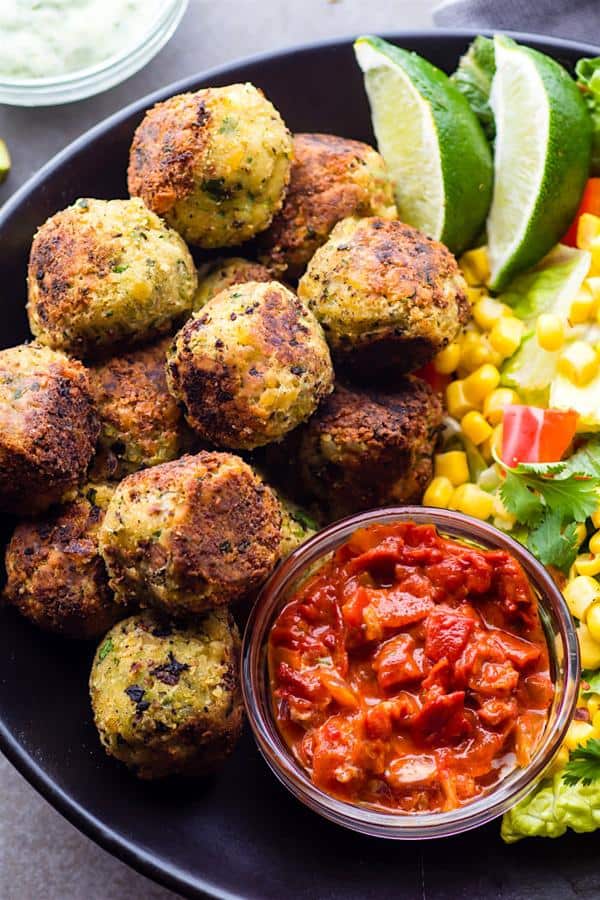 Falafels are usually easy to make, and this is a recipe that shows you what easy means!
A can of chickpeas, some vegetables, spices and a couple of other things and you're good to go.
Total time needed here is just over half an hour and that includes prep and cooking! Yum!
Falafel Salad with Tahini Parsley Dressing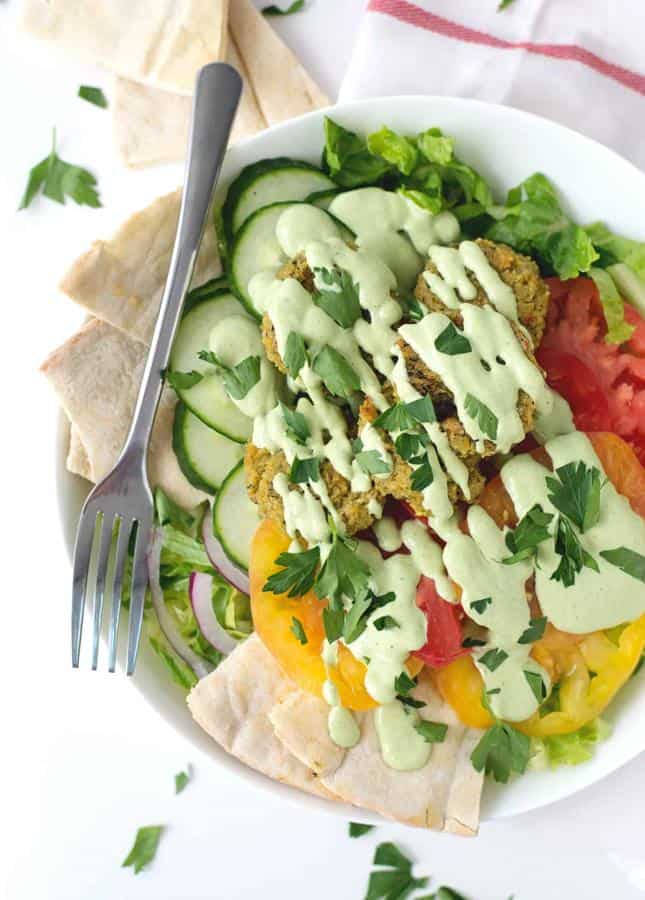 Salads don't get much better than this!
Fresh and crispy raw salad, crispy falafel and a creamy dressing that brings all the flavors together.
I think I just found my favorite meal when I want to start off the week as I mean to go on!
Curried Carrot Baked Falafel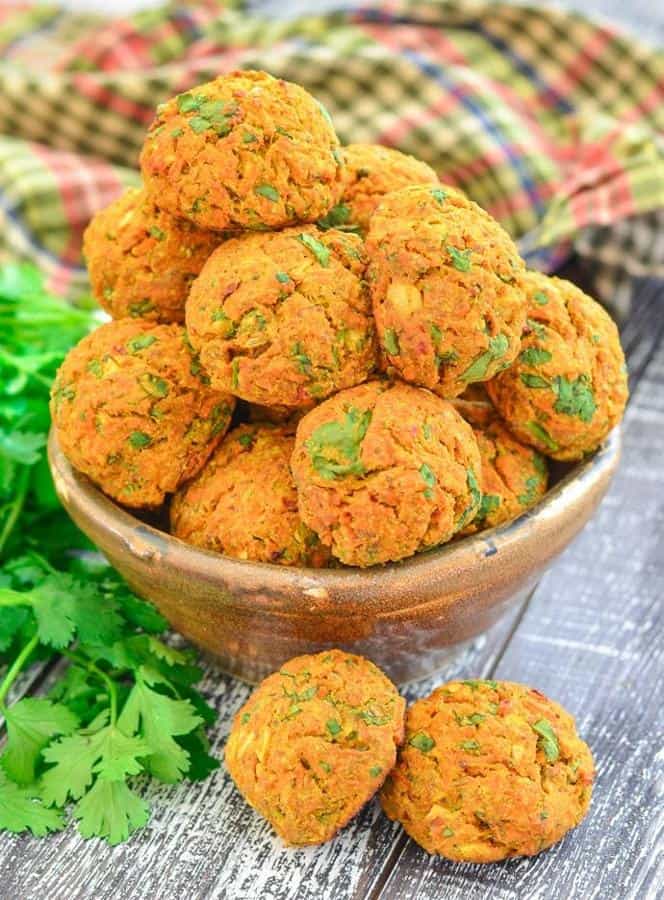 Oil and gluten-free, this is a twist on the original recipe is a must.
The carrots make these deliciously moist and satisfying without leaving you feeling lethargic afterwards.
So easy to make, give them a try!
Wrapping Up
Many of these recipes are naturally gluten-free and we've tried to mention that where we can. Some are oil free too!
Keep this list handy as falafels are great in so many situations: a weeknight snack, parties and simply perfect for lunch on-the-go.
All of these recipes are affordable and have ingredients you either already have in your kitchen or can easily source.
Let us know which are your favorites!