Highly commercialized banana varieties are widely sought after as a cost-effective source of carbohydrate fuel for people who:
live in low-income regions where there is high availability of bananas; or
pursue a "high-carb" diet, especially one that's all about fresh fruits and vegetables being your main source of calories.
They're also a convenient grab-and-go food choice for students and busy people; no special wrapping or food containers required.
And get this… it's estimated we all manage to consume over 100 billion of these yellow delights year over year!
While we've gathered many fabulous vegan recipes already, the fact is a lot of people—possibly you too—have a bunch of bananas getting all spotty and brown in the kitchen.
You know… like this: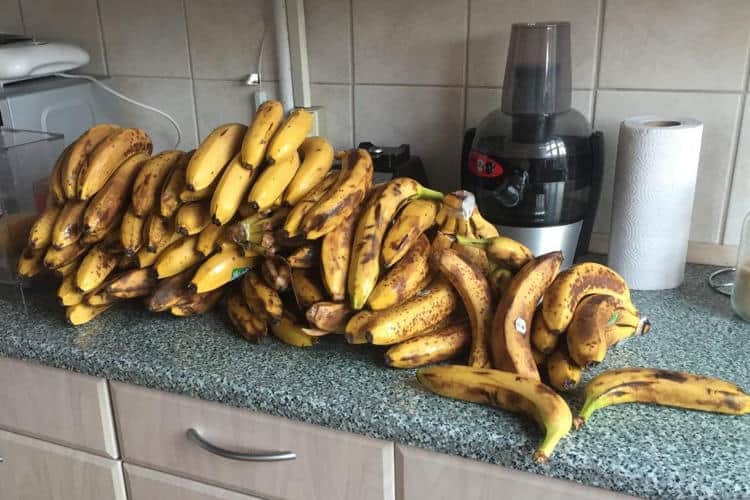 So, today, we show you how to put those bananas to good use, ranging from banana breads, cakes and waffles to smoothies, snack bars, and porridge.
Let's go!
Ripe Banana Recipes
Lovely Banana Split Panna Cotta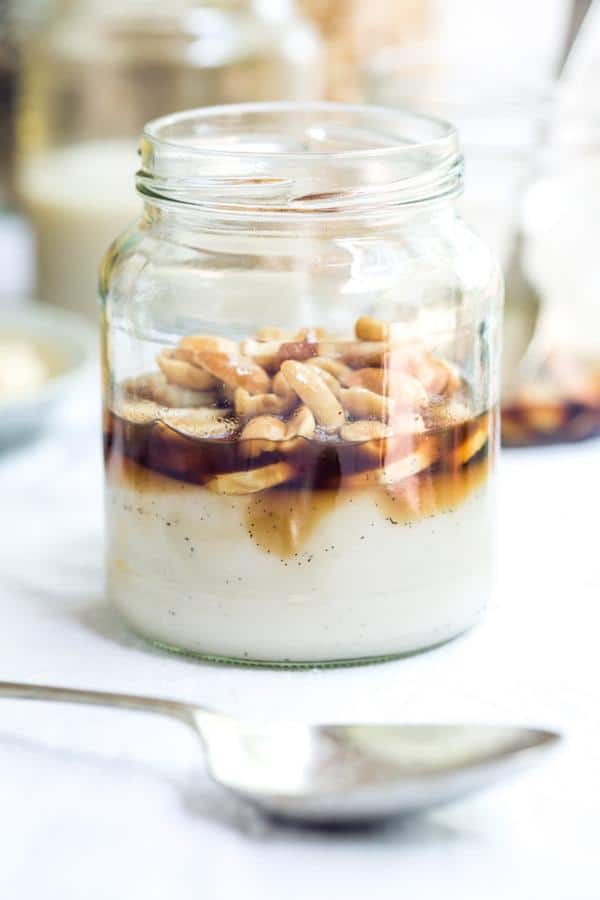 If you're a big fan of both banana split and panna cotta, Amanda brings you the ultimate dessert fusion you're bound to enjoy.
You'll love the luscious caramel sauce as well as added crunch from peanuts. This recipe makes for an unforgettable treat you can serve for family and guests.
Banana-Cashew Balls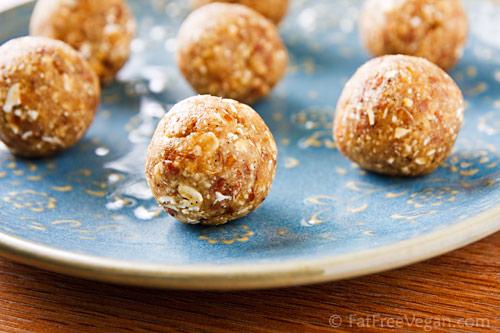 An unusual, yet great way to use up leftover bananas. Snack balls seem to have become overwhelmingly popular—and why wouldn't they be? They're convenient, tasty and the perfect, healthy snack item for kids.
Susan's banana-cashew balls are no exception. In fact, they might be so good she suggests you should consider doubling the ingredients.
Banana Pupcakes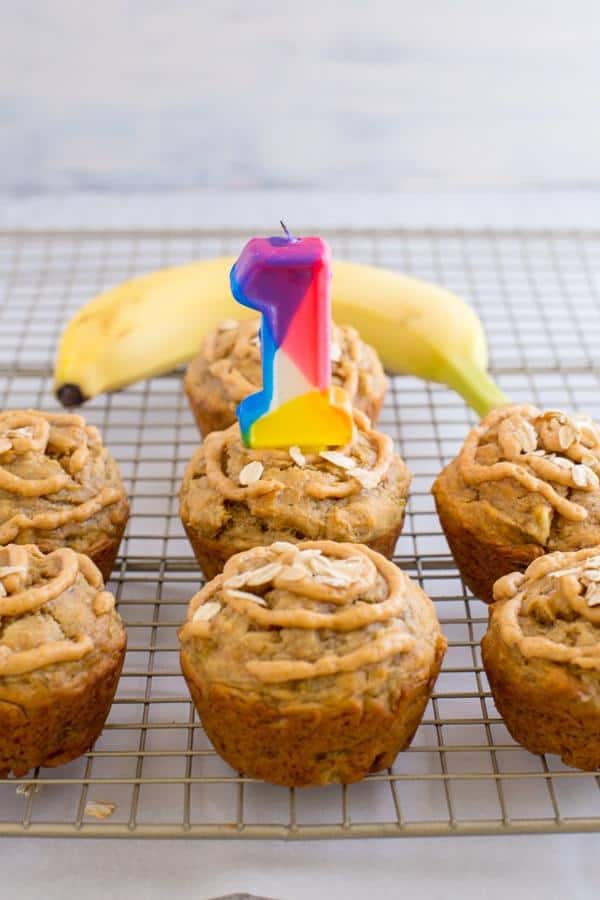 This recipe gave me joy to see. Essentially, it's a muffin recipe perfect for dogs—and just as perfect for you—using entirely plant-based ingredients.
If your pup already has some favorite dog treats, feel free to include these too!
Double Chocolate Banana Muffins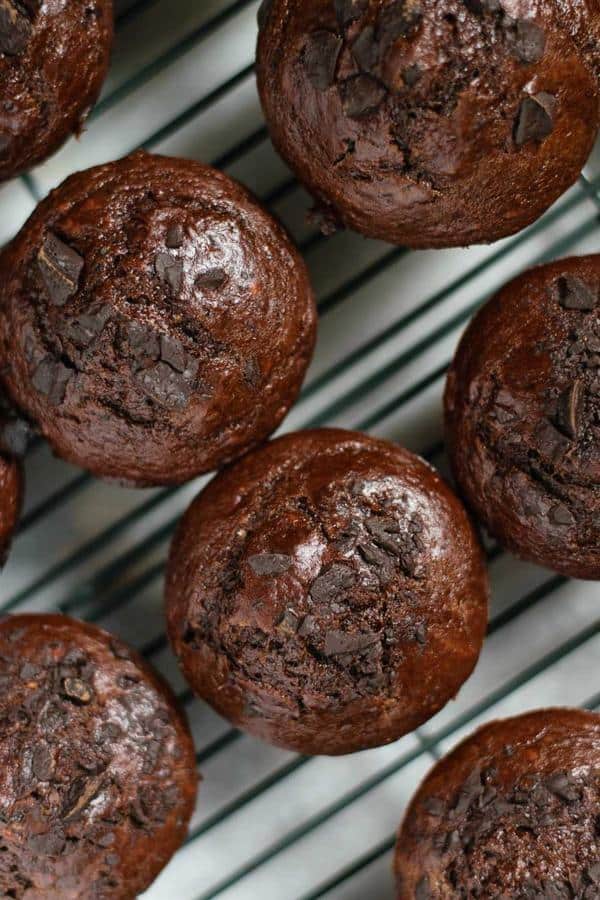 When you've got bananas that need to be used ASAP, make sure to pull up Eva's trusty double chocolate banana muffins recipe.
They take roughly 35 minutes from start to finish and by all means will soothe your cravings for chocolate. Feel free to make a big batch as they're suitable for freezing.
Banana Cake With Peanut Butter Frosting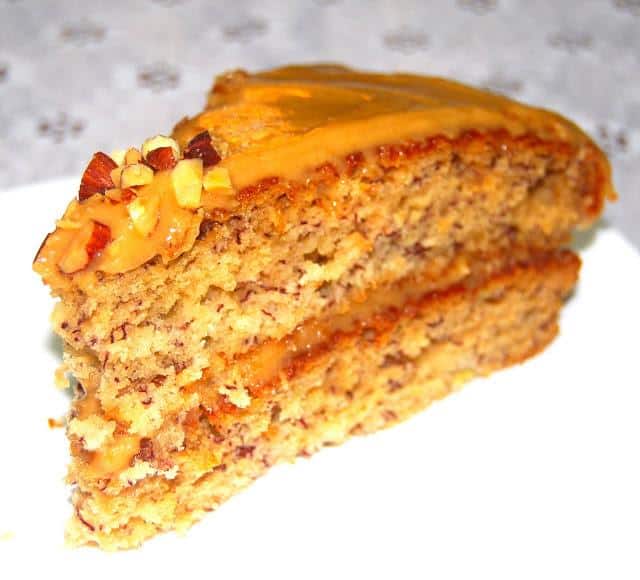 That's right. A banana cake with… ready for it? Peanut butter frosting! Pure yumminess!
Don't be put off by the preparation steps as it'll be entirely worth every bit of effort involved.
So, whenever you're up for a weekend sweet treat, I suggest gathering together the ingredients, setting aside an hour, and making this dream dessert. (Excellent opportunity for inviting friends or family too!)
Banana Date Cinnamon Rolls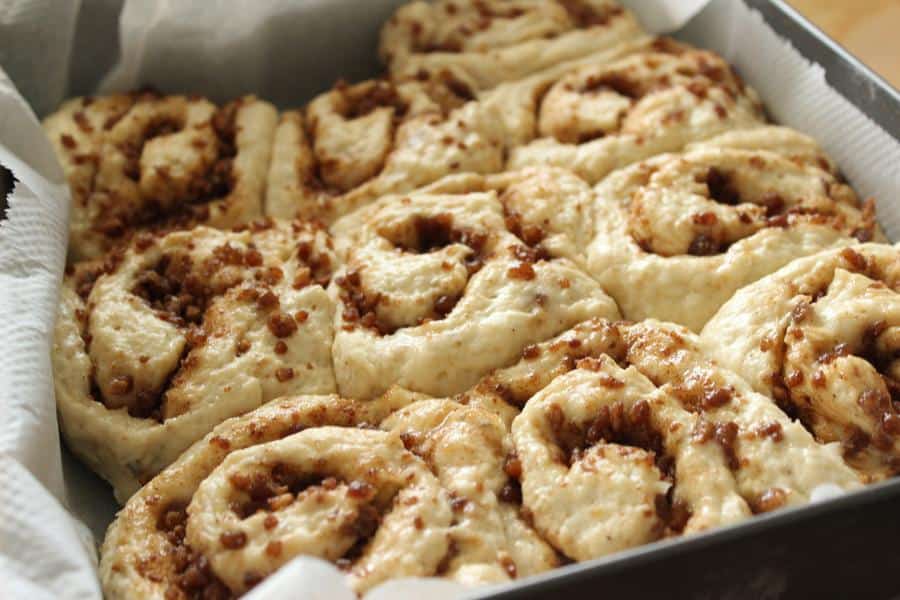 When you absolutely need to spoil yourself, Kim has figured out just the right way to do it.
These cinnamon rolls may look like the ones from your local bakery, or ones you buy prepackaged, but guaranteed, yours will be much healthier and devoid of nasty preservatives.
Kim has a few tricks up her sleeve to help you make perfect banana date cinnamon rolls without the tricky hiccups people often run into during the process.
What you end up with are tastefully divine cinnamon rolls you'll get addicted to!
Banana Hazelnut Protein Bars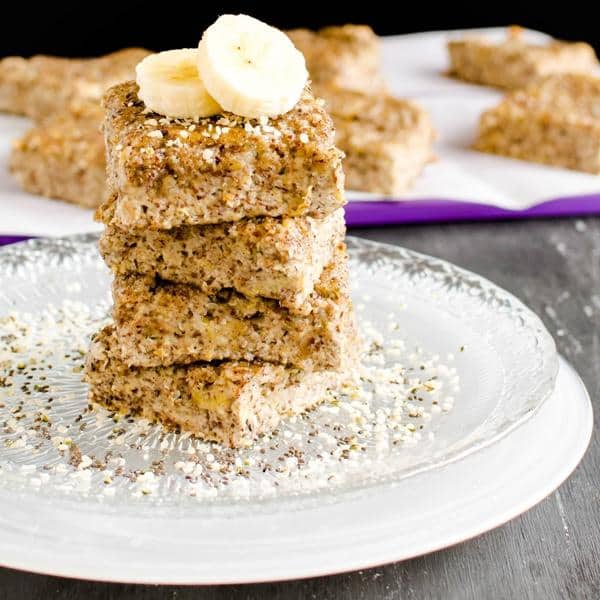 Protein bars come in handy when you're on the go and are a nice way to boost your protein intake for the day.
This lovely recipe requires just 7 straightforward ingredients and 40 minutes of your time, yielding a nice batch of 16 bars.
These are perfect if you're not big on sweet as they're only mildly so. On the flip side, they pack a lot of nutrition—terrific!
Toasted Banana Caramel Sauce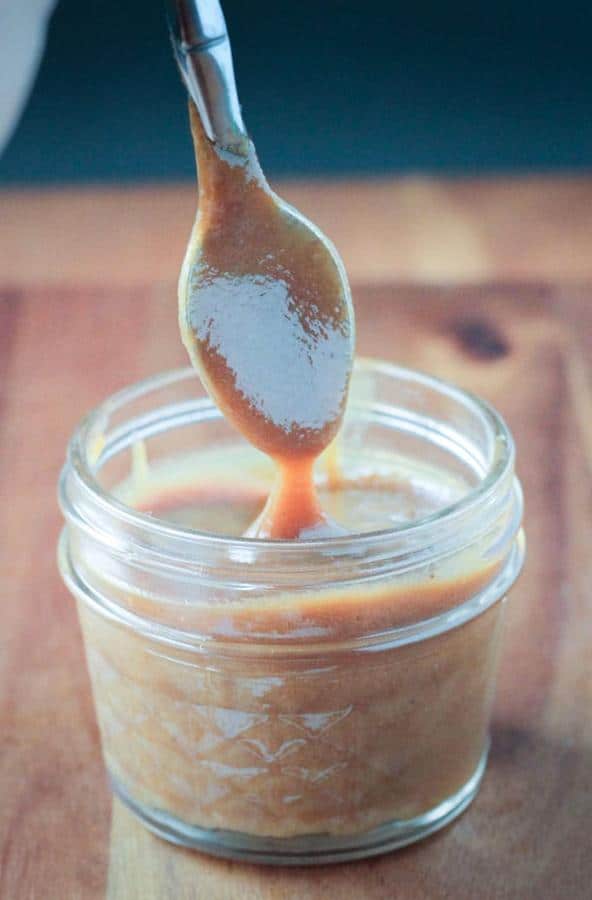 This right here is one of those recipes that make you appreciate preparing your own food at home.
What you get is an oh-so-good accompaniment to your breakfast pancakes, waffles, crackers or sliced fruit. Heck, you can even pour it on ice cream for the ultimate dessert experience!
The sauce comes together in roughly 20 minutes with a small handful of simple ingredients.
Moist Banana Cake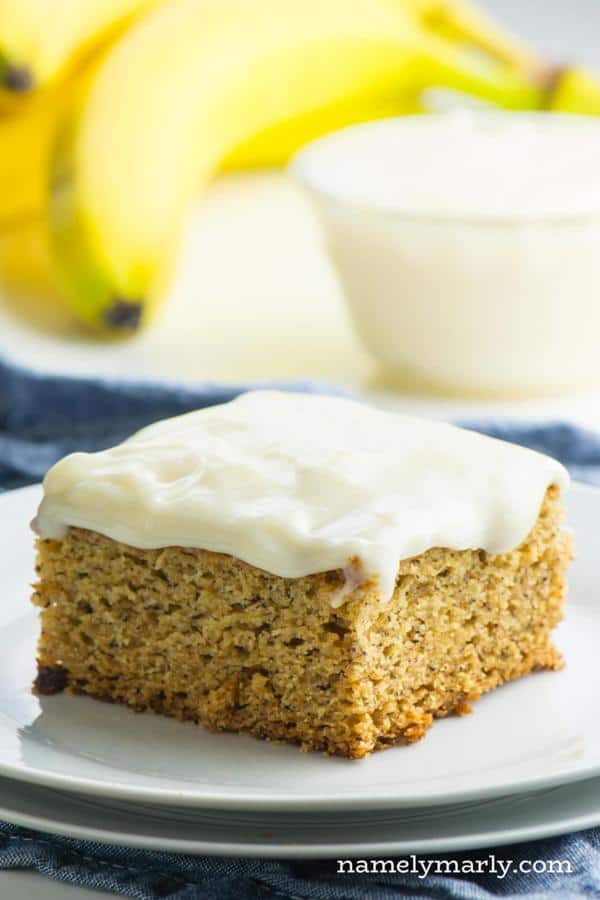 You know how some cakes can be disappointingly dry and bland?
Marly brings you the absolute opposite experience with this moist banana cake recipe which features a delicious vegan cream cheese you can't live without once you've tried it!
It makes for a tasty tea party treat your guests are sure to enjoy.
Buckwheat Banana Waffles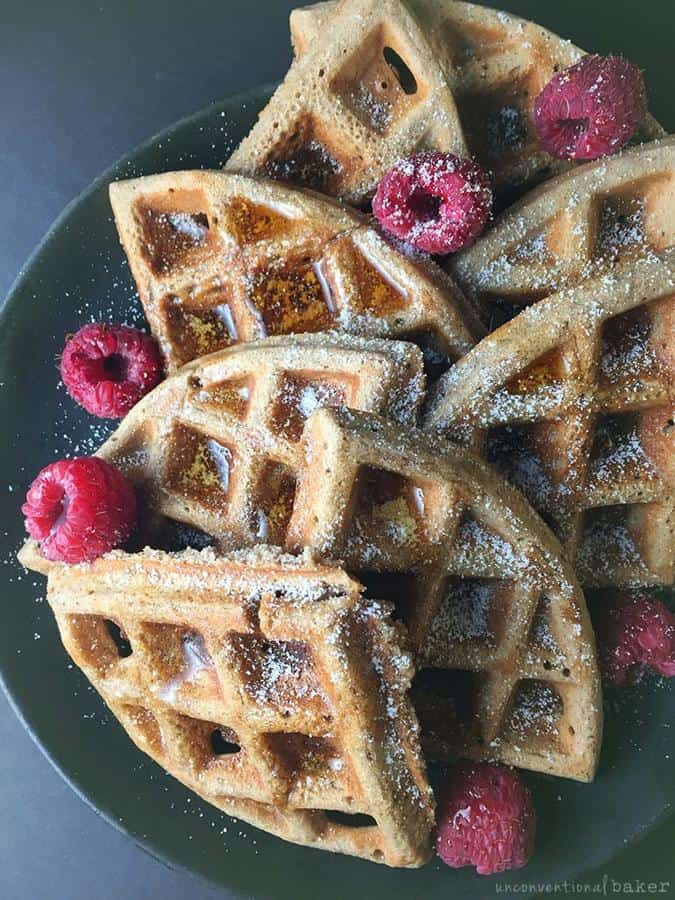 Waffles are a breakfast staple. Finding a plant-based recipe is one thing, finding a great one that is also gluten-free to? Here it is!
You don't miss out on any taste or texture with these!
If you're up for a satisfying and pretty much guilt-free breakfast treat, this is it!
Banana Milkshake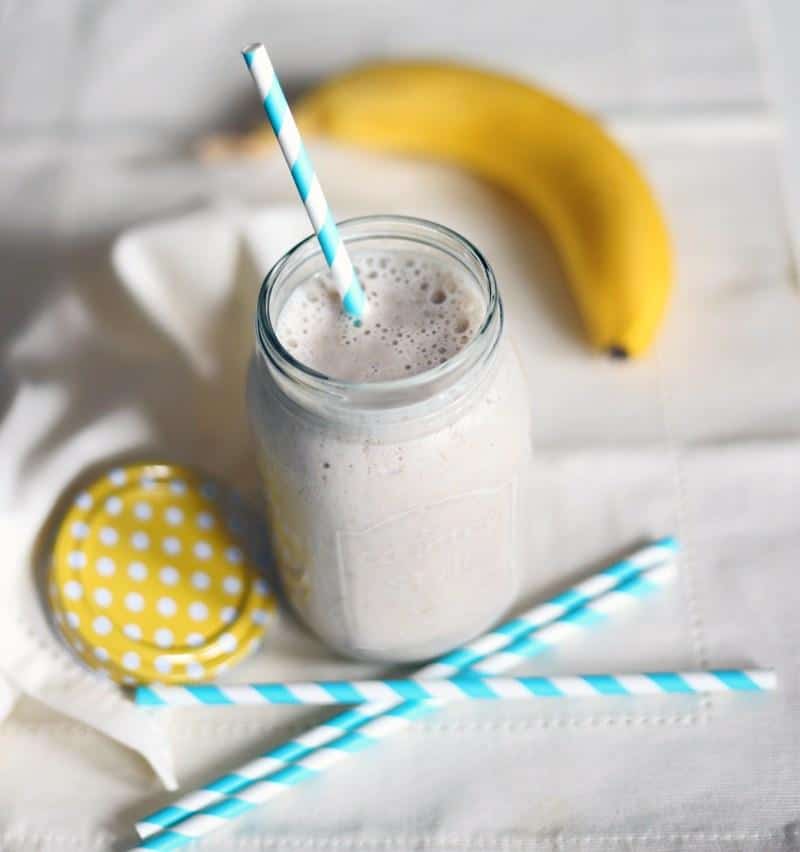 3 ingredients, 2 minutes! Evi brings you a luscious milkshake recipe anyone can make with ease.
All you need is a blender and you're set to go. While the recipe by itself is excellent, feel free to add anything you feel might kick it up another notch (for example your choice of berries).
Banana Pineapple Green Drink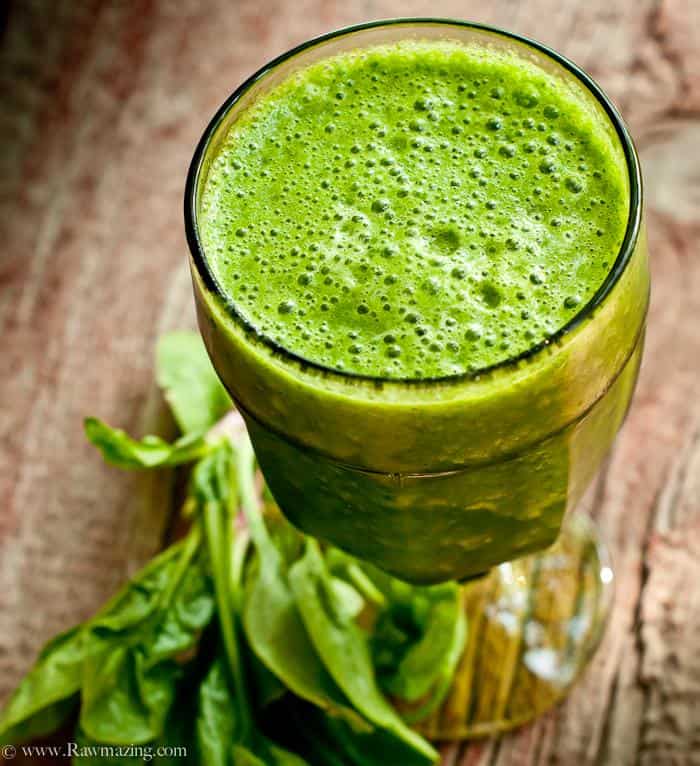 I used to drink a lot of green smoothies "back in the day." And I think I'll get back to doing that again at some point.
With the right recipe, this is one of the best and most cost-effective ways to start your day in a healthy and nutritious way. It's an excellent method to boost your intake of greens, too.
So go ahead and give Susan's banana pineapple green drink a try!
Nutella Banana Sweet Potato Boats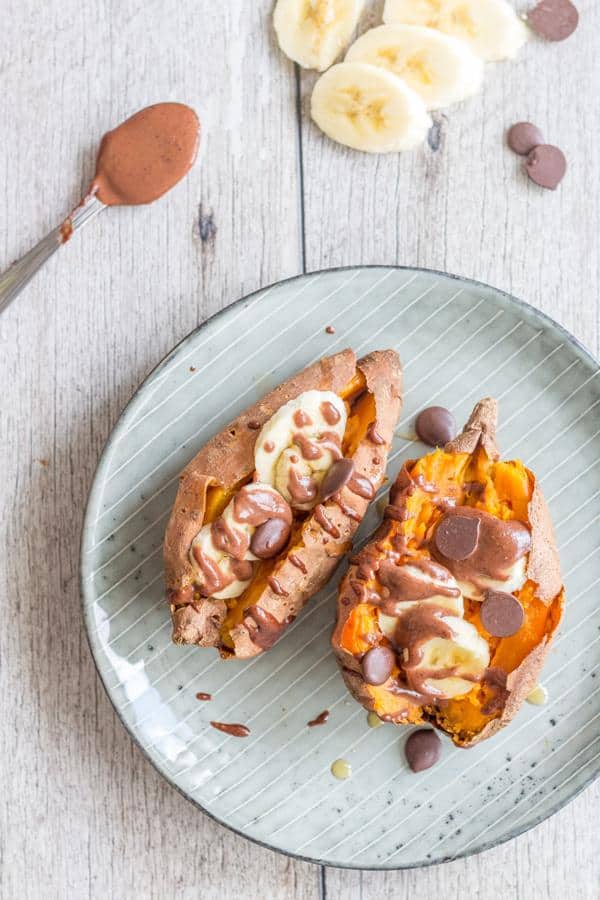 If you've got a thing for banana, sweet potato AND Nutella, you're about to enter heaven.
Anne combines all three in near miraculous fashion for a breakfast or dessert treat that'll keep you yearning for more!
If you're not too keen on store-bought Nutella, then no worries, as Anne even has a great recipe for that, pairing perfectly with these boats.
5 simple ingredients and about an hour is all you need.
Banana And Ginger Smoothie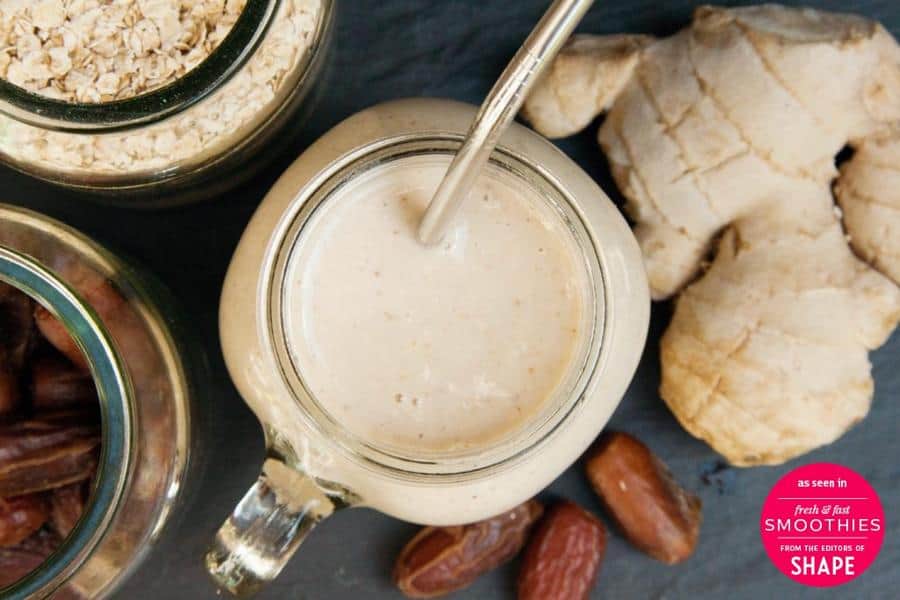 I fully agree with Gloria that smoothies are a convenient and quick way to get a nice boost of nutrients from fresh produce as well as herbs and spices.
With this smoothie recipe, however, she's also giving you a way to help soothe acid reflux, using ginger as the key ingredient.
Let food be thy medicine, right? Definitely!
Incredible Nutty Banana Smoothie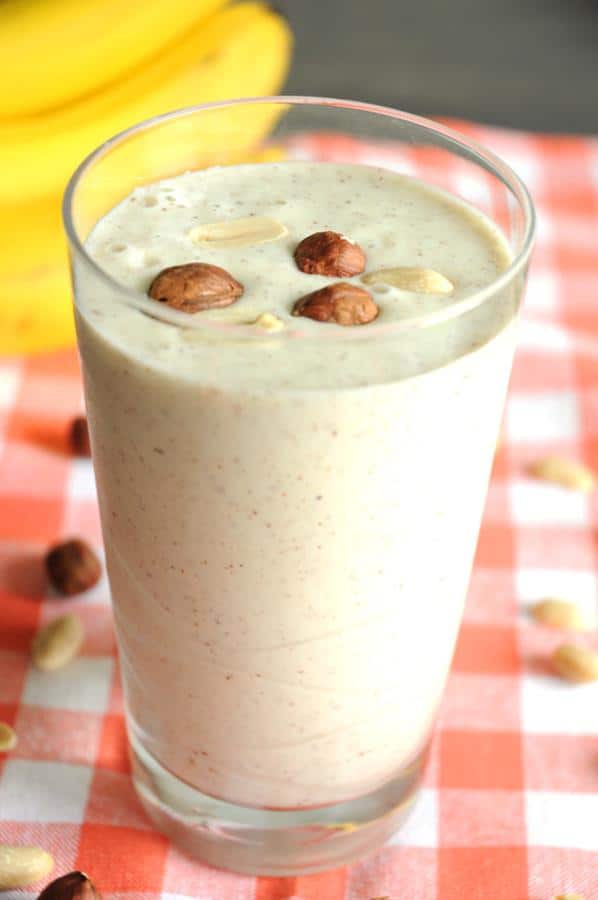 Whenever you're too lazy to make a big deal out of breakfast, smoothies come to the rescue.
They're typically very quick to make, and as long as you keep it simple, you'll likely already have the necessary ingredients laying around for a tasty drink.
In this case, we're talking about Cassie's yummy nutty banana smoothie made in just 5 minutes with 5 basic ingredients!
Papaya Banana Smoothie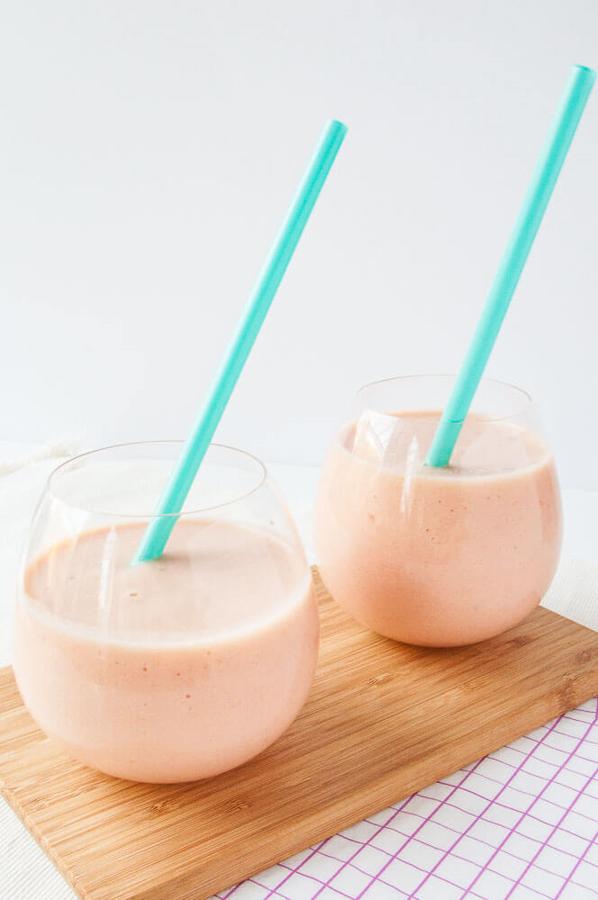 According to Vanessa, here comes a smoothie that tastes like a tropical volcano!
Sounds spectacular, right, so why not give it a try?
Papaya is known for being greatly beneficial toward our digestive system, so why not reap the benefits while enjoying the great flavor of this 5-minute smoothie!
Peanut Butter Banana Chocolate Smoothie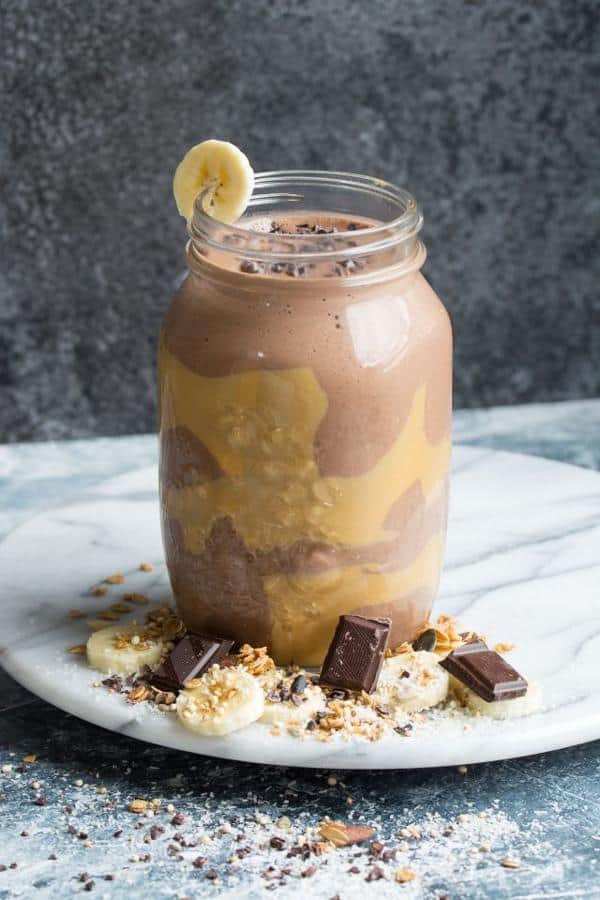 Just by looking at the photo, you know this beauty of a smoothie recipe from Lauren is a real winner.
Peanut butter, chocolate, banana, all in one. And if you're sensitive to peanuts, feel free to leave it out or substitute another nut butter.
Once you've got the ingredients ready, simply drop it all into your blender, whizz, and serve in a matter of minutes.
Banana Berry Fresh Smoothie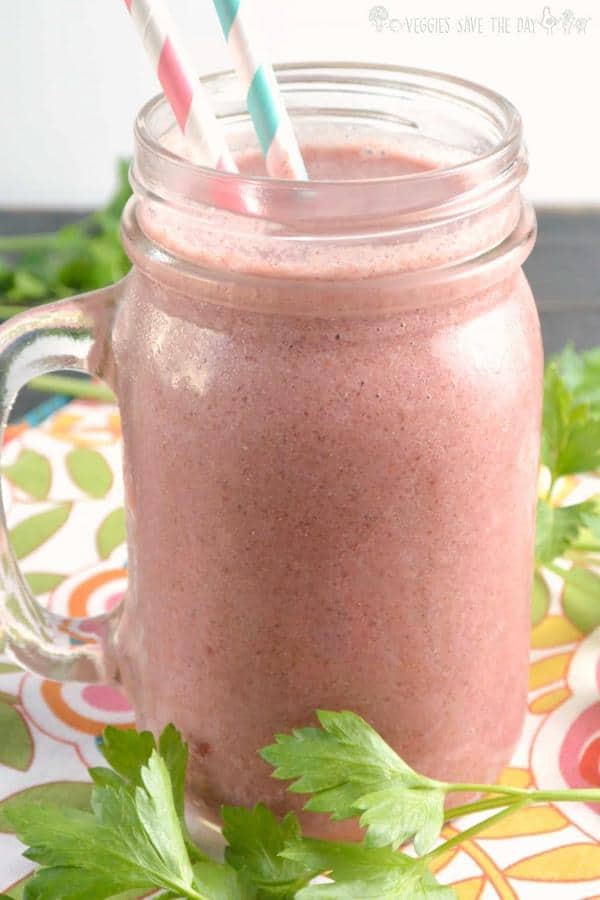 You've probably never thought of including parsley in a smoothie, but now you have a delicious and healthy excuse to do just that!
Parsley's distinct flavor adds a refreshing touch together with banana and raspberry.
Another another great recipe to add to your smoothie collection!
Banana Cream Pie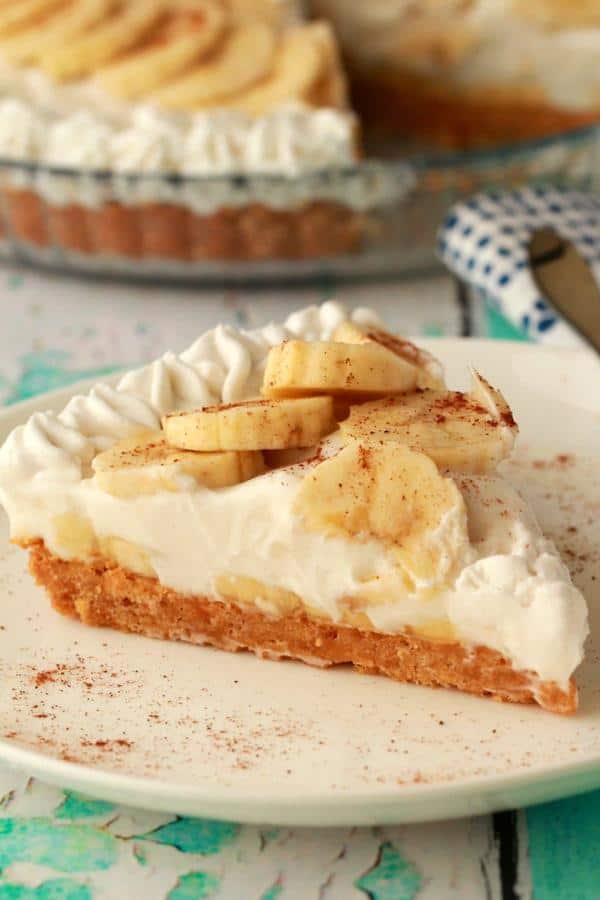 Behold, the ultimate banana-decorated cream pie.
The next time you're bringing guests over for dinner and dessert, this crazy delicious pie is your winning ticket to their hearts. And—unless you tell them—they'll never guess it's fully plant-based either!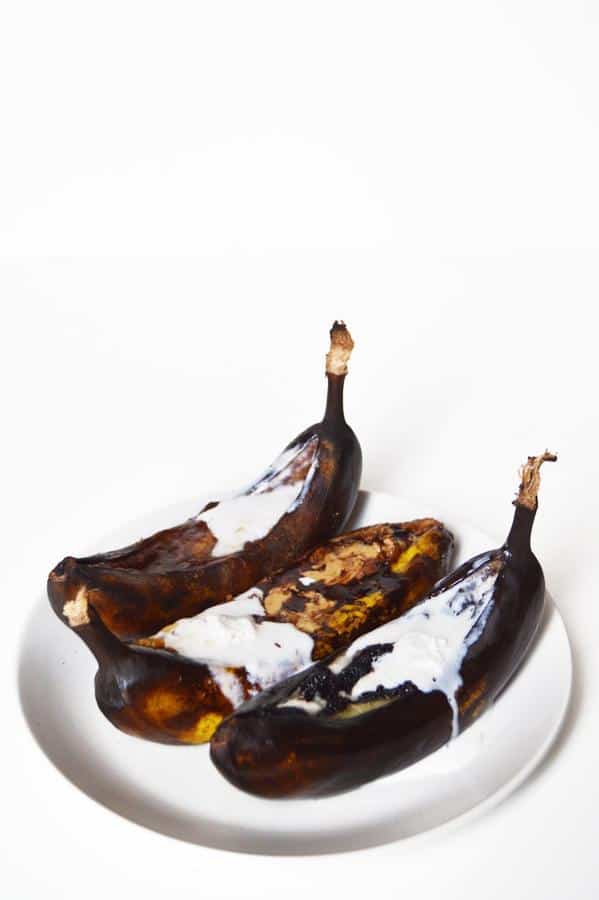 When you've got a serious sweet tooth and ripe bananas to spare, it can't possibly get any more adventurous than this.
You're looking at three possible flavor combinations, putting together banana with ingredients such as peanut butter, Oreo-style cookies, dark chocolate and more.
This is a dessert you've got to try at least once!
Creamy Coconut and Banana Porridge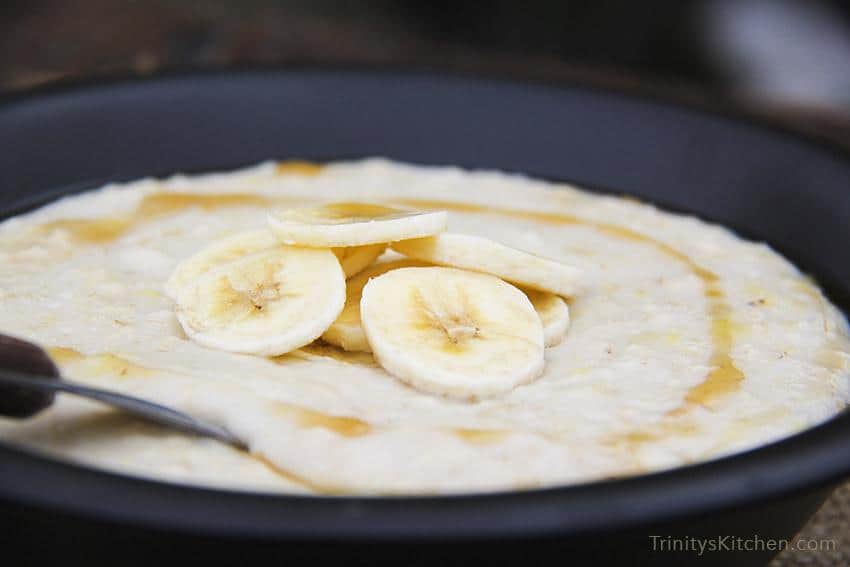 When you need motivation to get out of bed on an otherwise boring day, Trinity's creamy coconut and banana porridge is exactly what you need.
In just 15 minutes, you'll have a delightfully warm and yummy bowl of goodness to kick off your day with a smile.
Banana Thickshake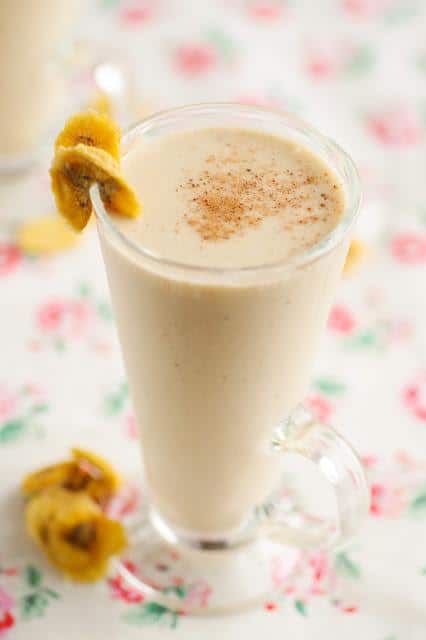 Cassidy's fashionable banana thickshake recipe is a fantastic way to get a solid nutritional boost.
The ingredients are simple and everything comes together in just 5 minutes. The presentation lends itself extremely well to serving for guests.
Self-saucing Banana Pudding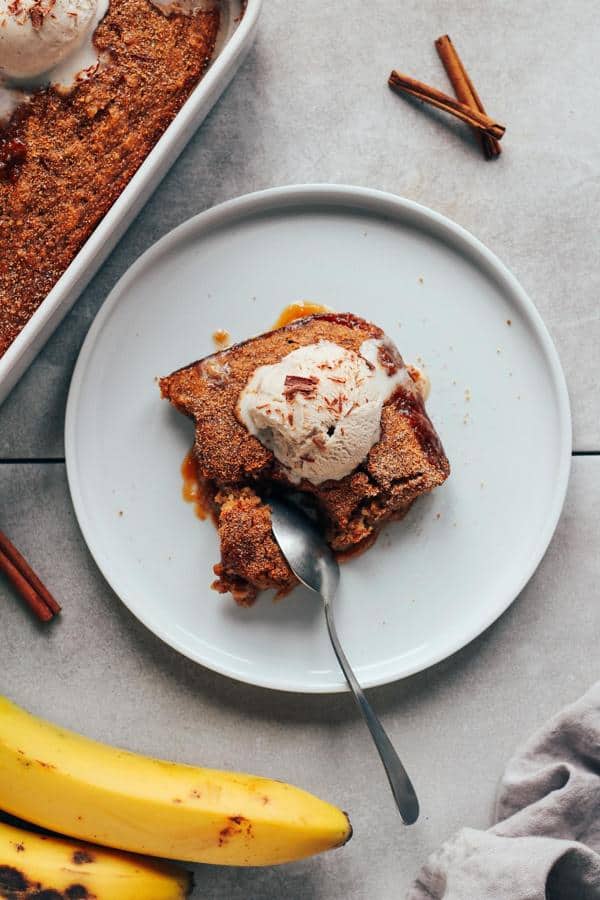 Thomas is talented with food and always comes up with these seemingly magical plant-based recipes you sometimes wouldn't think were possible.
And with this recipe, I have just one piece of advice: make it, get yourself a spoon, then dig in and enjoy every mouthful until you're absolutely satisfied.
You'll love this self-saucing banana pudding cake, infused with flavors from coconut and spices such as vanilla and cinnamon.
Chocolate, Peanut Butter and Banana Baked Oatmeal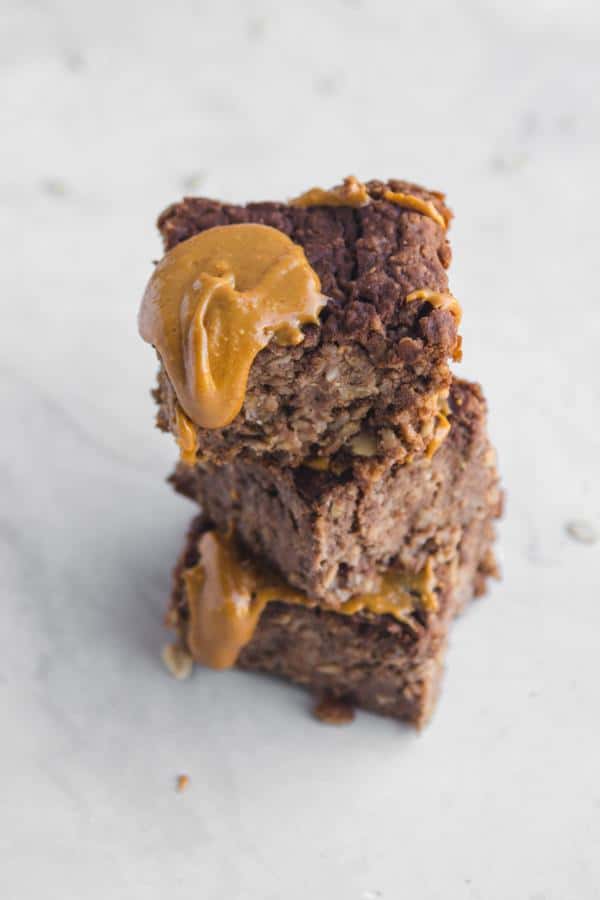 Looking for a gluten-free breakfast treat featuring both chocolate and peanut butter? Then you'll get it all right here with this excellent, 30-minute baked oatmeal recipe.
And if you don't mind a protein boost while you're at it, these bars also feature one of Orgain's plant-based protein powders.
If you follow the recipe to a 'T', you'll have enough for 4 servings.
Grilled Chocolate Banana and Peanut Butter Sandwich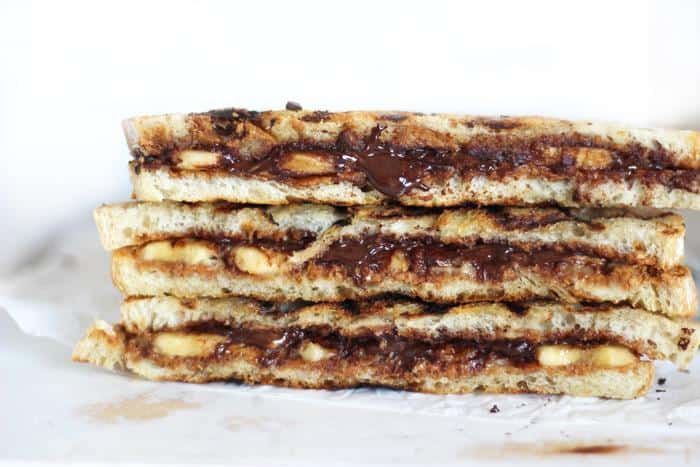 When you know you deserve a ridiculously sweet and awesome sandwich, you can't go wrong with this recipe from Jenn, which makes for the ultimate 'cheat' day treat.
You're looking at toasted bread layered with peanut butter spread, sliced banana and dark chocolate. Oh, man, need I say more? Go make these for your next breakfast or snack!
Overnight Chocolate Banana Chia Pudding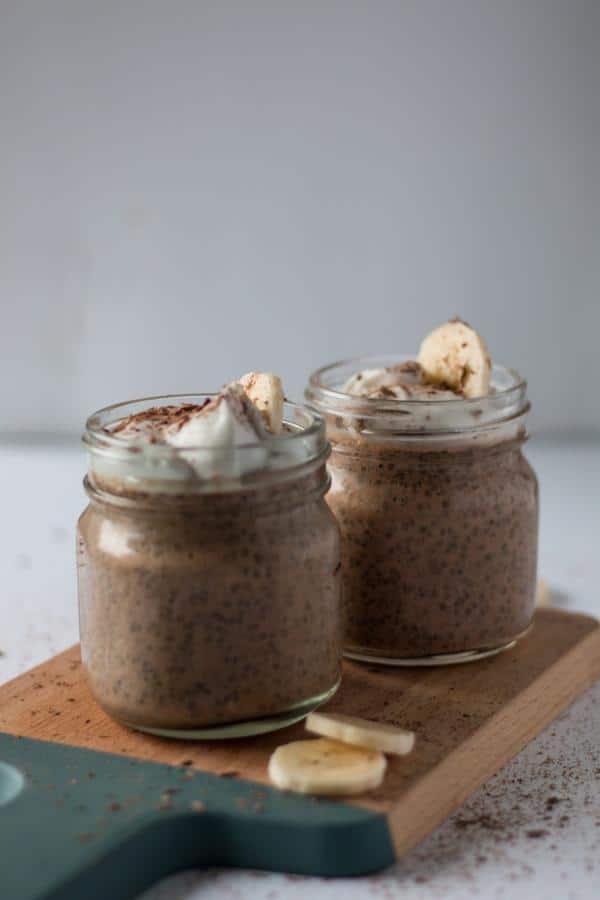 If you aren't familiar with the 'overnight' concept, then essentially it's a recipe you prepare the night before.
This allows the ingredients to set and be ready for you the next day.
While people usually use this method for preparing oat-based breakfasts and desserts, it applies equally well to other ingredient combinations, such as chia and coconut milk used in this lovely pudding dessert recipe from Steven.
Easy-to-make and delicious, give it a go!
Banana Cherry Garcia Soft Serve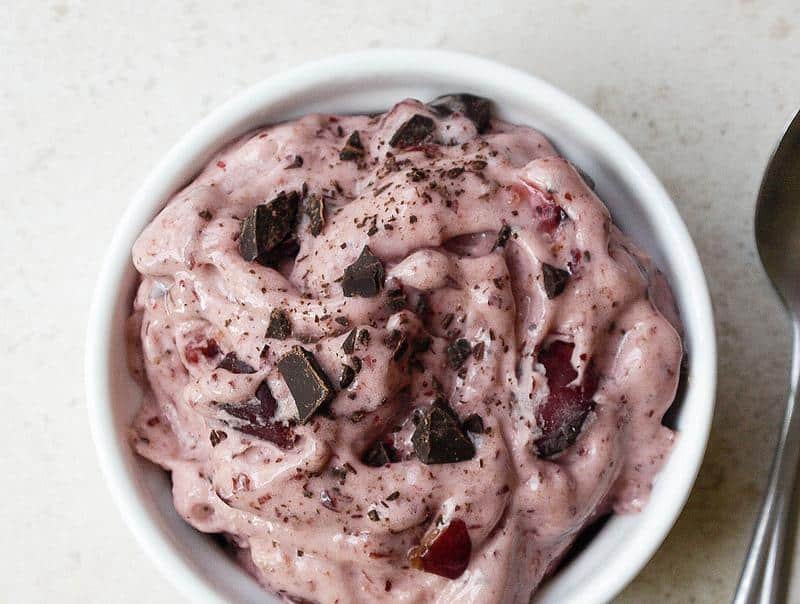 Who doesn't love a good ice cream recipe you can easily make yourself!
This luscious soft serve treat requires only 4 simple ingredients and a food processor or blender.
Make sure to look at the recipe notes, especially if like me you'd rather have just the chocolate flavor rather than the chunks.
Chai Chia Porridge with Banana, Cacao Dust and Walnut Milk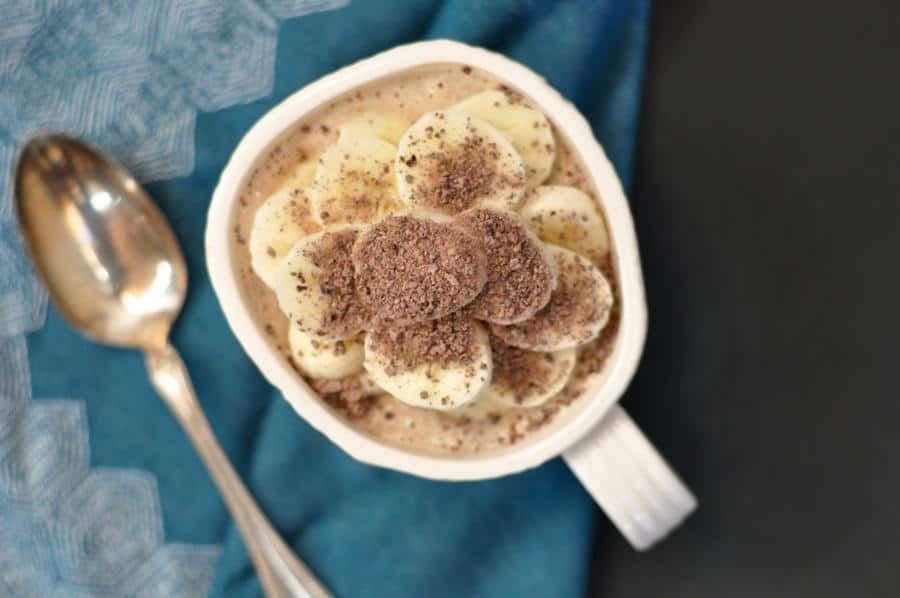 Here's a perfectly spiced porridge that'll warm you to your core during colder seasons.
It's a clean recipe packed full of healthy ingredients.
It has 3 parts to it: the porridge base, complementary cacao dust and fabulous homemade walnut milk.
You're looking at, give or take, 30 minutes to prepare everything with enough for 2 people.
Banana Donuts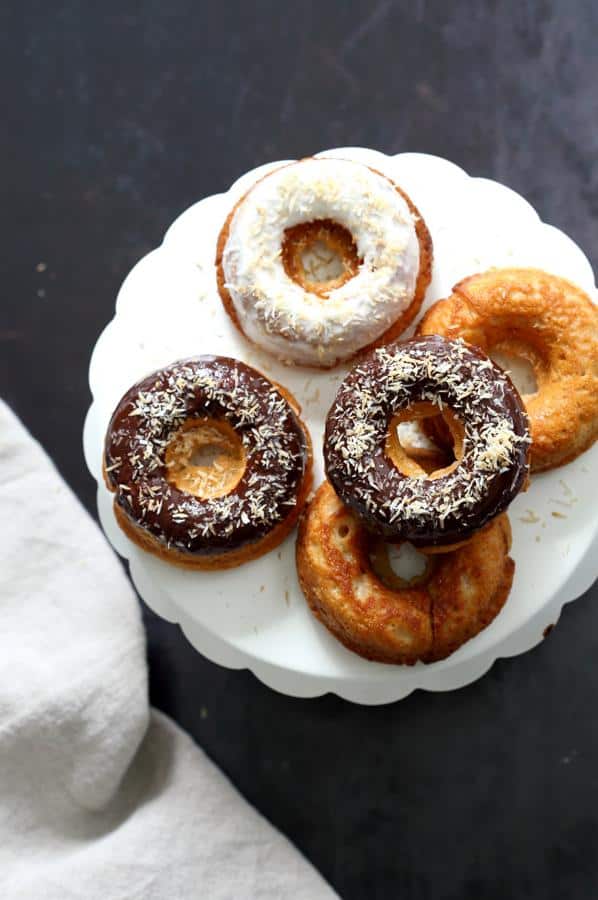 There are so many amazing vegan donut recipes out there and Richa brings us yet another breakfast marvel.
Richa does a great job at catering to a wider audience by showing you how to make these donuts yeast-free, gluten-free and heck even oil-free too.
So, set aside 40 minutes and get your oven mitts ready because you're about to make yourself a mouthwatering treat!
Banana Bread Granola Bars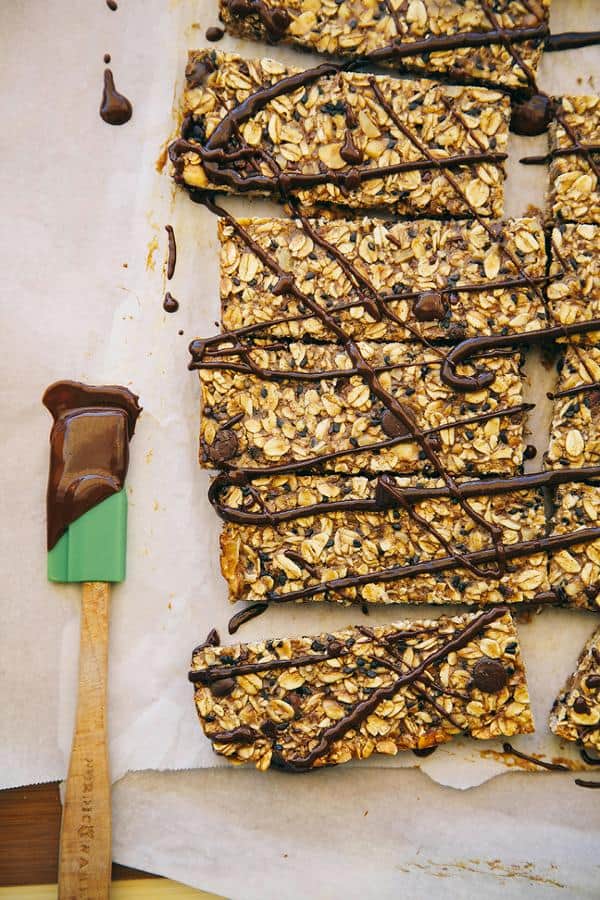 "I love a good granola bar in terms of concept. [But] they frequently disappoint in execution."
Listen up! If you want to make incredible snack bars you definitely need to check out this recipe from Laura, because she highlights exactly where things can often go wrong.
With a little 'banana magic', she's come up with brilliant, chocolate-endowed granola bars perfect for grab-and-go situations.
Gluten-Free Banana Bread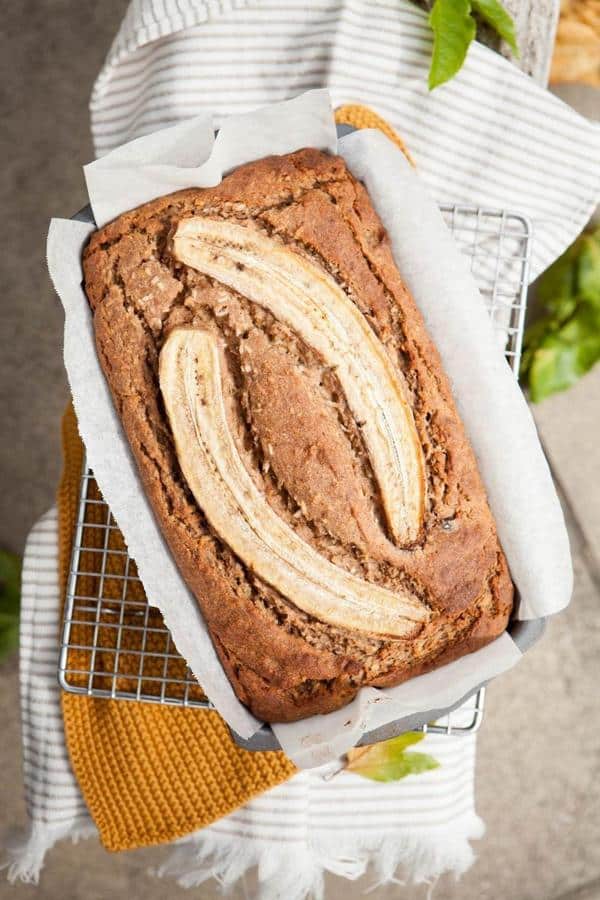 When you need gluten-free bread, Lauren is here to save your day with this lovely recipe.
The bread is made from sorghum and buckwheat flour and is by far healthier than most—if not all—bread products you can buy at your local grocery store.
As opposed to adding sugar, it's sweetened naturally with dates.
Slice the finished bread, layer it with your favorite spread and enjoy!
Blueberry Banana Bread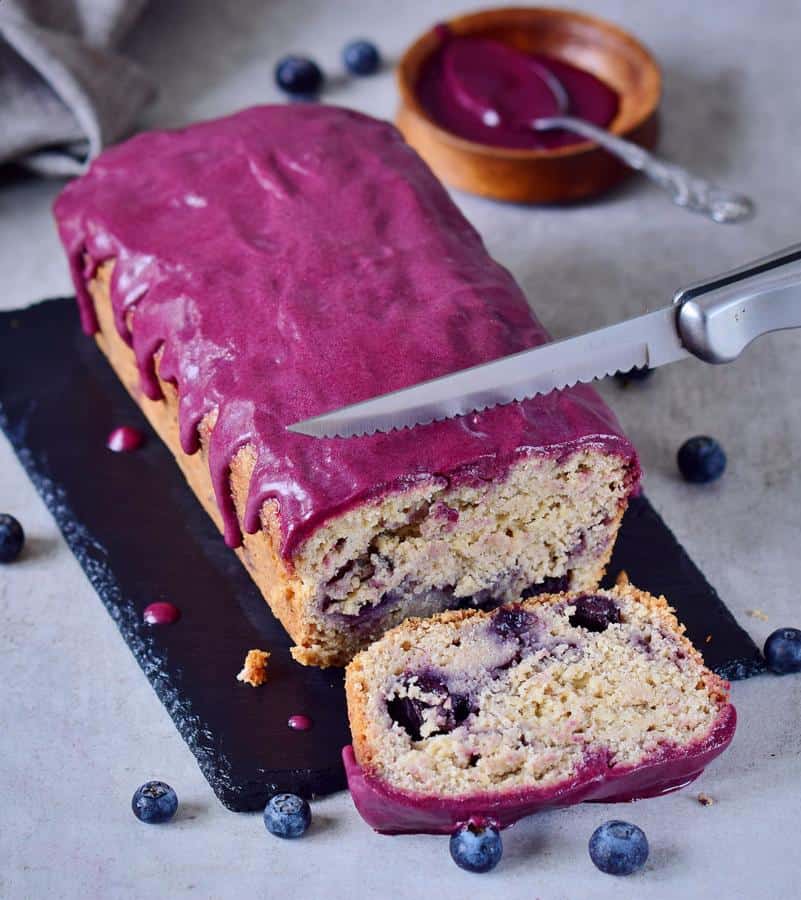 This bread ticks all the right boxes when you're looking for healthier choices.
It features Sunfood's maqui berry powder (but, of course, feel free to use any brand you can get) as part of an amazing and aesthetically pleasing frosting.
The bread uses oat and almond flour and is filled with fresh blueberries. It's sweet, rich in antioxidants, and lends itself perfectly for both breakfast and dessert.
Healthy Dark Chocolate Espresso Banana Bread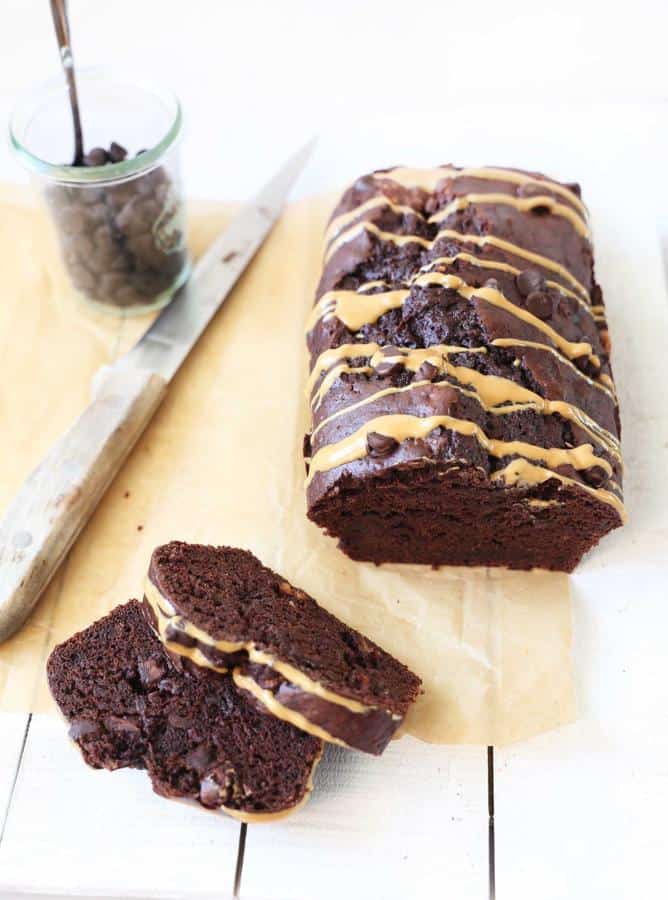 If you're the chocolate-coffee-banana type, if there is such a thing, you're destined to fall in love with Lara's banana bread recipe.
It's gluten-free, using plain and quinoa flours.
Give it a go! You'll have a healthy loaf of goodness ready in about an hour.
Peanut Butter Banana Chocolate Chip Bread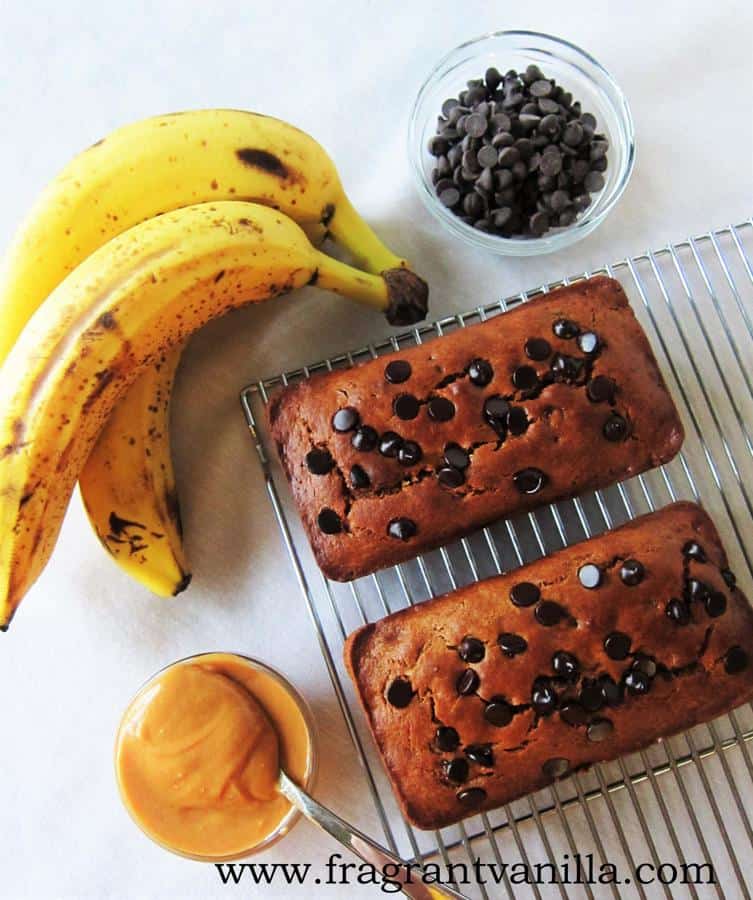 When you need something sweet, come tea time, you can't go wrong with Amy's trusty recipe featuring peanut butter and chocolate chips.
Once done, you'll have 4 gluten-free mini loaves ready to go!
Banana Bread Waffles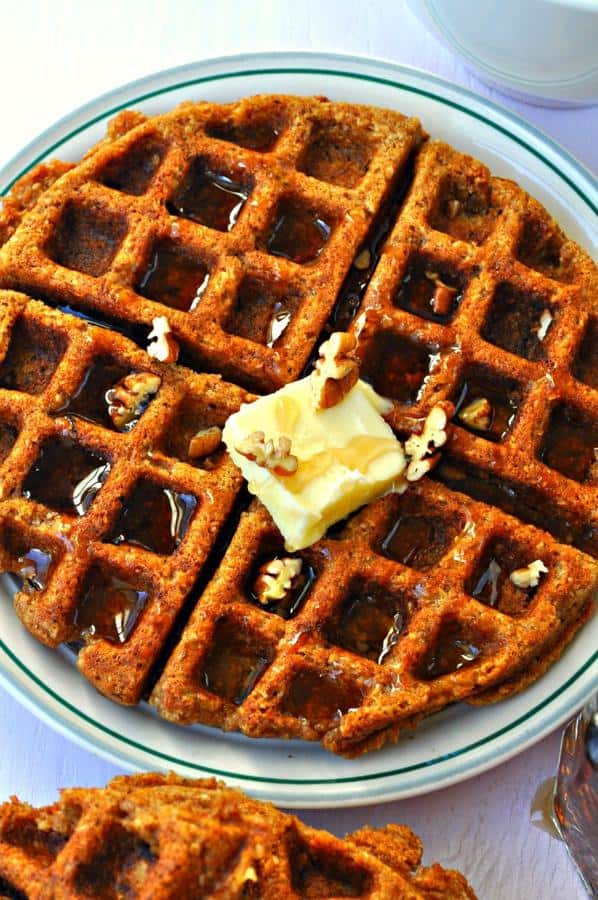 These waffles come with the aroma and taste of classic banana bread.
If you've got a bunch of really ripe bananas to spare but want to try something different from the usual, this recipe is a great place to start, also if you're gluten intolerant.
The included cinnamon adds a lovely touch you'll enjoy.
Go ahead and make this for your next breakfast. I might just go ahead and get myself a waffle maker after seeing this!
Almond Banana Bread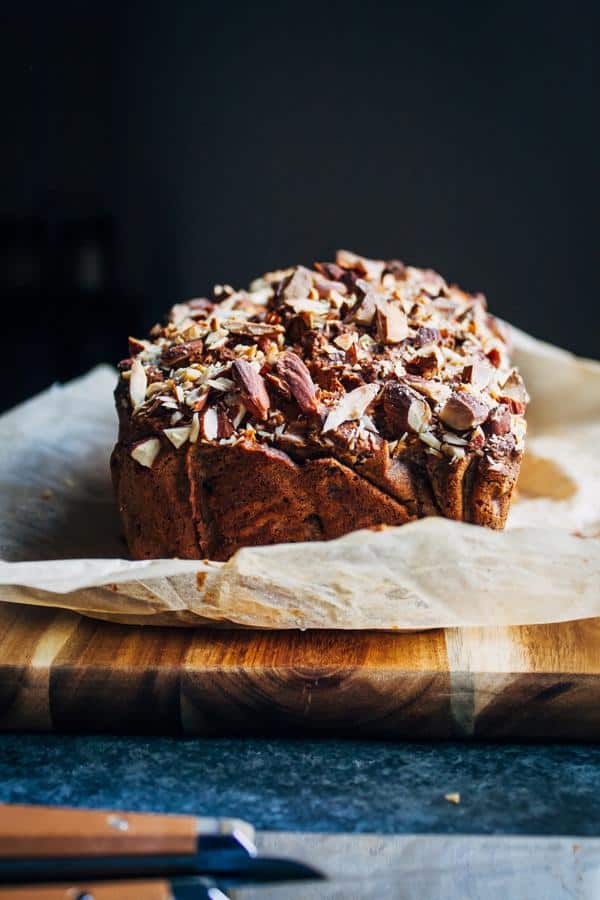 Banana bread meets almond. Match made in heaven? You know, there's only one way to find out!
If you're seasoned at plant-based eating, you'll likely have most of the ingredients needed in your kitchen pantry to prepare Sarah's excellent banana bread recipe.
The bread is made using spelt flour and is flavored with a touch of cinnamon, coffee (you read that right!), as well as maple syrup for sweetness.
You should definitely make this for a family get together!
Dark Chocolate Swirled Banana Bread Muffins With Peanut Butter Glaze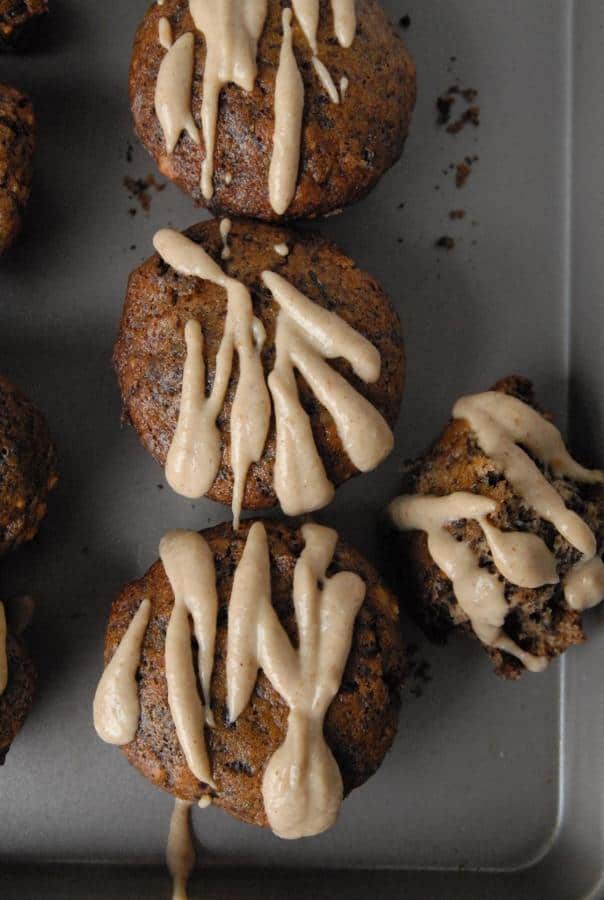 You know, "banana bread" doesn't have to literally mean a loaf of bread.
It can be banana bread cake, waffles, donuts, or, as is the case with Abby's delightful recipe, loaves AND muffins!
You'll need a bit of time to prepare these, but they're totally worth it, featuring dark chocolate and coated with a delectable sweet peanut butter glaze.
Banana Flour Muffins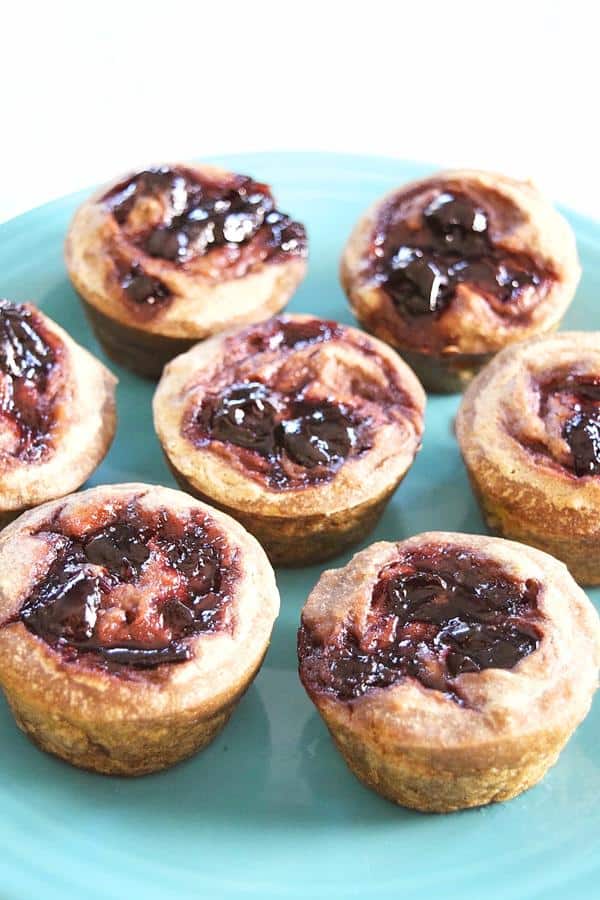 If "banana flour" caught your attention, I don't blame you. It's a flour made from dried and ground green bananas, and is popularly recognized as a gluten-free and much healthier alternative to wheat flours.
As for making Sara's muffin recipe, it gets even better: you'll need 30 minutes, only 4 ingredients, and the optional topping of your choice!
Fried Banana and Almond Maple Porridge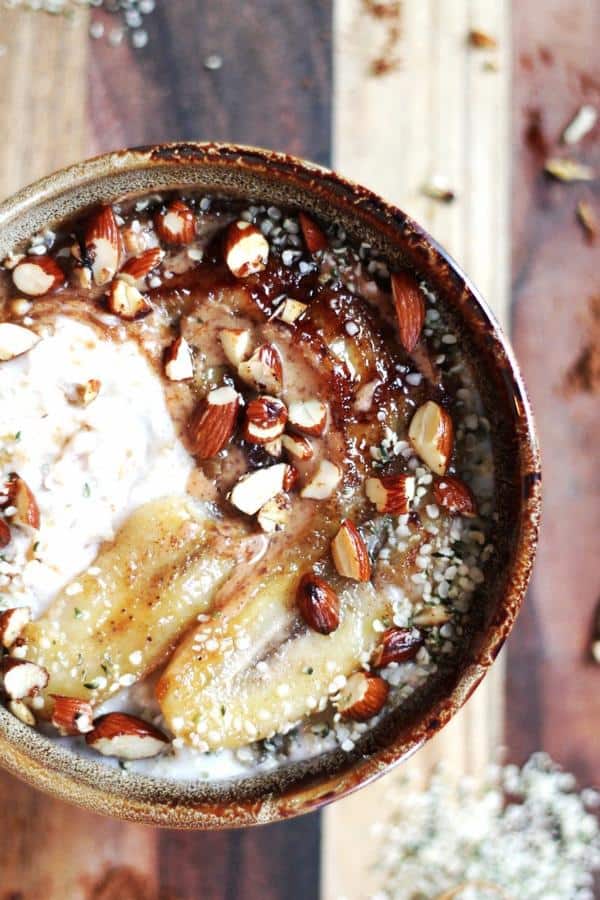 All you need is to lay your eyes on a bowl like this to know you'll be in for a special treat with every spoonful.
This sweet and savory porridge is prepared in 30 minutes and delivers a nice blend of soft and crunchy textures you're bound to love.
Fried banana is something you'll rarely see in a recipe like this!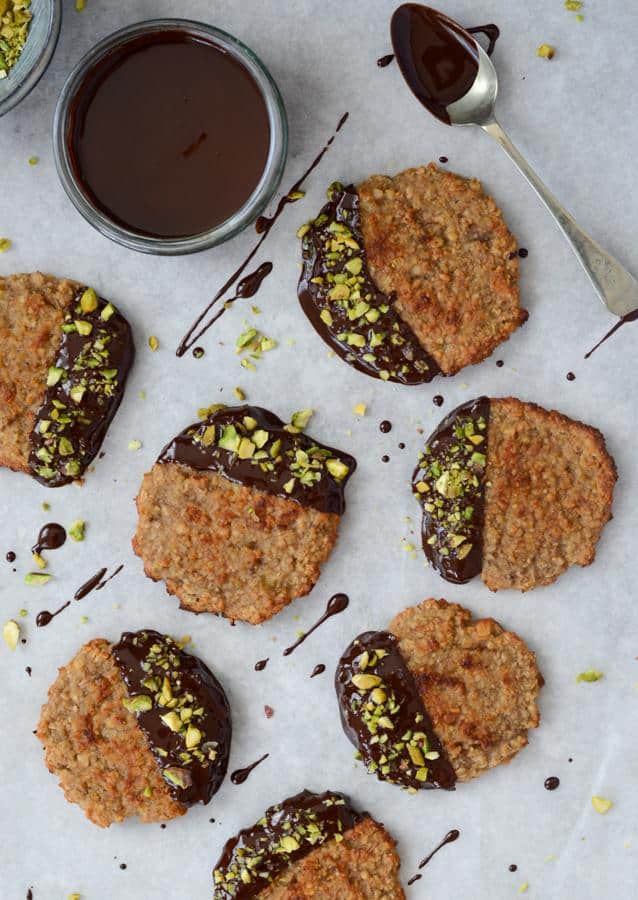 When you're trying to make better diet choices, it helps to have a variety of healthy, plant-based recipes.
And guess what, even some of your most treasured snacks and treats can be genuinely good for you or—at the very least—far superior to any overly-processed food products you'll find at the grocery store.
And Tania's oat cookies is a great example and option for you to bookmark.
These cookies are gluten-free and made from 7 simple ingredients. Each cookie is dipped into a delicate chocolate drizzle and then sprinkled with chopped pistachios.
Bodacious Banana Bowls with Strawberry Sauce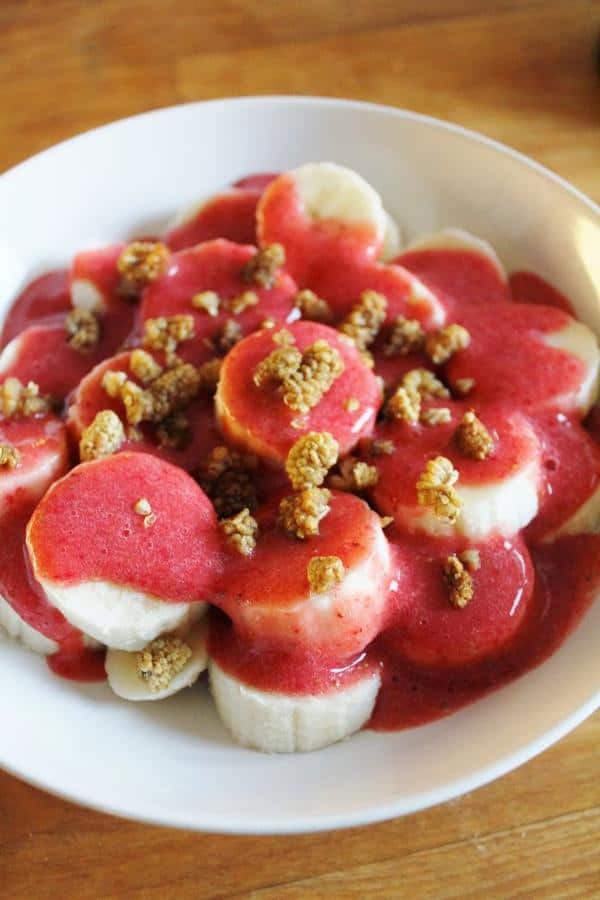 This right here is a splendid recipe for kids (and for you, too, of course!).
There are 5 ingredients and two parts to it: first you add sliced banana and mulberries to a bowl.
Then add the remaining ingredients to a blender and process them into a luscious strawberry sauce to pour over your bowl.
Quick and easy. Now get a spoon, a fork, whichever you fancy, and start enjoying!
Layered Raspberry and Banana Pops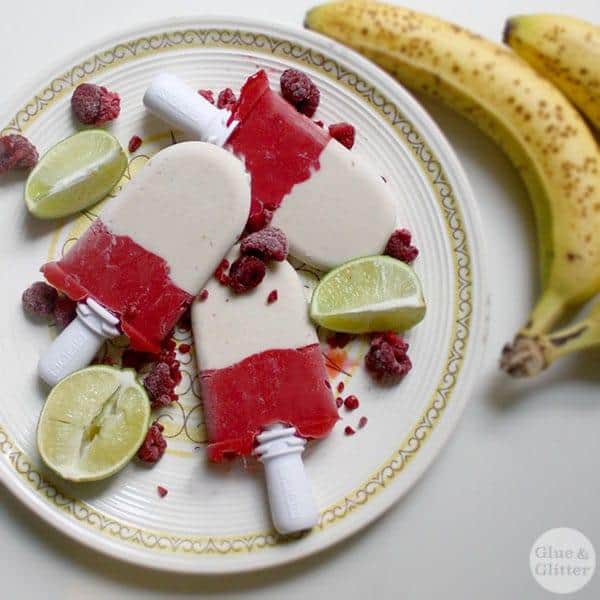 Oh yes, for the warmer seasons, you can even make your very own homemade and healthy banana popsicles!
5 easy ingredients and a 15-minute preparation time is all you'll need before the mixture is ready for freezing.
While Becky uses a Zoku Quick Pop Maker, which really speeds up the freezing process, you can easily do the same without—it just requires a bit more patience.
Banana Fritters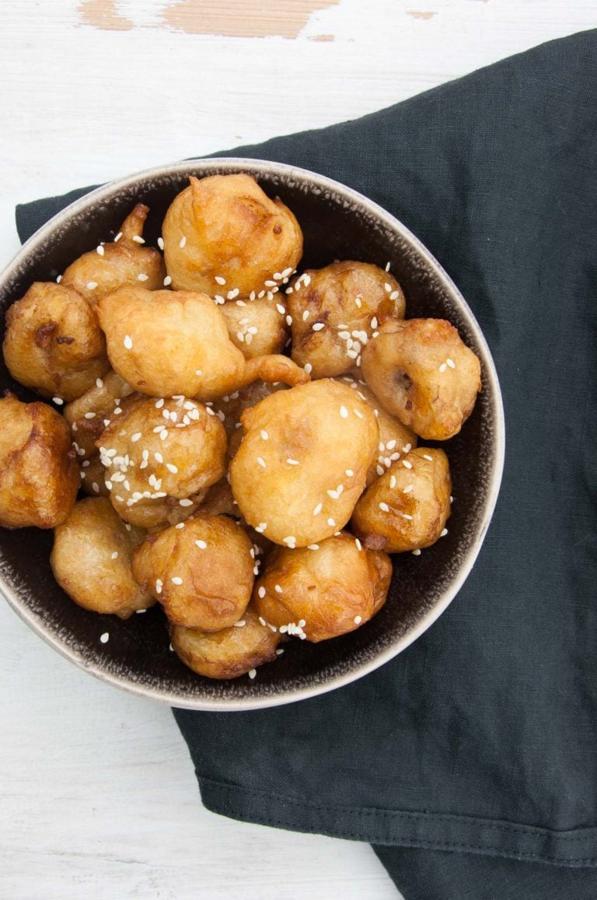 Have you ever had those Chinese-style banana fritters served at restaurants?
Whether that's a yes or no, Bianca's awesome recipe lets you make your own delicious and veganized version.
Basically, you cut some bananas into chunks, dip them into a versatile batter, then fry until golden and crispy. Once ready, you simply coat them in maple syrup and decorate with sesame seeds.
The ingredients list has a handy function to adjust the serving amount according to how many fritters you think you'll need. Easy-peasy!
Banana Doughnuts with Caramel and Chocolate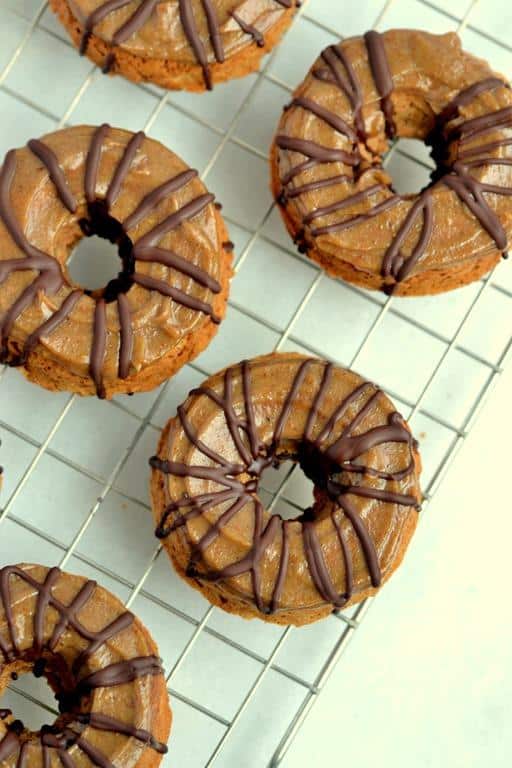 Caramel… chocolate… donut… all in one enjoyable snack recipe!
While the main recipe is for the donuts, there's a second recipe for the heavenly, raw caramel sauce, which is spread on the donuts before drizzling with chocolate.
These donuts are gluten-free and pretty straightforward to make.
You might also get to know about a new flour you haven't used before: sweet rice flour, which is made from ground sticky rice.
Black and White Banana Bread Donuts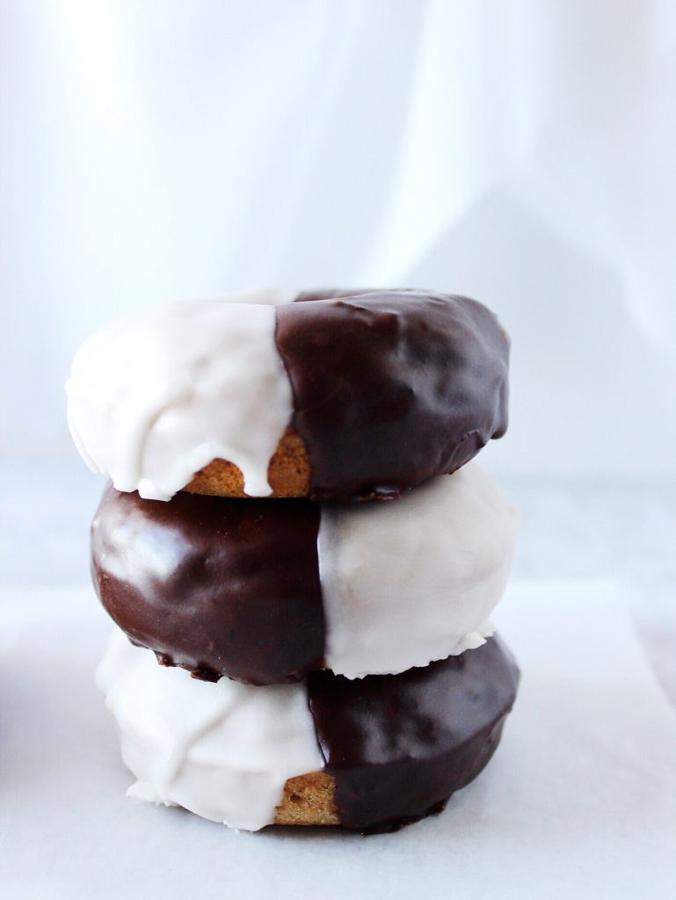 You can make these tasty donuts in under 40 minutes. They lend themselves well for a dessert snack.
What's special about them is the two distinct glazes—vanilla and chocolate—each being used to coat 50% of each donut for an eye-catching result.
The ingredients are simple and you likely have most of what's needed already. A great way to use up some bananas!
Banana Chocolate Chip French Toast Casserole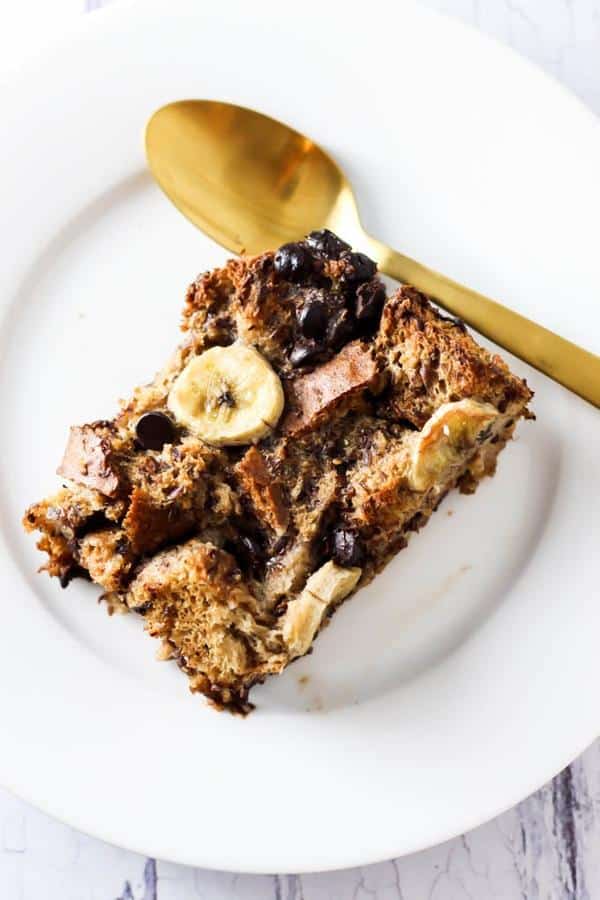 We had a hard time deciding if this dreamy recipe from Emilie should be featured in our vegan casseroles roundup or this one.
None of us have heard of a French toast casserole before, so we decided this one was probably a rare find and would add nice variety to this roundup.
Truly, this has to be one heck of a fabulous breakfast recipe—the "most delicious way to start any morning" as Emilie puts it.
The recipe features one of 'One Degree Organic Foods' Lentil Grain Bread products.
You'll go, "mmm!", as you bite into the sliced banana, chocolate chips, and warm casserole base, enjoying the combined textures.
Healthy Raw Banana Split Dippin Dots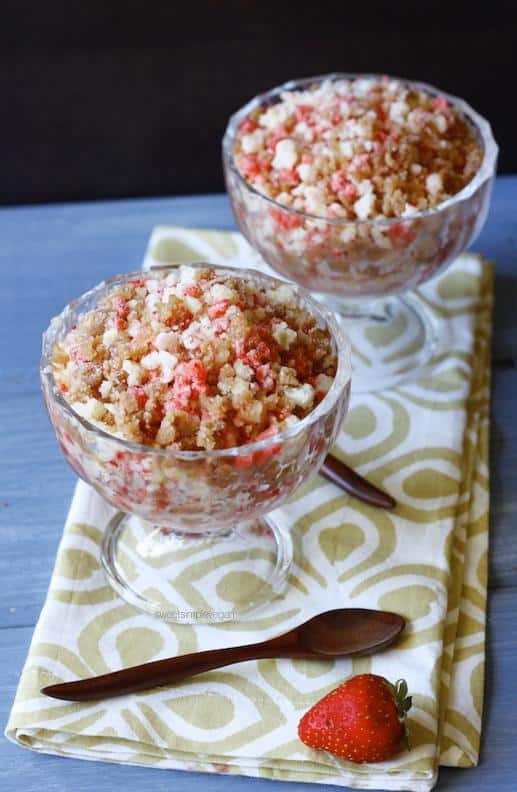 Interestingly enough, this recipe shows you exactly WHY you'll be so much better off preparing as much of your own food as possible (or being extra discerning about what you buy on the go).
It's sometimes hilarious how you can make the same great-tasting and vastly healthier version of a meal or snack with half or a quarter of the ingredients (and none of the nasty additives)!
That's what you'll discover with Jasmine's exquisite banana split dippin' dots recipe, which is a deliciously sweet, 3-ingredient dessert that's healthy for you.
Acai Banana Popsicles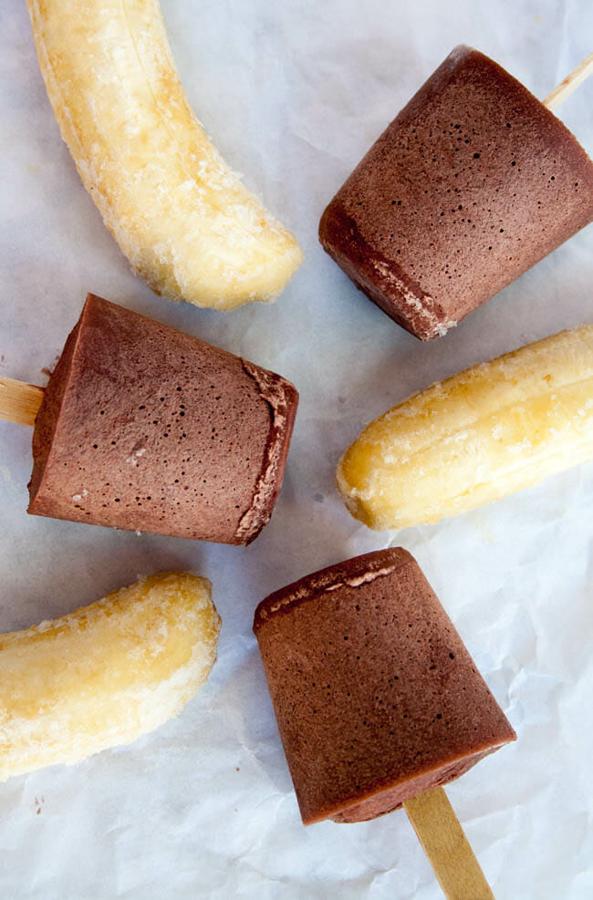 Without a doubt, simple recipes, to me, are the best. And Willow's acai banana popsicles are one of those, featuring only 3 ingredients and just two easy steps to make.
Extra bonus points for no special molds required!
Willow describes these as being like eating a flavorful smoothie in popsicle form. And by all means, these are a treat you can enjoy day in and day out without feeling guilty; so when the hot temperatures come around, give these a try!
Grain-Free Banana Pancakes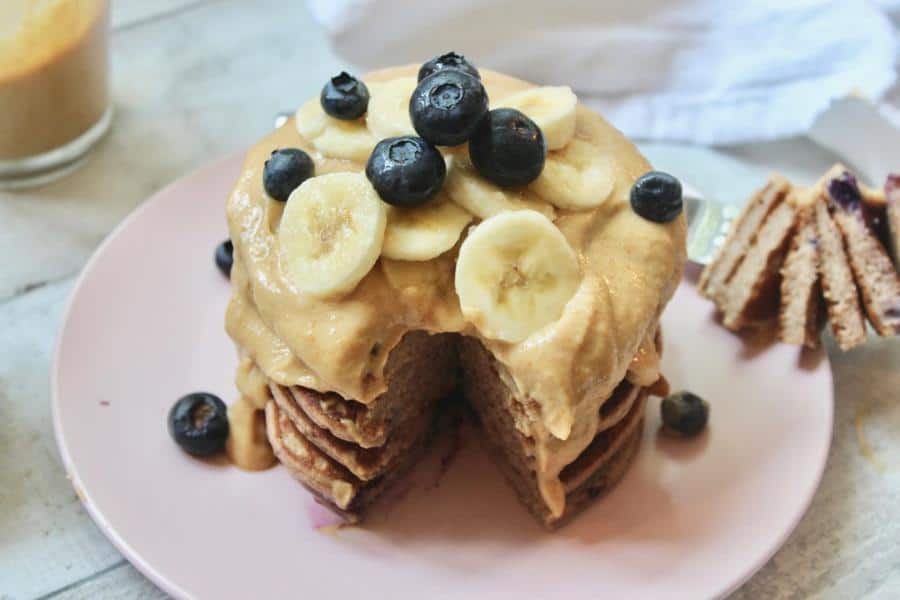 This pancake recipe from Melissa is one you really need to bookmark or add to your favorites, especially if you have kids.
Why? Because it makes for a really delicious breakfast without use of grains and also with not any refined sugars included in the pancakes themselves.
Since babies and toddlers don't always deal well with grains in their diet, these are lovely pancakes you can enjoy with them.
It's a pretty quick recipe, too; 15 minutes from start to serving. And it comes with a suggested nut butter sauce you can make as well.
Blueberry, Banana and Walnut Oat Bake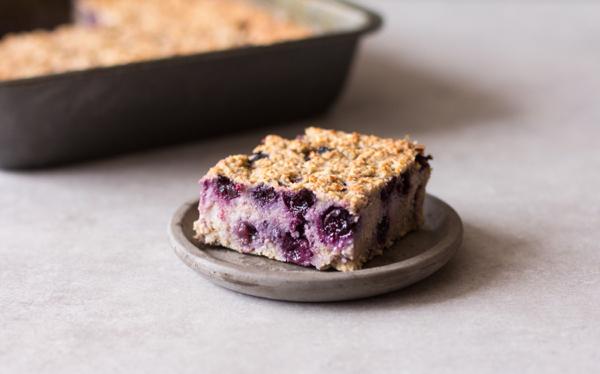 Ah, what a treat! This 50-minute oatmeal bake recipe gives you roughly 4-6 serving portions, which usually means enough leftovers for several days worth of breakfast (or afternoon snacks), which you can refrigerate up to 5 days.
Each portion can be enjoyed chilled or re-heated.
Also, there's not any refined sugars added, simply natural sweetness from ripe banana and blueberries.
A complementary touch of cinnamon and ginger adds a bit of warmth to the bake, which you'll enjoy.
Wrapping Up
With this roundup bookmarked, you'll never run out of ideas on how to use your next bunch of spotty bananas—and you'll have no excuse to let them go to waste either!
So, if you're tired of the usual banana bread, explore the many delicious options we've gathered right here to help you out.
Whatever you decide to make, or if you have some feedback, do share with us in the comments below, we'd love to know!