Each of our roundups contain 101 recipes. We have a roundup for everything from breakfasts, soups and so much more.
Then we thought about desserts. Where is our inspiration outside of fresh fruit and sorbet? What if you want to impress someone with a fancy vegan dessert?
We have everything here from vegan cakes, cookies, gluten-free desserts and more! We worked really hard trying to find the best selection of top quality dairy and egg-free desserts.
Our aim was to cover as many categories as possible and to create the biggest collection of vegan desserts we've ever seen.
We also wanted to find recipes that were easy to make, healthy desserts, as well as dishes for when you're taking a break in your health kick and want a treat!
The ingredients in all these dishes are easy to source and perfect if you're on a tight budget.
Sit back, have a browse and make sure you have a good appetite! Either look through all of them, or use our handy buttons to jump to the dishes you prefer.
Have fun and enjoy!
Vegan Cake Recipes
Pumpkin Cheesecake Bites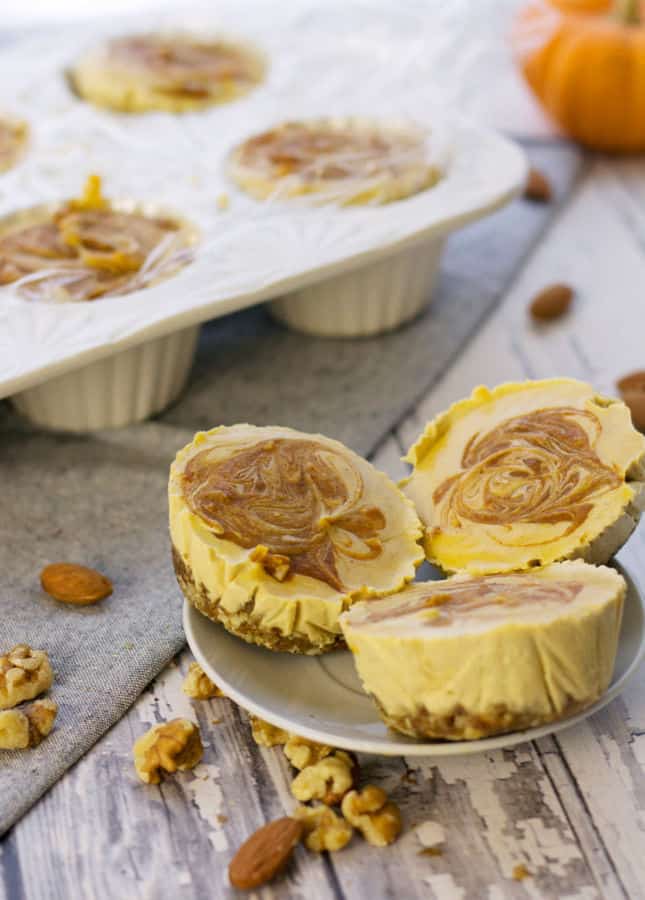 Even though these recipes are divided in into different sections such as, smoothie, cakes, gluten-free and so on, many of them overlap.
For example, this dish is gluten-free but we thought we'd put it in the 'cakes' section. Best of all, this is a no-bake recipe as well!
This is extremely easy to make and has straightforward ingredients. Don't be put off by the 4 hour time to prepare, nearly all of this is in the freezer, that's the cakes, not you!
These are fantastic bites that would be perfect for the holidays, they are ridiculously easy to make, and you know, they are healthy too!
The recipe page has great instructions and photos that illustrate each step, so you can't go wrong. The kids will love these, and so will you!
Strawberry Mousse Cake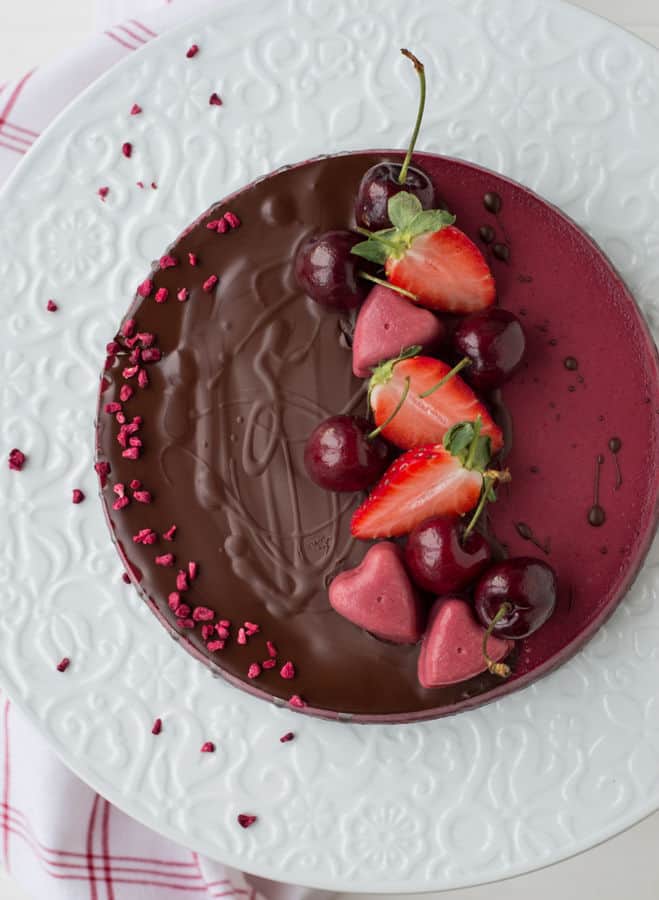 A delicious velvety cake that is gluten-free and would you believe contains no refined sugar! The recipe is divided into three sections, the base, the strawberry mousse and the chocolate drizzle!
You make everything from scratch and this is certainly a healthy cake. I love the base, it has just six ingredients and is made mainly of dates and roasted hazelnuts!
The mousse consists of coconut milk, frozen strawberries as well as a couple of other things. Be sure to include the drizzle!
Raspberry Cheesecake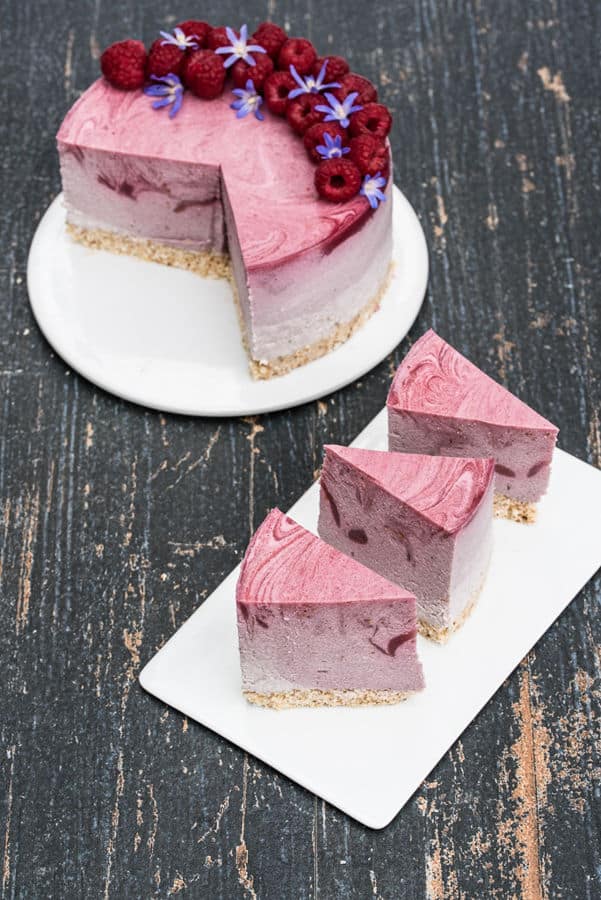 Doesn't this look just fantastic! If you don't think you can find fresh raspberries for the decoration, I wouldn't worry.
Great if you can but this cake looks so incredible that it will still stand out as the star of the show.
This recipe uses agar agar powder which is a vegan setting agent. It works very quickly so we recommend you read the instructions carefully before you begin so you know what to do and when to do it.
This recipe is divided into four sections, the crust, the coconut base, the raspberry base and the garnish.
As I said, I think the garnish is optional because this looks just incredible with a marble finish. Absolutely divine and best of all, no cooking!
Chocolate Raspberry Cake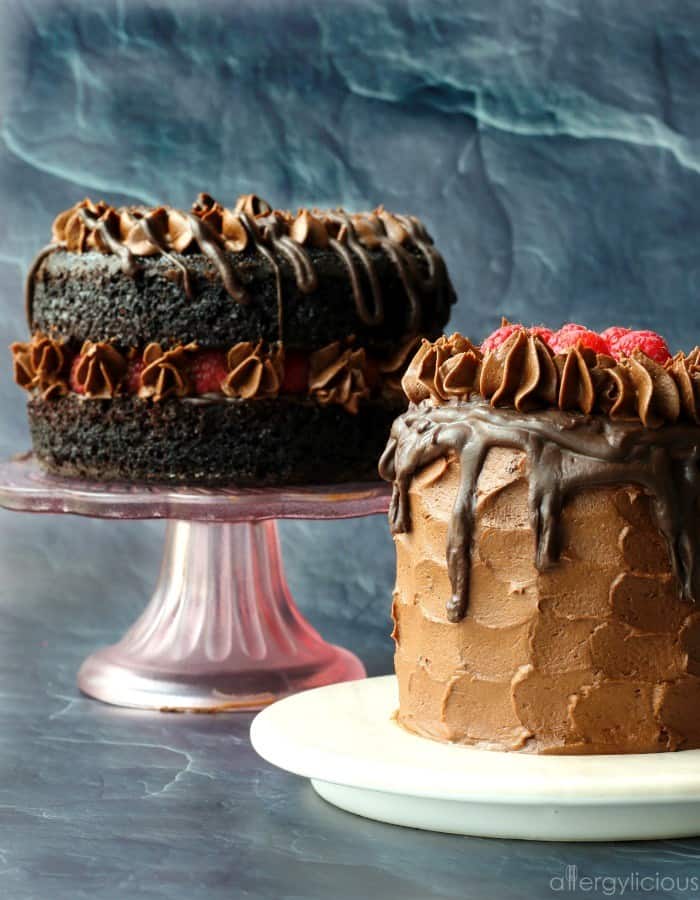 An amazing recipe where you have the choice on how to present this delicious chocolate raspberry cake.
Not only is this dairy free, the author has made this allergy friendly so if you often have problems with these types of dishes you should be good here, just double check the ingredients for anything specific.
If you can get fresh raspberries as a filling, go for it! If not, I wouldn't worry.
Here you have a chocolate ganache, a buttercream frosting to die for, I imagine you'll want to keep at least this part of the recipe for when you make other cakes as well.
If you want something for that special occasion, this is it!
Single Serving Pumpkin Spice Cake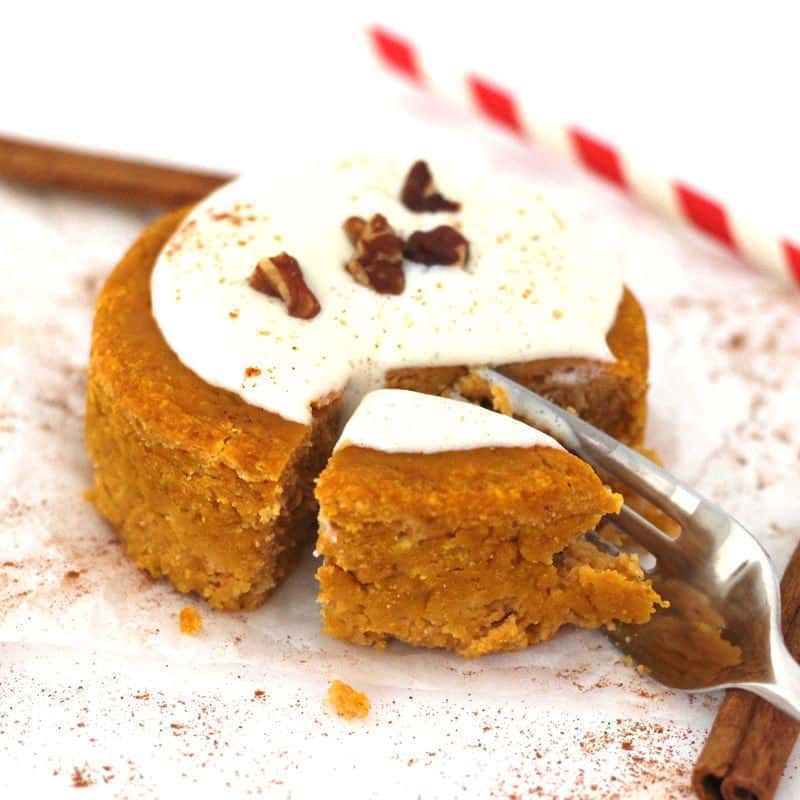 Not just for the holidays I can assure you! This pumpkin spice cake is incredibly easy to create. I promise that it will be perfect the first time you make it.
Do note that the amounts listed in the ingredients really are for one serving. Perfect if you want to treat yourself but otherwise adjust accordingly to make a bunch.
Ingredients are straightforward, and I imagine you have most of them in the kitchen already. A really handy recipe to have on standby!
Raspberry Brownies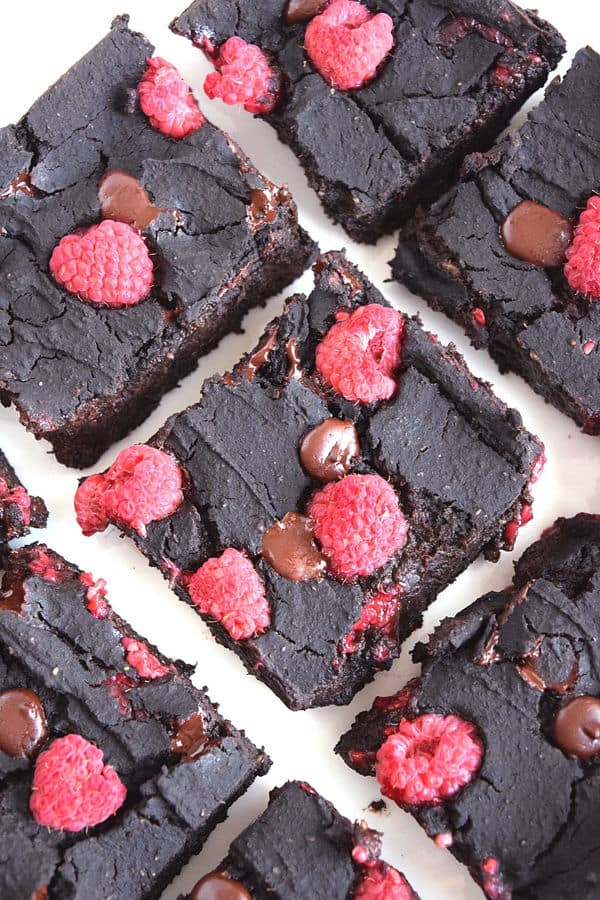 These brownies are gluten-free because they are made with chickpeas (garbanzo beans) and rolled oats. There are only seven ingredients in the entire recipe, and that includes the fresh raspberries.
If raspberries are not in season when you read this, don't pass up on this recipe, just leave them out and you'll still have brownies that deserve a double-thumbs up.
There's a prep time of 20 minutes and then 40 minutes to bake.
Be sure to allow the brownies to cool in the pan for at least half an hour before slicing. The amounts listed in this recipe make nine brownies so adjusted as necessary. Too delicious!
No-Bake Raspberry Cream Tarts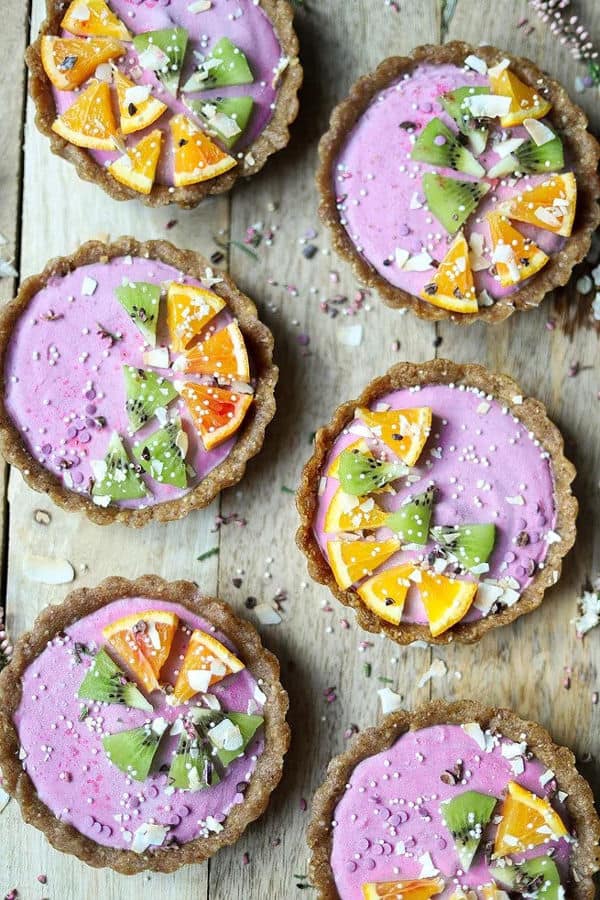 A fantastic recipe for cream tarts, believe me when I say they are amazing! Best of all, no baking! Does this mean they are raw? Not quite.
The crust is largely made from walnuts, gluten-free oats and medjool dates (be sure to remove the pits!) and a couple of other goodies.
The filling's main ingredients are cashew nuts that have been soaked overnight and organic silken tofu. The tarts are not only bursting with flavor, they are eye-catching too. Perfect for a party!
Peanut Butter-Stuffed Brownie Bark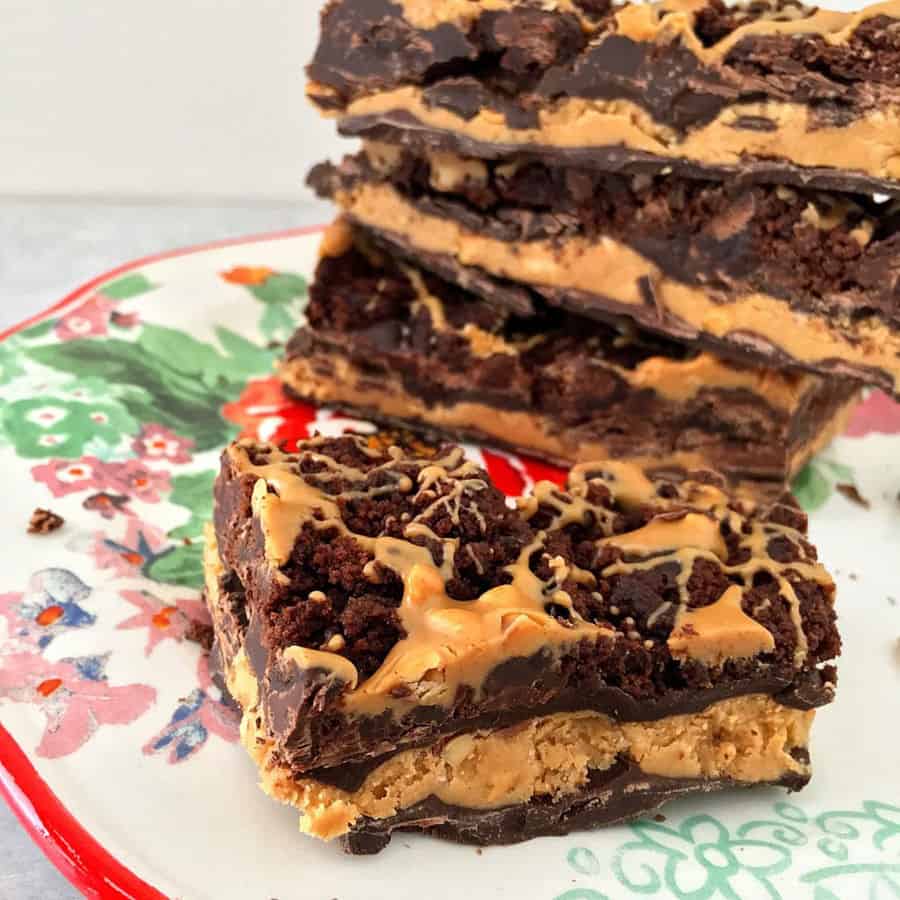 Any dessert made with peanut butter is on my list of favorites! I love how these are made to look like bark rather than just regular brownies, which would be fine anyway!
I've never seen anything like this before, the presentation is so unique. Imagine taking these to a party or just making them for a family gathering!
The taste is out of this world, the brownie bark just melts in your mouth and the flavor complements the peanut butter, it's as though they were made for each other. One of my favorites!
Strawberry Shortcake in Mason Jars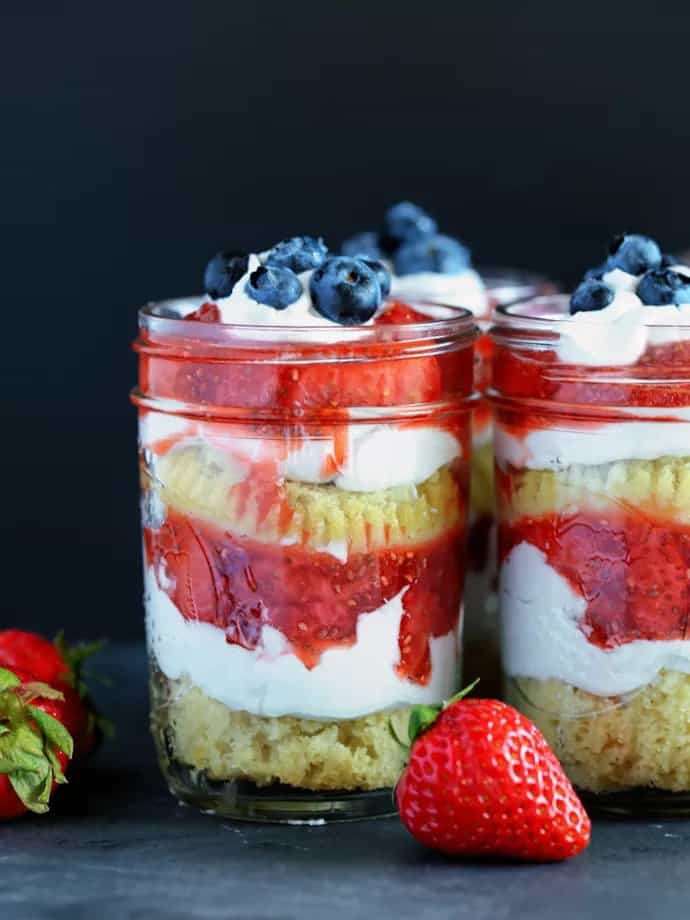 You know, all food needs two things, to taste great and to look great. This recipe nails both!
Okay so you're going to need a few Mason jars but that's not the end of the world and they are cheap.
The recipe is divided into three, the vanilla cupcakes, the coconut whipped cream and finally the strawberry chia filling. All the ingredients are very straight-forward, you won't have any problems sourcing anything.
The best part about this recipe is the presentation. This makes them super easy to take to a friend's home, or they will easily go into a bag for a picnic.
No-Bake Coconut Orange Quinoa Cake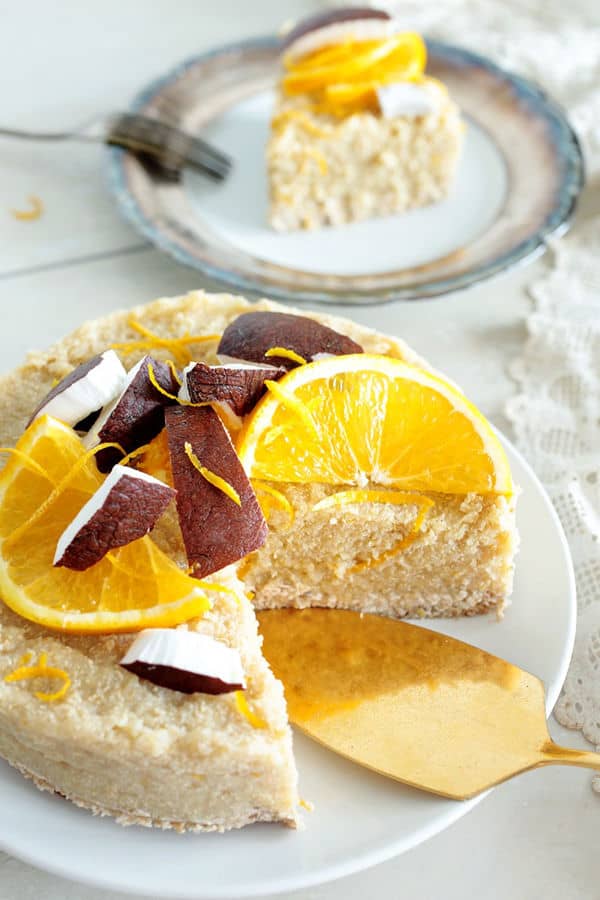 Wait a minute, quinoa is a dessert? Isn't it a rice like food and used as part of savoury dishes? Yes and yes!
Quinoa by itself doesn't taste of much although it easily absorbs other flavors which makes it great for desserts as well!
The crust of this cake is made from just four ingredients, dates, oats, maple syrup and shredded coconut.
The cream part of the cake is made with quinoa, vanilla extract, coconut milk and just a couple of other goodies. If you're not sure because of the quinoa, take my word for it, this works a treat!
Vanilla Strawberry Cake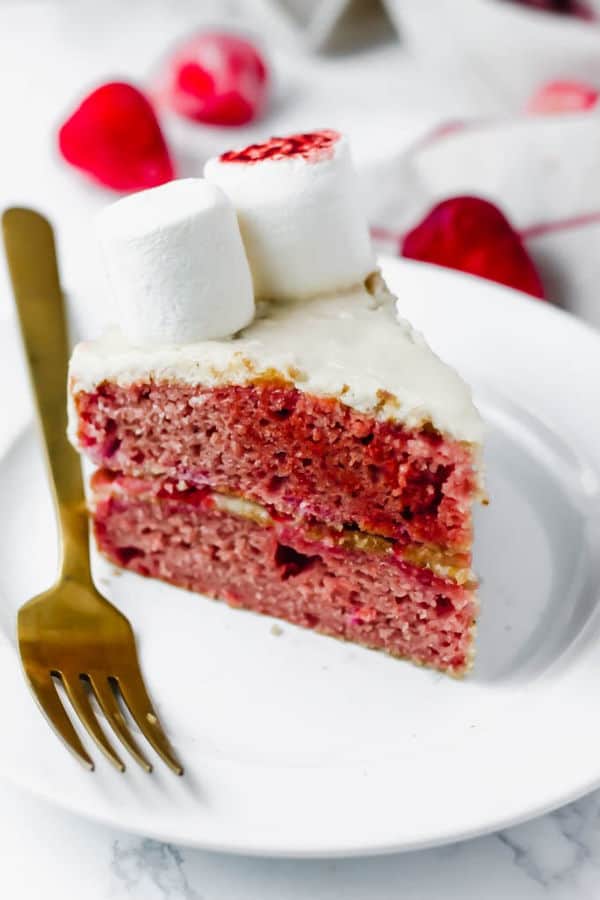 The best part about this cake is the color of the sponge! This beautiful fruity cake is just too good. As you can imagine the red color comes from the strawberries although there is a tablespoon of beet powder.
This is optional although I recommend you go for it. It really is just for color and the cake doesn't taste like beets!
You're looking at 30 minutes prep time and then the same for cooking. The amounts listed in the ingredients make for 8 to 10 servings so adjust as necessary.
For me, it's about the right size for a cake. Great for a party, especially when it's cut for the first time and you see everybody's reaction!
Spanish Almond Cake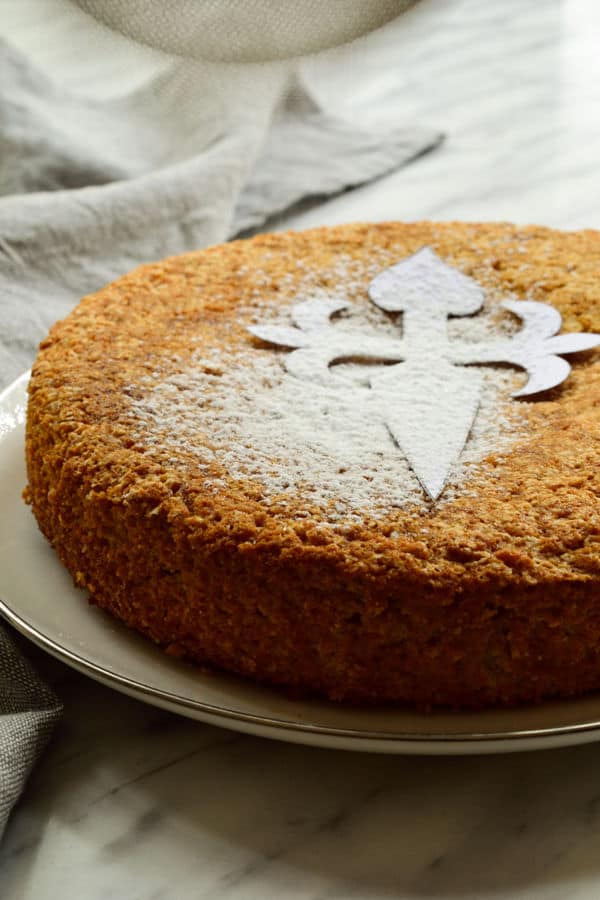 Traditionally this cake is not vegan although the author has made a great job of converting it using straightforward ingredients resulting in a cake that is just perfect.
If you're looking for a traditional Spanish recipe whether it's for a celebration or a friend, look no further.
Anybody that isn't vegan won't notice any difference and for people that are vegan, they will love you forever!
Vanilla Corn Cake with Roasted Strawberries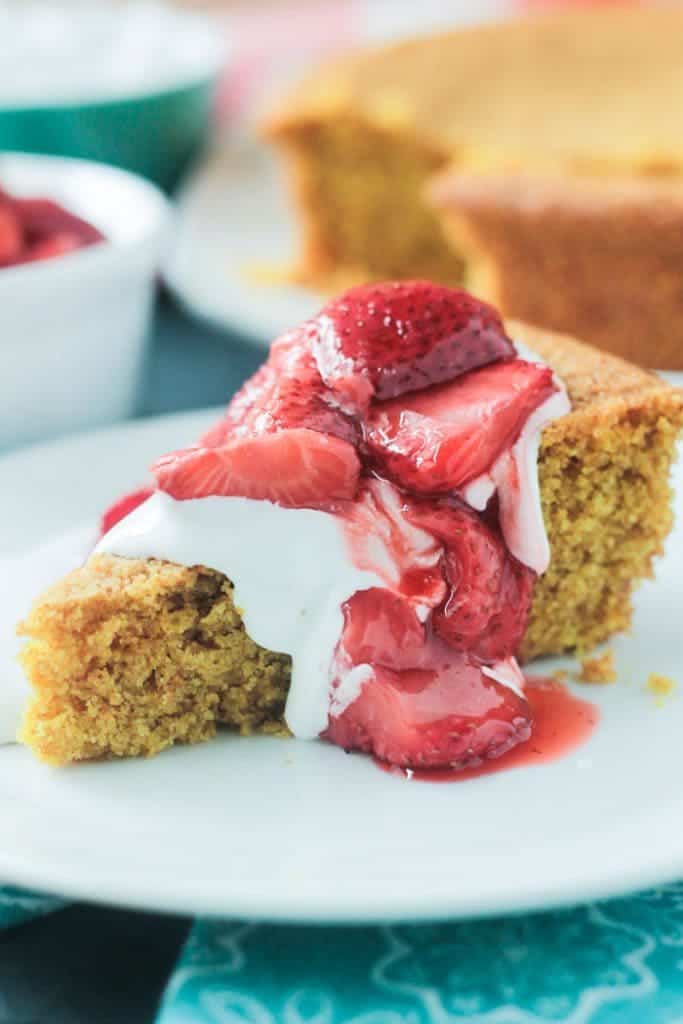 Have you ever had a corn-based dessert? Cornbread lends itself perfectly to sweet dishes as it does to savoury. It balances out something that may be overly sweet, so for dishes like this, it's perfect!
This dessert tastes extra special, check out the ingredients list and you'll notice that you have at least half of ingredients already in your kitchen. I see this dessert as something very special, it tastes as though it has been served in a fancy restaurant.
The difference is, you make this yourself and it's unbelievably cheap to source the ingredients.
Too good to have after a meal. Go all out British and share with a friend on a summer's afternoon with a cup of tea!
These cookies are so much fun to make. Straightforward ingredients and I imagine you have most of them in your kitchen already.
Perfect for the holidays and for any celebration. Get the kids involved in making them too as they will love it.
As you're making the dough from scratch you're looking at just over an hour prep time with only 10 minutes baking time.
The recipe page is great as it has clear photos for each step of the process which I always find is a great help. Get your favorite cookie cutters out and make a mess with the sprinkles!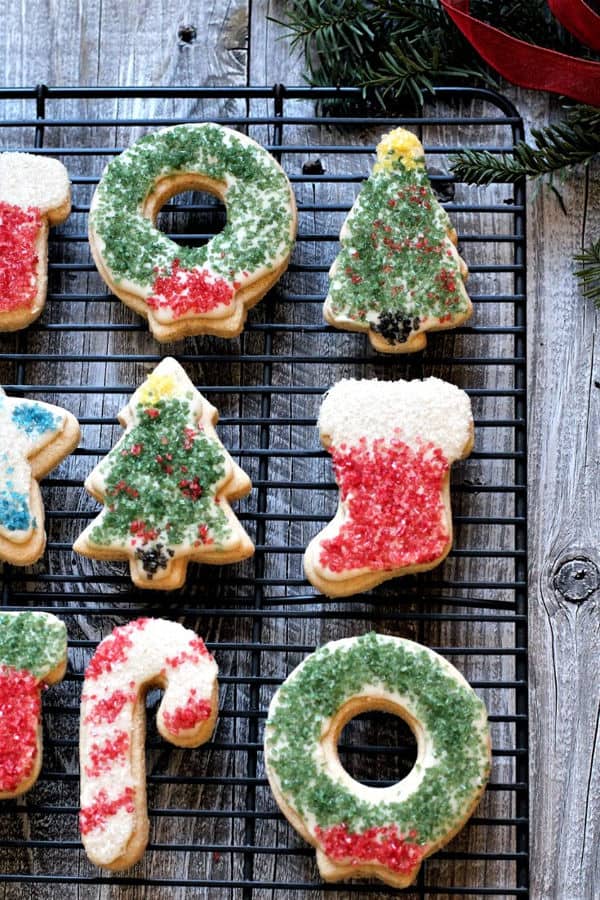 Look at the title of this recipe, healthy, sugar and cookies. You'd be forgiven in thinking the first word really doesn't belong there. Well, hang on a minute!
Just check out ingredients and I'm sure it will change your mind. If we want to be picky, the only thing that may be questionable as the powdered sugar, although it is organic.
But really, that's the only ingredient that you could argue about whether it's healthy.
I'll assume you're not going to eat these three times a day every day for the next few years, in which case, I don't think a little organic powdered sugar is going to harm if we have it sporadically.
Having said that, if you can find an alternative then go for it! These look great and they taste even better!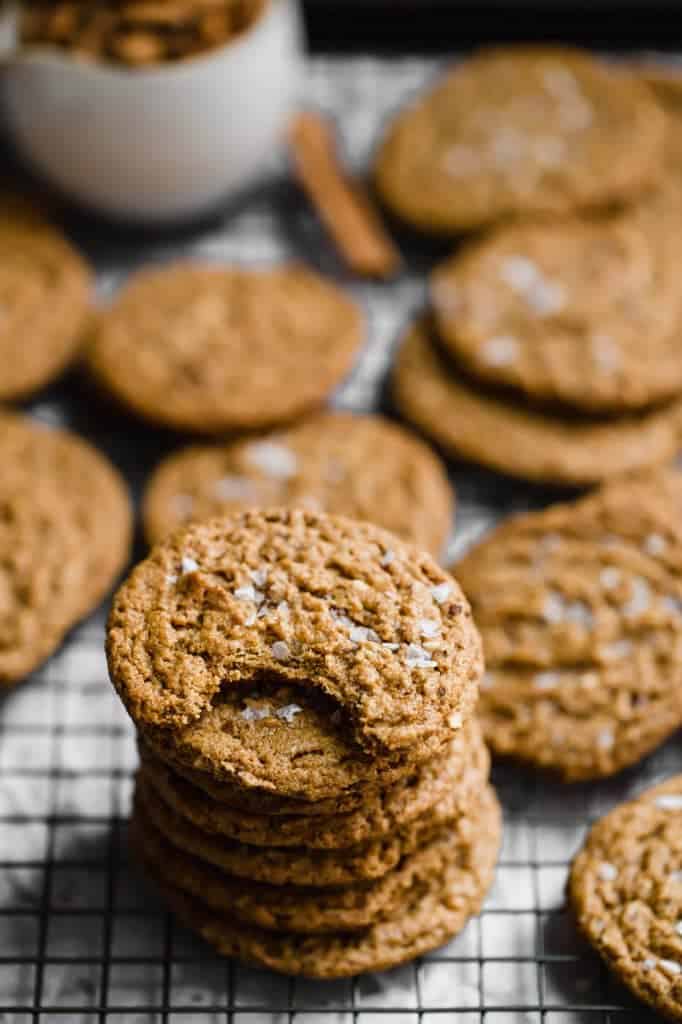 In addition to being vegan, these cookies are free from gluten and refined sugar! There are just eight ingredients and a 5 minute prep time needed to make these beauties!
This recipe is very old school, it reminded me of how cookies used to be made when I was a kid except of course, any dairy has been replaced.
Great ingredients such as coconut sugar, almond butter and just a handful of others is all you need.
Put everything together and bake for just 10 to 15 minutes. When removing them from the oven, give them at least five minutes before transferring to a wire rack for cooling.
The recipe page has a tool that allows you to change the number of servings you need, as you alter the number, the amounts in the ingredients change automatically which is very handy. This recipe is definitely a keeper!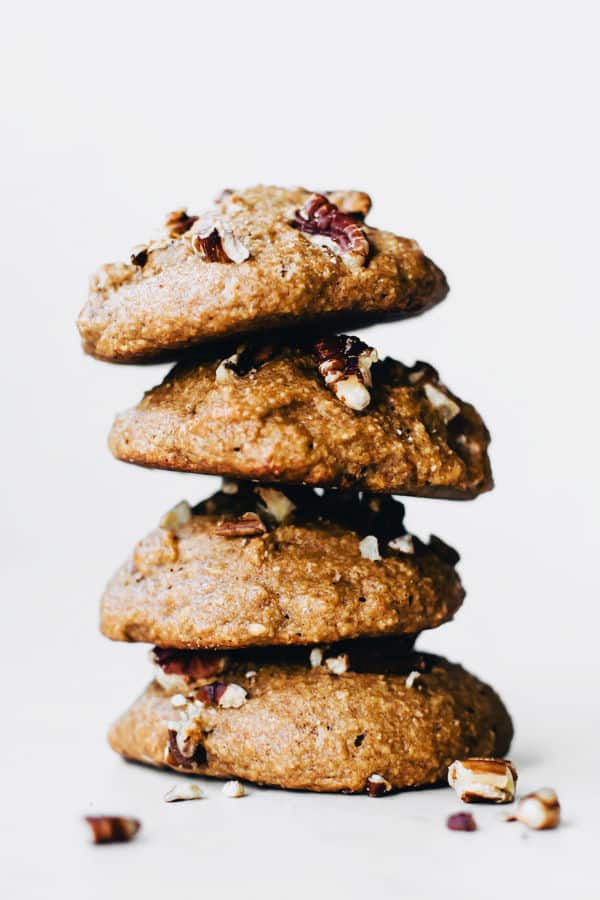 We made this recipe and the thing that surprised me most about it was the texture of the cookies, they are soft in the middle! Okay, so it doesn't take much to get me excited, but you don't often see this in a cookie.
Just eight ingredients is all it takes to make these little wonders of joy. I don't think we can get away from that fact that you have to like bananas to enjoy these.
The ingredients and the process is like the recipes we used to make as kids, great old-fashioned baking except totally vegan!
Ripe bananas, nut butter and cinnamon are part of ingredients that make these cookies so special. Don't forget the quarter cup of chopped nuts, use your favorite!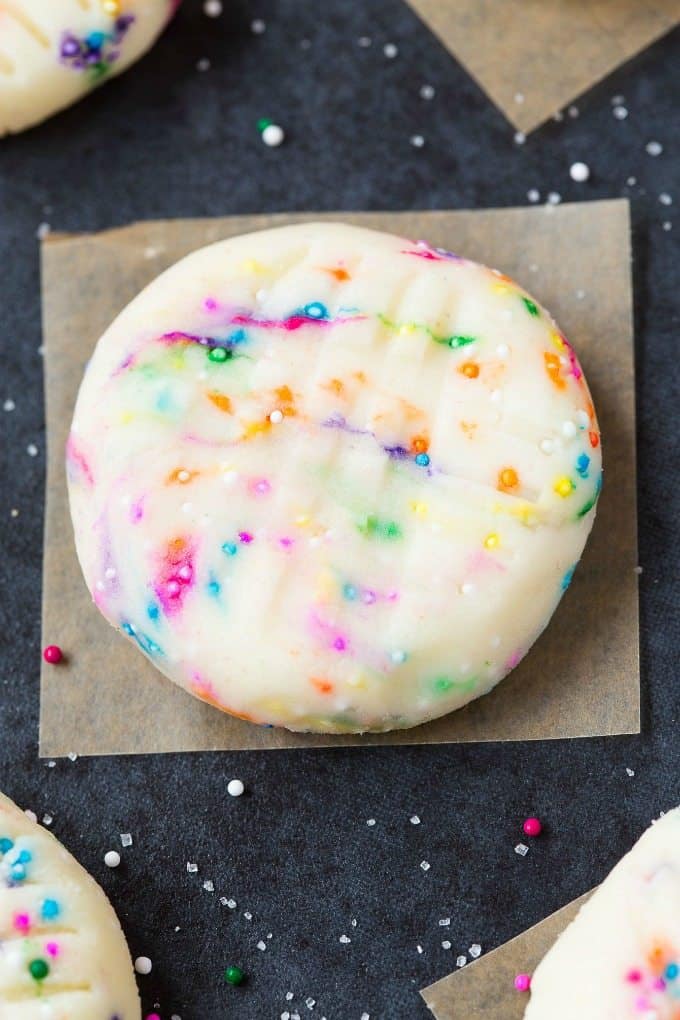 You seriously must check out this recipe. There are just four ingredients, that's right and trust me, that wasn't a typo.
If that wasn't enough, you don't even need to bake. Gluten, dairy, grain and sugar free. This can't be true, can it?
You make these in just 5 minutes, and that is literally it! The only thing you need to do is refrigerate for at least 30 minutes after.
Get some good vegan sprinkles along with the other three ingredients and just make these. The recipe page has a video that shows how this all comes together.
Watch the video, grab the ingredients and make them. It would be rude not to!
Vegan Fruit Dessert Recipes
Watermelon Cake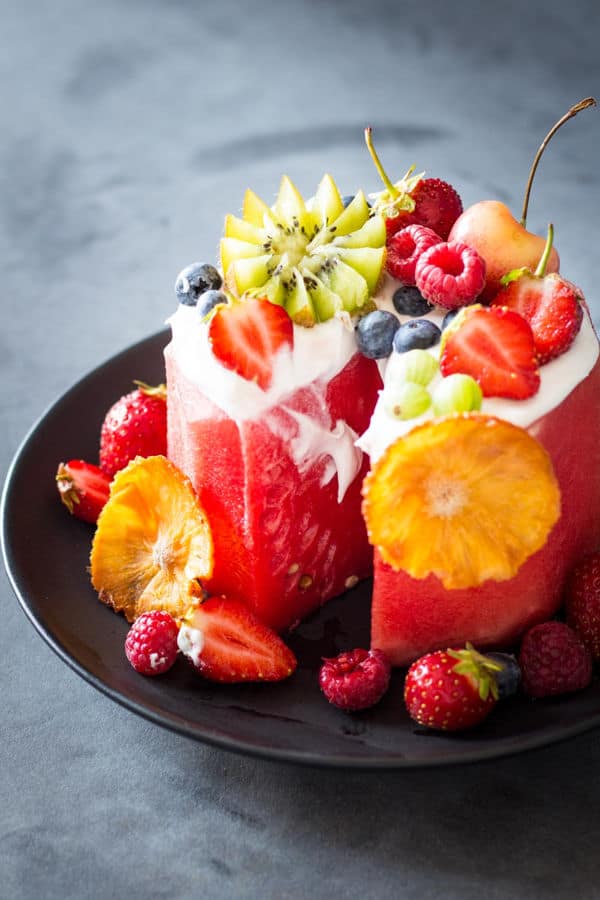 Look, we all love cakes and desserts but in the height of summer, let's face it, the last thing we need is to have the oven on spewing out all that extra heat in the kitchen.
Whether it's because you want to avoid cooking something, or you're on a health kick and still want to make something that looks incredible, this is it.
There is nothing in this world more appealing to the eye than the vibrant colours of fresh fruit. Not only is this a rainbow of fruit, you also get some coconut cream as an extra treat.
Now, I know some of us seem to be scared of fruit nowadays, the media tell us that all sugar is bad.
People that tell you this are lazy journalists, naturally occurring sugar from a perfectly ripe fruit is good for you and don't let anybody tell you different. So, go buy a bunch of fruit and make this fantastic summer 'cake'!
Tropical Fruit Salad with Fresh Mint and Lime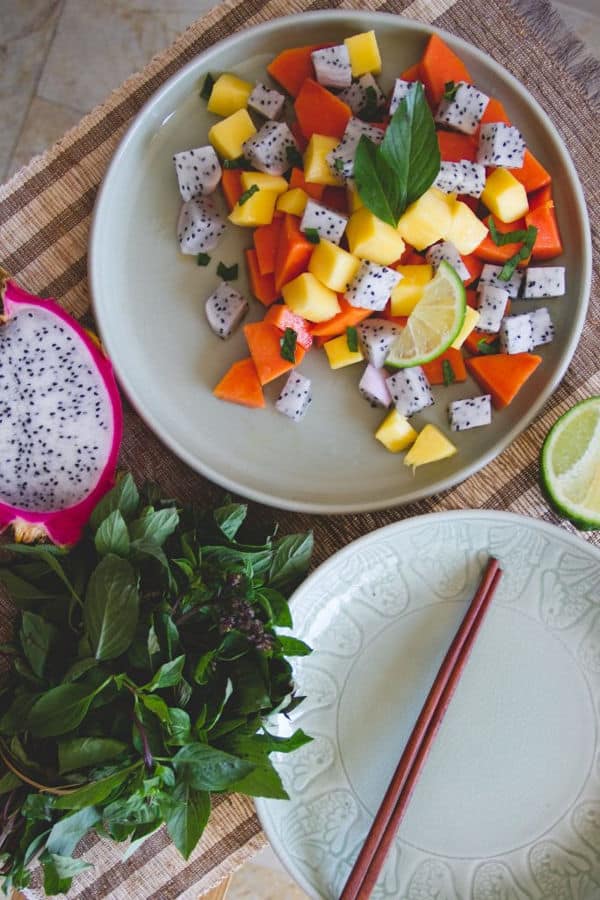 There's nothing quite like a fresh fruit salad, perfect in the height of summer. Normally, I think I speak for most of us when I say that we don't often make a fruit salad for ourselves.
We tend to buy it or perhaps have it in a restaurant. Well, what do you do when you want to make one? Do you just throw random pieces of fruit together?
You know, as much as this may work some of the time, it doesn't always because of the contrasting flavors.
This recipe has just three types of fruit (you don't want too many in a good fruit salad) and all the flavors complement each other beautifully.
In addition, grab some mint leaves and lime to squeeze over the top just before serving. As with any fruit salad, make sure the fruit is perfectly ripe. It may seem too simple, but this recipe is worth keeping!
Magic Fruit Cake Bars with White Chocolate Drizzle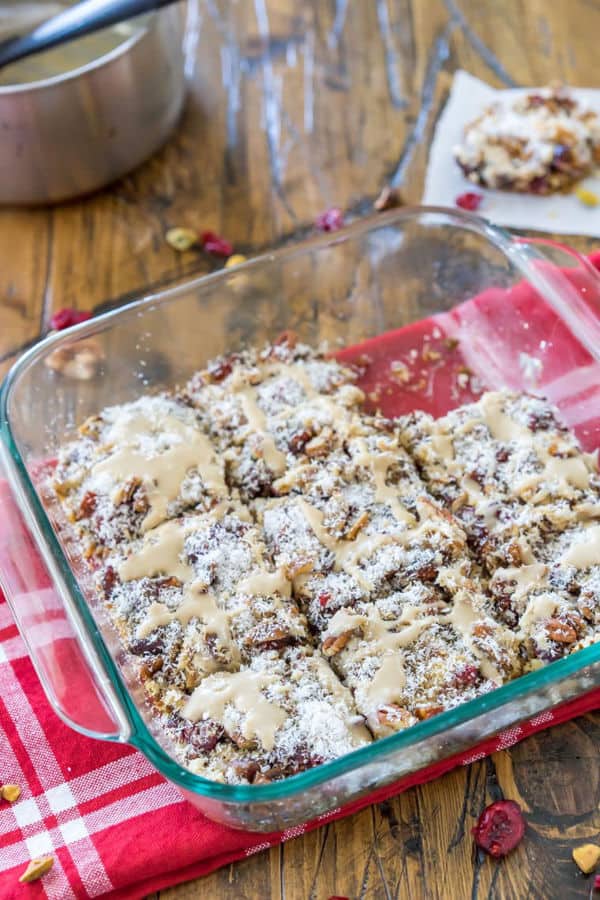 I love this recipe for several reasons, the way it looks and the way it tastes, it's just so unique in every way.
Take this to a party and you are sure to get a great reception. We all have an image in our head of what we expect desserts or little cakes to look like, this one breaks the mould.
Something else that's great is the recipe page, you have a list of ingredients and then, rather than a list of instructions, the author divides the guidelines into steps, each with its own photo so you know how things are supposed to look along the way.
I will even say that this is healthy, once you look at the ingredients, I'm sure you'll agree. You just need to do one thing, make them and eat them! Okay, so that was two.
Mango Berry Fruit Salad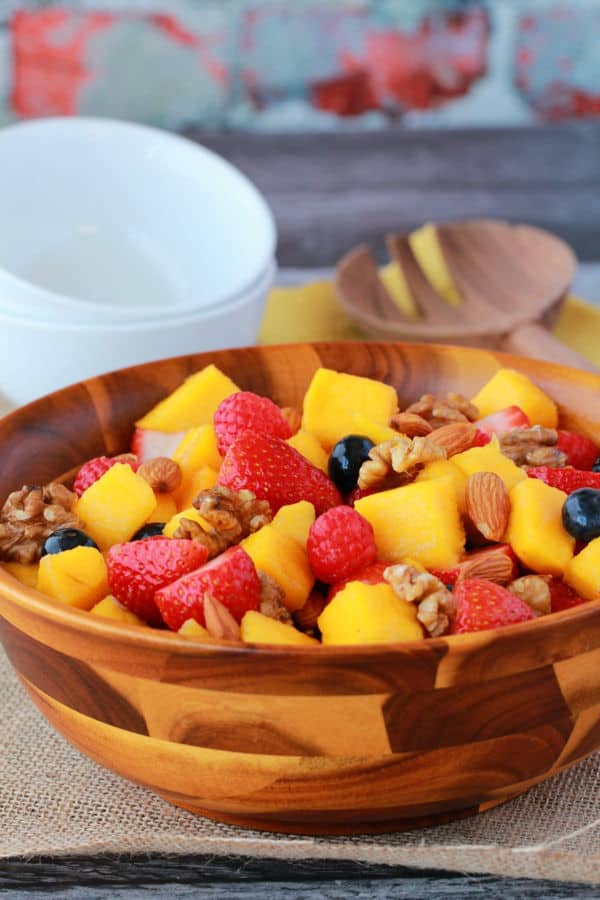 If you want to make a great fruit salad, it's not as easy as it looks. You're thinking I'm a little crazy right now, am I right? What's so difficult? You get a bunch of fruit, chop it all up and serve.
Well, that is correct, however, to make a 'great' fruit salad you must be aware of how all the textures and flavors of all the different fruits go together. Do they complement each other? For example, Kiwi can be quite tart, and this doesn't always go well with orange.
Here the author has gone to a lot of trouble to select fruits that complement each other, not only in taste but texture as well. In addition to the fruit, you also get a handful of walnuts and almonds, I like that a lot.
There are only four types of fruit and I wouldn't exceed that, as with most things in life, keep it simple.
If you are unable to get the fruits listed, there is a 'notes' section where other fruits are suggested, in addition to a couple of different types of nuts as well. Keep this recipe as the fruits go really well together.
Fruit and Yogurt Granola Cups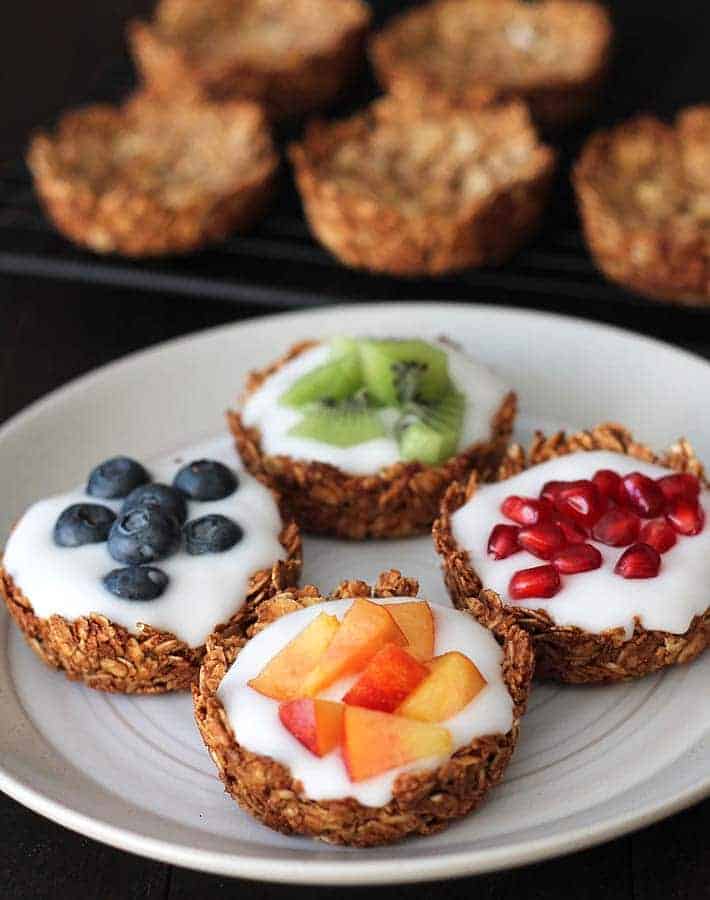 Don't these just look fantastic! When I first saw the picture, I thought we were looking at a good hour what with prep and baking time, but it's just 30 minutes in total!
Very small amount of ingredients and incredibly easy to make. I love how the recipe page goes through each step showing you pictures along the way.
The only thing I would highlight is that you will need vegan yoghurt. The ingredients list 'your favorite yoghurt', so as long as you can get dairy free, you're good to go!
Tropical Fruit Salad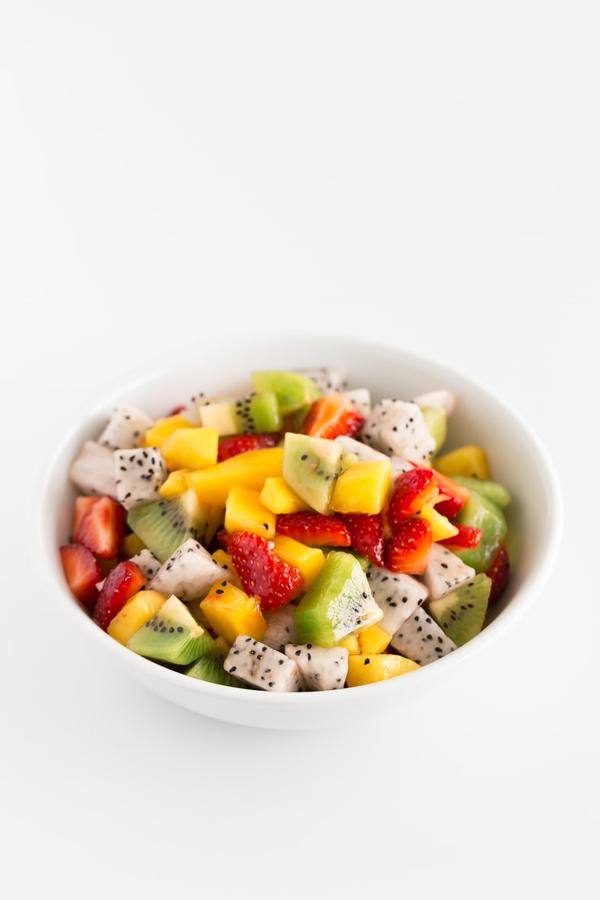 An absolutely delicious recipe! This salad is fresh, flavorful, and fun to make! It's truly as simple as fruit, lime or lemon juice, and the sweetener of your choice.
10 minutes of prep and you've got a glorious salad to serve yourself, your family, or a huge crowd! This will delight all who taste it. And it can be different every time you make it, depending on the season and what fresh fruits are available.
Get the whole family involved in choosing which fruits are the star of the show, and you'll be surprised at how fast this salad disappears. Kids love to be involved in making food choices. And they tend to eat more good stuff when they have a role in creating it. Let their imagination lead!
Vegan Fudge Dessert Recipes
Chocolate Fudge Pop Tarts with Raspberry Glaze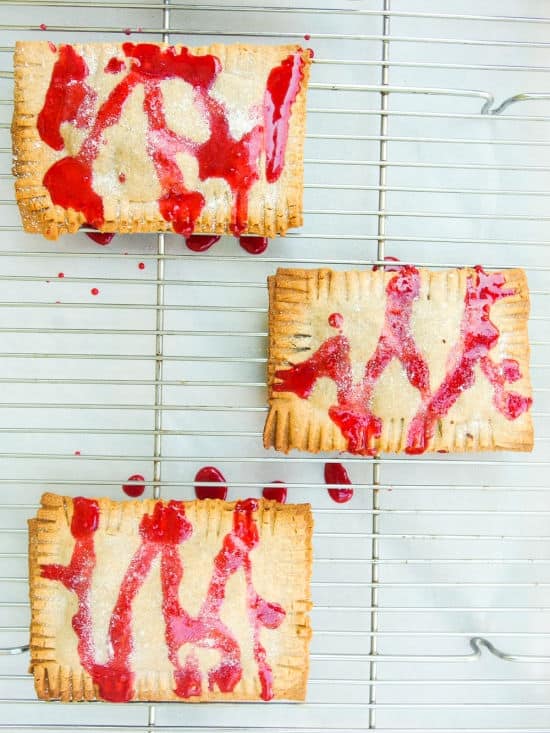 Years ago, I went through a pop tart phase, I loved them! I think the ingredients were a bit suspect and I haven't checked since.
I wouldn't eat them now, but I do have fond memories. Then I came across this recipe and I got excited all over again!
The amounts listed in the ingredients make six pastries. You make everything from scratch, including the dough.
Would you believe the filling contains black beans! Yes, you read that correctly and yes, these are sweet pastries, not savoury.
Trust me, this works. If you want to save yourself a bit of time, buy a good quality ready-made dough although if you can, make it all yourself.
Totally delicious and I'm sure after you have made them once, your imagination will kick in and you will want to experiment with your own fillings. Why not!
3-Ingredient Fudge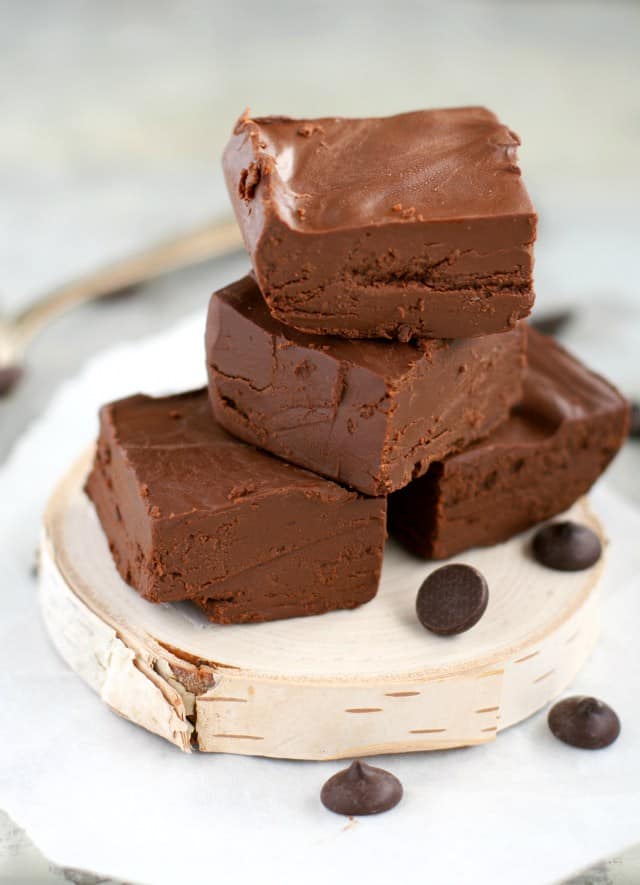 Since going vegan I really miss fudge. I have had dairy-free fudge a couple of times and even though it was 'okay', I never had them again. This recipe is just outstanding, and as the title says, just three ingredients!
The foundation of this fudge is coconut milk, so you already know it's going to be great! The other great thing about this recipe is that you're looking at just five minutes prep time and then just five minutes cooking, the rest is in the refrigerator to firm it up.
The taste is outstanding, and you will definitely make this more than once.
Chocolate Peanut Butter Swirl Fudge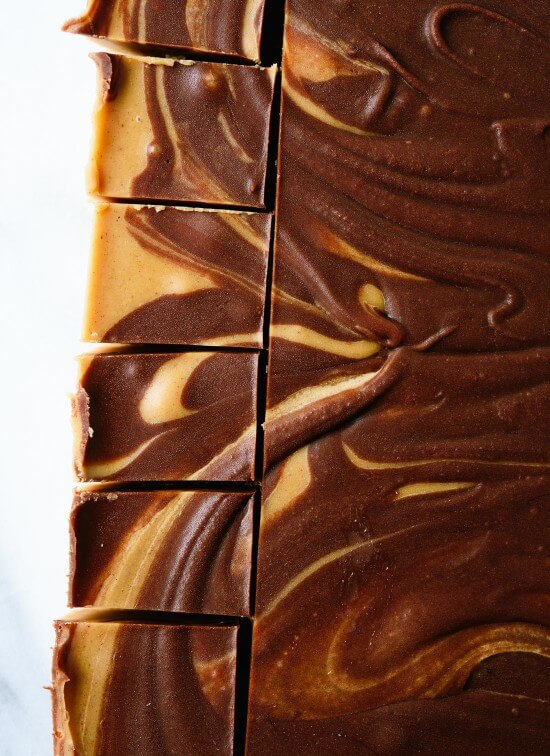 There's only one thing better than vegan fudge, and that's taken fudge with peanut butter and chocolate!
The recipe is divided into two, the peanut butter fudge and then the chocolate swirl. If you are allergic to peanuts but can have other nuts, don't miss out and use almond butter or whatever is suitable for you.
I urge you to go to the effort of making and adding the chocolate swirl. That marble effect looks incredible.
Mini No-Bake Chocolate Mocha Fudge and Coconut Tarts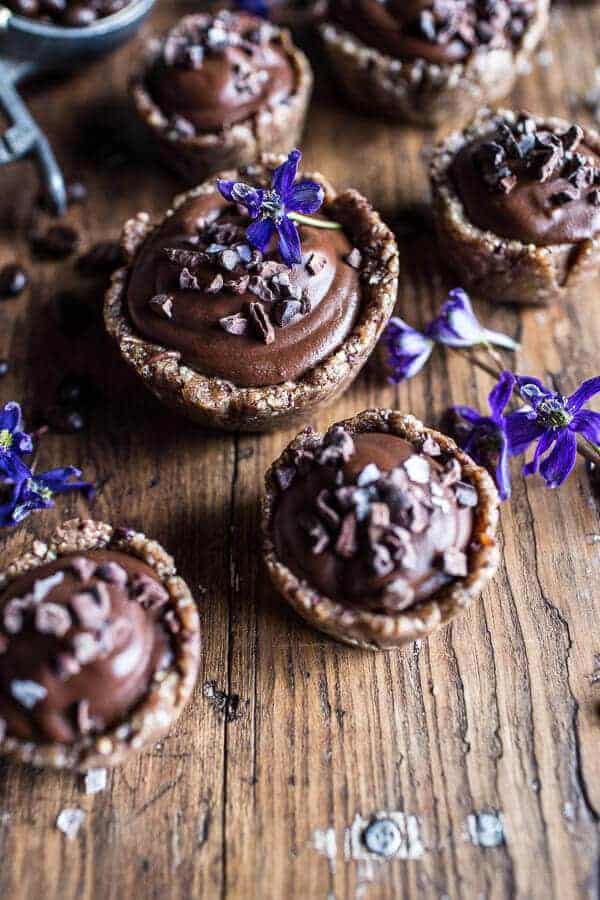 If you're looking for a recipe that is easy to make and will yield something incredibly fancy and look like you bought it from the store, this is it.
The chocolate mocha fudge sits in these little coconut crust cups. They are made from medjool dates, roasted cashews and just a few other goodies.
An incredible recipe that will be a hit. Please note, it isn't obvious but if you tap or click where it says the number of servings on the recipe page, a little slider will appear where you can change the amount of servings you would like and this then changes the amounts listed in the ingredients.
Fantastic from start to finish.
Dark Chocolate Coconut Oil Fudge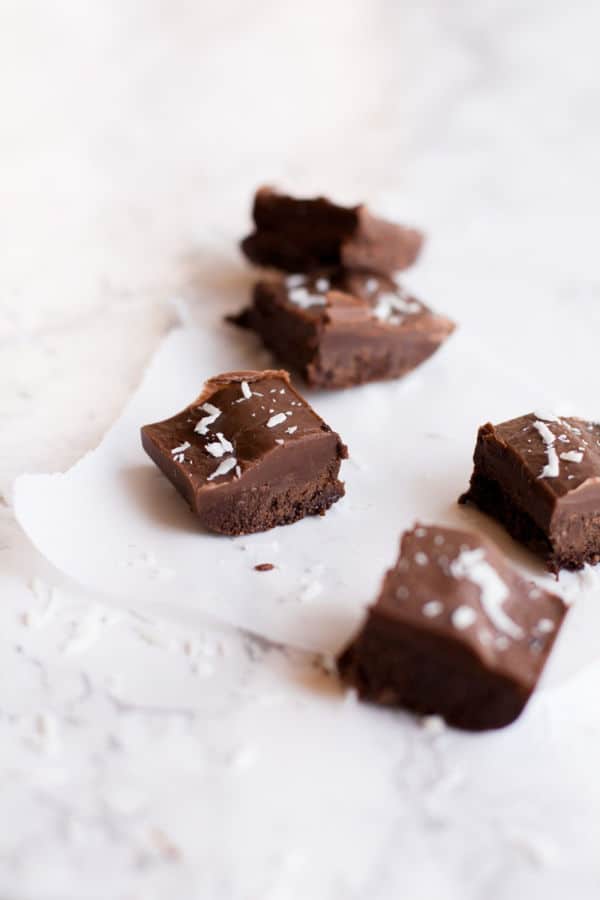 Not just one of the quickest fudge recipes I have seen, but one of the quickest recipes I have ever seen for a dessert. I think the only way you can beat this in terms of speed, it just to eat an apple!
This fudge is arguably healthy as well. It is naturally sweetened and has a hint of vanilla. Just six ingredients that you simply mix together.
Pour the mixture onto prepared dish and then refrigerate until solid which should take about an hour. That's it! Knock yourself out.
Vegan Gluten-Free Dessert Recipes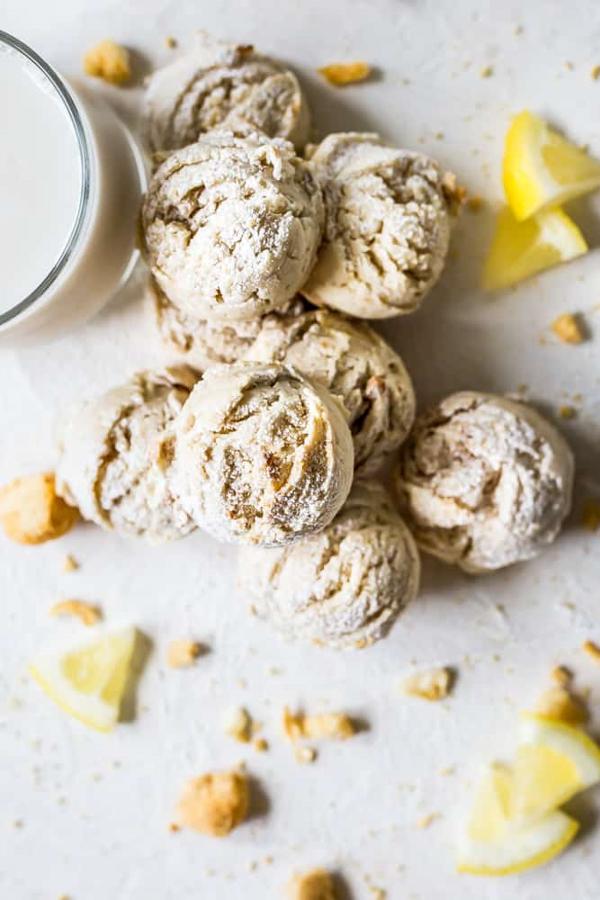 These look perfect for any vegan festivity! They would make a beautiful gift for any loved one, whether they were plant-based or not. These truly show a labor of love and thoughtfulness.
Longan may not be an easy fruit to get a hold of, but as stated in the recipe, it is available to buy online. I strongly encourage you to find this fruit, as it is unique and special. It really makes these cookies extraordinary.
The puff shape of these cookies is so inviting. It makes me want to keep popping them into my mouth. And I plan to, as these are delicious hot from the oven. If you can wait, they taste even better when cooled. Have some now, have some later. Share with your family (if you want)!
Coconut Bliss Balls (3 Ingredients, Gluten-Free)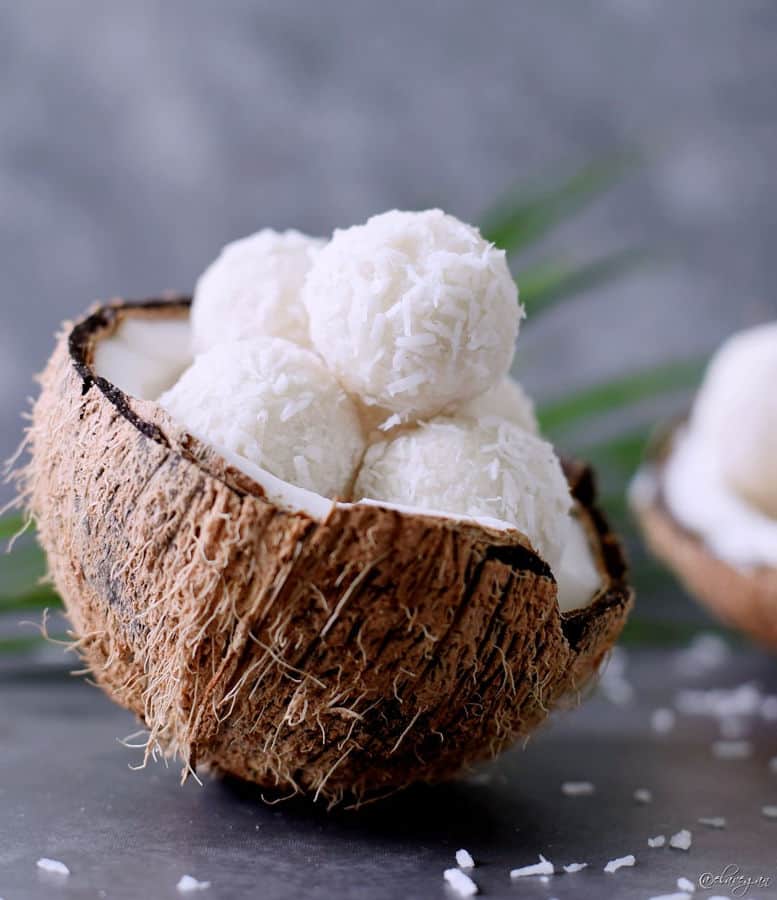 Certainly, one of the best-looking desserts around. They're like little snowballs and if you can, get yourself a coconut to serve as shown in the picture.
Would you believe there are only 3 ingredients, 4 if you include some optional almonds.
These come together in about 8 minutes. You need to melt the coconut butter (not coconut oil), use a little freezer time to firm them up a bit and then shape with your hands.
Do note that your hands need to be slightly wet so have some water nearby.
Great for the summer and I can just imagine them for Christmas as well when there's snow outside!
Purple Carrot Cake (Gluten-Free)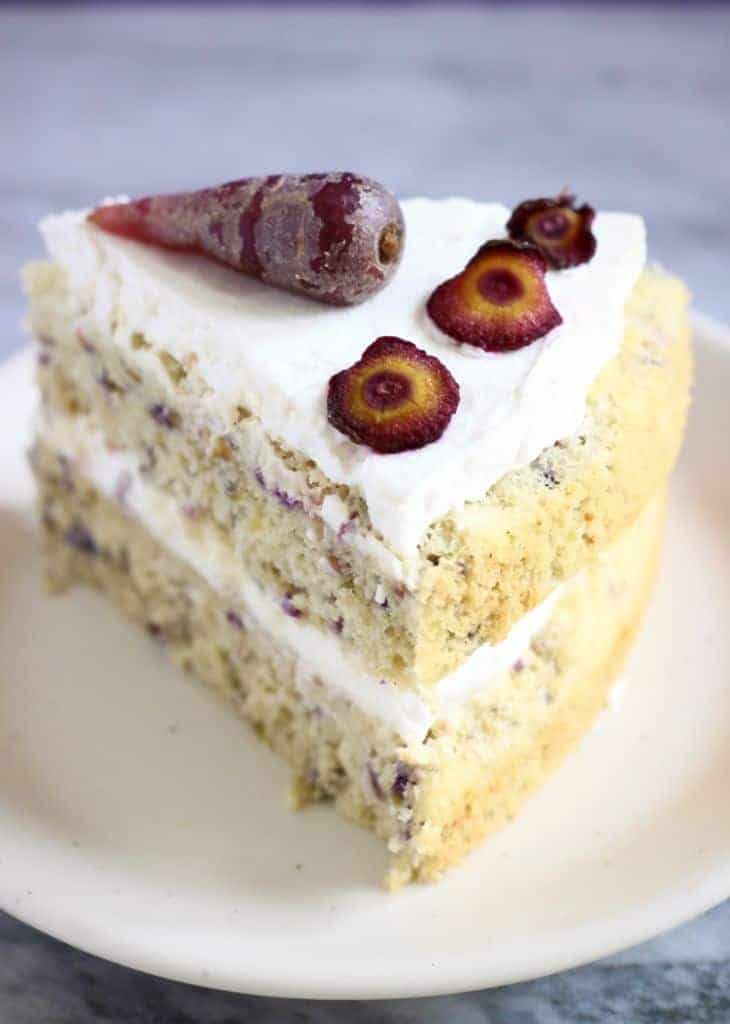 Carrot cake is lovely and if you get a great recipe, it can be the best. There are so many ways of making it, it's like every recipe is unique.
I think this recipe is up there among the best ones, it's delicious, I love the coconut taste all the way through it.
For presentation, if you can get purple carrots then I think it's probably the best way to show your cake off.
Having said that, I wouldn't worry too much and personally, purple carrots are my favorite and I prefer them in a salad. Either way, if you're into carrot cake, you must try this recipe.
Carrot Cake with Cream Cheese Frosting (Gluten-Free)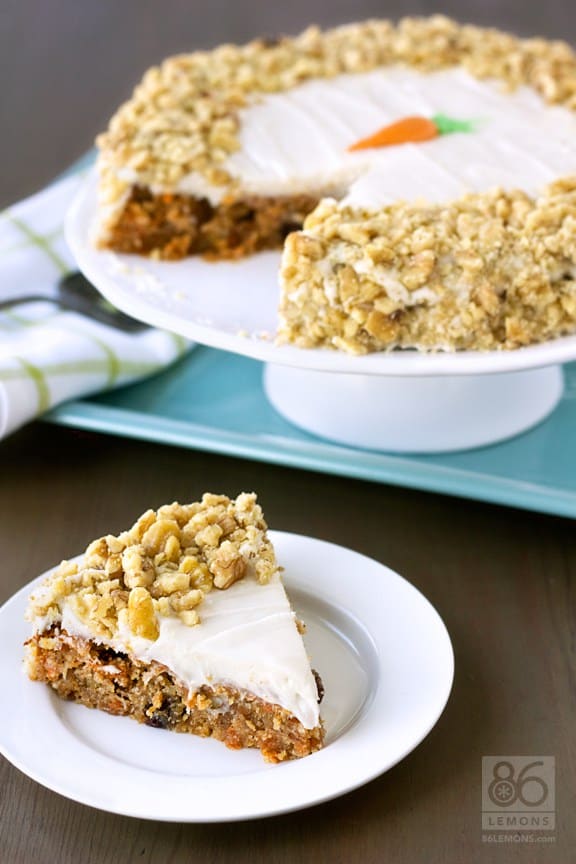 If you want to serve a carrot cake with a difference, then go with this. It has delicious vegan cream cheese frosting and looks incredible.
With this cake, the recipe page has a link to the original recipe. However, the cake in that recipe is not vegan so the author adapted it slightly.
We included it because this link is to the vegan version, but you probably will need the original recipe too and that's included. Really lovely looking, I've never seen a cake presented this way before.
Chocolate Sweet Potato Pie (Gluten-Free)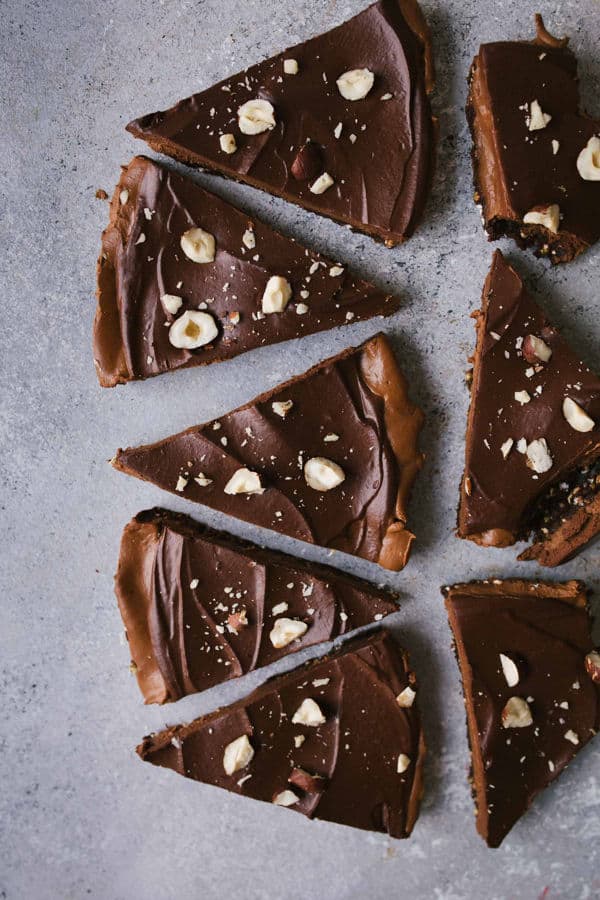 Chocolate Sweet potato pie? That's a cake? No, that's never going to work! Are those your thoughts?
Mine were probably something similar but I quickly dismissed it remembering I've seen so many things you would not consider as a dessert adapted in an amazing way.
For example, avocado is used as a base for vegan chocolate mousse and it works just fine. So, I was keen to give this a try.
The recipe is divided into three, the crust, the layer and lastly the dark upper layer. The crust is made from shredded hazelnuts, medjool dates and a couple of other delicious goodies.
The sweet potato goes in the main layer which also contains dark chocolate, vanilla extract and a few other little gems.
The result is a beautiful light and fluffy cake that is both very chocolatey and doesn't leave you feeling like you have a truck in your stomach! Make it!
Mini Blueberry Crumble Recipe (Gluten-Free)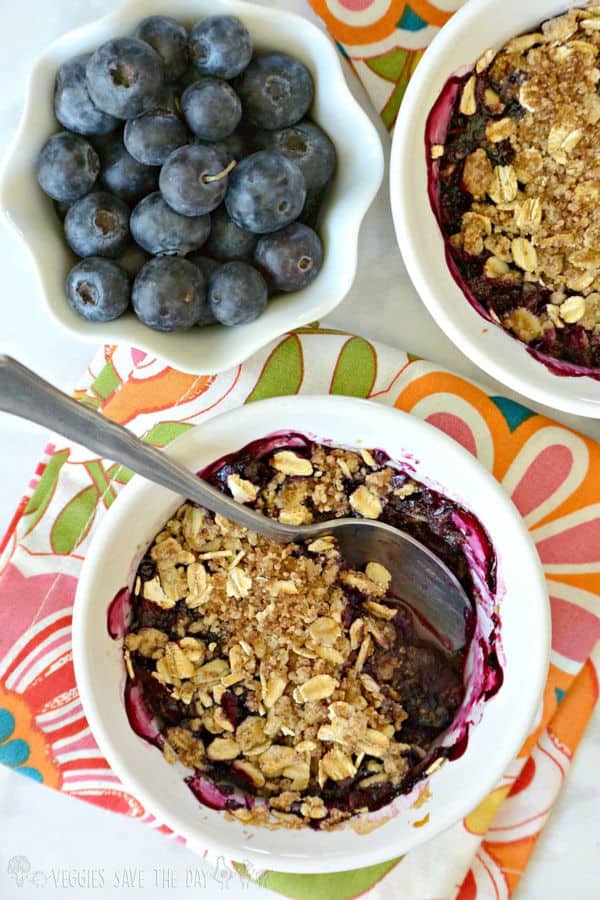 Everybody loves a crumble. I don't think I've had anything other than an apple crumble before. Blueberries are one of my favorite fruits so when I saw this I was thrilled at the chance of making a blueberry version of one of my favorite desserts.
The recipe is divided into two, the filling and the crumble topping. This is extremely easy to make and you're looking at just prepping for 10 minutes and then baking for about 25.
It isn't listed as such, but this recipe is flexible. What I mean is, the amounts listed make two servings in little dishes.
My advice is to experiment with amounts, at least double them and make a larger pie rather than little ones. Having said that, do what works for you because either way, you win!
The Perfect Chocolate Orange Cake (Gluten-Free)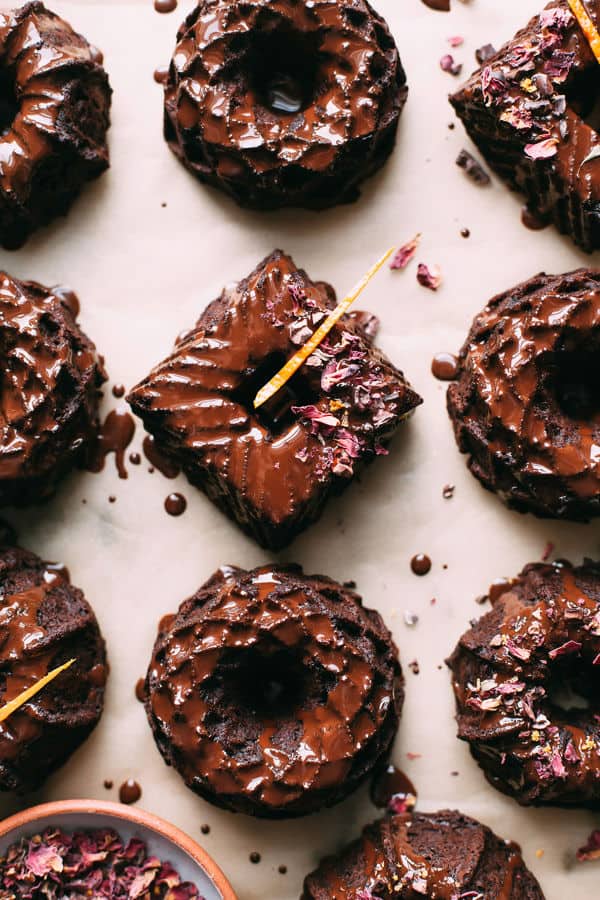 We all know that chocolate and orange go together perfectly. The title of this recipe makes quite a claim, the 'perfect' chocolate orange cake? Was it?
Well, if it's not perfect, then I don't know what is. It's moist, bursting with flavor and light. The balance between chocolate and orange is perfect.
As well as being vegan, remember this is gluten-free as well. This recipe includes a tablespoon of balsamic vinegar, I've never seen this in a cake before.
If you don't have any, I wouldn't go to the bother of buying it especially, however, if you do have some do include it.
This is a luxury cake and whether you make this for yourself, your family or your friends, everybody will be impressed to say the least.
Salted Peanut Butter Chocolate Fudge (Gluten-Free)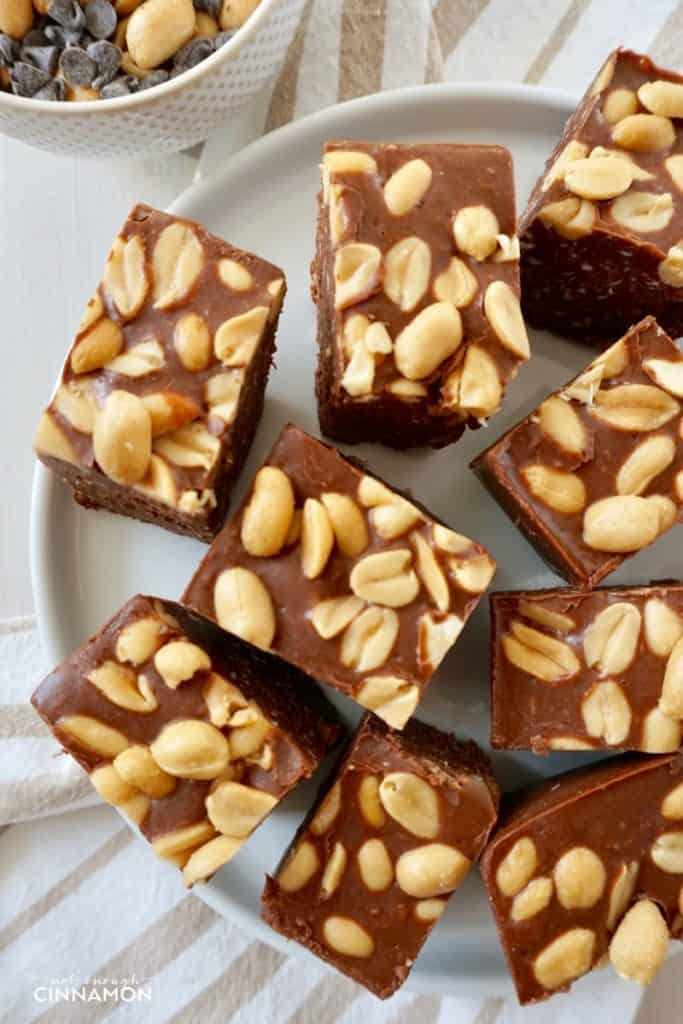 Oh my goodness, peanut butter chocolate fudge with a slight salty flavor. I don't even know where to begin.
You're looking at just a 10 minute prep time. There are a handful of ingredients, but I imagine that you have most of them already.
In fact, if you bake occasionally and have those types of ingredients on standby, I will go as far to say that you will have all of the ingredients.
I love the toasted peanuts pressed into the top as one of the toppings. Make no mistake, if you like fudge then you just must make this.
No Bake Dirt Pie (Gluten-Free)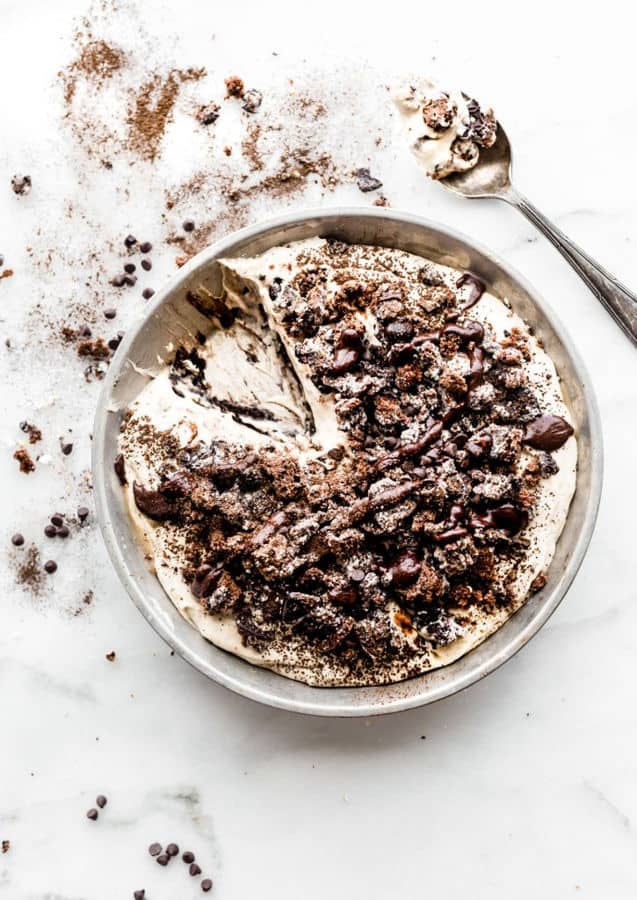 I seriously took one look at this and had to make it. Before the pie was even finished the recipe was saved in my notes.
The base of the pie is coconut cream, then you add some dates, a banana, a little vanilla and other touches of magic. This is messy but in a good way.
You will want to keep eating it and believe me, so you should. I'm not going to say much more because the description for this recipe should have just been two words, 'make it'!
The Best Pumpkin Pie (Gluten-Free)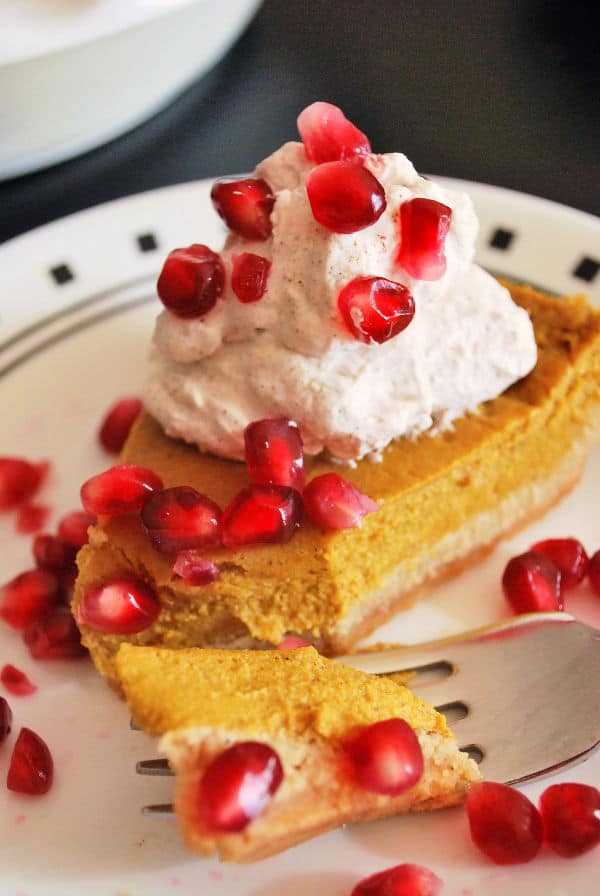 Pumpkin pie is a holiday favorite. If you're vegan it starts to get a little problematic, if you can't have gluten as well then you probably tend to avoid it altogether. That changes from now.
The ingredients for this pie are very straightforward. It's made with almond flour and also contains coconut milk, maple syrup and of course, a little cinnamon.
Add all the other ingredients and you have yourself the best pumpkin pie. This is absolutely, as described.
Vegan Ice Cream Recipes
Banana Ice Cream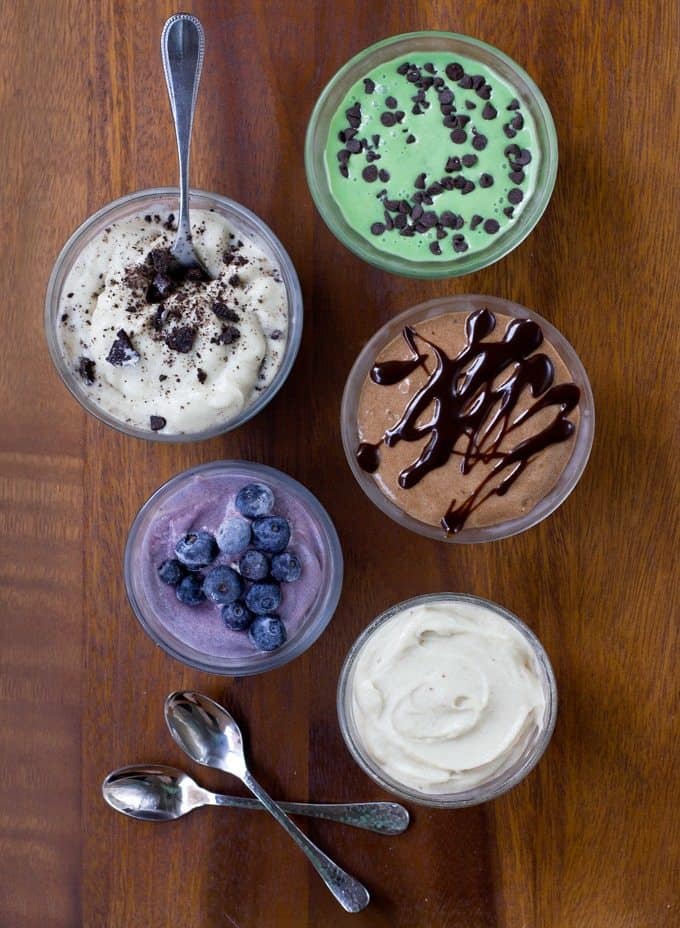 Have you ever had banana ice cream? It's literally made from bananas. If you never made anything like this before, you're seriously missing out, and I mean that!
This is a great recipe and you can use it as a base to make other flavors. You need some frozen bananas, make sure they are ripe, peel and then cut them into slices that are about an inch or two thick. Place them in a freezer bag and wait for the day you need an ice cream fix.
You do need a food processor and you need to give it a few minutes to turn into ice cream, believe me, it will. What you end up with, literally, is ice cream.
It doesn't even taste like bananas. Maybe if you want to be pedantic, you could say there's a slight hint but it's nothing to speak of.
This is a great way to start out making this dessert if you've never had it before. Add chocolate, fruit, use your imagination!
Ginger Orange Creamsicle Pops Made Easy with Dorot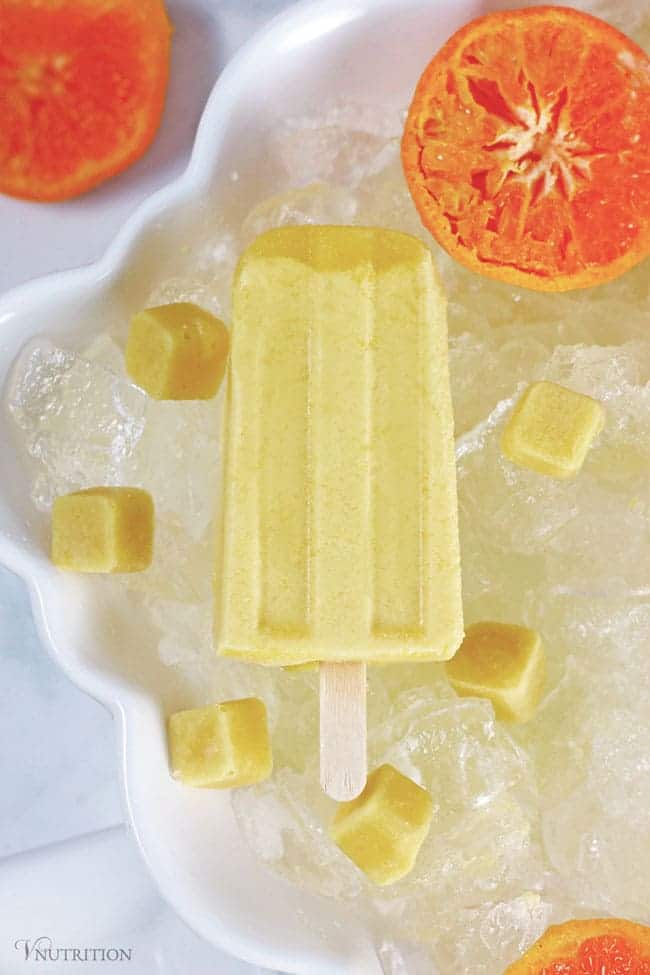 If you don't have yourself some moulds to make ice lollies, go out and get some now!
In the past I have made it just using fresh orange juice.
The only thing I have ever thought of adding has been perhaps a dark berry juice just to change it up a bit.
This recipe goes one step further. There are just four ingredients including coconut milk and ginger! Make them, seriously, do it!
Strawberry Lime Sorbet from Everyday Detox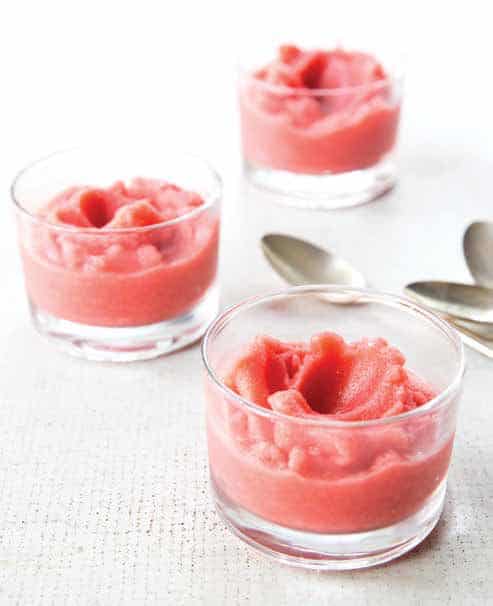 Those of us that have been vegan for some time have had our fair share of sorbets. They are delicious, fresh and healthy.
This has just 4 ingredients and couldn't be easier to make. With the amounts listed in the ingredients the author suggests you need a large food processor with an 'S' blade.
I don't know how imperative this is so if your processor is different in any way, I wouldn't worry.
As long as all the ingredients mix together properly, you're good to go. Just four ingredients and tastes wonderful with that hint of lime. The great thing about sorbets is that they naturally store in the freezer!
Heavenly Hash Ice Cream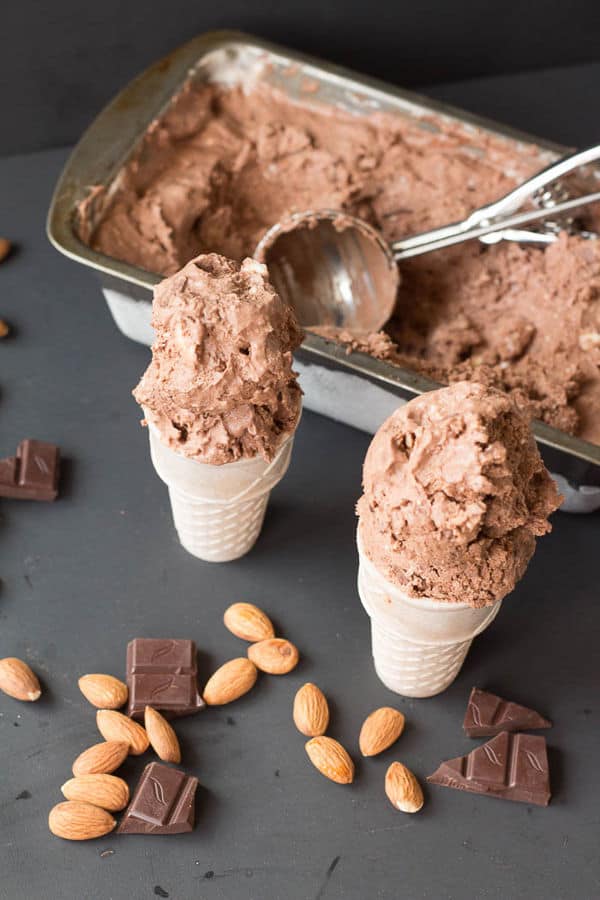 If you're not into vegan ice cream made with bananas, and I can't imagine why you wouldn't be, but let's go with it and say you're not, then you need this in your life. Ice cream made with coconut cream!
I know there are a 101 desserts in this roundup and it's so difficult to choose one above the other. If you're into ice cream, take my word for it and make this.
If you're in any doubt, go to the recipe page and see all the photos of the different stages. Your mind will be made up!
Mint Chocolate Chip Ice Cream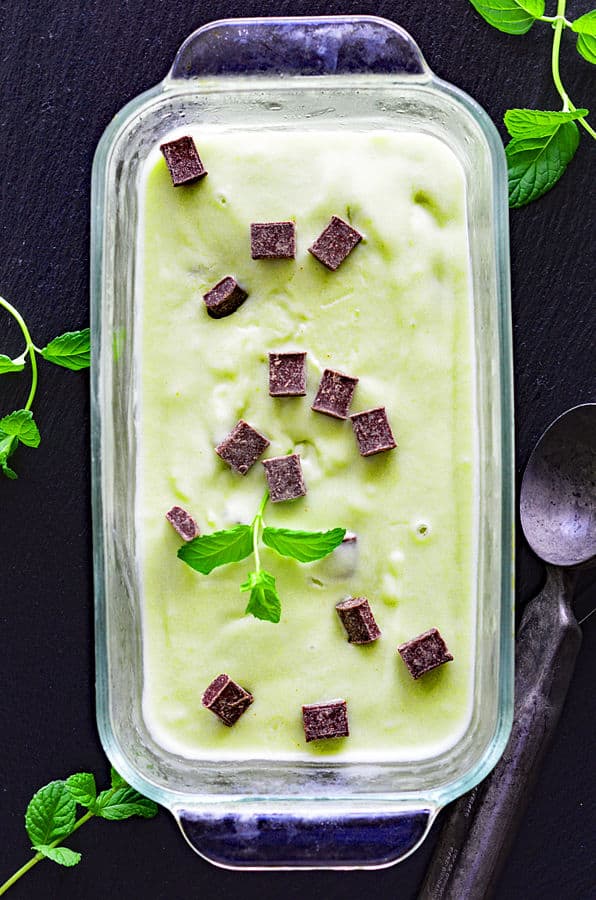 As a kid, mint chocolate chip ice cream was my favorite, seeing a vegan version, and a great recipe at that, has put a big smile on my face!
I can't believe this has just five ingredients. The instructions do indicate the need for an ice cream maker, if you don't have one, look online for ways to make ice cream without one.
I think it involves stirring the mixture, then placing in the freezer and repeating this process a few times.
The one surprise ingredient is avocado! Don't worry if this is new to you. Avocado is used in many vegan desserts and none of them taste like avocado.
This is a real treat and if you miss mint chocolate chip, this will fill that gap!
No-Churn Mocha Mint Chip Ice Cream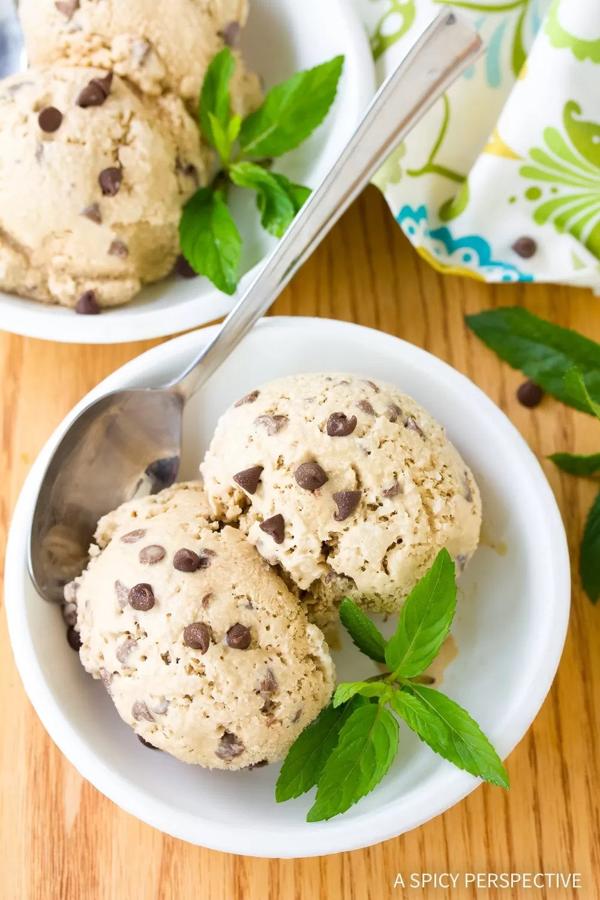 Coffee infused ice creams are understated, I feel. This recipe is one to get charged up about!
This dessert requires no special equipment and is super simple to bring together. The instant coffee makes this an indulgent treat for grown-ups. It's easy to make up a batch while also creating a more kid-friendly treat.
Just a few ingredients, a blender, and a freezer and you're on your way to a creamy, caffeine tinged delight!
Raspberry Sorbet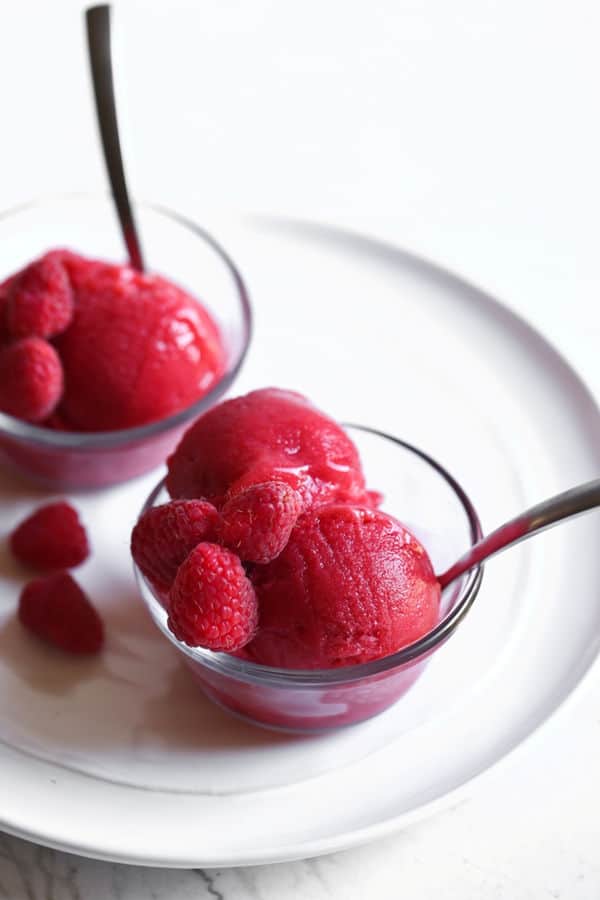 If you like classic flavors, this one is for you. There's a reason why the old standbys have been around forever, I think this recipe is way up there as one of the best.
As well as fresh raspberries you just need fresh orange juice and just three other ingredients to make this beauty. You'll also need a blender and an ice cream maker for churning.
You could churn yourself and there are plenty of methods to make home-made ice cream listed online if you don't have such a gadget.
Just don't let that stop you from making this. Even if you don't need to make this now, make a note of this recipe and you'll thank me.
Cranberry and Orange Ice Cream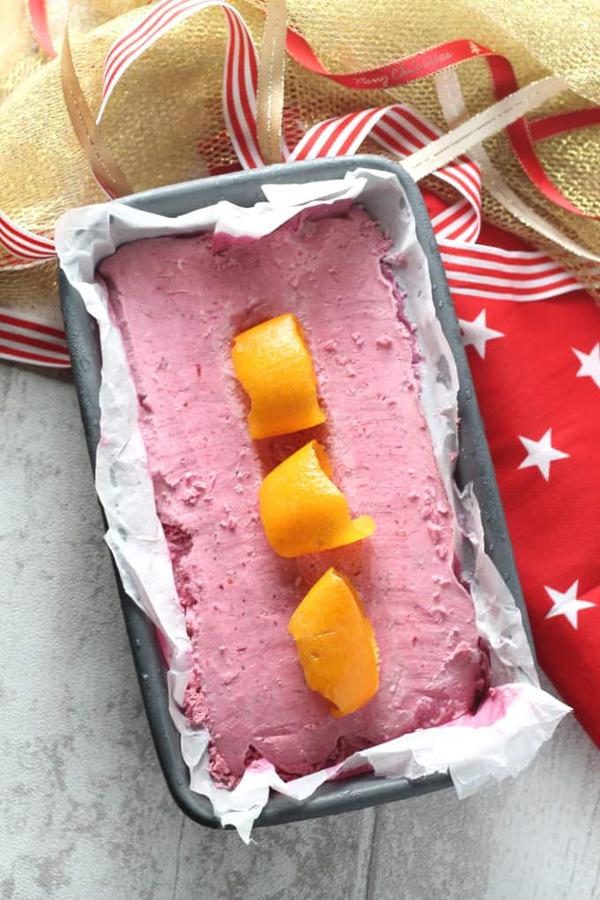 This delicious blend of festive flavors pairs perfectly with holiday feasts. It's also amazing every other day of the year. There's no wrong day for homemade ice cream, even in the middle of winter!
This creamy dessert needs no churning and no other special equipment. Combine the seven simple ingredients in your blender and whirl away. The hardest part is waiting for it to firm up.
Make sure to switch the honey to agave or date nectar to keep it vegan. Then, follow the coconut milk instructions for best results. You'll wonder how you ever lived without this!
Apple Cider Popsicles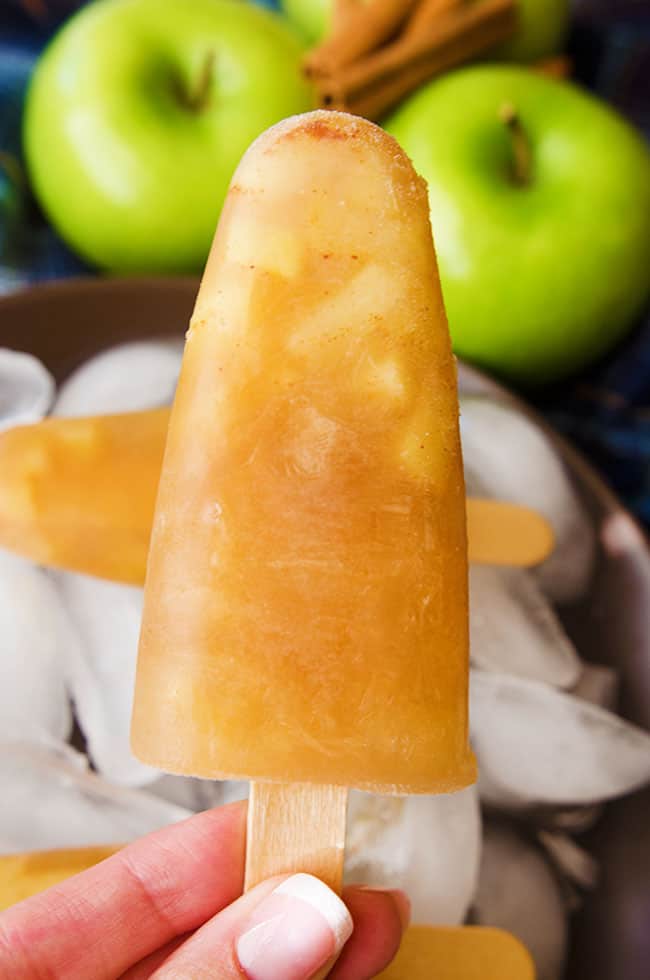 Let me answer the question you're thinking straight away, yes this does contain cider! You're looking at six main ingredients and very little effort to make these popsicles.
Please believe me when I say these are probably the best popsicles I have ever had. I don't have ice lollies that often but these are something special! Refreshing, bursting with flavor and if you're a cider fan, definitely for you!
Blueberry Ombre Popsicles (2 Ingredients)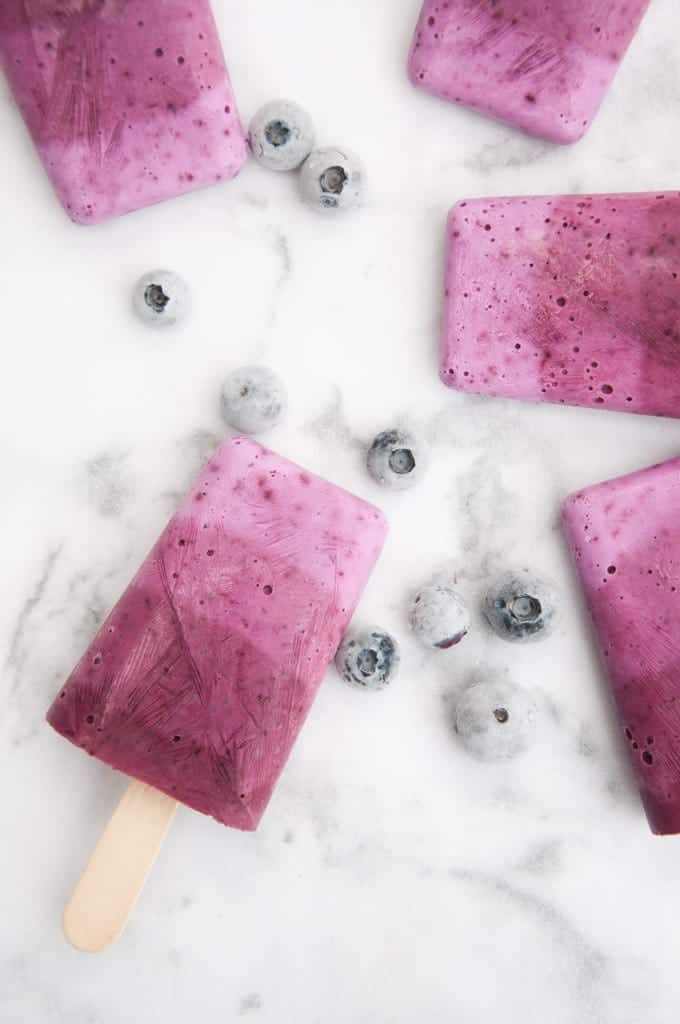 What color are popsicles? They're normally an orange type of color right? Maybe red or something? You don't often see purple popsicles, at least, I don't.
These look so vibrant and as they melt in your mouth you instantly get hit by their creaminess. As the title suggests, simply 2 ingredients and a blender is all you need. What are you waiting for?
White Russian Ice Cream Float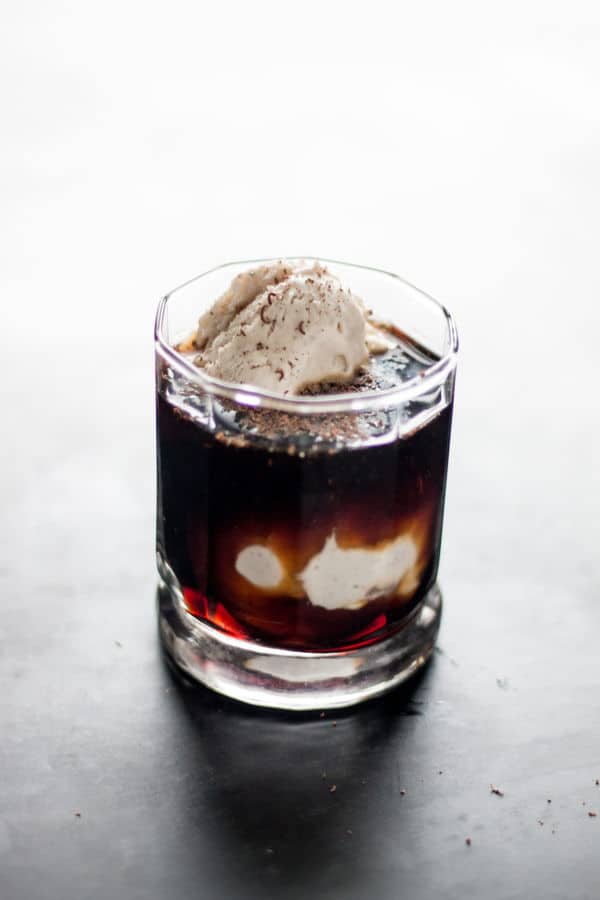 This is one for the adults! I haven't seen an ice cream float for years. It used to be a big glass of cola with a scoop of vanilla ice cream.
I certainly wouldn't have it now but when I saw this I thought it looked amazing.
Just 4 ingredients and you will need to find your favorite vegan ice cream. You don't need any specific kind, either purchase what you normally do or check out some of our other vegan ice cream recipes.
Then get some coffee liqueur and a shot of vodka and follow the instructions. Time for a party!
Prosecco Popsicles with Summer Berries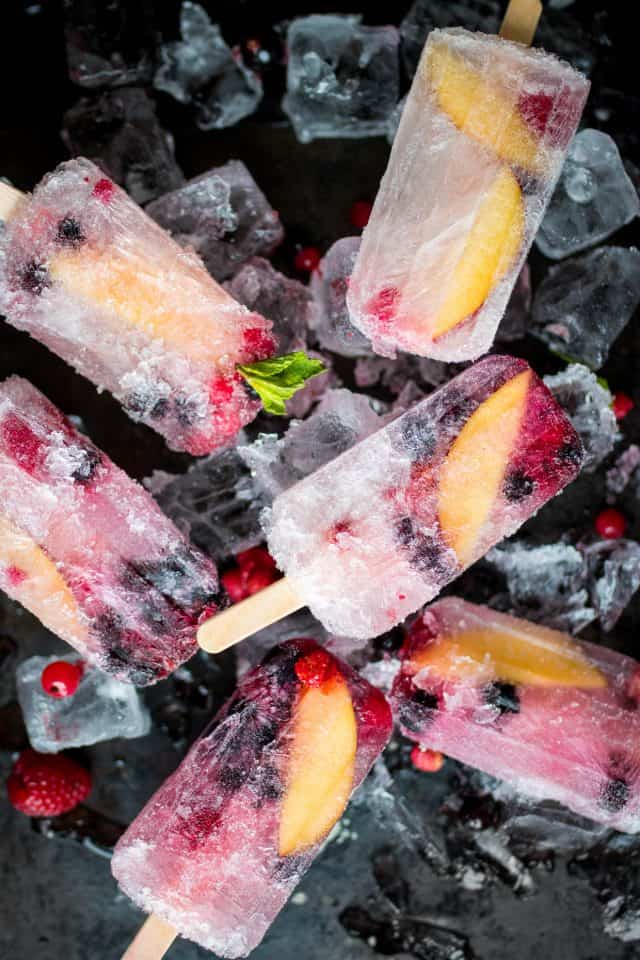 Don't these look just incredible! Just three ingredients and you're good to go!
The fruit inside is nectarine and mixed berries. You can obviously change this according to your preference so let your imagination go or try a few different ones and let us know which came out best.
The main ingredient is a vegan wine that has a little fizz although if you don't drink alcohol, you could easily replace it with anything else, I recommend lemonade. Taste as good as they look!
Chocolate Cauliflower "Nice Cream" Smoothie Bowl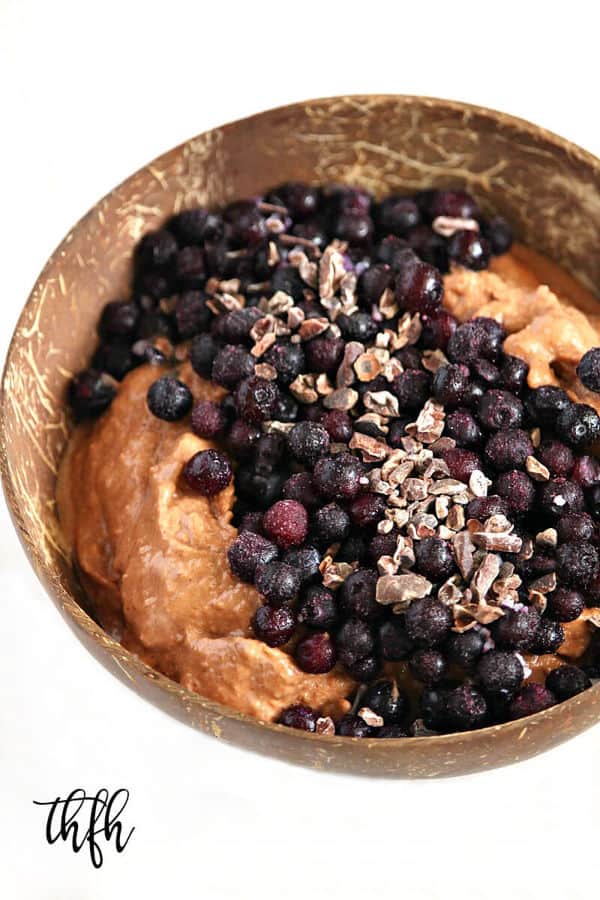 There are various definitions of 'nice cream' and I won't attempt to pin it down here, suffice to say that all the variations I have seen have been vegan ice creams made with blended frozen banana and then pieces of fruit added.
Not only is this a delicious recipe, it's interesting as well because cauliflower is a part of this dessert!
I'm used to seeing avocado in dessert recipes but not this. I was curious, and I can report back that it works great!
The only advice I would give is you do need a high-speed blender and if you don't have one, I would recommend using a food processor and leaving it running for a few minutes, so the mixture becomes smooth.
Very tasty and I love the addition of the almond butter.
No Churn Bounty Vienetta Ice Cream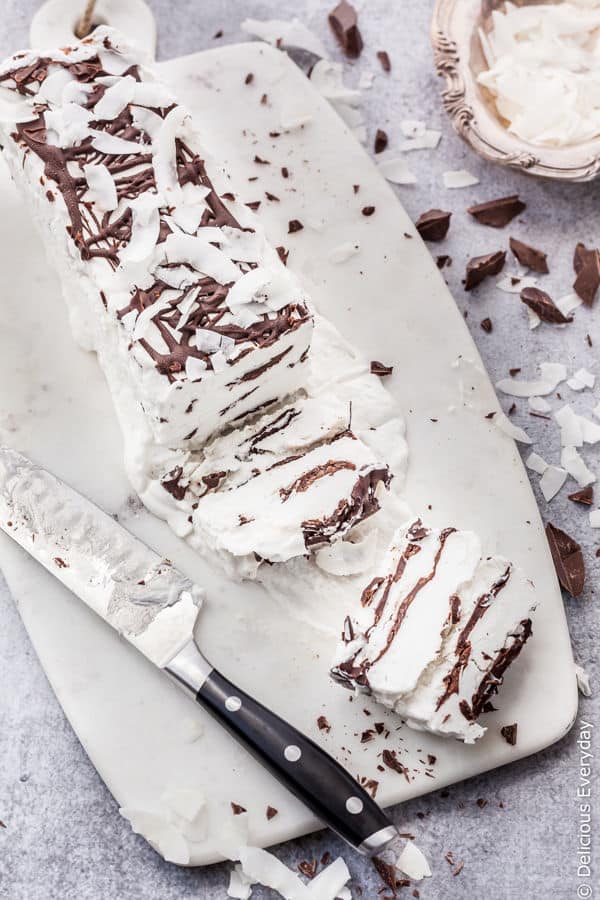 I really love desserts that look a little messy and creamy, especially if that cream comes from coconut. This is outstanding, and you need to find a reason to make it!
There are just 4 ingredients. It's very easy to create and only takes about 15 minutes although you do have to plan a little ahead of time.
My recommendation is to read the instructions and the recipe notes thoroughly so you can decide the best course of action. It's not complicated, you just need to plan a little, but I promise you the results are worth it.
Do note the author is from Australia so may refer to some ingredients that might be difficult to obtain straightaway.
Remember, you don't have to get everything exactly as described. Just follow the general principle and you will be rewarded with a gem!
Coconut Raspberry Ice Cream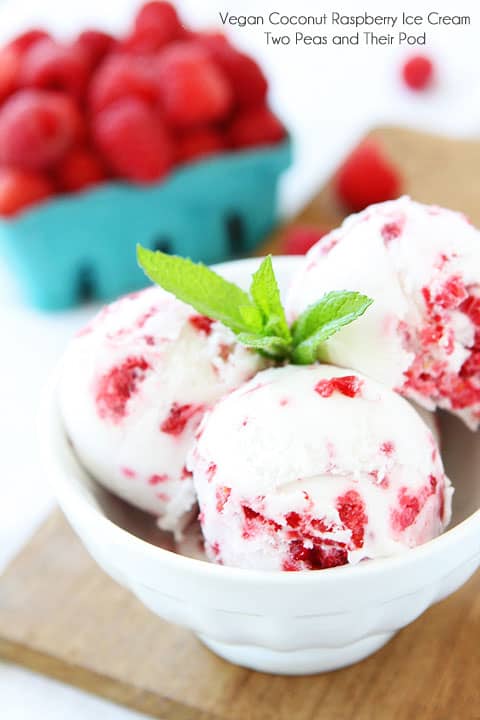 For me, there's nothing better than a vegan ice cream made from coconut milk/cream. It's so good and even for people that aren't vegan, I just don't understand why this isn't the norm, it should be!
Just 4 ingredients are needed to make this wonderful looking dessert. You will need a blender and ideally you would have an ice cream maker for the churning.
If you don't have a gadget to make the ice cream with, there are ways you can do it manually, check online.
To be honest, they are cheap and if you can, I would recommend getting one. Remember, vegan ice creams are a lot healthier than dairy. Make this dessert today!
Spirulina Ice Cream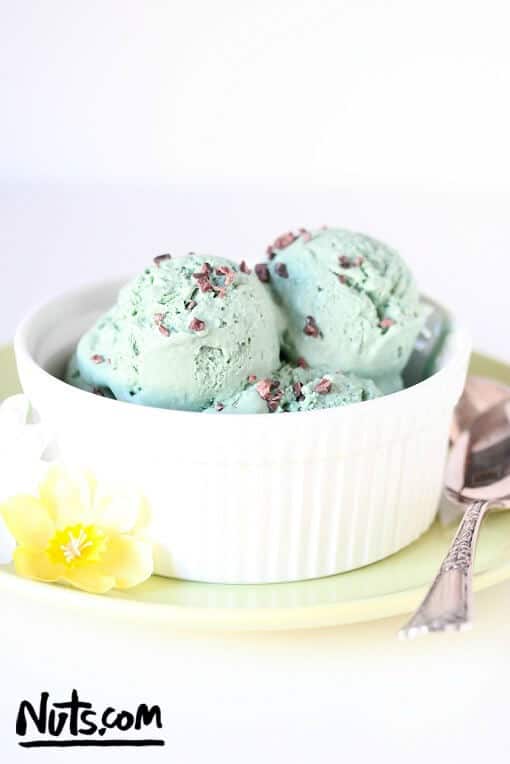 Spirulina is a supplement that is nutrient-dense and is taken by many people and sold probably in every healthy store. I've never seen it used in a desert before, so was excited to try this.
Other than the recipe itself which is great, the best thing about this for me is that you don't need an ice cream maker which is often the case.
You do need a blender but after that you just have some very simple instructions and you end up with a truly delicious vegan ice cream. Don't forget to sprinkle the cacao nibs before serving!
Cantaloupe Ice Cream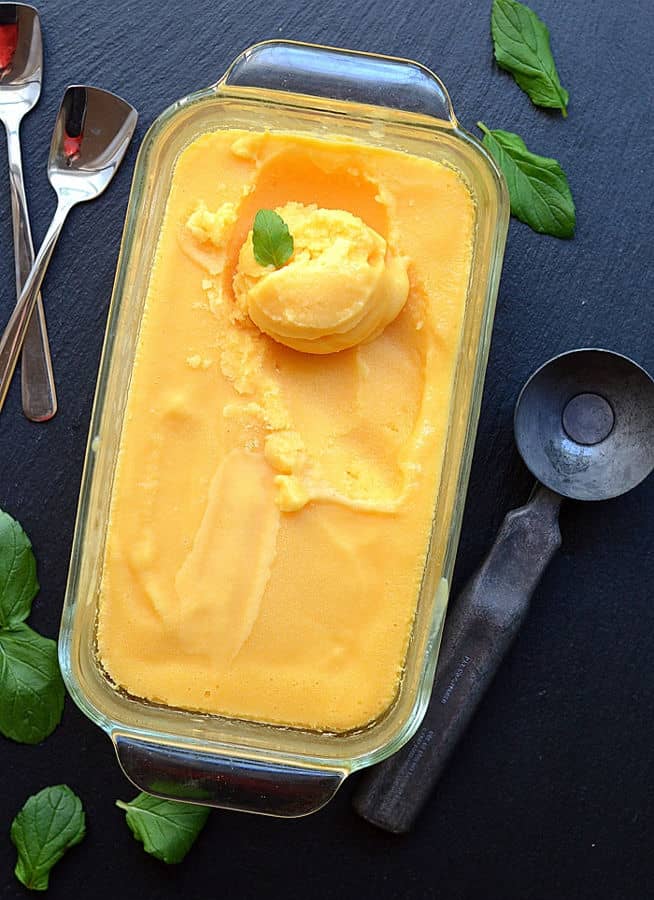 When you want something extra special, make this amazing dessert! With just four ingredients, and one is water, you have this creamy and fruity ice cream that just oozes flavor.
I love that you don't need an ice cream maker although a high-speed blender is necessary. The coconut milk is the secret ingredient, just a hint of coconut in the background for that full creamy texture.
If you love melon and you adore dairy-free ice cream, this is for you. Stores in the freezer, allow to sit for about 15 minutes before serving. You won't be disappointed.
Vegan Pancake Recipes
Pancakes with Cherries and Cream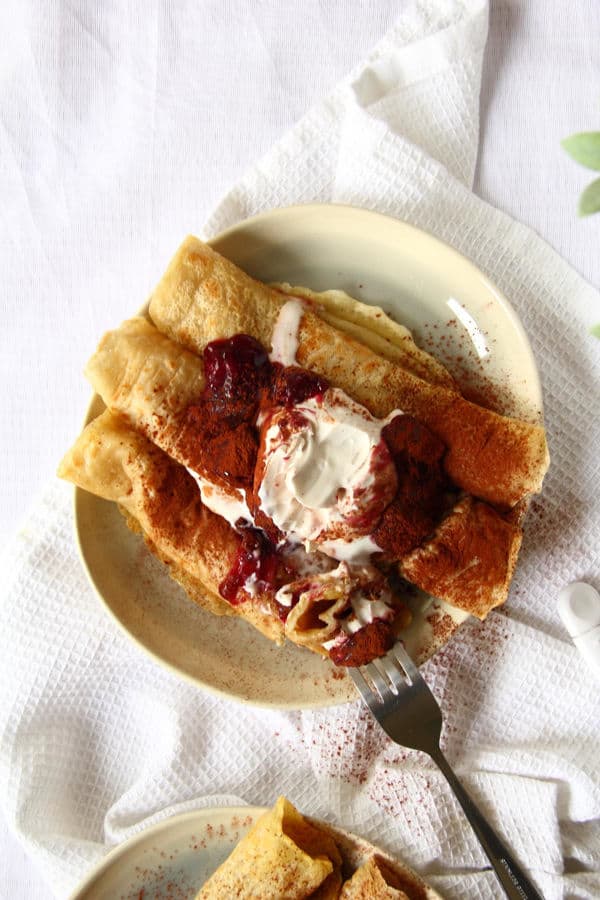 Vegan pancakes is where it's at. For me, they are much lighter than the regular variety and much kinder to your digestion. This recipe is so good!
These are easy to make, and the result is a restaurant quality breakfast or snack. You only need a 5 minute prep time and then the rest is cooking.
This really is a special treat so make a note then find a reason to make it!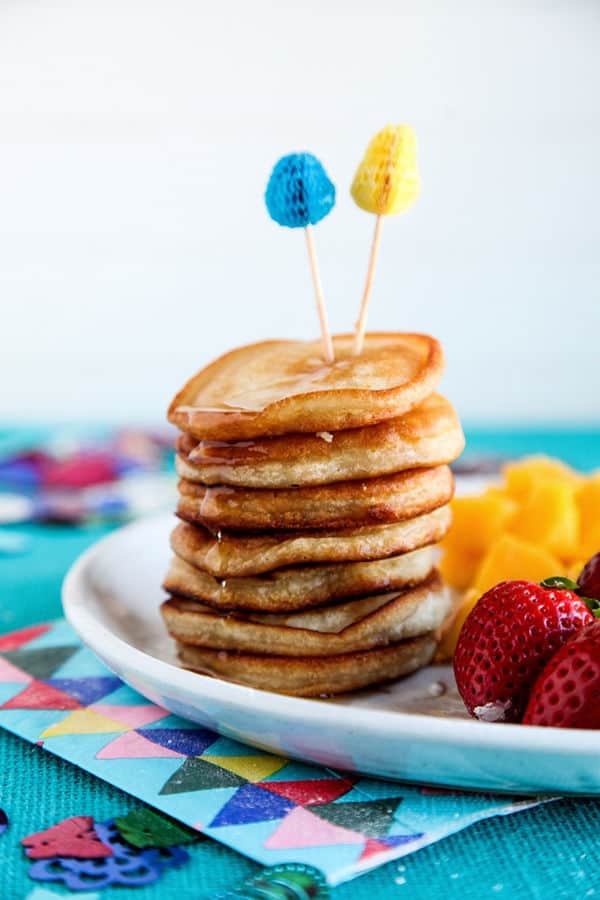 This is a vegan twist based on a traditional recipe. Very simple ingredients and an extremely flexible dish.
If you want to follow the tradition, shape the pancakes as instructed and refer to the photos for guidance. However, you can also make larger pancakes if you prefer.
You do need to fry these but it's, literally, for 10 to 20 seconds each side, just use a small amount of oil.
These are a real treat, served with your favorite syrup and why not add some fresh fruit as well.
Fluffy Blueberry Pancakes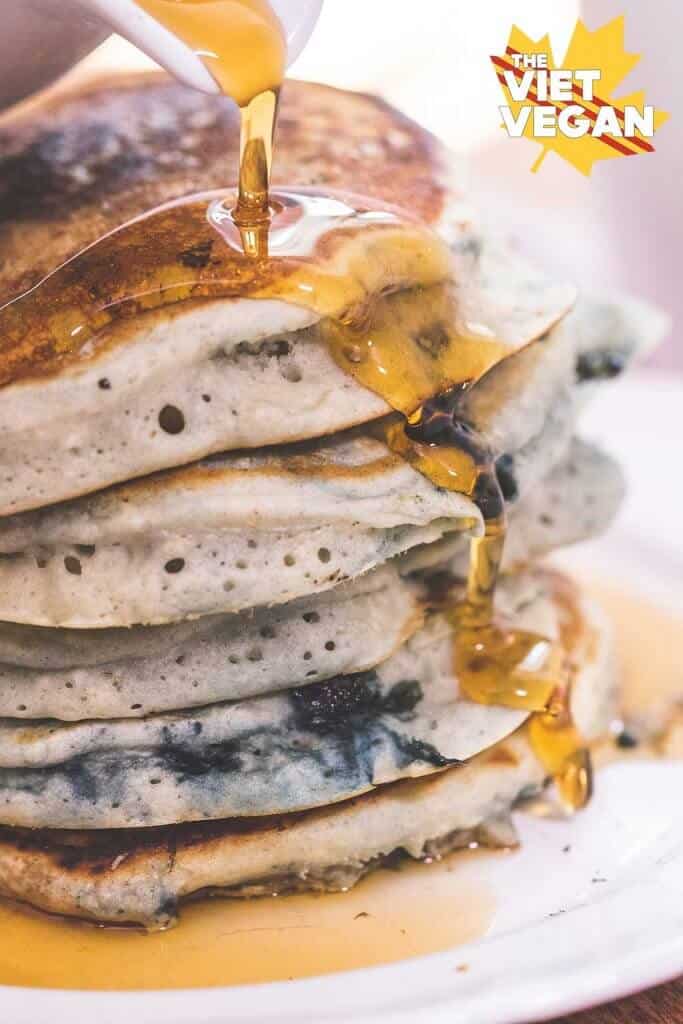 So, you want a stack of pancakes, but you'd like them fluffy, easy to make and tasty. If you must choose one pancake recipe, let it be this one.
Use your favorite plant-based milk along with easy to source standard pancake ingredients and you will make this gem.
I love how the blueberries are there in every bite! If you make pancakes a lot, I imagine you have nearly all the ingredients already. Send us photos!
Crêpes with Vanilla Cream and Berries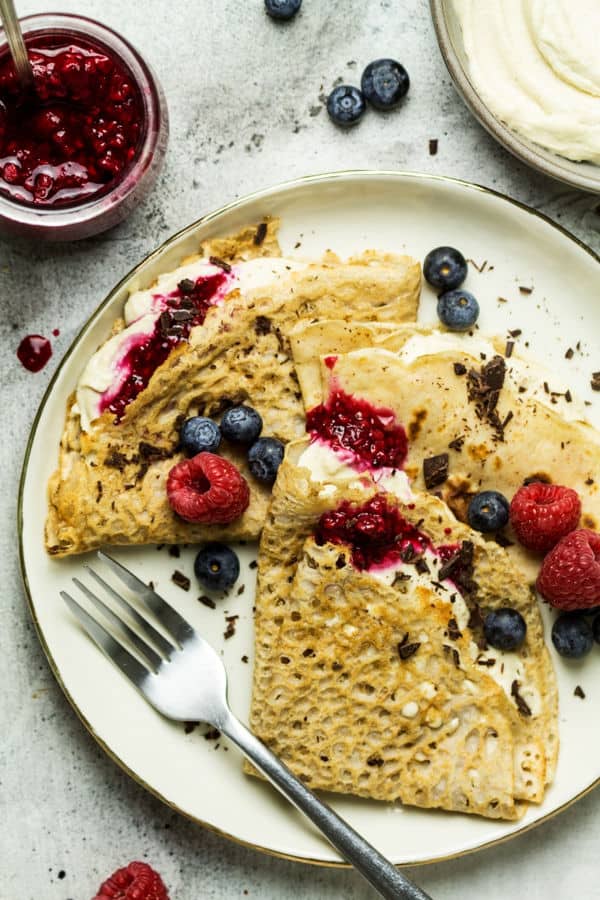 This is a luxury recipe, it really is! It's divided into two, the batter and the optional (it's not optional, it's mandatory!) vanilla cream.
The crêpes just have 3 ingredients and if you wanted to, you can just make these and drizzle maple syrup over them, you'd already have an amazing breakfast.
If you want to go all out for that wow factor, make the vanilla cream too.
You will need some cashews and I thoroughly recommend soaking them overnight rather than boiling them.
Add some coconut cream, vanilla extract and just a couple of other goodies and I promise you will have the best vanilla cream. Best breakfast ever!
Chocolate Chip Pancakes with Smooth and Zingy Mixed Berry Sauce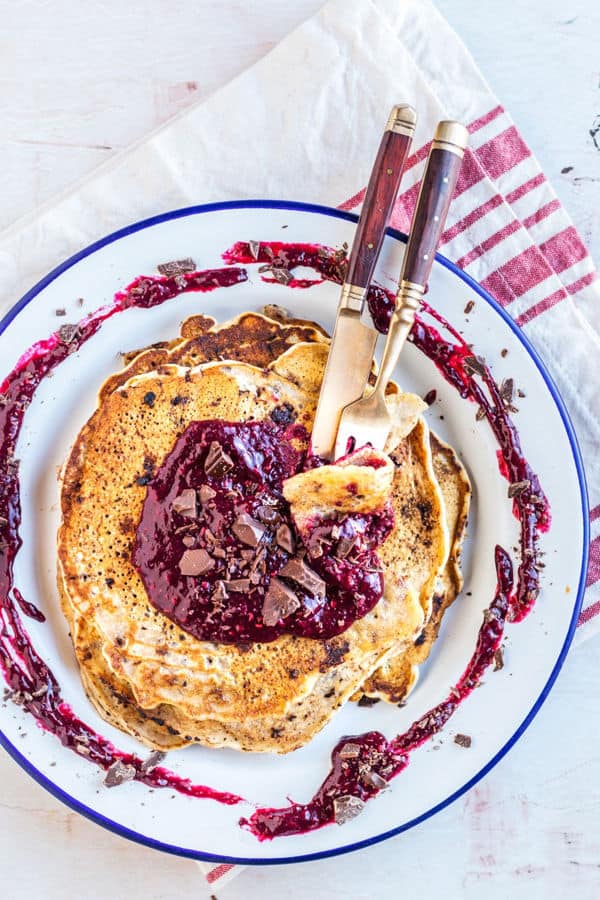 I want to say there is so much to this recipe, but that suggests there are a thousand ingredients and the prep time is like two weeks! The opposite is true and just look at that picture.
This is one of those recipes where the end-product looks just like the photo, you really will have something that will amaze.
When you want to treat yourself and someone special, reach for this recipe.
Vegan Pecan Dessert Recipes
Peach Cardamon Tart with a Ginger Pecan Crust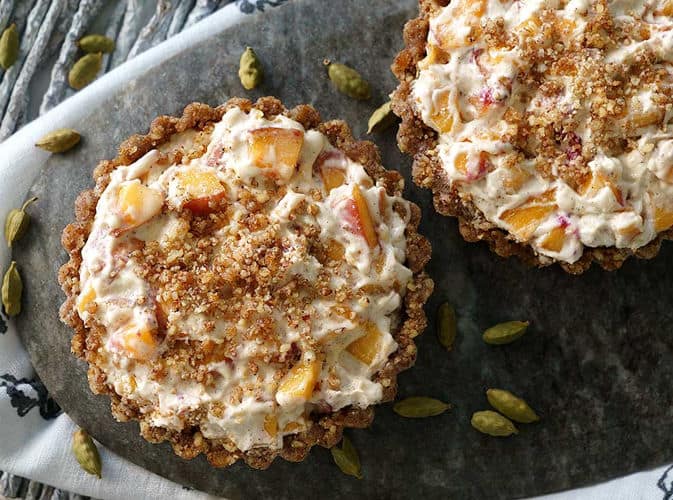 This recipe has left me speechless, I really mean that. You have these amazing little tarts that consist of a crust and a filling, and they are simply incredible.
The crust is made from pecans, ground ginger and a couple of other ingredients. Very easy to make using a food processor.
The filling is created from cashews that have been soaked for at least 4 – 6 hours, coconut butter, organic peaches and a few bits. Best of all, there is no baking or any kind of cooking. Tasty and healthy!
Flaky Pie Crust Filled with Pecan Pie Filling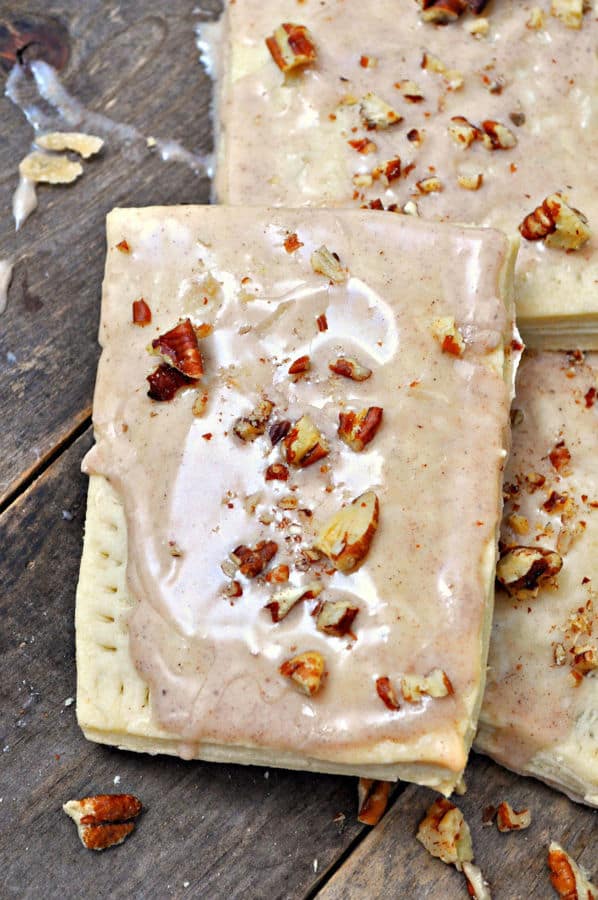 If looking at the picture doesn't fill you with the need to make this, I recommend you see your doctor today! With just a little effort you have these incredible home-made pop tarts filled with pecan pie filling.
The recipe is divided into three, the crust, the filling and the adorable cinnamon icing.
You are making everything from scratch and by hand so expect a little prep time and then you just bake for 15 minutes.
You won't be disappointed, at all, whatsoever, in the slightest!
Cinnamon Pear Buckwheat Muffins with Pecan Streusel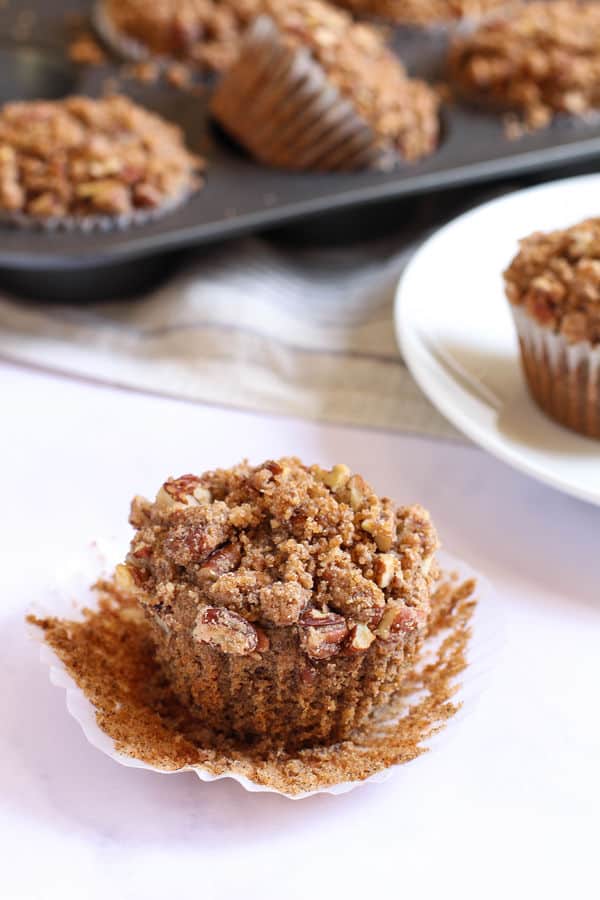 Dessert? Breakfast? Snack? I'm not sure when is the best time to eat these incredible muffins so I will say they are perfect for dessert, breakfast and snacks!
Because of the pecan streusel, these are so much more than regular muffins, as though that wouldn't be enough! However good you think these will taste, I promise they will exceed your expectations.
The amounts listed make 12 standard size muffins or if you prefer, you could make a loaf which will be about 9 by 5 inches.
If you bake occasionally, the chances are you will have most of the ingredients already. Either way they are easy to source. For the holidays and for everyday!
Sweet Potato Pecan Pie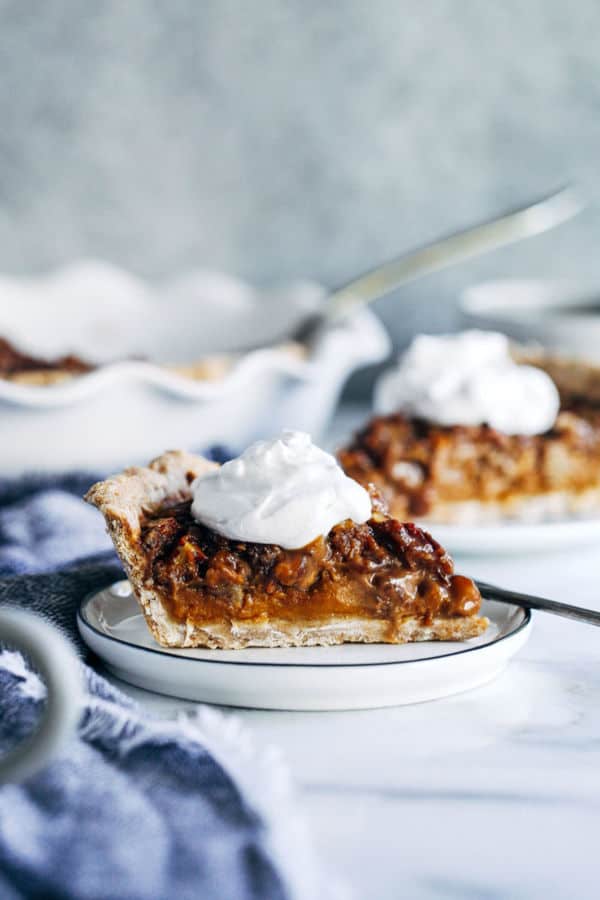 I want to say that this would be perfect for the holidays, it really would be! But it's such a shame to leave this just for certain times of year.
Look at that photo! You know you want to make it today or this weekend!
The recipe is divided into two, the sweet potato filling that includes gems such as coconut milk and cinnamon, and the pecan filling/crust.
Just one look at the ingredients and you know this is going to taste great. If you want to impress someone, reach for this recipe.
Vegan Pudding Recipes
Kiwi Mango Cherry Chia Seed Pudding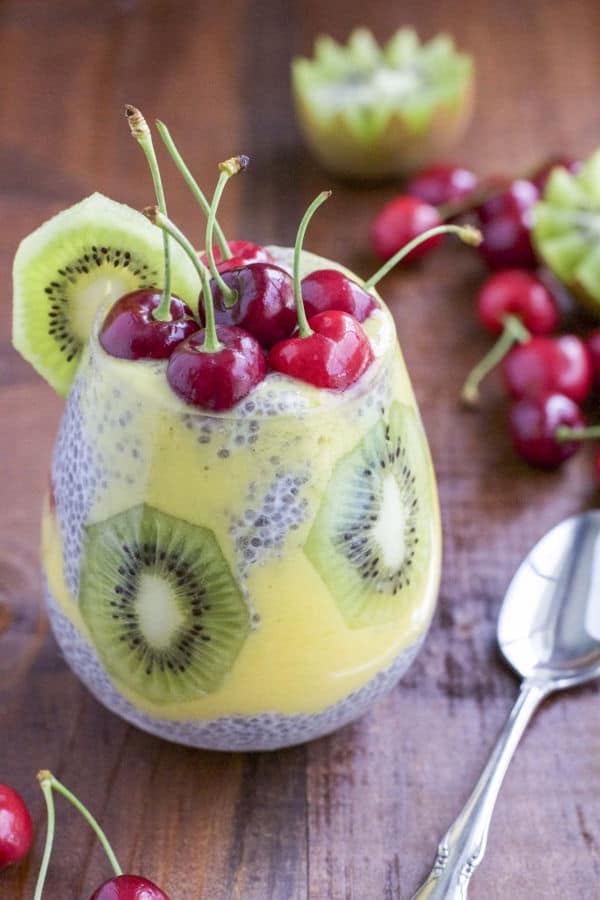 Admit it, you looked at that picture for a couple of seconds longer than usual trying to figure out how it was all put together. I know I did!
Doesn't it look amazing? Please note you will need to make these ahead of time because you need to prep the Chia seed pudding the night before.
Other than that, it's incredible how easy these are to put together. The presentation is one of the best I've seen.
Golden Milk Chia Seed Pudding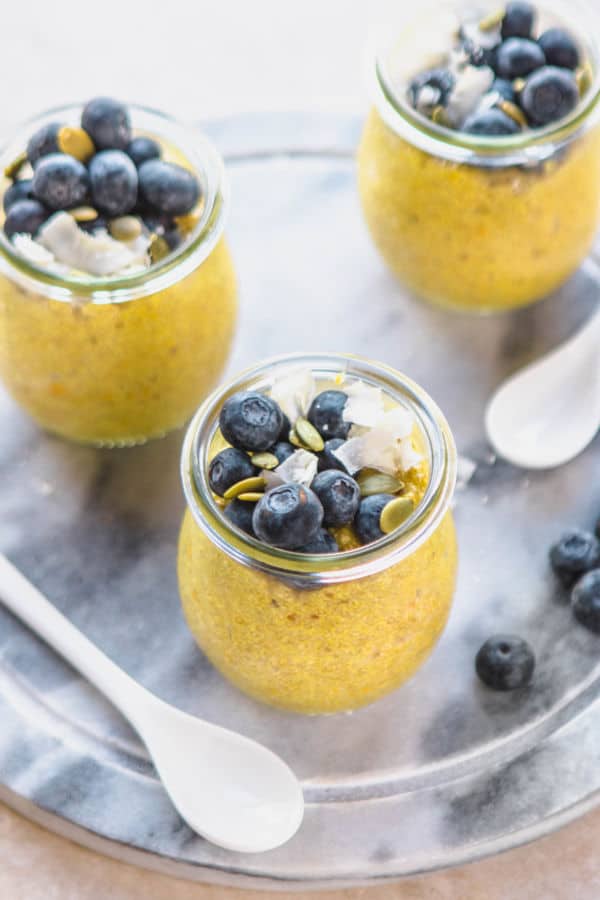 If you've never heard of 'golden milk' before, it's a very common healing drink. Look it up and make a note of it, it's really good. This recipe takes it one step further and makes it into a pudding.
There is just 15 minutes prep time and, that's it, no cooking! Please note one of the optional ingredients is cayenne pepper and this will add a lot of spice!
You can leave this out altogether or use just a pinch. Incredible presentation and extremely healthy.
Vanilla Pudding with Raspberries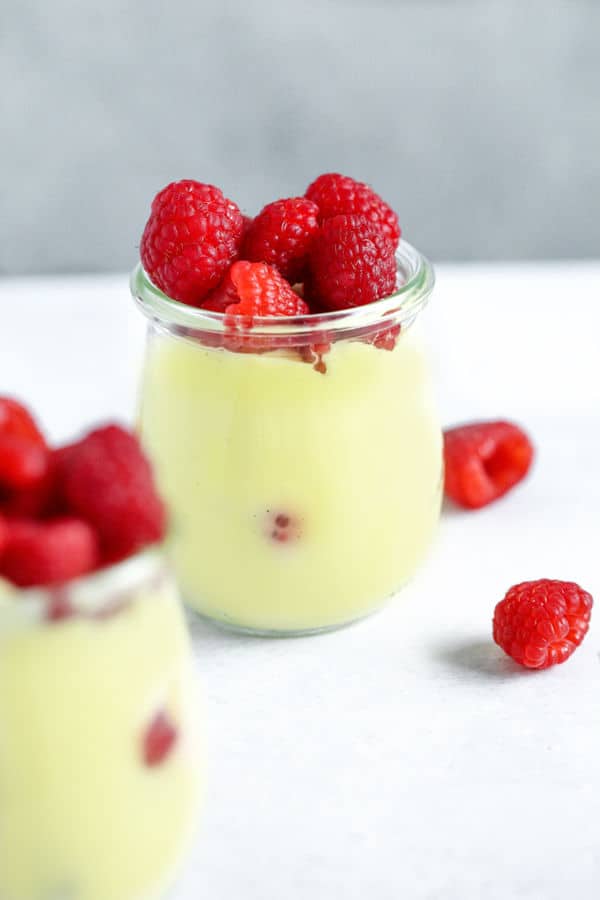 Isn't this just a lovely looking pudding! Really simple ingredients and best of all, no cooking!
The author suggests using a vanilla pudding mix that you make according to the package instructions.
Your supermarket I'm sure will have this, just check the ingredients to ensure it's suitable for your dietary requirements.
Once everything is made, set in the fridge for at least 10 minutes. Perfect for Valentine's Day!
Chocolate Cherry Chia Pudding Parfaits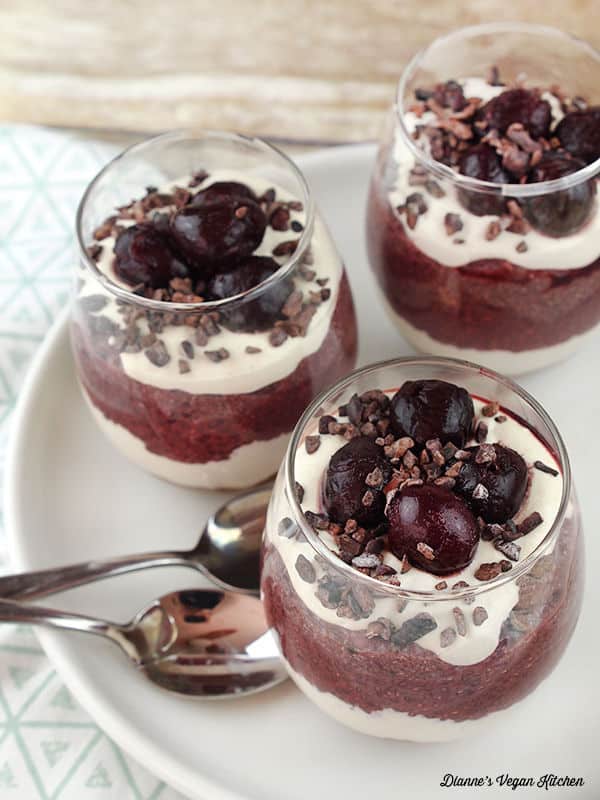 There's nothing quite like the look of a chocolate pudding. These parfaits are easy to make, and the amounts listed in the ingredients make four servings so, you obviously need to double that!
These take just 15 minutes and there are just a handful of ingredients. If you don't have a blender you can easily use a food processor and achieve the same results.
Make sure you layer the pudding as shown as this will impress everybody. In the recipe section, check out where it tells you the servings, tap or click on the number and a little slider will appear where you can adjust it according to the servings you need, and this will change the amounts listed in the ingredients. Perfect pudding!
Boston Cream Pie Pudding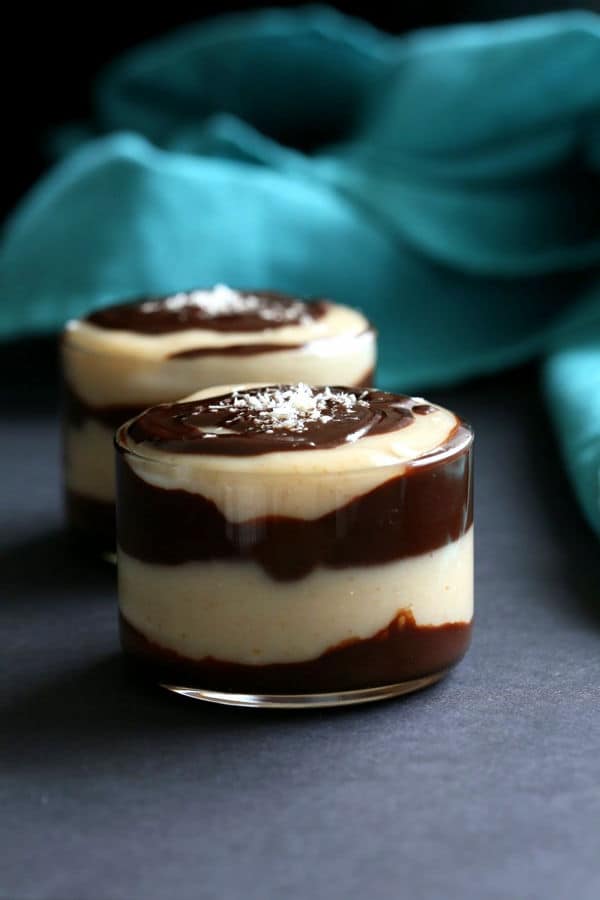 As you may imagine, the traditional recipe for this pudding is not vegan, but this one is and it tastes better than ever!
The recipe is divided into two, the vanilla almond pudding and the chocolate layer. With just a 10 minute prep time these easily come together. The author suggests using any plant-based milk, I recommend coconut for this pudding.
The others work fine as well, but the coconut will add that slightest hint of flavor! Beautiful to look at, and even better to eat!
Vegan Smoothie Recipes
Pineapple Green Smoothie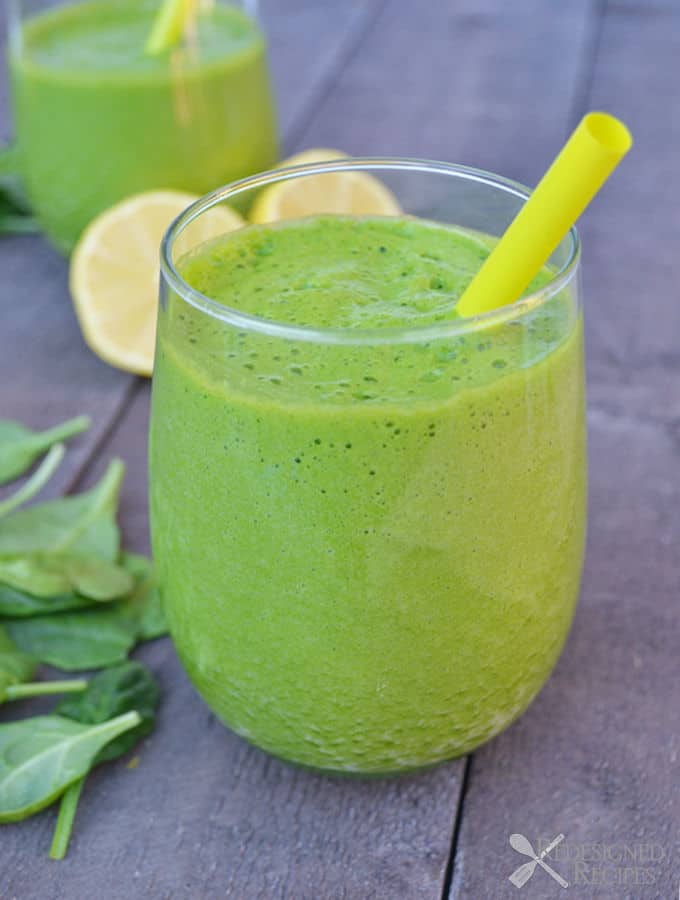 Okay I'll say it, I don't like green smoothies. It probably stems back from the first time I ever had one and it was like drinking a salad.
Now, I'm not going to judge as I know some people are into that and good on them. Fact is, I want to like green smoothies because they are so good for you. Well, this one broke me, I love it and I know you will too.
Obviously, you need a blender to make any smoothie so that's the first thing. There are a couple of other things but essentially, this is fresh organic spinach and pineapple drink.
Spinach has quite a benign flavor whereas pineapple hits the spot with that tropical feel. If you're like me and you want the goodness of the green, but you need it to taste fruity, this is the one!
Frozen Blueberry and Banana Smoothie Bowl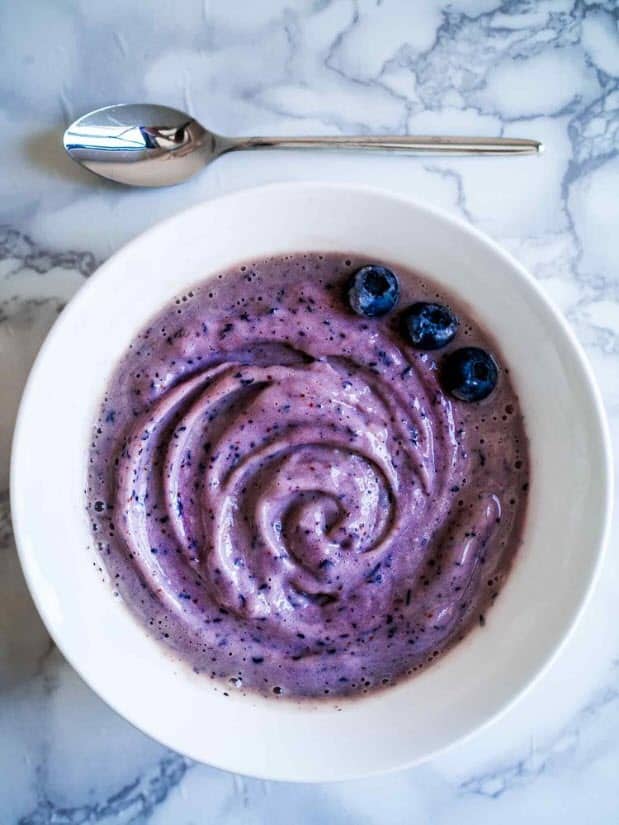 The thing is with smoothies, you do need a good recipe or a bunch of your favorite recipes and you need to stick to them.
I know a lot of people that think it's okay to randomly put fruit and stuff into a blender and they hope it will always come out okay, it won't.
Hand on heart, this is my favorite smoothie recipe. I've had it for years and when I need a smoothie fix, this is my go to.
This version has a slight twist in that it's a 'bowl' and has mint leaves (which are optional) and a plant-based milk. I've never come across this before, I mean, using these last two ingredients.
This is also made in a food processor (or blender). If you use the former the consistency will be more like a mousse.
It really depends on how you want to serve and eat it. It's creamy, it's full of flavor and is good for you.
Turmeric Green Tea Smoothie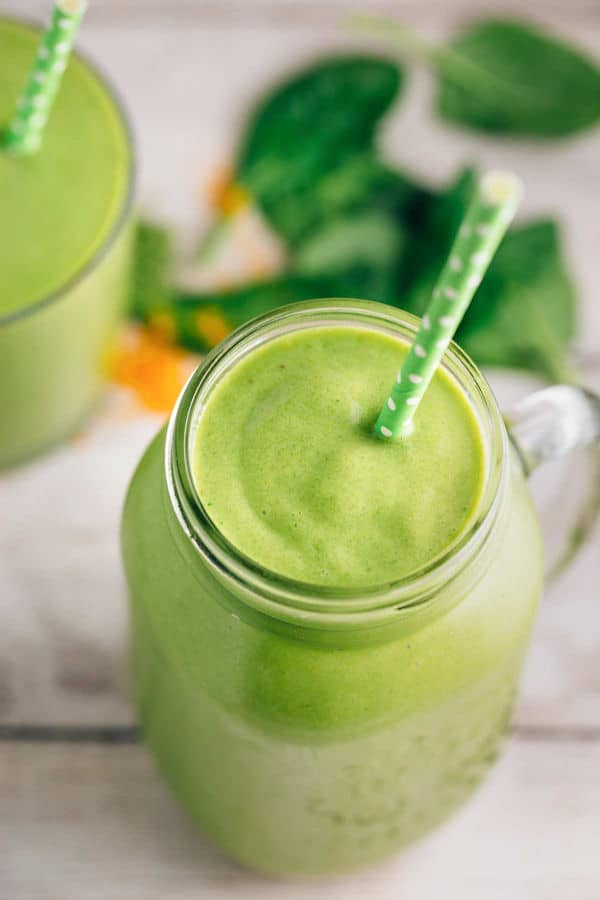 If you're looking for a pick-me-up recipe that is healthy and good for you, this is it.
This smoothie is refreshing, it's made with matcha green tea powder and contains turmeric.
If you're worried about the taste, don't be.
There are other ingredients like dates, banana and a couple more things. Whether you need help to get back on your feet or you just need a pick-me-up, reach for this!
Coconut Basil Smoothie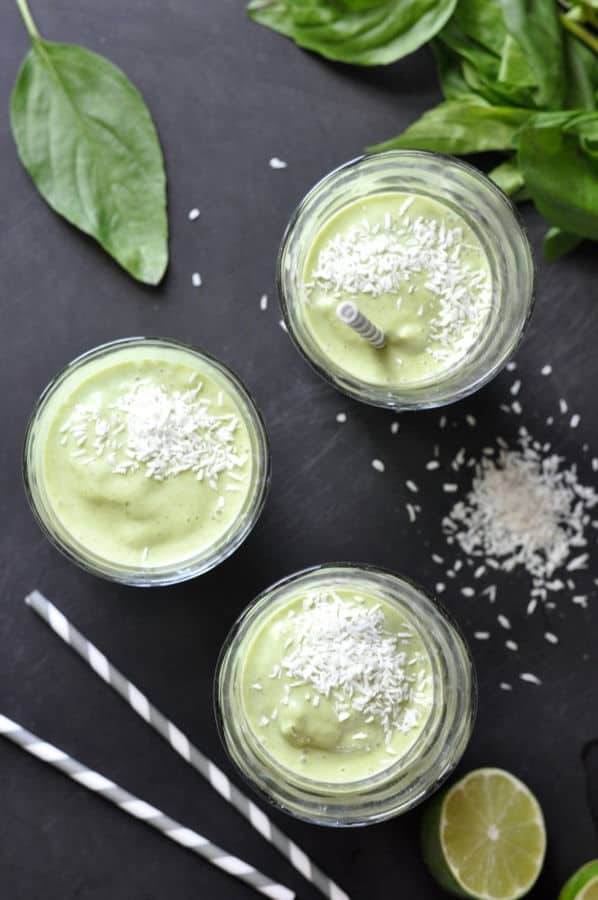 I'll admit when I first saw this, I was dubious as to how it would taste. I didn't need to be!
This smoothie is bursting with goodness, everything from basil, spinach, pineapple and more. It has an incredible taste where all the flavors complement each other perfectly, it's extraordinary how it does that.
Above all it's refreshing and leaves you feeling great. Try it!
Chocolate Hemp Power Smoothie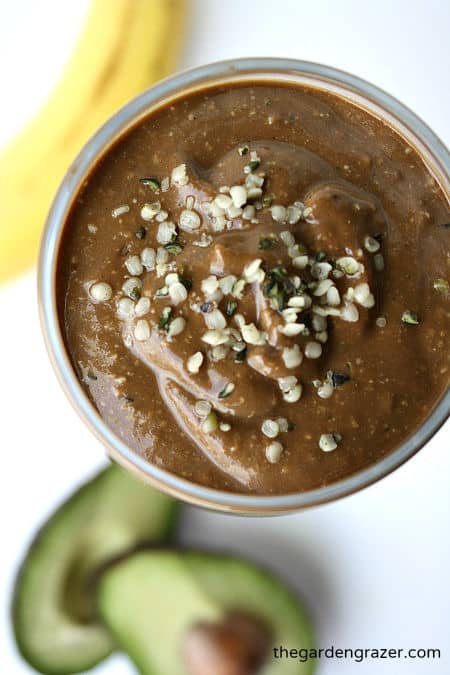 This is so good! It certainly is a smoothie although you could easily serve it in fancy glasses and it makes for a delicious and posh looking dessert!
You have chocolate, a small avocado (don't worry, this is used as a thickener and you won't taste it, but you will get the health benefits), banana and a couple of other goodies.
Before serving or storing in the refrigerator for later, do a taste test and adjust for sweetness. It's perfect for any occasion.
Mango Banana Green Smoothie Bowl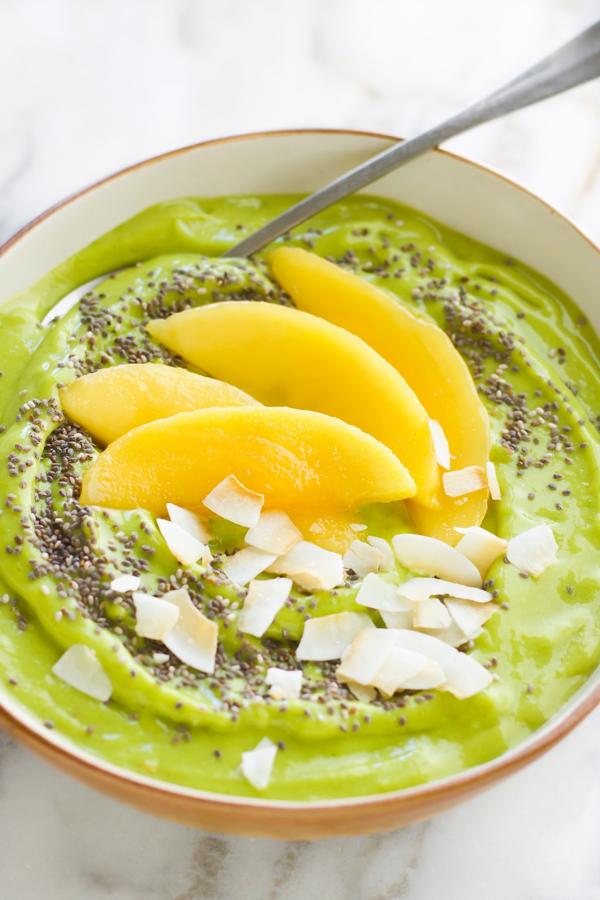 If you've never had a smoothie bowl, what are you waiting for? It's so much more than just a smoothie served in a bowl. It's a frosty and delicious meal disguised as a treat.
The best part about serving a smoothie bowl, the toppings! You can personalize your bowl to your own liking using as many or as few toppings as you like.
This bowl recipe tops with mango and chia seeds, but you can add on more fruit and flavor if that's your thing. Have fun!
Special Picks
Hazelnut-Coffee Mousse (and Banana Crunch Parfaits)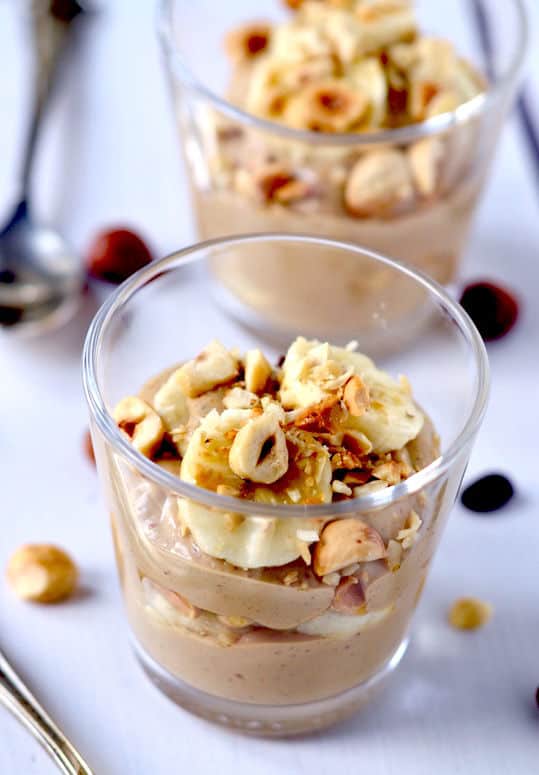 These already look good right? I mean hazelnut and coffee were meant to go together.
The recipe page is very well laid out and takes you through each step with photos along the way. Having said that, it's incredibly easy to make.
Whether it's just for you, all the family, or you want to show off to someone, these can look very fancy with virtually no effort. They taste amazing!
Persimmon Crème Brûlée with Sugared Cranberries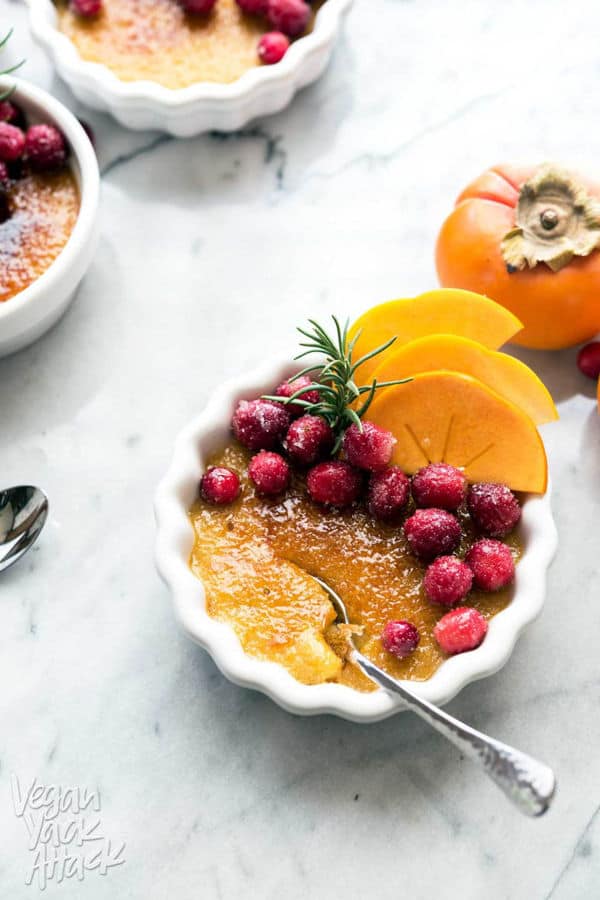 You're having a dinner party and you want to make something that looks amazing. You want something out of the ordinary, high quality restaurant style. This is it!
If you've heard scare stories about making crème brûlée you don't need to worry here. I can vouch for this recipe as we made it ourselves following each step, it simplifies the whole process.
I recommend you give everything a read through once before making it. Obviously, there is some preparation time, fancy dishes don't make themselves! However, the end result is more than worth it.
Apricot Tartlets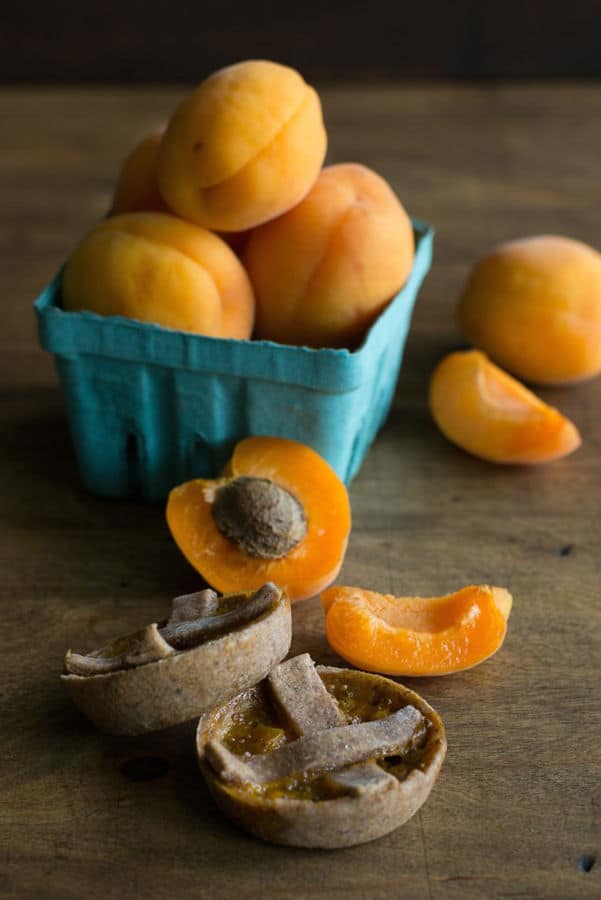 Would you believe this amazing looking dessert is sugar-free! It's incredible.
The recipe is divided into two, the apricot jam/jelly and the crust. You make everything from scratch although if you really need to save yourself some time, buy the best quality apricot jam you can find. Although if you possibly can, make everything from scratch.
There is some preparation as you would expect but nothing excessive and to be quite honest, it's much easier than I thought. Presentation is fantastic, taste is even better!
Sweet Potato Dumplings in Ginger and Jasmine Syrup (Tang Yuan)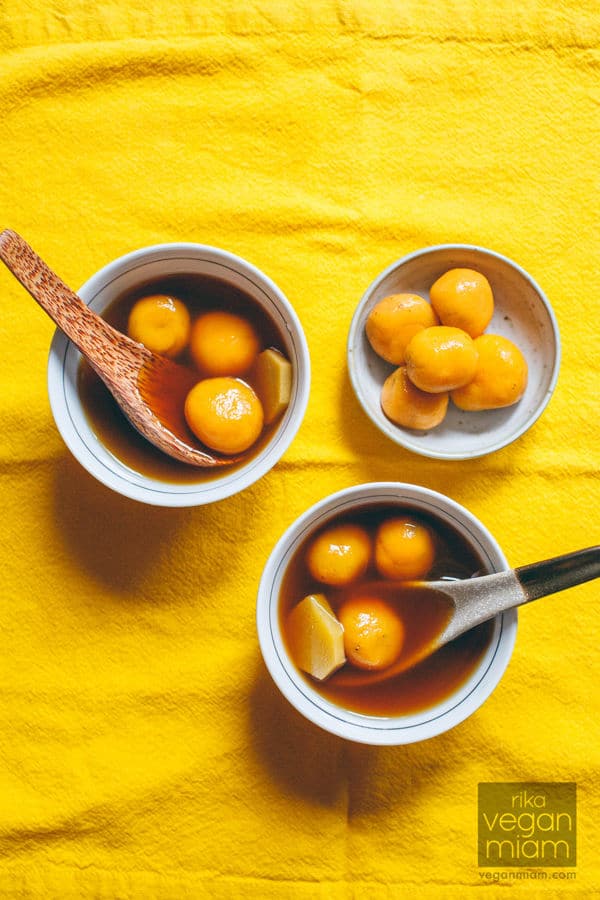 So, you're having somebody over for dinner and you want to impress with something they have never had before. This is it believe me!
Absolutely incredible dumplings and yes, they do contain sweet potato and they make the perfect dessert.
If you're worried this is too exotic, you need not be as the instructions on the recipe page could not be more simple.
They take you through each step and there are photos along the way.
Very well laid out, one of the best I have seen. The finished product comes together with surprisingly little effort and the taste speaks for itself!
Halloween Eyeball Ravioli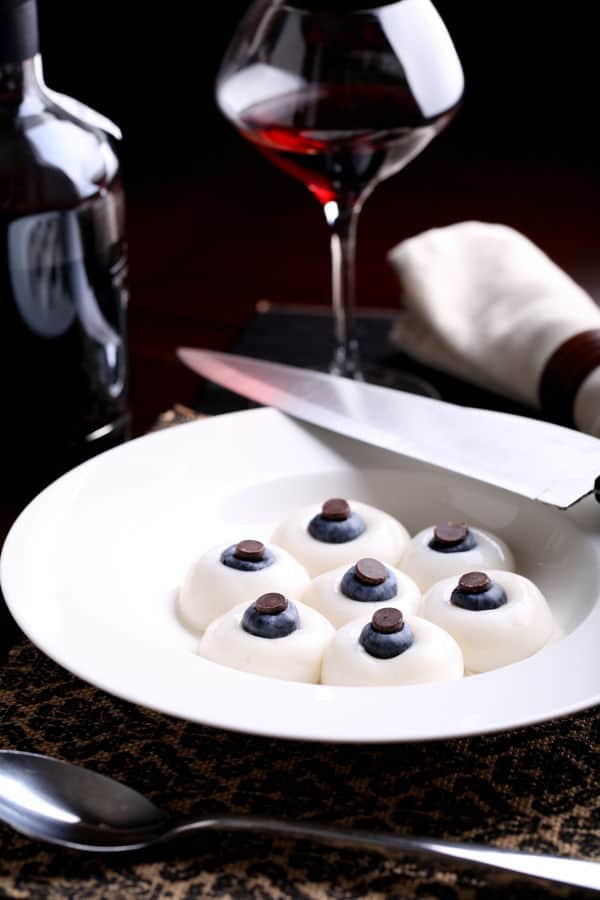 Even though this is called ravioli, it's a dessert, and one made for Halloween. It looks so much fun!
This is made from yoghurt and a couple of (vegan) gelling ingredients which takes a little time to come together. For the pupils you can use blueberries or chocolate chips.
Then if you want to add more ghoulish effects, use cherry or beet juice for that blood-shot eye look!
Flourless 5-Minute S'Mores Molten Lava Cake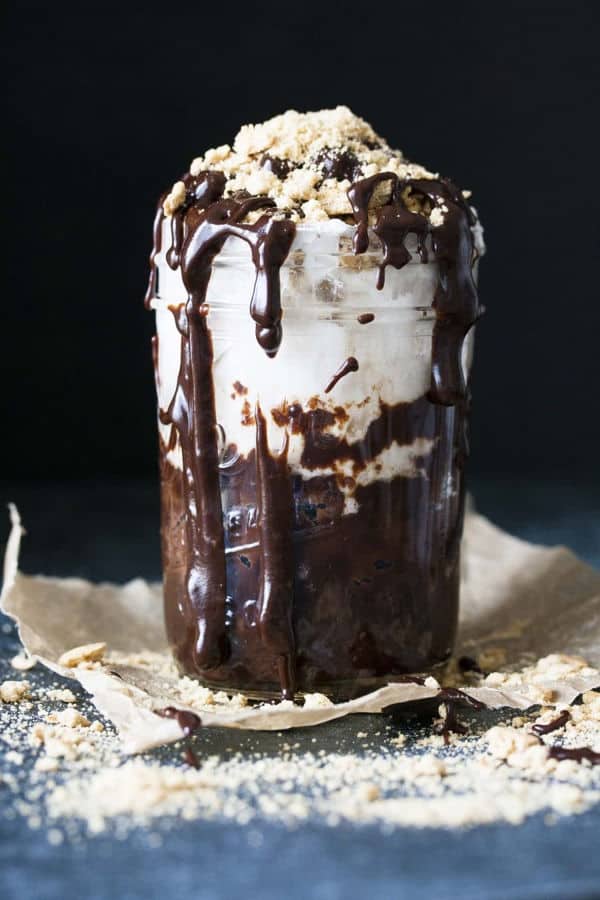 I think we can all agree we want to eat this, right now!
Once you have all the ingredients, you think this might take a little while to prepare and to get just right?
You know, the entire thing comes together in five minutes or less. Doesn't that look incredible? Wait till you taste it!
Meringues with Strawberries and Cream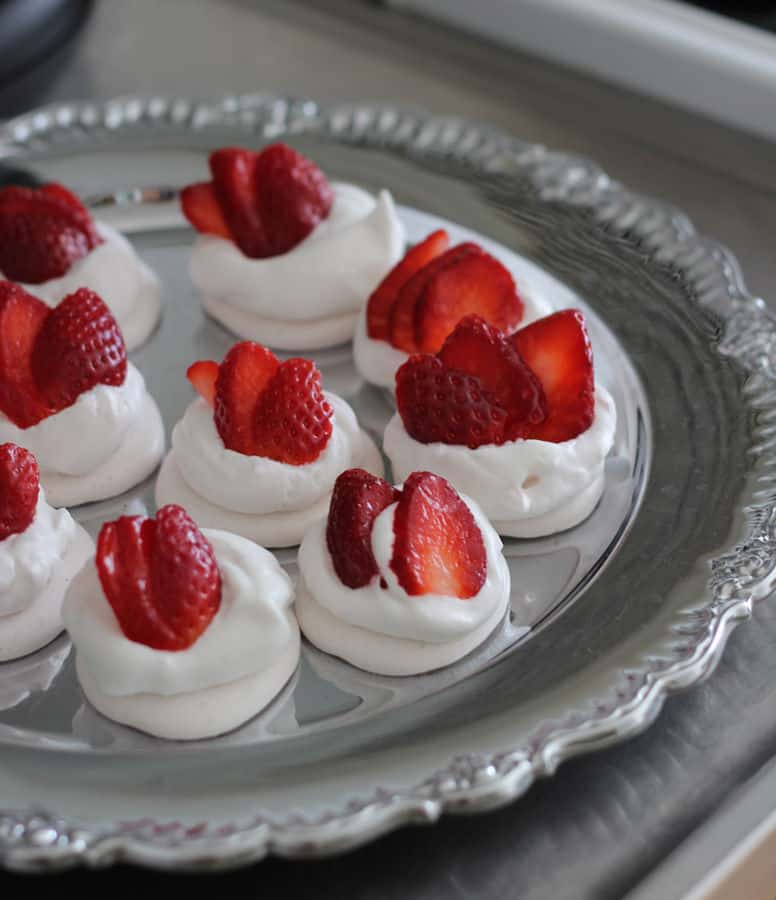 What? A vegan meringue? You bet. If you've never seen anything like it before, neither have I!
After making the vegan meringue, add your favorite plant-based whipped cream, strawberries and/or your favorite fruit, and you're good to go.
A perfectly healthy dessert with an amazing taste. Be warned, these will go quick, so you need to double the recipe, at least!
Instant Lemon Mousse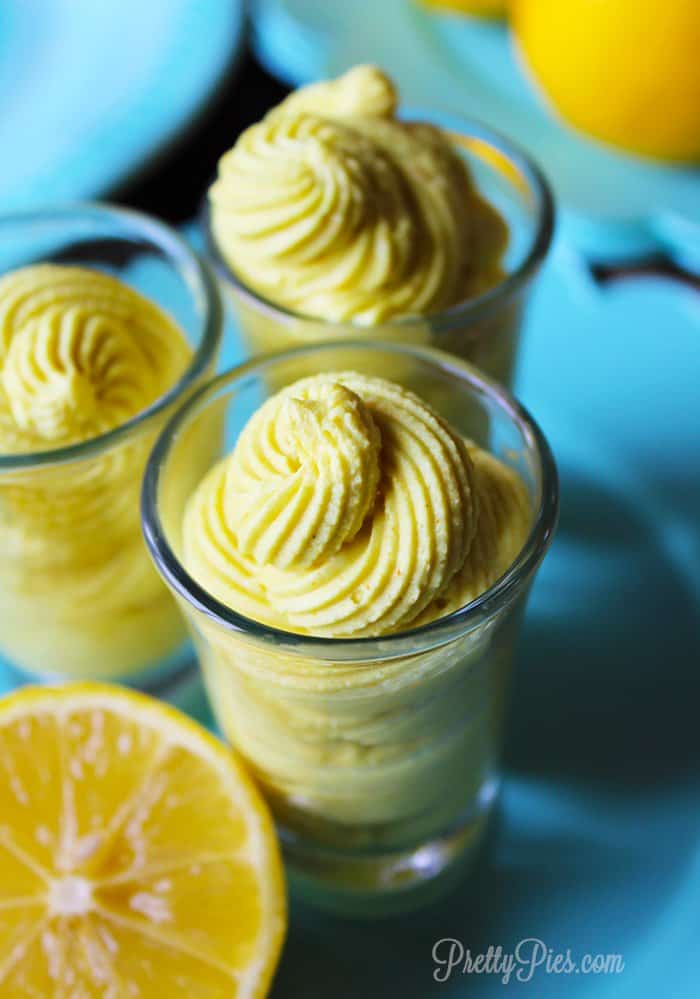 I miss mousse a lot. Hey, that sounds weird, 'miss mousse', it sounds like something from a Disney movie, I digress!
For this recipe you need the cream part of coconut milk. This is going to be the main ingredient so it's essential that you get the best quality you can.
Then you just have a couple of other ingredients, whip it all together and you're done.
The yellow-look comes from turmeric, but you can leave that out if you like. Refreshing and tasty!
Chocolaty Caramel Apple Slices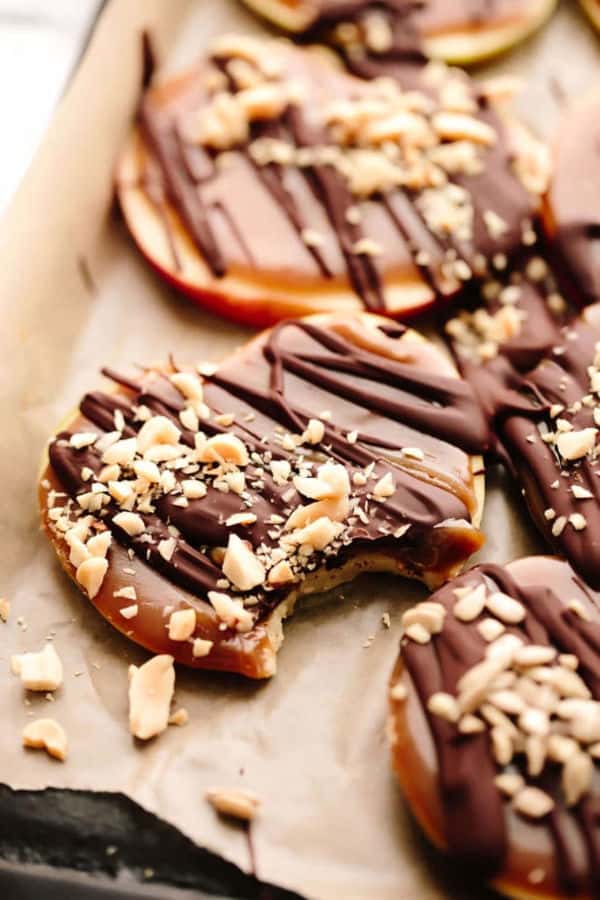 Time to get creative and unleash the chef in you. Does this mean this is a complicated dessert? Quite the opposite.
There are just four ingredients in this although I should say to you, one of those is a '5 Minute Vegan Caramel'. This links to a separate recipe although as you can see, it's quick and super easy.
When ready, place everything on a baking sheet and do your thing with the drizzle! Don't forget the sunflower seeds or chopped peanuts to finish. Maybe use both?
Berry and Chocolate Hummus Dessert Pizza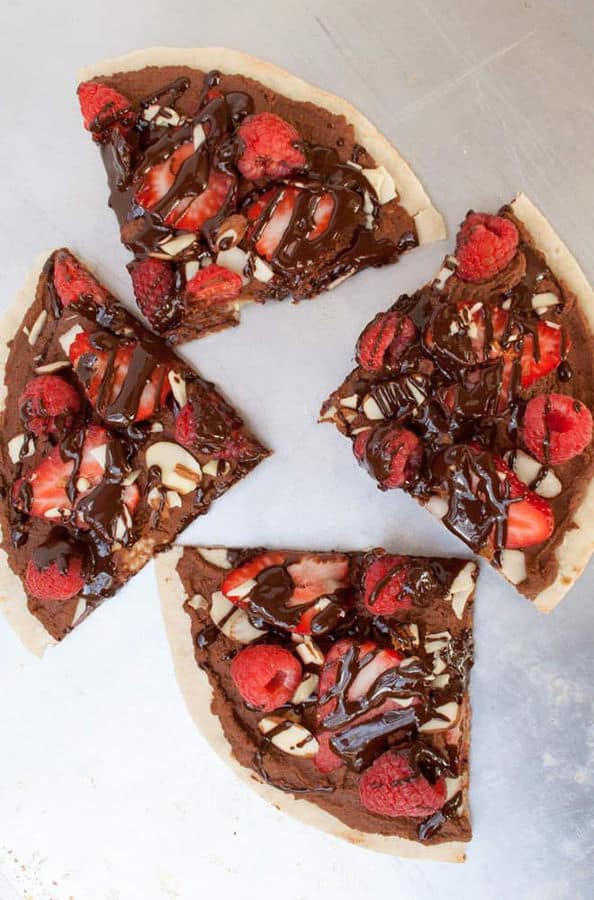 Wait a minute, this is supposed to be a dessert isn't it? Yet it's a pizza and has hummus? Well, yes, but not as we know it, Jim. Did I get that phrase right? Was it Jim? I think maybe it was Captain.
Absolutely delicious and you must try this. The base of the 'pizza' is simply a tortilla. Use your favorite whether it's made from wheat or rice flour.
The recipe page has a link to a separate dish on how to make Dark Chocolate Hummus. I've checked it and can confirm it's a super quick recipe.
Put everything together, add the fruit, sliced almonds and chocolate chips and you have yourself a mighty fine dessert.
Vanilla Earl Grey Donuts with Caramel and Blood Orange Zest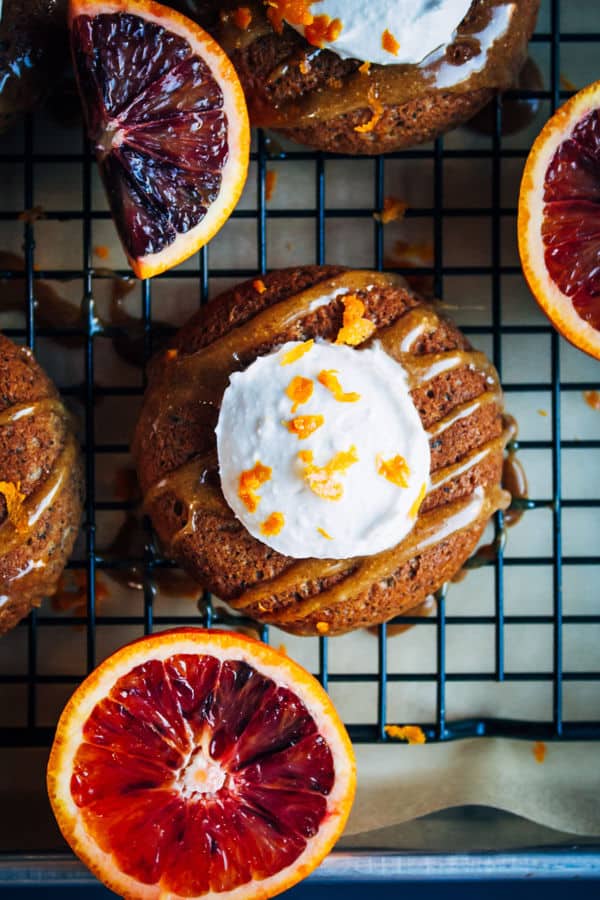 Donuts are deep-fried and perhaps, like me, you try to avoid deep-fried food? Well, these puppies are baked!
Make no mistake, this isn't just some random recipe that hasn't had a lot of thought about the taste and presentation.
If you make every part of this dish (the recipe is divided into a few sections) I promise you will have an incredible looking dessert that will taste amazing.
This is really quite fancy and as I said at the beginning, the donuts are baked. The amounts listed in the ingredients make for 6 servings so adjust as necessary. You need to at least double it!
White Chocolate Matcha Blondies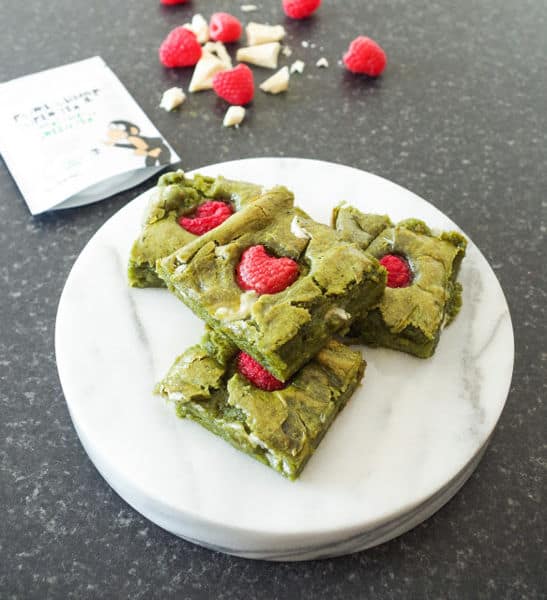 If you like matcha green tea you're going to love these. Even if you've never had it, give this a try.
These are like soft and creamy cookies, but they're green! You can make these in 45 minutes or less and that includes prep and baking time. The amounts listed make for 9 servings so adjust as necessary.
If you think this is just a regular cookie and the green tea powder makes it green, you'll be mistaken. This contains vanilla, soy yoghurt, avocado and more. Rich and creamy cookies!
Vegan Treat Dessert Recipes
Raw Choc Mint Mousse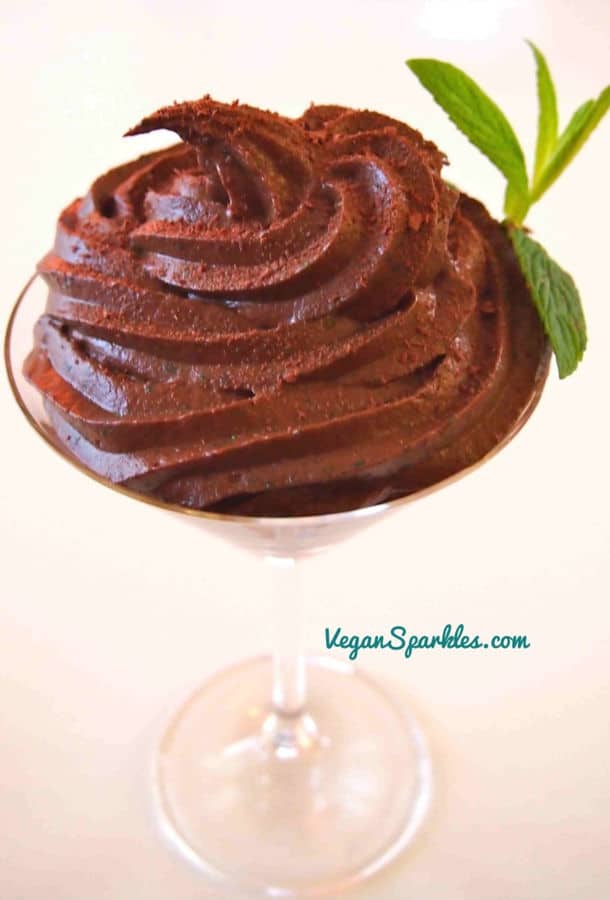 The best desserts are the ones that don't just taste great, they look great and they are healthy as well. Yes, that's right, here we have a healthy dessert.
The base of this is avocado, banana, medjool dates and just a couple of other little things.
Then either use a blender or food processor and you end up with a chocolate mousse that is ready to eat. Fully raw and fully great!
Mixed Summer Berries in Frozen Yoghurt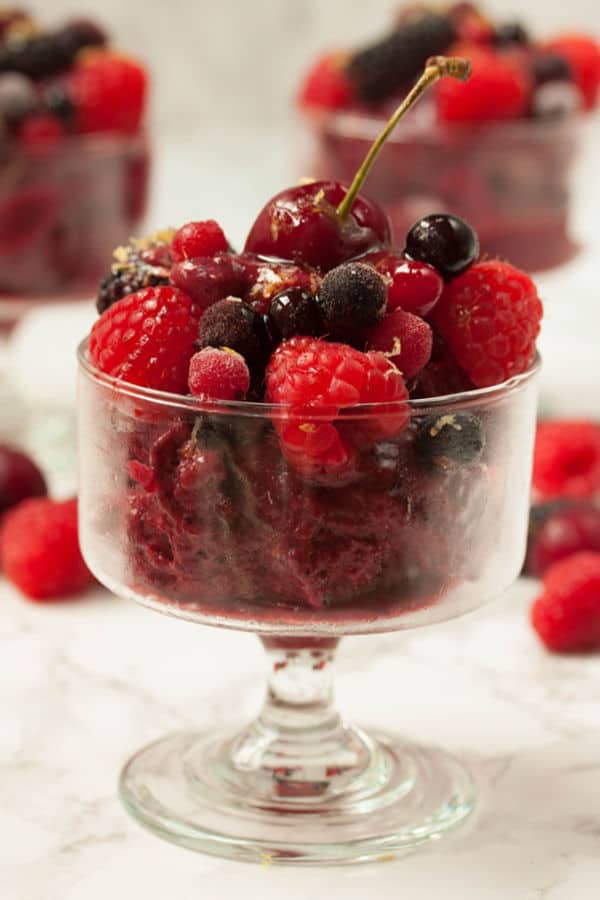 The best desserts are very easy to make and undeniably healthy. This is all of those things and more.
Fruit is good for you and the sugar in fruit is good for you too. The sugar we must avoid is refined and processed sugar, not the sweetness that nature provided in its purest form.
Here we have vegan yoghurt, fresh or frozen berries and just a couple of other ingredients.
Blend them (or use a food processor) and add some whole fruit pieces on the top for presentation. A great summer start to the day!
No-Bake Strawberry Pie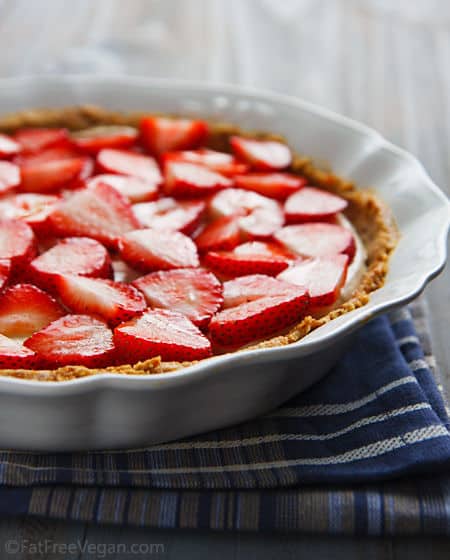 The crust is amazing and made with old-fashioned rolled oats, medjool dates and a couple of other things. Put them in a food processor until it becomes like a dough and it's ready to go. Hey that rhymes!
Then get yourself some organic firm silken tofu and the rest of the ingredients. If you want to follow the recipe exactly, slice strawberries or other fruit to lay over the top although this isn't strictly necessary.
I promise you this pie will not let you down, it will always be there for you through the good times and the bad! It deserves to be made!
Raw Chocolate and Coconut Pumpkin Bars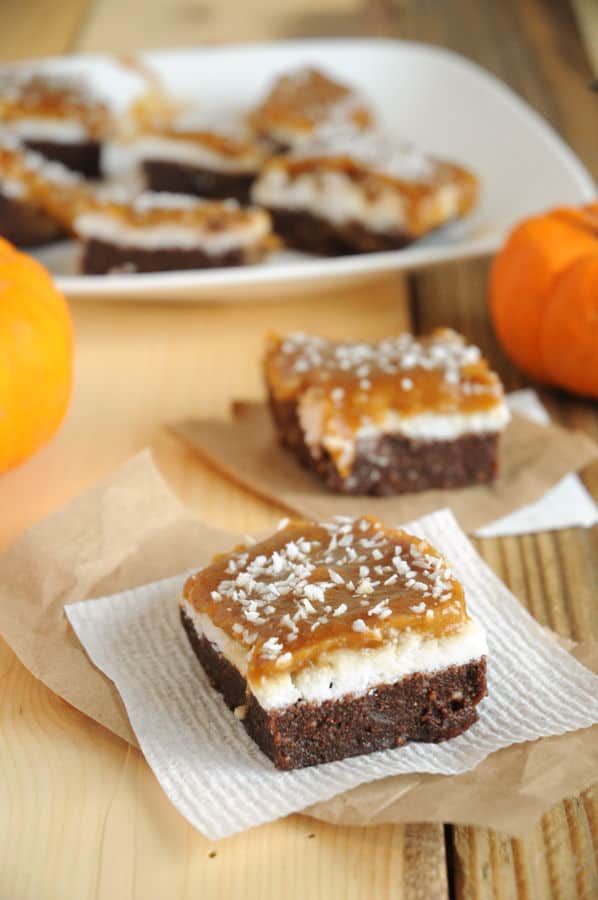 Whether you are into raw food or want something healthy and different for the holidays, this one fits the bill.
Just a handful of amazing ingredients, mix everything together and it's ready to eat. That's the beauty of a raw dessert.
With some raw dishes, you need to dehydrate for hours and hours in a dehydrator, but not this one. Best of all, once made, it stores in the freezer. Healthy delicious and looks great too!
Chocolate Cherry Cupcakes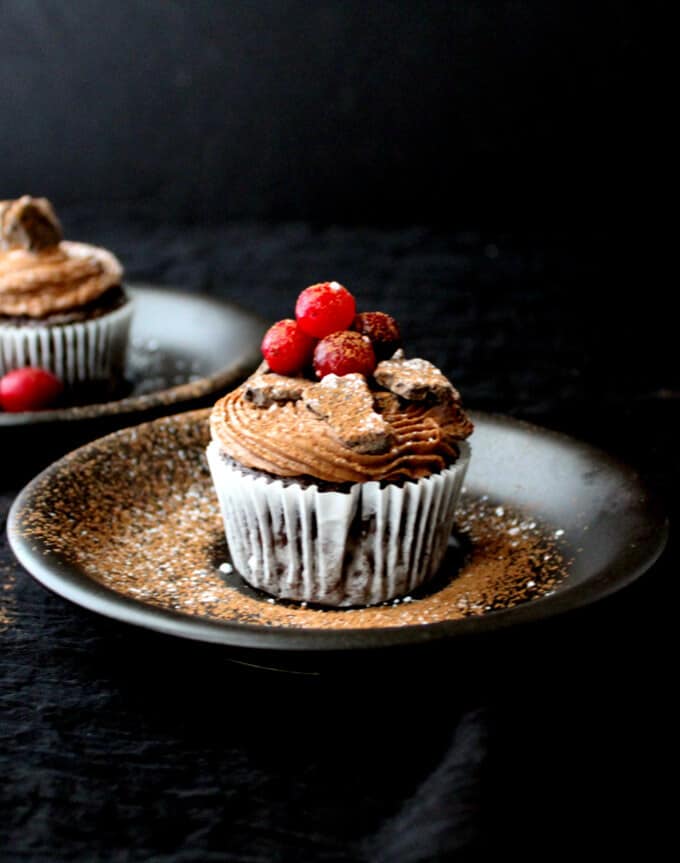 If you want to impress somebody for Valentine's Day these cupcakes will hit the spot. Of course, for that special person, every day is Valentine's Day so don't wait to make this.
I know some people avoid soy so rest assured that this recipe is soy-free.
If you have a nut allergy as well, you're good with these cupcakes. The recipe is divided into two, the cupcakes and the frosting.
You might think this will take at least an hour, it's actually half that, and this includes prep and cooking time. Soft, light and fluffy, perfect!
Strawberry Cheesecake Parfait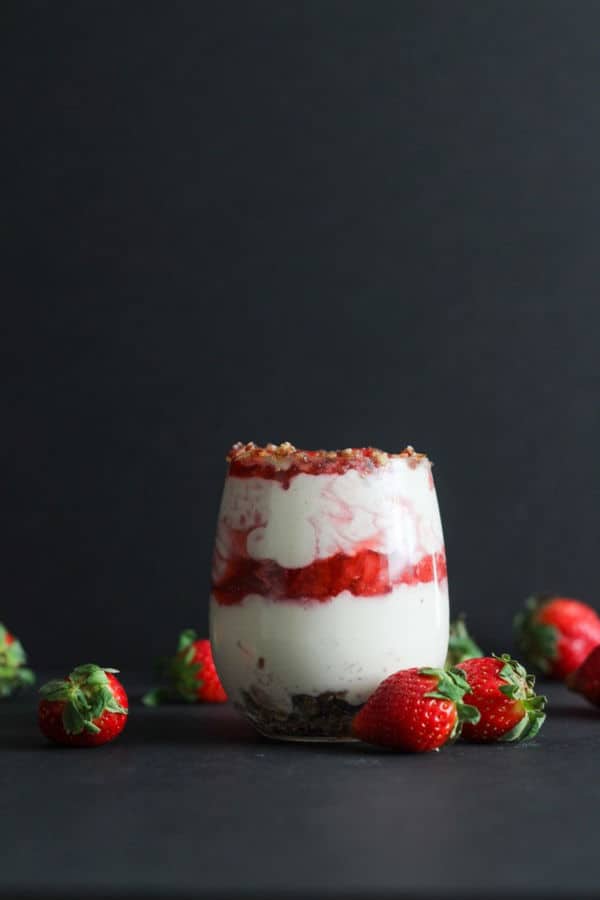 If you're looking for the perfect parfait, one that is not only vegan but gluten and soy-free, look no further.
The recipe is divided into 3 sections, the crust, the strawberry topping and the filling. The crust is made from walnuts, dates and a little salt which are just whizzed in the food processor.
It's amazing how all the flavors are there not just as one homogenous taste, they seem to stand out individually where you can almost taste every ingredient. Yet at the same time they join forces and melt in your mouth perfectly.
Rustic Apple and Pear Crisp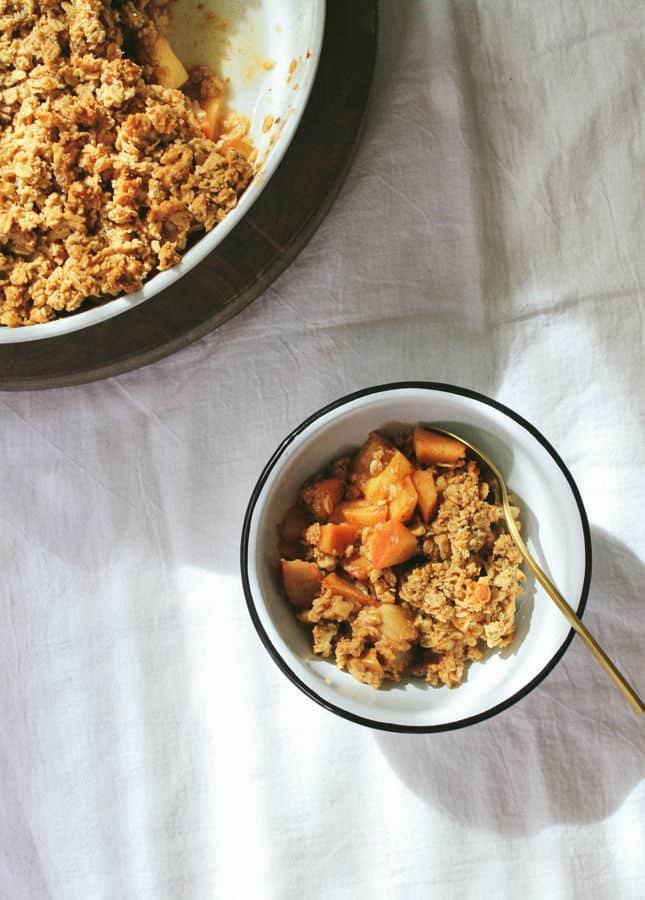 If you've been following our recipe roundups, or certainly if you've been reading a few from this dessert roundup, you'll know that I like crumble desserts. Well, as much as I love it, this is now my new favorite, and I mean that!
Normally recipes like this take an age to prepare and have an ingredients list as long as your arm. This is quite the opposite. You need some regular oats, walnuts, maple syrup and just a few other goodies for the topping.
The fruit part of the desert consists of apples, pears and a little flavoring. Put everything together and you have the best dessert ever. Or is it a main meal? Am I giving too much away?!
Sesame and Peanut Churros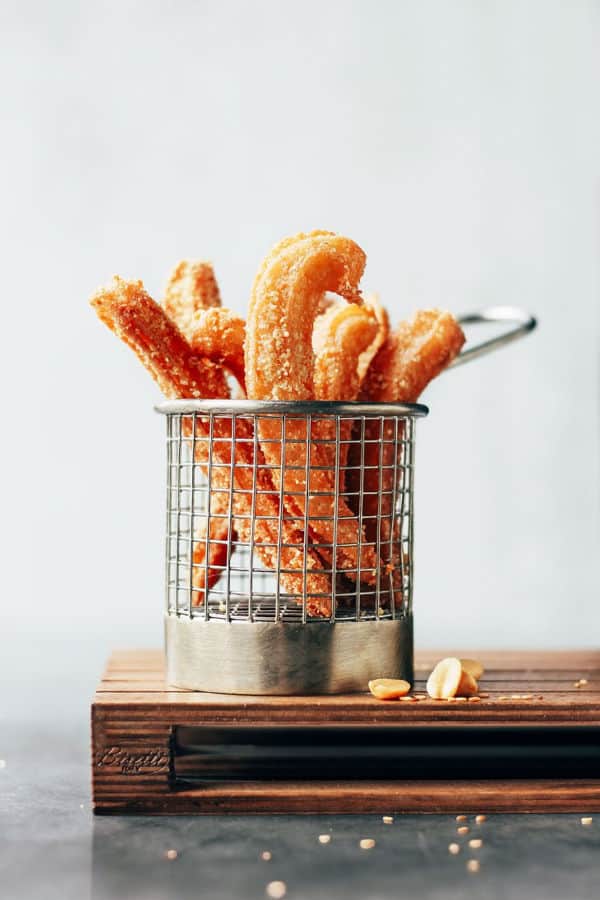 Look, when something says sesame and peanuts, I'm in!
I can't deny that these are for special occasions only. They are fried so something you wouldn't want to eat very often but they are vegan and gluten-free so when you want to treat yourself, these are quick and easy. The peanut sugar coating is incredible!
Pomegranate and Matcha Parfait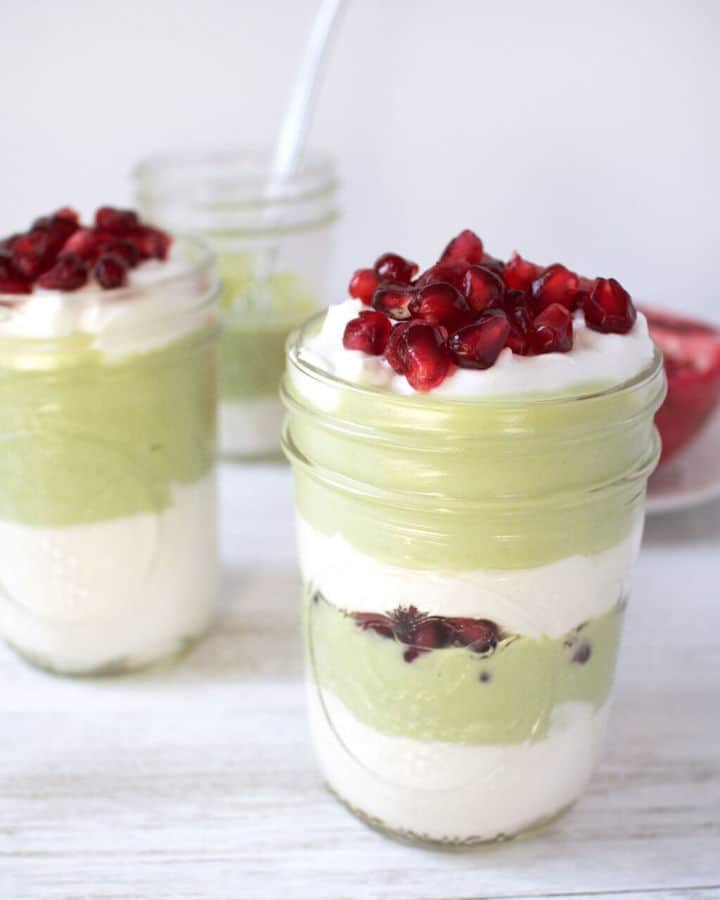 Whether it's for a healthy breakfast or a fancy dessert, this pomegranate and matcha parfait recipe is a win!
The recipe is divided into three, the white layer, the green layer and finally the topping. The white layer's main ingredient is coconut cream with maple syrup and vanilla extract.
If this alone doesn't tempt you, nothing will! This is a flexible dessert, so you can make as many or as few layers as you wish.
You can even use a bowl, preferably one made of glass. For the toppings you can use pomegranate seeds or whatever you wish, I recommend fresh fruit. Best of all, stores in the fridge until you are ready to serve.
Dark Chocolate Bark 2 Ways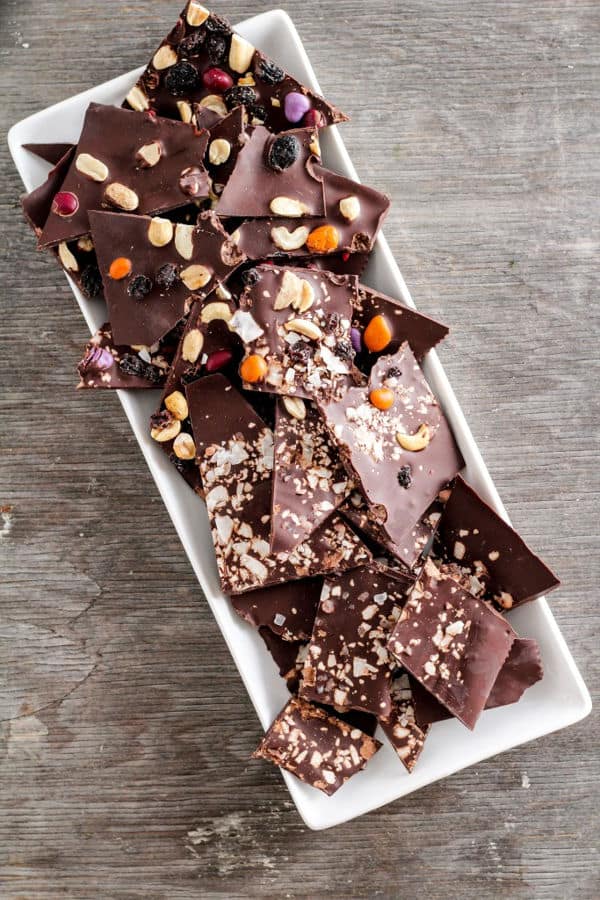 This is the second time I have come across a dark chocolate bark recipe. Honestly, they look so much better in real life and yes, the photo looks great too.
With just 4 ingredients you can make these beauties. Perfect for Valentine's Day, the holidays or any time of year.
Easy to make and I love how you can have fun with the different sprinkles along the top. Chopped nuts, fruit, you're only limited by your imagination. Let us know what you choose!
Orange Almond Coconut Oil Chocolate Bark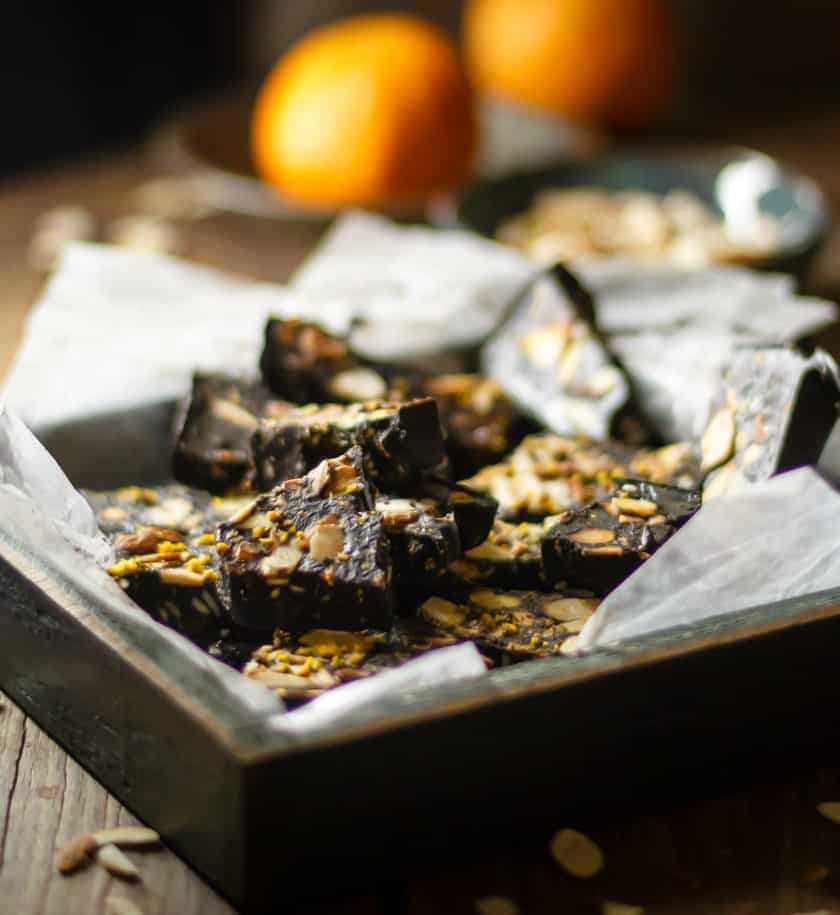 If there are two things that go together in life, it's chocolate and orange!
With just a handful of ingredients these come together in just 5 minutes, that's right, that wasn't a typo!
Yes, the recipe page does say a total time of 1 hour 10 minutes, but that refers to time in the freezer that is needed to firm everything up.
Grab all the ingredients and make these, it's so easy that you simply may as well. You won't be disappointed!
Dark Chocolate Strawberry Scones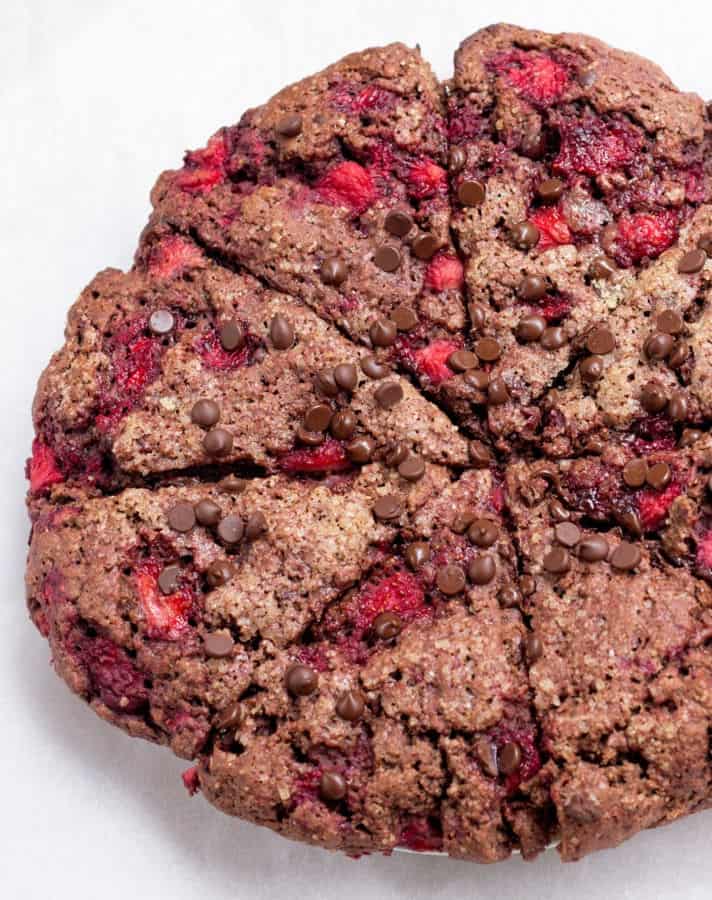 You don't often see strawberry scones. Well, I don't anyway but I'm sure glad I came across these.
Given what the scones end up looking and tasting like, I was surprised how few ingredients there were.
You're looking at around 10 minutes prep time and then you bake for just 25 minutes. They will be ready when they are fully cooked in the middle.
Please note and this is important, before removing from the pan, allow them to cool fully.
Cut into slices and you're good to go. Follow the instructions carefully and you simply can't go wrong. An absolute winner!
Warm Banoffee Chia Parfait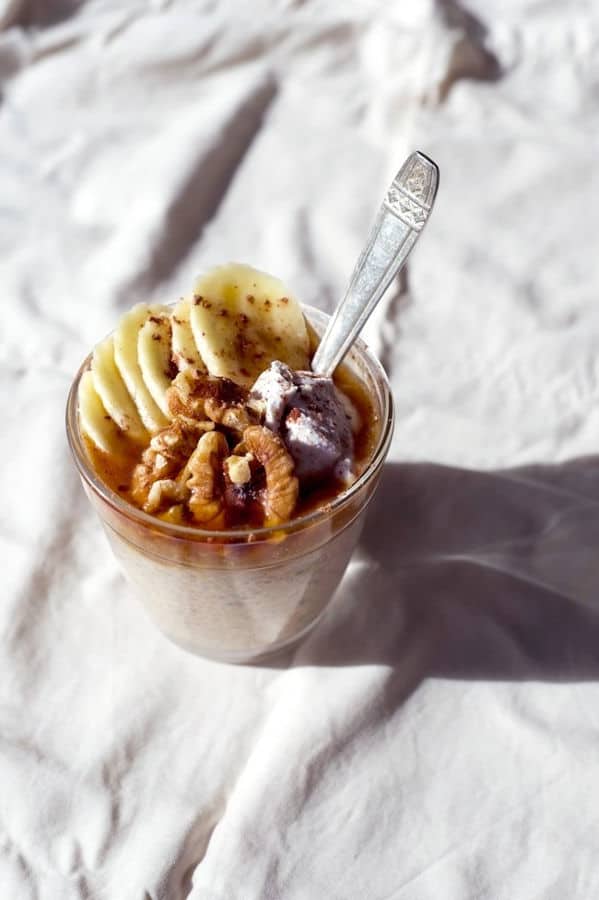 Oh banoffee pie how I have missed your flavors! It used to be one of my favorites before I knew better about the dairy industry.
Now, because of this recipe I don't have to miss the flavors any longer and best of all, I would argue that this dessert is healthy.
Doesn't that photo look just incredible? If you never had a chia pudding before, start with this and you will never look back.
Flavors such as banana, peanut butter, maple syrup and so much more make this dessert such a special treat.
Just 7 minutes prep time and cook for 5 minutes. Once cooked this will need some 'rest' time, a minimum of 35 minutes or overnight.
Finally squeeze a little lemon juice over the top, add some whipped coconut cream and you're good to go. You want to eat this on your own, so nobody disturbs you while you take in all the flavors!
Wrapping Up
101 vegan desserts! Here, you have everything for every occasion, from Valentine's Day to everyday.
For me, I always felt restricted when looking for desserts that didn't contain dairy and I know that goes for the rest of the our team as well.
When we first thought about doing recipe roundups, we just knew we had to do desserts.
We don't want you going through that same feeling of thinking that a vegan dessert was just fresh fruit or a soy yoghurt from the supermarket!
If you have an allergy, many here are nut-free. We have an entire section that's gluten-free too!
These are the best recipes we could find on the web and they're all together in one place for you.
Remember, usually what makes a dessert unhealthy is the dairy, you don't have that here so many of these are actually good for you and this is something we were never taught!
Above all, have fun and please do get in touch and let us know your favorites.