These recipes are designed for you in mind when you're in a hurry or you're just too hungry to wait!
Apart from being quick, this roundup is about affordability and what's good for you. At the end of the day, it doesn't matter how rich or poor you are, if you don't have your health, you don't have anything.
We can't always rely on big corporations to have our individual interests at heart in terms of our health. Food made at home is unbeatable.
Get stuck into a great breakfast, lunch, or even check out our special picks!
Let's not waste any more time and dive right in!
Quick Vegan Breakfast Recipes
10-Minute Classic Almond Milk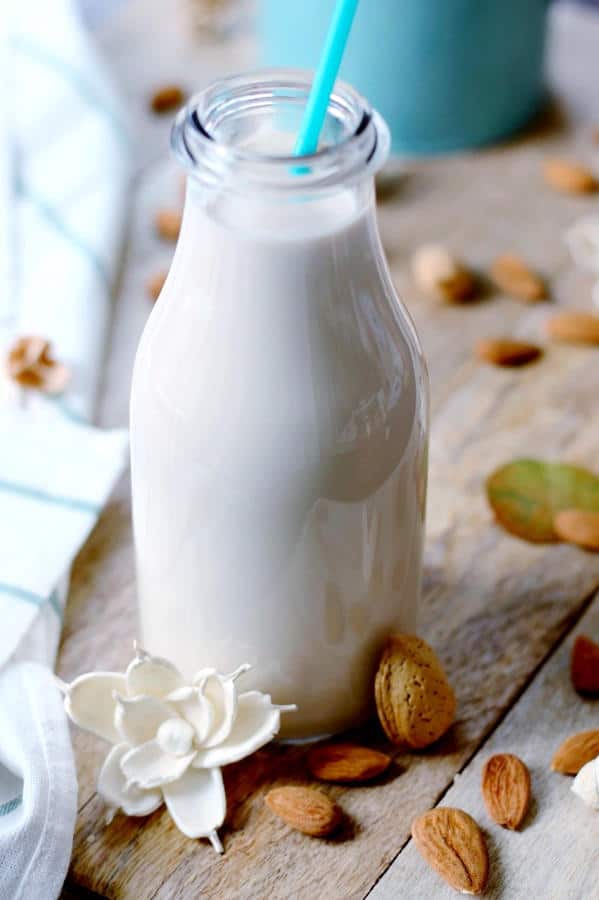 There are so many choices for dairy-free milks on the supermarket shelves, why would you make your own?
Well, cost is definitely a factor, check out how much you spend in a month on such things, it all adds up. Secondly, sometimes there are ingredients in store-bought food I'd simply rather not see.
Hannah's fabulous recipe shows you how to make delicious almond milk in minutes. Do note that the almonds need to be soaked overnight so bear this in mind.
This is quick, and best of all, you can transfer to an airtight container and store in the fridge.
Quick Spinach Sauce Bread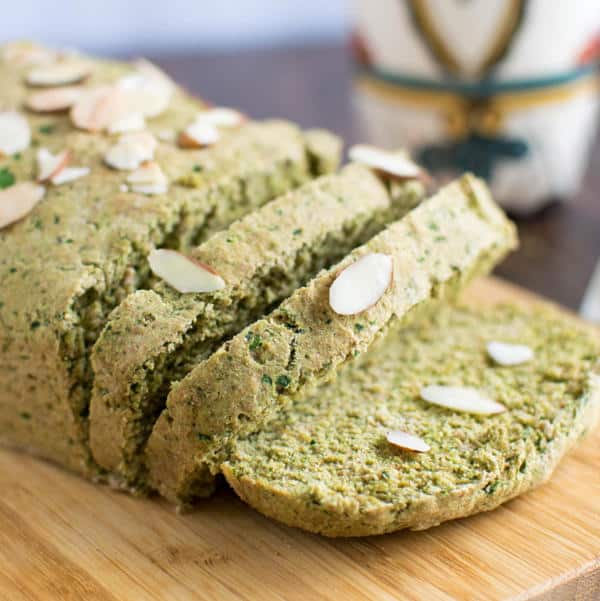 This light and fluffy bread takes only 15 minutes to make!
Looking down the list of ingredients, I imagine you have most of the things already.
You'll need a food processor, a mixing bowl and an oven! Just Bake for about 15 minutes and you're good to go. Allow to cool and slice. Can be stored in the refrigerator in an airtight container for a week! Totally delicious!
5-Minute Tofu Egg Salad Sandwich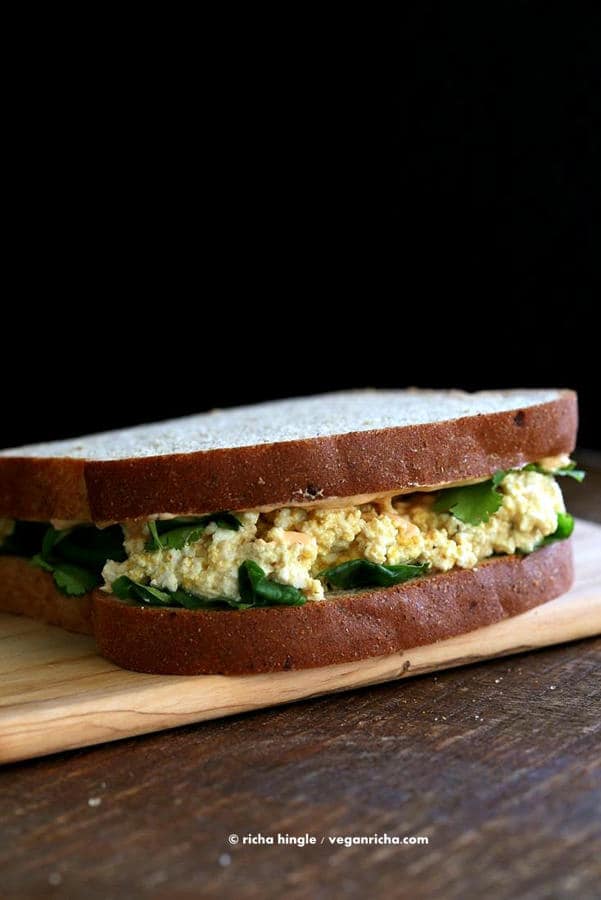 Whenever I think of an egg sandwich, my memory takes over and I'm reminded of my cousin.
We spent our childhood together growing up and I always remember him running a mile because he hated the smell of it!
Thankfully, there are no eggs in this, no nasty odours, just a healthy and delicious sandwich ideal for breakfast or lunch.
I love the different flavors in this; onion powder, turmeric, lemon juice and more. Great textures due to the celery. If you want a hearty sandwich bursting with flavor, this is what you're looking for.
10-Minute Tofu Scramble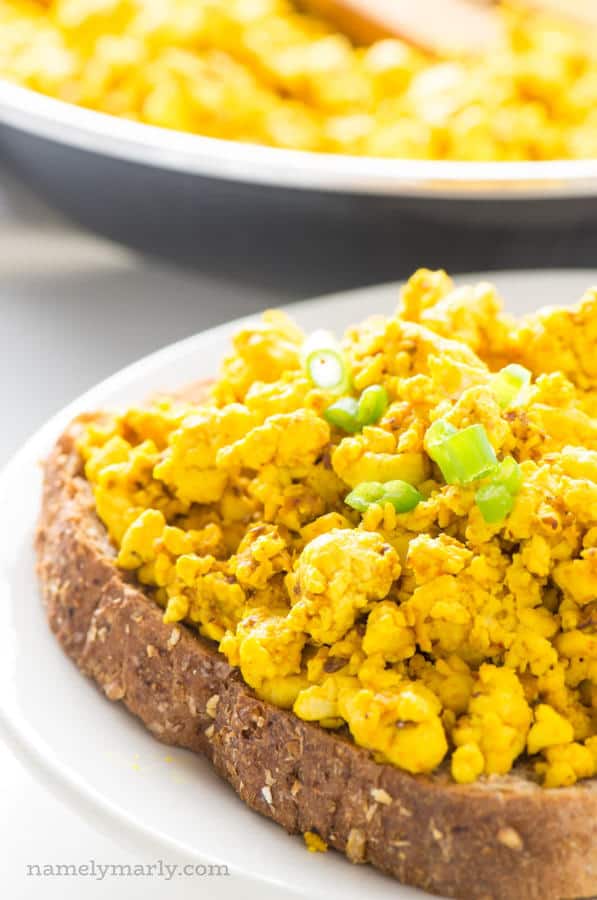 Have some tofu standing by for this quick breakfast.
Less than 10 ingredients and 20 minutes is all you need to conjure up this fantastic scramble.
The amounts listed in the ingredients make for four servings so adjust as necessary. Bursting with flavor, healthy and a solid go-to recipe for when you need it.
Quick Apple Pie Smoothie or Bowl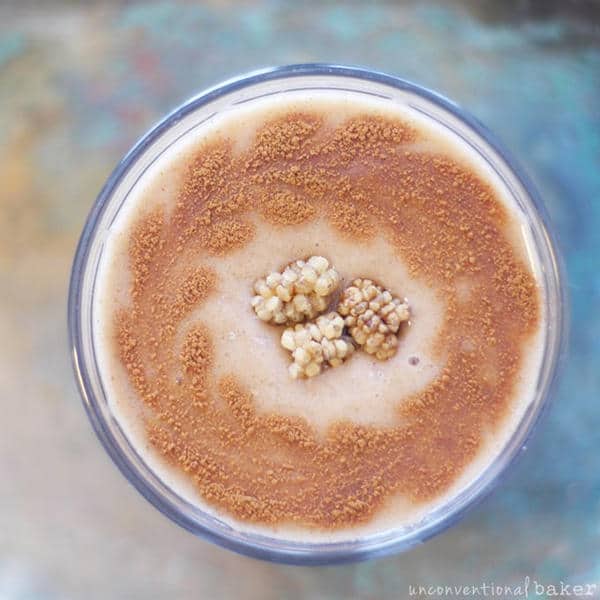 If you're a regular to our roundups, you'd have read how I often say, the secret to a good smoothie is in the recipe.
It may sound obvious, but so often people just throw in random things in a blender and hope for the best.
That's not how you do it. Instead, get a small collection of simple recipes and they'll will last you a lifetime, always at your side.
This smoothie contains roasted chestnuts, something I've never seen before in a drink! Along with the other ingredients this absolutely works. Filling, flavorsome and perfect for the holidays too!
Quick & Healthy Banana Boats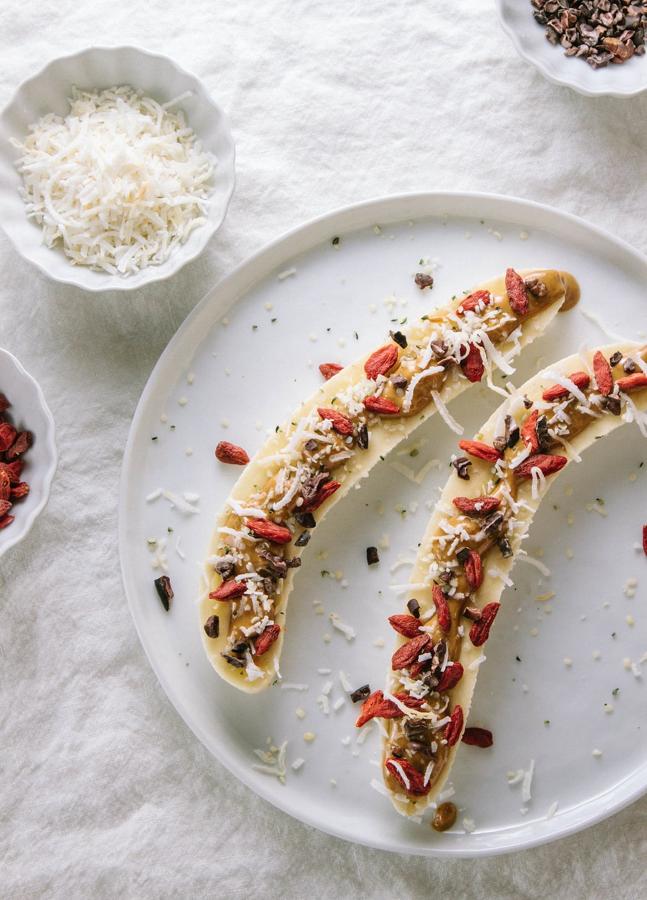 I love simple breakfasts, and this one couldn't get much simpler! I don't know why I've never thought of doing this before! What a great way to get a major nutritional punch in a quick and easy way!
I love the idea of these banana boats as a build-your-own breakfast bar. Put out a bunch of different toppings and let everyone take part. Breakfast is served! Now I can sit back and enjoy a hot cup of coffee without playing short-order cook.
Now that is the makings of a great morning!
Warm 5-Minute Vanilla Flaxseed Cereal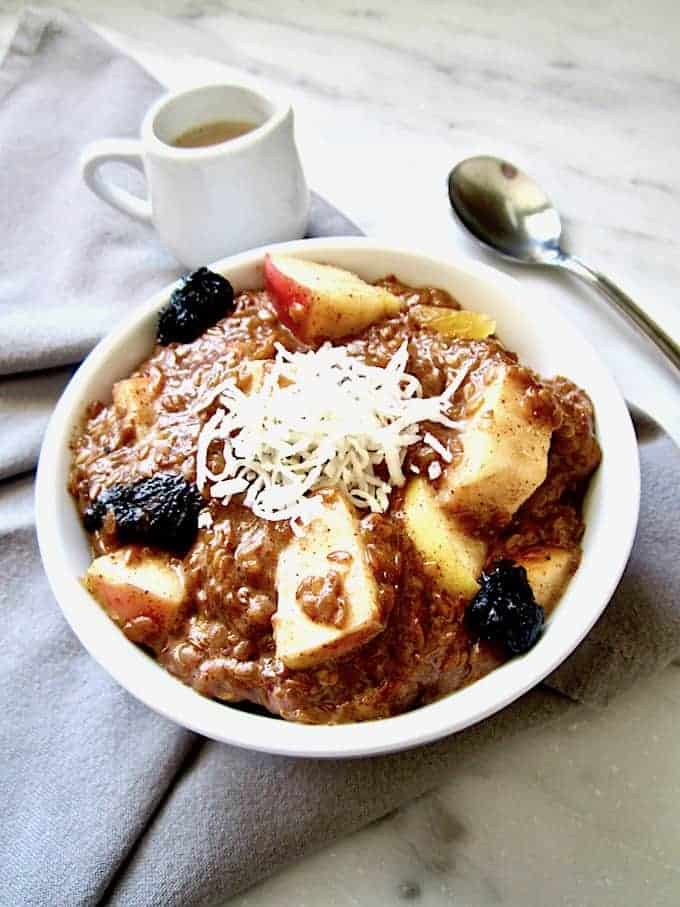 What a delicious and warming breakfast!
One of ingredients is a brand-named almond milk, if you're unable to source this, your favorite will be just fine.
This is all about the apple and cinnamon!
If you've never had flaxseeds before, this dish would be a good way of introducing yourself to them. Perfect for that cold winter's morning.
Quick and Easy French Toast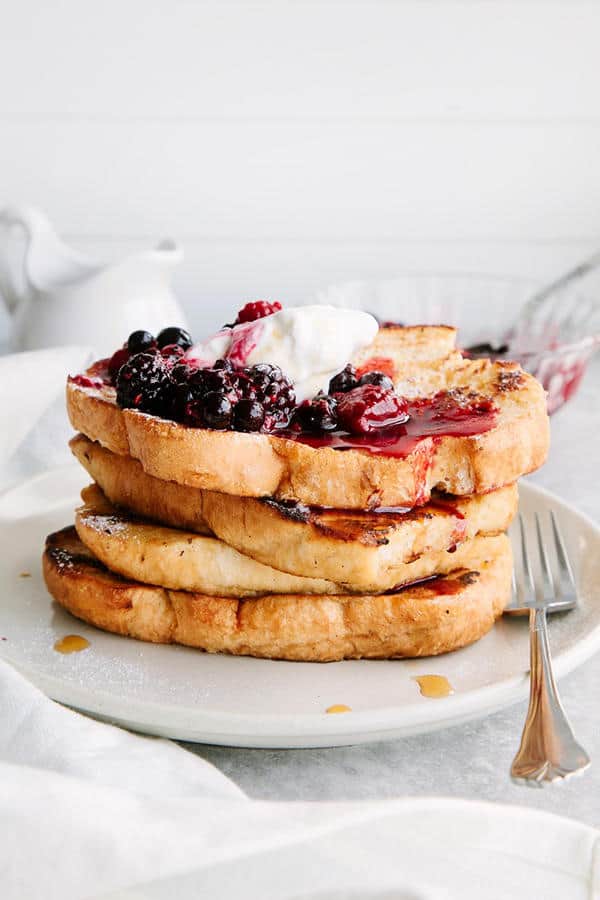 French toast without the dairy!
You'll need some chickpea (garbanzo bean) flour, cinnamon and just a couple of other ingredients to create this wonderful hearty breakfast.
Looks and tastes as though it took a long time to prepare, but that's a lie! Five minutes prep and the same for cooking. What are you waiting for?
5-Minute Creamy Bircher Muesli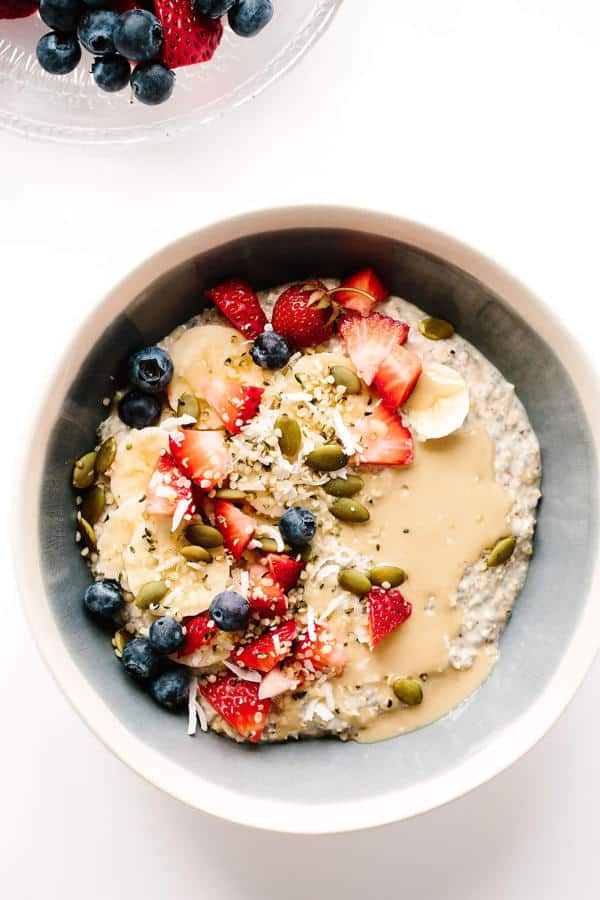 When you want a hearty and delicious breakfast and you don't have much time, grab this.
For your convenience, the amounts listed in the ingredients make one serving.
There is a section just for the toppings, obviously use what you have. Takes just five minutes, you'll be happy and so will your body!
Quick Vegan Dessert Recipes
2-Minute Tahini Pudding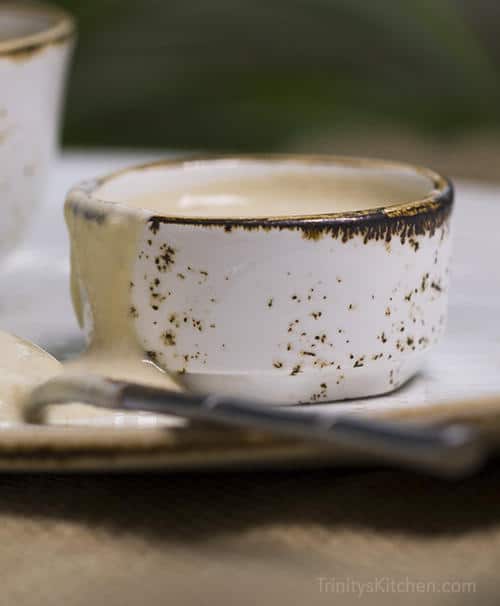 I had never heard of tahini being used in a pudding before, so this was exciting to see.
If you've never had it, tahini is made just from sesame seeds and is an excellent source of nutrition.
This recipe uses just three other ingredients and literally takes a couple of minutes. Delicious!
2-Minute Chocolate Banana Mug Cake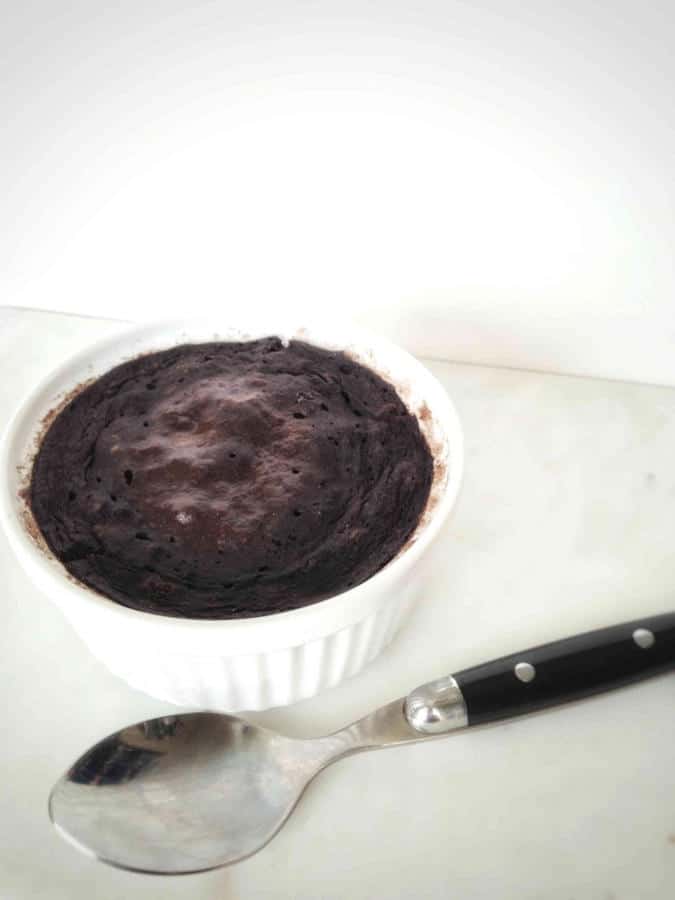 Suitable for you and great if you're a student running on a budget of time and money.
This cake is bursting with chocolate flavor! Takes about two minutes in the microwave and you can use any container you have lying around to make it. Fantastic.
1-Minute Peanut Butter Microwave Brownie in a Mug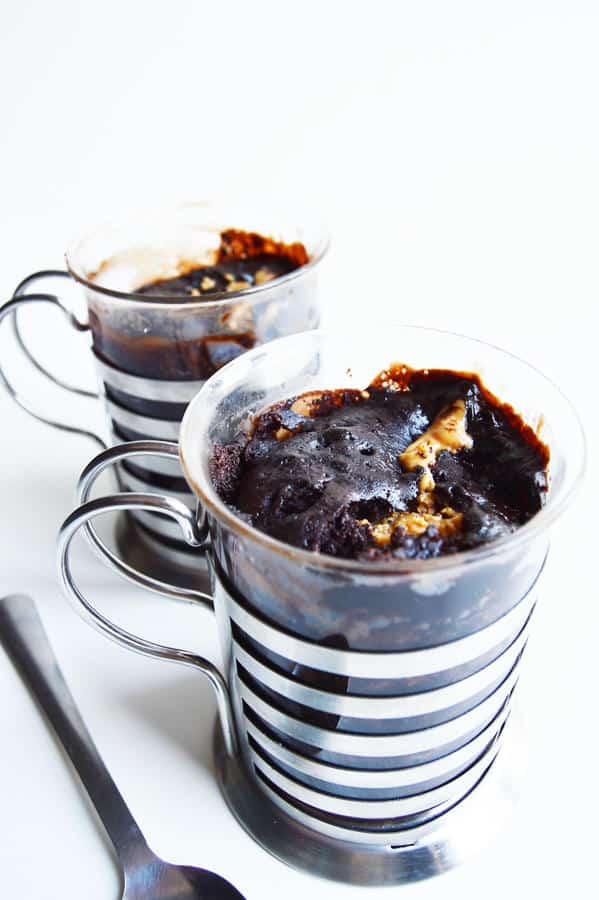 You just must give this a go, make these using your favorite mug and all you need is a microwave.
These are gooey, sweet and a little salty due to the peanut butter! If you're not into the latter, you can leave it out without a problem.
Great recipe and probably the quickest I have ever seen second only to eating an apple!
Quick and Easy Pumpkin Pie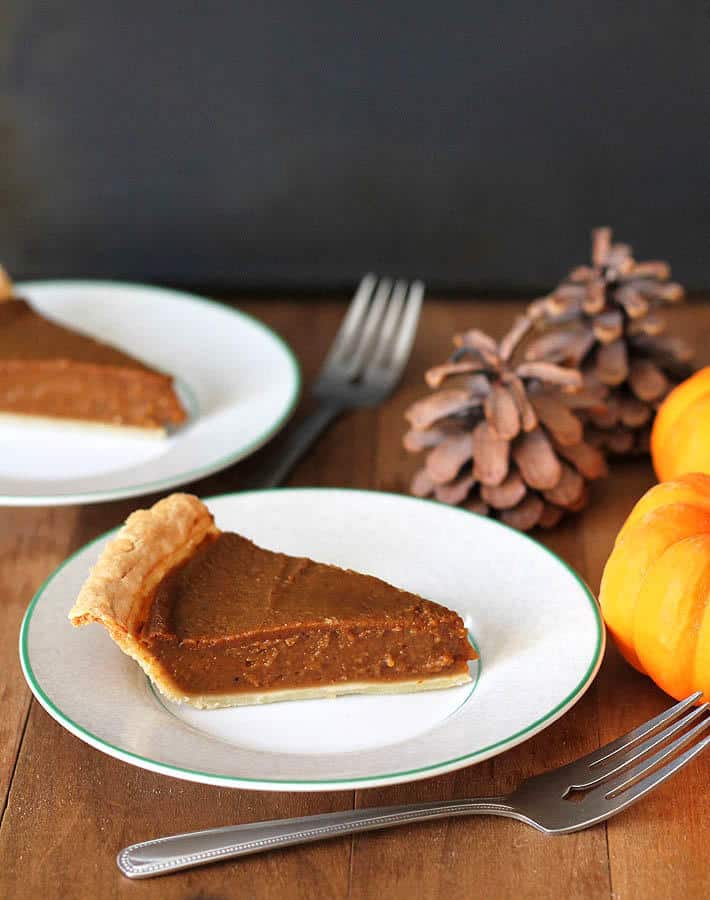 When you're juggling a thousand things during the holidays, the last thing you need is a complicated recipe. We have you covered right here!
With just over half a dozen ingredients this pie takes just five minutes prep time then an hour in the oven to bake.
The amounts listed in the ingredients make for eight servings and if you're a calorie counter, that's 137 cal per slice! Perfect!
Quick and Easy Rice Pudding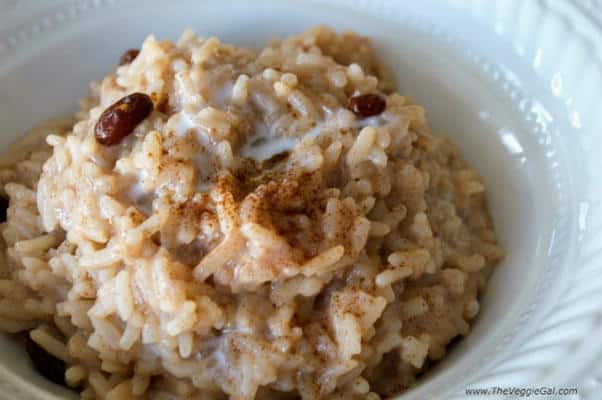 Growing up I used to love rice pudding! This recipe is, of course, vegan but it's also lightning quick!
There're only about six ingredients other than the seasoning and I imagine you have most of them in your kitchen already, maybe all of them?
Follow the simple instructions and you'll have this ready in less than 20 minutes. If you want comfort food, this is the ultimate!
5-Minute Chocolate Fudge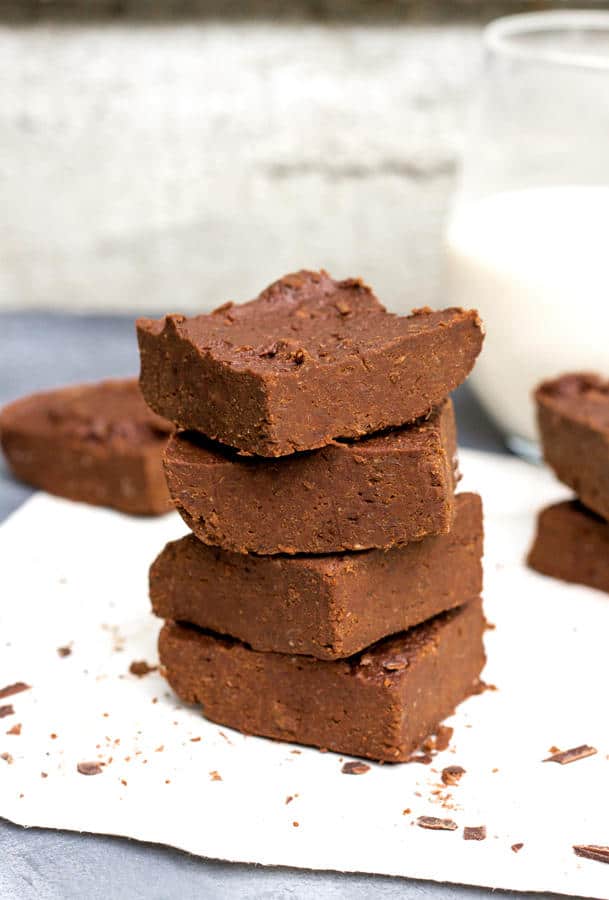 If you're a fudge fan, this is definitely for you!
Probably the simplest and certainly the fastest recipe I have seen.
You're looking at just five minutes to create this chocolate heaven! This recipe nearly went in our chocolate roundup but we were so surprised by how quick it was to make, we decided it should go here. Anyway, every list of recipes must include chocolate, right?
3-Minute Key Lime Pudding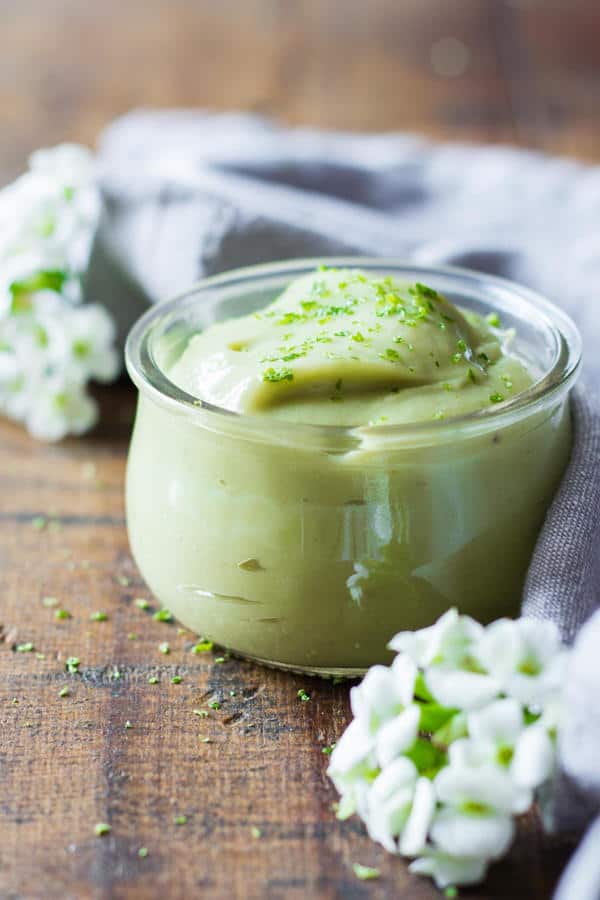 Well, this is pretty much an instant dessert!
Not only is this full of nutrition, it's also super healthy and bursting with flavor.
You need just five ingredients which all get blended together and, that's it! What's not to like about that?
Quick Raspberry Compote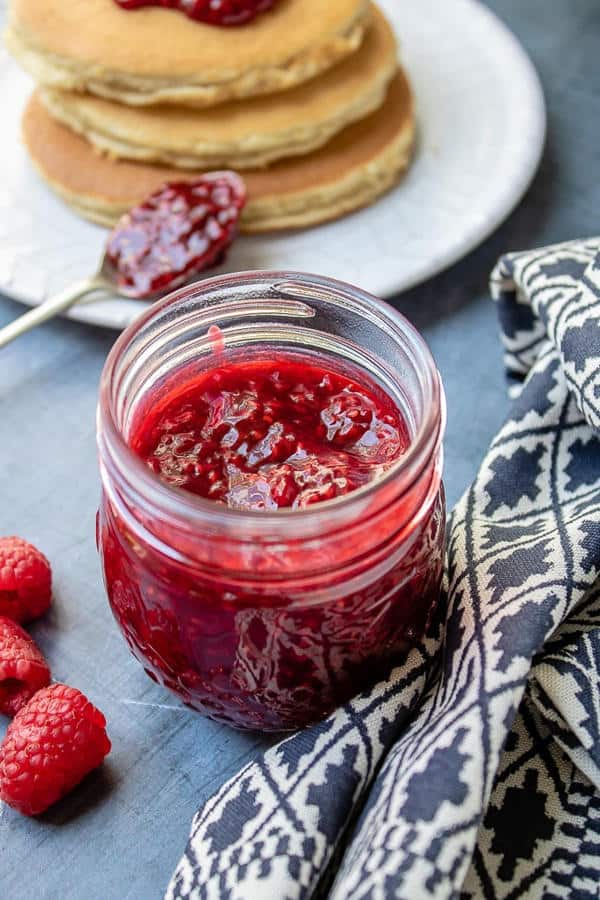 In just a quarter of an hour you can make this delicious compote!
This is so perfect as you can always have a jar on standby to put on pancakes, in between cake layers and of course, on toast!
You need just four ingredients, and one of them is water! Wonderful.
Quick Vegan Dinner Recipes
Easy 5-Minute Paneer Masala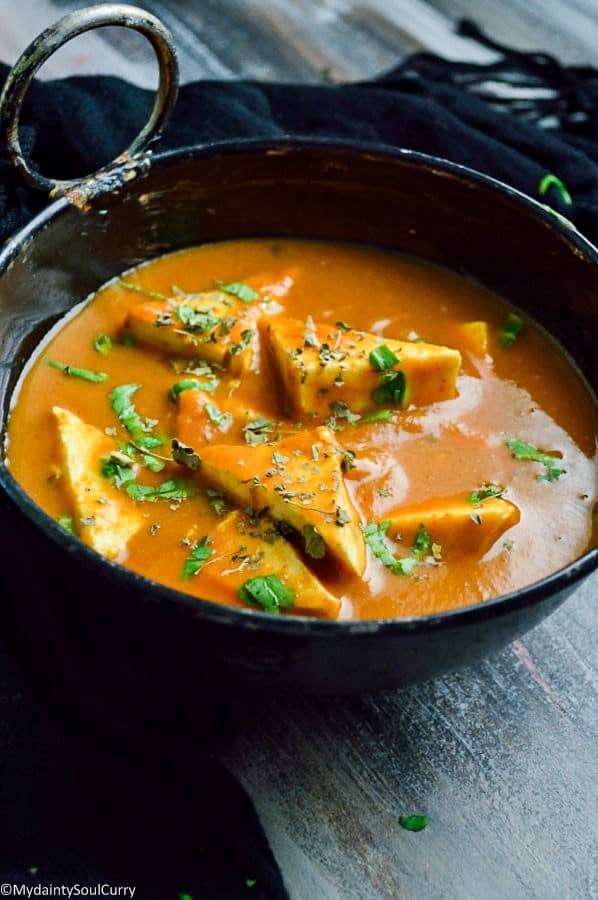 Vegan paneer in a masala that takes just five minutes to cook? You bet!
This is delicious on its own and will absolutely sort out your craving for Indian food, I get one of those at least once a day!
If you want to turn this into a complete meal, served with basmati rice or your favorite Indian bread.
30-Minute One-Pot Mexican Quinoa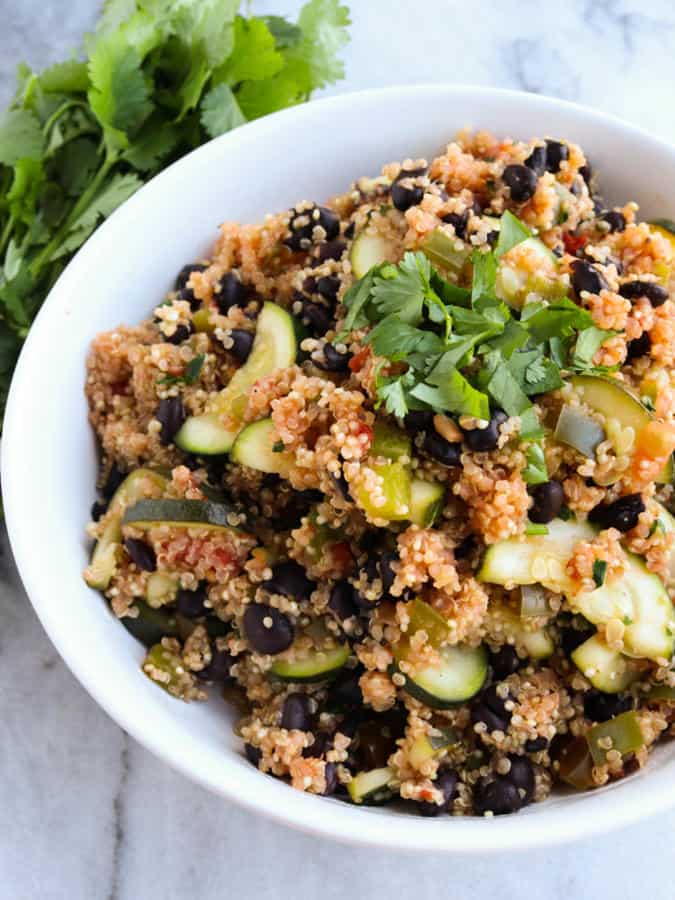 Quinoa is probably my favorite ingredient when it comes to having something quick and nutritious. It's so versatile as well.
This recipe has just six ingredients, the prep time is just five minutes and then you're looking at about 20 to cook everything else.
Stir in the cilantro just before serving and you'll have yourself a wonderful meal.
10-Minute Easy Mushroom Risotto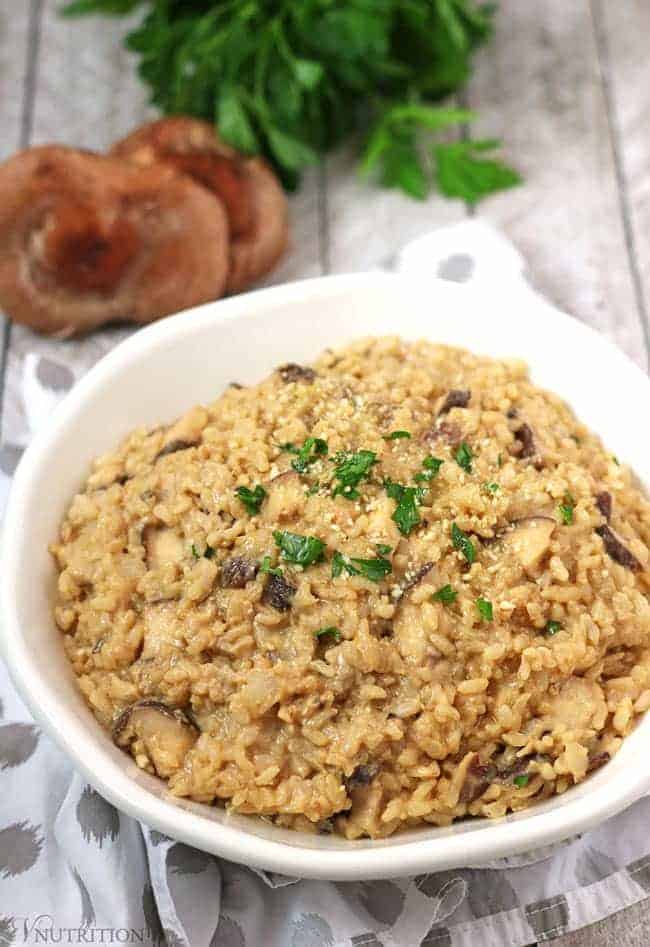 Traditionally, risotto can take a lot of time and effort. This recipe uses pre-cooked rice and creamy hummus to recreate this classic dish.
If you love mushrooms, you're in for a treat here. Incredible ingredients that are simple and healthy, they all play their part in creating this wonderful dish.
Once it's finished, even you'll be surprised that it took less than 15 minutes to bring to the table!
Quick 15-Minute Chili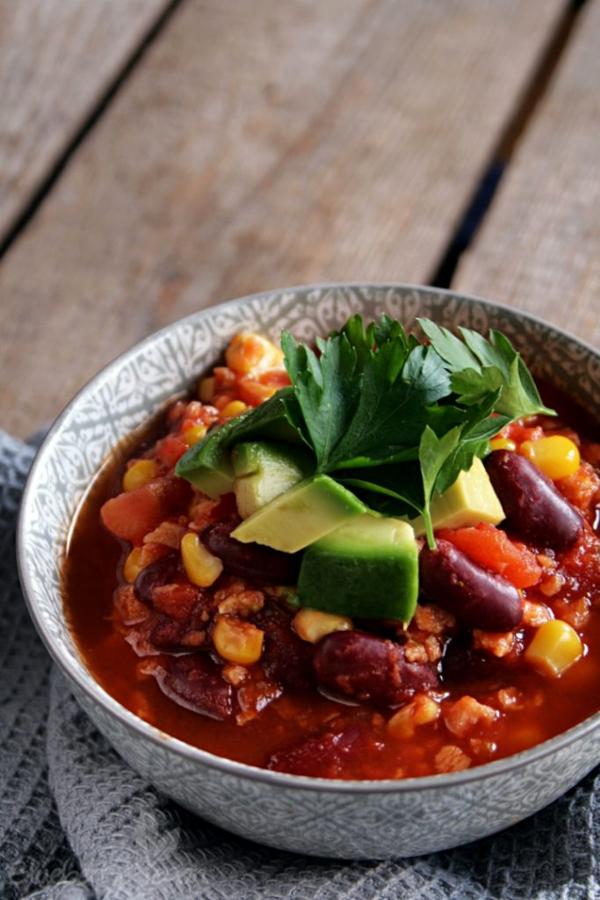 Vegan chili is a staple in our home. It's hearty, filling, and warms you from the inside out. It's true comfort food, and always bursting with flavor. The trouble is most chili recipes take a long time. Not this one!
In less than 20 minutes this delicious chili is ready to dig into! It's perfect on its own, but even better when you personalize it with your favorite toppings!
Want to make it even more satisfying? Serve over your favorite rice or quinoa. Either way, you win!
Quick and Easy Thai Green Curry Vegetables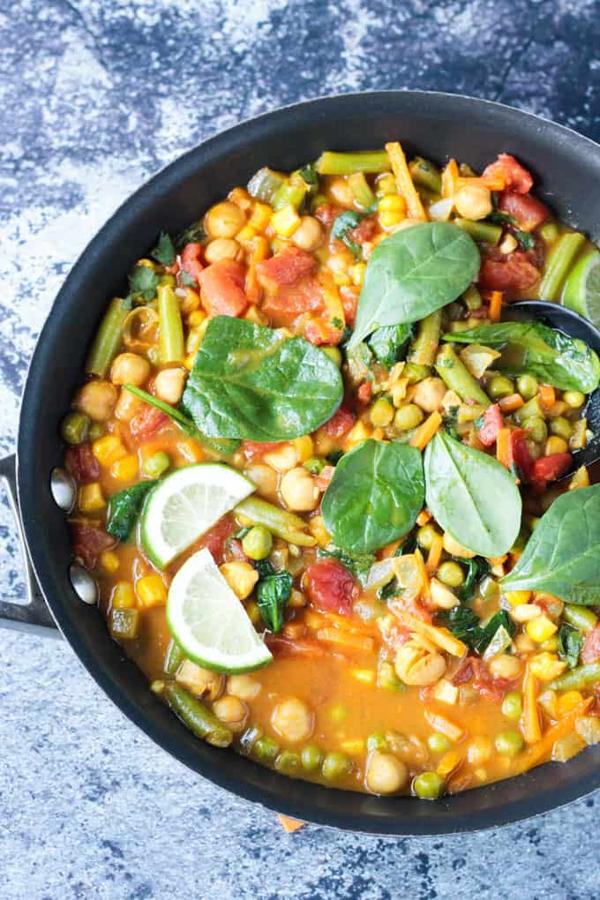 I love a good curry dish, even if they aren't completely authentic, like this one. This recipe uses some quick tips, like frozen veggies and prepared curry paste. It comes together in no time.
The sweet and spicy flavors blend in a beautiful way and you'll find yourself wanting seconds.
This recipe calls for lite coconut milk, but you can add full fat coconut for a creamier sauce if it's your thing. Either way, this curry is delicious!
15-Minute Shredded Brussels Sprouts Stir-Fry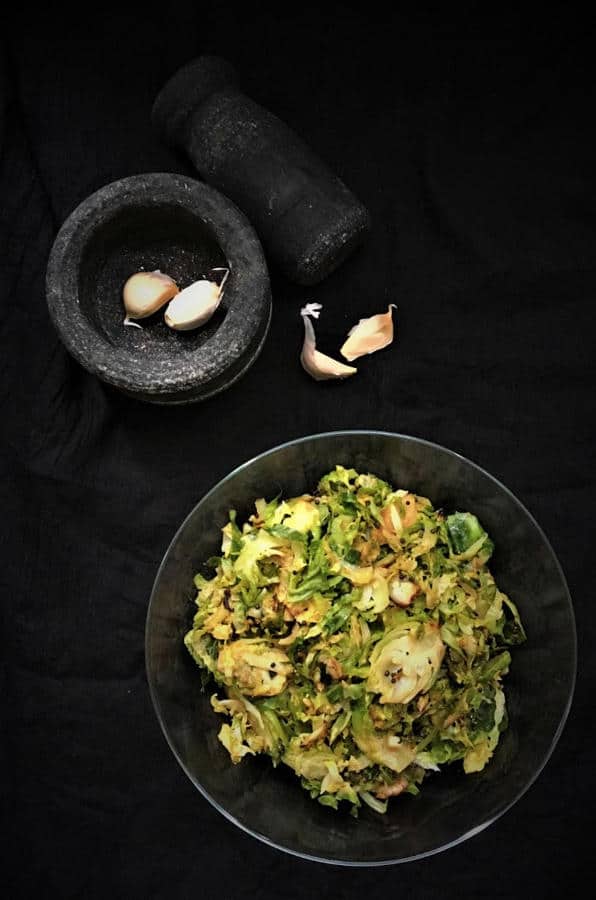 A stir-fry with a difference, it uses shredded Brussels sprouts and some incredible flavoring such as mustard seeds, ginger and garlic to name but a few.
This recipe takes just 15 minutes and this includes prep and cooking time. The perfect way to have sprouts on the table which makes this an ideal recipe for the holidays.
30-Minute Italian Sausage, Peppers and Potatoes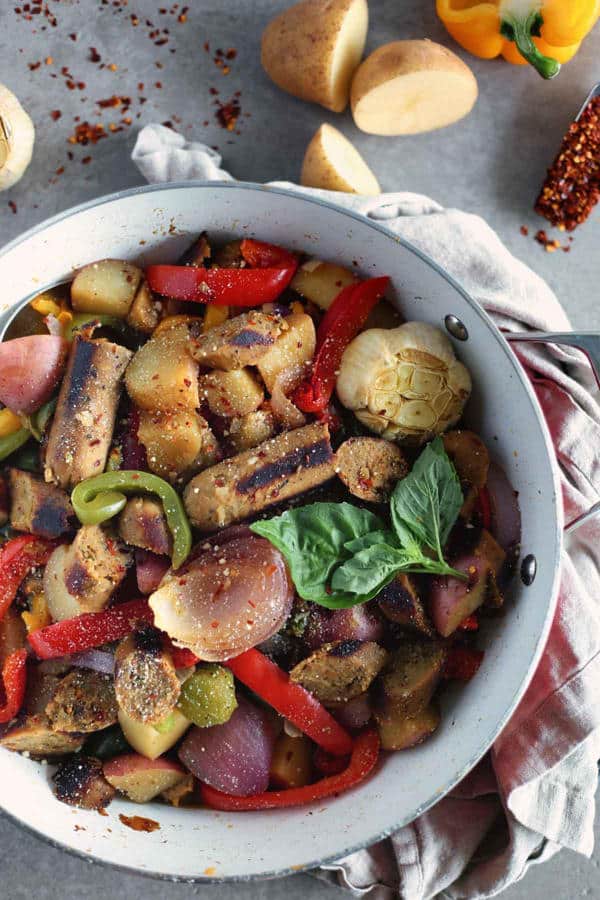 Wow, is all I can say for this recipe!
In just 30 minutes you can bring this complete hearty meal to the table. It looks like one of those casseroles that has a thousand ingredients, this just has about half a dozen not including the seasoning.
You'll need your favorite vegan Italian sausages so if you're not sure which you prefer, find out quick!
Easy Quick Curry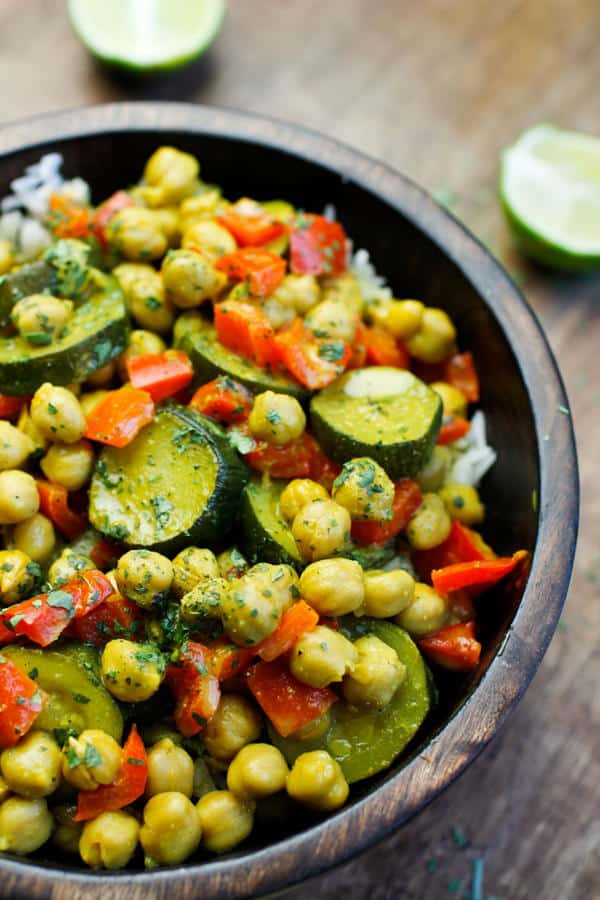 I just love the name of this recipe, three words and each explaining everything you need to know, it is easy, it certainly is quick, and it's a curry!
You're looking at 30 minutes to create the entire dish and this includes prep and cooking time. It has everything from chickpeas (garbanzo beans), zucchini, onion and so much more. Serve over quinoa or your favorite rice! One of my favorite recipes, seriously!
10-Minute Garlic Sesame Noodles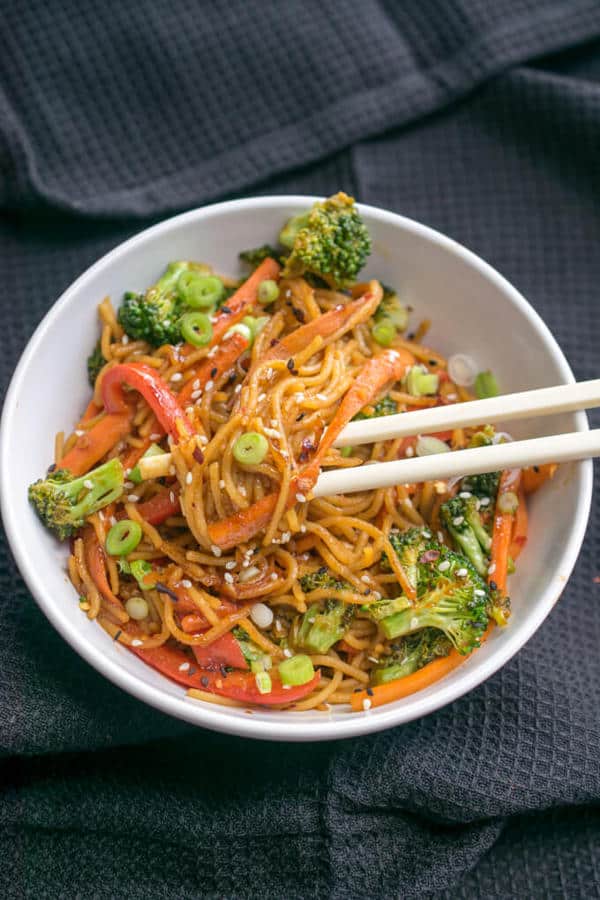 When the chips are down there's nothing quite like noodles to sort you out.
The list of ingredients is divided into two sections, the main part and the sauce. The dish includes bell pepper, carrot and a couple of things although, to be honest, this is extremely flexible, and you should use whatever you have that needs eating.
The sauce is delicious and gives you that take-out fix without any dubious ingredients. This will quickly become your favorite.
10-Minute Bean Wrap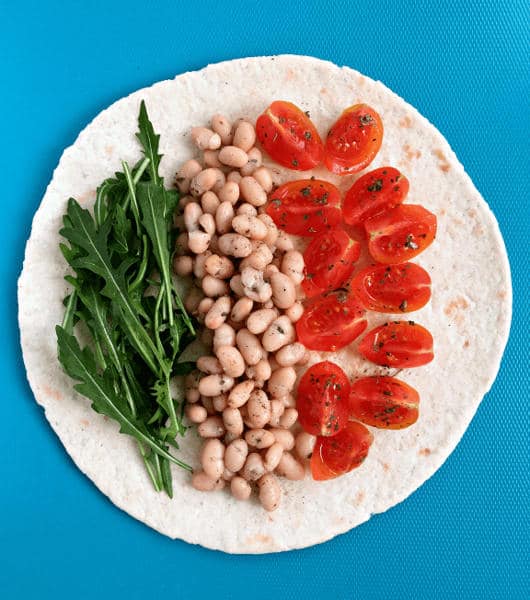 I love a good wrap! They're so flexible, easy to make and better than a sandwich as no fillings can fall out!
This is just too easy to make, fill the tortilla, wrap and enjoy! Use tinned beans to make the process even quicker. You can practically use anything such as cucumber, bell pepper and so on.
Makes for a great work lunch or something to take with you on a day out. Super healthy and super tasty!
Quick Vegan Gluten-Free Recipes
Quick and Easy Veggie Curry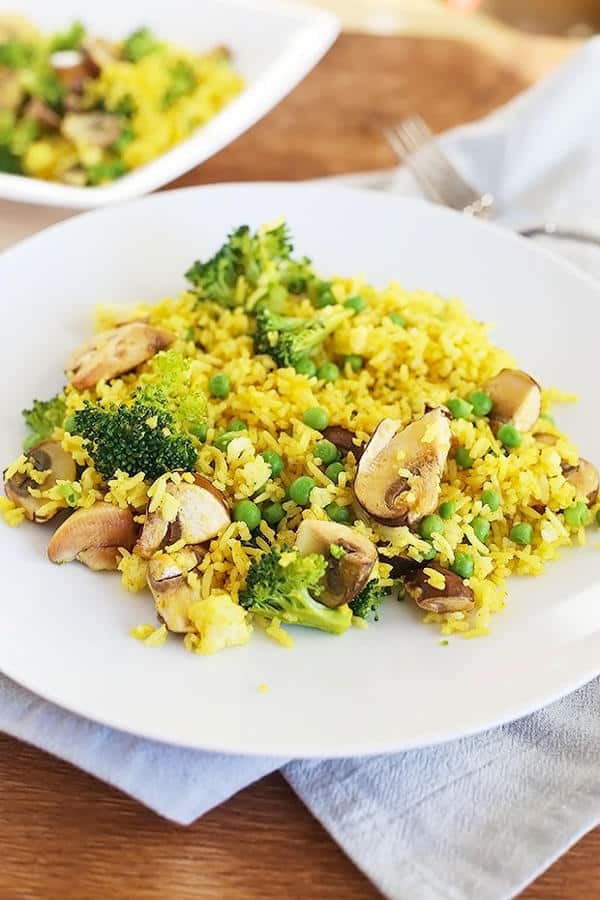 Did someone say curry?
What I love about this is the preparation can be done beforehand and then you just toss everything together and you're ready to eat.
This way you get a wonderful meal and you can have it in no time. Full of flavor, different textures and the spices are delightful!
Quick Moroccan Chickpea Stew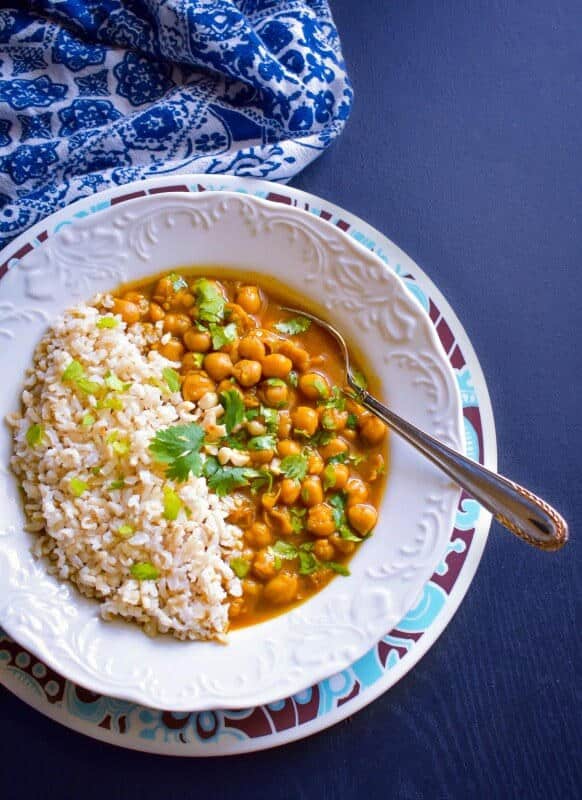 Moroccan food is incredible, and this dish illustrates everything that is good about the beautiful country.
You really are looking at everyday ingredients despite the authenticity of this dish. This is a real treat, virtually no prep time and about 35 minutes cooking.
If you've never had Moroccan food before, this would be a great introduction. Serve with your favorite rice or some flatbread. Or both!
5-Minute Eggnog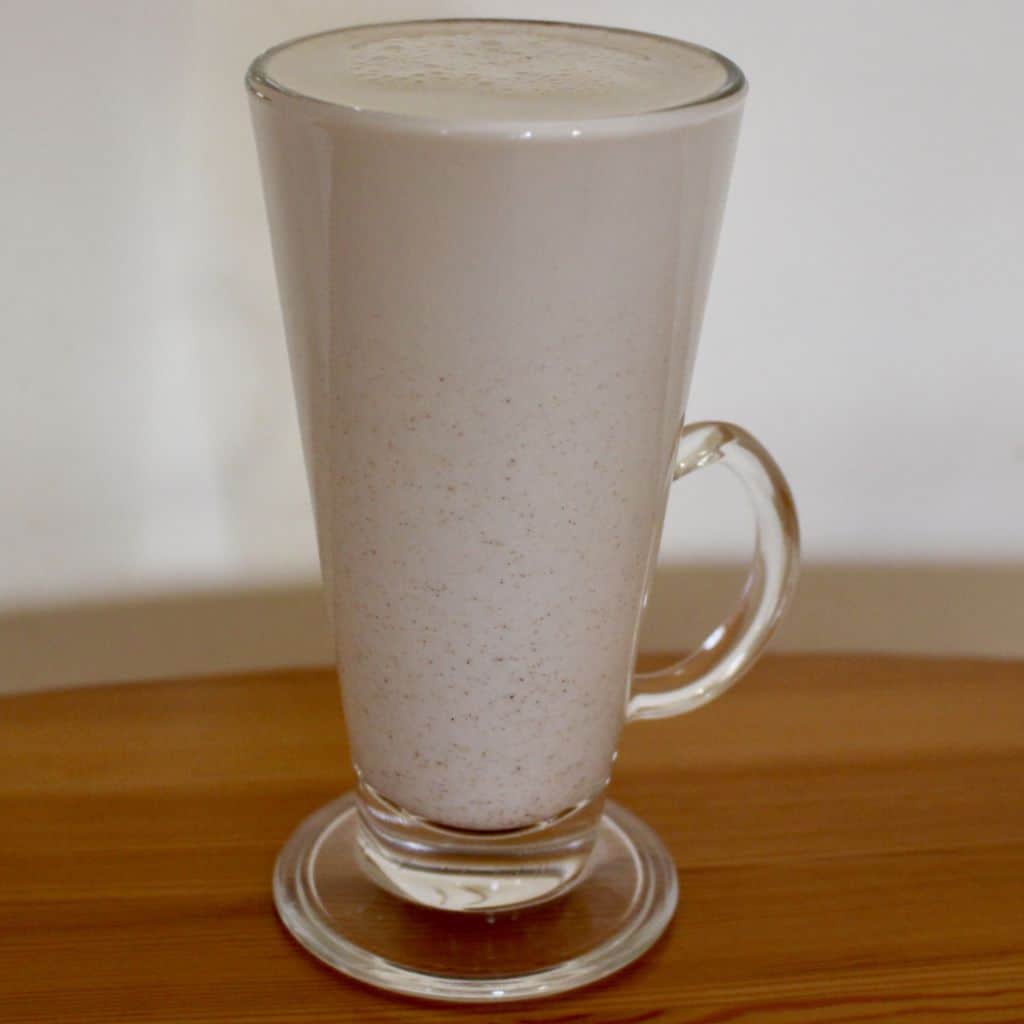 The perfect holiday recipe, vegan and super quick!
Get your favorite plant-based milk along with five other ingredients and warm them all to ensure they mix thoroughly. Pour into a mug and enjoy right away. Happy holidays!
Quick and Easy Chickpea, Tofu and Spinach Curry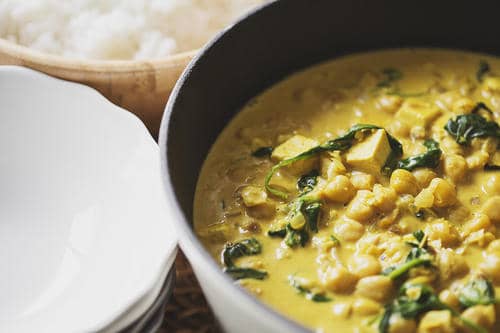 My favorite curries, whether Indian or Thai, are those with lots of sauce! This has lots of sauce!
Prepare all the ingredients as instructed. Beautiful foods such as onion, garlic and even dried apricots (unsulphured)!
You only need to cook for about eight minutes, add spinach leaves right at the end and then serve over basmati rice. You'll probably have this recipe two nights in a row, at least!
8-Minute Asian Peas Stir-Fry with Sesame Seeds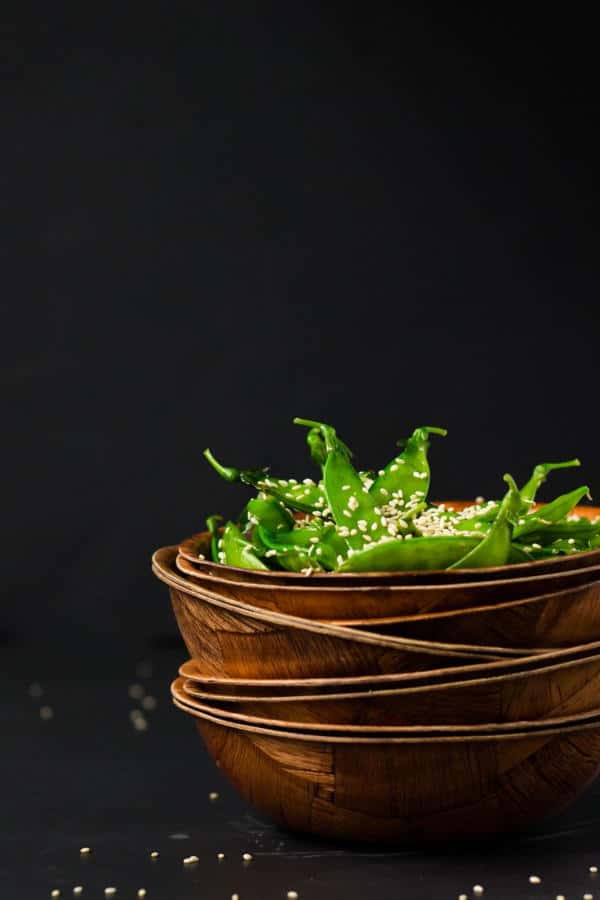 A simple recipe providing a subtle accent to Asian peas.
So often, when it comes to side vegetables, they the get steamed or stir-fried and that's pretty much it.
Here we have a very simple hack, so we can enjoy these so much more. Quick and simple!
5-Minute Overnight Steel Cut Oatmeal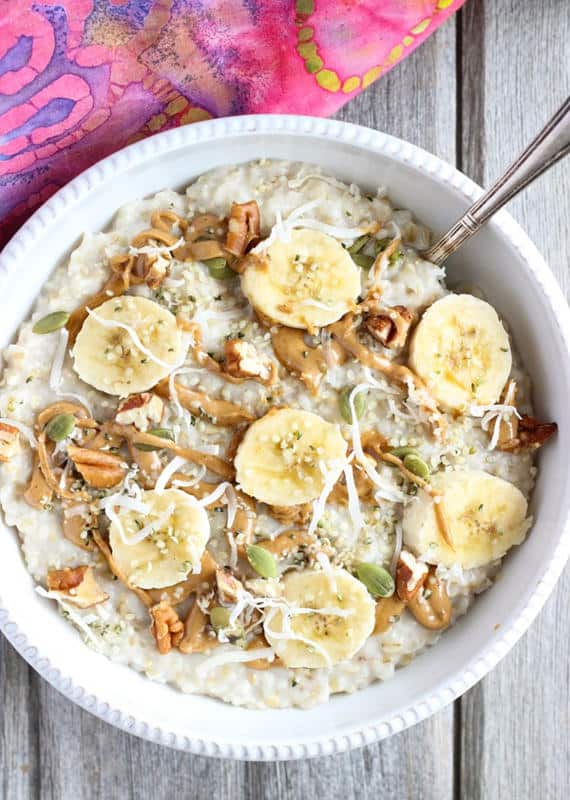 This is one for oatmeal lovers. It really is a great start to the day.
The amounts listed in the ingredients make four bowls so adjust as necessary. Here you prepare the oats the night before by boiling for one minute and then covering the pot with a lid.
The next morning, add the remaining ingredients and cook for 3 to 4 minutes. The oatmeal is delicious, and you must add some toppings!
30-Minute Portobello Mushroom Bourguignon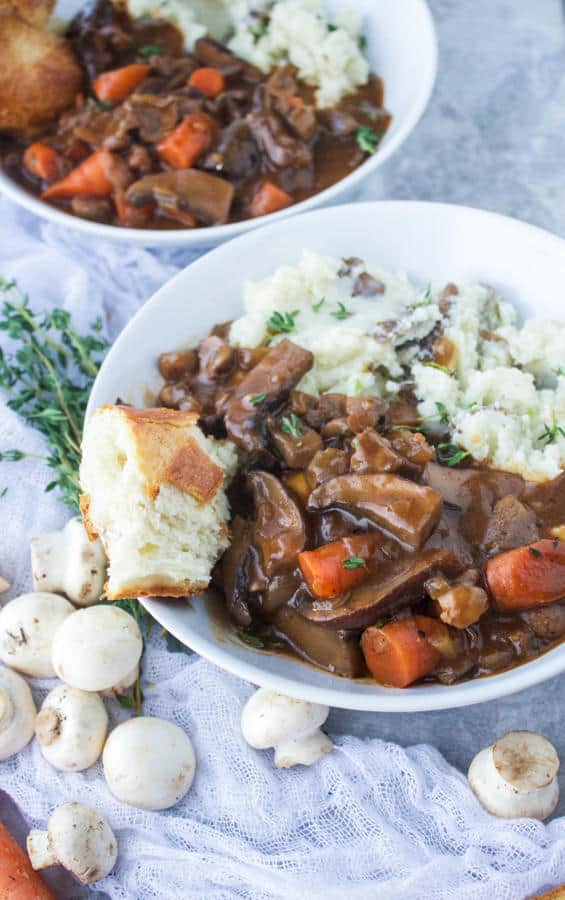 A fancy meal in no time at all!
This is a traditional recipe using mushrooms instead of meat. Along with onion, garlic and more, you get comfort food heaven.
Serve with mashed or roasted potatoes and your favorite crusty bread. This one's a hit!
Quick and Easy Guacamole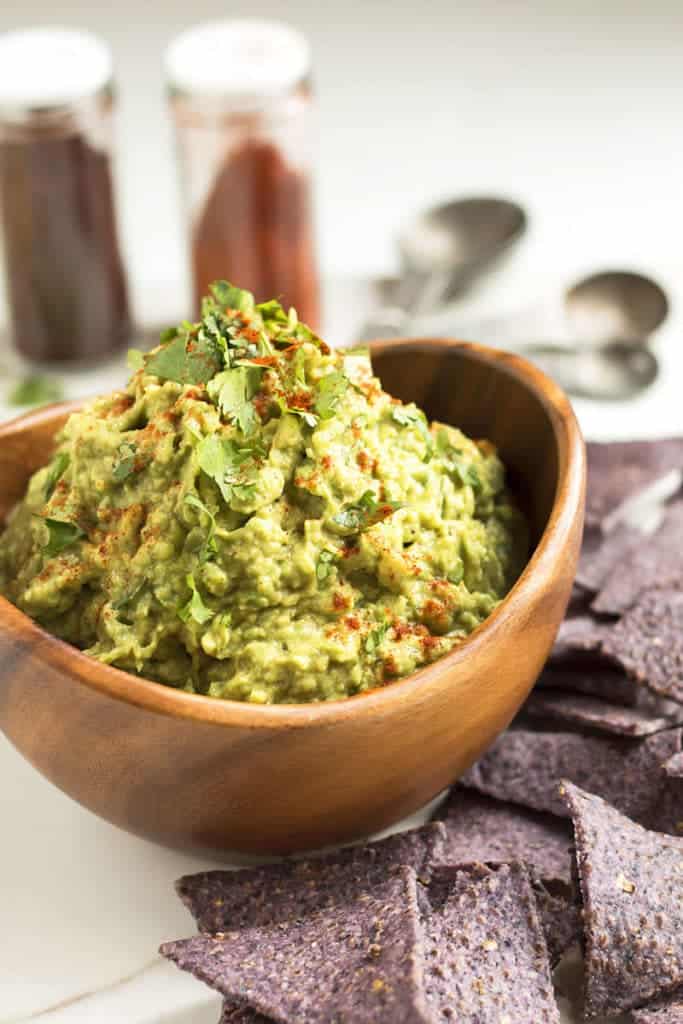 Guacamole is one of those recipes where people argue over the best way to make it. I don't think there is one answer, let's just all eat what we prefer!
This recipe feels extremely traditional and yet has a slight twist with the addition of orange juice! Cilantro is listed as an optional ingredient, I know some people don't care for it too much but if you don't mind it, it's certainly not optional!
This is a delicious recipe and one you should try.
Quick Vegan Lunch Recipes
Quick Veggie Sauté with Crispy Tofu, Quinoa and Peanut Sauce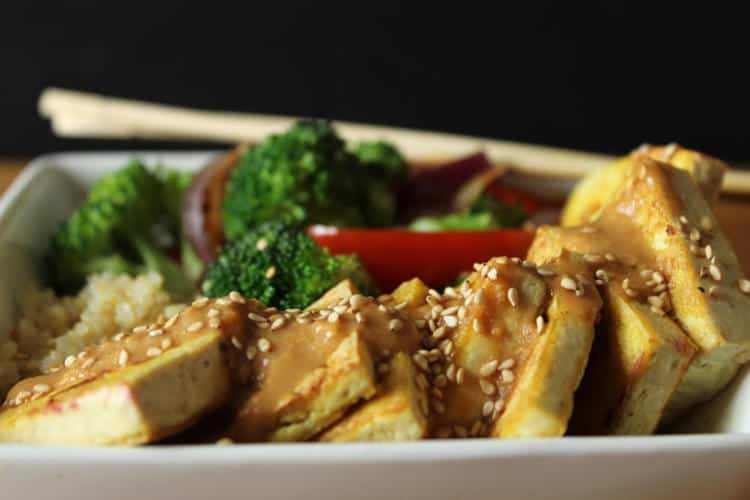 When you need that take-out fix, this does the job and more!
I really love how Kim lists the main ingredients, 'no measuring required'. That's the way it should be, we try a little bit of this and some of that and learn from experience.
You end up with the most delicious crispy tofu and veggie bowl you've ever had. The recipe lists leftover quinoa, also works well with your favorite rice.
15-Minute Ramen Noodle Stir Fry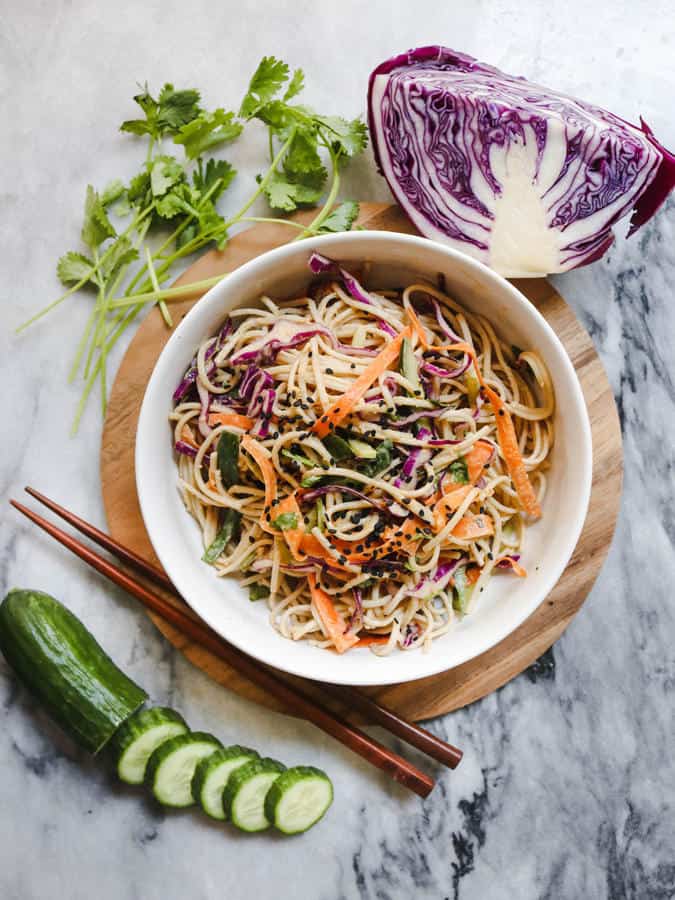 If you're a fan of Ramen noodles, you're going to love this let me tell you!
It's easy to make and as you can see from the title, it takes just 15 minutes. Jasmine and Chris have also included a video that takes you through everything step-by-step and also includes two other recipes!
We don't often see videos included on the recipe page as it takes a lot of work to produce and edit something like this. Here we have it so let's make the most of it!
15-Minute Hummus Salad Pizza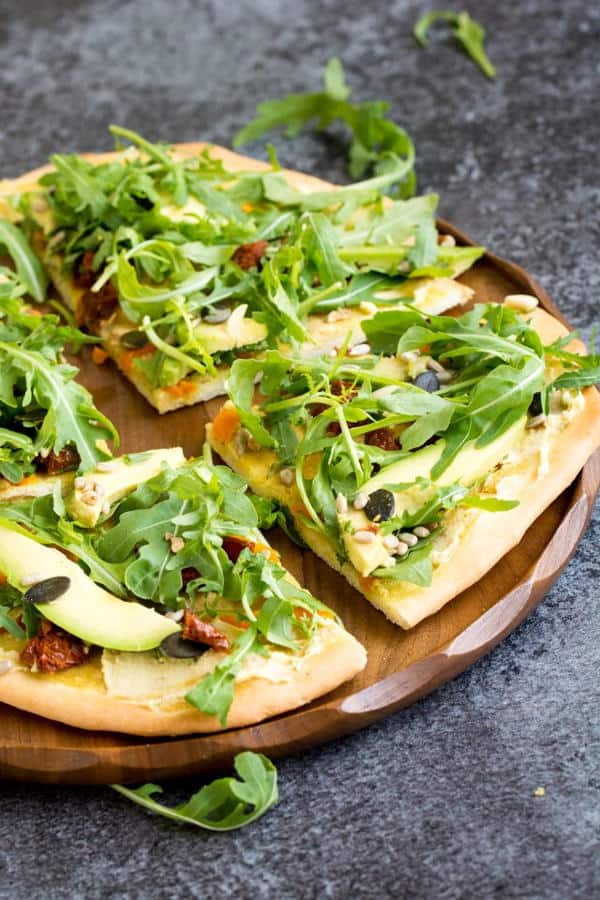 This is a fantastic idea. Grab some simple ingredients and create a great looking snack.
Flatbread, hummus and just a few other ingredients is all we're looking at here.
You certainly could make a salad and dip the flatbread in the hummus, but why not think outside the box and make yourself a pizza style snack. This way you get to eat everything in one mouthful!
Quick Mashed Black Beans (Frijoles Molidos)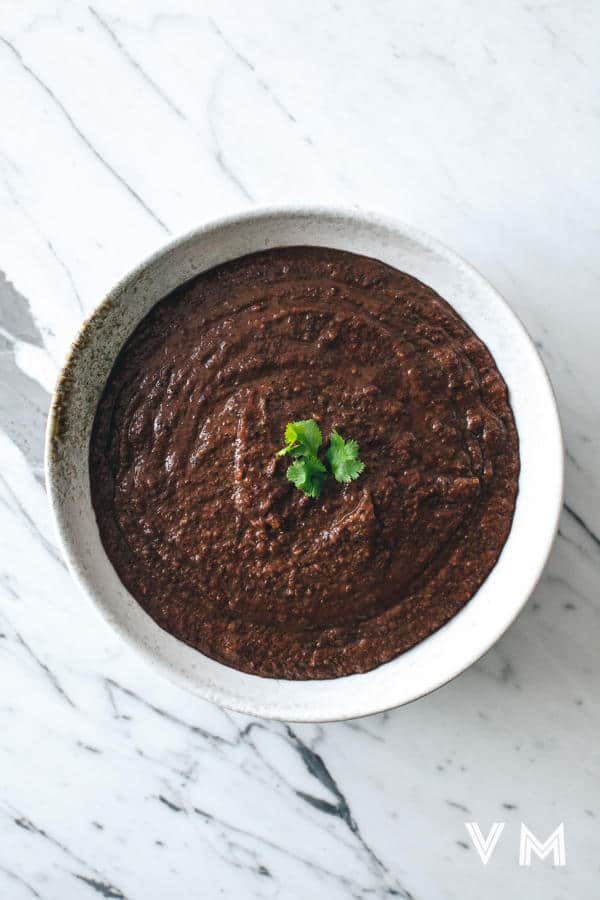 I love Mexican food so much! This recipe is a great way to have black beans.
This will be an ideal site dish, not just for Mexican food, but so many other dishes as well. Here we have onion, garlic, jalapeno and more. This is bold and delicious!
Healthy 5-Minute Avocado Toast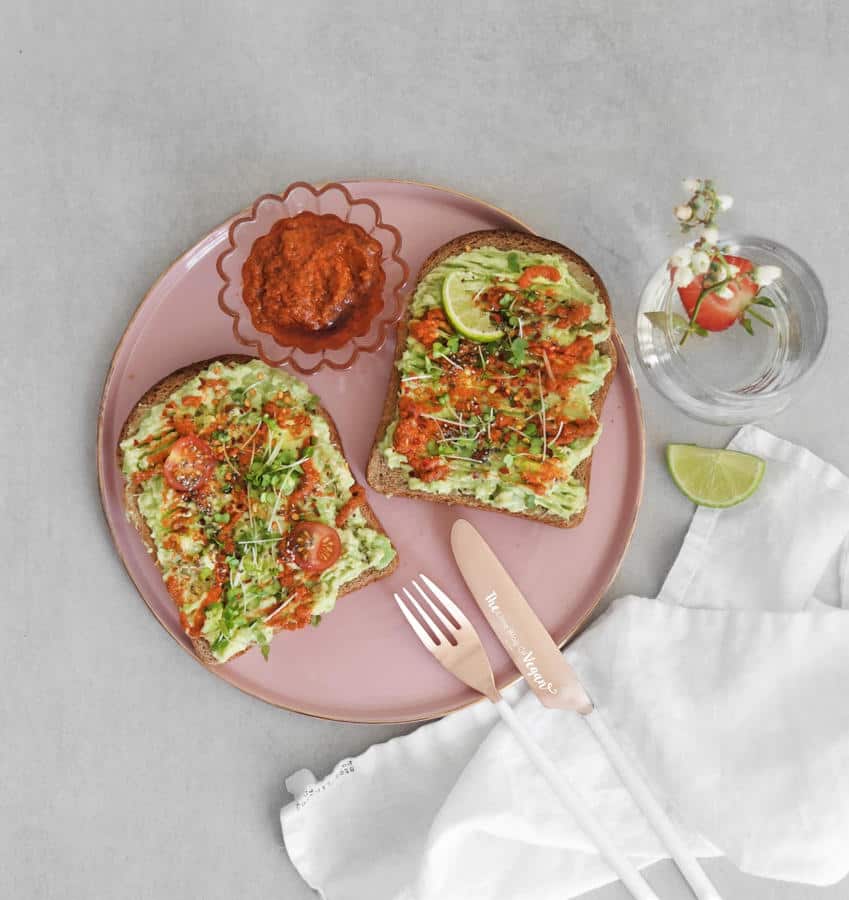 We all know how to spread avocado on toast, this recipe shows you how to simply brighten up one of our favorite snacks.
With just the addition of some simple and economic ingredients such as cherry (grape) tomatoes and red pesto, your avocado on toast can go from nice, right into orbit!
After you tried this, you'll always add something to your avocado!
Quick and Easy Black Bean Burgers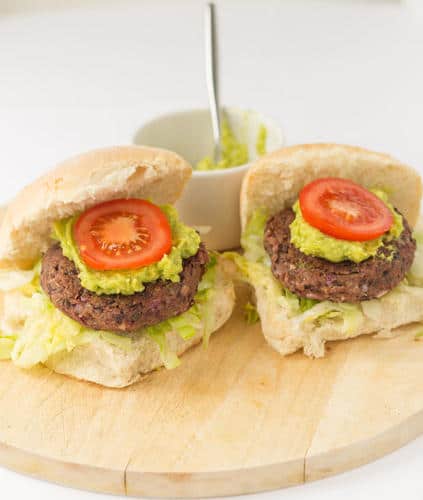 Plant-based burgers are fantastic, if you buy them from the store they tend to be okay in terms of ingredients. Very often, however, they can be really expensive.
This recipe is not only economical and utterly delicious, they don't fall apart either and that's a big thing for me. You're looking at low fat and very little calories.
This protein filled burger is also a great source of vitamins and minerals. Serve in a burger bun with your favorite sauces and pickles!
5-Minute Veggie Coconut Wraps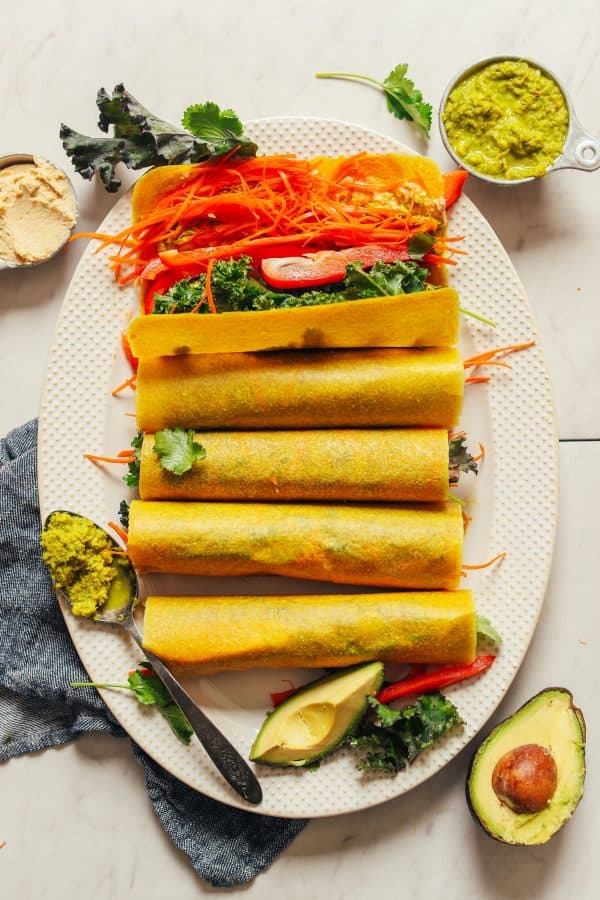 Have you had coconut wraps before? See if you can buy them either at your local store or online.
I have seen plain white ones, and others that are slightly yellow as they have added turmeric, my favorite is the latter.
A versatile recipe that takes minutes to prepare and even less to eat!
Simple ingredients and there's even a video that shows you all that you can do. Perfect!
30-Minute Ginger Lemongrass Braised Vegetables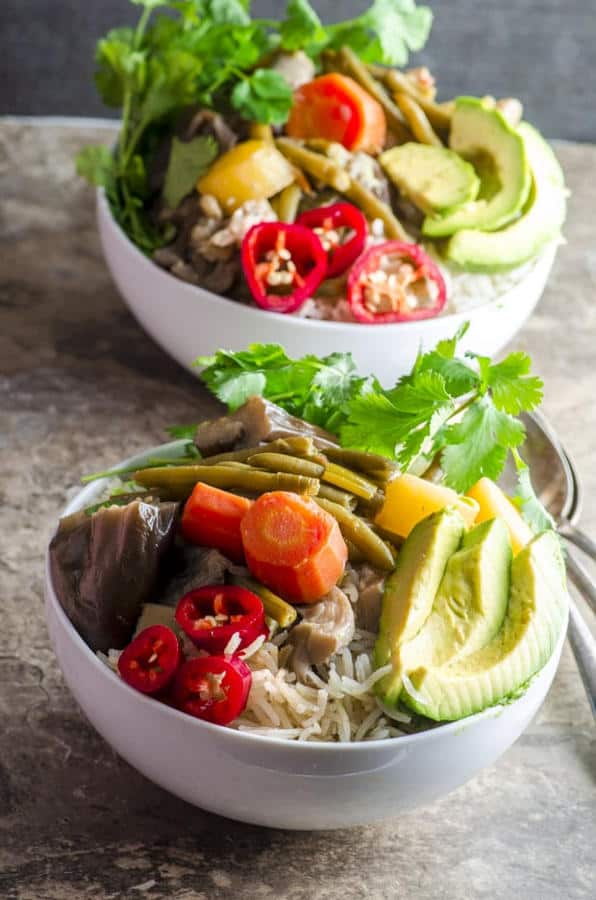 Sometimes you want something a little more substantial than a sandwich or wrap. You want a proper meal that is affordable, quick and tasty. Maybe you can even use leftovers? I think we have it here.
A fantastic way to prepare vegetables and definitely inspired from Thai cooking. This dish is everything you can imagine it to be. I love the addition of avocado.
Do go to the effort of presenting it beautifully on your plate, even if it's just for you. Especially if it's just for you!
30-Minute Portobello Fajitas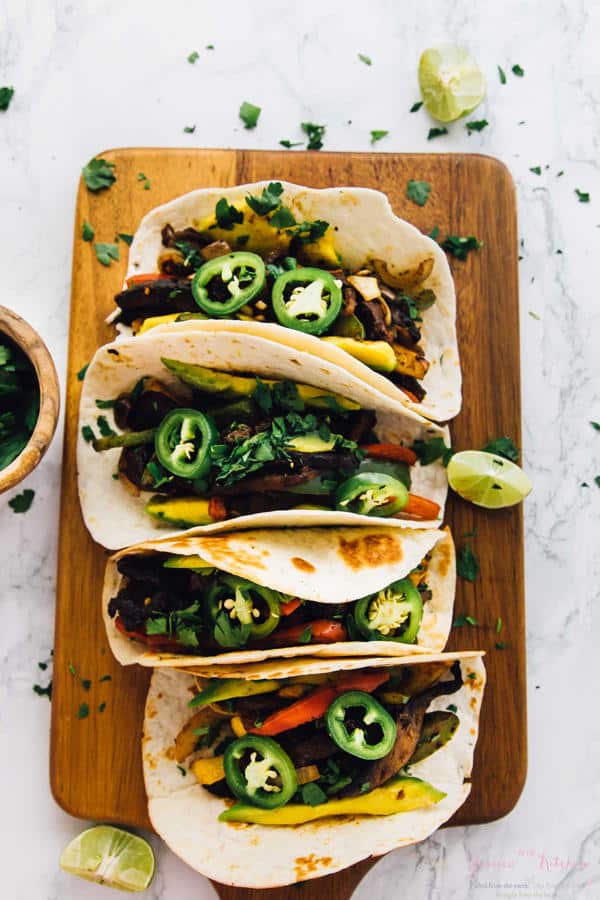 One of my favorite dishes whenever I eat Mexican food is fajitas.
In the unlikely event you've never had anything like this before, make this quick and don't tell anybody it's the first time you've tried them!
Super versatile, you can use whatever vegetables you have that need eating, so it's perfect for leftovers. Cook up and fill up!
Quick Vegan Pasta Recipes
10-Minute Tomato Pasta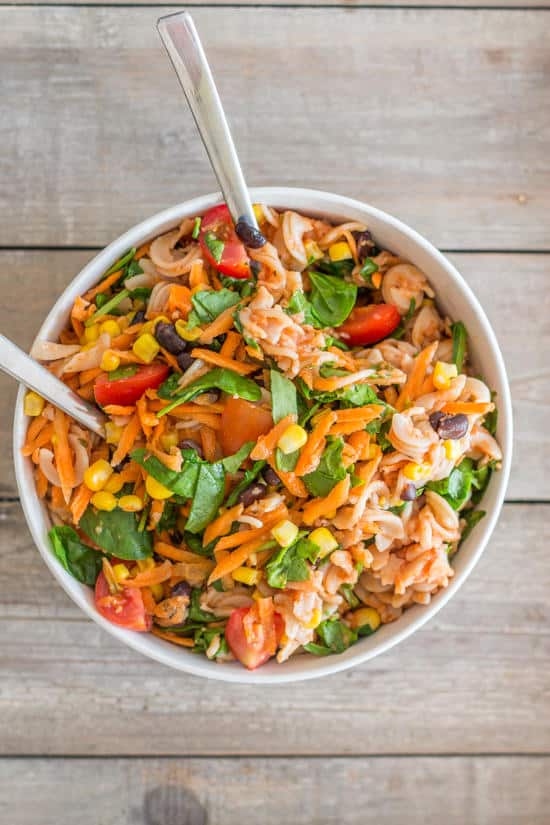 Most of us have some pasta in the cupboard for a rainy day. You can always make something quick with it, you just needed a decent recipe. This is what you've been waiting for!
The ingredients are divided into two sections, the pasta and accompanying vegetables, then the tomato sauce.
If you have some leftover veggies, this dish would be a perfect way to use them up! The tomato sauce is extremely economical and tasty.
Putting everything together takes just a few minutes and you have yourself a great meal.
Quick and Easy Pumpkin Pasta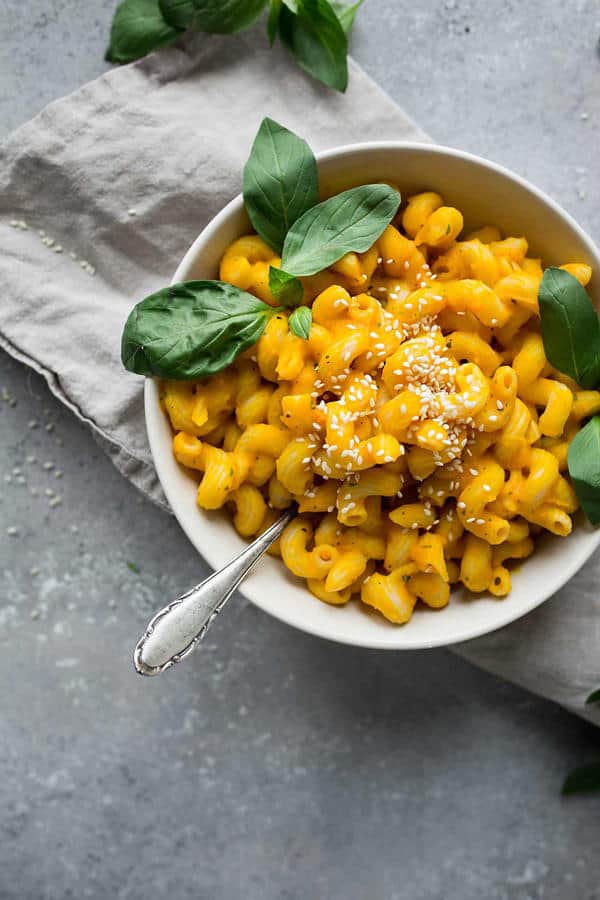 It's Halloween and you have a truckload of pumpkin that you scooped out, now what?
Make this easy pasta dish using the scooped out pumpkin flesh (or pumpkin purée).
Add some extra virgin olive oil, nutritional yeast and more, in just 20 minutes or less have yourself the comfort food of comfort foods!
15-Minute Hummus Pasta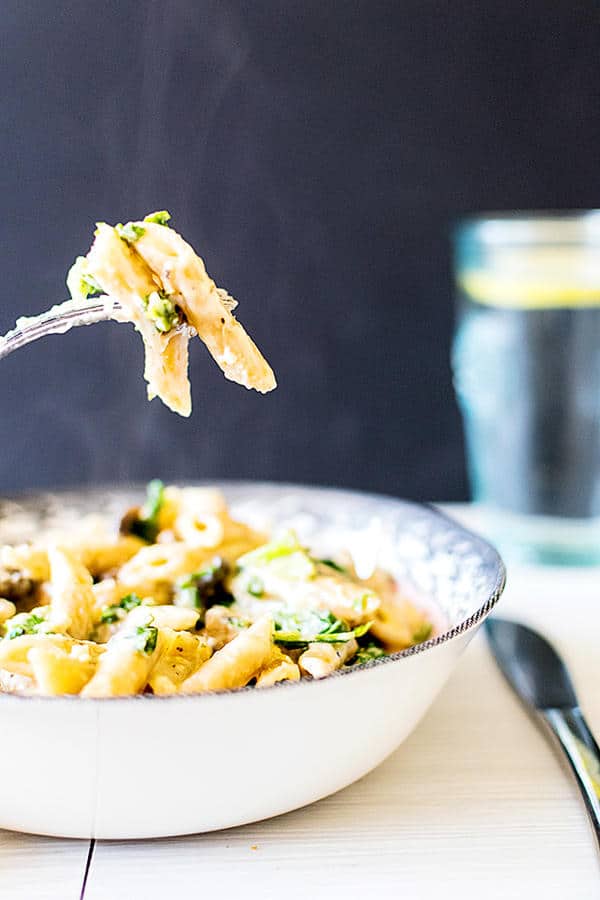 Have you ever tried hummus with pasta before? Believe me, it's a thing and with a good recipe, that thing is awesome! Well, this isn't a good recipe, it's a great one!
The secret ingredient for me in this dish is the sliced mushrooms, they add that perfect flavor and texture that goes with pasta perfectly.
Quick, easy, affordable and best of all, delicious!
30-Minute Tomato Mushroom Pasta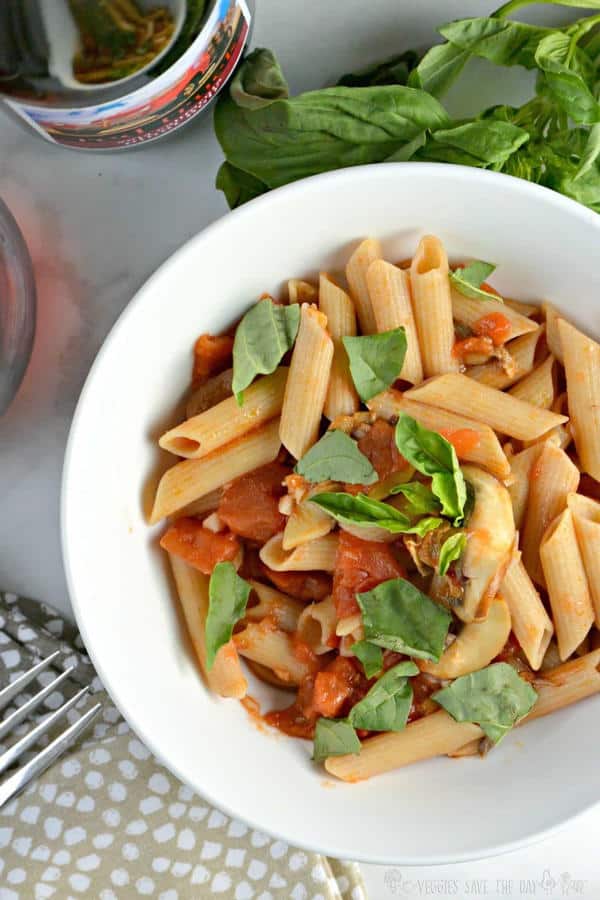 In just 30 minutes or less you can have yourself a tasty dish that costs so little and yet is so big in the flavor department.
Other than the seasoning you're looking at just half a dozen ingredients.
Cook the pasta according to the packet instructions and then follow the guidelines on how to make the quick sauce. Put them both together and dig in!
30-Minute Fettuccine Alfredo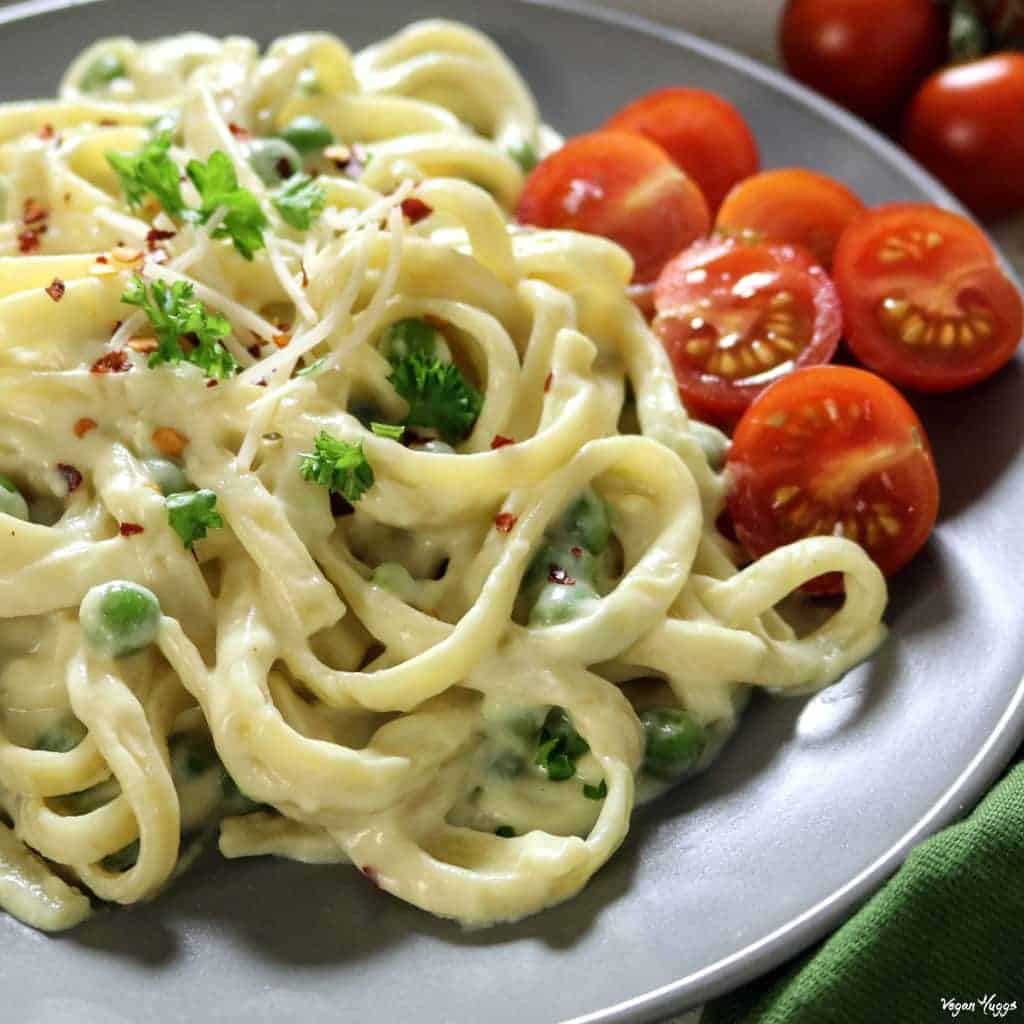 A vegan version of the famous Italian recipe. A great one too!
The creaminess comes from cashews that have been soaked overnight and then blended with some delicious ingredients to create the sauce.
You have nutritional yeast, garlic, peas and more, together you'll have a healthy version of the Italian classic. Ditching dairy just got better!
10-Minute Mediterranean Pasta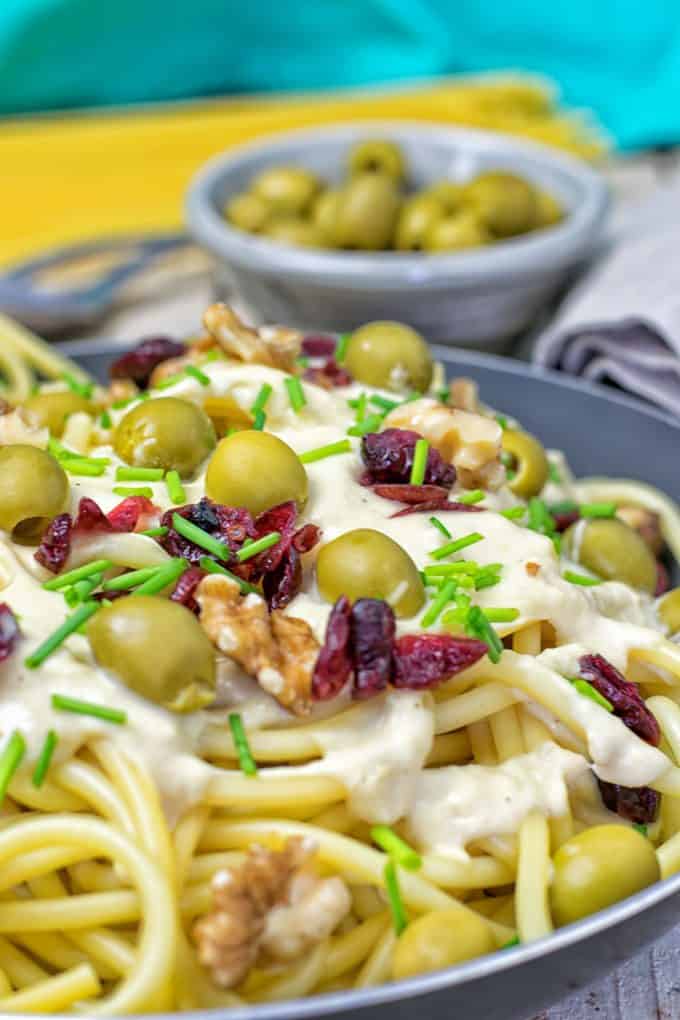 Italians certainly do spend a lot of time in the kitchen, but that doesn't mean that all Italian food takes hours to make. Some of the best dishes are cheap and quick!
Florian from Contentedness Cooking uses hummus sauce to create this gluten-free dish. With garlic, olive oil and even walnuts, you know you can't go wrong.
This specific recipe uses gluten-free pasta, it will work with any pasta that fits your requirements. Totally delicious and comes together in just 10 minutes.
15-Minute One Pot Hummus Pasta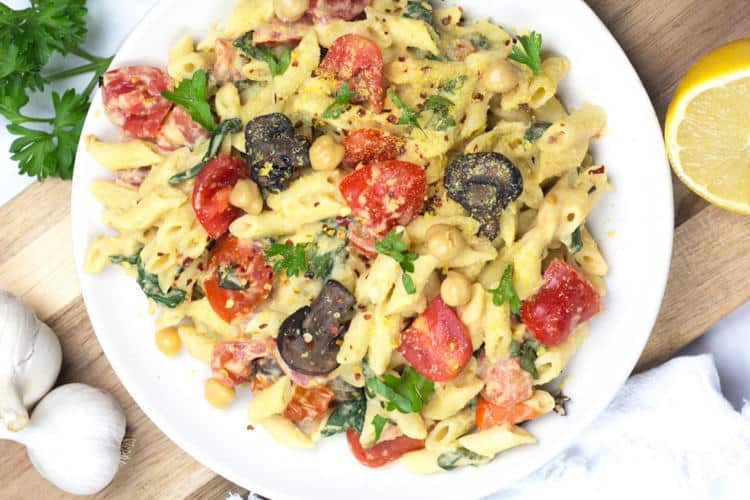 Who knew hummus and pasta would go so well together?
This dish has everything, hot sauce, mushrooms (or whatever veggies you have that need eating) and a few other wholesome ingredients.
Everything is made in one pot in 15 minutes. Nobody can argue with that!
15-Minute Wild Garlic Pasta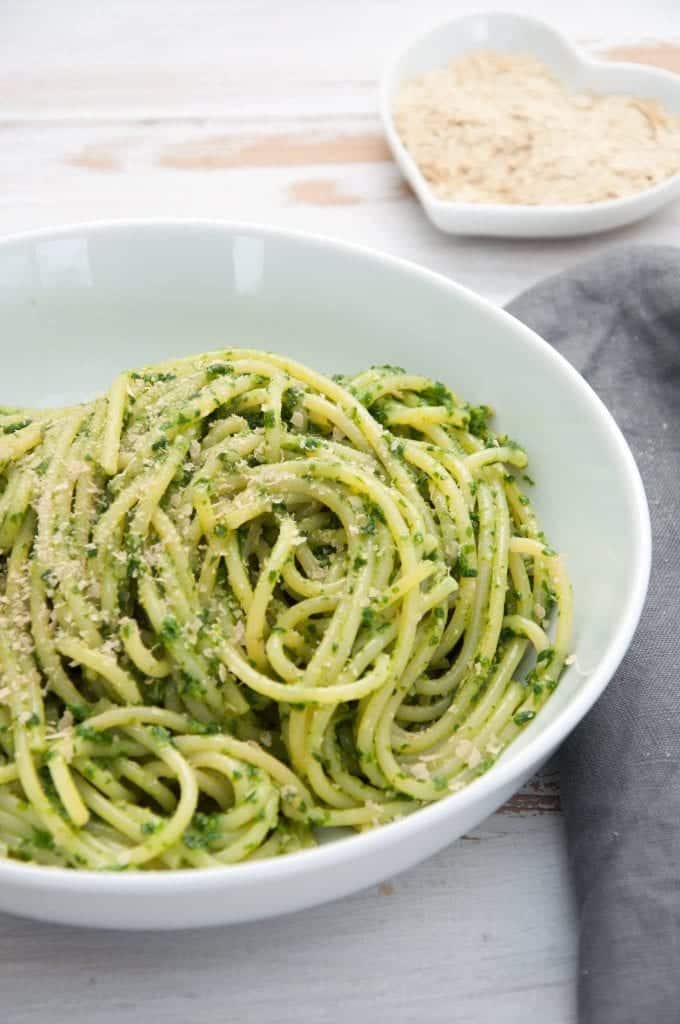 Have you ever tried wild garlic? Until someone pointed it out to me, I didn't even know it existed! It's amazing.
Really simple ingredients, other than the seasoning there are just six of them and the entire dish comes together very quickly.
There's a handy tool just above the ingredients where you can change the number of servings you need, and this alters the amounts listed.
If you can't source wild garlic, Bianca suggests using a regular clove with fresh spinach to make a quick pesto. Check it out!
Quick Vegan Pickle Recipes
Quick Pickled Veggies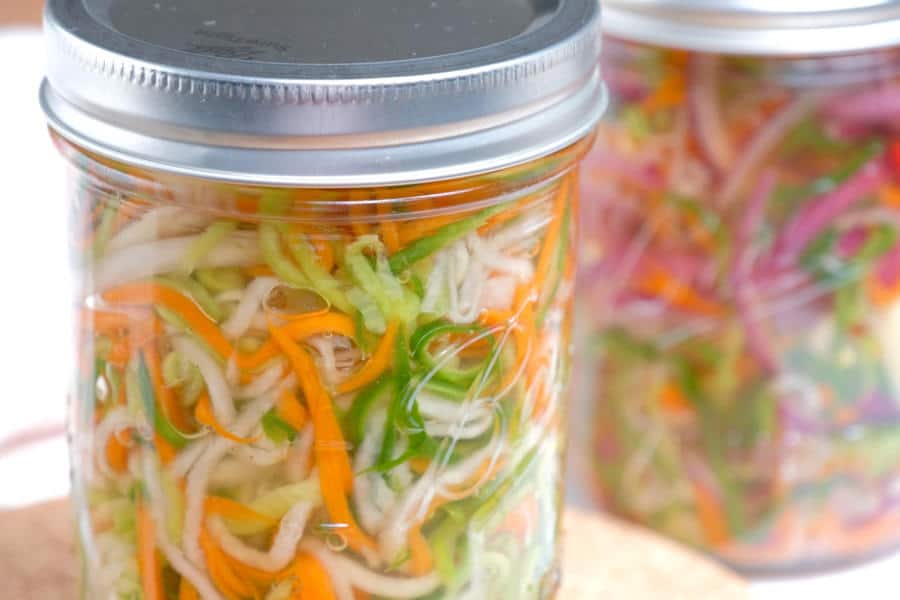 If you're like me and love pickles, you know making your own takes a lot of preparation and time. This is the answer to our prayers!
Get to preserve your favorite vegetables with this great recipe. You get to eat your pickles in just three hours although obviously, the longer you leave it the better.
They store in the fridge for up to a month, just make sure they are submerged under the liquid. Really tasty and a great accompaniment to just about anything.
Quick Pickled Cabbage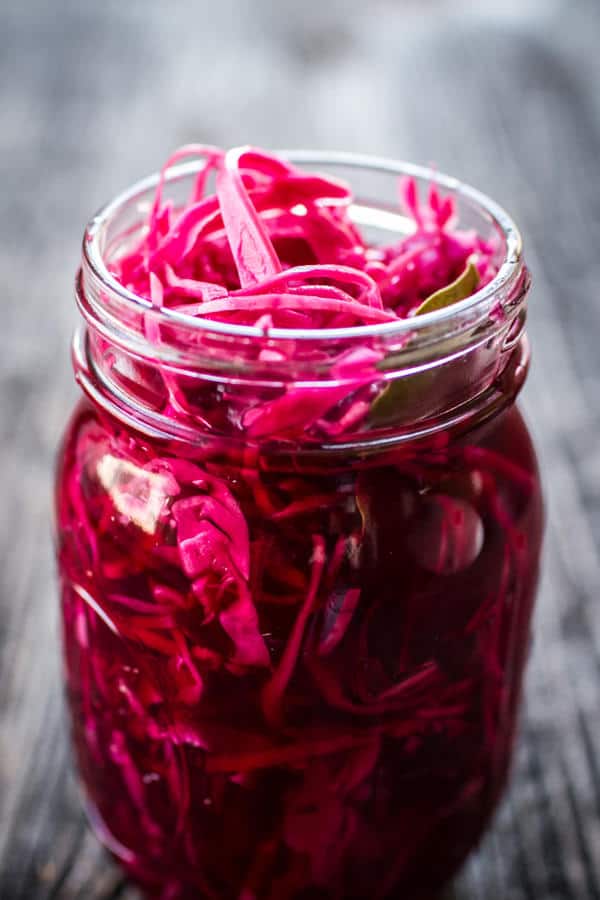 There's nothing quite like some pickled cabbage! This is one of the easiest methods I've seen for preserving.
Get yourself some apple cider vinegar, add the rest of ingredients and get yourself into a pickle!
Once the instructions have been followed, allow to sit on your counter for about four hours, then stir and seal in the refrigerator. You can start eating as soon as it's chilled!
Vietnamese Quick Pickled Carrots and Daikon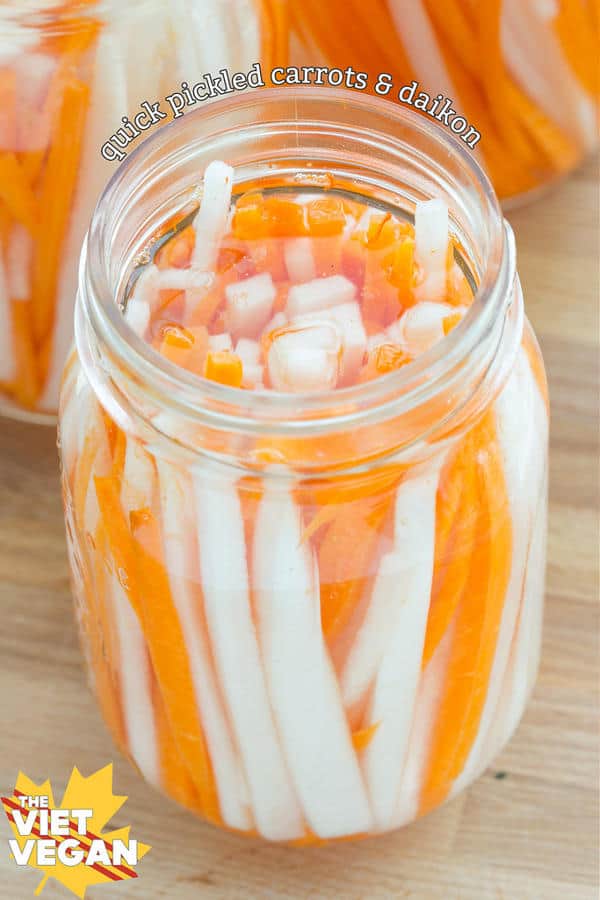 If you love daikon radish, this is for you. Even if you've never heard of it, you should try it and let this recipe be your introduction.
Using the method here, you can even start to eat the pickles after 20 minutes!
Very cheap to make and store in the fridge for about two weeks. Perfect.
Quick Pickled Onions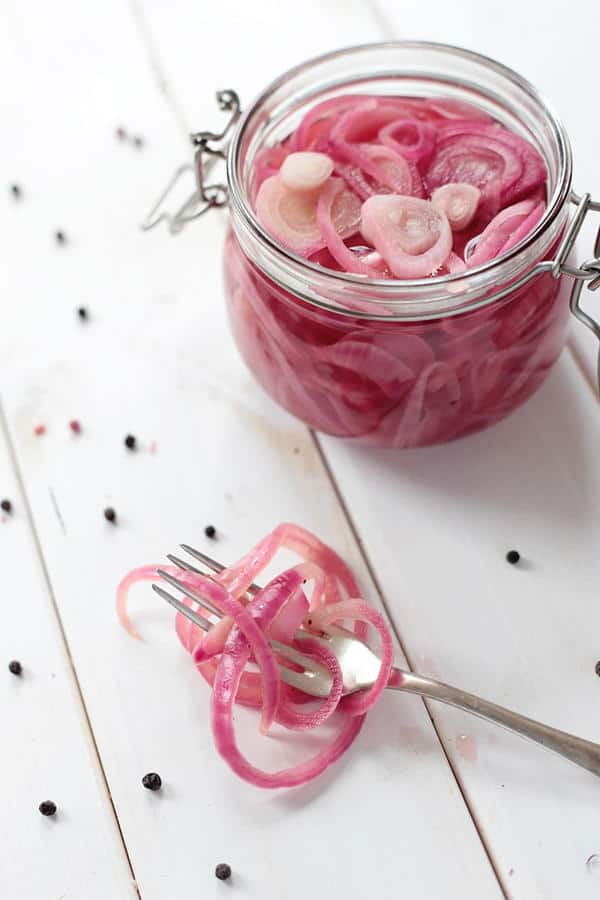 Everybody loves pickled onions, right?
Other than the water and seasoning, you're looking at just three ingredients (and one of them is obviously onions!).
The instructions have just three steps, you're looking at about 10 minutes which includes prep and cooking time.
These will keep in the fridge, for up to a month! What will you have yours with?
Quick Pickled Zucchini Ribbons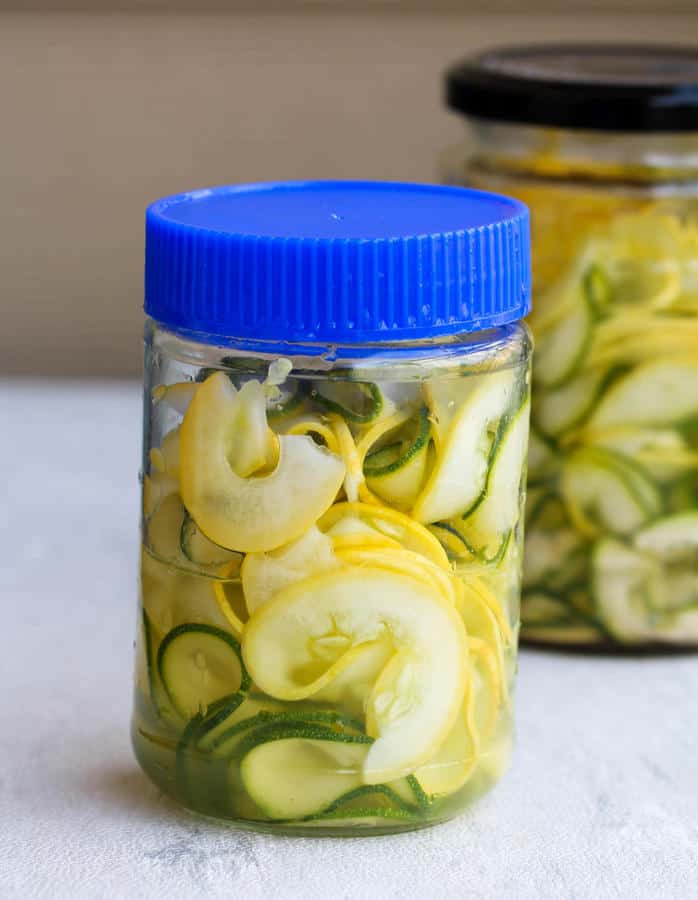 I'm not sure if I had ever seen pickled zucchini before, this is definitely worth a try.
If you don't have a spiralizer, use a julienne peeler as a quick and cheap alternative.
Just a couple of ingredients other than water and seasoning. No cooking involved in this recipe!
Quick Vegan Salad Recipes
5-Minute Mashed White Bean Salad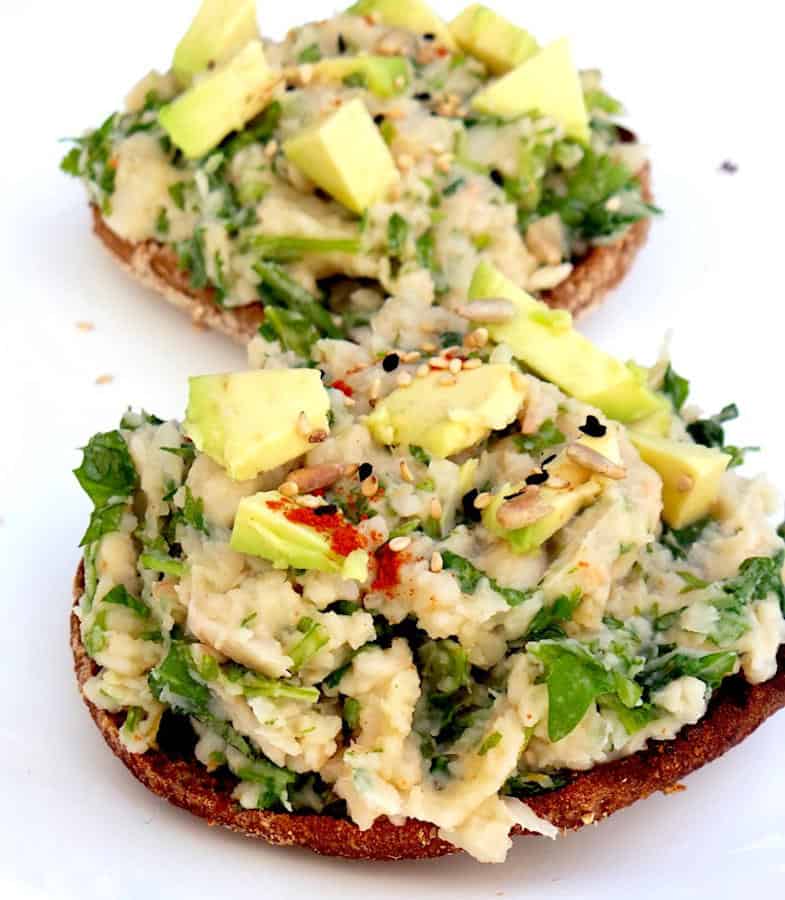 This is a great change from hummus and guacamole. Super healthy and comes together in a snap.
I think white beans need a bigger cheerleader, does anyone know where I can apply for the job? Incredible ingredients such as garlic, arugula, capers and more.
Either use a food processor or burn some calories mashing everything up. Serve on toasted bread, in a wrap or on a rice cake!
3-Minute Chickpea Salad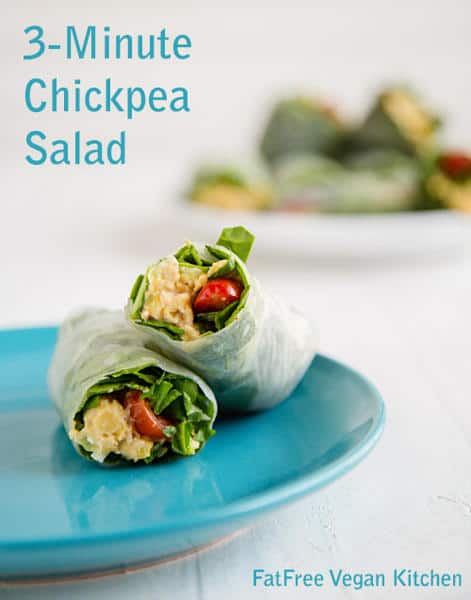 Chickpeas (garbanzo beans) have to be one of the most versatile foods out there. Is there anything you can't do with them?
This recipe is so simple and really does come together in less than five minutes. I love how versatile it is, perfect for using up leftover salad.
Simply smash chickpeas in a food processor, potato masher or even the back of a fork.
Add remaining ingredients, stir and serve however you like! Susan suggests wrapping in rice paper with salad items.
Lovely!
Quick and Easy Lentil-Yogurt Salad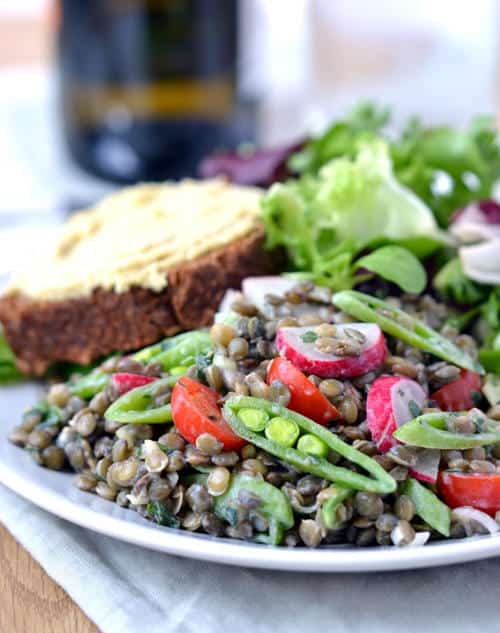 What a lovely and hearty salad this is. Versatile and the dressing is something else!
Other than preparing the lentils, mix with all the other chopped ingredients and you're good to go.
The dressing is one of the best I've seen, non-dairy yogurt, green onions, lemon juice and a couple of other bits will create this beautiful addition.
5-Minute Lentil Tomato Salad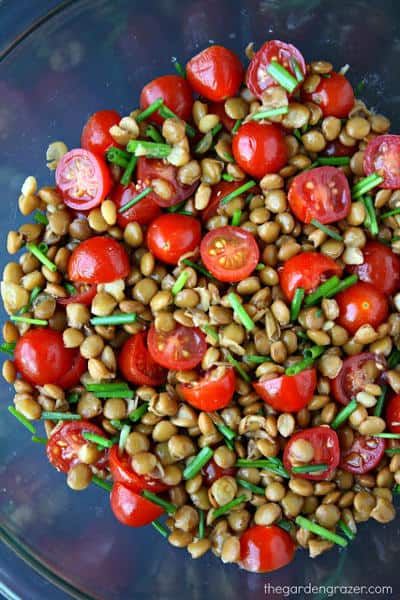 Sometimes, you only have a few things that need eating and you need inspiration as to what to create.
This recipe not only works as it is, but it'll give you ideas for anything similar. For example, artichoke hearts and grape tomatoes can already be a meal in itself.
Just use olive oil and vinegar as it's the most basic dressing and you can't go wrong. The list is endless, what will you come up with?
Quick and Easy Raw Massaged Kale Salad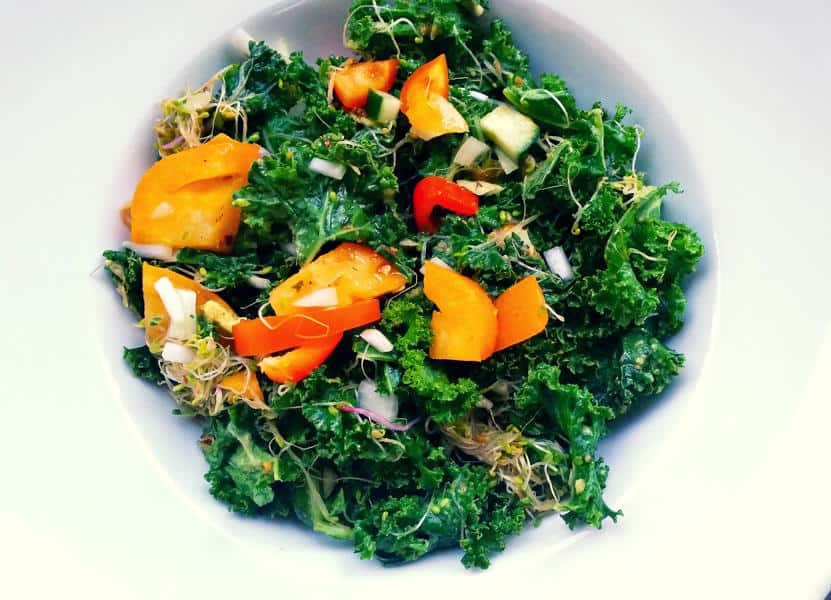 Don't quote me on this but I think kale is one of the most nutritionally dense foods around.
This is truly a wonderful salad including cucumber, avocado, sweet onion and a handful of other wonderful ingredients.
You're looking at around 20 minutes prep time and then you're ready to eat. Super healthy is an understatement.
Quick and Easy Veggie Pasta Salad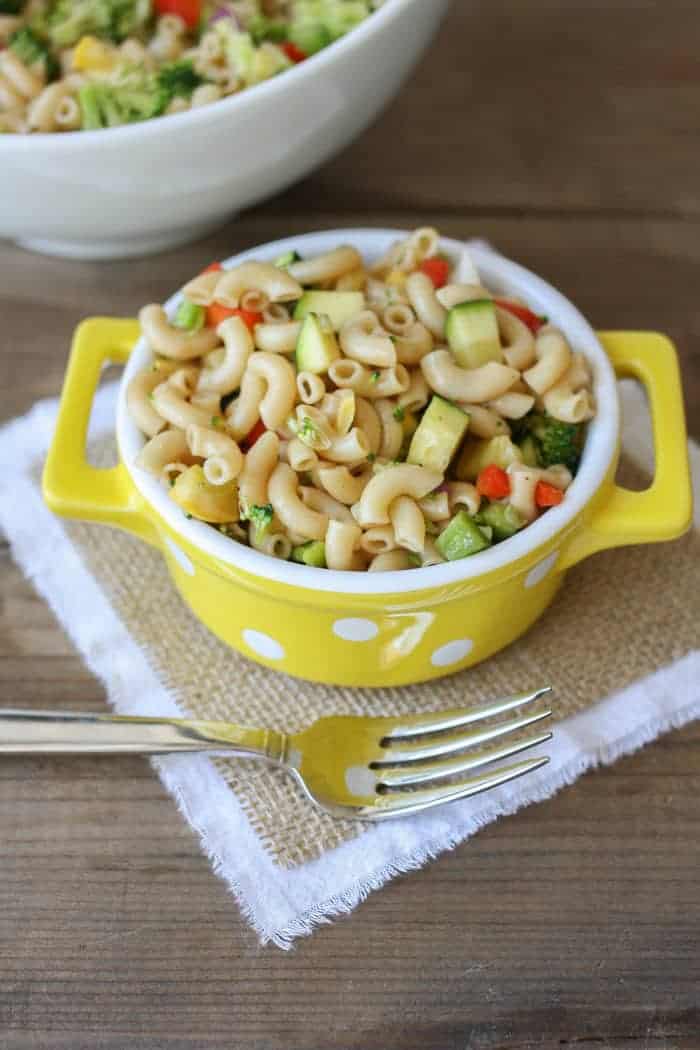 I think most of us have a packet of dried pasta at home for rainy day, right? Well, you can never have too many quick pasta recipes.
Either follow the ingredients and instructions or use up any leftover vegetables to make this quick and easy super healthy meal.
Cook the pasta, throw in the veggies and add the dressing. Perfect!
Quick Vegan Sauce & Spread Recipes
2-Minute Healthy Ketchup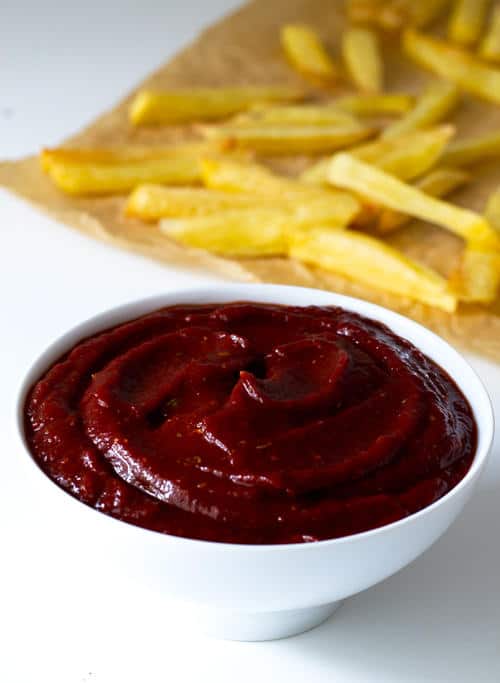 Come on now, who doesn't like ketchup?
I know it's too easy to buy from the store. Why make it yourself? Well, it really can be expensive although I know we tend not to notice. Often, they are loaded with sugar or high fructose corn syrup.
Make your own in a snap, literally two minutes. Five ingredients and some seasoning is all you need and believe me, you can taste the difference!
Quick and Simple Cream Cheese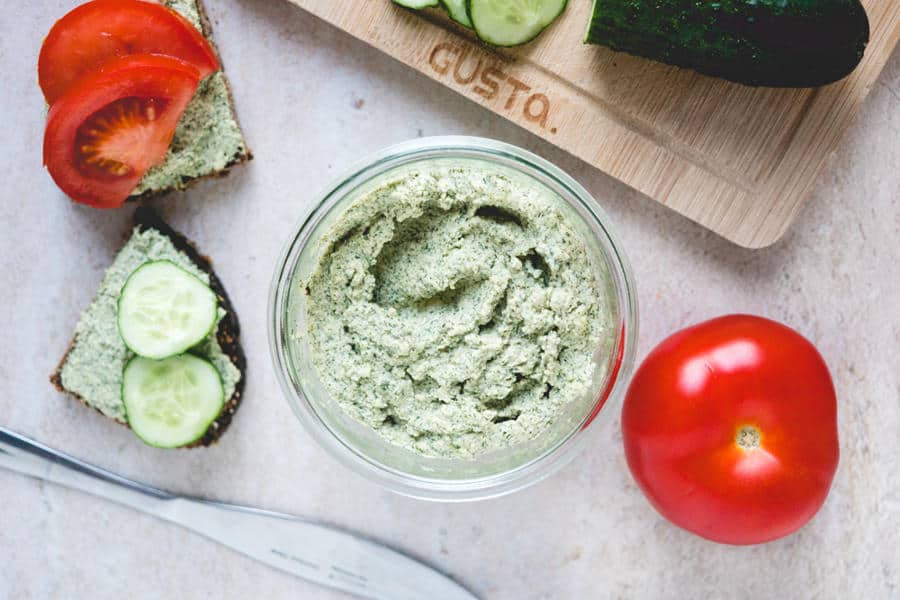 A delicious vegan cream cheese recipe.
You need a cup of raw cashews that have been soaked overnight in water. I recommend the overnight soaking as opposed to boiling as I sometimes see.
Here you have nutritional yeast, dill and more lovely flavors. Laine has also included optional additions for you to try out!
Quick and Easy Pesto Recipe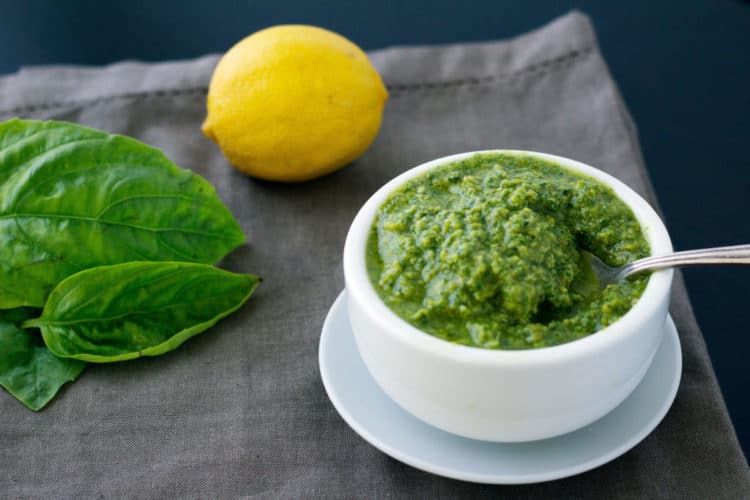 For a relatively simple recipe, pesto has a lot of variations.
I would say this version is relatively close to the classic recipe in terms of taste.
Basil, garlic and some really great wholesome ingredients make this lovely and silky. Simply put all the ingredient in a food processor and bam!
5-Minute Coconut Curry Sauce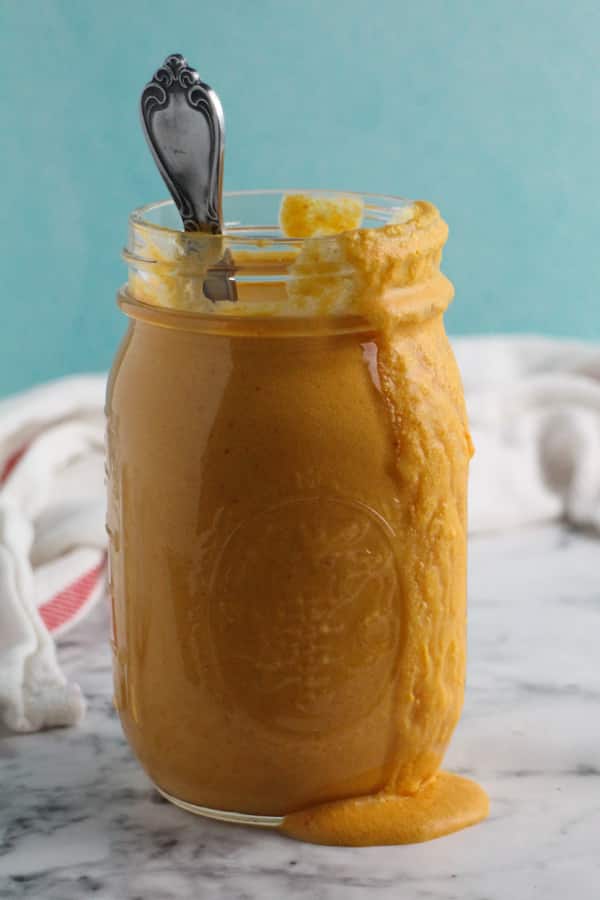 If you like curry, you know there's nothing quite like the perfect curry sauce. It brings together your curry dish to perfection and can make or break your entire meal. The worst thing is when you discover the sauce you bought at the store has hidden fish or another animal-derived ingredient in it.
This recipe uses only five ingredients and comes together in less than five minutes. You can adjust the heat and play with flavors to your liking or use the recipe as is. This will quickly become your go-to over pricey store-bought sauces. It's so quick and easy to make you won't believe it took so long to try!
5-Minute Tahini Herb Sauce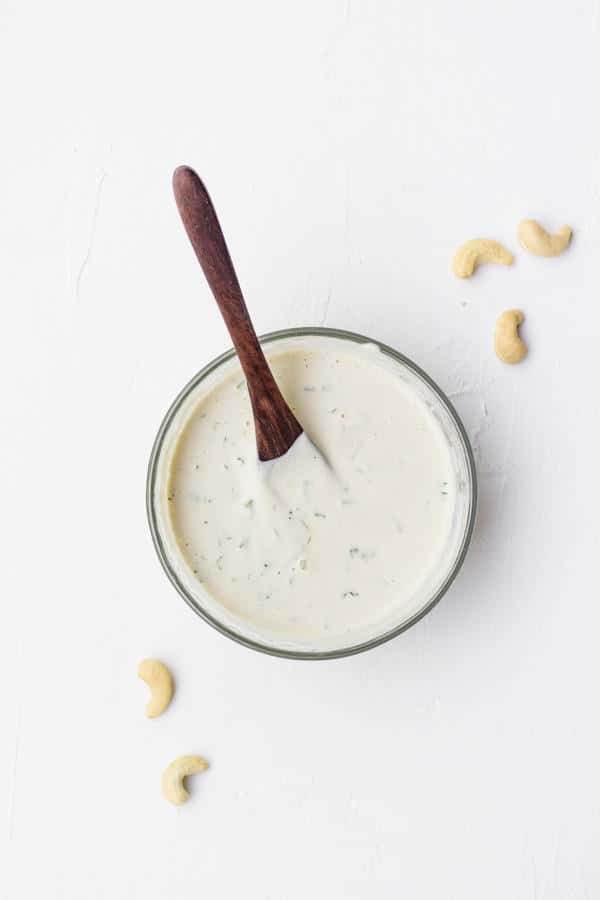 Most of us buy tahini rather than make it ourselves. On this occasion I say, why not? If the ingredients just list sesame seeds, then we're good to go.
Although tahini is great straight from the bottle (or jar), it can sometimes do with a little nudge to make it even better and this is what this recipe is all about.
Blend it with just a handful of other ingredients and you have yourself a delicious sauce perfect for a veggie bowl or salad dressing.
15-Minute Berry Chia Seed Jam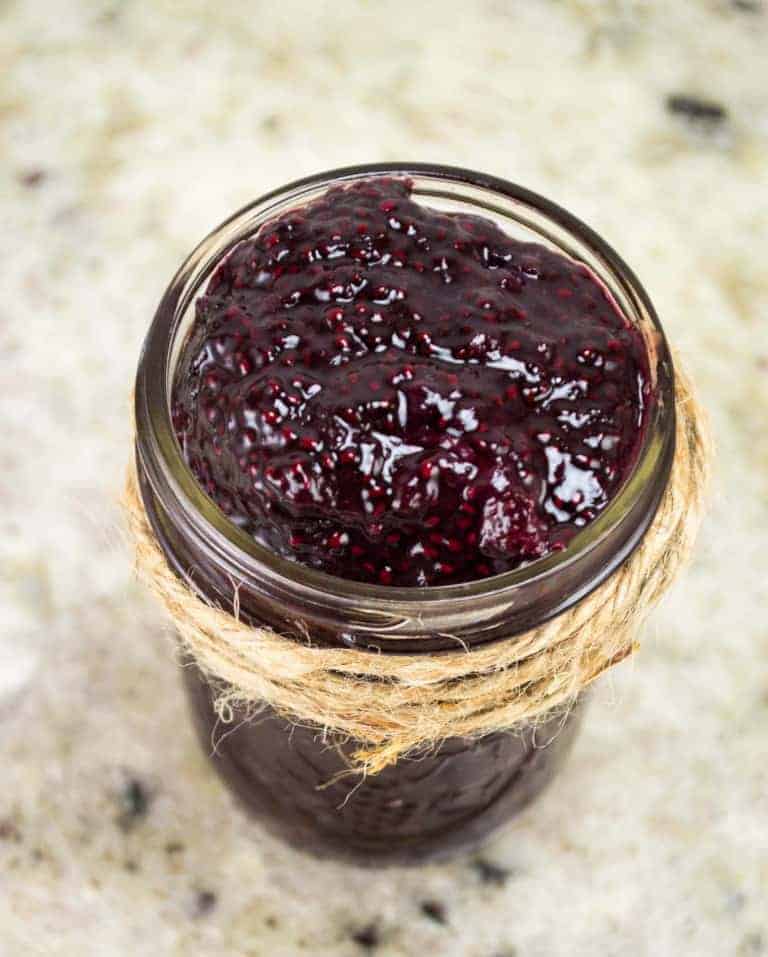 Jam (or jelly) is something we all love. Store-bought versions are cheap and taste great.
Perhaps we had an aunt or grandmother used to make their own. But it was such a long and involved process, right? Well, how about jam in 15 minutes!
Just six ingredients and a little cooking time to breakdown the fruit creates this wonderful spread. Chia seeds are included, and it's their natural properties that largely create the lovely silky texture.
Wonderful recipe!
5-Minute Cashew Cheese Sauce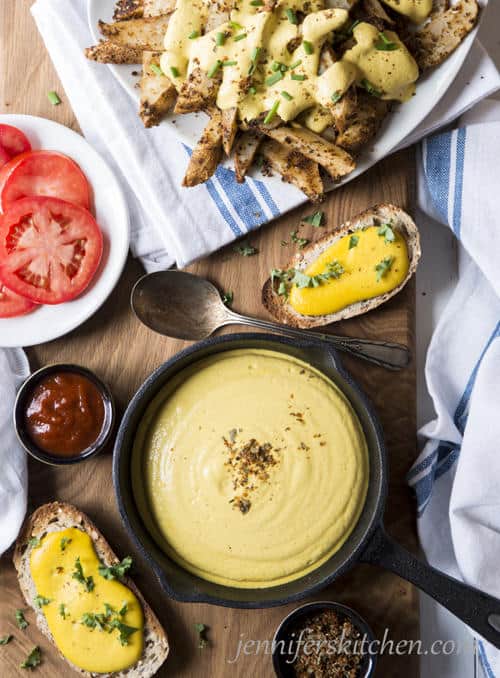 A quick and easy vegan cheese sauce for when you need the goodness of home-made!
Trust me, this recipe is so easy it's ridiculous. Blend all the ingredients and… that's it! It may take a few minutes for the mixture to become smooth depending on the type of blender you have.
Serve over vegetables, roast potatoes or even with pasta. Makes a great dip as well!
3-Minute Salted Caramel Sauce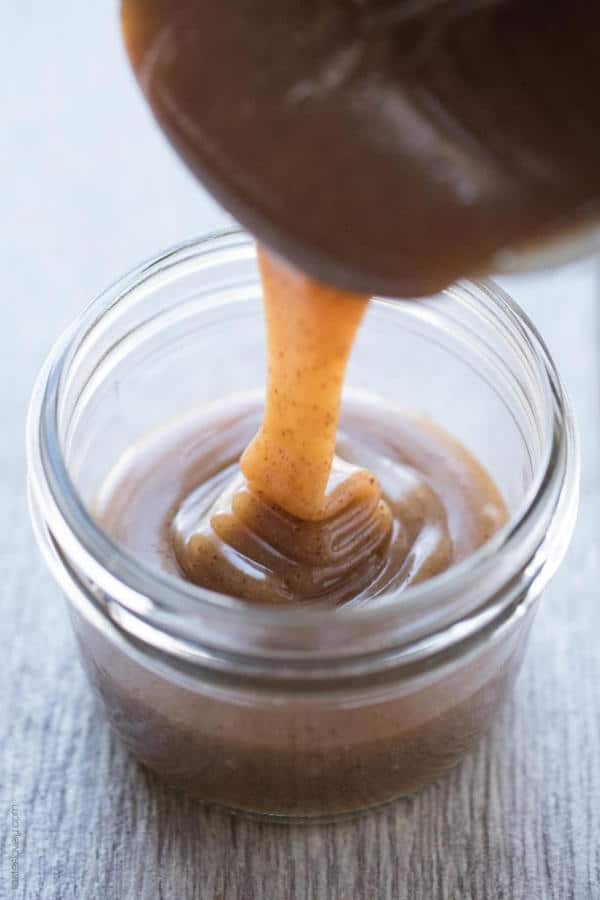 Caramel sauce is usually all about dairy and sugar. This recipe isn't either of those things!
Combine the five ingredients in a bowl and zap in the microwave for one minute until melted and you'll have yourself a delicious and silky-smooth caramel.
If you don't want to cook it, I'm guessing you could just blend everything. Natalie hasn't recommended this, I'm just thinking out loud as I don't have a microwave and love the look of the recipe. Delicious!
5-Minute Easy Pesto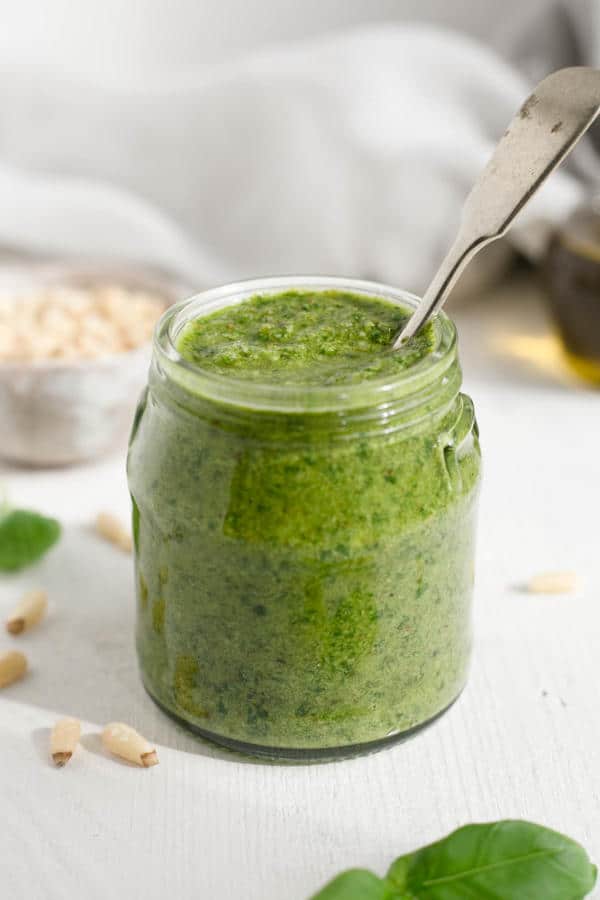 You can never have enough pesto recipes!
This pesto tastes extremely authentic and looking at the ingredients, you can see why.
Throw everything in the food processor and blend adding olive oil a little at a time. Makes for a great spread and perfect for pasta.
10-Minute Pumpkin Butter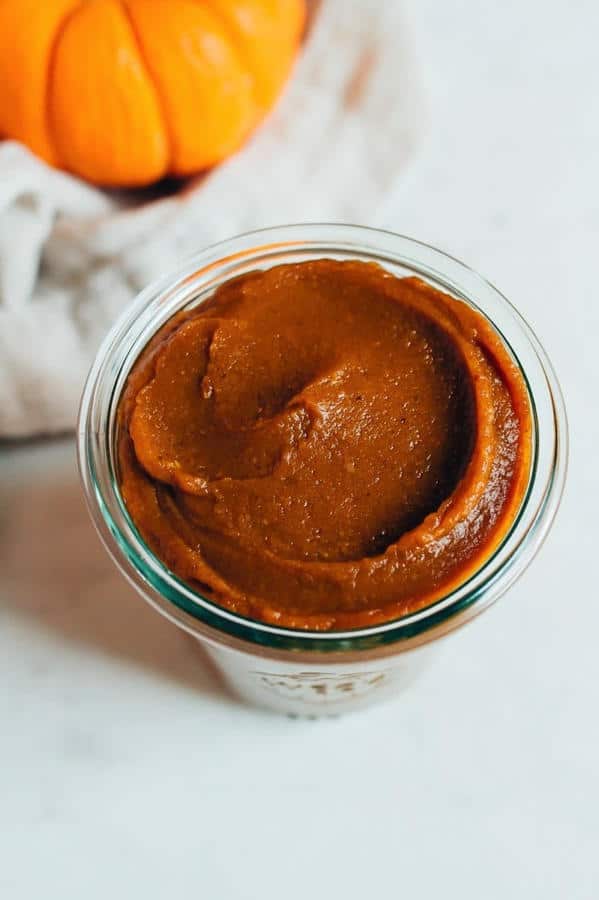 When it's the holiday season I think we'd all love to stick with tradition but be original as well.
This gives you the best of both worlds, you can taste the pumpkin in every bite along with ginger, cinnamon and nutmeg. (They aren't all of the ingredients by the way!)
Follow the instructions and you have this lovely smooth pumpkin butter. Stores in a jar refrigerated for up to 2 weeks.
Quick Vegan Snack & Treat Recipes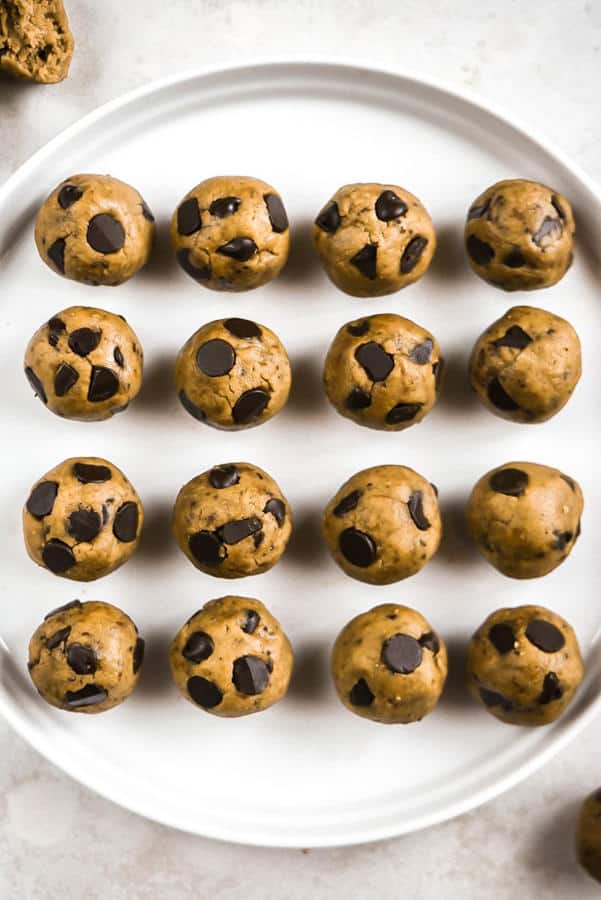 Cookie dough balls are great for a party or a family recipe where the kids get involved in the process!
The great thing about this recipe is its ready in just 10 minutes!
Extremely easy to make and you can get creative in the shapes and decoration.
They store perfectly in an airtight container in the refrigerator for up to a week.
5-Minute Restaurant Style Salsa Recipe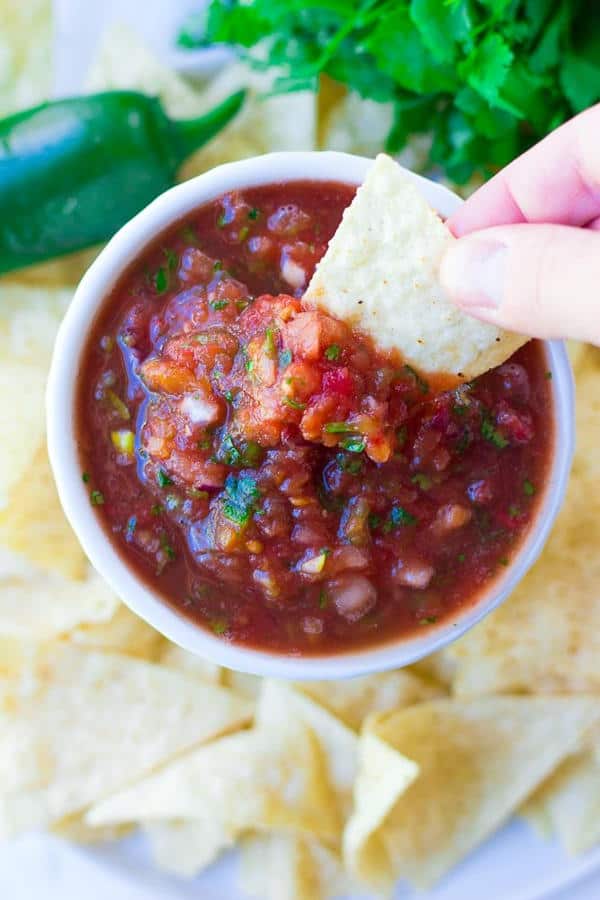 When I first saw the title of this recipe I thought, 'restaurant style'… Let's see. It really is!
The secret for this recipe is getting the best quality ingredients you can. This is fresh, no cooking whatsoever so the quality of everything you put in the blender will make all the difference.
Other than the seasoning, you're looking at half a dozen ingredients. My advice is don't over-blend, if you have the feature, I would pulse it.
Stores great in the fridge for up to 3 days and tastes divine.
Quick Gingerbread Cake Balls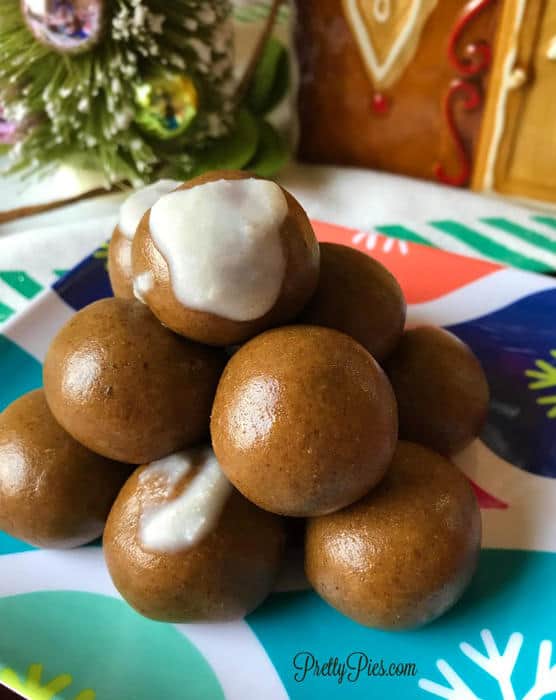 These taste like they took a long time to prepare, nothing could be further from the truth.
Would you believe these do not contain any flour, oil or even refined sugar! Best of all they take just three minutes to make (not a typo!).
Healthy, delicious and fun!
Healthy 30-Minute Cinnamon Rolls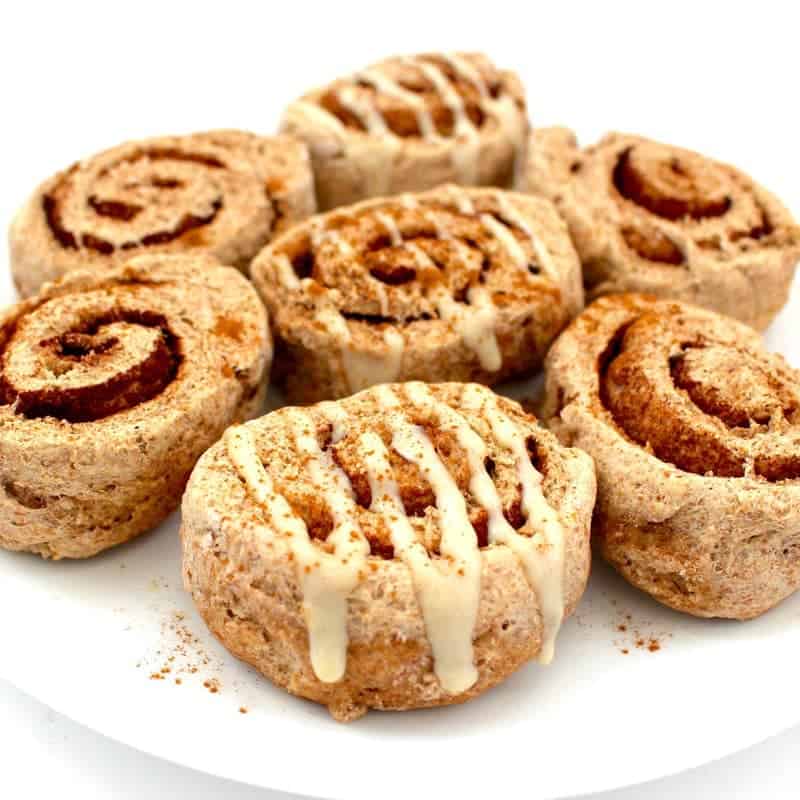 Yes, not just a vegan recipe for cinnamon rolls, but a quick one at that!
Other than salt and water, you're looking at just four ingredients!
Do note that one of them is a brand-name fruit sweetener, if you are unable to source this just use an alternative and it will be fine.
The amounts listed in the ingredients make for 12 servings so adjust as necessary. Each roll is just 70 calories!
20-Minute Quesadillas with Homemade Cashew Cheese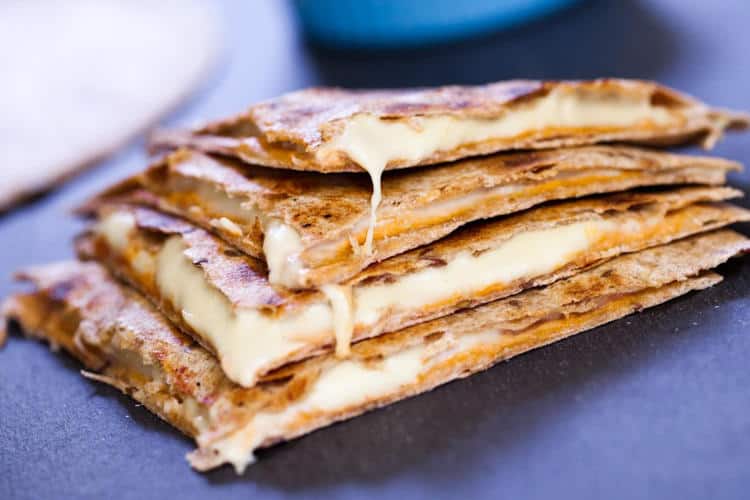 I just love quesadillas. A vegan recipe's success will, of course, heavily dependent on the quality of the plant-based cheese. Well, we don't have any worries in that department!
Honestly one of the best quesadilla recipes I have seen. Best of all, this is oil-free!
This recipe is all about the tortillas and the cream cheese, why not add some vegetables such as bell pepper and green onion as well?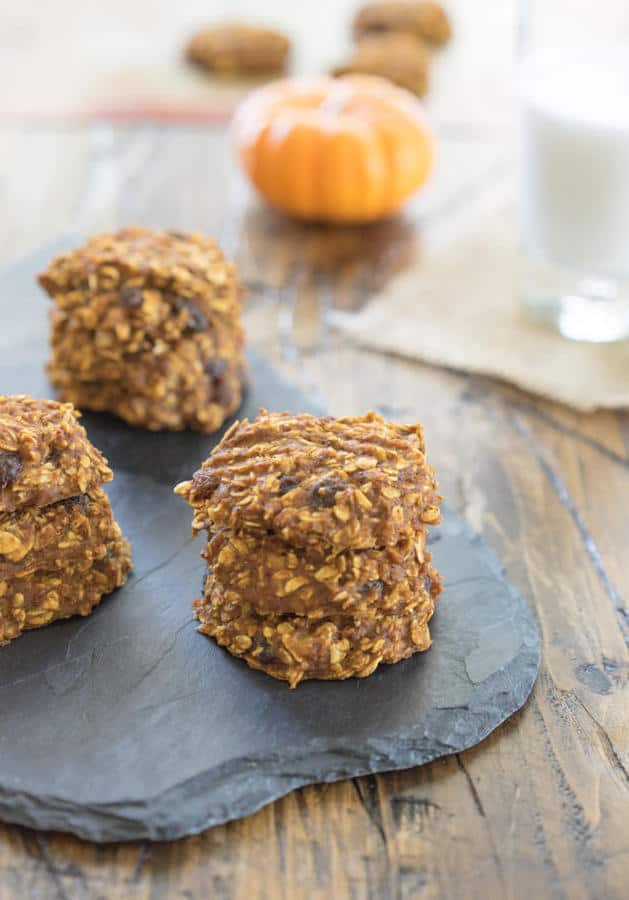 Is this the healthiest pumpkin pie cookie recipe? If not, it's certainly up there and it's definitely one of the quickest as well!
There are just two steps to this process, you mix and bake. Probably one of the most fool-proof I have ever seen.
The ingredients are cheap and extremely easy to source. Definitely one for the holidays!
Quick and Easy Chocolate Orange Truffles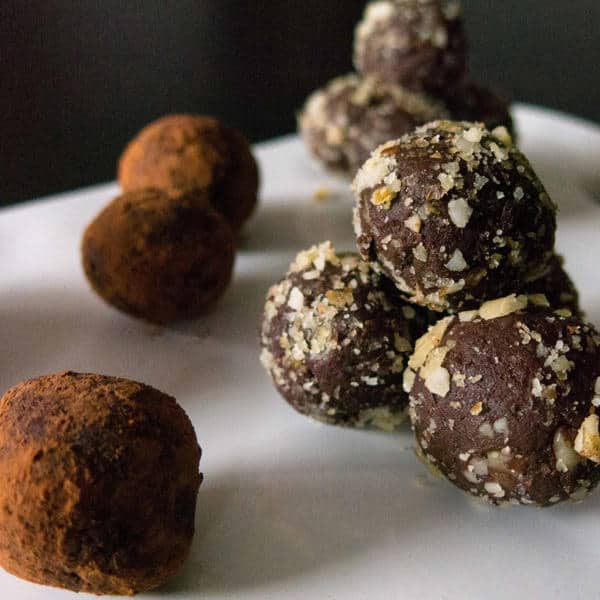 Finding a really good truffle recipe, in my experience, isn't that easy. Here we have found not only an excellent one, but it's quick too!
The recipe page is laid out beautifully for these truffles. You get allergy information and some great tips as well. Make them!
Quick and Easy Oil-Free Chipotle Home Fries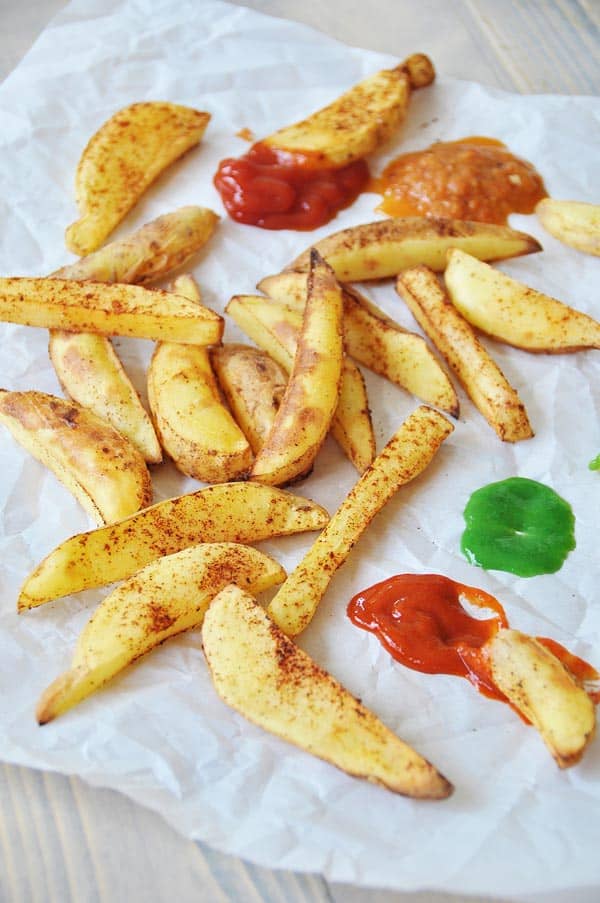 Whenever I see home fries I do a little dance!
Fries don't need to be splattered and soaked in oil, here we are baking and using seasoning and just two other ingredients.
Bake for about 15 minutes before flipping and putting them back in the oven for another blast.
Allow to cool a little so you don't burn yourself because if you're anything like me, the hardest part will be the waiting!
10-Minute Cashew Maca Hot Chocolate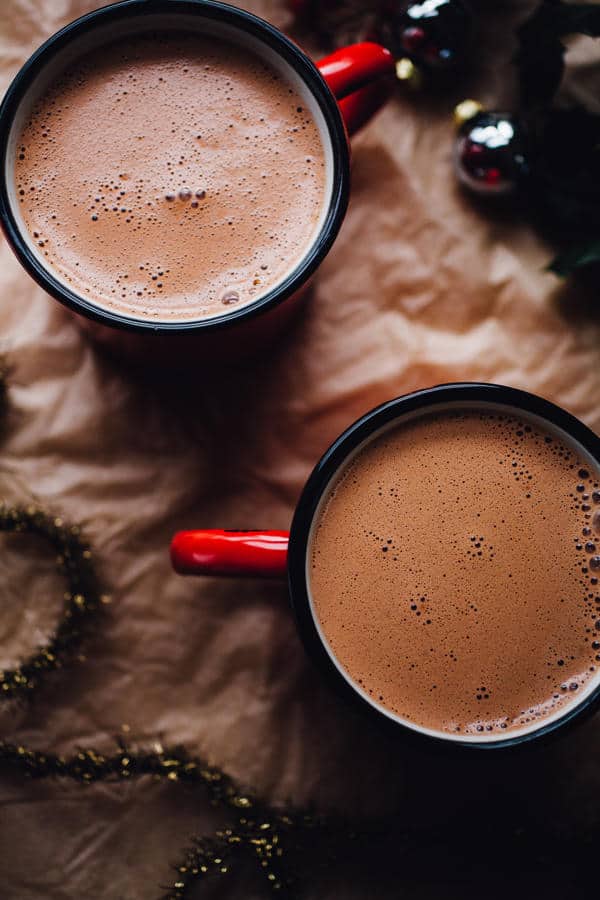 There's nothing quite like a hot chocolate, it's like one of the most comforting drinks.
This recipe takes just 10 minutes and, of course, it's vegan. Great ingredients such as vanilla extract, maple syrup and just a couple of other things.
Follow the two-step instructions although I think the most important part not even mentioned is to make sure you have a really comfortable chair or sofa to enjoy this!
Quick Maple Candied Pecans and Almonds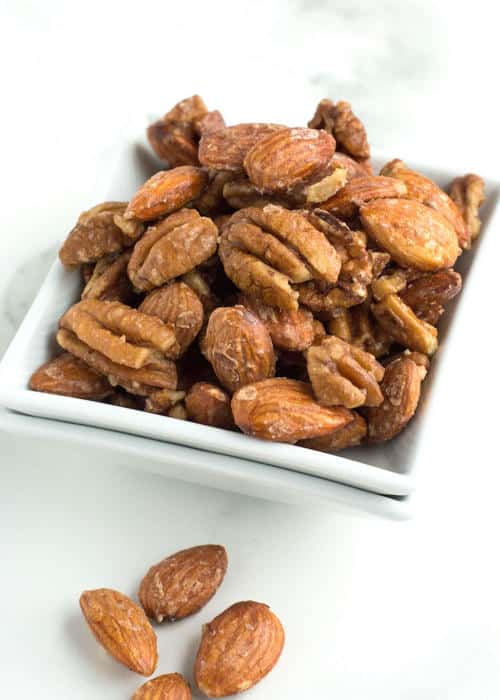 If you're having some friends over and you want to have some little snacks on the table, go for this!
Other than the nuts you're looking at just three other ingredients.
They will seriously taste as though it came from a packet although after eating them, you'll never buy a store-bought version again.
Quick Vegan Soup & Stew Recipes
Quick Pho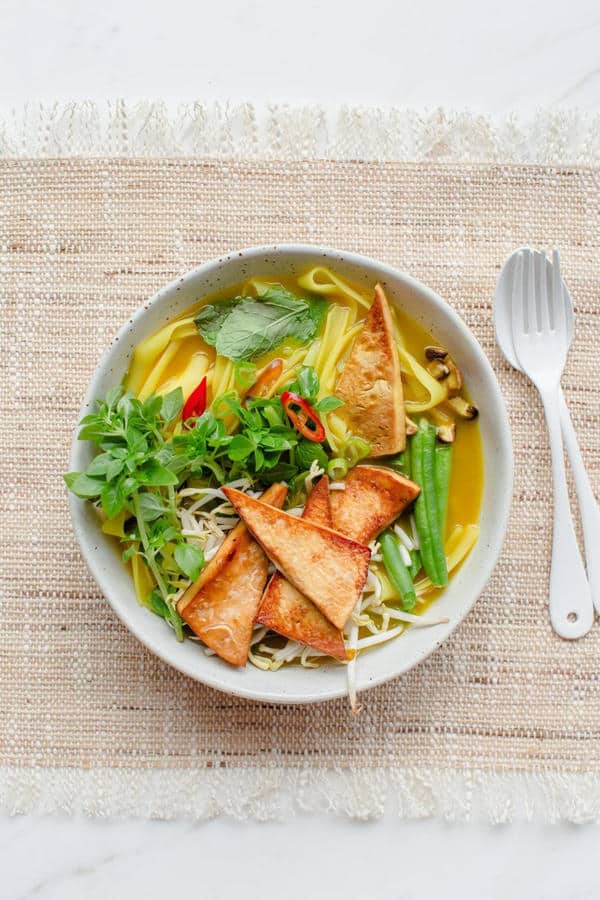 What's a pho, you ask?
This is a Vietnamese style dish that beats any take-out every time!
The ingredients are divided into four sections, the broth, the filling, the toppings and some optional extras.
Including prep and cooking time, you're looking at no more than 30 minutes.
The amounts listed in the ingredients make two servings although this can be altered on the recipe page. Delicious!
20-Minute Cheesy Mushroom Coconut Soup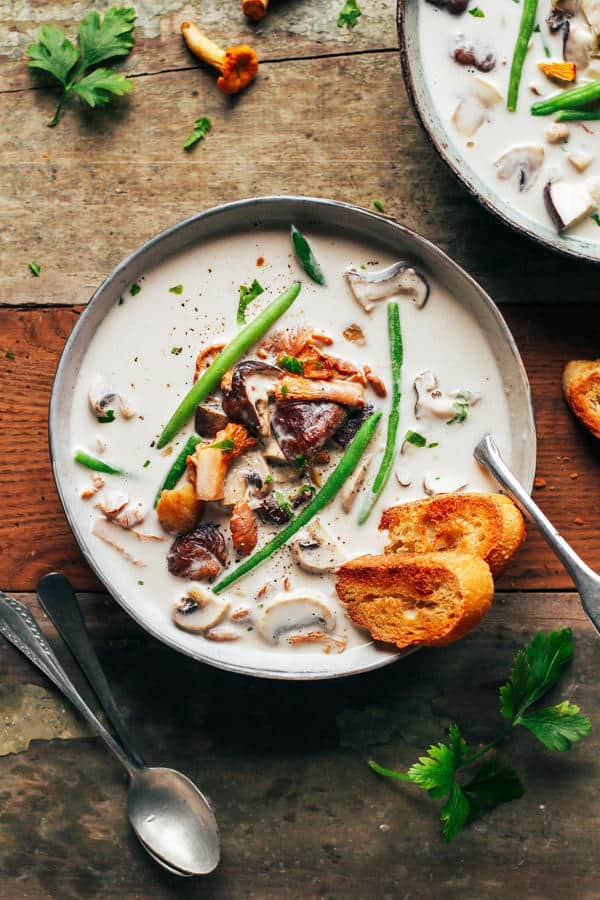 On those chilly winter evenings, there's nothing like a comforting soup.
I don't think I've ever tried mushroom and coconut together in a soup.
My goodness, what an amazing combination! Try this once and I promise it will quickly become your favorite.
15-Minute One Pot Peanut Butter Miso Noodle Soup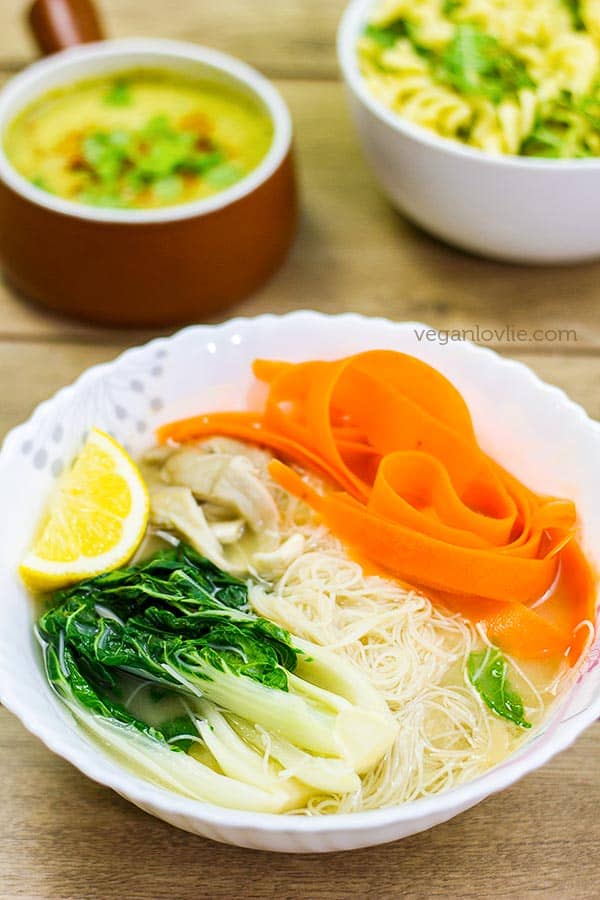 There are so many good things to say about this recipe; noodles, one-pot, peanut butter and the recipe page actually gives you three recipes! Where do we start?
Even though peanut butter is mentioned, Teenuja and Kevin also go to the trouble of including peanut-free butter options.
I think the best advice I can give is to shoot over to the recipe page and watch the video.
It will tell you more than I ever could; it's edited beautifully and gives you all the information you need in just seven minutes.
5-Minute Creamy Tomato Soup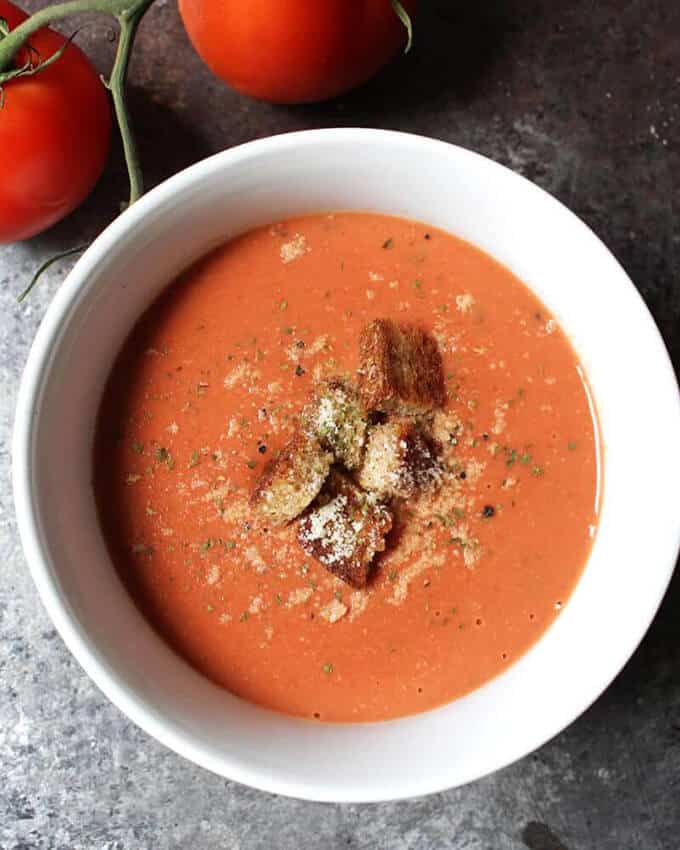 There's nothing quite like a creamy tomato soup.
This dairy-free version can be made in just five minutes. It's silky smooth and it's also completely familiar.
Just a handful of ingredients that you can always keep on standby for when you need the tomato soup fix!
Quick Potato and Chickpea Stew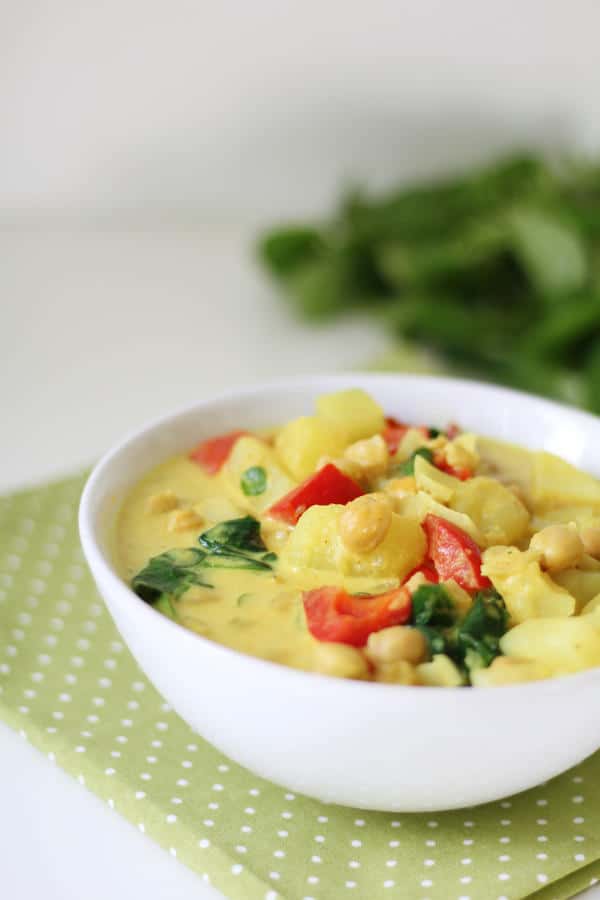 There's nothing quite like a good stew to warm away those winter blues.
Potatoes and chickpeas (garbanzo beans) are two of my favorite ingredients so when I saw they were the main stars of this show, I knew I had to make it.
Throw in coconut milk, curry powder and any leftover vegetables, and you have yourself a hearty and healthy meal! Truly wonderful.
15-Minute Thai Green Curry Soup with Vermicelli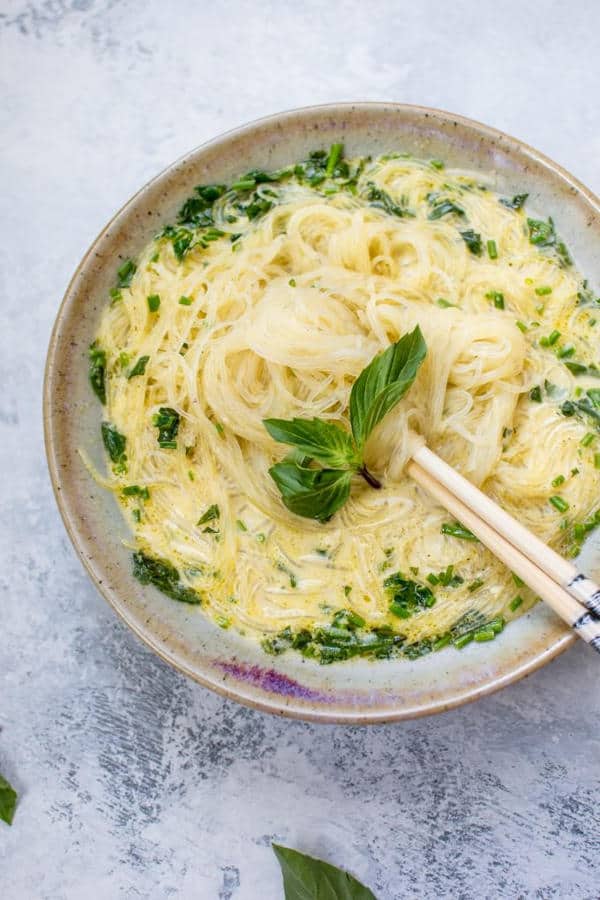 Thai green curry is one of my favorite dishes, having it in a soup with vermicelli noodles is another excuse to make this gem.
Serving soup with rice or pasta is always a great idea for a quick meal. Here we use very thin noodles although any will do.
Make the soup, prepare the noodles and then serve together. You'll be in comfort food bliss!
Quick Lunchtime Green Soup for One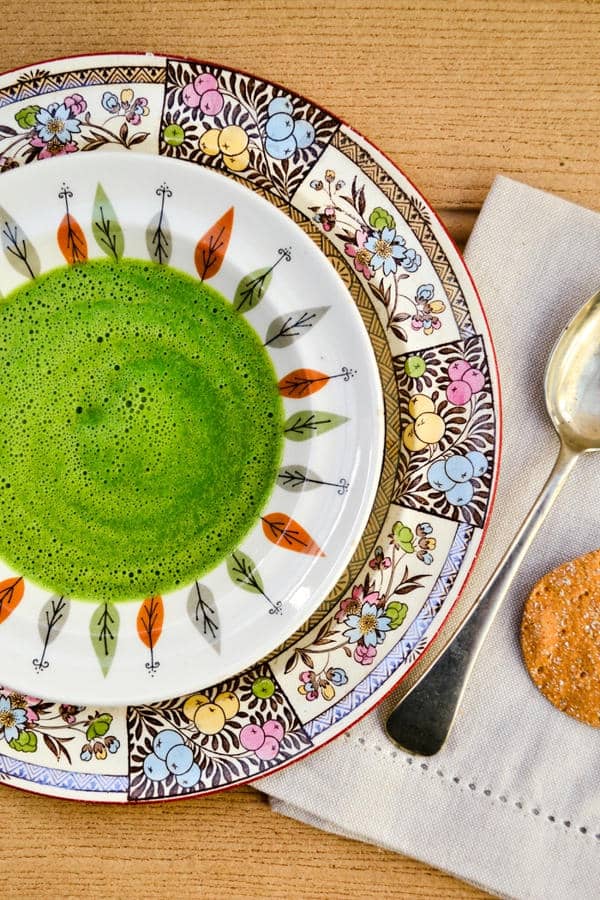 When you're at home either at the weekend or during the week, make yourself this super-quick lunchtime soup.
Some wonderful ingredients simply blended together make this healthy recipe. You simply use dried herbs and spices, vegetable stock and frozen vegetables.
Follow the three instructions (each is just one sentence) and as number four states in the list, 'enjoy!'
30-Minute Garden Veggie Barley Soup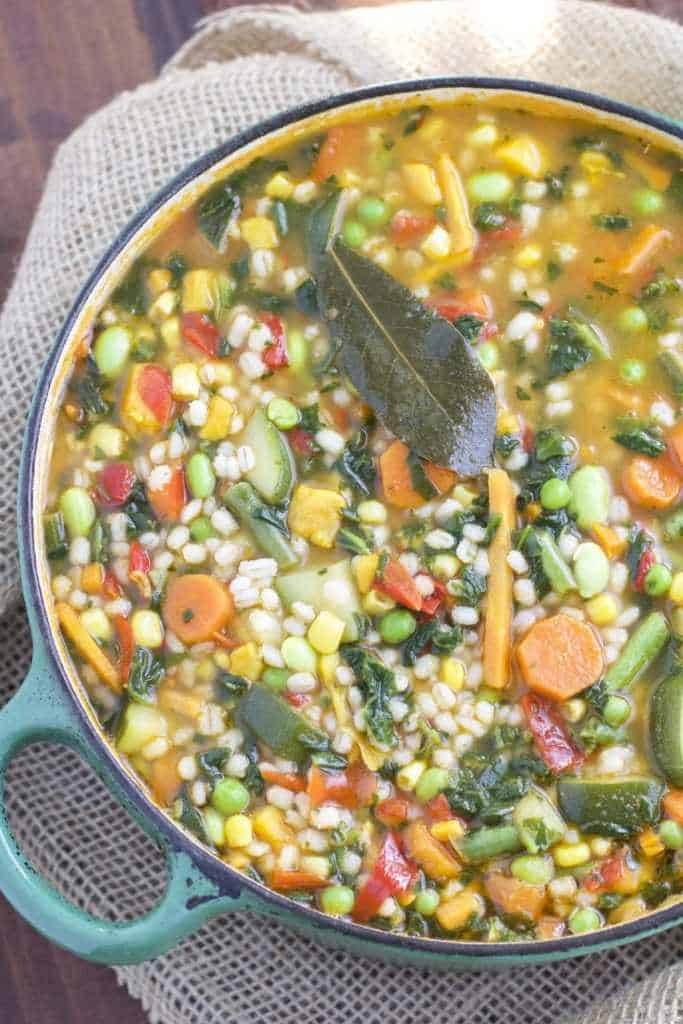 Simply put, a healthy and tasty soup that costs next to nothing to make.
As you can see from the recipe, this is the perfect dish to use any leftover vegetables.
Cook the barley according to the instructions and then just follow the next four steps to create this hearty dish. Winter evenings will never be the same again!
20-Minute Peanut Noodle Soup with Lime Mango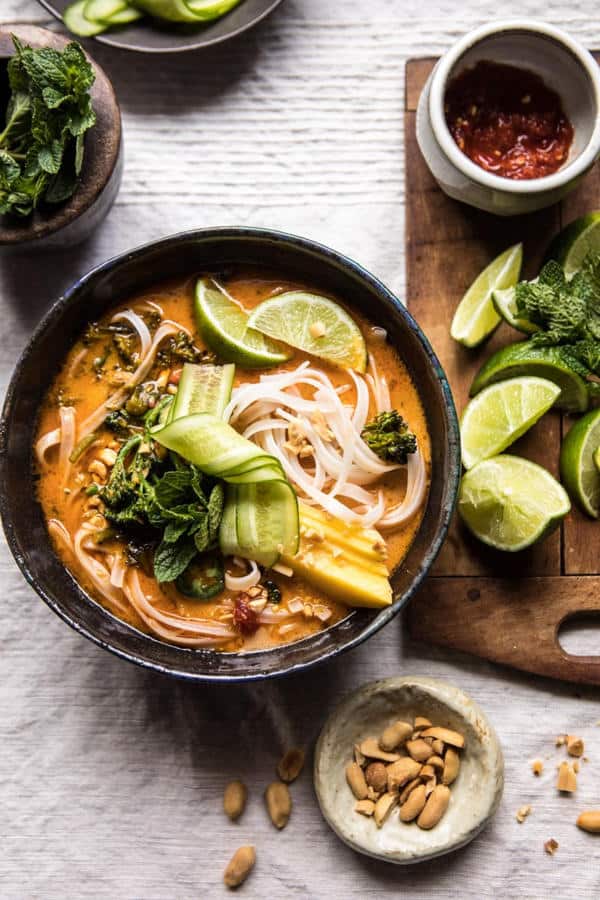 Don't buy take-outs, they're expensive and you never really know all the ingredients.
But, they taste good, right? Well, here's the answer.
Making your own take-out style meal doesn't have to be a long and complicated process.
In 20 minutes you can create this noodle soup and if the photo alone doesn't make you hungry, nothing will! Bursting with flavor and an absolute winner every time!
30-Minute Roasted Garlic Cauliflower Chowder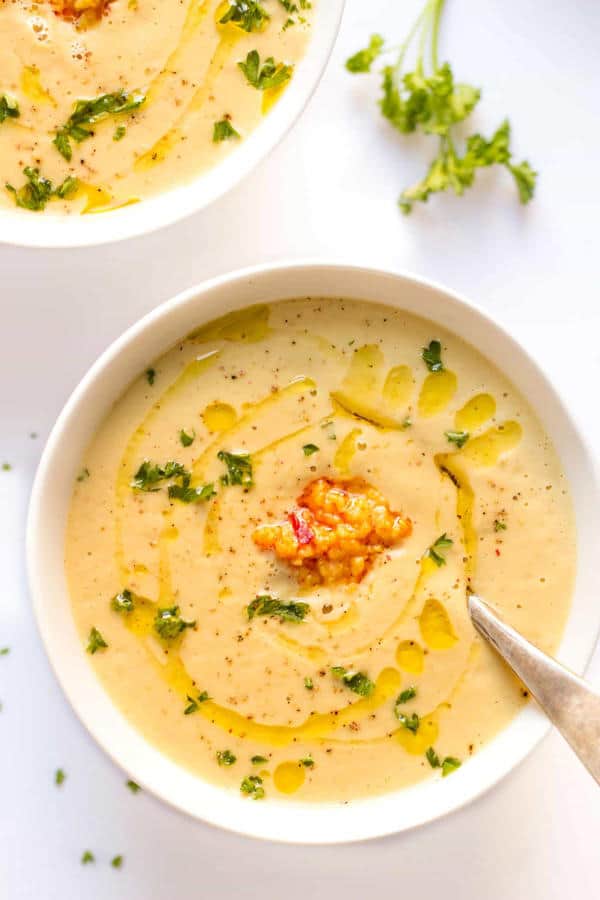 This is one of those recipes where I am at a loss for words.
Roasted garlic already tells us this is going to be awesome. Add in some roasted cauliflower, quinoa, potato and a few other goodies then you know what I'm talking about.
If I had to choose one recipe for the ultimate comfort food, it would be this!
Special Picks
5-Minute Blistered Tomatoes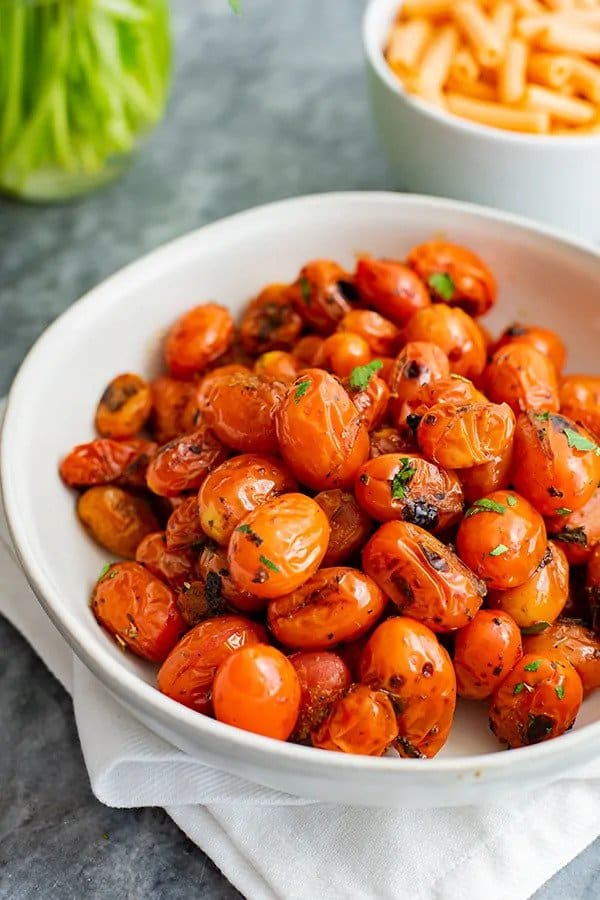 What a great way to serve tomatoes!
Perfect for the summer and great as a side dish. Other than the grape tomatoes and seasoning you're looking at just a couple of ingredients.
You could mix it with pasta and have a ready-made meal. The possibilities are endless, aren't tomatoes great!
5-Minute Lemony Green Pesto Sauce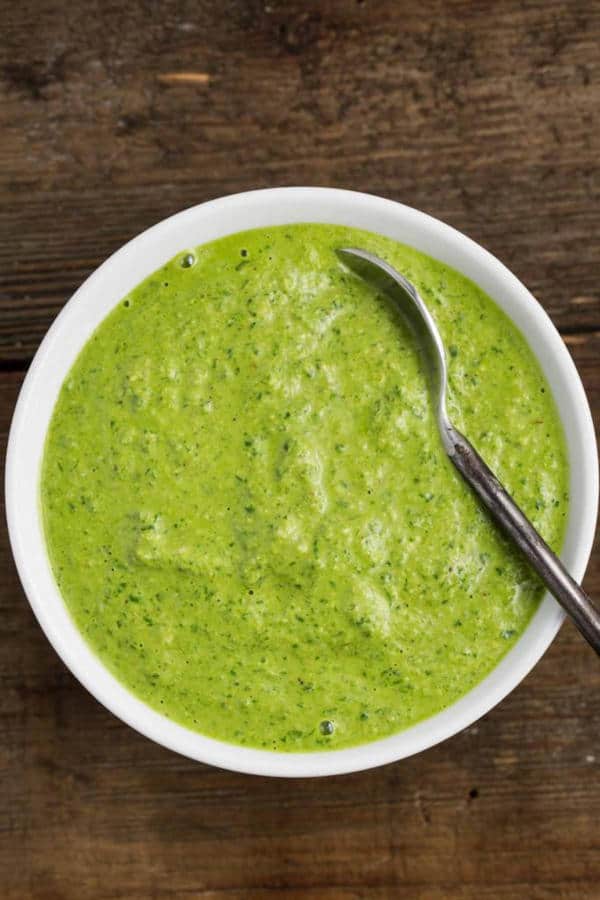 For when you want the familiarity of a traditional recipe yet with a little twist.
Simply blend all the ingredients in a food processor to make this wonderful zesty sauce. Use as a dip, with pasta (of course!), or even use over delicious pizza!
You are limited only by your imagination, drop us a line and let us know what you do with yours!
Quick and Easy Homemade Breadsticks with Spicy Marinara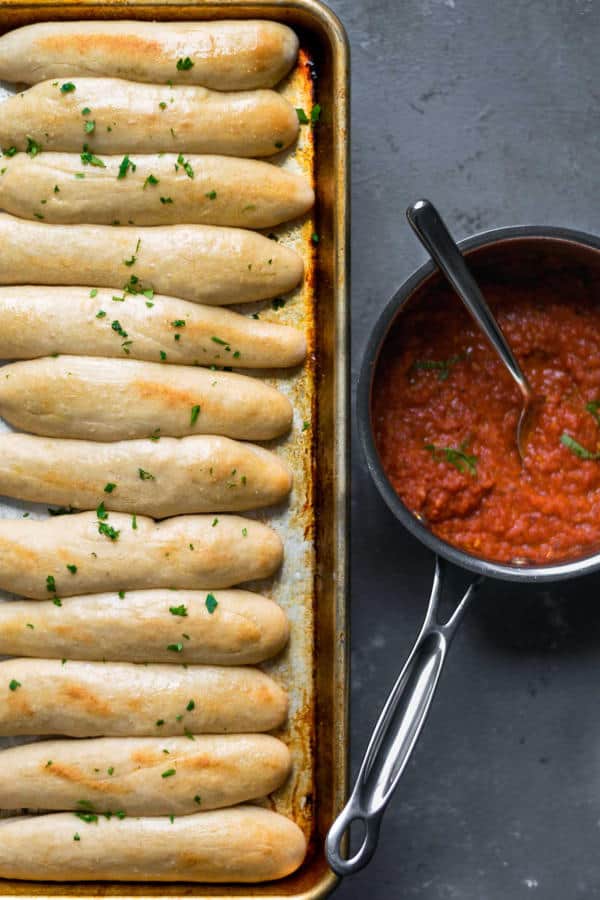 How many people do you know that make their own breadsticks? I don't know anybody that does.
They are great from the store although I must say they pretty much all taste the same. Surprise your friends and family with this super easy recipe.
Not only do you get to make luscious breadsticks, but you have a delicious marinara sauce to use as a dip. What are you waiting for?
15-Minute Lemony Grilled Artichokes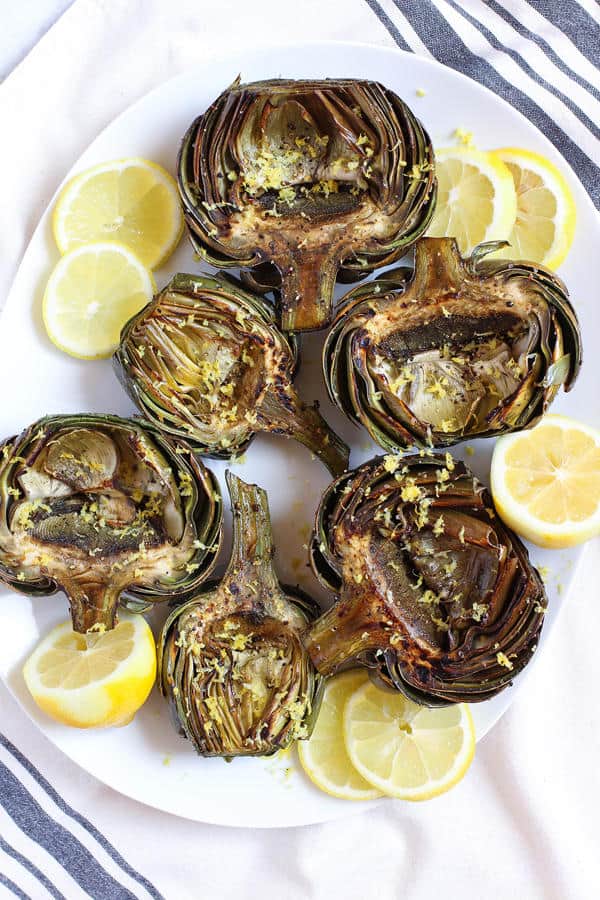 I know someone whose favorite food is lemony grilled artichokes, she's part of the VegByte team!
Normally bought from the store, there's nothing quite like grilled artichokes either as a side dish or mixed in a salad.
They do wonders to any recipe and brighten it up no end. It's not difficult or long process to produce these delights. Check it out!
Quick and Easy Pita Bread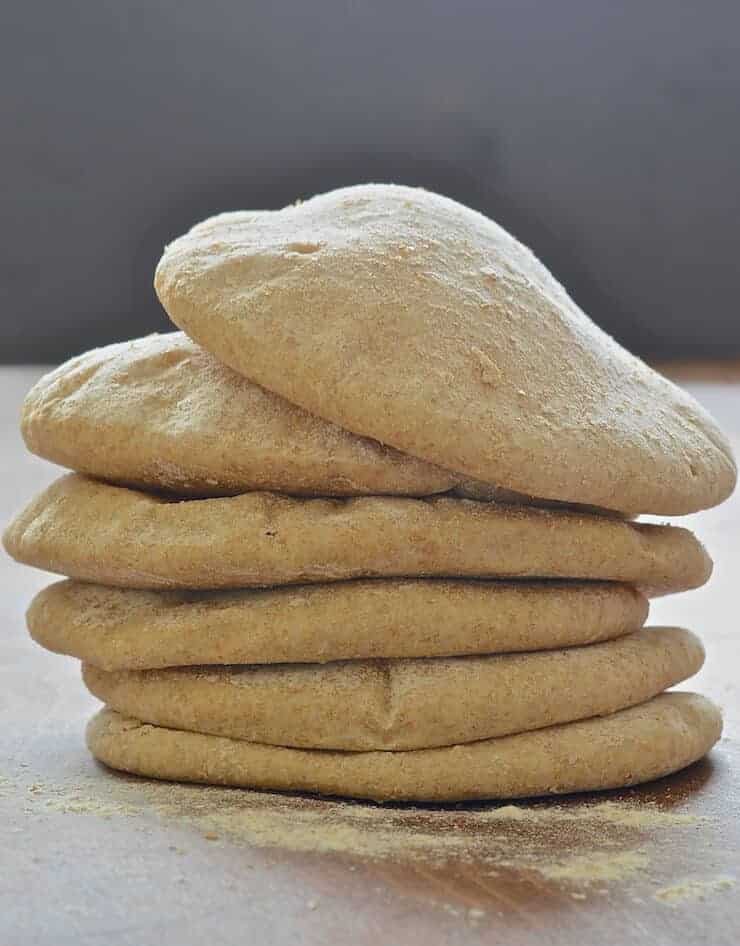 We nearly always buy pitta bread from the store, right? How difficult is it to make your own? Not challenging at all and after checking out this recipe, you'll be doing the same.
If you bake at least occasionally, I guarantee you'll have all of ingredients already. Things like this have always been designed to be quick and easy.
Let's make our own, you'll definitely taste the difference!
Quick and Healthy Cranberry Mojitos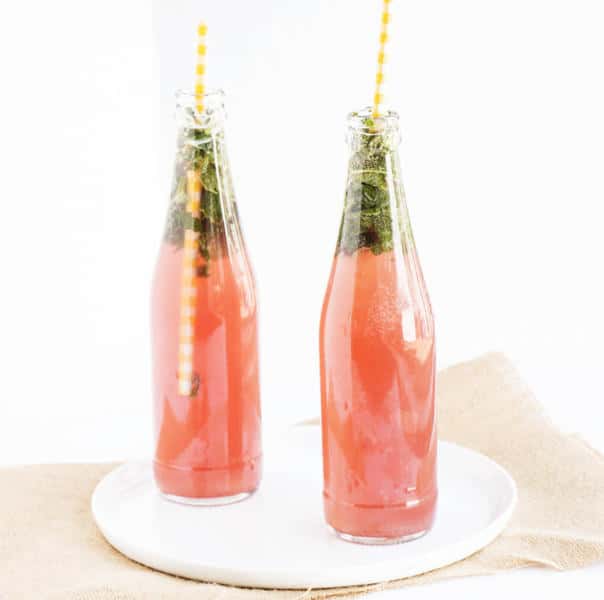 This cocktail is what the weekend is all about!
Some great ingredients such as fresh mint leaves, cranberry juice and a couple of other goodies.
Do note the recipe includes alcohol, this can be left out altogether if you want to include the whole family as you won't miss anything. Delicious, fresh tasting and they look so much fun!
30-Minute Mulled Blackberry Cider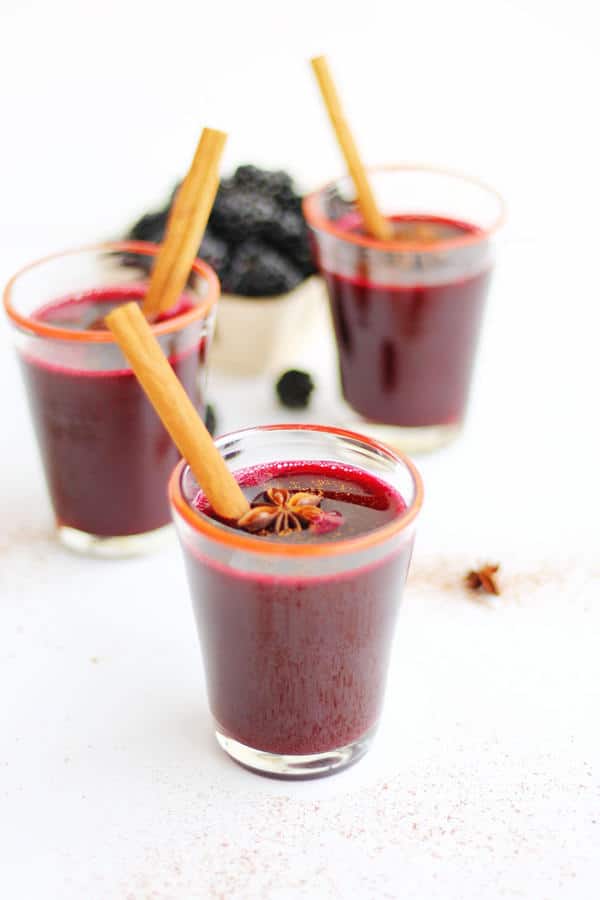 Definitely one for the holidays, this mulled blackberry cider will put you right in the holiday mood.
This cooks on your stovetop and will make every room in your home smell great. This is alcohol free so perfect for all the family.
Blackberries, cinnamon and more. It's what holidays are all about!
15-Minute Pizza Dough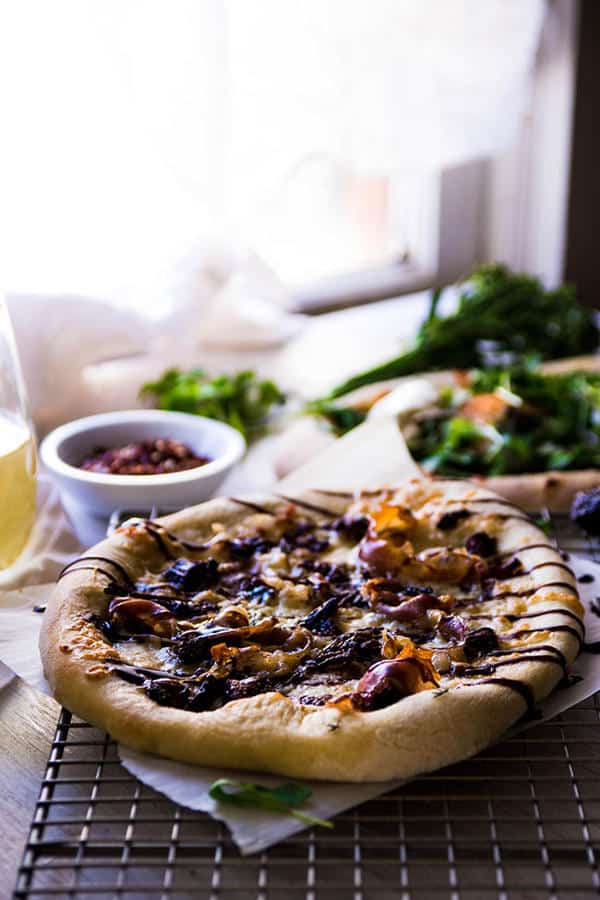 The thing is with pizza dough, we often settle for second best. We don't give much thought to it and often don't even think it's important. They're all the same, right? Absolutely not.
Making your own is surprisingly easy and with a recipe like this, it's super-quick too! I imagine you have all of ingredients already, especially if you bake sometimes.
Mix, knead and cover. I promise you have the best pizza dough ever! Keep this recipe, you'll want to come back to it again and again.
Wrapping Up
There's nothing like having good quality recipes, but none of them are of any use if you don't have much time.
This roundup was quite challenging to put together. We didn't just want quick recipes, they also had to be the best quality and be great for the family.
We hope you enjoy this selection of the very best dishes we found so you can focus on preparing great food for you and your family.
We get a lot of messages of support for our content and we want you to know we appreciate it, it makes everything we do more worthwhile.
Speak soon!