Chocolate is more than just grabbing your favorite bar and eating it, here we have so many excuses to eat it, it's simply awesome!
You're probably thinking it's all about the desserts, yet we have cookies, breakfast recipes and some real great dishes in our 'Special Picks'.
Obviously, as chocolatey as this all is, you'll need to balance it out with a great meal before you decide what type of chocolate dessert you better have.
If you're not a fan of chocolate and maybe can just take it or leave it, perhaps this roundup may change your mind. I'm sure scientists have said it's good for us!
To go straight to a section you're interested in, click on one of the buttons below, otherwise, just have a browse and enjoy!
Vegan Chocolate Breakfast Recipes
Caramelized Banana Dark Chocolate Oatmeal (Gluten-Free)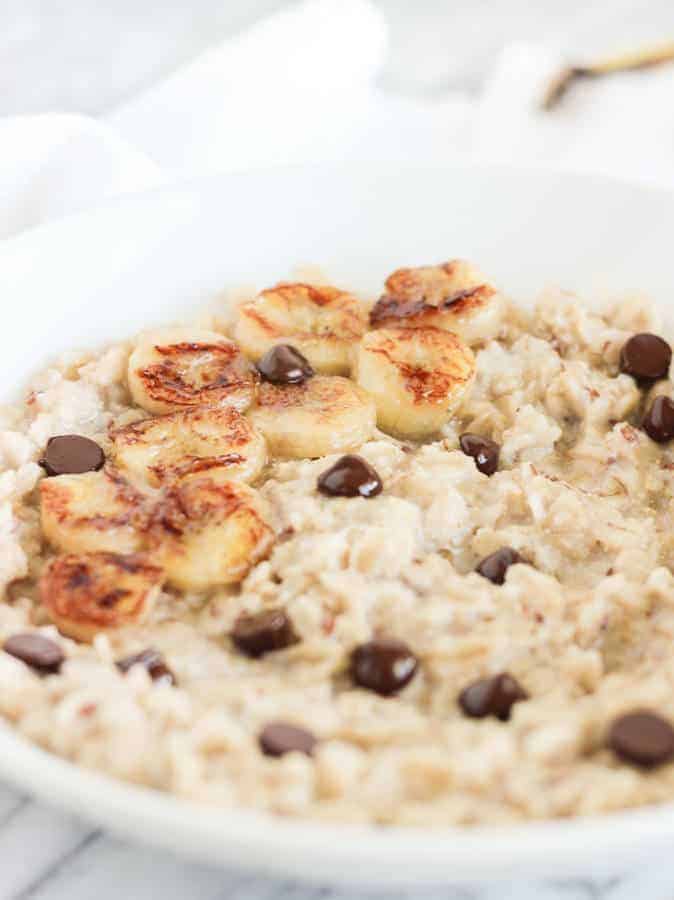 This is a super healthy breakfast and perfect for those chilly mornings when you need something warm to start your day.
Get some olive oil spray, a cup of water and just three other ingredients and in no time, you'll have yourself a gorgeous way to begin the day with.
Cherry Overnight Oats with Chocolate and Coconut Whip (Gluten-Free)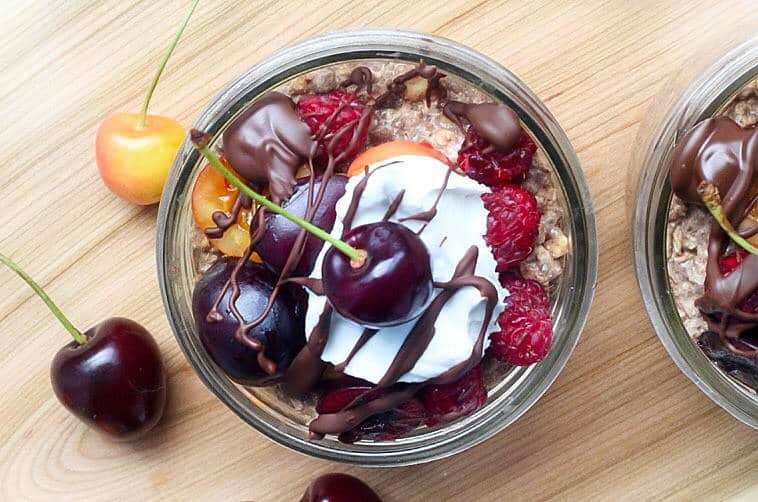 I don't know if you've ever made any overnight oats before. It's such a wonderful idea, no cooking so more of the nutrients are retained.
The prep time the night before is minimal, so you wake up the next day with your breakfast practically waiting for you. Basic ingredients that make for a super healthy breakfast.
Chocolate Coconut Overnight Oats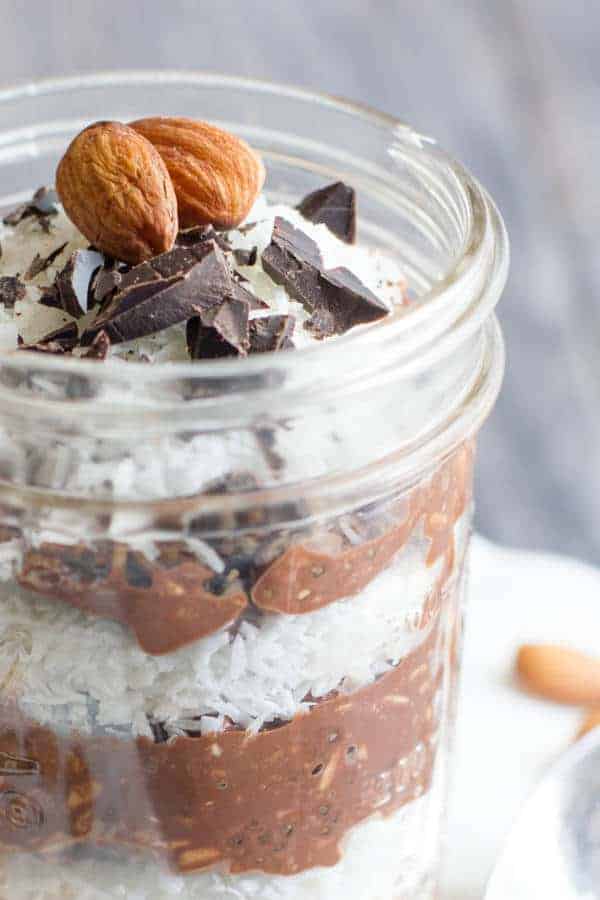 Overnight oat recipes are my favorites for breakfast, it's just waiting for you the next morning!
These taste so tropical, full of coconut and rich, but not overly so. Before serving add your favorite toppings!
Stewed Apple Walnut Chocolate Oatmeal Bowls (Gluten-Free)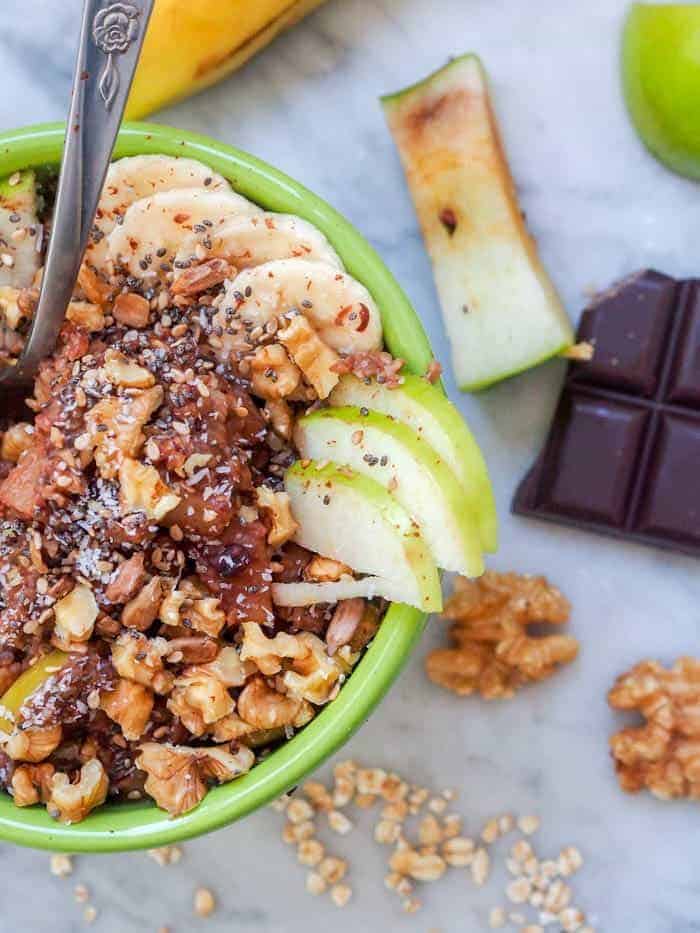 The thing I like most about this recipe is that it doesn't contain any refined sugars.
Absolutely bursting with flavor in every bite, chocolatey and great textures due to the seeds and walnuts.
Most of the sweetness comes from the dates and I recommend you get medjool if you possibly can, the taste difference between those and regular dates is worlds apart. This breakfast looks as good as it tastes.
Chocolate Peanut Butter Oatmeal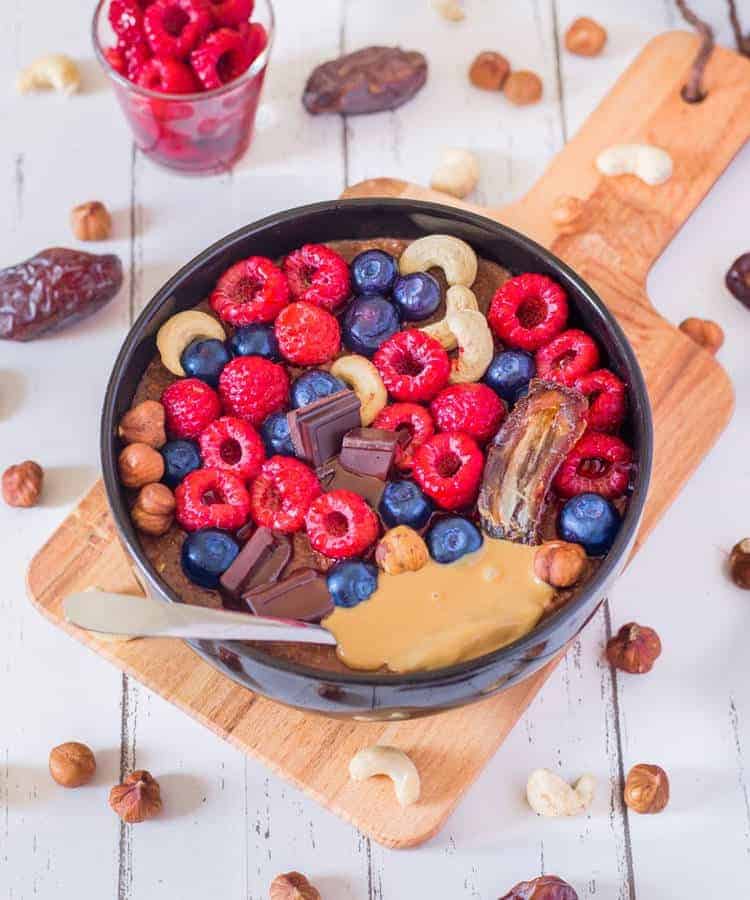 Wait a minute, don't skip past this thinking it's all about chocolate and peanut butter.
It is! But, just give the recipe a read-through and you'll see the handful of ingredients are super healthy, it's not just chocolate and peanut butter.
Serve with your favorite fruits on top. It's awesome!
Pomegranate Chocolate Chip Pancakes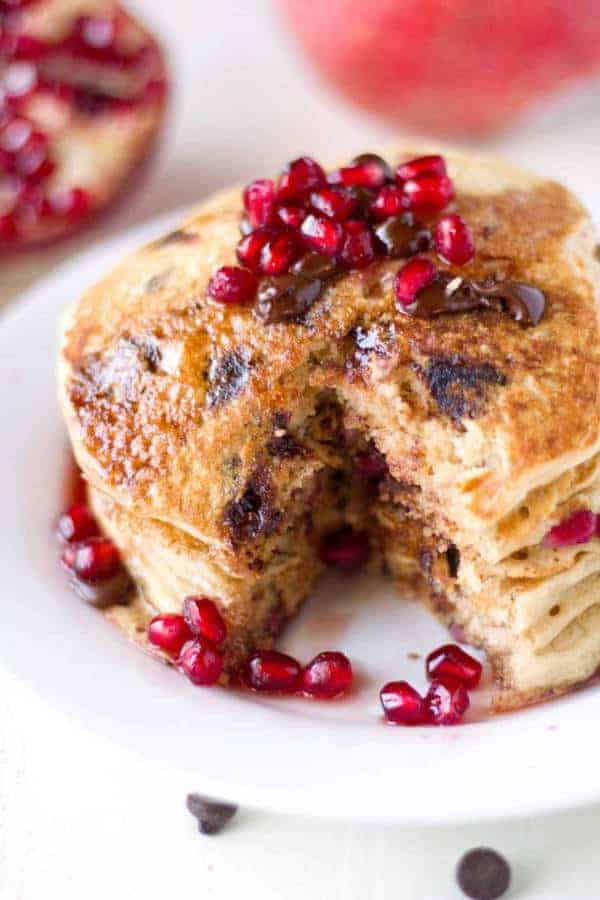 Most people I know either go out for breakfast or buy their pancakes ready-made from the store.
If this is you but you fancy making them yourself rather than purchasing pre-made, check out this recipe.
It's great as the instructions are not just at the end of the ingredients, the whole page is dedicated to showing you each step with great photos along the way.
Best of all, the pomegranate syrup, make it!
Healthy Chocolate Instant Pot Steel Cut Oats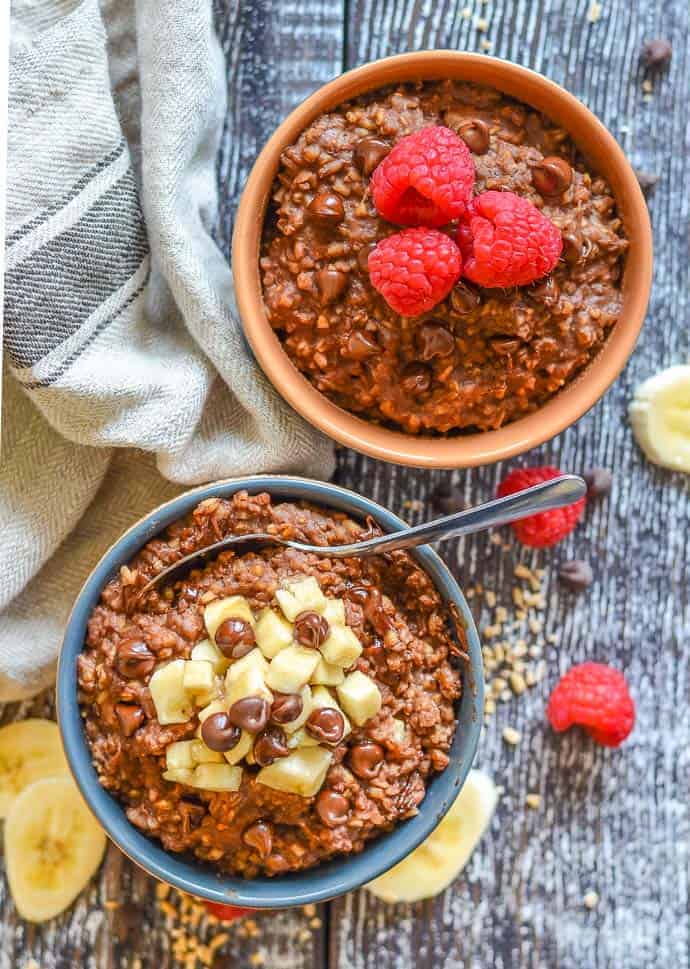 This is one of the most comforting and satisfying breakfasts I've ever had.
If you have an Instant Pot, this recipe is specifically designed for you. If you don't have one, I'm sure you can achieve the same results with a little imagination so don't despair.
Great ingredients you won't have any trouble sourcing, super healthy, and above all, delicious!
Chocolate Quinoa Cereal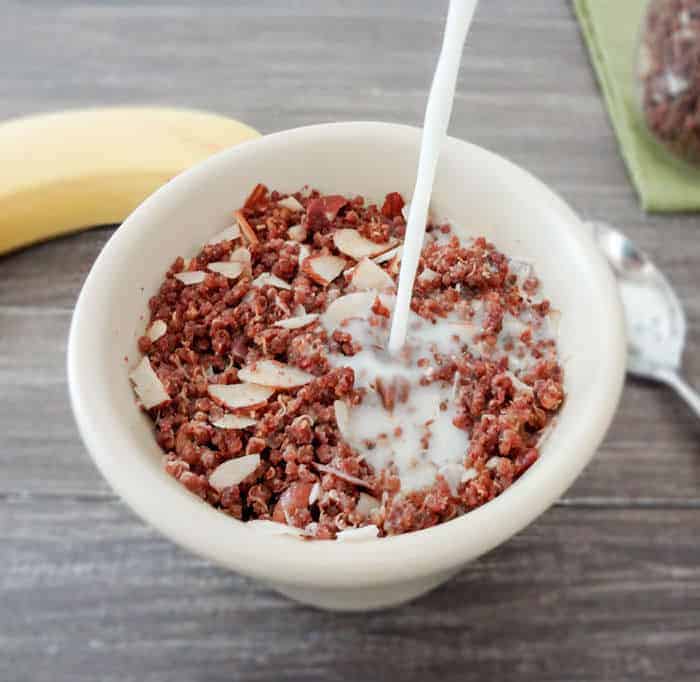 It certainly is, quinoa is not just for savoury dishes, it makes a great ingredient in sweet recipes as well!
I couldn't believe how simple the ingredients were, so few of them too!
If you like your start to the day to be tasty, healthy and boost your energy levels for the rest of the morning, this is it!
Fluffy Pumpkin Chocolate Chip Pancakes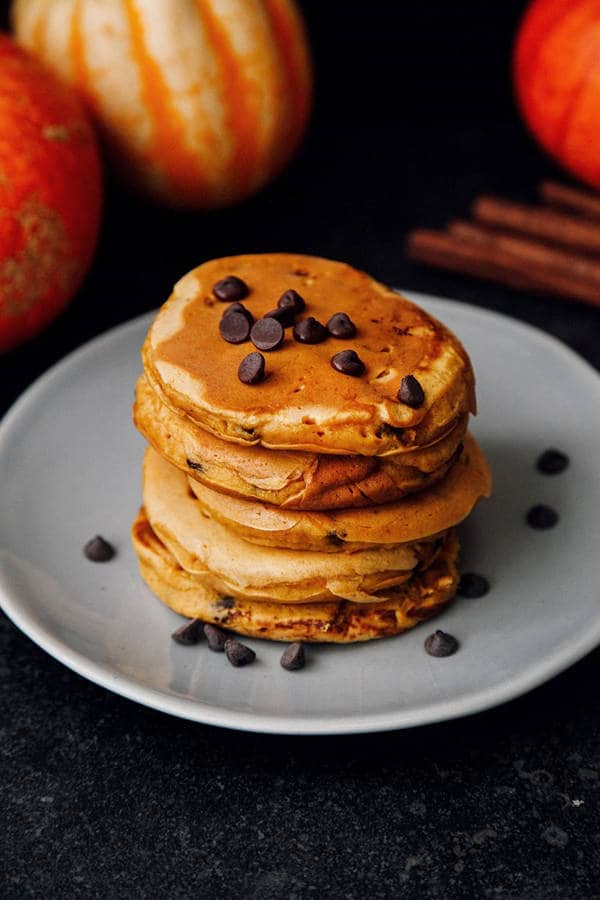 If your pancakes have been a bit flat daily and you think that light, fluffy ones can only be store-bought, check this out.
Ingredients are divided into two sections, the wet and dry ingredients.
You don't need any special equipment to make these, just cook for six minutes and you'll end up with really fancy pancakes that, put simply, most people cannot make!
Chocolate Steel Cut Overnight Oats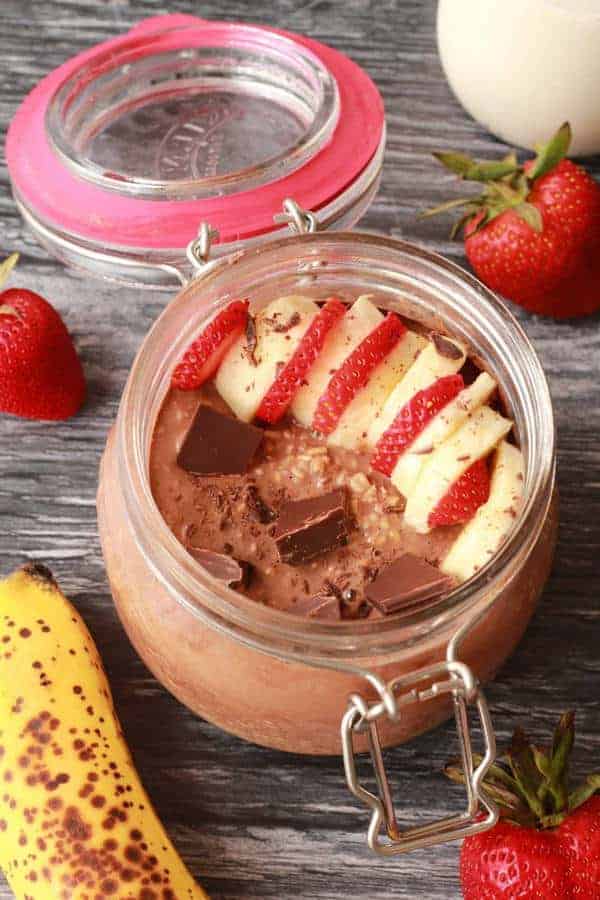 You're in this roundup because your chocolate lover, however, some chocolate recipes are more equal than others!
Just four ingredients and a little preparation the night before gives you a breakfast that will energise you until lunchtime, at least! Too easy to make and taste amazing.
Vegan Chocolate Cake Recipes
Chocolate Mint Cake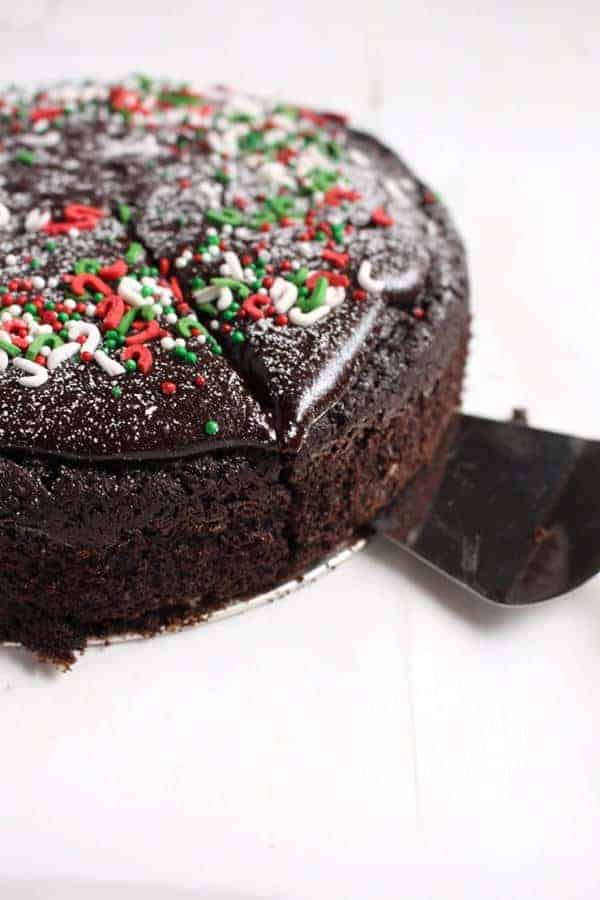 Years ago, when I first went vegan I really missed chocolate cake!
Vegan-ism wasn't really a thing, so plant-based food wasn't as easy to come by in terms of different recipes. I wish I had something like this back then!
The perfect cake for the holidays! The ingredients are divided into three sections, the wet, dry and the ganache.
You're looking at about 45 minutes which is prep and cooking time to bring this out of the oven.
Allow your cake to sit for about 20 minutes before cutting and you'll be in chocolate cake heaven!
Chocolate Cherry Cake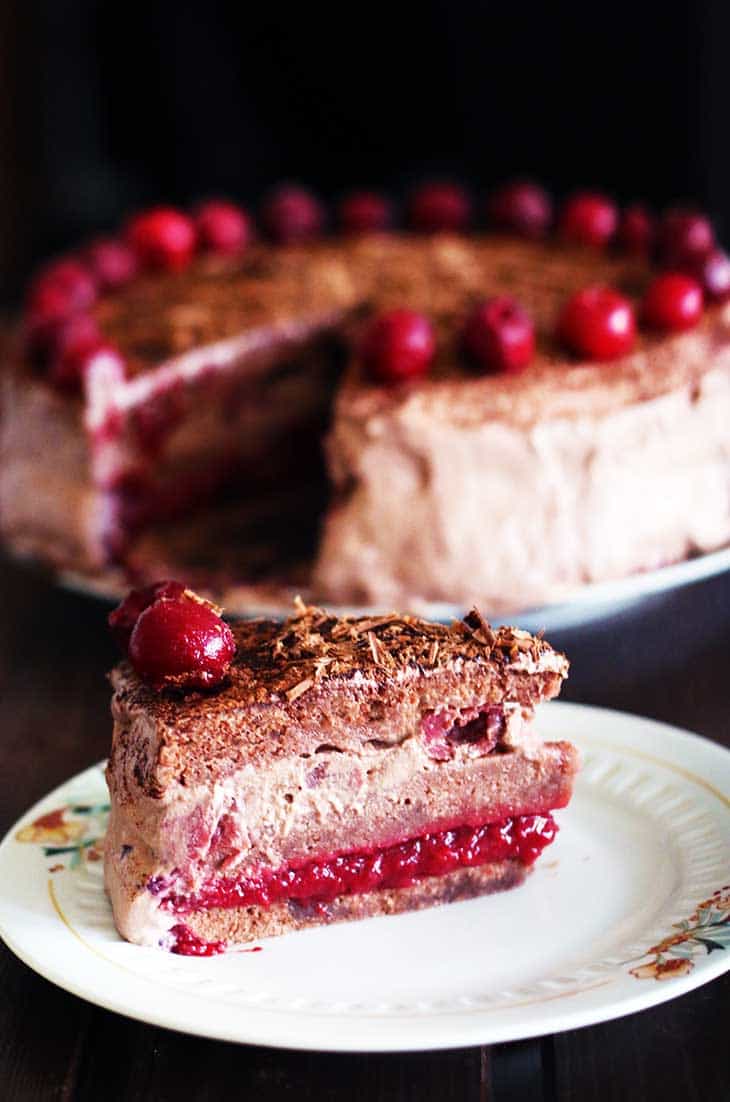 Do you remember Black Forest Gateau! This recipe is a twist on that classic and adds sour cherries!
I so love the crust of this cake, it has this smooth texture and holds everything together perfectly.
The sour cherry jello contrasts perfectly with the rest of the cake.
You will savour every bite. Perfect for that special occasion such as birthday or anniversary.
Chocolate Coconut Cake with Rich Chocolate Glaze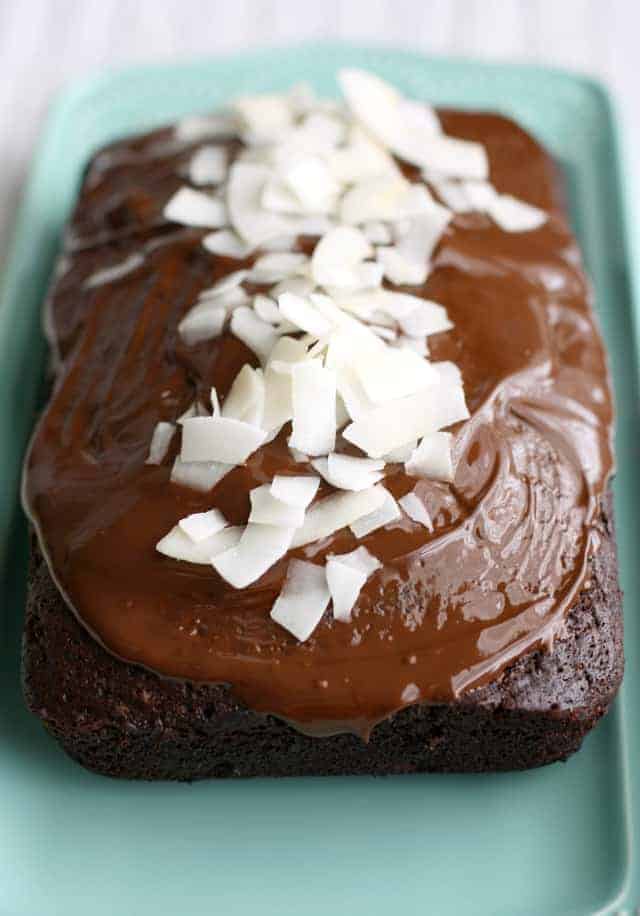 It would be unfair to say this recipe is all about the glaze. Just the cake alone is first class.
Add the glaze and you have yourself something very special indeed. I see this almost as a recipe for that special someone.
There's only one word I can think of to describe this, luxury.
Dark Chocolate Pear Cake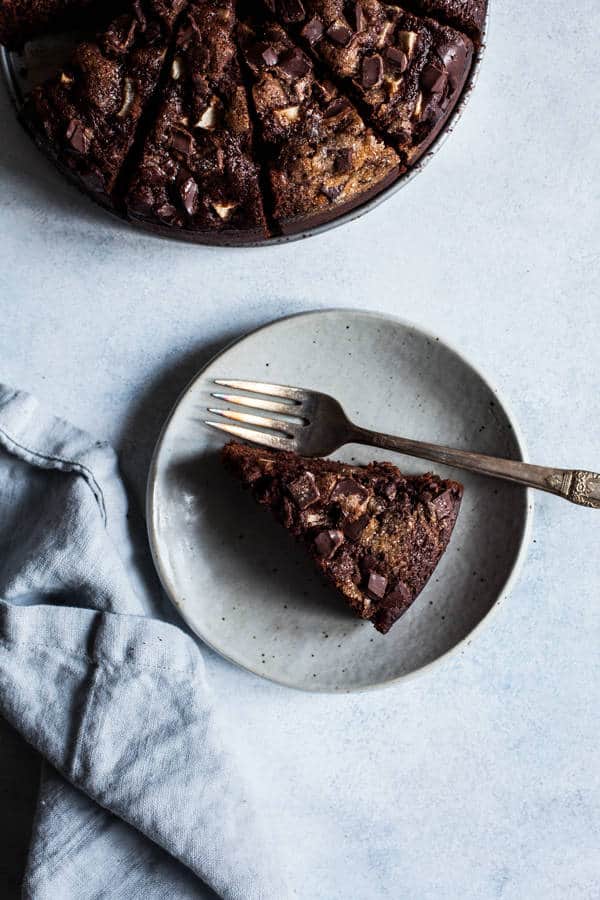 This recipe brings together two classic partners, pear and chocolate!
When you're having some friends around for a dinner party and you want the perfect dessert that didn't take a lot of effort to make and has straightforward ingredients easy to source, this is what you need.
Your guests will ask you for the recipe, so make sure you have it on standby!
Chocolate and Almond Cake (Gluten-Free)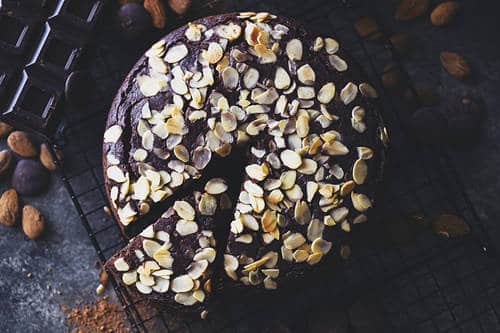 Chocolate and almond, seriously!
This is a classic cake, almost old school. The ingredients are divided into two sections, the dry and wet.
I love the instructions because they are specifically called, 'Step By Step', and this is exactly what you get.
It couldn't be easier, and you end up with a cake that looks and tastes as though it's store-bought, yet all the ingredients are 100% wholesome! Great recipe.
Chocolate Cherry Cheesecake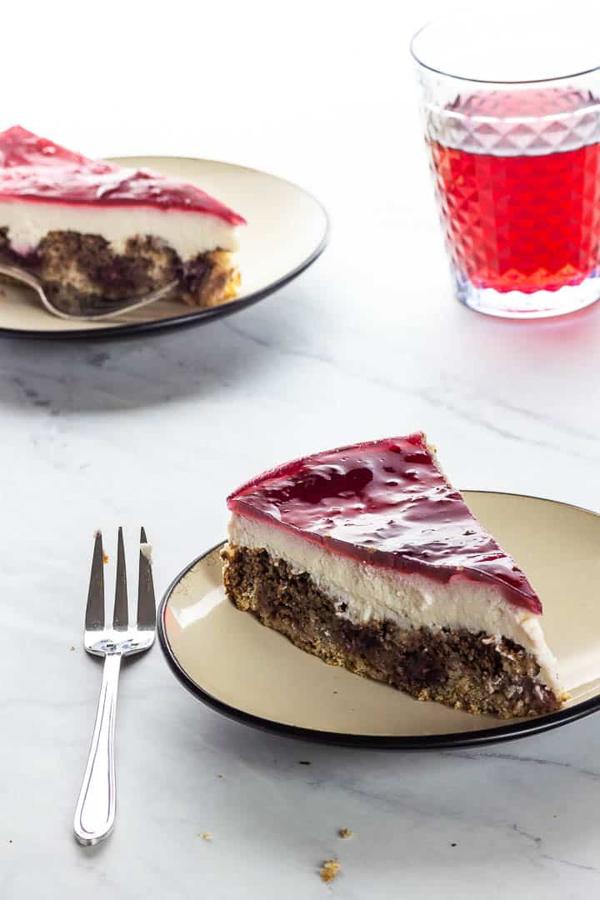 This is Jasmin's vegan take on a birthday classic, the Snow White Cake. Obviously, you can make it any time, but it does make a beautiful centerpiece for a special day!
Whether you're having a party with friends, or it's just a family celebration, this cake fits the bill. Happy Birthday!
Cinnamon White Chocolate Cheesecake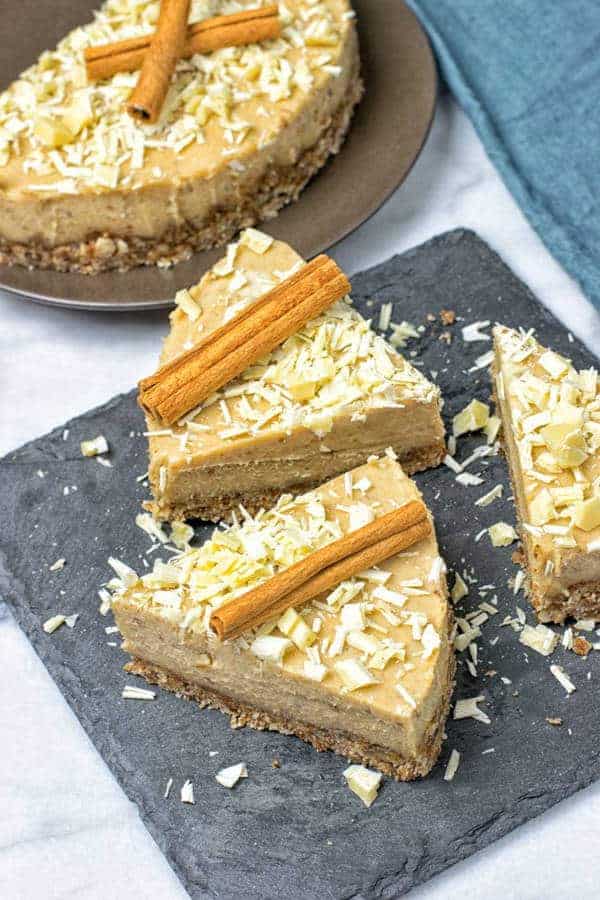 Florian makes great recipes, each one with only six ingredients or less and always gluten-free.
I love this is a no-bake dish. The base is made from just three ingredients mixed together in a food processor.
Give it a few minutes and it will turn into dough I promise you, I've done it a thousand times and it always comes out perfect.
For the filling you have six ingredients that yield a smooth and creamy finish that is simply first-class.
Pumpkin Cheesecake with Chocolate Crust
With the holidays approaching, grab this special recipe.
You're looking at just 15 minutes prep time and about 25 minutes in the oven. Do note this uses cashews that need to be soaked beforehand.
I recommend soaking all night rather than just a couple of hours, it makes all the difference. A wonderful cake with that hint of cinnamon in every bite, your new holiday favorite!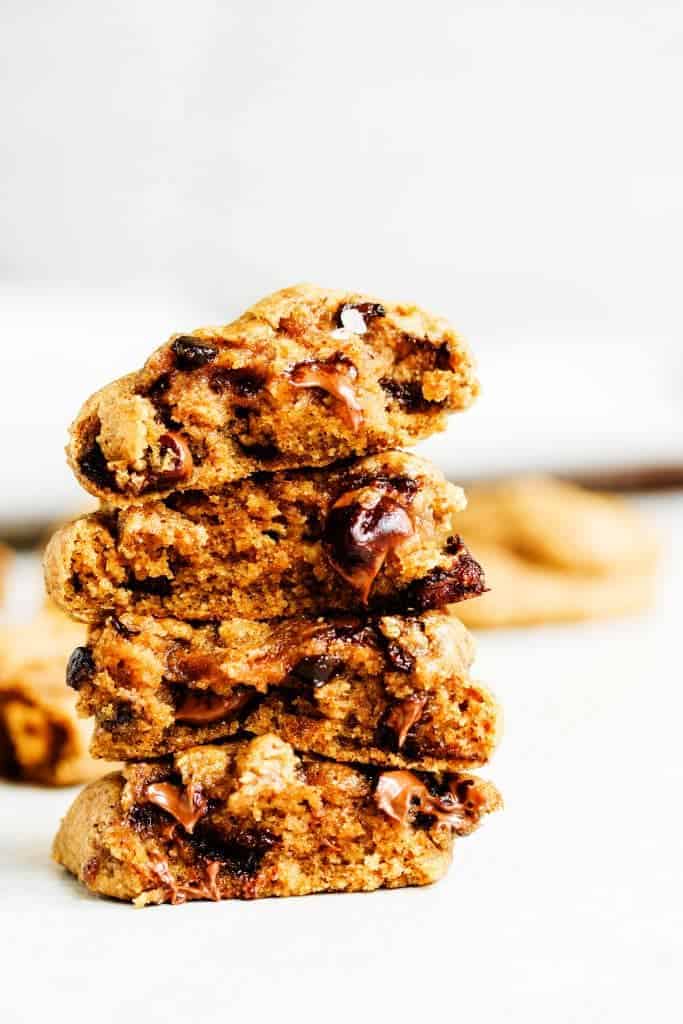 Whole wheat cookies? These are so easy to make, the secret ingredient for me is the almond butter as it blends all the ingredients together beautifully.
Would you believe these take just 30 minutes including prep and cooking time.
If you're patient enough (I'm not!) allow the cookies to cool on the baking tray for about 10 minutes before transferring to a wire rack.
Seriously though, be careful not to burn yourself and have these warm when they're all gooey. Totally delicious.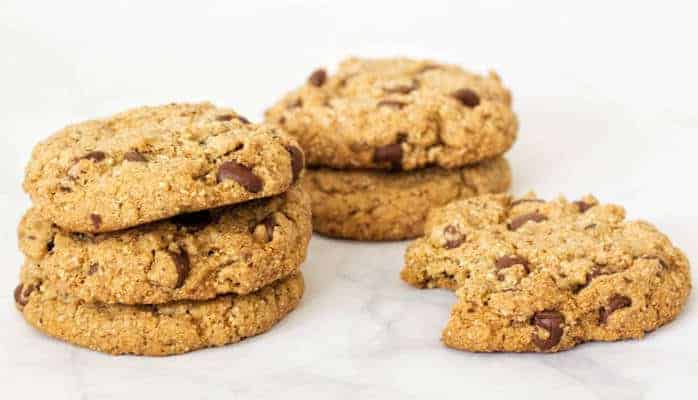 Anything called Tigernut deserves to be made!
You won't get any waffle on the recipe page for these cookies! It's straight to the ingredients and simple three step instructions.
I love it! If you want great, no-nonsense cookies everybody will like, you'll need this recipe!
Mexican Hot Chocolate Snickerdoodles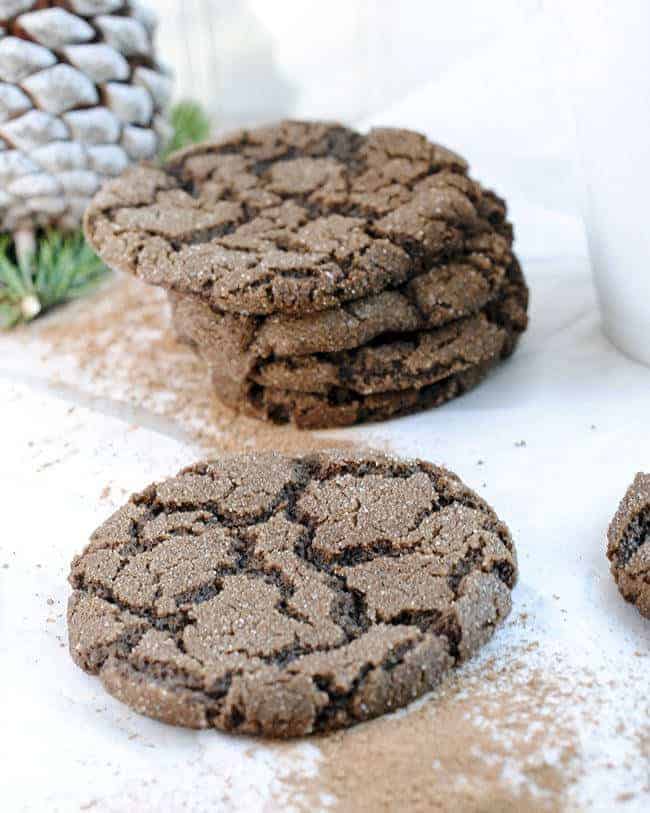 I think these are the first cookies I've ever had with a slight kick due to the cayenne pepper!
The ingredients are extremely straightforward and if you bake occasionally, you'll probably have most of them already.
You could use coconut sugar or a different type to that listed in the ingredients if you prefer. Either way these taste fantastic and the surprise chili kick is great!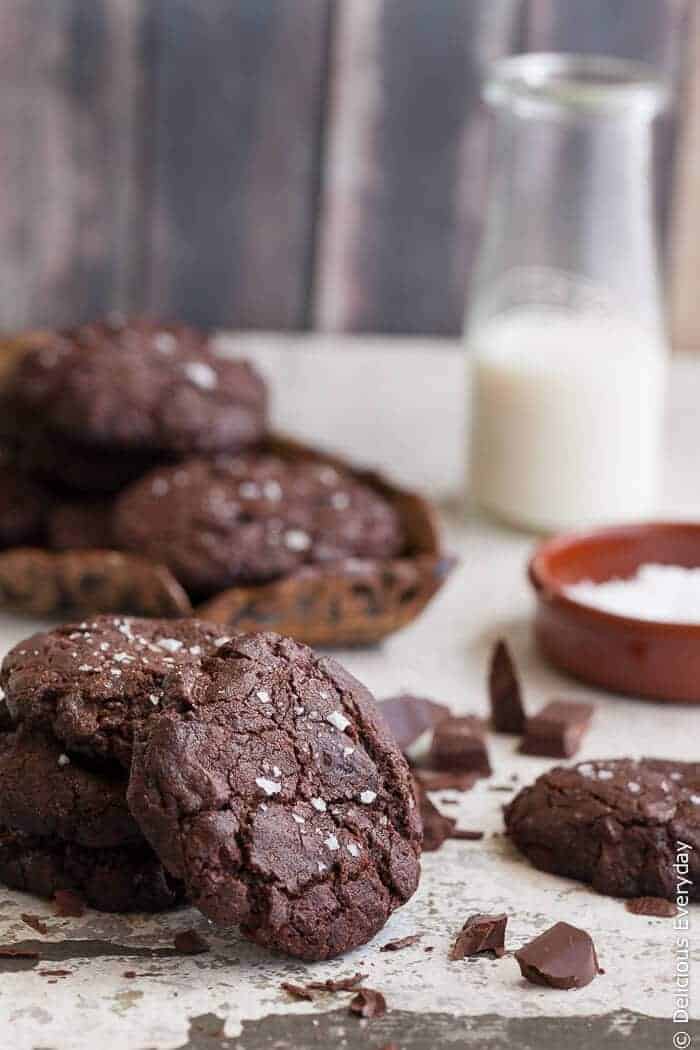 There's a lot of good things to say about this recipe!
Once you take your first bite you will experience the soft centre, the chewy texture and best of all I love the sea salt sprinkled over them.
A great contrast of flavors that work so well together.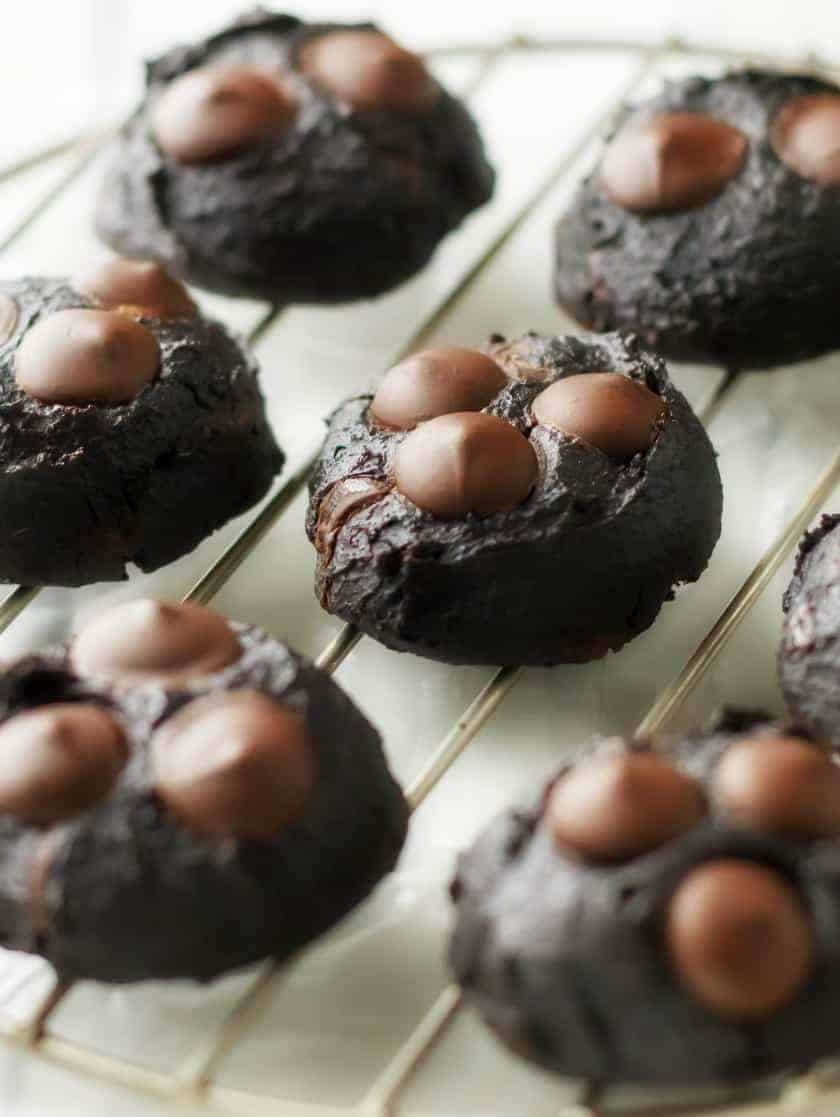 If you like fudge and you like cookies, this combination of the two are going to quickly become your favorite.
I anticipated the ingredients list to be quite long and the instructions a little complicated, yet the opposite is true! Best of all you can have these ready in less than 25 minutes.
Definitely all about the chocolate, but there's a delicate hint of vanilla in every bite.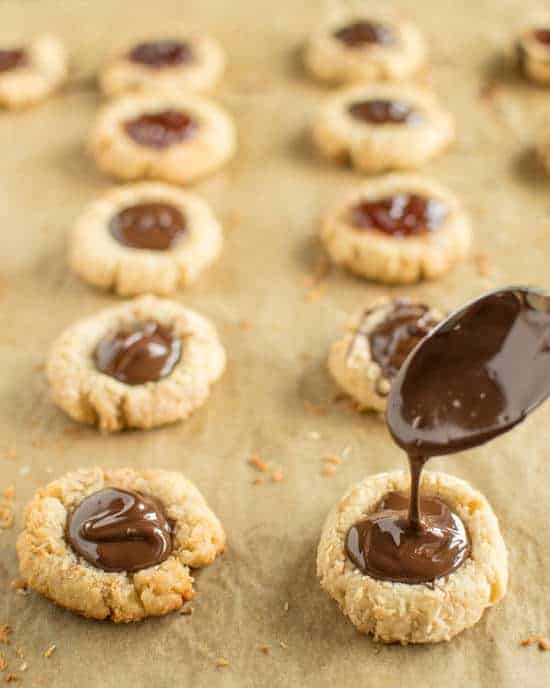 I've never seen anything quite like these before, don't they look great?
Surprisingly easy to make and just a handful of ingredients is all you need.
The secret ingredient for me is the applesauce which brings a beautiful moistness to every bite. Perfect.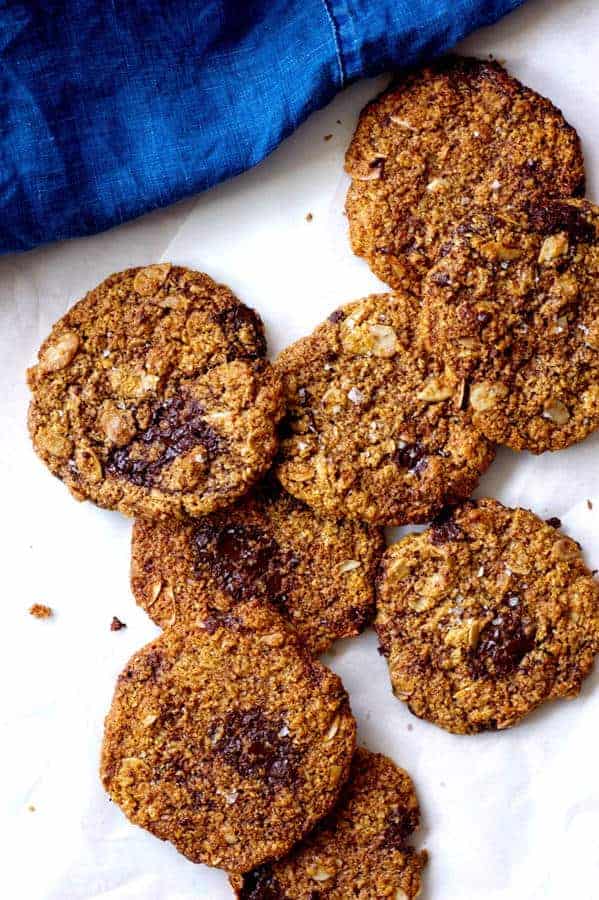 Come on now, all we have to do is read the title and that should be all the guarantee you need to know you're going to make these.
A 10 minute prep time and about 15 minutes cooking is all you need to bring these wonderful cookies to the table.
Chocolate cookies are great, when you add almond and rolled oats, then you have something really special!
Vegan Chocolate Cup & Cupcake Recipes
Chocolate Rose Cupcakes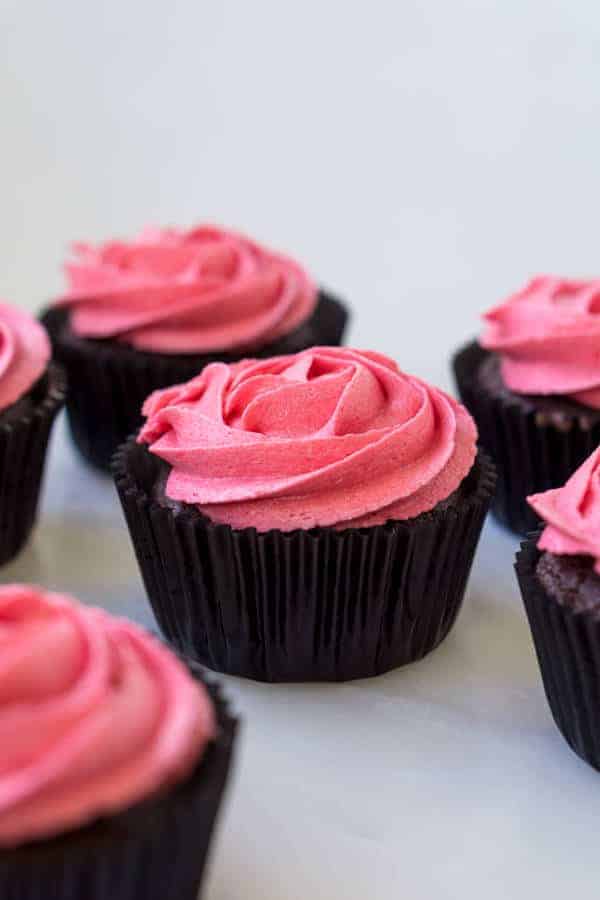 Do you remember mud cake? These cupcakes are very similar to that original recipe although, of course, this is all plant-based.
The vanilla buttercream has just three ingredients. Sally uses a certain brand-name for the dairy-free spread.
If you're unable to source this, just use your favorite and you'll achieve the same or very similar results. Get creative and get that rose affect going on!
Homemade Spiced Almond Butter Chocolate Cups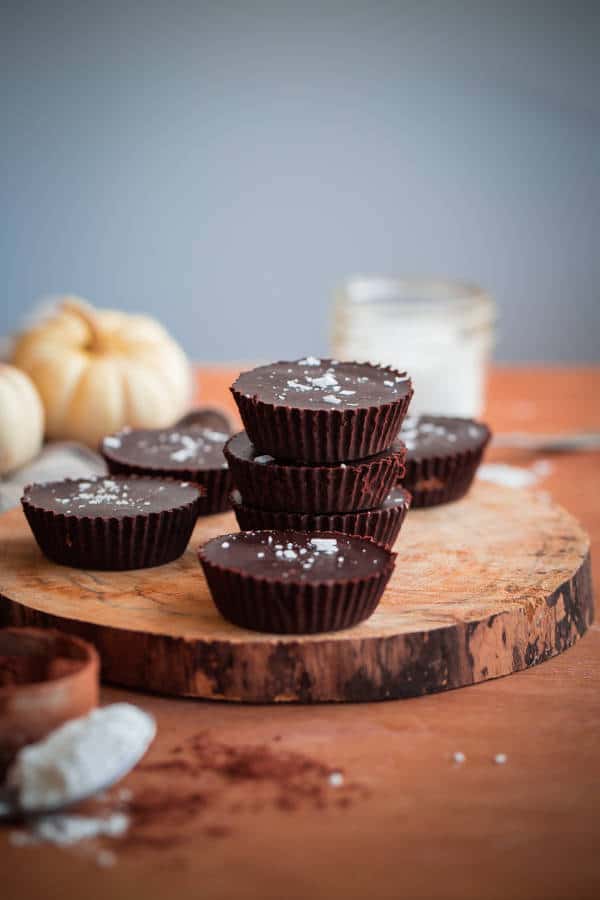 If you like peanut butter cups, you're going to love these.
A twist on the classic recipe, these are incredibly easy to make, and everybody will love them. Some great ingredients including cinnamon, allspice and more.
Whether it's for a celebration or you just want to make something with the kids (or grandkids!), this is the recipe for you.
Chocolate Cupcakes with Caramel Frosting and Hokey Pokey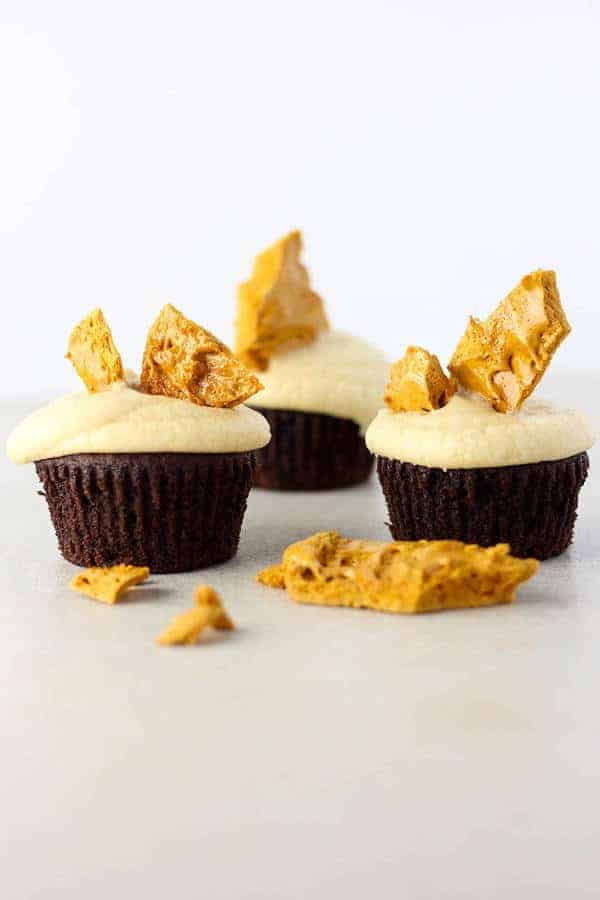 As soon as I saw the title of this recipe, I knew I had to make it!
These are so much fun to make and if you get the children involved, it'll probably be a messy time although you'll also be making great memories as well.
Wholesome ingredients, cupcakes that stand out from the crowd and they taste fantastic too!
Chocolate Ganache Strawberry Cups (Gluten-Free)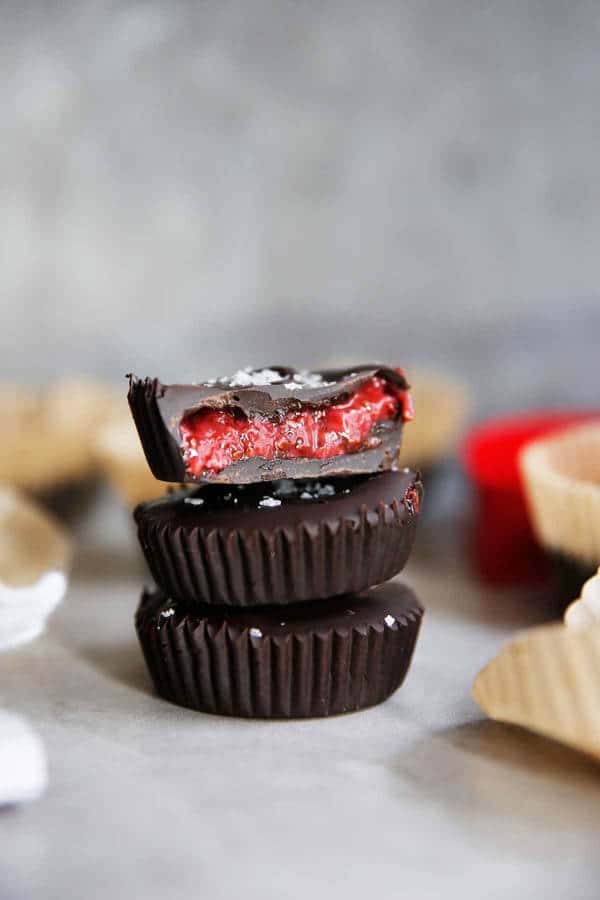 Whether your vegan and/or following a paleo lifestyle, just take one look at these strawberry cups.
If you have any concerns these are difficult to make, let me assure you Lexi has done a great job with the instructions.
You have photos along the way that walk you through everything, step-by-step. Would you believe this entire recipe has just four ingredients!
Salted Chocolate Peanut Butter Cups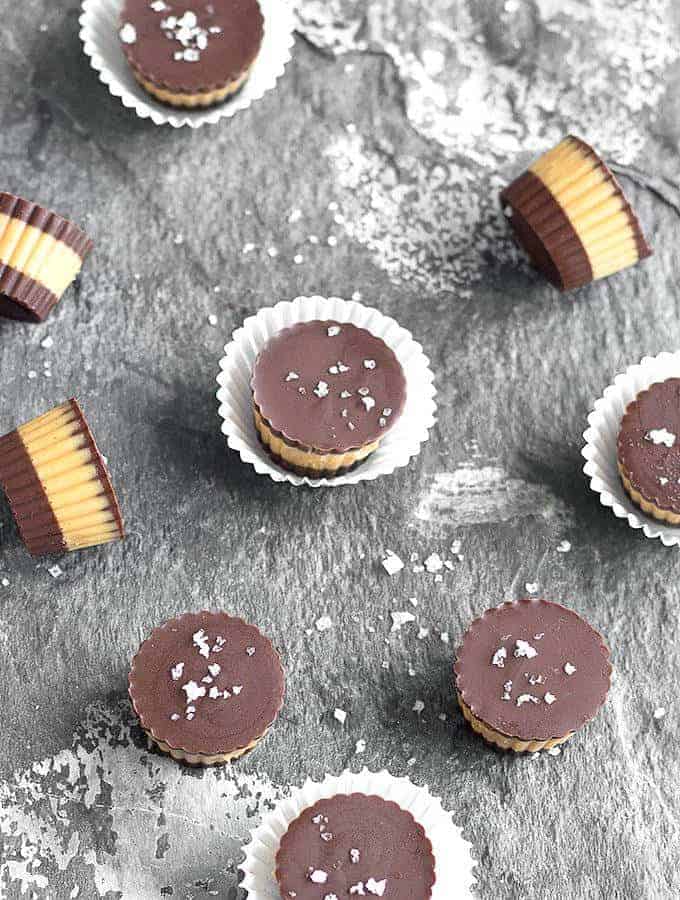 With recipes similar to this, I normally check the oven temperature as the first thing I do, so I can turn it on ready for baking. For this, no cooking is needed!
Just four ingredients and a set of simple instructions is all you need to bring these great looking cups to the table.
You just need to refrigerate to firm up and you'll be good to go. They store great in the freezer by the way!
German Chocolate Cupcakes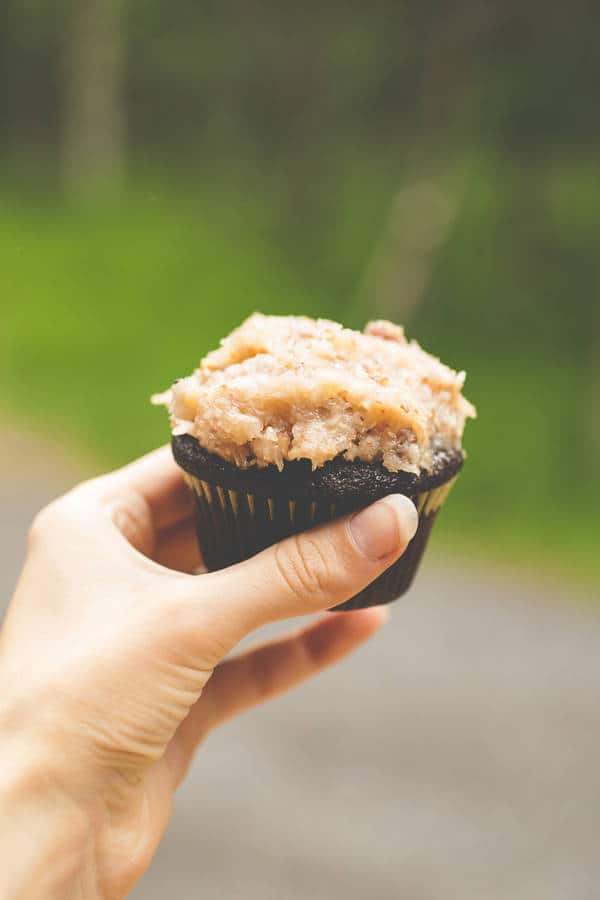 This is great in so many ways. Easy to make, will seriously impress, and the recipe page is loaded with useful information.
One of the last photos on the website for this recipe is a 'slider', meaning it cycles through a series of pictures that show you every step of this recipe.
The ingredients are divided into two sections, the cupcake batter and the frosting.
If you love coconut, vanilla and chocolate, you literally have no choice but to make these!
Dark Chocolate Orange Cupcakes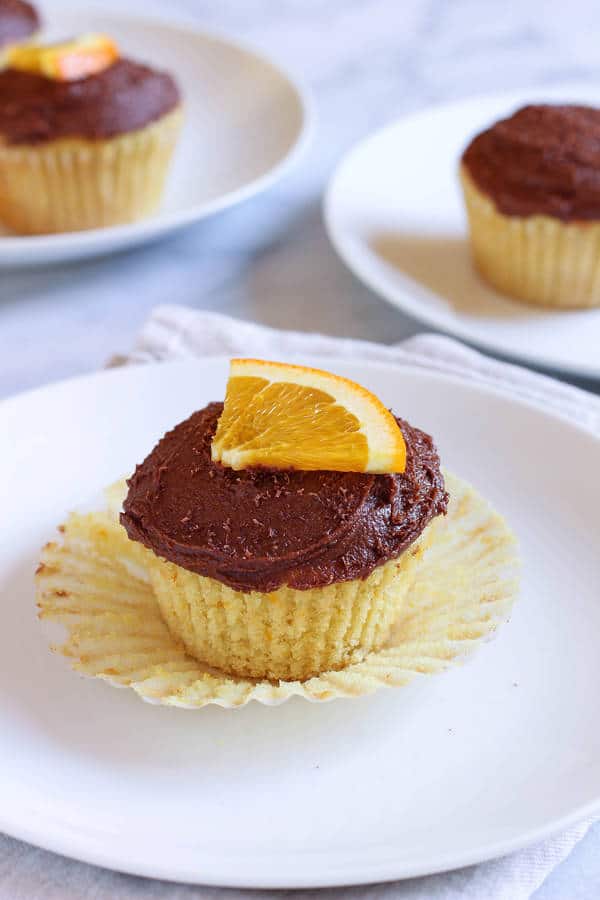 Let's face it, chocolate was definitely made to go with orange and this is what these cupcakes are all about.
Whether it's for a party or other celebration, these beauties will seriously impress.
They're so easy to make you can go for it this coming weekend too. Get the kids involved and have a blast!
Dark Chocolate Peanut Butter Cups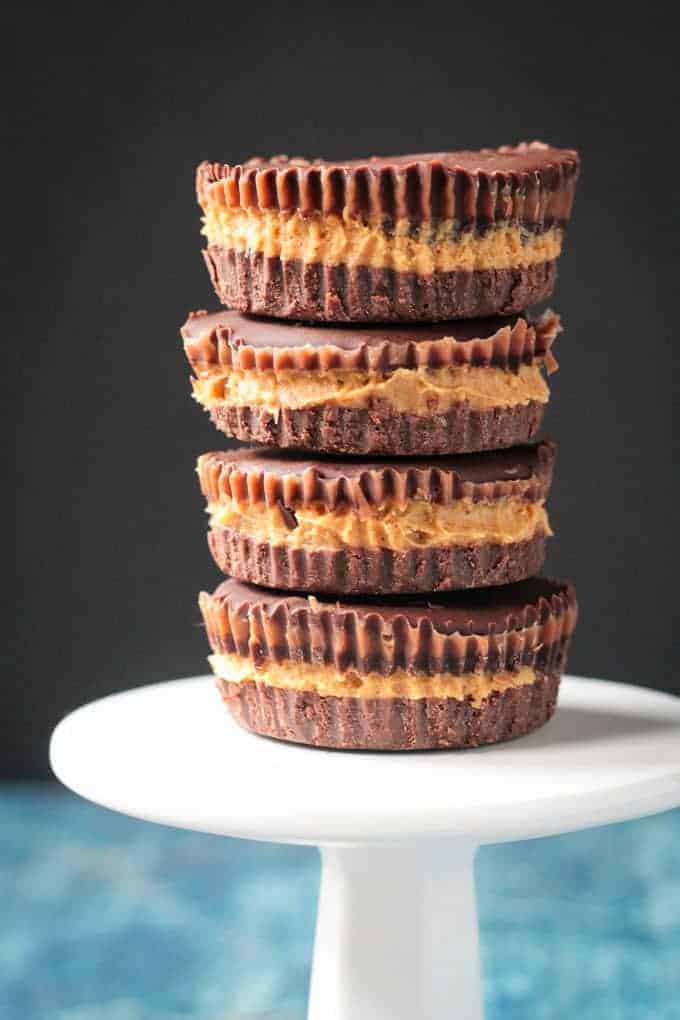 Whether you're an adult or a kid, these will quickly become your go-to favorites.
Jenn gives a great tip on seed butter instead of peanut and these instantly become allergy-friendly.
Easy and fun to make and they'll be ready in no time. You'll probably have most, if not all of the ingredients already!
Vegan Chocolate Dessert Recipes
Dark Chocolate Pot De Creme (Gluten-Free)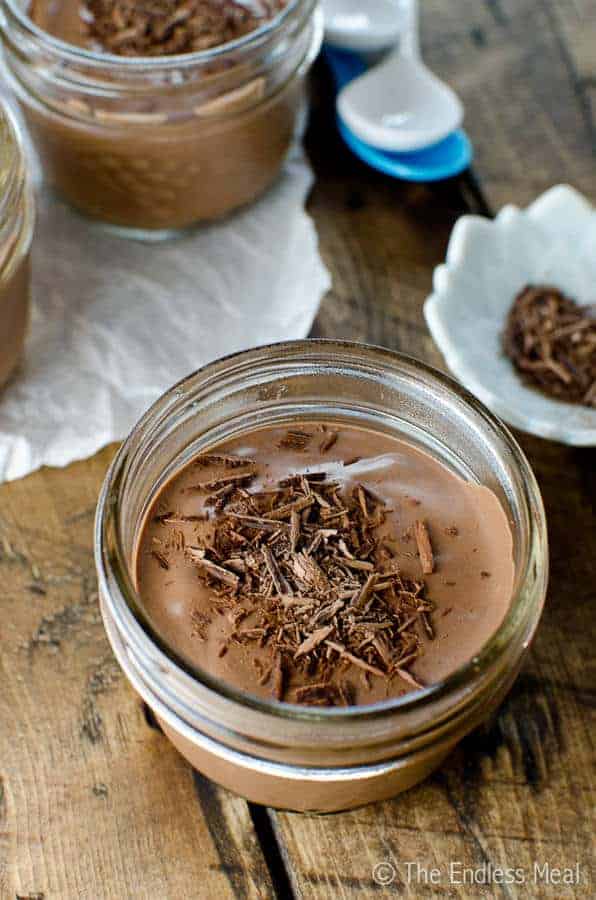 This recipe is all about coffee and chocolate!
Do ensure you get the best quality dark chocolate you can as it makes all the difference.
If you're avoiding coffee at the moment, you could easily substitute the powder with chicory or Dandy Blend.
Either way you'll end up with beautiful silky pots filled with a delectable dessert.
Chocolate Espresso Mousse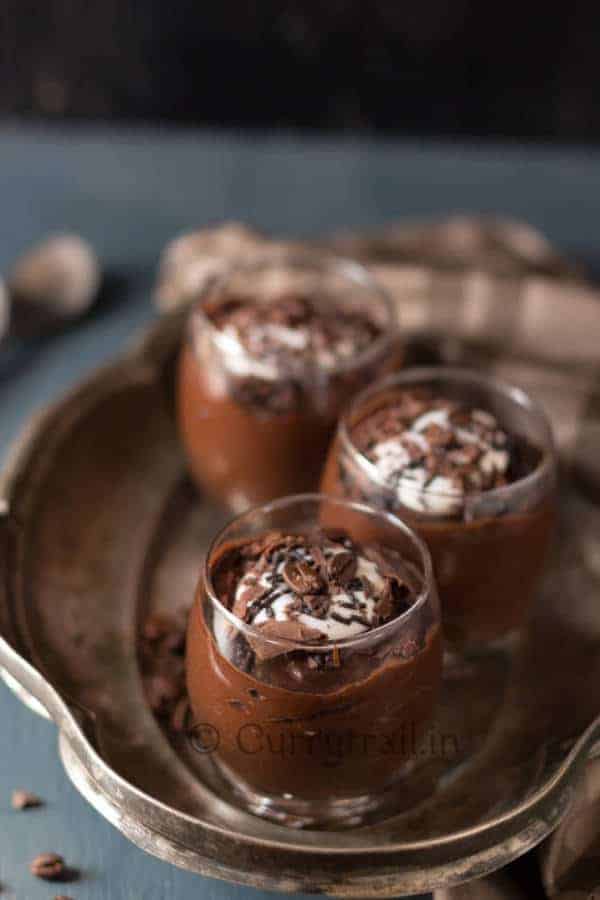 If you want something that is really fancy and looks as though you hired a professional, just take one look at this.
A classic vegan moose using avocados and even bananas! Do include the garnish of whipped coconut cream and chocolate shavings.
Store in the fridge until ready to serve and you'll be the talk of the evening.
Whipped Chocolate Chia Pudding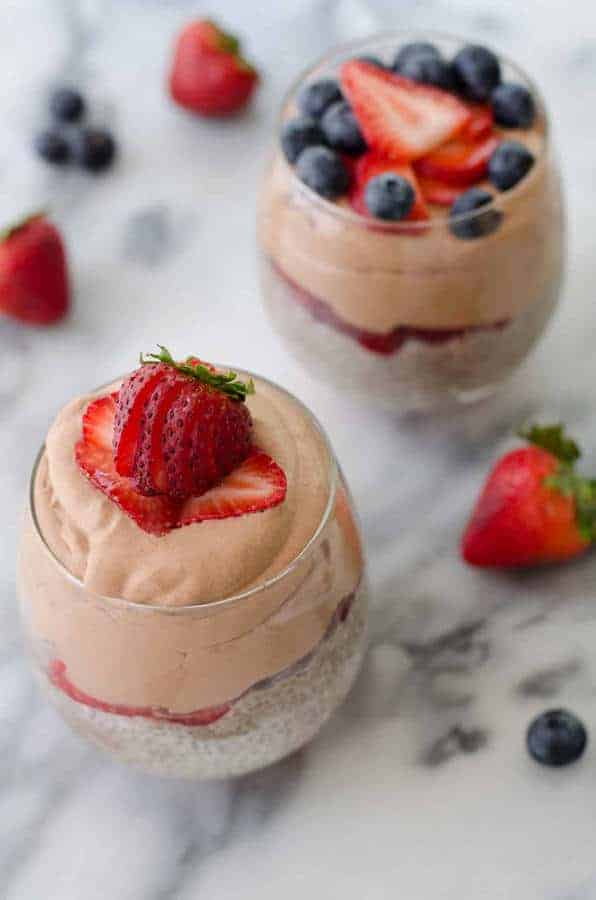 Chia seeds are the perfect ingredient in desserts as they contain natural properties perfect for creating a dairy-free moose texture.
Grab your favorite berries as toppings and you'll need just 15 minutes to bring these puddings to the table.
The amounts listed in the ingredients yield four servings so adjust as necessary. Delicious, to say the least.
Chocolate Panna Cotta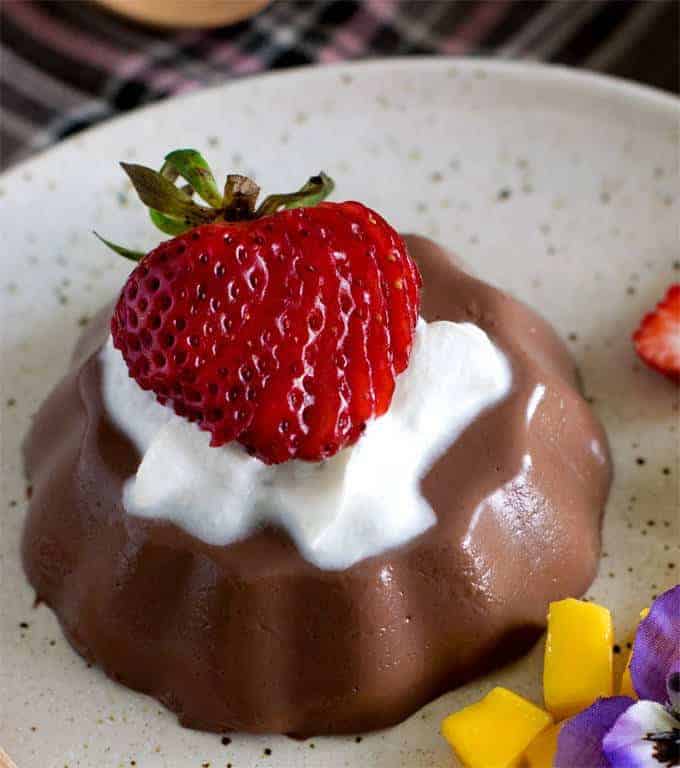 This is a traditional Italian dessert, usually the opposite of vegan! In fact, Panna Cotta means 'cooked cream' in Italian.
Here we have a beautiful plant-based version and it tastes as good as it looks.
I seriously think you'll have most, if not all, of the ingredients in your kitchen already.
Just above the ingredients on the recipe page, there's a tool where you can change the amount of servings you need, and this changes the amounts listed in the ingredients, perfect.
Chocolate Pudding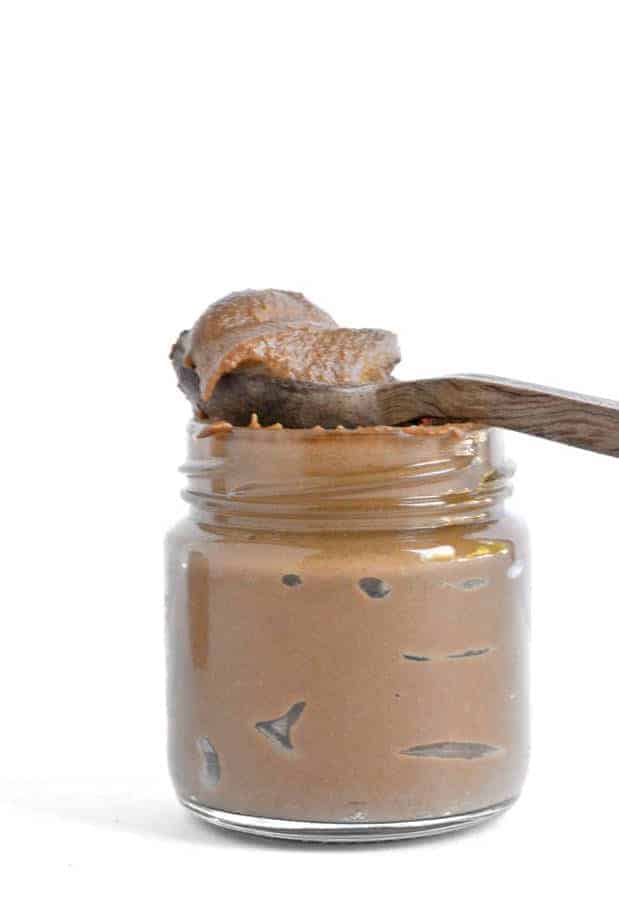 Sometimes you just need a straightforward recipe for a dessert everybody is familiar with. Nothing too fancy, just a reliable dessert you can use again and again.
I love the instructions for this pudding, and I'm sure Cara won't mind me writing about it here.
Step one: Throw everything into a high-speed blender until smooth.
Step two: That's it.
Step three: Not even kidding. How awesome is that? Now head over to the recipe page and grab the ingredients!
Chocolate Cherry Shortcakes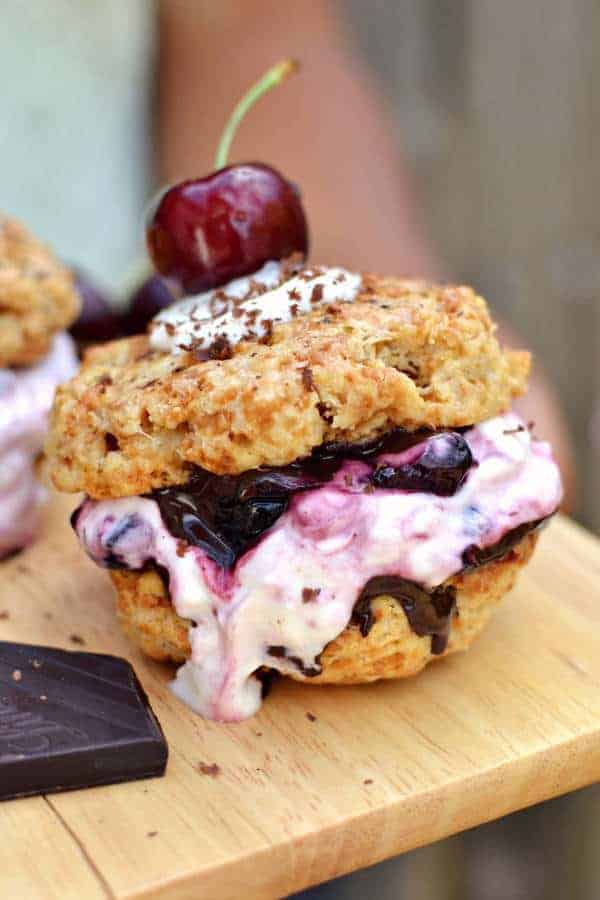 I just took one look at the photo for this recipe and it was love at first sight.
The ingredients are divided into two sections, the shortcake scones and the cherry filling. Both are amazing in their own right, put them together and I literally don't know what to say.
Easy to make and look like they were bought in an expensive store, yet the effort is minimal. The taste is better than you could ever imagine.
Chocolate Lovers Layered Strawberry Chocolate Mousse Dessert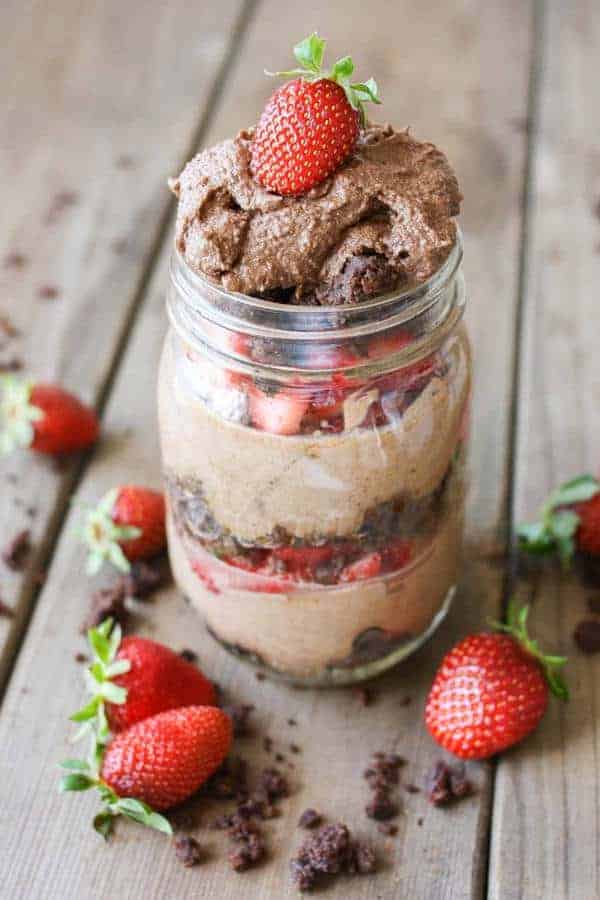 I love how this mousse is layered. So easy to do and the visual effect is gorgeous.
There are just six ingredients that make this beautiful dessert, and would you believe 10 minutes is all you need.
Medjool dates are listed, and I urge you to get this kind and not regular, it really does make all the difference.
Get your mason jars ready and let your creativity flow, enjoy how the desserts look, they'll be gone in a flash!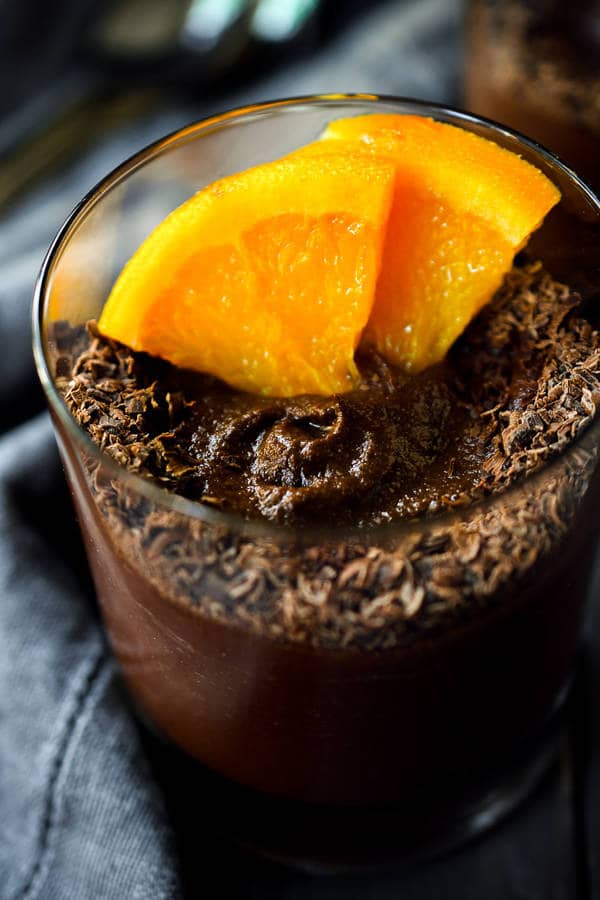 Any idea that helps get veggies into kids is a great one.
The main ingredient in this pudding is cauliflower. Could you believe that? But don't worry, it doesn't taste anything like that!
This can be served immediately after blending or stored in the freezer and served as an ice cream cake.
Vegan Chocolate Drink Recipes
Peanut Butter Hot Chocolate (Gluten-Free)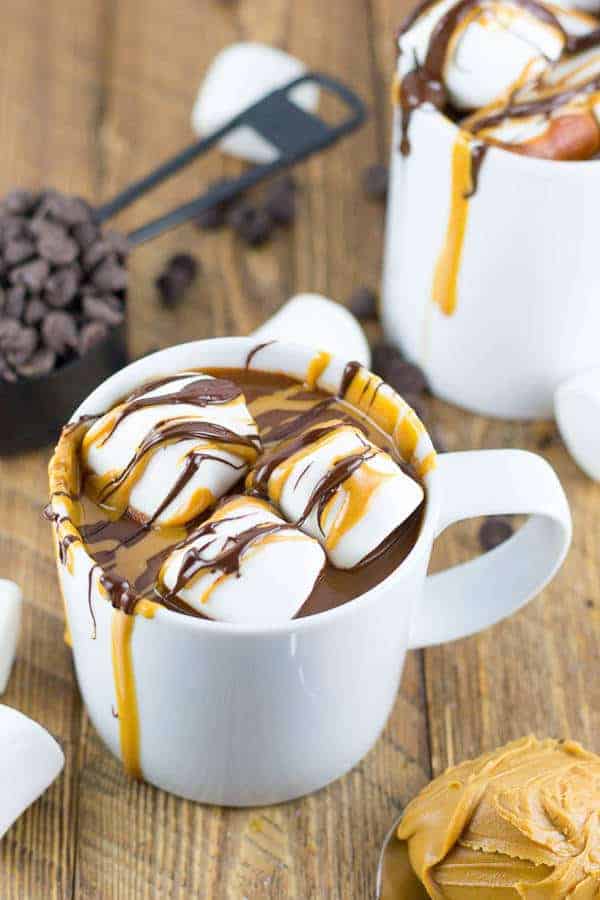 Oh my goodness, look at all the delicious gooey mess! It's hard to believe that it's gluten and dairy-free, but it is.
Incredibly easy to make, you'll have this ready in just five minutes. There are seven ingredients and I imagine you have most of them in the kitchen already.
Heat up the almond milk (not to the boil), follow the rest of the instructions and in no time, you'll be in comfort drink heaven!
Chocolate Mint Latte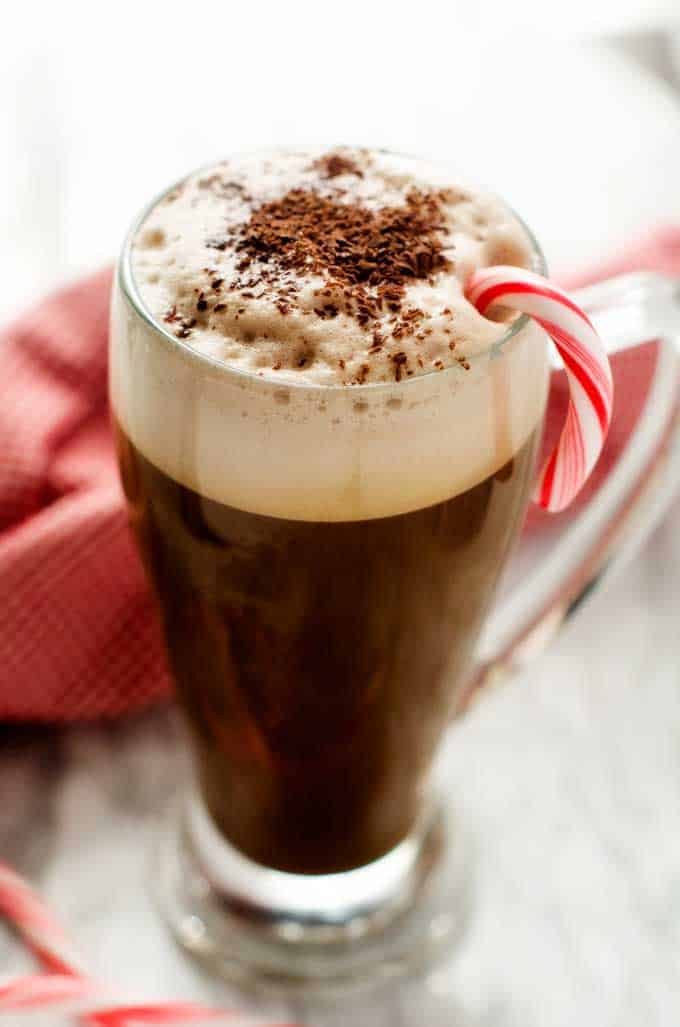 When you're entertaining, it'd be great if you could reproduce something that most of us buy at a coffee shop. Except this would be more tasty and way cheaper!
You need just four ingredients and about 10 minutes. The amounts listed in the ingredients make for one serving so if you're treating someone else (as well as you!), adjust the amounts as necessary.
Red Wine Hot Chocolate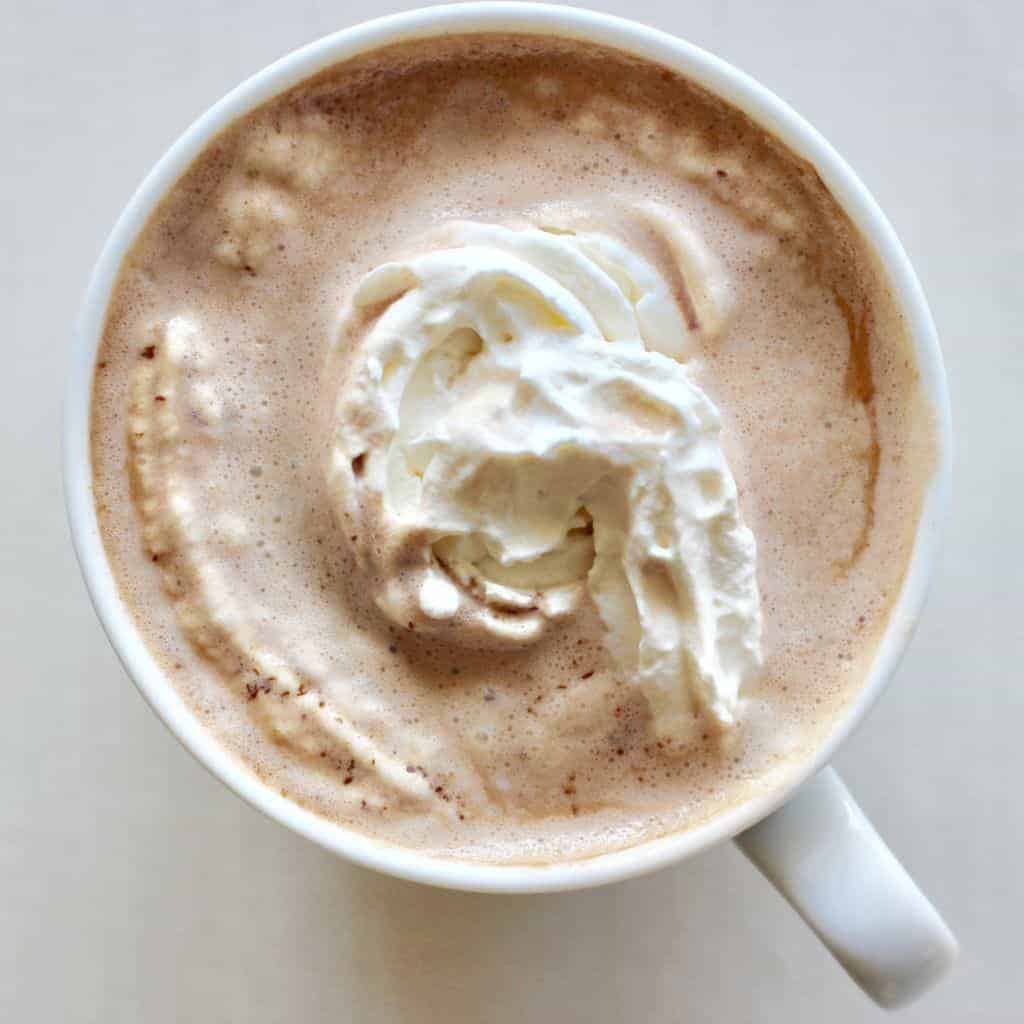 Red wine and chocolate go together, what if I told you that you could make this into a hot chocolate drink!
Just six ingredients and I imagine you have most of them in your kitchen already.
It only takes a few minutes to create this wonderful drink. When buying your red wine, do ensure it's vegan, so many aren't.
There's a great tool where you can change the amount of servings you need on the recipe page and this will alter the amounts listed in the ingredients. Fantastic.
Easy and Delicious Hot Chocolate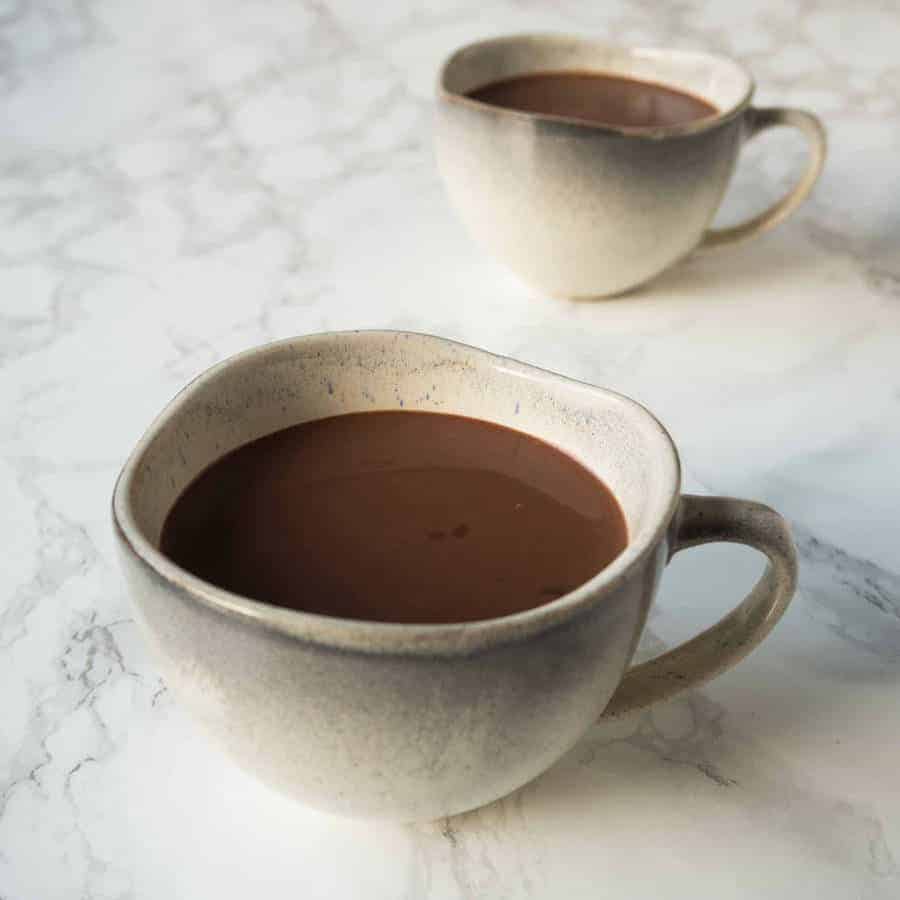 Sometimes you don't want anything too elaborate, you just want a straightforward recipe, a dish or drink where you pretty much know what you're going to get. This is what we have here, and it's great quality as well.
There are just four steps to the instructions and the ingredients couldn't be simpler. There is an optional ingredient of chili powder if you want that extra kick.
The secret addition for me is the cinnamon, it's ever so slight and makes this warming drink a winner.
Hazelnut Chocolate Milk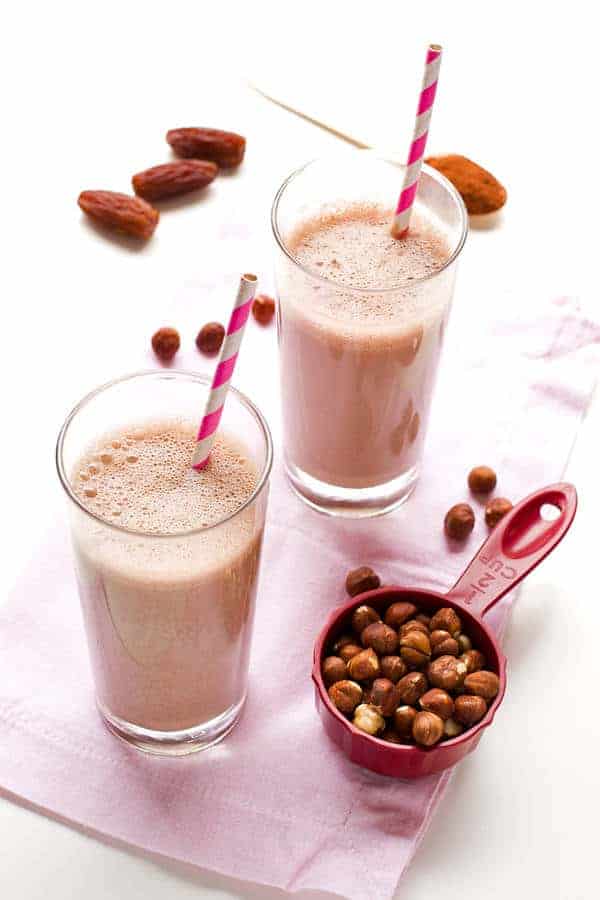 One for the holidays? I'm not so sure you'll only want to have it at certain times of the year.
Four ingredients and a blender (sounds like it should be the name of a movie!).
Do soak the hazelnuts overnight as it will help achieve a smooth consistency when blending.
I also recommend medjool dates rather than just regular, you'll taste the difference. Beautiful recipe.
Peppermint Hot Chocolate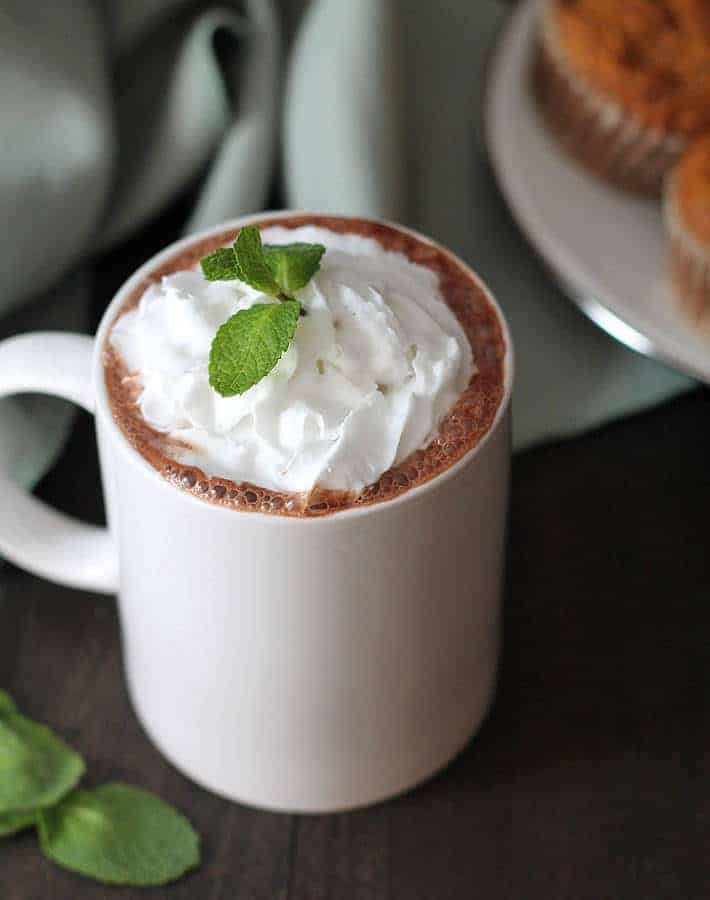 I think the only thing better than hot chocolate is when you have a slight hint of peppermint.
This decadent drink is the perfect combination. It's warming, you get the comfort from the silky-smooth chocolate drink and then the slight hint of peppermint. Couldn't be better.
Homemade Chocolate Milk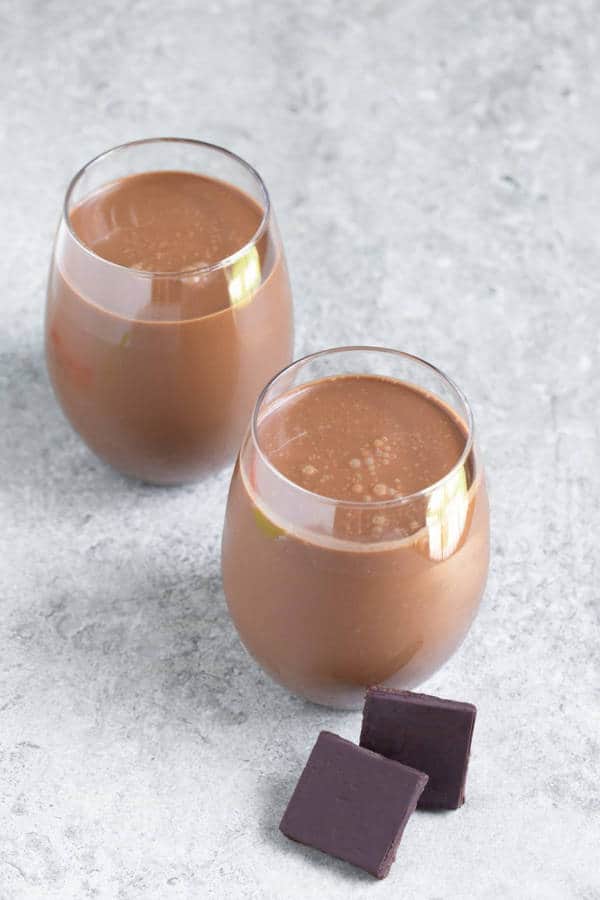 This drink is incredible. Silky and good enough to be served in a wine glass! Seriously.
The secret ingredient for me is the vanilla extract, the maple syrup also adds that certain something, okay so that's two ingredients and now they aren't so secret!
Make this drink and serve in a mug or a fancy glass!
Chocolate Earl Grey Shake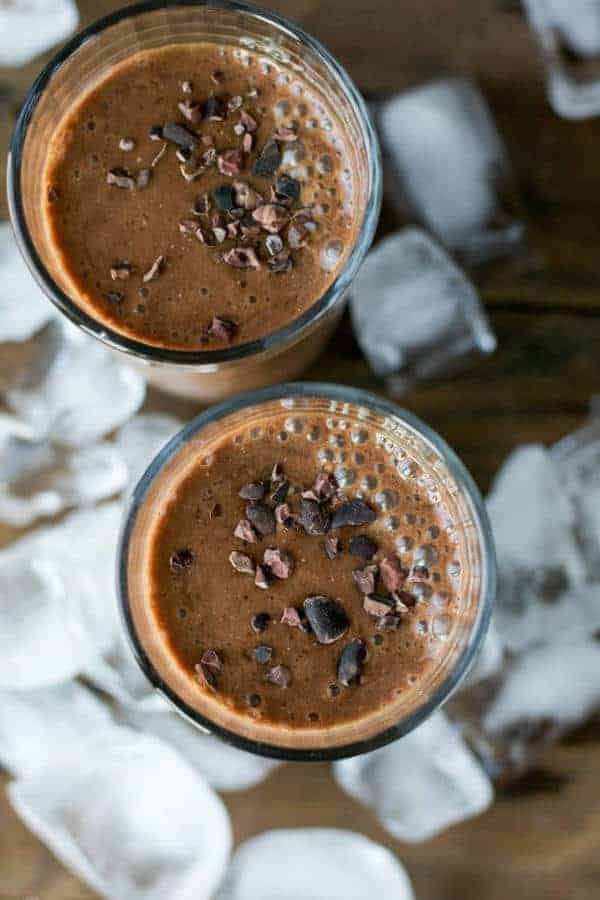 If you love the taste of Earl Grey, this will be an instant hit.
Without the ice cubes, there are just five ingredients in this delicious shake.
You're looking at no more than five minutes to prepare, just whizz everything up in a blender.
It tastes incredible and a must for any fan of the famous tea.
Maca Hot Chocolate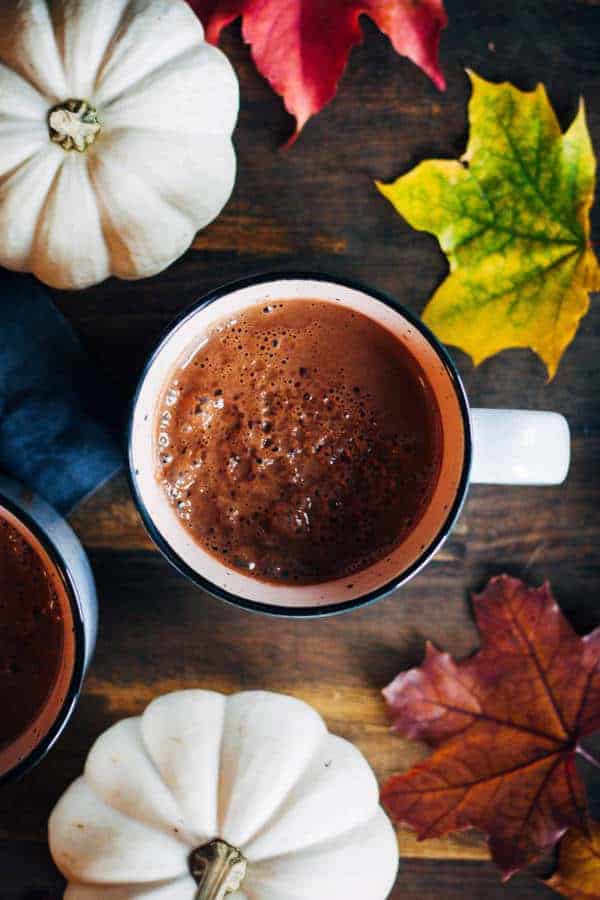 If you're a fan of maca, you're going to love this.
Just five ingredients and a blender are all you need. In a few short minutes you'll be drinking this smooth beverage!
Made with real cacao and naturally sweetened with maple syrup. Simply delicious.
Rich and Creamy Chilli Hot Chocolate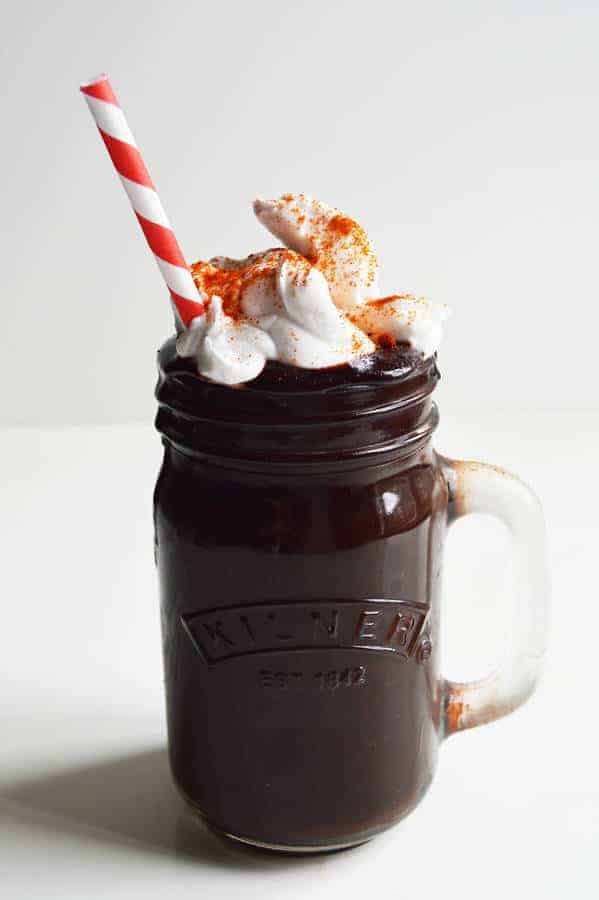 Do you like chocolate and chili? This fantastic drink is perfect for any occasion, and if there was a contest at a Halloween party for the best drink, you'd win hands down!
Just four ingredients are all you need. Of course, you could leave out the chili altogether if you prefer, and still have an amazing drink. Coconut and chocolate, what could possibly go wrong?
Vegan Gluten-Free Chocolate Recipes
No-Bake Chocolate Chip Granola Protein Bites (Gluten-Free)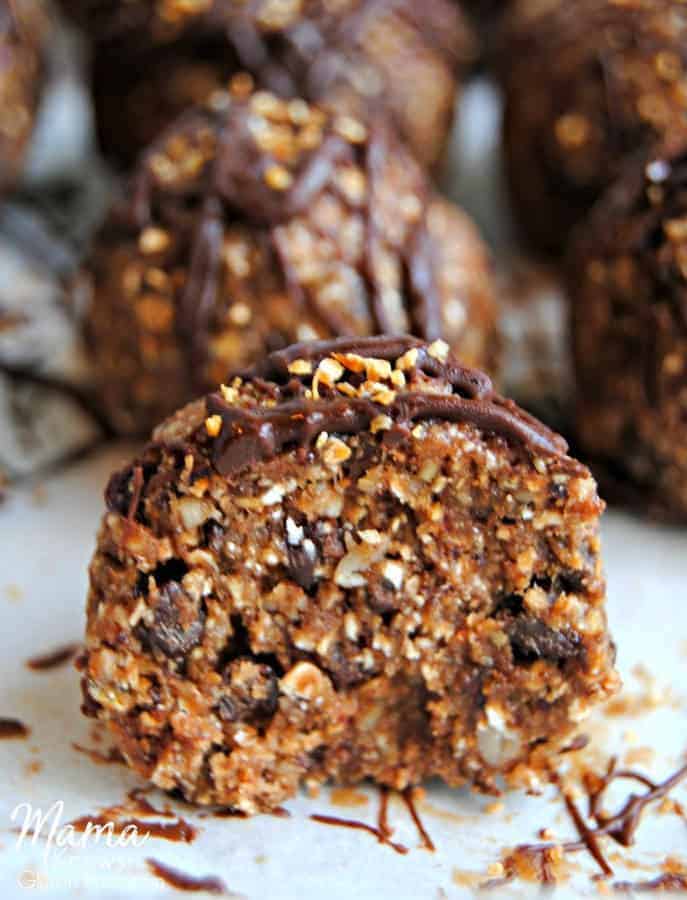 If you avoid gluten, sometimes you have to be careful of protein bars and bites. This recipe is not only clear of that, it's also nut free!
Suitable for adults and kids, these super healthy protein bites are a win for every reason imaginable.
Incredibly easy to make and so tasty. With ingredients such as orange zest, vanilla and cinnamon, you simply can't go wrong.
Low Carb Keto Chocolate Coconut Fat Bombs (Gluten-Free)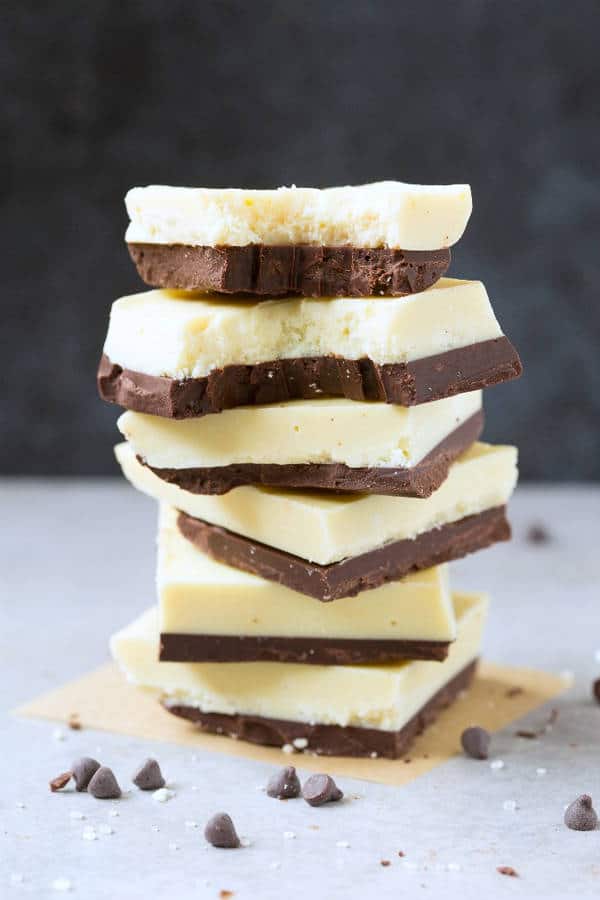 Look, any recipe that calls itself a Fat Bomb deserves to be taken seriously, right?
How many ingredients are in this do you think? Two! One of them is coconut butter, you can make this yourself as there is a link on how to do that.
Otherwise simply use store-bought to save yourself some time. Keep refrigerated and best of all, these store great in the freezer.
No Bake Salted Caramel Chocolate Oat Bars (Gluten-Free)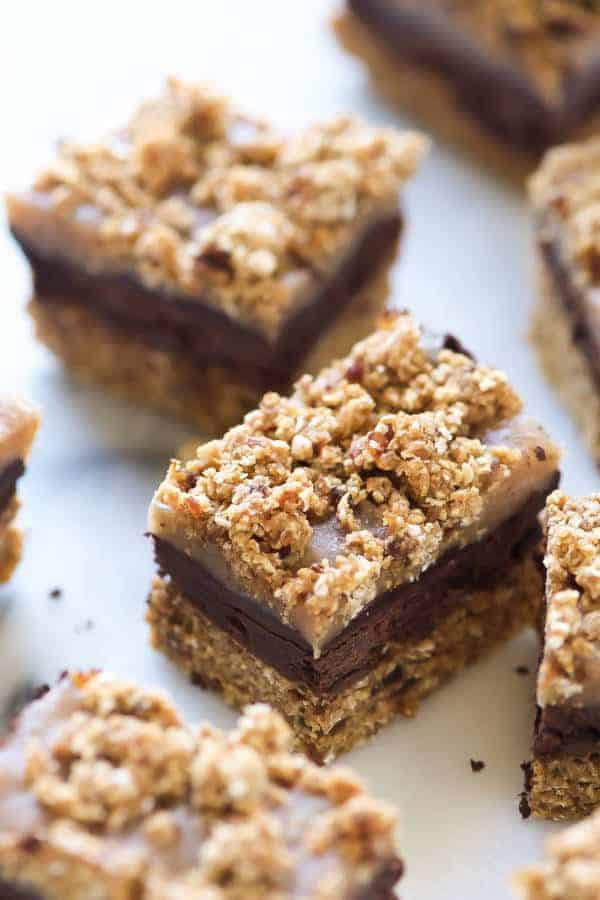 Any dessert recipe that is no bake always wins in my book.
These are refined sugar-free and the crust resembles cookie dough!
The sprinkled sea salt really is the finishing touch. These must be like a million calories in each bite, right? Nope, just 150 and I'm having two!
Chocolate Chip Pancakes (Gluten-Free)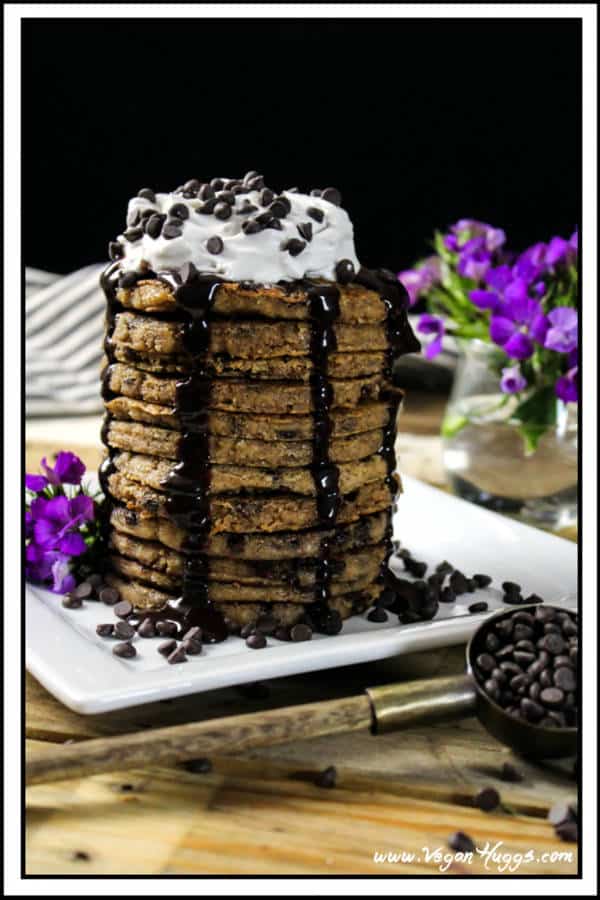 Isn't that a great looking stack of pancakes!
You're looking at a 10 minute prep time and about 20 minutes to cook. Pancakes are light and fluffy, you can taste the cinnamon and vanilla in every bite.
There's also a hint of coconut and, of course, they have chocolate chips!
The ingredients state the coconut whipped cream is optional, trust me, it's not optional at all!
Chocolate Chip Almond Butter Bars (Gluten-Free)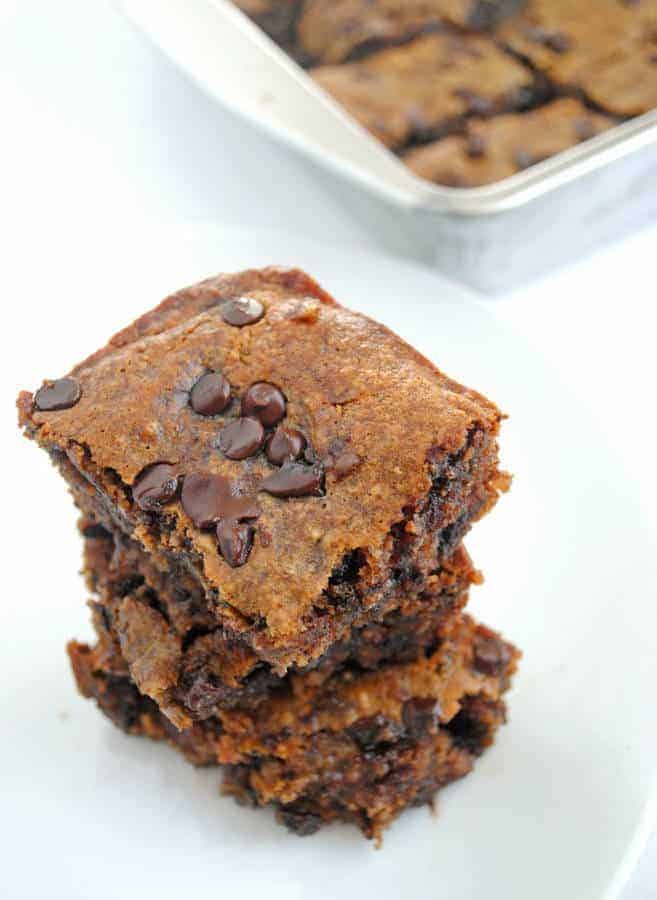 This is all about gooey deliciousness!
You're looking at just a handful of ingredients and to be honest, most of them are probably in your kitchen already.
The recipe calls for dates and I recommend you get medjool if you possibly can.
They say you should bake bread when you want to sell your house while people are looking round, forget that, bake these and you'll be the realtor in town!
Chocolate Stuffed Pancakes (Gluten-Free)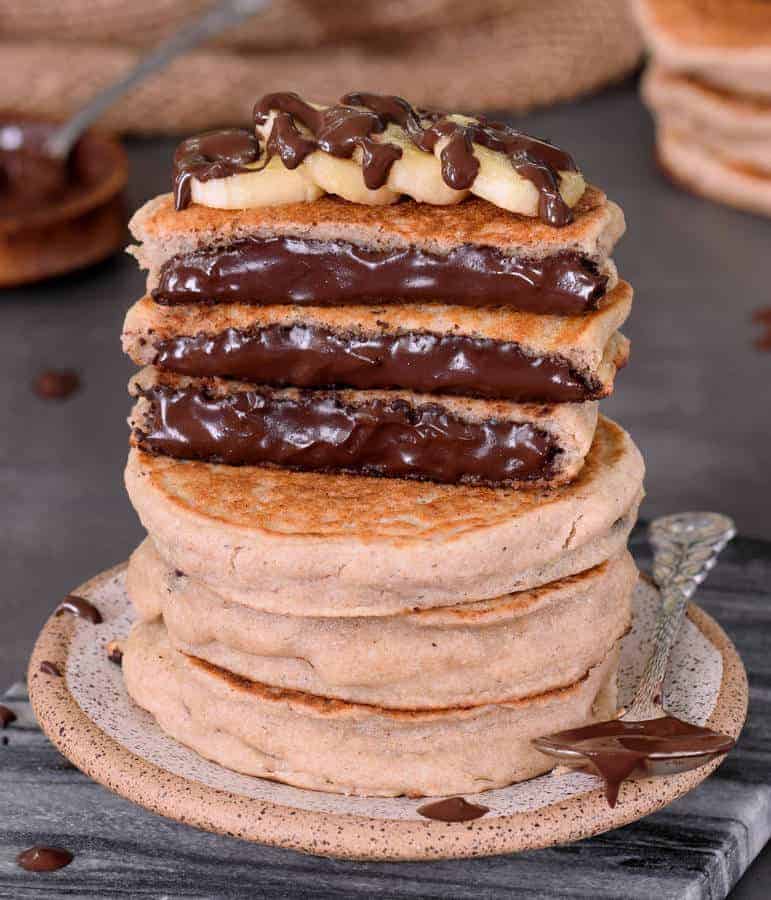 Stuffed pancakes? Are you serious?
If you think these are difficult to make, think again.
Would you believe you can have these at the table in 30 minutes or less and that includes prep and cooking time! These are very special indeed!
Heavenly Raw White Chocolate and Raspberry Cheesecake (Gluten-Free)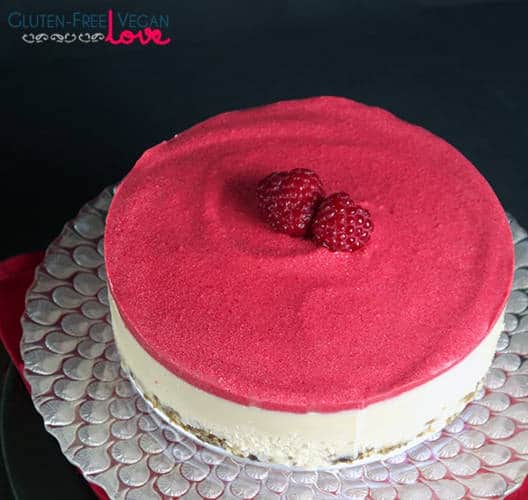 I can see why Audrey calls this a heavenly cake just by looking at the photo. It's the definition of beauty found in simplicity.
The recipe is divided into three layers, the base, cheesecake layer and the topping. You also have the optional garnish. The cheesecake layer has lemon juice with vanilla and is just incredible.
The main part of this layer is made from cashew nuts and I recommend you soak them overnight before using, it makes all the difference. Whether it's for a celebration or not, you need to make this.
Chocolate Buckwheat Granola (Gluten-Free)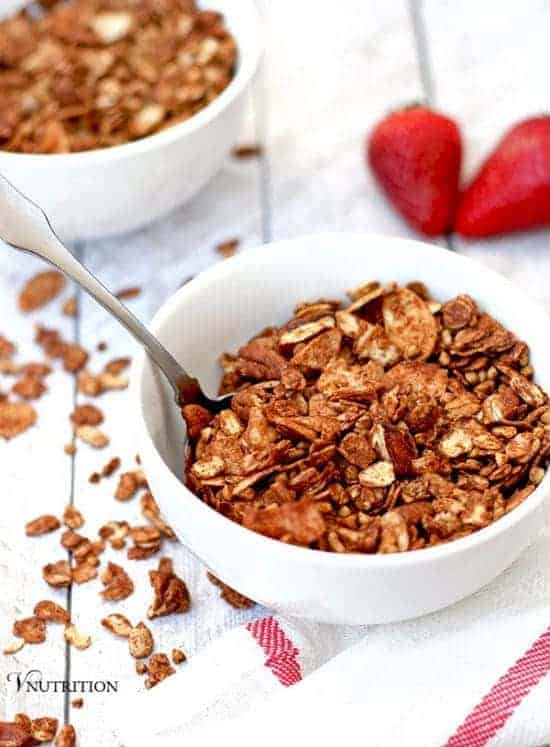 Certainly, one of the best and easiest granola recipes I have ever seen. It's perfect as a topping, on its own or however way you want to eat it!
With ingredients such as walnuts, pumpkin seeds and vanilla extract to name but a few, you know you're onto a good thing.
Get some Himalayan sea salt for that pinch at the end. A first-class granola recipe!
Vegan Chocolate Ice Cream Recipes
Chocolate Pecan Ice Cream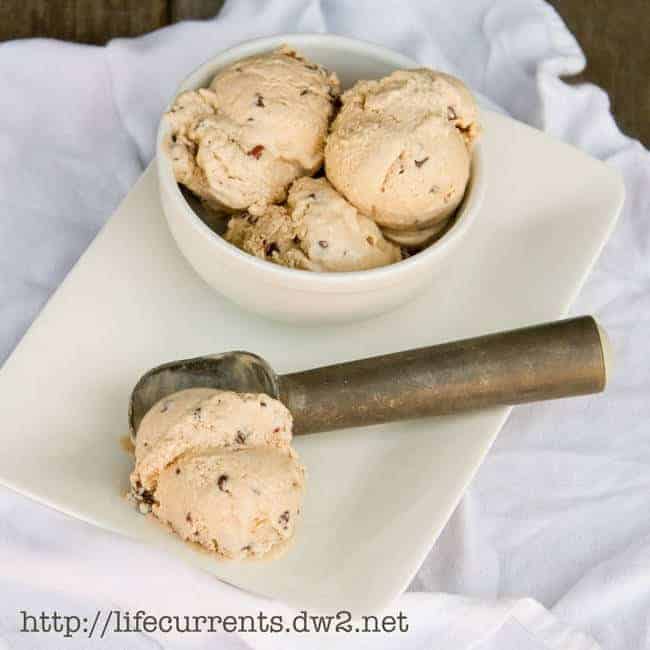 Okay, time to stop messing around reading recipes. You've found what you are looking for!
Grab all the ingredients and make this as soon as you can. You don't need an ice-cream maker either so there's no excuse.
You'll end up with the best home-made (and store-bought) dairy-free ice cream you've ever had!
Sugar-Free Chocolate Avocado Ice Cream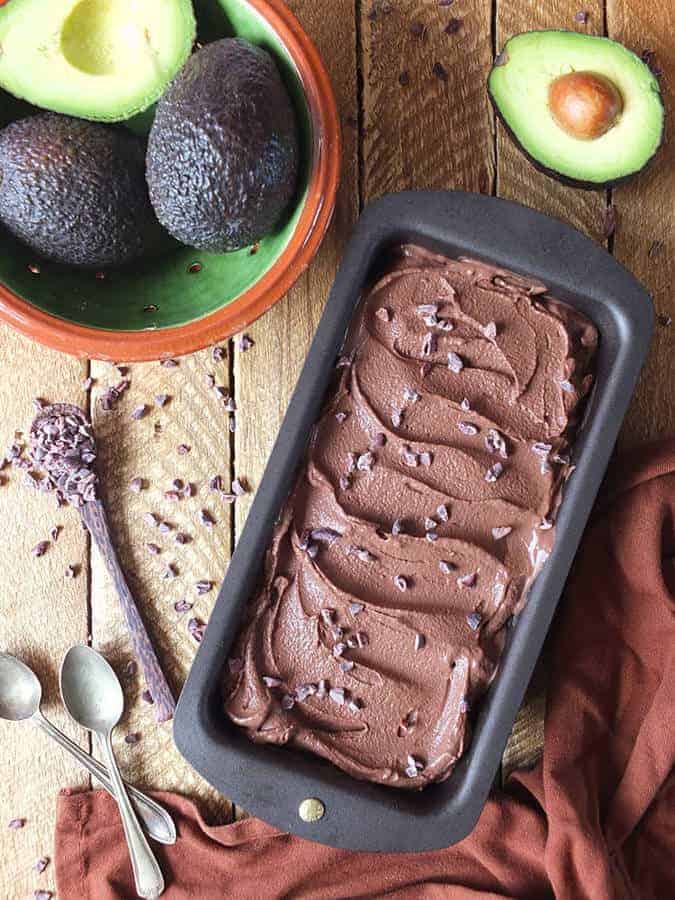 If you've never had a dessert where avocado is used as the main ingredient, now is the time to try.
You may have concerns this may taste of avocado, it doesn't, at all, whatsoever!
Remember, avocado doesn't have a strong taste to begin with, we are using it for its creamy texture, and because it's healthy, too! I love the taste of coconut and vanilla in every bite. Wonderful dessert.
No Churn Chocolate Coconut Ice Cream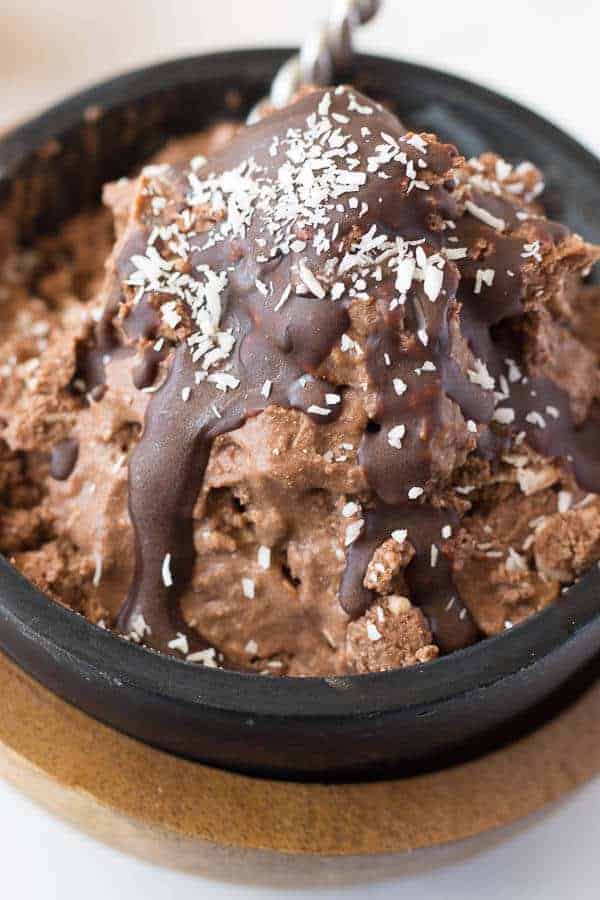 The problem with home-made ice cream is that many recipes require an ice cream maker. I don't know about you, but I don't have one and I don't know anybody that does.
This dish is beautiful, silky smooth and you don't need any special equipment.
The ingredients are divided into two sections, the (vegan) ice cream and the 'Magic Shell'!
Do go to the effort (which isn't much at all) of making everything and you'll be guaranteed a first-class dessert.
Double Chocolate Ice Cream Sandwiches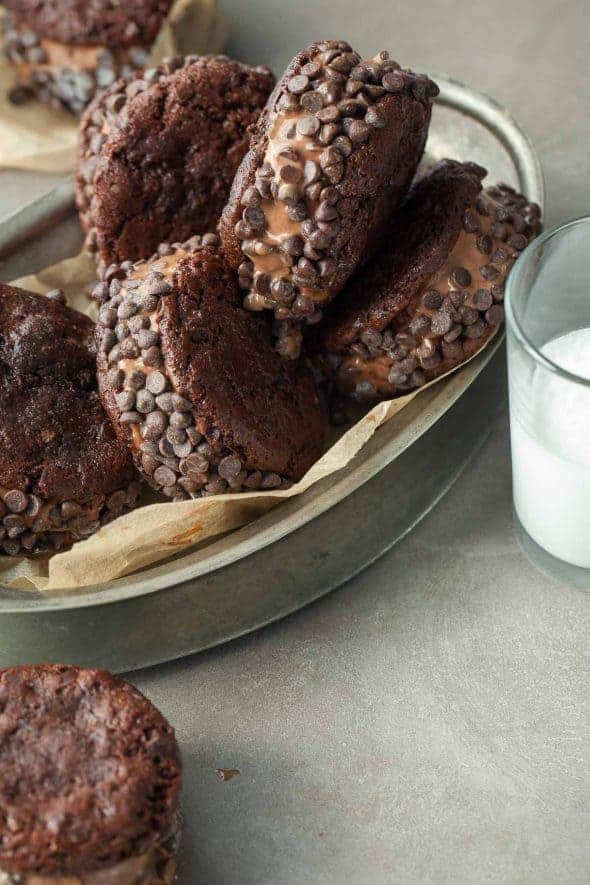 Ice cream sandwiches rule, especially when they're vegan!
Simple ingredients, the sweetness comes from the medjool dates. When you see these in any recipe, you know you're onto a winner!
You are looking at over two and a half hours in total, but I promise you, these are more than worth the wait!
Peanut Butter Chocolate Banana Soft Serve (Gluten-Free)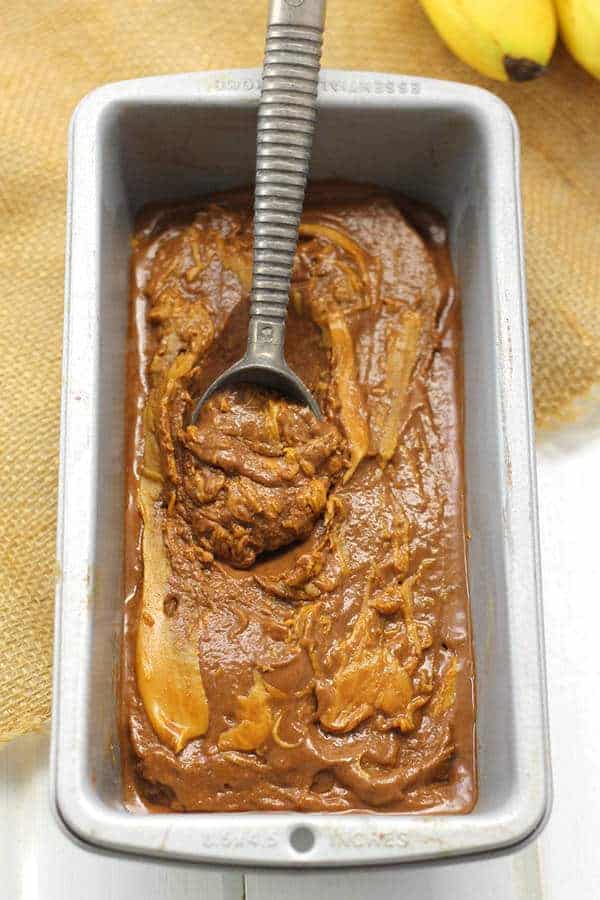 Look, sometimes there are things in life we just have to do, this is one of those times.
Three ingredients, a food processor and five minutes. Make sure the bananas are chopped and frozen and then simply whizz until your dream dessert is ready. You'll want to thank me, but you need to get in line.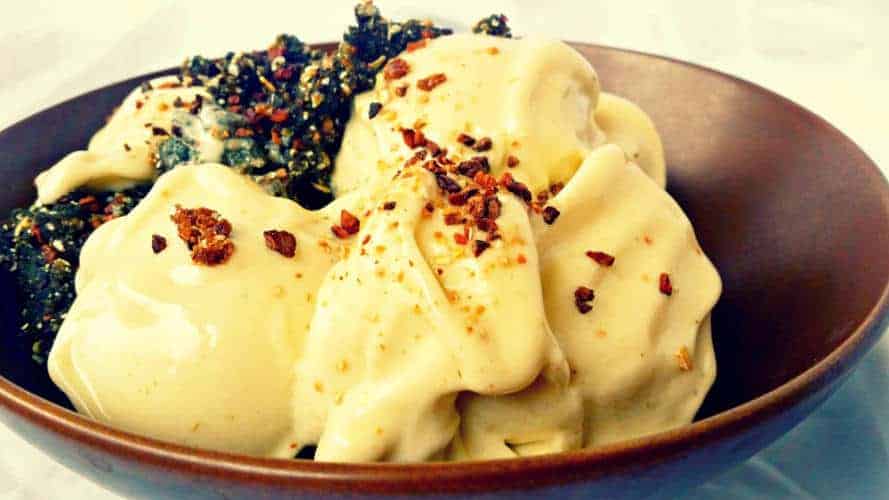 Let me tell you, raw desserts are the best. Regardless of your diet or whatever program you follow, there's nothing like a desert made with wholesome ingredients.
This recipe is divided into two sections, the (vegan) ice cream, and the cookie dough.
Make both and you'll understand what I'm referring to in the previous sentence! Simply incredible.
Mocha Ice Cream with Dark Chocolate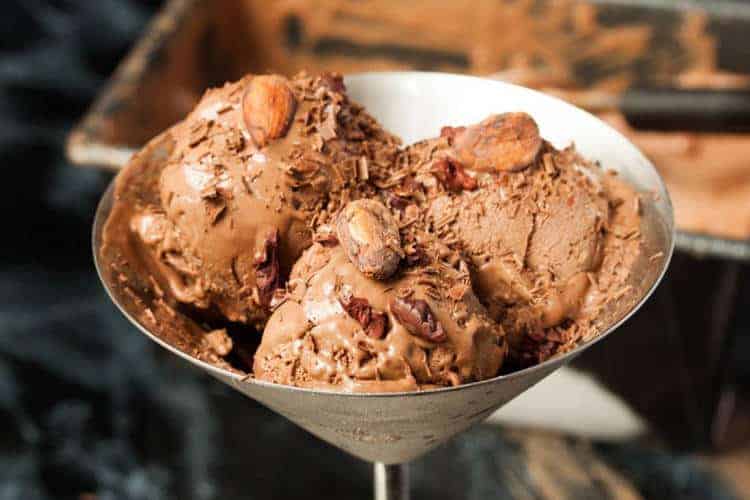 As you can tell just by the title, there are two awesome things going on here!
Just five ingredients make this delicious dessert. If you're a coffee fan this is going to be awesome. However, if you avoid coffee you could substitute this ingredient with something like Dandy Blend or a chicory-based drink often used instead of coffee. Delicious, smooth and light!
Peanut Butter and Chocolate Banana Ice Cream Sundaes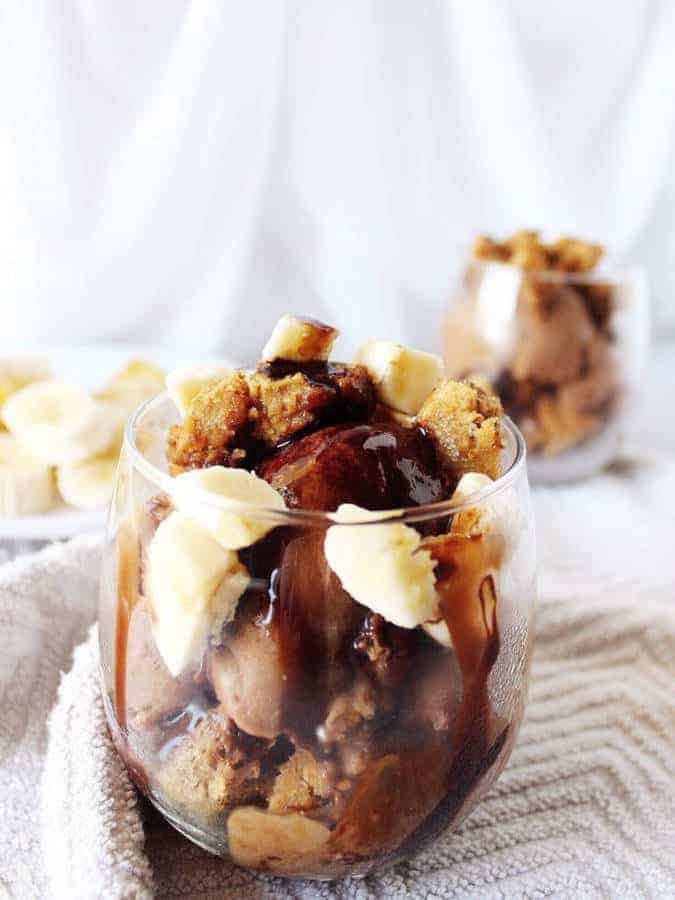 I don't know where to start talking about this as there are so many good parts to it.
This is crunchy, chewy and creamy all at the same time. The recipe is divided into two sections, firstly the ingredients on how to make the peanut butter cookies.
Secondly, the chocolate banana ice cream. As you can probably guess, individually they are awesome, put them together and you exceed 'awesome'!
Vegan Chocolate Pie & Tart Recipes
Chocolate Cream Tart (Gluten-Free)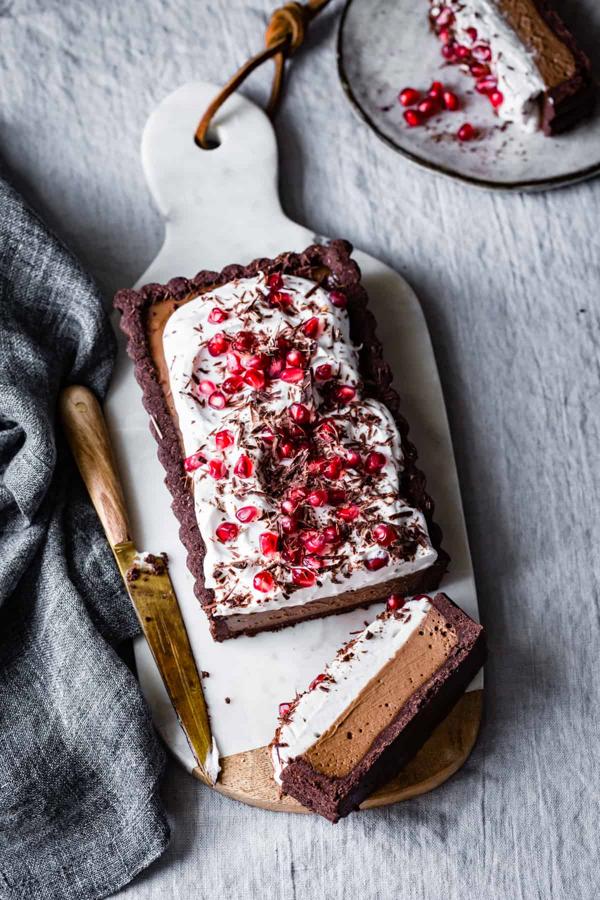 A chocolate cream tart to fulfill your most magical mousse tart dreams. This confection is one to impress even the most skeptical of your friends and family. No one will believe it's vegan, or homemade. It's so good.
Everything about this tart is special and perfect. It tastes luxurious and exquisite and can be made in about an hour. Treat the ones you love to this tart, and you'll be a culinary superhero!
Mexican Chocolate Lime Pudding Tarts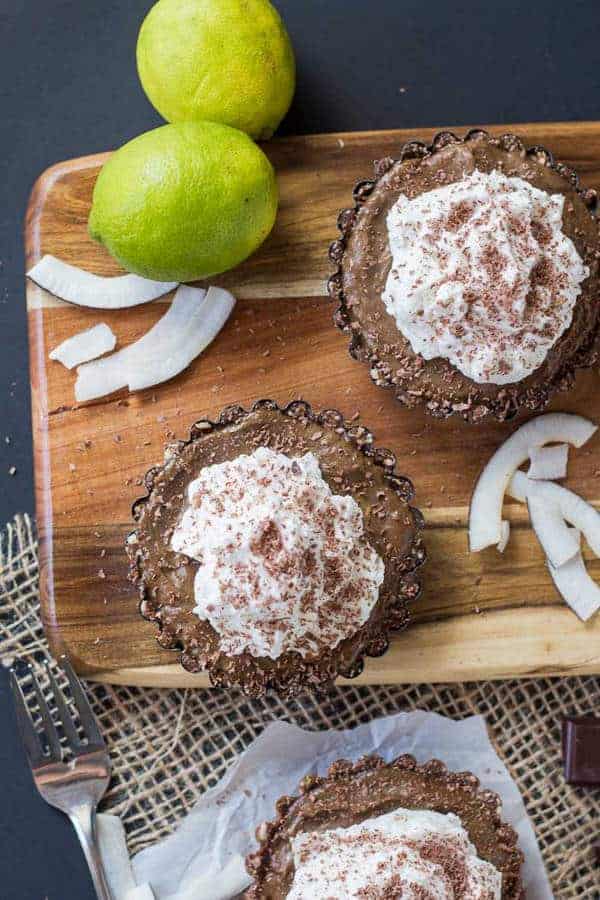 Raw vegan desserts are tasty, easier to make than you can imagine, and extremely healthy. This recipe is no exception.
The crust is a classic raw vegan recipe; medjool dates, nuts, coconut and more. Put everything in a food processor and watch it turn into dough.
The filling is creamy but not heavy. I urge you to also make the topping which is made from coconut whipped cream. Amazing!
Chocolate Covered Cherry Ice Cream Tart (Gluten-Free)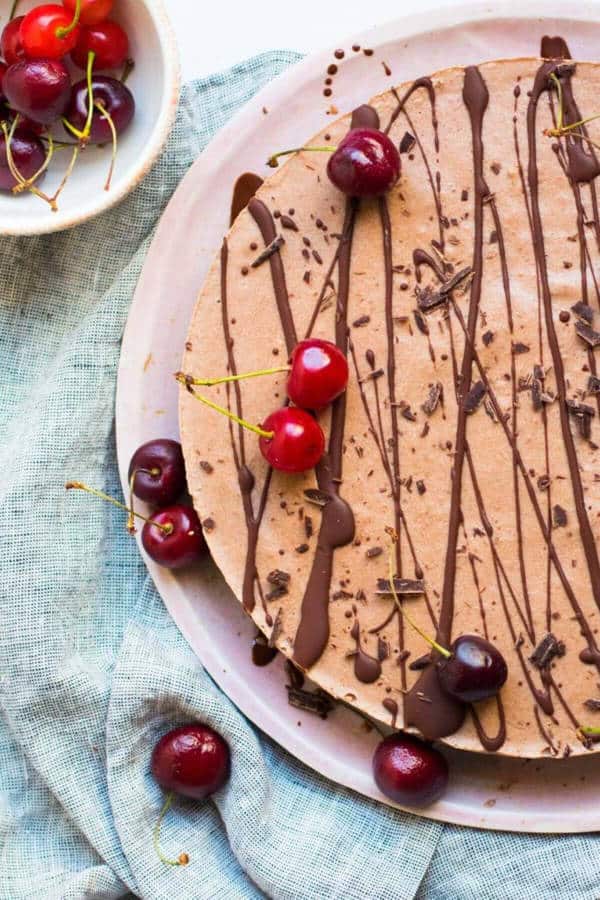 I really love fancy looking desserts. Especially when the presentation requires so little effort and yet you have a product that looks like it's been made by a top chef.
Just eight simple ingredients and straightforward instructions will have you realize, you're the top chef!
Chocolate Raspberry Tart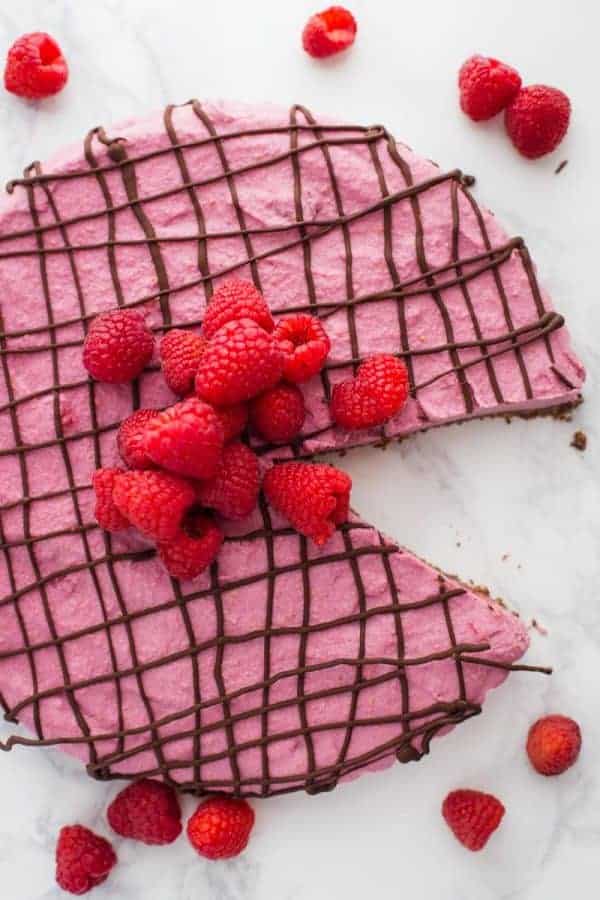 A wonderful tart that would be perfect for a birthday celebration.
The crust does not need baking, just mix everything and freeze while you prepare the filling. Do note the top part of the cake largely consists of cashews and these must be soaked overnight before using.
The beet juice is purely used for the color and does not add any flavor at all. You're going to love it and so will all the family.
Avocado Chocolate Fudge Tart with Pretzel Crust and Caramel Cream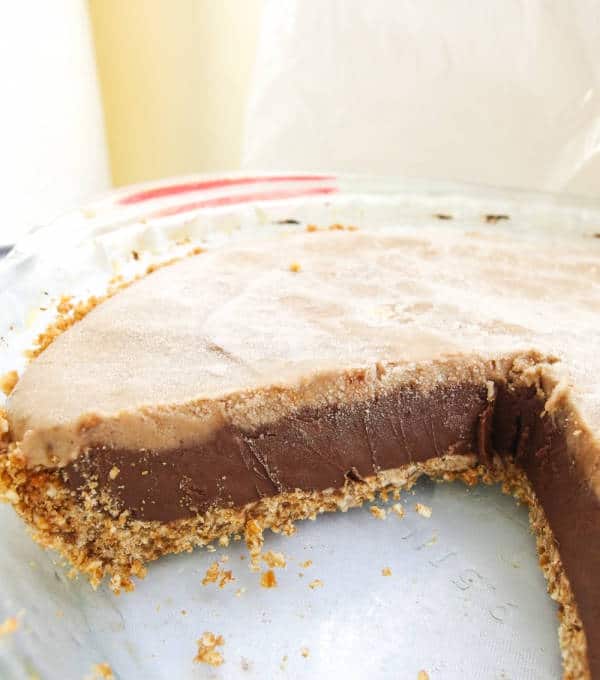 This may look like a complicated recipe that takes a lot of time and effort, the opposite is true.
No baking and just great wholesome ingredients. As Shannon says, don't be put off by the length of the recipe title, this is beautiful and tastes better than you imagine!
Chocolate Cream Pie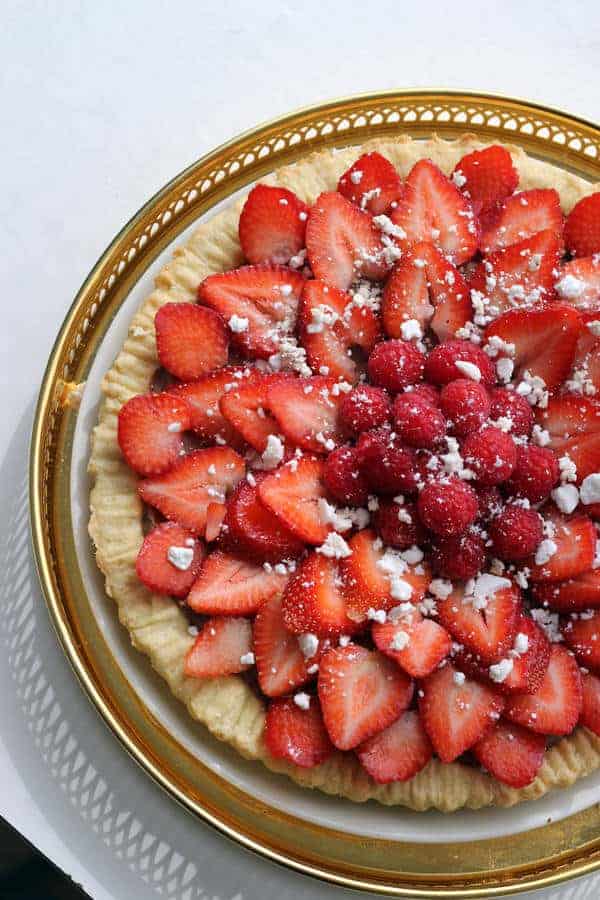 Look, all these fancy recipes are all well and good, but sometimes you just want a classic, a favorite, something you used to have as a kid. You just need it updated so it's plant-based. Well, that time has come!
I love how the recipe page is laid out. It contains only what you need, the ingredients and the directions, nothing else.
Straightforward and exactly as described. This isn't for a special occasion, it's for any occasion when you need a recipe that will never fail you. Thumbs up!
Chocolate Mini Tarts (Gluten-Free)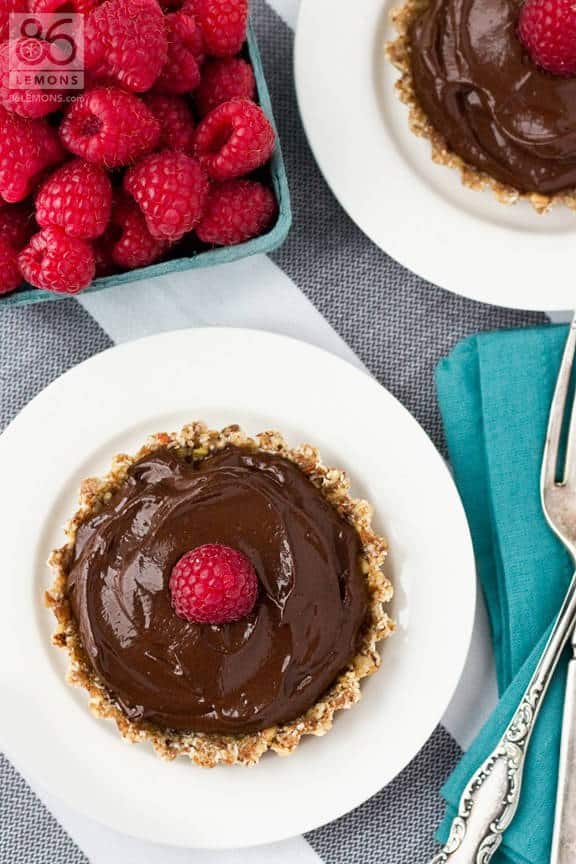 What a lovely recipe this is. These would be perfect for a party over the holidays.
Aaron saw a version of this recipe on another website (this is linked on the recipe page) and he thought he could improve on it which he certainly has. Great job!
Salted Chocolate-Avocado Pie in a Hazelnut Crust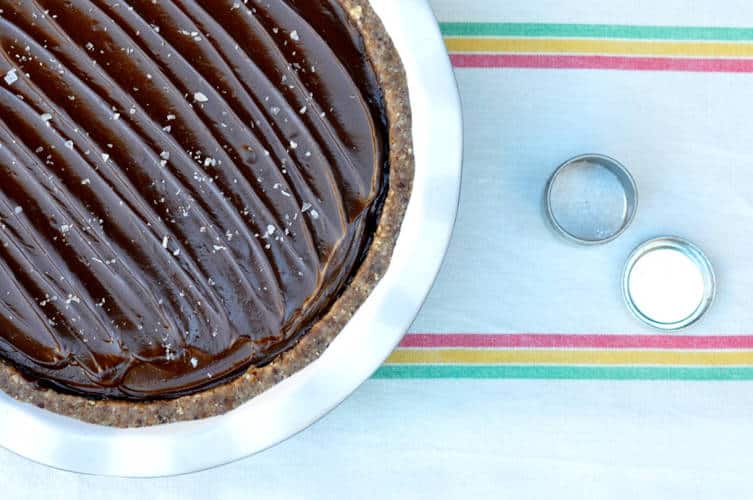 Delectable is the first word that came to mind when I wanted to sum up this recipe.
No baking is involved, grab all the ingredients for the crust and whizz in the food processor. Then follow the instructions for the filling and you're good to go.
Chill in the refrigerator and it'll also keep for up to 3 days, if it lasts that long!
Chocolate Peanut Butter Banana Pie (Gluten-Free)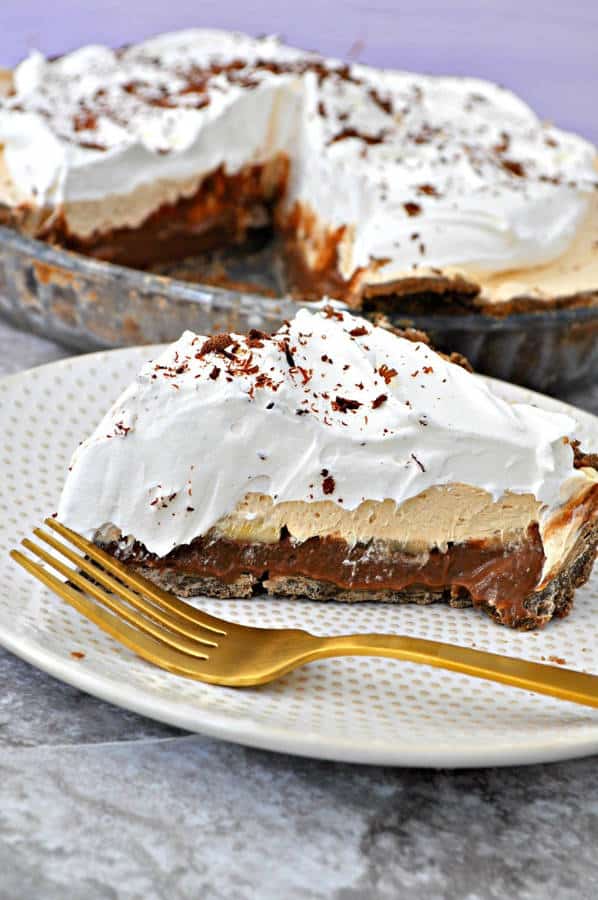 This is one of those pictures for a recipe where I looked, and wanted it, like now!
The recipe is divided into four sections, each is simple and only has wholesome ingredients. The instructions are also very straightforward.
The amounts listed in the ingredients indicate 10 servings. Not if you invite me over!
Vegan Chocolate Smoothie Recipes
Chocolate Banana Smoothie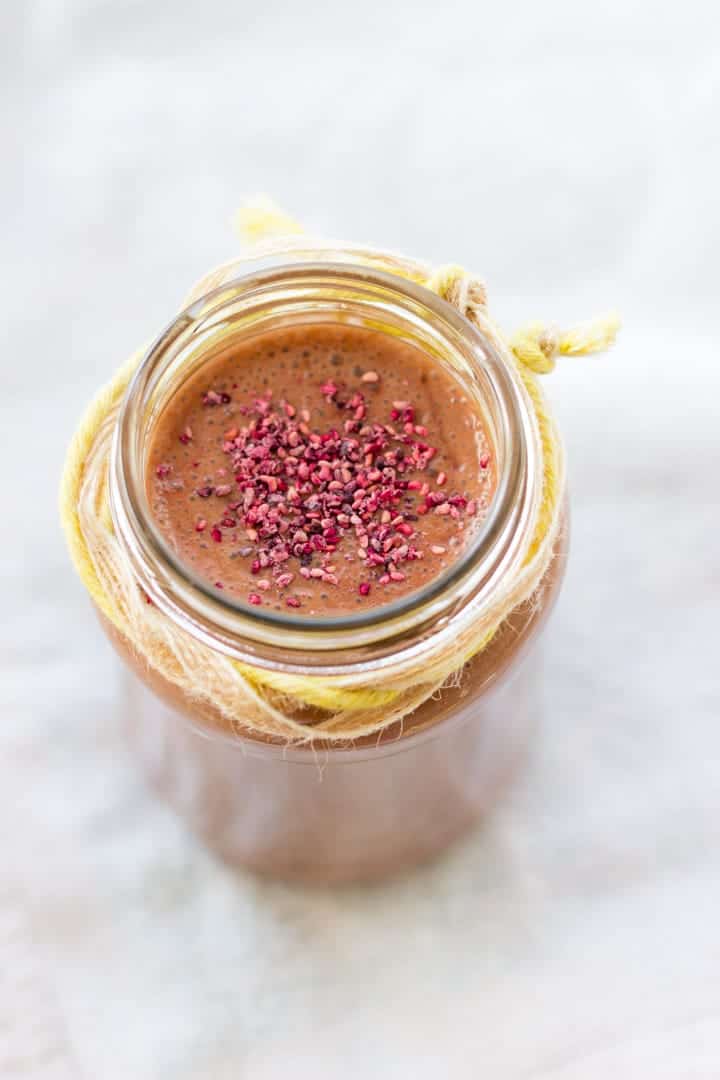 The secret to great smoothies is always about having a solid recipe.
This has just three ingredients, so I already knew it had to be good.
Every mouthful is all about banana and chocolate. What more could you want?
Chocolate Cranberry Smoothie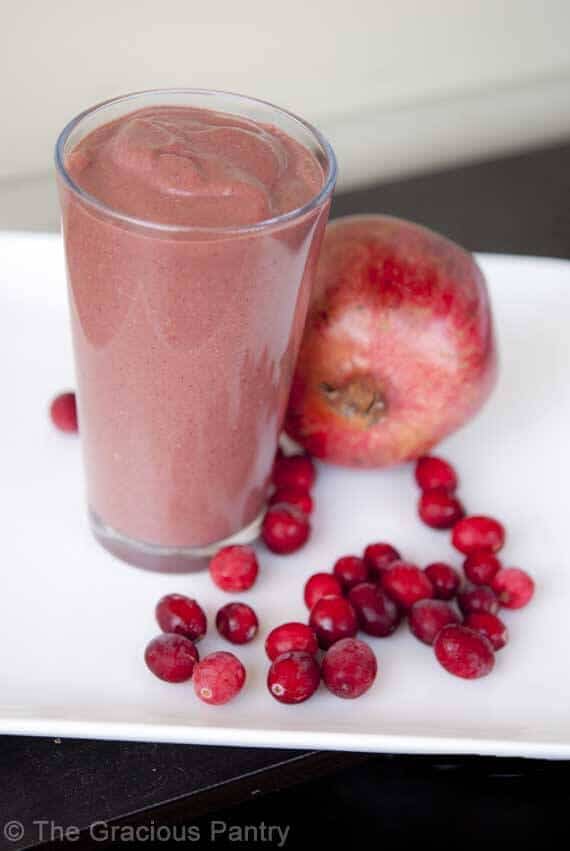 I had never seen a smoothie with this combination before so was intrigued to try it.
Looking through the handful of ingredients I loved the whole foods that go into making this wonderful drink.
Super healthy and I think it would make a great post-exercise smoothie.
Green Chocolate Banana Smoothie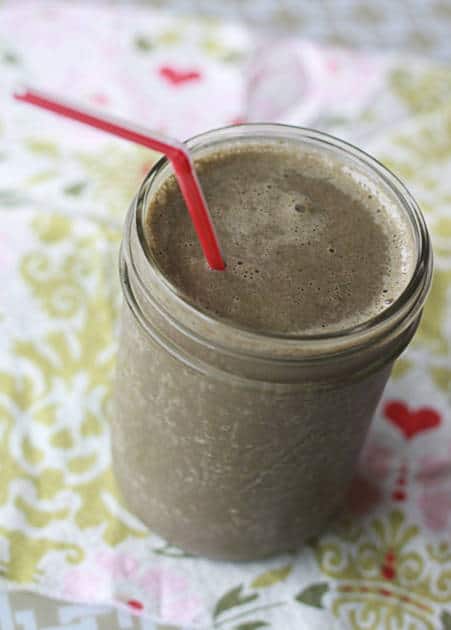 When I first saw this, I was confused by the first word. I understand chocolate and banana smoothie, but green?
The green comes from a cup of baby spinach. This has a very benign flavor so works well in the smoothie.
You get the taste from the good stuff and the goodness from the green stuff!
Coconut and Chocolate Smoothie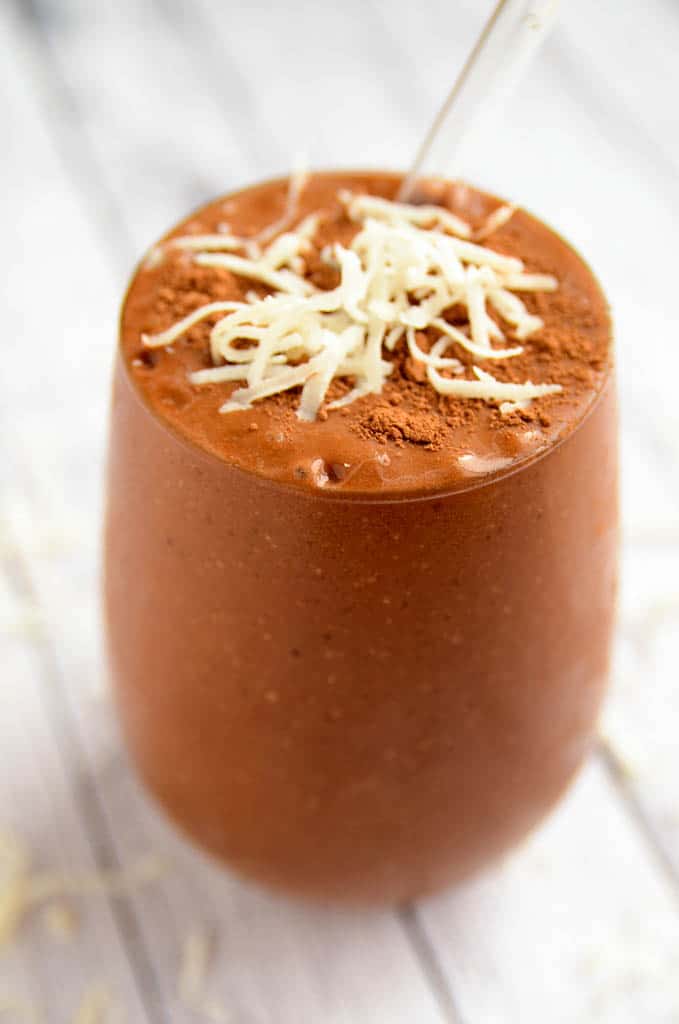 Make sure you have some frozen bananas ready to go for this smoothie.
Grab your four other ingredients and blend until smooth and creamy.
The sweetness comes from medjool dates and, whatever milk you use, guaranteed to be a wonderful and classic drink. You're going to love it.
Cinnamon Chocolate Smoothie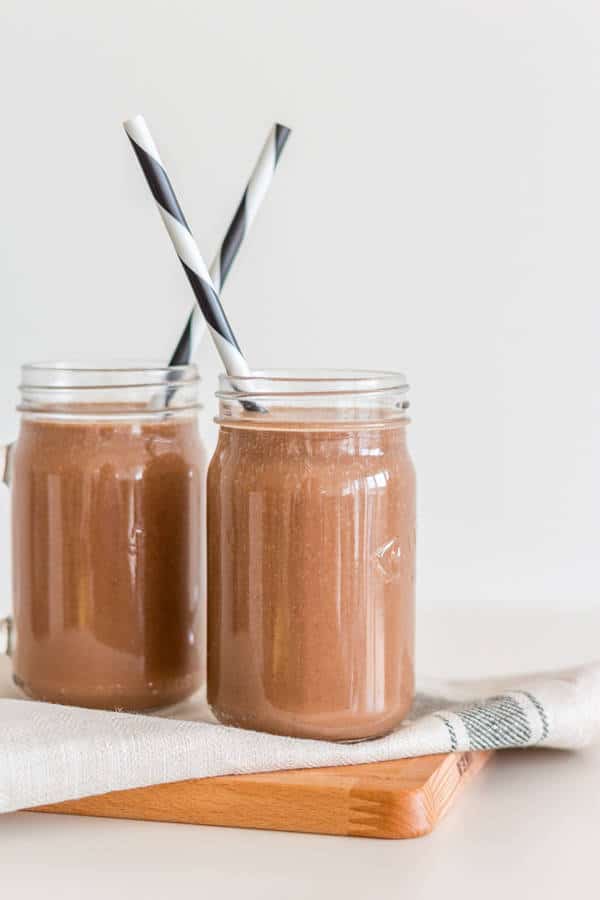 Whenever I see cinnamon, I think of the holidays.
This would make a great drink for Thanksgiving or Christmas. Although I suspect once you have your first taste, it'll become a regular in your household.
Simple ingredients, quick to make, you just can't beat that.
Simple Chocolate Marble Smoothie Jar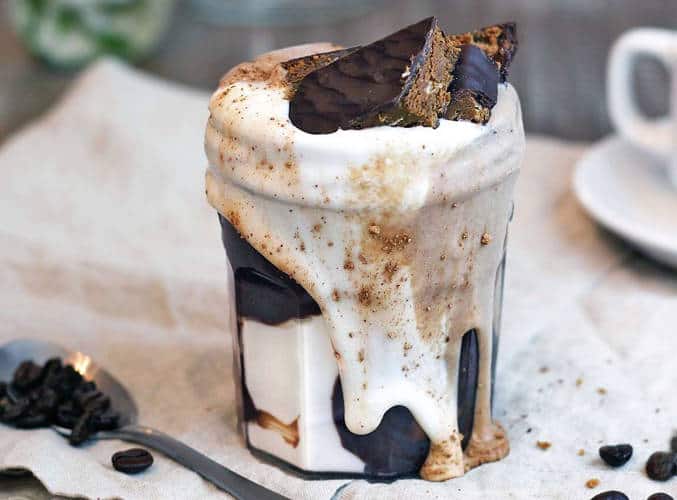 Promise me one thing, when you make this smoothie, make sure you over-fill it, just a little. You have to, just look at that picture!
Do go to the effort of making the marble effect for this smoothie, it's so easy to create and you'll guarantee anybody's appetite.
If you're drinking through a straw, you get the different flavors as you hit each one. Just fantastic.
Chocolate Smoothie with Maca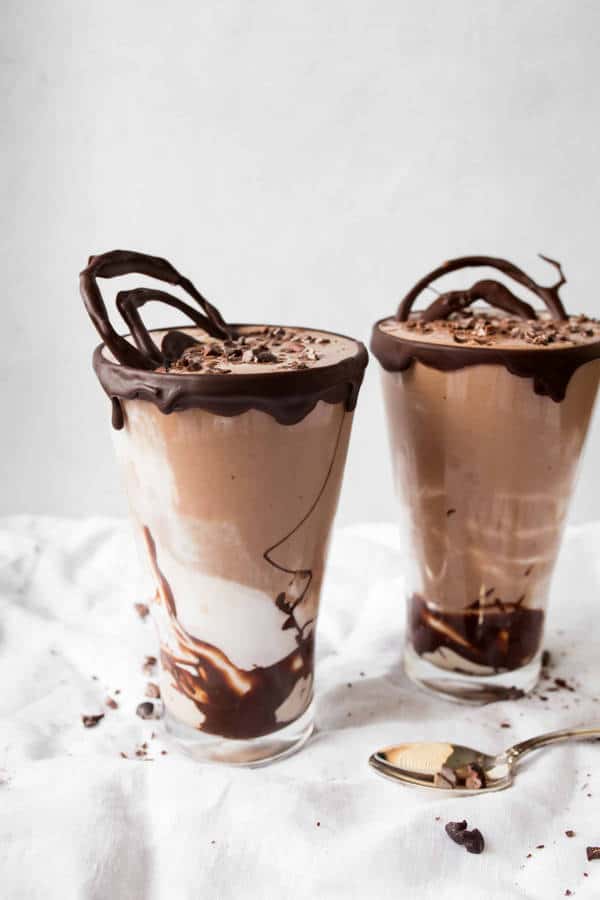 Take one look at that picture, it looks like it cost a fortune and came from a really fancy restaurant.
You can easily replicate this with a little imagination and hardly any effort. Wonderful ingredients from coconut to vanilla. Blend until creamy, smooth and simply enjoy!
Blueberry Hazelnut Chocolate Hemp Smoothie Bowl with Chocolate Peanut Butter Cup Snack Bars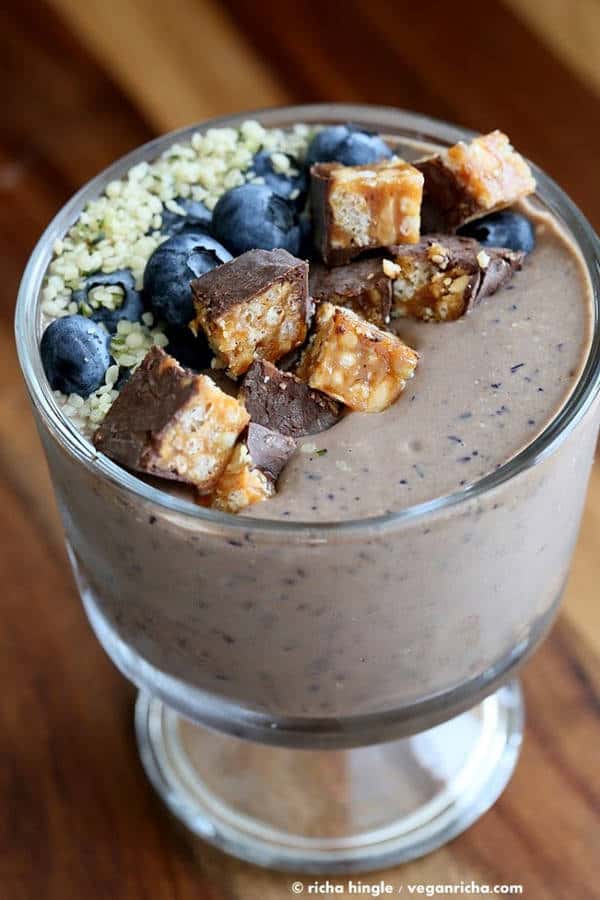 I love how this has wonderful toppings, so many parts to this smoothie.
Not sure if this is best served in a cup or bowl. What do you think?
The peanut butter cups go beautifully along the top along with the blueberries, or whatever you choose.
I'm really interested to see your creativity when it comes to this smoothie. When you make it, do take a picture and send it to us!
Vegan Chocolate Snack & Treat Recipes
Spicy Chocolate Popcorn (Gluten-Free)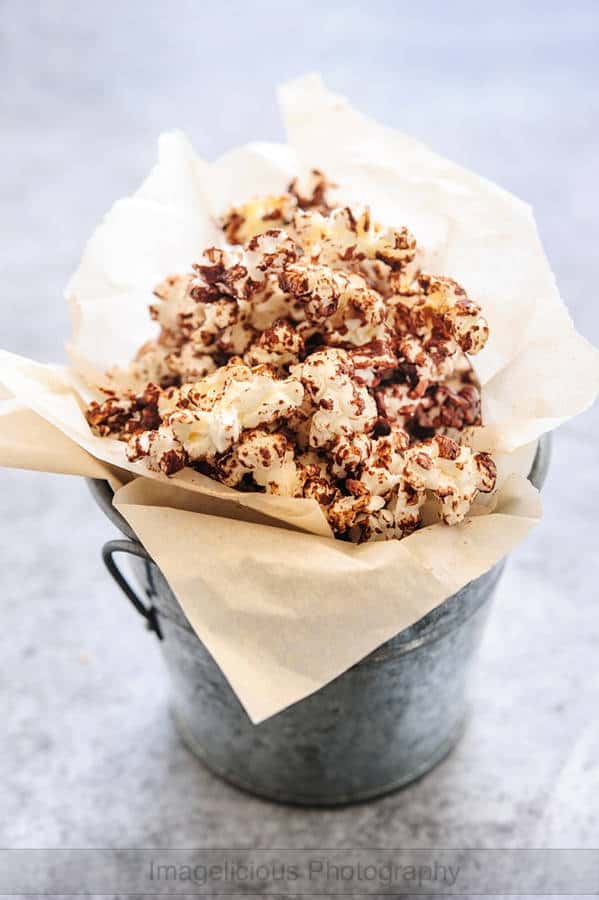 This recipe is for those that want to spice things up a little! It's especially good if you like sweet popcorn.
Your favorite snack is drizzled with melted chocolate that contains a surprise!
That being a touch of cayenne pepper. This can be extremely strong so adjust as necessary, you could even leave it out if you wanted.
Either way, you're going to end up with a delicious and addictive snack. The only question that remains is what movie will you watch?
Chocolate Pralines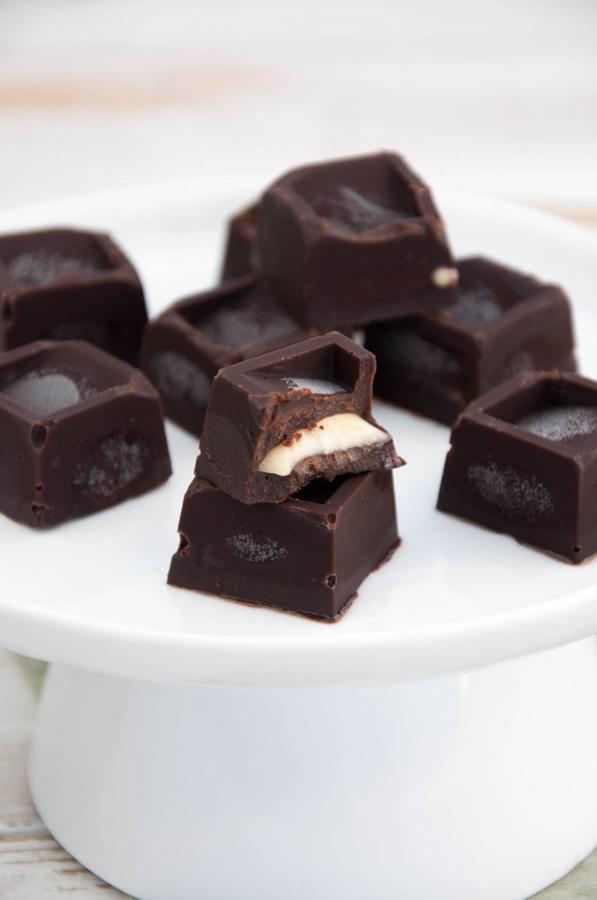 In only 20 minutes of prep time, you'll have created the most amazing vegan bites of yum you've ever tasted. These chocolate praline bites will be the hit of the universe.
These tasty little morsels may be the easiest you've ever made. There's no need for double boilers, no tempering the chocolate. It's easy and quick and you can even do it without a special praline mold (a silicone ice cube tray works splendid).
These are great for the holidays or to take to a friend's house. Or, if you're like me, to hide in the back of the freezer and nibble on when no one else is looking!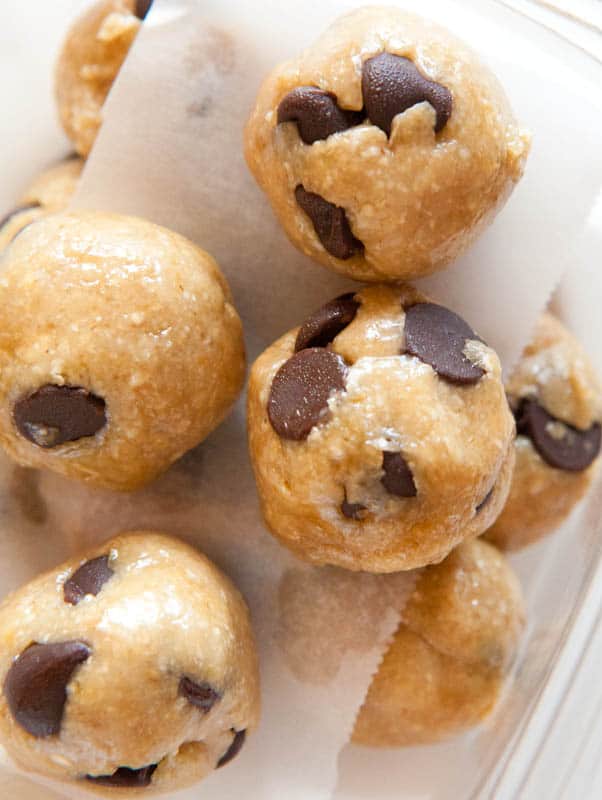 I love snacks like this. It's like having the perfect validation to eat the cookie dough!
Just a handful of ingredients and a food processor (or blender) is all you need to make these. Once shaped, either serve immediately or if the dough is sticky, Averie suggests chilling in the refrigerator first.
It'll also store in the freezer for when you need to satisfy those cravings!
Easy Chocolate Almond Truffles (Gluten-Free)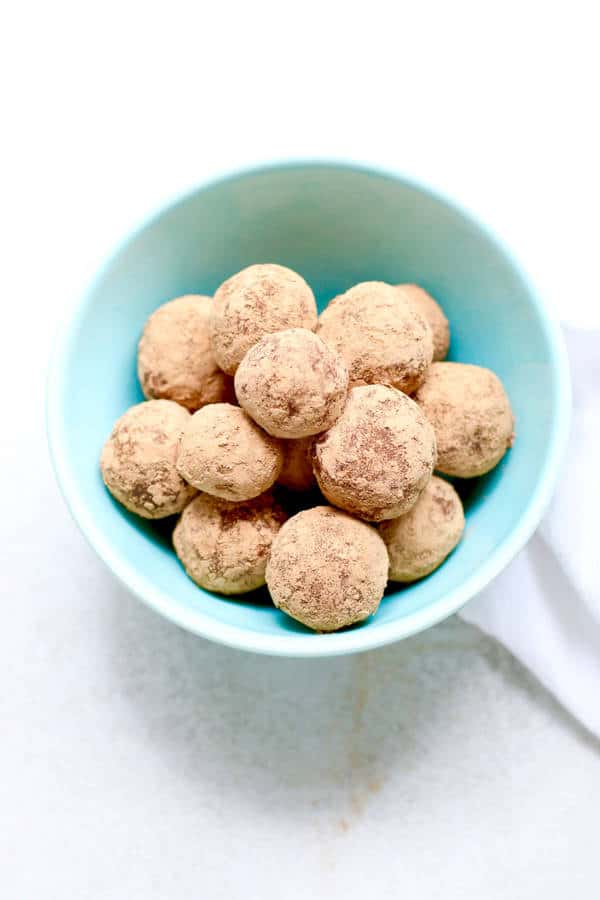 The word 'easy' isn't just a marketing ploy in the recipe title.
Marisa has done a great job in creating these truffles. No added sugar and just three ingredients are all you need.
Incredible! Whizz in a food processor, shape and you're good to go.
Superfood Chocolate Bark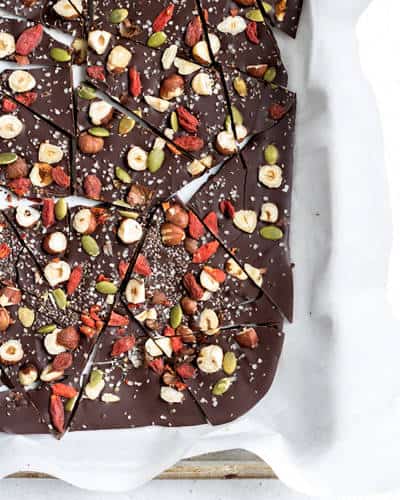 You don't see too many of these recipes around. I guess it's because they require a little effort, although it really is just a little.
Topped with healthy seeds, nuts and dried fruit this dessert is guilt-free. Stores well in the refrigerator and even in the freezer. Serve with dairy-free ice cream or perfect on its own.
Double Chocolate Coconut Fudge Bars (Gluten-Free)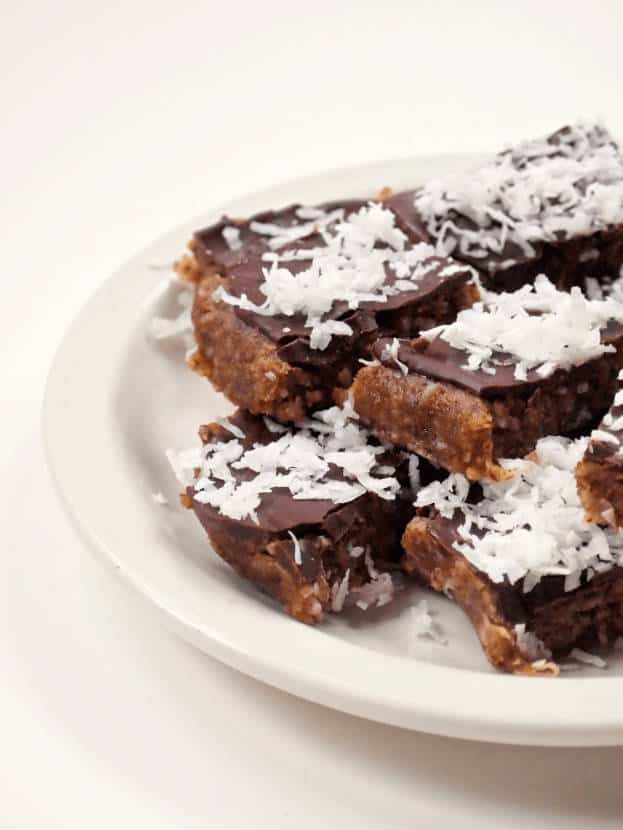 We all know chocolate and coconut go together perfectly. These fudge bars are soft and dense, packed with flavor!
I'm pretty sure you'll have most of ingredients in your kitchen already. If not, they're very easy to source. Great for when you want to make something special at the weekend.
Chocolate Hazelnut Cinnamon Rolls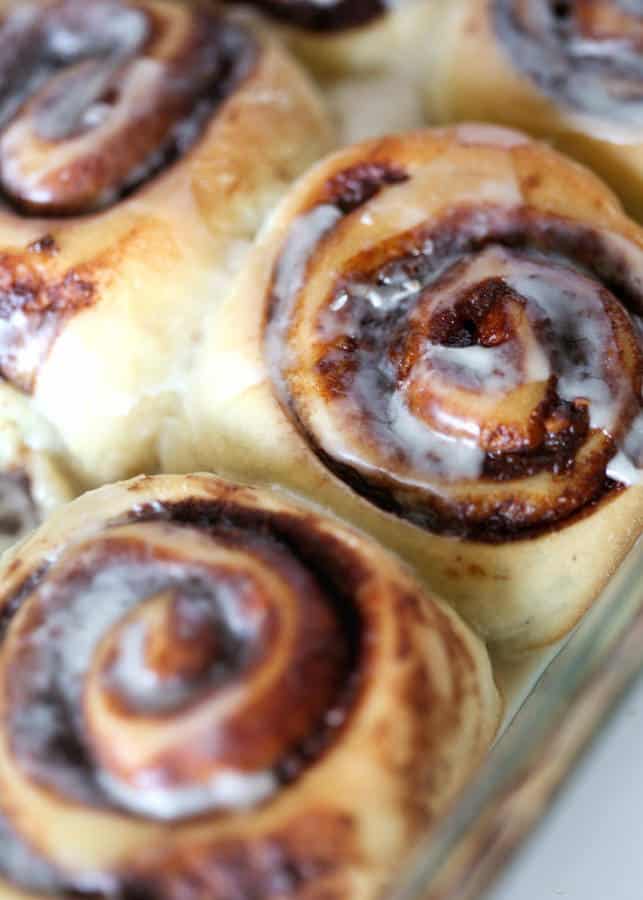 When it comes to cinnamon rolls, I'm like a bear, I will walk hundreds of miles for one!
I have seen store-bought vegan cinnamon rolls before and they have been very dry.
These fix that problem and you get an incredible presentation. Surprisingly easy to make and taste better than anything you could buy.
Chocolate and Orange Twists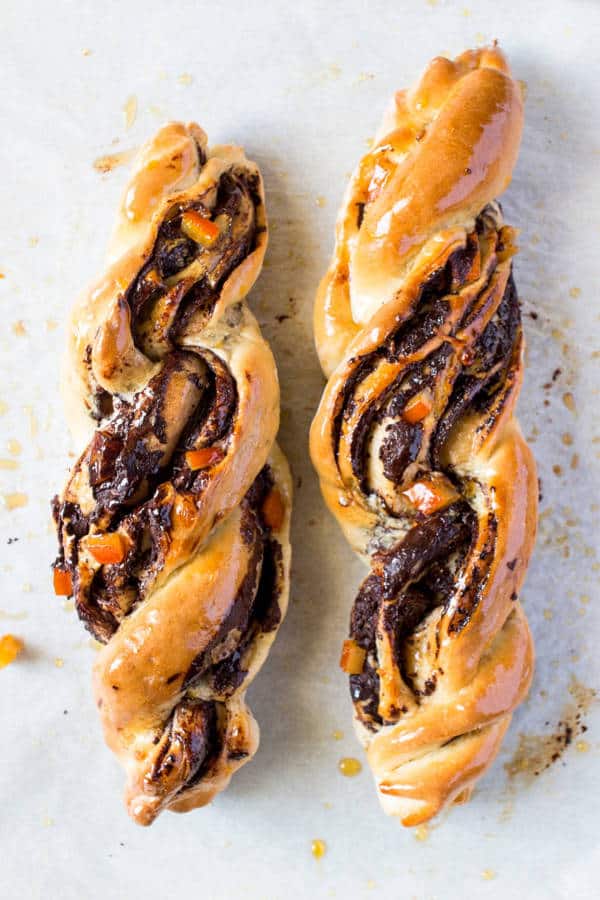 There's not much to say when you have a photo like this!
If you're worried this may be complicated to make, don't be. I'm not going to tell you it only takes five minutes and you can do it with your eyes shut.
But I will tell you the instructions on the recipe page are wonderful and the whole point of something like this, is that each one is unique. Go on, you know you want to!
Special Picks
Peach Chocolate Galette (Gluten-Free)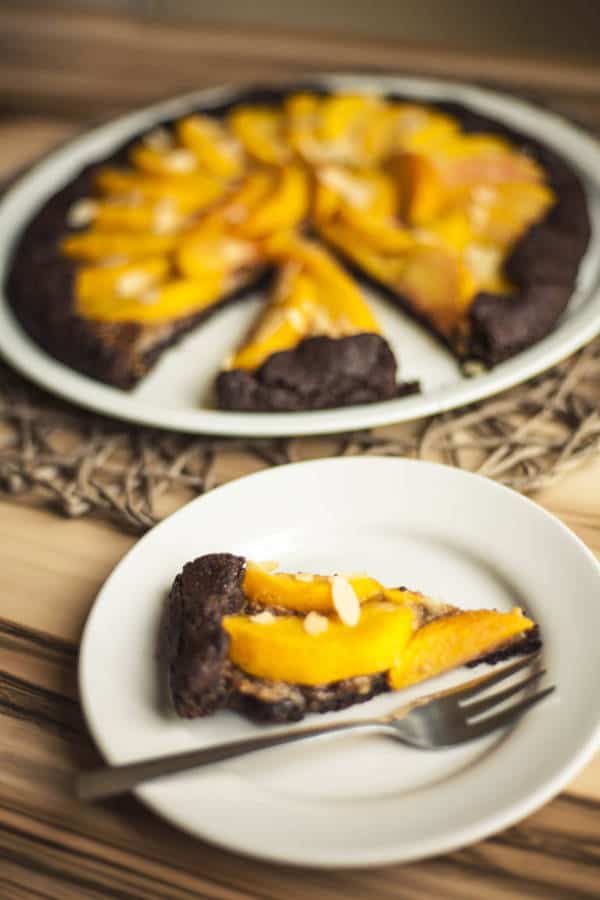 I think peaches don't get the credit they deserve. Everything is always about strawberries or something else.
Okay, so they aren't with us all year-round but when they are, we should celebrate them!
If you want a fancy recipe that's easy to make and tastes incredible, look no further.
This chocolate dessert is presented beautifully, and the taste lives up to its expectations.
Chocolate Hazelnut Hearts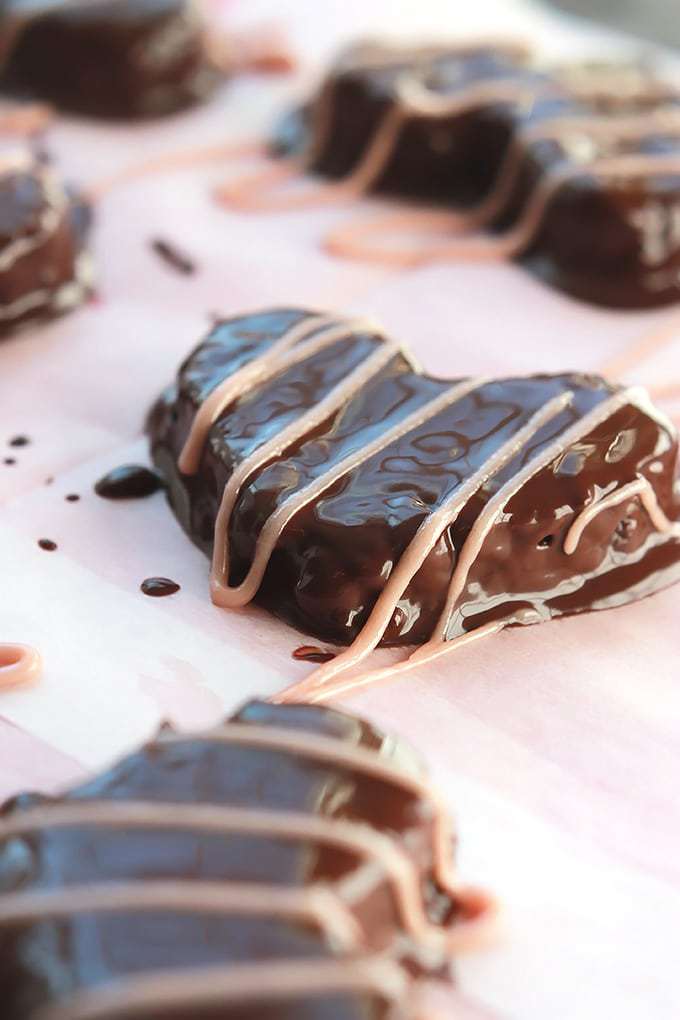 Perfect for Valentine's Day or for any time you want to give something lovely for that special someone in your life.
The ingredients could not be simpler and the same goes for the instructions.
Imagine giving these to someone and telling them you made them yourself. The ultimate complement for them and for you.
Chocolate Mousse Stuffed Strawberries (Gluten-Free)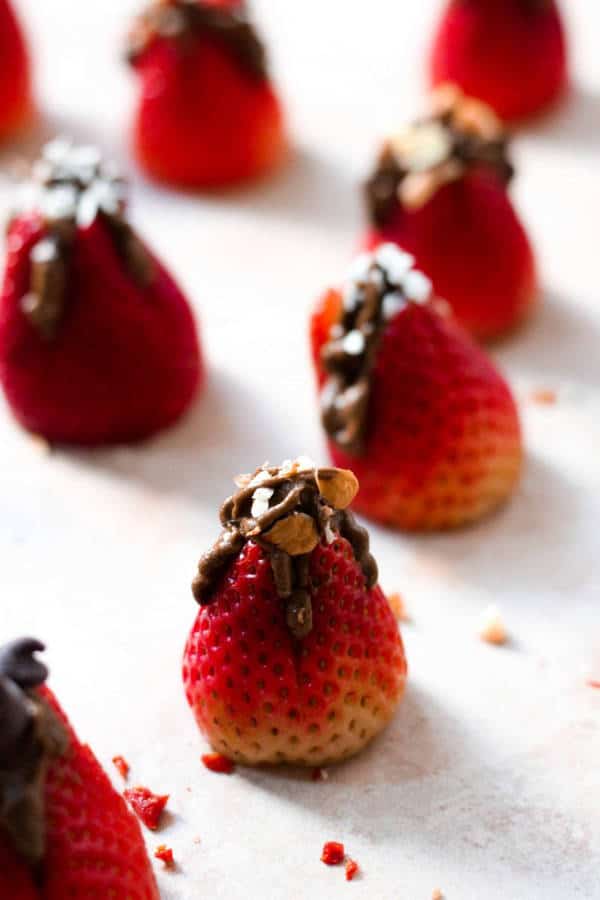 Don't these look just wonderful. Stuffed strawberries, who would have thought?
The first thing that comes to mind is that these will be obviously unbeatable for Valentine's Day.
Having said that, perfect for any time when you want to surprise a loved one. And hey, healthy too!
Mint Chocolate Chip Smoothie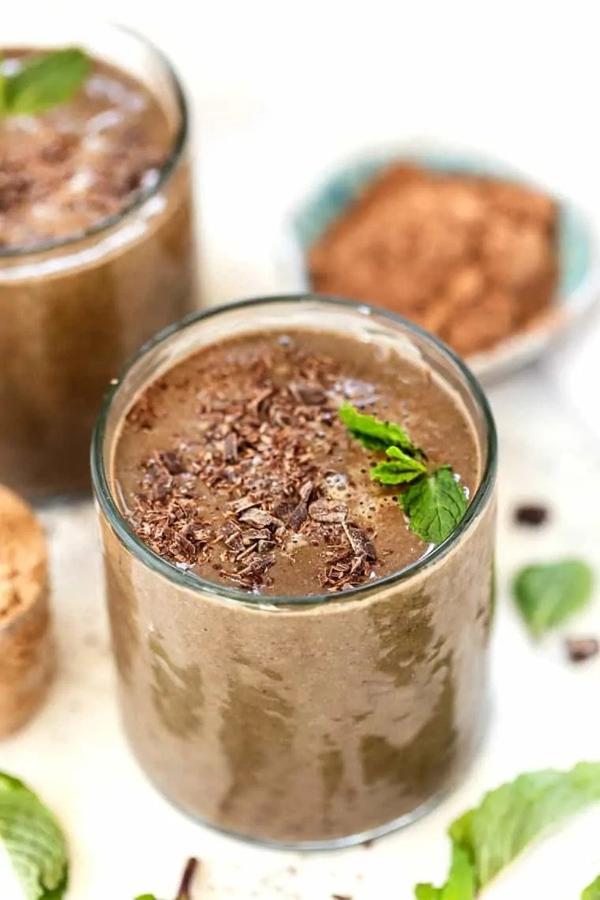 My favorite dairy-free ice cream flavor has just become my favorite smoothie as well!
No weird chemical ingredients or food colouring in this recipe, or any we feature! The ingredients are all straightforward. Anything you don't already have can be easily sourced or substituted.
Instructions are literally two steps. What an amazing and delicious way to pack more veggies into your day! So good!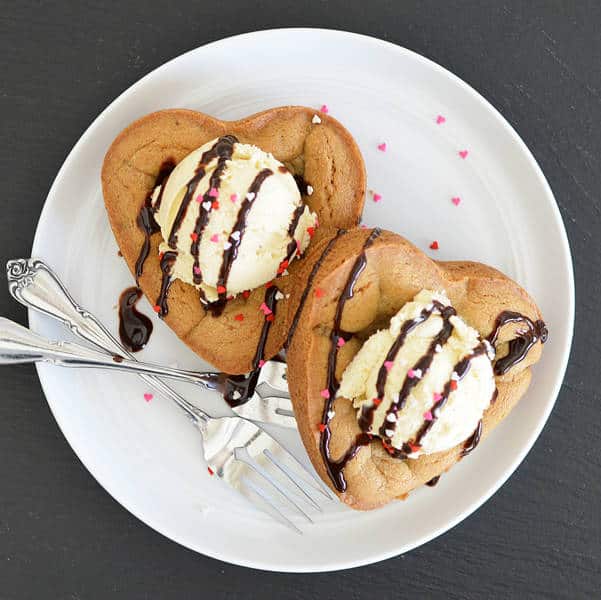 If you don't want to make these just by looking at the picture, then nothing I can say will convince you.
You're looking at just 20 minutes cooking time and 10 minutes prep to bring these to the table.
You can serve them warm as well so no need to wait! Don't find a reason to make them, just do it!
Chocolate Créme Filled Strawberries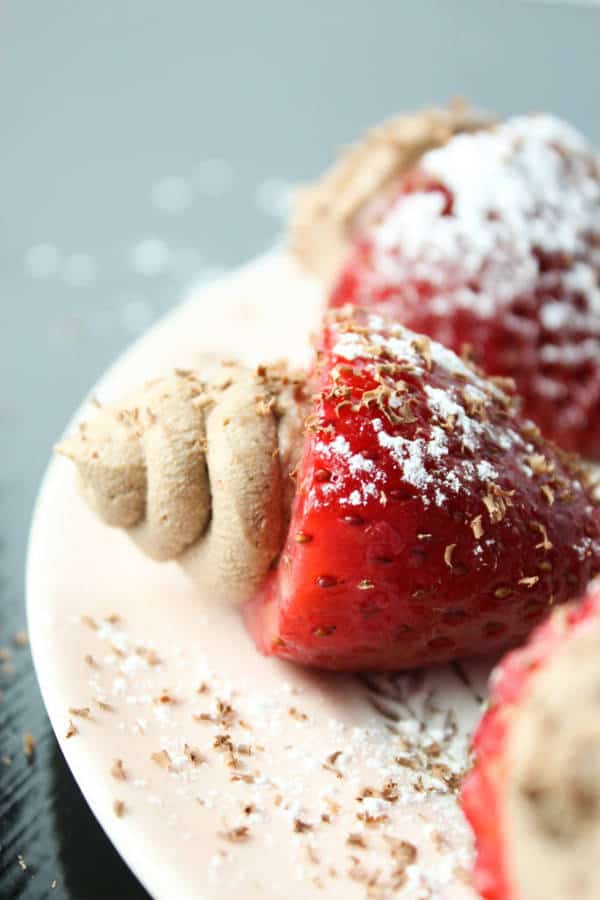 When you need a recipe that comes with a guarantee of impressing someone special, look no further.
Obviously, there's a little prep and if you mess the first one or two up, just eat them! Who'll ever know right?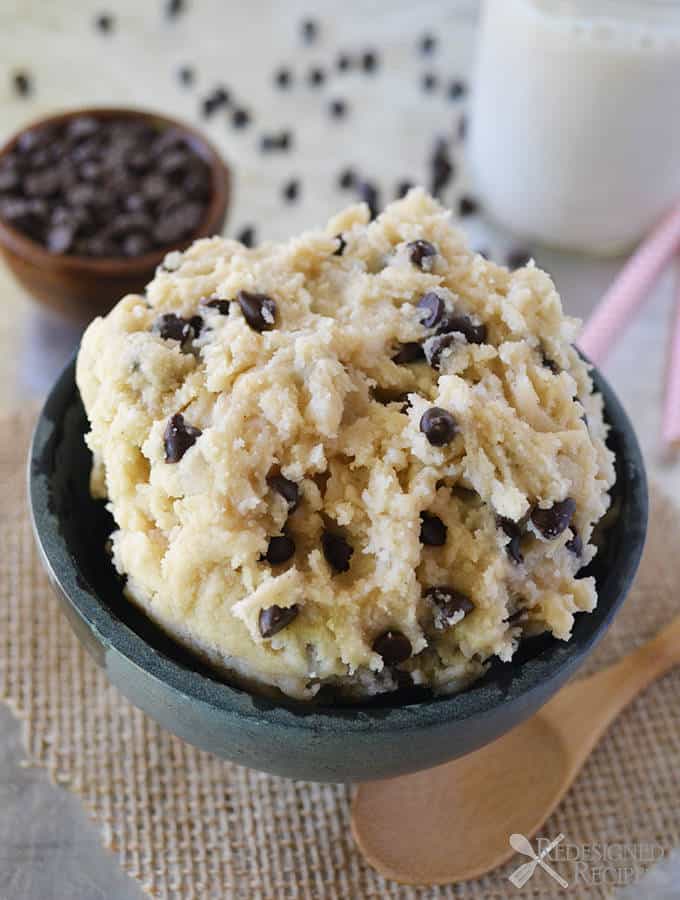 Isn't every cookie dough edible? This is not only vegan, it's gluten-free as well!
Simply mix all the ingredients thoroughly, divide up and serve. Get the kids involved and create different shapes, they'll love it!
Fluffy Buttermilk Chocolate Chip Pancakes with Strawberry Syrup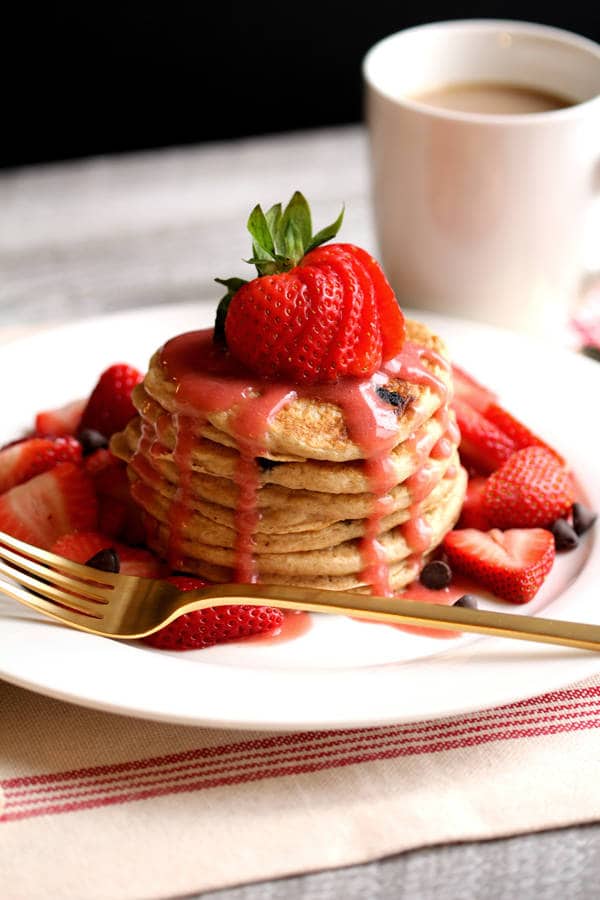 There's nothing better than home-made pancakes. These are light, fluffy and will be the perfect start to the day.
I love that these are wholegrain. The ingredients are incredibly straight-forward, and you'll make them in a snap, even on a work day.
Serve with your favorite fruit, syrup, chocolate, or just everything!
White Chocolate Mousse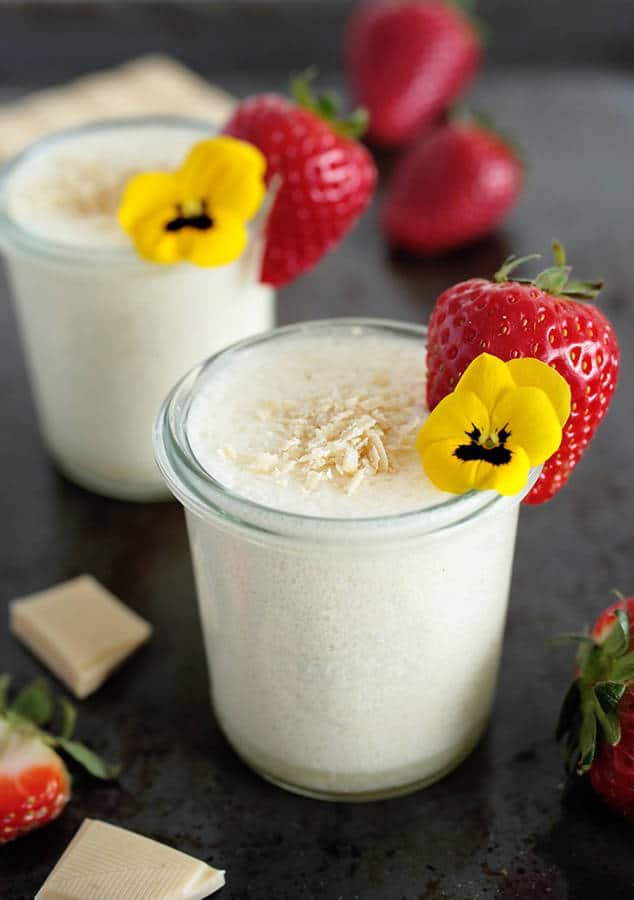 We don't see too many white chocolate mousse recipes around, so this was a lovely surprise.
Incredible flavor and it exceeds all expectations in the flavor department. Your need the water you usually throw away from a can of chickpeas (garbanzo beans) and two other ingredients.
Don't worry, this is all about the white chocolate and you won't taste any chickpeas in it. Try it, I promise you won't regret it.
Wrapping Up
Chocolate has a long history around the world across time and cultures.
It's only right we dedicated 101 recipes to our faithful friend.
As you may imagine, the Internet has thousands of such recipes and we spent a lot of time finding the very best.
Obviously, a little quality control was necessary, just for research purposes you understand!
Whether it's for a special occasion, inspiration or just for you, you'll find it here.
Bookmark this page, you'll be coming back to it again and again.