My good pal, Marco, has already elaborated on over 3000 vegan recipes we've cherry-picked from hundreds of amazing recipe creators across the web. And we're only getting started!
I wanted to take a stab at finding replacements and substitute recipes for common non-vegan staple foods many often miss eating.
By introducing you to so many great food bloggers, we want to help you find and make the best vegan recipes around for any occasion!
So, if you fancy some milk, butter that melts and tastes like the real thing, a fishy-flavored sandwich, or a good ol' egg-and-bacon breakfast, all without animal-derived ingredients, I'll take you through 101 ways you can veganize your favorites!
Vegan Bacon Recipes
Rice Paper Bacon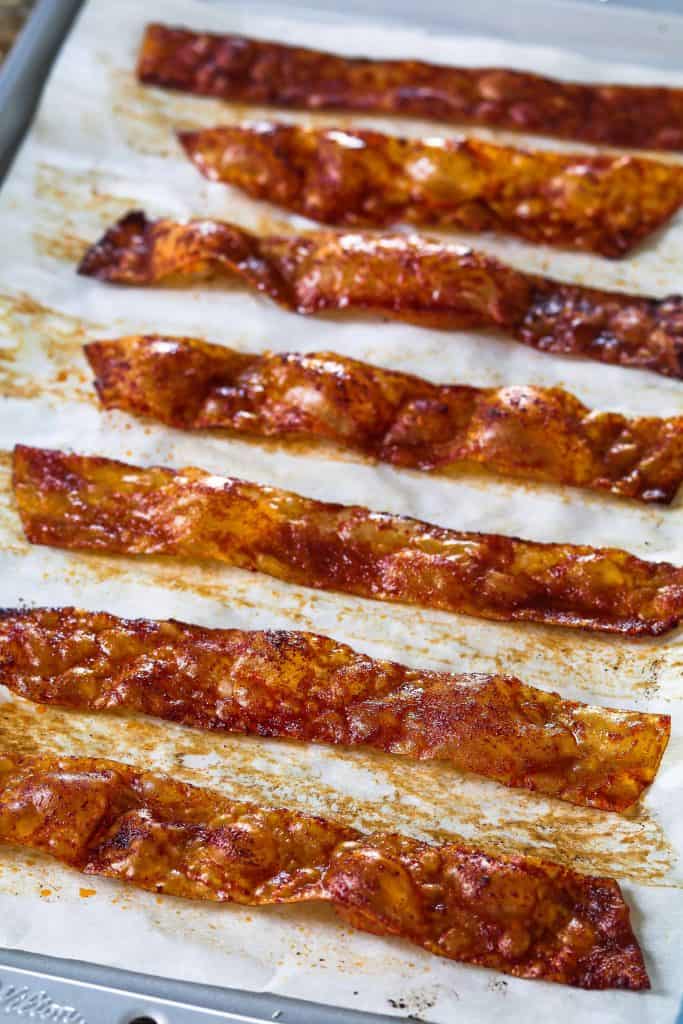 So, you're all new to a plant-based diet, which means no more "luxury" of a bacon-and-egg breakfast. Or does it?
Well, at least in the case of bacon, you're in luck! Several food bloggers have shared their take on a veganized version of bacon, and here's Melissa's fabulous version, using rice paper sheets.
This bacon ticks all the right boxes in terms of flavor and texture while being crispy as well as chewy.
What more can you wish for!?
Coconut Bacon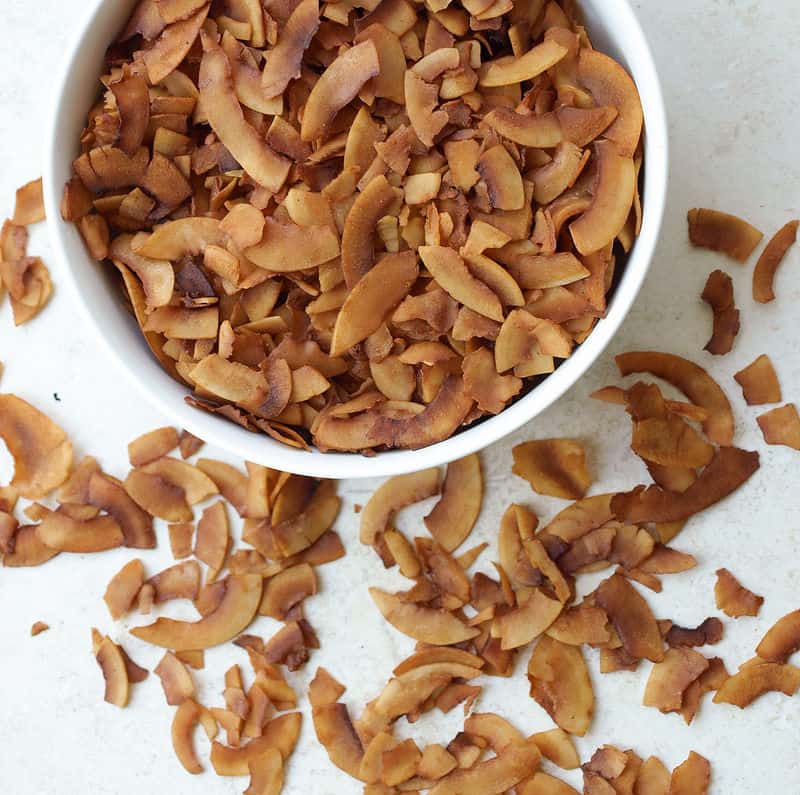 If you fancy bacon bits over strips, don't you worry; you can easily achieve that using—wait for it—coconut!
Julie's take on tasty vegan bacon will thrill a bacon-lover's taste buds. It's versatile, as you can easily include it in sandwiches or sprinkled on a salad.
It'll take you 40 minutes from start to serving, and you can store the bacon for up to 14 days in an airtight container.
Lovely!
Crunchy Cashew Bacon Bits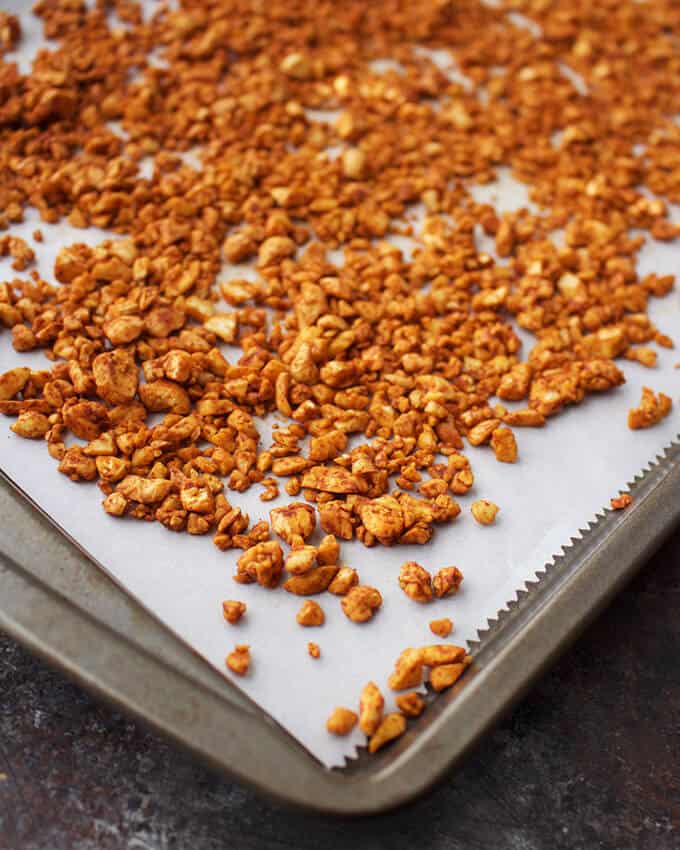 Vegan bacon in 15 minutes? Is that possible? Oh, you can bet it is!
This take on vegan-friendly bacon from Karissa uses nuts—cashews specifically—as an alternative to the otherwise popular method of using coconut pieces.
To get this recipe just right, you'll need a blender or food processor and you're set to go.
These "bacon nibbles" can be used just like you would normal bacon bits; put them on a salad, in a sandwich, have them on the side; it's totally up to you!
Almond Bacon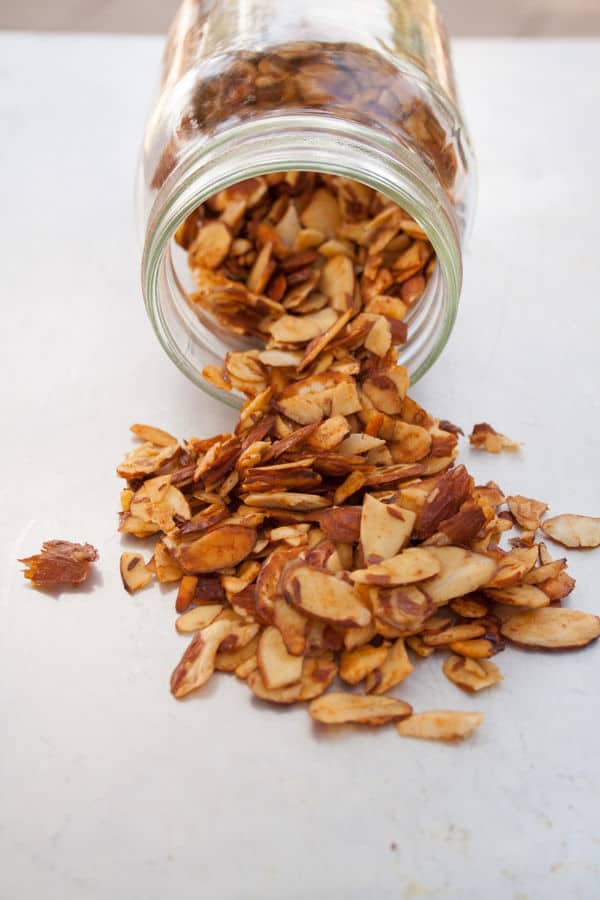 If you're in for a crunchy and sweet bacon treat, Willow's almond bacon recipe is the one you want!
While you may be familiar with vegan bacon made from coconut or rice paper sheets, you can in fact also use nuts, almonds being the star here.
This yummy recipe is for those who are willing to experiment with the flavors, and not so much for those who expect an "exactly like bacon" taste.
Smoky Baked Tempeh Bacon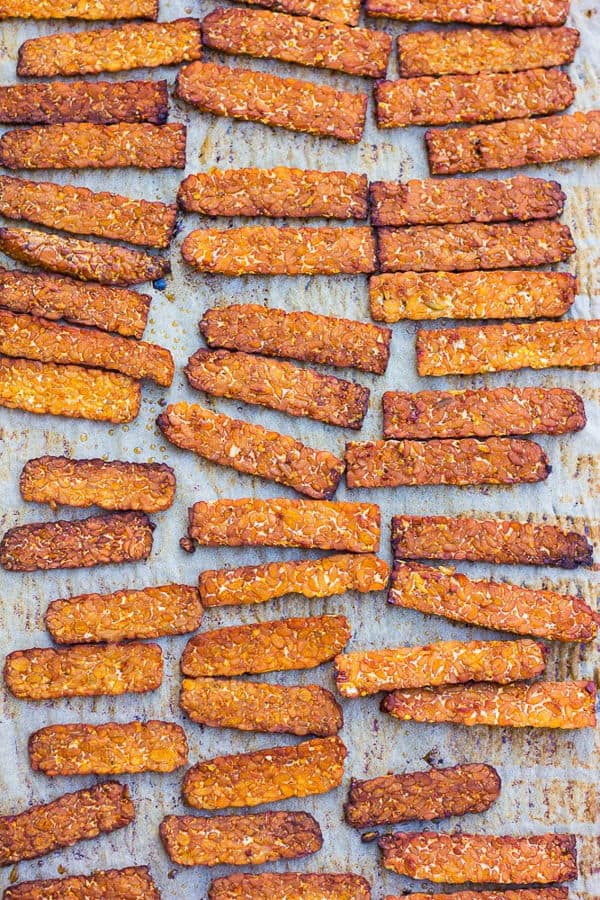 Nora's take on vegan bacon features tempeh as the superhero, yum!
And if you're at all concerned about limiting fried food and heated oils, this recipe is definitely a great choice, as you'll be baking the tempeh.
You'll need about 35 minutes from start to finish. You can achieve your preferred crispiness by increasing the baking time by 5+ minutes.
You can store leftovers, if you managed to leave any, for 3 or 4 days in an airtight container.
Shiitake Bacon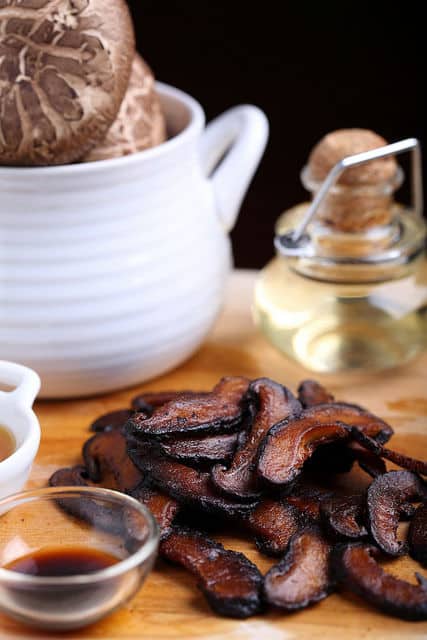 Eryn knows there are several plant ingredients that can be used to make vegan bacon, including coconut, eggplant and tempeh.
She brings us yet another fantastic option you don't see very often; shiitake mushroom bacon!
This recipe needs only a small handful of ingredients. And while the full prep-to-serving time is 85 minutes, you'll be in for a crispy and chewy treat that's totally worth the effort.
Smoky Tempeh Bacon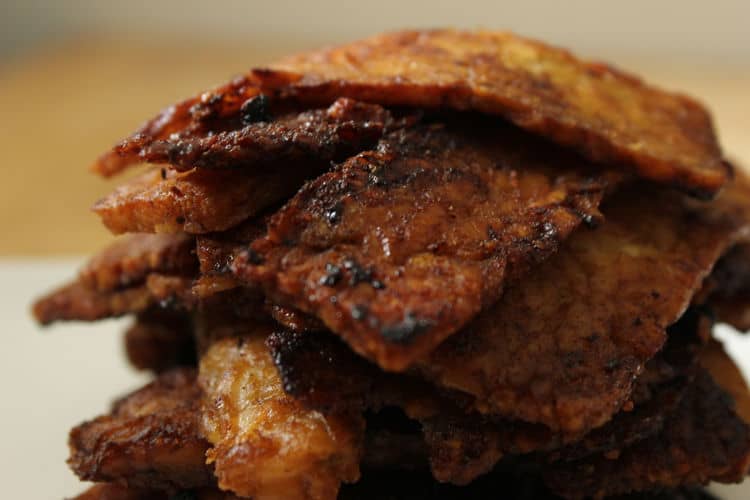 Here's the thing you need to know when you go plant-based or vegan…
First, you still get to enjoy the flavors and textures you're used to from bacon; no worries there.
Second, you get to enjoy the fact the bacon you'll be having from now on is both healthier!
If your family is ready for a morning treat, this recipe from Brownble will transform you into a breakfast superstar in 20 minutes with flavorful tempeh bacon strips!
Easy Coconut Bacon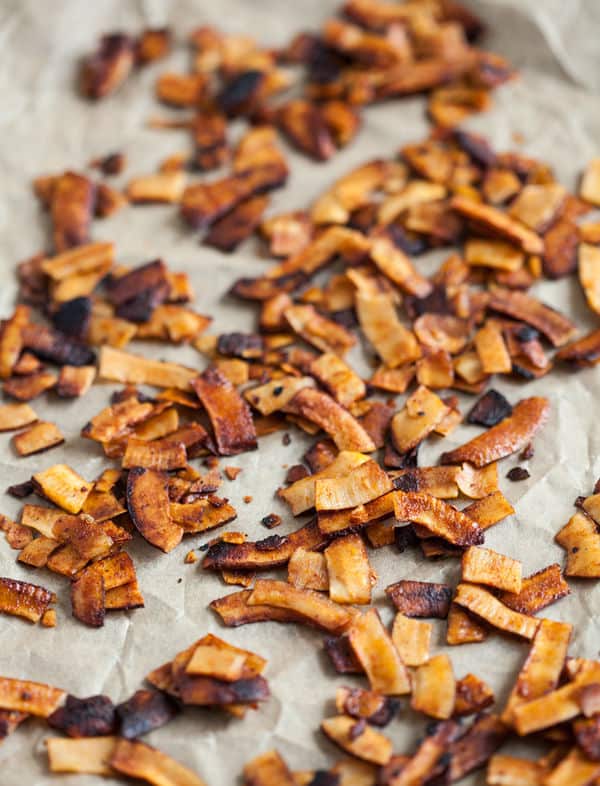 Gena brings to the table an easy and dreamy coconut bacon recipe, which uses large coconut flakes instead of freshly dehydrated young thai coconut.
This recipe makes a delicious addition to your breakfast or lunch in 20 minutes. If you're not in a rush and want the flakes to finish more evenly—and without rapid browning or burning—you can place them in a dehydrator.
This is definitely a winner for the taking!
Vegan Butter Recipes
Vegan Butter with Cashew Milk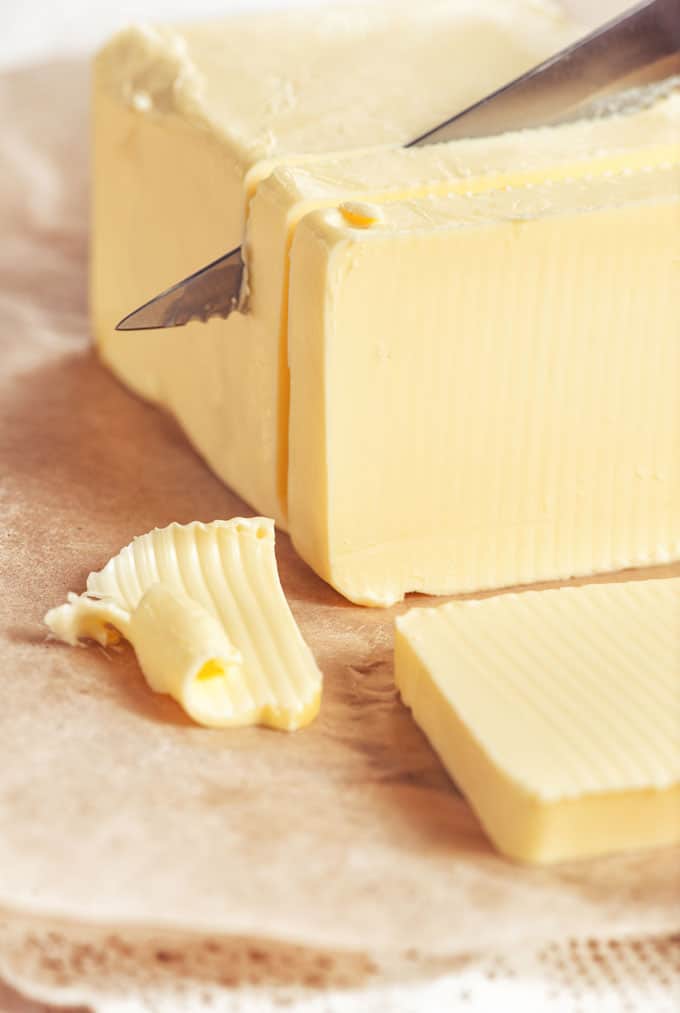 When you want a genuinely healthy vegan butter that closely mimics the real thing, odds are you'll need to make your own version.
Why? Because store-bought plant-based butters often come with additives, low-quality or environmentally negligent oils, and emulsifiers.
You don't need all that headache. What you really need, is Petra's heavenly vegan butter recipe, which requires 7 easy ingredients and 10 minutes to prepare in a blender.
Once prep work is done, you wait for it to solidify in the fridge and you've got yourself a block of smooth, creamy and flavorful goodness!
Easy Vegan Butter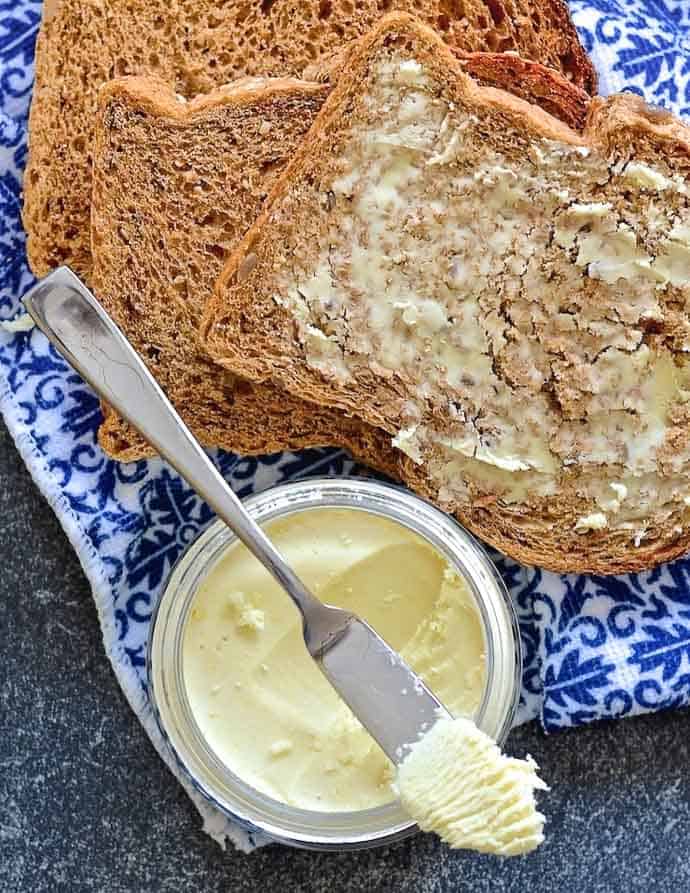 You made the change to a plant-based diet but now wonder… "What about butter!?"
Well, you can absolutely find vegan butters at the health food store. But, what if I told you, you can easily make your own butter that's healthier than both dairy butter and most store-bought vegan butters?
In just 5 minutes, you can realize the smooth and creamy richness you've been yearning for, and this vegan butter will store easily for a few weeks in the fridge (you can freeze it, too).
As Mel says, you can use this butter just like dairy butter, except for high-heat cooking like frying and broiling.
Homemade Almond Butter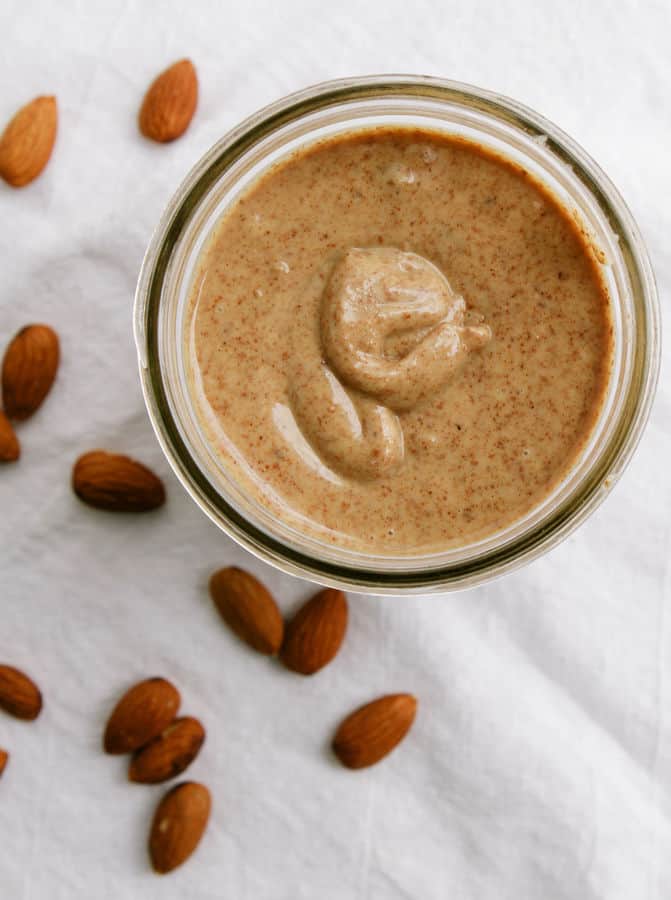 Julie has given us probably THE simplest recipe featured in this round-up.
Get this, you'll need just two ingredients (one being up to 25 minutes of patience) to make a healthy, easy and raw almond nut butter.
If you're eager to experiment with the flavors, feel free to play around with some vanilla, cinnamon, syrup and such.
This butter is great for putting on toast or as a savory dip for a veggie platter.
Vegan Cultured Butter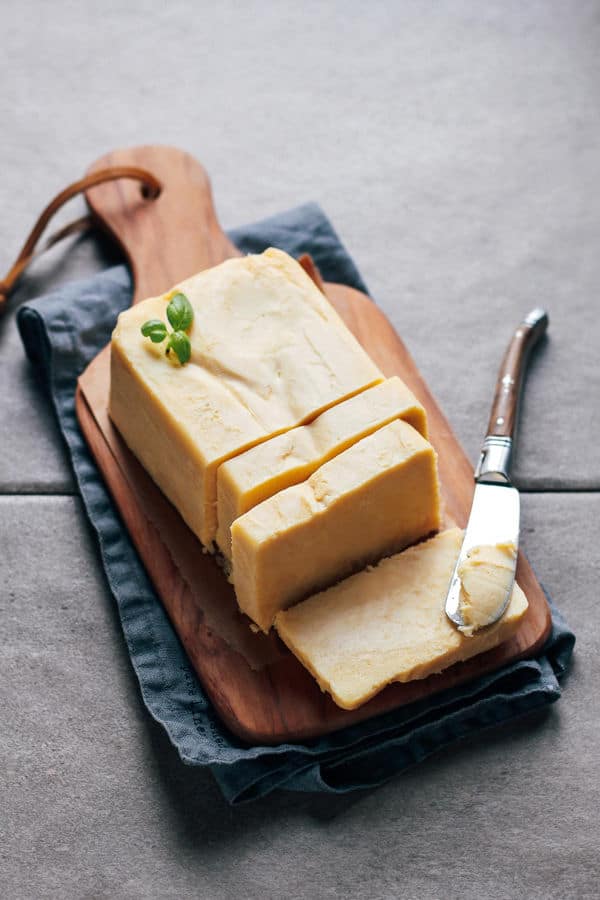 After this round-up, I hope you'll be totally convinced that a plant-based diet doesn't give you butter-deprivation!
Here's Thomas' take on what he succinctly calls vegan cultured butter, a version free of palm oil and soy.
This recipe can easily satisfy all your buttery dreams as you can put it on toast, add to sauces, or even use for baking. The options are limitless!
The best part about a vegan butter is that it melts just like dairy butter. Awesome!
Cashew Butter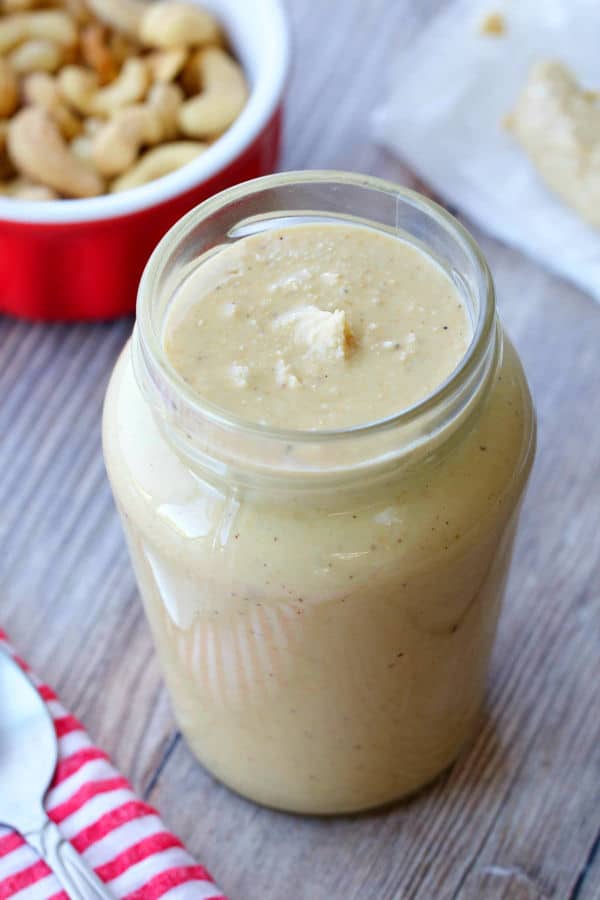 I'll be the first in line to say, "I LOVE simple recipes!"
And Alison's take on a nut butter is exactly that. Quick, easy, and requires only 2 ingredients (or 1 if you have some extra patience and prefer an oil-free recipe).
This cashew butter is rich and creamy. If you prepared it in a food processor, you can make it totally smooth if you transfer the butter to a powerful blender after.
It makes a lovely addition as a spread or added to a smoothie, amongst other uses.
Maple Praline Butter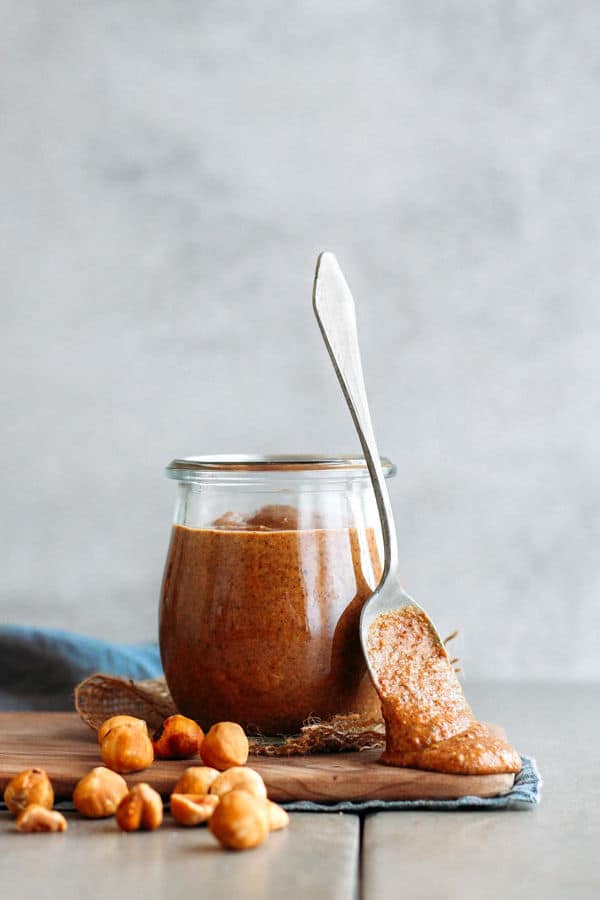 Want some heaven-in-a-jar? That's what Thomas promises you'll get with his fabulous 4-ingredient praline butter recipe!
He describes praline butter as nuts which are caramelized and ground into a smooth paste.
This recipe gives you flexibility as you can mix and match your choice of two kinds of nuts to achieve a flavor you'll love.
Like other butters, use this one on toast, oatmeal, as a dip, and more!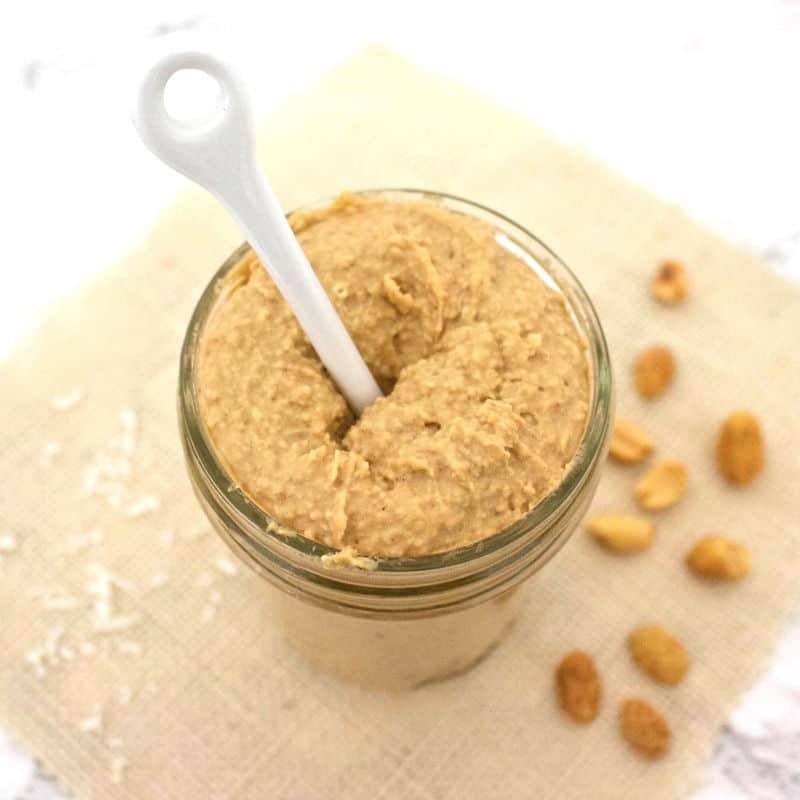 Ready for more buttery goodness? Good! Because you'll love this peanut butter cookie butter recipe Annie has shared with us.
As she states, don't think this is like regular peanut butter.
This butter recipe will make for a rich, tasty and spreadable addition to your toast. It's both healthy as well as gluten-free!
To make it, keep it mind you'll need a powerful, high speed blender.
Homemade Vegan Butter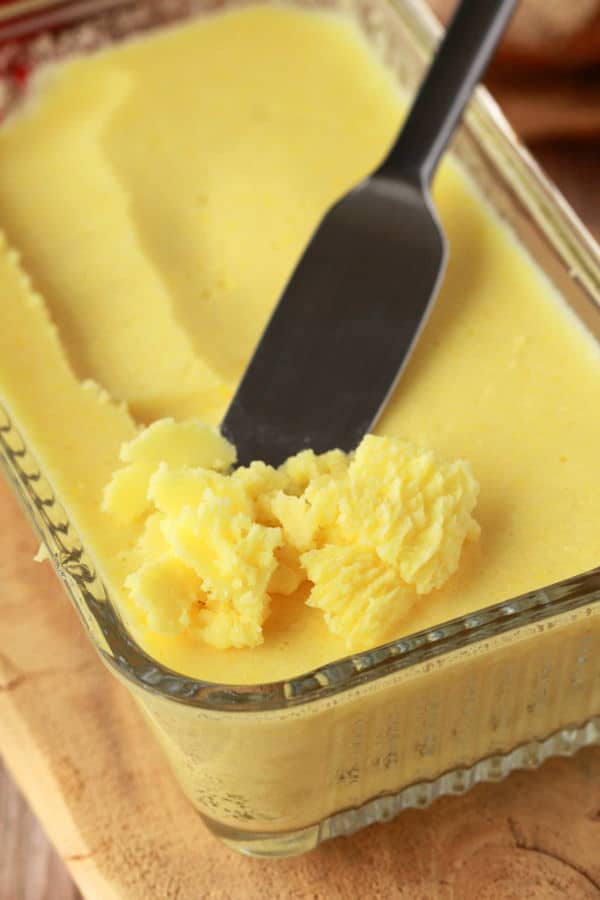 When you want a butter where…
you know for sure every ingredient that's gone into it
you know for sure it's free of animal ingredients
it still has a versatility like dairy butter
…then Alison's homemade vegan butter is the home run you're looking for!
You can spread this butter on toast and even use it for frying and baking. The only instance it won't work so well for, is making frosting.
Otherwise, you've got some creamy and buttery goodness ready for eating!
Vegan Cheese Recipes
Quick and Easy Cashew Basil Cheese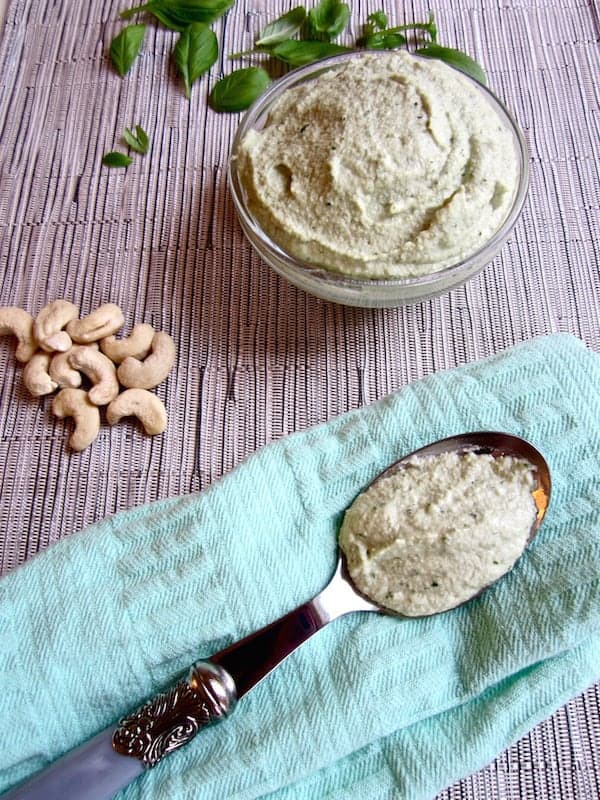 Craving a cheesy flavor experience for breakfast or lunch?
If so, you'll love Annie's cashew basil cheese recipe, especially if you're looking for a ricotta cheese substitute.
This spreadable cheese is perfect for toasts, crackers and sandwiches and can even be used for lasagna layerings or pizza.
In just 10 minutes, you'll make yourself a rich and creamy treat. Enjoy!
Spicy Pimento Cheese Ball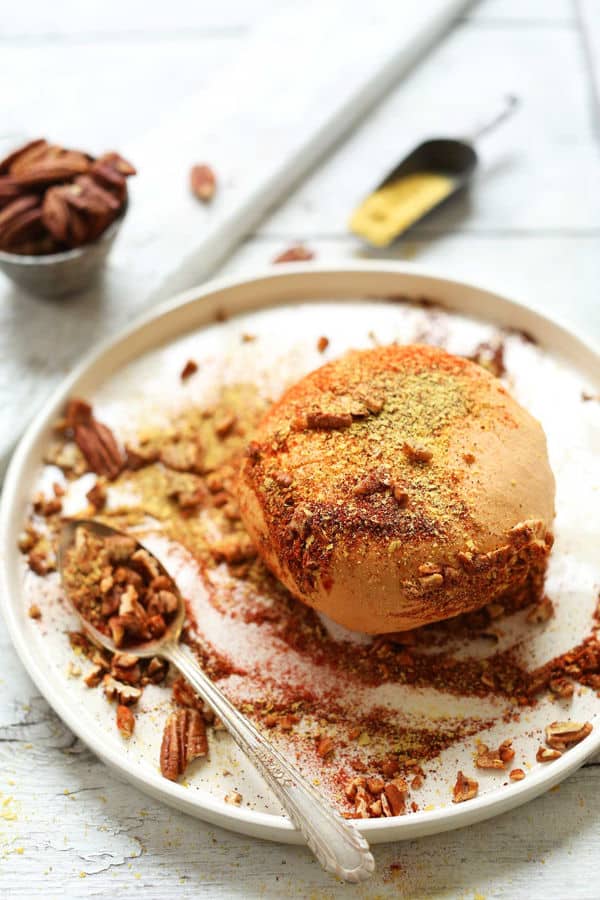 Need a cheese that packs a punch? Well, you can't go wrong with Dana's spicy vegan pimento cheese ball!
This cheese ball has just the right balance of spicy and creaminess with a powerful taste.
While it takes a relatively long time to make (at least 12 hours), it's worth every bit of effort and lends especially well to parties and special occasions.
Enjoy with corn chips, crackers and/or biscuits!
Leftovers will last when covered for 5 days in the fridge.
Sliceable Cashew Cheese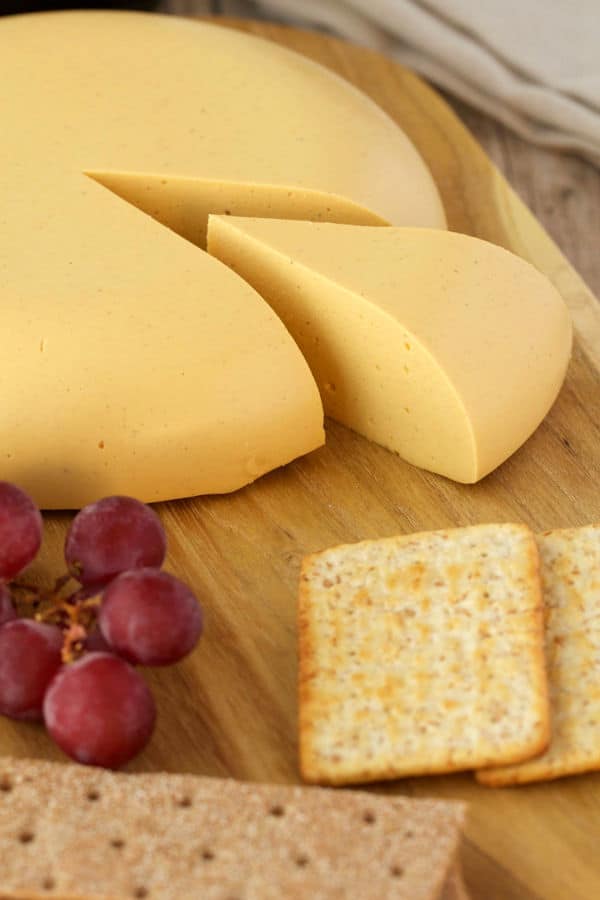 The result from this cheese recipe is pure genius. Seriously, look at it. You can't help but question how this ISN'T made from dairy!
And yet that's the beauty of it. Alison has done wonders coming up with a cheese that's easy to make, tasty, and perfectly sliceable for bread, crackers and biscuits.
The cashews used in this recipe also don't require soaking, which significantly reduces the time it takes to make this cheese.
If you know a cheese fan you need to impress, invite them over and thrill them with this cashew cheese!
Baked Almond Snacking Cheese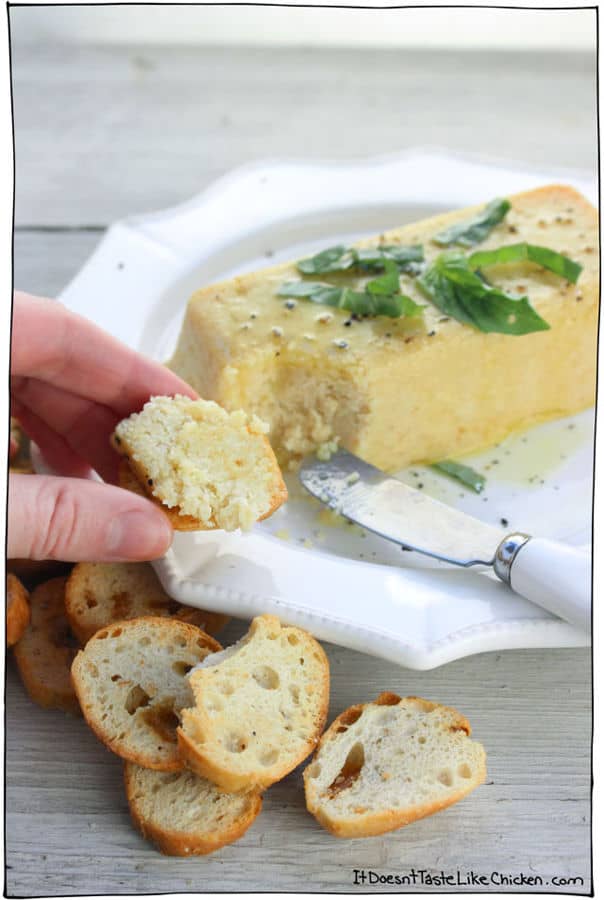 Sam's baked almond snacking cheese is a hit for special occasions and when you want to impress your guests.
And this sliceable, spreadable and creamy goodness will take you just 35 minutes to make and you'll have a perfect appetizer or addition for your cheese plate.
It serves well at both room temperature and chilled. Definitely have a go at this one for your next cheese fix!
Easy Garlic and Herb Cheese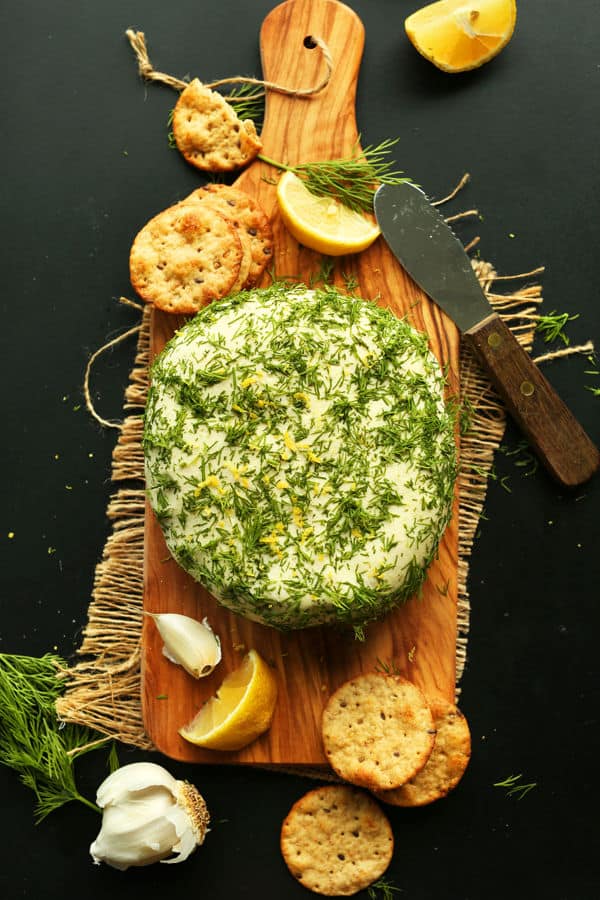 Dana has come up with one heck of a mouth-watering cheese to adore. While it may look like an undertaking to make, it's pretty straightforward, requiring just 8 ingredients.
The outcome is a creamy, savory and soft cheese with tones of garlic and lemon. Super delicious!
It serves best chilled and will last a few hours outside of the refrigerator. Your leftovers can be stored for 5-7 days in the fridge.
This is an incredible cheese and you should give it a try some time!
Veggie Cream Cheese Spread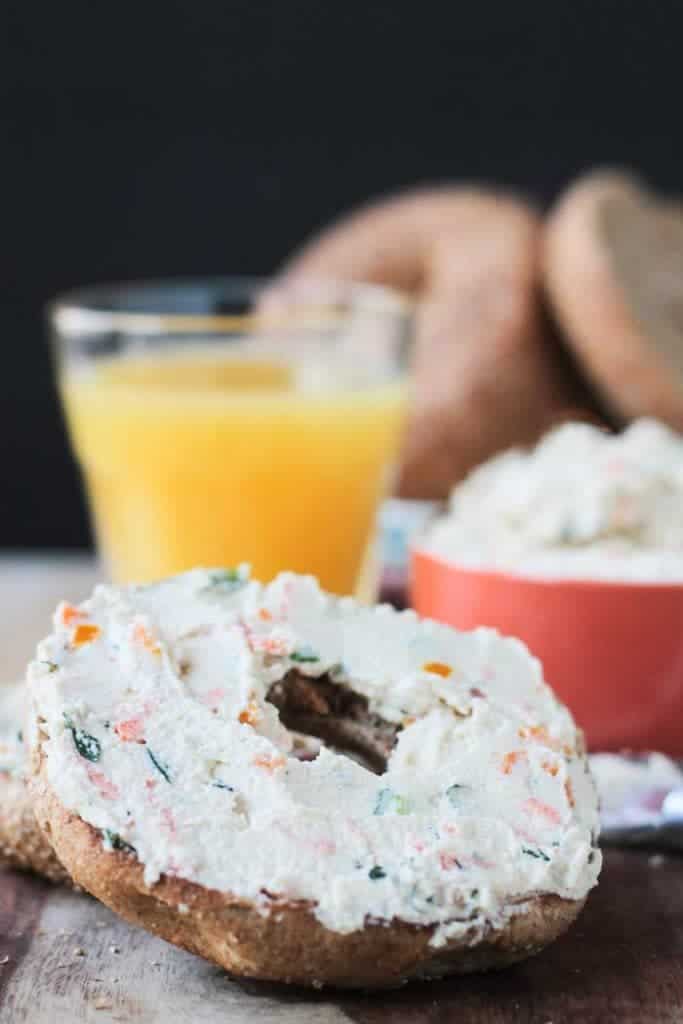 Jenn's take on a spreadable vegan cheese is worth every bit of effort and patience you put into making it.
It uses a variety of fresh herbs and other produce ingredients, delivering a flavorful punch ready for your crackers, toast and bagels.
This creamy cheese is just one more tasty reason you'll never need dairy again. Give it a go!
Aged Camembert Cheese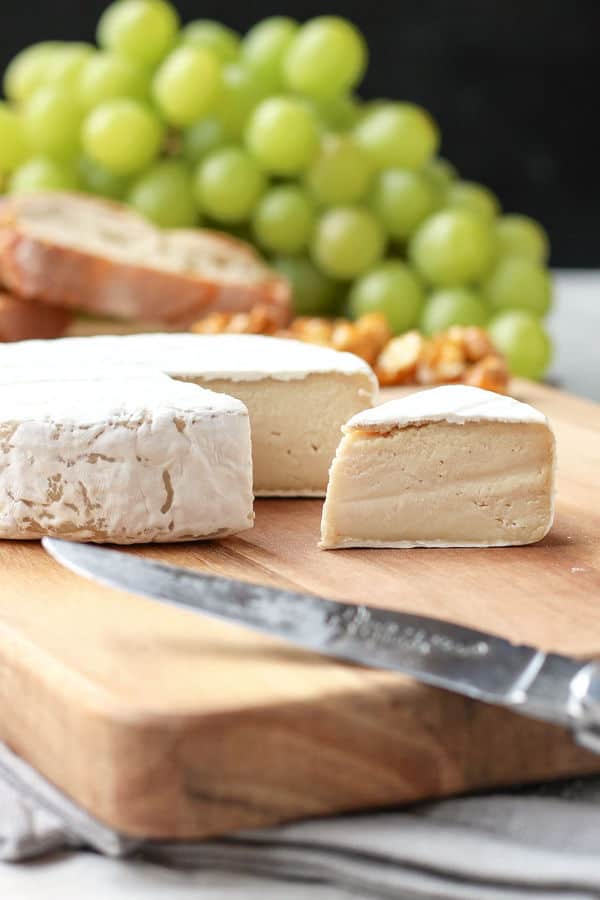 Of course we need an option for the dedicated cheese enthusiasts out there—and you can trust that Thomas has you covered with this special aged camembert cheese!
This cheese takes some work and serious patience (we're talking weeks) to make, so consider it a side-hobby with a tasteful reward at the end.
Despite the recipe being fairly involved, it has one the simplest ingredient requirements (only 5 items!).
The result is an authentic, creamy and highly flavorful cheese you won't be able to distinguish from the real thing. If you're looking to impress anyone, this is a winner!
Quick and Easy Cottage Cheese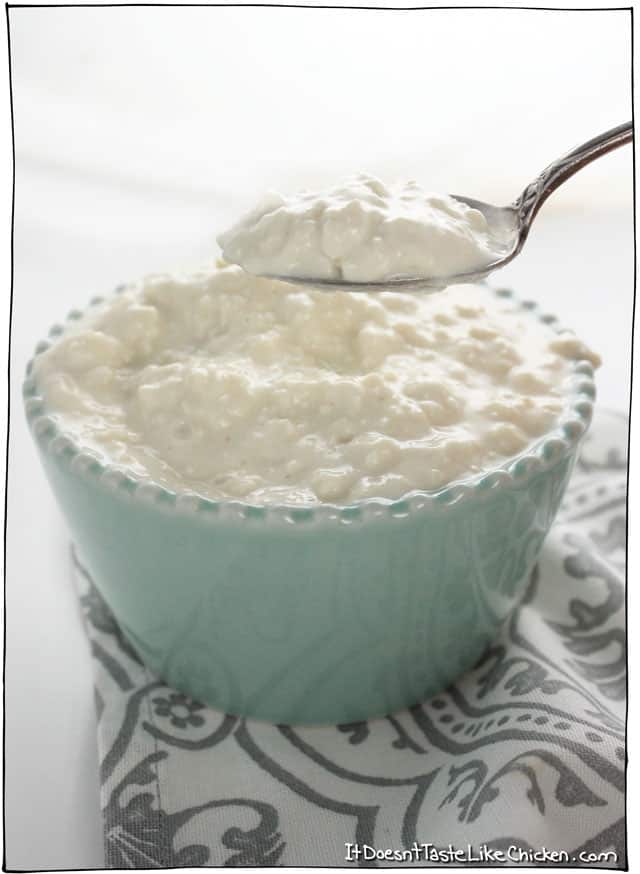 Okay, how about cottage cheese, can you recreate that on a plant-based diet? I think you know the answer already; sure you can!
Sam shows you exactly how to do that with her vegan cottage cheese recipe based on tofu.
The recipe has 6 ingredients and takes a total of 10 minutes to make, meaning you should have no excuses to give it a try!
Vegan Chocolate Recipes
3-Ingredient Vegan Chocolate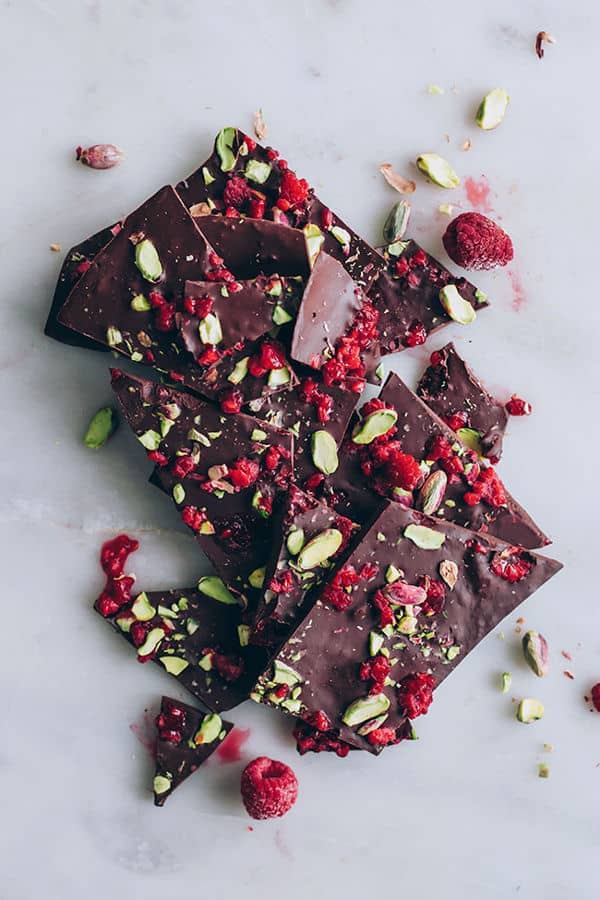 Personally, I'm not a chocolate person. The darker the chocolate, the more intense the flavor (usually), and the worse it gets for me.
But, if I do eat chocolate, I want to make sure it "does your body good" and that's exactly what you can expect from Ana's delicate 3-ingredient vegan chocolate recipe.
You heard that right, 3(!) ingredients. Even in most health food stores, you'll have a hard time finding a chocolate that isn't bogged down with at least 10 things including sugars and cheap syrups.
This is a nutritious and guilt-free chocolate you can confidently enjoy and share with kids, too.
Healthy Chocolate Covered Cherry Truffles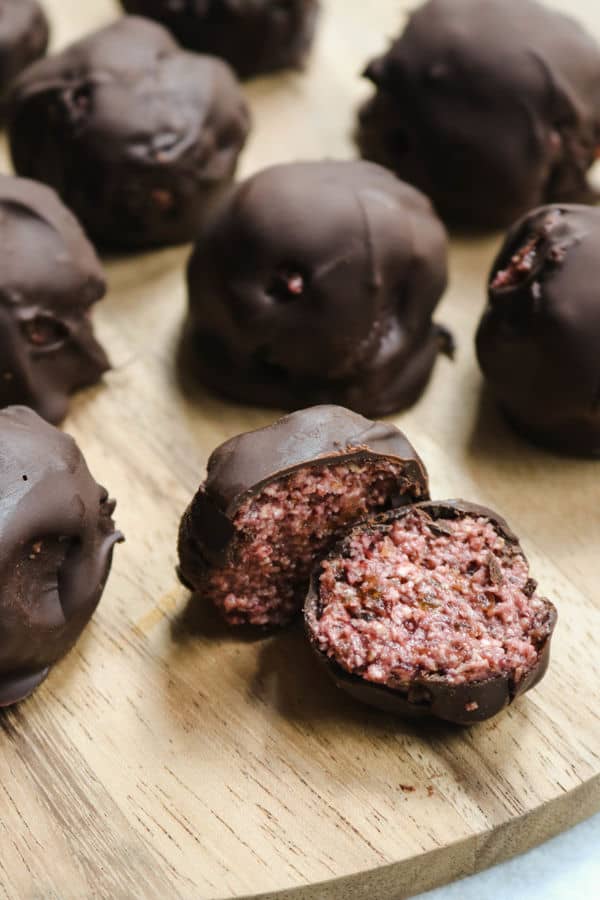 If truffles are your thing, you're bound to love Caitlin's healthy chocolate covered cherry truffles recipe.
This recipe will yield you 11 balls in 60 minutes and—the best part—requires only 5 ingredients.
Medjool dates add a nice touch of sweetness to the truffles, while the oats provide fiber ensuring you'll feel satiated and satisfied.
This is a great treat for chocolate-hungry kids and guests, so do give it a try!
Peanut Butter Chocolate Ganache Blossoms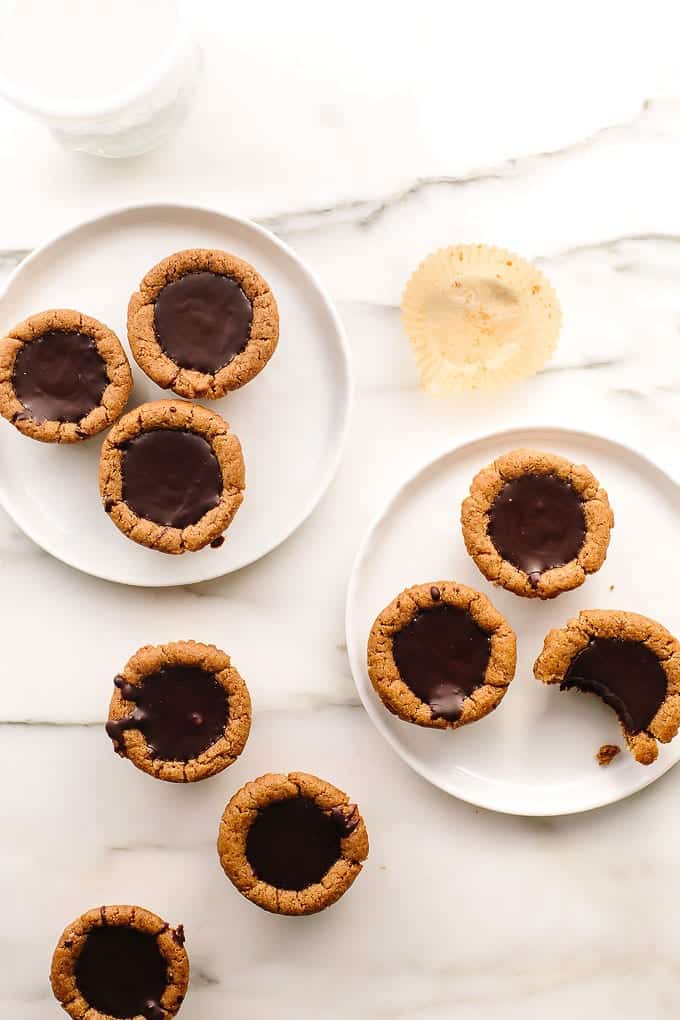 Have you ever dreamed about a cookie, peanut butter and chocolate, all in ONE?
Your dreams are about to come true with Ashley's peanut butter chocolate ganache blossoms recipe, which is a gluten-free cookie treat for those with a sweet tooth.
These cookies require just 7 simple ingredients and 30 minutes of your time to make and the reward is well worth the effort!
This recipe yields 18 cookies, which is a great for a family.
Just remember to store them in the refrigerator (or you can freeze them up to 30 days). Enjoy!
Hot Chocolate Three Ways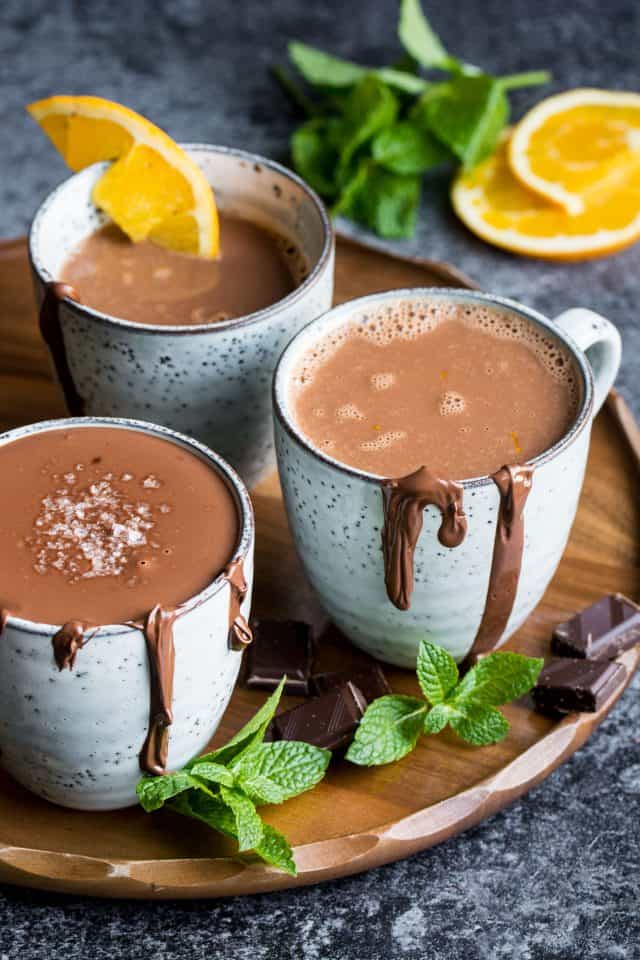 On a cold day, you yearn for something warm. How about warm and super delicious at the same time? Sounds good?
In that case, you need Lauren's hot chocolate recipe, using almond milk, which she'll show you how to prepare 3 different ways!
Whether you prefer peppermint, Italian style with sea salt, or orange flavor, there's an option here for you to enjoy.
Pick one, set aside 15 minutes and grab yourself a mug.
Happy Hormones Hot Chocolate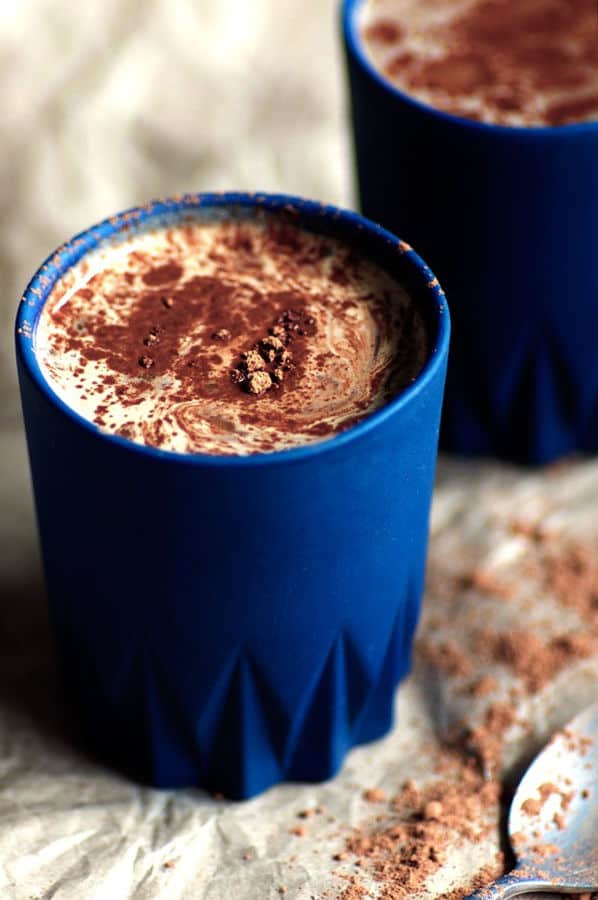 Happy Hormones Hot Chocolate. Now that's a spicy name for a hot chocolate!
Here, Liberty brings you a hot chocolate recipe with some great potential health benefits as it features the Peruvian maca root, an adaptogenic plant known for helping to bring our hormones into balance.
Additionally, there's a nice touch of coconut oil and turmeric root powder for an added boost to immunity and for an anti-inflammatory effect. Not bad, huh?
7 ingredients and 5 minutes is all it takes for a nice serving for 2 people. Cheers to warmth and health!
Chocolate Cake with Chocolate Ganache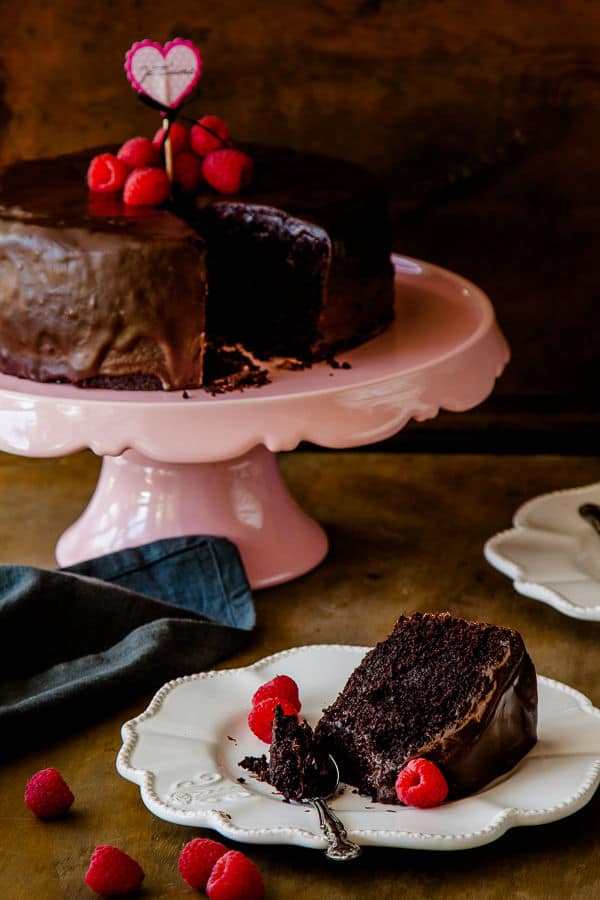 Have a party or birthday coming up soon? Well, here's your chance to impress everyone with Jennifer's delicious vegan chocolate cake recipe, which they're bound to enjoy.
Jennifer knew it was important to make a cake that had a nice balance of a strong chocolate flavor, without being overly sweet or making you feel like you've had too much after the first slice.
The cake takes just 50 minutes to prepare and will yield 14 serving portions.
Chocolate Fudge Popsicles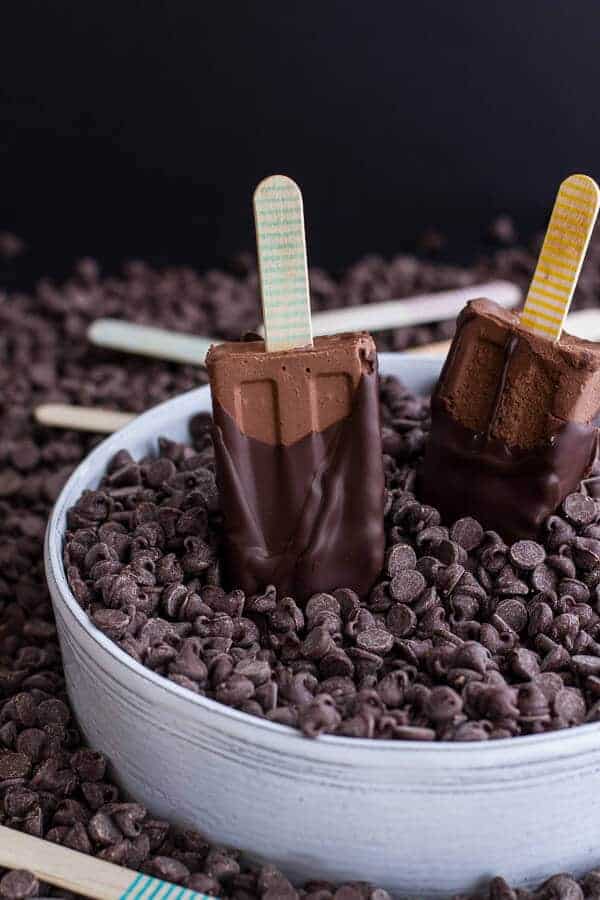 Sometimes you need a cold treat to cool down on a hot day. Lucky for you, Tieghan has come up with a chocolate fudge popsicles recipe you ought to try, if you love chocolate!
And hey, she reckons these are the "best damn" chocolate fudge popsicles you'll come across—and they're healthy, too—so don't miss out!
They take about a day to make and this recipe yields 6 popsicles, just enough for a small family treat.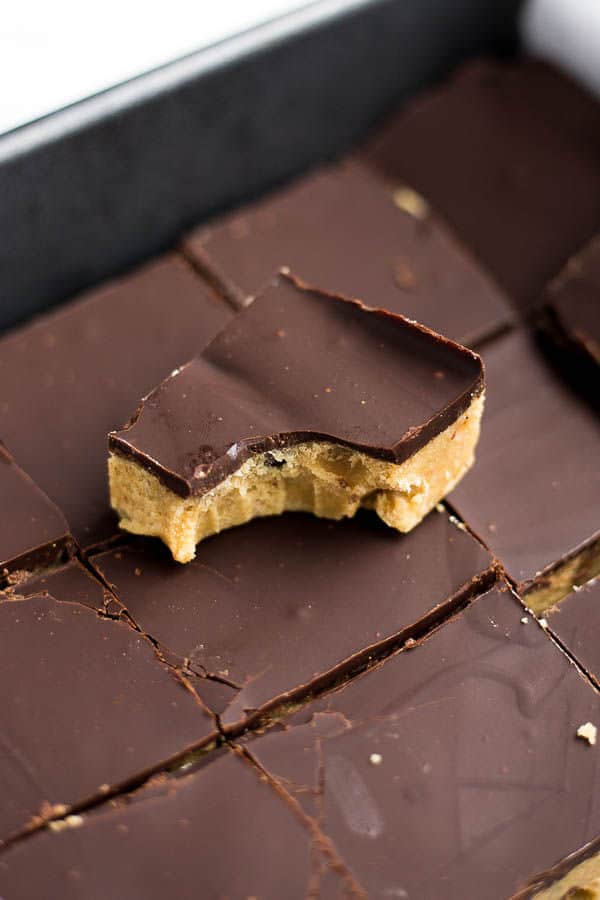 Got someone special coming over any time soon? Or just want to make a delicious chocolatey treat for yourself?
Then I think you ought to try Alexa's chocolate-covered vegan cookie dough bars, which, believe it or not, require zero baking and just 15 minutes to make. In fact, instead of baking, you'll be freezing them.
This fabulous dessert recipe will give you enough cookie dough bars for 12 people.
Vegan Cream Recipes
Cashew Cream Sauce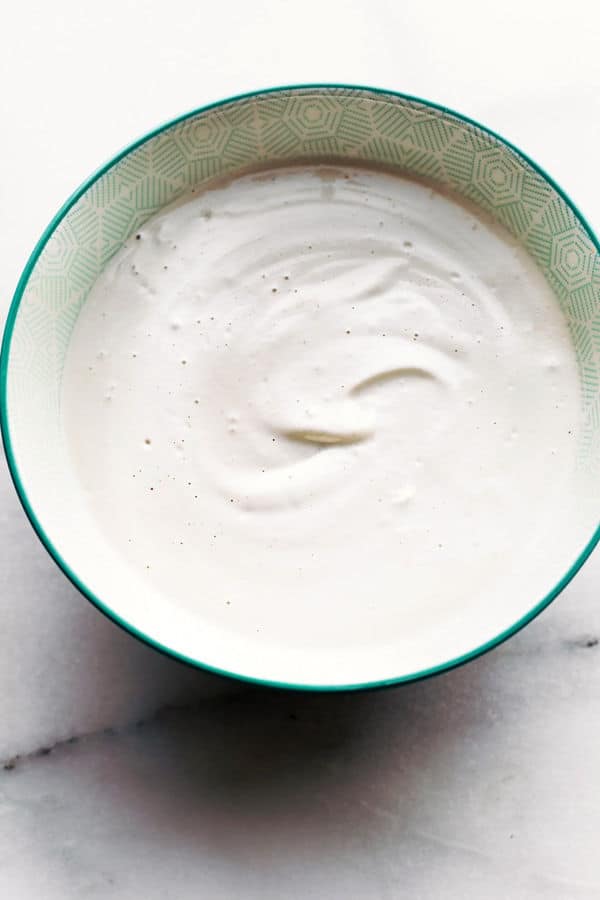 Lindsay is a genius for this vegan multipurpose cashew cream sauce.
It's a very customizable recipe, whether you want it more savory, cheesy, sweet, or thickened.
This makes it suitable for use as a topping sauce on different types of dishes or you can thin it out for use as a coffee creamer with maple syrup and vanilla extract.
Lindsay quickly goes over the benefits of soaking nuts (as well as grains and legumes) to break down their phytate compounds.
However, sometimes we don't want to wait half-a-day for nuts to soak, so there's a quick 15-minute version, too.
This is a plant-based cream recipe you definitely should add to your favorites collection.
Pumpkin Whipped Cream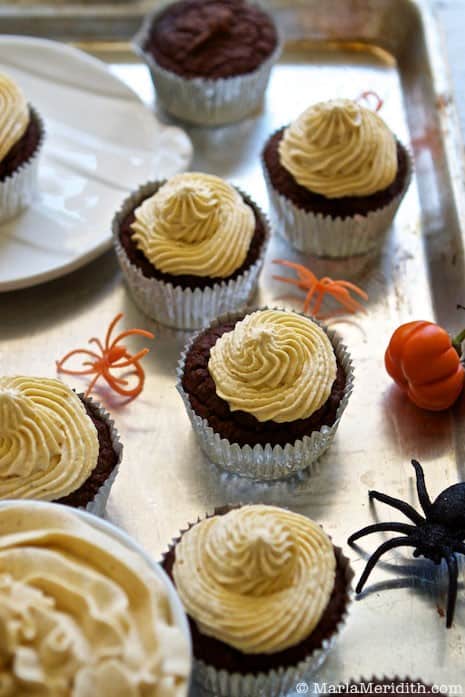 Need some dairy-free whipped cream for a dish or dessert?
Marla has you covered with her pumpkin whipped cream recipe which she excitingly tells you how you can put to delicious use.
It goes great with coffee and as a topping or filling for desserts like pancakes, tarts, whoopie pies, etc.
Maybe you're feeling a bit lazy and just want to eat it with a spoon, heck, you can do that, too! You won't go wrong with this whipped cream recipe.
Coconut Whipped Cream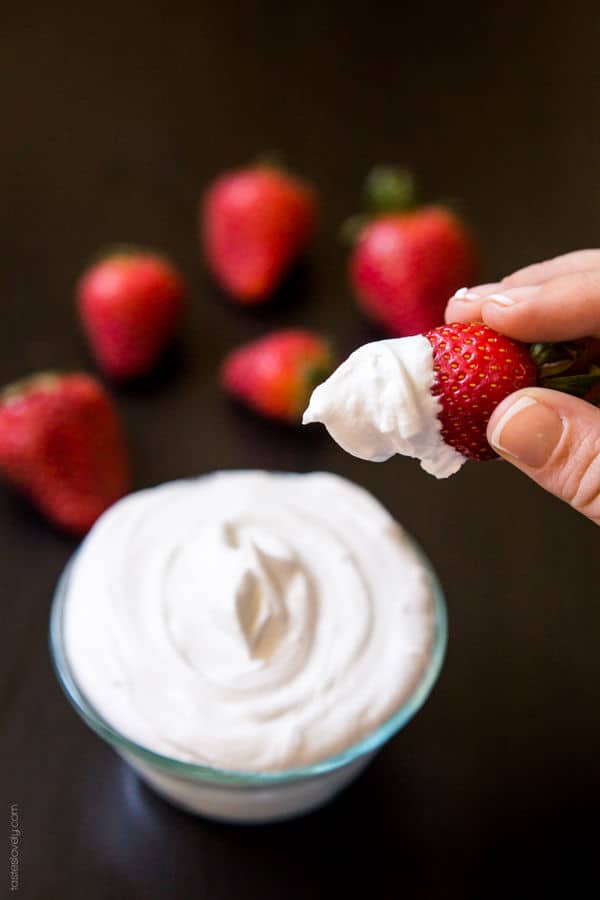 Here's an interesting take on making a whipped cream: make your choice of approach depending on the mood you're in!
Natalie's healthy and vegan coconut whipped cream is both easy, sweet and delicious, requiring just 15 minutes and 2(!) ingredients to make.
She then has a "fancy girl" and "lazy girl" way to whip it up, depending on whether she feels like using a stand mixer (fancy) or fork and bowl (lazy).
Her favorite way to use this whipped cream is over fresh, chopped fruit. Yummy!
Whipped Cream's Healthy Makeover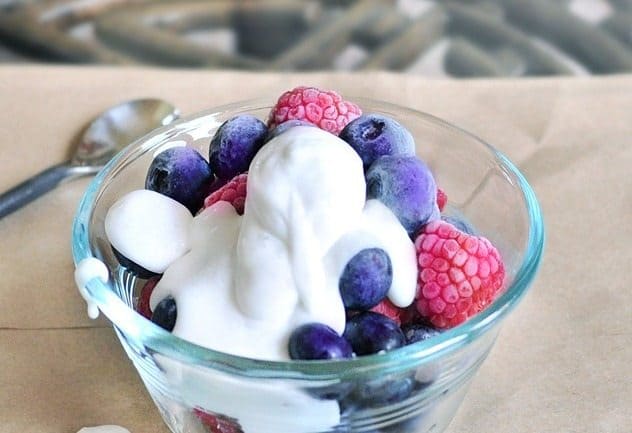 Light, airy, creamy… mmm… those are Katie's words describing her delightful, dairy-free whipped cream recipe, which she has dubbed the "Whipped Cream's Healthy Makeover."
Compared to regular store-bought whipped cream, it's by far healthier, so she's spot on in that regard.
This is a simple 5-ingredient recipe, which you can pour on fruits or add to various desserts. If you're particularly naughty, you can even grab a spoon and spoil yourself with a bowl of whipped cream!
Either way, bon appetít!
Vegan Sour Cream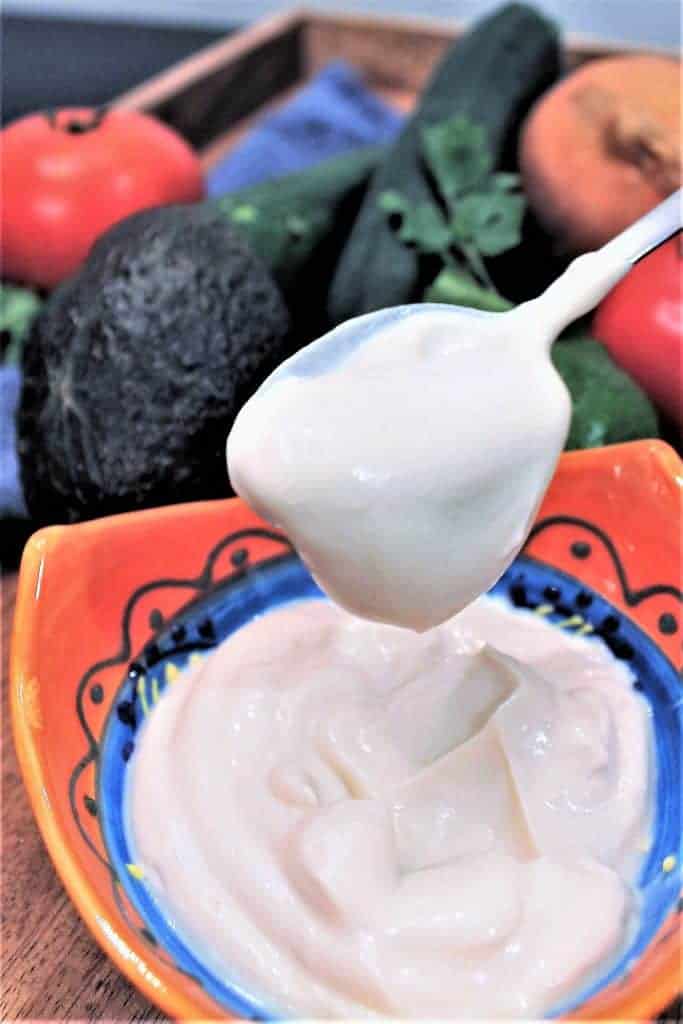 A plant-based diet doesn't mean you'll be deprived of sour cream either! Monica has come up with a gluten and dairy-free sour cream you'll absolutely love.
This vegan sour cream can easily replace a dairy version and takes a matter of minutes (5 to be specific) and 5 simple everyday ingredients, most of which you probably have in your kitchen already.
Be sure to give it a go!
Cream Cheese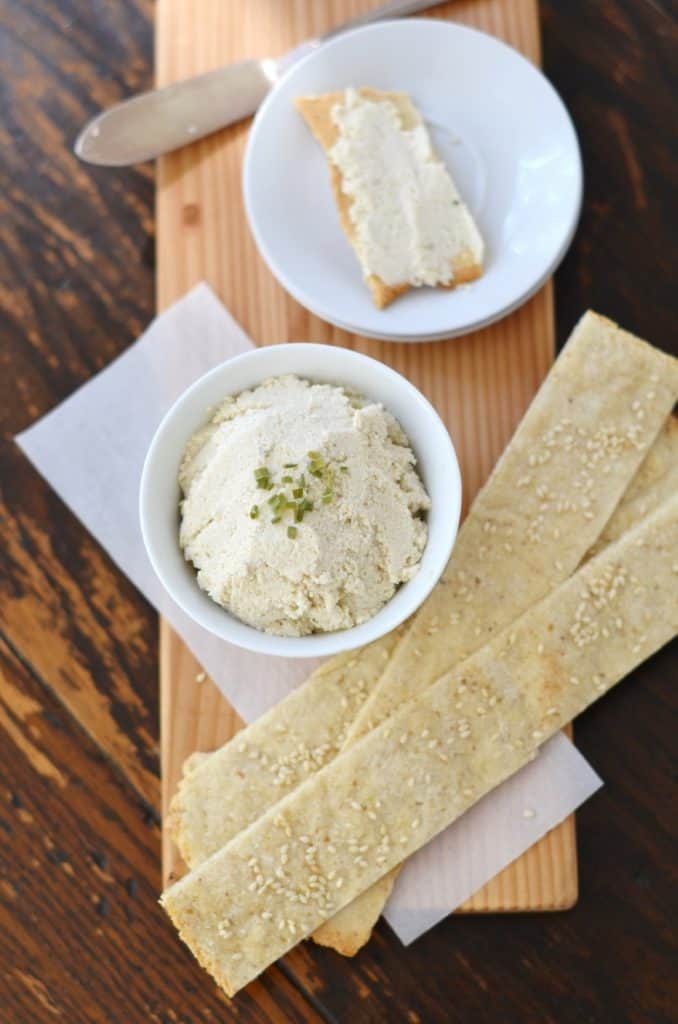 In urgent need of cream cheese? If so, you'll be happy to know you can drop by the grocery store, bring home 5 simple ingredients and prepare a delicious vegan cream cheese in just 5 minutes!
Christine's recipe is super delicious and authentic-tasting, easily replacing dairy versions.
At the same time, it's much healthier for you as it excludes the weird-looking "chemistry experiment" ingredients you'll often find on product labels.
Use this dreamy cream on toast, crackers, bagels, and more.
Herby Cream Cheese Dip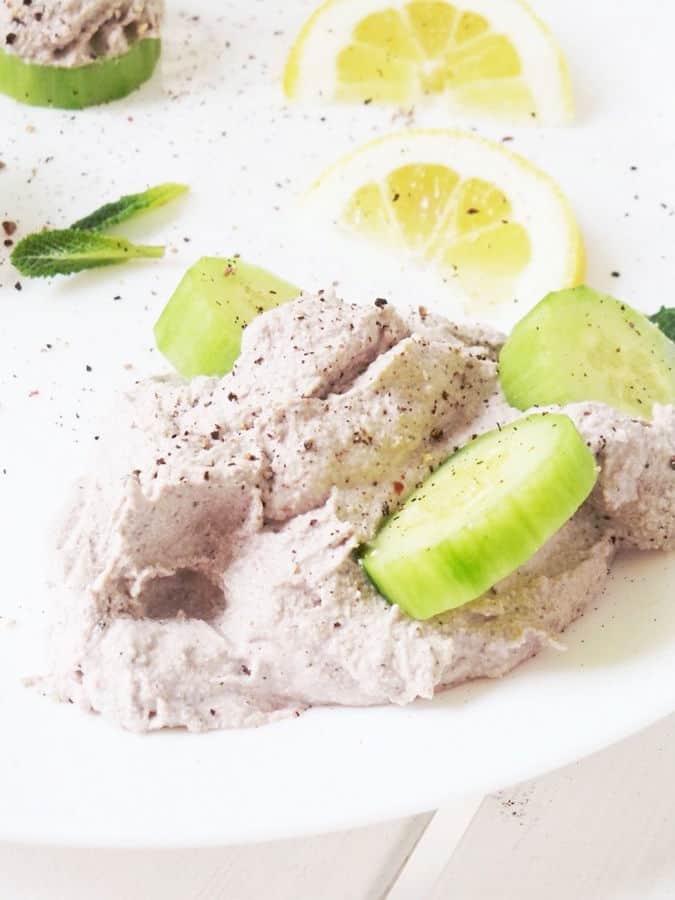 After permanently removing all dairy from my own diet, I thought tzatziki was going to be a flavor I might never experience again.
But I was certain someone out there must've solved that puzzle, too, and sure enough, Stella has put together a terrific herby cream cheese dip recipe. Add cucumber to the mix and she calls this "tzatziki in snack form."
The dip is heavenly, flavored with nice touches of herb, lemon and garlic, and is easy to prepare. Use it with veggies, in sandwiches, for wraps, and more. Enjoy!
Cream Cheese Spread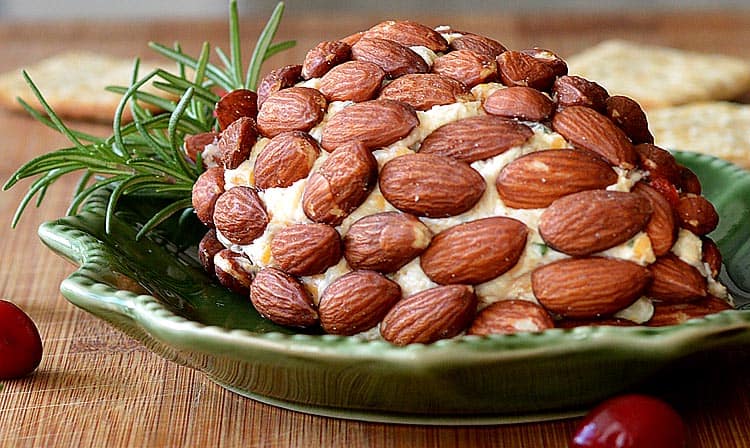 When Aimee spent Christmas Eve with family, one of the dining table highlights was a cheese ball, a recipe that would return every year.
She has since upgraded the original recipe to a super decadent vegan version, coated in roasted almonds with sprigs of rosemary as appendage.
Put this beauty on the table, whip out some crackers and biscuits and get ready for a treat!
Vegan Dessert Recipes
Strawberry Cheesecake Popsicles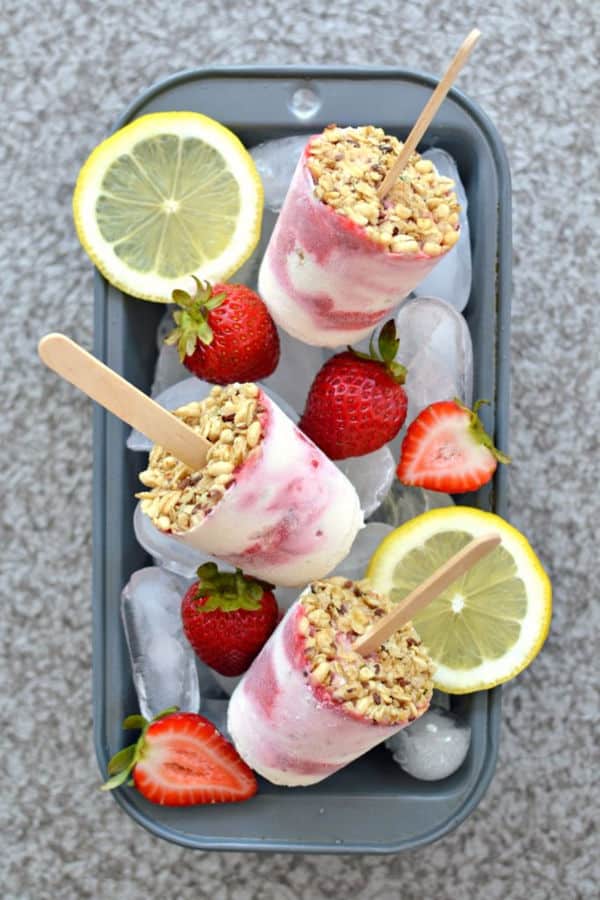 Birthday party recipes can always come in handy and this summertime strawberry cheesecake popsicles recipe from the Radiant Rachels fits the bill just right!
It's made of a luscious strawberry purée mixed into a cheesecake batter and topped with granola.
This recipe yields 6 popsicles and is sure to be a hit with the kids!
Red, White and Blue Vegan Watermelon Cake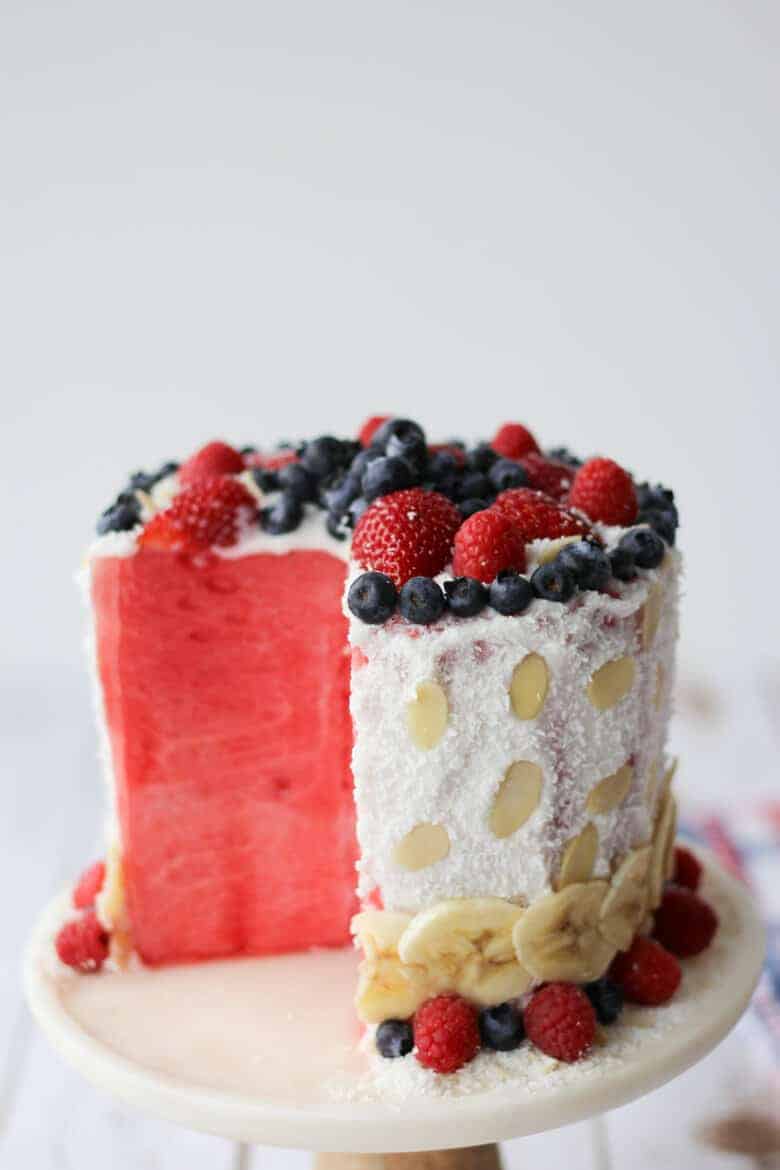 Now this dessert cake recipe from Abbey is pretty unique. Not only does it represent the US flag as far as colors go, it's actually made of fresh watermelon!
You read that right. No flour, butter, egg, or dairy, so it's totally gluten-free and, perhaps more importantly, a lovely cake for vegans to rejoice.
Essentially, you get a big enough watermelon, then carve it into cake form, coat it in coconut yogurt and shreds, and decorate with berries and almonds.
Genius if you ask me, and a beauty to behold!
Marshmallow Dessert Cups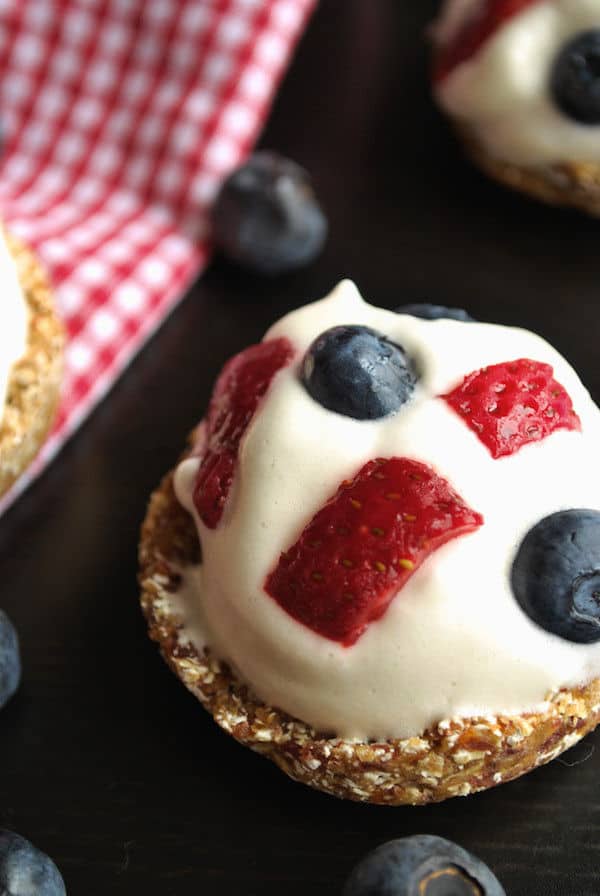 In need of a festive dessert delicacy? Then have a go at Alexa's vegan marshmallow dessert cups recipe!
Alexa even goes as far as saying, if she would choose only one thing to eat for the rest of her life, it would be the date-oat-cinnamon cup crusts. Well, in that case, they've got to be mighty delicious!
While honey is mentioned in the recipe post, just make sure to go with the maple syrup option to keep it vegan.
The recipe itself takes approximately 20 minutes from start to finish and you'll have a fabulous dessert to treat your guests with.
Dessert Quesadillas with Cranberry, Pistachio and Coconut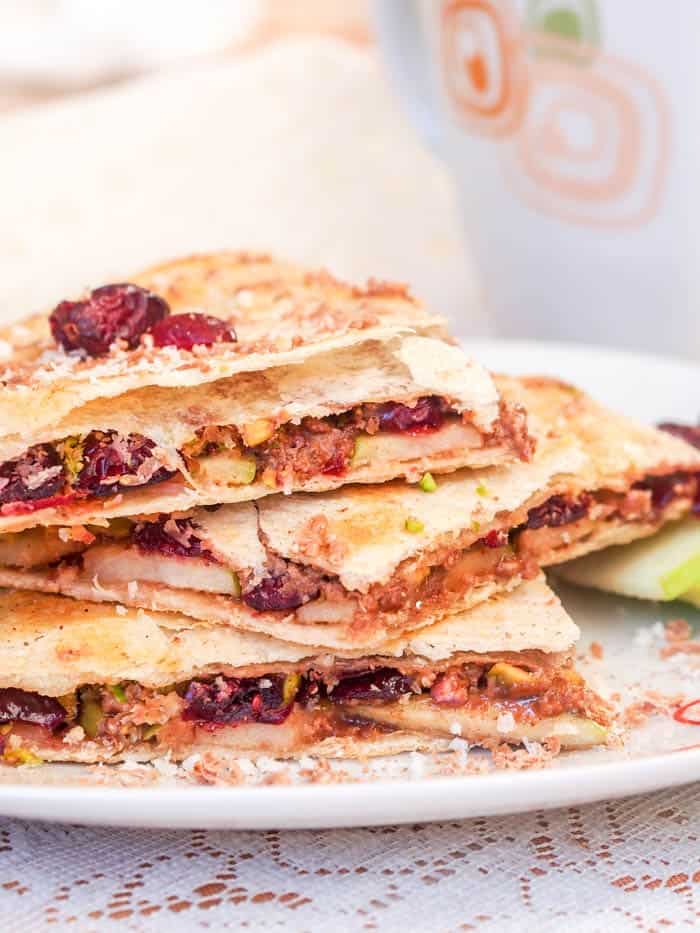 Sometimes family or friends might pass through the neighborhood and pay you a surprise visit or give you very short notice.
This means you won't have much time to prepare anything super fancy.
But fret not, Vicky has an ace up her sleeve with her drool-worthy dessert quesadillas recipe.
Don't like baking and mixing ingredients? No worries!
These gluten-free vegan quesadillas require just a handful of ingredients and a total of 15 minutes to prepare. Superb!
Bon appetít!
Apple Date Rose Tarts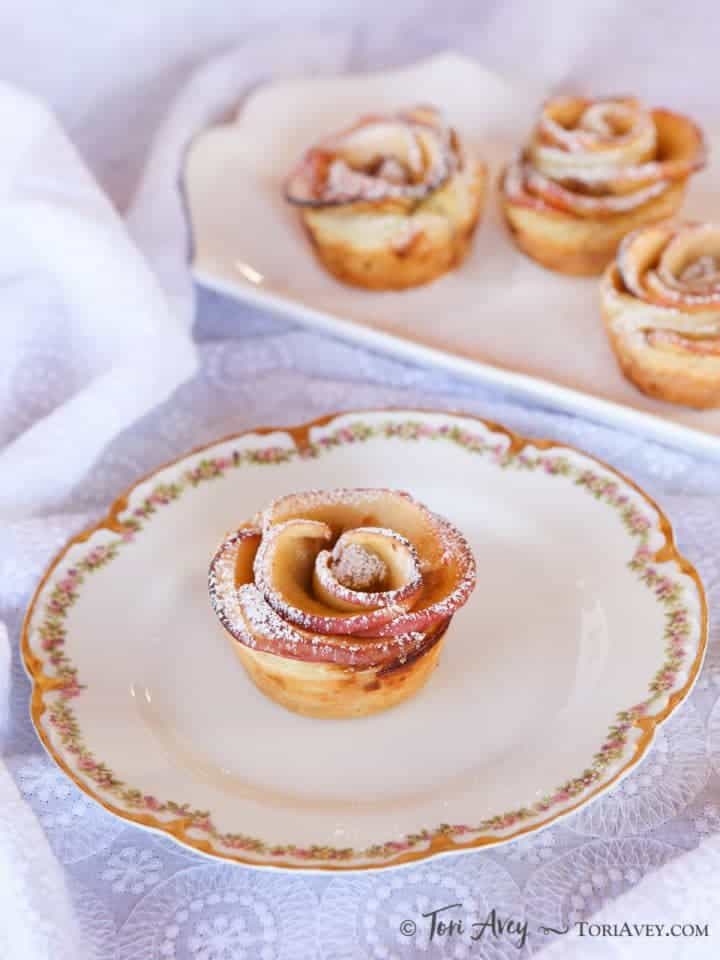 When a special someone is visiting, Tori's apple date rose tarts is one of those recipes I'd be sure to pull out and prepare.
Inspired from the buffet line at a musical performance, Tori's tarts are gorgeously elegant and worthy of a romantic sitting.
While you'll need 90 minutes to prepare them, the time and effort shouldn't matter because, after all, you'll be sharing them with that special someone.
Enjoy!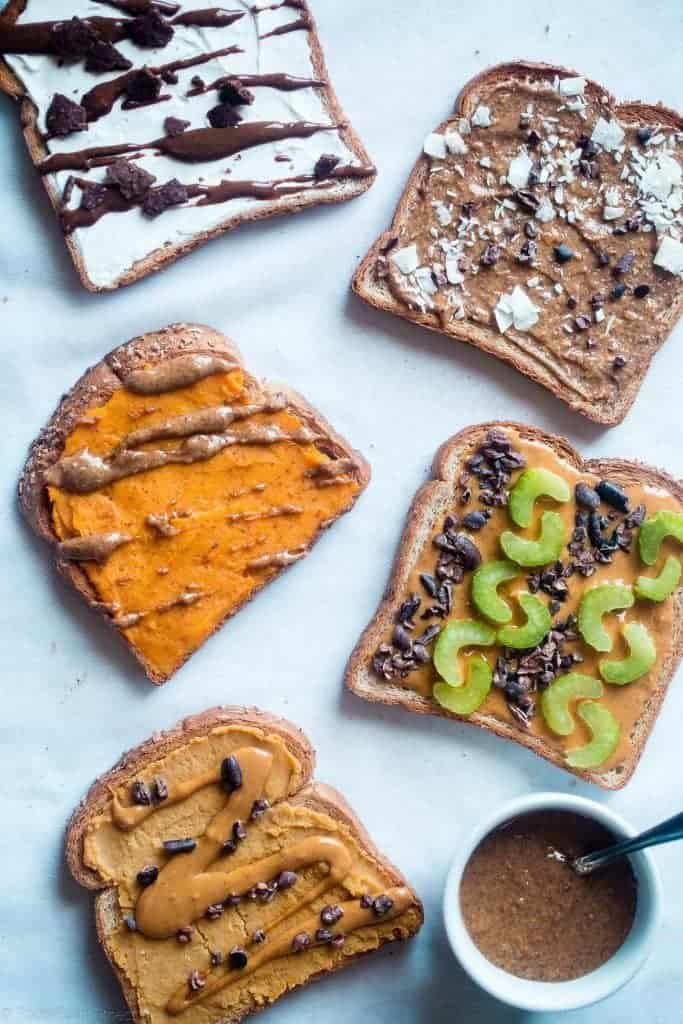 Thinking about a colorful and flavor-packed breakfast or lunch? Taylor has given her creativity a free hand with 5 different ways to top your toasts.
If you think you're getting just one recipe here, you're actually getting 5-in-1 to spoil yourself with!
They are as follows:
Cookie dough toast
Ants on a log toast
Sweet potato pie toast
Almond joy toast
Cookies 'n cream toast
So, go ahead, set aside 10 minutes and make yourself some of the tastiest toasts you've ever had!
Basic Raw Vegan Halvah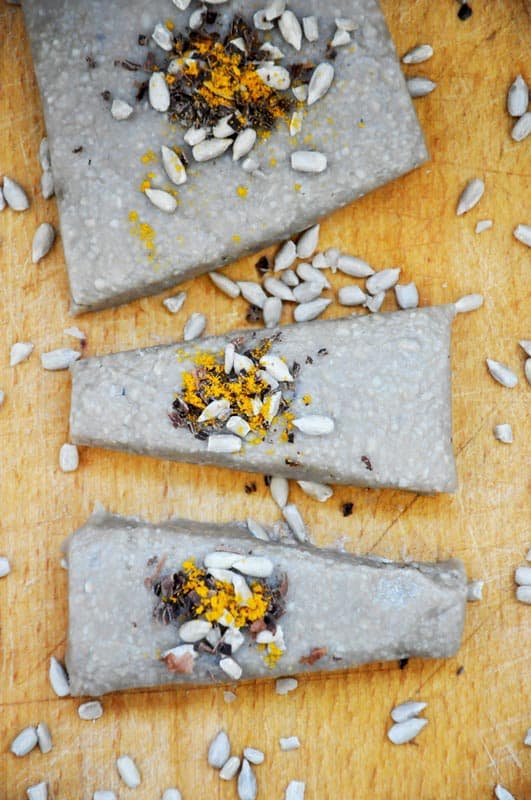 Ruxandra has made a successful attempt at taking halva—the famous Middle Eastern confections—and creating a raw, healthy and vegan version you can easily replicate at home.
This recipe requires just 5 simple ingredients and 10 quick minutes of your time to make.
If you're a fan of halva, but trying to slim down, or just improve your diet in general, this'll be a fabulous swap for a guilt-free treat.
No Cook No Bake Vegan Mango Mousse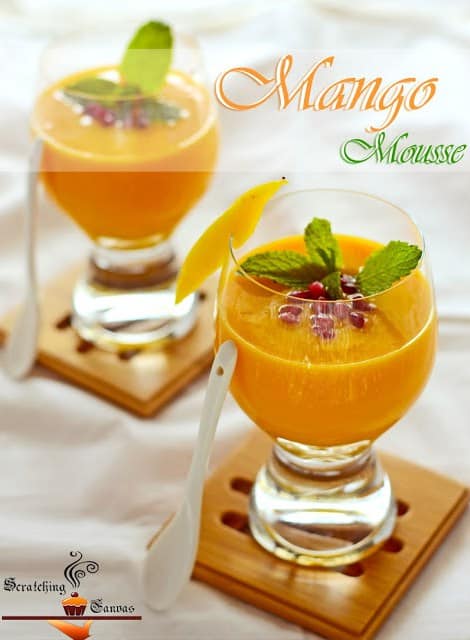 Here's another delicious recipe you can rely on when you need to make something quick for yourself or special guests.
Rimli's vegan mango mousse recipe is so simple, easy and refreshing, you might end up getting addicted!
To serve two people, all you need is 3 simple ingredients, a food processor and 15 minutes. You absolutely won't regret it!
Healthy Brownie Batter Overnight Dessert Oats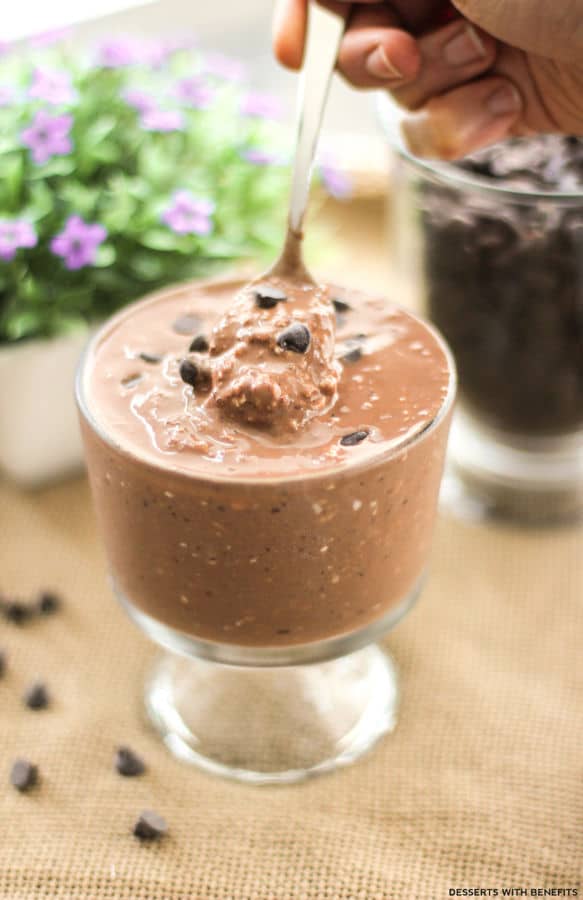 Jessica's healthy brownie batter overnight dessert oats recipe is perfect for a satisfying dessert and easily doubles as a healthy and filling breakfast.
This treat is full of creamy, delicious chocolate goodness you won't get enough of! Top with some chocolate chips and you're golden!
The recipe needs to be prepared the night before, left in the refrigerator overnight, and served the next day. The preparation itself takes only 5 minutes.
Now how about that for motivation to get out of bed on mornings?
Blueberry Pie Smoothie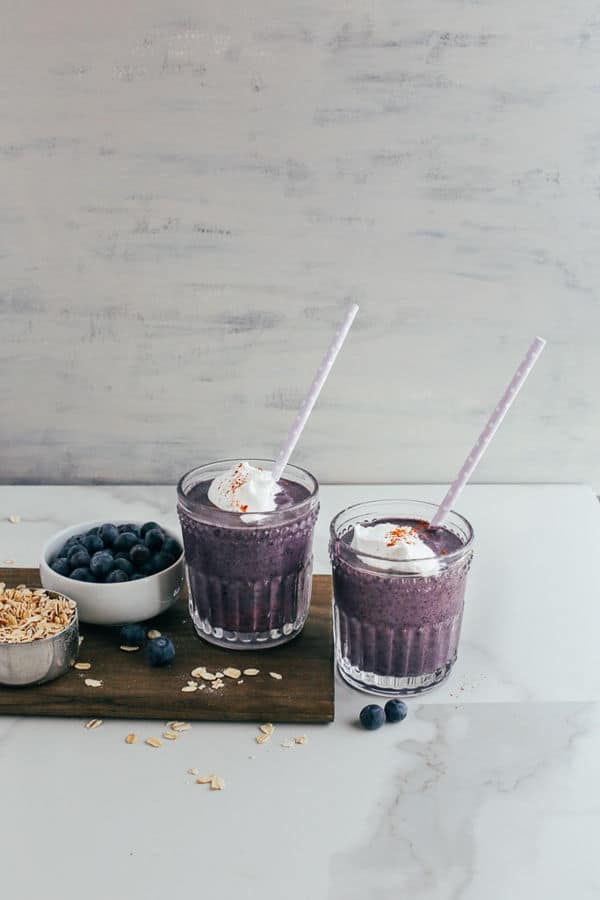 Smoothies are one of my favorite things to make, especially in the mornings. Usually, they're ready in minutes, filling and super nutritious.
Ashley's blueberry pie smoothie is no exception. It's flavor-packed, will keep you satiated and ready to rock!
This recipe yields 2 servings, but, if you're like me, you'll double it!
A superb way to start the day. Enjoy!
Vegan Dressing Recipes
Cucumber Ranch Dressing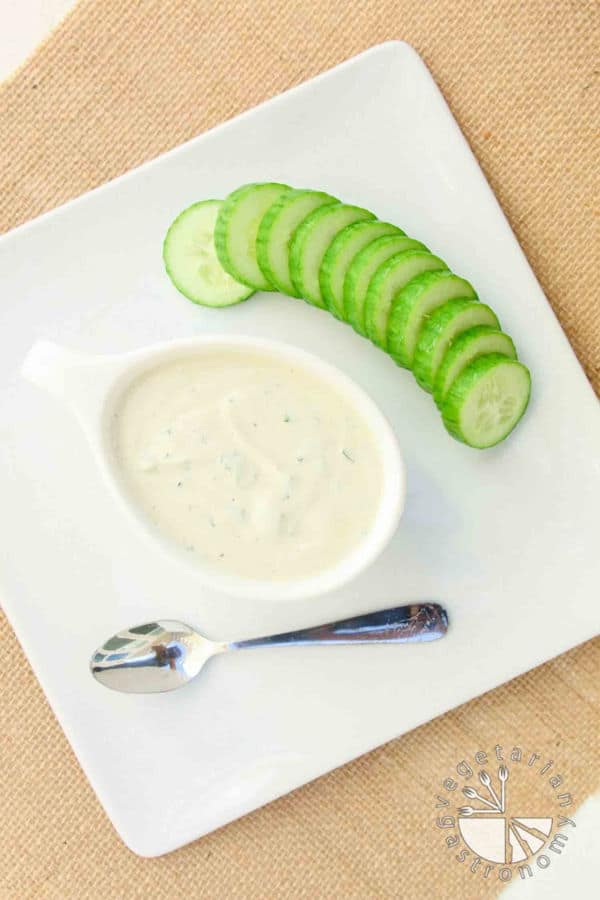 Often, it's difficult to find healthy vegan dressings without cheap oils and other ingredients that look like a chemistry experiment gone haywire.
One of the most effective ways around this, is to simply get creative and make your own!
But, what if you have no idea where to even begin? Well, in that case, you go straight to Anjali's delicious vegan cucumber ranch dressing!
No eggs, no dairy, gluten-free and, best of all, takes only 10 minutes to prepare for a full cup of creamy goodness.
Jalapeño Ranch Dressing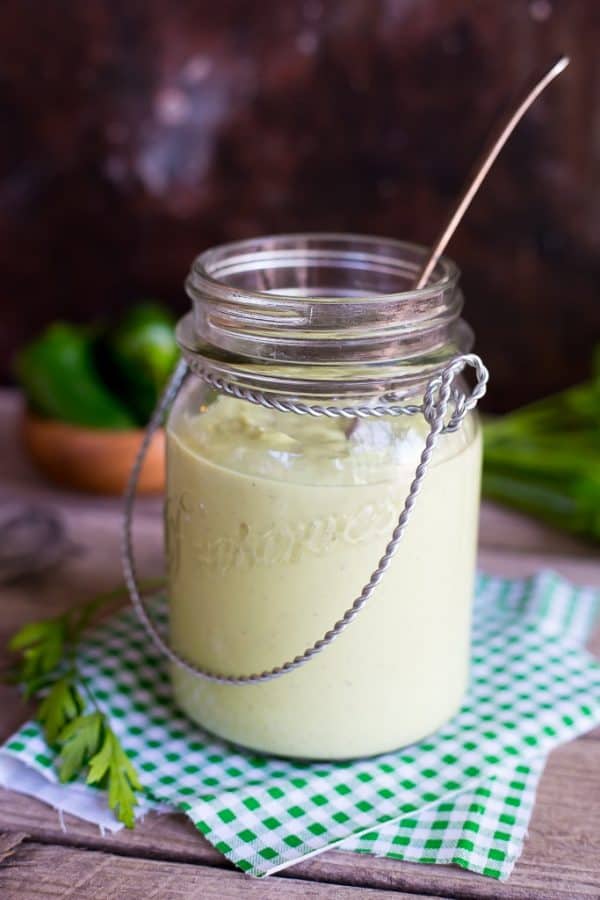 Sometimes you may like your salads to have an extra "bite," which is exactly what Izzy's vegan jalapeño ranch dressing recipe will give you!
And here's the kicker: Once you have the ingredients ready (including soaked and boiled cashews), the whole thing comes together in just 90 seconds.
As Izzy suggests, if you want it more spicy than the recipe has it, simply add more jalapeño!
Creamy Avocado Dressing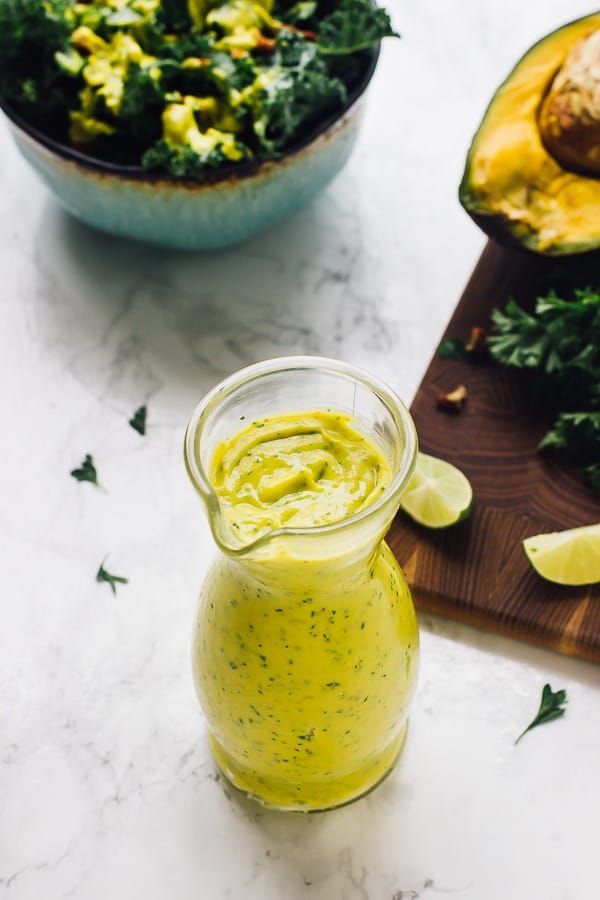 You can never have enough vegan dressings as part of a plant-based diet. And this one is definitely a keeper!
Jessica's creamy vegan avocado dressing is a luscious and addictive multipurpose dressing you can use as part of salads, sandwiches, burgers or even as a dip.
Once you've made it a couple times, you can easily tweak the recipe to achieve your desired thickness.
7 ingredients, a 16 oz. container and 5 minutes later you'll have a healthy and mouthwatering dressing ready to go.
Silken Tofu Ranch Dressing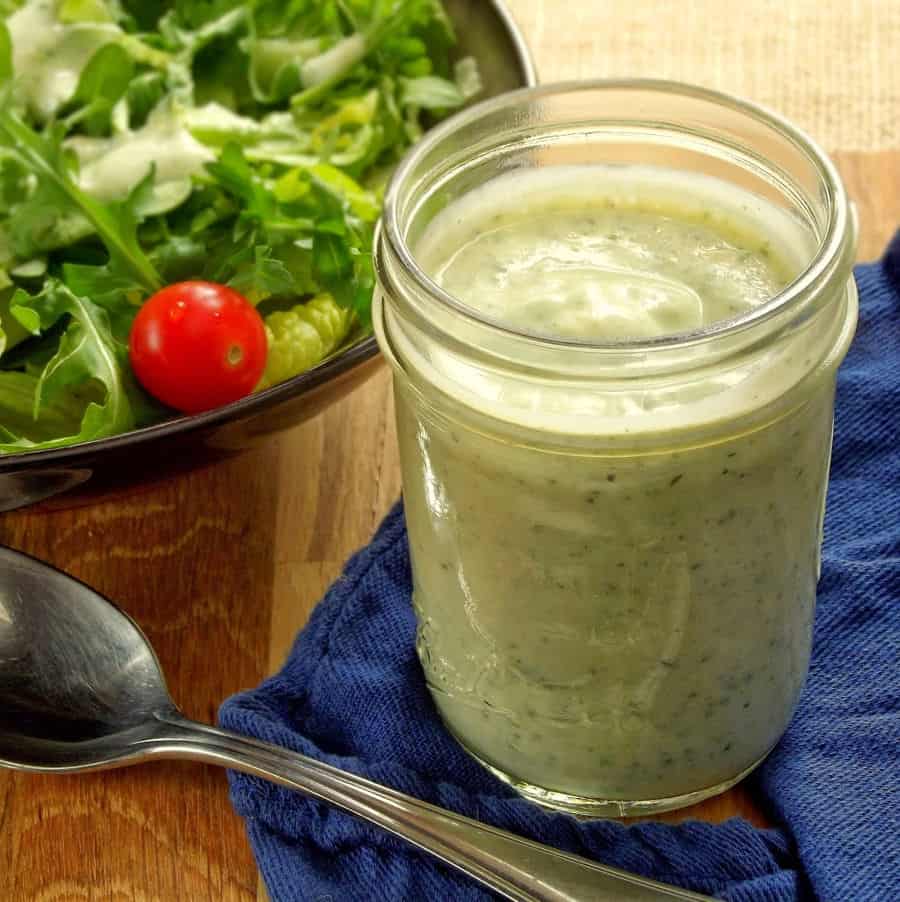 If you love pouring loads of dressing on your salads, you absolutely need Alissa's silken tofu vegan ranch dressing recipe.
All you'll need is a blender or food processor and 10 minutes.
The recipe is made from 10 easy-to-find ingredients including an unflavored vegan milk of your choosing.
Another fabulous dressing you can add to your favorites!
Roasted Red Pepper Tahini Dressing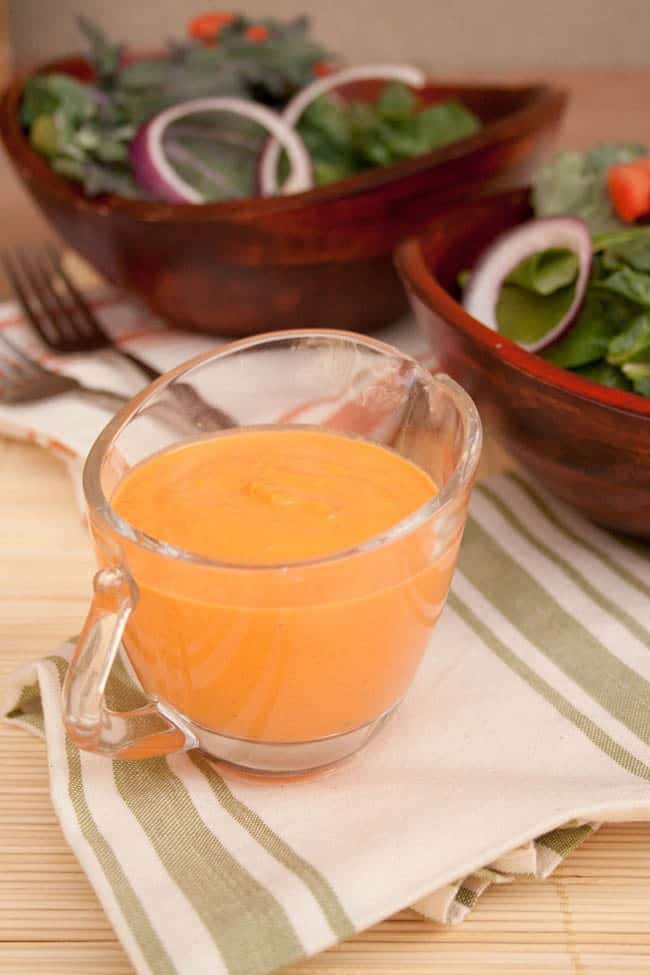 Willow recognizes the power of making your own versions of food options you'd normally buy from the store. The benefit is you'll have total control of the ingredients that go into your body.
Her roasted red pepper tahini dressing is a super delicious and much healthier alternative to most store-bought dressings.
And get this… 5 ingredients is all you need! Simple and healthy with an outstanding visual appeal.Wonderf
Green Goddess Dressing (Oil-Free)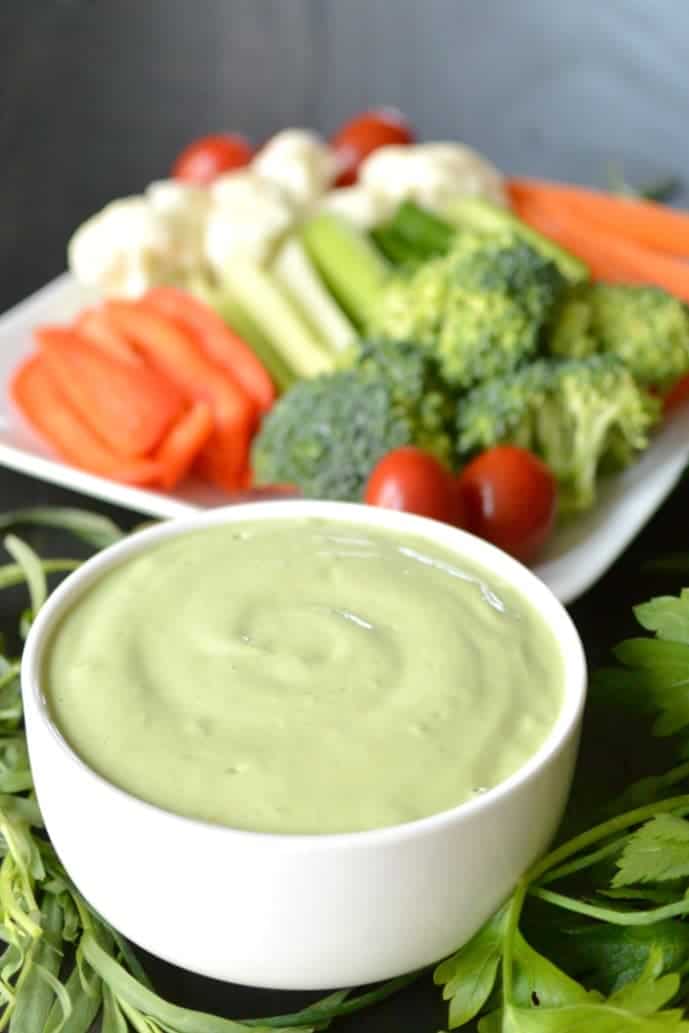 Whether you're looking for a tasty dressing, dip or a sauce, you've got all three in Amy's heavenly oil and gluten-free vegan green goddess dressing!
Coming up with the recipe required a bit of creativity as Amy had to find alternative ingredients for replacing avocado and mayonnaise. And she succeeded!
Got some veggies laying around? Dip them in this wonderful dressing for a super healthy snack. Have a fresh salad you'd like to perk up a little bit? This dressing will do the trick for that, too.
The recipe takes 15 minutes to prepare and you're good to go!
Sweet Mustard Salad Dressing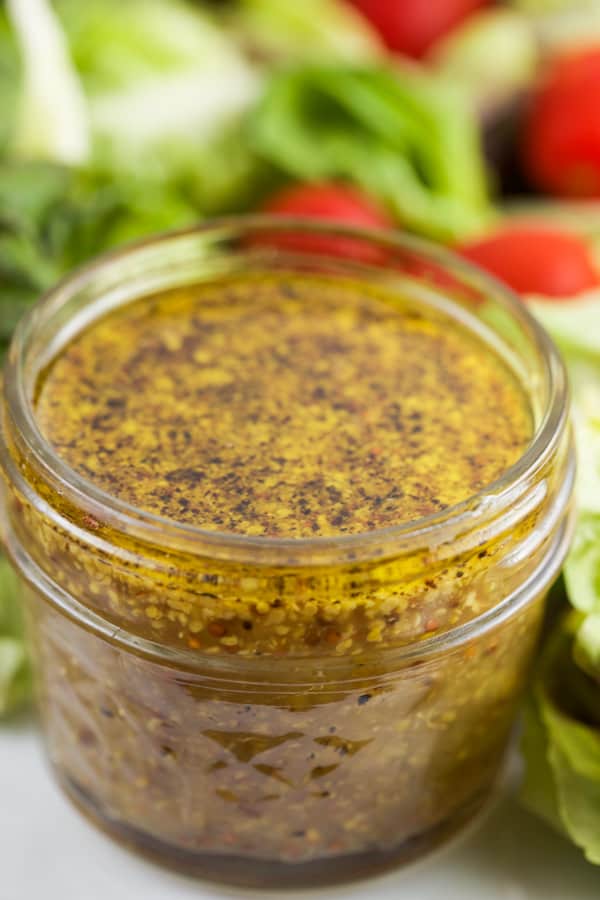 With a bit of creativity, you can veganize so many flavors and textures. Thankfully, the same is true with dressings. Here's Christin's favorite sweet mustard salad dressing recipe.
The total preparation time for this dressing is just 5 minutes, using 6 ingredients you'll have no troubles finding, hence this is a must-have recipe to keep around.
For mustard lovers, this is an appetizing and tasty addition to a fresh salad. Enjoy!
Clementine Dressing with Wasabi and Ginger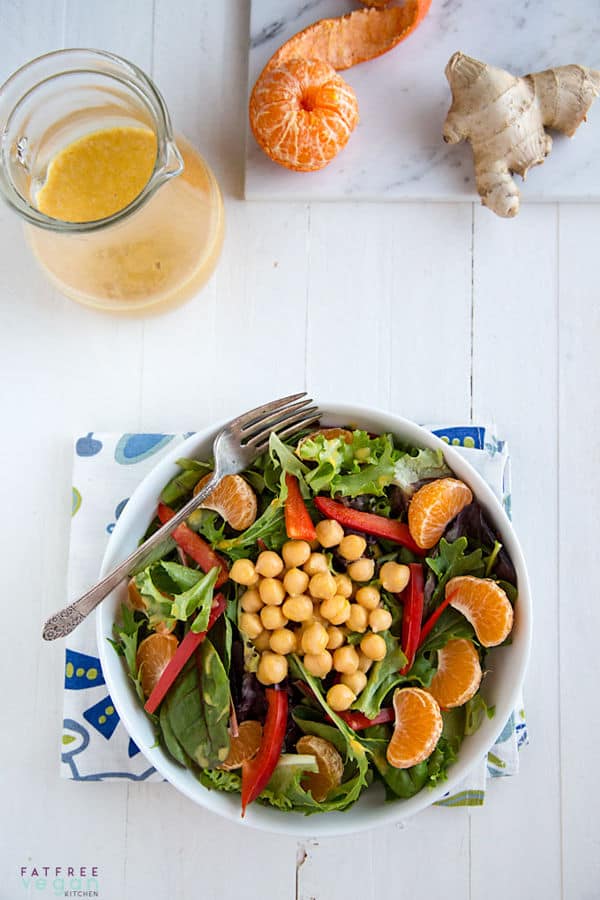 Susan's clementine dressing with wasabi and ginger is "lightweight" and low-fat. She made it this way because she loves pouring lots of dressing on top of her salads.
It's a refreshing and beautifully colored dressing which sports a pleasant combination of flavors and spice. It's ideal if you're at all concerned about counting calories and watching your intake.
Despite being low-fat, this dressing will still manage to thrill your taste buds. Give it a try!
Vegan Egg Recipes
Easy Tofu Scramble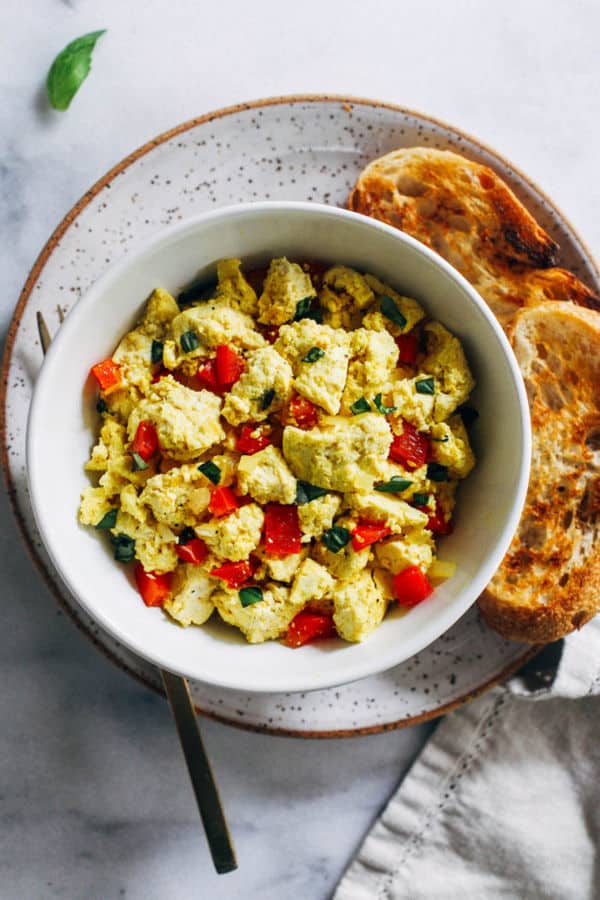 When you go plant-based or vegan, one meal you might miss is a classic scrambled eggs breakfast.
But, you know what, you won't have to look far to find veganized versions of scrambled eggs either!
Sarah's take on a vegan scrambled egg recipe with tofu, bell pepper and basil, shows just how easy it can be to mimic the flavors and textures you miss and love.
This breakfast recipe takes a total of 25 minutes and 8 pretty basic ingredients. So, what are you waiting for!? Bon appetít!
Egg Fried Rice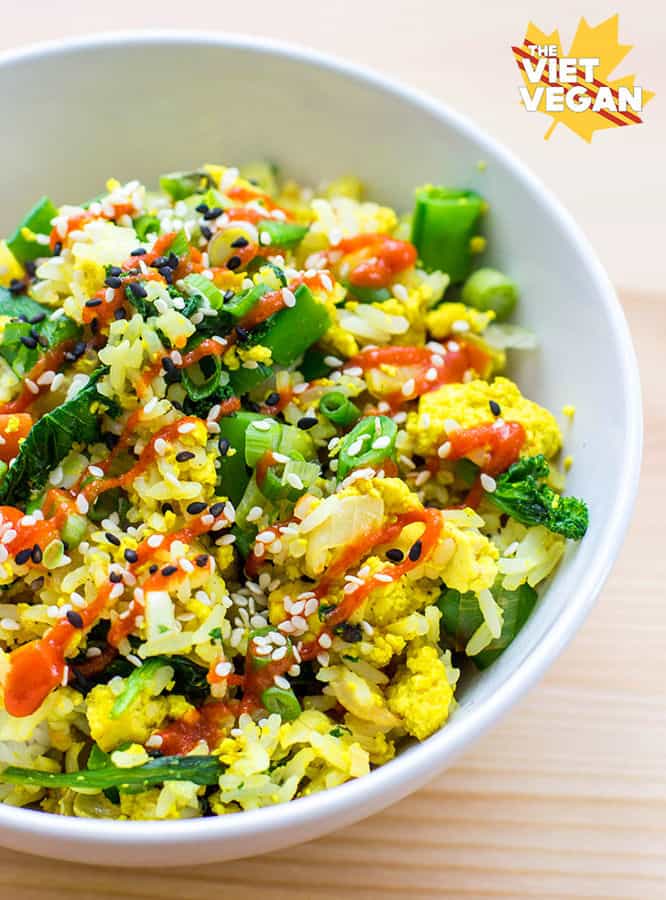 Lisa puts it best with her vegan egg fried rice recipe: "All the nostalgia, none of the animal products!"
That's exactly what you're getting with this delicious and colorful recipe, which you can prepare in just 30 minutes.
This dish is perfect for when you've made some tofu scramble eggs breakfast. The leftover tofu egg from breakfast can then be used in this recipe.
The green from green onions, celery and broccoli combines beautifully with the yellow egg scramble, giving this dish distinct visual appeal.
You need this in your life. Go make it!
Mediterranean Tofu Scramble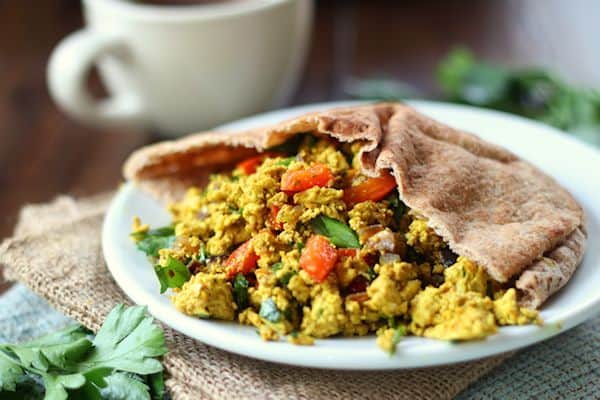 Kiersten has come up with a tofu scramble recipe that packs a Mediterranean twist.
Adding za'atar seasoning in combination with fresh ingredients like garlic, parsley, and green onions, makes for a satisfying warm meal you can prepare in 20 minutes.
You'll get about 3-4 solid servings. Enjoy!
Tofu Scramble Kale Fried Rice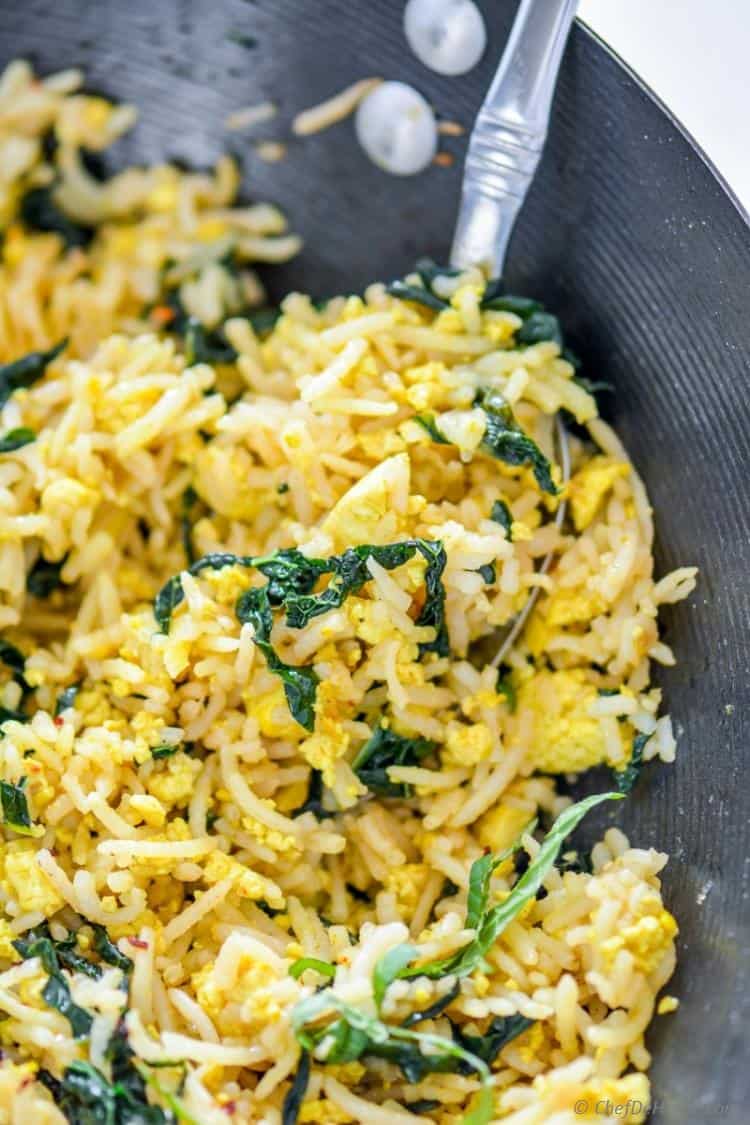 When you're coming from, say, a Standard American Diet, and you're trying to eat on the healthier side, you need something like Savita's vegan tofu scramble kale fried rice!
As you may already know, tofu is the superstar ingredient in recipes that require an egg substitution, as it has an ideal texture.
The other thing about tofu worth noting, is it tends to absorb flavors from other ingredients like a sponge.
This 15-minute recipe combines tofu "egg," rice and kale with complementary spices for a solid and flavorful meal you're bound to enjoy.
Easy Southwestern Tofu Scramble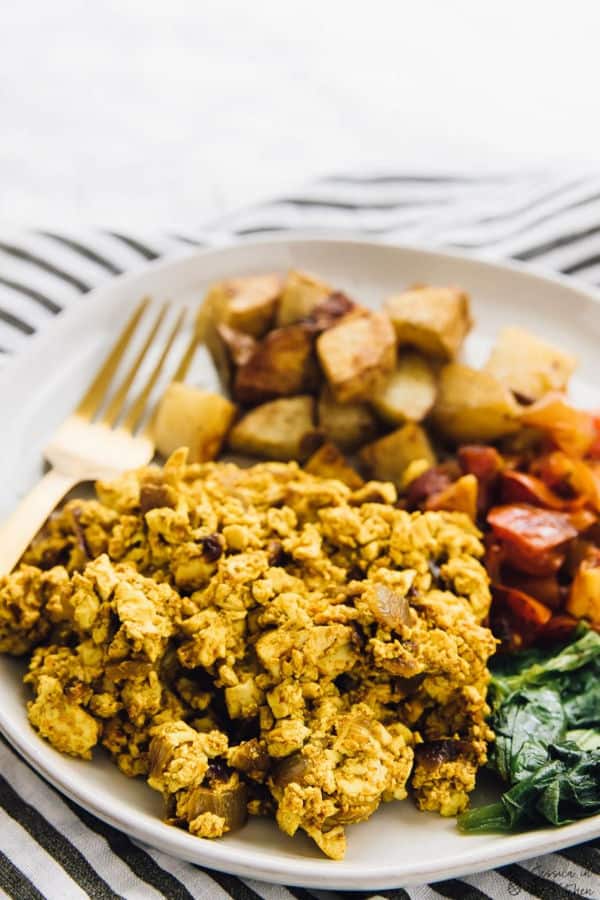 If Jessica is right, her easy southwestern tofu scramble recipe might just become your new favorite vegan breakfast meal!
And you can serve your tofu scramble on a plate with some roasted potatoes and veggies, or, if you're leaning slightly more to the fancy side, opt for the taco option with sliced avocado and fresh herbs.
Jessica shows you both ways and, regardless of which you choose, you'll be in for a heavenly breakfast.
Set aside 30 minutes and go make it happen!
Tofu Scramble with Spring Greens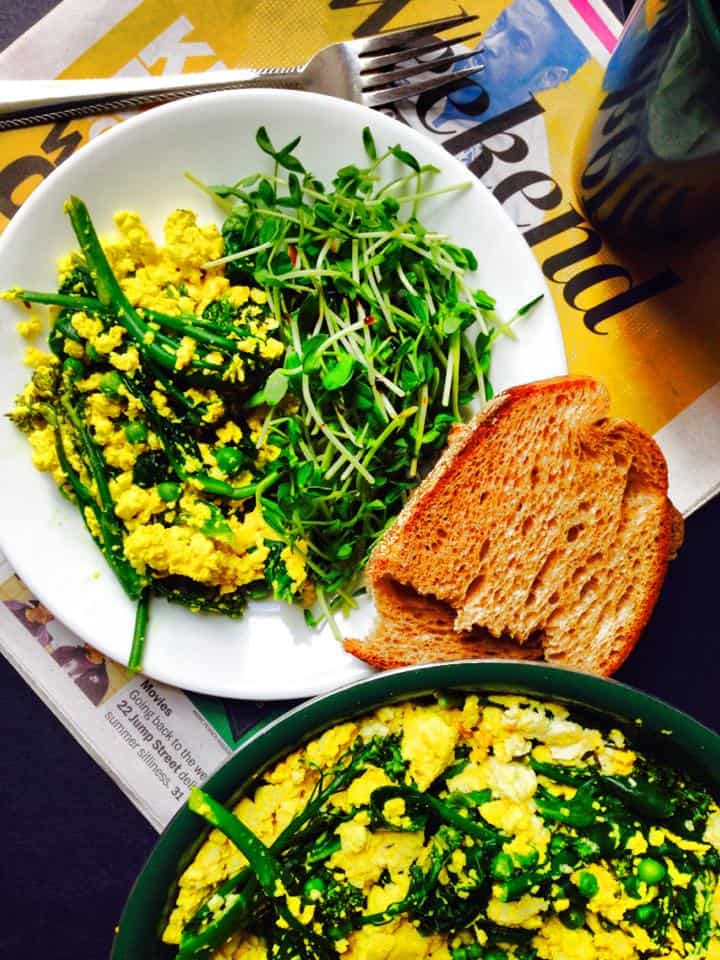 Here's yet another fabulous take on plant-based "scrambled eggs," that's vibrantly colorful and appetizing.
Medha's tofu scramble recipe with spring greens is ideal for a late-morning breakfast or brunch, in fact a fantastic meal to prepare and enjoy with your family.
It gains some of its colorful features from the addition of turmeric. In addition to turmeric, this dish also boasts a plethora of health benefits from other spices like ginger and cumin.
If you've got 20 minutes and can pull together the ingredients needed (10, all which are easy to find), you owe it to yourself to try this tofu scramble!
Vegan Egg Salad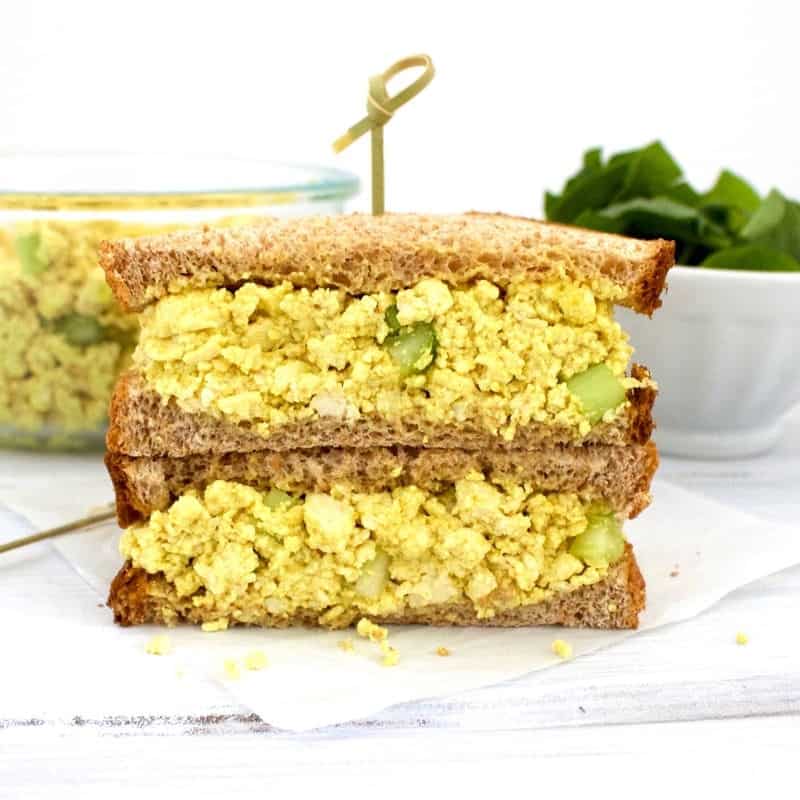 Sometimes you might want to switch things up a bit and try something new. And that "something new," is Annie's fantastic vegan egg salad, which, of course, is egg-free with tofu and vegan mayonnaise in its place.
This 10-ingredient recipe is great if you're watching your caloric intake, as it's low in calories.
Despite being lightweight, it'll still do a great job at making you feel satiated. As photographed, you can include this egg salad in a sandwich or as a side to any other dish.
Tofu Polenta Breakfast Scramble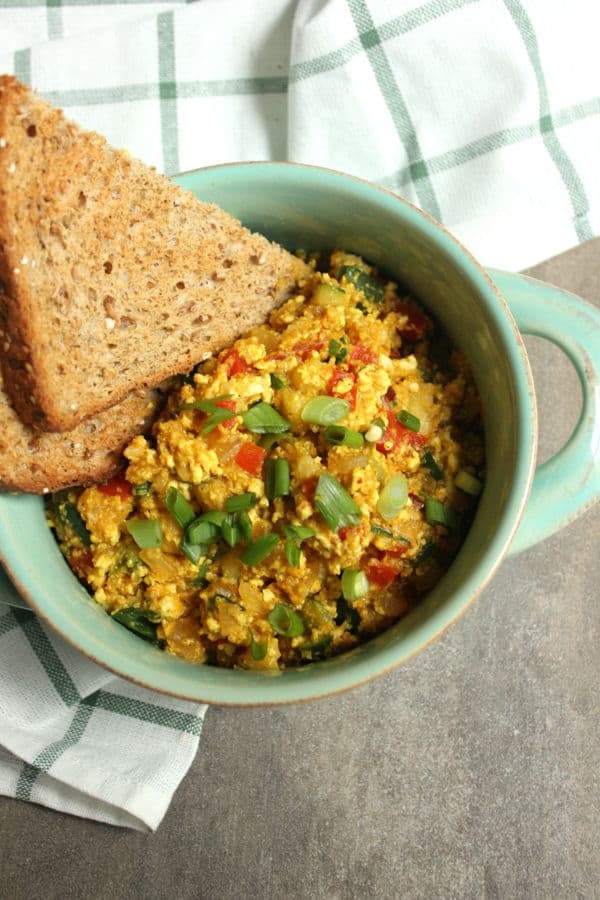 Summer's tofu polenta breakfast scramble recipe is perfect for a savory meal to start the day.
She combined the tofu with polenta to add additional carbohydrates and fiber, which'll help you stay full for longer.
Spices and fresh scallion help bring life and taste to this dish, because, as you may know, plain tofu and polenta both lack heavily in the flavor department.
From start to finish, you'll have a perfect breakfast ready in 15 minutes!
Vegan Egg McMuffins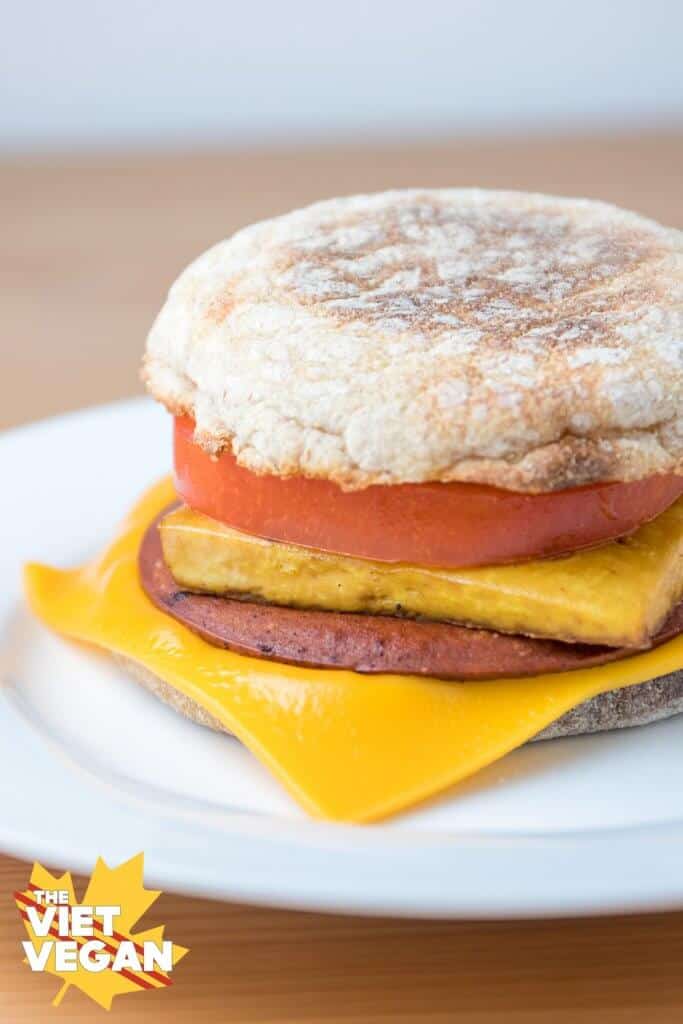 Fancy a morning McDonald's Egg McMuffin? If so, you're in luck, because Lisa's vegan egg mcmuffins recipe is here to save your breakfast!
That's right; you get the texture and flavors involved in this veganized version of the famous egg sandwich.
Again, tofu stars as the superhero role alongside vegan cheese and butter. The sandwich comes together easily in about 20 minutes of preparation.
Vegan Ice Cream Recipes
2-Ingredient Strawberry Ice Cream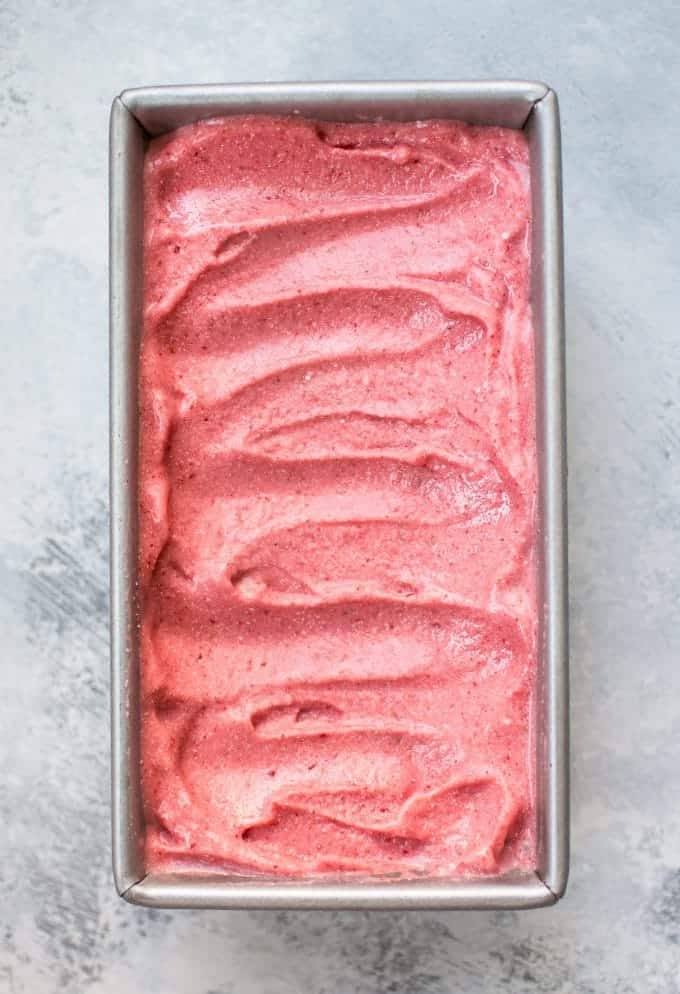 This is for sure going to be one of my favorite ice cream recipes.
Why? Because, for one, it requires only 2(!) ingredients. Secondly, it's darn easy to make. And finally, I can only imagine how delightful it tastes.
Natasha's 2-ingredient vegan strawberry ice cream is a super simple recipe perfect for hot summer days.
From start to eat, you'll need just 10 minutes and she recommends you serve it straight away.
Any leftovers can be frozen, but you'll need to allow it to thaw for 20 minutes when you take it out the next time.
Extra Creamy Chocolate Ice Cream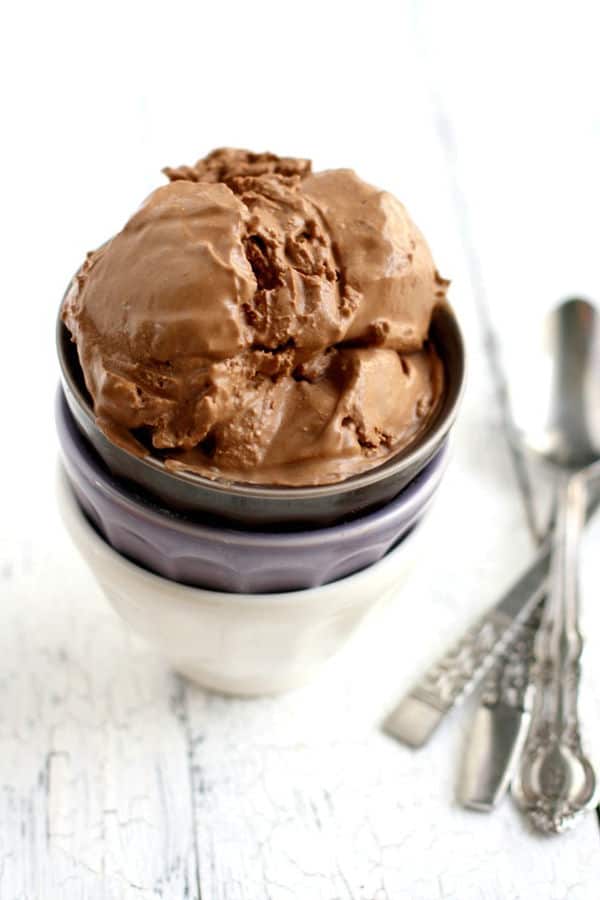 Wherever you save your favorite recipes, if you don't have a vegan ice cream recipe in there, you need to—no, MUST—add Kelly's extra creamy vegan chocolate ice cream.
This delicious chocolate treat is made with coconut milk, cocoa powder and sweetened with maple syrup.
With just 5 ingredients and 30 minutes, you can create a healthy, dairy-free dessert for yourself or family!
Cherry Vanilla Non-Dairy Ice Cream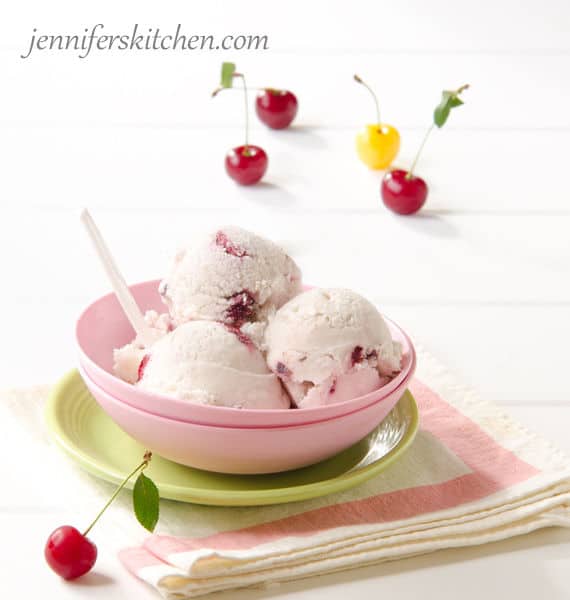 I've yet to meet anyone who doesn't like vanilla ice cream. If that includes you, then take a note of Jennifer's cherry vanilla non-dairy ice cream recipe.
There's nothing like being able to make your own ice cream right at home, knowing it'll be much healthier and sometimes more affordable in the long run too.
This 7-ingredient cherry-vanilla goodness offers superior taste and flavor compared to similar versions you find at the grocery store.
Do note you'll need to buy an ice cream maker if you don't have one already. But if you see yourself making ice cream frequently, it'll be well worth it.
Healthy No Churn Workout Protein Ice Cream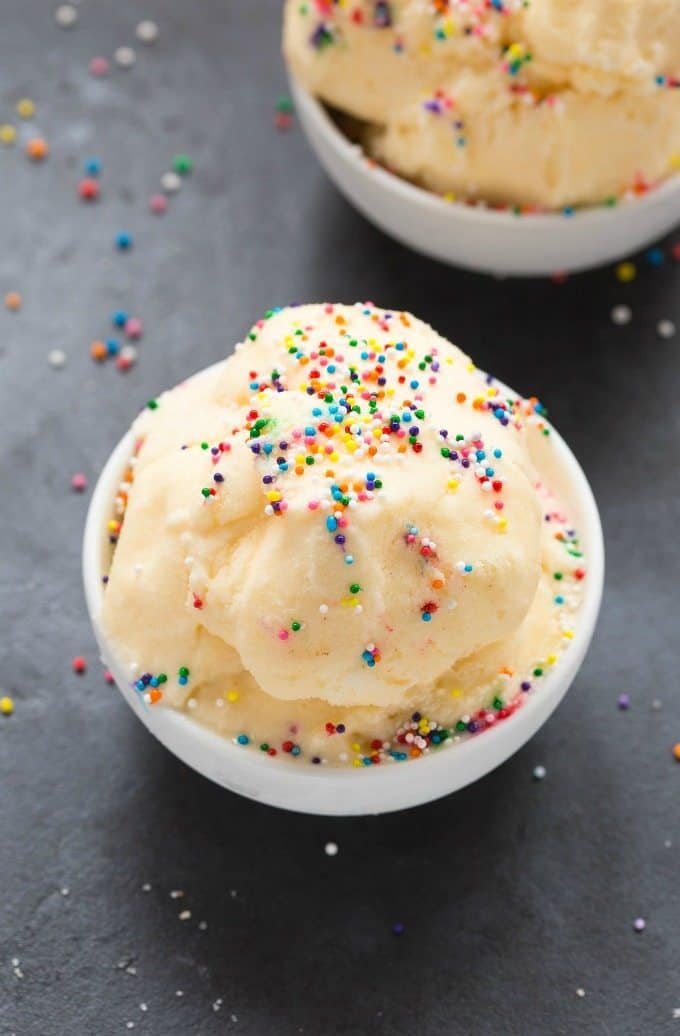 Arman has gone out of his way to come up with an ice cream recipe anyone can make and that doesn't require a bunch of fancy ingredients or special equipment beyond a basic blender.
He calls it the healthy no churn workout protein ice cream.
That's right, this ice cream works for gym enthusiasts too, and you can enjoy it before or after your workouts for an added protein boost.
And get this… you only need 3 ingredients and 7 minutes to make it. Freakin' awesome.
No-Churn Pistachio Ice Cream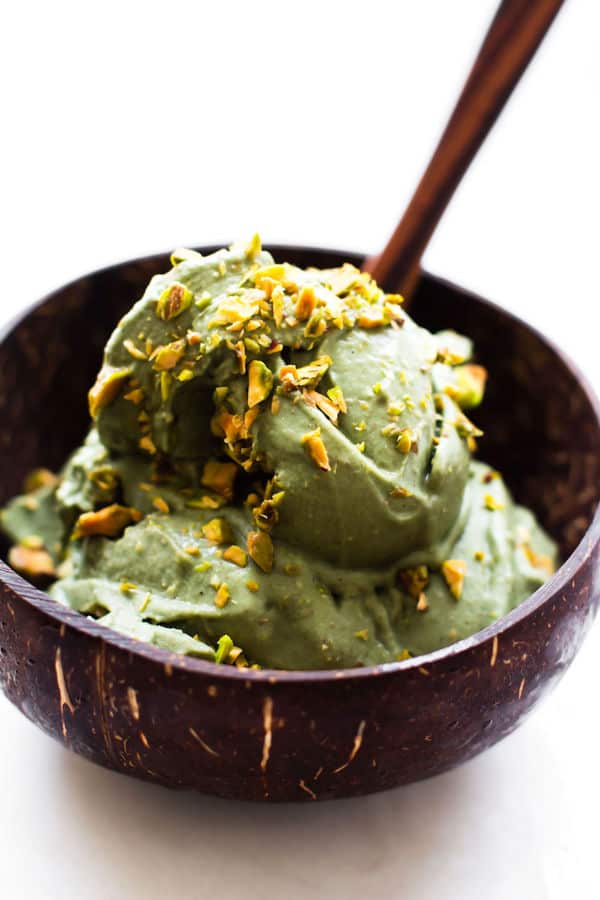 If you're a fan of avocado and/or pistachio nuts, Natalie's no-churn pistachio ice cream recipe is the one you need to save!
Natalie set out to create an ice cream that didn't rely on banana or coconut (you'll usually find one of the two in most vegan ice cream recipes). And this green beauty, is the result!
The recipe is also customizable depending on your desired texture and visual appeal.
If you've got a blender, you've got what it takes to make this 4-ingredient ice cream and have it ready the next day!
Peach Ice Cream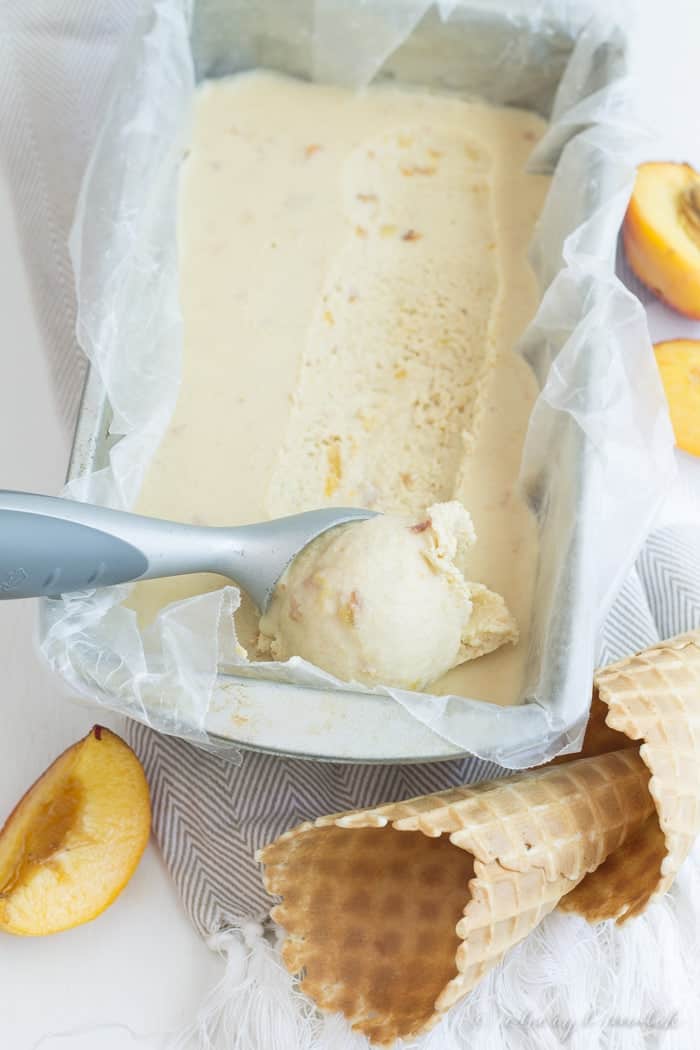 Here's another tasty summer treat you don't want to miss out on trying!
If peach is your thing (it's definitely MY thing), Cheryl's 7-ingredient vegan peach ice cream recipe is THE one you'll fall in love with.
The base is made from a yummy combination of coconut milk and cashew nuts.
The best part is it has such an authentic flavor and you'd never guess it's dairy-free!
Coconut Chocolate Chunk Ice Cream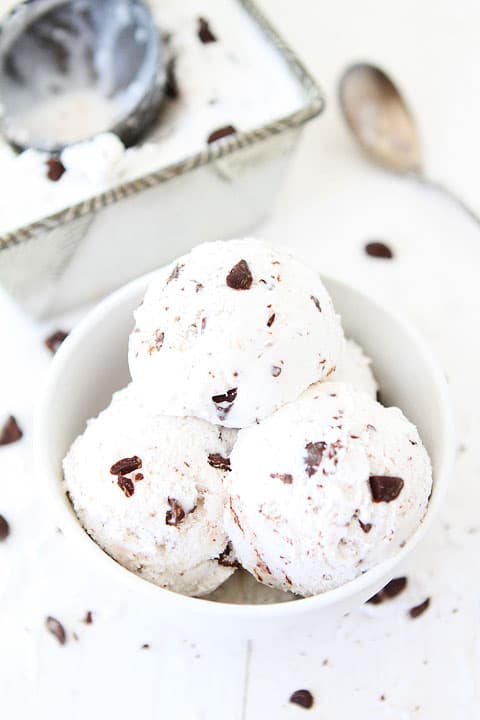 Some people love coconut… others love chocolate. But what if you want BOTH in ice cream form? You hit up this vegan coconut chocolate chunk ice cream recipe from the couple at Two Peas And Their Pod!
What they've come up with, is a recipe that's easy to prepare, requiring just 5 ingredients and 35-45 minutes of your time for a dreamy tray of coconut-chocolate goodness!
So good, so delicious, go for it!
Pumpkin Pie Ice Cream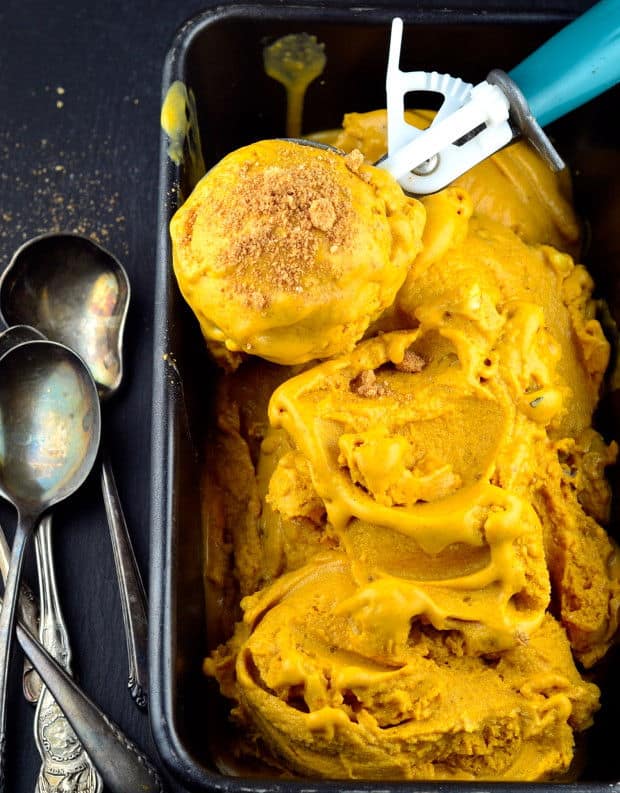 Ice cream comes in many exciting flavors beyond vanilla, strawberry, and chocolate.
But pumpkin!? I've never seen that before—hence I'm absolutely eager to try Ruth's vegan pumpkin-pie ice cream recipe, which combines delicious creaminess with the crunch of chopped pecan nuts.
This ice cream dessert will require just a little bit of planning, as it takes roughly 3 hours from start to finish.
"Butter" Pecan Ice Cream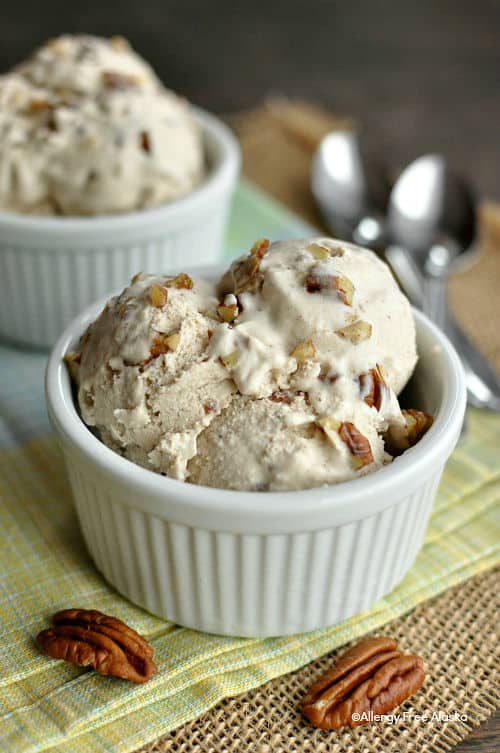 Craving a vanilla-flavored ice cream with pecan crunch? Then, gosh, Megan has just the right treat for you with her vegan & paleo "butter" pecan ice cream recipe!
This ice cream brings together a symphony of savory flavors with pecans toasted in vegan butter and an ice cream base made from coconut milk, sweetened with dates and palm sugar, and toned with vanilla extract.
You don't want to miss out on this one for sure!
Vegan Meat Recipes
The Vegan Veggie Sandwich Even Meat Eaters Love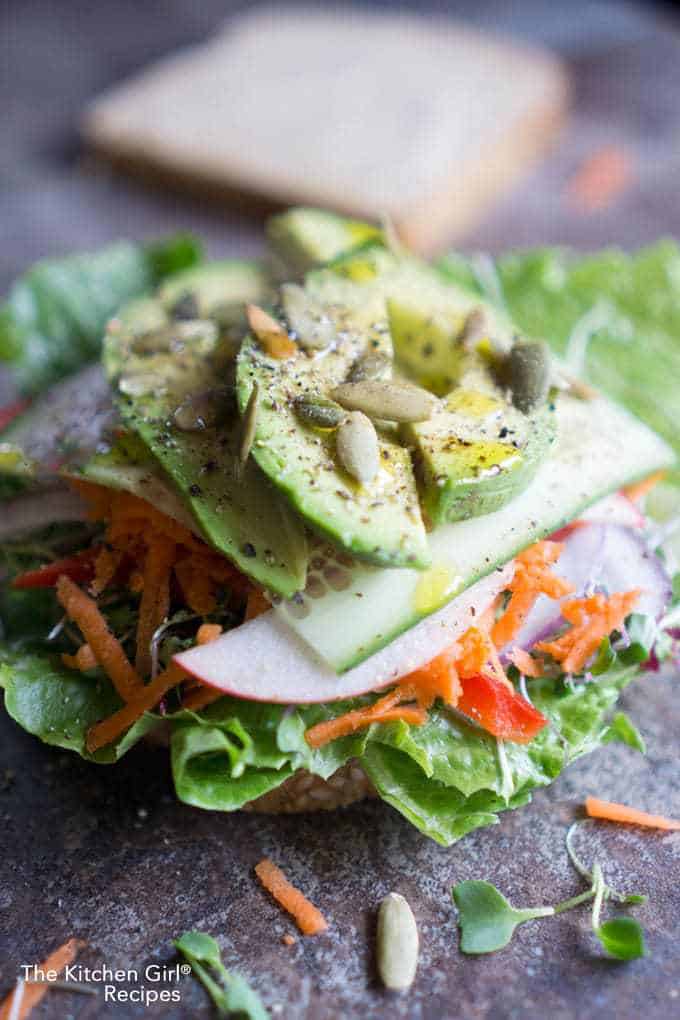 If you've got a husband or boyfriend who just can't imagine a sandwich, or a diet for that matter, without meat, Traci's vegan veggie sandwich is what you need to make for him!
The first thing you do, is treat the bread slices with hummus, then you add in the veggie goodness and finish with a touch of oil and seasoning.
It's savory, fascinatingly healthy, gluten-free and easily put-together.
You'll have a great sandwich ready to devour in just 15 minutes!
Walnut Meat Tacos with Lime Cashew Cream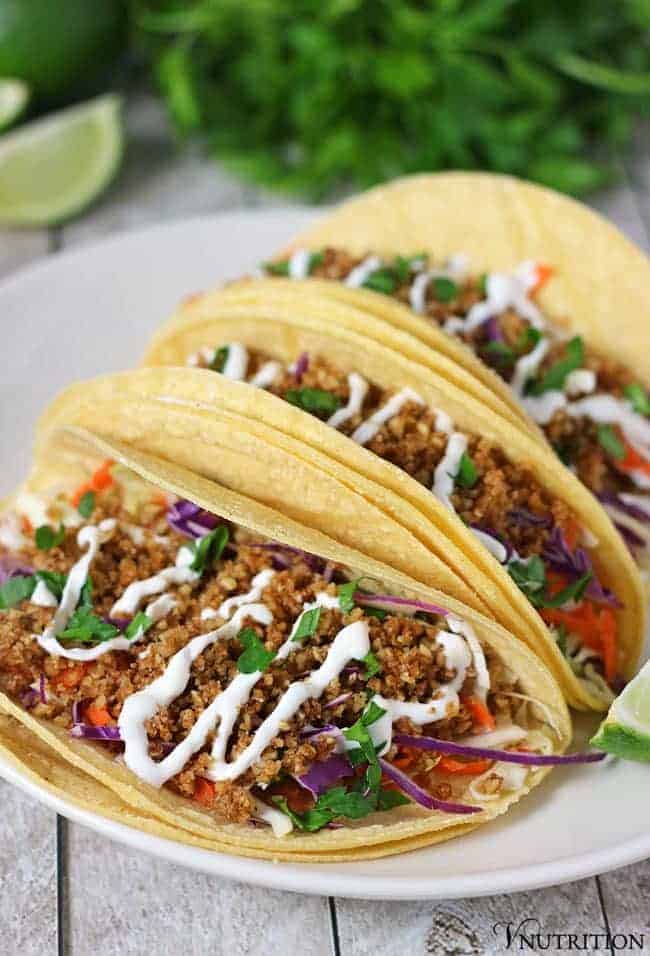 On a plant-based diet, it's always a good idea to have "secret weapons" ready for when you're inviting guests over to eat.
You'll want to be in a position to serve a satisfying meal for those who need that "meaty" texture and flavor.
That's where Mary's yummy walnut meat tacos with lime cashew cream recipe comes in to save the day.
These mouth-watering tacos feature walnuts processed into a minced beef consistency, seasoned with spices and mixed with veggies.
Finally, a super delicious lime-cashew sour cream is drizzled on top and the tacos are ready for serving!
Eggplant Pulled Pork Burger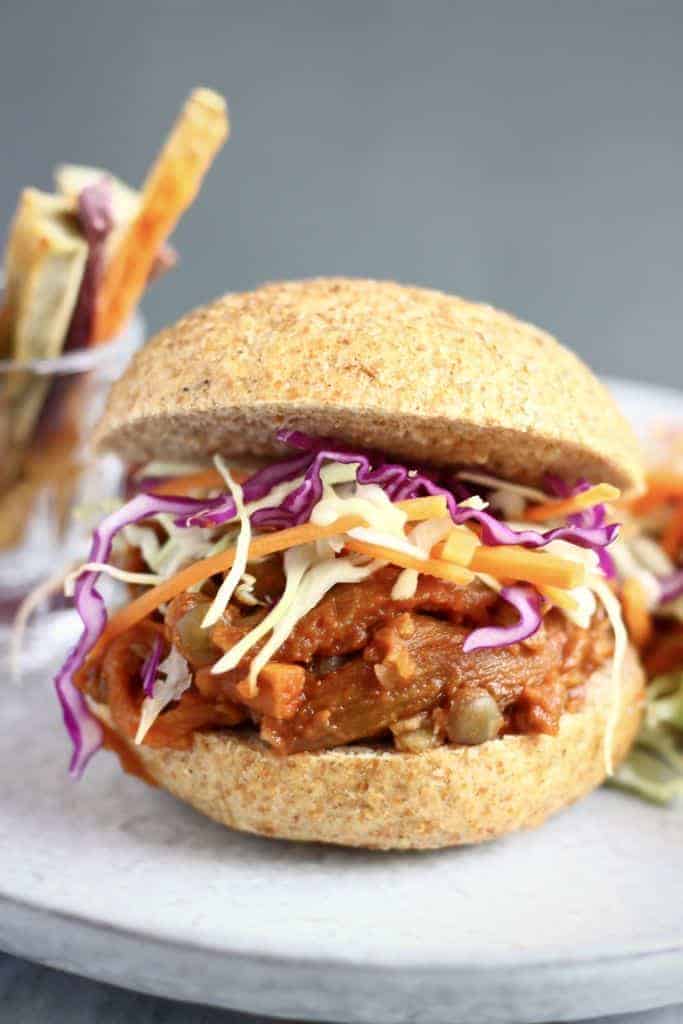 When you really want to impress a meat-eater with a satisfying burger, Rhian's gluten-free vegan eggplant pulled pork burger recipe is the ace to pull out of your sleeve!
As opposed to using jackfruit, as is usually the go-to for veganized pulled pork, Rhian has successfully prepared eggplant in a way that mimics the pulled pork texture.
This is pretty genius, because eggplant is much easier for most of us to find than exotic fruits like jackfruit.
A lovely homemade mayonnaise PLUS an impressive homemade BBQ sauce are both included, taking this burger to a whole new level. You need to try this!
Minced Meat Rolls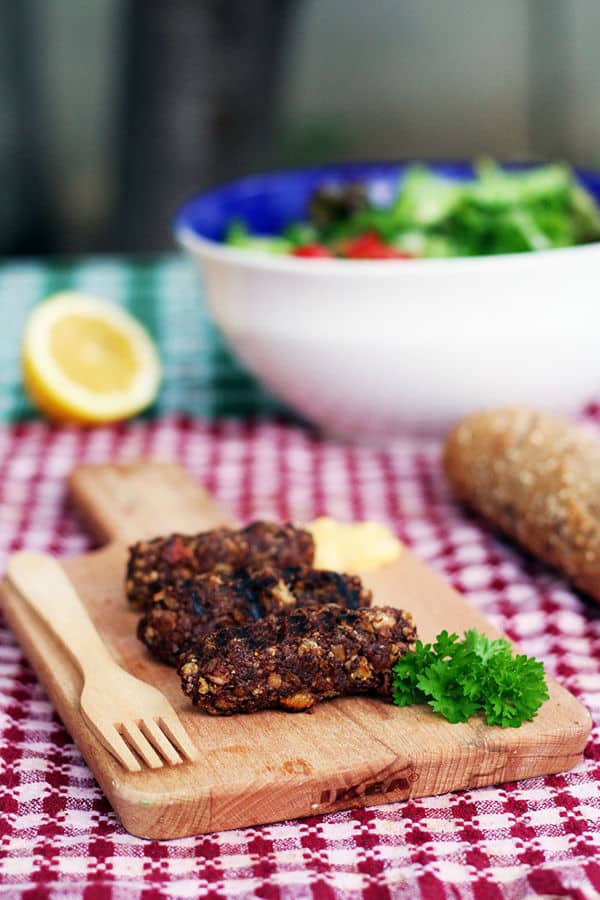 Forget buying those funky wannabe-meat products from the grocery store's vegan section. Instead, pull out Ruxandra's vegan minced meat rolls recipe and go to town!
In this recipe, Ruxandra has successfully veganized Romanian mititei, a traditional meat roll dish.
Using tofu and a variety of wonderful spices, you'll be able to serve impressive "meat-free meat" for a grill party or to your dinner guests in just 50 minutes!
Moroccan Meatball Pitas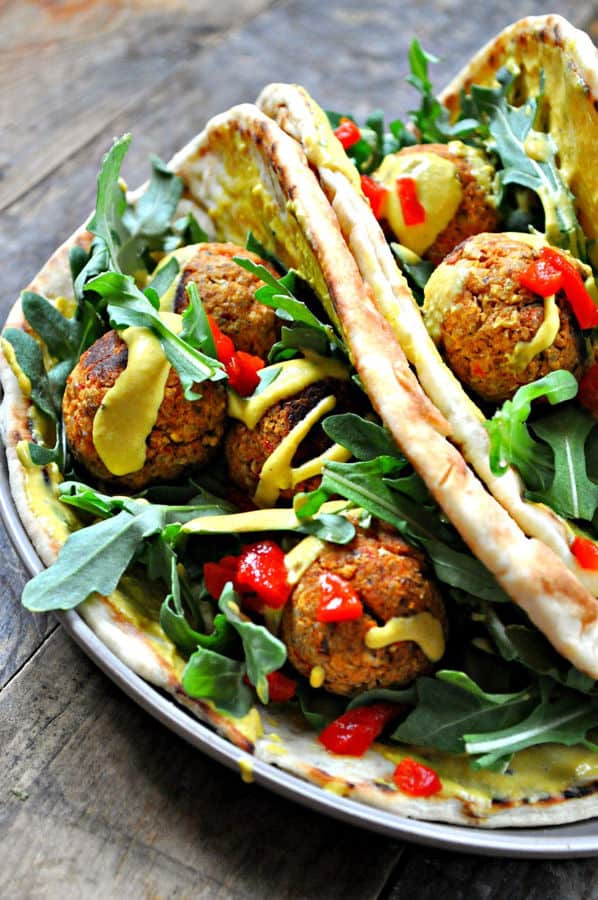 If you're feeding a group of 4—or 2 with a serious appetite—you need Lauren's visually impressive vegan moroccan meatball pitas recipe!
These meatballs, made by combining tempeh with a mix of Moroccan spices, and baking them to perfection, is the golden ticket that's sure to satisfy anyone craving meaty textures.
No doubt about it, your taste buds are in for a serious treat with these pitas, drizzled with a savory garlic turmeric tahini dressing.
Set aside 45 minutes and make this a reality!
Mongolian Seitan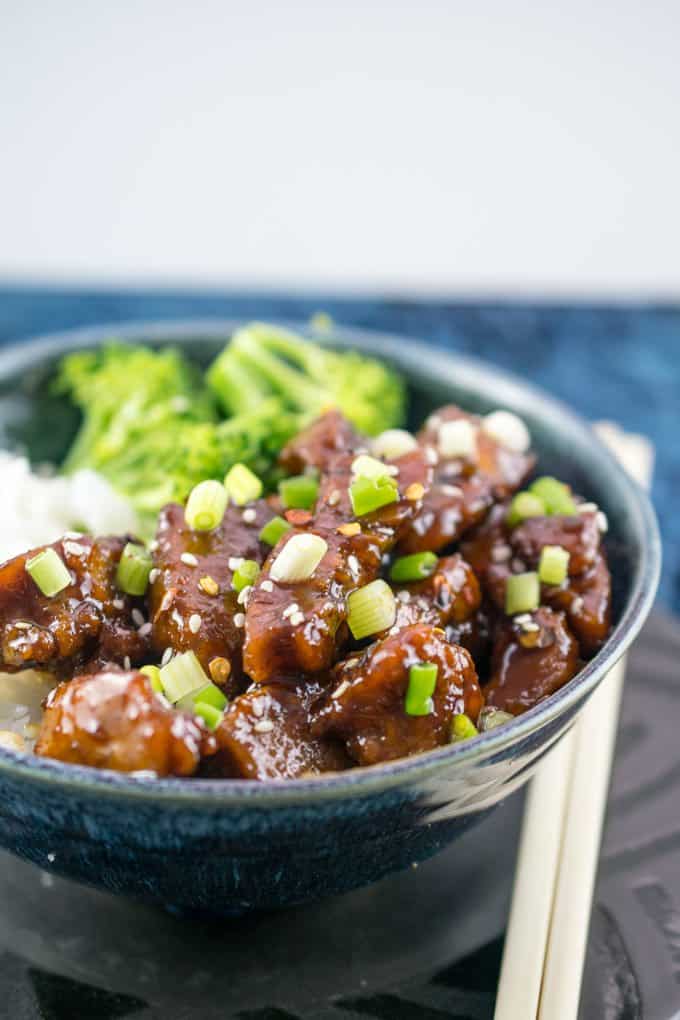 There's nothing like whipping up a tasty Asian dinner when you're in the groove for that.
This is another one of those opportunities where you can surprise someone by telling them the beef wasn't, you know, actual real beef, and they go, "Whaat? How's that possible!?"
If that's what you're looking for, then you need Shannon's mongolian seitan beef recipe.
This Asian-style "beef", rice and veggie dish takes just 30 minutes to prepare and the "beef" succeeds well with its meat texture.
Veggie Beef and Snap Pea Stir-Fry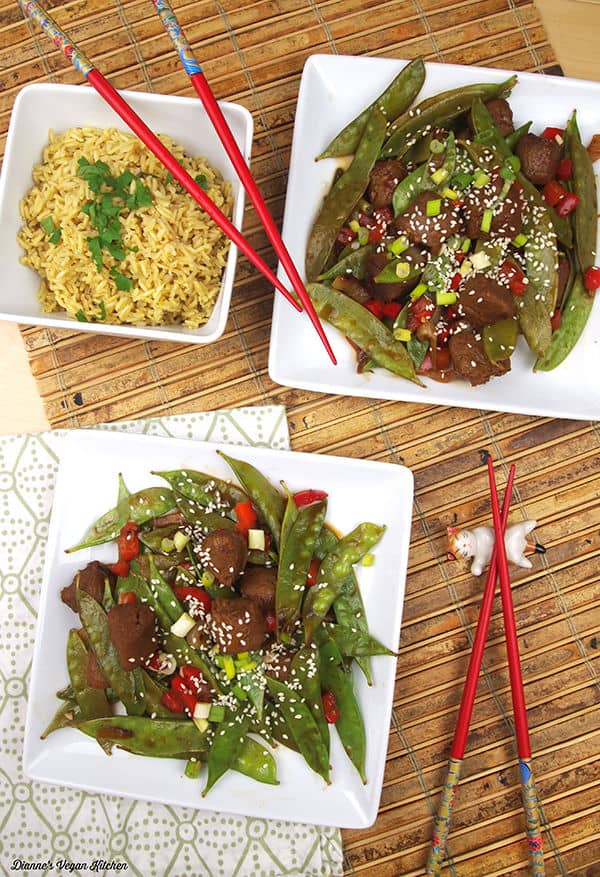 Dianne's veggie beef and snap pea stir-fry is the recipe you need when you're craving Chinese, but you're too lazy to order and go pickup takeaway food.
So, what you do, you make your own right at home!
This recipe uses gardein's (yes, lowercase "G") Beefless Tips meat substitute product. But you can also opt to use seitan.
At the end, you'll have enough for two delicious servings.
Fish Burger with Homemade Pretzel Rolls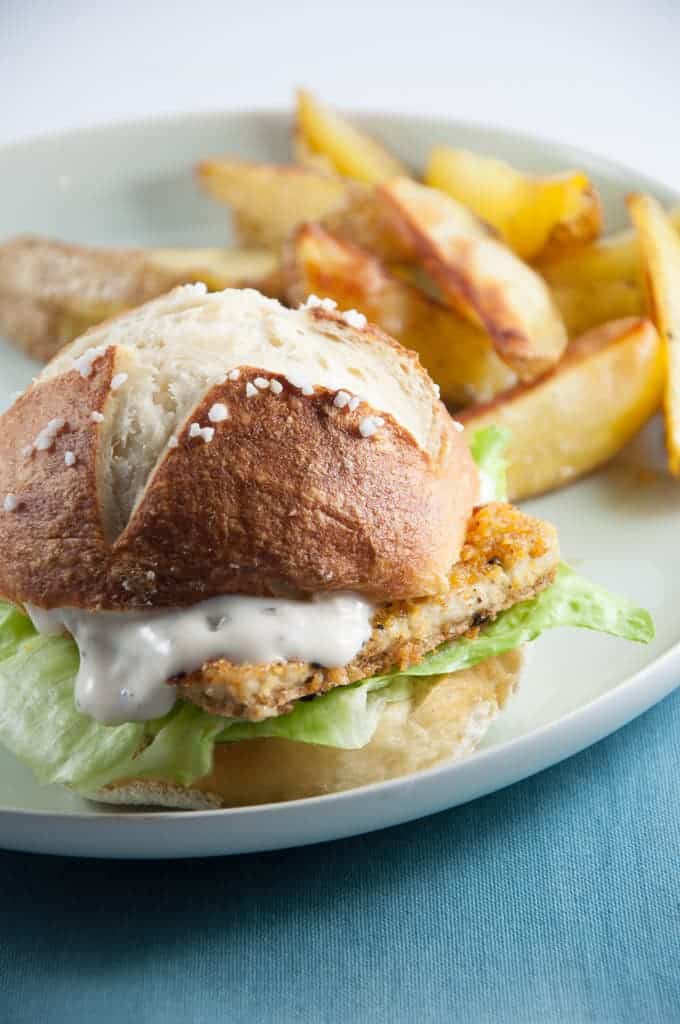 In the mood for a fish burger? Coming right up! Well, after you've followed Bianca's vegan fish burger with homemade pretzel rolls recipe, of course.
But who knew you could make fish burgers without… fish? Freakin' awesome, yeah?
Tofu makes a return to star the superhero role, filet style, coated in a vegan garlic yogurt sauce on a healthy bed of lettuce, and sandwiched between two homemade pretzel rolls.
Bianca shows you how it all comes together for an authentic-looking burger you'll be proud of, so make sure to set aside some time and make it happen!
Vegan Milk Recipes
Raw Vegan Chocolate Milk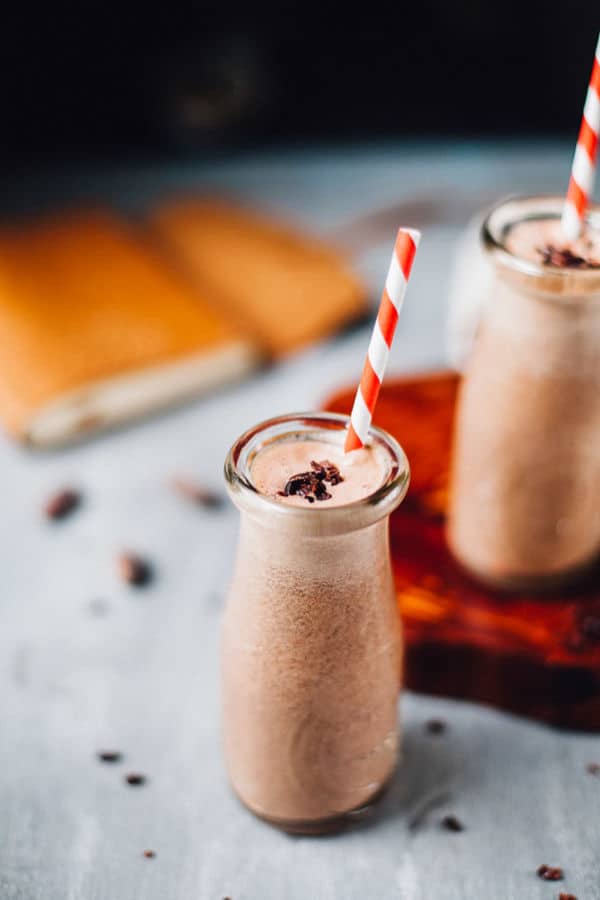 If you're looking for a healthy "kick" in the morning to start your day, or you're trying to wean yourself off coffee, trust me, you've struck gold with Renee's raw vegan chocolate milk recipe.
This 5-ingredient chocolate milk is made with whole cacao nibs, which has a stimulative effect similar to caffeine, yet without the crash dips.
To have it ready in the morning, you'll want to prepare it the night before so it can brew in the refrigerator for 8 hours or longer.
You can then rest soundly, knowing you'll be waking up to a glass (or 4) of creamy, luscious and dairy-free chocolate milk. Mmm!
Vanilla Cardamom Hazelnut Milk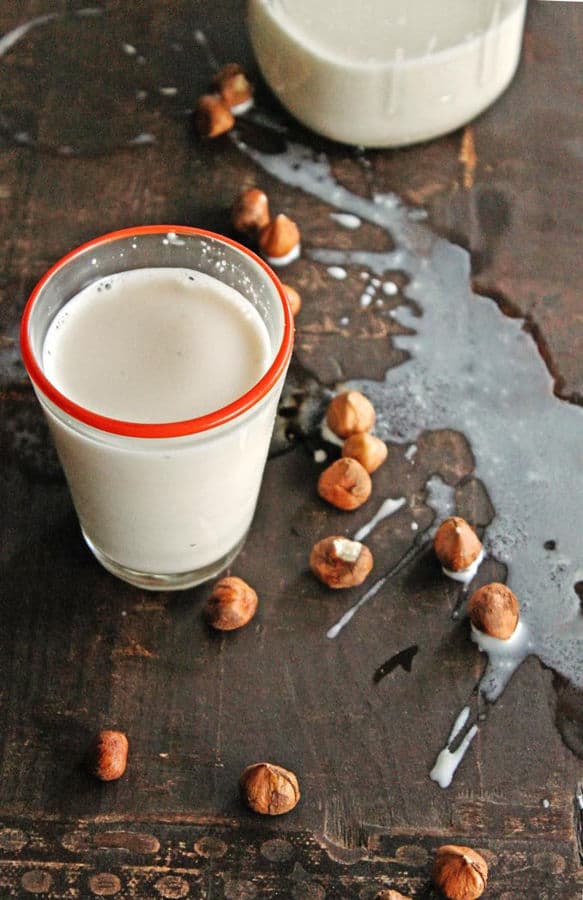 One of the first things you should do, when you go plant-based, is curate yourself a list of healthy and nutritious vegan milks you can make in the comforts of your home.
If you haven't started yet, peel your eyes at Patricia's simple 4-ingredient vanilla cardamom hazelnut milk recipe.
Sure, it might scare you to see it'll take 12 hours to soak the hazelnuts, but, remember, most of that time elapses in the background.
So, the smart thing to do, is start the soaking process the day before, so it's ready and waiting for you the following morning.
Prepare the milk and serve, add it to cereal, or use it as a vanilla-flavored dairy milk substitute in other recipes.
Enjoy!
Homemade Flaxseed Milk-Walnut Milk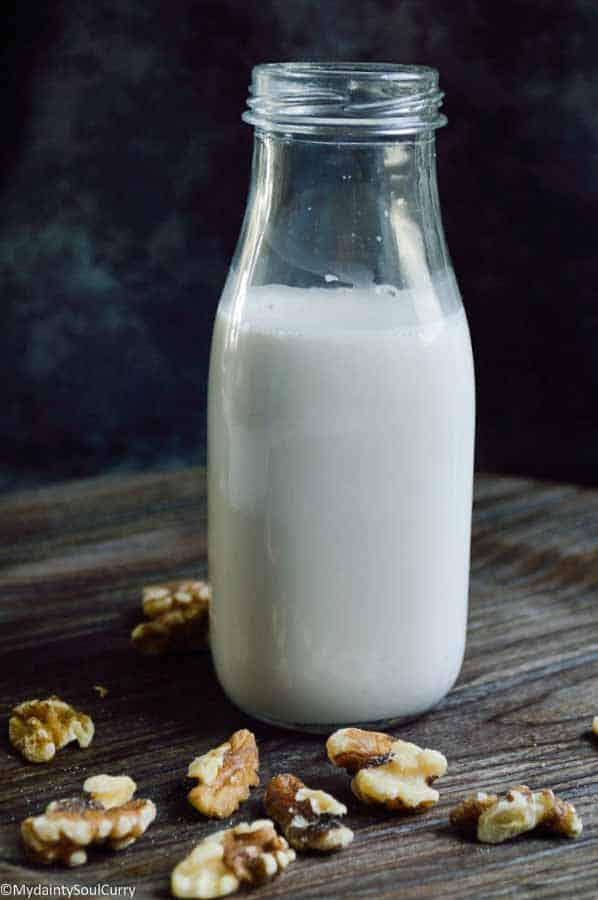 Looking for a healthy and nutritious dairy-free milk? Look no further!
Sophie's homemade flaxseed milk-walnut milk recipe has you covered, combining flaxseeds and walnuts for a luscious drink with a wide range of nutritional benefits.
While some nut milks will have you waiting long hours for the nuts to soak, you'll be serving this milk 10 minutes after you've started. AND it's easy to make; pure luxury!
Healing Cashew Golden Milk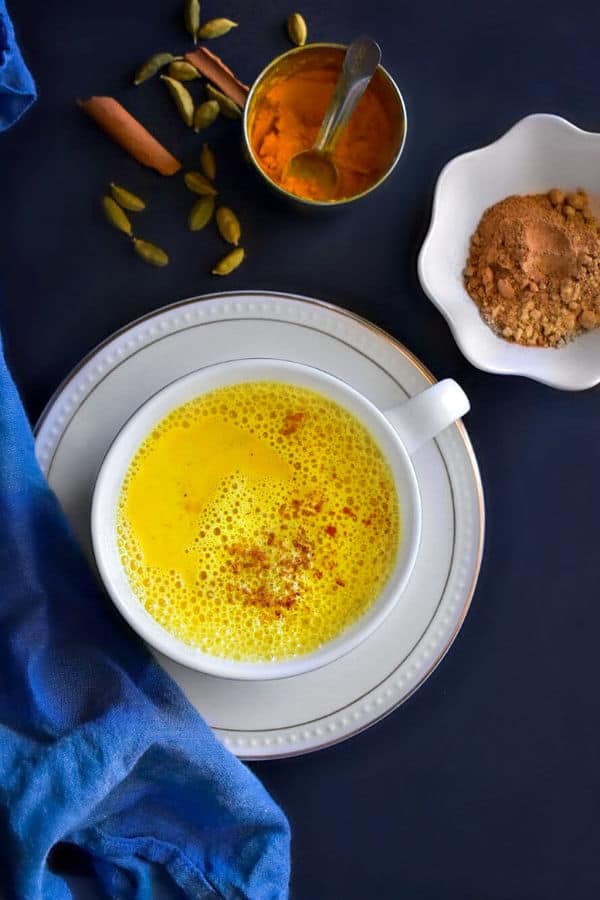 Here's a special vegan milk recipe you'll want to save somewhere for those days where you could use a boost.
Molly's healing cashew golden milk recipe brings together powerful spices such as turmeric and ginger, both of which are widely recognized for their anti inflammatory properties, and blends them well into a cashew-based milk preparation.
She encourages you to have this drink especially if you're going through a cold and flu to speed up the recovery.
This golden goodness takes just 11 minutes and 7 fairly easy-to-find ingredients to prepare.
Warm Spiced Cashew Coconut Milk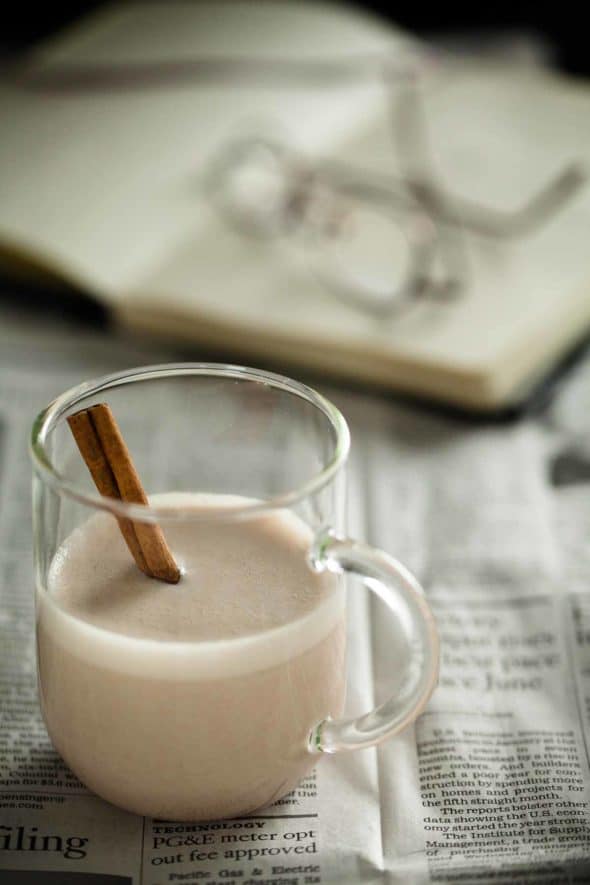 When you're having a nice evening by yourself, perhaps in the mood for a read, Sylvie's warm spiced cashew coconut milk is the perfect, core-warming accompaniment.
The flavor is a winning formula of coconut and cashew milk toned with lively spices such as cinnamon and ginger with a touch of vanilla.
Great for cold and rainy days when you feel like a special treat (in 10 minutes, might I add!).
Healthy Homemade Vegan Sweetened Condensed Milk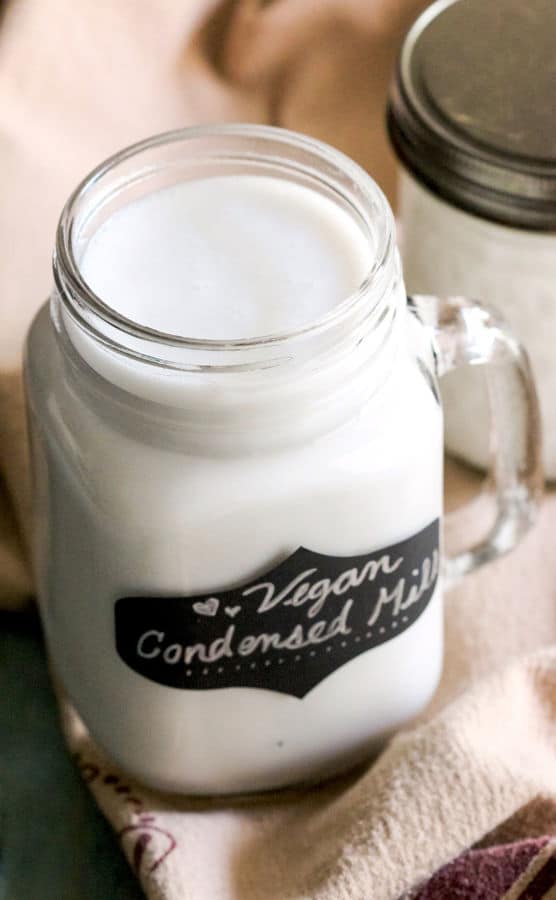 After the popular success of her original healthy homemade sweetened condensed milk recipe, Jessica brings you a veganized version, swapping the dairy milk for full fat coconut milk.
Blended together with a some vanilla creme-flavored stevia extract and erythritol, the result is a sweet and creamy condensed milk ready for use in 5 minutes!
2-Minute Hemp Milk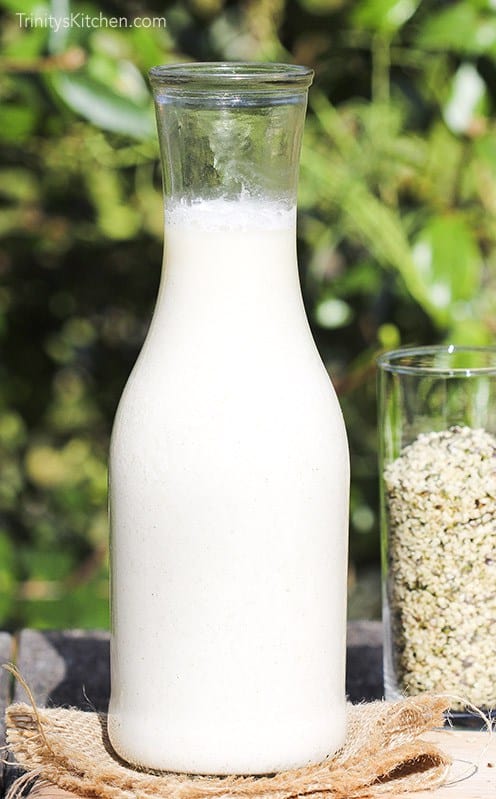 When you need an easy, quick and nutrient-packed vegan milk, you need Trinity's homemade hemp milk recipe.
Fusing the nutty flavor of hemp seeds with the thrill of coconut sugar and vanilla makes for a satisfying milk you can enjoy on its own, used on cereal, or as part of other recipes.
As long as you're using shelled hemp seeds and a half-decent blender, you'll have a drink ready in 2 minutes with no straining necessary.
Homemade Almond Milk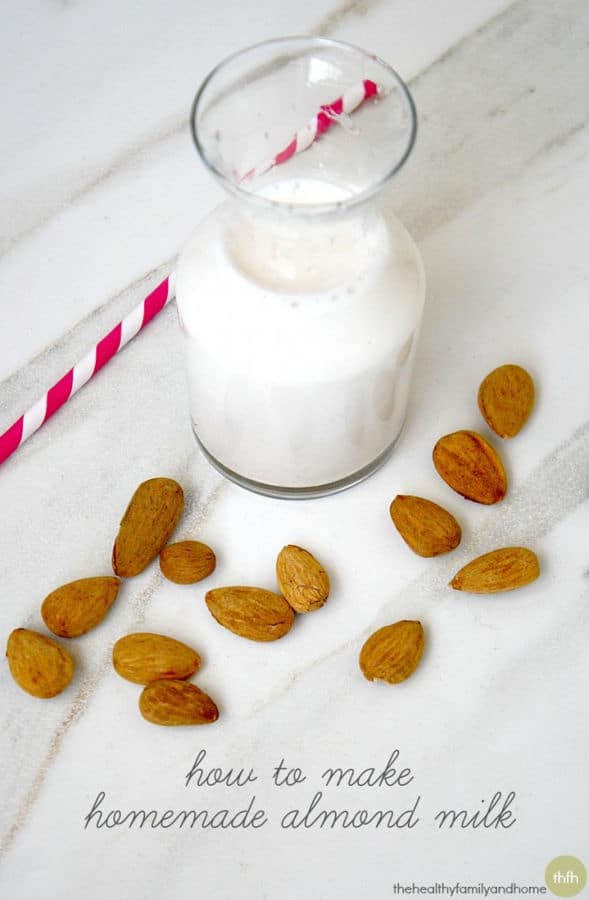 You almost can't get your hands on a simpler vegan milk recipe than Karielyn's homemade almond milk.
What do you need? Raw almonds, water, and a powerful blender. That's it.
If you plan on needing almond milk on a frequent basis, I recommend you follow Karielyn's advice on soaking and storing almonds in large batches.
That way, you'll only need to wait half-a-day for the first batch, and you'll have almonds ready for subsequent use.
Simple, clean, and dairy-free. Awesome!
Real Strawberry Milk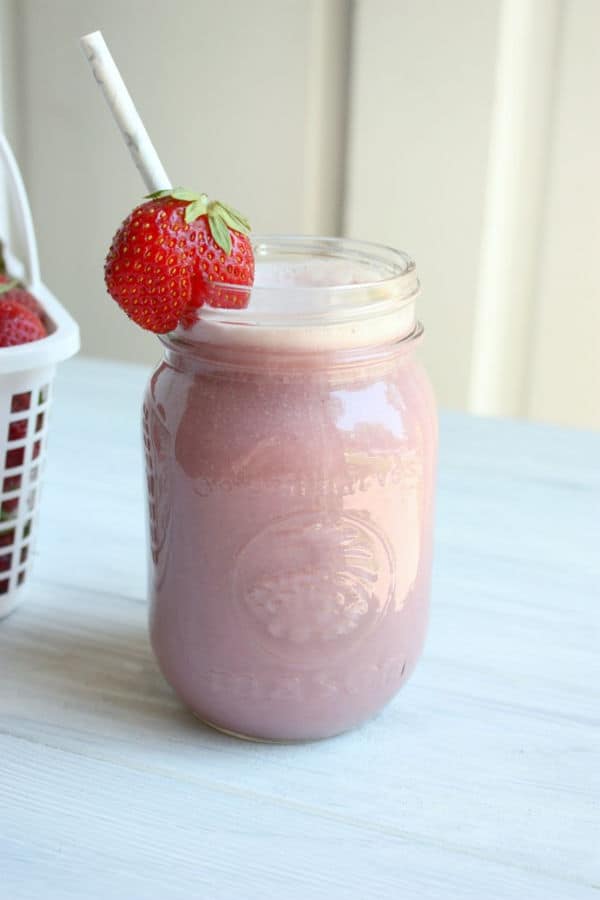 No collection of plant-based milk recipes is complete without a heavenly strawberry milk!
And for that, I introduce you to Jenn's real strawberry milk recipe, inspired from an incident where she picked up a box of Nestlé's Strawberry Milk powder and realized, well, that Nestlé must've had boatloads of fun formulating the fancy powder in their chemistry labs.
So, what do you do in such a situation? You show what a real strawberry milk is made from!
In Jenn's case, that's vanilla soy milk, strawberries and your sweetener of choice (she used agave nectar).
A tiny handful of ingredients, 6 minutes of your time and a high speed blender is all you need for this lovely pink milk!
Vegan Yogurt Recipes
Coconut Yogurt Parfait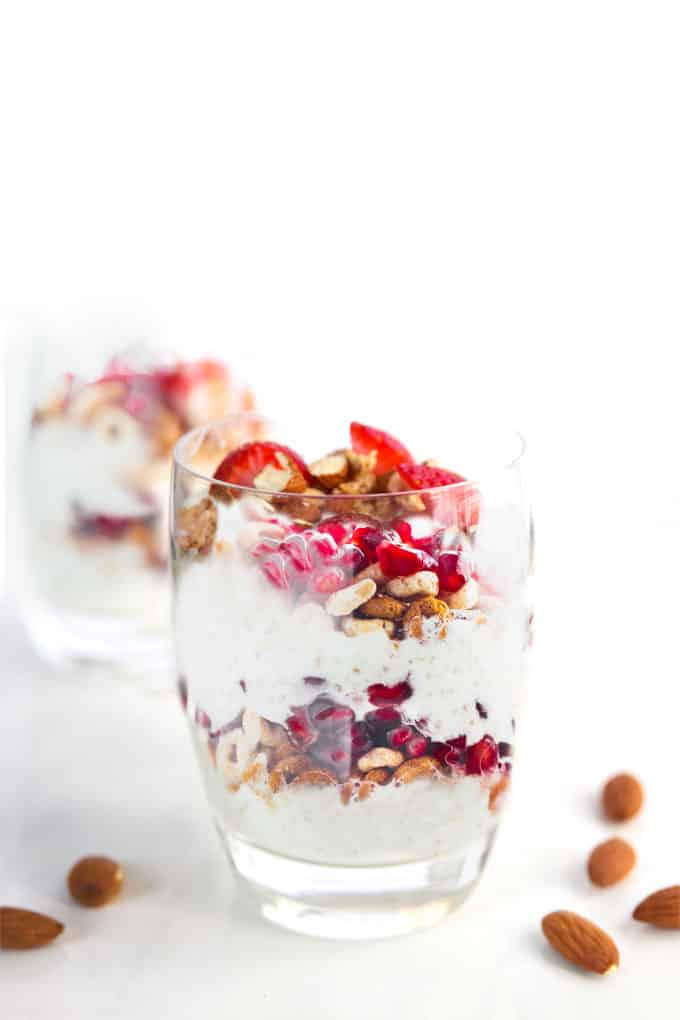 Not only is this recipe a dream to taste, it'll teach you a lot at the same time, so get ready to learn a thing or two about making coconut yogurt from someone who's seasoned at it.
Petra's coconut yogurt parfait is a fabulously luscious recipe for a breakfast or dessert treat.
While it'll take a bit of patience, and perhaps a couple attempts before you get it just right, this 7-ingredient goodness is well worth the effort!
Turmeric Lassi (Golden Yogurt Drink)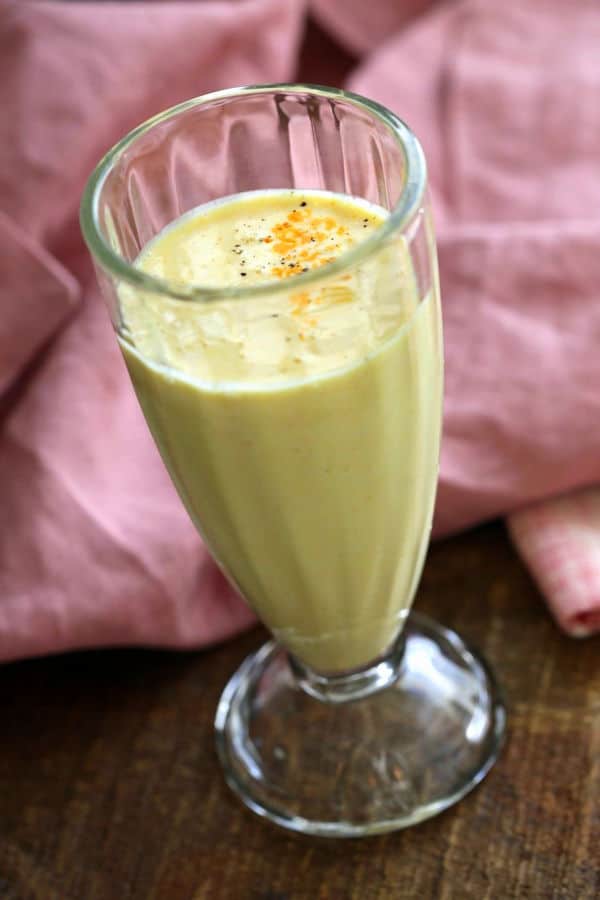 What if I could hook you up with a veganized lassi drink? You in? Let me introduce you to Richa's vegan turmeric lassi recipe, also known as "golden yogurt drink."
Lassis can be a fabulous evening drink to enjoy with someone special, especially when you want to try something new from, say, your typical tea, coffee or glass of wine.
This lassi recipe combines several spices for a bit of bite and allows you to get creative with the flavors and sweetness to get it just perfect.
Simple Vegan Cashew Yogurt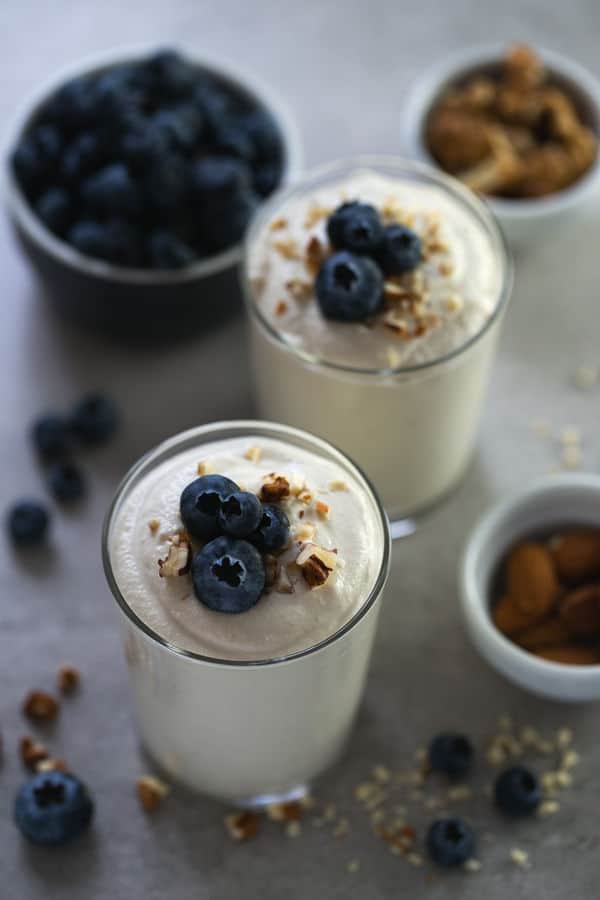 Iosune is spot on when she says it can be challenging to get away from dairy products—when you first go vegan—due to their addictiveness.
So, that's where a food roundup like this one and Iosune's simple vegan cashew yogurt recipe come to the rescue.
This elegant, 5-ingredient creamy yogurt requires a bit of planning ahead to make, as you need to soak some cashew nuts and allow the probiotics to culture the yogurt.
Once ready, feel free to use as a topping or mix with fresh berries or other fruits.
Vegan Soy Yogurt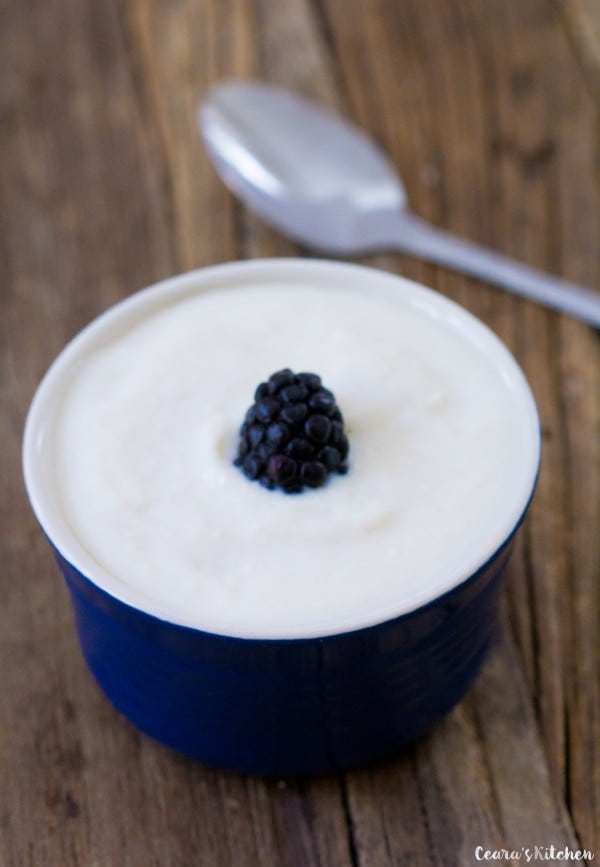 When you need straight up plain vegan yogurt as a base for other recipes, to eat with fruits or granola, or to devour on its own by the spoonfuls, Ceara's got the perfect vegan yogurt recipe!
Soy milk, probiotics and lots of patience is all you need to make this recipe come to life!
Raspberry Mango Parfait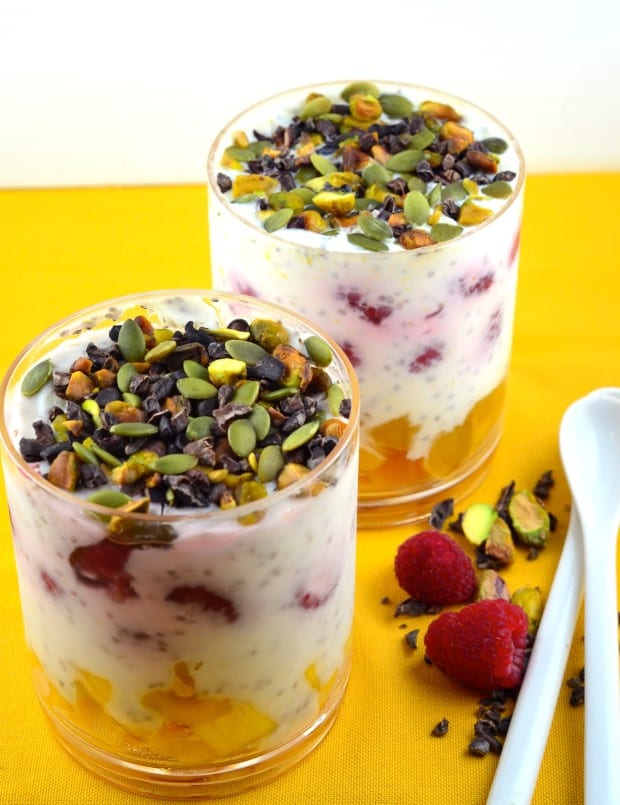 When you really want to treat yourself or perhaps a special someone,  then dive straight into Ruth's vegan raspberry mango parfait dessert. You won't regret it!
We're talking diced peaches and mangoes, creamy coconut yogurt, fresh raspberries, and a topping of chopped pistachios, pumpkin seeds and cocoa nibs.
You need this in your life—you know you do—so go pull the ingredients together, set aside 15 minutes and enjoy!
2-Ingredient Coconut Yogurt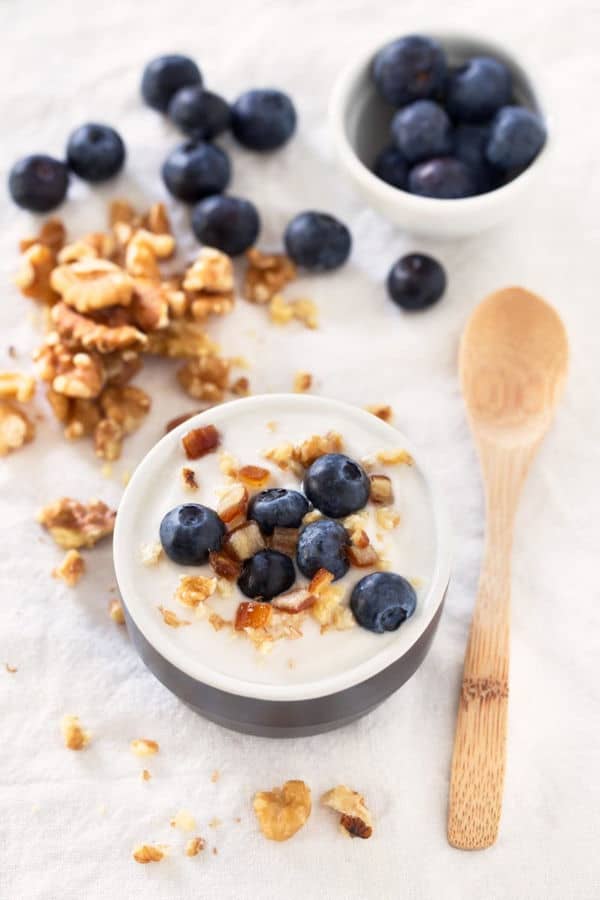 If you love coconut and yogurt, you owe it to yourself to know how to combine the two for a creamy treat. That's exactly what Iosune's 2-ingredient vegan coconut yogurt recipe will help you do.
All you need is coconut milk and probiotics. Then allow the probiotics to culture the yogurt, which should take roughly half-a-day, and you're all set to go!
As most other yogurts, you can use this to mix with fruits, granola, or as a base for other recipes and desserts.
Mishti Doi or Sweetened Vegan Yogurt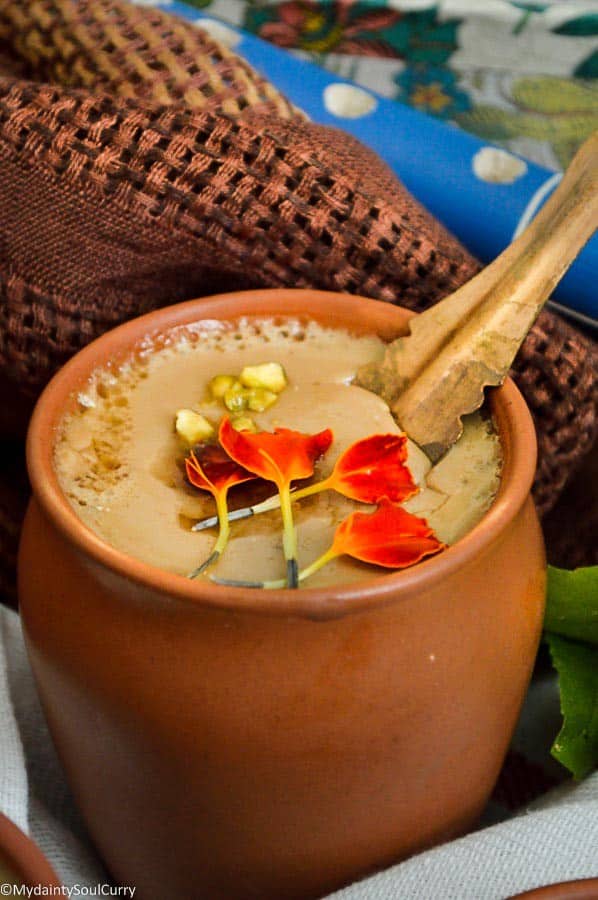 Now here's an unforgettable Indian yogurt recipe; something I'd bet you haven't seen before. At least I haven't!
Sophie's vegan mishti doi, otherwise more easily recognized as sweetened vegan yogurt, is a vegan take on the East Indian dessert delicacy.
This is a flavorful, rich and dreamy yogurt you might just fall in love with. It features coconut, cardamom and chopped nuts, amongst other ingredients.
The preparation requires a bit of patience, as you'll need to ferment the yogurt with probiotics for up to 24 hours. Just know that the reward at the end, will be worth every second of waiting!
Yogurt Strawberry Hemp Protein Smoothie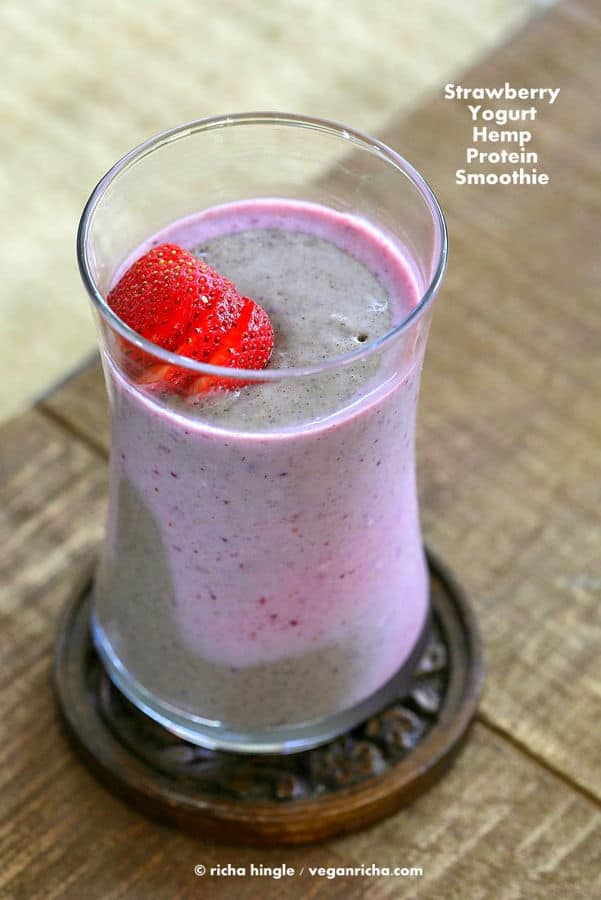 When you need a quick and delicious protein boost, a convenient way to handle that is by adding a good quality protein powder to a smoothie.
Richa's yogurt strawberry hemp protein smoothie recipe is a vegan and gluten-free marvel.
The recipe is basic—allowing for easy customization—and you can even switch it up by opting for a smoothie bowl version with common toppings like coconut flakes, cacao nibs, chia seeds, and granola.
If you're feeling experimental, definitely give this smoothie a try!
Wrapping Up
Phew! If you stuck with me from top to bottom, you're an absolute champ!
But isn't it fascinating how—with just a bit of creativity and experimentation—you can recreate just about any flavor and texture you're looking for?
And best of all, these homemade options are typically much healthier, nourishing and totally guilt-free compared to the overly processed stuff you find at the grocery store.
From breakfast to dessert, this vegan recipe roundup has something for everyone. And if anything, I hope it helps you stay motivated and excited to stay the course and get yourself in the kitchen more often!
Drop us a comment and let us know what you think, and if you've tried any of these recipes!