Sometimes though, you'll want to break out and try foods and dishes you wouldn't normally have thought about trying. After all, not everybody around the world eats meat and two types of vegetables for every meal!
If you haven't already seen it, check out our other vegan recipes roundup where we found 101 recipes we thought was simply the best of the best. We tried to cover everything from breakfasts, juices, sandwiches and more.
Here, we're just going to focus on dinners. We have everything you need for inspiration for the perfect dinner, whether it's for your family or entertaining for guests.
We have appetisers, pizza, pasta and so much more. Have a browse or simply click one of the buttons below and jump to what you need.
Above all, have fun and let us know your favorites!
Vegan Appetizer & Side Recipes
Korean Cauliflower Wings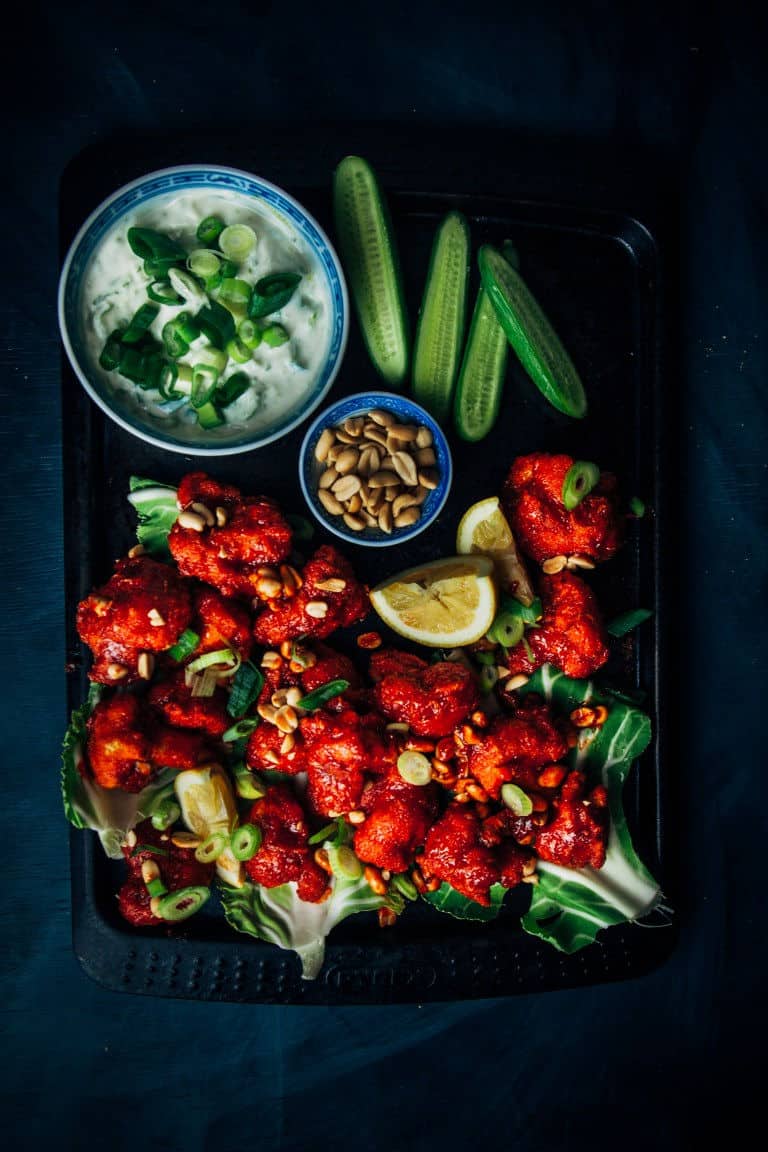 If you want to hit the ground running than this recipe is for you. This is divided into three parts, the batter, the glaze and the dip.
In total you're looking at about an hour from start to finish, maybe not the fastest dish in the world, but my goodness, once you taste it you'll understand that it was worth every minute.
You may have never had anything like this before, and if you're thinking what the big deal is about, you'll have to trust me.
Heck, don't even take my word for it, make a bunch for yourself and see how long it takes your friends and family to come back for more! Looks fantastic, tastes even better!
Potato and Chorizo Tacos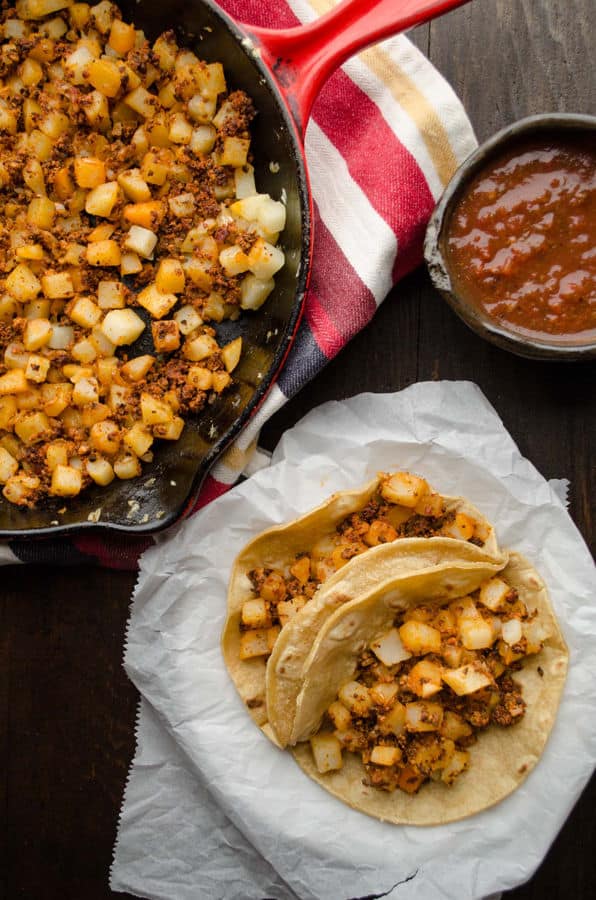 Everybody loves tacos, right? There are so many variations and ideas, often they have meat or fish and if you're not careful, you'll end up with just salad or beans.
Incidentally, if you ever go to a Mexican restaurant, do check what the refried beans are cooked in, it isn't always vegan.
For this dish you'll need to source some vegan chorizo and depending on where you live, it might be quite straightforward.
If you are having difficulty, you could always use tofu or beans. Having said that, do check this recipe because right at the end of the instructions, there's a link to make your very own home-made vegan chorizo!
If you can source it, you'll need just 30 minutes to make these delicious tacos! An extremely simple recipe that makes four servings, unless you invite me for dinner!
Healthy Air Fryer French Fries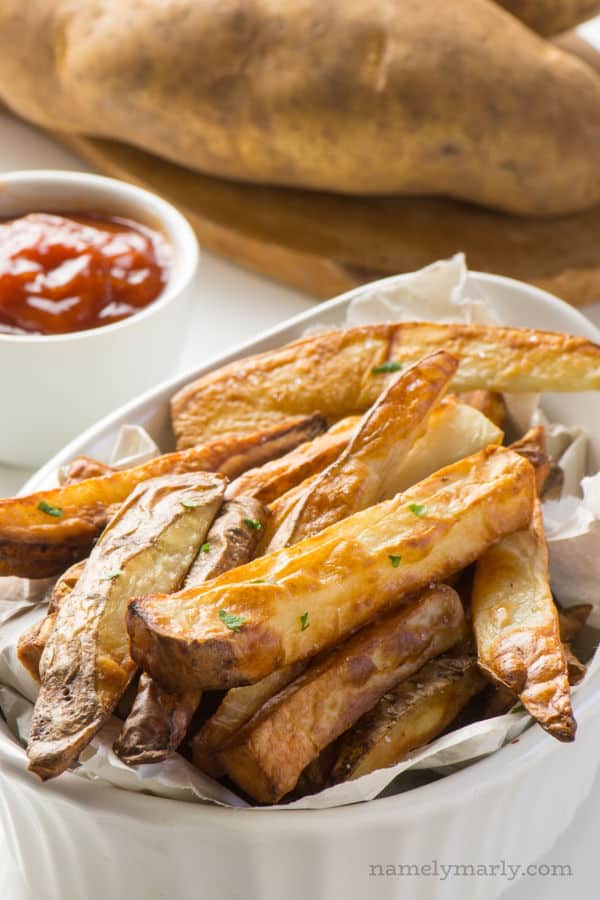 If you have an air fryer, this recipe was created just for you! Everybody loves French fries and as tasty as the deep-fried versions might be, we all know that they're not good for us. With this recipe, we still get fries, but we skip the bad part!
Without an air fryer, I'm sure you could achieve similar results using a little imagination and an oven. It's not quite the same but you will certainly get great results.
The ingredients couldn't be simpler, potatoes, a teaspoon of olive oil and seasoning. In the air fryer you'll end up with delicious crispy fries that will be perfect with dips or will make a great accompaniment to your plant-based burger!
In fact, we have a burger section in this roundup, scroll to the top and click the burger button to check it out!
Homemade Veggie Dogs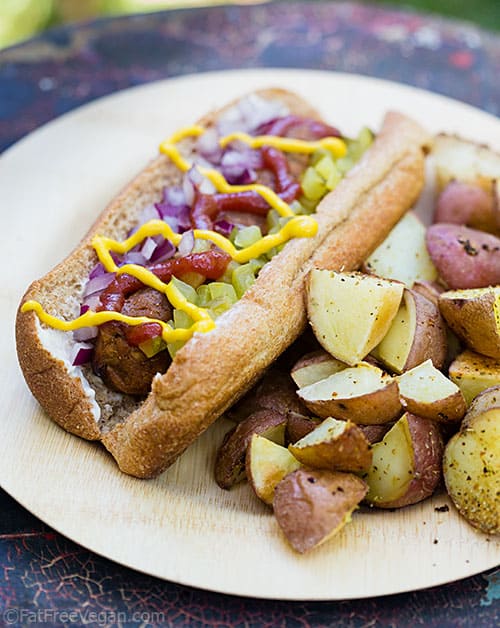 There's nothing quite like a good veggie dog! Many stores now have wonderful plant-based versions and honestly, in many cases the most dedicated carnivore wouldn't be able to tell the difference.
Although seriously, once you learn the ingredients of regular hotdogs, who in their right mind would eat one? In this recipe we have delicious ingredients!
The very base of these dogs is pinto beans. You can either make your own from the dried variety or just use a can. However, I want you to know that these are not just 'bean sausages'.
Just take one look at the ingredients and you'll see that you have everything from onion, oatmeal, nutritional yeast and so much more! So, fetch your favorite mustard, maybe grab some fries, and get ready for movie night!
Corn Pakora Fritters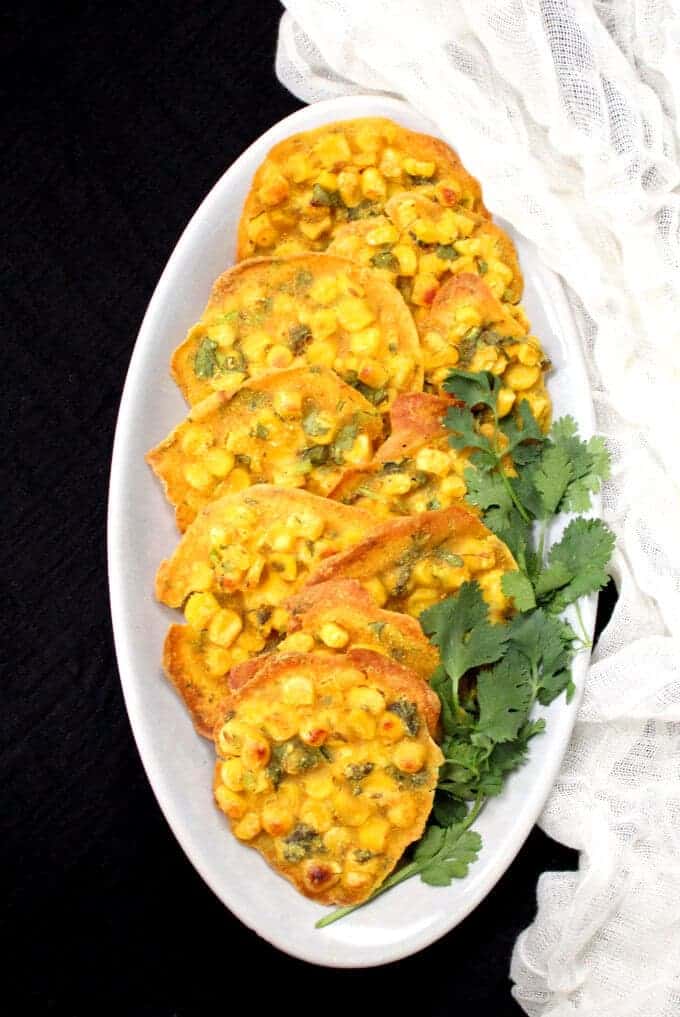 If you've never heard of a pakora, it's an Indian snack, usually shallow fried or deep-fried. Not here! For this recipe we are using our trusty oven. They are often naturally vegetable-based and are totally delicious!
You need 2 cups of corn kernels either fresh or frozen. If using frozen, allow to thaw first. If you have any tins of corn, you can use them without a problem.
You'll also need chickpea (garbanzo beans) flour, this is sometimes referred to as, gram flour.
If your local supermarket doesn't stock it, either look for an Asian store or check online.
The wonderful thing about this recipe is that, if you don't like corn, or you simply have other vegetables that need eating, use those instead. You'll still end up with the same delicious snack! A perfect appetizer.
Italian Pasta Salad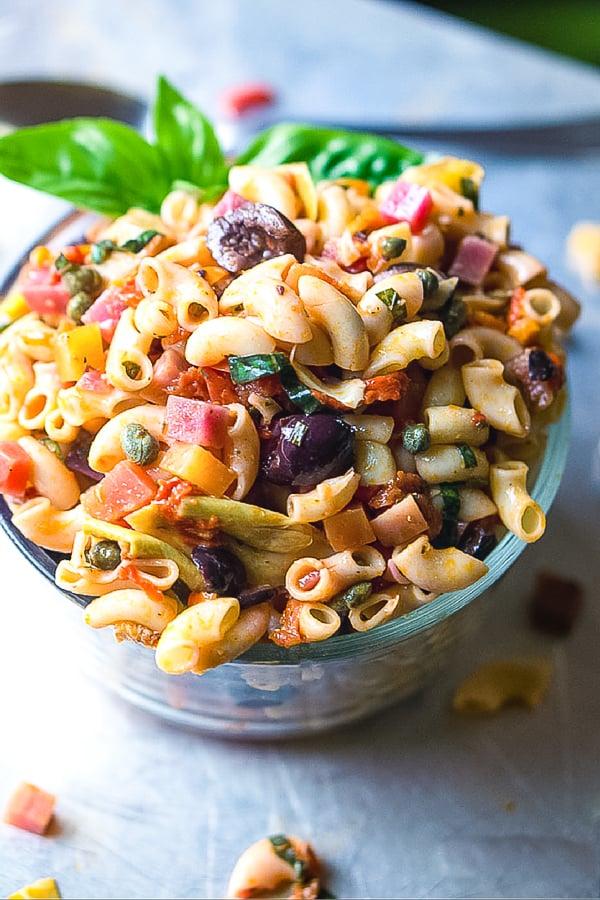 Salads can become boring if you keep having the same thing. Especially if it's iceberg lettuce, over and over again! This is no way to live, my friends.
Here we have an incredible salad: chilled pasta with fresh and pantry stable veggies. You can get creative with this one, adding what is available in your area. It makes the perfect appetizer or side dish too.
In the summer months it's your perfect lunch. It preps and packs up beautifully. Check it out!
Black Bean and Potato Tacos with Guacaverde and Quick Pickled Cilantro-Lime Slaw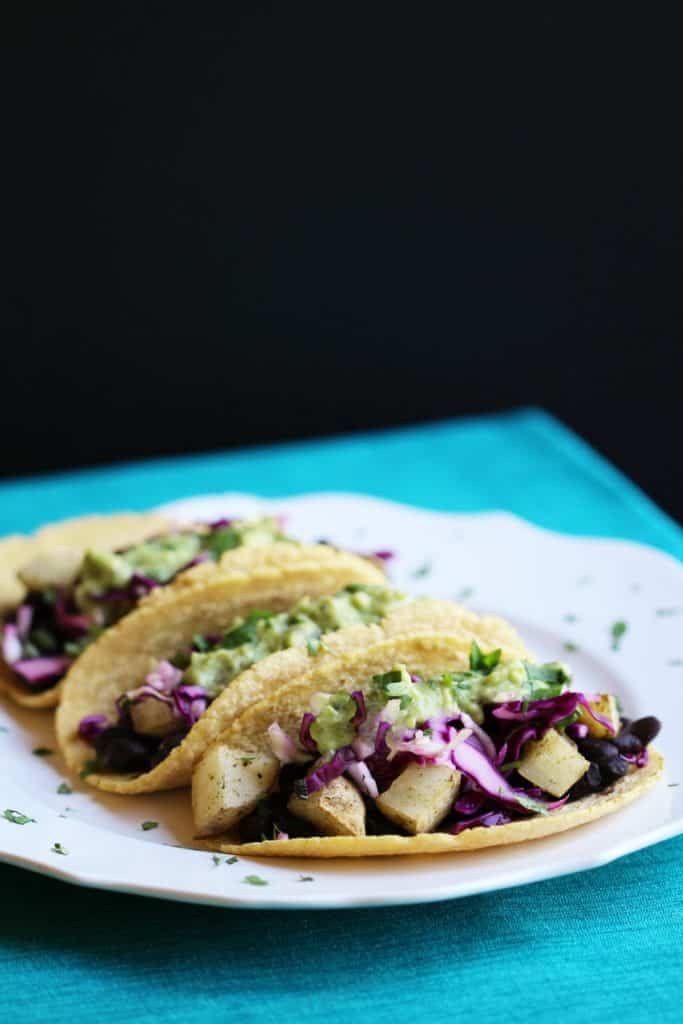 If you're looking for tacos that are just that little bit different, something unusual to knock it out of the ballpark, look no further my friend!
Here we have beans, delicious russet potatoes and more. Not to mention your very own recipe of a cilantro-lime-slaw which is quick to make, and also, probably the easiest guacamole recipe ever.
Put them all together and I promise you, next time you'll know to make twice as much, at least!
Lemon Garlic Orzo with Asparagus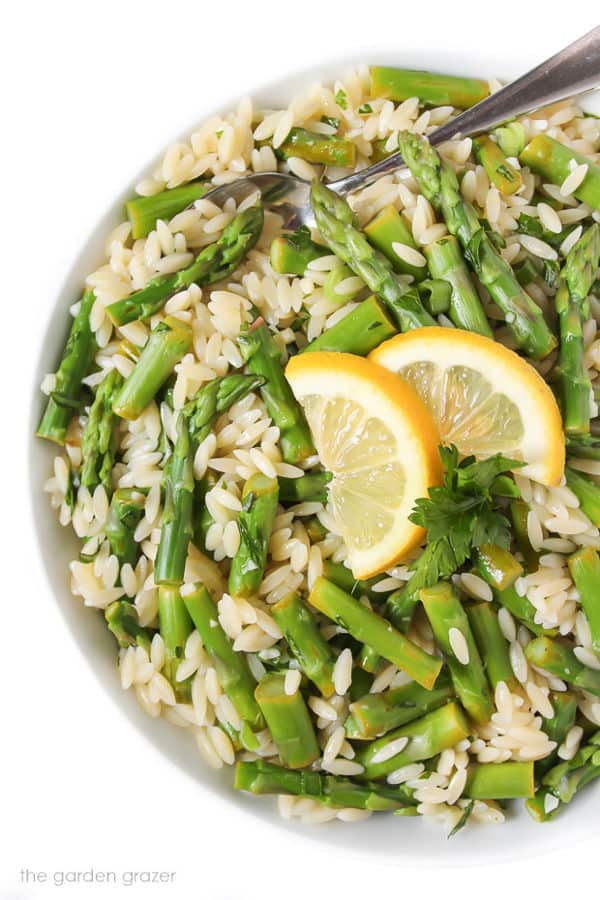 Orzo is essentially pasta in the shape of rice, so if you've never heard of it before, there's nothing to be afraid of!
I know we categorized this as an appetiser or side, but it's just so tasty it would make the perfect summer lunch too.
This does have asparagus which I absolutely love, if you're not keen on them you can easily swap with green beans.
In addition we have some green onion, parsley and really, you could add anything else that you have to it. Check out the 'optional' section at the end of the ingredients list.
This may almost seem trivial, but the secret ingredient for me is the lemon zest. It brings out the flavor of every ingredient and makes everything taste fresh. A truly wonderful recipe.
Easy Chilli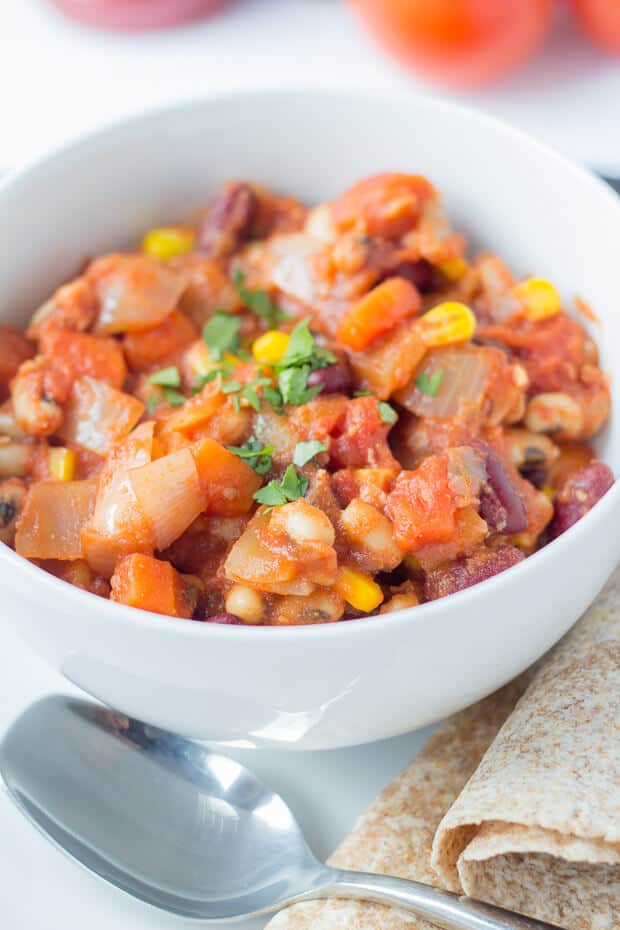 This is another one of those recipes that is listed as an appetiser but could easily become the main event. You are looking at a total time of about 50 minutes but I promise you, every minute is worth it!
Everything is made in one pan, you just keep adding the ingredients and you won't have any problems sourcing anything.
If you've never heard of tomato passata, it's just tomatoes that have been passed through some sort of device and mushed.
In fact, passata is the Italian word for, 'pass through'. This usually comes in a glass bottle with a wide neck. If you can't find any, simply use chopped tomatoes. A delicious vegan chili!
Pumpkin Pesto Pearl Barley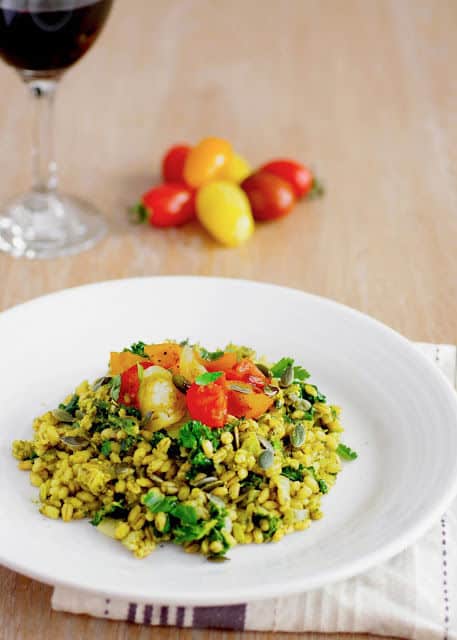 Barley I think is often overlooked. It can be great for people that have allergies and ultimately is delicious and incredibly versatile.
This recipe makes for a great appetizer although could just as easily be the perfect summer lunch.
I love how the recipe is divided, very clear and easy to read. You have a veg section, one for the barley, and a delicious pesto recipe that you whizz up in the food processor. Put it all together and you're good to go!
Kale and Herby Tofu Curry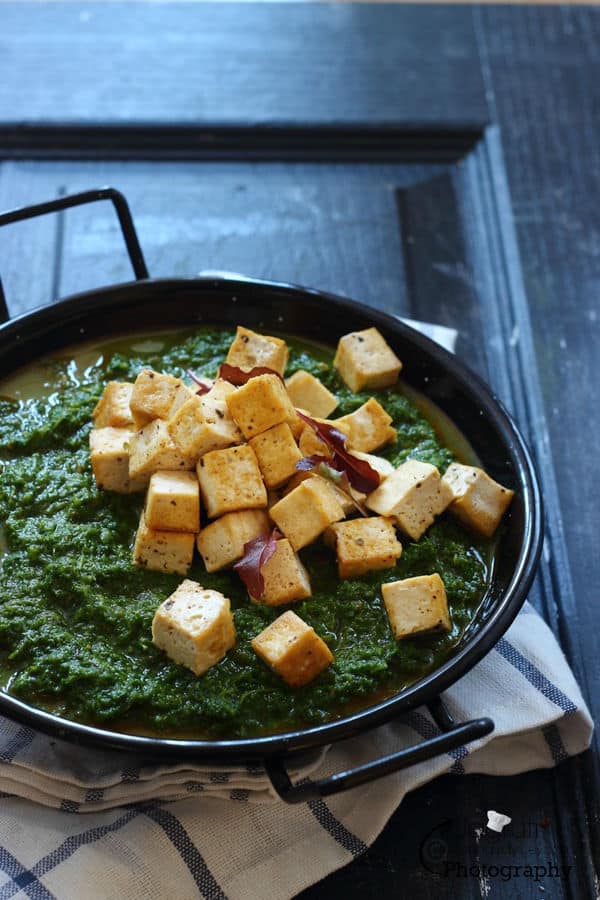 Anybody that knows me will tell you that I love curry. With this type of dish, you usually think of a wonderful curry with some rice.
Not here! If you like curry as much as I do, or you have a friend that is a curry fan, you must make them this because they will just not see it coming!
You can make this as an appetiser although it's seriously delicious so you better have the best entrée in the world to follow this dish!
Get some naan or your favorite Indian bread and really, this is all you need for the perfect Indian curry night.
Irish Potato Bread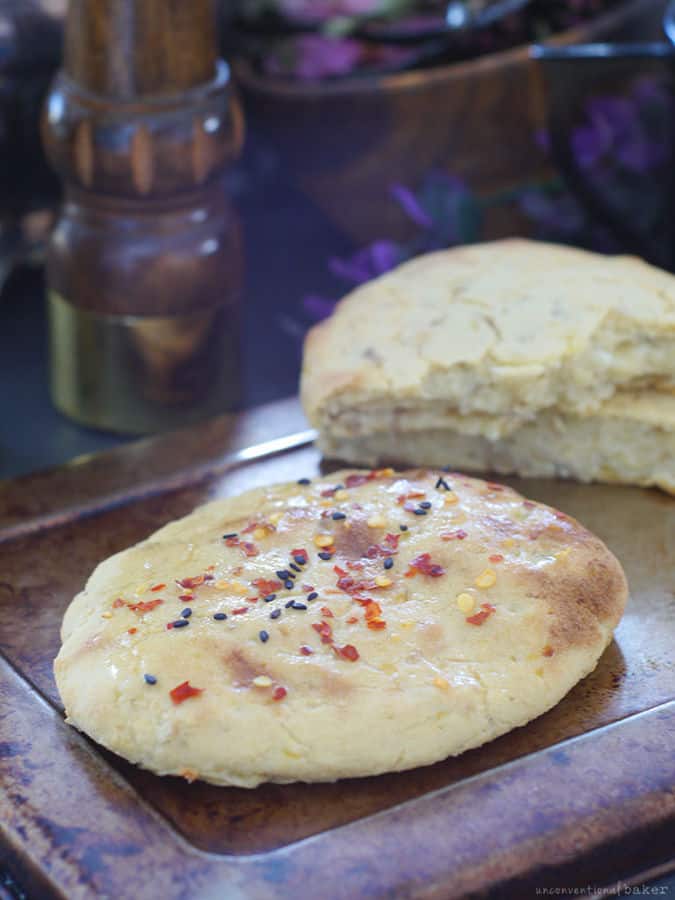 Ireland is often overlooked when it comes to cuisine, perhaps even more so when it comes to vegan food. However, there are plenty of traditional dishes that are naturally vegan, and this is one of them.
If you've never had potato bread before, I can't stress enough how you need to try it, today! There are just five ingredients, and one of them is water! You are looking at about an hour in total but most of that is cooking time.
You end up with delicious pancakes that are just perfect with salads and soups or just about anything!
Vegan Burger & Sandwich Recipes
Portobello "Roast Beef" Sandwiches with Chipotle Mayo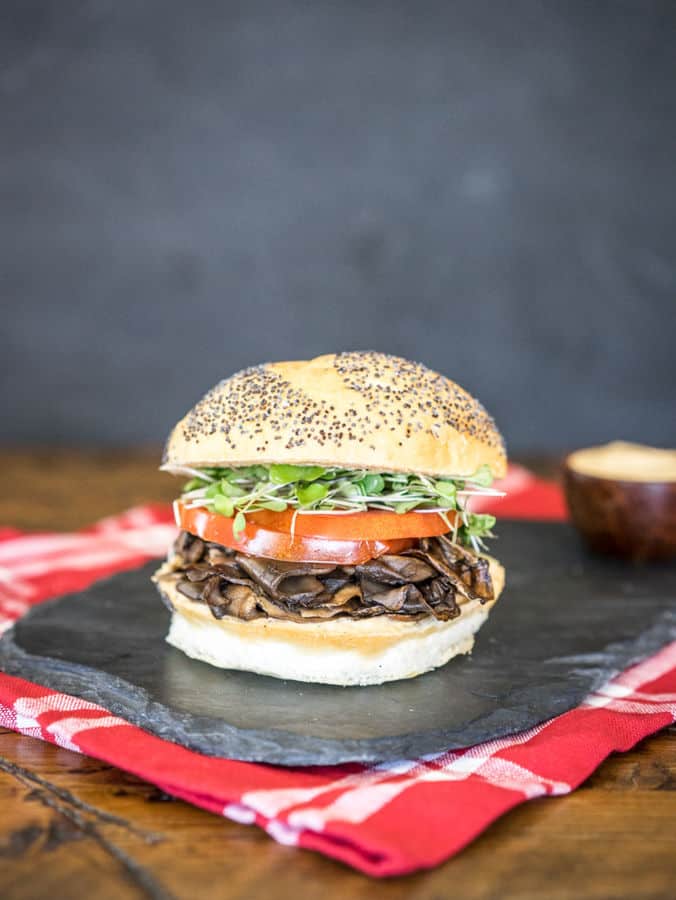 Portobello mushrooms have been the vegan's answer to burgers for a very long time. They are the perfect size and have a fabulous taste.
Some people, and I'm one of them, aren't too sure about the texture of a single big mushroom. Well, this recipe deals with that because the portobello's are sliced thinly.
I must say, the recipe page for this dish is extremely well laid out. You have ingredients and then, rather than a list of 'instructions', the guidelines are divided into 'steps'. Simply do everything and you will end up with a fabulous burger.
To say the Chipotle Mayo is delicious is an understatement, it will be perfect for salads too! This burger, with all its accompaniments, is a real treat!
Santa Fe Black Bean Burger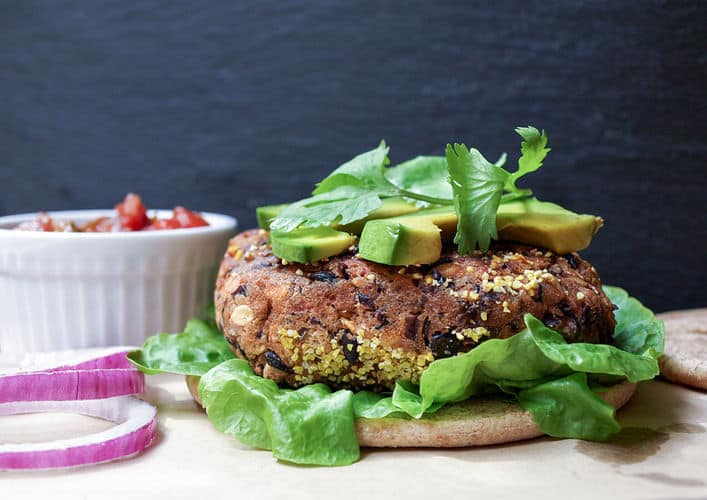 Back in the day I was never a fan of bean burgers, they literally tasted of nothing but beans.
We've come a long way since then and this recipe is a perfect example of a modern, tasty and healthy burger.
You can serve as you would any burger with any topping and sides. It can also easily be made gluten free with the correct flour.
Perfect for the kids as you can shape the patty to any size you like. Add some sliced avocado over the top and you have yourself a first-class burger.
Air Fryer Cajun French Fry Po' Boy with Mushroom Gravy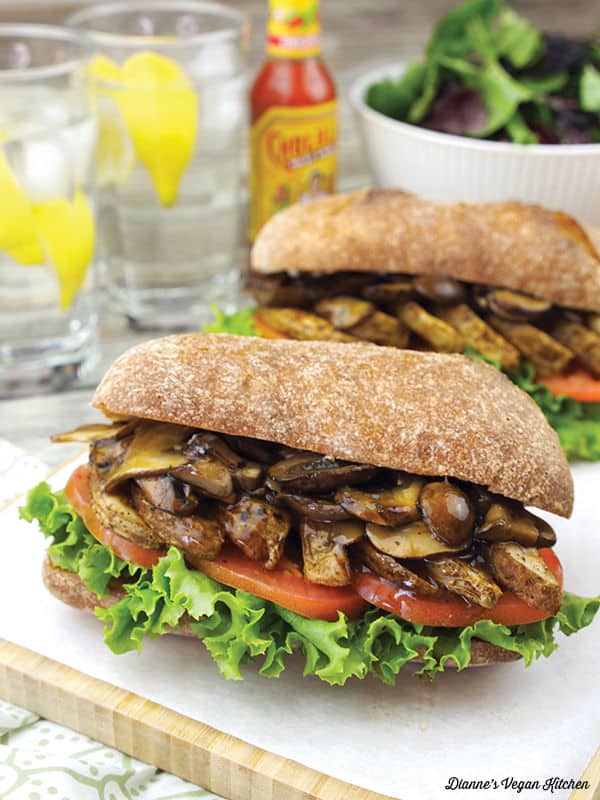 If you have an air fryer, you absolutely must check this recipe out. I'm not sure how common they are, I don't have one and whenever I see a recipe that calls for one, like this, I use an oven and a little imagination.
The recipe is divided into three sections, the French fries, mushroom gravy and the sandwich options. Save this for when you want to treat yourself.
This is an extremely high-quality sandwich so it's perfect if you want to impress someone. Make this and you will have them wrapped around your finger!
Kidney Bean Millet Beet Burger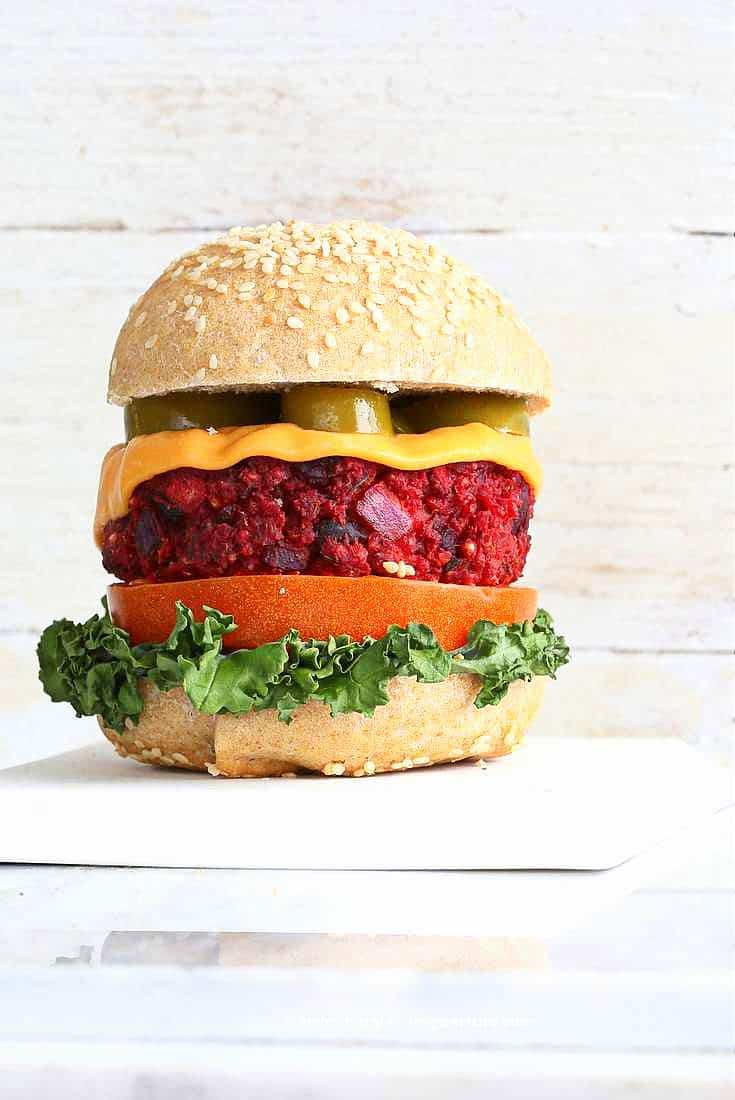 There are so many great plant-based burgers on the market today, it's easy to forget that we can make our own.
As good as some of the store-bought versions are, even on the ingredients side, there's still nothing quite like making your own food from scratch. Your body knows it too.
This is just a 10 minute prep time and then 45 minutes to cook this beauty. The color is a beautiful vibrant red thanks to the beets and tomato.
Incredible ingredients and you can choose between millet or quinoa to make your burger with. If you can get some vegan cheese to go with it, do it!
Portobello Mushroom and Caramelized Onion Sliders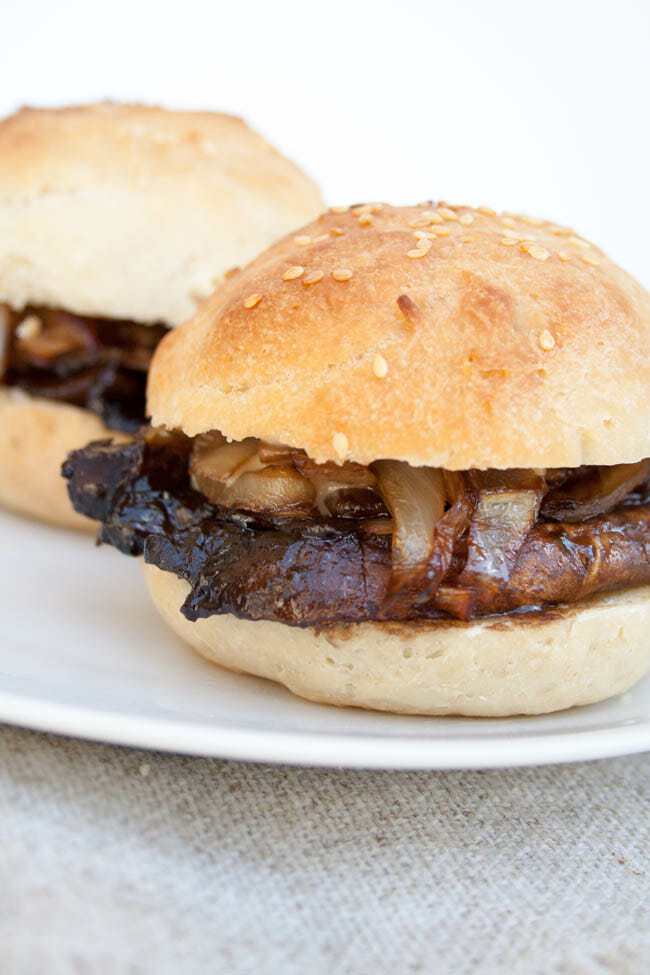 There are so many different vegan recipes for sliders, it's sometimes difficult to choose the best one. If this isn't the best, it's certainly up there alongside number one.
If you like caramelized onion (let's be honest, who doesn't?) and portobello mushrooms then you know that you're going to love this.
Both of those main ingredients are cooked with balsamic vinegar, so you can just imagine the wonderfully intense flavor you end up with. Serve with your favorite best quality bread and you will be biting into heaven!
The Best Darn Homemade Vegan Burgers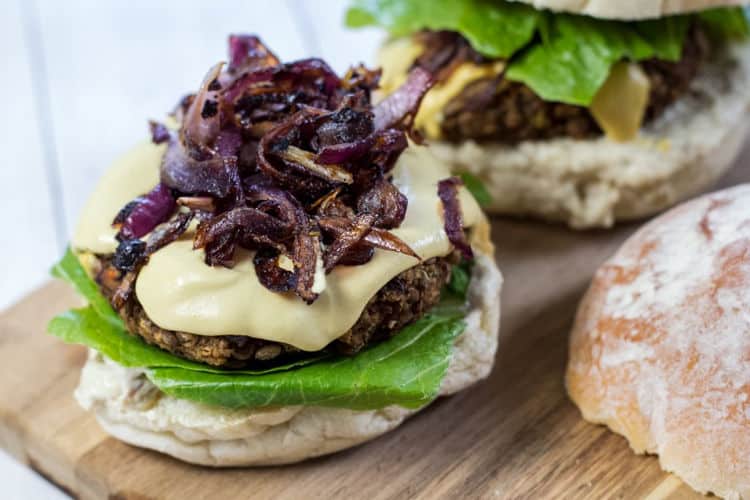 Well, the title of this recipe makes quite a bold claim doesn't it? We made these burgers and with prep and cooking it did take just under an hour. Was it worth it? You bet!
What the author has done here is to source some top-quality ingredients that normally you don't see in plant-based burgers.
Cremini mushrooms and extra firm tofu are just two ingredients in this and I urge you to try it because nothing I can say will do it justice. We're going to make this again and once you taste it, you will too!
Autumn Burger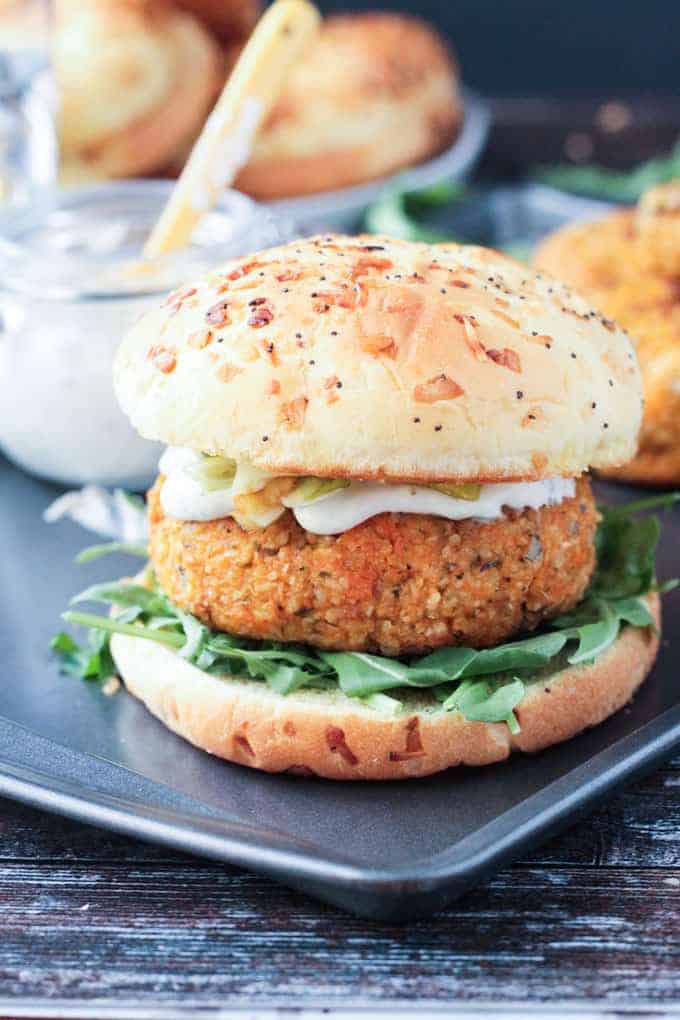 Sometimes you get great plant-based burgers, other times you get better ones. On this occasion we get an even better one!
From start to finish you are looking at about 1 hour 15 minutes, but remember, the best food doesn't make itself and is always made at home.
The recipe here is divided into three, the burger, then you get a lemon thyme mayo, and lastly a different kind of mayo made from cashews.
Why not make them both and see which you prefer? They both keep in the fridge for up to 3 days so perfect for salads and dips. This is a serious burger for serious people!
Bloody Mary Veggie Burgers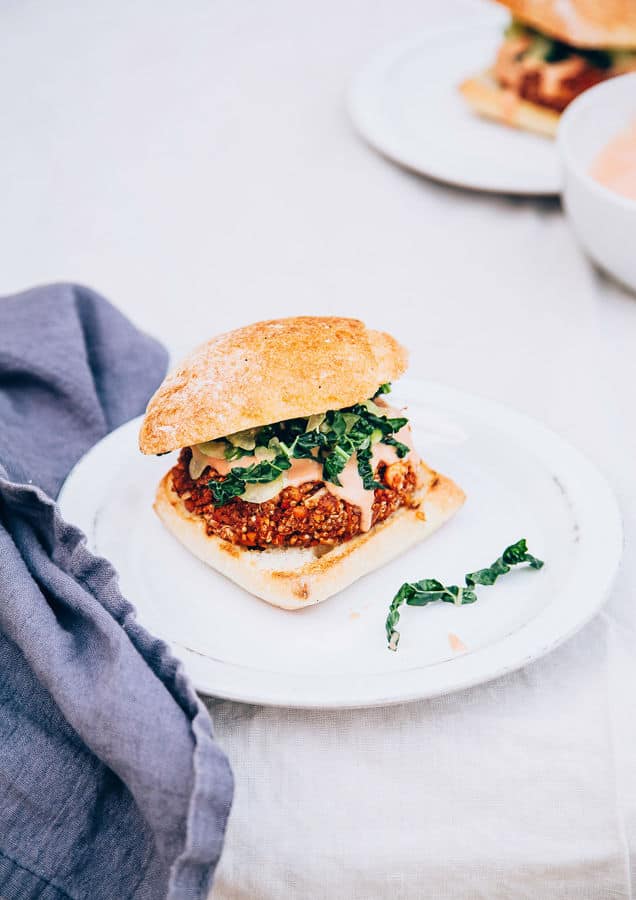 The base of this burger is chickpeas (garbanzo beans) and quinoa amongst other things. It's a very 'meaty' burger that is bursting with flavor.
One piece of advice I will give you is to eat this alone or with good friends and family as it can be a bit messy.
That isn't a negative, it's just a friendly warning! It doesn't hold its shape well but that's okay. It's not as bad as a sloppy Joe, and if you had the right bread I'm sure it would be perfect.
Serve with your favorite ketchup, vegan mayo and horseradish! One of the most flavourful burgers I've had!
Vegan Curry Recipes
Potato, Mushroom and Coconut Curry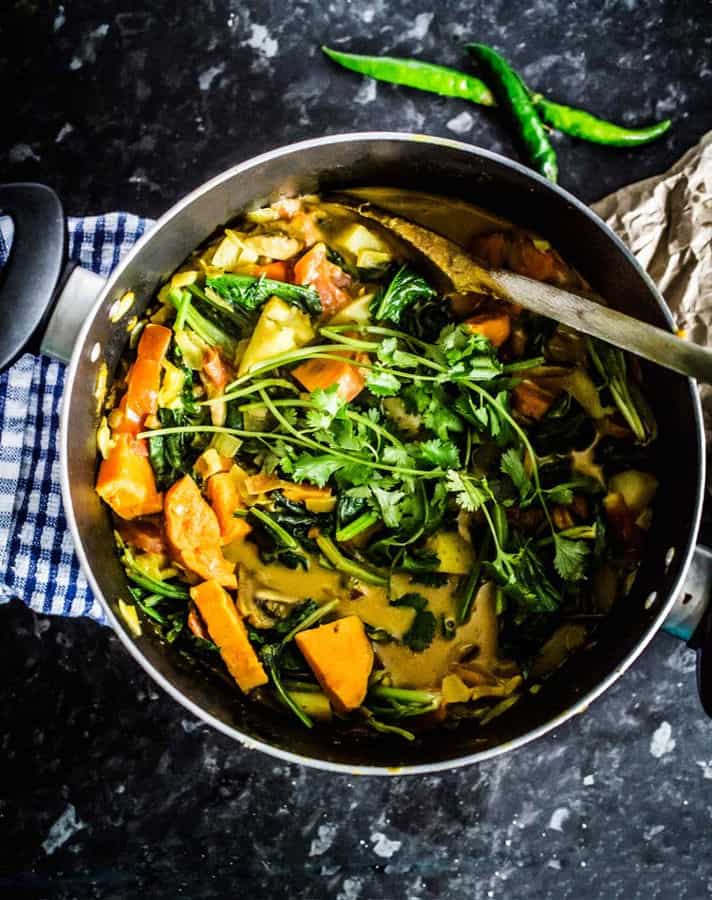 Dartmouth is a wonderful place in Devon on the south coast of England. I've had the pleasure of going there and it's beautiful, as is this recipe.
Make no mistake, the British know a thing or two about curry. It is the most eaten cuisine in the UK and there are some dishes that were created in Britain that do not exist in India.
If you like curry, you're going to love this. Potato and Coconut pretty much already guarantee a homerun, you also have a little peanut butter and most importantly, all the proper herbs and spices to make a genuine curry. It's unique but somehow familiar. Above all its delicious!
Red Thai Curry Vegetables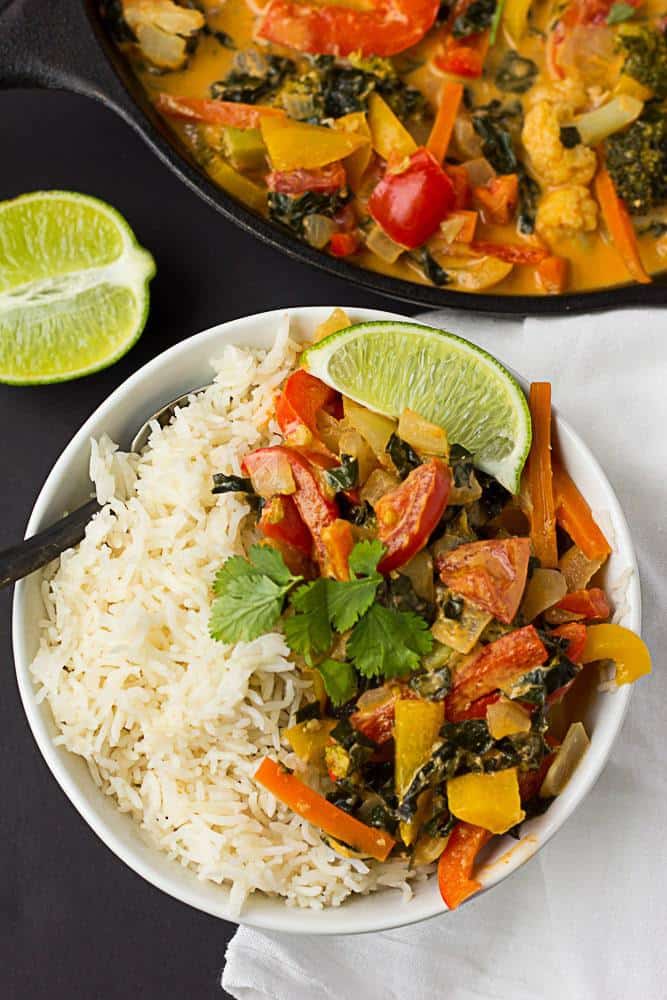 If you're a curry connoisseur, you'd be well versed in Thai curries. There is something beautifully distinctive about dishes made from this part of the world and this is no exception.
The ingredients are fresh and with one look you can see this is going to be an awesome dish. I urge you to source the best quality vegetables that you can because it will make all the difference.
When you go to the recipe page, check out the top where it tells you the number of servings, if you click the number a little slider appears which you can move according to the amount you need to make, this will adjust the ingredients automatically.
A seriously tasty curry. My recommendation is to make twice the amount you need and then store in the fridge to reheat the next day. That way you get to eat it twice!
Oven Fries with a Coconut-Curry Dip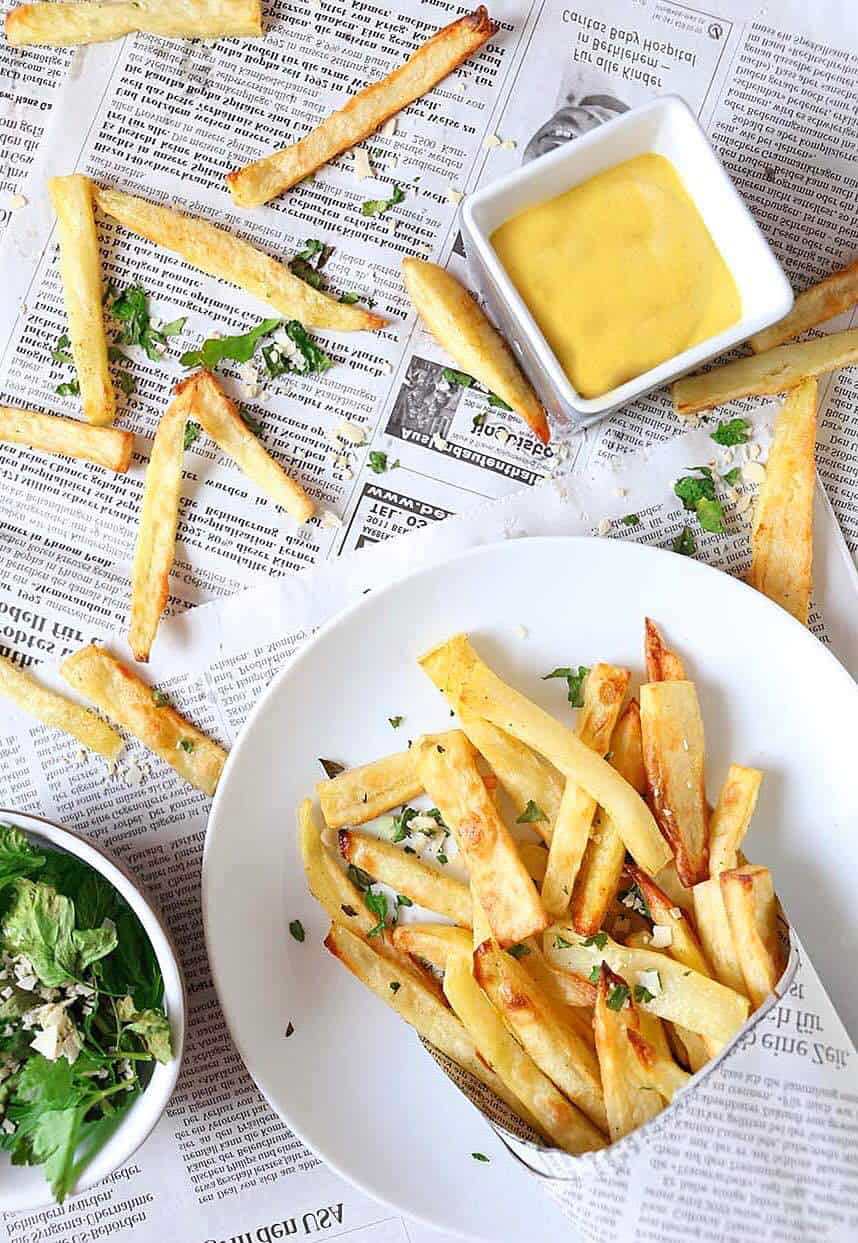 Did you know that in the UK where they have 'fish and chip' shops, something else they sell is 'chips' (fries) with curry sauce. It's a thing and a tasty one at that.
The problem is the fries are deep-fried. Here we get to make our own oven fries as you would normally and then this recipe is for the coconut-curry dip.
If you've never made oven fries before, just slice potatoes and lay on a baking sheet in the oven and drizzle with olive oil or even rapeseed oil and seasoning. Olive oil is great but does add a flavor which you may or may not want. Use rapeseed if you want the effect but without the extra flavor.
This coconut-curry dip is something you will make again and again, not just with fries, but with anything you can use as an excuse!
Coconut Curry Ramen Noodles with Marinated Mushrooms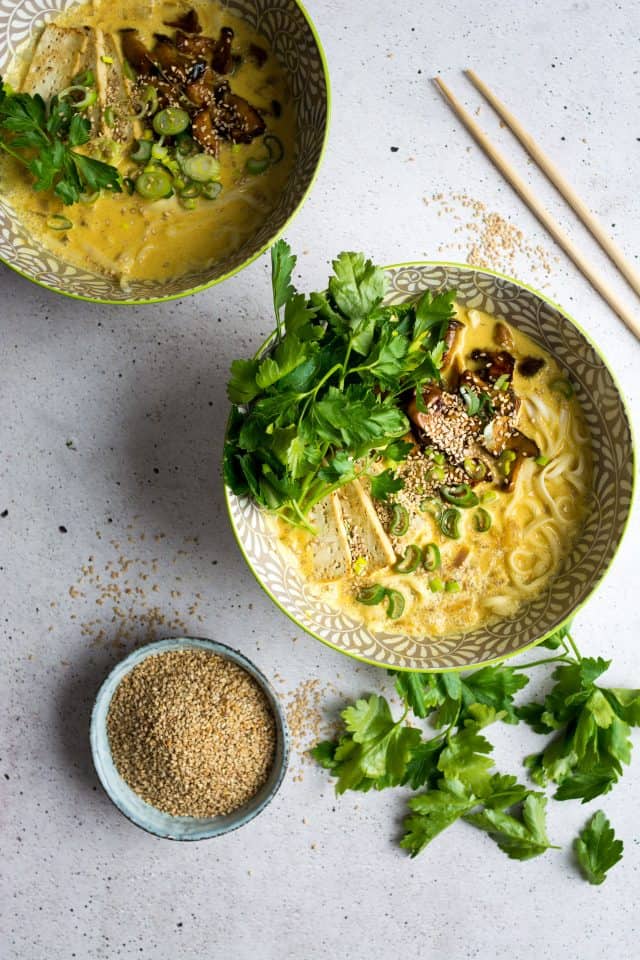 Okay, time to stop what you're doing, go to the store clutching all the ingredients you need and get home as soon as you can to make this. Marinated mushrooms and ramen noodles in a curry sauce? Yes, it's that good!
This recipe is split into, the marinated mushrooms and then the 'soup'. Unbelievably satisfying and bursting with flavor.
You're looking at about an hour or less to make. By default, the amounts listed in the ingredients make 4 servings but there is a tool where you can change the servings and it will alter the amounts listed, perfect, as is the dish!
Curried Savory Healthy Mashed Sweet Potatoes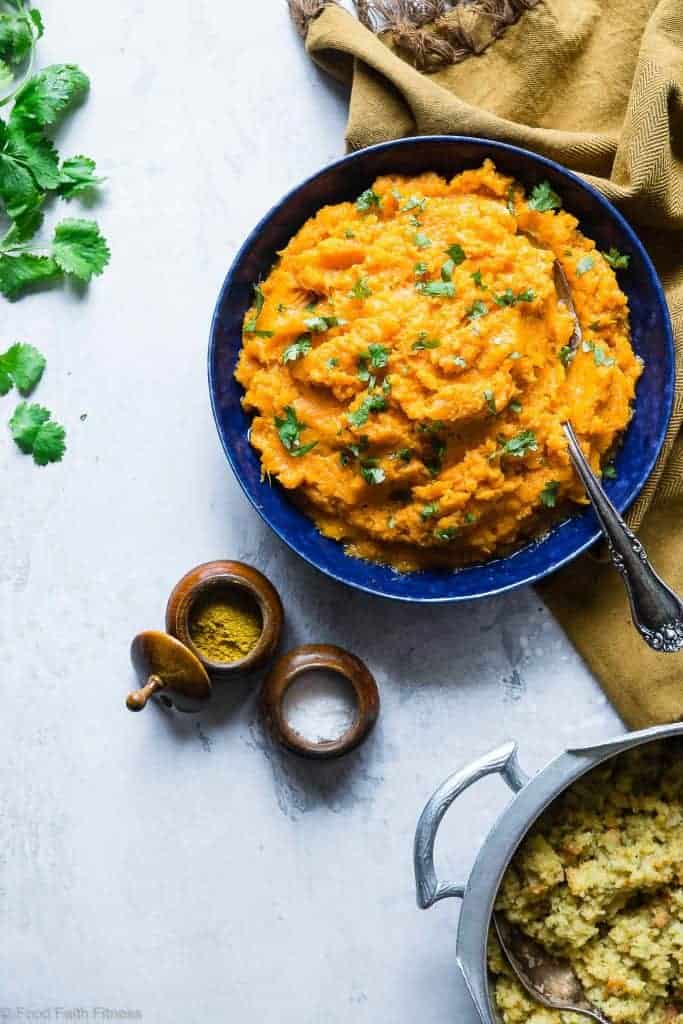 If you don't normally have sweet potato, or you tend to have them around the holidays, you need to change this habit.
Why? Well, for starters they are tasty, secondly, they are far less starchy than white potatoes so if you suffer from digestion problems and eat a lot of white potato, try sweet potato to see if it helps.
If you're a fan of sweet potato anyway, and you like curry, then this is for you. This is mashed potato with a twist, or is it twist and shout?
The coconut cream is the secret ingredient because it blends all the flavors together with a beautiful creamy texture. Perfect for the holidays although don't wait that long!
Easy Yellow Curry with Tempeh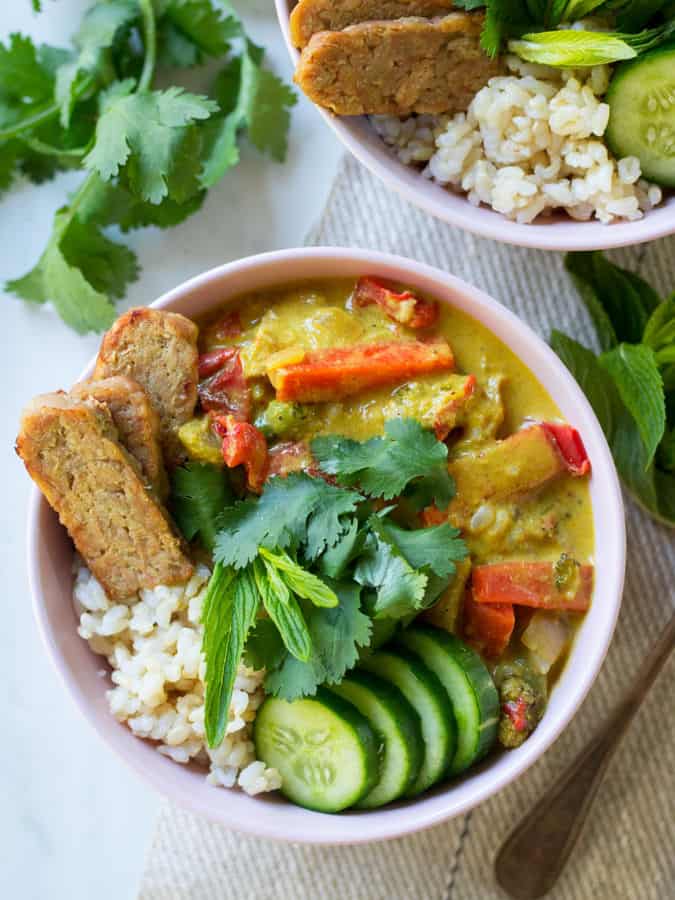 If you're into gluten-free food, for whatever reason, check this out. The recipe is divided in two, the yellow curry and the vegetables.
This means you can use whatever veggies you have that need eating which is always great to see in a recipe.
The curry itself is made with coconut milk, tamari, and turmeric as well as some other goodies.
You're only going to need 20 minutes prep time in the same for cooking. Promise me one thing, when you serve this dish, divide the foods as shown in the bowl.
Obviously, you don't have to, but it works wonders for presentation and there is no reason why we shouldn't go to the effort, even when we are making it for ourselves. As somebody once said, because you're worth it!
Vegan Gluten-Free Recipes
Dad's Southwest Tofu Bowl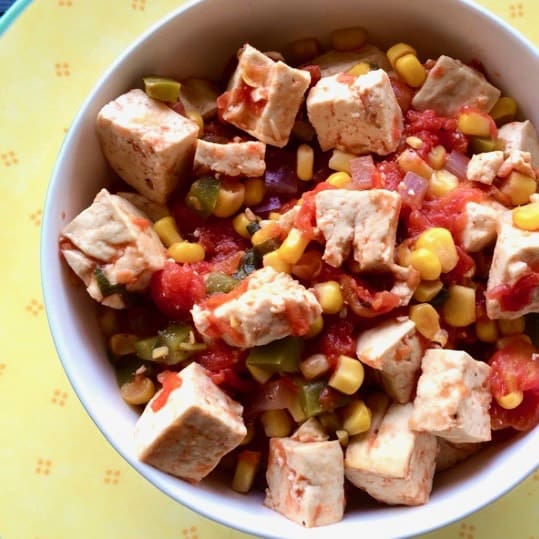 What I love about this recipe is that the author's dad created it when she became vegan.
Apparently, he's a great chef and loves experimenting in the kitchen and when she announced she was going vegan he got to work and created this. As well as being plant based, it is gluten and oil free.
As you can see just from the photo, there's a handful of ingredients and it's very quick to make. Just cook up a few of the items such as onion and garlic in a stockpot, and then add the rest as instructed, then simmer for about 25 minutes and you're done.
I recommend you either follow this recipe or use whatever vegetables you have that need eating. Cook up and enjoy!
Creamy Tomato Basil Tartlets (Gluten-Free)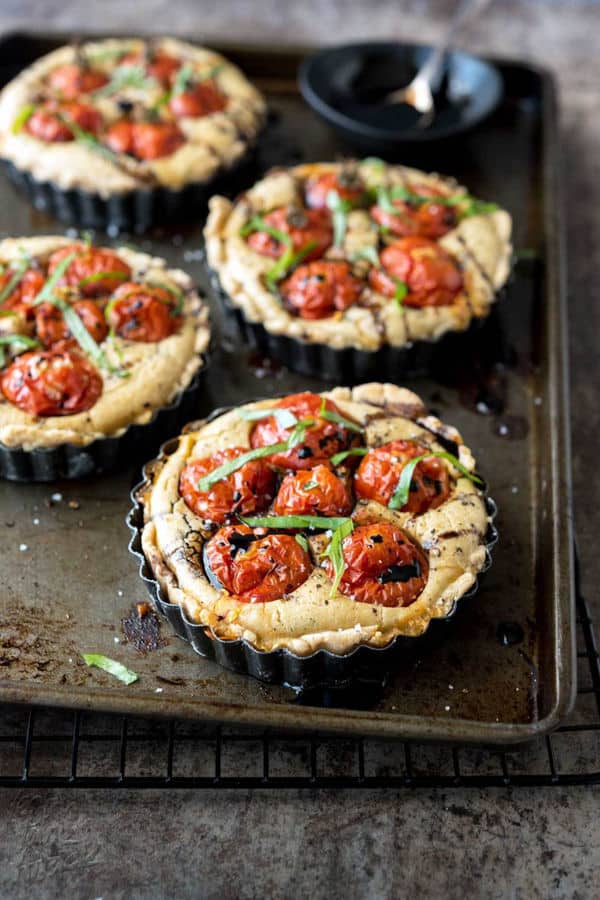 If you don't want to make this dish after seeing that photo, please make an appointment with your doctor! The recipe is divided into three sections, the crust, the basil cashew cream and the topping.
In total you're looking at 1 hour and 30 minutes although you would expect this given you're making everything from scratch.
You could save yourself some time and use a store-bought pastry for the crust although my advice is make it yourself, you will notice the difference.
These are perfect for a brunch, a snack and they're also great party food although however many you make, it won't be enough!
White Bean Mac and Cheese (Gluten-Free)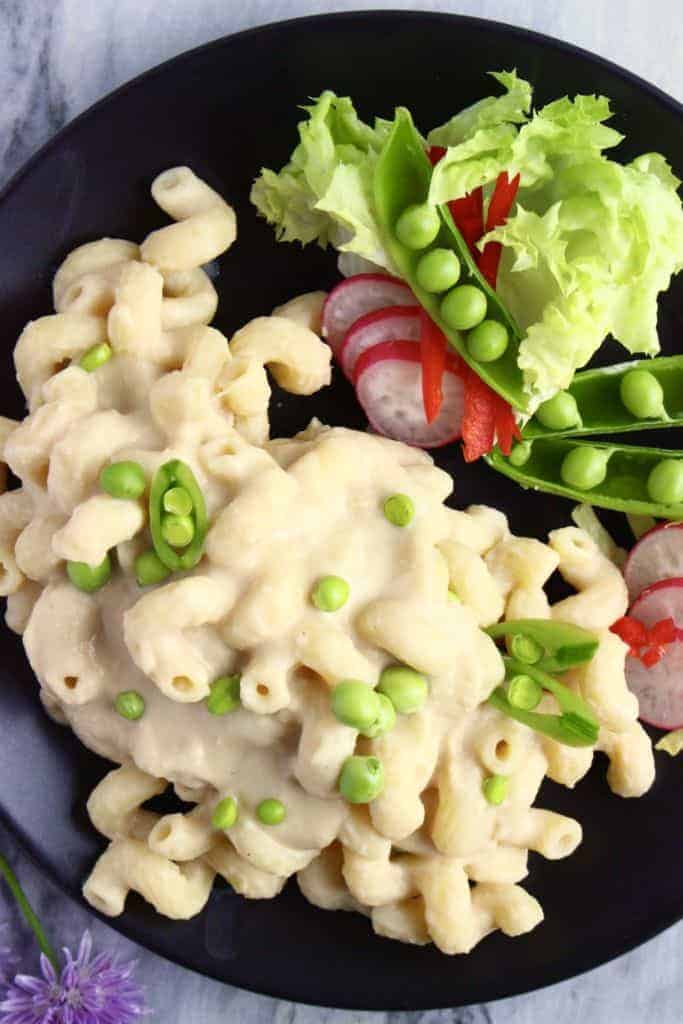 There are a few vegan mac and cheese recipes that I've seen, this is certainly one of the best ones.
The ingredients are simple, and you won't have any problems sourcing anything.
This can also easily be made gluten-free by using the correct ingredients, check the recipe page and it will tell you what to look out for.
Best of all, this comes together in just 30 minutes from start to finish. Perfect for when you want that comfort food fix. Your kids will love this too which is fantastic as it's healthy!
One Pot Mexican Casserole (Gluten-Free)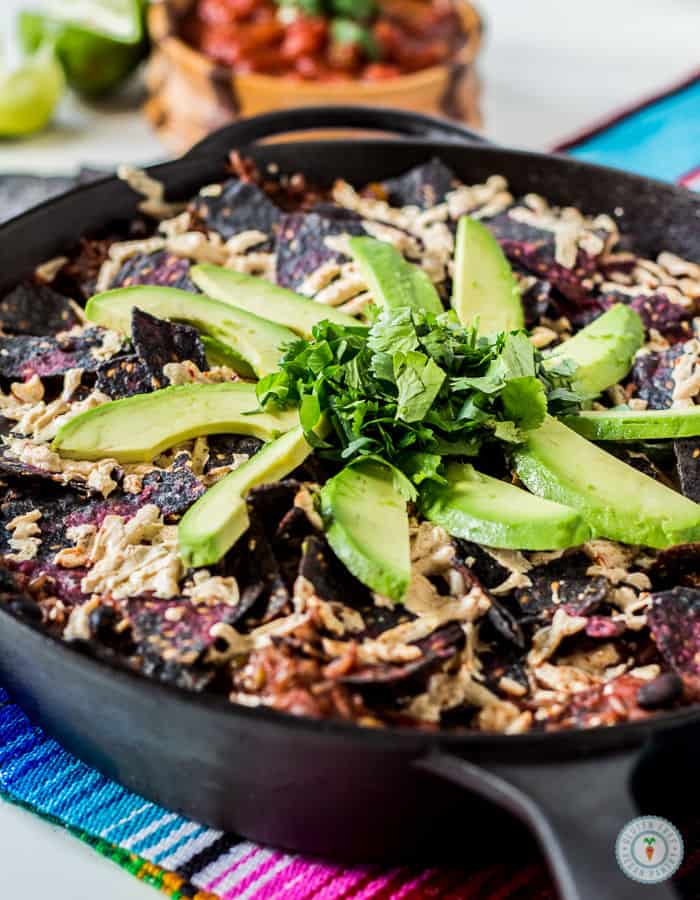 So many of us have little time on our hands it isn't surprising that we are tempted to go to the store and buy something ready-made. At the end of the day, however, I think we all know deep down that home-made food is the best.
Having said that, this isn't a quick recipe, although I do have a big fat 'but'. The prep time is just 10 minutes and the rest (1 hour 30 minutes) is cooking time so you can forget about until it's ready.
It all takes place in one pan so there's minimal clearing up to do as well. Good honest ingredients that you can get anywhere and super healthy.
You can also very easily swap some things around depending on your preference or if you have something that needs eating. Super recipe!
Sausage and Kale Rice Bowl for One (Gluten-Free)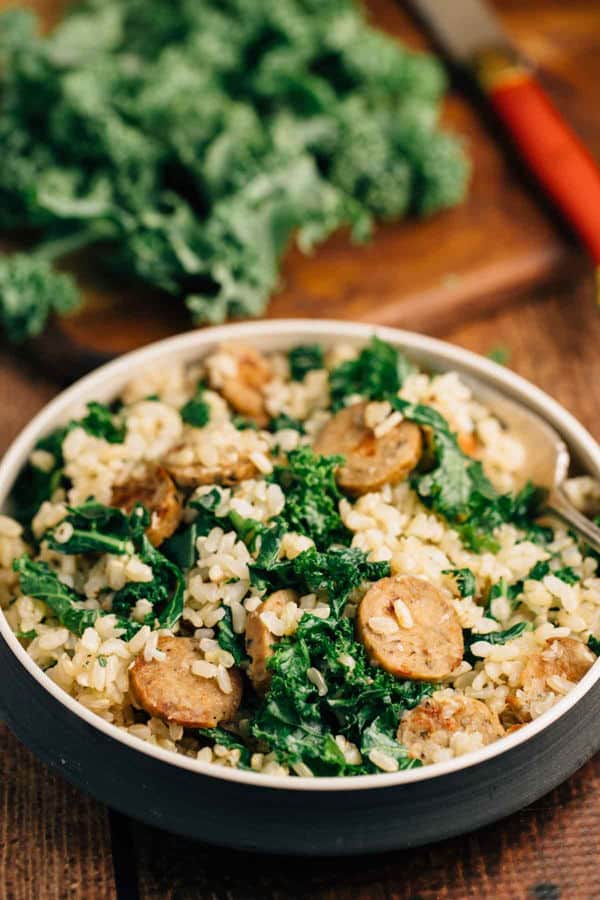 This is a super quick recipe and the amounts listed yield one serving. You will need your favorite plant-based sausage cut into slices and cooked on a skillet.
If you have any problems finding something like this, you can easily use tofu and treat in the same way according to the instructions.
From start to finish this takes just 15 minutes and that includes prep and cooking time. This is also gluten-free! Whenever I make any recipe that resembles something like this, it's never enough so check the amounts, especially if you're super hungry!
If you need an excuse to make more, this stores well in the refrigerator and is a perfect lunch to take to work. Love it!
Roasted Broccolini and Sautéed Mushrooms (Gluten-Free)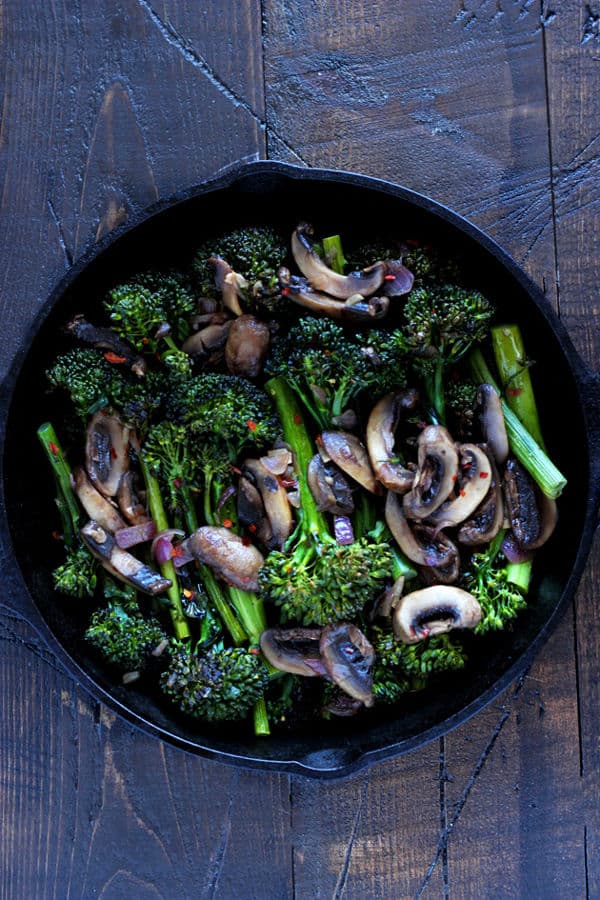 Broccolini are also called, 'broccoli stems' and if you've not had them before, now is the time to try.
I love them and find that they are a little easier on digestion than regular broccoli. In the unlikely event that you are unable to source them, you can easily use green beans instead.
Don't let the simplicity of this dish put you off, it is incredibly delicious. There are so few ingredients that I urge you to get the best quality you can of everything.
The secret gem for me is the balsamic vinegar, not too overpowering but enough to bring that distinctive flavor to everything in this dish.
You can easily add other vegetables as well, maybe even some tofu! Use what you have, and you'll be rewarded with a wonderful meal.
Vegan Bacon Cheese Fries (Gluten-Free)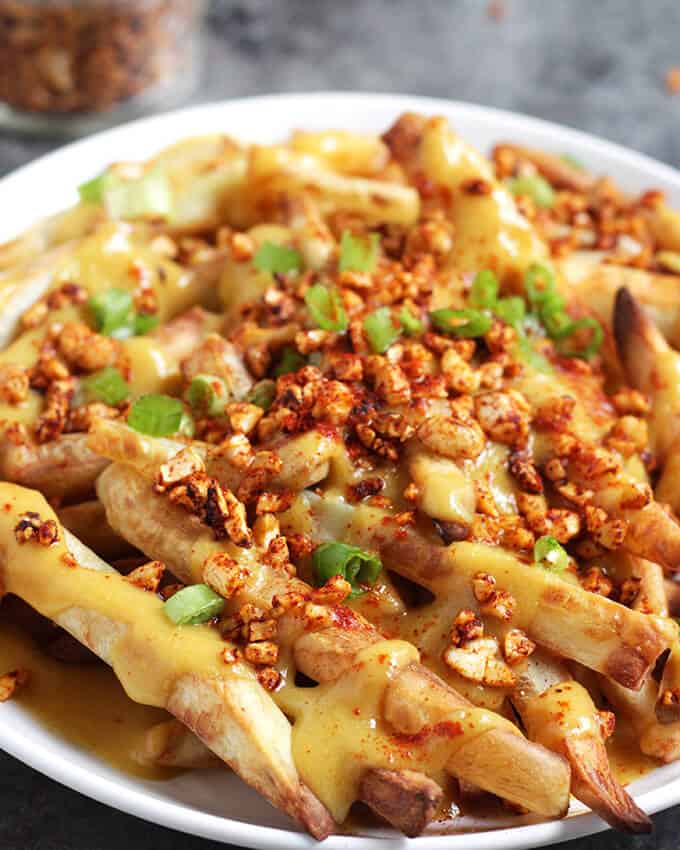 Come on now, who doesn't want to eat this! That was certainly not a question, totally rhetorical! You're going to love this, your kids are going to love this, everybody's going to love this!
Incredibly easy to make with just five ingredients. You will need some vegan cheese sauce and vegan 'bacon bits', if you have trouble sourcing either, where they are listed in the ingredients is a hyperlink to separate recipes for each.
Perfect for movie night, I'll have this over popcorn any day of the week, or should that be every day of the week?
Deconstructed Spicy Avocado Sushi Bowl (Gluten-Free)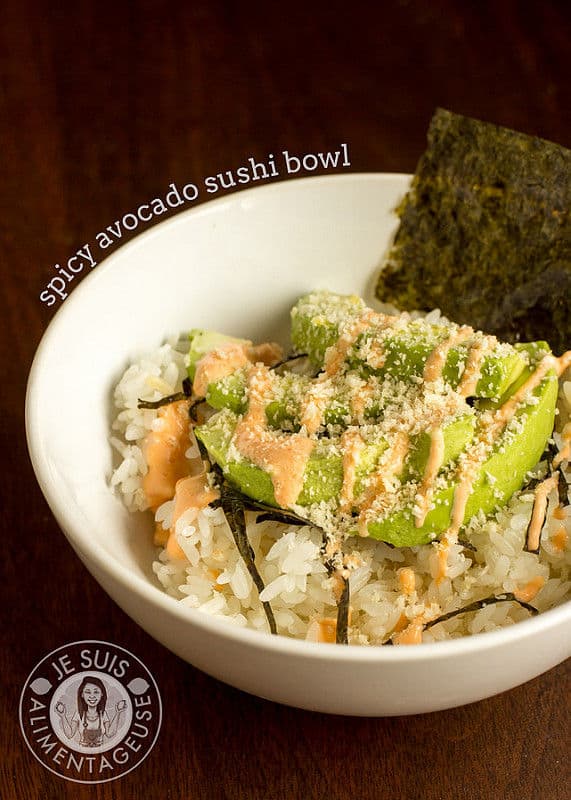 So, what is a deconstructed sushi? If you've never heard of the term before, it's all the ingredients that are in sushi, but in a bowl. Simple huh?
The recipe is split into three, the sushi rice, the spicy mayo, and then instructions on how to assemble everything including the avocado and roasted nori sheets.
It's simple but don't let that put you off, the best dishes always are very straightforward.
For me, it's better than sushi as it's far easier to prepare! You still have to use chopsticks though!
Tofu Korma with Greens (Gluten-Free)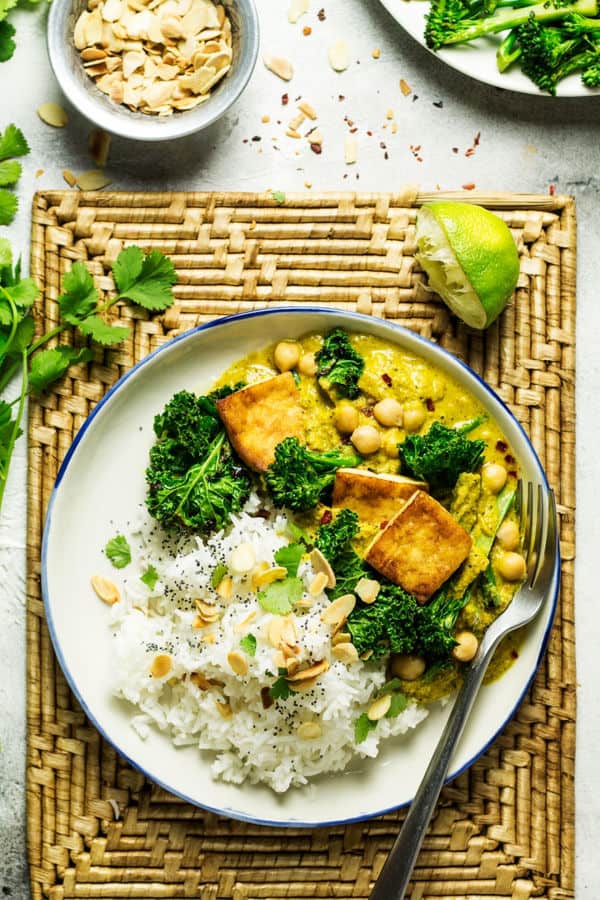 A korma is a very mild curry so if you like this type of food, this is for you! Incredibly easy to make with fantastic ingredients.
We are not talking a generic 'curry powder', you're looking at the real herbs and spices that make curry what it is. Don't be put off if the list of ingredients seems long, most are the spices.
Chili flakes are part of this recipe so adjust according to your taste or leave out if you prefer.
You end up with a beautifully creamy dish where you can taste every ingredient, from the coconut to the cilantro (referred to as 'coriander'). It really is just wonderful.
Mushroom Stroganoff (Gluten-Free)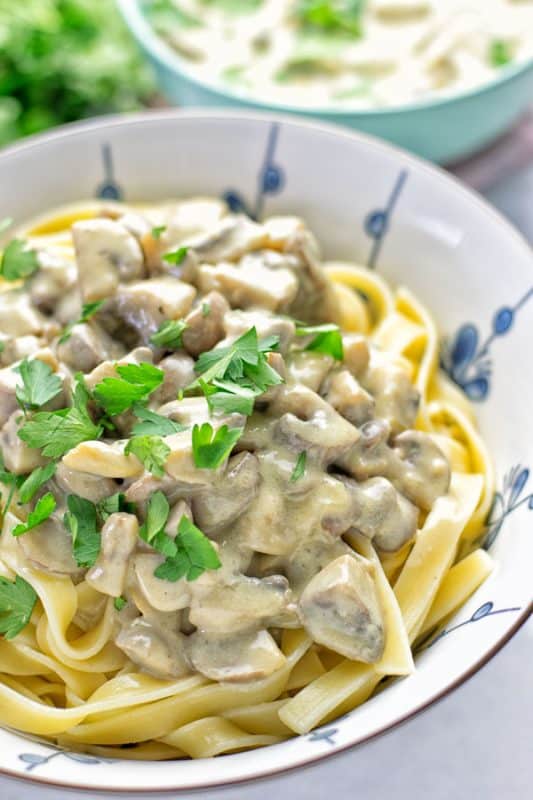 This is a classic dish that has been around for decades, traditionally not vegan. Florian from Contentedness Cooking always makes wonderful gluten-free dishes and here he has adapted the classic and came out a winner, as usual!
Serve with green beans or over your favorite gluten-free pasta. It's perfect for the holidays although I would seriously make it for yourself first because once you taste it, you won't want to share it with anybody!
Stove Top Grilled Eggplant (Gluten-Free)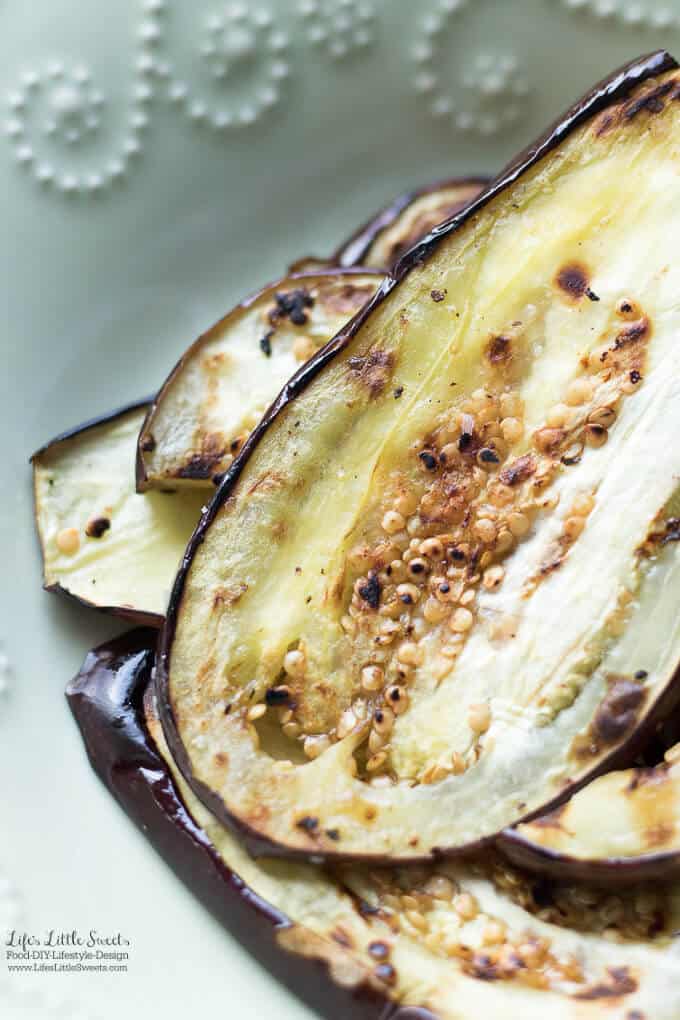 There's no denying it, this dish is one for eggplant lovers. Incredibly easy to make and it brings out the best in this vegetable, probably more than any other recipe I have seen, and as you can imagine, I've seen a few!
If you've never been sure about eggplant before, maybe now is the time to give it a try? Other than the eggplant there are just three ingredients, olive oil, Kosher salt and seasoning.
When I was a kid my main problem with eggplant was the texture and that was because of the way it was cooked, I now love it although if I had it like this, I would have loved it back then as well. Delicious and my secret tip, makes a perfect sandwich filling!
Vegan Main Course Recipes
Healthier Lentil Moussaka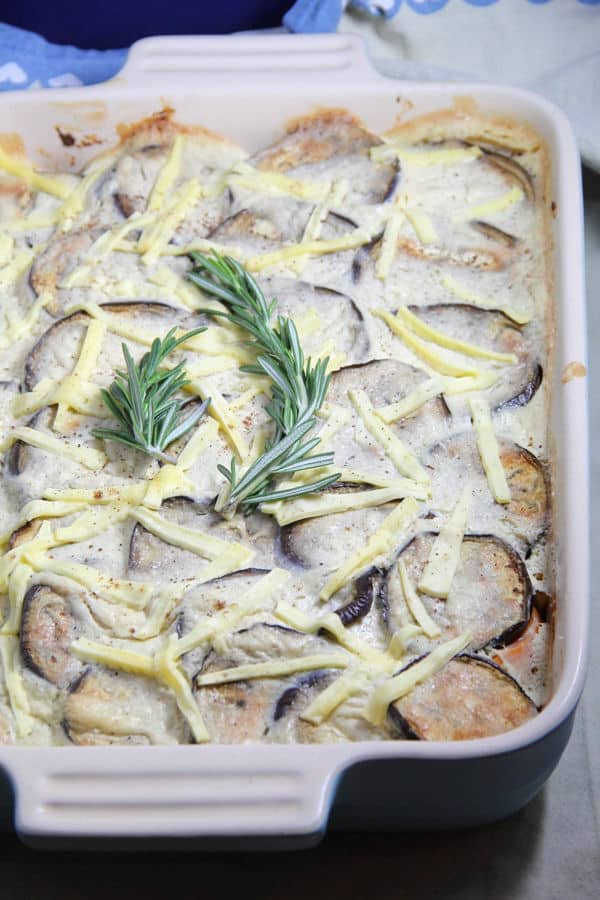 To say this is a delicious recipe is an understatement. Plant-based and gluten-free, there is only a 20 minute prep time and then you cook for about 1 hour and 10 minutes where you can get ready for the rest of evening.
It really is just a handful of ingredients and incredibly easy to make. You can easily swap something out or add more. For example, if you can't get sweet potatoes, you can easily use carrot instead.
The recipe does call for aubergines (eggplant) and you can swap this for zucchini. Whatever you use, you'll still end up with a delicious meal.
This stores well in the refrigerator or even the freezer so make a bunch and enjoy.
Dijon Mustard Brussels Sprouts with Pecans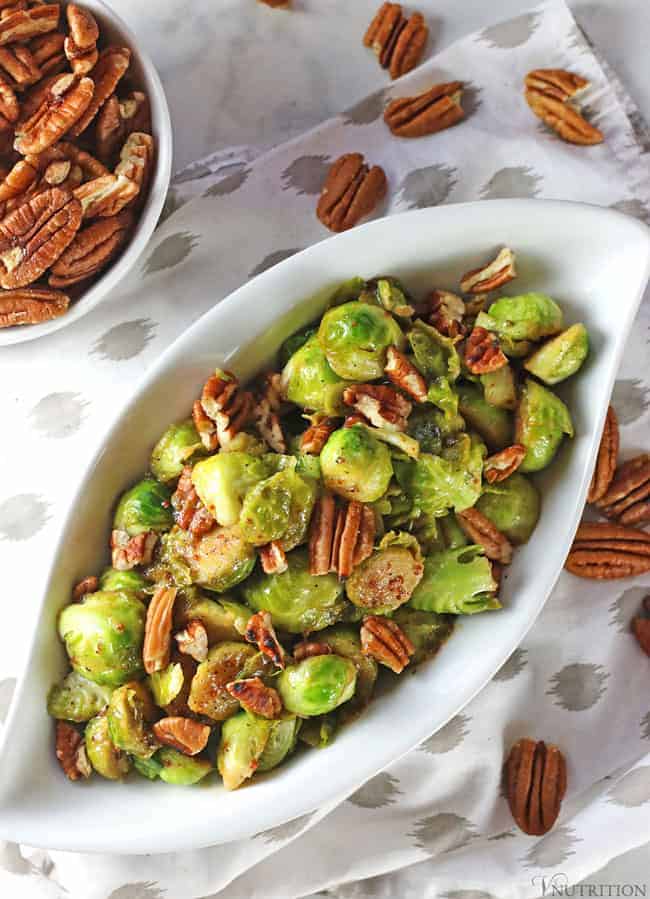 Brussel sprouts, most people just boil or steam them and that's pretty much it. I think they can bad rap because of that.
They are delicious and very healthy. So, what else can you do with them? Read on.
With just a couple of other ingredients you suddenly have one of the tastiest side dishes ever.
I mean it's that good, I was almost tempted to make some rice and just have that as a meal on its own!
You just must try it, best of all it comes together in less than 15 minutes. Nobody can argue with that, just nobody!
Mushroom Walnut Bourguignon with Cauliflower Mash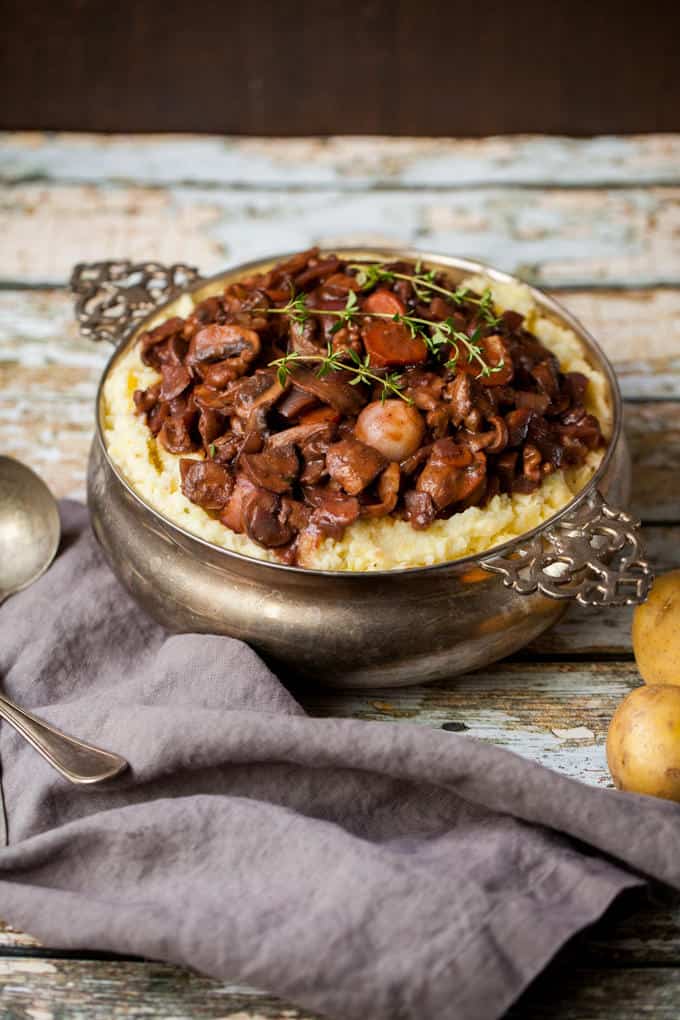 This must be one of the most deceiving recipes I've ever come across. It looks and tastes like you spent hours preparing it.
Walnuts, fresh thyme, pearl onions (or your favorite type of onion) and even red wine are some of ingredients in this masterpiece. (Make sure the red wine is vegan! They often aren't.)
The reason why this is deceptive? It takes just 35 minutes from start to finish! You will need a little chickpea flour and I think this is essential.
If your local supermarket does not stock this, try an Asian store or look online, be aware this is sometimes also referred to as 'gram' flour. The rest of the ingredients are very straightforward.
So, if you're looking to impress someone with a restaurant quality meal that looks like it took a lot of effort and sophistication, this will not let you down!
Poblano and Bacon Green Bean Skillet Casserole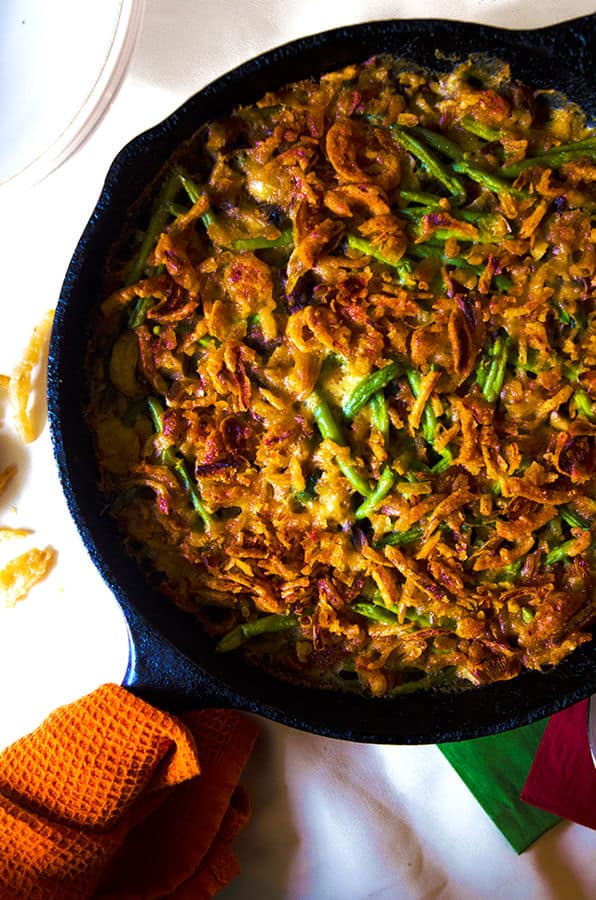 Okay, so we all know that steroids are bad for you. What has they got to do with this? Well, I want to say that this dish is like a green bean casserole on steroids!
If you want a recipe for the holidays which is much more than regular green beans mixed with mushroom soup, make this.
Everybody will be envious that you came up with this, and one way or another, they will try and find out the recipe from you.
This is so good it's honestly a shame to make it as a side dish. It stands up just fine on its own and I promise you will love it!
Italian Cucuzza Squash Bake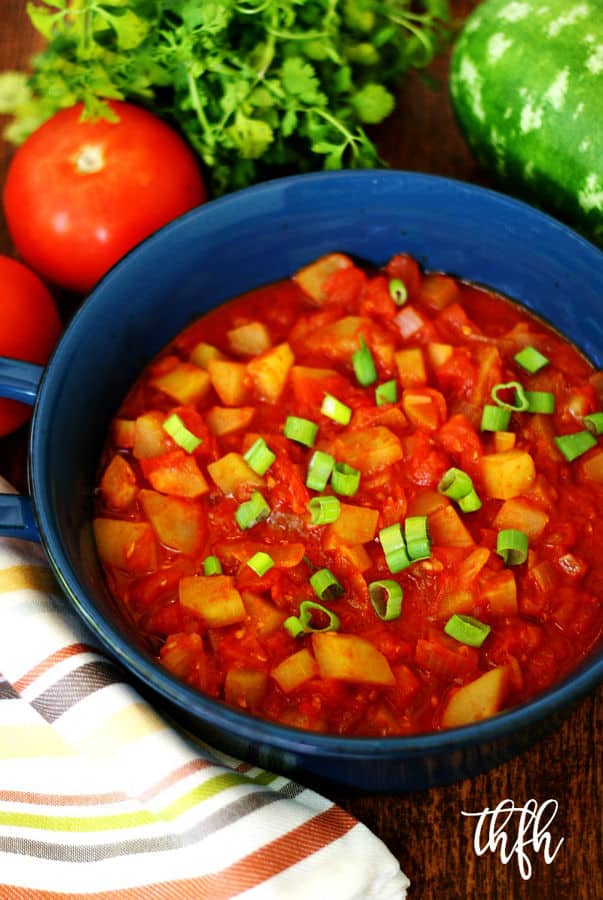 When squash is in season we always seem to have our standby recipes. Here is a great dish passed down by the author's Italian grandfather. As well as being vegan, it is paleo friendly and gluten-free.
Like with nearly all Italian cooking, this has few ingredients and is very simple. It comes together in 30 minutes or less with just a 5 minute prep time.
I urge you to get the best quality ingredients, preferably organic, as it will make all the difference.
Delicious, wholesome and a flexible recipe where you can easily add in some other ingredients.
Brown Rice Stir Fry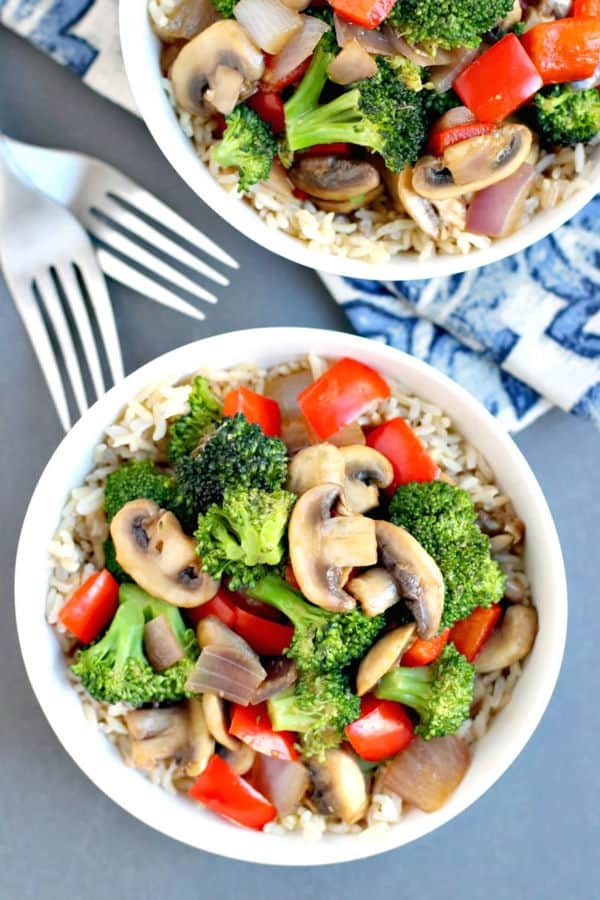 Rice often gets cooked on its own. We have white rice and wholegrain, some people use both while others tend to stick with one or the other.
What else can you do with it to make it more interesting? Check this out.
In less than 20 minutes you can create this wonderful dish that makes for a superb side or is easily a main plate on its own. I love how the author sets out from the beginning to tell us how flexible this dish is.
Do you have carrots instead of broccoli? No problem! And this is the theme of this recipe. Time to get a bit more adventurous with rice, it deserves it!
Kung Pao Chickpeas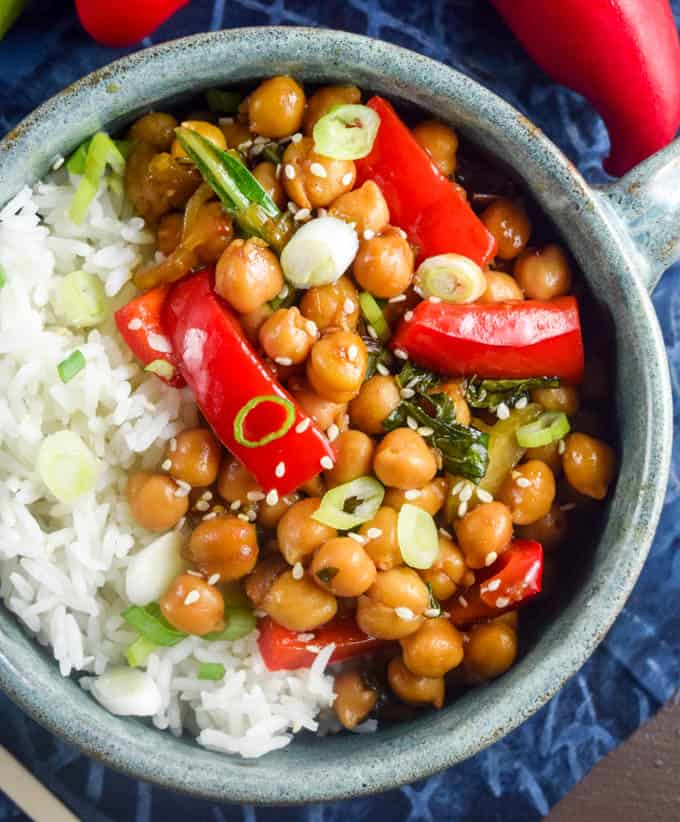 Popular in Chinese restaurants in the West, this type of dish is usually made with chicken but, of course, not here!
Chickpeas (garbanzo beans) are one of the most versatile foods on the planet and here is another reason to eat some.
This recipe is so satisfying and looks so beautiful that I'm seriously tempted to go out and buy a fancy bowl just to eat it from! It really is that good, satisfying and bursting with flavor.
Best of all there is about a 15 minute prep time and just 10 minutes cooking. So, from the moment you decide to have this, you can have it on the table in less than half an hour. Fantastic!
Cauliflower Risotto with Asparagus and Mushrooms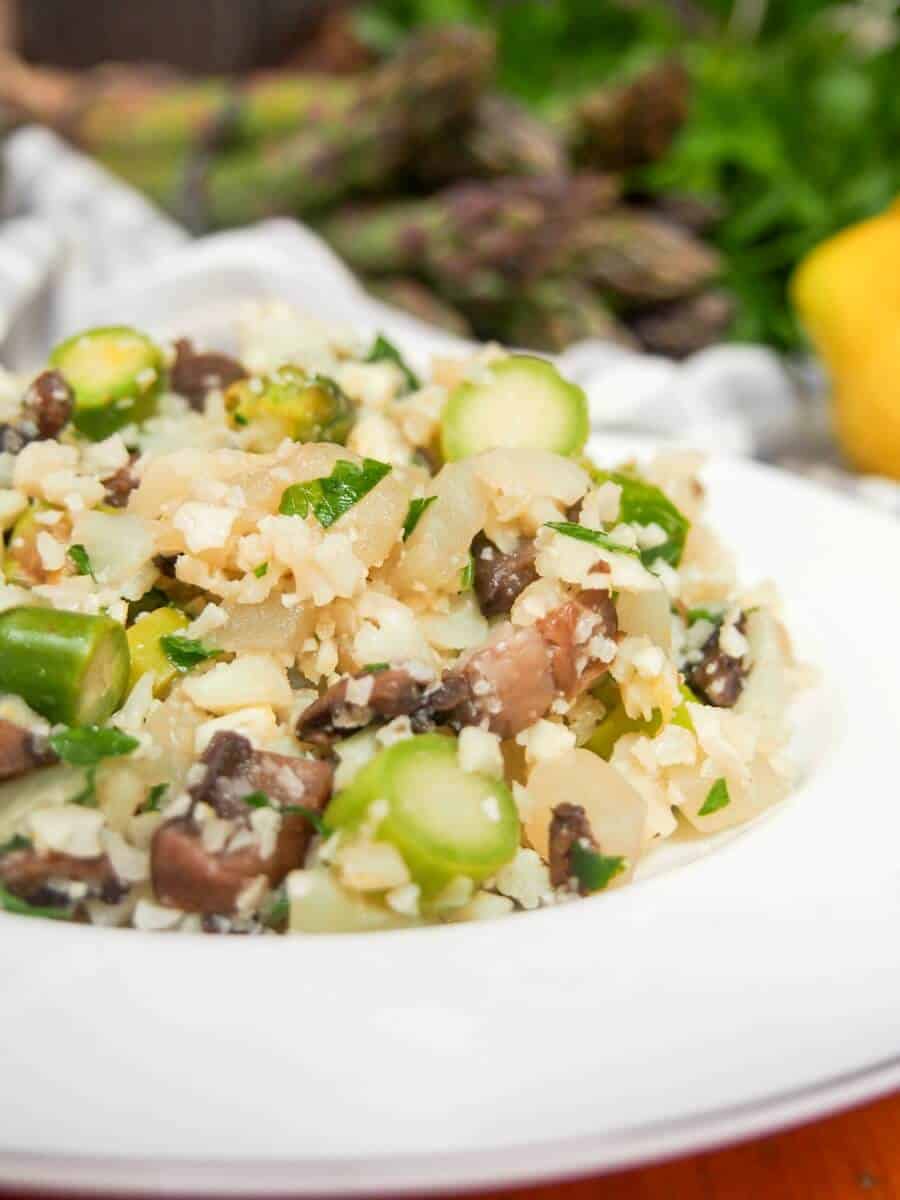 Have you ever had cauliflower rice? If not, I want to tell you that it's tasty, healthy and incredibly easy to make.
Here is the recipe you should use to have it for the first time. You just need a handful of ingredients and just 25 minutes.
Along with your cauliflower rice you just need a few staples such as onion and garlic, and just a couple of other goodies, then you're set to go.
Not only is it a wonderful lunch but it makes a perfect side dish and stores in the fridge for up to 3 days. Perfect!
Vegan Pasta & Noodle Recipes
Korean Glass Noodle Stir-Fry with Tofu Slices (JapChae)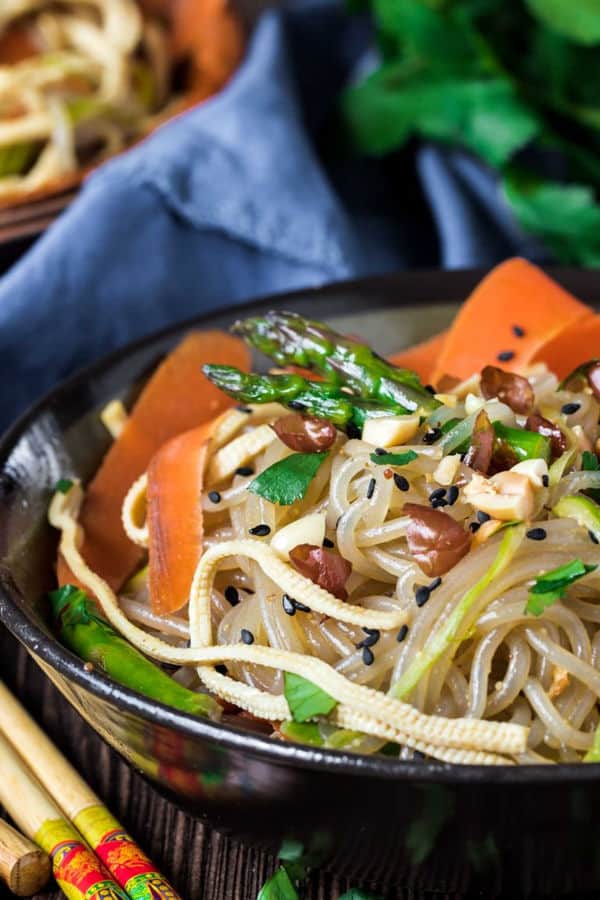 When you want something home-made, healthy and you have very little time, grab this recipe. Being a stir-fry, it takes five minutes to cook, literally.
The rest of the time depends on how handy you are with a knife. Be careful now, remember, safety first!
The recipe is divided into three, the vegetables, the sauce and the garnish. You can quickly see how flexible this recipe is, so for example, if you don't like asparagus, just swap them out for something else.
Easy to make, easy to eat, and will keep you going for the rest of the day.
Red Lentil Pasta with Aubergine and Red Pepper Sauce (Gluten-Free)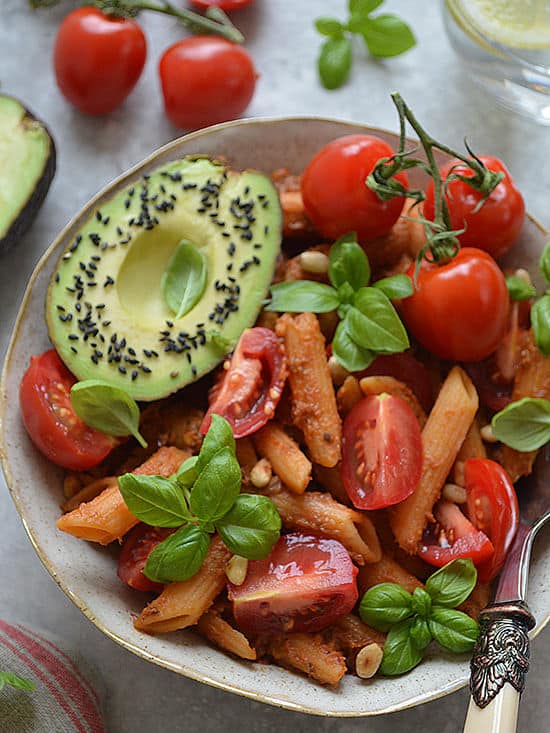 This recipe uses red lentil pasta. I really hope you can get this because it is lovely and of course, is gluten-free. If you don't have a problem with gluten you can just use your favorite pasta and still enjoy this dish.
Some wonderful ingredients such as bell pepper and aubergine (eggplant) and some wonderful herbs such as smoked paprika and fresh basil.
I urge you not to miss out on the garnish, as far as I'm concerned, it isn't optional because it just adds to the already wonderful dish to make it even better.
Peanut Butter Noodles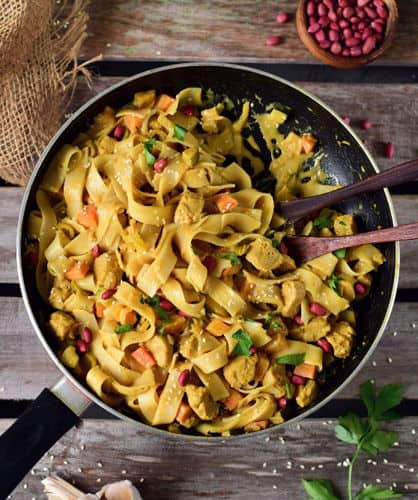 Oh my goodness, without even looking at the picture the title already makes me feel hungry. It may seem like a long list of ingredients, but when you look, you'll see that you probably have most of it already in the kitchen.
Not only easy, but quick to make as well. When you want that pasta fix, and you want something a little different, I promise you this really hits the spot. This is one of my favorite recipes!
Spicy Roasted Cauliflower Lemon Pasta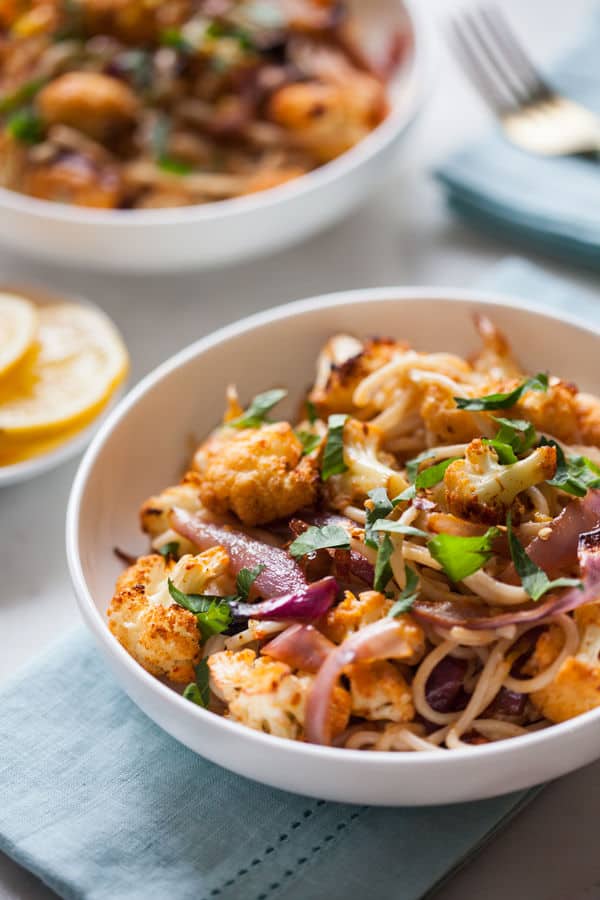 If you've never had roasted cauliflower before then I urge you to start today with this recipe!
The first thing you will notice is the contrasting textures, the crunchiness of the cauliflower and the smooth familiarity of the pasta, not to mention all the other flavors such as garlic, parsley and paprika, to name but a few!
This is soy and nut free and incredibly easy to make.
You can easily throw in some other vegetables or mix-and-match according to what needs eating or your preference. Extremely satisfying and a winner!
Classic Noodle Soup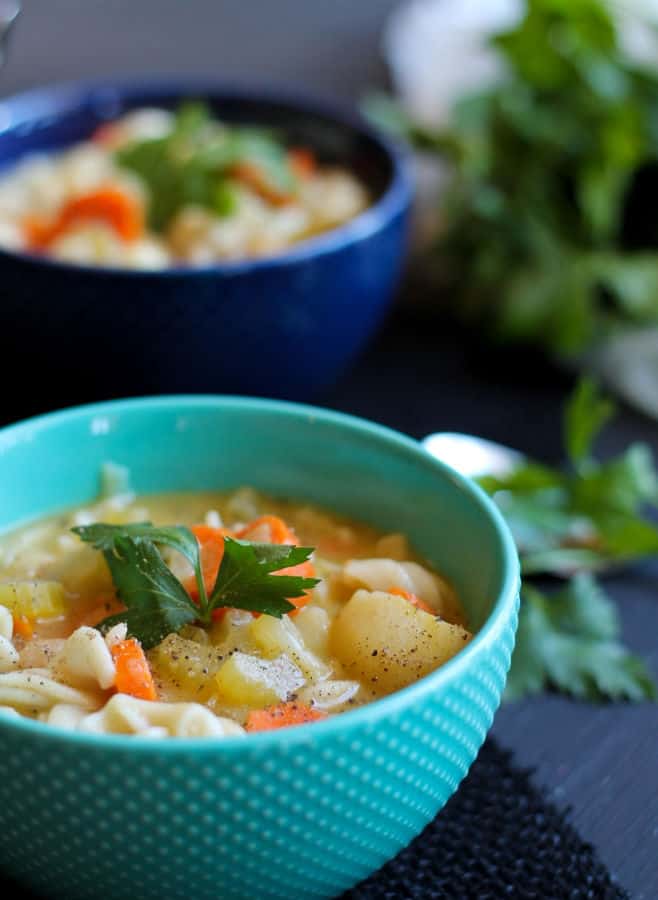 I love recipes like this, satisfying, full of flavor and warming. But don't think you can only have this in the winter months, that would be a crying shame!
There is about a 20 minute prep time and just over 30 minutes cooking. You could easily swap out some of the vegetables depending on what you have in the kitchen.
For example, the potato could be swapped with carrots. Just use your imagination. Wonderful recipe and I guarantee that you'll make it more than twice!
Creamy & Dreamy White Truffle Pasta Sauce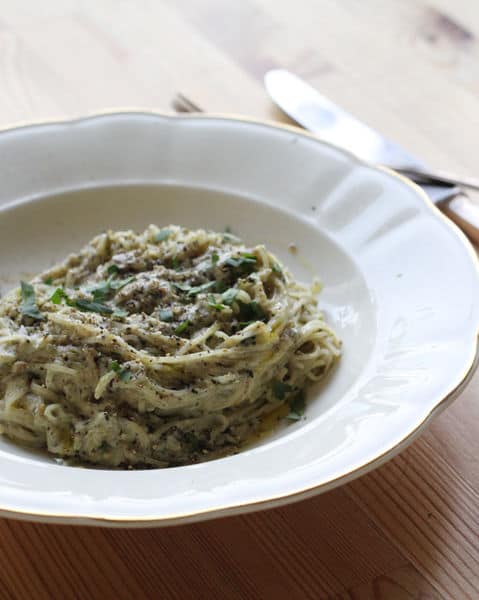 Pasta with a creamy sauce is one of those delicious dishes you normally have at a restaurant.
In my experience, people don't tend to make these types of dishes very often. Of course, traditionally they're not vegan. Here we have a vegan version that is both delicious and easy to make.
Use oat cream or your favorite non-dairy cream along with dried mushrooms, onion and a few other goodies. Now, the recipe does call for white truffle oil as this is what this dish is all about.
If you've never had it before, I can tell you that you're either going to love it or hate it, in my experience anyway. It tends to be quite expensive as well. So, if you know anybody that has some, give it a try first.
You can just put a drop on a piece of bread. If you don't think you like it, you really can leave it out of this recipe just fine and you'll still end up with a satisfying and tasty dish that I guarantee you will love!
Linguine with Garlic Chili Peanut Sauce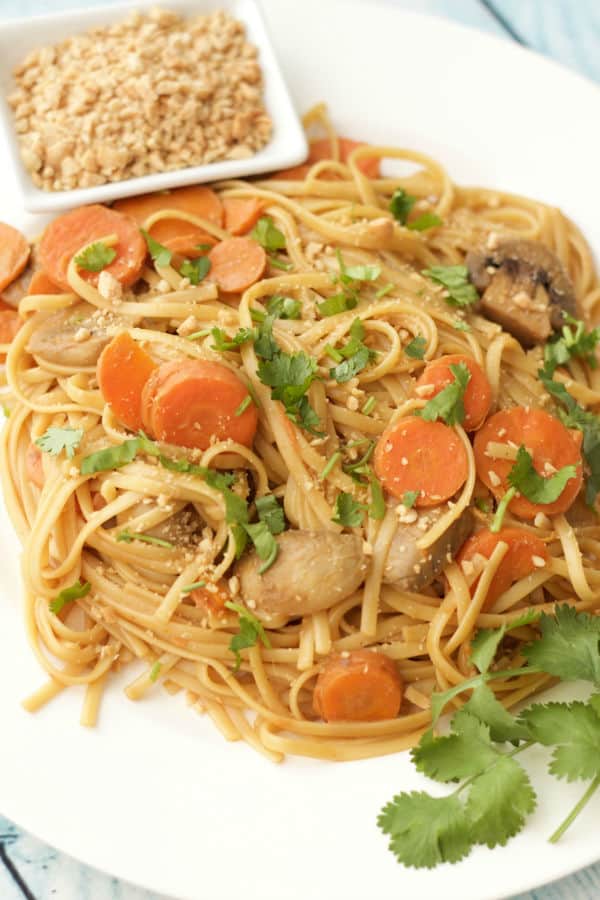 Will you do me one favour today please? Just click the link, check out the recipe page and scroll down to see the pictures. Seriously, that makes you hungry right? It certainly does me.
This is so easy to make and best of all it comes together in 30 minutes or less. Use your favorite linguine or, you could use any other noodles if you prefer.
You also have carrot which you could swap out for another vegetable or, you could leave this out altogether! It's a very flexible recipe.
Don't miss out on the peanut butter and other flavouring essentials, they make this recipe rock!
Creamy Pasta with Sunflower Seed Cream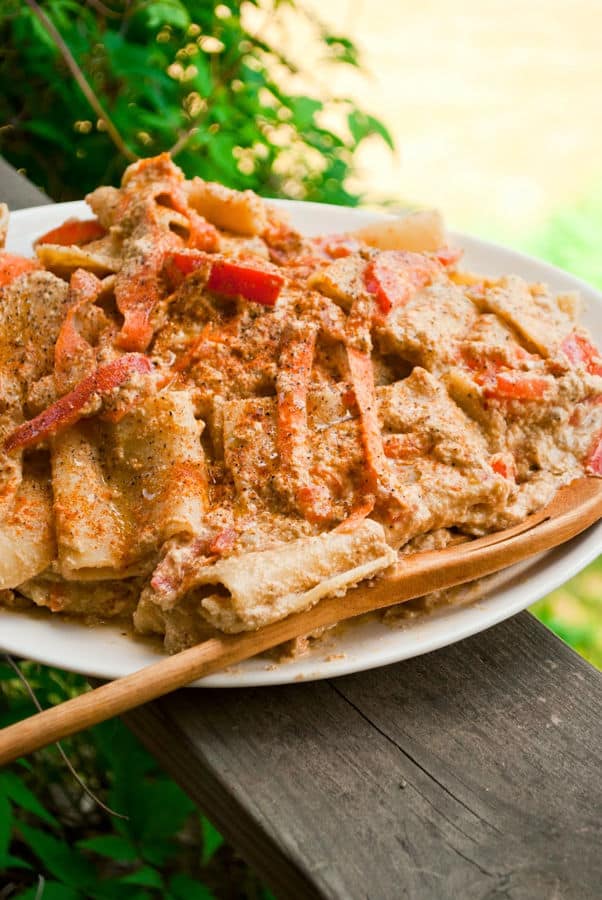 Delicious and satisfying, I simply can't believe how few ingredients there are in this dish.
One tip, I saw a few people in the comments asking how to make the sunflower seed cream as they didn't think it was that clear on the recipe page.
First, it does suggest that you boil the sunflower seeds for 15 minutes or soak them for a couple of hours.
My recommendation is to soak them overnight to preserve their nutrition and for best results. Other than that, follow the instructions in the last paragraph of the recipe.
You can use any pasta, come to think of it, you could even make a lasagne out of this. Let us know what you come up with, it really is delicious.
20-Minute Beany Noodle Pot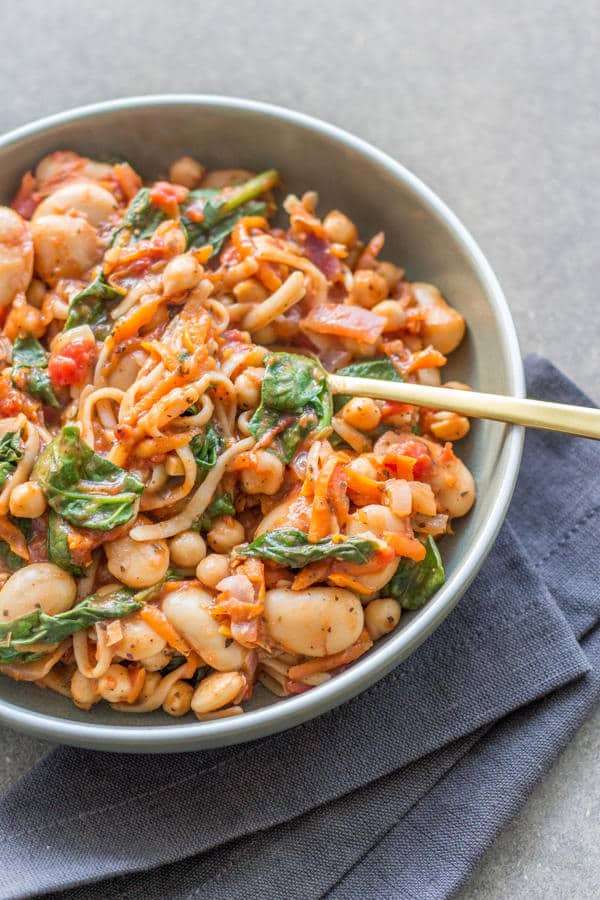 If you're looking for a quick meal that is bursting with satisfaction, look no further than this! Because of how quick this takes to make, I'm certain it will become one of your favorites!
Looking down the list of ingredients, I'm going to bet that you have most of them already, especially the herbs and spices.
Other than that, you need a can of chickpeas (garbanzo beans), a can of butter beans, and some brown rice noodles. Knowing this, you can always keep a stock of these in your kitchen.
You'll want to when you learn this dish comes together in 20 minutes or less, this includes prep and cooking time! If you can get a handful of baby spinach leaves to stir in at the end, great.
Personally, I didn't do this but made the spinach into a quick salad that I ate beforehand.
One last tip, if you don't care for chickpeas, just use the butter beans on their own and it will work out great, and vice versa. Ultimate comfort food!
Vegan Pizza Recipes
Roast Vegetable, Pesto and Cream Cheese Pizza Recipe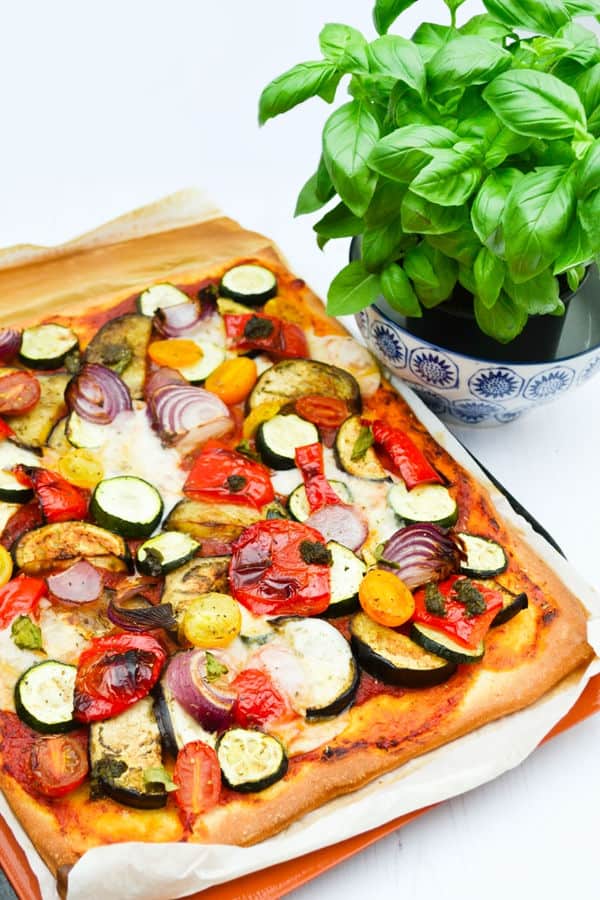 This wonderful recipe is from Jacqueline who lives Scotland and specialises in family meat-free meals.
You'll have to find your favorite vegan cheese to put on this as it's used as an ingredient, you are not taught how to make that.
What you are shown is how to make one of the best vegetable pieces I have ever seen. With this recipe, you focus on the making, you can either buy a ready-made dough, or there is a link in ingredients on how to make your own fresh pizza dough, it's up to you.
Once you have that sorted out, you focus on the good part of assembling this baby! You have everything from eggplant, zucchini and onion and so much more.
Of course, you can swap any of these vegetables as you see fit. When you make it, don't forget to invite me!
Pizza with Onions, Mushrooms and a Poblano Pepper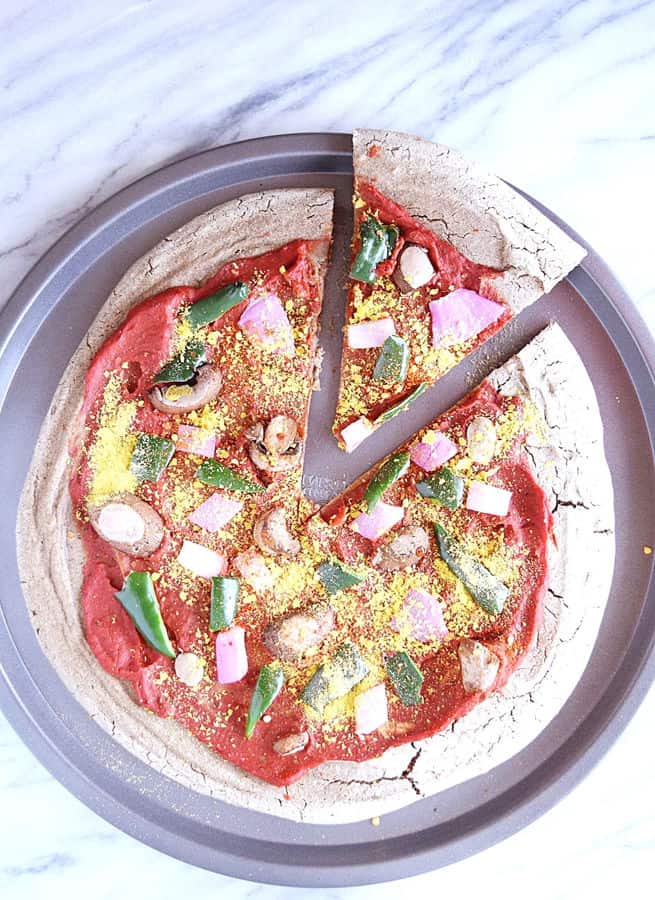 This is a pizza with a difference! If you want to try something unique look for some banana flour.
That wasn't a typo, banana flour! My local supermarket did not have any although the nearest health food store did. Until I saw this recipe, I didn't even know banana flour existed!
There really is just a handful of ingredients and, as with any pizza, you can let your imagination go wild. If you have anything that needs eating, put it on this puppy.
Even with the flour, this pizza really works and leaves you feeling light yet totally satisfied.
Salad Pizza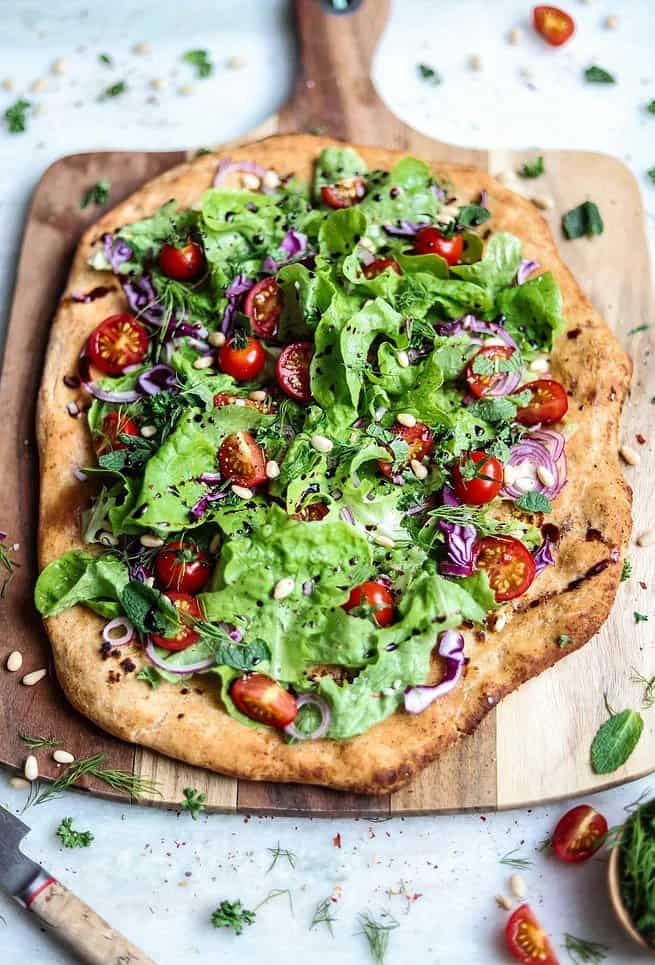 If you've never seen anything like this before, let me assure you that in certain parts of Italy, it's absolutely a thing.
Something I have always said is that most pizzas that you can buy (or even make) don't have to be that good.
In fact, they can be quite horrible! And what most people do is just cover everything in cheese and that hides it well. When you don't have cheese on a pizza, then you see how good the pizza really is.
This is bursting with flavor and freshness. The recipe makes the dough from scratch but if you want to buy a good quality store-bought dough to save yourself some time, go ahead.
Either follow the recipe, or just make your favorite salad and put it on the already cooked pizza crust. Enjoy!
"Red" Tomato Eggplant Pizza and "Green" Zucchini Pesto Pizza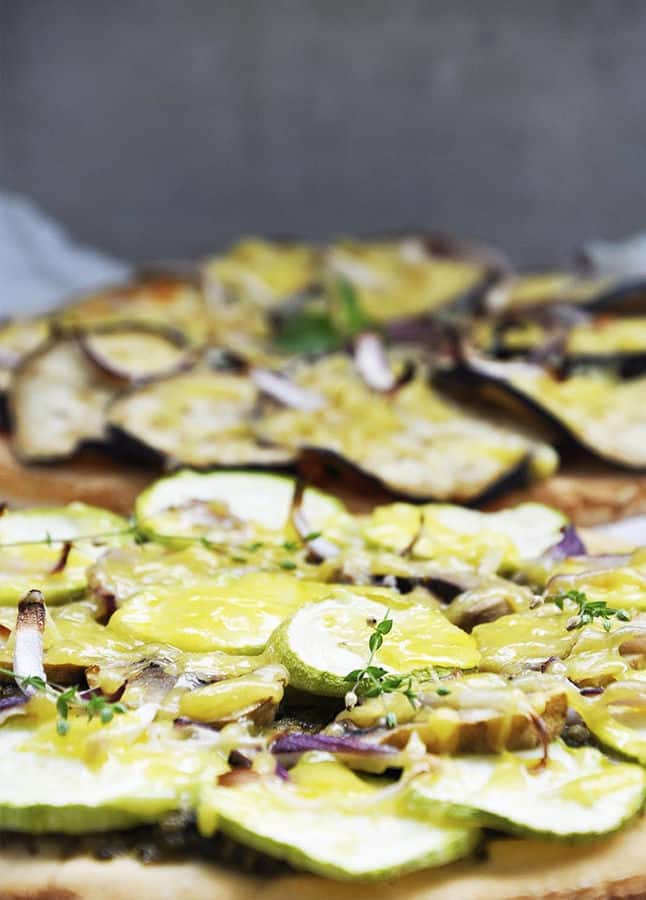 I love how deceiving this recipe title is. It's not red at all, not in the way you think it is anyway. This recipe is unique yet has a familiarity about it.
Some people are not too sure about eggplant, if you're one of them, don't worry, either be adventurous or just swap the eggplant for something else.
Other than that, simply make sure you have all the ingredients, follow the instructions and you will be guaranteed a wonderful meal.
Apple, Sage and Mushroom Pizza with Vegan Ricotta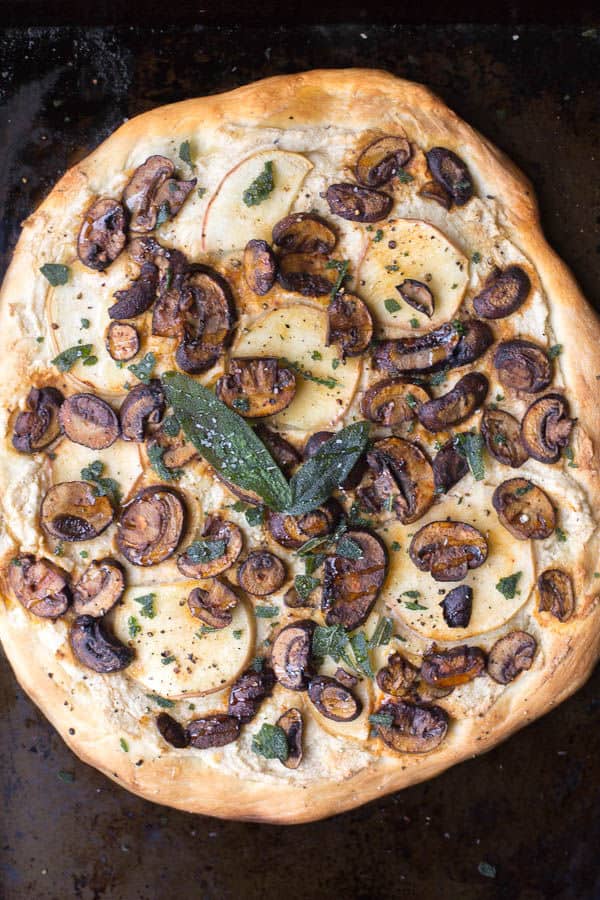 What a wonderful looking pizza this is. Pizzas always tend to look the same don't they, hey I'm not complaining, there's nothing quite like the sight of a pizza loaded with colourful vegetables or even a bright and crispy salad!
But what if you want to surprise someone with something bursting with flavor yet looking completely different?
Use your favorite store-bought pizza dough or, see the link in the recipe to make your own. Then just a handful simple ingredients, and you're good to go. Cook for 20 minutes and you're done! Beautiful!
Raw Pizza with Spinach Pesto and Marinated Vegetables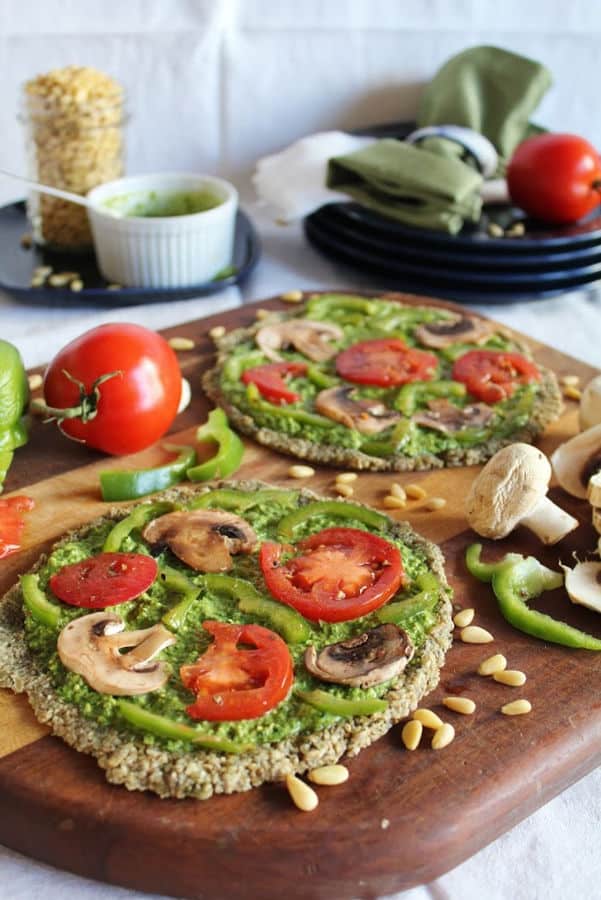 For those of you completely new to raw food, a raw pizza is not a regular pizza that has not been cooked! The base is made with a wonderful selection of seeds, nuts and some other goodies. You mix these up in a food processor and all the ingredients turn into a dough.
You'll need a dehydrator although if you don't have one, you could use your oven on the lowest setting.
If you do use this, perhaps it'll be an idea to make a 'test crust' so you can keep checking it because I imagine it won't take anything like the time it does in a food dehydrator where the food is designed to be dehydrated for hours.
In addition to the crust, the recipe has a section to make spinach pesto which is just divine. Use this on pasta for a wonderful dish!
Then you also have toppings. Put everything together and I promise, you will love it and your body will thank you.
Vegan Potato Recipes
Sweet Potato Kale Black Eyed Pea Soup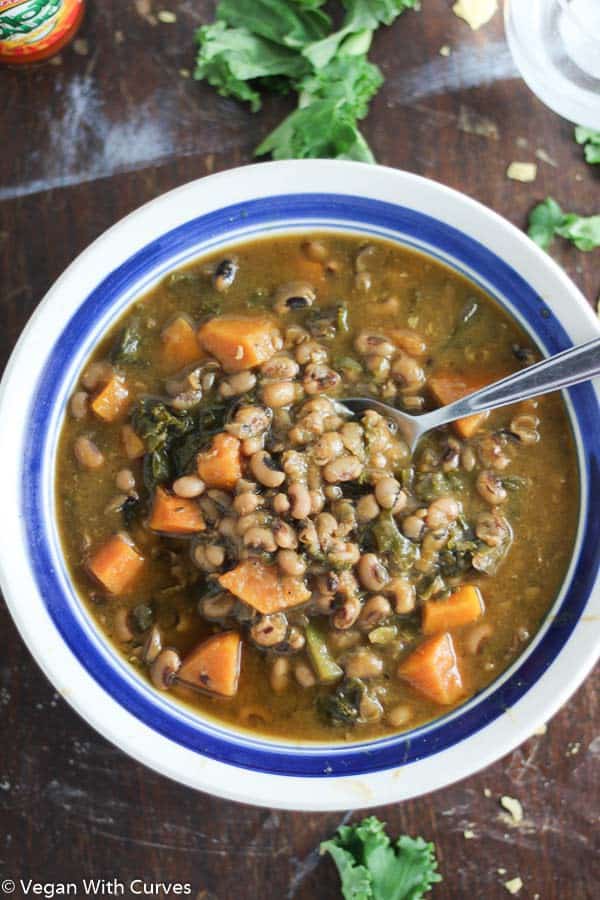 This recipe is designed to be made in a slow cooker. The author has labelled it a soup although to me, it's a bit more of a stew. What I will guarantee is your taste-buds will be delighted and so will your tummy!
If you don't have a slow cooker, you can make this in a pot and just keep an eye on it. Really wonderful ingredients.
The recipe is flexible in that you can swap some ingredients out for something else but one piece of advice I will give you, is to keep it simple.
Therein lies the beauty in this dish, it's so full of flavor you won't need anything else!
Arugula and Sweet Potato Salad with Mint Yogurt Dressing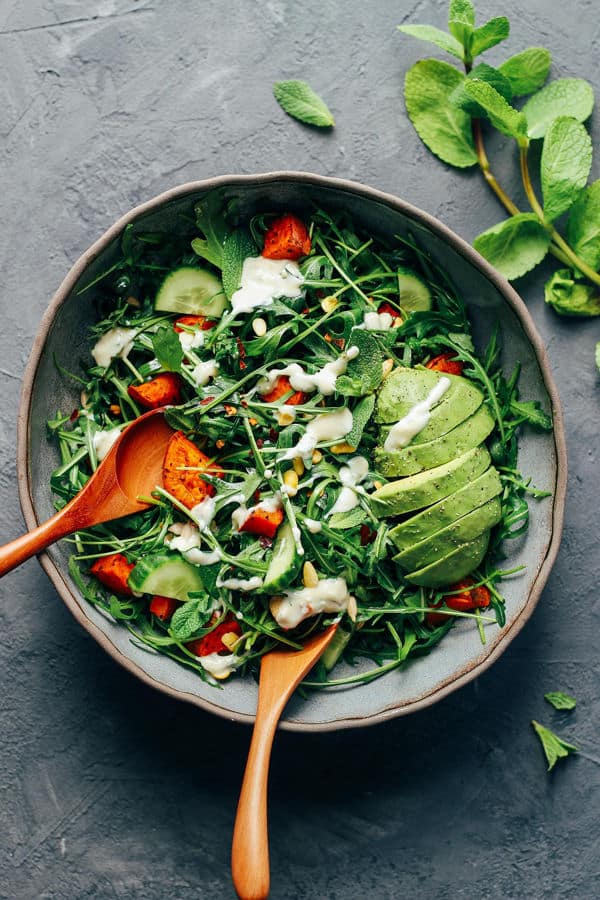 In case you're wondering, the mint yoghurt dressing is vegan! You just need your favorite non-dairy yoghurt and simply grab the other ingredients listed.
If you know anybody that thinks salads can't be a meal alone, give them this! This is so satisfying that I guarantee you will make it again and again.
The secret ingredient for me, actually there are two of them, is the balsamic vinegar and the toasted pine nuts. Not only do they go well together, they also bring out the flavor of every other ingredient. Delicious.
Loaded Sweet Potatoes with Maple Tahini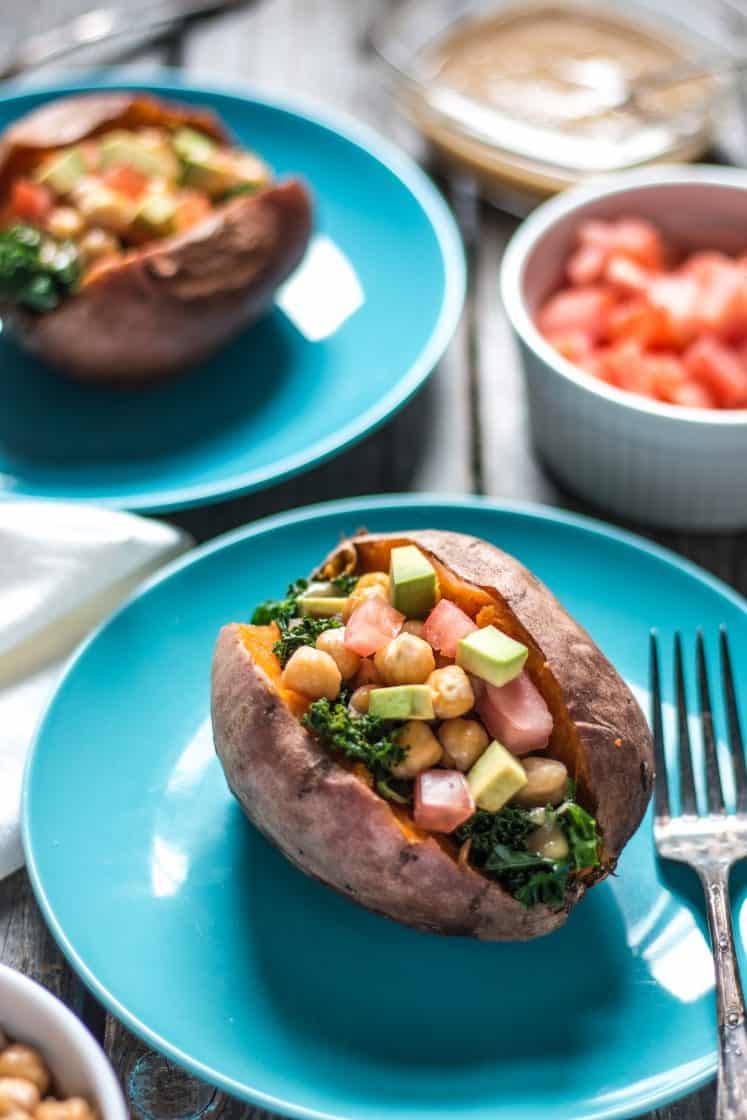 A wonderful recipe that is almost too easy! There is a 5 minute prep time and 45 minute cooking although, as you can imagine, the cooking time is mainly for the sweet potato. Either way this is an incredibly easy recipe.
Once everything is made, split the sweet potato and load up. To be honest with you, I coarsely mashed the filling, just roughly with the back of a fork before filling the potato. I don't know why I did, but I thought I'd throw that in for you.
I suppose I was thinking that, looking at the recipe picture, I didn't want the filling to fall out while I was eating. Whatever you do, this is a super healthy and satisfying lunch.
Balsamic Roasted New Potatoes with Asparagus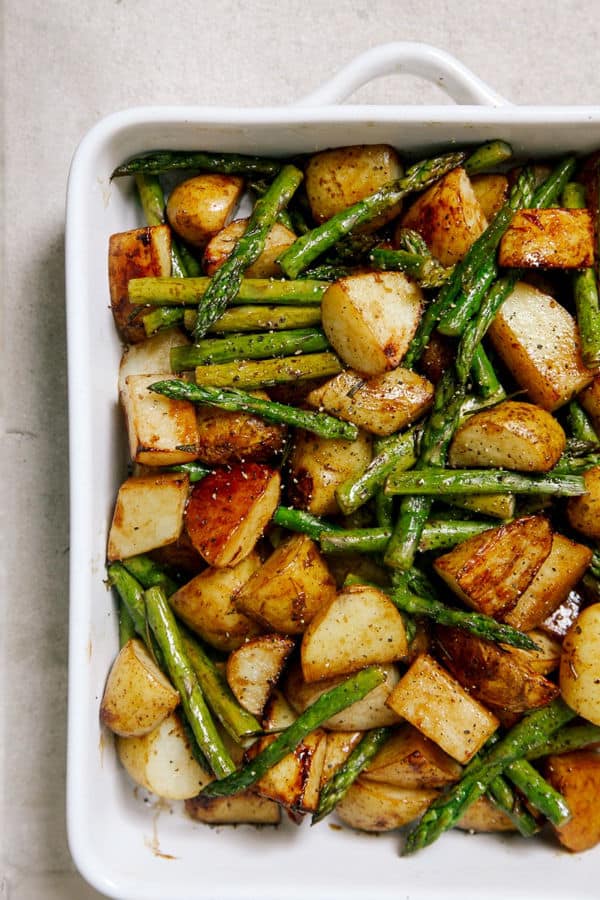 Can you believe there are people that have never used balsamic vinegar? Do you know anybody like this or is it just the people I know?
If you're looking for a way to brighten up roast potatoes, then look no further. Bear in mind this dish roasts new potatoes but this will work just as well with any type of potato.
I know some people are not too keen on asparagus and if you're one of them, don't worry, you can easily swap these out with green beans and still achieve the same results.
A fantastic side-dish although there's nothing stopping you just eating it all up!
Sweet Potato Spelt Garlic Knots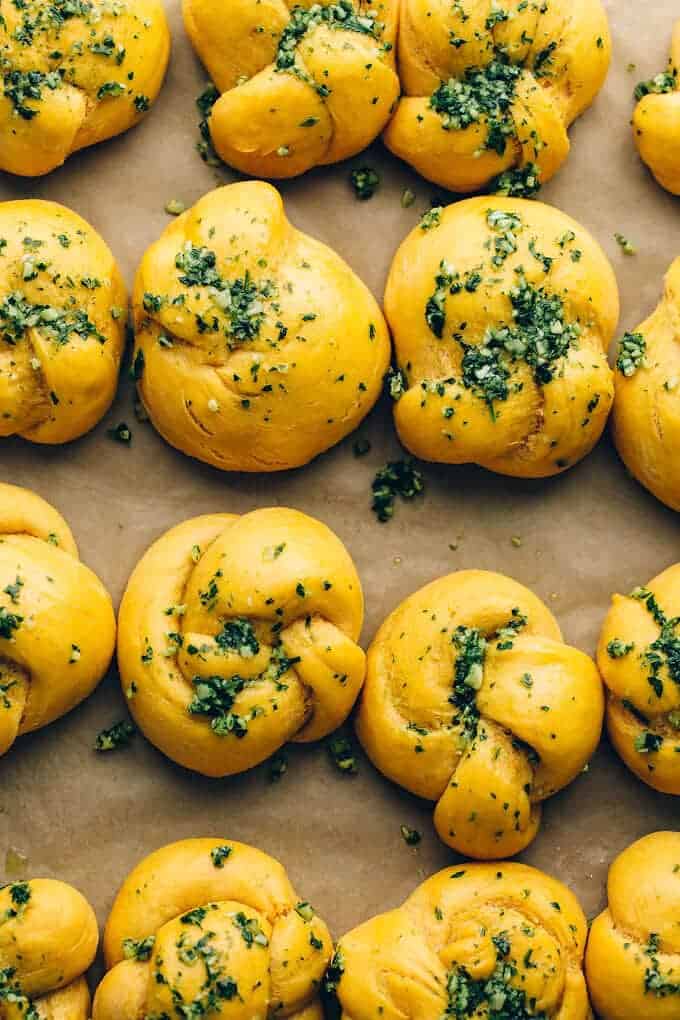 I just know you have never made or eaten anything like this before! These beauties are comforting, soft and loaded with garlic.
Now, you're looking at some serious time here in order to make this.
1 hour and 50 minutes prep time followed by 40 minutes cooking. Obviously, this isn't something you're going to whip up on a weeknight.
This is the type of recipe you're going to want for a special occasion, especially if you are wanting to impress someone or simply stand out from the crowd, because you will with this dish!
So, before glancing over this and moving on to the next recipe, make a note of it because those special occasions require a special recipe, and that's what you have right here!
Magic Miso Almond Sauce on Steamed Greens and New Potatoes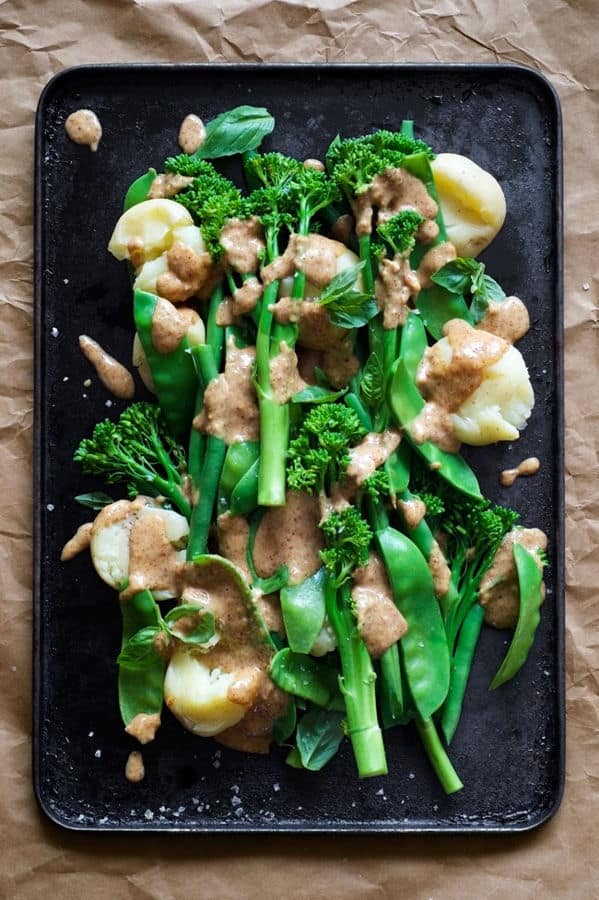 Is this recipe magic? I think so. Just a 5 minute prep time and 15 minutes cooking will create new potatoes and steamed greens like you've never had them before.
If it seems that the ingredients list is long, it really isn't, take a quick read down the list and I bet you'll have at least half of everything in the kitchen before you even begin.
I love things like this because side vegetables often get ignored. Don't get me wrong, they are more than tasty on their own, but sometimes when you want something a little different, you grab a recipe like this!
Sweet Potato Casserole with Maple Pecan Topping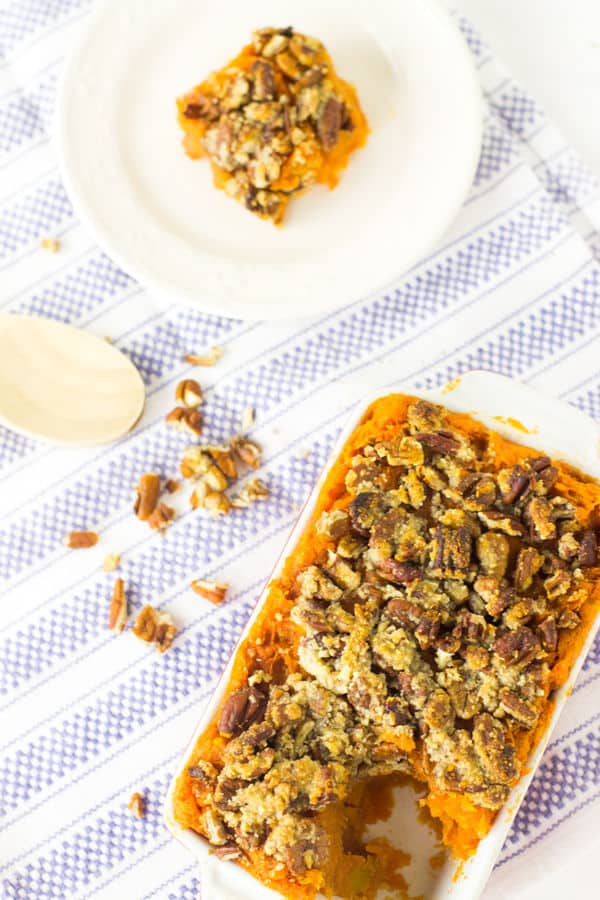 Hold the front page! Here we have a fantastic sweet potato recipe. What makes it so wonderful is that it seems you spend hours preparing and cooking and yet the opposite is true!
Not just perfect for the holidays, but for any time of year. This brightens up any meal. Use as you would mash or any potato. It has a contrast of flavors from the crunchiness of the pecans to the smoothness of the sweet potato.
The maple syrup is the winner in this recipe! The author says that it stores in the fridge for up to a week.
Easy Sweet Potato Salad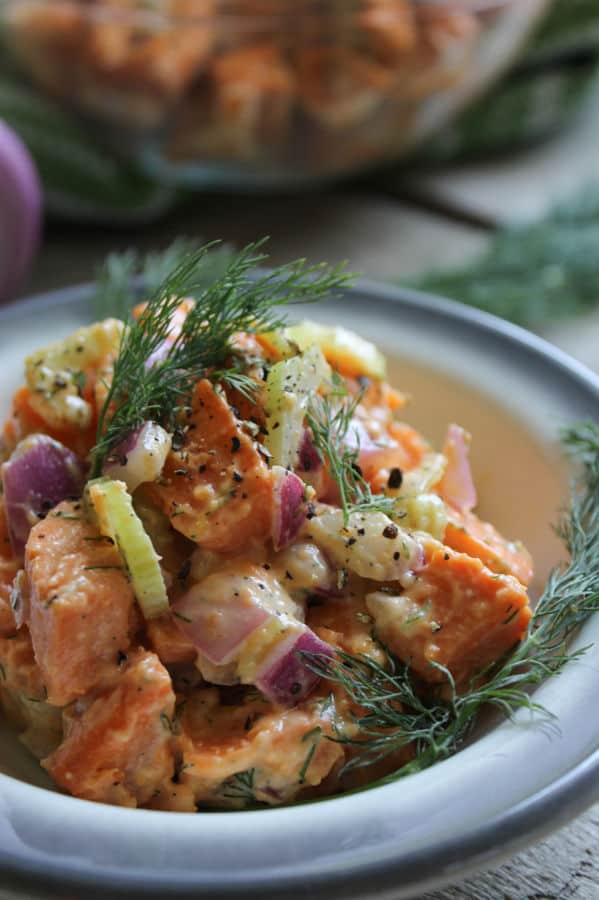 This couldn't be easier to make. This is a classic take on the standard 'potato salad' side-dish. Perfect for any time of year and with an unmistakable fresh taste.
You'll need some 'Vegannaise', if you can't source this just use your favorite vegan mayonnaise and you'll be fine.
Other than that, you'll need some apple cider vinegar, freshly squeezed lemon juice and just a couple of other goodies and you'll have created the best potato salad ever!
Vegan Quinoa Recipes
Quinoa Kale Mushroom Salad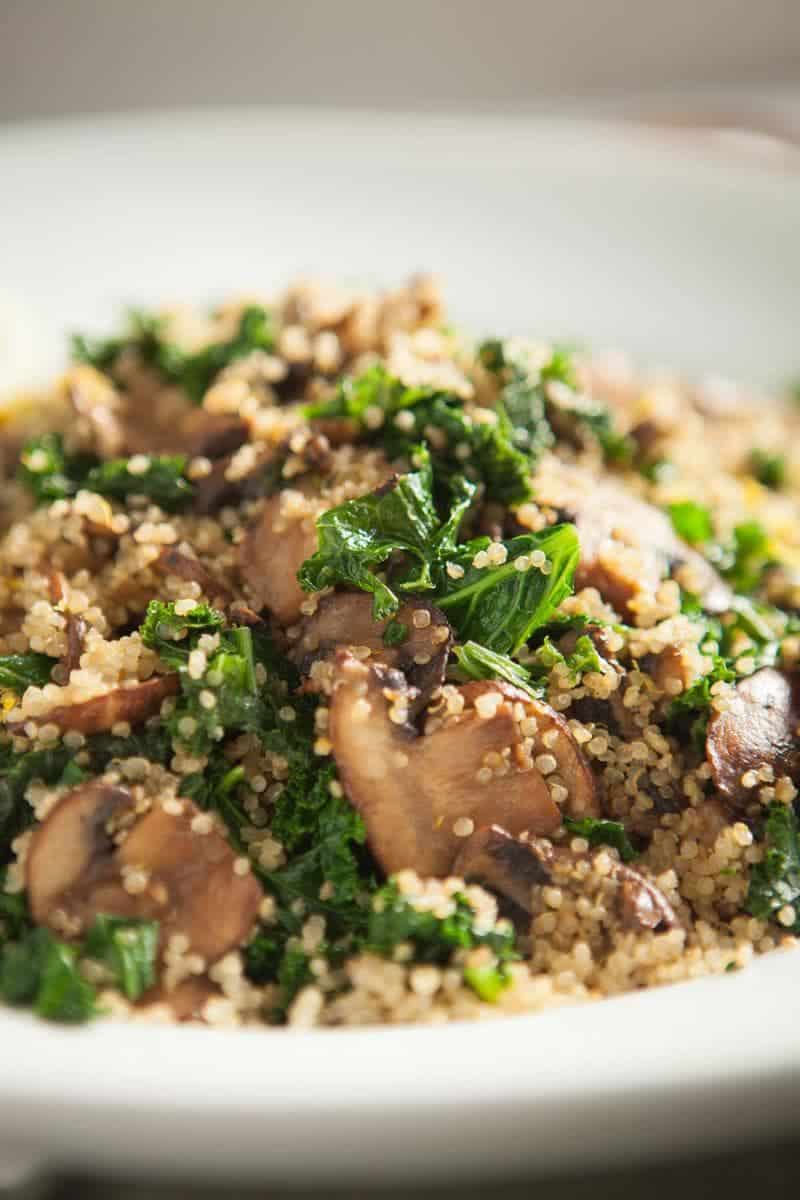 If you've never had quinoa before, now is the time to start! You can use it like rice although it is a lot lighter and certainly easier to digest.
Quinoa is very easy to make (a lot easier than rice!). There are different varieties available and I recommend you go through them and pick your favorite.
In this recipe you have some wild spinach, mushrooms, a little garlic and just a couple of other goodies and you will have created a beautiful looking and tasting dish.
A perfect side and an even better entrée!
Italian Lentil Quinoa Meatballs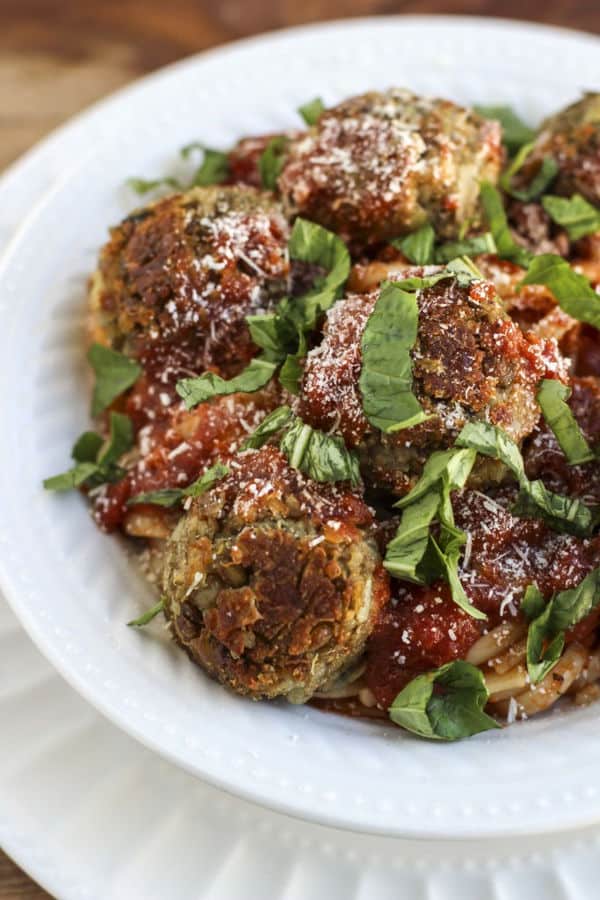 If you are a seasoned quinoa eater, you probably know that as well as eating it as you would rice, you can also use it as an ingredient. Here we create Italian seasoned 'meatballs' with lentils.
As well as being vegan, this is nut and soy free. Use your favorite noodles to create this satisfying dish that you will want to eat over and over, I guarantee!
The author doesn't say it, but I can tell you that it stores well in the fridge and makes a great work lunch the following day. Use that as an excuse to make a bunch! The kids will love this too.
Lemony Quinoa with Kale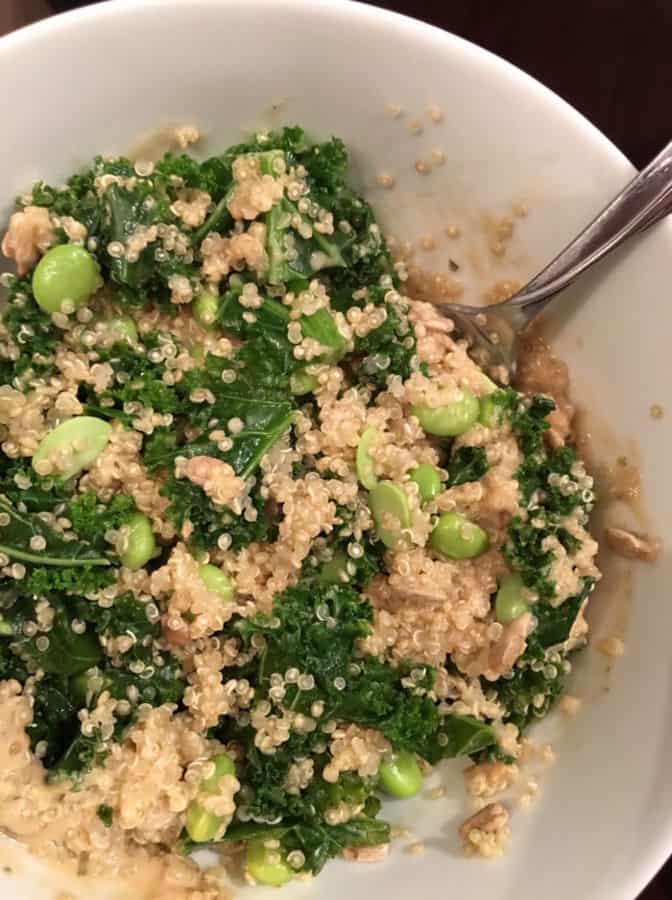 There are hundreds of quinoa salad recipes and I think this is right up there as one of the best. They are easy to make, and it uses my favorite quinoa accompaniment, lemon.
This recipe calls for a large bunch of kale, if you use this, be sure to remove the thick stems.
If you don't have any, or you don't care for it, you can easily use any other vegetable, the end result will be the same. Beautiful recipe, quick, simple and honest.
Avocado Quinoa Salad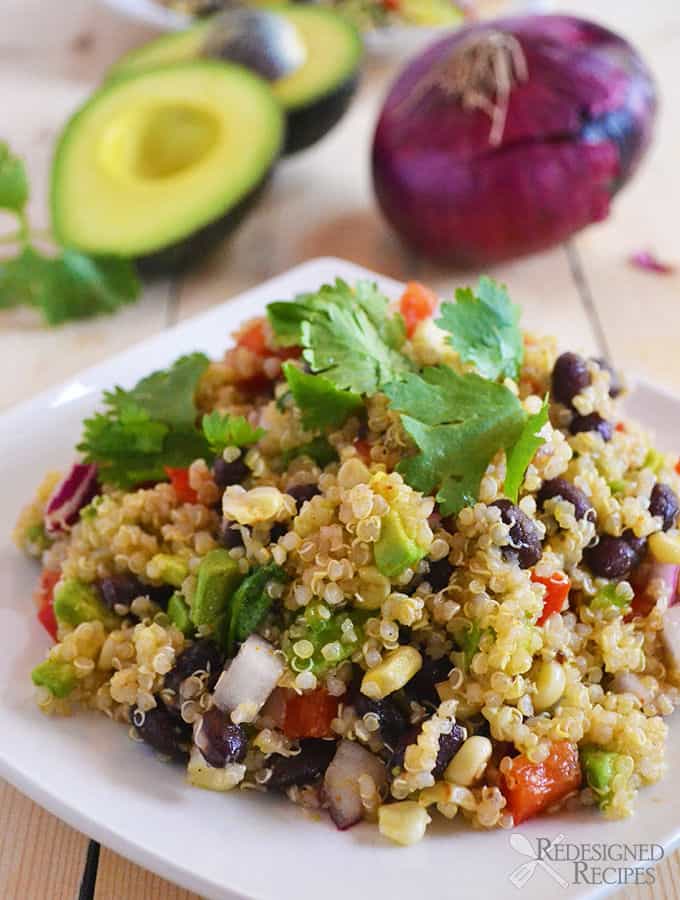 This dish is super satisfying but won't leave you feeling full where you can't move afterwards! It's easy to digest and the moment you finish, you'll be full of energy.
There are just a handful of ingredients in making this salad although it's a flexible recipe which is one of the things I really love about it.
So, if you have anything lying around in the kitchen that needs eating, chop it up and throw it in! The best part of this recipe for me is the dressing. I'm going to use it for salads as well!
Lentil Quinoa Salad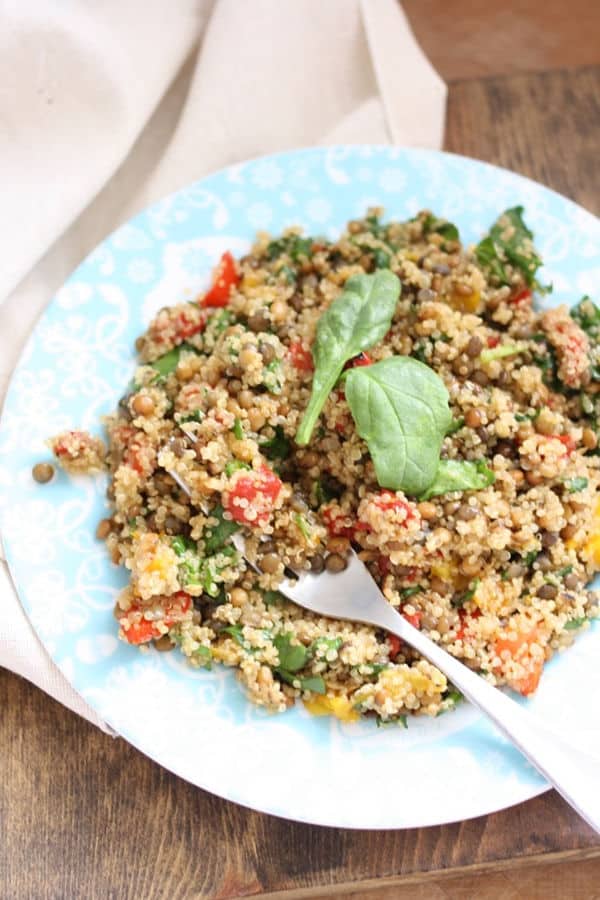 A great dish that not only makes a nutrition filled feast, but also easy to take to work for lunch the following day. In fact, it stores well in the fridge for up to 3 days so make a bunch.
There are just eight ingredients, one of them is seasoning, another is lemon juice, so it feels a lot less.
Other than cooking the quinoa and lentils, there's hardly anything to do. One of the quickest recipes I've seen.
The secret ingredient for me is the balsamic vinegar which, even with 1 tablespoon, brings this whole dish alive!
Russian Style Quinoa Salad with Winter Vegetables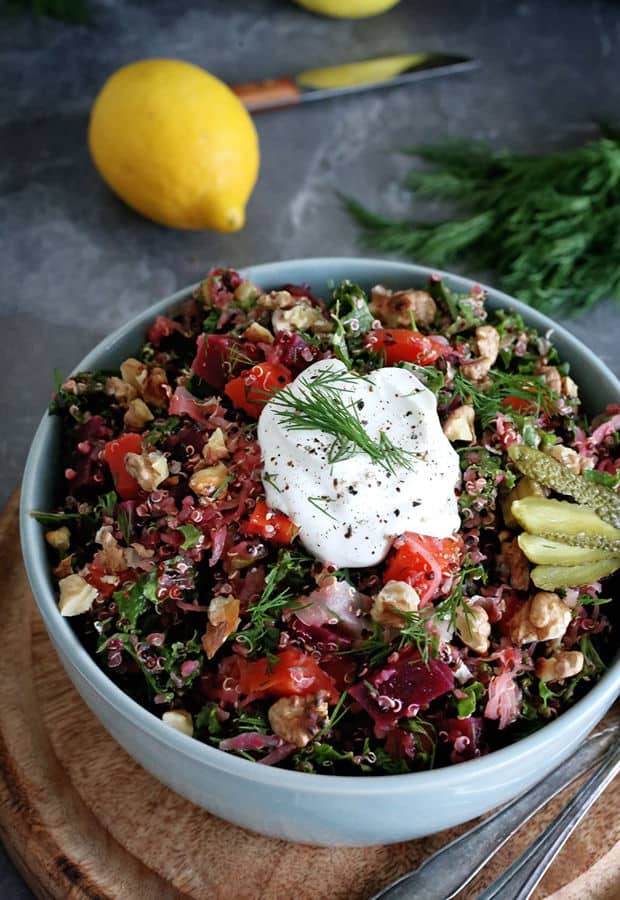 There are so many good things to say about this dish, I barely know where to start. If you're on a budget, it's very economical and taste-wise it's amazing! On top of that, it's comfort food but loaded with nutrition.
Just take one look at the recipe page and you will see just a handful of ingredients, yet if you're anything like me, you wouldn't have dreamt of putting them together as one dish. From quinoa, to sauerkraut to walnuts.
On top of that, literally, you have this amazing dressing which is both sweet and sour. Put everything together and you get a double-thumbs up!
Mushroom and Fiddlehead Quinoa Risotto with Parsley Oil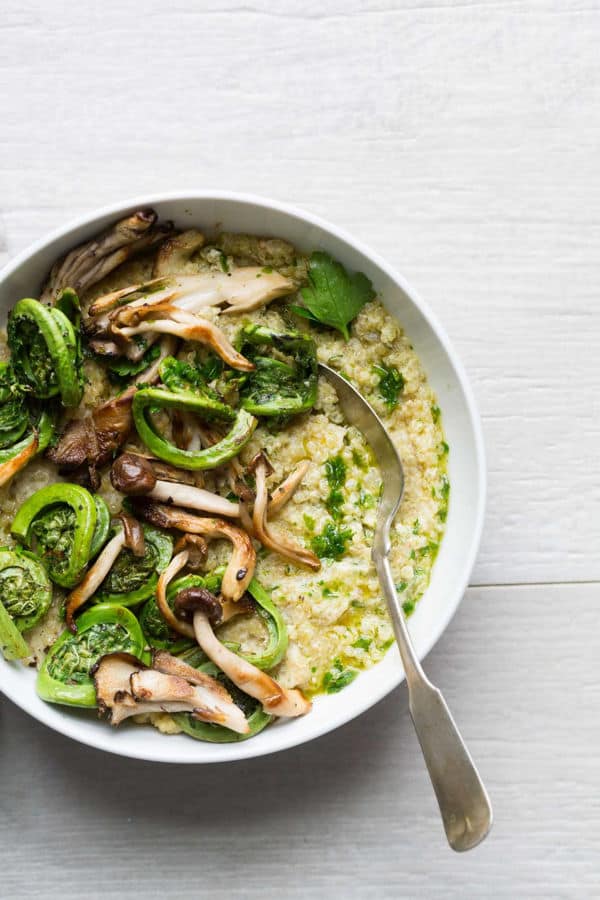 Well, this is one recipe that is quite remarkable. It's using quinoa in a way that I have never seen before and it's amazing!
You have a risotto style consistency and above all, at least for me, you're using fiddlehead ferns, something I had never eaten before.
My local supermarket didn't have the ferns, but I found an independent grocery store nearby that stocked them.
Really cheap and nutritious! This is a special meal and I urge you to look at it. Whether it's to treat yourself or your friends and family, go for it!
Vegan Soup Recipes
Instant Pot Black Bean Soup with Avocado Croutons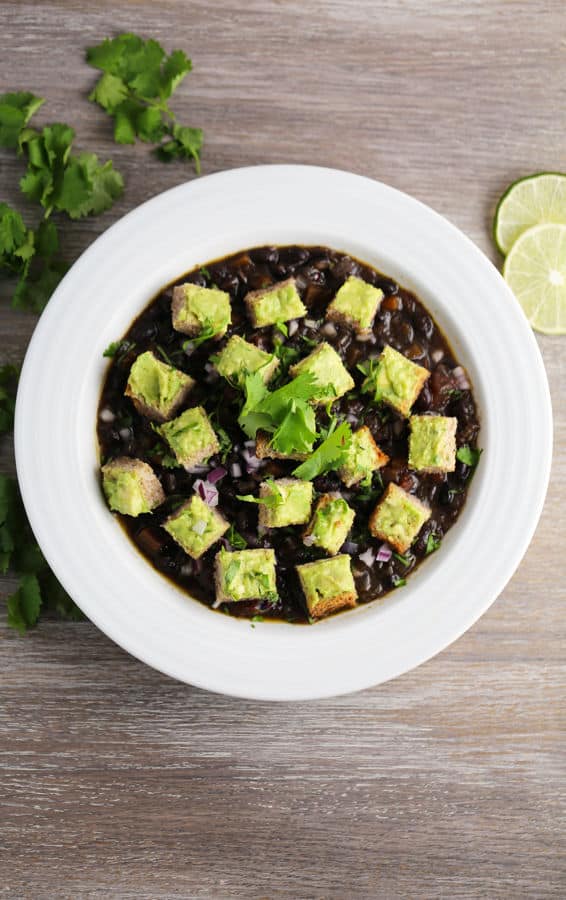 I love instant pot recipes, minimal cleaning to do afterwards and extremely tasty! I'm going to go out on a limb and say that you have never seen avocado bread croutons before, am I right?
You're looking at about 55 minutes to bring this to the table. This is a wonderful light summer lunch and when I say light, I'm talking about digestion, you certainly won't be feeling hungry after this.
The winner of the day here are the avocado croutons, I'm going to be making these puppies again and again and I think they'll be great on salads! Wonderful recipe.
Creamy Pumpkin Soup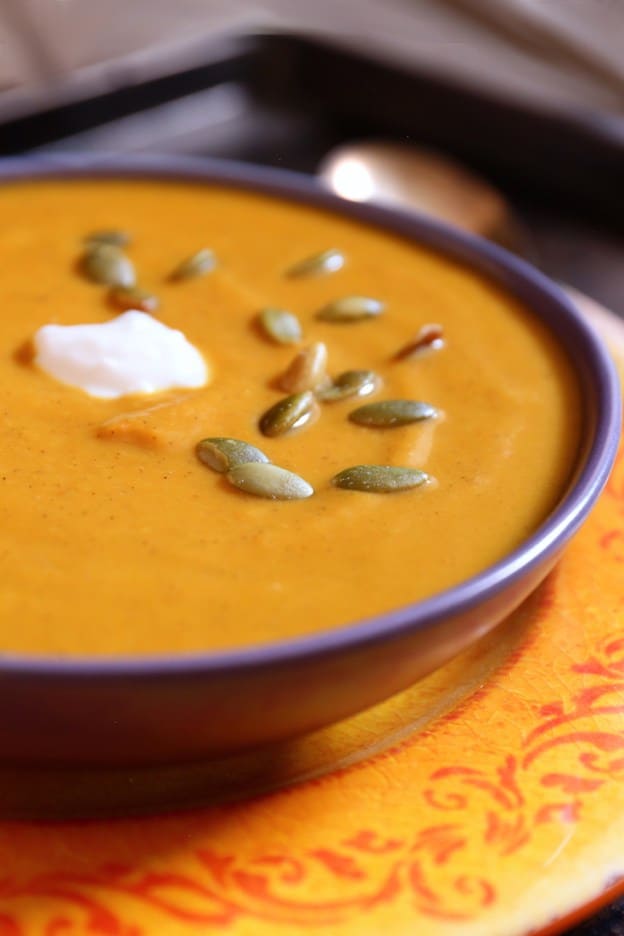 When you want something different for the holidays or even for any time of year when you need a warming dish, check this out. Just a handful of ingredients most of which are herbs and spices. They complement each other perfectly.
The amounts in this recipe will make about four servings (approximately 5 cups of soup). It's perfect on its own and if you can get some non-dairy yoghurt and roasted pumpkin seeds, you will have the perfect garnish.
If you want to make this into a more substantial meal, you could add rice and have the soup over the top.
I think rice goes well with most soups! Aside from all that, this is a perfect dish and if you love pumpkin, you're going to love this!
Minestrone Soup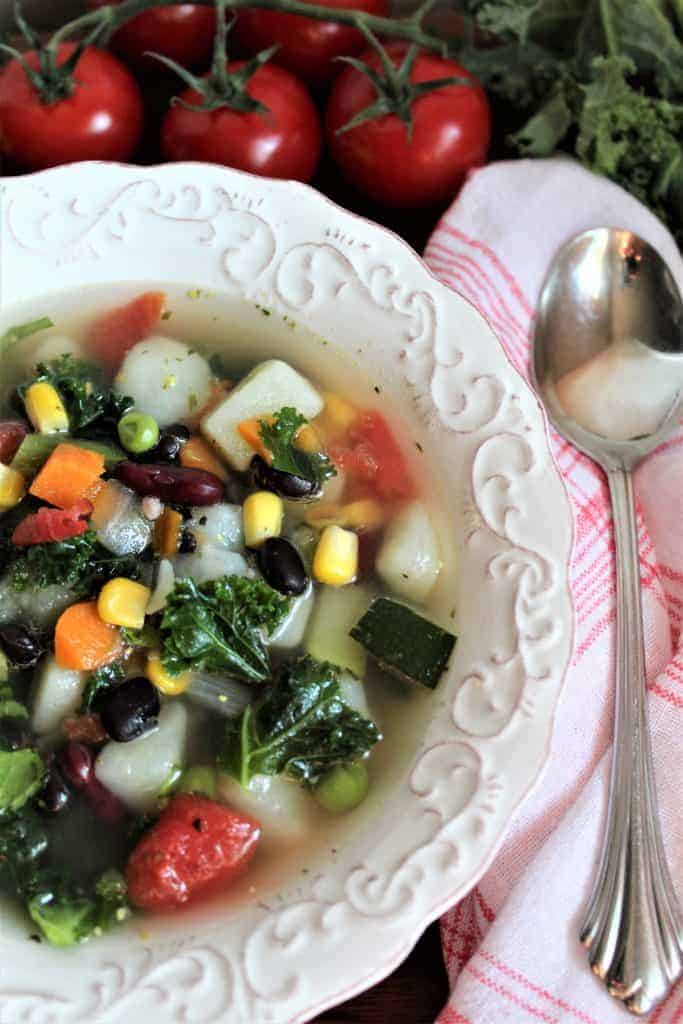 I love minestrone and coming from an Italian family, it was part of my staple diet growing up. There are about a million different recipes for minestrone in Italy with each region making its own variation and on top of that, the recipes change according to what's in season.
This is the perfect dish to use up any vegetables that need eating. It's one of the most flexible recipes ever.
I recommend you use the ingredients listed as a framework and then adapt according to your personal preference and what you have available.
You can easily add a handful of your favorite pasta as well. It's warming, healthy and satisfying. Serve with crusty bread!
Spicy Green Cauliflower and Brussels Sprout Soup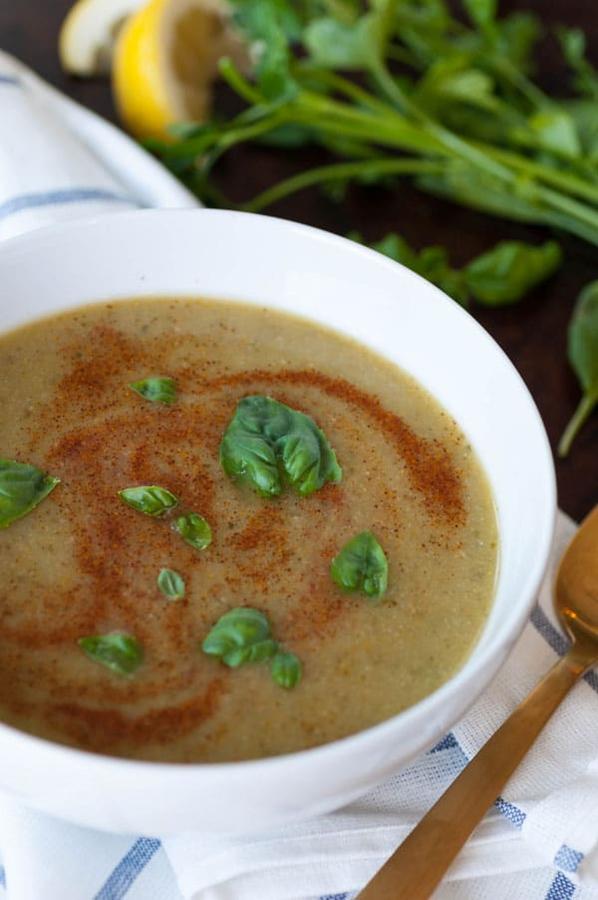 If you're on a health kick or you just want something light but loaded with nutrition, check this out. Not only is it vegan, it's gluten-free too!
You can make this in 40 minutes, including cooking and prep time! Ingredients are both simple and easy to source. If you don't have some of the herbs and seasonings fresh, it's okay to use them dried. Experiment with the flavors a bit, you won't be disappointed.
While fresh ingredients definitely kick the flavors up a notch, there's no reason to forgo this recipe if you don't have them. If you don't do spicy, try substituting the cayenne with smoked paprika! Delicious!
Creamy Almond Soup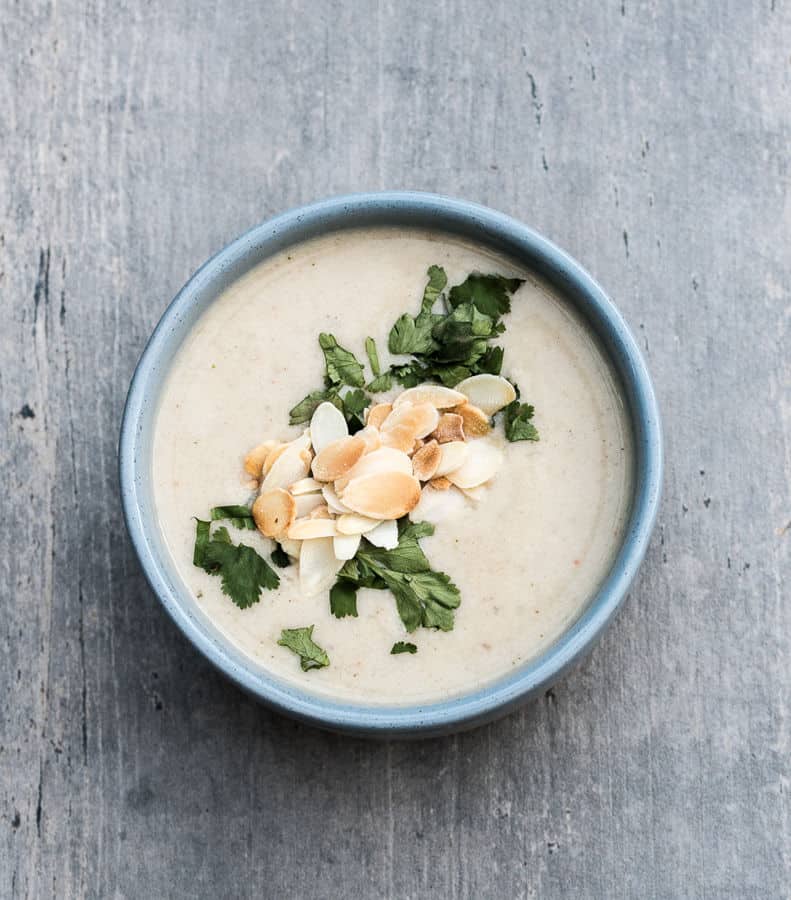 In just 30 minutes or less you can bring this delicious soup to the table. Just five minutes prep time and the rest for cooking.
Incredible wholesome ingredients such as cauliflower, almond butter and cannellini beans to name just a few.
Cook everything up and then use either a blender or food processor. For garnish the recipe suggests toasted sliced almonds.
I wholeheartedly agree although be careful when toasting them because they burn very quickly and easily. A deceivingly delicious soup!
One Pot Lasagna Soup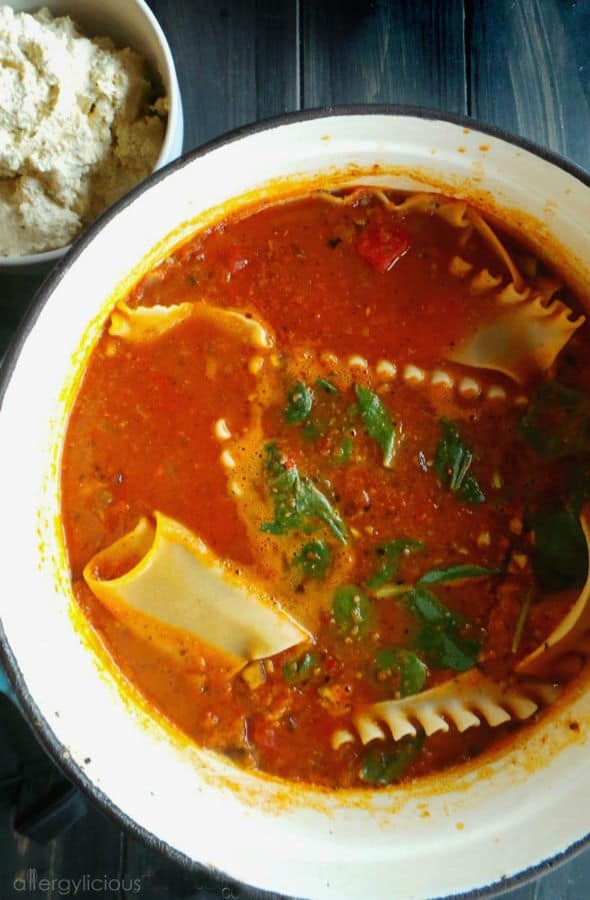 Since curating our recipe roundups I have come across I think one other lasagna soup recipe. Firstly, don't be put off, let me assure you this is not a lasagna that has somehow been blended into soup!
This is a beautiful tomato base soup that even contains vegan sausage chunks, and mushroom! Then, while the soup is cooking, you add the lasagne pasta sheets.
You don't have to use this shape of course, you could use any pasta. What you end up with is probably one of the most warming and satisfying meals you've ever had, and I don't say that lightly. Check it out, you won't be sorry.
Chilled Melon Mint Soup with Toasted Sriracha Coconut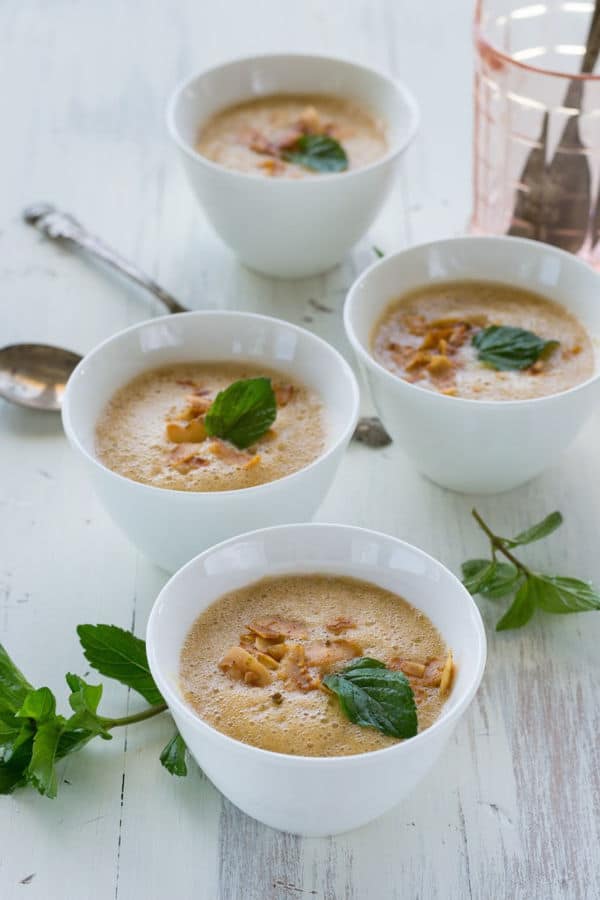 A light summer starter that is both nutritious and refreshing. If you want to find something to start off your meal that is unique enough where you can pretty much guarantee your guests have never had before, check this out!
The recipe is divided in two: the soup and the toasted coconut.
The soup is just four ingredients and 100% raw, if you adjust the amounts you have yourself an amazing smoothie by the way.
Do note, for this dish the cantaloupe melon needs to be ripe and extremely sweet. Add the toasted coconut and you have yourself one seriously good starter!
Homemade Jackfruit Tortilla Soup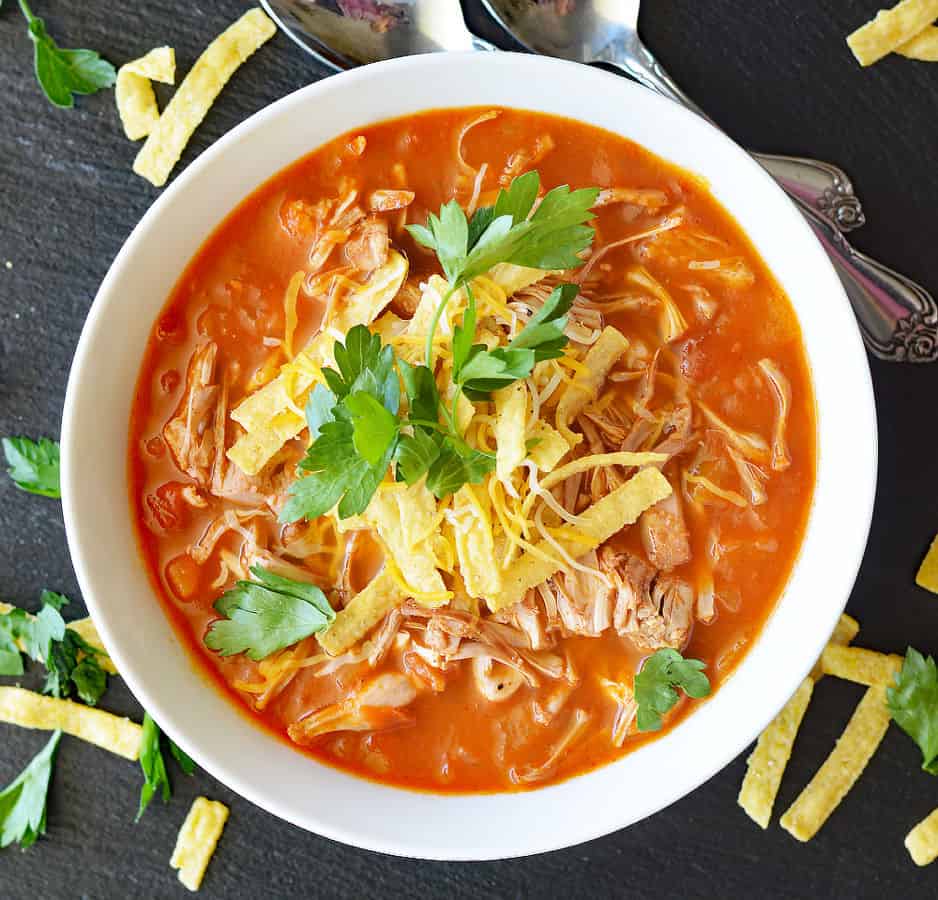 Jackfruit is used in many dishes and its primary purpose for savoury recipes is its texture. When it's used like this, you only need it in a can.
Depending on your location, it's virtually impossible to source fresh and even if you can, the last thing you want to do is spend hours preparing it.
The soup itself is tomato-based and has garlic, onion and so much more.
The jackfruit has a 'meaty' texture. Add strips of tortilla and vegan cheese as a garnish and you have yourself a seriously good soup!
Special Picks
Black Eyed Pea and Kale Tacos with Avocado Jalapeno Sauce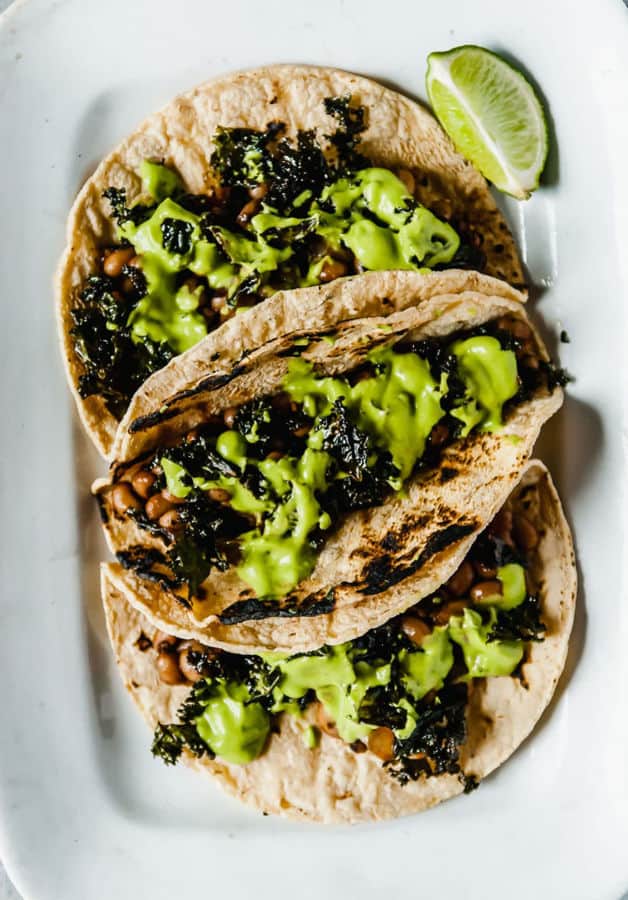 This is special, I mean it, it really is! These tacos come together in 30 minutes or less. The only problem with this recipe is that the amounts listed yield 4 servings and you need at least double.
I'm not joking! And if you invite me as well you'd better double it again!
If you were to tell someone that you are going to have tacos with kale, they probably wouldn't be that impressed. Of course, that's not even half of the story.
Add black eyed peas, avocado and a whole party of flavors such as lime and garlic, you have yourself seriously good meal that is both satisfying and bursting with flavor. Not to mention it's super healthy!
Oven Baked Falafel with Cashew Cheese Sauce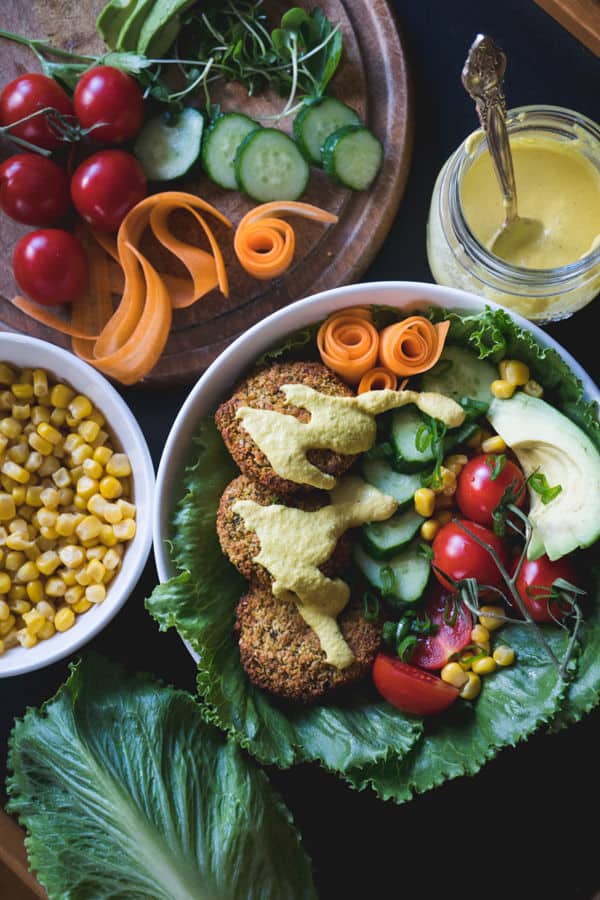 If you've never made falafel before, I get it, it's far easier just to buy them and to be honest, it's difficult to get store-bought ones with bad ingredients. They are usually very good.
So why make them yourself? Well, for a start when they are pre-made, it's usually in a factory, somewhere. Secondly, no matter what, something home-made with real ingredients is simply unbeatable.
The amounts listed make 12 falafel, so adjust as necessary according to your needs. We made them and something I immediately noticed was that they weren't dry. I had gotten used to falafel I buy from the store always being dry. In addition, you absolutely must make the vegan cheese sauce!
This is probably the best I have ever had. With ingredients such as Dijon mustard, fresh lime juice and ground turmeric, this is seriously tasty.
If you can, soak the cashews overnight rather than in hot water. I always find the results are infinitely better.
Make yourself a delicious crispy salad, grab some pitta and knock yourself out!
Sautéed Chili Cucumbers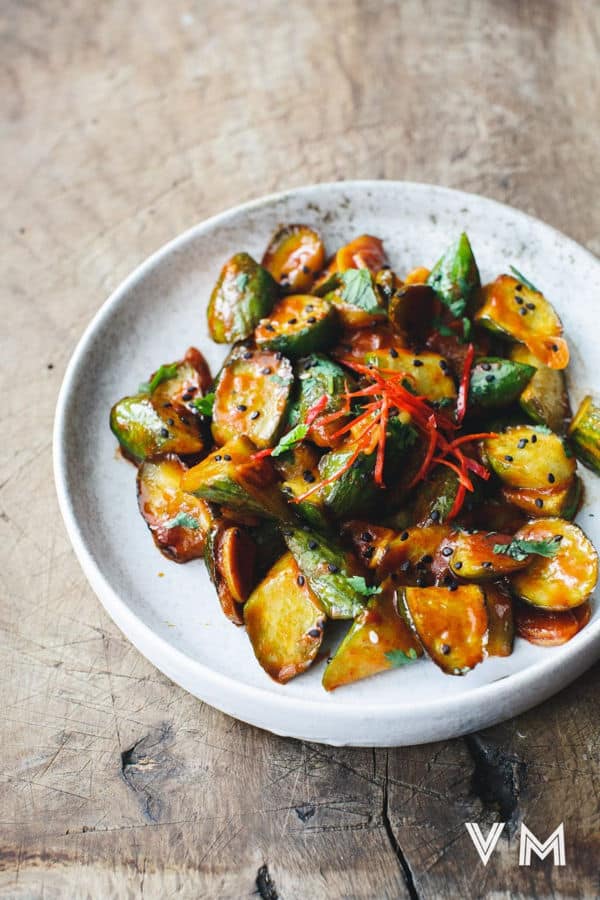 Whoever thought cucumbers being sautéed? Certainly not me and before I had seen this recipe, it's the last thing I would have done with them. But you know, this really works!
You do need Japanese or Persian cucumbers for this to work properly. The chili sauce is both sweet and sour and is an absolute knockout!
This is a wonderful side dish and can be served with Chinese or Korean food. If you're not sure what to have it with, just make yourself a little rice and you have a ready-made meal!
Lemon Cashew Asparagus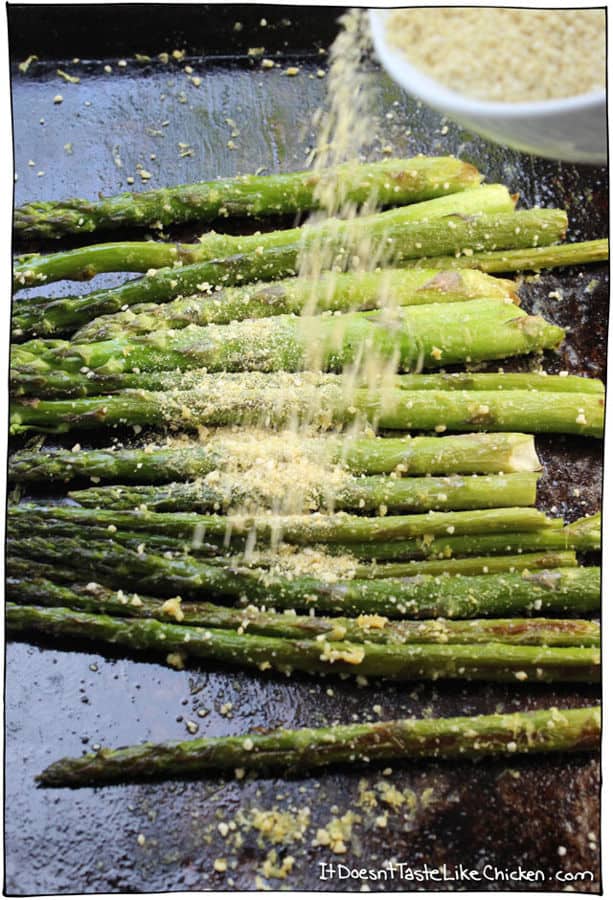 Asparagus are delicious! Unfortunately, most people don't know what to do with these little spears, so they end up just boiling them and there's only so many times you can do that.
Of course, there are many things you can do including chopping them up and throwing them in a salad. Here we celebrate them as they are!
Cook the asparagus as normal with a little olive oil, seasoning and lemon zest. Then you have a wonderful cashew crumble that contains just three ingredients.
Sprinkle that generously over the top of your prepared asparagus and enjoy! Seriously good!
Cauliflower Steaks with Lentils and Pistachio Mint Pesto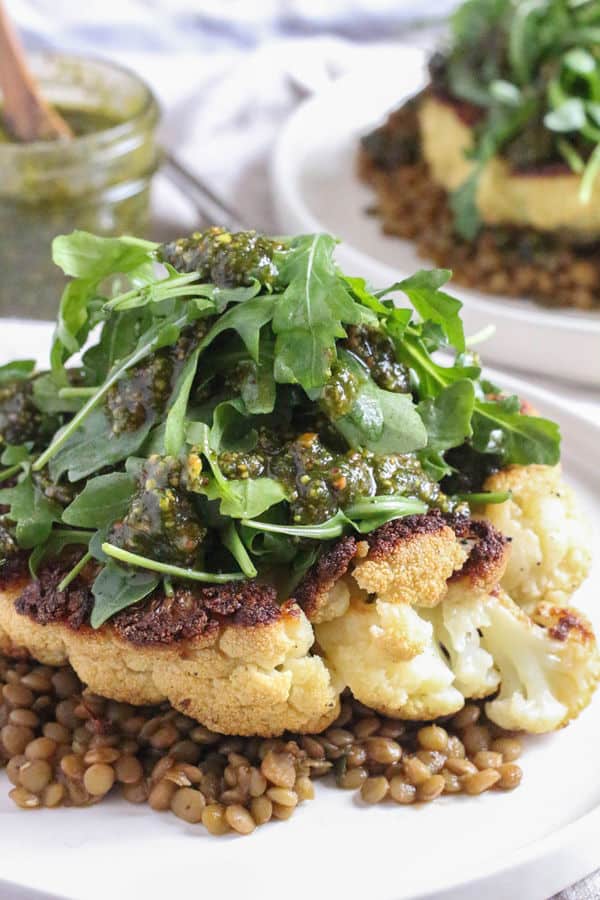 You have a celebration meal to make, or you seriously want to impress someone, which recipe do you go for? I would absolutely and seriously say, this is the one.
We have seen cauliflower steak dishes before, believe me it's a great way to cook this vegetable and is extremely satisfying and tasty. However, this recipe includes herby lentils and a pistachio mint pesto.
The best part about this dish so is the way you can present it. Place the lentils at the base, then lay the cauliflower steak on them, then finally the pesto.
Just check out the photos on the recipe page for guidance. You will easily have a restaurant quality looking meal that tastes divine!
Savory Turmeric Oat Bowls with Tempeh Bacon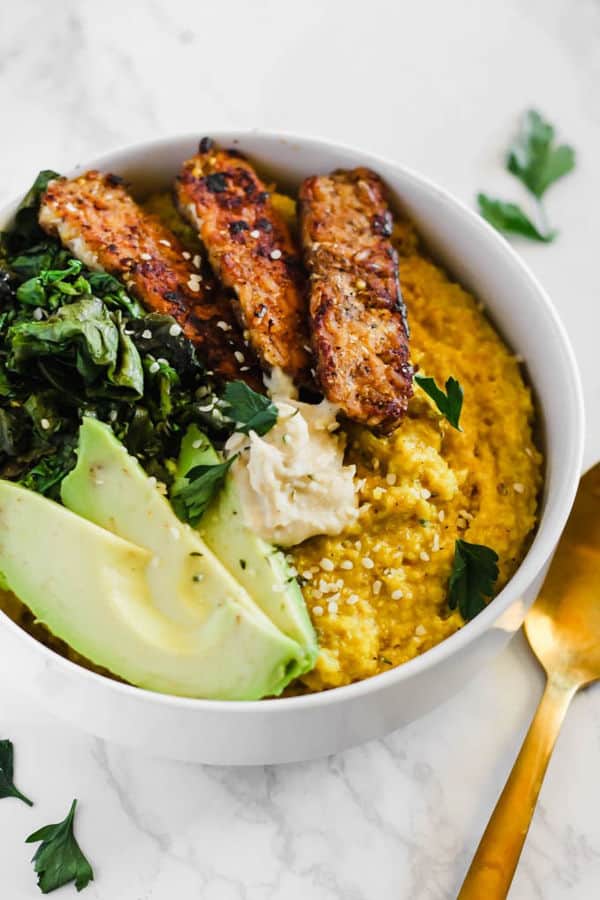 I hope you'll agree this looks seriously good. Not just for lunch or dinner, it makes a wonderful breakfast as well.
Very easy to make and would you believe comes together in 25 minutes or less!
If you've never made anything with tempeh before, start right here. I've never had oatmeal taste as good as this, honestly.
Do go to the effort of presenting it as shown in the photo, it's very easy to do and looks even better in real life.
Spring Vegetable Galette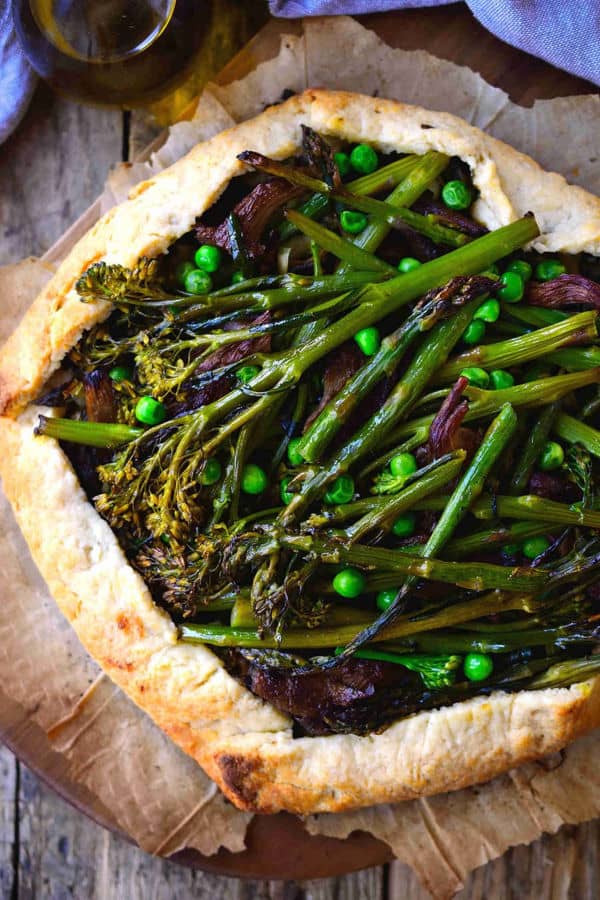 Have you ever had galette before? Traditionally this is part of an Easter meal or even something for Mother's Day but has been used to celebrate many different occasions.
No words will describe how great this dish tastes, stem broccoli (broccolini), garden peas, sautéed oyster mushrooms, not to mention the vegan pie crust which simply brings everything together.
If you want something special as part of a celebratory meal, or even for the main event, this is the star of the show.
Super Easy One Pan Sunday Roast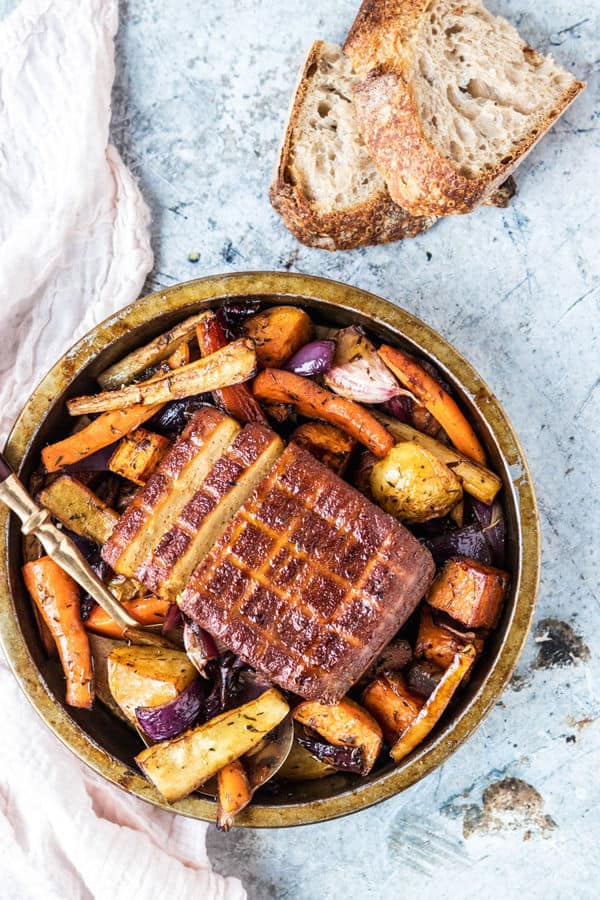 A vegan Sunday roast? Absolutely! This isn't one of those recipes where you try and crowbar something that doesn't work into a traditional meal.
You really do have fantastic roasted vegetables with incredible herbs and to top it off, smoked tofu prepared in a way that even people who are unsure about tofu will love.
It takes just minutes to prepare the simple ingredients. It really is just natures food and a little flavouring.
Throw everything in the oven for about 50 minutes and you have yourself an incredible meal. Add some crusty bread if you like, but really, you don't need anything else because it's all here!
Courgetti and Beet Balls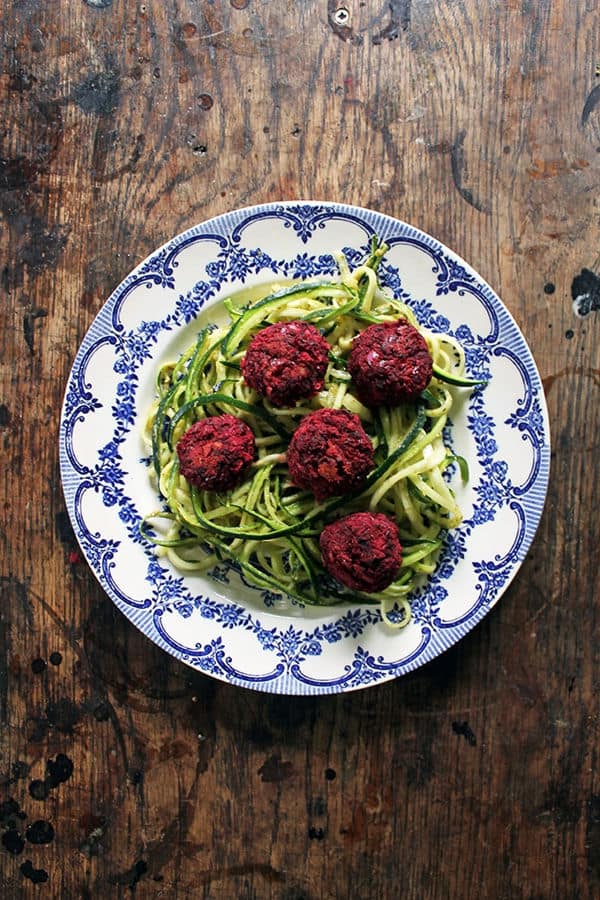 Plant-based 'meat' balls are all well and good, but they are often made of soy or some other similar product that some people try to avoid.
What about if you still want this but you want a recipe where the ingredients are in their natural form? Here's your answer!
Simply made from beets, walnuts, kidney beans and literally 4 other items, you have yourself some wonderful food.
They are baked for about 25 to 30 minutes. The recipe shakes these into little balls although you could just as easily make these into patties and have yourself some wonderful burgers. Whatever you do, I guarantee you'll enjoy it.
Spicy California Sushi Roll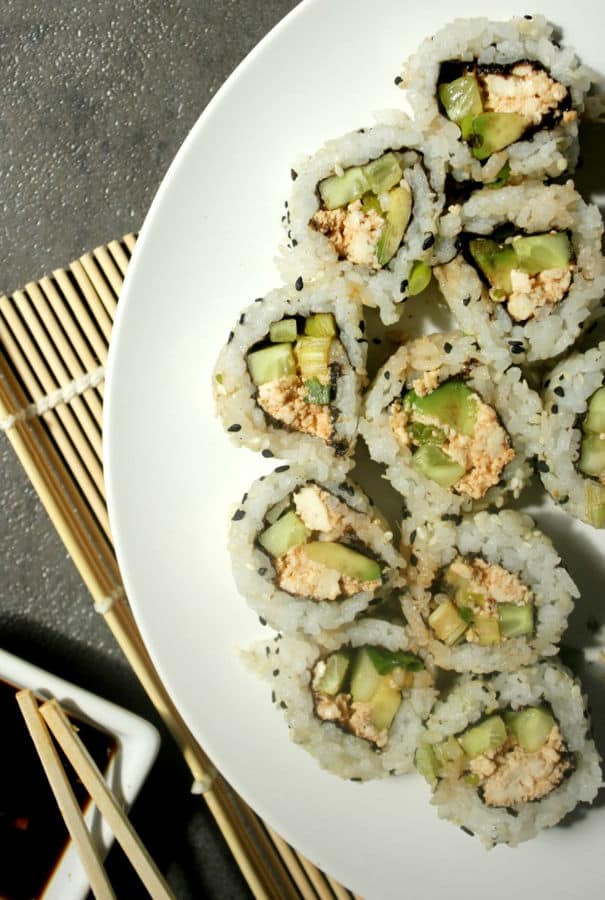 It's just too complicated and difficult to prepare? Well, the author has gone to a lot of trouble to help us.
You have lots of photos and best of all you have a video that takes you through everything, step-by-step.
Grab yourself the ingredients, there's just a handful of them and make yourself this your nutritious meal.
The amounts listed yield 4 rolls, so you may need to adjust according to your needs. Follow the instructions and you will have yourself a Japanese restaurant quality meal.
Vegan Stuffed Recipes
Spinach and Artichoke Stuffed Portabellas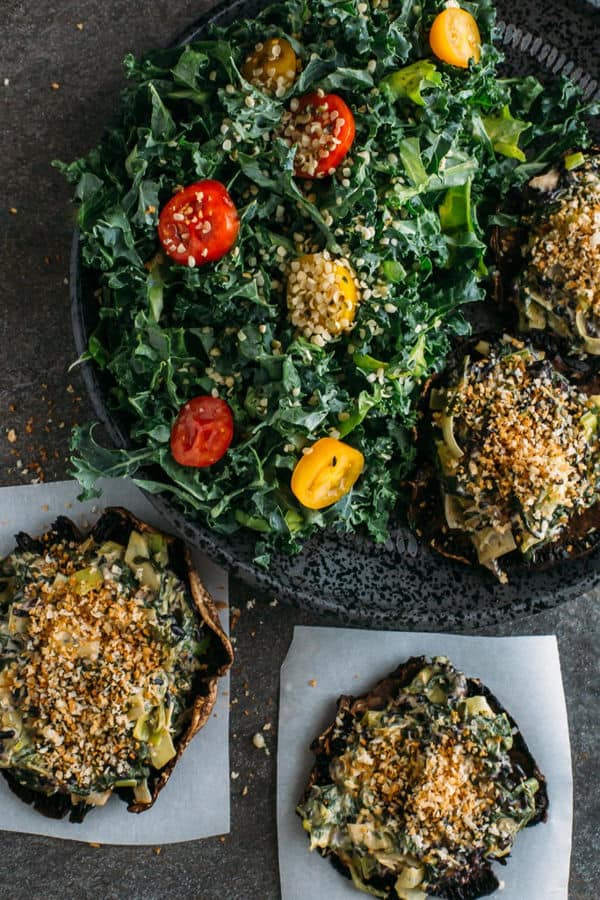 Looking at the recipe photo, you'd be forgiven in thinking that it takes about an hour to prepare at least. You know, it takes about 25 minutes from start to finish and that includes prep and cooking time.
I love artichoke, either on its own or in a salad. When used as an ingredient it makes the meal incredibly satisfying.
This is what we have right here. A whole bunch of flavors that complement each other perfectly.
Treat yourself, there's only a handful of ingredients and as I said, this hardly takes any time to make!
Stuffed Sweet Potatoes with Black Beans and Kale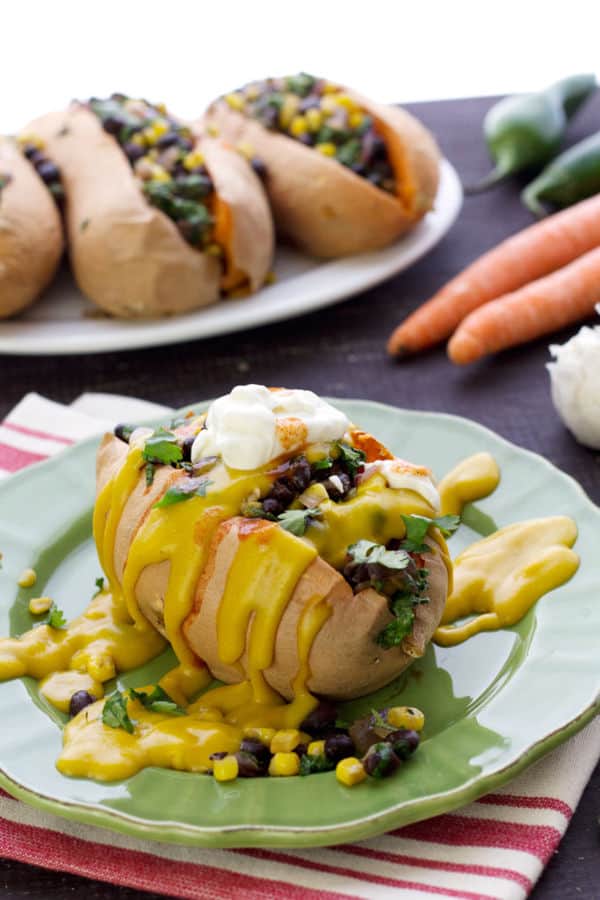 It's Sunday, you have time to go to the store but you're not sure what to make for lunch.
You wanted to be cheap, super satisfying and filling, above all it must be delicious. This recipe ticks all those boxes.
I have sweet potato all the time now instead of regular white potato.
I don't 'not' have white potato, but when you really observe the differences in how your tummy and digestion feel after consuming both, you'll switch to sweet potato as well. It's simply less starchy.
The best part of this dish is the queso (that's 'cheese' in Spanish) sauce. It takes a little time to prepare but is one of the highest quality vegan cheese sauces I have ever seen.
I love how the slightly yellow/orange color simply comes from turmeric and carrot! I recommend you keep the sauce recipe and use it for other dishes too, it really is that good!
Raw Stuffed Mushrooms with Rosemary "Cream"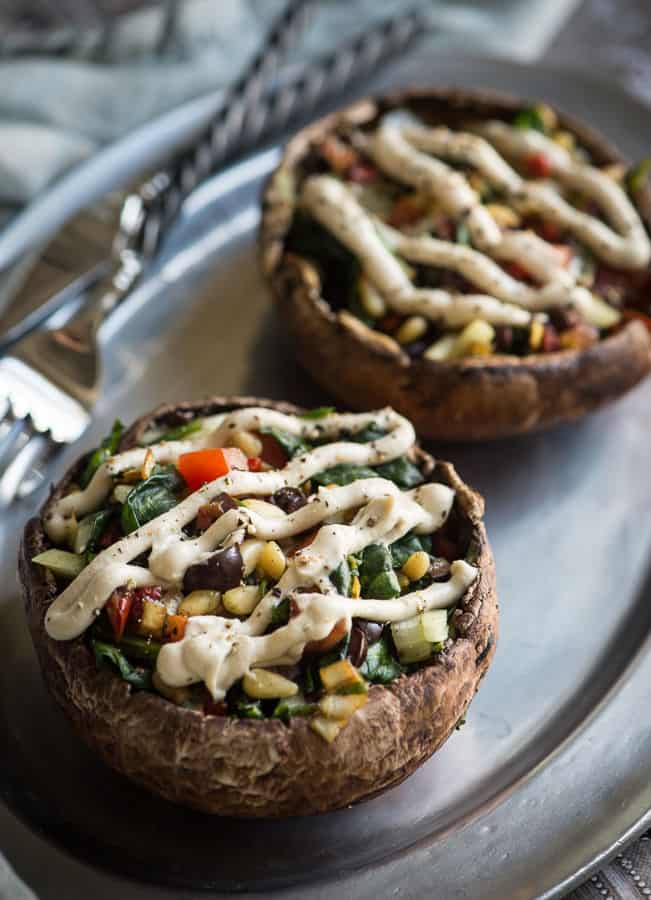 This is a raw dish? You bet it is. This is a gourmet recipe and so tasty that nobody will care or even think about the fact that it is made with raw food and is vegan.
Please note that the recipe does call for the mushroom caps to be placed in a dehydrator for 2 to 4 hours.
If you don't have one, simply use your oven at the lowest setting. The time in an oven will be less so do check on them, they just need to be dried out and have a 'meaty 'texture.
Other than that, put everything together and oh my goodness, wait until you try the cashew garlic cream!
Stuffed Peppers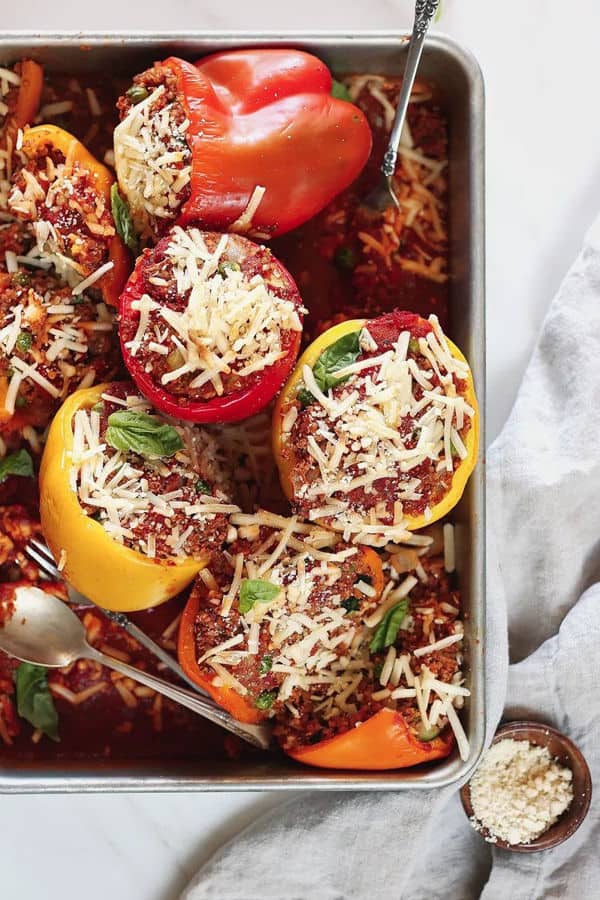 You don't see so many 'stuffed' recipes nowadays, at least, I don't. So seeing this was a real treat, especially as its very high quality. The ingredients are all real food, nothing processed in this dish.
You end up with a bell pepper packed with a flavourful and satisfying stuffing that you will no doubt use in other dishes too.
The recipe page has a tool just above where the ingredients are listed where you can change the number of servings you need and that will adjust the amounts accordingly, very handy. A lovely recipe that will be perfect for a family meal or for the holidays.
Quinoa Stuffed Zucchini Boats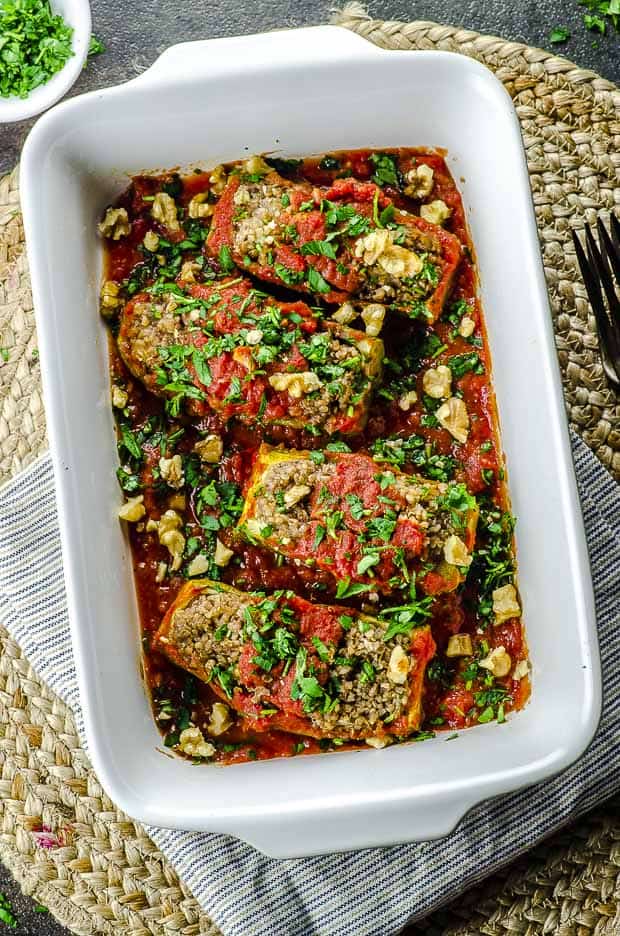 If you're looking for the perfect entrée for Passover, here I can promise you something very special.
Vegetables that are stuffed are a great meal, my favorites are the dishes that are messy!
So much stuffing it won't all fit in and so has exploded onto the plate, this is exactly what we have here, food everywhere!
Have a look down the list of ingredients and I bet that you'll have most of them already. That's one of the things I like about this recipe, straightforward good quality food and easy to source.
The secret ingredient for me is the balsamic vinegar, it's not overpowering and brings all the other ingredients together.
There are also wonderful contrasting textures such as the softness of fresh crushed tomatoes and the crunchiness of chopped walnuts. Not just for Passover, but any time of year!
Coconut Curry Stuffed Peppers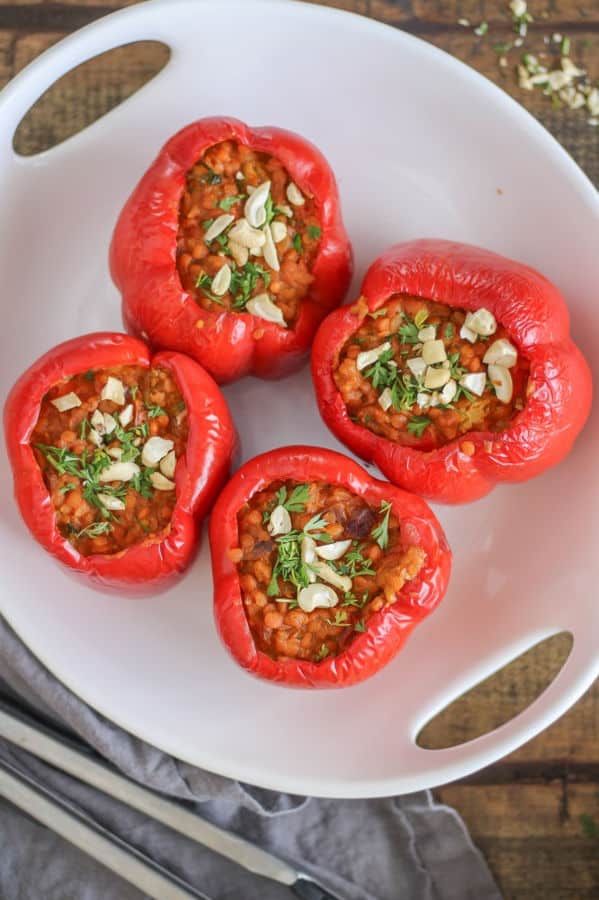 I was just saying to somebody recently that it's been a long time since I've seen 'stuffed' recipes and now we have a great collection right here.
This dish is delicious, and I love the curry flavor that is throughout the stuffing. Red lentils are my favorite, so I was excited to see them in this, along with red onion, broccoli florets to name but a few.
Please note that the recipe listing includes cayenne pepper so adjust or leave out depending on the spiciness of your curry powder. The amounts make 4 servings so adjust as necessary. Absolutely delicious!
Crabless Stuffed Mushrooms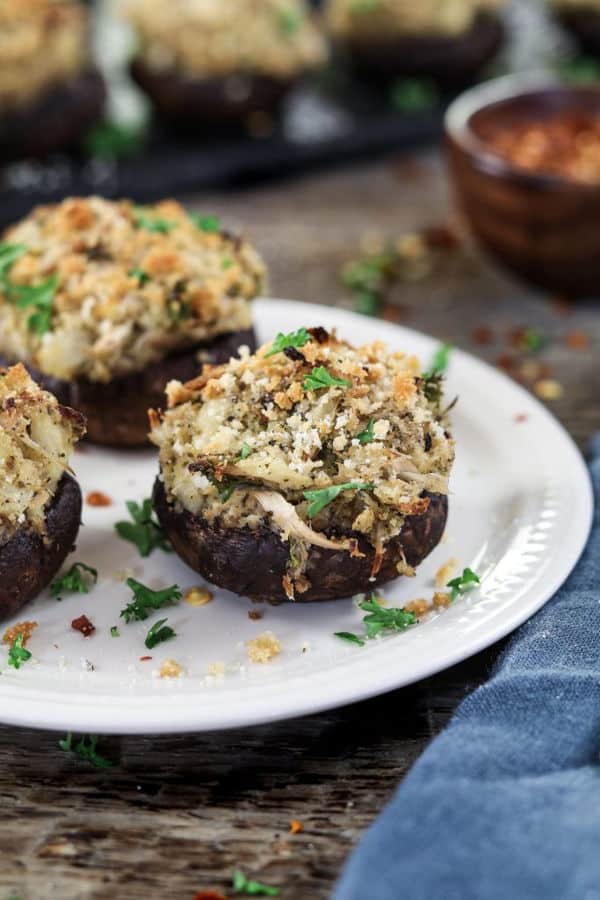 Have you ever had a vegan version of crabmeat before? I'm not talking of some processed concoction filled with a vegetable protein and lots of flavorings, I'm referring to a plant-based alternative made with real food.
If your answer is no, now is the time to try!
Hearts of palm (drained and rinsed) are at the centre of this recipe and, mixed with all the other ingredients, achieves an amazing taste of the sea.
It really is a great recipe. Do note the amounts listed fill approximately 24-28 mushrooms depending on their size.
Another great thing about this recipe is you can make the filling the day before, store in the fridge in an airtight container, and you're good to go the next day. Perfect for a party or for a fun family evening!
Burrito-Stuffed Sweet Potatoes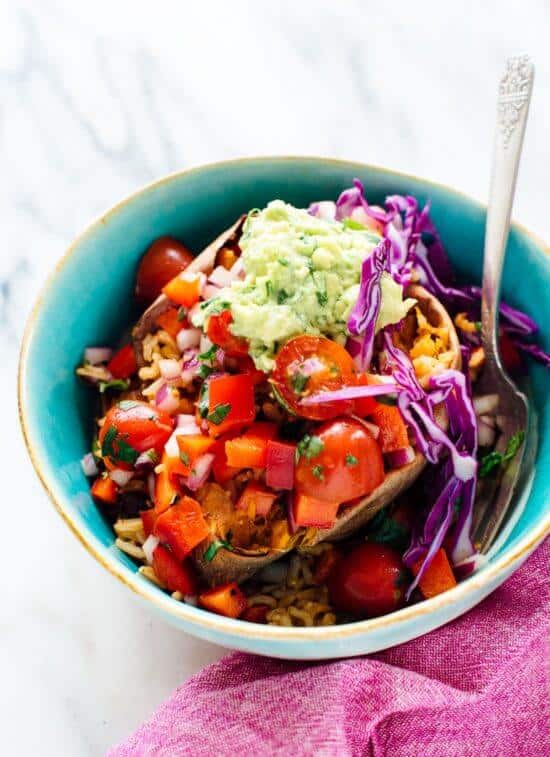 This dish is naturally gluten-free as well as being plant-based. If you're oven baking the sweet potatoes you're looking at about 45 minutes cooking time, and in total if you include the prep, about an hour to bring this to the table.
The recipe is divided into 4, the main ingredients, the rustic salsa, guacamole and finally, a couple of things for serving.
What I love about this dish is filled with beautiful fresh food. The salsa includes red bell pepper along with cilantro, red onion and grape (cherry) tomatoes that have been halved. Incredible taste!
After reading this, you will feel completely satisfied but without that full feeling that sends you into a food coma! With this, you'll be full of energy. If you like hot sauce, splash over the top just before serving.
Wrapping Up
Here we brought you 101 dinner recipes. We want to be the source of inspiration for when you're looking for ideas for a delicious meal whether it's for yourself, your family, and for all occasions!
We tried to cover as many different categories as possible; you have ideas for pizza, gluten-free dishes, pasta and noodles, to name but a few.
While gathering all the recipes, we came across some dishes that were extra special, hence "Special Picks." These are perfect for when you're looking to impress someone with a restaurant quality meal you can guarantee they've never had before.
Best of all, you don't need hours to prepare any of these, they're deceptively good taste-wise and effort-wise!
Get your notepad ready to pick out your favorites. Don't forget, at the top of this list there are some handy buttons that categorize all the dishes, just tap on what you need, and you'll be taken straight there!
Let us know your favorites and if you take any pics, send them over to us!