Not long ago, salads were boring affairs consisting mainly of lettuce covered in a generic dressing with an accompaniment, and that was pretty much it!
Nowadays, vegan recipes seem to be endless with dishes that not only look great but taste amazing!
You don't have to stick to these recipes rigidly as they're always flexible, which is kind of what salads are all about.
There are so many fantastic vegan salad recipes out there, so we've curated 101 of the best to help you out.
Vegan Avocado Salad Recipes
Avocado Cucumber Salad with Zesty Pesto Dressing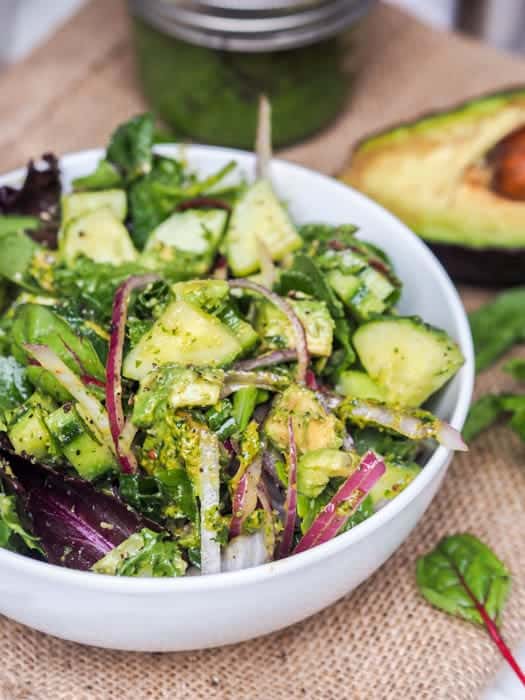 Do you love pesto? You have to love pesto, isn't it illegal to not? I don't know what to say about the salad, it's just that good. You have arugula, onions, cilantro and of course, you guessed it, pesto!
You can drizzle the dressing over the top or mix in, however you prefer, the flavors combine perfectly. Next time I make this, I'm going to add baby potatoes which shows how versatile this salad is.
Grilled Avocado and Romaine Caesar Salad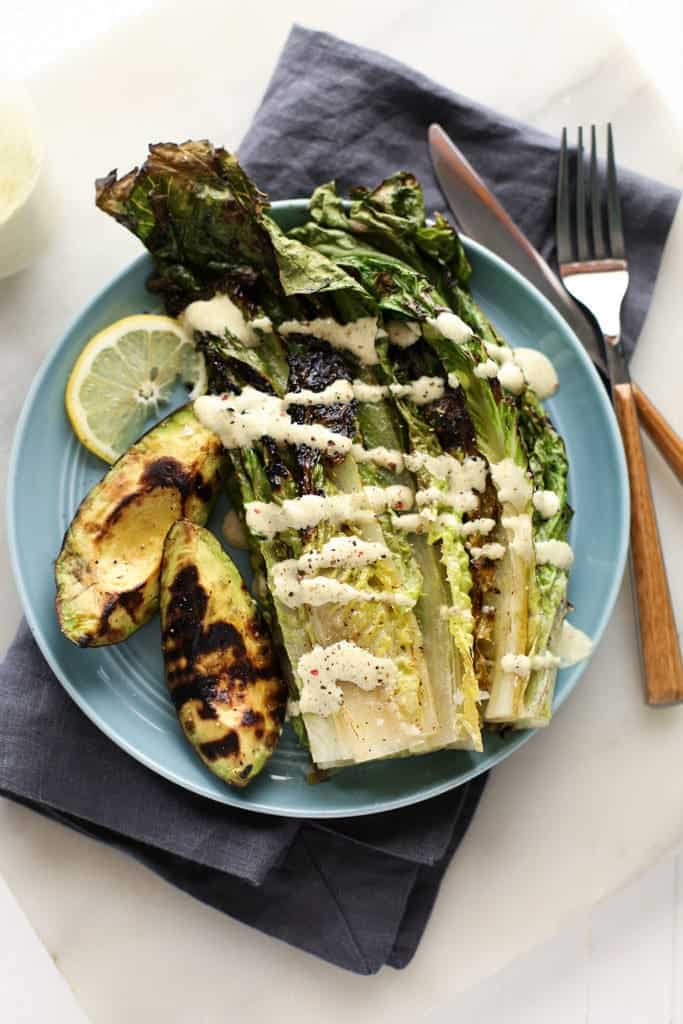 Grilled avocado? Grilled romaine lettuce? Yes! When I first saw this I had to read it twice but trust me, it works.
This is an incredible twist on a caesar salad and it's something you're going to want to show off to your friends. Despite the cooking, you have a total of about 25 minutes for cooking and prep. The caesar dressing is to die for too!
Creamy Chickpea Avocado Salad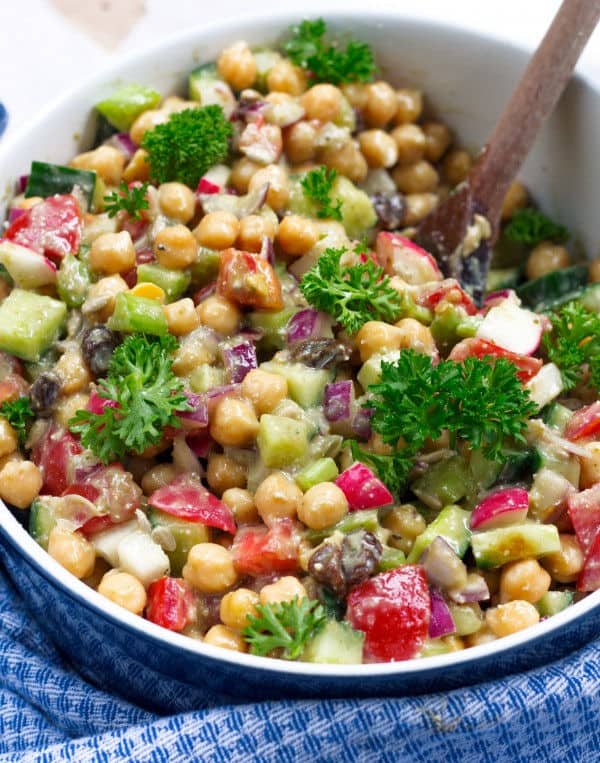 This one of those recipes where you think somehow it can't be all that good for you; perhaps you shouldn't eat too much of it; perhaps limit it to once a month or something… Wrong!
This is super healthy, packed with so many great foods and you can have it each and every day! It's so satisfying, and it works as a side dish, a snack, or do make a big bowl and knock yourself out.
You can also substitute ingredients easily depending on what you have. Really well thought out and we love it!
Avocado Almond Butter Hummus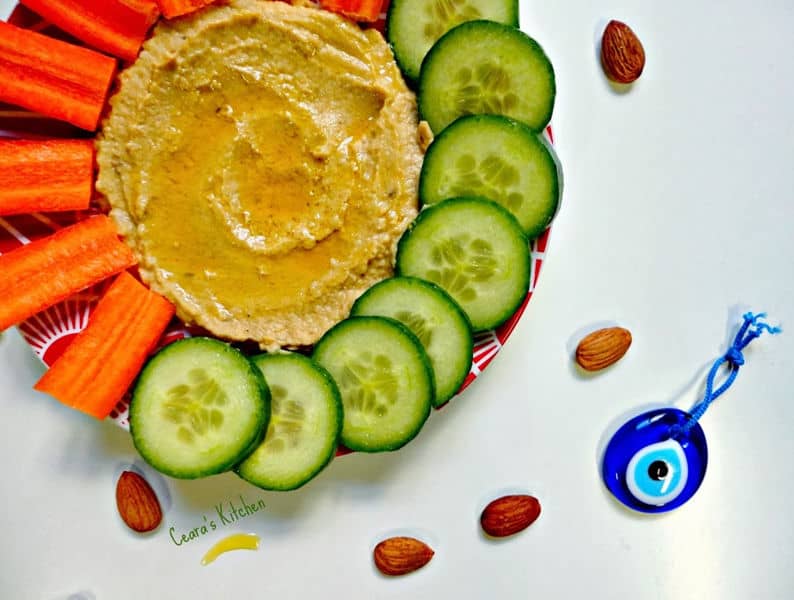 That title really is correct! Do you like a dip with a difference?
This is two pieces of heaven brought together and you're going to fall in love.
The dip is so creamy and so satisfying, you're probably to run out of carrots and cucumbers!
It's packed with protein and is super healthy with good fats. If you want to surprise your friends and act supercool that you thought of this yourself, we won't tell them!
Avocado, Radish + Sprout Salad With Tangy Miso Dressing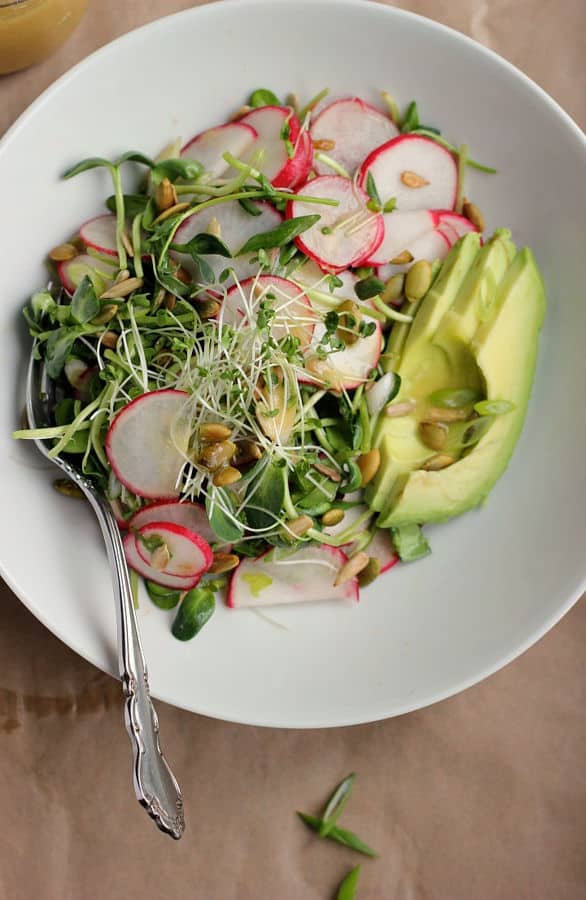 This is one of those lovely light summer salads that won't leave you feeling full. It may not be immediately apparent, but there is an array of textures with the pumpkin and sunflower seeds, radishes, onions and the creaminess of the avocado.
You might think that you can't prepare this in advance because of the oxidization of the avocado, but if you make sure it's coated in the lemon dressing, then you're good to go.
Maple Mustard Cauliflower and Avocado Salad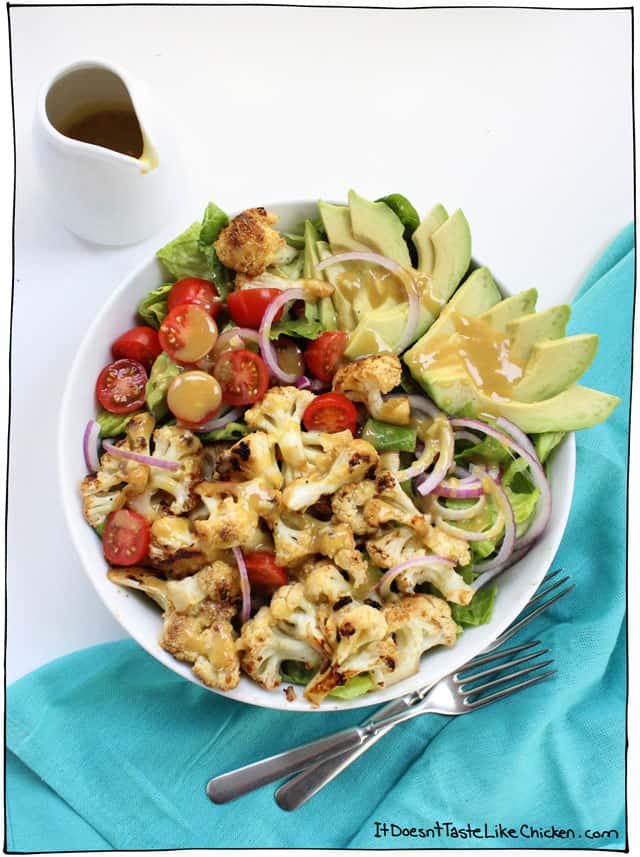 If you've made it this far you will know that I dig cauliflower. Maple mustard cauliflower? Just tell me what to do! This recipe starts out being a really good standard salad, and there's nothing wrong with that!
Add the cauliflower and the dressing, then goodness me, you now have something spectacular!
Vegan BLT Salad With Coconut Bacon, Tangy Lemon Pepper Dressing, Grilled Peaches and Avocado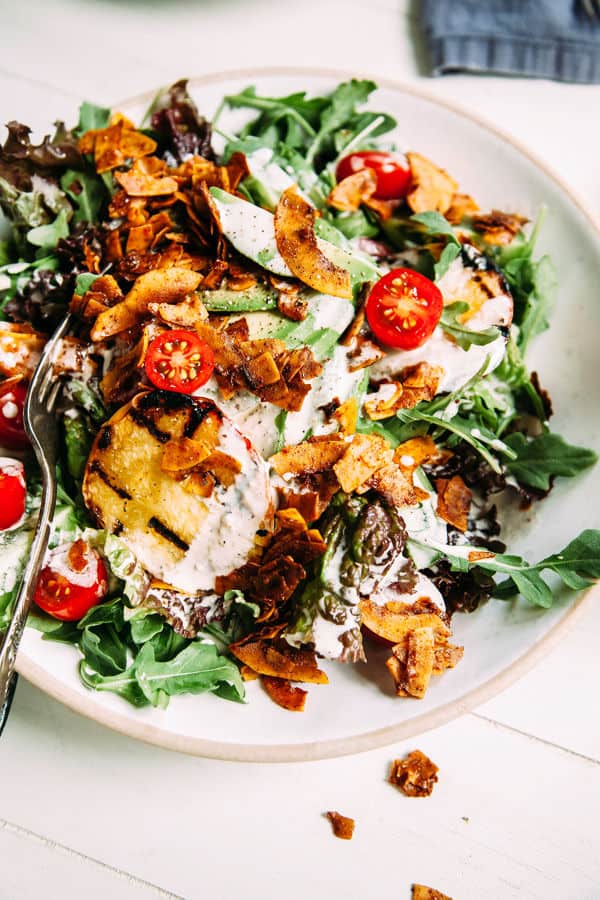 Sometimes you get a recipe that looks really good but then you look at the ingredients and the method, then wonder about the all the effort needed to create it. If you're anything like me, the lazy side of you quickly looks for another recipe! Don't!
This dish is undoubtedly far from quick, however, there are parts to it that are worth their weight in gold. For example, coconut bacon, imagine all the things you could do with this on its own! Grilled Peaches? Who would have thought!?
Put them all together and you have an absolute gem, but if you don't want to, just pick out the bits you like instead!
BBQ Chickpea Chopped Salad With Avocado Ranch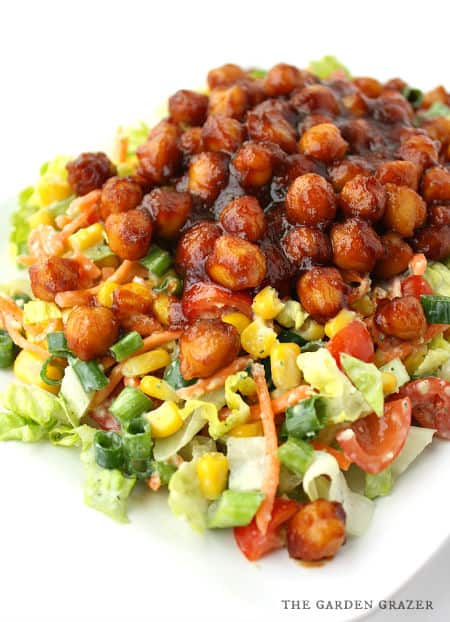 When I saw this BBQ Chickpea Salad I said, "hold my juice!" This is a really simple idea and I promise you will be making it often.
You can prepare the chickpea part quickly and while they are cooking, put all the other ingredients together. You could mix everything up and that would be delicious, but I went to the effort of dividing the ingredients just as Kaitlin did for her presentation, and I'm sure tasted even better!
Curried Chickpea And Avocado Salad With Pomegranate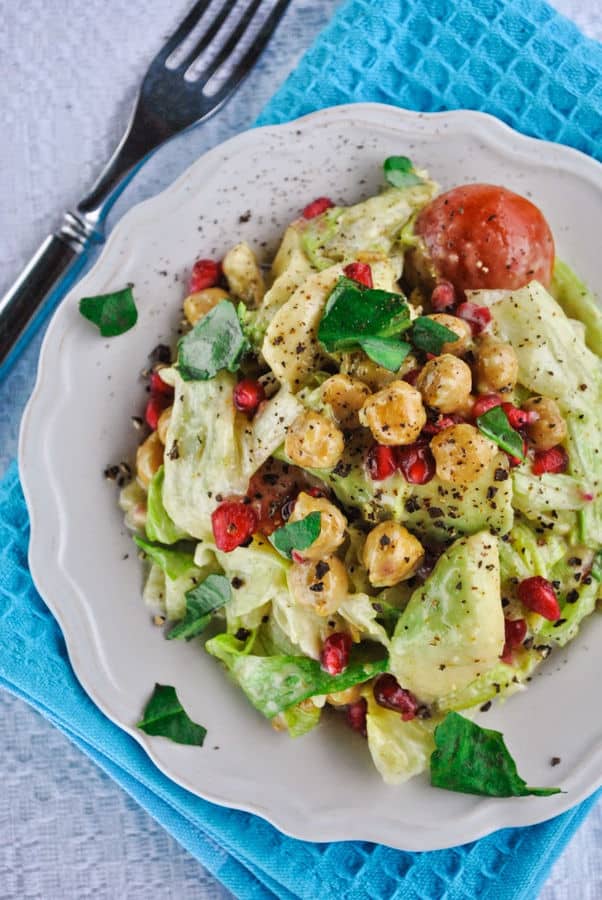 I want to write 5000 words about this recipe. It's ridiculously simple and even more ridiculously delicious!
The chickpeas and avocado will absolutely leave you satisfied, there textures working so well together. It's a really simple recipe with ingredients you are likely to always have in the kitchen. I'm so glad I came across this because I would never have thought of putting avocado and chickpeas in the same dish.
Mixed Green Salad With Buffalo Roasted Cauliflower, Avocado, and Cucumber Ranch Dressing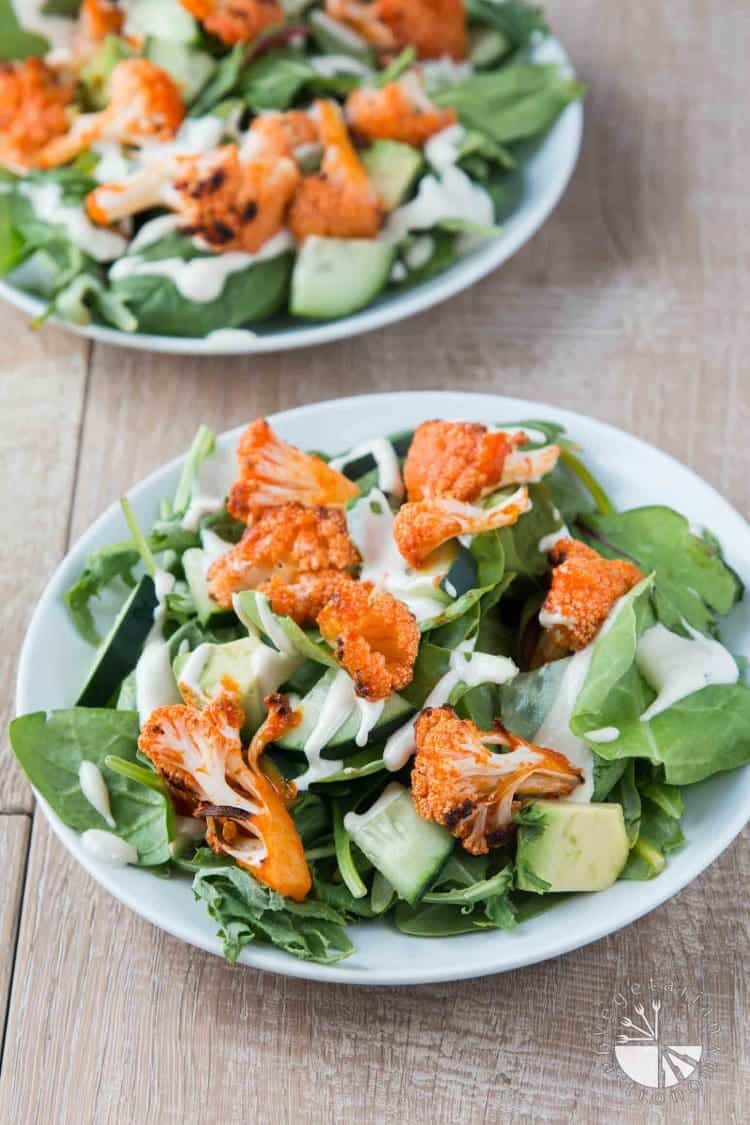 If you are reading through these recipes you can see, I'm going through a roasted dishes phase! The Buffalo Roasted Cauliflower is something I have never seen before, and my goodness these bites are simply fantastic.
Toss them into this delicious crunchy salad with the light cucumber ranch dressing and you will be feeling satisfied for the rest of the afternoon.
Vegan Bean Salad Recipes
Market Bean Salad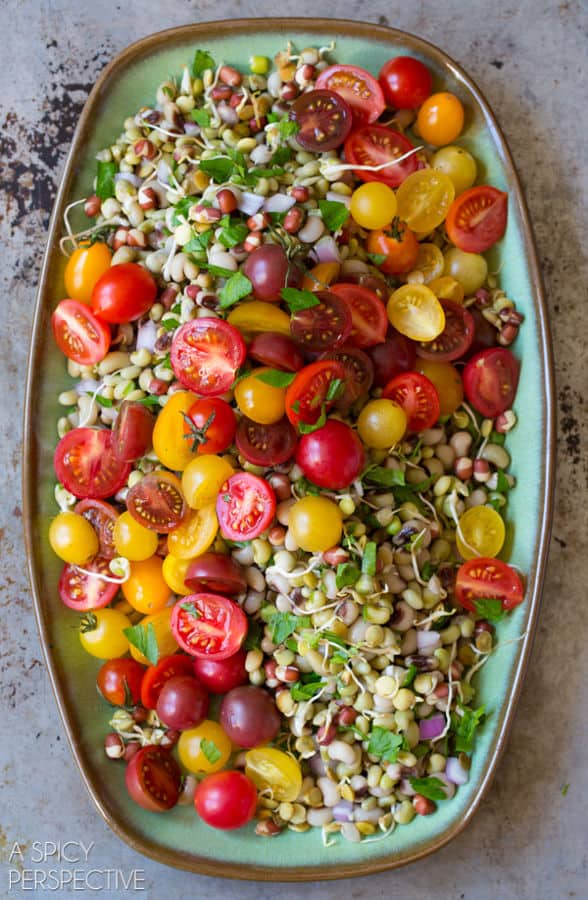 Do you have a sprouter? You need to sprout if you don't! They are really cheap by the way, so I would totally recommend getting one. If you're into sprouts, then this salad is going to really hit the mark!
Some sprouts on their own can be a bit dry but in this dish, the grape tomatoes really help balance that out. This meal has the best of everything and a good recipe for the lunchbox too.
Butternut Squash Black Rice Bean Salad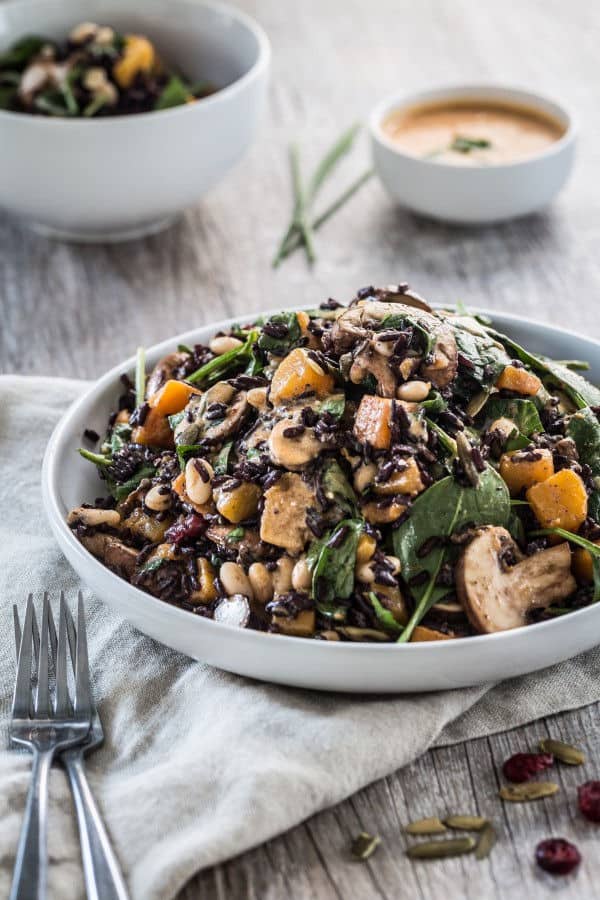 This recipe has a lot of my personal favorites included. If you've never tried black rice before then this is a wonderful opportunity to do so. In this dish you will also find butternut squash, white beans and mushrooms.
I love the coconut cream in this dressing, not to mention the curry paste. The small number of dried cranberries gives this is a signature twist. It's an original recipe and one I know I will come back to time and time again.
Teff Salad With Sprouted Beans, Pea Shoots And Wild Garlic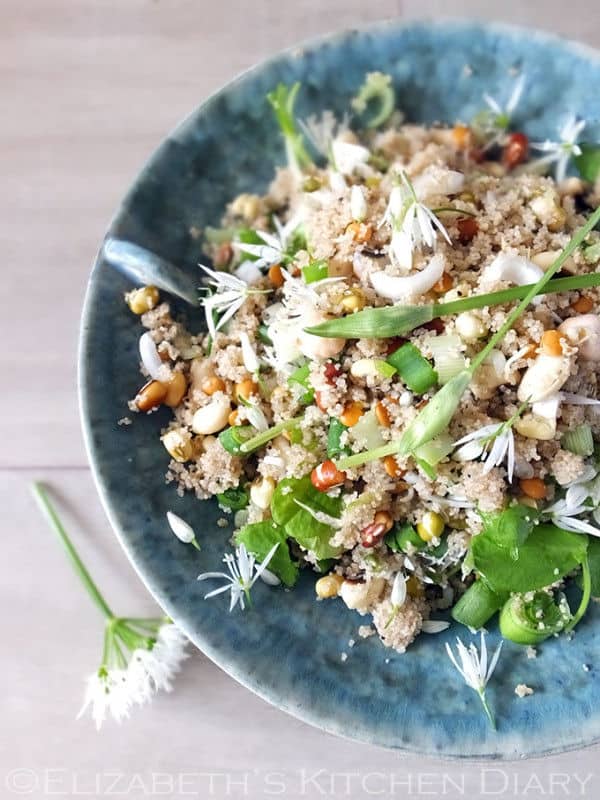 There's a lot to say about this salad and a lot to learn from it too. I'll admit that I'd never had teff grain before, so this was a good learning experience.
I must stress that this recipe is ridiculously easy to make, and you can do so in less than 10 minutes.
I love the wild garlic leaves and the lemon infused olive oil, it makes for an absolute delight. Don't forget about the wild garlic flowers, seriously!
Chipotle Black Bean Kale Salad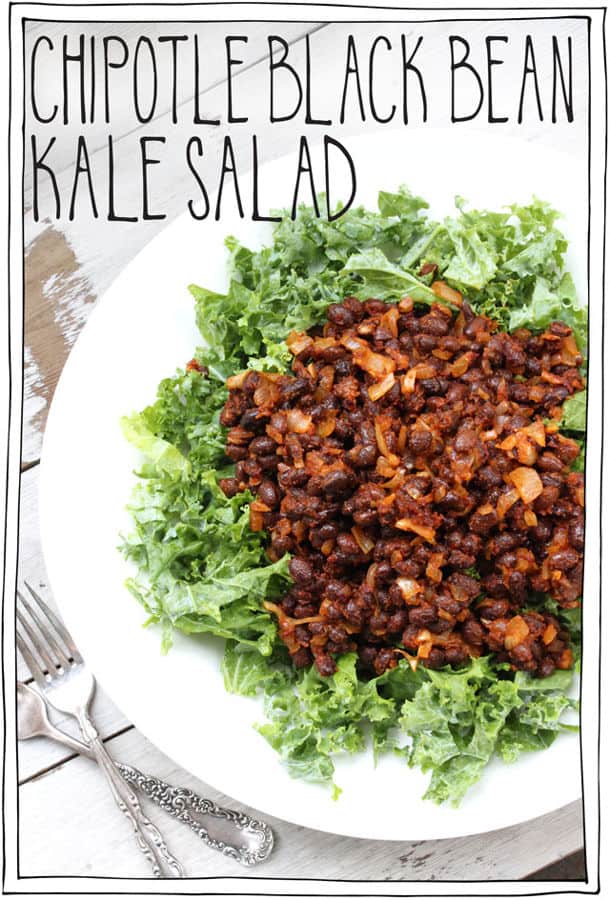 A few recipes back I asked when is a salad not a salad, as in, if you add some kind of lettuce to a main meal, is it still a salad? I'll give you the same answer, who cares!
For me this is more of a main meal because if you're anything like me, you're going to keep eating the salad and a small portion just won't do (that just about sums me up!). After finding this recipe, I made it twice in as many days!
Farro, Cannellini Bean, And Parsley Pesto Salad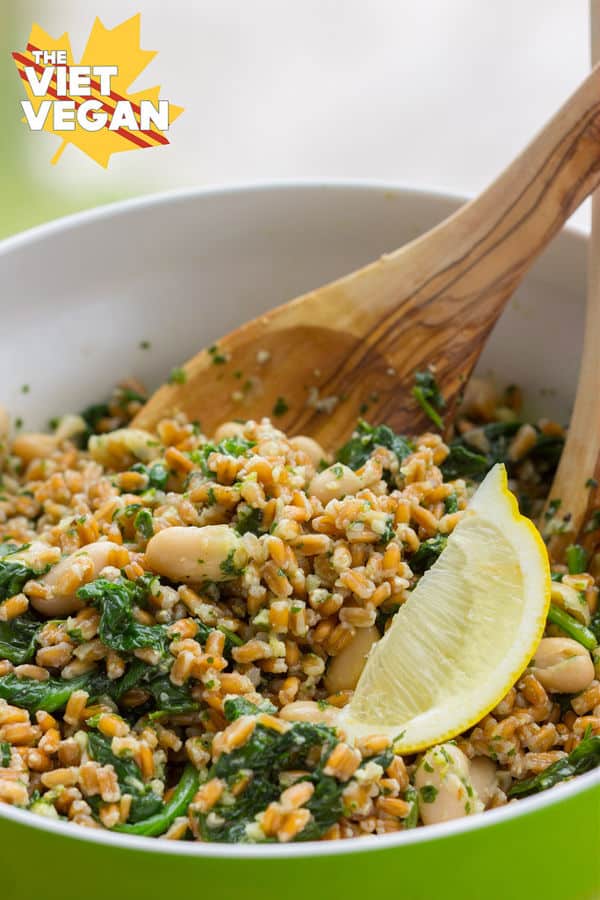 Another beautifully satisfying salad. I just love cannellini beans and the parsley pesto is even a great recipe by itself.
This is a perfect lunchbox salad! The lemon juice is a great natural preservative so it will last in the fridge for about three days.
Avocado, Black Bean And Corn Salad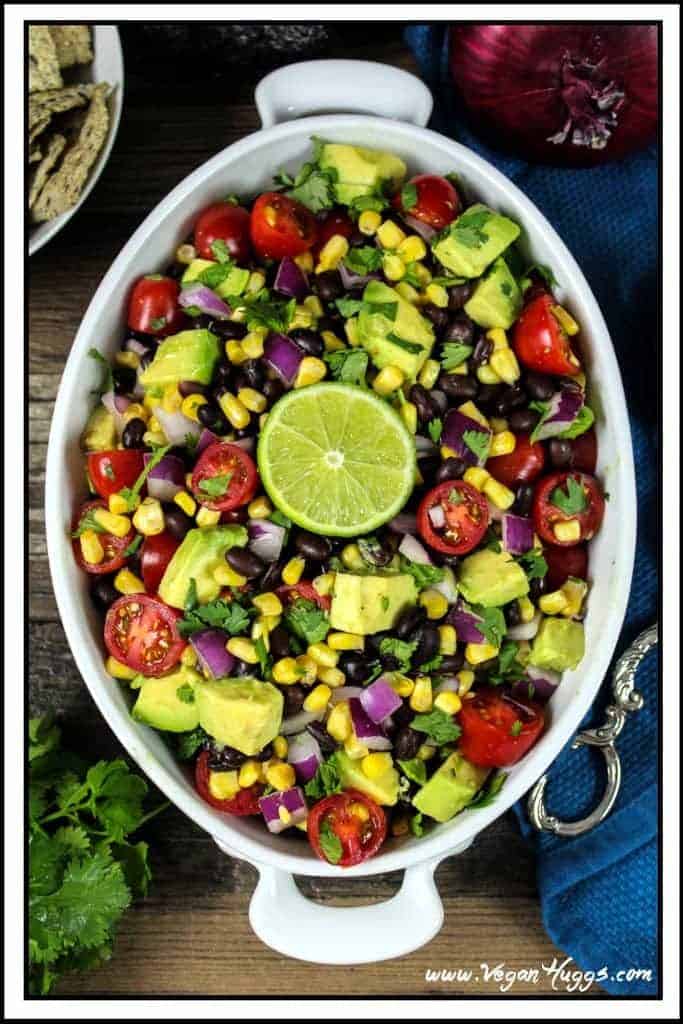 This is a party on a plate and is one of those super easy salads where you just grab everything, do a ninja quick chop and before you know it, you're ready to eat.
The black beans really make this and as always, the cilantro adds that aromatic and fresh taste. Of course, you can swap for parsley if you prefer the taste. Make as much or as little as you need.
Lack Bean Taco Salad With Crunchy Roasted Chickpeas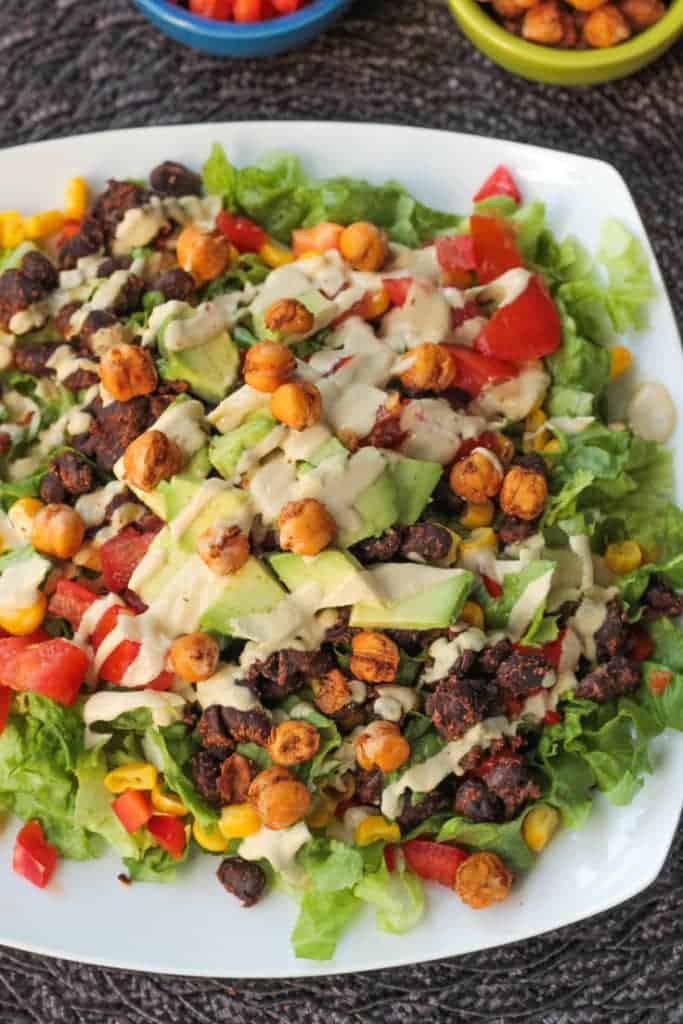 Chickpeas are one of those amazing foods where the tin version may not be the same as fresh (well, dried) but it's an extremely acceptable substitute. You can eat them straight out of the tin, heat them, fry them, and in this case, roast them!
Along with the black beans, the freshness of the other ingredients and with the dressing, you really have a lovely salad that most definitely makes you feel satisfied. Have it lunchtime and you'll be feeling good for the rest of the day!
Wheat Berry and Bean Salad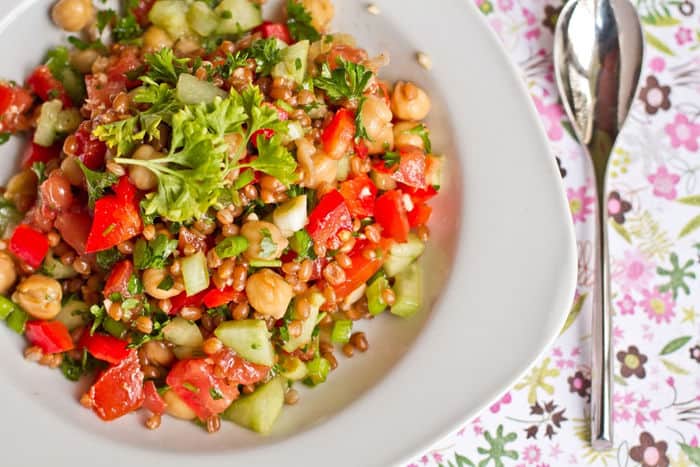 When I first saw this recipe, I thought its ingredients would consist of wheat and some sort of berry but it's actually Wheat Berry! I am ashamed to say that I had never heard of it before, but it made me want to try it!
I love this salad so much because it doesn't have any big leaves or vegetables, making it easy to pack away in a box ready to eat later. It leaves you feeling really satisfied without any heaviness and smells amazing too. 100% recommended!
Vegan Carrot Salad Recipes
Roasted Carrots with Carrot Top-Pistachio Pesto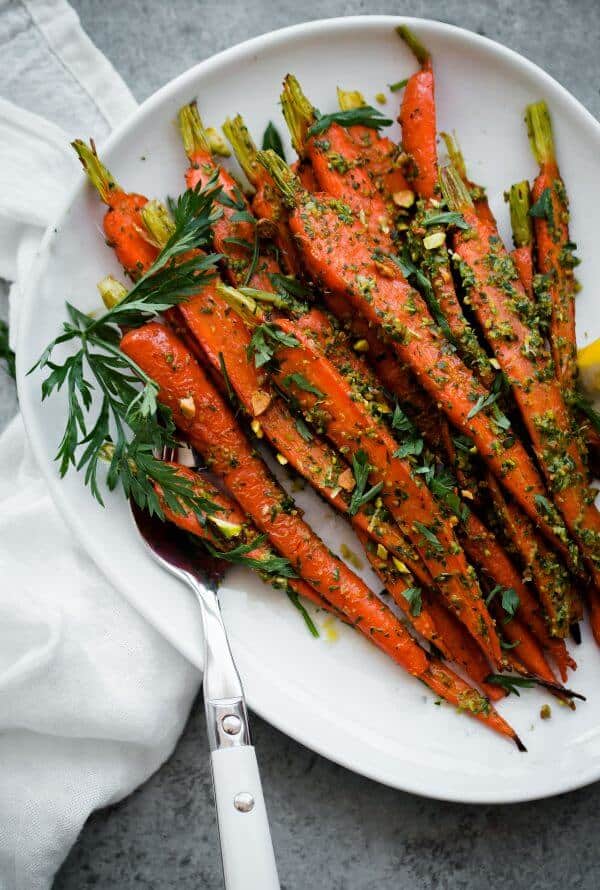 Okay, this might not strictly be a salad, but I will argue that it is!
Roasted carrots are awesome, pistachio nuts are so tasty and anything called 'pesto' is good with me!
This would make a great side addition to any dish, but I made a whole bunch of carrots, smothered it in the pistachio pesto and really enjoyed it that way. I urge you to make the effort as I am sure you will love it too!
Thai Carrot Cauliflower Rice Salad with Avocado Cream Dressing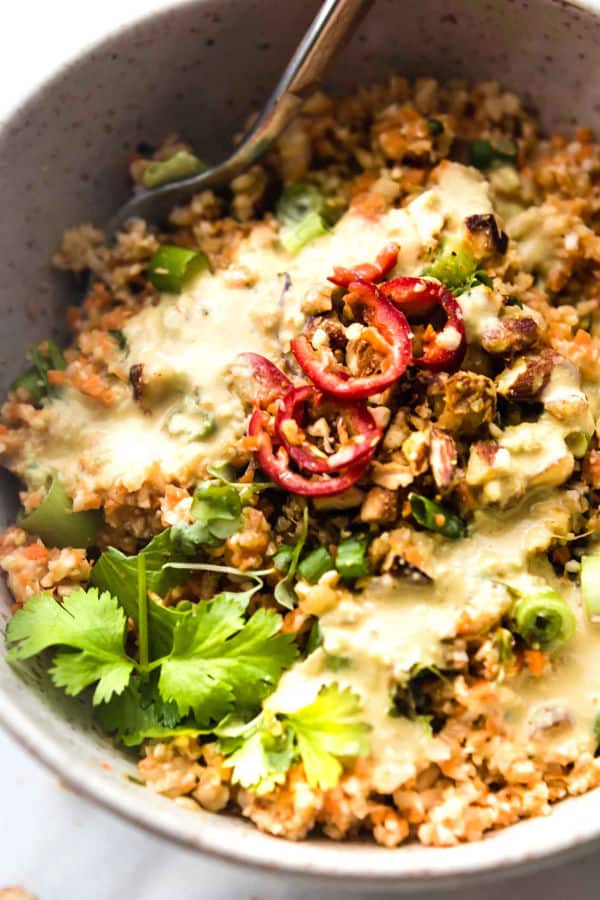 This is one of those salads that can be turned into an entrée with the blink of an eye. It takes about 30 minutes to make and is worth every second. If you like Thai food but think it only comes as green or red curry, think again!
The cauliflower rice is the perfect base, but you could substitute it with your favorite rice instead. The avocado cream dressing is easy to make but ridiculously good! This is more of a comfort food salad but let's face it, we all need to be comforted occasionally!
Sesame Bok Choy and Carrot Salad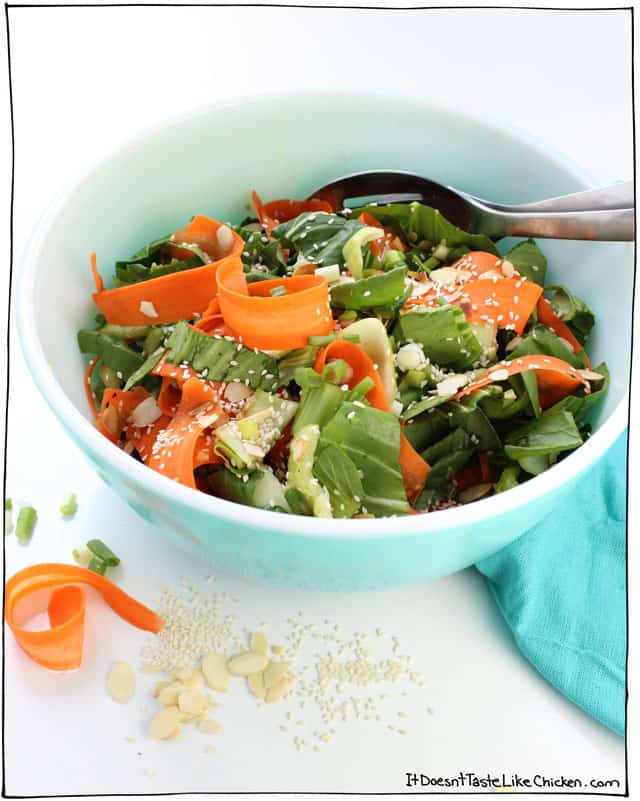 I'm one of those weird people that prefer bok choy raw to cooked so when I saw this recipe I was happy!
The preparation time for this salad is about 30 minutes but I think that's generous. The ginger and garlic make the dressing really yummy and the salad tastes so lovely and fresh. Make sure you cut the carrots into ribbons with a potato peeler, it's definitely worth the effort!
Freekeh Roasted Carrot Salad With Dill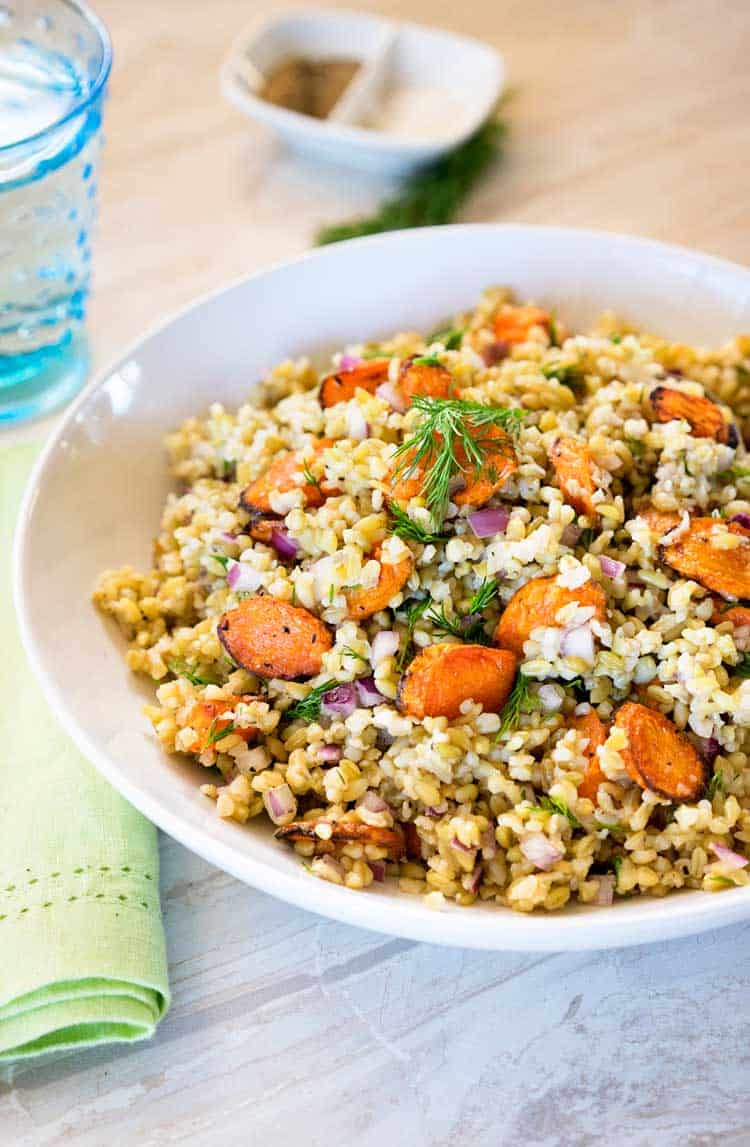 What is freekeh I hear you ask? I learned from Kevin that it's a young wheat grain that is roasted, giving it a distinct flavor, that has a lovely smoky fragrance. It's great to eat warm or cold. If you like savory flavors, you're going to love this dish!
Most people have carrots as a staple, so we usually have them lying around. If you want to try something different, this salad is for you!
Ginger, Citrus and Black Sesame Carrots With Edamame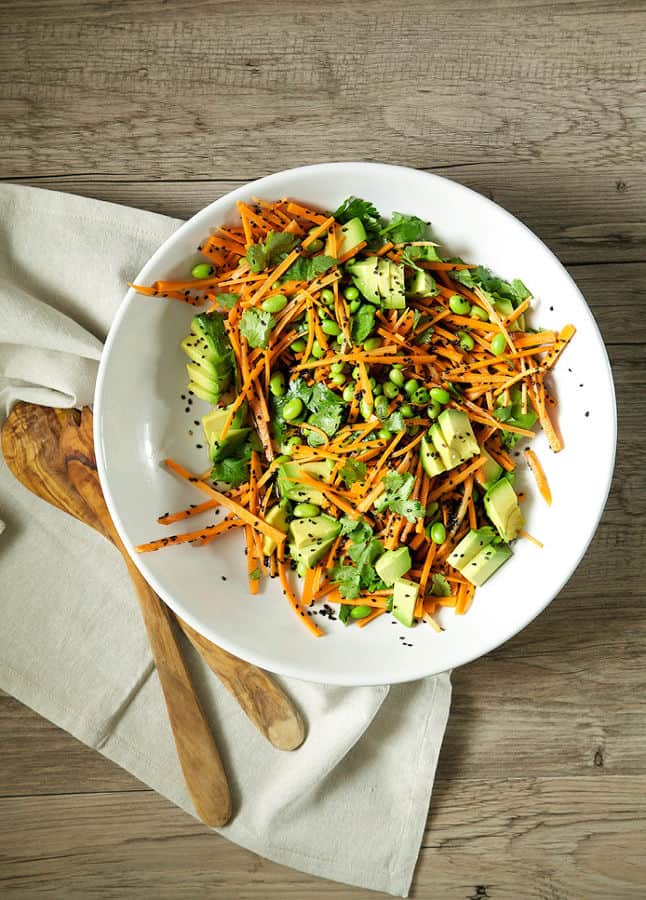 You just want to eat that photo, don't you? I know I do! You have three significant textures here that are all so different, with the carrots, the beans and the avocado.
The salad is topped with black sesame seeds which give you that taste that only sesame seeds can! The ginger citrus dressing has what I think is a secret ingredient, a splash of toasted sesame oil.
Carrot Slaw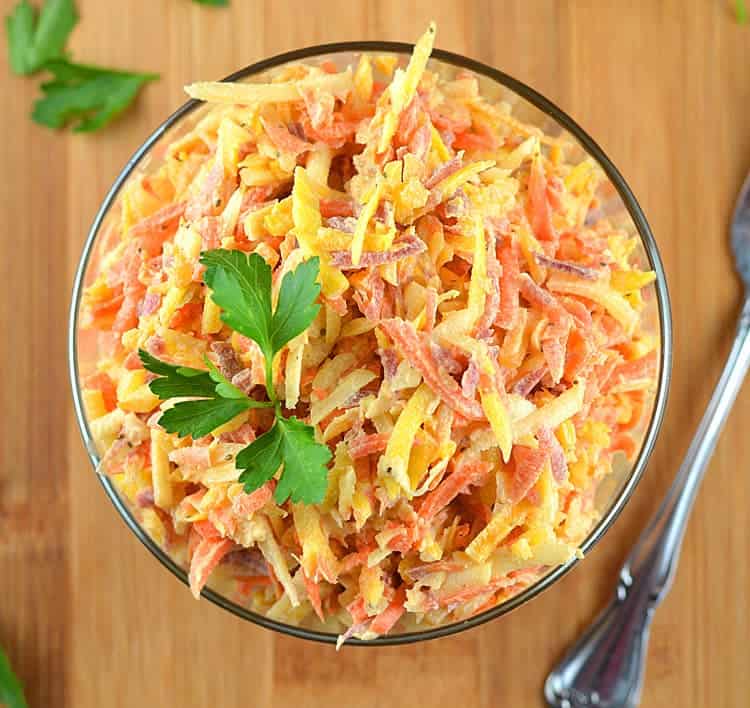 Now this recipe I really like because it's a great salad in its own right or you can use it as a side salad to go with any other dish.
The recipe does call for a tablespoon of sugar depending on the sweetness of the carrots, but I left it out and thought it was just right. The dressing provided a lovely flavor to the crunchy texture which for me made this a definite keeper. I can imagine it going well with so many different dishes.
Peanut Butter Cauliflower Bowl With Roasted Carrots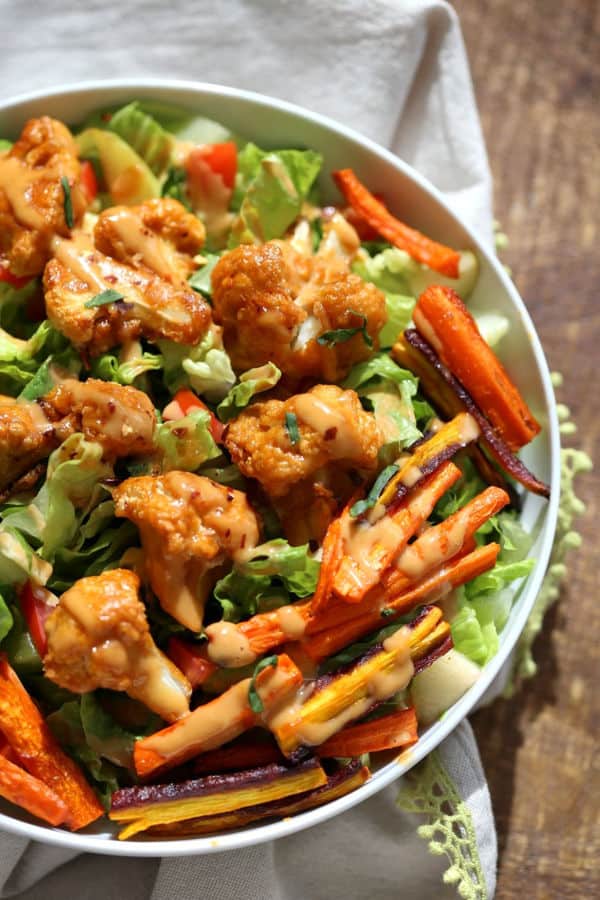 Another recipe from Richa. I saw the roasted cauliflower with peanut butter and I was sold!
If any of your friends say that vegan salads are boring, then have them try this. There are so many flavors here with the carrots and the hot sauce, the fresh salad and did I mention the roasted cauliflower and peanut butter sauce? This will leave your friends wanting for more!
Thai Salad With Chickpea Carrot Peanut Crumble and Garlic Soy Dressing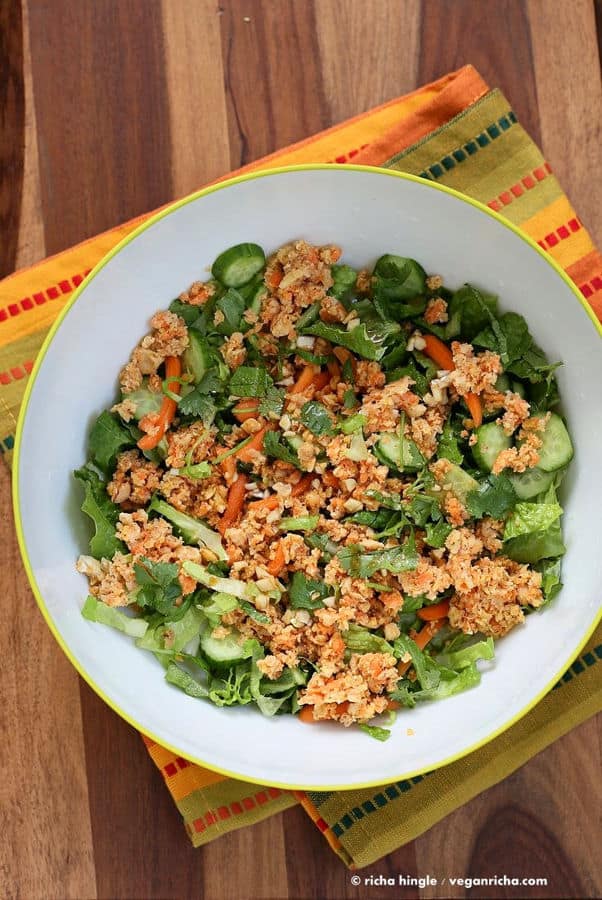 There are some recipes that look absolutely amazing, yet we look at them, we know they are going to taste delicious, then we often look for something else that appears easier to make. I think this is one of those times.
This really isn't all that much effort, but I promise you the results are worth it. The Thai salad tastes amazing and the crumble is just an incredible idea. Master it and you can use it with other salads. Add the garlic soy dressing and you have the salad of champions!
Carrot Pineapple Salad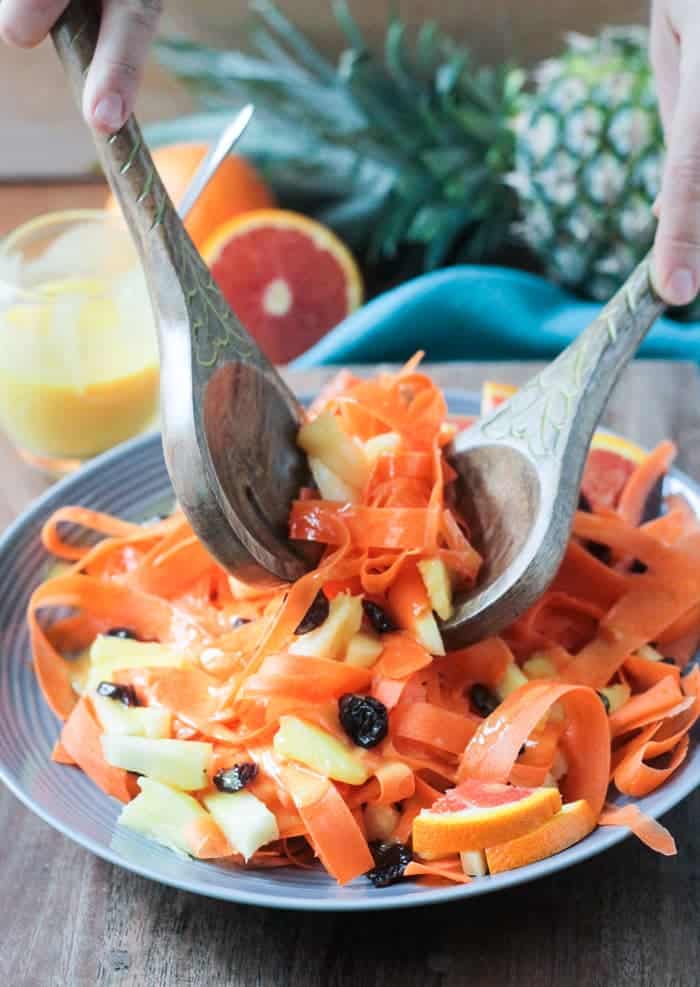 Which foods make you think of Hawaii? Pineapple is one of those foods for me! This salad is just amazing because of the lovely sweet flavors of the dish and the dressing itself.
I really love how it looks, it almost looks like a spiralized dish without having to actually spiralize! Super easy to make and tastes really fresh.
Vegan Chickpea Salad Recipes
BBQ Chickpea Salad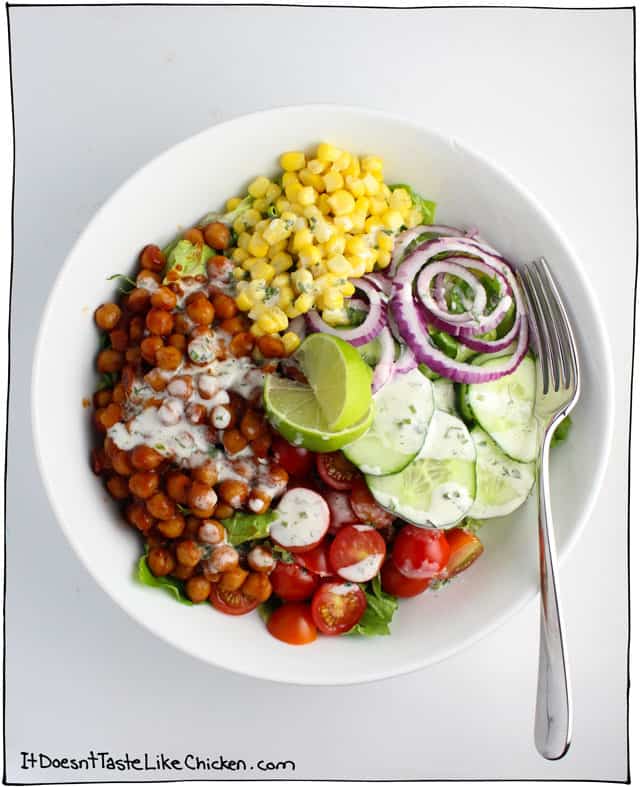 Here we have barbecue chickpeas again, a different salad but equally good. You probably already have most of the ingredients in your refrigerator and pantry. While the chickpeas are preparing, chop the remaining ingredients and within minutes, you are good to go.
I love salad dressings and here we have a vegan creamy ranch dressing which will complement any salad. It is though especially good on the chickpeas! Main meal or light snack, you win either way!
Roasted Beet, Chickpea And Black Rice Meal Prep Salads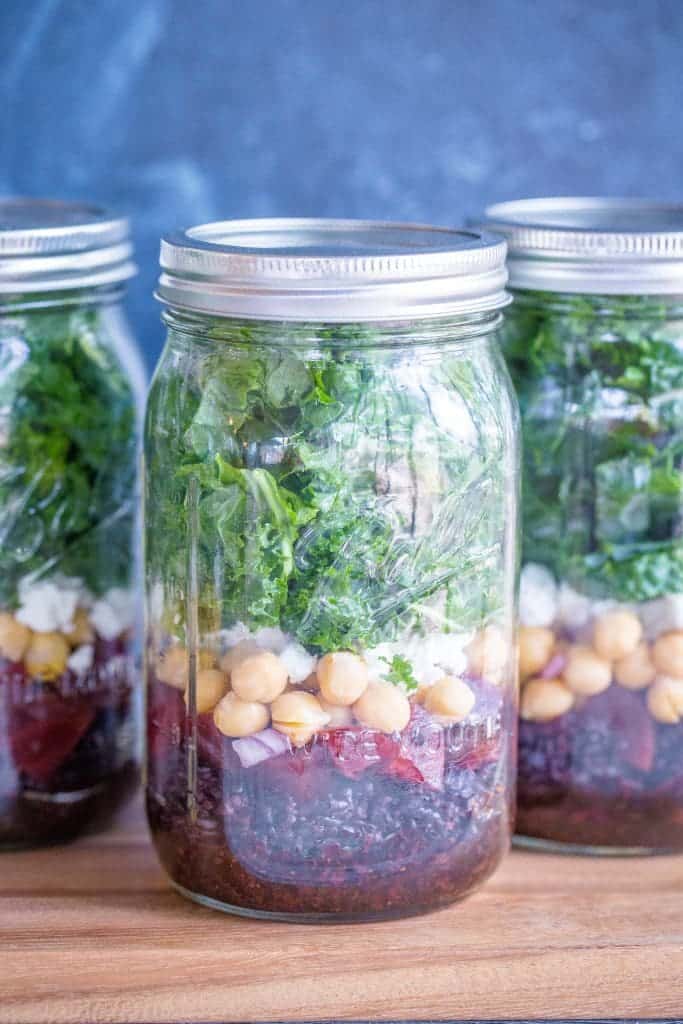 We love Izzy's recipes so here is another one! Have you ever seen those salads that you prepare in a jar? You layer the ingredients into the container which makes them not only stunning to look at but they are convenient too!
You can make these well in advance as they last up to 4 days. We love the way Izzy massages the kale with salt and lemon juice during preparation as it makes them taste really great.
Roasted Butternut Squash and Sweet Chili Chickpea Salad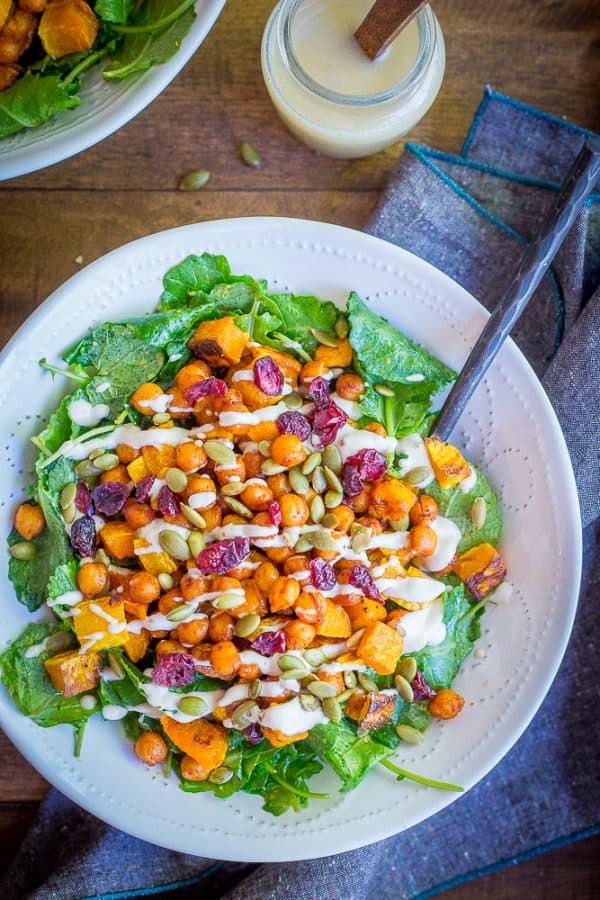 Roasted butternut squash, sweet chili and chickpeas, what's not to like? This is a really satisfying salad with an optional ingredient of nutritional yeast, if you like that cheesy flavor.
You can choose baby kale or your favorite greens for this one. The tahini dressing makes all the flavors come together creating a delicious combination. Try it!
Easy Chickpea Salad With Easy Lemon Dressing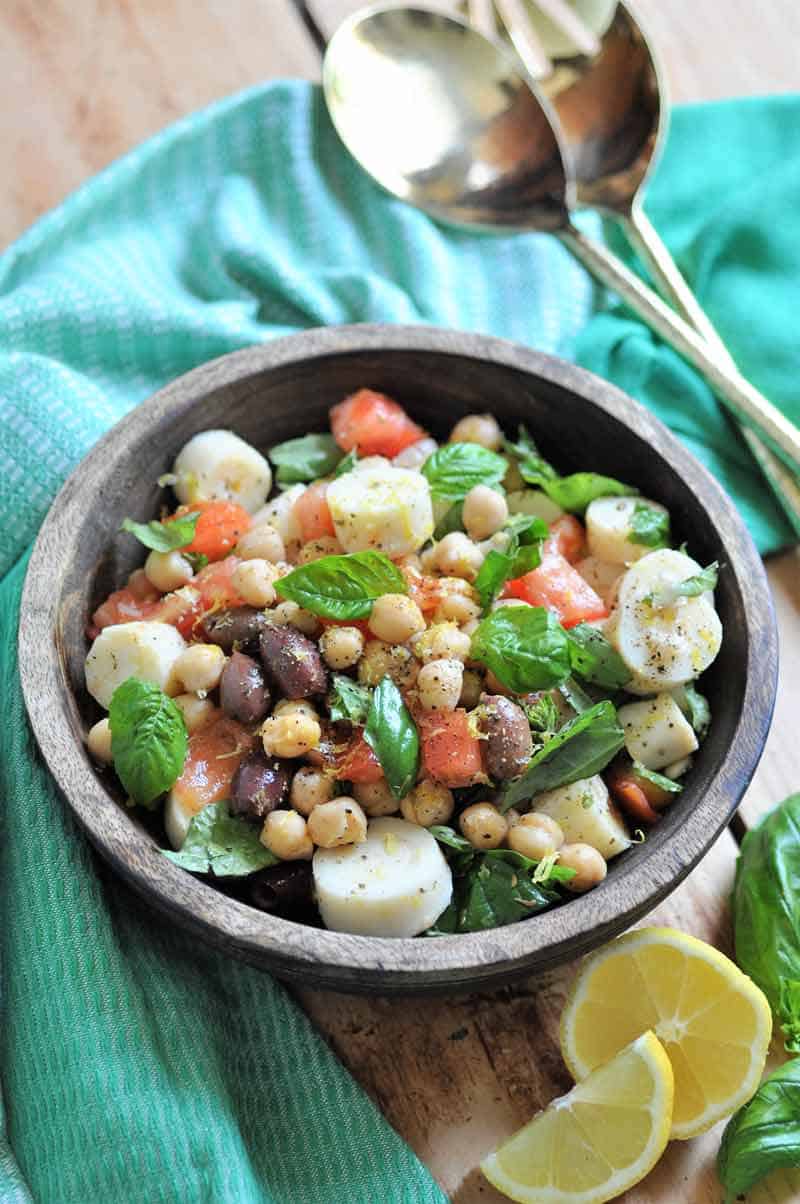 This is a really rustic dish that you can see yourself eating in the Mediterranean. It doesn't matter if you skip one or two of the ingredients, but I really would go to the trouble of getting everything, as it is that tasty.
The dressing is a really classic recipe that pretty much goes with any salad at any time. I usually use lemon or vinegar with olive oil but here they use both and it really works well. The palm hearts added a lovely crunch to the dish and the lemon zest sprinkled over everything made it perfect!
Buffalo Ranch Chickpea Taco Salad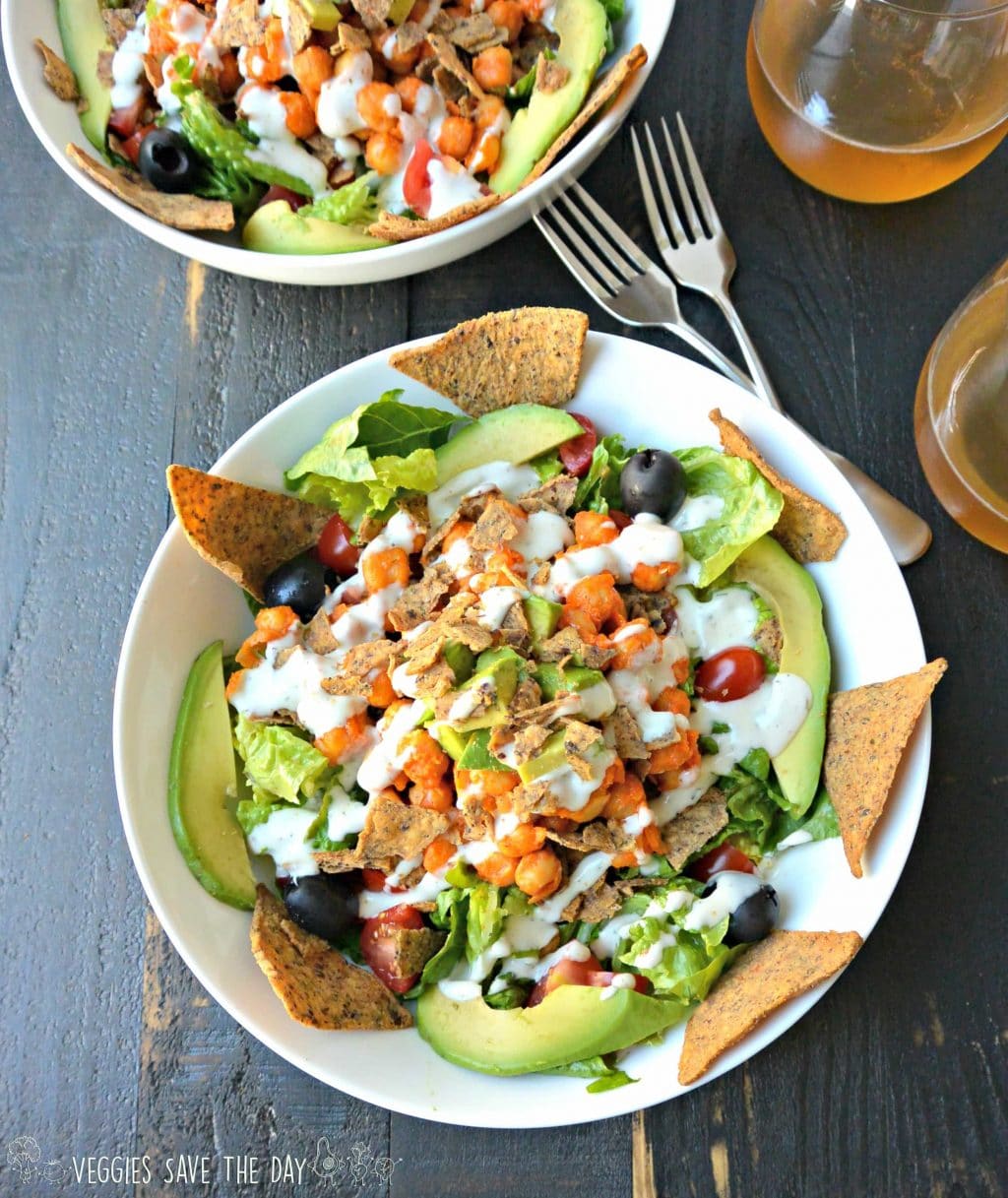 Oh my goodness, this almost feels like a cheat! You have the chickpeas, the avocado, not to mention how the chickpeas are prepared. The dressing drizzled over the top is just devine!
This is definitely something that needs to be shared with family or friends. Alternatively, of course, if you're having a movie night on your own and you want to shut the door and just spoil yourself rotten, this is what you should eat!
Vegan Cucumber Salad Recipes
Cucumber Pasta Salad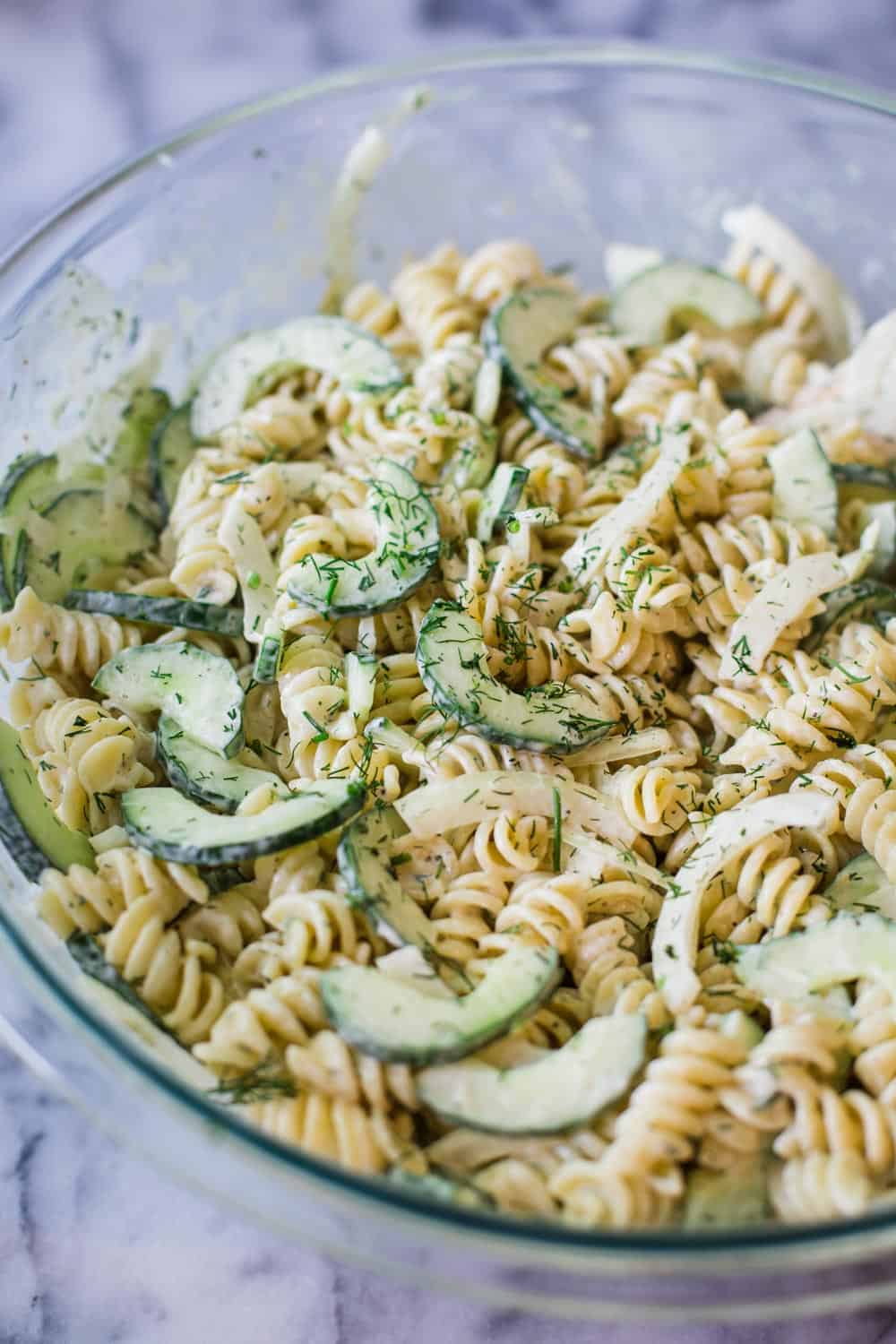 Do you ever get so excited when you see a recipe that you know it will be the next thing you eat? I saw this pasta dish and knew it needed to be mine!
This is a cold dish that you can just eat and eat! In this recipe, cut the cucumber in half lengthwise and then with a spoon, scoop out the middle. I think it's important not to skip this part so the pasta doesn't get wet and all you have is the delicious dressing that coats everything. Perfect for those warm summer months when you need something cool yet satisfying to eat.
Cucumber Salad with Creamy Ranch Dressing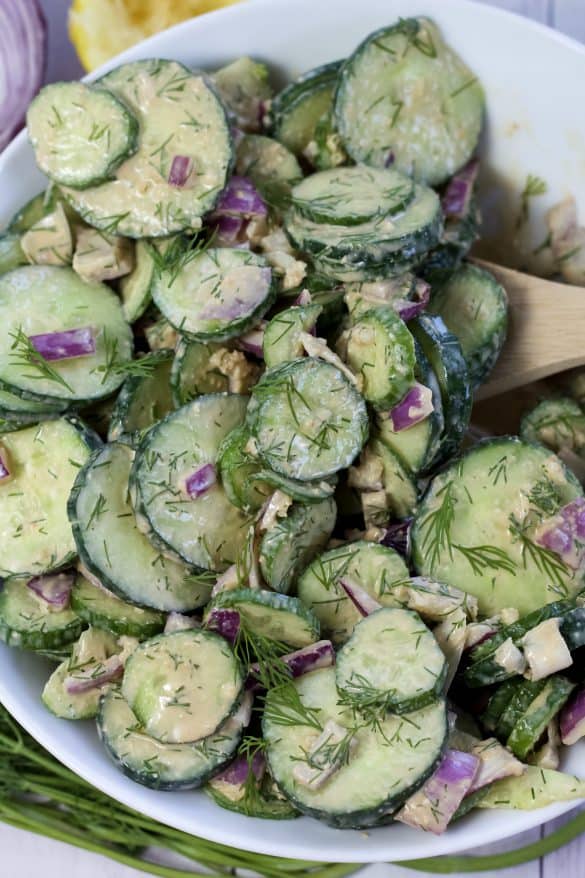 Cucumber has that fresh summer taste that makes you feel good! The preparation time for this salad is 10 minutes, but if you prepare the dressing beforehand, the time it actually takes is however long it takes you to chop the cucumber!
The dressing is a vegan ranch-style dressing made with dill, lemon juice, garlic and all kinds of lovely stuff! The base of the dressing is cashew nuts so if you want a nut free version, just substitute.
Creamy Cucumber Salad with Red Onion And Dill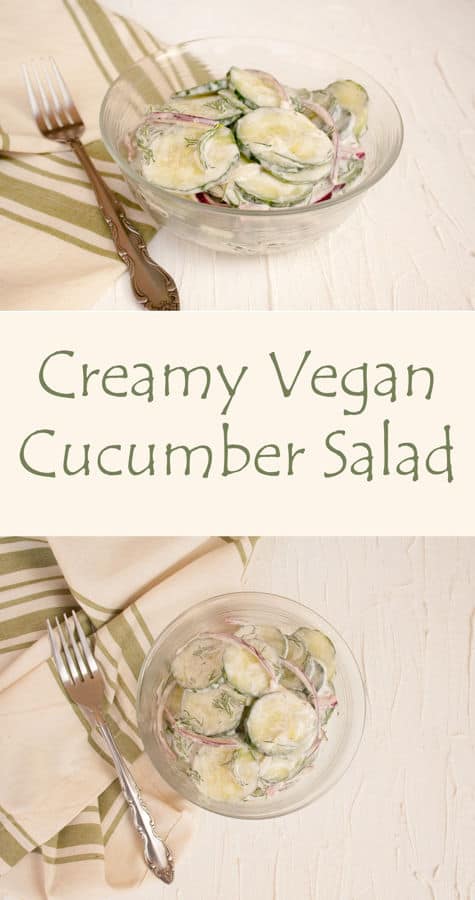 Need something quick? Then this is the recipe for you! You literally just need a few ingredients, and if you don't have everything listed in the recipe, it really doesn't matter. You can so easily substitute for whatever else you have in the fridge.
The recipe does encourage you to let the cucumbers and red onion sit for 15 to 30 minutes and I must admit that I skip this process and it was perfectly fine. In an ideal world I would follow the recipe but sometimes you are pushed for time.
Spicy Cucumber Salad With Pan Fried Tofu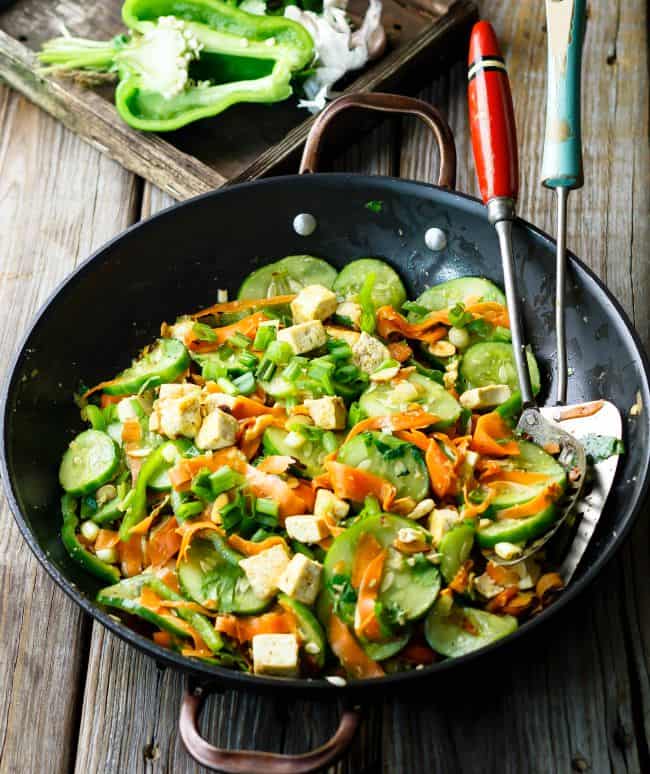 Don't get me wrong, this is quick to prepare but I think a little more effort is needed as you need to pan-fry the tofu. It is totally worth that extra time though!
This dish is great when you want to eat healthy, you're really hungry but think that a salad alone just won't cut it. Having said that, it's an amazing salad without the tofu if you are after a lighter meal. The dressing really adds to this dish either way!
Creamy Cucumber Salad With Chickpeas And Fresh Dill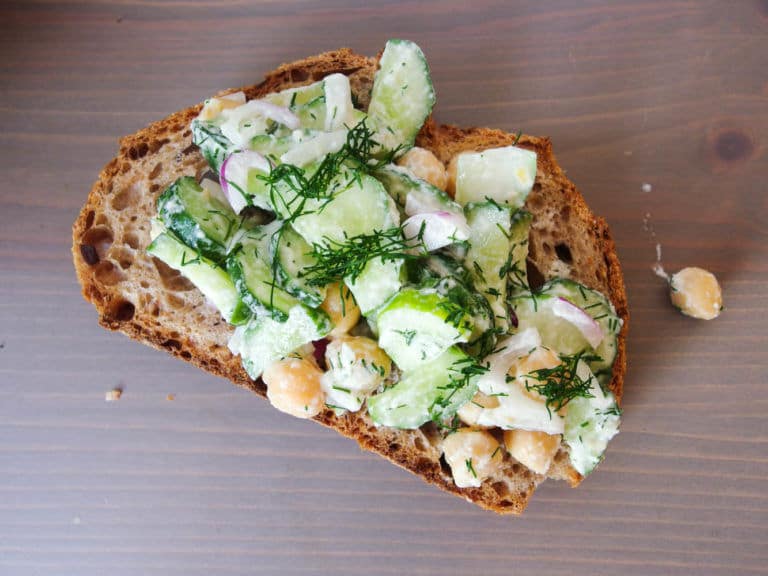 I love salads that can be a main meal, or a really good side salad and this is one of those recipes. It can be served in so many different ways too! The chickpeas and the dill go so well together, and the cucumber is a valuable member of this party!
I recommend making a large batch to keep in the fridge for a couple of days. The smoked paprika is the hidden gem in this recipe, we love it!
Crisp and Lemony Go-To Salad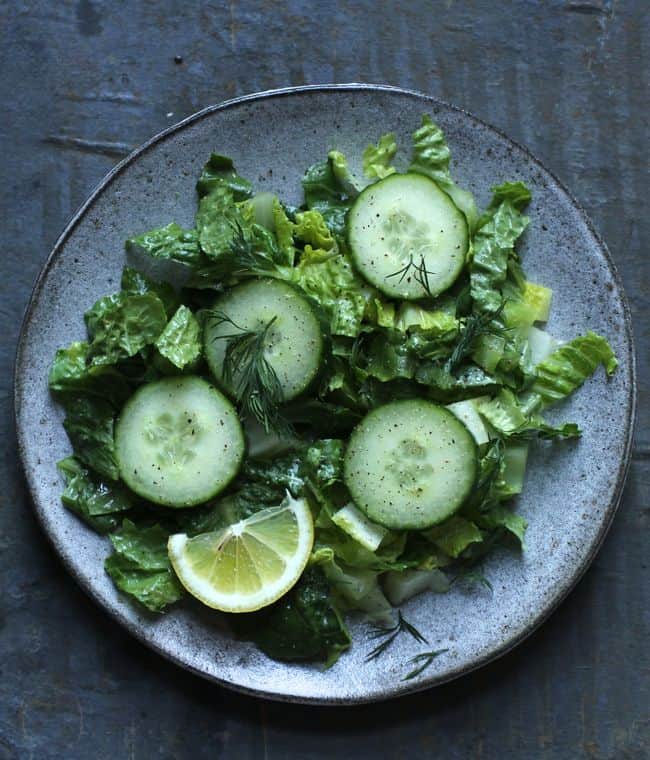 Sometimes you need an old standby. Something that works every time, something you never get tired of and this is what we have here! This is a classic and you could say there are similar recipes that have stood the test of time, they have become a classic for a reason.
If you just need a very light snack or you want a starter that won't spoil your appetite for the entrée, you need to go to something like this every single time. The ingredients are fresh, and you likely buy them every time you go to the grocery store anyway. Memorize this as a base, remember you can add different things and it will always work. Fantastic!
Cucumber, Tomato and Mint Salad
This is another one of those recipes which is not only really quick, but I bet you already have the ingredients at home. Worst case, you need to get some mint!
The dressing has a really nice twist of adding coconut sugar which I would not have considered.
Overall, it's very refreshing and leaves you feeling light yet satisfied.
Because of the nature of the recipe, if some ingredients are difficult to come by, you can easily swap them out with something else.
VEgan Dinner Salad Recipes
Kimchi Cauliflower Fried Rice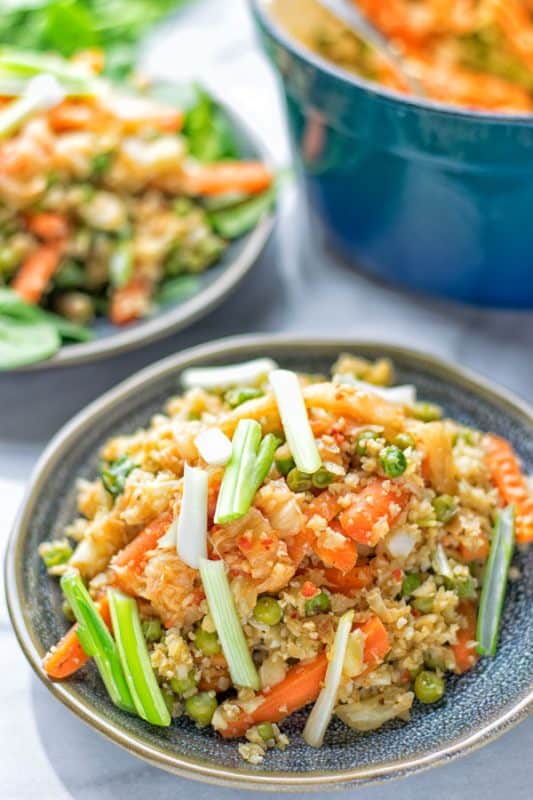 Florian Nouh from Contentedness Cooking have done it again with this magical dish. At first glance it looks like a complicated dish that you need to prepare for, but it's really not the case.
Not only is it quick, but it's satisfying and full of freshness with an amazing combination of ingredients.
I really would take the effort to make sure you have everything and follow this recipe to the letter too. Great for any time of year and like many of our dishes featured here, it's gluten-free too!
Dukkah Roasted Vegetables Chopped Salad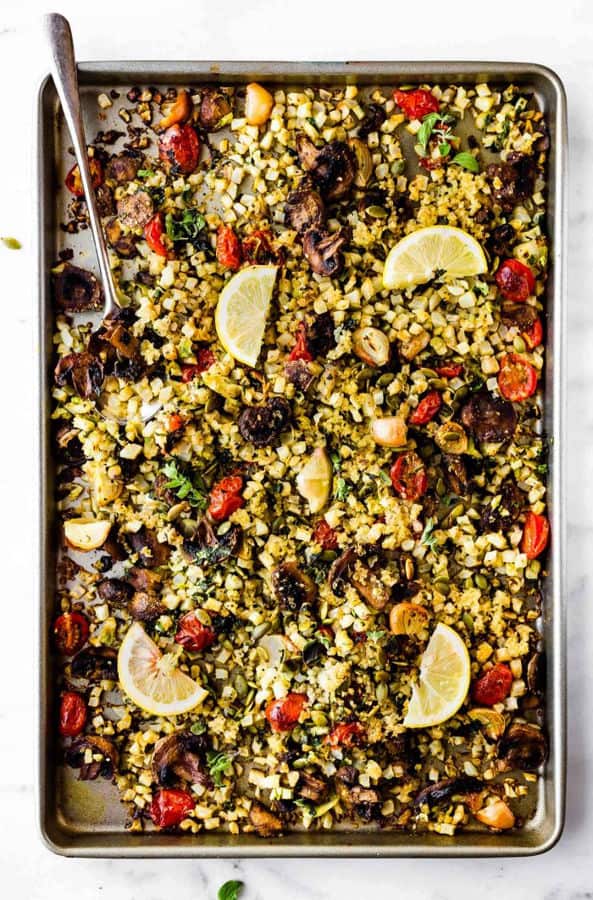 This is a Middle Eastern salad recipe, very easy to make with a prep time of about 10 minutes. It's not so different to confuse your taste buds but it really has a nice twist.
I think everybody loves roasted vegetables, add the mixed greens, pumpkin seeds, mushrooms and much more, and you are in for a tasty treat. I don't think this would be one of those small, snack-type salads for me, this is a main course meal and deserves to be just that.
Stir-fry Inspired Salad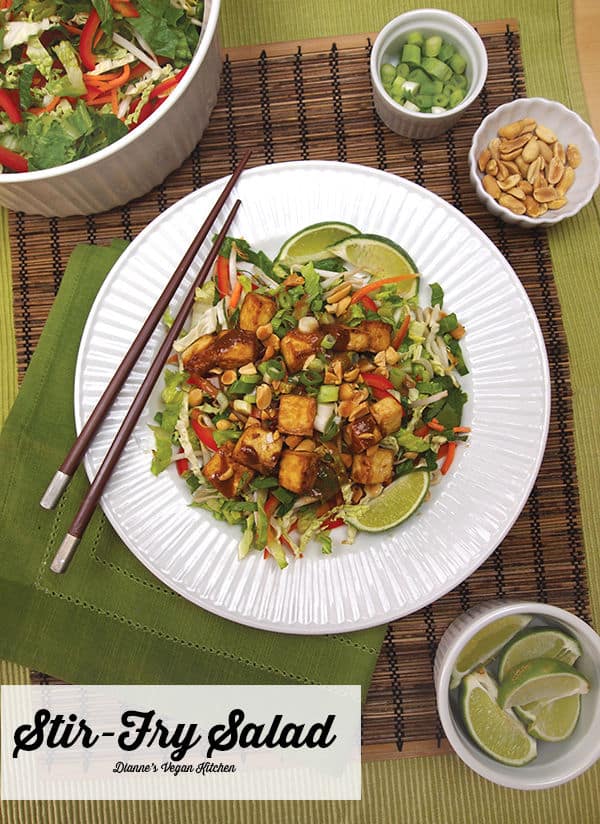 If you want to argue this is not a salad, you can, but it contains lettuce and cabbage and all sorts of other salad ingredients. But why argue when you can just eat it right? I couldn't wait to try this! The way the tofu is marinated is so flavorful and it goes so well with the dressing!
Put it together with the other ingredients and my goodness, this is an amazing meal. I honestly wouldn't go to the trouble of making this into a light snack, this is a dish you're going to want a lot of. When it says 2 to 4 servings, I would say it makes 2!
Grilled Veggie Fajita Salad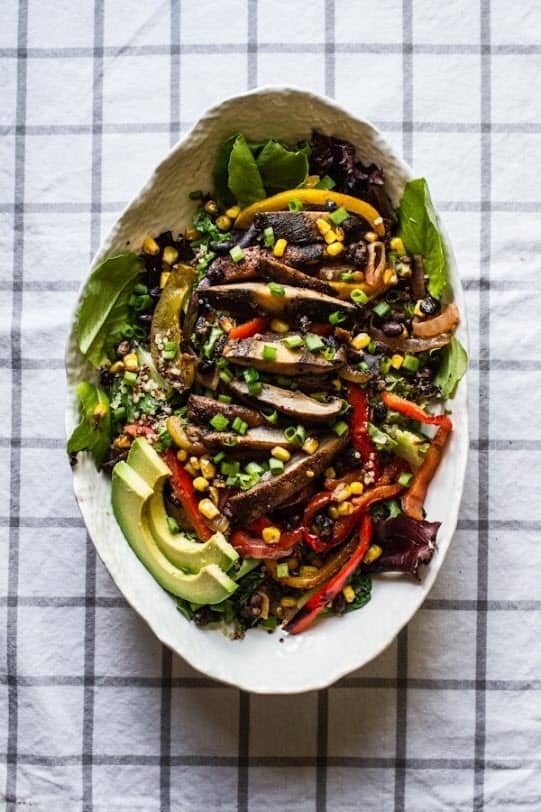 Have you ever been to a Mexican restaurant and had the veggie fajitas? It's normally mixed vegetables with plenty of onions, so much good stuff and the flavor is just out of this world. Well, here is a salad version where you can recreate that same flavor at home.
There are a few stages here as you need to prepare the mushrooms, black beans, and so on, but if you want to treat yourself or have a special occasion, then this needs to go on your to-do list. Not only does it look amazing but tastes so good too! And there is nothing stopping you from having some nachos or tortillas on the side!
Nachos Supreme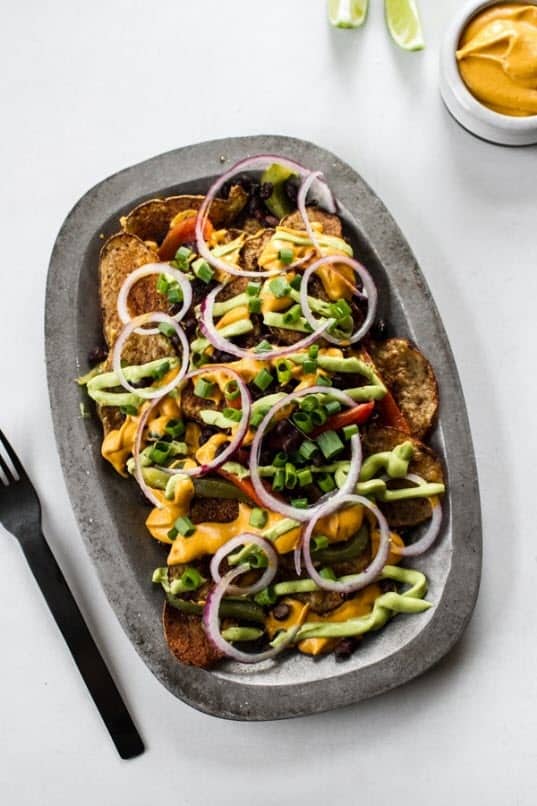 All these recipes so far have been so healthy! But what happens when you don't think about being healthy? If you're anything like me, you probably eat too much vegan ice cream and then feel guilty afterwards. Well nacho supreme must be unhealthy right? Think again!
You can certainly use store bought tortillas if you like, but why not go the whole way and make this recipe in its entirety. The sauce is amazing and dairy free, and the nachos are made from potatoes. When you look at the ingredients not only is there nothing to fear, but it's all really good. Comfort food objective achieved!
Spring Millet Salad With Creamy Dill Dressing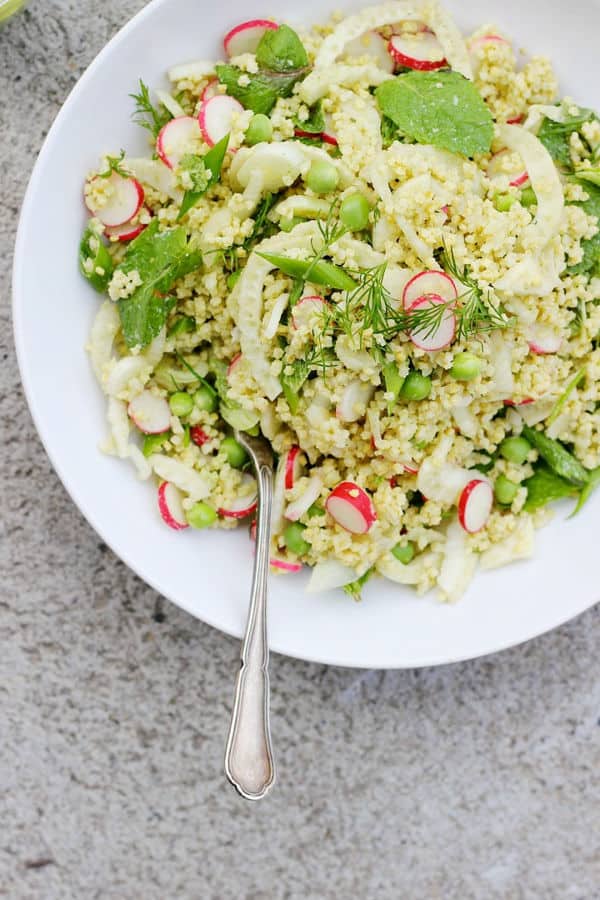 If this salad doesn't say Spring to you then I don't know what does. Not only does it look fantastic, it's impossible not to make it look that way because the ingredients are so fresh and contrast well together visually.
The recipe would already be a winner without fennel, but this really is the secret ingredient. If you've never tried fennel, I pretty much guarantee you will love it. Fresh pea pods, onions and of course the millet, it all makes perfect sense. Two thumbs up from us!
Blissed-out Thai Salad With Peanut Tempeh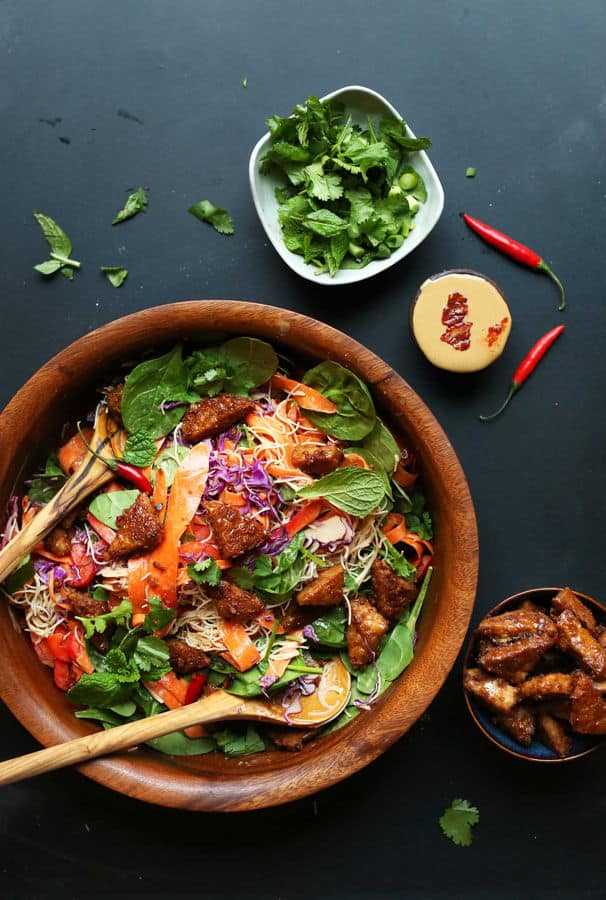 This dish has everything, sweet as well as savory, full of textures and I bet that if you serve it at a dinner party, it will be the first thing to go.
Be sure to make a generous portion! I really love the way Dana presented this with the noodles at the bottom, which really show off the colors of the rest of the dish. I can't wait to try this recipe!
Crumbled Tempeh Salad With Herbed Ricotta Cheese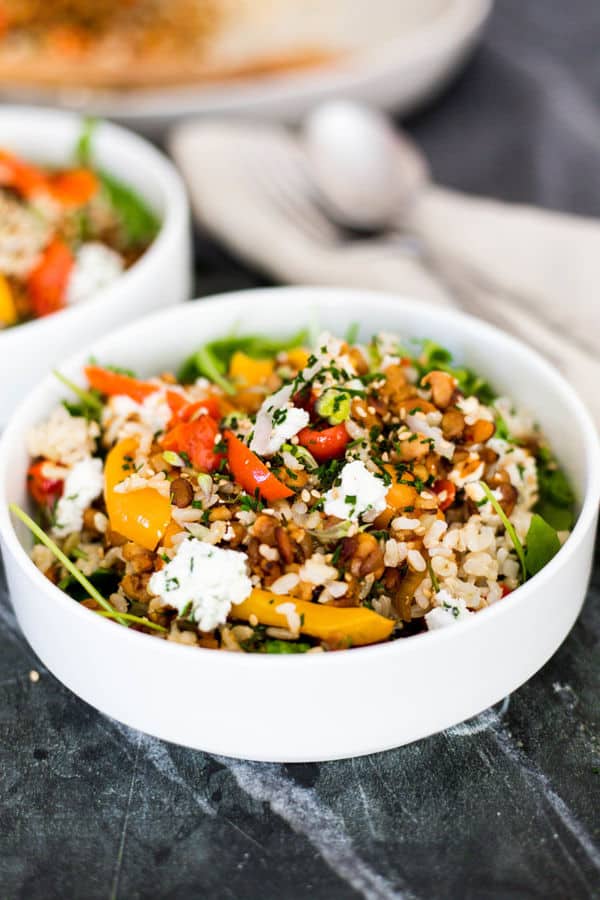 When I first saw this recipe, my instant reaction was that it's going to take quite a bit of preparation and planning. It's certainly not a five-minute job but nonetheless after trying it, you will see it was well worth the time.
The flavors are quite strong but they blend together well. I think it's great dish to take with you for a lunchtime snack at work as it will keep you going for the rest of the day. The crunchiness of the bell peppers is the magic touch for me as it lightens everything up and makes for a delicious taste sensation!
Thai Salad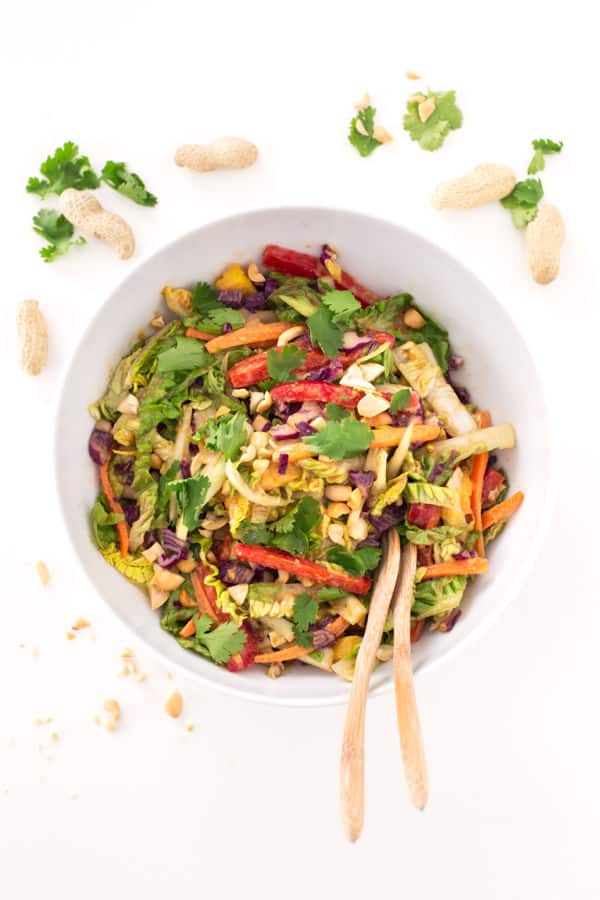 One of the greatest things about this recipe is that it's so quick to make. It has a great peanut butter dressing, but if you don't want peanuts, simply swap it for something else. The cilantro gives it that really fresh taste and the colors make this an eye-popping dish!
Other than the ingredients, all you need is a chopping board and knife and that's pretty much it. My team has all tried this,  and it's a lunchtime favorite!
Pesto Pasta Salad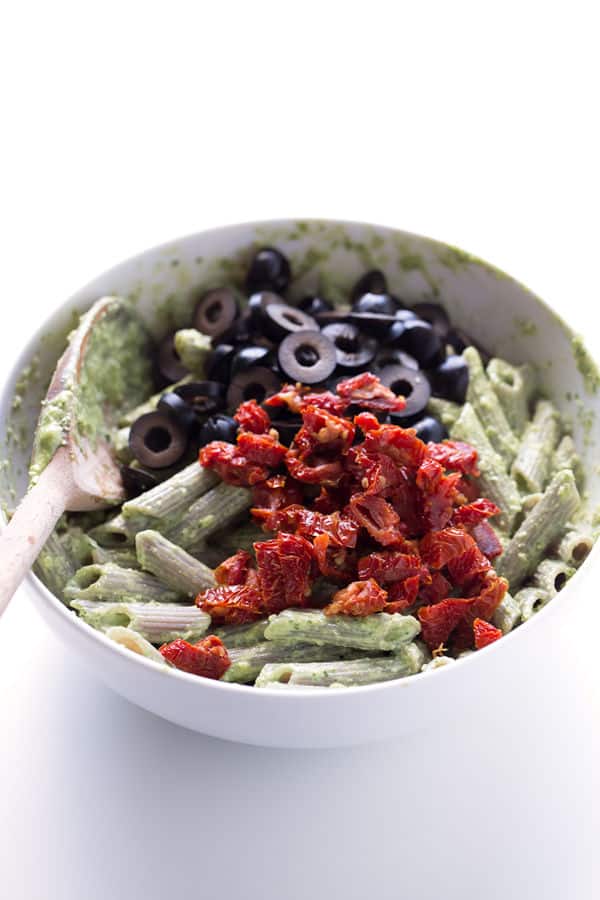 Another satisfying recipe that is easy to make, great warm or cold and perfect for leftovers the next day.
What's really interesting about this, is the pesto, on one hand it's really authentic and on the other hand it includes tahini which is very different, but it works and it works well. The main ingredients are pasta, black olives and sun-dried tomatoes and it's one of those fantastic recipes where you can add in whatever you really like. Perfect!
Power Salad With Lemon Chia Seed Dressing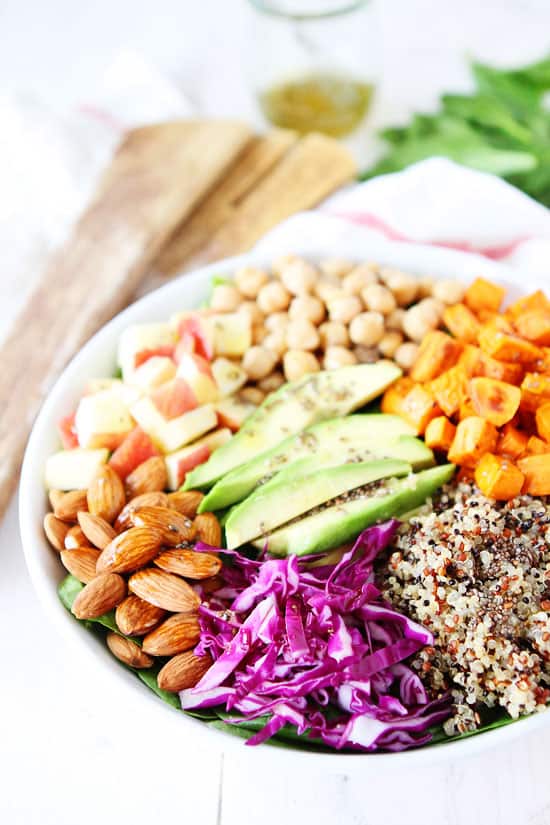 Sometimes salads are a delicious mix of everything! Maria and Josh have done an excellent job with the presentation of this dish as it looks very appetizing. Not only do you see what you get, but you can easily make changes if you prefer one ingredient over another, making this recipe very flexible to adapt to your taste.
The quinoa can be served warm or cold, whichever suits you best. The lemon chia seed dressing is something I would not have considered making, but it's totally delicious. The textures in this salad are extremely varied, but they really blend well together. This dish is also gluten-free!
Cajun Tofu With Cilantro Lime Rice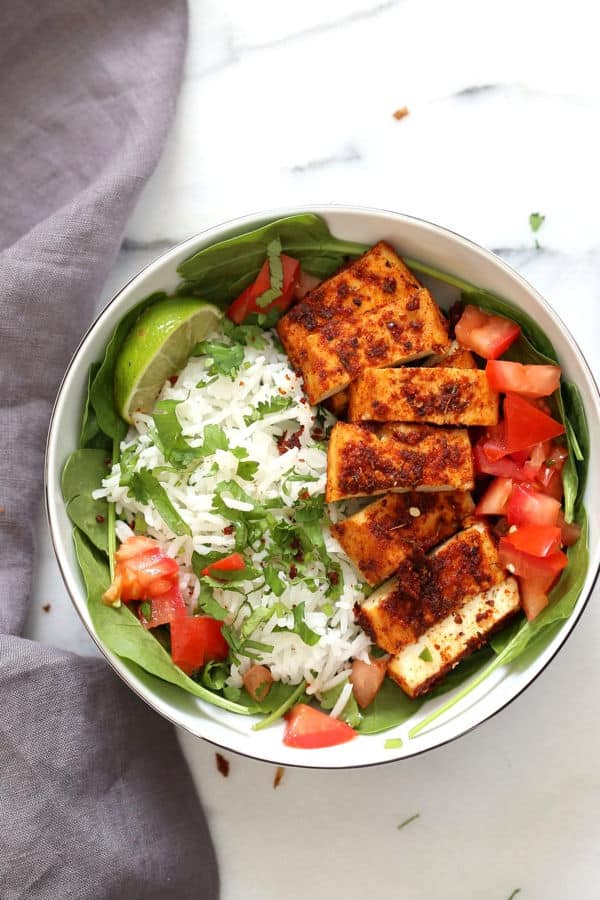 Our team was discussiing, if you add a salad to a non-salad item, can you still call the entire dish a salad? I say yes because I absolutely had to include this recipe!
You just have to learn how to make this Cajun tofu, and once you've mastered that, make the cilantro lime rice! Serve this over the salad and it makes for a super healthy main dish. I could seriously eat this every day!
Italian Orzo Salad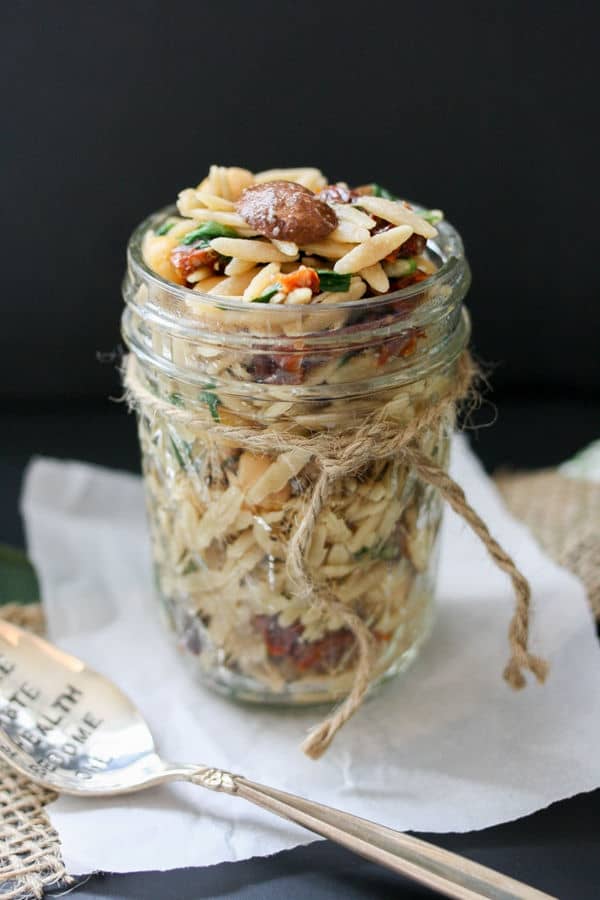 If you've never bought orzo before, open up your task list right now and put this at the top of the list. This is one of those salads that, as you can see, can be served in a jar to go or you can just throw into a bowl.
I love how the mushrooms and sun-dried tomato flavors blend together. They aren't even the main ingredients! This is very moreish, so you may want to make more than suggested or, don't invite any friends around!
Power Protein Salad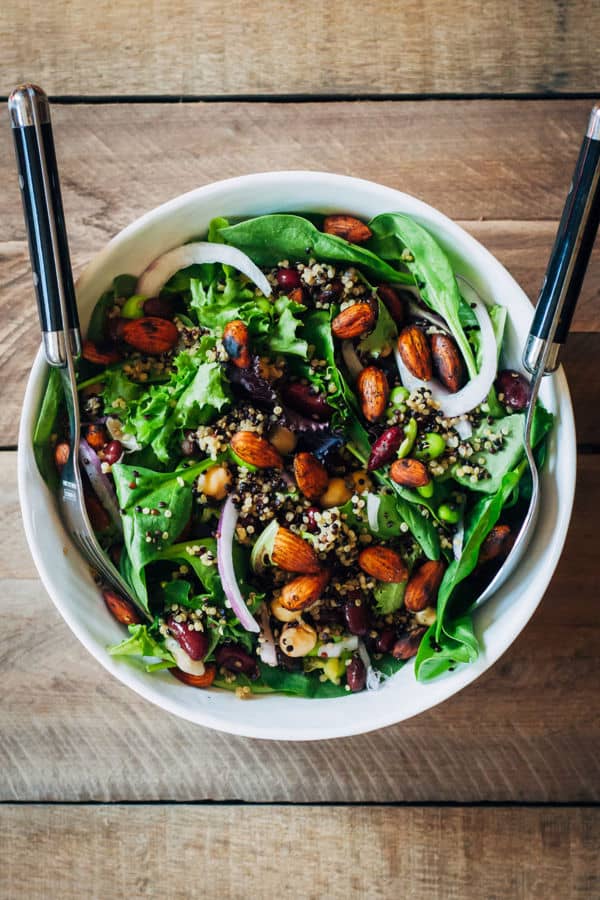 As soon as I see roasted almonds, I'm sold! Who doesn't like roasted almonds? Okay, I'm going to stop saying roasted almonds because these aren't just roasted! They have chili powder, seasoned with salt and smoked paprika. With the extra-virgin olive oil as the finishing touch you know this is a winner!
The red onion in this salad is a simple addition but it's well thought out. The entire dish is fresh, healthy and will keep you full all day. If anybody says that salads always leave them feeling hungry, give them this!
Maple Roasted Butternut Squash Freekeh Salad With Kale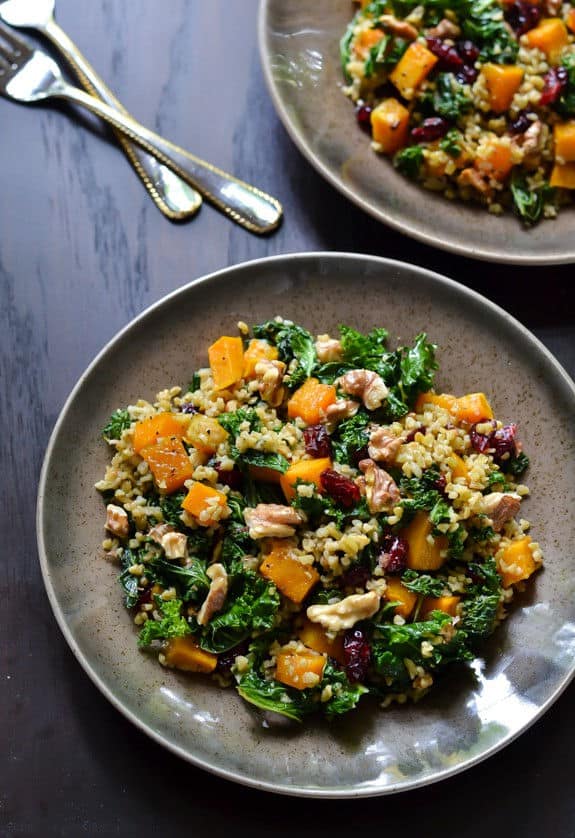 Maple roasted butternut squash, I just want to keep saying that over and over again because believe me after you taste it, you'll understand why. It truly is a stunning meal.
Make it as a light lunch or the best dinner you've ever had!
Shaved Brussels Sprout Salad With Apples And Walnuts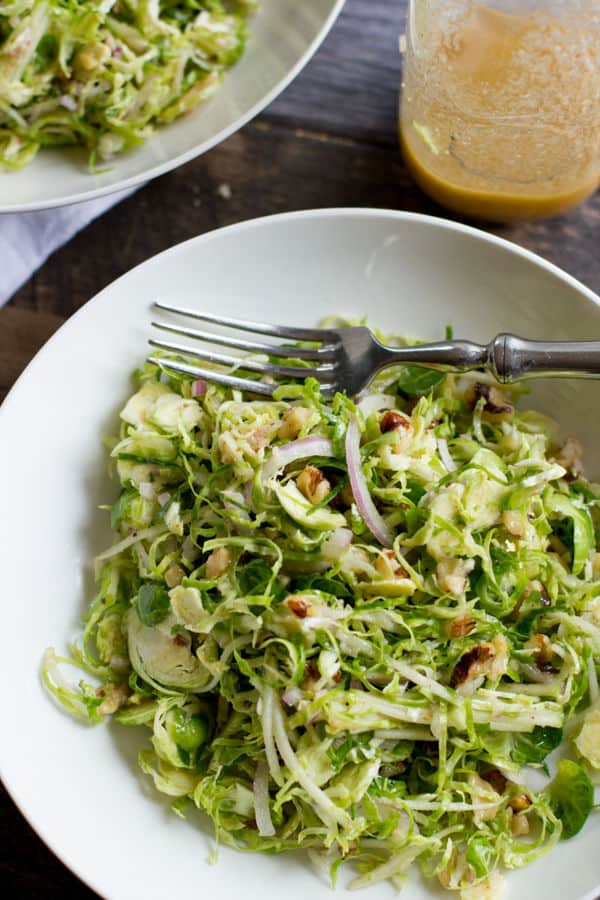 If you're really into eating foods that are in season, then make a note of this recipe for those winter months. I used to eat apples and walnuts as a kid because they go so well together so I was excited to try this recipe.
If you've never had shaved brussels sprouts, they are amazing in salads. The vinaigrette dressing is truly lovely with the Dijon mustard so be sure to make plenty and enjoy!
Vegan Lentil Salad Recipes
Roasted Carrot Lentil Salad with Tahini Dressing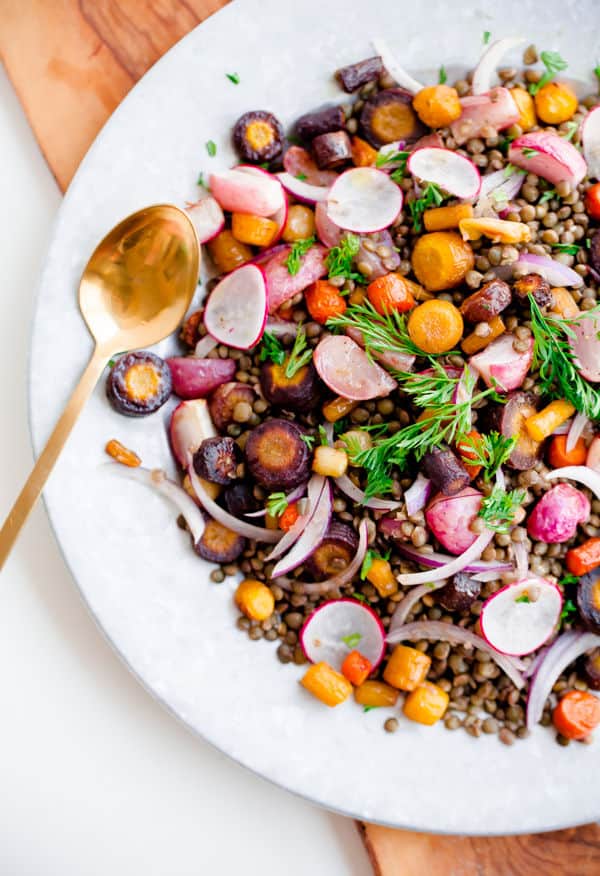 If you're yearning for a hearty, tasty meal, look no further! Here we have lentils, roasted carrots, radishes and so much more.
The lemon-tahini dressing is incredible and is now one of my go-to dressings for a salad. This is a roast dinner that won't send you to sleep after eating!
Taco Salad with Lentils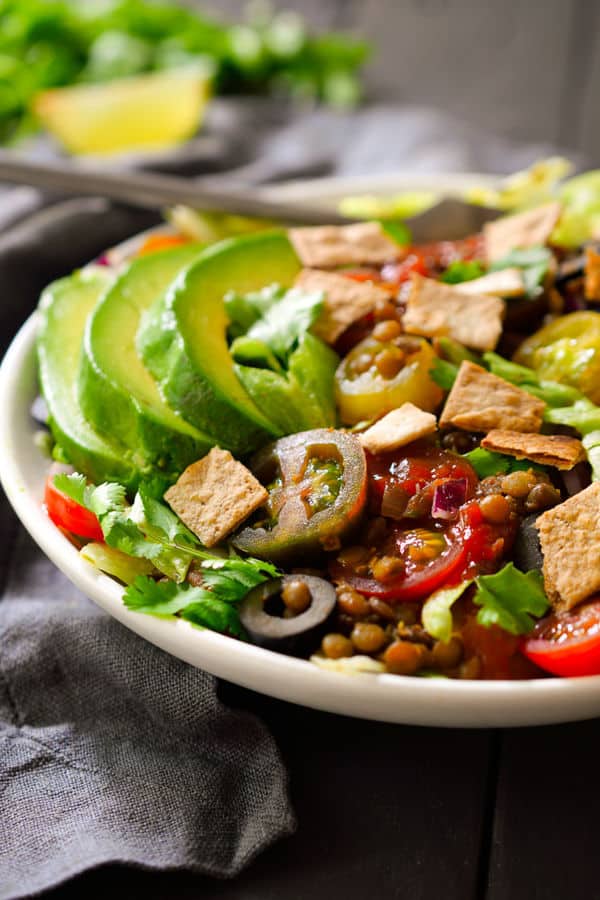 We are going through a phase of hearty salads that absolutely deserve to be made. I urge you to go to the effort of getting all the ingredients and making this one, you won't be disappointed.
This dish has so many flavors, textures, and an overall sense of freshness, you are going to want to make plenty, be warned!
Mushroom, Lemon And Lentil Salad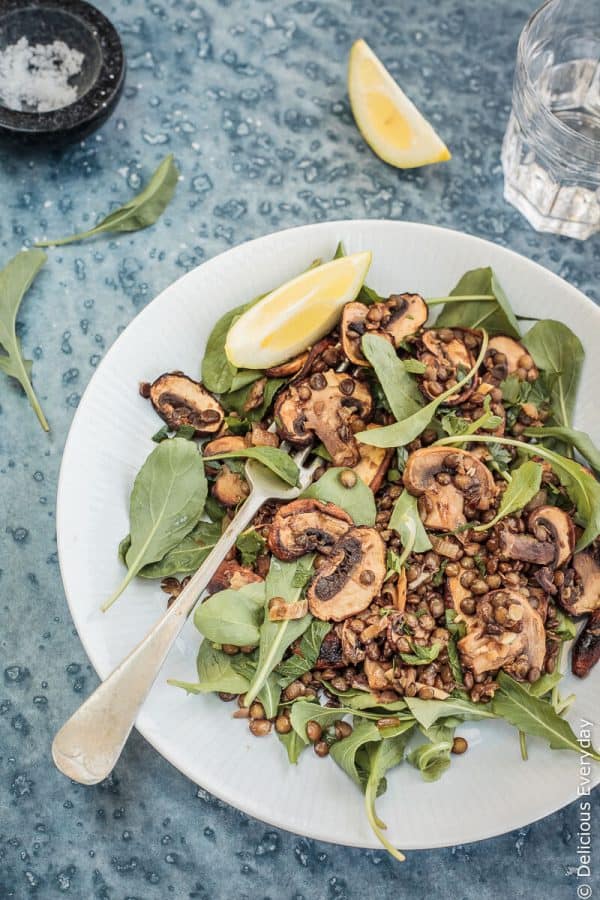 This is one for mushroom lovers! This is a great recipe as the mushrooms are caramelized and once paired with the lentils, gives a fantastic taste sensation!
This recipe has got helpful tips on how to caramelize onions and how to add extra flavour to lentils.
Red Lentil Falafel With Cashew Tzatziki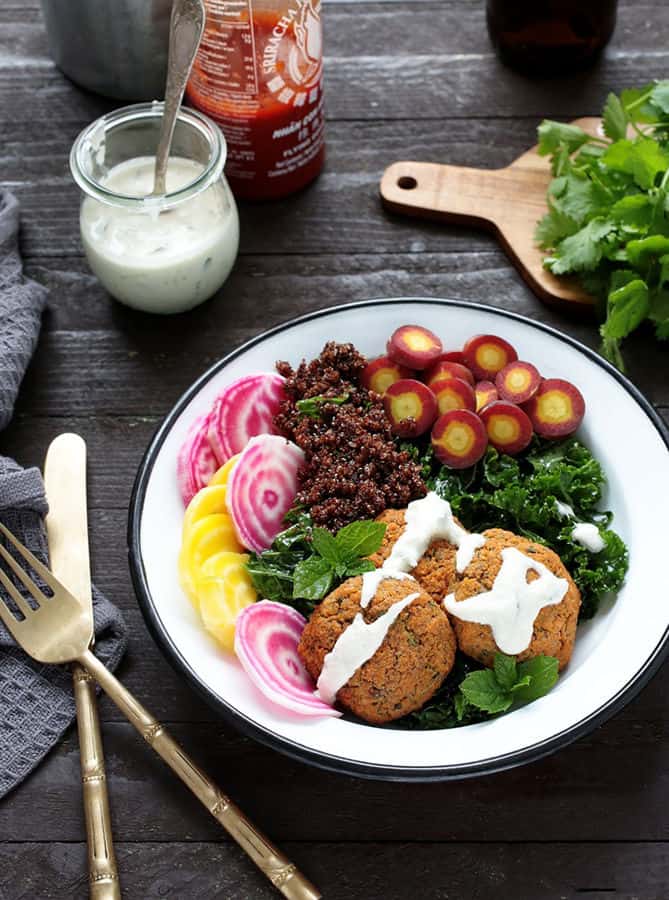 I'm always happy when somebody says falafel! Here the recipe simply calls for carrots and if you buy the red ones that are orange in the middle, as you can see it will do wonders for the presentation.
The massaged kale is delicious, I'm sure you can imagine the rest of the flavors but I don't think you can imagine the dressing, so do yourself a favor, buy all the ingredients this weekend and delve right in!
Colourful Root Vegetable Warm Lentil Salad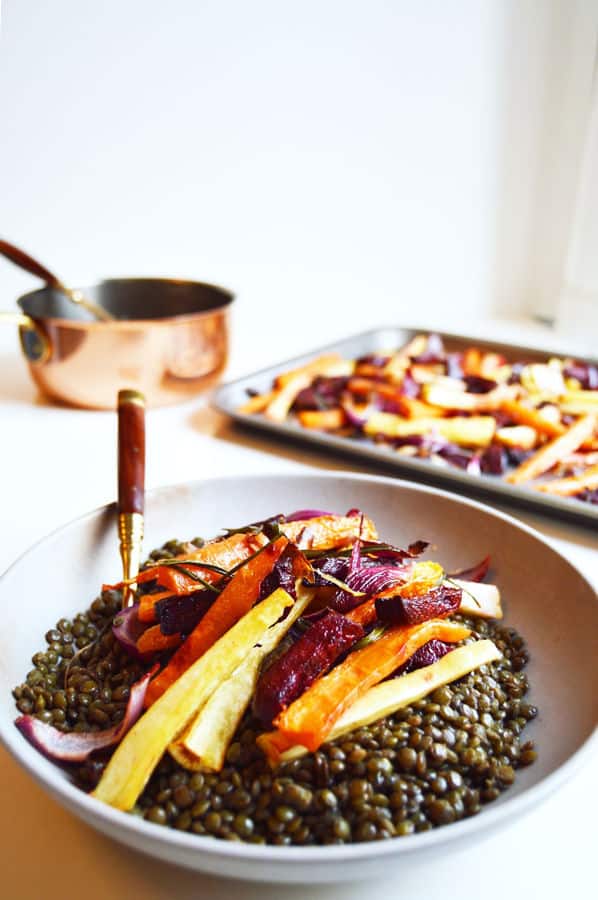 Okay so you tried this salad, and that salad but you want something different without any leaves, one that almost resembles an entrée? Here it is!
The roasted vegetables presented on a bed of lentils is just what you need when the weather outside is on the chilly side. The secret ingredient to this recipe is the balsamic vinegar! Big thumbs up to Alexandra, thank you, we loved it!
Lentil Fattoush Salad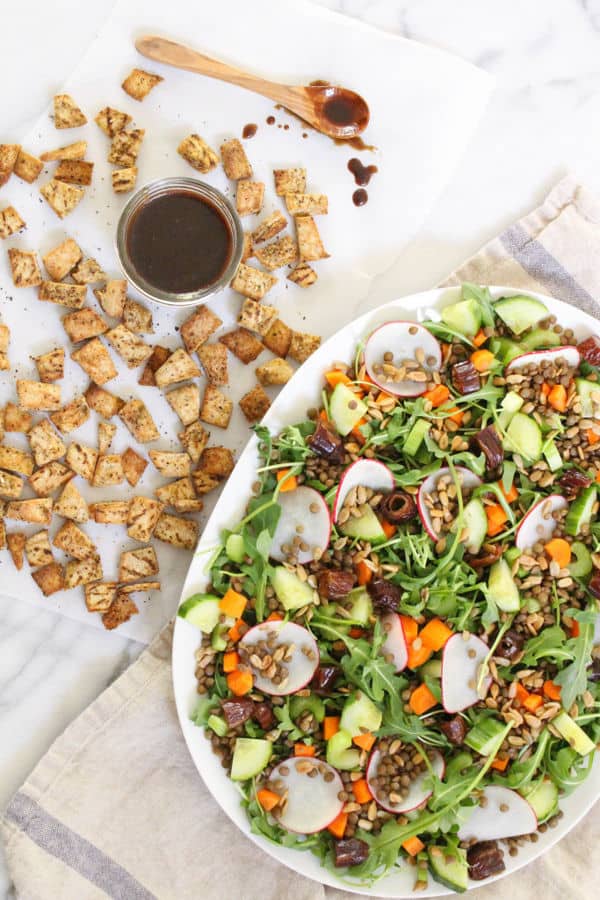 I'll be honest and say when I first saw this recipe I wasn't quite sure on how I would like this, but it is was a hidden gem!
It is a simple recipe and the whole wheat pita pocket part, is what I totally love about this salad. It's brilliant and inspired and I love the way the bread soaks up the Maple Dijon vinaigrette.
Lemon Lentil Parsley Salad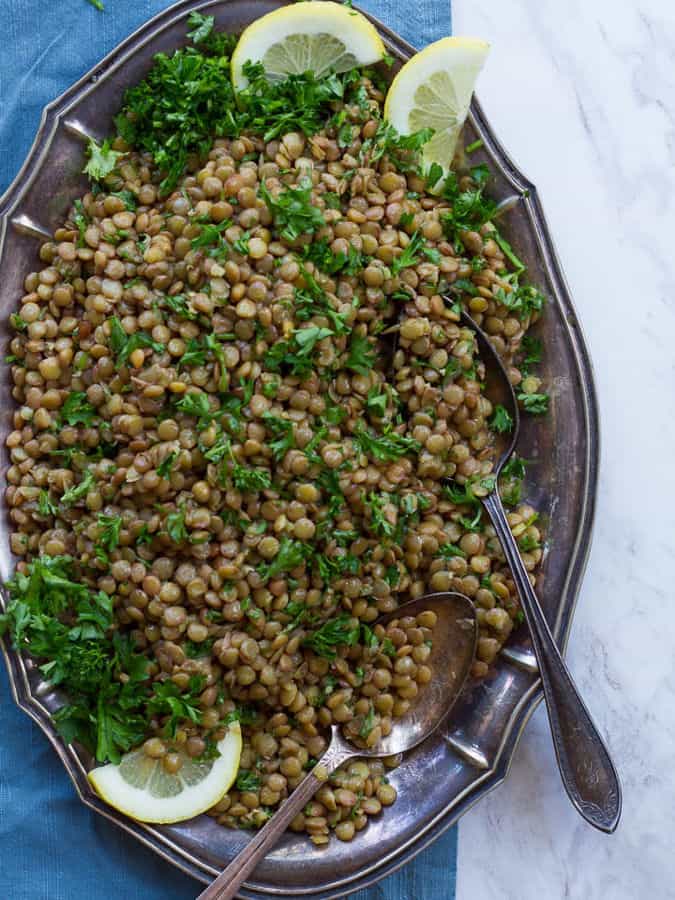 As you can see we are going through a bit of a lentil phase and why not! Take note that this recipe is for 12 servings. This is perfect if you're looking for something to have the next day and have a healthy appetite!
Other than cooking the lentils it's really just a case of putting everything together and giving it a good mix. Being lentil based, this is delicious warm or cold. A very simple recipe and that is meant as a huge positive. You are very likely to have all the ingredients in your cupboard already and that's what makes me love this dish even more!
Roasted Garlic and Tomato Lentil Salad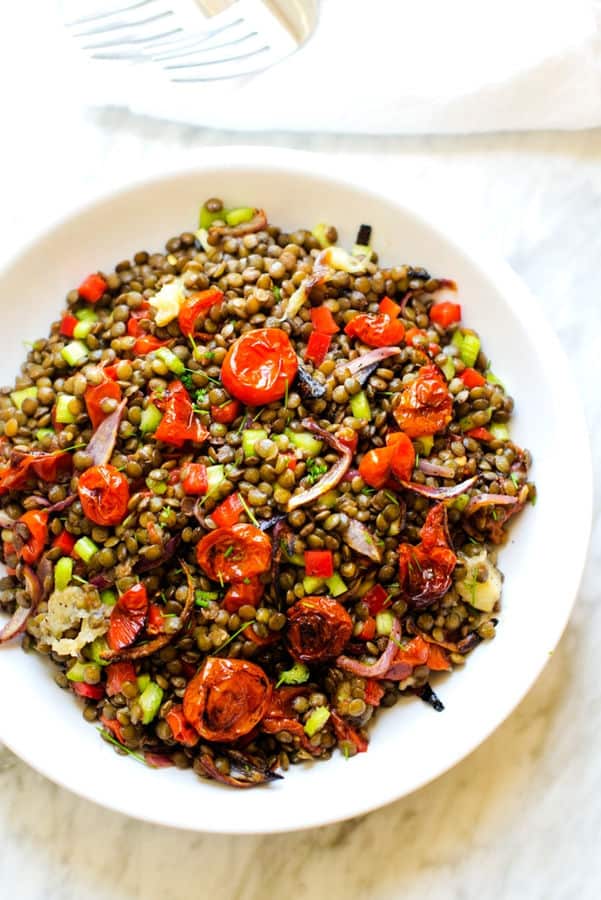 If you like lentils, you're going to be in heaven with this recipe. Of course, it's just as delicious warm as it is cold. The roasted tomatoes blend well with the lentils and the roasted garlic made it taste really special.
Don't skip out on the red onion, celery and red pepper because they really do add the freshness and crunch which balances everything out perfectly. A real hearty dish and one to add to your collection.
Mediterranean Lentil Salad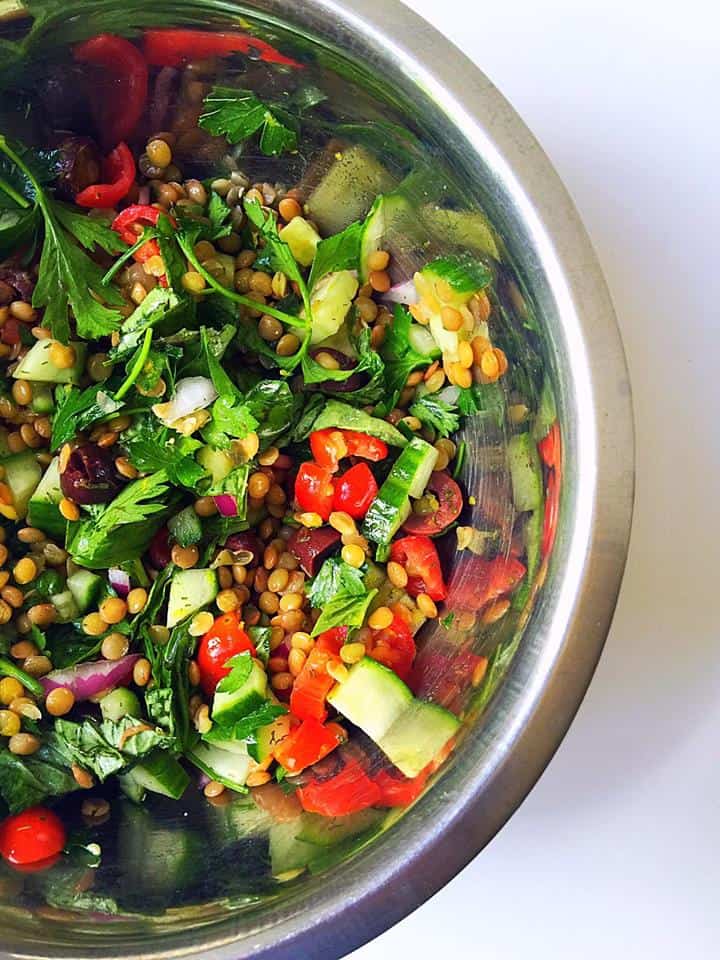 This salad is full of good stuff! Lentils are for everybody not just people that wear sandals! What I really like most about this recipe is that it calls for kalamata olives which I absolutely love!
Prep time here is about 20 minutes and the recommendation is that you chill it for about half an hour before serving. Obviously, you don't have to do this, but I think it's really nice to feel that cool, fresh taste. The recipe has parsley but of course you can swap this with another herb if you prefer.
Vegan Lunch Salad Recipes
Loaded Veggie Wraps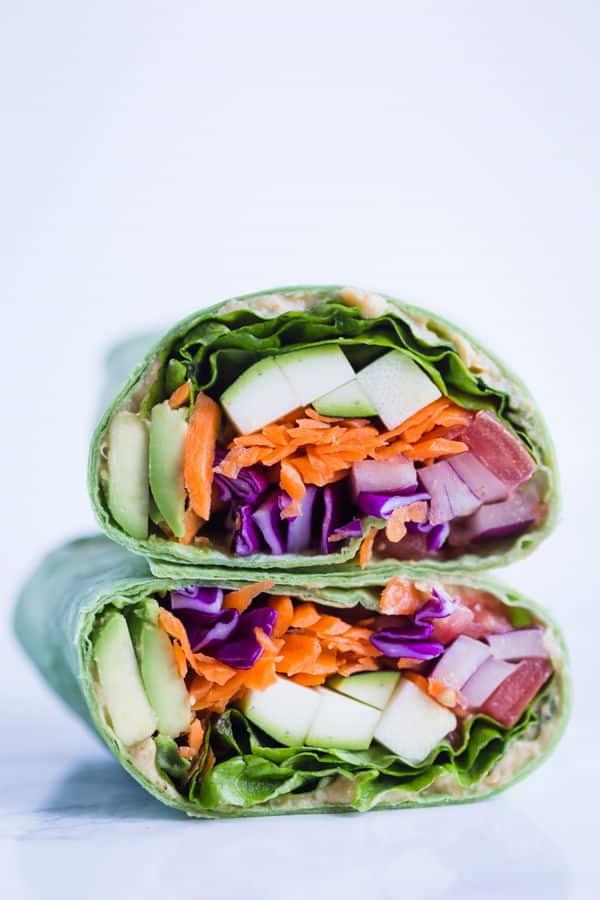 Wraps are like sandwiches so I'm already in! To me they are actually better than sandwiches because nothing can fall out!
These are perfect to make if you are just home alone and want to watch a great movie or for a road trip, a picnic, a lunchbox, the list goes on.
The ingredients are fresh, tasty and so good for you. I make wraps a lot and this one is definitely being added to my list.
High-Protein Salad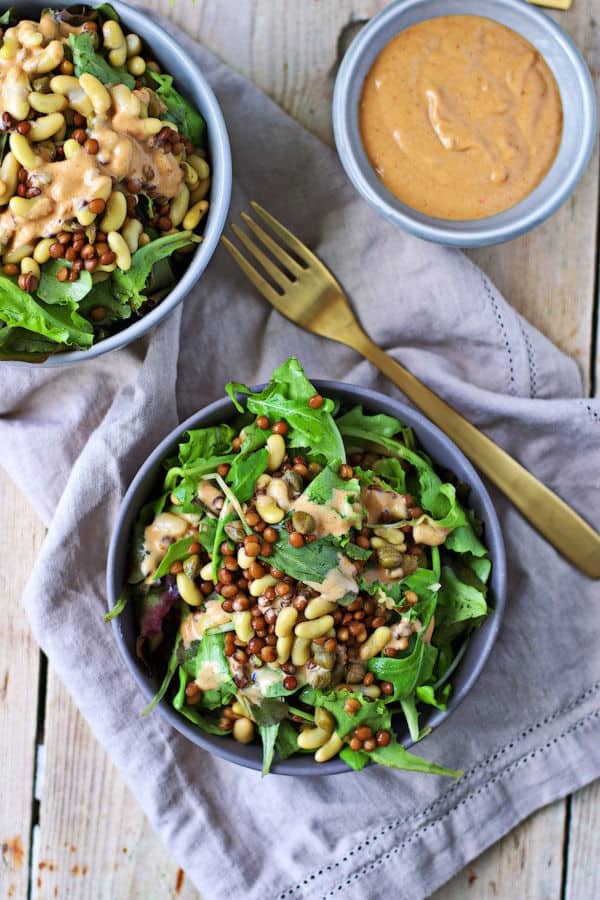 If you're after a lot of protein, you will love this dish! It calls for beans and lentils and a dressing that I believe will become one of your all-time favorites! This recipe is gluten-free, too!
You probably have the main ingredients in your pantry already. This is so easy to make and you can serve it in a number of ways. Florian Nouh from Contentedness Cooking have done a great job on this recipe! You can have the arugula as a side salad to the beans or you can mix it all up. Either way, you will serve up a winner!
Rainbow Power Greens Salad with Black Eyed Peas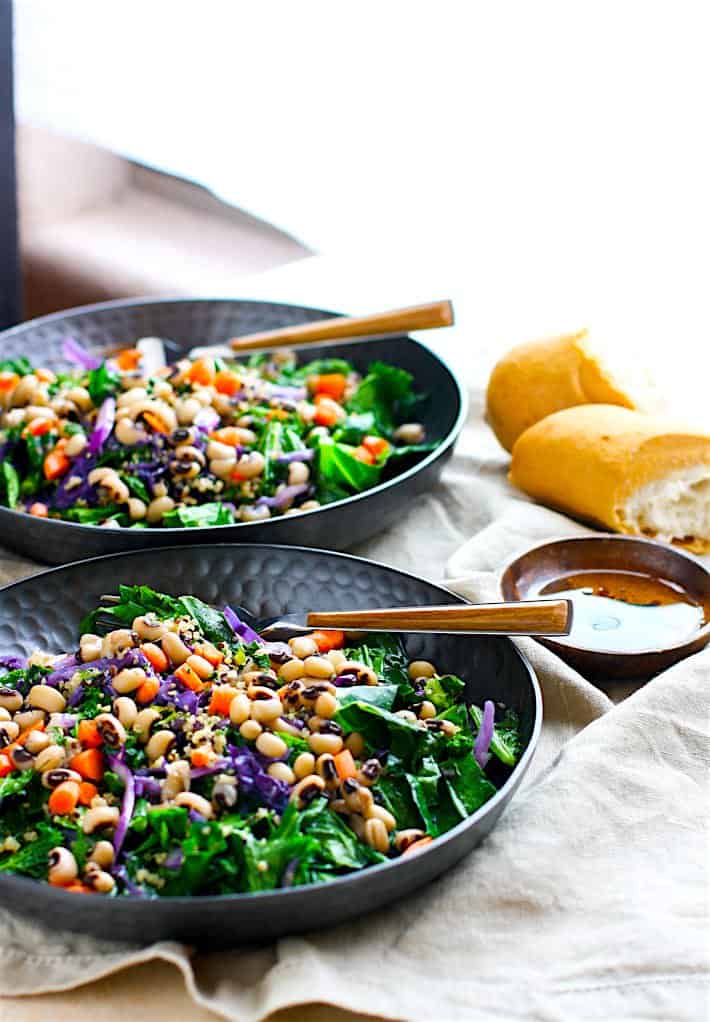 Given how delicious the picture looks, it appeared this could be a fiddly recipe that could take some time. Lindsay indicates that it takes 10 minutes, we tried this out and it was exactly that! You just need to cook the black-eyed peas which is the only part you have to do in advance.
Because of the carrot, purple cabbage, the greens and all the other ingredients, you can immediately see why this is called a 'rainbow salad'. It's totally delicious any time of the year and any time of day. When you make it, consider using double portions so you can eat more later!
Hemp Seed Dressing With A Spring Salad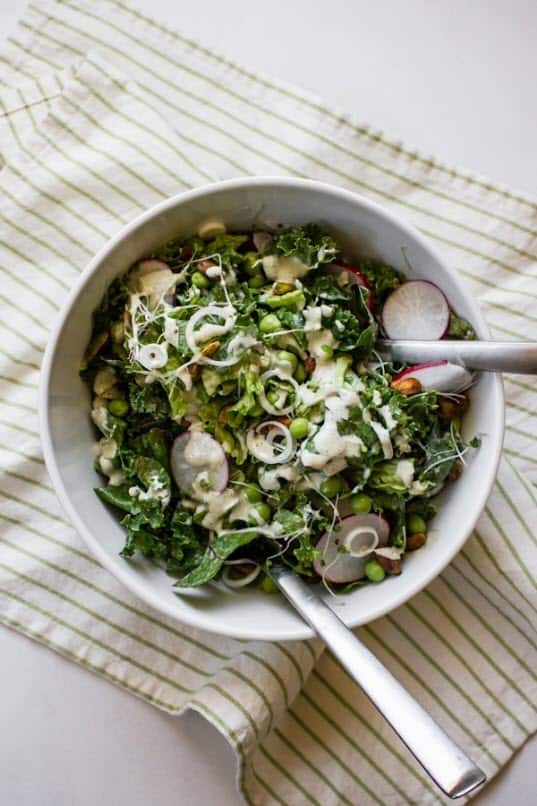 I know some people are a little cautious about trying hemp but now is the time to do so!
This recipe is absolutely bursting with ingredients and flavors. The dressing is honestly incredible, and I will use it now for future dishes too. The salad itself is just amazing and I'm not just saying that. The leaves mix so well with the onions, radishes, sprouts and my favorite part, the salted pistachios. It's well worth making!
Holiday Crunch Salad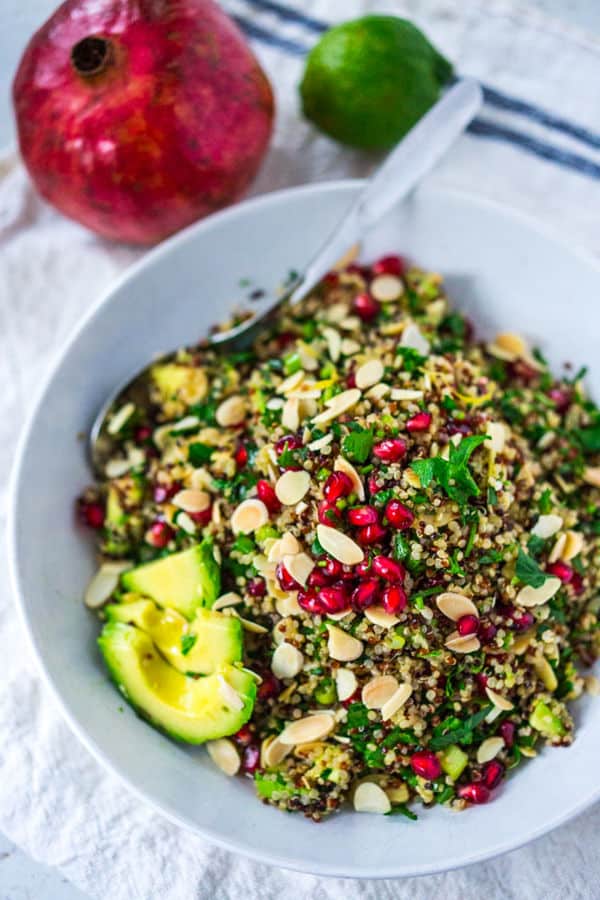 If you love pomegranates, you will love this recipe! This is one of those salads that looks more like a cereal as there aren't any big leaves to contend with. For me I prefer this, especially when eaten with a creamy dressing, as otherwise it tends to get messy!
Salads like these I love because they are packed with assorted flavors, different textures and are ideal for a lunchbox. I have some go-to recipes for when I need to make salads to take out for lunch, and this is one of them.
Celery Root And Apple Salad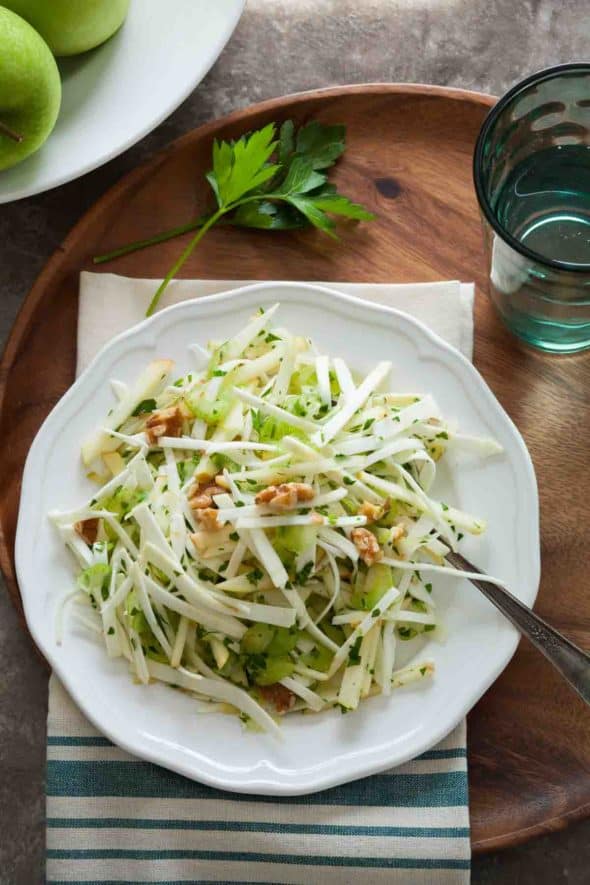 Celery root is so good for you and I don't think we eat enough of it. The contrast with the crispy sliced apples makes a perfect combination.
The lemon mustard vinaigrette is another one that has become one of my favorite dressings! Absolutely delicious over the salad and leaves you feeling very light yet satisfied.
Grilled Corn Salad Bowl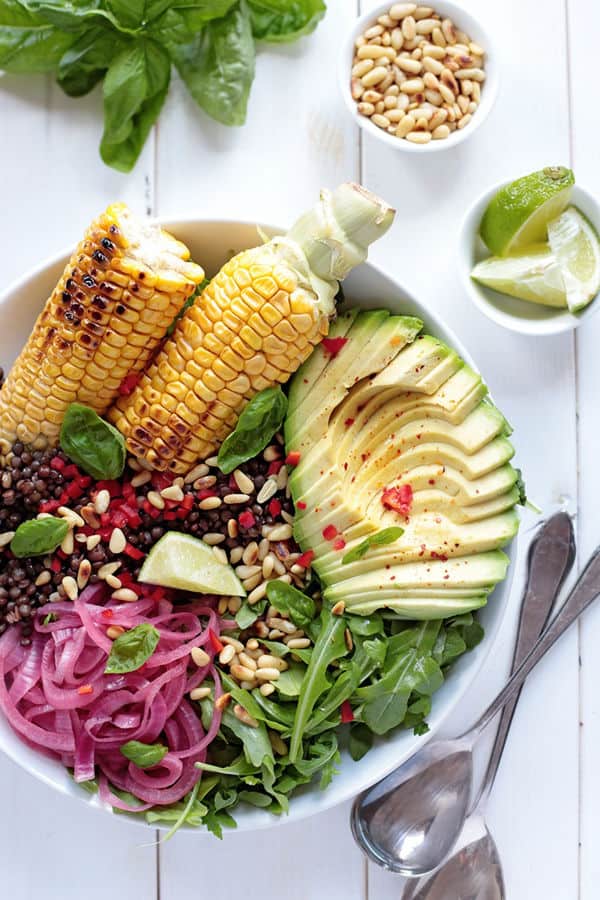 If you don't like fresh corn, I'm not sure I want to be your friend! If you don't like grilled fresh corn, then you need to go back to school! This is a surprisingly easy salad to make and the ingredients are all delicious as you would expect.
The secret ingredient here is not corn, however, it's the pickled onions that you can make yourself! Go ahead and try it, it's easier than you think. Don't forget the lime!
Chopped Asian Salad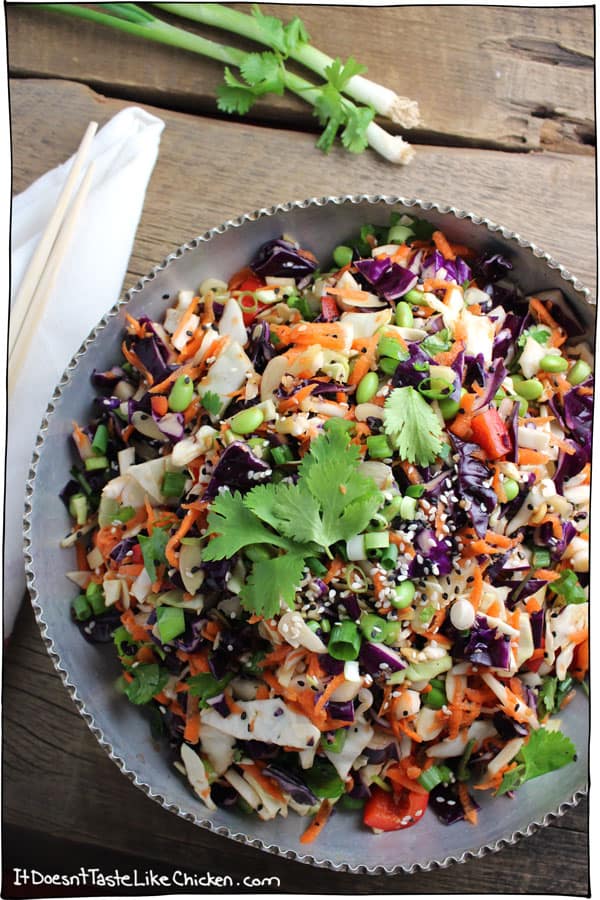 This salad is easy to make, which is fine by me as when you are short on time, you can still make something really tasty. You chop everything up and bam it is ready in no time!
The hidden ingredient in this recipe is the sesame oil, don't skip it. In fact, don't skip anything because you'll regret it or rather, you won't get the full effect of this absolute masterpiece!
Springtime Polenta Panzanella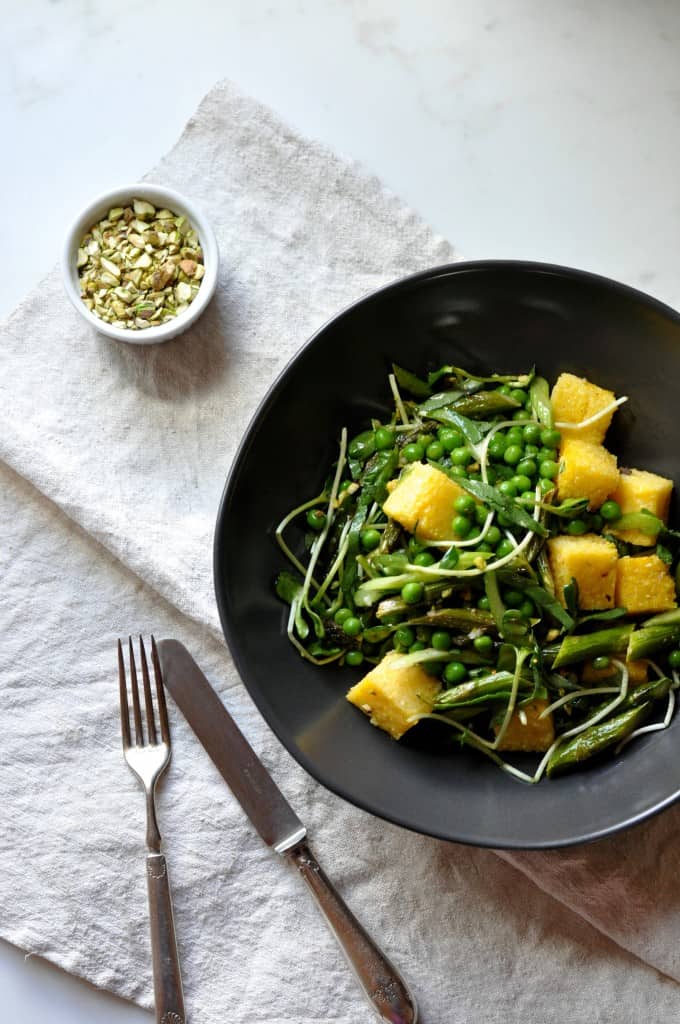 I grew up with polenta so I'm very familiar with it. This is a twist from an Italian classic dish. The polenta has been baked which is never a bad thing. In the original Italian recipe, they use stale bread but this dish is now gluten-free because of the polenta.
The greens are so delicious and mix together so well that you don't even need the polenta but please, don't skip it! When you buy the polenta, look for either the easy-cook version which takes just two or three minutes, or even quicker, buy the pre-cooked version where all you must do is slice or chop, ready for cooking.
The "original" polenta which is readily available takes a very long time to cook and a lot of stirring, it used to be necessary because that's all there was available, it's not though necessary, so I would just go for the pre-cooked block or the easy cook granules.
Asian Kale Power Salad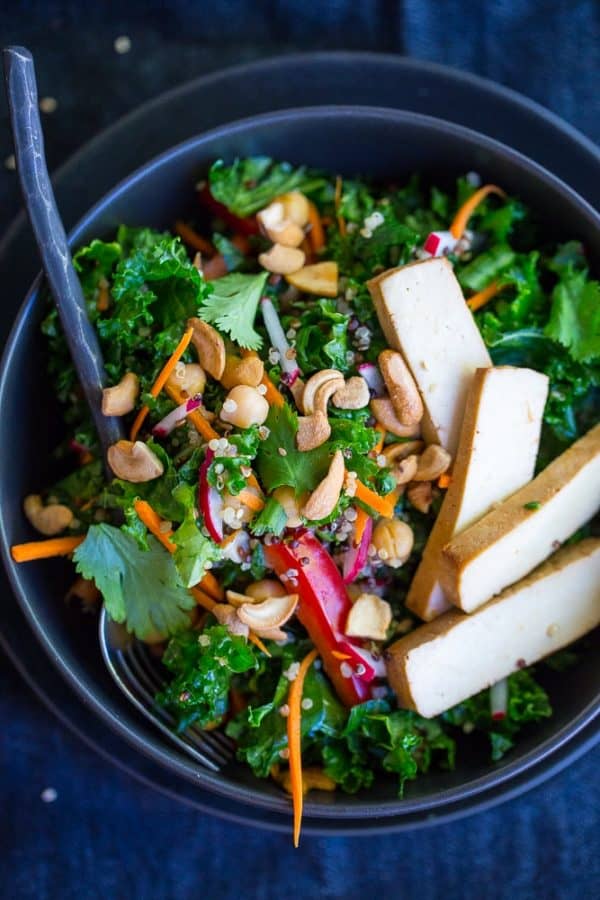 As you know by now, we love Izzy's recipes because she considers our busy lives, so her salads can be made in advance lasting up to 4 days. This dish is especially awesome because it feels like you're getting a heavier meal even though essentially, it's still a salad.
What transpires is an amazing burst of flavors from ingredients such as the freshness of the lemon, scallions, cilantro, kale and of course the ginger dressing. And if this wasn't awesome enough, there is tofu too. I could seriously eat this all day long!
Butternut Squash Falafel With Maple Tahini Sauce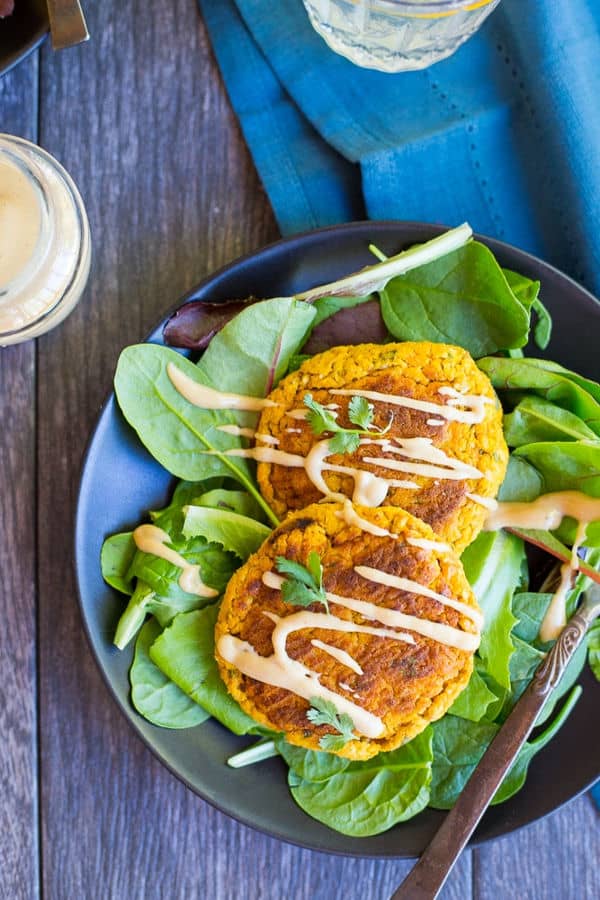 Do you like falafel? This dish looks almost like burgers, has a great dressing and lays on a bed of refreshing leaves. And yet it's a healthy salad!
This dish takes a little preparation and if you're looking to get your kids into healthy food, this is a winner! It's so delicious, especially with the maple tahini sauce! Next time I make this, I want to make a sandwich, put the leaves as the base, the falafel on top and smother it all with the dressing!
Waldorf Salad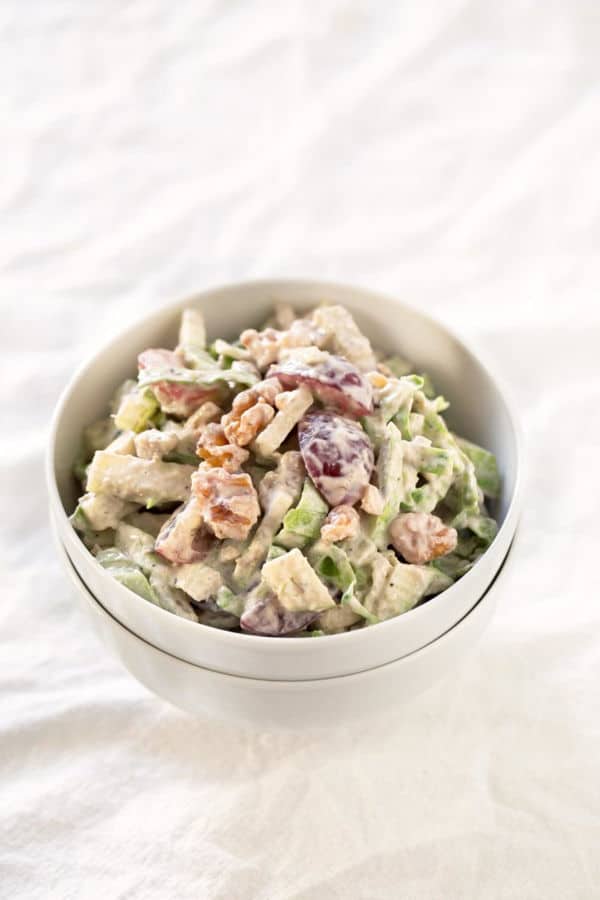 Do you sometimes miss non-vegan recipes that you used to eat, before switching to a plant-based diet? Well, if you are a fan of Waldorf salad, today's your lucky day!
When you eat this, you will only be annoyed you didn't make it sooner! All the classic ingredients are there from the walnuts to the apple. The dressing is easy to make, it does call for unsweetened plant-based yoghurt, but nowadays these things are always easy to find. I used coconut yoghurt and it was fantastic!
Raw Beet Salad With Lime Ginger Dressing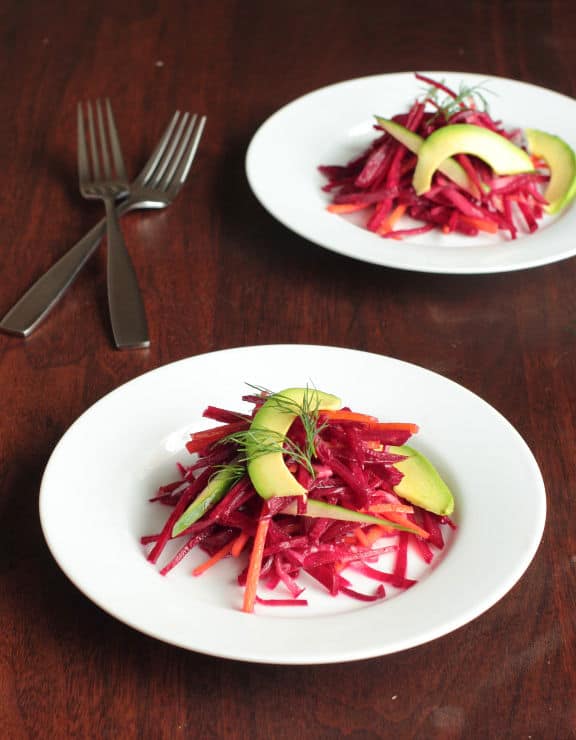 If this looks too simple or boring, then you are very much mistaken. This is a perfect starter, a small side salad or just go for a big bowl, which is how I normally take my salads.
The beets and carrots go so well together with their similar textures.
The ginger in this classic dressing is an absolute must and although not entirely necessary, I would go to the effort of making sure I had an avocado.
If you want to surprise your guests with something that is somewhat familiar to them but have probably not had before, this is it!
'Crab' Salad Rolls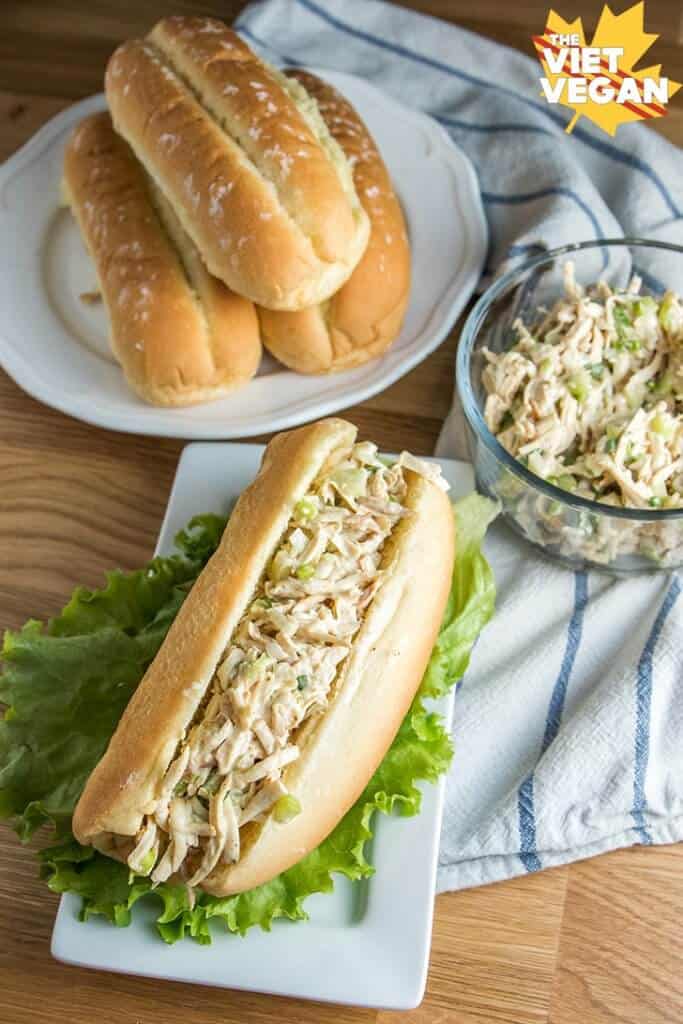 If you've been reading this list you'll know by now that I love sandwiches, and 'rolls' are definitely sandwiches, just a different shape!
The ingredients here are just lovely, the celery contrasting so well with the smoked tofu, and the green onions complementing everything perfectly. The creaminess of the vegan mayo blends it all together.
You can eat this as a side salad, or indeed get your 'rolls' on! I lightly toasted my whole-wheat bread roll and it worked an absolute treat. I am most certainly keeping this recipe!
Apple Farro Bowls With Maple Tahini Dressing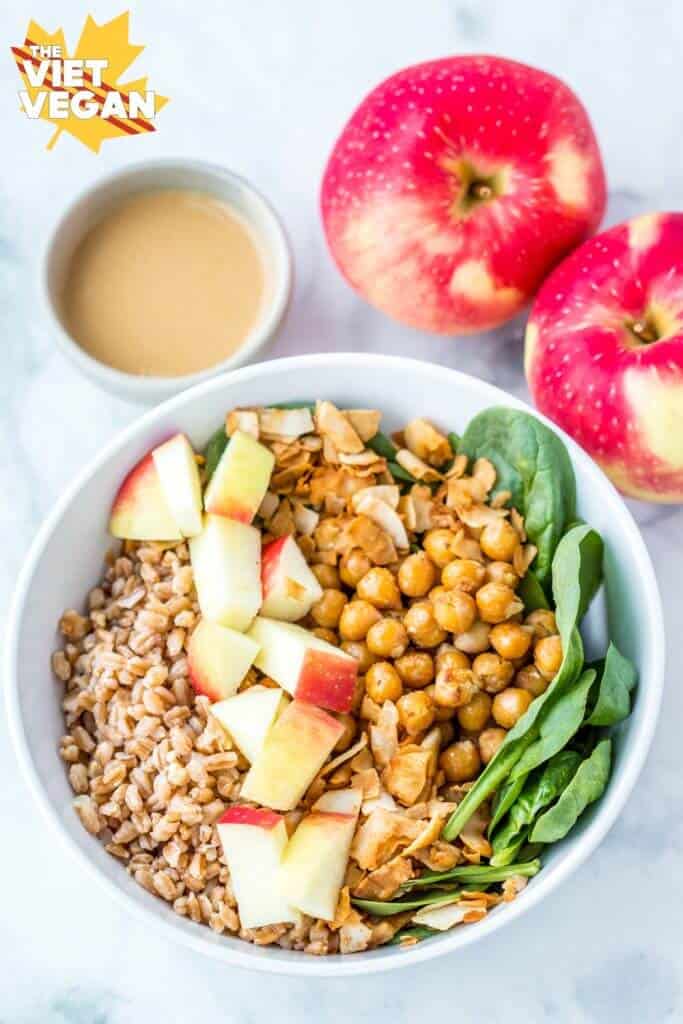 I am pretty sure I wouldn't have thought up this recipe! You are probably familiar with all of the ingredients though and are imagining what you're going to get. Trust me when I say you will positively surprised.
The 'maple tahini dressing' is the real magician in this recipe for me. I just love it with the apples alone, but perfect with the rest of the salad. I don't think you can make this into a small side salad or a light snack, as it tastes that good. When you need to treat yourself (or your friends and family) make this and make plenty!
Chik'n Salad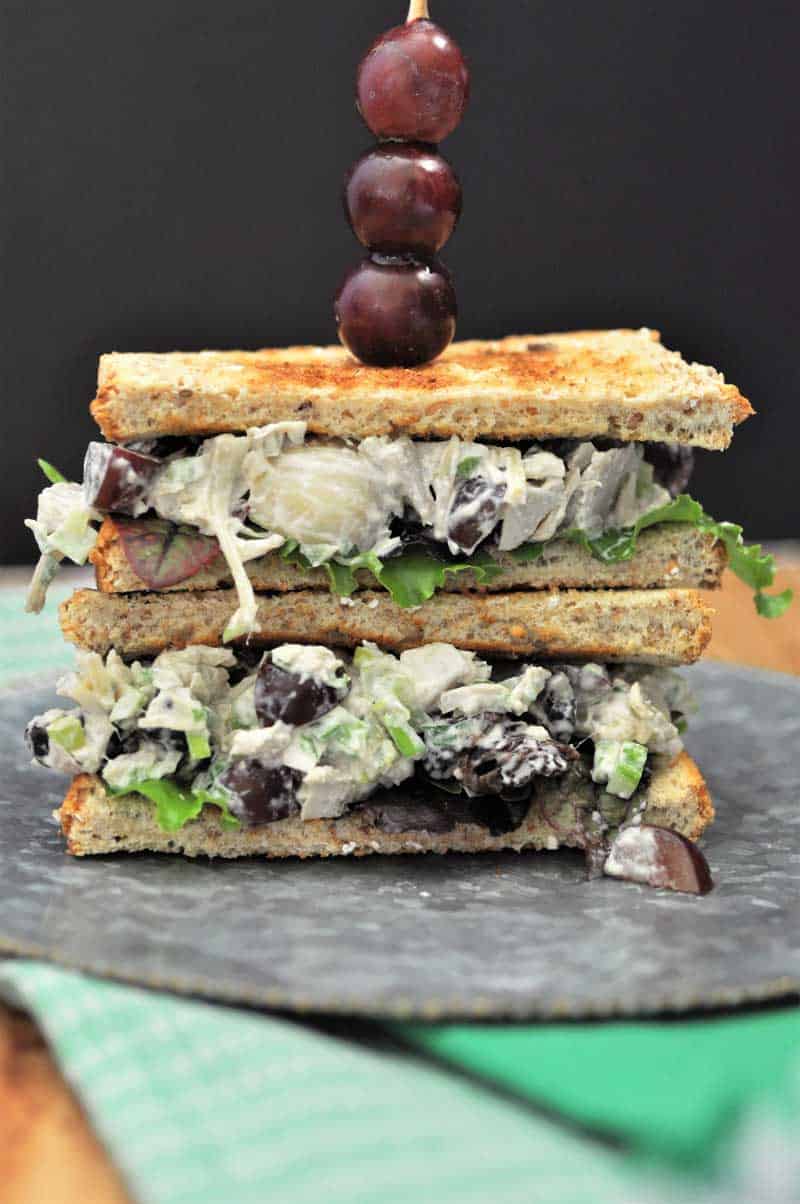 Oh my goodness, this recipe really grabbed me when I first read through it! We can't avoid the fact that the prep time is probably one of the longest for a salad, so you're going to be making this for a special occasion. But that's okay because sometimes you need something special, and this really is!
I don't know if you've ever used jackfruit as a meat alternative, but it's well worth doing nowadays, you should be able to find it at least in a tin at your local food store. Despite the long prep time, the instructions are really easy so you won't find this challenging to make. One thing I can promise you, it will be worth it!
Vegan "Tuna" Salad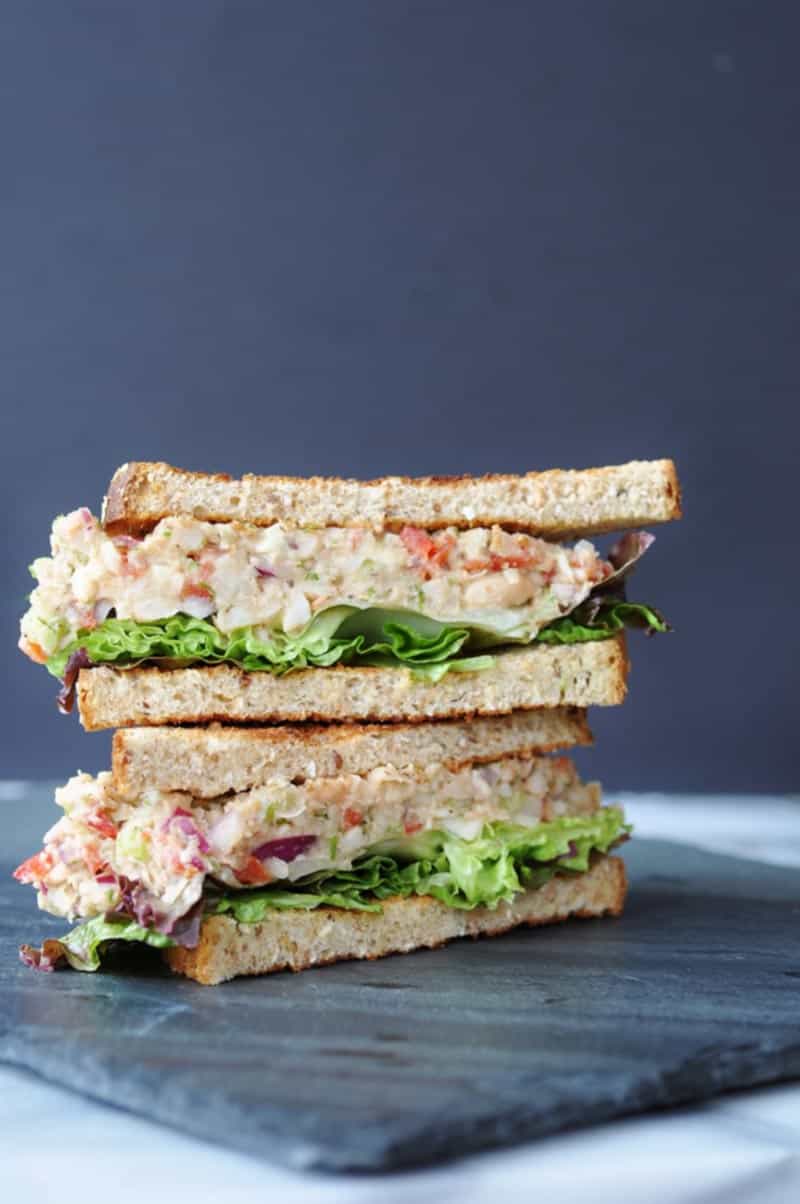 I love sandwiches and spent most of my time in high school eating them. They are easy to eat anywhere and of course, probably the most convenient food to take with you on a packed lunch. Even if you don't have a lunchbox, you can wrap them in foil, that easy.
This is a real loaded sandwich that will leave you totally satisfied and you'll be running off it for the rest of the afternoon! Even if you make this to go, I recommend toasting the bread as the ingredients are not wet, so the bread will remain crispy for later. If you miss that fishy kind of taste, this will satisfy you as it has a sea essence to it! Make this once, and you'll make it a thousand times!
Cold Soba Noodle Salad With Raw Veggie Noodles + A Spicy Sunflower Seed Sauce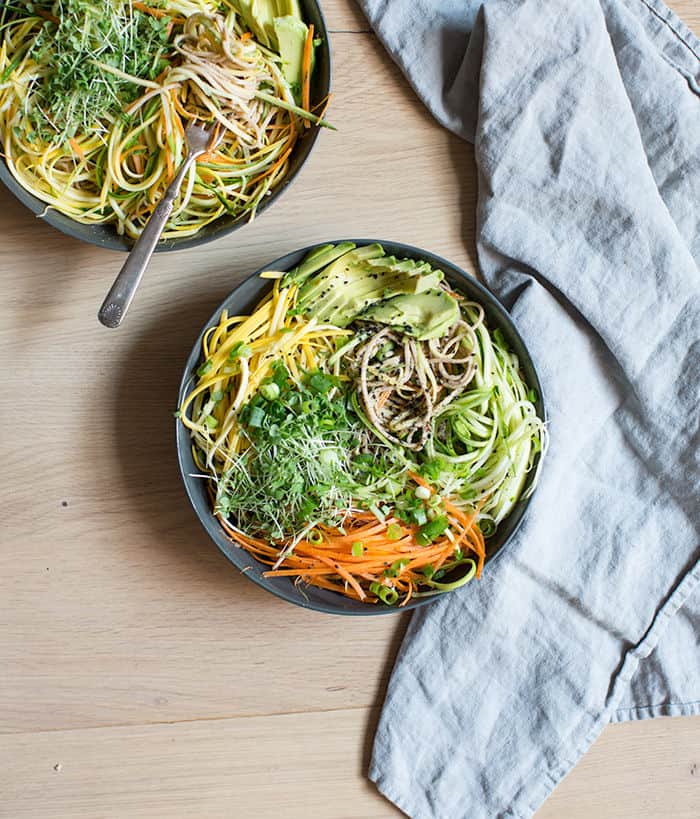 If you like noodles and you like a lot of them, you know how that can make you feel a bit stodgy. This recipe really lightens the load and is absolutely delicious.
I would definitely use a julienne peeler rather than a spiralizer for this, simply because it's just so much easier and adds to the presentation. The dressing is tantalizing, with garlic, ginger and tamari, that blend together just perfectly. Although the avocado may not be necessary, I think it makes a perfect partnership to an already delicious salad.
Savory Apple Salad With Celery and Peanuts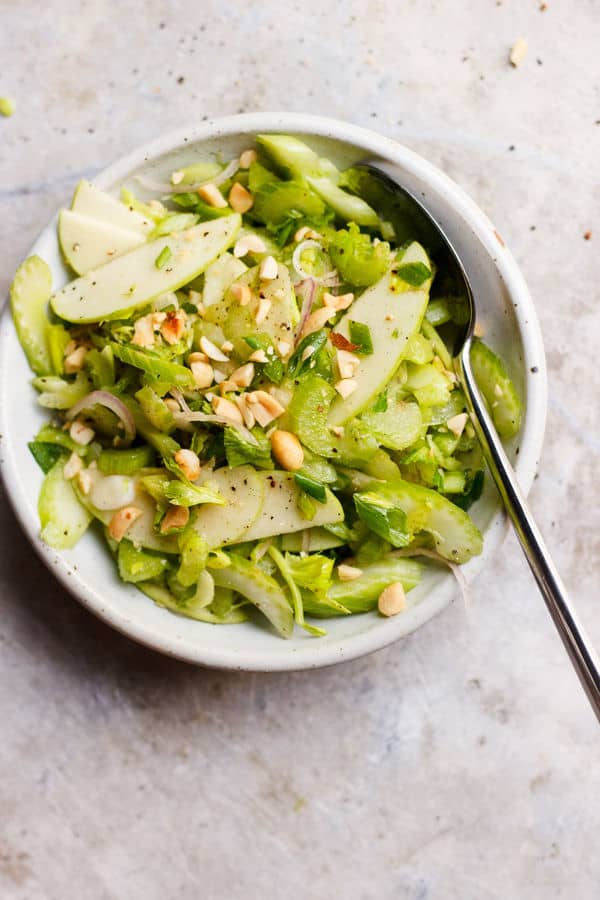 Savory apple what? That is what I first thought as I began to read this recipe. But wait, it has peanuts? Okay I'm in!
This is a really quick recipe! A quick chop and slice and you are pretty much done. I would never have thought about using peanuts in recipes, as I normally opt for walnuts or almonds, but honestly, peanuts here work really well and are a wonderful treat.
Vegan Potato Salad Recipes
Quinoa Salad with Roasted Sweet Potato, Kale and Pesto Vinaigrette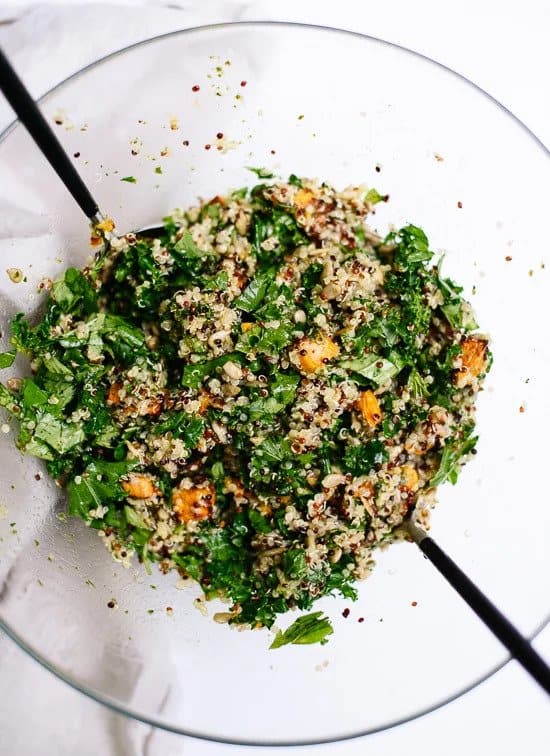 This is one of those salads that can be eaten warm or cold, delicious either way. Sometimes I find kale to be a little chewy but when I followed Kate's recipe it was just perfect. The combination of kale, sweet potato and pesto vinaigrette was just fantastic.
The quinoa absorbs all the flavors. This is one of those recipes where if you like one of the ingredients a lot, you can simply add more, and it doesn't change the recipe.
Dill Pesto Potato Wedge Salad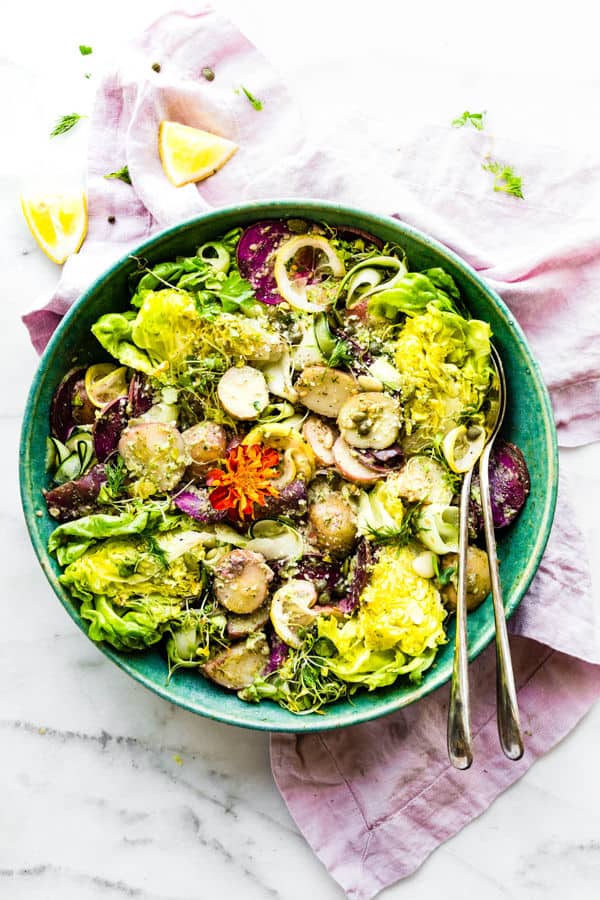 I love potato, probably more than I should. I eat it with salad a lot as it makes me feel better about eating so much! The leaves go so well with the potato and all the other ingredients too.
By now you will have read that I have enjoyed the dressings in these recipes. But let me tell you, no matter how much I love potato, I think I like pesto more! And this isn't a standard pesto sauce either, there is a cool twist to this. If you're going to make one recipe out of all of these, make it this one!
Vegan Bacon Ranch Potato Salad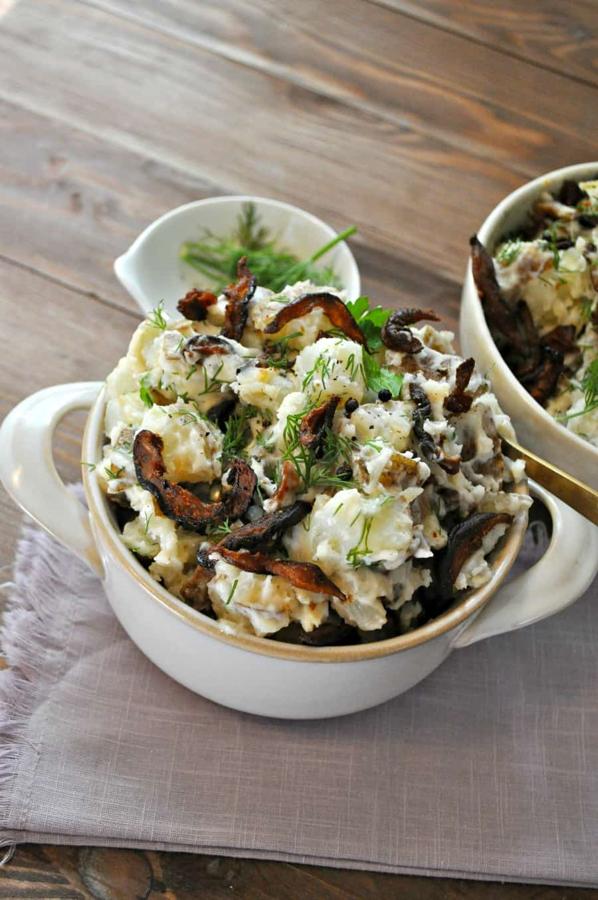 What could be more satisfying than a vegan potato salad? A vegan potato salad with Shitake mushroom bacon, that's what! This recipe proves potato salad doesn't have to be sticky or heavy, but it can be luscious and downright yum!
From start to finish, this potato salad takes about an hour, and you can eat it warm or cold. Either way, it tastes so good! This recipe is a divine addition to your repertoire and will stun everyone at your next picnic. It's so tasty you'll find excuses to make it more often!
Roasted Corn, Sweet Potato Noodle And Avocado Salad With Toasted Buckwheat Dukkah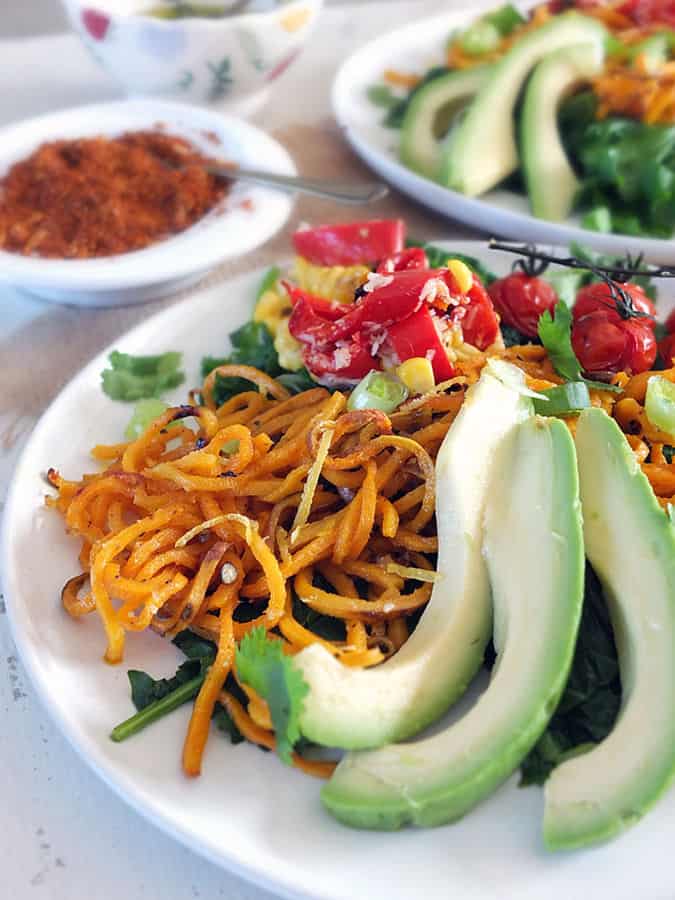 Salads are normally quick recipes that you throw together for light snacks, right? Well, I can't say this is that but it's certainly healthy, it definitely is a salad, I would just say it's more of a meal.
There's been so much imagination and thought put into this, with some really novel ideas that work so well. You have noodles, green leaves, avocado and popcorn. Yes! I really did type that! If you want to try something different to surprise your friends, try this and they will be more than pleasantly surprised!
Roasted Sweet Potato And Chickpea Salad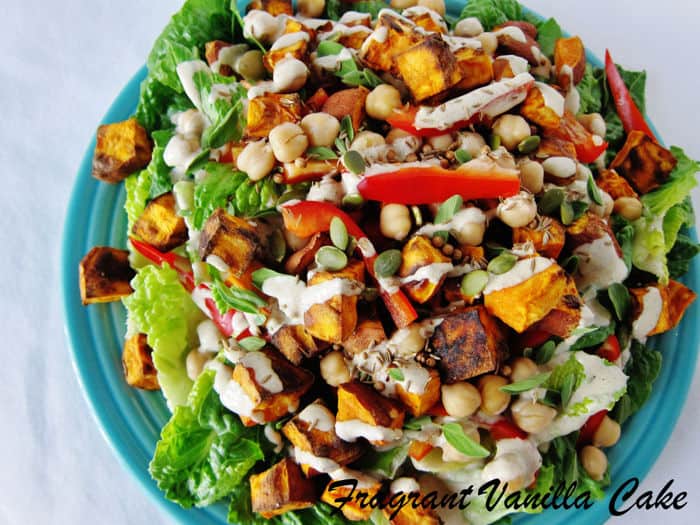 Come on now, roasted sweet potato? I was already going to make this even before I got to the end of the sentence that said chickpea salad.
This has everything, the satisfaction of hearty food like sweet potato and chickpeas but also the freshness of the salad and a really lovely dressing to top it all off. The pumpkin seeds are the pièce de résistance!
Roasted New Potato, Lentil and Kale Salad With Lemon Caper Dressing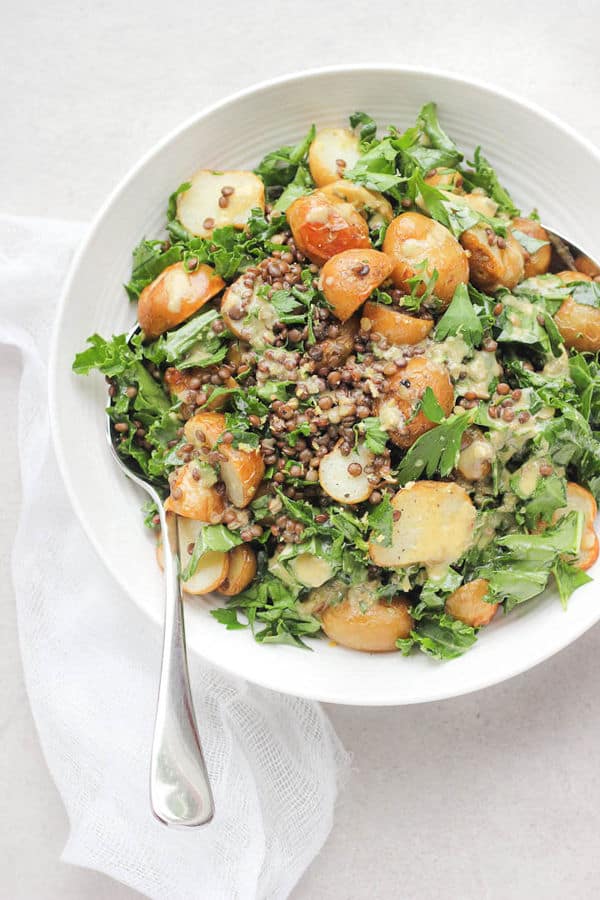 If you want to be my forever friend, you need to like new potatoes! Jodi has done such a fantastic job with this recipe, there's absolutely nothing I don't like about it.
The lentils and the potato will leave you totally satisfied and you won't want to snack five minutes after you've finished eating!
If you keep the dressing separate until you are ready to eat, then this is easily a great meal for you to take to work in your lunchbox, simply drizzle on the lemon caper dressing when you're ready to eat.
The Dijon mustard works well with the capers as you have contrasting textures and flavors. This recipe is a keeper!
Green Sorghum Burrito Bowls With Roasted Sweet Potato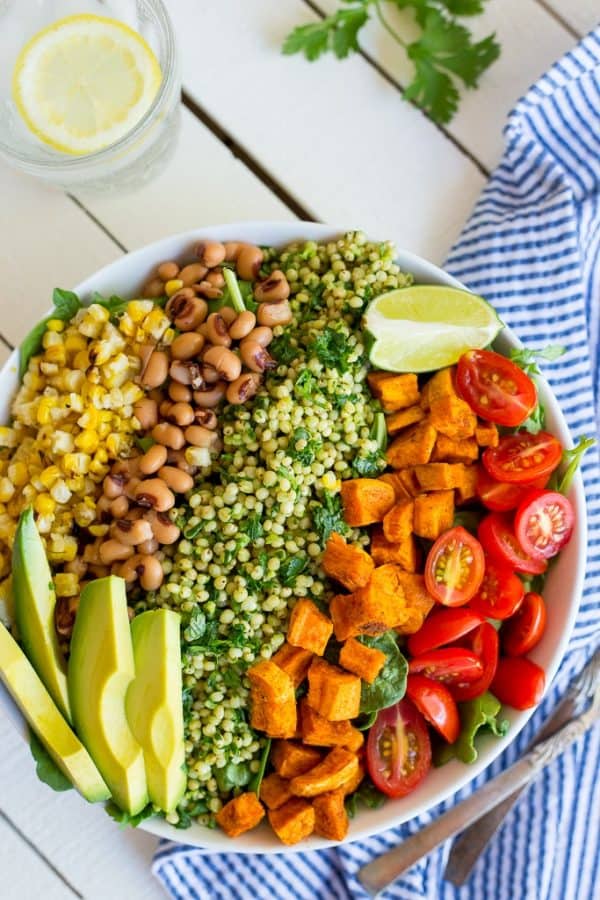 Sorghum is the fifth most important cereal grain in the world.
One of the reasons it's so great is that it's gluten-free. You pretty much cook it as you do rice, it tastes lovely and it's filling too.
What we love about this recipe is that you can easily swap one ingredient for another depending on what you have at your disposal!
Light Baby Potato Salad with Pickled Onions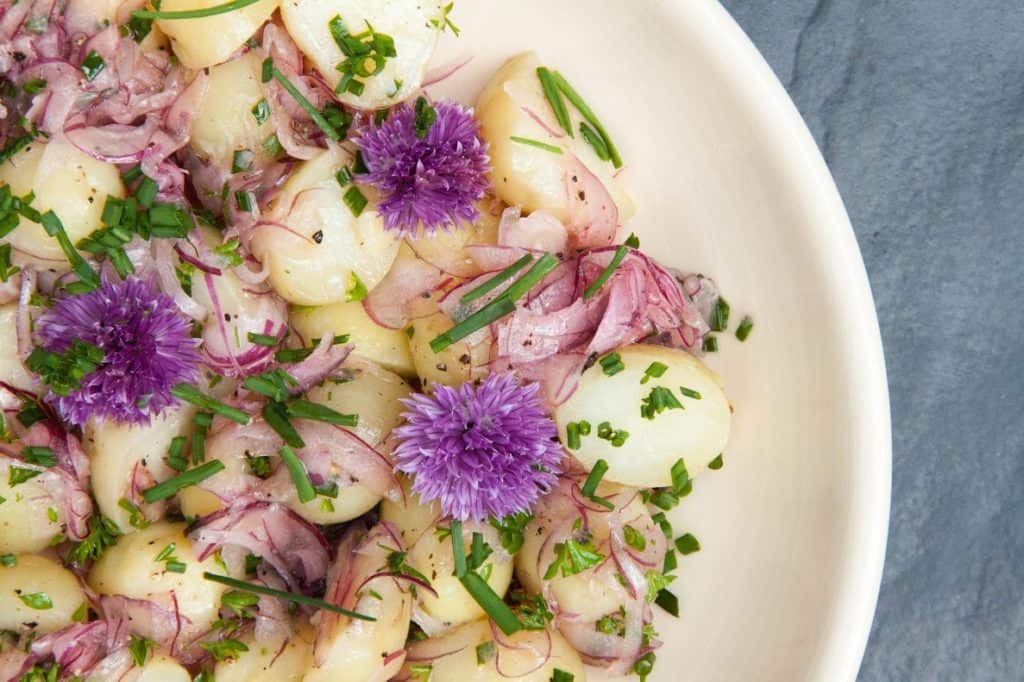 If you're like me and love baby potatoes, then this one's for you. I always look forward to that time of year when these little gems are available from local farmers. They're so versatile.
In this salad, they have an accompaniment of pickled onions, which you can easily and quickly make yourself.
I always thought you needed days or weeks to pickle something but the way these onions are prepared is both easy and unique. The thinner you can slice the onions the better. So, if you have a mandolin, that'll work better than a knife; but don't worry if you haven't got one.
It takes about twenty minutes for the onions to reach the required flavor so definitely prepare this before boiling or steaming the potatoes. All the flavors combine so well and because of the nature of this recipe, you can prepare beforehand and even take it with you to parties and family gatherings. Totally delicious!
Vegan Quinoa Salad Recipes
Easy Almond Apple Quinoa Salad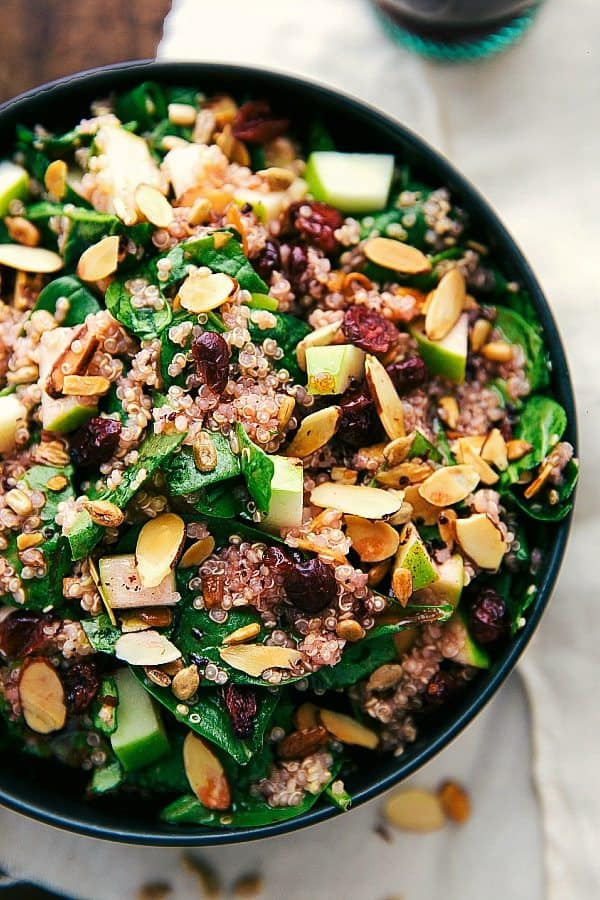 This salad almost looks like a breakfast cereal but a really healthy one! When I read this recipe, I wasn't sure about the apple and how it would go with the quinoa, but it certainly is well thought out.
The lemon juice stops the apple oxidizing so this salad stays looking fresh. Having said that, I don't think it's the sort of dish that I would want to keep for more than a day. I recommend making it and eating straight away, which in a perfect world would always be the ideal method.
This recipe states you can substitute making the dressing with a store-bought raspberry walnut vinaigrette. I've never seen such a dressing in my store, but it doesn't matter, you need to make this dressing!
It has raspberry jam as an ingredient and if you are raising an eyebrow at that, please do give it a try as you will be pleasantly surprised!
Three Bean Quinoa Salad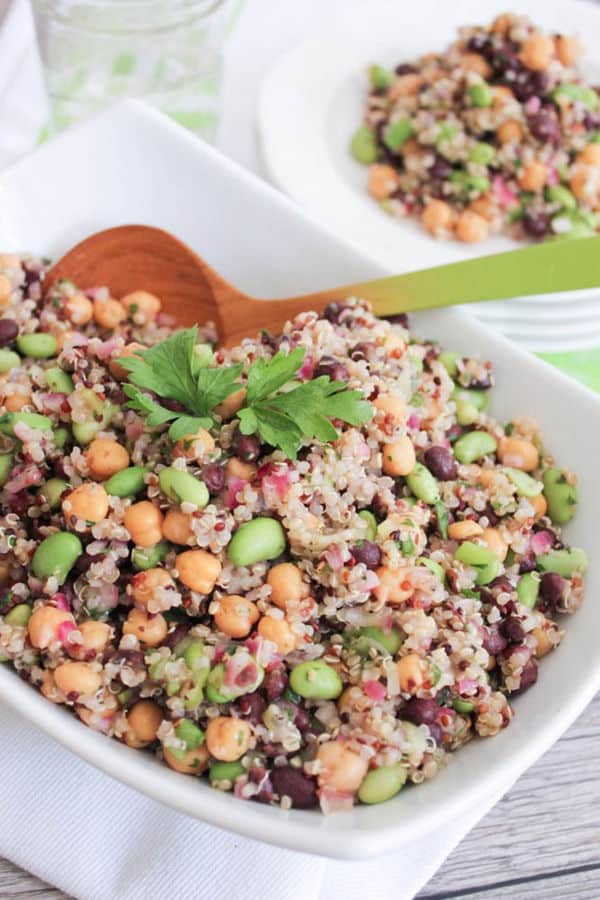 I'm a sucker for hearty salads that fill you right up. I know sometimes you need a light salad if you're going to have a busy afternoon, but I just love feeling satisfied after I've eaten.
As the title suggests, it contains three types of beans and quinoa! What could possibly go wrong? This is perfect lunchbox material too.
Make a bucket load and it will last 2 to 3 days easily. When I said bucket, you know I didn't literally mean a bucket right? Or did I…
Fall Brussels Sprouts Quinoa Salad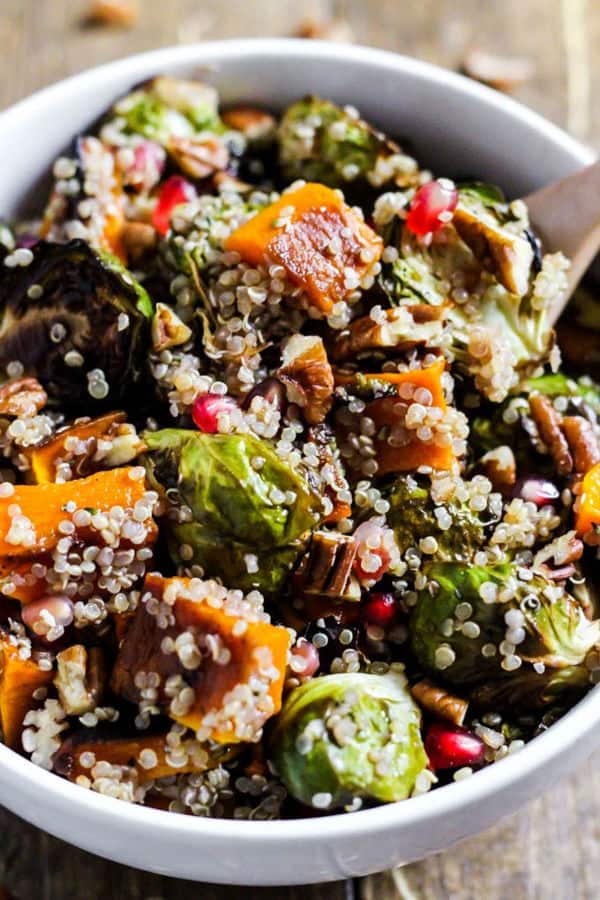 This is one of those dishes that works great as a side dish or on its own. Perfect for Thanksgiving as well!
This is really great salad and leaves you wonderfully satisfied. I think the secret ingredients here are the pomegranate and orange juice. Brussels sprouts and butternut squash go together so well, and this recipe really accentuates their flavors. The quinoa is the icing on the cake for me, it's there in every bite, each grain containing all the flavors of the dish!
Simple Quinoa Salad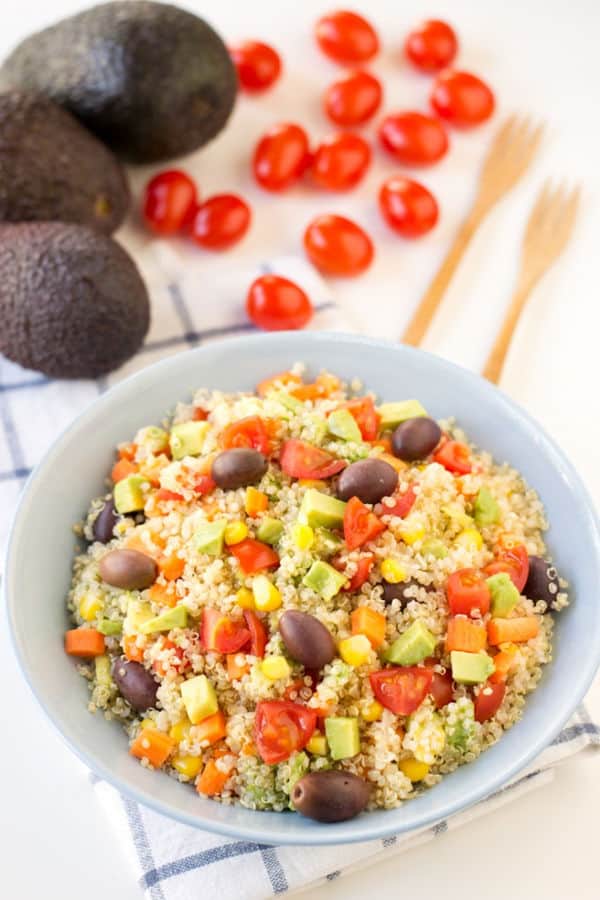 Having a bunch of great recipes is all well and good but you know what it's like, you don't often have all the ingredients at hand. This is not the case with this one!
If you're like me anyway, these ingredients are a staple in the kitchen. You put them all together in the quantity you need and you have a lovely looking and satisfying salad. Whenever I make any quinoa salad, I always make extra for the next day.
Rainbow Quinoa Salad + Phytonutrients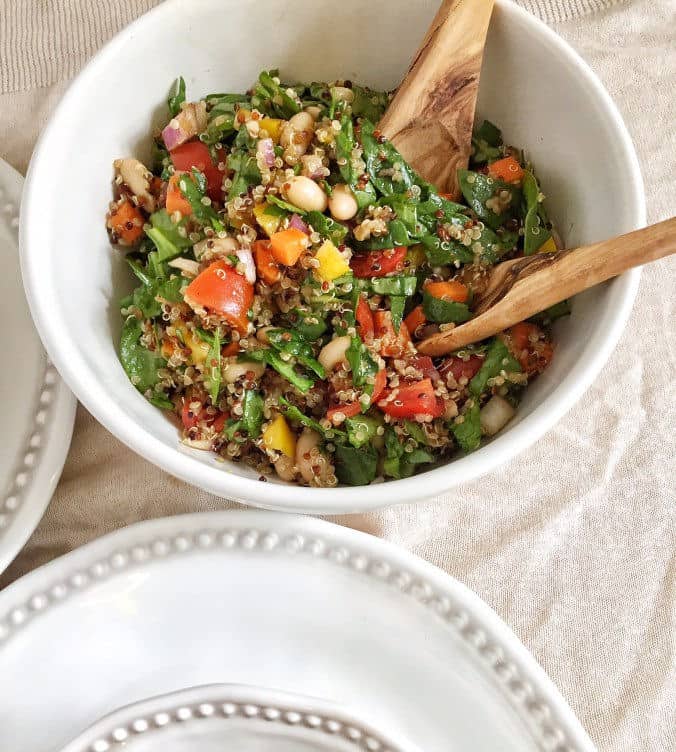 A lot of intelligent thought has gone into this salad. It is super healthy and just lovely to look at. The dressing here is a classic balsamic vinaigrette which always wins.
The white cannellini beans are light, and the quinoa blends so well with the lovely fresh ingredients. Make plenty, place in the middle of the table and get of bowls for everyone!
Rainbow Peach Quinoa Salad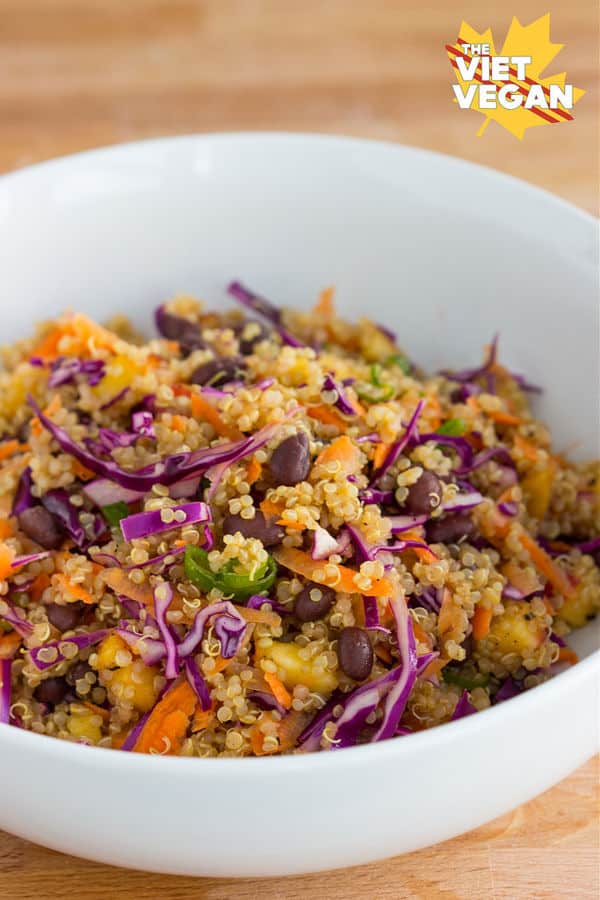 I love a rainbow dish and this one really does look fantastic. It looks good and tastes even better!
It's satisfying without making you feel too full and I like making enough to keep for the next day.
The ingredients are simple and can easily be swapped out if you want to substitute an ingredient or two. It has a classic lemon juice and olive oil dressing. Seriously, what more could you want?
Fava Bean And Quinoa Salad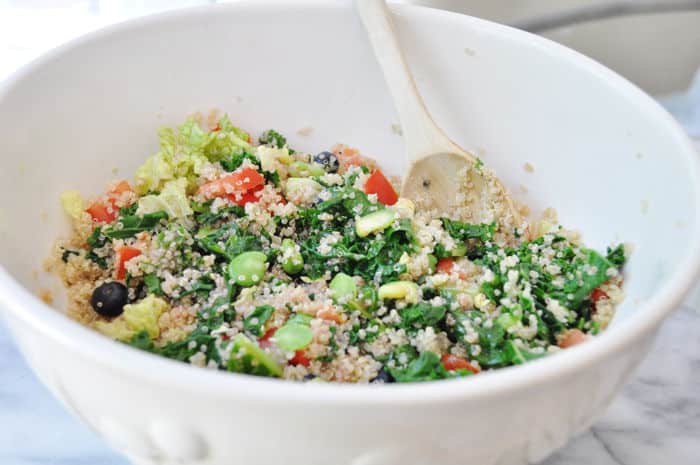 This recipe has probably my two favorite ingredients of all time, fava beans and quinoa. I like these types of salads as they are really easy to eat with a spoon which makes them handy for a lunchbox when out of the house.
This recipe is packed with protein, tastes really fresh and all the flavors just blend together. It's totally moreish so make lots because you are going to want to eat it again tomorrow!
Curried Kidney Beans, Quinoa, Roasted Zucchini, Mango Salsa Bowl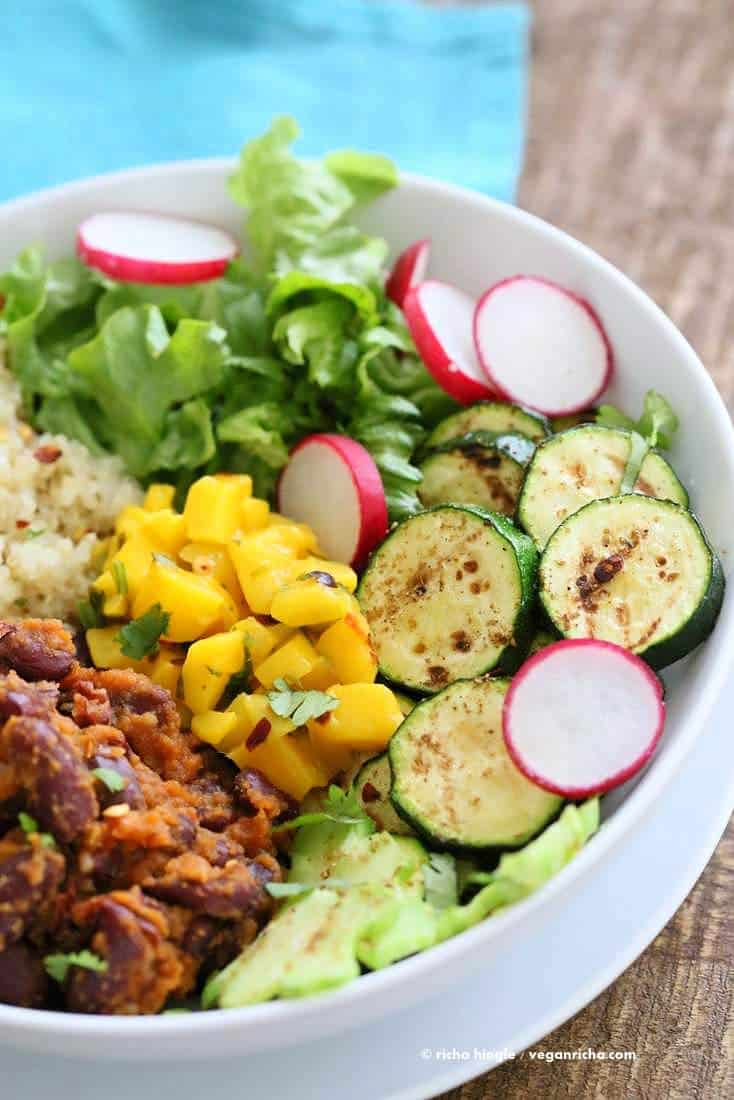 This is another one of those salads which is a complete meal. You can always leave out one of the three main ingredients if you're in a hurry.
It's just too easy to rinse kidney beans from the tin and eat them, here they are curried which is as delicious as it sounds. The beans are not even the main ingredient as they share center stage with roasted zucchini and quinoa. This is a totally amazing and healthy meal!
One-Pot Creamy Quinoa with Kale and Mushrooms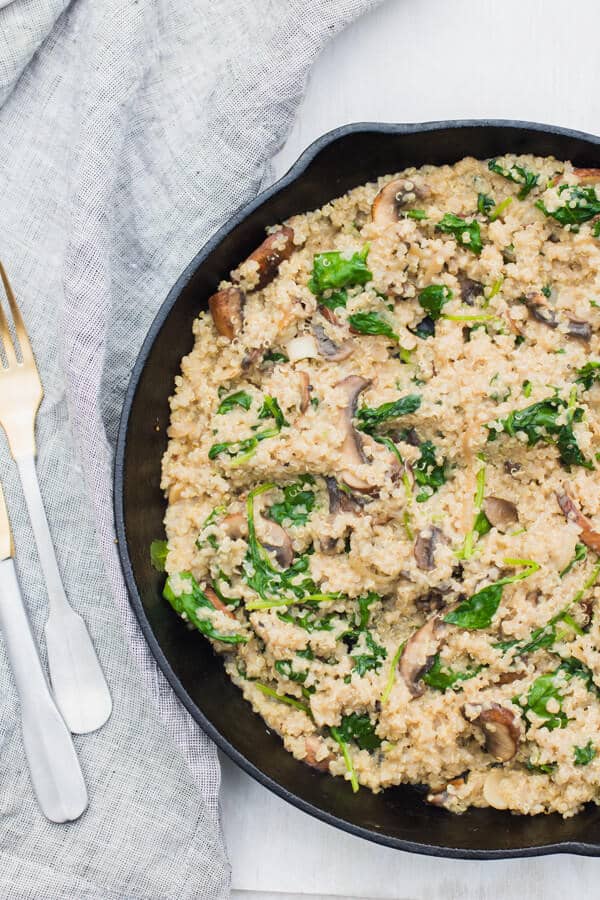 I am the president of the Quinoa Appreciation Society. Okay that doesn't actually exist and if it does, I'm not the president! This recipe has everything I love. Quinoa, onion, mushrooms and more!
When you make it, be sure to make big portions because I guarantee you will want more the next day. You can take it to work or have it in the evening as a main meal because it's so satisfying without leaving you feeling too full.
Papaya Mint Lime Salad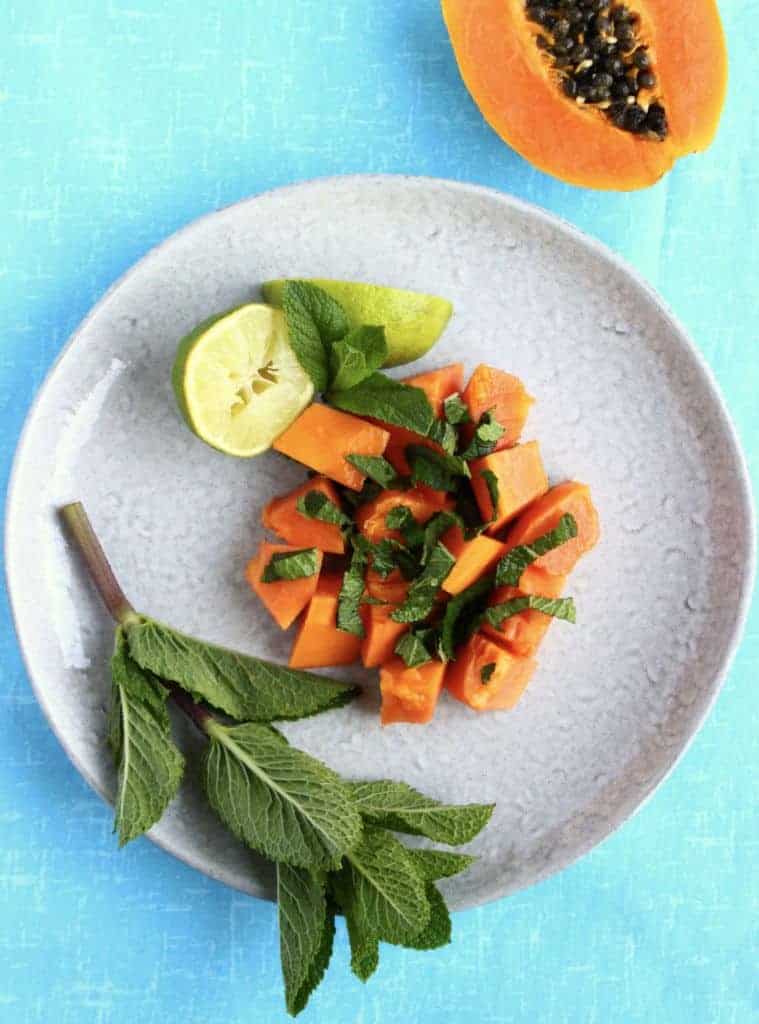 It's very common in places like India and Thailand to eat a fruit salad as an appetiser. Fruit digests very quickly, so it's really sensible to eat it before other types of food and on an empty stomach.
In the West, when we think of a fruit salad, it's usually a bowl of random fruit without much thought going into its preparation. Not with this one.
Some people find that papaya can be a bit of an acquired taste so they either avoid the fruit altogether or don't have it very often. This very simple recipe not only gets you to eat more fruit, but the flavors work so well together you won't believe it until you've tried it.
It's particularly good if you want to impress someone as you can pretty much guarantee they've never had this before. Ideally, you'll serve this fresh, but it'll keep in the refrigerator for a couple of days. Try it!
Wrapping Up
No matter what your diet consists of, I think everyone agrees salads should feature very highly.
Long gone are the days when salads were just a few pieces of lettuce with a couple of other bits on the side; which was uninspiring to say the least.
We made every effort to find not only the best salad recipes around, but the most nutritious and easy to make.
Most of these, you can prepare beforehand and pack in a lunchbox for work or trips.
Fresh ingredients and whole foods are essential to our well-being.
We hope you enjoy these recipes, and if you do make any, go ahead and share it with us in the comments below!