As well as veggie pizza recipes, we looked at different ingredients, gluten-free, dessert and even fruit pizzas!
If you're looking for more of a general roundup without a focus, then check this out, the all-round best vegan recipes we could find.
For now, this is all about pizza, so have your notepad at the ready to jot down your favorites and get your tummy on standby!
Vegan Barbecue Pizza Recipes
BBQ Chickpea Pizza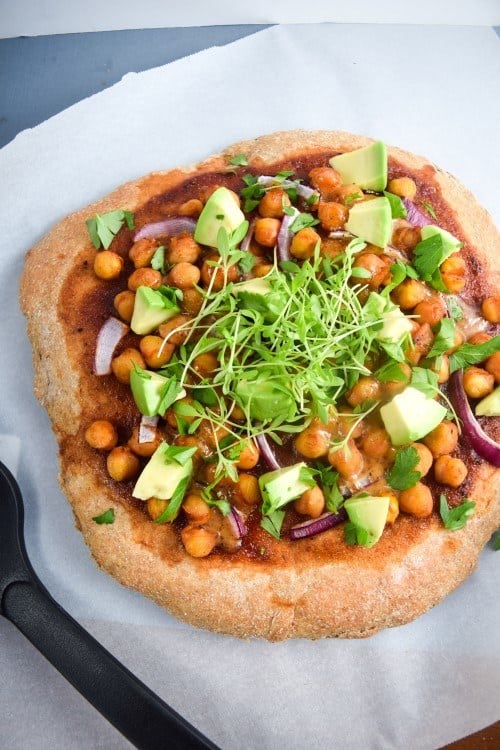 What I love about this recipe is that you can use store-bought dough. We all have busy lives and sure you can make your own, but some bought versions have great ingredients.
The prep time for this is just ten minutes. I really love the garlic almond butter sauce and I want to try it on a salad, is that weird? This pizza is very satisfying and filled with great flavors whether it be the vegetables or the array of ingredients.
Grilled BBQ Jackfruit Pizza with Hemp Seed Cheddar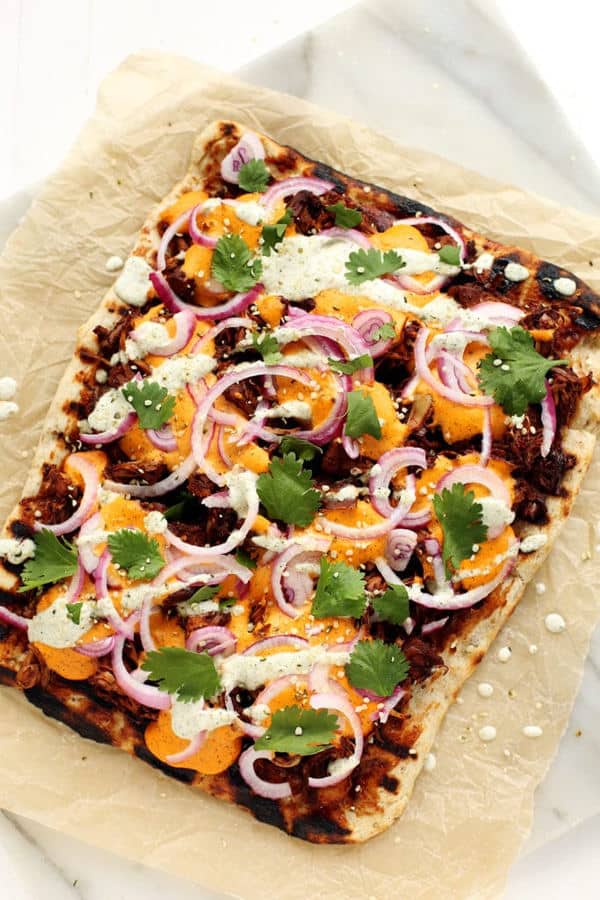 When I first saw this pizza I thought there may be too many flavors. I was utterly wrong. The ingredients all have their place and they blend so well together.
Jackfruit is becoming increasingly popular as a substitute for meat. Yes, it is a fruit but, ignoring its natural flavor, the texture resembles meat.
This recipe is divided into three sections, the jackfruit and how to prepare it, the hemp seed ranch, and the hemp seed cheddar. All three are worthy recipes.
If you have any friends that believe all pizzas should have meat, make this for them. They will love it!
Hawaiian BBQ Pizza with Cashew Parmesan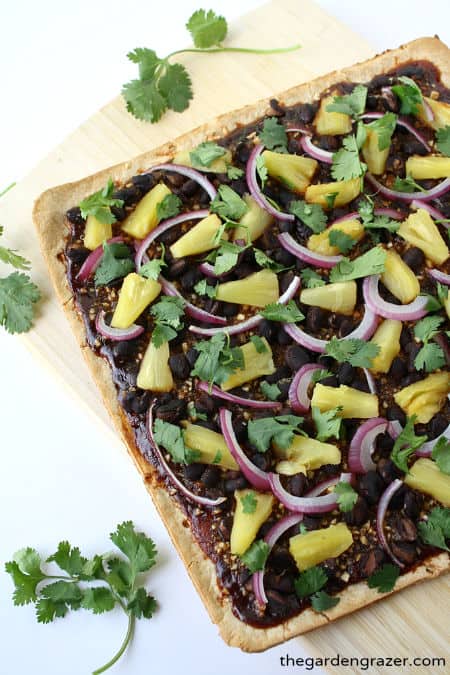 Yes, you guessed it, this pizza has pineapple! It tastes totally fresh, light and extremely satisfying.
I normally make vegan parmesan by pulsing pine nuts and nutritional yeast flakes in a food processor. I have never tried it with cashews. It's a fantastic alternative! This is a wonderful pizza and, like all good pizzas, great for leftovers!
Hawaiian Barbecue Chicken Pizza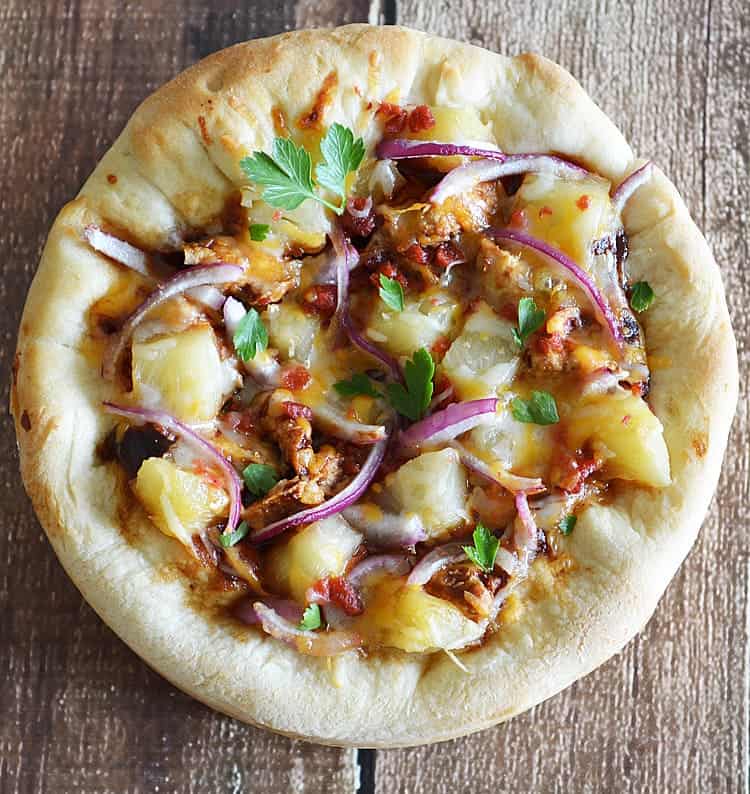 What I find amazing about this pizza is that the author says this could be cooked using a grill! We baked it in the oven on a pizza stone but somehow, I found the grill option fascinating!
Do note that the 'chicken' and 'bacon' references are vegan, obviously, I just wanted to make it clear! As you look down the page for this recipe you will notice how thick the crust/base is.
The great thing about pizzas is that you can shape the base to whatever your preference is. Aside from all of this, this is a solid pizza recipe with a well thought-out list of ingredients. High five!
Vegan Breakfast Pizza Recipes
Breakfast Pizza with Tofu Scramble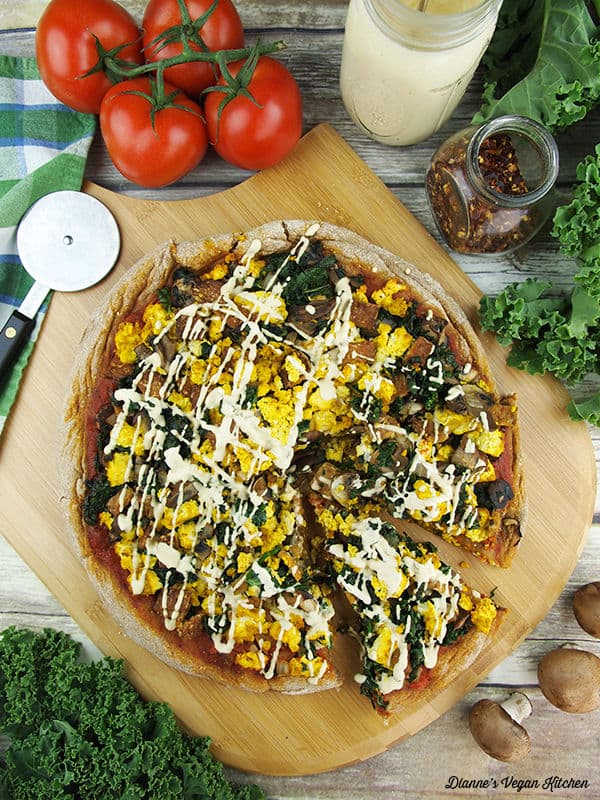 Pizza for breakfast? Why of course! Who hasn't had pizza for breakfast? It's like, the law. Well, this recipe goes one further by creating a fabulous vegan breakfast, and then serving it on a pizza base!
We have tofu scramble which is garnished with great herbs and spices, including nutritional yeast for that cheesy flavor. Then we also have a bunch of vegetables including mushrooms and kale. A hearty start to the day that will keep you going forever!
Cheezy Breakfast Pizza with Smoky Tempeh Bacon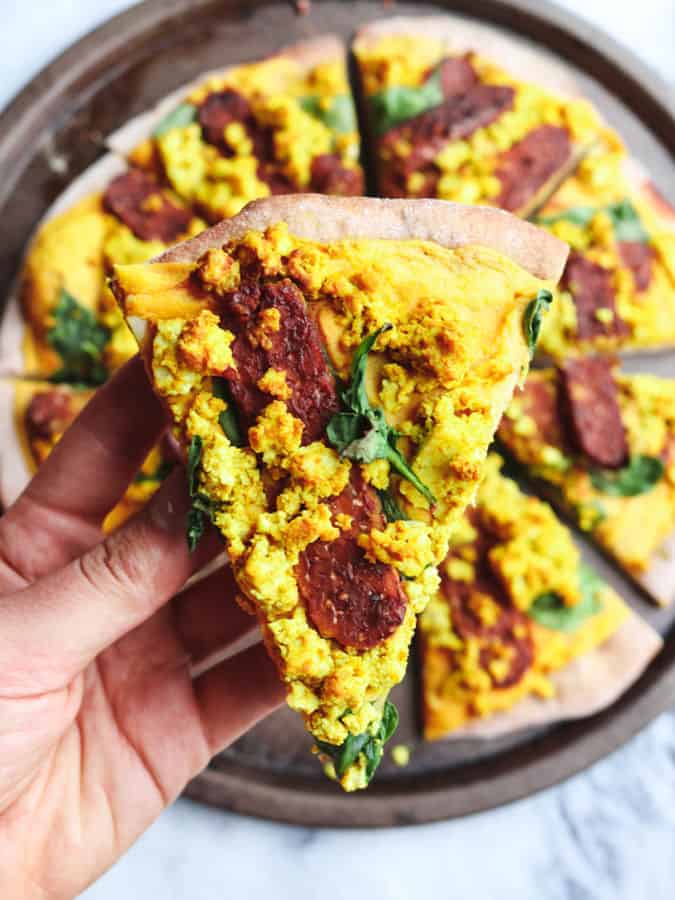 If you're looking to start your day with something super savory that will fill you up, then here we have the breakfast of champions!
There is some preparation here as you would expect, so maybe save this for the weekend, it would make a perfect brunch.
The smoky tempeh bacon is incredible and a recipe all on its own.
VegByte Tip: If you want to have this for an early breakfast, make it the night before and refrigerate. Then either eat cold or quickly zapped with a burst of heat!
Breakfast Pizza with Shiitake Bacon and Tofu Scramble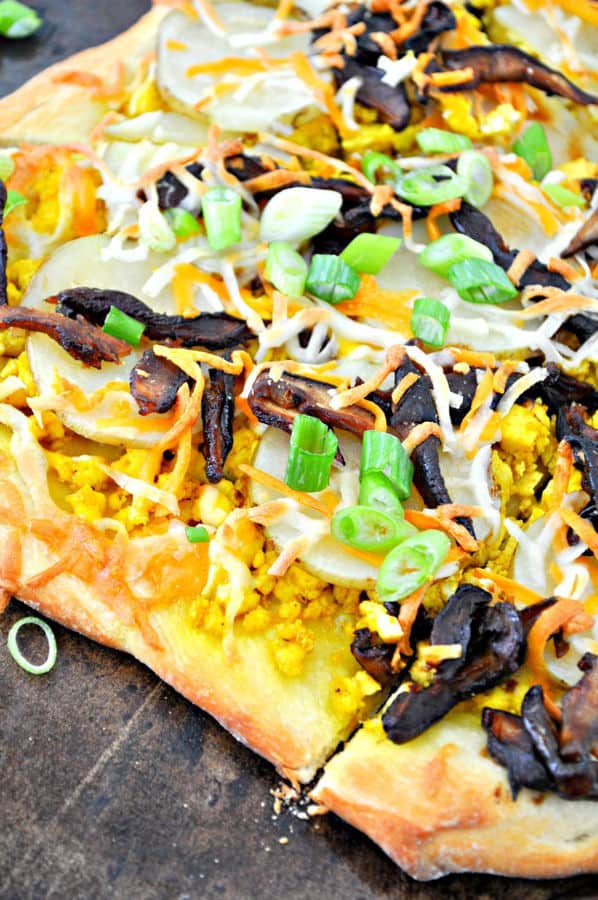 I really love this pizza because it's hearty and filling so will keep you going for hours. Yet at the same time it's light in a way where you won't feel full afterwards.
The recipe is divided into three sections, the base with its standard toppings, the tofu scramble, and the shiitake bacon. I can tell you that the base with toppings of russet potato, vegan cheese, green onion and more is a delicious pizza right there. Add the rest and you're in pizza heaven!
Breakfast Pizza with Mushrooms and Veggie Sausage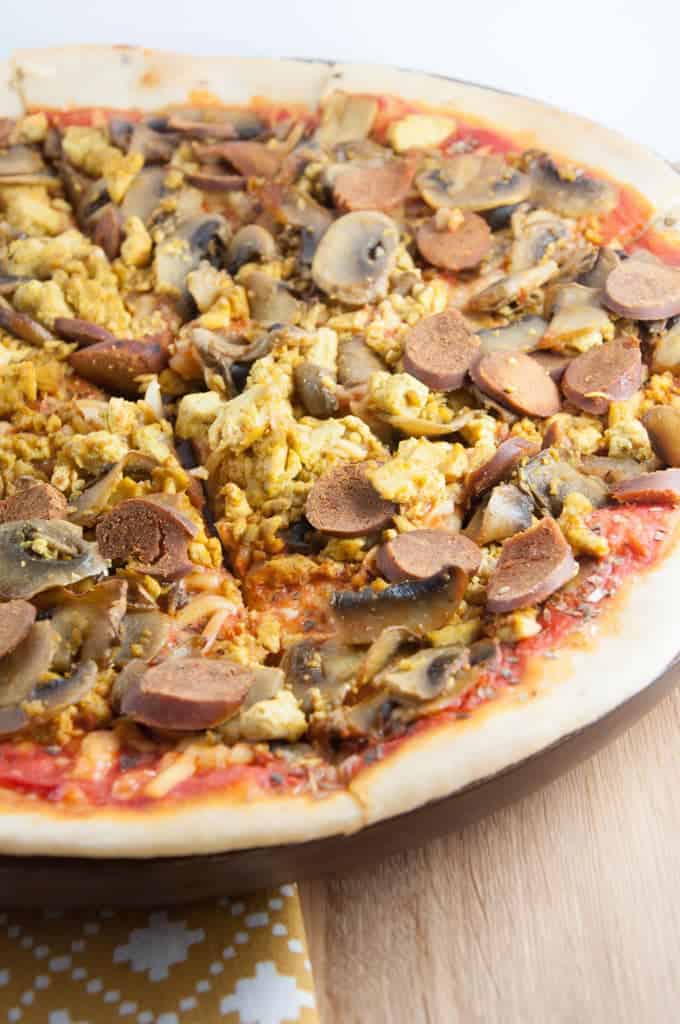 This is a fantastic breakfast pizza recipe. It's like protein city on a pizza! There's everything on here from tofu, curry powder, veggie mushrooms and more.
The instructions do include steps on how to make the dough from scratch, of course, you can skip all of this and use a store-bought version to save yourself some time. Perfect for breakfast or dinner and any leftovers store easily.
Pear and Apple Breakfast Pizza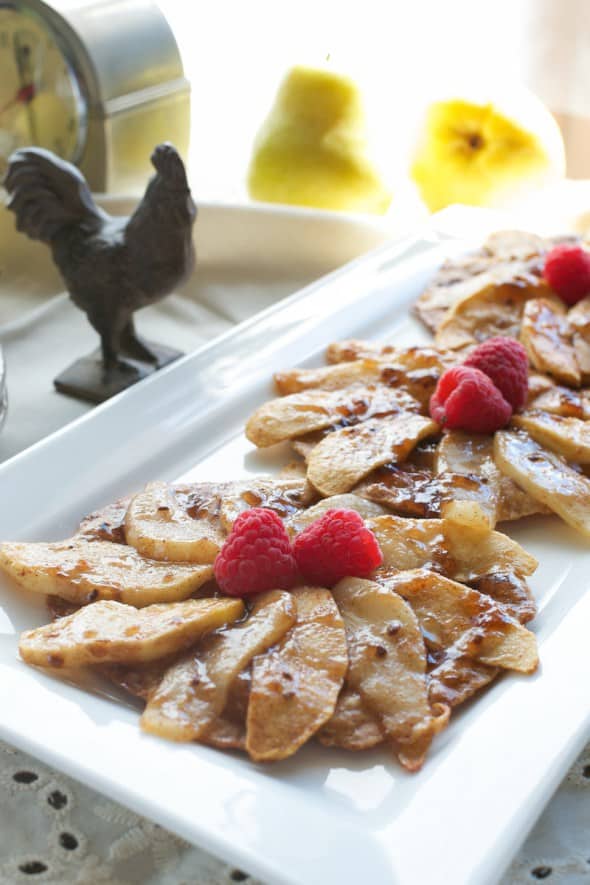 So far, I think it's fair to say that we haven't seen the healthiest breakfasts in this roundup.
I'm not complaining, we chose these great recipes and we don't want to be healthy all the time, do we?
One could argue this isn't really a pizza. Connoisseurs will definitely get upset about this being called a pizza!
But you know what? It's okay.
This is sweet, fruity and one of my favorites.
2-Ingredient Lentil Crust Pizza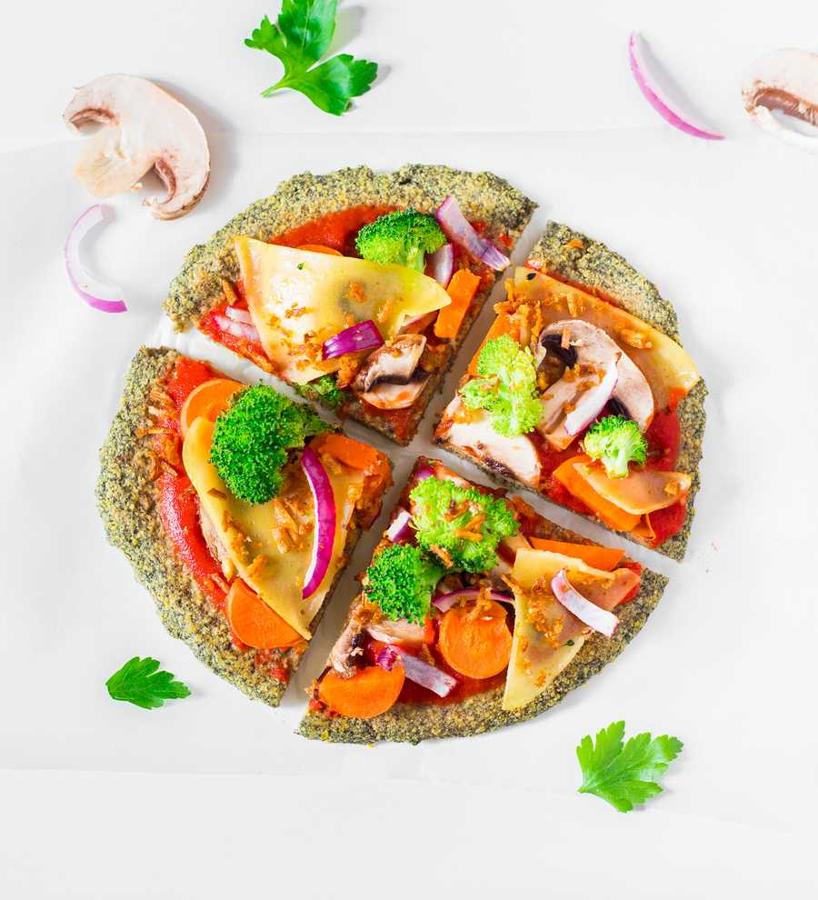 I really love this recipe for so many reasons. It's simple, for one. I mean, it's two ingredients, lentils and water. You can't get much simpler!
I love making pizza from scratch. It's a great way to get creative in the kitchen without having to think too hard! This crust is the perfect base for just about any style of pizza you can imagine.
You can use tofu scramble and soy chorizo, or the myriad of suggestions of fresh veggies in the recipe. It comes together in about 20 minutes and gives you energy to go for hours!
Pizza for breakfast isn't just for college kids. And unlike chain pizza joints, this won't leave you feeling bloated or stodgy. With this recipe, pizza is wholesome and nutritious for everyone!
Granola Breakfast Pizza (Gluten-Free)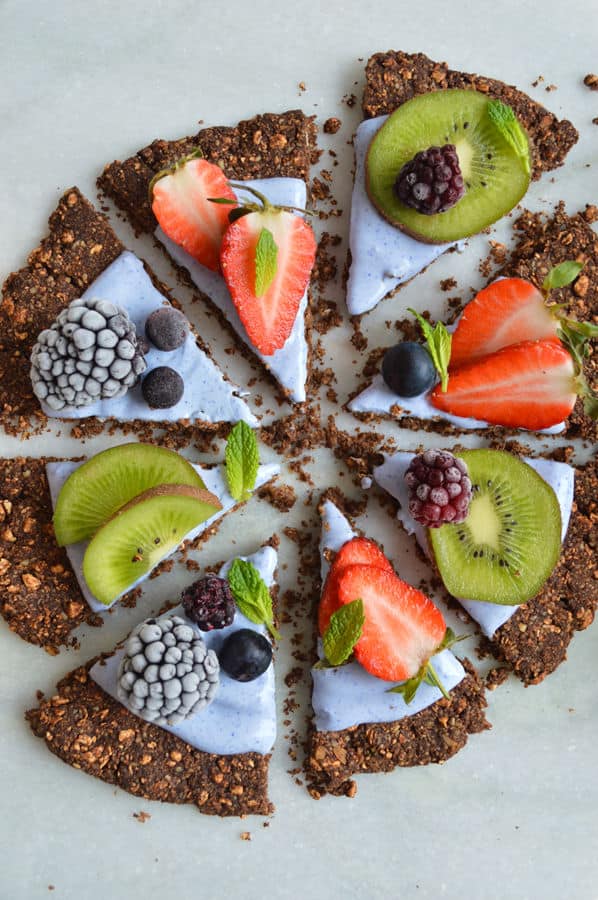 Okay, if you're looking for a healthy pizza that is also easy and quick to make, look no further.
When I first saw the picture, I thought you needed a dehydrator to make the base, you don't!
Can you believe that once your oven is preheated, this just takes twenty minutes from start to finish.
It makes for a great brunch and you can add your favorite fruits as toppings. Load them up!
Breakfast Pizza (Pizzert)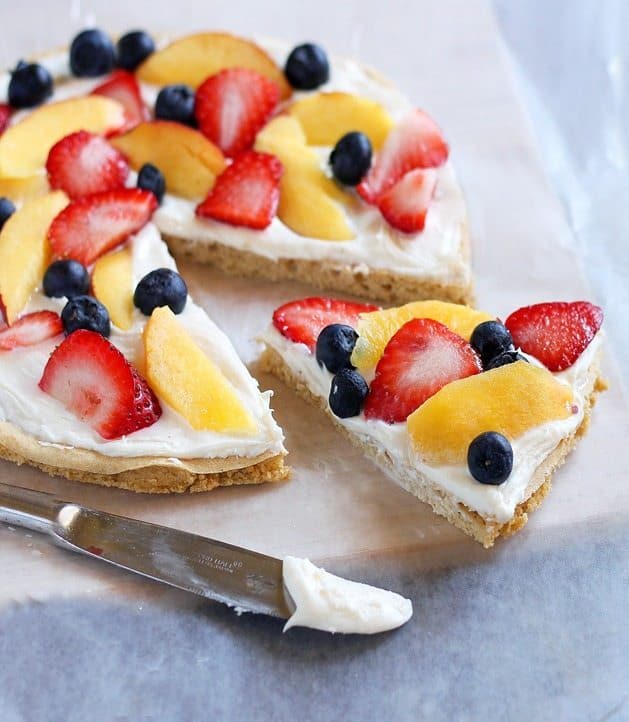 This pizza is a sweet frosted healthy bundle of joy! As somebody famous once said, "It's a pizza Jim, but not as we know it!"
The amounts in the ingredients serve two, although I'd like to challenge that! This tastes incredibly fresh and will leave you feeling fantastic. It reminds me of something you would see at an expensive hotel for breakfast!
Healthy "Nutella" Breakfast Pizzas (Sugar-Free)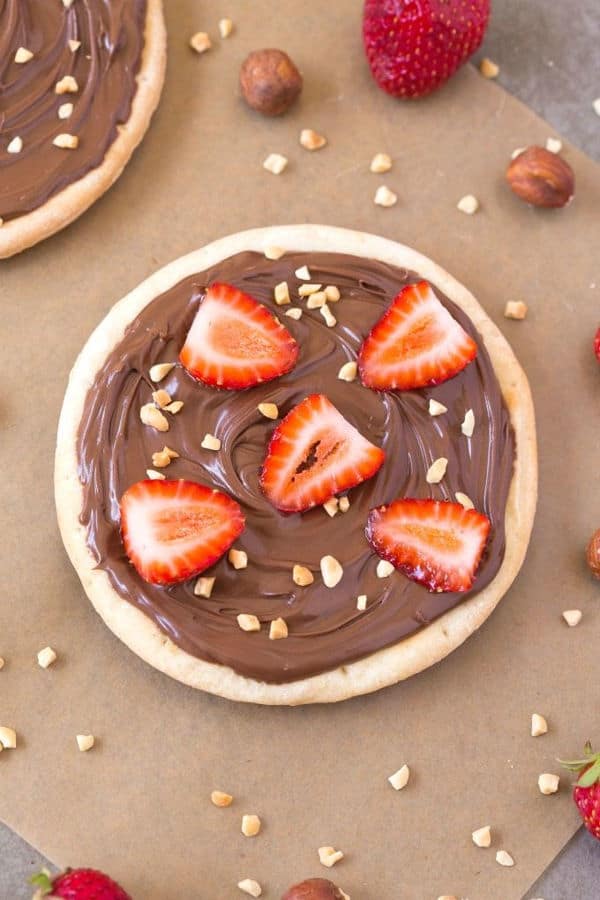 This is probably the quickest pizza ever seen, including prep and cooking time, you're looking at ten minutes or less! That's incredible!
It's a very versatile recipe, you can use your milk of choice, whether it's almond, soy etc. and you could easily add fruits as toppings as well! I didn't make this with the chocolate spread listed, I used an organic kind and it was delicious!
Peanut Butter Banana Breakfast Pizza (Gluten-Free)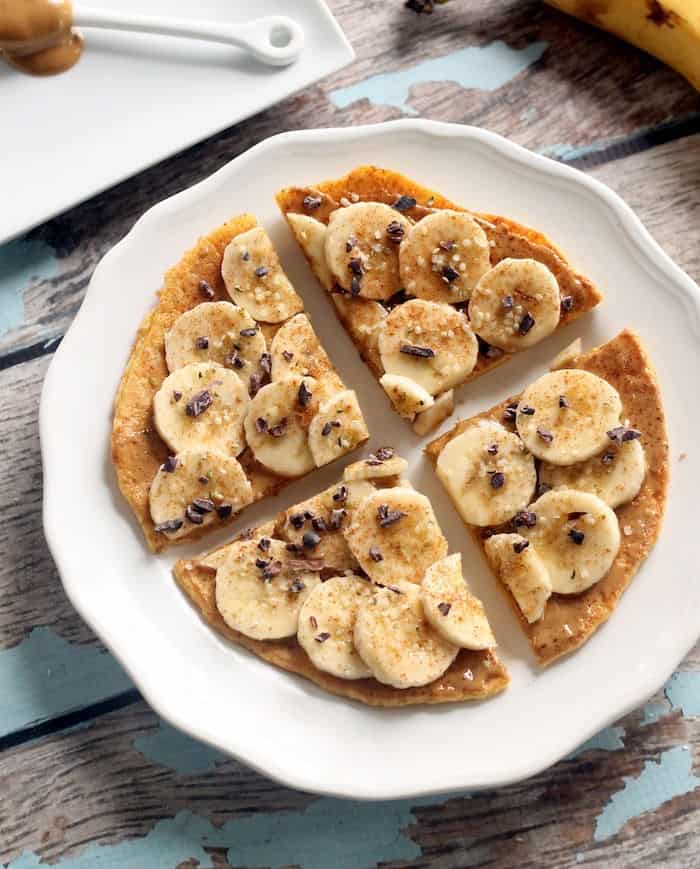 Everybody knows peanut butter and banana were made to go together, I prefer it as a sandwich filling much more than PBJ! Now, it's on a pizza!
This is so much more than a straight up banana and peanut butter topping. You have maple syrup, cinnamon, vanilla and, of course, you can add whatever you want too. Very healthy, full of protein and all the good stuff. Will keep you running for the rest of the day!
Vegan Chickpea Pizza Recipes
Chickpea Pizza with Shaved Asparagus Salad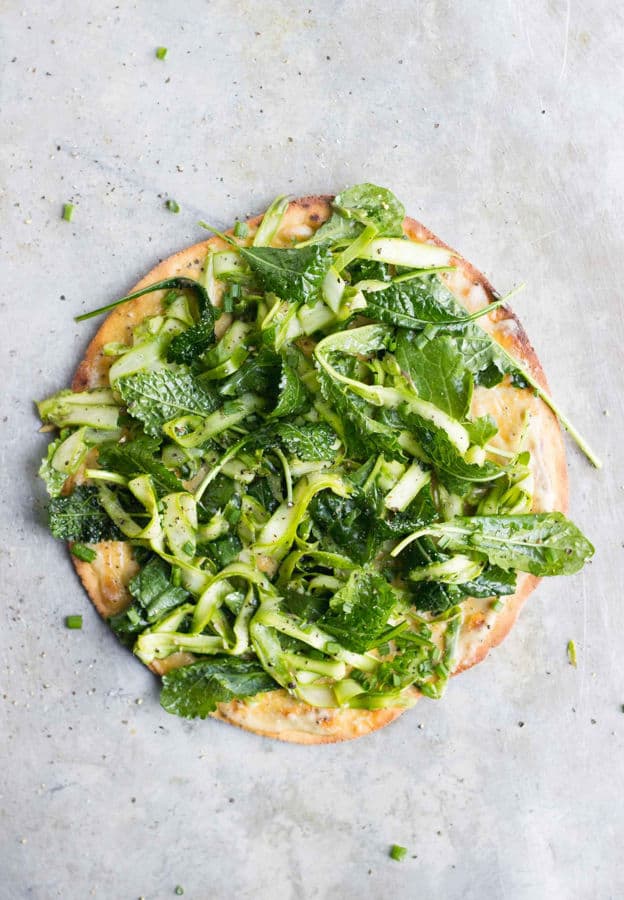 Want a healthy green pizza? Here it is. You know, even in Italy, not all pizzas are the same. In fact, Italy varies so much in terms of food. Each region has its own way of making things.
I saw pizzas like this in northern Italy thirty years ago. I'm just trying to say it isn't a wacky idea that someone has just thought of.
I love the base of this, it uses chickpea flour, so if you have any problems with wheat, try this! If you follow the recipe you are guaranteed a fantastic experience.
Just don't forget you could easily adapt it depending on what vegetables you have in the kitchen. Very healthy and your body will thank you. Comes together in twenty minutes!
Chickpea Flour Pizza with Hummus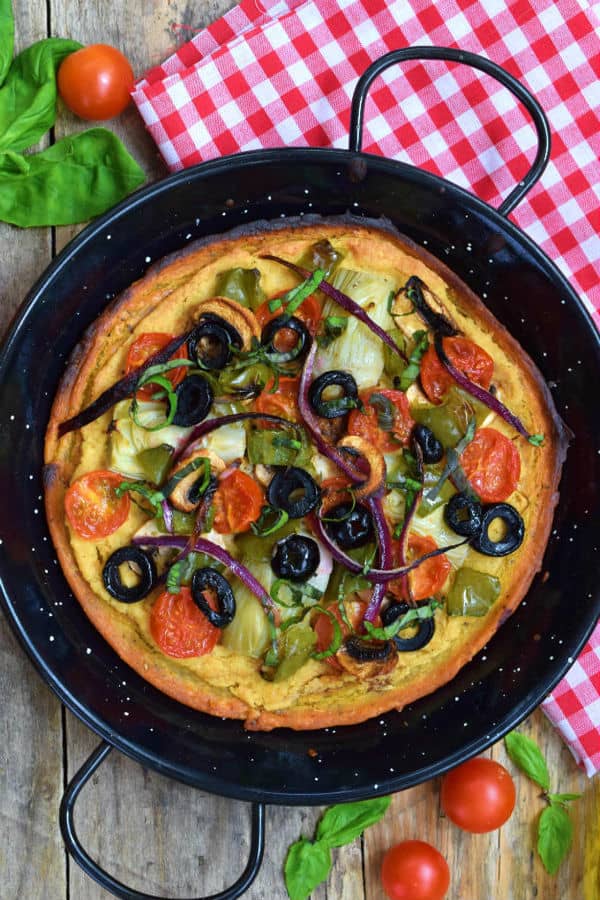 Chickpea flour is used all over the world, a lot in India and a lot in Italy as well, particularly northern Italy. They make this pancake called, 'Farinata' which is gluten-free and often eaten as a quick snack or with salad. Point is, it also makes a great base which is what we have here.
I really love the toppings on this, there is absolutely nothing I would add or take away. Full of Mediterranean flavors and totally delicious. Eat on its own or with a fresh salad. Delicious!
Thai Chickpea and Veggie Pizza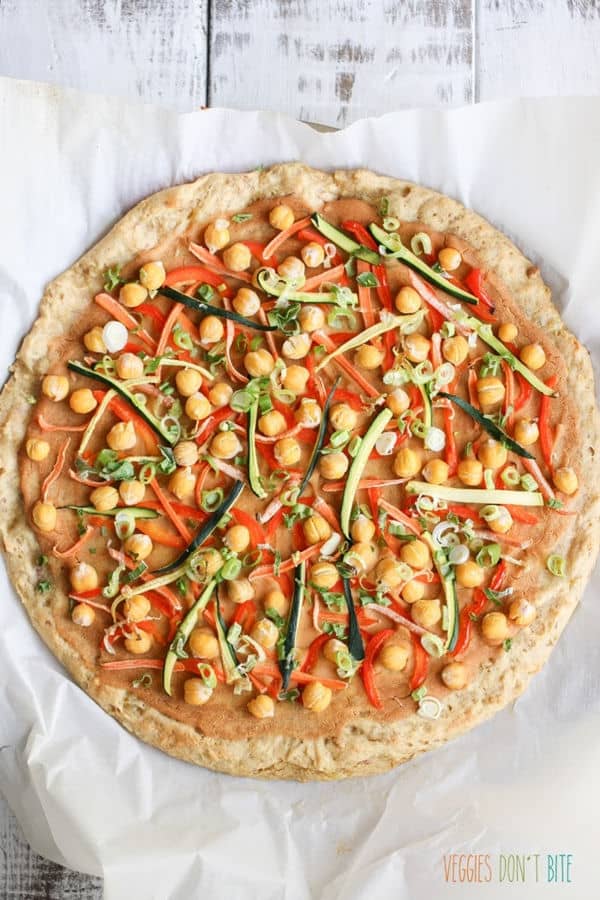 A Thai pizza? You bet! This is very simple to make and is a great twist on what you may expect. Perfect if you're looking to surprise someone with something healthy and delicious.
The sliced zucchini goes well with the red peppers on this and you get green onions as well! For that Thai flavoring add the peanut sauce as instructed. Perfect for that summer's evening. If you are unable to get peanut sauce, be sure to make it ahead of time so it's ready for when you make this pizza.
Buffalo Chickpea Ranch Pizza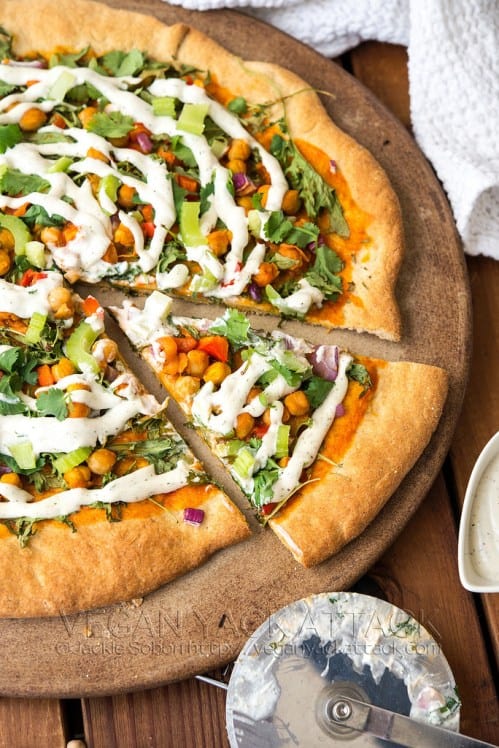 When you want to bring out the pizza big guns, pull-out this recipe! It's a full recipe so even has the ingredients on how to make the base. Obviously, if you can source a good quality store-bought crust, do so to save yourself some time.
The ranch dressing recipe included is just incredible and I will be using it on salads from now on. The toppings are great, obviously versatile but if you can go with what is suggested, you will be guaranteed a great pizza!
Pizza With Chickpea Crust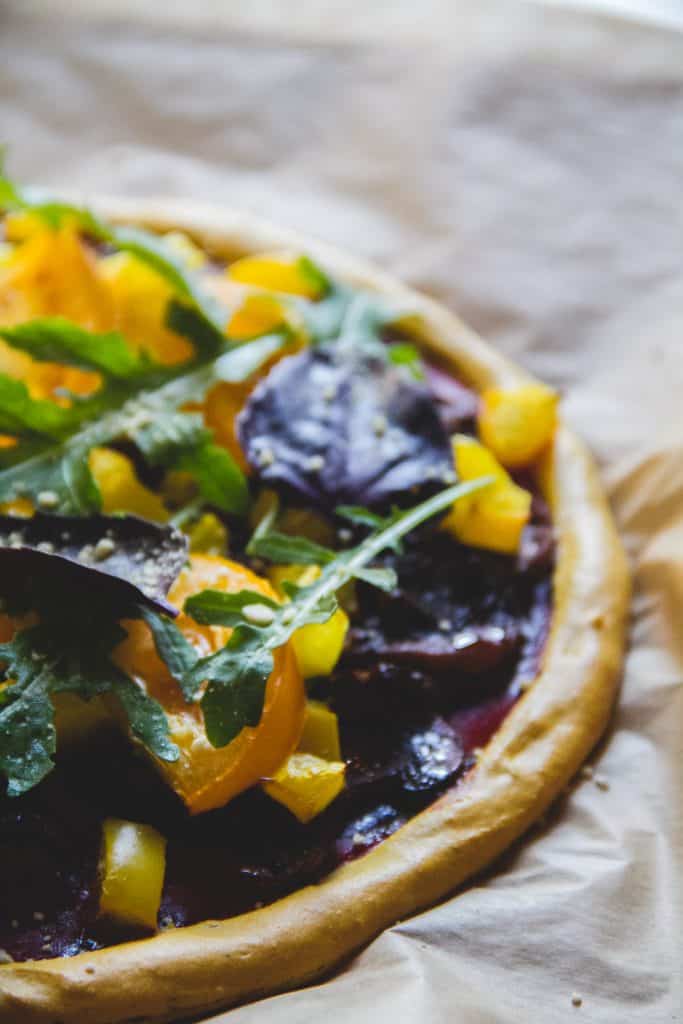 This is probably one of the best gluten-free pizza crusts I have come across. I have seen many made with chickpea flour, and while they are all good, none come out quite as good as this!
I really love how the tomato paste gives it a feeling of a traditional pizza.
Some recipes use the word pizza, but it doesn't resemble anything like what you're expecting. There's nothing wrong with that, with this there is a sense of familiarity. The ingredients are fresh and if you like arugula, go for it!
Chickpea Crust Pizza with Greens Galore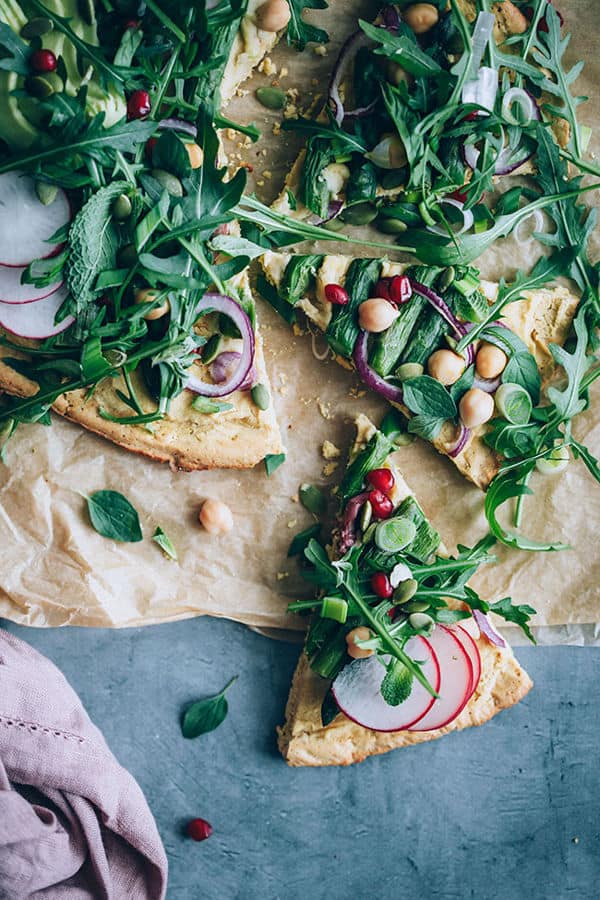 You want to pizza, but you think they're all unhealthy. Check out this one. You get the same satisfaction and you certainly won't be hungry, plus is loaded with healthy city!
Obviously, you can use whatever toppings you prefer although if you can follow this recipe you will be guaranteed a delicious treat. It comes together in thirty-five minutes or less which is not bad at all given that the pizza crust is made from scratch, it's gluten-free too!
Chickpea Crust Pizza with Walnut Pesto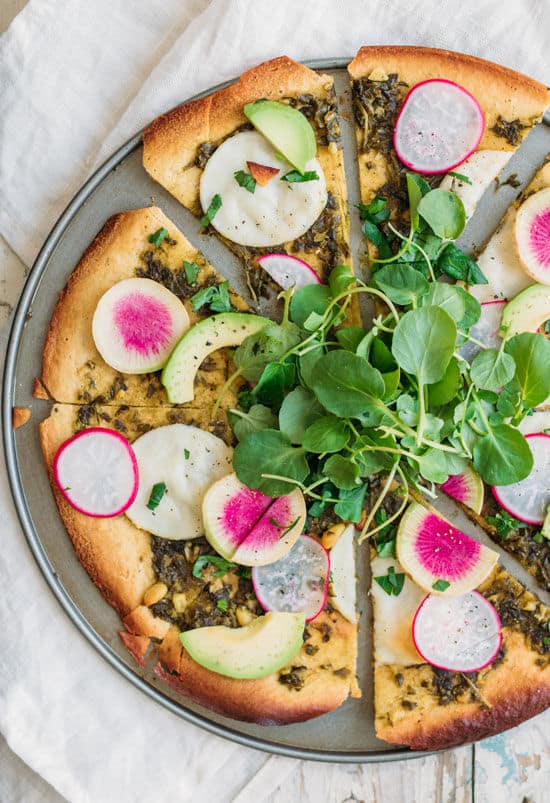 This pizza is grain free and just what you need when you have a craving. Of course, it's vegan and gluten-free as well.
If you've never used chickpea flour to make a pizza crust, I promise you're really missing out. There's none of that adding yeast and then waiting for it to mysteriously rise. That's all valuable time that we are wasting!
The pesto included in this recipe you make from scratch and is a recipe all unto itself. The toppings are simple and obviously you can use whatever you have in the kitchen that needs eating. Great recipe!
Vegan Dessert Pizza Recipes
Pumpkin Pie Dessert Pizza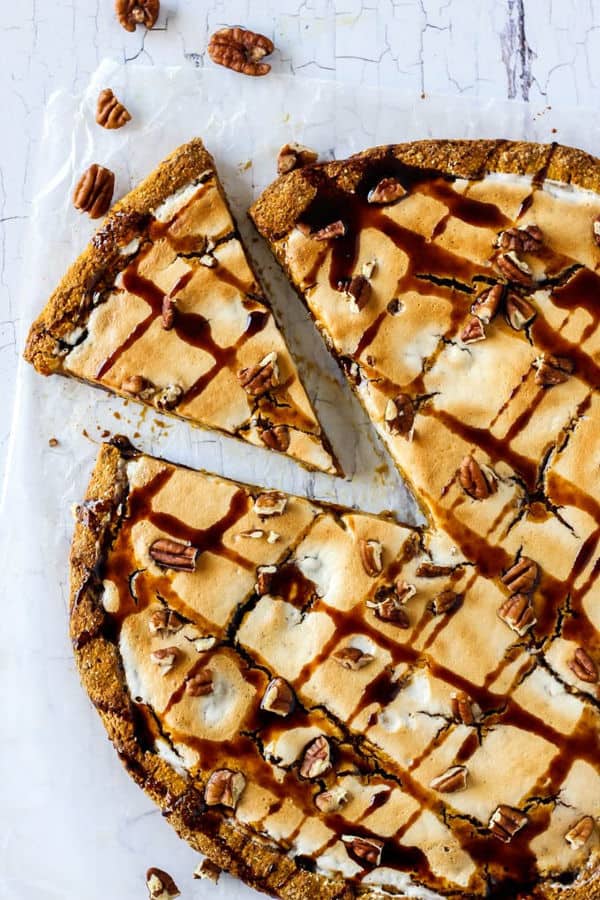 Gluten-free and perfect for the holidays! Give that traditional dessert a twist by putting it on a pizza and this will get your family and friends wondering. After all, who wants to be like everybody else, right?
I love how the molasses is drizzled over the pizza right at the end. This is incredibly easy to make and comes together in forty minutes or less.
The ingredients make for about 8-12 portions so adjust as necessary. Some great flavors, cinnamon, nutmeg, vanilla and so much more!
Raw Dessert Pizza with Berries and Kiwi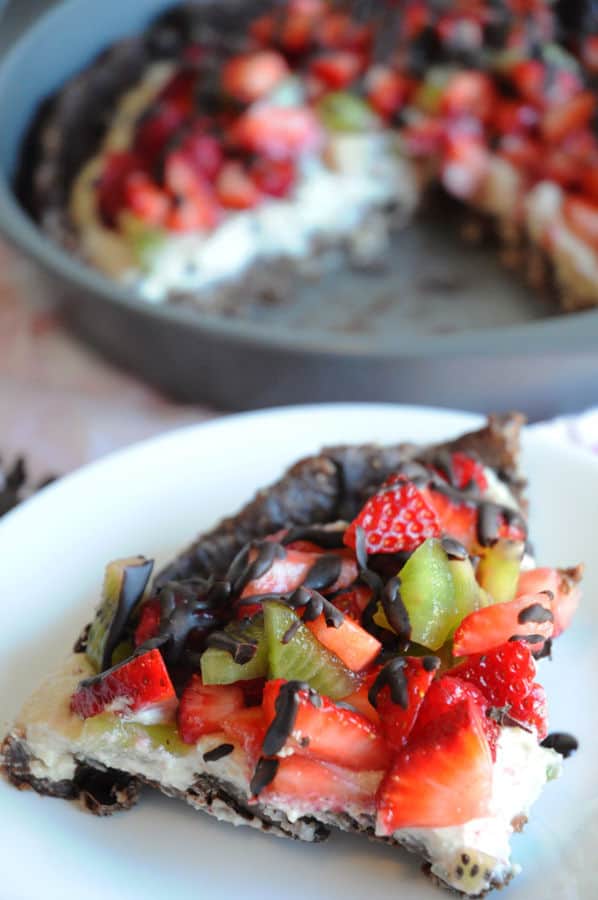 If you've never had a raw dessert before, please make this! For those new to the concept, raw dishes are made from ingredients in their natural form.
In this case, for example, the 'cream' is made from raw cashew nuts that have been soaked and blended with a few other ingredients.
Raw desserts are fantastic. Every single one I have ever tried has been outstanding.
What you don't get is that heavy and sometimes bloated feeling like you would with cooked alternatives. Would you believe these are healthy as well?
A healthy dessert, what do you have to lose? A special treat when you want to impress someone.
No-Bake Blackberry Dessert Pizza (Gluten-Free)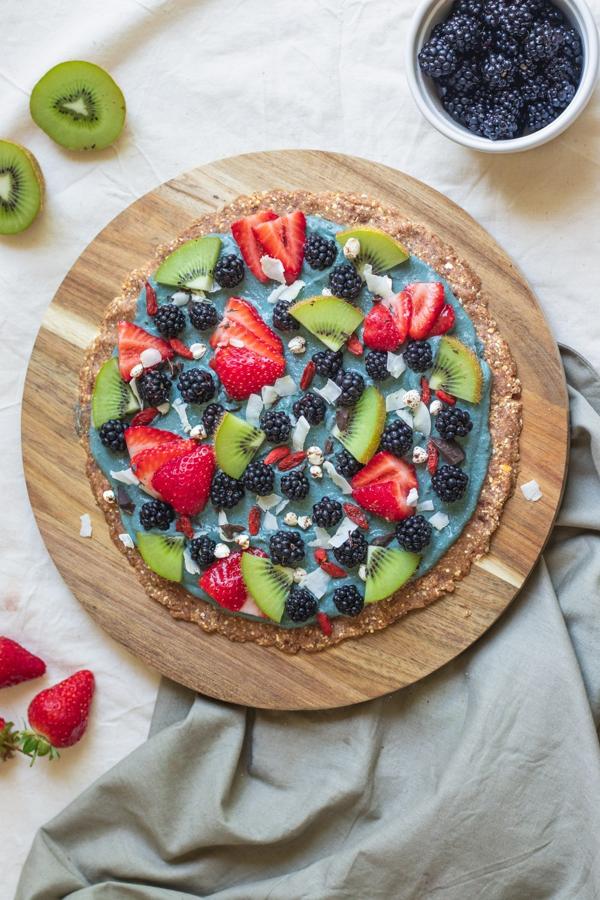 This no-bake blackberry dessert pizza is a delectable treat for any meal, any day of the week. From start to finish, including firming time in the fridge, it takes about an hour. If you prep the crust ahead of time, it takes even less.
The ingredients are wholesome, easy to find, and gluten free! And with the large array of toppings, the only limit is your imagination.
This pizza would be a great snack to create with your favorite little humans. Yet, it's sophisticated enough to please your fancier adulty type people, too. In short, everyone will dig into this dessert!
Chocolate Caramel Ice Cream Pizza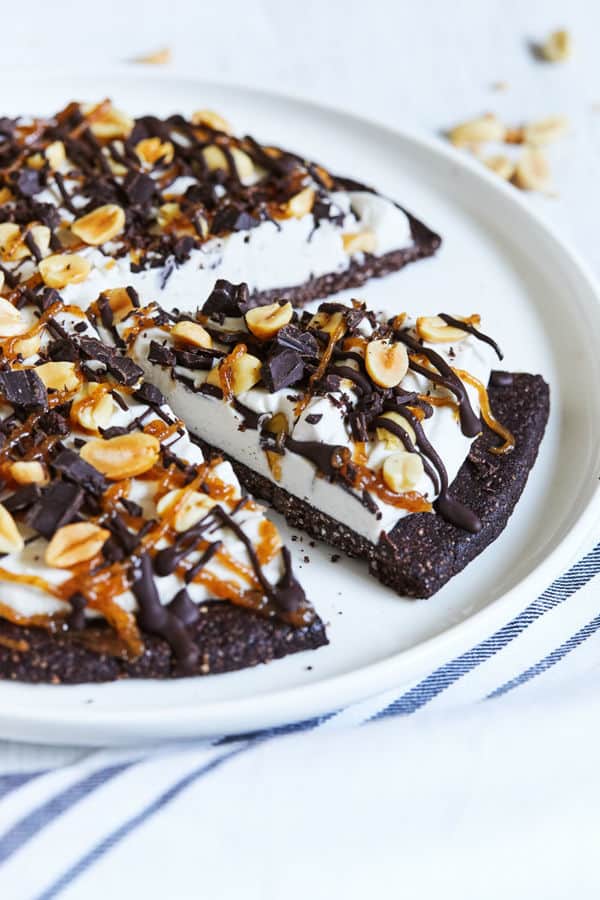 Before you go thinking this is unhealthy, remember that we're talking coconut cream! Come on now, you're hooked right?
Just look at that picture, if you don't want to at least taste it then you should see a doctor right now.
If you go for the salted peanuts, the combination of that flavor and how it contrasts with the caramel made from dates (this is a separate dish linked in the recipe page), chocolate and maple syrup, your taste-buds will be having a party!
American Flag Dessert Pizza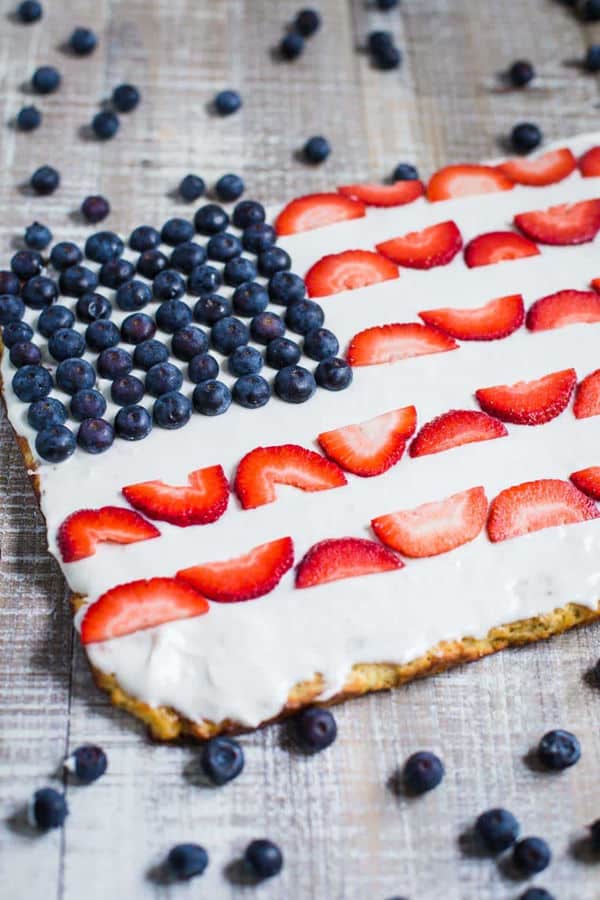 Whoever thought of this was a genius. The idea is so simple and yet look at how effective it is. A wonderful dessert, great for the holidays and perfect for Independence Day!
This is incredibly easy to make. What I will not say on this occasion is that this recipe is versatile, and you can use the toppings of your choice.
You can't! You really must make this the way it's shown. It's too perfect!
Dessert Pizza with Raspberry Sauce (Gluten-Free)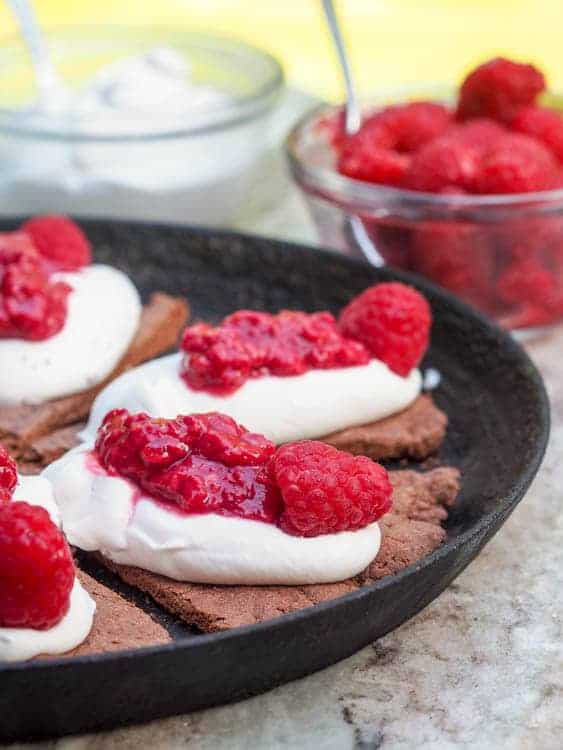 A fantastic healthy dessert. The cream is made from whipped coconut and the raspberry sauce simply could not be easier to make. Great for the summer!
This all comes together in less than half an hour and if you look at the ingredients you will see there are just a handful of them.
If you want to surprise the family with something that looks and tastes great, look no further. Beware though, you need to make a lot because they will go in a flash!
Vegan Dinner Pizza Recipes
Super Thin Tortilla Crust Pizza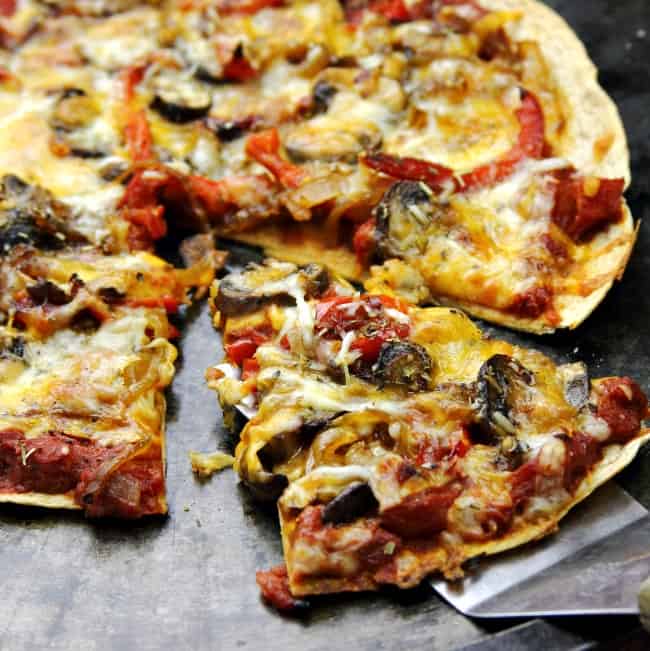 When you want that pizza fix, but you don't want the calories! Here you're guaranteed a thin and crispy crust and the base is made for you!
You'll need two tortillas for the base to stop the sauce soaking through. As you look through the ingredients, you can see how easy it is to create and you'll probably wonder why you didn't make this before. Just a fraction of the calories of a regular pizza and without all that dough!
Missir Wot Pizza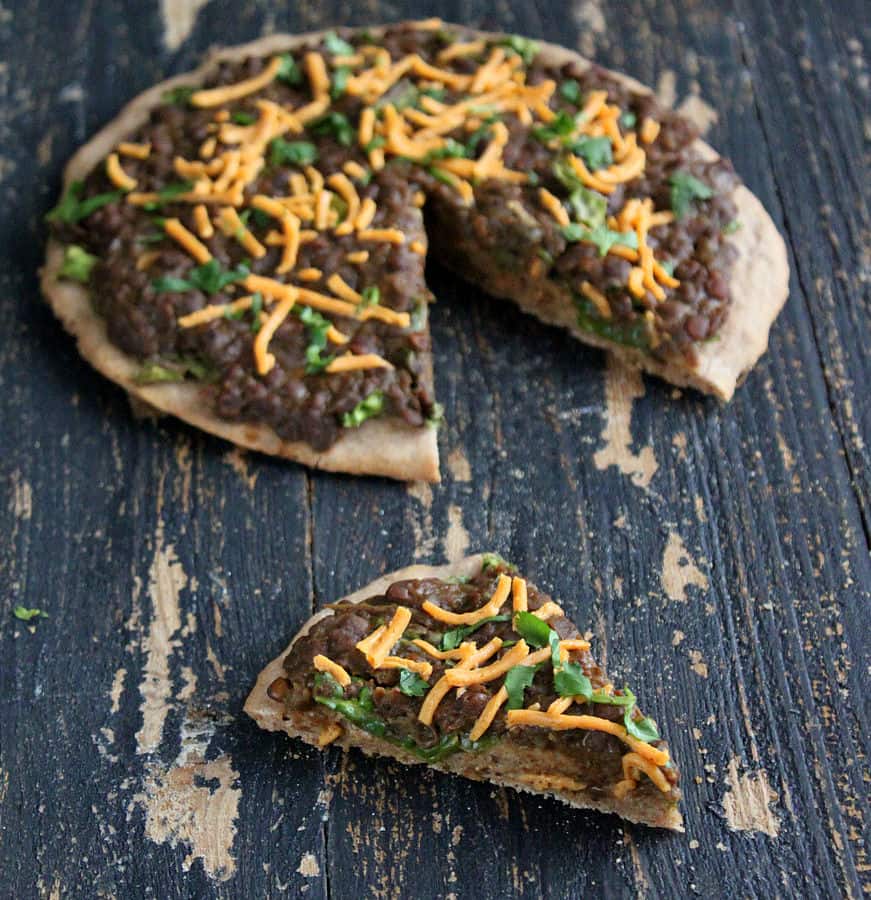 If you're wondering what this recipe name is all about, so was I. After doing a little research on the recipe page itself I learned that this is an Ethiopian inspired dish.
Make no mistake, this is not a quick recipe, you're looking at over three hours to complete this.
Please don't let that put you off. When you want something for a special occasion and you want to surprise your guests with something you can pretty much guarantee they have never had before, this is it!
The flavors combine beautifully and it all works in harmony. Fantastic recipe.
Vegan Buffalo Chicken Pizza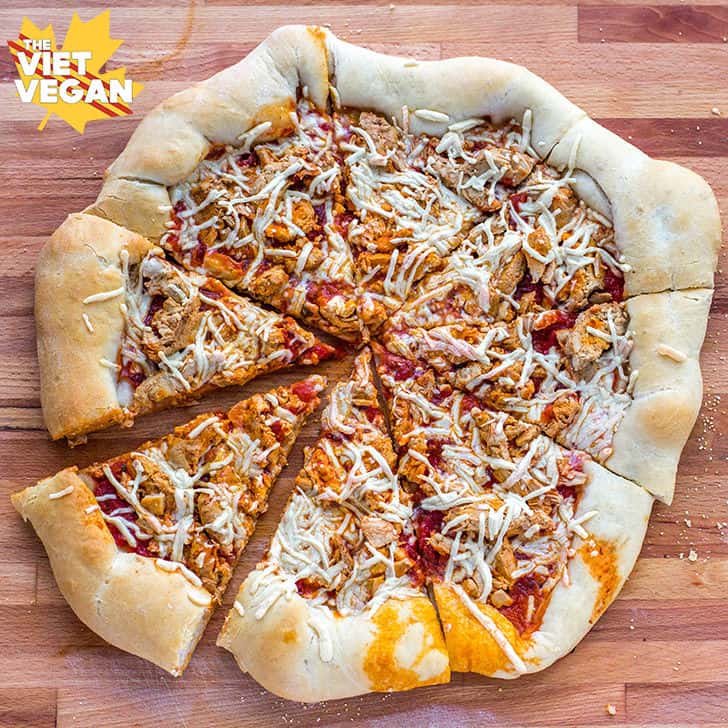 This is a beast of a pizza. The recipe includes everything from the toppings to making the base from scratch. If you want to save yourself some time and know of a great quality store-bought base you normally use, go for that.
Incredibly satisfying and yet, with the diced pineapple, this pizza strikes a perfect balance. Very tasty and best of all, stores well in the refrigerator so perfect for leftovers. That's what pizza is all about, right?
Easiest Whole Wheat Oil Free Pizza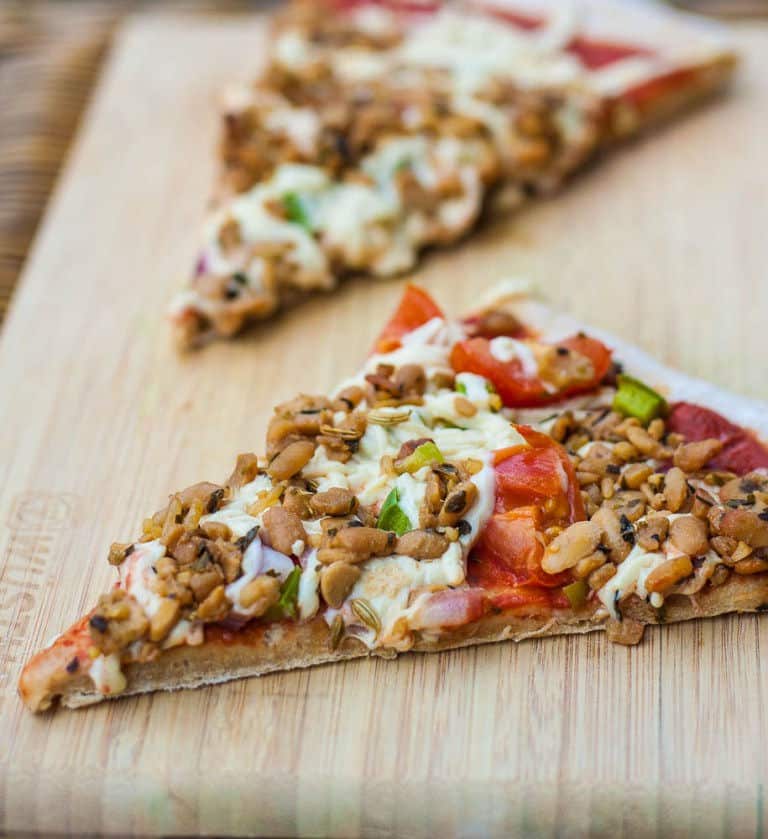 A lot of people are trying to minimize their oil intake nowadays. I totally understand why. When you think about it, a lot of the stuff we eat that contains oil, we eat purely because of the oil.
I may go as far to say that we are, literally, addicted to it. Look at fried food, it's not the food we like, it's the oil. That's a scary thought. So here we bring you an oil-free pizza!
As you look down the ingredients list you'll be surprised how simple it is. Especially as it involves the ingredients to make the dough from scratch.
If you usually have a store-bought version that is your favorite, you could use that and save yourself a whole bunch of time.
Raw Pizza with Buckwheat Crust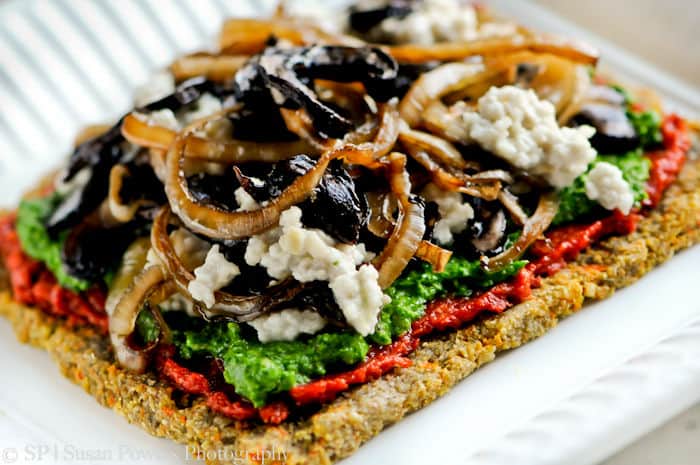 This is one of those times when somebody experiments with some ingredients and hits the jackpot.
Please note this recipe uses a dehydrator, if you don't have one you could use your oven on the lowest setting and keep checking the crust every thirty minutes or so.
Remember, an oven on the lowest setting is not the same as a dehydrator so the 'cook' times will be much shorter.
The crust is made from sprouted buckwheat, walnuts and some other goodies. The toppings are very simple and delicious. An extremely healthy recipe which makes for a great snack or even a full meal. Try it with a salad!
Pizza Pie with Balsamic-Tomato Sauce and Roasted Vegetables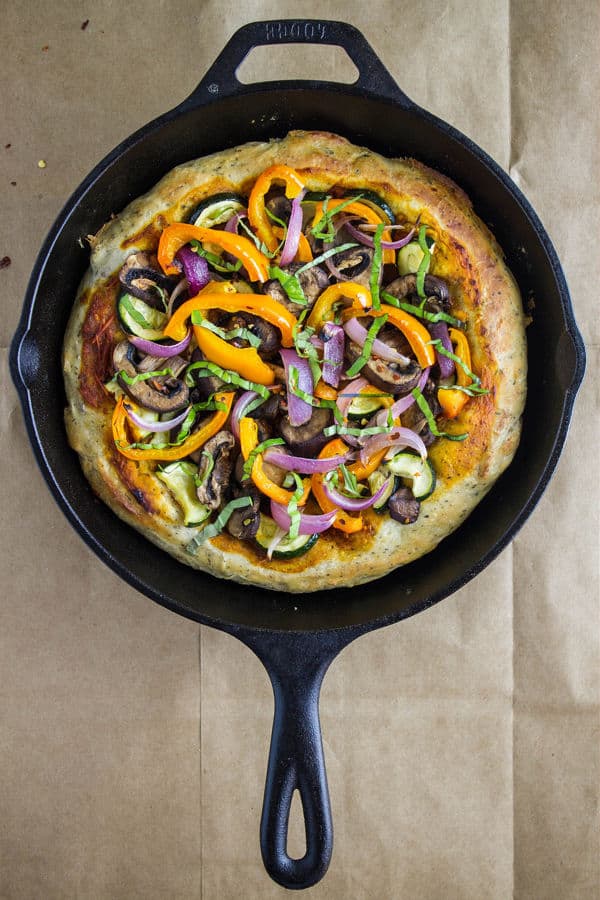 I really love how this pizza pie is made in an iron skillet. Doesn't it look delicious! Very easy to make with straightforward ingredients.
Like all pizza dishes, this is versatile, so you can change the toppings depending on your preferences and what you have.
The only advice I'd give is to keep it simple, so you appreciate the ingredients that you do use rather than have a thousand toppings where you can't really taste anything. Extremely satisfying and it may be one of your favorite recipes for pizza.
Turkish Pizza (Lahmacun)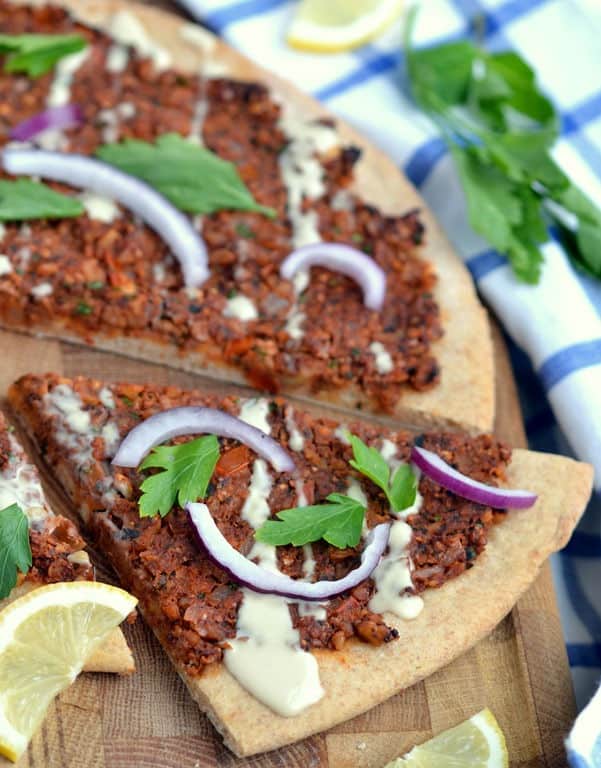 What a lovely and unexpected treat. A pizza with a Turkish twist! There are a few ingredients but don't let that put you off as they are simple, and the herbs and spices are listed separately so it looks longer than it actually is.
I encourage you to follow the recipe carefully, even to the extent of having a Turkish style salad as an accompaniment.
You won't be disappointed. Treat yourself or if you're having some family and friends come over, give them something they won't be expecting but they will love.
Pizza Rolls with Chopped Vegan "Pepperoni"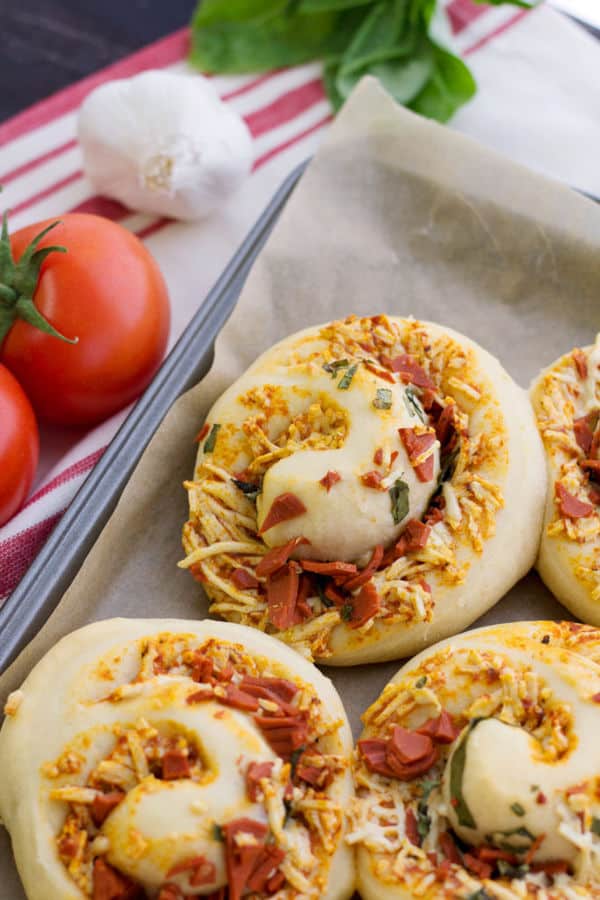 This is the perfect party food! I guess strictly not a pizza although the ingredients are all there, it is just served and presented in a different way.
There is quite a bit of preparation, you're looking at around two and a half hours followed by twenty-five minutes cooking time.
A lot of this is spent making the dough so if you have a good quality store-bought version, this will save you a lot of the preparation.
Perfect for the holidays or just a general party. Make a lot because they will go quick!
Roast Vegetable and Hummus Pizza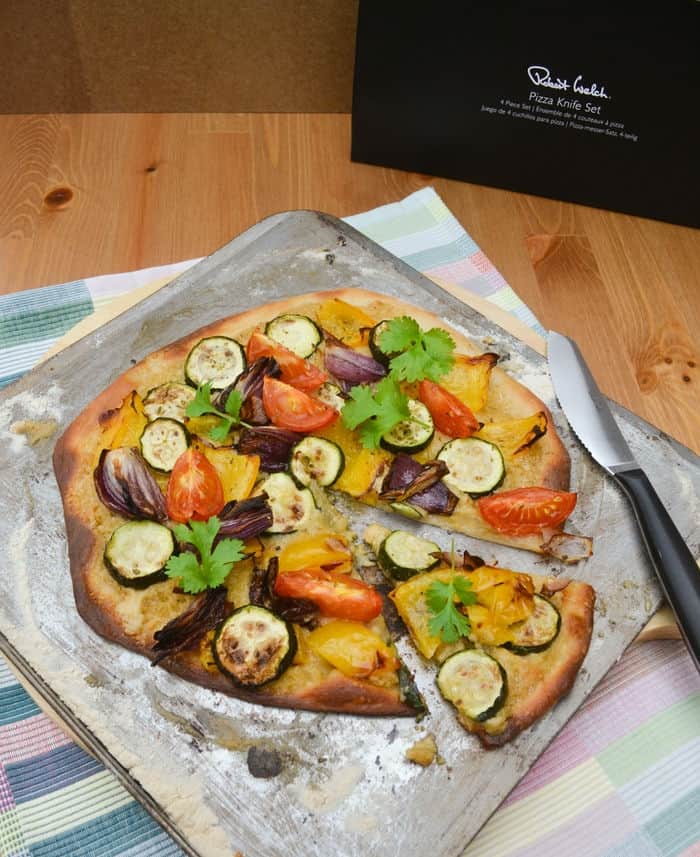 A very versatile recipe where the base is simply your favorite pizza crust. You could even use pitta or naan bread as suggested in the recipe, great ideas!
If you don't follow the recipe for the toppings, I would still suggest keeping it very simple and focus on the quality of ingredients.
This is quick and easy. Very easy to shop for as well so you could grab the ingredients in a snap.
Summer Red Curry Naan Pizza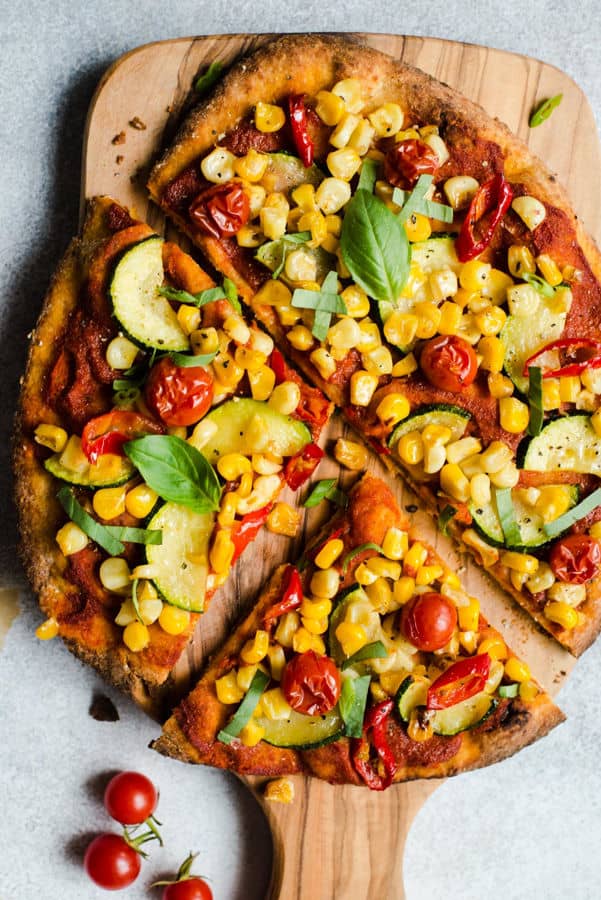 A recipe perfect for leftovers or vegetables that need eating. Best of all, it all comes together in twenty-five minutes or less.
I didn't have any garlic powder when I made this so used crushed garlic instead. I also had all the ingredients other than the naan bread, I imagine you will too.
That's how easy this is to make. Mix-and-match the toppings depending on what you have or what you prefer, and you will be in for a treat!
The Ultimate Mexican Pizza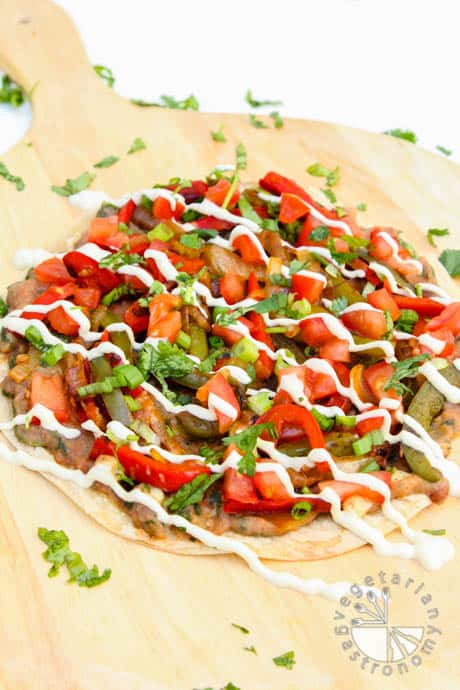 Doesn't this just look amazing! You can make it in fifty minutes or less. It's very easy, ingredients are simple, and I adore the Mexican twist on the recipe.
I couldn't source the branded gluten-free brown rice tortilla so used an alternative and it worked out great.
I would make sure that you have extra virgin olive oil rather than just regular 'olive oil', the flavor makes all the difference. Keep the toppings simple and ensure you have the best quality you can find. Delicious!
Spelt, Caramelised Onion and Potato Pizza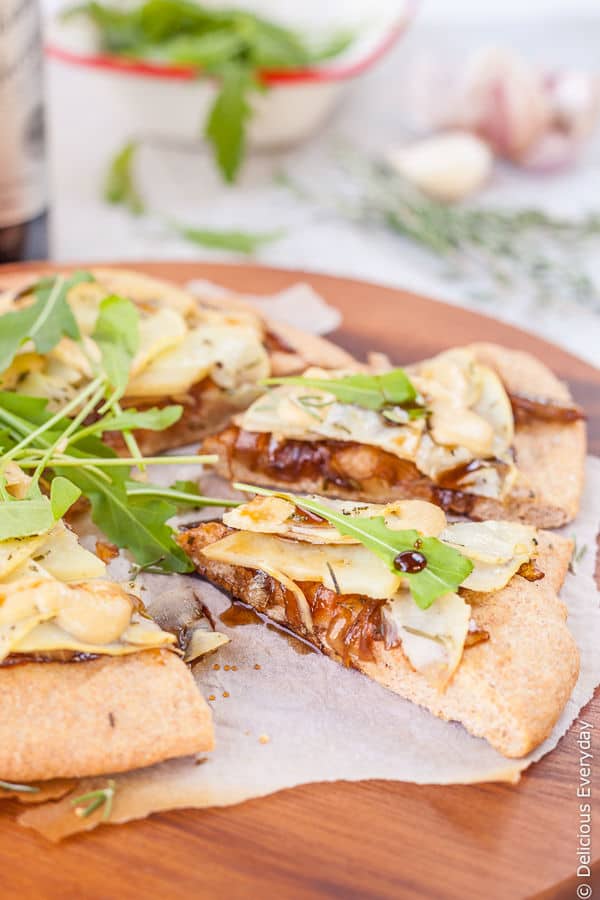 What makes this pizza so special? It's everything. The rosemary caramelized onions are simply delicious. The balsamic garlic aioli I simply cannot put into words.
In the instructions there is a link on how to make the base. You can do this or, use your favorite store-bought version to save time.
Potatoes are something you don't normally see in pizza and I wasn't sure about it, trust me it works as does everything else.
Spicy Turkish Flatbread Pizza (Lahmacun)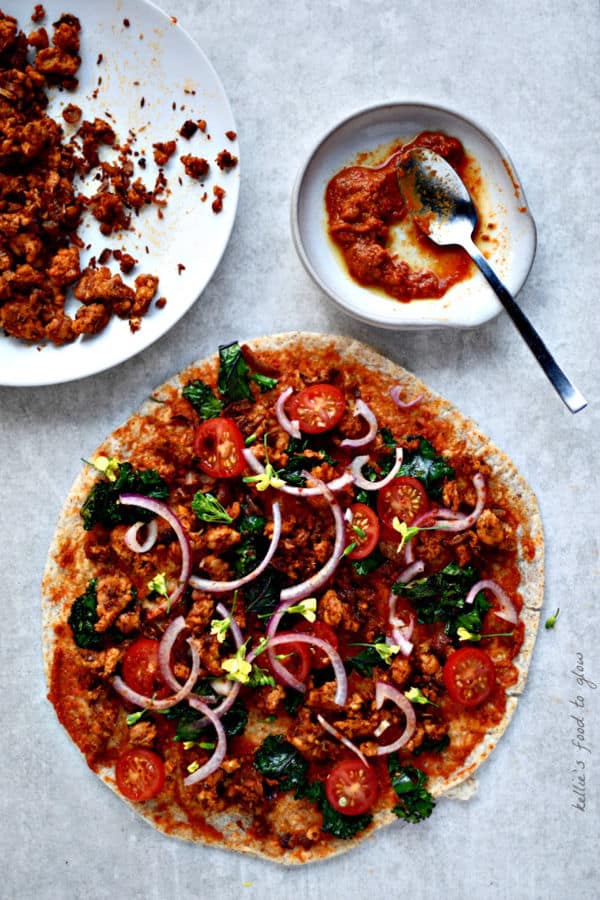 A wonderful Turkish twist to pizza. This recipe has everything and if you are entertaining and want to surprise your guests with something familiar yet different all at the same time, go for this.
Using a flat bread as a pizza base pretty much guarantees you a delicious meal.
It's a huge time saver for a start. The toppings are simple, and all go well together.
Please note that the recipe author is in the UK and refers to some brands and a supermarket not in the US, if you can't find the exact products themselves, you'll easily get to substitute at your local store so it's not a problem.
Pepperoni Pizza with Easy Homemade Crust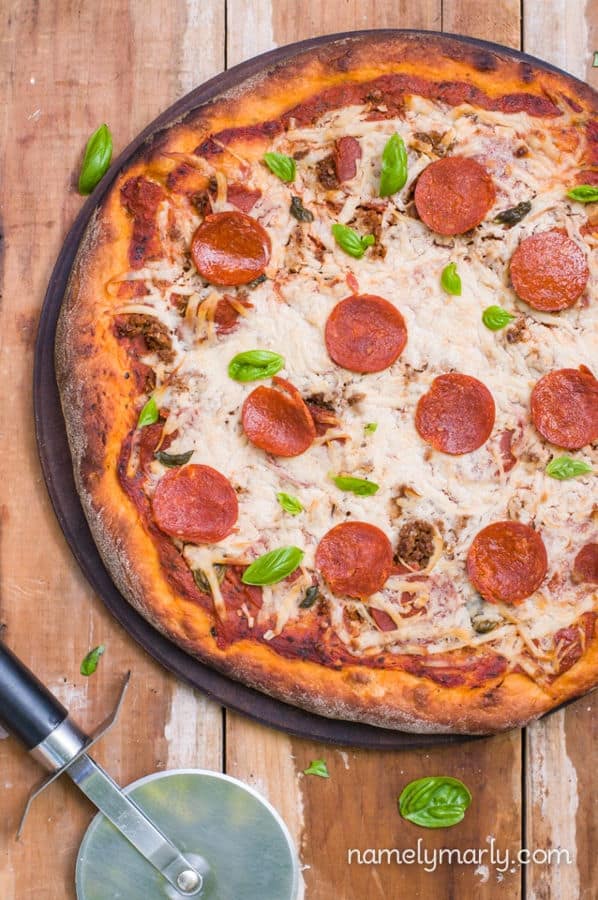 We're talking vegan pepperoni! Add the vegan cheese and really, even the most diehard carnivore won't be able to resist this.
The pepperoni mentioned in the recipe is a brand bought from a supermarket. Use your favorite and if you can't source it, look for anything that you like that has the same texture.
Same with vegan cheese. This is a real 'meat lovers' pizza so if you're looking for that type of approach, whether it be for you or a guest, you can't get much better than this.
Vegan Fruit Pizza Recipes
Mango Banana Berry Smoothie Bowl Pizza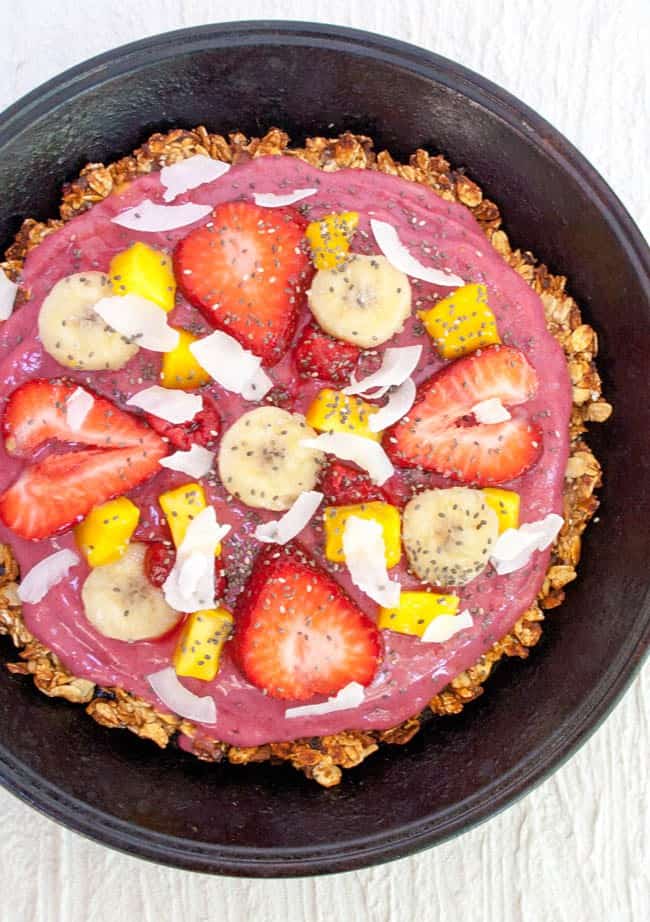 Wait a minute! Fruit and smoothies on a pizza? How can that be? This makes for a great healthy and fruity meal and as you may imagine, a wonderful breakfast too.
The 'pizza' crust is made from dates, rolled oats and a couple of other goodies. You can follow the toppings as directed or use what you have that need eating. You already know granola and fruit go well together, well here it is, in pizza form!
Healthy Fruit Pizza with Fresh Coconut Whip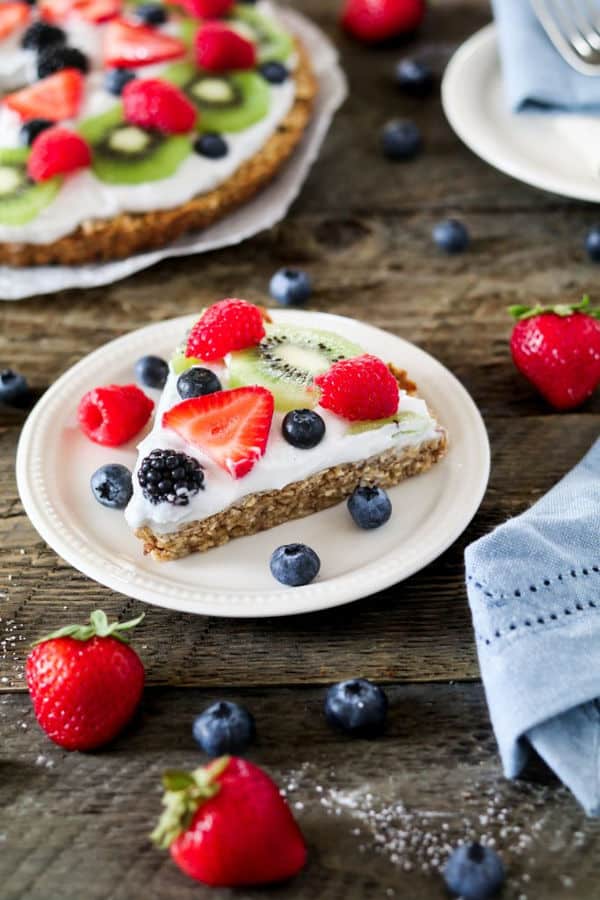 If you want to start your breakfast with something satisfying yet healthy at the same time, look no further. Great for the kids and if you have friends and family staying over, a perfect start to the day.
For me, the magic is in the coconut whipped cream, I mean, who can argue with that? You can either follow the recipe or use any food you have in the house you think may work. Either way it's going to taste great!
Jenn's Famous Fruit Pizza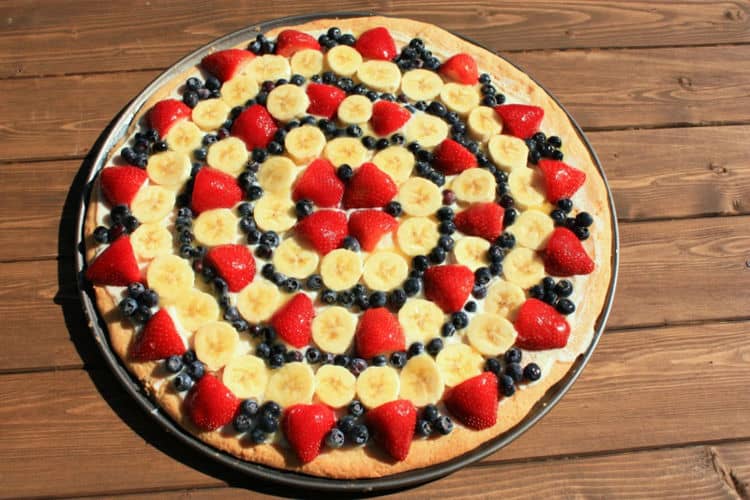 This recipe strikes a fantastic balance between lots of fruit which gives it that fresh flavor, and a wonderful base which gives you great satisfaction.
Obviously, you can use a store-bought base but, honestly, I would really go to the effort of following the instructions concisely.
You can make everything from scratch, you just cook for seventeen minutes and if you add the prep time, you can have this ready in fifty-two minutes. The lemon and the orange juice give this a wonderful zest!
Grab this Recipe
Chocolate Fruit Pizza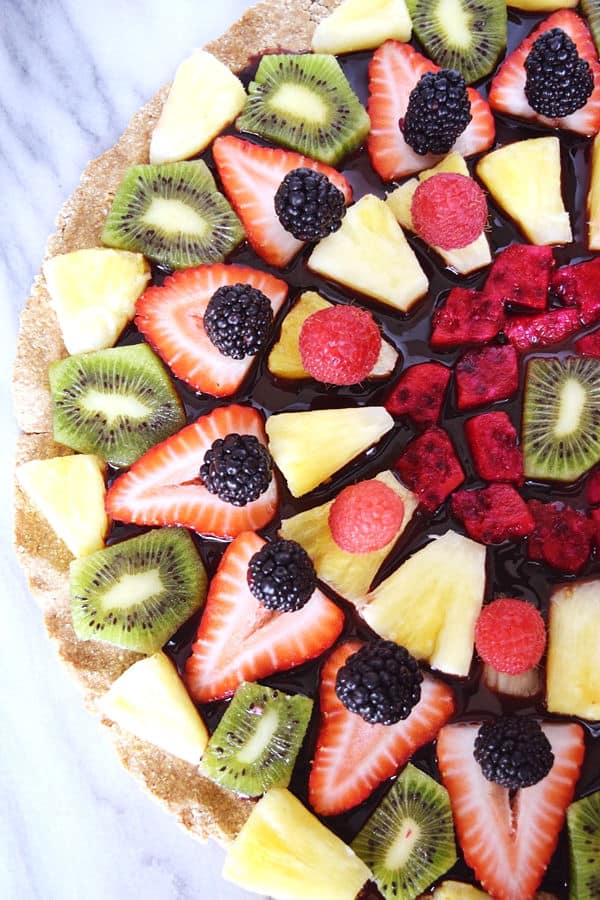 Okay, this time it's serious. The chocolate sauce on the pizza crust made my eyes go big.
I don't know, I want to say this is a great breakfast but really, it's a great everything isn't it?
You just have to make the crust, it's firm, chewy and is the perfect partner to go with the chocolate spread and the assorted chopped fruit. My goodness, what a treat this is!
Healthy Fruit Pizza with Berries, Kiwi and Mandarin Oranges (Gluten-Free)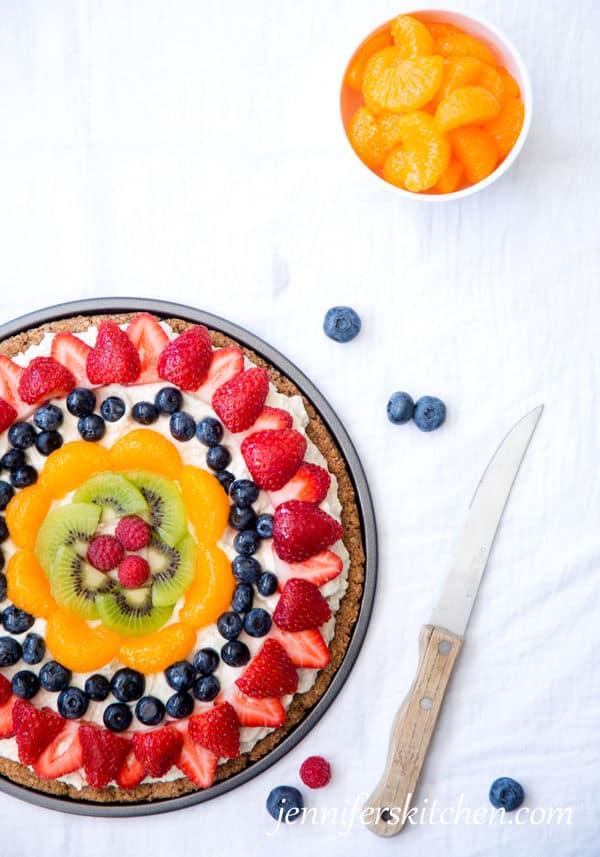 There's a little preparation of just twenty-five minutes followed by a twelve-minute bake time for the base. With any fruit pizza you really should go to the effort of decorating it properly and this one is no exception.
For this recipe, the crust is made from almonds, shredded coconut and so much more, it's divine! If that wasn't enough the filling will knock your socks off.
This is perfect for a party or if you have friends staying overnight and you want to surprise them the next day with a fantastic breakfast. Great for the summer!
Chocolate Waffle Fruit Pizza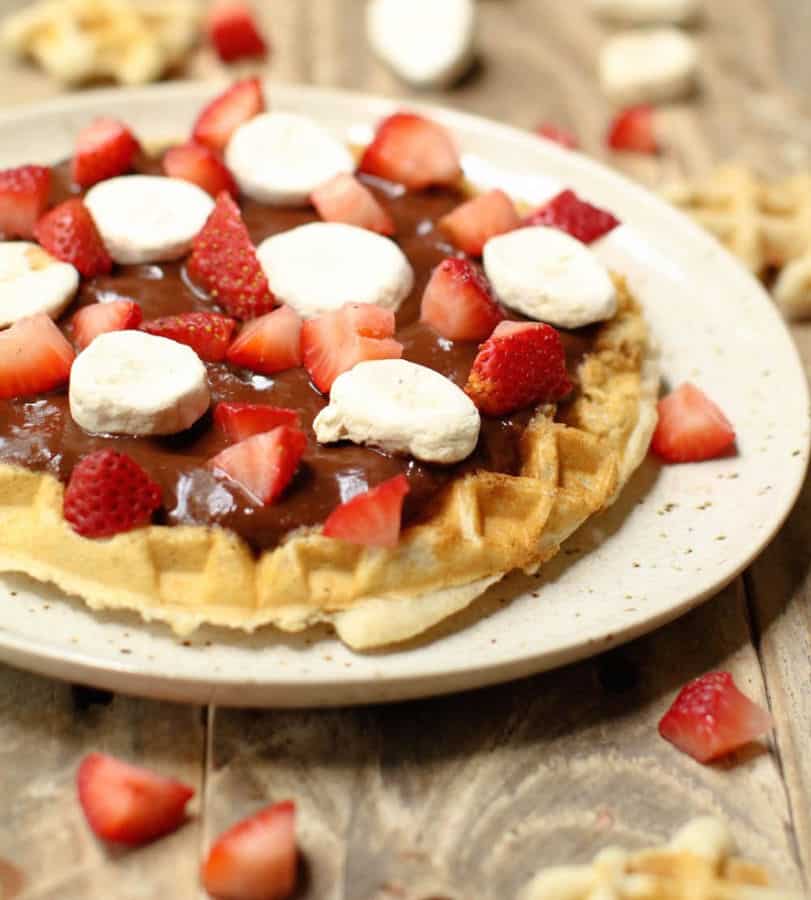 If there are two things that go well together in life, it's chocolate and banana, and in this recipe, we have both. You make the waffles from scratch.
Please note that this recipe does include the need to have a waffle maker. If you don't have one simply use a griddle and make the mixture into pancakes. Same result with a different shape. Either way, it's delicious!
Vegan Garlic Pizza Recipes
Portobello Pizza & Garlic Bread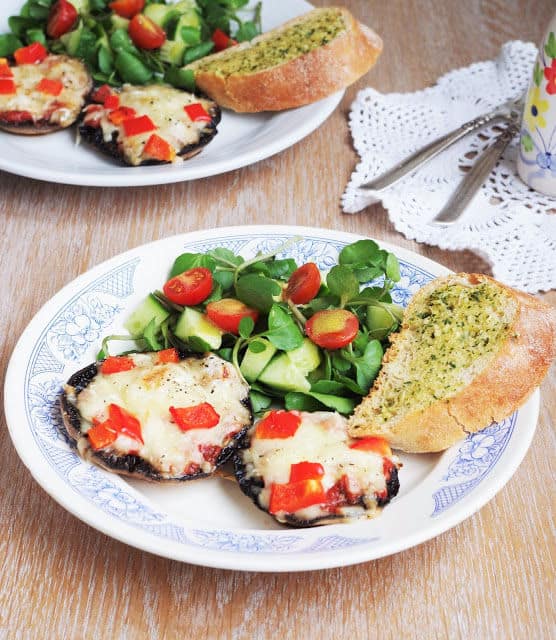 Here we get two recipes, three if we include the salad! The Portobello mushrooms are used as a pizza base topped with vegan cheese and other goodies!
To further add to the satisfaction, you get delicious garlic bread made with ciabatta.
This is very simple and made with vegan butter, some herbs, seasoning and garlic (or garlic powder). If you can, use real garlic as it makes a difference.
A wonderful quick recipe which is a satisfying and filling meal, wonderful!
Garlic Alfredo Pizza (Gluten-Free)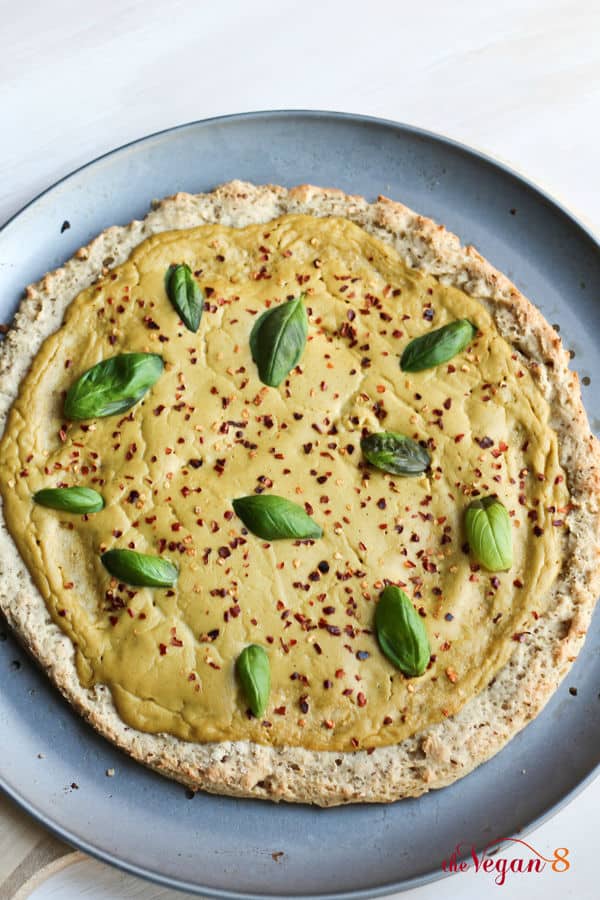 This recipe is gluten-free. A wonderful twist on pizza and about as moreish as you can get. With this recipe, I recommend following it exactly.
The author does recommend a brand name of gluten-free pizza crust, but of course you can use any base that you like.
There's a sauce that goes with this and the author recommends you make this the day before.
The brand of dough mentioned in the ingredients apparently is sticky and can seem hard to work with so ensure you follow the instructions carefully if you use that particular make.
We bought a ready-made base and it worked perfectly. It may seem a little effort, but I can assure you the result is more than worth it!
Garlic Rosemary Pizza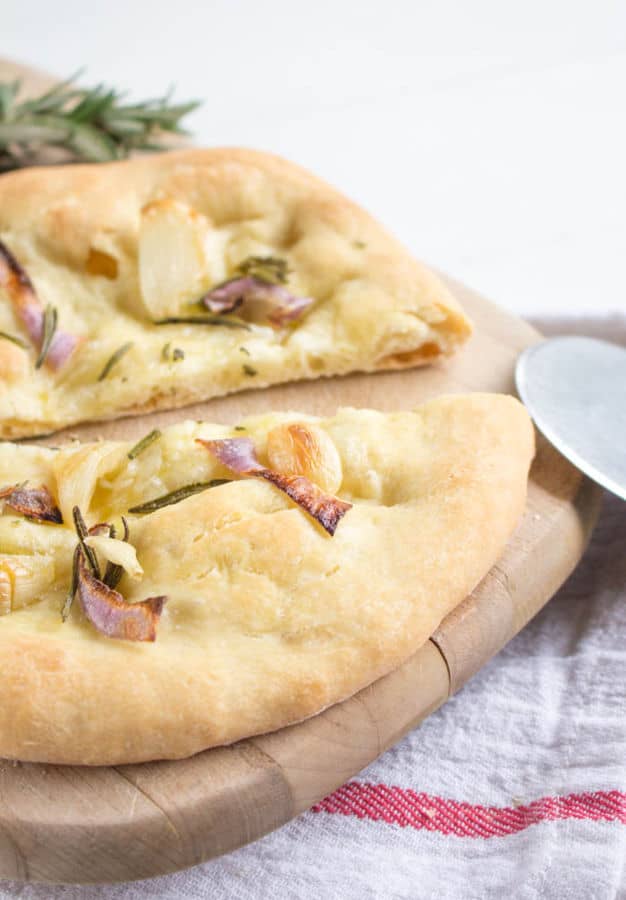 In terms of pizza, this is about as simple as you can get, and that's a compliment. We all know that some of the best dishes in the world are simple, this is one of those recipes.
The author has gone to great lengths to make the instructions as easy to follow as possible and I really appreciate that. The ingredients are great, and you may very well have everything already! Serve with a huge salad and enjoy!
Purple Cauliflower Crust Pizza with Garlic Oil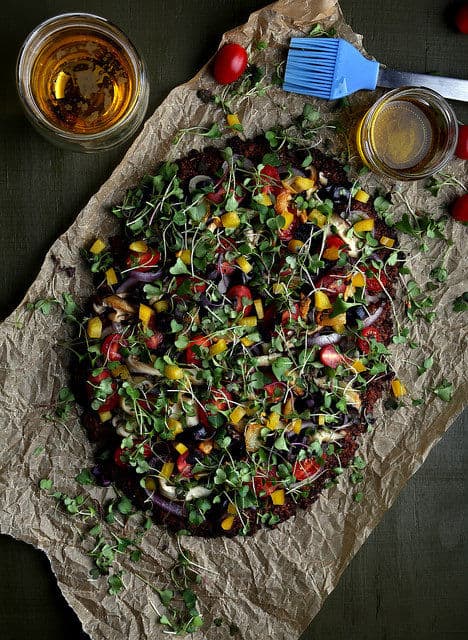 Do you like different? I like different! This is not only unique, it is delicious. I love the addition of the magic ingredient, garlic oil.
This recipe reminded me I need to use it more often.
Please note that the ingredients mention an egg replacer branded product, if you can't source this, use your favorite binder.
The finished product looks incredible and tastes even better. I would say this is perfect when you want to impress someone as they will never be expecting something quite like it.
Coconut and Garlic White Pizza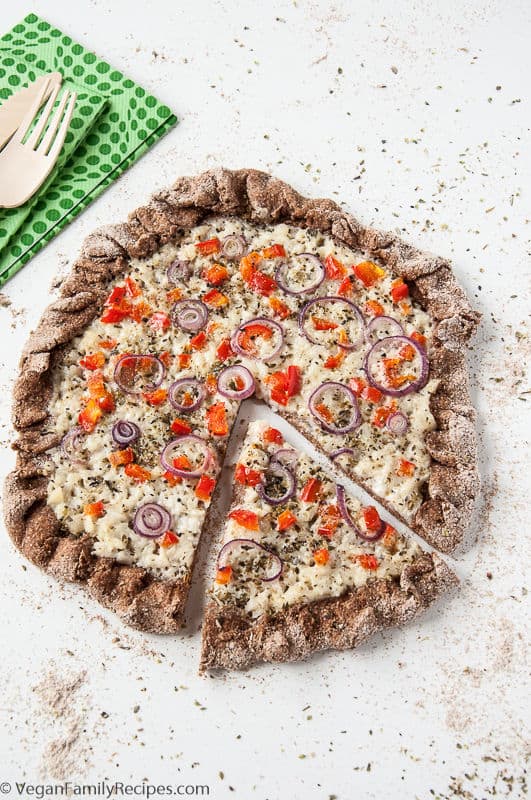 This beauty comes together in fifty minutes or less. The amounts listed in the ingredients yield two 10-inch pizzas.
The ingredients are simple and there are only a few of them, so make sure you get the best quality that you can for everything.
The taste is garlic heaven. I guarantee one thing, once you make this, you will be making it again, and soon!
White Garlic Cashew Cream Pizza with Dijon Brussels and Shiitake Bacon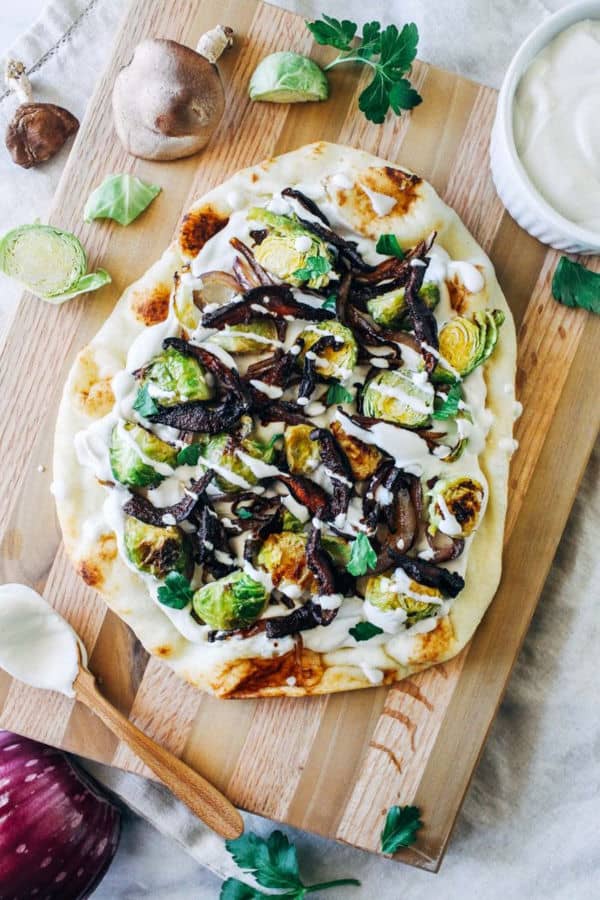 This pizza does not have any cheese alternative. For those of you that think pizza needs cheese, you need to get out more! Don't get me wrong, I love plant-based alternative cheeses and think they go great on a pizza.
However, you can always tell the sign of a good pizza when you remove the cheese.
If it tastes great, then the ingredients were good, and you know you're eating a quality dish. And that's what we have here.
Follow the instructions and be ready to eat one of the most satisfying meals in your life!
Garlic Herb White Pizza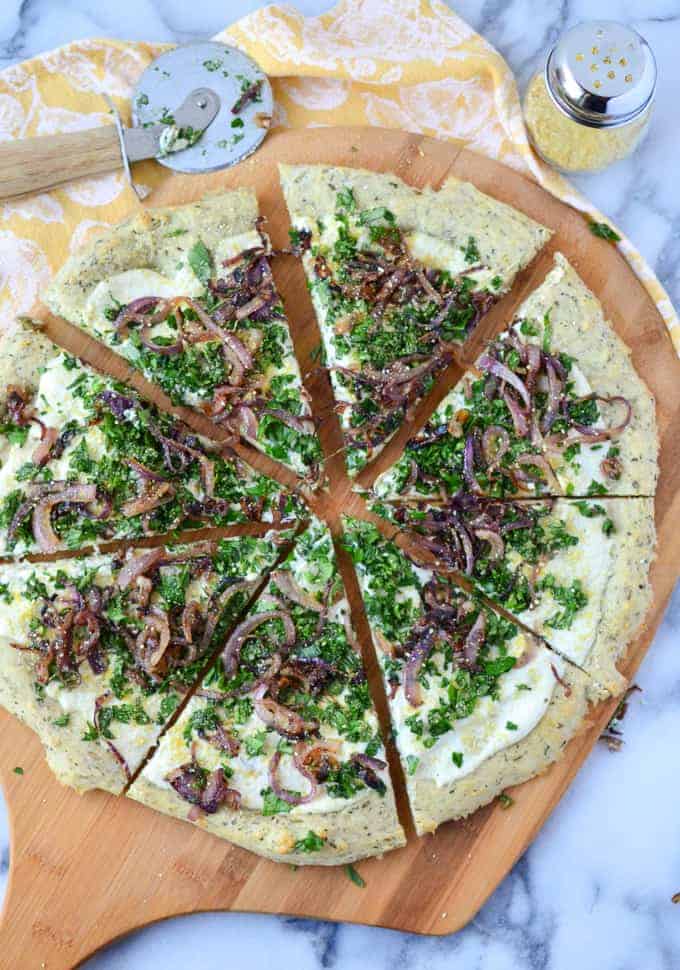 White pizzas are authentic Italian pizzas, they're not just made up! Essentially a white pizza is one that does not have the tomato sauce as its base.
Here we have a wonderful creamy vegan version of a classic. Ingredients include garlic, onion and nutritional yeast amongst others.
Do note that the crust listed in the ingredients is store-bought. If you can't get a garlic herb crust, use whatever you can source. The toppings will more than make this a wonderful creation.
Buffalo Cauliflower Pizza with White Garlic Sauce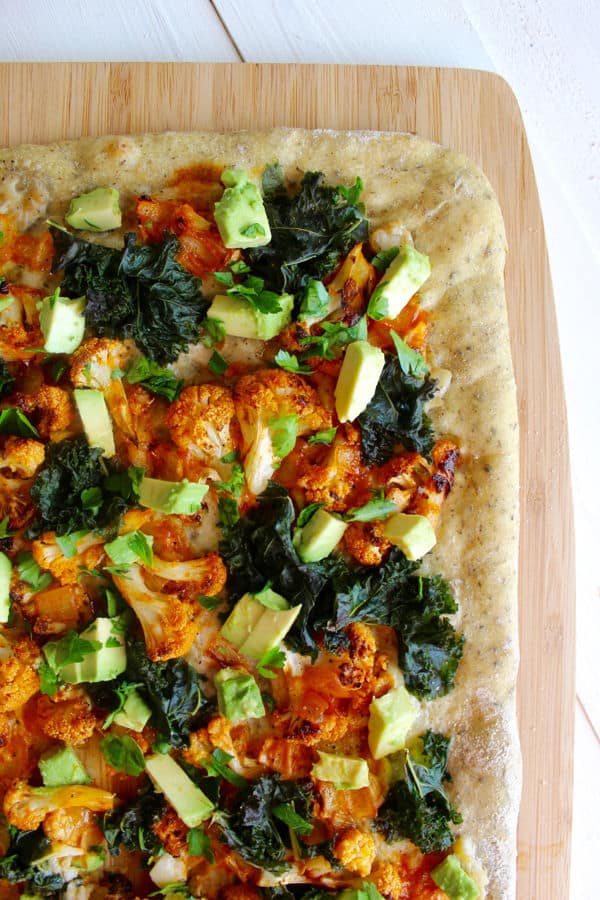 If you like pizza with chunky toppings of goodness, look no further! The ingredients give you the choice of buying a store-bought pizza dough, gluten-free works too.
The buffalo cauliflower are bite-size pieces of ecstasy. This dish is specifically for people that like spicy food as there are two types of hot sauce listed!
The white garlic sauce is made with extra virgin olive oil, garlic and a couple of other gems. Include some kale, parsley and avocado, and you have the King of pizzas!
Vegan Gluten-Free Pizza Recipes
Simple Pizza (Gluten-Free)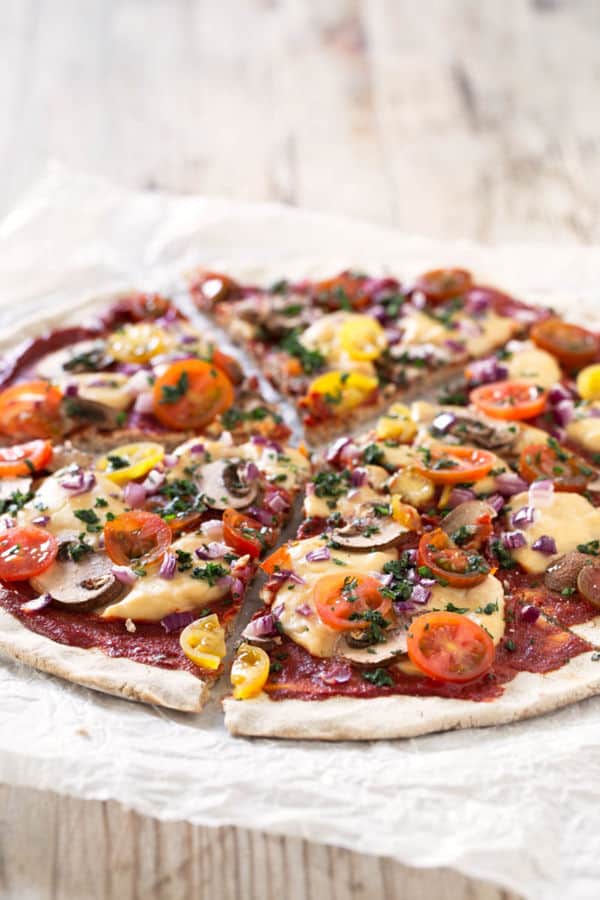 Nowadays gluten-free products are so easy to find and there are so many variations. When you think about it, if you modify the base accordingly, it's easy to make a gluten-free pizza.
This recipe can be considered quite basic although simplicity is the basis of a great pizza. Use this as a foundation to add your own toppings.
Although if you just want a fantastic simple pizza, mushrooms, vegan mozzarella and onion, look no further.
Pizza Rolls (Gluten-Free)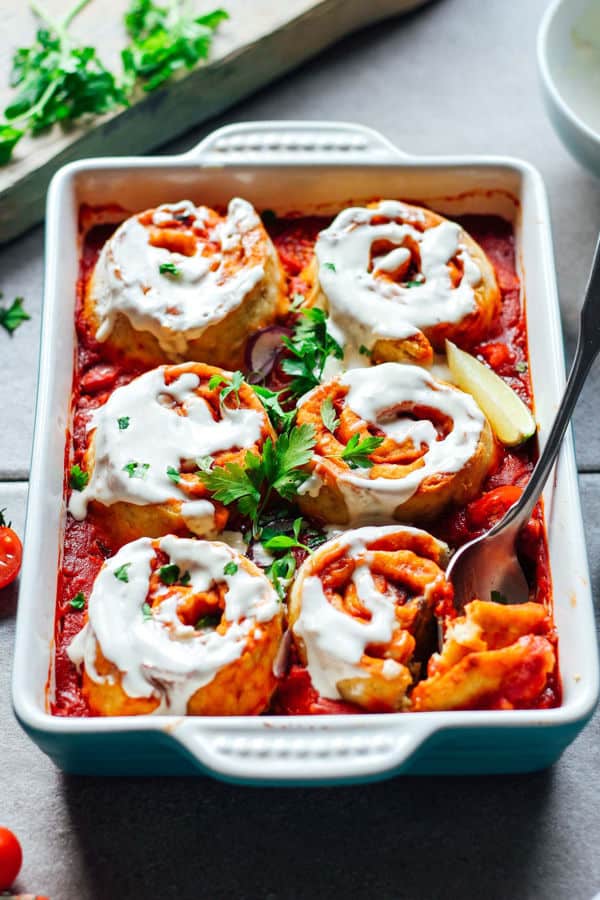 Okay so strictly speaking not a pizza, but the ingredients are pretty much the same, it's just the presentation that's different. Pizza rolls are great for parties although the only problem is, they go quick!
If you want to save yourself a little time, get some dough from the store that suits your dietary requirements.
The recipe shows you how to make everything from scratch, so if you want to get your hands dirty, this is it! Great flavors intertwined with the dough to make this perfect dish.
Low-Carb Chocolate Pizza (Gluten-Free)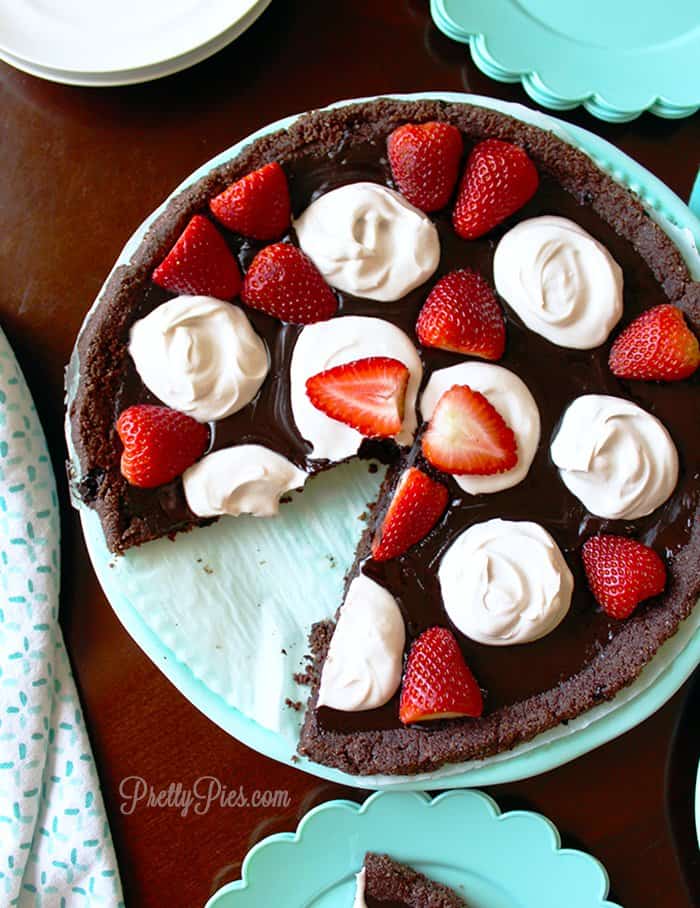 Pizza for dessert is the name of the game for this recipe! The crust is a double chocolate chip layer of goodness.
Yes, it's vegan and if you are paleo and keto, you're good to go here as well.
This grain and sugar free pie from heaven is what makes life wonderful, am I right? The crust is easily made, and the instructions talk you through each step.
If you want to surprise friends and family with a sweet pizza, go for this!
Low Carb Pizza Sticks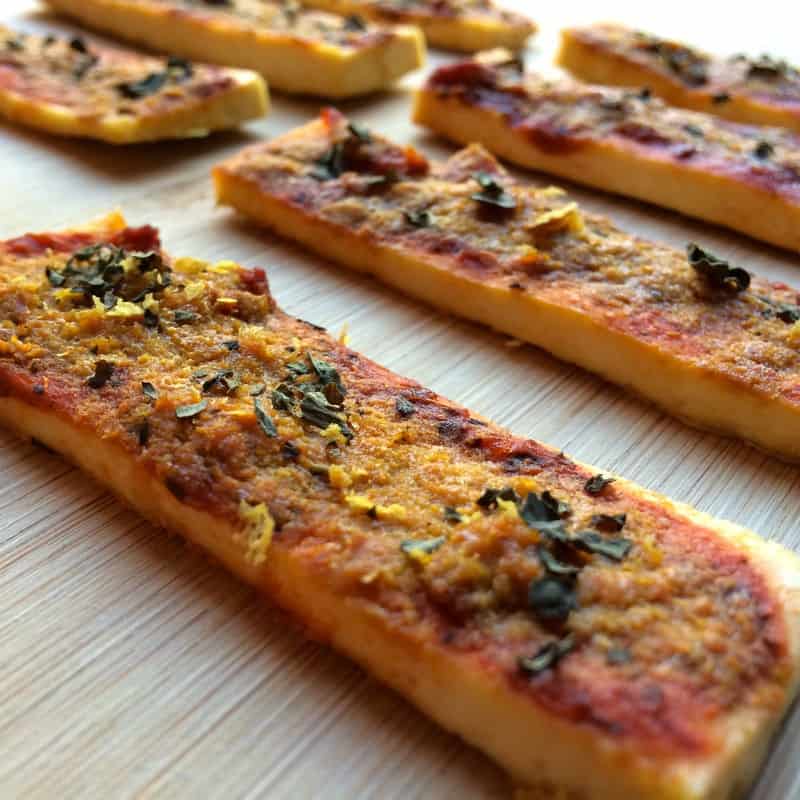 You know, a lot of thought has gone into this recipe and I think the author has hit the jackpot.
This is party finger-food, and would you believe the crust is made from tofu. Before you go thinking this may be all wobbly and bland, let me tell you it's quite the opposite.
This really does taste like it's a pizza base! The tofu is baked to perfection and the topping is extremely flavorful.
Nothing can slide off and there is no mess. You must try these, because they're not good, they are great!
Sweet Potato Pizza Crust (2 Ingredient Dough)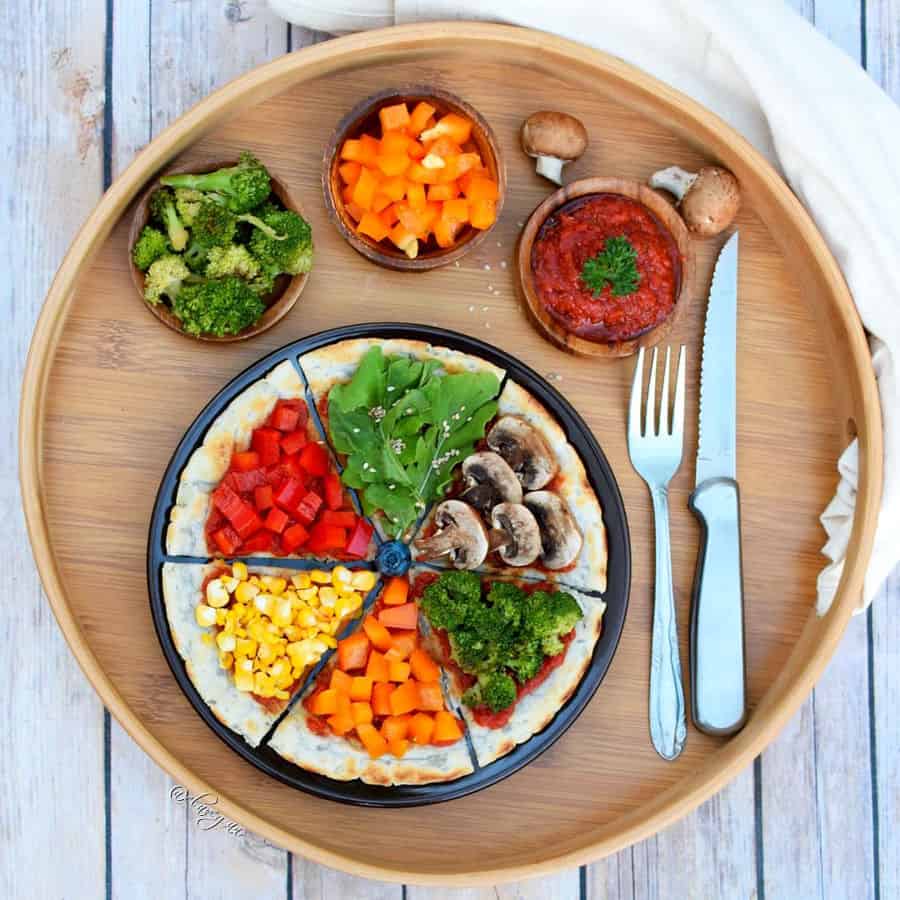 Okay I get it, you already know what you like on your pizza, you don't need recipes. What you want is a unique crust you've never had before and is super easy to make. Well, here it is.
That's right, as the title suggests, there really are just two ingredients in this wonderful crust.
Now, I had never heard of white Japanese sweet potato and didn't think I would be able to source them, but it turns out they were there in my local store all along, when I asked the assistant, they just pointed to them.
It just goes to show sometimes you never know what's right in front of you! This pizza base is light and makes for a wonderful alternative to the regular gluten-free crusts. Will be perfect with any topping of your choice.
Middle Eastern Pizza (Gluten-Free)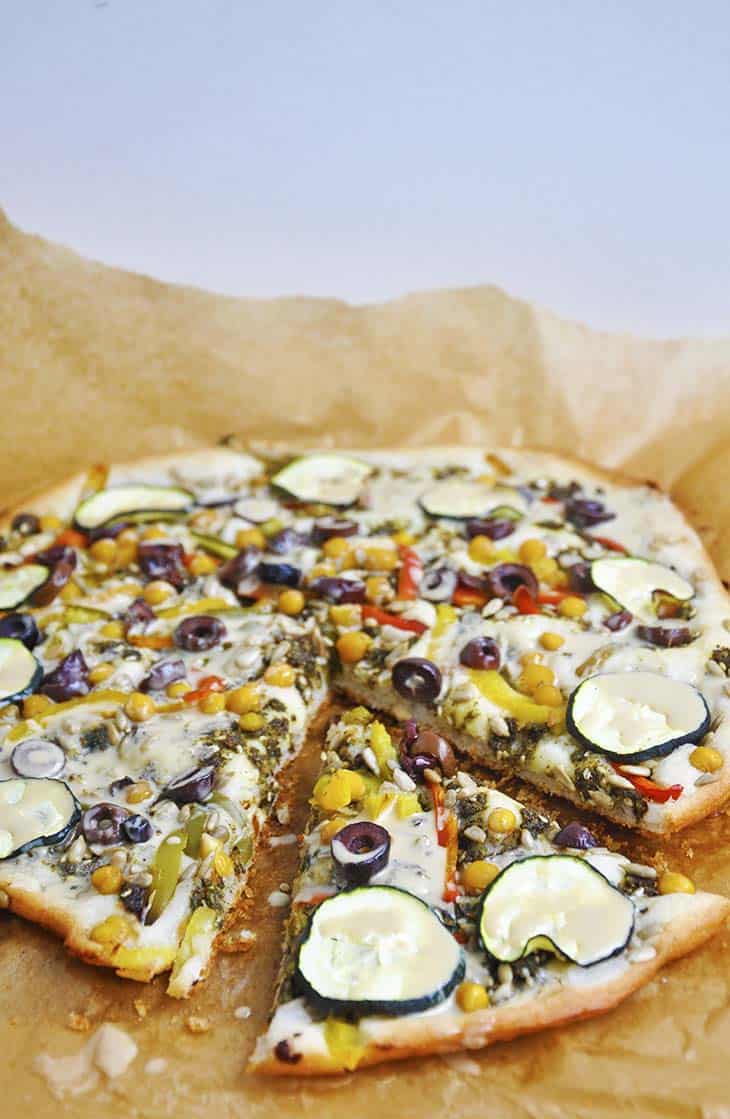 So, you want a pizza that you want something new, maybe something you can try out and then make for friends and family? This is it!
I want to say that this is filled with Eastern promise, but that would be too cheesy wouldn't it? Well, there's no vegan cheese on this puppy.
The toppings are wonderful such as, eggplant slices, kalamata olives and so much more.
Don't forget the tahini, it really blends everything together perfectly.
Pizza Dough with Italian Seasoning (Gluten-Free)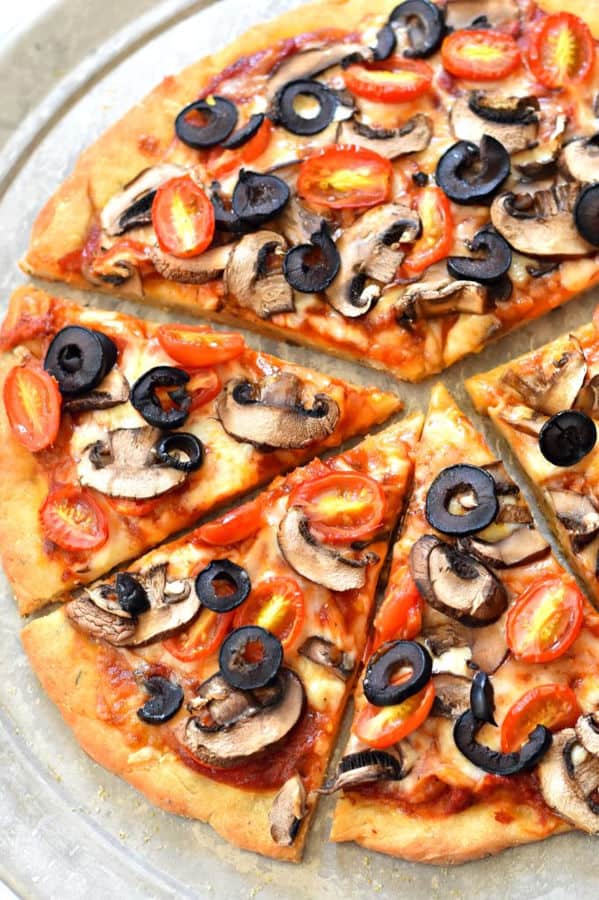 Have you ever wondered what a pizza base would be like if it simply had more flavor? I mean, let's face it, we rely on the topics for flavor. Generally, a crust itself can't really stand out on its own. This one can!
Make no mistake, you are making this dough from scratch so get ready to get your hands dirty.
In this recipe, however, as well as the flour and some other ingredients, you're going to include garlic powder, dried oregano and a few more herbs that make up the Italian seasoning.
What you end up with is a pizza base from heaven that can be eaten on its own! Even so, add your favorite toppings!
Greek Pizza (Gluten-Free)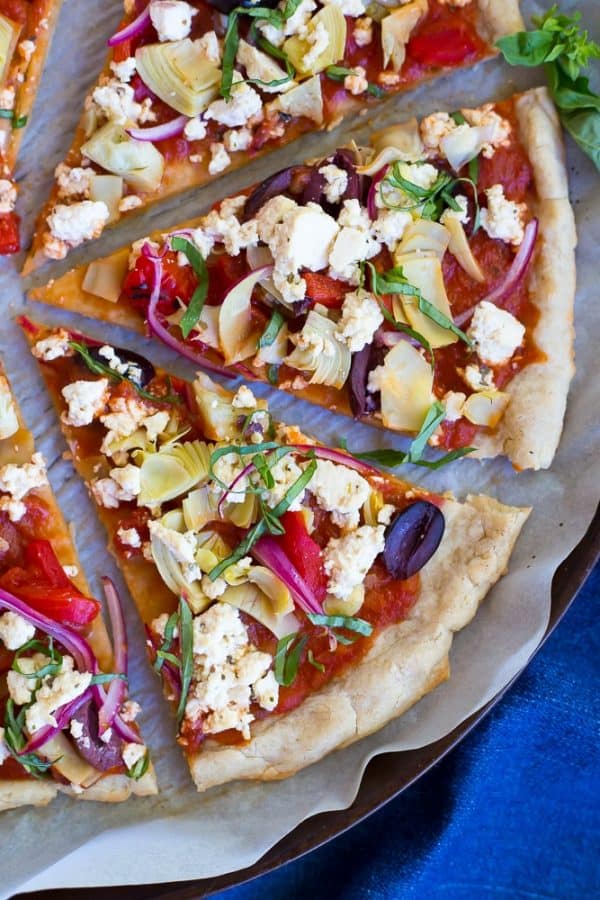 Greek food is one of the wonders of the world! It's a beautiful country with wonderful people and their food is high quality goodness.
Everything that is good about Greece is on this pizza, okay in terms of food I mean! Artichokes, peppers and, of course, kalamata olives! But what about the feta?
That's made from tofu and half of this recipe is how to turn tofu into an amazing vegan feta cheese. If you like Greek food, just make this!
Sicilian Pizza (Gluten-Free)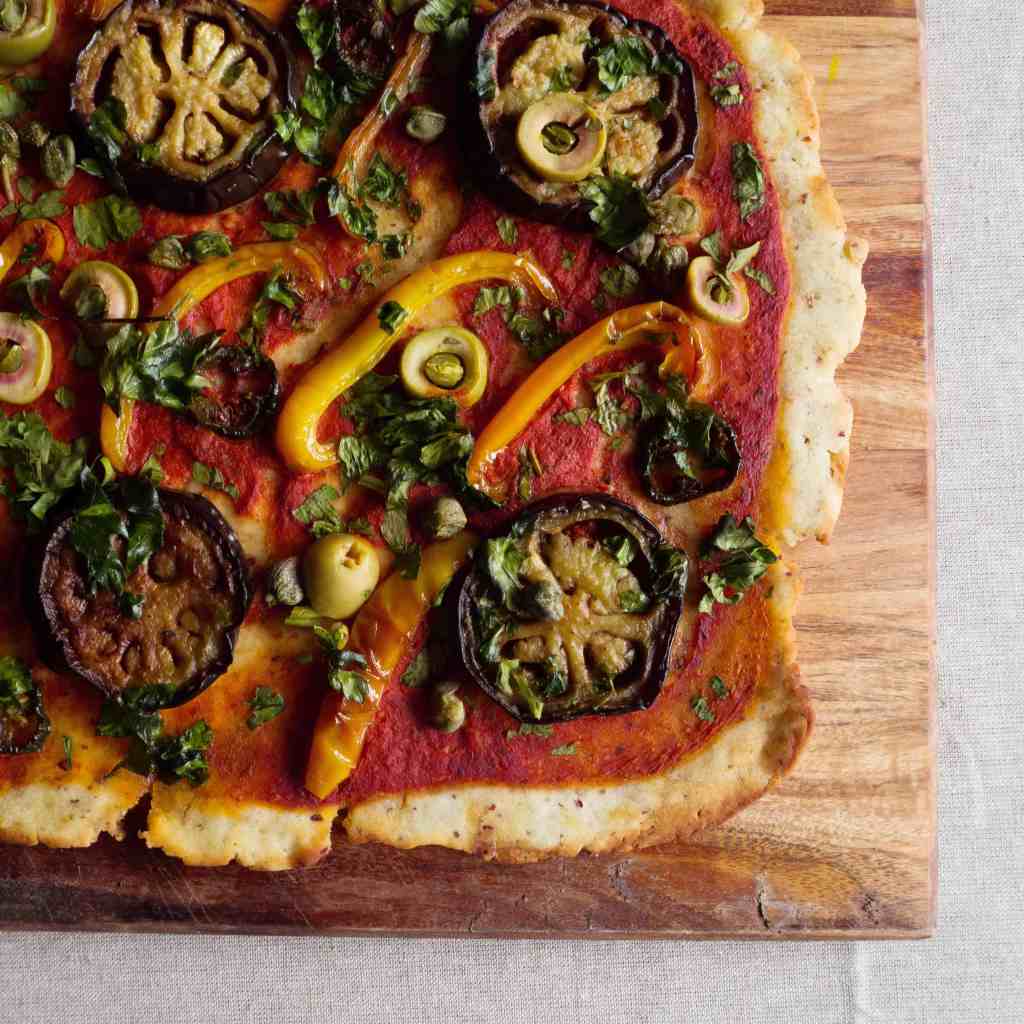 If you are a devout follower of our recipe roundups, you will have seen me say before that you can always tell if you have a good quality pizza by seeing if it tastes good without any cheese.
Some parts of Italy, and Sicily is one of them, they specialize in making pizza without cheese and, you know, it's the best thing ever!
This recipe walks you through everything step-by-step. With having so few ingredients, it's important to get the best quality you can of everything.
I urge you to become a convert and join me in celebrating pizza without cheese!
Vegan Lunch Pizza Recipes
Grilled Butternut and Radicchio Pizza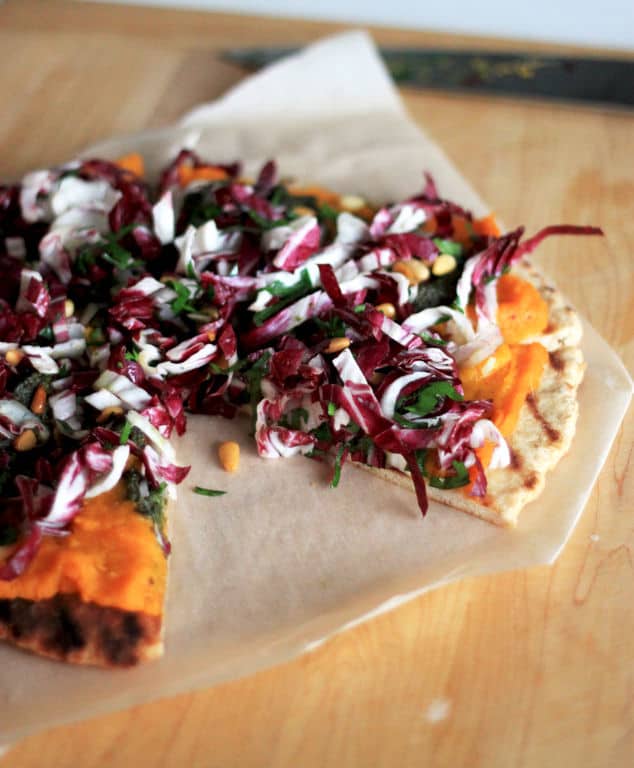 We work very hard to ensure every recipe we feature meets our high standards! If we even have the slightest doubt, it doesn't appear on our website.
Every so often, you come across a recipe that stands out from the crowd, and this is what we have here.
If you want different and yet you want pizza, this is it. The toppings are absolutely loaded, and the crust is thin and light.
Everything is of the highest quality and stands out on its own, yet it's part of a family of flavors.
The secret ingredient for me is the pine nuts, they add that little bit of crunch that's perfectly subtle. Make this!
Potato Pizza with Rosemary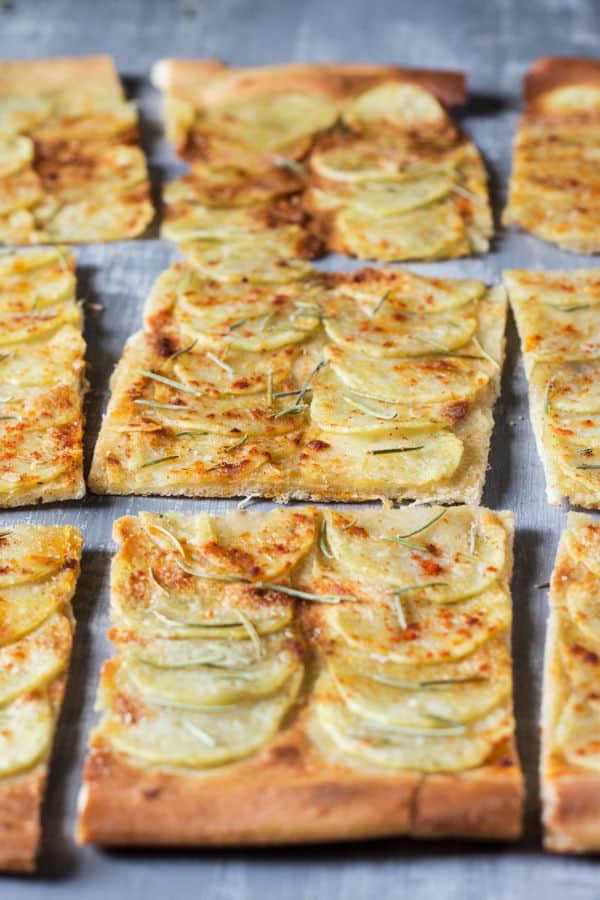 This is not the first pizza we have featured that can be classed as a 'white' pizza, meaning without a tomato sauce as a base topping.
Everybody knows potatoes were created to be eaten with rosemary. And, if you're anything like me, you love satisfying foods.
Here the main ingredients are two masters of providing satisfaction, potato and pizza base! Serve with a big salad and just keep eating. Seriously, just don't stop!
Chanterelle and Zucchini Pizza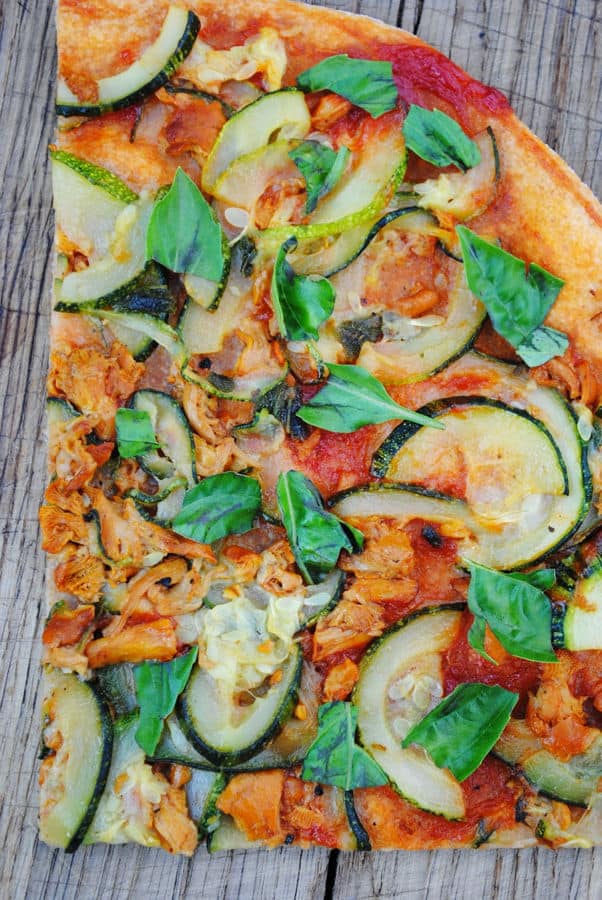 Just look at the colors! When all the right veggies are in season, we must celebrate them and what better way than making your own pizza!
If you make this pizza you will somehow forever be indebted to me. I don't need anything from you, it's okay, just enjoy it.
My family's Italian and to say I've had a pizza or two is an understatement, this is one of the best, seriously!
Plant-Based Mushroom and Caramelized Onion Naan Pizzas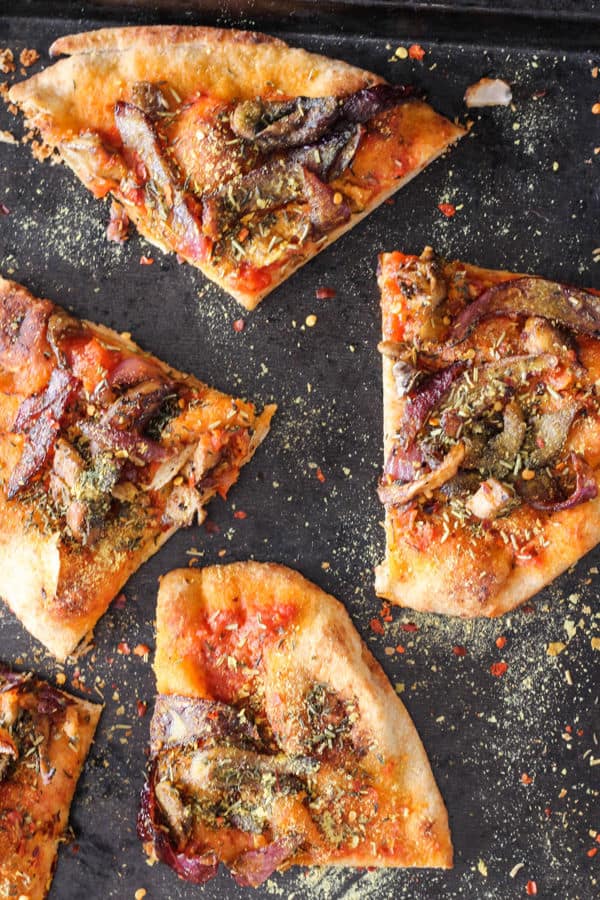 Have you ever had a naan pizza before? If not, now is the time to try. The best thing about these is the base is already made! Okay, so the best part is the flavor, you know what I mean!
Once you have bought your favorite naan breads, to say the rest is easy is an understatement.
With the prep and the cooking, these are ready in just over thirty minutes. This is the perfect recipe, you could add some of your favorite toppings as well although if you're not sure, follow this and you're good to go!
Best Grain-Free Vegan Pizza with Caramelized Onions and Mushrooms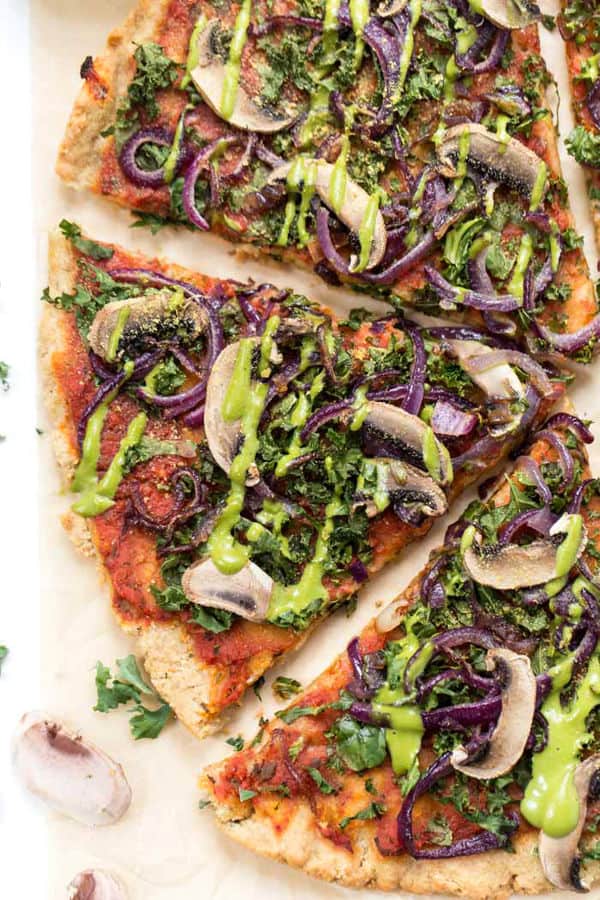 Would you believe the base is made with almond flour? Because of this, we have a wonderful grain-free pizza and as the author suggests, it's the only one you will ever need!
Given that you make everything from scratch, this is surprisingly easy to make.
There are various sections such as the tomato sauce (yes, you make this too), the toppings and an optional cream sauce which is cheesy and zesty.
If you want something special, this is it!
Thin-Crust Hawaiian Pizza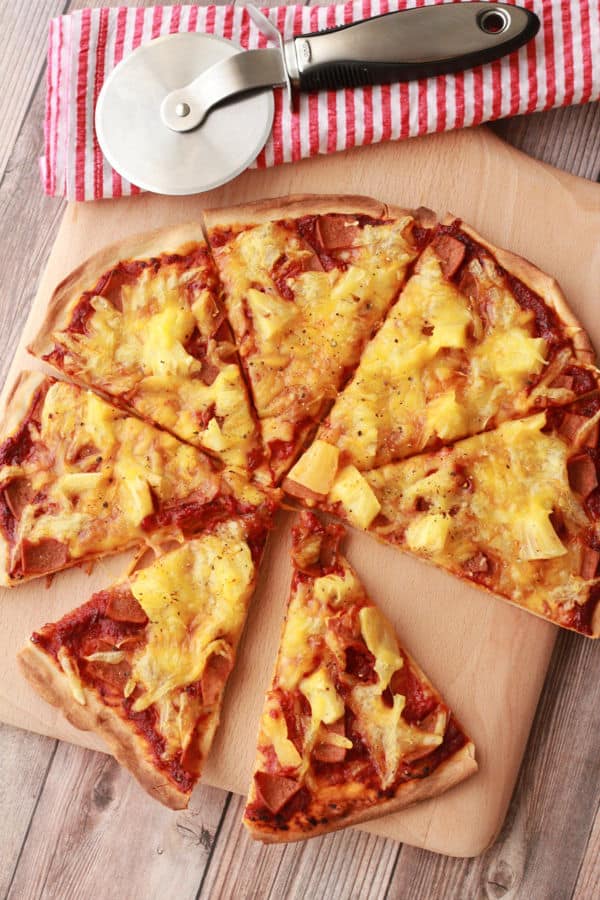 If you're into Hawaiian pizza, then we have a treat for you. You just can't beat pineapple on that pizza base, it somehow makes all the other ingredients taste better!
You make the crust from scratch so if you want to save yourself some time, either get some store-bought dough, or go all out and buy a ready-made pizza base.
Then add these great toppings and you will be in Hawaii.
Don't forget to buy a bunch of flowers to wear around your neck!
Quick and Easy Pizza Dip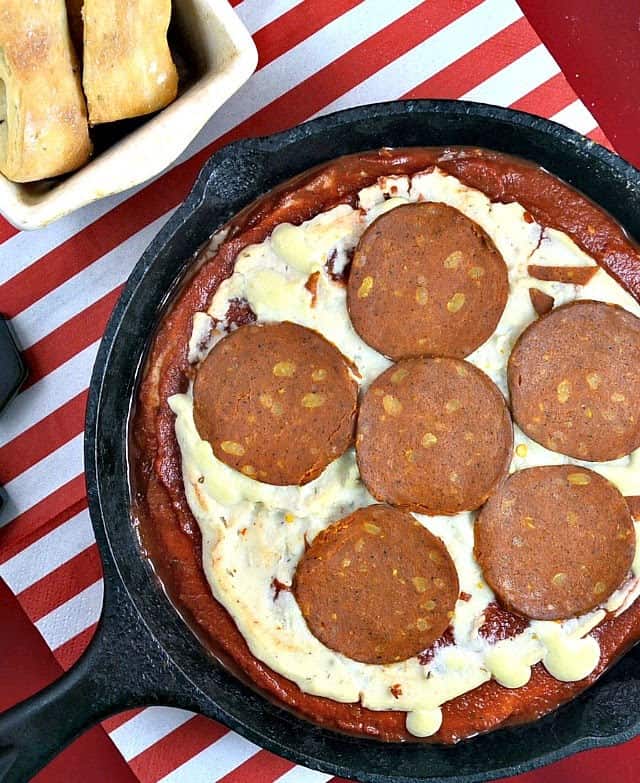 I must tell you that this recipe is absolutely a winner. It may seem like there's a tiny more effort than usual, and if you're a busy person I understand why you may skip over this.
Print this recipe out and study it, get all the ingredients and follow the instructions step-by-step.
You will have one of the best plant-based pizzas ever. It makes very great breakfast too, and that's my barometer of whether a pizza is great!
Margherita Pizza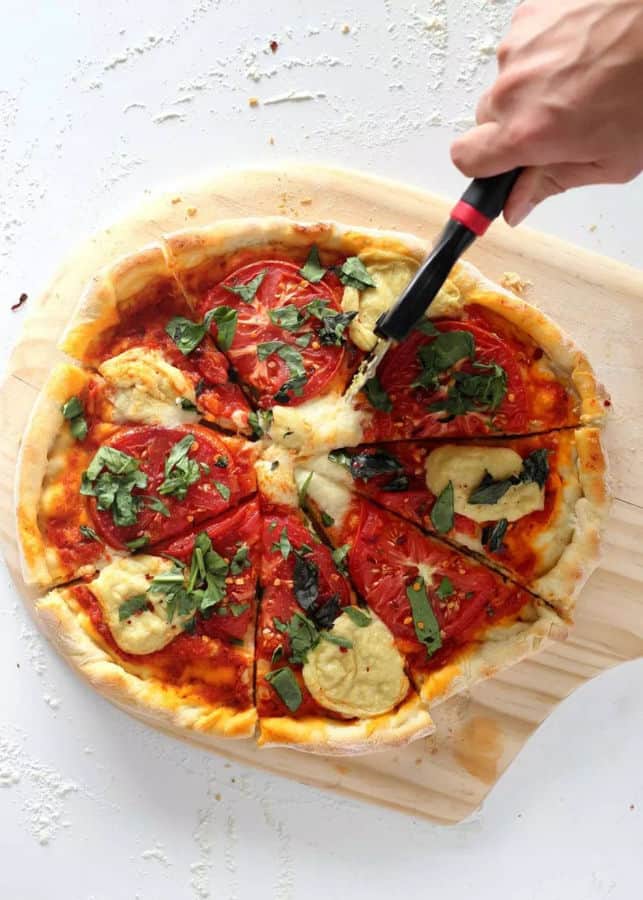 This is it, right? A Margarita (usually written as 'Margherita') is where it's at when it comes to pizza!
You're making everything from scratch in this recipe and I really think it's worth it. If you want to save yourself some time, you could buy a store-bought pizza base.
But if you can, make this crust, you will certainly notice the difference.
If you're worried about the vegan mozzarella, the recipe includes a link on how to make this yourself, if that wasn't enough there is also a link on making your own marinara. This has everything!
Perfect Pizza Margherita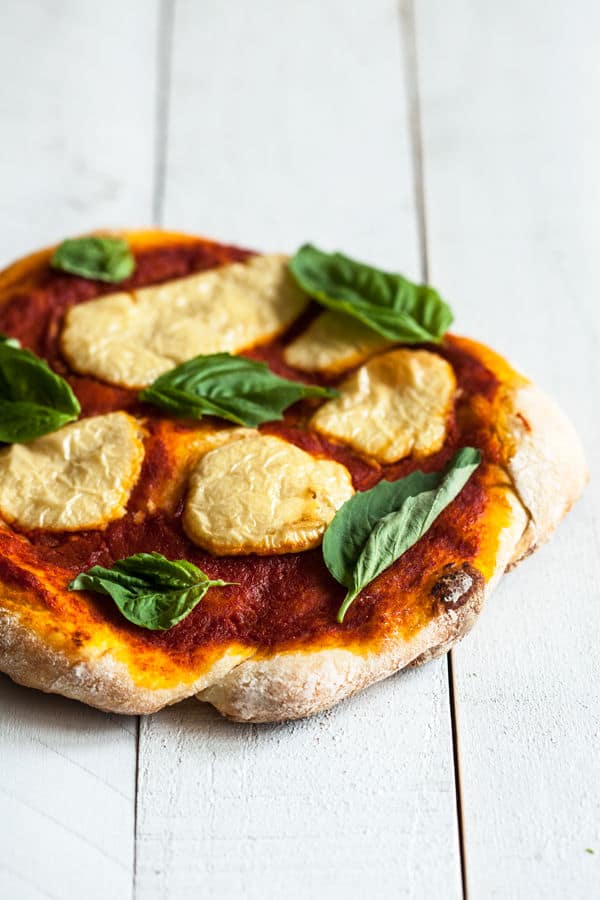 If you're anything like me, you love thin pizza bases but sometimes you just want to have a good size crust that you can munch on while you're watching your favorite movie. For me, better than popcorn any day!
This is what we have here, really one of the best bases. Very easy to make with just a few ingredients.
Do try and get some fresh basil leaves as the taste will be great and so will the aroma. You're going to love this!
Taco Beer Flatbread Pizza with Roasted Corn & Poblano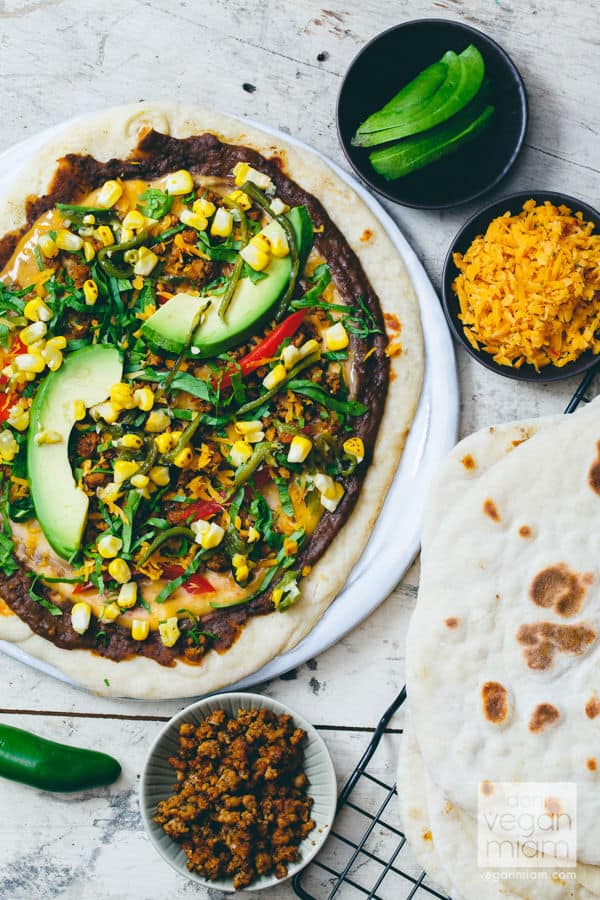 As I write this, Cinco de Mayo was just a few days ago. This recipe is a wonderful way to celebrate it! Have a look through the ingredients and make sure you can source everything.
If you have any trouble, just get the nearest alternative and you'll be good to go.
This is a real treat that is bursting with flavor with every mouthful. The pizza itself is very satisfying and any leftovers store well in the refrigerator. Great for those special holidays. Gracias!
Hot and Baba'd Pita Pizza (Spicy Baba Ganoush)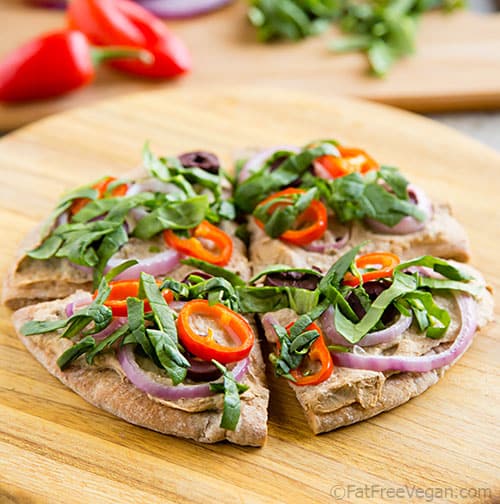 If you want a pizza that is different yet somehow familiar, this is it.
If you follow the recipe to the letter, you will find this a little spicy so be sure to adjust the chili according to your taste.
This comes together in just forty minutes and that includes prep and cooking.
There are just a handful of ingredients and they all blend together perfectly.
Look, when you have garlic, tahini and eggplant as well as some others, I'm in!
Pizza Poppers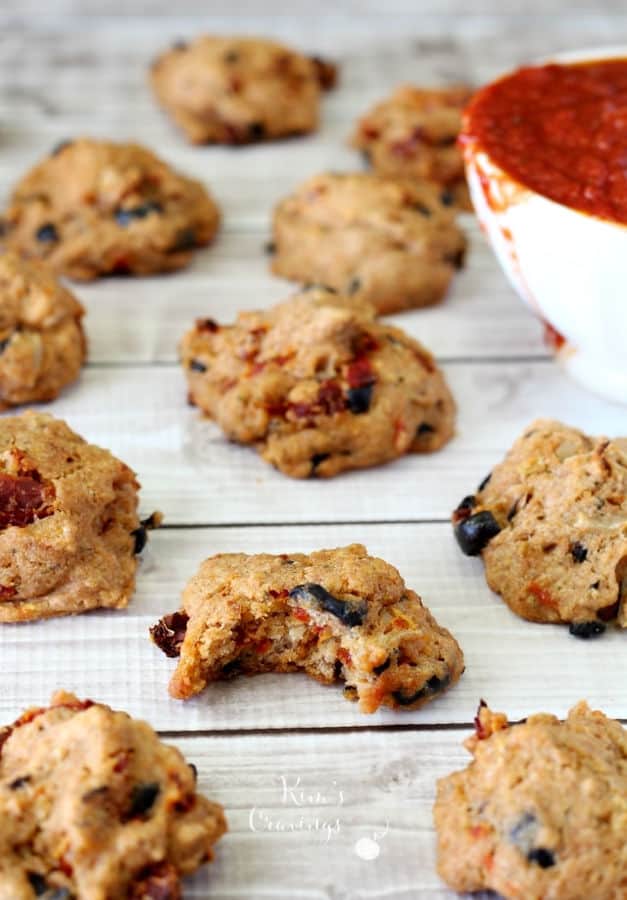 What is a pizza popper I hear you ask? Well it's like a cookie-sized pizza. If that sounds cute, imagine it with a wonderful dip! With this recipe you get to make everything from scratch!
Probably one of the greatest party foods ever. Not just because they taste delicious, but also because they are so easy to make.
From start to finish, you're looking at thirty minutes or less! Who can argue with that?
Garlic Scape Pizza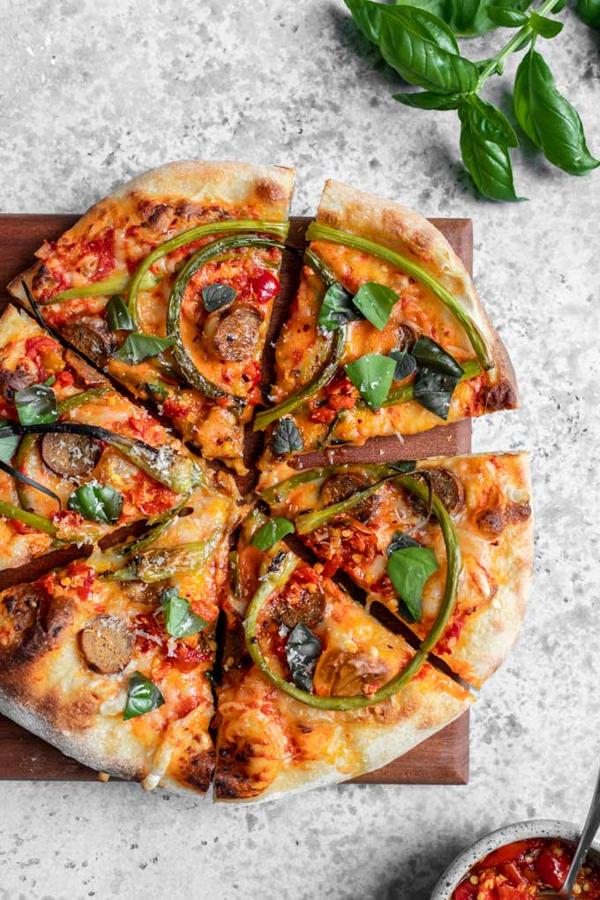 So many pizza recipes out there, and while they all have their own unique touch, this one takes the pie. The fresh ingredients in this recipe make for such a glorious presentation, and the taste!
If you've never cooked with garlic scapes, now is the time and this is the recipe. The scapes are the flower stems which grow out of the tops of the garlic. If you've ever grown garlic, you will be familiar with these potent stems, but perhaps you didn't know you could eat them!
I sure didn't! But now I can't wait for my garlic to produce these beauties so I can make this pizza! Talk about farm-to-table (with a plant-based twist) bliss! Delightful!
Chana Masala Pizza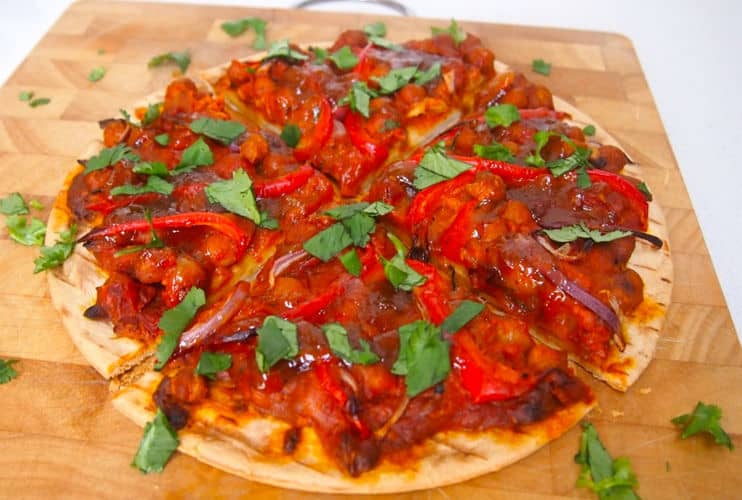 Wait a minute, isn't Chana Masala an India dish? You bet! But what's it doing on top of the pizza you may ask? I tell you what it's doing, it's waiting for you to eat it. Don't overthink this, make it and wait to be surprised.
Perfect for when you have friends and family and you want to make them something familiar yet totally different at the same time.
Obviously, you need to be a lover of Indian food to enjoy this as the flavors are authentic, if you do, you're in for a treat!
Vegan Pesto Pizza Recipes
Low Carb Pizza with Kale Pesto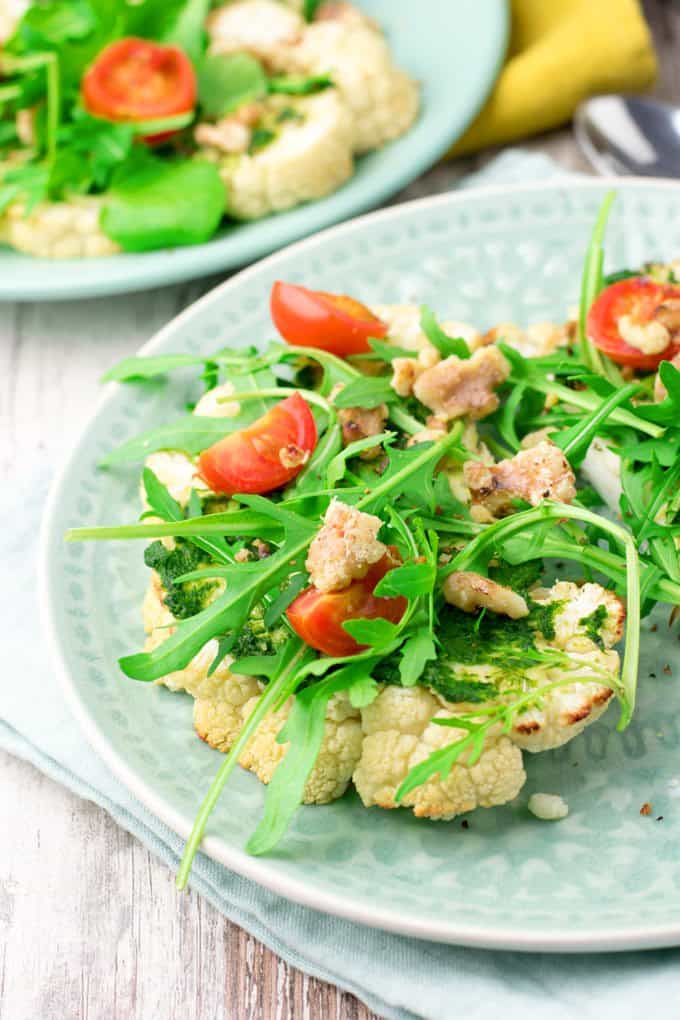 Pizza and low-carb are two things we don't often see together and that's because they are usually total opposites. But what if you're on a low-carb program but really crave that pizza? You make this, that's what you do!
So, how is this low-carb? Well, the base is made from cauliflower heads! You need to try it.
Cauliflower is our wonderful friend that doesn't have a strong taste, its flavor is light and subtle so lends itself well to so many things.
In fact, we have an entire roundup devoted to cauliflower!
I can assure you that this will satisfy your pizza craving, I tried it and it worked and more importantly, it's delicious!
Pesto Pizza with Green Winter Vegetables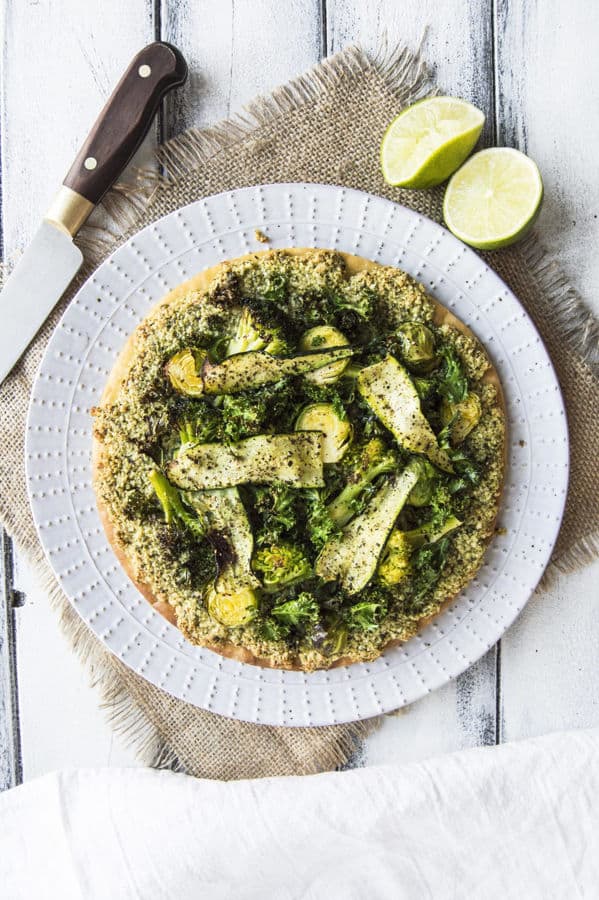 You like pesto, you like pizza, just go ahead and make this recipe now! This is perfect for those Winter months when you have delicious seasonal vegetables.
The recipe's author gives you the option of making your own pizza base or buying store-bought.
Please note that there are no instructions on how to make your own base in this recipe.
Grab some courgette, kale and a whole bunch of other goodies.
For the pesto, blend a few simple ingredients together and when you're done, you realize that you created it in just over thirty minutes.
Deliciously satisfying and the colors are vibrant!
Easy Pesto Tortilla Pizza (Gluten Free)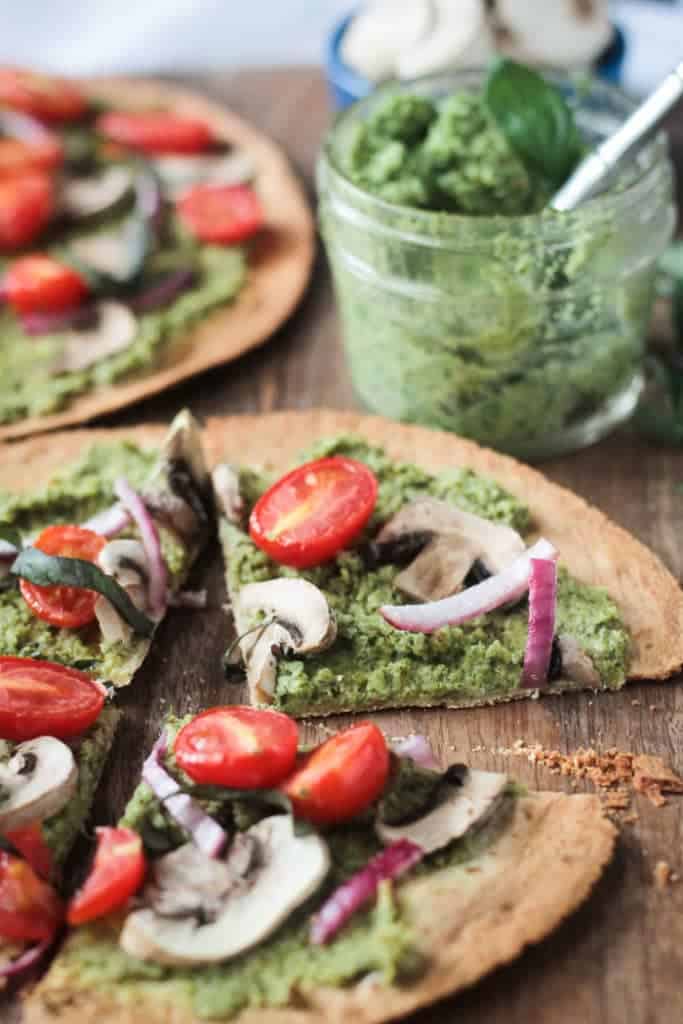 If you're short on time and want a satisfying snack, this is for you. Grab some tortillas and the base is already made!
One of the quickest recipes for this kind of meal is right here. Prep time is ten minutes or less, depending on your toppings, then you bake in the oven for 5 to 8 minutes and you're good to go. For this type of base, baking on a pizza stone will give you best results.
Creamy Pesto Pizza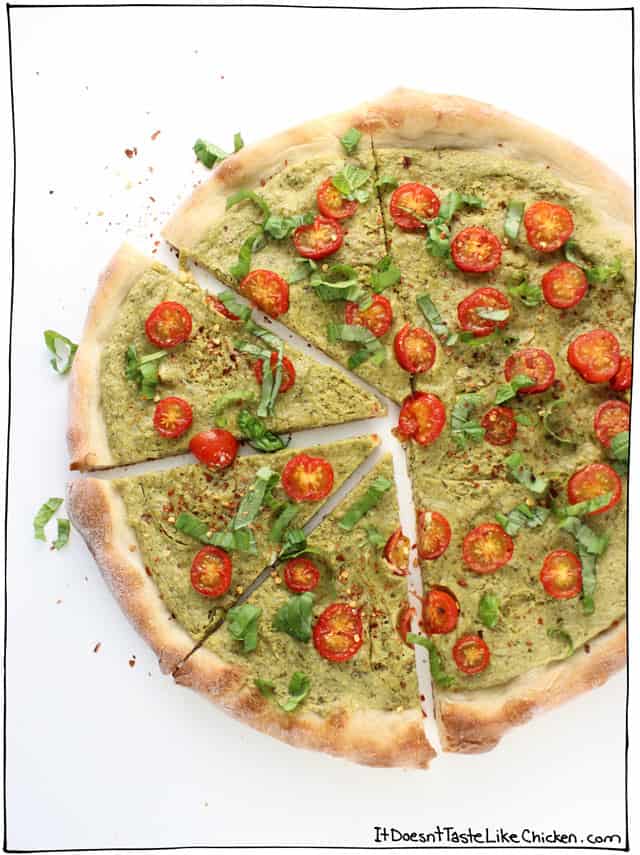 This pizza will give you one satisfying meal to say the least. The pesto is creamy and with the lemon juice it's light at the same time.
Get yourself a good quality store-bought dough, or to save yourself even more time buy a ready-made crust.
Then you're looking at around twenty minutes to have this puppy on the table and ready to eat.
Given that you're using pesto, keep the rest of the topping simple to complement it. Different, yet familiar!
Asparagus Potato Pizza with Kale Pesto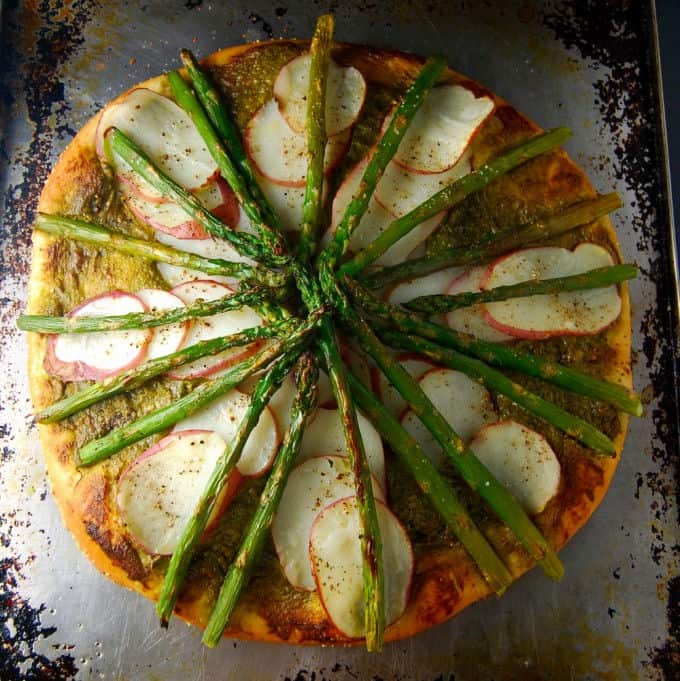 Look at the presentation on this! When you make it, don't skip how the asparagus are laid out. We can see it looks great in the photo, it looks even better in real life!
This recipe does include the instructions on how to make the pizza crust from scratch, so you could skip this and buy something ready-made if you wish.
The kale pesto is amazing, and I will use it next time I have pasta. The pesto, the kale and the asparagus are three supreme flavors that make this the champion of pizzas.
Cauliflower Pizza Base with Spinach Pesto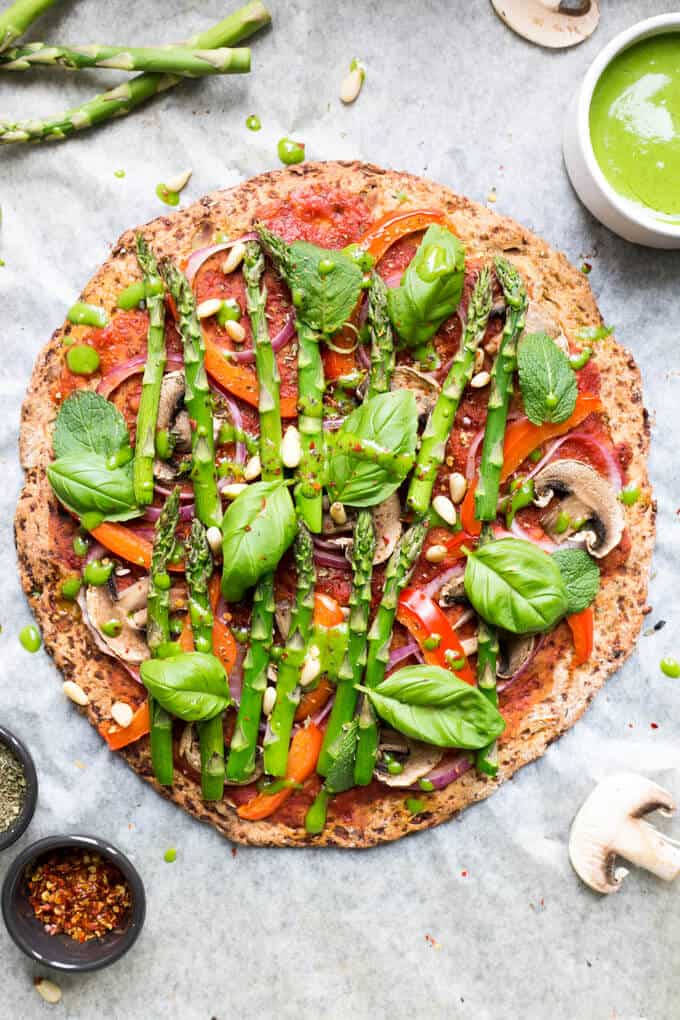 An alternative to traditional bases. This crust is made with cauliflower 'rice', it really does taste incredible and is much healthier for you.
I have never seen a recipe quite like this and couldn't believe that I can have a piece on the table in just over thirty minutes, and that includes making the crust by hand.
Also included in this recipe is a great way to make spicy tomato sauce and a wonderful spinach pesto. Add your own toppings if you like!
Roasted Vegetable and White Bean Pesto Hummus Pizza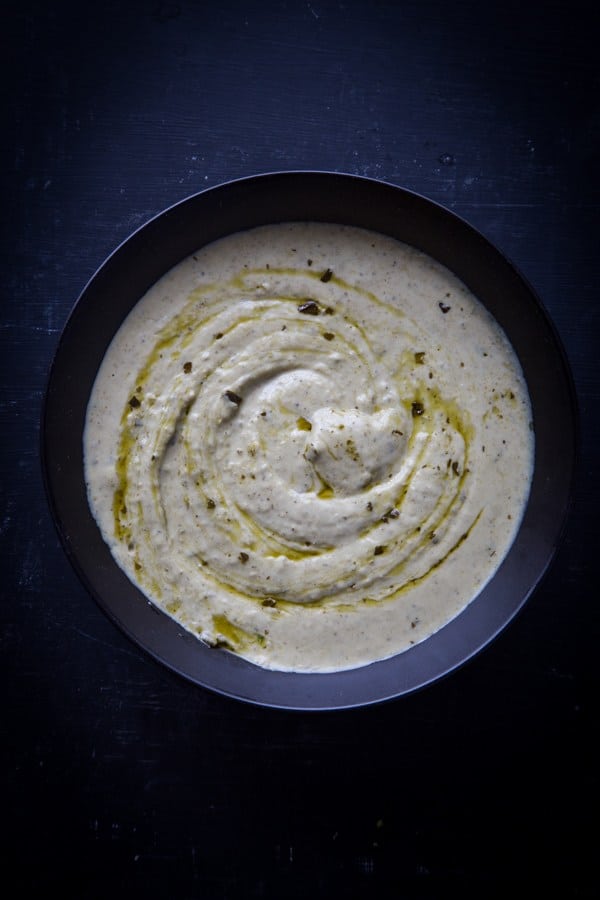 The King of satisfaction is here, yes ladies and gentlemen, it's in the building!
An amazing pizza with delicious roasted vegetables and a hummus that you make yourself.
The hummus is made with cannellini beans and your favorite store-bought pesto.
Mix and smash with lemon juice and seasoning and you have something special.
At those amazing vegetables and you'll be making this again soon!
Special Picks
Green Goddess Pizza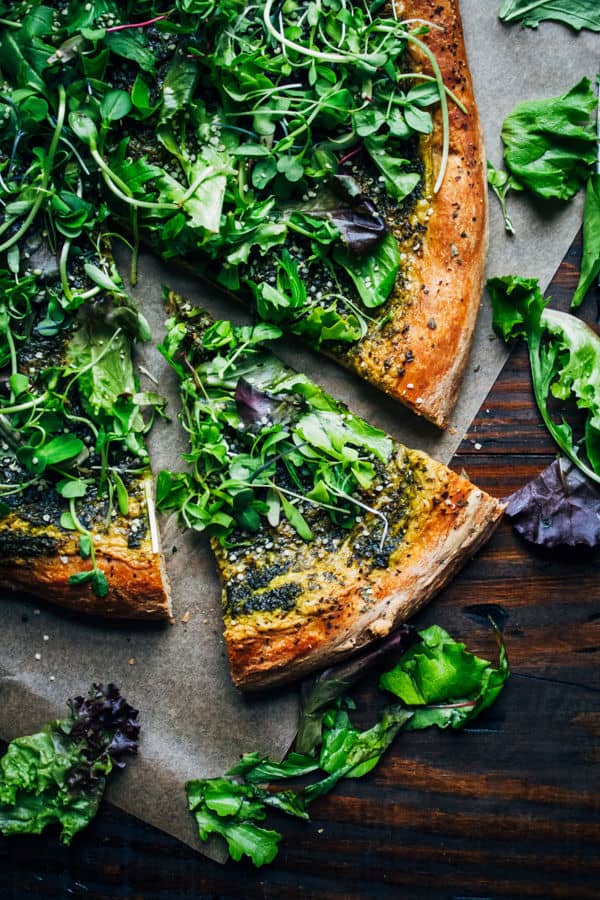 I first came across these types of pizzas a few years ago. When I saw my first one I wasn't sure, I thought to myself, it's basically a salad on a pizza, how is that going to work? Well I can tell you, it worked perfectly then and it does with this recipe too!
You get three recipes in one here, the cashew cheese, pesto and the pizza. Please note that your cashews should be soaked overnight to ensure best results.
The pesto is delicious, a hint of sweetness with that distinctive pesto taste, but not overpowering. Get the best quality greens and sprouts and for that texture, don't forget the hemp seeds. Delicious!
Green Tortilla Pizza with Avocado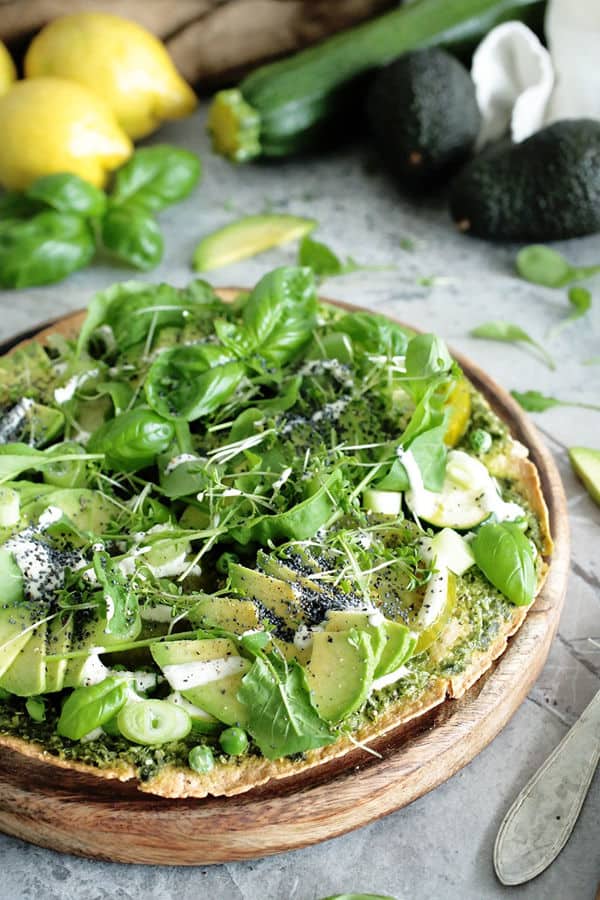 All the greens you could possibly imagine and the easiest pizza base of all time, what more to life could we want?
Use two tortillas as the base and bake either on a baking sheet or a pizza stone as instructed.
I love how the pesto is made with zucchini as it makes it extra light. The cashew sauce is the real winner, make sure you soak the cashews overnight first. A superbly healthy meal!
Ranch Pizza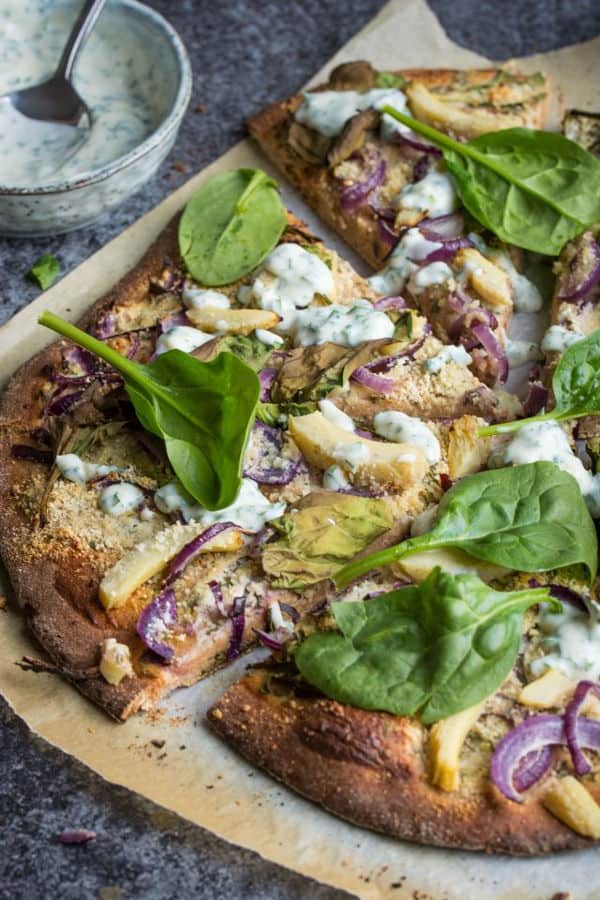 I really love this recipe, you get a decent pizza that is so satisfying. You could use a store-bought dough or ready-made pizza crust, but if you have the time and inclination, I really would recommend making this pizza base as it's delicious!
The ranch sauce is what makes this, and I will use it with other dishes as well. One of the mini-recipes here is also another gem, Vegan Parmesan Cheese.
I normally make it by whizzing pine nuts and nutritional yeast in a food processor for just a couple of pulses, this version has cashew nuts and garlic powder to go with the nutritional yeast and seasoning.
It's amazing! Make this pizza, I promise you won't regret it!
Raw Pizza with Caramelized Leek (Oil-Free and Quick)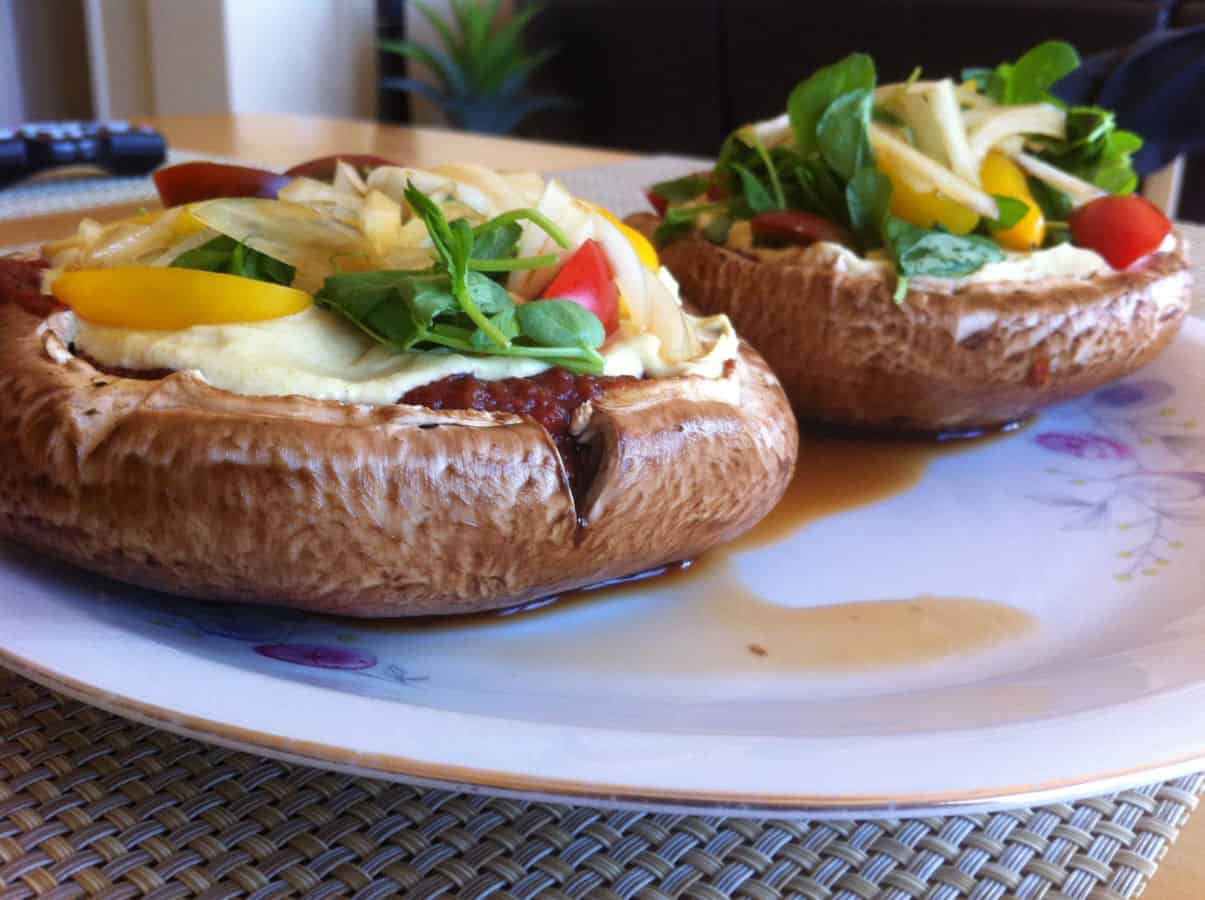 When I first saw the title for this recipe I anticipated that I was going to tell you that you need a dehydrator, you don't!
Grab some Portobello mushrooms and get the rest of the ingredients and in no time, you'll have delicious mini raw pizzas.
You certainly won't feel bloated or lethargic after eating these, but you will feel satisfied, that's for sure! Your body will thank you too.
Curry Cauliflower Pizza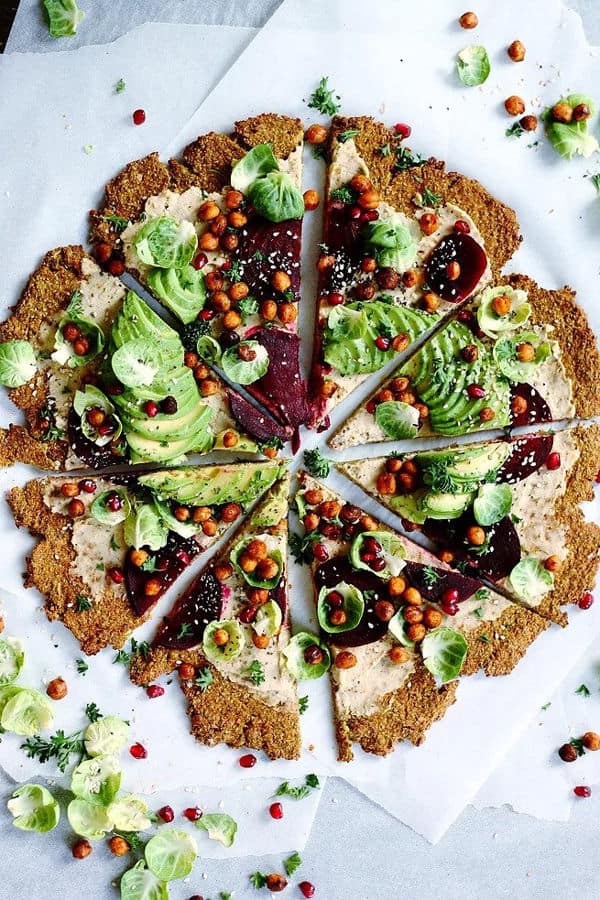 Cauliflower pizza crust, I've never had anything quite like this before and I can report back, it's a win! You'll need a few ingredients to create it, but I can tell you, it's worth it!
For the topping there is roasted curried chickpeas, these are seriously so good.
I kept some leftover and had them with rice the next day and they were delicious. If you want something different that is super healthy I would seriously give this a look.
Tortilla Pizzas with Hummus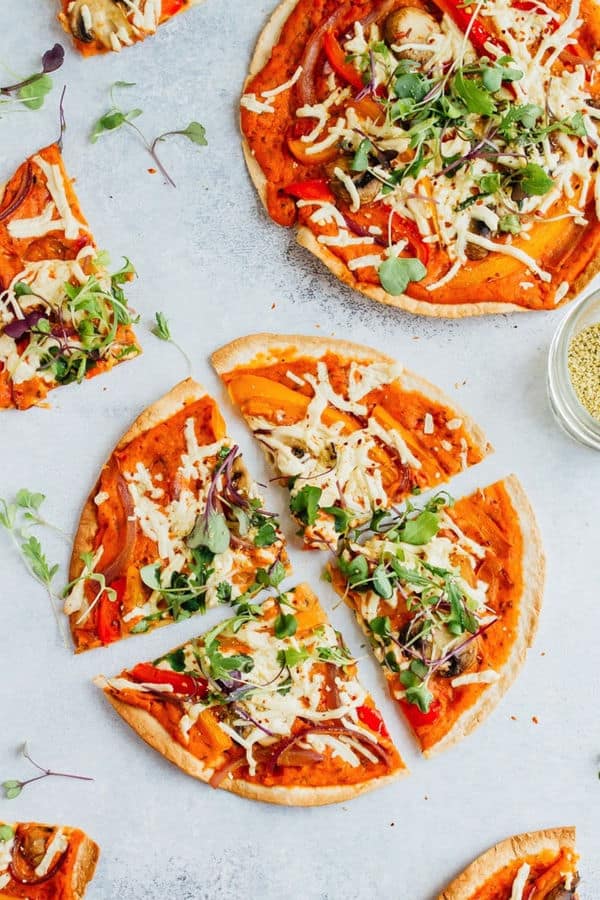 Tortilla pieces are great to make pizzas with, ready-made bases guaranteed to always be good. The rest is easy and more importantly, quick!
Either follow this recipe or put your favorite toppings on for a great pizza.
The hummus makes it super satisfying without making you feel lethargic afterwards.
If you have any leftover vegetables this would be the perfect opportunity to eat them. Go for it!
5-Minute Avocado Toast That Tastes like Pizza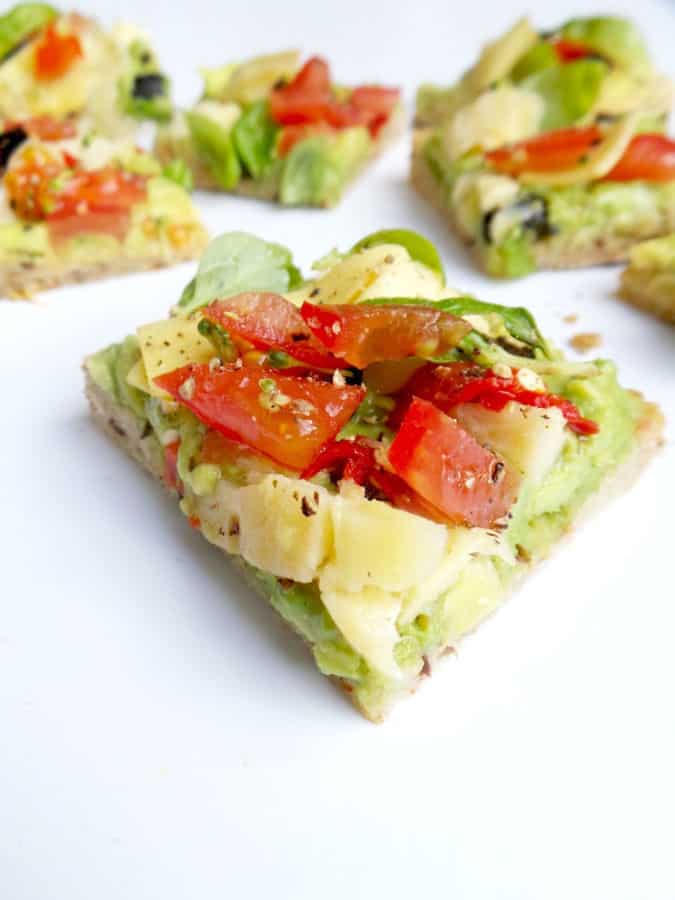 How can toast taste like pizza? This one does! Look, a pizza base essentially is bread so what's the big deal, right?
This really does take just five minutes. Not only does it taste great, it looks divine. For the toppings I would really go to every effort that you can to get the best quality of everything, preferably organic as well.
The avocado spread is the perfect base. Whether we agree this tastes like pizza isn't important, what matters is how it tastes, and for that it passes with a distinction!
Butternut Squash Pizza with Apples & Pecans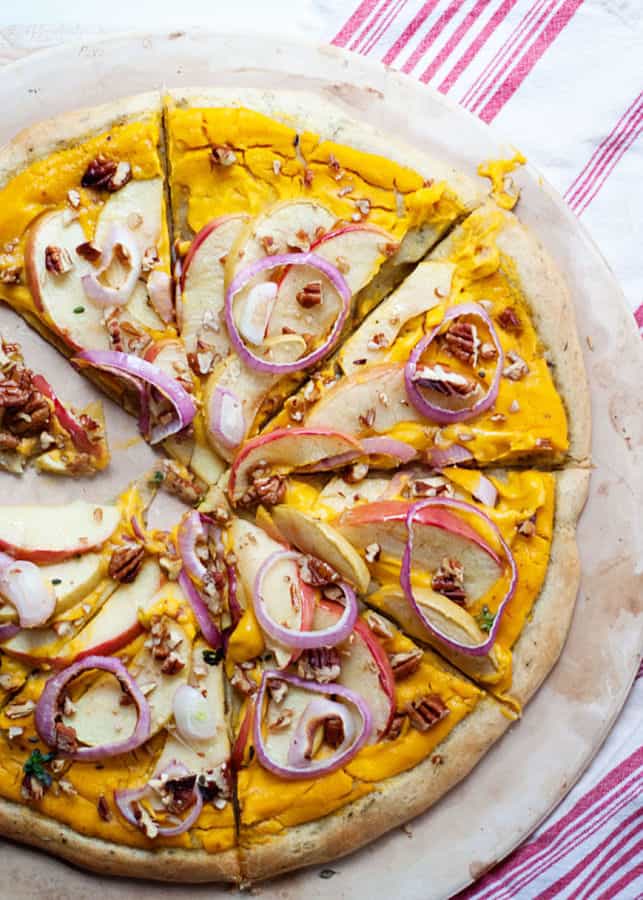 When I first saw this, I wondered if it would work. Everything seems savory, and then apple? I can tell you, this is approached with absolute objectivity, and it passed!
The apple certainly clinches the deal, it lightens the taste and gives it that freshness.
Having said that, I think the secret ingredient, or rather pair of ingredients, is the Dijon mustard and nutritional yeast flakes.
They are not overpowering but are just there in the background. Absolutely perfect.
Fresh from the Blender Pizza Sauce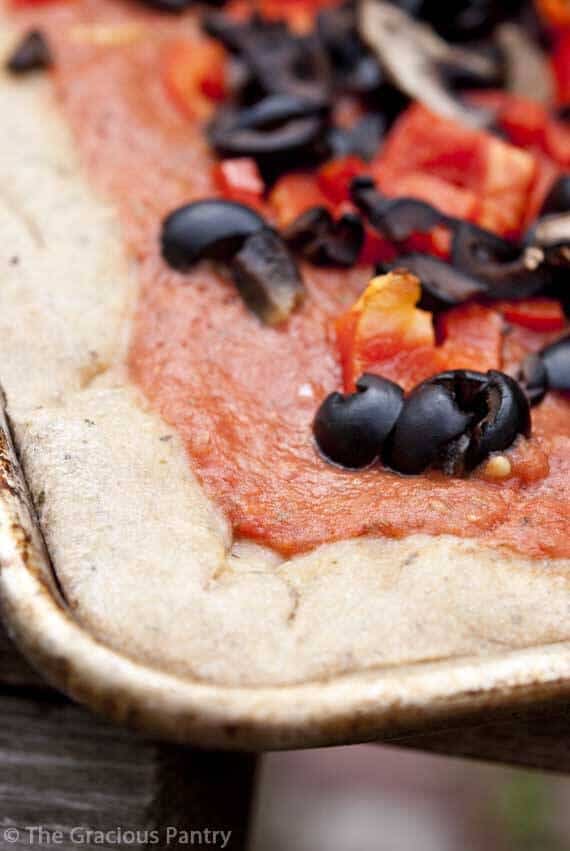 This recipe is all about the sauce which makes a wonderful and authentic topping.
Please note, on the recipe page, just above the heading for the list of ingredients is a link to pizza dough, you can use that if you want to have the same 'clean eating' theme.
The ingredients for this sauce are about as Italian as you can get. You just put everything in a blender and is ready to pour on the pizza.
The instructions do say not to over-blend and I would completely agree. In fact, I would go as far as not using a blender but rather a food processor instead.
Even then, I would pulse the absolute minimum because you want to retain the texture and I think you are more likely to achieve that in a food processor rather than a blender which is designed to liquidize.
Either way this is a divine sauce which I honestly can say, should be the base of all pizzas. It hits the spot.
White Pizza with Spinach & Basil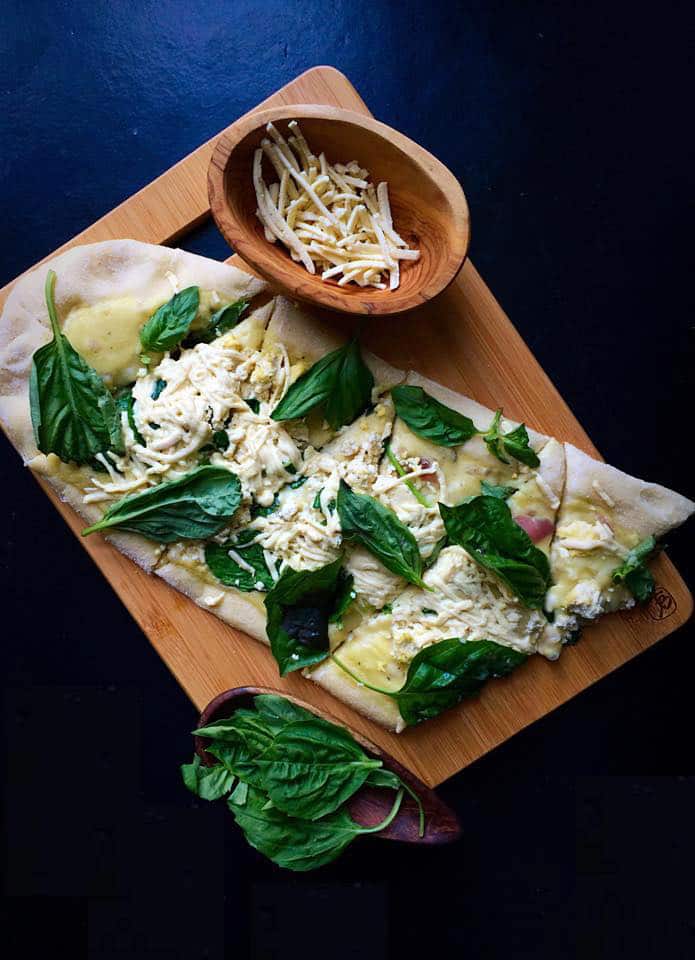 A white pizza is one without a tomato sauce base. There are many variations, and this is a wonderful vegan 'cheesy' recipe.
A truly great pizza that is extremely moreish. As a bonus I would recommend you make a note of the béchamel sauce, this is one of the tastiest I have ever come across.
In addition, the tofu ricotta is fantastic and would be great for Greek style salads. But before that, make this pizza today!
Thai Tofu Pizza with Spicy Peanut Sauce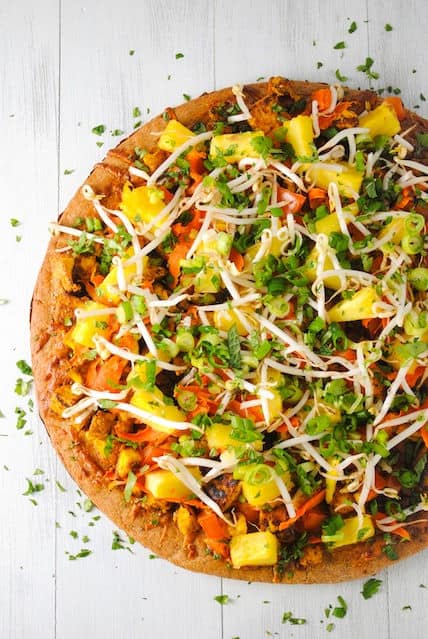 If you are in any way unsure about this, trust me and go with it. There's nothing quite like a good Thai meal, and peanut sauce is just fantastic. If you're looking for something unique and yummy, try this.
This is a taste explosion! I tell you, sometimes when I eat things that have strong flavors, I tend to get fed up with them quite quickly and leave at least half of it.
The intensity becomes too much. You don't get that with this and I think the pineapple is the key to this recipe.
It lightens everything up and brings you that wonderful freshness. If you want to surprise a friend with something they have never had before, go for this!
Vegan Veggie Pizza Recipes
Butternut Squash Veggie Pizza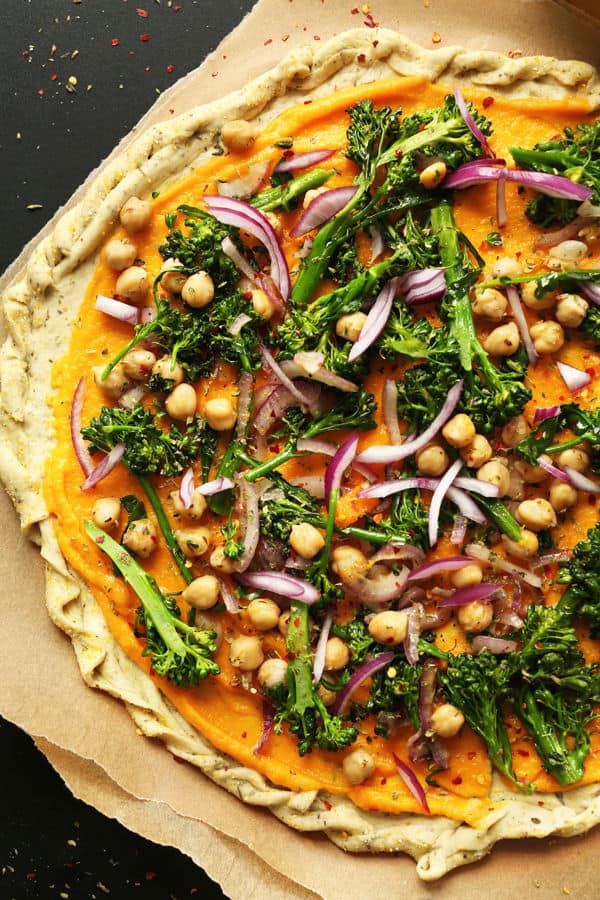 I can only describe this pizza as high-quality. It takes about an hour to make from start to finish and is extremely flavorful, healthy and light.
If you are having family or friends around for dinner I would make a couple of these. I doubt they would have had anything like this before and will be wanting the recipe!
It makes for quite a sophisticated meal, I think it's everything from the crust to the broccolini rather than just one ingredient. Above all, it's delicious and that's all that matters.
Plant-Based Flatbread Veggie Pizza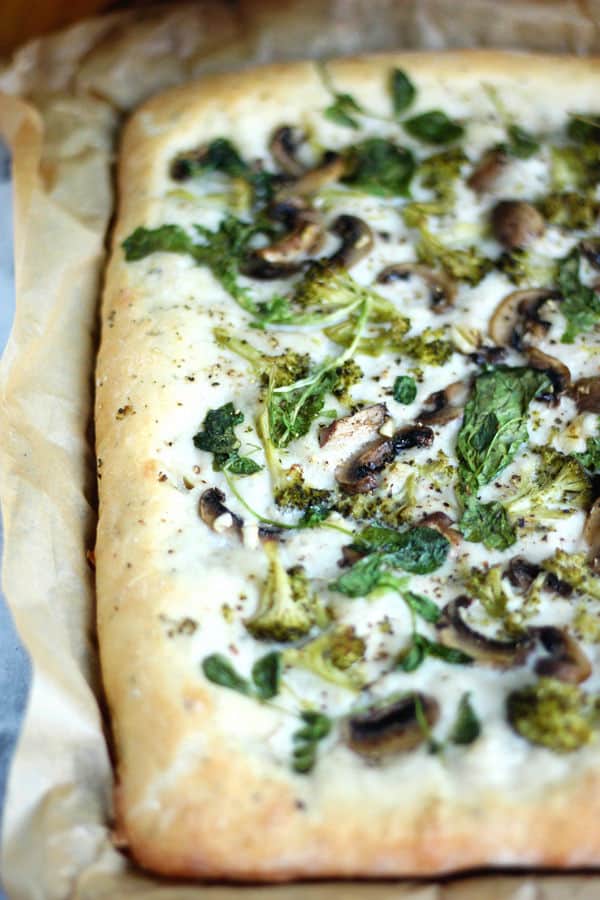 Not all pizzas are thin and crispy! In Italy, around lunchtime, even the deli counters at the supermarkets will be filled with slices of thick flatbread pizzas with a minimal topping.
That makes it easy to eat while you walk. That's what we have here, a satisfying recipe that will keep you going for the rest of the day with superb toppings.
As you look down the list of ingredients, don't be put off by its length, it really isn't what it seems. The white button mushrooms and the coconut butter are the magic ingredients for me. I love this!
Red Pepper Flax Crust, Sun-Dried Tomato Sauce, Pine Nut Cheese and Veggie Pizza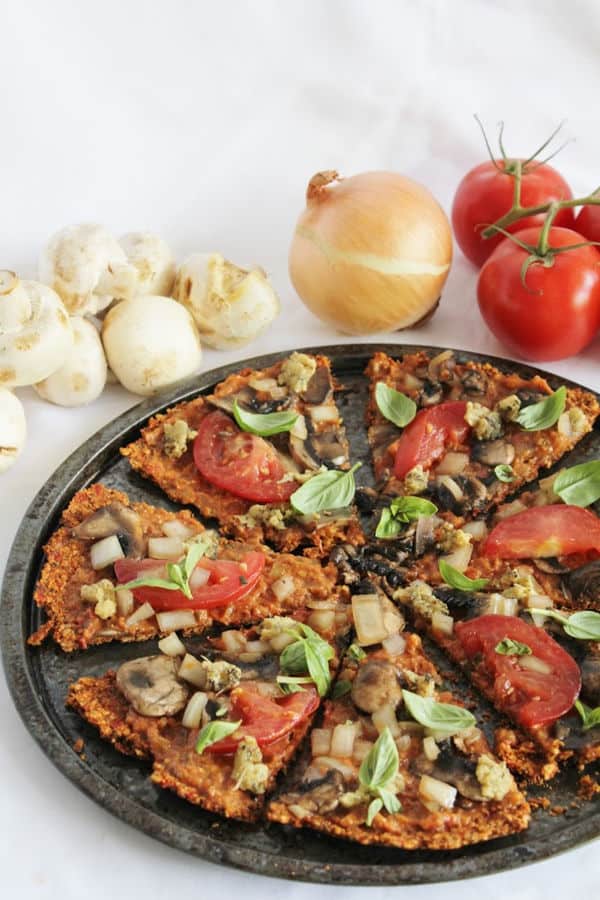 What I really love about this pizza is normally you would find a crust like this is dehydrated for hours and hours.
It really does consist of just three types of seeds and seasoning.
You certainly can use a dehydrator, but I like the author makes it accessible to everybody and uses the oven on the lowest setting which is sometimes used as an alternative to a dehydrator.
Here you have everything from pine nuts, garlic, sun-dried tomatoes and so much more.
If the picture alone doesn't get you salivating, I recommend you see a doctor! For when you want that pizza craving, but you want to stay healthy, this is certainly it!
Veggie Flatbread Pizza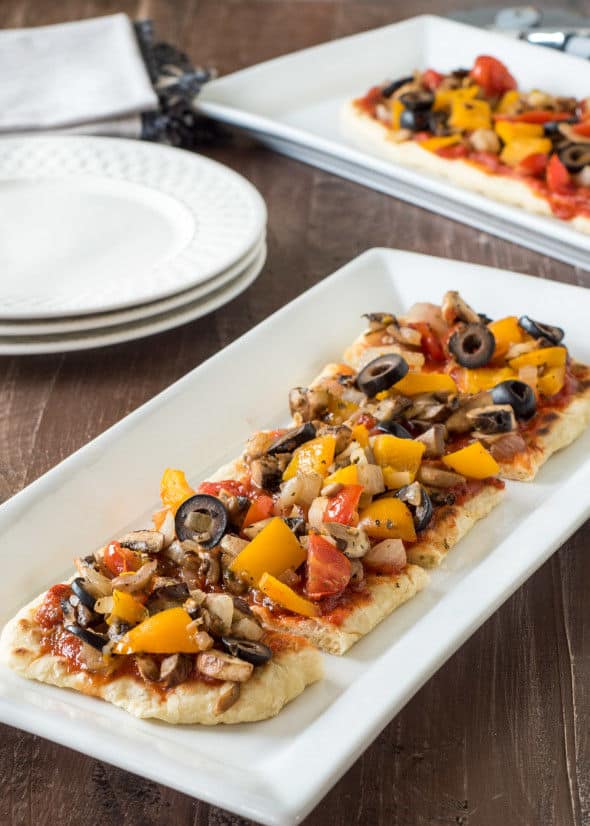 I really love the shape of these types of pizza.
None of this round business where we cut awkward-shaped slices, just tear it in half and get your hands dirty!
This is just wonderful, the ingredients are authentic and, of course, you can use your own favorite toppings or even leftovers.
Perfect for movie night and the kids will love it too.
Roasted Veggie and Black Bean Mexican Pizza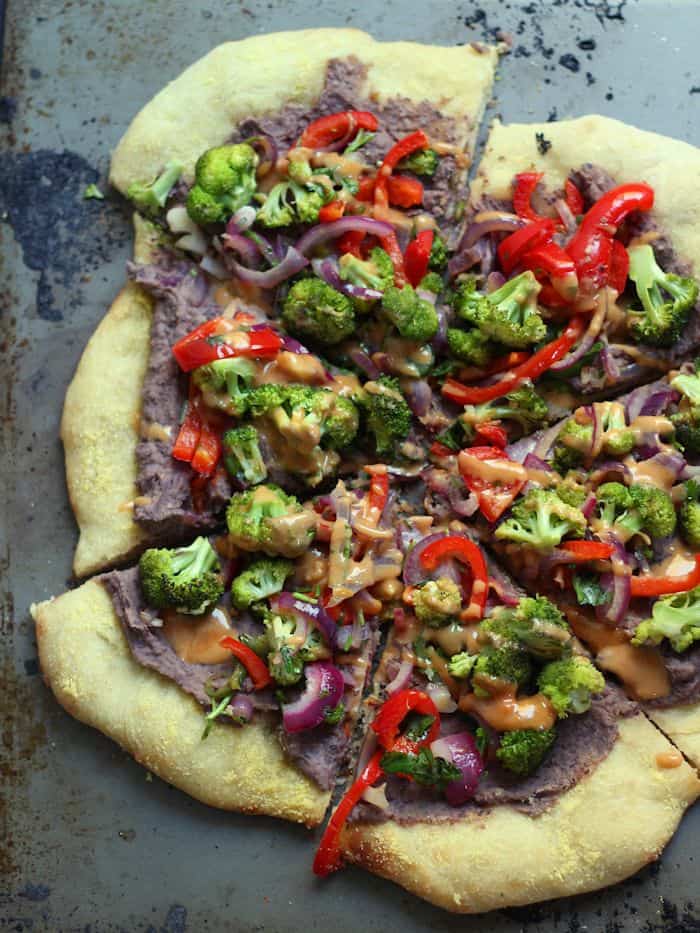 The black beans for this had been blended slightly to give a satisfying topping.
There's a lot to this pizza but don't be put off, I suspect you have most of ingredients already and the rest are very easy to source.
This is a serious meal for serious people! The Tahini Nacho Cheese is a winner on its own, this puppy is going to be used many times in my house, as a dip for nachos, for salad dressing, the lot!
I can pretty much guarantee you and your family will love this as much as we did!
Wrapping Up
I think we can agree that everybody loves pizza!
It's not often thought of as a healthy dish, and because of this we tried to find some recipes that were healthy, but still gave you that pizza fix.
Everything from dessert, to snacks and if you love pesto, there's a bunch of dedicated recipes right here.
For me, pizza is no different than any other dish, but presentation is important, and I recommend you take that little bit of extra effort when you lay the toppings on your pizza, even if it's just for yourself.
We hope you enjoy these; we'd be thrilled if you could send us some snaps of your creations.
We always love hearing from you. For now, grab yourself a recipe and get eating. These are good times right here!