You may've seen our collection of 101 recipes where we tried to find the very best and put them all together for you.
For this lunch roundup, we searched and researched the very best plant-based dishes that would be great for lunch.
Whether it's a sandwich, contains a specific ingredient like potato or quinoa, noodle dishes and more. If you want something quick, it's here. If you're entertaining and need a special pick, we have that, too.
Take a browse through this amazing collection or simply click or tap on the category button that takes your fancy. Enjoy!
Vegan Burger & Sandwich Lunch Recipes
Beetroot, Chickpea and Bean Burgers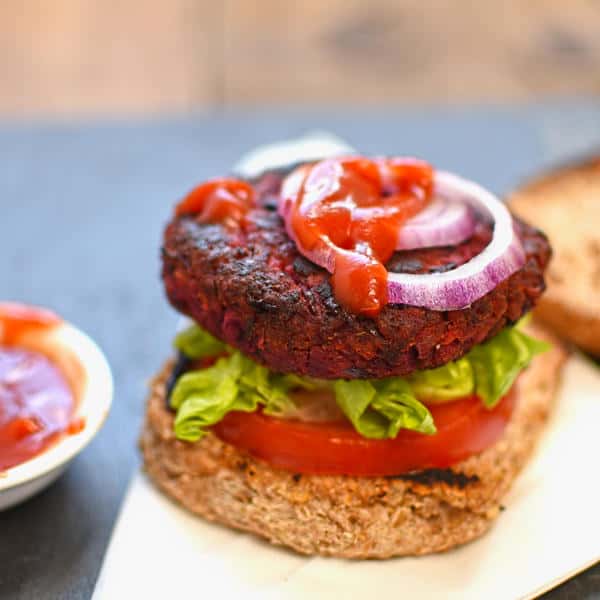 Beetroot is what the Brits call beets, they may also be referred as 'beetroot' in Canada and Australia/New Zealand, though I'm not entirely sure. They are used more and more in vegan burger recipes as they contain that deep color and for some, helps transition from meat.
There are a few ingredients to this burger although I imagine you have most of them already, the ingredients are very straightforward.
With the chickpeas (garbanzo beans), kidney beans, onion and even dried apricots to name but a few, your burgers will satisfy and that's guaranteed.
The amounts listed in the ingredients make for 12 burgers and best of all, they freeze perfectly. Get your pickles and fries ready!
Vegan Tuna Mayo Sandwich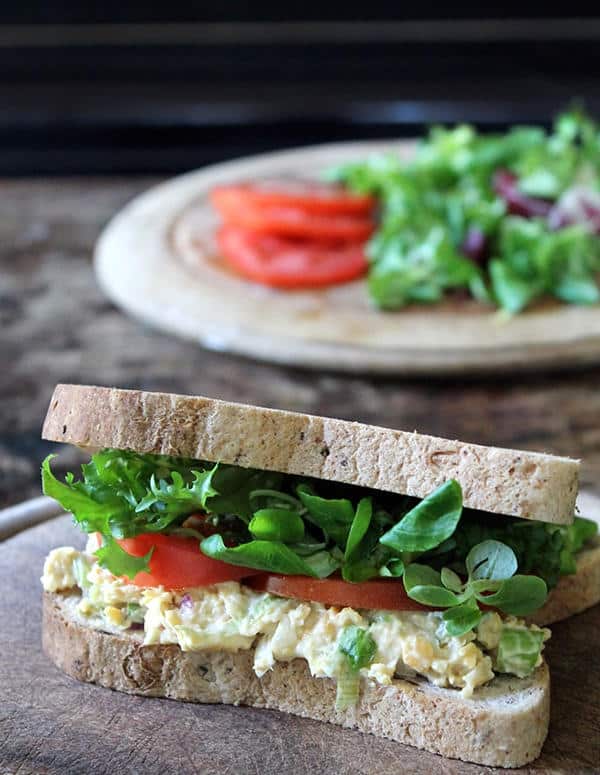 Vegan tuna? How does that work? Actually, it works incredibly well, especially as this comes together in a snap. Seriously, this is probably the quickest sandwich filling ever.
You need a can of chickpeas, some vegan mayo, red onion and really just a handful of other ingredients.
Using a fork, mash the chickpeas and then add to the remaining ingredients and, that's it! Spread on your favorite bread and serve with sliced tomatoes and crunchy lettuce. Satisfying and bursting with flavor.
Cajun Red Bean Burgers with Remoulade Sauce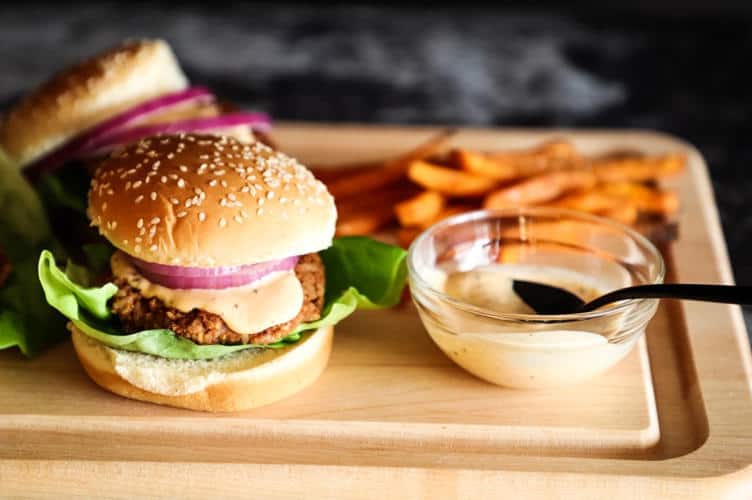 Some people need a transition phase when they go from eating meat to a plant-based diet. Foods during a transition will include ones that resemble meat, also known as 'fake' meats.
Although I think we should be careful how much we dive into such products, if they help someone transition away from a Standard Western Diet, then I'm all for it.
These burgers are for people that don't care about having a sandwich that resembles meat.
This is a solid recipe with wonderful ingredients such as kidney beans, rolled oats, Creole mustard to name but a few. They take about an hour to cook and just 15 minutes prep time. Totally delicious.
Mushroom Lentil Burgers with Quick Pickled Onions and Grainy Mustard Aioli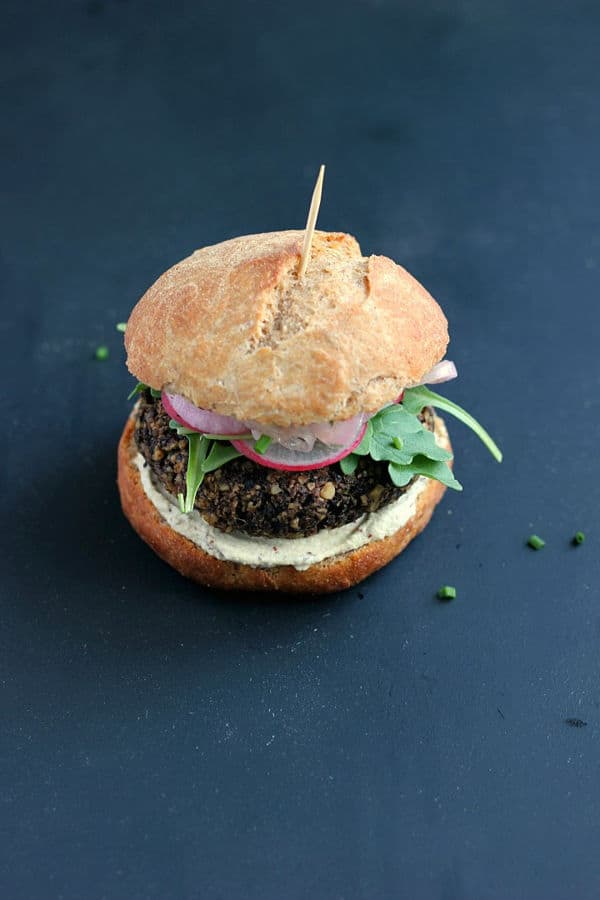 Mushrooms and lentils have always been a great combination. Here we have a recipe divided into three sections, all of them complement each other like you wouldn't believe.
I would treat this burger recipe as a luxury. By that I don't mean to make a note of the recipe and never actually make it or think to yourself 'I'll make that for my birthday in 9 months'.
You can and should make this now! While it may be tempting to just make the burgers and skip the 'onions' section and the 'grainy mustard aioli' part, I urge you not to.
The author has gone to a lot of trouble to make sure these flavors work together and my goodness, they really do! An incredible dish; toast your buns and prepare your pickles!
Bubba Veggie Burger with Cilantro Parsley Pesto and Avocado Hummus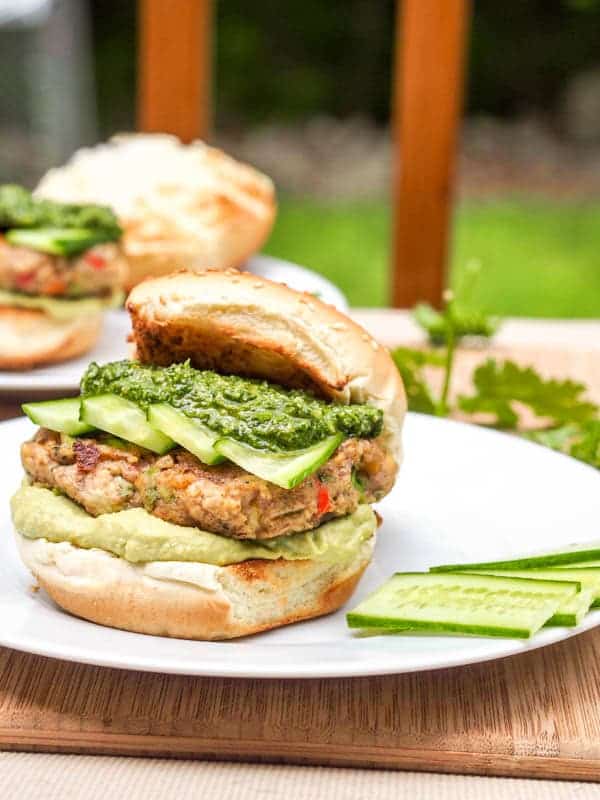 This Is an interesting recipe, it took me a bit of work and imagination to recreate it, but I did, and it was delicious.
I'll tell you right now that this recipe is sponsored by a veggie burger company, the burgers themselves are frozen and store-bought.
There's nothing wrong with that whatsoever unless you can't source them! I couldn't so I went online, check out their ingredients and manually recreated the burger the best way I could. Why did I do that? Well, the rest of the dish is incredible.
There's a really good recipe for pesto made with cilantro and, as the title suggests, avocado hummus.
Read the ingredients carefully because it's not as clear as it could be, the recipe listing is divided into three and the headings appear to be just another ingredient. So, don't be put off, we included this recipe because it deserves to be here. The pesto and the hummus win it alone!
Cranberry Chickpea Salad Sandwiches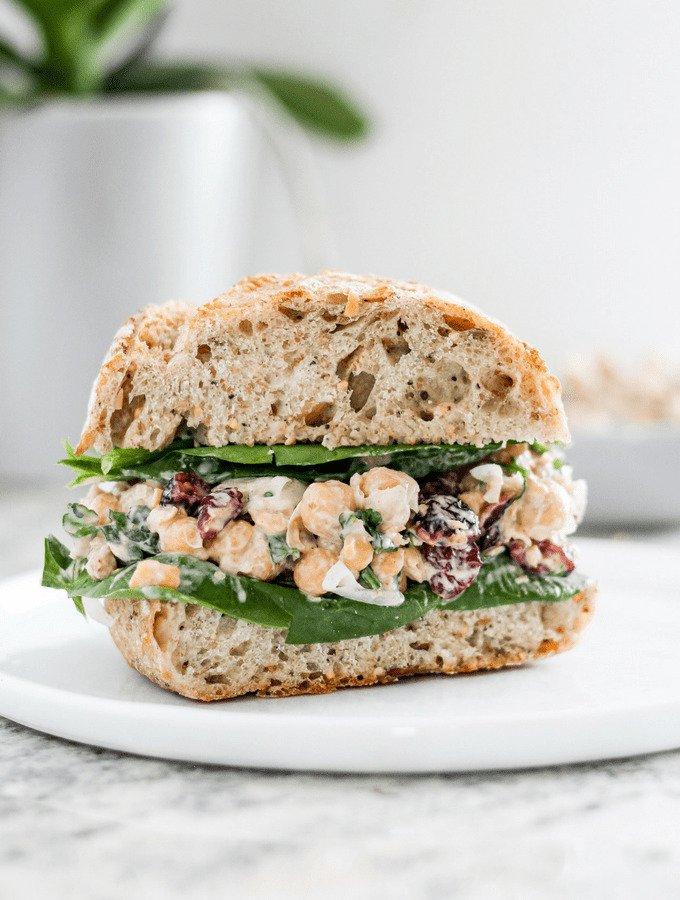 Sandwiches are such a lunchtime staple, but sometimes I get in a rut with them. Trust me when I say there are more ways to create a sandwich than with mere veggie slices and cheese. Here's proof.
This is a modern take on a basic chickpea salad sandwich and it's mouth-watering delicious. A handful of ingredients and you've got yourself a flavorful filling for your favorite bread. Or you can toss it in a bowl and eat it by itself.
Either way, you'll love this recipe and you can make it even more unique by experimenting with different toppings and condiments. I have a feeling it'll become a lunchtime favorite!
Grilled Moroccan Cauliflower Chickpea Burgers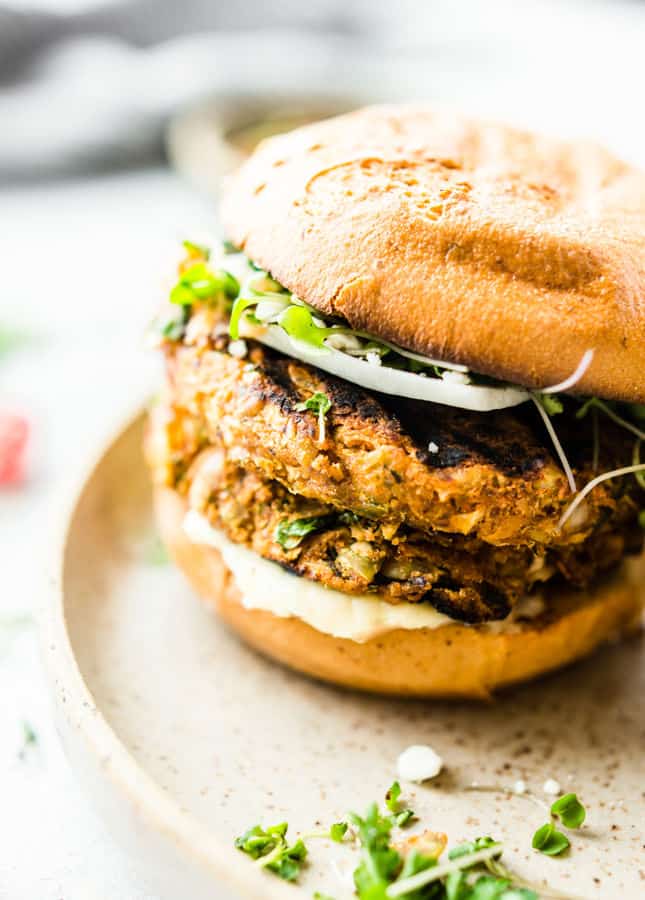 If you want to venture into something a bit more than a standard 'veggie burger', something that has a definite direction and culturally inspired, this is it.
One of the most flavorful vegan burgers I have ever eaten.
I don't remember ever having eaten a burger made primarily from chickpeas and cauliflower, but then you add the rest of the ingredients, smoked paprika, minced garlic and so much more. Also, these are grilled so super healthy.
If you make one burger from this list, make it this one!
Black Bean and Quinoa Burgers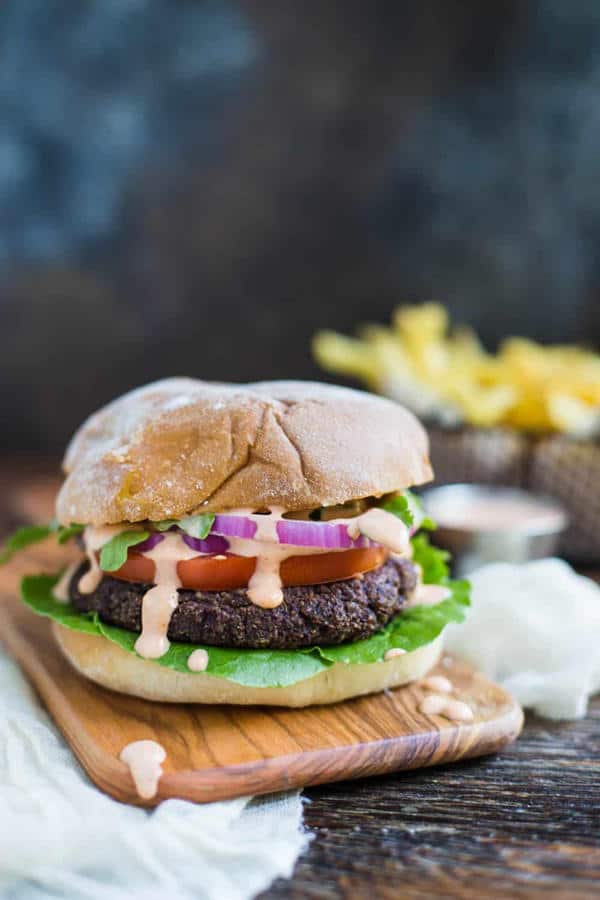 Quinoa is one of my favorite foods although I don't often use it as an ingredient. This recipe reminds me I should!
There are fewer ingredients than I thought, once you remove the seasoning, and the onion and garlic powder you nearly got rid of half of it.
You will need a food processor to combine all the ingredients although if you don't have one, you could go for the rustic texture simply using the back of a fork. The effort will be worth it I promise.
Grab your favorite toppings and it's pretty much a given that this will be one of your go-to burger recipes from now on.
Better Vegan BLT Sandwich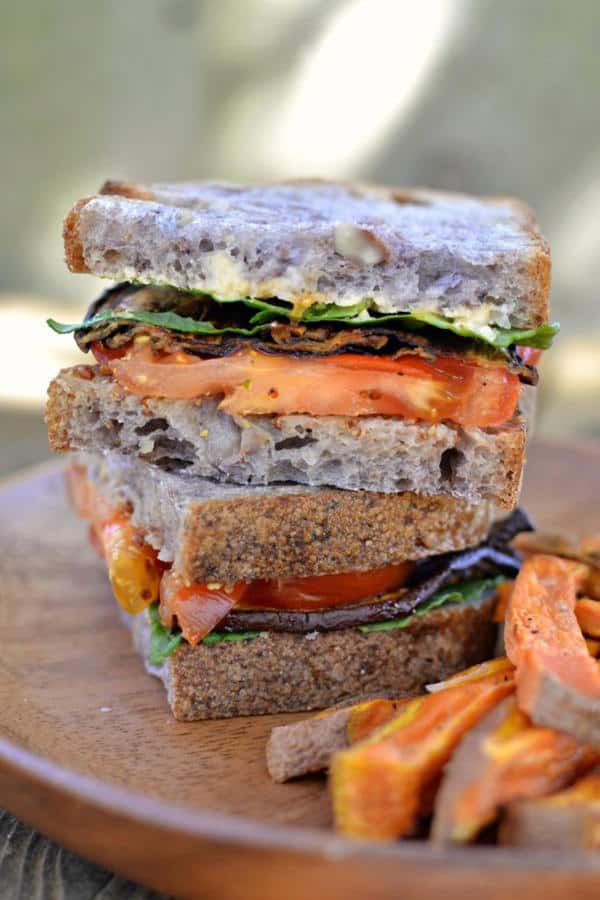 Better? Is it better? The answer is yes, in so many ways. Normally, a vegan BLT will feature some kind of 'fake' bacon made with some mysterious ingredients purchased from the frozen section of a supermarket.
This is okay if you want something quick but, in my experience, I wouldn't eat something that highly processed on a regular basis.
Here, the 'bacon' is simply eggplant! It is baked with the smallest amount of spray oil and some barbecue sauce.
That's it, literally. Get yourself the best quality bread you can, best hummus or vegan mayo, best tomatoes, best everything! Make this once, and you'll make it again and again.
Falafel Burger with Tahini Sauce and Sweet Potato Fries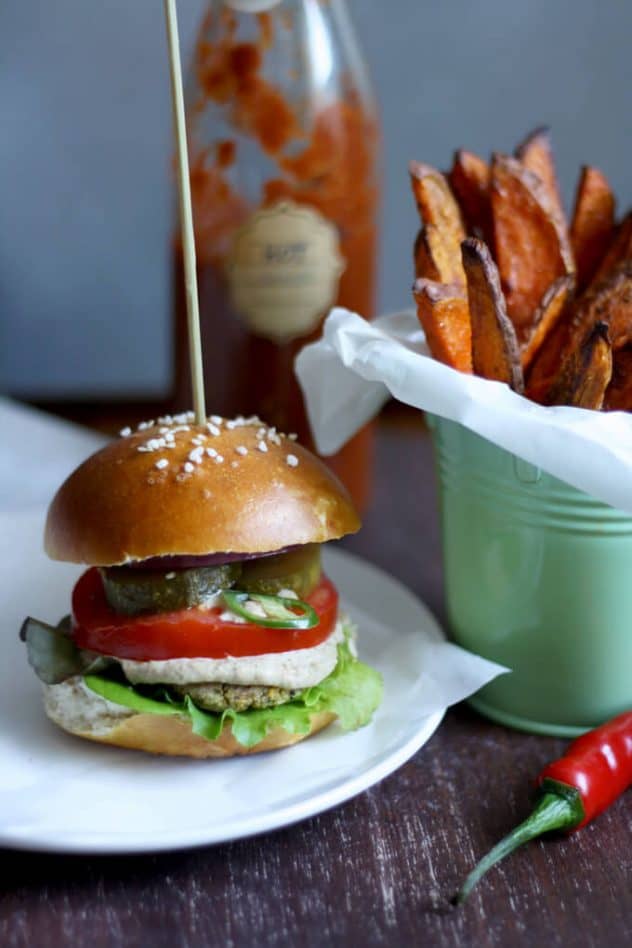 This is so much more than simply a burger recipe, it's an entire meal with fries and everything!
Falafel burgers make for great vegan patties. It's a solid recipe and tastes great.
I really like this because it gives you ideas for all the accompaniments.
You also learn how to make outstanding sweet potato fries and if that wasn't enough there's an amazing recipe for tahini sauce which will also serve as a great salad dressing. Put them all together and you'll probably make it again the next day!
Chickpea Salad Sandwiches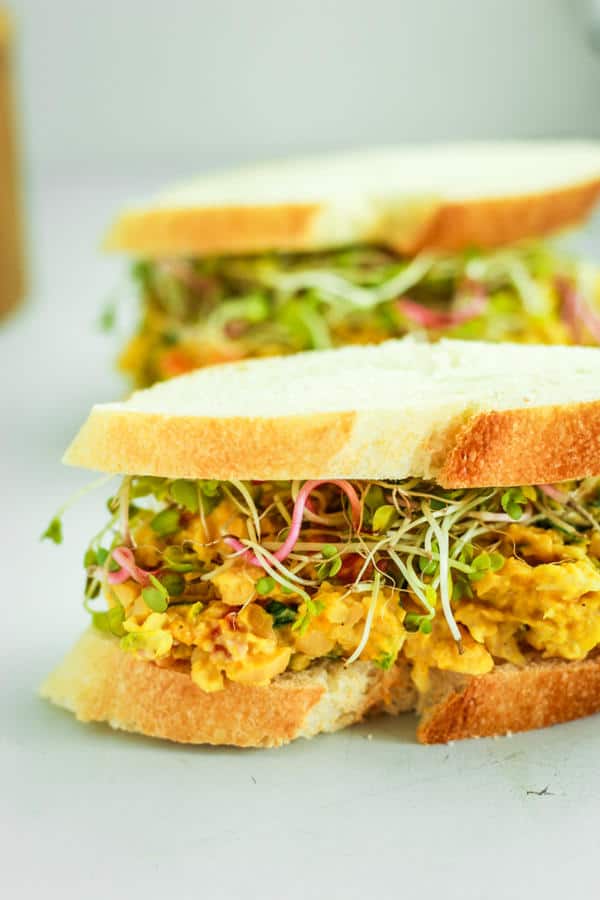 Let me tell you, if you want a summer sandwich, there really is nothing better than a smashed chickpea filling. I don't mean just that, I'm referring to this being the base of your filling.
Add some vegan mayo finely chopped parsley, a few other ingredients and of course lemon juice (which is more important than you realize, until you taste it) and you have a winning sandwich.
Add your favorite salad fillings such as crispy lettuce, mixed sprouts, tomatoes, anything you like! You'll be satisfied and yet you'll want more!
Chickpea Salad and Avocado Smash Sandwich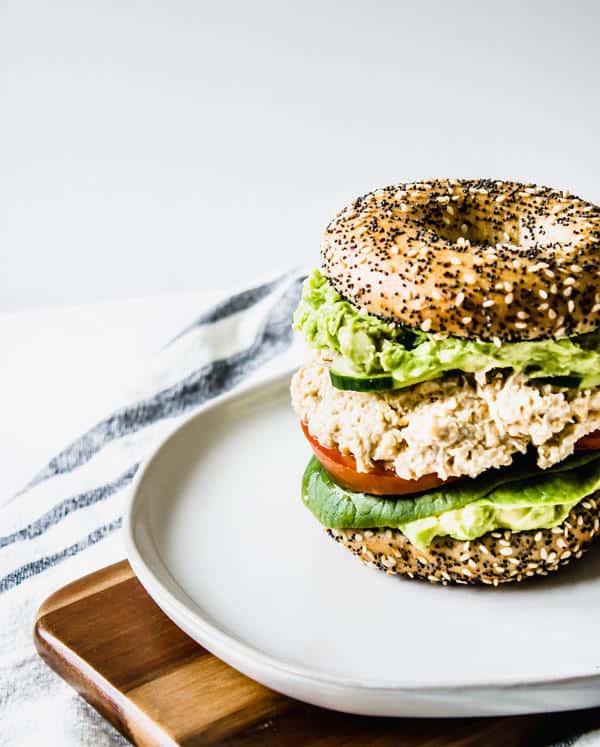 Somehow the author has managed to create an incredible sandwich where it seems to have many components, yet the ingredients are just a few and simple.
Grab your favorite bread or, as the author suggests, a bagel. Bread gets forgotten sometimes in sandwiches and we think it's just the carrier for the filling. It is, although it is just as important so do get the best quality you can.
The sandwich filling literally has four ingredients and there's a good chance you have them in the kitchen already.
Next is the garlic tahini cumin yoghurt, this has just 5 ingredients and one of them is a store-bought dairy free yoghurt, so get your favorite.
Put this all together and you have a luxury sandwich. Maybe a little messy when you take that first bite, but that's half the fun!
Asparagus Artichoke Pesto Hummus Sandwich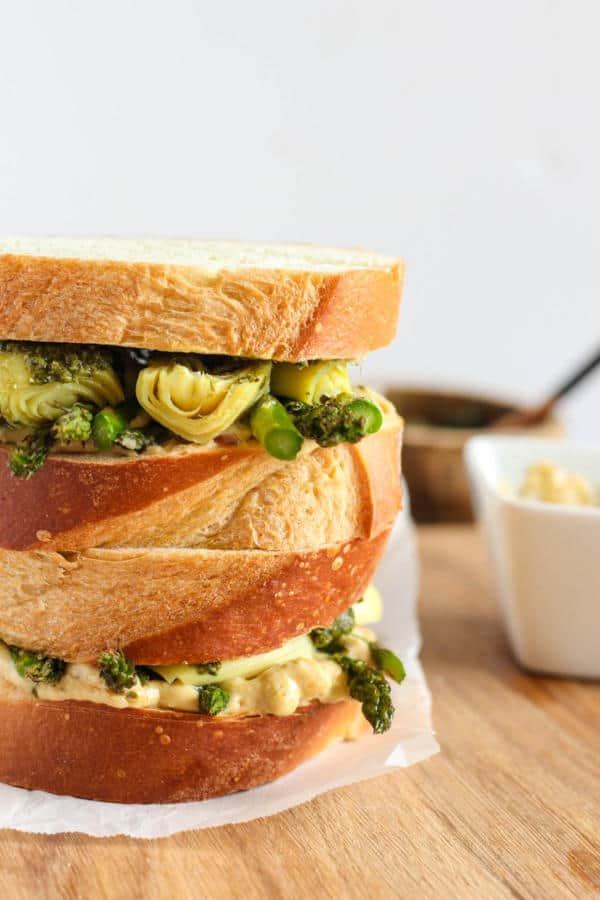 If you're going on a picnic or a day out with a friend, why not tell them that you'll make lunch and take it with you. Prepare this and they will be seriously impressed.
This isn't so much about the ingredients although you do need the best quality you can, this is about how they all blend together.
Asparagus, artichoke hearts, extra virgin olive oil, a little pesto and hummus; and my goodness, what's not to like? Getting the right bread will be important so spend some time thinking about what you will choose. Seriously impressive.
Vegan Cream Cheese Cucumber Mint Sandwiches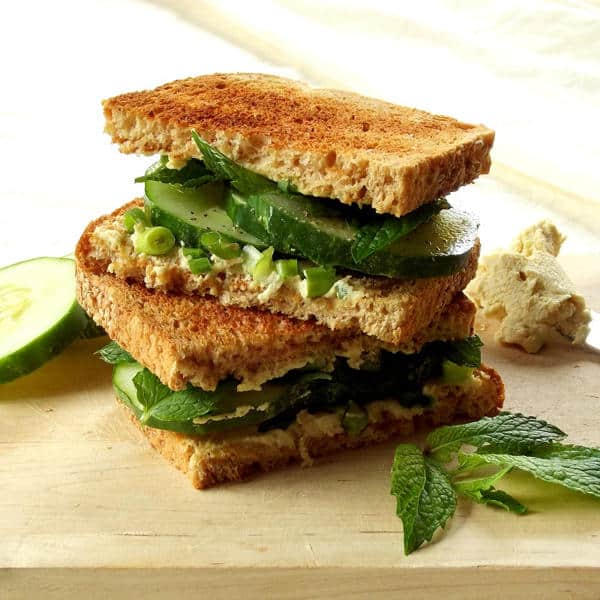 I think mint is often overlooked which is a real shame because there's nothing quite like it. This recipe does include cashew cream cheese and where it is listed on the ingredients page, there's a link to a separate recipe on how to make it, easy!
Outside of the cream cheese and seasoning, you really are looking at three ingredients.
Don't ignore this recipe because it's too simple, some of the best dishes in the world are the straightforward ones. The recipe for this sandwich reminded me of the importance of having toasted bread.
It digests a lot easier and quicker and that added crunch makes sandwiches even better. Certainly, an easy sandwich, but one of the best!
Vegan Gluten-Free Lunch Recipes
Mayo Free Pasta Salad (Gluten-Free)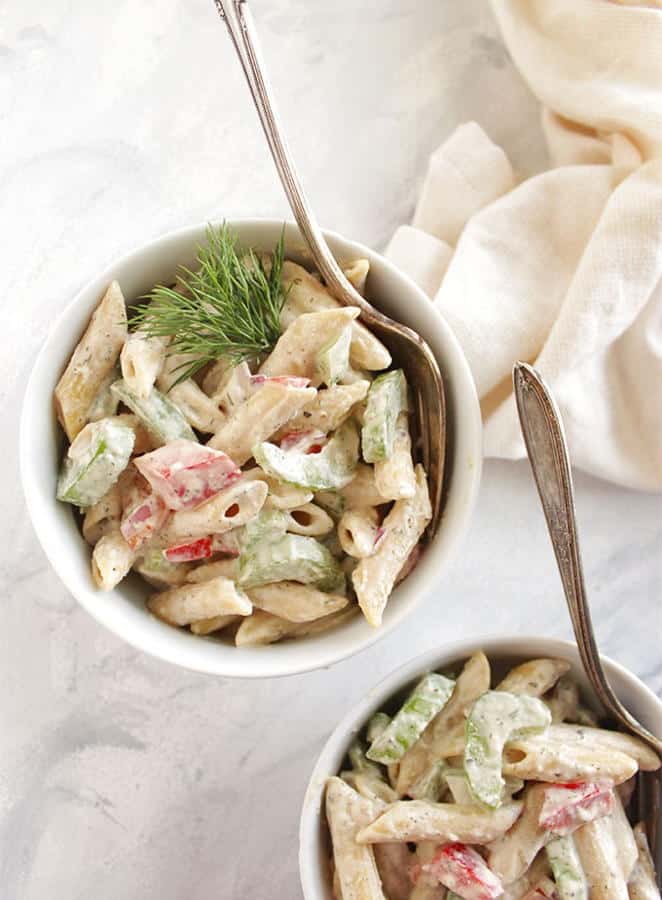 One of my favorite snacks is a good pasta salad. A lot depends on the quality of the dressing and most of the time we just buy vegan mayo or something.
With this recipe, you make your own dressing and it couldn't be easier!
You will need a cup of cashews and I advise to soak them overnight. Get your favorite pasta, and if you're gluten-free, you don't miss out on anything.
The ingredients for the dressing of great, just mix them all together and blend until smooth. Throw in your favorite veggies and you have a fantastic dish.
Easy Creamed Spinach (Gluten Free)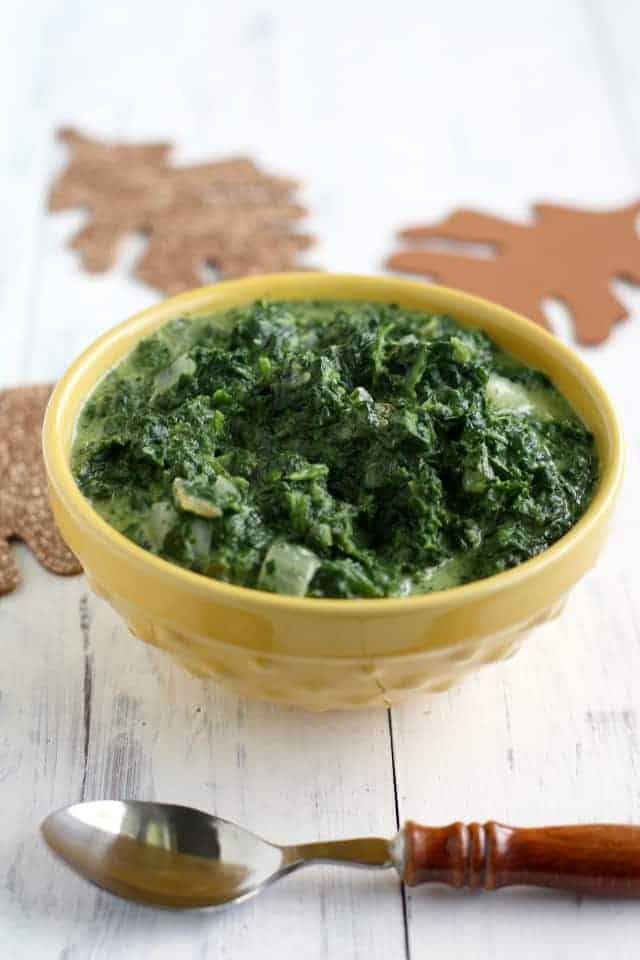 Creamed spinach is just incredible although I have found it very difficult to get a good vegan version, now I have!
You'll need some dairy-free cream cheese and your favorite non-dairy milk, add in the rest of the ingredients and you're good to go.
The recipe calls for frozen chopped spinach and I would go with this over fresh which may sound unusual, but it really helps with the consistency.
Just a 5 minute prep time, 20 minutes for cooking and you'll end up with the perfect side dish. Vegan or not, everybody will enjoy this.
Vegan Steak (Gluten-Free)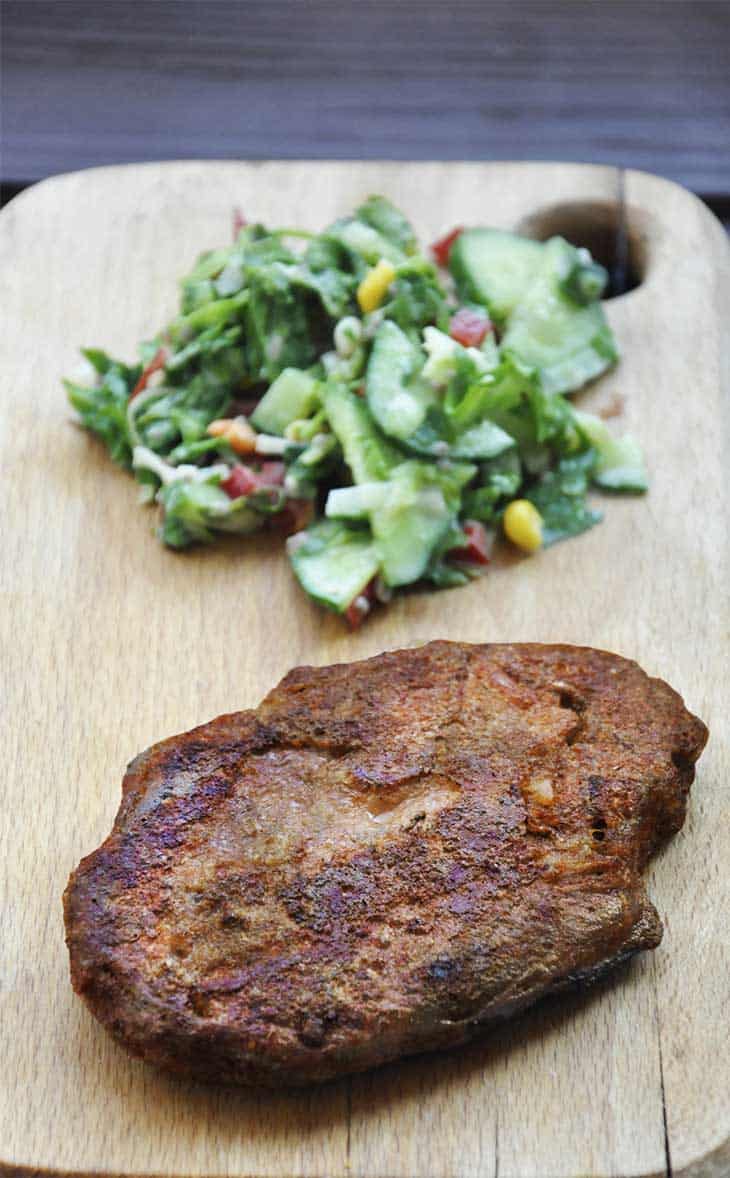 Vegan steak, what's that about? Well, very often 'fake meat' products contain things like soy, seitan and I have seen others that are largely made of gluten.
Hey, taste is great but understandably some people want to avoid these processed products.
I was really excited to see this recipe and obviously, you make the 'steak' from scratch but more importantly, the ingredients are a double thumbs up.
You're looking at oyster mushrooms, pasta (corn-based and gluten-free) and a whole bunch of spices. Follow the instructions and the amounts listed make for 8 vegan steaks.
You can grill them or lightly fry if you prefer a crunchier texture. Serves as the main part of a meal or take a leaf out of my book, and somehow try and make it into a sandwich.
Mushroom Stroganoff (Gluten-Free)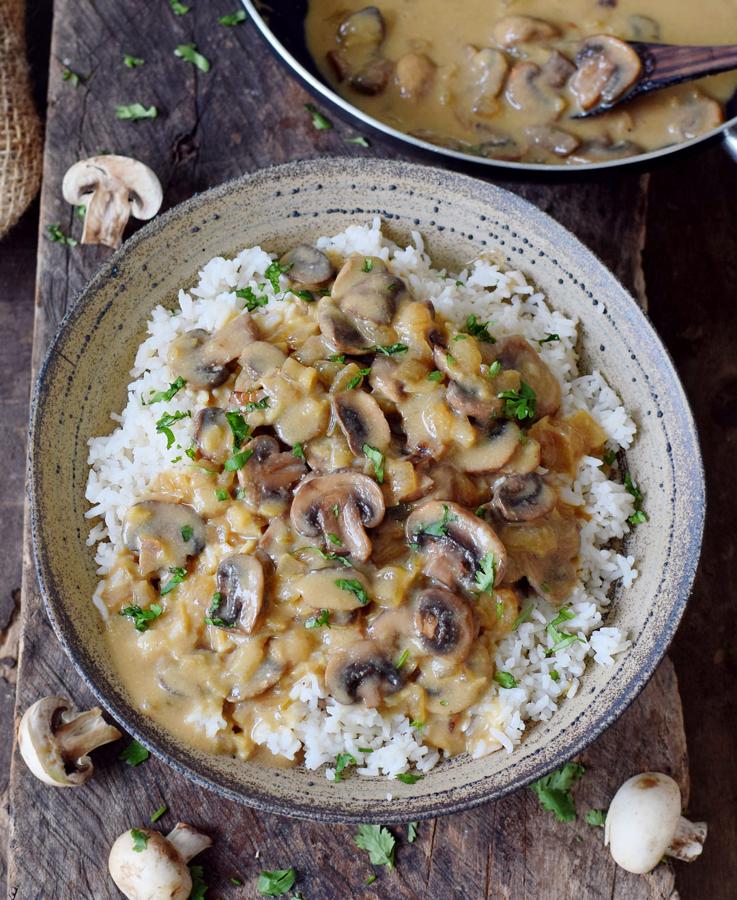 This hearty mushroom stroganoff is creamy and packed with flavor. Bonus, it takes less than 30 minutes from start to finish. There's no need to rely on a packaged (and often not plant-based) stroganoff mix when you've got this recipe on hand.
A recipe like this is easy to follow and gives delicious results. Served over rice or noodles, this is a comfort food favorite you don't have to leave behind.
It's a crowd pleaser and tastes even better the next day as the sauce thickens up. It's the perfect leftover lunch for every day of the week.
Wild Rice, Kale and Mushroom Stuffing (Gluten-Free)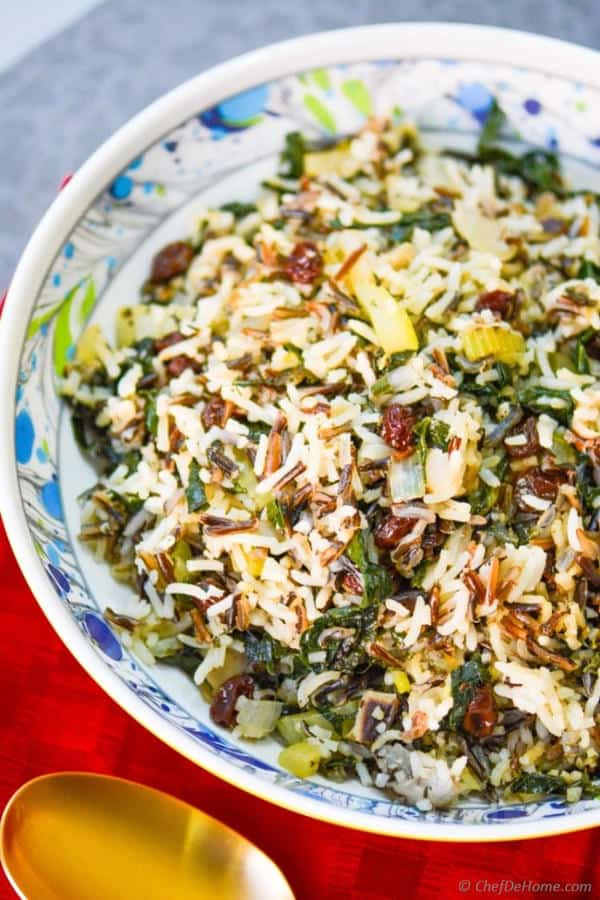 Who doesn't like a nice plate of rice and stuff? Stuff, stuffing, do you see what I did there?
A versatile recipe that takes just over an hour to cook although has virtually no prep time, you're looking at just a few minutes if that.
Mushrooms, onion, celery with herbs and spices. I love how the author has used wild rice with regular rice, 50/50, this gives a great texture.
The amounts listed in the ingredients make four substantial servings. I can't say enough about this, wonderful.
Smoky Chickpeas with Spinach (Gluten-Free)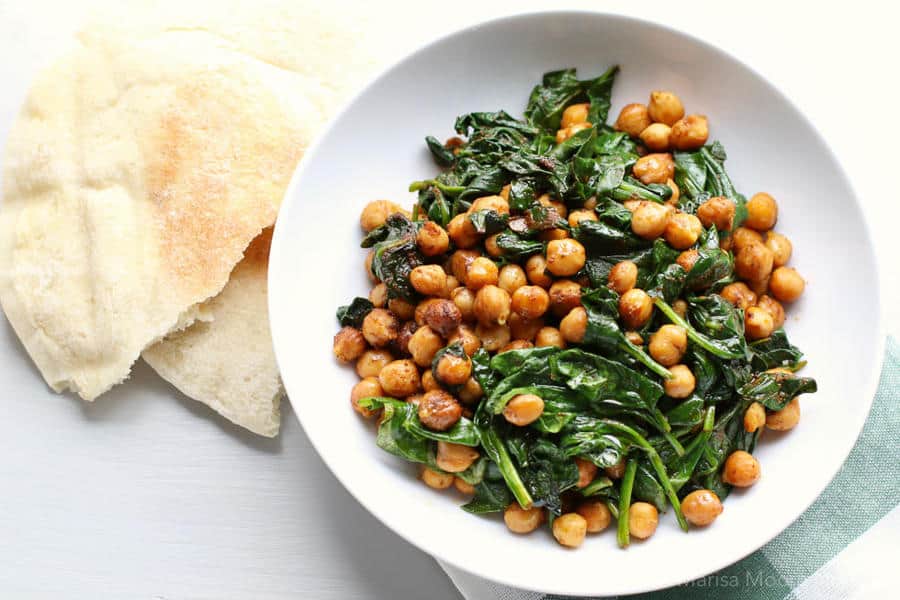 Would you believe that this dish takes a total of 10 minutes to prepare and cook? Absolutely, that's all it takes and there are literally a handful of ingredients.
Makes for a fabulous side dish although as its protein and a vegetable it digests incredibly easy.
When you mix protein and starch (as most of us do a lot of the time) it takes much longer to digest.
This is great for lunchtime as you will not feel lethargic for the rest of the afternoon. The taste is simple, rustic and more than you expect.
Superfood Green Tabbouleh (Gluten-Free)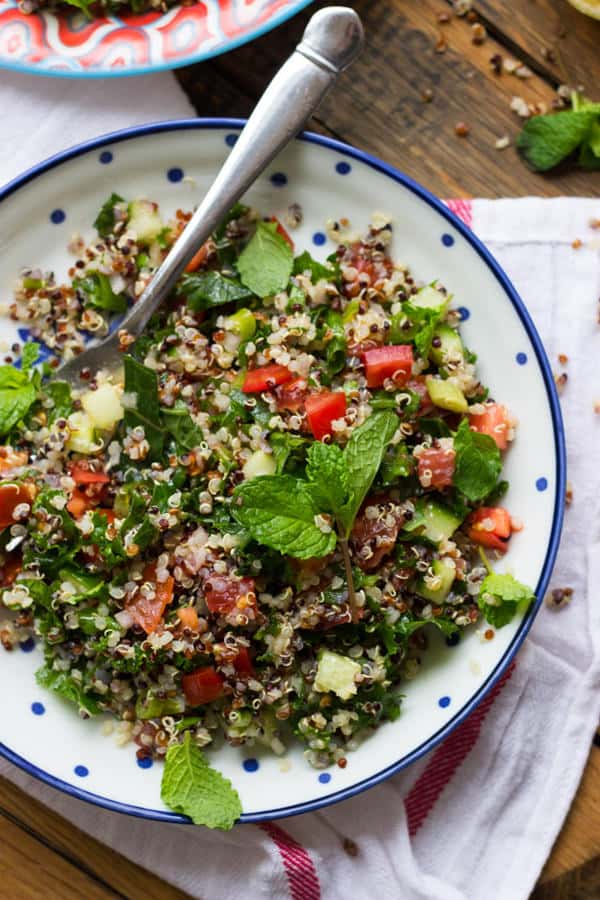 A fantastic tabbouleh recipe, I have seen so many and yes they are all incredibly similar, this is definitely the best one out there.
A great looking dish with wonderful vegetables and that fantastic freshness due to the lemon juice.
One thing I have learned recently, and that is the existence of 'Royal' quinoa. This isn't mentioned in the recipe and, of course, the rainbow quinoa listed is more than enough.
I just wanted to tell you about this Royal quinoa because the texture is quite unbelievable, I've been eating it for a few months and it's the only type of quinoa I will now have, look out for it.
As far as this goes, it's the best tabbouleh recipe there is.
Vegetarian Burrito Bowls (Gluten-Free)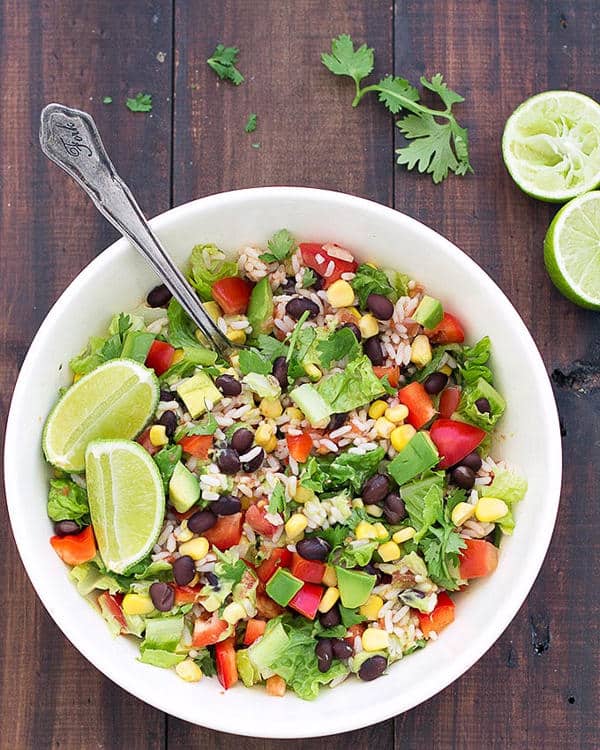 What's a burrito bowl you ask? Well, when I first came across one that question was certainly on my mind. It's everything that would be in a burrito but in a bowl.
There, that was easy wasn't it!
Just scanning the ingredients, you see nothing but wonderful fresh food such as bell pepper, Roma tomatoes, avocado and so on.
You start by cooking the long grain rice and then just add everything together once the rice has cooled. Healthy and delicious!
Mexican Three Bean Salad (Gluten-Free)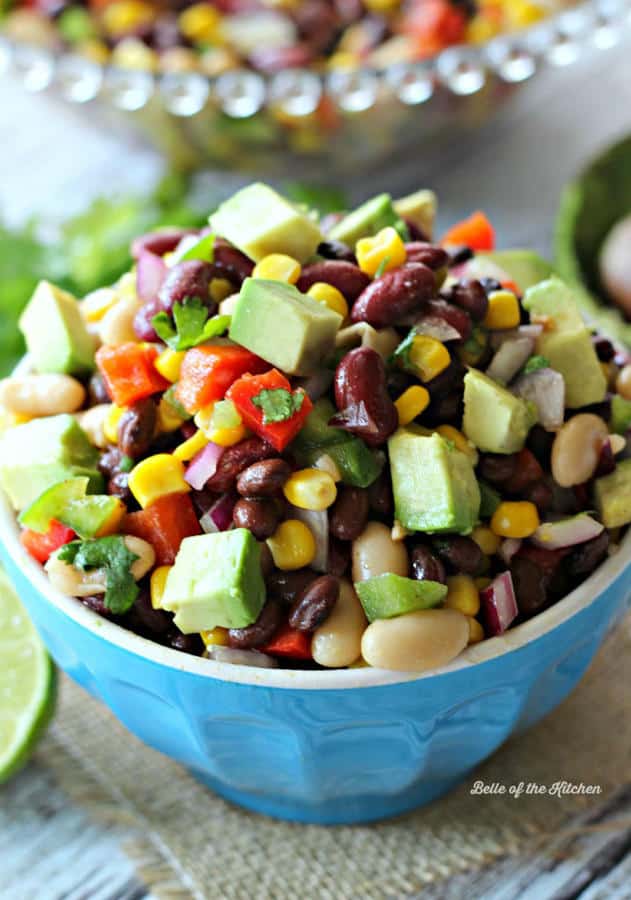 Get a load of this! If you like beans, then you're in for a treat. Full of protein and wonderful fresh vegetables. Takes just over 10 minutes to prepare.
Bell pepper, onion, cilantro and some herbs and spices. This really tastes fresh and I love the avocado which adds that creamy texture.
Obviously, this is versatile so if you have anything else that needs eating, throw that in as well.
Ideally, once you've mixed everything together you will refrigerate for 3 to 4 hours or even the night before to let everything marinate. Perfect!
Tuscan Bean Soup (Gluten-Free)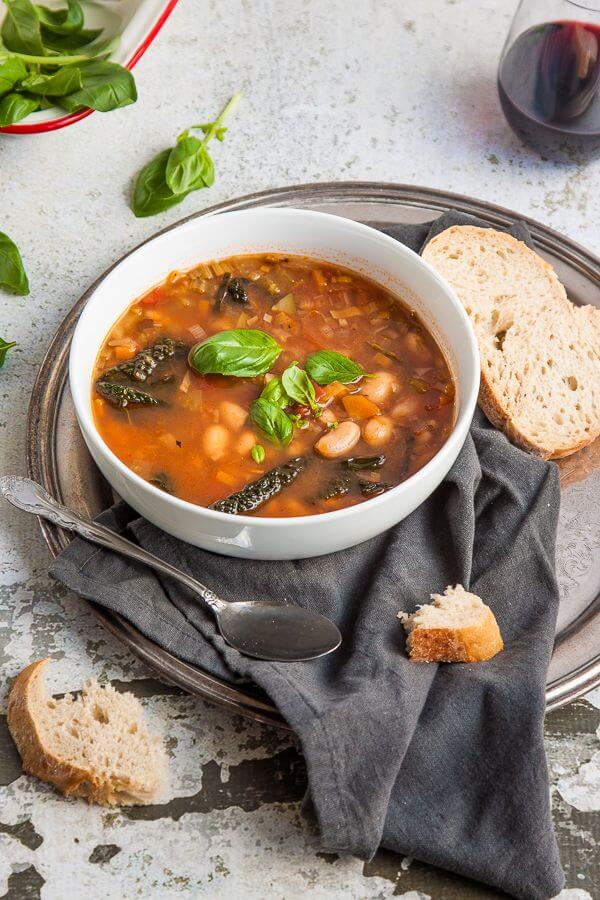 Honestly, there's nothing quite like a Tuscan bean soup. There are so many variations and recipes out there and they aren't all great, this one is!
This is warming and incredibly satisfying. If you've never had this dish before, try this recipe and I promise you don't need to search for another.
You're looking at about 30 minute prep time just chopping up things like celery, carrots and a few other ingredients, then cook it all up for another 30 minutes. You're going to love it!
Spicy Peanut Tofu Stir Fry (Gluten Free)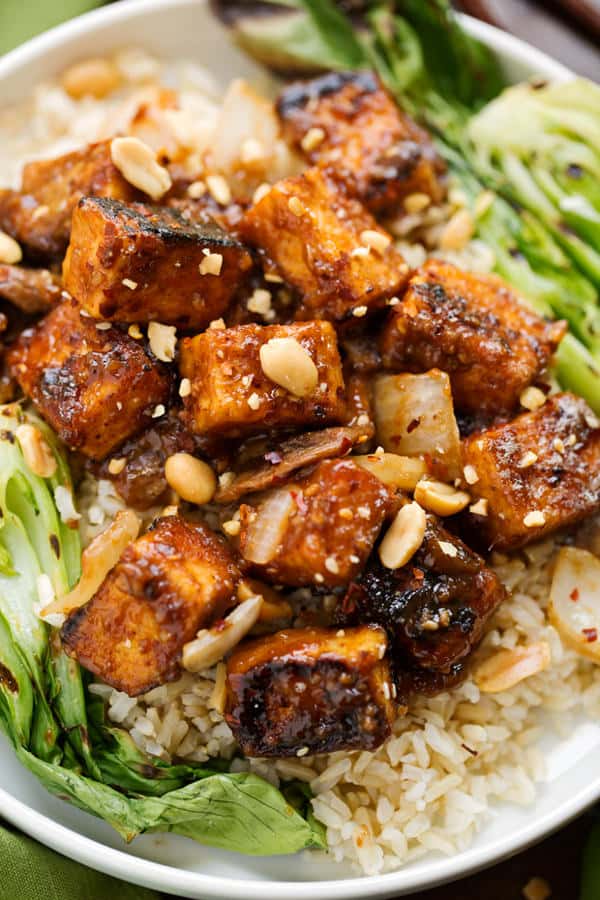 For me, there's nothing quite like a tofu stir fry. And to think all those years ago I wasn't sure about tofu when I first tried it, now I love it because I understand the secret is all in the recipe and how the tofu is cooked. This dish has it all.
The recipes divided into two sections, the stir fry and the sauce.
Obviously, you can save yourself a little time and just use a store-bought sauce although if you do, you'll be missing out on a lot, so I urge you to go to the effort, it's quick and easy to make.
Put everything together and serve over a bed of your favorite rice. This will quickly become your favorite.
Vegan Pasta & Noodle Lunch Recipes
Garlic Alfredo Pasta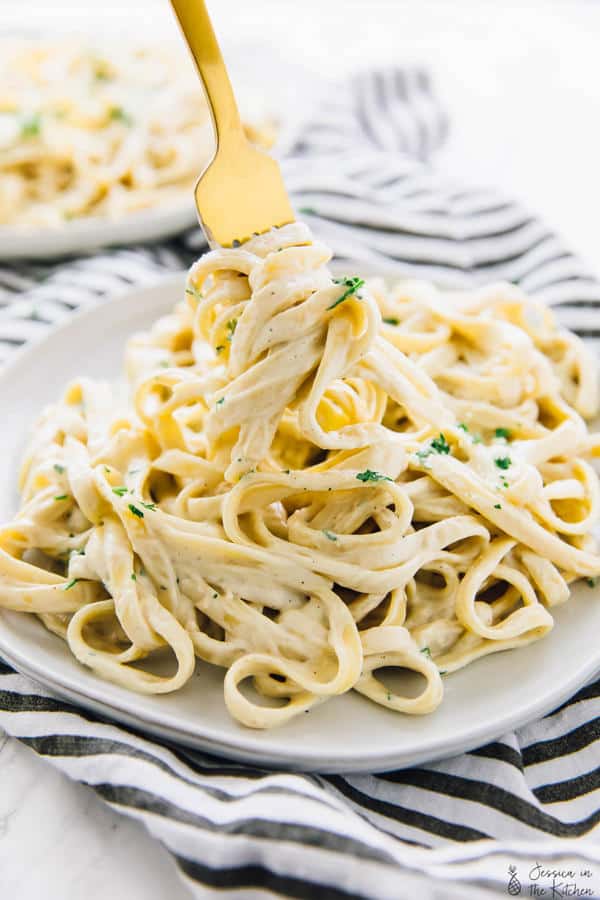 Alfredo pasta tastes great although as you know, traditionally it's loaded with dairy so can leave you feeling very lethargic.
Soaked cashews are a favorite dairy replacement. Soak them overnight and then blend with some water for a great sauce.
Add the olive oil, onion, roasted garlic and a few other things before blending and you will have the best Alfredo sauce you will ever have on your pasta.
Carrot Noodles Salad with Mint & Orange Dressing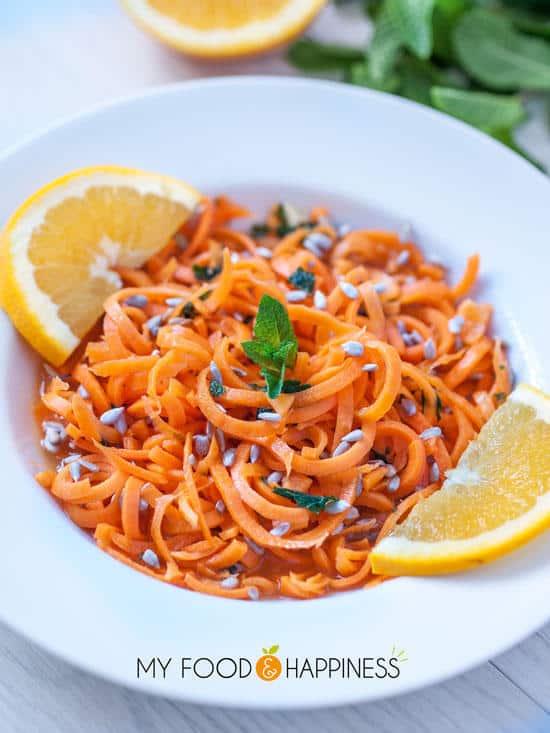 If you're getting into raw food, check out this recipe. I love spiralised vegetables although I'm going to step out of the crowd for a moment and say that, personally, I find zucchini a bit heavy as noodles.
I think maybe it's the type of zucchini I have. However, carrots are always win.
I love the flavor from the orange and lemon juice in this dish. The extra-virgin olive oil blends everything together and then you literally have two other ingredients.
Healthy and your body will thank you after this wonderful summer lunch.
Tomato, Basil & Lentil One Pot Pasta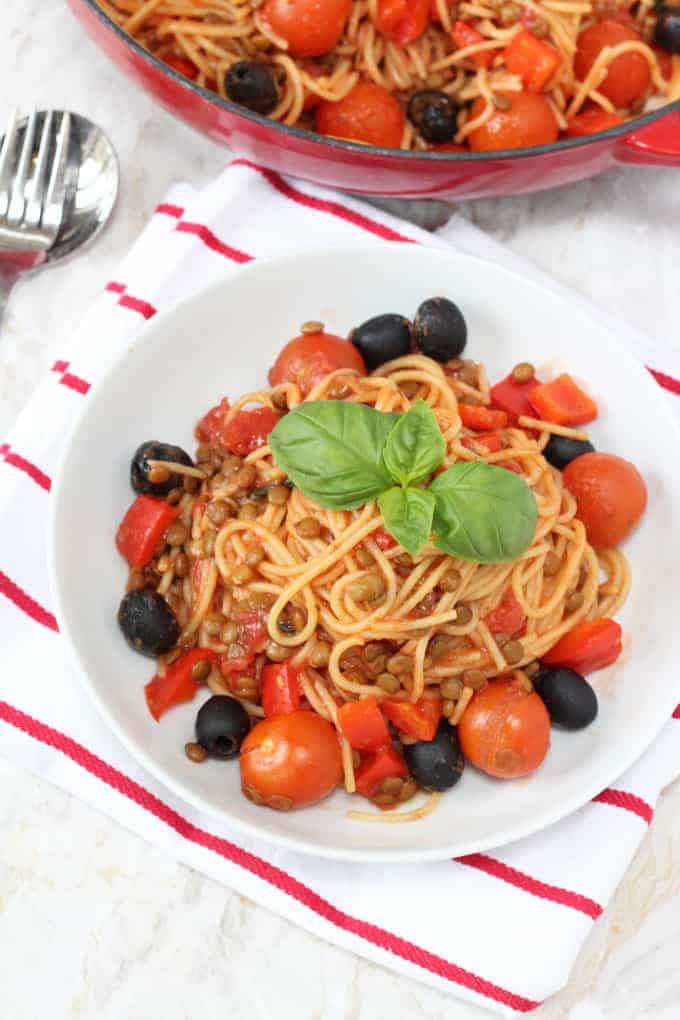 Anybody that knows me will tell you I'm a big supporter of pasta dishes. Make them into a one pot dish and I'm definitely in!
Just a handful of ingredients, your favorite pasta and one pot is all you need. As you may imagine, this needs virtually no prep time and you cook until the pasta is done which is about 10 to 15 minutes, and that's it.
These kinds of recipes are very versatile, so you can add in anything else that you fancy although on its own, is perfect.
Power Mac and Cheese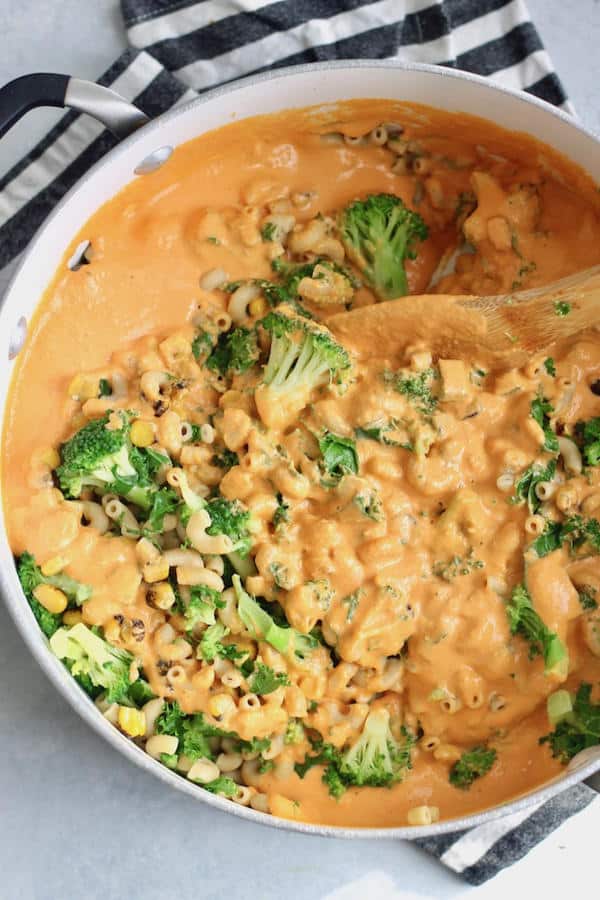 I've seen a good few vegan mac and cheese recipes and they've all been really good, don't think I've seen a bad one. This is in a league of its own.
Look, I could write and tell you that all the ingredients are easy to source, which they are, and they are natural, and this is a healthy dish. This is all true.
There's just one thing I need to do and that is simply make this dish. That's all there is to it, keep the recipe because you will be making this again and again.
Perfect for those cold winter evenings or any time when you want that mac and cheese fix!
Spaghetti Squash Chow Mein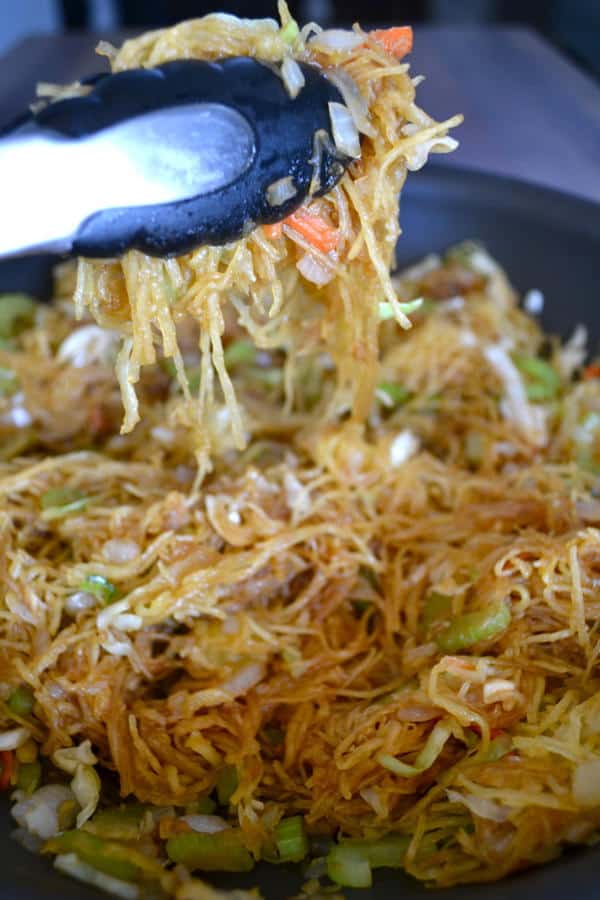 There are so many great things to say about this recipe. The ingredients are simple, and the dish comes together quickly and easily.
If you are avoiding pasta of any kind but you want that chow mein fix, take a look at this.
There's even a quick video on the recipe page that takes you through the entire recipe step-by-step.
It's well edited and is one minute and two seconds long! If you never had noodles made from squash before, this is the recipe you should try.
Vegan Potato Lunch Recipes
Mint Grilled Sweet Potatoes with Tahini Cauliflower Rice Wrap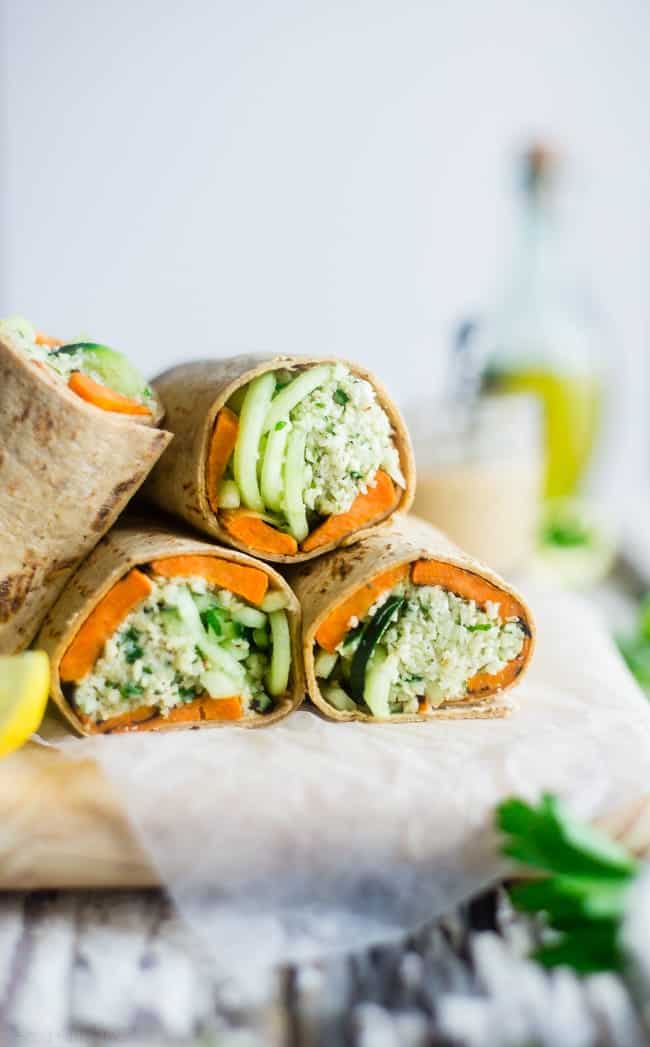 Wraps are the best things ever! You can make them the day before, they are portable and can hold all sorts of fillings. I prefer them to sandwiches because they are so much more versatile.
Not only are the vegetables in this easy to source, they simply go so well together.
The lemon zest and the fresh mint I think are the secret ingredients that simply make everything taste great.
Please note that the wraps used for this are a particular brand, if you can source them great but it's not essential to this recipe, so I recommend you use your favorite.
Sweet Potato Buddha Bowls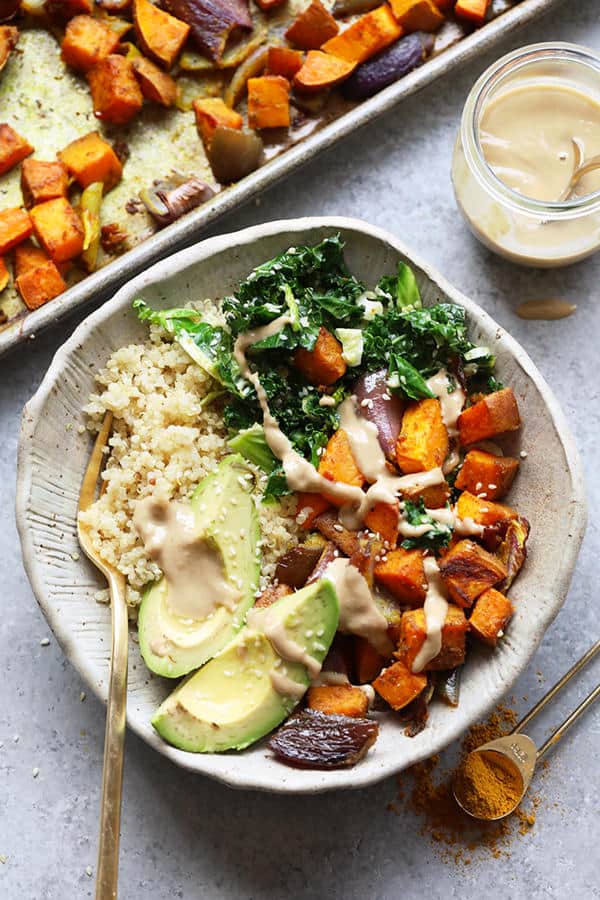 Buddha Bowls originally came about from people offering leftover food to Buddhist monks.
They have often presented in such a way where the ingredients are laid out separately because this is how the food was received.
As you can imagine, any type of Buddha bowl recipe is incredibly versatile simply because it's designed to be.
This is divided into three sections, the sweet potatoes with onion, the kale and brussels, and the quinoa. If you don't want to stray from the ingredients listed, then I promise you're going to love this dish.
It has everything, not too complicated, satisfying and bursting with flavor, not to mention super healthy!
Potato, White Bean and Kale Soup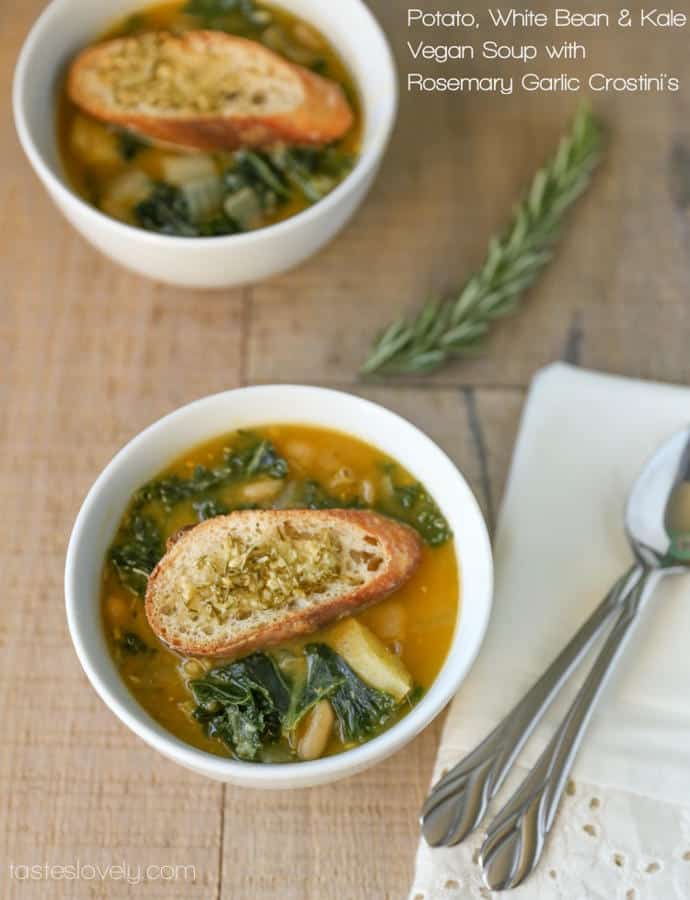 I honestly think potatoes and white beans were made to go together, in a soup! This is one of those dishes where you end up eating twice as much as you intended.
It's not just satisfying, it's full of flavor, easy to digest and incredibly healthy.
The ingredients are very straightforward, and you won't have any problems sourcing anything. The cannellini beans (also known as white kidney beans) are fantastic as they always are.
The Yukon gold potatoes steal the show. Add the onion, fresh rosemary and all the other ingredients and I guarantee you will be making this all throughout the fall and winter. It's so good!
Baked Tornado Potatoes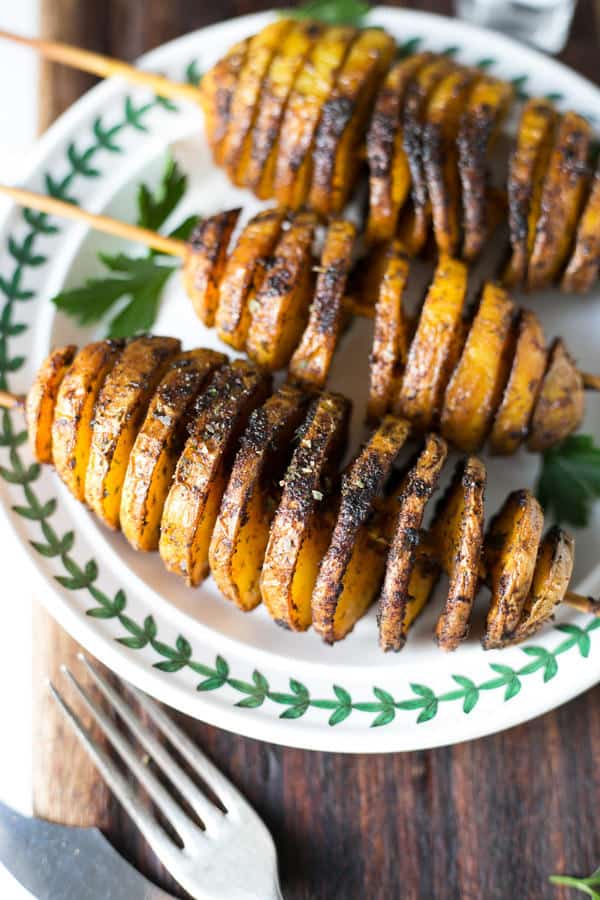 Don't these potatoes just look fantastic? Perfect for a barbecue, a party or when you just want to do something different.
With just three main ingredients (okay one of them is herbs and spices) it's all about the preparation as you really do want the potatoes to look as good as the picture and believe me, it's easy to do.
Bake for about 30 to 40 minutes and enjoy!
Sweet Potato and Black Bean Burritos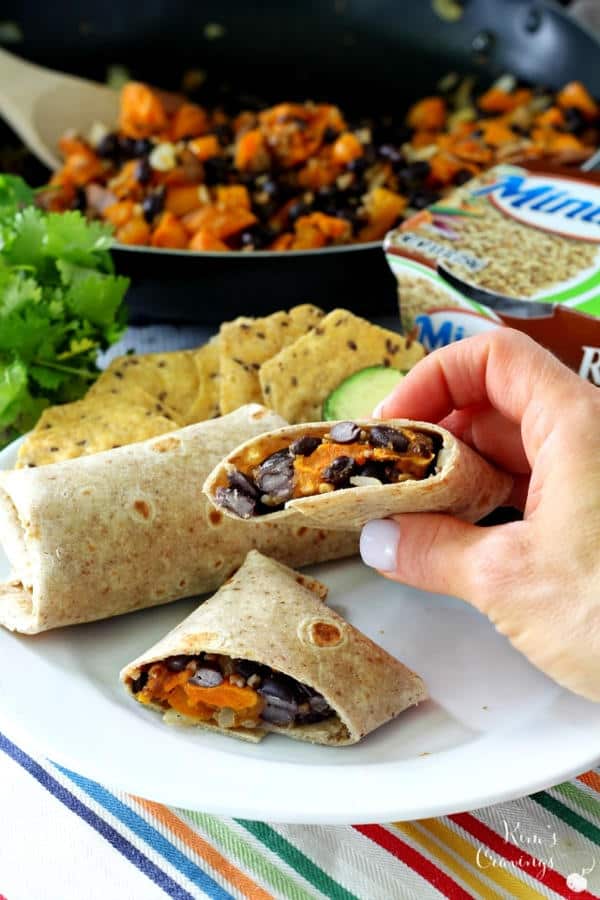 Oh my goodness, I don't know where to start. This is so good that you could easily eat it a couple of different ways.
The main ingredients are as listed, sweet potato and black beans.
Add in garlic cloves, bell pepper and some herbs and spices and you have yourself a mighty tasty dish. Following the recipe, you put everything in a tortilla wrap and you eat to your heart's content.
If you don't have any tortillas to hand, however, this is great on its own or with rice. Make it a couple of times and the recipe will be forever in your head as it will become your own signature famous dish!
Maple Cinnamon Roasted Sweet Potatoes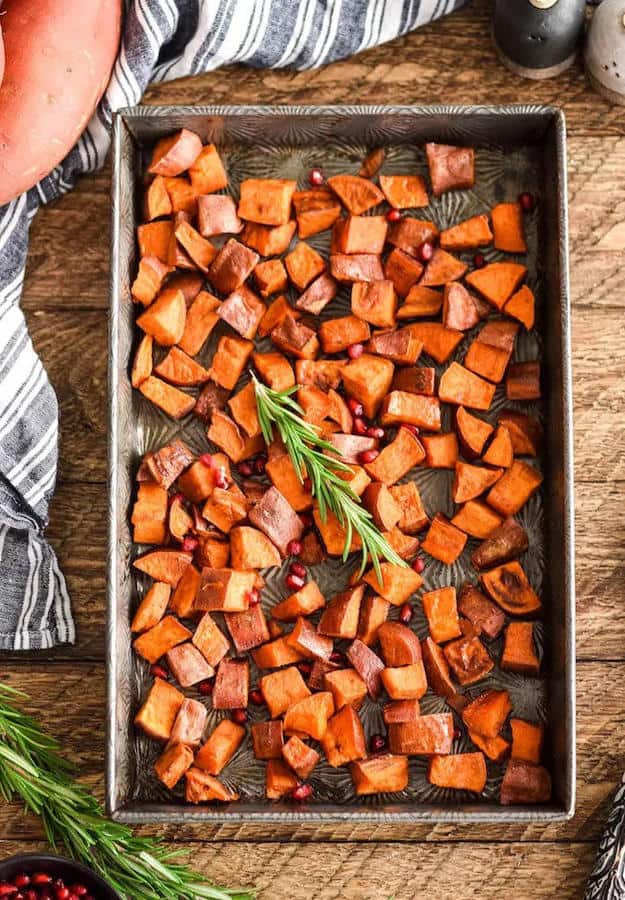 If you've been reading our roundups you would have heard me say that some of the best recipes in the world are the most simple. This is what we have right here.
You just need three other ingredients along with seasoning to put on your sweet potatoes.
Prep time is literally chopping and sprinkling ingredients over the potatoes. Then you bake for about 40 minutes.
These come out delicious, sweet with that hint of cinnamon. If you want to make this into a meal, add vegetables and it turns from a side dish into the main event!
Creamy Potato Salad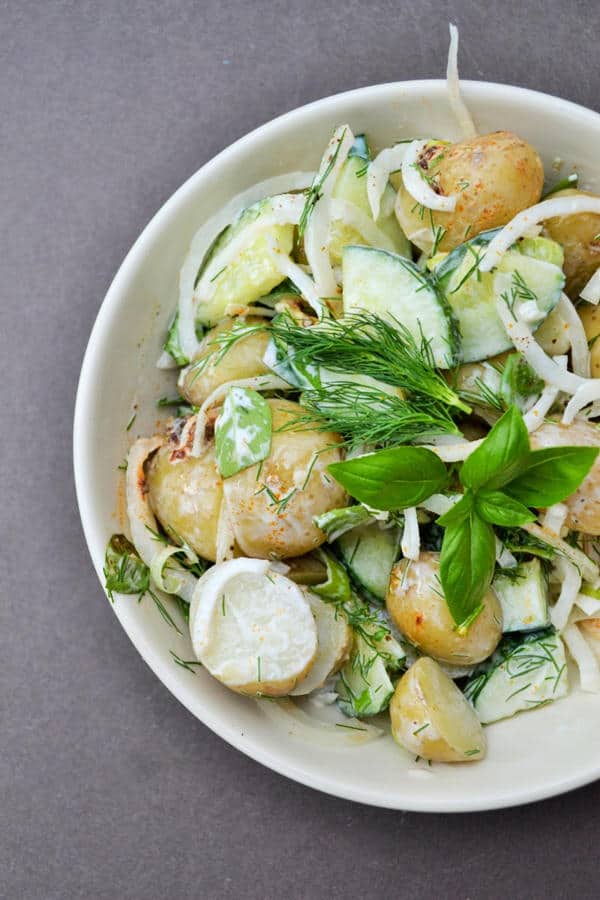 I know a lot of people that have missed a creamy potato salad since going vegan, there are a few recipes around but none that stand out, until now.
The 'cream' comes from soy cream, if you are unable to source the brand listed in the ingredients, just use your favorite.
I think the ingredients here are the two different type of onions, sliced thinly they really blended with the cream and other ingredients.
FYI, the ingredients list mentions 'spring onions', I'm assuming the author is British as this is the term they use for green onions.
This recipe makes for a perfect side dish but it's that good you could have it on its own.
Miso BBQ Lentil Stuffed Sweet Potatoes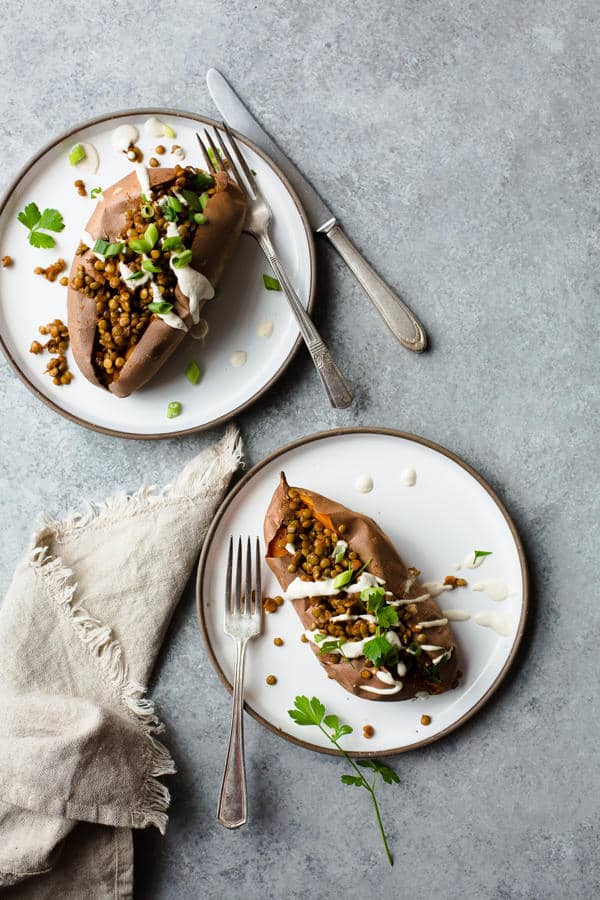 Stuffed potatoes can be a bit samey and hardly inspiring. This is none of those things and it even has a garlic cashew sauce to die for!
Here you have everything, the recipe is divided into three, the stuffed potatoes that have herbs and spices and all sorts of things in them, the garlic cashew sauce (that's totally OMG) and then some suggested toppings.
Incredibly easy to make and leave you feeling light and full of energy. Make this, you won't be sorry!
Salt and Peppered Oven Baked Potato Wedges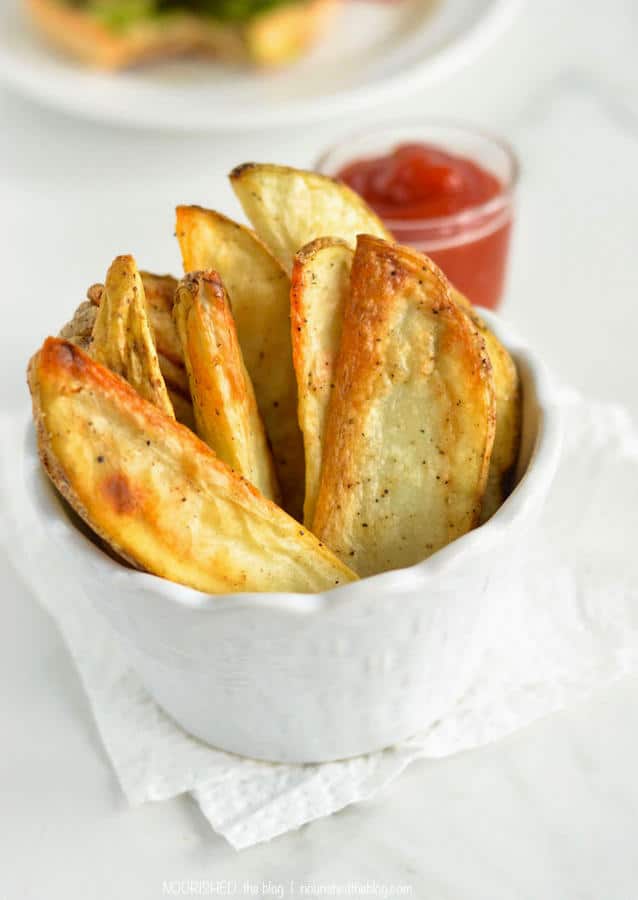 Sometimes you just fancy some fries, right? But we all know they are bad for us and yet we love them! What to do?! Well, check this out!
These are super easy to make, just a 5 minute prep time and about half an hour in the oven.
Other than the potatoes you're just looking at a little oil and seasoning.
Follow the instructions carefully and you'll have delicious potatoes that will more than satisfy that fix. The kids will love them too!
The Best Herby Potato Salad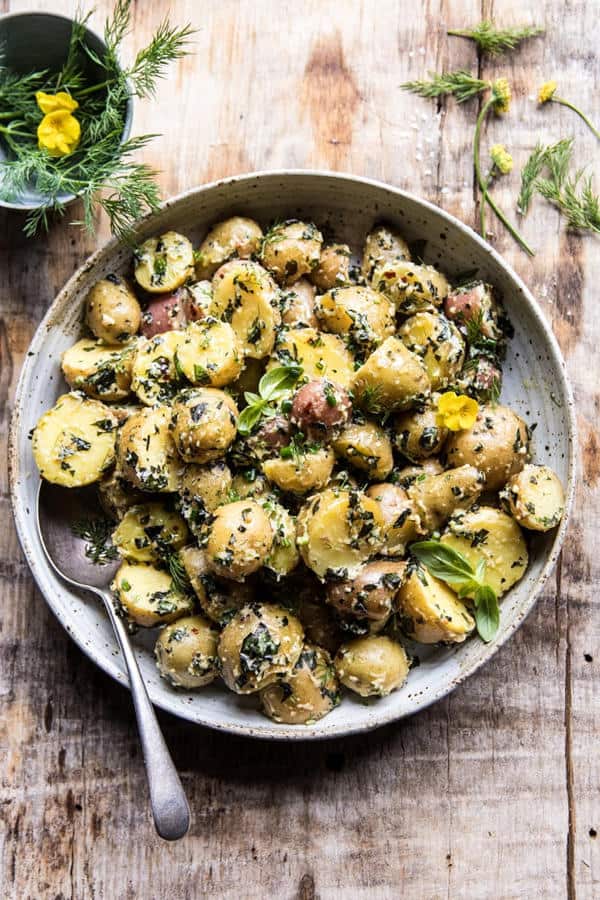 Potato salads are just my favorite. I can't get enough of those baby potatoes. I know some people that try to avoid mayo, so being vegan this is dairy free and loaded with herbs.
Perfect for those summer dinners, picnics and barbecues!
You're looking at about 15 minute prep time and then about 30 minutes cooking. The amounts and ingredients make for six servings.
What I really love on the recipe page is the video that talks you through everything step-by-step and I really appreciate when people go to the effort of making this as it makes things that much easier. Totally delicious.
Baked Veggie Sweet Potato Fritters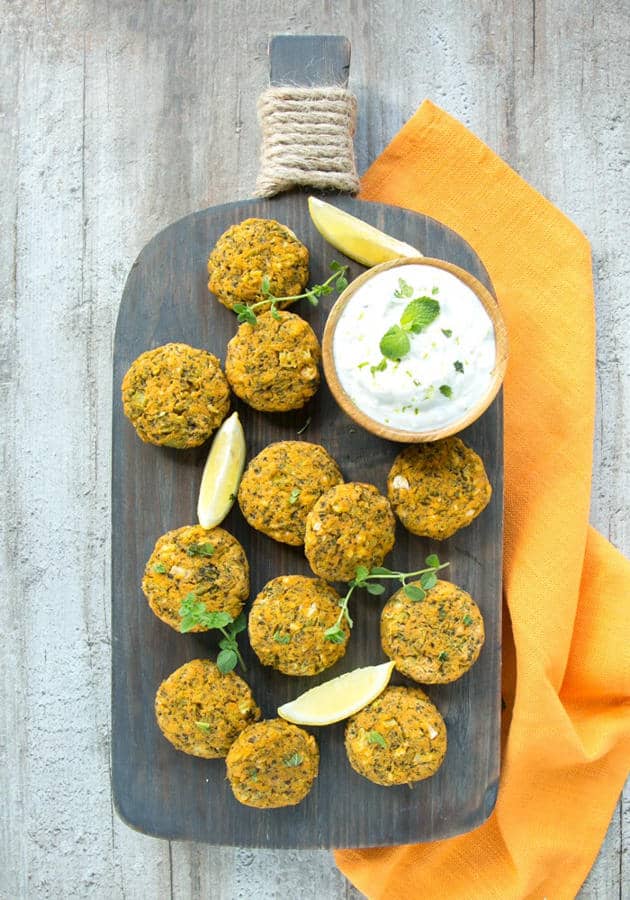 Not just sweet potato fritters, but an incredible vegan yogurt dip as well!
Often with home-made fritters, the prep time is significant as not only do you need to break down the main ingredient, then you need to mix it with other things as well.
You do that here but the recipe author has chosen some great quality ingredients and in addition, has produced a very efficient recipe.
This means that from start to finish your looking at bringing this to the table in about 25 minutes or less and this includes prep and cooking time, incredible!
You will need some vegan friendly yogurt as one of the ingredients for the dip. Perfect snack or side dish.
Sudanese Sweet Potato, Spinach and Peanut Stew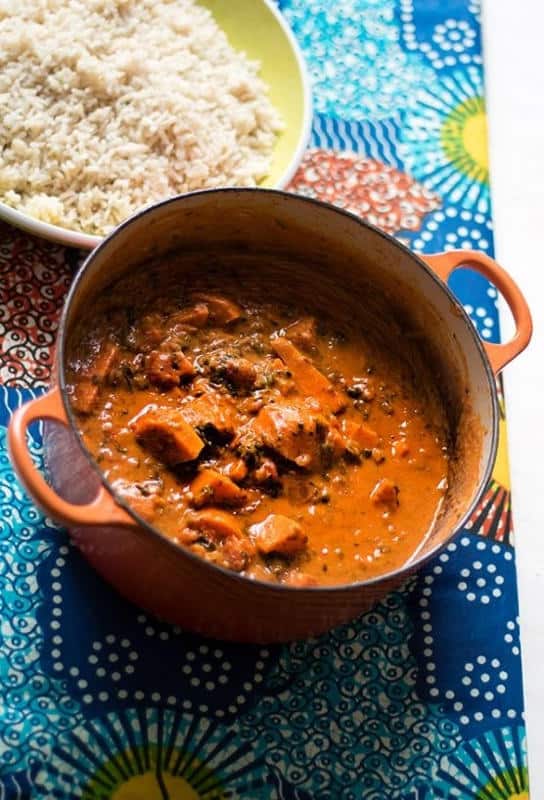 I don't remember the last time I came across Sudanese food, if ever, so I was excited to try this.
This is delicious and satisfying with a surprisingly small amount of ingredients.
You know, the incredible thing is that you can taste every single ingredient, they are there individually but as partners as well and what a team they make!
The ingredient that steals the show for me is simply the peanut butter.
When the weather starts to get chilly, grab this recipe. Serve with your favorite rice or bread.
Vegan Quinoa Lunch Recipes
Veggie Quinoa Power Bowl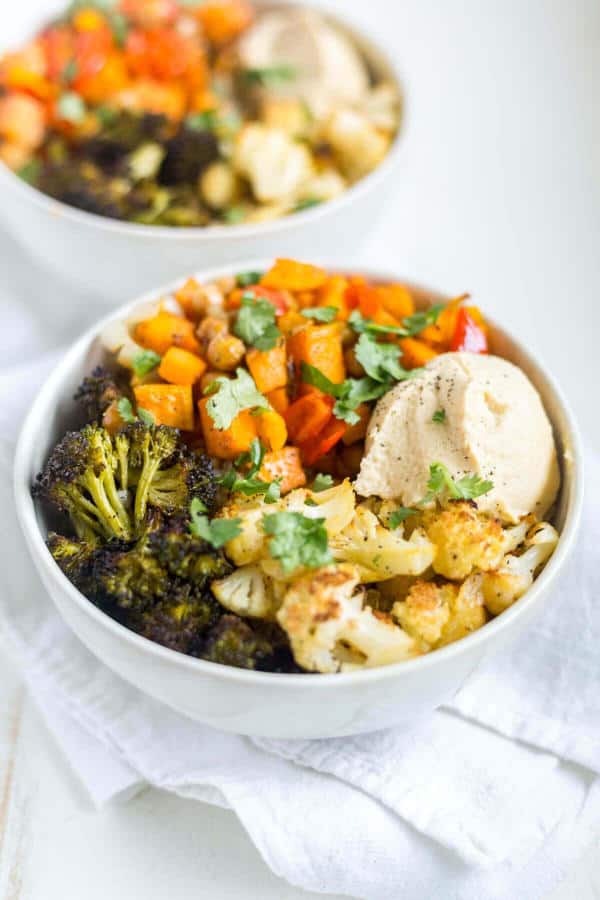 If you like cruciferous vegetables, then you're going to love this. It's like the author thought of all the foods that are satisfying and made one dish out of it!
Quinoa, sweet potatoes, broccoli, chickpeas and more! Add a big dollop of hummus and fresh cilantro over the top and I promise you next time you make this, it won't be in a little bowl and it certainly won't be a snack!
Beautiful to look at, delicious to taste.
Pea and Cauliflower Quinoa Pilaf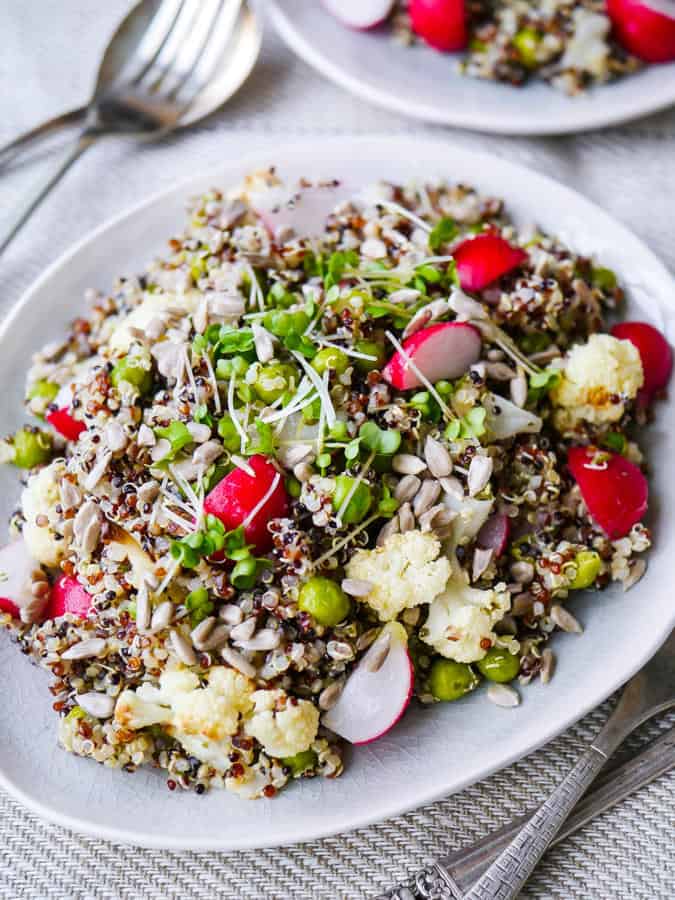 When you're looking for a healthy and delicious recipe that you can take to work, you need this. It won't leave you feeling lethargic for the rest of the day, quite the opposite!
The first thing that I noticed about this is the different textures, some real opposites that come together beautifully.
The flavors work as one and you can taste everything individually at the same time. This dish is sugar and gluten-free.
The amounts listed in the ingredients make for side dishes so adjust as necessary.
Keeps in the refrigerator for up to 3 days so perfect for days out or work lunches. Wonderful!
Cauliflower Quinoa Salad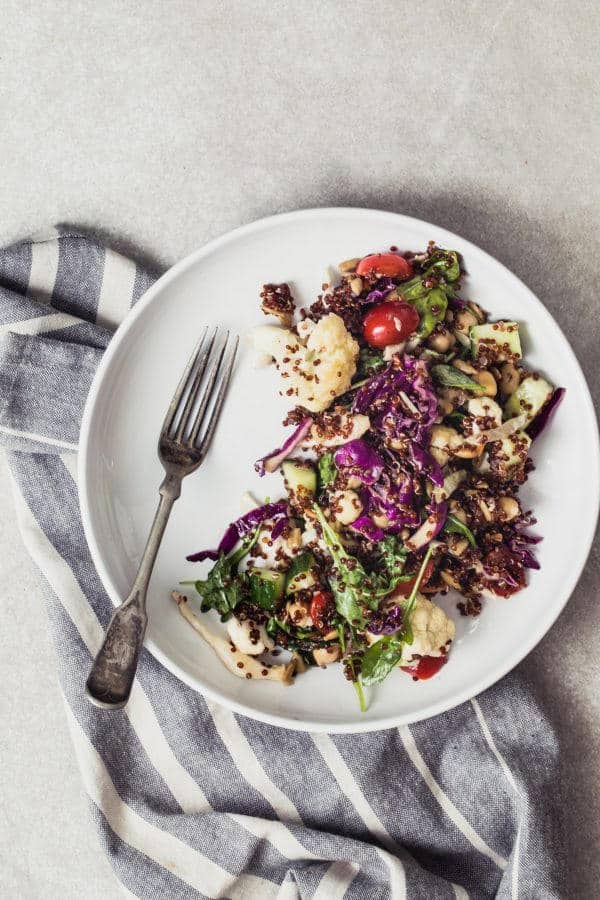 I can never get enough quinoa recipes, I then look how many I have and I can tell you I use all of them. This has just been added to my list!
Just a handful of ingredients, some sesame oil and Celtic salt (use Himalayan if you can't get Celtic) and you will have a stunning meal.
I want to say this would make the perfect summer lunch, and it would, but it's almost an injustice not to eat this at any time of year.
Creamy Kale Quinoa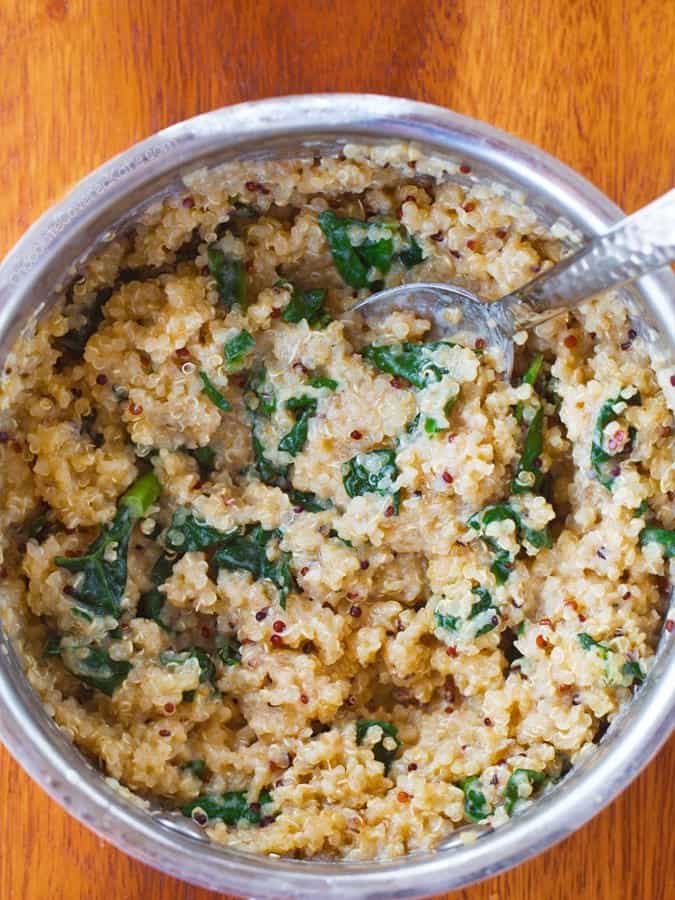 If you like risotto dishes you're going to love this. As it's made with quinoa, you're not going to feel lethargic afterwards. It's full of flavor and easy to make.
The first thing that hit me about this was how savoury the flavor was.
Nutritional yeast, garlic and onion powder and then the cashew cream (or coconut milk) that blends everything together with the quinoa and kale.
Takes 20 minutes to make and the amounts listed in the ingredients yield 2 to 4 servings so adjust as necessary. Healthy and delicious!
Chili-Lime Mango Quinoa Salad with Tofu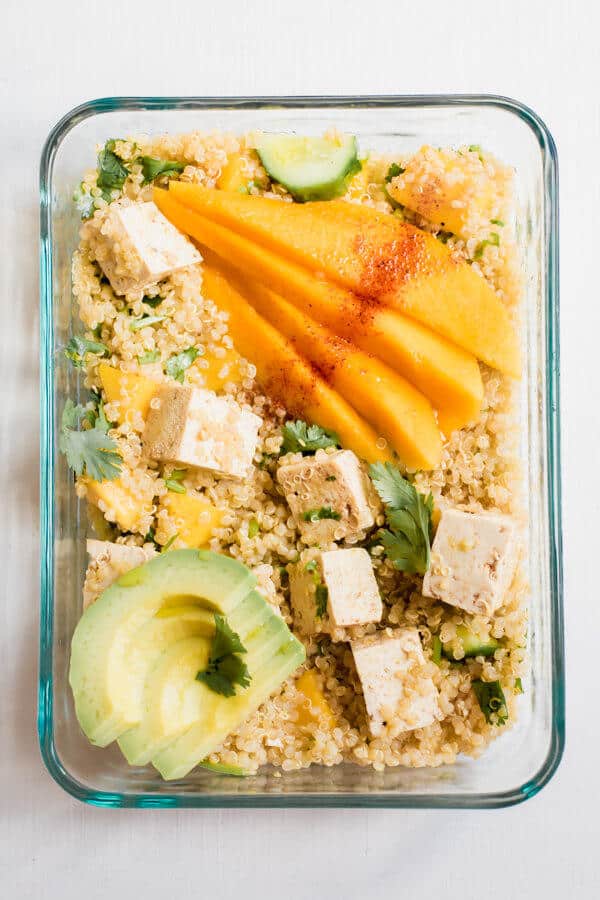 A wonderful looking recipe, easy to make, delicious and healthy.
The recipe is divided into three, the quinoa, the tofu and its flavouring, and lastly the salad that consists of cucumber, mango and avocado.
As you probably know, quinoa cooks quickly so you're looking at about five minutes prep time and only 15 minutes cooking.
Incredibly healthy and very easy to digest. Wonderful!
Quinoa and Beans Lettuce Wraps
A few years ago, I first discovered the concept of lettuce wraps, I'll admit I was sceptical and thought it was a lame excuse for a wrap. Then I tried it and had a complete 180.
The recipe here is divided into different sections, the dips, salad and a couple of additions.
As you can imagine, it's important to have good quality lettuce. The end result is fresh tasting wraps and digestions-wise, your body will notice a difference.
You won't feel lethargic and you won't get that heavy sensation in your stomach either.
Apart from one or two ingredients, this is a raw food dish so if you're getting into that, check this out!
Cranberry, Chestnut and Quinoa Stuffed Squash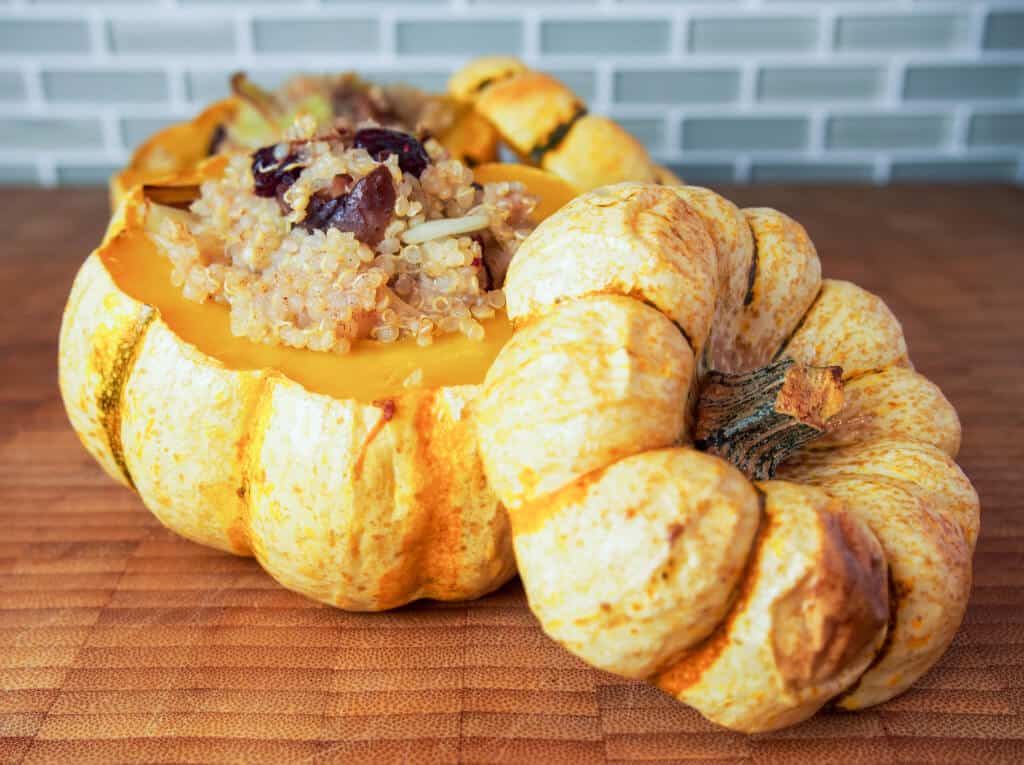 An obvious thing to tell you is that this is perfect for the holidays, which it certainly is. However, it's so easy to make and has wonderful ingredients that it would be a shame just to restrict this to certain parts of the year.
When I first saw the picture for this recipe I thought the prep time would be at least 30 minutes, but it's only 10! You won't have any problems sourcing ingredients and I imagine that you have at least half in the kitchen already.
Even if squash isn't in season, make this into a casserole/stew, it's that delicious!
Kodo Millet and Quinoa Paniyaram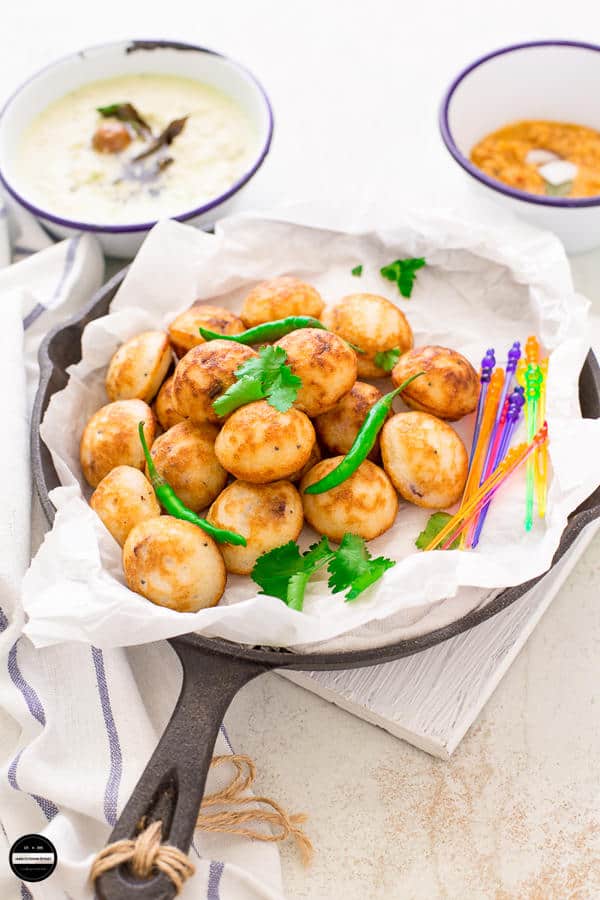 This is a South Indian dish that traditionally is enjoyed as a snack and in some parts even for breakfast.
I think Indian food is probably my favorite cuisine so when I saw this I was very excited!
To be honest, there's a chance that you'll probably need to visit your local Asian store to get some of the ingredients, don't let that put you off.
If you're looking to make something to impress someone or you just want a change, sometimes you need to wander off the beaten track.
I would recommend reading all of the instructions first as there is some prep time to do the day before. I know compared to other recipes this seems more of an effort, but trust me, it's more than worth it!
Quinoa Paella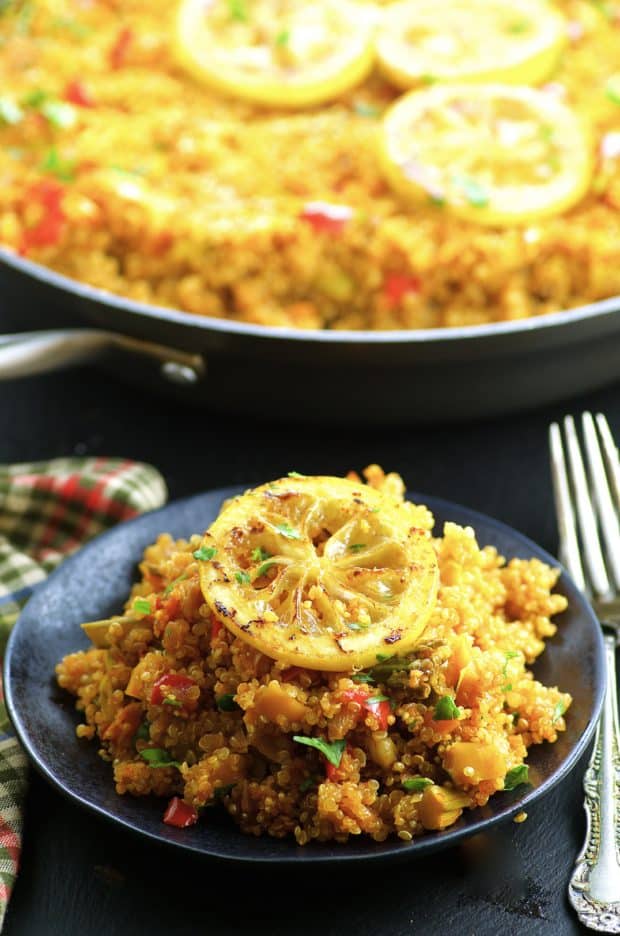 Paella is a Spanish recipe and in its traditional form, is not vegan.
This recipe has turned that tradition on its head and is not only plant-based but has quinoa instead of rice so you end up feeling a lot lighter after eating.
Full of protein and nothing but the best ingredients. You know, it's difficult to find a ready meal in the supermarket that simply doesn't have weird ingredients, we need to go back to making dishes at home with real food, and that's what this is.
Looking down the list of ingredients you see bell peppers, asparagus, onion and so on.
These are the ingredients! No weird chemicals or E-numbers. A delicious recipe that will keep just fine in the refrigerator for the next day. Make it!
Vegan Rice Lunch Recipes
Spicy Jambalaya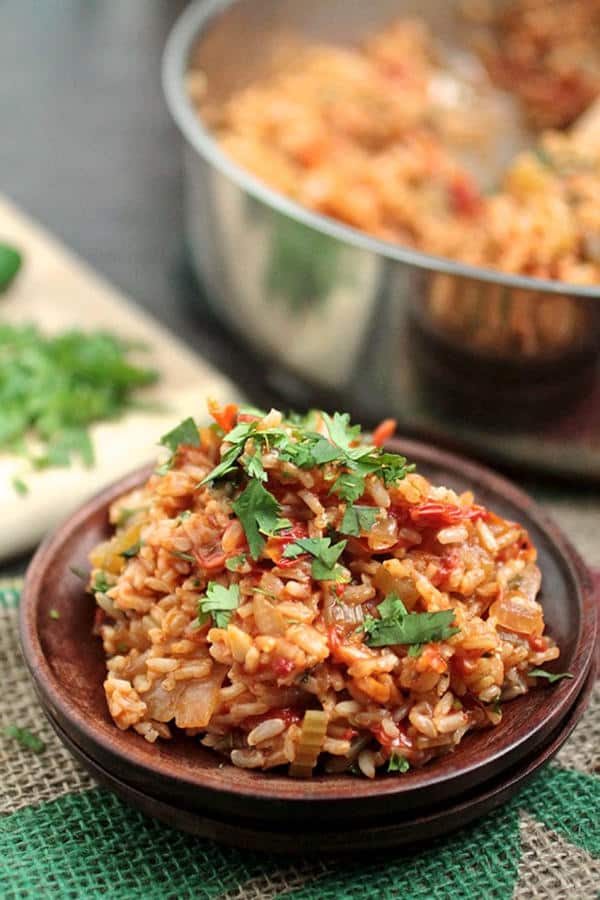 I haven't seen that many vegan versions of jambalaya that have been great. This recipe is more than great, and it's packed with wonderful fresh ingredients.
It's ready in less than an hour so perfect for the weekend or even a weeknight as most of that time is cooking so once home, throw it all in the pot, and then prepare for your evening while everything is cooking.
You won't have any problems sourcing the ingredients, it's just good honest food. If you can get vegan Worcestershire sauce, go for it!
Low Carb Mexican Cauliflower Rice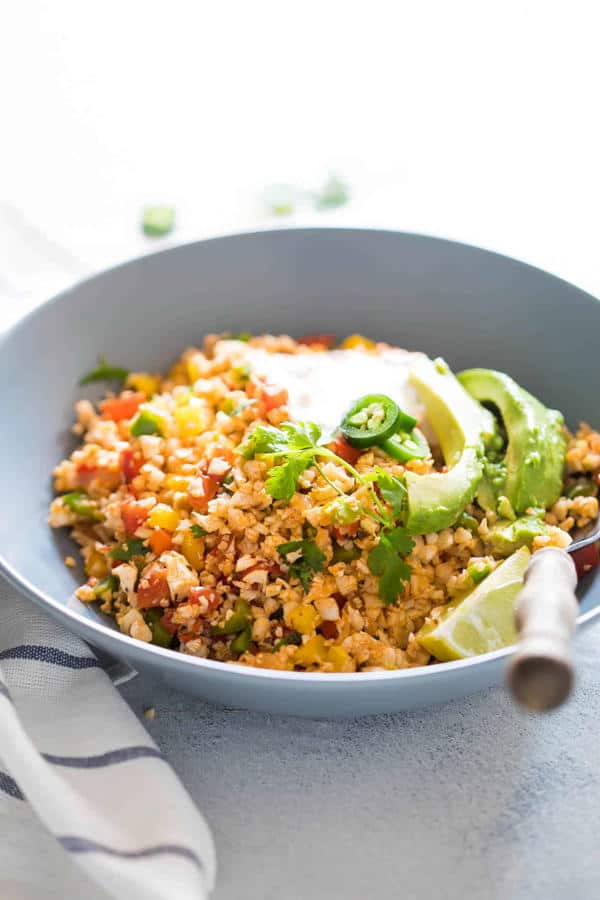 If you've never had cauliflower rice before, this is the place to start.
What is cauliflower rice?
It's all cauliflower whizzed up in a food processor until it resembles rice. The trouble is, in my opinion, you need to do a little more to it and this is where other recipes are sometimes lacking. Not here!
Just add the simple ingredients and in less than 30 minutes you have what is certainly advertised as a side dish although I promise you is very easily a main meal.
Just add more vegetables and you have a complete dish bursting with Mexican flavors!
Lentil Curry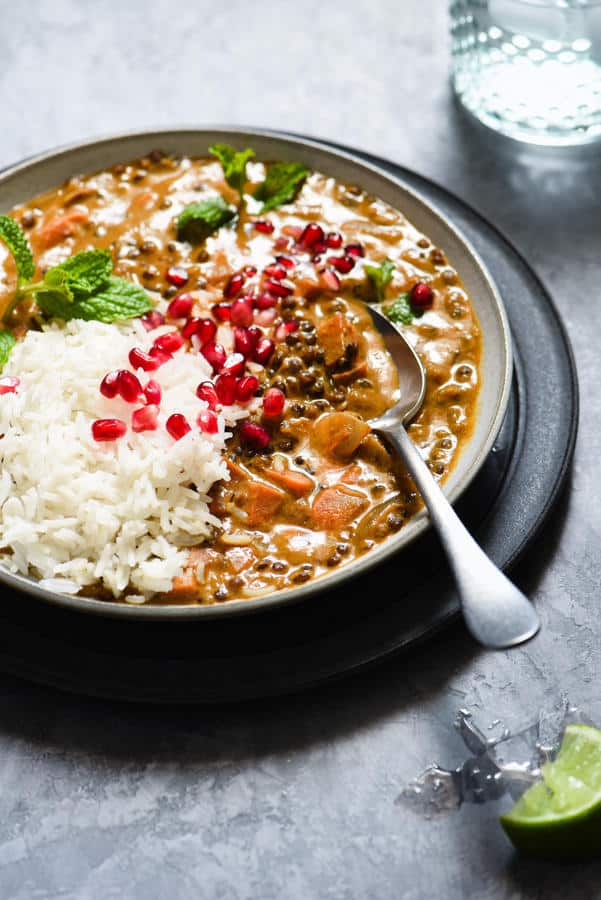 A good lentil curry recipe is something to cherish! If you've been reading my roundups you know that curries are one of my favorite dishes, this is no exception.
What surprised me about this dish was the simplicity of ingredients, I don't think I've ever seen a curry dish quite like it.
The taste is incredible, and everything comes together so easily. I imagine you have most of the ingredients in the kitchen already so your shopping list for this will be minimal.
Make it, you won't be sorry!
Sushi Bowl with Oil-Free Sriracha Mayo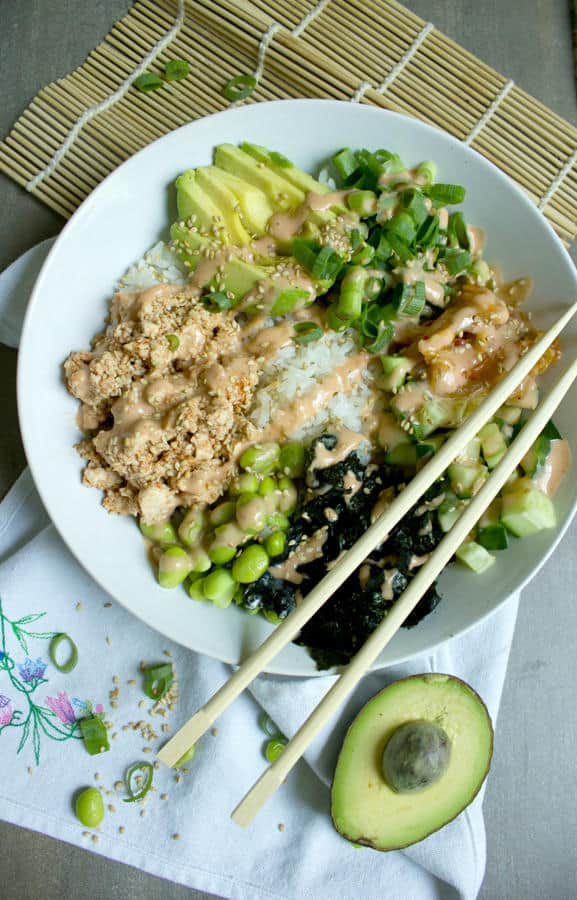 So, what's a sushi bowl? Everything that you'd find in a sushi roll, in a bowl. I should have been a poet I tell you!
You have everything here, baked tofu, pickled vegetables, oil free sriracha mayo and more.
The recipe author describes this dish as being perfect for a dinner party and while I can't argue with that, I see it more in a selfish way!
I make this just for me when I'm spending the evening in with a great movie. It's simply too good to share!
Red Hot Tex-Mex Rice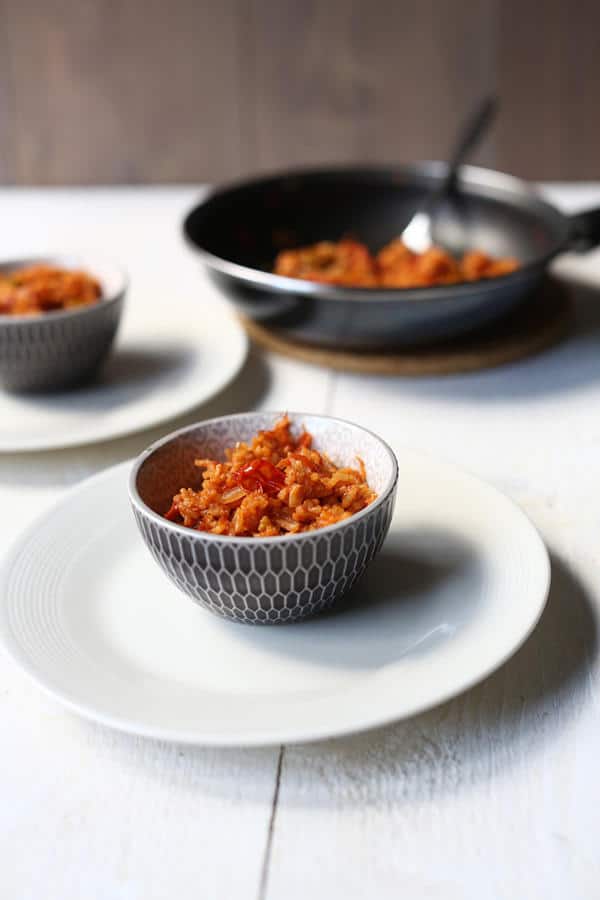 If you like spicy food check this dish out. This is a great side dish and even though it's described as 'red hot', you can adjust the heat depending on your preference so don't be put off.
I don't know anybody that doesn't like rice but sometimes you just want to spice it up a little.
Here we have a little garlic, onion, grape (cherry) tomatoes and flavoring. Not only does this taste so good, it looks fantastic, vibrant and appetizing.
Stuffed Peppers with Chickpeas and Brown Rice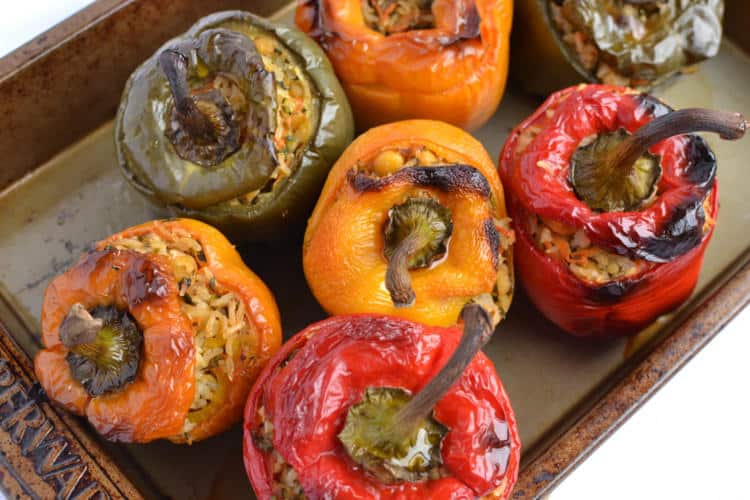 I really love recipes with stuffed bell peppers and this is one of the best I have come across.
The problem I found with other similar recipes is that the filling inside the bell pepper is never quite substantial and satisfying enough.
Here, with rice and chickpeas (garbanzo beans) you have everything you need. I love the other vegetables and ingredients included in the stuffing, it all comes together so beautifully.
Tastes amazing and looks fantastic so perfect for a dinner party, make lots!
Thai Green Curry with Spicy Sweet Brown Rice Balls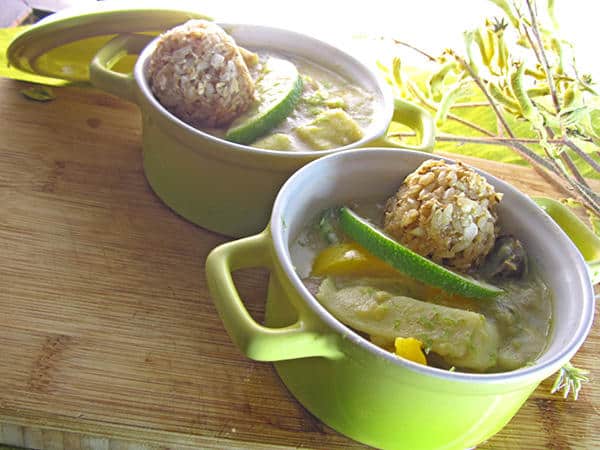 I really love Thai green curry, and this is one of the easiest recipes I have ever seen for it.
Grab some potato, a can of bamboo shoots, coconut milk and just a few other ingredients and in no time, you'll have this delicious pot of goodness.
Surprisingly easy to make and smells amazing. This dish is so good that I would say it's worth buying a fancy bowl to eat it from!
Rice Balls with Corn and Cilantro Pesto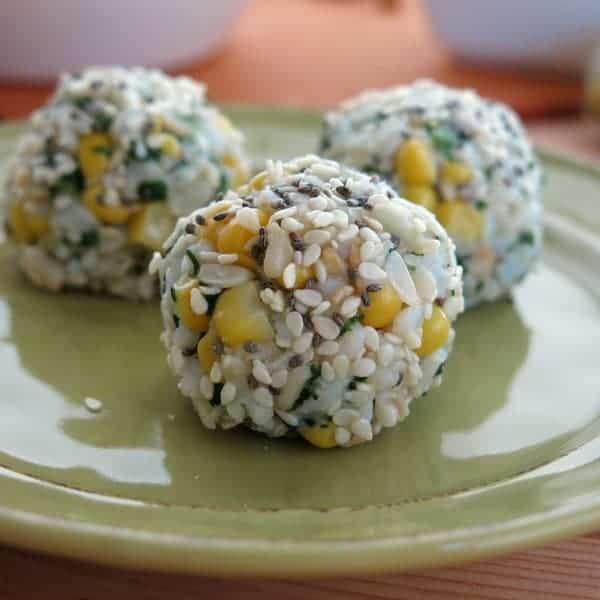 Do you ever make rice and end up having too much of it? Well this recipe is great for that although it's so tasty and fun, you need to make it anyway!
Most of all I love the cilantro pesto in this recipe. As somebody once said, it's pesto Jim, but not as we know it.
Okay, perhaps nobody said that, but I hope you recognize the quote otherwise you think I'm a little crazy!
These are easy to make, look fun, taste great and most importantly, super healthy. Serve them instead of a plain bowl of rice and your guests will love it!
Vegan Cheesy Broccoli Rice Casserole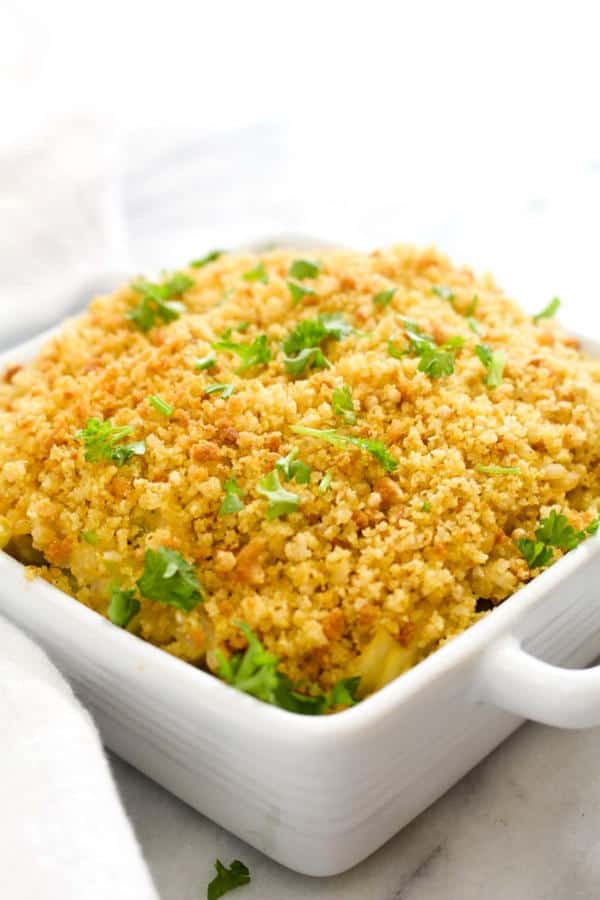 There are so many good things to say about this. Sometimes you just want that comfort food you want to stay healthy, this takes care of everything.
This gluten-free dish takes just 15 minutes to prepare and would you believe just 15 minutes to cook!
The recipe does include a (vegan) cheese sauce but on the same page there is a separate recipe on how to make this from scratch, so I suggest you read everything through before you begin.
This is so tasty that once you eat it, the first thing you'll do afterwards is figure out when you can have it again!
20-Minute Yellow Curry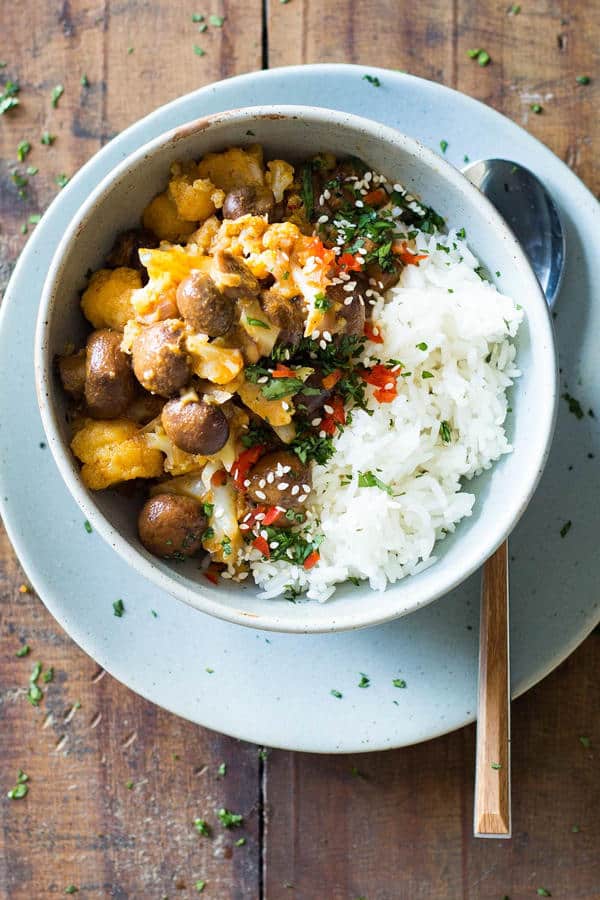 If you're into clean eating and you love easy recipes that are bursting with flavor and totally healthy, check this out.
How many ingredients do you think are in this dish? I thought maybe 15 or something, especially when you think about all the herbs and spices right?
There are only nine and that includes the optional chili and sesame seeds. You won't have any problems sourcing ingredients and I guarantee you will make this again and again.
5 minute prep time and just cook for 15, this will quickly become one of your go-to dishes.
Sushi Inspired Rice Bowl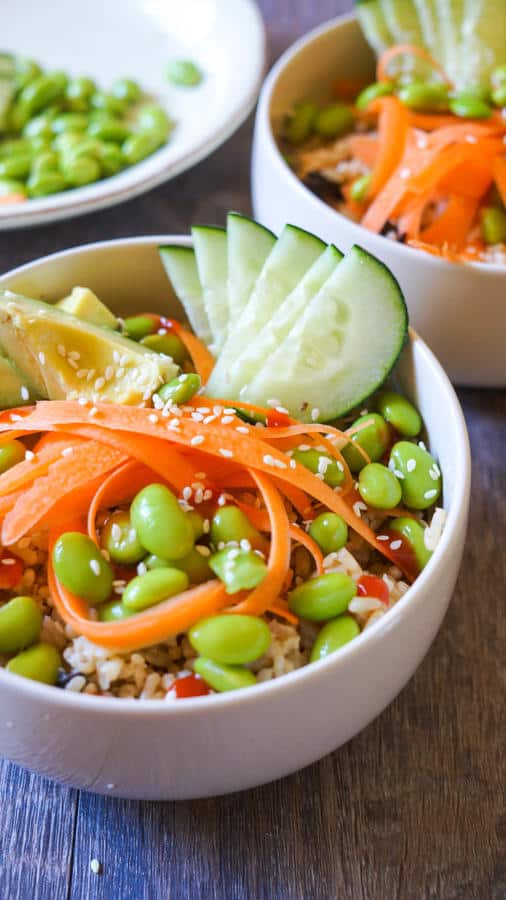 All the ingredients of sushi but in a bowl! Rice made with some amazing flavors, veggies and great toppings, what's not to like?
If you like sushi, you're going to love this. Really simple ingredients such as cucumber, carrots and avocado.
I really would go to the effort of slicing the avocado into wedges just for presentation, even if you're making this for yourself.
It's so nice to have a lovely looking dish, especially when you already know it's going to taste great! This one is for all you sushi lovers out there.
Asian Black Rice Salad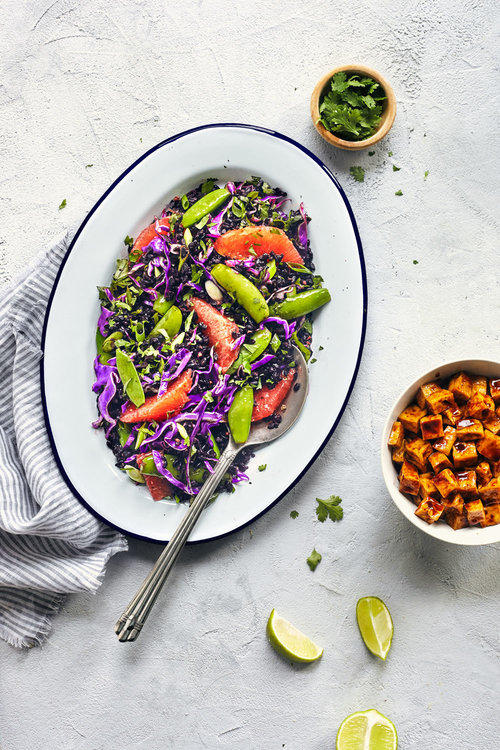 This salad is wonderful and exotic. If you never had black rice before, now is the time to start.
You don't have to use black rice with this, basmati or long grain would be fine.
However, I would urge you to get the black rice if you can because it adds to the overall quality.
Not only is this a fantastic dish that makes perfect leftovers, the recipe includes a ginger lime vinaigrette which alone is worth his weight in gold (though it probably doesn't weigh much!).
Whether it's to impress somebody else or just to impress yourself, you need to make this!
Mexican Rice Bowl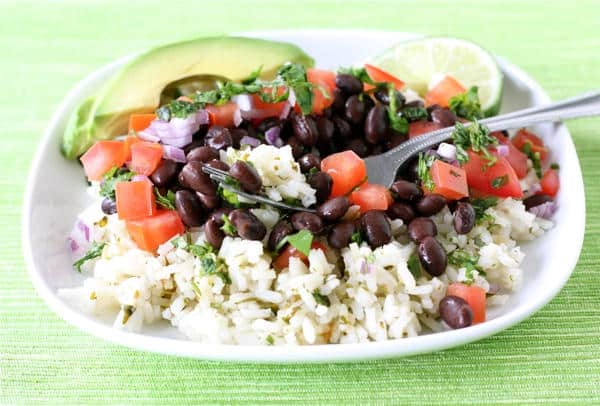 I just love Mexican food so much. I don't mean this as a negative but sometimes, depending on how I'm feeling and of course what I'm eating, I can find it a bit stodgy.
This recipe has all the fresh Mexican flavors you expect but is light, flavorful and looks just amazing!
Please note that the first item on the ingredients is cilantro lime rice and there's a link to a recipe on how to make that, so if you want to make everything, I guess you're looking at two separate recipes.
But really, they are both so easy, it won't feel like it. The topping that goes on the rice is just six ingredients and one of those is fresh lime juice, that's how easy this is to make.
Whether it's for yourself or a dinner party, this is a seriously impressive dish.
Vegan Salad Lunch Recipes
Creamy Fruit Salad with Key Lime Dressing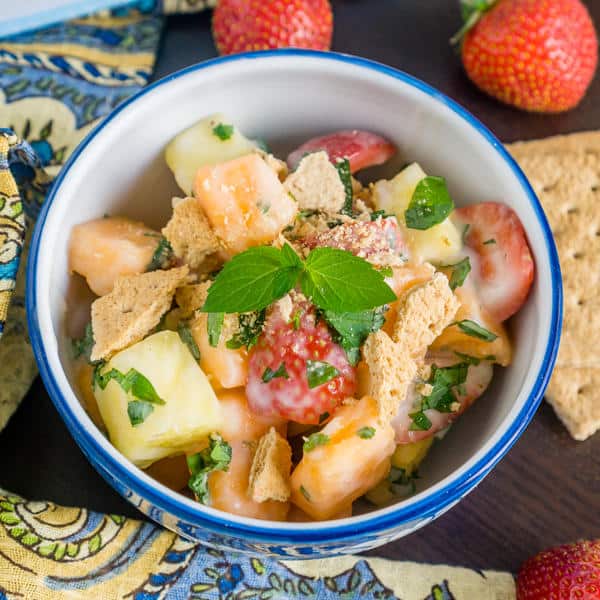 Fruit salads are often overlooked because everybody thinks it's just random fruit thrown together.
Well, even if it was (and it often is) just that, is still a healthy snack. This recipe goes one step further.
For the creamy dressing, you will need a dairy-free yogurt.
The one used in this recipe is a particular brand made with coconut milk, if you can source that, great, otherwise you should have no problem buying a dairy-free yogurt. Mix it all up and enjoy!
Israeli Couscous Salad with Chickpeas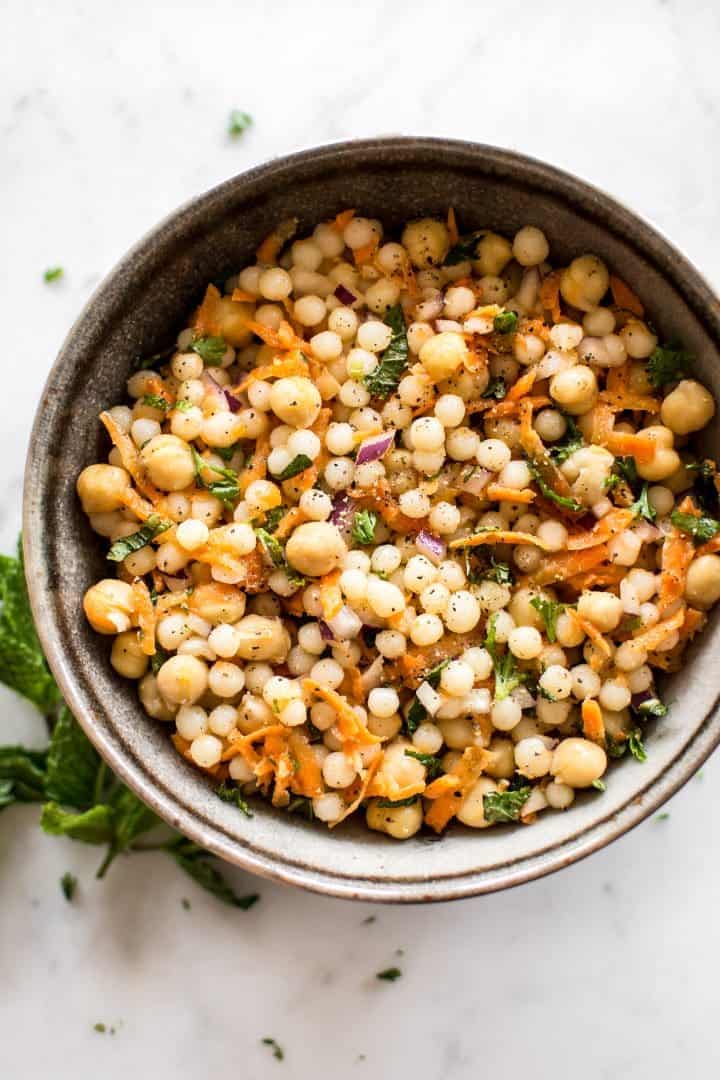 I read the other day that Tel Aviv is the vegan capital of the world! I also have a friend that recently visited Israel and he said he couldn't believe how vegan friendly it was, not just in some of their traditional recipes that are naturally plant-based, but generally it was vegan heaven!
With just a handful of ingredients you'll have this light and healthy dish ready in no time.
You won't have any problems sourcing anything except perhaps Israeli pearl couscous.
I've never tried this before so was eager to find it but couldn't locally, so bought it online, it's wonderful!
Throw everything together and my goodness me, this dish alone was enough to make me want to visit Israel. Colourful, healthy and delicious.
Lentil Avocado and Tomato Salad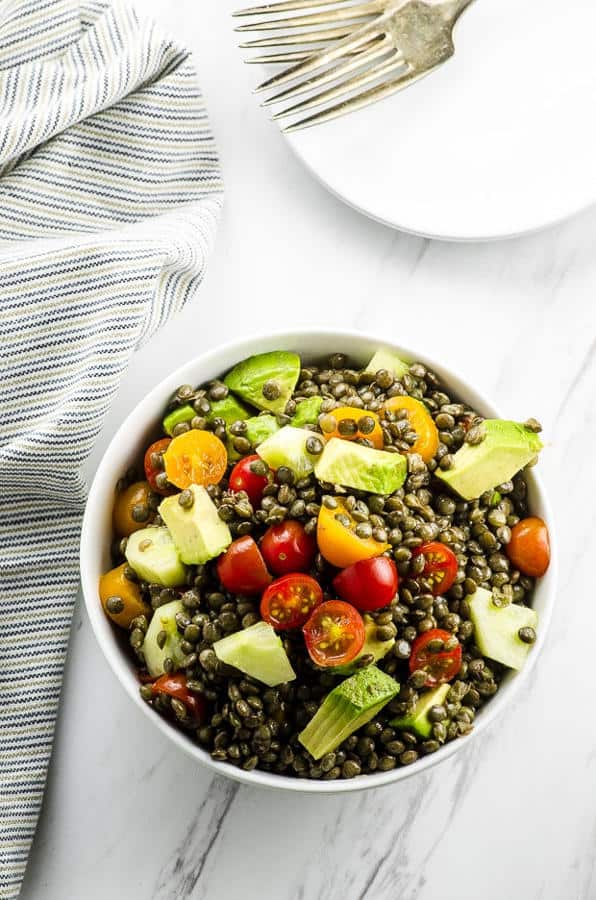 Lentils used to have a bad reputation and were linked to people that only wear sandals!
I think it was totally unfair (and unfair to sandals!) and I also believe that things have changed, and people have woken up to how delicious lentils are, not to mention how healthy as well.
The staple of this recipe is beluga lentils and diced avocado. To go with this, you have about three fresh ingredients and a little seasoning.
Throw everything together and you have heaven in a bowl. I urge you to make this for every positive reason you can imagine.
Lunchbox Chickpea Salad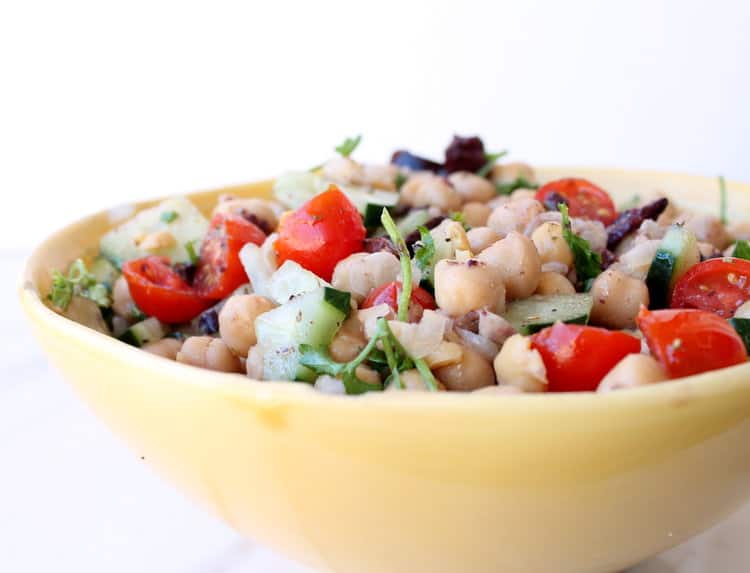 Chickpeas are one of the most versatile foods out there. You can eat them hot, cold, whizz them up in a food processor as part of something else, they can even be ground to make flour (also known as gram flour).
This recipe is healthy, light and the thing I like best is its versatility.
The ingredients in this salad are pretty much what you'd expect, and that's far from a negative.
The point is you can add or change anything, and you still end up with a tasty healthy dish that can be eaten straight away or save for later.
Stores in the refrigerator in an airtight container for a few days as well.
Seriously, take a good look at this dish, make it a couple of times because this is what great salads are all about.
Balsamic Avocado, Corn, and Cucumber Salad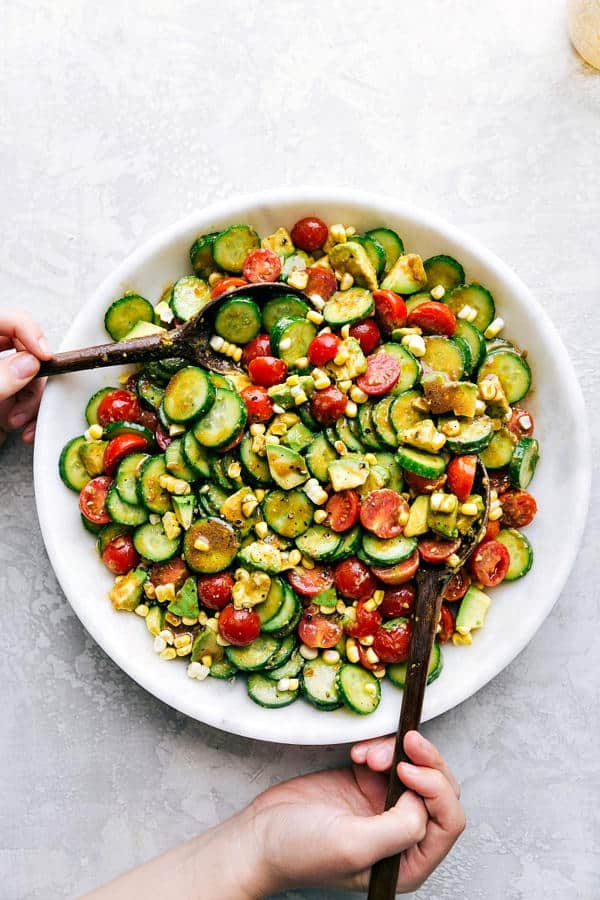 Balsamic vinegar is amazing and if you've never had it before, now is the time to try.
The salad in this dish just has four ingredients although feel free to mix and match depending on what you have or what you like/dislike.
Having said that remember the golden rule, keep it simple. The recipe is divided into two sections and the second is the dressing.
This is incredible, and I would recommend you keep this as it would be perfect on any salad. An absolute win!
Sauerkraut Salad with Cranberries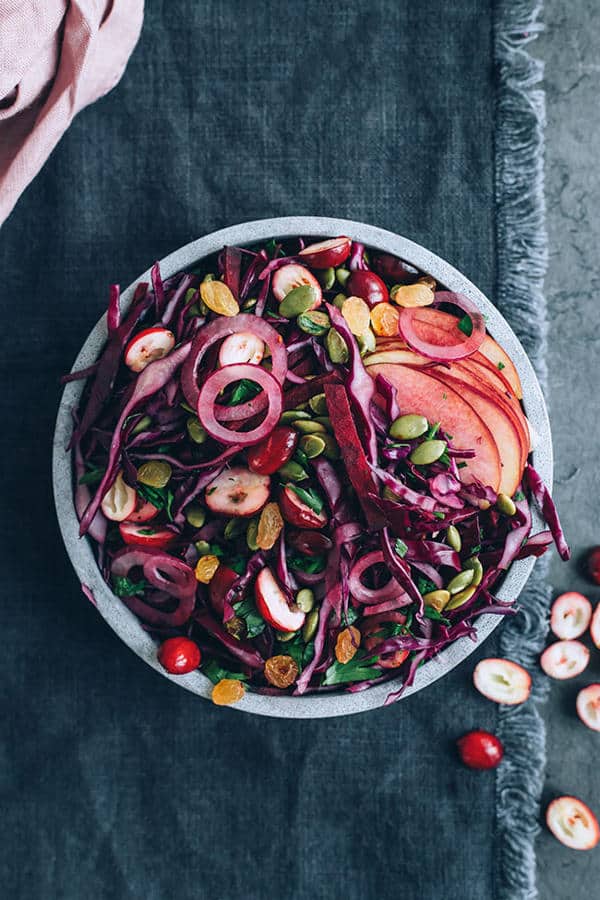 If you love sauerkraut this is for you. Do note that this is a genuine recipe with no shortcuts, you're making the sauerkraut from scratch! You're looking at about 72 hours (not a typo) although having said that, the prep time is not very long, it just needs to sit.
Certainly, you could save yourself some time and buy a store-bought sauerkraut and that would be fine too, just depends how much time you have.
This is also a raw dish so if you're getting into this kind of cuisine, make sure this is on your list.
Buffalo Chickpea Kale Salad with Hemp Ranch Dressing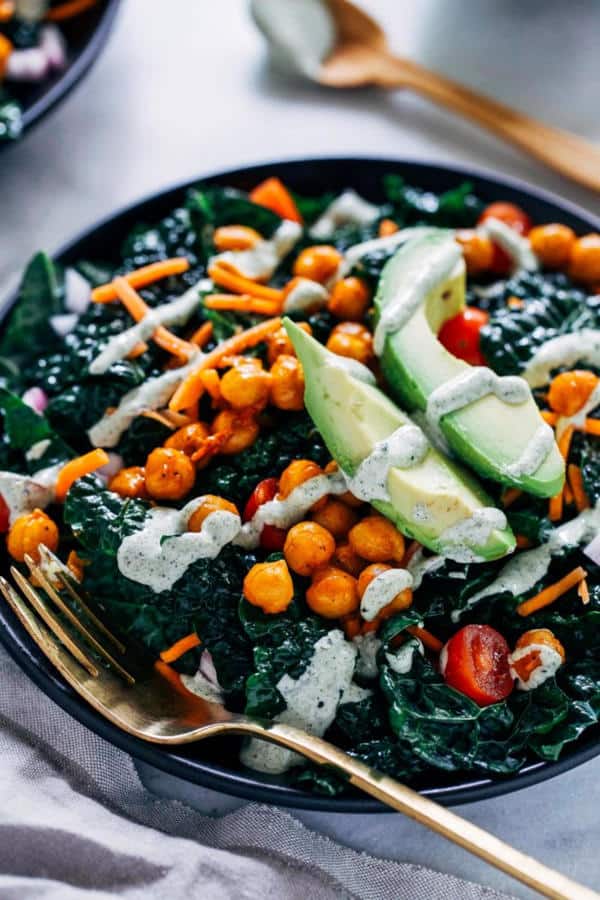 This is a serious salad for serious people! If you think it looks complicated just by the picture, it really isn't.
The recipe listing includes a link on how to make a vegan ranch dressing. If you want to save yourself some time, your favorite store-bought dressing will be just fine.
The recipe suggests that you remove the stems from the kale leaves and I completely recommend this as well.
If kale isn't your thing, simply use lettuce and it will be just fine. A seriously good salad that takes just 20 minutes from start to finish.
Kale, Sweet Potato, and Quinoa Salad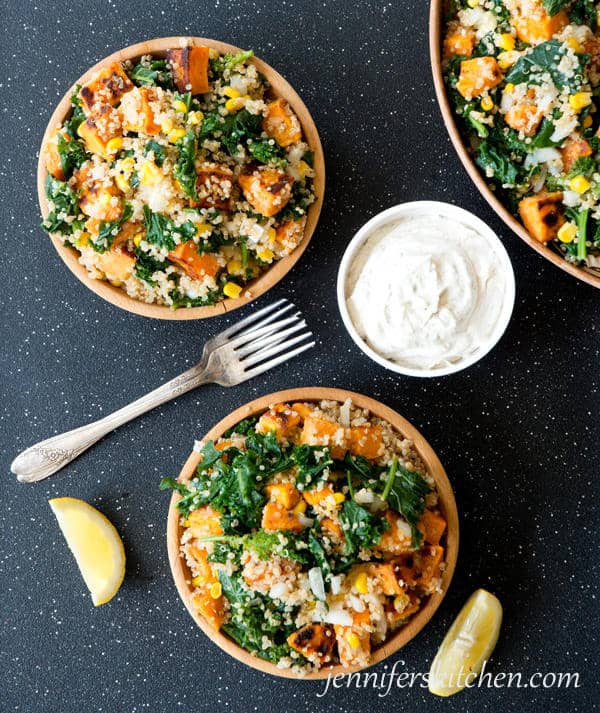 Well, what can I say? This is one of the most colorful salads out there. Great if you want to impress someone and perfect just for you too.
Quinoa and sweet potato go really well together, and this is the essence of the salad.
It's so easy to digest it's ridiculous so you won't be feeling lethargic and bloated after eating it.
The list of ingredients contains a link to 'creamy Italian salad dressing' which takes you to another recipe on how to make this.
That also is simple and delicious and would be good over any salad. Put them both together and you have the salad of champions!
Lemony Kale Chickpea Avocado Salad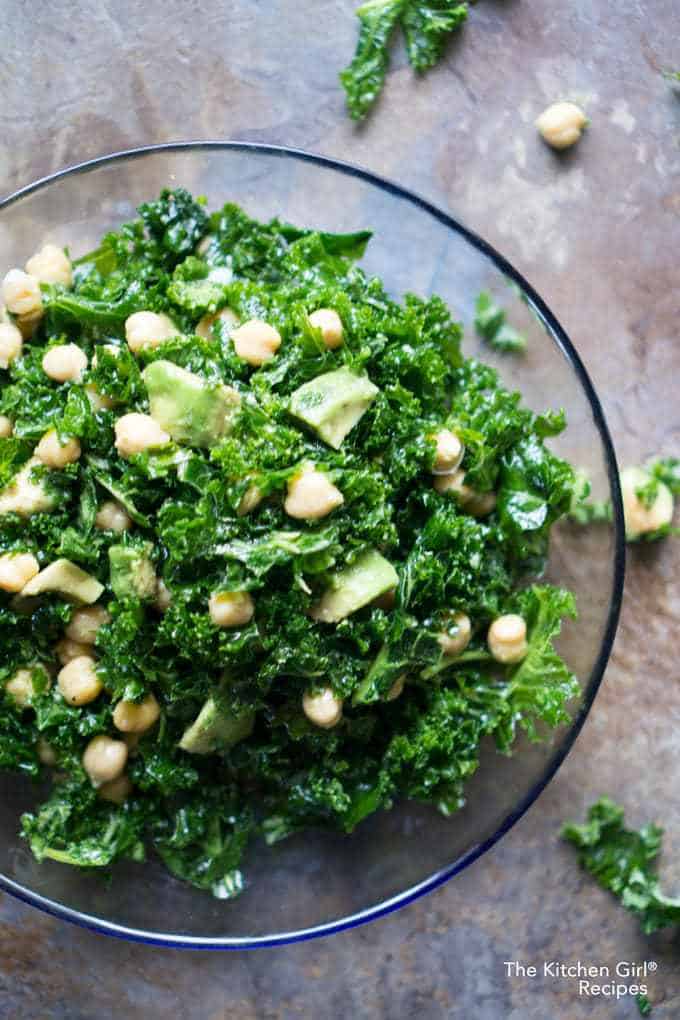 I really love salads that contain lemon or lime juice, there's something about the freshness to the taste that you simply cannot substitute with anything else.
The recipe here is divided into two, the dressing and the salad. The salad is simply kale, chickpeas (garbanzo beans) and sliced avocado.
Feel free to substitute anything depending on your availability and preference.
The dressing just has three ingredients plus seasoning and what I love about this the most is that you don't need a blender or any kind of machine, just whisk together in a bowl. A wonderful healthy salad.
Vegan Soup Lunch Recipes
Roasted Parsnip and Carrot Soup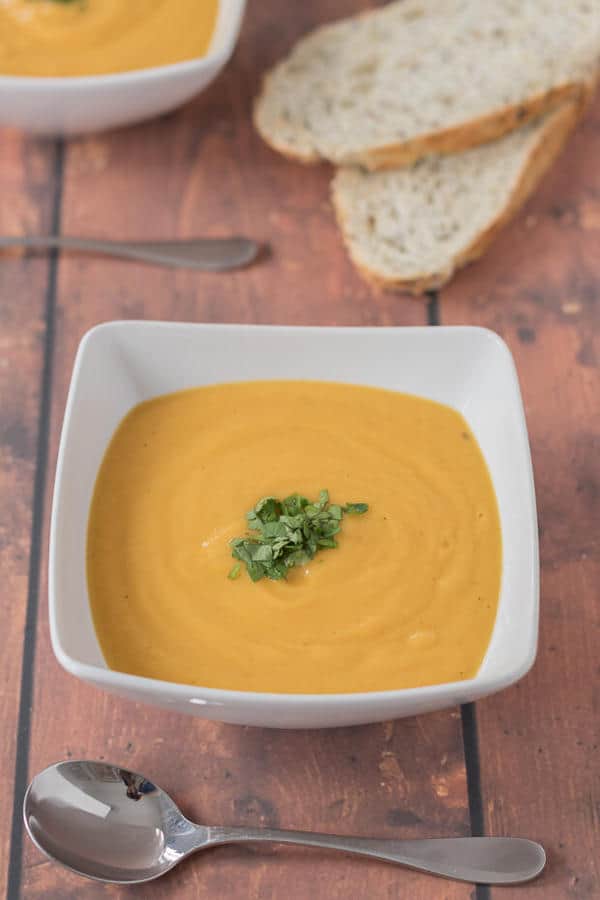 I love soups, especially when they are simple recipes. With lots of ingredients you somehow seem to lose the taste of the individual vegetables.
This is all about the roasted parsnip and carrots and the other ingredients are simply there to complement these two root vegetables.
There is nothing quite like a home-made soup and this is a testament to that. Serve on its own or with your favorite bread. Delicious!
Curried Lentil Soup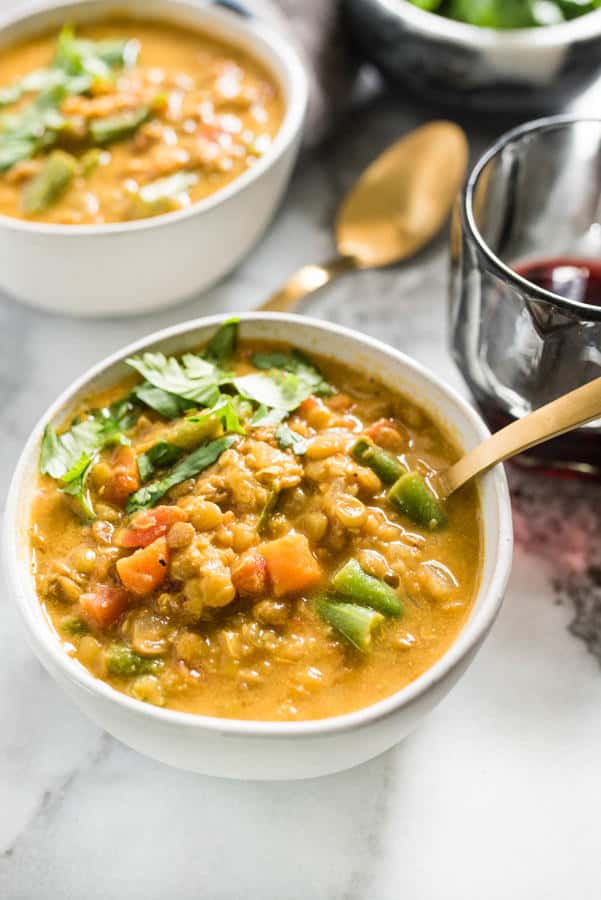 The title itself has three of my favorite things, curry, lentils and soup! Would you do me one favor? Actually, I should say would you do yourself a favor and click on the link for this recipe and just look at the pictures.
You have ingredients like garlic, onion and coconut milk to name just a few.
This thick and flavourful soup is hearty, every mouthful will satisfy you if you are a curry fan! All the flavors seep into the lentils and the coconut milk's creaminess blends all the ingredients together.
The recipe does include a pinch of cayenne pepper so adjust this or leave out depending on your preference. This is one of my favorite recipes.
Sweet Potato Leek Soup
You've probably had potato and leek soup before, this is a twist on that recipe and it's arguably healthier than the original. Either way it tastes great!
With just 9 ingredients and these include seasoning and spices, you're looking at a very simple recipe, takes 10 minutes to prepare and just over 20 minutes to cook.
The secret ingredient for me is the red pepper flakes, is just a pinch and you could leave it out if you want but it adds the slightest hint of flavor in the background of every mouthful.
A perfect soup for those cold winter evenings.
Sweet Potato, Coconut and Cardamom Soup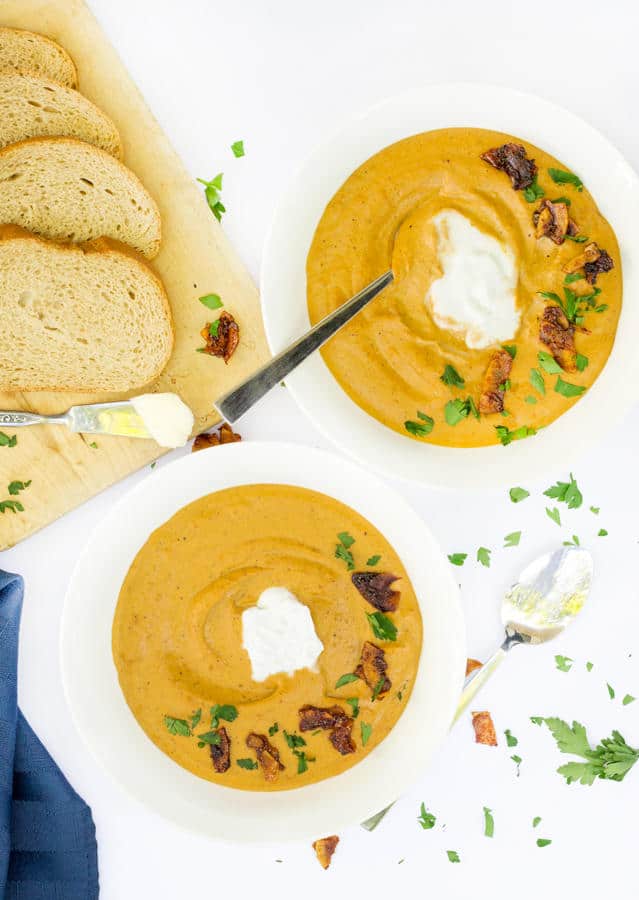 Sweet potato soups are great, this one is even better than anything else you have tried, and that's a promise!
The secret of this recipe lies in its simplicity, there are just eight ingredients and half of them are spices and seasoning.
The coconut milk creates a wonderful consistency and brings all the flavors together. This dish is naturally gluten-free so perfect if you are avoiding wheat and am looking for a tasty soup. Wonderful!
Butternut Squash and Red Lentil Soup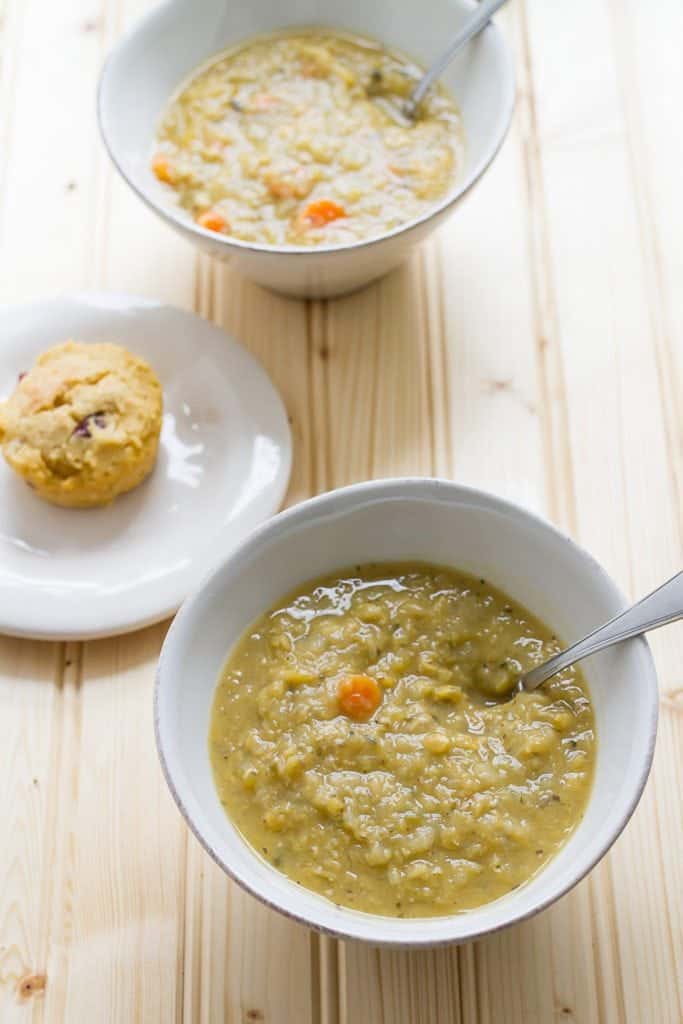 I'm telling you, squash and lentils are like Tom and Jerry, they were just made to go together!
Wonderful ingredients that are easy to source and some amazing herbs and spices make this soup a winner.
It does include some cayenne pepper so adjust according to your preference or leave out altogether.
Totally delicious, eat on its own or serve with your favorite crusty bread.
Roasted Carrot Soup Recipe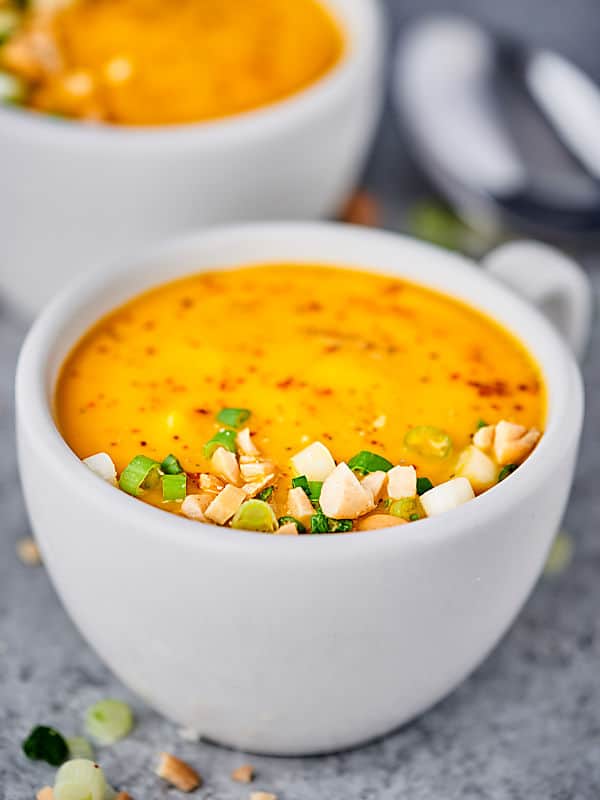 This is nothing quite like having a soup in a cup. However, some soups just don't work from a mug and you end up using a spoon to scoop everything out. This recipe is good in a bowl or a mug and looks fantastic.
With just a 10 minute prep and 40 minutes cooking this will be ready in no time.
The ingredients are incredibly simple and really, there are just a few of them, together they hit the spot!
The recipe page has one of those handy tools where you can change the amount of servings you need, and it changes the amounts listed in the ingredients, just click or tap on the number.
Make sure you add the toasted cashews and green onion for garnish on the top of the soup.
White Bean and Mushroom Soup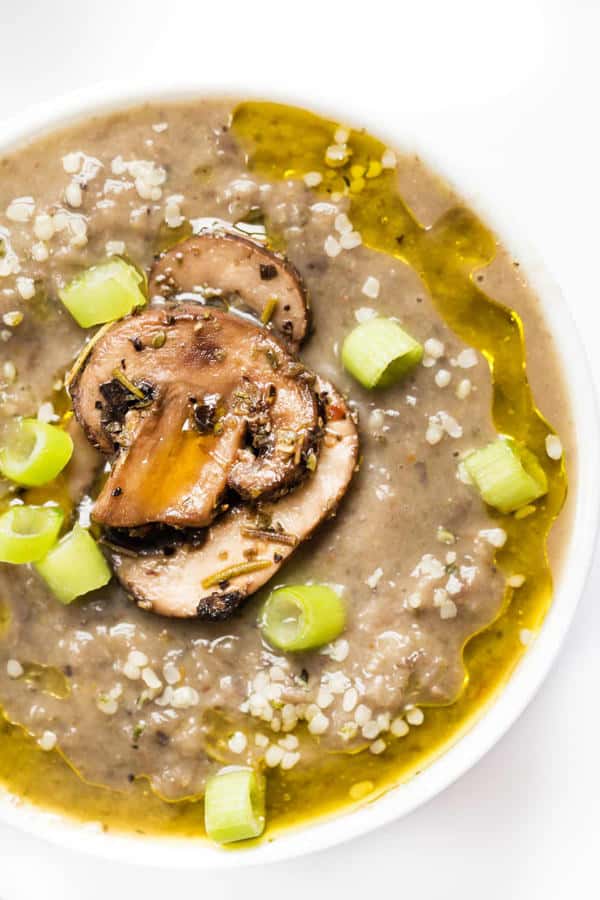 I'm here to wave the flag for white beans! I think they are understated and yet they are the staple of so many recipes.
If you're into mushrooms you really need to check this soup out.
The recipe has cremini/baby bella mushrooms although you could easily use your favorite if you cannot source these.
Other than that, you're looking at simple ingredients that are high quality but very affordable.
A wonderfully rich and hearty soup that would make a perfect starter and an even better entrée.
Vegan Chicken Noodle Soup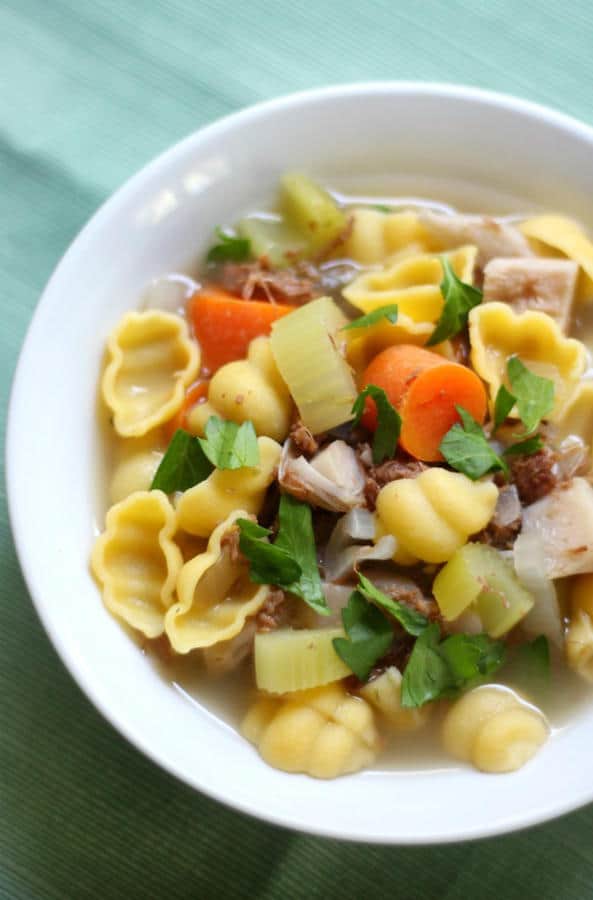 You're probably wondering about the vegan chicken? I'll tell you right now, it's simply jackfruit which is being used increasingly as a meat replacement because of its benign flavor and great texture.
This recipe reminds me of some minestrone dishes in Italy.
If you've never been to Italy before, is divided up into a number of regions, each with their own version of any given recipe. This means there is not one recipe the whole of the country uses, for anything.
In some parts of northern Italy, their version of minestrone is vegetables and pasta simply cooked together.
The reason I'm telling you all this is just to illustrate how simple this recipe is, you just grab everything, let it simmer for about 20 to 30 minutes then add cooked pasta and you're done.
Feel free to add any vegetables that you have in the kitchen that need eating. Extremely versatile recipe that is tasty and healthy.
Celeriac Apple Kale Soup with Walnut Dukkah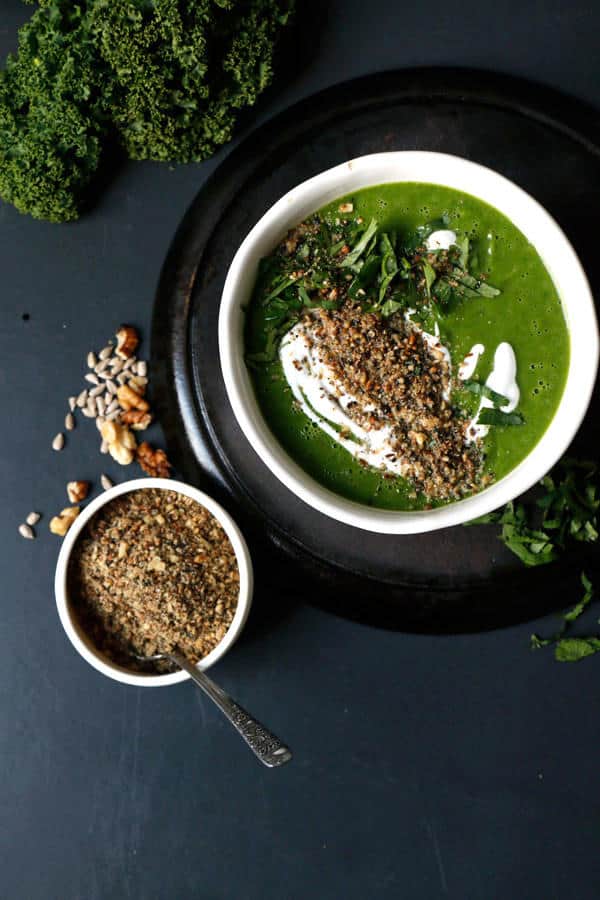 If you want to make the soup for someone that you want to impress, check this out.
Not only does it taste amazing, with virtually no effort you can present it with a restaurant style presentation.
And it's not all about the presentation either, the ingredients are easy to source but I think it's safe to say that celeriac is not something people eat often.
The apples are the secret ingredient for me as they lighten the whole dish up perfectly.
The walnut dukkah is wonderful sprinkled over the top, I'm going to keep this part of the recipe for my salads!
Special Picks
Peanut Spinach Udon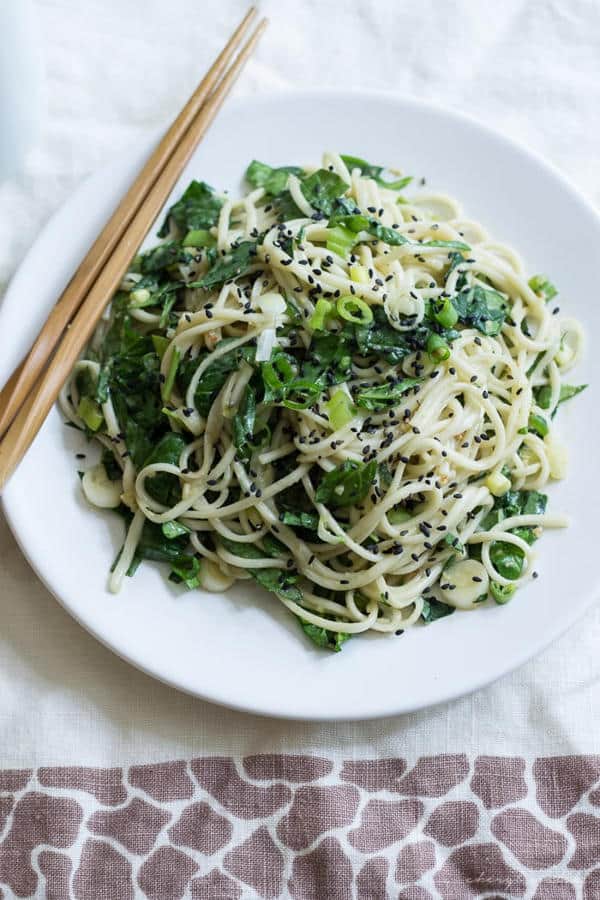 You like udon noodles right? Sure you do, who doesn't. The world is lacking recipes for these wonderful creations and I'm here to fix that.
This is one of those recipes where the picture is exactly what your dish will look like once complete.
And however tasty you think it is, trust me, it's more delicious. Simple, tasty and easy to digest.
What I love most about this is other than the baby spinach, most people who like this kind of food will have ingredients already in their kitchen.
Udon noodles, soy sauce, sesame seeds… See what I mean? Do more than keep this recipe, make it!
Tofu with Thai Peanut Sauce (Pra Ram)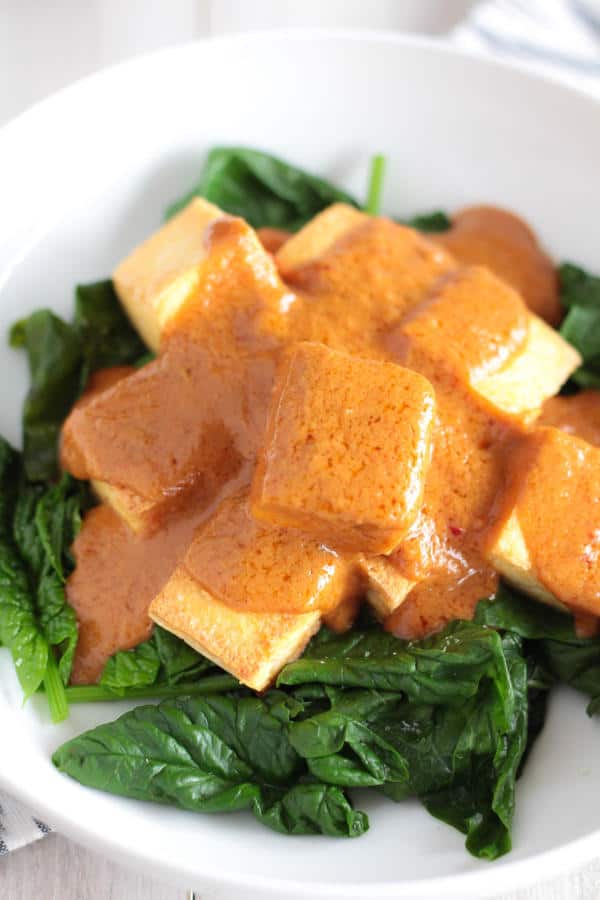 If you're a tofu fan, this is for you. I know some people that aren't big tofu fans, but I tell you, it's all in the cooking and this recipe is a perfect illustration of that.
Although it doesn't look like it, the list of ingredients is divided in two, the peanut sauce and the tofu (aside from the spinach leaves at the end).
The sauce is seriously good, and I recommend you keep it for other recipes, it's one of the best I've had.
When we made this, we didn't have the spinach and I didn't want to go out for just one thing so we use rice instead and, of course, it was delicious.
Spring Pea and Fava Bean Guacamole with Root Chips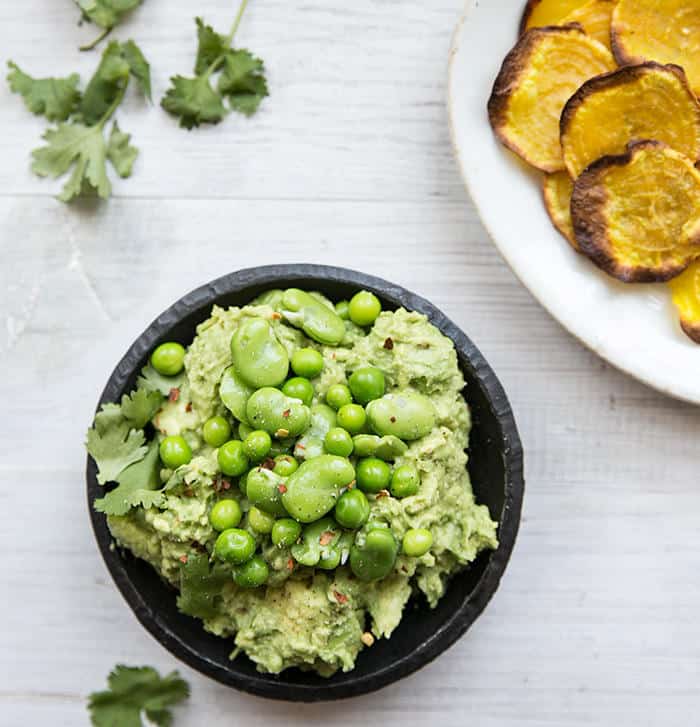 Sometimes, alternatives to chips and salsa can be a little disappointing and bland. Not only is this the opposite, it tastes great and is a serious contender for not having those deep-fried pieces of nasty ever again.
The root chips speak for themselves, they're so tasty I simply don't need to elaborate.
The guacamole (if you're a guac purist you probably don't want me to call it that) is incredible.
The secret ingredient in this, actually there are two of them and they are in the title, spring peas and fava beans.
They bring heartiness and flavor to this wonderful thick dip. Bring the root chips back into play and together they make a snack that will turn into a meal because you won't be eating anything else.
Pumpkin Pasta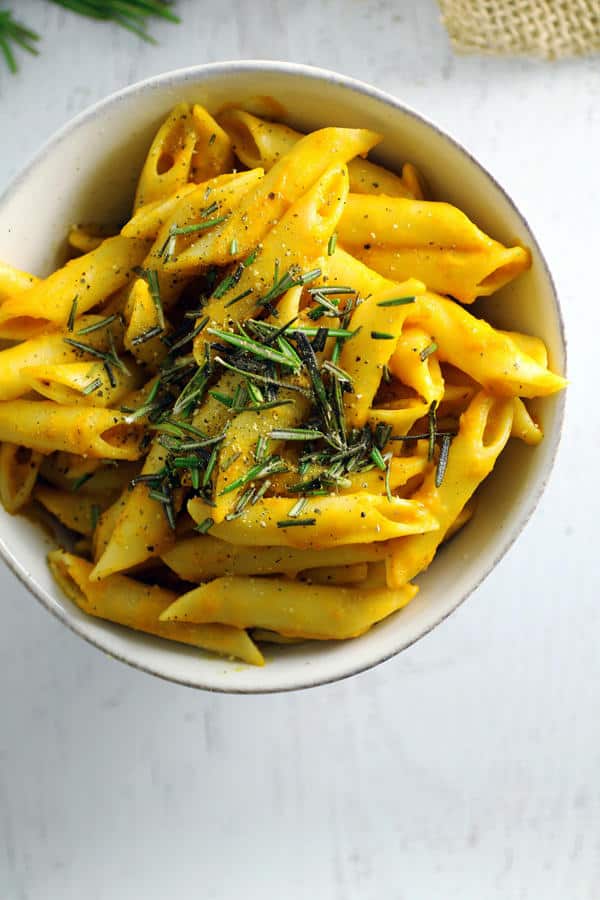 In case you're wondering, the pasta itself is not made from pumpkins. Use your favorite pasta, any shape and any type and you will have an amazing meal with this pumpkin sauce.
There are just a handful of ingredients making this recipe quick and easy.
You can never have enough sauces to go with pasta and this one is right up there as being unique and yet, somehow, it feels like an old friend.
Unlike some other creamy sauces, this will not make you feel bloated or lethargic afterwards.
Best of all I love how this looks, the orange from the pumpkin makes the dish look beautiful.
Spanish Chickpeas with Chorizo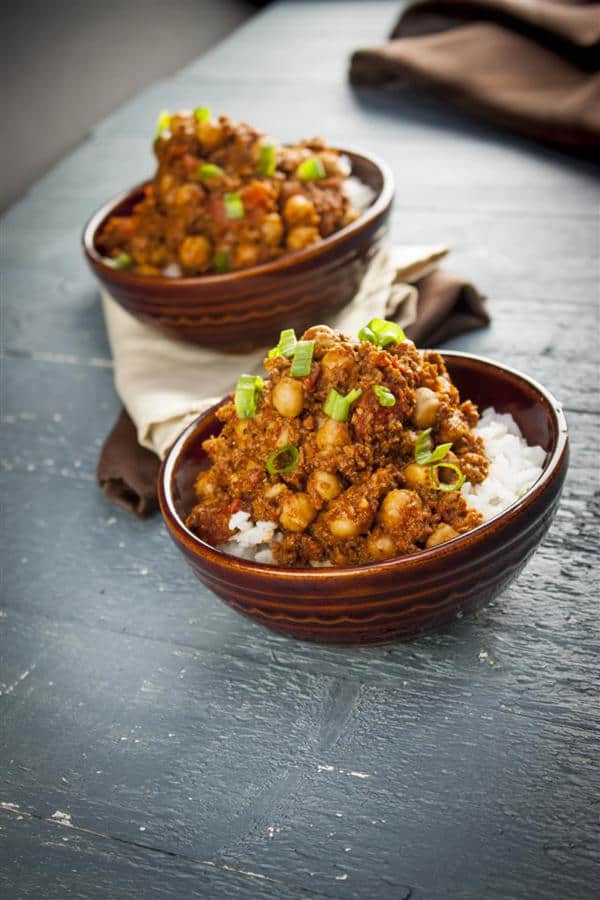 There are so many good things to say about this recipe I don't know where to start!
The first thing I will say is that the author is using a store-bought vegan soy chorizo from Trader Joe's.
To make this recipe come out as intended I would recommend using this.
If you can't source this, I recommend using a little imagination and seeing what you can come up with because the rest of the recipe is fantastic and still worth making.
There really are just a handful of ingredients and the end product tastes incredible.
5 minute prep time and 20 minute cooking is all you need. Serve over a bed of rice or in a tortilla wrap. Fantastic!
High Protein Summer Rolls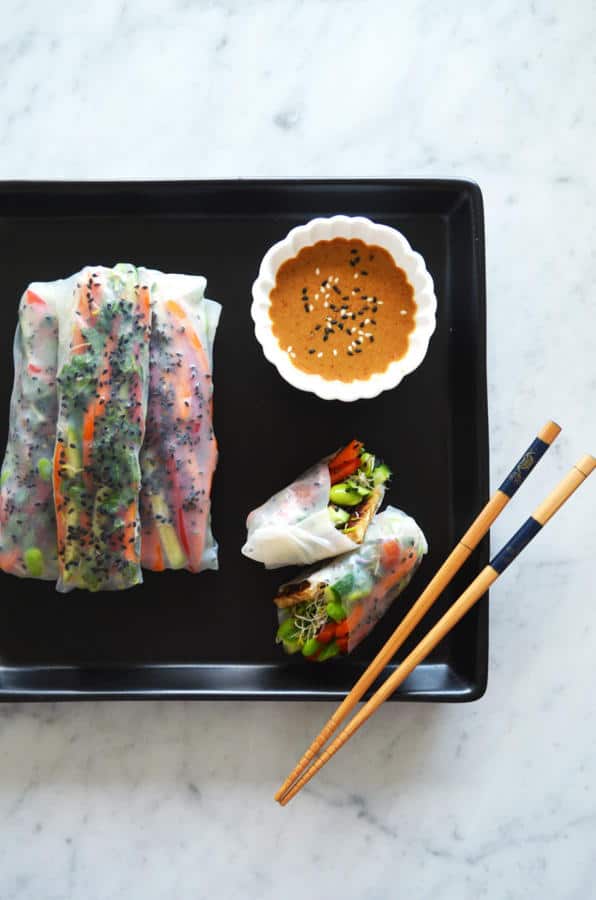 I totally love these types of rolls, healthy, fresh and they look great. Make sure you can get some rice paper wrappers, in the unlikely event that you are unable to source these, you could use small tortilla wraps with no problem.
Obviously, get the best quality ingredients you're able to, the very nature of this dish means the quality of the vegetables will make all the difference.
One thing that can easily let a dish like this down is the quality of the dipping sauce, it needs to be great and this one is!
If you're into Thai food and you love summer rolls, you're going to love this. Perfect for a party or for a family dinner, get the kids involved in making them too!
Roasted Masala Cauliflower with Coconut Lentils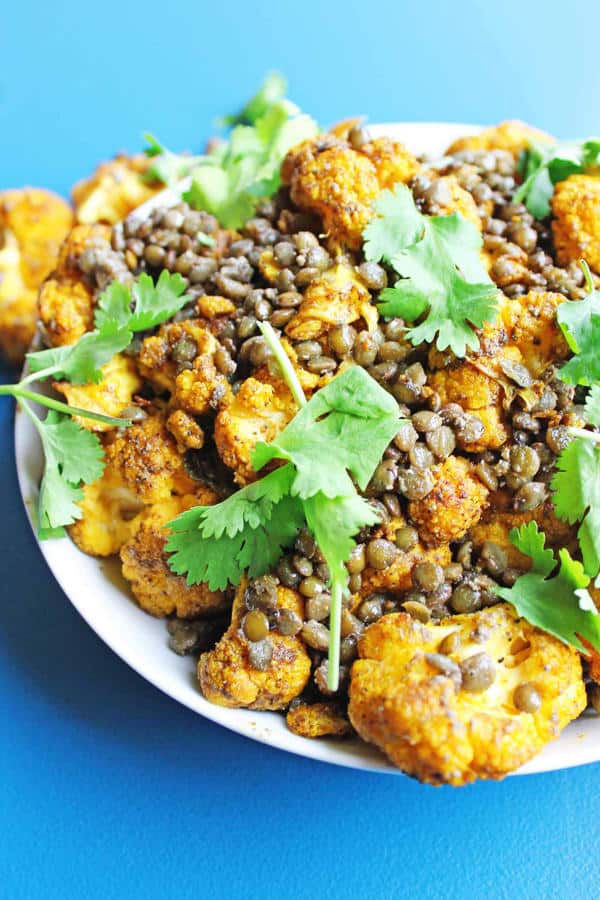 If you like Indian food and you like simple and quick recipes, you're going to love this.
There's a definite familiarity about the flavors of this dish and that's not surprising.
There is nothing unfamiliar about it, you'll recognize all of the ingredients and you had them all over a thousand times. However, the way they are put together here is what makes this unique.
I had never had roasted masala cauliflower before I tried this, it's amazing! Add the lentils and all the other ingredients and you have yourself a gluten-free dish that can either be served as a side, or an entrée.
Chili Spaghetti Squash Boats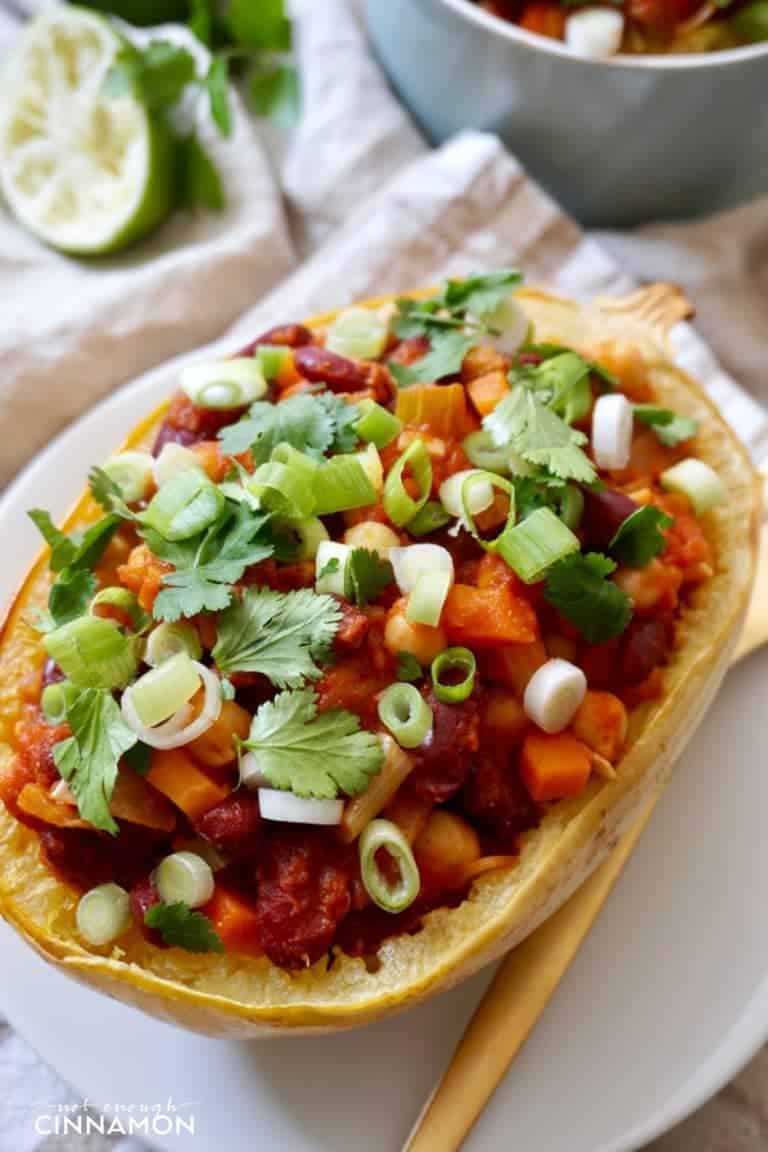 I have never seen Squash presented like this before, it's fantastic and the taste is even better.
This is certainly something that would be perfect for the holidays.
If you're going around to someone else's house, or they are coming to you, it's usually the same thing and hey, there's nothing wrong with a bit of tradition.
But when you want to spice things up a bit with a twist on that tradition, grab this! Easy to source ingredients that you're used to, carrots, celery, sweet onion to name but a few.
Some wonderful spices such as cumin, smoked paprika and more. And you know, despite everything, what makes this even better is the juice of two limes.
It may sound over simplistic, but I think without it, the dish wouldn't be quite as good.
Baked Asparagus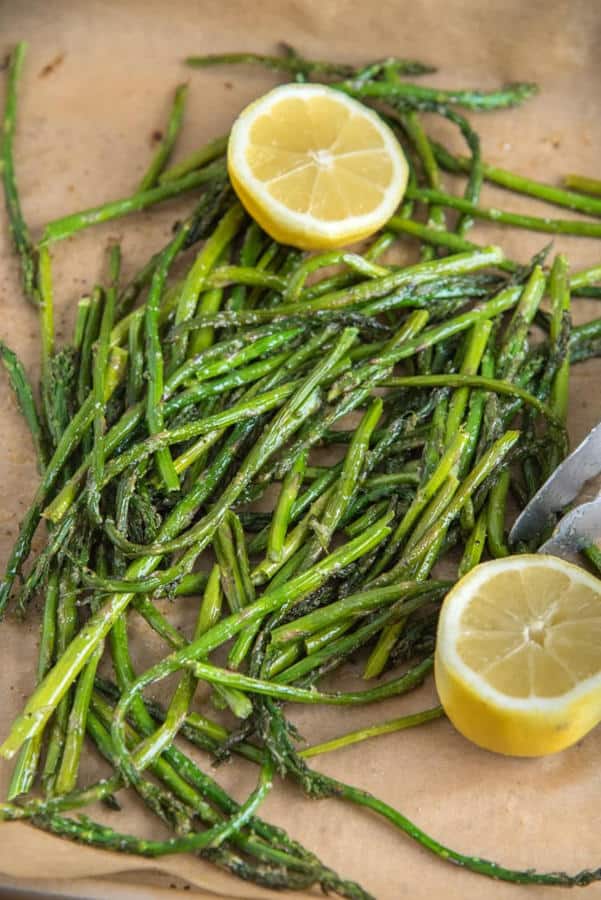 People normally steam asparagus and eat them with a little olive oil and lemon juice, and really, that tends to be it.
Sometimes you see them chopped up in salads if you're lucky, but I do think they are an overlooked vegetable.
Here they are baked with just a few ingredients and I promise, you have never had asparagus tasting so good.
Makes for the perfect side dish or simply serve over rice or quinoa for a great meal. Fantastic!
Smoky Bacon-Wrapped Asparagus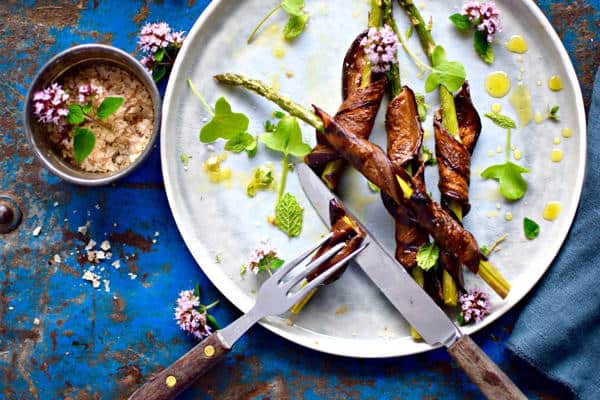 Wow what a great way to have asparagus. I've seen eggplant used as 'bacon' before but never with asparagus, let alone wrapped around them!
This does take a little preparation but not as much as you think. What I really love about this dish is the array of colours, especially if you serve with the sliced peaches.
For the holidays if you want to be the star of the show, make this and everyone will ask you for the recipe.
Bursting with flavor, healthy and delicious. Above all I would say this is a classy looking dish, probably the most professional looking I have seen in a very long time.
Everything Else
Katsu Curry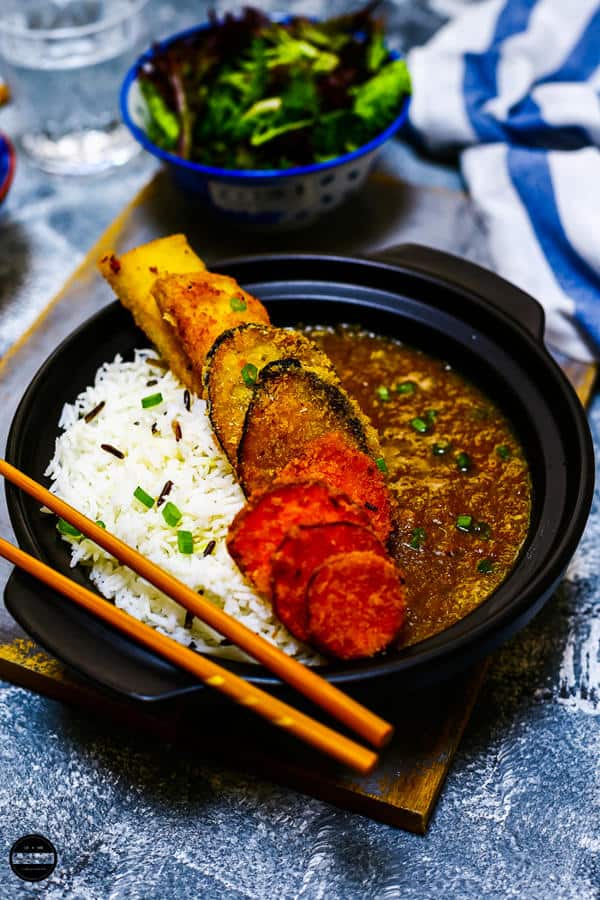 A katsu curry is a Japanese recipe and traditionally not vegan. Not only has this been converted so it's vegan-friendly, be prepared because it's seriously tasty.
The vegan katsu is made from eggplant (aubergine), tofu and sweet potato. Once you coat the slices of these in batter they will need to be deep-fried. If you're good with this simply follow the instructions.
If you'd rather not be fry, you could shallow fry or even try baking them, just use your imagination and see what happens.
We didn't try doing this so let us know. The curry sauce is very simple to make, and you will need a Japanese style curry mix. Once you put everything together you will be in for a treat.
Sheet Pan Fajita Bowls with Spicy Chickpeas and Cauliflower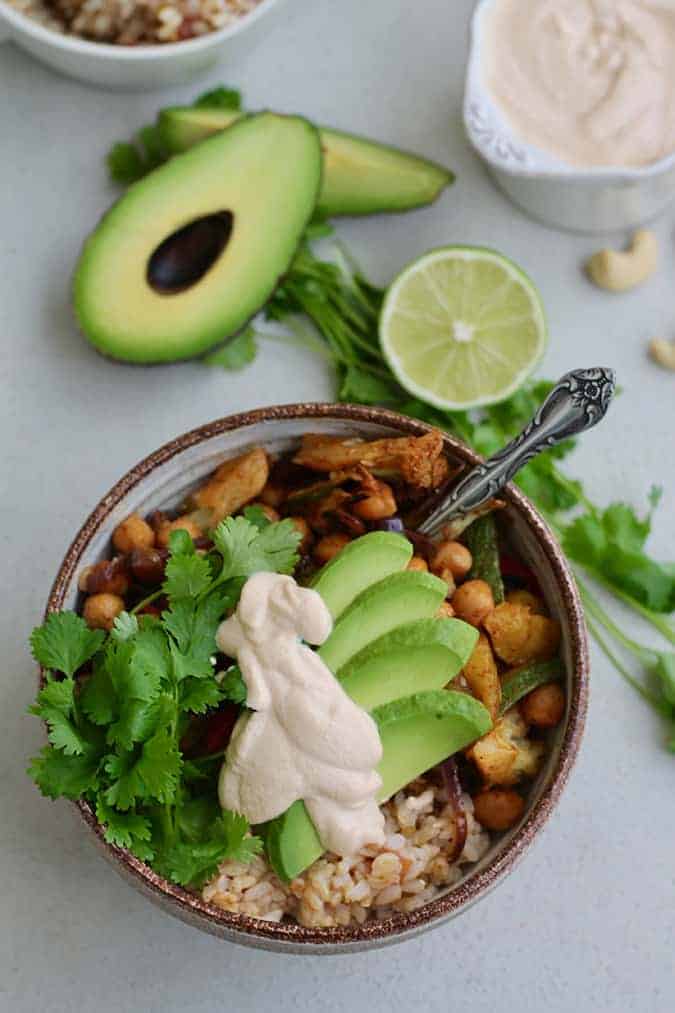 Would you do me a favour please? Click on the link and go to the recipe page, then slowly scroll down and check out all the pictures for this dish.
If that doesn't make you want to eat it immediately then check your temperature and maybe see a doctor.
The recipe is divided into three sections, the fajita spice mix, the fajita Bowls (main ingredients for the rest of the plate) and the chipotle-lime cashew cream.
The cashew cream does need raw cashews to be soaked for at least four hours, I recommend overnight. This also makes a great salad dressing by the way.
Put everything together and you have one of the tastiest meals ever. There's a handy tool on the recipe page, go to where the 'servings' are, and you can alter the number to what you need, and this will change all the amounts and ingredients for you.
Masala Dosa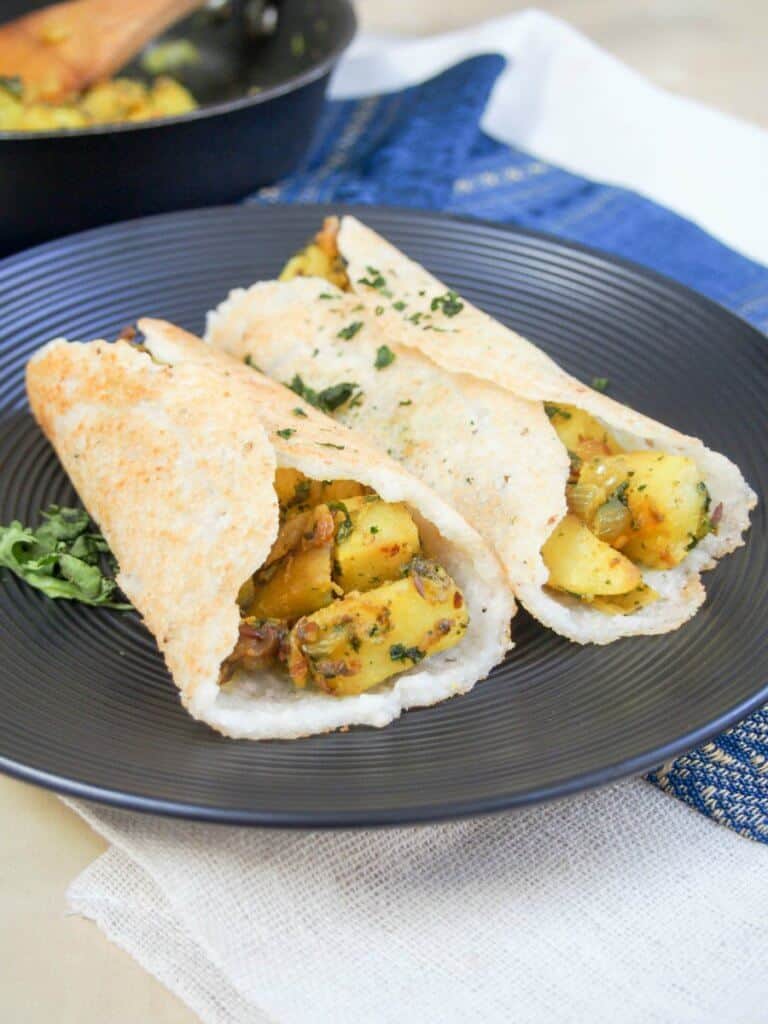 For those of you that don't know, a dosa is a South Indian pancake. It's very common and used in a similar way to a wrap and filled with a curry mixture, often sold by street food vendors as it's easy to hold and eat while walking.
In addition, a dosa can be very large and filled with a potato curry and served with other accompaniments as part of a meal.
Here we go in for the former, so it can be eaten as a snack on the go, or even for a quick breakfast or brunch.
You make the pancakes from scratch although do note there are some preparations that need to be done the night before. Put everything together and you will be in Indian food heaven!
Roasted Garlic White Sauce Pizza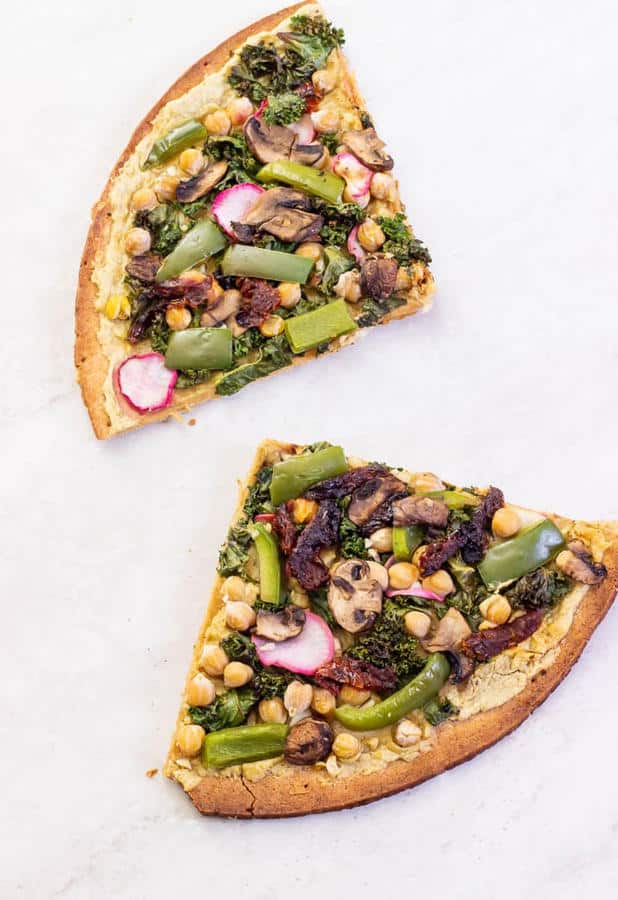 A great recipe that yields a very tasty pizza. The ingredients are divided into, the pizza itself and then the roasted garlic white sauce.
Don't worry, you don't have to make the pizza crust from scratch unless you want to. Find your favorite store-bought version and you're good to go.
You can be flexible with ingredients so if you don't want to have kale, have spinach instead! The roasted garlic white sauce is heavenly, please remember to soak your cashews the night before.
An amazing pizza, easy to make and your taste-buds will tell you to make it again!
Chunky Chili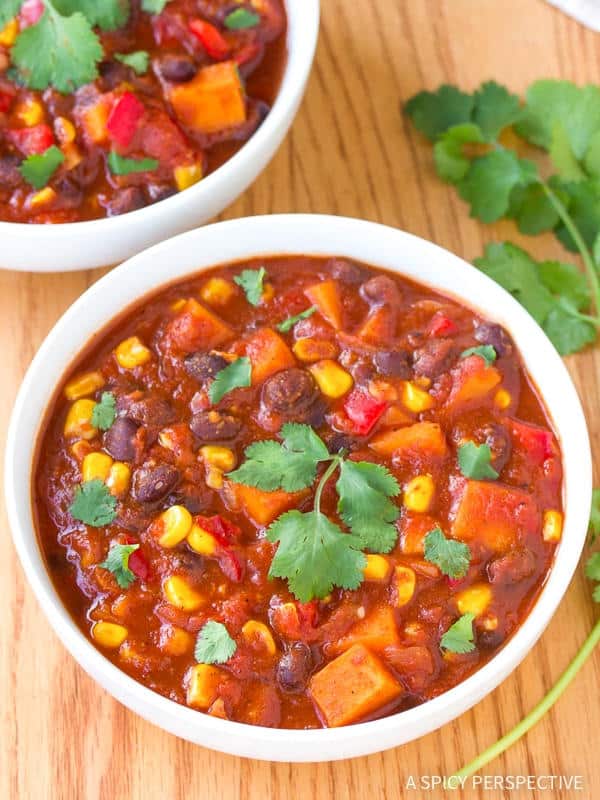 If you like a good chili, you need to check out this recipe. Easy to make and flexible so you can use any veggies you have.
You know, I've seen so many chili recipes that don't contain garlic and I think it's an important ingredient.
This recipe (makes 6 servings) has 4 cloves and it's enough just to provide a subtle taste. The ingredients are very straightforward, and you won't have any problems sourcing anything. Takes less than an hour to make and is super easy.
Serve with rice, tortilla chips or both!
Ultimate Vegan Quesadillas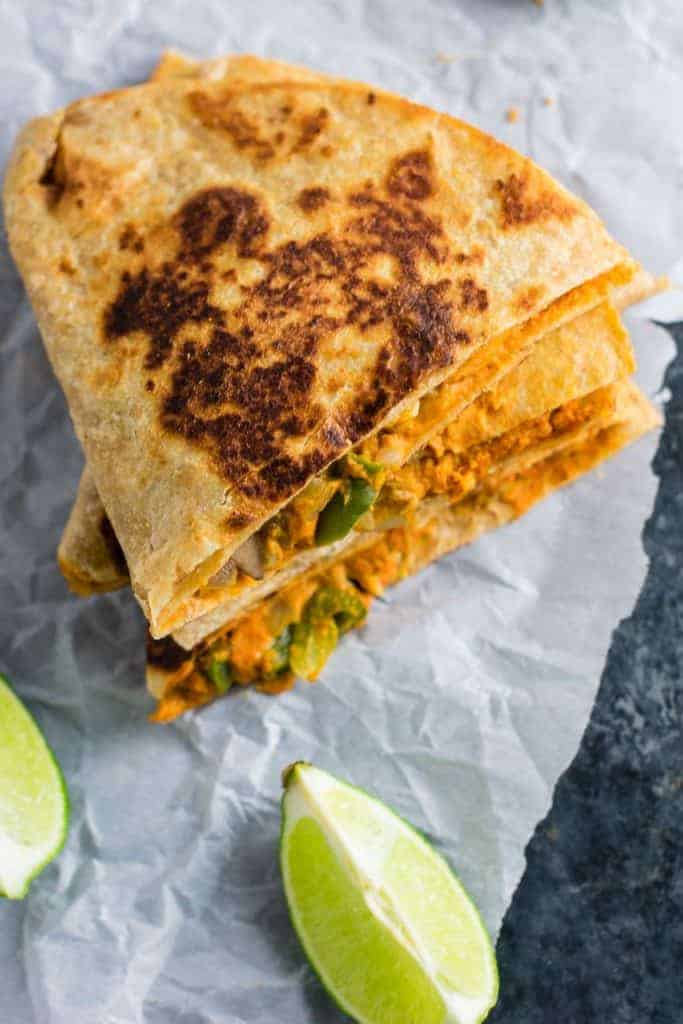 Quesadillas are a Mexican favorite and I love them. For those that have never had them before, a quesadilla is traditionally not vegan because it contains cheese.
It consists of two tortillas that are pan-fried in a tiny amount of oil, the filling normally has a whole bunch of things from vegetables, meat, cheese and so on. This one, of course, is vegan.
The favorite part of this recipe for me is the enchilada sauce that you make from scratch.
You will need a high-speed blender to make this, you could use a food processor and the end result may not be as smooth but that's not the end of the world.
Grab yourself a bunch of veggies such as mushrooms bell pepper and onion and cook over a large skillet. Absolutely delicious!
Clean Eating Roasted Chickpeas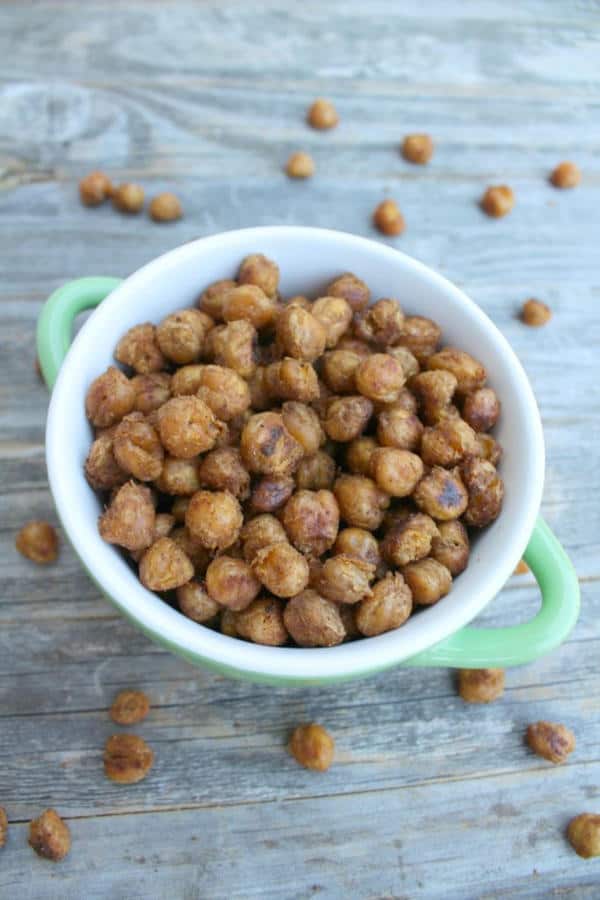 This is the perfect healthy snack. When you have that craving for something salty and crunchy, grab yourself some chickpeas and follow this recipe.
As well as being vegan, it's gluten-free as well!
I love this because you can just use a can of chickpeas (garbanzo beans) and just two other ingredients along with seasoning.
Mix everything together and roast for about 20 to 25 minutes turning regularly. They will easily last up to 5 days so perfect to take with you to work or even as part of goodies to eat for a road trip. Fantastic.
Tofu Stir Fry with Cashews and Baby Bok Choy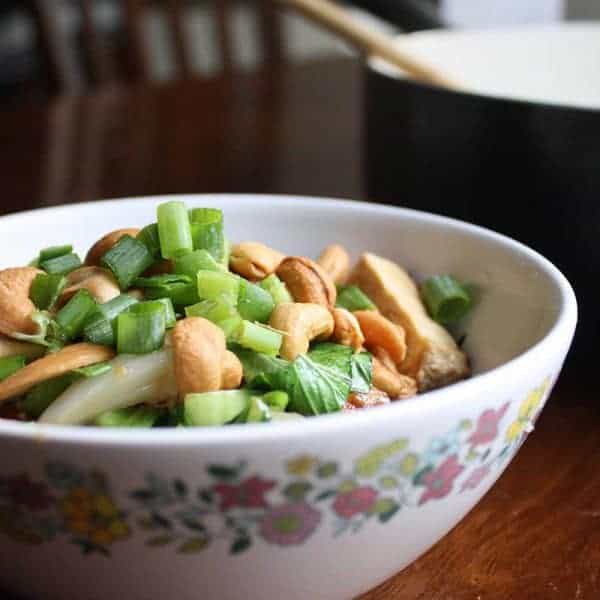 I really love this dish and I'm not just saying that. Unbelievably easy to make with straightforward ingredients.
One of the things I love about it, is that it can be used as a snack or a main meal with little extra effort.
If you follow the ingredients and instructions you have yourself a healthy light snack that is incredibly satisfying.
If you serve this over rice noodles or even quinoa, you have yourself a main meal. Seriously, just make it.
Indian-Style Toastadas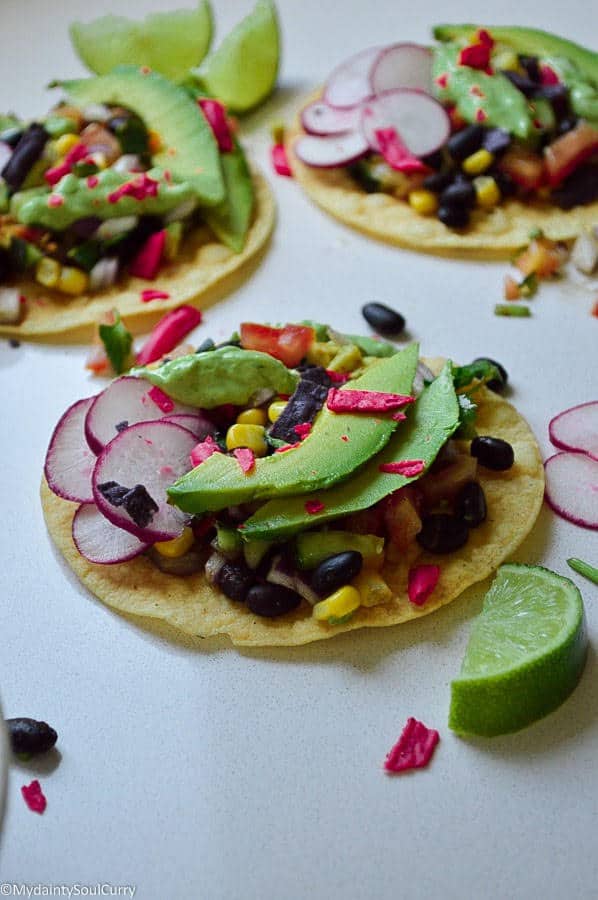 This is like India meets Mexico or something, two great nations with amazing cuisine. Whether you make this as a snack or make a bunch for a meal, you definitely win!
The ingredients are very straightforward, and I can't see you having any problems sourcing anything.
It's quite versatile so you can add other ingredients depending on what you have. You're looking at a 10 minute prep time and the same for cooking so in 20 minutes or less these bad boys will be on the table and in your tummy!
If you make this at home for your family or friends, I would at least double the recipe because these will go quick!
Wrapping Up
There we have it, 101 vegan lunch recipes!
Whether you're gluten-free, want something quick and easy or you're looking to impress someone with something they've never had before, it's all here.
Out of all the roundups we've done, this was the most interesting because we specifically focused on dishes that would be great for lunch.
I love the variation of all the recipes. Some make for great side dishes, while others—intended as sides—easily become the main part of a meal. It's all up to you, and that's the point.
We love hearing from you so do let us know your favorites and even better, send us a picture of your creations.
Buon Appetito!