Let's change all that! In yet another of our 101 recipe roundups, we've found the very best vegan cauliflower recipes. Think about it, with our curated collections of vegan recipes, you almost get more than in a typical cookbook!
Everything from soups to snacks, all with cauliflower. If you really love cauliflower, then this is your heaven; here's all the inspiration you need. Enjoy!
Vegan Cauliflower Casserole Recipes
Loaded Cauliflower Casserole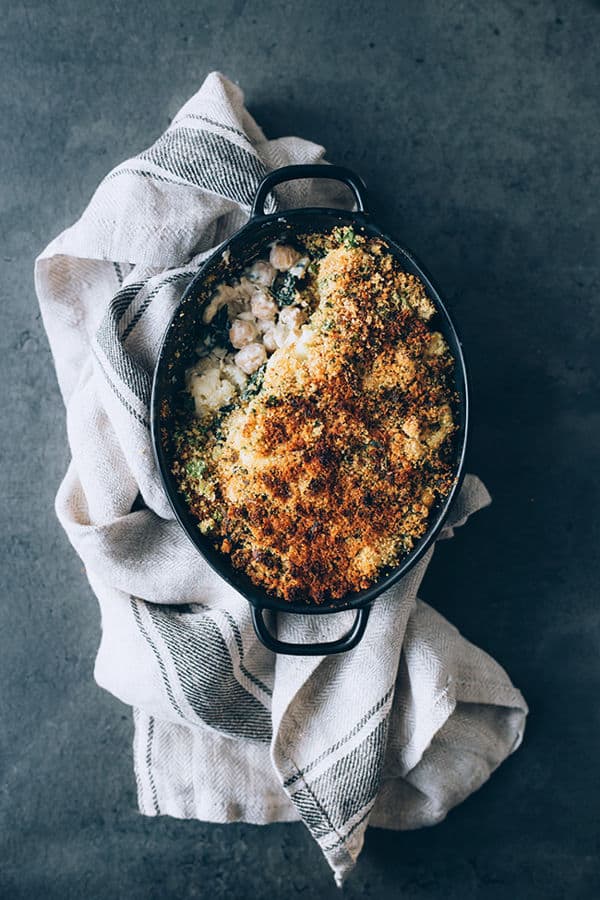 Casseroles are absolutely delicious, but you want somebody else to make them! There's the dread of the preparation with what seems like ten thousand ingredients then it needs to cook in the oven for like six months. OK I'm exaggerating! Can you believe this amazing dish takes a total of twenty-five minutes, and that includes cooking and prep time!
The heart of this dish includes cauliflower, broccoli, chickpeas and a whole lot more. The vegan cheese sauce blends everything together so well along with the Dijon mustard. The crunchy topping is everything you want from a casserole lid! You can either make this in one large dish or separate into smaller servings.
The recipe doesn't mention freezing but there's no harm in trying, I think it'll freeze really well. Perfect for those cold winter nights when you want something satisfying. Serve as it's!
Cauliflower and Potato Casserole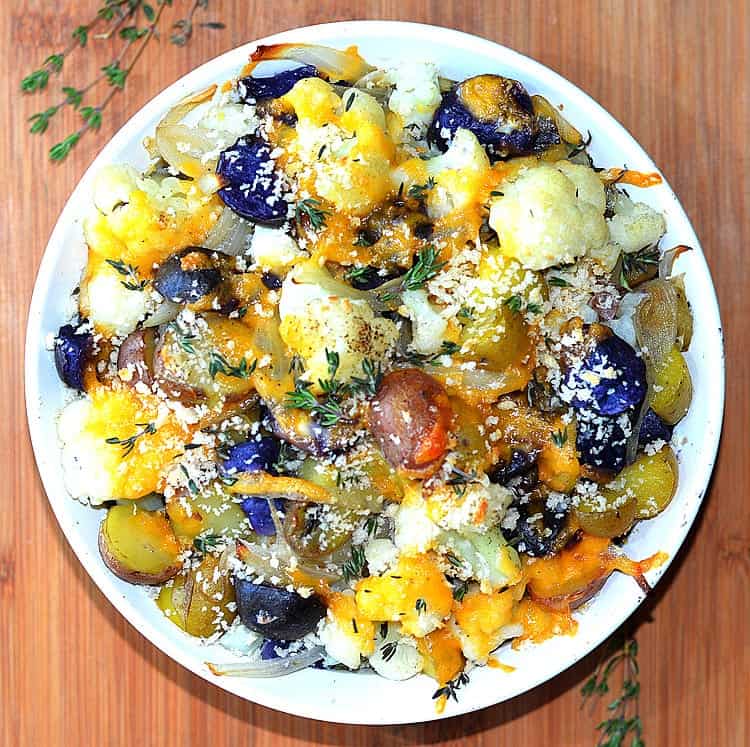 Cauliflower and potatoes are one of those matches made in heaven. If you want something for the holiday table that's just a little different to normal, this is it. The recipe is divided into three, the main ingredients, the sauce and the topping.
A couple of the items listed in the ingredients are brand names but don't worry if you can't get them, they can easily be substituted.
It's very important to parboil the potatoes and cauliflower during the first stage to avoid overcooking. Double thumbs up for the onions which are always a welcome addition, not to mention the sauce which is creamy and cheesy without any dairy!
The topping couldn't be more straight forward and would be the cherry on the cake, except isn't a cherry and this isn't a cake!
Mashed Cauliflower Green Bean Casserole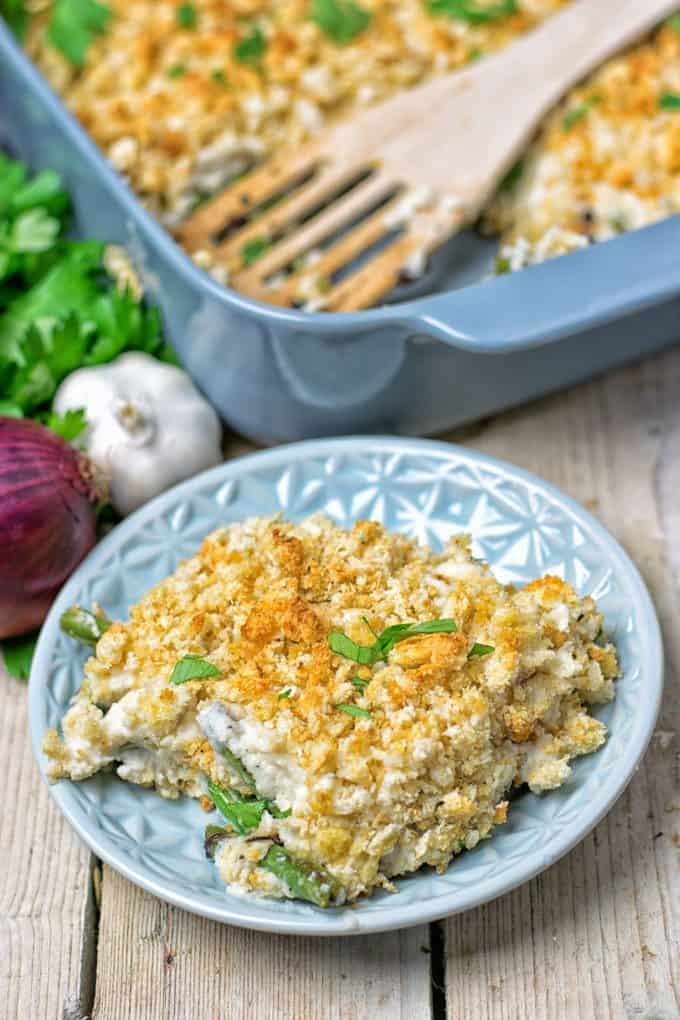 Florian from Contentedness Cooking has created this great dish which is perfect for the holidays or for any time of year when you just want comfort food. Not only is this vegan, it's also gluten-free so perfect if you're trying to avoid wheat.
The ingredients are simple like all great dishes, there's just a handful of them and the instructions are also really straightforward. Even though this is plant-based, I'd say it's even more creamy than a dairy recipe as it uses coconut milk, you definitely don't miss out on the cheesy flavor with the nutritional yeast.
The amounts make eight servings and you can keep any leftovers in the refrigerator for up to 3 days. There's no reason this shouldn't freeze well and cook from frozen, but we haven't tried so do let us know!
Vegan Chickpea Cauliflower Recipes
Caramelised Cauliflower with Chickpeas, Baby Kale, Lemon & Toasted Buckwheat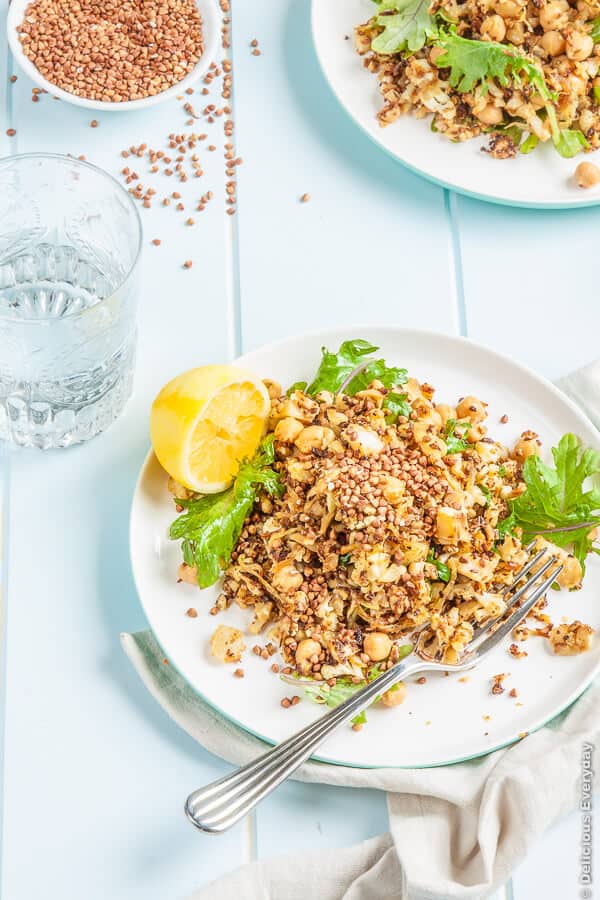 What you do with cauliflower? You boil or steam it right? More recently we have seen people make thick slices and roast then as "steaks". Well here we have caramelized cauliflower. How fantastic is that!?
This makes for a great snack and an even better meal. If you're patient (unlike me!), it's even more delicious the next day when the flavors have had time to marinate.
There are some amazing flavors here such as the fennel and coriander seeds.
Toss in the baby kale right at the end which gives the whole dish a wonderful fresh flavor. This would be perfect to take to work or on a picnic. Really healthy and you won't want to stop eating it!
Roasted Cauliflower with Chickpeas and Pomegranate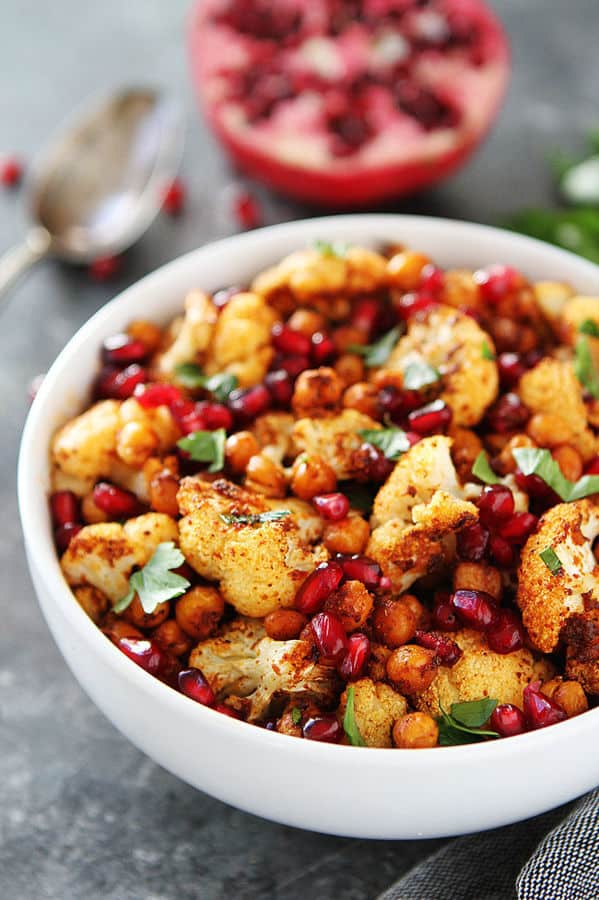 If You don't think this picture looks incredible, please consult with your doctor immediately! This is one of the most satisfying and fresh dishes I have ever eaten. Perfect for Thanksgiving, Christmas and any time of year.
What really makes this dish stand out apart from the main ingredients are the little things like the cumin and paprika. The olive oil and lemon juice just blend everything together perfectly.
The amounts listed make six servings although this is the sort of dish where you can quickly get used to making it without referring to the recipe. This is what great dishes are all about.
Chickpea and Cauliflower Curry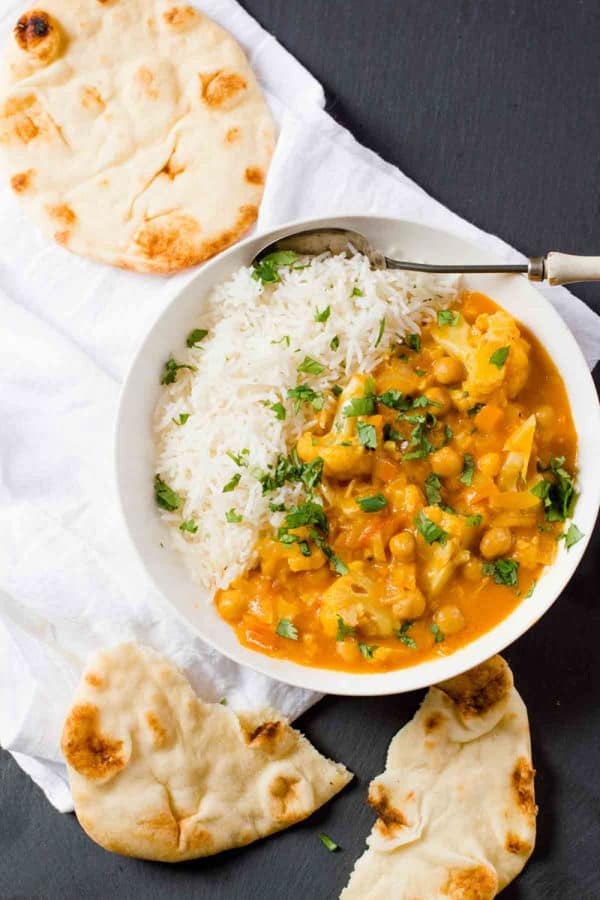 Some of you'll know I really love a curry! My favorite curries are simple and actually not very spicy. Apologies to all you heat lovers!
It's easy to make and, and as with all curries, you can serve with your favorite rice or Indian style bread.
The recipe in this dish calls for red curry paste. Use your favorite brand, it doesn't have to be red paste, or follow this recipe. Or if you're feeling ambitious make your own from scratch. If you have a store-bought curry paste then this recipe will take about twenty minutes from start to finish and nobody can argue with that.
It'll keep in an airtight container in the refrigerator for up to 3 days, unless this is in my house where it won't last for more than about twenty minutes!
Cauliflower Chickpea Tikka Masala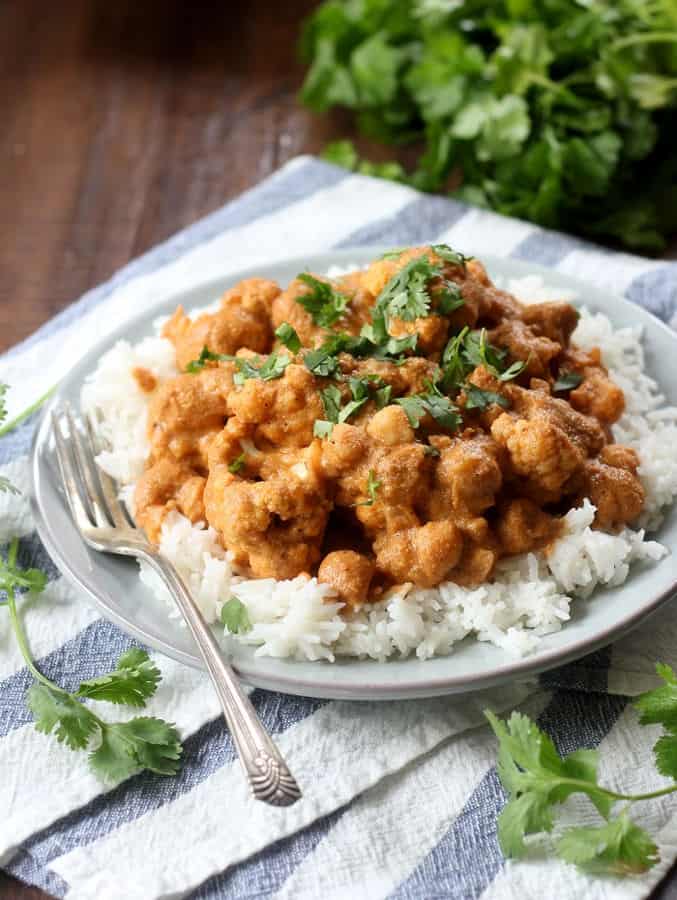 This is another favorite curry of mine not just because of the flavor, but also because of the simplicity of the ingredients and speed in which I can get it to my tummy, I mean, to the table for dinner!
A lot of people normally get some sort of ready-made curry paste when they want to make a curry at home.
There's nothing wrong with that, we all lead busy lives and there are so many good quality prepared sauces around, it makes total sense. Having said that, making your own curry is surprisingly easy. You just need to know which herbs and spices to put together.
Well, this recipe gives you just that. You make everything from scratch and best of all, it'll be ready in half-an-hour, and this includes prep and cooking time. Do make a note of this recipe because the spices are the very foundation of a home-made curry. Serve with basmati rice or your favorite Indian bread. Or both!
Easy Mashed Cauliflower with Kale and Chickpeas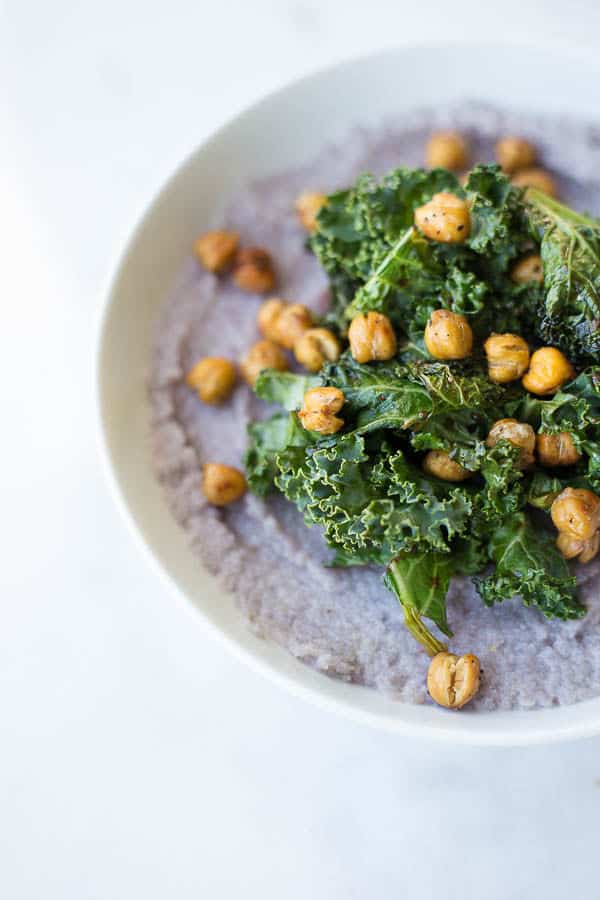 Even though this is all about cauliflower, if I may, I'd like to give you some advice. Always have a couple of tins of chickpeas (garbanzo beans) in your kitchen. You can literally make anything with them including this recipe, which I'm sure you have never made before.
You can use regular cauliflower for this dish, but if possible, do try and get the purple variety as suggested, as it really adds to the presentation. There are just a handful of ingredients and everything just goes together so well. This yields about 2 to 3 servings, but you can easily adjust ingredients as you can see. If you like, you can swap the kale with any other vegetable such as green beans or tender-stem broccoli. This keeps in your fridge for a couple of days, but I doubt you'll have any leftover!
Roasted Cauliflower, Chickpea and Golden Beet Salad with Lemony Sumac Dressing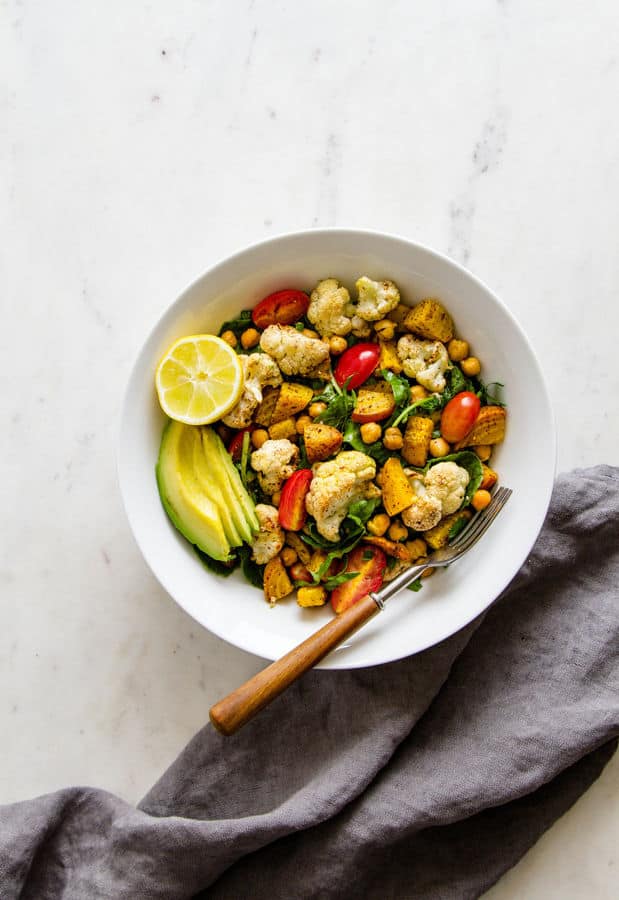 Okay, I'll admit it, when I first saw this I wondered, what is Sumac? Is it a typo? Well, it certainly isn't, and I have now educated myself. It's a delicious spice. My local supermarket has it, so I must have been missing it all these years.
This dish is perfect for any time of year and is really versatile. You can already see how appetizing it looks, and the best part is you don't have to work hard to make it look just like that.
In fact, it's difficult to make it look anything other than fantastic. It's totally healthy and you can add or replace whatever greens you have in the kitchen. Even though you can make your own dressing, I really urge you to try the Sumac dressing as you'll love it.
Scrambled Eggs Soy Free with Chickpeas and Cauliflower (Gluten-Free)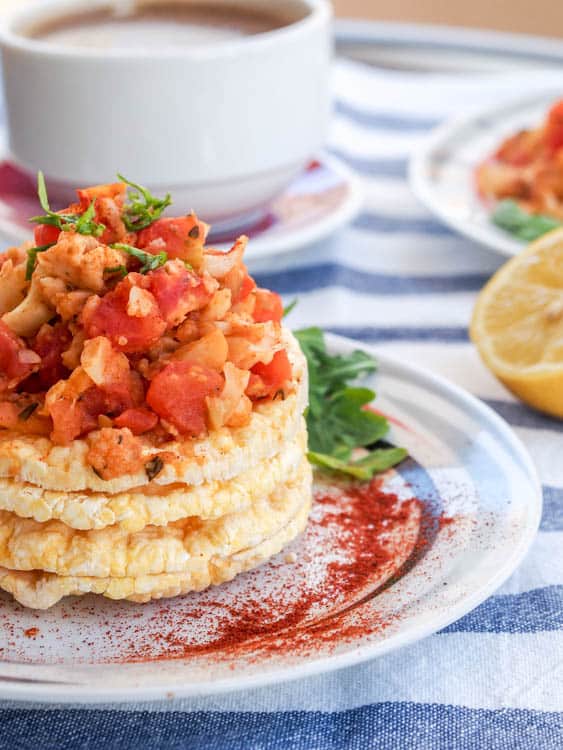 These scrambled eggs are made with three ingredients, cauliflower, chickpeas and tomatoes. The entire recipe comes together in less than thirty minutes and I imagine that you have most of the ingredients already. It's perfect for breakfast or a lunchtime snack.
This is so easy to make with just a handful of ingredients. Do go to the effort of using extra-virgin olive oil as it really adds to the flavor.
If you don't have any garlic powder just use regular garlic and cook it gently towards the end of the cooking process. You can serve this on your favorite crackers or toasted bread. If you don't mind getting your hands messy you can serve in wraps or even bread like a sloppy Joe, except a very healthy one!
Vegan Cauliflower Dinner Recipes
Creamy Garlic, Thyme, and Roasted Cauliflower Pasta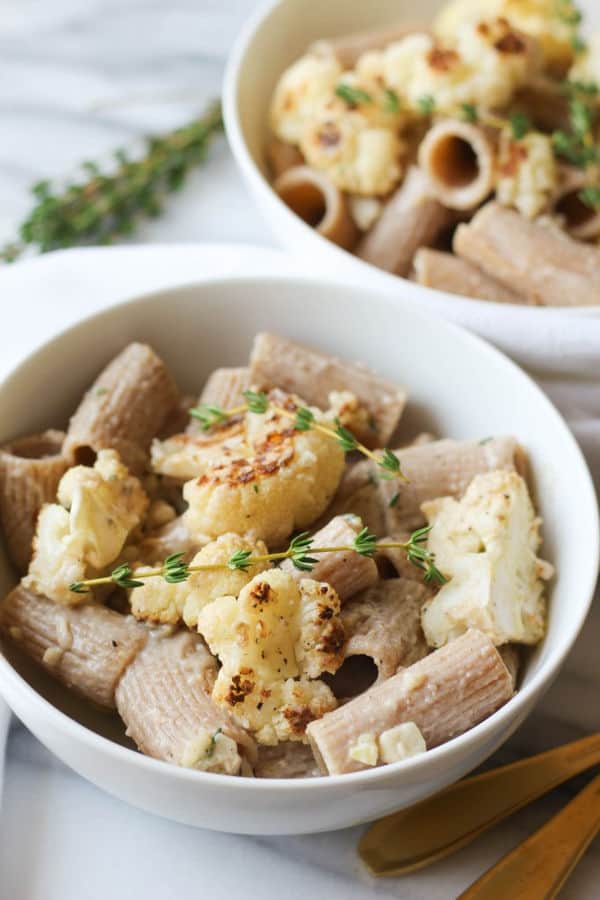 There's nothing quite like a bowl of pasta to really satisfy you. The trouble is, if you're not careful it can leave you feeling quite heavy afterwards. This dish isn't like that at all, you get the satisfaction of the pasta which is made lighter with the cauliflower. Best of all it doesn't take long to make!
The real magic in this recipe is all in the cream sauce. You're going to be using it for all sorts of other dishes, believe me.
I love how the cauliflower is baked with olive oil and seasoning, a classic method. Once the pasta and cauliflower are cooked, you just stir in the sauce to coat everything and you're done. This makes a perfect meal in itself and if you have some other vegetables lying around that need eating, you can add them in too. Perfect and wholesome!
Cheesy Roasted Cauliflower (Gluten-Free)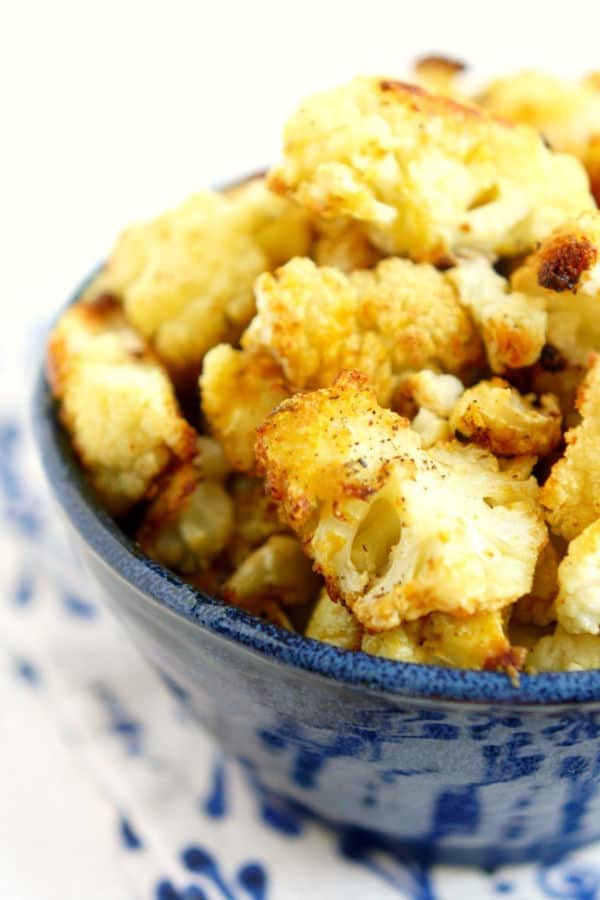 This is one of those really simple dishes with just a few ingredients. It totally transforms cauliflower when you want to have it, but you just want to do something other than cooking it plain as a side vegetable.
This couldn't be easier to put together and best of all, if you're having trouble getting your kids to eat vegetables, they'll definitely eat this. The cheesy flavor makes it irresistible! You know the best thing about this recipe, if you don't have cauliflower, you can pretty much follow the same idea with whatever vegetable you have. Imagine this with potatoes!
Just because it's a basic recipe, it doesn't mean it's less than. The fact you can follow this process with other foods makes it a winner!
Crispy Orange Cauliflower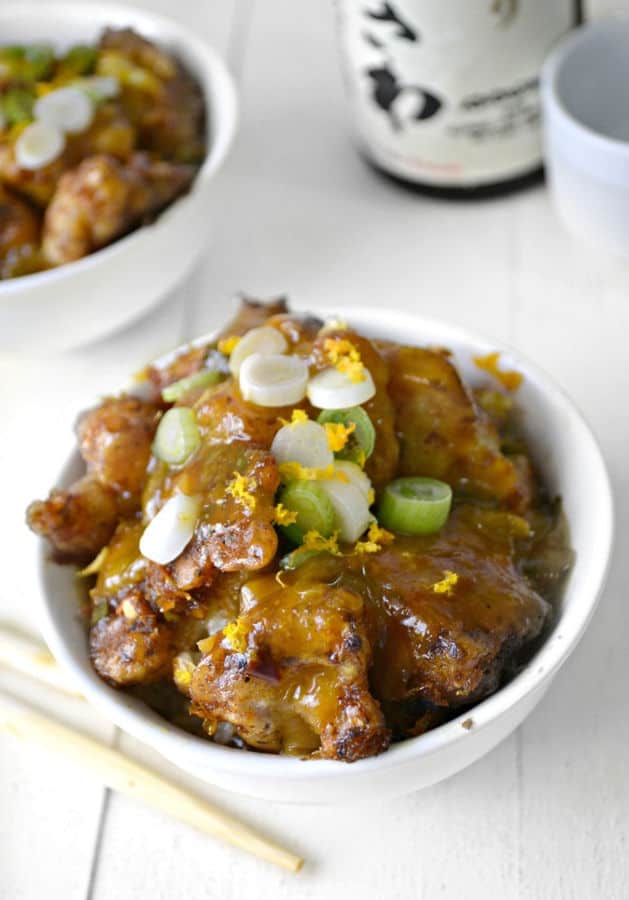 What is this, I hear you ask! What is a crispy orange? Well, don't get bogged down in the semantics. This has a Chinese style to it and will go really well with your favorite rice.
Given all the different stages of this recipe, it's surprisingly quick to make.
You'll have it on the table in forty-five minutes. During this time, you'll have a flour mixture, a base and lastly the orange sauce to make.
It sounds a lot but it's very straightforward. It looks like fried chicken, but nobody died to be on this plate so is totally healthy.
The sauce is fantastic. Seriously, don't get take-out with all the MSG in it, make this, be healthy and don't forget to invite me for dinner!
Roasted Cauliflower with Toasted Pine Nuts and Dates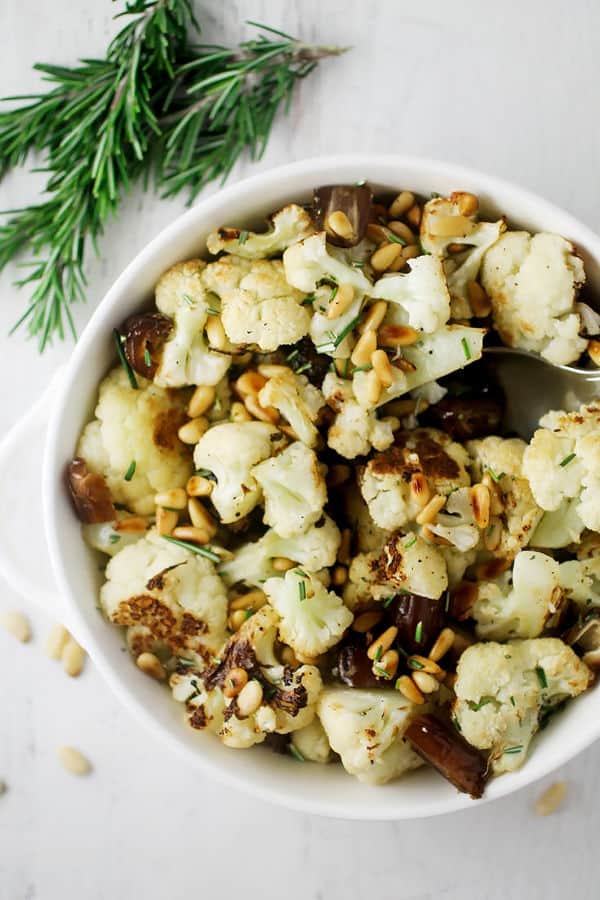 This is a fantastic side dish, especially for the winter or even for the holidays. Roasted cauliflower is always good and so are roasted pine nuts. Here we have dates too, so we know this is something special.
This is the sort of recipe where you just tell someone you have cauliflower and they'll just expect something they've had before. I'll go out on a limb and guarantee your friends have never had this. The pine nuts add a wonderful crunch and the dates and rosemary are two contrasting flavors which go shockingly well together. Just a fantastic dish.
Curry Roasted Cauliflower Over Rice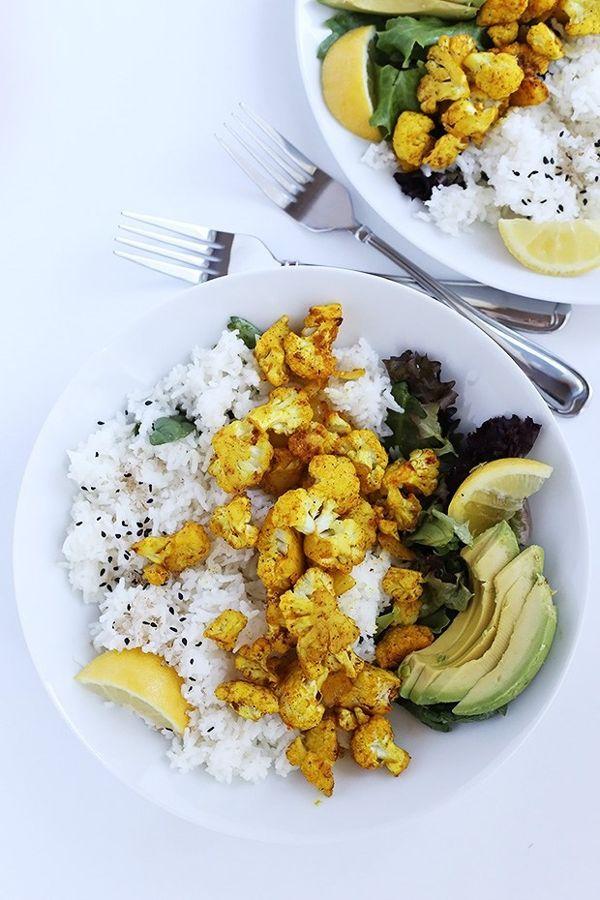 Oh man! I think I should just not say anything else, those first two words describe everything perfectly!
The list of ingredients is pretty short, and most of it, is seasonings. Feel free to play around with some of the flavors to make your curry as individual as you are.
While this recipe is simple, the flavors are knock-your-socks-off good! When served with rice and a side of sliced avocado, this dish is pleasing to the eye and the palate.
The bold curry flavors roast perfectly into the cauliflower. The result is crispy savory bites of pure bliss. You could even serve the cauliflower bites as an appetizer with a yummy dipping sauce.
Kung Pao Cauliflower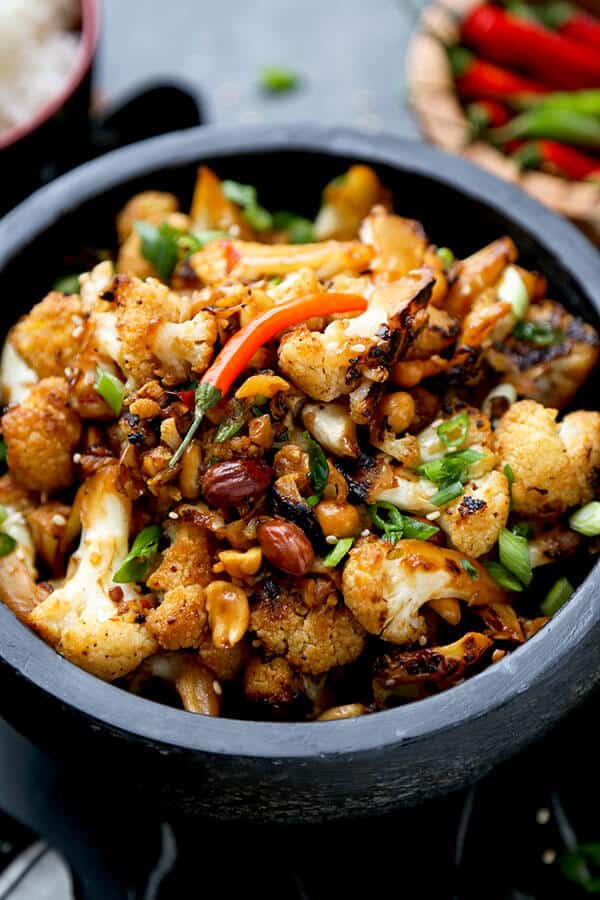 Cauliflower is being increasingly used as an alternative to chicken, especially in classic dishes.
It really is an amazing vegetable and I'm so happy to see people using their imagination and making incredible things with it.
This is really cool because it's perfect for a family night dinner or if you have friends around. Very easy to make, you'll have finished prepping in five minutes and only fifteen minutes cooking time.
The ingredients page in this recipe has a great tool where you can select how many servings you need, and the ingredient amounts will change accordingly. Fantastic!
Cauliflower Lentil Stew with Tzatziki Recipe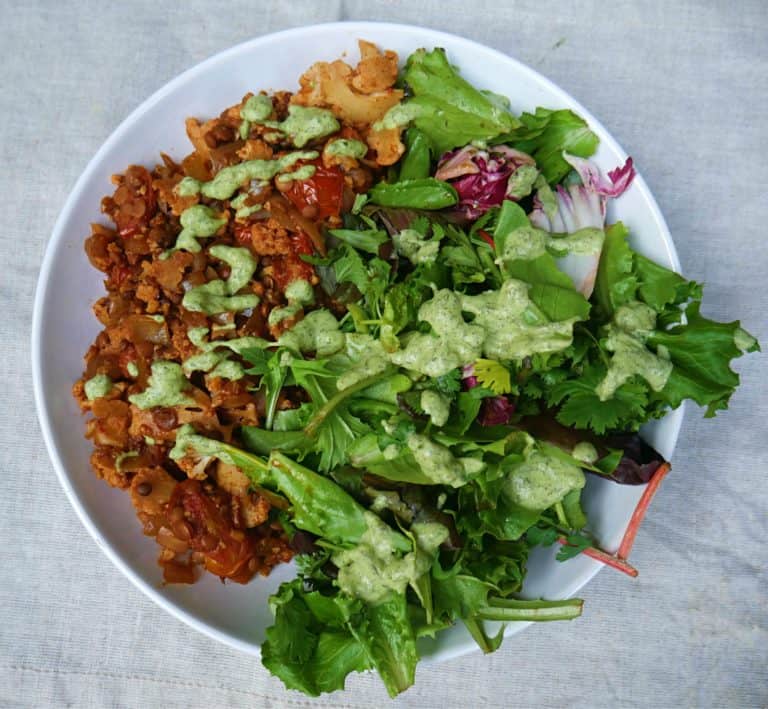 This is an easy one pot meal. You're going to throw this recipe together real quick. It's tasty and refreshing and easily adaptable as a light snack or as a great dinner. You can pretty much serve it with anything you like.
I love how unique this dish is. If you can't get the Persian cucumbers, then regular will do just fine so don't worry about that. You can either have this spicy or not and the ingredients allow for both which is great. Serve with your favorite greens or whatever is in season. I had this with rice as well and it was awesome!
Sweet and Sour Cauliflower Enchiladas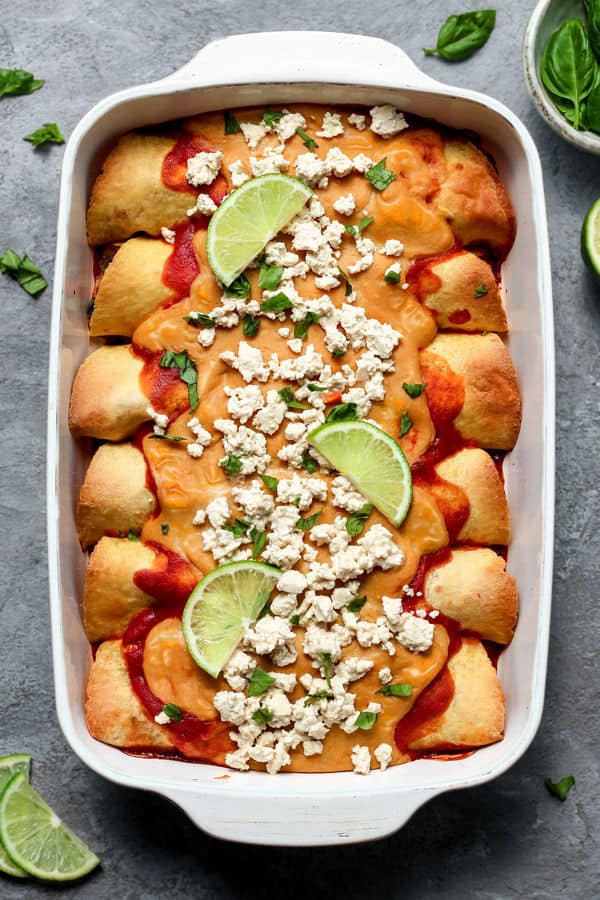 Cauliflower and enchiladas are two words I never thought I'd see together! Now, this recipe contains very little Mexican flavors, if any. The way everything is put together with stuffed corn tortillas is probably the most Mexican part, and that's okay! It's really filling, satisfying and a dish you didn't see coming.
What I really love about this recipe are the three main components: the sweet-and-sour tomato sauce, the enchiladas and the cheesy sauce. They're so good, you can use them individually with other recipes. Although I haven't tried, I'd say this would freeze well, if you do this, let us know how it turns out. It would definitely keep in the refrigerator for up to 3 days.
Lentil Shepherd's Pie with Roasted Garlic Mashed Cauliflower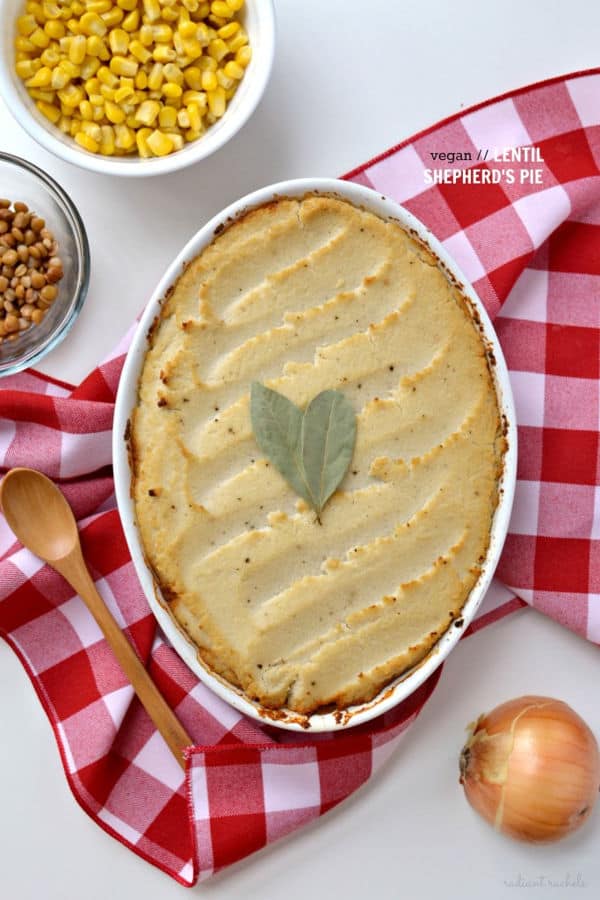 Okay so here's the deal, I really love mashed potato. Who doesn't, right? But, for me, it's like eating glue as white potato is very starchy which is why I tend to have sweet potato instead. Roasted garlic mashed cauliflower though, you have to try it to believe it!
There's nothing better than a plant-based shepherd's pie, it's comforting and totally satisfying.
The filling in this is just fantastic and I especially love the peas, they're always good in anything. Except dessert, don't put peas in dessert. This dish is gluten-free by the way.
Once you have all the ingredients it really easy to make. You just put the main ingredients in the saucepan and then once that's ready, along with the topping, it all goes in the oven and bam! Perfect for leftovers and can be frozen. One of my favorites!
Cauliflower Colcannon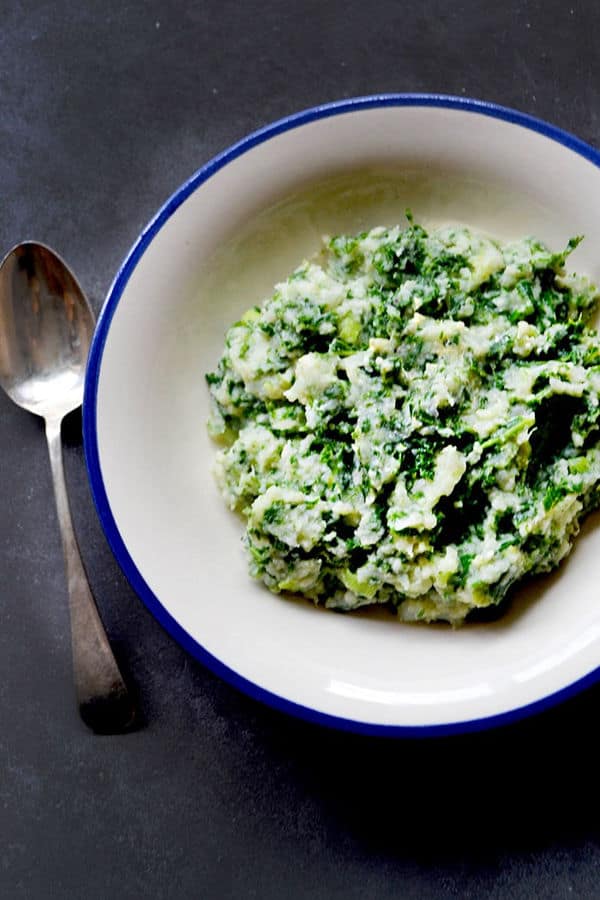 Colcannon is an Irish dish originally made with potatoes and cabbage, spring onions and some dairy ingredients. Here we have an even more tasty and healthy version. As well as being plant-based, this is also gluten, soy and nut free! You can eat this on its own or with your favorite vegan sausages!
I recommend you make this at least once. Not only is it delicious, but when you put everything together you can see how versatile the recipe is. You'll easily be able to add or substitute other ingredients depending on what you have and this is what I call a first-class recipe.
With all the ingredients, you can have everything ready in less than half-an-hour. Enjoy!
Middle Eastern Spiced Whole Roasted Cauliflower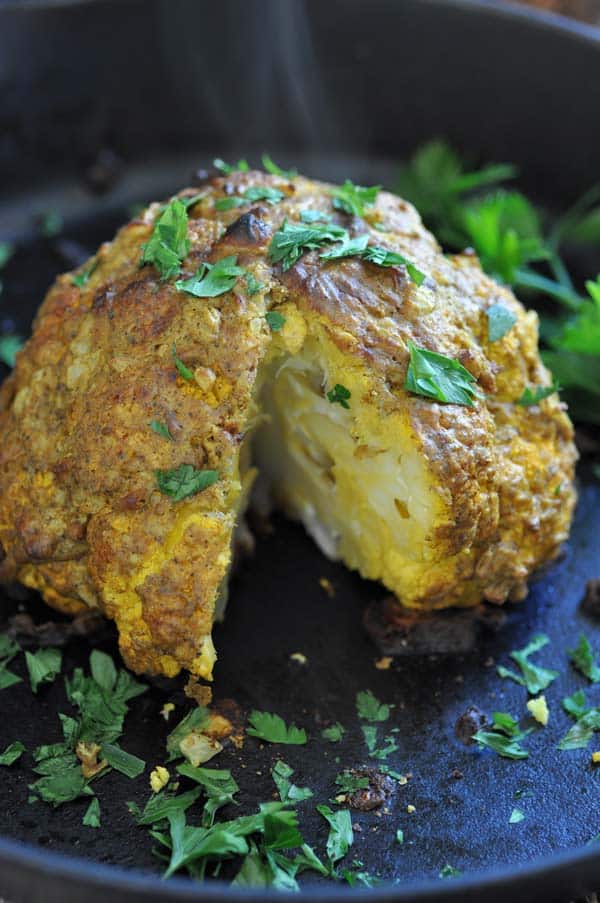 In the last couple of years, we have seen an increasing number of recipes where an entire head of cauliflower is roasted. I have tried a few of them and have never been disappointed. However, what I'd say, is the dishes tend to look the same. There's nothing wrong with that, but this recipe goes one better. Not only is the presentation really appetizing, but the taste knocks it out of the ballpark!
When you aim to roast an entire cauliflower, it's worth your while finding not only the largest one you can, but also make sure it's of high quality.
The magic in this recipe is, of course, the sauce. It's really easy to make and if you're feeling inventive, you'll probably use it for other dishes as well.
This is a perfect meal with maybe one or two sides, or could be an interesting side dish for a dinner party, but it's so easy to make you could just prepare it for a regular family meal.
Spicy Whole Roasted Cauliflower with Coconut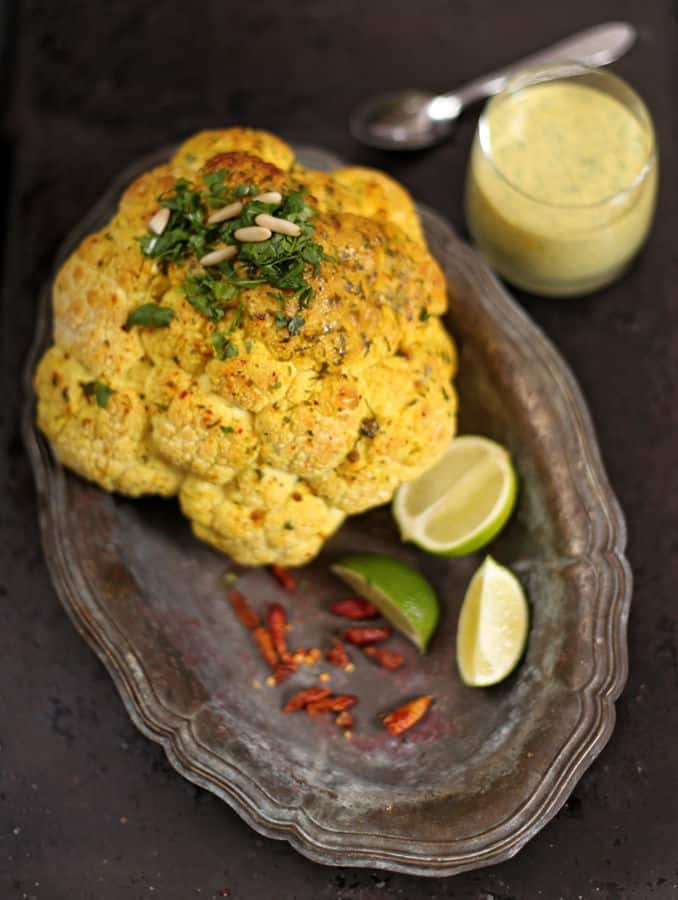 This is another recipe where a whole cauliflower is roasted. I like these a lot as I think the presentation can easily be made interesting with little effort. Evi, the recipe creator, likens the presentation to a yellow brain which we thought was funny!
Rather than a lot of sauce, here we have one cup of coconut milk with some herbs and spices. This gives the final presentation a much drier look and obviously, we can see the yellow comes from the turmeric. The prep time here is just ten minutes followed by an hour in the oven, so start baking and relax while dinner is getting ready, perfect!
Cauliflower Marsala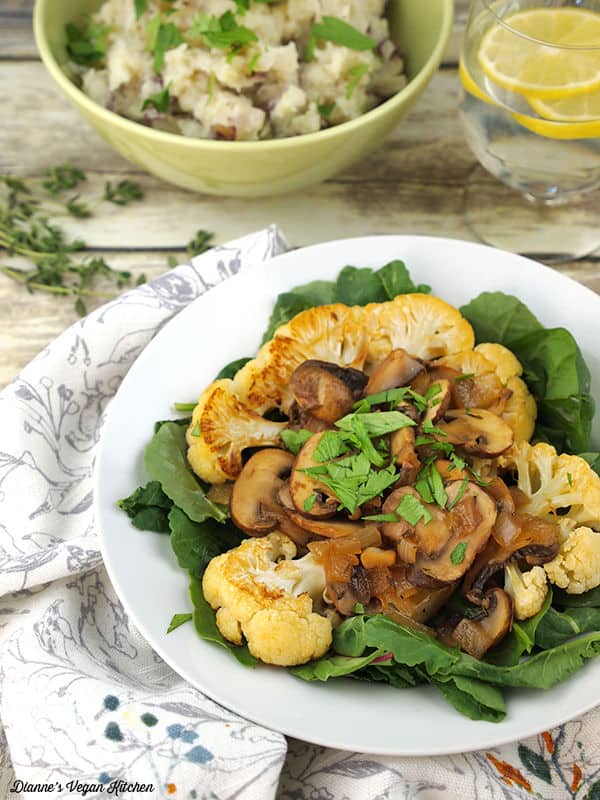 This dish is super unique as it uses Marsala wine. Marsala is an Italian wine that can be likened to sherry or port. It can be dry or sweet and the flavor is very rich and distinctive so the idea of using it as a base along with vegetable broth to cook cauliflower on one hand is imaginative, but on the other hand makes total sense.
Along with the wine, there's some garlic, onion and some spice and seasoning. You can serve this with mashed potato, rice or even pasta. You need something like this with quite a benign flavor because this recipe is going to hit your taste-buds, so you don't want anything interfering with that. Perfect for a special occasion, or even better for a date night!
Roasted Cauliflower with Jalapeno and Lime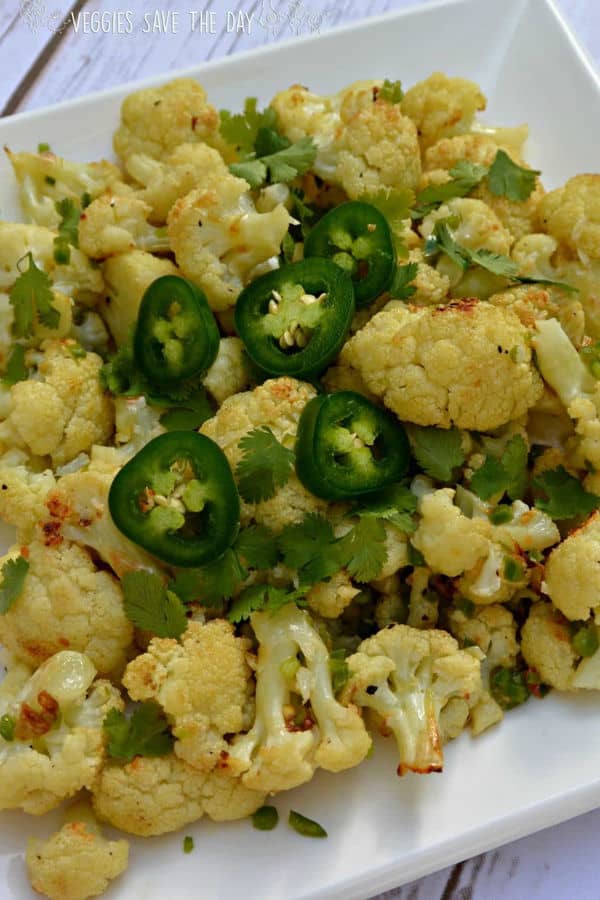 This is one of the simplest of dishes I have seen with roasted cauliflower florets. There are just a handful of ingredients and I guess the idea here is all about spice. The best part about this recipe is that it's customizable depending on how much heat you like on your food.
The preparation time here is minimal as you really are separating a cauliflower into florets and then coating with olive oil, garlic and some spice. I'd be surprised if you don't have all the ingredients already, so you're good to go with this, tonight! If you don't like your food very spicy then just alter the type of chili or don't even use one.
Sometimes recipes suggest a garnish and I know I hardly ever bother. This suggests fresh cilantro and I totally recommend you use it. This isn't just a garnish, this adds a wonderful fragrant richness to the final dish. I know some people don't like cilantro so if this is you, you could use parsley instead. Makes for the perfect side dish!
Roasted Cauliflower and Radishes with Mustard Seeds, Nigella, and Fennel Seeds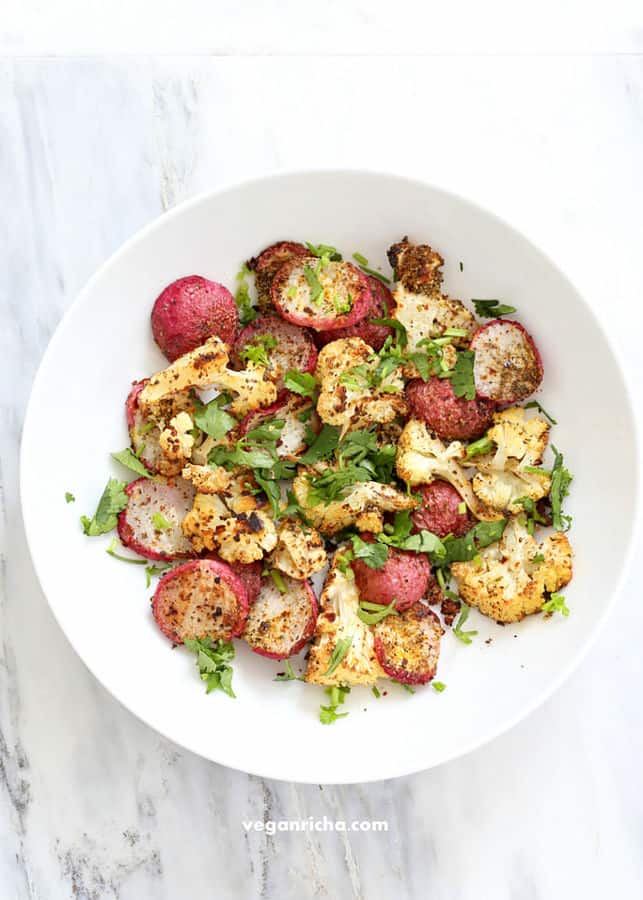 This is one of those dishes that looks as though you would have spent hours in the kitchen preparing and yet the opposite is true. The nigella and fennel seeds give the entire recipe and Indian type of flavor. If you like Indian food, this is going to be a hit!
I can pretty much guarantee none of your friends would have had this before. The baby radishes are also roasted, along with the cauliflower, giving the dish a really colorful finish. Because of the type of flavor, you'll either want to eat this on its own or preferably with Indian food. It's a dry dish so will go well with any curry. Alternatively, you can serve with Indian pakoras. Delicious!
Vegan Lemon Cauliflower Recipes
Roasted Cauliflower Quinoa with Lemon Tahini Sauce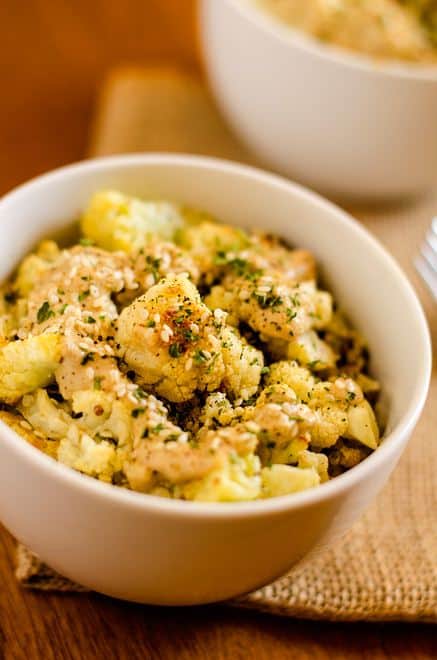 The sensible part of me wants to say that this is a great snack, but it's really so tasty and is a meal unto itself. The quinoa adds to the satisfaction of the cauliflower and as for the sauce, you'll have to elieve me when I say it's going to be one of the best.
The most complicated thing about this recipe is having to cook the quinoa and the cauliflower. The sauce comes together very quickly so this all tells you how easy it's to make.
The lemon is the CEO of this recipe, I know you might be able to imagine what it contributes, but when combined with all the other flavors, it's going to taste better than you expect. Make this, you won't be sorry!
Whole Roasted Lemon Tahini Cauliflower and Sauce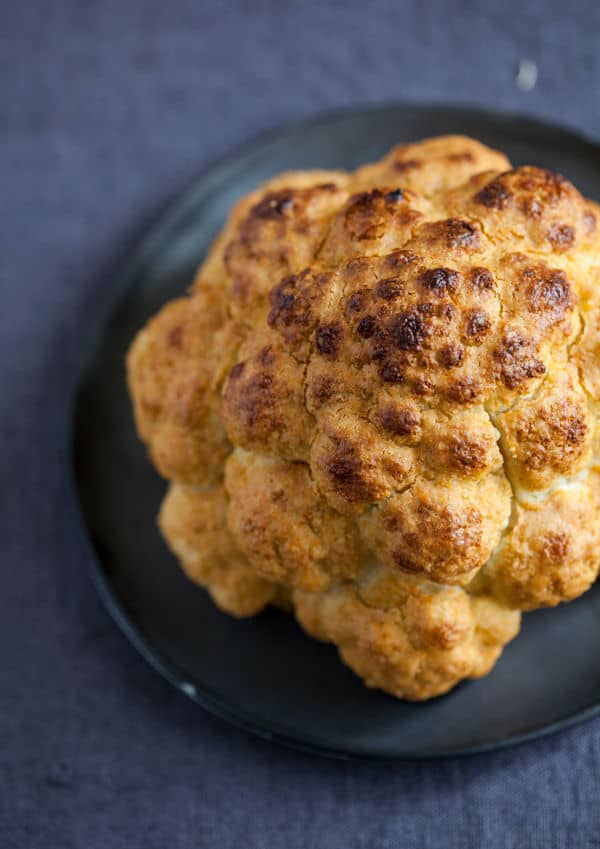 This is very similar to another recipe we tried. The difference is here the whole cauliflower is roasted. This makes for a great centerpiece for a main meal or if you're having a dinner party, it also makes a very impressive looking side dish.
There are so many things I like about the sauce, lemon is always one of my favorites, but here we also have smoked paprika and harissa powder amongst a few other things and I think they really make the dish come alive. There are some optional items such as, pomegranate seeds and parsley or cilantro.
If you can, get everything but if you have to make a choice between one or the other, get the pomegranate. A recipe worth keeping!
Crispy Baked Cauliflower with Chinese Lemon Sauce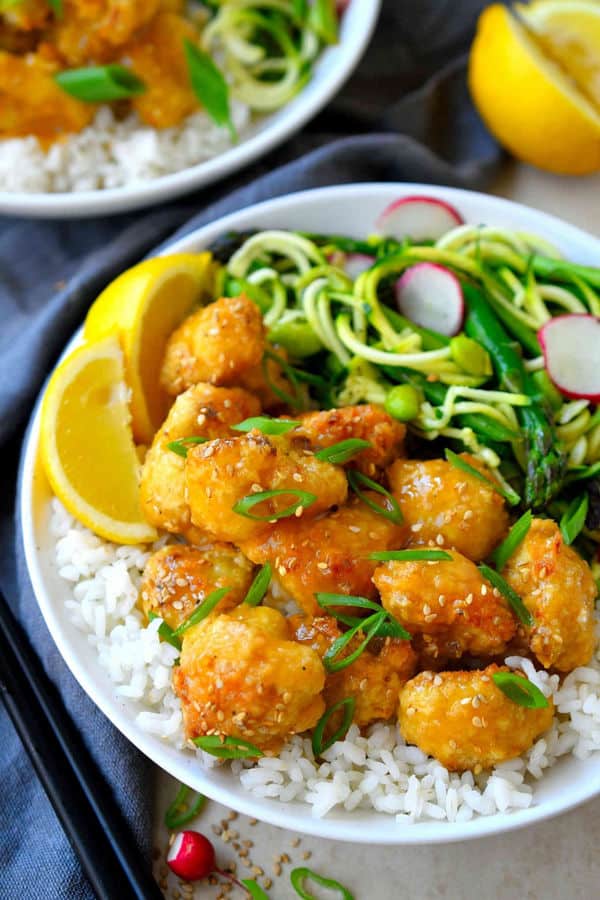 This is one of those recipes that's a substitute for a Chinese restaurant classic. I love them so much because I seem to have some a reaction to added MSG which is used a lot in Chinese cooking, so when I find an alternative I can make at home, I'm in!
As well as being healthy and plant-based, the other big positive is nothing is deep-fried, it's baked! You just bread cauliflower florets and then bake.
In the meantime, you prepare a very gooey sauce containing plenty of garlic which you then drizzle over the top of your baked florets. You can serve with rice or Chinese vegetables. It's an absolute winner!
Cauliflower Scampi in Lemon Garlic White Wine Sauce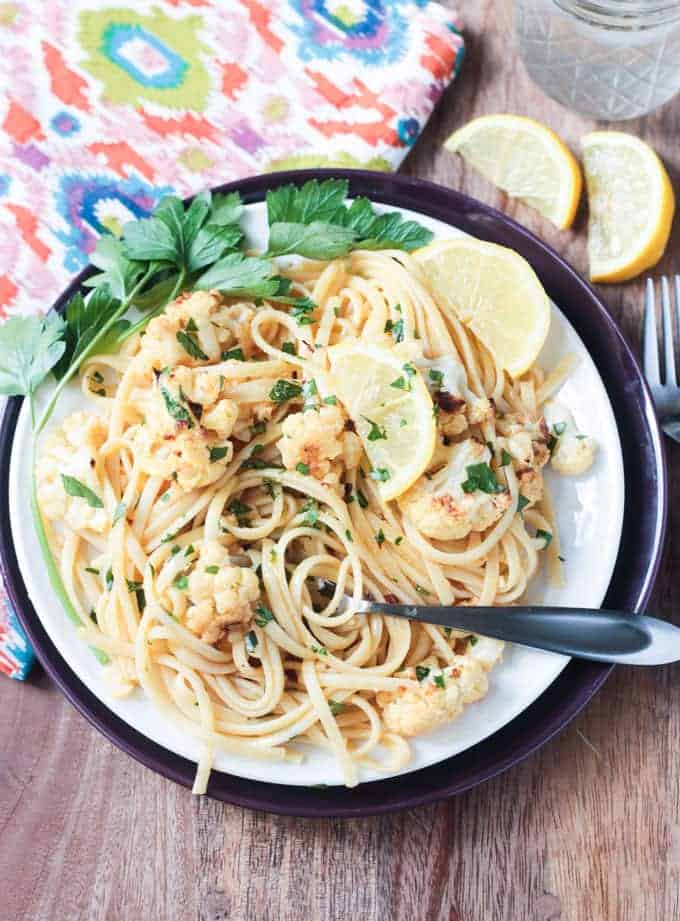 I used to love scampi until I knew what it was! This is a really fantastic alternative which'll go wherever scampi used to. You can serve with pasta, or if you want to go gluten-free, have with a salad.
Having said this, it's absolutely delicious on its own so don't think you need something else because you don't.
The prep time really is about five minutes and the rest is cooking, you'll have it on the table in less than thirty minutes if you're light on your feet! If you need that scampi fix, you're welcome!
Lemon Herb Cauliflower Bean Dip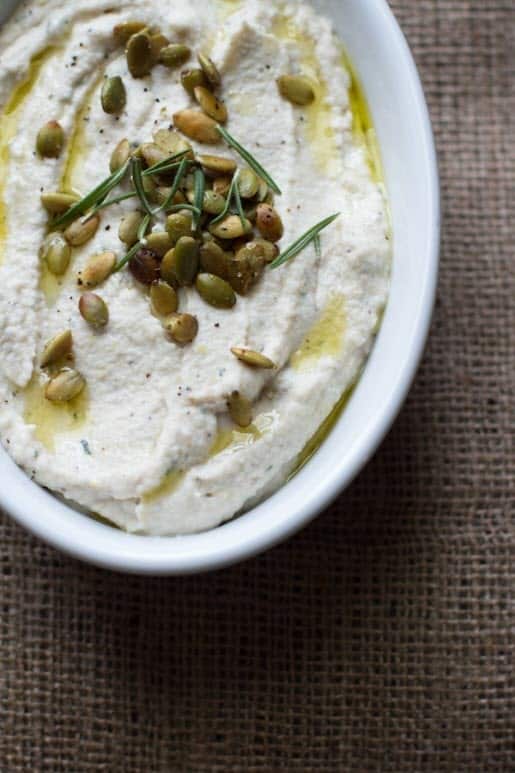 Dips are really cool but they often can be very similar, which is okay, but what if you want something completely different? Well, here we have something completely different!
This is so flavorful. The foundation of the recipe is steamed cauliflower and cannellini beans. Very often I find dips based on beans can make you feel a bit heavy, this isn't the case here. The cauliflower not only lightens everything up but also adds a fantastic flavor too.
Make sure you get extra virgin olive oil as it makes all the difference. Serve with pitta bread or raw vegetable croutons!
Vegan Cauliflower Lunch Recipes
Spinach and Herb Cauliflower Couscous Stuffed Zucchini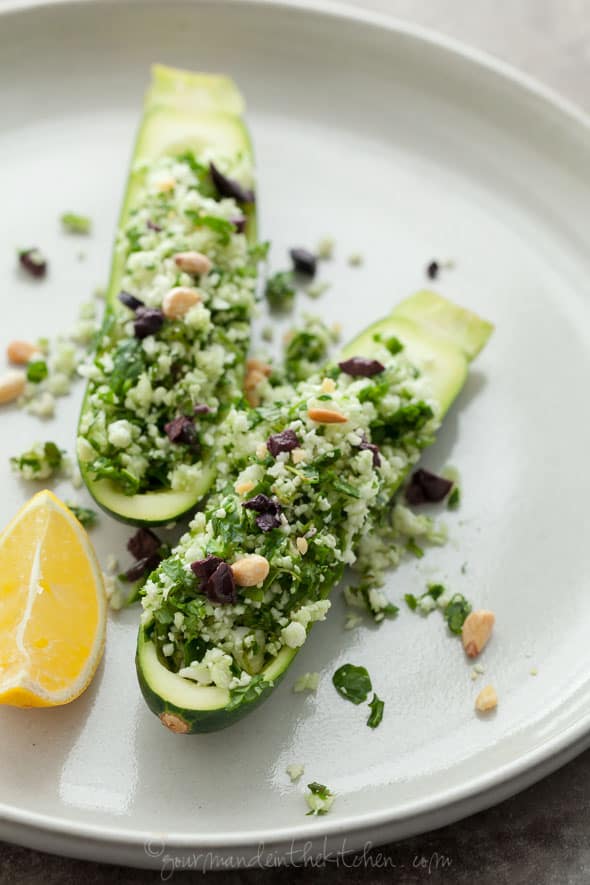 If you want a great party food that's fun, tasty and healthy, we've got you covered. In terms of presentation, these will definitely stand out from the crowd. Because of the way they're, you somehow feel encouraged to just pick them up with your hands, and so you should!
As well as being gluten-free, this is actually a raw dish. Therefore, your prep time is your total time. In less than half-an-hour these puppies are going to be ready to go. They're bursting with flavor and will leave you feeling great. The ingredients are very straightforward, so you won't have any problems sourcing everything.
Ideally, you're going to want a food processor as it just makes chopping the cauliflower a lot easier. If you don't have one though, you'll just be chopping a lot longer which is great exercise! Make them, you won't be disappointed!
Buffalo Cauliflower Bites with Cucumber Ranch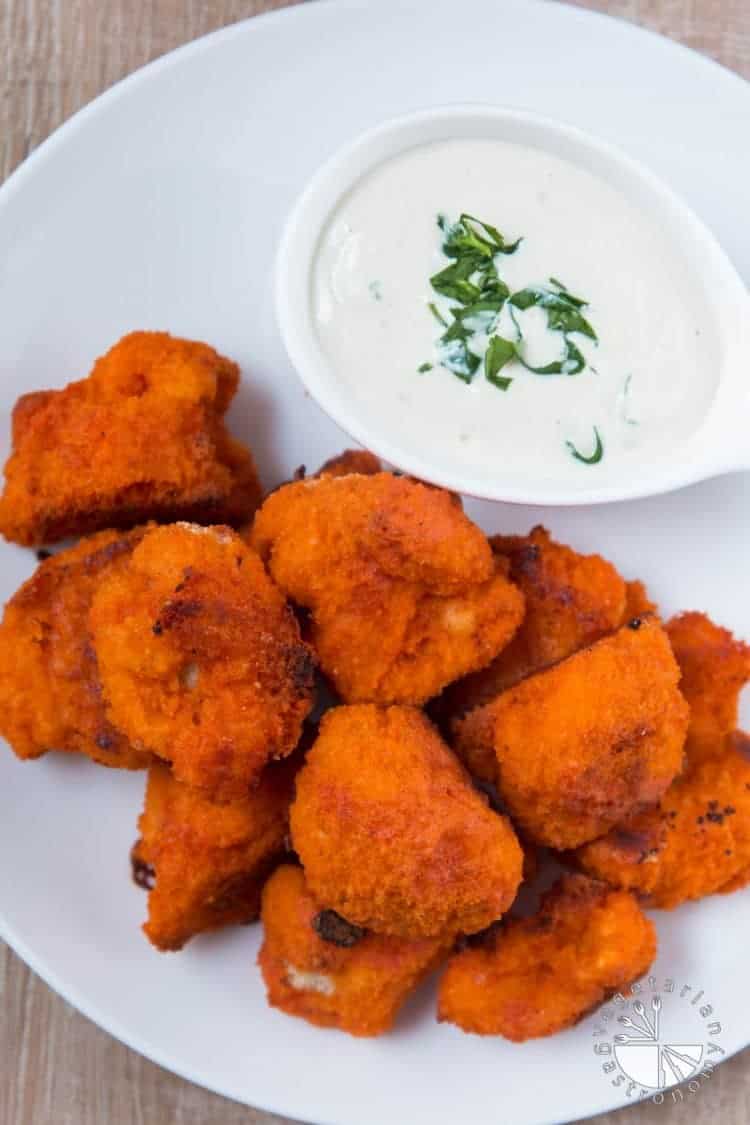 For a healthy alternative to regular bites, these buffalo cauliflower nuggets exceed all expectations. The ranch dressing is ridiculously good, and you won't believe how easy it's to make.
You're committed to a plant-based diet and that's all well and good, but what happens when you just want some fun food without it having a big "Healthy" flag attached to it? I'm not talking about running for deep-fried pizza or something that's obviously bad for you.
I'm just talking about something you might want for a treat and it's actually okay to have any time. These bites are baked so there's no hot oil or anything like that to worry about.
The batter is simply flour and garlic powder in nondairy milk, that's it! For the sauce there's an equally simple set of ingredients and everything zips together really quickly. All in all, you're looking at just over half-an-hour and you'll be ready to eat!
Warm Cauliflower with Nigella Seeds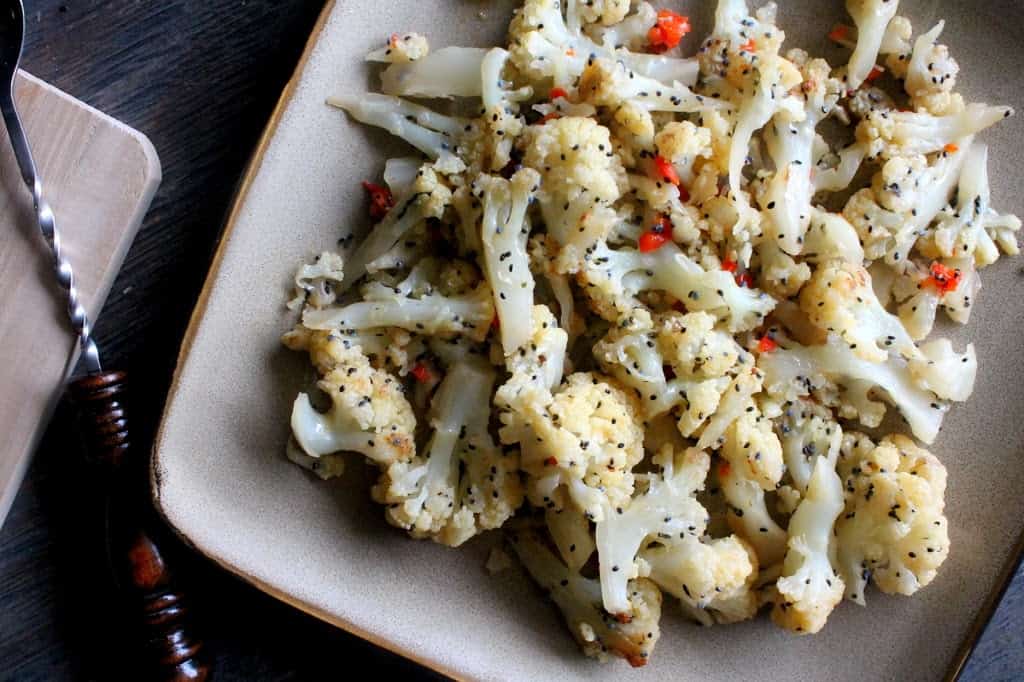 When I first saw this recipe, I thought it was too simple. I almost thought, "that's it?" But then I remembered my mantra that the best recipes are the most simple ones. This method doesn't just apply to cauliflower and can easily be applied to any vegetable, so it's perfect for leftovers and that already is a big plus.
This recipe calls for a neutral oil. I tend to have two oils in the kitchen, extra-virgin olive oil and rapeseed oil. I never mind olive oil in anything, I grew up with it so perhaps I'm very used to the flavor.
Having said that, rapeseed oil is very popular, and its flavor is pretty neutral. If you can't get either, then a good quality sunflower oil would also suffice. After steaming the cauliflower florets, gently fry the nigella seeds and then add the rest of the ingredients. You can serve this with all sorts of things and it makes for a great side dish, but I think it's just fantastic on its own.
Cauliflower Sandwich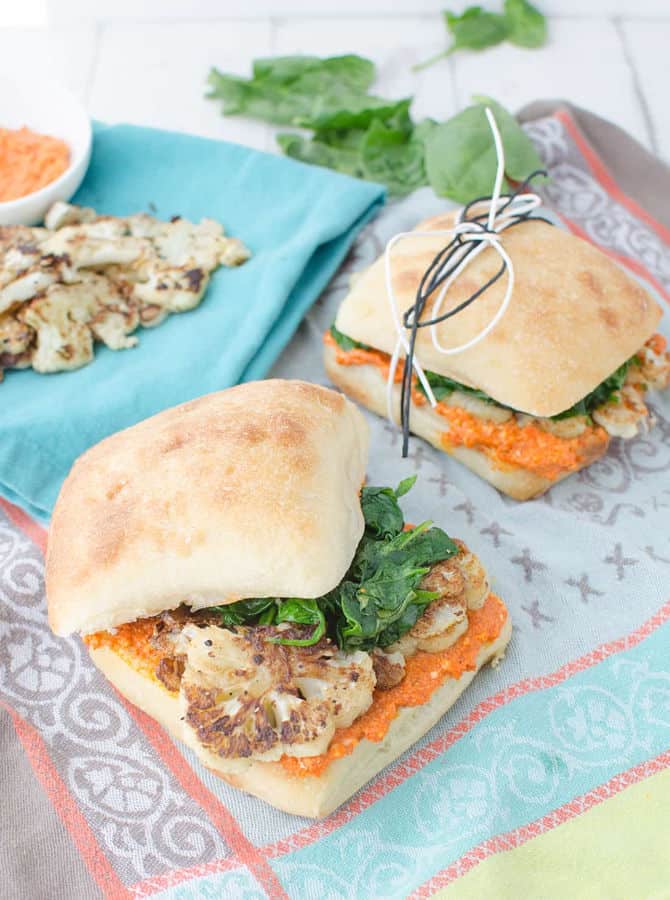 There are some really good vegan burgers out there, but the harsh reality is, processed food isn't as good as something you make at home. So, what happens when you want a really tasty "burger" fix?
Introducing the cauliflower alternative!
There are two things going on here, the cauliflower burger/steak and the romesco sauce. The base of the sauce is red bell pepper and then, with just a few other ingredients you create magic! It's fantastic and goes with the cauliflower really well. You'll definitely want to get some good quality bread to go with this, the recipe suggests ciabatta and I'd agree.
General Tso's Baked Cauliflower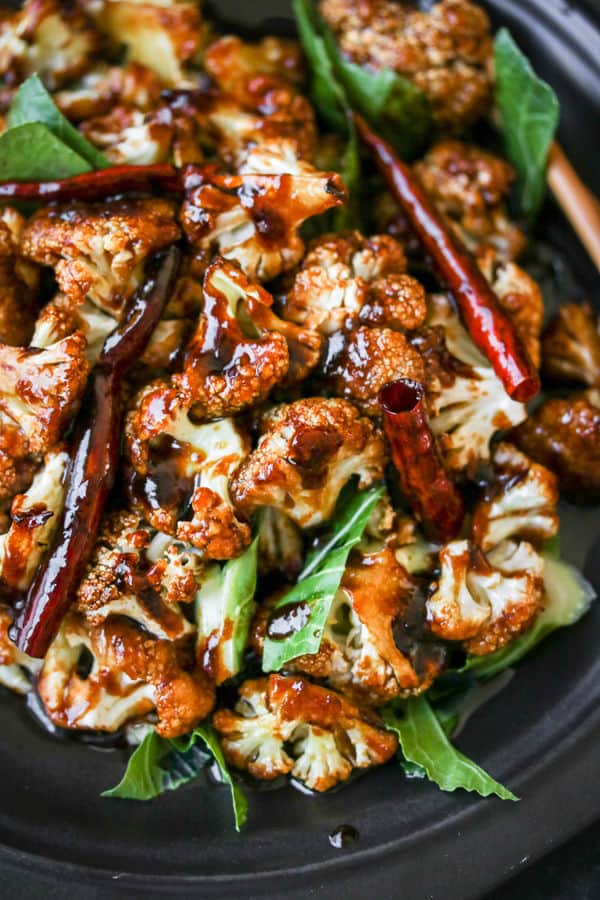 We have seen a few dishes that could be described as plant-based alternatives to something which traditionally contains meat. For me, this is particularly exciting when it comes to Chinese flavors because when you make something like this at home, you're unlikely to add MSG which is common in Chinese cooking.
This dish isn't pretending to be anything, and I'm not saying other dishes are bad when they try to replace meat, but this dish is simply a cauliflower with incredible sauce. There's a prep time of just ten minutes, and then you're looking at half-an-hour cooking time.
What you end up with are florets bursting with taste. You'll want to serve these with something not having strong flavors, so mixed leaves will be great, especially if you want a light snack. My advice, however, is go with basmati rice. Do that and you'll have a meal of champions!
Scalloped Cauliflower (Gluten-Free)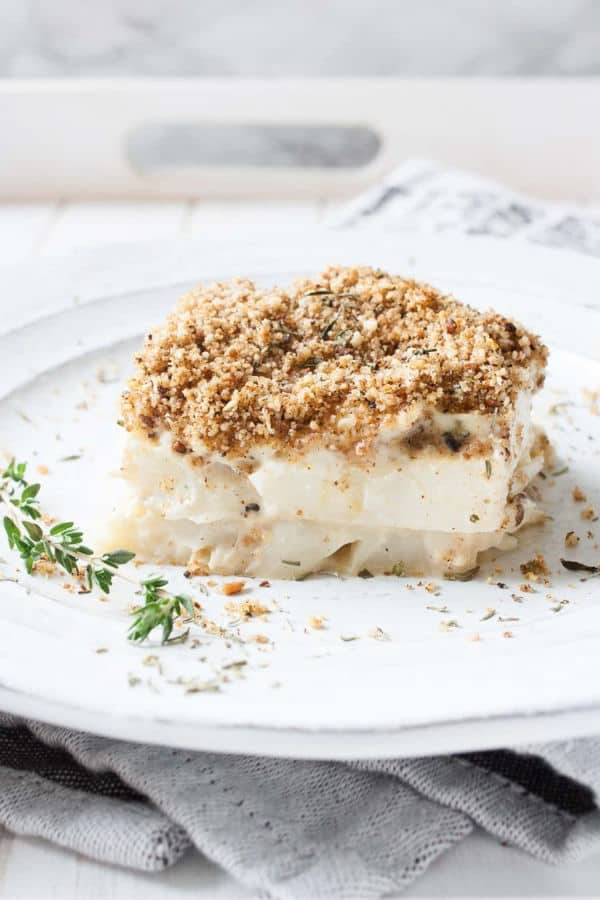 This dish almost feels like a sin! It's creamy and filling but, you guessed it, being plant-based it has no added saturated fat and you certainly won't be feeling heavy and bloated afterwards. Seriously, why isn't everybody in the whole world eating plant-based? They'll be.
You're looking at about one-hour baking time, but the prep is just ten minutes. This feels like real luxury so although you could make it any time, I really see it as a dish for special occasions and the holidays.
The ingredients are straightforward, and you'll be able to source everything easily. Please note, this recipe is sponsored so one of the ingredients is a brand type of cashew milk, but you can use any vegan milk. If you want to impress someone, this dish is winner!
Raw Cauliflower Crust Pizza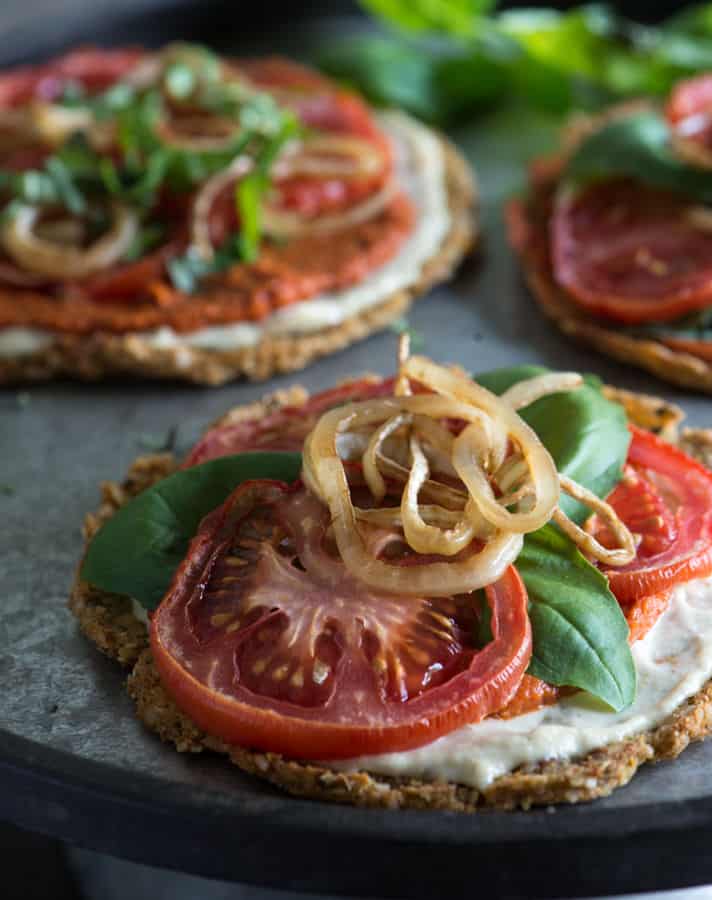 To all you raw foodies out there this one has your name written all over it! If you don't know what a raw foodie is, it's someone who eats raw food at least most of the time. Anyhow, you don't need to be one to make this delicious pizza crust.
This is certainly one of the best raw food pizza crust we have seen. It has a really good flavor rather than just be a benign carrier for whatever you're going to use as a topping. Ideally, you're going to have a dehydrator but if you don't have one, just use your oven on the lowest setting and keep an eye on everything as it cooks as we don't have cooking times for that.
I love how the recipe list has everything you need from a tasty tomato sauce and a fantastic pine nut "cheese" sauce. If you make this, do let us know how it turned out and be sure to send us pictures!
Cauliflower Pasta Sauce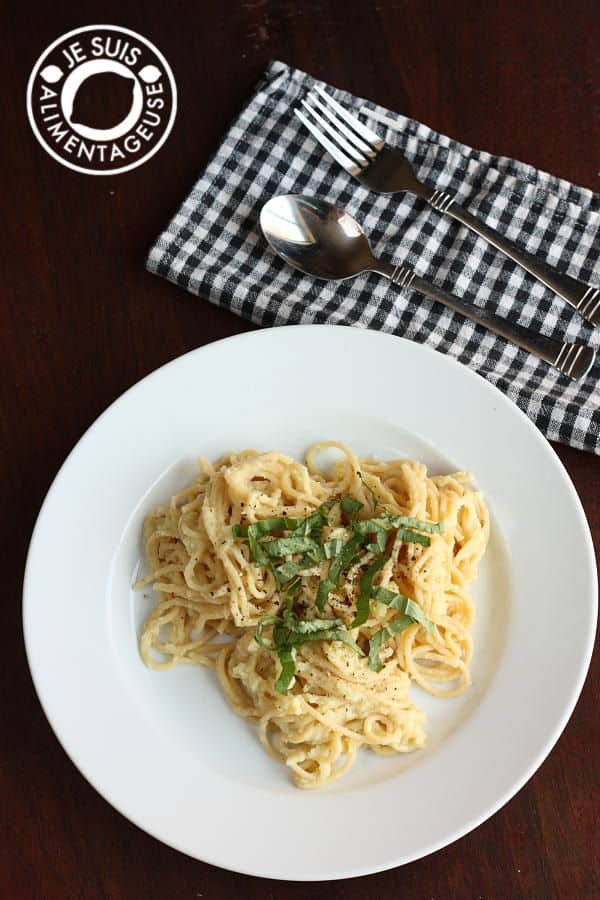 As we can see, cauliflower is amazingly versatile and not just the plain cruciferous vegetable we just boil and put on the side of the plate.
This dish is a little different. The cauliflower is used as a base to make a plant-based cheese sauce and you can have a pasta with it. It's really tasty and if you didn't want to have pasta, you could pour it on other cooked vegetables.
If you want a cheese sauce to go with your pasta, and want something healthy and easy to make, this is it. Nothing is wasted, you even use the cauliflower broth made from cooking the cauliflower. I think it's very likely you're going to already have all of the ingredients, if not most.
This is one of those recipes you're going to want to make again and again as you can use it for dishes other than pasta. Make a note of it, thank me later!
Caramelised Cauliflower Pasta with Caper 'Butter'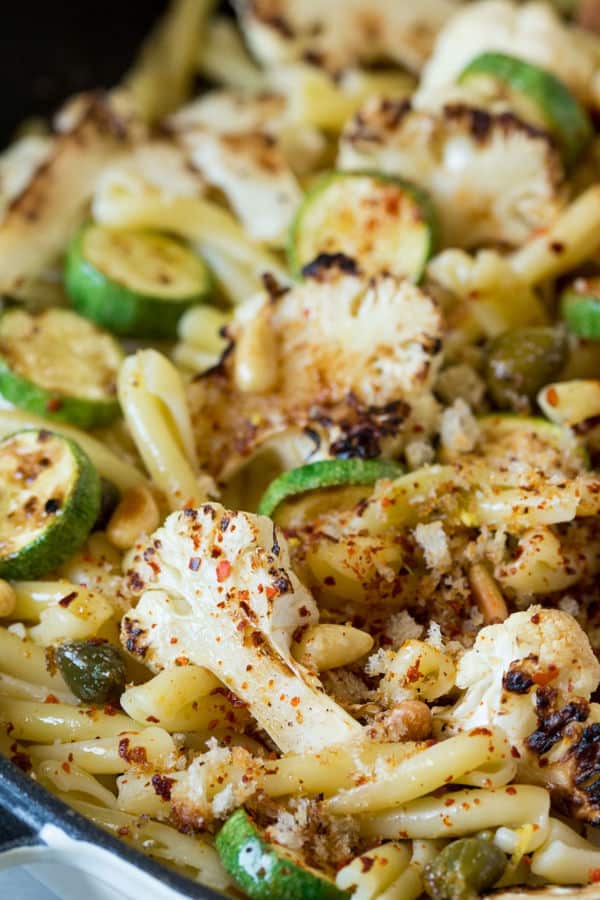 Sometimes you just fancy some pasta, but you don't know what to eat it with. You certainly don't want somthing that'll take half-an-hour to cook. This dish takes just ten minutes prep time and is really healthy.
As well as cauliflower, there's zucchini, garlic and some other goodies. It's really simple. I did notice it calls for smoked salt. I have never heard of this, obviously if you can get it then fantastic but don't worry if you can't, any salt will do just fine.
As the notes suggest, you'll want some big pasta so look for something you like. Penne is my favorite. Personally, I wouldn't worry much about the size of the pasta and if you have spaghetti, it'll be perfect!
Rosemary Mushroom Tagliatelle with Cauliflower Cream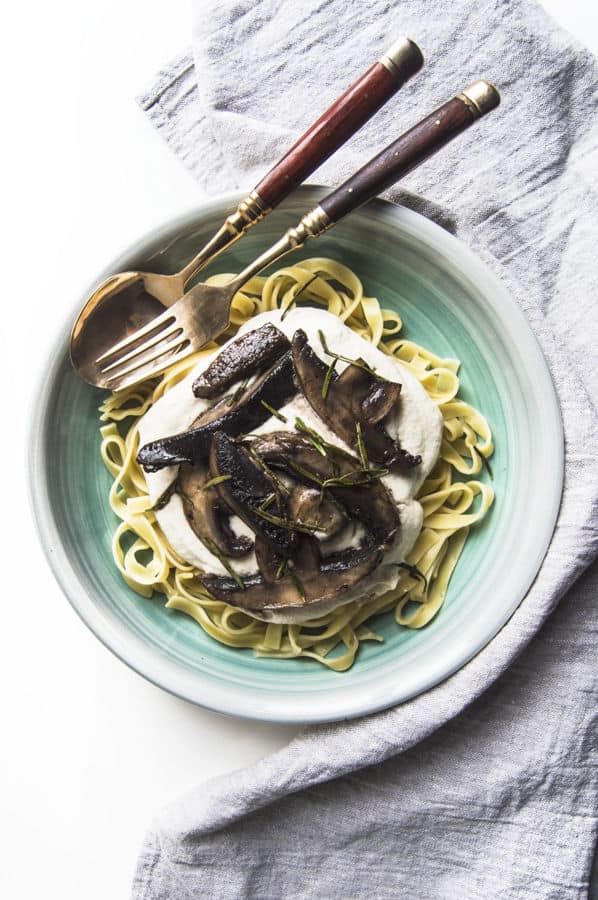 Pasta sauces that are healthy and hearty aren't too common. With heavy sauces you definitely want something like tagliatelle. If you're not sure what this is, it's ribbon-shaped pasta.
This recipe has two main components, 'rosemary mushroom' and the 'cauliflower cream'. With just a tiny bit of adjustment, the rosemary mushroom would go really well on its own with practically any pasta. I think it's fair to say the same can be said for the cauliflower cream.
Put them together, and you have a combination made in heaven. For serving, my recommendation is to stir the cauliflower cream into the tagliatelle and then serve placing the mushrooms on top. You don't want to serve the pasta first and then put the sauces on top, they're so thick it'll be difficult to mix on the plate itself without it flying all over the place! This is definitely a special occasion meal and one where the occasion will be positive!
Vegan Potato Cauliflower Recipes
Cauliflower, Potato, and Chickpea Curry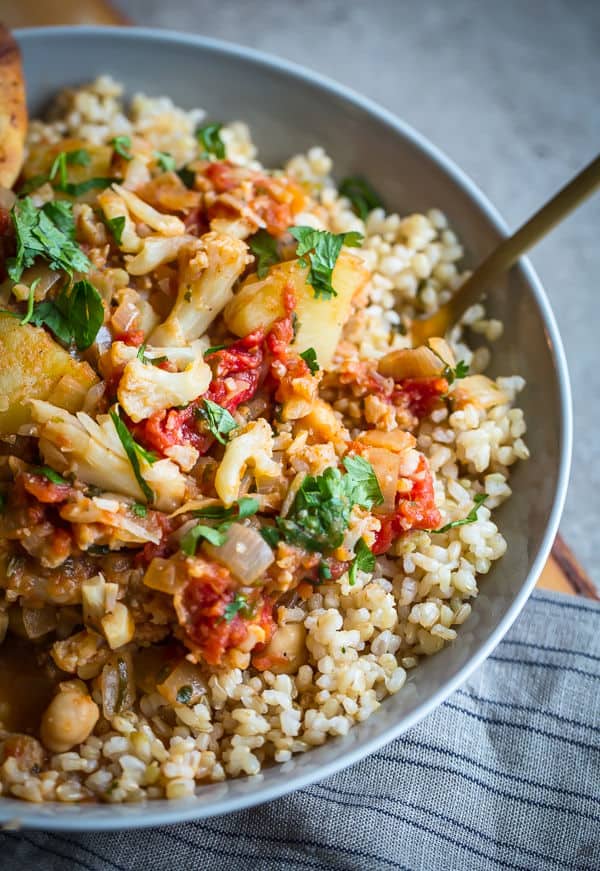 In just forty-five minutes you're going to have an amazing curry. This dish is hearty and totally healthy. You can adjust the chili if you prefer it hotter or notter. Okay, I just made that word up. Have you seen that before? Hotter or Notter, this is genius!
You certainly can make this for a special occasion, but it's so easy and tasty you can make it any time you like. The recipe has two star-anise as an optional addition, I left this out as it's not my favorite but if you like it, make sure you have some in! Serve with your favorite rice, I recommend Basmati, or with your favorite Indian bread. You could have both, but that would be bad, wouldn't it?
Cheesy Cauliflower Potato Bake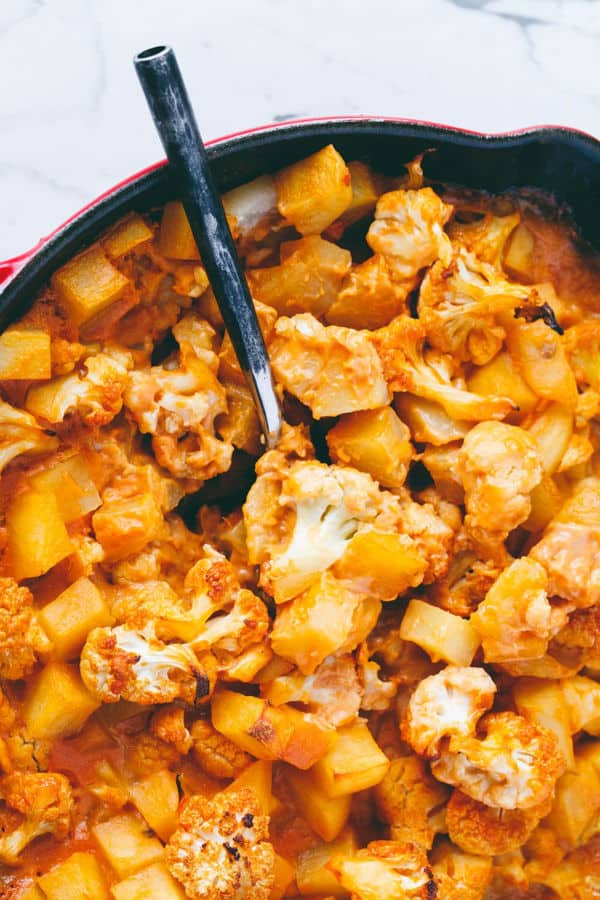 I love baked dishes. There's something so satisfying about having food in the oven and when you take it out, it's a complete meal. This dish has just about everything you could possibly want.
Before you start thinking about making this dish, make sure you have soaked cashews. I wouldn't say it's the most urgent thing in the world if they'ren't soaked, but it really helps smooth things out, literally. I love mustard powder in this recipe, it might just be half a teaspoon, but you would want more!
The dish is so savory and satisfying, I guarantee you'll make this more than once. Don't forget you can easily add whatever vegetables you have lying around that need eating. Anything will go well here, broccoli, green beans etc. Wonderful dish, keep it!
Baked One Pot Chickpea Curry with Cauliflower and Potatoes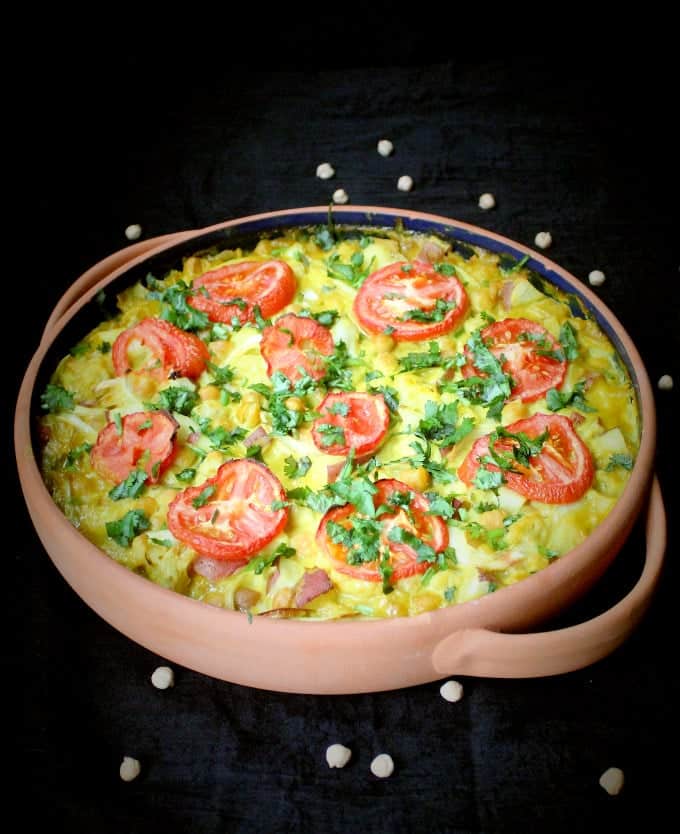 Oh my goodness! What do you think the preparation time is for this recipe? Go on, have a guess. Just fifteen minutes! That's what one pot dishes are all about. As well as being vegan, this dish is nut and soy free.
This is a beautifully creamy dish that's so satisfying. After all, anything that contains chickpeas (garbanzo beans), cauliflower and potatoes must be a winner! The ingredients are straightforward and available pretty much everywhere. Once you it all together, you bake for about eighty minutes.
The instructions do suggest checking about halfway through the cooking time to make sure the curry has not gone dry and I think this is a good tip. Perfect for those cold winter nights!
Potato-Cauliflower Latkes with Horseradish Sauce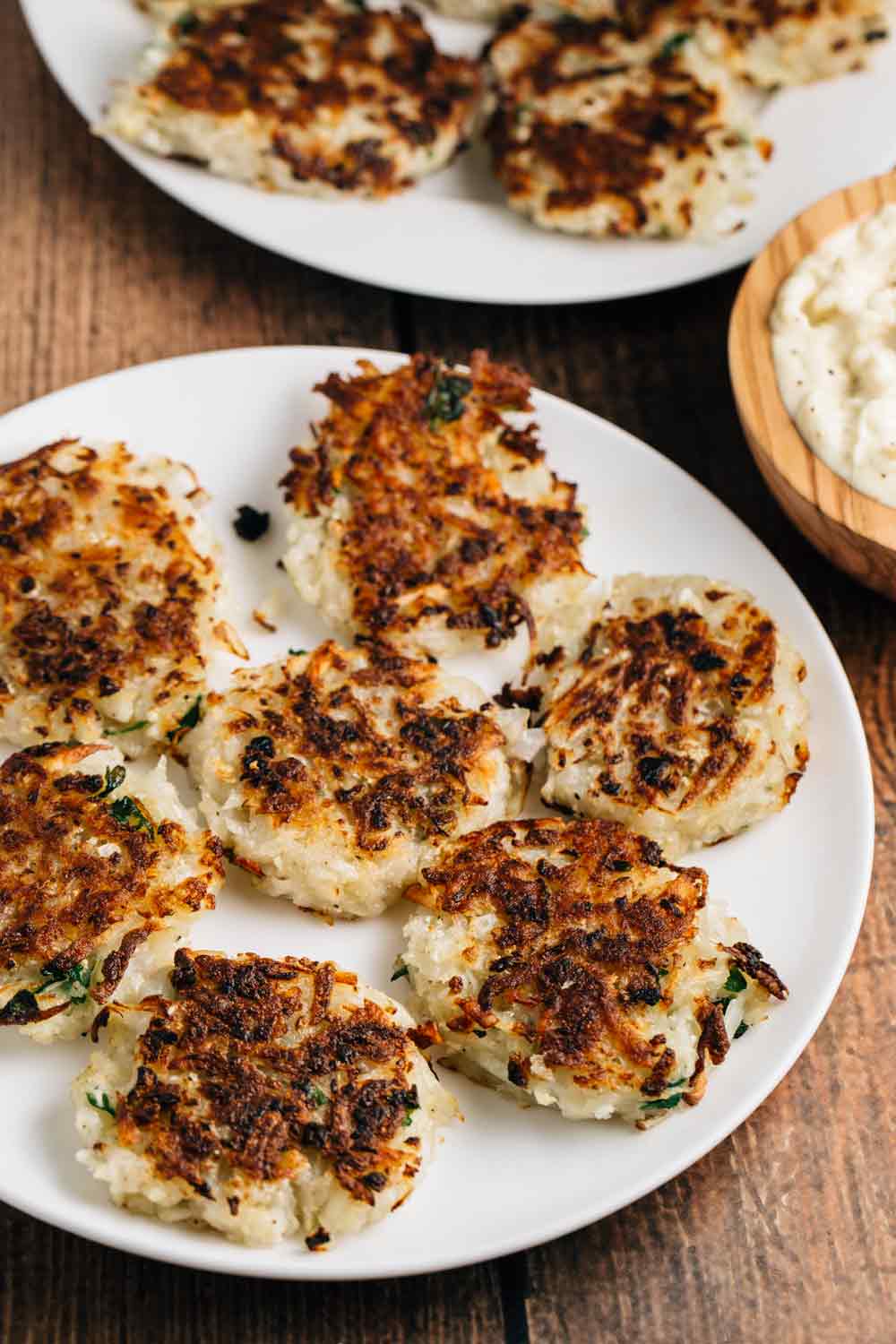 Here we have an excellent snack. The recipe notes suggest this would make a great side dish or appetizer. I totally agree and would like to go one further and say, if you make larger patties, you also have yourself a fantastic plant-based burger.
There is some preparation time here but, great dishes don't cook themselves. In total these will be ready in about fifteen minutes, half will be prep and the other half cooking time. The ingredients are straightforward, and I imagine you'll have all the ingredients already.
I'd plan ahead if you want to make this for some sort of gathering. The amounts listed yield between twenty and twenty-four, so you may want to adjust depending on how many visitors you have and what other food will be available. Fantastic dish!
Persian Spiced Lentils with Roasted Cauliflower and Potatoes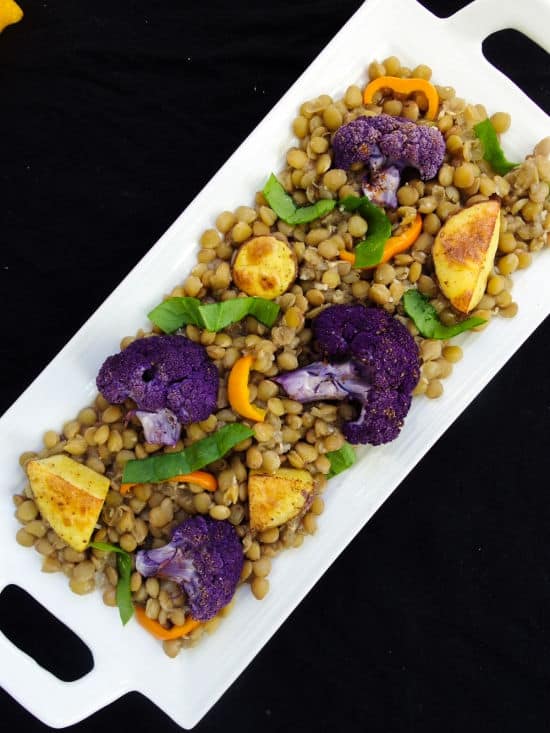 This is a fantastic dish that has 'satisfying' written all over it! I honestly wouldn't have anything else with this as it's so delicious. You're going to have it ready in about forty-five minutes and given the quality of this recipe, I'm surprised it doesn't take longer to prepare.
Do note you'll need the baharat spice blend. The ingredients list has a hyperlink taking you straight to it. I want to say it doesn't matter if you're able to acquire everything to make this blend, you'll still make a perfectly good dish without it by just using your favorite spice.
It just won't taste the same and I think with something like this, it's important to get all the ingredients. There are so many textures from the potatoes to the raisins, and even the toasted walnuts! Amazing!
Roasted Cauliflower and Potato Salad with Lemon and Dill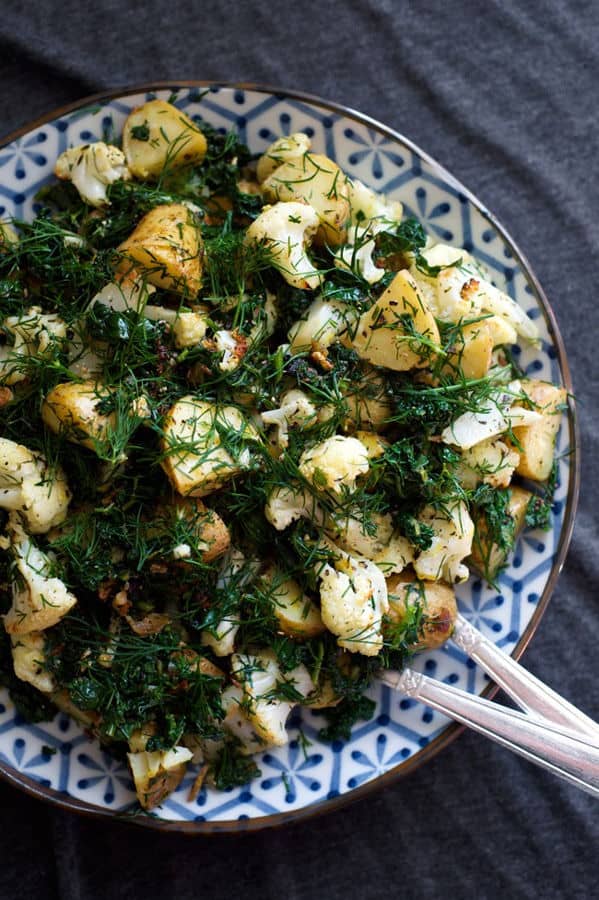 I love potato salads. There's something so satisfying about them, and I love how you can have them warm or cold. I'd recommend this be served warm, but it'll be great the next day, perfect straight out of the fridge!
The prep time here is no more than five minutes. After that, you put everything in the oven for just over half-an-hour. You have a delicious salad and the dill is the signature of this dish. The balance between the potatoes and the cauliflower is just perfect, so you won't end up feeling all tired after eating. I'm going to make this dish again, and soon!
Aloo Gobi Matar (Potato, Cauliflower and Pea Curry)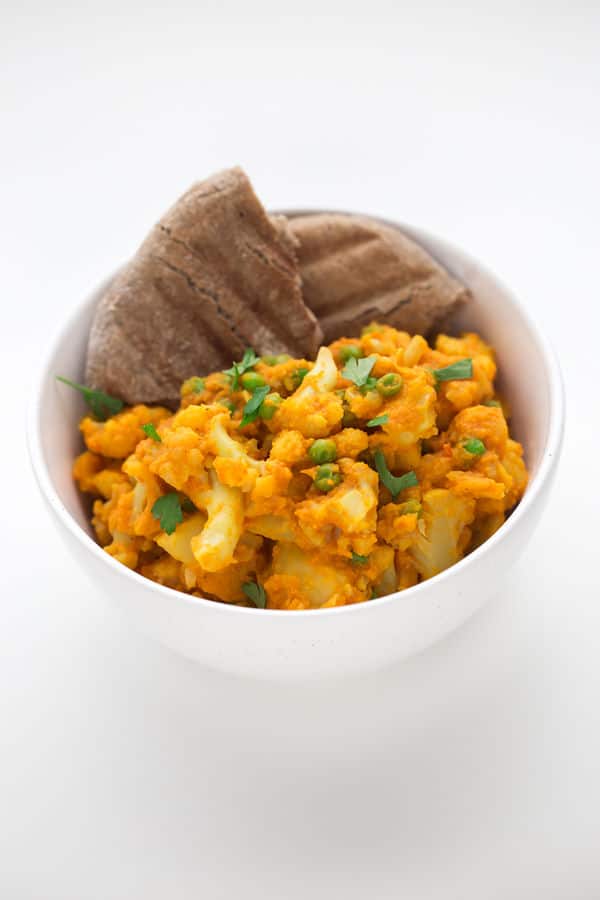 I'm very familiar with curry, but for those of you who don't know, Aloo Gobi is a traditional Indian curry made with cauliflower and potatoes. It's like a base recipe that has regional variations and is extremely popular not just in India but also in the United Kingdom.
I think I'm correct in saying the British eat more Indian food than any other cuisine, and who can blame them!
One of the best things about Aloo Gobi is it takes less than five minutes to prepare and about fifteen minutes to cook.
It's traditionally served as a side dish but I think it's great on its own and perfect with your favorite Indian bread or even with rice. I love it and this version doesn't take anything away, it's fantastic!
Healthy Cauliflower Mashed Potatoes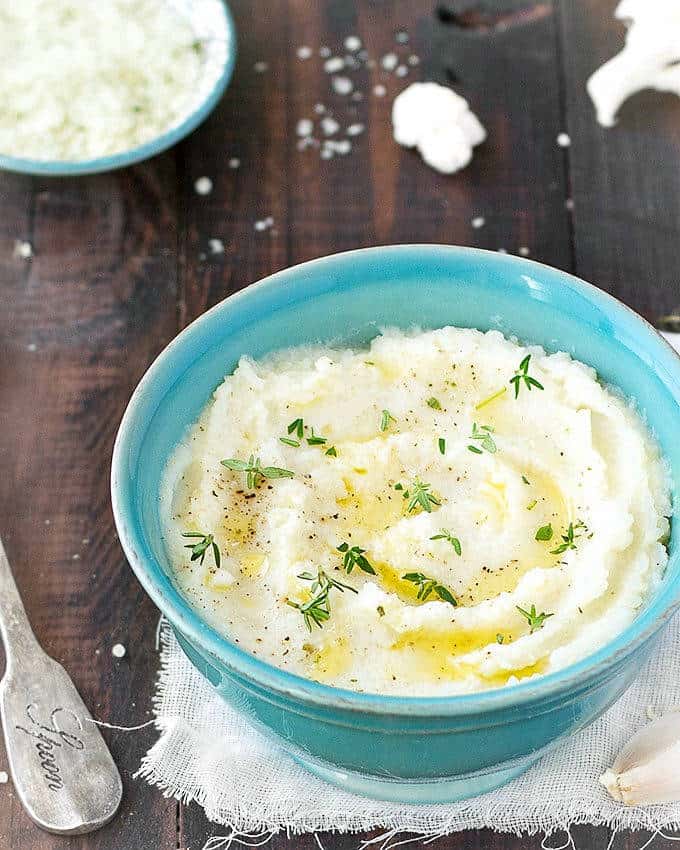 A delicious alternative to mashed potatoes (there are no potatoes in this recipe, despite its title). If you've never had mashed cauliflower before, the taste is slightly different to potatoes as you'd expect, but the texture is the same if not silkier!
The ingredients in this recipe could not be more simple. There's just a handful of them so make sure you have the best quality you can use. For example, don't substitute the extra-virgin olive oil with regular olive oil, you need the former. If you don't have fresh thyme, the dry variety will suffice although won't be quite as good. Keep this recipe as reference, I have!
Vegan Cauliflower Rice Recipes
Roasted Cauliflower Rice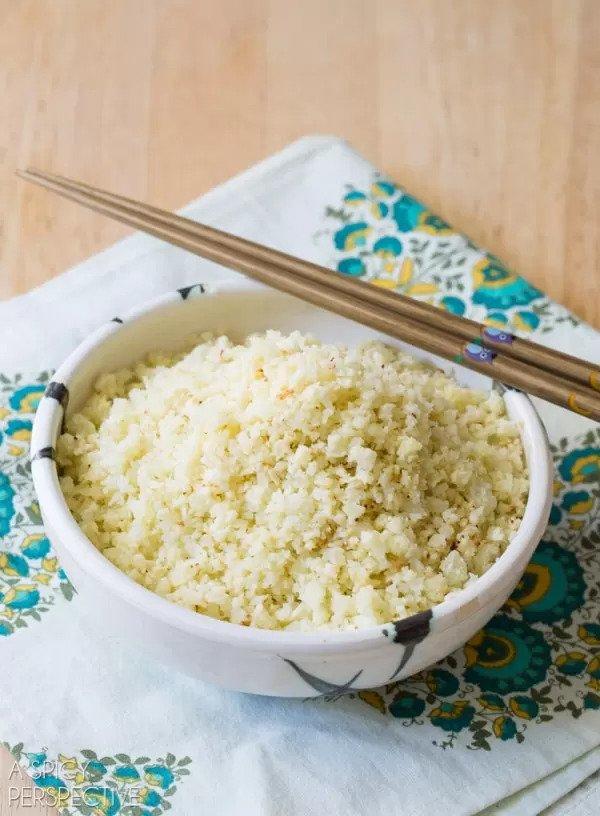 You know, couscous is delicious, and I love it, but it's still wheat and I don't feel so good when eating it often. This recipe gives you a similar texture and you can do so many things with it. The color is amazing, and the flavor matches up!
Please note, ideally, you'll have a food processor to chop the cauliflower to a consistent size. If you don't have one that's okay, you just need to be slick with your knife skills! You can also achieve the texture with a ricer or potato masher.
Can you believe there are only three ingredients in this dish, including the seasoning? You can make this as a grain-free substitute for rice in any recipe. It's another great way to get more veggies on your plate and into your belly. It's also great for friends and family who are gluten intolerant or sensitive.
Cauliflower-Carrot Golden "Rice"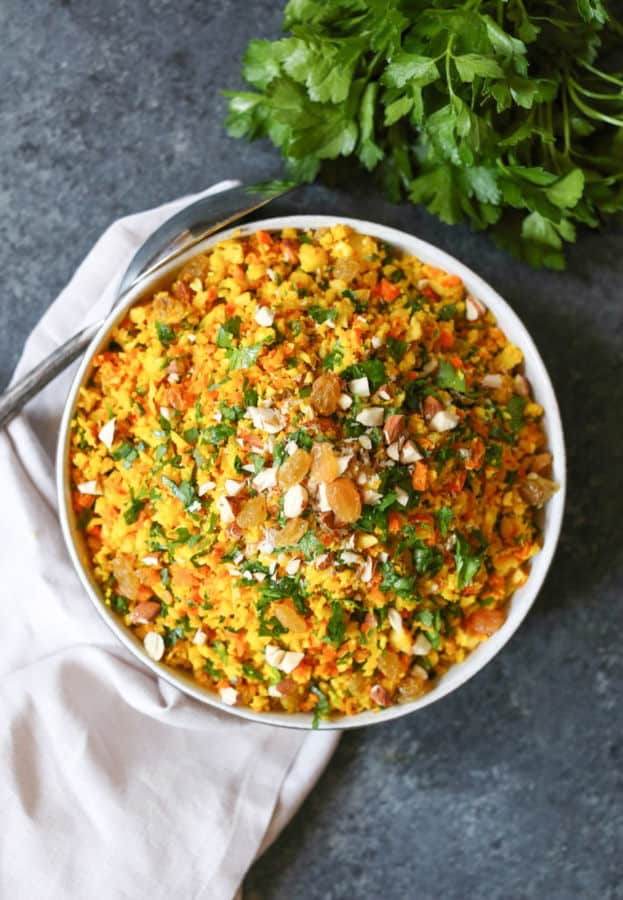 I love rice, I'm one of its biggest fans! The trouble with me is every time I eat it I want to eat more of it, and then afterwards I feel lethargic and need a sleep. Not with this, not only is it a great rice alternative, it actually follows a signature dish.
This makes about six servings. The great color comes from the carrots and especially the turmeric. The textures are wide-ranging, everything from raisins to almonds. If you want to try something different and totally delicious, as well as being healthy, this is it. It's not one of those things that makes you miss the original recipe, in fact you may only ever eat this version from now on!
Thai Broccoli & Cauliflower Rice with Stir Fried Veggies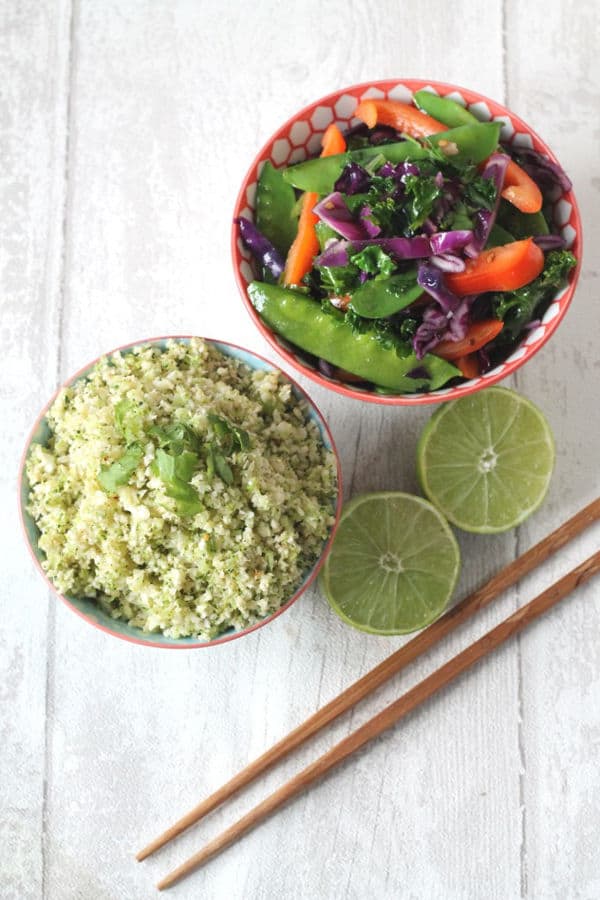 This recipe is a complete meal, I mean, everything is here! This serves two although, when we made it, it seemed a bit conservative for two people. Either that or we're all greedy monsters. No comments on that please!
I love this recipe so much as it gives you the "rice" which is delicious by itself, but you also get the stir-fried vegetables.
The best part about the veggies is you can adapt it depending on what you have so it's perfect for any vegetables that need eating. For me, that's the sign of a first-class recipe, which is what this is!
Clean Eating Riced Cauliflower with Walnuts Recipe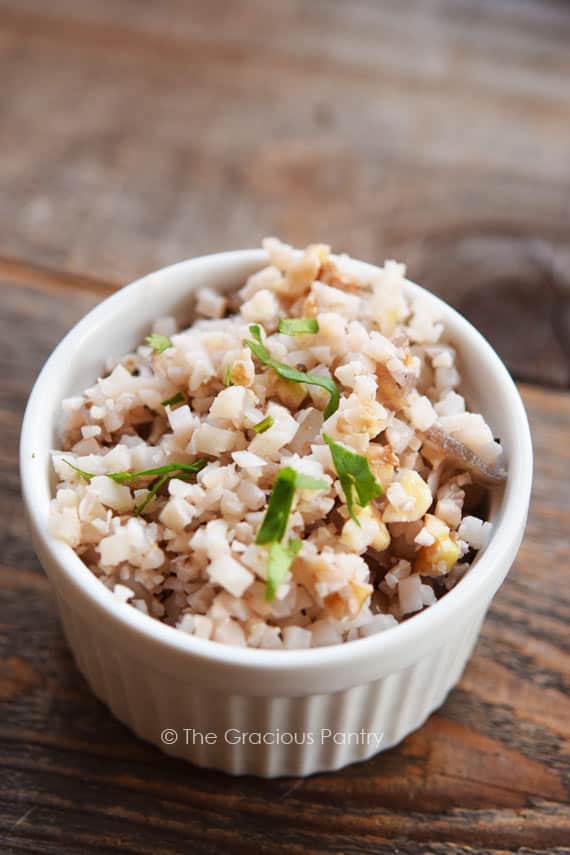 If you're looking for a straightforward alternative to rice, then this is it. It's no-nonsense and isn't pretending itself to be anything other than what it's. Just simply use with any dish where you would have rice as an accompaniment. It doesn't have very strong flavors, just like rice, so it really is a serious replacement and I daresay, healthy as well.
Even though it's simple, the recipe is very well thought out. The chopped walnuts are what really make it stand out. Great texture combinations and with the onion and lemon juice, wonderful flavors as well. This one is already in my recipe list!
Mexican-Style Cauliflower Rice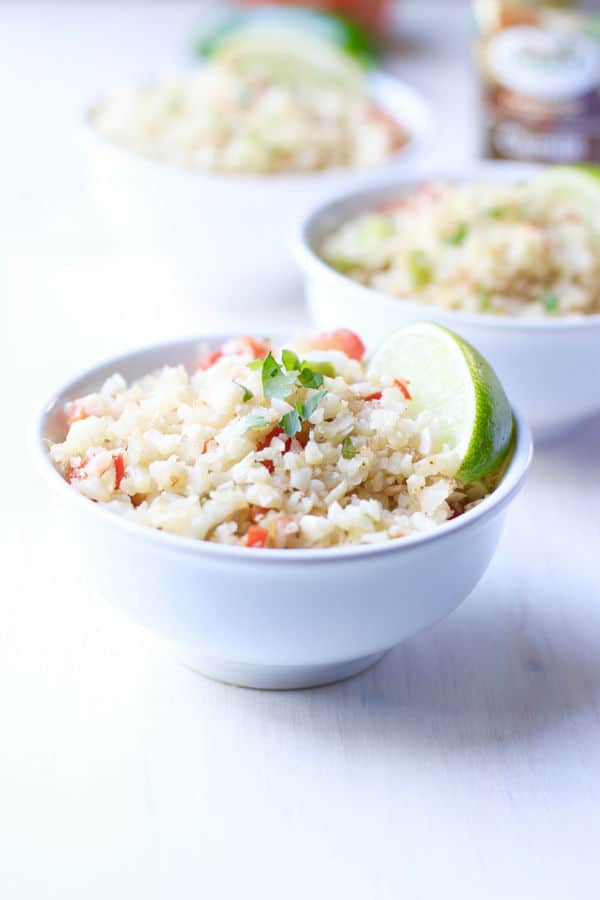 This cauliflower rice recipe has a Mexican twist so is perfect for any Mexican food dishes. I love how it's ready in less than fifteen minutes, that's my kind of dish!
When you look at the ingredients there are a couple of gems that really stand out, for me the ground cumin gets a big thumbs up. The Roma tomato may seem like another ingredient, not only does it add flavor, it also adds a moisture to the rice which makes it absolutely perfect.
Don't forget to use extra virgin olive oil, it's a million miles away from regular olive oil.
Whatever Mexican dish you're cooking, this is the "rice" you want!
Cilantro Lime Cauliflower Rice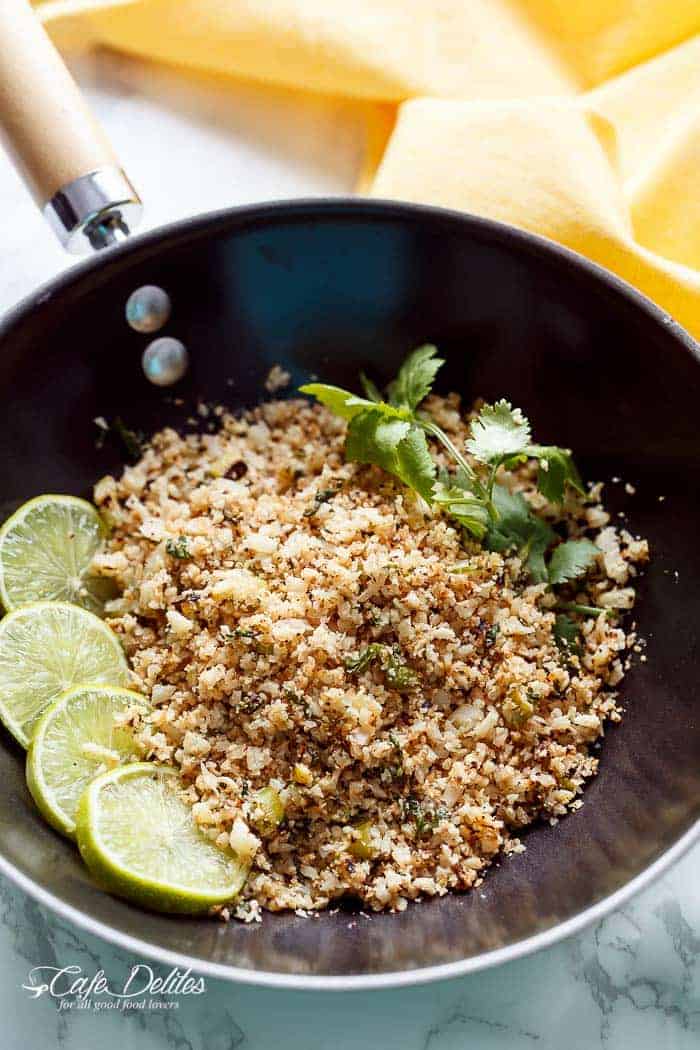 When you're craving rice, but you don't want the calories, hit this recipe! I'll be honest with you, I love all cauliflower "rice" because I love cauliflower so much. All the other dishes I have tried have their own texture, but this is the most, 'rice like' I have ever had.
I think the secret ingredient here is the scallions (green onions). You could just use regular large onions and they would be fine too, but there's something about the green onions and how they mix with everything else. Obviously, you would use this as a replacement for regular rice as part of your meal, but it's so good you may just eat it by itself!
Dill Cauliflower Rice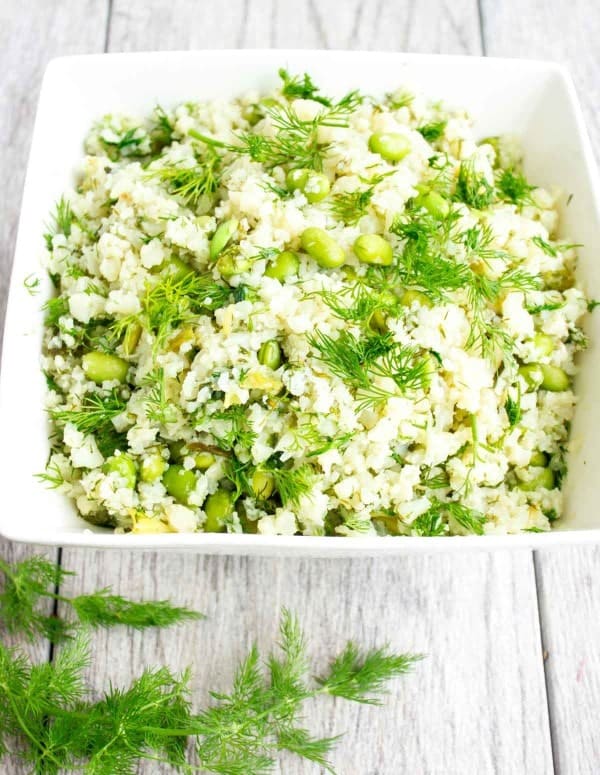 This rice recipe is another one of those you go to when you need a straightforward alternative to regular rice. The difference with cauliflower rice recipes, however, is the cauliflower rice always tastes of something.
Normally, we see the cauliflower rice with some kind of seasoning and flavoring. We have that here too, but we also have the addition of beans which adds a fantastic texture. You could leave them out if you wanted to, but I'd include them because I think you'll be surprised with the outcome. Let us know what you think!
Riced Cauliflower with Dill, Parsley and Mint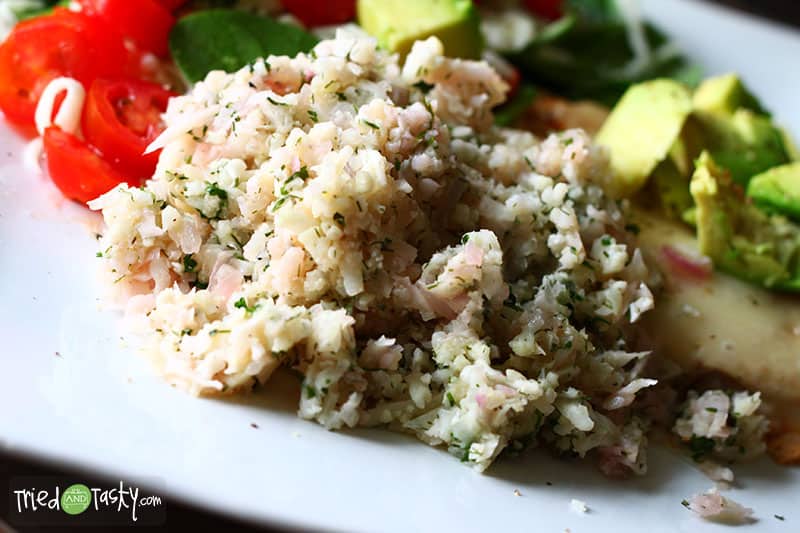 A great mixture of flavors that creates this low-calorie version of regular rice. Use this as you would your normal rice in any dish, from Indian to Chinese and so much more. it'll go well with a wet or dry accompaniment and perfect on its own as well.
I notice something in this recipe that I have never seen before. It's not a big deal but a good alternative for those who don't have food processers to whizz the cauliflower into rice at the press a button. It's 'grated' cauliflower.
I can tell you it works just fine and much better than I expected. Be careful of your fingers when using the grater! There are some really fantastic herbs in this dish, if you don't have everything, just use what you have. Fantastic!
Sweet and Sour Cauliflower Rice Bowls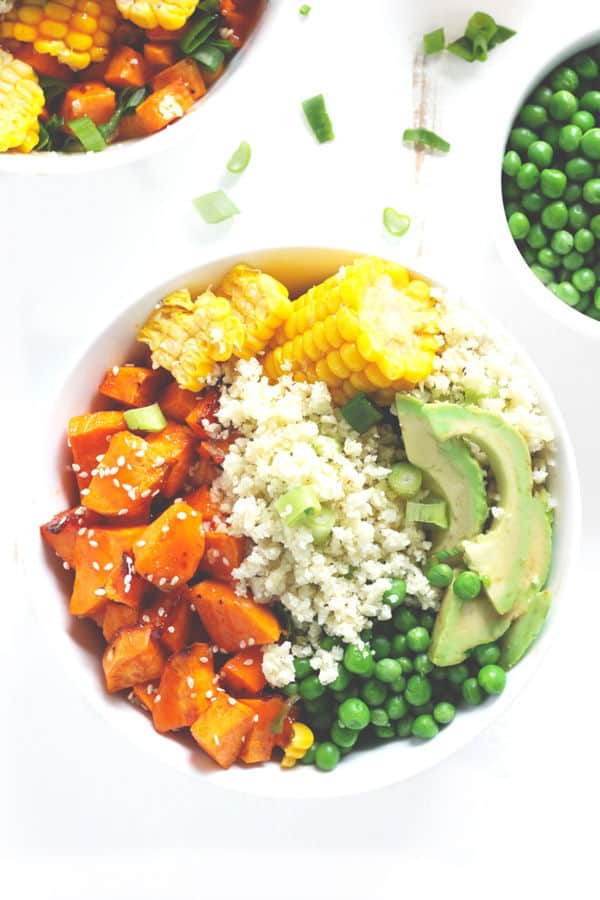 This isn't just another great recipe of cauliflower rice, this is a complete meal. Not only tasty but also satisfying and best of all, you can easily substitute any vegetable, so perfect for using up food that needs eating.
This dish is divided into three sections, the cauliflower rice, the roasted sweet and sour potatoes (make them!), and the added vegetables. The first two are obligatory and the third you can mix-and-match depending on what you have. Then everything goes together in one bowl.
This may not seem important, but I'd encourage you to serve as pictured, with the ingredients grouped together around the bowl. It makes all the difference, even if it's just for yourself!
Garlicky Kale Bowls with Red Beans and Cauliflower Rice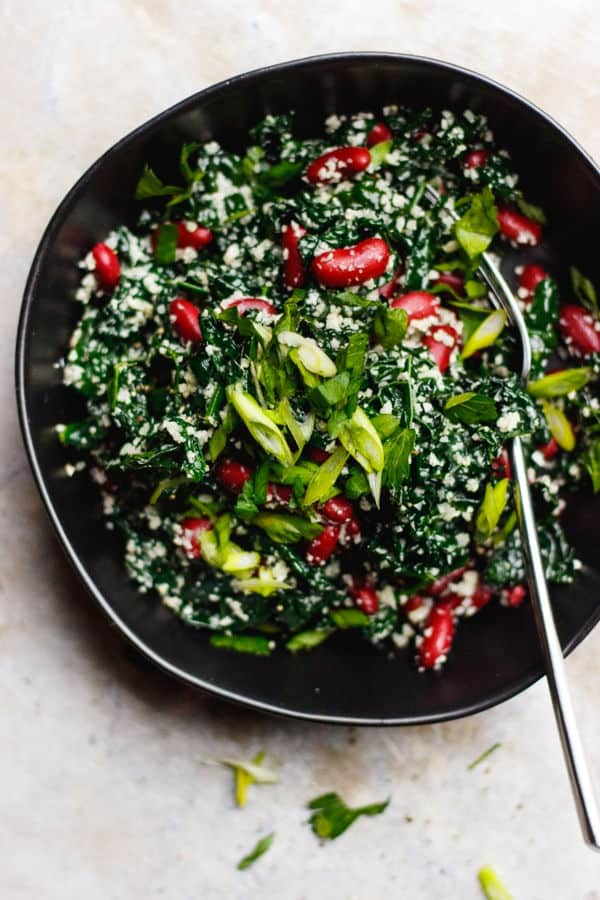 This is one of those recipes you'll make once and somehow it'll be forever imprinted in your memory. That happens sometimes, and I don't know why. It's a totally satisfying meal and you don't need anything else to go with it.
Cauliflower rice can be time-consuming to make if you don't have a food processor and I have said a few times that you can simply use a knife and keep chopping. While this is true, don't forget that many stores now sell ready-made cauliflower rice in the freezer section.
All the ingredients in this dish are of the highest quality. I urge you not to skip the garnish of the avocado, it's much more than a garnish and adds a lot to the dish. When you make it, be sure to send us a pic!
Peanut Sauce Stir Fry with Veggies and Cauliflower Rice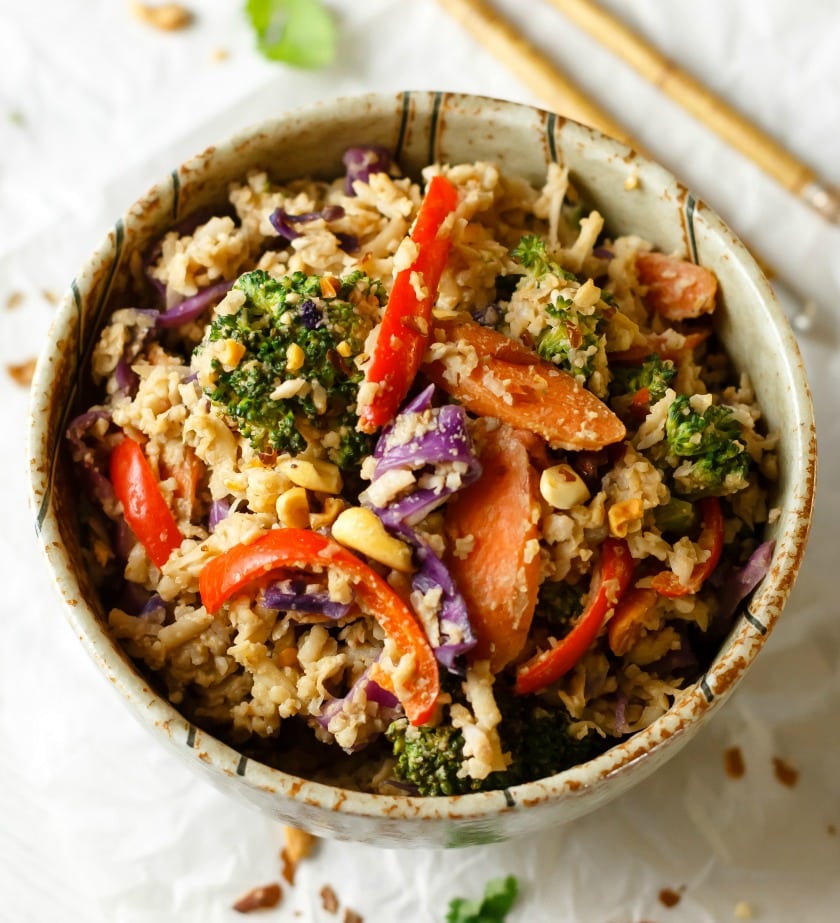 Stir fried vegetables with rice is one of my all-time favorite meals. Not only is it cheap and quick to make, it's also healthy.
The best part is you can use whatever ingredients you have. This recipe goes one better as is made with cauliflower rice and, the cherry on the icing on the fantastic cake is the peanut sauce!
For the sauce you're going to need peanut flour. I wondered how difficult this would be to buy, but it turned out to be very straightforward.
There's an optional extra of using sesame oil, not only would I recommend you use it, I'd also recommend you go for toasted sesame oil as the flavor is just amazing.
This sauce is what makes the whole dish stand out from the crowd. Make a lot because you'll be inviting me over for dinner to say thank you!
Stuffed Portobello Mushrooms with Hemp Seed Cauliflower Rice Pilaf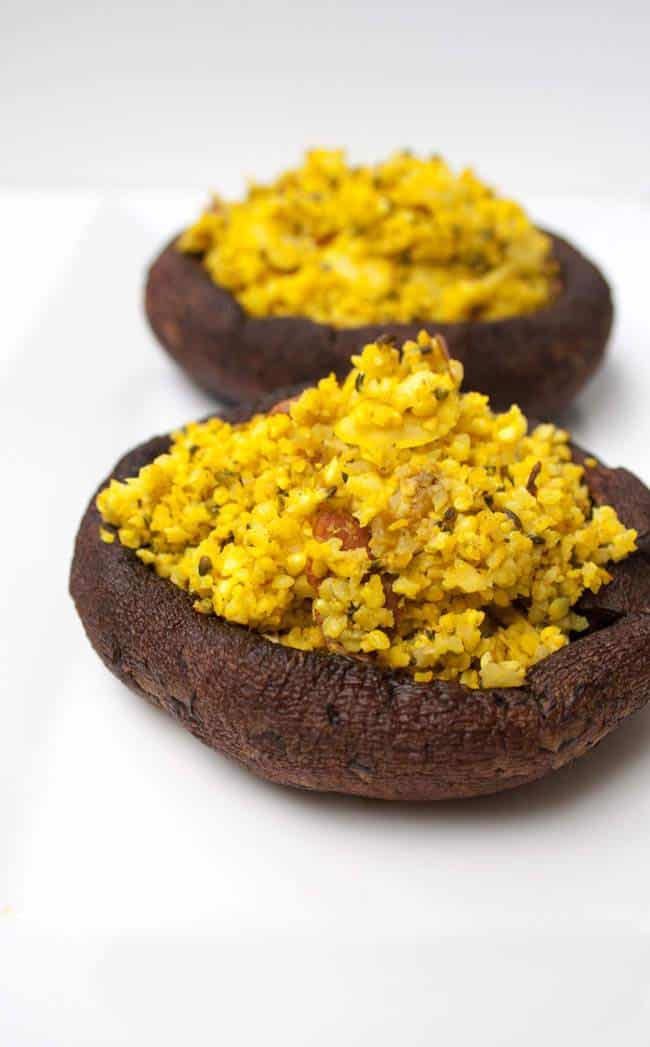 This dish is perfect as a snack or side dish, especially for the holidays. If you want it for a main meal just have two of them, or three. Did I just say that?
Now, if you're going to make this, and I certainly recommend you do, make a note it's actually two recipes in one. Well, that's if you call preparing a portobello mushroom a dish? Okay, maybe not.
The point is, the cauliflower rice is a separate recipe, hyperlinked in the ingredients. Very easy to make and when added to the portobello mushrooms, it's the perfect combination!
Peppers Stuffed with a Ramp and Cauliflower Fried "Rice"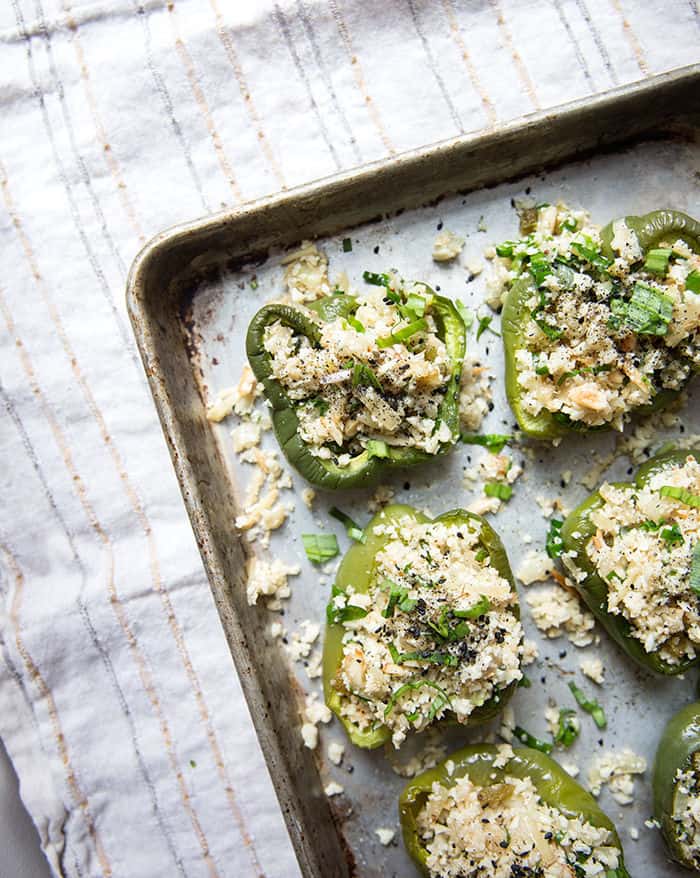 I love stuffed pepper recipes, although I never see many around so was delighted when I came across this one. These are easy to make and looking at the ingredients, I think the dish is quite versatile, so you could easily add other vegetables as well.
This is divided into two, the peppers you bake before stuffing, and then the filling. Both are extremely easy with very little prep time needed.
If you can't get hold of any ramp, you can use any mild onion, including scallions. The toasted sesame oil and soy sauce add a touch of magic. The textures with the cauliflower and the slivered almonds are perfect. You'll want to make these again and again!
Vegan Cauliflower Salad Recipes
Cauliflower Quinoa Salad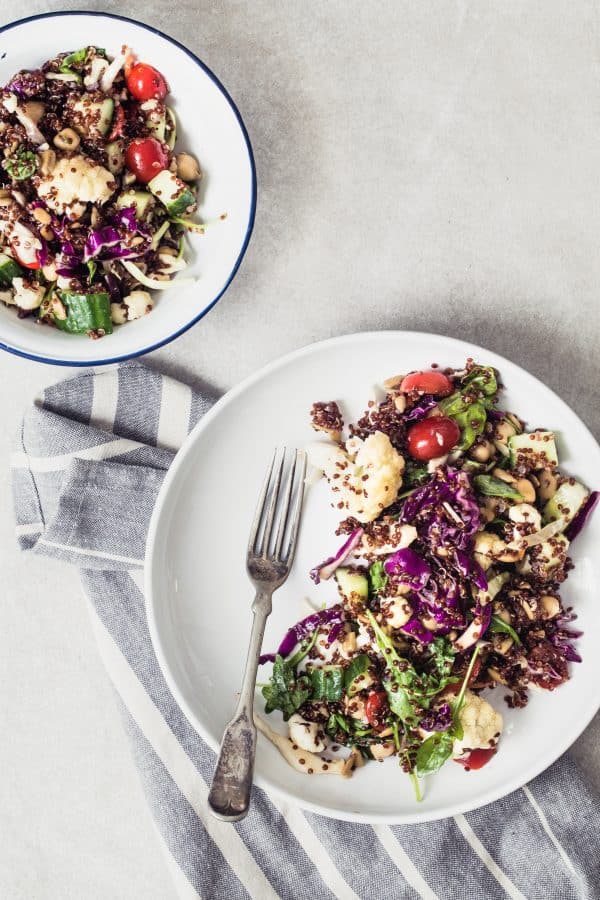 Long gone are the days when salads were just a few tired lettuce leaves as a side to something else. The recipes and types of different salads now are infinite. This one is so hearty it'll leave you feeling satisfied for the rest of the day.
The ingredients are simple and you won't have any trouble finding anything. You can immediately see how easy it's to adapt this recipe if you want to, and I really like dishes like that because in the real world we use what we have, and this can include leftovers.
It won't take you longer than twenty minutes to serve this up. The amounts here yield for six servings but don't worry if it seems too much as it'll keep in an airtight container for up to three days in the fridge.
Tamari Roasted Cauliflower Salad with Black Rice with Miso Pear Dressing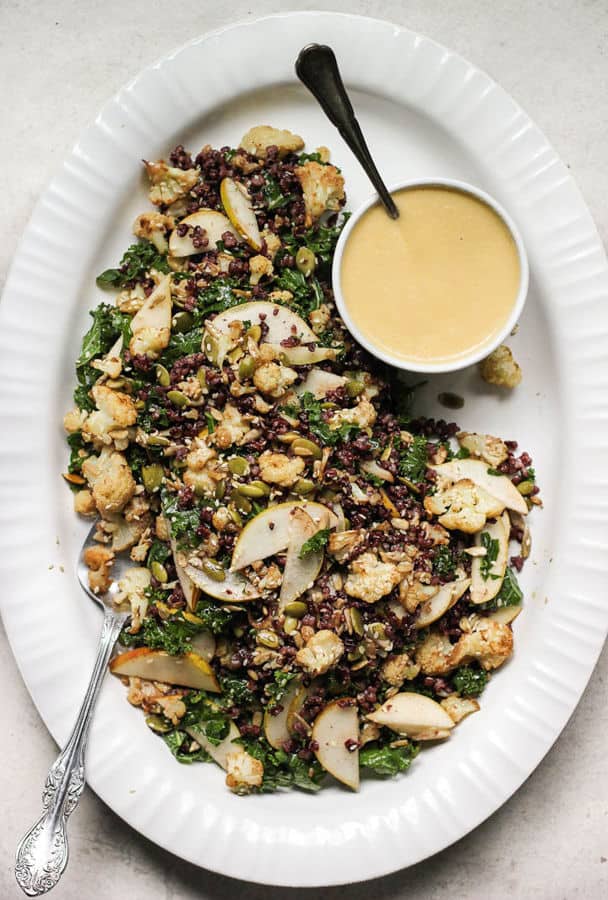 This salad is amazing. When I got the ingredients together to make it I wasn't thinking and I bought small potatoes. I glanced at the picture for just a second thinking they were part of the recipe, they'ren't but I can report back that the potatoes worked out fine showing how versatile this dish can be.
If you can't source black rice then any rice will do (except risotto rice, such as arborio). Looking at the salad ingredients, you already know how delicious this is going to be. What makes this extra special though, is the dressing. There are a few ingredients, but don't let that put you off.
Once you make this, you'll make it again and again. It works as a perfect salad dressing on practically anything and is also good to pour over steamed vegetables.
Creamy Cauliflower Salad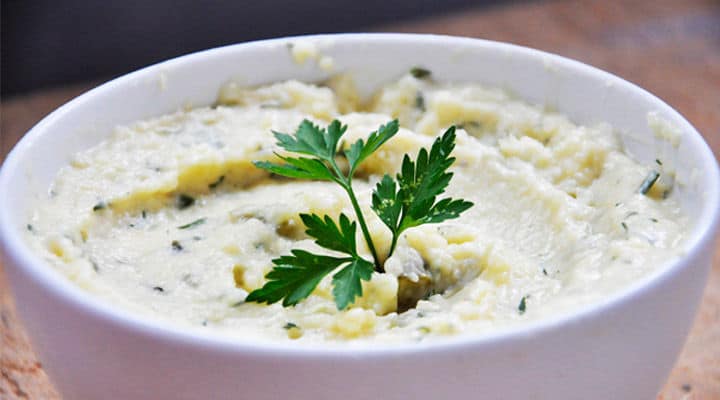 There aren't many dishes you can describe as an appetizer, a spread or a dip! It would also be a fantastic side, as well as a replacement to say, mashed potato.
You're going to have this ready in about thirty minutes, most of which is cook time as there's very little preparation.
You can say this is essentially mashed cauliflower, but the ingredients add a piece of magic, and that's the chopped pickles. The tangy flavor from these are the perfect partner to the cauliflower and parsley. Serve as an interesting appetizer or with your favorite plant-based burgers!
Roasted Cauliflower and Brussels Sprout Salad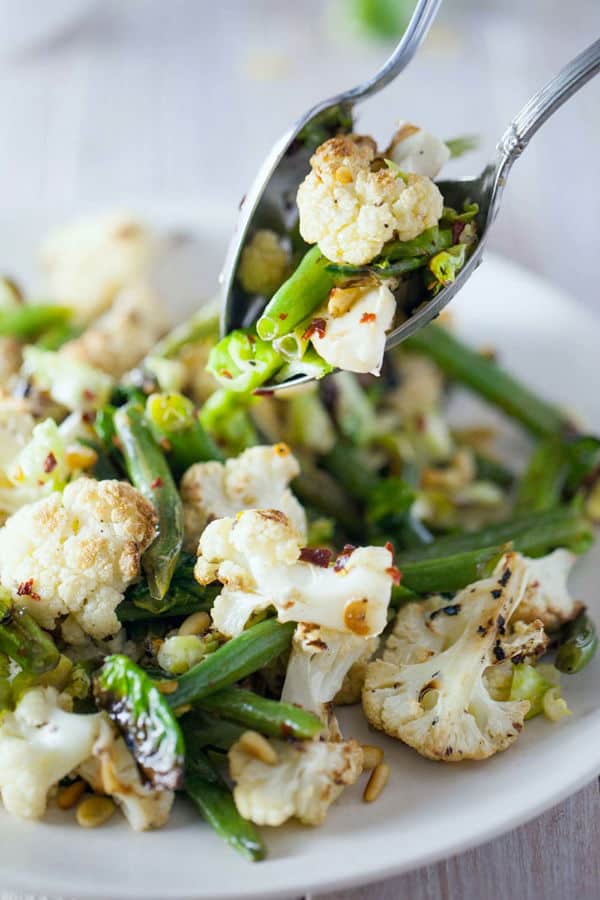 This is a quick recipe you probably haven't thought of. You can easily adapt it which is perfect for any vegetables you have that need eating. The textures and flavors all go well together. Best of all, it costs very little to make.
There are three parts to this recipe, some things are roasted in the oven, some cooked on the stove and then the magnificent dressing.
The idea of roasting the lemon halves is unique and spot-on! Unless you can't have garlic, do make sure you include these to be roasted as well, the recipe calls for three, we added a few more! The green beans are sautéed with the pine nuts along with some flavoring and maple syrup.
Lastly the lemon caper dressing is a combination of sweet and sour which brings everything together. What a show!
Cauliflower Tabbouleh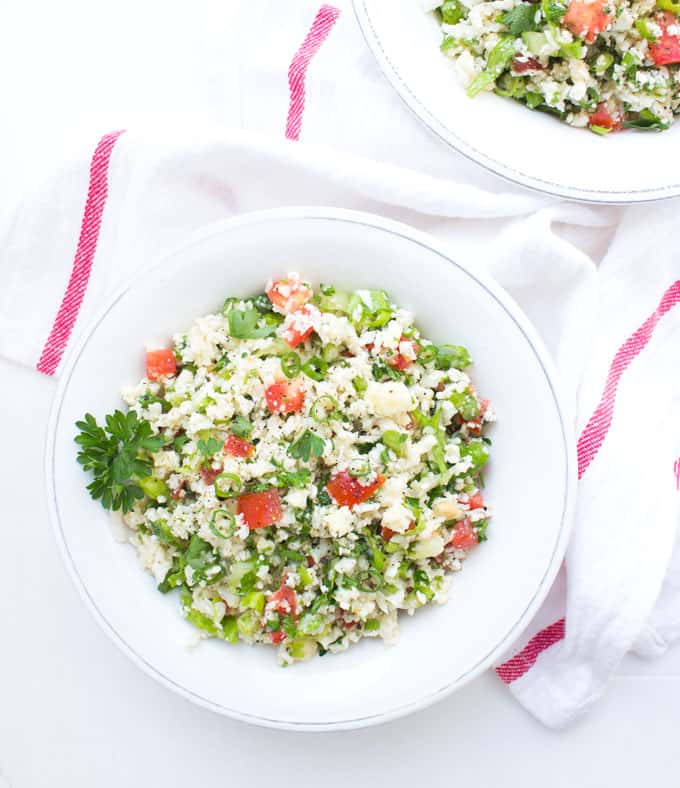 This really is the perfect summer salad. No cooking and is ready in twenty minutes or less. The amounts make for six servings but will easily store in the fridge using an airtight container for up to three days. It's worth making at least this amount.
This salad could easily work as part of a main dish, although obviously it can be the main meal itself. The ingredients are very simple and perhaps more importantly, won't cost much to buy. You can immediately see you can use other vegetables as well. We added olives to this and it was fantastic.
Chargrilled Cauliflower Salad with Lentils and Pomegranate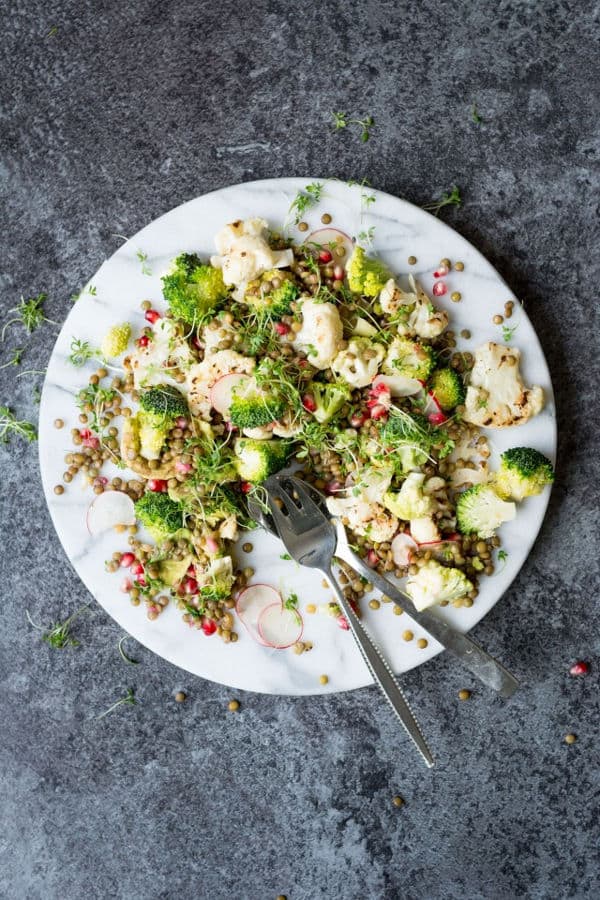 This is one of those salads where it doesn't matter how you throw it together, you'll end up looking like a professional chef! There are lots of different textures which make this extremely satisfying.
A wonderful salad which stores well, so is perfect for taking with you on a picnic or a packed lunch.
When you look at the picture and then look at the ingredients, it almost feels like something is missing, but it'sn't. That's how easy this is to make. Because of what the lemon brings to the lentils you, end up with a very fresh and satisfying base for this salad.
You're not going to feel hungry afterwards, and more importantly, you'll not feel bloated or tired either. You'll have energy and will be fueled until your next meal!
Buffalo Cauliflower Salad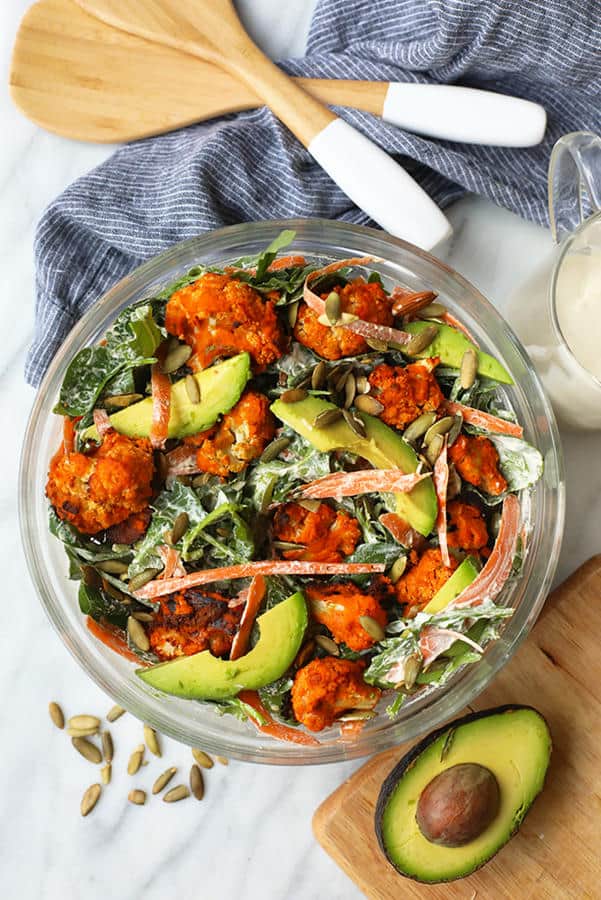 This is one of those recipes that show you, you should never underestimate cauliflower.
Lee introduces this recipe to us from the Inspiralized and Beyond Cookbook, an ideal meal for when you've got a ravenous appetite.
You get these super tasty buffalo cauliflower florets and savory salad with proprietary ranch dressing you're not allowed to skip!
You'll thank yourself for making this.
Cauliflower Salad with Nectarines & Pistachio Dukkah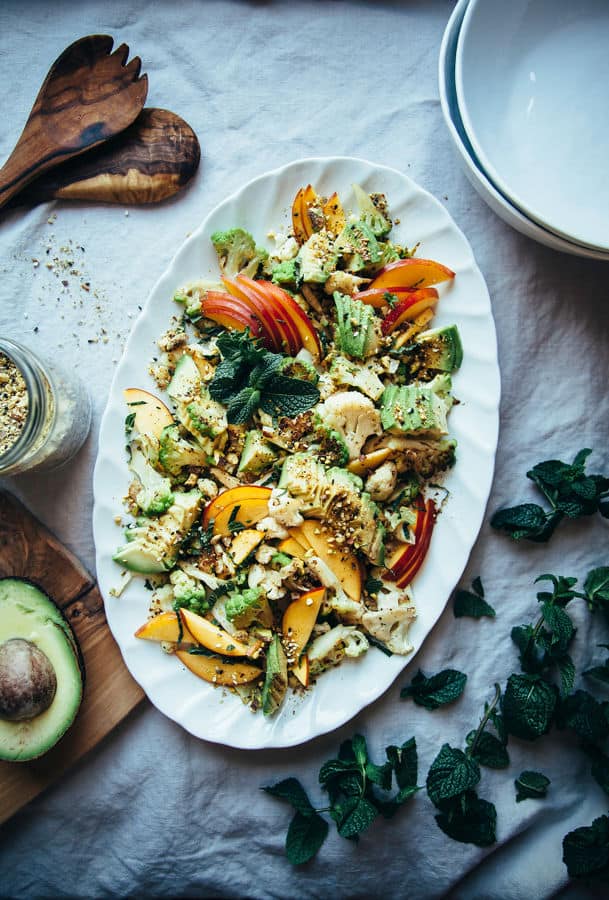 This salad is quite awe-inspiring, you just have to look at it. If you serve this to someone and their eyes don't go big or they don't make any sounds that resemble, 'wow', then ask them to leave immediately!
I'm not saying this is just for special occasions only, it's too good for that. I'm just saying if you're having friends over during the summer and you don't want to keep the oven on all day then this salad is awesome because it looks impressive, because it's.
Make note that the Dukkah ingredients makes extra so you can use it for sprinkling on vegetables, hummus or just eating it! An altogether fantastic recipe that'll impress!
Cauliflower "Potato" Salad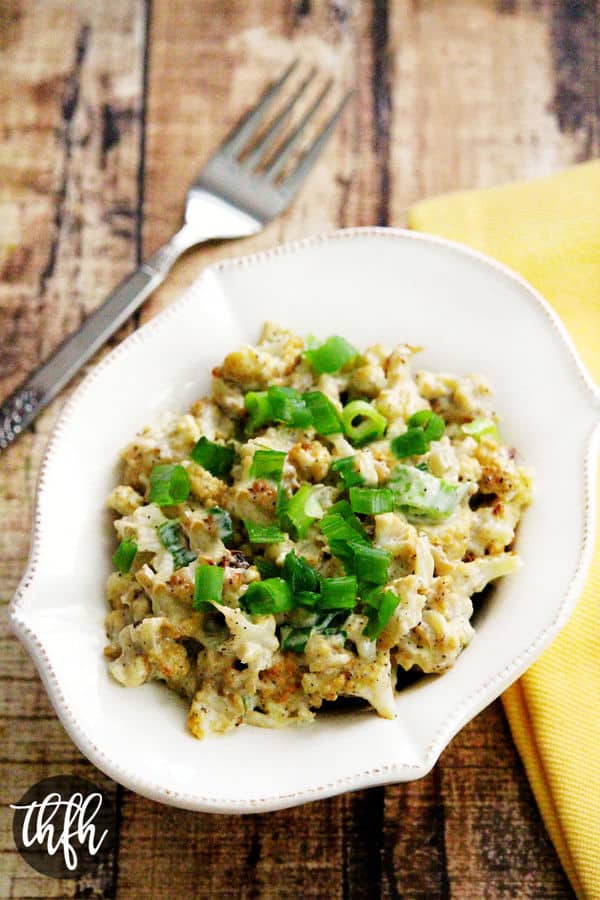 This is an alternative to potato salad although there's no reason we can't use potato in this either, instead of cauliflower, or even both! It's extremely easy to make. Most of the time needed is spent cooking the cauliflower.
The rest of the ingredients are very straightforward, and you may already have them. The combination of vegan mayonnaise and Dijon mustard is a perfect one and, along with the other flavorings, make a perfect salad dressing in itself. You'll definitely want to garnish this with either chives, or green onions.
When we made this salad, we included some coarsely chopped walnuts as well. Lots of possibilities here or just eat as is, either way, you win!
Vegan Cauliflower Snack Recipes
Cauliflower Chocolate Pudding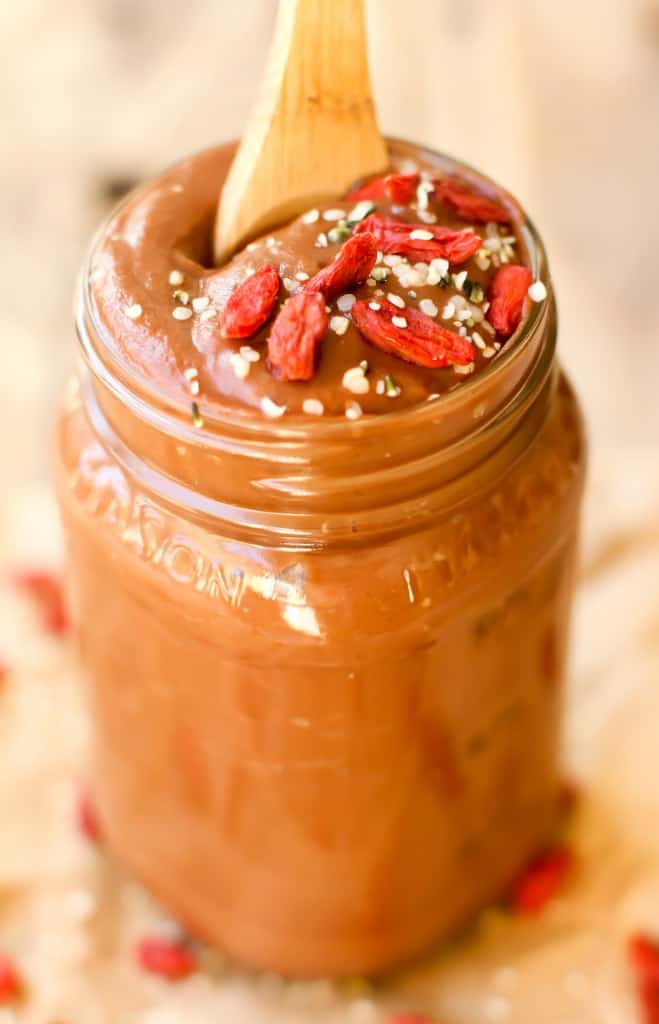 I know what you're thinking, chocolate pudding… Okay, but where does the cauliflower come in? Or even, why is there cauliflower in this?
What you have to do is make this at least once. Serve it to somebody and ask them what they think. When they tell you how delicious it's, you can tell them the main ingredient is cauliflower, then wait for the confused expression.
It's true, this really is delicious, trust me, just make it. Literally just five ingredients and with a flavor that leaves you thinking this can't be good for you. But it is!
Copycat Whole Foods Curried Cauliflower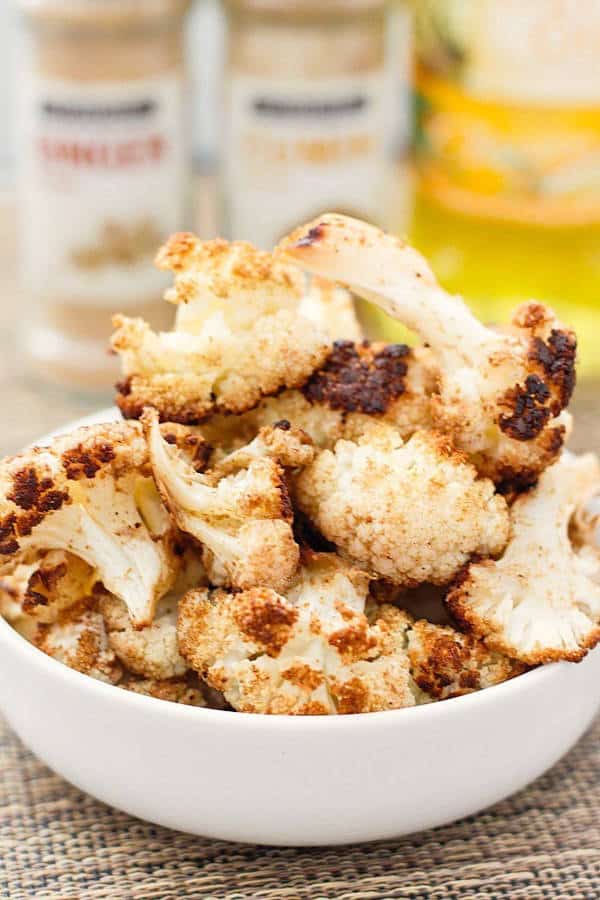 This is a very simple recipe you can use in a number of ways. You can also use it with virtually any meal as a side or have as a base for a salad, any salad!
Apparently, the author of this recipe was inspired by something he saw at the Whole Foods hot bar! I love that he saw it, went home and made his own version which totally rocks! The ingredients are simple and, of course, the garam masala is the hero of the day. This would make a great snack with your favorite dip as well. Fantastic!
Cajun Cauliflower Poppers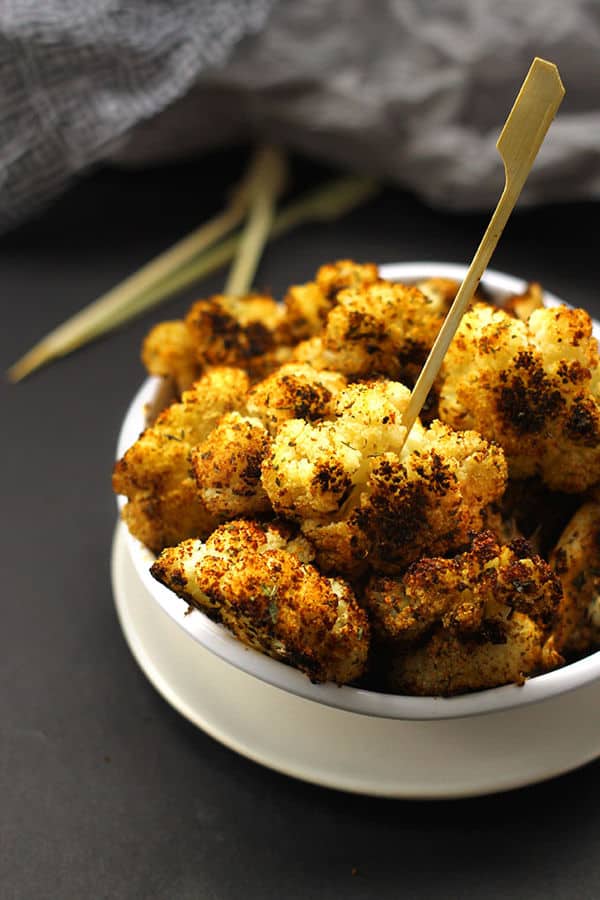 I want to say this is perfect party food, because it's! But it's so delicious it would be a shame to make this just for special gatherings. Other than the thirty minutes baking time, it takes just ten minutes to prepare.
This is so simple, it's essentially cauliflower florets with a special blend of herbs and olive oil. The outcome is better than expected, and I already had high expectations.
This recipe includes a pinch of cayenne pepper so adjust that according to your taste. I wouldn't change the herbs and flavorings at all because they're absolutely spot-on. Serve in a salad, as an amazing side or with your favorite vegan dip.
Crispy Roasted Cauliflower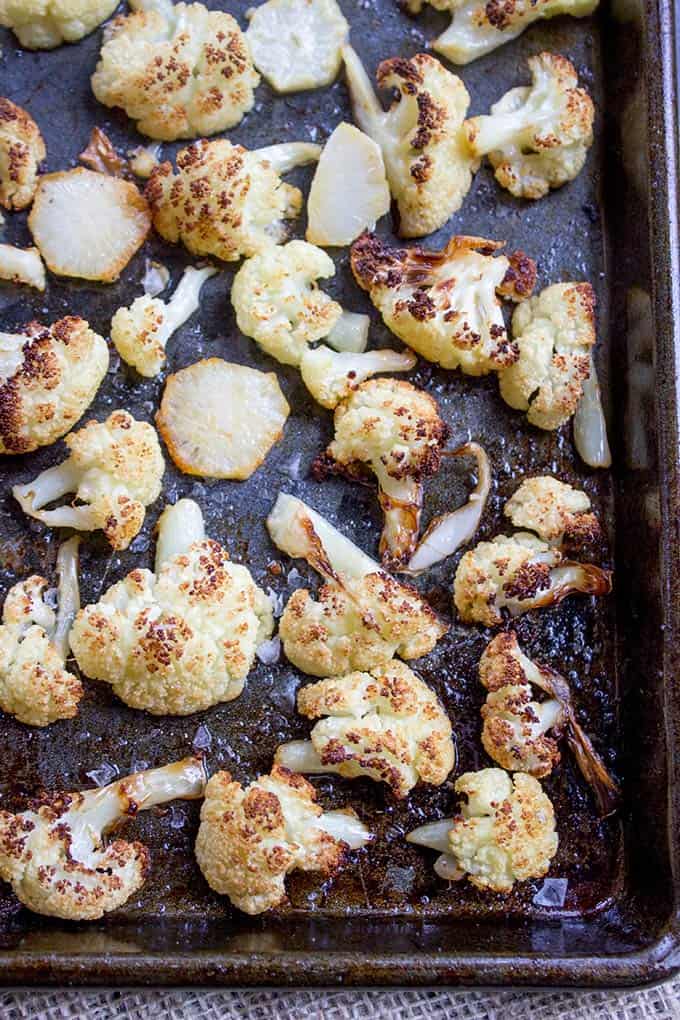 This is a dish most people will overlook. I call it a base recipe as you can use this same method to roast any vegetables.
I think this makes it one of the most important recipes around.
Other than the cooking time, you're looking at no more than five minutes to prepare. Use the best extra-virgin olive oil you can find, with so few ingredients, it's important to get the best quality you can. This makes the perfect side dish or, add to a salad.
Baked Cauliflower Bites with Spicy Pesto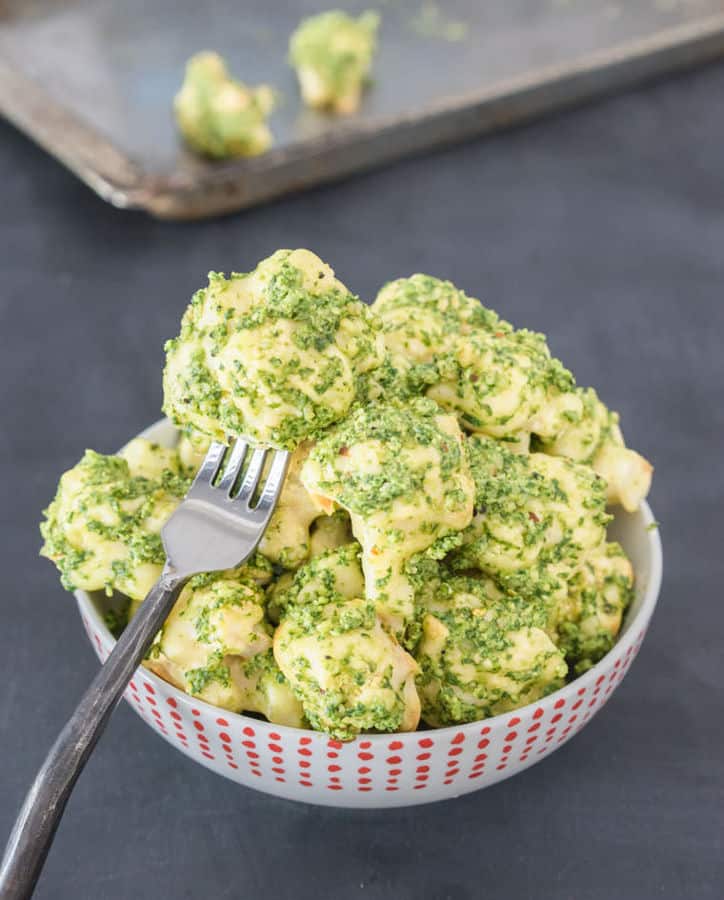 A few years ago buffalo cauliflower stormed around the vegan blogging world and, thankfully, has remained with us ever since. This is an inspiration of that recipe.
Naturally, I'd never advocate cheating (cough!), but if you're so inclined you could with this dish. As well as the cauliflower, this recipe shows you how to make your own pesto, which is great!
It's a really good pesto recipe in its own right. The cheat is, if you can get a good quality vegan pesto, then you can skip this part out altogether and save yourself a little time. Absolutely delicious bites!
Roasted Cauliflower Hummus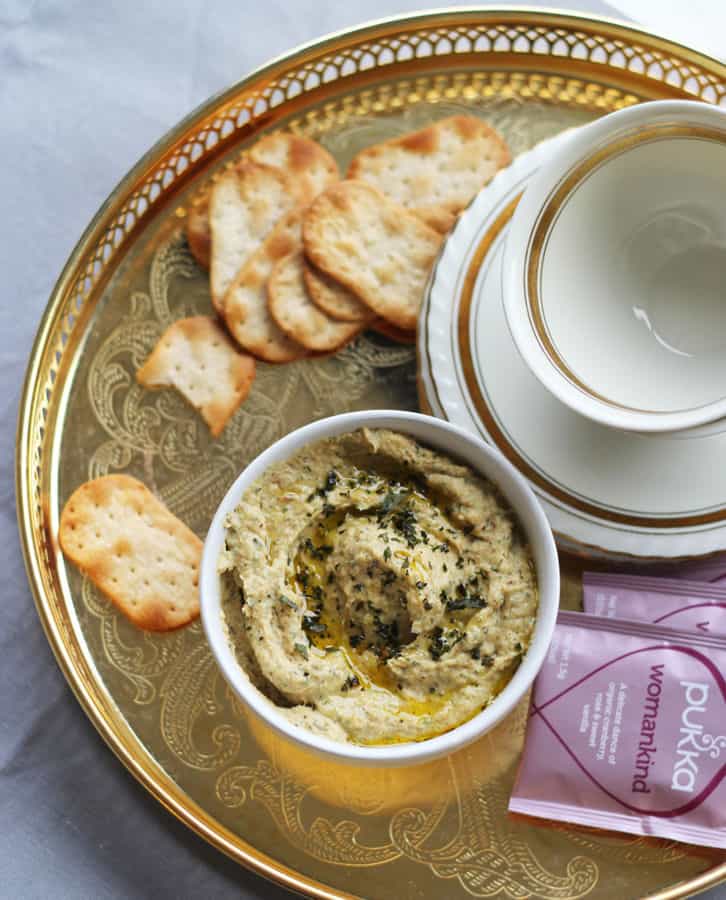 Okay so I'm going to be a little delicate here, some people have 'problems' with chickpeas (garbanzo beans) so tend to avoid them. Then, they miss out on hummus and that's a crying shame! But seriously, I know people who have gallbladder issues as well and they miss hummus every day. Here, is the savior!
This is essentially regular hummus but with slow roasted cauliflower florets taking the place of chickpeas. To add an interesting color and great flavor, this recipe also has two to three kale leaves.
Perhaps because of the existing flavors, the author chose to use rapeseed oil, which is very good for you. If you don't have it, olive oil will do just fine although will add some extra flavor so bear this in mind. This makes an amazing snack and will not leave you feeling bloated. First-class!
Rosemary and Garlic Cauliflower Mash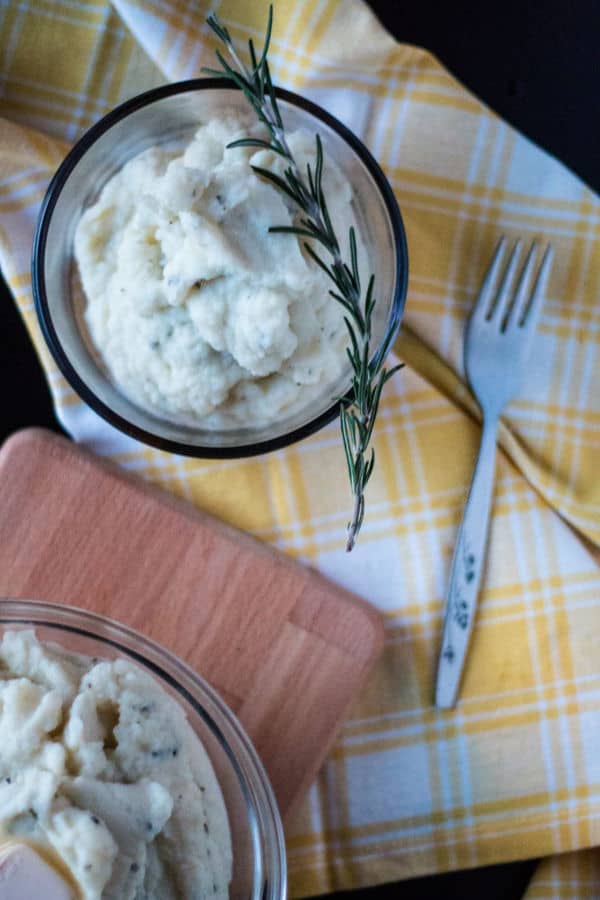 This mash alternative is delicious, cheap and easy to make. Because it's cauliflower, it won't leave you feeling heavy, which can sometimes happens if you eat a lot of mash made with white potato.
Please note, you really do have to like rosemary when you have this dish. I love it, but some people find it too strong.
If this is you, please don't let that put you off. Just use parsley or your favorite herb instead. Along with the coconut milk and vegan butter this is one of the creamiest and most delicious versions of mash I have ever had!
Tandoori Spiced Cauliflower Wings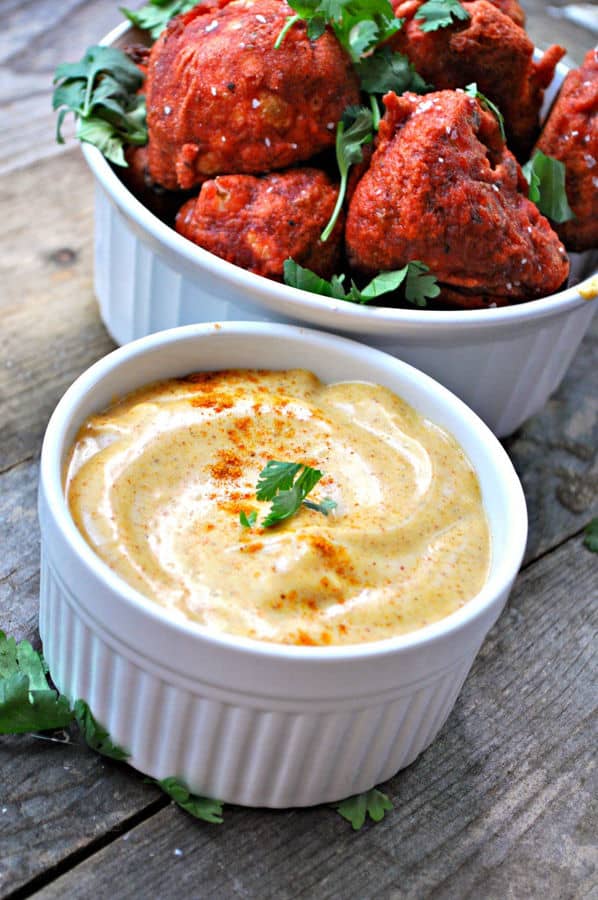 If these cauliflower wings look delicious to you, that's because they're. They're fried in about an inch of oil, however, the fantastic author has offered a couple of alternatives if you don't want to fry them. You can bake them or, if you have an air fryer, that'll work as well. Great tip and I appreciate recipe creators who suggest alternatives like this.
These are so delicious they'll even work as a main course! If you love making Indian food then you must add this to your repertoire. Serve with your other Indian side dishes or to accompany any curry. Don't forget the curry mustard dip that secretly steals the show!
5-Ingredient Cauliflower Buffalo Wings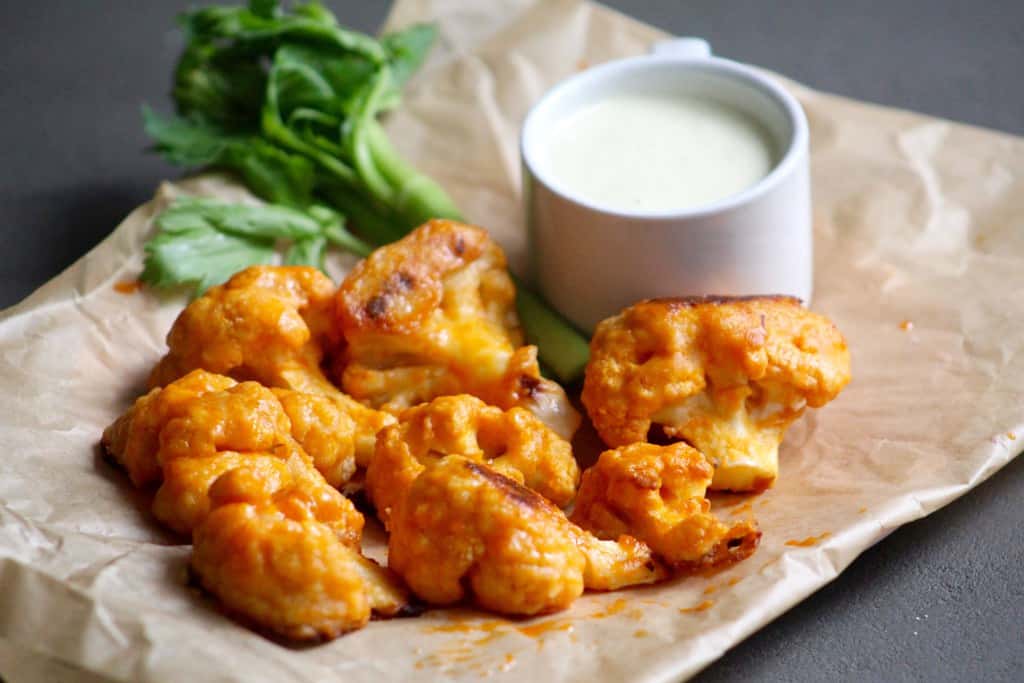 For those of you who miss chicken wings and want a fix, here's everything you need! It tastes a lot better than the original and is much healthier as well!
The best part is how ridiculously easy it's to make. There are five ingredients, and one of them is water!
These are perfect for game night or a family dinner. They're sticky, gooey and totally delicious. Serve with your favorite dip or even with rice or a salad. Delicious!
Roasted Vegetables with Raisin-Caper Chimichurri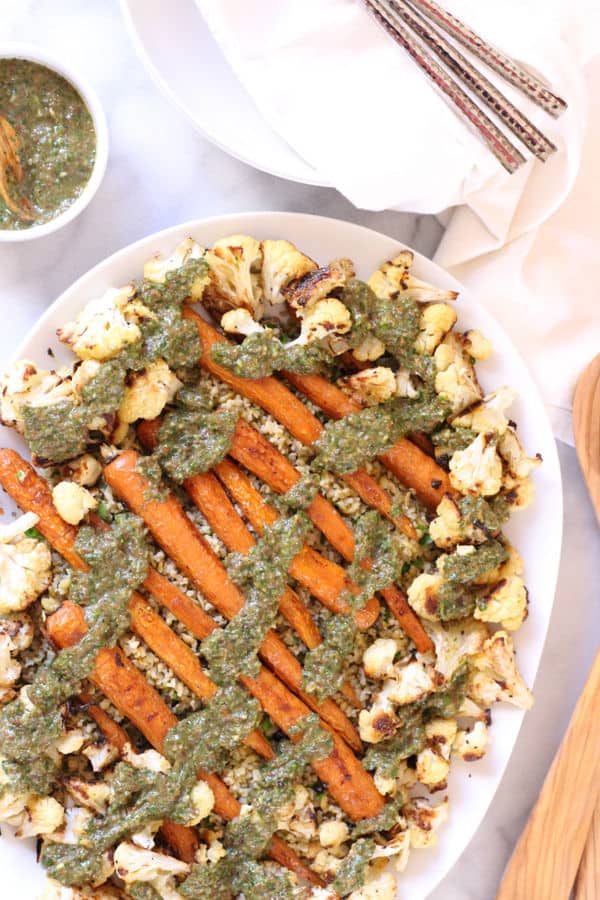 This is a surprisingly easy recipe to create. If you're wondering what chimichurri is, it's a combination of raisins and capers in a great concoction. The original I don't believe is vegan, but this one is!
Other than roasting the vegetables, the only real effort here is to make the chimichurri in the food processor. But really, one whizz and you're done, right? The cauliflower and carrots could be replaced with broccoli and a squash of some kind, if that's what you have available. I'd urge you to go to the effort of making the chimichurri as I think you'll love it. You could use it with other dishes as well!
Vegan Cauliflower Soup Recipes
Curried Cauliflower Rice Kale Soup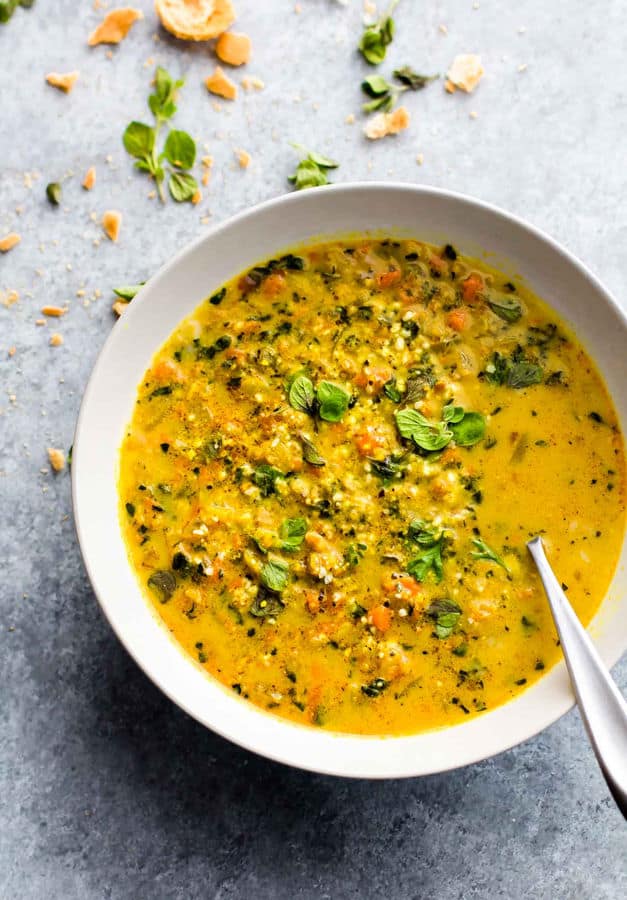 I've never been super drawn to soups for some reason, so it takes a really good one to catch my attention. And when I do have a great soup, I make a note of the recipe to make again.
As this contains almond (or coconut) milk, it's so creamy and delicious. What's amazing to me, is the flavor is so unique yet as you look down the ingredients list, all you see is just great quality food.
There isn't a single flavor that gives this dish its signature. It's everything, and that's the point. It's very easy to make, you'll be have it ready in about thirty minutes. It freezes well so don't be afraid to double the recipe. This one is definitely a keeper!
Creamy Broccoli Cauliflower Soup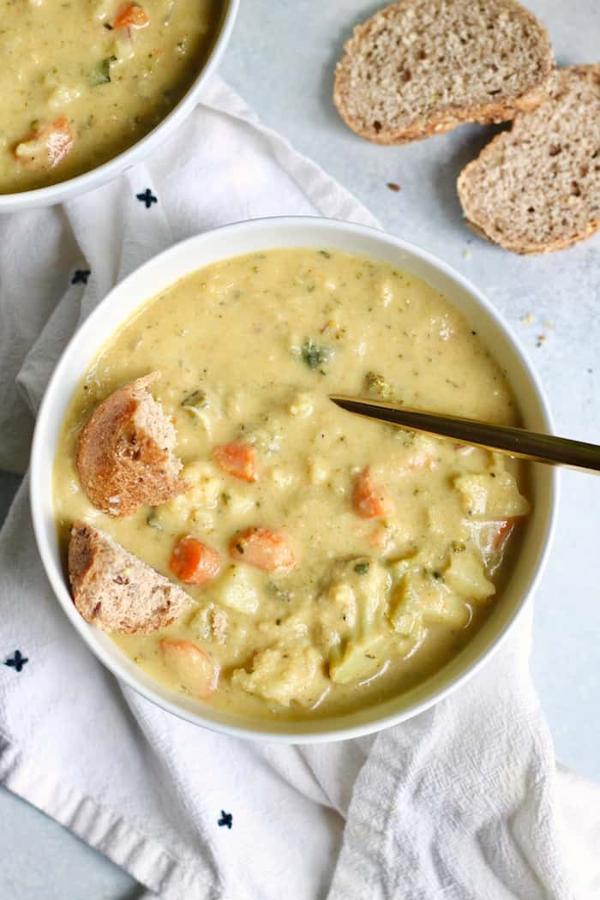 Nothing beats a delicious hearty soup on a cold winter night. This soup is so rich and creamy you'll want to serve it up as an appetizer when you have a dinner party.
Simple ingredients make for simple pleasures, and this soup is no exception. With no scary ingredients, you can feel good about making and serving this soup at any occasion.
With only 25 minutes to cook, this soup will be steaming hot and ready to soothe your soul and warm you from the inside out in no time!
Curl up with a good book and some fuzzy socks and enjoy this soup on even the coldest night of the year.
Cauliflower Stew with Broccoli, Chick Peas and Kale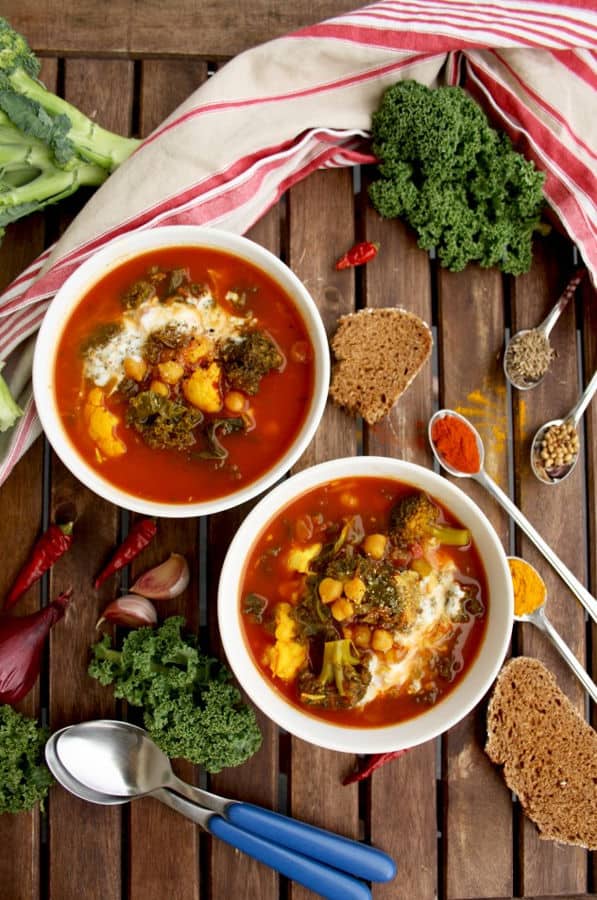 This is one of those recipes which look quite complicated to make when the opposite is true. The whole thing comes together in just thirty minutes! It's warming and has lots of different textures and flavors.
The ingredients list may seem a little daunting at first, but at least half is herbs and spices so it's not bad at all.
I imagine you have most of them already. Don't forget you can use whatever vegetables you have that need eating as well. Serve with your favorite vegan yoghurt, mine is coconut!
Roasted Cauliflower, Parsnip and Chickpea Soup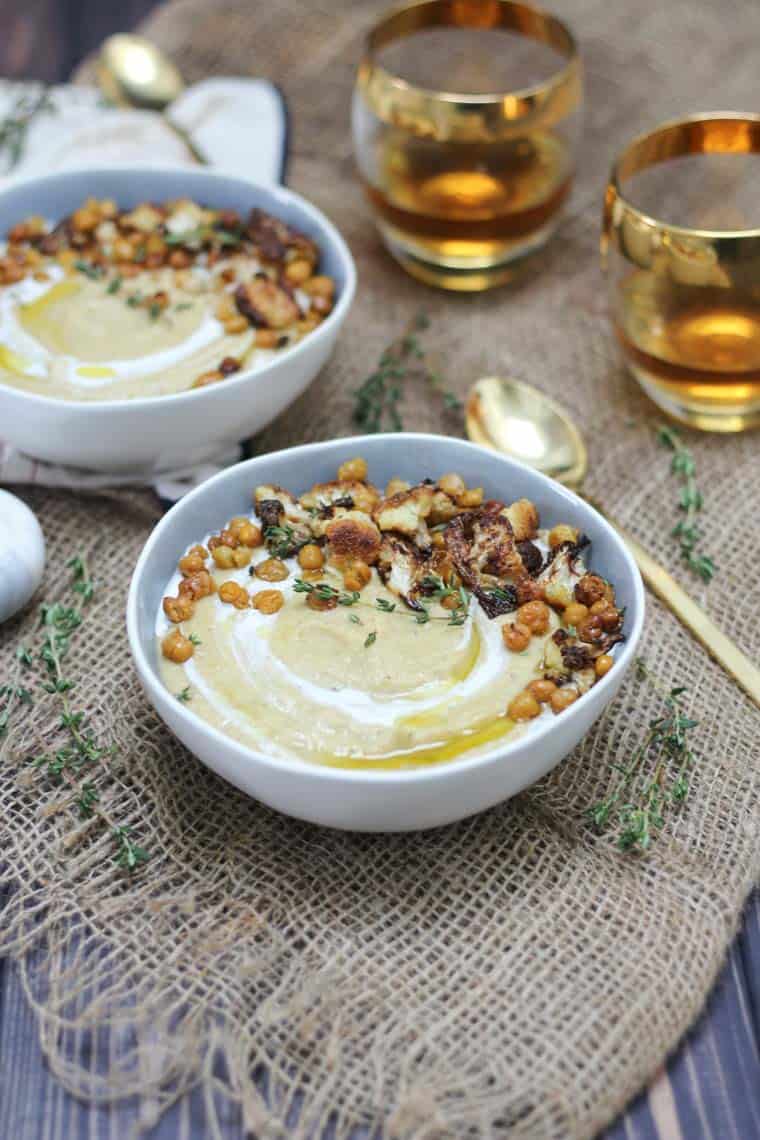 This tasty soup is perfect for the holidays or just any night when you want something warming and satisfying.
There is very little prep time of fifteen minutes or less for this dish. The cooking time is ninety minutes, so perfect for throwing everything together and then relaxing while dinner is cooking!
You absolutely must get all three of the garnishes, coconut milk, extra-virgin olive oil and thyme. This soup really is extra special!
Curried Coconut Cauliflower Soup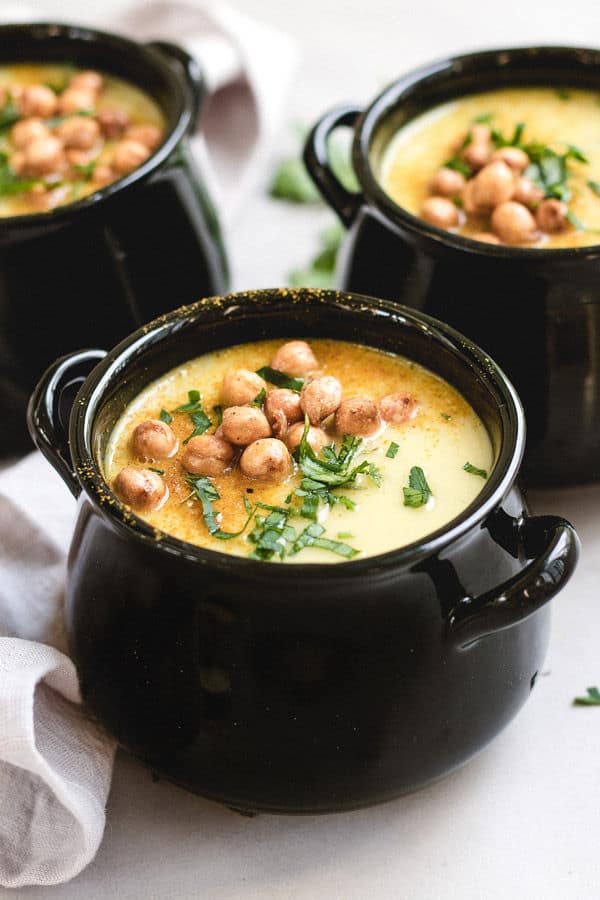 If you don't think this looks fantastic, you're grounded for a month! There's very little prep time and just twenty minutes cooking so you'll have this in a snap. Satisfying, warming and bursting with flavor.
There are two parts to this recipe, the soup itself and then the roasted chickpeas which are optional. If you can, do go to the effort of making these as well. The dish calls for madras curry powder which can be a bit hot for some, so if you don't like too much heat go for regular curry powder and it'll work just as well. Serve with your favorite bread!
Buffalo Cauliflower Chowder with Herbed Crostini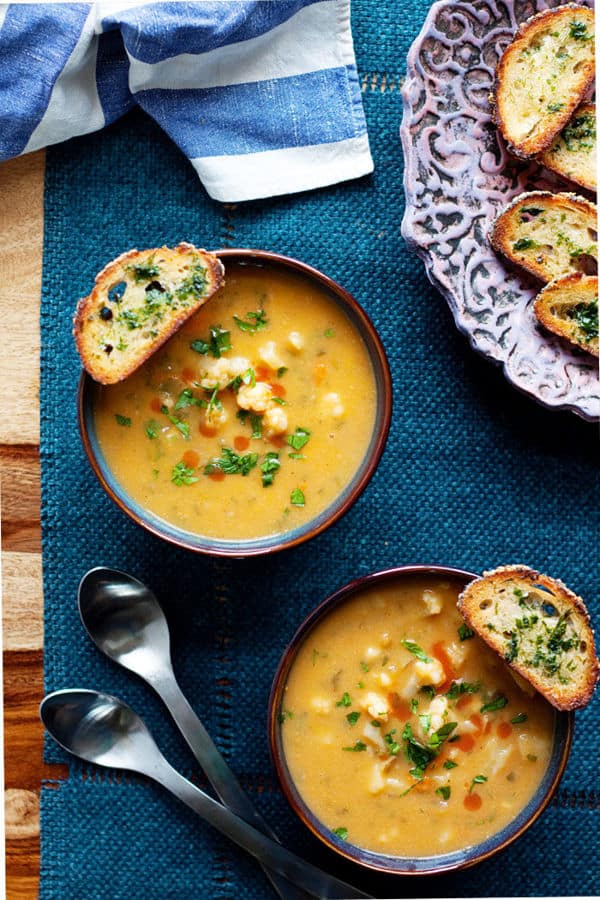 When you want more than just soup, what do you look for? A VegByte recipe roundup; that's what you look for. We've always got you covered!
This recipe is filled with delicious vegetables and bursting with flavor!
There is a little prep time of twenty minutes with all the different vegetables to prepare, but then it's just over half-an-hour to cook. You can mix-and-match what vegetables you use depending on what you have although if you can, I'd strongly recommend you go for the Yukon gold potatoes.
The other part of this recipe is the herbed crostini, if you're short on time you can skip this and just use your favorite crusty bread, but if you can I urge you to go to the effort. Not only are the crostini delicious, they go perfectly with this soup.
Cauliflower, Almond and Nutmeg Soup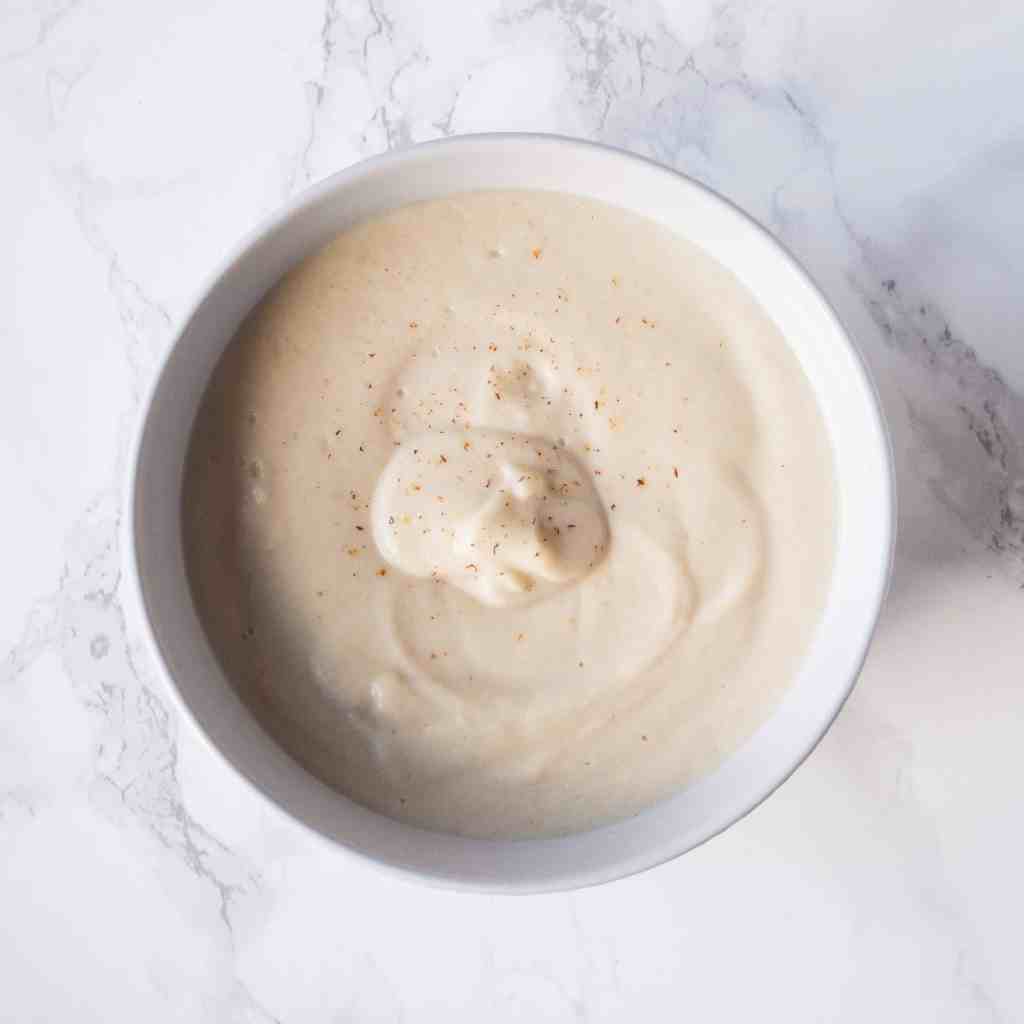 This soup is everything you want in the winter. It's warming and brings together three distinctive flavors which almost seem like they were made for each other.
This gluten-free recipe does take a bit of cooking, but you need it to make all the flavors merge. The preparation time is five minutes or less.
What you end up with is a simple, yet sophisticated soup. Makes for a really fancy appetizer. The ingredients are simple, and I imagine you have nearly everything in your kitchen already. Make it for a special occasion!
Creamy Cauliflower Soup with Sriracha Swirls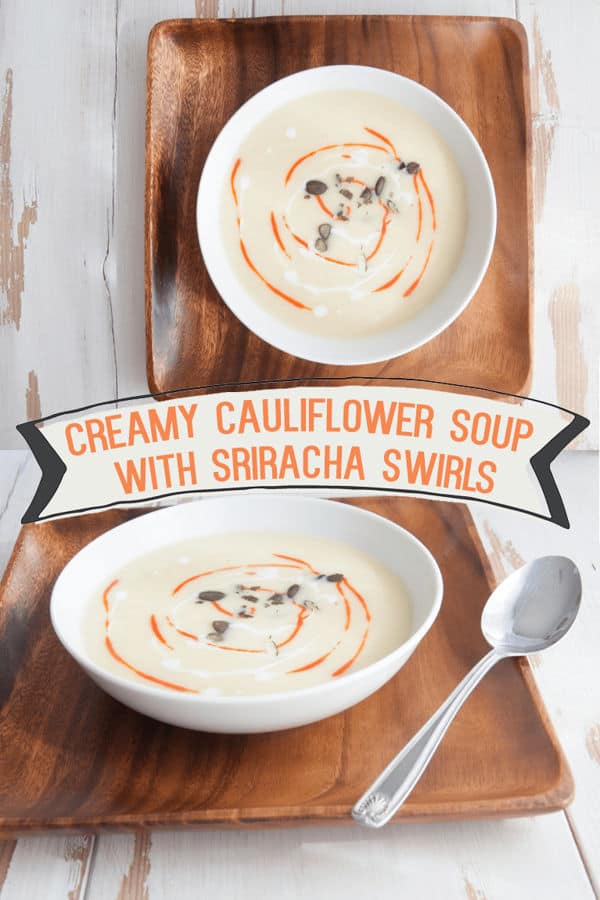 This soup is gluten-free and full of vegan deliciousness! With just ten minute prep and cooking time of just over half-an-hour, you'll have this ready to eat in no time.
I really love how the recipe includes curry powder because I think it makes this dish. It might only be a quarter of a teaspoon, but you don't need much. The listing itself calls for mild curry but you can change this depending on your personal preference.
If you have a can of full coconut milk in your kitchen already, I'm going to bet you have everything else. The toasted pumpkin seeds are a fantastic extra! The recipe page has a really cool feature where you can change the number of servings you need, and it'll change the amounts for the ingredients automatically. Great!
Creamy Coconut Cauliflower Soup with Nutmeg and Rosemary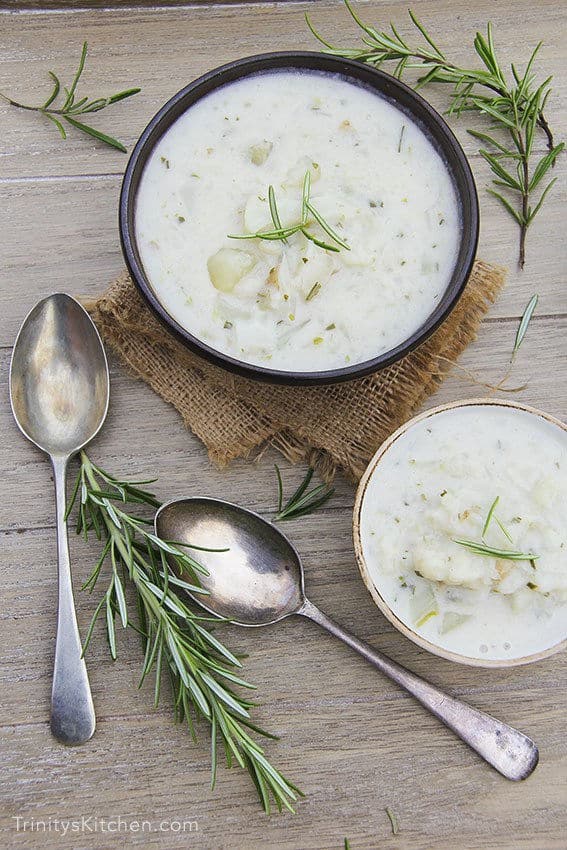 There isn't one ingredient making this soup what it's, it's all of them. Clearly, a lot of thought has gone into this. This is warming and extremely healthy.
You'll have this on the table in less than thirty minutes and there aren't many soups you can say that about.
The cauliflower and the potato is where satisfaction comes from, or is it the coconut milk? It's just everything! Perfect for when you just get home from work.
Cream of Broccoli and Cauliflower Soup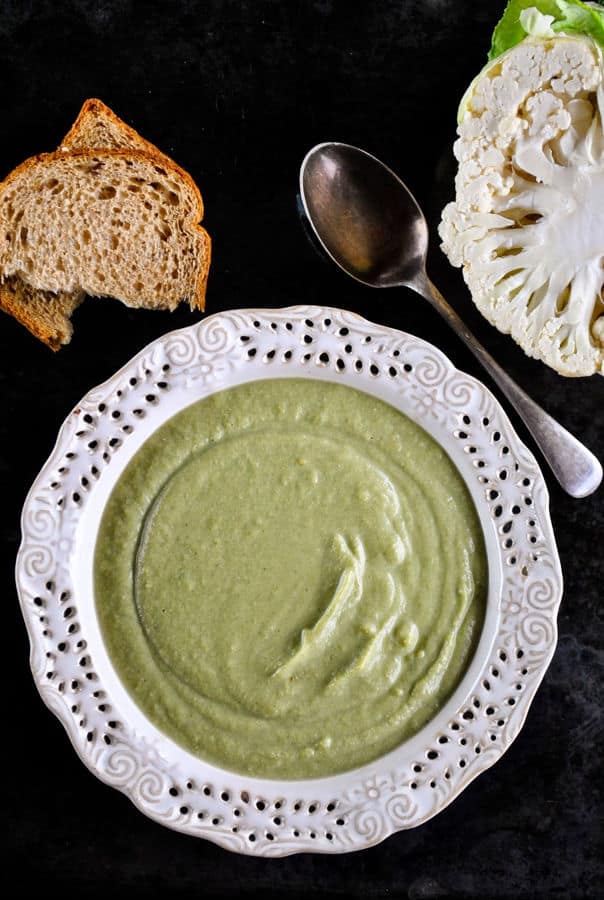 I love broccoli and cauliflower, both are so versatile. I don't think you're going to believe how easy this soup is to make. Not only is it delicious and quick to prepare, it's also extremely good for you.
You'll have this is ready in twenty minutes or less. Ingredients are simple, with each one used to its maximum. I wouldn't have thought of the soy sauce and nutritional yeast flakes, but they go extremely well and are a perfect extra touch!
Creamy Cauliflower Wild Rice Soup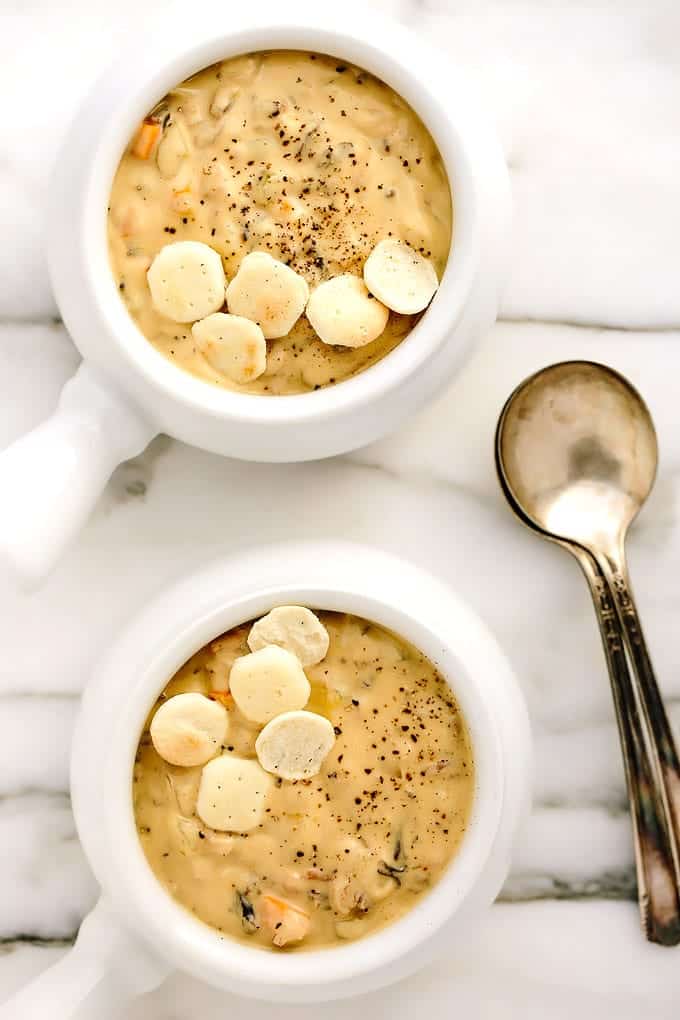 This is a very rich soup that's incredibly satisfying. If you serve it in a small fancy bowl it'll make the perfect appetizer and will leave your guests wanting the recipe!
All the ingredients are healthy, there are a few of them but when you taste the soup you'll realize it was worth all the effort.
Cauliflower, onion, and wild rice not to mention all the other goodies! Please note you'll need raw cashews which have ideally been pre-soaked. You really need to keep this recipe for special occasions, it won't disappoint!
Roasted Garlic Cauliflower Soup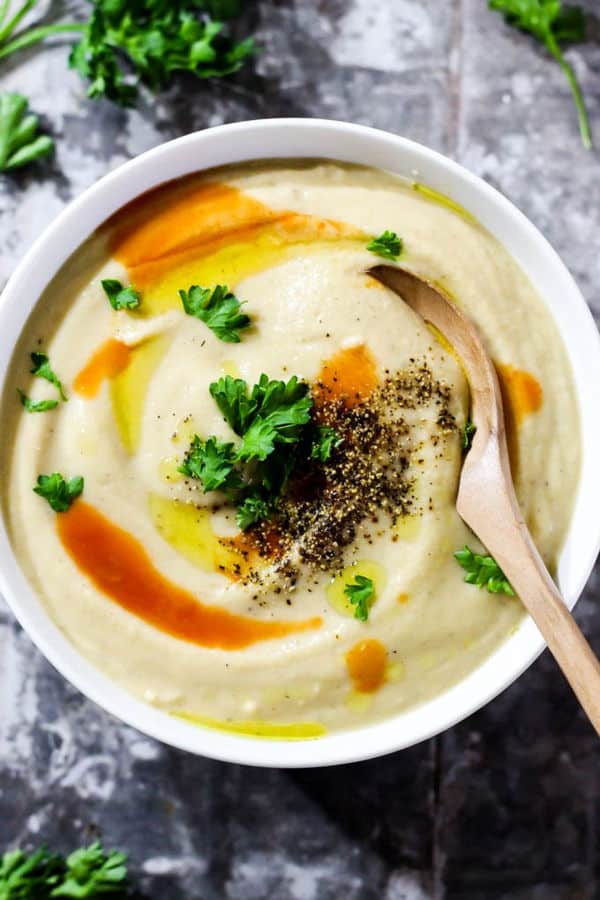 Have you ever had roasted garlic? If you haven't, you're really missing out. The entire taste of the garlic changes to something even better and this soup is based on that deliciousness. As well as being vegan, it's gluten-free as well!
This recipe was sponsored by a well-known company and so the list of ingredients isn't as clear as it could be, but obviously you can get the ingredients from your local supermarket. Don't let this put you off as the flavor of the soup is absolutely to die for. You'll make it again and again and if you're anything like me, you'll keep increasing the cloves of garlic!
Vegan Cauliflower Steak Recipes
Zaatar Roasted Cauliflower Steaks with Green Tahini Sauce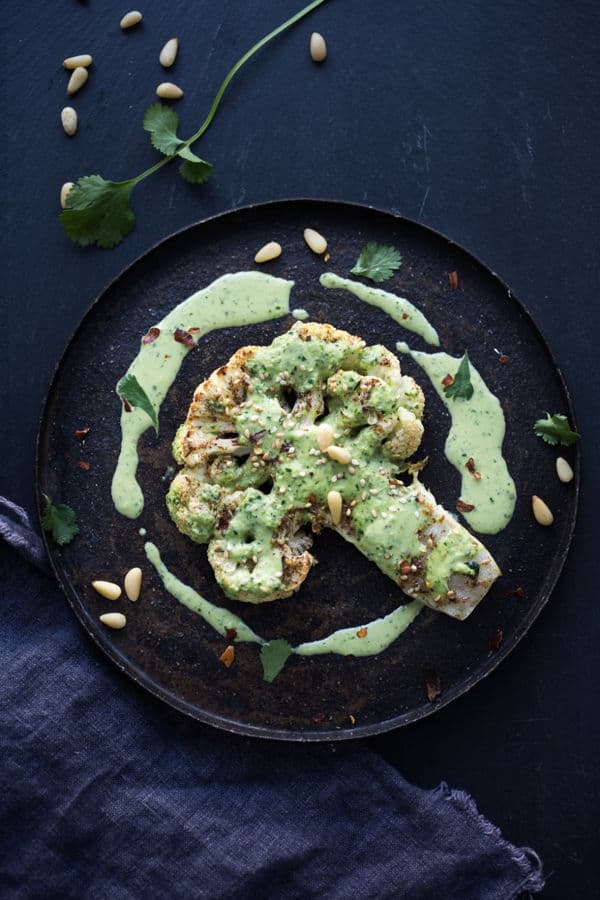 A simple Middle Eastern plant-based meal you can make in about half-an-hour. You get everything from the main event to the side vegetables. The pine nuts on the top are a treat and the green tahini sauce is to die for!
This gluten-free recipe is very low in calories. The sauce is a spectacle all unto itself and you'll use it again and again.
Herb Crusted Cauliflower Steaks with Romesco Sauce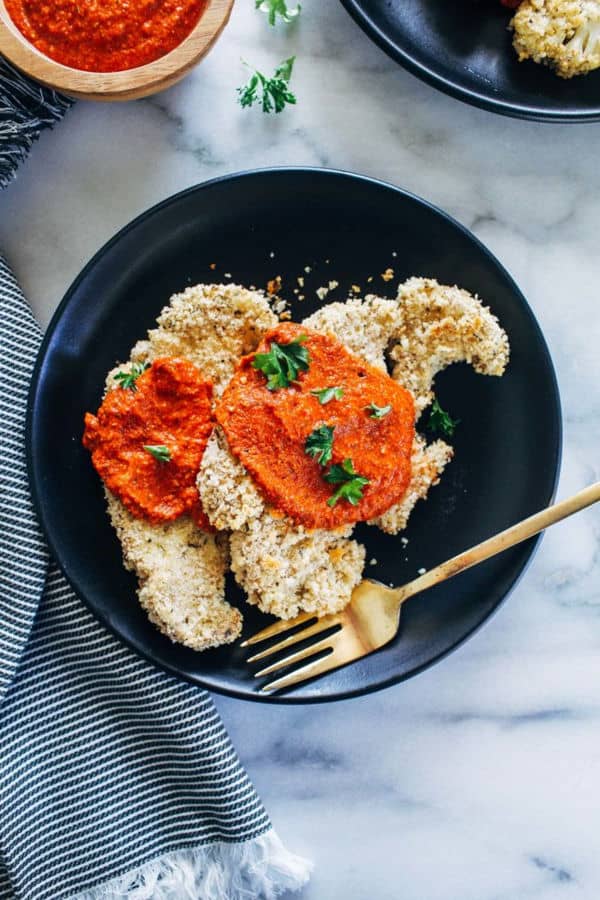 Here the cauliflower steaks are covered in wonderful panko breadcrumbs and one of the best sauces I have ever tasted!
With prep and cooking time you're looking at about an hour to have this ready. If you're unable to get the panko breadcrumbs don't worry, regular will do just fine. If you want to add a little cheesy flavor to this dish, just add some nutritional yeast and it'll work out great.
This really is a treat and so simple. I guarantee you'll make the sauce a few times to say the least!
Cauliflower "Steaks" with Olive Relish and Tomato Sauce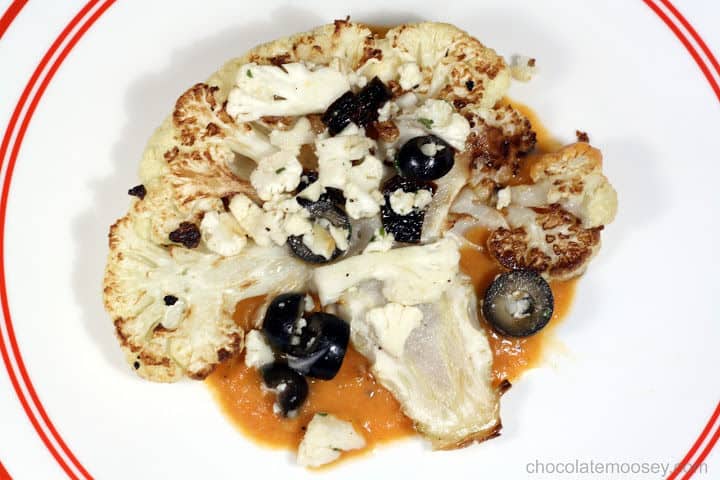 I really love this recipe because it puts the cauliflower steak right at the center, where it should be. There are no side vegetables taking up half of the plate, this is it and the relish and home-made sauce make it fit for a King? A Queen? No… for you!
To me, this is something I'd make for a special occasion. Not because it takes three weeks to prepare (yes, I'm exaggerating!), it's actually the opposite! The list of ingredients is short as well.
It's just the flavors combined make it taste like something you spent hours preparing! So, when I say I'd only make it for special occasions, I actually meant for those times as well as any day!
Air-Fried Buffalo Cauliflower Steaks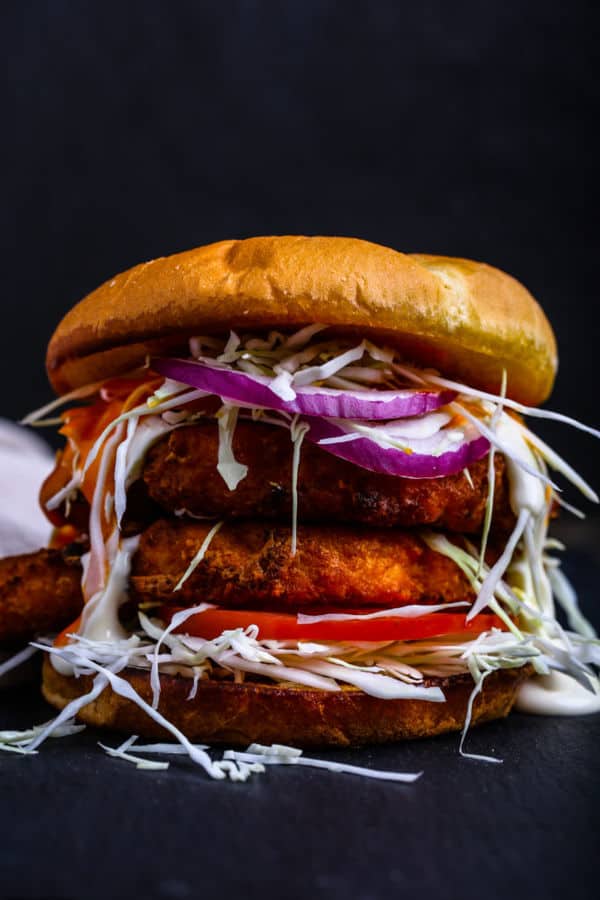 Oh my goodness, these are really special. Please note this recipe is based on you having an air fryer. If you don't have one you can easily reach similar results using a little imagination and the pan!
Following the recipe and using an air fryer, this is going to take just over two hours including prep and cooking time. But let me tell you, it's worth the wait.
If you have any carnivore friends they're going to love this. It's bursting with flavor, satisfying beyond belief, and I guarantee, once you've tasted these puppies, you're definitely going to keep this recipe!
Vegan Cauliflower Taco Recipes
Cauliflower Sweet Potato Tacos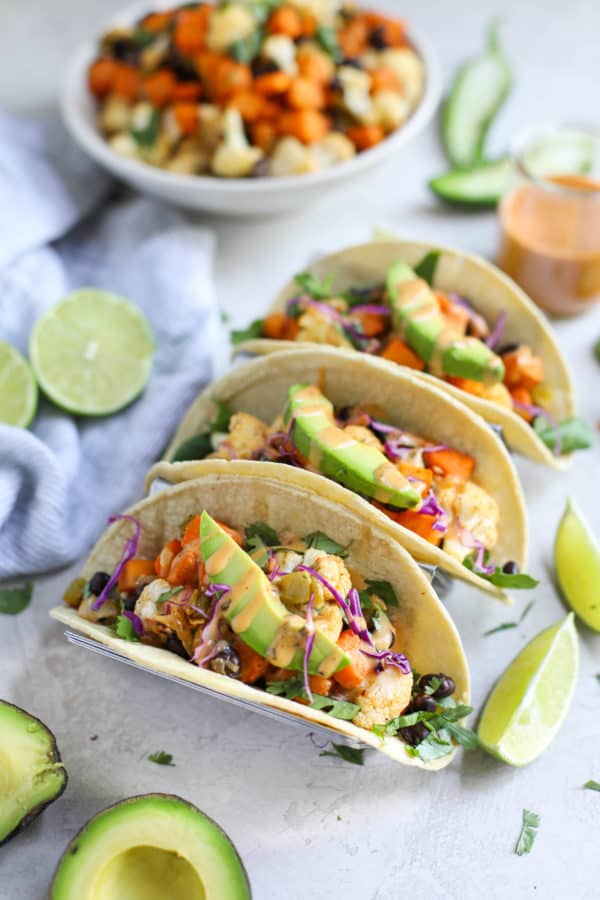 Cauliflower on tacos? You bet! If you haven't tried this combo before, you're in for a real treat! This Mexican inspired taco plate is worthy of your attention. No need to wait until Taco Tuesday to roll these babies out. They make every day Taco Tuesday. Ole!
The prep may seem daunting at first, but it's not as difficult as it may seem. You're simply putting ingredients on the baking sheet and adding more as the first round cooks. It's an ingenious way to make a lot of tasty food without a lot of dirty dishes.
The effort is worth it, I promise. All these fresh ingredients make for a satisfying taco which would make even the most die-hard omni weep with joy. These flavors combine beautifully to the sheer delight of your mouth. Trust us! These are sabroso!
Lentil Cauliflower Tacos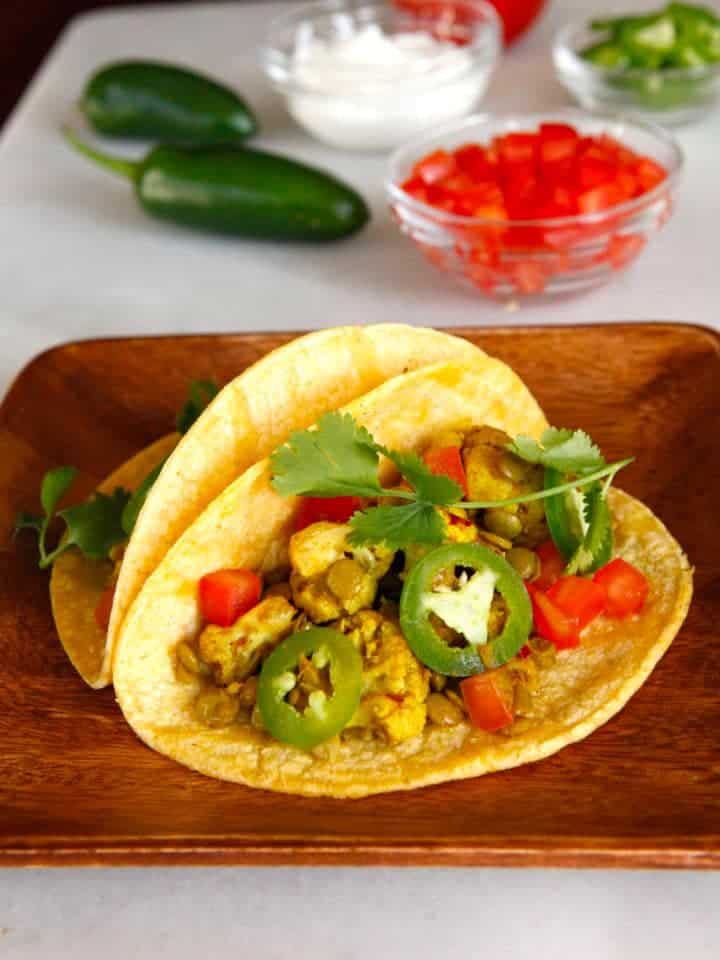 Whether you're celebrating Cinco de Mayo or you just want a plant-based version of a wonderful Mexican dish, then look no further!
This is great for special gatherings. And if some of your friends are meat-eaters, they'll appreciate the heartiness the lentils bring to this dish, let alone the saturated fat that's definitely not included with the meat alternative!
The best part of this, is it's ready in about half-an-hour! I love how the recipe page has a tool where you can change the servings you need, and it'll adjust the ingredient quantities for you.
The lentils and cauliflower are perfect together, make sure you get all the toppings as well!
Salsa Verde Cauliflower and Lentil Tacos with Mango Pomegranate Salsa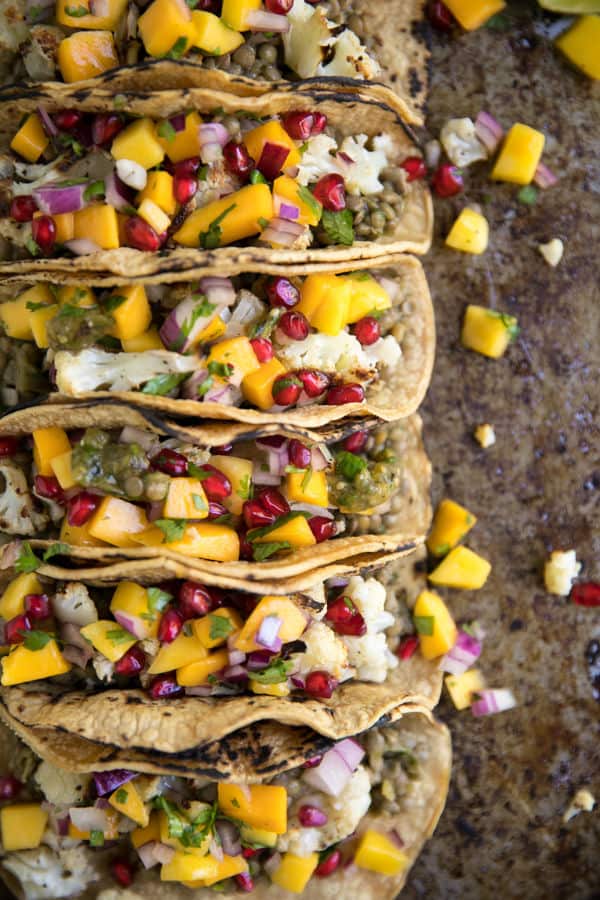 These tacos are full on! The fillings have a vast array of flavors from sweet to spicy! Either make before a special gathering or get everyone involved when they arrive. Make sure they do the dishes afterwards as well! Hey, what are friends for, right?
There are three parts to this recipe, the mango pomegranate salsa, the cauliflower and the salsa verde. The first is filled with fruit, cilantro and a touch of lime juice! The cauliflower is easily made with just a small number of ingredients.
Lastly, the salsa verde is the signature part of this dish, it's authentic and you'll want to keep it for your other Mexican meals!
Air Fryer Breaded Cauliflower Tacos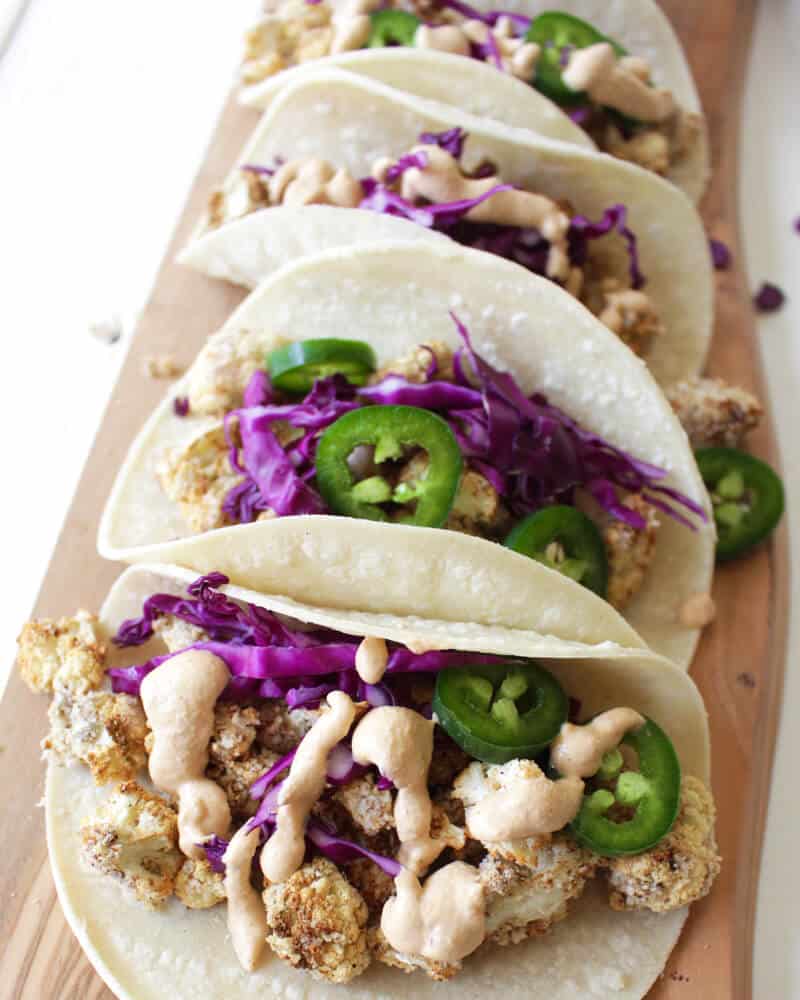 You'll need an air fryer if you want to follow this recipe to the letter.
However, you don't need me to tell you, you can improvise, and it'll work just fine.
These are healthy vegan tacos, and if you have an air fryer, then oil-free, too!
The chili and the cabbage slaw are totally delicious as well! These tacos will be ready in about forty-five minutes or less.
Perfect for a family gathering or game night! If it were me, I'd double the ingredients, at least!
Roasted Cauliflower and Tempeh Tacos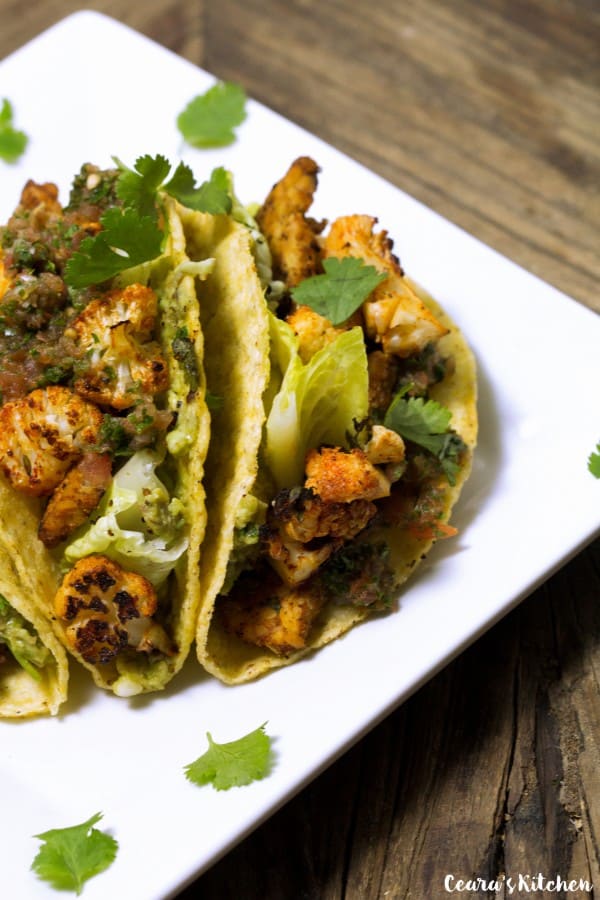 One of my favorite vegan tacos dishes and if you have any carnivore friends, this is the dish you need! Savory, lots of textures and so satisfying however many you make, it won't be enough!
You need some tempeh for this recipe. If you've never used it before, let this be your introduction.
It's extremely versatile and easy to cook with. Make sure you have all your favorite accompaniments to go with this, guacamole, hot sauce and a whole bunch of chopped lettuce, what else? Do send us your pictures as we love to see your version of these recipes!
Wrapping Up
If you don't use cauliflower much, we hope this roundup encourages you to go out and get some! It's really good for you, and best of all, it's cheap!
If you can, buy it from a farmer's market so to support your local community.
Whether you need something for a quick snack, a special occasion or you just need some inspiration, you'll find it all here.
These really are amongst the best cauliflower recipes on the web and we spent hours looking through hundreds, so you don't have to.
If you have your own special cauliflower recipe, why not send it into us? We love hearing from you and would absolutely love to feature your dish! Make sure you include lots of photos!