Today, I thought I'd dive into the notorious eggplant, otherwise known as "aubergine."
To me, eggplants have always been a little bit of a mysterious produce item.
And while you may think of them as a vegetable, they're actually a seeded fruit, classified as a berry.
But what does eggplant taste like?
That's exactly what I wanted to find out, and now I can share this with you, plus I'll show you some ways you can use this special fruit in your cooking.
Video Overview
What Is Eggplant?
As I mentioned, eggplant is a seeded berry fruit grown on vines and it belongs to the nightshade family. This puts it in the same category as other plant foods like potatoes, chili peppers, tomatoes, and bell peppers.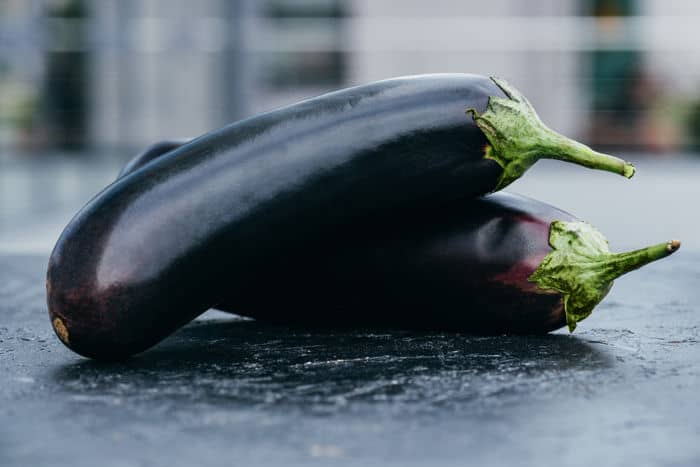 Whether it had its start in India or China, common consensus holds that eggplant originated in Asia over 4000 years ago and it's even said that, back then, it was shaped and colored like an egg.
While Thomas Jefferson introduced eggplant to the United States in the early 1800's, it wasn't until a century later in the 1900's, that it became widely used in cooking thanks to Italian and Chinese immigrants.
Today, you and I can easily find eggplant in most parts of the world as it's become very popular in Middle-Eastern, Indian, Chinese and Greek cuisines, and it comes in a variety of shapes, sizes, and colors.
Appearance
As noted previously, there are many varieties of eggplant, and each one can look very different from its relative cousins, coming in all manners of shapes and sizes. Color will also vary between the different eggplants, ranging from yellow-white and lavender, all the way to orange.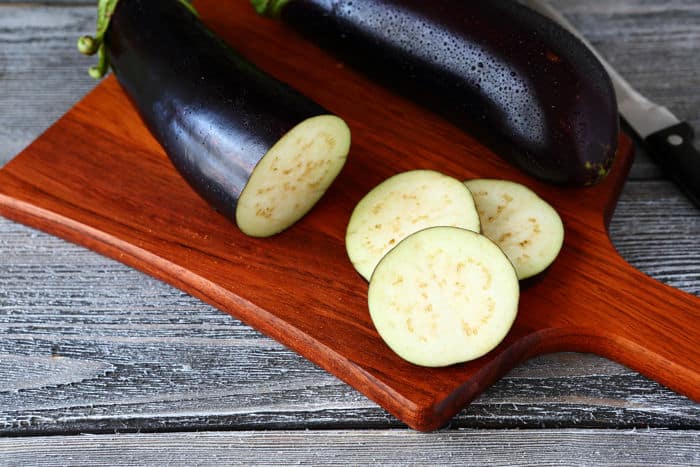 The two eggplant varieties we're likely to be most familiar with, are the Italian and American (also known as "globe") eggplants, the former being smaller.
American eggplants are normally shaped like pears or teardrops with a deep, glossy purple color and a green, leafy stem. Their flesh is cream colored.
Taste and Texture
So, let's talk about what eggplant tastes like for a moment.
With rare exception, the taste is very similar regardless of which variety of eggplant you get.
And the closest thing you can compare its taste to, is zucchini, which means you can expect a very mild and somewhat bland flavor, but you can easily pair it with more flavorful ingredients.
While eggplants are now being cultivated with the intention of making them much less bitter than they normally would be, there's still a good chance you'll end up with a bitter one.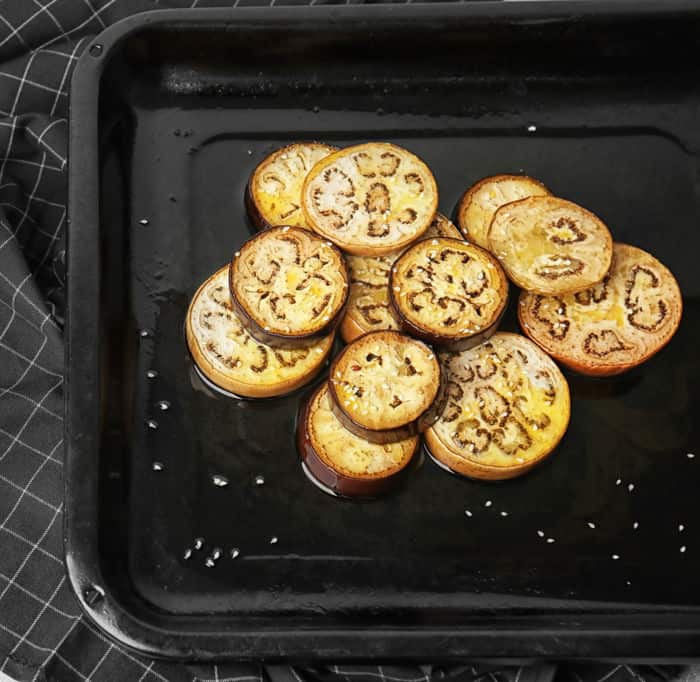 But this also depends on the eggplant's "gender" (for lack of better terminology, since fruits don't have genders), as the female varieties have more bitter seeds and water than their male counterparts.
One thing you can do, which I'll address later, is to draw the bitter water out of its flesh using salt, which effectively removes the bitterness.
Although not as effective once salted, the eggplant acts like a sponge when mixed with oils or liquids and juices from other foods. So its flesh easily absorbs flavor from the ingredients you cook it together with.
What Is Eggplant Used For?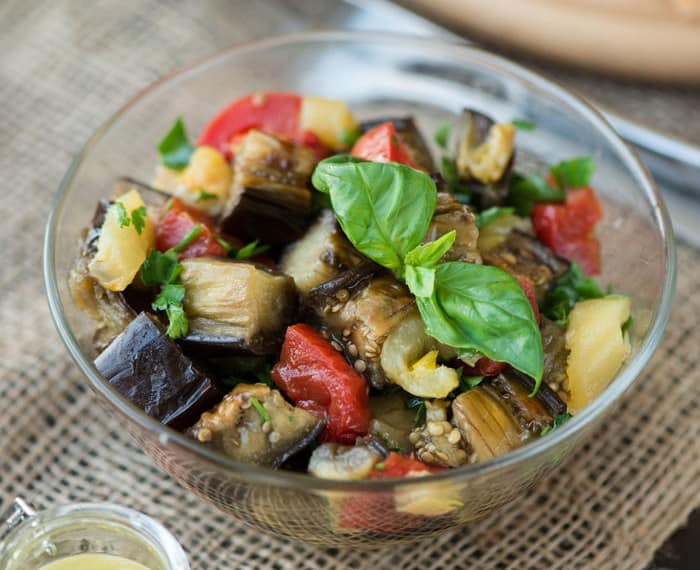 While the usual way to use eggplant is for stuffing or sautéeing, it's quite a versatile fruit which you can prepare or use as part of:
baked dishes
steamed dishes
grilled meals
stews
soups
dips and spreads
casseroles
And thanks to a naturally mellow and bland flavor, you'll have lots of room to flex some creative foodie muscle!
What Are the Health Benefits of Eggplant?
If you're looking to boost nutrient intake from your diet, eggplant is a wonderful food packed with important vitamins, minerals, fiber, and especially antioxidants.
Its nutritional content will support your well-being through a number of great health benefits and it has in fact been used in traditional medicine to improve a variety of problems like asthma and bronchitis.
Let's have a look at some health benefits.
Excellent for Your Bones
Calcium, magnesium, potassium, phosphorous and vitamin K2 are some of the key nutrients which help keep your bones strong, protecting you from osteoporosis and bone fragility. Eggplant just happens to be a good source of all these nutrients, which makes it ideal for your bone health.
Supports Good Heart and Cardiovascular Health
Anthocyanin is a polyphenol antioxidant found in various plant foods, which has been shown to be effective in protecting heart health, and eggplant has a high content of this antioxidant in its skin. The benefits to heart health go even further thanks to eggplant's appreciable content of potassium, vitamins C and B6. And it doesn't even matter if you eat it raw or cooked.
Helps Keep Your Gastrointestinal Health in Check
Per 100 grams of eggplant, you're getting 12% of daily Recommended Value in fiber, which makes eggplant excellent for a good fiber boost. As you probably know, adequate fiber is an important part of a healthy diet, supporting healthy digestion and helping you maintain bowel regularity among other benefits.
Supports Weight Loss
Eggplant is rich in water and high on appetite-suppressing fiber content. It's also really light on calories, which, like I mentioned with rhubarb, makes it another ideal food to include in your diet if you're trying to control calorie intake to lose weight. To help even more with achieving satiety, you can pair eggplant with avocado.
Helps Combat Anemia
Several important nutrients play a role in helping your body produce blood cells, including the minerals iron and copper, as well as folate (vitamin B9). Anemia is commonly associated with a deficiency in one or more of these nutrients, so making eggplant a regular part of your diet can help you increase your intake as it's a good source of these nutrients.
Supports Healthy Pregnancy
If there's one particular nutrient that receives considerable attention when it comes to a woman's pregnancy, it's hands down folate. This nutrient is critical for normal baby development, which reduces chances of birth defects. Consuming eggplant regularly is a good way to boost your intake of folate.
Availability and How to Store Eggplant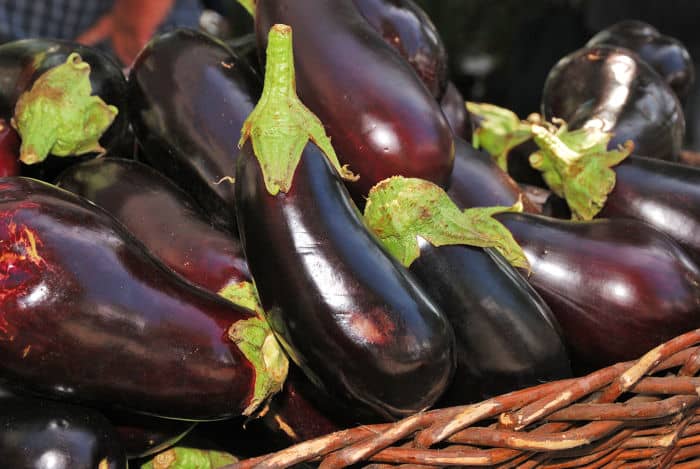 Typically, you'll be able to buy eggplant year-round, but of course, you'll find eggplant with the best flavor and at the best price when it's in season from July through October.
How to Choose a Good Eggplant
When you're looking for the best eggplant to buy, here are a few tips you can follow:
First, pick it up and feel its weight. It must feel heavy for its size. If it feels "too light," it's a sign it might be spoiling on the inside.
The skin should be even, firm, and shiny without any discoloration or bruising.
When checking for ripeness, use a finger to press against the eggplant's skin, creating an indentation. If the skin bounces back, perfect. If the indentation stays, you should wait a few days before eating the eggplant.
How to Store Your Eggplant
If you were thinking about putting your eggplant in the refrigerator, think twice. It turns out eggplants are sensitive to temperatures below 50°F (10°C) and should instead be stored in a cool location away from direct sunlight.
So, while it can easily last for days in the refrigerator wrapped in a dry plastic bag, you'll make it last longer if you store it at room temperature without a bag.
How to Prepare and Cook Eggplant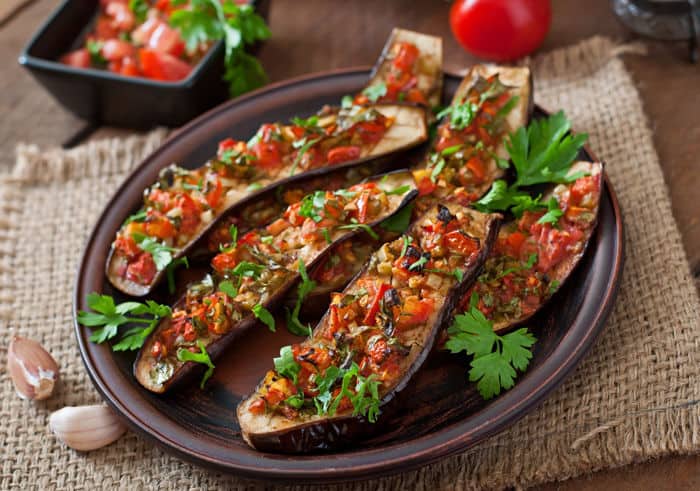 Hopefully, by now, you're excited to give eggplant a go!
Let's dive into how you can prepare eggplant, as well as some of the delicious meals and treats you can make with it.
First off, eggplant is among the clean 15 on the Environmental Working Group's annual list of cleanest versus most sprayed produce items.
So, while you don't have to panic about purchasing organic eggplant, I still recommend you do, as it gives you less reason to peel off the nutritious and antioxidant-rich skin.
An optional yet popular way to make eggplant ready for use in many recipes is to salt it, as this draws out the moisture and bitterness from its flesh, making it more palatable and improves the texture.
Here What You Do:
Rinse off your eggplant
Cut off both ends
Cut eggplant into quarter to half-inch slices
Lay out the slices on a rack, baking pan or cookie sheet and cover each slice with salt (both coarse and fine salts will do the trick)
Allow about 15-20 minutes for the salt to draw out the moisture
Thoroughly dab each slice with kitchen towel to remove the drawn-out water and excess salt
Your eggplant is now ready to use for a variety of recipes. Of course, if your recipe calls for eggplant halves, then you would skip this salting part.
Eggplant Tomato Stew
Thinking about a delicious and savory stew? Eggplant lends itself quite well for this purpose and you can make a nice dish for yourself using some basic ingredients like tomato, onion, garlic, parsley and olive oil.
Here's a great recipe (fun to watch, too!):
Eggplant and Zucchini Soup
During colder seasons, there's nothing like a nutritious, warming and flavorful soup to treat your taste buds. So, how about an eggplant and zucchini soup with ingredients like tomato, parsley, garlic, and onion?
I really dig this soup recipe from The Frugal Chef:
Baba Ganoush
Ever heard of baba ganoush? Don't worry if not, I hadn't either until recently. In essence, it's a Middle Eastern dip made with eggplant and tahini. As they say, if you like hummus, chances are you'll love baba ganoush!
Here's an awesome recipe from Inspired Taste:
Dairy-Free Eggplant Parmesan
You often hear people talk about "eggplant parmesan" as this is is one of the most popular eggplant dishes you can make.
This is my favorite dairy-free eggplant parmesan recipe from The Vegan Corner:
Sautéed Eggplant with Onion and Garlic
Sometimes you're just on the hunt for something that's quick and easy to prepare. And that's when frying up some basic ingredients which complement each other well can come in handy.
I came across this recipe from Miranda Valentine and it's by far the one I make most frequently:
Indian Eggplant Curry
Perhaps you're feeling a bit adventurous, or just want a little more "spice in your life". In that case, how about a spicy eggplant curry which you can also use as a delicious dip.
This recipe from Hot Thai Kitchen brings together a variety of culinary herbs and spices for a delicious curry:
Wrapping Up
And there we go!
If you thought eggplant was just a bland-tasting and somewhat boring fruit, you can now see there's a lot more to it.
Thanks to its year-round availability and versatility, what you create truly comes down to your imagination.
And if that wasn't enough, eggplant will boost your nutritional intake, providing you with fantastic health benefits.
So, what are you waiting for, go grab some eggplant next time you're grocery shopping and do let me know what you make and bake!