Now, I know it's not always easy to find your favorite curry and rice platter. Your options might be limited to ordering takeout, going to a restaurant or buying ready-to-cook packets. These options usually aren't pocket-friendly if you're on a tight budget.
They also might not use exclusively vegan-friendly ingredients, leaving you with very few choices.
In case you've already seen our best vegan recipes roundup, how amazing would it be to make each of the delicious curries you've always wanted to taste at the convenience of your own kitchen?
Better yet, how do you feel about a range of different curries that'll satisfy all your curry cravings without burning a hole in your pockets?
For the love of curries, we're bringing you a selection of 50 curry recipes we can't get over. I'm sure you'll love them just as much.
The ingredients are economical, and following the instructions is very easy. Go ahead and bring an exotic vibe to your dining tables; the meals certainly taste better when you make them with love!
Fantastic Curry Recipes
Mushroom Masala Curry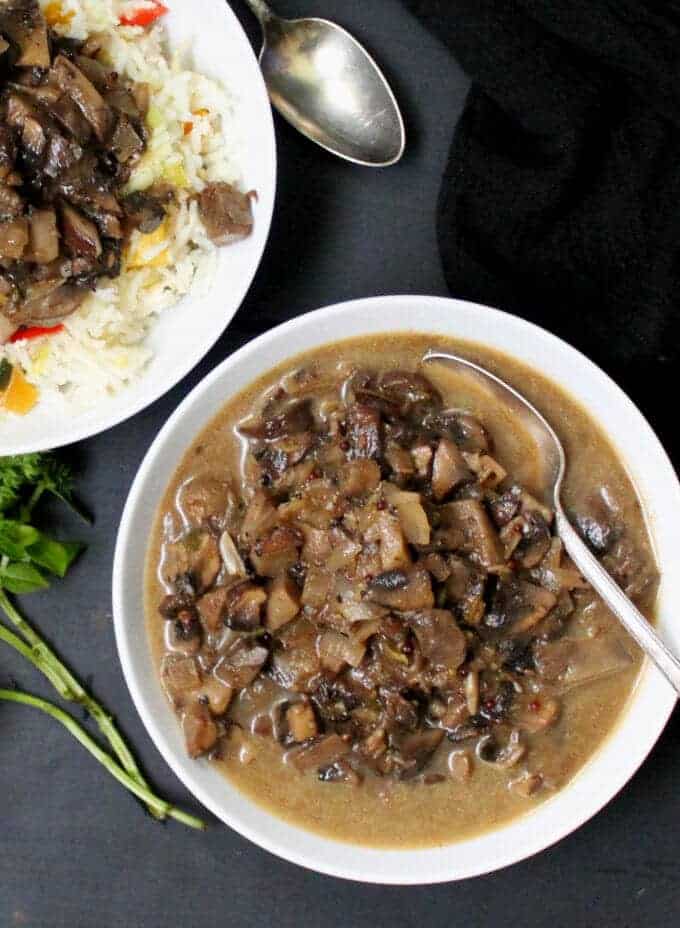 The chances are if you love curry, then you probably love mushroom curry.
I'm sure you'll be familiar with some kind of mushroom bhaji, often seen as an Indian side dish. A genuine Indian recipe including garam masala, turmeric and all your favorites. Not a generic 'curry powder' in sight. Do note the recipe includes some hot pepper so adjust according to your taste or you can leave it out altogether.
As well as being plant-based, this is gluten, nut and soy-free! Served with coconut rice for a healthy and tasty meal. I'm hungry already!
Thai Green Curry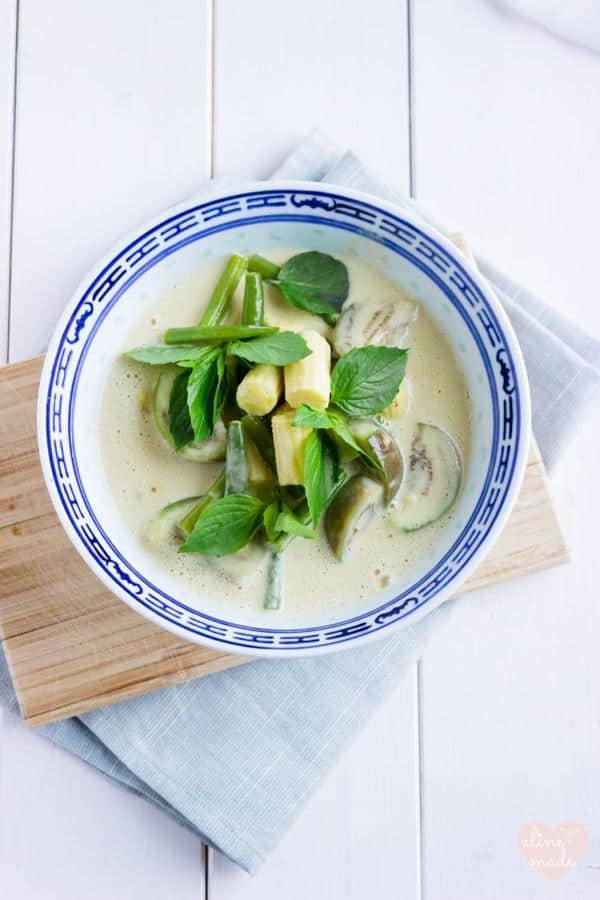 For people who love spicy food, this recipe may turn out to be a hot favorite. The green curry is the spiciest type of curry in the entire Thai cuisine.
The basil and kaffir lime leaves bring a hint of sweetness to make the heat less sharp.
You'll break into a mild sweat with this one, but be assured the flavors are amazing to have with coconut or steamed rice.
Healing Turmeric Chickpea Curry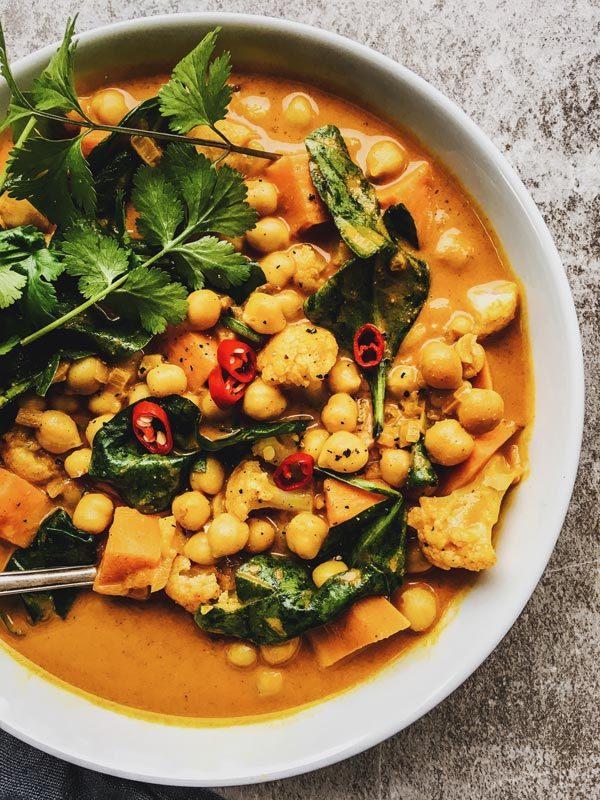 We all go through days when we need soul-deep healing. This recipe will help you chase away whatever has you feeling blue with its warmth.
Made using chickpeas with veggies like cauliflower, sweet potatoes, and raw spinach; the spices will instantly warm you up. The fresh cilantro and lime juice in the turmeric –infused curry give a fresh taste to your palate.
This curry and quinoa recipe combination makes a lovely comforting meal.
Curry Zucchini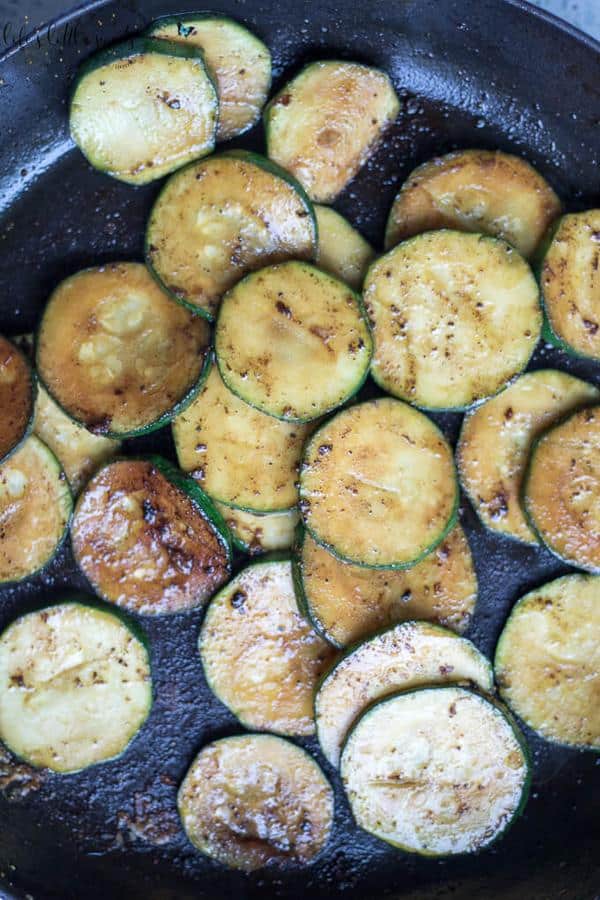 Zucchini season ensures that you have a huge stock yet just a few conventional recipes to use them in.
I recommend you to try this curry side-dish which is super healthy and downright delicious.
The zucchini is sautéed and savory at its best; plus this curry takes just 15 minutes of your time to cook.
The farm fresh veggies are sliced and cooked with garlic, ground curry, and olive oil. Adding these simple yet delicious slices of zucchini are perfect for a light sandwich on a tiring day.
Thai Red Curry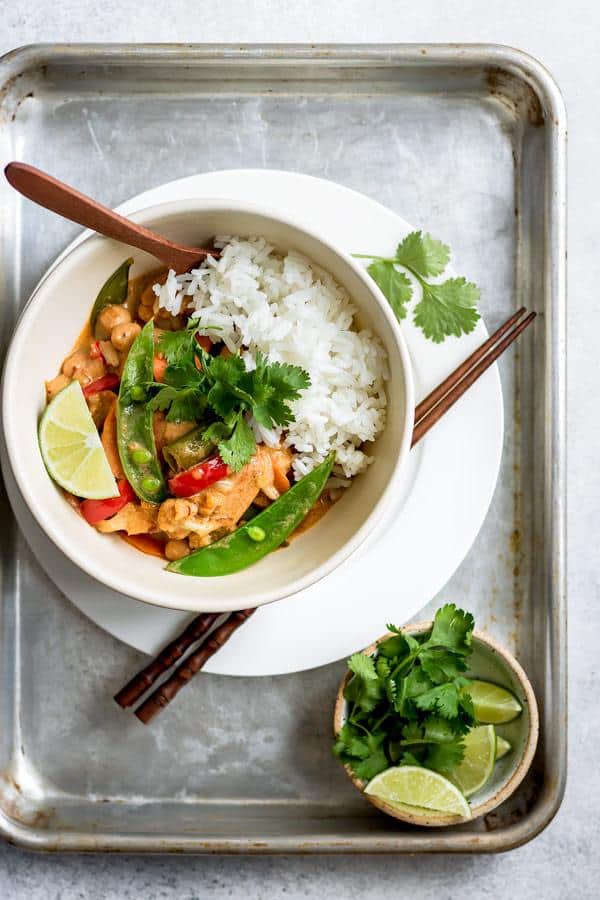 This recipe had me drooling as I was reading it. If it tastes so good in my imagination, guess how awesome would it be on a plate?
Packed with authentic Thai flavors, the red curry spares no measures to give you a hearty bowl of goodness. The vegetables include snap beans, chickpeas, cauliflower and more.
This dish is on the spicier side owing to the use of red peppers, garlic, and oriental spices.
Coupled with Steamed jasmine rice and a dash of fresh lime, this dish will steal your heart from the first bite!
Easy Cauliflower Curry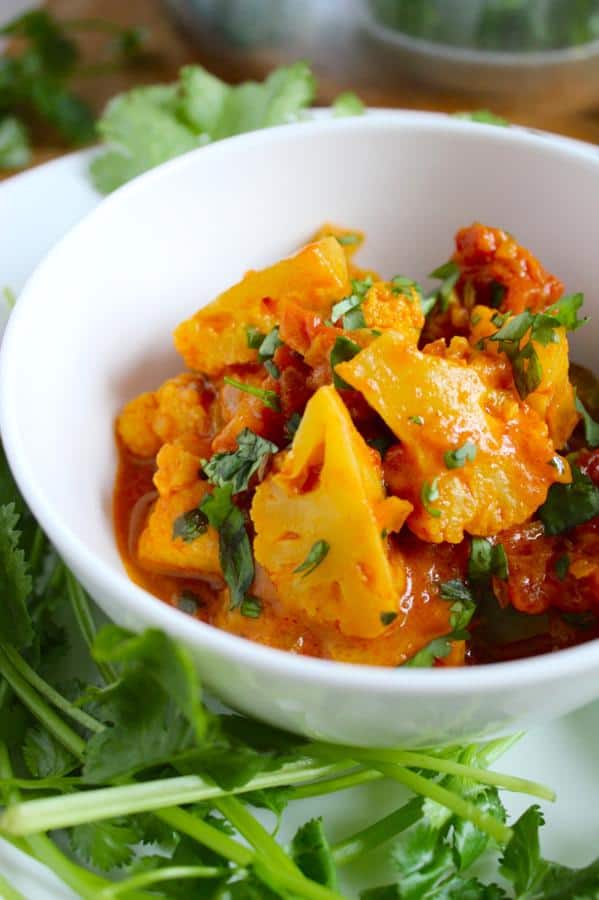 This recipe is simple to make, tastes lovely and has really neat flavors to the curry.
Cauliflower florets, onions, and green bell peppers are stir-fried with Indian spices like turmeric, chili powder, and more. Fennel seeds are the secret ingredient that gives the dish a slightly spicy-bitterness.
Tomato paste and coconut milk give the curry a creamy and tangy taste that would taste lovely with rice.
You can also use noodles or quinoa to bring about a change in the dish.
Creamy Thai 10-Vegetable Curry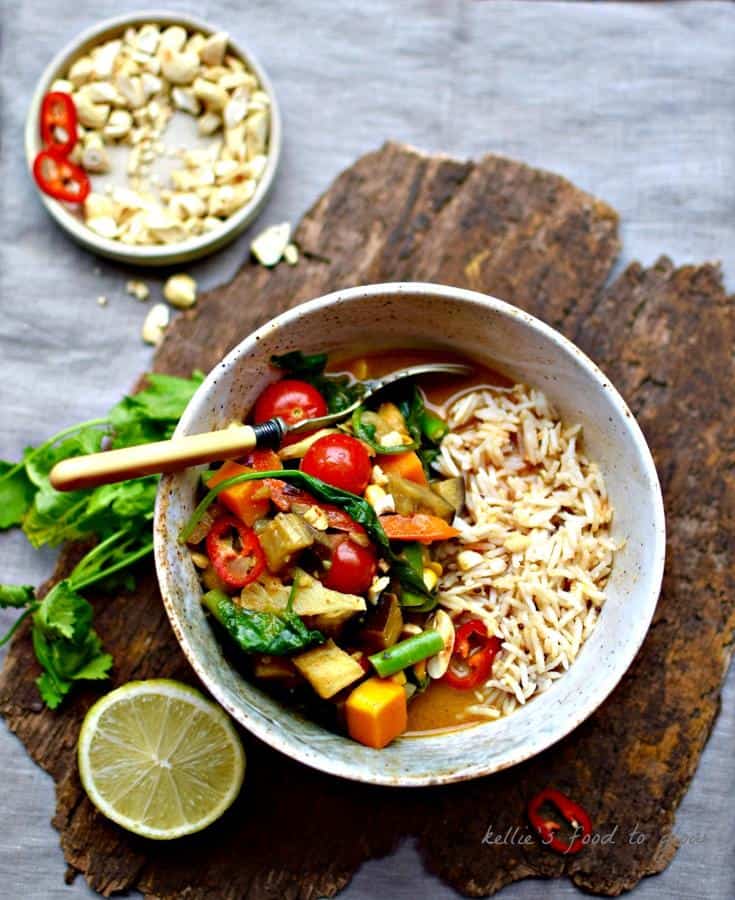 This recipe originated from Sri Lanka and promises you a wholesome lunch.
Using 10 super healthy vegetables in a scrumptious curry is every mom's dream come true; no fussy child can resist the call of yummy curry and rice!
Fresh veggies like eggplant, green beans, squash, and others are cooked in homemade ground curry spices such as cumin seeds, coriander seeds, curry leaves.
You can easily switch a few vegetables according to the seasons or your liking but be assured they all taste as amazing with the coconut milk base.
Best Vegan Green Thai Curry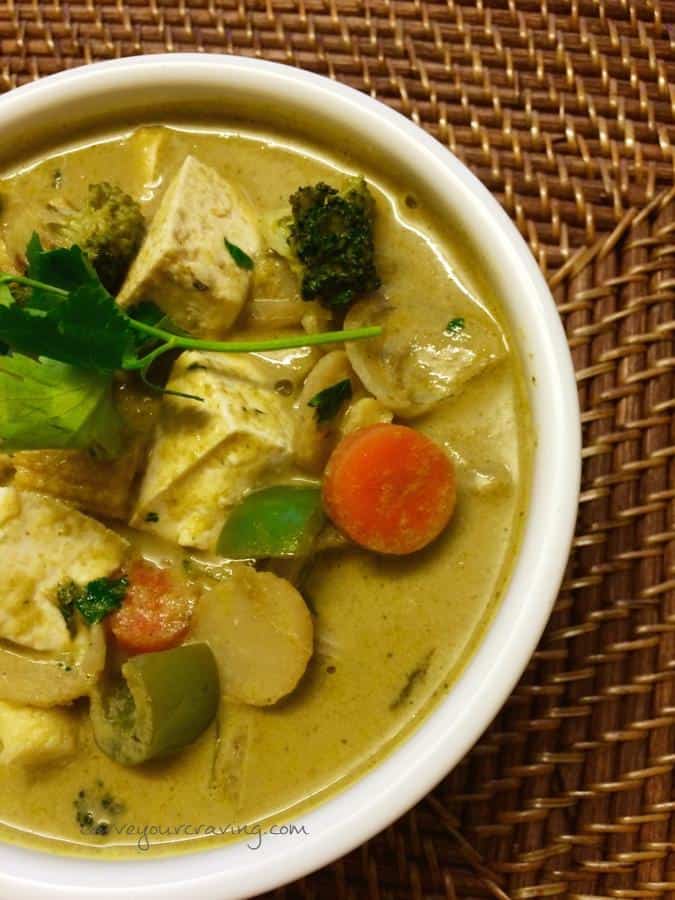 It's been a long time since I read a recipe that uses my favorite ingredient of all time: tofu!
The curry is made from a lot of veggies like carrots, broccoli, beans and more. The herbs such as lemongrass paste, pepper, basil leaves and more leave the dish with a very wholesome taste.
Tofu and coconut milk are the highlight of the entire recipe as the former soak up all the deliciousness with ease. Enjoy it with steamed rice or quinoa for a filling lunch!
Red Curry Stir-Fry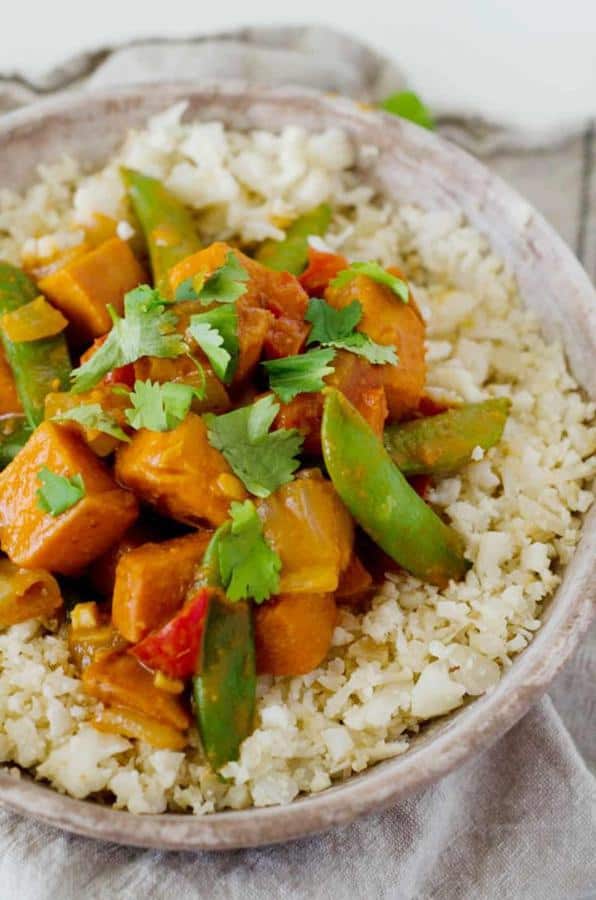 A gluten-free and paleo recipe that takes just 30 minutes to make is a great idea for a quick dinner for work-night evenings.
The sauce for the stir-fry is made using full-fat coconut milk, ginger, coriander, and spices. Veggies used in the pot can be replaced if you don't have them in your fridge.
The dish is served with steamed cauliflower rice that makes it a very light, flavorful and healthy meal.
Curry with Roasted Vegetables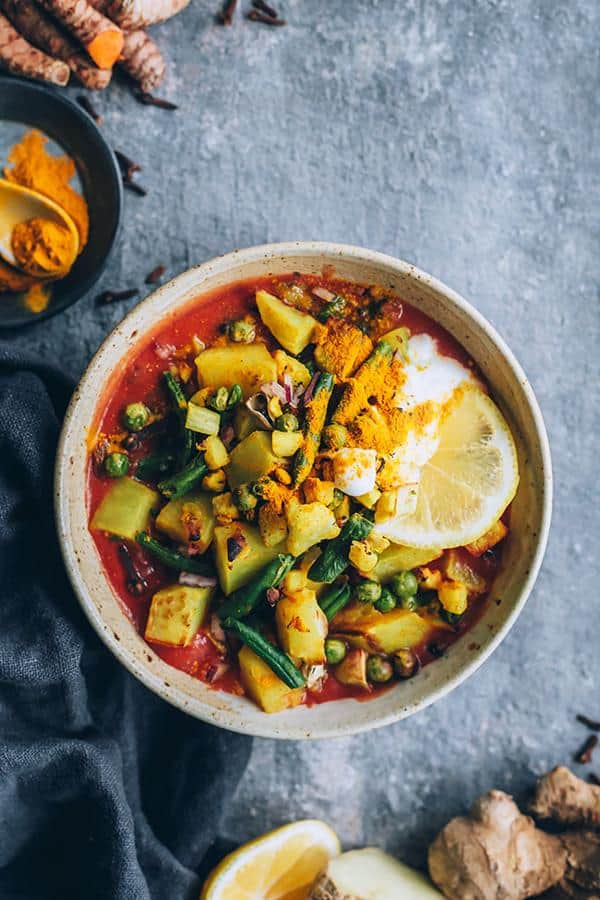 Looking for a warm dish that will warm you up on a cold, winters day? This one should be next on your to-cook list!
Potatoes, cauliflower, beans and more fresh veggies are baked on a sheet with curry powder and chili flakes. The sauce is made from fresh tomatoes, garlic, coconut paste, and spiced herbs.
The bowls can be prepared with a combination of the veggies, sauce and a dash of lime for a feel-good aroma.
Cauliflower Curry Grill Packets with Yogurt Sauce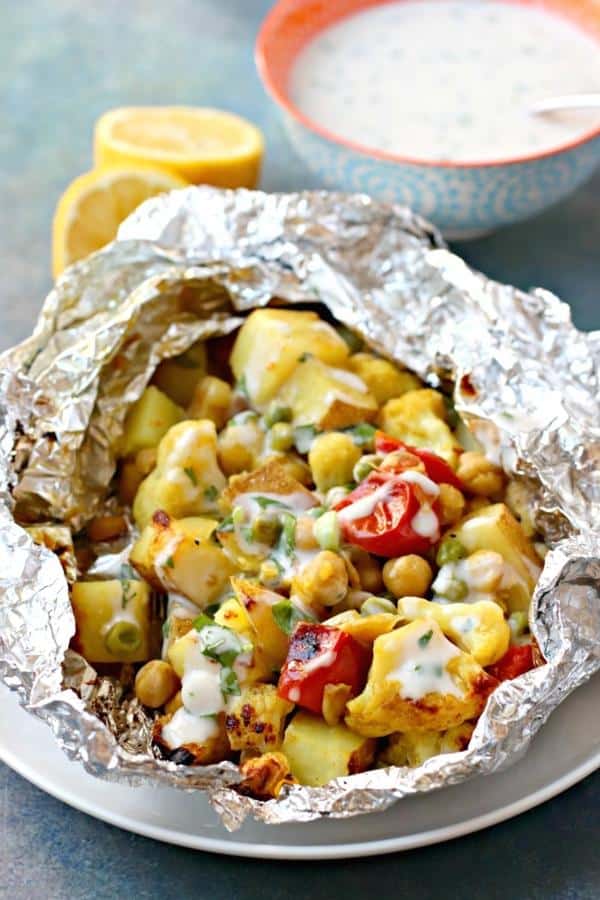 This dish makes the best barbecue parcels! The presentation is so inviting, you won't be able to resist stealing a quick bite.
It uses veggies such as russet potatoes, cherry tomatoes, and cauliflowers baked in individual aluminum sheets with curry powder and coconut oil.
The vegan yogurt sauce is spicy, savory and zesty; the perfect dressing for them!
Roasted Fall Vegetable Salad with Maple Curry Dressing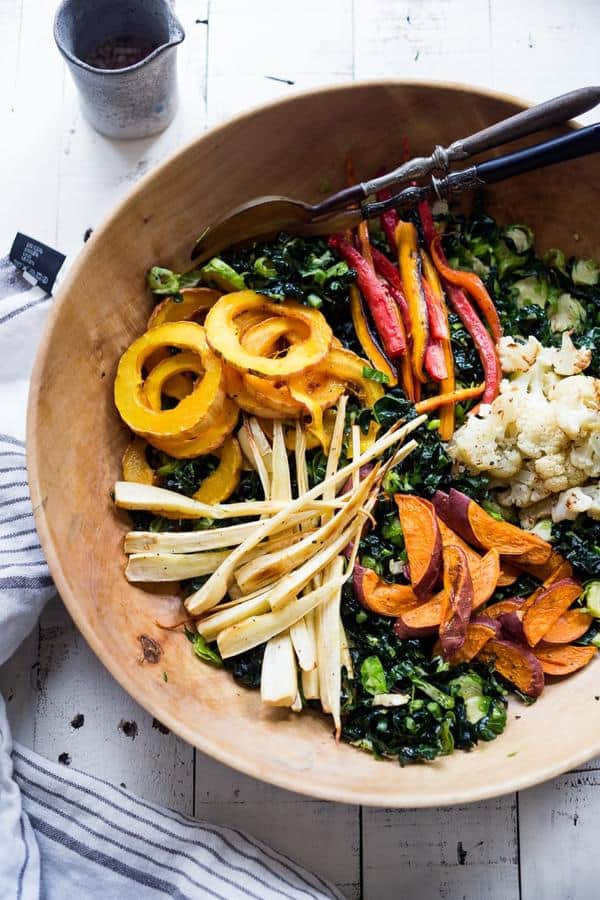 I didn't know how wonderful maple syrup would taste in a curry.
The recipe is one of the healthiest given how many veggies and greens it uses. They have a brussels sprouts and kale salad to work with roasted veggies and a curry and maple syrup vinaigrette.
Cooked lentils are the last component of the dish, making it a stand-alone meal.
You can add quinoa or black rice if you'd like to make this a bit more textured.
Curried Carrot Fritters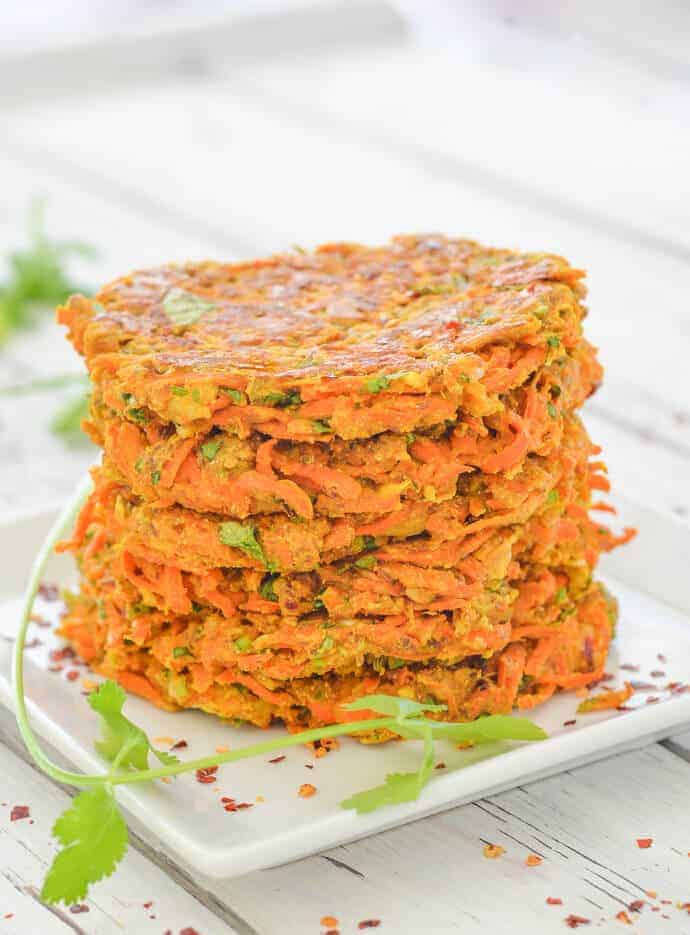 There is always a place for light and crispy fritters in my tummy! Makes a perfect evening snack rather than eating unhealthy foods.
Carrots and onions are grated and blended with chickpea flour and spices like flax, fennel and cumin seeds.
Cilantro and ground ginger give the dough a lovely zing. The fritters are fried on medium heat to a golden crisp.
You can also bake these if you don't want to pan fry them so there's no excuse not to make them!
Coconut Curry Noodle Bowls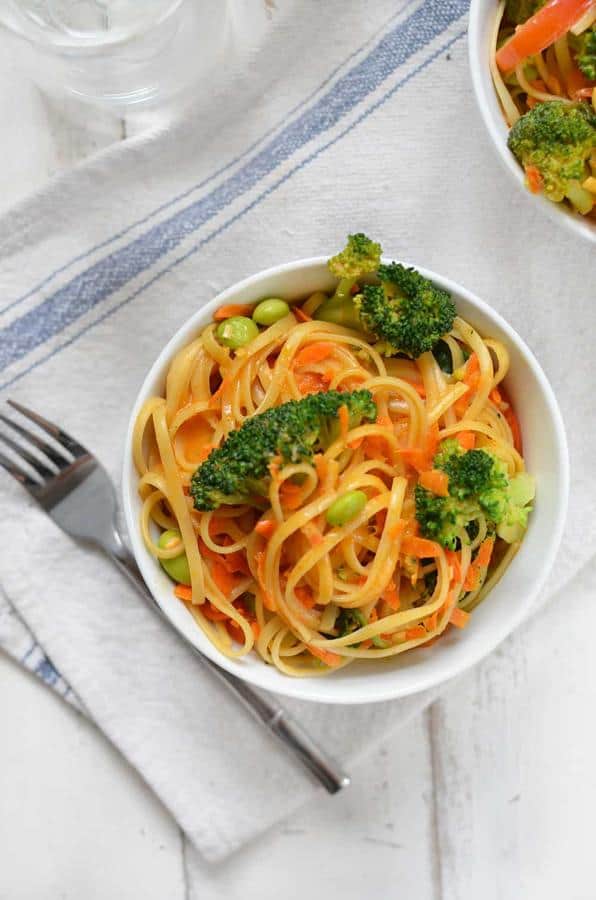 Grabbing a bowl of this dish on a rainy day with a nice movie is my idea of heaven! The recipe looks so warm and inviting, it makes the perfect comfort food.
Thai curry is a very versatile one that uses various ingredients. This one is based on red curry paste, hot chili paste, coconut milk and other ingredients that give you warmth on a cold day.
The veggies make the dish healthy and the noodles make it pure bliss to gorge on a bowl of this dish! You can also add lemongrass paste to give it a fresh kick.
Thai Coconut and Peanut Butter Curry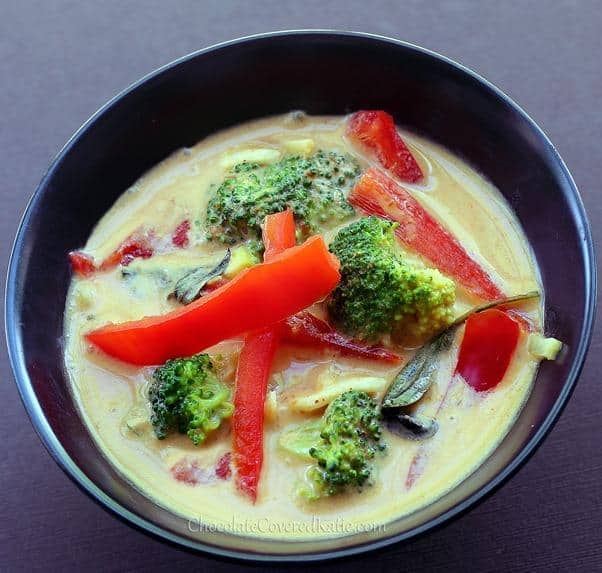 I was skeptical about how peanut butter and coconut would go together in a savory dish because all I've ever tasted them was in candy.
I'm happy to correct myself because this recipe proved me wrong! I'm more of an Indian curry expert than Thai!
Bell peppers, carrots, mushrooms, and more veggies are cooked in vegetable broth, coconut milk and the peanut butter sauce which sports a mixture of ingredients like soy sauce, sriracha, and other hot spices.
In case you're allergic to peanuts, the ingredient can be completely skipped.
Pav Bhaji Masala (Thick Vegetable Curry)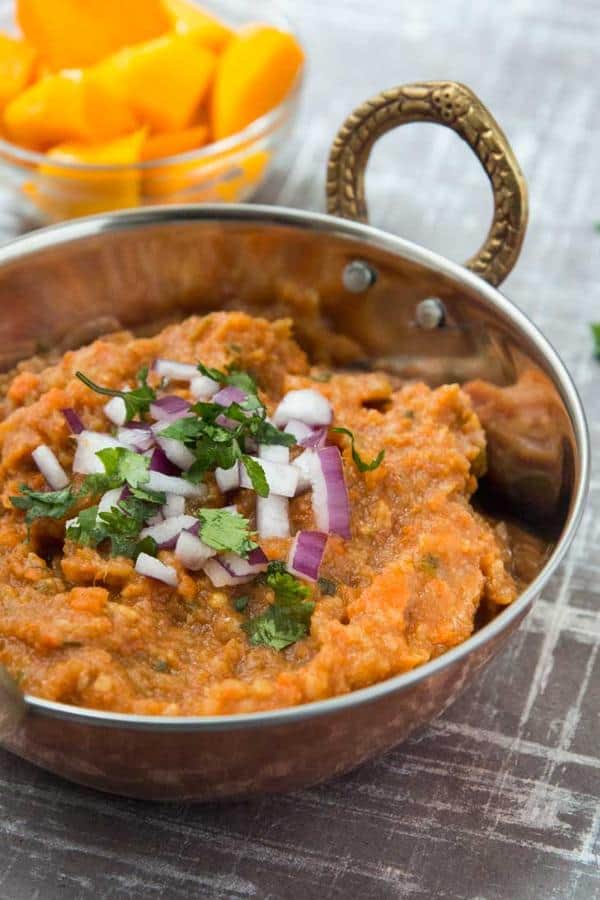 Pav bhaji is the pride of India. Most of us usually resort to eating this lovely dish at restaurants because we think it is complicated to prepare.
But this misinformation is far from the truth. It is very easy to make, and healthy too since it packs so many veggies.
Your kids won't know what they've eaten and what's more, they won't be able to stop eating it!
Served with toasted bread, this meal takes just 30 minutes.
Curry Spiced Lentil Rice Veggie Burger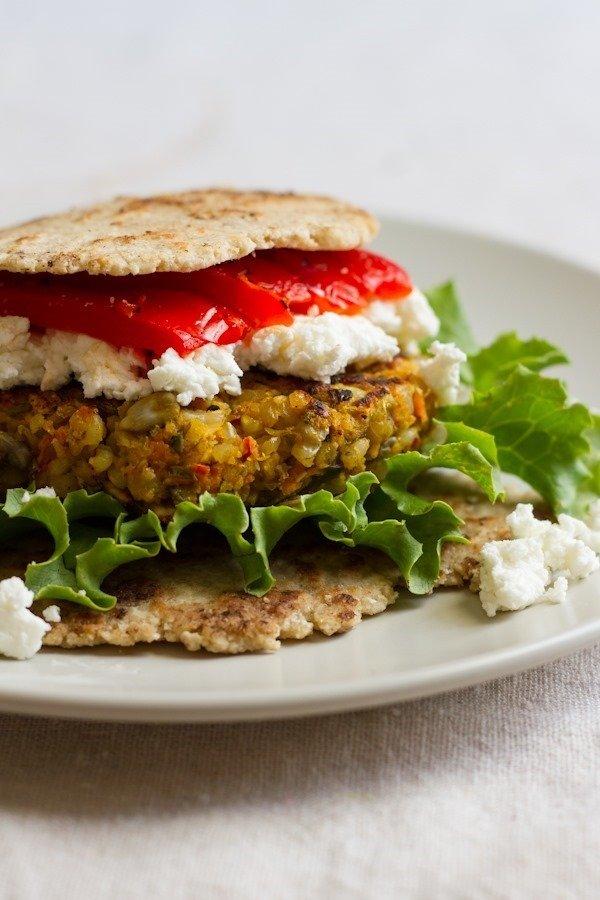 This recipe is very versatile and can easily be doubled, stored and used for a couple of days.
The burger patties are made out of cooked lentils, brown rice and oats spiced with tahini and some herbs.
The pan-fried patties are topped with roasted red peppers, plant-based cheese, and seasonings. The burger makes an excellent meal coupled with baked sweet potato fries!
Curry Potato Stuffed Mushrooms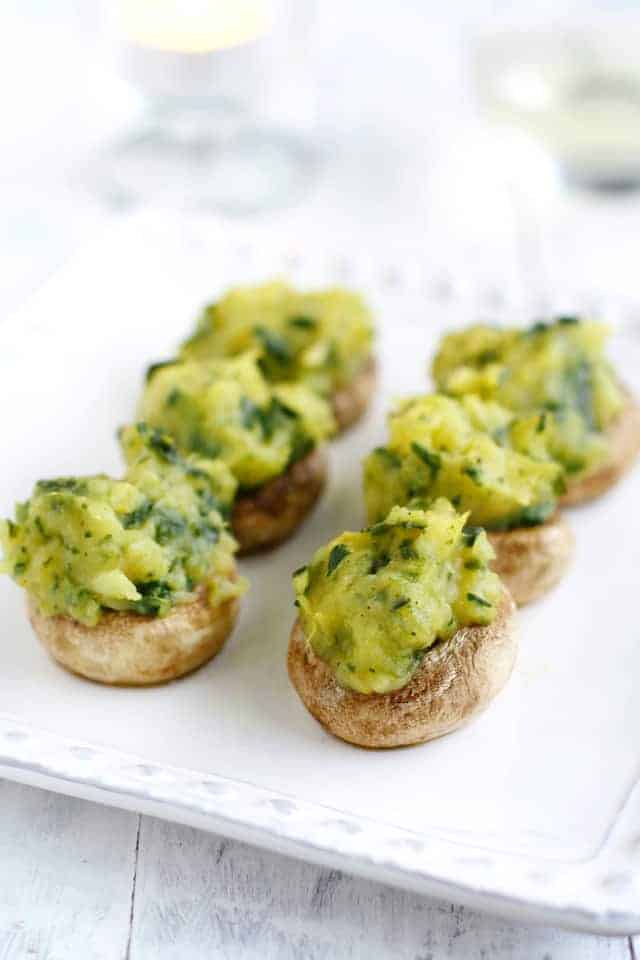 This recipe will make a wonderful appetizer at your house parties.
Button mushrooms are baked for a while and the potatoes are mashed with coconut milk and curry spices.
The mushroom caps are then filled with this creamy potato mix and grilled for a bit more. You can add finely chopped chili for an extra spicy filling.
Garnish with cilantro and watch your friends fall in love with the recipe!
Crockpot Red Lentil, Quinoa and Veggie Curry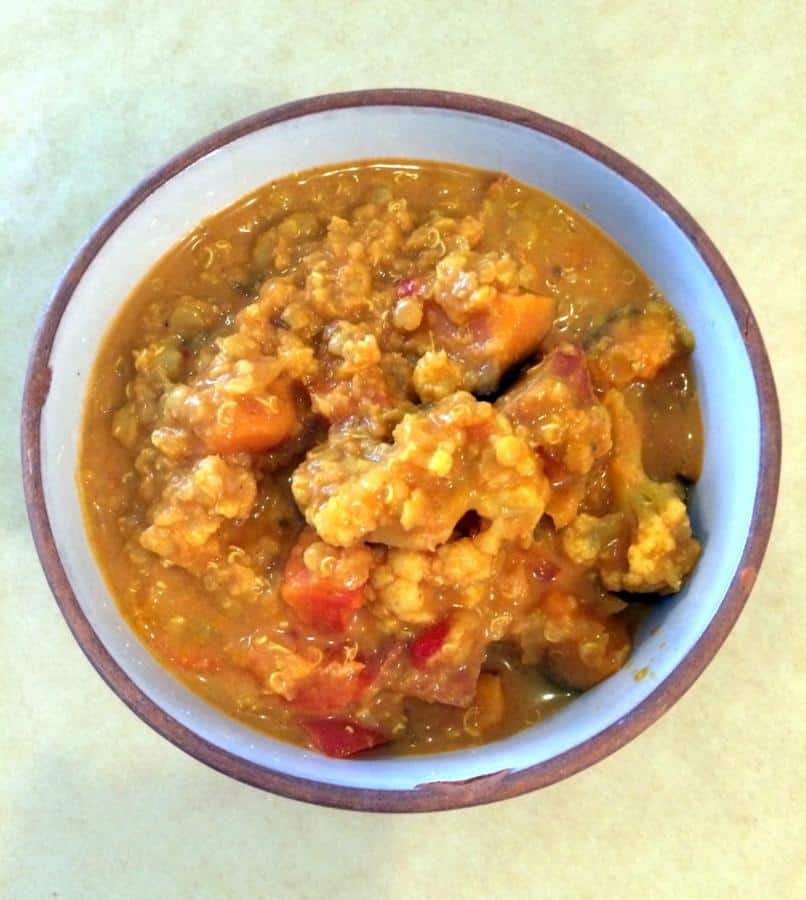 Crock pots are magical. You can easily turn a random mix of veggies and ingredients into a delicious meal in no time!
The recipe takes 7 hours to make, but this is crockpots are all about. You can make this dish during the festive season when you have a lot to do for the time that you leave the dish to cook and simmer.
Lentils and fresh veggies are cooked using vegetable broth and spiced herbs like ginger, turmeric, and garlic on slow heat. The veggies absorb the juices really well. A side of warm bread or quinoa completes the dish.
Curry Cauliflower and Chickpea Tacos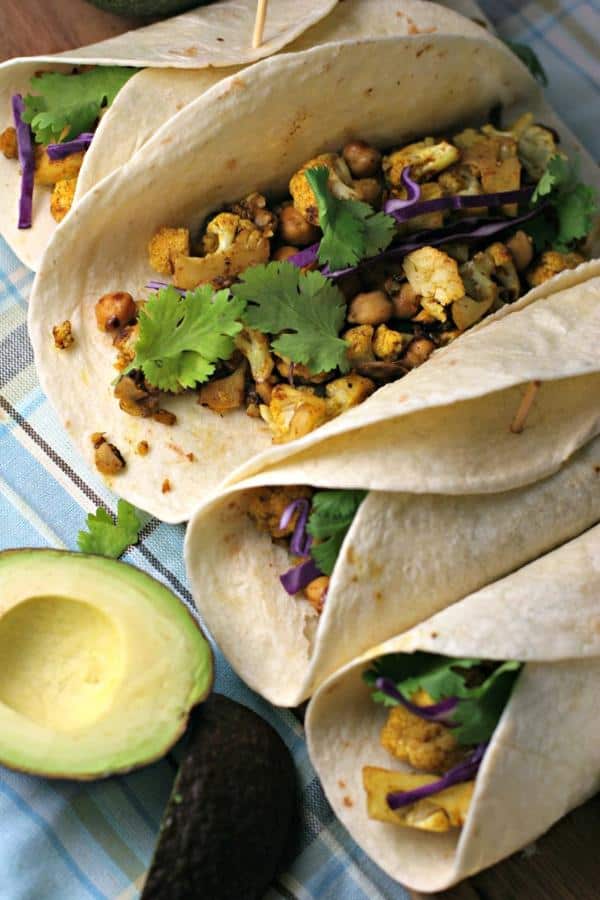 I've eaten curry. I've eaten tacos. But curry tacos? Why not! Both of them taste as great individually as they do when they're together!
The recipe is a fusion dish that makes the best party snack for your kids and family. Cauliflower and chickpeas are cooked with sautéed onions and spices.
The lemon tahini dressing adds a lovely zing to the mix. Shredded red cabbage offers a clean taste to cut the spice.
Load the veggies and dressing it on warm tacos for the tastiest snack time!
Thai Curry Sweet Potato Fries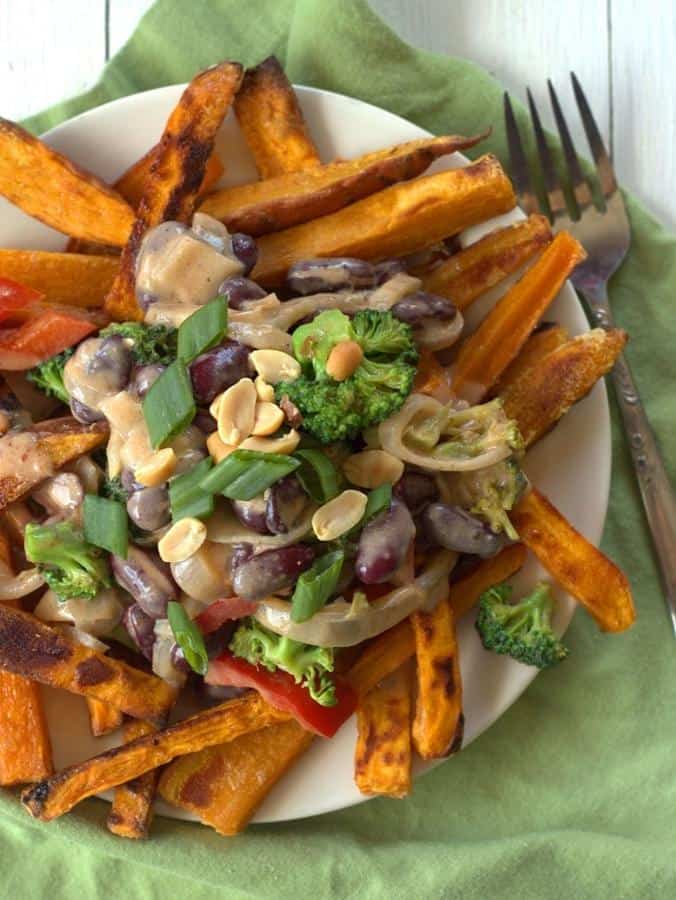 Sweet potatoes always make a healthier variant for fries. Additional brownie points for baking them instead of frying.
This recipe will make an excellent brunch for a fun family Sunday. Baked sweet potatoes are drizzled with coconut curry sauce. More fresh veggies make the dish filling and healthy.
The Thai curry uses kidney beans, onions, roasted peanuts and other spices blended with coconut milk. The fragrance and taste are both mouthwatering.
You can replace peanuts with sunflower seeds if you're allergic to them.
Delicata Squash and Broccoli Coconut Curry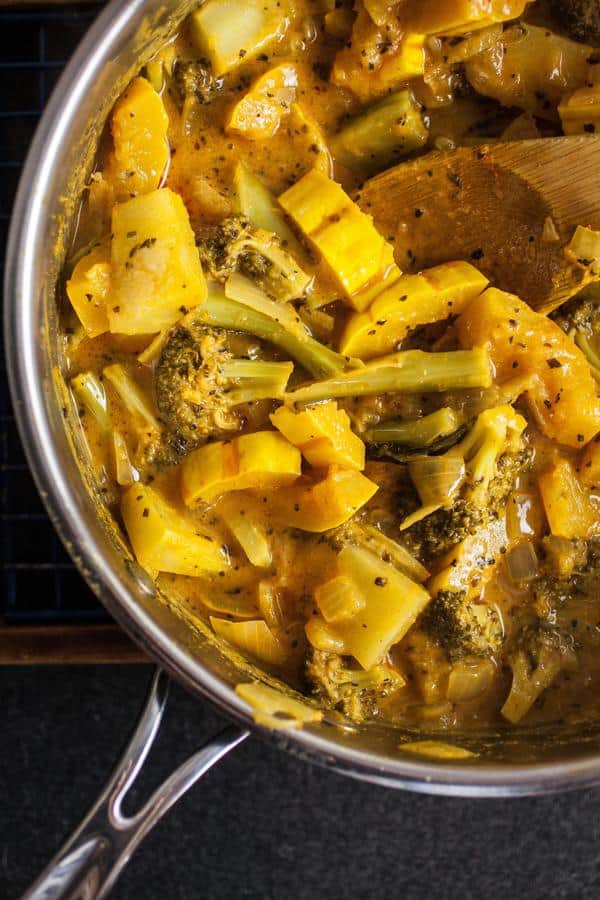 Katie has a way with veggies. She can turn anything into a bowl of goodness and I appreciate that.
This recipe uses delicata squash and broccoli florets and they're cooked with sautéed onion, garlic and Indian spices.
The coconut oil gives a traditional flavor to the mix. The curry is served over hot noodles, quinoa or rice.
The best part is no broccoli stalk goes to waste; I love zero waste!
Thai Green Curry Spring Rolls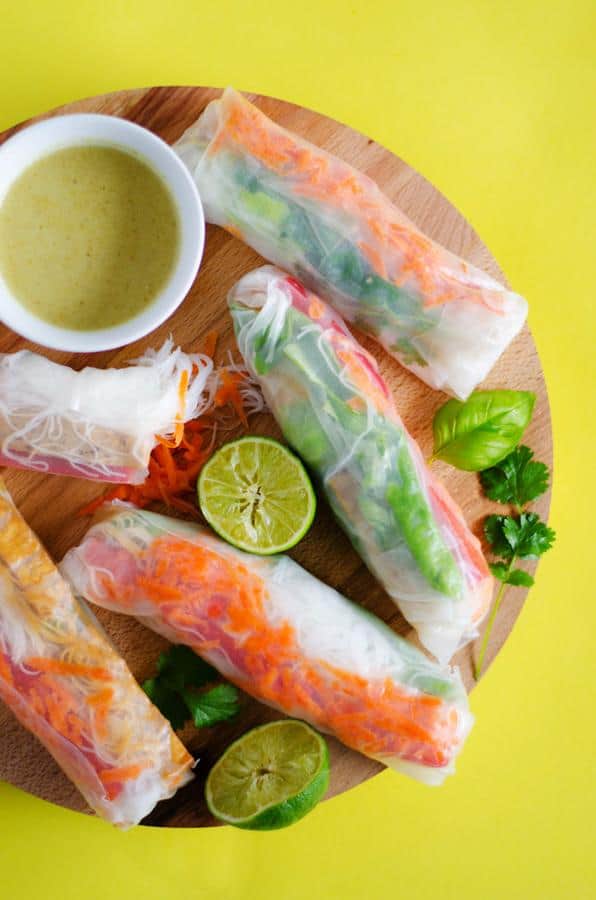 This recipe brings fusion to a new level. I never thought of integrating one of my curries into a healthy wrap or roll! They're neater to eat, spill free and make an excellent lunch at work.
You're going to use rice sheets with tofu, vermicelli and colorful veggies inside the roll.
These Thai inspired rolls are accompanied by a savory and zesty dipping sauce that gives the dish a bonus flavor!
Spicy Kale and Potato Curry (Gluten Free)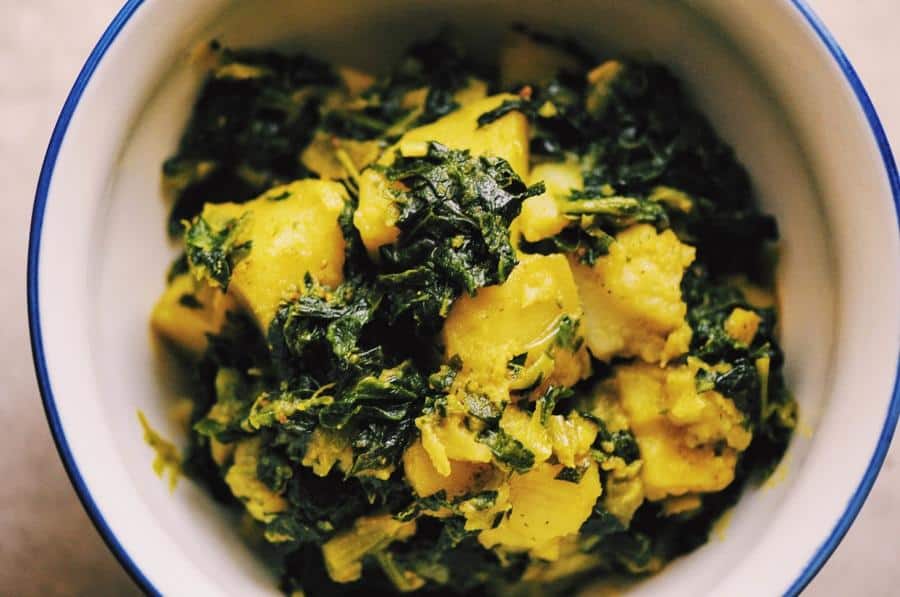 There are simple curry based vegetables that never fail to provide you with wholesomeness and comfort.
This recipe is very simple to make and takes less time than you think, the flavors will melt you completely!
Chopped kale and potato chunks are cooked in warm spices such as turmeric, cumin, cayenne, and others. Garlic brings a versatile flavor along with the curry spices.
You can easily replace the kale with spinach too.
Sunshine Curry: Thai-Style Curry Sauce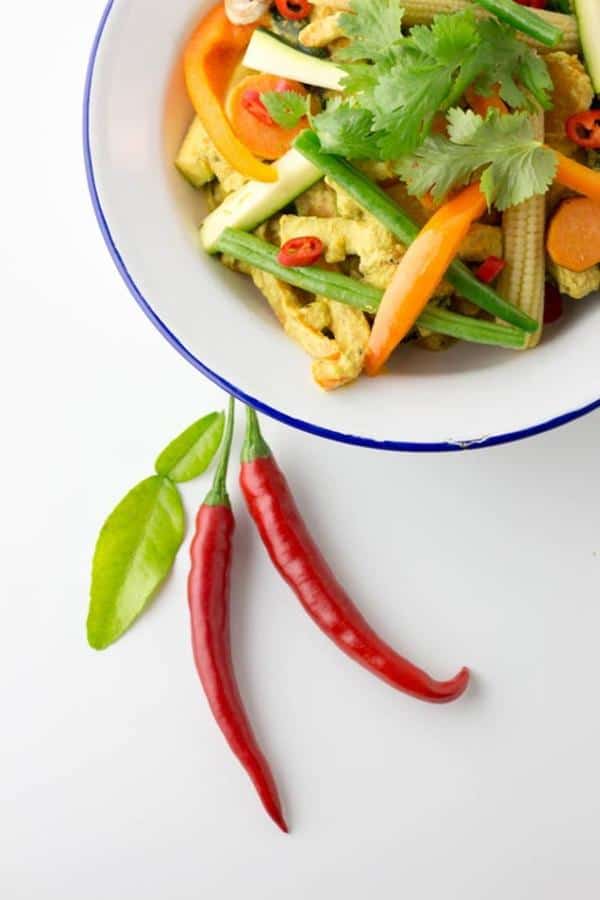 A Thai-style curry made with sunflower-based sauce is enough to have a lot of people confused.
But it isn't just hippie culture; the seeds just make a very smooth paste to be infused into the curry. Additionally, they're really good for you!
An array of stir-fried vegetables like zucchini, capsicum, mushrooms and more are served with a generous dollop of this thick curry that is made using sunflower seed paste, Thai red curry and lime juice.
If you love making sauces from scratch, you're going to love this!
Veggie Noodle Curry Bowls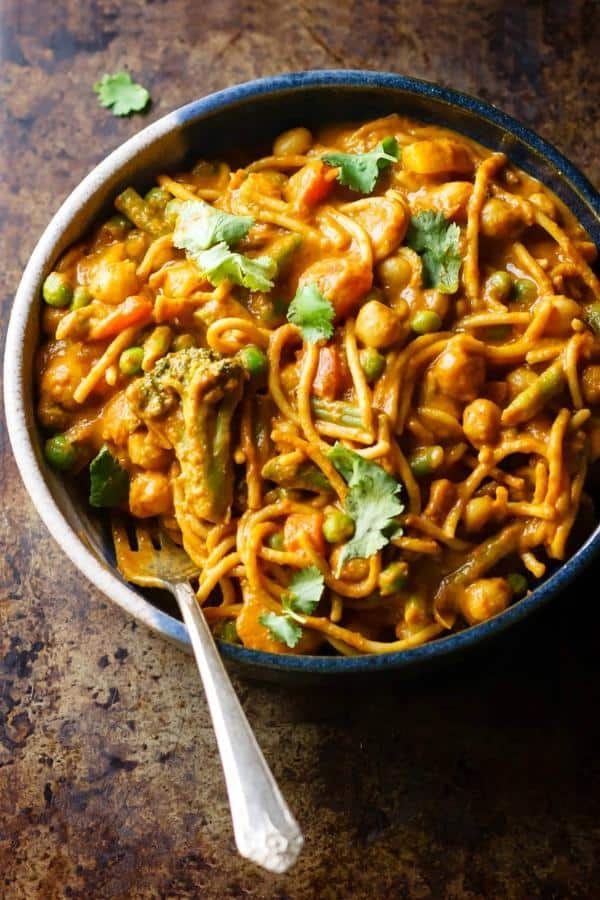 Noodle curry bowls make a great addition to my list of comfort foods.
The recipe is loaded with vegetables in various forms. You have a spiced carrot puree and stir-fried vegetables.
There are a lot of garam masalas (spices) like cumin, coriander, pepper and many more and together they make the flavor truly bloom!
The noodles add wholesomeness to the dish. You can easily store the leftovers for lunch at work. I promise it tastes even better the next day!
Oil-Free Pumpkin Curry Soup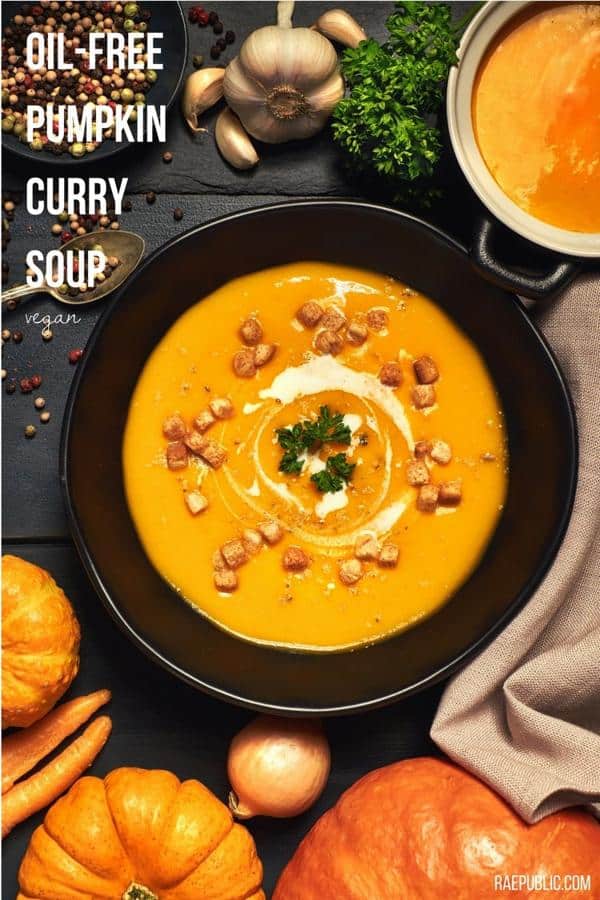 Any dish that says "oil-free" has my attention right away. I have a sensitive stomach, which means there are days when oily food just doesn't feel good to eat, so a soup that tastes yummy and has no oil is my hero!
The creaminess is owed to the coconut milk, carrots and pumpkin puree, and the light spices like curry powder and turmeric don't overwhelm you.
All in all, this is the soup I'd crave when at home alone and want to spoil myself!
Spinach Chickpea Sweet Potato Curry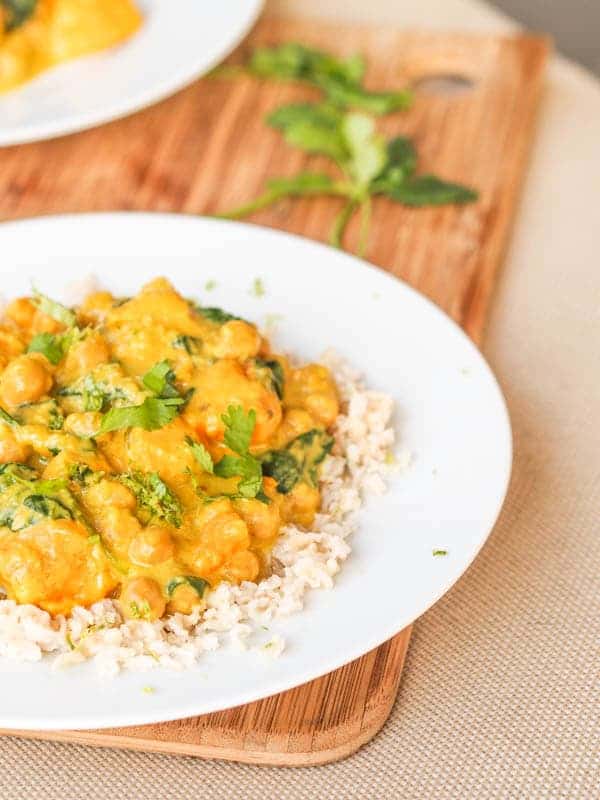 Another dish for parents to win over their kids fussing over spinach is here to the rescue!
The recipe is creamy, rich and flavorsome. The ingredients are a bare minimum and that's what makes the dish so focused on each little flavor.
Pureed garlic and onions are sautéed with curry masala powder. The veggies are cooked in coconut milk and vegetable broth, giving it richness.
The spinach is chopped and added after the chickpeas are semi-cooked in the curry.
Serve with freshly steamed rice and a light salad for a filling dinner.
Falafel Curry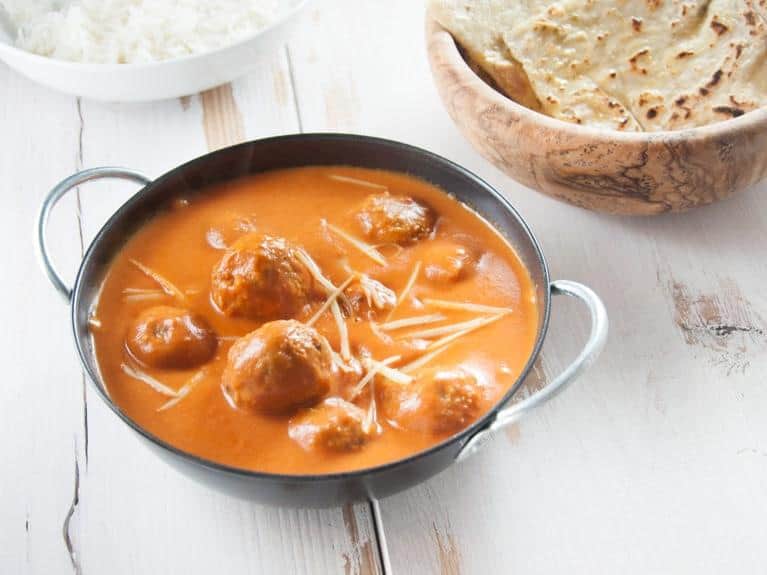 Our roundups have sometimes brought you combinations some people would think of as unique, but they really do taste awesome! Here's one of these dishes.
People love falafels and they also love curries, Bianca came up with a recipe to honor both. Tomato puree and coconut milk make the base for the scrumptious curry.
The falafels are a healthy blend of chickpeas, potatoes, and veggies. There are a lot of spices used like curry powder, ginger powder, garlic powder and many more.
You can make a big batch of falafels to use later since they freeze well.
Pumpkin Chickpea Coconut Curry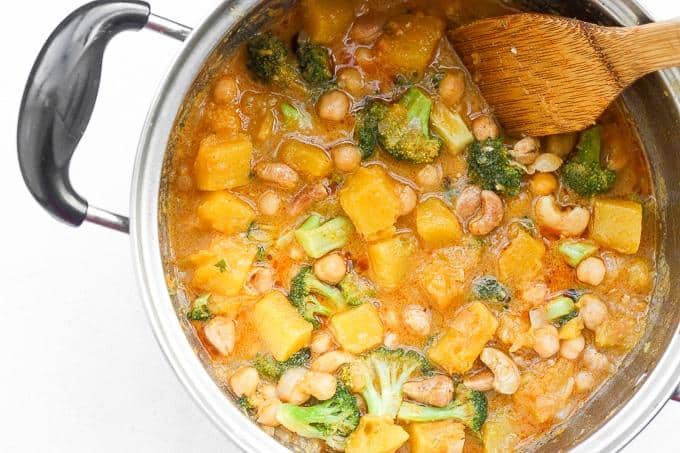 The beauty about curries is how they wrap themselves around whatever vegetables and ingredients you choose, and turn it into a warm dish that can't go wrong.
This recipe takes a quick 30 minutes to prepare and cook; the dish is gluten-free and is also low in fat. The spices are minimal as this is a straight-forward and simple curry paste.
All the veggies and chickpeas are simmered in coconut milk and cashew paste, slowly infusing the pumpkin with a rich taste. The curry can be served with quinoa or rice.
You can switch the chickpeas with any beans of your choice if you like!
Thai Green Curry Spinach Soup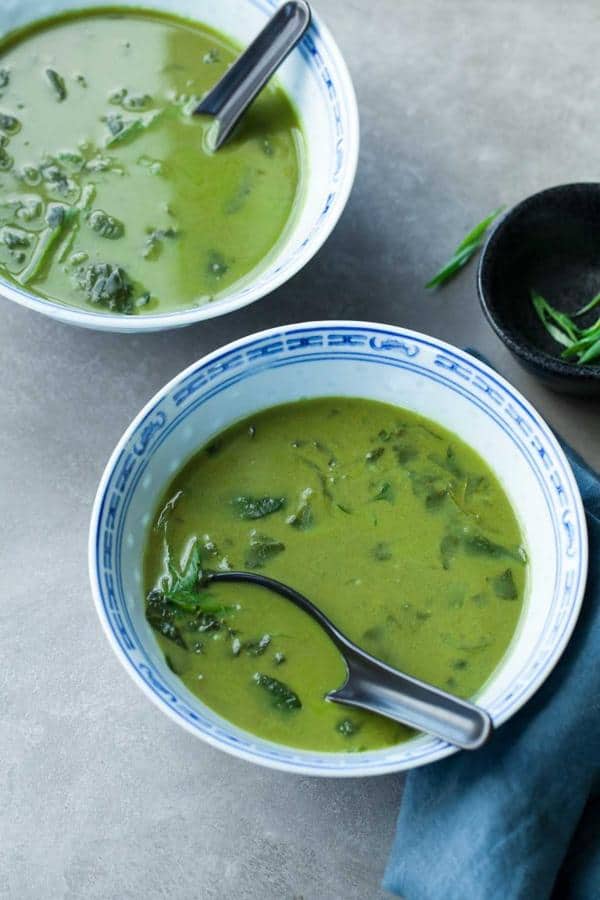 Spinach soup in any form is excellent for dinner on a Sunday; I spend most of the day overeating and a light dinner is all my appetite can take by the end of it!
The soup is full of vibrant Thai flavors and will freshen-up your taste buds in a snap. Thai green curry paste, garlic, ginger, and a few other veggies are boiled and ground along with baby spinach leaves.
The coconut milk gives a delicate and silky texture to the soup. You can add a hint of lemongrass paste in it as well.
Cauliflower, Pea and Paneer Curry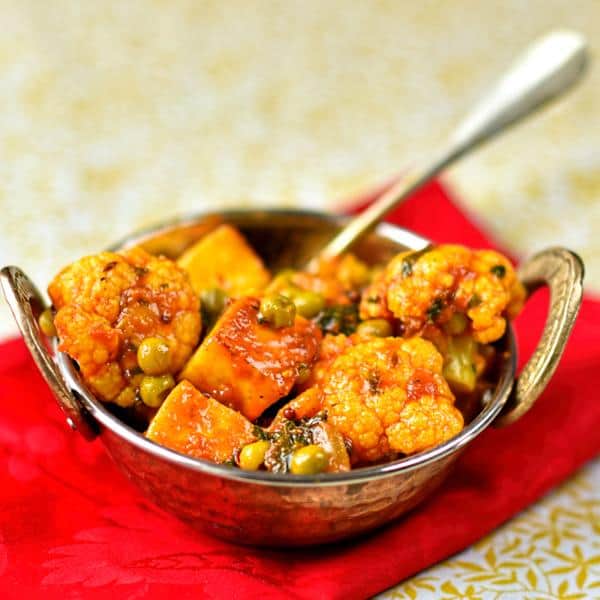 Go right ahead and switch the paneer with tofu; trust me, this recipe is really worth it.
The curry is a lovely homemade dish that goes well with gluten-free naan bread or steamed rice.
Using spices such as ginger-garlic paste, cumin seeds, turmeric and more, the curry is made from cooked tomatoes that dissolve eventually during cooking.
Veggies like cauliflower and peas along with tofu are cooked on slow flame till they soak up all the flavors.
All-Season Coconut Curry Soup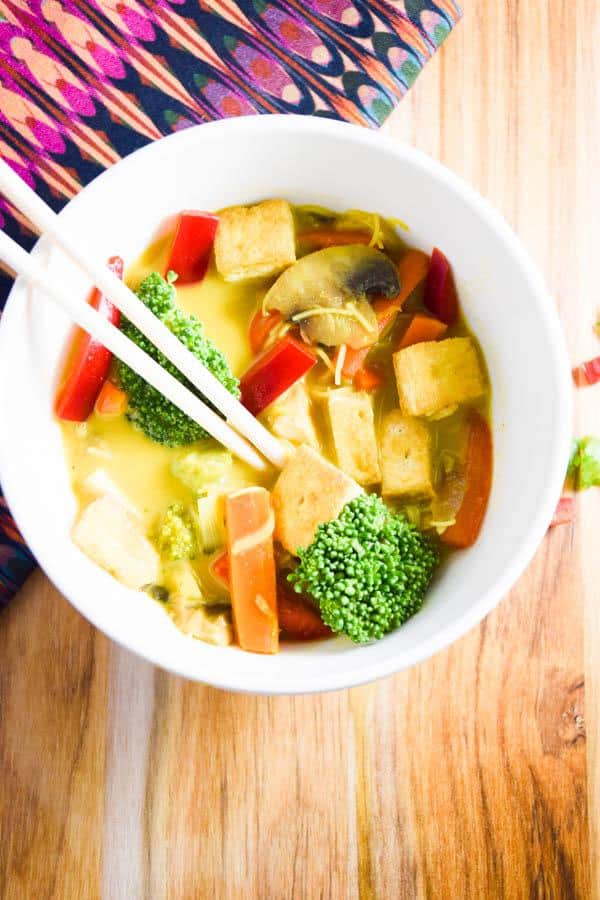 Lavanya has a way of presenting dishes, making them look irresistible.
You won't be able to stop yourself from trying out this one because it looks so pretty in a bowl. Bonus points, too, for making this dish kid-friendly!
Coconut milk is the base of this recipe. The Thai red curry paste is made from scratch using curry powder, lemon zest, ginger and more spices you can easily find in the kitchen.
Tofu and veggies like broccoli, carrots, bell peppers and others add a lot of color to curry.
Cauliflower Curry with Potatoes and Cashews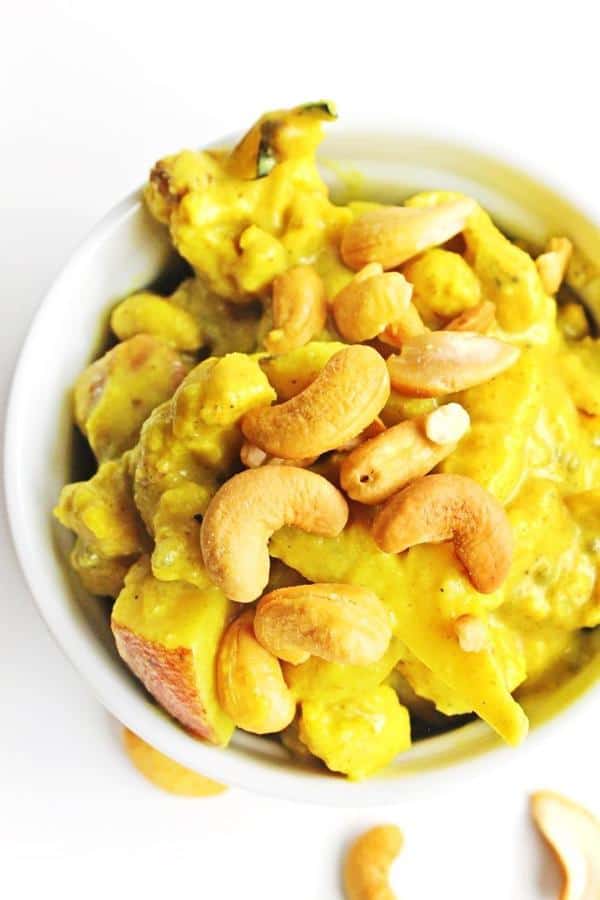 This vegetable stew is a real treat. The curry is rich and bursting with creamy texture.
The veggies are fried in just a little oil, and you don't need to be worried about the jalapenos.
The curry isn't very spicy because of the coconut and saffron base. Crunchy cashews offer a different texture contrasting with the potatoes and cauliflower perfectly.
A hint of lemon juice and pepper balance the dish with its fresh sour-spicy kick. This recipe will taste amazing with hot naan bread and almond butter.
Chickpea and Butternut Squash Curry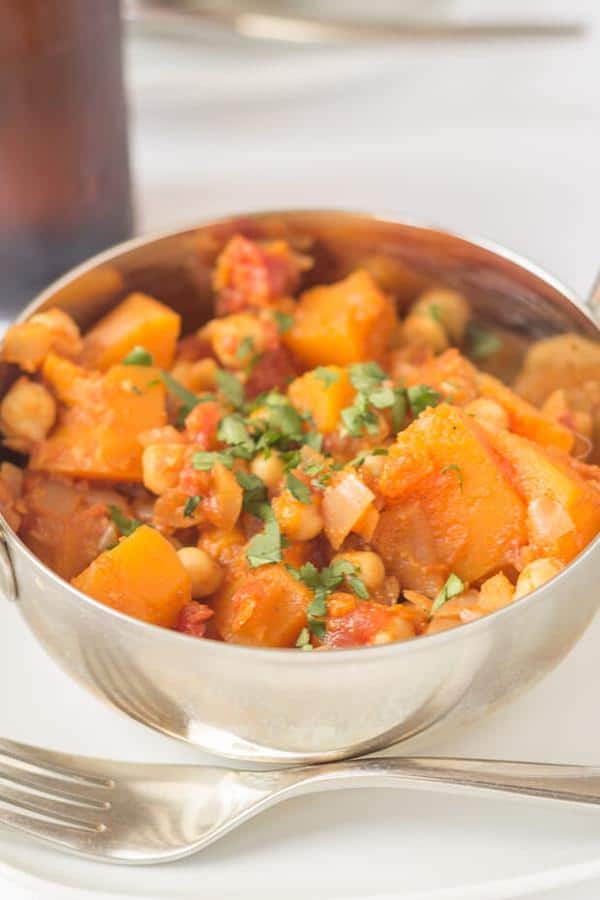 The recipe is quick and very economical. It also uses very few ingredients, which means there's no fuss when you're hungry and trying to hurry up and prepare a speedy dinner!
All you need to do is fry onions and the spices in hot oil and sauté the butternut squash until soft.
Tomatoes are added to bring a tangy flavor and chopped cilantro gives the curry freshness. Chickpeas can be switched with different legumes or beans if you want to get creative.
Curry Red Pepper and Tomato Soup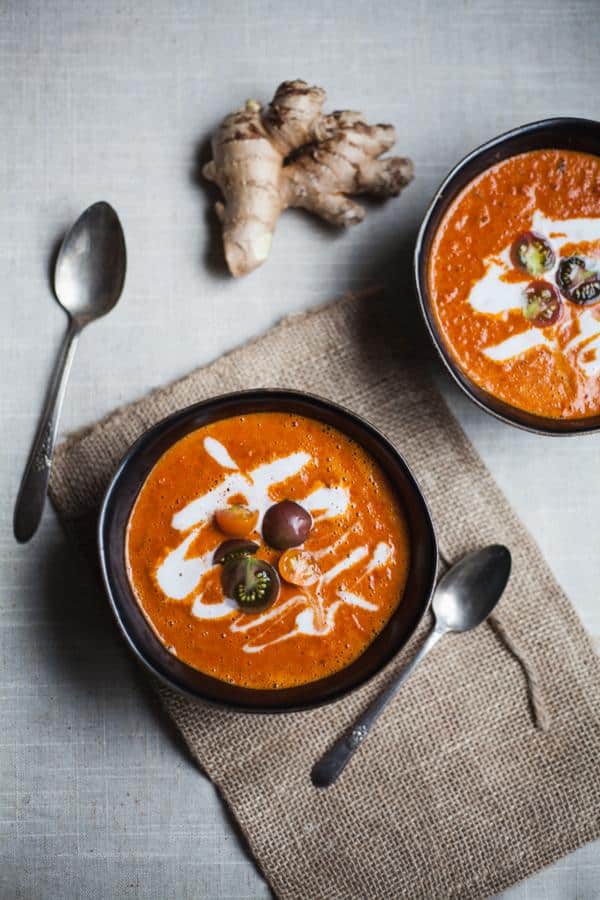 Chili peppers aren't always scary! In fact, they're great if you're sick with a cold or flu. Soups are mandatory once fall sets in, so we have a sweet curry soup with peppers to blow your minds!
The soup uses a pot to roast curry powder and coriander seeds. The sweet peppers, tomatoes, and onions are boiled in white wine, coconut milk, and coconut sugar to give it a delightful flavor.
The mixture is emulsified into a soup that matches gourmet standards. Garnish with coconut cream and toasted croutons for the perfect weekend dinner.
Coconut Curry Summer Squash Soup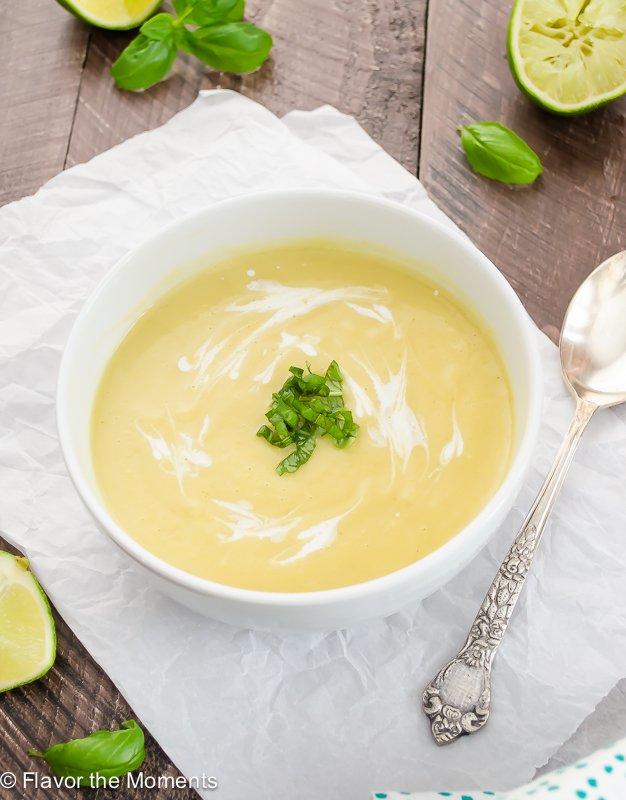 Soup season means finding all the best recipes and trying them all. I love collecting great soup recipes that don't take hours to make and this has been added to my list!
This one is infused with a curry flavor and coconut milk that makes the soup silky smooth in texture. The squash is cooked with mild spices and curry powder.
Vegetable broth and coconut milk is added to the vegetable and blended into a smooth soup once it is cooked.
You can garnish with coconut cream, cilantro and a bit of lime zest!
Coconut Curry Soup with Noodles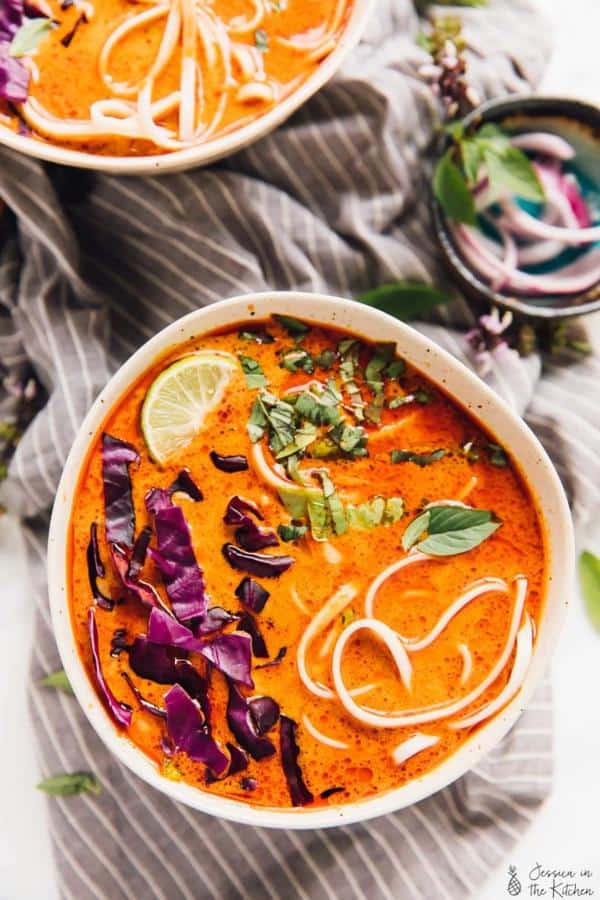 I absolutely love Thai noodle soups. The curry is bursting with flavors, be it green curry or red!
This soup bowl looks beautiful and fancy with its colorful ingredients. Spinach and basil bring contrasting flavors to your palate and sriracha offers a mild spice. The noodles are a traditional counterpart of Thai soups that make them more filling.
The coconut curry is garnished with purple cabbage and a slice of lime.
Simple Pea and Potato Curry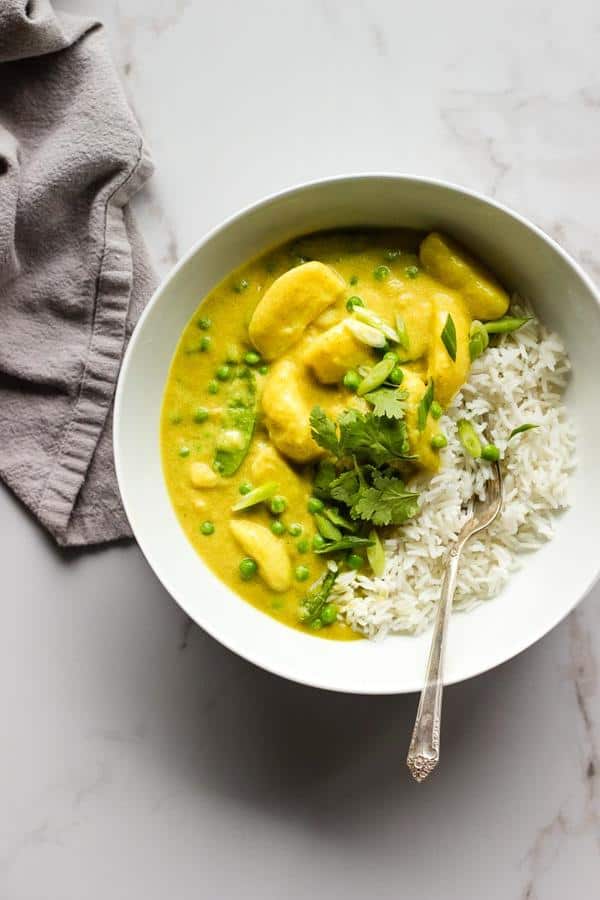 Spring season brings in the need to have simple and light dishes that feel very healthy. This curry has such pleasant feel-good vibes to it and makes it the perfect lunch dish!
This is another coconut-based curry that uses coconut milk.
The potatoes and peas are cooked with herbs like garlic, turmeric, along with spices such as cumin and curry powder.
The soup also includes sambal oelek or any other hot sauce for a bit of spiciness.
You can serve yourself a warm plate of this curry with steamed or coconut rice.
Curried Potato and Chickpea Salad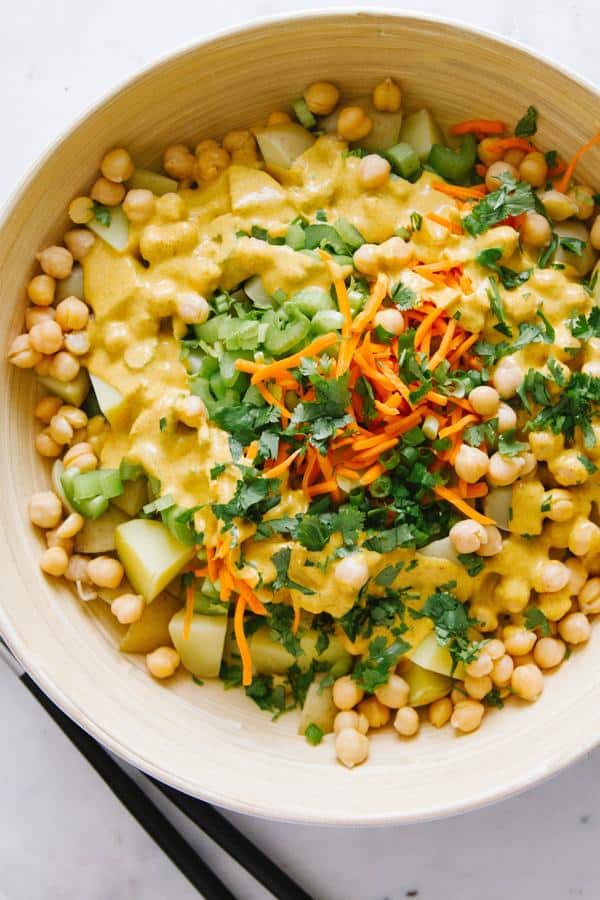 While this is a salad recipe, the touch of curry is too bold to ignore. You'll love this dish as a brunch snack or appetizer.
The sauce for this salad is made out of a mixture of tahini, water, lime and spices like curry and onion powder.
The veggies like celery and carrots are mixed with the boiled potatoes, chickpeas and the dressing.
Once they are tossed together, you can refrigerate to serve it fresh and cold on a Summer's day!
Curried Grapes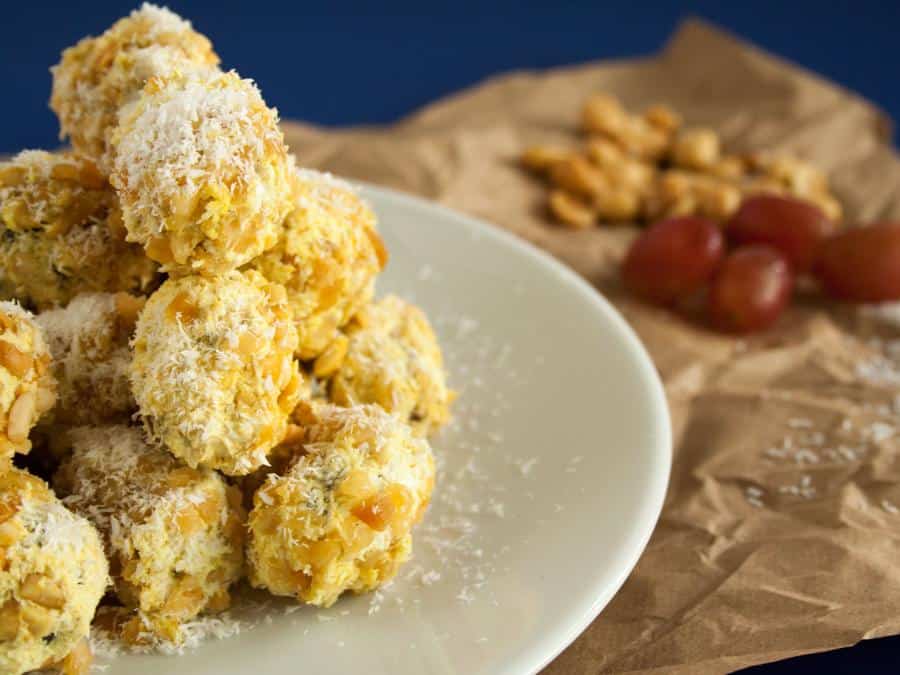 Another eye-opener of a dish for me was using grapes in a curry! My mind went from "how" to "wow" in 10 seconds!
The sweet and savory grapes, crunchy peanuts and coconut used in this dish complement each other very well. It can be served as an appetizing salad for your guests who'd be in for a big treat.
The recipe takes just 15 minutes and has three steps. Curry powder is mixed into vegan cream cheese for the grapes to be coated with and then they are garnished with coconut and crushed peanuts.
If you're allergic to peanuts, you can switch the offending ingredient with roasted flax seeds instead.
Creamy Hummus with Curry and Cilantro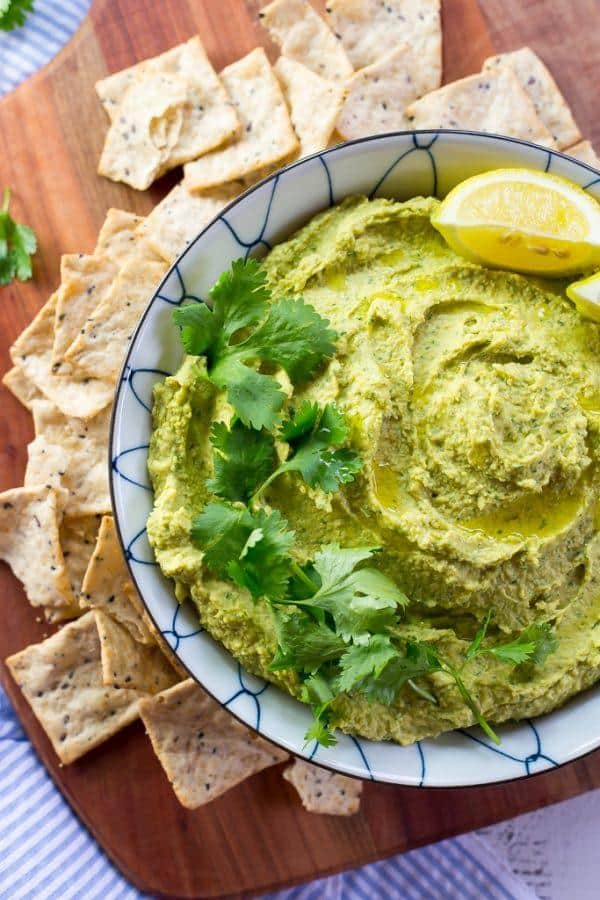 What I couldn't do with all the different types of hummus in the world! I am so thankful to have come across this curry-inspired hummus.
It goes with a lot of foods like salads and plain naan bread; the combinations make me hungry!
This recipe uses a simple method of smashing chickpeas with coriander and curry powder along with other seasonings to give you this beautiful hummus.
The garlic really makes its point too! You can add a dash of mint or lime if you'd like to.
Aubergine, Courgette and Lentil Curry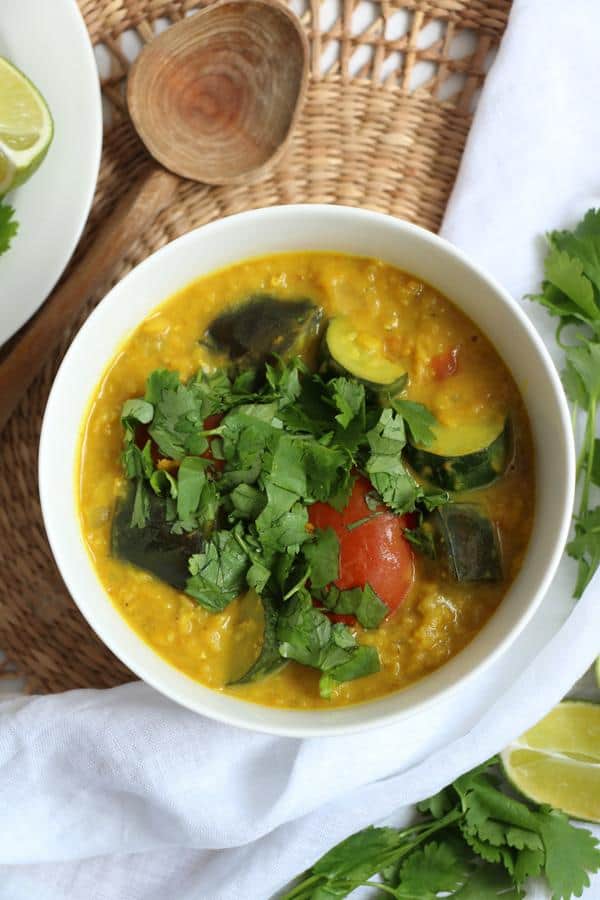 Lentils are a popular source of protein. It also helps that anything made with lentils tastes delectable.
All the ingredients can be tasted individually and together, the coconut milk with the lentils give a very authentic taste as well.
The aubergine and courgette pieces are boiled in a spiced mixture of coconut milk and herbs. Tomatoes give a pleasant tang to your taste buds.
You can add peas to the recipe as they seem to match the combination as well.
Lemon Curry Hummus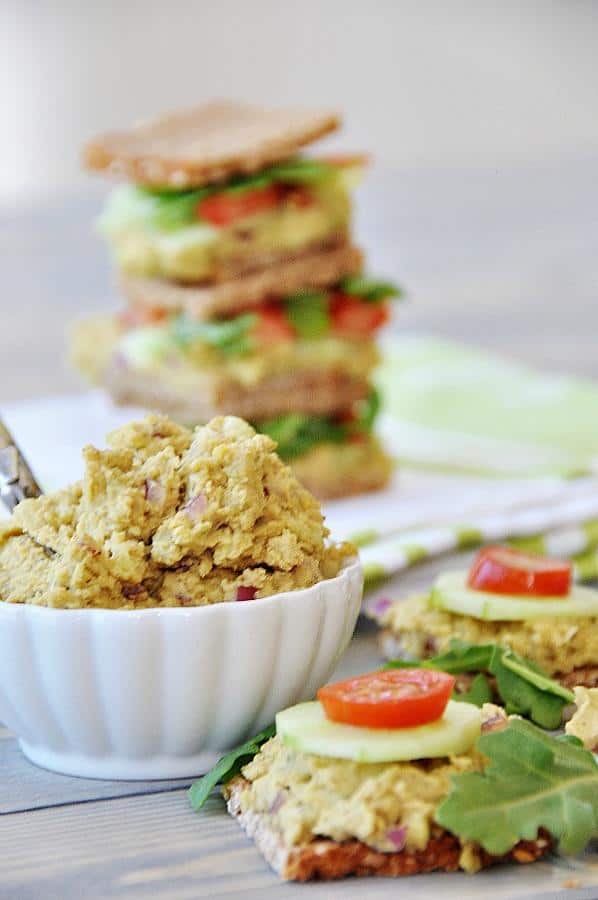 Anything sour like this makes me want to squeal in delight! I love limes and citrus and incorporating them into a curry-based hummus is a very delicious idea!
All that's needed is to smash the soaked chickpeas with lemon juice, zest, tahini and spices such as curry powder, ground cumin, and sea salt.
This hummus recipe can be used in a variety of salads, rolls, wraps, and sandwiches. Garnish with chopped mint leaves for a fresh taste.
Easy Green Curry with Forbidden Rice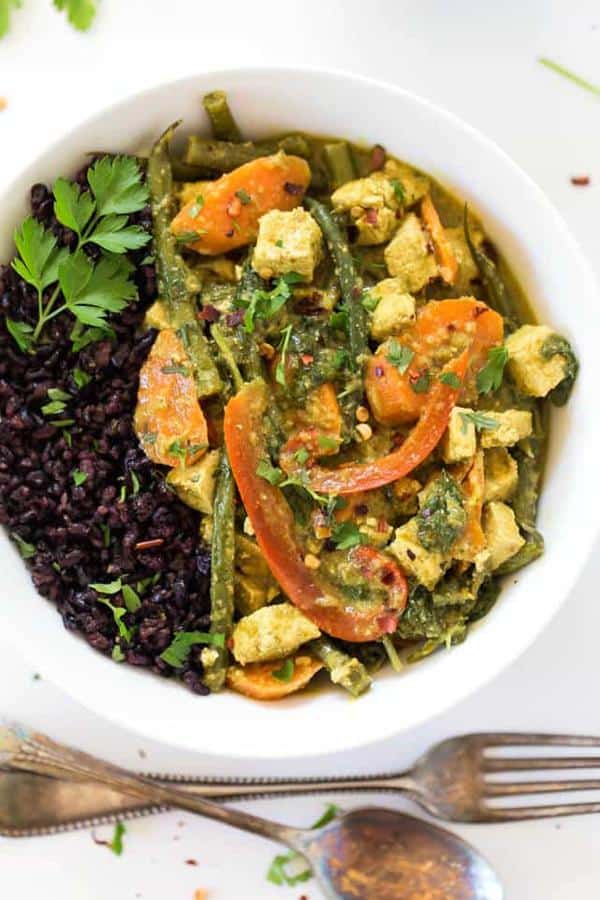 I've been obsessed with forbidden or black rice since putting together our rice recipe roundup.
It was only fair to bring a curry recipe that used black rice in it.
The green paste is made from scratch using shallots, garlic, lime and spices along with tamari. The curry is made by frying the peppers and beans with the paste.
Tofu and coconut are added to the mix and the pot is cooked on low heat. The rice is prepped and served with a bowl of this delicious curry.
Eggplant and Chickpea Curry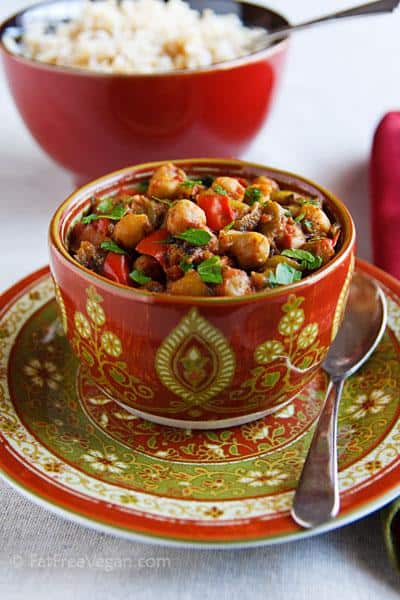 If you are familiar with "baingan ka bharta" you'd be ready for the lip-smacking dish that this recipe offers!
The dish involves baking an eggplant whole, after it cools, the skin is then removed and the flesh is chopped to pieces.
This is added to a pan of fried onions and tomatoes with ground spices and curry powder.
Chickpeas are then added along with water to boil everything. The end result is an aromatic dish that goes very well with jeera (cumin) fried rice.
Coconut Curry Quinoa Risotto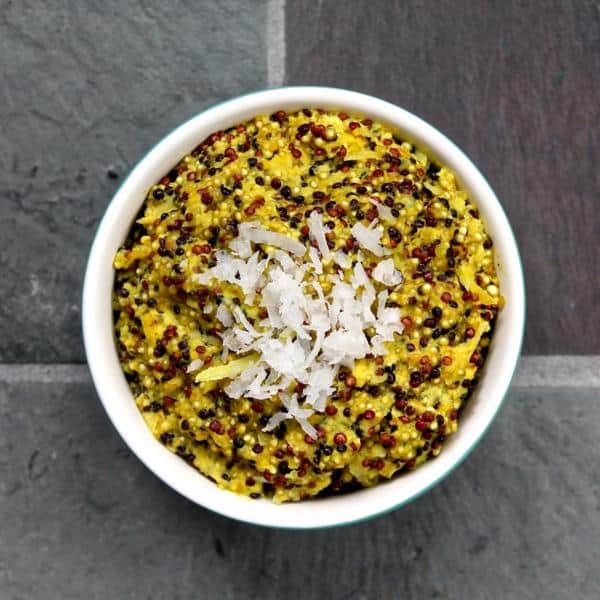 Some may say risotto and curry are a ridiculous combination. I'd correct them by switching ridiculous with ridiculously-good!
Quinoa can take any flavor you add to it and this is what makes it beautiful.
In this recipe, the curry is made from coconut milk infused with curry spices, sesame seeds, and a few others. Just adding all of these with the quinoa and cooking them in a rice cooker will have your lunch prepared within minutes.
Garnish it with fresh coconut and cilantro and eat while the dish is hot!
Baked Curried Tortilla Chips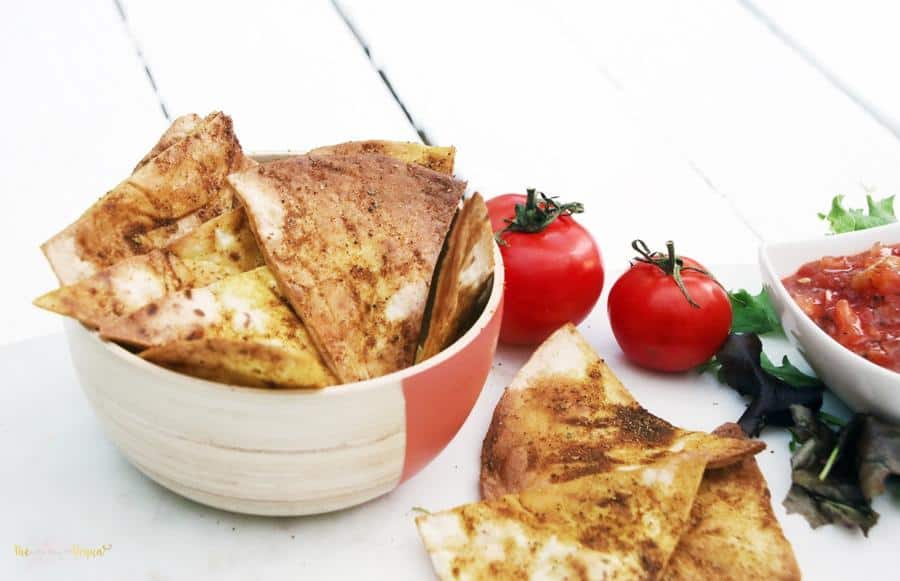 Curried tortilla chips?! I'd eat that all day thank you very much!
Tortilla wraps are put to good use in this recipe. They're cut into neat pieces, brushed with a mixture of oil, curry leaves, chili flakes, and other seasonings. Then they're baked till they're crispy like chips!
Trust me, they taste better than store-bought chips every time! The chips can be stored in an airtight container for a few days, if they'll last that long!
Veggie Curry with Pineapple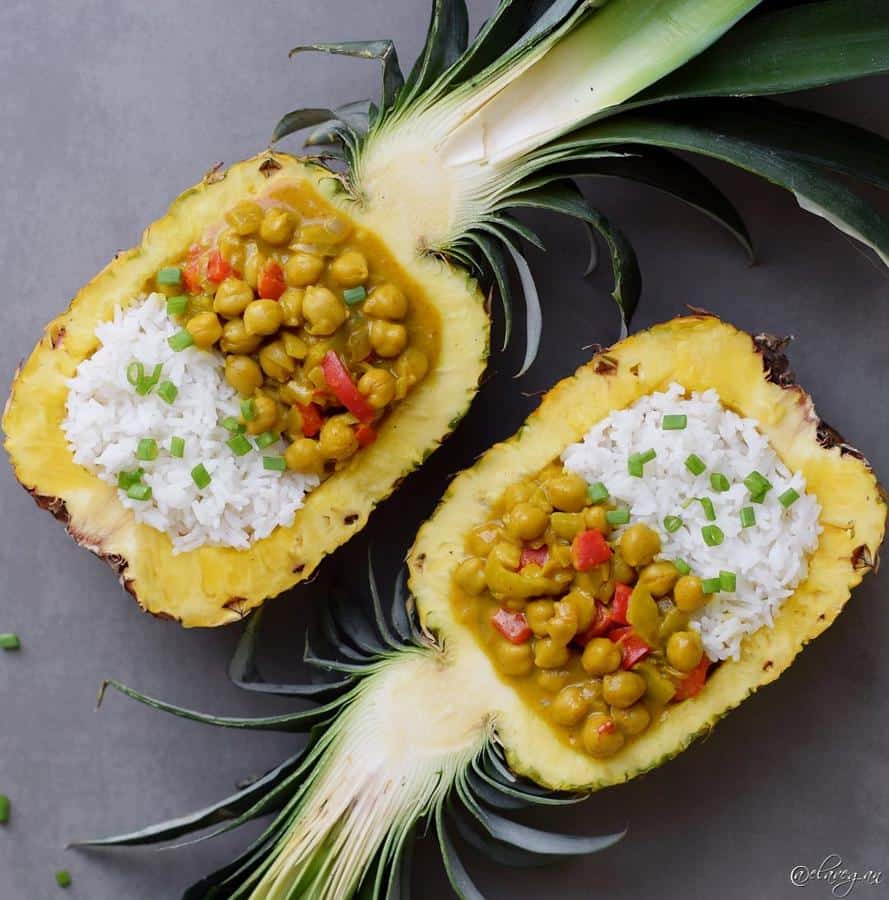 I wasn't sure about pineapple in a curry but then I remembered how good its sweetness would match the spices perfectly.
The recipe uses a lot of veggies such as carrots, eggplant, zucchini and more which are cooked in a pan. Coconut milk, spices, and starch are added along with seasonings to make the curry.
The pineapple chunks soak up all the lovely flavor and taste great with steamed basmati rice!
Red Lentil Curry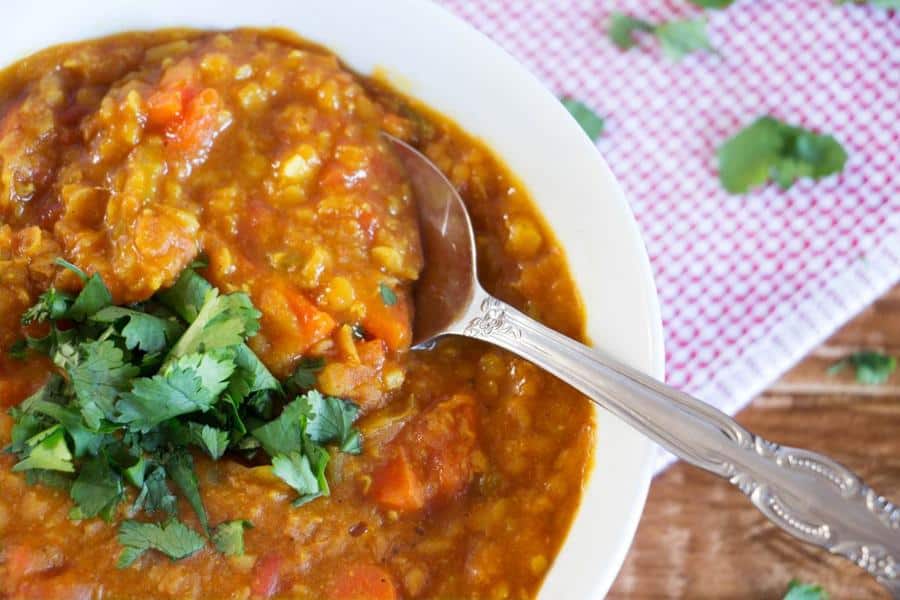 Red lentils are actually orange in appearance and they taste very good in curries!
This recipe is wholesome and is a smart combination of warm spices along with veggies.
Ginger, scallions, celery, and spices are sautéed for the curry that uses tomato puree, curry powder and carrots.
Spinach leaves fulfill this dish's requirement of nutritious greens, offering you a well-rounded meal. You can indulge in this curry with gluten-free naan bread, rice or quinoa.
Wrapping Up
Curries are mainly part of Indian and Thai cultures. The term, curry, is too short for the variety and types of dishes that can be made using simple curry powder.
As you've probably noticed, there were quite some notable fusion recipes that made your mouth water a bit as you read about them, they certainly did mine!
The selection was a tough one, as usual, since there are so many amazing dishes out there, but we listen to you and try to bring what you love to read in all of our posts.
We're thrilled to receive pictures of dishes you've tried and new recipes you've cooked up. Keep writing to us; tell us how you liked our roundups, give us feedback or just say hello! We're always listening!