As it's so important to our health, we thought we'd put together the best recipes we could find. There's something here for family dinners, parties, snacks and more.
There's also something for your kids so they can get their greens in a tasty dish.
To create a full meal, you can pair these vegan spinach recipes with other phenomenal recipes we created for another extraordinary roundup!
Maybe eat your spinach while watching a Popeye cartoon?
Delicious Vegan Spinach Recipes
Spinach Potato Breakfast Cobbler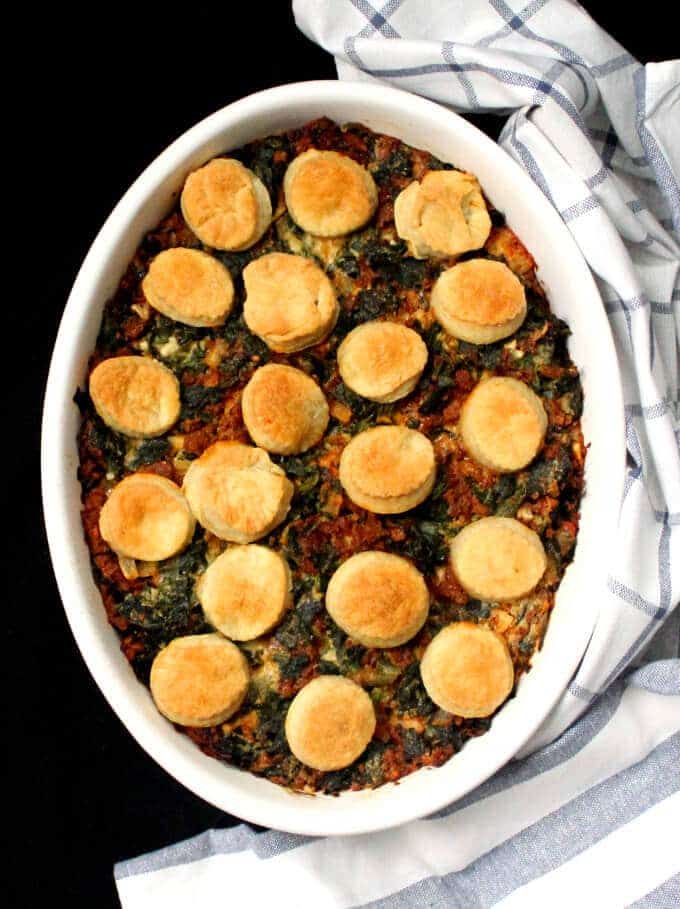 This dish was created to be a breakfast, and this is certainly a fine start to the day! It would also make a perfect lunch or dinner.
If you've never heard of a cobbler before in terms of cooking, it's a baked dish with biscuits dotted randomly along the top.
This recipe has everything from onion, potatoes and even vegan sausage! If you want comfort food, you can't go wrong with this.
Savory Spinach and Artichoke Rolls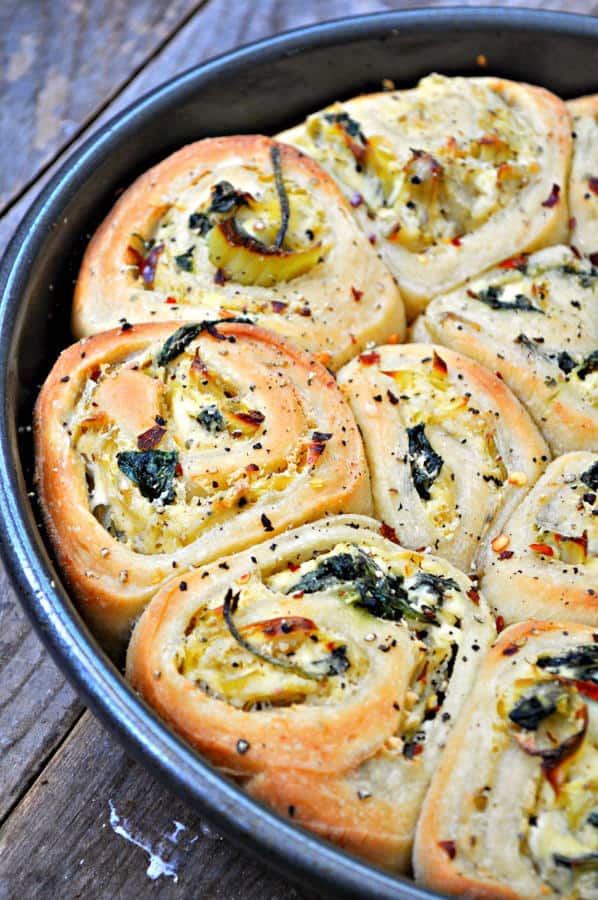 We've all heard of cinnamon rolls, well, these are nothing like them! You still get that pastry, but this is a savoury dish and my goodness it's tasty!
The pastry is a pizza dough, you could make your own, but I would do as Lauren suggests and use a good quality store-bought version. The filling in the rolls is artichoke, tofu and more.
This recipe suggests eating these by hand and using a dip. You can also have a bunch on your plate and eat on their own as they are bursting with flavor. Either way, you're going to love them.
Savory Crepes with Almond Cheese, Sautéed Spinach and Vegan Hollandaise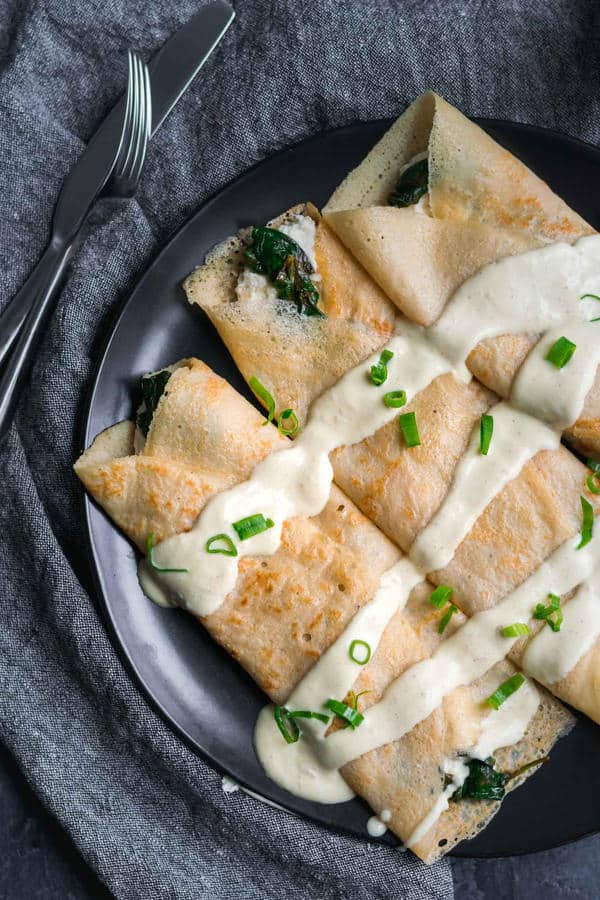 If you're a fan of crêpes, these savoury beauties are going to become your best friends!
For the crêpes themselves, you can use store-bought or there's a link in the ingredients list on how to make your own.
Your also need some vegan cheese, again buy or make (there's also a link on how to make your own vegan almond cheese).
The spinach filling contains some nutritional yeast for that great cheesy flavor and to top everything off, drizzle your very own plant-based hollandaise sauce and you get to make it yourself. A really fantastic recipe!
Spinach Artichoke Cups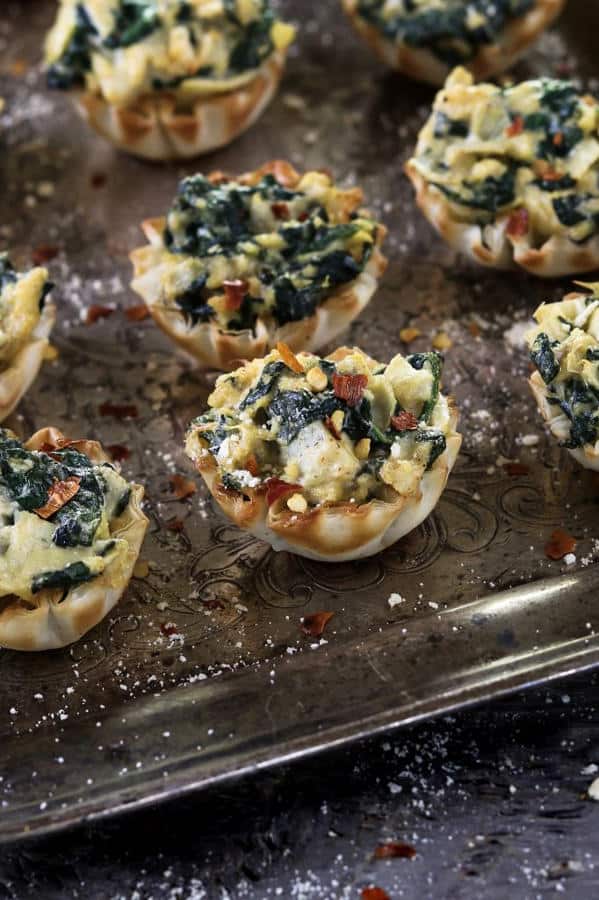 There's something about spinach and artichoke, they just go so well together.
These cups bring together both. The ingredients list in the recipe contains links on how to make your own shells, mayonnaise and more.
If you have time, make everything, but don't feel bad if you buy the store-bought versions. I did buy them and didn't feel bad!
Perfect for a party or just a casual night in. Make sure you allow to cool somewhat before serving so nobody burns their fingers. Great recipe for kids, too!
Spinach Artichoke Quiche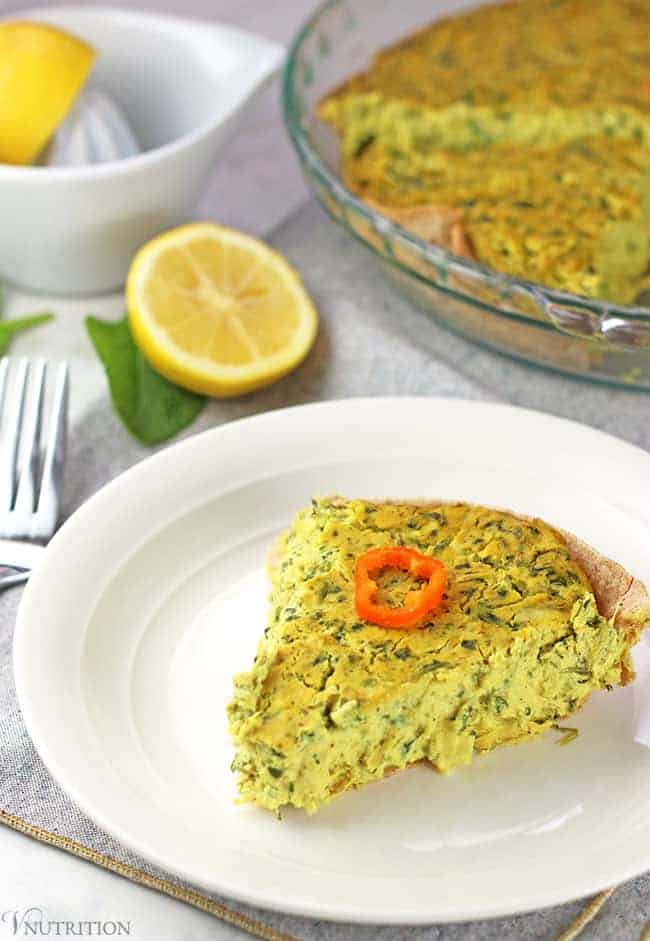 There are certainly a few plant-based quiche recipes around, I've had my fair share! This dish brings together the famous duo, spinach and artichoke!
Certainly, one of the easiest recipes I've seen, especially when you see and taste the end-product, you'd think it took much longer to prepare.
You need a food processor but other than that, this is simple, quick and incredibly tasty!
Chickpea and Spinach Tacos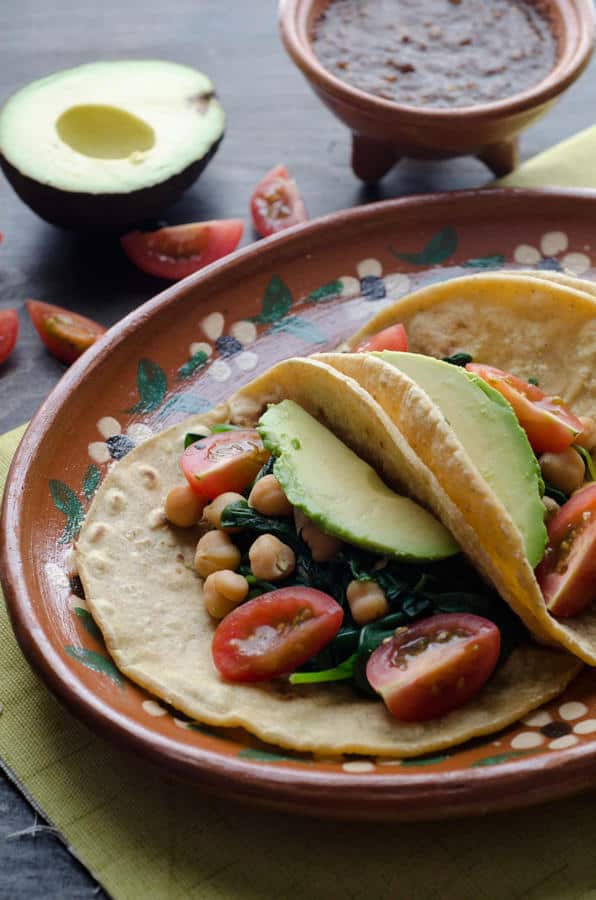 If you love tacos, you simply have to try these. You can use soft or hard tacos, personally I think the recipe has got this one spot on with a soft variety.
This recipe has two fantastic features, it's extremely simple and with that simplicity, it's also versatile so feel free to add or swap out any ingredients.
Incredibly moreish and almost unbelievable that you're eating something so healthy!
Spinach Carrot and Glass Noodle Salad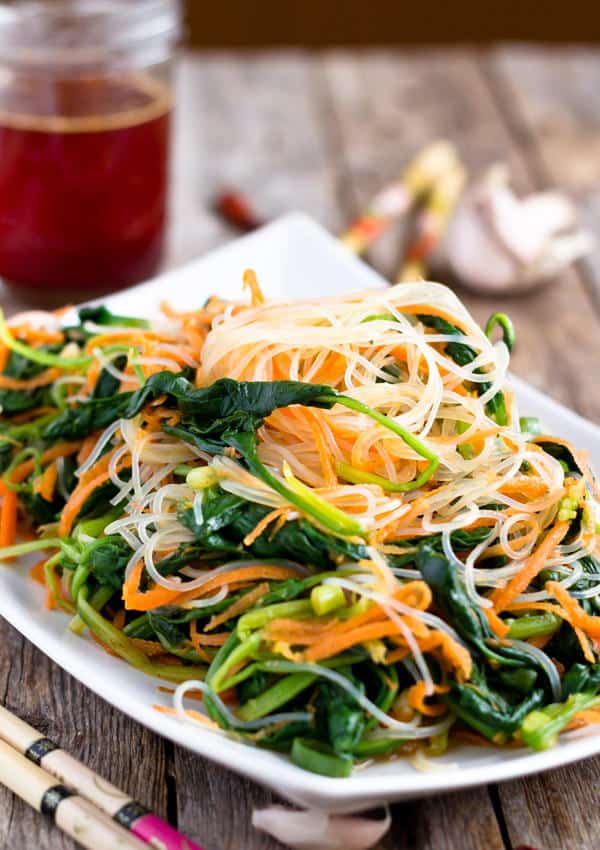 When I saw the words 'noodle' and 'salad' in the title of this recipe I was excited!
If you get a great recipe, there's nothing quite like a noodle salad, no matter what other flavors involved. This dish is easy, nutritious and classy!
The noodles are the 'glass' variety. If you've never tried them before, I urge you to with this recipe, otherwise feel free to use your favorite noodles.
Along with the spinach you have shredded carrots and the real star of the show which is the dressing. Put it all together and you're onto a winner!
Spinach Muffins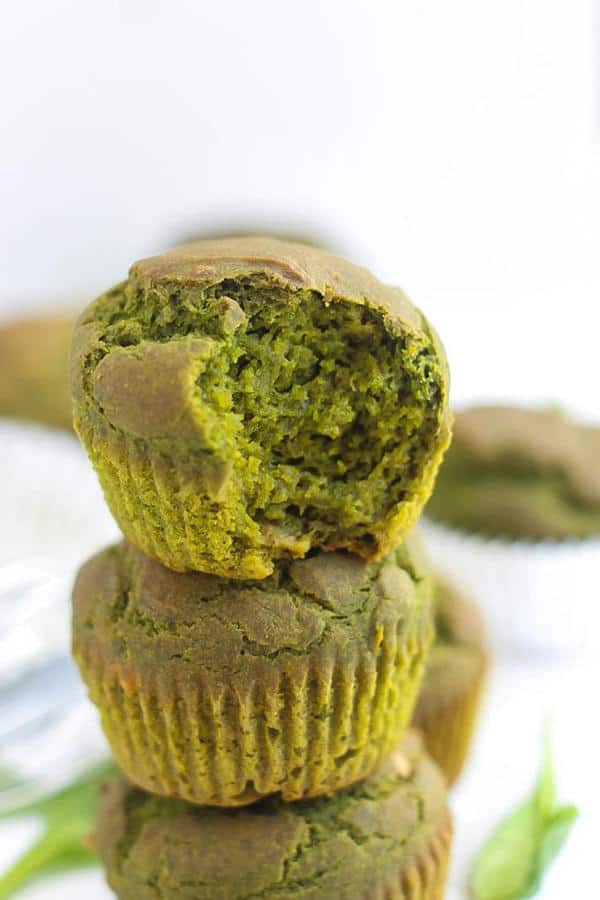 There's nothing like a fresh homemade muffin, and I'll admit I was extremely curious to try these spinach muffins and the curiosity paid off.
I know the way they look may confuse your senses, so you're just have to trust me. Emilie has done a fantastic job with this!
With prep and cooking time, you're looking at just over half an hour to make these. They are sweet, moist and delicious.
It's a great way to get spinach into your kids because they won't taste any green in here at all. I love the hint of cinnamon in every bite!
Spinach Guacamole Made in a Molcajete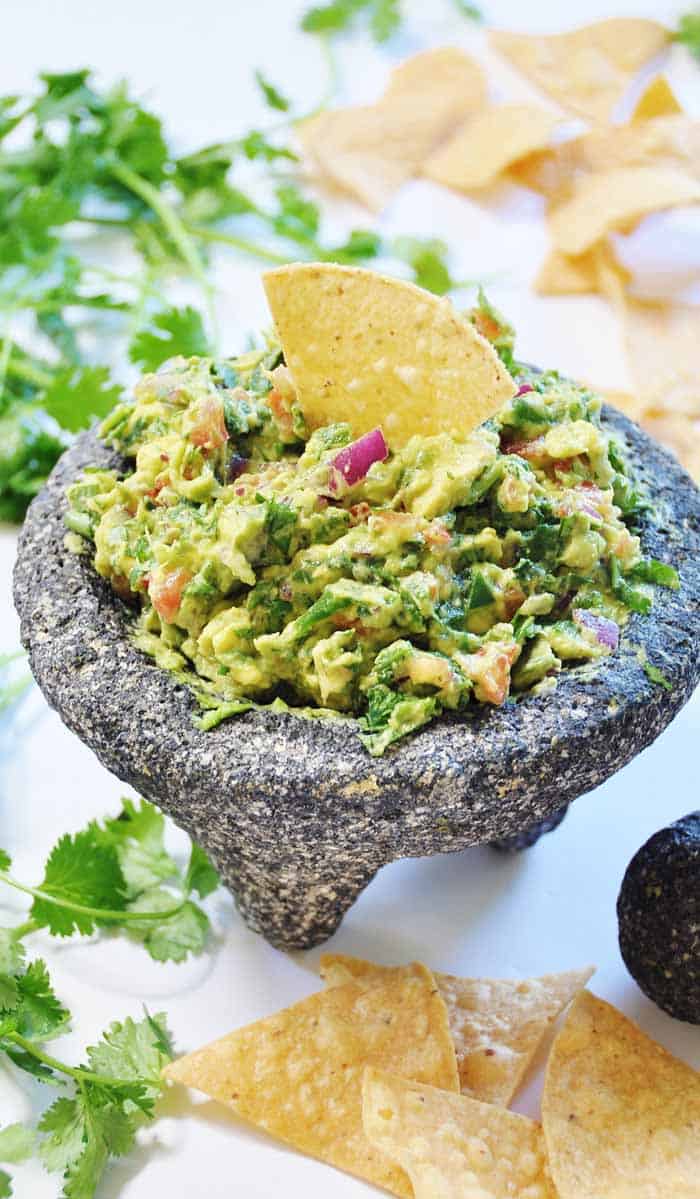 I love guacamole although sometimes I'll admit to looking for other recipes that still have the essence of the dish, with just a slight difference.
Apart from the roasted pepper, this is a raw dish so if you're into the raw food diet, simply don't roast it. The baby spinach leaves make this dish a lot lighter than the traditional recipe and that's not a bad thing.
It certainly adds flavor although as you know, spinach doesn't have a strong flavor to begin with, so this is a case of adding (the spinach) without taking anything away from the essence of the original recipe. Serve with nachos or as I did, a sandwich filling!
Spinach and Sesame Crackers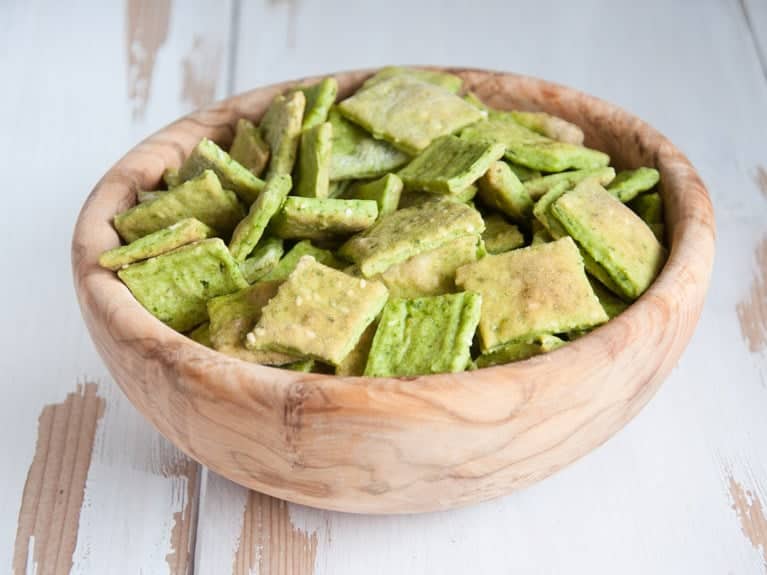 This is one of the easiest recipes I've ever seen on how to make your own crackers. It's insanely straight-forward and you just must try it.
If you cook at least sometimes, you're going to have nearly all of the ingredients already, there's just a handful of them.
Set your oven, follow the simple instructions and 30 minutes later you'll have delicious home-made crackers. Don't forget to use a pizza cutter to cut them into your desired shapes before going in the oven!
Chickpea Spinach Curry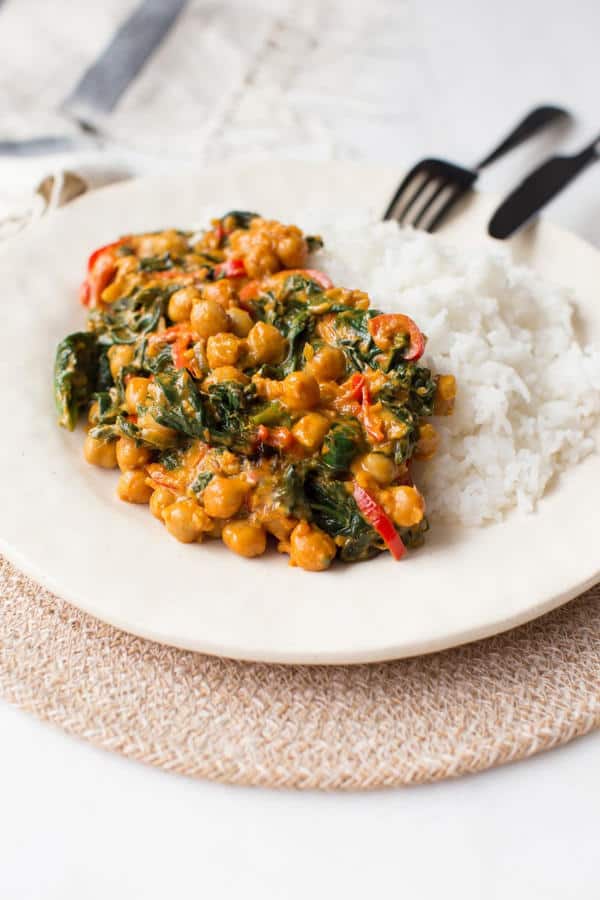 If you're an Indian curry fan, you'll know that chickpeas (garbanzo beans) and spinach are often seen together.
This combination can be seen as a traditional side dish in Indian cuisine, this recipe goes one better and makes it into the main event.
This isn't just your regular side dish as a bigger portion, this has coconut cream and a whole blend of authentic herbs and spices to create this beautiful dish.
It's both flavourful, satisfying and creamy. Serve with basmati rice, your favorite Indian bread, or both!
One Pot Spinach and Artichoke Pasta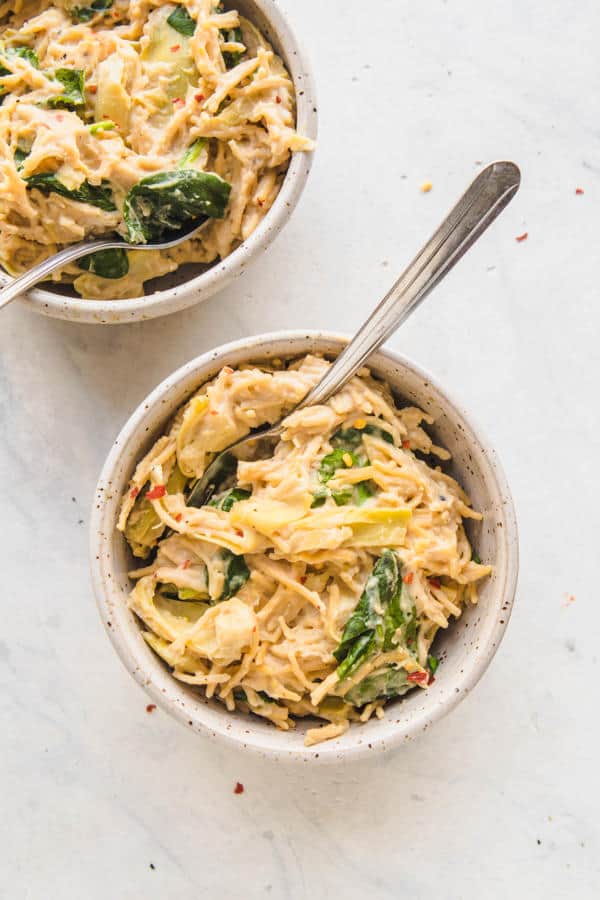 I love one pot recipes as they're so easy and convenient.
You can never have enough pasta recipes!
This one is beautifully creamy and wholesome. It has cashew butter, nutritional yeast and just a handful of ingredients.
Caitlin uses an (optional) pinch of red chili flakes, so adjust as necessary or leave out altogether. Perfect for when you want that comfort food and don't have much time.
Spinach Pici Pasta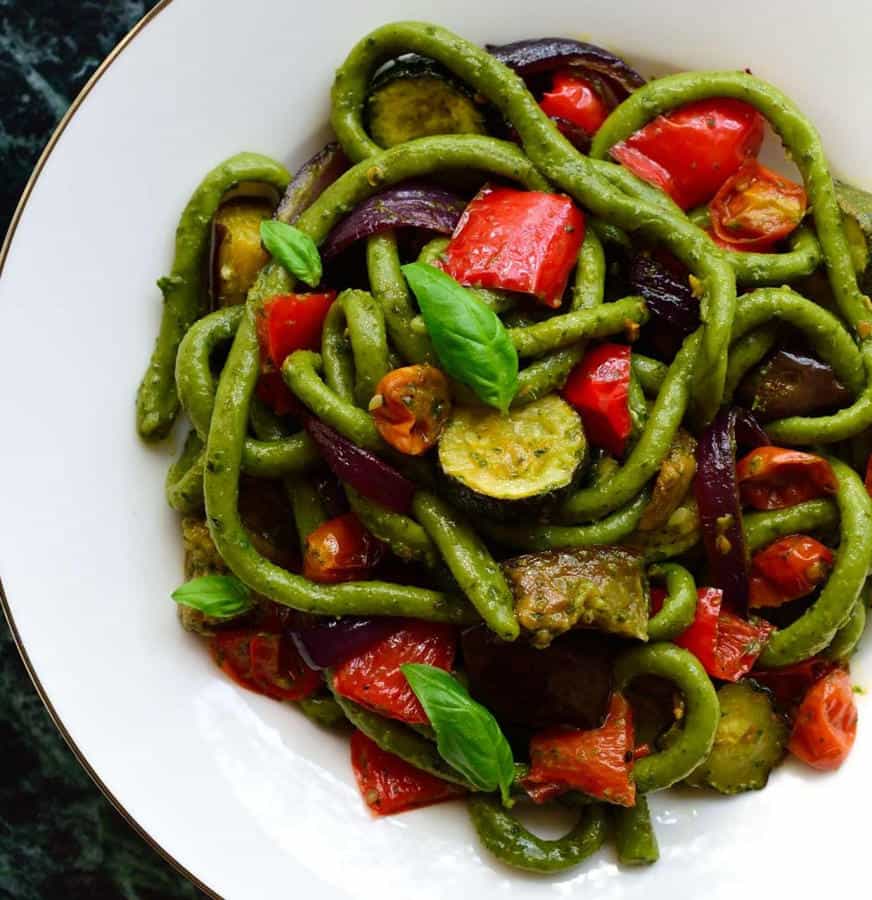 With this recipe you get to make the pasta yourself and you don't even need a pasta maker! You end up with larger noodles than usual, but that's okay and part of the fun.
In Italy, it's very common (especially at certain times of year) to include spinach with the flour so you end up having green pasta. I love the roasted vegetables in this dish. Everything goes together in perfect harmony.
Roasted Butternut Squash and Spinach Pasta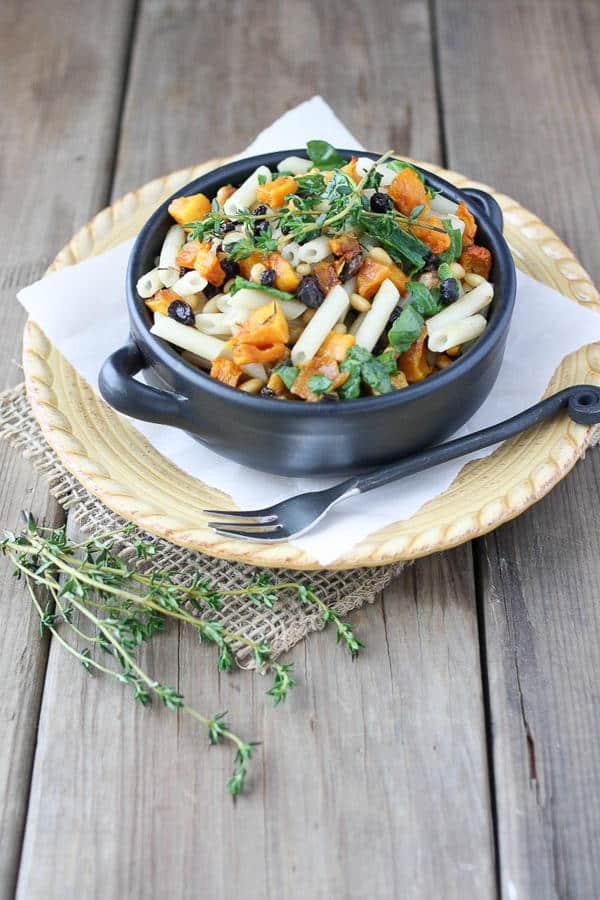 The two main ingredients in this dish go so well together, they are both comforting and have the sort of flavors that lend themselves to so many dishes.
Use your favorite pasta with just a handful of healthy ingredients to conjure up this healthy and satisfying meal.
You're looking at just 10 minutes prep time and then about 30 minutes to cook. It includes great herbs and spices and is definitely first-class comfort food.
Spinach Artichoke Taquitos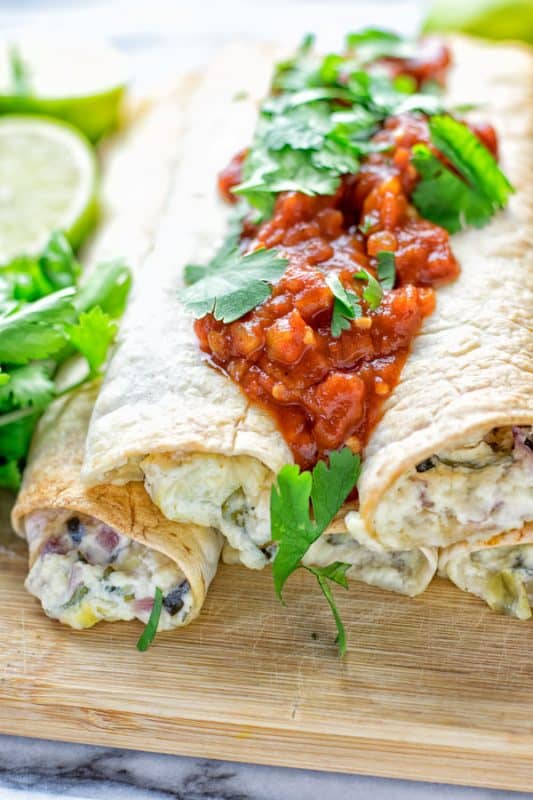 Florian from Contentedness Cooking specialises in vegan and gluten-free food for everyone. We adore his creations and this dish is no different.
I simply couldn't believe that these were made from just four ingredients (not including the wraps)!
With prep and cooking time, you're looking at about 25 minutes to bring these to the table. Grab your favorite tortillas, the remaining four ingredients and you're good to go!
Buffalo Jackfruit Spinach Dip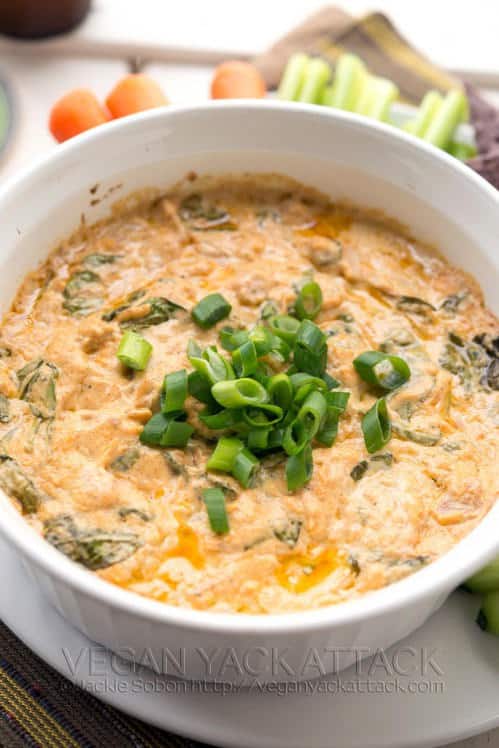 Jackfruit is part of so many recipes as a meat substitute. It has a benign flavor and its texture lends itself perfectly to any dish.
This dip is extremely hearty and bursting with flavor. You're only looking at six ingredients (add hot sauce if you like).
Jackie suggests serving with chips and cut veggies. I completely agree, although it's so good I think it would be awesome with pitta bread as well.
Spinach and Fennel Fettuccine with Roasted Tomatoes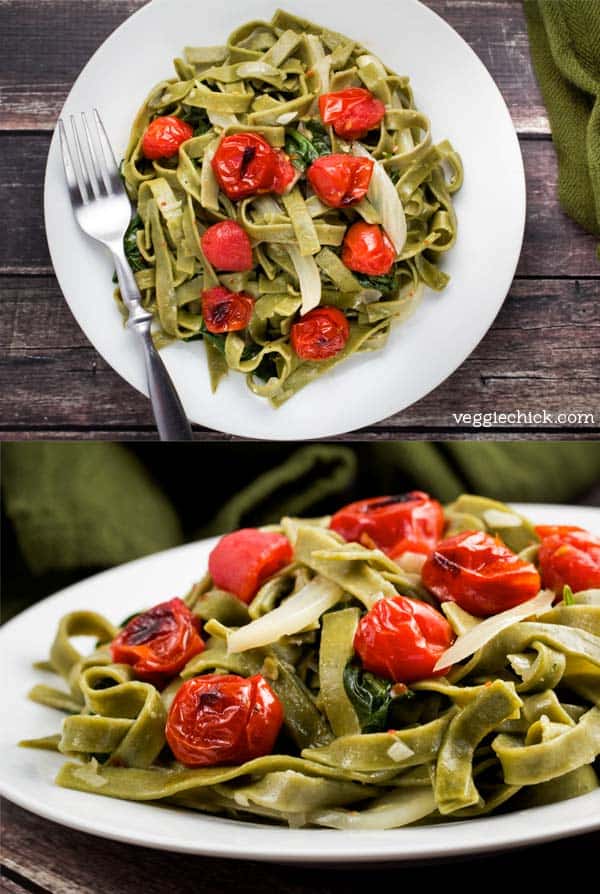 The fettuccine in this dish simply comes from the store and I recommend you do try and buy a spinach pasta. If you can't source this, just use your favorite noodles, anything will do.
Incredibly simple, this dish contains fennel which is an amazing vegetable. Usually, I just chop it up into shreds and eat it raw with olive oil and vinegar as a side salad.
In this dish it adds its distinctive flavor which works in harmony with all the other ingredients.
Vegetable Pancakes with Carrot, Spinach and Sweet Potato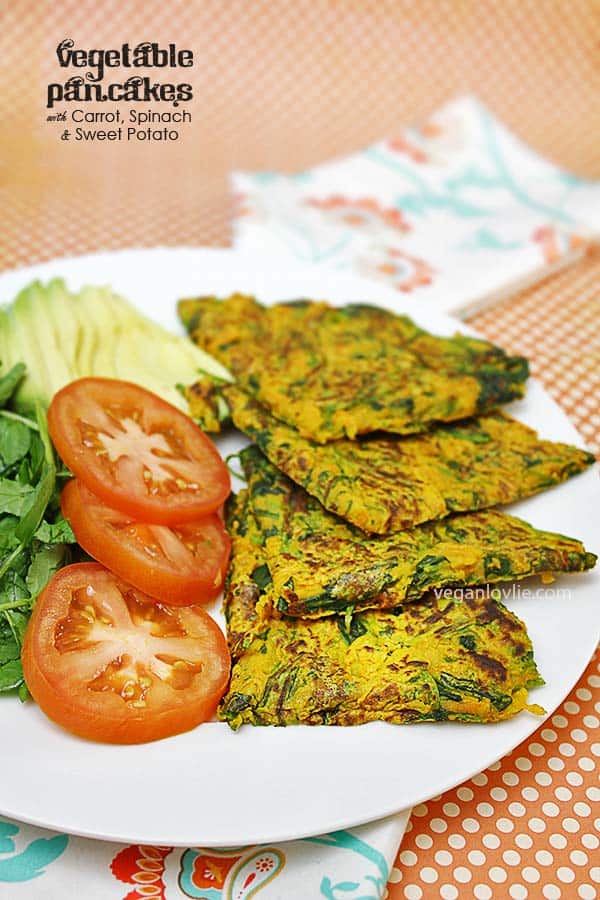 This dish is not only plant-based, it's gluten-free as well!
You normally see foods like this from a street vendor and you wouldn't know where to start in making it yourself.
This recipe takes the mystery out and shows you how easy it is to create. Best of all, there's a video just above the ingredients that takes you through everything step-by-step.
You don't often see this because creating a video adds a lot more work to a blog post so huge thanks to Teenuja and Kevin from Vegan Lovlie! Great job!
Mac and Cheese with Garlic Spinach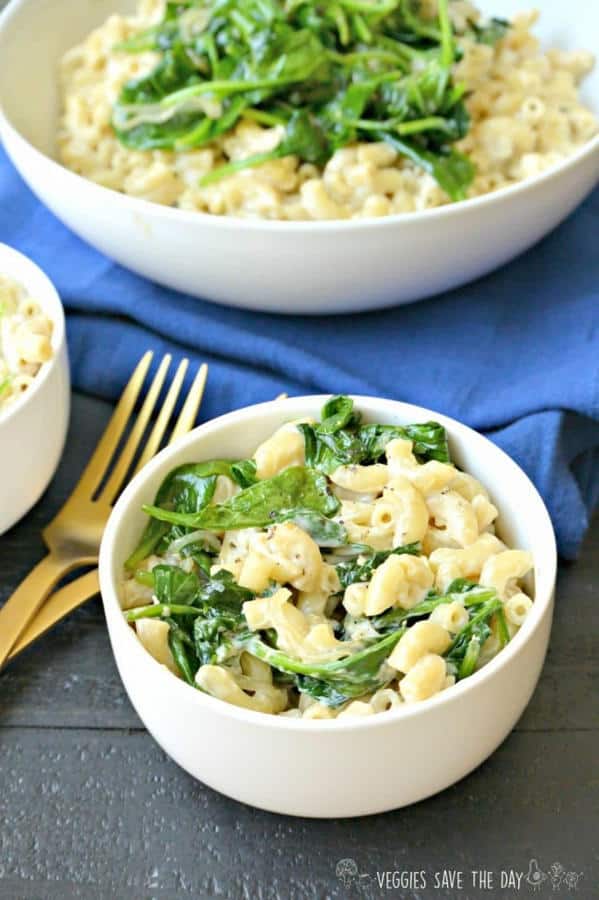 There are so many plant-based mac and cheese recipes around and to be honest, I've never had a bad one.
This does stand out from the crowd and I like that. The addition of the cooked spinach lightens the entire recipe without adding any overpowering flavor.
The mac and cheese itself contains garlic, olive oil and the sauce is made from cashew nuts that have been blended with some other ingredients although remember to soak them overnight before making this recipe.
Altogether, this keeps the tradition and the spinach is a very welcome twist.
Palak Tofu Paneer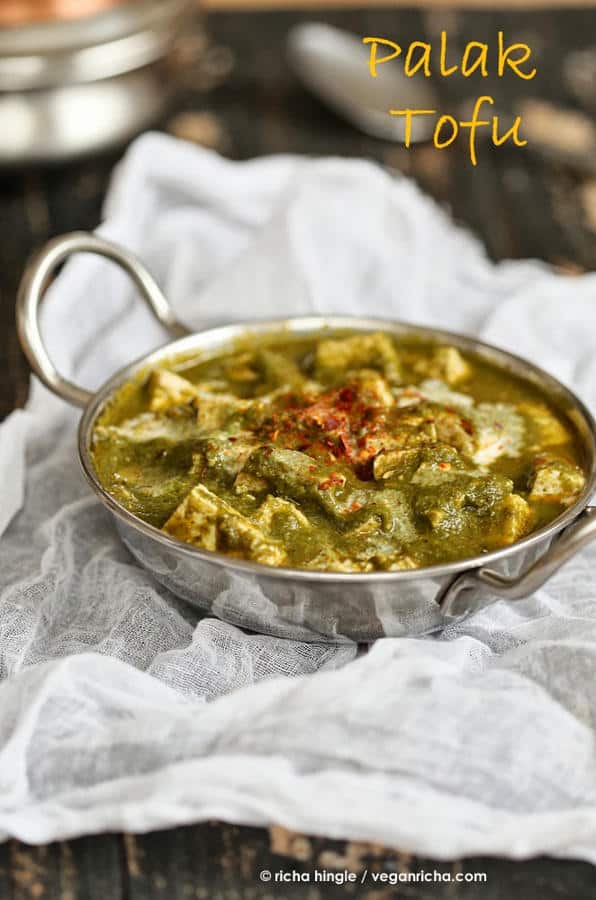 I'm calling out to all curry connoisseurs! Paneer is a cheese often seen in Indian cuisine. This vegan alternative retains the texture of the traditional ingredient, but without the dairy.
The ingredients are divided into two sections, the spiced tofu and the spinach curry.
Individually they are incredible, put them together and you really have an outstanding meal. It tastes authentic and best of all, it's so easy to make.
Spinach and Black Bean Hummus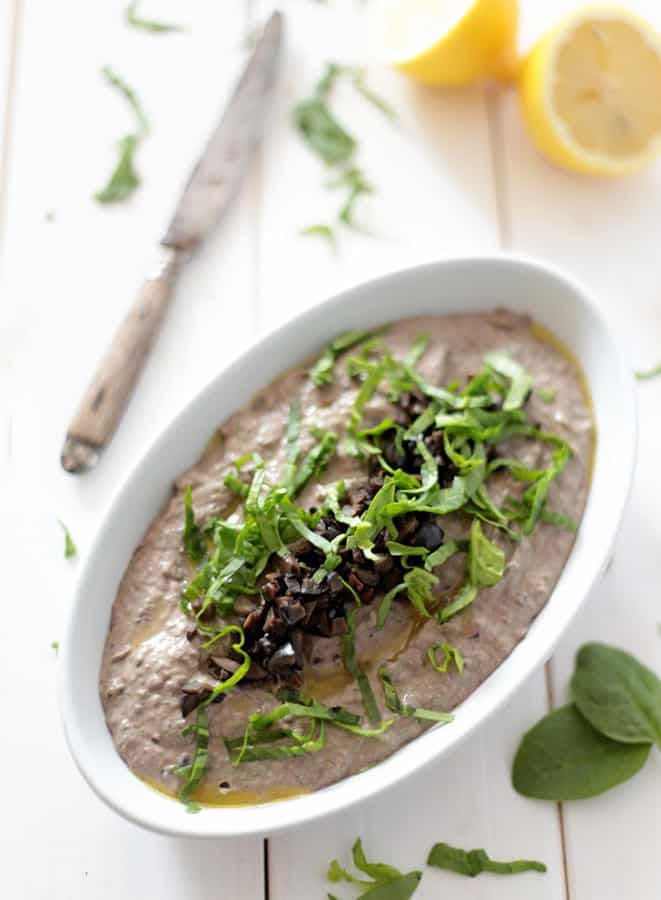 Lately at my local store I've been seeing more and more variations on hummus; some have turmeric, others have entire chickpeas and I've even seen a fried onion hummus!
Traditional hummus is made with chickpeas (garbanzo beans) and tahini.
This recipe retains the latter and uses black beans instead of the chickpeas, so you still get the familiarity of the texture and yet it's somehow different, but in a good way.
Extremely easy to make, just place all the ingredients in a food processor and whiz until smooth. Drizzle some extra virgin olive oil and lemon juice once the mixture is in a serving dish.
Spanish Spinach with Chickpeas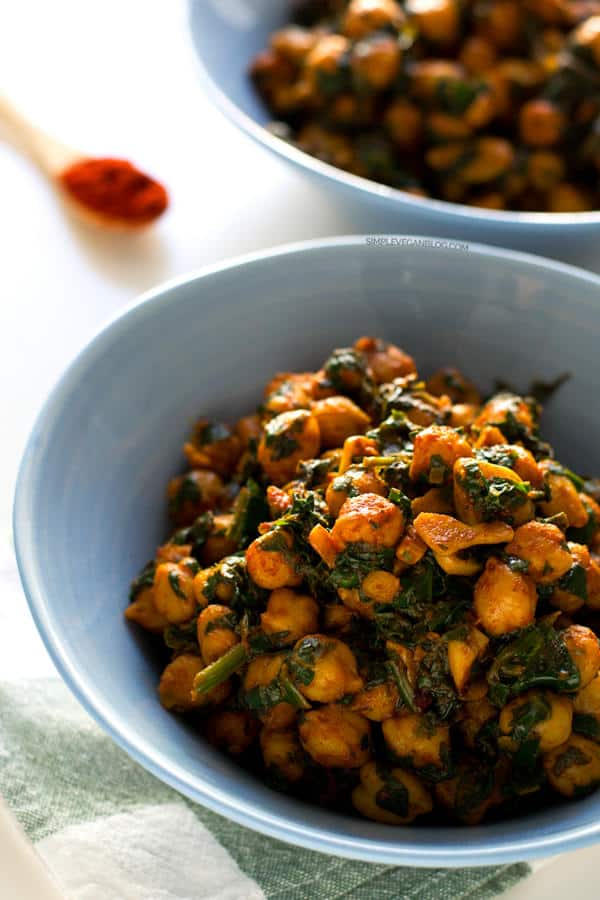 Iosune lives in Spain so you can't get much more authentic!
I imagine you already have most of ingredients in your kitchen already, so this is going to be easy to make.
You're looking at a 5 minute prep time and about 10 to 15 minutes cooking to bring this to the table.
It makes for a great snack or, if you're having a Spanish night, it would be the perfect side dish. Either way you're going to love it!
Crêpe Tacos with Warm Spinach-Mushroom Filling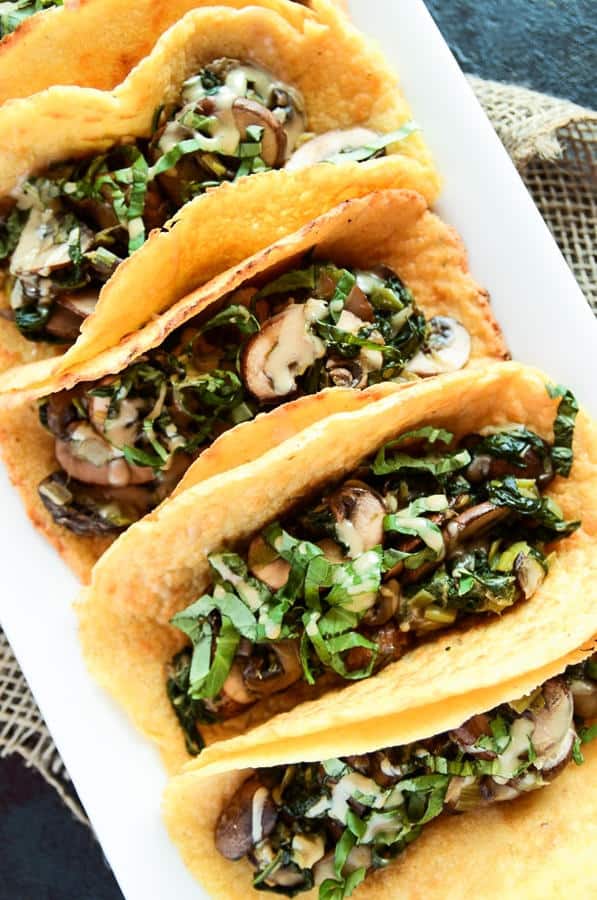 These crêpes are incredible! Full of protein, easy to make and gluten-free!
You could save yourself a heap of time just buying your favorite tacos and using the spinach-mushroom filling. The other part of the recipe is the ingredients and instructions on how to make your own crêpes.
I really urge you to give them a try because they are outstanding. Normally these kind of things don't taste of much as they are used to carry the filling. These taste awesome!
Creamy Green Spinach Soup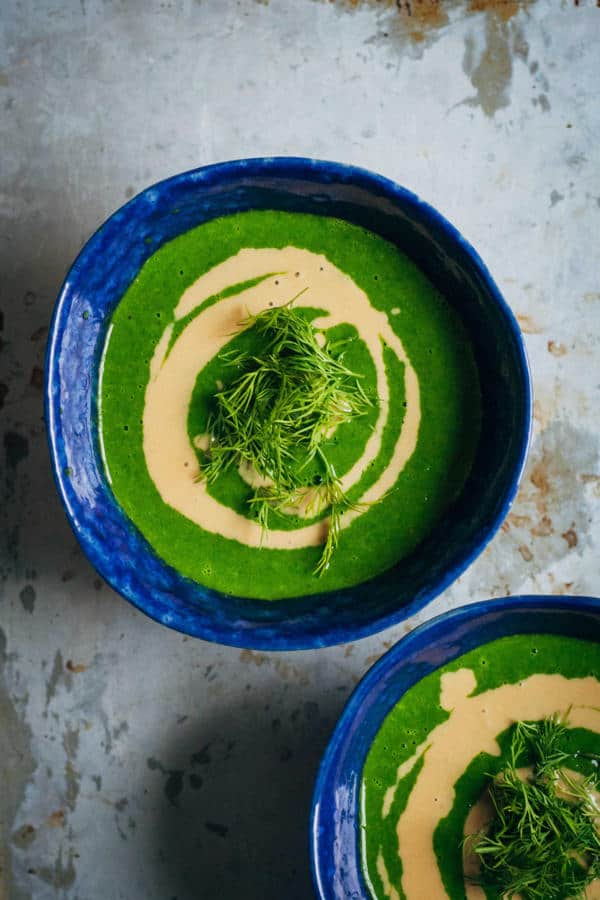 What a lovely soup this is! Put this recipe in your diary for the Spring because it's full of all the flavors of that time of year.
I love how Sarah from Well and Full has divided ingredients and instructions. It makes it so easy to understand and follow.
Very simple ingredients you will have no problems sourcing. The soup is creamy and so flavorful you won't even need any bread or other accompaniments. Fantastic!
Curried Spinach Soup with Cashew Tempeh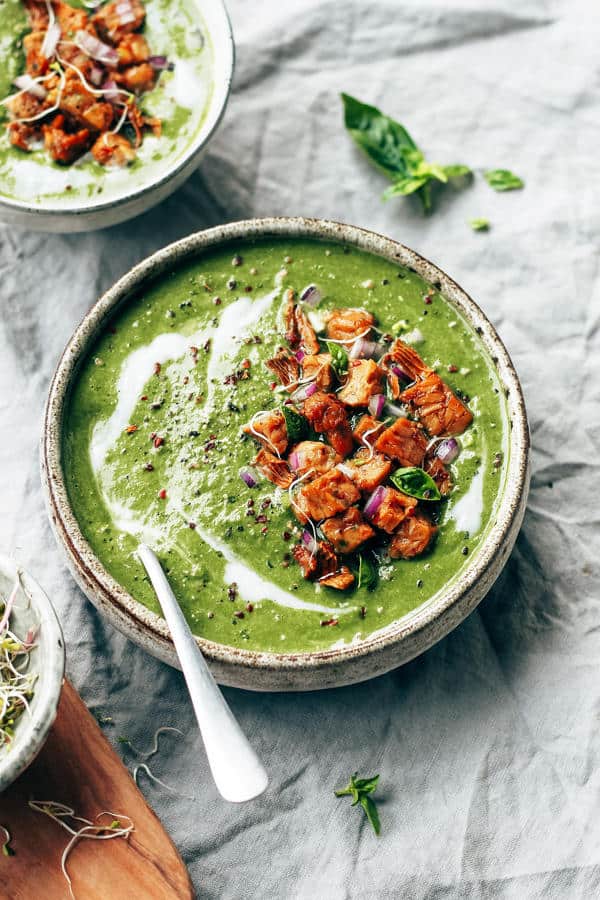 I've never heard of a curried spinach soup before so was excited to try this. After all, spinach is very common in Indian cooking so it's perhaps surprising we haven't seen this more often.
The soup contains coconut milk, mushrooms and more, so you get a very full flavor.
Honestly, it's so good you don't even need anything else. However, the cashew tempeh makes what is an already fantastic soup even better. The flavors contrast with each other yet somehow go hand-in-hand. Perfect!
Spinach Tortillas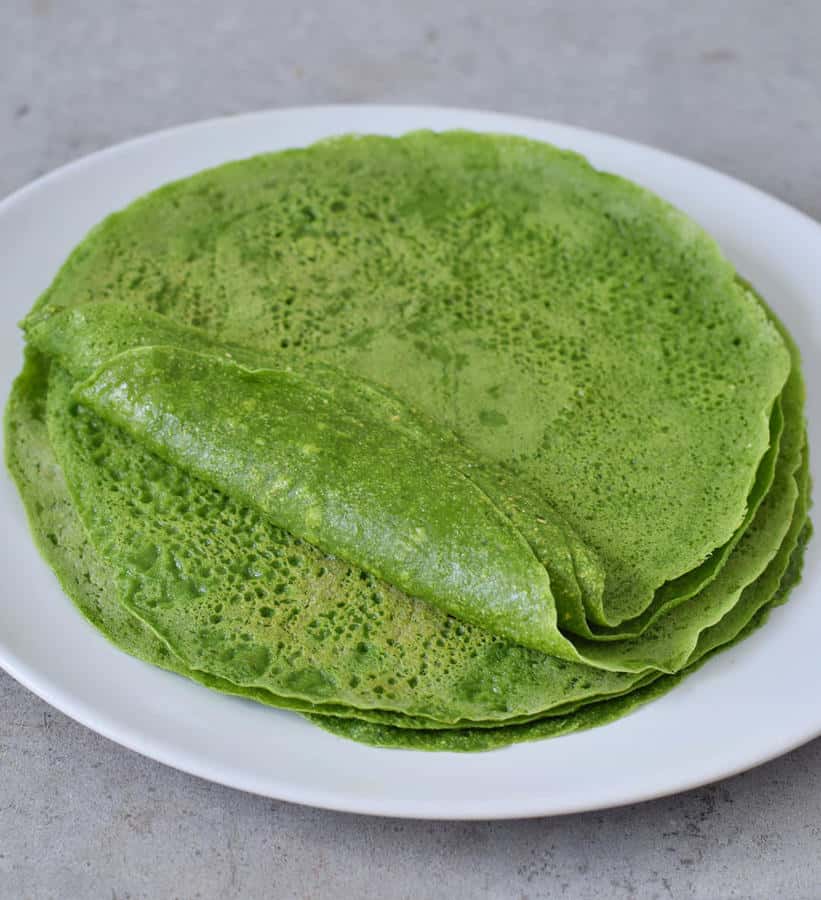 Want to make something familiar and yet real different?
These tortillas are just like your regulars, they even taste almost the same. I'd say the texture is a little softer so perhaps easier for holding your favorite fillings.
You won't believe how easy these are to create. Made with fresh spinach and they have the most vibrant looking color you've ever seen. Wonderful!
Spinach Ricotta Lasagne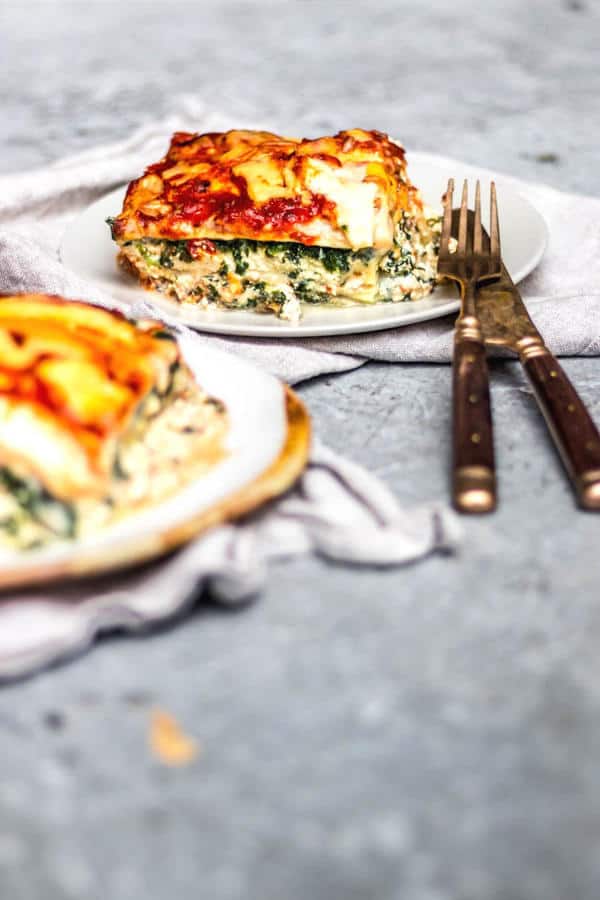 As a child I saw my mother (who is Italian) make lasagna like ten thousand times.
It took hours and a lot of hard work as she'd make everything from scratch.
Obviously, this is a plant-based version and Alex has done a great job of taking the effort and so much of the time out of making this dish, while retaining the flavor and goodness.
Wonderful ingredients such as garlic and some really great herbs and spices. For the 'ricotta' you'll be using tofu.
You're going to need just over an hour to bring this to the table and this includes prep and cooking time. A very special meal I promise.
Italian Spinach Pinwheels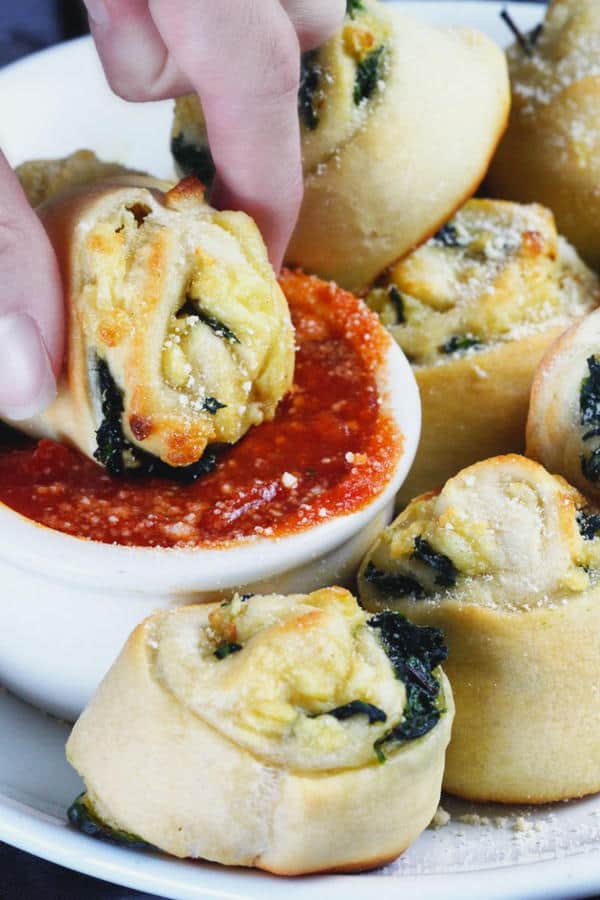 If you like garlicky snacks you simply have to make these, probably today!
The recipe is incredibly simple although if you want to cut some corners, buy some good quality pre-made dough at your local store. If you do have time, however, do go to the effort of making your own as you'll taste the difference.
Your need some vegan mozzarella cheese to go with this. Once baked, you have these cheesy and garlic wheels of goodness.
Served with a tomato-based dip or they are great on their own. Perfect for a party and great for leftovers!
Pistachio Spinach Falafel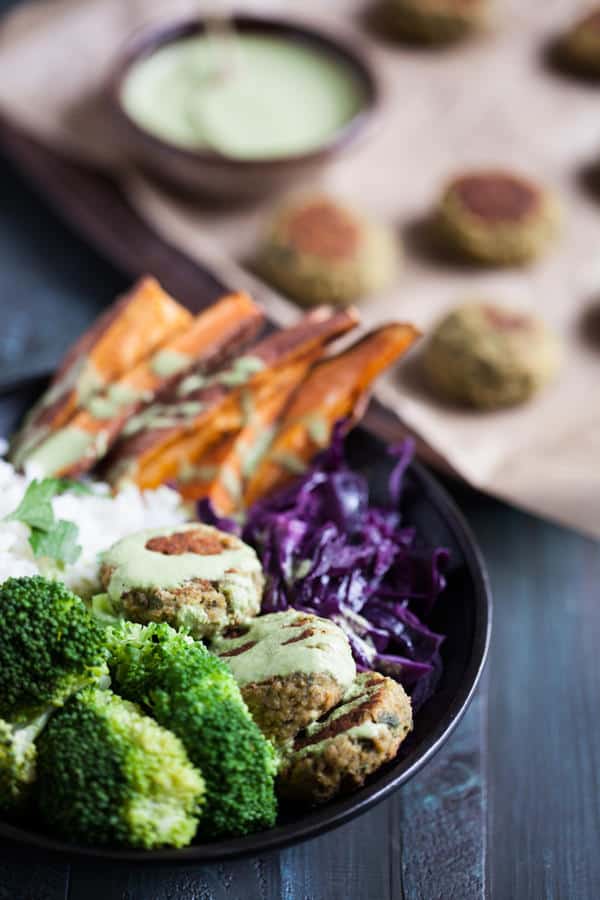 I love falafel and always on the lookout for new recipes. When I saw this contained spinach and pistachio, I was hooked!
You're looking at bringing these to the table in just over 30 minutes. In addition to being plant-based, these are soy and gluten-free. The amounts listed in the ingredients make for about 15 falafel pieces so adjust as necessary.
A common complaint with some falafel recipes is that it turns out dry, this is not an issue here as they are wonderfully moist and full of flavor.
Any leftovers can be stored in an air-tight container in the refrigerator for up to 5 days or even in the freezer for a month.
Quinoa Spinach Salad with Butternut Squash and Apple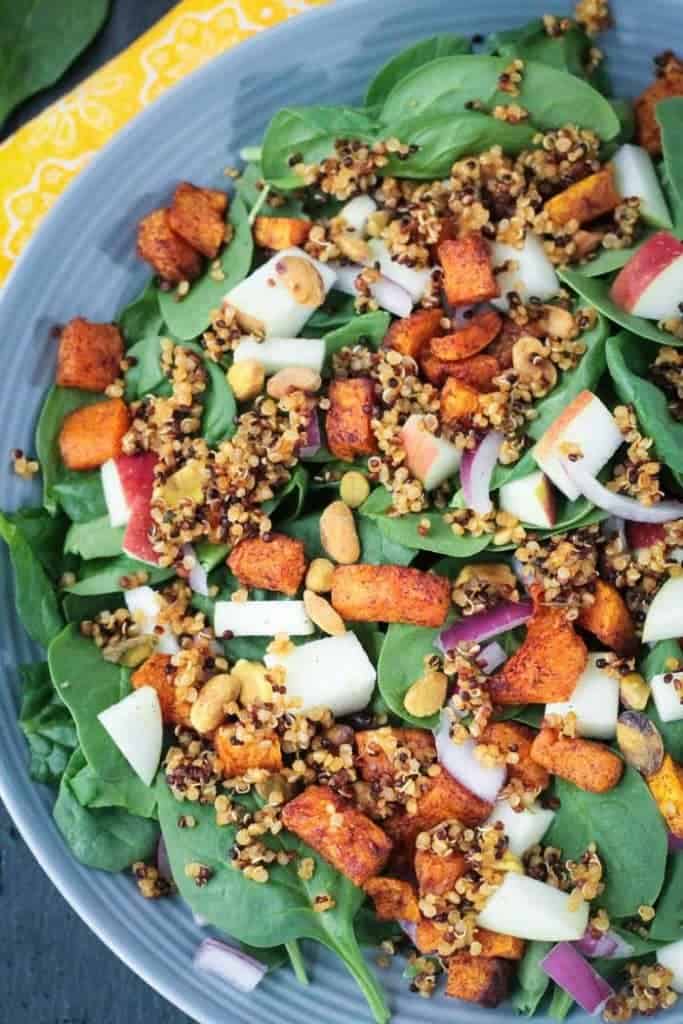 This salad has just about everything. If you want a super healthy lunch or evening meal that has more flavors and textures you have ever seen, check this out.
Not just tasty and good for you, but you can easily see how versatile this recipe is. You could easily add or swap out any of ingredients depending on your favorites or what you have that needs eating.
It's so easy to put together, it'd be perfect for a weeknight and yet if you have some friends coming over, this would be great in a big bowl at the centre of the table.
Hydrating Cucumber Spinach Smoothie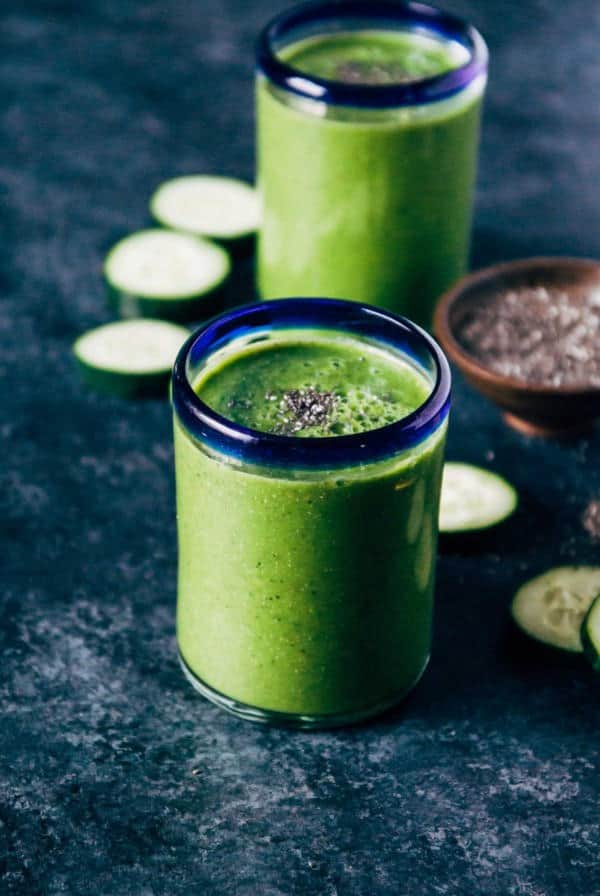 There was a time when I wouldn't touch green drinks. It was all because of the first one I ever had which was literally a blended salad. I think someone was having a joke with me!
If you've been wanting to try a green smoothie but have put it off, give this recipe a go. It's definitely hydrating and super healthy.
With the almond milk and agave nectar, this is beautifully creamy and sweet. Perfect as a meal replacement or a post workout drink.
Wrapping Up
As you can see, there's a lot more to spinach than meets the eye.
In a smoothie, a salad, soup or as an ingredient in a savory snack, the only limit is your imagination.
We only wanted the very best recipes in this roundup, so our selection process was tough!
The end result is everything on this page, we went for variety, occasion and health.
If you like spinach or you want to eat more of it, there is something for you here.
Be like Popeye!