Our motivation here was to find not just the very best vegan smoothie recipes, but we also tried to get a wide spectrum of ideas to give you lots of choice.
Start your day with a smoothie. And why not have one for lunch too if you're on a health kick, then when you want a good quality plant-based meal, there are endless recipes waiting for you.
For now, fire up your blender and get ready to go!
Fabulous Smoothie Recipes
Basic Blueberry Smoothie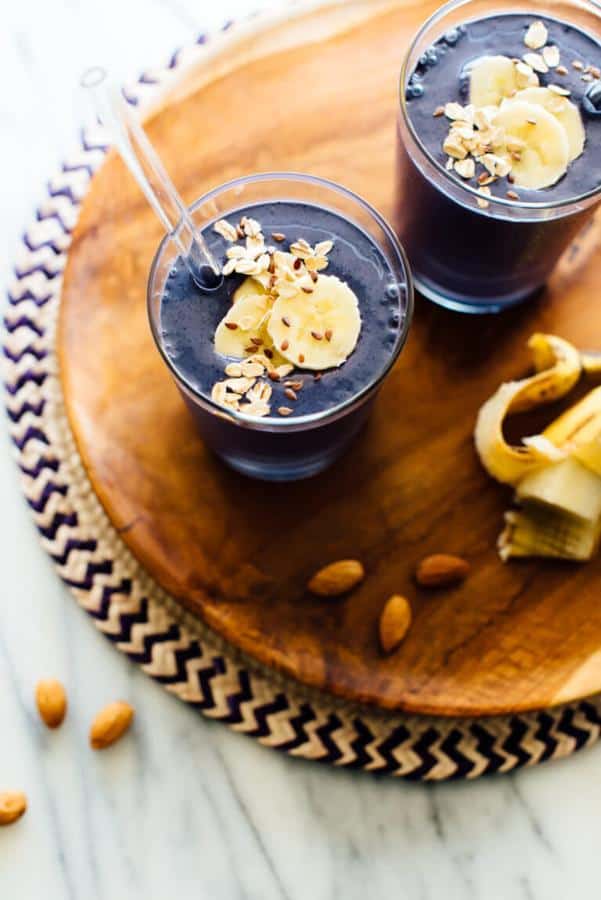 Every smoothie lover has a staple, it's their favorite, the go-to recipe when all else fails.
For that you need something just like this recipe. Here's the first tip, always keep a bag of frozen blueberries in your freezer and if possible, make them organic!
This recipe has some optional nutrition boosters. Other than that, throw in all the ingredients and as always, blend until smooth. Delicious!
The Easiest Green Smoothie Recipe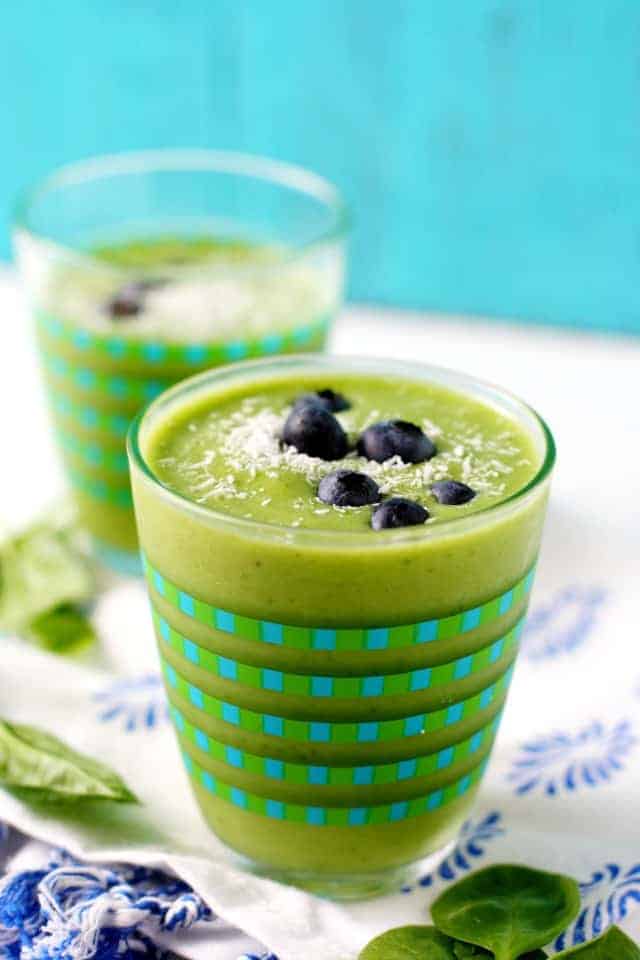 The thing is with green smoothies, they really can be unappetizing.
This is especially true if you get your recipe from a smoothie or juicer veteran who don't like their drinks sweet. For a beginner, however, check this one out.
The green comes from fresh spinach and this is great for a smoothie as it doesn't have a strong taste.
The other ingredients are there to add sweetness and creaminess. Perfect to get greens into your kids!
Fall Greens Smoothie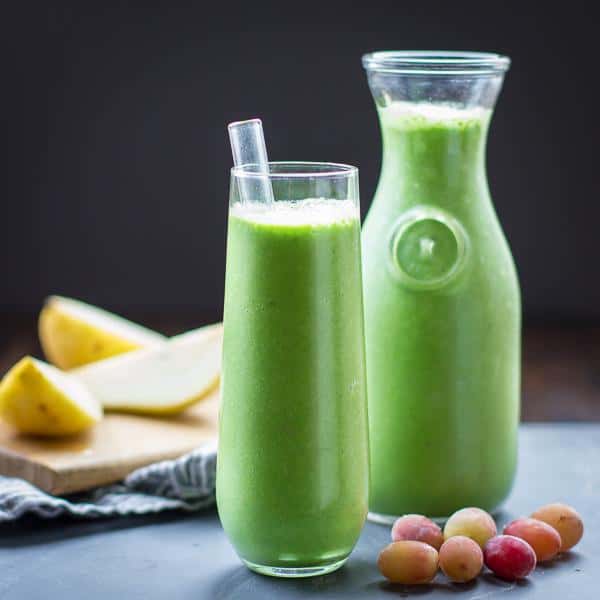 This smoothie is almost a full meal!
A wonderful recipe that gives you ideas for toppings, drizzles and more!
Rather than pour into a glass, you could use a bowl and decorate with whole fruit such as berries and all sorts of things. Do note, the Alanna uses honey which is not vegan, simply swap this out with agave syrup or maple syrup.
If you want a really appetizing smoothie recipe, this is one of the best.
Orange Berry Smoothie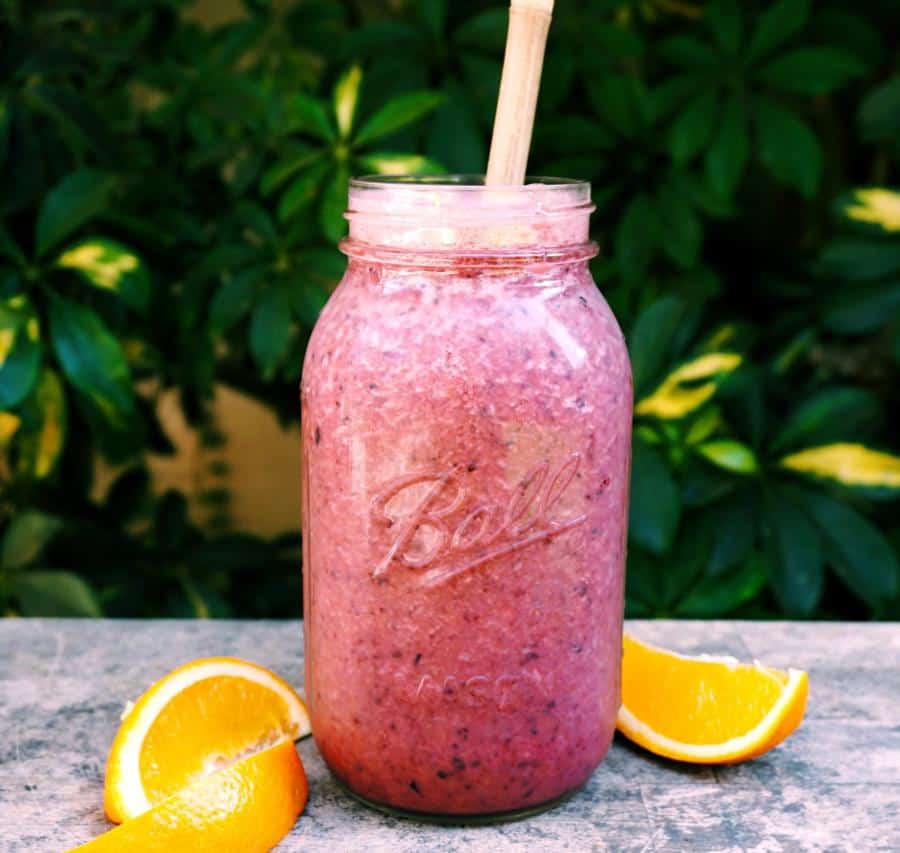 I've not seen many smoothies that contain oranges, they have their own distinctive flavor and sometimes it's difficult to find other ingredients that complement them.
When you do find a good recipe, you need to keep it, and this is one of those times.
There are about half a dozen ingredients in this smoothie and my favorite is the coconut milk (you can use any other plant-based milk if you prefer). It makes everything creamy and brings all the flavors together.
This is one of those recipes where you can leave out a couple of ingredients if you have trouble sourcing them and it will still turn out great.
Superfood Smoothie Bowl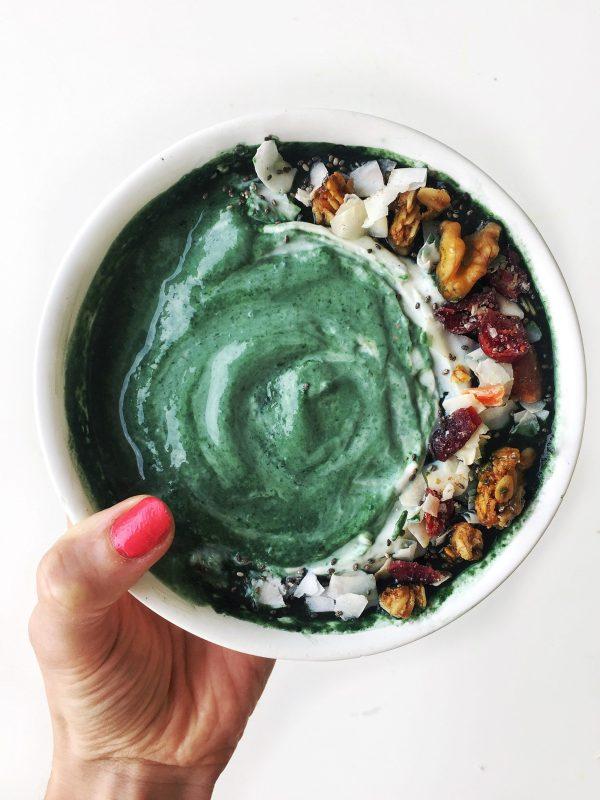 Have this smoothie in a bowl or cup.
It's made with apples and greens, the former giving great sweetness.
It's also a very versatile recipe, so add any toppings you like. I love shredded coconut, berries and nuts!
Clean Eating Kid's Persimmon Smoothie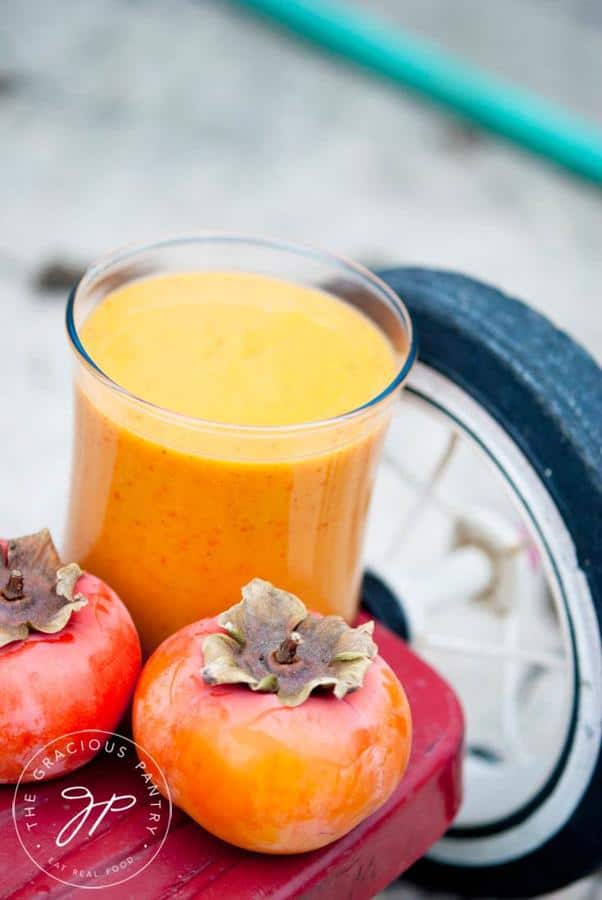 Whether you're on a health kick, or you're looking for something your kids will like, check this out.
With just five ingredients this smoothie is definitely going to be a hit.
The coconut and ground cinnamon are your guarantees! Don't forget the lemon juice!
Good Morning Sunshine Breakfast Smoothie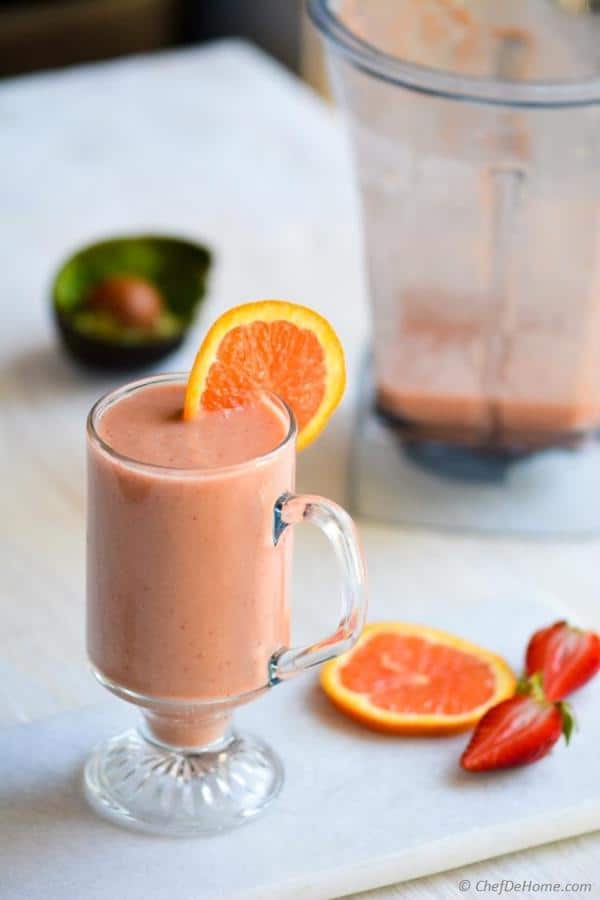 Breakfast smoothies are all about simplicity and speed, and that's what we have here.
Four ingredients and a pinch of salt is all you need.
Whizz everything together and serve immediately or pour into your travel cup for your journey to work.
This recipe contains avocado which I've never seen before in a smoothie, it really works and adds great texture.
Pineapple Paradise Spinach Smoothie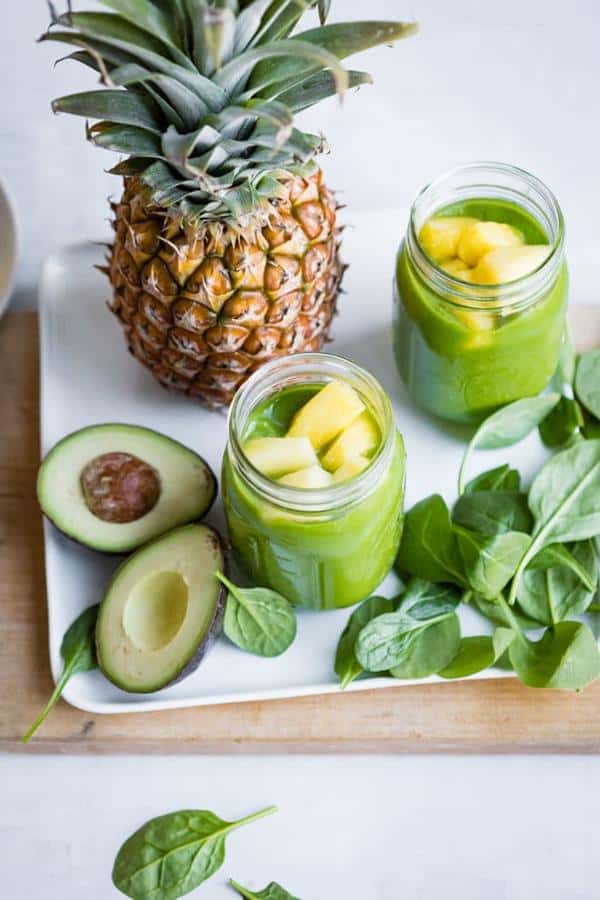 If you're looking for a way to increase your intake of greens, this is the recipe you want.
Just three main ingredients (the rest is water and ice) combined in the blender.
A deliciously sweet smoothie that gives you more greens than you could ever eat!
Coffee Chocolate Almond Butter Smoothie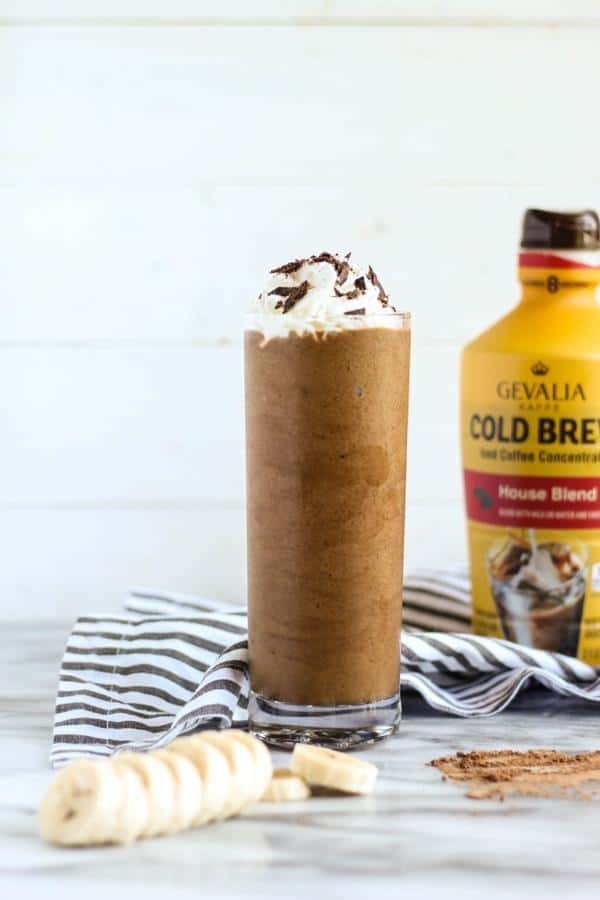 This certainly is a smoothie for coffee lovers.
This recipe does use a brand-name of coffee concentrate.
If you find this difficult to source, use your favorite brand or you could have a coffee alternative. Ice cold, creamy with a hint of vanilla.
Mixed Berry Smoothie Bowl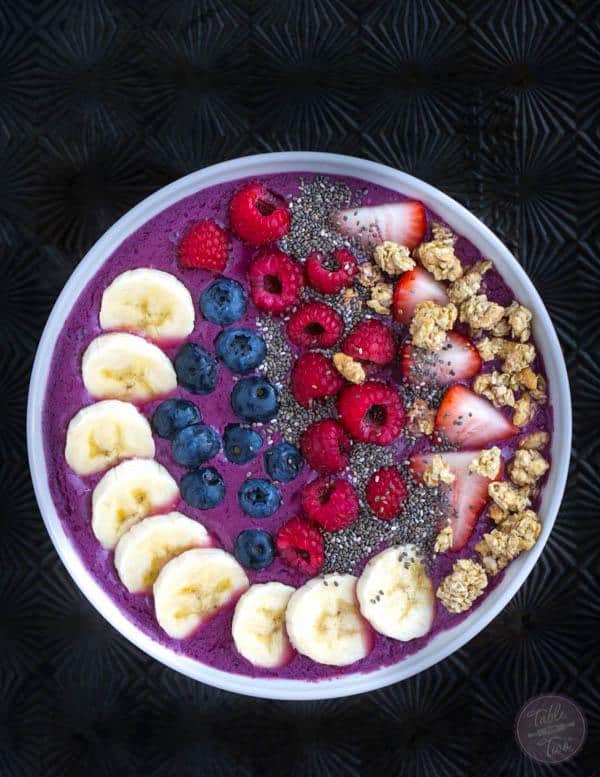 The only thing better than a smoothie, is a smoothie bowl!
What's great about pouring your blended fruit into a bowl, is that you can top with anything you fancy.
Sliced bananas, berries and even granola. It's like a soup, but better!
Avocado, Pineapple, and Banana Smoothie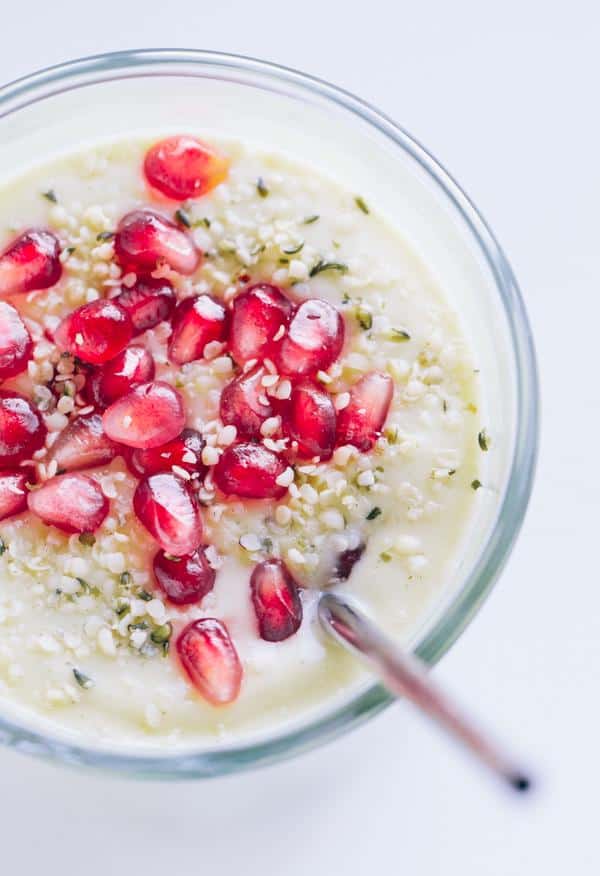 The only thing better than a smoothie, is a smoothie bowl!
What's great about pouring your blended fruit into a bowl, is that you can top with anything you fancy.
Sliced bananas, berries and even granola. It's like a soup, but better!
Toasted Coconut Smoothie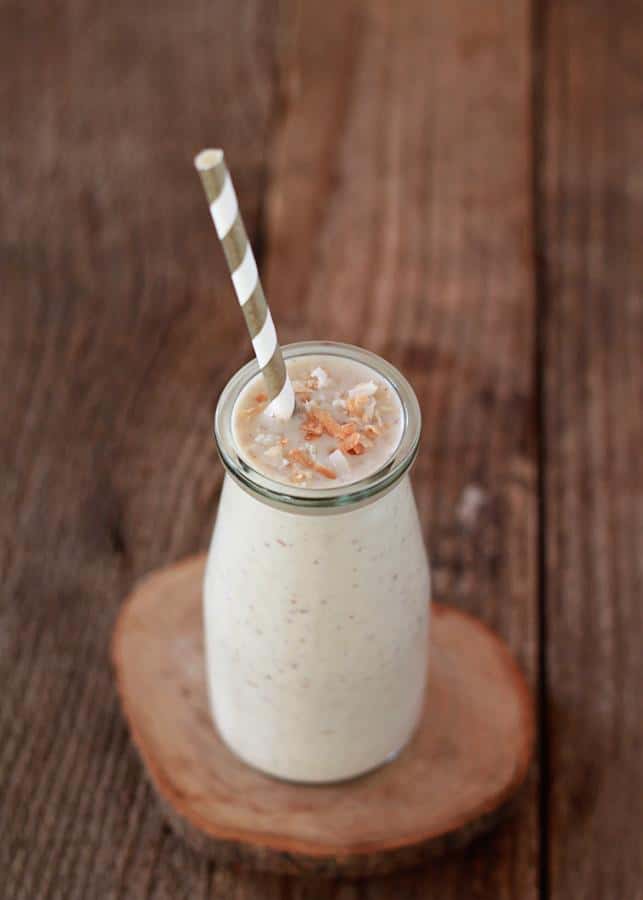 The only thing I can say about this smoothie is, you must have it!
If you're a coconut nut (see what I did there), you going to be in heaven drinking this. It's tropical and the toasted (they're baked) coconut make this an absolute dream.
Perfect quantity of ingredients brings through all the right flavors at the right time. A real treat.
5-Ingredient Chocolate Hemp Smoothie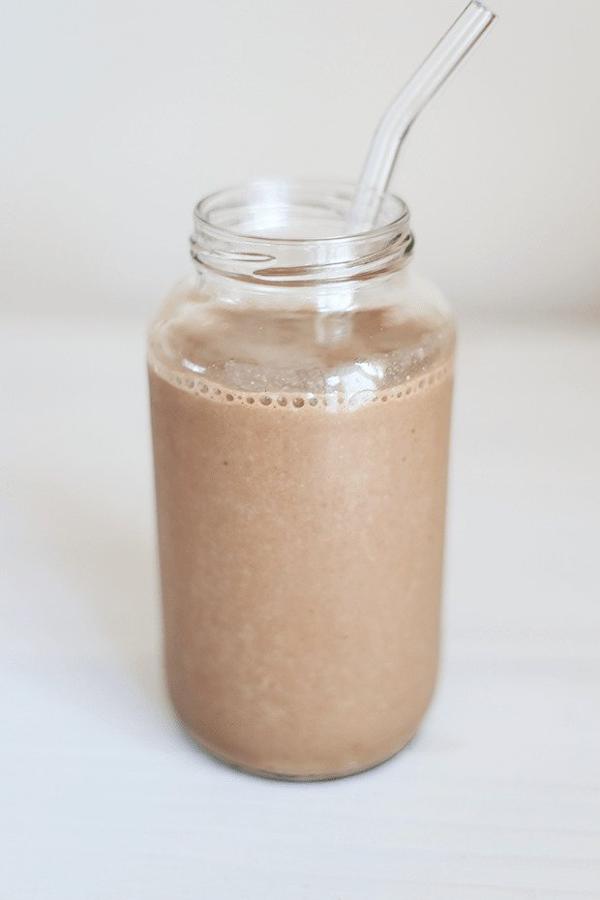 When you want a breakfast that feels like you're cheating on your health kick, but you're actually not, this is the recipe you need!
Get yourself some hemp hearts and whizz them up with the other ingredients in this incredible smoothie.
Wonderfully healthy and will fix your chocolate craving without cheating.
Do make sure you use medjool dates and not any other kind as it makes all the difference.
Vanilla Beet Smoothie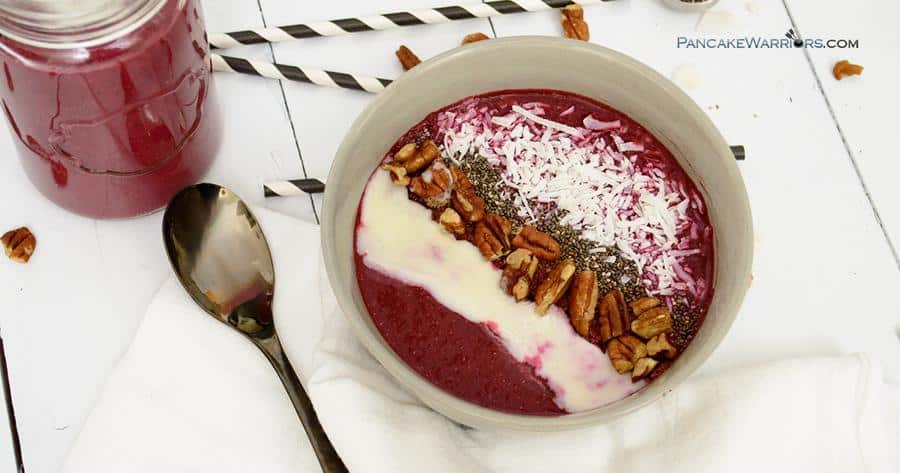 This recipe is a real treat, and one with a twist.
Don't let the beets put you off, there is a risk you may skip this if you're not used to them in a smoothie.
Make sure you check out the video on how to prepare the beets, it's really informative.
Whether you're on a detox or not, you simply must try this.
Pineapple Coconut Smoothie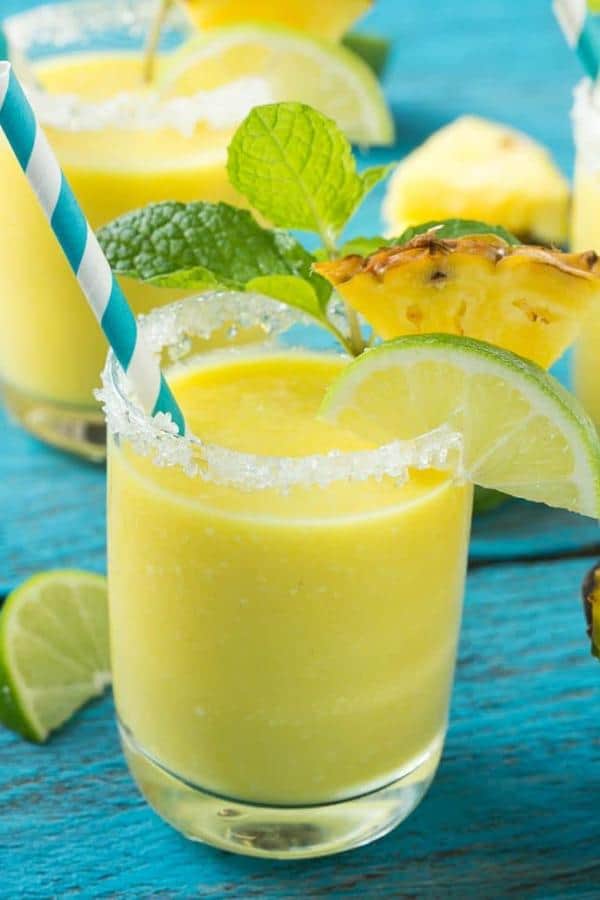 If you haven't been on vacation for a while and need help visualising being on a deserted beach, this is all you need!
Just four ingredients make this incredible drink. Super healthy and I recommend you go for the optional garnishes for that extra special effect. Aloha!
Pineapple Green Smoothie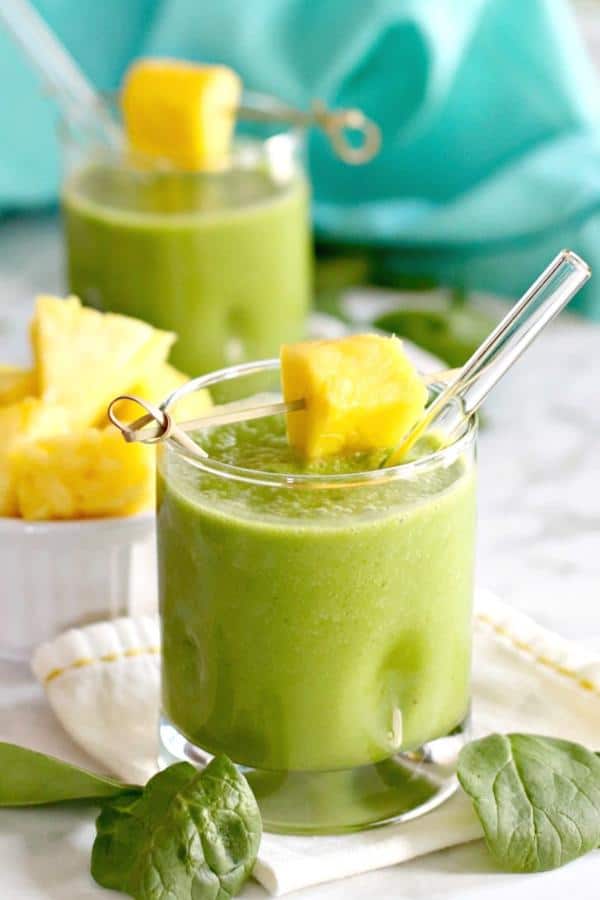 This is one of those drinks that fools your body into thinking you're not having your greens!
1 cup of baby spinach and three other ingredients will give you the perfect start to the day.
Taste great, wonderfully sweet and creamy thanks to the coconut.
Peanut Butter and Jelly Smoothie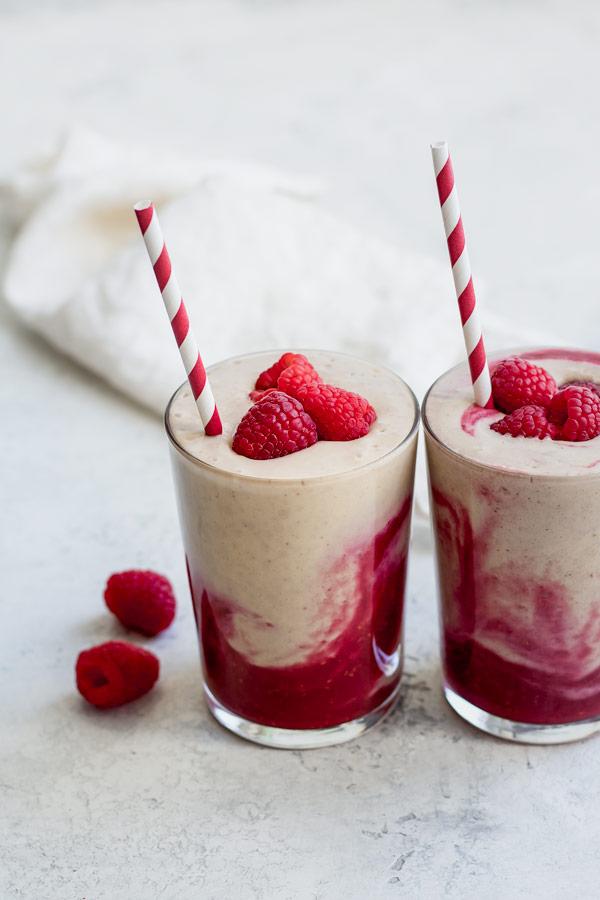 When I first saw the title of this smoothie, I probably looked like a confused emoticon!
I had all these visions of peanut butter jelly in a blender. Let me assure you, this is not the case!
This is all about the fruit which is your 'jelly'. Then you layer in a great combination of four ingredients.
Do go to the effort of making this swirl affect as it makes it look incredible.
Strawberry Banana Smoothie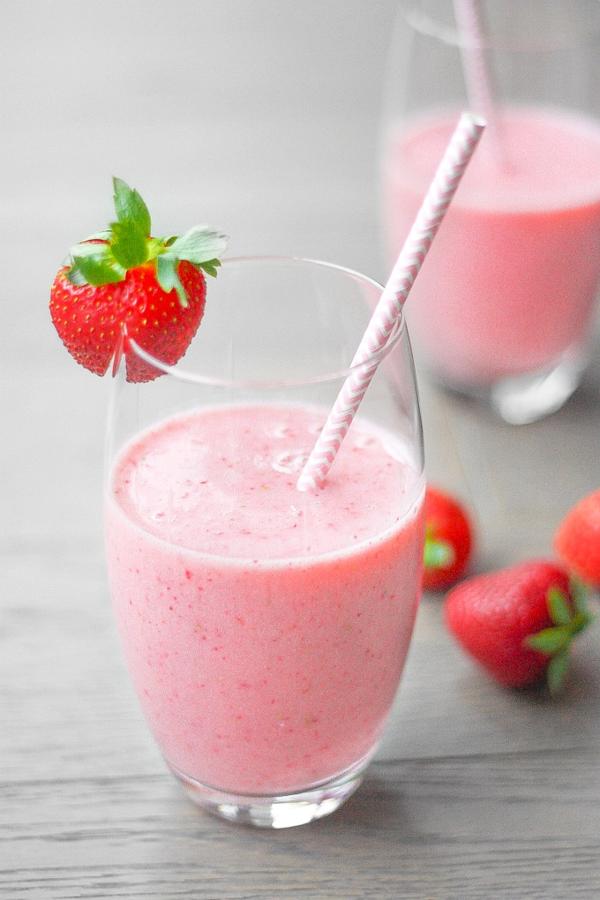 If you've strayed a bit from your health kick and you need a motivational recipe to get back on track, grab this and go!
Just three ingredients and some ice blended together, and you have one of those smoothies that will become one of your staple recipes.
Green Smoothie with Avocado and Mint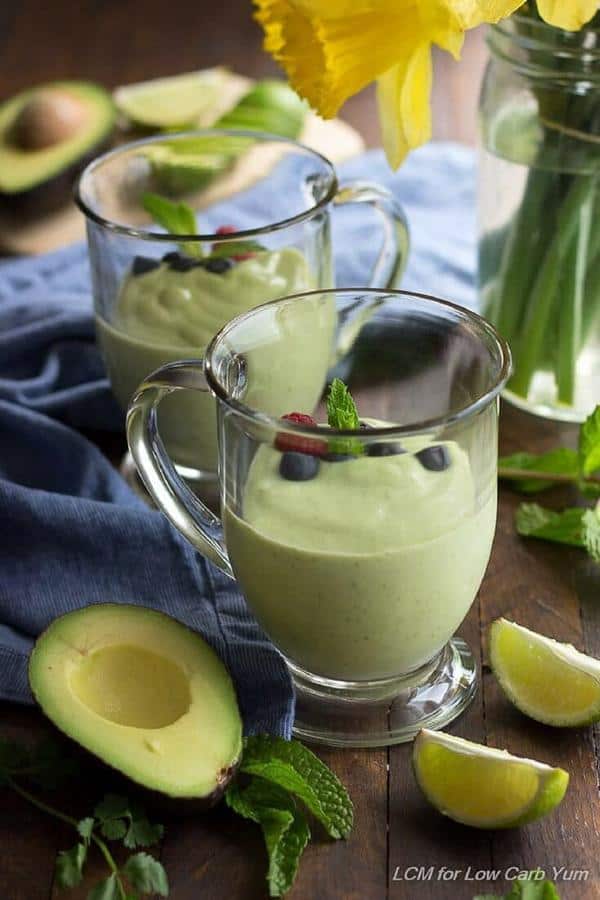 When it comes to smoothies, I have a handful of favorites and seldom stray from them. Because of this, I didn't know this type of smoothie is very popular.
The issue is the traditional recipe for this is usually loaded with sugar. This is not that recipe!
Just a handful of ingredients including mint leaves and cilantro give you a very special drink indeed.
When you're looking to treat yourself, try this.
Chocolate Peanut Butter Hangover Smoothie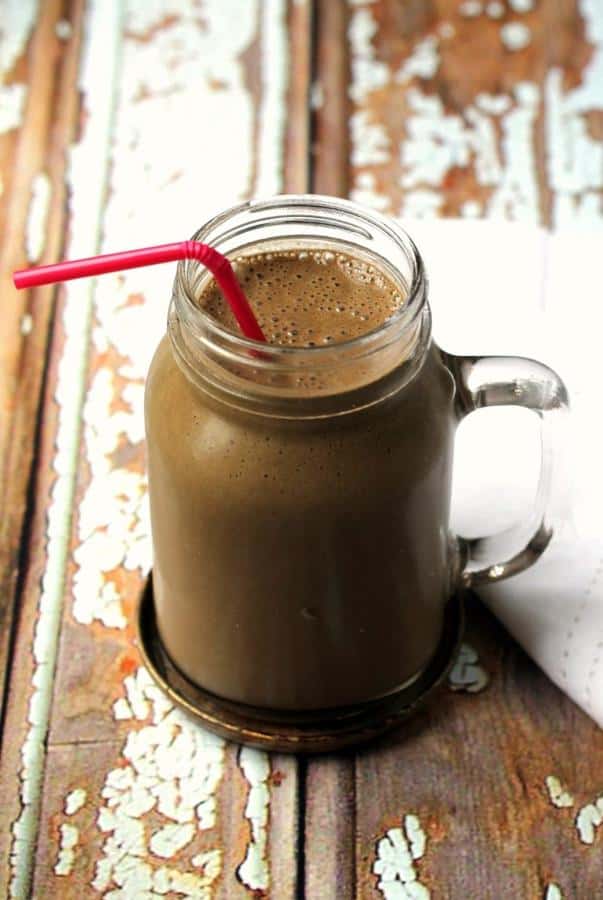 Well, Christine from Happy Veggie Kitchen, claims this is the ultimate hangover smoothie.
If you have a couple of similar recipes on hand for when your head hurts after the night before, I would put this top of the list.
Aside from the curative aspect, it's a delicious smoothie in its own right! It's comforting and extremely moreish, I love it!
Tropi-Kale Green Smoothie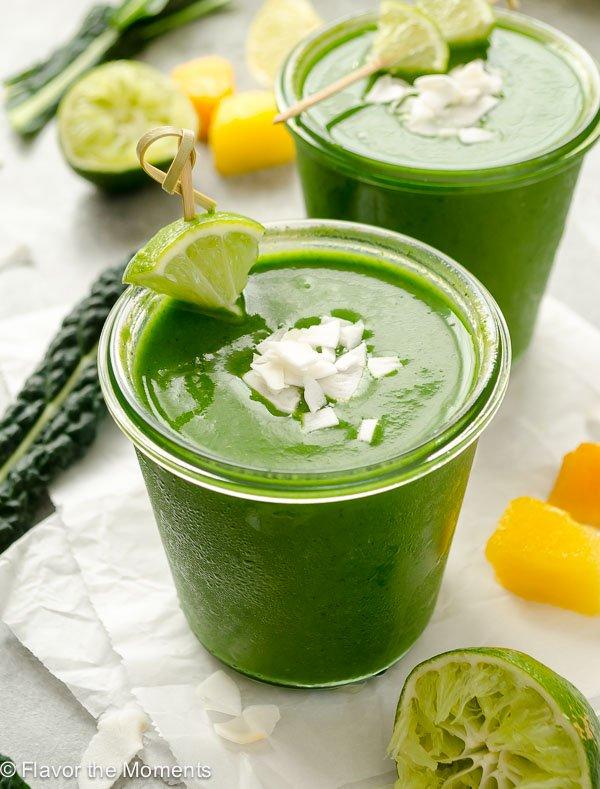 Love the name Marcy gave to this smoothie!
You don't often see recipe authors adding videos to their recipe blog posts as they require a lot of time and effort what with filming and editing.
Seeing one in a smoothie recipe is a real treat so make sure you check it out. Delicious and super healthy.
Sweet Potato Mango Smoothie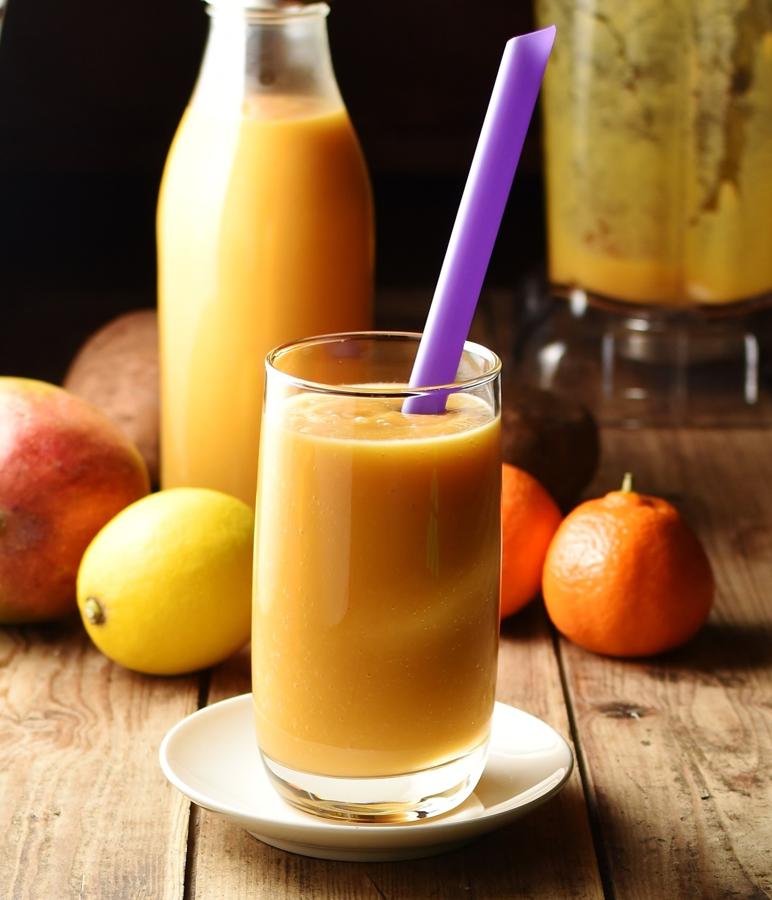 If you've never thought of putting sweet potato in your smoothie, I encourage you to give it a try. I have seen a couple different variations of sweet potatoes in sweets, but this one is a super easy way to take the plunge.
Make sure you start with a baked sweet potato, as it's the basis for this recipe. I like to make extras whenever I have a sweet potato dinner, so there will be some ready in the morning.
Five ingredients and less than five minutes in the blender, and you've got yourself a delicious smoothie! So much good stuff in a glass with this recipe!
Coconut Lime Smoothie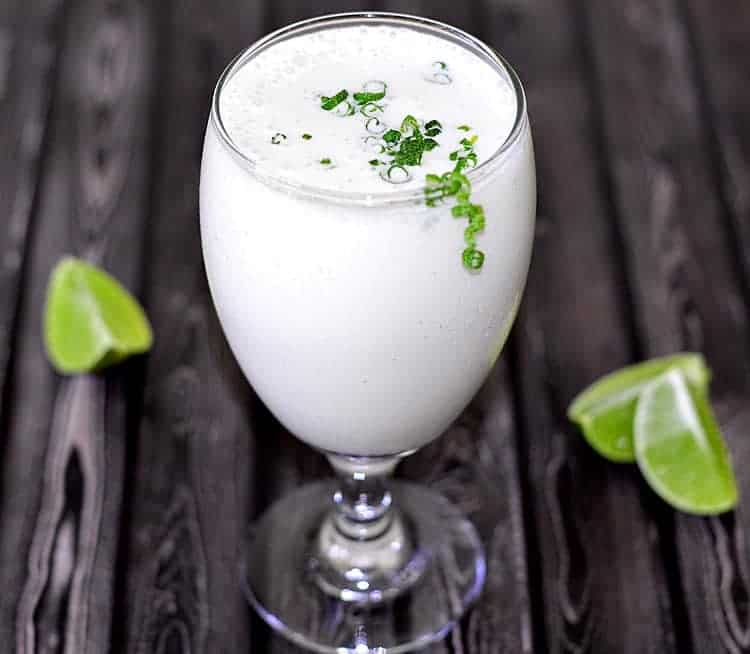 Something you don't often see is a white smoothie!
There are just four ingredients that need to be blended together to produce this.
Having said that there is some optional lime zest for garnish which I think is essential because the color contrasts perfectly with a white smoothie. Totally delicious.
Immune Booster Sweet Green Smoothie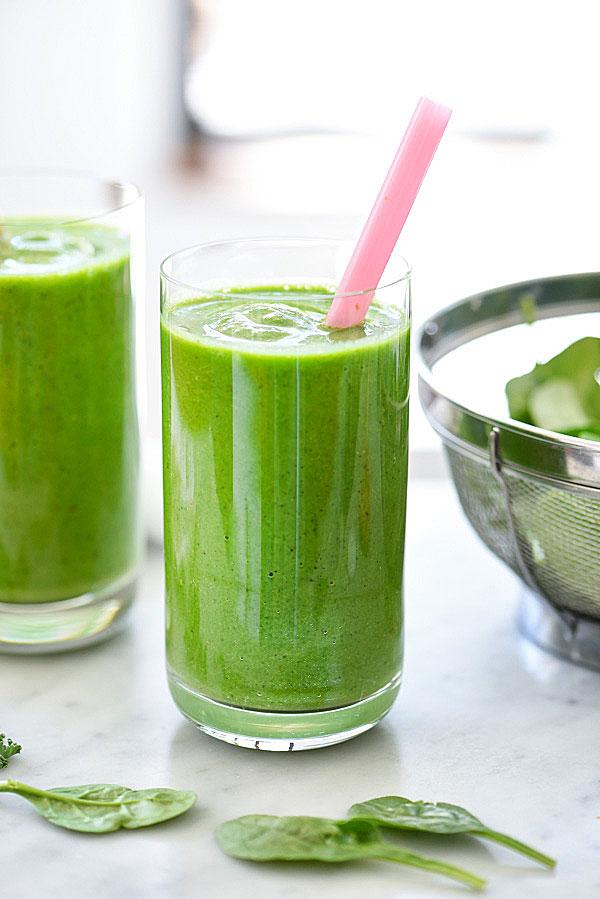 Whether you're just getting over being sick, or you want to help your body avoid those winter nasties, you need this recipe.
Incredibly creamy and packed with natural sweetness, antioxidants and oodles of vitamins. Good for you and the entire family.
Beetroot Chocolate Smoothie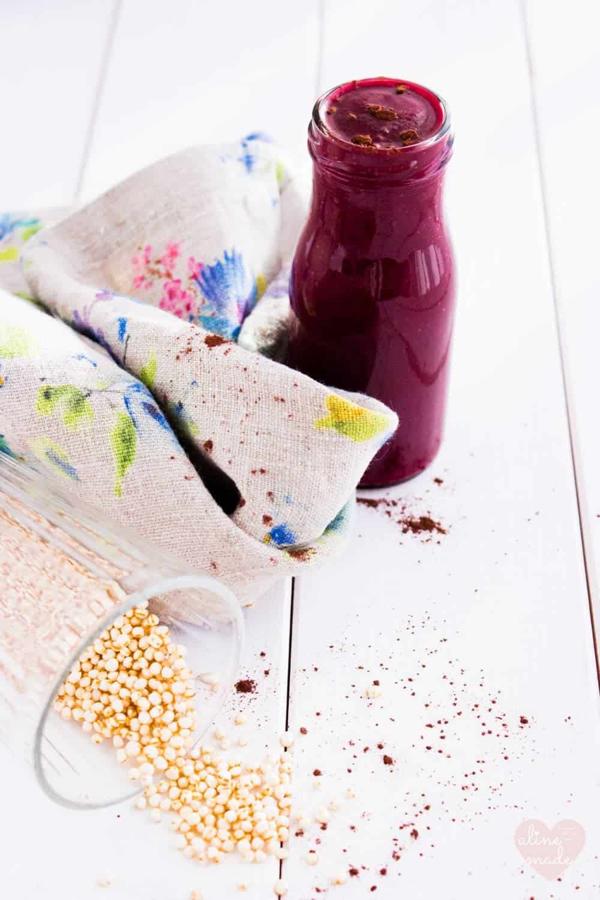 You don't often see beets used in smoothies, as they are often thought of as savory soup ingredients. But I assure you, this combo of beetroot and chocolate is just heavenly. Five ingredients and a blender and you're on your way to a taste you won't believe.
I'll never look at beets the same again! This smoothie will fast become your new favorite, and it's so good for you! Amazing.
Grapefruit Smoothie with Berries and Mint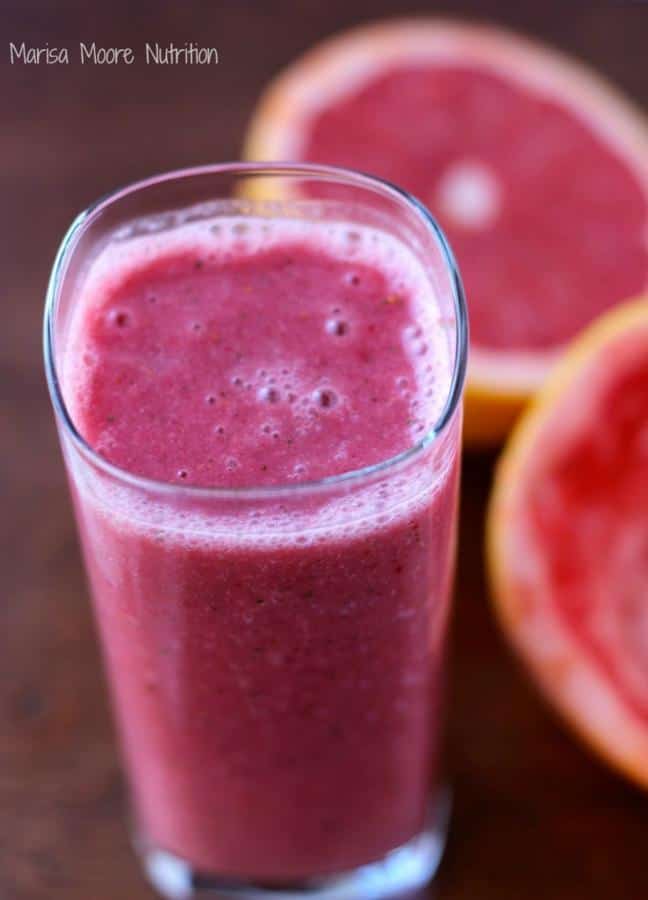 Having a grapefruit smoothie recipe is quite rare, I think. This is a welcome surprise and a great recipe.
Just four ingredients blended together until smooth yields this beautifully sweet smoothie with coconut keeping everything creamy and delicious!
Power Smoothie Bowl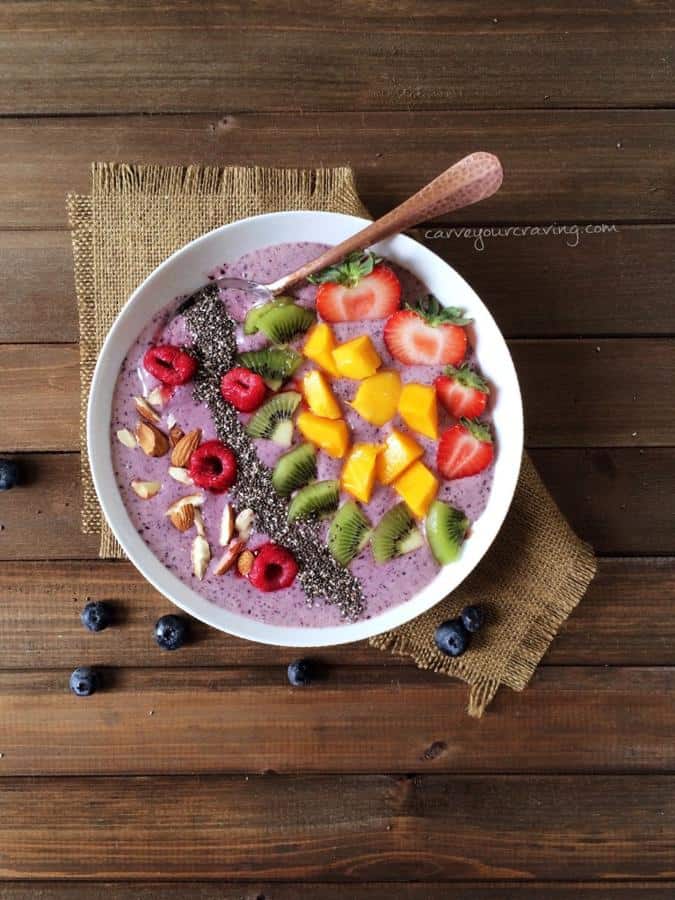 If you're looking for a post-workout meal that is light, bursting with flavor and goodness, and yet is completely satisfying, this is the recipe.
It's all about great fruits and your favorite plant-based milk, and will digest easily and nourish your body after that session in the gym.
Strawberry and Chocolate Chia Smoothie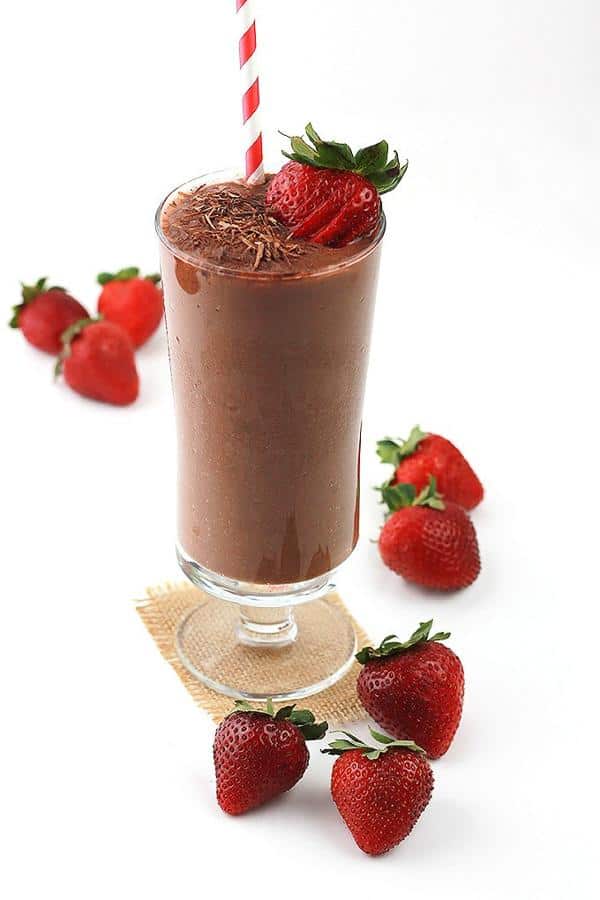 There's nothing quite like a chocolate smoothie, right? The trouble is you have all that refined sugar and stuff that goes along with it. Not in this recipe.
Ingredients do mention a brand-name almond chocolate milk. If you are unable to source it, just get your favorite dairy-free chocolate milk and it'll be just fine.
Then add four other ingredients and you're good to go. For the pitted dates, I recommend medjool, you will taste the difference.
Blend until smooth and enjoy!
Wild Blueberry Immune-Boosting Tropical Smoothie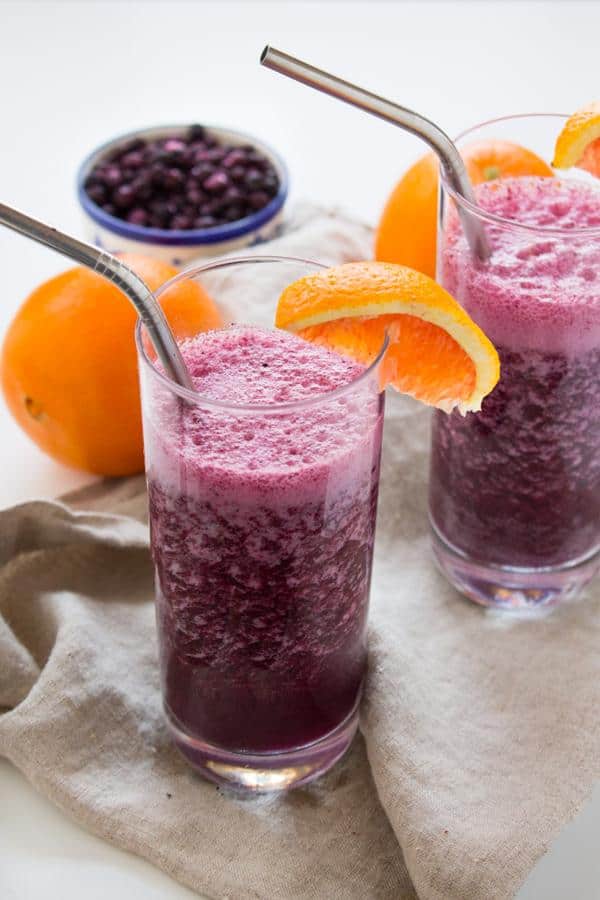 If you're a very berry person, this is 100% for you!
Just five ingredients blended until smooth, this recipe is all about fruits and ginger.
Underneath the ingredients and instructions on the recipe page, there's even a video that walks you through everything step-by-step.
Love it.
Rainbow Fruit Smoothie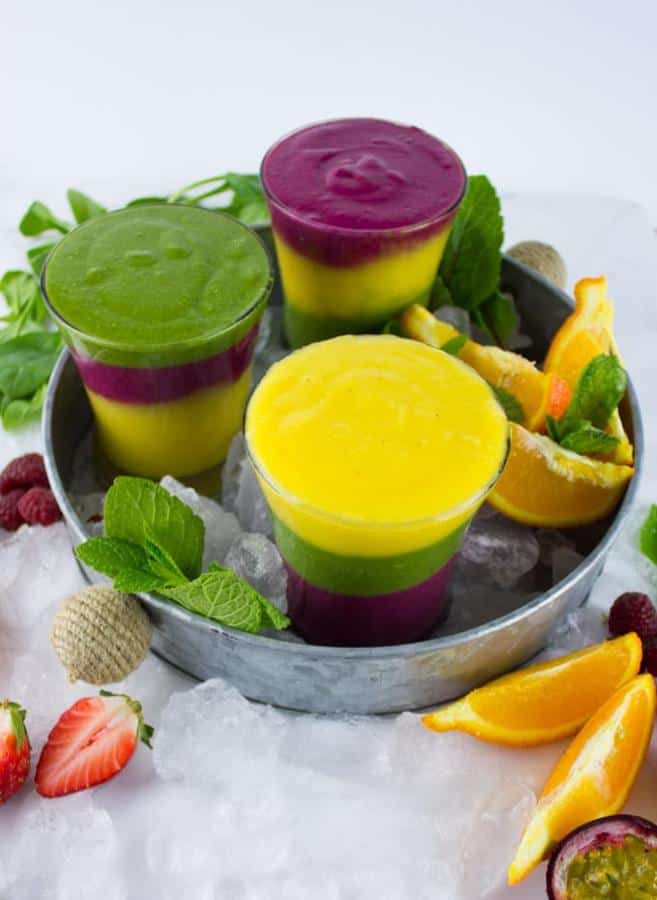 I just love how this smoothie looks. When you make yours, you could easily forget about the presentation and just mix everything together, but I urge you not to. Remember, we eat with our eyes as well!
There is only a little effort required to create this stunning looking drink. Perfect for when you want to impress someone, and your kids will love it too!
Wild Blueberry Mojito Smoothie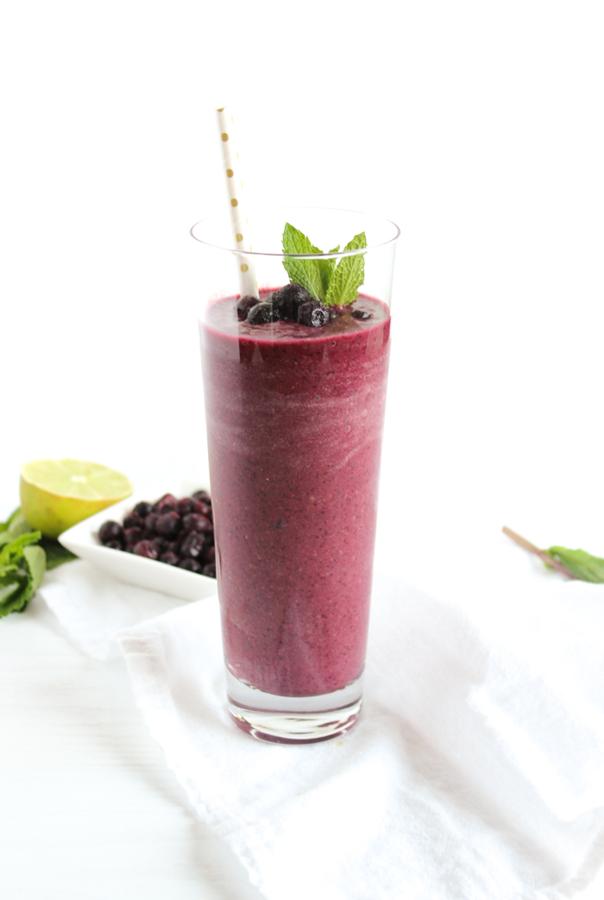 This is all about your favorite cocktail!
A super quick and incredibly healthy breakfast smoothie.
Just four ingredients and a handful of fresh mint (you'll need about dozen leaves) is all that's necessary to create this smooth and sweet delight.
Heart Beet Smoothie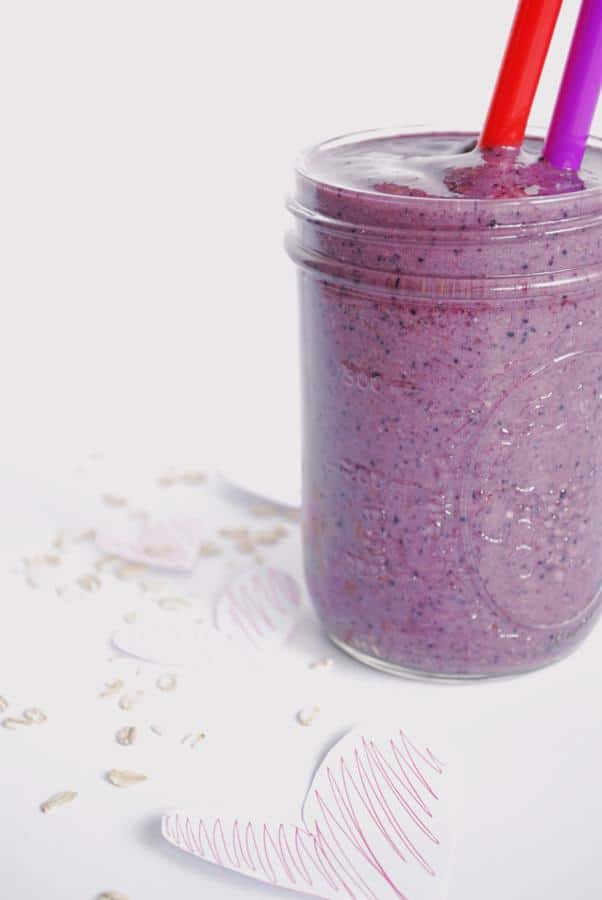 If you've never seen a beet in a smoothie before, don't be alarmed!
Your need one that has been roasted which you can do yourself or some stores sell them like that already.
Aside from that grab the frozen fruit listed in the ingredients along with a couple of other goodies and you're good to go.
Not only will this taste great, but your body will thank you!
Cherry Lime Red Beet Smoothie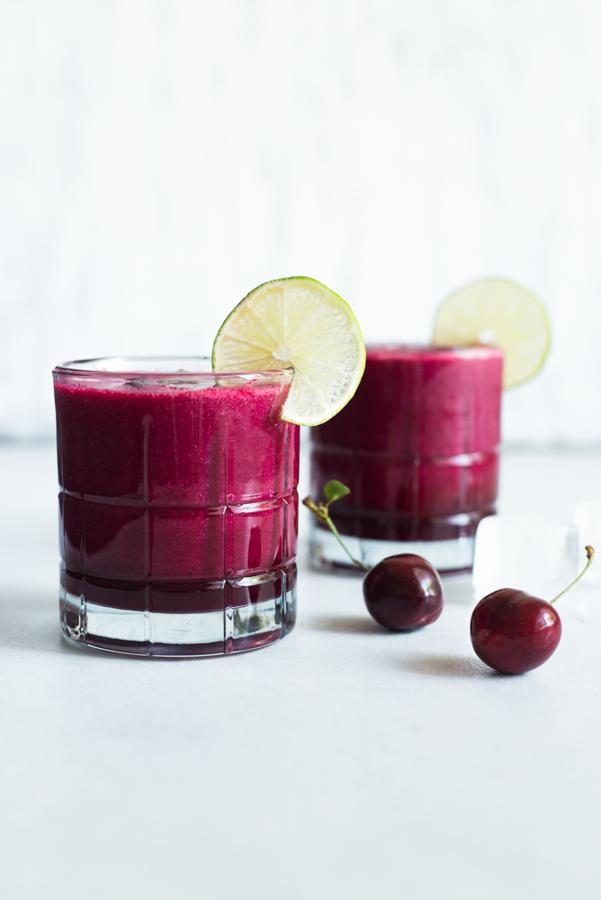 A perfect summertime drink, refreshing and super healthy.
The beet gives the smoothie its wonderful vibrant color and the cherries, along with the other ingredients, make this incredibly smooth and fruity.
Of course, no refined sugars. Everything here is as nature intended.
Healthy Gingerbread Smoothie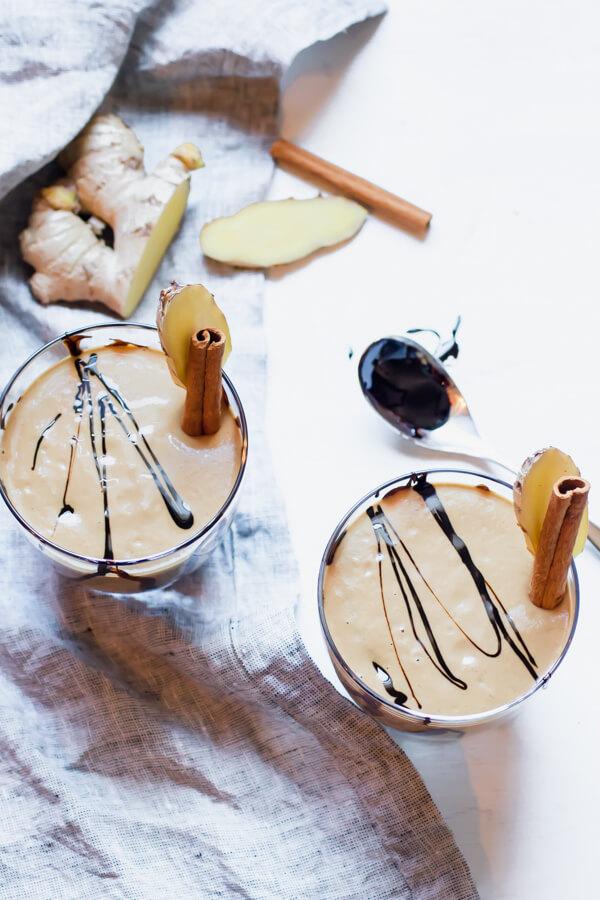 This is one of those drinks that taste like a cake! Well, in this case a gingerbread cookie!
High in protein, you will start your day as you mean to continue with this incredibly healthy drink that, would you believe, even contains cauliflower!
You need to try this because you won't believe how good it tastes.
Fiber Boom! Banana Breakfast Smoothie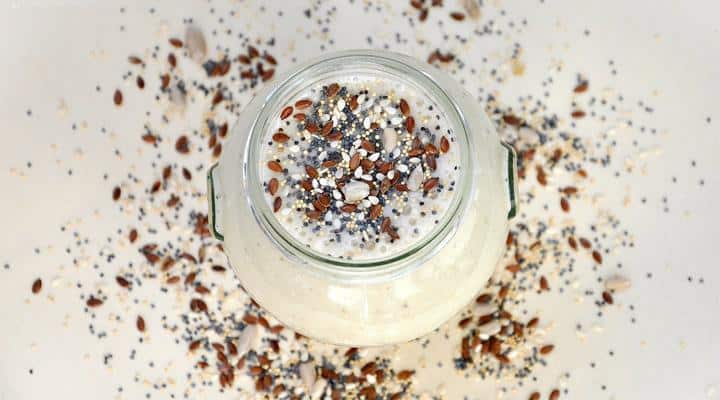 If you're looking for the best breakfast smoothie, this may be your answer.
Just four ingredients is all you need. Do note, it is recommended you prepare the seed mix in advance, so you have everything ready for when you want the smoothie. Worth all the effort.
Sneaky Vitamin C Smoothie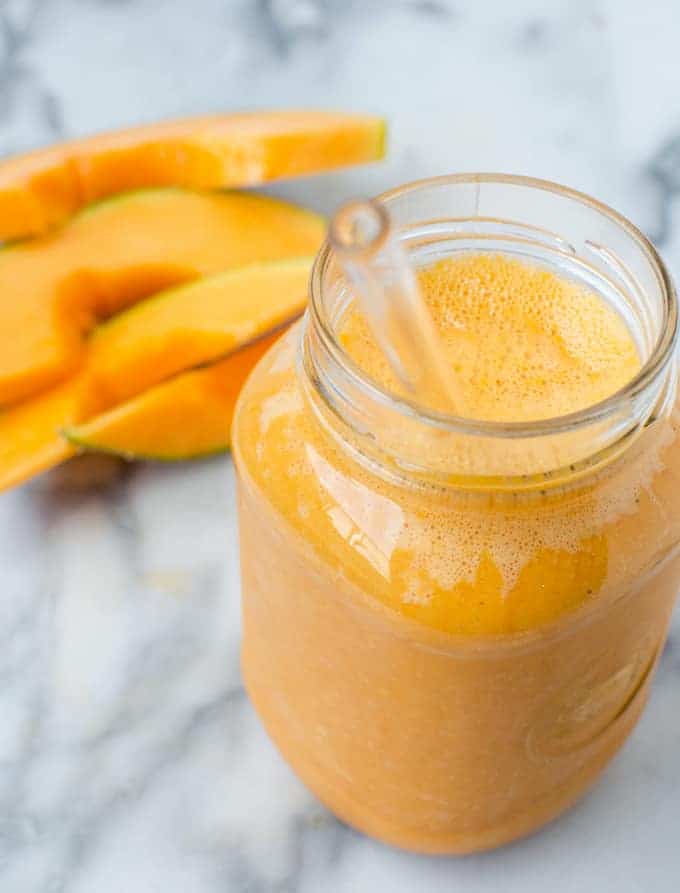 If you feel like you may be coming down with something, or you want to boost your body during the season when most people get sick, this could be a remedy.
Packed with vitamins C and A, this smoothie tastes great as well. It digests incredibly quickly so if you want something before going to the gym, this would be perfect.
3-Ingredient Roasted Strawberry Peach Smoothie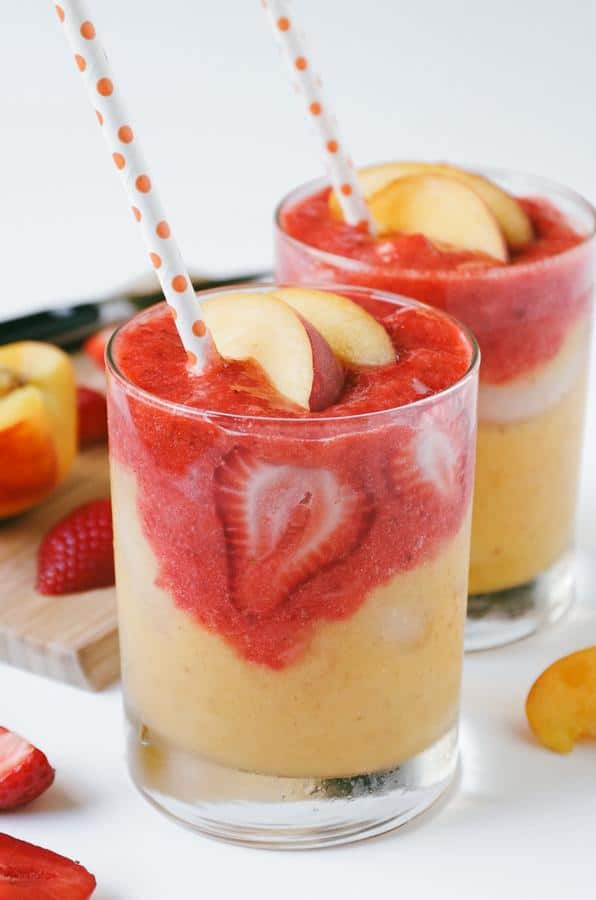 Say what? Roasted fruit?
Just four ingredients are all you need and a little preparation.
Follow the instructions and bake the fruit, this will intensify the flavor and make the smoothie extra special.
The ingredients list granulated sugar as an optional extra, I left this out and it was perfect. Your kids will love this!
Creamy Breakfast Smoothie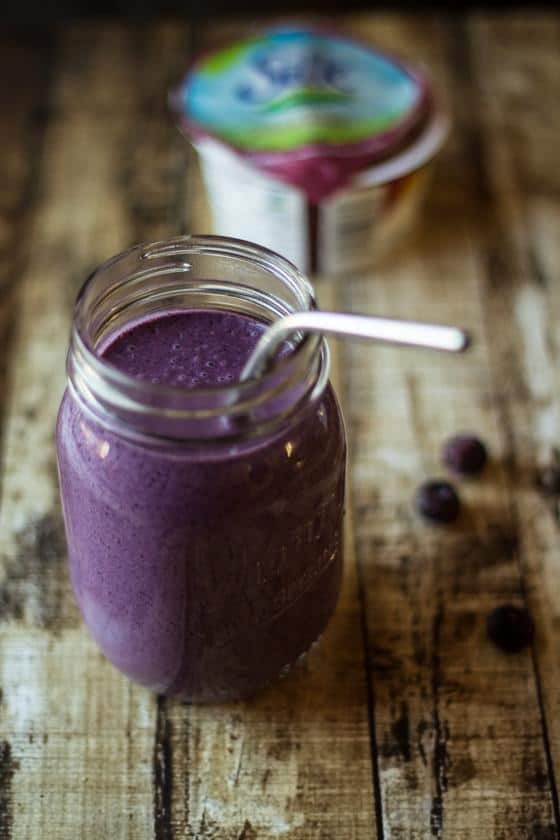 This smoothie really is as advertised.
It's one of the smoothest drinks I've ever had. It contains two types of fruit and a couple of other ingredients. Blend until smooth and you'll be good to go.
The only downside is your mouth and teeth will be purple for a couple of minutes so make sure you don't smile a lot!
Monster Smoothie Bowls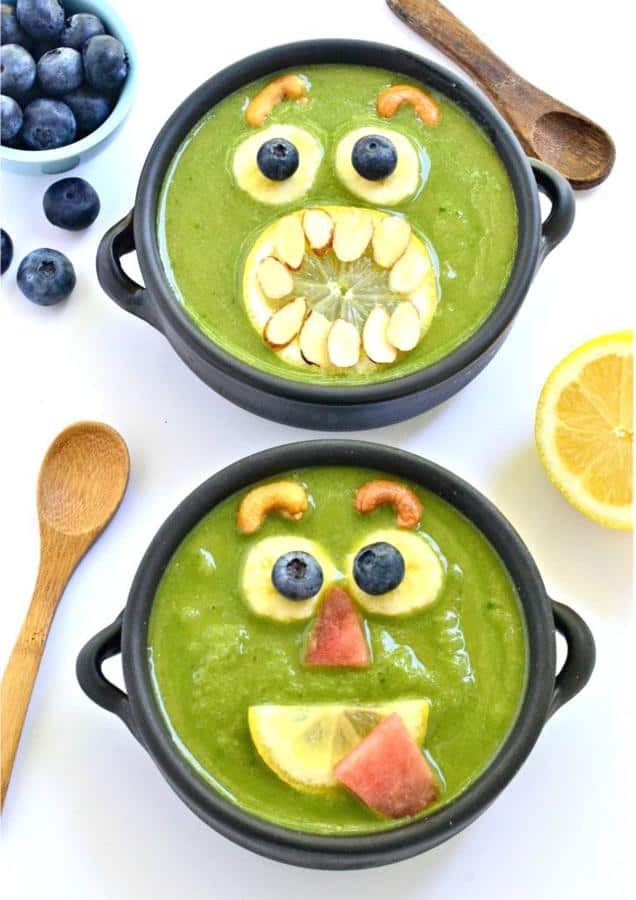 Don't worry, the word 'monster' doesn't mean this is a 20 gallon smoothie! Check out the recipe page to see the faces you can make with the fruit pieces.
A solid recipe filled with greens and great fruit that will hide any hint of vegetables.
Go to the effort of making the faces, or get your kids to, and they will love this up!
Cranberry Apple Detox Smoothie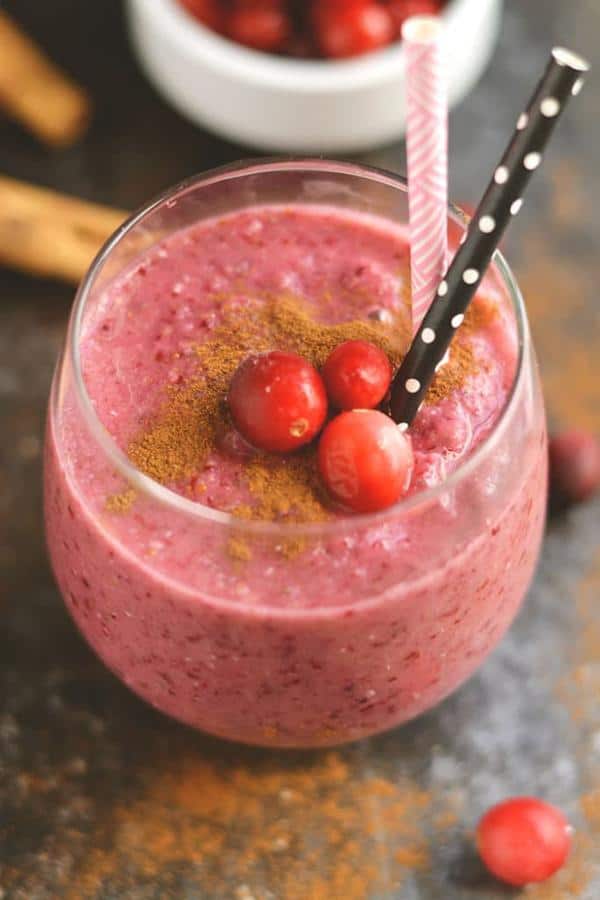 Whether you're planning to detox or not, this smoothie will do your body the world of good.
Filled with antioxidants and nutrients this low-calorie drink will be the perfect start to your day. Just five ingredients are all you need to make this dream ticket.
The secret ingredient for me is the teaspoon of cinnamon which is very slightly there bringing all the other flavors together. Fantastic.
Ginger Pear Oatmeal Smoothie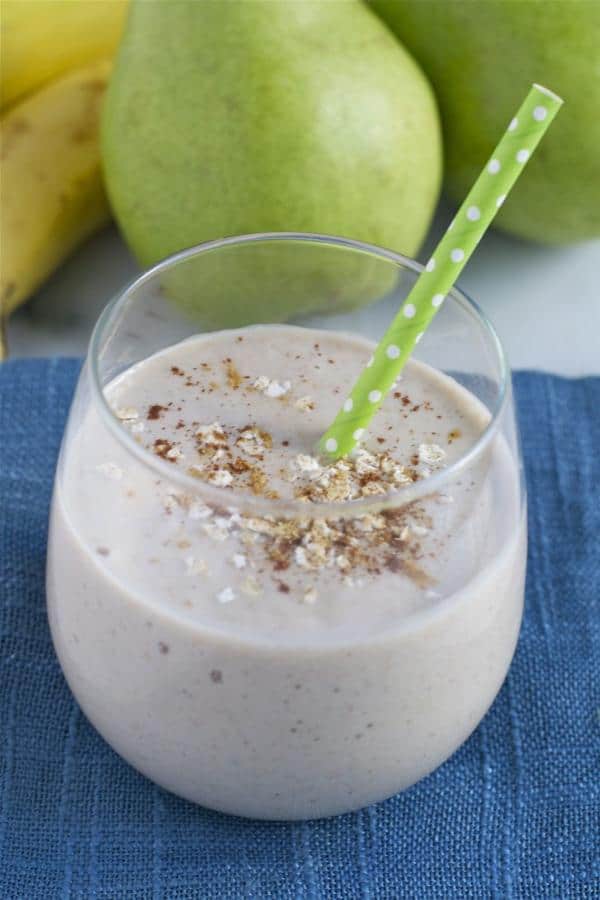 What a great recipe this is, really unique yet not out there, if you know what I mean.
The ginger and pear go so well together. The other ingredients bring everything together to make this super healthy and smooth drink.
Have either for breakfast or a light lunch. It will keep you going for hours!
Avocado Banana Smoothie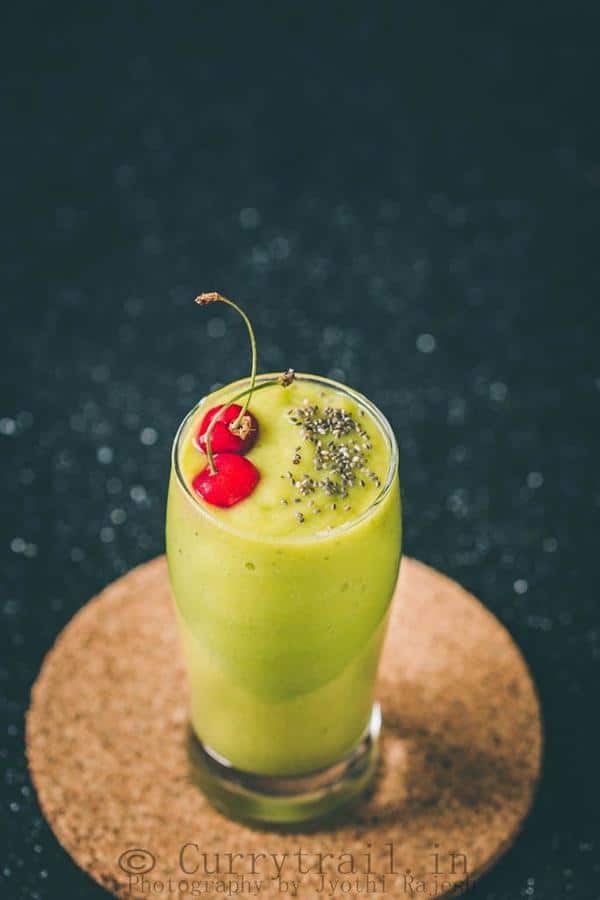 I showed this recipe to a friend of mine recently and they were like, 'avocado in a smoothie?'. They then tried it and said, 'avocado in a smoothie!!'
The smoothie has just three ingredients, then you can add some toppings such as berries.
Blend until smooth and you'll have this creamy drink which is a meal in itself. Superb.
Green Spirulina Smoothie Bowl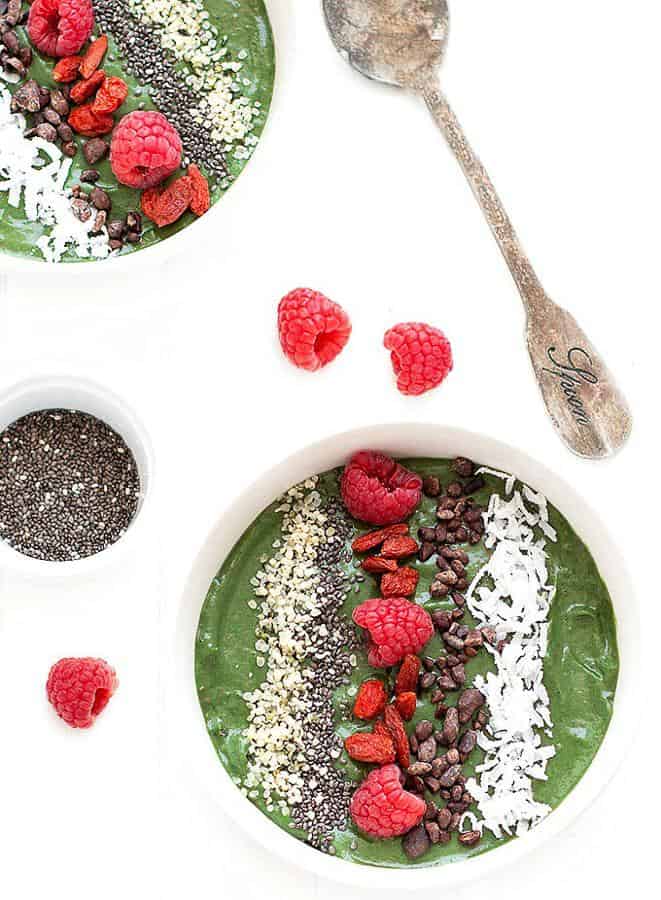 I really love smoothie bowls and it wasn't until we started studying recipes that I'd ever heard of them, almost ashamed!
In many ways, they're better than a smoothie because you get toppings and have all the different textures your heart desires.
This dish is all about baby spinach and sweetness from fruit. The color contrast between the smoothie and the toppings is vibrant and appetizing!
Cardamom Maca Walnut Smoothie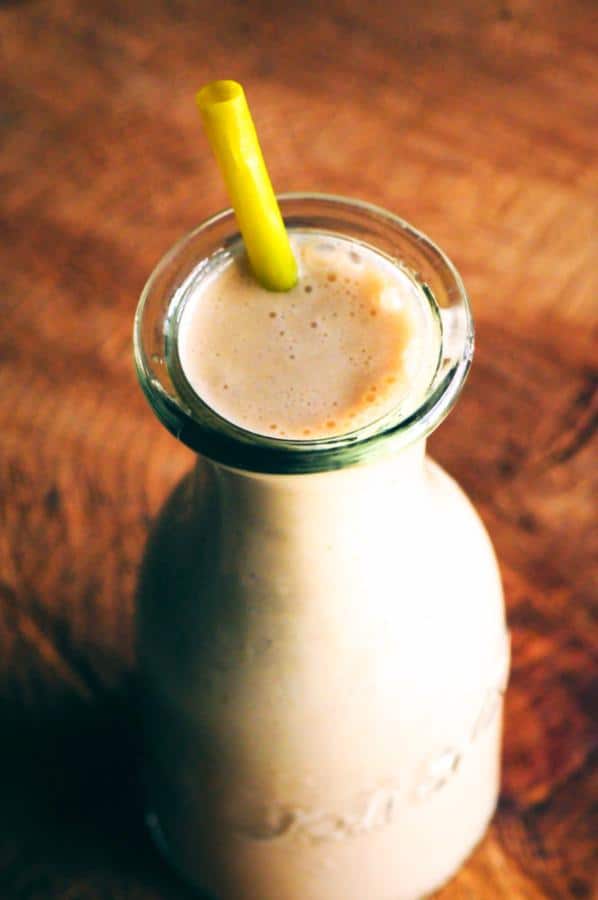 An incredible recipe and one I would never have dreamt of putting together.
As you can see from the title, this contains walnuts which gives the drink an incredible dimension.
Along with the other ingredients I can guarantee not only are you going to love it, you've never had anything remotely like it.
Peanut Butter and Chia Jelly Cacao Smoothie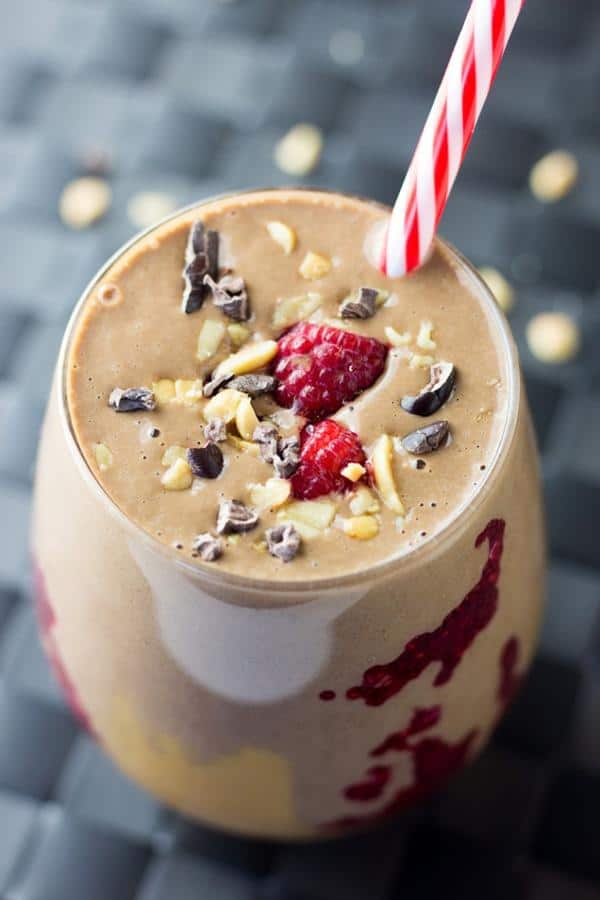 There are so many good things to say about this smoothie. It reminds me of a unique recipe you see sometimes in a hotel and never see anywhere else.
Incredibly satisfying and if you love peanut butter, this will be one of your favorites right away.
It will make for a perfect breakfast or a great lunch, keeping you going for hours and you'll be counting the minutes until you have it again.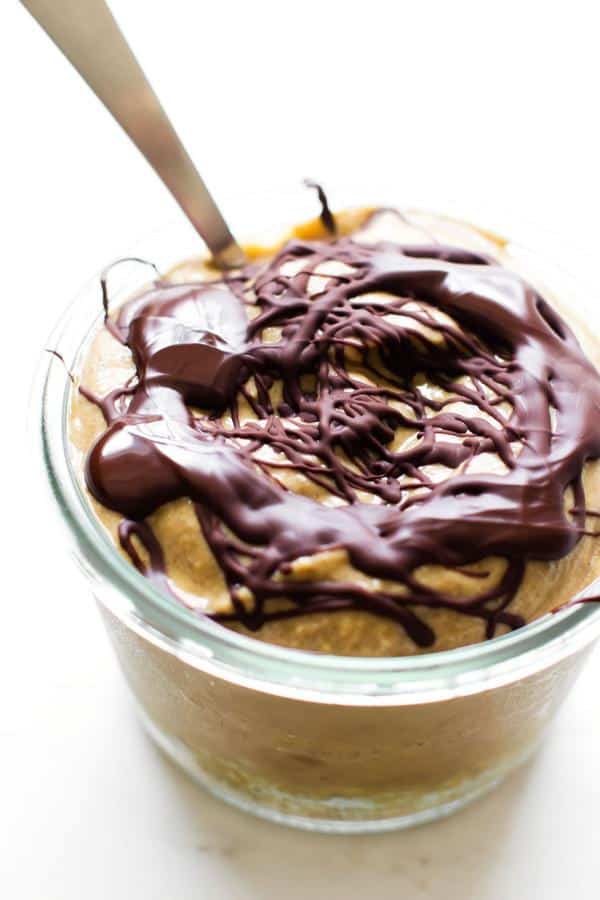 I knew I was going to love this as soon as I saw the title. One of my favorite yoghurts is salted caramel made with coconut.
Do ensure you get medjool dates for this smoothie, there is a world of difference between them and any other date.
You get a choice of chocolate or nut butter chocolate drizzle! When you want to treat yourself, this is the one to go for.
Almond Chai Green Smoothie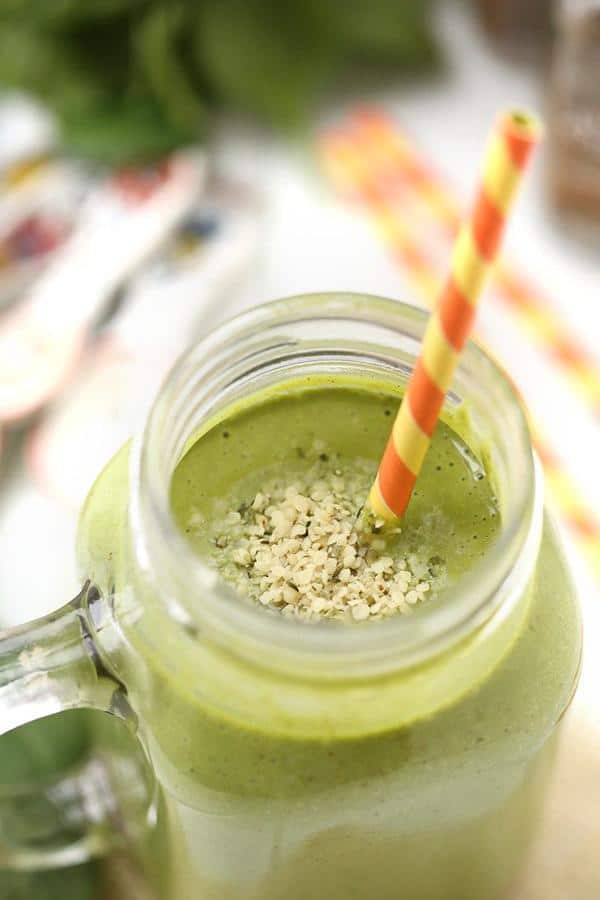 Apart from tasting great, this recipe is a hit because Davida went to the trouble of creating a video showing you how to make this.
I say 'trouble' because adding a video to a recipe is no easy task what with the filming, lighting and then all the editing.
This is a perfect start your day, light, satisfying and packed with protein. It tastes great too!
Nourishing Mango Passion Fruit Smoothie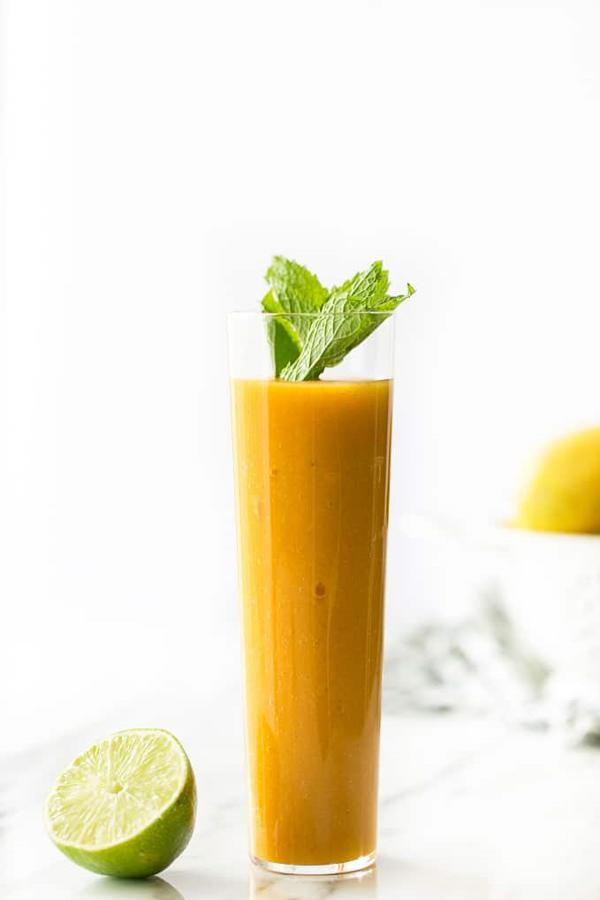 This smoothie may appear unassuming, but it packs a nutritional punch. What a tasty and simple way to get a vitamin boost! There are no unique or unusual ingredients in this smoothie.
Five ingredients blended until smooth gives you an incredible drink. It's fresh, fruity, and bursting with flavor. Add this recipe to your list of staple smoothies. It's also a quick immune boost whenever you're feeling worn down or under the weather.
Matcha Smoothie Bowl with Berries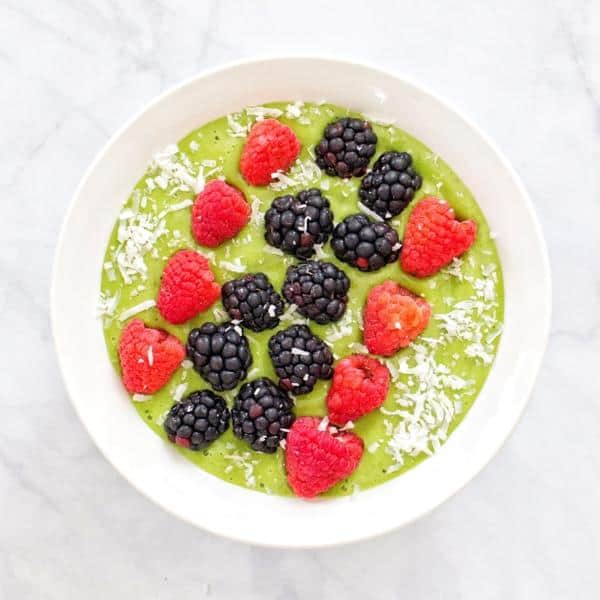 If you're a fan of matcha green tea, check this puppy out!
You just need some matcha powder and four other ingredients. An optional extra is shredded coconut, we already know there's nothing optional about that!
You get a delightful smooth texture and you'll love this from start to finish.
Very Berry Almond Butter Smoothie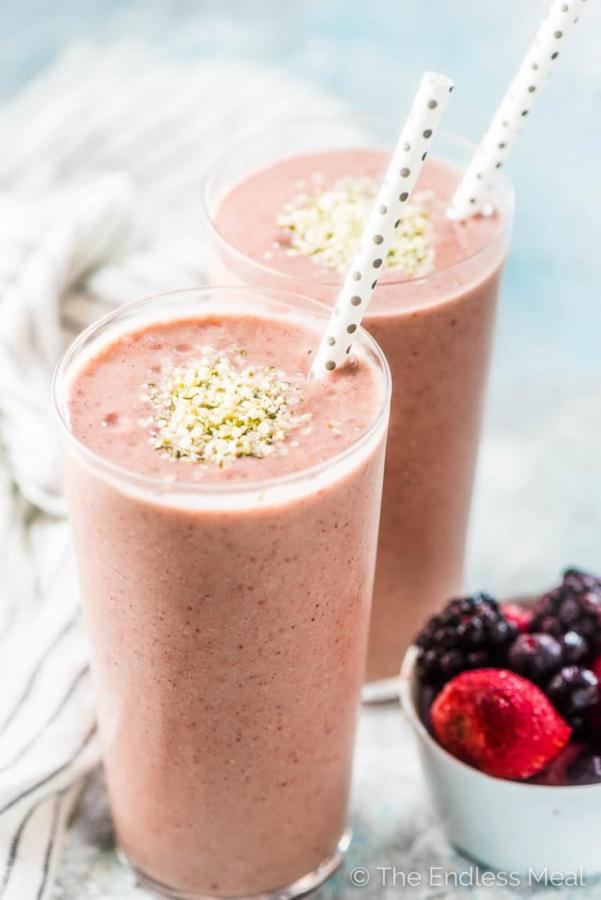 You may dismiss this thinking it's just a run of the mill smoothie but give it a chance! The delightful blend of berries, bananas, spinach, hemp seed and almond butter make this stand out from the crowd.
All these kinds of drinks are great and all, although sometimes (depending on the recipe) you're hungry shortly afterwards. Not here!
This one is packed with both flavor and protein, so you won't feel famished fifteen minutes later. What a great way to start your day or give yourself a mid-day pick-me-up. A no-guilt indulgence for any time!
Wrapping Up
We hope you got some serious inspiration from these great recipes!
Everything from the unique to the everyday. As always, we learnt a few things ourselves compiling this list.
If you've not used your blender for a while, time to dust it off!
Whether you're on a health kick, or you just want to begin a new habit, you'll find it here.