You'll be surprised just how many ways this popular treat can be prepared, and 31 unique variations is by no means an exhaustive list.
Muffins by themselves can be made into the ultimate breakfast meal, a delectable coffee break snack, and one of the most exciting treats for your kids. If you're especially hungry, accompany your main dish with a savory muffin.
And whether you're a fitness enthusiast or deep into personal wellness, just grab the right recipe, and fill up your muffins with veggies or protein-rich ingredients for a healthy and protein-packed snack.
Let's dive in, shall we?
Delightful Vegan Muffin Recipes
Oatmeal Pear Muffins (Gluten Free)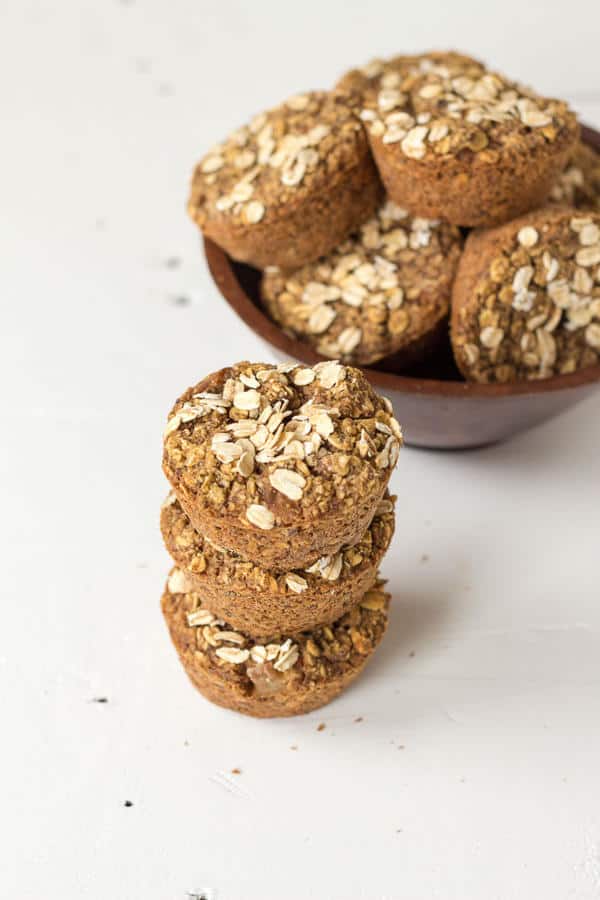 We all know oatmeal is a healthy breakfast staple. But this grain is so versatile you can make hundreds of recipes from it.
Savanna has found a way to level it up into a guilt-free treat. These muffins feature ingredients which work surprisingly well together.
With a hint of cinnamon, this recipe would definitely create an inviting aroma around the kitchen.
Raw Lemon Poppy Seed Mini Muffins (Gluten-Free)
Craving for a yummy treat but hate the cooking and waiting? Then this recipe is for you.
It's high in fiber, keeps you full for longer, and is easy to make!
55 calories for a muffin? Sounds too good to be true, but we're not kidding.
Enjoy this bite-sized goodness with tea, as they perfectly go together.
Pumpkin Muffins (Gluten-Free)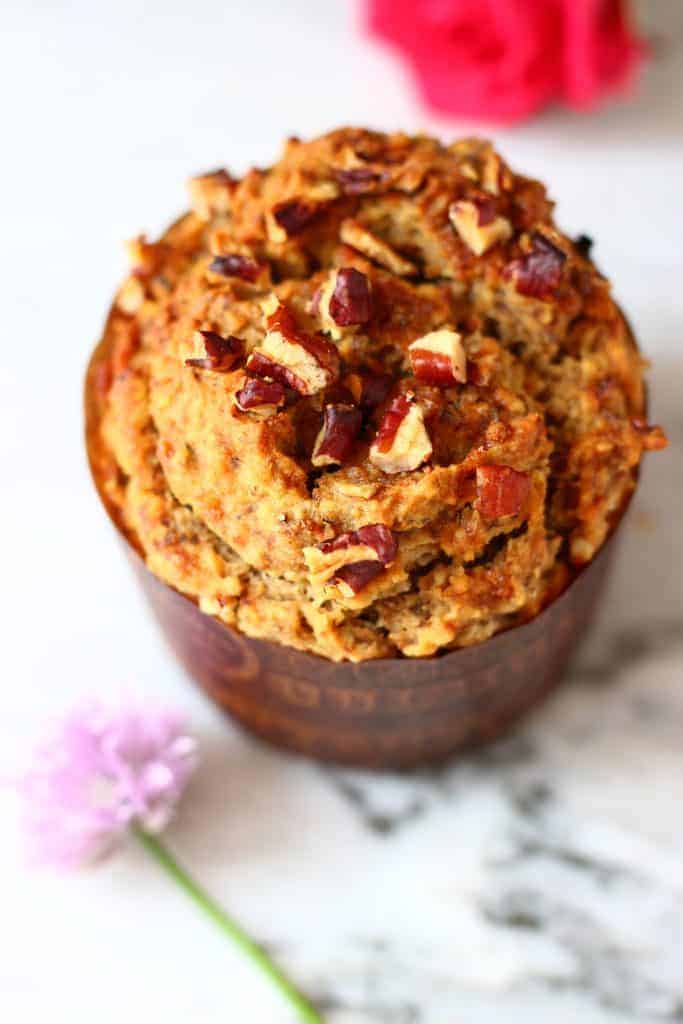 Autumn is the best season for pumpkin, but you could munch on this gluten-free snack anytime, anywhere.
The best part is you can substitute some ingredients to fit your taste. Once they come out of the oven, you'll want to take a bite immediately.
Spice up these already spiced muffins with nuts or coconut flakes for presentation.
Chocolate Chip Pecan Muffins (Gluten Free)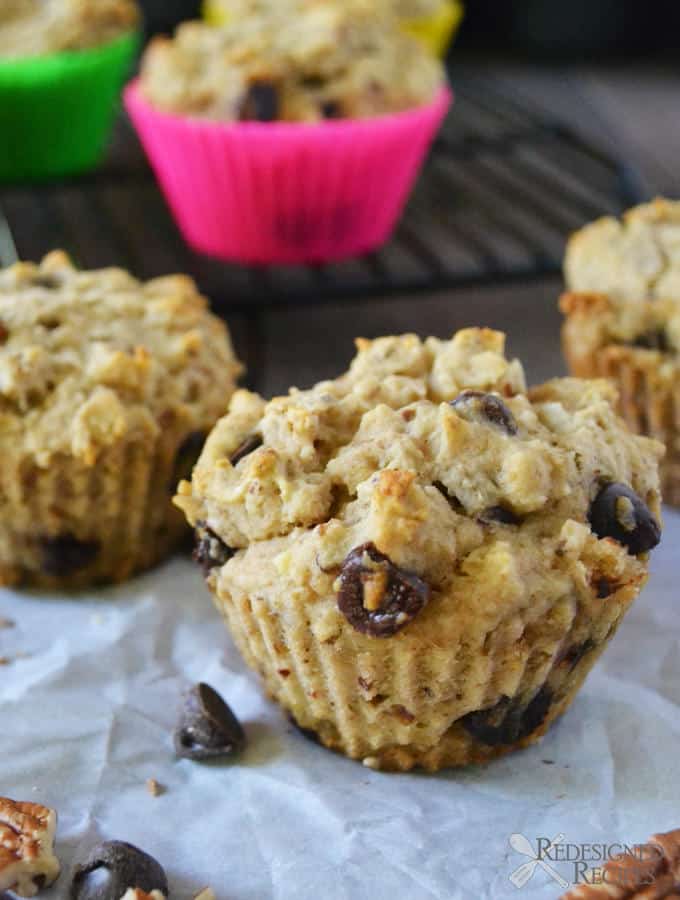 Healthy and decadent are usually not in the same sentence, but this recipe will prove you otherwise.
Loaded with vitamins and minerals, these muffins are surely a healthier alternative to store-bought ones.
Ideally, you can eat them during breakfast, but snacking on these goodies is fine as well.
Pineapple Coconut Muffins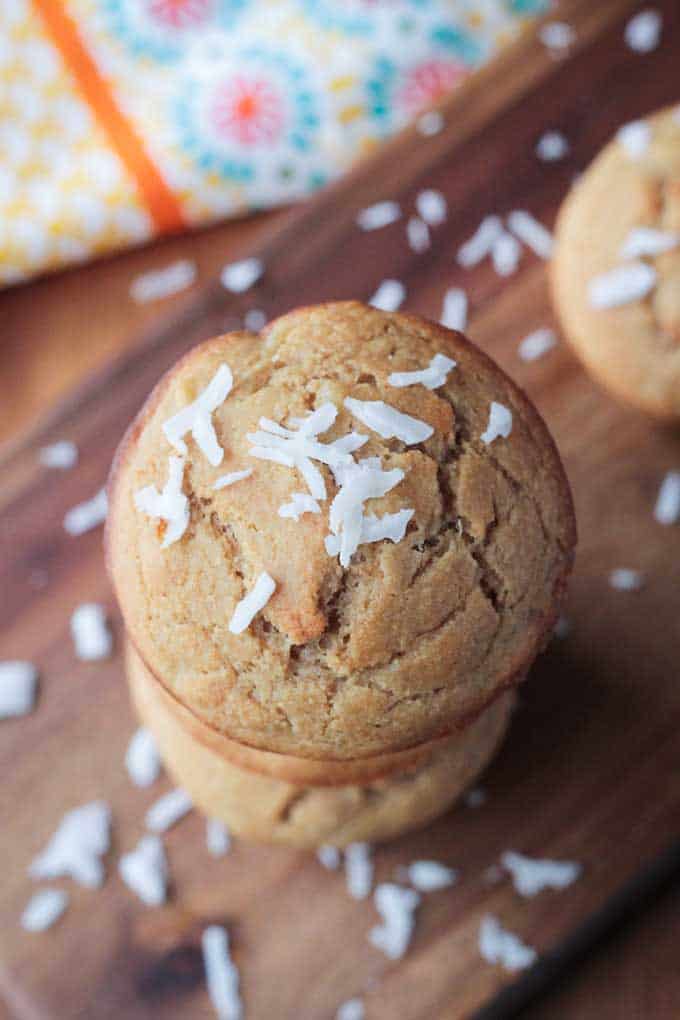 This recipe has summertime and tropical breeze written all over it!
It's a refreshing treat that's perfect for all seasons, and is basically a piña colada in muffin form, so you'll enjoy eating more, without any booze of course.
No need to feel guilty for this delightful snack—it only has 191 calories per serving.
Perfect Bran Muffins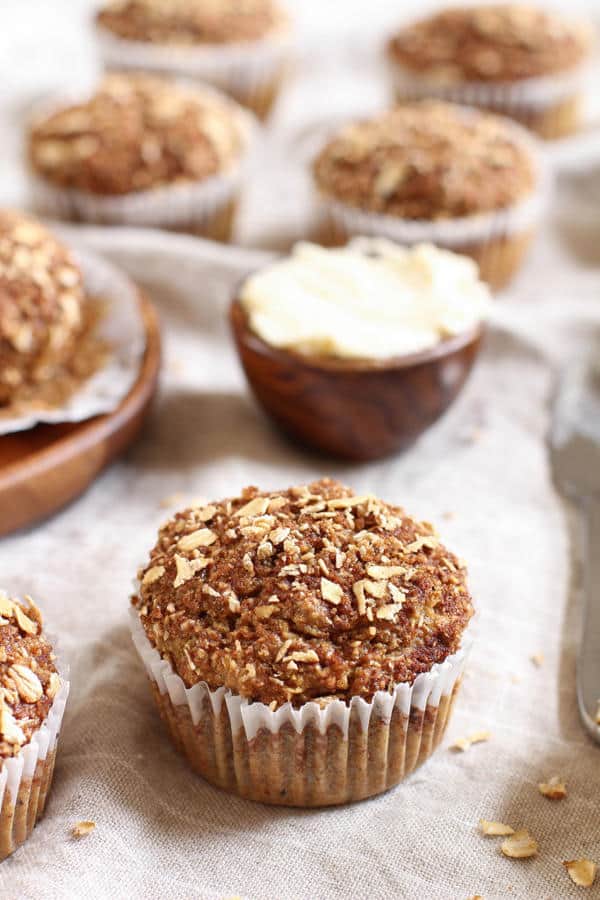 Rich, healthy, and moist, these muffins will remind you of Granny's kitchen.
If you're looking for a recipe to wow your friends and family, you may want to give these a try!
Preparation is easy, in just 30 minutes, you can have these muffins ready. Make sure you add toppings for a more personal touch.
Eggy Bacon and Chive Muffins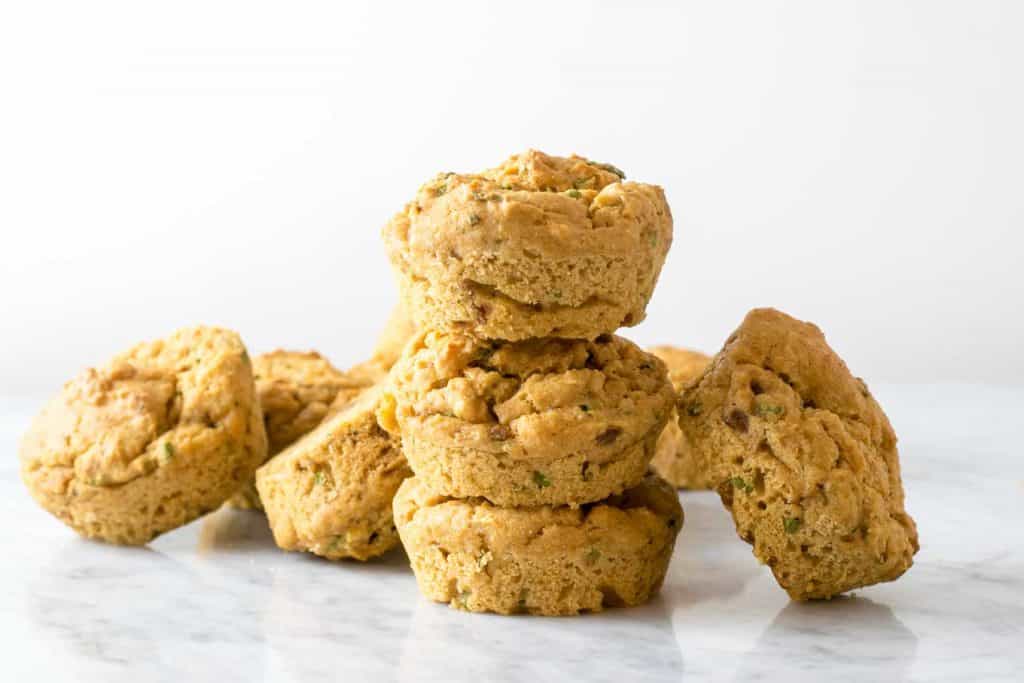 If you love your eggs and bacon for breakfast, you'll adore this recipe. Don't worry, all ingredients are still vegan, which makes it a healthier meal to start your day.
Can't find seitan bacon? Then you can substitute crumbled veggie sausage or vegan deli slices, and these muffins would still be scrumptuous.
Homemade English Muffins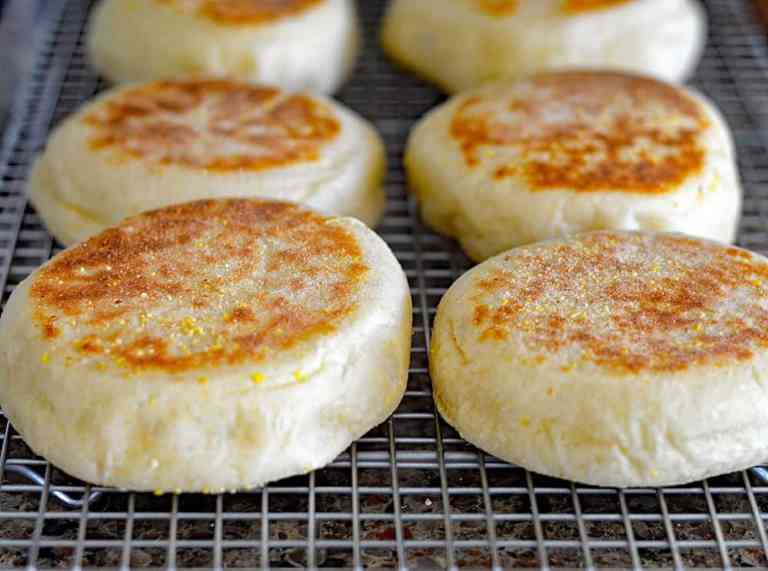 Who says you can't make your own English Muffins at home? This recipe by Aimee is fresh, yummy, and very easy to make. It could even rival the store-bought ones.
Aside from the ingredients, you need to have patience in preparing these muffins. No worries, it's totally worth the wait!
Turmeric Carrot Muffins with Chia and Coconut
Brighten up your day with these fabulous treats! This combination of healthy ingredients makes an ideal treat for the weight conscious and health buffs.
It's free of gluten, nut, soy, and you don't have to add sugar or oil either!
Blueberry Peach Muffin Tops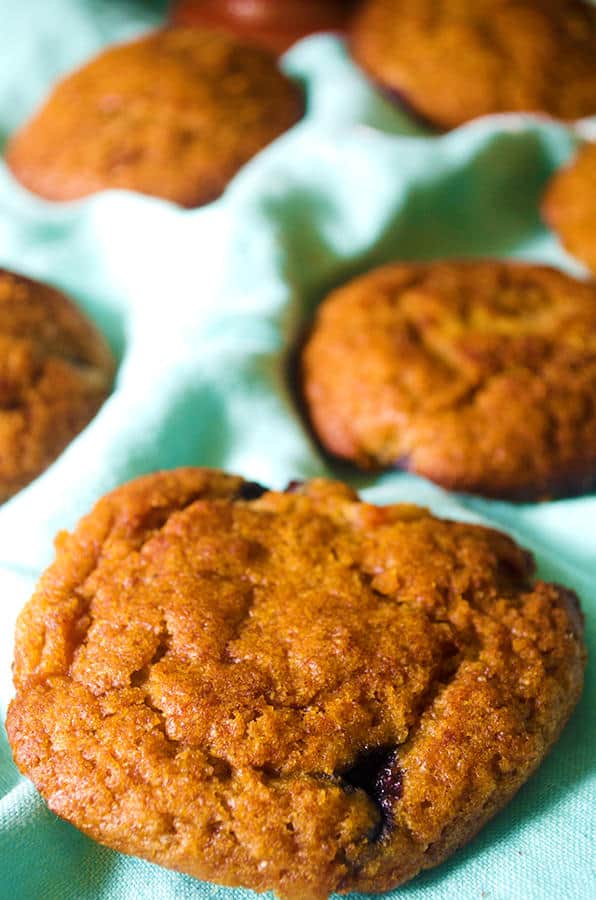 Seinfeld has inspired Hannah to make these muffin tops. They're crunchy on the outside, but when you take a bite, those flavors contained inside burst into your mouth.
These tasty treats surely know how to impress. A single piece isn't enough as they're simply irresistible; you've been warned!
Parsnip and Maple Muffins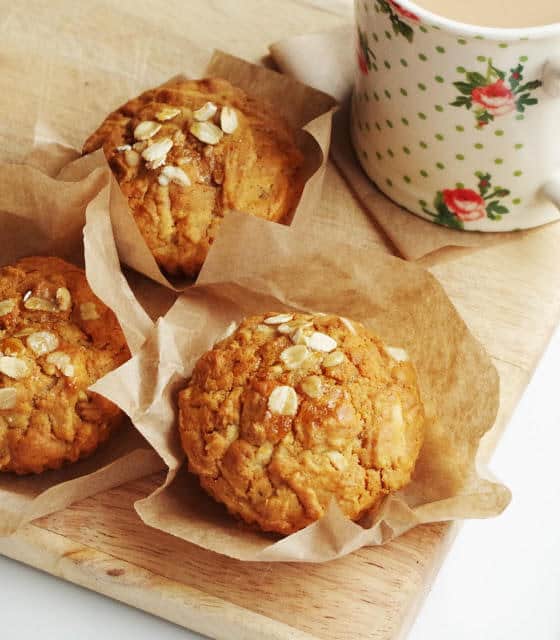 Hearty, fluffy, and filling—three words which accurately describe this luscious muffin recipe.
The ingredients are very easy to find in your local supermarket, and the preparation won't require much effort either.
Paired with either tea or coffee, these muffins are perfect as a meal or snack.
Roasted Vegetable-Puree Muffins with Homemade Tzatziki (Gluten-Free)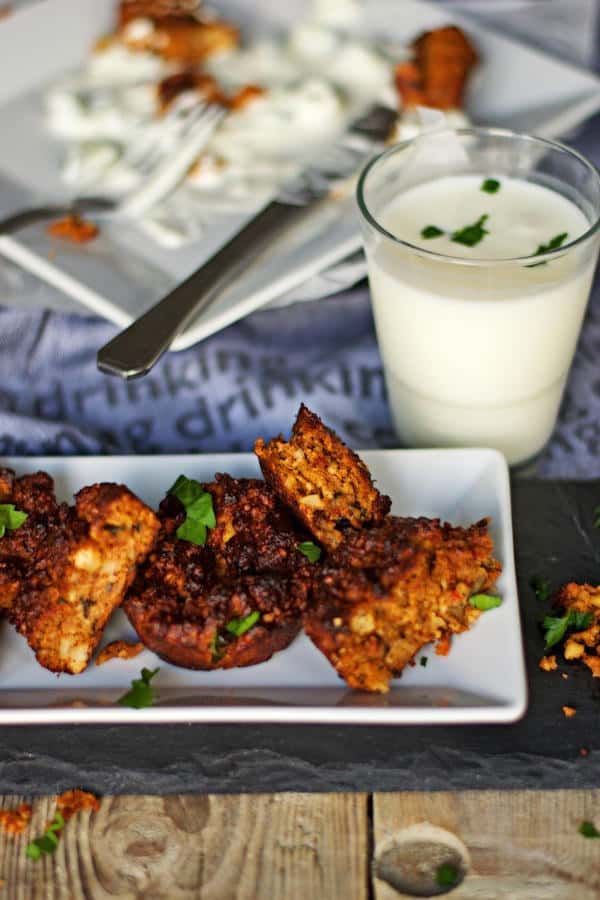 If you love savory food, why not incorporate veggies into your muffins?
Take one step ahead and elevate your dish by roasting your veggies instead of putting them plainly into the batter mix.
This recipe works well with tzatziki, as it cuts down the richness of the muffins for a perfect balance.
Dinner Spinach Muffins (Gluten-Free)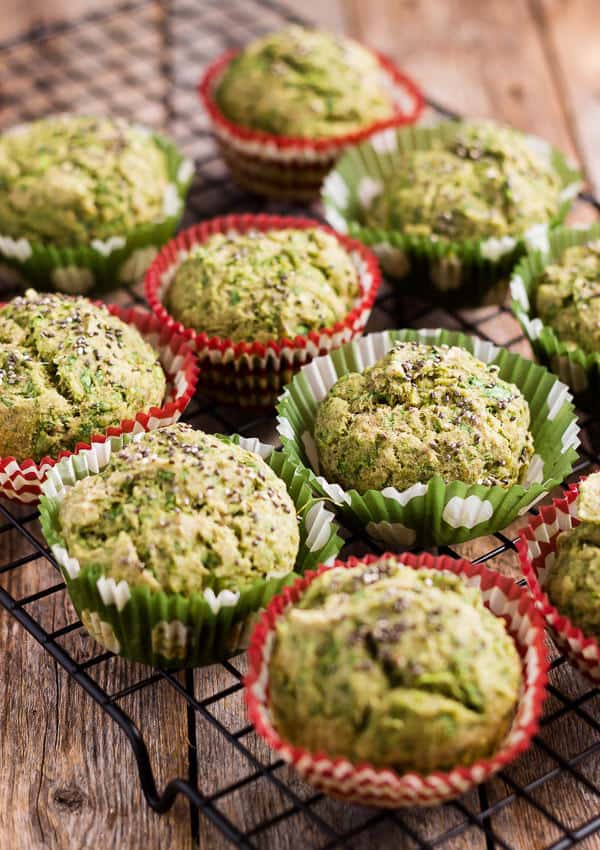 Packed with fiber, protein and low in fat, spinach definitely is a versatile vegetable. We were always told as kids that greens are good for us.
Try baking these muffins for your kids, or make them part of main meals throughout the week.
Toffee Apple Breakfast Muffins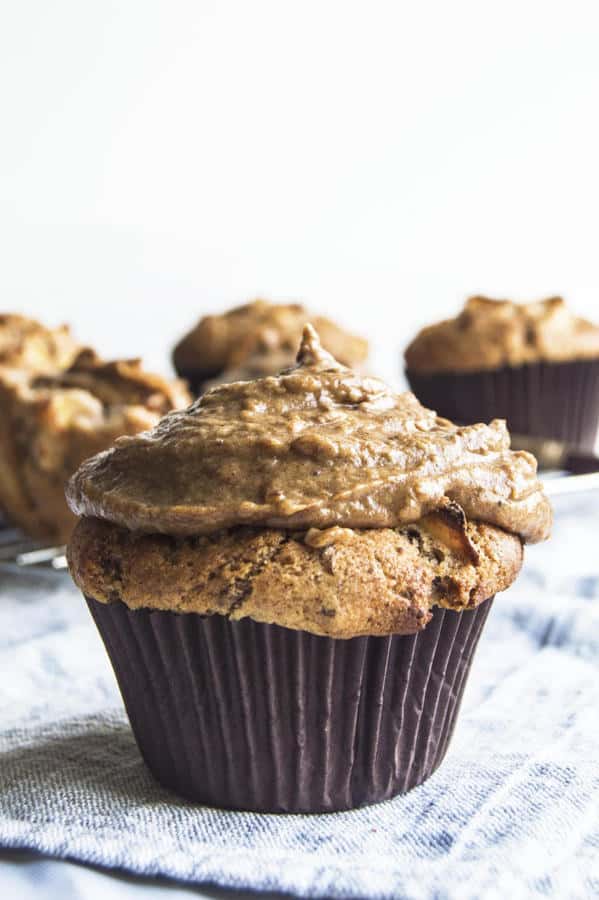 Just when you think muffins can't get any better, recipes like this suddenly show up.
Toffee may sound too sweet, but trying these goodies will prove otherwise. It has the right amount of sweetness to complement the natural flavors of apples and dates.
By the way, that topping is a winner in our book.
Cornbread Muffins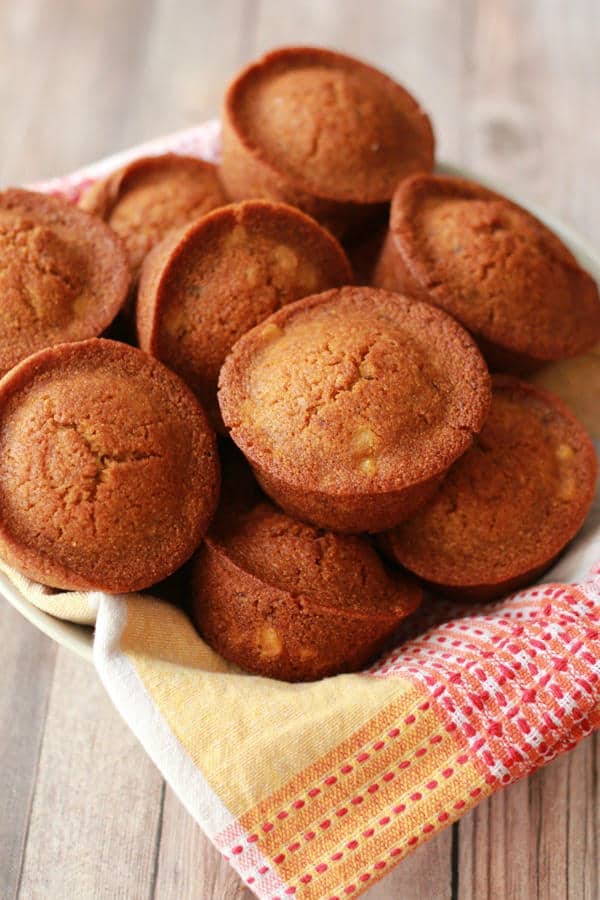 Cornbread is a staple side dish that goes well with savory meals and it's about time we had a vegan version of it.
Not surprisingly, these muffins are almost identical to the original, and they're even healthier to boot!
You know you have made perfection when these come out golden brown from the oven.
Carrot Muffins (Gluten Free)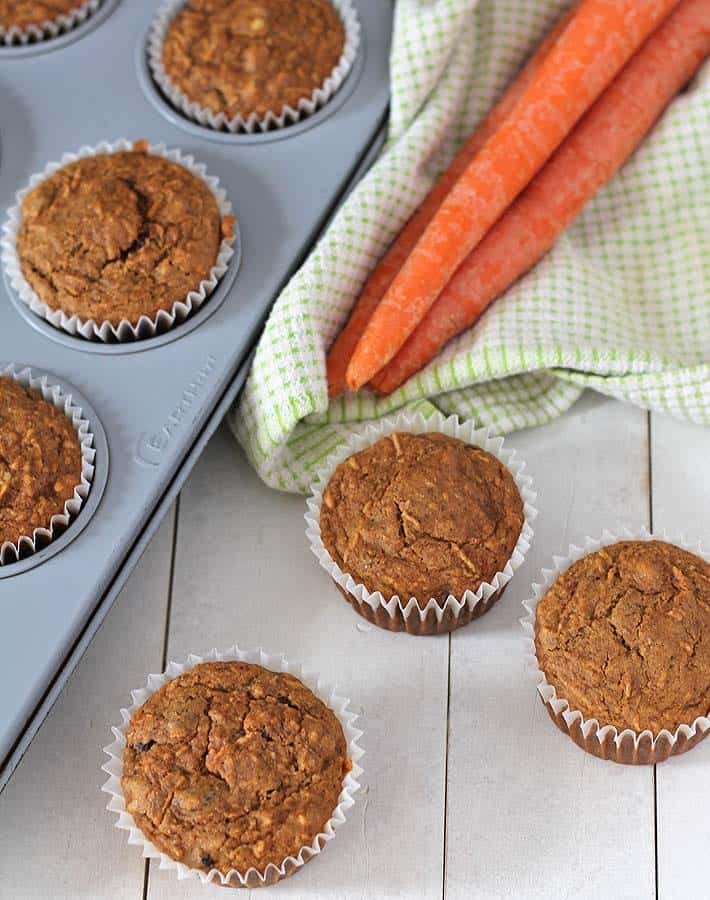 We know carrot cake is mouthwatering because of its frosting, so is it possible to remove the icing and still make it delectable?
Gwen from Delightful Adventures responds a resounding YES throughout this recipe.
These treats will leave you craving for more. Don't worry, a single muffin is only 208 calories!
Easy Protein Muffins (Gluten-Free)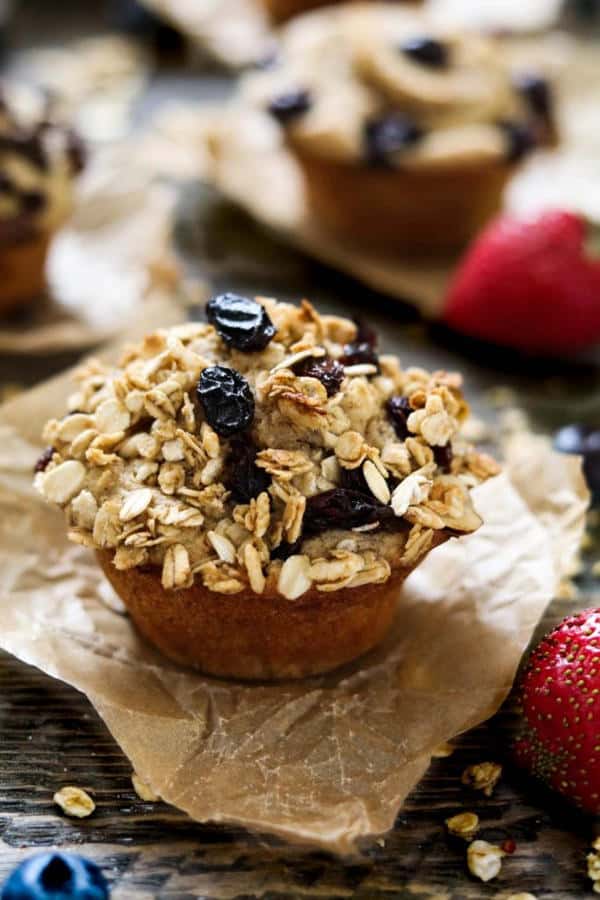 Using protein powder to make muffins? Now that may seem crazy at first, but it actually works!
These muffins sport fruit, fiber, and mouthwatering flavor, making them a fantastic and complete meal or snack.
To make it look exciting, top it off with vegan chocolate chips or just about anything you want—berries, nuts, seeds, you name it!
Mango Muffins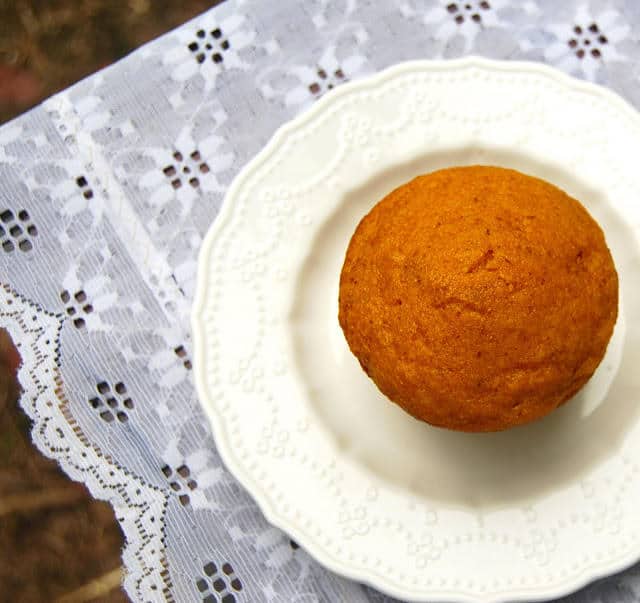 Desserts made from tropical fruits never disappoint. Mango muffins happen to be one of them.
Cardamom usually works with mango, but this recipe uses nutmeg for a change. Nutmeg adds richness to any dish, so it's not surprising these muffins come out perfect.
While it looks awesome on its own, you can add toppings to make your muffins shine!
Zucchini Muffins (Gluten Free)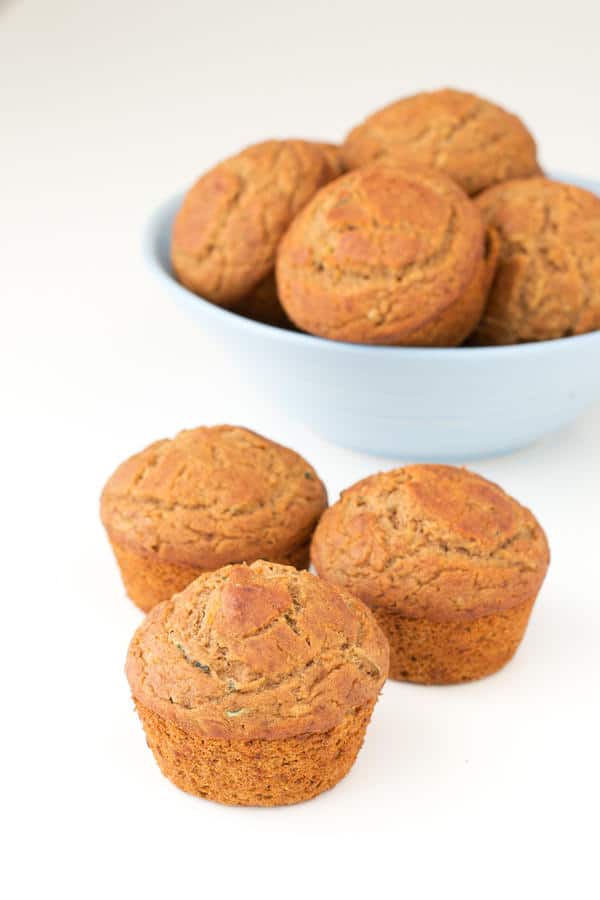 Zucchini is ideal for savory dishes, but we never imagined it ending up in a muffin. It turns out, zucchini muffins can be both satisfying and incredibly nutritious.
These muffins are gluten-free and they're ideal for breakfast to get you through the day.
Flourless Chocolate Blender Muffins (Gluten-Free)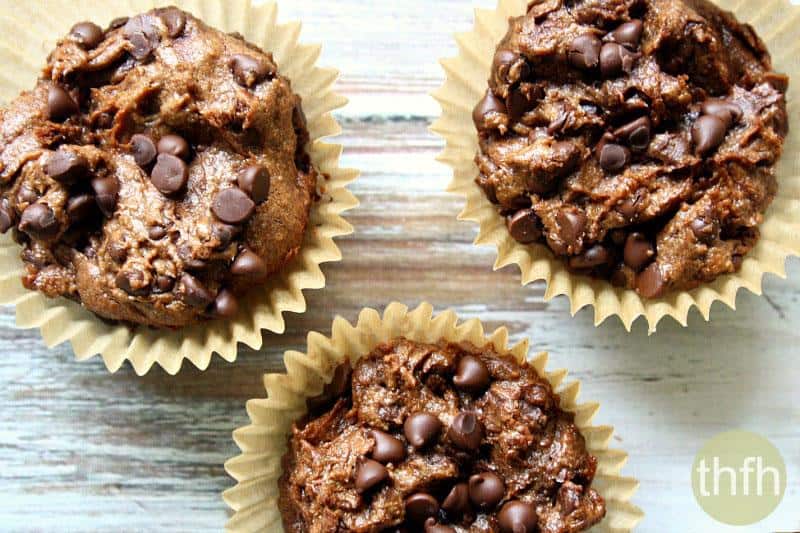 Doesn't that photo make your mouth water? These muffins take decadence to a whole new level and they're free from refined sugar which are two great reasons to make them.
When you make these muffins, you're advised they may look under-cooked when you remove them from the oven.
Follow the recipe instructions and leave overnight where they'll firm up to perfection!
Lemon Blueberry Muffins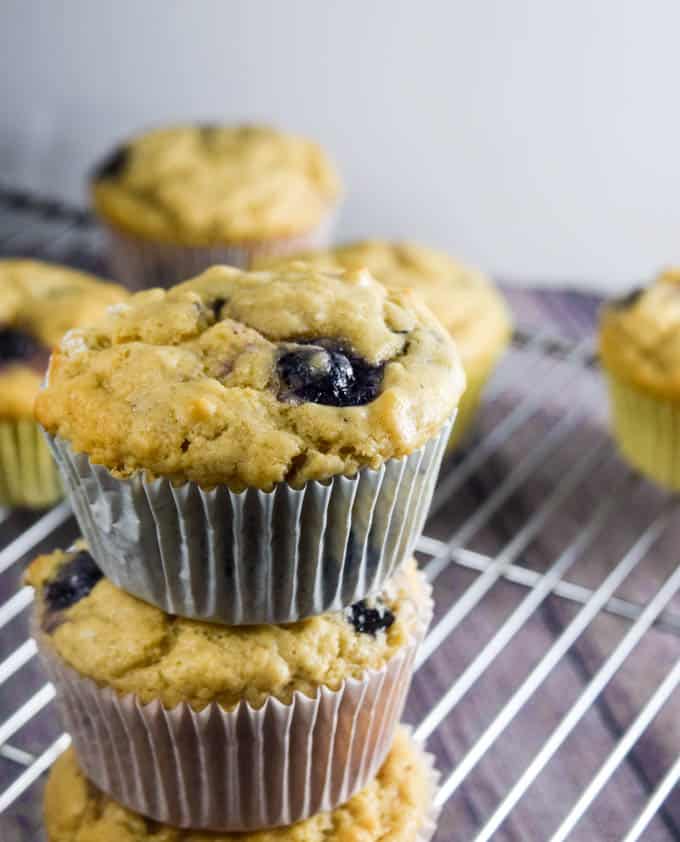 You can never go wrong with blueberry, especially when it's included in a muffin! The end-product has both a fruity and zesty flavor to it.
This recipe contains aquafaba (chickpea water) which makes for a decent egg substitute.
The muffins end up with just the perfect balance of richness and flavor.
Apple Cinnamon Almond Muffins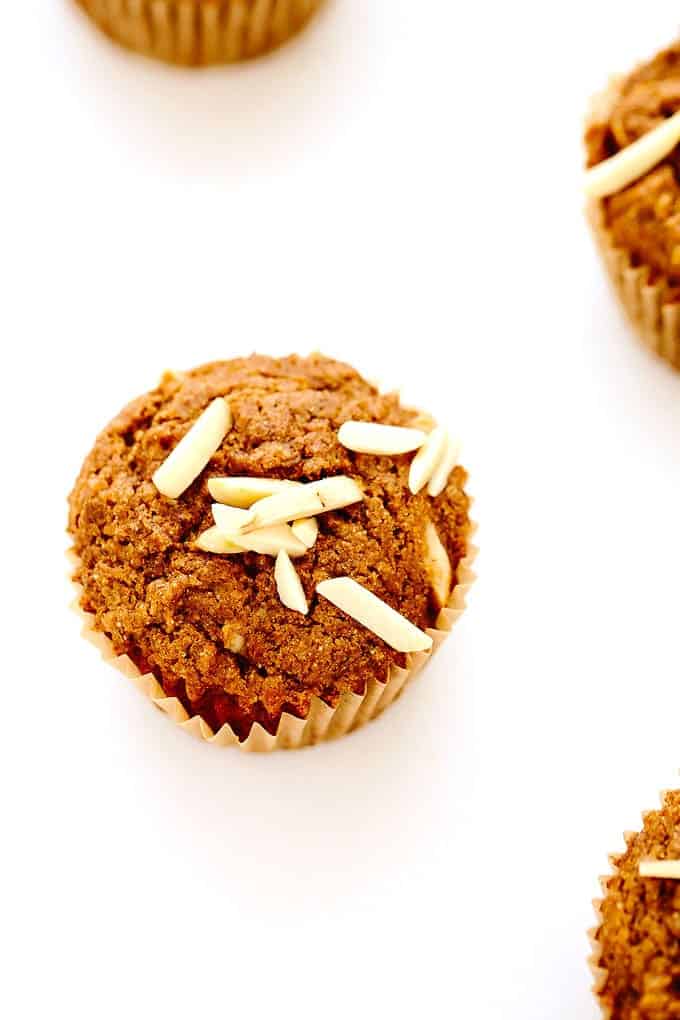 Comfort food makes us always feel good and there's simply no substitute for that. These muffins are exactly that.
Apple and cinnamon are a standard combo in desserts, and topping it with almonds is just like putting the icing on a cake.
Overall, these muffins make you feel warm and fuzzy!
Pistachio Cranberry Orange Muffins with Vanilla Cream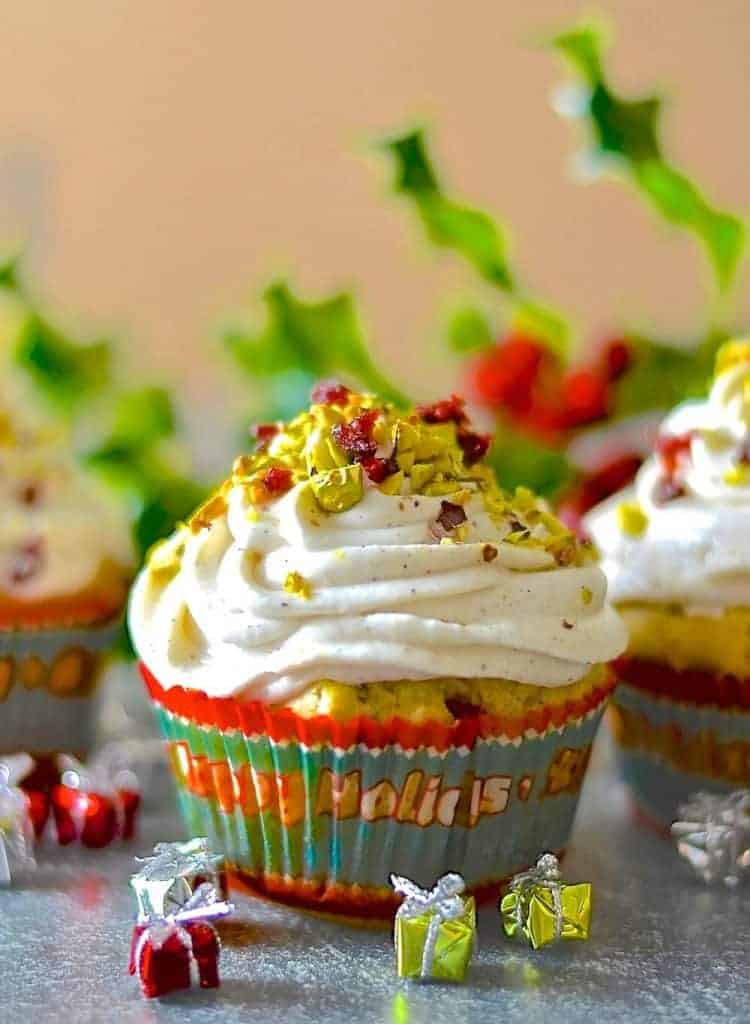 The recipe name sounds festive enough, but it looks and tastes even better!
Topped with a rich vanilla coconut cream filling, these muffins are true champions when it comes to presentation.
Overall they look and taste great, and are perfect for any occasion!
Sweet Potato Cinnamon Muffins with Sweet Potato Caramel (Gluten-Free)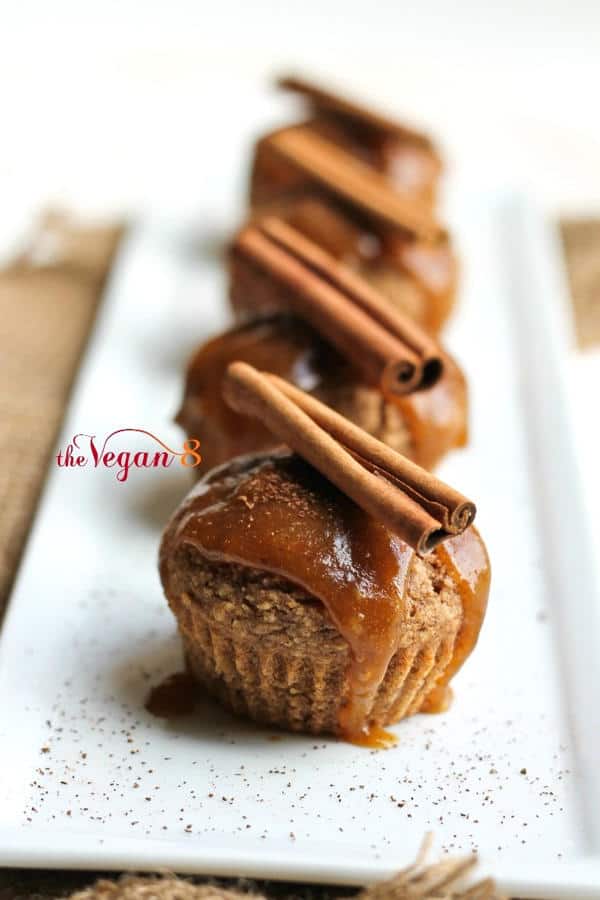 Sweet potatoes are more versatile than you would think, and this recipe is a testament to that.
The mixture of sweet potato and caramel may sound a bit "heavy," yet this muffin is really light and soft.
It has caramel sauce on top which elevates the dessert with a right amount of sweet and richness.
These treats are suitable whether you're vegan or not, which is why you can serve these to all your friends and family.
Chocolate Chip Banana Bread Muffin Tops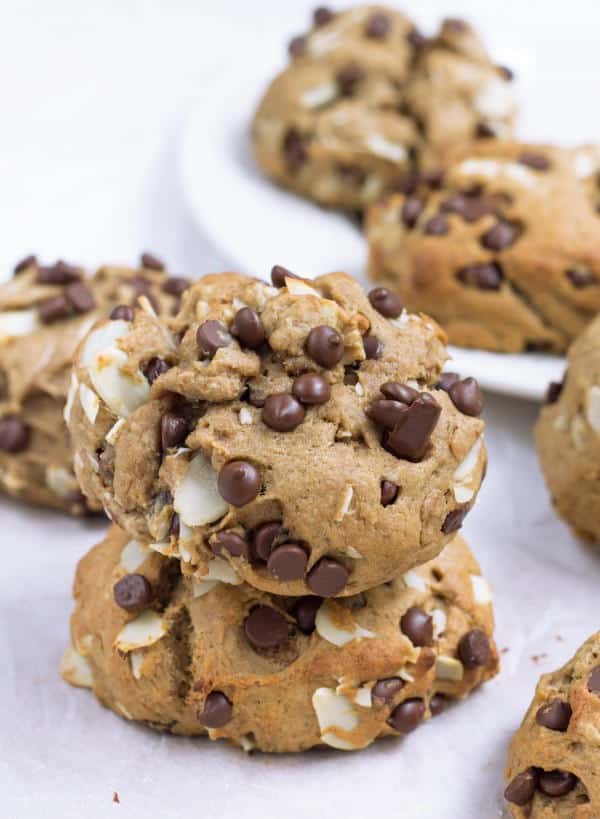 Are these muffins or cookies? Well, they're a bit of both. These muffin tops are crispy on the outside but fluffy and chocolatey on the inside.
The best part is they're are not overly sweet, so you can have more without feeling guilty.
Whole Grain Plum Muffins (Gluten-Free)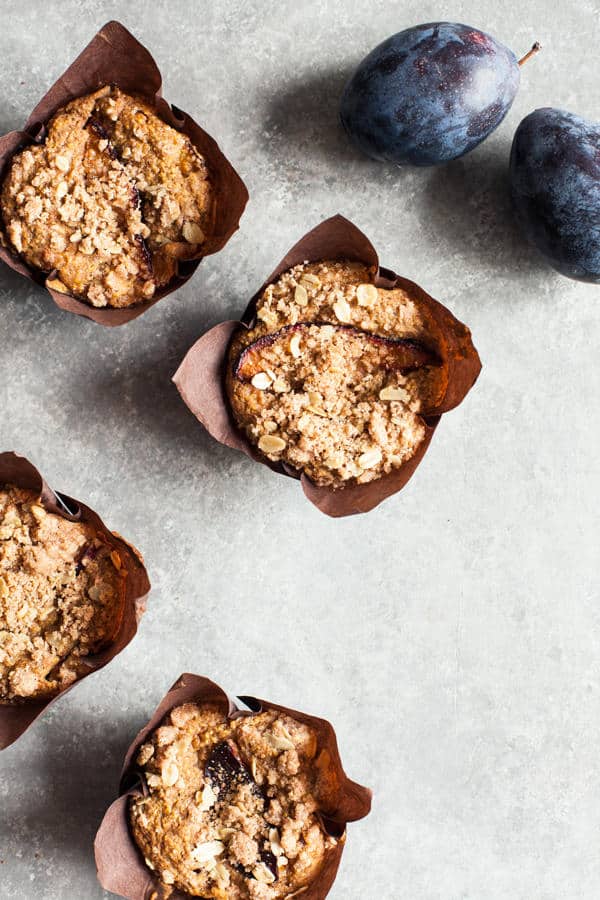 You'll want to give these muffins a try!
They're visually appealing, truly fulfilling, and utterly delicious. The streusel topping adds a clever and creative touch.
Not only is it gluten-free, but it's free of soy and nut as well.
Savory Corn and Pepper Breakfast Muffins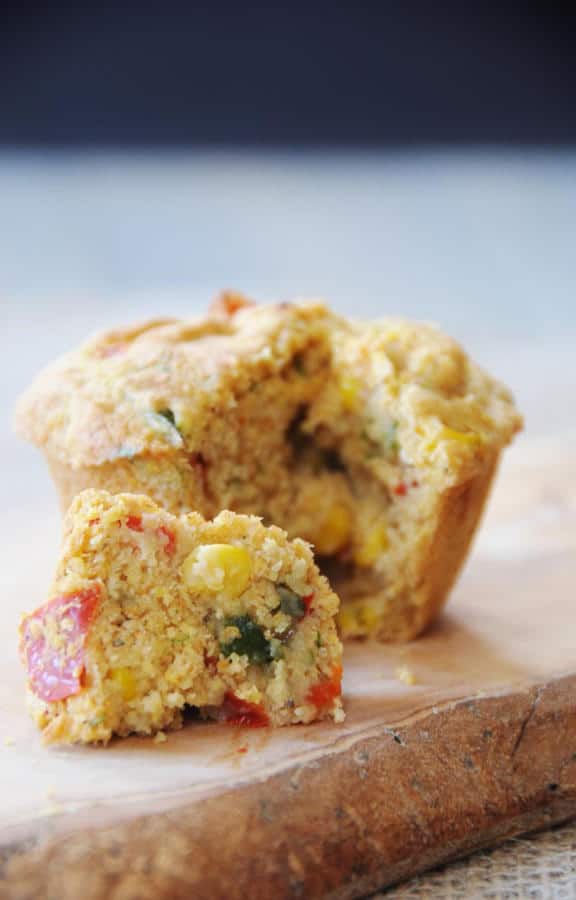 These muffins look like sweet, harmless munchkins, but you'll be surprised when you take a bite.
They're savory, feisty, and of course, yummy.
Spicy muffins are quite uncommon, and yet, as is the case with these, they're the perfect snack.
Enjoy them as a side dish or an exceptional breakfast experience!
Matcha Green Tea Muffins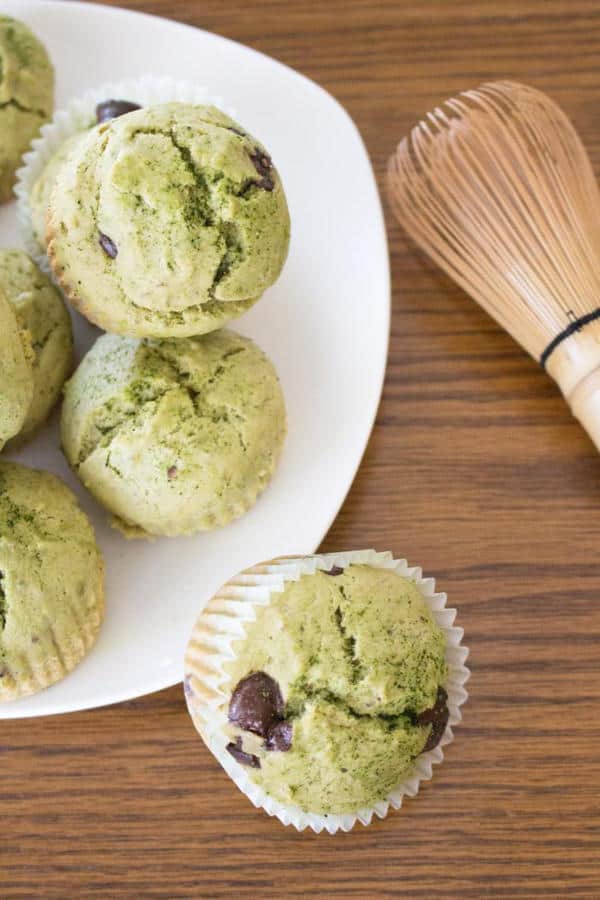 Green tea in muffins may sound experimental, but Andrew has found a brilliant way to infuse them with this popular tea.
Apart from matcha, the ingredients you'll need are pretty straightforward—you've probably got most of them already.
To make things interesting, you can add vegan chocolate chips or blueberries as Andrew suggests. Personally, I'm going with the chips as I think matcha and chocolate are a match made in heaven.
Easy and Healthy Savory Veggie Muffins (Gluten-Free)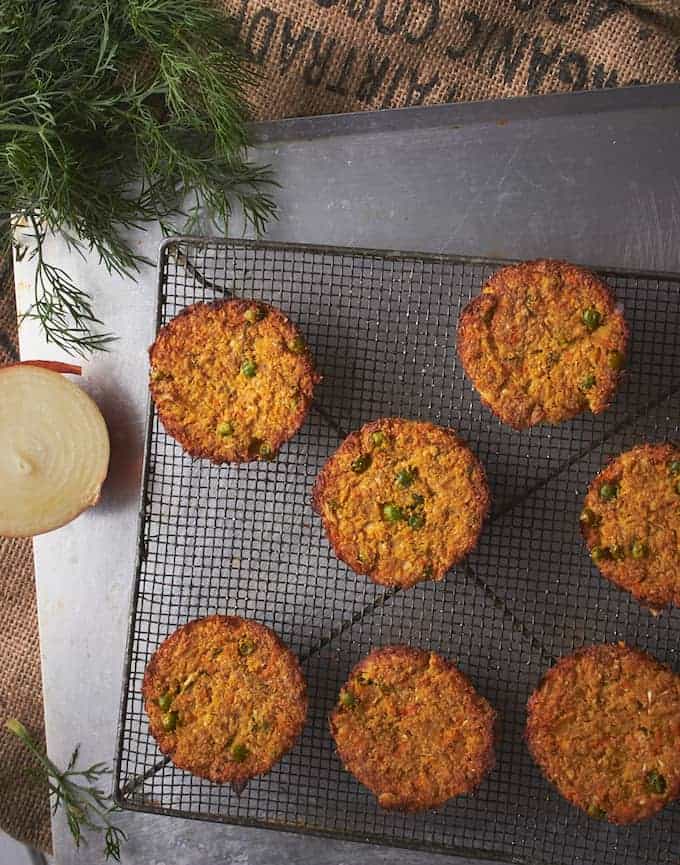 Festivities are much celebrated with colorful and vibrant dishes. Make this recipe a part of your menu, as it fits any occasion.
These muffins have a soft and light texture. Every bite introduces health-promoting veggies into your body and make for a great way to get greens into your kids!
PBJ Muffins with Peanut Butter Streusel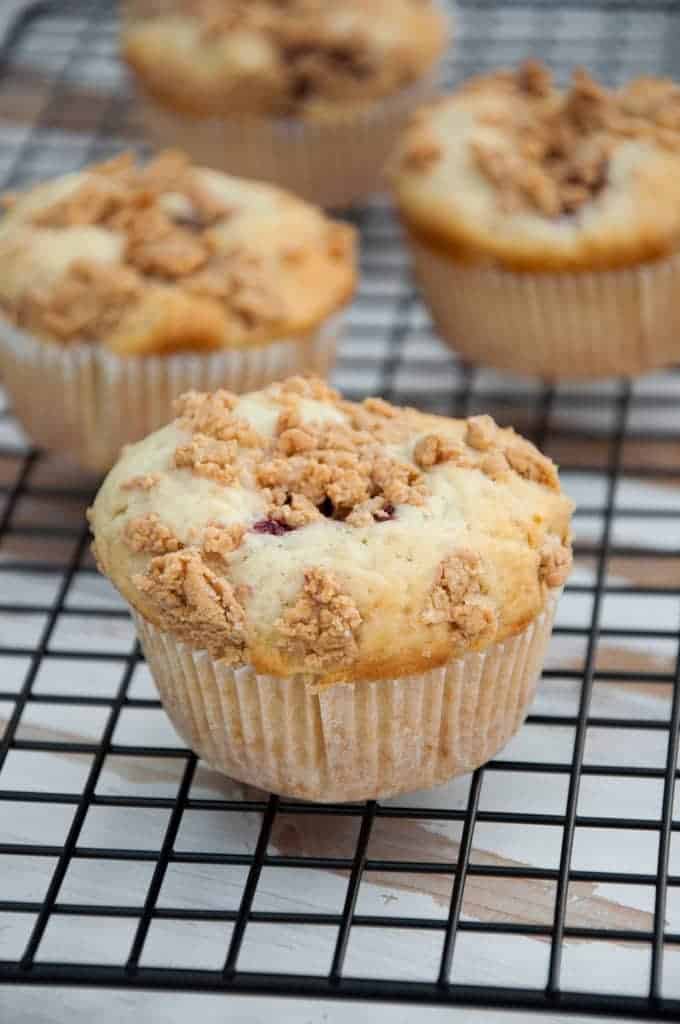 Let's say you're having strong cravings and, with great difficulty, you're deciding between a PBJ sandwich or muffin.
Well, good news, as Bianca merges both into a hearty, scrumptious recipe.
Bite into this muffin's peanut butter streusel top and you'll meet the crunchy texture followed by a soft jelly-filled center. It's so good you'll wonder how this treat is only 145 calories per serving.
Jammy Apricot and Almond Muffins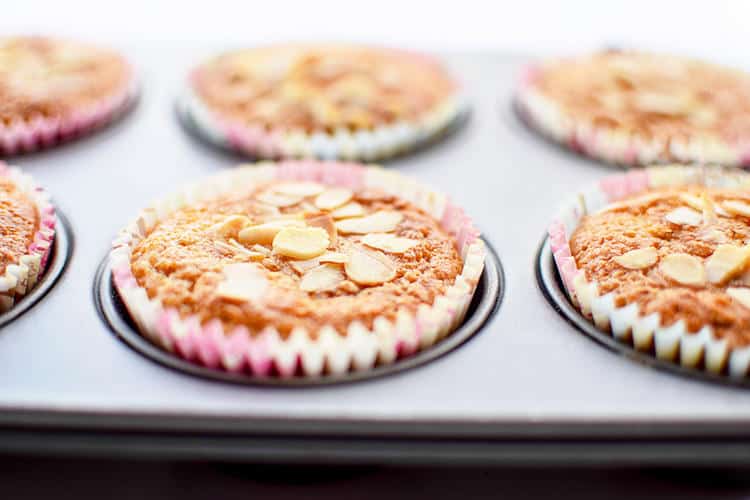 Apricot and almonds are an unusual combo, but somhow, they're a good match.
The sweetness of apricot complements the crunch of the almonds. This party of taste and texture in your mouth is so enjoyable with every bite.
They're easy to make, and the ingredients are very easy to find.
What more can you ask for?
Wrapping Up
That's probably more vegan muffin recipes than you'll ever need but great variety means a greater chance you'll find the exact recipe you're looking for.
Whether you need a festive sweet treat, something yummy to curb your cravings, or perhaps a healthy and low-calorie snack, muffins can easily be tailored to fit the bill!
Be sure to let us know which muffin(s) makes it onto your list of favorites!