Word on the street is that these green little 'berries' pack a flavorful punch!
To be totally honest with you… I keep trying to like capers but the fact remains, I've yet to really enjoy them. But hey, that's just me and I know plenty of people that really love them!
So, in case you want to know what capers do taste like, I thought I would explore them some more to help you find the answer.
You may happen to already love them, in which case I'll also show you some ways that you can incorporate capers into your regular diet.
Let's find out more!
What Are Capers?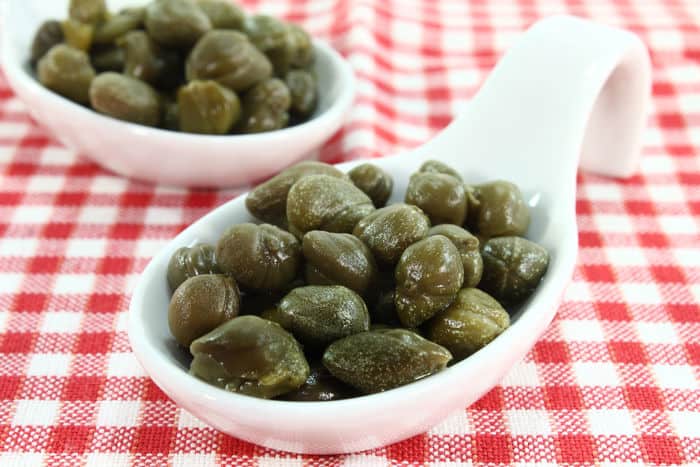 Let's start with a little background!
Capers are what you get when the plant, capparis spinosa, creates a bud, but the bud is picked before flowering. They're picked when olive green and about the size of a pea.
So, in essence, capers are the unripened buds of this plant but they're referred to as berries. If they aren't picked, they'll blossom into a very pretty white (sometimes a blend of white and pink) flower with pink shoots.
The caper's history traces back more than 7500 years to modern day Iraq. In more recent times, however, some say capers originated on the Isle of Capri in Naples, Florida.
Today, most of the capers intended to be sold on the commercial market are mainly grown in Italy, Morocco, and Spain, unlike capers grown in other regions such as Cyprus, Greece, and Turkey.
Appearance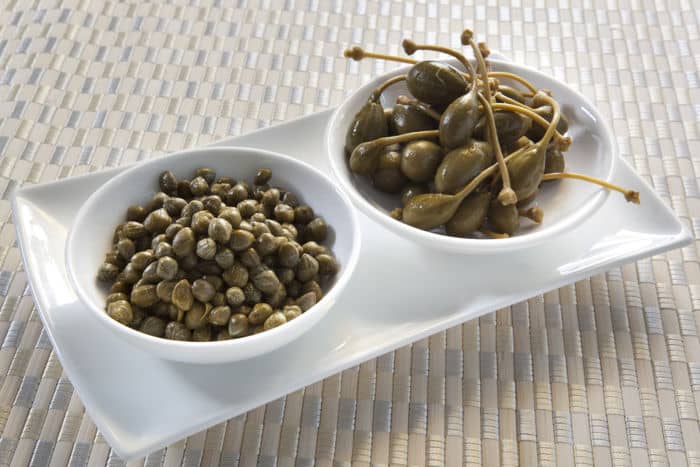 So, what do they look like? Capers are the size of large peas but without the firmness nor perfect spherical shape.
They can vary in size and there are different varieties, however, they're usually about the size of a typical blueberry, if not smaller.
Smaller capers are the most popular consumer choice because:
their flavor is more subtle and delicate
they give off a nice aroma
However, this also means they're pricey, which you'll need to take into consideration.
Some chefs do still prefer the stronger flavor from slightly larger capers in their cooking.
Taste and Texture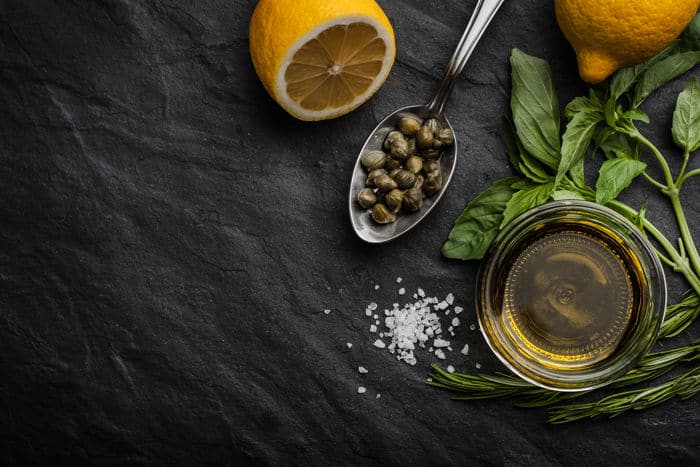 Now to the interesting part! What does a caper taste like?
Capers get their flavor from the way they are preserved, so they can have a vinegar flavor or they can be quite salty.
This makes capers an excellent addition to salads, vegetables, sauces, and more.
I'm not a big fan of mustard, but if you fancy a combination of both mustard and black pepper, then chances are you'll love capers.
They're sometimes ridged or wrinkled like raisins and have a smooth texture once your teeth have crushed through and popped the outer surface.
What Are Capers Used For?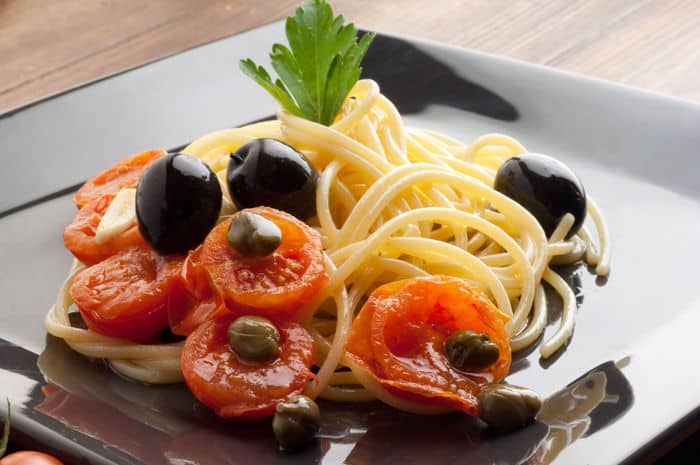 As mentioned before, capers acquire a unique, in-your-face sort of flavor, which adds a nice punch to a variety of recipes.
You can make good use of capers when creating dishes such as:
salads
sauces
soups
dressings
marinades
pasta dishes
This gives you many opportunities to try capers, and I suggest you do!
What Are the Health Benefits of Capers?
Memorable flavor aside, here are some valuable, health protective benefits from including capers as a regular part of your diet.
This is especially thanks to capers' rich content of antioxidants, vitamins, fibers, and low number of calories.
So, while these green little fellas appear innocent, they've got a lot to bring to the table. Let's explore some of their excellent benefit:
High in Powerful Flavonoids
Capers are packed with powerful flavonoid antioxidants such as quercetin. In fact, capers are one of the highest if not the highest plant food source of quercetin, yielding up to 234 milligrams of quercetin per 100 grams of capers. Quercetin's protective effects can support health issues like asthma and heart disease.
Contains A Powerful Antioxidant
Beside quercetin, capers also feature another interesting bioflavonoid antioxidant known as rutin (or "Vitamin P1"), which is regarded as a powerful nutrient for overall health, which can support a variety of health issues, potentially offering protection from the side-effects of chemotherapy.
Loaded with Fabulous Fiber
If you're looking to boost your daily fiber intake, adding capers to your diet can be a great way to achieve this, giving you 0.3 grams per tablespoon. I'm sure you already know this, but getting sufficient fiber can support your health in many ways, from preventing constipation, to supporting weight loss and healthy gut bacteria. This tasty dish from MyRecipes will help you get more fiber in your diet, combining eggplant and capers.
Great Addition to a Weight Loss Diet
Capers won't just boost your fiber intake, they're also considerably low in calories, meaning you can feel free to pile them onto your dishes and salads without hesitation. One tablespoon of capers contains only 2 calories, or 23 calories per 100-gram serving, making it an ideal ingredient to make part of a healthy, weight loss or low-calorie regimen.
Support Positive Bone Health
Good for your bones? Capers are a good source of calcium, vitamin K and magnesium. Capers can contribute towards keeping your bones strong, reducing risk of conditions like osteoporosis, easy bone fracturing, and more.
Offers Great Benefits for Diabetics
Struggling with elevated blood sugar levels or diabetic retinopathy? Then now would be a good time to consider starting a healthy diet plan which includes capers, thanks to both its rutin content and the ability of capers to help reduce and balance your blood sugar.
Availability and How to Store Capers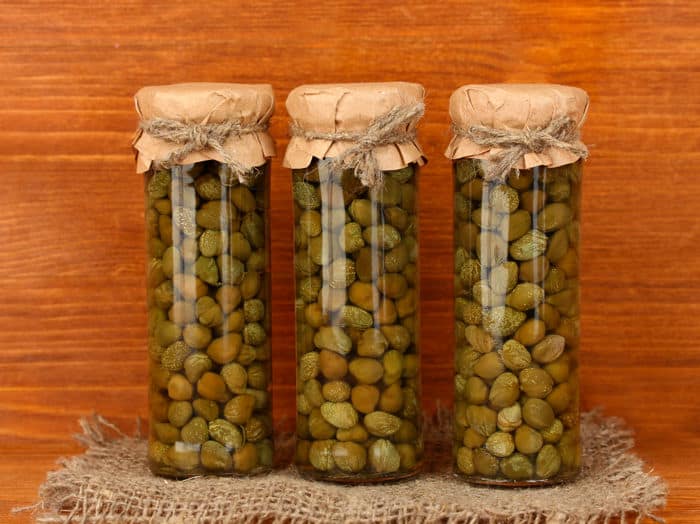 If you end up liking capers, you'll appreciate being able to get them year-round at the grocery or speciality food stores.
You'll find preserved capers in two varieties:
Preserved in vinegar
Preserved in salt
Vinegar-preserved capers will last the longest, keeping the capers from spoiling for a good period of time after opening the jar, if refrigerated. The tradeoff, however, is the capers will taste more like vinegar even after being rinsed off.
Salted capers, on the other hand, won't last as long, but will give you the real capers flavor.
Once you've opened the capers, simply seal and refrigerate the remaining capers. (This applies to both salted and vinegar-preserved capers.)
How to Prepare and Eat Capers
Thankfully, capers are very straightforward to use and require little preparation time.
For the vinegar-preserved variety, you should rinse them at least once to remove some of the vinegar. Then your capers are ready.
For salted capers, you should soak them in water, changing the water a few times to help reduce saltiness and sodium content. After this, your capers are good to go!
So what can you do with capers? Well, you could make something simple like this recipe combining capers, asparagus and lemon to make a delicious dish.
So, now you've got your capers ready for some culinary action. Let's look at some more great ways you can make capers part of your diet.
Roasted Tomatoes and Capers Pasta
What better way to enjoy new ingredients than with this simple recipe requiring only a few, easy-to-find ingredients.
This super-flavorful, roasted tomatoes with capers pasta recipe, from Martha Stewart, ticks all the right boxes.
All you'll need is:
Cherry tomatoes
Capers
Fresh or dried oregano leaves
Extra-virgin olive oil
Short pasta (e.g. orecchiette)
Salt
Spaghetti with Olives and Capers
Didn't fancy the above pasta recipe? Here's another delicious option from Nyona Cooking you can try. It too brings together a handful of ingredients you'll have absolutely no trouble finding (depending on where you are in the world of course!)
Capers
Spaghetti
Onion
Garlic
Preserved peppers
Cherry tomatoes
Olives
Fried Capers
Just when you thought the recipes couldn't get any more simple! If you're craving something more crispy, then have a go at this incredibly easy 'quick fried capers' recipe from Food & Style.
All you'll need is:
Capers
Cornmeal
Olive oil
Tomato, Red Onion, Caper & Chive Salad
Fancy a refreshing and filling salad? Then you can't go wrong with this fabulous tomato, red onion, caper & chive dish. Again, all the ingredients are easy to find and it's simply a matter of chopping, slicing and mixing together. I personally like using apple cider vinegar instead of red wine and I would use less salt!
For this salad you will need:
Ripe tomatoes
Red onion
Capers
Chives
Olive oil
Red wine vinegar or alternative
Salt and pepper
Mushroom Salad with Capers
Here's another great salad recipe from HappyRaw English! Although it's labeled as "vegan," it does include honey, so I recommend you substitute honey with vegan honey alternatives like agave nectar or maple syrup.
What you will need:
Mixed greens
Mushrooms
Apple cider vinegar
Olive oil
Your sweetener of choice
Tomato
Cucumber
Capers
Dash of salt and pepper
Black sesame seeds (optional for garnish)
Carrot Salad with Capers Dressing
This savory, crunchy and mouthwatering salad recipe from Soul in the Raw uses carrots as the base. It combines a variety of highly nutritious ingredients and makes for a special treat with a complementary dressing which includes capers.
While not all the ingredients are straightforward to find compared with other recipes above, this salad is without a doubt worth the extra effort.
This is what you need:
Carrots
Shallots or sweet onion
Capers
Dried dill
Bell pepper
Chia seeds
Hemp seeds
Garlic
Apple cider vinegar
Nutritional yeast
What You Need to Know
If you're someone who needs to watch their sodium intake carefully, you may need to moderate the amount of capers you eat as well as how often you eat them.
Capers, whether preserved in vinegar or salt, are considerably high in sodium content. So when you add them to dishes and salads, you may not need to add any additional salt.
Wrapping Up
If, unlike me, you can get used to the piquant flavor, and perhaps even end up liking it, then you've got yourself a nice treat that you can use to bring out some extra flavor in your recipes.
I'll keep trying capers and hopefully one day I'll learn to love them!
Let me know what you think!