Quinoa is one of the healthiest seeds you can find and is an excellent choice for replacing rice, being a rich source of protein and containing less carbohydrates in comparison.
The taste of quinoa is also pretty neutral, which allows you to use it in almost every dish you can think of.
You can use steamed quinoa with your Thai or Indian Curries, and if you're thinking about different combinations, have a look at the quinoa recipes in our best vegan recipes collection for more inspiration and ideas!
Since quinoa is in vogue for its nutritional value, we prepared this roundup featuring some of the best vegan quinoa recipes.
Here, we show you exactly how versatile it can be.
Power-Packed Quinoa Recipes
Black Bean and Quinoa Stuffed Bell Peppers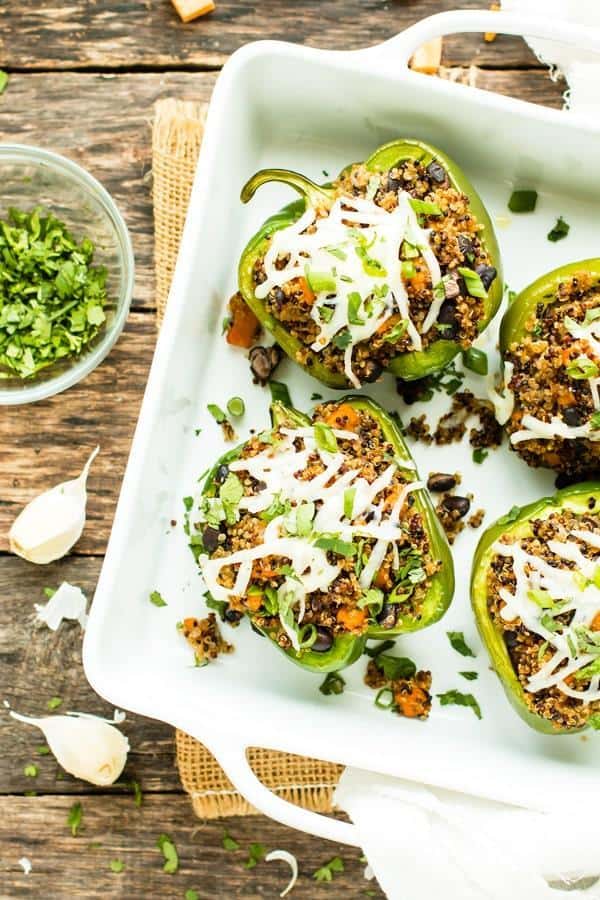 There are dishes that make the perfect way to introduce you to go on completely plant-based. This one is a great option.
Black beans and quinoa offer the perfect combination for a high-protein diet, while veggies like sweet potatoes and onions add to the mix along with herbs and spices such as cumin, paprika, garlic and lots more.
The dish also has a great garnish that makes it a wholesome snack!
Black Bean Quinoa Soup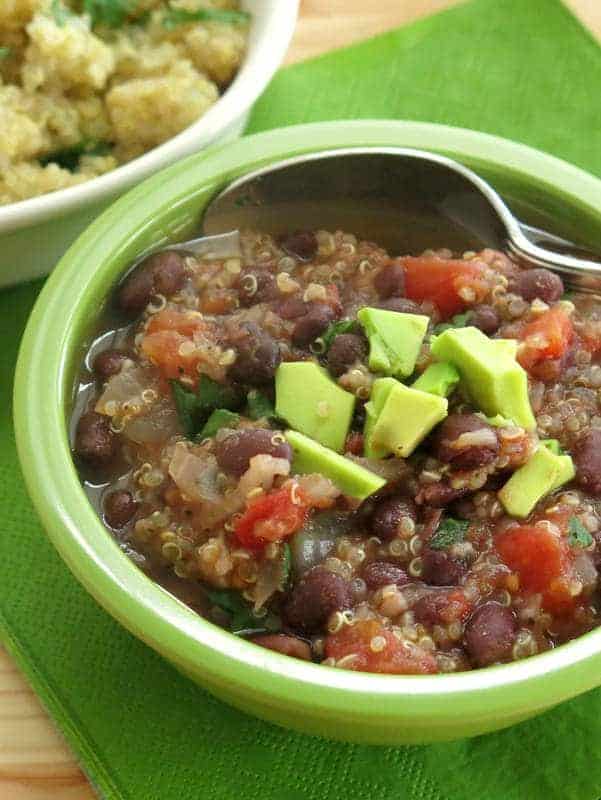 This simple soup is the perfect recipe for a slow Sunday evening when all you want to eat is something light.
The quinoa and black beans are accompanied by fresh herbs such as thyme and oregano giving it a unique flavor. You can also use dried beans soaked overnight for the soup instead of canned beans if you prefer.
Topped with fresh avocado and cilantro, the tomato and red vinegar in the soup especially stand out with their appetizing tang.
Veggie Quinoa Banh Mi Bowls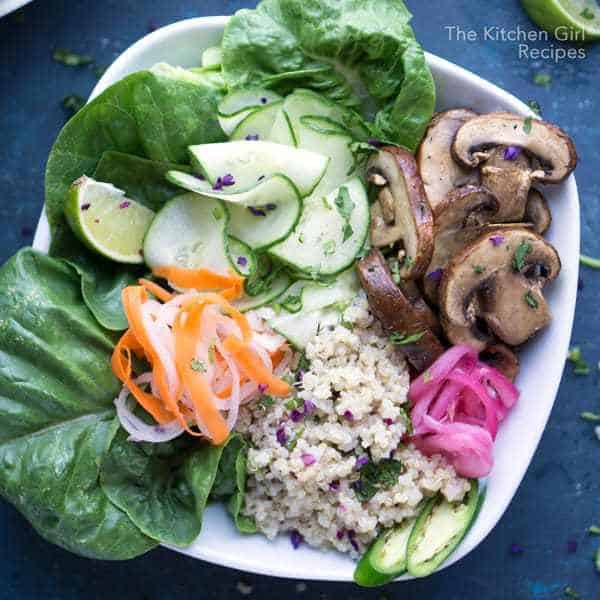 This Vietnamese style salad is going to make you fall hard for banh mi dishes!
The recipe is simple in a bowl that consists of fresh and pickled veggies such as English cucumbers, jalapenos, purple cabbage and more.
Grilled mushrooms add an exotic taste to the dish while the light vinaigrette with lime gives a fresh and citrusy zing to the veggies.
Quinoa makes the entire salad wholesome and filling, which is perfect for a healthy lunch.
Quinoa with Roasted Veggies and Chickpeas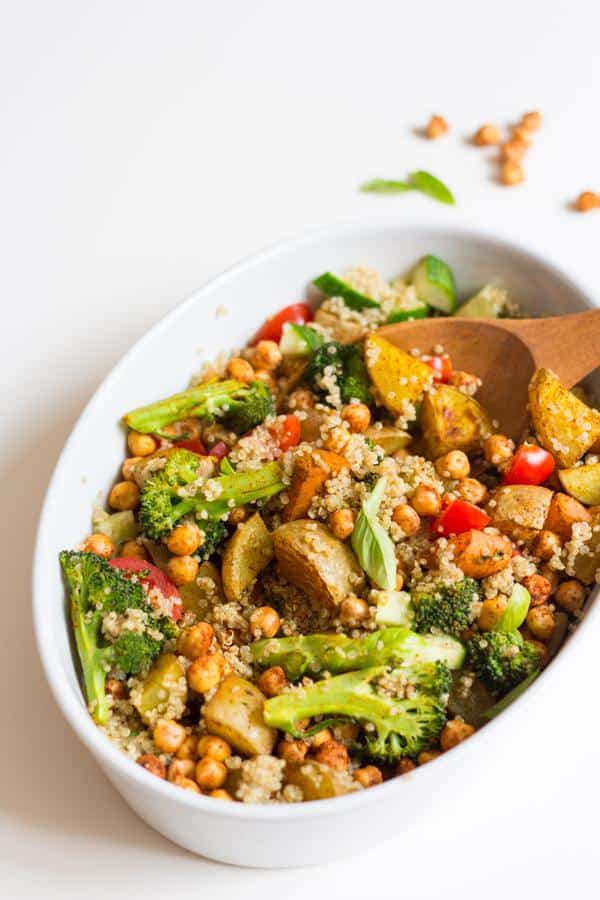 Roasted veggies are a favorite in a lot of homes and I agree with its appeal. How about a dish that puts the roasted veggies at the center spot?
This recipe is simple and the ingredients are easily found in your kitchen. Seasoned veggies are roasted along with chickpeas.
The quinoa tastes great and contributes to the combination making the dish solid.
You can add mint hummus to make the most out of the recipe.
Homemade Quinoa Milk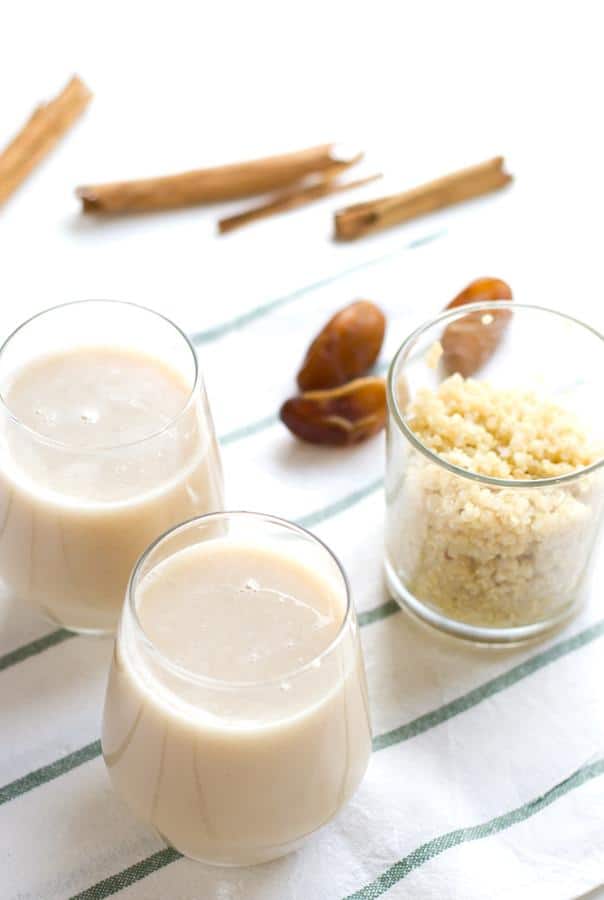 There are several varieties of plant-based milk you can find at the stores, but if you love homemade oat milk, this is a must-try for you.
All you need to do is boil quinoa in water, then add cinnamon and dates for extra flavoring your kids will love.
You have a lot of free reign to play with so use your imagination! Add cocoa powder, vanilla essence or whatever creates a good combination to make it your own.
Roasted Cauliflower Quinoa Detox Bowl with Tahini Sauce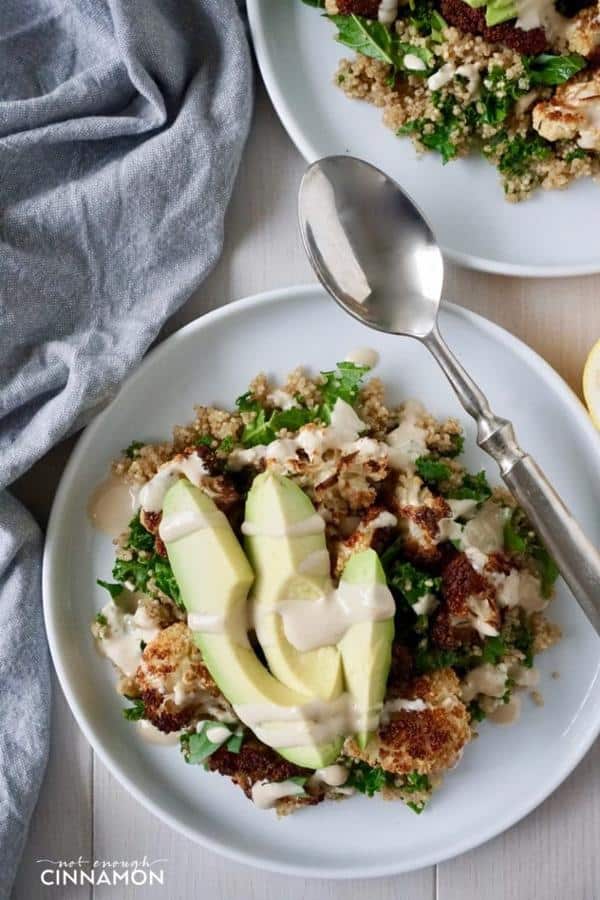 Most of my friends have complained about how very bland the food they're supposed to eat during a detox diet tastes.
This recipe takes care of that problem and ensures your skin lights up like a glowing bulb!
The cauliflower is roasted with herbs and is mixed with quinoa. Avocados, kale and lemon tahini make a wonderful addition to the bowl.
Making a healthy choice isn't hard when you can still eat yummy food that's highly nutritious at the same time!
Quinoa and Fruit Breakfast Porridge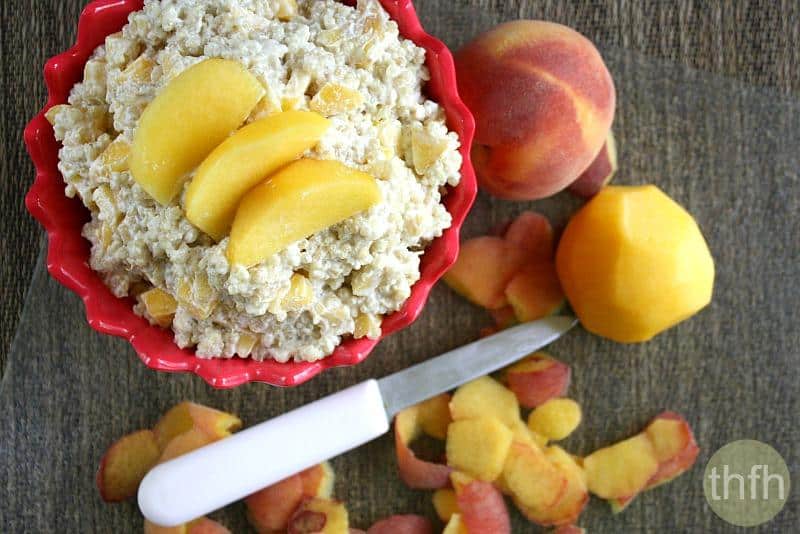 There are two types of people; the first like to eat the same thing for breakfast every day and the second need something new.
This recipe is a good option for the latter and a new addictive breakfast for the first category!
Quinoa is cooked and blended with full-fat coconut milk along with diced peaches and your choice of sweetener.
You can easily keep switching the fruits every day and use leftover quinoa from the night before making this a convenient and quick breakfast.
Cinnamon Quinoa Protein Cereal Bowl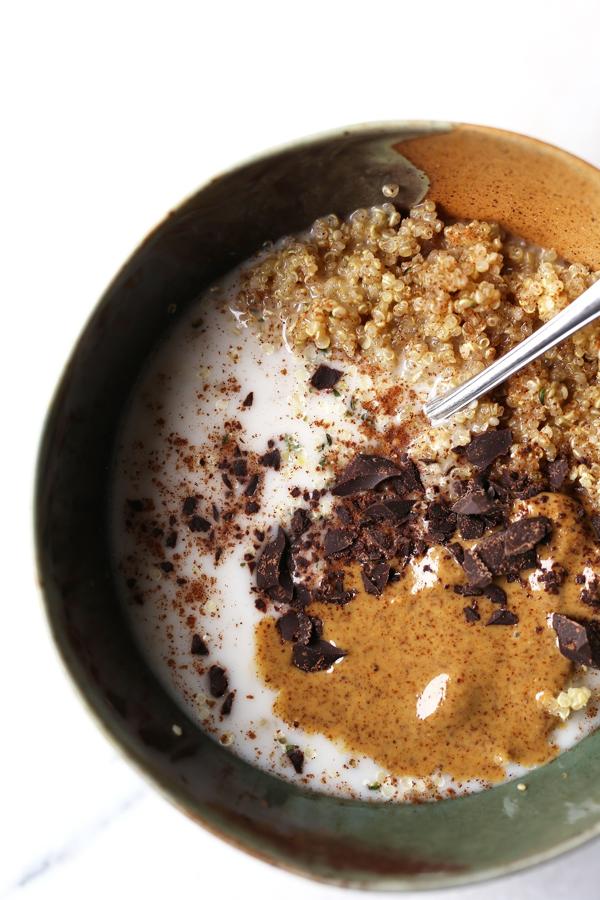 I don't have a huge sweet tooth, yet I can't resist a good chocolate snack, especially for breakfast! What a great replacement for high calorie chocolatey treats. The recipe packs ingredients such as hemp seeds, cinnamon, almond butter and chocolate.
All this combined with quinoa makes for a protein packed powerhouse of sweet and satisfying. Make sure you make extra quinoa, because you will want more than one bowl for the week, guaranteed!
You can't go wrong with this one. Bonus, it stores nicely in the fridge for up to four days – your meal prep is done!
5-Ingredient Quinoa Fudge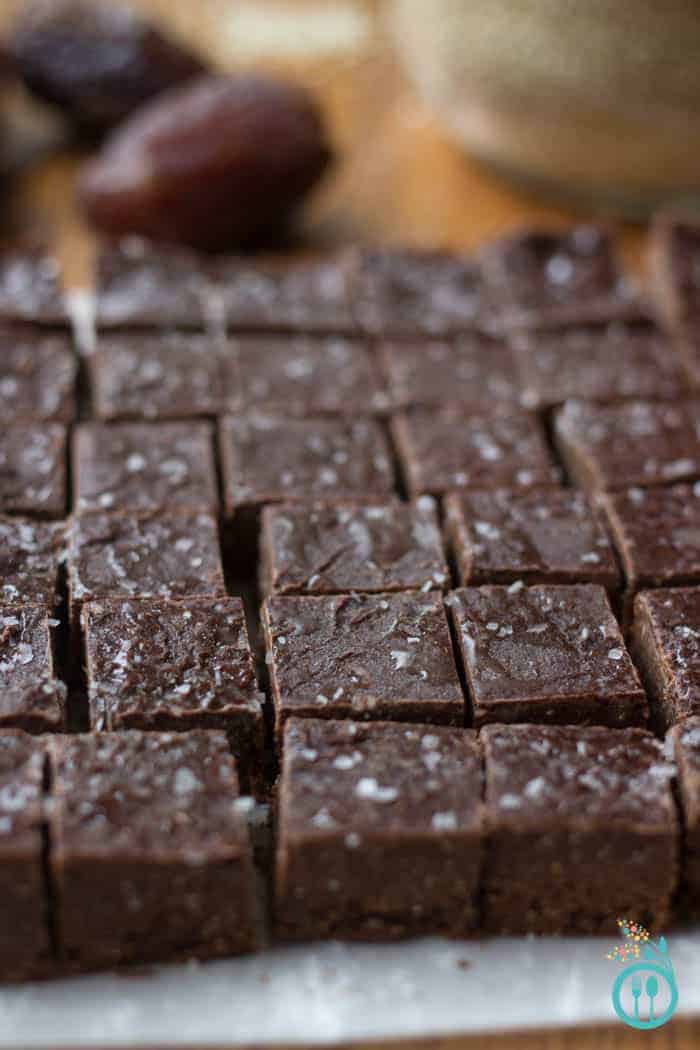 Fudge reminds me of all the Christmases of my childhood where my talented cousin used to try her skills at chocolate fudge. They tasted amazing and this recipe is so close to the one she used.
The best part? It takes a whole 12 minutes to whip up a batch; perfect for us hormonal ladies when the sugar craving kicks in!
The ingredients include quinoa, dates and cocoa powder. Coconut oil makes it healthier and I can stuff my face with fudge without the guilt!
Snowy Quinoa and Coconut Breakfast Bowl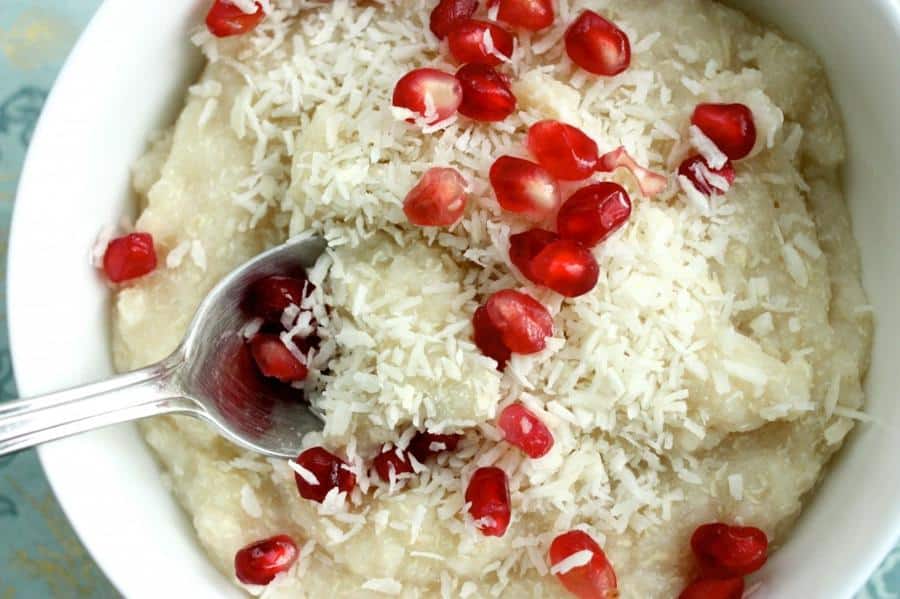 Most of my excitement about Christmas is for the food I can eat; 12 days of Christmas where my parents think they live with a hog rather than their human child!
This recipe would be the perfect breakfast to change my uncontrolled eating this Christmas, and anyone who is like me!
Quinoa flakes boiled in almond milk are garnished with fresh shredded coconut and pomegranate seeds.
The sweetener used is maple syrup but you can easily use date syrup as well.
Simple Kale Quinoa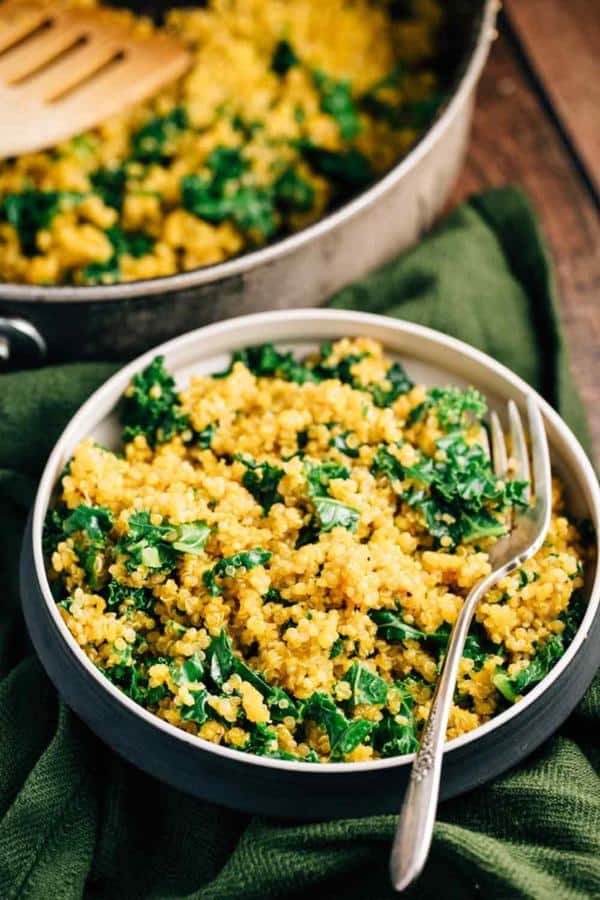 There may be days when you simply don't feel like cooking a huge meal and that's okay, everyone deserves a breather from the kitchen. You can still eat healthily rather than something greasy, though.
This recipe uses minimal ingredients and is cooked in a jiffy. Just toast quinoa in almond butter, add vegetable broth to boil it with a few seasonings. Then include chopped kale and you're set to eat!
You can work with what you have such as use carrots, peas or mushrooms.
Chai Breakfast Quinoa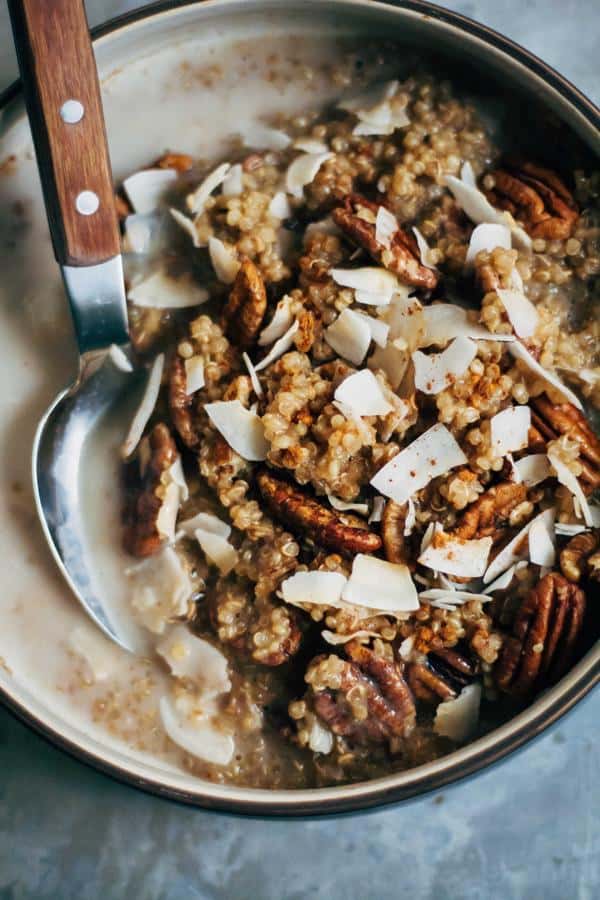 The only thing that can make me laugh is the term "Chai Tea"; essentially, Chai means tea in Hindi and saying Chai Tea is equivalent to Tea Tea (cue my giggles).
The recipe is lovely, though. I act like a complete grouch without regular tea breaks and this one is a nice way to integrate tea with breakfast, literally!
You simply make tea using almond milk, sweetener, and a tea bag to add to cooked quinoa. The porridge is loaded with pecans, coconut and cinnamon to bring more texture and wholesomeness.
No-Bake Coconut Orange Quinoa Cake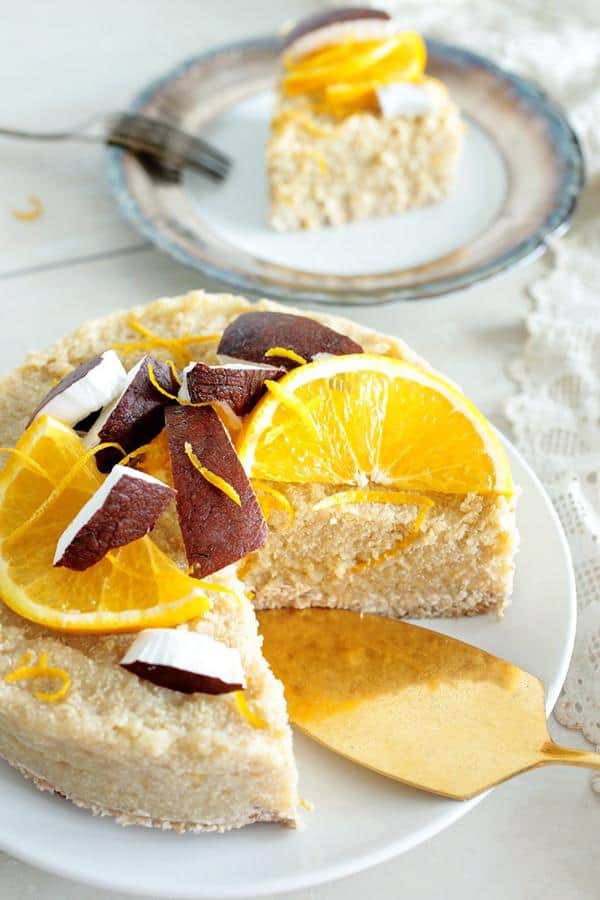 Since when did being on a diet means the death of your happiness? We always look for a way to bring a little dessert into the equation because we deserve it!
This recipe is a super healthy no-bake cake that consists of ingredients like dates, maple syrup, oats and more.
Quinoa, orange juice and zest make the sponge that is layered and compressed. Serve yourselves a slice with fresh fruit once it sets without any guilt!
Incredible Vegan Quinoa Salad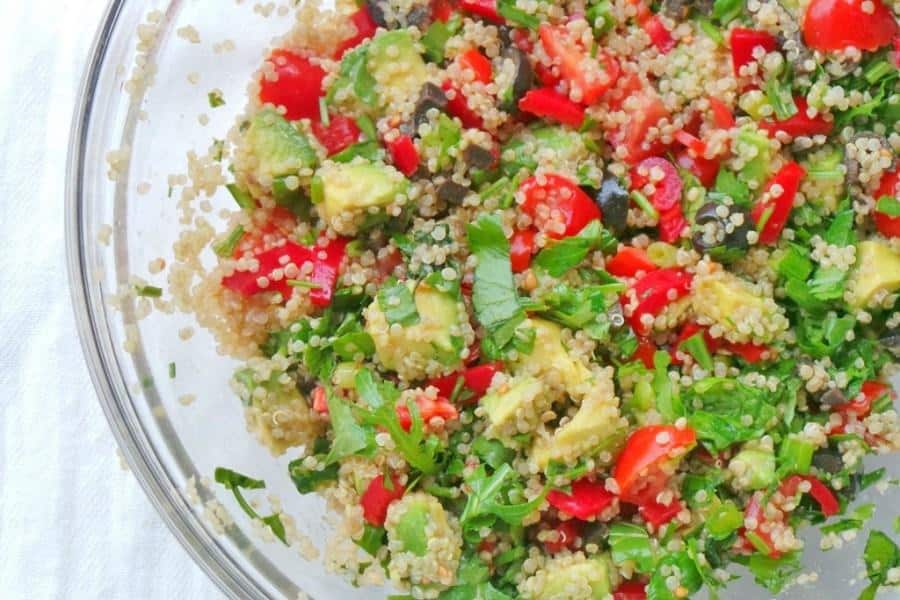 This salad makes me happy because of its simplicity. I prefer to keep my food simple and there's no competing with a light salad on a hot day.
The quinoa is cooked and mixed with diced fresh veggies like tomatoes, olives, spring onions, and others.
Peppers give it a light spice and the vinegar makes a lip-smacking impact combined with lime juice.
This meal is perfect to carry for an office or school lunch.
Quinoa and Sweet Potato Bowl with Chimichurri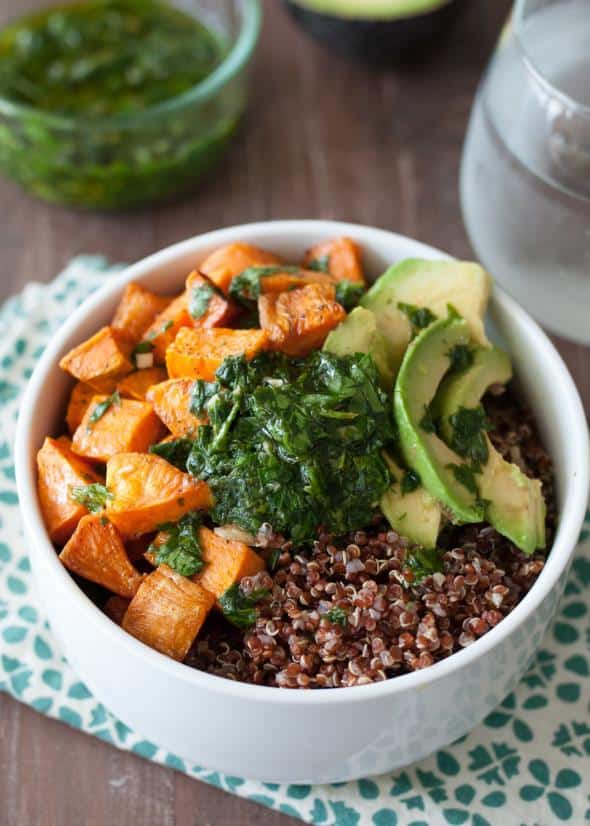 Light meals are always underrated. There are days when you just want to skip eating until later. A recipe like this saves you unwanted acidity due to either an empty stomach or eating a heavy meal.
Roasted sweet potatoes are served with cooked quinoa and a portion of avocados.
The Chimichurri dressing is the star with ingredients like parsley, cilantro, garlic and other spices that bring the dish to life.
Garlicky Zucchini Quinoa Cakes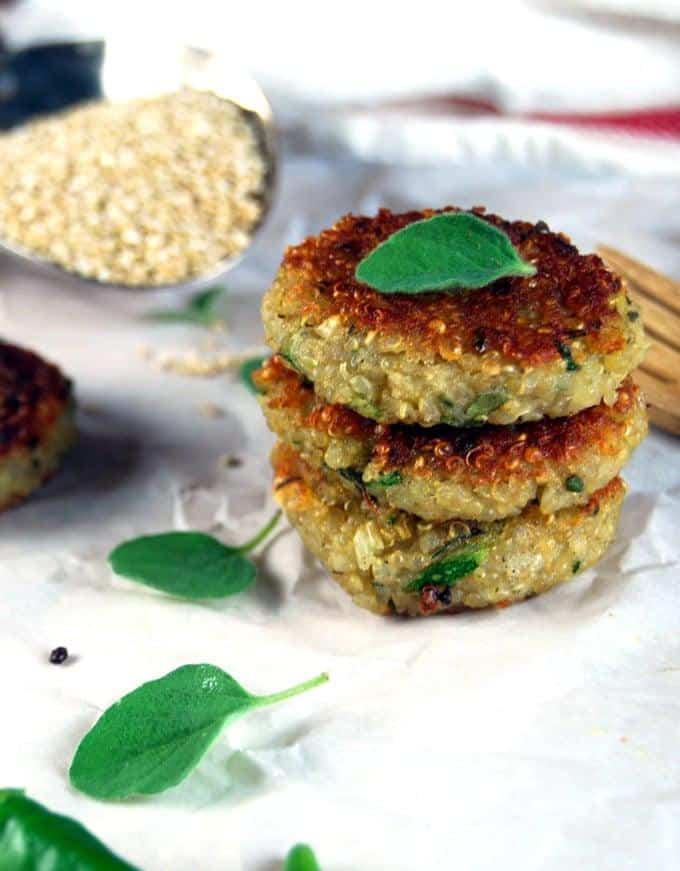 When you have kids at home, creativity counts in your culinary skills! They can get bored easily and are fussy. Your kids will love these crispy cakes, I promise!
The recipe involves binding quinoa with a lot of minced garlic and zucchini spiced with boiled potatoes and rice flour.
The spices are kept simple so when they're fried, the rice flour makes them crispy on the outside and soft on the inside.
You can use mint chutney as a dip with the cakes.
Indian Quinoa and Chickpea Stir Fry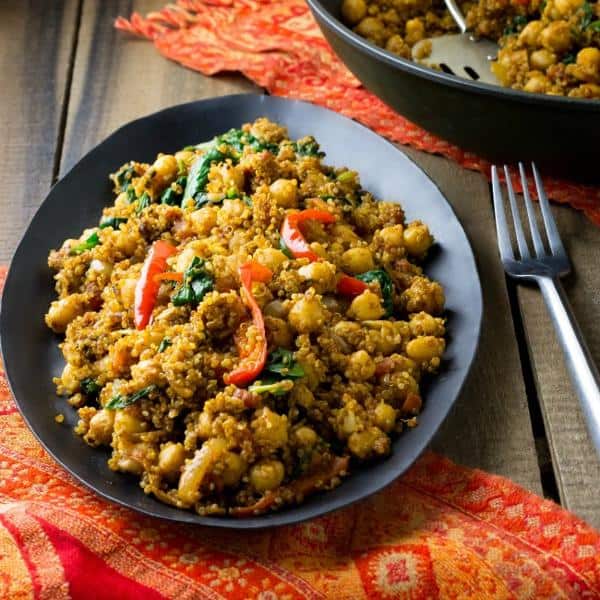 People assume that anything Indian takes quite a while to prep and cook, but this dish shows them otherwise. Indian food can be simple, delicious and perfectly healthy at the same time.
The recipe uses chickpeas and spinach leaves along with the quinoa. The herbs and spices may look like a lot, but none of them have overpowering flavors and I really appreciate that.
You can turn this recipe into a wrap by stuffing lettuce leaves with the mix for lunch at work or school.
Toasted Quinoa-Stuffed Mangos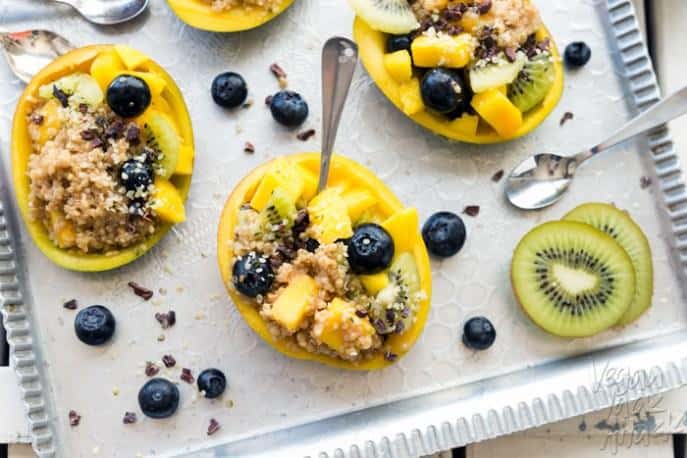 I love the variety in fruit salad bowls. This recipe looks so pretty when it comes together, all you can do is dig in immediately!
Wasting no part of a fruit, the dish uses the sides of a mango as bowls to serve the mix of fruits like kiwi, mango and blueberries.
The coconut sugar and vanilla extracts add jazz to the dessert.
Serve these bowls chilled at your next cocktail party and watch the magic!
Chocolate Chip Quinoa Snack Cake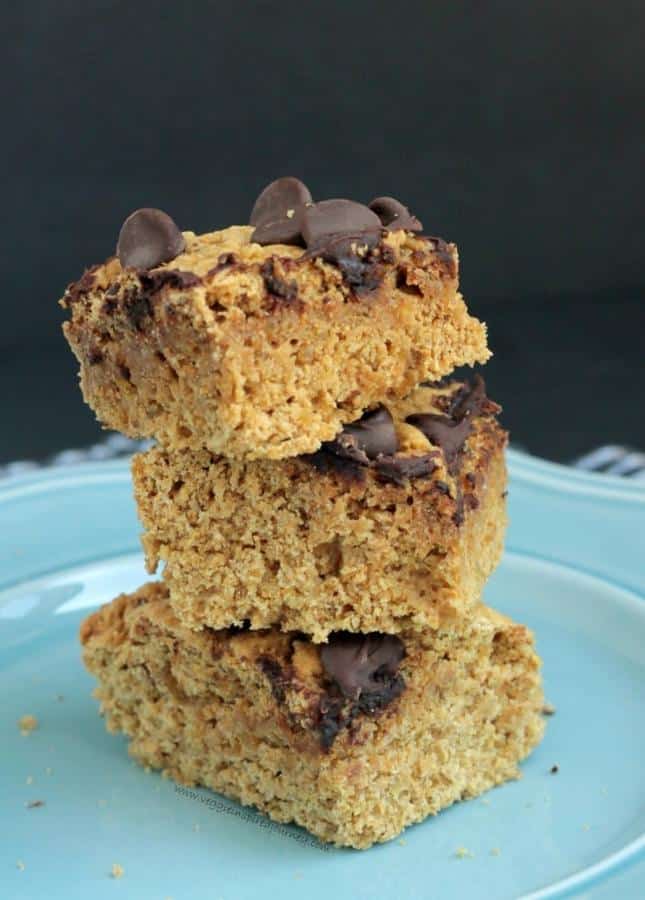 All too many times we have leftover quinoa waiting in the fridge to be used. This recipe is a quick fix to finish this off.
These sweet treats are quick, nut-free and make a lovely snack after your afternoon nap. It includes ingredients like whole wheat, coconut milk, maple syrup and others which are super healthy.
The non-dairy chocolate chips complement the cake very well. You can add a side of fresh fruits if you like as well!
Apple and Banana Quinoa Oat Bites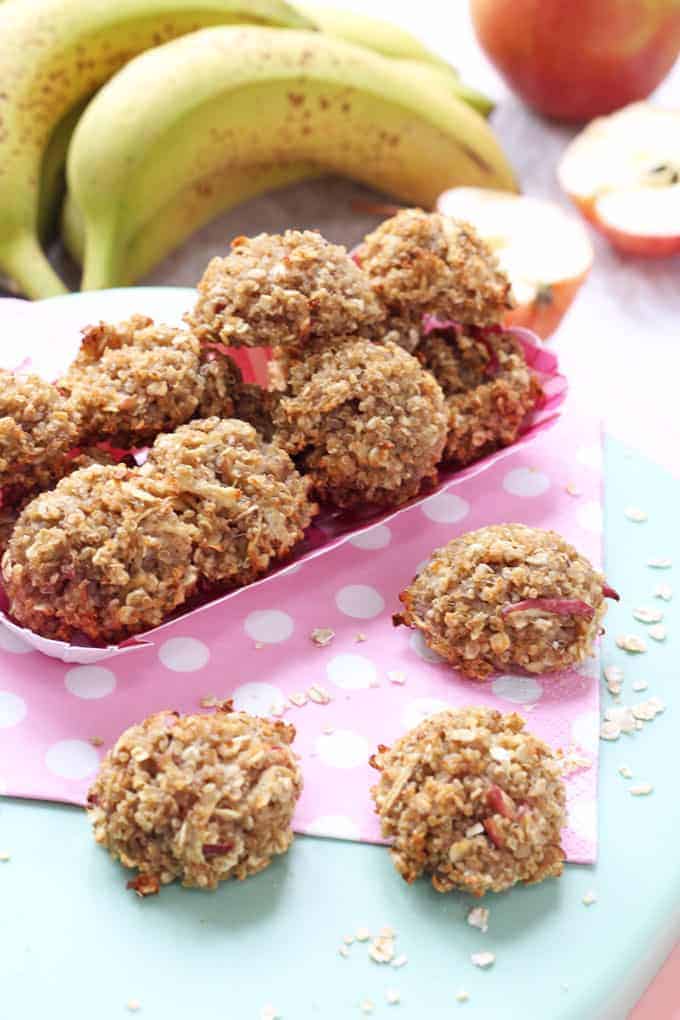 This recipe will be greatly appreciated by parents of weaning babies and toddlers.
The little morsels are perfect for introducing your little ones to solid food from about 8 months.
The preparation needs just a mashed banana, grated apple, rolled oats and quinoa.
Simply mash them together and make bite-sized balls for your kids to eat. The nice part about this is not using any added sweeteners.
Gingerbread Breakfast Quinoa Bake with Banana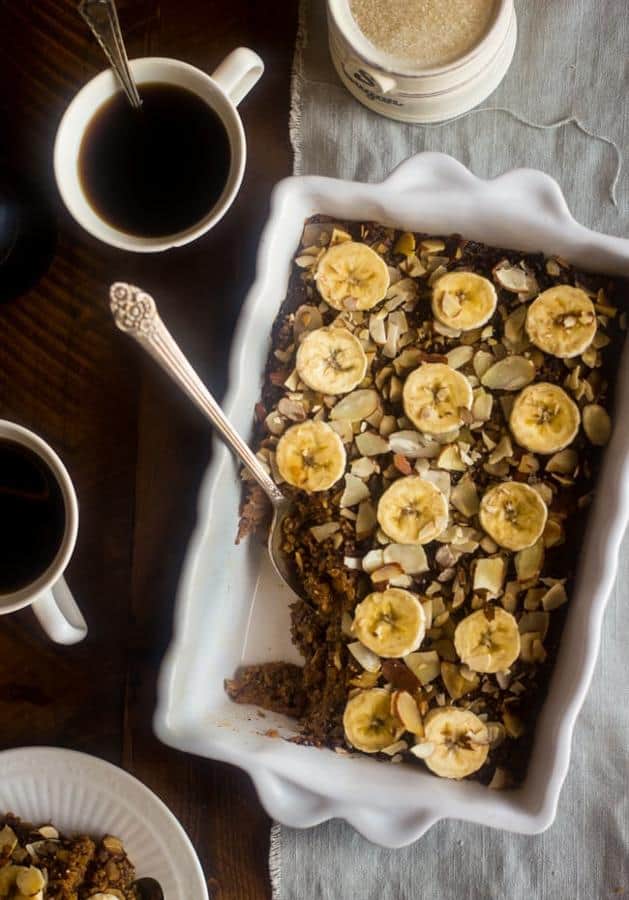 A lot of people love to eat something sweet for breakfast. This recipe is sweet and spicy; something that would taste perfect with a cup of coffee!
The cake uses ingredients such as quinoa and bananas mashed together with ginger, allspice, cinnamon, and more warm spices.
Maple syrup is the sweetener used here; you can use coconut sugar as well if you prefer.
The cake is baked and garnished with almond slivers; the aroma will wake the entire house up in no time!
Potato and Quinoa Veggie Burger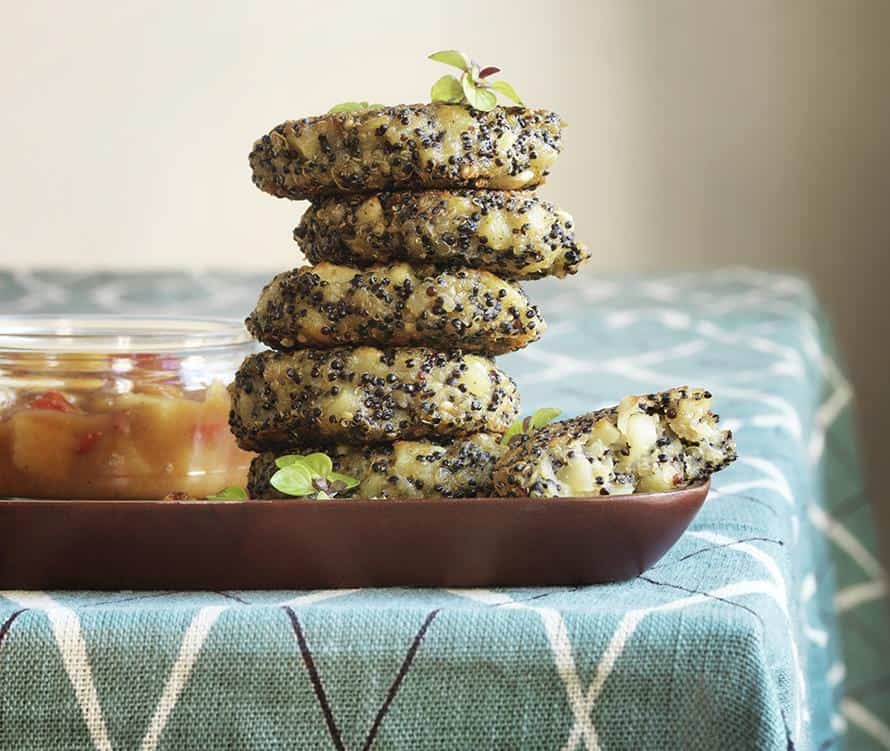 Living a healthy lifestyle requires us to cut down on greasy junk food. We can't help but occasionally miss a good burger, though.
Rather than taking the regressive route, we can make our own healthier version using this recipe.
The burger patties are made of mashed potatoes and quinoa along with a bunch of fresh herbs like thyme, sage, and parsley. They fry to a golden crisp and go really well with veggies like onions, tomatoes, and coleslaw.
You can coat the patties in rice flour before you fry them for extra crispiness.
Quinoa Lentil Soup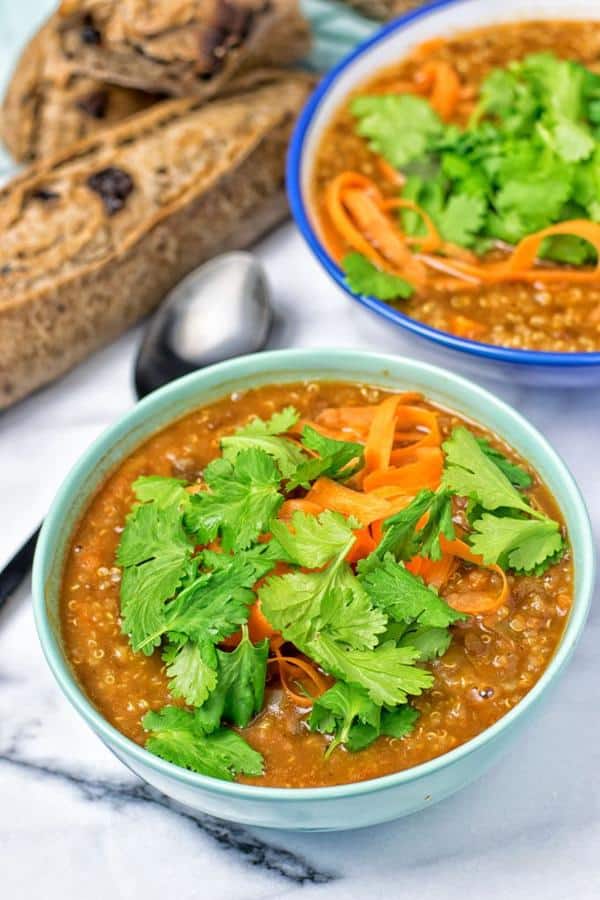 A bowl of piping hot soup on a winter's day is good enough to chase away the chills. The combination of oats and lentils in a soup makes it really nutritious comfort food.
The recipe keeps things simple by cooking lentils, garlic, celery stalks and other ingredients in vegetable broth. Herbs and cooked quinoa are added to the blended soup to make the recipe more filling.
Add a dash of lime to get a zesty zing in the soup!
Chipotle Walnut Quinoa Vegan Taco Meat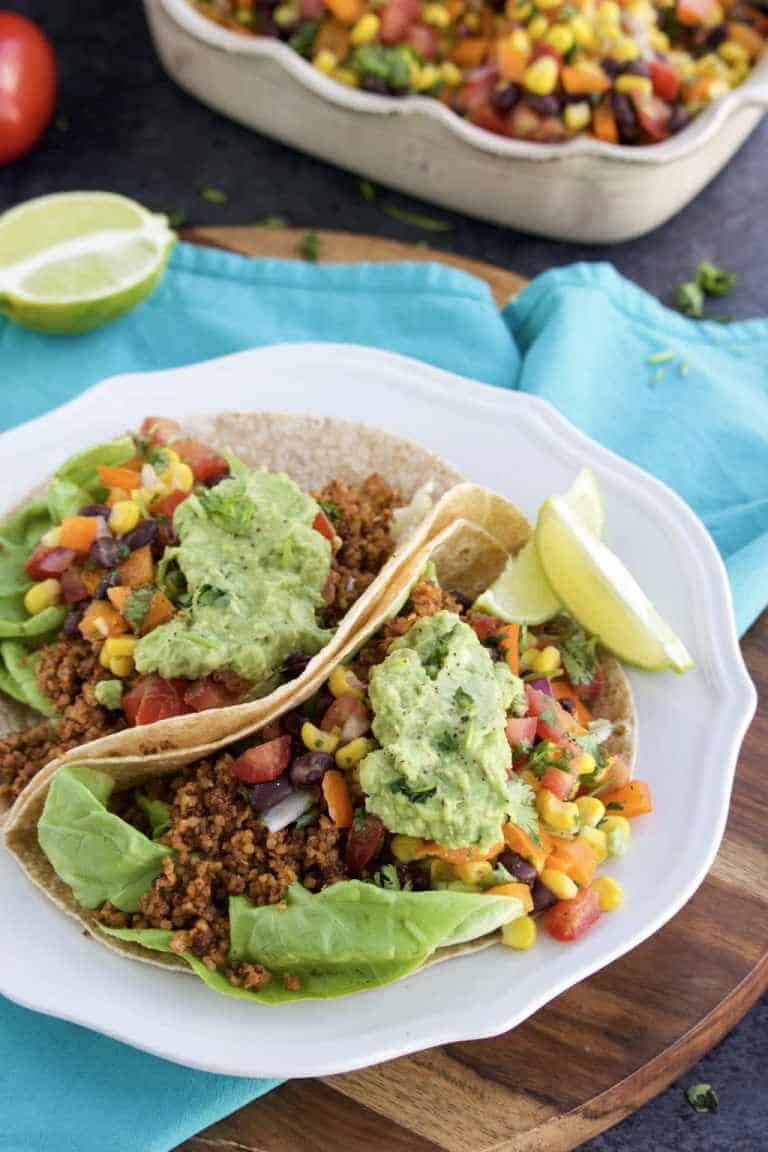 Taco Tuesdays are serious business! Finding a new variety of tacos for next week just got easier because of this recipe!
The rainbow salsa used has a lot of fresh veggies that are topped with a generous dollop of guacamole. The vegan 'meat' is prepared by toasting walnuts and cooked tacos along with chipotle sauce and then blending them together.
Lettuce give the tacos a fresh taste that will have you repeating it a few more Tuesdays for sure!
Quinoa Beet Burgers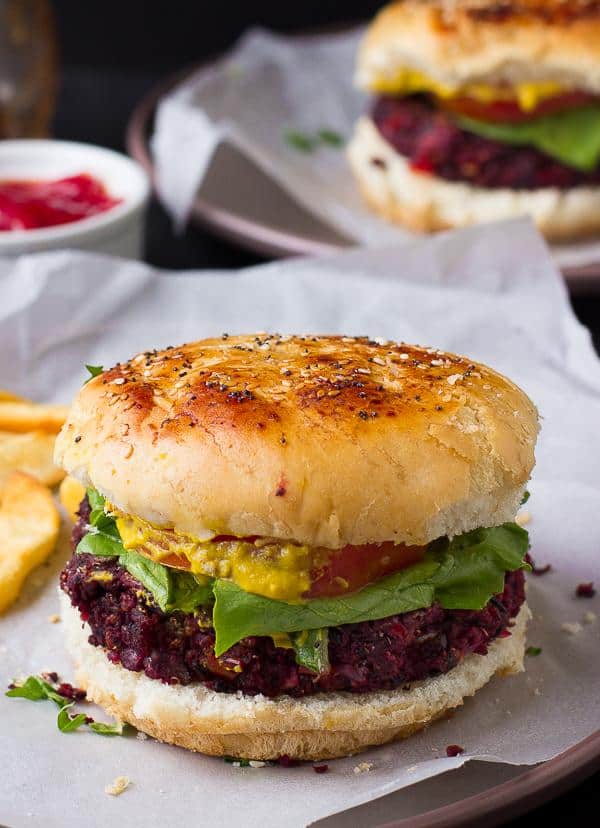 These gorgeous beet burgers will calm your craving for junk food minus all the grease and junk.
The patty is made up of four simple ingredients, namely quinoa, beet, oat flour, and black beans. They are blended in a food processor with spices and seasonings to be formed into patties and fried to a crisp.
The veggie slices to be used are up to you to pick but olives and jalapenos would complement the burgers wonderfully.
Creamy Vegan Quinoa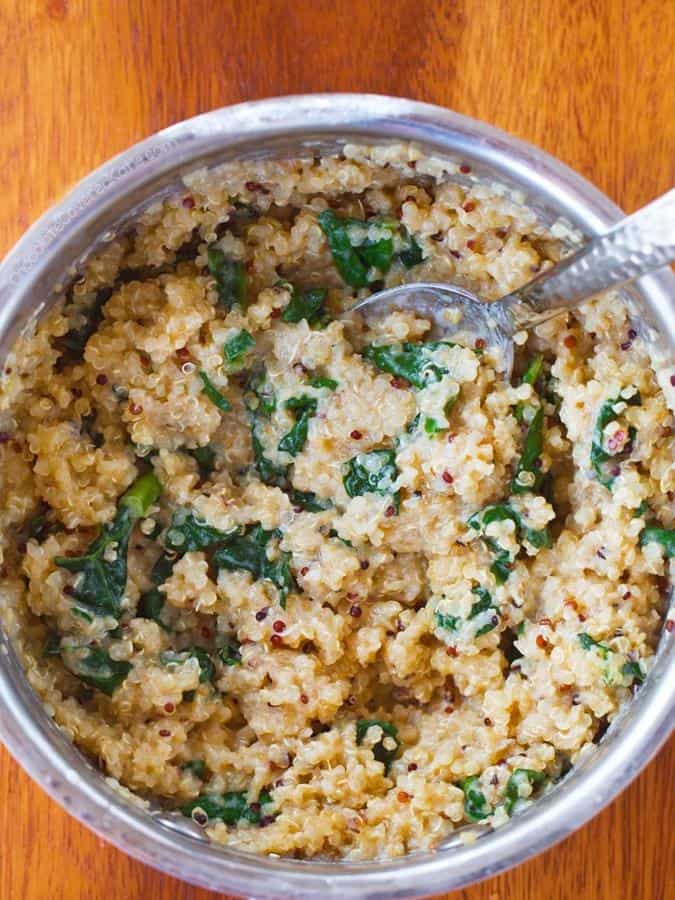 A simple recipe is what you need on a day when you don't feel like eating anything heavy.
Quinoa is boiled and cooked in a creamy sauce using vegan parmesan. Greens like kale and spinach are added once the sauce starts to boil.
Seasoned with onion and garlic powder give the dish a great vibe that will instantly ease your winter blues away!
Best Ever Vegan Quinoa Chili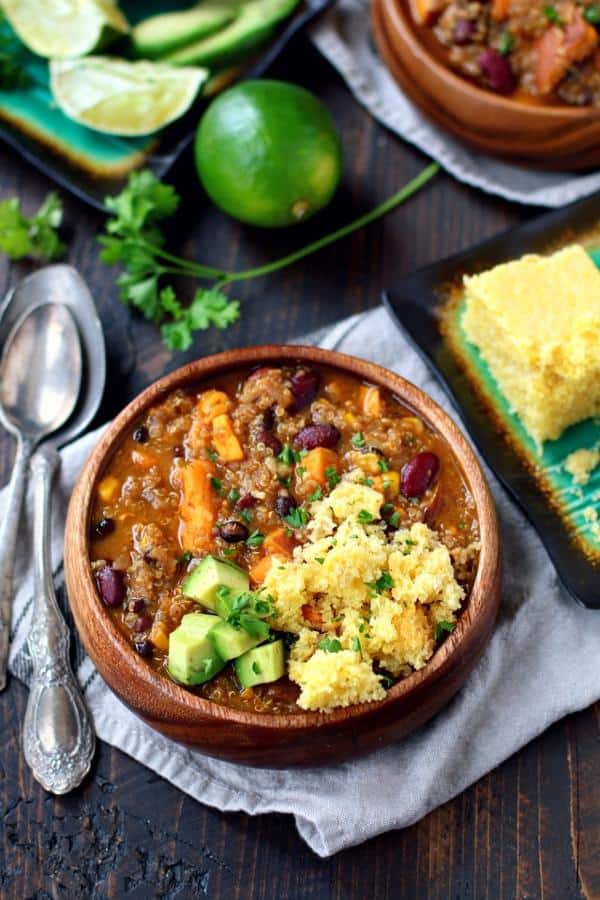 A good hearty chili for your next potluck is what this offers to you. The flavors are sweet, savory and make the perfect dish for cold winters.
There are two types of beans used along with quinoa and a lot of fresh veggies that make this chili a wholesome and warm. The spices used in this chili give it a little heat.
You can also make this dish your own way by using lentils or tofu if you'd prefer.
Healthy Slow Cooker Sweet Potato Mexican Quinoa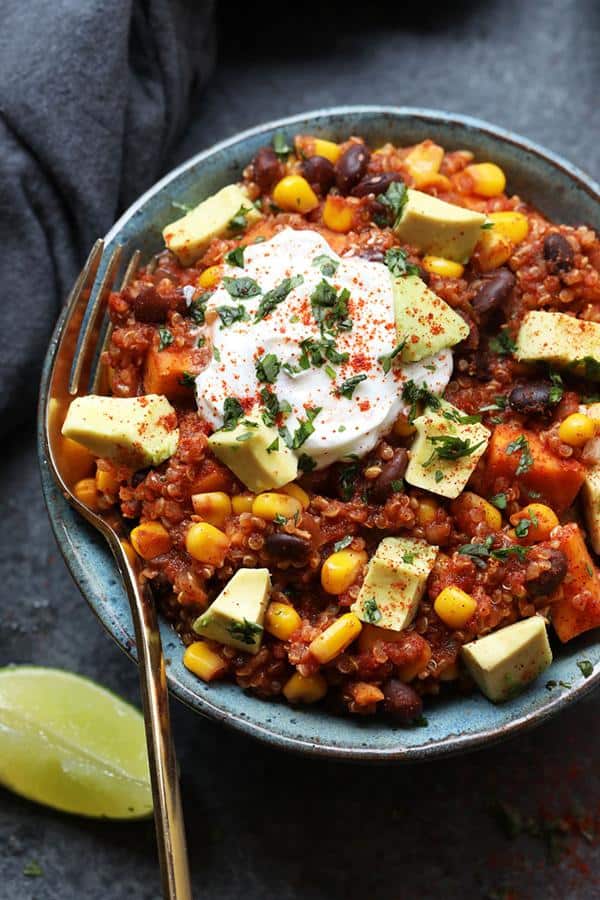 This recipe is ideal for slow cookers. It's worth every single bite!
The prep isn't what takes your time because all you have to do is combine all the components together.
Quinoa and black beans are added to a mix of diced veggies like tomatoes, sweet potatoes, corn and more. Spices like paprika and sriracha are stirred into the cooker.
This would be a good dish for one of your long weekends where you let the cooker do the work while you spend time with your family.
Roasted Vegetable Quinoa Bowls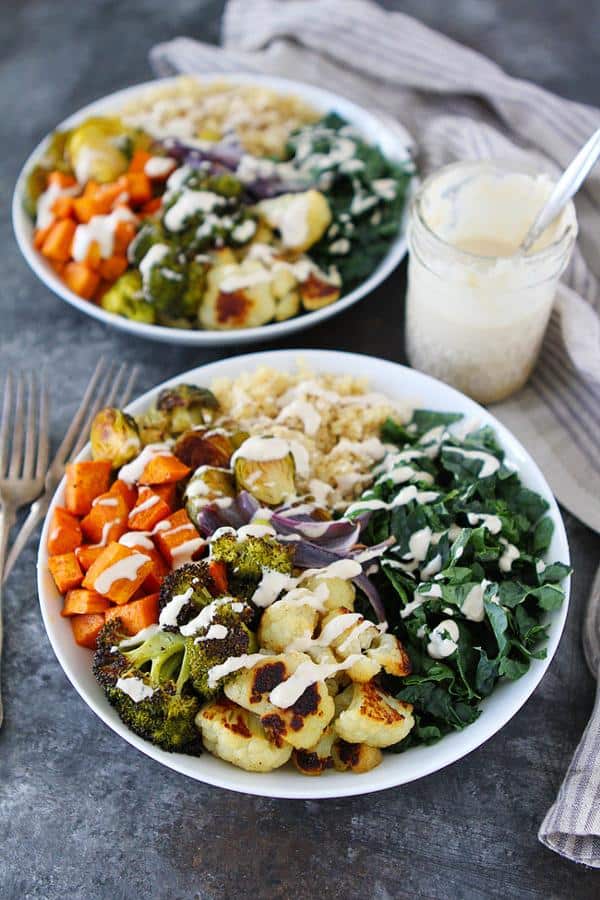 Roasted veggies don't get all the credit they deserve. How about a recipe that honors them at the center spot?
Fresh veggies like cauliflower, broccoli, sweet potatoes, and others are seasoned then baked on a sheet. The quinoa makes this a substantial lunch that won't have you snacking around!
The lemon tahini dressing is what gives the roasted veggies an extra punch of flavor, don't skip it!
Spicy Indian Chickpea and Quinoa Pulao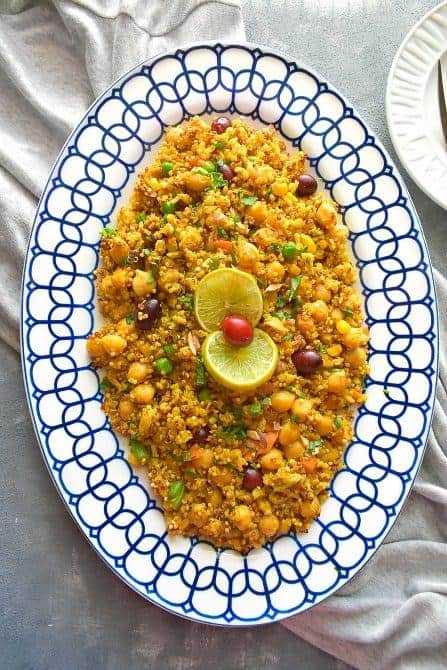 The Indian – inspired flavors bring a bit of comfort and warmth to anyone that eats this dish.
The prep takes just about 12 minutes which scores this recipe a major point in my books.
All you have to do is put together the chickpeas and quinoa into a pressure cooker after sautéing whole spices like cardamom, bay leaves and cumin sticks along with turmeric and garam masala.
You can serve with a side of cold salad for a complete lunch.
Triple Berry Quinoa Parfait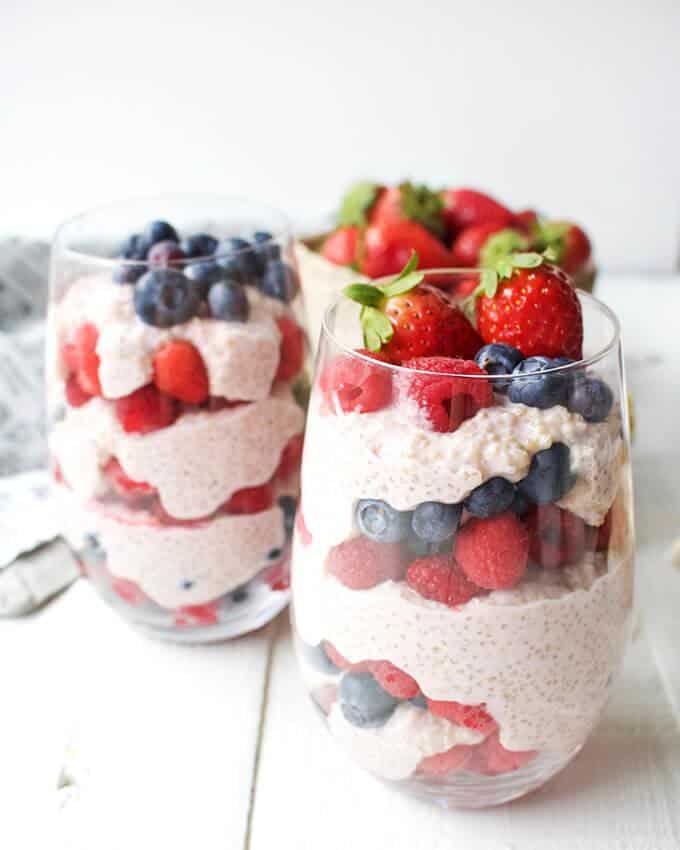 This recipe is "parfait" for gourmet magazines! The presentation is so gorgeous; please give me a minute to wipe the drool off my screen!
As complicated and rich as the picture looks, the breakfast is very easy to make.
All that you need for this recipe is non-dairy yogurt, quinoa, and berries! Karissa used strawberries, blueberries, and raspberries that make an excellent source of vitamins and antioxidants to give you a fresh start.
The sweetener used is maple syrup but you can use coconut sugar too.
Serve this for a chilled breakfast on a hot day and watch your mood take an upturn!
Coconut Quinoa Breakfast Cups with Fresh Berries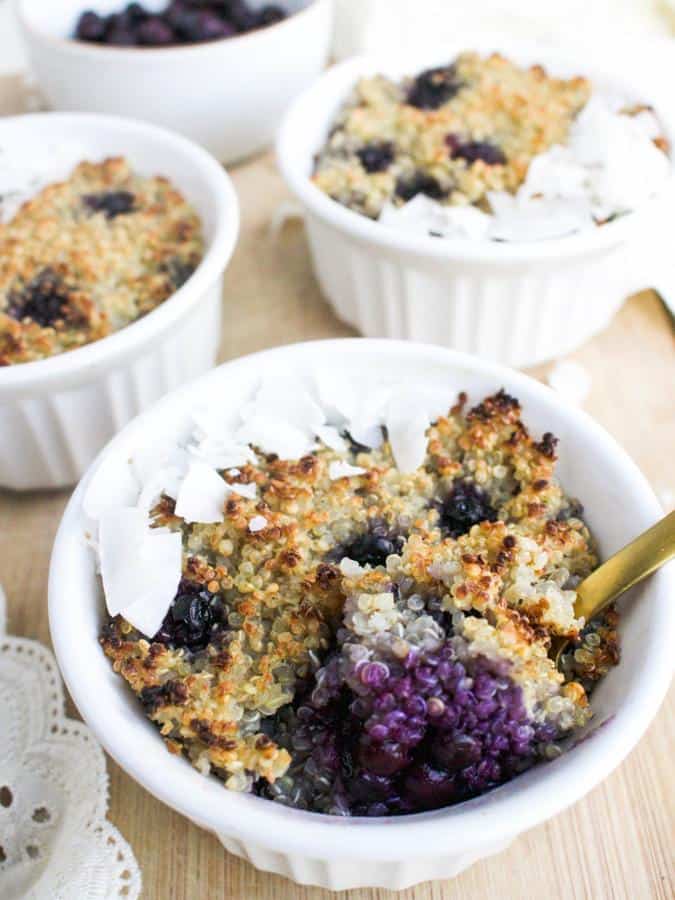 Quinoa for breakfast is a great idea since it keeps you full for a long time without making you feel lethargic.
This coconut quinoa recipe doesn't require much time to whip up and all the ingredients used are highly nutritious.
The quinoa is boiled with coconut milk, ground flax and cinnamon to give it a rich taste.
Dates act as the sweetening ingredient along with blueberries.
You can also switch the blueberries for strawberries or raspberries.
One-Pot Quinoa Chili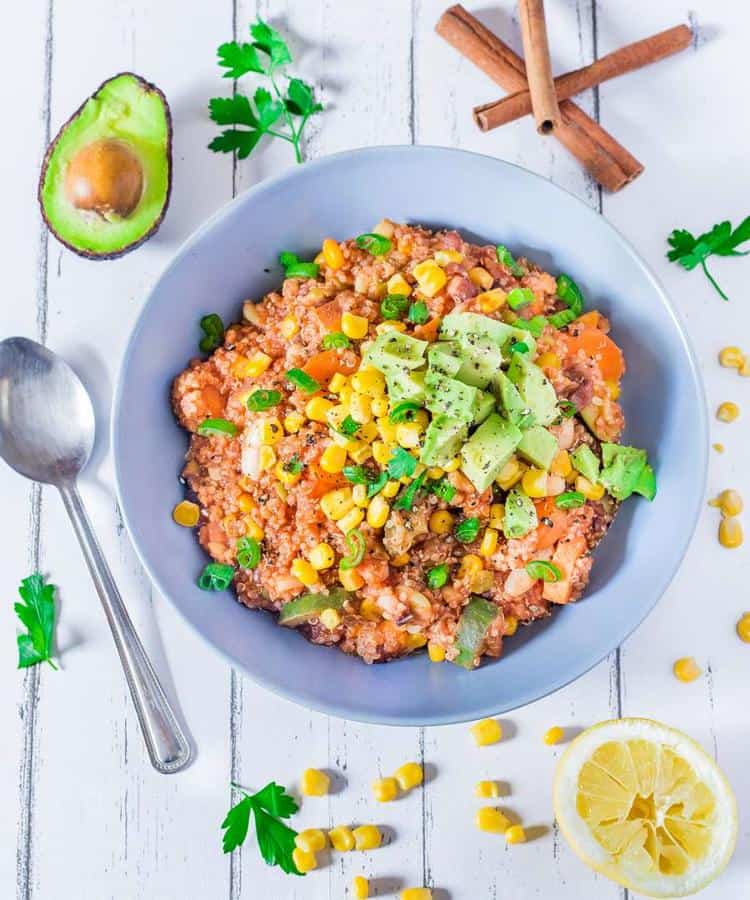 This looks like happiness on a platter! The colorful ingredients are meant to be used for comfort food like a hot plate of chili.
The recipe is easy to cook and uses both black and white beans along with quinoa.
Fresh veggies like sweet corn, zucchini, carrots and more make the dish wholesome and rich of fiber. The tomato puree gives a lovely tang and color to the chili.
Garnish your bowls with avocados and fresh cilantro with a slice of lime!
Green Pea Quinoa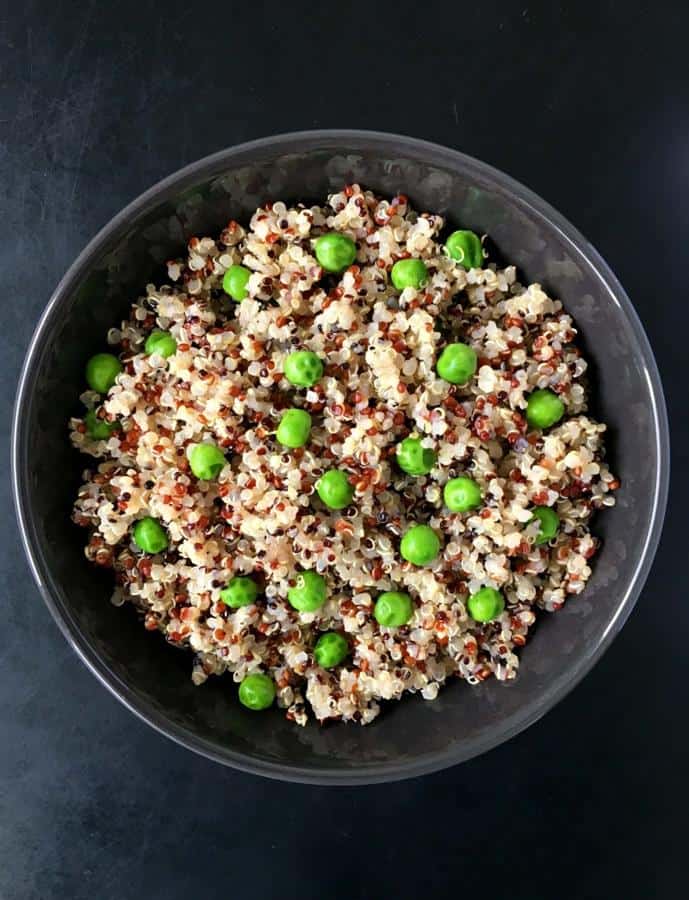 This recipe is very simple and the perfect accompaniment for your Thai or Indian curries.
Quinoa and frozen peas are cooked with just salt and pepper for seasonings. What you get is a fluffy plate of pulao (pilaf) that is light on your stomach and gives you the same satisfaction as eating rice!
Just make sure to wash off the outer layer of quinoa as they have a slightly bitter taste. Perfect recipe!
Easy Grilled Teriyaki Tofu W/ Quinoa & Broccoli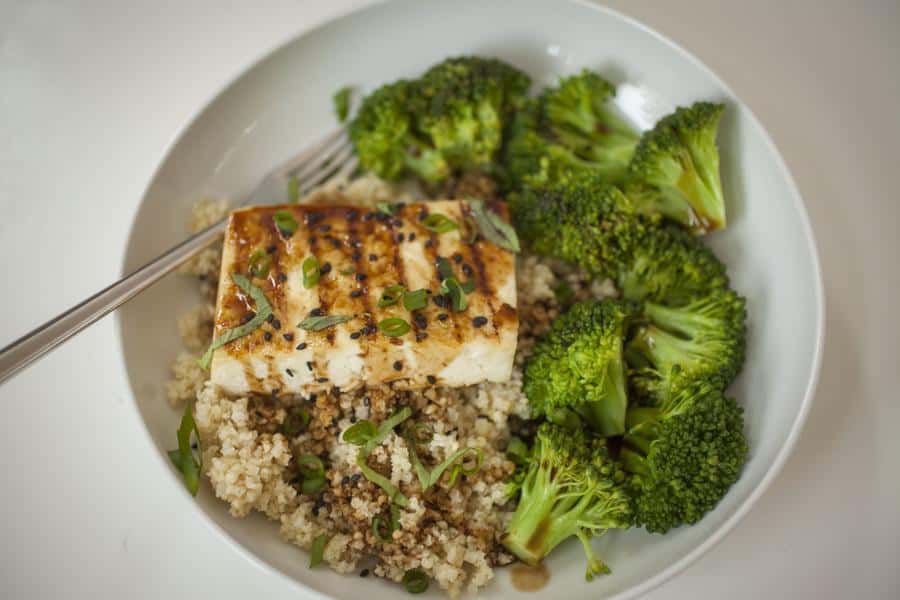 This recipe will ensure your children eat their broccoli as well as get their share of protein.
Tofu cubes are grilled until golden brown on a non-stick grilling pan.
Boiled broccoli and steamed quinoa are served together with the tofu while the teriyaki sauce works its magic.
The sauce is made from scratch using ingredients like soy sauce, garlic, agave nectar, and more herbs.
You can also add boiled carrots and beans to make this a rotational veggie recipe.
Triple Broccoli Quinoa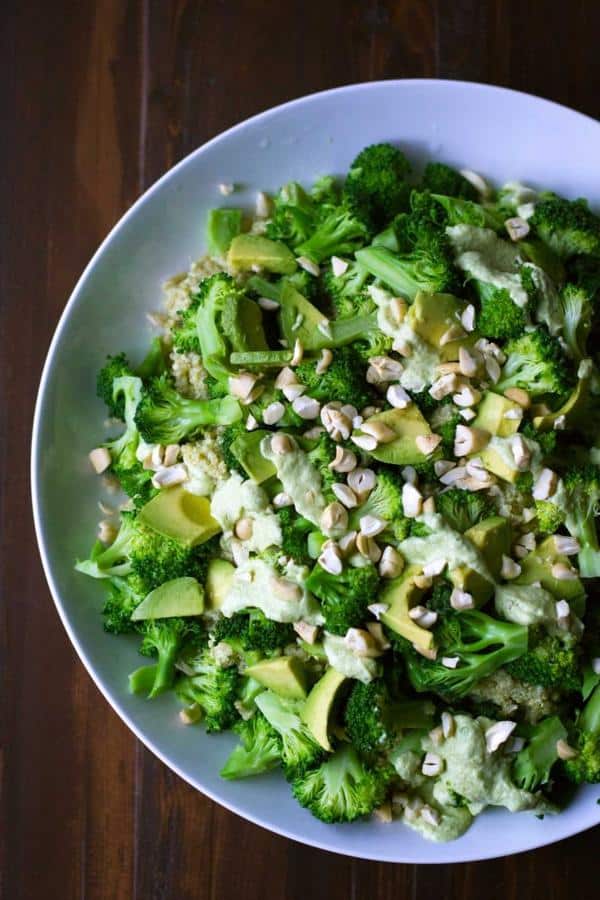 I know what most of you are thinking. It's hard enough to make the kids eat broccoli once, so what's triple broccoli going to do differently?
Well, the recipe is really smart. It wastes nothing, including the stems of broccoli, which are used to make a lovely savory cashew cream sauce.
Steamed quinoa is topped with this rich cream and boiled broccoli, avocados and dry fruits such as cashews and almonds are spiced with pepper flakes to be garnished over the quinoa and sauce.
The dish is delicious and can make a great way to make your kids like their broccoli a little more. You can even use plant-based parmesan over the veggies!
Easy Smoky Red Lentil Stew with Hearty Quinoa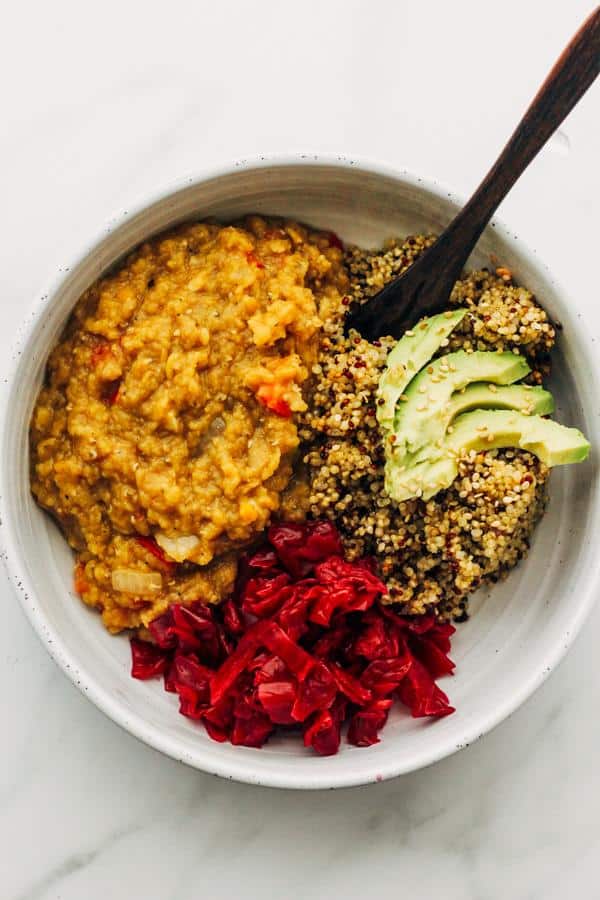 This red lentil stew is going to be your summer favorite go-to dish once you taste it!
The stew gets its smoky taste because of smoked paprika. Veggies like bell peppers, carrots and onions are sautéed and added to lentils cooked in broth.
When served with steamed quinoa, it makes a very satisfying lunch for you and your family.
This recipe is easy to freeze so you can make a big batch to last you a few days.
Green Goddess Quinoa-Stuffed Sweet Potatoes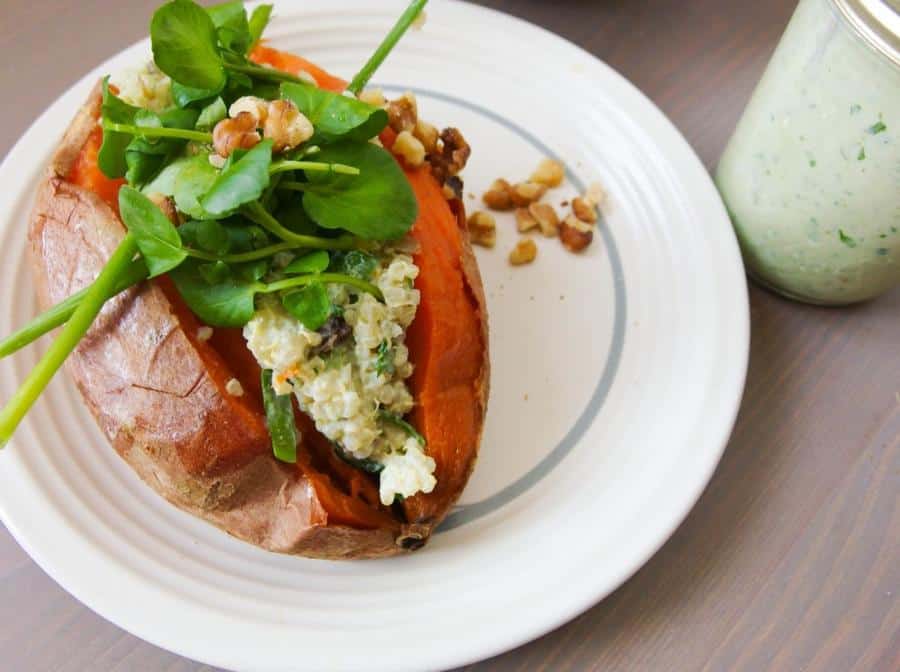 Shannon knew what she was doing when she named this dish. True to the promising title, the recipe sure does taste lovely.
Sweet potatoes are stuffed with a "goddess dressing" that is made of silken tofu and green onions with herbs like tarragon, parsley, chives, and others.
Baked sweet potatoes are split open and filled with a scoop of quinoa and the dressing.
This recipe makes an excellent starter dish at a get-together.
Mediterranean Quinoa Salad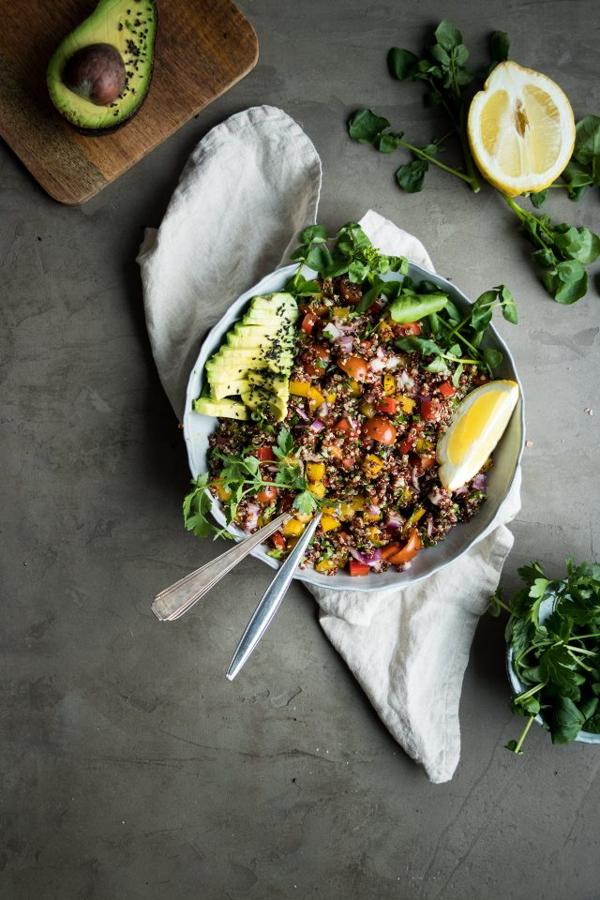 When you are looking for a quick and hearty meal in a snap, this dish will be a perfect fit! It's easy to make, beautiful to present, and tastes downright delicious.
The only thing you need to cook is the quinoa, and you've got a complete meal in minutes. You could even sauté the rest of the ingredients for a hot dish, if you prefer. Top with avocado and your favorite greens and it's a masterpiece!
Prep this gorgeous salad to take with you on picnics or to your next potluck, you'll be the star of the show!
Baked Quinoa Hash Browns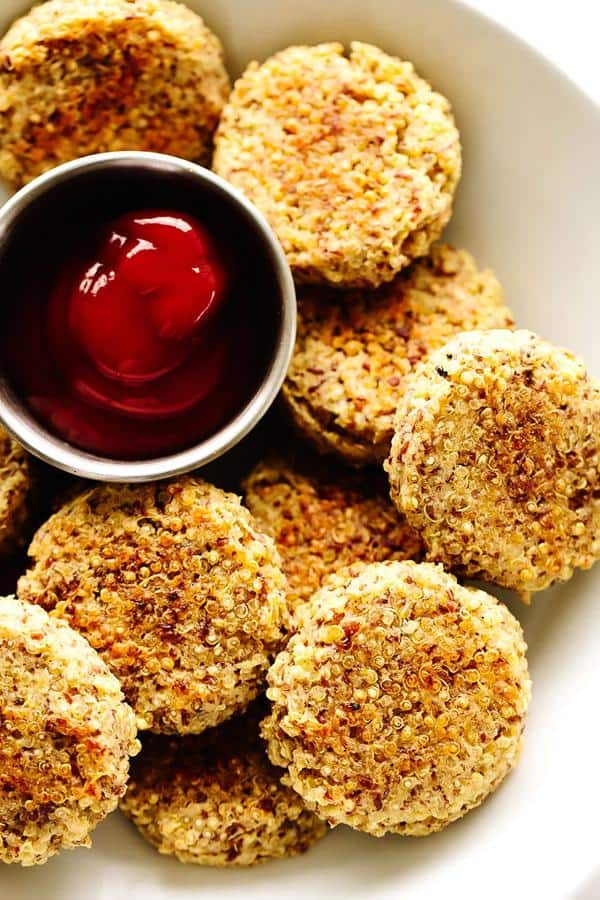 Hash browns are a favorite all around the globe, but diet-conscious folks wouldn't like the idea of stuffing themselves with deep fried potatoes because they aren't exactly the healthiest.
The recipe is a different take on hash browns; one that uses no potatoes or oil at all. Quinoa is bound with flax-seed meal, almond flour and lime juice along with seasonings to be formed into patties.
They are baked with a light brush of olive oil and turn a beautiful and crispy golden color.
You can use a lemon or barbecue sauce to drizzle over the hash browns if you like!
Roasted Golden Beetroot, Quinoa and Kale Salad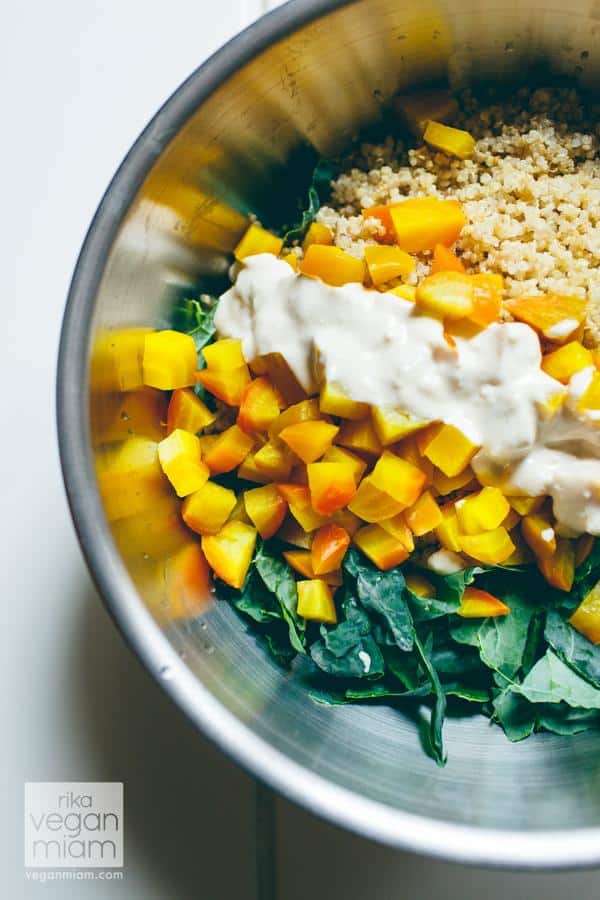 The farmer's markets sell a lot of exciting vegetables and the golden beetroot is one of such veggies. We don't come across a lot of golden beet dishes but this recipe is about to change that.
The dish has a zesty tahini dressing made from scratch with tahini, lemon juice and a choice of herbs. The beetroot is roasted whole and then cut into cubes.
Black kale and carrots are chopped and added to the cooked quinoa along with the beet cubes and the tahini dressing.
This bowl of salad is so substantial, can be refrigerated well and hence would make a great lunch for work as well!
Tofu Quinoa Stir Fry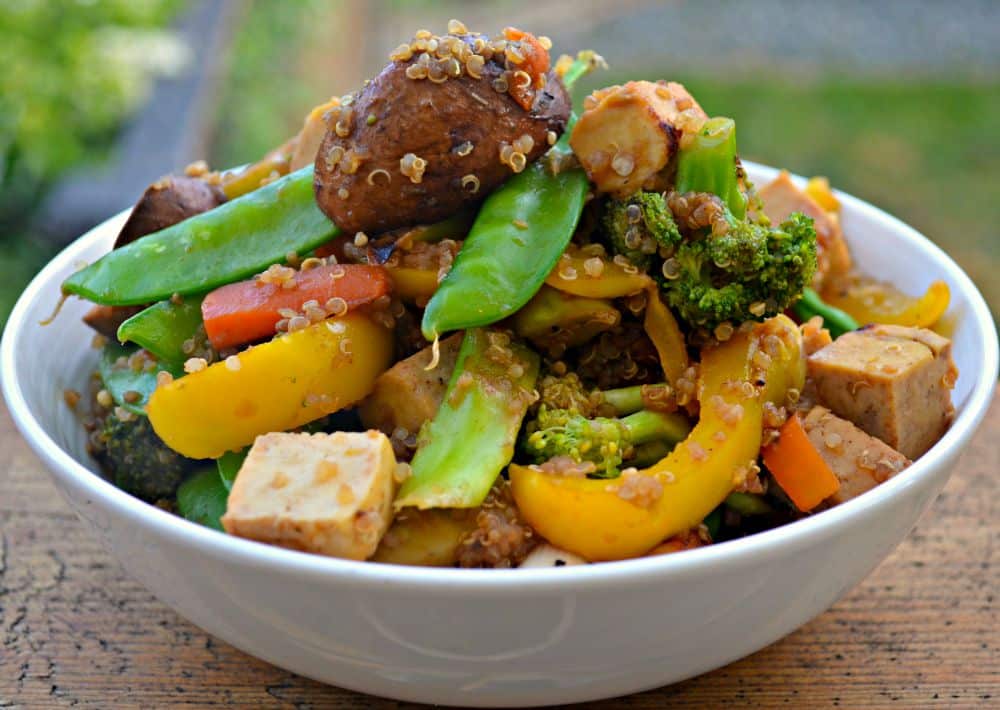 Everyone loves stir-fry a bit more when it can be made quickly. This recipe takes just 20 minutes to prep and cook, which is a blessing on days you want to eat something hearty without going all out on the time quotient.
The stir-fry uses garden fresh veggies like carrots, bell peppers, mushrooms and a whole lot more. The best part about the dish is how everything uses the least amount of oil to sauté the tofu and veggies.
The taste-makers of the dish are Chinese 5 spice, tamari and maple syrup.
What you get on a plate is a spicy and sweet plate of wholesomeness!
Coconut Quinoa Porridge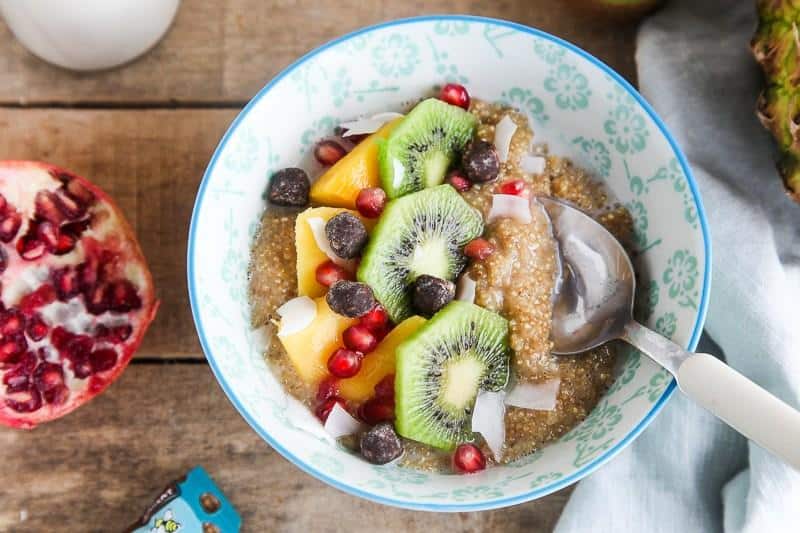 There will always be a few days during the week when we sleep past our alarms and then skip breakfast because of the delay!
Seems like making breakfast a breeze is just what this recipe does for us.
Taking under 15 minutes to cook, quinoa is cooked in coconut milk, vanilla, and maple syrup. The next step is to serve yourselves a bowl and sprinkle it with dry coconut flakes and chopped fruits.
You can also pack a bowl to go if you can't afford to sit just two minutes more!
Red Quinoa and Sweet Potato Croquettes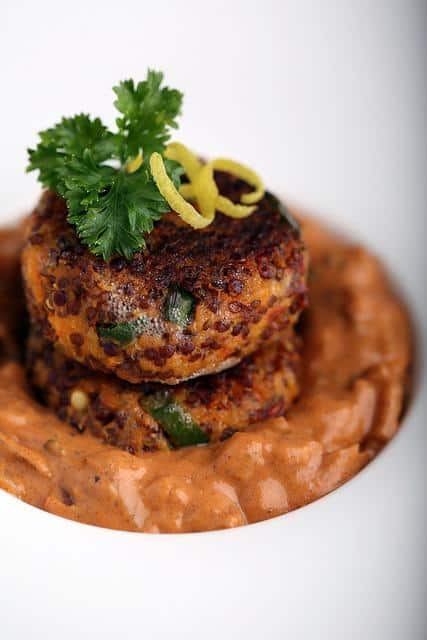 Thanksgiving week always has people sweating about the meal they want to set on their tables. Since it's a family and friends affair, everyone tries their best to bring something everyone would love to eat.
These croquettes and their rich sauce are an ideal people pleaser you can take to any party.
The croquettes use mashed sweet potatoes and quinoa blended with peanut butter, scallions, sambal oelek and a few other ingredients that make it crispy on the outside.
The rich and creamy coconut tomato sauce is an instant winner because of its unique flavor.
Black Bean Quinoa Casserole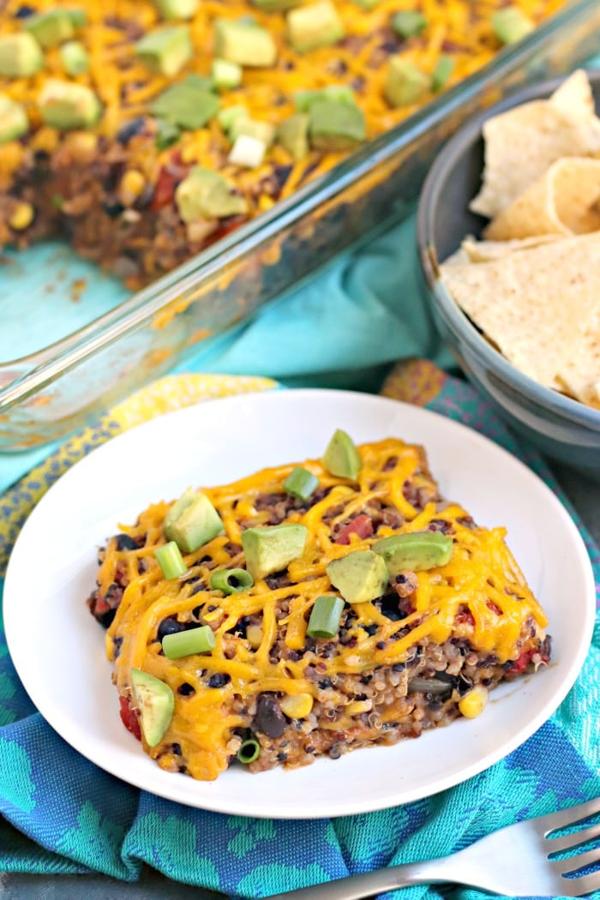 One simply can't have enough casserole recipes, so here's one more that's mouthwatering and perfect for sharing!
This Mexican inspired dish combines quinoa and black beans with an array of other tasty veggies. The result is a cheesy baked delight which will please even the pickiest palate.
Serve this as a main dish with some tortilla chips for a wholesome and filling meal. You can even make it unique by adding your own favorite toppings like avocado or tomato. Spice it up a notch with jalapenos. The sky's the limit with this casserole!
Spaghetti with Quinoa Meatballs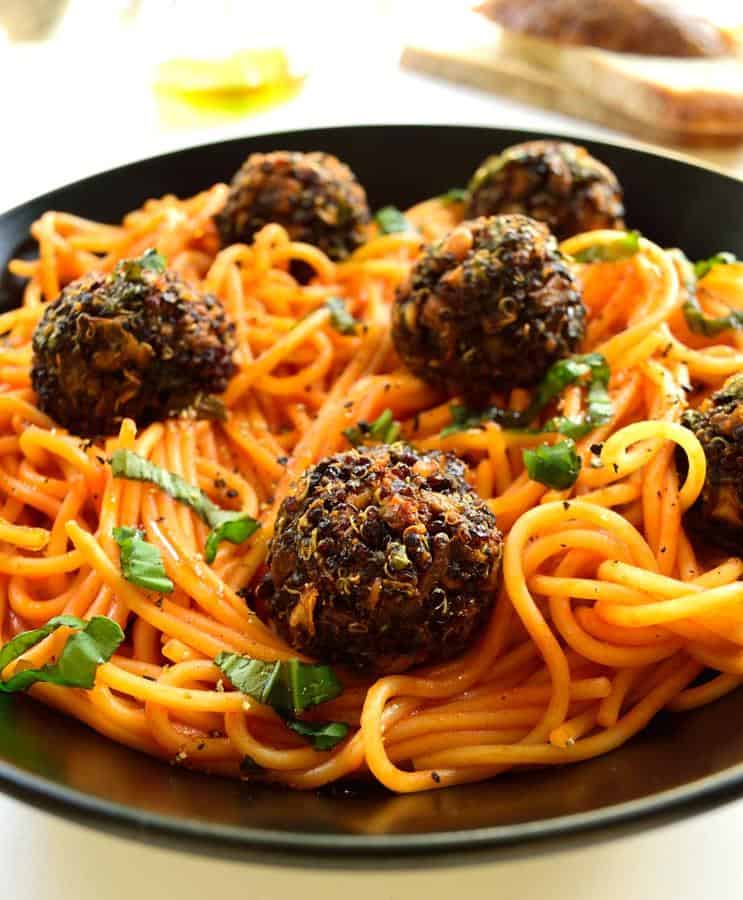 Spaghetti and meatballs are the perfect meal for just about any occasion!
I love how this recipe teaches how to make quinoa meatballs from scratch!
The meatballs use quinoa bound with mashed white beans, mushrooms and tomato sauce. The spices include garlic, thyme, fresh basil, and others.
The spaghetti is kept simple with your choice of veggies and store-bought tomato sauce.
You can always use this fun dish to surprise your non-vegetarian friends, they'll love it too!
Kale Salad with Quinoa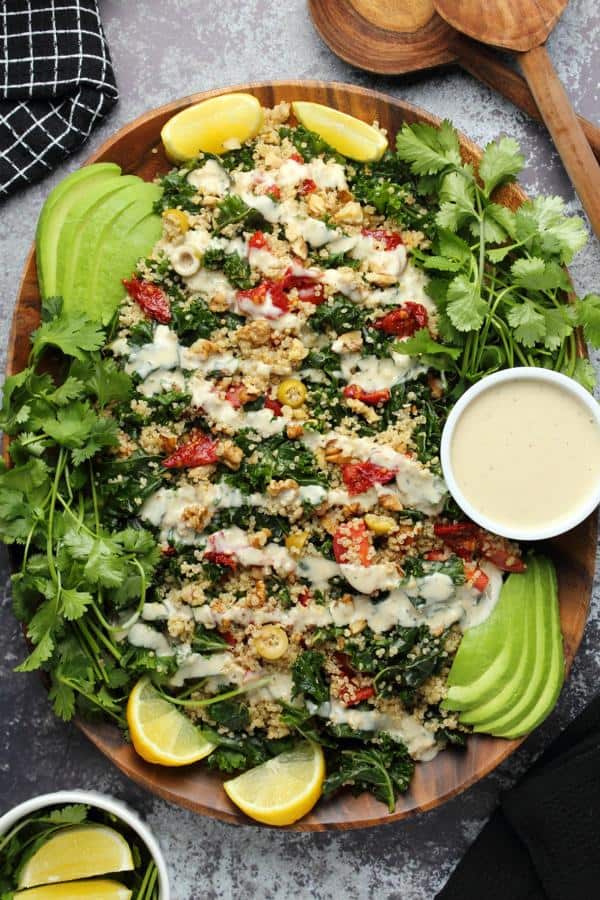 Salads bear the responsibility to balance out our occasional lapse in diets.
They are also incredibly delicious which is why we should be eating them every day! Here's one more interesting variety for you to add to your list.
The trick to making the kale taste amazing is massaging them well with lemon juice and olive oil. Sun-dried tomatoes, olives, and avocados bring wonderful flavors and textures to this recipe.
The other part of the magic lies in the yummy tahini sauce that can bring life to almost anything.
Serve up and sprinkle walnuts for an extra crunch!
Superpowered Quinoa Vegan Risotto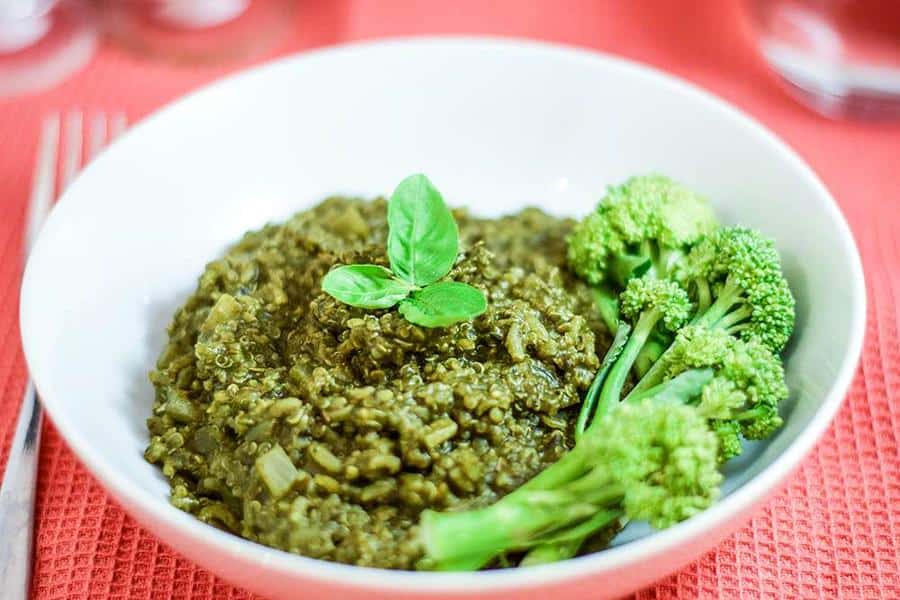 I've only eaten risottos at restaurants because they seem too painstaking for me to even attempt to make.
However, when I read the instructions and list of ingredients of this recipe, I realized I already had everything lying in my cabinets and it wouldn't be as difficult as I thought.
The risotto uses three supercharged and powerful ingredients which are brown rice, quinoa, and spirulina.
All it takes to prepare this recipe is frying the brown rice, quinoa and spirulina powder in sauteéd onions and garlic.
After you add vegetable broth and herbs to boil the mix, your dish will be ready in a flash!
You can serve yourselves the risotto with baked or steamed veggies or even tofu.
Spinach and Artichoke Quinoa Casserole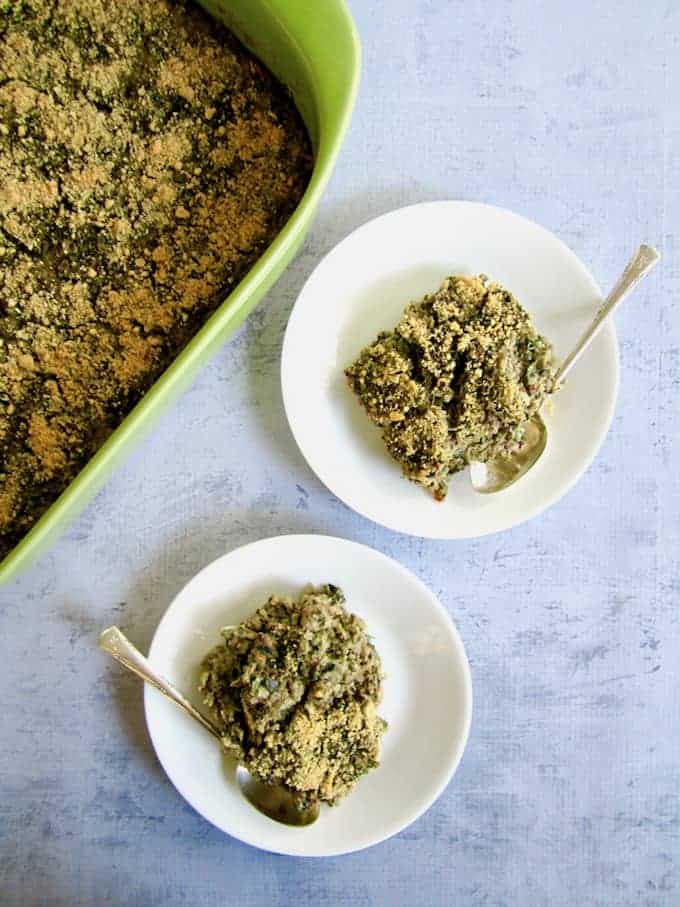 Casseroles claim the right to be served during the holiday seasons because they are just so hearty. You can't possibly get into the holiday spirit without a great casserole on the table.
This recipe makes sure that everyone eats their greens in a sneaky way.
Spinach and artichokes make the majority of the dish apart from quinoa, so it's perfect for kids. In fact, the cheesy and garlicky sauce makes sure that they eat an extra helping too!
Crispy Quinoa Cauliflower Burger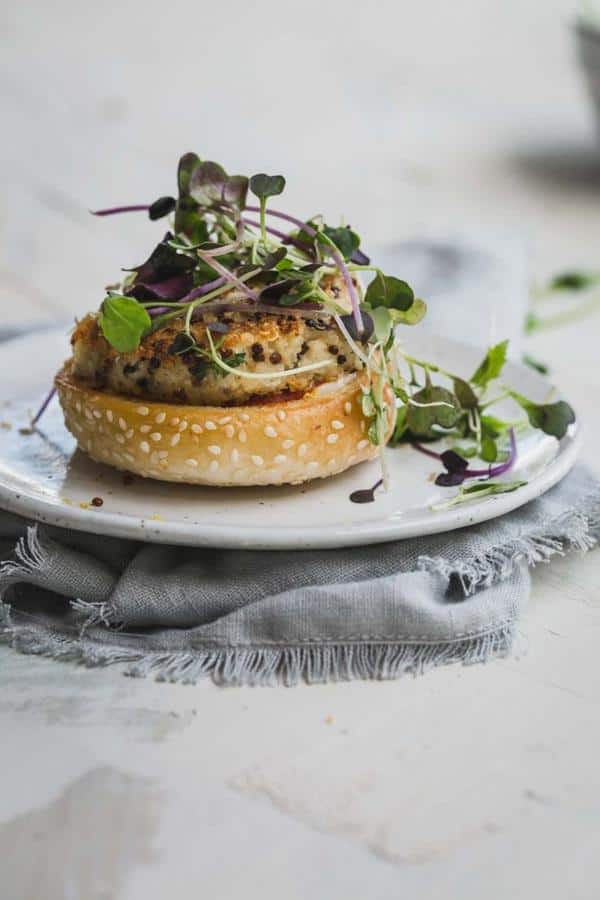 Burgers are all fun and games until you start realizing what slow metabolism does to your weight!
I'm just kidding, we have plenty of healthy recipes that can help you enjoy your burgers without worrying about your health.
The burger patty in this recipe is a flavor-filled bomb made up of chickpeas, quinoa, and minced cauliflowers. A small part of the roasted and seasoned florets are chopped and add some bite to the patty.
You'll also find vegan cheesy parmesan in the patty. I told you, it's the bomb!
The special micro herbs and customized sauces add to the glory of this burger which will definitely be your new obsession!
Wrapping Up
While there's so much more one can come up with to use quinoa in dishes and recipes, we sorted through the best and picked ones that you were sure to love and appreciate.
These 50 recipes are wholesome, hearty and fun; at the same time, they make sure you eat the healthiest meals possible!
If you loved these recipes, or even a particular one of them, please write to us. We love receiving pictures of your creations.
You can send us your own innovative recipes and tips as well if you'd like to share trade secrets with us! In short, we really look forward to hearing from you!