Interestingly, there have been so many new recipes for cupcakes that are both sweet and savory in flavor.
If you're feeling bored with regular dinners, try switching up to spiced veggie cupcakes with baked potatoes and a savory sauce! Plant-based food truly brings endless possibilities to the table.
These are easy to bake and take between 20 minutes to an hour at most.
Treat yourself and your family whenever spontaneity attacks, using one of these delightful recipes!
Dozens of Delightful Cupcake Recipes You'll Adore
Grinch Cupcakes (Gluten-Free)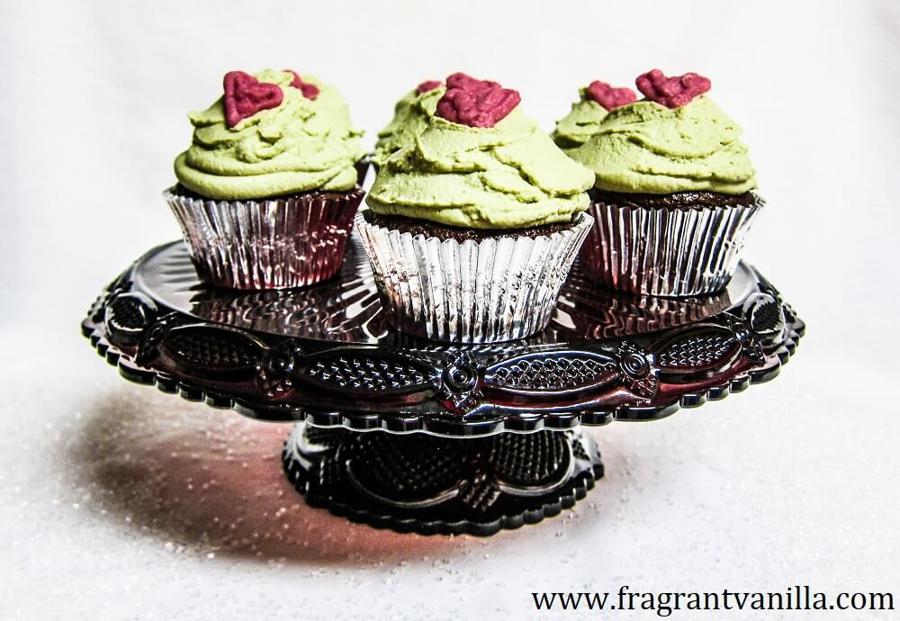 I think the Grinch would've been touched to receive cupcakes named as an ode to his sass.
With these super easy cupcakes, you won't wait for Christmas to try them! The combination of chocolate, mint and matcha gave me heart eyes when I read the recipe.
All you need is a blender for all the ingredients such as gluten-free flour, Medjool dates, almond butter and others. The surprise, there's a hint peppermint in the cupcakes!
The matcha icing has a distinct green makes the sweet treats look downright gorgeous! They'll taste great with fresh kiwi and strawberries. Just be sure to not finish them all up at once!
Cheesecake Cupcakes with Fresh Berries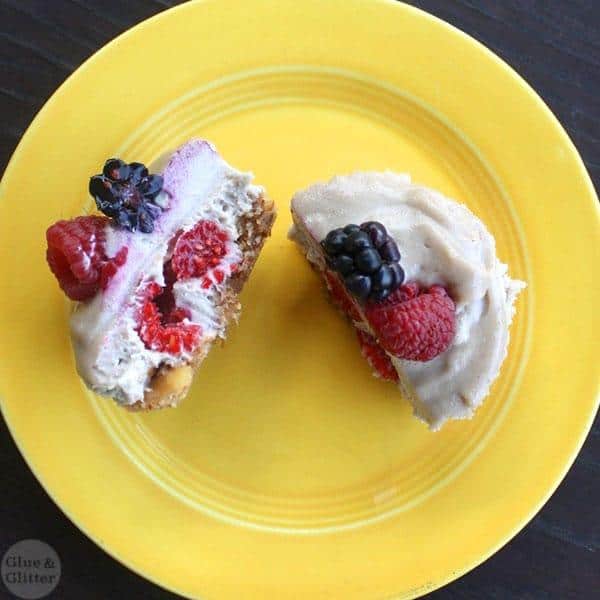 Stuffed cupcakes have to be a first for me. I'm surprised I didn't think of them earlier, but now I've laid my eyes on this glorious recipe, I want to eat them for all my meals!
The cashew cream cheesecake layer has a creamy consistency with pomegranate and blackberry infused in it. The cupcakes are heroes in disguise with probiotics and lots of fiber, so you won't stop your kids or yourself at just one.
These make an excellent unconventional yet healthy breakfast if you're craving something sweet. Just add a healthy shake and you're good to go!
Carrot Cake Cupcakes (Gluten-Free)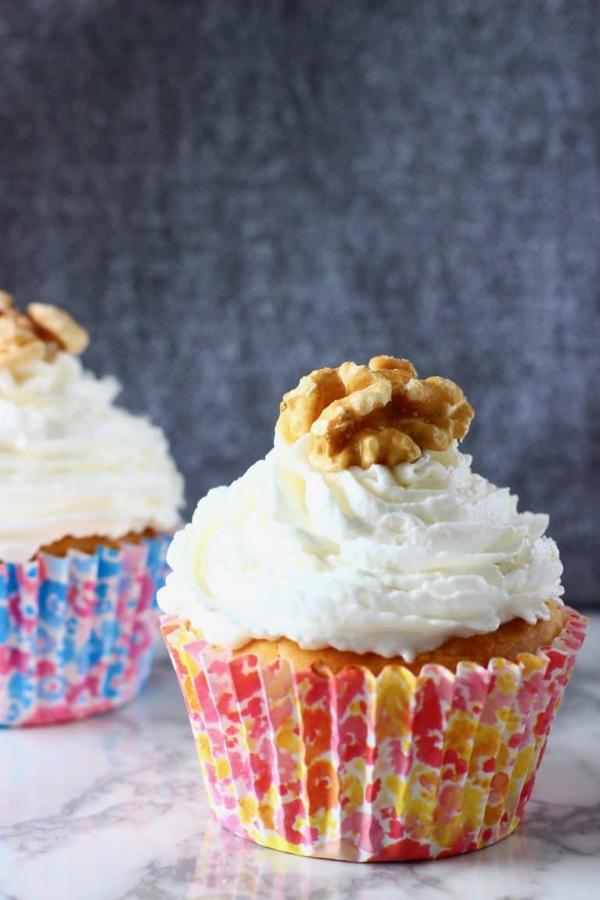 Carrot cake has long been a favorite of mine. The classic savory sweetness of carrots paired with raisins and spice has always pleased my palate. Perfect for welcoming autumn (or any season, really). These lovely little cupcakes will become a quick favorite for the whole family.
This recipe comes together from scratch, in about 45 minutes. Everyone will think you've splurged on bakery fresh treats. With creamy, decadent frosting, they are perfect for any cupcake occasion. These will be a beautiful centerpiece to any festivity.
Chocolate Passionfruit Cupcakes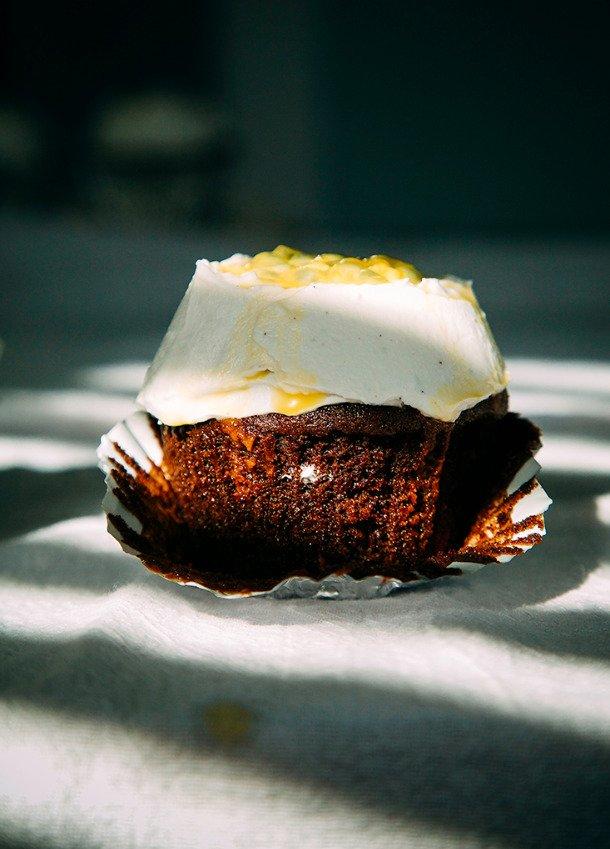 If you're looking to try out an interesting combination, this recipe is it. Chocolate and passionfruit complement each other well.
A chocolate cupcake topped with coconut cream and a generous dollop of passionfruit sound like the winner to end a family dinner successfully.
The cupcakes are baked to fluffy perfection, and the frosting is airy, giving the fruit its space to shine.
You can play with the ingredients and use whole grain and Medjool dates instead of refined flour and palm sugar to make a healthier choice here. Serve them warm or cool, they're sure to create waves!
Double Chocolate Cupcakes (Gluten-Free)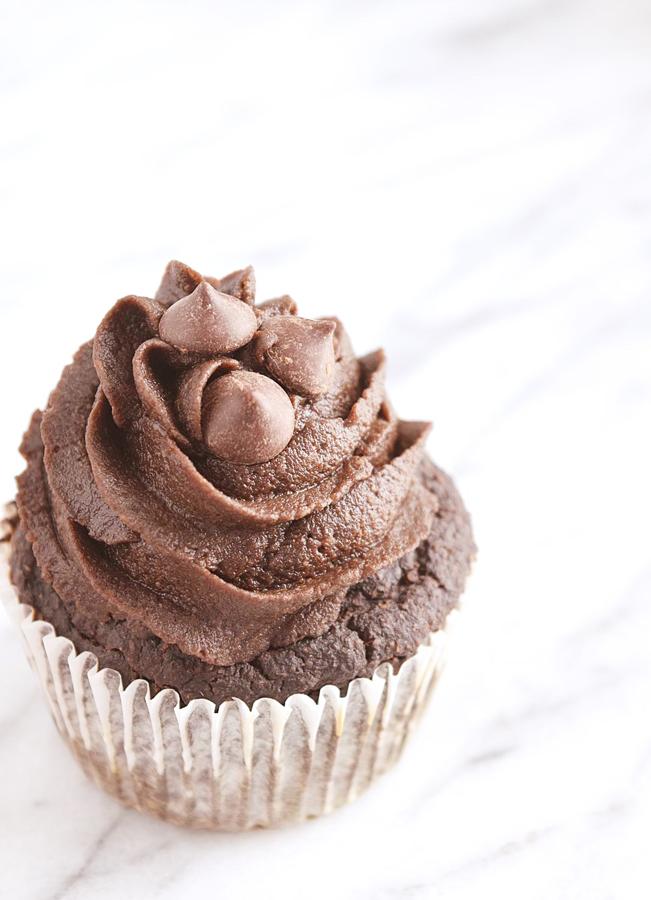 Do you know what I love more than chocolate? You said it right. double chocolate. I can't have enough chocolate in my baked goods!
The ingredients are fairly healthy so I have no worries about not being able to stop at ten of these.
Gluten-free rolled oats, cocoa powder and more are sweetened with dates to create fluffy cupcakes.
The frosting is made using chickpeas, almond milk, dates and cocoa to give you a soufflé like consistency. They'll taste delightful with slices of apples!
Banana Goji Cupcakes with Nutritious "No-Tella" Chocolate Frosting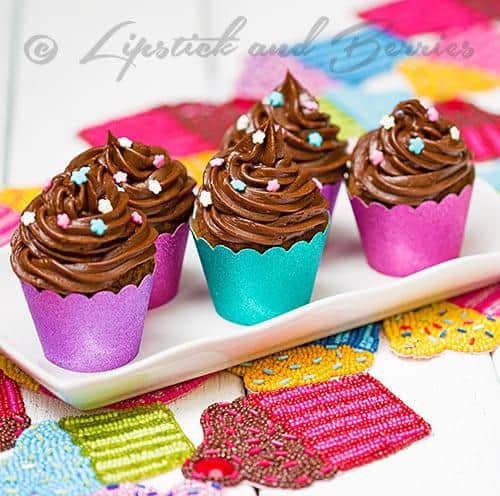 Everyone has had a Nutella phase which we look back at with regret. I put on so much weight in college due to the processed sugar in it.
To have this recipe back then would be magic, but you can always start now!
The recipe consists of bananas, oat flour, dates and other ingredients to make you perfectly fluffy cupcakes you won't be able to resist.
Just be careful about roasting the hazelnuts well since the Nutella flavor depends on it.
Apple Pie Cinnamon Cupcakes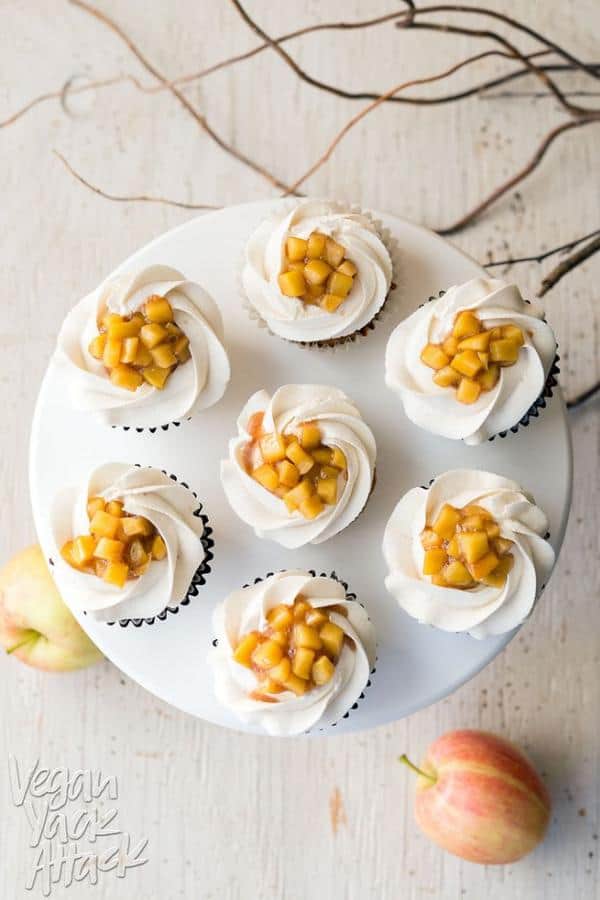 Though it's not possible for you to get bored with eating apple pies, give this twist a definite try.
The little cupcakes use ingredients such as flour, ground cinnamon, apple sauce and others to resemble the crust of the pie. The icing is vegan buttercream topped with apple pie filling gives the cupcakes a festive edge.
This Thanksgiving, try putting these out on the table alongside spiced fruit rolls and watch everyone fall in love with your baking skills!
You can replace the powdered sugar with coconut sugar if you prefer keeping it completely healthy.
Vanilla Cupcakes with Vanilla Cream Frosting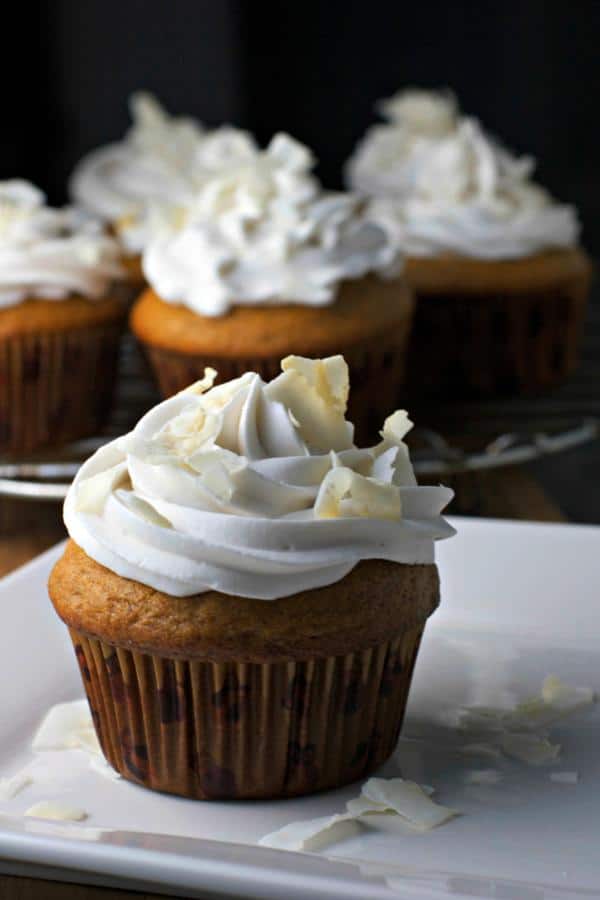 Simple pleasures of life definitely should include vanilla cupcakes. What makes them better? A vanilla cream frosting! These will be your new favorites, being the understated yet elegant beauties they are.
The recipe involves whole wheat flour keeps the texture interesting. Other ingredients used for the cupcakes are unsweetened apple sauce, coconut oil, maple syrup and more. The cakes are frosted with vanilla cream and topped with coconut flakes.
An interesting idea would be to hollow out the centre of the cupcakes and filling them with vanilla cream for a sneak attack on your taste buds!
Banana Coconut Cupcakes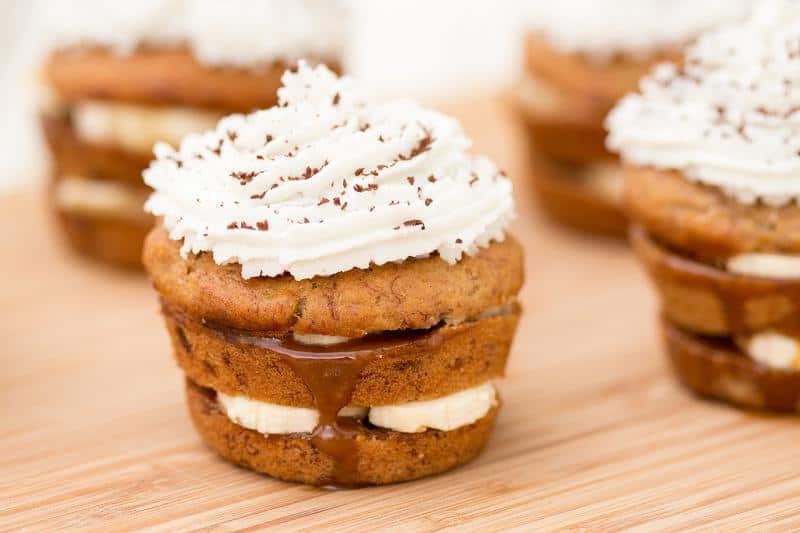 Banana and coconut never intersected each other in all the desserts I've eaten, so I was eager to try these out.
Turns out I was missing out on the whole party, it's good to have seen the light at last!
The banana flavored cupcakes are simple, but what happens to them after baking is not.
They're cut horizontally and layered with delicious golden caramel on a layer, coconut frosting on the other.
You can decorate the places with a few slices of bananas and caramel sauce to serve.
Key Lime Cupcakes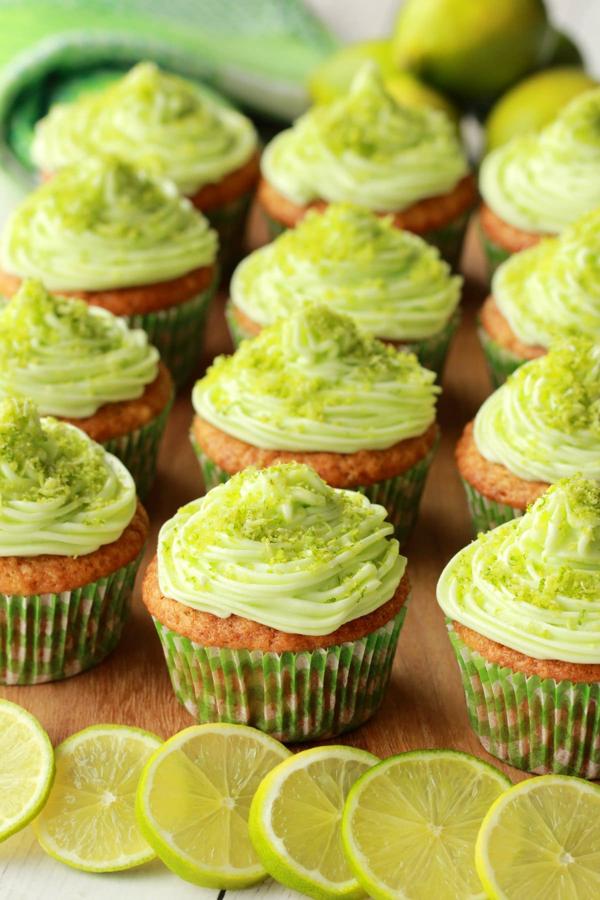 I love the aroma of citrus; it rejuvenates me and wipes out any haze from my mind.
The very fragrance of key lime takes me back to my childhood where I used to watch my grandmother bake for me.
These cupcakes are baked using lime juice, lime zest and regular cupcake ingredients.
The highlight of the recipe is the velvety lime frosting. The taste of lime in the cupcakes is subtle but leaves the desired impact of you wanting more of it.
The lemon zest, too, adds a fresh zing to the pretty cupcakes, which is perfect for a summer brunch.
Chocolate Lavender Cupcakes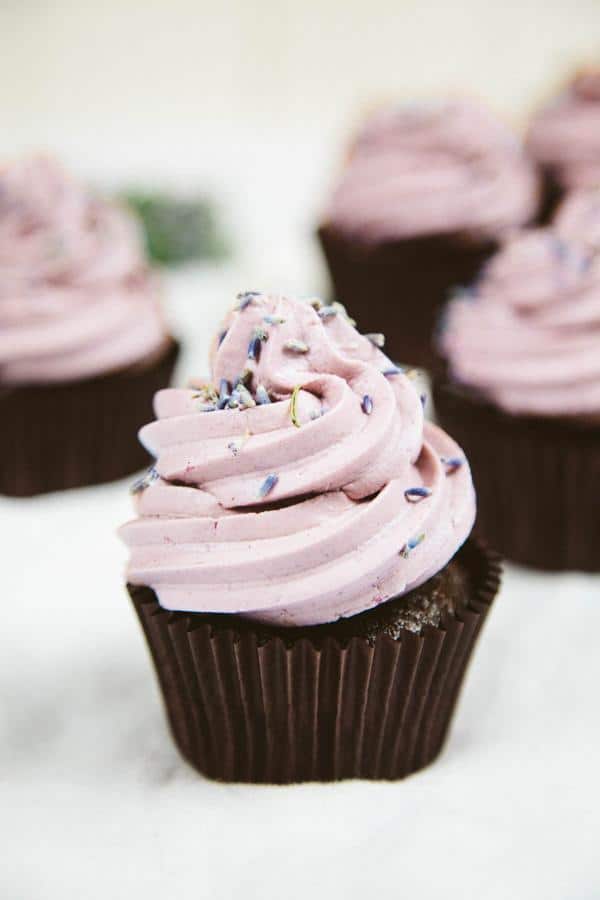 Feeling stressed out lately? So do I. When all my herbal teas and incense fail to calm me down, something sweet and healthy surely does.
Lavender is known to help ease your nerves and aid calmness, so there's no surprise why it was infused I this recipe!
Chocolate cupcakes are frosted with gentle lavender buttercream steals the show hands down. Made using lavender buds, dairy-free butter, and xylitol, the gentle flavor will instantly send you to your happy place.
These cupcakes look so pretty, you'd be torn between admiring them and finishing them all at once. Let the latter part win!
Earl Grey Cupcakes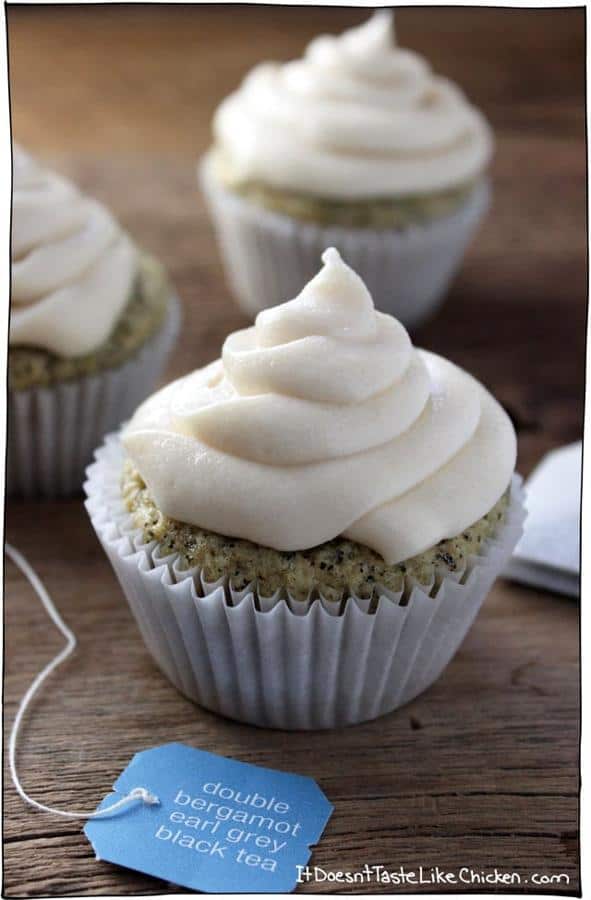 Are you a big fan of tea? Join the club! Now you can have your tea and eat it too! You'll absolutely love this recipe because it's flavored using the amazing earl grey.
The cupcake batter is infused with earl grey tea which gives them a refreshing flavor to wake you right up! The icing is made from vanilla extracts, earl grey tea and non-dairy milk.
If you want a bit more texture to the cupcakes, you can use whole wheat flour instead and top the icing with crumbs of your favorite biscuit.
Sprinkle Funfetti Cupcakes (Gluten-Free)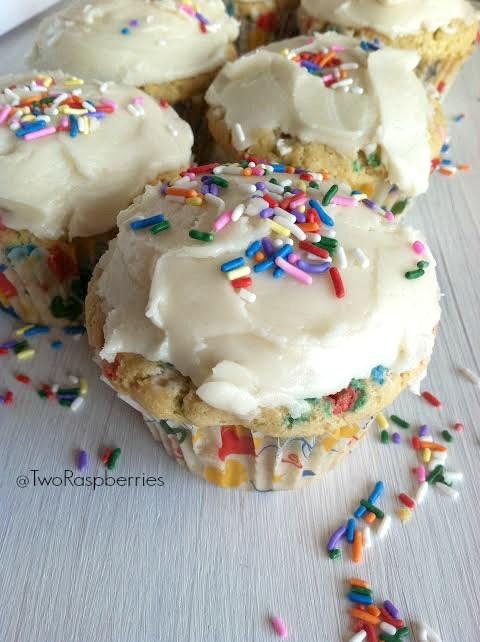 I know a lot of friends who adore confetti, so when there's a birthday, the room has to overflow with them! If you're one of those or just a person looking to make baking fun, this recipe is perfect for you.
The cupcakes will give you the impression of a confetti party at first sight. The vanilla batter is blended with sprinkles to give the cupcakes a colorful and party-like appearance.
The icing has a lot of sprinkles along with almond milk, butter and vanilla extracts.
You can switch up the taste a bit by including peppermint in the icing instead of vanilla!
Chocolate Cupcakes with Spiced Cherry Filling and Chocolate Ganache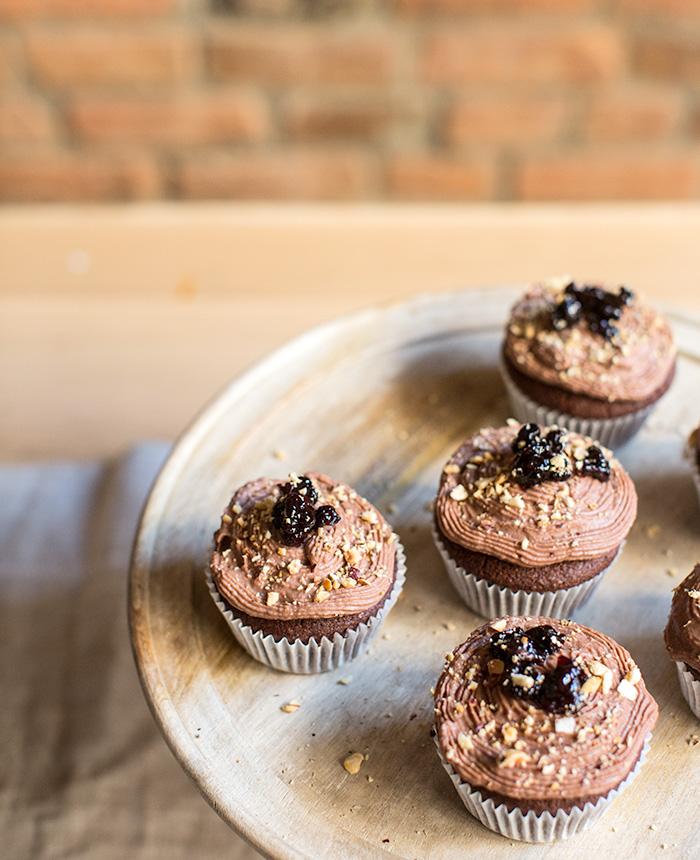 Cupcakes with filling are my new subject of fascination. The work seems to be so intricate I'm almost afraid to try them out, but this recipe looks so detailed, it would take an effort to fail.
There are three parts to this delicious dessert, which are the cupcakes, cherry spice fillings and the ganache.
The cupcakes are bursting with the flavor of hazelnut. The fillings are made of cherries, cinnamon, maple syrup and other ingredients. The ganache is smooth and chocolaty.
There's almost too much going on for a single tiny dessert but it all works out to deliver thunder and lightning all at once!
Strawberry Shortcake Cupcakes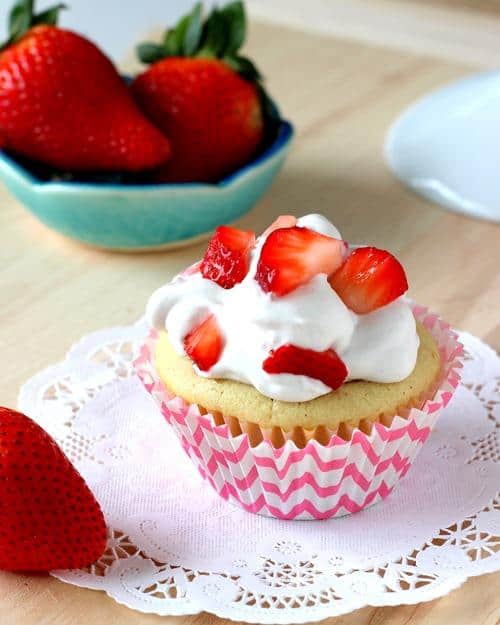 There's a little soft corner in everyone's heart for strawberry shortcake. It's only fair you get the recipe for cupcakes as well!
The ingredients used in the batter are flour, arrowroot powder, earth balance, vanilla essence and more.
The magic lies in the frosting made from full-fat coconut milk, ripe strawberries and a dash of vanilla extract. Feel free to replace the sugar with coconut sugar if you'd like.
The recipe takes a very short time so you can easily bake a batch between running errands.
You can serve them warm with chilled strawberry or a strawberry sauce to call it a home run.
Meatless Meatloaf Cups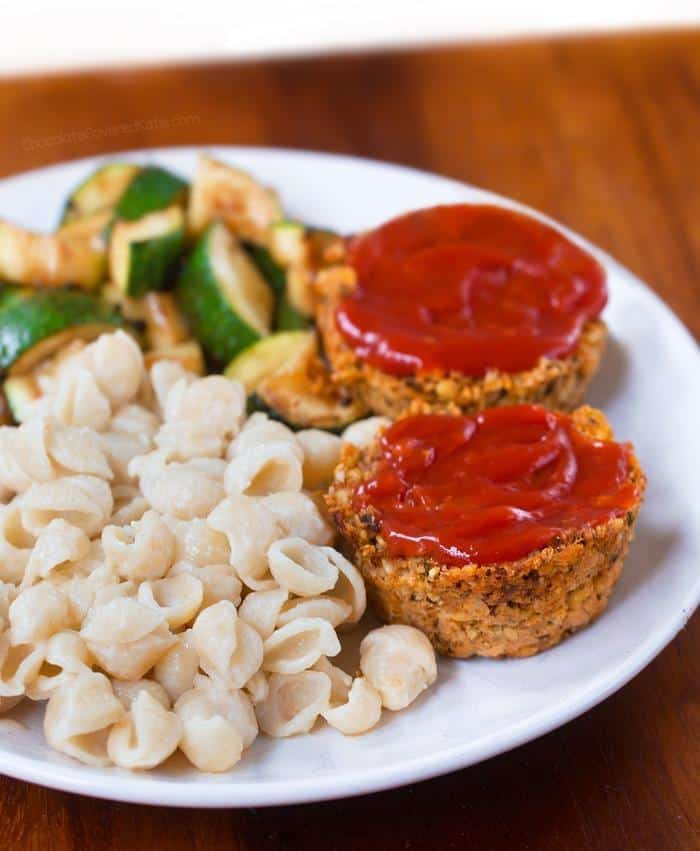 These low-calorie meatloaf cups are so delicious, you wouldn't care to look at the main course, or you can turn it into your new main course tradition!
Packed with veggies like mushrooms, zucchini, carrots and the works, you're not going to cheat with this recipe. The seasonings include are garlic, thyme, basil and a dash of tahini.
Once baked, you can team these cupcakes with a side of sautéed veggies and pasta. Spread a bit of tomato ketchup over the cupcakes to get a zingy-rich flavor.
You can try adding chopped or mashed potatoes to the batter if you're trying to make a holiday special meal!
Salted Caramel Cupcakes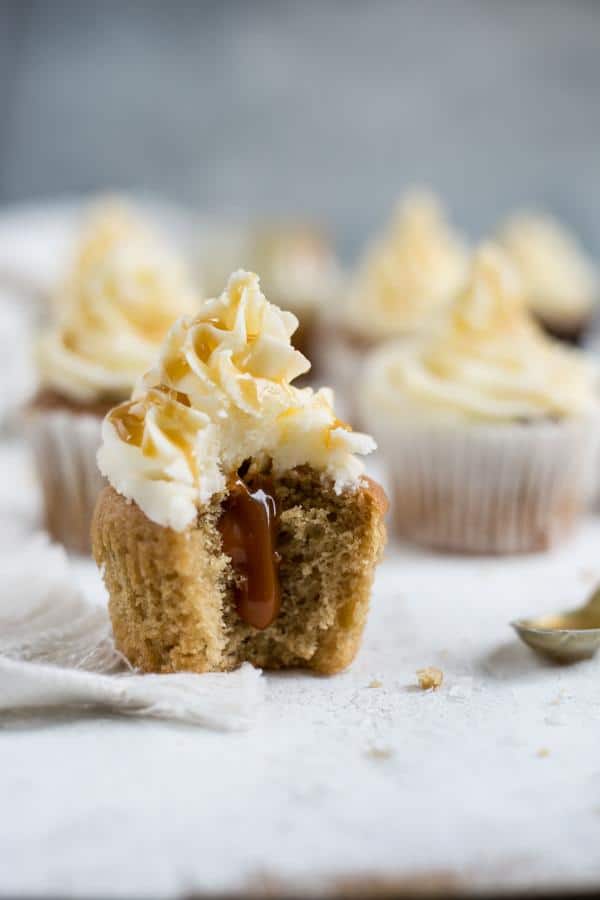 Salted cupcakes are underrated and need more appreciation!
These beauties will melt in your mouth and incite such a gastronomic pleasure you'll go overboard baking them for everyone you know.
The batter of the cupcakes is sweet and salty made with brown sugar, flour, vanilla essence and other ingredients. Once baked, the centre is scooped and the salted caramel is added to it.
This is carefully cooked with soft brown sugar, sea salt, soy cream and golden syrup. The icing kept simple to keep the spotlight on the salted caramel.
You can try getting experimental and couple this dessert with a scoop of caramel custard.
Pomegranate Tahini Cupcakes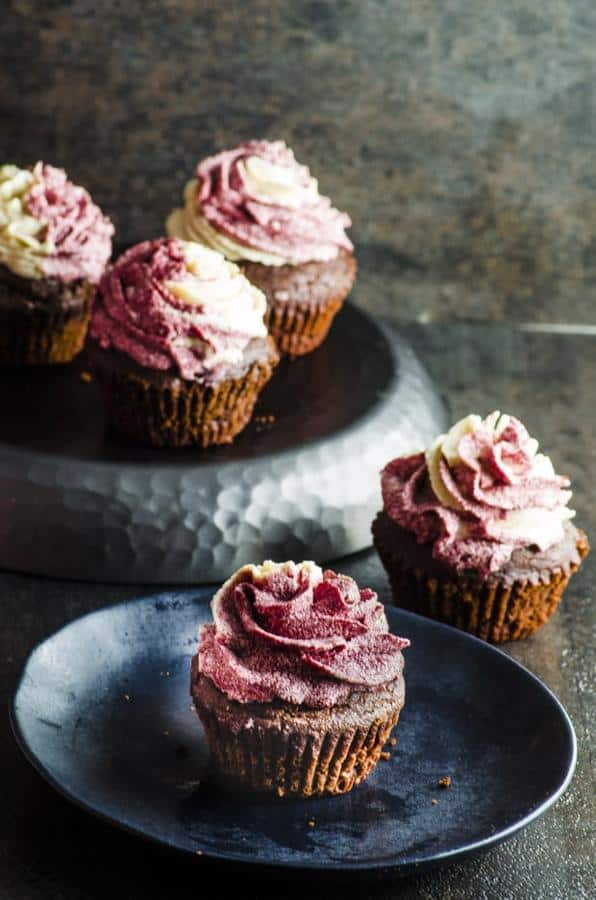 In the mood to try something out of the box? Start with these delicious cupcakes. Baking these will take you all under 40 minutes including prep time!
The batter has ingredients such as ground flax, grapeseed oil, cocoa powder, pomegranate juice and several others that'll give you scrumptious, moist cupcakes.
The icing consists of tahini, pomegranate molasses, coconut cream, and cream cheese makes it smooth and fluffy.
All in all these cupcakes are perfect and would go well with slices of fruit glazed in caramel for a more refined dessert.
Mango and Turmeric Raw Cupcakes (Gluten-Free)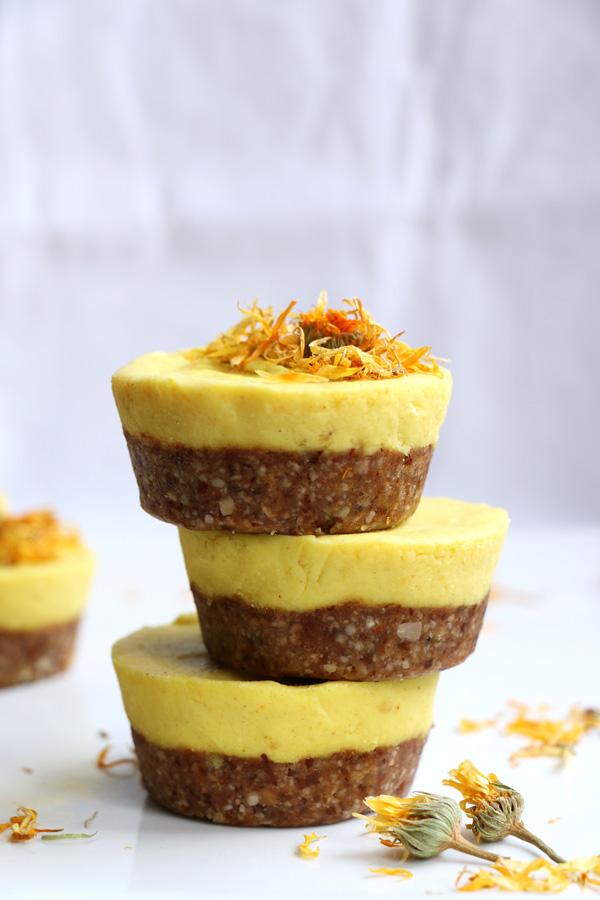 No bake cupcakes save everyone who doesn't have the time, can't access an oven or are just craving a quick sweet bite without involving baking.
The raw cupcakes consist of two parts, the crust and the turmeric layers. The crust is made from almonds, sunflower seeds, dates, cinnamon and more.
The kick in flavor is provided by a pinch of Himalayan salt. The turmeric layer consists of coconut cream, fresh ginger, turmeric, maple syrup and others.
The crust is layered with the cream in its mould and set in the freezer.
Garnish your cupcakes with roasted and chopped salty pistachios and you're good to go.
Healthy Coconut Quinoa Cupcakes with Chocolate Frosting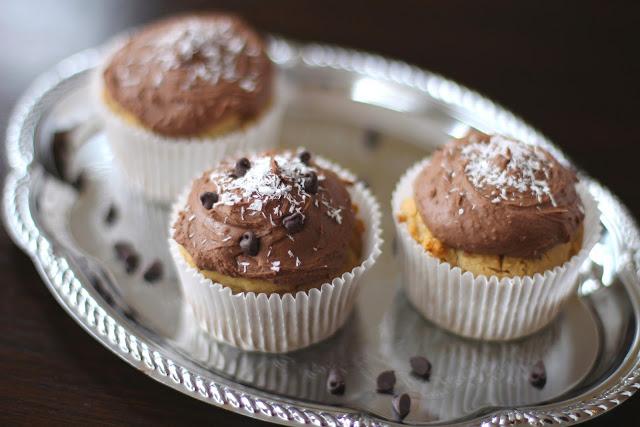 Quinoa is healthy enough to be added to everything so why not integrate it to your favorite cupcakes too?
I'm all up for this trend so I can have cupcakes for breakfast without my mom sending me eye daggers! They're made of quinoa flour, sorghum flour, coconut milk and other easily available ingredients.
The cakes come out of the oven so fluffy and moist, it'll be a struggle to wait until you frost the tops!
You can get crafty with the icing and choose your own or have a combination of your favorites. I think chocolate and mint would taste excellent with the coconut in the cupcakes!
Mini Apricot Cupcakes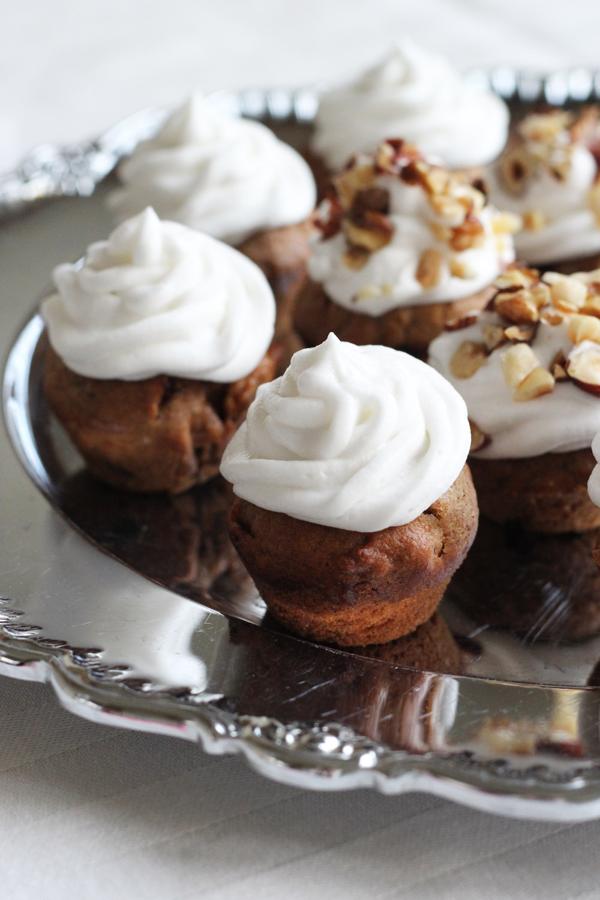 Here's a cupcake recipe that'll zap you out of monotony because you can make it your own!
The dehydrated apricot slices are the heart of the dessert and basic ingredients used include muscovado sugar, orange juice, cinnamon, and other spices to give the cupcakes a distinct flavor.
You can play with spices and add some of your own choices to replace the ones used here.
Once baked, top them off with soy cream and a choice of chopped nuts and dry fruit. You can also top them with a spiced latte flavored frosting to complement this brunch worthy baked treat.
Caramel Espresso Cupcakes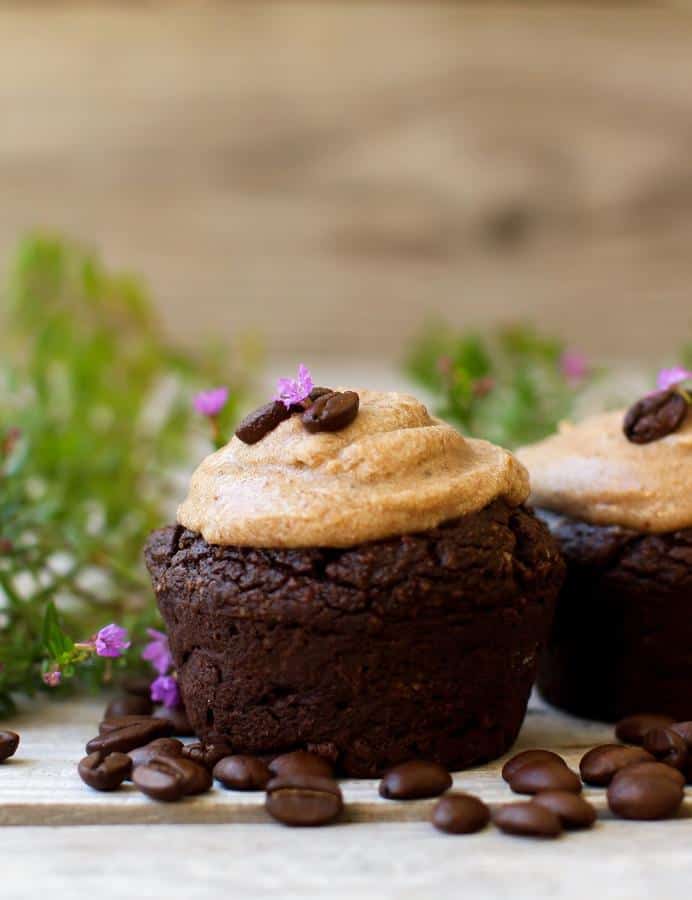 If you're a big fan of coffee or just need a cup to get your energy flowing, these cupcakes are not a replacement for the magical brew.
These are much better than just coffee.
The moist cupcakes melt in the mouth and the flavor of espresso is prominent in every bite- just enough to make you fall in love.
The frosting includes espresso powder as well, but you can add a dash of vanilla essence to make the combination more interesting.
These cupcakes look cute and innocent, they are anything but! You'll know when you bite into these little pieces of heaven.
Snickerdoodle Cupcakes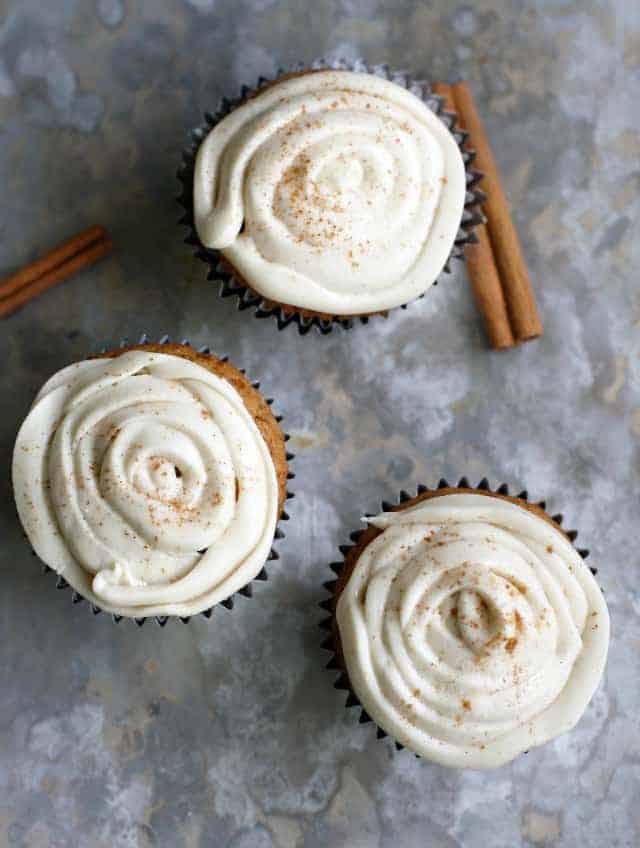 Snickerdoodle cookies and cupcakes are a hot favorite among kids and adults alike.
I suppose it's always a great tactic to bribe the kids to eat their veggies and leafy greens with this recipe.
Taking all but 35 minutes to whip up a batch, the ingredients are basic and easily available.
The frosting uses cinnamon with vegan buttery spread and almond milk. You can replace the canola oil with an oil of your choice if you can't find it at home.
Adding crumbles of gingerbread to the toppings also is a nice idea if you think you like additional spice.
Pink Velvet Cupcakes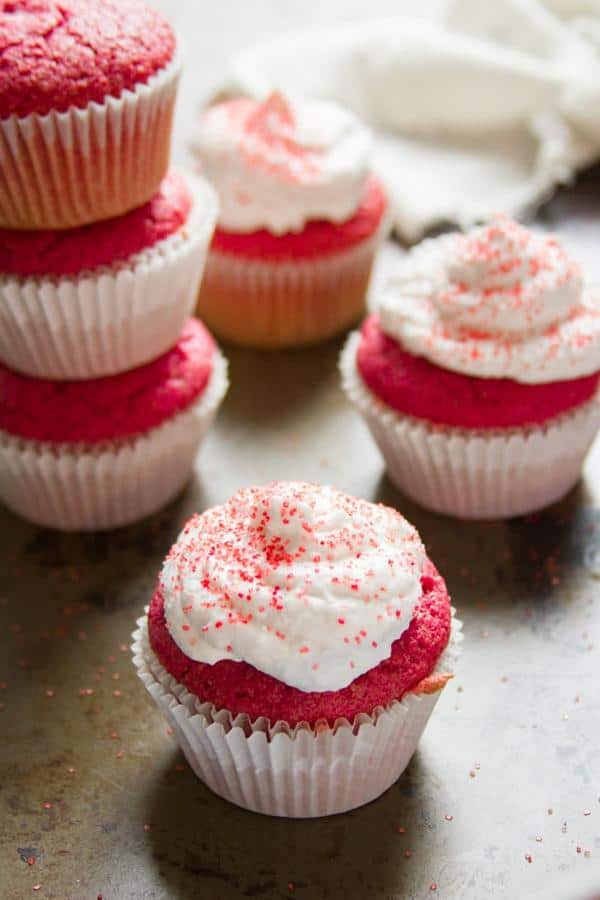 Looking at pictures of these cuties sent me to France almost! The pop of pink makes the cupcakes so enticing; you almost wouldn't care how they taste, until you taste them. Then you thank the high heavens for bringing you this recipe.
The batter uses whole wheat pastry flour, organic sugar, vanilla extract and other healthy ingredients.
The fun part is the color! Beetroot juice gives the smooth batter a glossy pink shade.
The frosting in the recipe is kept simple but you can always play with your creation and go for a matcha mint green icing to complement the pink delight!
Carrot Cake Cupcakes with Coconut Whipped Cream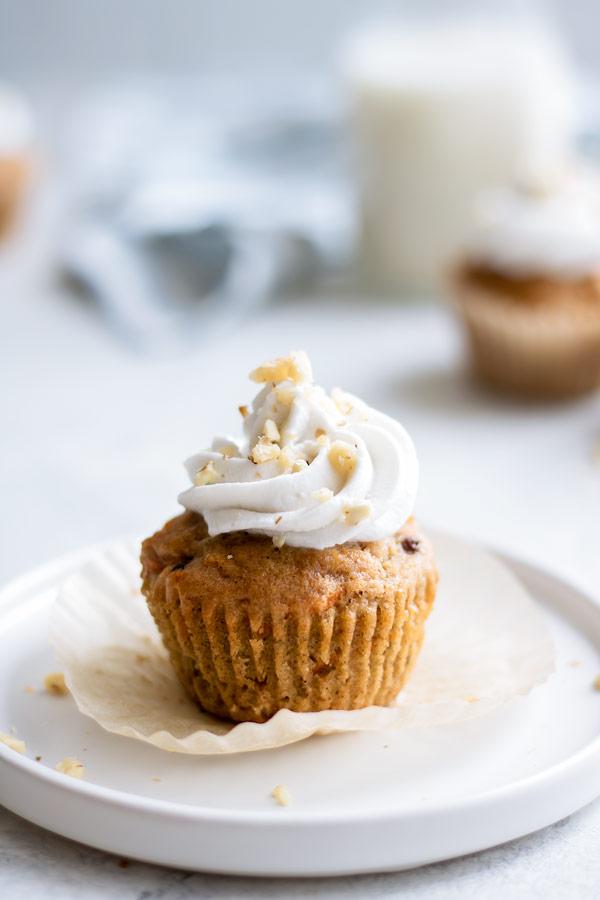 Some children are fussy about eating veggies like carrots. You wouldn't believe me until you met my niece.
So my cousin discovered one of the best ways to make kids eat carrots was to turn them into sweet treats.
This recipe keeps the flavor super delicious by adding orange zest, ground ginger, nutmeg and a few other spices.
Orange juice provides freshness yet doesn't overpower the rest of the ingredients.
The sweetening agent used for these cupcakes is cane sugar but you could choose organic brown or coconut sugar if you wish. Add lots of chopped walnuts to make this a breakfast for the champions
Funfetti Cupcakes (Gluten-Free)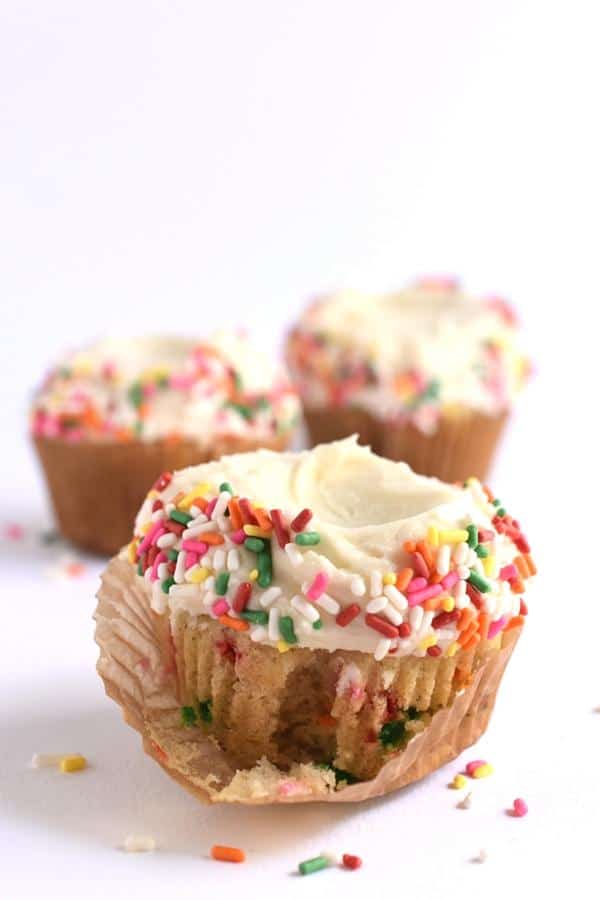 Funfetti cupcakes are a bit tricky to nail, but this recipe has got all your fears in check! It takes just 25 minutes to bake a batch of your own and they smell heavenly.
The ingredients include light gluten-free flour, xanthan gum, sea salt and more. The key here is to buy light gluten-free flour to get the desired texture and consistency.
The icing is made using simple non-dairy butter, non-hydrogenated shortening and vanilla essence. The magical sprinkles can be added to both the batter and the icing.
Once baked, your cupcakes will look like desserts fit for unicorns and rainbows!
You can add bits of chopped fruit and orange zest to the batter too, it would taste absolutely mouth-watering!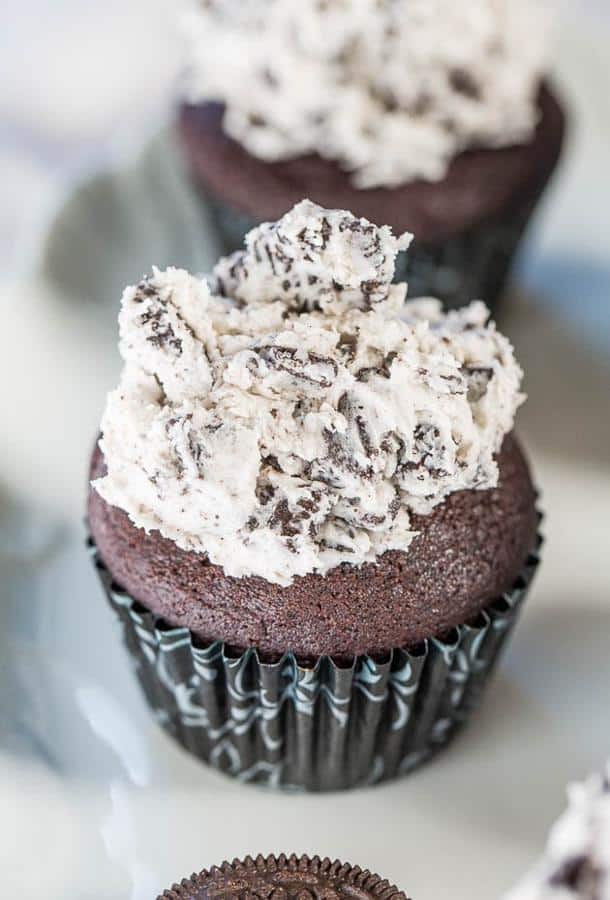 The oreo trend was a rage among everyone but they forgot where the original deal came from.
Cookies and cream have been a steady classic forgotten by one millennial product. Here's a cupcake that'll happily remind you of the magic of nostalgia.
The moist chocolate gems are made from simple ingredients like flour, almond milk, cocoa powder and more. The icing is made using non-dairy butter, confectioner's sugar and chopped cookies whipped to a smooth and velvety mix.
The cooling time tests your patience but it's worth the wait.
You can also hollow the centers out and fill them with the frosting mix!
Butternut Squash Cupcakes with Maple Cream Cheese Frosting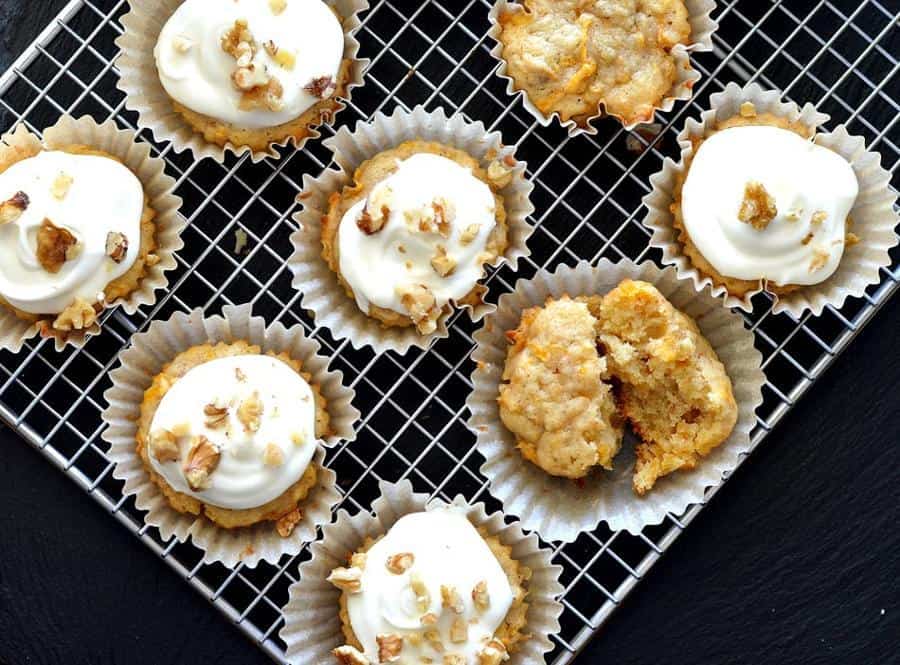 I never thought of butternut squash making it into cupcakes for some reason, but this recipe makes me want to go buy one just to try it out!
The cupcakes use grated butternut squash, chopped walnuts and pumpkin pie spice among other regular ingredients.
You could take the road less travelled and get creative by using a cashew-based frosting with cinnamon spice and a dash of nutmeg, too!
Healthier Chocolate Cupcakes with Raspberries (Gluten-Free)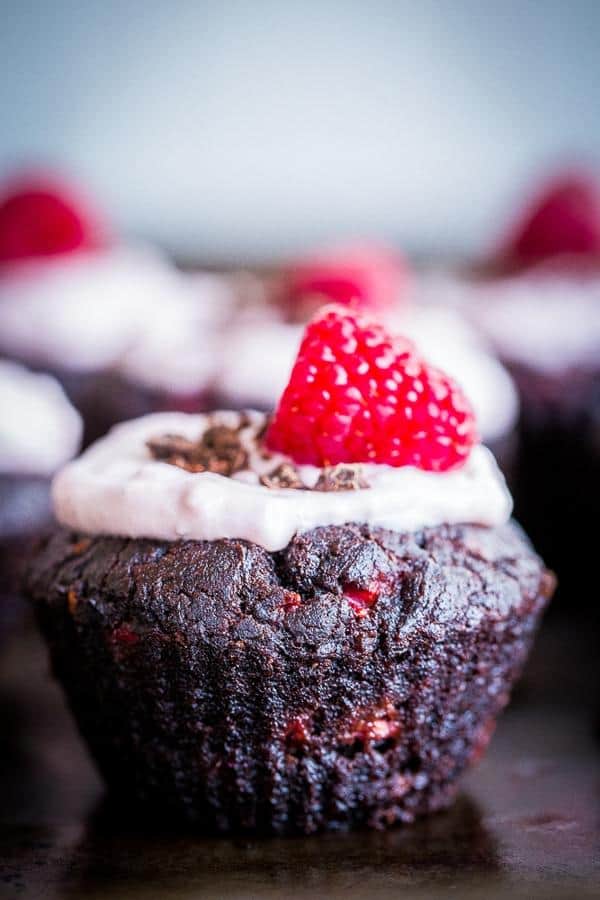 What's better than chocolate cupcakes? Try out these healthier chocolate cupcakes for those of you who can't put a full stop to your binge eating habits.
The recipe uses a long list of ingredients and you might have to make a quick trip to the grocery store, but you'll understand why these lovely bite-sized sweet treats deserve the struggle.
Serve these with fresh or chilled berries on the plate with a dollop vegan whipped cream to make the dessert an indulgence.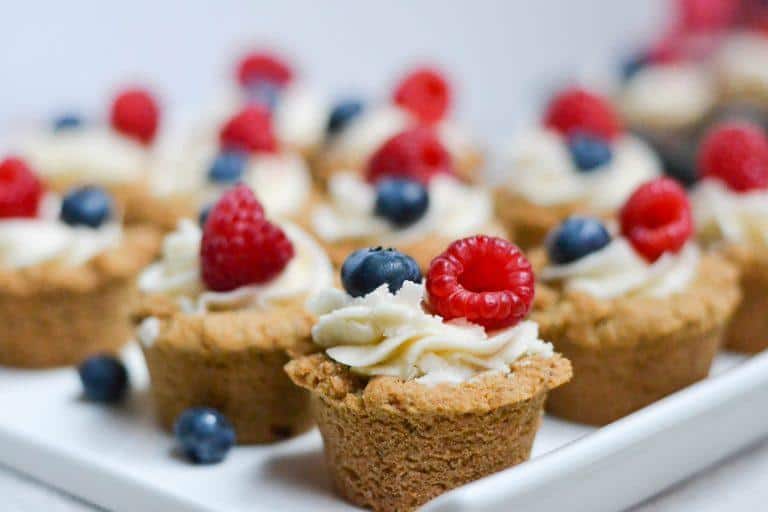 These cupcakes are so simple and humble you'll fall for them instantly. Sometimes less is more and this recipe shows us exactly that.
They just take 25 minutes to prep and bake, which is the biggest advantage when it comes to random guests or sweet tooth cravings.
The vanilla cupcakes are kept simple with just an extra addition of chia seeds for more texture. You can choose plant-based butter instead of Earth Balance if you can't find any.
The buttercream is topped with fresh raspberries and blueberries to give it a splash of color.
My advice would be to just blend two separate bowls of buttercream with raspberry and blueberry puree to add more flair to the dessert if you have time to spare.
Gingerbread Cupcakes with Maple Cinnamon Frosting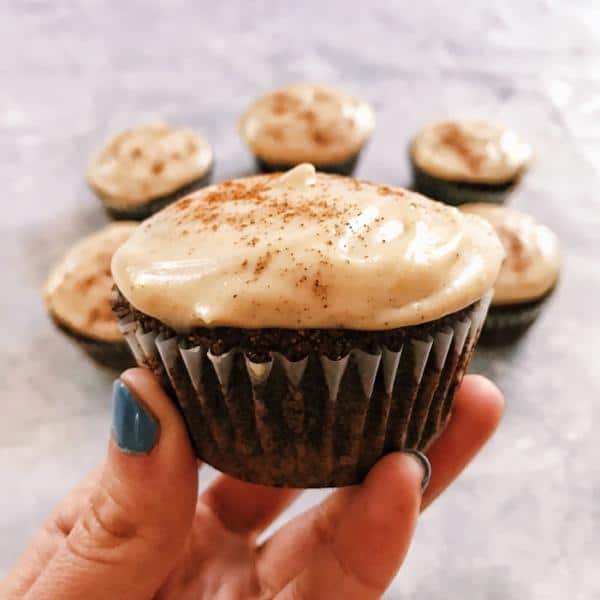 These gingerbread cupcakes are here to add some additional glitz and warmth to your holiday season dinners.
Spices such as cinnamon, ground ginger, ground cloves and others give a sense of familiarity that everyone loves.
The frosting is made using maple syrup, ground cinnamon, cashews and coconut cream among other ingredients.
Once baked and frosted you can serve them with a warm raspberry or apple sauce to add to the festive element.
One Bowl Vegan Mango Cupcakes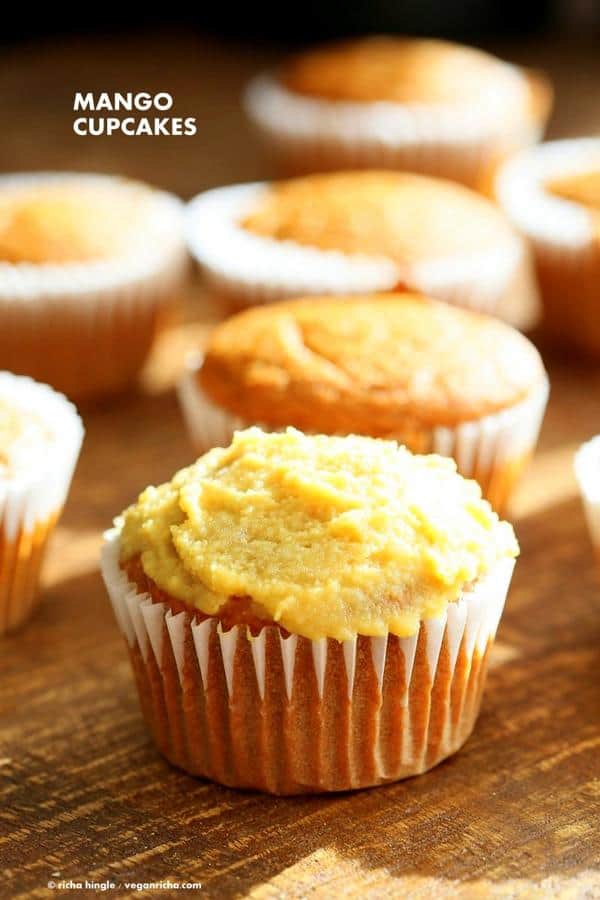 What does one-bowl refer to? My, friend, you're about to be introduced to the easiest mango cupcake recipe there could be!
The best part is how this recipe can be used to make any kind of fruit-puree oriented cupcakes you'd like.
The said bowl includes ingredients such as mango puree, ground cardamom, flour and others that are whisked together to form a smooth batter. One you pour them into the mold and bake them, you're done!
You now have all the time to make any frosting of your choice, be it a citrus zest icing or fruity berry one!
Buckwheat Zucchini Chocolate Cupcakes (Gluten-Free)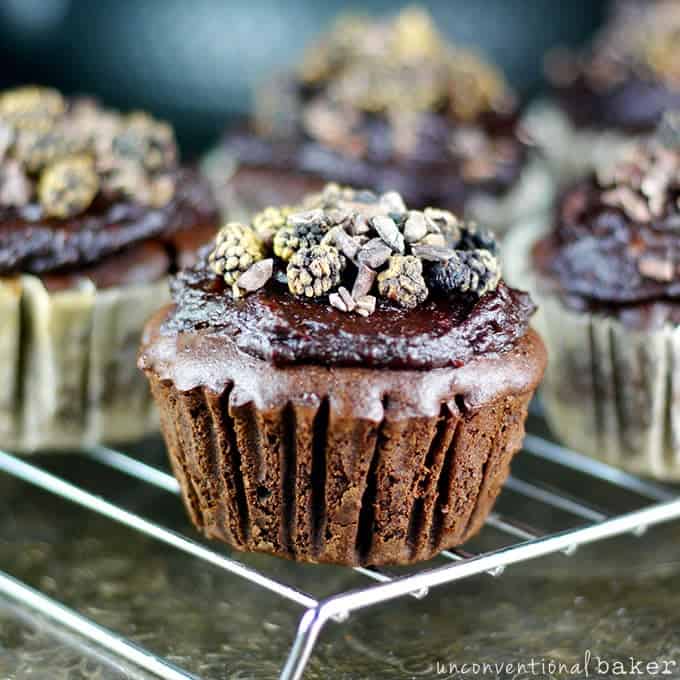 Until a few months ago, I was horribly ignorant and unaware of how zucchini actually tastes amazing in chocolate desserts! Now, I can't get enough!
So, here's another recipe that integrates super healthy buckwheat with zucchini in chocolate!
These cupcakes are ultra-moist and smooth in texture. Buckwheat flour, zucchini, dates and cocoa are whisked until velvety and baked to perfection.
The prep time is just 10 minutes which is a bonus, so you can make a big batch at once!
Chocolate Peppermint Cupcakes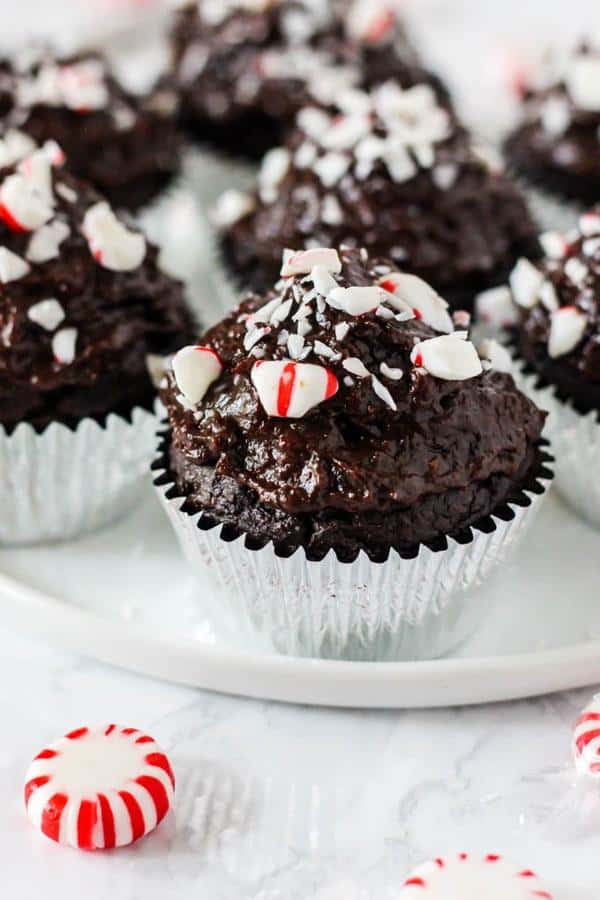 Chocolate cupcakes are the golden retrievers of the cupcake world. Everyone loves them even if they're not cupcake friendly.
They also can turn a bad day into a sunny one. Have they tried distributing these at warzones?!
This simple recipe takes only 35 minutes of your time to spread the cheer and combines two of my favorite items: chocolate and peppermint.
The ingredients used are all basic apart from the peppermint extracts. The frosting too, uses cocoa powder, vanilla and peppermint extracts.
You can use crushed peppermint candy for toppings. Use fresh mint leaves and the little silver peppermint balls to decorate your cupcakes more festively!
Fluffy Mojito Cupcakes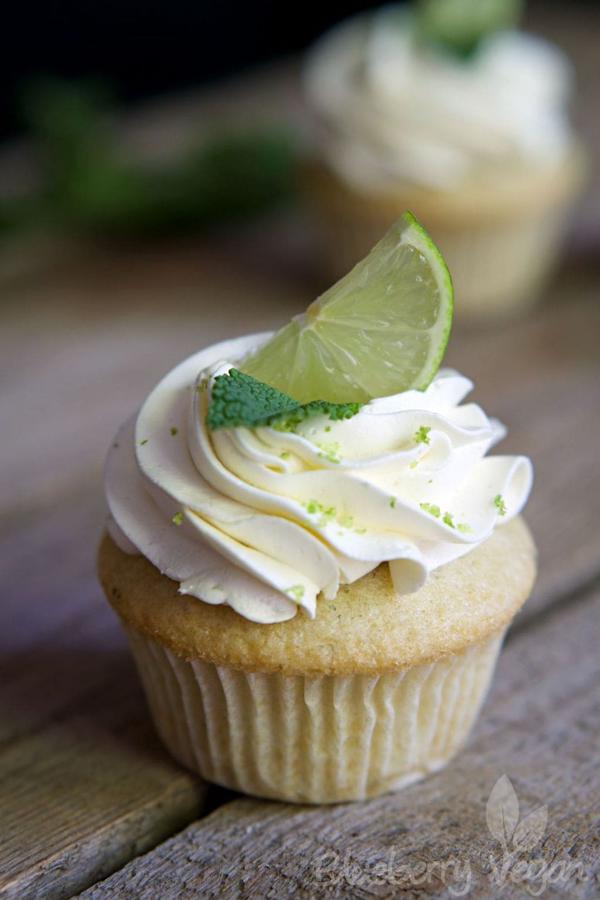 If you've ever savored the minty refreshment of a freshly muddled mojito, you're going to love these cupcakes. If you've never even heard of a mojito, you're going to love these cupcakes.
You can't go wrong with lime, mint, and buttercream. Trust me, it's the fresh pop of flavor you didn't even know you were craving. It's like a key lime pie, but…more refreshing. If it's too hard to imagine, it's time to get baking!
These cupcakes are modern and sophisticated, yet uncomplicated. They are the fresh flavor your sweet tooth is yearning for.
Mint Chocolate Oreo Cupcakes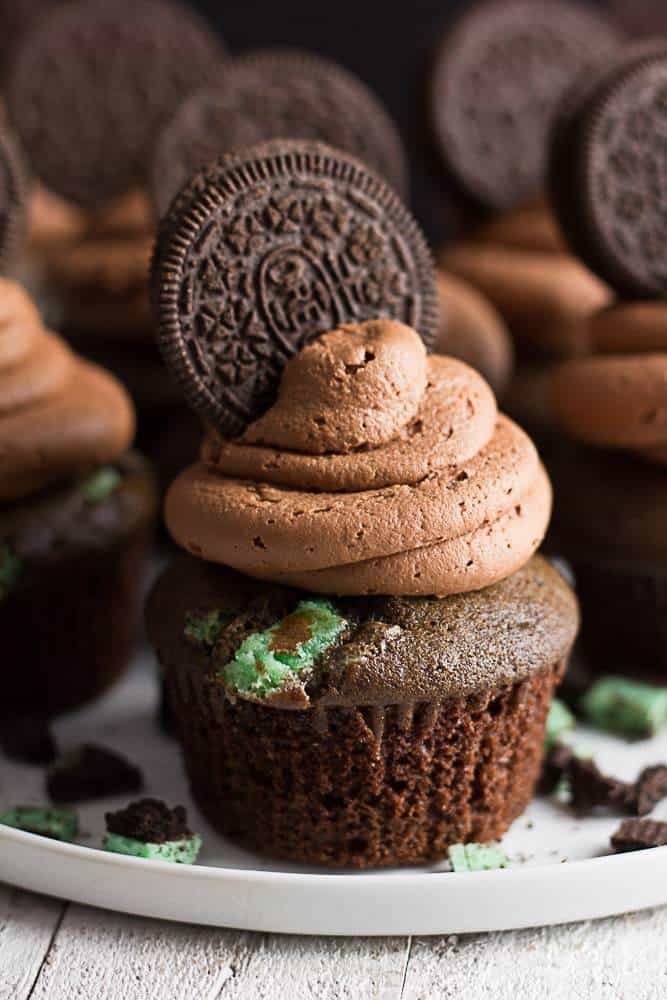 There can never be enough chocolate cupcakes in the world. Whoever said it must've had their priorities at the right place because they're correct!
The frosting uses half of the earth balance and non-hydrogenated shortening along with non-diary chocolate chips to make a smooth and fluffy icing.
You can use only Earth Balance but the shortening makes really stunning icing. Top those off with crushed Oreos and peppermint and your cupcakes are party ready!
Malibu Rum Cupcakes with Pineapple & Jalapeno Filling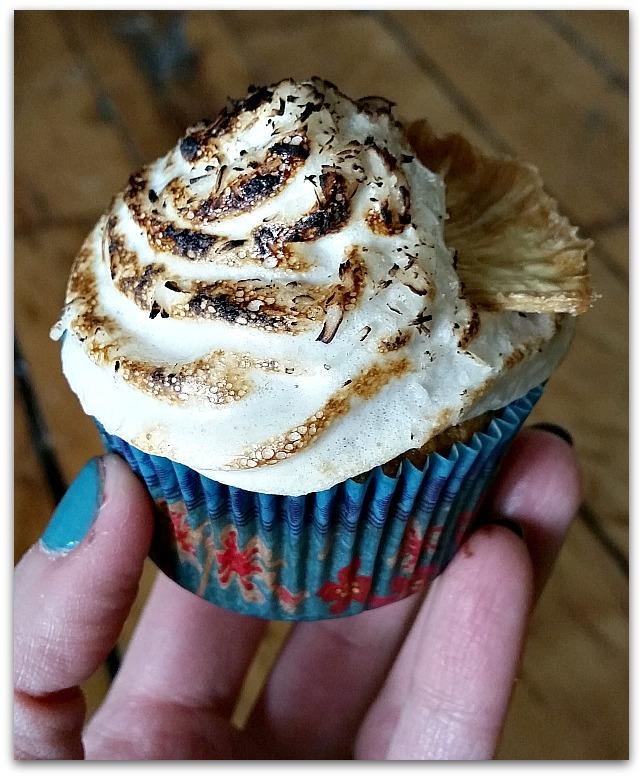 I know what you're thinking—jalapeño in a cupcake sounds odd.
It might, but if you think these cupcakes are spicy, I'll stop you right there. The combination of pineapple and jalapeño give rise to an intricate flavor that's well-balanced by rum in the cupcakes.
The recipe involves ingredients such as coconut rum and lime juice mixed with flour and cane sugar to form the batter.
The pineapple and jalapeño filling has vanilla essence, more rum and a blend of spices to give it an earthy taste.
Trust me on this and take a leap of faith, the best desserts lie right out of your comfort zone!
Mini Chocolate Chip Cupcakes with Vanilla Buttercream Frosting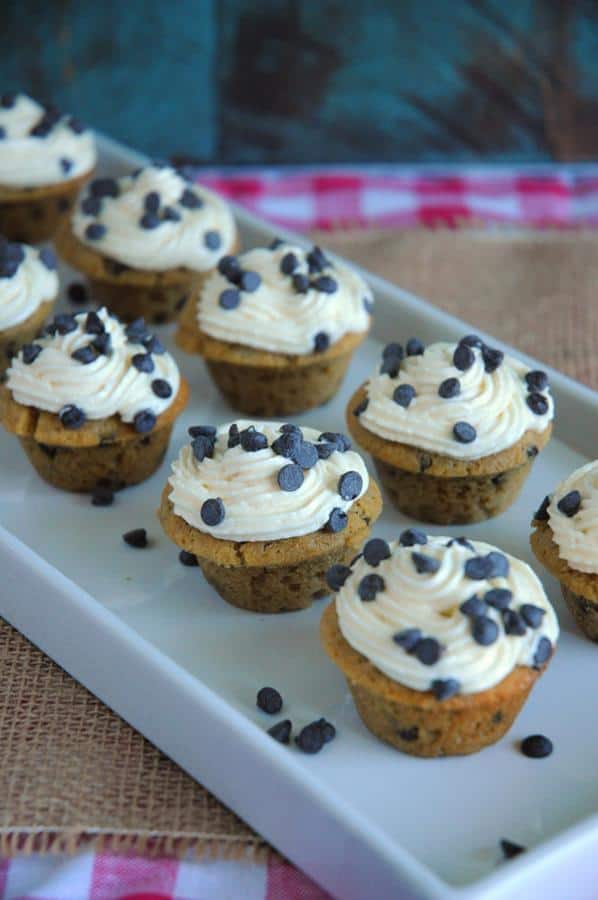 The nice part about having mini cupcakes is your cravings subside with just a bite or two. The risky part is not being able to stop at one and proceeding to wipe out the entire batch!
Don't blame this recipe for your lack of self-control, because it's delicious!
These are made using healthy ingredients such as Kamut flour, brown sugar, non-dairy milk and others. While the cupcakes are baking, you can quickly whip up the frosting that uses vanilla, butter and non-dairy milk.
It's as simple as that. You can always replace your sweetener with dates or maple syrup. Garnish these goodies with chopped mangoes and strawberries and you're set for your cookout dessert!
Sno Ball Cupcakes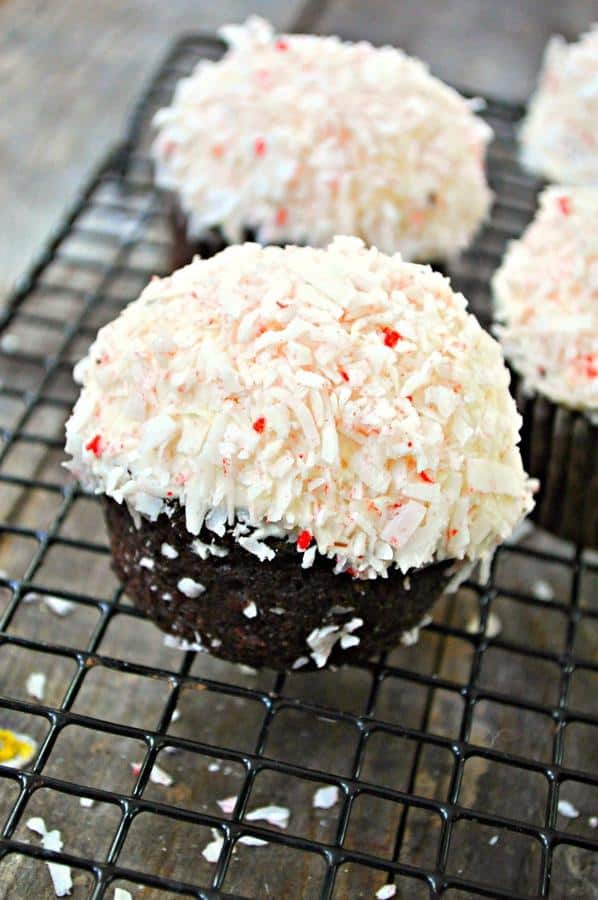 The good old sno balls you might remember from your childhood aren't vegan or healthy by any standards because they used ingredients such as gelatin and corn syrup.
These cupcakes will make you feel like a happy child again with its plant-based ingredients and high nutritional value.
The recipe uses all the conventional vegan ingredients for chocolate cupcakes save the addition of coffee powder to add an extra moistness to the texture.
The cream filling consists of shredded coconut, butter, shortening and others whisked to form a light and fluffy frosting.
Add more coconut to garnish or dust the cupcakes with a drizzle of coconut sugar to make them look like delicious snowballs!
Light and Fluffy Vanilla Cupcakes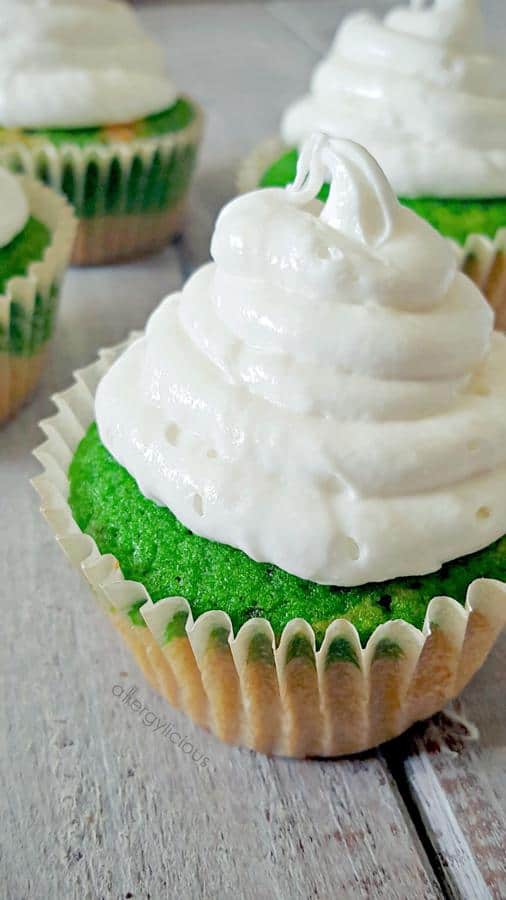 Vanilla cupcakes are the easiest to make out of the entire lot, aren't they? It may seem so, but getting perfectly light, soft and fluffy cupcakes using the most basic ingredients, to takes a lot of effort.
The recipe uses unbleached all-purpose flour, coconut milk, vanilla extract and a surprise ingredient.
Aquafaba is the reason behind the ultra-velvety texture and bounce of the cupcakes. So whisk away and whisk well.
You can top them with a lime frosting but I'd rather enjoy the simplicity of the cakes melting my heart away!
Chocolate Coffee Cupcakes with Peanut Butter Frosting and Ganache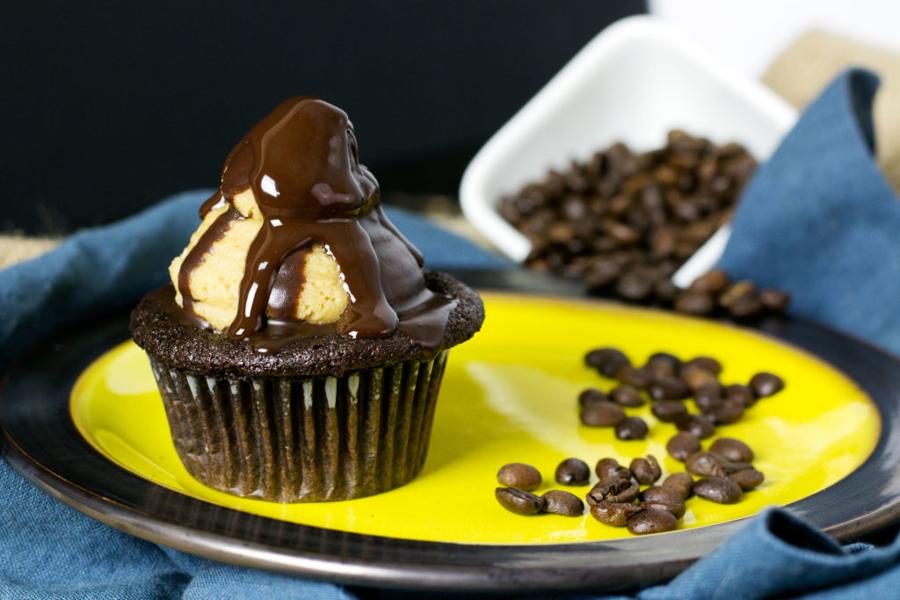 I was looking for a peanut butter cupcake recipe for so long, but most of them came across a very unhealthy to me.
Thankfully, this recipe has the perfect balance between sweetness and bitterness the coffee provides.
The chocolate-chip and coconut milk ganache add more texture without weighing down the dessert. This sophisticated recipe is on the rich side so it makes an excellent choice during festivals and celebrations!
Chocolate Cupcakes with Buttercream Pink Frosting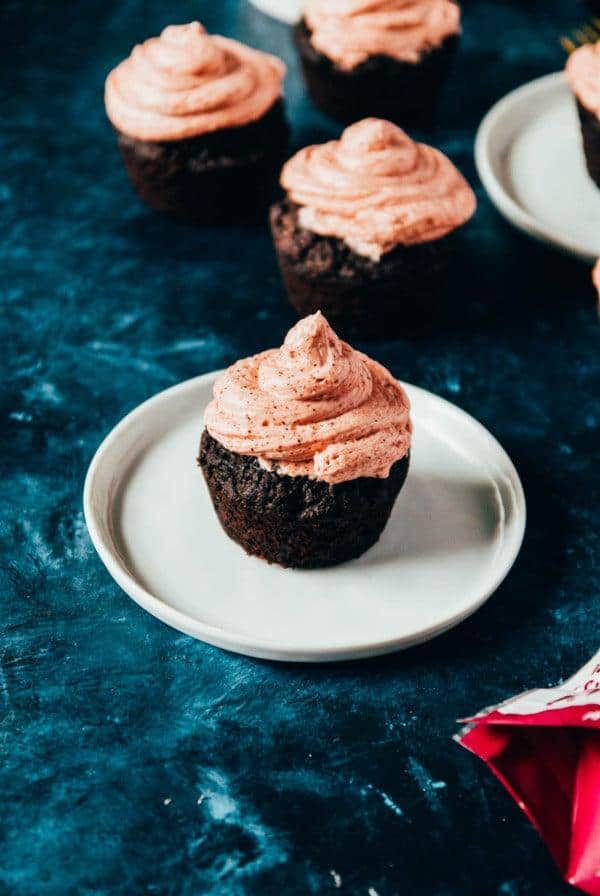 The picture of these tiny little cupcakes will remind you of the rose gold theme the world went bonkers over.
The recipe uses extensive ingredients like all apple cider vinegar, coconut milk, cane sugar and a lot more to come up with a batch of aromatic chocolate delights.
As I said, simple and elegant recipes have the neatest impact. Serve these at a tea party for you and your friends with slices of fruit and whipped cream!
Carrot Cake Cupcakes with Cream Cheese Icing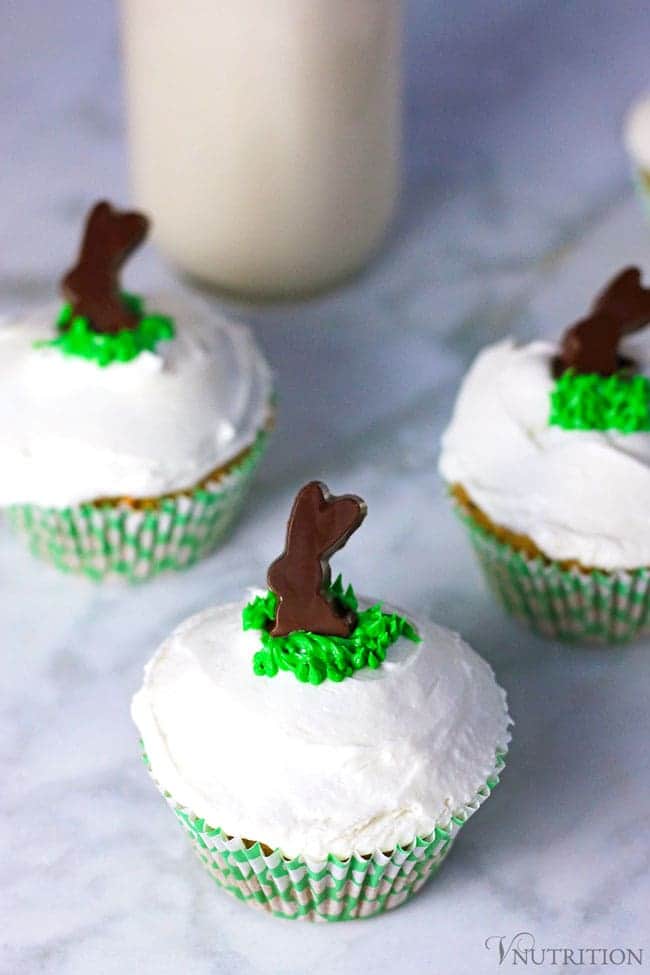 This combination is the weakness of every adult because we're sticklers for chasing nostalgia.
There are three parts to the entire fest: the cupcakes, cream cheese and the vegan bunnies!
The cupcake uses grated carrots, whole wheat flour, flax eggs and other ingredients to give them a soft and moist co
The cream cheese is simple to make using vegan cream cheese, butter, vanilla essence and sugar whipped together.
Turkish Delight Cupcakes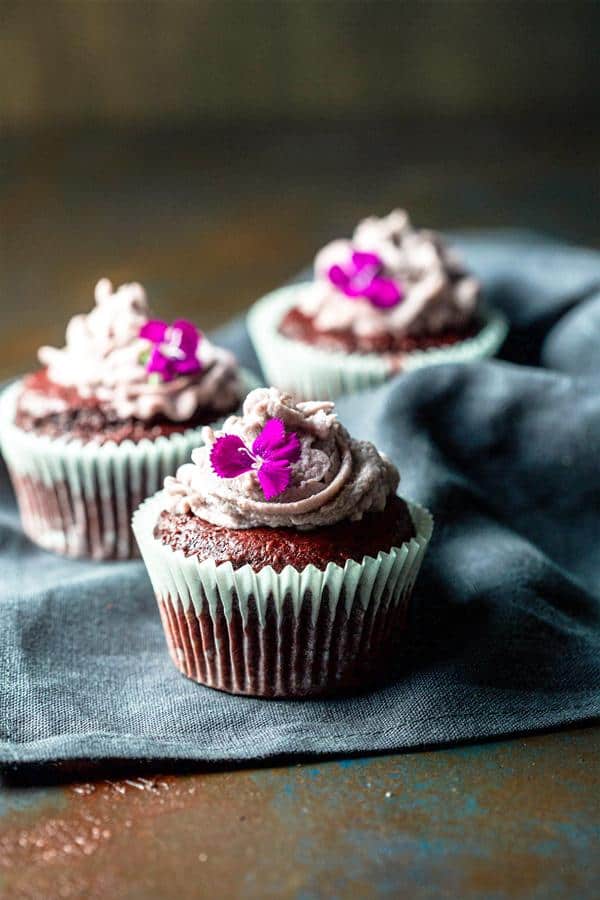 A fudgy red velvet chocolate chip cupcake with raspberry and rosewater frosting is here to capture your hearts!
The ingredients used are super healthy and it takes just 40 minutes to bake a batch.
The frosting uses cashew cream, raspberries, rose water and maple syrup to give you a smooth icing to pipe the cupcakes with.
This fancy recipe is fit for a celebratory dinner where you have plenty of friends and family to impress; it'll never fail you!
Raw Coconut Cupcakes (Gluten-Free)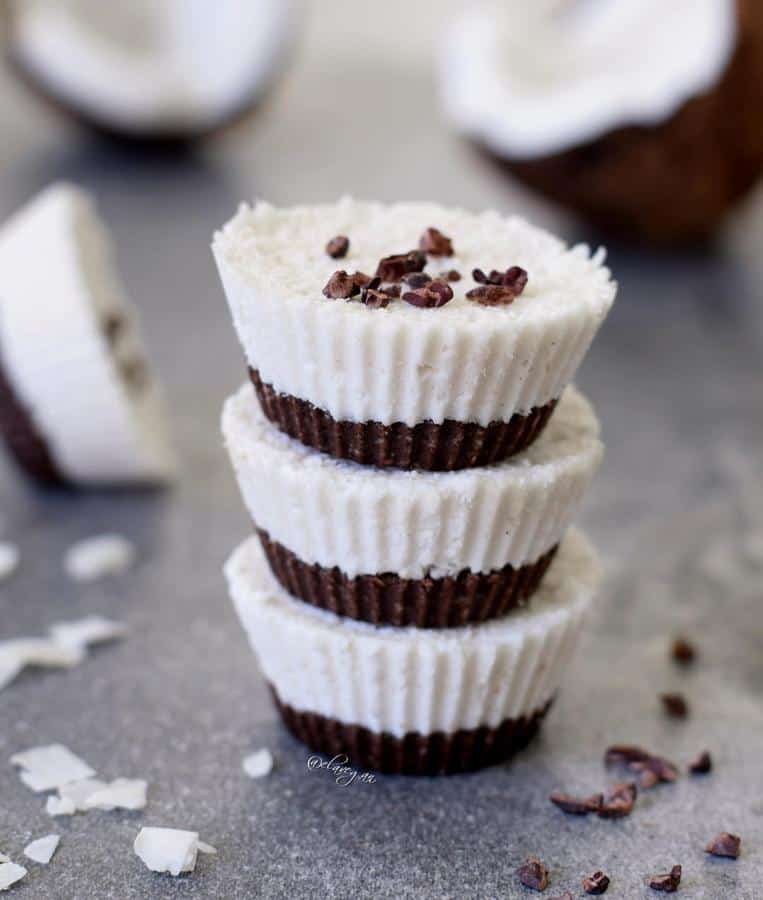 Raw baking needs more recognition because it's in a league of its own. You shouldn't be comparing them with baked goods because they're not the same.
This recipe is simple, healthy and something you could eat when you're on a raw food diet or just don't want to add flour to your food.
The bottom layer consists of dates, oats, cocoa powder and others that give the cupcake a firm base. The coconut layer is prepared using shredded coconut, coconut cream, coconut yoghurt and a few more items.
Make sure you keep them refrigerated and not out overnight since raw coconut can go bad easily!
Nougat Cinnamon Cupcakes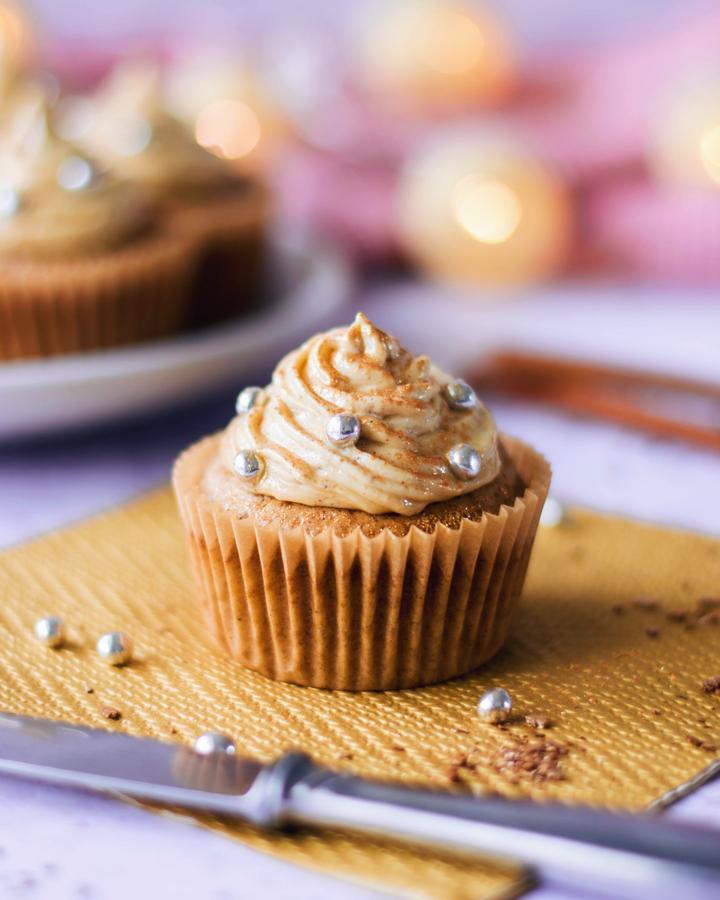 Cinnamon cake with creamy nougat frosting? Um, yes please! These cupcakes are the perfect treat to bring on the wow factor. These cupcakes are decadent and luscious. And they'll make you the holiday superstar.
The nougat crisp may be difficult to source, but it's available to buy online. I encourage you to do so, it'll make these cupcakes shine, but you can also experiment with other types of frosting.
To give the cupcakes an added touch of extra, add edible glitter and nonpareil silver balls to garnish. These are what dreams are made of, but they aren't a fantasy. You can make these in about an hour!
Incredible Banana Oreo Cupcakes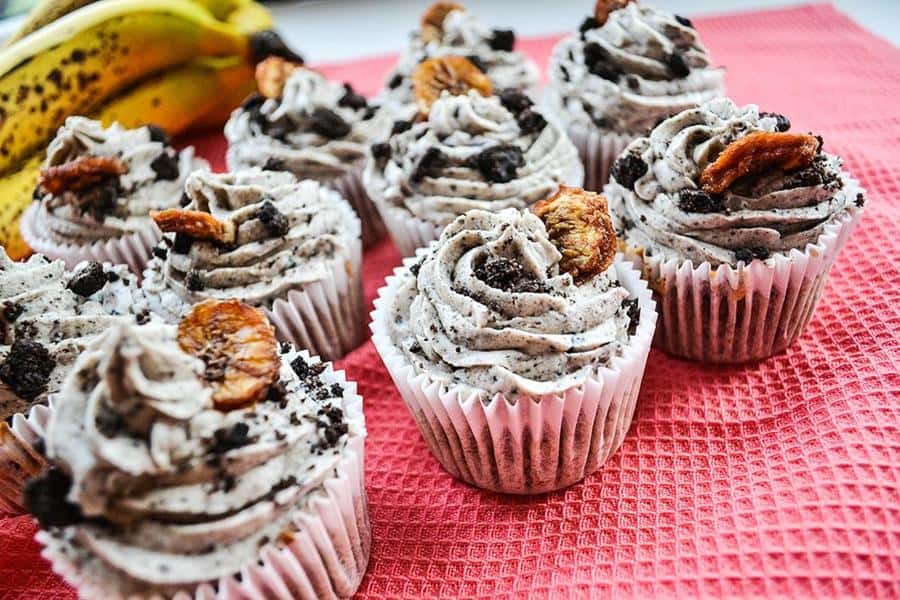 Some days you feel like throwing your adult responsibilities, diets and health consciousness out the window and simply pamper yourself.
What would be better than treating yourself to this recipe?
Don't forget to top the dessert with crushed Oreo bits and sprinkles to please your inner child.
You can eat them all alone or share them with your best friends to lift your spirits with the ultimate comfort food!
Yogurt Cupcakes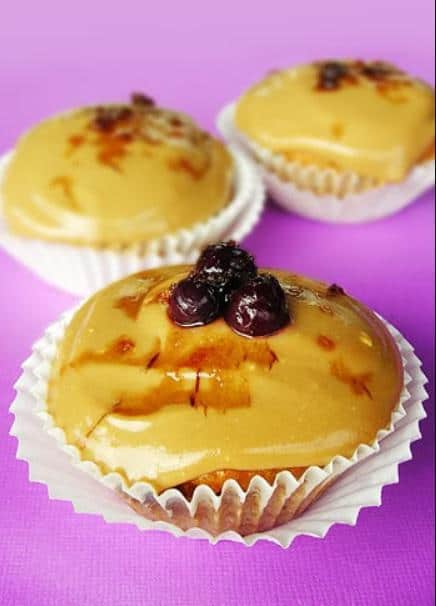 Yogurt makes an excellent base for cupcakes because of their texture and neutral taste.
The advantage of using store-bought yogurt is how they come in multiple flavors. These cupcakes use strawberry flavor along with flour, brown sugar and other ingredients.
Set the soy milk in vinegar for at least 15 minutes before adding it to the batter to get the desired texture.
You can use a soft caramel icing along with pieces of strawberry to complement the cupcakes
Chocolate Peanut Butter Cupcakes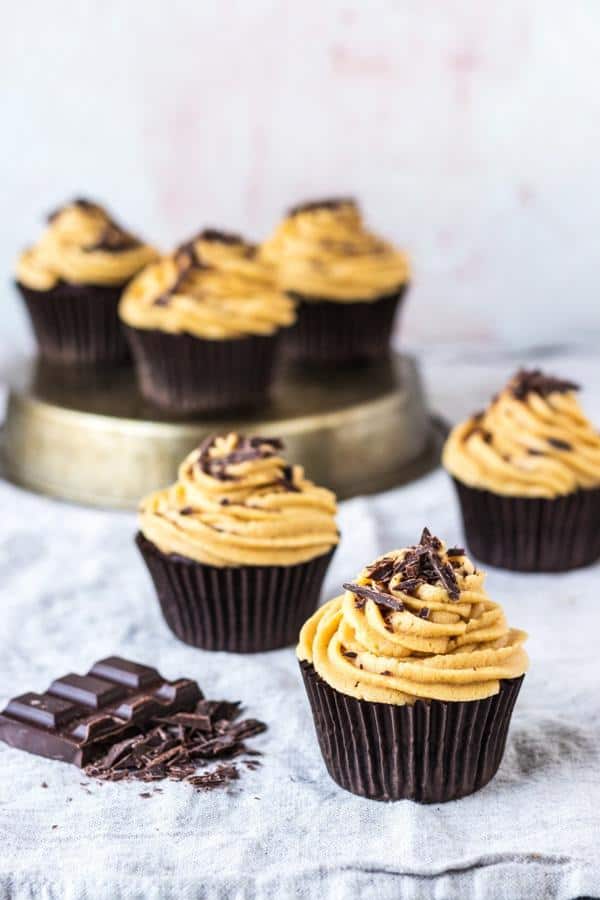 This recipe is fit to try during the weekends for the family!
The mouth-watering cupcakes use ingredients for a simple chocolate cake so all the attention lies on the peanut butter frosting.
The only thing I would change about this recipe is using Earth Balance or almond butter instead of margarine because my family is pretty health conscious.
Taking just 40 minutes of your time, these cupcakes will be in constant demand every weekend once your family gets a taste of it!
Fresh Strawberry Cupcakes with Strawberry Frosting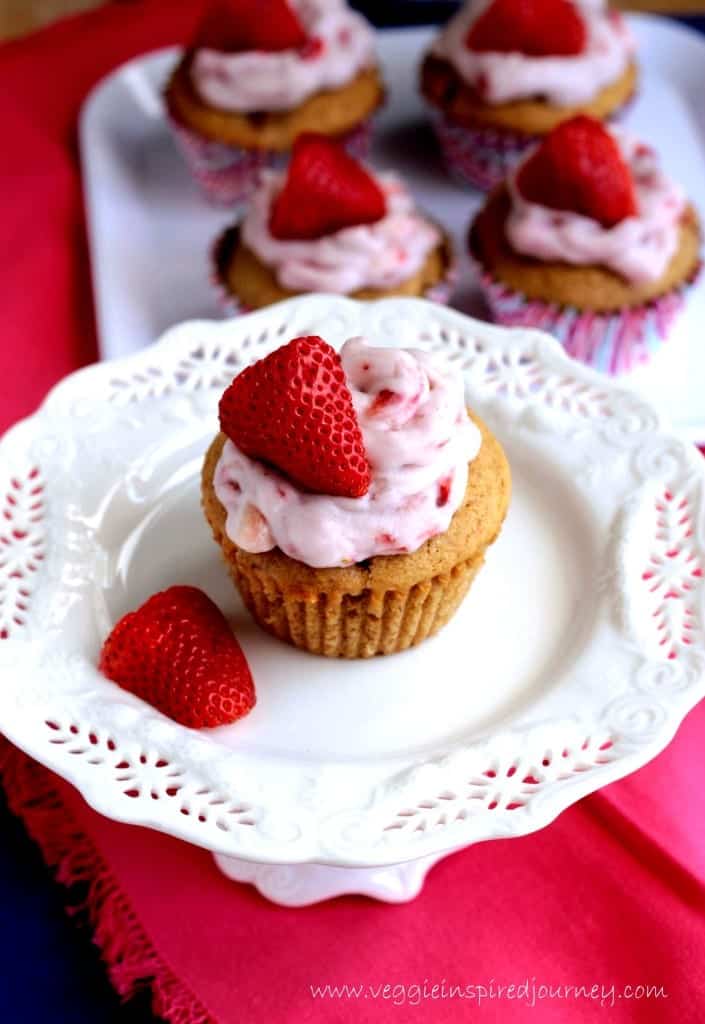 Healthy cupcakes are scarce so I appreciate and try every single one of them I find. This one was an absolute people pleaser because of the juicy strawberries and drool-inducing cupcakes!
The secret lies in adding fresh strawberries to the batter along with full-fat coconut milk, vanilla and maple syrup among other ingredients.
The icing is full of little bits of fresh strawberries diced small enough to fit a piping bag.
You can go the conventional way and frost the tops with the icing. Since I love fresh strawberries, I made little holes in the middle of the cakes to fill them with diced strawberries before icing the tops!
Pick almond milk and cream if you don't want the taste of coconut interfering with the strawberry's natural flavor.
Wrapping Up
Well, we've stocked you up with enough cupcake recipes for you to win every party and competition!
When it comes to food, we believe in showcasing the best recipes, be it casseroles, cupcakes or something else entirely.
All of them are downright sinful, so we understand how difficult it'll be to choose one at a time.
Whatever you bake, we hope it turns out excellent and woos your subjects of experimentation.