This roundup may be dedicated to stir-frying, but it isn't the only place such recipes exist. For more inspiration and even more plant-based dishes, check this out as well.
Right now, fire up your kitchen tools, grab your veggies and let's get to it!
Spectacular Stir-Fry Recipes
3-Ingredient Homemade Stir-Fry Sauce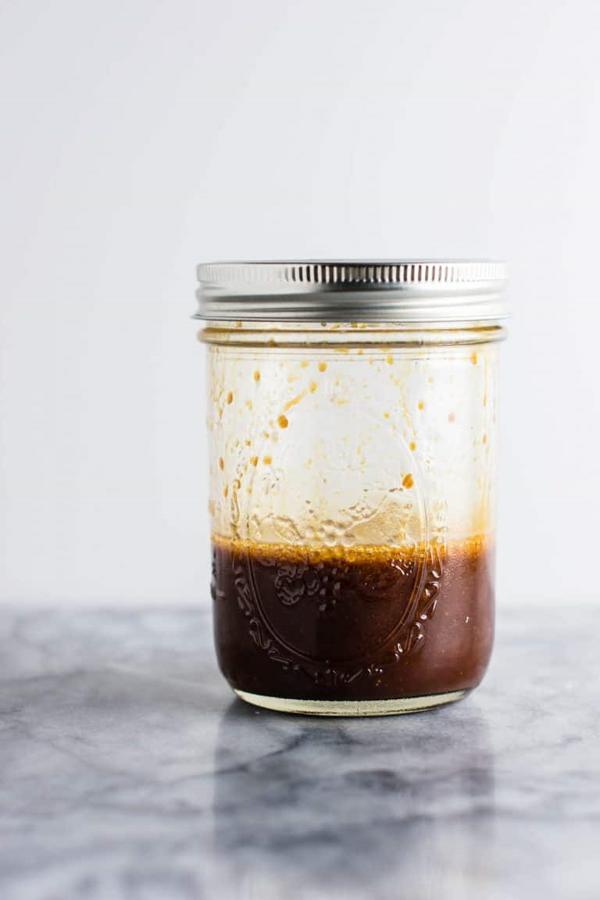 For every good stir-fry you need a good sauce, it can make or break any dish.
This one really does have just three ingredients and it comes together as quickly as you can put them in a jar!
Screw the lid on, pretend you're in a bar shaking some cocktails and you're ready to go!
Vidalia Onion Stir-Fry Sauce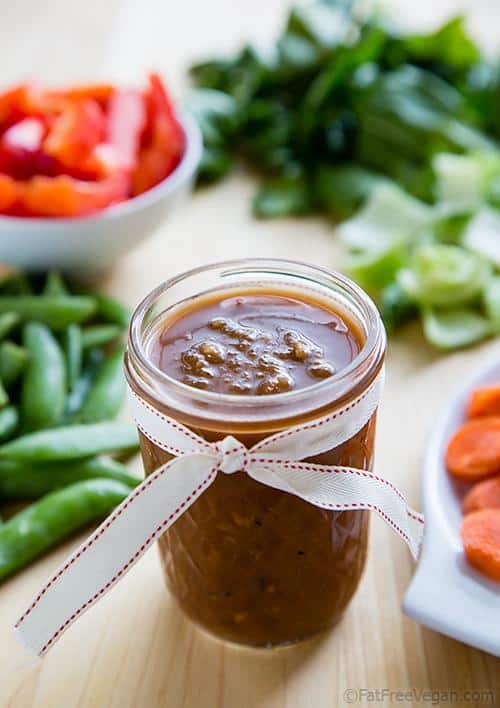 If you love ginger, you've come to the right place.
A handful of flavors blend together to create this incredible sauce.
Ingredients such as garlic, ginger and apple cider vinegar (or apple juice if you prefer) are amongst the list of goodies needed to make this restaurant quality blessing!
Vegetarian Rainbow Pad Thai Stir-Fry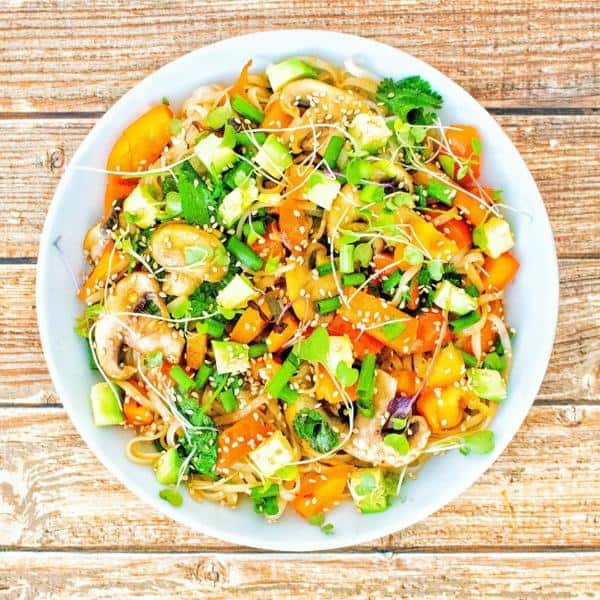 The title of this recipe may be 'vegetarian', just to confirm, this is definitely vegan. And delicious it is too!
A very high-quality stir-fry made with nothing but the best ingredients. This isn't the sort of recipe where you have to go out and buy everything (unless of course your kitchen is, literally, empty!).
Everything is pretty much an everyday standard. Perfect for leftovers as well.
Pasta Mushroom Stir-Fry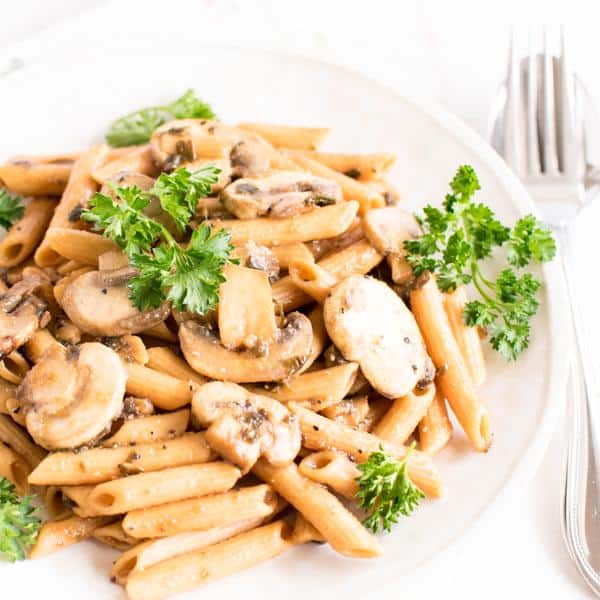 I'd be hard pressed to choose a favorite between a stir-fry and a pasta dish. This combines both!
The recipe calls for lentil pasta although you could easily use your favorite and it does need to be cooked before you begin.
This is all about mushrooms and the flavoring that go along with that. You end up with a dish that is the definition of hearty and satisfaction!
Mongolian Noodles and Veggies Stir-Fry in Spicy Soy Ginger Sauce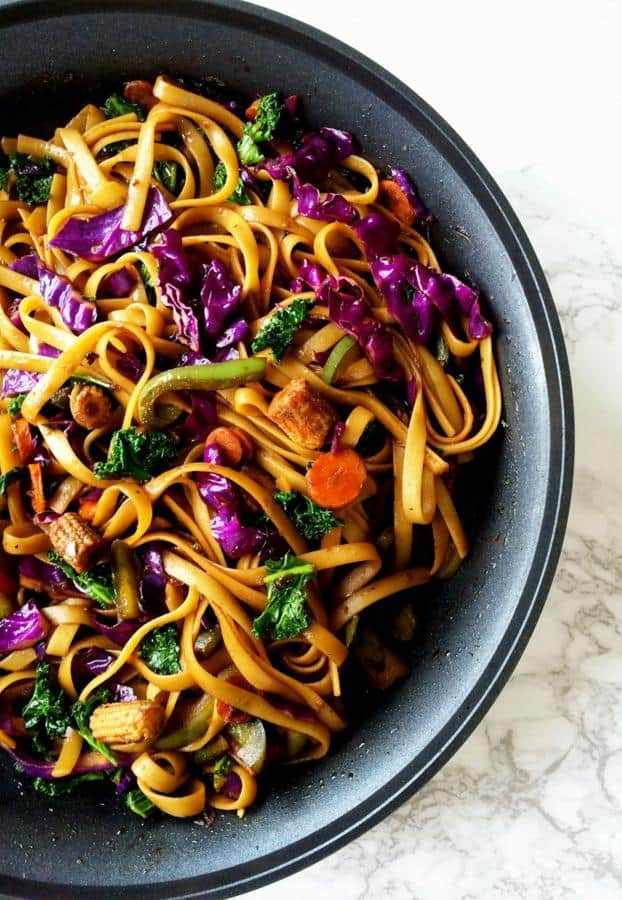 Look at the colors in the picture! The best part about this recipe is when you make this, it really will look just the same.
They say the first thing we do is eat with our eyes and this dish is the perfect example. If you follow the recipe exactly then you'll have the beautiful array of colors from the kale and purple cabbage.
However, if you have any leftovers that need eating, substitute those and the essence of this dish remains the same. Enjoy!
Macrobiotic Stir-Fry with Veggies and Brown Rice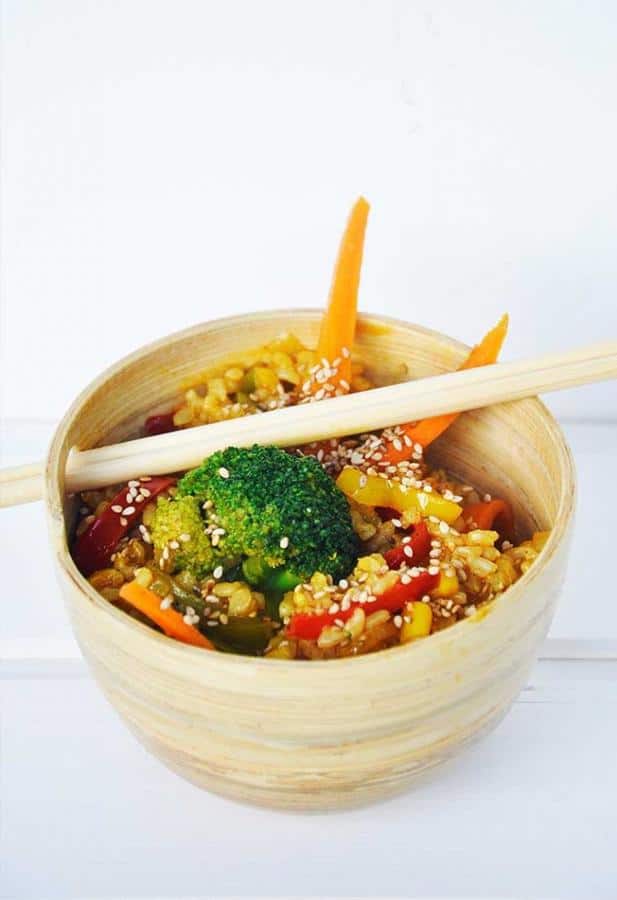 Whether you're into a macrobiotic diet or not, this should make it to your table!
If you're simply looking to be inspired with great recipes, or you're interested in starting out in macrobiotics, this would be the perfect place to start.
Straightforward ingredients such as broccoli, corn and just a few others. Prepare all the vegetables and cook for about 30 minutes. You're going to love it!
Spicy Stir-Fried Szechuan Eggplant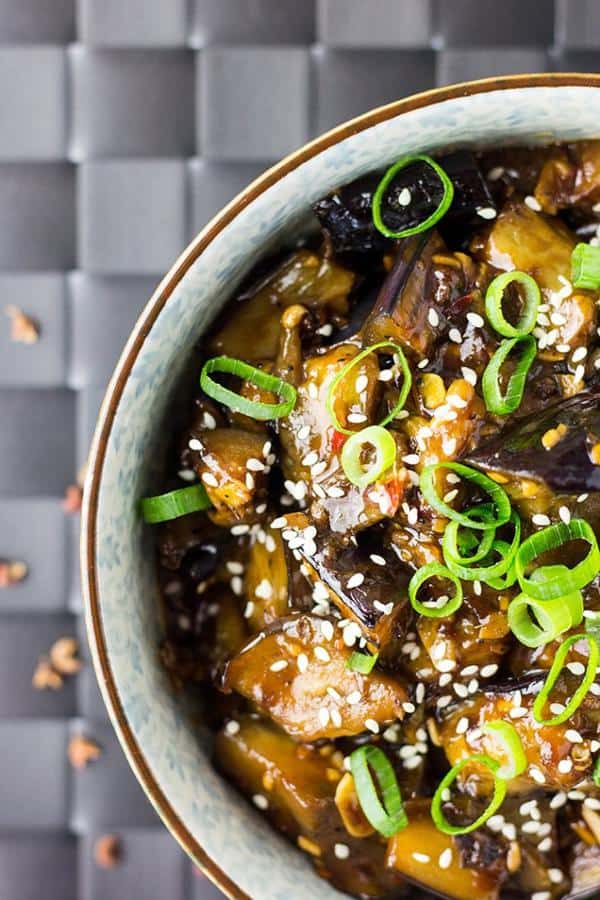 If you're new to eggplant, you may want to learn a little more about them. It's certainly an interesting vegetable, some people love it and others not so sure. From my experience, if you have a really good eggplant recipe, that normally wins over most people.
I think for a Szechuan dish, eggplant is probably one of the best ingredients. Amber has done the perfect job in illustrating this with the recipe.
You need just 6 ingredients and a couple for garnish. It really is that simple and I guarantee you'll never have take-out again after eating this.
Thai Basil Tempeh Stir-Fry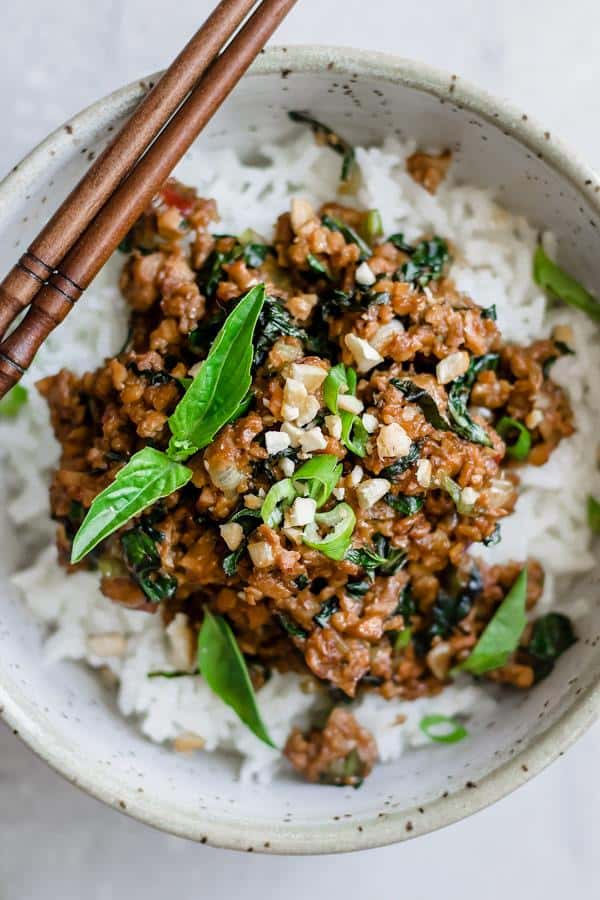 If you like Thai cooking, you'll be right at home here.
This is a plant-based and healthy version on the traditional Thai recipe and it tastes mighty good!
The ingredients are divided into two sections, the main part of the dish and the five ingredients needed to make the sauce.
The entire meal comes together in 25 minutes or less, it's incredibly inexpensive and incredibly tasty!
15-Minute Vegetable Ramen Stir-Fry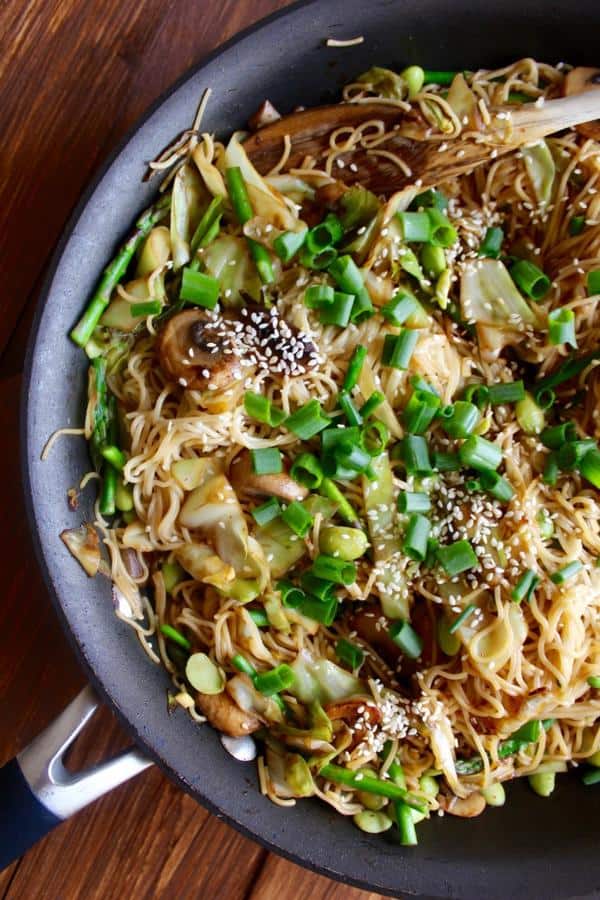 I don't know what to tell you other than you simply have to make this!
From start to finish your looking at 15 minutes to bring this to the table, and this includes prep and cooking time. I imagine you'll have most of ingredients already.
It's the perfect solution for when you want that take-out fix but don't want to spend all that money!
Quick and Easy Noodle Stir-Fry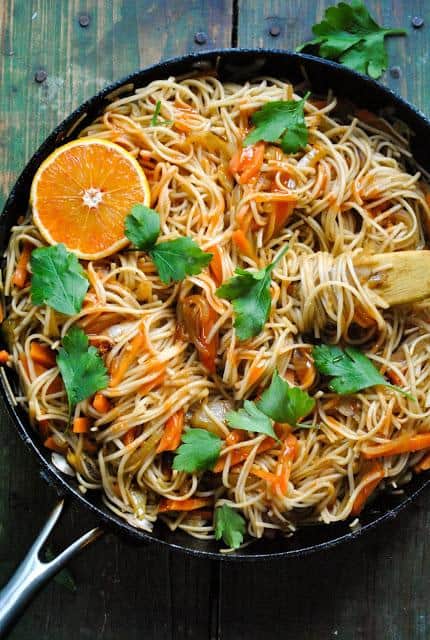 Oh my goodness, I could eat dishes like this all day and every day!
Here you have noodles which couldn't be simpler to make. Once cooked and the rest of the instructions followed (see recipe page) throw in the rest of ingredients and you have yourself a satisfying and super healthy dish.
As you can probably guess, this is incredibly versatile so feel free to add any vegetables you have as leftovers. Maybe some tofu as well?
Simple Tofu Green Bean Stir-Fry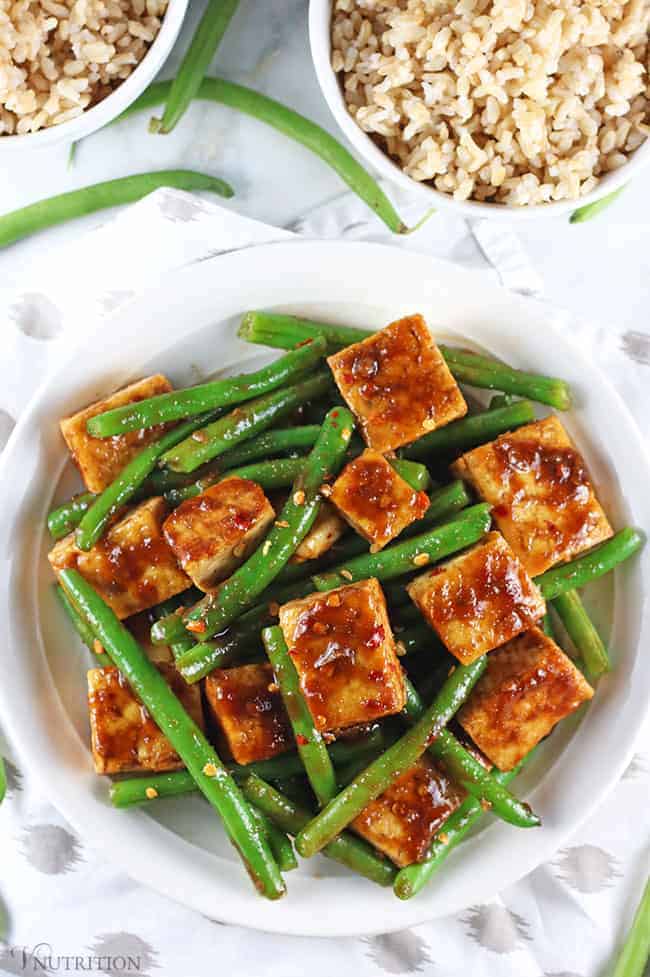 One of the problems with take-out is that they often contain MSG. If you know anything about it, you know it's something to avoid.
The beauty of this recipe is its simplicity and it's also extremely inexpensive. In addition, if you've never been sure about tofu before, the way it's prepared in this dish is delicious!
The recipe is also versatile, so you can swap out green beans with any leftover vegetables you have. Fantastic for a multitude of reasons!
Mushroom Stir-Fry Side Dish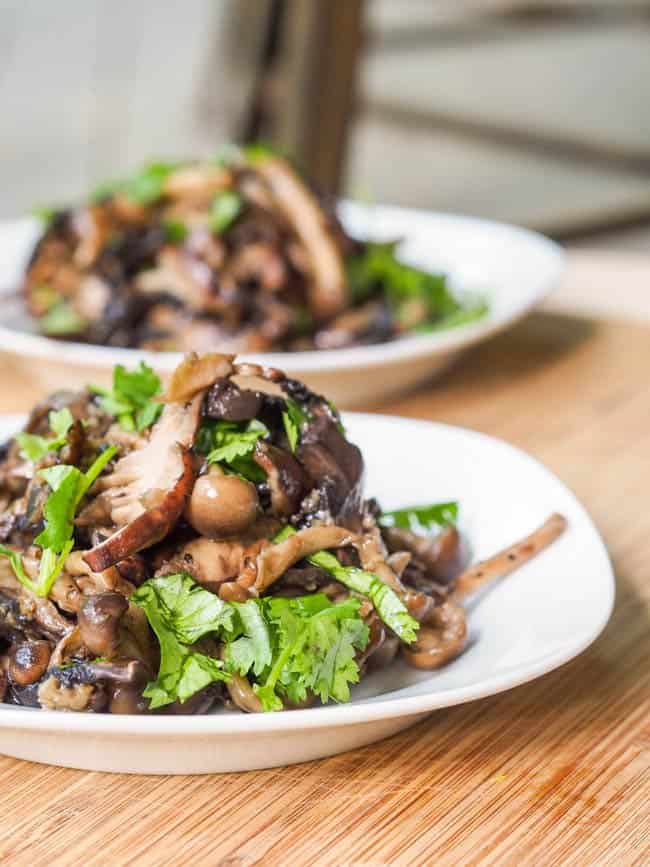 If you're a mushroom lover this just has to be on your list of favorite recipes.
When you're planning to make Chinese food at home, this is a must.
Makes for a perfect side dish although it's so tasty, my advice is to double the ingredients and serve with your favorite rice. Job done!
Simple Soba Noodle Stir-Fry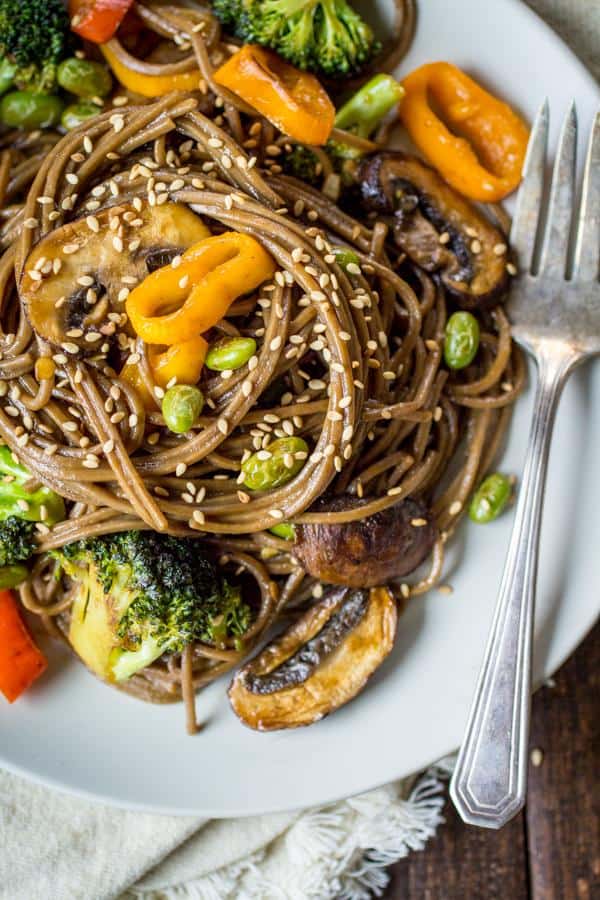 This is one for the noodle lovers amongst us.
Quick, inexpensive, super healthy and extremely versatile. You can use soba noodles or if you have any others in the cupboard, that will work too.
Throw in your leftover vegetables and in no time, you have the meal of champions!
Three Pea Ginger Tofu Stir-Fry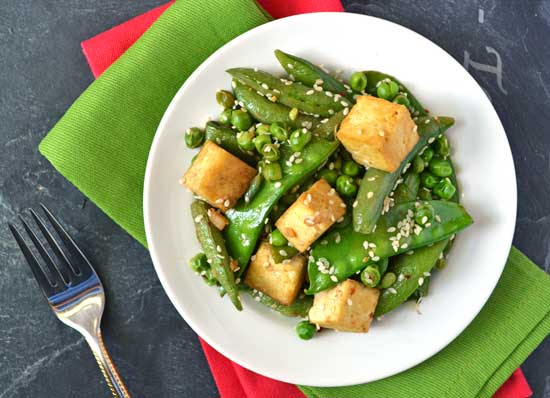 The perfect recipe for when you're wanting to avoid carbs.
The first item on the list of ingredients is a link to a separate recipe on how to prepare the 'Ultra Crispy Unfried Tofu', I recommend you check that out because it's tofu like you've never had before.
Other than that, you're looking at different types of peas, ginger, garlic and more. You could serve over rice or noodles, but that's up to you which is what this is all about.
Spicy Lentil Bulgur Stir-Fry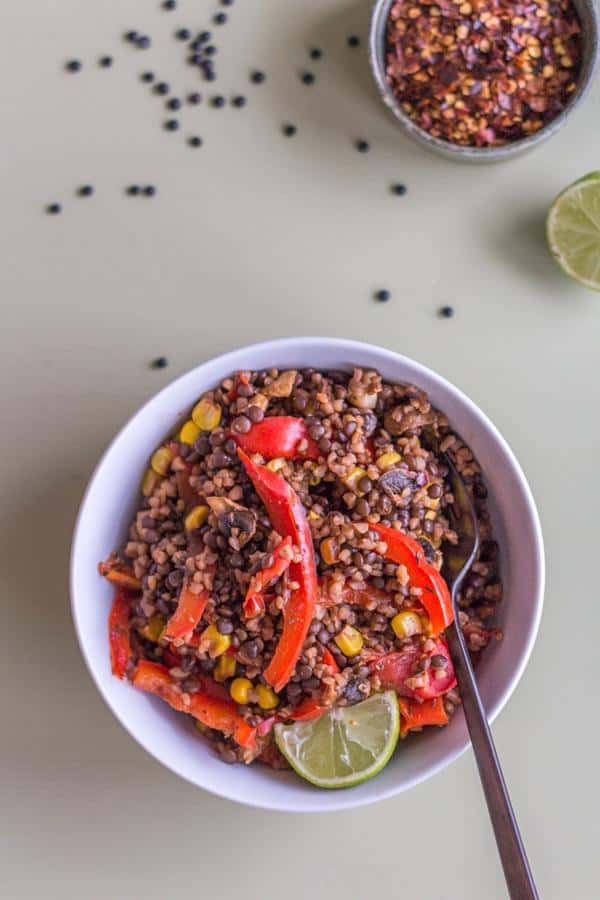 A stir-fry with a difference!
Usually, we're talking rice or noodles so this dish changes things up a little. Healthy and filling at the same time without making you feel lethargic afterwards.
Follow the recipe or use any leftovers you have. Extremely delicious!
Tamarind Glazed Tempeh with Stir-Fried Vegetables and Rice Noodles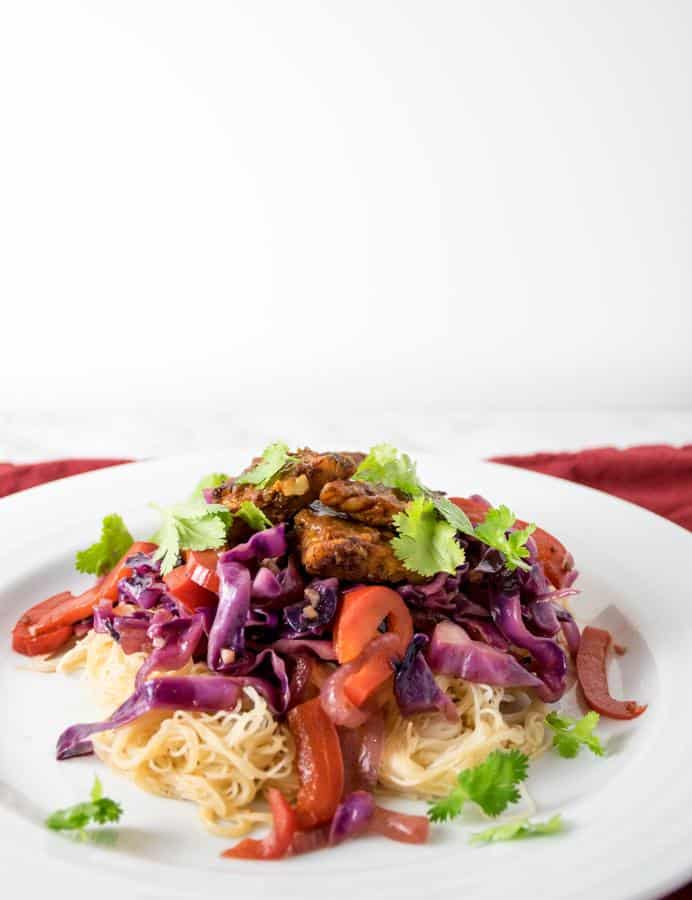 If you've never had tempeh before, this'll be a real treat.
When you serve it, the first thing you'll notice is the array of vibrant colors. Without any effort, it simply comes together looking beautiful.
The aroma and the taste will then make this your favorite. Easy to make and feel free to swap out any of the ingredients with leftovers.
10 Minute Lean and Green Tofu Stir-Fry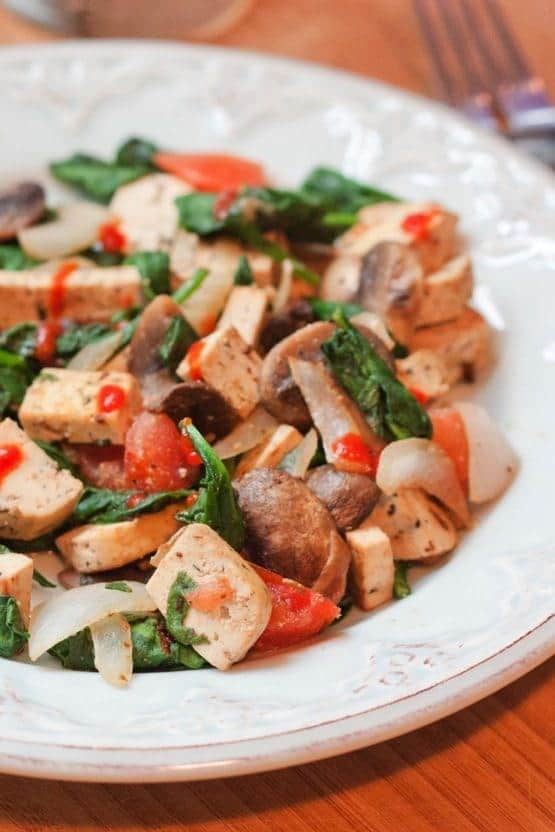 A perfect meal for when you're in a hurry but want something nutritious that will keep you going for the rest of the day.
Either follow the recipe which will take no longer than 10 minutes, or use any vegetables you have that need eating.
It's one of those dishes where you just can't go wrong.
Teriyaki Stir-Fry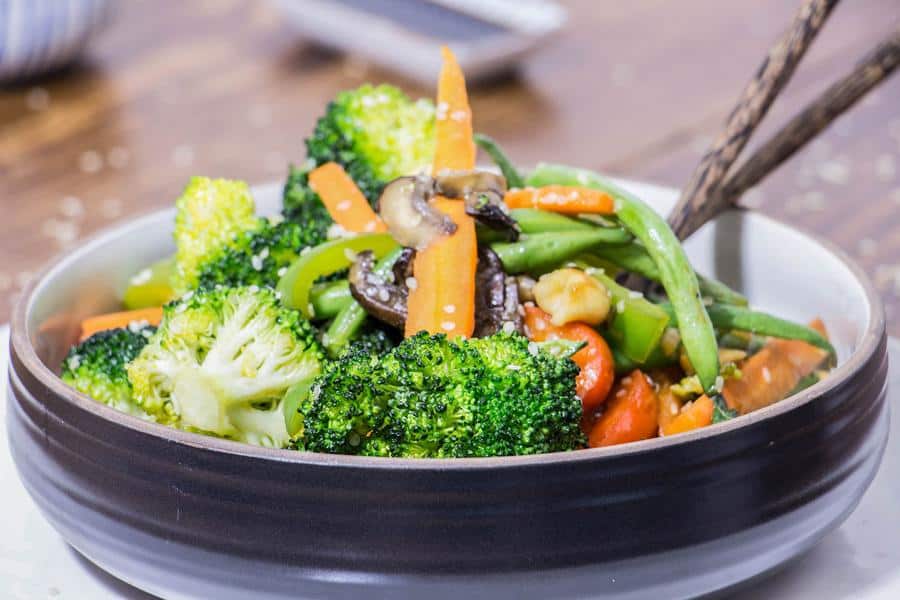 When you have a bunch of vegetables and little time, this recipe is what you need.
Dice everything up and then stir-fry for about 2 to 3 minutes, job done.
Makes for the perfect side dish or, serve on a bed of rice or noodles for a great meal.
Rainbow Vegetable Quinoa Stir-Fry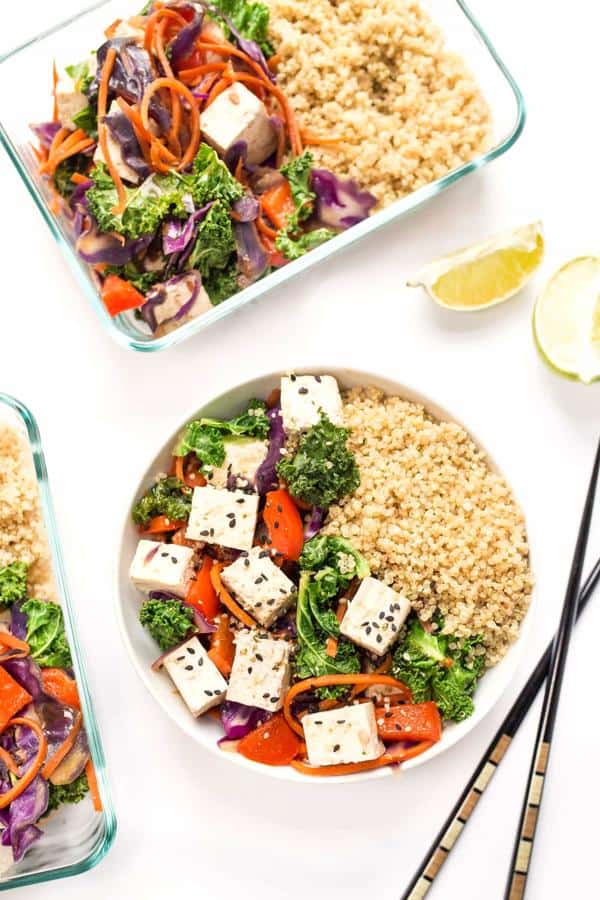 This is one of my dream recipes in that it's all made in one pan!
Looking at the list of ingredients, you can see how simple and quick this will be.
I adore quinoa and it's a great alternative to rice or noodles for dishes such as this. Don't forget the sesame seeds!
Udon Noodle Stir-Fry with Jackfruit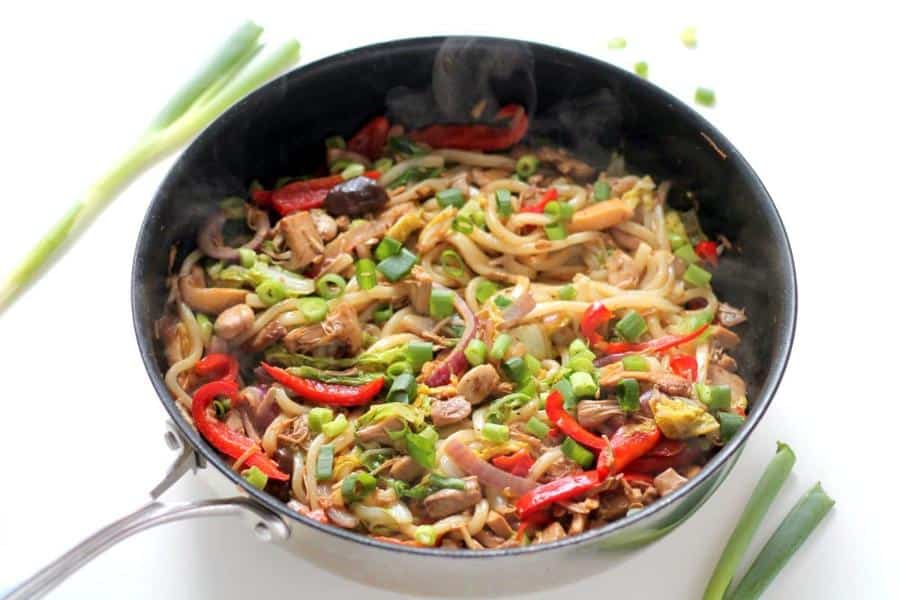 If you've never had jackfruit before, this is where your journey starts.
Jackfruit is often used in plant-based dishes as it has a very benign taste so takes on all the flavors. Its texture is just incredible.
Throw in the noodles, vegetables and everything else for a fantastic healthy and quick meal.
Spicy Veggie Raw Food "Stir-Fry"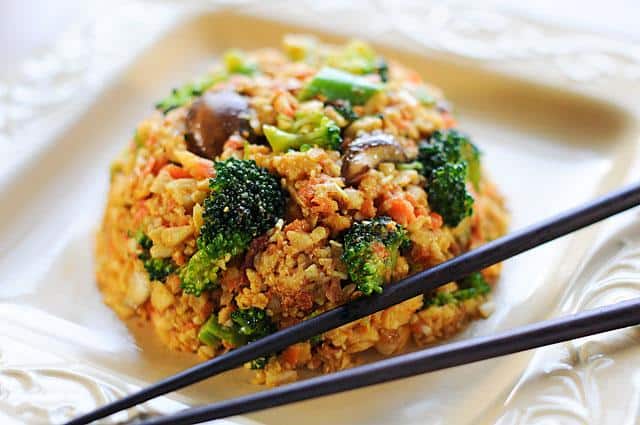 Would you believe this is a raw dish!
Finally chop your veggies to your desired consistency. You then need six ingredients to create the magic sauce!
Combine everything together and voila! If you're dipping your toe into raw food recipes, this is delicious!
Cajun Style Vegetable Stir-Fry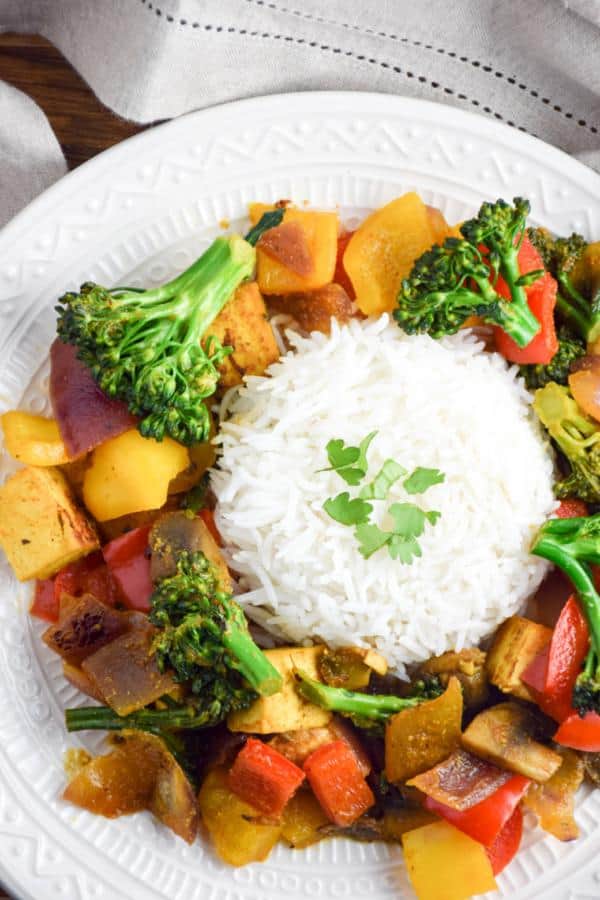 A fantastic recipe to use up leftover veggies!
The secret is in the seasoning; the author has created a perfect blend with ingredients such as curry powder, lemon juice, maple syrup and more.
Add rice, quinoa, or eat with your favorite bread.
Tofu Veggie Stir-Fry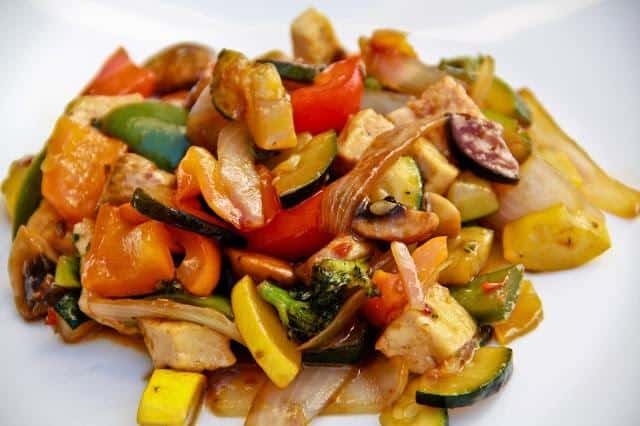 The author describes this as one of her most basic recipes, don't let that fool you.
This dish is certainly easy and straightforward, yet the taste is sophisticated, moreish and incredibly easy to create.
Simple ingredients and great for using up leftovers.
Keerai Poriyal, Keerai Thengai Curry and Spinach Stir-Fry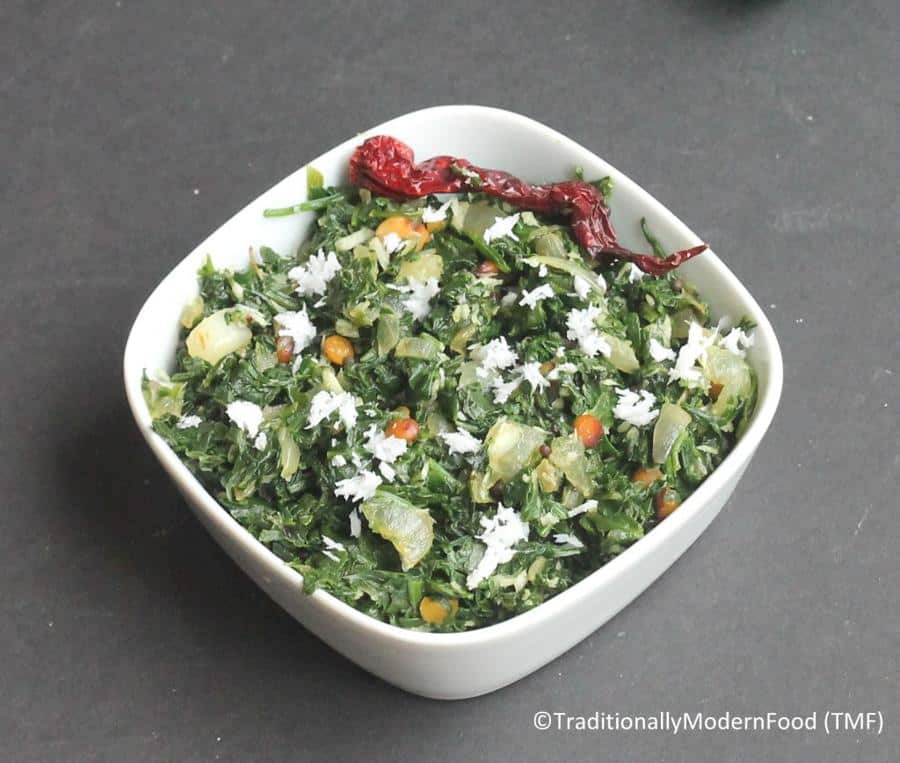 When I first saw the title of this recipe I thought, 'other than the spinach and the curry part, I have no idea what this is'.
What you get is an incredibly authentic dish. Just a handful of ingredients is all you need.
If you've never created anything like this before, there's a video just above the ingredients that walks you through everything, step-by-step. Fantastic!
Broccoli, Red Pepper and Tofu Stir-Fry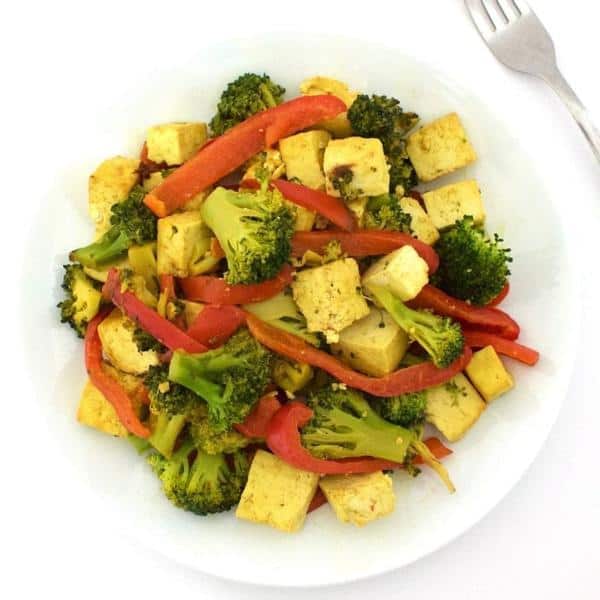 This is one of my favorite recipes from Annie.
If you follow the recipe precisely it's about two dollars per serving which is awesome. The best part, of course, is the taste.
Annie uses simple ingredients and straightforward instructions to essentially create a take-out meal at a fraction of the cost and no hidden nasty ingredients. Wonderful!
Stir-Fry Sauce for Vegetables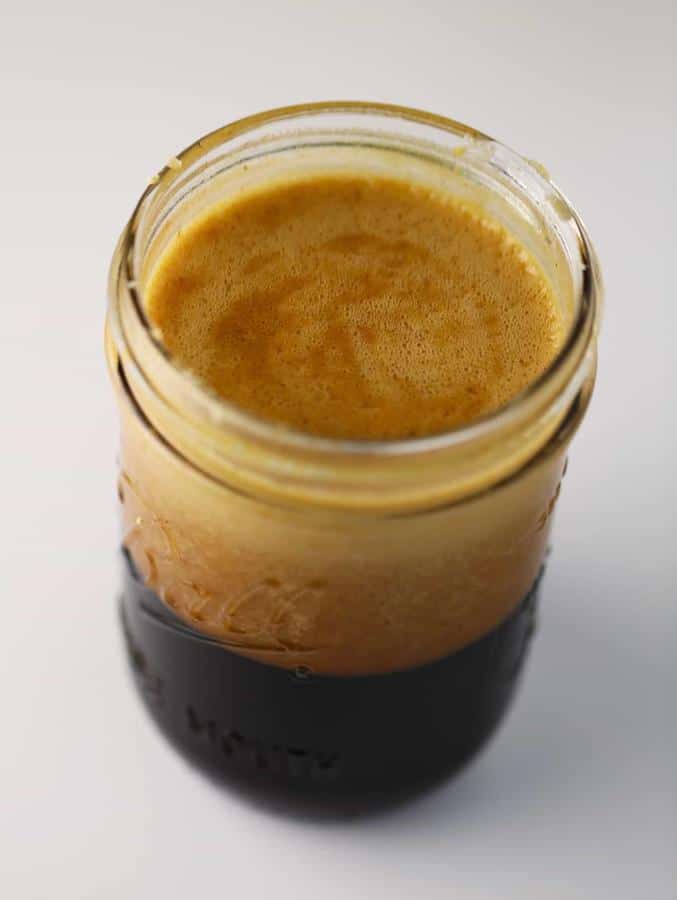 Sometimes you have some leftovers and other bits and pieces, but you don't know what to do with them.
Keep this recipe on standby as you'll be using it again and again. It's better than anything you can buy at the store and you'll know everything that's gone in it.
If this wasn't enough the author also gives you a couple of steps on how to use this sauce as a base to create a tasty peanut sauce! Two recipes in one!
Zoodle Stir-Fry with Spicy Peanut Sauce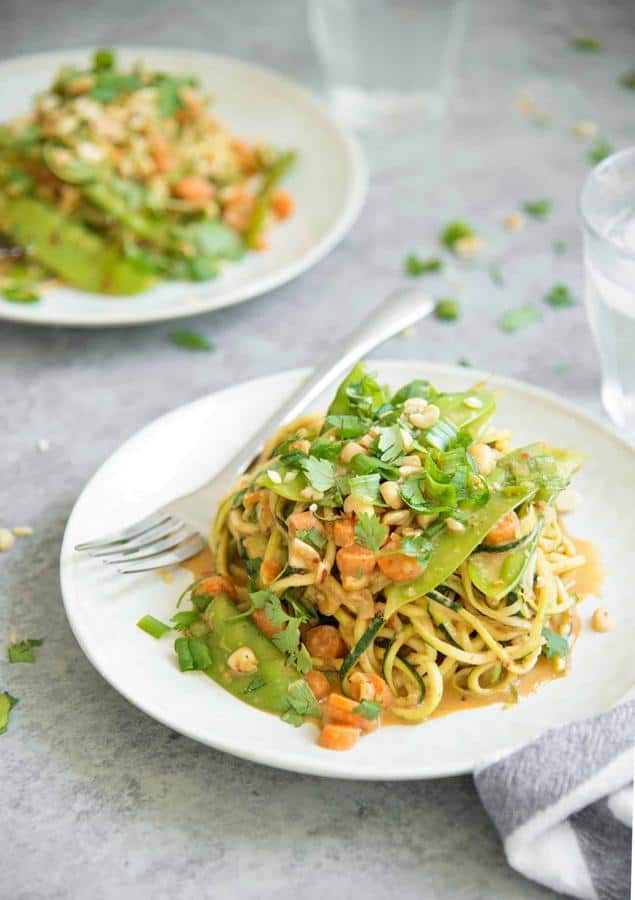 If you're wondering what a zoodle is, it's a noodle made from spiralized zucchini!
Throw in some diced carrots, peanuts and handful of other ingredients, then comes the spicy peanut sauce which you simply have to try in order to believe how delicious it really is.
Mix everything up and you have a super healthy dish that costs so little to make!
Rice Vermicelli Stir-Fry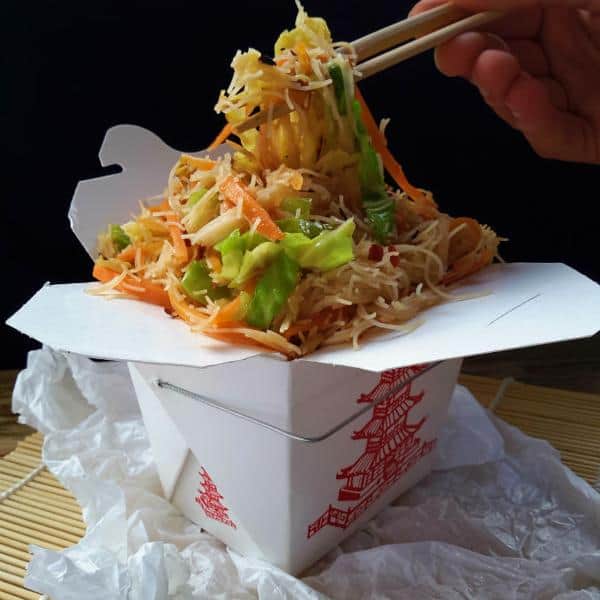 I simply love vermicelli noodles, being so thin they blend in with all the other ingredients so well.
Would you believe this dish comes together in just 15 minutes or less!
It has an abundance of flavors and textures and you could easily swap out the ingredients for any leftover vegetables you have that need eating. Don't get take-out, get this!
Stir-Fried Lotus Root with Green Onions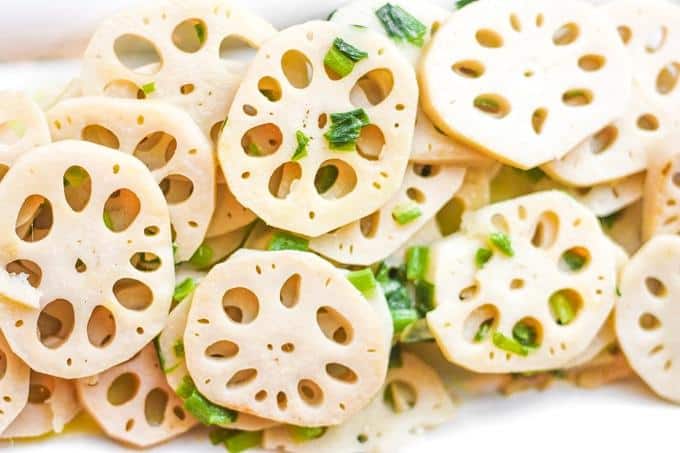 Have you ever had Lotus root? I don't remember if I have so this recipe motivated me to try some!
I guess this makes for a perfect side dish although it's so tasty, add some rice or noodles and you have a meal right here.
If you want to impress someone with something they probably don't eat very often, if at all, this is the perfect recipe.
Just five minutes prep time and the same for cooking is all you need.
Meal Prep Veggie Stir-Fry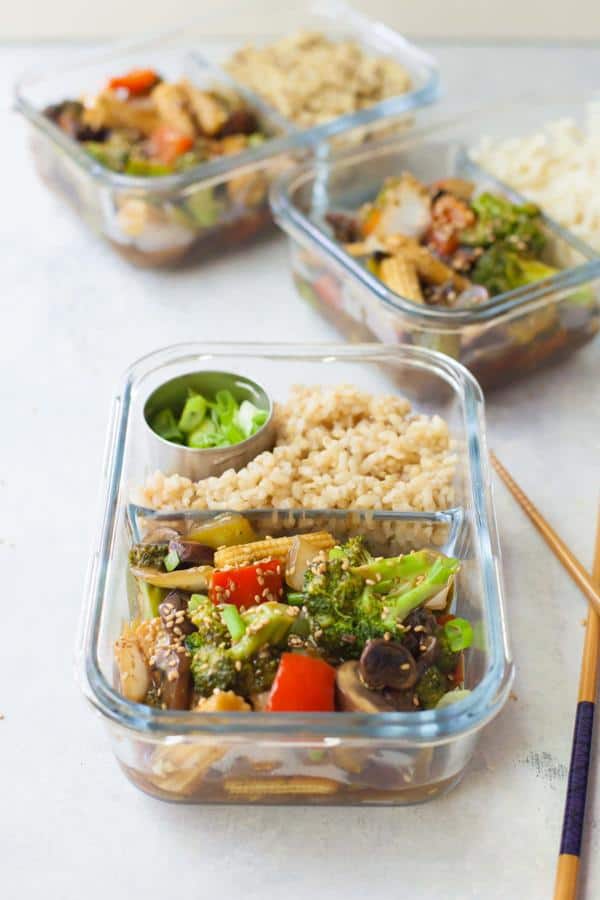 This recipe is an awesome idea. A dish so good you can eat it cold!
The amounts listed in the ingredients make 4 adult size lunches. You're only looking at 15 minutes prep time and the same for cooking.
Make sure you scroll through the ingredients page as about halfway down there's a video that walks you through everything step-by-step and this is really useful!
Green Stir-Fry with 3-Ingredient Steamed Coconut Buns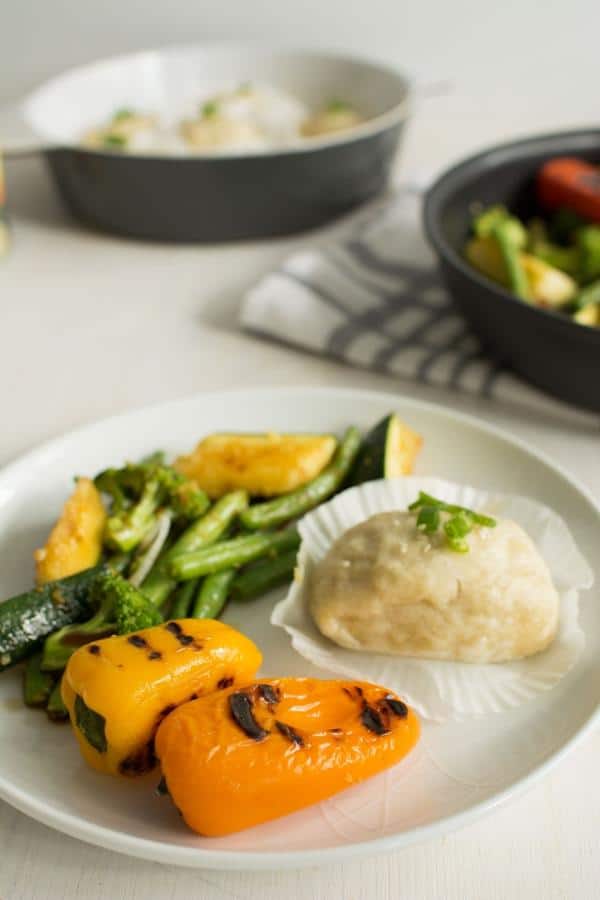 I have a lot to say about this recipe and yet at the same time I don't!
The stir-fry is simply awesome. Beauty in its simplicity and extremely versatile. You should keep this on standby for when you have leftovers.
The real magic is in the steamed coconut buns. If you've never had steamed buns before, OMG, eat them right now!
They are my absolute favorite, okay I have many favorite foods, but these are definitely on that list!
Stir-Fry Zucchini Noodles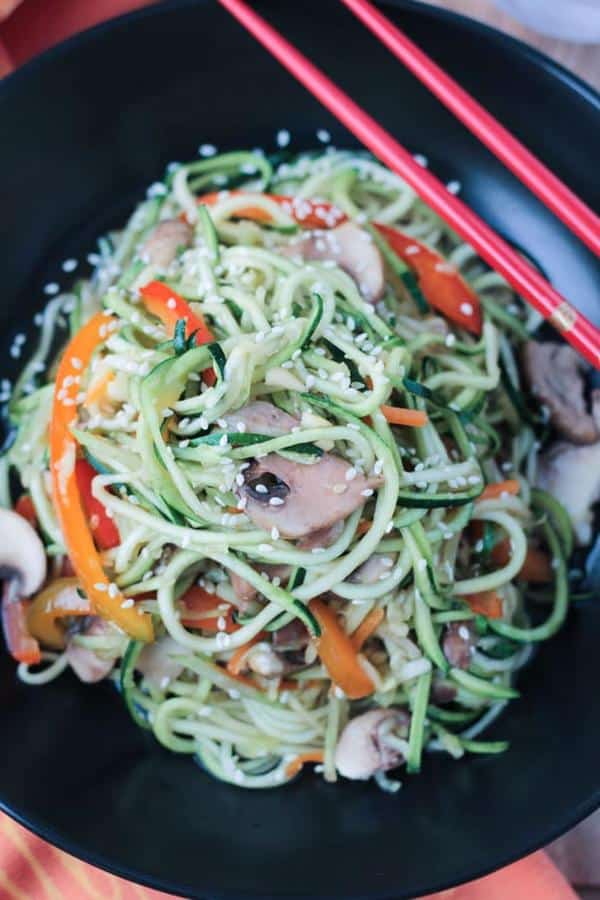 If you're trying to avoid wheat or rice, zucchini noodles are your go-to friends.
Whether it's for a weeknight or weekend, this recipe is perfect if you're on a low-carb program. The beauty is in its simplicity and you could very easily make it your own.
If you don't have a spiralizer, grab a julienne peeler that will do the job just as well. You're going to love it!
Stir-Fried Black Bean Noodles in Orange Sauce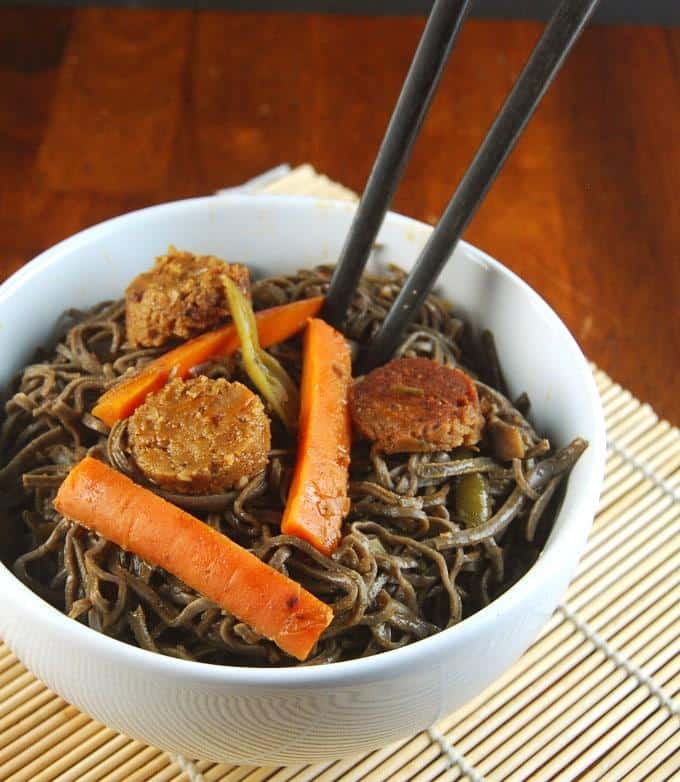 When it comes to stir-fry recipes, I often advise making them your own.
By that I mean don't go to the trouble of buying the ingredients if you have leftovers. For this recipe, I encourage you to follow it precisely!
It's very simple and easy to make and I can pretty much guarantee you've never had anything like this before.
The orange sauce is zesty yet blends perfectly with all the other textures and flavors. You'll be yumming this up again and again!
Quick Veggie Tofu Stir-Fry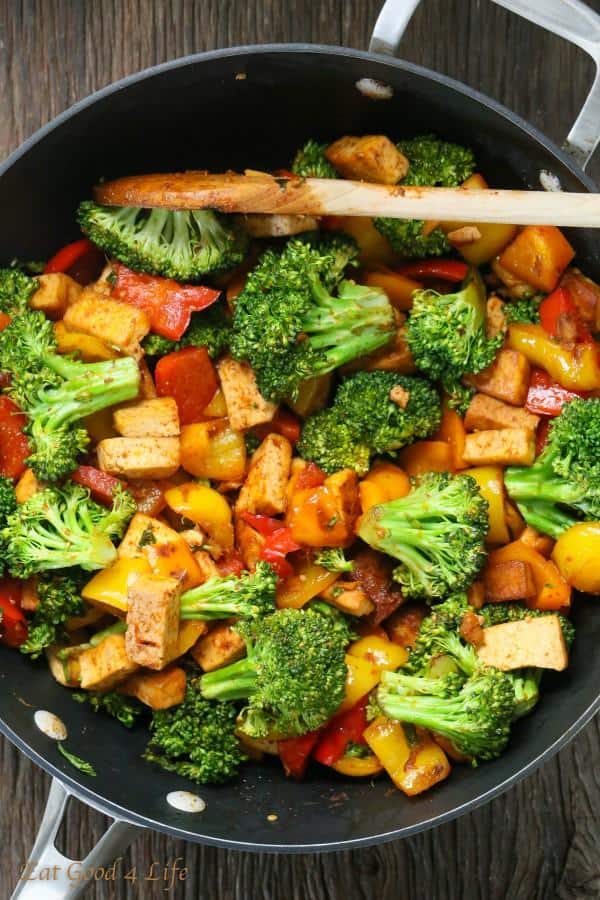 This dish is all about the sauce! You need 3 tablespoons of water, three other ingredients and I guarantee it will knock your socks off! Not in a spicy way, this puppy is all about the flavor.
Grab your bell peppers, broccoli and any leftovers and get cooking. I love how the (extra-firm) tofu is prepared. Put everything together and you have a meal fit for, you!
Okra and Cherry Tomato Stir-Fry for Two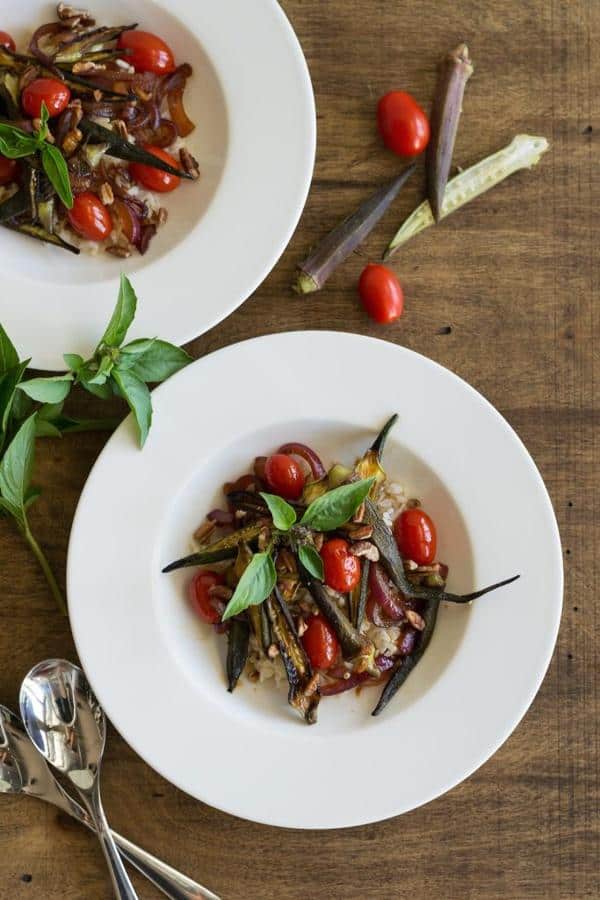 Have you ever had okra? Whether you have or haven't, this dish is a keeper!
I would definitely make this as a meal rather than a side-dish. Just two main ingredients and everything else is all about adding wonderful flavor.
I encourage you to read the notes as this will guarantee perfect okra every time.
Peanut Sauce Stir-Fry with Veggies and Cauliflower Rice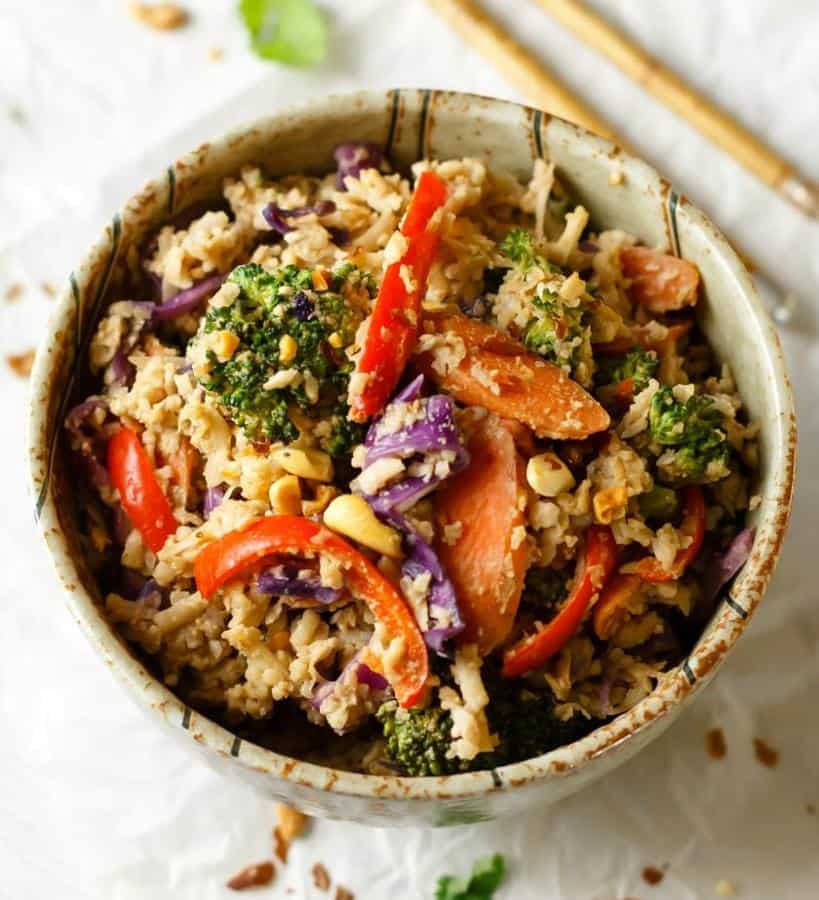 If you're on a low-carb program but have a yearning for rice, this recipe is all you need.
The peanut sauce is the real magic as it blends all the flavors and textures together without overpowering.
You get to taste every ingredient individually and together at the same time.
If you have any leftover veggies, throw them in as well or use them instead of ingredients listed. Loaded with flavor and delicious!
Vietnamese-Style Stir-Fry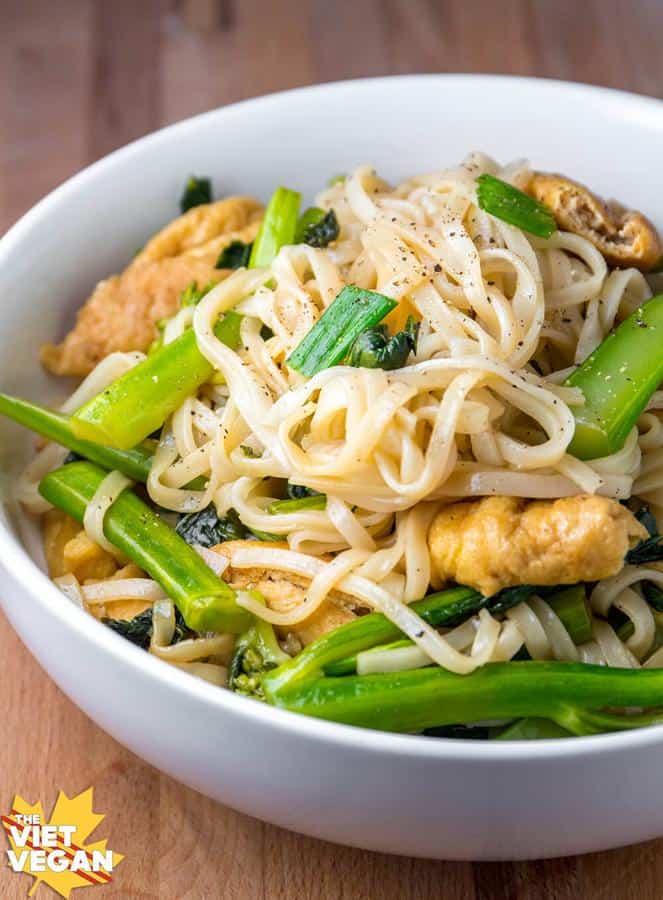 Stir-fry dishes are usually associated with Chinese cuisine, and that's all well and good. But let's go a little different with this delicious Vietnamese recipe!
You just need some flat rice noodles and a handful of everyday ingredients. The sauce is straightforward and incredibly easy to make, as is the entire recipe. Don't miss the notes at the end which are very useful.
Curried Millet Stir-Fry with Kohlrabi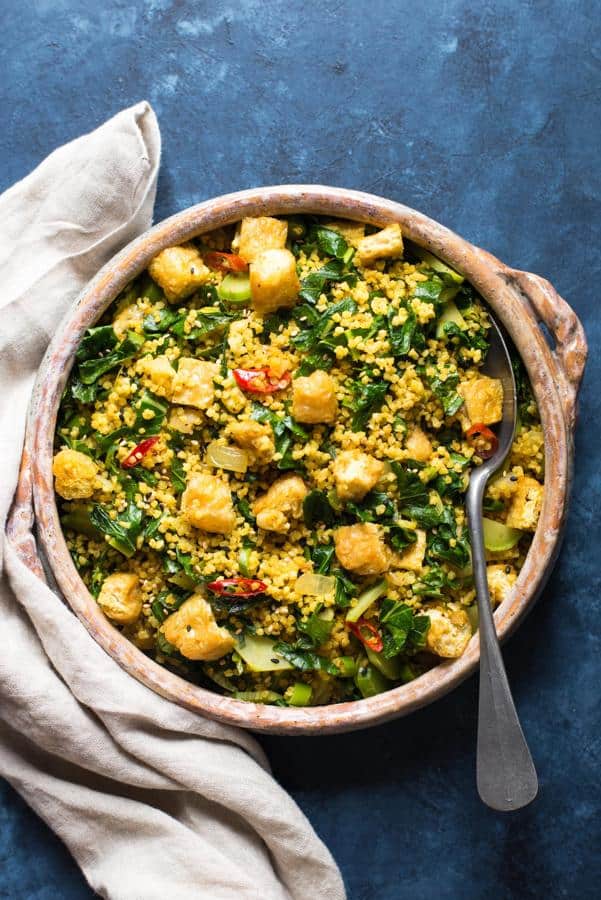 I just had to try this as I've never had curried millet before. I'm sure glad I did!
The greens, the tofu, the flavors… Everything comes together just beautifully.
If you're hosting a dinner party or just have a special friend coming over, this would be the perfect dish to make. It's different and yet somehow has a familiarity about it.
Mushroom and Pak Choi Stir-Fry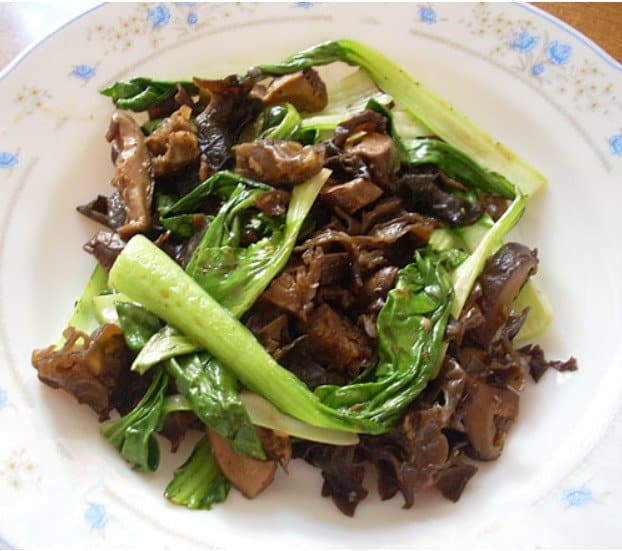 If you love these two ingredients, you simply have to make this recipe.
Other than the pak choi and the mushrooms, you're looking at just four other ingredients to bring this together.
Makes for a perfect side dish or serve with your favorite rice or noodles for a delicious meal!
Blood Orange Broccoli Stir-Fry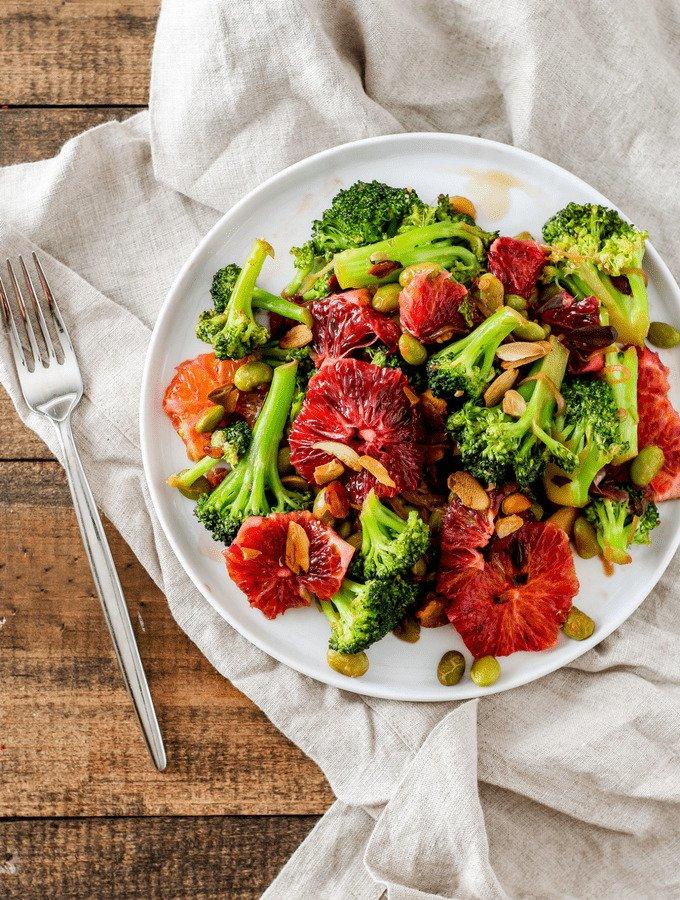 I have never seen citrus in a stir-fry before! Not only was I keen to try it, I was excited to see the blood oranges and wondered how it would taste.
The end-result is a sweet and tart like flavor that I can pretty much guarantee you've never had before.
The taste is not so unusual to make you just think it was 'nice' but unlikely to have again. Perfect for using up left-over veggies too!
Easy Cauliflower Rice Stir-Fry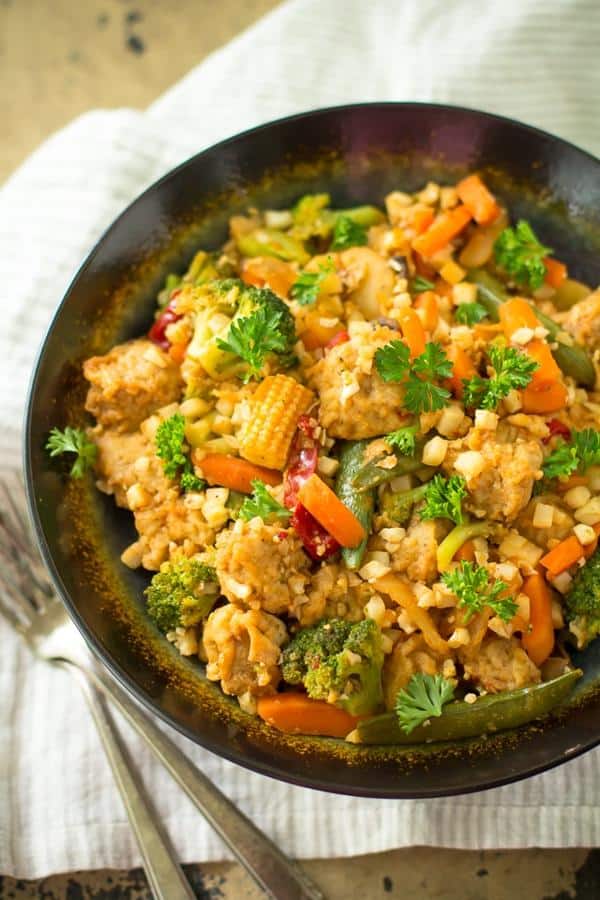 If you've never had cauliflower 'rice' before, let this be your introduction!
There are just 5 ingredients in the entire dish which is simply incredible!
Do not that there is a brand-named bag of 'porkless bites' listed and if you're unable to source this, simply swap with your favorite plant-based meat substitute. A really tasty dish!
Stir-Fried Sugar Snap Peas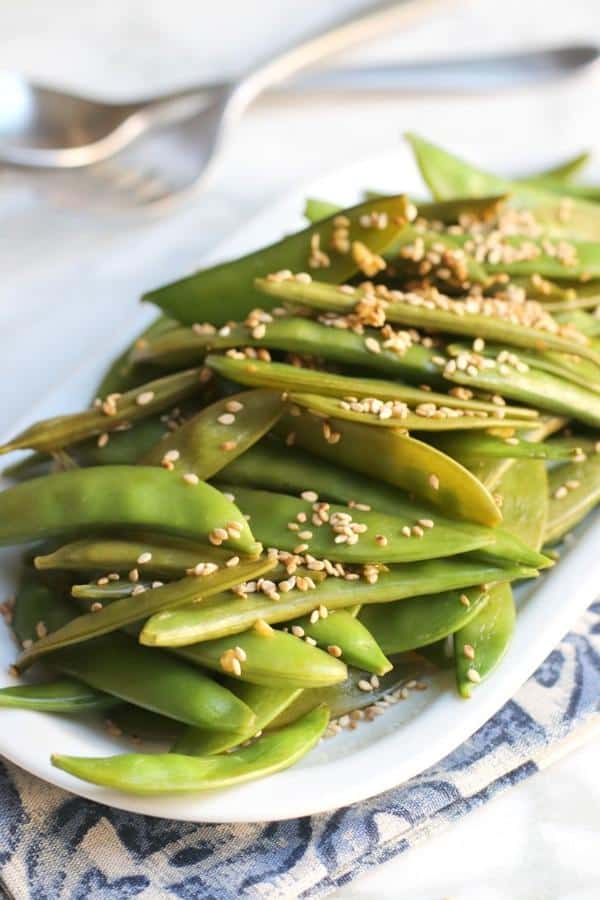 This dish is ideal if you've seen sugar snap peas before but have never really known what to do with them.
Easy to make and naturally gluten and oil-free. A delicious side dish and my advice would be to scroll through this roundup and choose a main meal to go with it!
You see, VegByte brings you everything you need!
Sesame Stir-Fry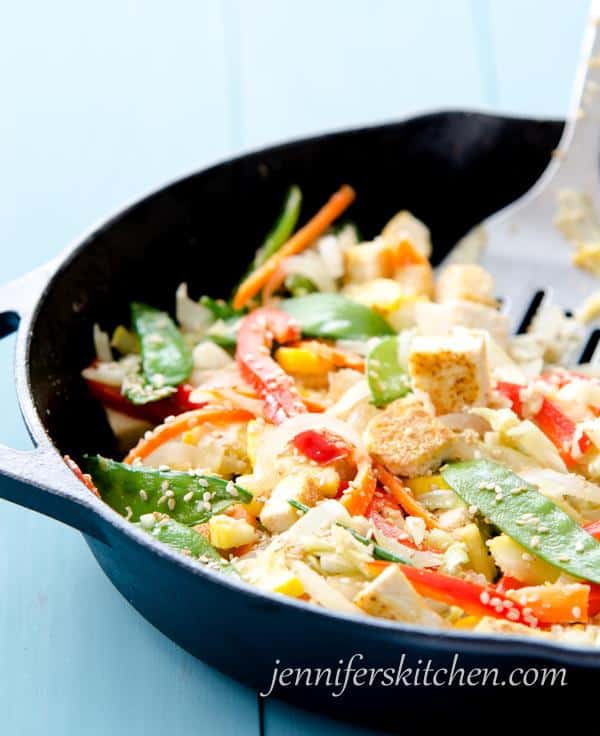 If you're anything like me, you love sesame seeds. If this is the case, look no further!
Whether you follow this recipe precisely, or use the leftover veggies, you're definitely in for a treat!
The tofu is prepared to perfection and the sauce is all about tahini and sesame seeds. Satisfying and delicious!
Spaghetti Squash Peanut Stir-Fry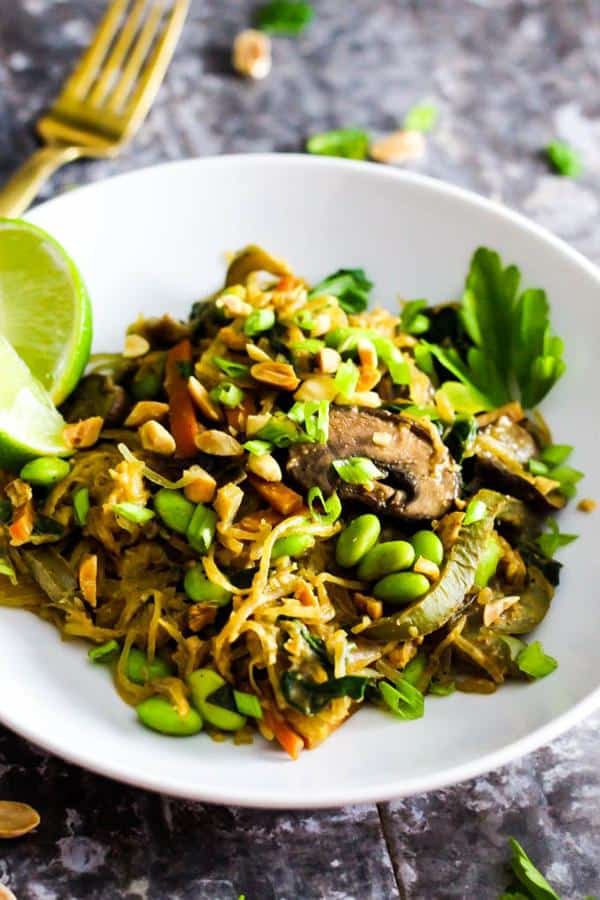 If you've never had spaghetti squash before, where have you been?
Incredibly easy to make and, because of the squash, light yet surprisingly satisfying.
You could certainly use leftover vegetables for this although I must say, I wouldn't change this recipe one bit.
Easy Broccoli Stir-Fry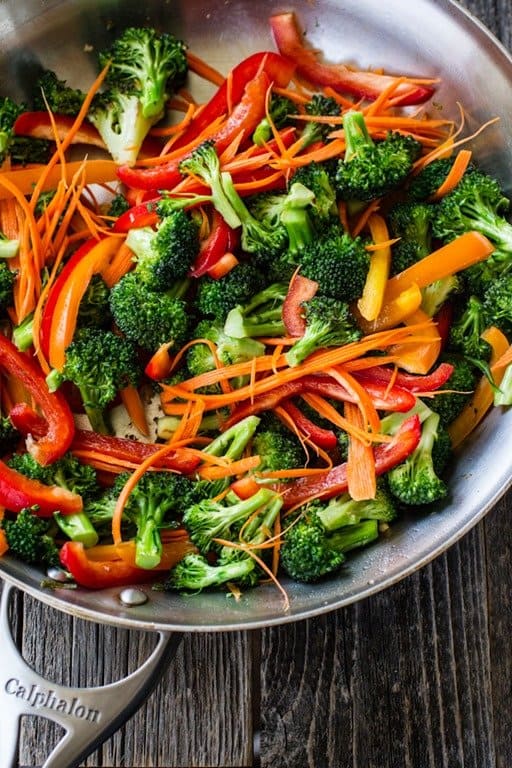 Don't the colors in this dish just pop out?! You can achieve this too with virtually zero effort.
Broccoli is sometimes overlooked when it comes to stir-fry dishes. It's incredibly healthy and doesn't cost much either. Either use the vegetables listed or throw in your own.
Then comes the sauce which is simply incredible. Tahini, orange juice, ginger and more! I guarantee you'll be having this again and again.
Veggie Stir-Fry Porridge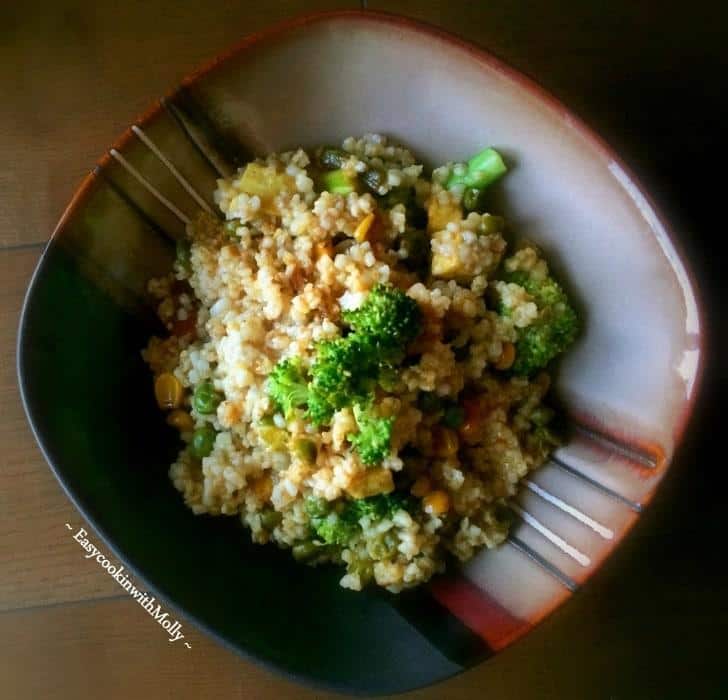 Stir-Fry and porridge are two words I have never seen together!
A delicious mixture of vegetables, creamy avocado and a sauce you simply must try. You're looking at just 5 minute prep time and about 20 minutes to cook.
The amounts listed in the ingredients make for three servings so adjust as necessary.
Peanut Sauce Stir-Fry with Tempeh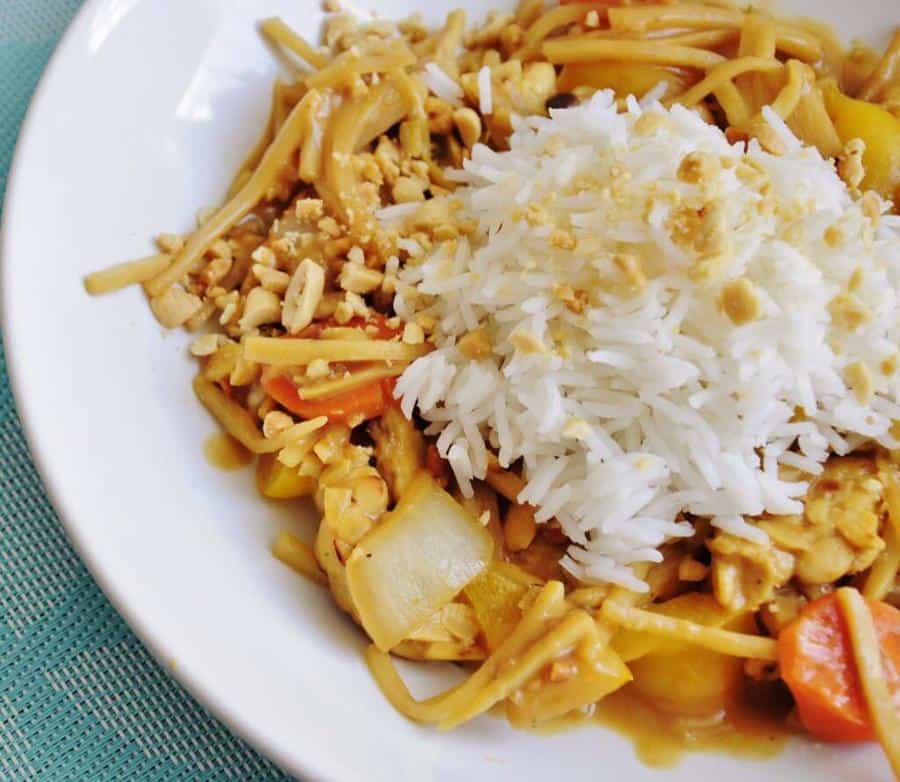 This recipe is a perfect introduction to tempeh if you've never had it before.
So much better than any Chinese take-out. Fresh ginger, bamboo shoots and even peanut butter are some of the delicious foods that make up the ingredients.
Simply a must-have!
Green Detox Stir-Fry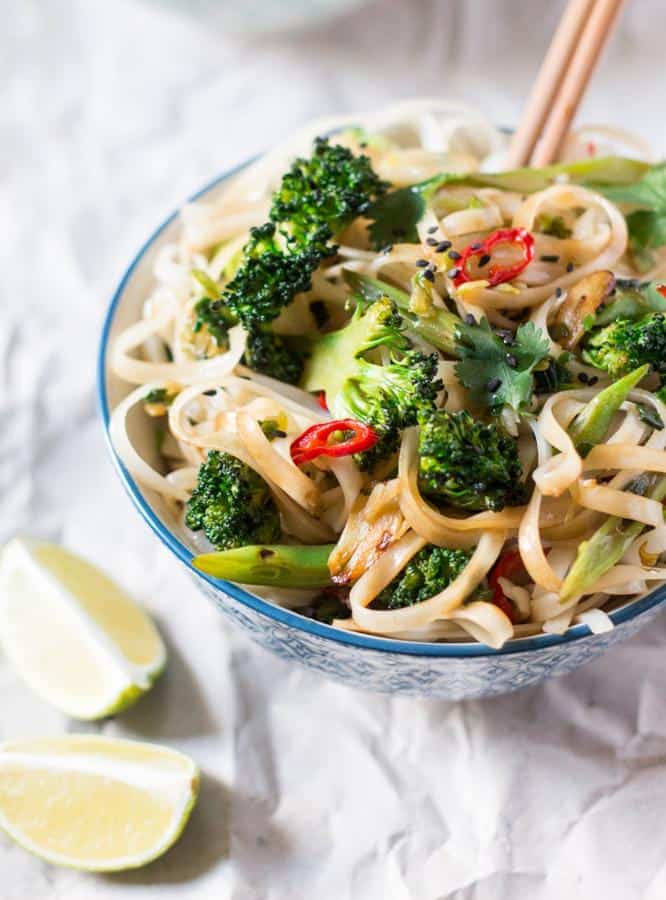 Who would have thought you could eat stir-fry on a detox? OK, maybe not quite a true detox.
Grab your flat rice noodles and some wholesome vegetables to make this delicious meal. The sauce includes sesame oil, tamari, grated ginger and just a couple of other things.
Throw everything together and, whether you're on a health program or not, I guarantee you'll be eating this again and again.
Tofu Stir-Fry with Veggies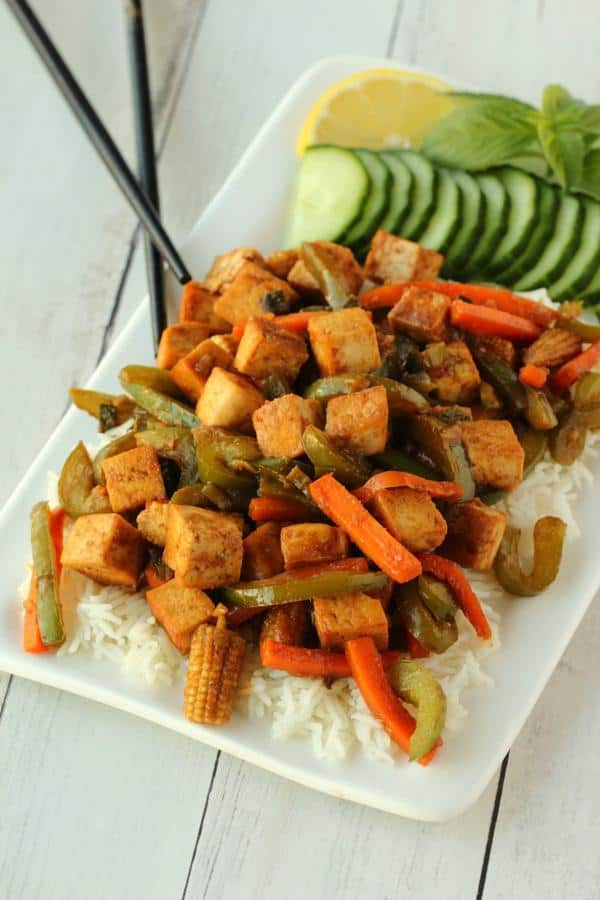 Some of the simplest dishes turned out to be the best and this is one of those right here!
Forget ordering take-out, it can be very expensive and often contains MSG, you don't want any of that!
Instead quickly make this simple dish loaded with flavor and textures. It's super healthy!
Mango "Chicken" Stir-Fry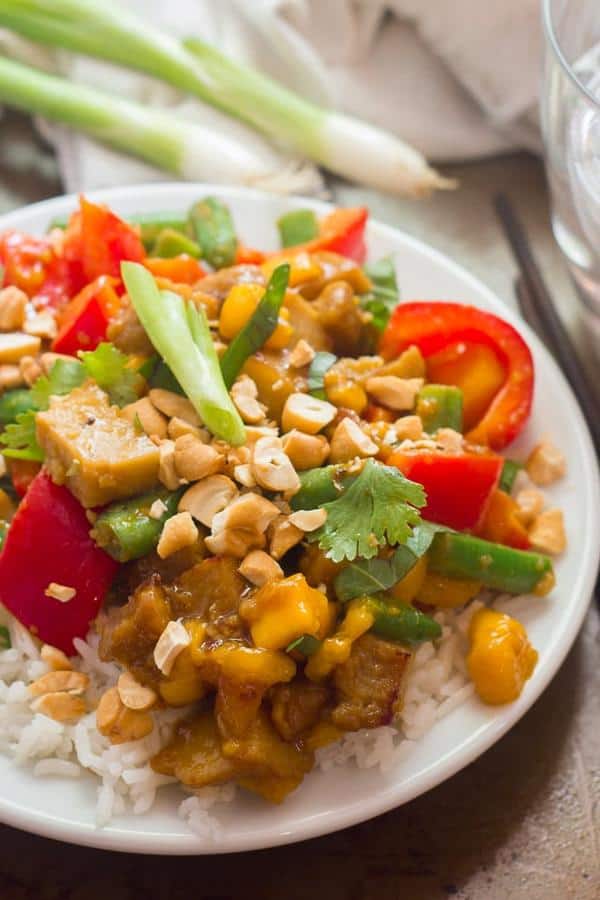 This is a Thai-style recipe and uses seitan which is a great plant-based meat substitute. If you're unable to source this, just use tofu.
You're looking at just 15 minutes prep time and 10 minutes cooking to create this delicious meal.
I really love the sauce and will probably use it again and again. Yummy!
Wrapping Up
We hope this collection of stir-fry recipes inspired you!
They're ideal for using up leftovers, probably more than any other method of cooking.
Grab this list anytime you fancy a takeout. You'll save yourself a bunch of money and what you eat will be full of nothing other than wholesome food.
Grab your wok or pan and let's get cooking!