A wok can help you and your family be healthier, can help you prepare meals in minutes like a ninja, and can be cleaned in seconds.
Also, the best woks are by far not the most expensive. How often can you say that about a product?
I'm a big wok enthusiast and have had my fair share of trying the various types through the years.
Let me take you through what we think are the top 5 best woks in 2020.
Our Top 5 Quick List
The Quick and Dirty on Woks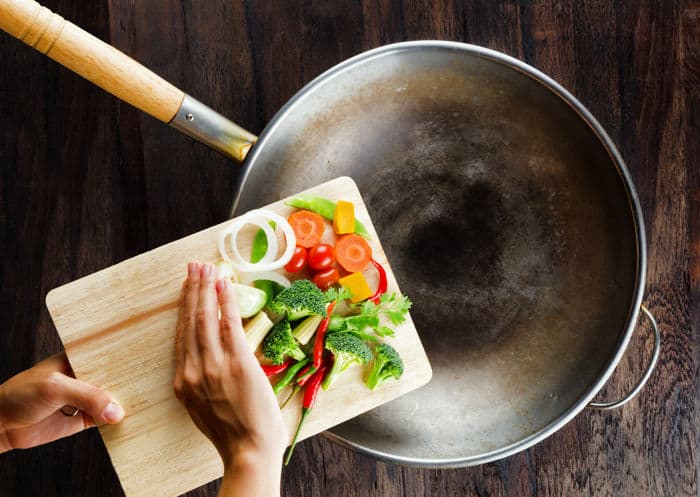 As a kitchen tool, you can use a wok for:
stir and pan frying
steaming
deep frying
smoking
stewing
roasting
making soup
boiling
Seriously, what's not to like?
Woks Have Bottoms
If you look at traditional and authentic woks (carbon steel), the true authentic ones have a rounded base.
It's almost as if the entire wok was cut from a perfect sphere. To take advantage of this, you're going to need a stand and an authentic burner which can look like the back-end of a jet fighter as it takes off.
These burners have a constant, roaring flame and aren't seen in Western domestic kitchens unless you have one installed.
They really can be dangerous, especially with children or pets around.
In addition, if you have an electric stovetop, a rounded base wok is simply not going to work and even if you have gas, you're not going to get the best out of this wok.
Having a wok with a completely rounded base I think is inconvenient as you're always going to need the base to put it on. They simply don't stand up themselves on any surface.
So, unless you have a proper wok flame burner, I would definitely avoid one with a rounded base.
Thankfully, most traditional woks more commonly have a flat base.
This means the very base of the wok is totally flat, usually about 5 to 7 inches in diameter depending on the size of the wok.
These work in domestic kitchens and don't need a separate stand. This is what you want!
Woks Have Handles
Woks also come with either two small handles, one on each side, or a small handle on one side and a long handle opposite.
Woks with one small handle on each side are sometimes referred to as Catonese style woks.
When you stir-fry in one of these, you typically use a spatula to stir the food because you don't have the long handle to flip the wok itself during cooking, which would toss the food around.
I would always recommend buying a wok with a long handle, not just so you can look cool and show off as you toss the food around, but it's just so much easier to transfer food onto a plate or serving dish by holding a handle with one hand, leaving your other hand free to scoop out every last bit of food.
Helpful Wok Accessories
Before we get into the woks, let's check out some essential accessories.
Spatula:
You're definitely going to need a spatula to stir your food around. This classic metal design is good for carbon steel woks and stainless steel. Don't buy for non-stick woks as it can scratch the coating:
For non-stick coating, this is my favorite spatula. It won't harm your wok, has a stainless steel handle, and it looks great too!
Cleaning Whisk:
This is an authentic cleaning whisk made from shredded bamboo. It's awesome and can be used on any wok as it's both extremely effective and gentle.
Types of Woks
Carbon Steel: The traditional wok, and in my view, still the best providing you invest some time learning how to use it.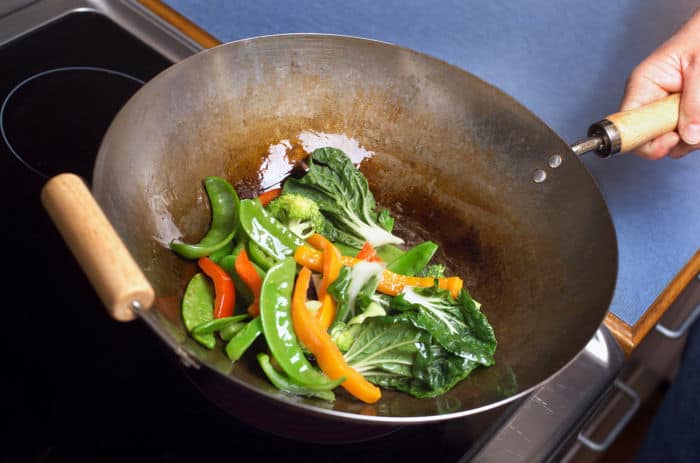 Stainless Steel: Not to be confused with Carbon Steel woks. A lot of people seem to really not like these and I take onboard the reasons, however, I think they have their place and there are many good reasons for owning one.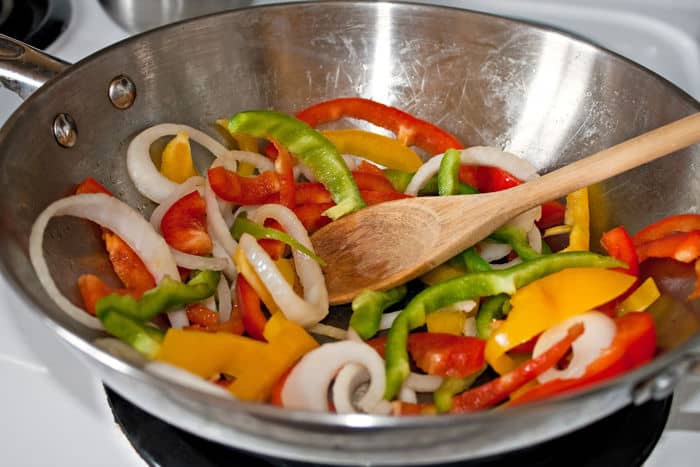 Non-stick: As you can guess, these woks have a non-stick coating and if you want the health benefits of cooking with a wok without learning all there is to know from a Carbon Steel wok, this is a great alternative.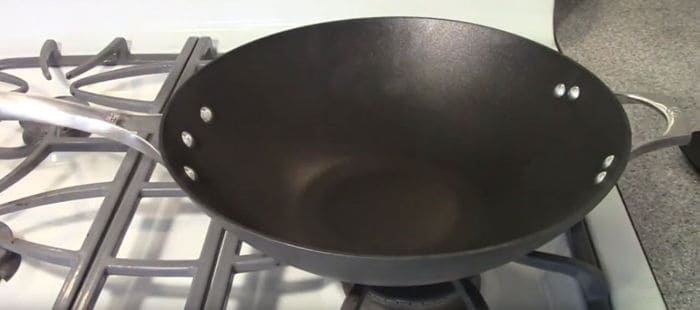 Cast Iron: Same idea as the others, just made of cast iron. This is a great alternative to a traditional wok and worth looking into.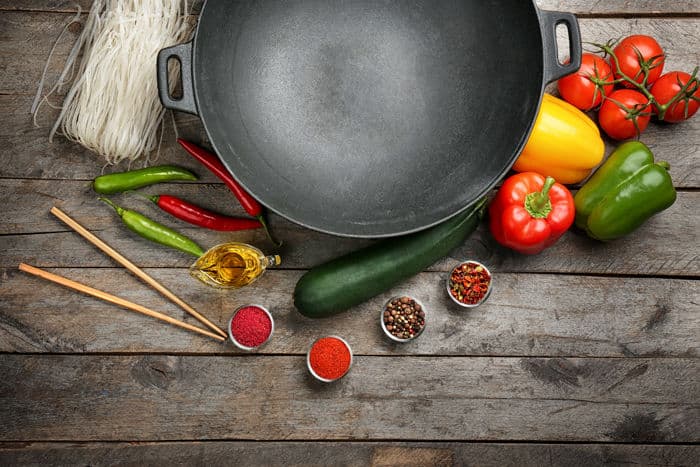 Electric: These often come with some sort of stand built into the wok itself and plug into the mains outlet. These are great for students or if you're planning a self-catering vacation.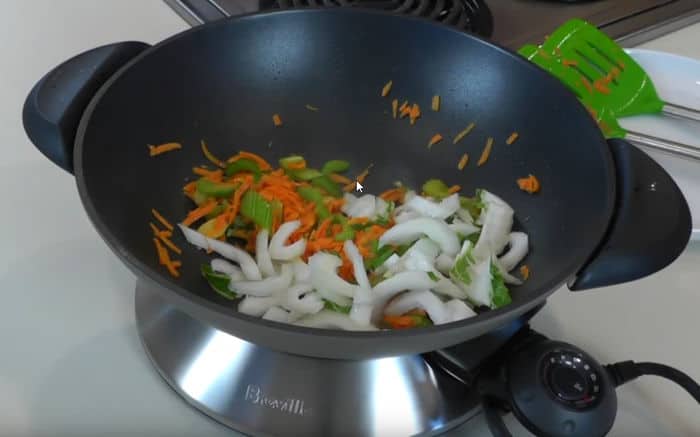 How to Choose the Best Woks for Your Needs
Choosing the right wok is one of those occasions where your personal needs come into play.
I'll speak about this at length throughout each description and at the end but I really recommend you take the time to literally list your needs, as it'll save you time, plus you'll immediately know which type of wok to buy.
These are the traditional and in my opinion the best, and really, as I said before, not the most expensive.
There's a but… you absolutely must learn all there is to know about these types of woks. If you're not prepared to take this learning curve, choose a different wok type.
The most common mistake people make with Carbon Steel woks, is they don't 'season' them, which is the absolute first thing you have to do.
Well, OK, out of the box you'll need to wash it in hot soapy water first as it'll be coated in machine oil to preserve it. Then you season it!
This makes it naturally non-stick and will make your beloved wok last years.
You only do this when you first get it, you don't need to do this every time before cooking.
Some people may season their wok again if they haven't used it for many months but there are different schools of thought on this. Given the versatility of a wok, you would be using it a lot.
I understand why some people may not want to season it , but for me, it's totally worth it.
As well as seasoning, you must also take care of the wok by cleaning it properly, removing any food, and then rubbing cooking oil over its entire surface before storing. Again, this is essential.
Thin Carbon Steel woks don't last as long, so look for a 2 mm. wok and avoid anything thinner.
The reason is, they can't withstand the very high temperatures, which also affects the seasoning. They tend to rust quite quickly and give good carbon steel woks a bad name.
You don't want to put a carbon steel wok in the dishwasher, instead, wash it by hand. They're cleaned in a very particular way.
You hardly ever see 100% positive reviews for Carbon Steel woks as some people don't season them or know how to take care of them as I've described, therefore the bad reviews.
At the end of the day, practically, the whole of China can't be wrong.
My favorite Carbon Steel wok is the Joyce Chen 22-0060.
This is heavy gauge and high quality 2 mm. carbon steel, which makes it the same weight the professionals use.
It's a great price and they last for years.
I love the wooden handle as not only does it stay cool but it's long. This is important as woks get extremely hot and the further away you are from it, the better.
The only negative here, which isn't exclusive to this wok, is what I've already mentioned: the seasoning and the continuous care. This can't be skipped and is an integral part of owning this type of wok.
It's 14 inches in diameter, which is the perfect size for home use.
Another good thing about woks, is even though 14 inches may not seem enough if you have a big family, because of their shape, they hold an awful lot of food!
Conversely, if you live alone, this still works out as the best size, and is one of the reasons why I love it!
Pros
Authentic, as used in China
Naturally non-stick
Let's you stir-fry food very quickly
Can be healthy
Cons
Have to learn about how to season the metal
Needs more care during its life
Prone to rust if not properly cared for
Not suitable for dishwashers
To a purist and perhaps a wok nerd, if there is such a thing, I'm sure they would shudder at the thought of a stainless steel wok.
Mind you, they would probably shudder at anything that isn't carbon steel.
Despite this, and assuming you're not a purist, stainless steel woks have their place and also have a very loyal following.
They're much heavier so flipping and tossing food around isn't going to be achieved as easily as it would a carbon steel wok.
But that's OK, you don't need to do all the fancy stuff to create great dishes in this type of wok. That's what spatulas are for!
Now, regarding stainless steel, you always want to get the best grade regardless of whether you're buying a wok or a saucepan. This is a subject in itself, so for now, I'm just going to cut to the chase and tell you to look for 18/8 or 18/10.
These are the most common and best.
Quickly, just so you know, the first of the two numbers represents the amount of chromium in the material and the second number is the amount of nickel.
So, 18/8 means 18% chromium and 8% nickel.
As you'd expect, these look very shiny compared to carbon steel so the look is totally different.
The big news is a stainless steel wok doesn't need seasoning!
You're good to go from the outset, no preparation needed and that's a great plus if you want to get the benefits of stir-frying without going to the trouble of seasoning.
Some people say you end up using more oil with this type of wok compared to a carbon steel wok but to be honest I haven't really noticed.
Because these types of woks don't need to be seasoned, they can safely be placed in the dishwasher.
If you steam or boil more than you stir-fry, then, in my opinion, this is where a stainless steel wok has the edge over all the others.
High-grade stainless steel such as I've previously described copes far better with water and you'll notice as time passes it doesn't degrade the wok.
This is a big plus in my book and unless you make Chinese food all the time, literally, then I would seriously consider this type of wok.
I guess it really depends on how authentic you want to be. I always think of space; we don't all have huge kitchens with limitless space so I always think if a stainless steel wok also doubles up as a saucepan, why have a saucepan. Am I right?
My favorite stainless steel wok is the Cooks Standard Multi-Ply Clad Stainless-Steel 13-inch Wok with Dome Lid.
This is an 18/10 high-grade stainless steel wok and comes with a really nice dome-shape lid. You don't always get a lid!
This is a dishwasher safe wok and because the handle is also made from stainless steel, it's also oven safe (up to 500°F/260°C). You can't say that about many woks!
Some people don't like the large flat bottom of this wok. The wok's entire diameter is 13 inches and the flat base is approximately 7.5 inches, over half of the total diameter.
Personally, I don't mind the flat base but I appreciate why some people may prefer a less flat surface and an altogether more rounded base.
The other negative is it's 4.5 lbs but this is common with all stainless steel cookware rather than something isolated to this wok.
Overall these are great woks and definitely worth considering if you want to avoid the hassle of seasoning and treating woks.
Pros
Doesn't need seasoning
Usually comes in very high-quality grade steel
Great for soups and curries as well as stir fry
Dishwasher safe
Cons
Can be heavy so more difficult to toss food
Not authentic enough for some people
Steel handles don't always feel as comfortable as wood
We're now getting further away from a purist's wok with those that have non-stick coatings.
There are so many non-stick coatings on the market, we have a large selection to choose from whether it's a wok or fry-pan.
The argument against getting a non-stick wok is you can't achieve the same high temperatures with these as you can with traditional carbon steel woks.
Now, allow me to be justifiably pedantic: if you're specifically wanting those high temperatures, then I tend to agree with people saying don't buy non-stick.
They're right that extreme heat isn't only unachievable, but even if you did manage to get it that high, keeping it at that temperature would undoubtedly damage the wok.
There's a "but" coming!
We in the West can still fry food right? Non-stick cookware still is plenty hot enough to cook with, obviously! The idea behind those mega-high temperatures is to cook the food extremely quickly.
So, we can argue that instead of cooking vegetables for say 30 seconds in a carbon-steel wok, we cook them for 2 or 3 minutes in a non-stick wok.
You save time afterwards as the non-stick will wash a lot quicker as you won't have to do any scrubbing to remove food that's stuck to the base.
The other advantage of non-stick woks is that you can get away with using much less oil!
I have a personal rule-of-thumb when buying any non-stick cookware and this applies to woks too, and that's to buy the best you can afford.
Good quality, non-stick cookware, is hard-anodized aluminium. These are solid materials and not light and thin materials merely coated. Look for a manufacturer's guarantee as well.
Non-stick coated woks can be placed in the dishwasher.
Don't use any metal utensils in non-stick woks. You can use wood, hard plastic or silicone-based utensils.
I really like the 10-inch Calphalon Contemporary Hard-Anodized Aluminum Nonstick Cookware, Flat-bottom wok.
It may seem smaller than the others at 10 inches in diameter but it makes up for it in depth. It's 5.5 inches deep and weighs 4.3 lbs due to the hard-anodized build.
The manufacturer, Calphalon, describes this wok as having 3 layers of non-stick coating.
Couple this with the build and you end up with a very durable and smart looking piece of cookware.
Calphalon certainly are standing by their product as it comes with a full lifetime warranty. You can't argue with that!
Pros
No seasoning necessary
Non-stick has come a long way, so great quality available
Cook with little or no oil
Effortless cleaning by hand and dishwasher safe
Cons
Lower quality models scratch easily
May not reach same temperatures as other woks
Long term, not great for slower cooking, like curries
Cast iron has a long history of being used in cookware. It's known for lasting a lifetime and for being very heavy. Does it work as a wok?
In a similar fashion to carbon steel, cast iron must be seasoned and cared for.
Water makes it rust and a lot of people think rusty cast iron cookware is a sign of it being low quality. This isn't true. It's much more likely that it simply hasn't been cared for.
The learning curve isn't steep but there are a few things to know.
This video doesn't refer to a cast iron wok but the information is identical to how you should treat your wok:
So, what are the advantages of a cast iron wok? Well, if cared for properly, it really will last you a lifetime.
Some people say cast iron doesn't distribute heat evenly and in a sense, this is true but only during the initial heating.
Being a very dense material means it takes more time to heat than other materials and it's important you allow the time for it to get fully hot.
At this point, the heat distribution is even and it retains the heat like no other cookware.
As a wok, cast iron works but you aren't going to be tossing it in the air with a flick of the wrist too many times.
These woks weigh at least twice that of a stainless steel wok, sometimes they weigh three times as much.
This means that your stir-fry dishes will be tossed using a spatula rather than throwing the food in the air. Because of this, you're less likely to see cast iron woks with long handles, instead usually coming with two shorter handles opposite each other.
These wok styles without long handles are more common outside of China, in other parts of Asia, where they don't focus on stir-frying but instead cook heavier dishes like curries and thick soups.
Cast iron cookware should be washed by hand and not put in the dishwasher. Remember to dry it well and season.
My favorite cast iron wok and in my view one of the best, is the Bruntmor Pre-Seasoned Cast Iron Wok.
What I love about this wok is that it comes pre-seasoned, so you're good to go out of the box!
Having said that, I recommend you still season it yourself as I doubt the seasoning is as good as if you do it yourself at home. It's still a handy feature though!
Because it's a different style of wok compared to ones with long handles, these tend to be wider. The diameter on this is 16.9 inches.
I said cast iron woks are heavy and this is no exception, the wok itself is 11.9 lbs.
I like these woks as they give you a lot of flexibility as you can use them for stir fry dishes as well as heavier dishes.
A good tip is to avoid regularly cooking acidic food such as tomatoes as it'll eventually erode the surface.
I think they look great left out on the stovetop too as you're likely to use it most days, if not every day.
Also, as it's so heavy, I trust my stovetop won't collapse compared to a wall cupboard suffering from an extra 12 lbs. of weight!
Because of its weight and size, I wouldn't recommend this for students living in temporary accommodation. As well as being big, you also need a lot of energy to get it hot and ready to cook. When I was at college I wanted to eat and do the dishes as quickly as possible!
Pros
Properly cared for, can last a lifetime
Great for soups and curries
Can be used for most types of cooking
Leave it out all the time
Cons
Imperative it's seasoned regularly and cared for properly
Prone to rust
Extremely heavy, so beware of storing in wall cupboards
Not suitable for cooking acidic foods, such as tomato
Electric woks shouldn't really be compared to other woks in my opinion.
But if you do, then they come at the bottom of the list.
They rarely get hot like all the other woks and sometimes come with short cords that always annoy me!
This'll consequently have a shorter description than what I've written so far as these types of woks can be non-stick or stainless steel.
You can sometimes get a cast iron model, too, although these are less common.
I'll be honest and say the only reason you should consider a wok like this would be to give to your children if they want to cook while away at college, or if you want to take it with you in a mobile home or camping, where you have access to electricity at a site.
You won't need a stovetop, which is a huge plus and still enables you to prepare delicious food.
For me, one of the best woks in this category is the Presto 5900 1500-Watt Stainless Steel Electric Wok.
The most amazing thing about this wok is it's dishwasher safe! Very unusual in my experience for an electric wok.
This wok also comes with a wooden spatula and a tempered glass lid, which is great!
It's 17 inches in diameter and because the heating element is attached, it weighs 15 lbs.
If you have a motor-home or you're at college, this will be perfect!
Pros
Great for traveling and campsites (with electricity supply)
Wonderful solution for students; no stovetop necessary
Comes in a variety of materials
Some models are dishwasher safe
Cons
Rarely reach very high temperatures of stovetop woks
Some models have short cord length
Can't toss food or move wok during cooking
Wok Buying Conclusion
It's really difficult to summarize what we have here.
On one hand, I could wave the 'Carbon Steel' wok flag and recommend you just go get one, but that would not be right!
Sure, it's the authentic wok but this comes with a lot of baggage of seasoning, taking care of it, and you can't clean it in a dishwasher.
So, the truth is, you must look at your needs and decide accordingly.
I'd certainly put the electric wok at the bottom of the list but, and this is a big but, if I had a fancy motorhome and was going to take some serious time-out traveling, then I'd very likely get an electric version to take with me on my travels.
I think a good wok is an essential kitchen tool.
Make your decision based on factors such as:
Dishes you want to cook long-term: This matters enormously. If you prefer heavy curry type dishes then look at either a stainless steel wok or cast iron. If you're a stir-fry guru then carbon steel is going to be at the top of your list.
Space: Even though woks are not necessarily bigger than other cookware, if space is an issue then I would less likely consider a cast iron wok. Not only is this heavy, you'll likely leave it on the stove-top, and you may not want that.
This list goes on, but really, it's your list and it totally depends on what you are looking for.
Once you've identified what you need, then picking the right type of wok will be easy.
Good luck!