Why not use this roundup to accompany our popular best vegan dishes collection and you'll be sure to have everything you need for all occasions.
For now, let's get into these puppies and see what's good. Enjoy!
Passionate Pancake Recipes
Easiest Vegan Pancakes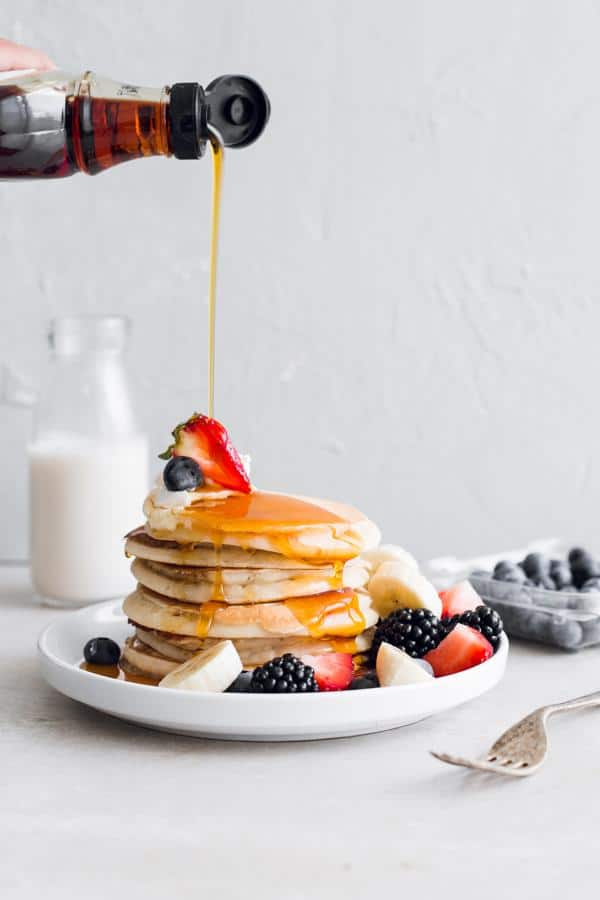 Whenever I see recipe titles begin with the word, 'easy' or something similar, I'm always intrigued if it's just there for marketing. In this case, it certainly isn't.
We don't just have two ingredients here, but what we do have are foods which I bet are already in your kitchen cupboard.
All-purpose flour, baking powder and just a few more. The author is right, it's dead easy, whisk everything together and cook for about 40 seconds on each side. Done!
Birthday Pancakes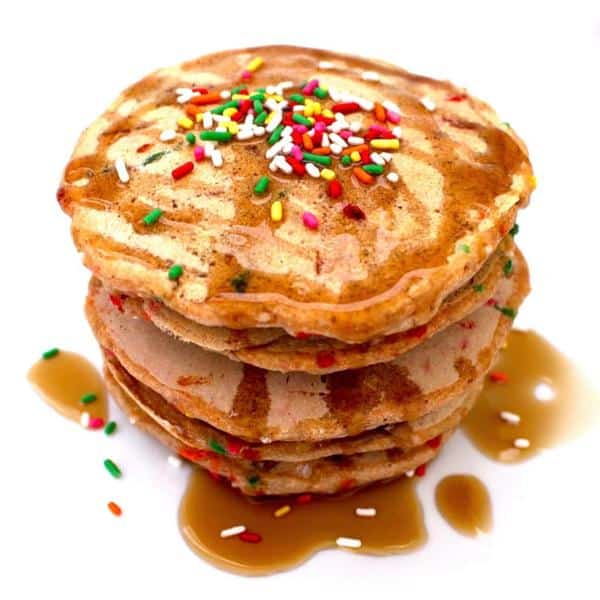 When is a pancake, a birthday pancake?
The answer is, when it's fun and easy to make. Great ingredients and I especially love the cinnamon. For any occasion, these will be a hit!
Gingerbread Pancakes (Gluten-Free)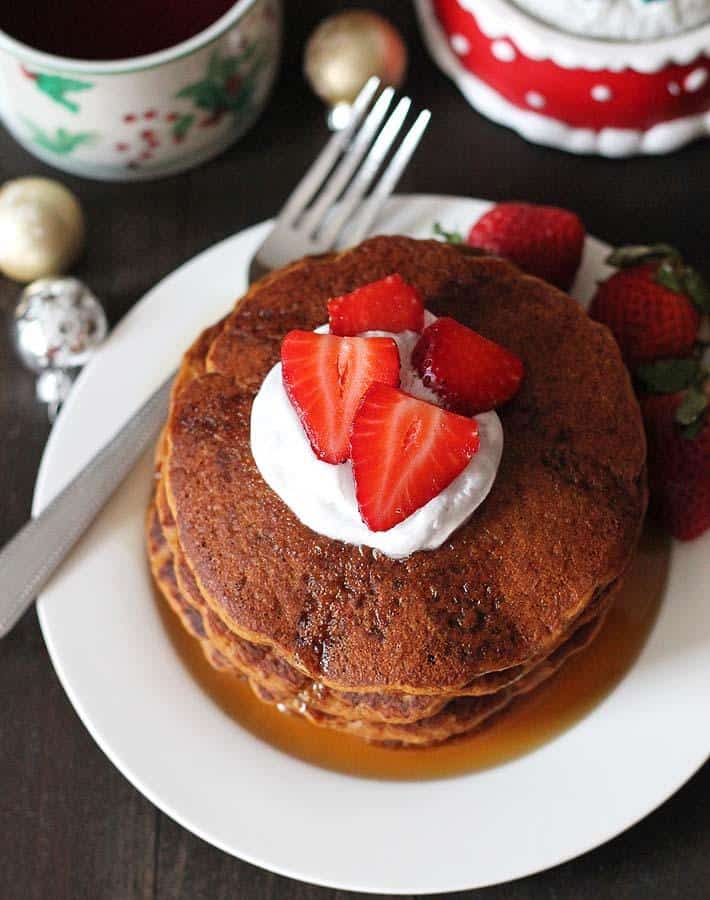 This recipe is really special as you get pancakes with that gingerbread twist. It's like the coming together of two greats!
Maybe a few more ingredients than your average pancake at first glance, but upon closer inspection you'll see most of them are spices.
The end product is better than you can imagine. Yum!
Scallion Pancakes (Gluten-Free)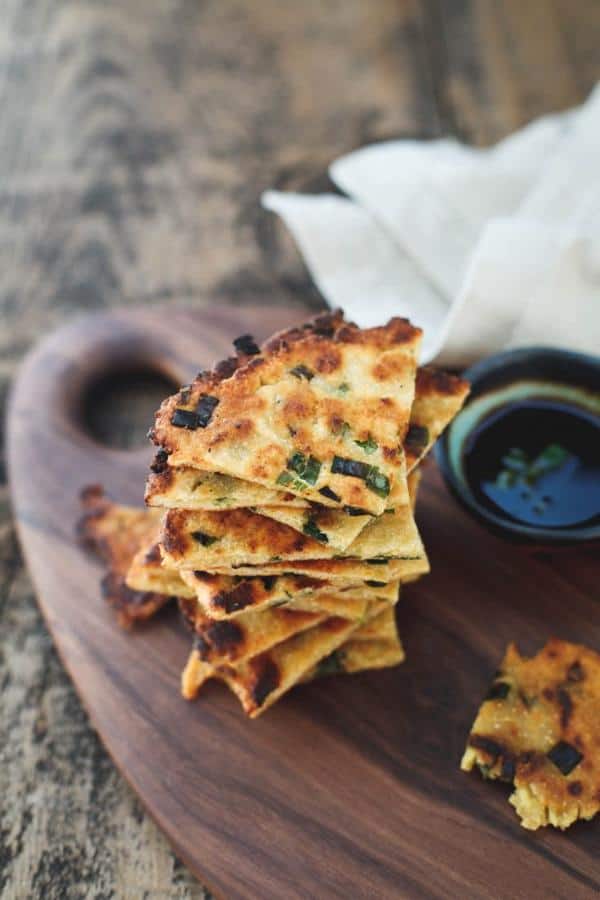 I love how inventive the recipe author is here. I've said it before and I'll say it again, these are the real chefs!
The recipe page is well laid out with photos showing you each step of the way. A real savory treat!
Scallion Pancakes with Ginger-Soy Dipping Sauce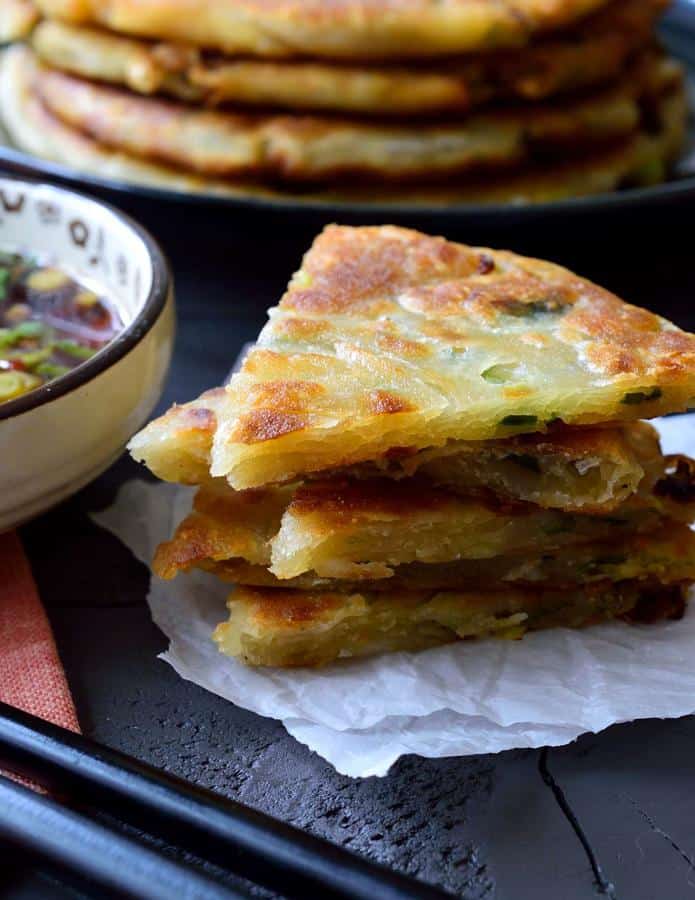 Would you take a look at these!
If there was a way for me to make these for you I would, because you simply must try them. I love how the scallions are inside the pancakes.
Eat them alone, with your favorite soup, with salad, the possibilities are endless!
Lemon Poppy Seed Pancakes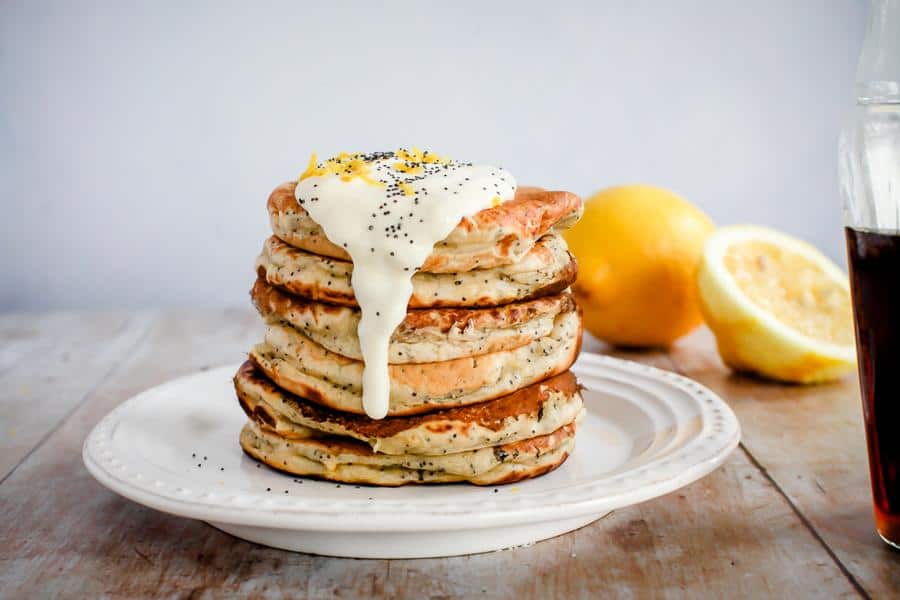 I think it's unfair to describe this as a real fancy recipe, my concern is that you may think it's great, but probably has a long list of hard to source ingredients.
The reality is just a handful of straightforward foods and super easy to make.
Take it up a level with these fantastic fresh tasting goodies!
Vegan Ginger, Bacon and Honey Mini Pancakes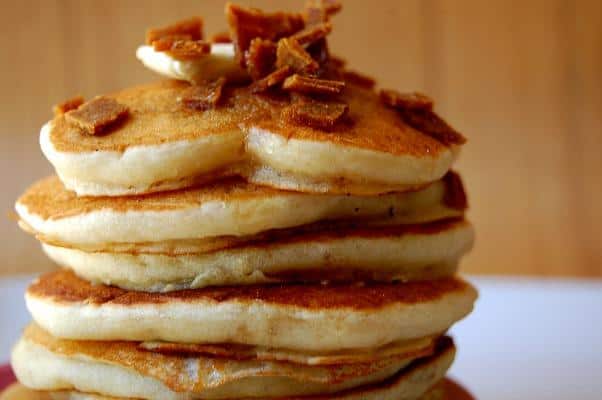 Would you just look at the title of this recipe, so many things going on! Yet somehow a totally straightforward dish.
I love how the author just tells us to use store-bought or home-made vegan bacon.
The rest of the ingredients make up these wonderfully light and fluffy pancakes. Put everything together and I guarantee you'll probably eat more than you anticipated!
Banana Yogurt Pancakes (Gluten-Free)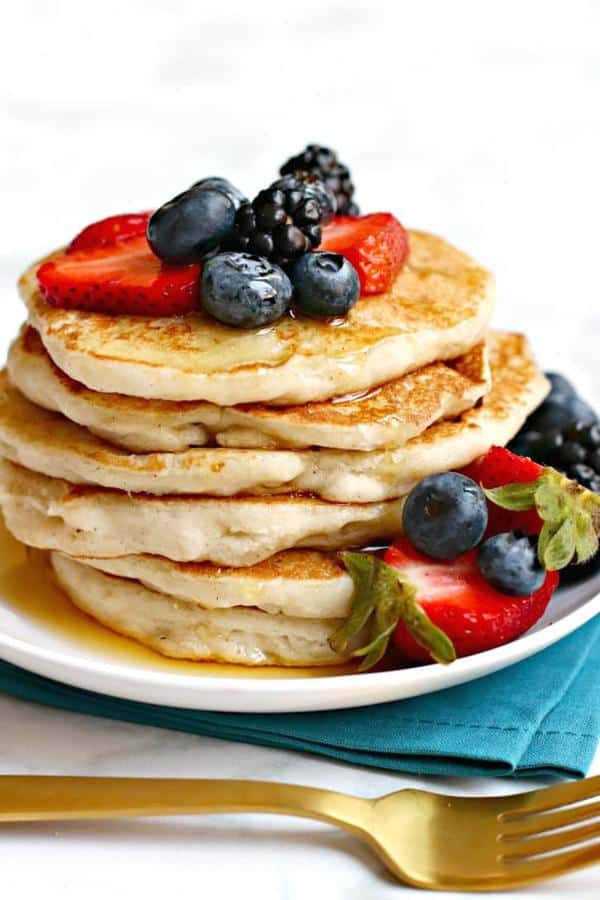 Want to get fit for summer? Fit for fall, or winter? Grab this healthy and tasty recipe and get cooking!
The dish does use a branded almond dairy-free yogurt although if you find this difficult to source, or you already have a favorite, use that.
I love the hint of banana in every bite, it's there without being overpowering. Totally delicious!
Chickpea Flour Pancakes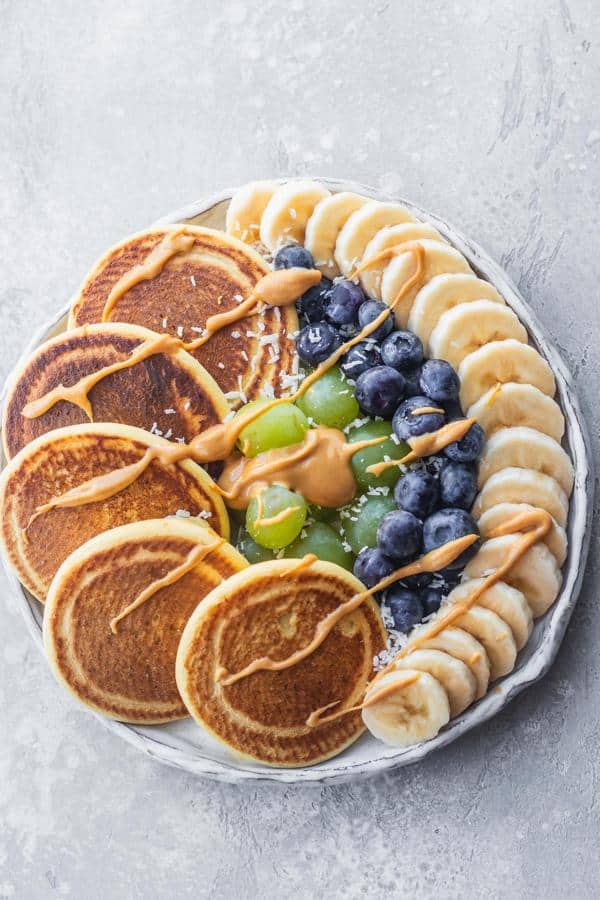 Although not labelled as such, this recipe is gluten-free as well as being oil-free. If you've never used chickpea flour before, it's a great alternative to regular flour.
This recipe takes advantage of the chickpea flavor and creates delicious pancakes.
Here they are served with maple syrup, fruit and such although you could easily make these pancakes into a savory dish.
German Apple Cinnamon Pancakes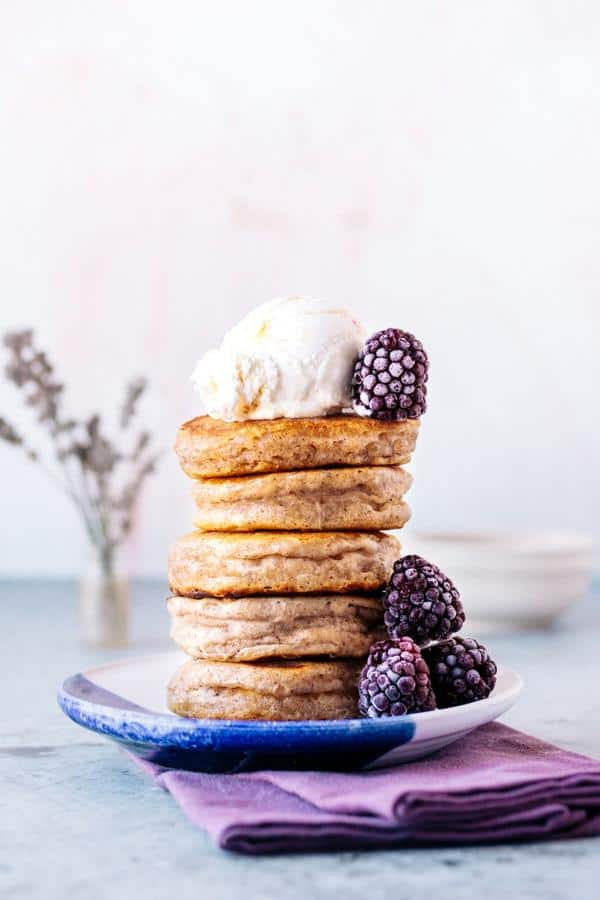 This recipe is a traditional dish. Different regions of Germany each have their own name for pancakes. The author has written a great intro about it on the recipe page.
If you want something that is familiar yet has a unique twist, this is definitely for you!
Banana Mango Pancakes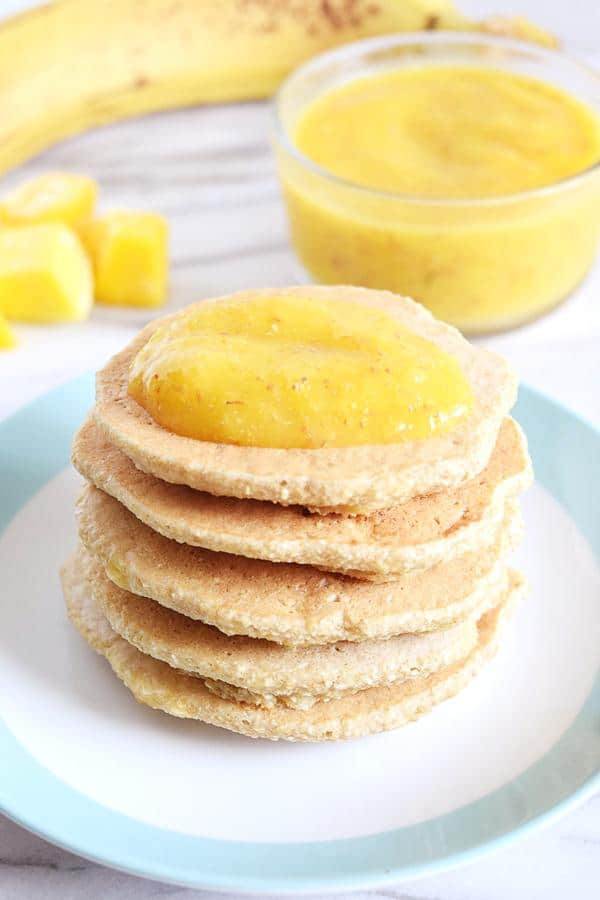 This is a really good recipe as it uses some shortcuts to save you time.
Make your own mango sauce or use a store-bought version. And for the pancake mix the author gives you two options on how to do this.
Instructions are just three steps. Perfect for that fruity breakfast!
Pancakes with Crunchy and Creamy Beet Salad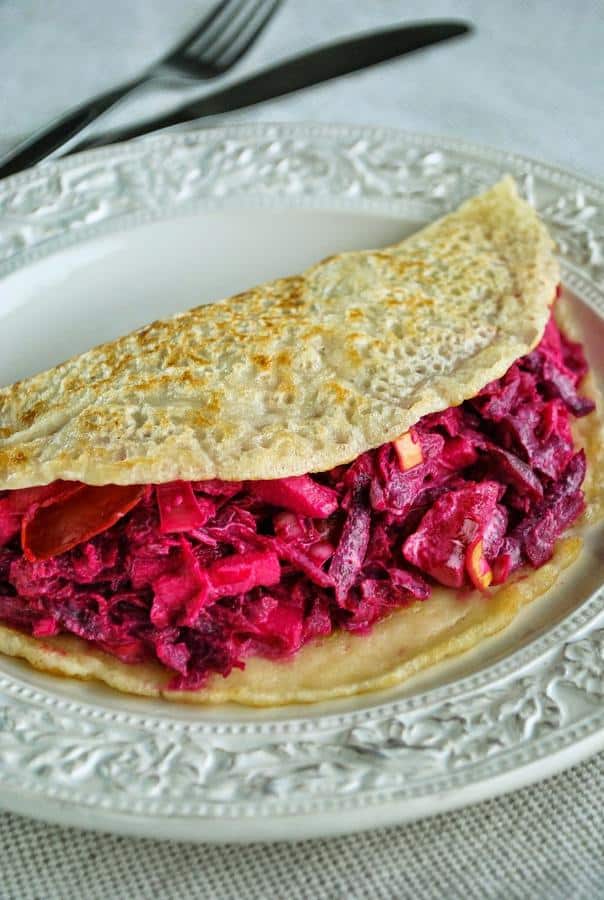 Doesn't this look just amazing. Pancakes are not always for breakfast and this dish is the perfect illustration of this notion.
The beet salad tastes divine and looks so vibrant, add the pancake and you have the perfect meal.
Flourless Pumpkin Oat Blender Pancakes (Gluten-Free)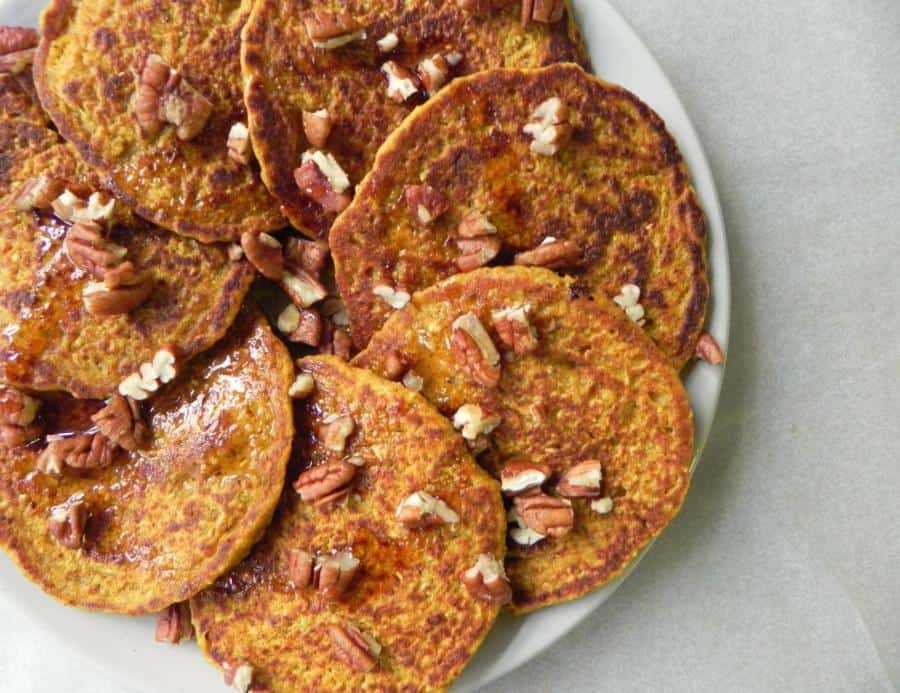 When I first saw the title of this recipe I was intrigued, no flour? You bet!
An inventive and out-of-the-box thinking creates this delicious gluten-free dish. Straightforward ingredients make this a totally delicious recipe. If you skip this recipe, you'll be missing out!
Raw Pancakes with Blueberry Sauce and Coconut Whipped Cream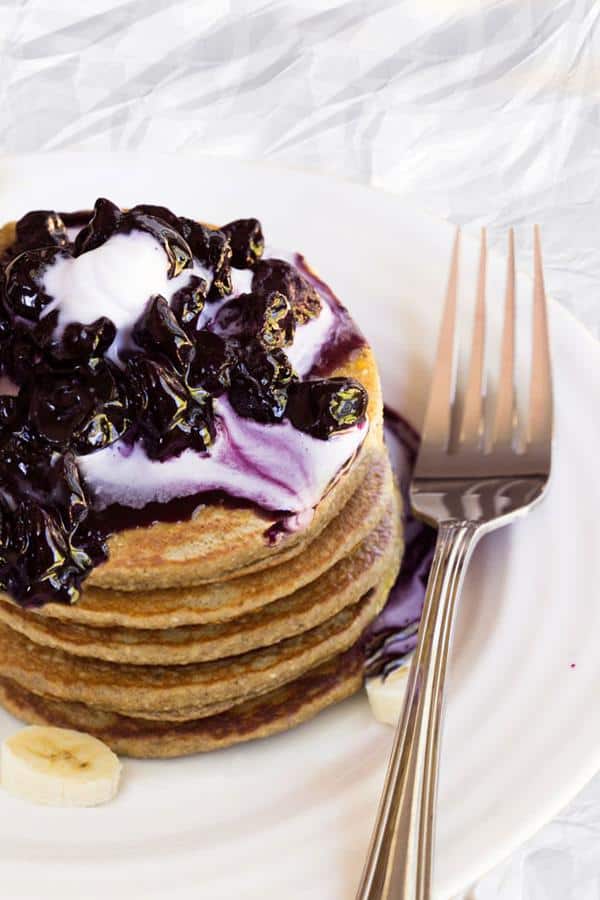 I had never come across raw pancakes before so super excited to see this recipe.
Trust me, this really works and if you're a little apprehensive about how to make them, the recipe author has provided a video which walks you through everything step-by-step. Super tasty and ultra-super healthy!
Plantain Pancakes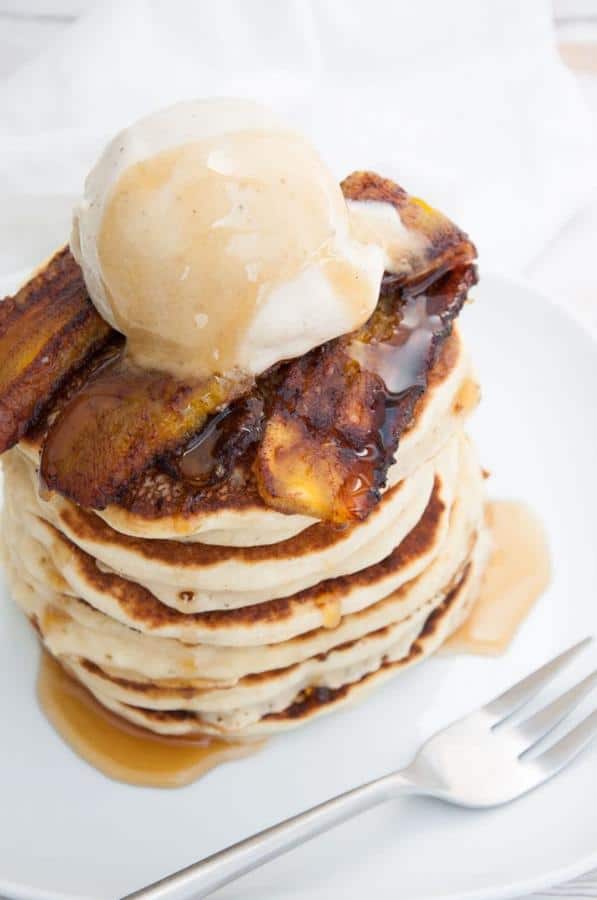 I would have never considered making pancakes with plantain! It really works too!
If you want to change things up a little this is for you. Whether it's for family, just you or you want to treat your friends, this will be a winner!
Coffee Quinoa Pancakes with Carrot Frosting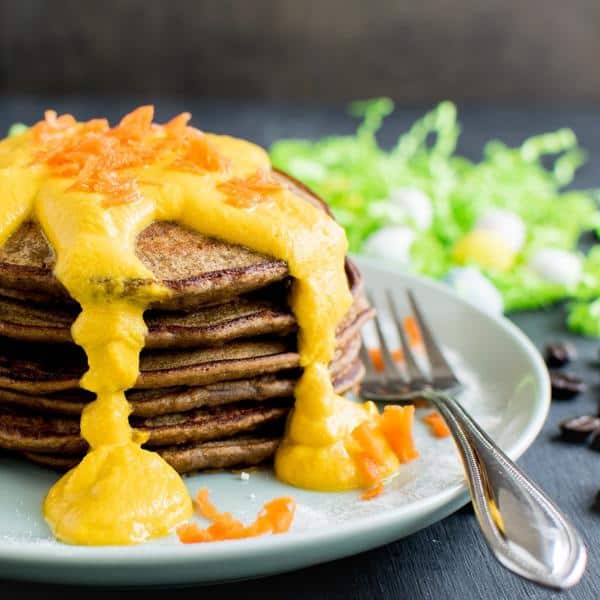 Are you different or just like all the others? If you want to impress with something you can pretty much guarantee nobody has had before, this will be your go-to recipe.
It isn't just different, bursting with flavor too with a hint of coffee in every bite! The frosting is amazing, and you'll be finding other dishes to pour it over too!
Raw Yam and Carrot Savory Pancakes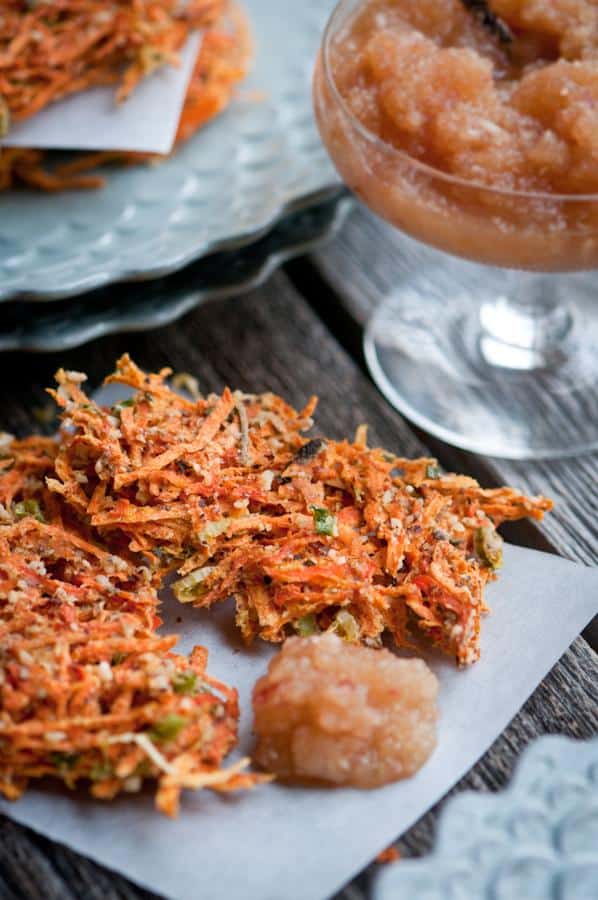 I'm a savory person and this is delicious. If you're getting into raw food eating, keep this recipe handy!
Golden flax, grated yams and a bunch of lovely herbs and spices make this a yummy and healthy breakfast lunch or even dinner!
Potato Sauerkraut Pancakes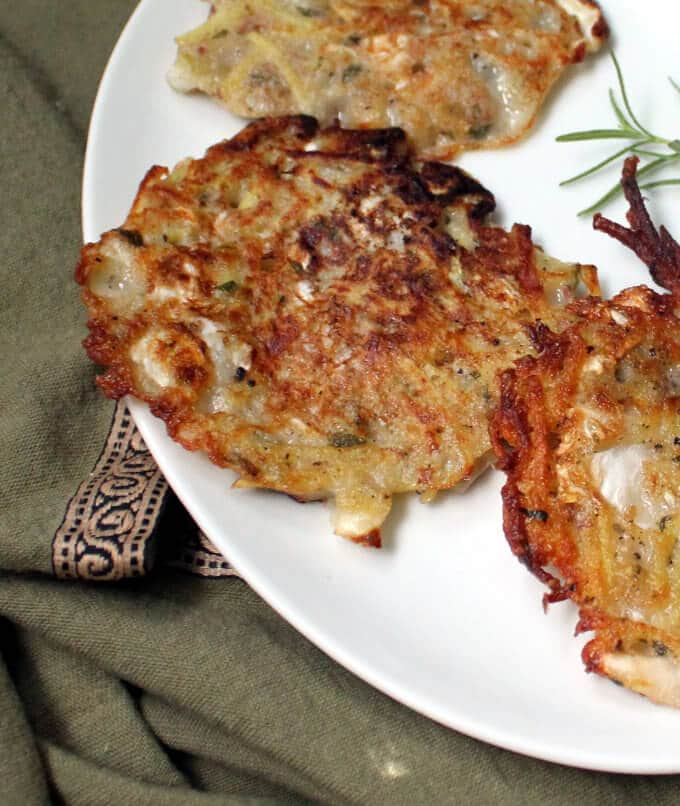 This great gluten-free recipe is a wonderful surprise. Sauerkraut in pancakes, who knew? Does it work? Absolutely!
You get a myriad of textures that all blend together to make these delicious pancakes. Great to start the day with or even as a side with your lunch or dinner!
Chickpea Pancakes with Sun-Dried Tomato Sauce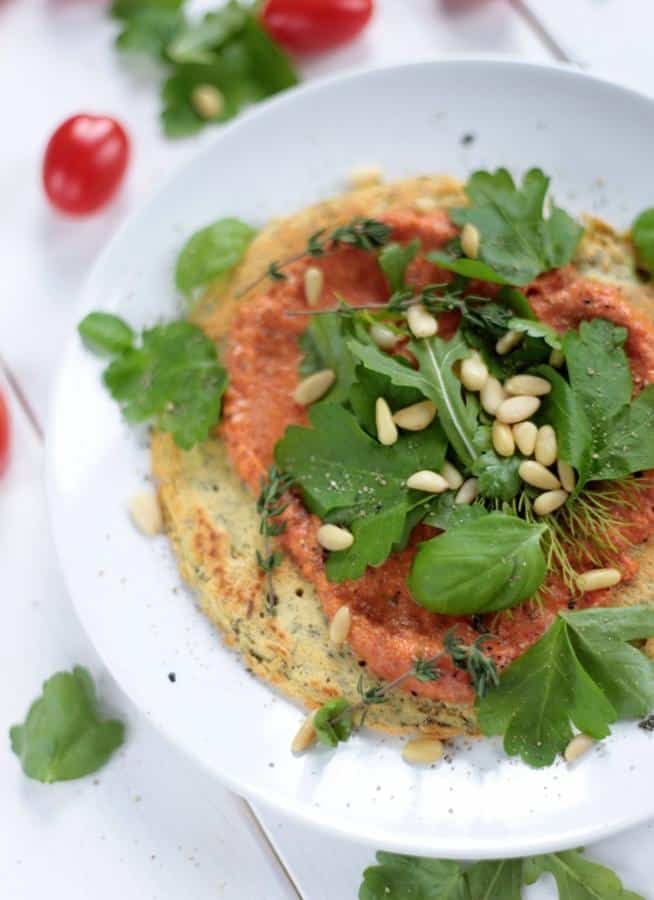 This recipe reminds me of Italy. They use chickpeas and the flour in various regions, throw in sun-dried tomato and we're almost there right?
Wonderful savory dish that is perfectly complimented with the sauce. I think it'll make a great salad dressing too!
Carrot Cake Pancakes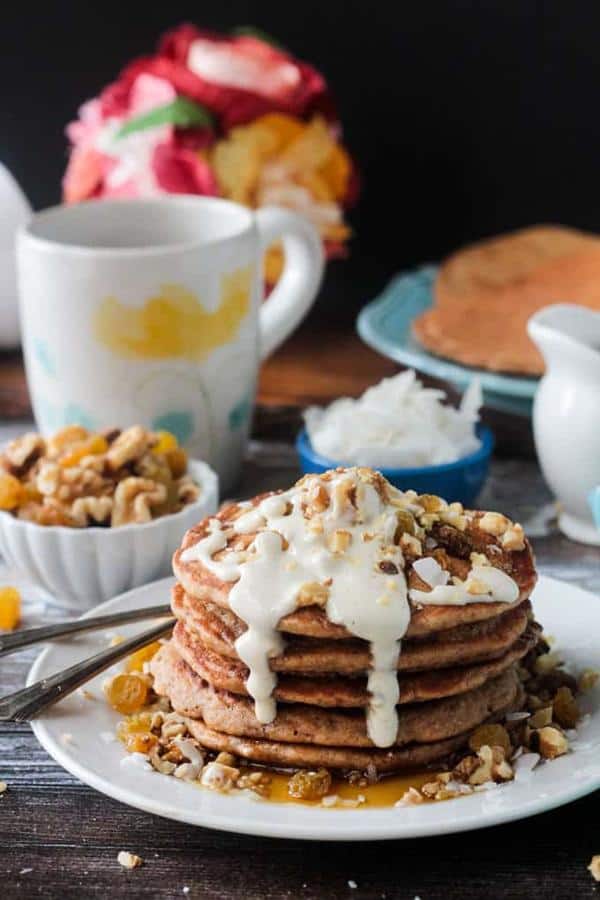 As soon as I saw this recipe, I knew we had to feature it.
The author has done a great job as you really do feel like you're eating pancakes and yet the flavor is totally carrot cake!
Not overwhelmingly sweet, the mixture strikes the perfect balance where all the flavors work as one. Delicious!
Lemon Ricotta Pancakes (Gluten-Free)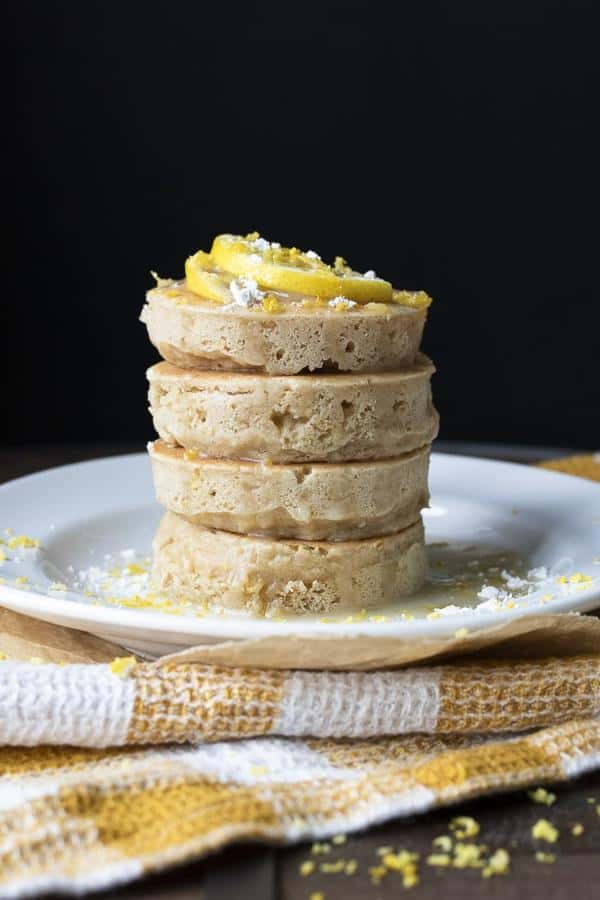 It's safe to say that I like most dishes that feature lemon as a flavor. This one is right up there as one of my favorites.
Fresh tasting and wonderfully satisfying, this dish is easy to make and you'll have it on the table in no time. Make it once and I guarantee you'll make it again.
Pumpkin Chocolate Chip Pancakes (Gluten-Free)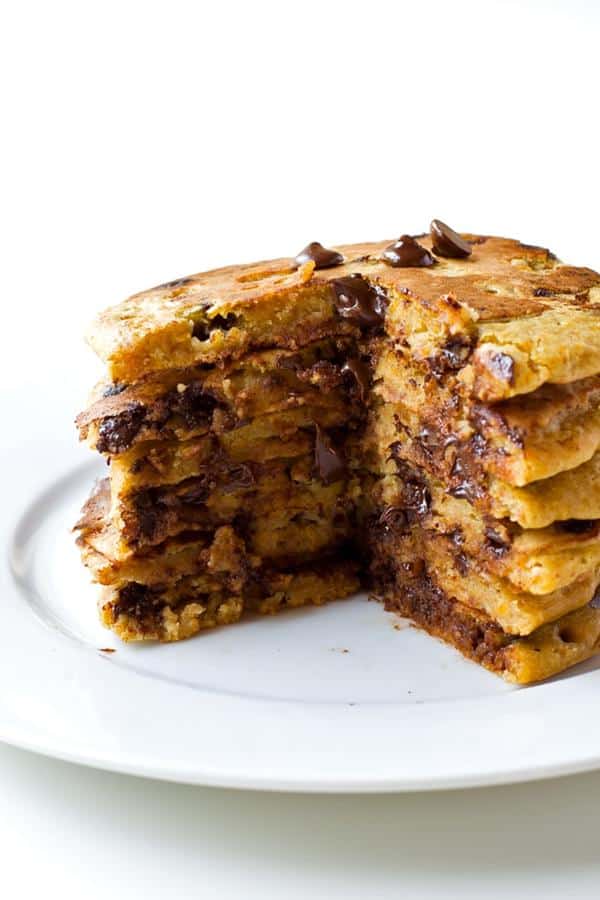 Come on now, chocolate-chip anything is everyone's favorite right?
This gluten-free wonder is just what you need to treat yourself and your family to a great breakfast. Serve with fresh fruit, maybe a little maple? Why not!
Oil-Free Spelt Pancakes with Date-Sweetened Caramel Drizzle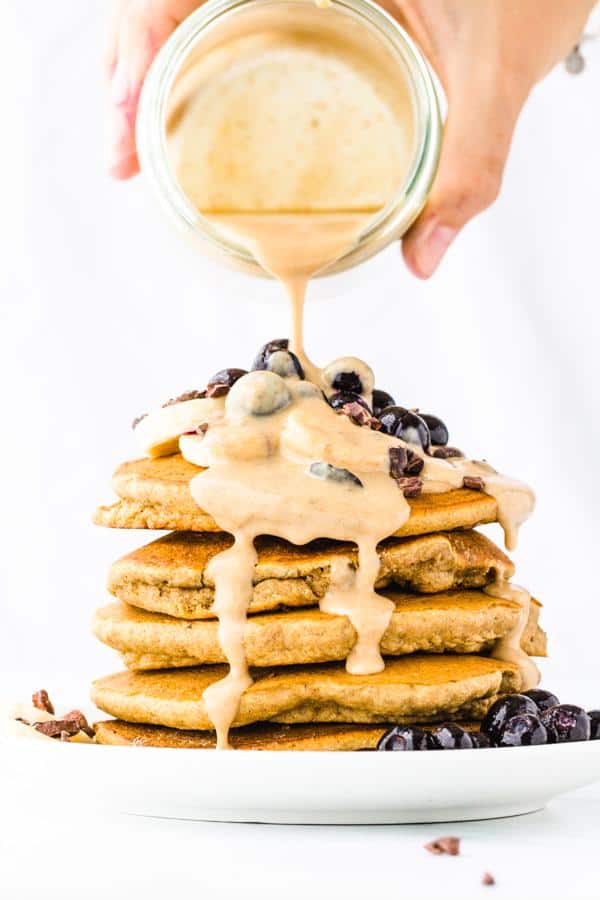 I love how this recipe is oil free!
You honestly won't feel like you'll be missing out on anything with this. Totally delicious and the caramel drizzle is just divine!
Vegan Buttermilk Pancakes (Gluten-Free)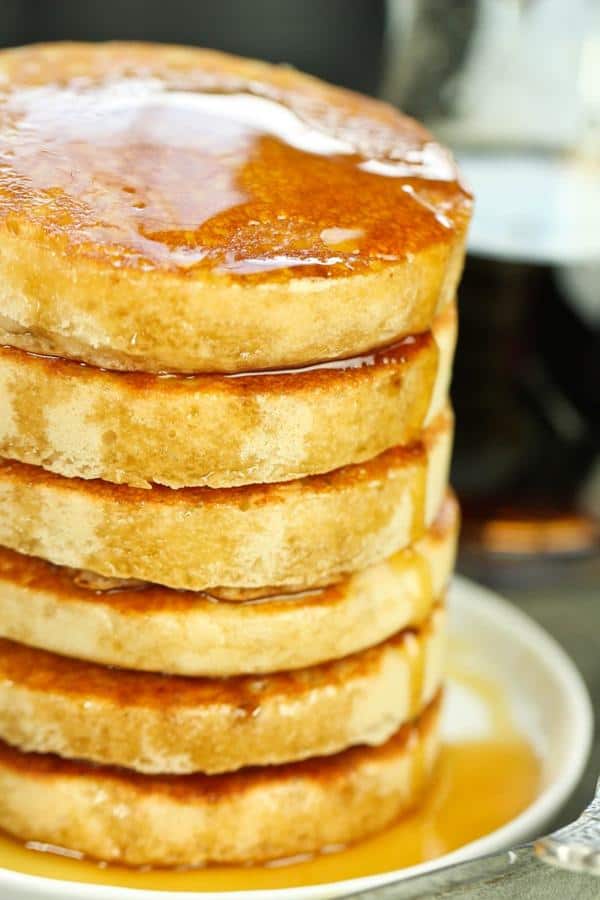 We love Brand, the creator of this recipe. All her dishes contain 8 ingredients or less and this is no exception!
Light and fluffy pancakes that are wonderfully satisfying. If you need a tasty breakfast that'll get you through the morning, and then some, this is it!
Buttermilk Cornbread Pancakes with Blackberry Syrup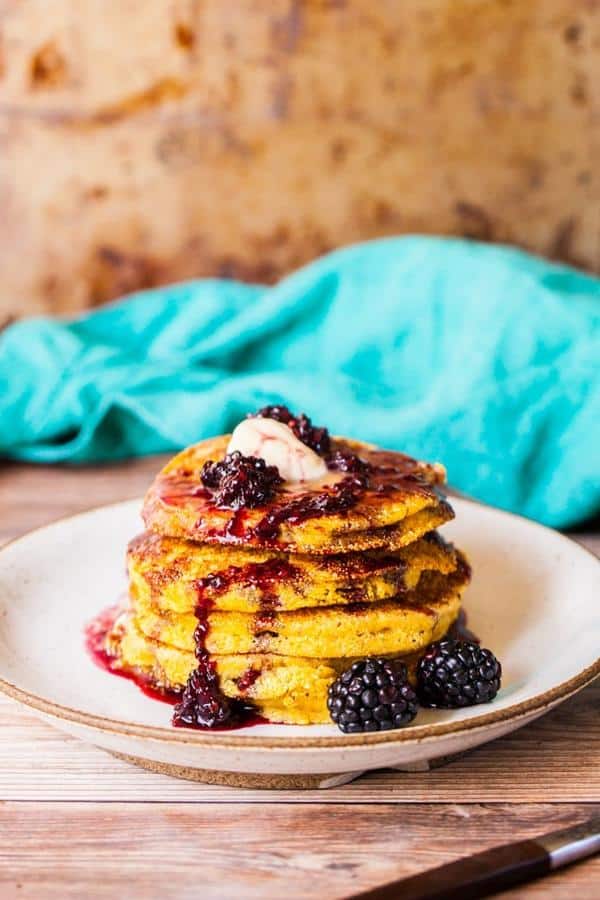 Don't these just look delicious?
I will go as far to say that you get two recipes in one here. The plant-based buttermilk cornbread pancakes could easily be eaten sweet or savory.
Then the Blackberry syrup? All I can say is, OMG!
Mini Carrot Cake Pancakes with Maple Mascarpone and Edible Flowers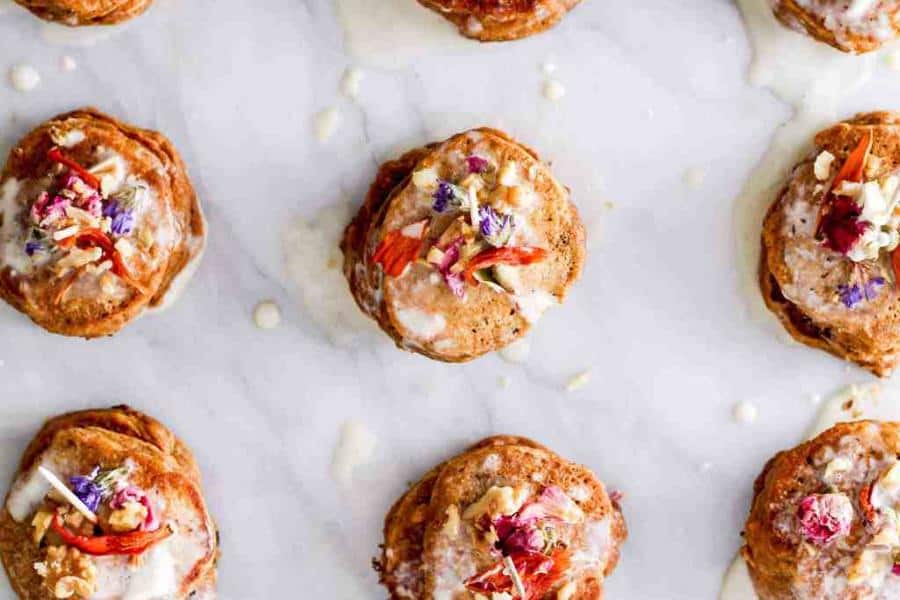 You're going to love this!
There's so much to say here I don't know where to start! The pancakes are delicious, the maple mascarpone is a recipe all in itself, and the edible flowers are a class act to finish!
Healthy Carrot Cake Pancakes (Gluten-Free)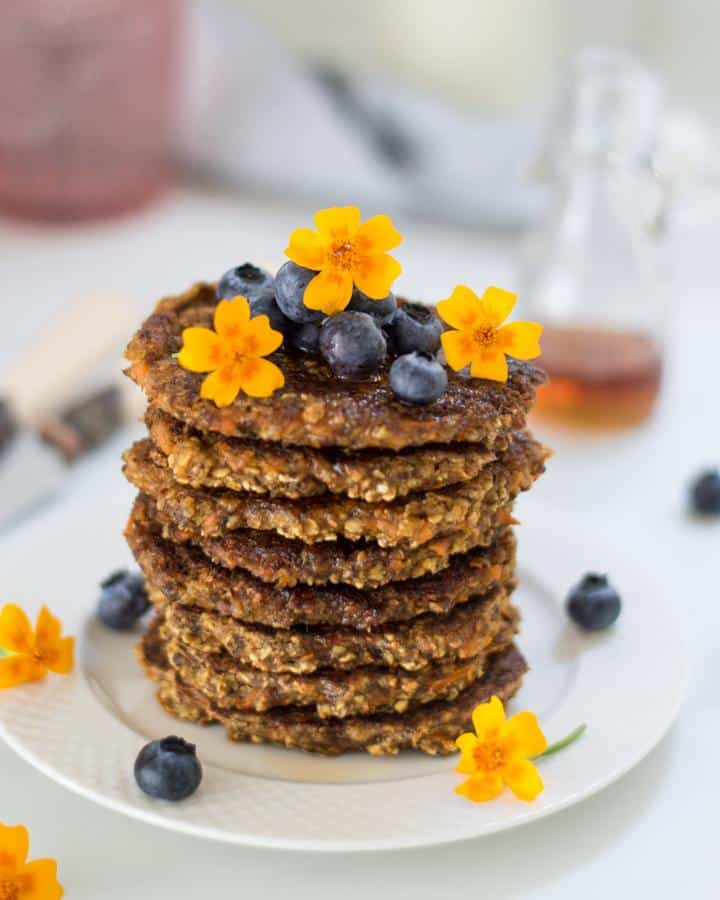 We've all come across recipes described as 'healthy' that have been bland I'm sure. This is certainly not tasteless and is 100% the opposite.
Kids will love these pancakes and so will you.
Ingredients show how this is nothing but good whole foods. What are you waiting for? Get stacking!
Banana Hazelnut Pancakes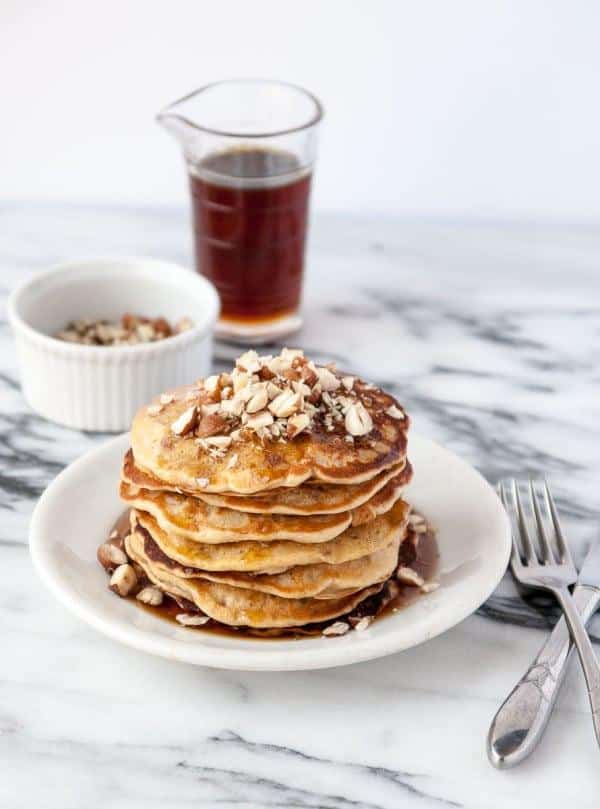 Banana and Hazelnuts, if you didn't know these two were a match made in heaven, you do now. But don't take my word for it!
Whether it's breakfast, brunch or even lunch, this easy recipe has everyday ingredients and is utterly delicious. To the table in 30 minutes or less!
Pecan Banana Pancakes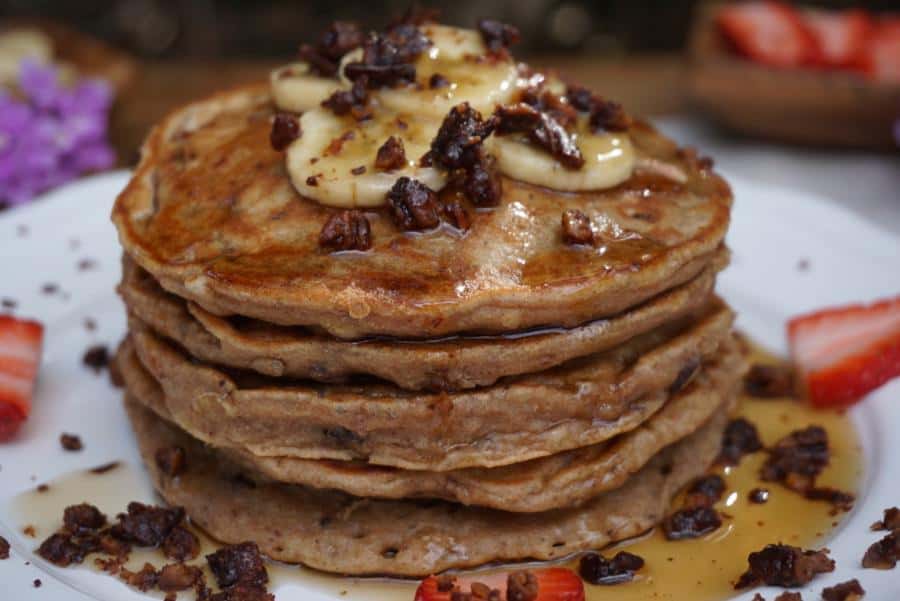 Now we're talkin! Pecan and banana!
Made with whole wheat flour these pancakes are super healthy. You're looking at chia seeds, almond milk and a few other goodies. Follow the instructions and eat!
Easy Gin and Tonic Pancakes (Gluten-Free)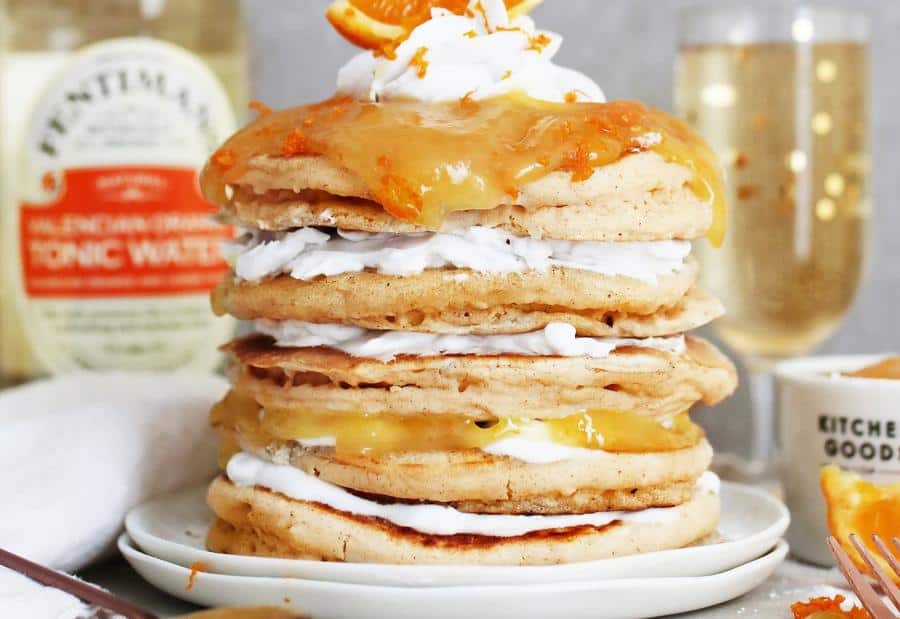 Did someone say gin and tonic? For breakfast? Interesting!
Obviously, you can leave the alcohol out of this if you need to. You'll still enjoy its uniqueness and wonderful texture.
You get a hint of cinnamon in every bite and they're so satisfying. Wonderful!
Green Tea Shamrock Pancakes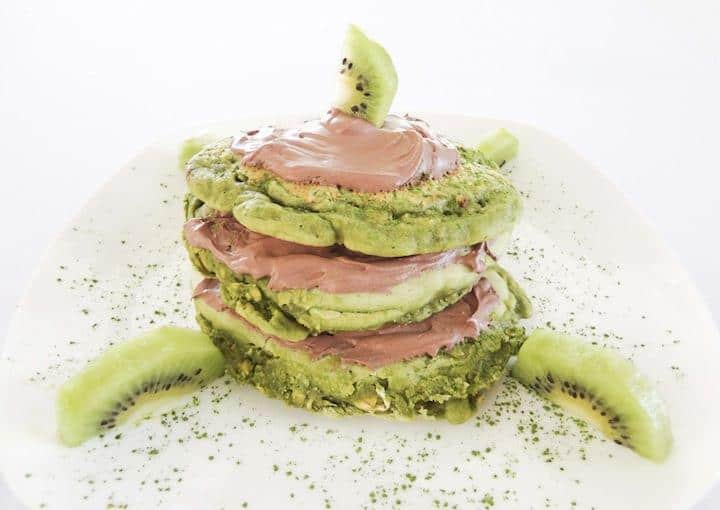 Green pancakes, something I've never seen before. As the title suggests, the color comes from green tea.
Whether it's to celebrate Saint Patrick's Day, your family is Irish, or you just like the look of them, these pancakes are a must.
Made with whole-wheat pastry flour, rolled oats and just a handful of other ingredients.
The recipe page lays out each step very clearly, so you won't have any problems making them. Delicious!
Savory Carrot Lox Pancakes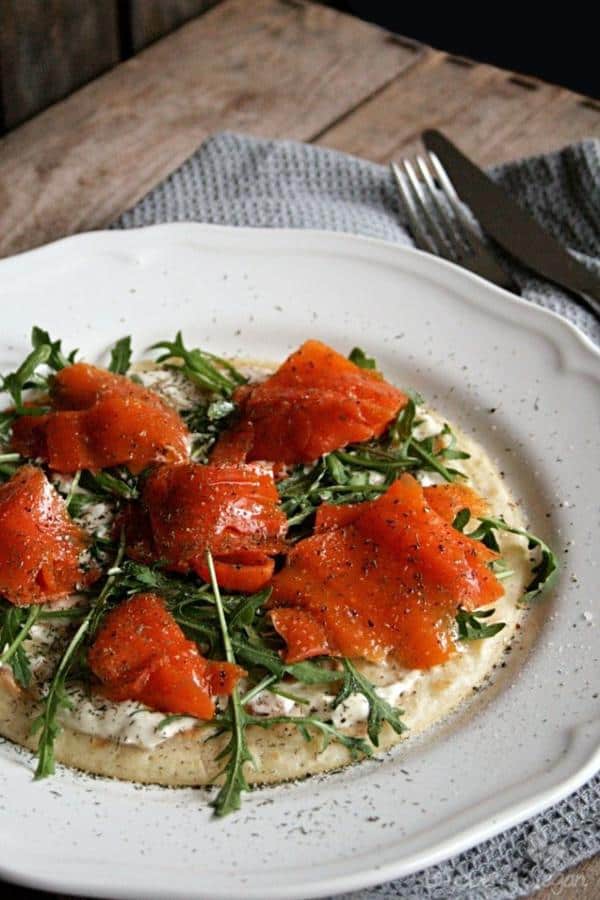 Personally, I think these are too good for breakfast although I don't know what makes me say that.
I guess it's because it looks like it'd make a better lunch or dinner? But that's just me.
Look, this is one of those recipes where there's nothing to say. The ingredients are good, the picture shows you just how it's going to be, the rest, is up to you.
Pancake Calzone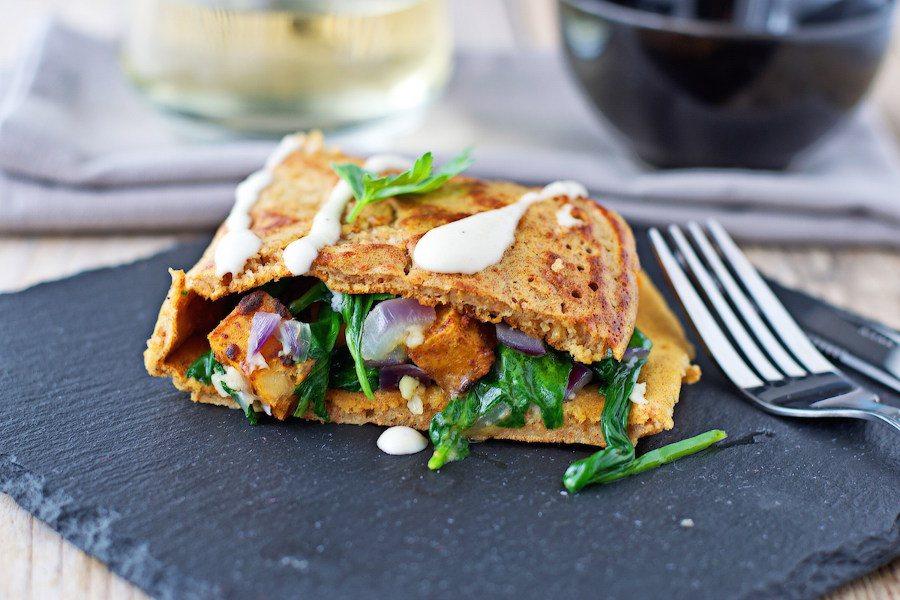 What an awesome idea for a pancake!
Perfect for spring or summer, this recipe is just right. Personally, I think Florian from Contentedness Cooking has created something special.
If you follow the recipe, you'll be guaranteed a treat, but it's also versatile enough for you to make it your own with different fillings. Get to it!
Overnight Yeast Pancakes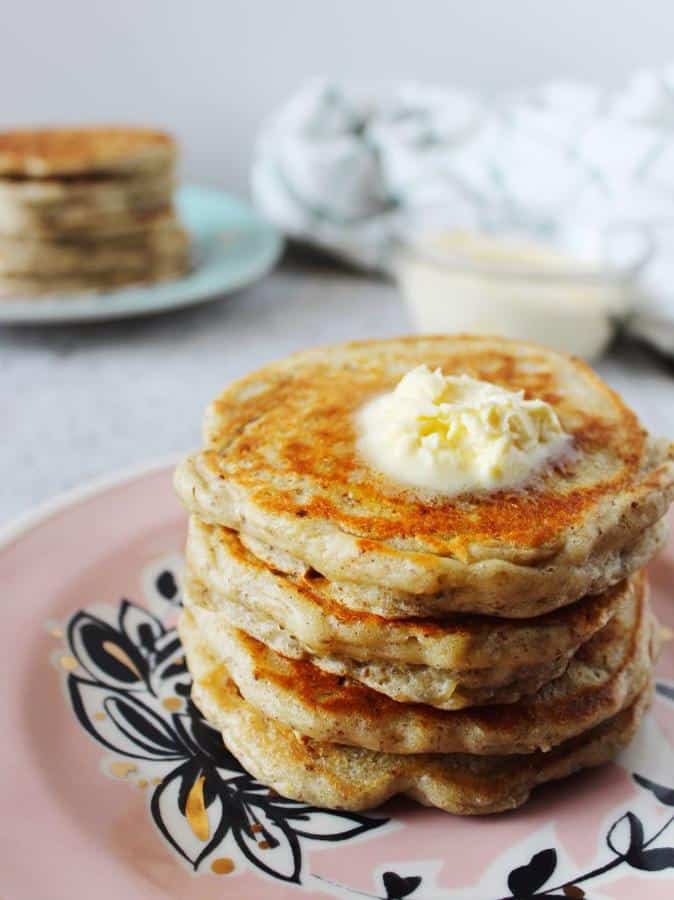 As the title suggests, this recipe isn't something that you decide to make at the last minute as you need to prepare the night before.
Don't let the prep put you off. These aren't just regular pancakes, there's something about the texture that I just adore. Trust me and try them!
Raspberry Chia Jam Stuffed Pancakes (Gluten-Free)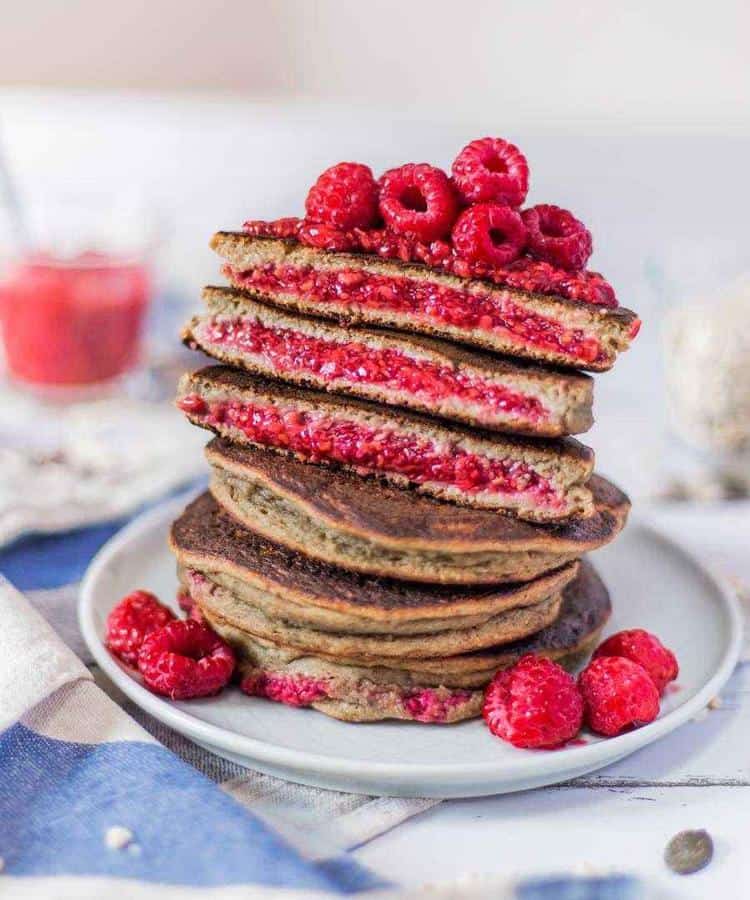 Stuffed pancakes? I have never seen anything like it, have you?
Not just a novelty, but these super healthy pancakes need to be a thing.
Has nobody done this before, or have I been living under a rock? Probably the latter, either way they are a definite must!
Oatmeal Peanut Butter Jelly Pancakes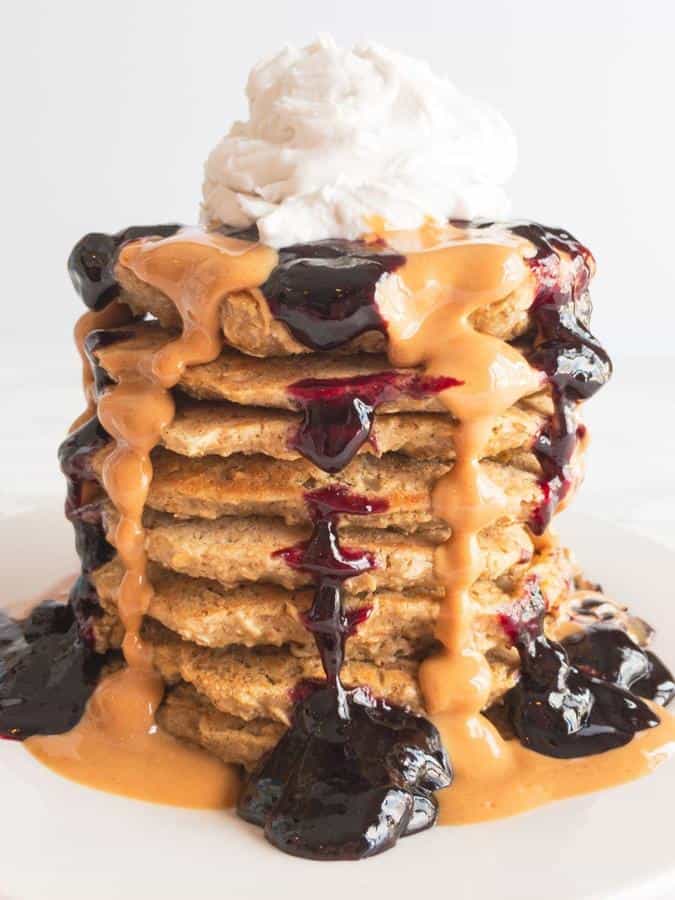 If you're like me and you're a peanut butter fan, this is a must.
The pancakes are made from oats, almond milk and just a handful of other ingredients.
The cream is coconut whipped containing just two ingredients. You simply must make this!
Sweet Potato Millet Pancakes (Gluten-Free)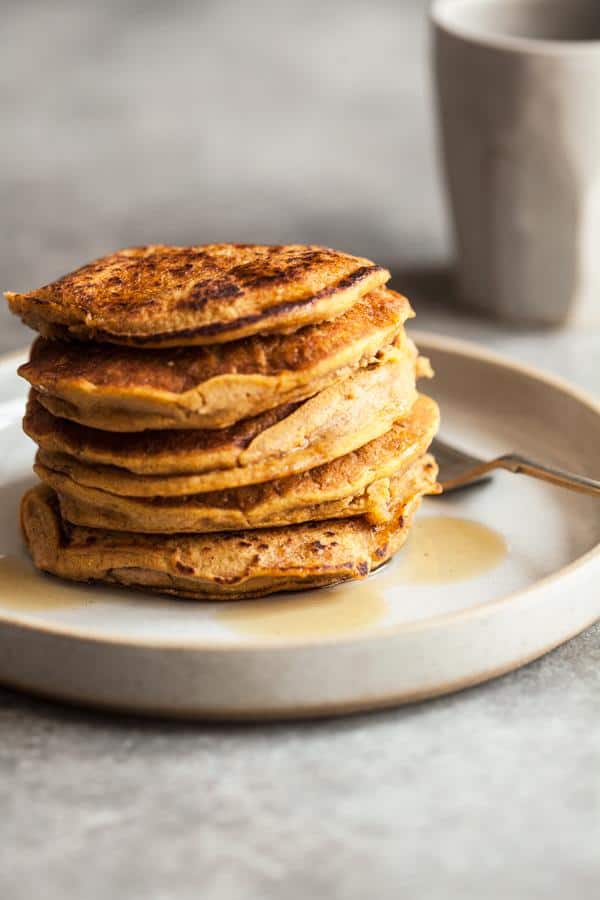 I've seen sweet potato as an ingredient in a pancake recipe before, but not like this.
Made with millet flour, cinnamon and just a few other easy to source foods, these versatile pancakes are simply too easy to make and tastes delicious.
Pomegranate Orange Pancake with Orange Maple Glaze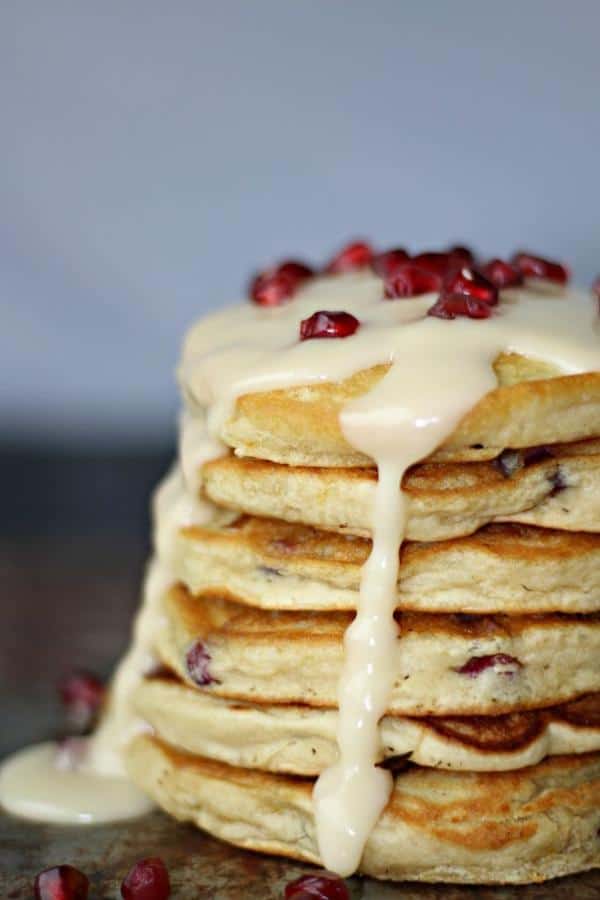 A real straightforward recipe that makes wonderful pancakes.
You're looking at just 4 minutes prep time and about 15 minutes cooking (or less). Serve with your favorite accompaniments and you're good to go!
Savory Pancakes with Cheddar and Green Onion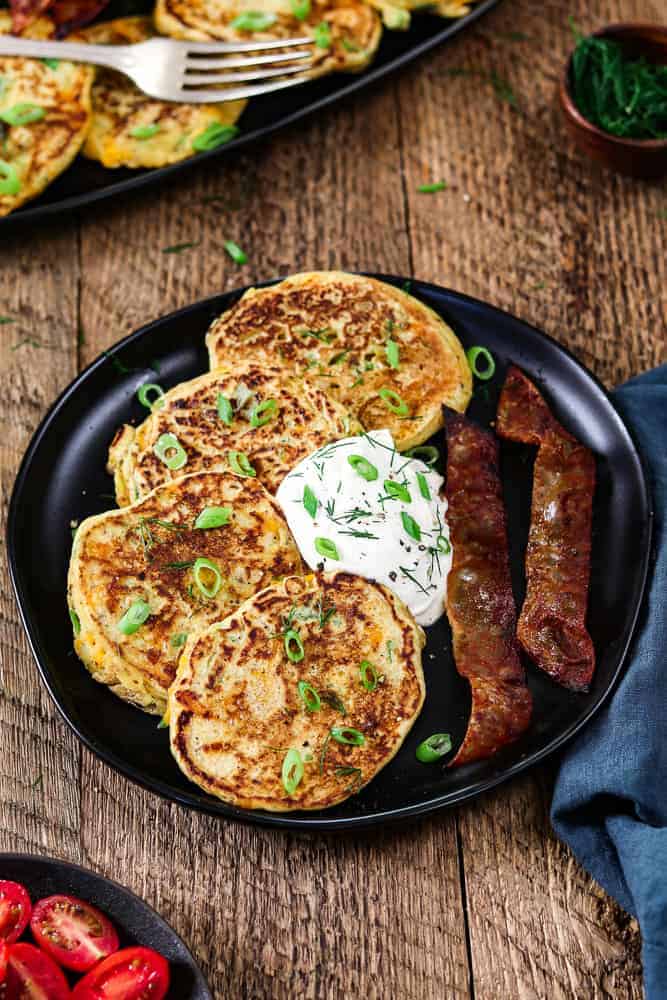 Get your favorite non-dairy cheese shreds and get your savory pancake on!
I always prefer savory to sweet and this is one of my favorite recipes for pancakes. I love the green onions, they go just perfectly with all the other flavors. Delicious!
English Style Pancakes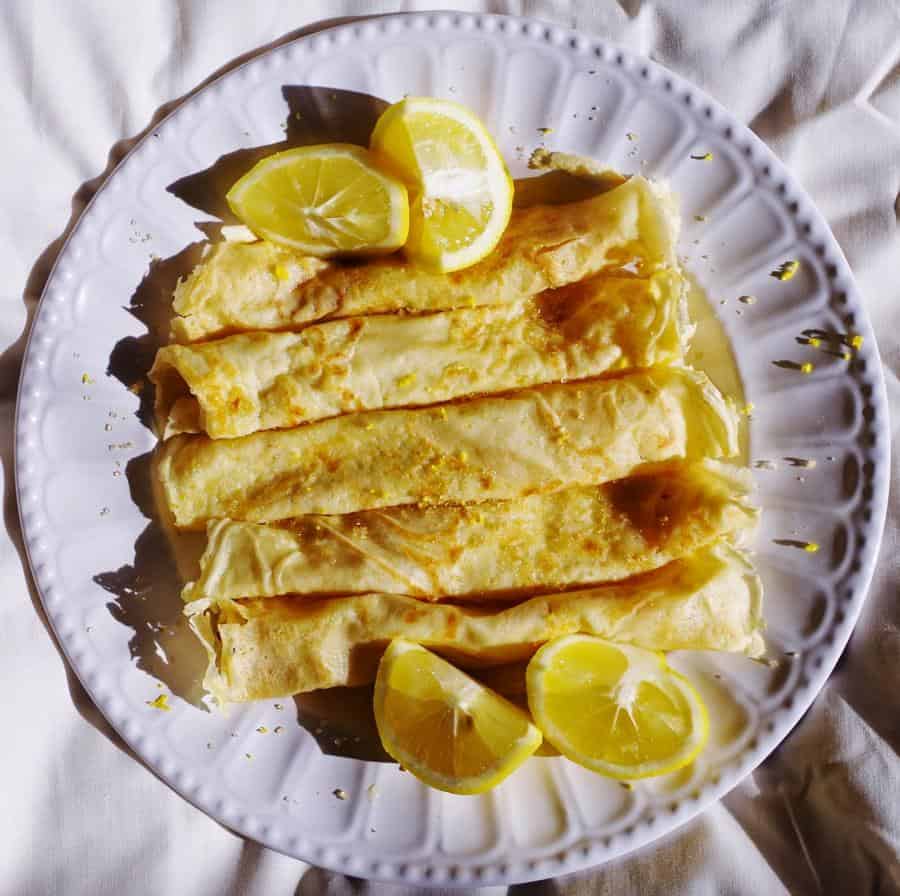 That's right, this is what pancakes look like in the UK!
I've had the before many times and I can tell you they're totally delicious.
Probably easier to make than the regular kind and a lot lighter. Go British and serve with lemon and sugar, or your favorite toppings.
Cinnamon Roll Pancakes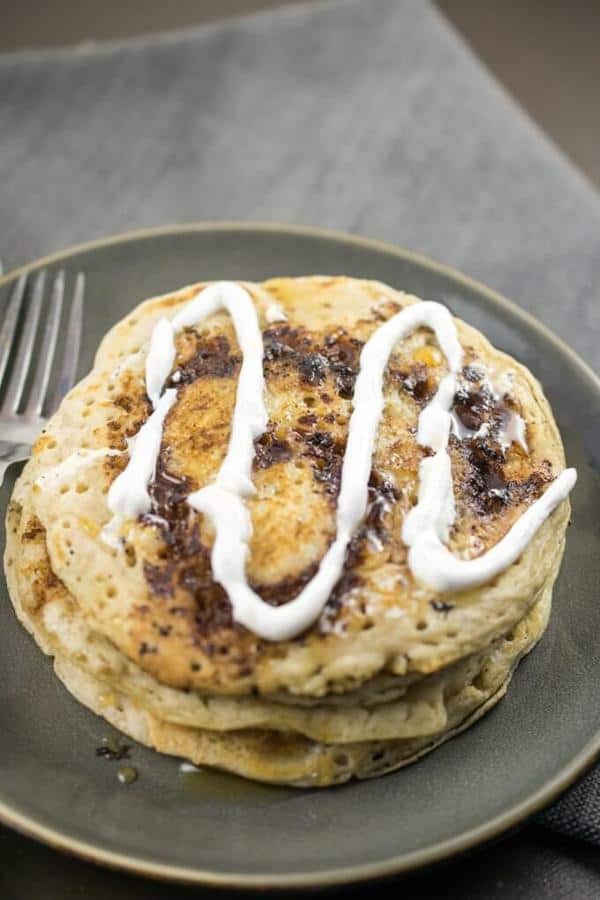 I think in my previous life I was a bear! I've heard a lot of stories over the years how bears go crazy for cinnamon rolls, well, that's me!
The recipe is divided into three sections, the batter for the pancakes, the cinnamon filling and the optional icing. Make them all and win!
Chocolate Chip Pancakes (Gluten-Free)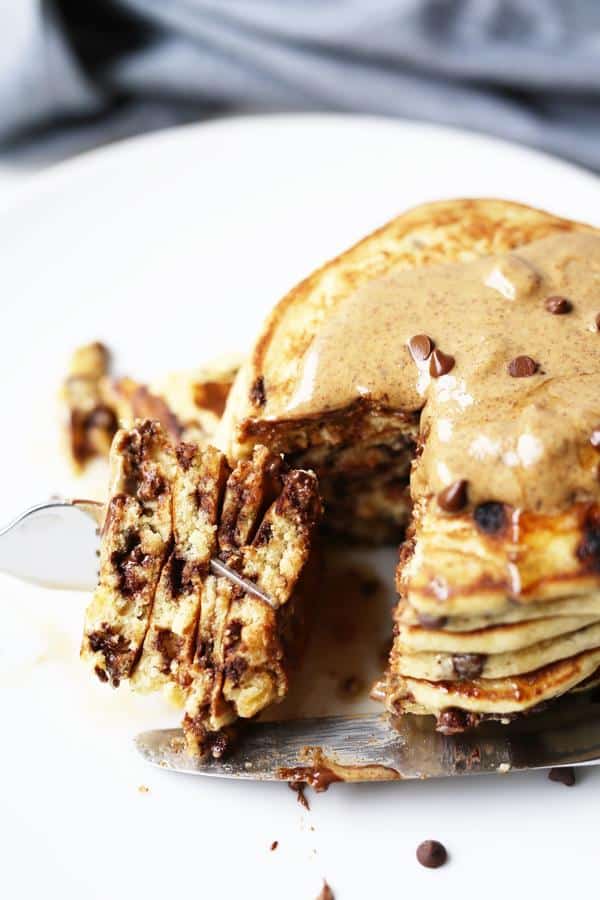 Just take a look at that photo!
However many of these pancakes you make, be sure you have a nice stack on your plate as they are so good!
The best part? Just two steps to create and you're good to go. The amounts listed in the ingredients yield 5 to 6 pancakes so double or treble as necessary!
Spelt Buttermilk Pancakes with Glazed Mandarin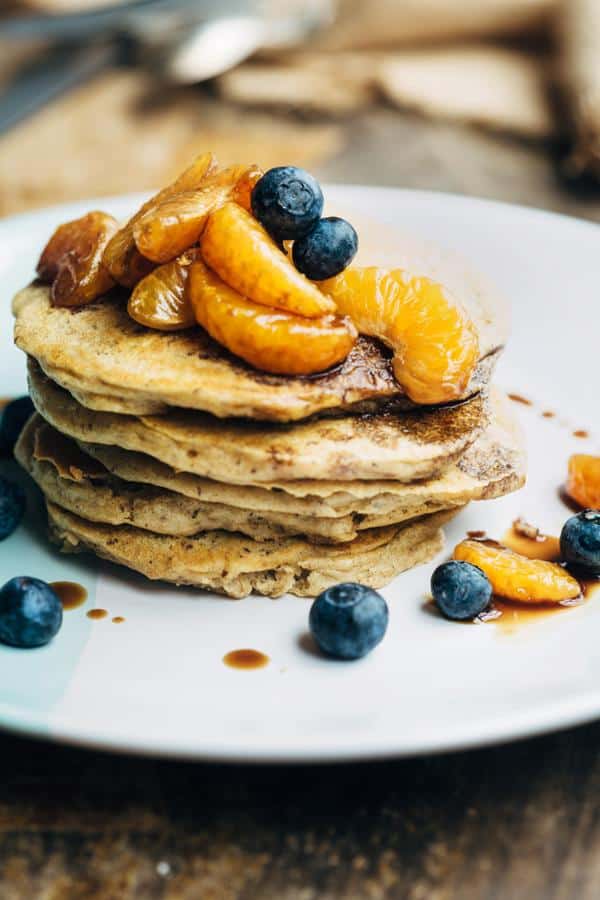 I may prefer savory over sweet, but sometimes you get a recipe that really hits the spot, and this is it!
I love that the presentation for these pancakes look professional seemingly no matter what you do and you can't beat that! Someday, all breakfasts will be made this way!
Sweet Potato Pancakes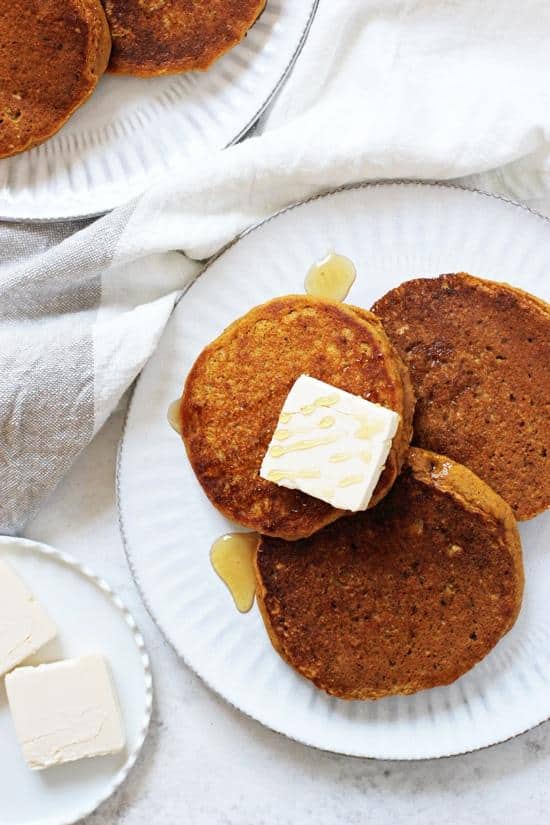 Sweet potato in this recipe creates the loveliest and most fluffy pancakes you've ever tasted.
When you eat them, they literally melt in your mouth and you can enjoy knowing the ingredients are nothing but wholesome foods. A great solid recipe.
Sweet Potato Pancakes with Caramel Sauce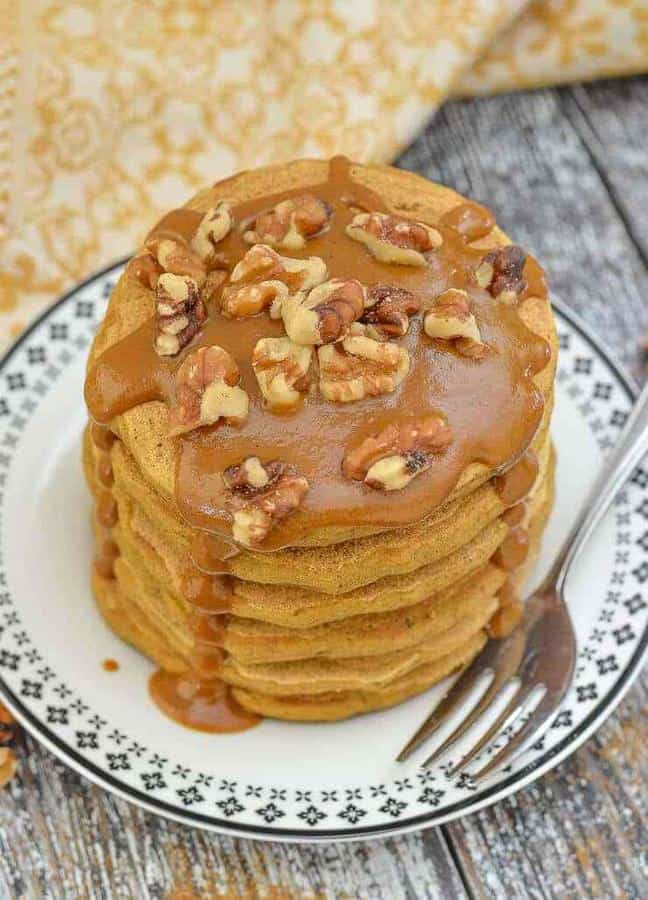 These pancakes are great, the caramel sauce is amazing!
With just a 10 minute prep time and the same for cooking, this breakfast is for when you really want to treat yourself. Utterly delicious!
Savory Freekeh Pancakes (Gluten-Free)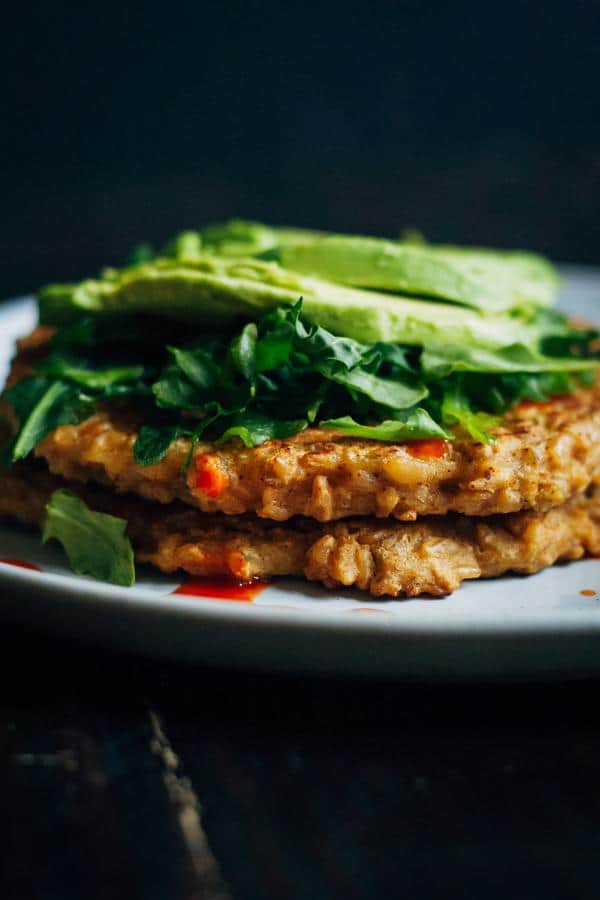 You guessed it, if you've been with me so far, you'll know I got excited when the title of this recipe said 'savory'.
Certainly good for breakfast, but would make a great lunch or dinner, too.
Follow the recipe and you'll be guaranteed a great meal although this is also versatile enough for you to make it your own. How would you make yours?
Soft and Simple Coconut Cream Pancakes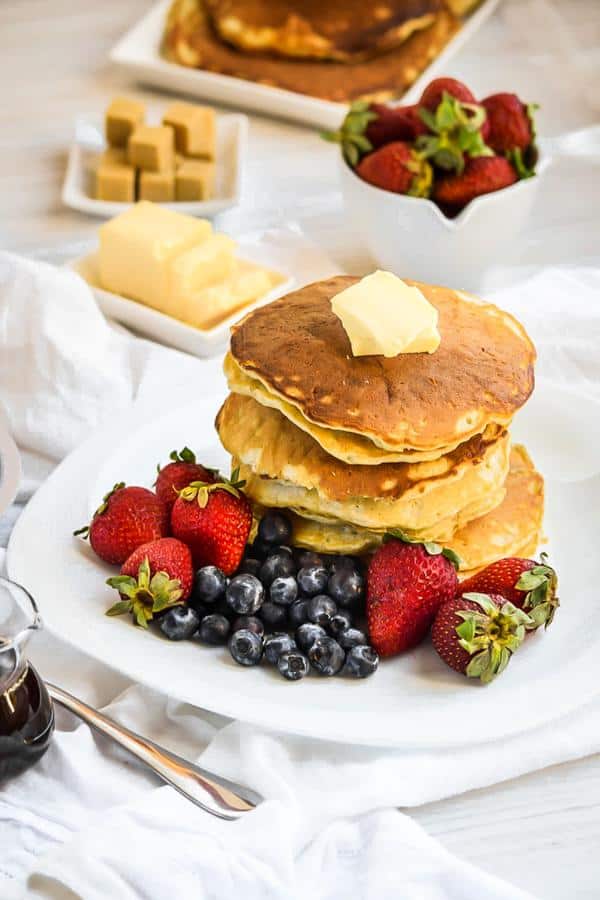 They're called soft and simple pancakes and that's exactly what they are. Great texture and super easy to make.
I love how you can enjoy these with fresh fruit or even with something savory if you prefer. They are made in a snap and probably will be eaten a lot quicker!
Fluffy Protein Pancakes (Gluten-Free)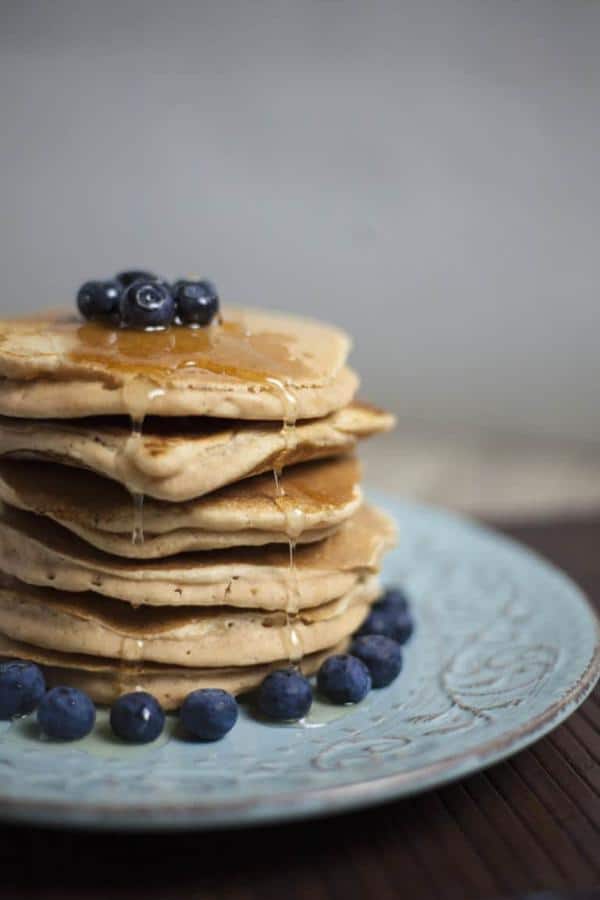 Would you believe these pancakes are made with red lentils?
Great ingredients make these a protein-packed meal!
Oat flour, coconut sugar and just a couple of other ingredients make these the pancakes of champions!
Coconut Flour Pancakes (Gluten-Free)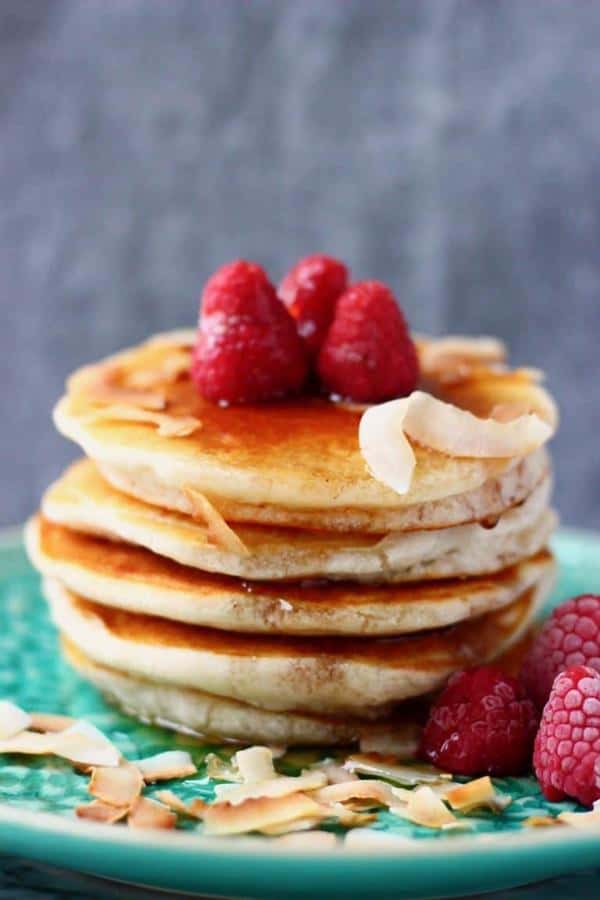 The coconut flour in this recipe does two things, it guarantees a soft and light pancake with a great texture, plus it adds that tropical flavor in every bite.
If you want to indulge yourself, this recipe is the way to go. Eat and enjoy!
Pretty Pink Protein Pancakes
Don't you just love the color of these?!
Made from cooked beets for the vibrant color, these are an absolute must.
Nothing but straightforward ingredients, a 5 minute prep time, just a little more to cook and you're good to go. Love them!
Wrapping Up
If you love pancakes, you need to bookmark this page! We found the very best available online, so you don't have to do the searching, we did it for you!
Even though some recipes are labelled as gluten-free, there are others also free from gluten. We just went with the titles the recipe author used.
We enjoyed finding these recipes and trying some of them too! Which are your favorites?