Now, I'm a mom, I stay at home, home-school my kids and live off-grid. Still, I struggle to find enough time to get everything done.
Cooking and eating as a family has always been important to me, but sometimes I get so defeated. How can I provide all the nutrition my family needs, in the shape of meals they'll actually eat? To top it off, how do I do that plant-based?
One way is a tried-and-true meal that's been served in homes across the globe for generations: lasagne.
Who knew there were so many ways to make this traditional family feast? I didn't, until now. And I bring you the best of what I've discovered!
Luscious Lasagne Recipes
Porcini and Cavolo Nero Lasagne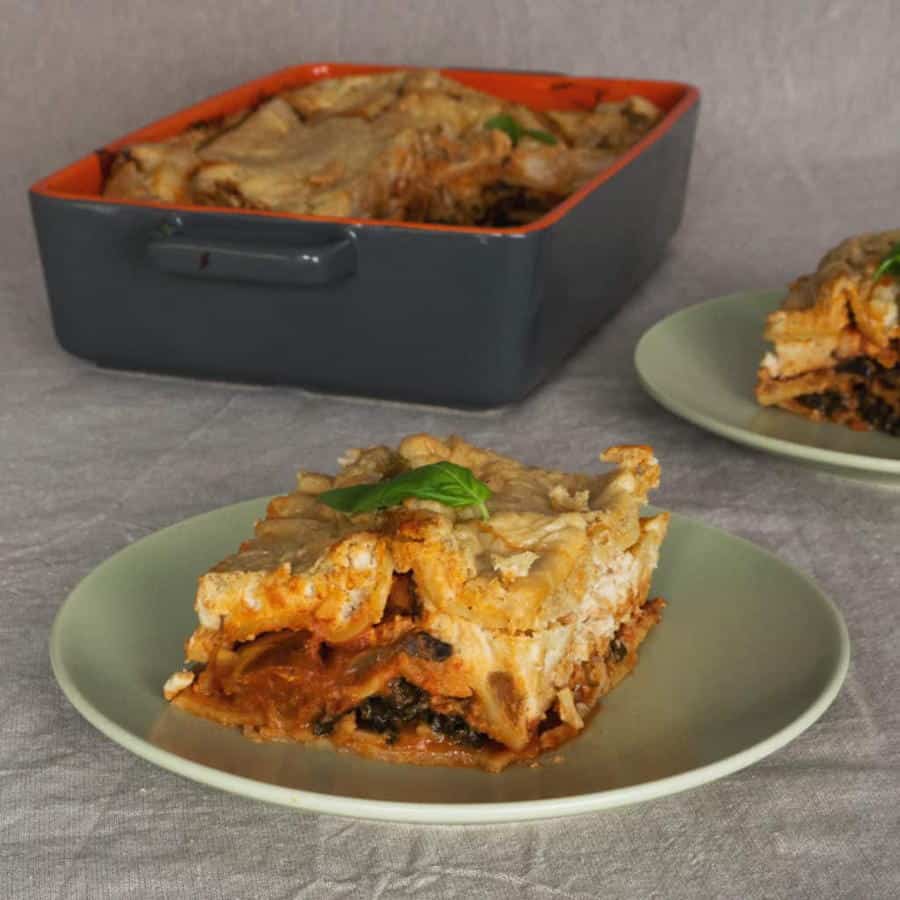 Doesn't that sound like a meal you can impress people with?
You don't need to speak Italian to cook this simple meal! This is a mushroom and kale lasagne and incredibly easy to put together.
It uses a variety of veggies to create layer upon layer of creamy goodness, without feeling weighed down.
Epic Ravioli Lasagna with Stretchy Cashew Mozzarella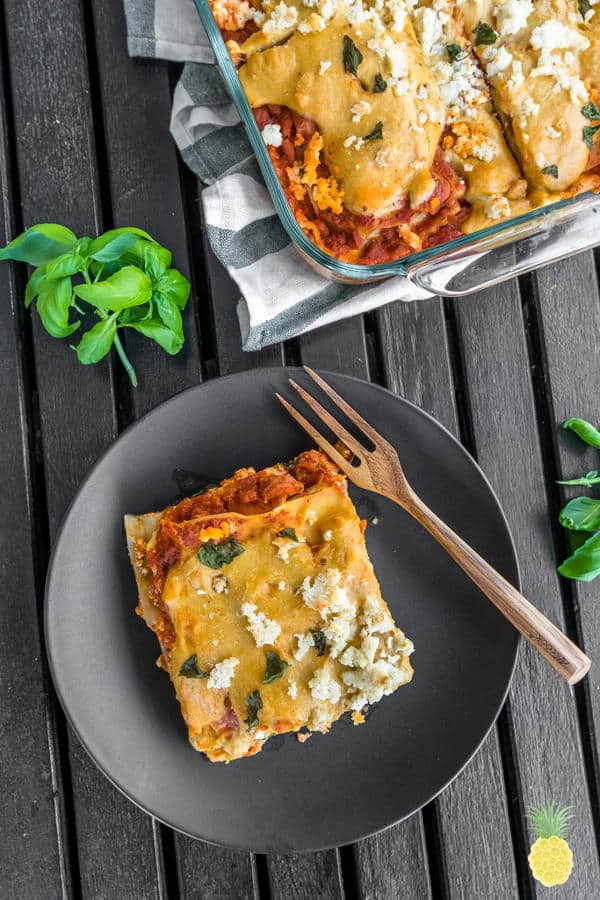 Ravioli and Lasagne? That sounds like a match made in cheesy heaven. This is a fun one to try if you have little chefs in the house.
It's a semi-homemade version, using store-bought ravioli, sauce, and ricotta.
Layering the ravioli between zucchini is pure genius. Who would dare refuse a bite of this decadence?
VegByte Tip: If you have picky eaters, skin your zucchini so they're more hidden in the scrumptious folds of pure yum.
Roasted Vegetable Lasagna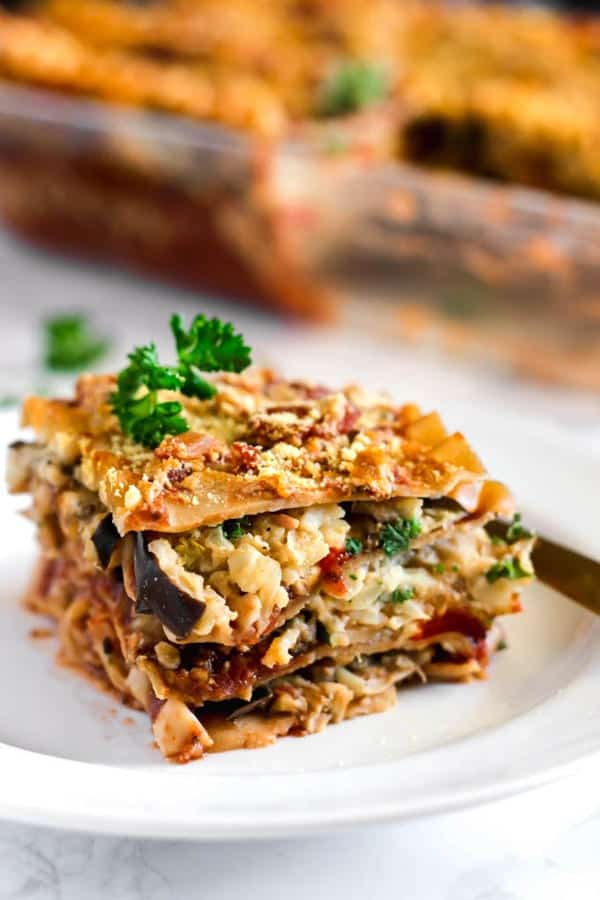 I call this one, the "end-of-the-week-use-up-what-veggies-we-have-left-before-they-spoil" lasagne!
While it calls for certain veggies to be roasted, Emilee encourages you to "use whatever you have!" Heed that advice! You can't mess this up.
The key to this lasagne is roasting the veggies, which helps give them the firmness to hold up to baking in lots of marinara sauce.
I also love the cashew Parmesan, I made extra to sprinkle! Using no-boil noodles will speed up the prep for this lasagne, without losing any flavor.
Lasagna with Lemon-Basil Cashew Cheeze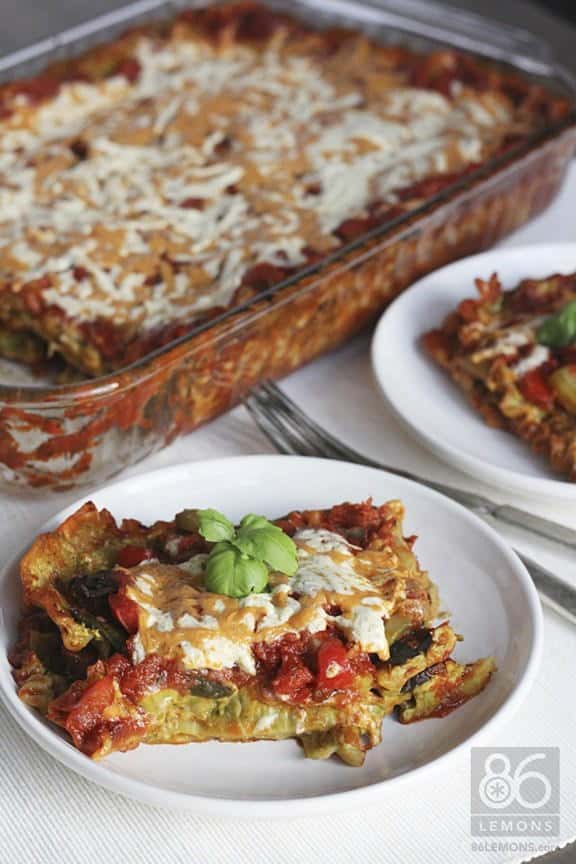 I like this variation because it's very veggie-forward, without a lot of cheezy stuff to get in the way.
I know, that sounds preposterous, as lasagne should be full of cheese, but the lemon-basil sauce in this makes the veggie flavors explode.
You won't miss it, but you could add scrambled tofu to the layers if you feel the need.
Lemon-Basil isn't a combination I would think of in traditional lasagne.
Yet, it lends an unexpected and delightful freshness to even the most discerning (read, picky) palate. Even omnivores ask for seconds!
Easy Taco Lasagna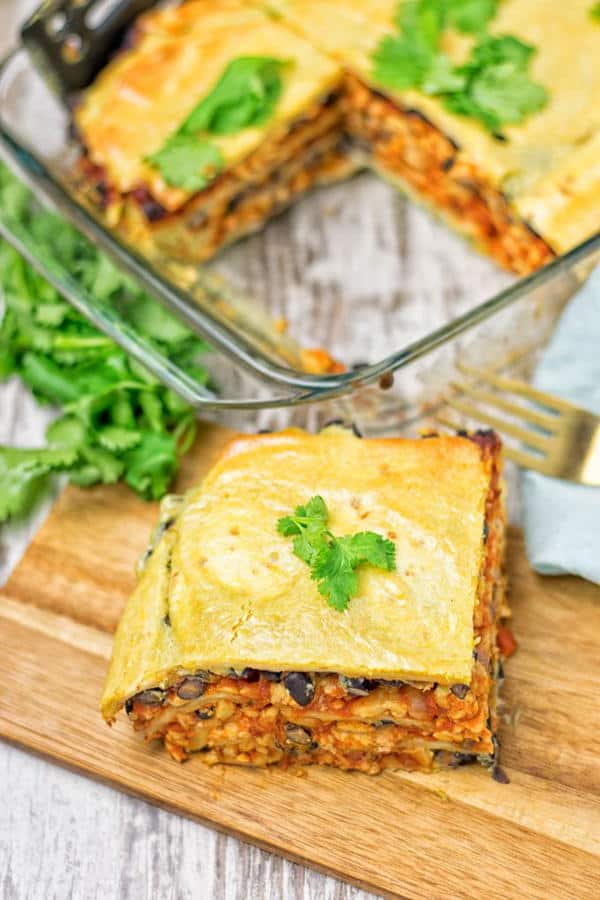 I love tacos. I love lasagne. I love creative fusion in the kitchen. This recipe combines all three and the result is cibo magico!
This recipe is a combination of recipes from Florian of Contentedness Cooking. You'll need to make a few of the ingredients before assembling, but they come together pretty quick.
The whole shebang is ready to pop in the oven in about 10 minutes. The cooking time is shorter than most lasagne recipes because you're using tortillas in place of noodles. Sabroso!
Polenta Lasagna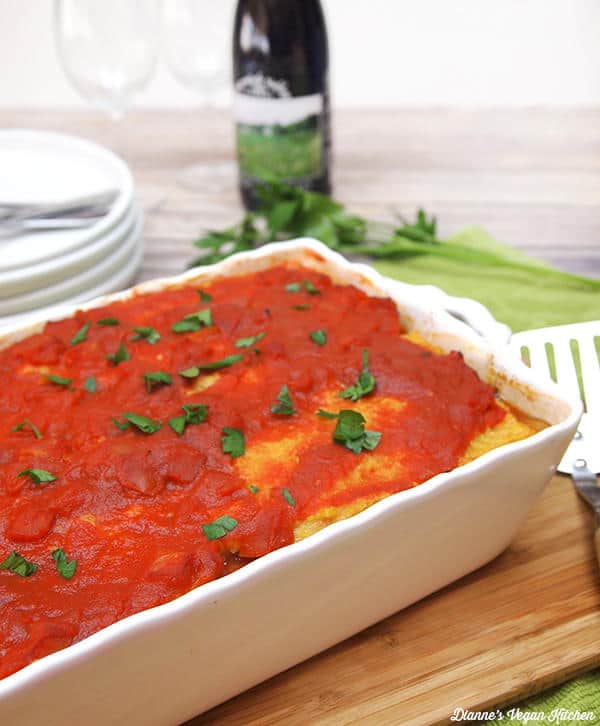 This recipe is so creative! Polenta is one of those things that's often overlooked. I find its corny goodness hard to resist.
Paired with tofu ricotta and kale, this is a powerhouse lasagne that yields a hearty plateful as well as ample leftovers.
I enjoyed this one even more the second time around. If you love the ingredients in this lasagne.
The Easiest Vegan Lasagna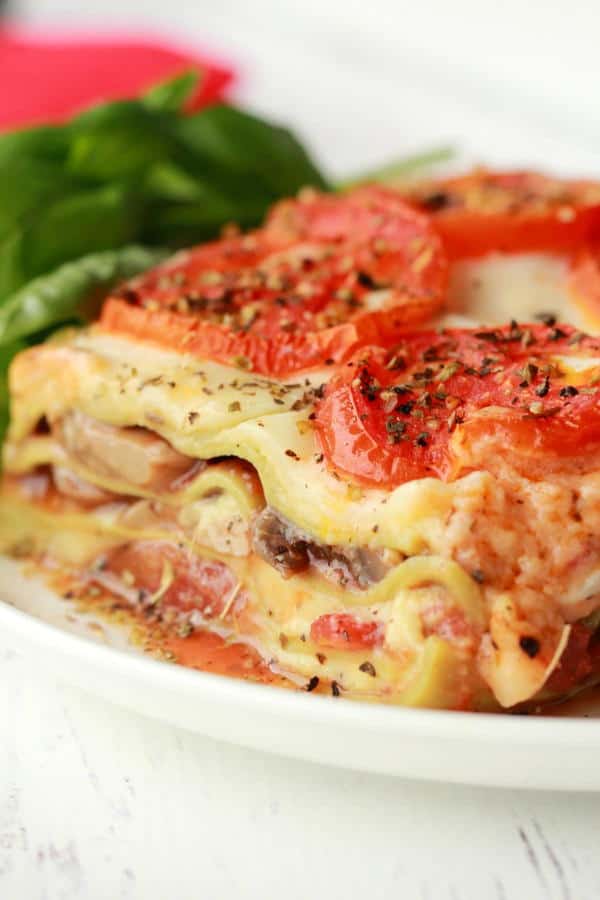 As the name implies, this one is the easiest! It lives up to its name without sacrificing taste or visual appeal.
I love the top layer of sliced tomatoes. It adds such a beautiful impact on the presentation, even the pictures make my mouth water.
I used fresh tomatoes from my garden, which vary in color from bright yellow to deep purple, and the result was gorgeous!
Plantain Lasagna (Pastelón)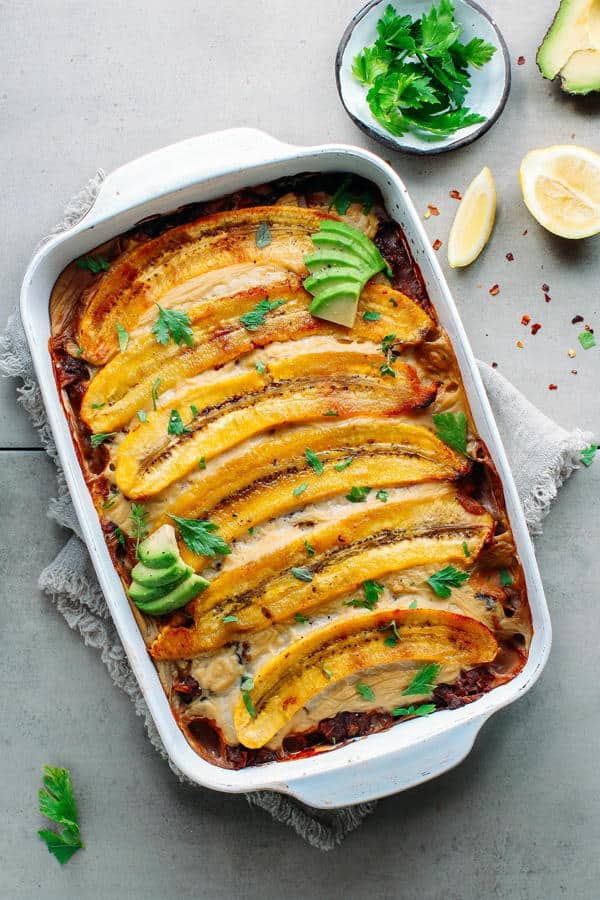 When I was in high school, my parents and I went on a Caribbean cruise. One of the memories that sticks out best in my mind of that cruise was the FOOD!
Caribbean food has some of the most flavorful cuisines in the world, but it's not always plant-based.
This recipe is amazing as it uses plantains in place of noodles.
Then layer with mushrooms, peppers, lentils, and nuts (or tofu if you're going nut-free). You'll 'lively up yourself' in no time! This recipe makes me want to throw a party!
Fried Lasagna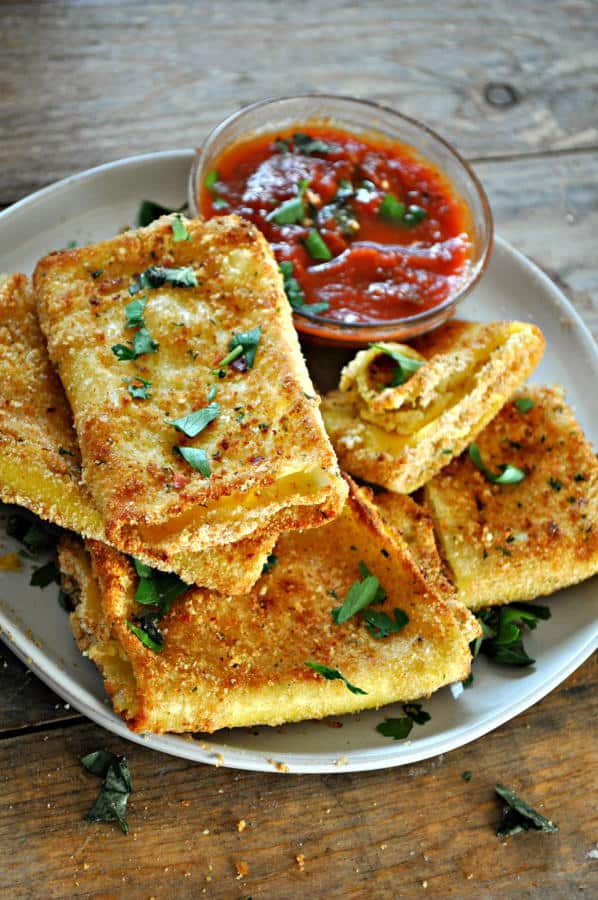 Hands down, these are incredible! The perfect appetizer for your next get-together.
Or, to nosh on when your partner takes the kids camping for the weekend (in an ideal world, this would happen far more often than it actually does!)
If you have an air-fryer, this is the perfect recipe for busting that bad boy out. If you don't, you can bake or fry traditionally.
We have to treat ourselves sometimes, and you shouldn't feel guilty about that. Ever.
Lasagna Grilled Cheese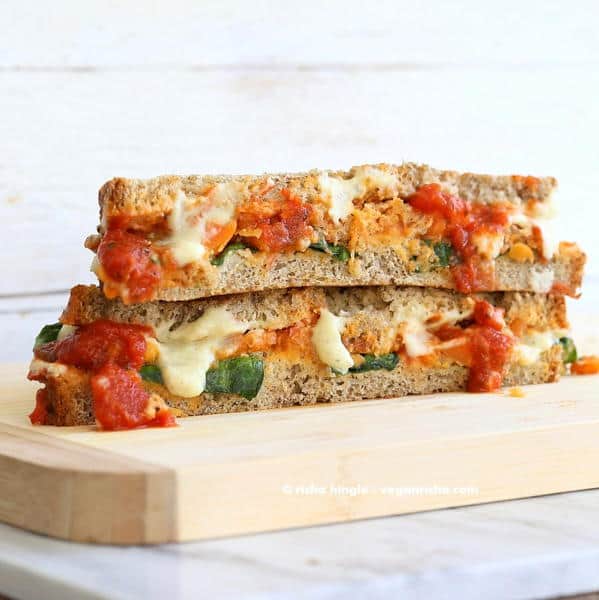 Man, I love foodies. They can take something as simple as the humble grilled cheese and make it a masterpiece.
The best part, though? They blog about it. You get to replicate it without all the coming-up-with-something-new hassle.
A grilled lasagne sandwich makes me want to open up a vegan food truck and sling this at every passer-by.
Or, at the very least, present it to my children and watch them devour every tasty morsel. Make extras, they'll want seconds, guaranteed.
Colorful Vegetable Lasagna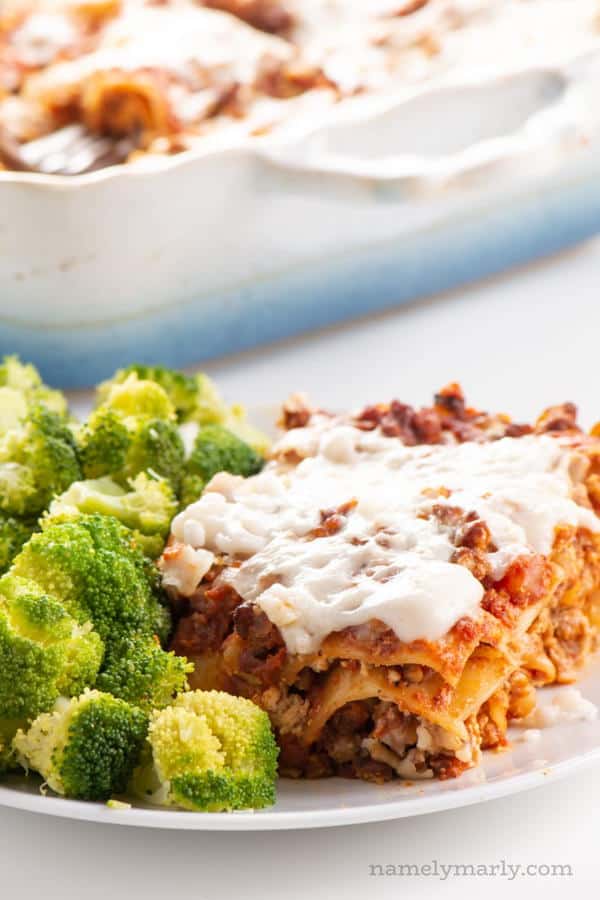 The perfect recipe for making ahead and freezing.
This lasagne is one of my favorite pull-out-and-thaw-for-a-hearty-meal-mid-week. I love the addition of beets to the filling.
Pulsing the beets with the tofu and layering with gooey cheese and noodles creates a colorful filling.
No-one will question the ingredients. I'm not telling you to be sneaky with your vegetables, but, well, sometimes you have to!
Zucchini Lasagna with Tofu Ricotta and Walnut Sauce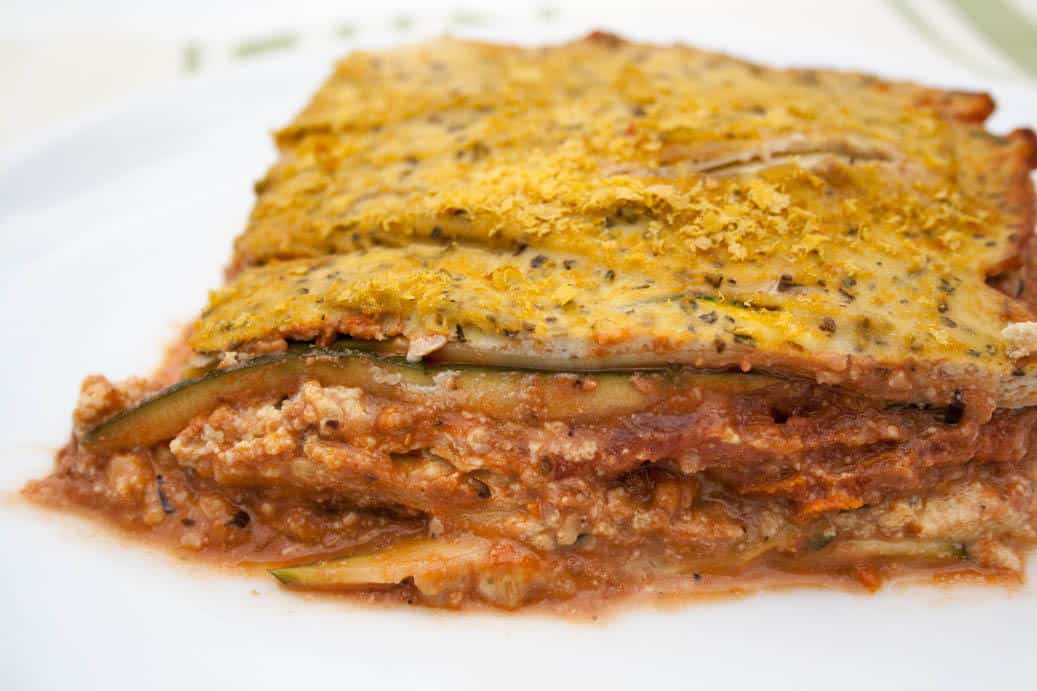 A few summers ago, we grew zucchini in our garden. They took off and we had hundreds of them.
I wish I had recipes like this when zucchini overload happened. Fingers crossed this year we'll repeat that success.
Using zucchini instead of noodles will delight your keto friends. I always have a tough time cooking low carb because I adore carbs! I didn't miss the noodles, I was too busy oohing and ahhing!
Simple Lasagna with Beyond Burger and Miyoko's Mozzarella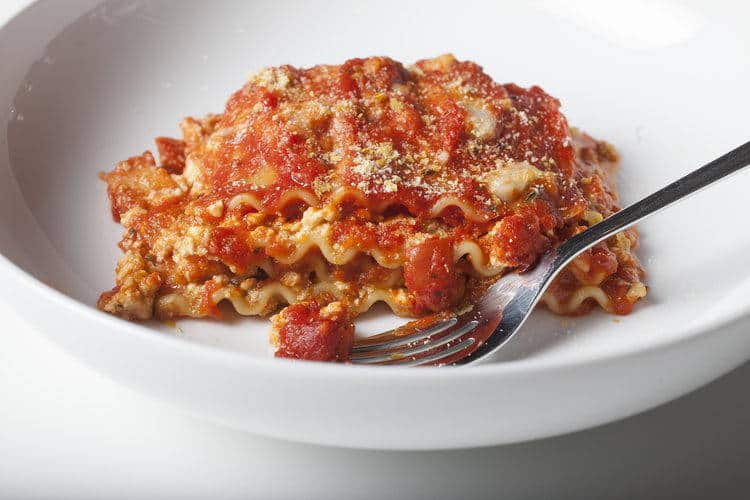 Mmmmm. Katie's lasagne is reminiscent of my childhood lasagne, but plant-based! There's such a thing as lasagne heaven!
I make this for my most skeptical omni-friends. With the scrumptious Beyond Burger and Miyoko's Mozzarella, it's a winner.
They scratch their heads when I tell them the secret, and while they can't believe it, they happily scoop up another serving.
Lasagna Roll-Ups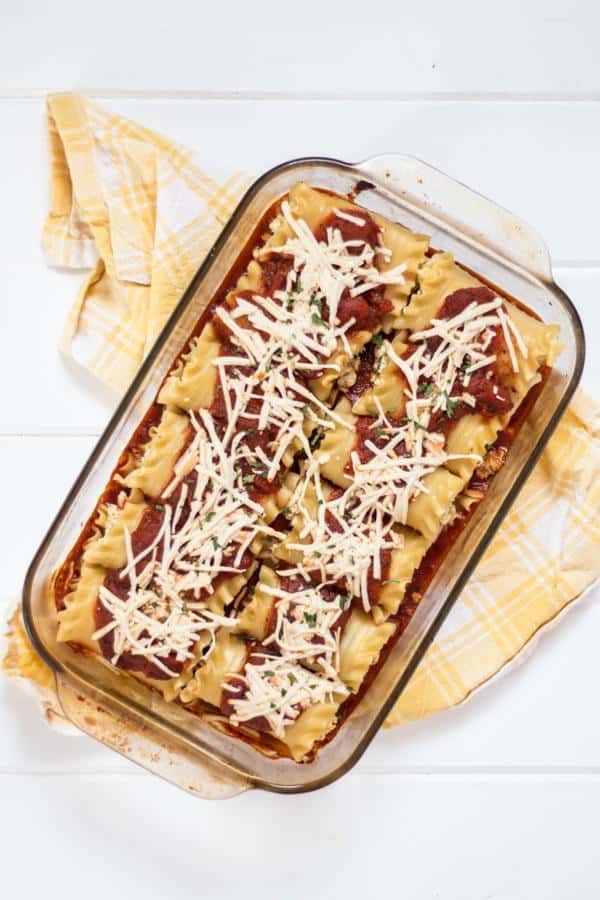 Rolled up lasagne noodles around ooey gooey tofu, Daiya cheeze, and spinach, ay, me hearties! Steven's recipe is not only scrumptious, but it's also fun to eat, too.
These bite-sized cuties come together in a snap. It is the perfect dish for those days when nothing is going right. At least dinner will be smashing!
Mexican Lasagna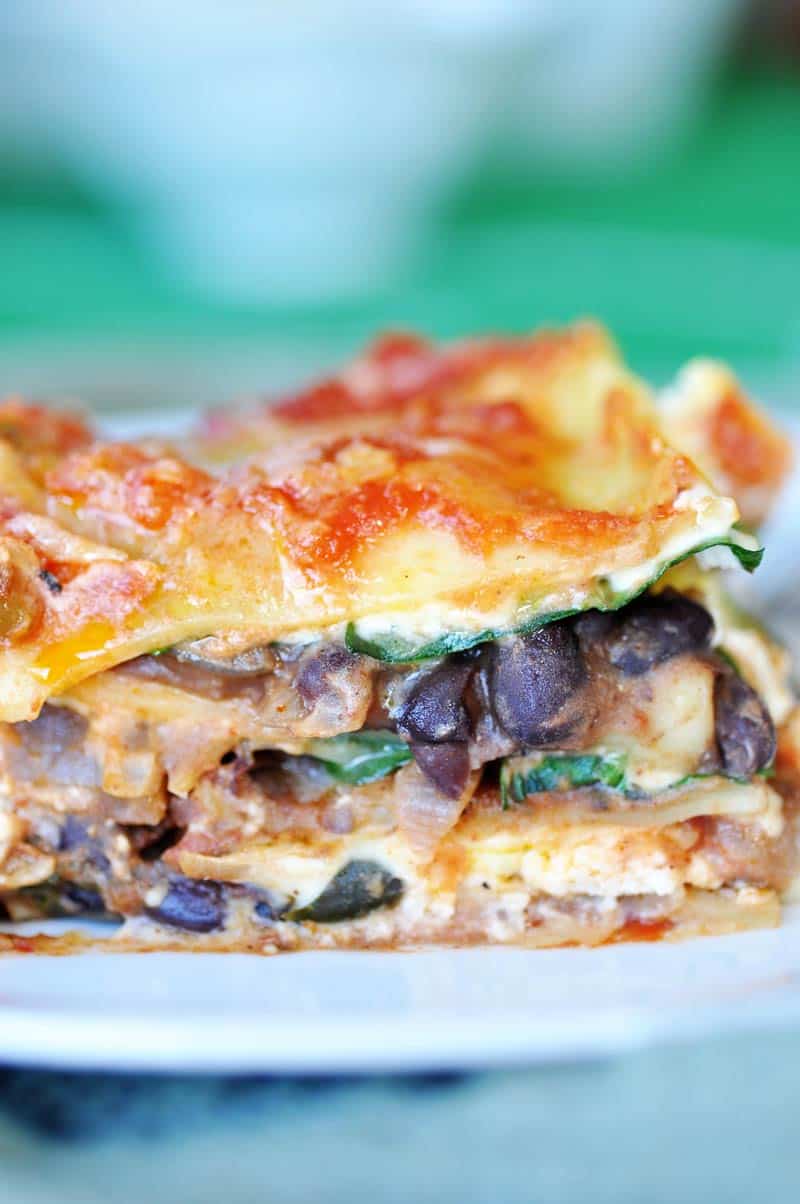 My family visits South of the Border as often as possible. So, it's easy to understand why we gravitate towards dishes that pay homage to the flavors of our favorite destination.
Mexican lasagne is a fun blend of cuisines, and it's a crowd pleaser. I love the way this recipe calls for mixing salsa into the sauce. It "kicks up the flavor" without going overboard on preparation.
You can adjust the heat to your liking and use any type or brand of salsa that you desire.
I make smaller pans of this to accommodate the different tastes in my home. Hubby likes things that burn his face off, the kids, not so much!
Necesito mas recetas Mexicanas? Mexican recipes are my favorite.
Holy Moly Lasagna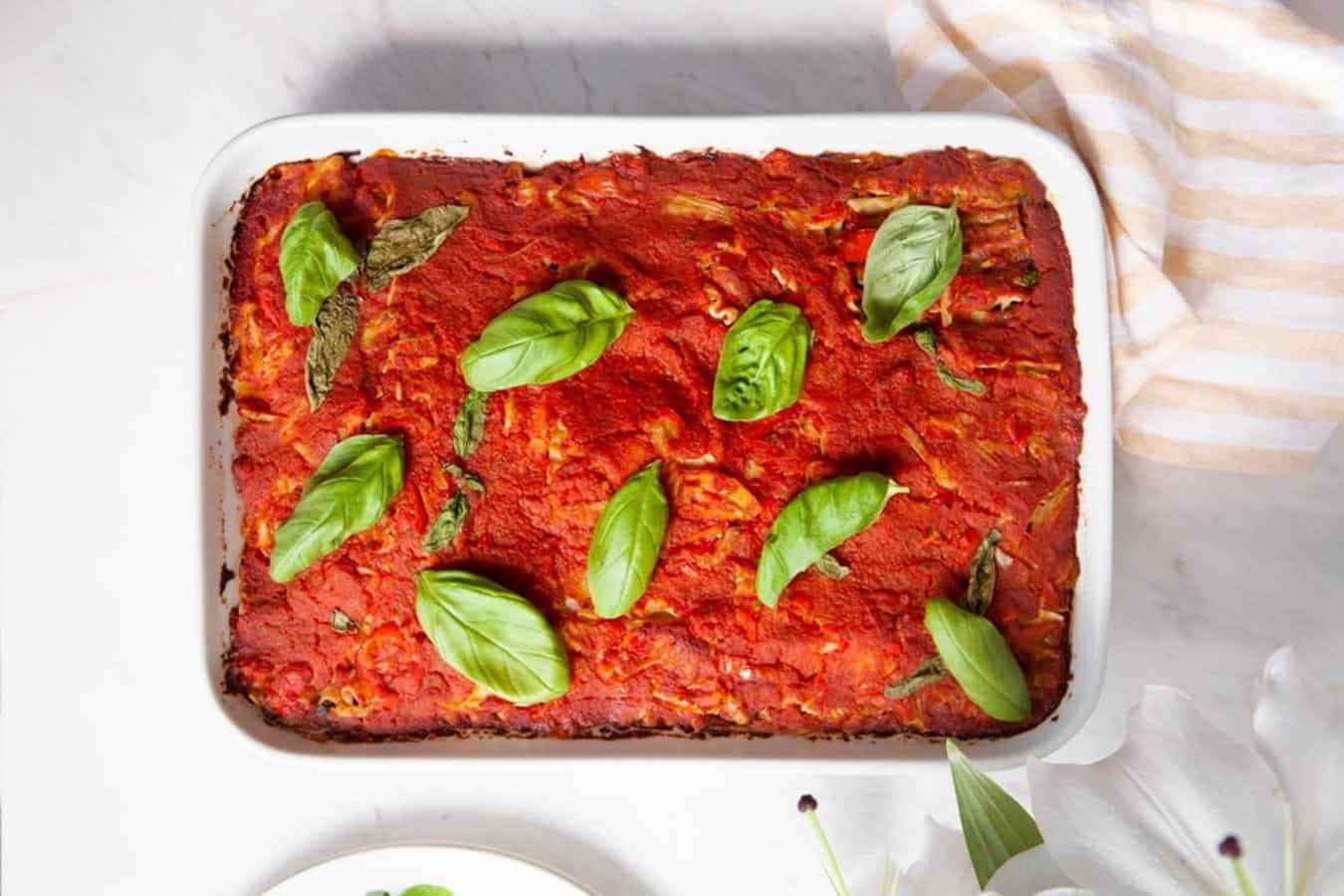 The Holy Grail of veggie-packed goodness! This is an excellent dish to show off the bounty of your garden harvest. I especially enjoyed the display of beautiful basil leaves on top.
Tomatoes, eggplant, spinach, and tofu come together in perfect harmony. A culinary delight to taste buds everywhere!
Spaghetti Squash Pesto Lasagna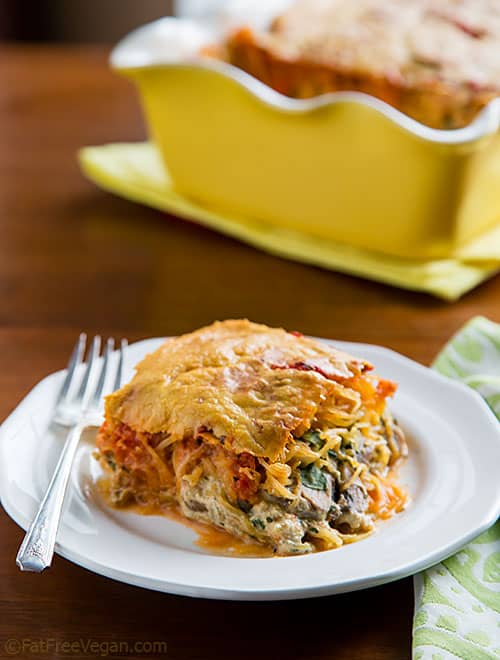 Lasagne with noodles is so passé. Fat Free Vegan's version uses Spaghetti Squash to replace the noodles and it's spectacular!
Spaghetti Squash is such a fun veggie and so good for you! Enlist your kids to scrape out the innards like it's a pumpkin at Halloween. Super messy fun for everyone.
Lasagna Rolls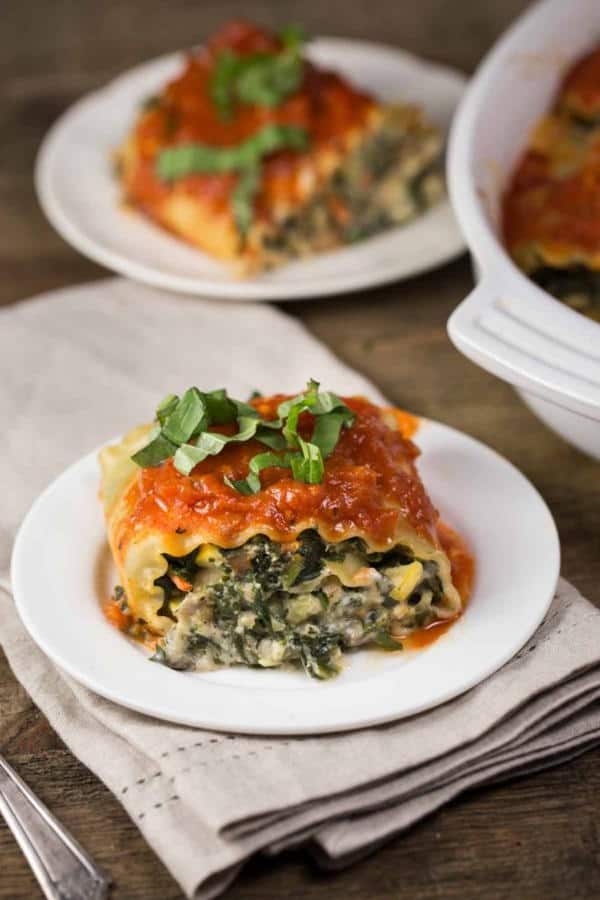 Ever find a dish that screams, 'Make me for your friends!' This is one of those. The individual rolls are so pretty and make for fool-proof portion-control.
The vegan Bechamel sauce is divine, adding a complexity to this dish that is unparalleled.
Your guests will be dumbstruck by your amazing lasagne crafting skills.
Easy Vegan Lasagna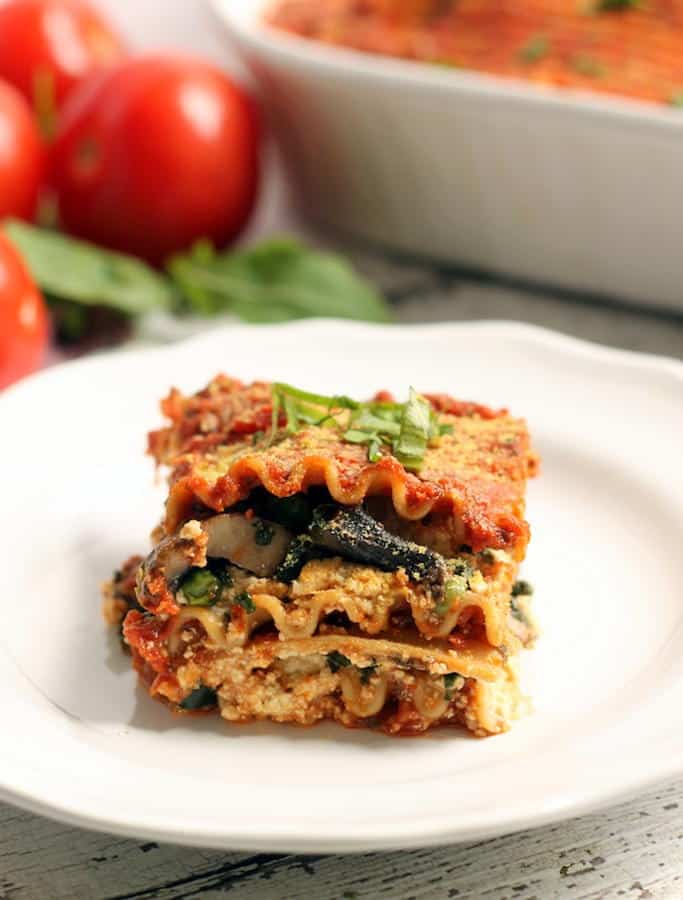 When I first began my plant-based lifestyle, I was inundated with questions. Most of which revolved around protein and taste.
How could I fulfil my daily protein needs with plants? Does any of that actually taste good?
Here. Eat this. Packed with veggie power (17 grams of protein per serving) and exploding with flavor. This is the epitome of plant-based goodness.
I love the combination of hummus and tofu for the ricotta. It's a wallop of yum straight in your face.
Lasagna with Roasted Veggies and Garlic Herb Ricotta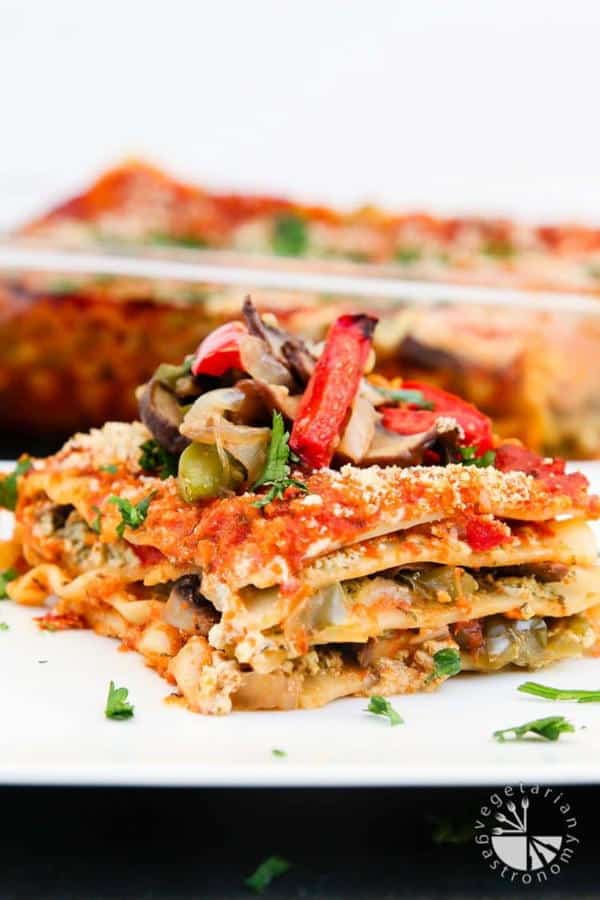 Nothing tastes better than fresh roasted veggies. Roasting brings out their sweet and savory notes. You can cut back on the oil if that's your thing.
The use of balsamic vinegar on top of these decadent layers makes the flavors pop.
All those veggies in a dish that weighs in at less than 200 calories a serving? Now that's my kind of dieting! Substitute the noodles with thinly sliced zucchini for an even healthier version!
Raw Vegan Lasagne with Cashew-Almond, Pesto and Tomato Layers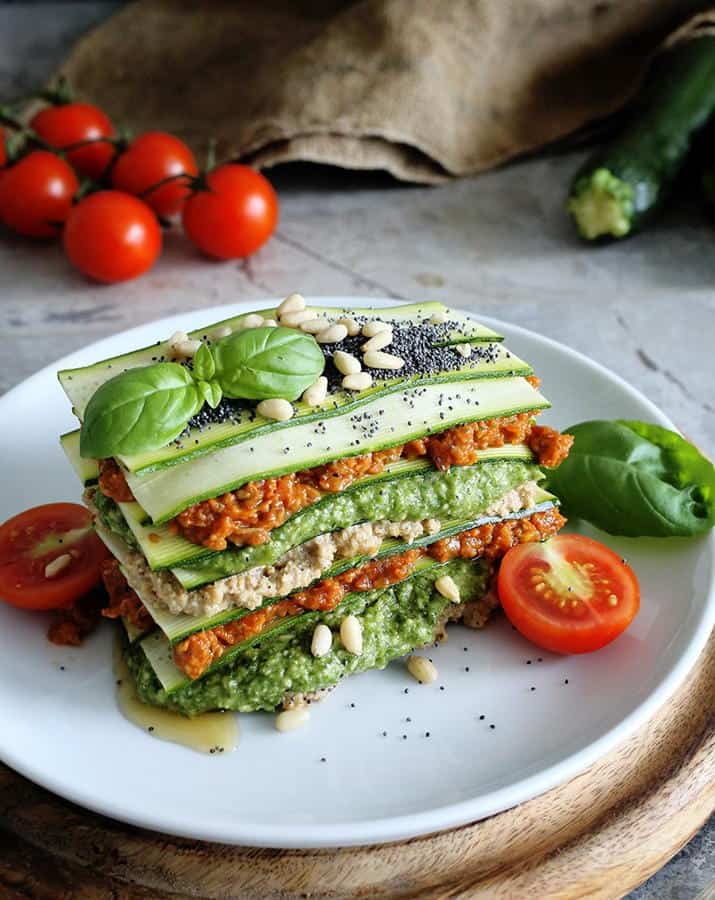 Raw vegan? It's an intriguing concept and one that I'll admit intimidates me. I know that raw veggies are an excellent addition in their own right, but I don't always know how to eat them. Never fear!
Delectable layers of pulsed nuts, blended tomatoes, and creamy avocados. This makes for a beautiful presentation of raw goodness.
A culinary twist on traditional lasagne that'll allay your fears forever.
Slow Cooker Lasagna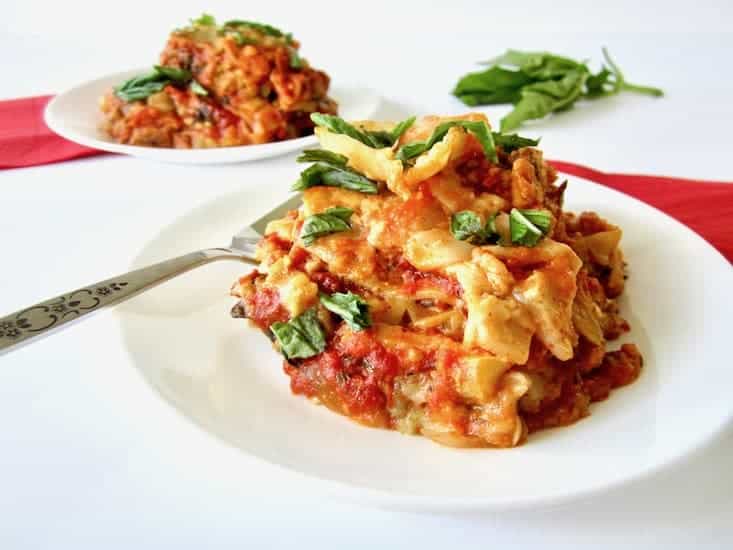 Slow cookers (or in my day, Crock-Pots) are kitchen gadgets made for the busy chef. The new Insta-Pots take slow cookers to the next level, offering more versatility than ever.
They make preparing and cooking an elaborate meal a breeze. Just chop, plop, and set. When the day is over, you've got a great meal to serve.
This lasagne fits the bill for the busy fam. I chopped up the veggies and made the Cashew Basil Cheeze the night before.
All I needed to do then was a quick sauté and into the cooker it went.
7-Layer Dessert Lasagna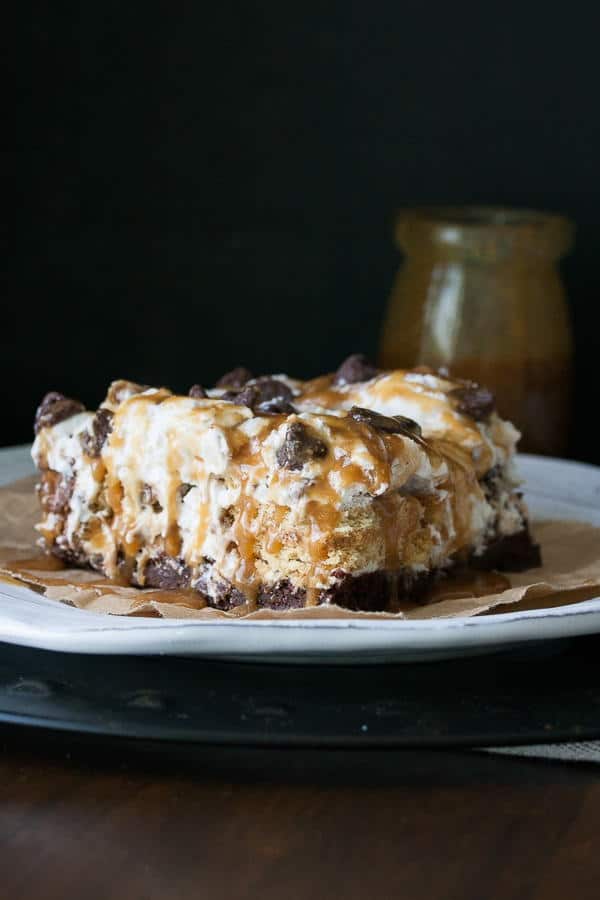 A roundup wouldn't be complete without a heavenly dessert tossed in there to mix things up. Just because you eat plant-based doesn't mean you can't indulge!
In my humble opinion, indulgences are the key to happiness, so don't feel guilty and dig in.
Brownies, whipped topping, caramel sauce, peanut butter sandwich cookies, peanut butter cups, and chocolate chips? Yes, please.
You can make this as homemade, or store-bought, as you want. It takes some preparation, but it's worth it. So freakin' good.
Best Damn Vegan Lasagna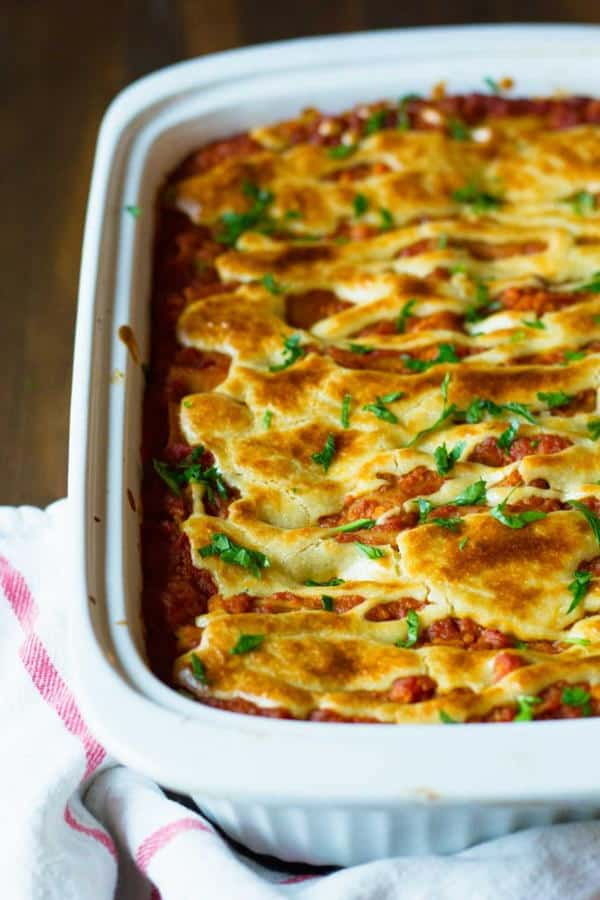 Protein-packed and enticing for those of you that have um, issues with vegetables. This is a mom's dream. No vegetable "chunks" to freak out the picky kids… or partners.
It's creamy, it's dreamy, it's the best damn thing you'll make this week. I love the addition of sweet potatoes in the marinara sauce. Pure genius.
Wild Mushroom Lasagna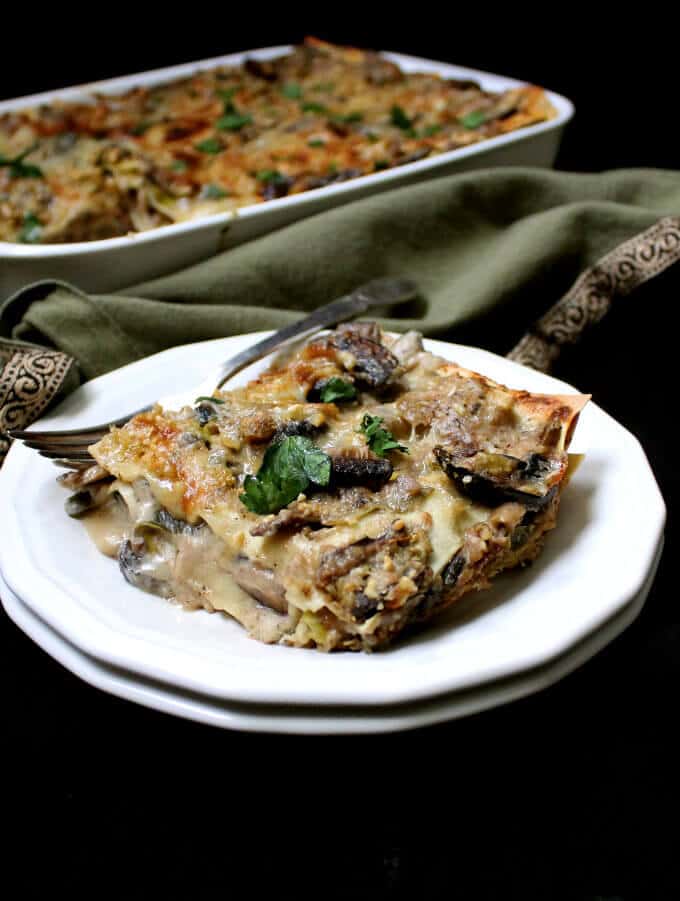 My husband loves taking the kids out foraging for mushrooms. I'm not quite at that level of being in touch with nature, so I buy exotic mushrooms at the store, like average people!
You can do either or both for this dish, and still achieve delicious results.
The more varieties of mushrooms you use, the more flavorful the meal. Don't be afraid to mix it up or keep it simple. The creator, Vaishali, encourages creativity and so do I!
Pumpkin Lasagne with Cashew Cheese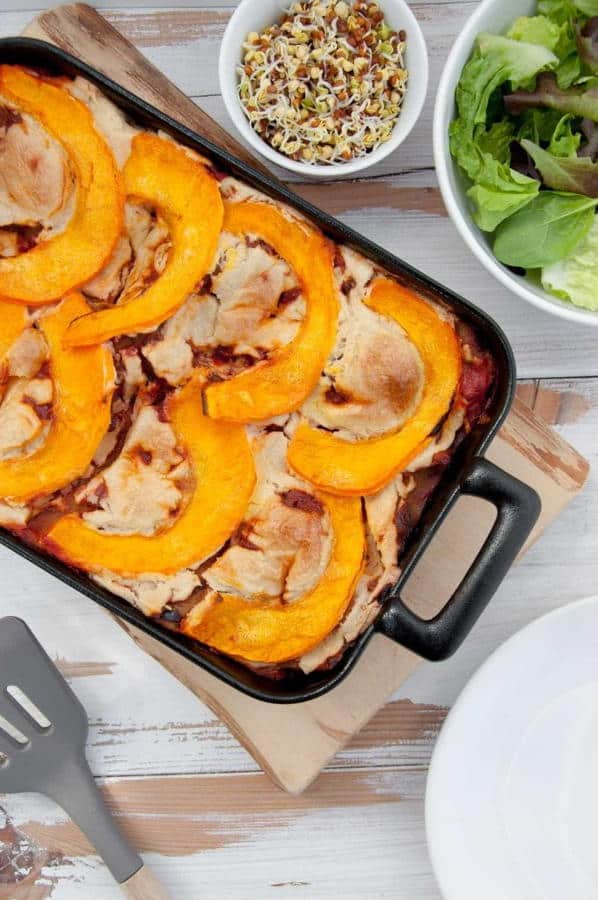 I'm a huge fan of anything pumpkin, but for some reason, I always think it has to be in a dessert-like dish. That couldn't be further from the truth and here's proof.
The pumpkin in this recipe needs to be fresh, so canned pumpkin isn't going to work.
It's a seasonal recipe, perfect for a blustery fall evening. You'll find yourself yearning for autumn year-round just to be able to eat this!
Eggplant Lasagna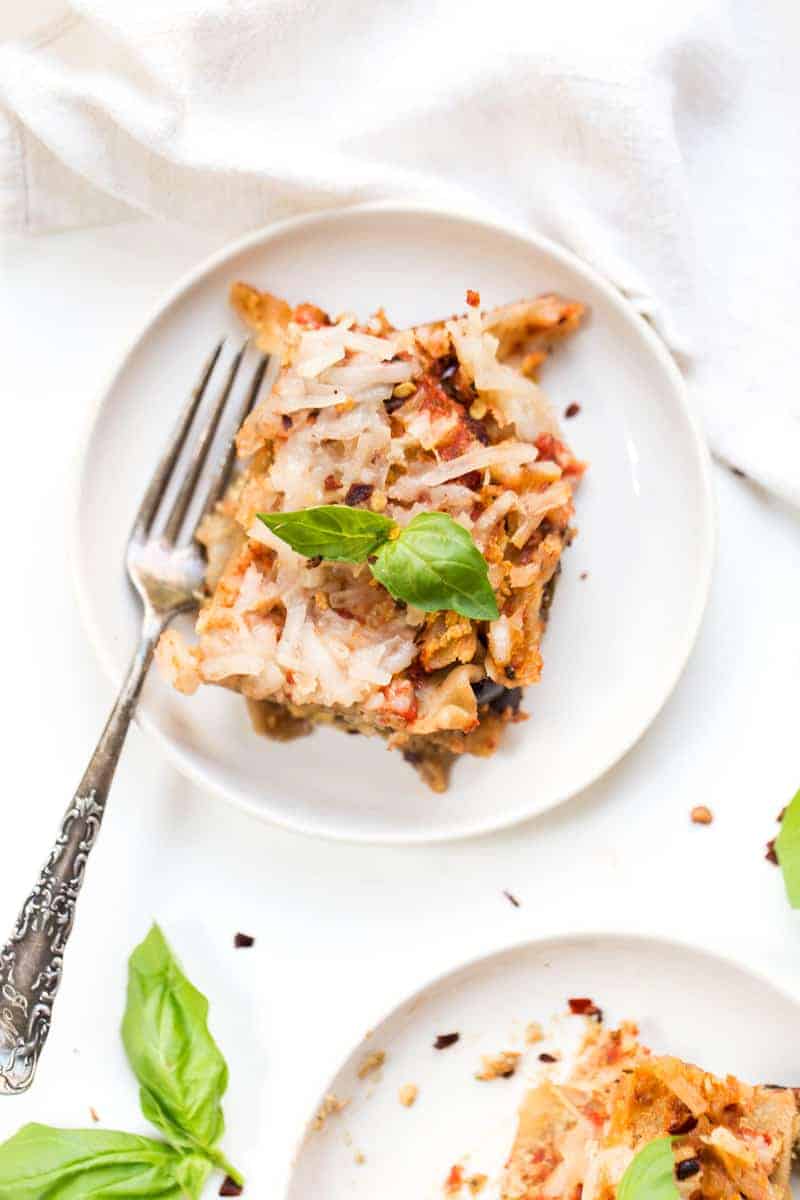 Eggplant and lasagne go together like peas and carrots. Eggplants are nutrient-dense and high in antioxidants. They also make for a comforting and filling meal.
Layering thin slices of roasted eggplant between layers of homemade cashew ricotta and marinara sauce is both simple and elegant. This recipe is easy to make gluten-free as well.
Spinach Artichoke Lasagna Rollups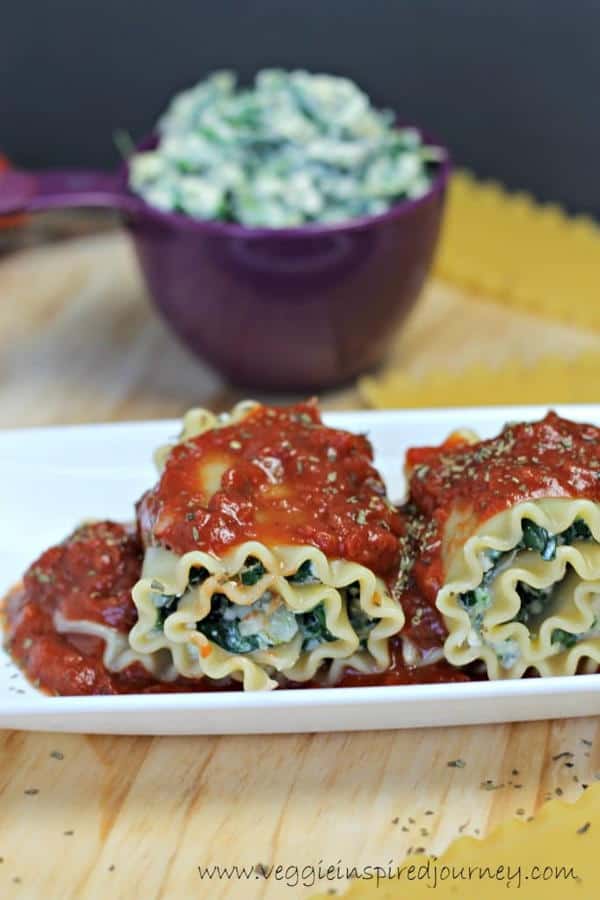 Spinach is one of my favorite powerhouse greens that I find myself utilizing in so many recipes.
Popeye the Sailor would be proud to eat the next two recipes! They use much of the same ingredients yet yield different tantalizing results.
This one combines spinach and artichokes (yum!) together with a creamy vegan Alfredo sauce.
Next, roll it all up into fun pinwheels of noodles and cover in marinara sauce. An excellent choice for sharing at potlucks, as the rollups are easy to serve in individual portions.
Easy Spinach Alfredo Lasagna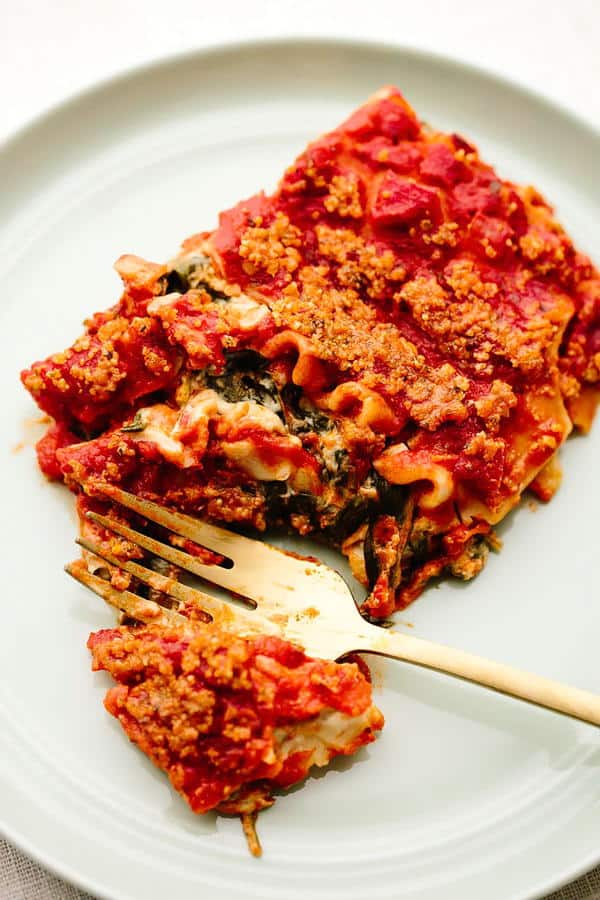 Ashley's spinach Alfredo lasagne is a soy-free version. It uses a cauliflower-cashew Alfredo that's so creamy and delicious you'll have a hard time believing it's not cheese.
I loaded my layers up with extra spinach, as I had a bunch in my refrigerator that was threatening to go south!
I'm of the school that more spinach is better, and that choice didn't disappoint. Can't get enough of awesome spinach? Neither can we.
Lasagna Soup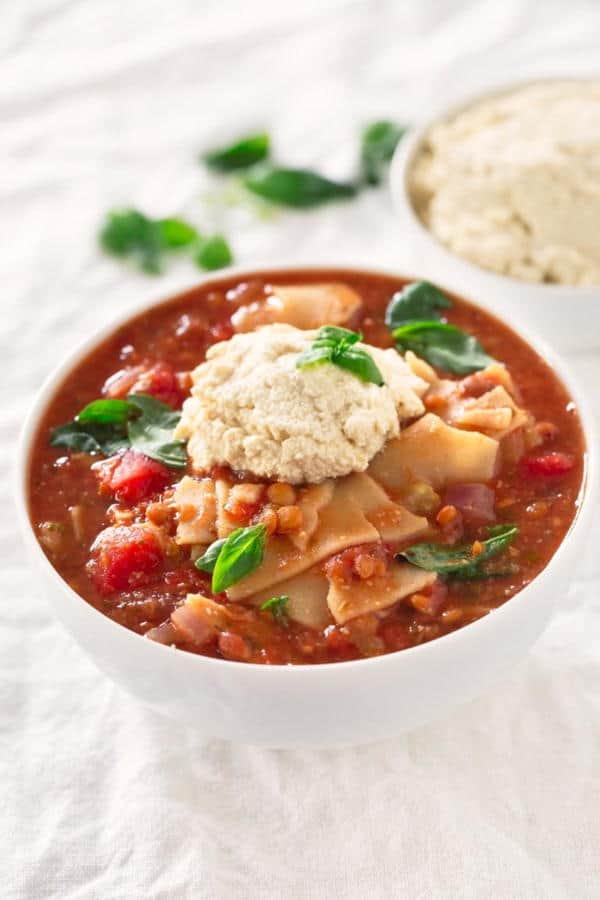 Craving a hearty lasagne, but pressed for time (who isn't)? I present to you lasagne… soup? That's right.
All the things you love about lasagne in a hearty and delicious soup.
How's that possible, you may ask. I assure you, it's not only possible, it's also downright amazing!
In about half an hour, you can create this lasagne soup, using items you probably already have in your pantry.
It's so easy yet, so satisfying, you'll wonder why you haven't made this before. It may even replace your go-to chili! A good soup is the essence of food for the soul!
Raw Vegan Lasagna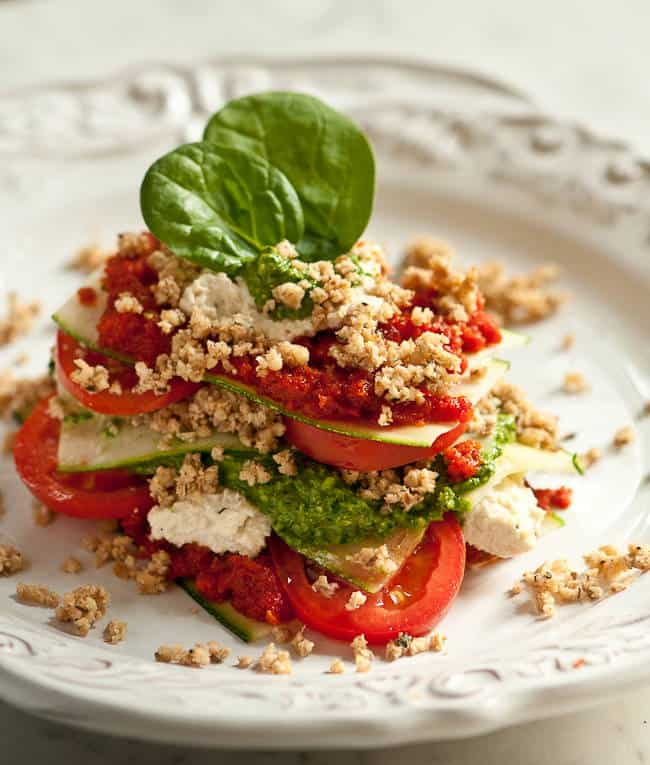 Want to create a raw vegan meal that looks like it jumped right off the pages of a gourmet magazine? You got it! Susan's lasagne recipe, with two variations for presentation, is a gastronomic delight.
My favorite part of this recipe is the walnut "sausage." What a yummy way to add more texture and "meatiness" to this dish.
Whether stacked or rolled up in zucchini noodles (perfect for little fingers, or for appetizers), this raw dish is visually stunning and palate pleasing. Delightful!
Wrapping Up
With lasagne, there are so many variations in ingredients and textures, the sky's the limit!
I had so much fun trying out these recipes, and my family had even more fun devouring every bite!
Don't feel intimidated by all the choices, just pick one (or five!) and throw caution to the wind!
You can't go wrong with any of the recipes included in this roundup. There's something for every taste, every occasion, and every skill level!