Here we focus on vegan ice cream, 50 recipes! For even more great plant-based desserts check out this recipe roundup.
If you don't have an ice cream maker perhaps now is the time to invest? If you're unable to, you can place the mixture in a container then freeze, taking it out occasionally to stir.
Enjoy!
Oh-So-Good Ice Cream Recipes
Malawi Coffee Ice Cream with Salted Caramel Swirl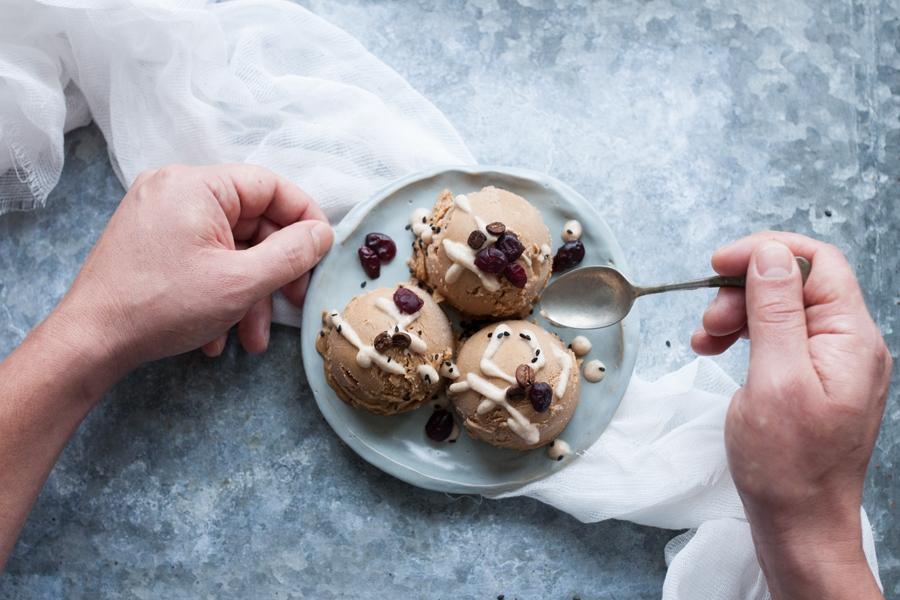 We're going to start off with something extra special! This isn't your ordinary ice cream, use this for when you want to impress or for a special occasion.
The recipe is divided into three simple parts; the ice cream, caramel swirl and lastly, the declaration. Worth all the effort and tastes better than you expect.
Coconut Peach Ice Cream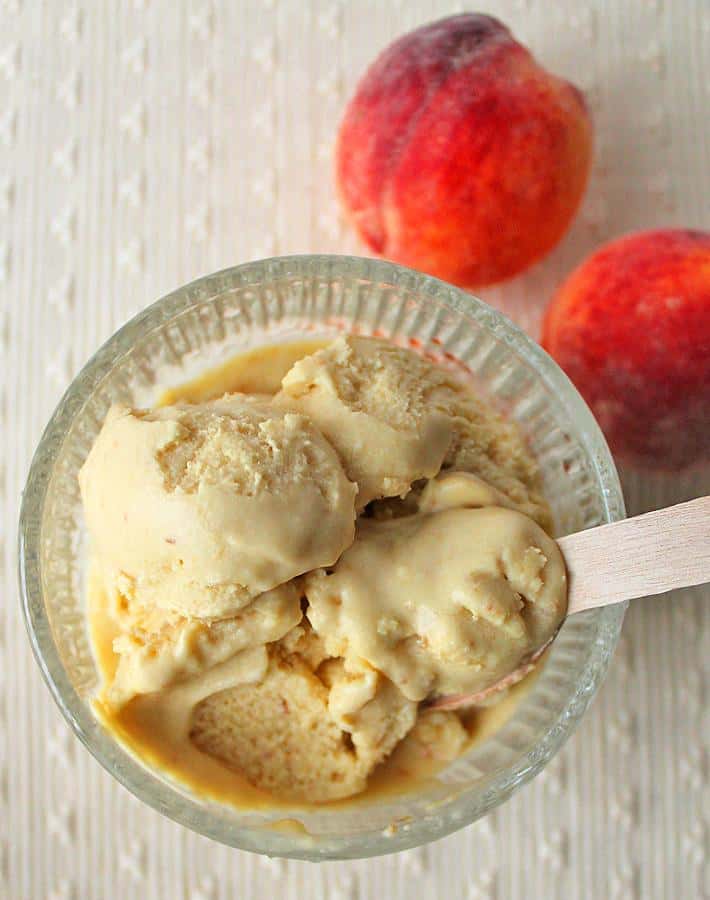 The first two words of this recipe should have already sold you like it did me!
You're looking at a coconut-based ice cream with delicious peach, a hint of vanilla and a couple of other ingredients.
The recipe has some really useful notes as well, check it out!
Wasabi and Cucumber Ice Cream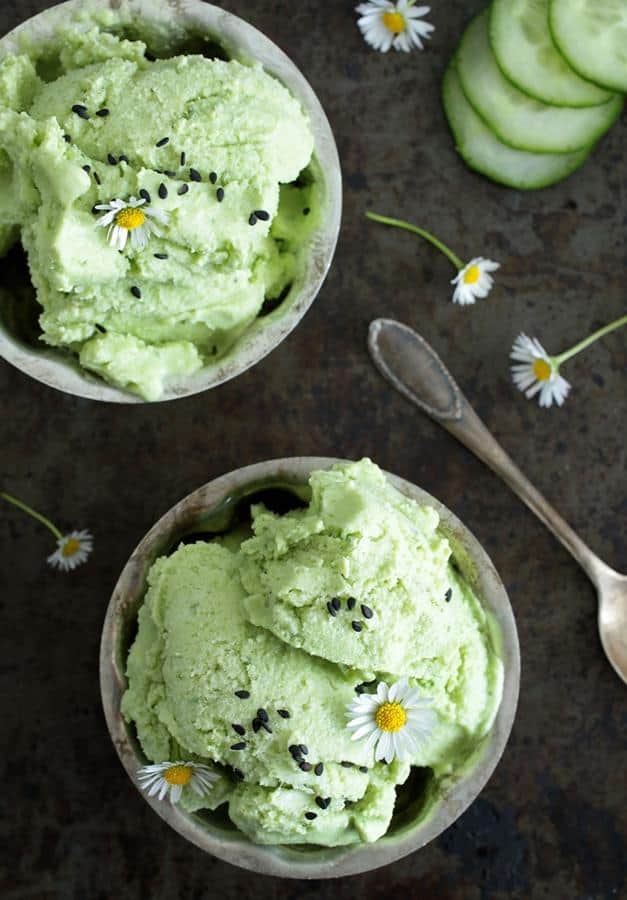 For when you want to change things up and surprise someone, grab this recipe!
This fabulous dessert is coconut-based and has a heavenly satisfaction with two unlikely flavors that work really well together. Try it, you won't be disappointed!
Apple Cinnamon Nice Cream with Glazed Apples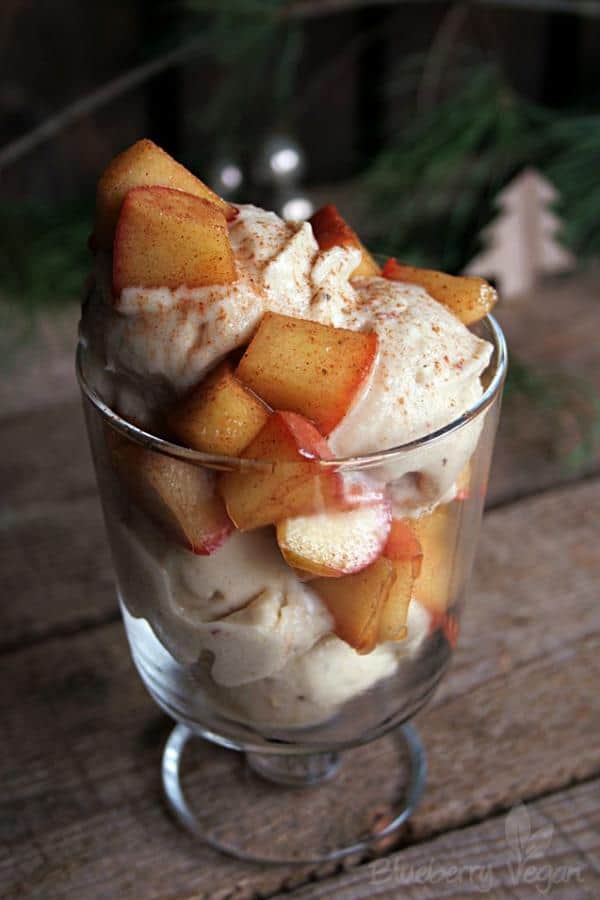 Using frozen bananas as a base for ice cream has been known for some time and if you've never tried, do so today!
This wonderful recipe has delicious glazed apples with a hint of cinnamon. If you're short on time, you can skip the apples although you be missing out on a wonderful combination.
Salted Caramel and Baileys Ice Cream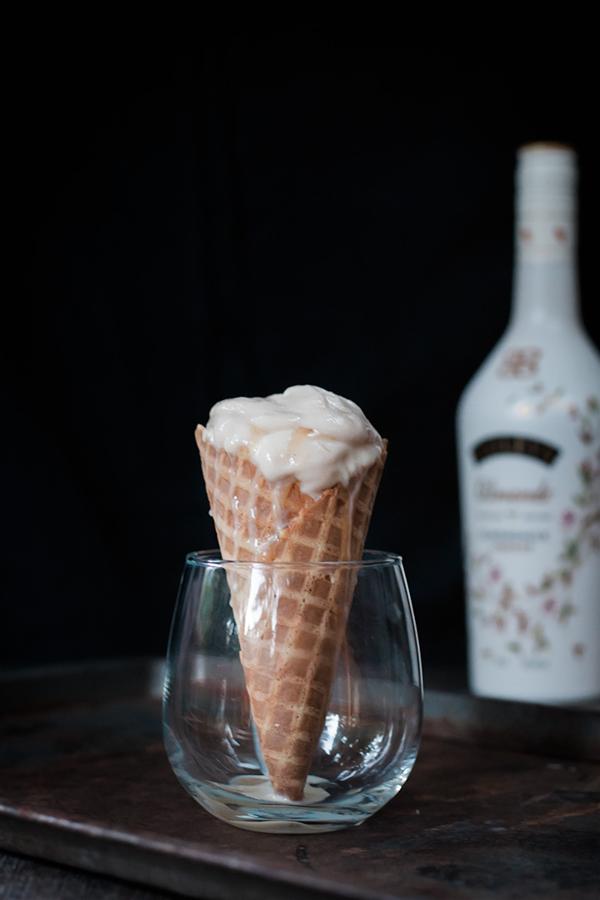 Hopefully you can source the almond-based Baileys liqueur. This is a treat on its own, use it as an ingredient to an ice cream recipe and, oh my goodness!
Get some store-bought vanilla ice cream as well, or you can make your own. Altogether just a handful of ingredients and you get the perfect combination of flavors.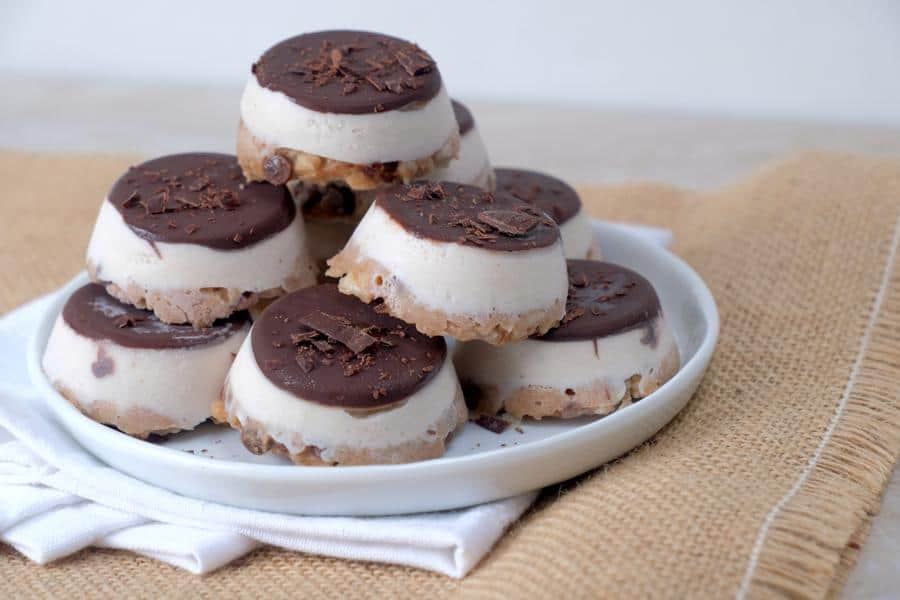 Bite-sized cookies and ice cream? What's there not to like?
If you're thinking these are complicated and maybe expensive to make, think again. I totally love the ingredients and promise your taste buds will be thanking me! OK, that sounds weird!
Vanilla Ice Cream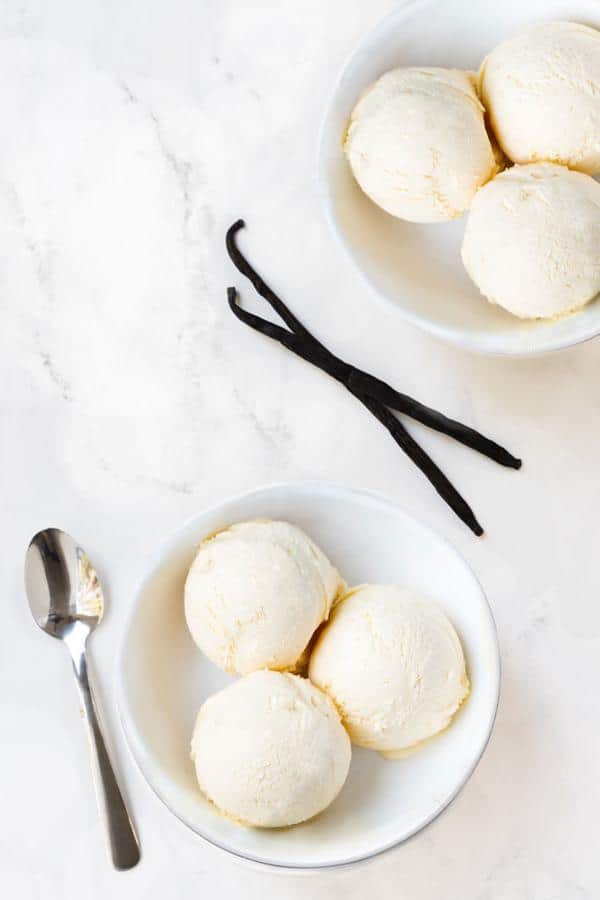 Different ideas are all well and good, but sometimes you just want a classic. After all, classic dishes have stood the test of time for a reason, right?
This is a real fancy and high-quality recipe. The author even included a video taking you through each step and we don't often see that!
Creamiest Chocolate Ice Cream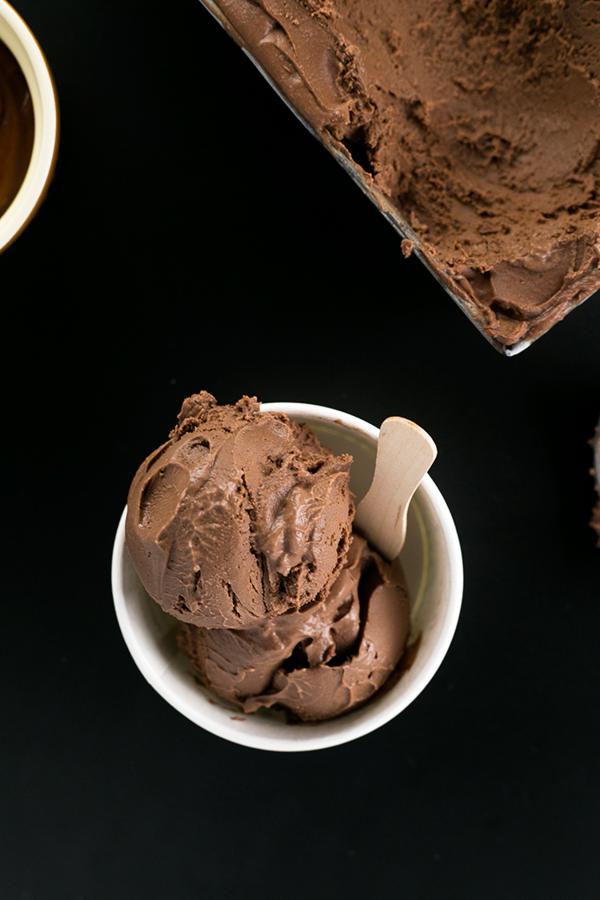 Another classic and trust me, the author didn't describe this as 'creamy' for no reason. This is serious stuff!
This ice cream includes a hint of espresso coffee which you can include or leave out according to your preference. Either way this is a hit!
"Snickers" Ice Cream Bowl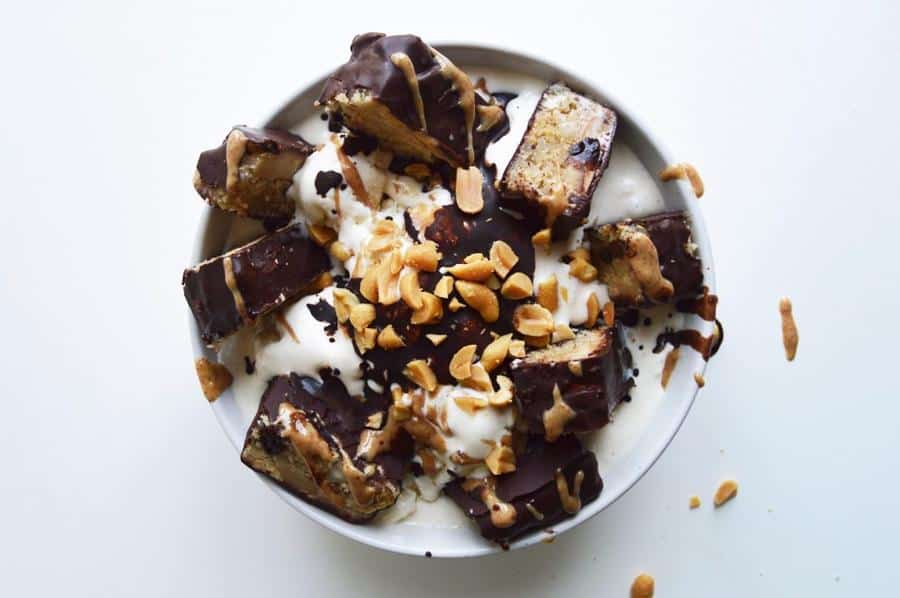 Snickers? So, what's that all about? Well, included in this recipe is a link on how to make your very own vegan Snickers!
This is really indulgent ice cream. Whether you need cheering up or for when you want something extra special. This is it!
Purple Sweet Potato Ice Cream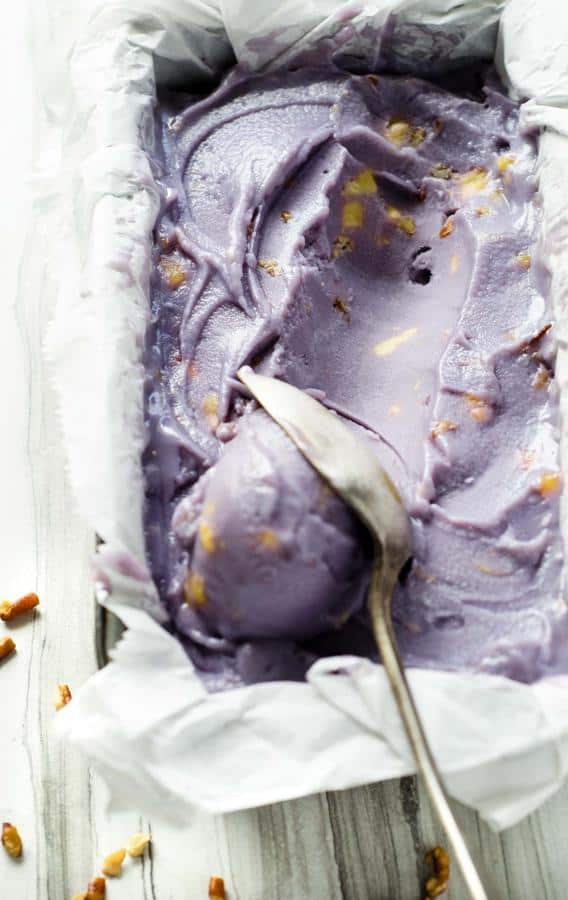 I know what you're thinking, 'Sweet Potato in ice cream?' Stay with me.
I guarantee this doesn't taste anything other than delicious. I'd even go as far and say this is healthy! Love the color! Try it and then write and tell me I was right.
Chocolate Mint Bubblegum Ice Cream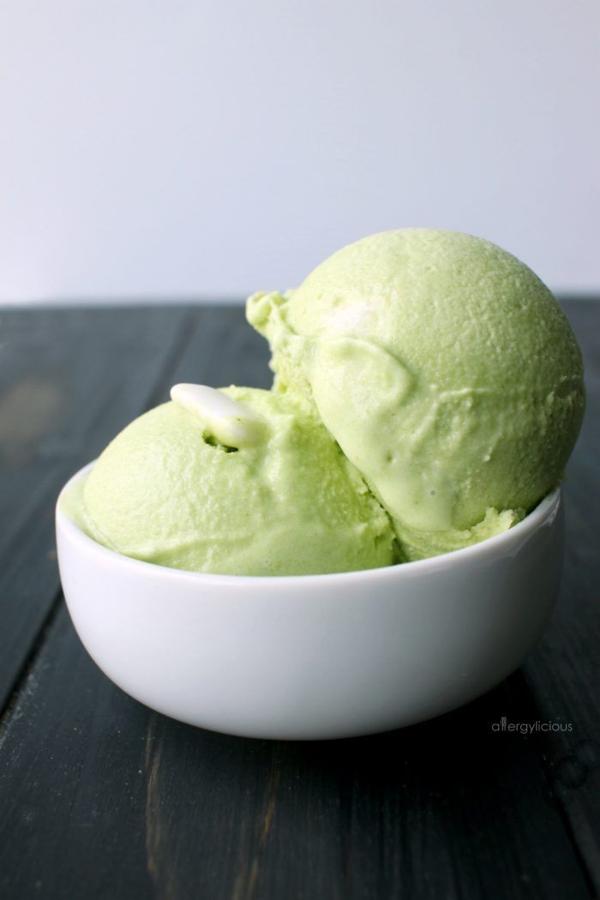 Chocolate Mint? Bubblegum? Ice cream? Oh, the stuff of childhood dreams. This recipe is by far the most appealing to my inner child. If these flavors aren't everything a kid has ever wanted, I don't know what is.
You'll need to buy the gum to make this perfect, and it's recommended to use an ice cream maker. However, there is a freezer method referenced at the end, so don't despair. The gum is also added in at the end, so you could skip it and still have an amazing minty delight.
This ice cream is sure to please the young, and the young at heart!
Moose Tracks Ice Cream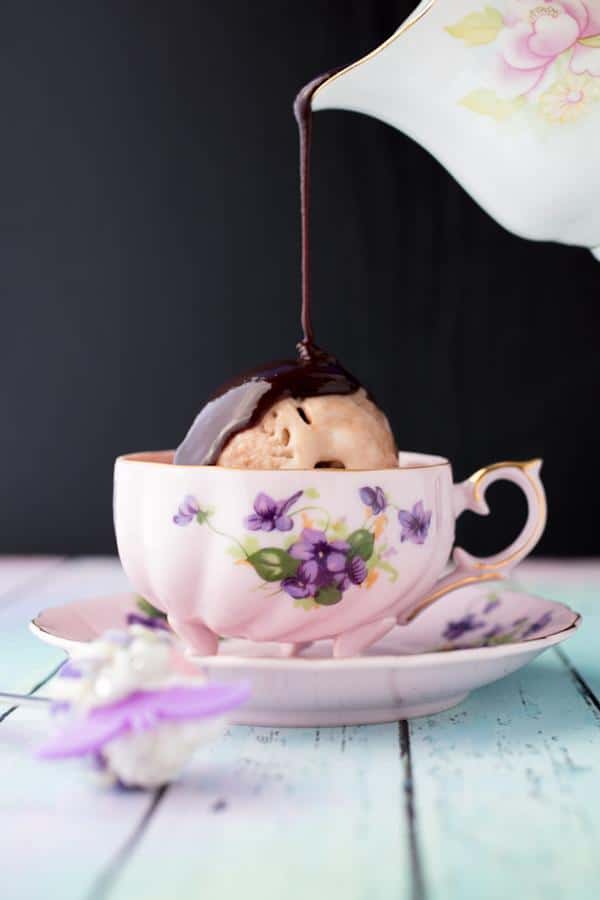 A wonderfully inventive recipe. I love the title!
The ingredients are easy to source so you won't have any problems there. The secret to this recipe is in the directions. Follow them carefully and you'll be guaranteed a treat!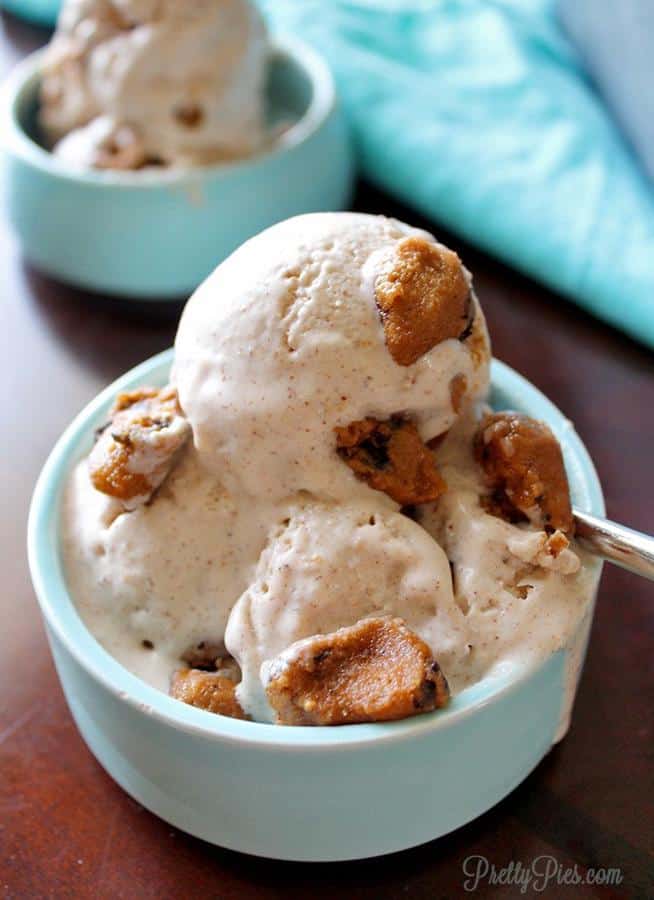 My local store does a great vegan cookie dough ice cream although it's so expensive!
It may seem like a little effort as you need to make the cookie dough as well as the ice cream for this. However, I promise you the end result is completely worth it. One of my favorites!
Maple Walnut Nice Cream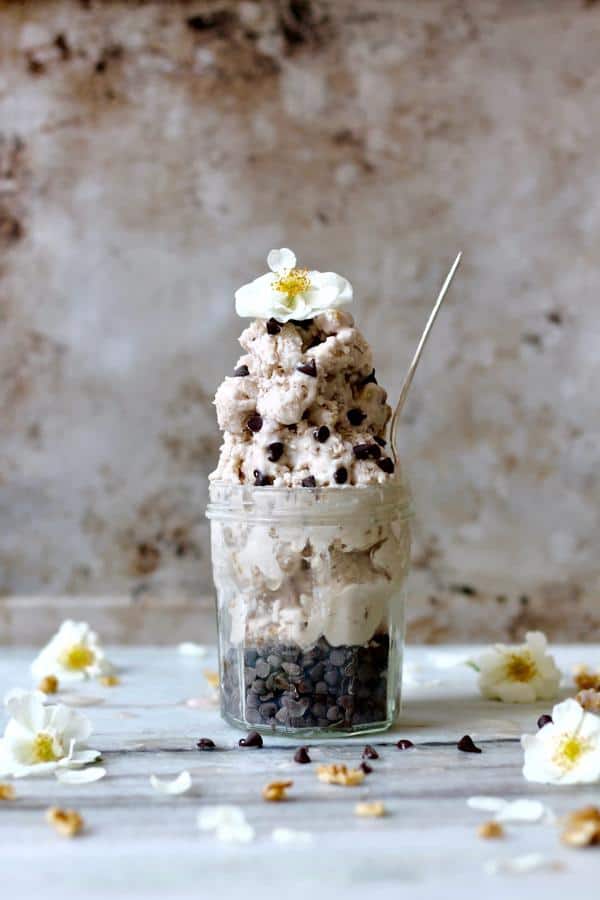 I think the title of this recipe tells us all we need to know; maple and walnuts were made to go together.
Great flavors, great textures and the presentation is stunning. You simply have to make this.
Chocolate Ice Cream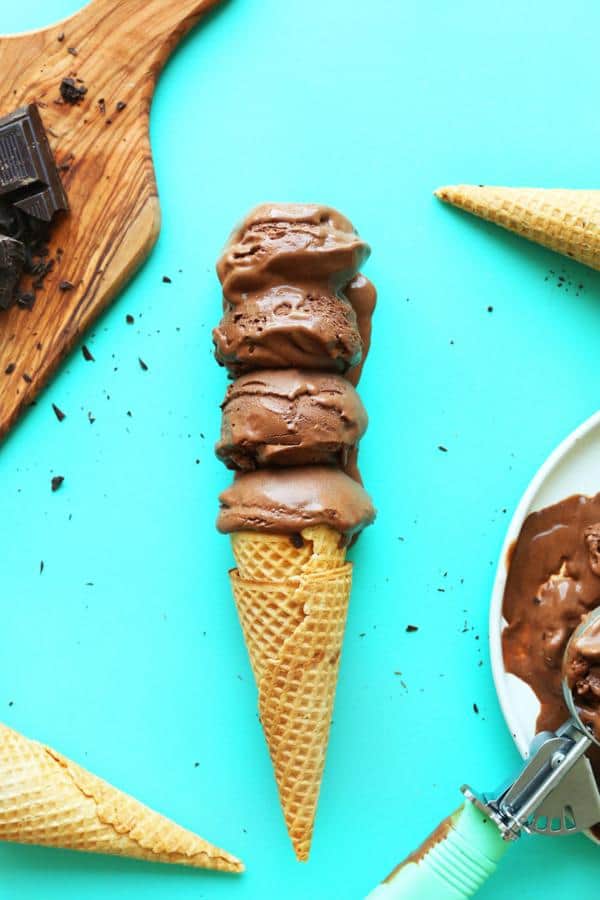 For when you want a classic flavor, the old standby and nothing else will do.
If you've never made vegan ice cream before, this recipe would be a great place to start. Not only are the ingredients easily obtainable, the recipe page also contains a video that holds your hand all the way through the process.
Perfect result guaranteed!
Homemade Peach Ice Cream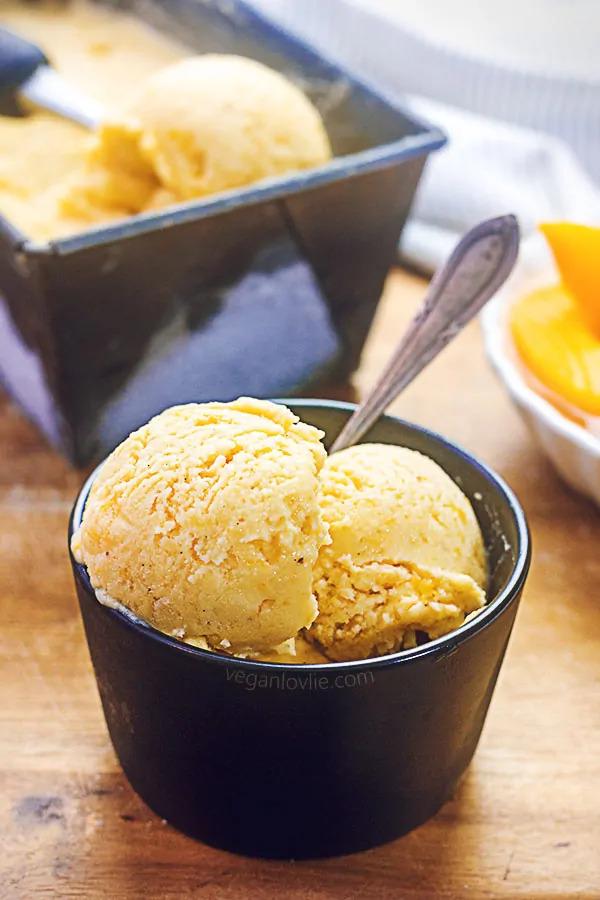 Millions of peaches, peaches for me! Oh, how I love peach season! There's nothing like a fresh peach…except maybe the all year availability of canned peaches! This ice cream works so well with canned peaches you'll be making this delicious confection regularly!
Simple ingredients, simple method. You don't even need an ice cream churn. Make sure you follow all the steps to achieve the perfect creaminess you're dreaming of. It's worth every step!
Mocha Chip Banana Ice Cream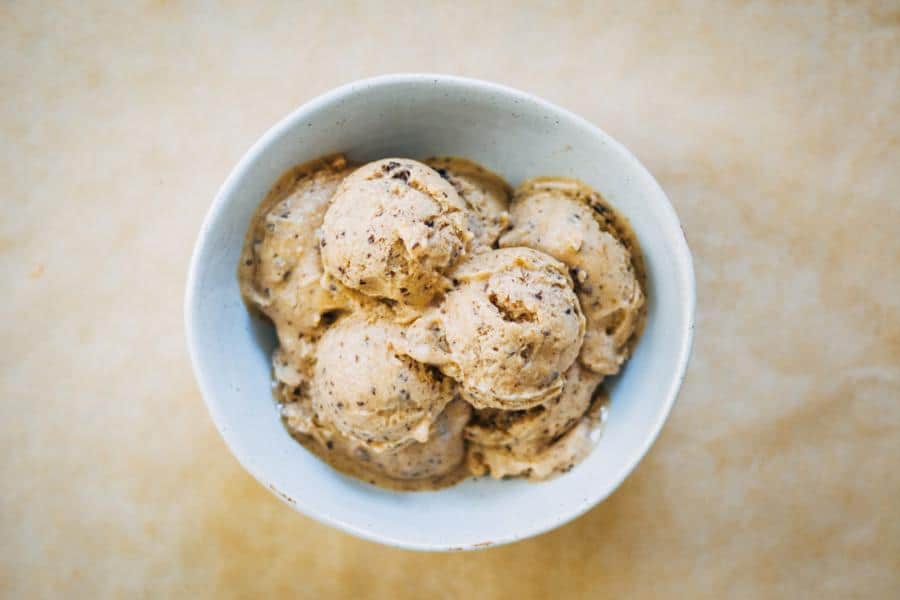 I saw the recipe title, I saw the photo, I was hooked and for good reason!
If you like coffee flavored ice cream, this is going to be a hit. Just five ingredients is all you need! The base of this treat is frozen bananas whizzed in a food processor. I can't say enough about this, make it now!
Avocado Ice Cream Recipe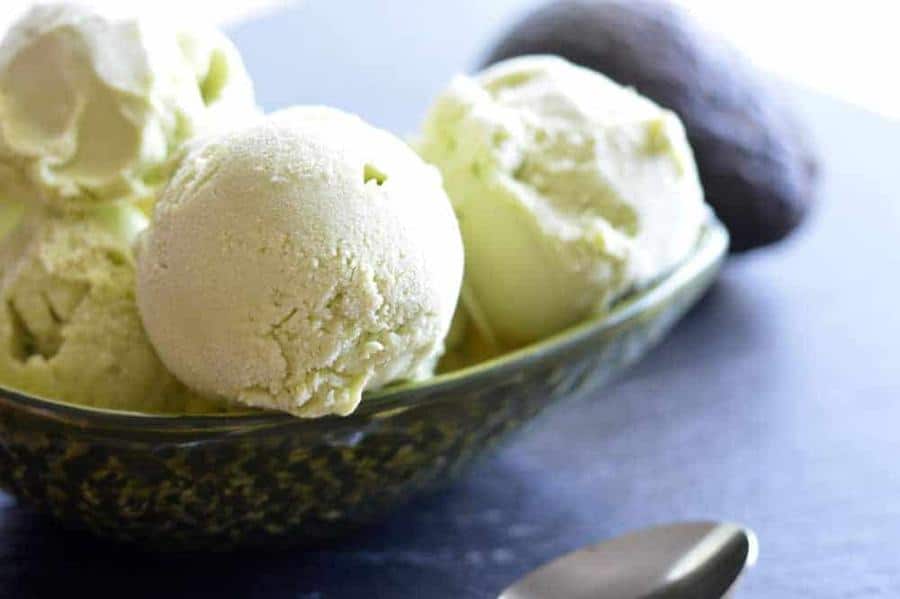 A few years ago when I first saw avocado as the main ingredient in a dessert, I was a little sceptical. I was naïvely worried my ice cream would taste of guacamole. Beginners' mistake!
You need to trust me on this, I promise, this tastes like ice cream and nothing else. Delicious, easy to make, and healthy.
Strawberry Maple Nice Cream
Nice cream is all about flavor and natural goodness. These recipes are usually fruit based and this is no exception.
You need just four ingredients whizzed together in a food processor and that's it. No guilt and all the taste!
Piña Colada Ice Cream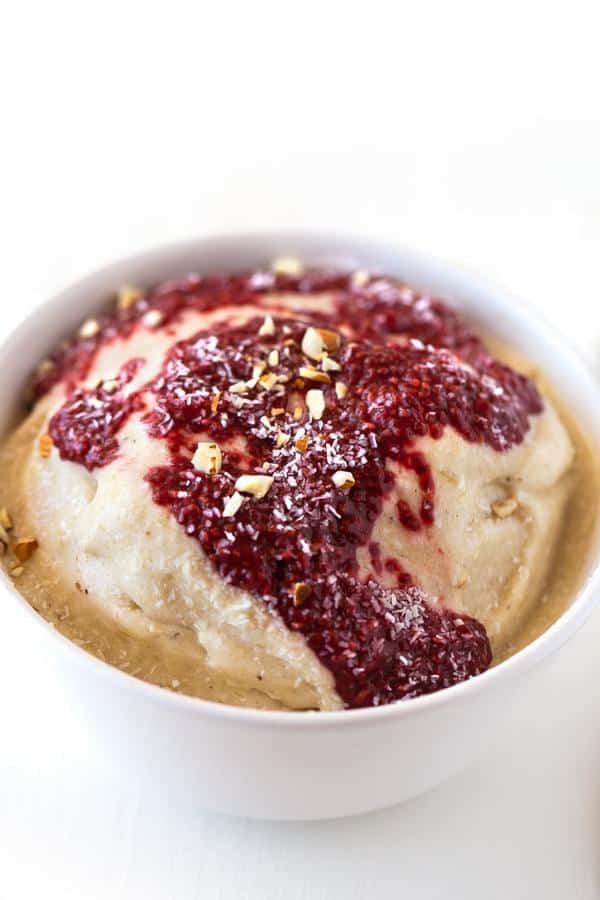 Doesn't this look just fantastic!
The recipe is divided into two sections, the main ingredients for the ice cream, and then you get to make the raspberry chia jam. On their own they are both excellent, together they are amazing!
Activated Charcoal Ice Cream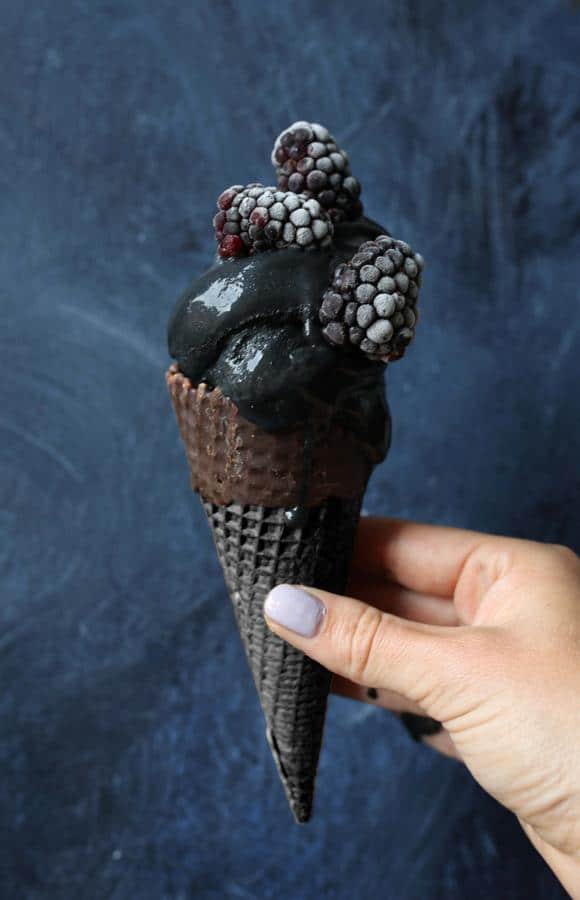 Now this really intrigued me, activated charcoal and of course, you get unusual looking ice cream, to say the least.
You know what? This works and works well. Perfect for Halloween or when you just want something different.
Peanut Butter Sweet Potato Ice Cream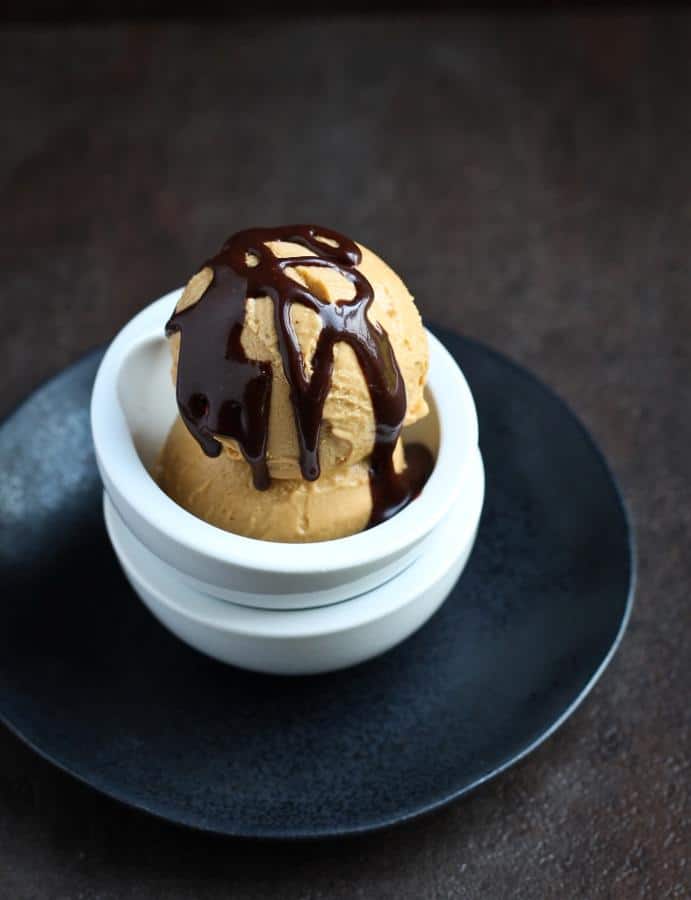 Sweet potato as an ice cream ingredient? You bet! It makes it light without adding any flavor, that comes from all the other great ingredients such as coconut, vanilla, peanut butter and more.
The amounts listed in the ingredients make four cups so adjust as necessary. Tastes great!
Coconut Pineapple Nice Cream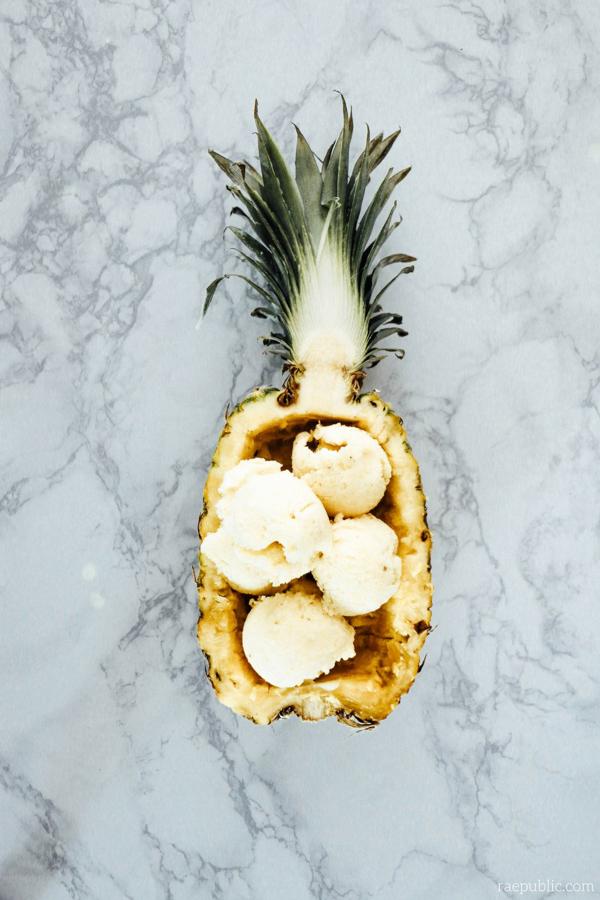 Let's get tropical!
How many ingredients in this? Two! Get your food processor switched on and if you want to go that extra mile, serve in a hollowed-out pineapple as illustrated fantastic!
Chocolate Coffee Ice Cream with Caramel Ripple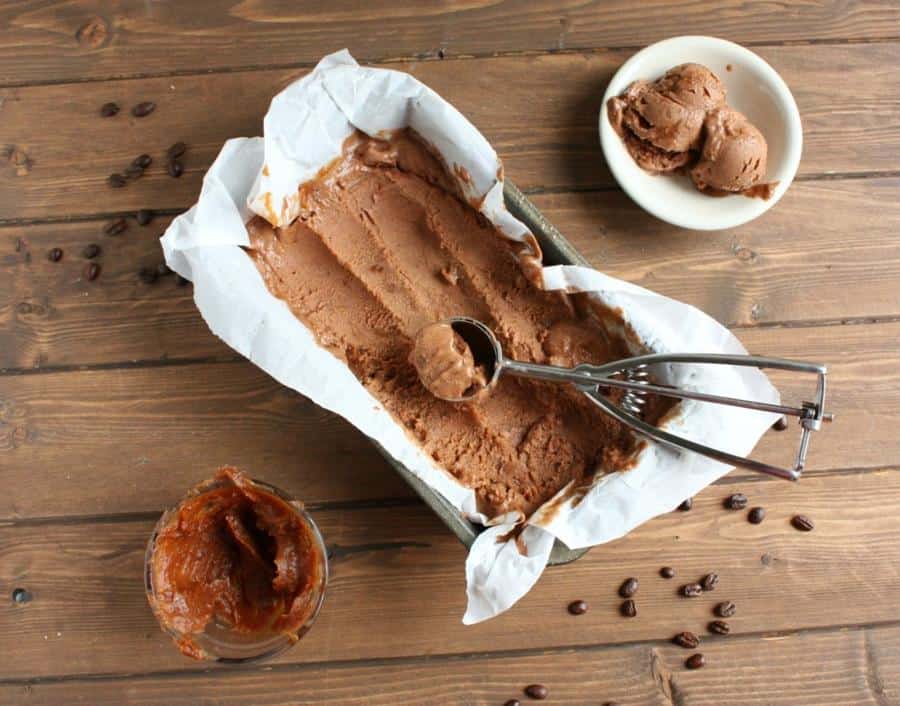 I don't know where to start with this ice cream. So much to talk about, so much eating to do!
Chocolate, coffee, coconut, vanilla, caramel – this can only be described as the ultimate ice cream!
Gluten-Free Chocolate Chip Dark Cherry Ice Cream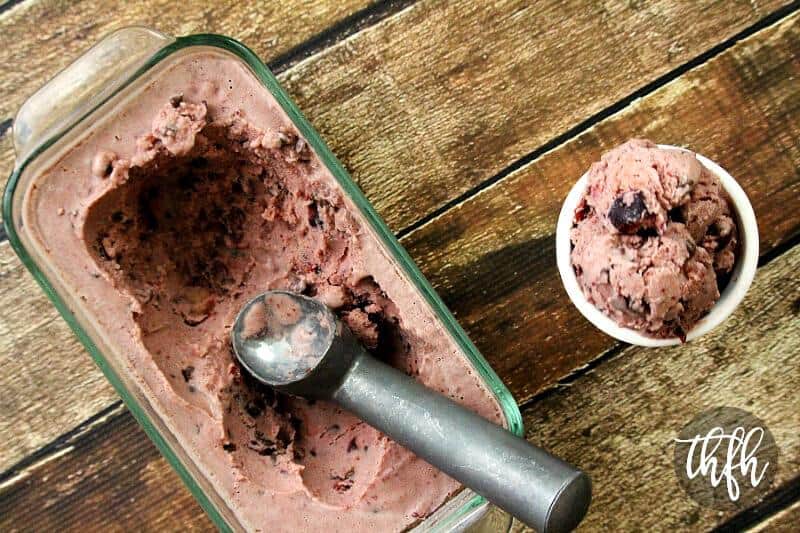 Not only tastes great, but gluten-free as well!
You need just three ingredients for the ice cream then add some sprinkles. Tastes heavenly!
2-Ingredient Pomegranate Nicecream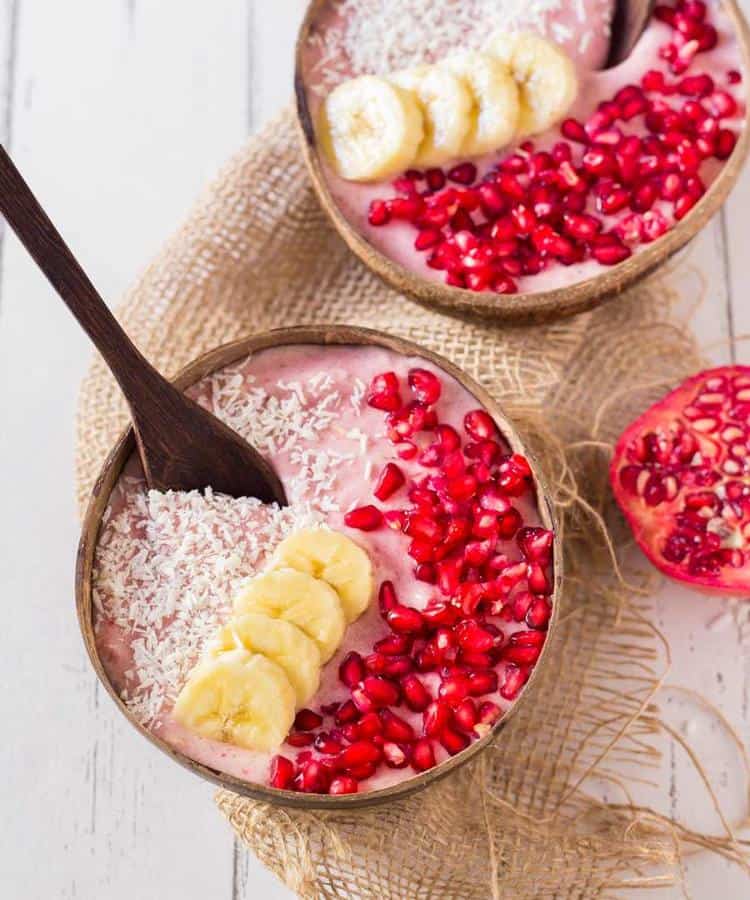 The main attraction here is in the title, two ingredients!
Put them in the food processor or blender, serve and eat! Dessert, ice cream… potato, .
5-Ingredient Chocolate-Covered Ice Cream Bars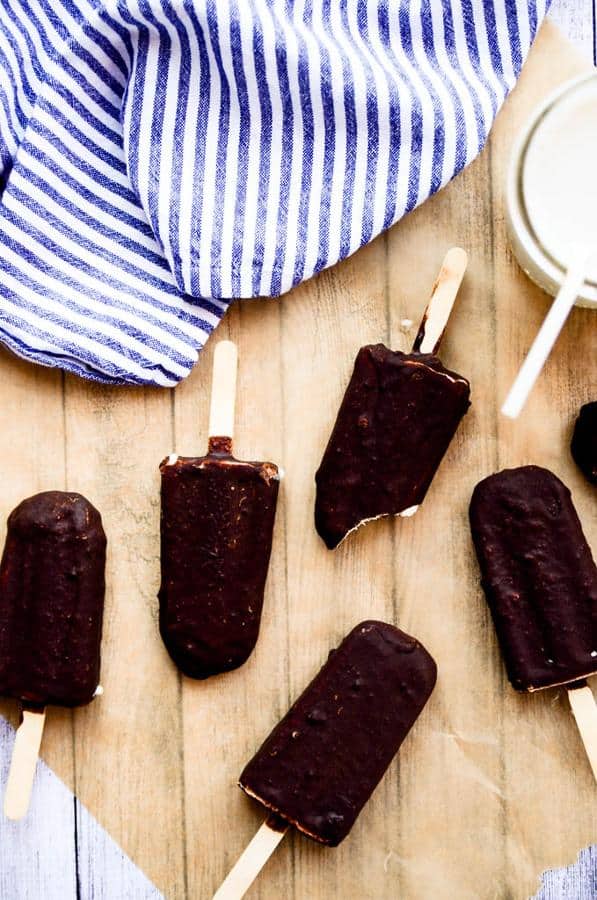 Okay, time to get serious. We all know things made at home taste better than anything store-bought. This recipe is the perfect illustration.
I don't know where to start. Recipe is divided into two sections, the ice cream bar has three ingredients (and is a great by itself), and then the chocolate shell. Follow the instructions and you will be rewarded with something very special.
Tropical Nice Cream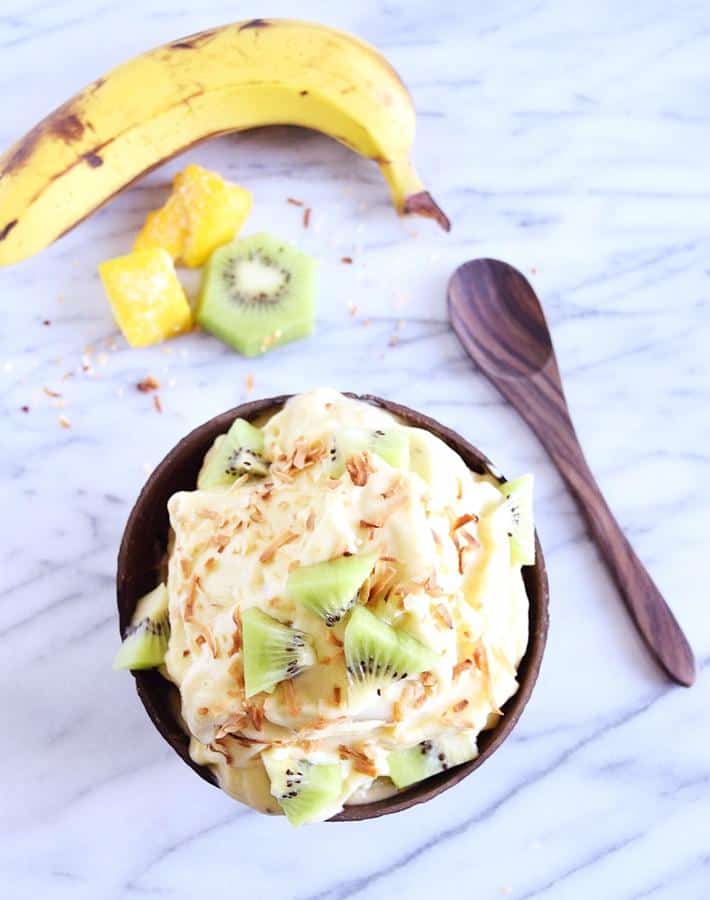 A wonderfully delicious recipe for a fruit-based ice cream.
I love the color of this dessert. It's naturally sweet, has a velvety texture and you're only looking at four ingredients. Perfect!
Raw Persimmon Ice Cream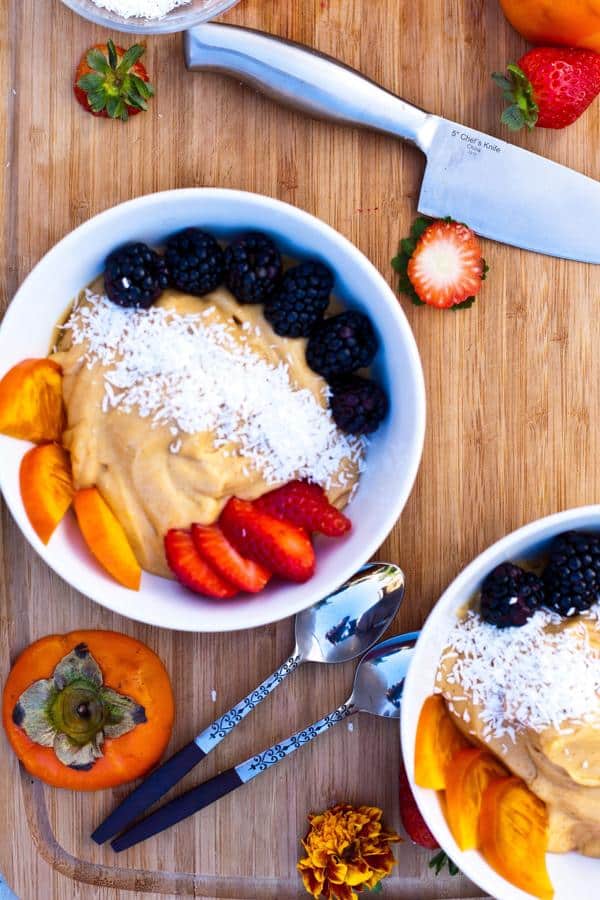 This is one of those recipes where the presentation is the ultimate finishing touch.
You don't have to copy the bowl as shown, but I urge you to as it requires virtually no effort, but it looks just lovely when serving!
Beetroot Rhubarb Ice Cream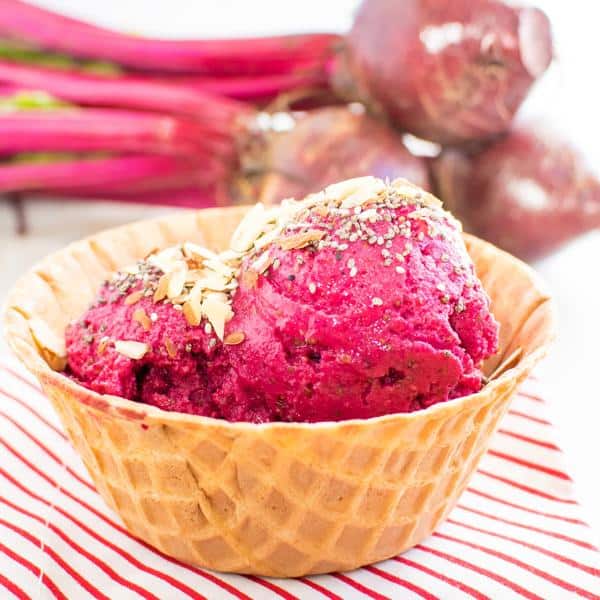 Beets in a dessert? Is that, OK? It sure is!
Using their fantastic vibrant color, you're going to need just a handful of ingredients to get this puppy to the table. Delicious and looks fantastic!
Like I've said before, beets are surprisingly versatile.
Mango Coconut Milk Ice Cream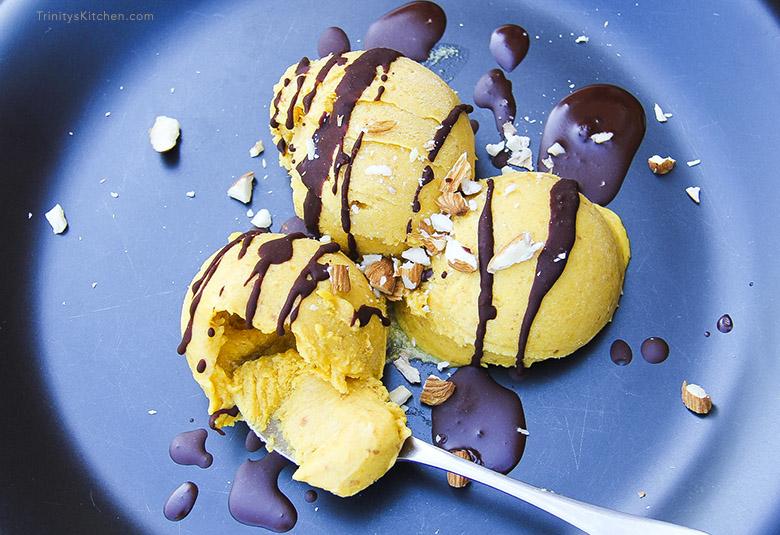 Two of my favorite tropical flavors in one dish!
This ice cream has just three ingredients. Whiz everything in a blender or even food processor and you're good to go.
Freeze and mix. Everything is in the easy-to-follow instructions.
Rose Raspberry Ripple Ice Cream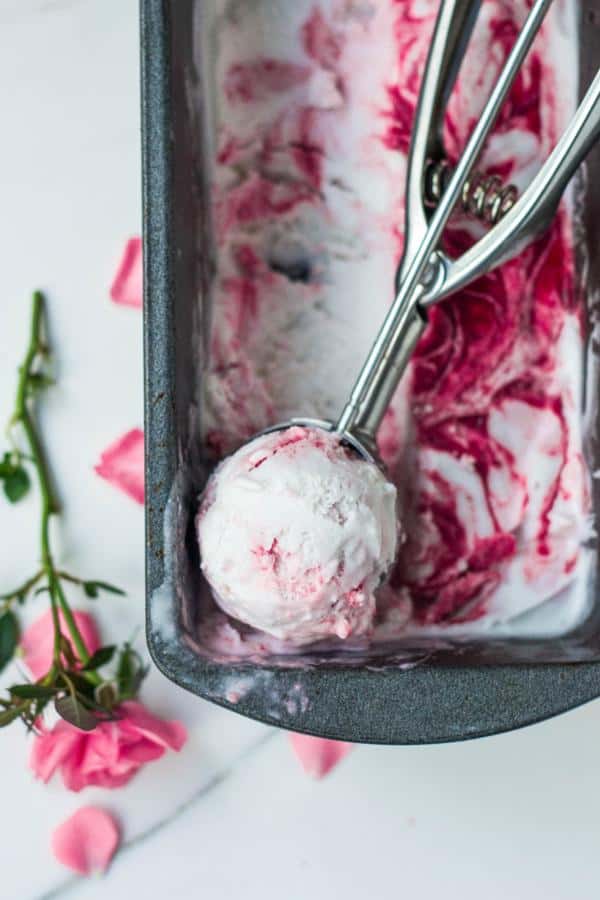 If you think making a ripple ice cream is difficult to make, think again.
The recipe here is divided into two sections, one for the ice cream and one for the raspberry coulis.
It's easier than you think and certainly looks classy. Make it and nobody will guess you made it yourself!
Strawberry Cheesecake Ice Cream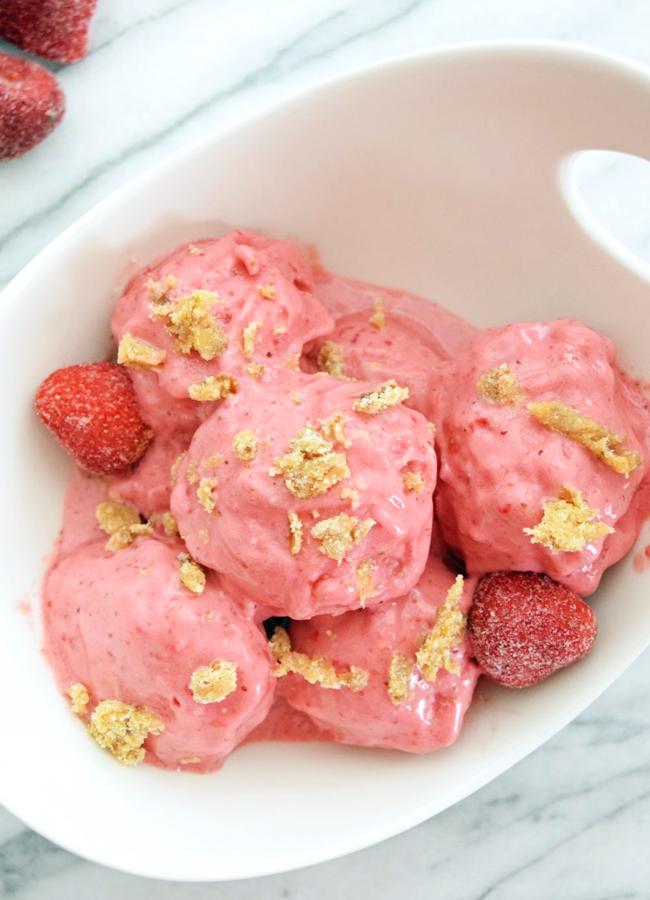 This ice cream is perfect for a hot summer day, or if you're longing for summer in the middle of a wintery blast. Either way, it's a perfect combination of sweet and creamy with a hint of tang. It truly tastes like a blended slice of luxuriously decadent cheesecake. But without all the fuss.
This recipe combines three ingredients in the blender and then swirls in dates at the end. The result is a simple, but irresistible strawberry explosion. I love how this can come together in 10 minutes without any special tools, and it's so darn yummy!
Hot Fudge Vanilla Ice Cream Sundae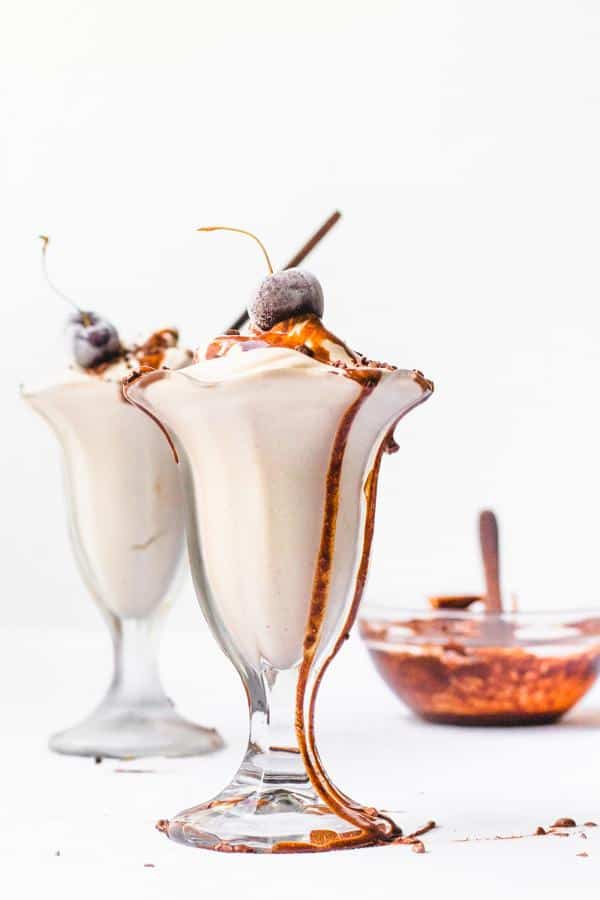 This is everything I used to love years ago before I became vegan. Now we can enjoy it in vegan-friendly fashion.
Absolutely luscious is the only way I can describe this. Perfect for when you want to impress or want to give yourself that extra special treat, why not?
Heavenly Coconut Lychee Ice Cream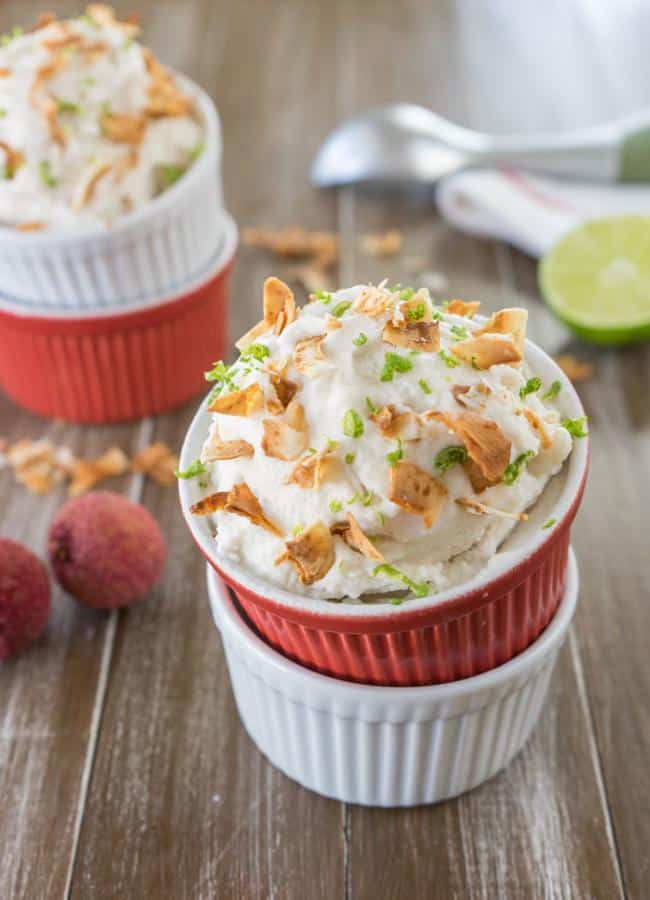 I remember being at work in an office when a co-worker encouraged me to try a lychee. I must admit I wasn't impressed. This recipe made me love them!
A wonderfully unique flavor ice cream that will surprise even the most experienced ice cream connoisseur. Easy to make, even better to eat!
No-Churn Cranberry Cointreau Coconut Ice Cream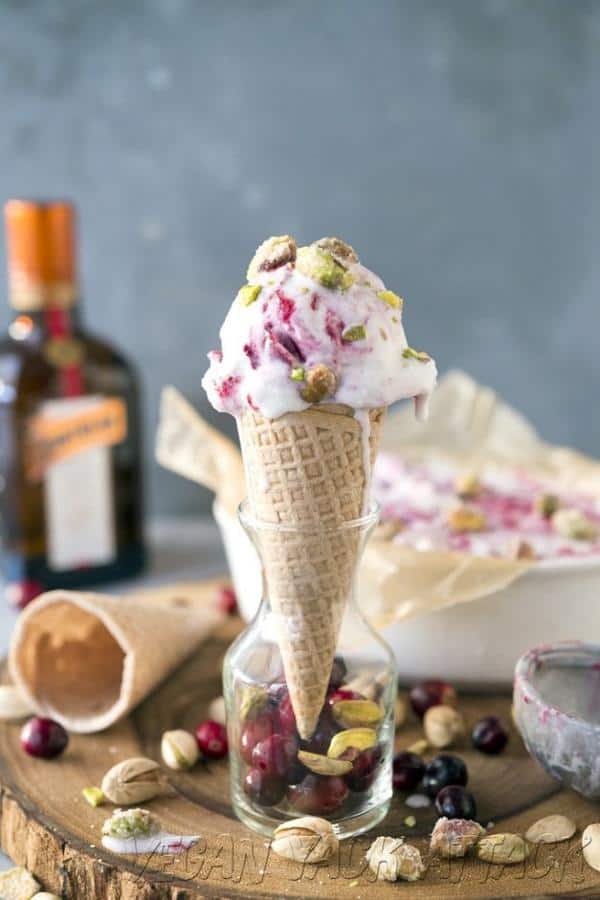 It's true, unless you have an ice cream maker, you have to freeze your mixture for a short time, remove, stir, freeze again, remove stir and so on. It's definitely worth the effort but recipes like this one take all of that effort away.
Lovely ingredients, probably one of the easiest ice creams you're going to make. Try it! You won't be disappointed.
Pistachio Ice Cream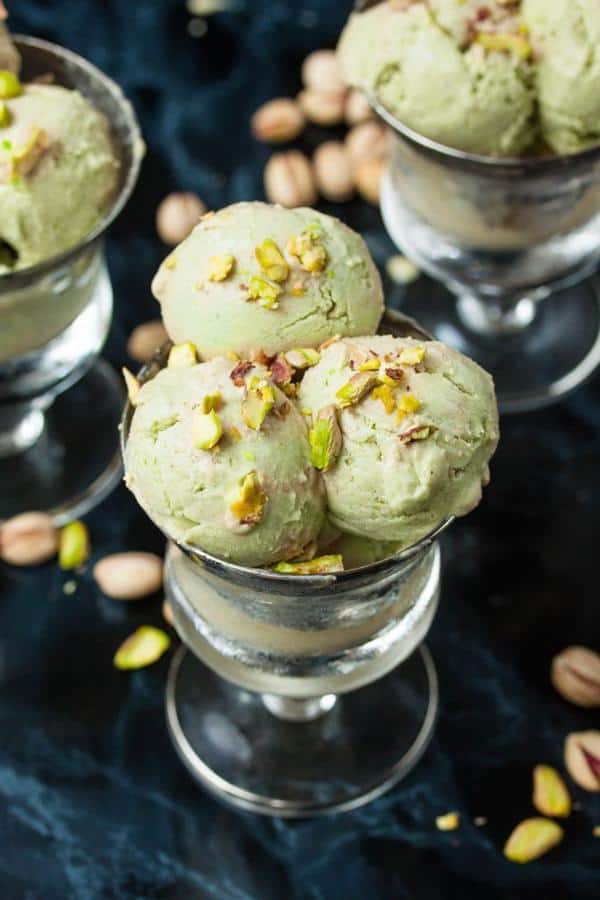 Definitely one of my favorite flavors!
I urge you to check this recipe out. Absolutely superb ingredients, even including arrow root! The color comes from matcha green tea although this is listed as an optional extra. Go for it!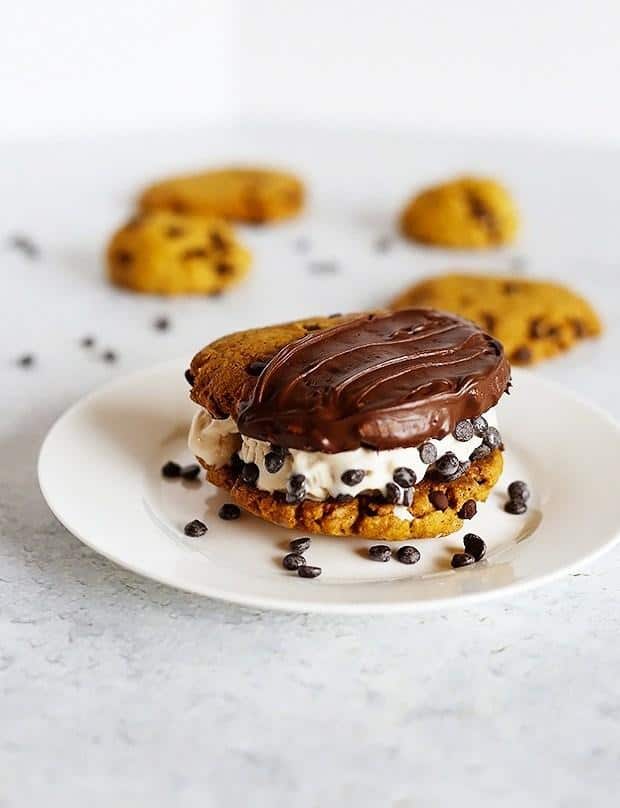 Now this is what I call a sandwich!
Perfect for Halloween, of course, but I'd recommend making these anytime! The recipe includes a link on how to make the chocolate chip pumpkin cookies.
You could use your favorite store-bought cookies to save yourself some time but at some point, you simply must make this entire recipe! Yum!
Vegan Magnum Ice Cream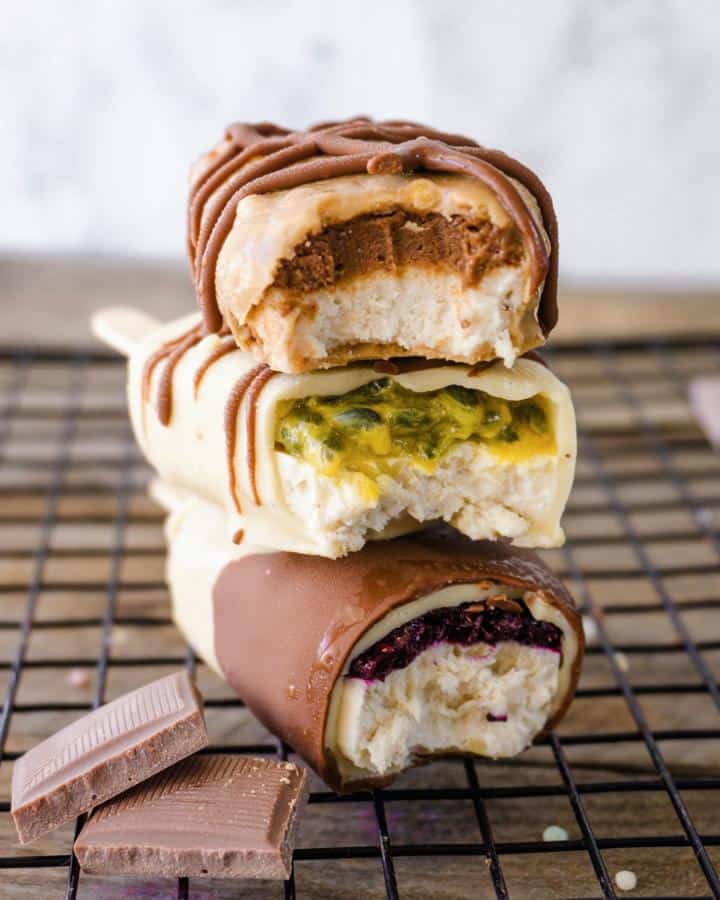 What? You can actually make these at home? You betcha!
At first glance this may seem fiddly, but I assure you it's not and hey, something as good as this doesn't make itself, right?
Get the kids involved and have fun! The end result is very high quality and the taste is divine!
2-Ingredient Cantaloupe Ice Cream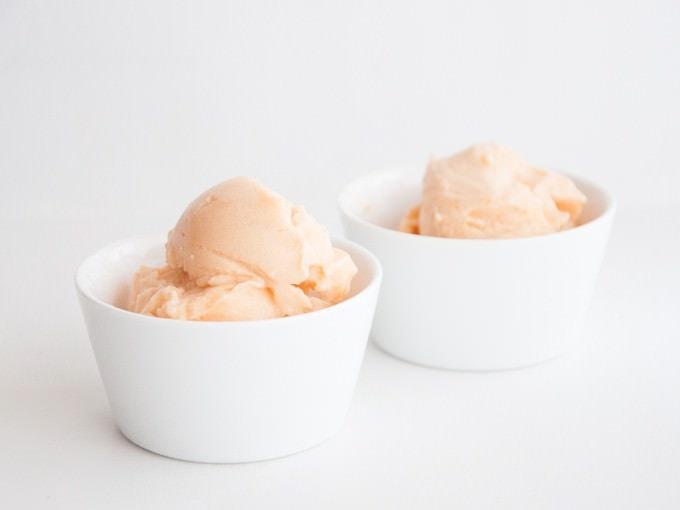 When it comes to melon, I'm a bit fussy and always think you should just eat it as it is. This recipe changed my mind.
How many ingredients in this delicious wonder? Just two! Follow the simple four-step instructions and you have a refreshing and delicious ice cream.
You just need a blender or food processor. When using the latter, take a little more time but just watch the mixture go through different stages until it becomes ice cream.
Cherry Chocolate Soft Serve Ice Cream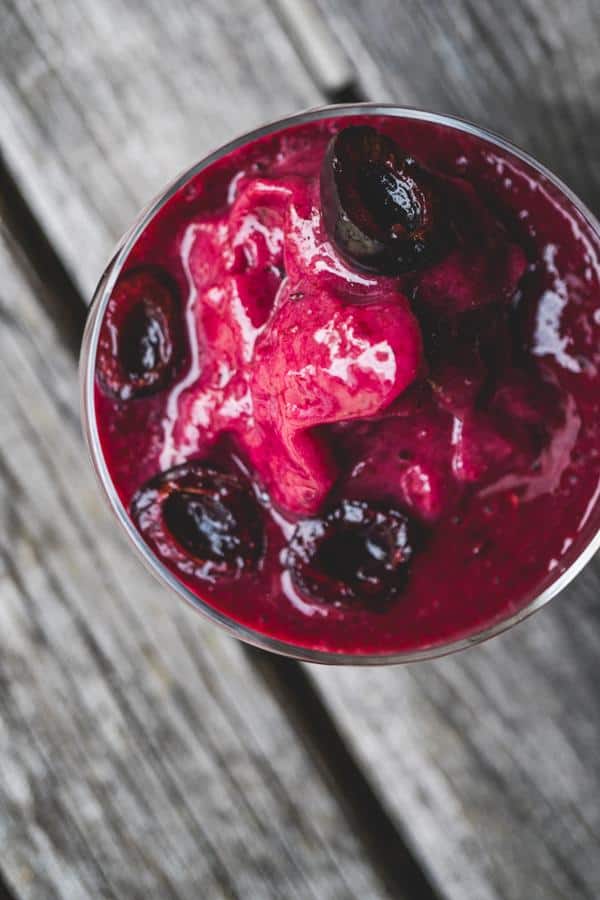 You don't often see cherry-flavored ice creams, so I was excited to come across this.
Not only do you get the distinctive flavor of cherry in every bite, the ice cream has a beautiful deep color due to these wonderful fruits. Love it!
Super Easy Banana Peanut Butter Ice Cream Bars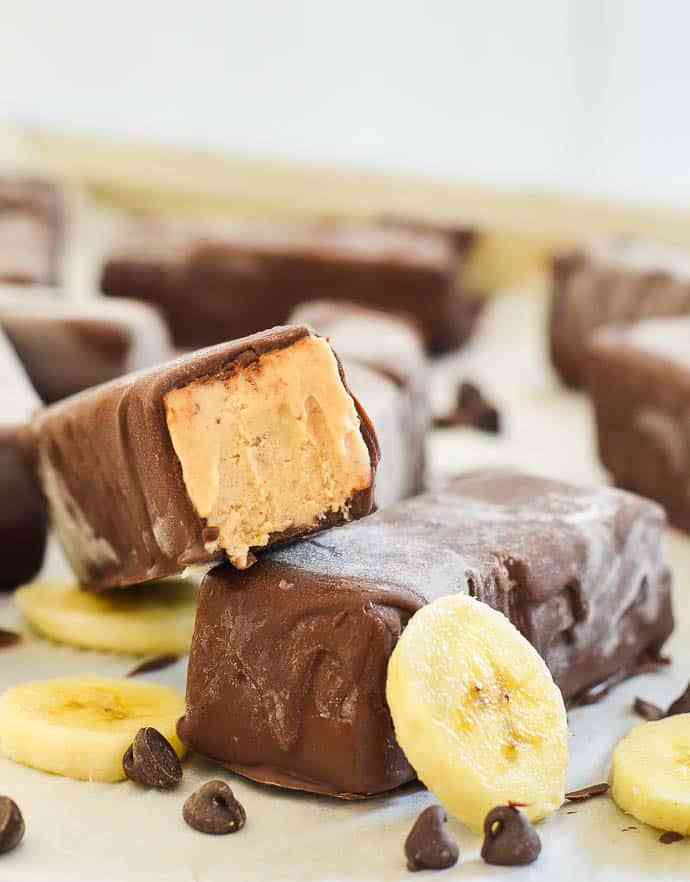 When I see recipes that describe themselves as being super easy, I often wonder if that means they're not! This one really is!
I couldn't believe how few ingredients there are, especially given that you need to make the ice cream followed by the chocolate coating.
Read the ingredients and instructions carefully, follow them to the letter and you'll be in for a treat!
Chocolate Covered Caramel Apple Ice Cream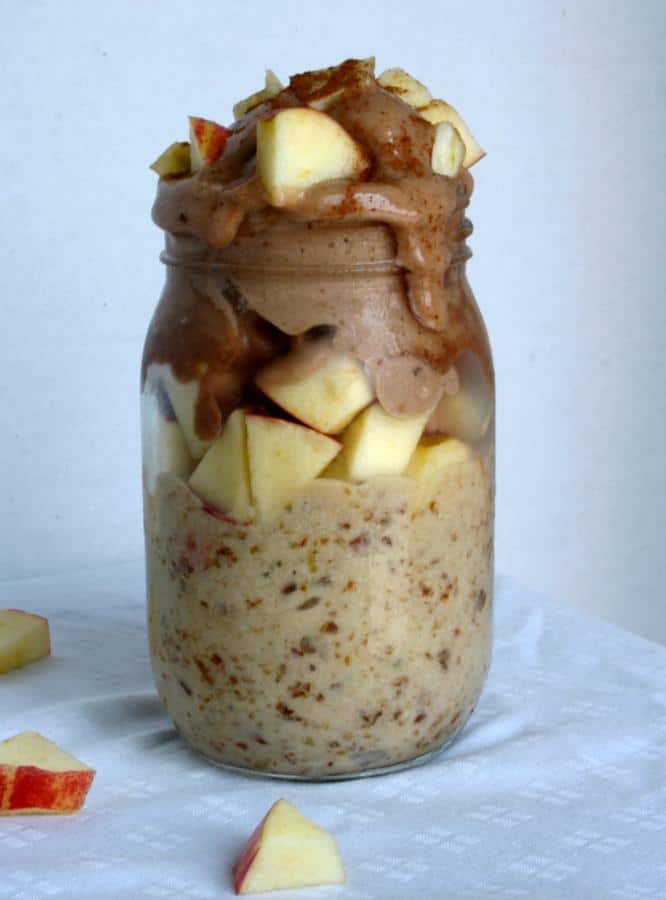 Well, I don't know where to start with this one.
If you love apple, chocolate and caramel then this recipe is definitely a must for you. Just a handful of ingredients is all you need. Whizz together and you're good to go. Delicious!
Pirate's Booty Ice Cream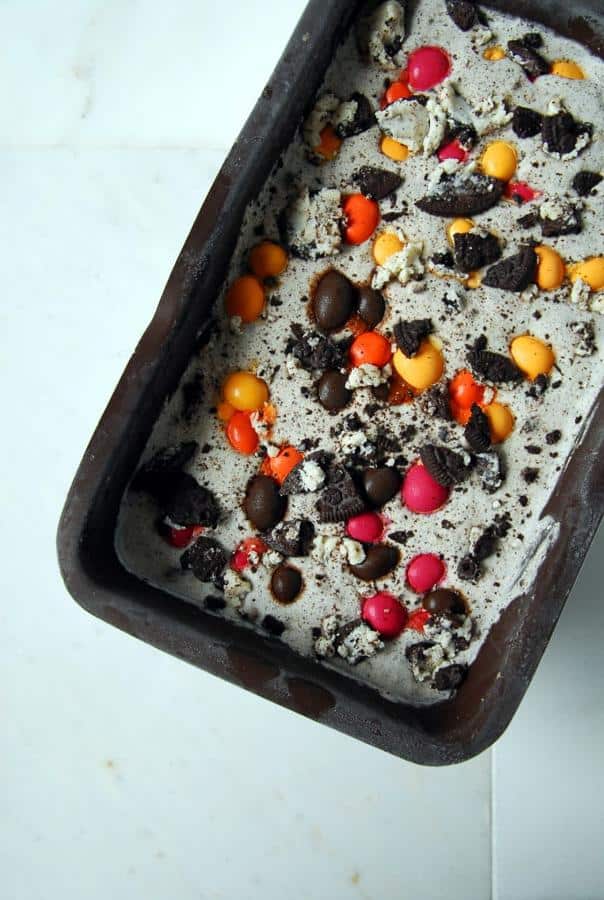 I described many recipes in many different ways. This, however, is probably the coolest and most fun I've seen.
It looks complicated but the reality couldn't be further from the truth. Easy ingredients and fun to make, I would argue that it's healthy as well! Fantastic.
Coffee Jelly Ice Cream Sundae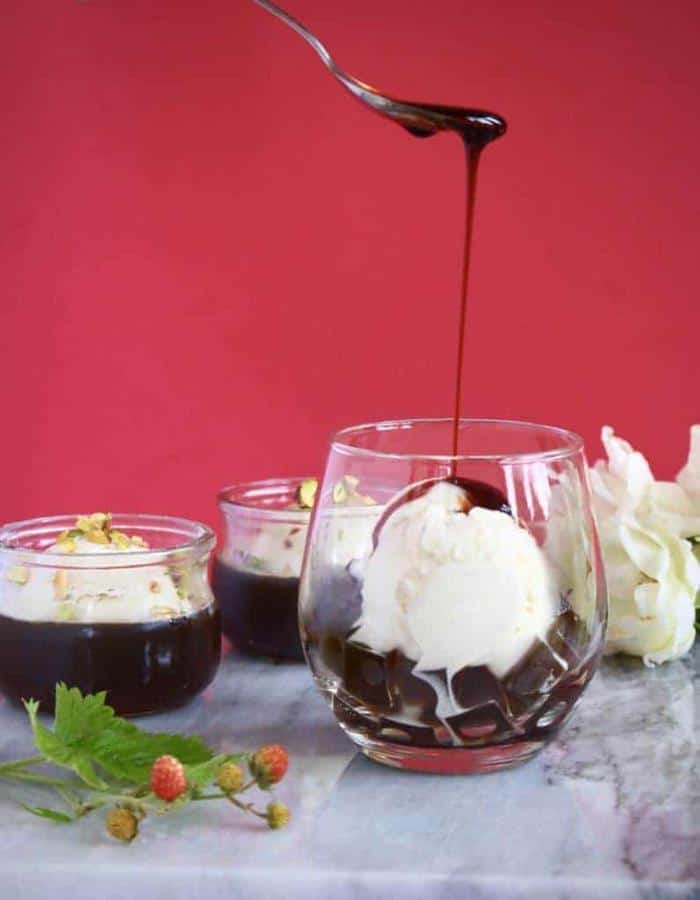 If you want something for the summer, this has to be at the top of your list.
The last thing you want to do during the summer is hunt around for difficult-to-find ingredients. Here you're looking at everyday foods. Follow the four-step instructions, serve and smile!
Healthy Churro "Unfried" Ice Cream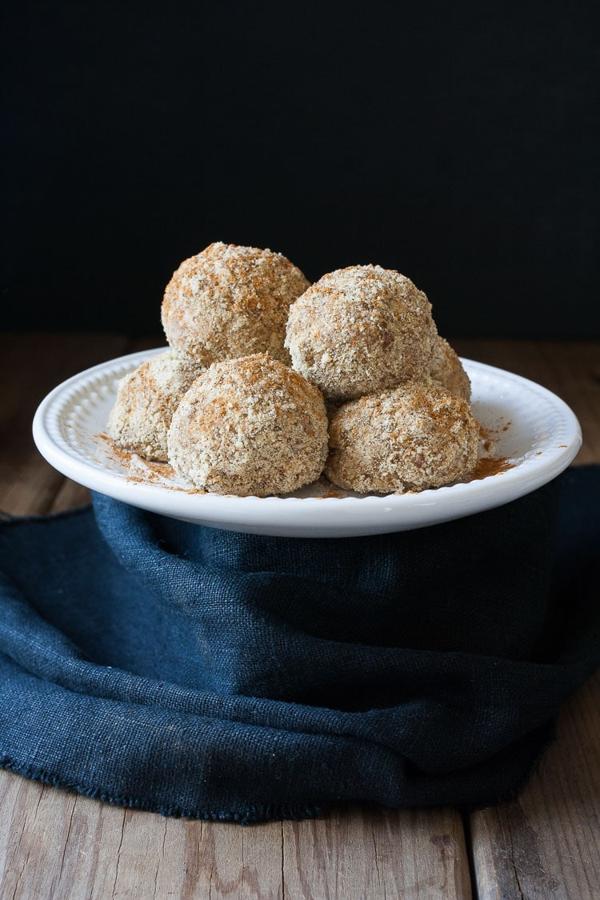 You have to admit that this is probably the most unusual recipe title you've ever seen. It certainly is for me.
Just grab three ingredients and follow the easy instructions.
The amounts listed make for 10 of them but there is a tool that allows you to alter the servings and this changes the amounts in the ingredients. A thumbs up!
Simple Biscoff Ice Cream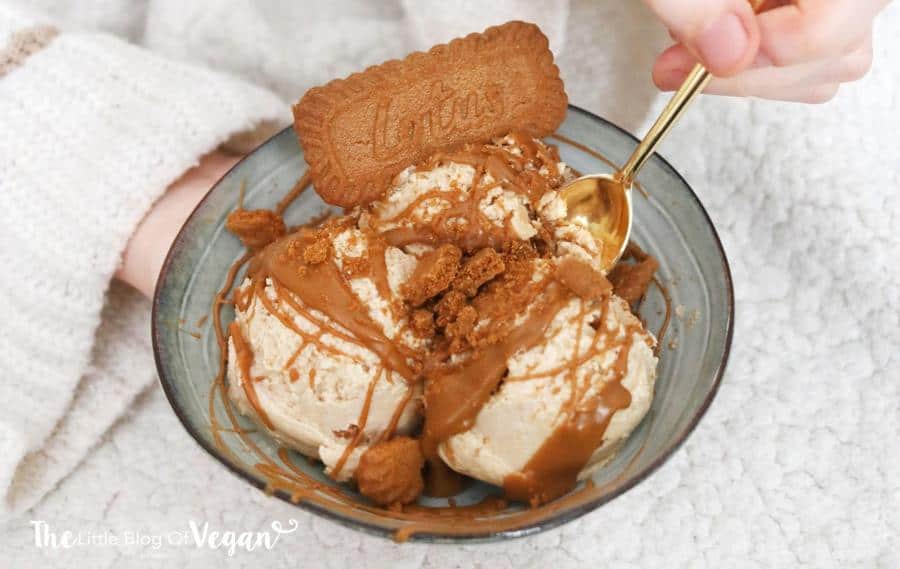 I was sold in this recipe from the moment I saw the picture!
You don't need a special machine to create this tasty wonder, your regular food processor will do the job just fine.
You'll need to be able to find cookies listed although it your unable to, simply swap with your favorite.
Cherry Garcia Soft Serve Ice Cream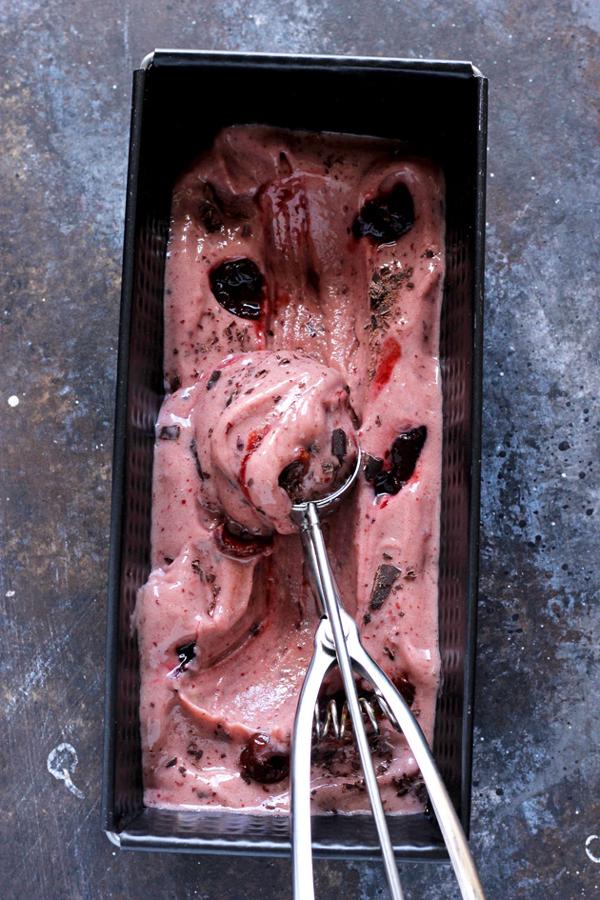 Cherry Garcia ice cream? Nobody can make that, you have to buy it from the store right? Wrong!
No weird chemical ingredients in this ice cream that is literally bursting with flavor! Healthiest and tastiest Cherry Garcia ever!
Brownie Oatmeal with Banana Ice Cream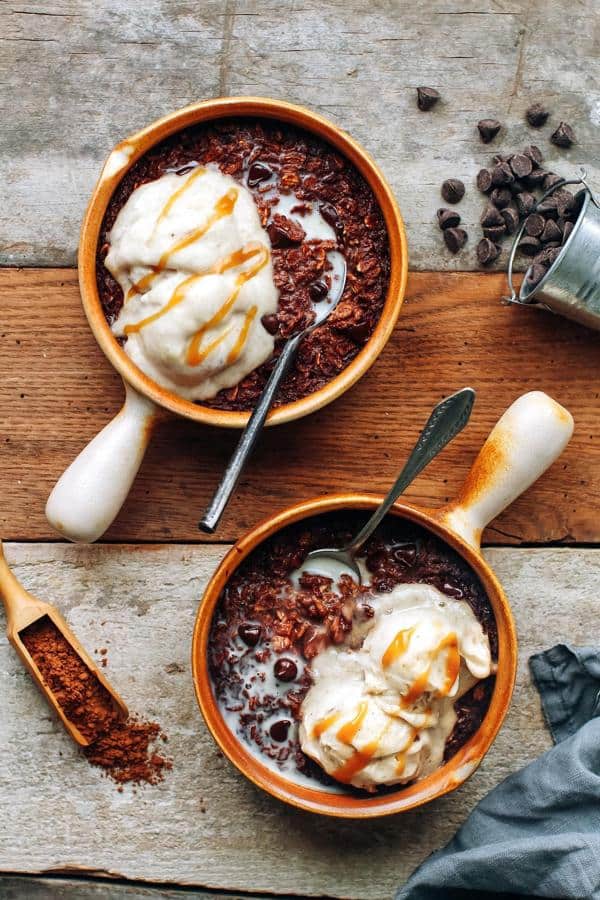 This is so much more than an ice cream. If you like the contrast of something hot with something cold, this is the recipe for you.
As you can imagine, the recipe is split into two sections. Both the brownie oatmeal and the banana ice cream are solid recipes in their own right. Put them together and it's pure magic!
Birthday Cake Ice Cream Sandwiches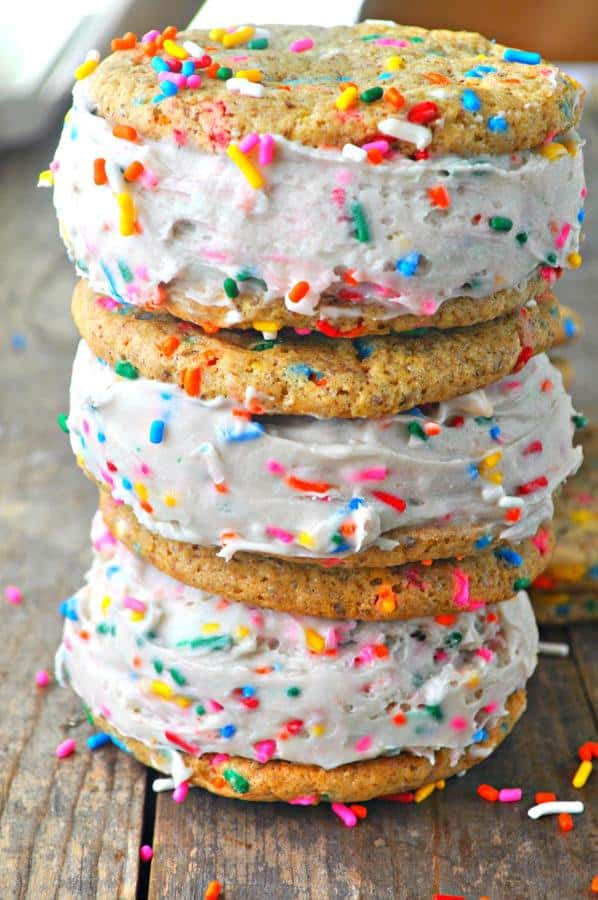 Okay there's no denying it, as the title suggests these will be perfect for a birthday party.
But that means you're not going to eat them very often and we can't have that. This is just too good!
Ice cream sandwiches are the best and this recipe takes it to the next level. I love the sprinkles. The most difficult part is to find a reason to make them, wait a minute, we don't need a reason!
Wrapping Up
Just in time for the summer we've found the very best vegan ice cream recipes.
Whether it's for a special occasion, something fancy or you just want to treat yourself, it's all here.
I tried to pick a favorite and simply couldn't, so I suggest you do what I'm doing, start at the top and eat your way through all of them! You're welcome!