Our most sought after roundup certainly has a few beet dishes, but if you're a big fan like me, you need a dedicated recipe!
Indulge and enjoy, now's the time to beet yourself up!
Bodacious Beetroot Recipes
Roasted Beetroot Hummus with Pita Chips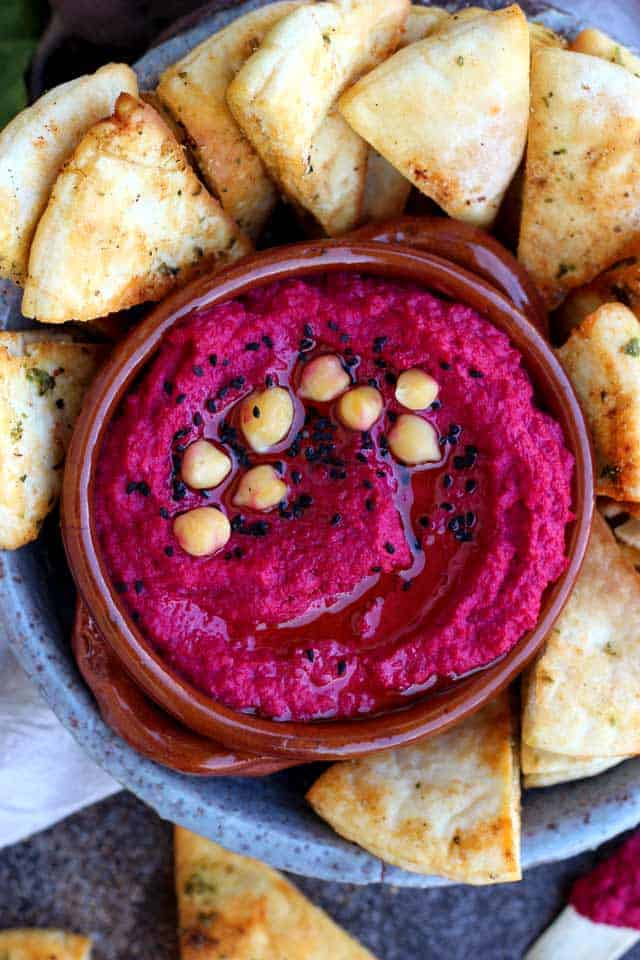 Are hummus and chips your favorite snack but you pass on it because of the deep fried chips? If yes, then this recipe is what you're looking for.
It is completely gluten-free and can save you consuming extra carbs. The combination of roasted beetroot and tahini paste is unique in itself and makes for an interestingly flavored dip for chips.
This recipe looks scrumptious and can easily impress someone when served as an appetizer.
Roasted Beet Salad with Orange and Avocado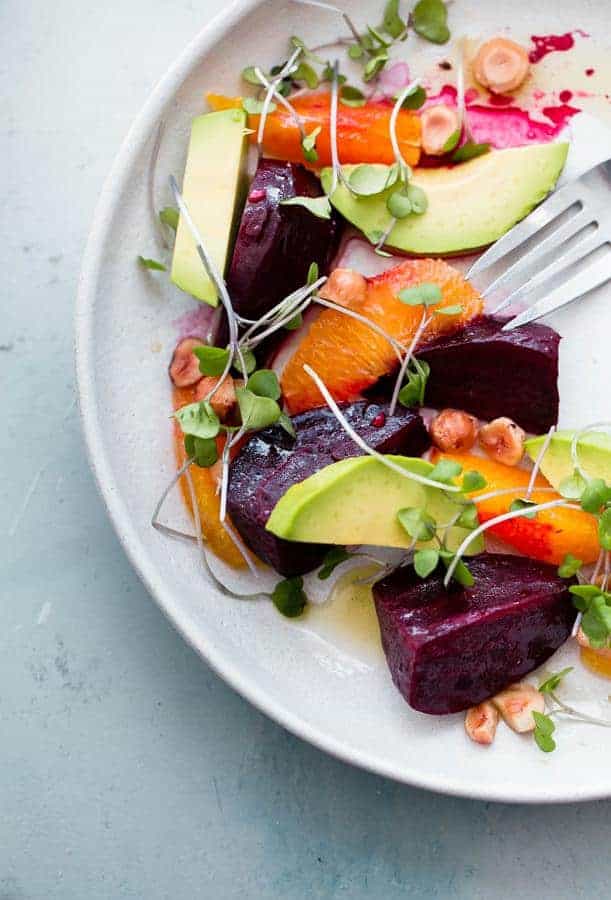 Do salads need to be ridiculously green to be healthy? Well, we definitely don't think so and this recipe is how we can prove it.
This recipe comes as a savior for all those who like to experiment a little with taste while upholding the ideals of consuming preservative-free food.
Tangy oranges and creamy avocados mixed with earthy beetroot will pamper your taste buds while keeping your health in check. Serve this nutritious salad and revel in pride as your guests fall in love with this recipe.
Beet Avocado Salad with Chia Seed Dressing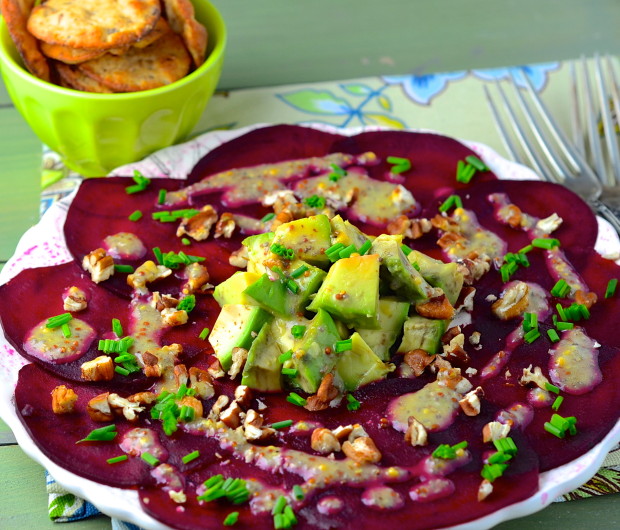 Beets and avocados could be called a power couple when it comes to organic and nutritional recipes.
This salad with chia seeds is yet another example of the subtle goodness that awaits anyone who combines these two ingredients.
This purplish-red sweet and creamy salad is suitable for a preservative and guilt-free dinner.
Beet Salad with Walnuts and Garlic (Gluten-Free)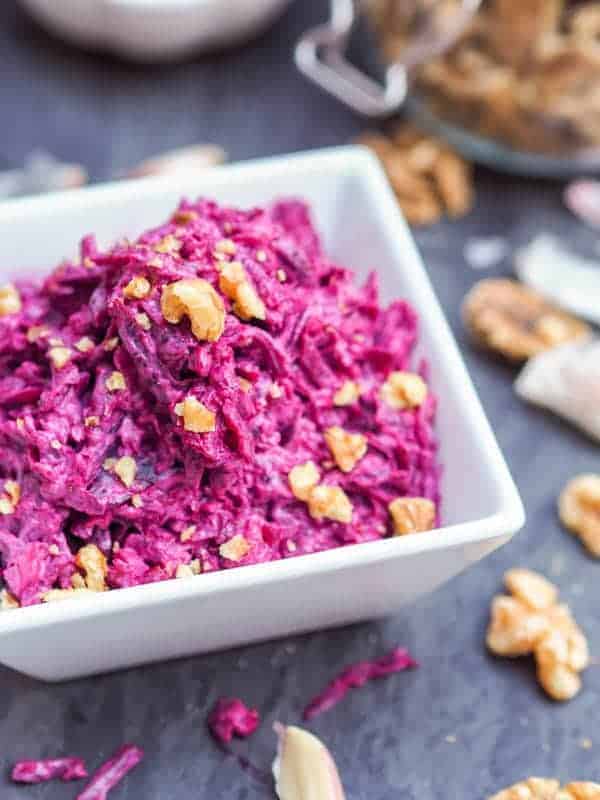 If you're looking for a quick snack which doesn't need too many ingredients, then this beet salad is the answer.
This recipe takes just 15 minutes of your time and voila, you get to experience the unprecedented mixture of garlic and walnuts!
This salad is gluten-free and can seriously flavorful. It tastes the best when served cold and works magnificently on its own or with virtually anything.
Rustic Sweet Potato and Beet Galette with Sea Salt and Herb Coconut Oil Crust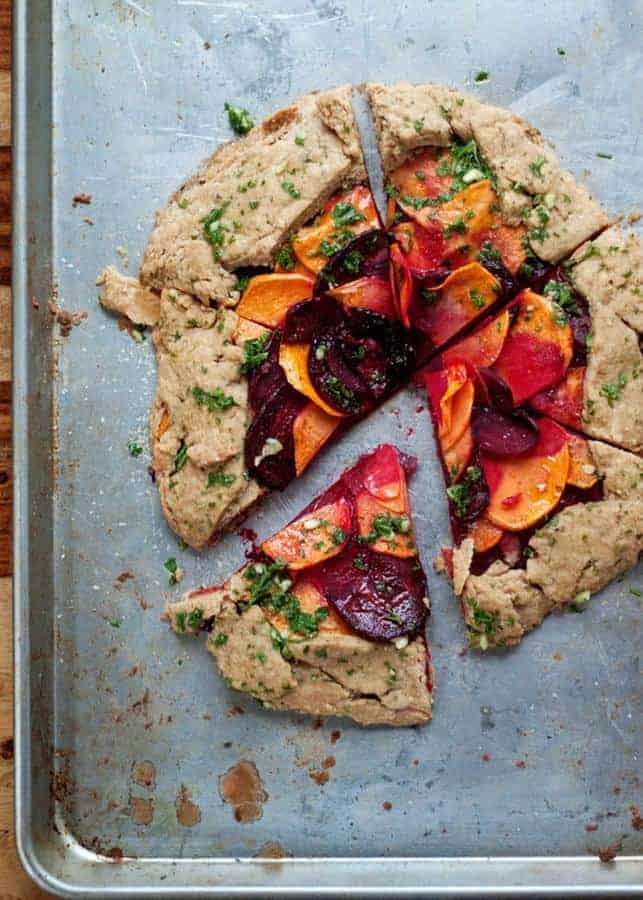 Made completely from organic and healthy ingredients this recipe is bursting with flavor and goodness!
The best part of this recipe is its crust which is completely organic. The sweet potato and beet combine immaculately to give a naturally sweet and delightful flavor.
You don't have to spend long hours on garnishing it either, as it tastes better when it is more rustic.
Raw Beetroot Cake with Walnut and Fig Crust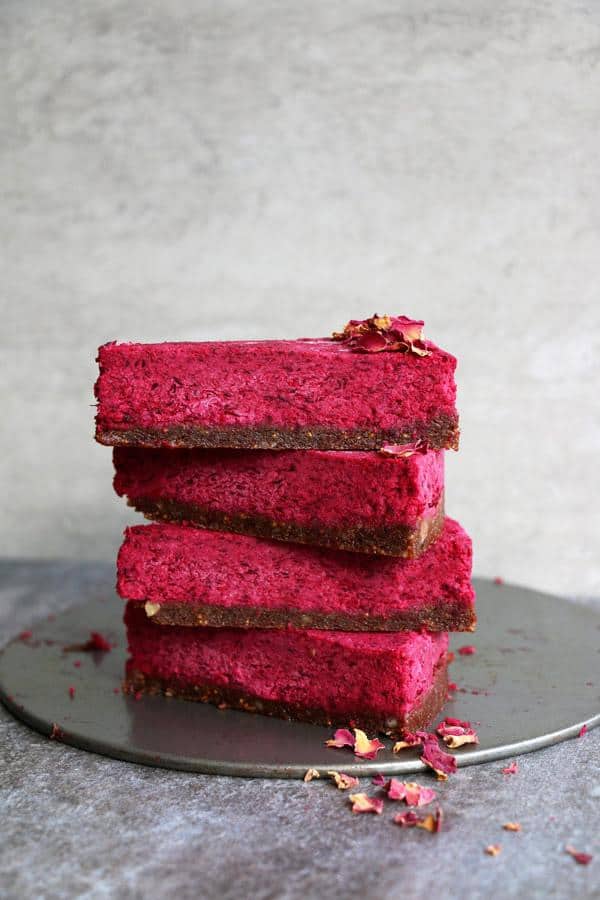 Having a sweet tooth, I can't stop myself buying a cake from time-to-time. Thanks to this recipe, now I get all the sweetness minus the carbs.
The crust on this beetroot cake is made of figs and if they seem too dry, you can soak them in hot water for a few minutes to make a softer crust.
If you're looking to impress someone, this red-colored recipe is a match made in heaven.
Beet Chickpea Burgers with Harissa Spread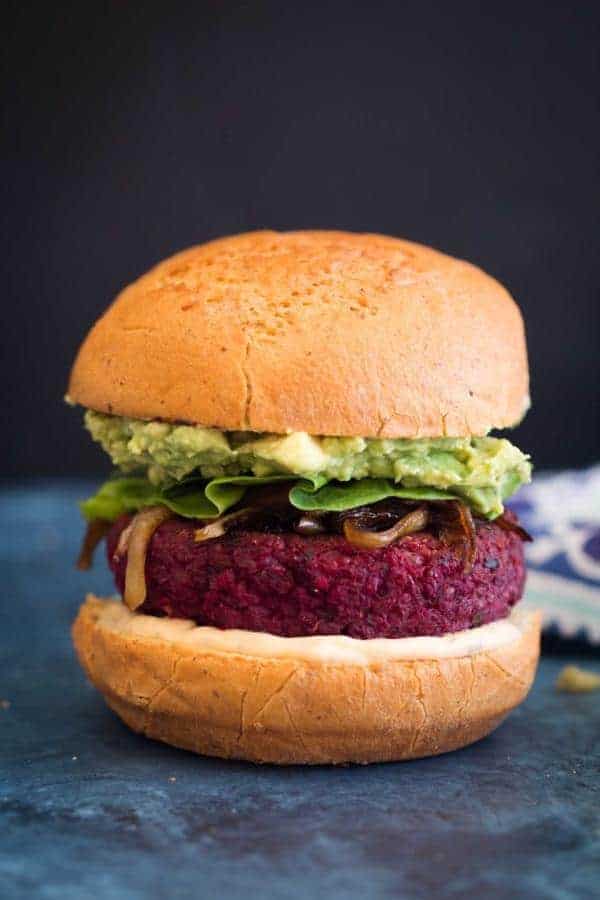 Healthy burgers with plant-based ingredients. What a time to be alive, right?
These pinkish burgers are nothing less than a miracle for those who want to eat healthily but suffer from cravings. Made in less than 30 minutes, this recipe can definitely give other vegan burgers a run for their money.
To add to its deliciousness, you can add brown rice and quinoa to the beetroot and chickpea mix.
Easy Mini Beetroot Burgers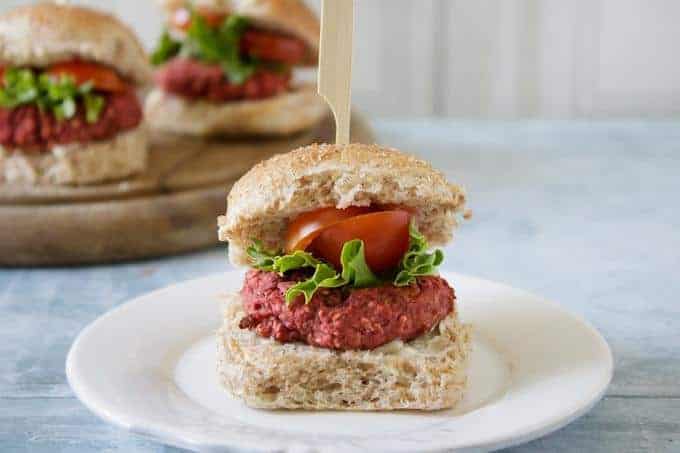 These mini burgers require just five ingredients, can be made within minutes and are too nutritious to resist.
With the goodness of beans and beetroots, these burgers are a fabulous lunch treat.
For extra spice, you can add a bit of cumin to enhance the flavor naturally. These mini beetroot burgers are perfect for your kids as they'll love them and, at the same time, they get to eat their veggies.
Beet and Quinoa Veggie Burgers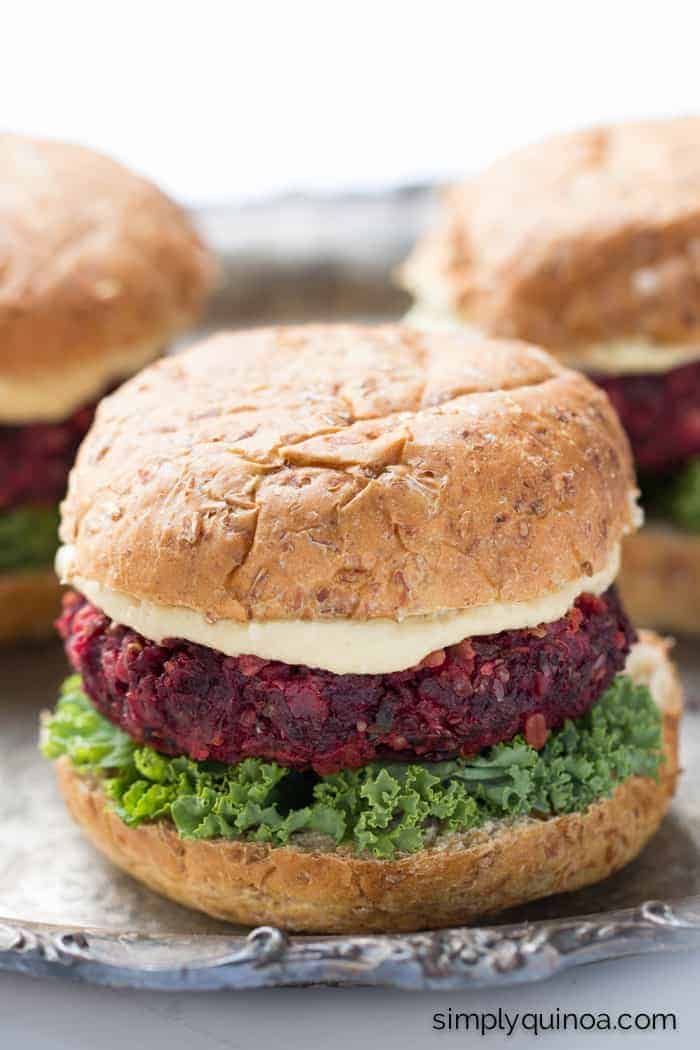 If you avoid gluten and love burgers, this recipe is for you.
These beet burgers are made with a mixture that includes quinoa, eggplant (or baba ganoush), gluten-free oats, and spices.
If you're keen on experimenting, adding some liquid smoke is usually popular with beet burger recipes to achieve a natural grill flavour.
These burgers are gluten-free and simply wonderful.
Roasted Beet Black Bean Dip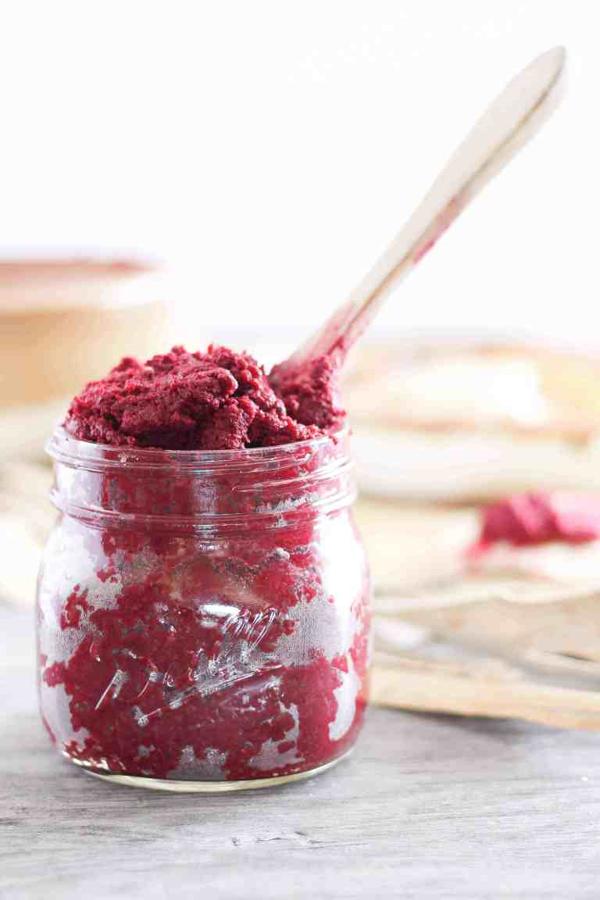 Rather than being a complete dish, this recipe is a healthy dip. Homemade dips are superior to store-bought ones in many ways. You don't have to worry about added preservatives or anything else unsavory.
It's pink in color, and thanks to beetroot, looks delicious. It's made by mixing beetroot with black beans, tahini, and jalapeno. This dip has a sweet and slightly spicy flavor, perfect for an evening snack. This dip keeps well in the fridge or can be frozen for up to 6 months.
Want to show someone your creative side? Serve this recipe with some home-made healthy pita chips or some snappy raw veggies and you're all set.
Beet, Potato and Leek Soup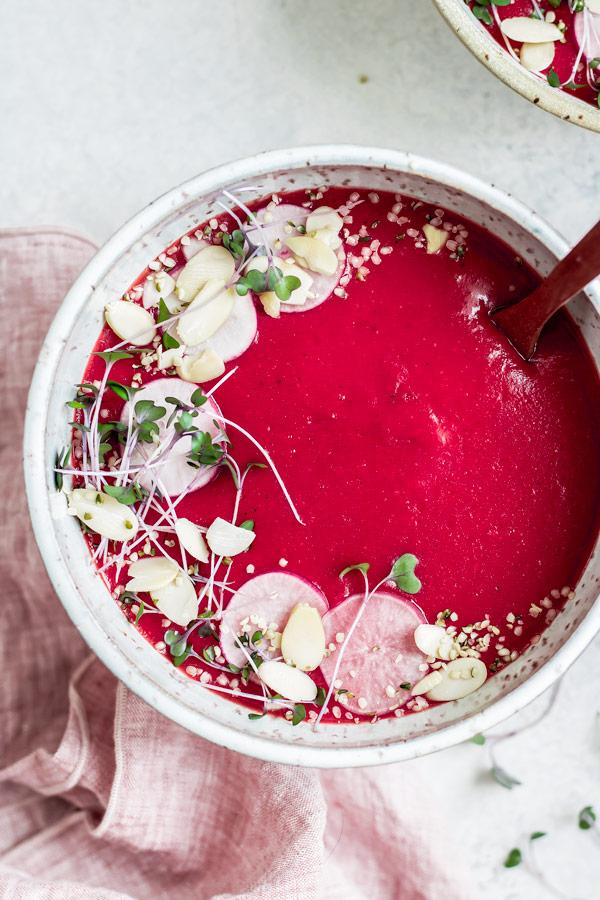 If you're craving for something creamy and nutritious, then this recipe is the answer.
Along with being drool-worthy, this soup looks gorgeous and vibrant! The potatoes work their magic to make it thick while the leeks provide a rich flavor. Jess suggests using half a cup of coconut milk to make this soup creamier.
Beet Pasta Sauce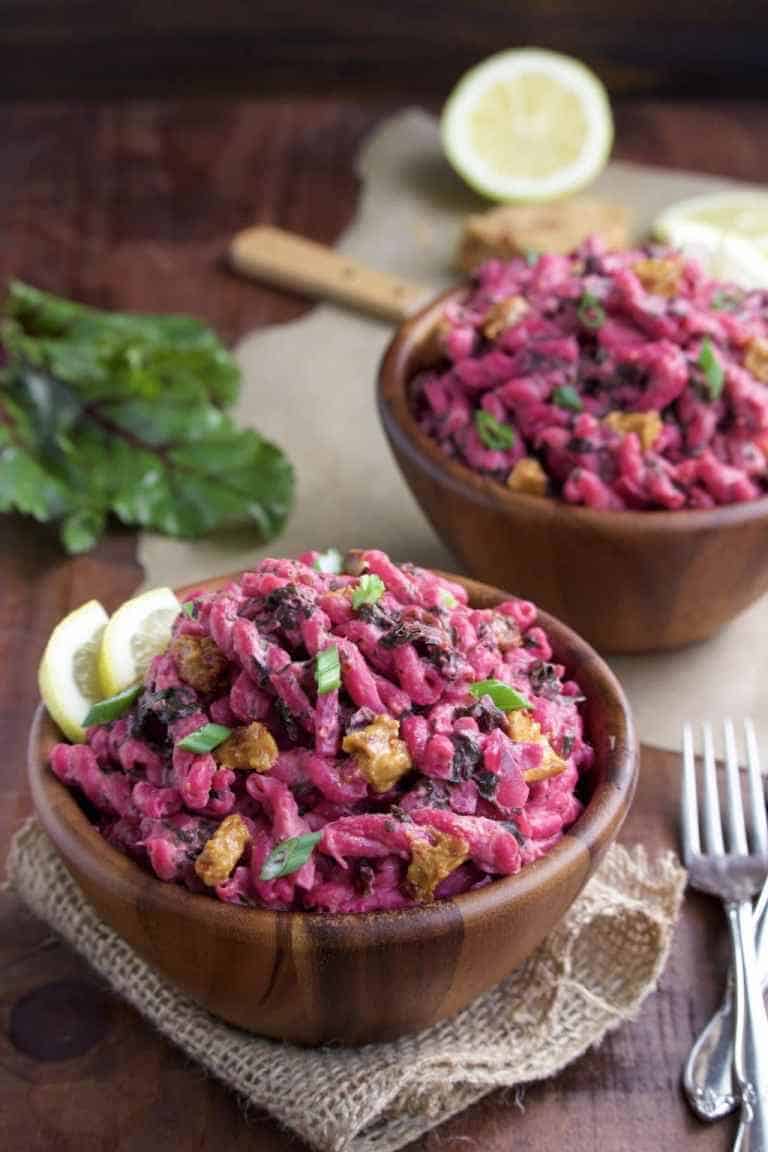 Who thought beets could be used to make a dairy-free pasta sauce?
Well, we did. They give this recipe a pinkish hue and add to its aesthetic.
This beet pasta sauce also has another unique ingredient called sun-dried tomato garlic cheese made from cashews.
You can also try sprinkling some extra amount of this cheese on top to enhance the flavor.
This recipe doesn't need too many ingredients and takes just 20 minutes of your time.
Beet Gazpacho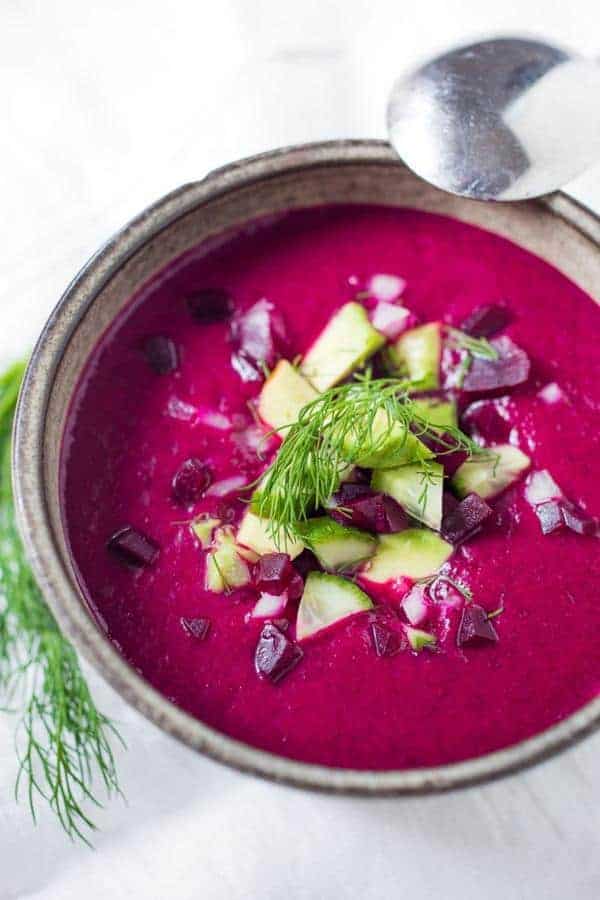 Perfect for summers, this recipe is a plant-based and low-calorie option for anyone who needs a refreshing snack.
This chilled soup takes just 15 minutes to be prepared if the beets are cooked beforehand. This gluten-free recipe is capable of filling you to the brim.
The glorious fuschia color, delightful flavor and chilled nature of this beet gazpacho are exactly what you need to make an impression during summers.
Beet, Pray, Love Smoothie Bowl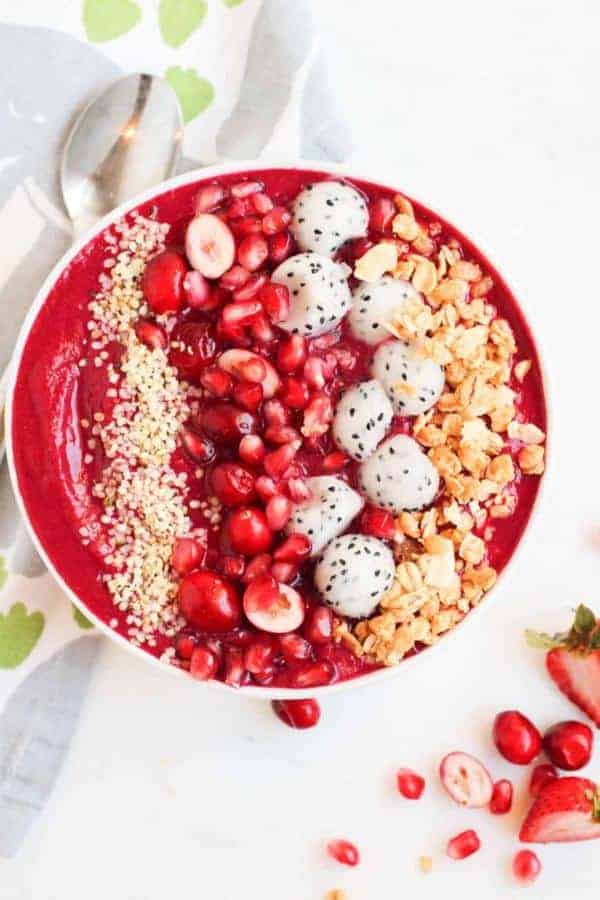 A bowl of beet smoothie a day keeps lethargy at bay. Well, this can be your motto from now on.
It's a refreshing new recipe which combines beets with strawberries or cranberries.
You can add your favorite fruits as toppings and experience the heavenly taste of this glorious bowl of health.
Originally found in Bali by the author, this recipe makes an interesting meal for any time of the day.
Oven Baked Beet Chips Recipe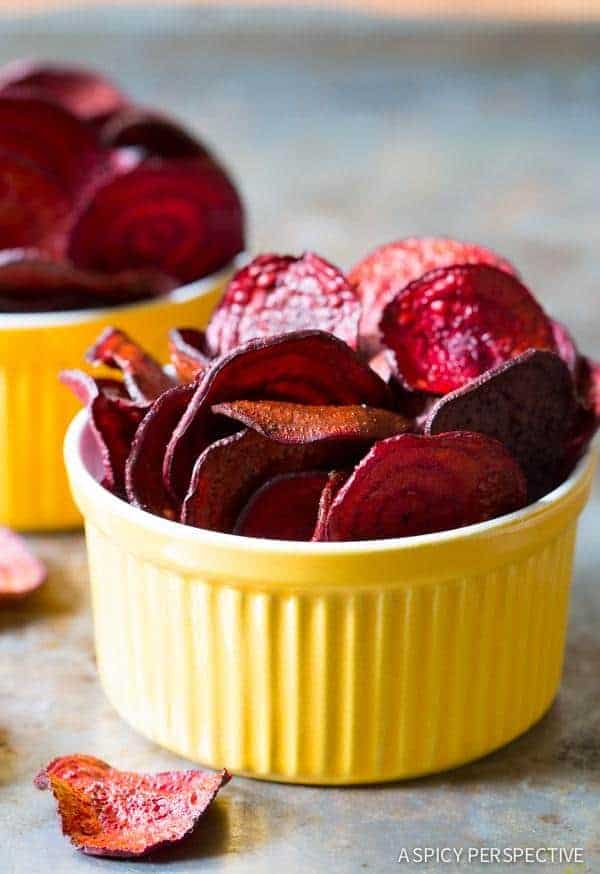 All the chips lovers can now rejoice. A healthy and delicious way to consume your favorite snack is here.
The secret behind making this recipe is to sweat the moisture out of the beets. This step is necessary because they get shriveled when baked and burnt when overcooked for crispiness.
These oven-baked beet chips can be stored for up to two weeks but it'd be difficult to resist the temptation of eating them all in one go!
Instant Beetroot Banana Ice Cream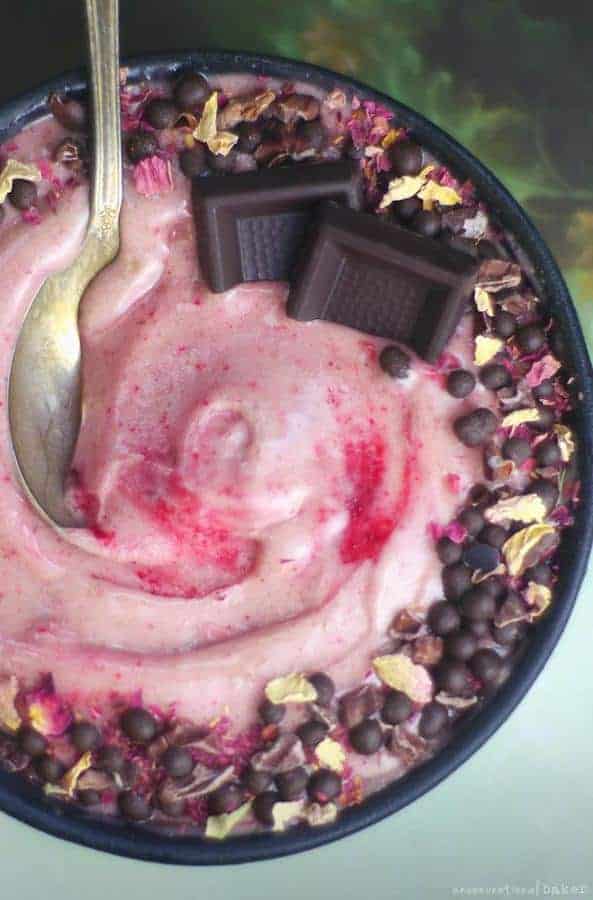 As the name suggests, this nutritious dessert can be made within a short period of time. 7 minutes to be precise.
This ice cream uses raw/regular beetroot powder. The logic behind using this ingredient is to avoid adding extra moisture which whole beets can contribute due to their natural water content.
You don't have to make extra efforts in cooking the beets every time you want to have this scrumptious dessert.
Beetroot Chili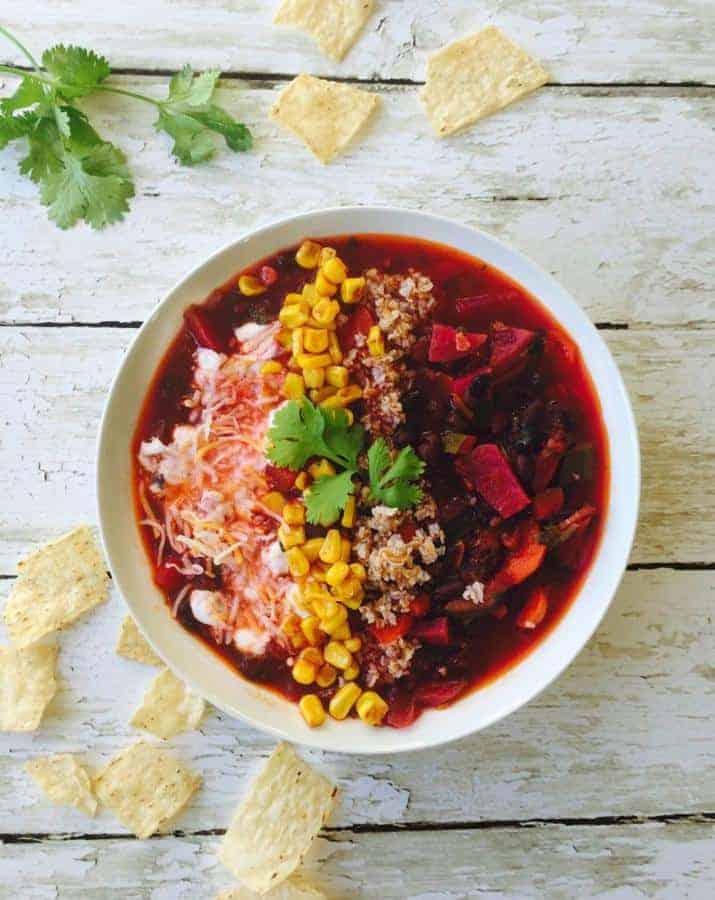 This recipe can actually be considered a soup and a salad simultaneously.
This beetroot chili is highly customizable as you can add your favorite vegetables as toppings. It can be eaten during any time of the day and is seriously drool-worthy.
Choose this reinvented plant-based version of Mexican Chili to impress anyone with your cooking skills.
Beetroot Barley Risotto with Roasted Carrots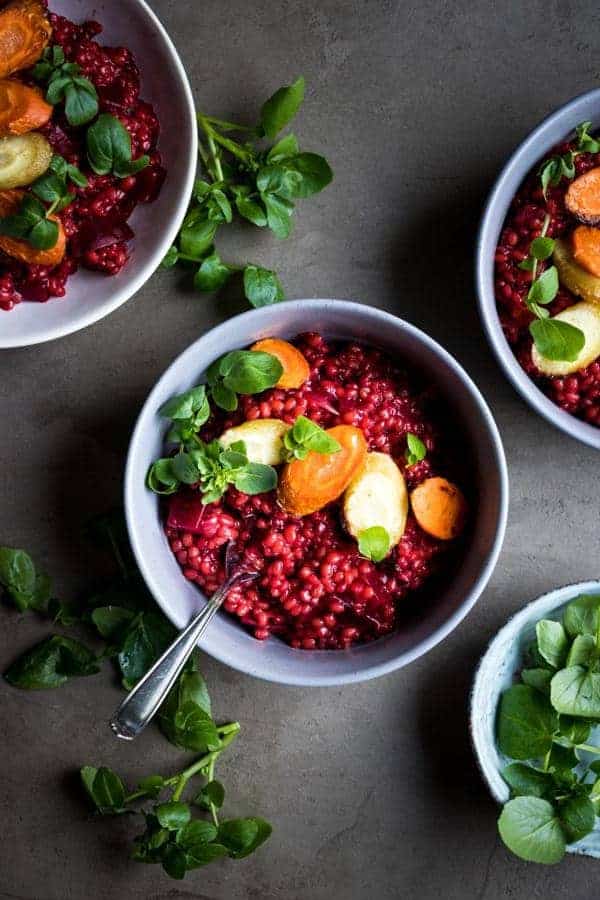 This delightfully pink recipe has the caliber to provide the best of nutrition and taste.
Generally, risottos are made with rice but this dish uses barley to make it healthier. Its firmness adds adequate bite to complement the softness of beetroot.
The sweet roasted carrots do exceptionally well as toppings. This beetroot risotto can be a scintillating addition to your plant-based lifestyle.
Beet Greens Vegetable Soup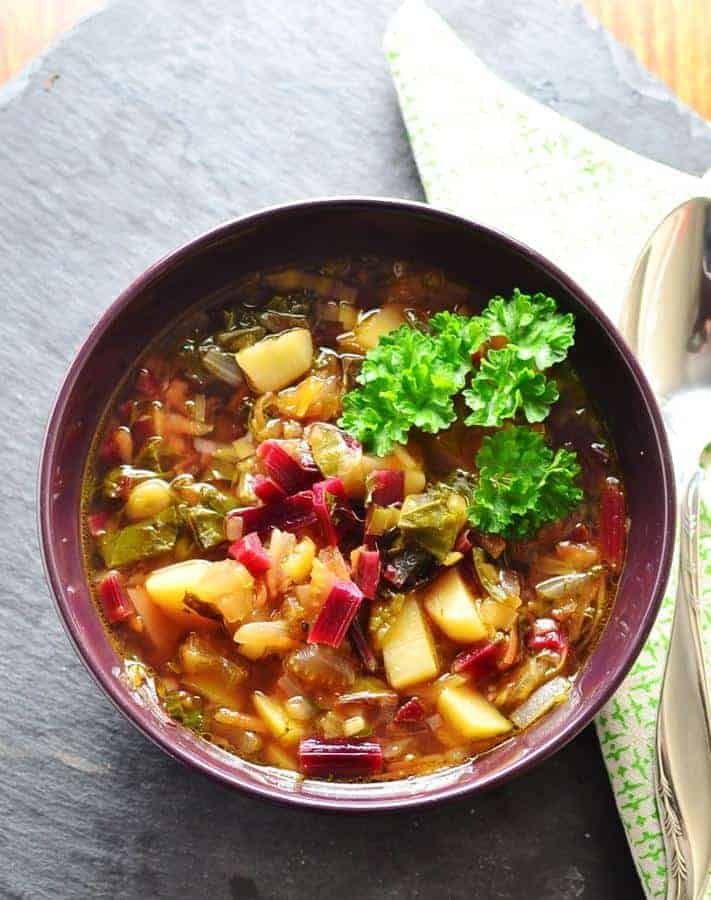 This recipe uses beet greens instead of beetroot. The nutty and bitter taste of this ingredient does well to accentuate the flavor.
This nutritious beet greens vegetable soup can provide a much-needed respite from your daily grind. Prepared in 20 minutes, this recipe can take a while to be cooked but is totally worth all the effort.
Strawberry Beet Smoothie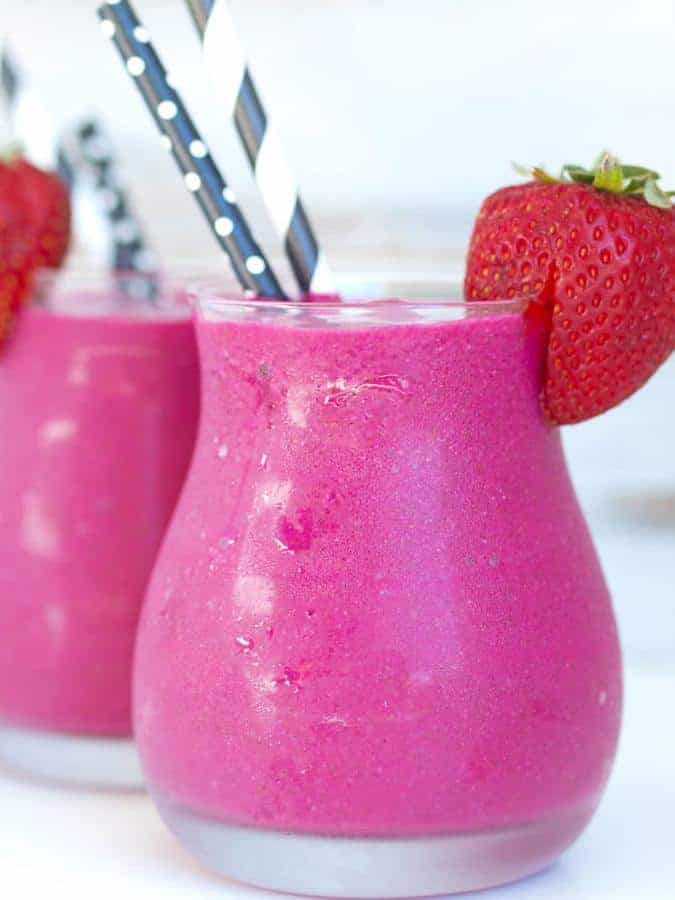 Perfect for smoothie lovers, this abundantly pink recipe is capable of replacing one of your main meals.
Beetroot is rich in fiber and other phenomenal nutrents, making it an ideal addition to a well-balanced diet. This strawberry beet smoothie is naturally sweet and takes just 5 minutes to prepare and is fairly easy to make.
Healthy Beetroot Cutlet (Gluten-Free)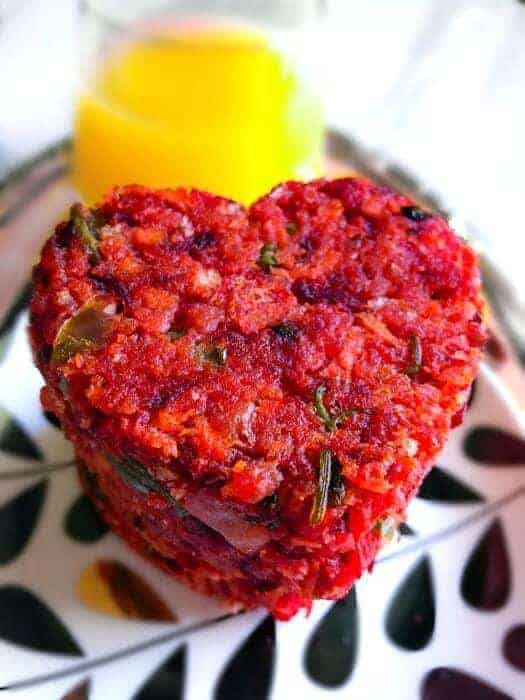 These abundantly red cutlets are perfect for making an ever-lasting impression.
They're made with an interesting mix of sweet and spicey ingredients and can either be used as a burger stuffing or eaten as a snack.
Beetroot and Vanilla Sorbet Recipe
Want to eat a creamy dessert without feeling guilty about consuming extra calories? Choose this sorbet recipe!
This beetroot and vanilla sorbet is a unique and beautiful dish. It's purple in color and tastes the best in a cone. The sweet and earthy flavor of beetroot fits well with vanilla as both the ingredients work together to give a healthy dessert option.
Mini Beet Cheesecake Bites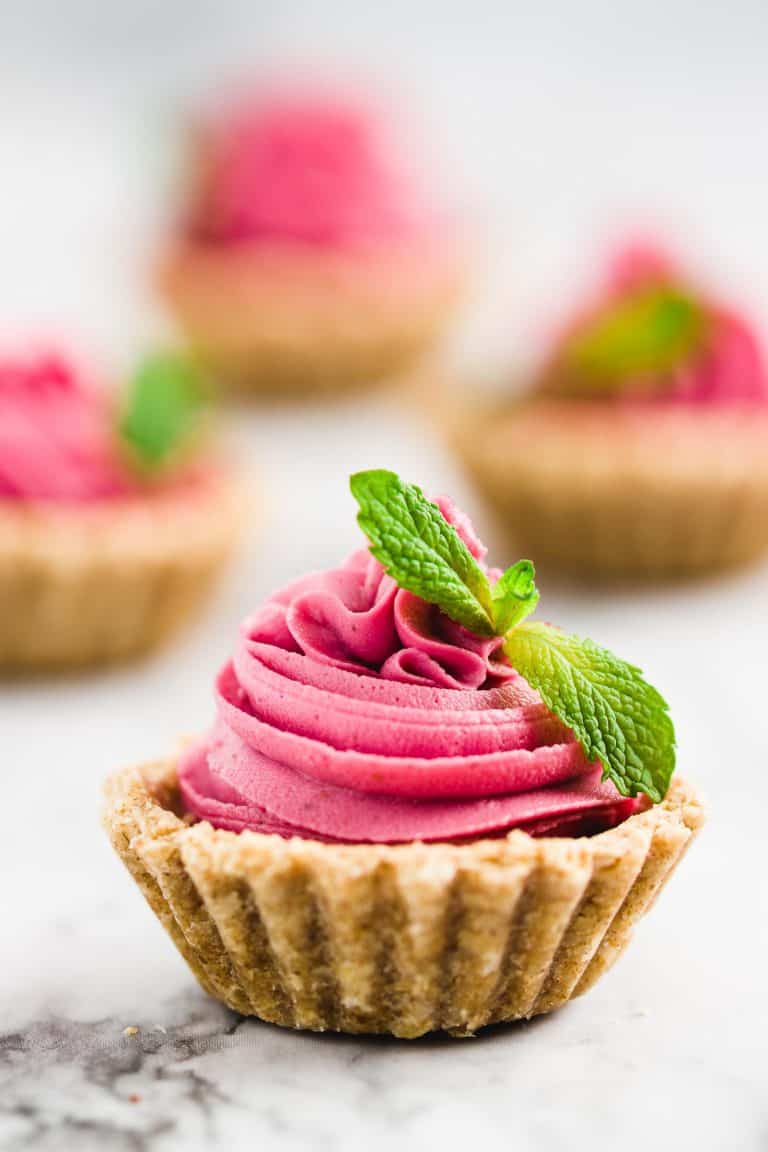 Here, you've got an unusual take on a cheesecake recipe with eye-catching color and beautiful presentation.
If you're the cheesecake AND adventurous type, this is a recipe worth diving into!
An excellent treat to share with guests, ready to serve in roughly 40-45 minutes.
Ravioli with Beetroot Filling (Gluten-Free)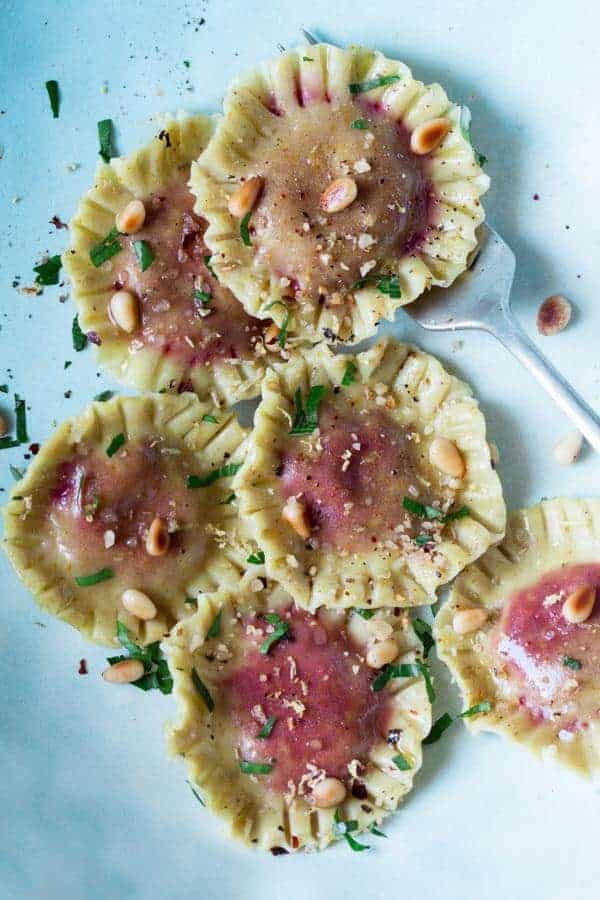 Healthy, gluten-free and absolutely pretty to look at! This dish requires some effort but the result is definitely worth it.
The beetroot mixes perfectly with the other ingredients to give a distinct taste.
Are you looking forward to showcasing your cooking skills? Go ahead and try this ravioli with beetroot filling.
Roasted Beetroot Napoleon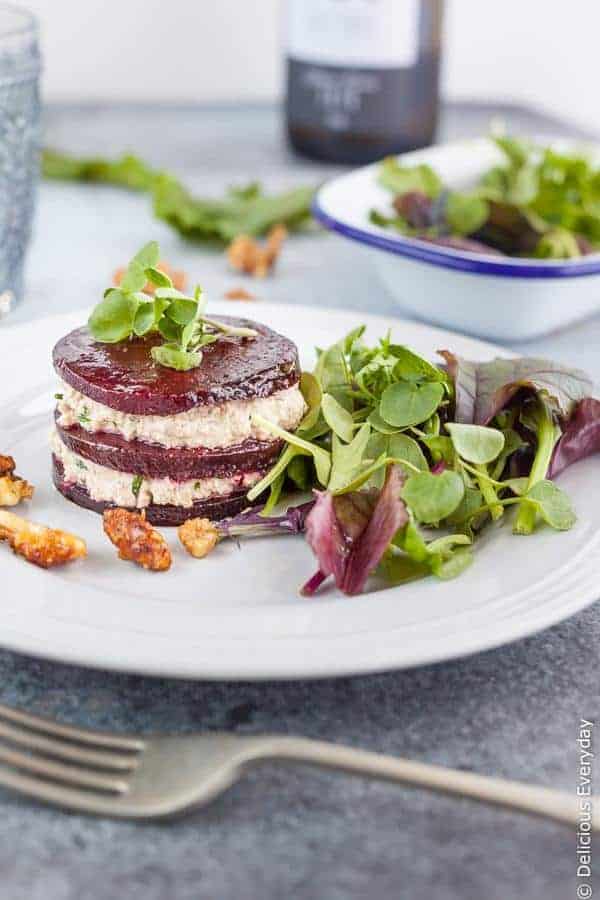 Need a special appetizer for your next meal? Make a note of this recipe!
The roasted beet napoleon is filled with walnut cream which complements the earthy flavor of beets.
Accidentally Awesome Vegan Beetroot Butter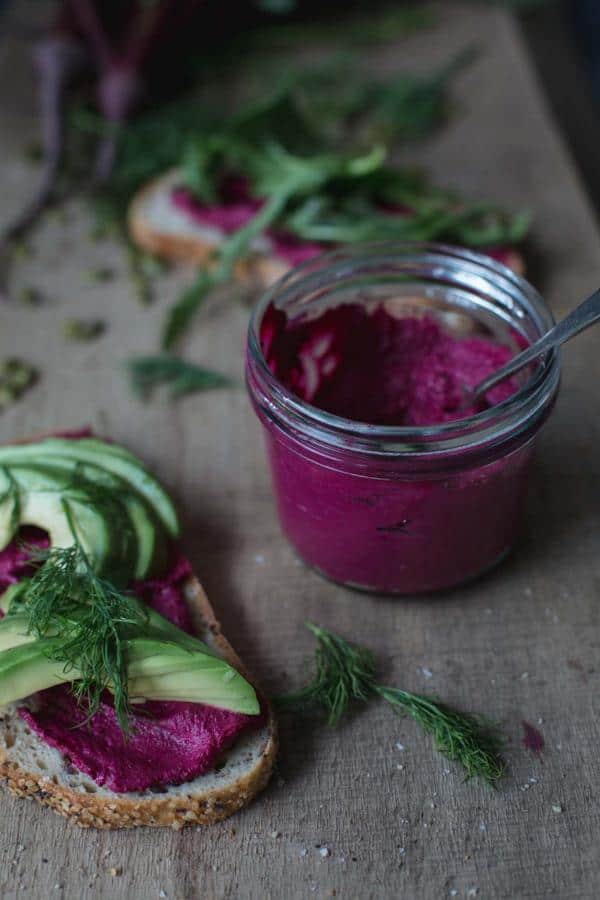 This accidentally awesome beetroot butter is as gorgeous as it is delicious.
The rich purple color give this butter a unique appearance.
Compared with regular dairy butter, it's a healthier and arguably more delicious fix for your toasts and sandwiches!
Beetroot Risotto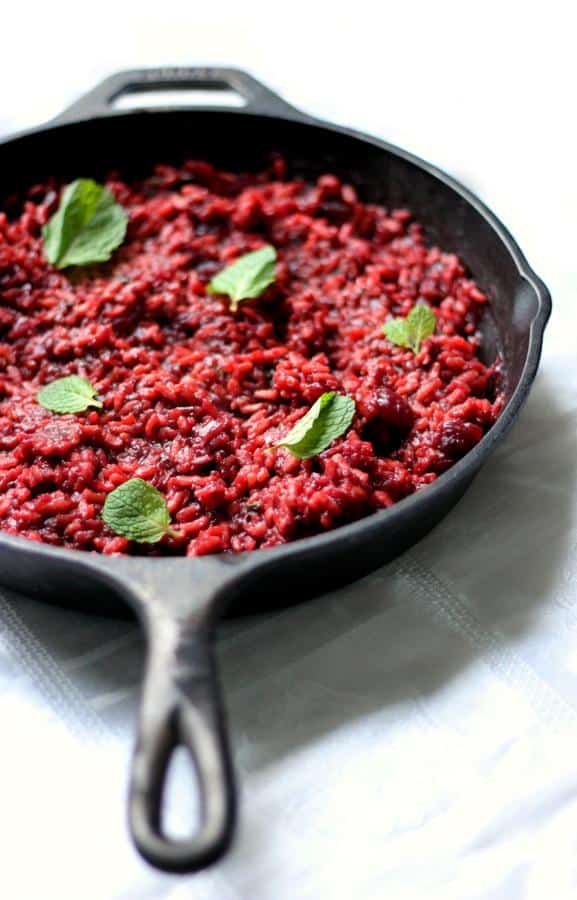 Prepared in 30 minutes, this plant-based risotto is a treat for anyone who likes experimenting with food.
This recipe looks ravishing with a deep red color and utilizes beet puree for creaminess.
Chocolate Beet Cake with Chocolate Avocado Frosting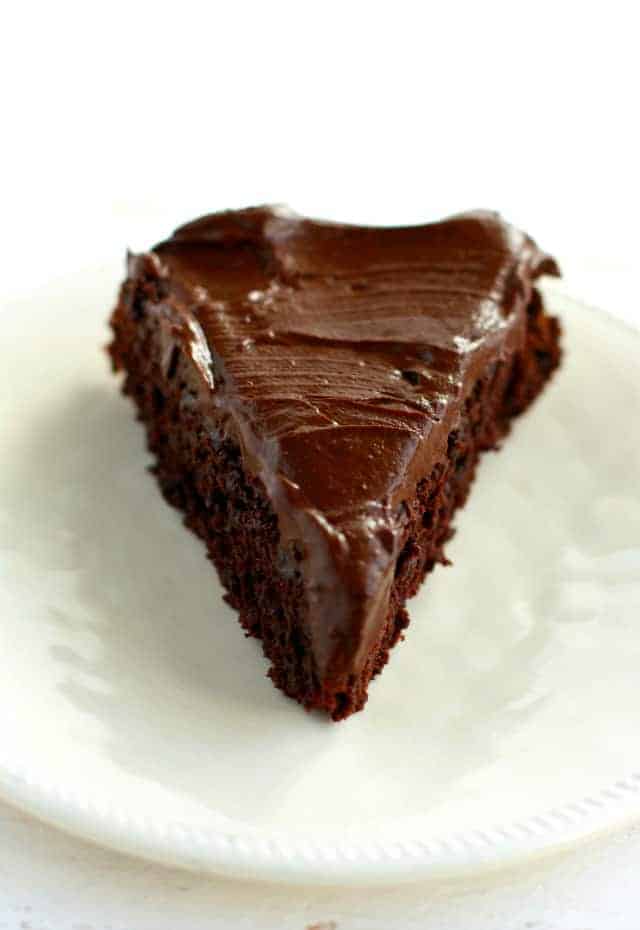 This mouth-watering cake combines chocolate with beet puree.
You won't see or taste the beetroots but they do provide an extra layer of nutrition.
If you want a healthy dessert to satisfy cravings, then this chocolate beet cake with chocolate avocado frosting is the way to go.
Dark Chocolate Beetroot Cake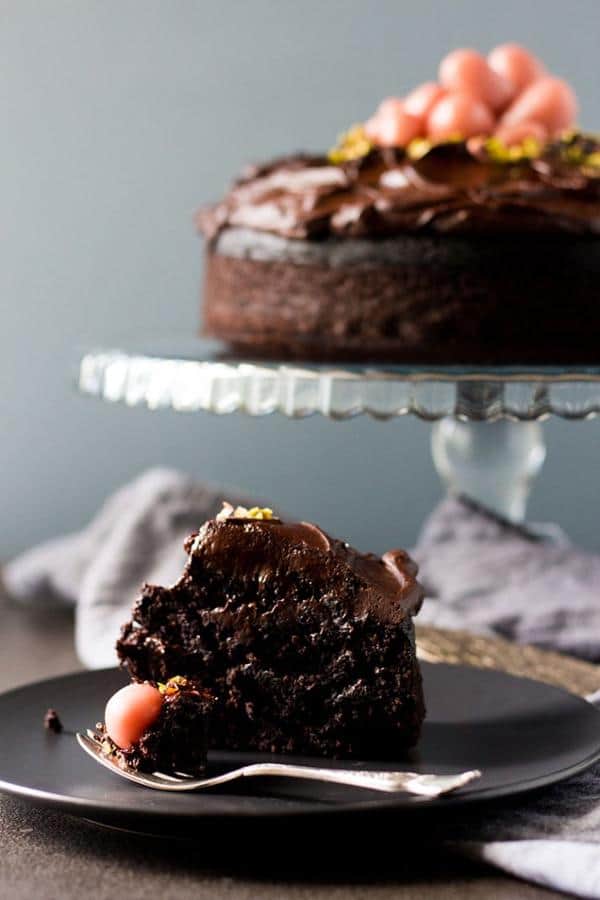 Do you like cake? Yeah, who doesn't!?
This dark chocolate beetroot cake is fudgy and incredibly gorgeous.
On the inside, it looks like a brownie but is lighter in texture and extremely delicious, too!
Beet Dark Chocolate Scones with Pistachio Crumble (Gluten-Free)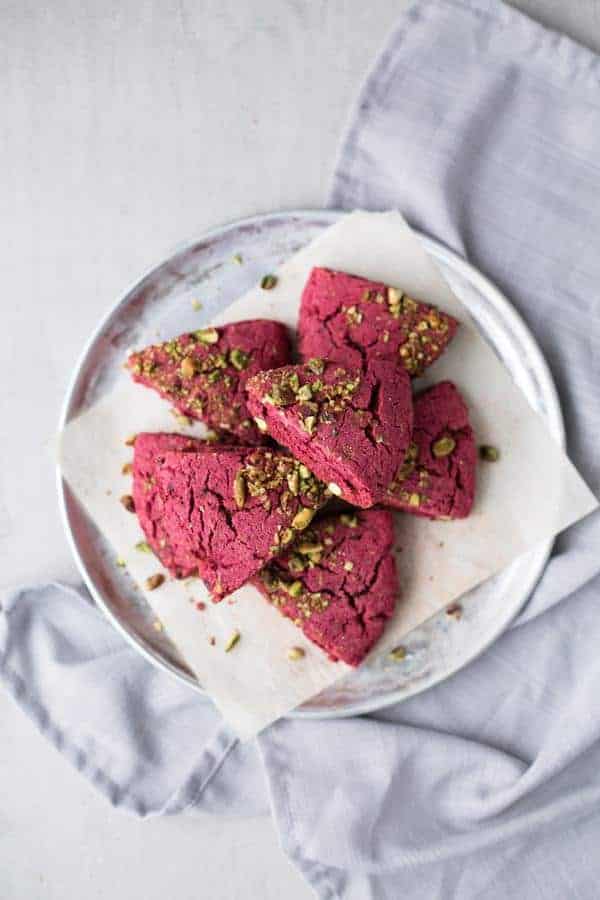 Here you've got the ultimate comfort food!
These beet dark chocolate scones are best when eaten warm.
They're amazingly delightful as each bite gives a taste of chocolate and pistachio.
Additionally, this recipe is plant-based and gluten-free. Serve these healthy little delights and revel with pride as your guests applaud you!
Baked Double Chocolate Beet Donuts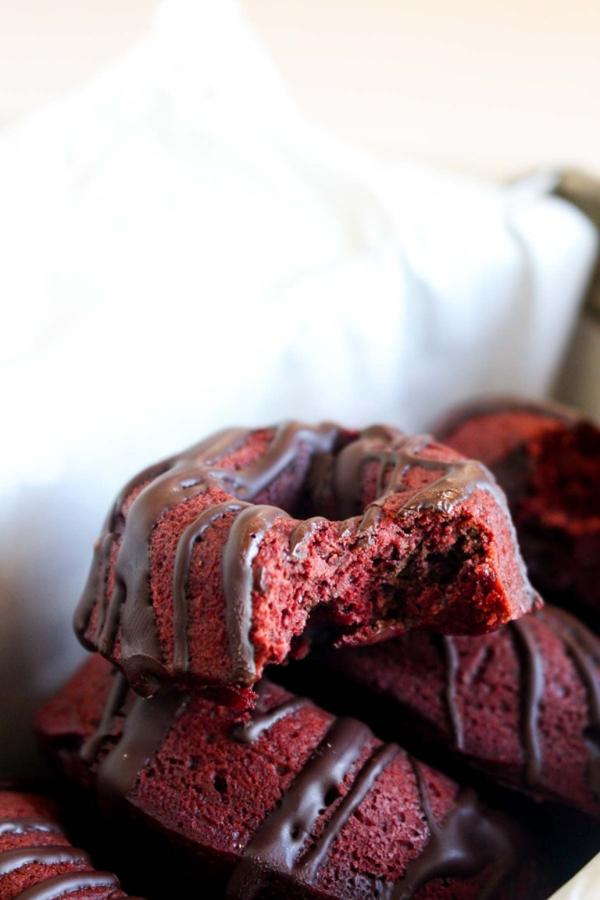 Do you love donuts as much as I do? If the answer is yes, then you must check out this recipe.
These baked double chocolate beet donuts have a pink hue, perfect for impressing anyone.
While beetroot adds extra moisture, chocolate works immaculately to create a sweet and earthy flavor.
Wrapping Up
I think this is one of our best roundups, but I'm biased like that!
We tried to include a wide variety of dishes because we know there are a lot of beet lovers our there.
Share this with your friends and let us know which are your favorite!
Didn't Captain Kirk say, 'Beet me up, Scotty'? That's what he meant!