Let me tell you something… there's nothing like a ripe and luscious tropical fruit like papaya.
Without a shred of doubt, this is one of my favorite fruits, rich in both fiber and enzymes, making it superb for your digestion too.
But you're likely here because you're wondering, "What does papaya taste like?"
To get the best flavor, it's important you know how to choose a ripe papaya, plus I'll show you some yummy treats you can make with them.
So, what are we waiting for? Let's dive in!
Video Overview
What Is Papaya?
Papaya, otherwise known as pawpaw, is a large, oval-shaped tropical fruit.
To this day, it remains uncertain where papaya originated from, but The Encyclopaedia Britannica says it's likely a fusion of two or more species of the Carica genus native to Mexico and Central America.
The papaya has since spread to every sub-tropical region around the world, including Thailand, the Philippines, and the Caribbean. While papaya is produced in roughly 60 countries across the globe, India spearheads global production, supplying 42% of the world's crop.
Appearance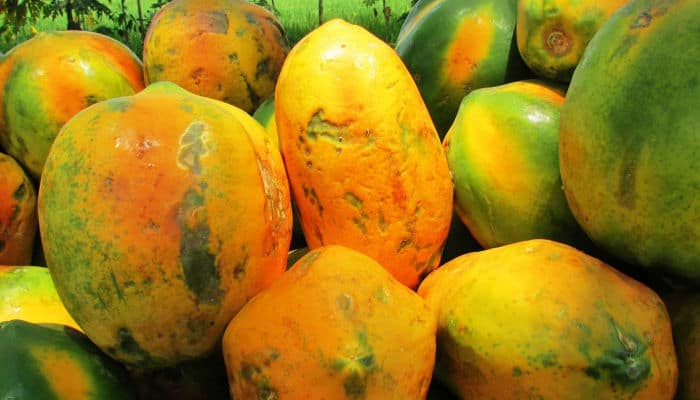 Papayas tend to have a pear or eggplant shape and can grow up to 20 inches long. As the fruit ripens, its skin will change from green to a full yellow or orange-yellow color, often with green spots and patches.
Cut open your papaya, and you'll notice a cluster of black seeds in the center, surrounded by orange, pinkish or red flesh.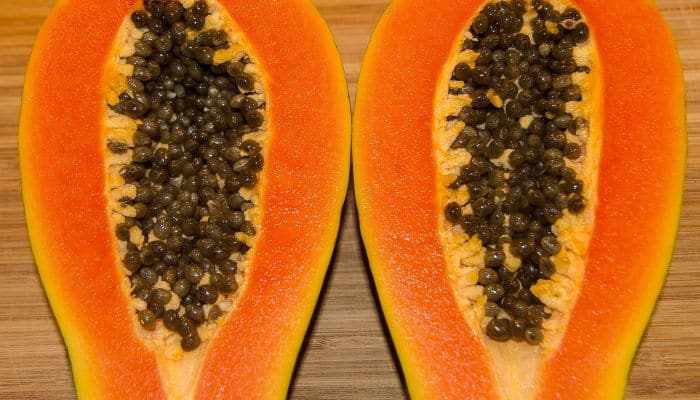 Taste and Texture
If you can get your hands on a fully ripe papaya, you're in for a delicate treat.
A ripe papaya will have a creamy, butter-like texture with a mild to fairly sweet flavor. While the flesh is slightly firmer in larger varieties, the flesh should almost melt in your mouth without the need for any chewing.
The flavor is most often likened to that of a cantaloupe melon or certain varieties of mango.
If your papaya has little to no flavor, a faintly unpleasant smell, and the flesh doesn't have a melt-in-your-mouth texture, it needed more time to ripen. Usually you should be able to tell this from its skin.
However, even unripe, green papayas are popularly used, mainly in Asian cuisine for their crunchy texture.
As for the seeds? Yup, you can eat those, too, and they come with a bounty of health benefits. But brace yourself for a sharp, bitter flavor, reminiscent of wasabi or mustard.
What Is Papaya Used For?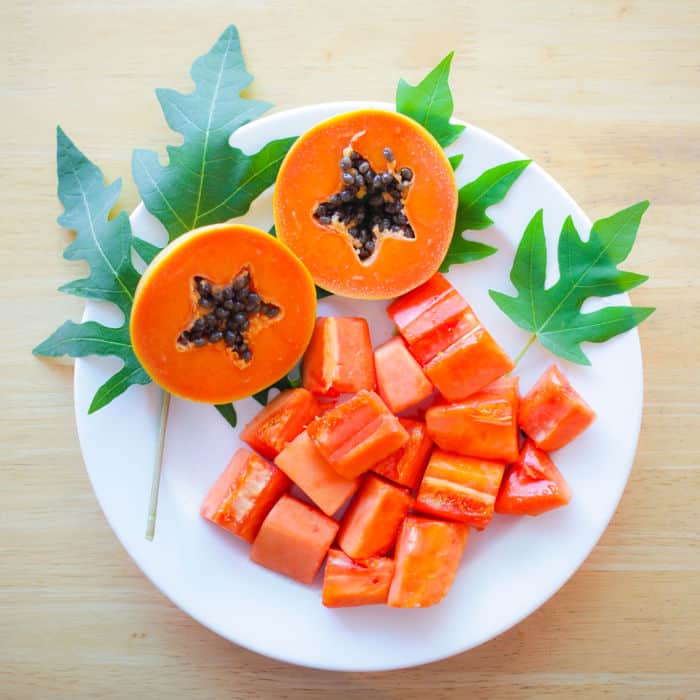 Like the avocado, papayas are yet another creamy and versatile fruit you can use to make a variety of treats and dishes.
Generally, a fully ripe papaya is eaten raw, while green (unripe) papaya is favored for cooked meals.
Some exciting and mouthwatering delicacies you can make with papaya include:
salsas
salads
soups
dressings
dried snacks
smoothies
fruit bowls
So you're left with plenty of room to get creative, whether you're looking for something sweet or savory, simple or adventurous.
According to The Spruce, some good fruits to mix together with your papaya can be mango, passionfruit, kiwifruit and various berries.
What Are the Health Benefits of Papaya?
If you're at all concerned about digestive health, consider making papaya one of your tropical go-to fruits.
Papaya is calorically lightweight and comes packed with excellent nutritional value, including dietary fiber, antioxidants, and beneficial digestive enzymes.
Here are some key benefits you can enjoy:
Superb Food for Digestion
For every cup of papaya, you'll take in 2,5 grams of dietary fiber, which boosts your gastrointestinal health and helps prevent constipation among other significant benefits. Also, papaya contains digestive enzymes, like papain and chymopapain, supporting natural protein digestion.
Helpful for Weight Loss
If you're striving to keep your weight under control, a papaya's fiber and digestive enzyme content will come in handy once again to help you feel satiated and improve your digestion. Not only that, papaya is also known for being low on calories, further supporting weight loss goals while adding important nutrients to your diet.
High in Antioxidants
Another fabulous benefit is papaya's rich content of antioxidants, especially vitamin C. Just 1 cup, or even 100 grams for that matter, will provide you 100% of your daily vitamin C needs. In addition to vitamin C, you'll get a nice dose of other antioxidants like vitamin E and vitamin A, all of which help protect your skin, hair and eyes.
Excellent Food for Skin Care
Not only will papaya help your skin from the inside like asparagus, but you can in fact use it externally too. To help maintain smooth and youthful facial skin, try applying it as an enzyme-rich face mask. It'll help remove dead skin cells, open clogged pores and reverse blemishes.
Protects Heart Health
Your cardiovascular health can also benefit from regular consumption of papaya as this fruit is a good source of lycopene and vitamin C. Both of these nutrients have shown to have potential protective effects.
Has Anti-inflammatory Benefits
Thanks to its content of papain enzyme, papaya has also been found to have anti-inflammatory effects, helping to improve inflammatory conditions such as rheumatoid arthritis.
Availability and How to Store Papaya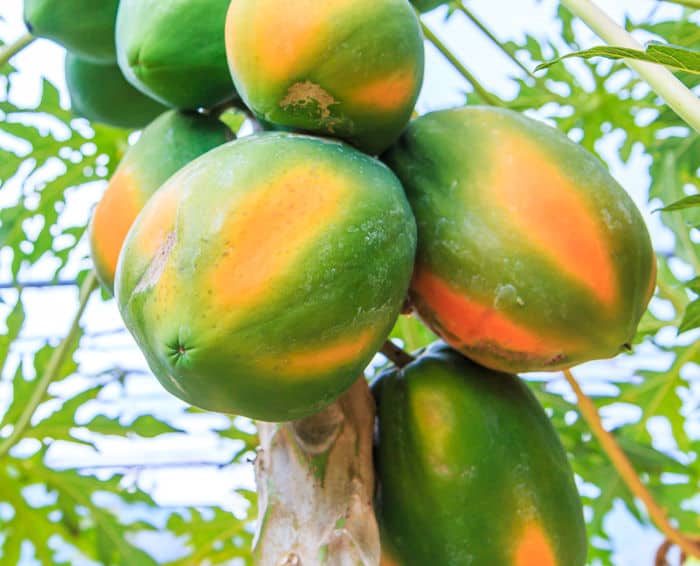 If by chance you get hooked on papaya, you'll be pleased to know it's generally available year-round. The high-season for papaya in North America is from June toward the end of September.
Storing a whole papaya:
If you haven't cut into your papaya yet, how long it can or should be stored will depend on how ripe (or unripe) it is.
A papaya that's 1/4 to 1/3 yellow needs more time to ripen and should be ready within 2-5 days if stored at room temperature.
Can't wait that long? Put the papaya in a brown paper bag and place it in direct sunlight for 24-48 hours.
On the other side, if you don't think you'll be eating it within 5 days, place the papaya in a plastic bag and put it in your refrigerator.
Storing a cut-open papaya:
But what if you've cut open your papaya? Store the leftovers in a plastic bag in your refrigerator and make sure to eat it within 2-3 days.
How to Tell When Your Papaya is Ripe
To have a papaya that'll yield the most delicious flavor, you'll need to know when is the right time to eat it.
Papayas picked at an appropriate stage, so not too early, will continue to finish ripening.
This means one of the keys to a good papaya, is at what stage it was harvested from its tree. When they're picked too early and fully green, their natural sugars and flavors don't develop as desired.
As an example, with Caribbean red papayas you can spot those which were picked unripe by how their color changes evenly instead of developing a yellow star pattern as explained in this video:
Other signs to look for:
Should be fairly soft on the outside, yielding to mild pressure
Should have a deep yellow to orange-yellow color (and can have green-colored spots and specks as well)
Should have a pleasantly sweet scent near the stem
How to Prepare and Eat Papaya
Okay, you've got yourself a perfectly ripe papaya (or two), so, what do you with it?
As noted earlier, there are several ways you can put fresh papaya to use with just a little culinary creativity.
Let's take a look at some yummy ways to enjoy these tropical treats!
Fresh Fruit Salad
There's nothing like a fruit salad made from a variety of fresh, in-season fruits. These are usually easy and quick to make and are a nutritious snack that kids will especially love.
Have a go at this straightforward papaya fruit salad recipe from The Frugal Chef:
Papaya Smoothie
Another super delicious way to start your day is to get your blender out, pull some papaya and other fresh fruits together, and make a filling, health-promoting smoothie.
This smoothie recipe from Kristina Carrillo-Bucaram combines papaya with banana, refreshing coconut water, and cinnamon:
Cooling Soup
Need some inspiration for a soothing and warm soup? What if I told you, that you can use papaya for that as well? Yup, you can!
And this simple recipe from Humble Recipe is one you ought to try, combining papaya with snow pear, honey dates and the optional addition of rock sugar for added sweetness. Check it out:
Papaya Salsa
Looking for something a little fancier? Then your mouth will water for this tropical salsa recipe from Markus Rothkranz, mixing papaya with other delicate ingredients such as mango, avocado, red onion and cilantro. Super delicious, super savory.
Dried Papaya Snack
You've probably already tried commonly available dried fruits such as apples, raisins, apricots and dates.
But, guess what, there actually is such as thing as dried papaya and what better way than to simply make your own.
Cut up some slices, pop them in a dehydrator for a specified time and you have yourself your own papaya snack.
Watch how it's done with Stephanie from EFoodDehydrator:
Papaya Dressing
Dressings too! Why shell out money for a store-bought dressing with dubious ingredients when you can make a much healthier and nutritious version yourself.
That's exactly where this quick and easy papaya dressing from Guidecentral comes in:
What You Need to Know
If you're thinking about eating green (unripe) papaya or papaya seeds, make sure to do some precautionary research with respect to your health.
Among other effects, consuming papaya seeds and green papaya may lower fertility in both males and females and are historically known to be used as natural contraceptives.
Also, you'll need to be careful if you're taking blood thinning medications.
Wrapping Up
When properly ripened, papaya is a great-tasting and nutrient-rich fruit you should definitely make part of your regular diet.
Great for digestion, rich in antioxidants, and filling without being high in calories.
Best of all, it's a pretty versatile ingredient you can use to make all kinds of delicious treats with.
So there you have it, give it a go and let me know what you create!