Want to know all the most important stuff about artichokes? Yes? Great, you've come to the right place!
I definitely needed a good 101 before using artichokes for the first time and let me tell you, it was well worth the wait!
For many people, artichokes are one of those produce items you almost feel afraid of buying at the grocery store, if you've never had them before. They can seem daunting just from their hard and cactus-like appearance.
Perhaps you've been thinking, "What does artichoke taste like?
Well, buckle up and let's dive in!
What Are Artichokes?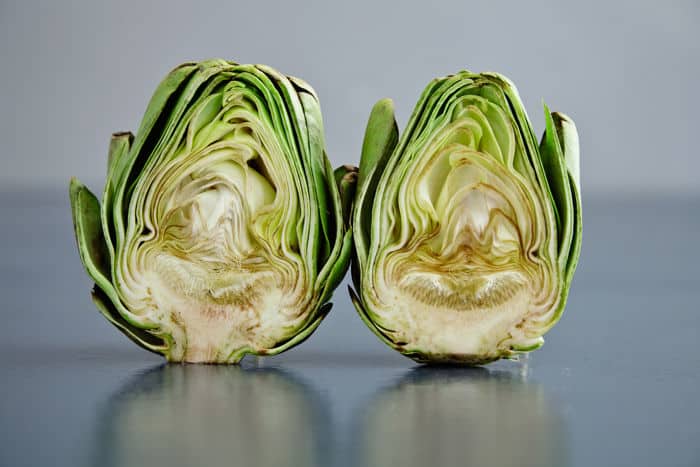 Artichokes, considered one of the oldest cultivated vegetables, are a perennial thistle that blossoms into a beautiful, purple flower similar to its close relative, the milk thistle.
However, we consume the immature thistle buds before the artichoke has had time to blossom.
Majority consensus holds that artichokes originated in the Mediterranean region, with some pointing to Sicily in Italy, while others say the plant originated from the northern parts of Africa.
Artichokes have since spread throughout the world, with Italy, Egypt, and Spain maintaining leading ranks as producers.
And get this… there are well over 100 varieties of artichokes discovered so far. Less than half of those (around 40), however, are commercially available. The Green Globe artichoke is the most popular and the one you'll likely be most familiar with.
Appearance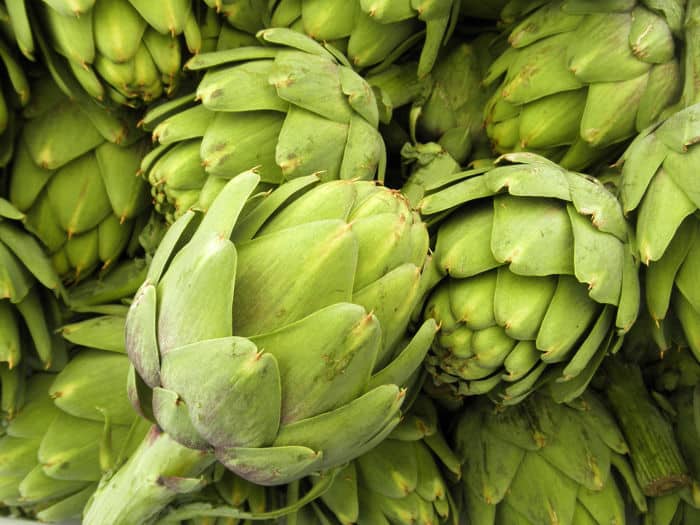 In the U.S., the Green Globe artichoke is likely the only variety you'll find in most places.
When you first look at them, they can seem like a difficult produce item to handle. (With a bit of know-how, though, you'll realize just how easy you can prepare them.)
They come across as a hardy, globe-shaped flower with thorny leaves ready to pierce your skin if you're not careful. They weigh typically between 8 to 16 ounces and as much as 20 ounces depending on size.
Taste and Texture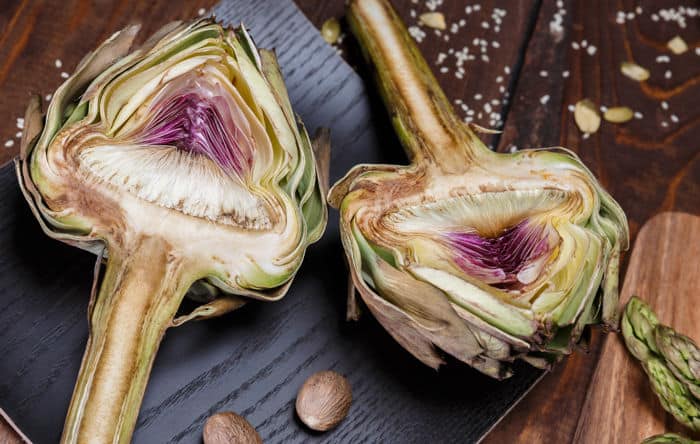 Now to the most important part, the taste!
As with many food items, what the final taste will be like, will depend very much on how the ingredient is prepared, as well as its freshness.
For example, fresh, uncooked artichokes can taste considerably different from steamed, fried or roasted artichoke.
People tend to say:
raw artichoke is quite mild and slightly nutty
boiled and steamed artichoke is tender with a pleasant hint of sweetness
fried artichoke has a richer texture and is like fried or griddled asparagus but with a nuttier flavor
grilled artichoke has a hint of sweetness as well as possessing the characteristic smokey-grill flavor
If you want to eat artichokes raw, make sure the variety you buy is fit to be consumed uncooked, such as:
Tudela
Fiesole
Violet de Provence
Some people express that steamed and boiled artichokes has a flavor slightly reminiscent of either asparagus, avocado, or celery, depending on who you ask.
For me, it's asparagus. But, as always, "your mileage may vary."
Overall, you can achieve some great tasting meals with artichokes.
Because it's a quickly perishable veggie, you should use it as soon as possible, preferably on the same day you bought it.
One more thing… if you're a wine-drinker, you may need to watch out just a little bit with how you pair wines and artichokes.
What Are Artichokes Used For?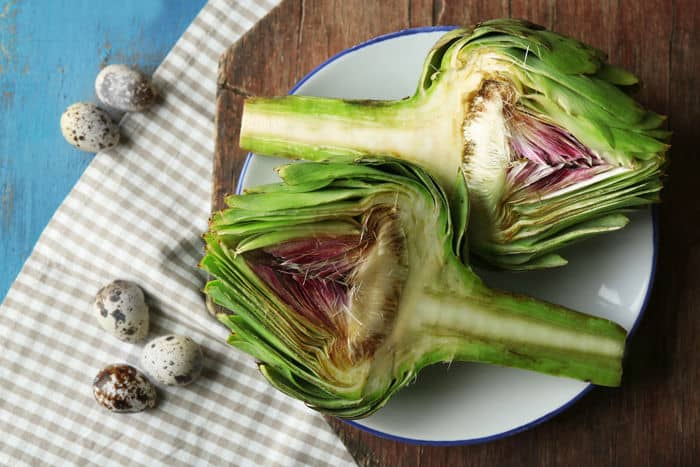 Next up, you may be wondering what on earth you can do with an artichoke.
Don't fret because artichokes can be enjoyed well on their own or easily incorporated into a variety of delicious recipes.
In simpler terms, you can easily steam, boil, stir-fry, grill, and roast artichokes. You then eat the edible parts on their own, with a dip, seasoned, or as part of a dish.
Other great ways to use artichoke include:
Pizza topping
Pesto
Dips and spreads
Stews and casseroles
Really, there are countless ways to prepare and serve artichokes resulting in a delicious meal, and I'll show you some later.
First, however, let's get into some health stuff!
What Are the Health Benefits of Artichoke?
So… apart from stimulating your taste buds, are there any other reasons why you should be eating an artichoke?
Absolutely! For one, artichokes rank number one in the vegetable category for plant foods highest in antioxidants, and number seven overall, beaten only by specific beans and berries.
And that's just the beginning. Here are some other fantastic ways artichokes can support your health:
Rich in Vital Magnesium
A medium-sized (128 grams) artichoke is rich in magnesium, supplying up to 77 milligrams apiece. Magnesium is a crucial mineral that's present in every part of your body. While magnesium isn't as popular or researched as its cousin, calcium, just know this single nutrient plays a role in over 600 physiological reactions in your body. Unfortunately, a large percentage of the U.S. population has been found to be deficient in magnesium.
Loaded with Dietary Fiber
I'm sure you don't need me to tell you how awesome dietary fiber is for you… BUT it is! Fiber adds bulk to your stool and helps move stuff through your intestinal tracts, helping you avoid both constipation and diarrhea. You also receive other benefits such as stabilized blood sugar. Get this: Just one medium artichoke will cover 25% of your daily fiber needs, yielding 6.9 grams.
Beneficial for Your Bones and Cognitive Health
Vitamin K is a fat-soluble vitamin that's recently been in the spotlight for showing benefits to brain and nervous system health. In collaboration with vitamin D, Vitamin K also has a nifty role in keeping your bones strong. Artichokes are a superb way to increase your intake of vitamin K, each medium artichoke supplying 18.9 micrograms or 14% of your daily needs.
Contains Anti-Cancer Properties
This vegetable might pack more punch than you'd otherwise think. Artichoke extract has also shown benefits in cases of cancer, notably against breast cancer cells. Perhaps by now, you might want to consider making artichoke a part of your regular diet for preventive effect!
Can Help Regulate High Blood Pressure
That's right. For one, a medium artichoke will supply you with 473 milligrams or about 10% of your daily potassium needs. Potassium is the third most abundant mineral in your body and helps keep sodium in check which in turn can help reduce blood pressure. Other compounds in artichokes may also support healthy blood pressure.
Availability and How to Store Artichoke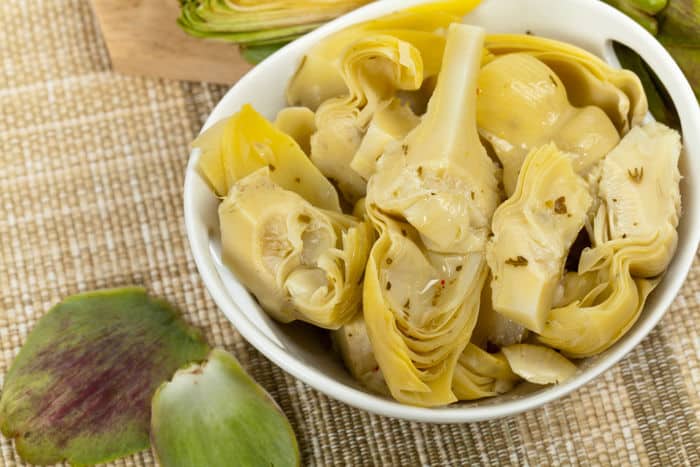 Various veggies, such as eggplant and capers, are available year-round. Artichokes are no exception.
However, if you want the best quality artichokes with the greatest flavor, March through September is the time where you should make artichokes a regular part of your diet.
How to Choose Your Artichoke:
When you're choosing your artichoke, make sure the leaves of the head appear tightly packed together, vibrantly green and without splits. You also want to watch out for blemishes on the leaves.
Using both hands, pinch the artichoke leaves together and you should hear squeaking.
The stem part should be a bit damp. Like some other produce, don't remove the stem before you're ready to use your artichoke, as it helps keep the artichoke fresh for slightly longer.
Finally, make sure the stem doesn't have any wormholes near the top, which can sometimes extend into the artichoke heart and spoil the flavor.
Storing Your Artichoke:
Like I mentioned earlier, the best time to use your artichoke is on the same day you bought it.
If you keep it around for much longer than that, you'll find it quickly perishing.
But until you're ready, just keep it in your refrigerator for a maximum of 4-7 days and make sure not to forget it!
You should eat any cooked, leftover artichoke within 24 hours. Wait much longer and you'll notice the flavor becoming increasingly distasteful.
How to Prepare and Cook Artichoke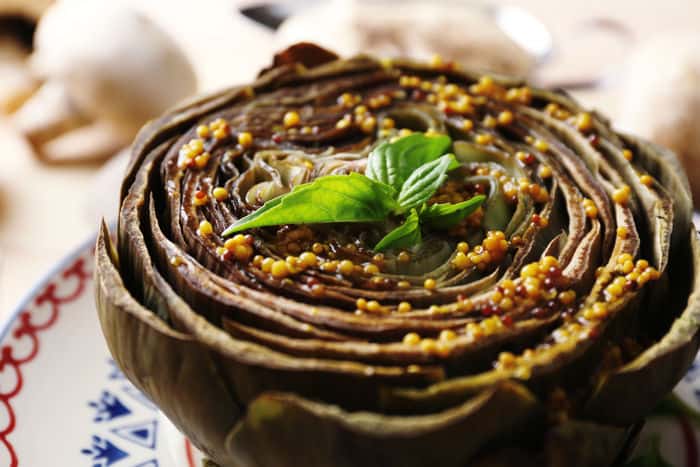 Ready to cook your artichoke? Splendid! First up, let's go over the preparation steps so it's ready for whichever way you want to cook it (steaming, boiling, roasting, etc.).
Next, I'll show you some great recipes you can follow to create a delicious treat right at home.
Here's what you need do to get your artichoke ready:
Take a whole artichoke and rinse it under cold water while cleaning it with a brush
Cut roughly 1 inch off the head end and a quarter inch off the stem (optionally remove the entire stem if necessary)
Using scissors, snip off the thorny tips of the artichoke petals
To prevent browning, you can optionally rub the cut ends with lemon juice
Lightly spread open the petals so flavors from other ingredients can permeate between them
And voila, your artichoke is good to go!
Here's a video demonstrating the above steps:
All right, time now for some inspirational ideas!
Oven Roasted Artichoke
When getting used to a completely new ingredient, there's nothing better than to start out with a simple recipe.
And instead of overpowering the artichoke's flavor, this straightforward and delicate oven roasted artichoke recipe from The Sweetest Vegan, enhances it.
Best of all, only 5 simple ingredients are needed:
Artichoke head(s)
Garlic
Lemon juice
Olive oil
Kosher salt
Give it a try!
Steamed Artichoke
Another super easy way you can cook an artichoke, is to steam them with just a couple of ingredients.
The Blue Jean Chef, Meredith Laurence, gives a short and sweet example of how you can steam an artichoke, to be used in your dip of choice.
All you'll need:
Artichoke head
Lemon
Sprigs of thyme
Bon appétit!
Spinach and Artichoke Quinoa Crust Pizza
If you've been dreaming about guilt-free pizza lately, this beautiful, one-heck-of-a-treat from Simply Quinoa, topped with delicate artichoke hearts, is more guilt-free than you could ever wish for, and yet so tasty at the same time. Dreams do come true!
Here are the ingredients:
Artichoke hearts
Quinoa
Spinach
Baking powder
Olive oil
Salt
Water
Vegan pesto
Nutritional yeast
Microgreens of choice
This pizza is well worth making!
Artichoke Spinach Pesto Pasta
In case you don't have access to fresh artichokes, you can also get them pre-packaged or canned.
And with that, how about a luscious pasta dish using a freshly-made artichoke and spinach based pesto? Yum!
Sound good to you as well? Then have a try at this appetizing recipe from LIVEKINDLY, using a range of ingredients which together, pack a flavorful punch.
Here's what you'll need:
Canned artichoke hearts
Baby spinach
Basil
Hemp hearts
Nutritional yeast
Pine nuts
Red onion
Black pepper
Lemon juice
Garlic salt
Apple cider vinegar
Rocket (also known as arugula) leaves
This recipe ought to thrill your taste buds!
Avocado, Spinach and Artichoke Dip
Have guests coming around and fancy treating them to a savory dip for veggies and crackers?
In that case, Anja Cass has got you covered with her take on the classic, mouthwatering spinach and artichoke dip with an avocado twist.
To make it happen, you'll need:
Canned artichoke hearts
Frozen spinach
Avocado
White beans
Plant milk
Lemon juice
Garlic cloves
Dijon mustard
Coarse Celtic sea salt
Wrapping Up
There you have it! If you struggled with the thought of what to do with an artichoke, or wanted to know what artichokes taste like, you now have a much clearer idea.
Artichokes are both super nutritious and a superb addition to a healthy, plant-based diet, packed with antioxidants, fiber, and other health-boosting nutrients.
Whether you use artichokes as the base of a meal or as an addition, it's a treat everyone should try at least once.
I'd love to know what you to decide to make!