For many of us, there are certain vegetables that just take us years to try for the first time because we think they're bland or awful-tasting, it's hard for us to even imagine what to do with them, or we're afraid of what these foods do to our urine (haha).
For me, asparagus is one of those veggies. It took me years to try, let alone buy them fresh. While some will say they're an expensive taste to acquire, I can tell you, this springtime treat is worth it!
So, if you've ever wondered what does asparagus taste like, and how you can prepare it for a nice meal, let's dive right in and find out!
Video Overview
What Is Asparagus?
Asparagus has been cultivated for thousands of years. It's a nutritious vegetable and a member of the lily family. It's even said to be related to leeks, onions, and garlic, yet the appearance and taste of asparagus are quite different from its relatives.
While asparagus is native to Europe, Asia, and the northwest parts of Africa, it's being cultivated all over the world.
I was even astounded to find out there has been roughly 300 varieties of asparagus found, yet only 20 of these are edible.
Appearance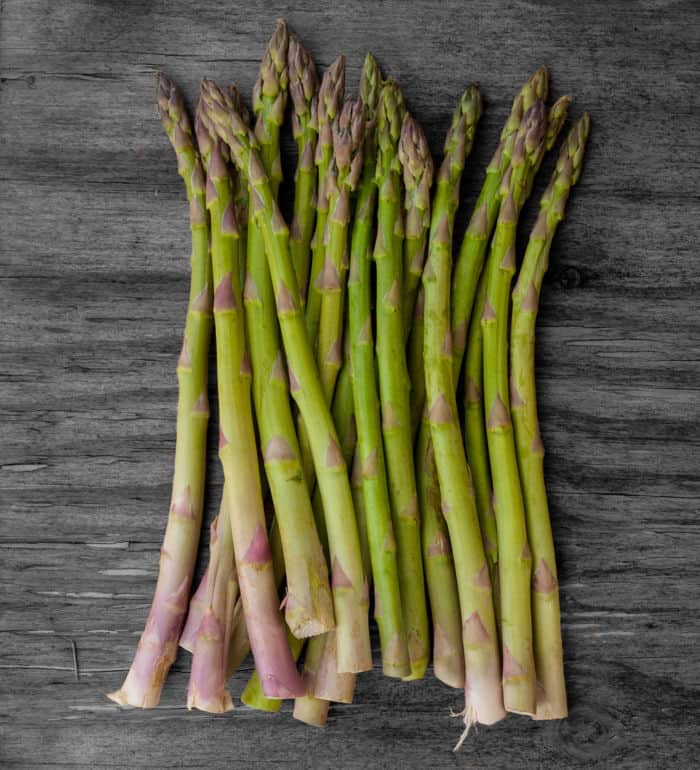 At the grocery store or produce market, you'll most likely bump into green and white asparagus, but you may also see a purple variety.
While all three varieties have a long, spear-like shape, green asparagus have brown edges and scaly tips. Purple asparagus is the same, only a difference in color and crowned tips.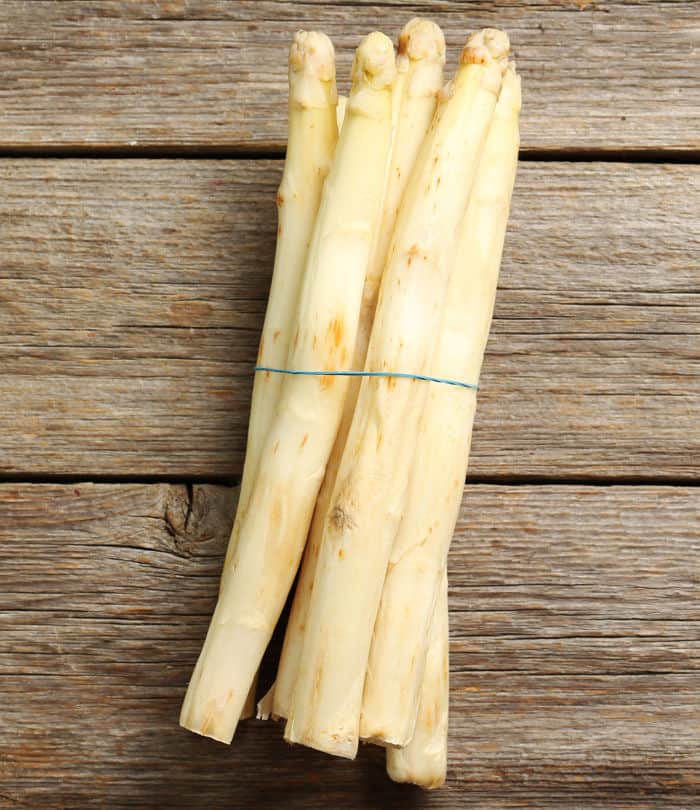 White asparagus gets its color from being grown beneath dirt or black plastic, which shields it from sunlight and prevents chlorophyll production. Because these are labor-intensive to keep blanched, they come with a higher price tag.
Taste and Texture
Now let's get into the meat of the matter, what does asparagus taste like?
Many people think asparagus tastes awful, but this can actually have a lot to do with making common mistakes when selecting which asparagus to buy, or when you're preparing it.
But if you get these things right, chances are you'll be in for a flavorful treat.
But I'll be honest: it's tough to give a single, accurate answer to what it tastes like because the flavor of your asparagus will depend on a few things, including:
at what time, it was harvested
how you're preparing it
which variety (color) of asparagus you're using
But quite often, its taste is described as distinct, yet reminiscent of broccoli, Chinese long beans or green beans with an undertone of an earthy grass flavor with some bitterness.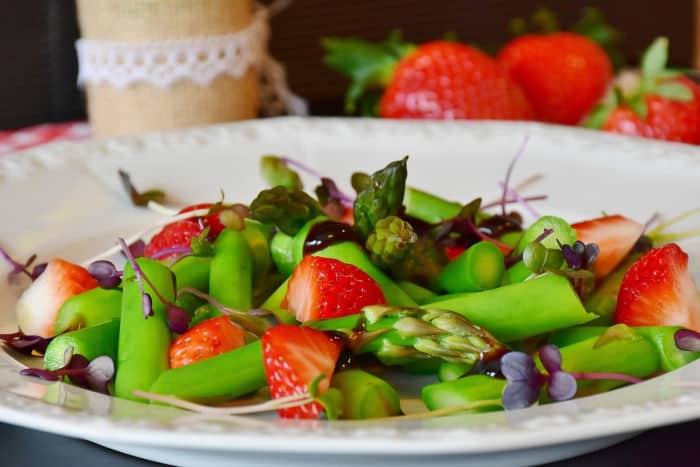 Compared to green asparagus, the white variety is slightly more sweet-bitter but has less of the grassy taste.
Purple asparagus' taste is also milder than its green cousin and matches closest to the white variety, but is even more sweet, containing up to 25% more natural sugars compared to green asparagus. When cooked, its taste has been described as having "notes of artichoke, barley and almonds."
Depending on the thickness of the stalks, the texture can range from crisp on the outside with a tender center (thin stalk) to having a more meaty texture with a stronger flavor (thick stalk).
What Are the Health Benefits of Asparagus?
Not only can asparagus add to a delicious meal, WebMD describes it as being "one of the most nutritionally well-balanced vegetables," as it packs a nutritional punch, being a great source of various minerals, vitamins, antioxidants, and fiber.
For this reason, it's also a popular medicinal food with a wide array of health benefits.
Here are some of the fabulous potential benefits of including asparagus as part of your healthy diet:
Promotes Healthy Skin
Vitamins A and C which are well-known for being beneficial to the skin, promoting collagen production, while vitamin E helps keep your skin hydrated. Asparagus happens to contain all three of these wonderful, protective nutrients.
Provides Important Nutrition for Pregnant Women
Another advantage of asparagus is it's one of a handful of veggies high in folate, a key B vitamin, especially for pregnant women, as it reduces the risk of birth defects and supports a baby's normal development.
Is a Fabulous Veggie for Digestive Health
As a regular part of your diet, asparagus supplies your body with inulin, a complex carbohydrate prebiotic, which passes through your intestines, ferments, and feeds your healthy gut bacteria. Asparagus' fiber content can help in weight control. It also adds bulk to your stools, which move things through your intestines, preventing constipation.
Helpful for Your Eyes
You've probably heard it a million times, but yes, vitamin A is a crucial nutrient for maintaining healthy vision, and along with the antioxidant powers of vitamin C and E, protects you from age-related macular degeneration. As you learned earlier, asparagus has the complete package of these nutrients.
Supports Good Heart Health
In case you weren't aware, heart disease is stated to be the leading cause of death in the United States. One way you can protect your heart health is by eating B vitamin-rich foods like asparagus, which helps reduce homocysteine, a common risk factor for heart disease.
Helpful for Your Urinary Tract, Fluid Retention and Blood Pressure
Ever heard of asparagine? Nope? I hadn't either, but if you're fighting urinary tract infections, high blood pressure, or fluid retention, you should know asparagine is a non-essential amino acid made in your liver, and it also comes in high concentrations in asparagus. This amino acid is a natural diuretic that'll help your body release excess fluid and salts, which can help relieve the above symptoms.
Availability and How to Store Asparagus
If you happen to fall in love with asparagus by the end of this article, you'll be pleased to know you should be able to find this nutritious veggie year-round at your local supermarket or farmers market.
However, spring is the peak time for getting the tastiest asparagus stalks.
If you end up not using the entire bunch, you can save the stalks for later.
All you need is to cut about an inch off the bottom end of your asparagus bunch, then place them in a wide-mouth container (e.g. mason jar) which contains an inch of water.
Finally, cover the asparagus loosely with plastic. Don't tighten or seal the cover.
Here's a handy video to demonstrate:
Using this method, you'll keep the asparagus fresh, and preserve most of its flavor and nutrients for about a week.
How to Prepare and Cook Asparagus
Okay, you've gone out and bought yourself some fresh asparagus. Now, what can you do with it?
If you're feeling too lazy to cook, asparagus is tender and can certainly be eaten raw (if you've heard of raw asparagus being poisonous, it's not the stems, it's the fruit).
For example, have a go at this simple Shaved Asparagus Salad recipe from The Fitchen.
But to really get the delicacy and flavor out of asparagus, there are 5 common ways to cook them.
Steaming
Steaming is one of the most straightforward ways to prepare your asparagus.
In a pot with a steaming basket, bring some water to a boil
Snap or chop about 1 inch off the bottom end of each asparagus stalk
Once the water is boiling, place the stalks with the bottom facing down into the steaming basket, leaning the top of the stalk against the edge
Let it steam for roughly 10 minutes and it's ready to eat
Roasting
Asparagus can also be roasted, which brings out a deeper flavor. Here's an example of how you can do this:
Preheat your oven to 400°F (200°C)
Snap or chop about 1 inch off the bottom end of each stalk
Spread them vertically along a baking pan
Drizzle the stalks with a good amount of oil (such as olive oil)
Liberally sprinkle coarse salt across the stalks
Sprinkle some black pepper or mixed peppercorns to taste
Toss the asparagus together a few times so the ingredients are mixed thoroughly and the oil is spread out
Place the pan in the oven and roast until the asparagus stalks are crisp-tender (about 20-25 minutes), which you can test with a fork
Stir Frying
Another easy and quick way to prepare asparagus is in a stir fry with or without other veggies.
Here's an example:
Snap or chop off about 1 inch off the bottom end of each stalk, then cut them in half or into one-thirds
Add 2 tablespoons of oil (such as sunflower oil) to your frying pan and bring to high heat
Once hot, add the asparagus pieces and stir them around for roughly 2 minutes
Add chopped garlic and stir again until the garlic turns light-brown
Now add soy sauce and sesame seeds and stir for another 2 minutes and it's ready to serve!
Blanching
Blanching is a fast way to make your asparagus stalks tender and ready for serving or for further cooking like a stir-fry or grilling.
Here's how to do it:
Snap or chop off about 1 inch off the bottom end of each asparagus stalk
Bring water to boil in a pot
Once boiling, drop in the asparagus, and allow to boil for 2 minutes
Drain off the water and place the asparagus in ice water to shock them, stopping the cooking process
Griddled
Asparagus and other veggies can also be prepared on a griddle pan without the use of oil, which draws out a lovely flavor and makes them ready to be tossed in a delicious marinating dressing.
Here's how:
Preheat your griddle pan until hot
Snap or chop about 1 inch off the bottom end of each asparagus stalk, then cut the stalks in half
Place the asparagus on the griddle pan and let them char lightly
Wrapping Up
And voila, there you go!
Asparagus really isn't that bad after all once you have a general idea of its flavor, plus a few ideas for how to prepare the stalks into a succulent, delicious salad or hot meal.
It'll add great nutritional value to your diet, bringing many health benefits.
So, whenever it's springtime, you should really promise yourself to give it a try, and please do let me know what you think of this versatile vegetable!
Bon appétit.