Rhubarb is yet another great plant food with a special and distinct flavor I've been curious about recently. It's also a produce item you might not think about buying at first as you're not sure what you can make with it.
So, as you haven't tried it before, you may have also wondered what does rhubarb taste like, and that's exactly what I'm going to cover.
Let's dive in!
Video Overview
What Is Rhubarb?
At first glance, rhubarb seems very much like a purple-red or greenish-red version of celery.
It's a perennial plant originating from Asia, where it was used for medicinal purposes. It has broad leaves with thick, fleshy stalks and comes with an interesting history too.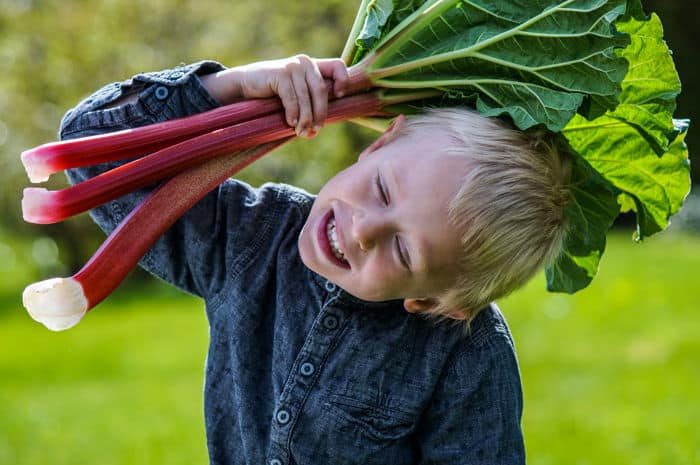 You see, while the leaves aren't edible, people haven't always agreed upon whether rhubarb stalks are a vegetable or fruit.
But in 1947, a ruling decided that rhubarb stalks should be reclassified as a fruit for two reasons:
It was commonly being used, like they would a fruit, in various recipes
Fruits were cheaper to import, so it allowed businesses to pay less tax when importing rhubarb
So, botanically speaking, you can call rhubarb a vegetable, but you should treat the stalks as a fruit.
Appearance
There are several varieties of rhubarb, but the two main ones you'll come across are:
forced rhubarb
maincrop rhubarb
Forced rhubarb is characterized by long, pinkish stalks with honeydew-yellow or lime green leaves. This one is considered to have the most delicate flavor.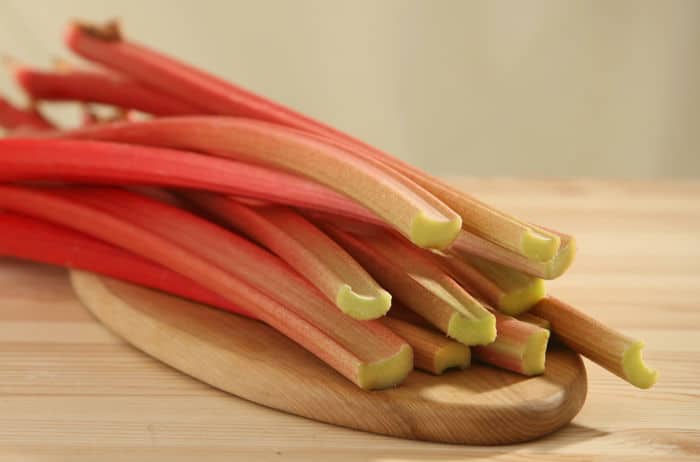 Maincrop rhubarb stalks, on the other hand, are usually thicker and have a deeper red color with bright-green leaves. The stalks can also be green to pinkish-green.
Maincrop rhubarb is considered to have a more pronounced flavor and texture.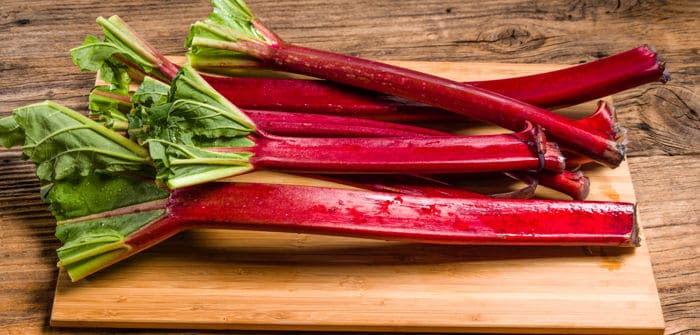 You shouldn't use color as a measure of flavor or potential sweetness as rhubarb stalks can have the exact same flavor regardless of color.
However, some people say size is a much better indicator, with larger and more mature stalks being preferable.
Taste and Texture
Okay, so what does rhubarb taste like?
Rhubarb is relatively low in natural sugar content, especially when compared to produce like carrots, peas, and beetroot.
Raw rhubarb stalks have a crunchy and juicy texture that can be described as sour.
If you're like most people, you absolutely won't fancy eating rhubarb stalks raw on their own because they're simply too tart and sour, reminiscent of Granny Smith green apples or cranberries.
If you use them in a dish, you'll most likely want to add some kind of sweeteners like sugar, apples or strawberries to make it more palatable.
Personally, I love pairing rhubarb with asparagus for a delicious, roasted delicacy, like this one from Gracie Caroll.
What Is Rhubarb Used For?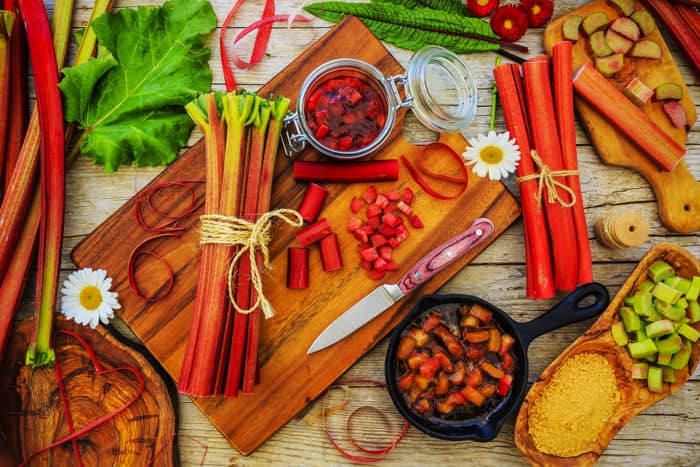 Despite its tart and sour flavor, rhubarb is a particularly popular ingredient in sweetened pies and compotes, but is also commonly used for:
sauces, relish, and salsas
jams and purées
stews
roasted snacks
eating with dips
What Are the Health Benefits of Rhubarb?
Rhubarb can be an excellent addition to a healthy diet, as it comes packed with important vitamins and minerals, including lutein, vitamin C and K, the B-complex, calcium, potassium, and more.
Because of its various health benefits, Rhubarb even has a history of being used in Traditional Chinese Medicine, to promote stomach, intestinal, spleen and liver health along with other areas of the body.
Here are some great ways you could benefit from eating more rhubarb:
Supports Your Immune System
Vitamin C is a powerful antioxidant and plays a key role in boosting your immune system and white blood cell activity. Rhubarb is a great source of vitamin C.
Improves Digestive Health
I'm sure you've heard of the many benefits of fiber for your digestive health, and that's just another great reason to eat rhubarb, as the stalks are rich in fiber which help improve bowel regularity and prevent constipation.
Great Addition to Keeping Your Bones Strong
Rhubarb also contains good amounts of vitamin K, with each serving supplying 45% of your daily needs. Along with calcium and magnesium, vitamin K plays an important part in healthy bone development, which can protect against osteoporosis and other fragile bone conditions.
Helpful Food Choice for Weight Loss
If you're struggling with some extra weight, you can be at ease with rhubarb, as each 100-gram serving only contains 21 calories, making it a healthy, low-calorie fruit ingredient you can include in your diet.
Supports Stable Blood Sugar Levels
Struggling with uncontrollable blood sugar fluctuations? Then you'll want to know that, compared to other plant foods, rhubarb's high fiber content has also demonstrated benefit in controlling passive absorption of sugar into your bloodstream.
Availability and How to Store Rhubarb
So, want yourself some fabulous rhubarb? The best times to find fresh stalks depends on the variety you're looking for.
You're most likely to find them during spring and summer seasons, the peak time being April to June.
When making your selection, make sure the stalks are firm and crisp and the leaves haven't wilted.
Because rhubarb tends to wilt and soften quite quickly at room temperature, you'll want to store it as soon as possible, until you're ready to use it.
While you can place the stalks in a freezer bag or Ziploc bag and store them for a few days, it turns out a much better method is to loosely wrap the stalks in foil and put them in the refrigerator.
This way, you can extend the rhubarb's fresh qualities for up to two weeks or longer.
If you want to store the stalks for longer, you can go ahead and freeze them. Simply:
Remove any leaves, then rinse and clean off each stalk
Chop an inch off both ends of the stalks
Chop the stalks into chunks (length of the chunks is up to you)
Place the pieces into a Ziploc freezer bag, as you slowly zip the bag, try to get as much air out before completing the seal
Place the bag in your freezer
How to Prepare and Cook Rhubarb
You might be surprised to learn that rhubarb is quite versatile in terms of what kind of meals and dishes you can make with it.
Let's go over some popular ways to use rhubarb for making delicious treats!
Compotes
Rhubarb is frequently used to make flavorful compotes, often combined with fruits like strawberries and apples, and sometimes sweetened further with sugar, maple syrup, or honey.
Here's a great example of a Strawberry Rhubarb Compote from Ariyele Ressler:
Slow Roasted Treats
You can even roast rhubarb stalks with other ingredients for a really special, mouth-watering treat. Here's a great recipe combining rhubarb and oranges from Donal Skehan:
Salads
Yup, if you're into salads (and you should be!) you can even get creative with rhubarb by combining with other fresh produce items in season. Simply chop (or shave) the rhubarb into small pieces and it's ready for use.
Here's a lovely summer salad from Susie Garcia:
Lovely Jams
Another classic use of rhubarb is to make sweetened jams. You can use the jam on all kinds of things like toast, rye bread, desserts, or as a filling for pies and homemade snack bars.
And best of all, it's quite straightforward to make. Here's a recipe for a great-tasting jam from Angela Palermo:
Soups
Longing for a warm and healthy soup? Here is another easy treat you can make for yourself using rhubarb and a few other ingredients for added sweetness. You can even get creative with spices and herbs to achieve just the right amount of flavor and spice.
Garden Time shows you how to make a simple rhubarb soup:
Candy Treats
Who needs to buy candy when you can make sweet and sour treats? It's very easy too! All you need to do is:
get yourself some rhubarb stalks, clean and prepare them for use
cut them into thin strips with a vegetable peeler
put them into a syrup of melted sugar and allow the rhubarb to absorb the sweetness
take out the strips, lay them on a tray and dehydrate the strips
Here's a great recipe from Prepper Potpourri:
What You Need to Know
It's very important you remember that only the rhubarb stalks and leaf ribs are edible.
You should remove the leaves because compared to other greens, they contain much higher amounts of oxalic acid crystals and are toxic to humans and animals.
However, if you somehow ended up eating some leaves by mistake, you can seek comfort in knowing that it'll unlikely have any severe repercussions.
For example, a person weighing 145 pounds (65.7 kg) would need to eat 11 pounds (5 kg) of leaves.
Wrapping Up
If you want to achieve a mix of delicious flavors with hints of tart and sour, rhubarb is an excellent "veggie fruit" you can experiment with.
To reap more of rhubarbs great health benefits, I would personally substitute white sugar with healthier sweeteners such as maple syrup, agave nectar, or coconut palm sugar.
As you can see, you can get really creative and make some great dishes with rhubarb.
Give it a try and please let me know what you think!