As always, we hunted high and low looking for the best food bloggers spending endless hours trying to find the best recipes.
Here, we have 50 amazing taco recipes from around the Internet all in one place for you.
Movie night? Game night? Having some friends over? We've got you covered.
Thrilling Taco Recipes
Lentil Walnut Taco Meat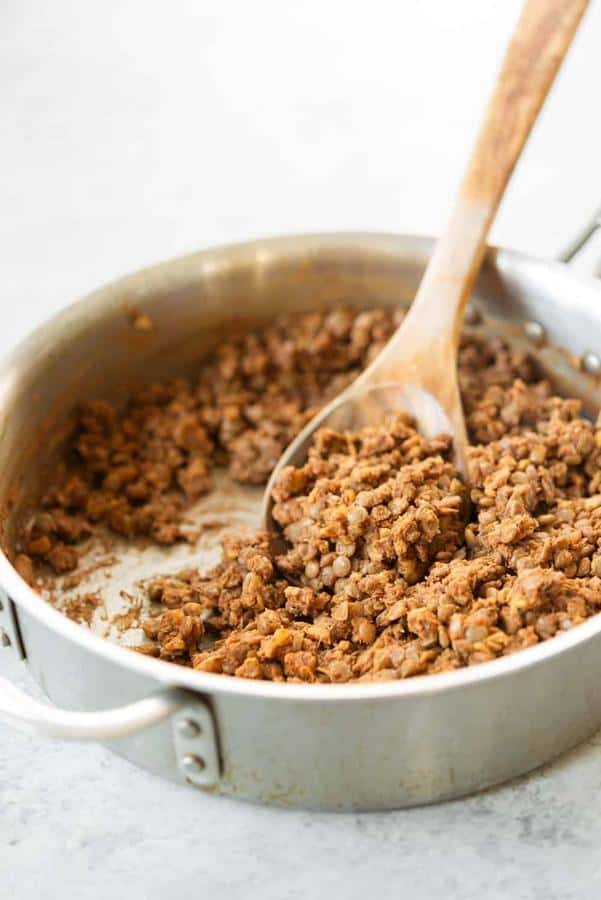 Arguably the most important part of a taco filling is the main part. So, where do we go for plant-based versions?
You want something flavourful, hopefully healthy and easy to make. Here we have all three bases covered. Great herbs and spices, onion and just a couple of other ingredients. Perfect.
Healthy Taco Seasoning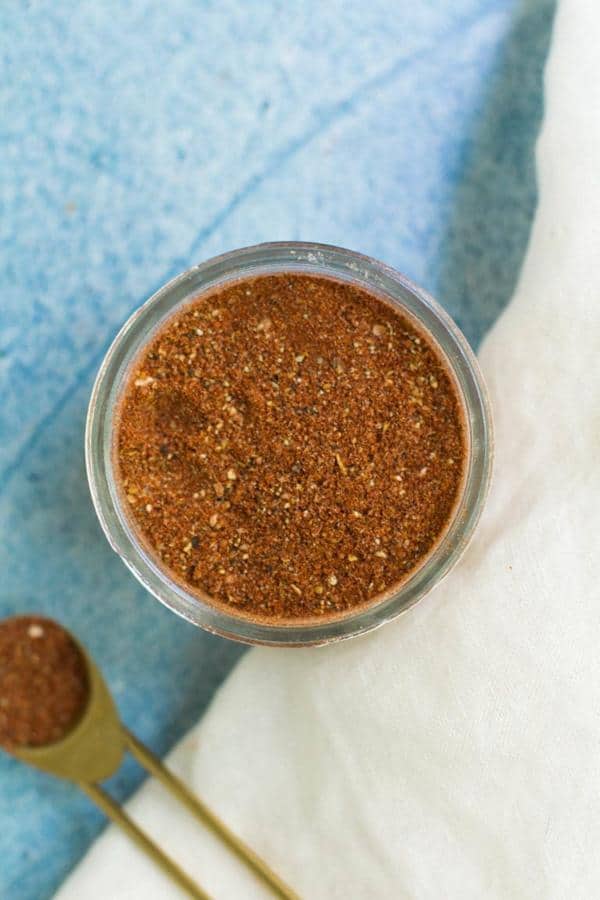 Okay, so you have your tacos, the filling is great, but something is missing.
This seasoning is gluten-free, paleo friendly and brings any meal to life, not just tacos!
Mix all the herbs and spices listed and you'll be guaranteed the perfect seasoning.
Homemade Taco Seasoning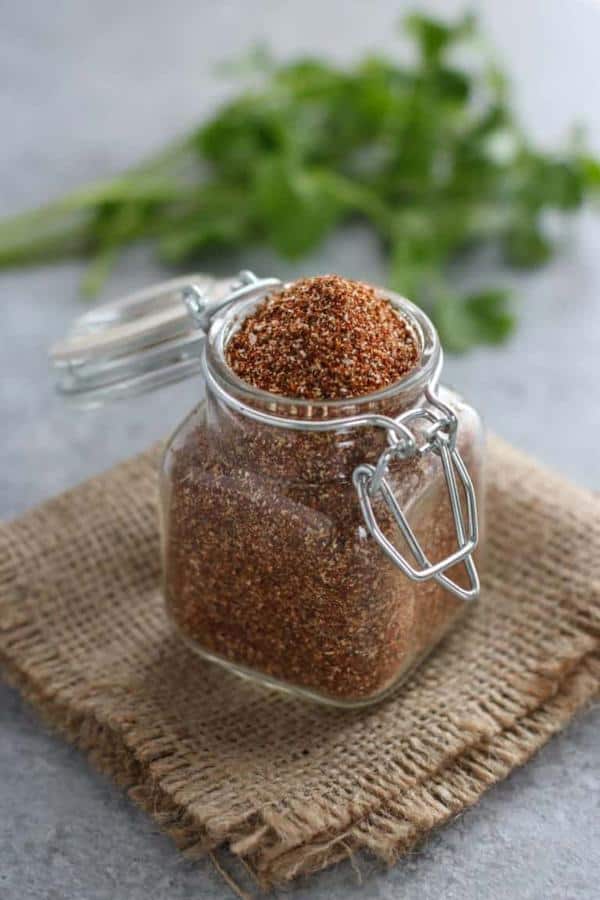 This seasoning is so delicious I even use it on my salads.
A great blend of herbs and spices that keeps well. Not just for tacos, you'll be dusting it over everything!
Delicious on pasta too!
Spicy Avocado Sauce for Tacos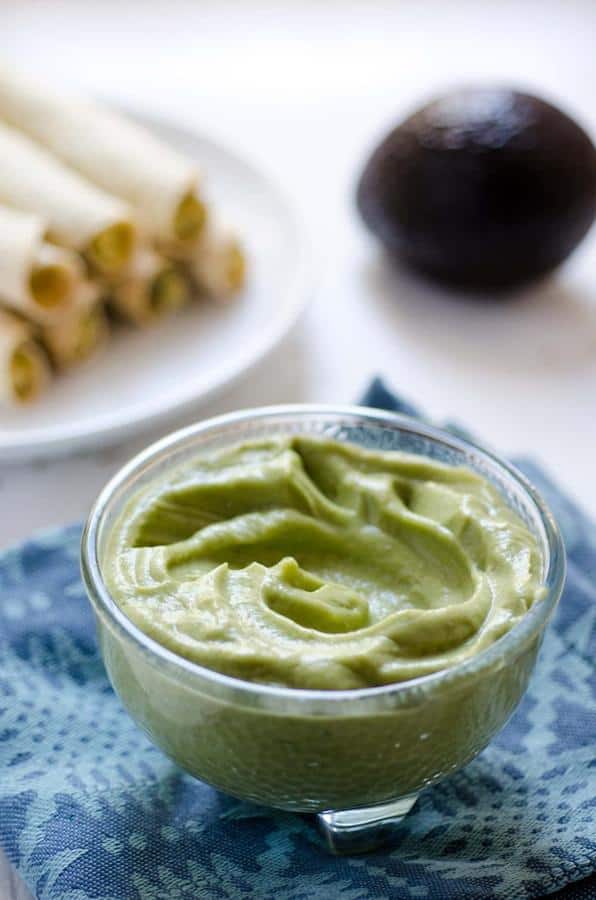 Every good taco needs a great sauce.
You always know when you have something good, you never want it to overpower all the other flavors, you want something that not only makes a great addition to the recipe, but something that tastes good on its own which I always think is the ultimate test.
This passes with flying colors. Super easy to make and very healthy.
Brussels Sprouts Tacos with Mexican Slaw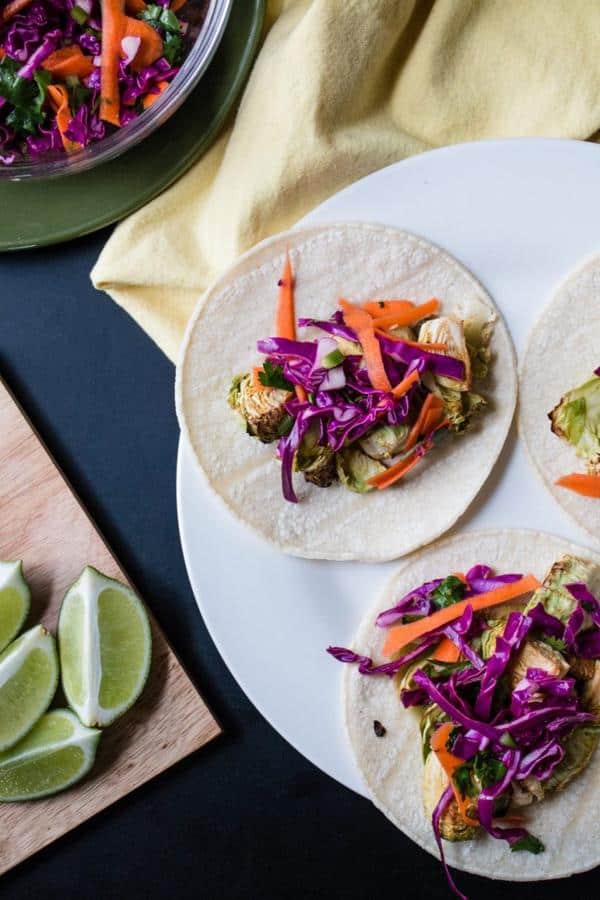 I know some people are bit funny with Brussels sprouts. If you're one of them, trust me on this recipe.
The sprouts are seasoned and then baked in the oven to perfection. The taste will win over any doubters of this fantastic vegetable. Add the slaw and don't look back!
Teriyaki Tempeh Tacos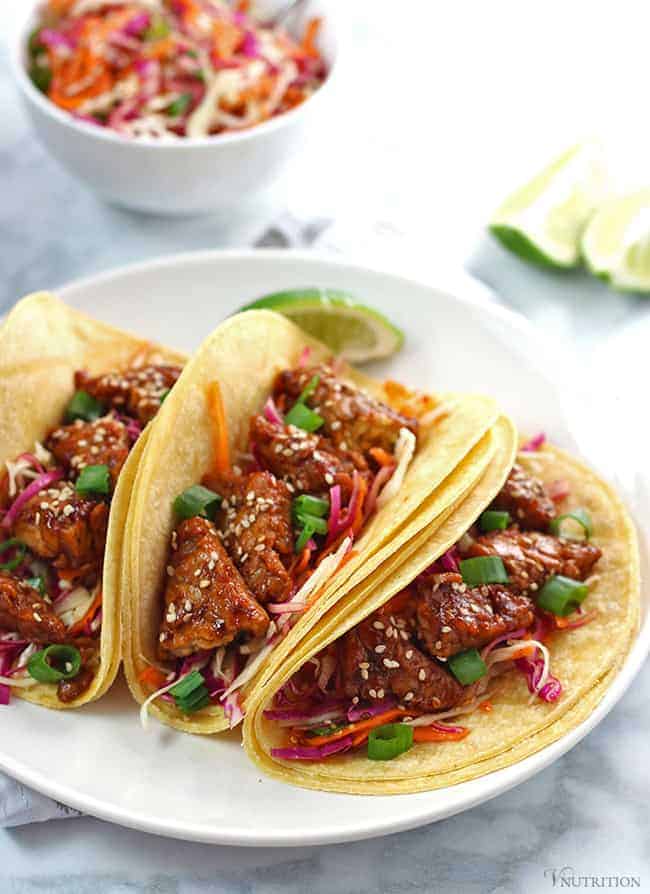 If you're looking for meat alternatives for your tacos, look no further.
Mary Ellen has done a fantastic job on this recipe. Using tempeh with an amazing dressing gives you a taco filling that you will just want to keep eating!
Throw in a superb Asian slaw recipe, also included, and you'll be the only winner on game night!
Nopales, Black Bean, and Potato Rolled Tacos with Smoky Taco Cream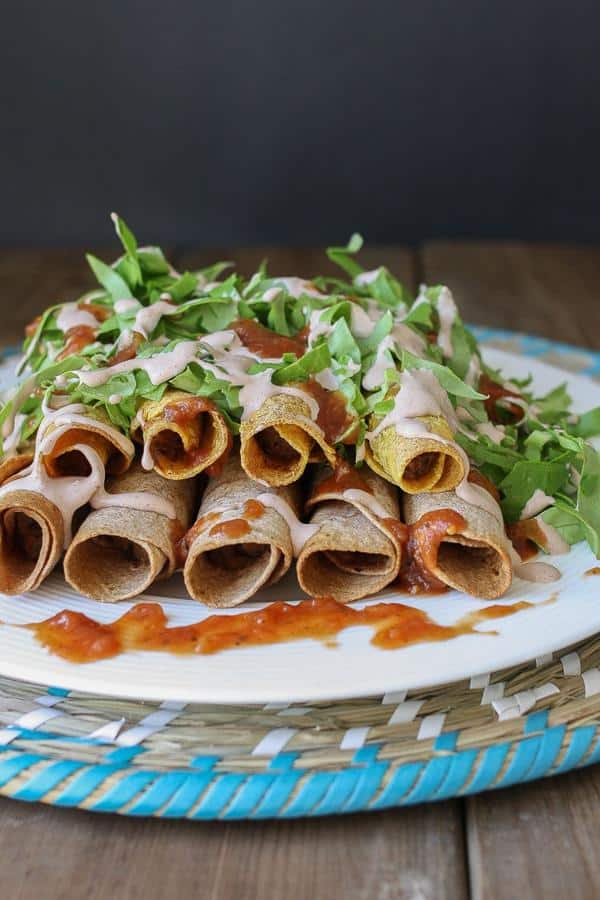 One of the best complete taco recipes I have seen.
The entire recipe page is the perfect instruction for you to create this masterpiece.
Not only does he walk you through each step, you also have great hints and tips. The Smoky taco cream recipe is a winner in its own right. Wonderful!
BBQ Pulled Jackfruit Tacos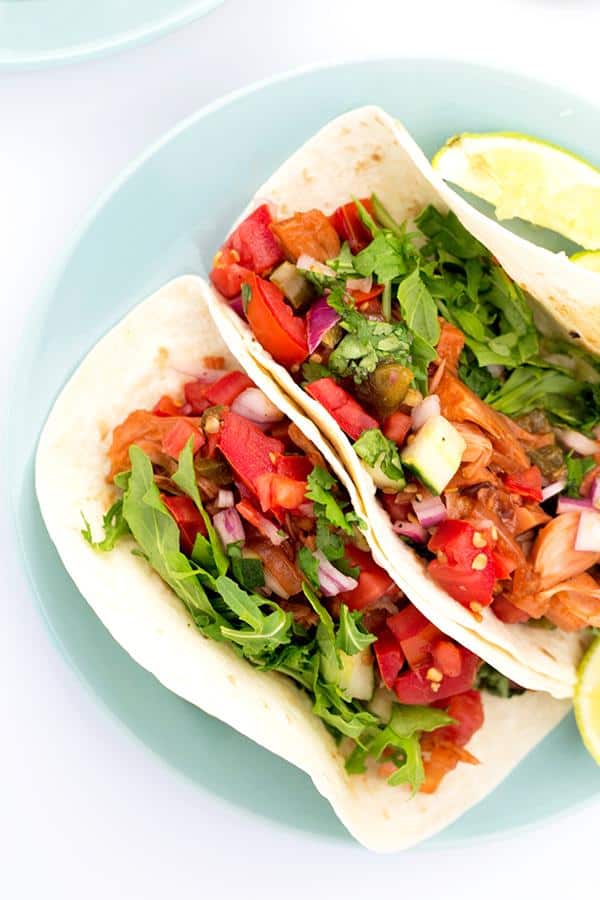 Jackfruit is a great alternative for that meaty texture. It has a benign flavor so lends itself well to all sorts of recipes.
Here, the barbecue jackfruit is cooked to perfection with onions, seasoning and sauce. You also get a great recipe for Pico to Gallo and even guacamole.
Look no further for you have found your answer!
Taco Mince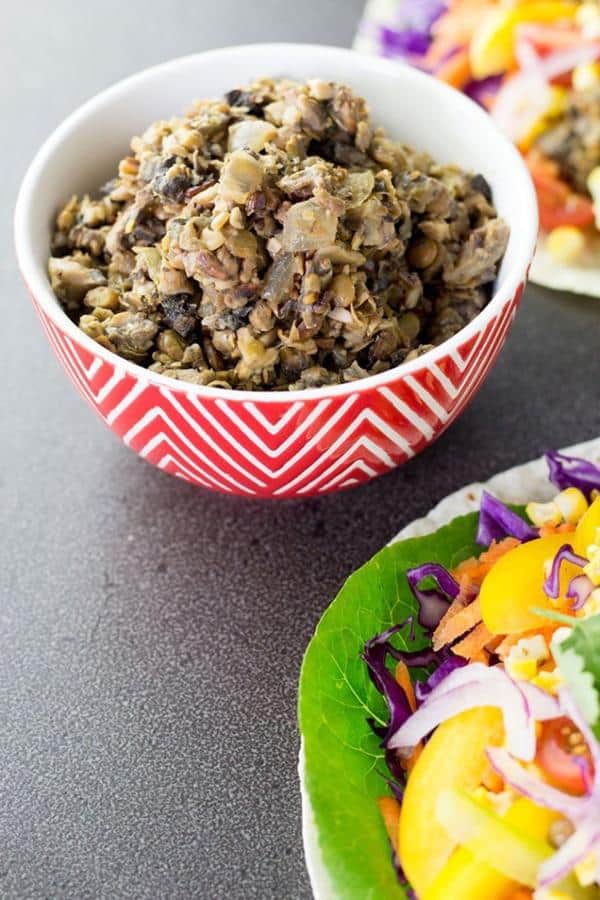 Whether you call it meat or mince, I think we can all agree that every taco needs a main filling.
What I love about this recipe is there is no single flavor that tries to steal the show. We have lentils, mushrooms with a small handful of herbs and spices to blend everything together.
Quinoa Lentil Taco Meat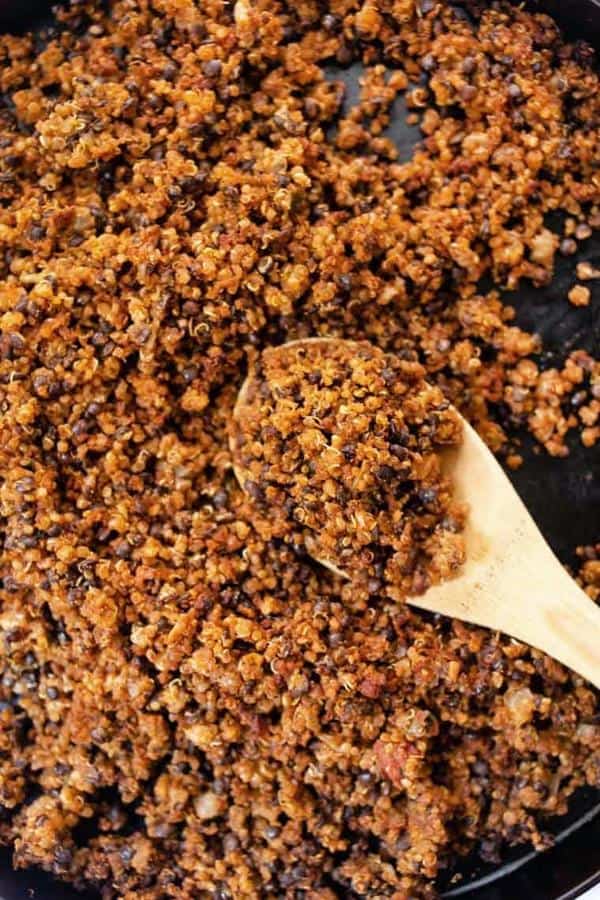 Some taco 'meats' can be heavy on the digestion or, they taste good at first but after a couple, you get tired of the flavor quite quickly. Not here!
Adding quinoa to this recipe lightens the intensity without reducing the satisfaction. I love how simple this is to make, you'll be ready to eat in no time.
Quinoa Black Bean Tacos with Creamy Avocado Sauce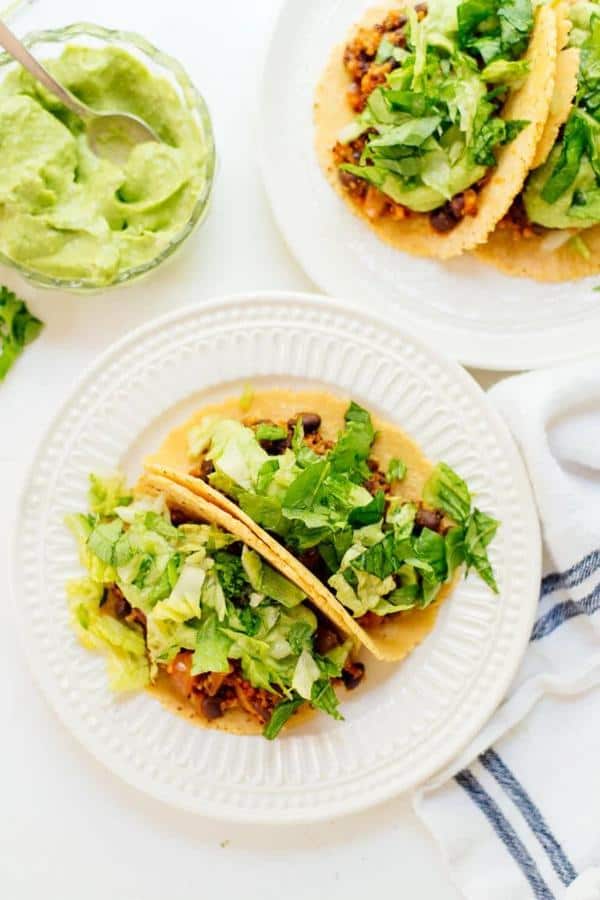 A fantastic recipe giving you everything you need.
The ingredients are divided into three sections, the main filling, the avocado sauce and everything else.
I imagine you have most of the ingredients in your kitchen anyway.
You can add some of your favorite taco accompaniments if you need to, but really, everything you need is here. A guaranteed good time!
Korean Tacos with Spicy-Sweet Sauce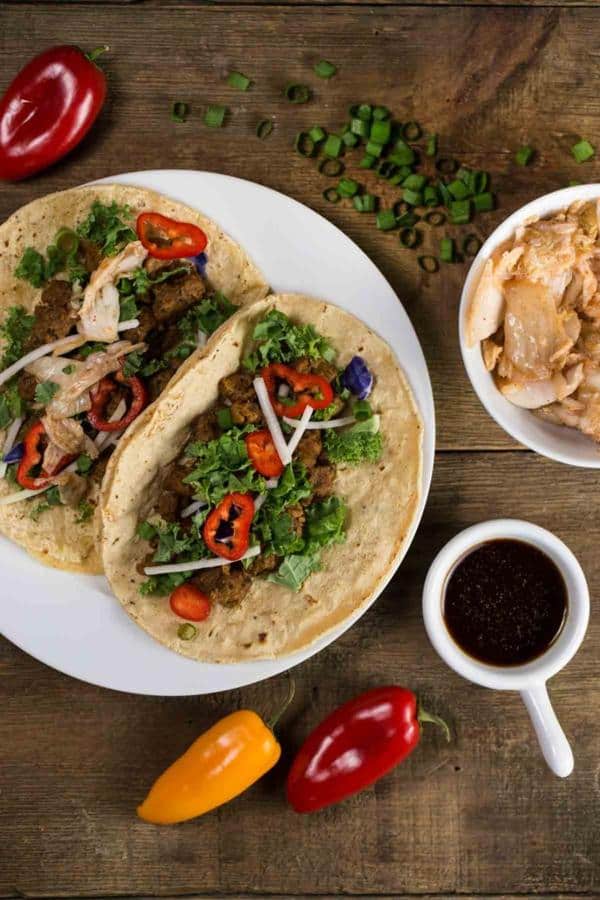 Tacos with a difference!
If you have tacos a lot and want to surprise your family and friends with something unique yet familiar, reach for this recipe. Tacos go oriental, I love it!
Pinquito Bean and Quinoa Taco Filling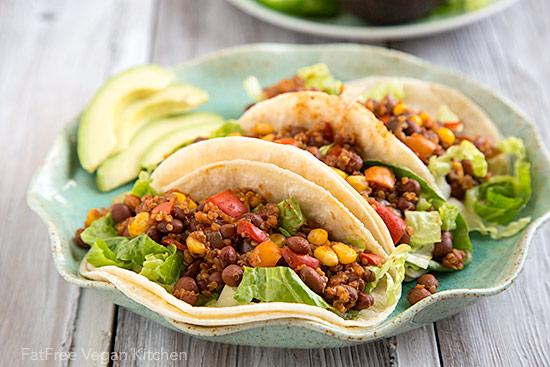 When you want real food in your tacos this is what you need. No processed meat alternatives here.
These beans and quinoa go so well together. I have a friend that needs to avoid tomatoes for health reasons, so this recipe is perfect as it doesn't have any.
Of course, if you want to add some, go right ahead!
Mediterranean Roasted Cauliflower and Lentil Tacos with Lime Tahini (Gluten-Free)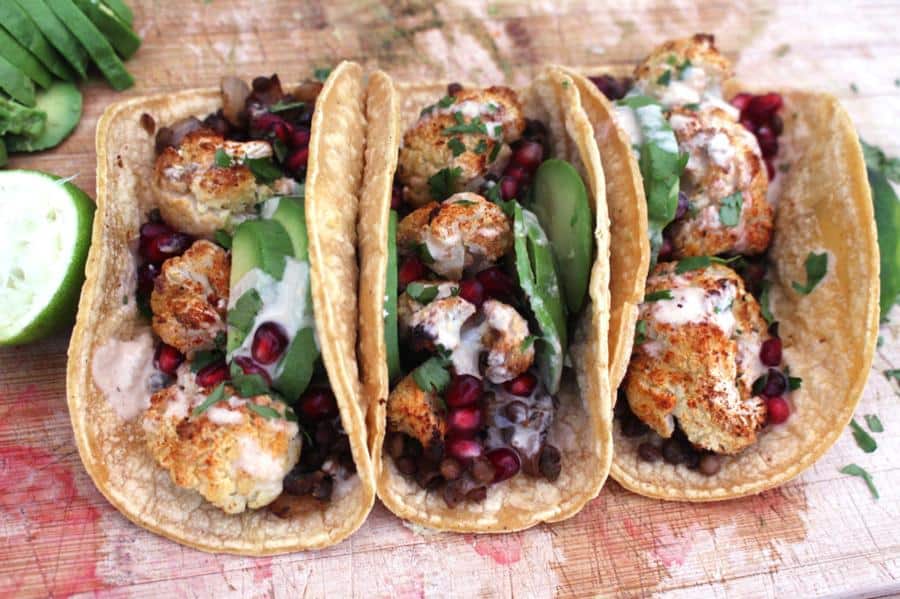 Now, I absolutely love this recipe and have never seen a taco dish like it.
Rather than just a minced filling, you get gorgeous roasted cauliflower florets along with beautifully prepared lentils and a luscious topping.
If that wasn't enough, don't forget the lime tahini! Delicious.
Sweet Potato Tacos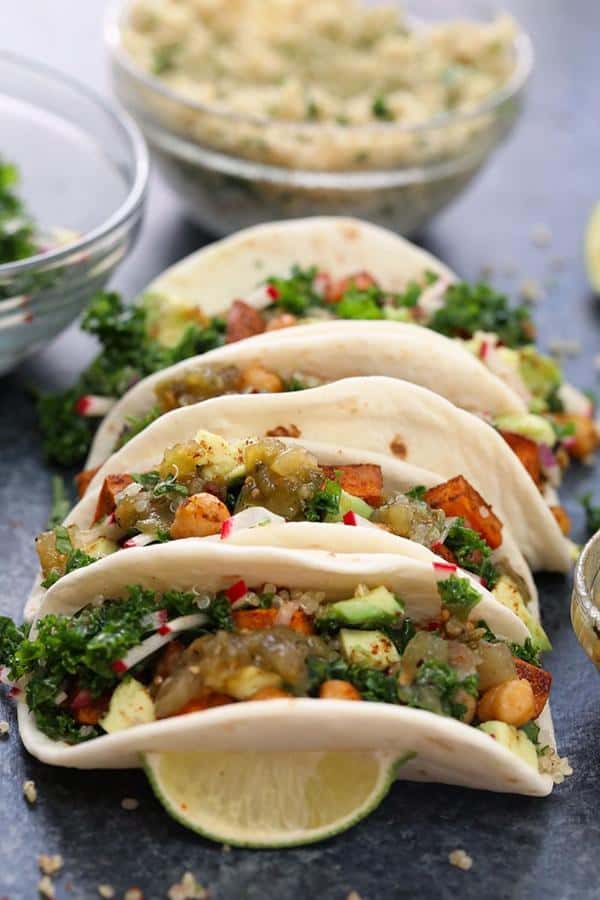 I had never really thought about it until someone told me, sweet potatoes are far less starchy than regular ones.
Here you get a taco 'meat' which is sweet potato and chickpeas (garbanzo beans) mixed with a small handful of herbs and spices.
You also get a wonderful kale slaw recipe and if that wasn't enough, a superb quinoa recipe with cilantro and lime. Yum!
Zucchini Taco Boats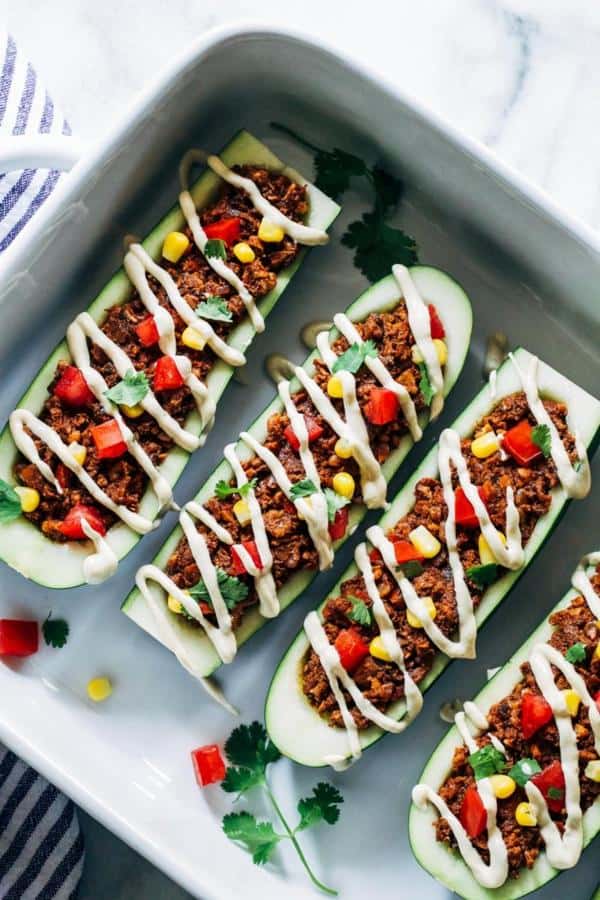 These are so inventive!
If you or anybody you know is looking to cut down on wheat and doesn't fancy corn tortillas, mix it up with these zucchini boats.
The filling and drizzle is so good you definitely won't miss anything. Great for game night but also fancy enough if you're entertaining.
Beluga Black Lentil Tacos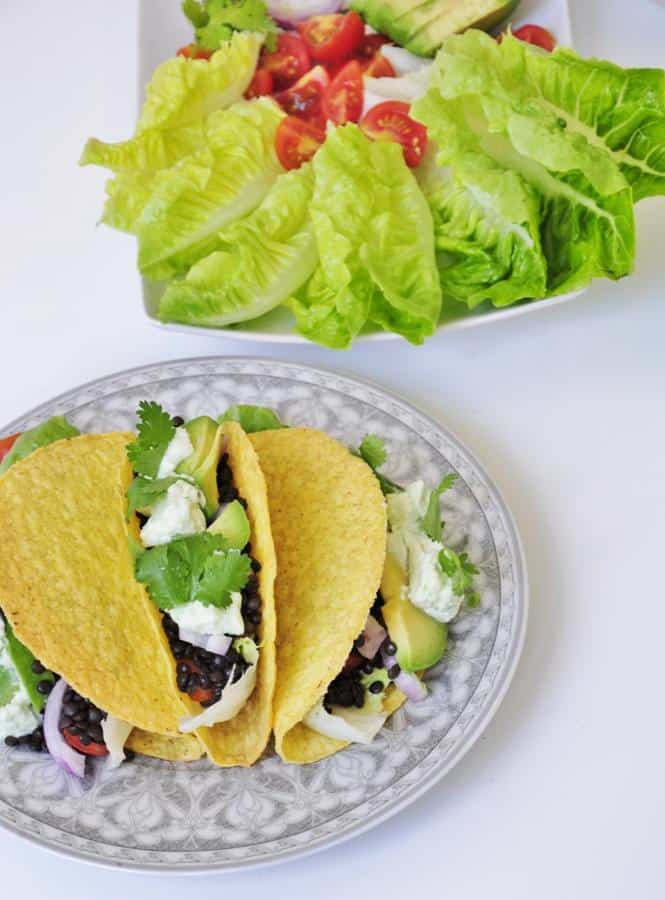 I'm ashamed to say I had never heard of Beluga Black lentils. What's wrong with me? I've seriously been missing out!
A great recipe that requires just 10 minutes prep time and about 40 minutes or less cooking.
I love everything about this, the onions, avocado and definitely the herbs and spices. A high-quality dish!
BBQ Jackfruit Tacos with Mango Avocado Salsa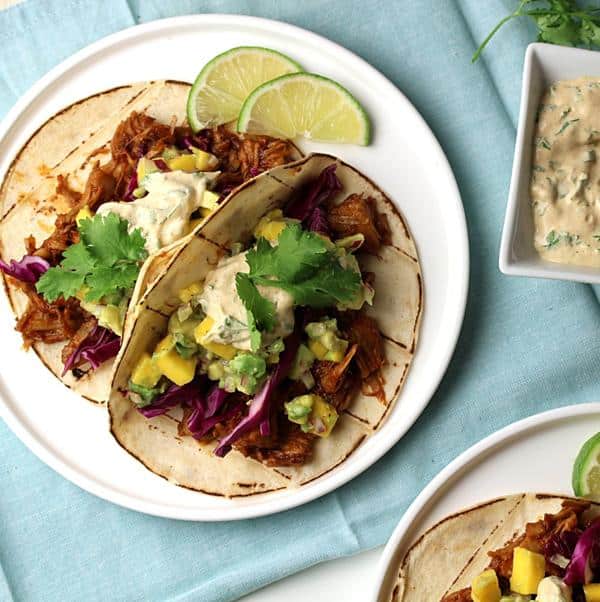 I feel like I should be telling you how amazing the barbecue jackfruit is, because it is!
However, the mango avocado salsa is something I've never had before and my goodness, it's fantastic! If that wasn't enough, you also get a superb creamy chili lime sauce. Put them all together and wow!
Chili Lime Rice Tacos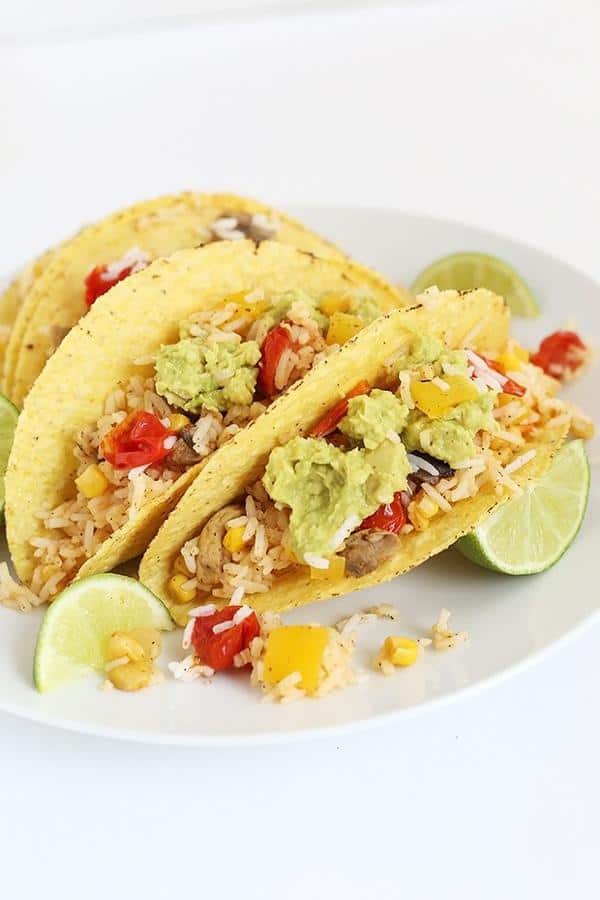 If you're on a health kick but don't want to miss out, I think this could be the recipe for you.
Basmati rice and mushrooms are the basis of this fantastic dish. Add some onion, avocado and a delicious handful of herbs and spices and you're cooking with gas, or electricity maybe?!
Healthy Taco Chickpea Lettuce Wraps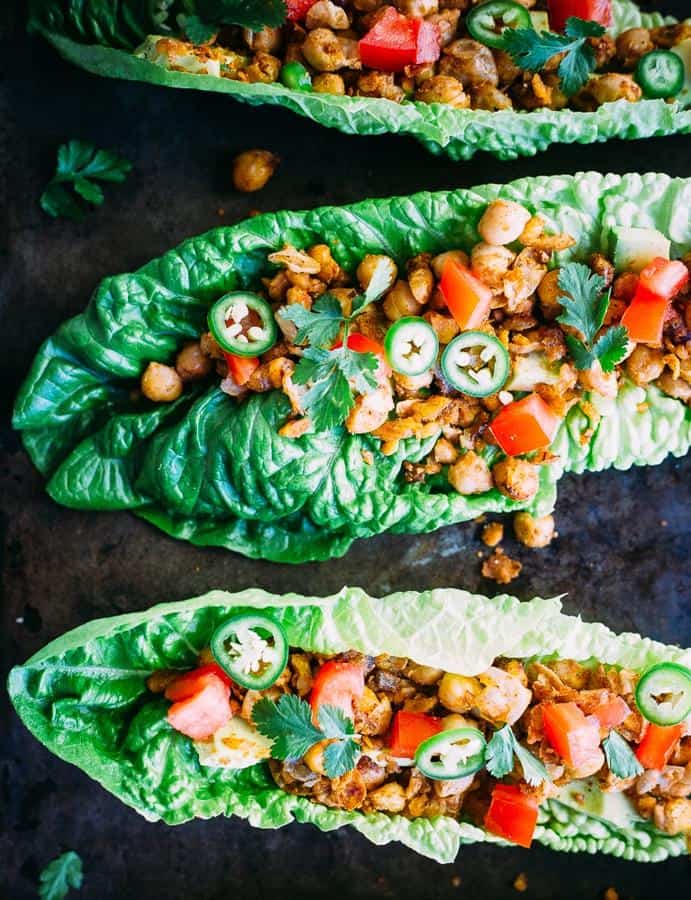 I remember the first time I suggested to a friend about using lettuce for tacos, they didn't believe it would be as good until they tried it.
With chickpeas as the main event, I guarantee you won't be missing out on anything, especially satisfaction! Bursting with flavor and I urge you not to skip this recipe.
Roasted Corn Tacos with Mango Slaw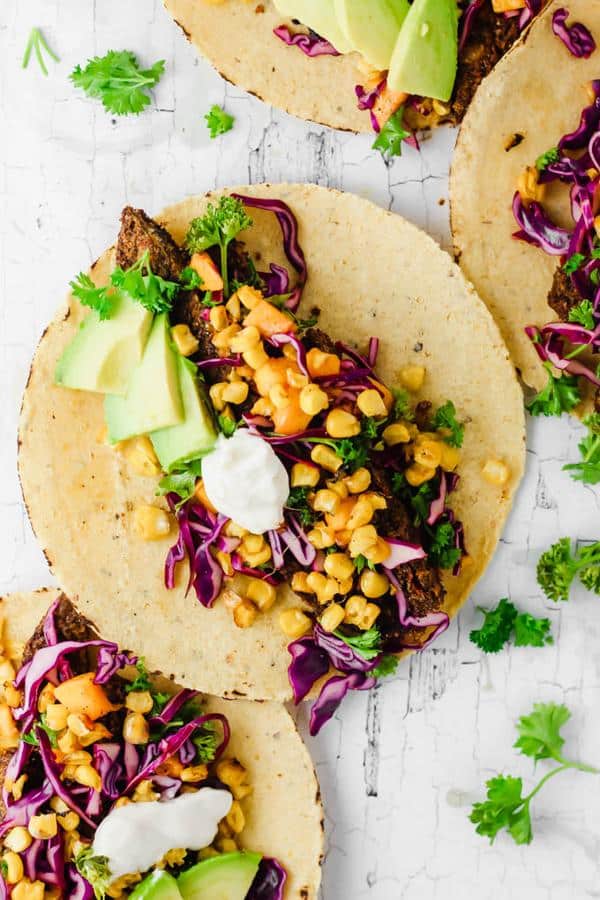 This recipe is delicious and quick!
Please note, here the recipe includes a brand-named veggie burger. If you're unable to source this, obviously replace with your favorite meatless patties.
The recipe also includes ingredients and instructions for the mango slaw which is second to none.
Raw Beet Tacos with Strawberry Mango Salsa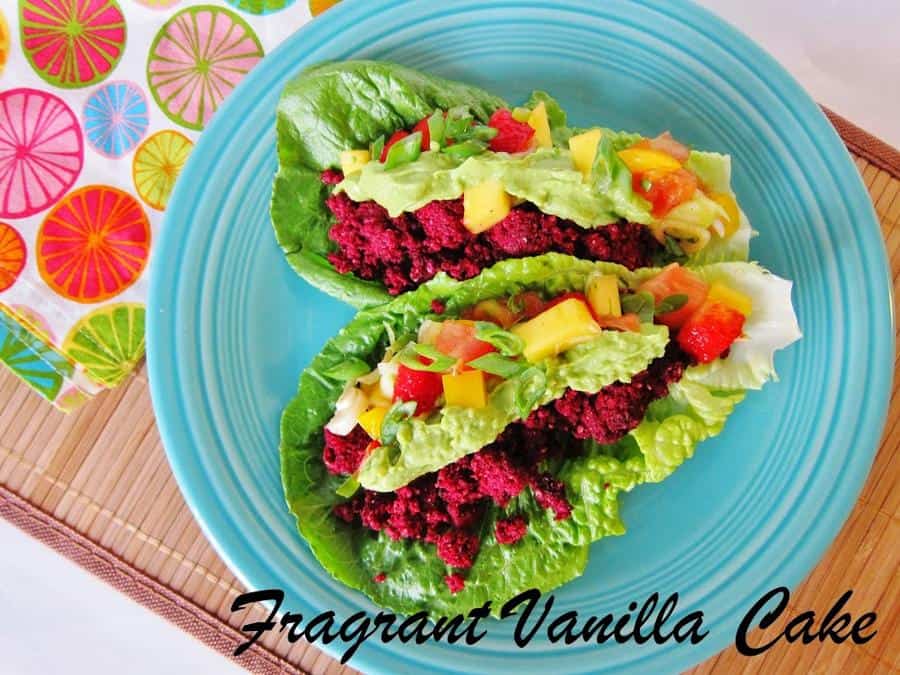 Want to try something different that's super healthy?
This certainly isn't your regular taco recipe and if you're on a health kick, or looking for raw recipes, it's everything you need.
Beautifully fresh, delicious and bursting with flavor. If you've never had anything like this before, go for it, your body will thank you.
Purple Cabbage and Crispy Butternut Squash Tacos with Pears and Maple Sriracha Mayo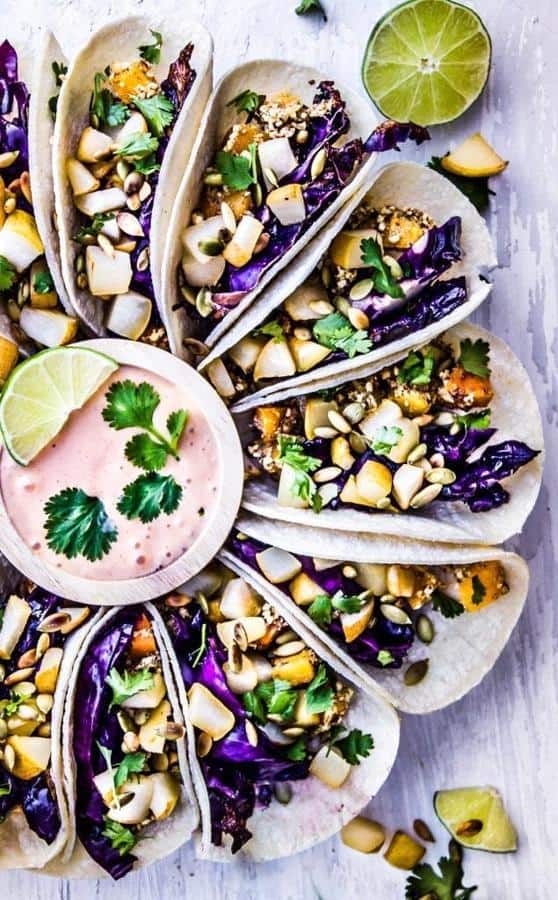 I love the color going on in this recipe, it feels like it should be part of a theme night or something!
Color aside, what a great dish this is and whoever thought of putting pears with tacos?
The recipe is divided into the different sections needed to create this feast. I love everything about every section!
Cilantro-Lime Tacos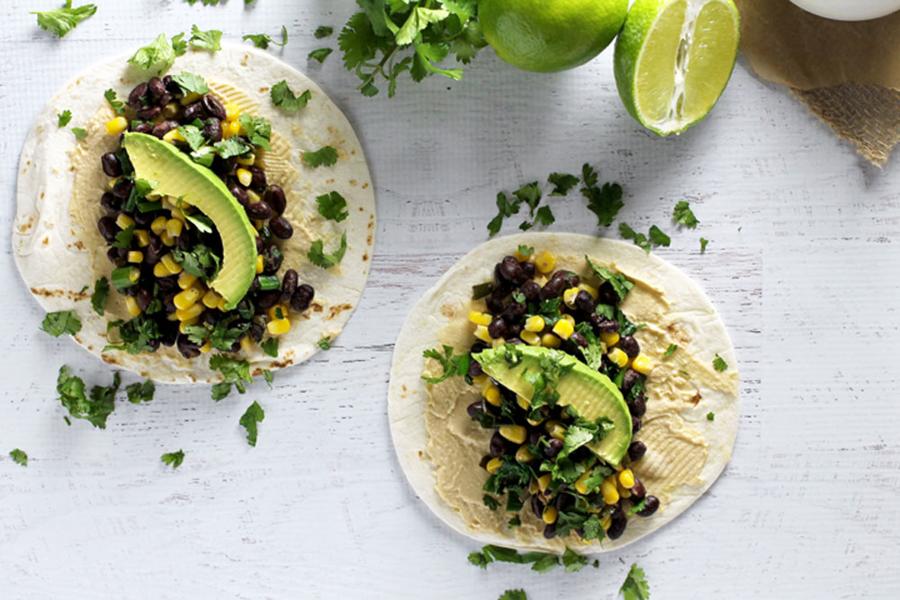 Hummus, black beans, corn, green chiles? Yes please! Cilantro-lime seasoning packs a flavorful punch in these simple, easy-to-make tacos. The avocado sliced on top adds a fresh foodie touch.
You can experiment with other staple ingredients to create a unique taco all your own. This is a great recipe to whip up any day of the week. Tacos aren't just for Tuesdays!
Roasted Vegetable Tacos with Chimichurri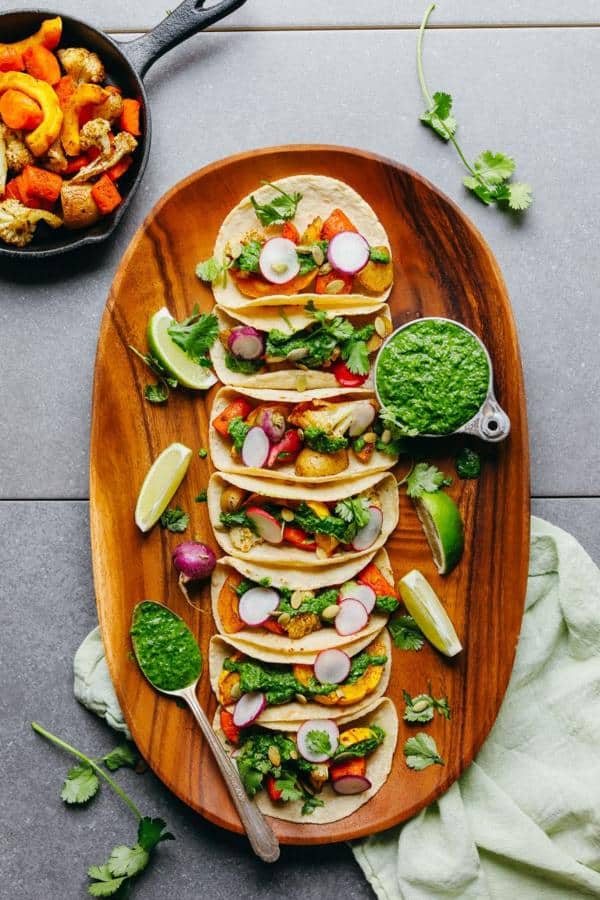 There's so much to say about this recipe!
The amounts listed in the ingredients make for 10 tacos although there is a tool at the top you can change the amount of tacos you need, and this will adjust the ingredient amounts.
The vegetables are cooked to perfection, the sauce is to die for and don't forget the optional extras!
Bulgogi Jackfruit Street Tacos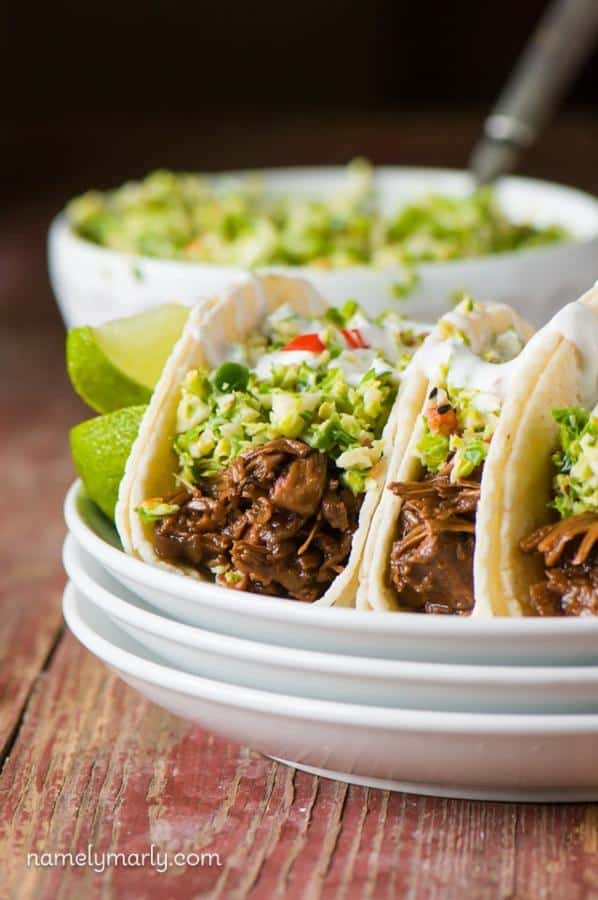 I love the name of this dish, and more than that, I love the taste of it!
Perfect for any time of year, this is one of the best jackfruit dishes I have seen. The topping is delicious and the perfect partner.
You're going to be eating a lot of these so if in doubt, make double!
Taco Soup Recipe with Jackfruit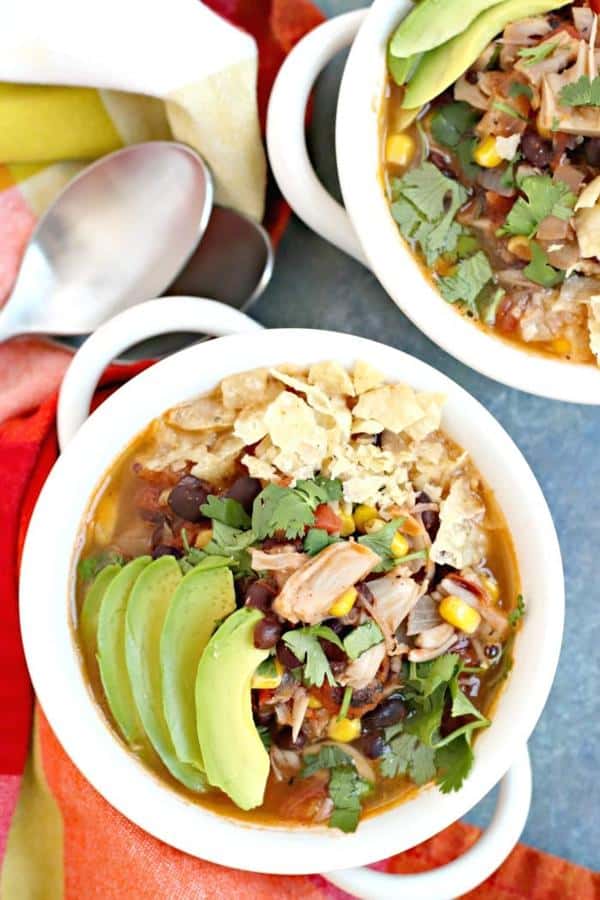 If you've never had tacos before, start here!
All the ingredients you'd normally use for taco but in a soup! Does it work? You bet.
This is wholesome, satisfying and best of all it freezes really well so make a batch and it'll be ready whenever you're hungry.
Healthy Butternut Squash Tacos with Black Beans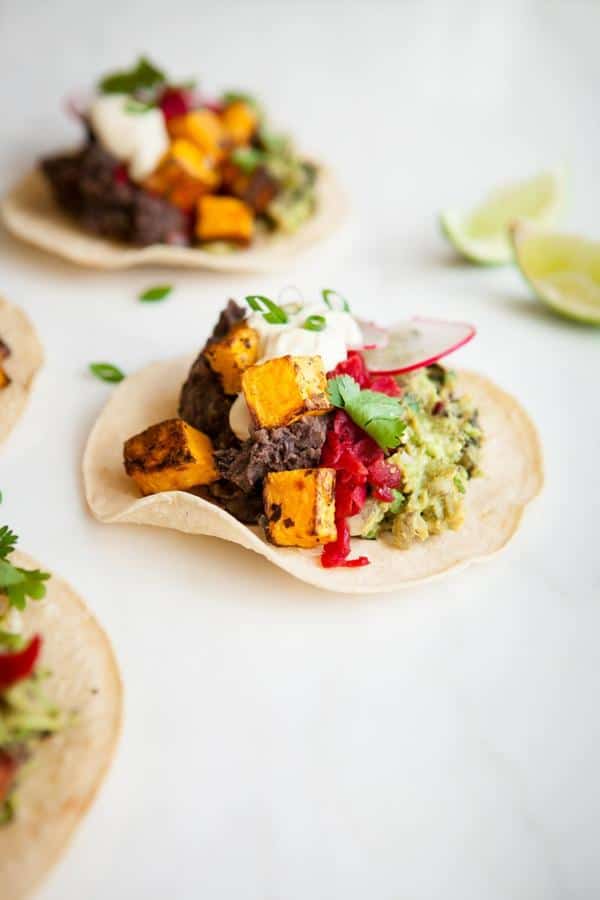 Super healthy tacos for game night or just food night, that's every evening, right?
The taco recipe is delicious but you know, what really steals the limelight is the nori guacamole. If you do one thing from this list, try this!
Black Bean Soft Shell Tacos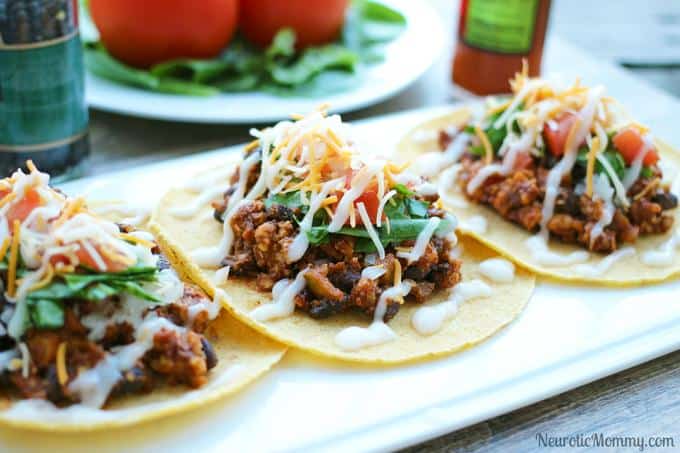 I love softshell tacos and always looking for different vegan recipes, this one is definitely a hit.
I'm a big fan of tempeh so was excited to try this. It's cooked to perfection with well-thought-out seasonings, onion and everything else.
Grab your hot sauce, you're going to love this!
Southwestern Tempeh Taco Salad with Chipotle-Tahini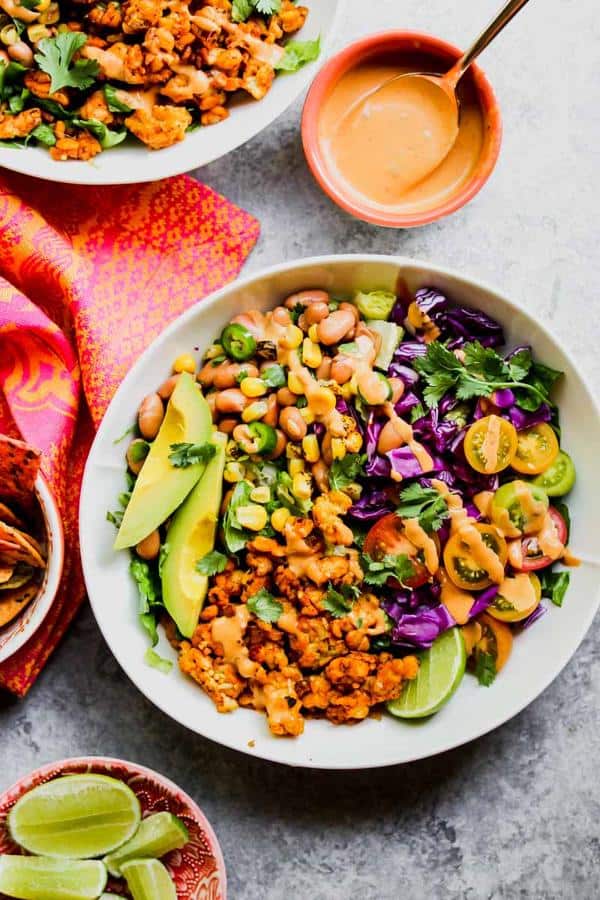 For that south-western feel grab this taco salad with the best dressing you could have hoped for.
Not just tempeh, but beans, corn and a fresh tasting salad all come together with one of the best tiny dressings I've ever had.
The array of colors once served will make you snap a pic and share with your friends!
Crispy Avocado Tacos with Pico DE Gallo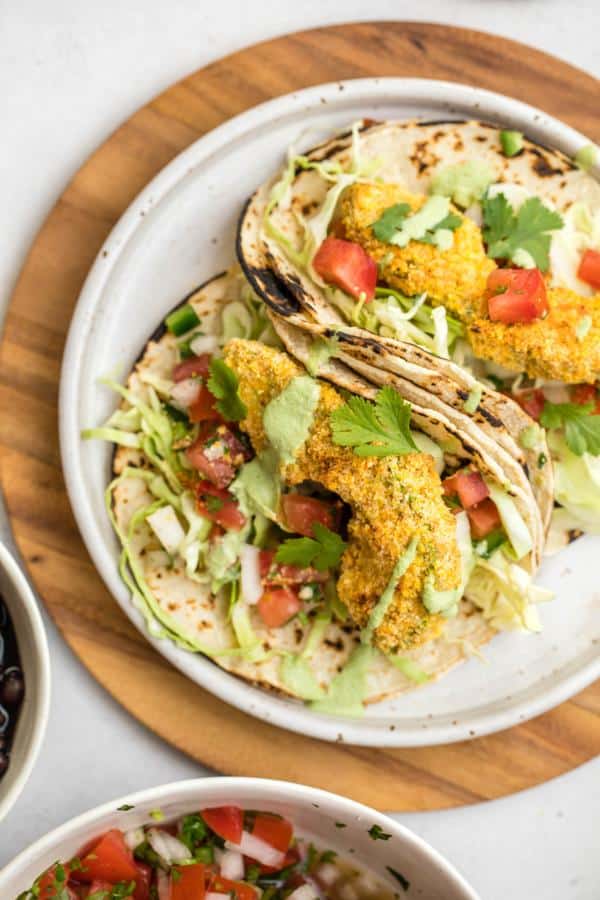 This recipe is totally unique and that's saying something given this roundup is all about tacos!
Oven baked crispy avocados is something I've never heard of so was super excited to try.
Wow, is all I can say! Not just good for tacos, these will be great in a burger bun with all the trimmings as well!
Baked Taco Salad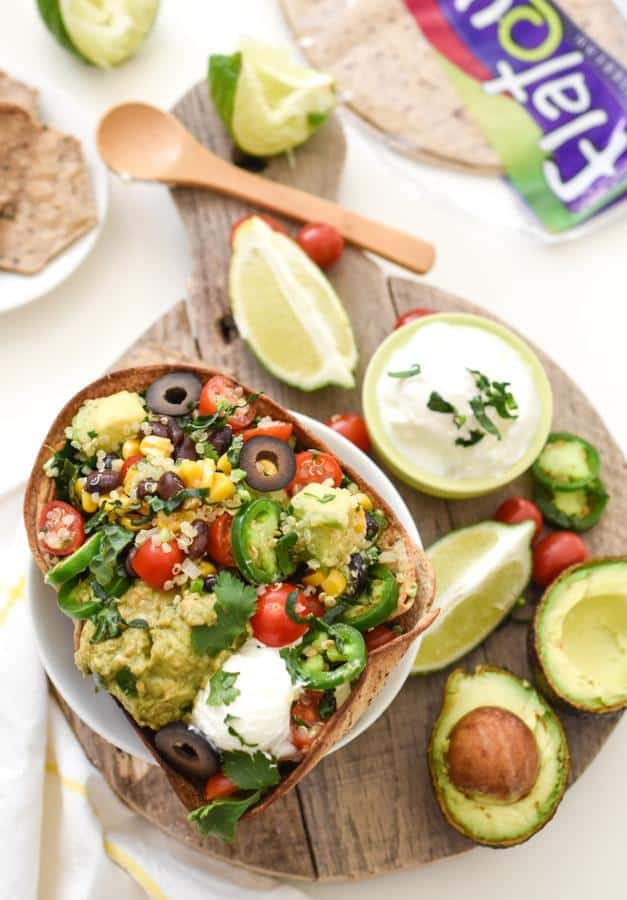 Just when you think you've seen it all, along comes a recipe to show you how wrong you are.
To replicate this recipe you're going to need some 'FlatOut' wraps although if you are unable to find them, you could easily make do with your favorite kind.
Follow the instructions and whatever you do, don't forget the dressing, it's amazing!
Tofu Fish Tacos with Kiwi Salsa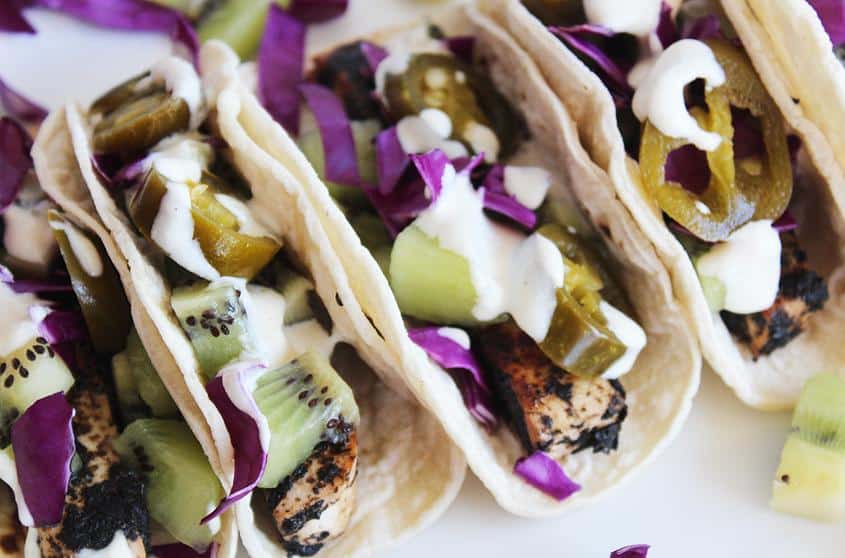 I've had a few recipes where tofu was used to try and replicate fish. I think it's quite difficult to get the balance just right. Here, it's perfect!
The sea taste comes from nori sheets and works beautifully. If this wasn't enough, the kiwi salsa is incredible, not to mention the cashew cream 'cheese'.
Together, this is a match made in heaven!
Ethiopian Sweet Potato Fonio Tacos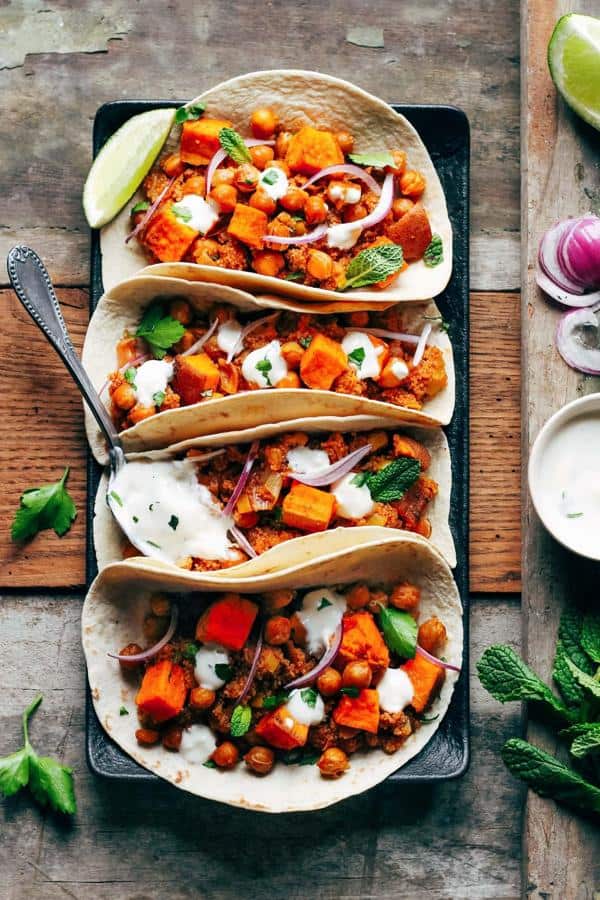 Let's spread our wings and change things up a little!
The beauty of this recipe is in its simplicity. The filling is loaded with flavor and the mint (vegan) yogurt sauce is something you're going to be using again and again. This one's a keeper!
Crispy Oven Baked Spinach Tacos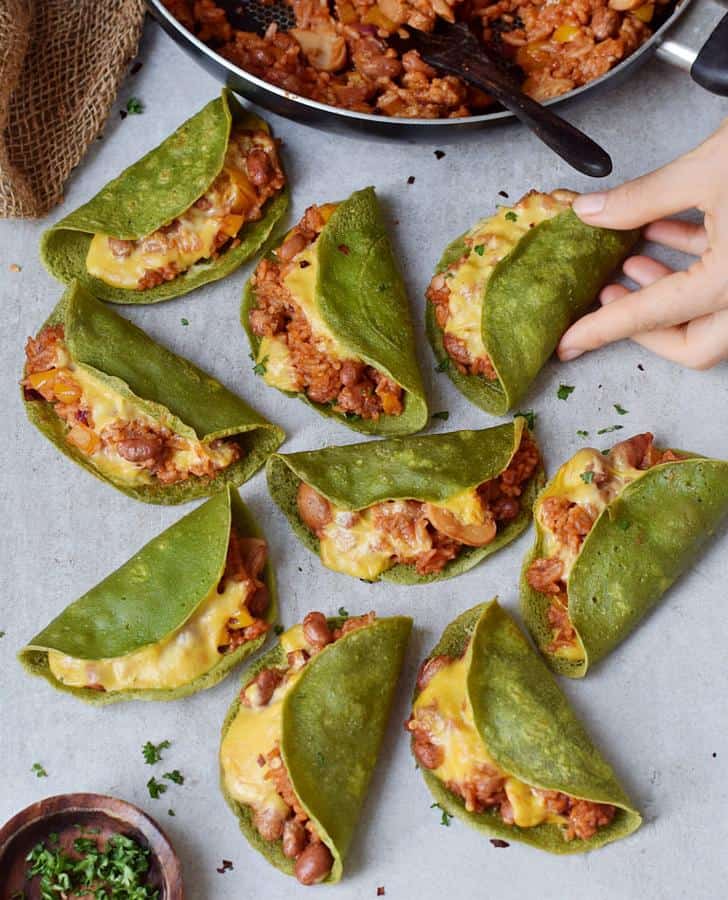 I guarantee you've never had tacos like this before!
You just need some spinach tortillas and if you are unable to source them, the ingredients list has a link where you can make them yourself!
Delicious isn't the word. Whether it's for yourself, your family or you simply want to impress, this dish has you covered!
Beetroot Tacos with Blackened Tofu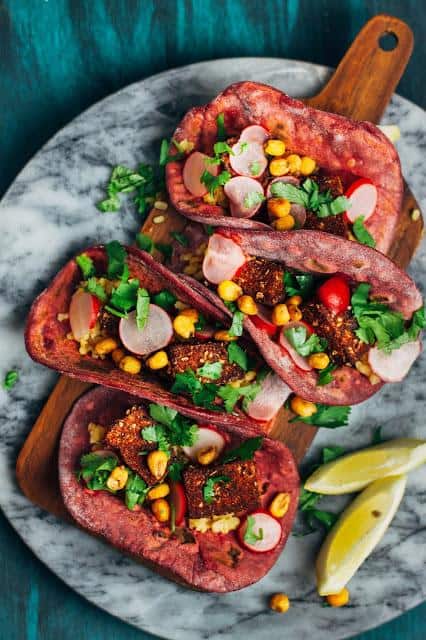 Lately I've been seeing a lot of recipes with beets and it's fantastic!
Nature really does provide us with everything, I love recipes where dishes use beets to color foods.
These tacos are beautiful and vibrant. If that wasn't enough, the tofu is prepared in a way that will convert any doubter over to the tofu side! Winning!
Lentil Walnut Taco Salad in a Crispy Tortilla Bowl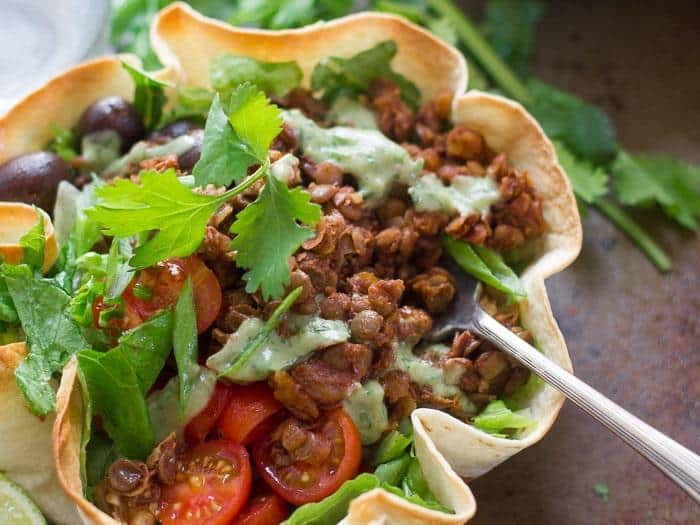 If you can get a crispy tortilla bowl then all the better, if not just follow the instructions and learn how to make it yourself!
Inside your edible bowl you're going to have a beautiful taco salad with lentils, onion, walnuts and a whole host of herbs and spices including liquid smoke!
If that wasn't enough, the avocado dressing brings everything together. Satisfying and moreish to say the least!
Crispy Cauliflower Tacos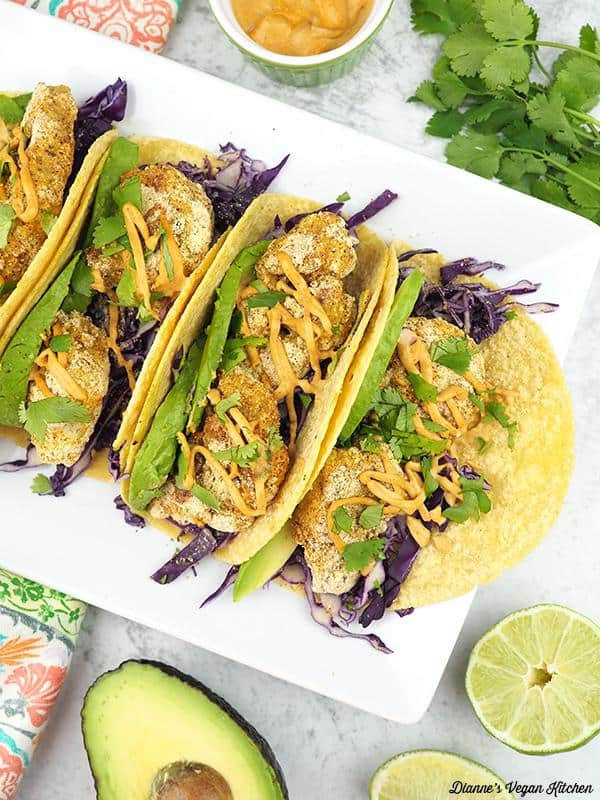 Years ago I was one of those people that wasn't convinced that cauliflower could be anything other than that boiled vegetable.
If you know anybody like that, this recipe will convert them in an instant!
Super easy to make, satisfying, healthy and bursting with flavor is what this dish is all about. You simply can't skip this!
Chickpea Tacos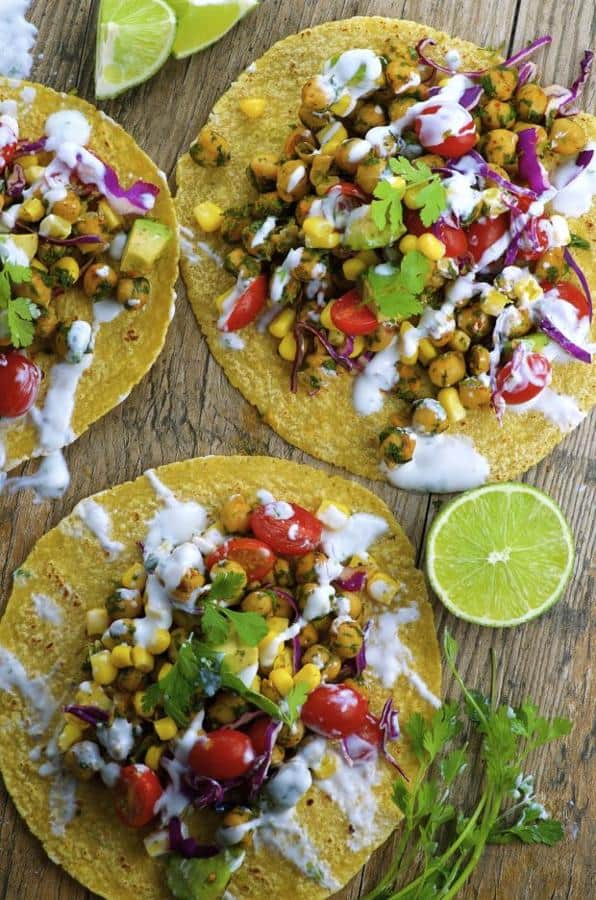 One thing in life you can rely on, and that's chickpeas!
Don't let the seemingly long list of ingredients put you off, it's actually not that long and I bet you have most of ingredients in your kitchen already.
The coconut yogurt sauce is incredible and the perfect complement alongside the smoky chickpeas. A wonderful blend of flavors.
Raw Walnut Mushroom Taco Lettuce Wraps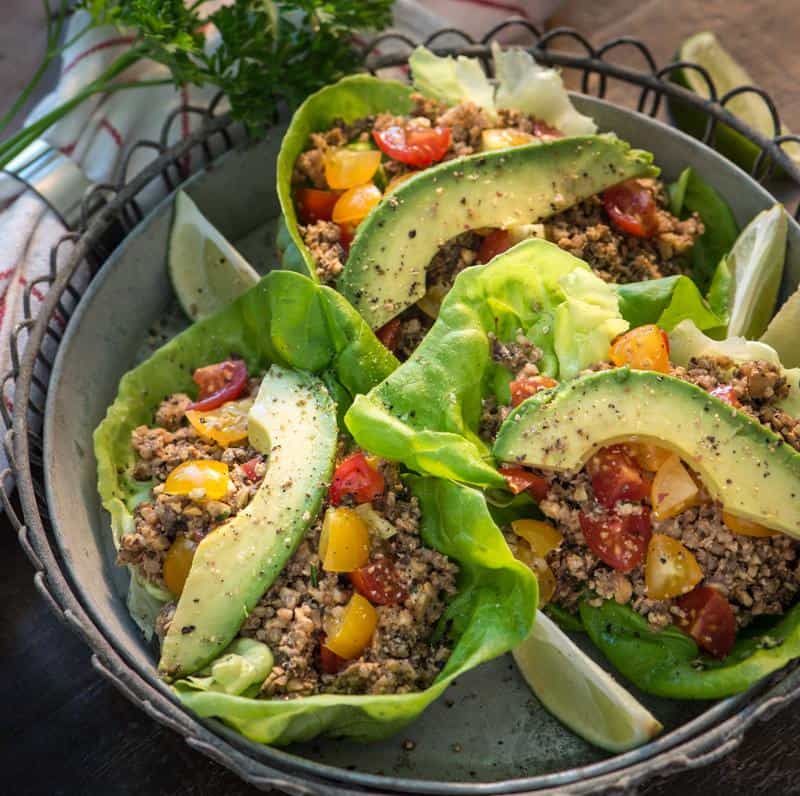 It's all about the raw baby!
Whether you've never had a raw dish or you're trying to have more in your diet, this has to go on your list of raw recipes.
An absolute keeper. The marinated mushrooms are incredible!
BBQ Tofu Tacos with Pickled Jalapeno Guacamole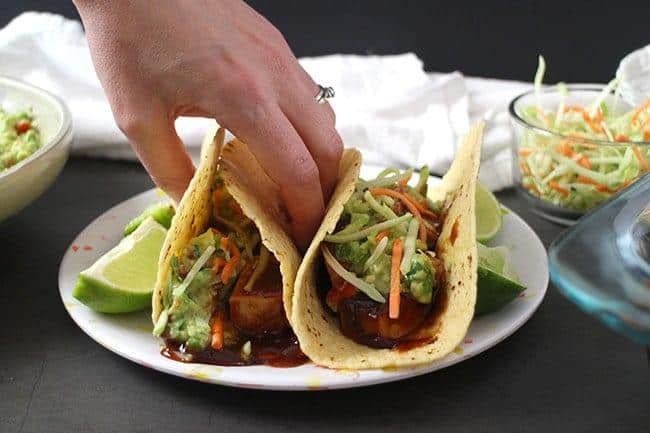 I remember years ago when I first tried tofu, I wasn't that impressed. Mind you, I think all I did was steam it.
Here, it's barbecued to perfection and bordering on a convincing meat substitute!
The guacamole with pickled jalapenos is something I've never had before. You need to make this not just for the dish, but for the guacamole because it may be the only way you're going to ever eat it again!
Cornmeal Baked Avocado Tacos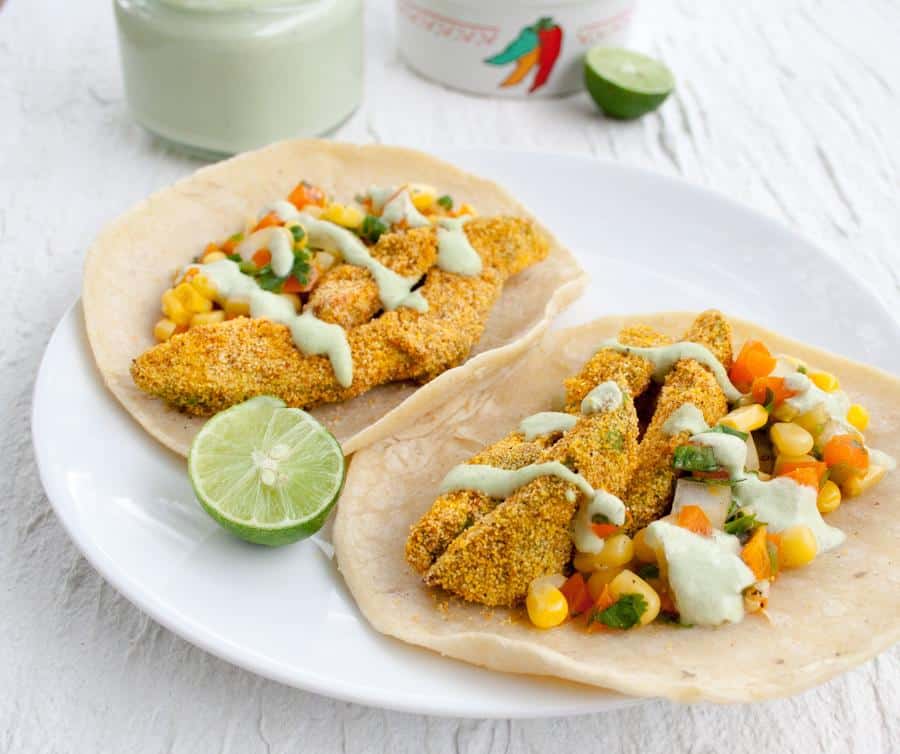 A delicious baked avocado taco dish!
Simple and yet somehow sophisticated is the only way I can describe this recipe. The author has put a lot of thought into it and it shows.
Super healthy and I recommend you at least double the recipe, especially if you invite me!
Spanish Rice Bowl with Taco Spice Roasted Cauliflower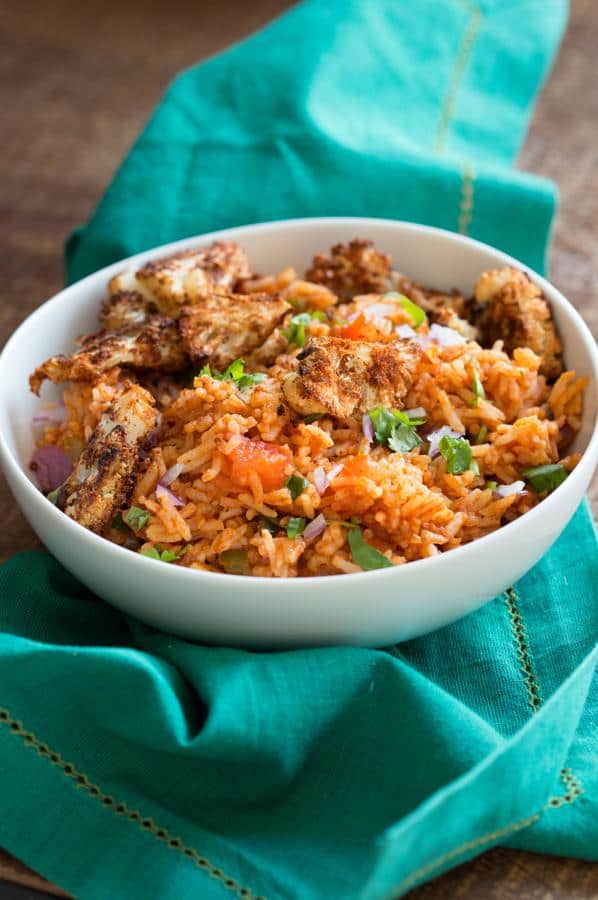 Let's head over to Spain, I've heard the food is good there! If you can't make it, let's bring Spain to you!
I simply love how everything is made here, the roasted cauliflower and the Spanish Rice are the perfect match.
Whether it's a quick lunch or a delicious evening meal, this is what you want.
Crack Broccoli Tacos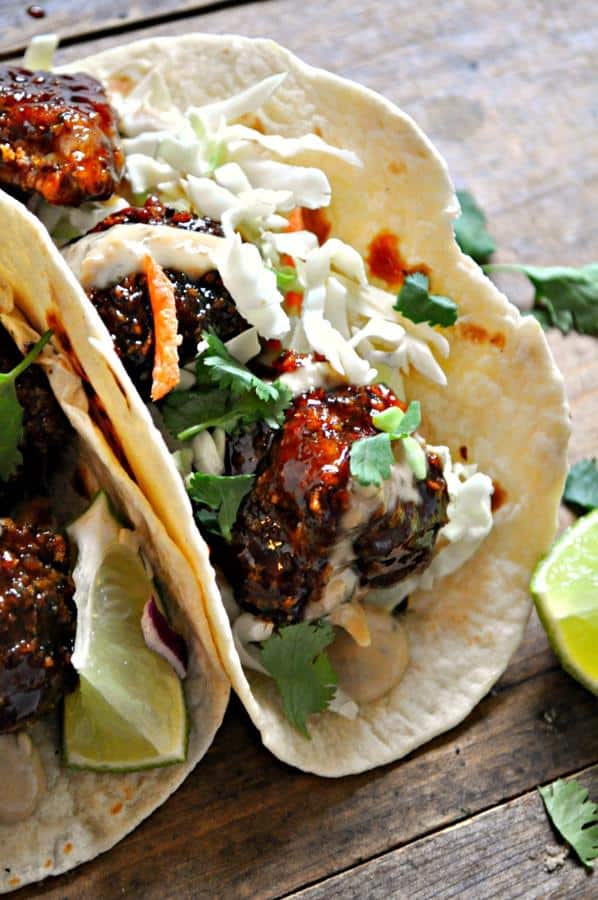 The recipe author describes this dish as addictive, I completely agree!
I've never had broccoli taste this good! I promise, I'm not just saying it. I was blown away and you will be too.
If you're not sure which recipe to start from on this list, let it be this!
Roasted Poblano Taco Sliders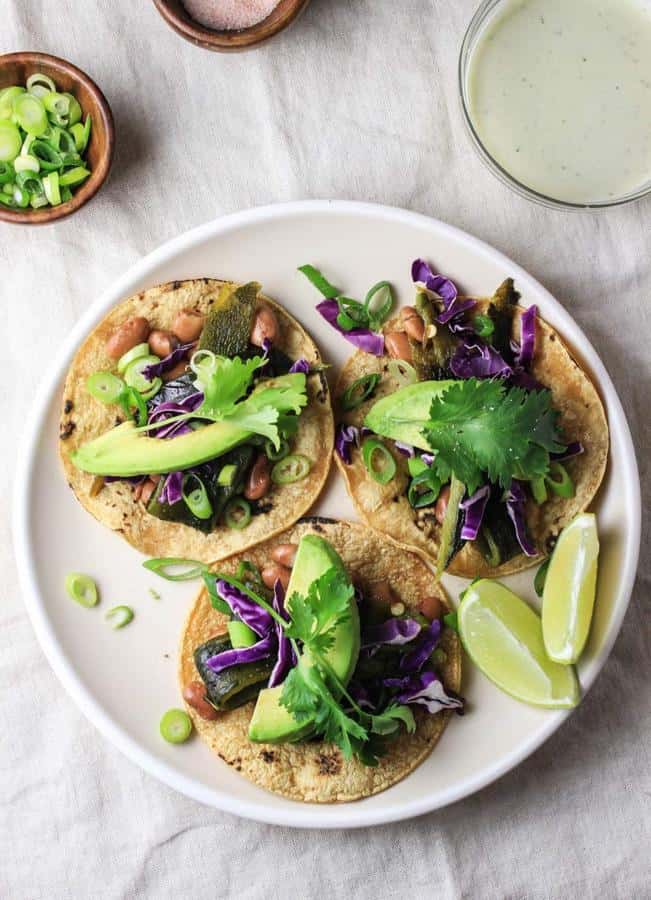 I love sliders so this recipe went straight on my list, no hesitation!
Just a handful of ingredients make this one simple recipe!
The avocado works like a team coach and brings all the other ingredients together. It's a beautiful thing!
Taco Pasta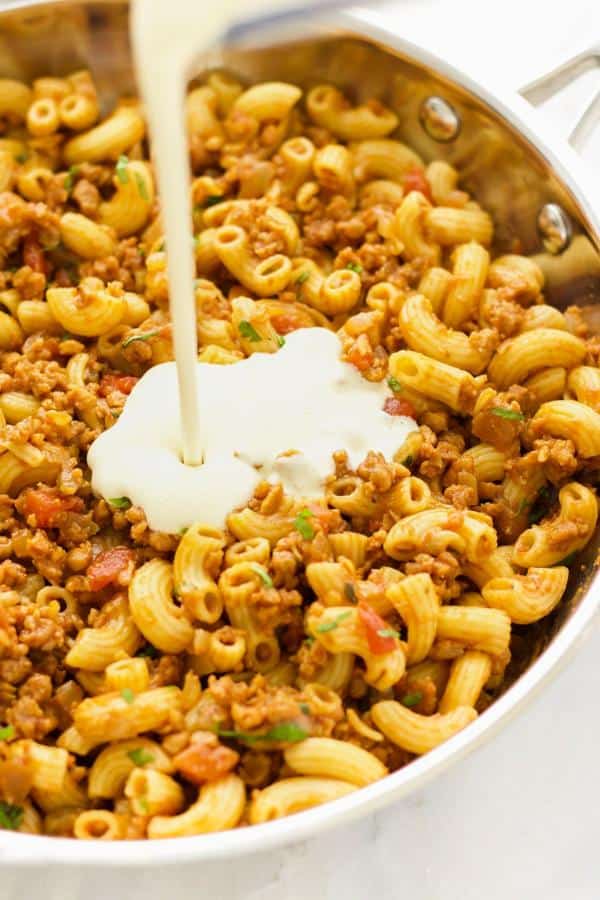 Well, I've never had anything quite like this before and one thing's for sure, I will be having it again and again!
If you're looking for comfort food heaven, you may have just found it! The recipe calls for elbow pasta and although it doesn't really matter the type you use, I really would stick with it if you possibly can.
Every mouthful will be telling you, promising you, you'll be eat this again very soon!
Baja "Fish" Tacos with Chipotle Cream and Cilantro Lime Slaw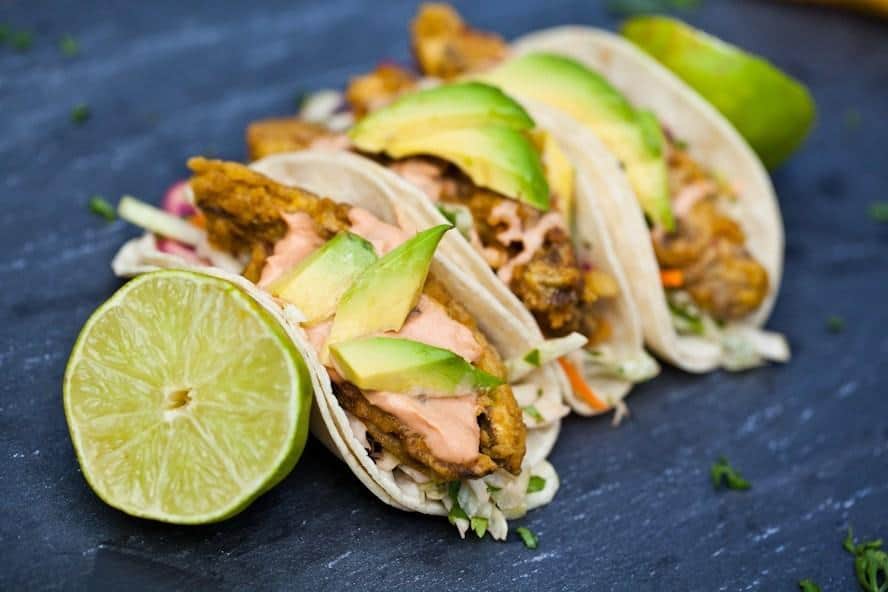 This is one of those recipes where no matter what I say, it won't do it justice.
Make everything, follow the simple instructions to the letter and this will be one of your favorite vegan taco recipes ever.
You're looking at just 20 minutes prep time and even less for cooking. Yes please!
Tempeh Tacos with Tempeh Taco "Meat"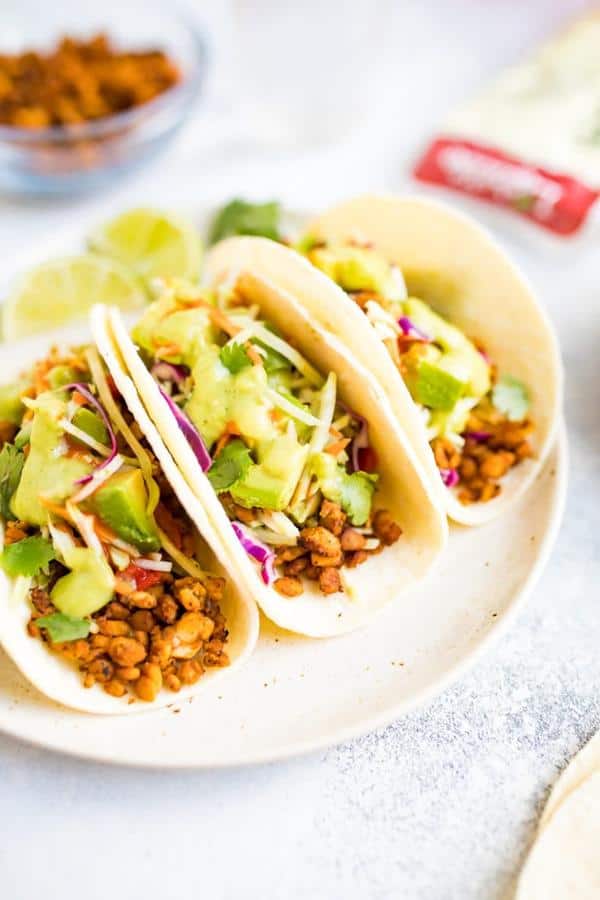 I'm sure photo of this recipe will lure you in, am I right?
If you're transitioning to a plant-based lifestyle or you have friends but still want that meaty texture, you can't go wrong with this dish.
The recipe calls for a branded tempeh but tells you any variety will work, and I appreciate this honesty.
As you can see, there's just a handful of ingredients so this will come together in a snap. Yummy!
Winter Tacos with Chimichurri Sauce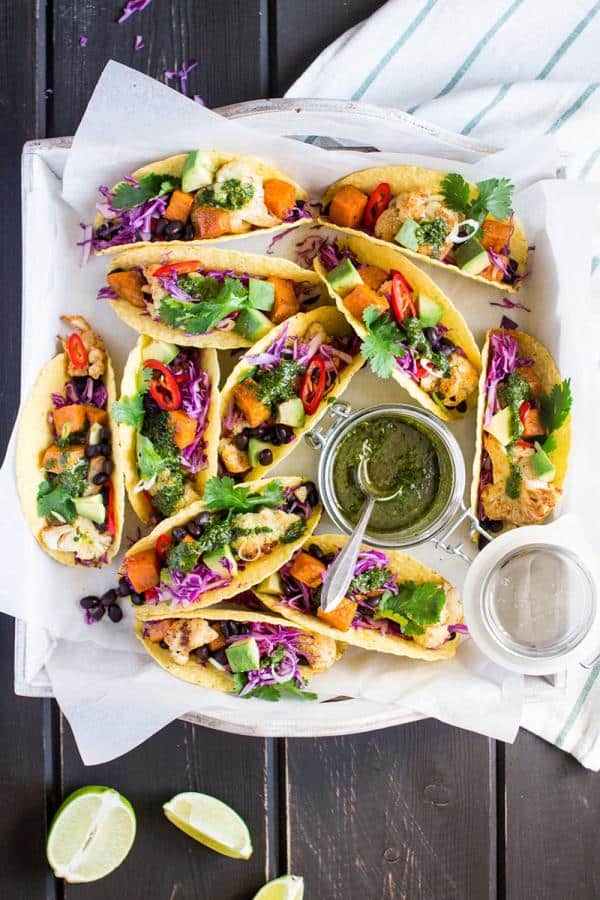 Despite this dish having the word, winter in its title, you're going to be eating this in every season!
I was taken aback by the rainbow of colors waiting for you in the tacos. So many flavors, textures and they all go together beautifully. Drizzle over the sauce for a homerun!
Roasted Cauliflower Tacos with Spicy Lentils, Golden Sultanas and Avocado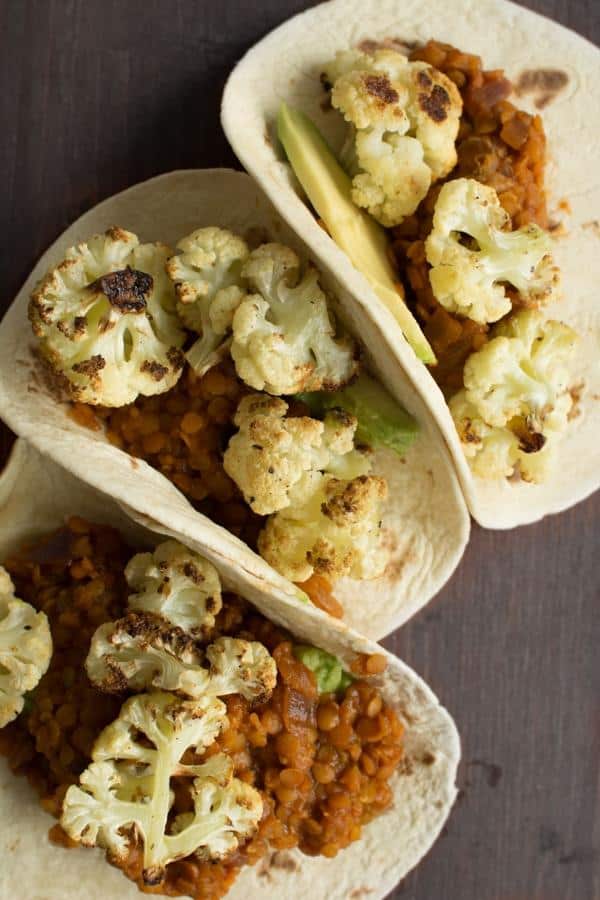 If you're looking for an all-inclusive recipe where you get the full taco experience, the eagle has landed!
No matter what the occasion, this has you covered. The roasted cauliflower, the lentils, they're both so good you'll be making them independently of each other as well. Totally delicious!
Wrapping Up
This roundup was one of my favorites!
I never thought you could have so much variety with tacos. So many flavors and no matter where you are right now, on a health kick, on a raw diet, none of the above… Everything is here!
If you have any allergies don't just rely on the recipe titles, some are listed as gluten-free and some are naturally void of gluten.
One thing you can be sure of, if you're new to a plant-based lifestyle, we were there once, too, so we know what you're going through and we want to make your life easier.
Game on!