Turns out, of course, you're right. There are some amazing recipes for these huge mushrooms and we searched high and low for the best ones.
Here they are, get cooking!
Priceless Portobello Mushroom Recipes
Crispy Portobello Mushroom "Bacon"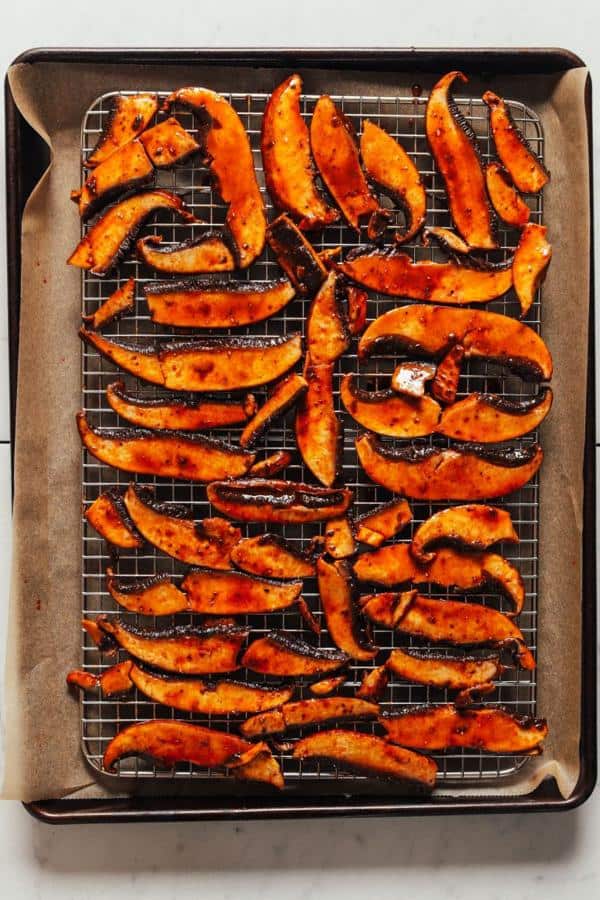 Nowadays there are many fake meat alternatives on the market. I know some people avoid them because they can be considered too processed.
Well, this 'bacon' is made from our friend, the portobello mushroom. Easy to make and tastes great!
Portobello Steaks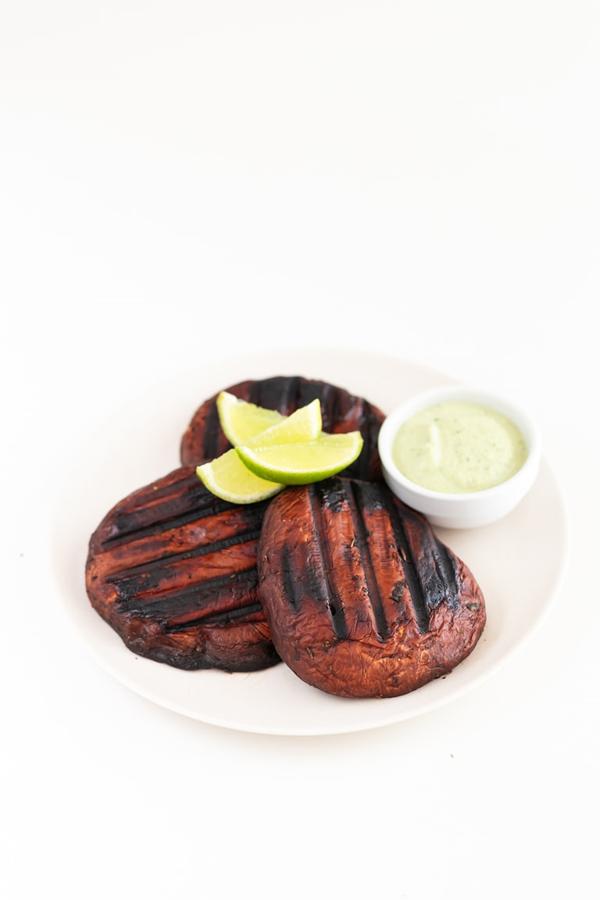 Get yourself to the store and buy the best quality portobellos you can because this recipe is worth it.
You can have these to the table in 25 minutes or less. They are yummy and super healthy. Eat them as the main part of a meal or, do as I do, put them in between some bread and eat!
Easiest Vegan Portobello Mushroom Burgers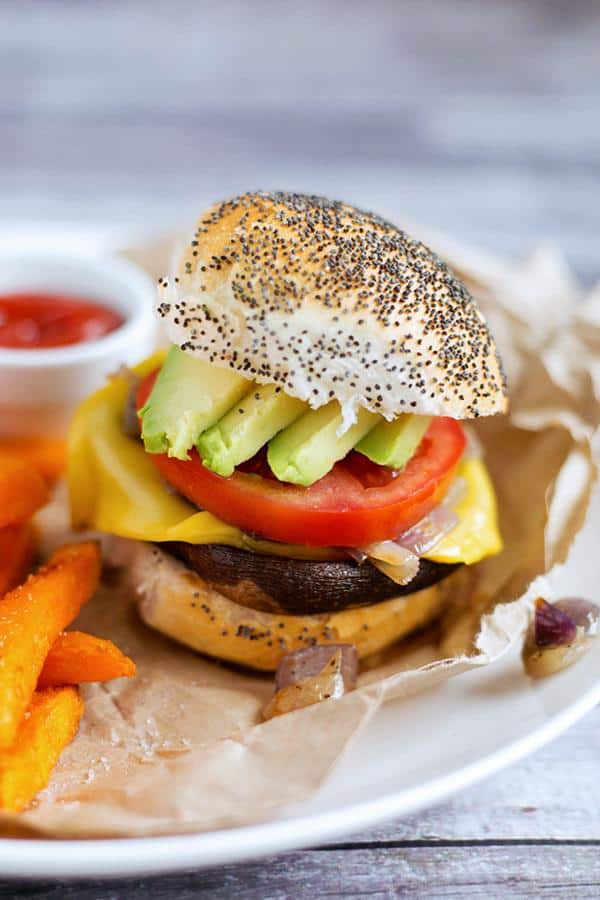 Obviously the most common thing to do with portobello mushrooms is to use them as burgers.
But you need a good recipe, it takes more than just cooking them.
This recipe is more than good and, as the title suggests, it's super easy. You won't miss out on any satisfaction here.
Serve with your favorite accompaniments and enjoy!
Italian Farro Stuffed Portobello Mushrooms with Pesto and Balsamic Sauce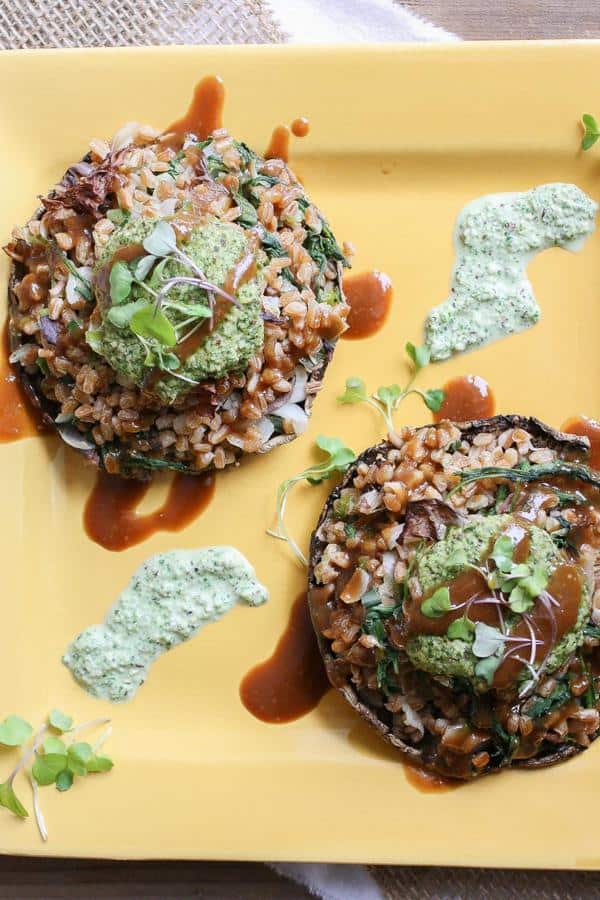 For when you really want to treat yourself, this is the recipe you need.
Make sure you can source farro, it shouldn't be too difficult.
I think that's about the only ingredient you need to check as the rest are straightforward foods available everywhere. So flavourful and makes for a satisfying meal.
Portobello Mushroom Burger with Wasabi Sprouts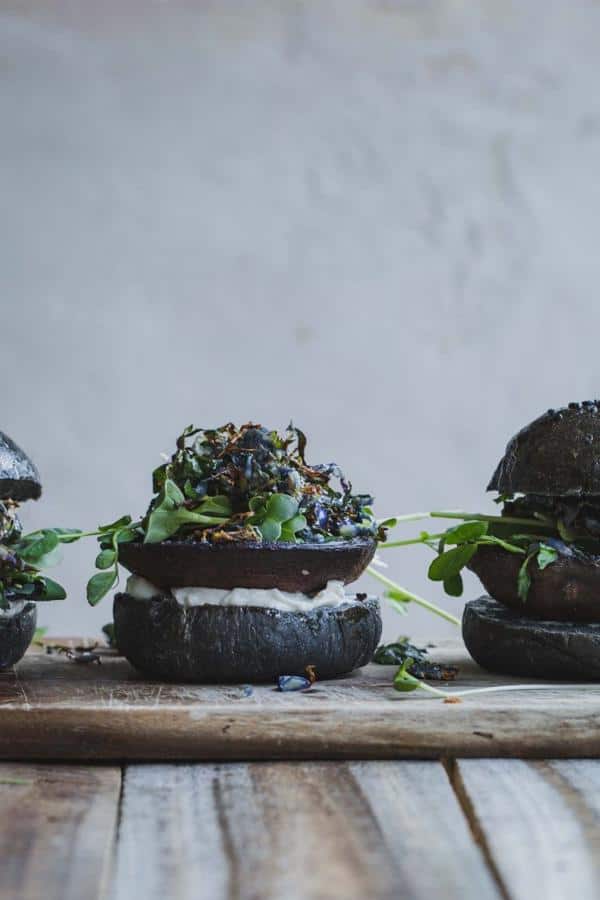 If you want to produce something that looks like it's come out of a top restaurant, this recipe is what you need.
The 'burger' is cooked to perfection and the wasabi sprouts really are the icing on the cake, I mean, burger! For when you want to take it up a notch, this dish is what you need.
Easy Portobello Fajitas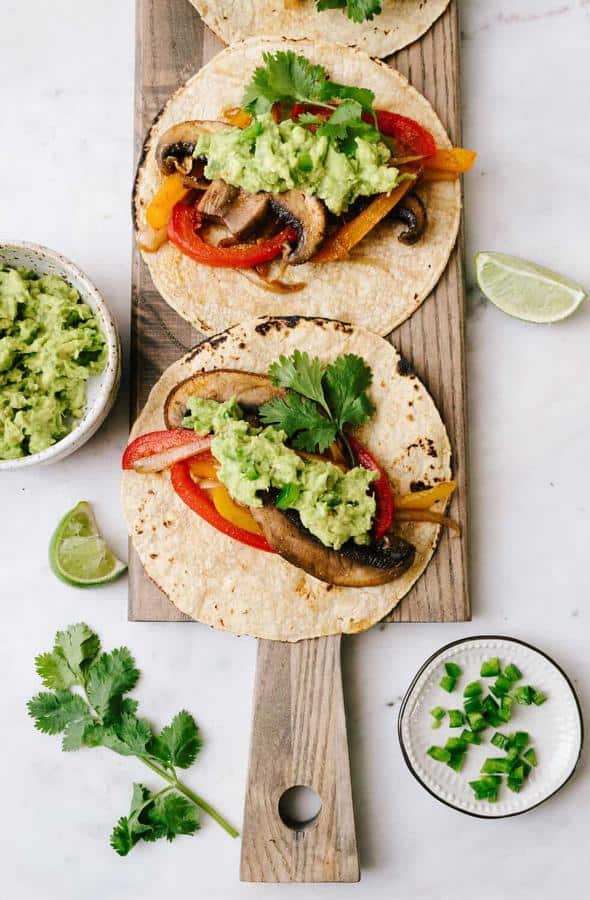 I love portobellos in fajitas, but I don't always get the perfect taste I'm looking for. Where has this recipe been all my life?!
Make your very own meaty portobello slices with this super easy recipe. Serve with peppers, guacamole and anything else you can get your hands on!
Oil-Free Baked Portobello Fries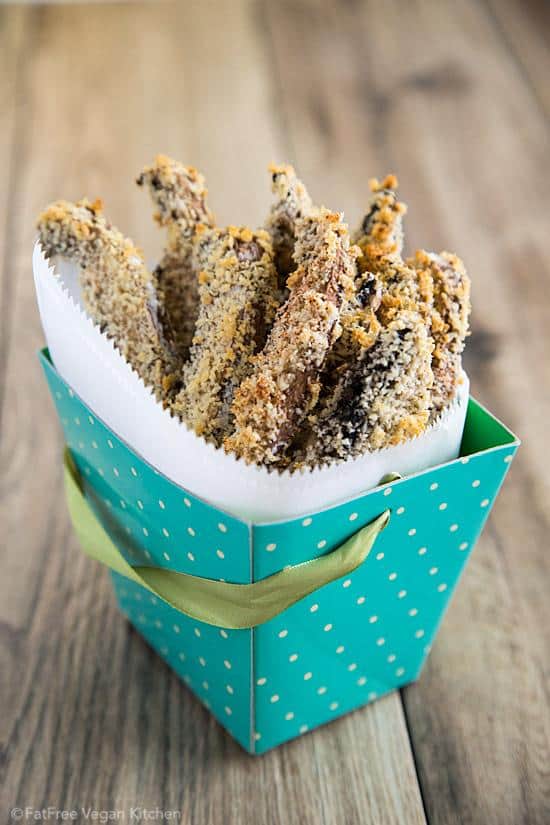 Well, I have never seen anything quite like this so had to try it.
I was worried this may be a bit complicated to make but it's the opposite. These fries are totally delicious, satisfying and best of all, oil-free. What's not to like?
Zucchini Lasagna with Pesto and Portobello Mushrooms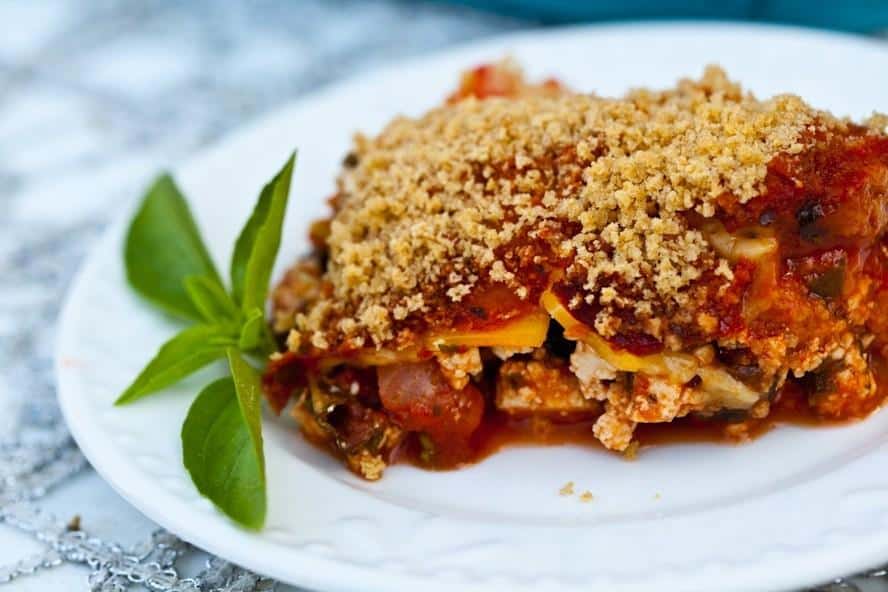 I love lasagna but don't eat it very often because of the pasta. Using zucchini as layers is a fantastic idea and adding portobello mushrooms makes this even more satisfying!
A classic recipe with a twist, easy to make, healthy and a guaranteed hit with all the family!
Portobello Mushroom Bruschetta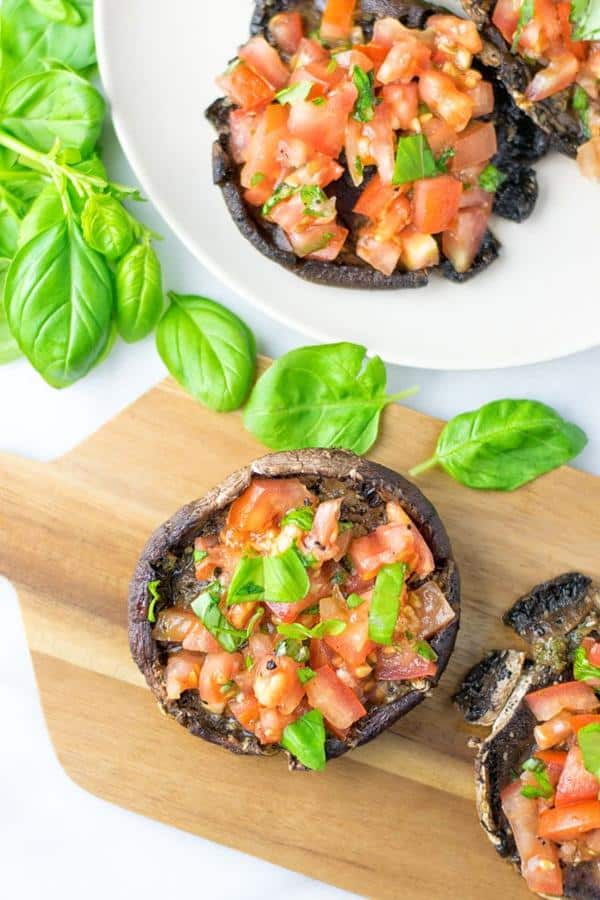 Florian from Contentedness Cooking never fails in his recipes. Bruschetta is normally made with bread, right? Well, what if you are avoiding bread at the moment?
Use our favorite mushrooms as the base in this gluten-free dish. Perfect as a starter, a side, or make a bunch to eat as a main meal all for yourself!
Roasted Portobello Mushroom Sandwich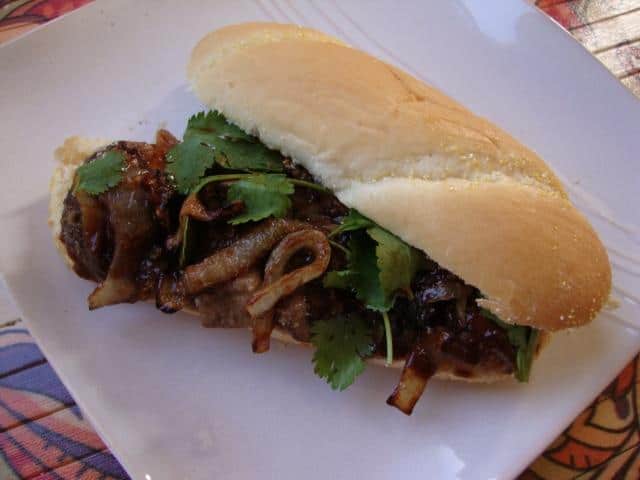 Anyone that knows me has seen me trying to make the most unlikely foods into a sandwich. This is not a new idea, but it's one of the best I've ever had.
The secret to this is the marinade. Add that to the grilled onions and tangy brown sauce and you have a sandwich made in heaven!
Portobello Mushrooms with Garlic and Avocado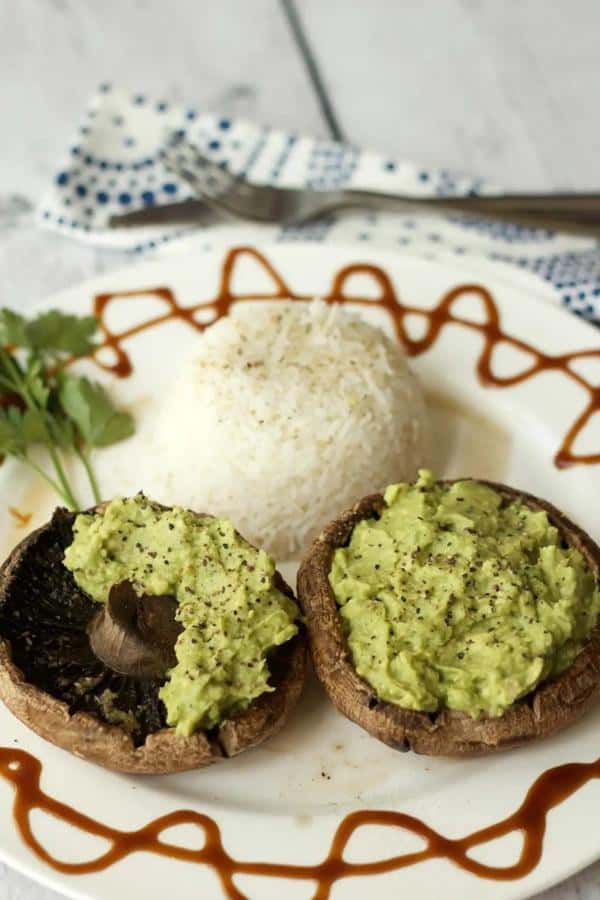 Three of my favorite foods in one dish!
Easy to source ingredients creates incredible plate of yumminess!
I'm not sure whether to eat it with a knife and fork, or somehow place in between two pieces of bread and eat it as a burger. I may do both!
Fried Rice with Cashews and Portobello Steaks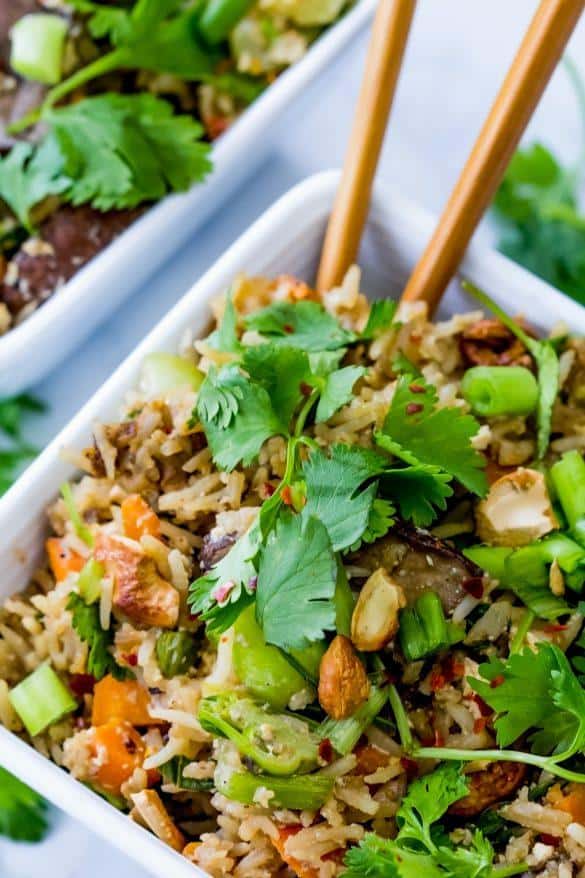 When we created this list, I was most excited to try these steaks.
Usually with portobello mushroom recipes, they are cooked whole or sliced and that is the main part of the recipe.
Here it's just an ingredient, albeit an important one, amongst a myriad of other foods.
Absolutely delicious, super healthy and totally recommended.
Portobello Steak Frites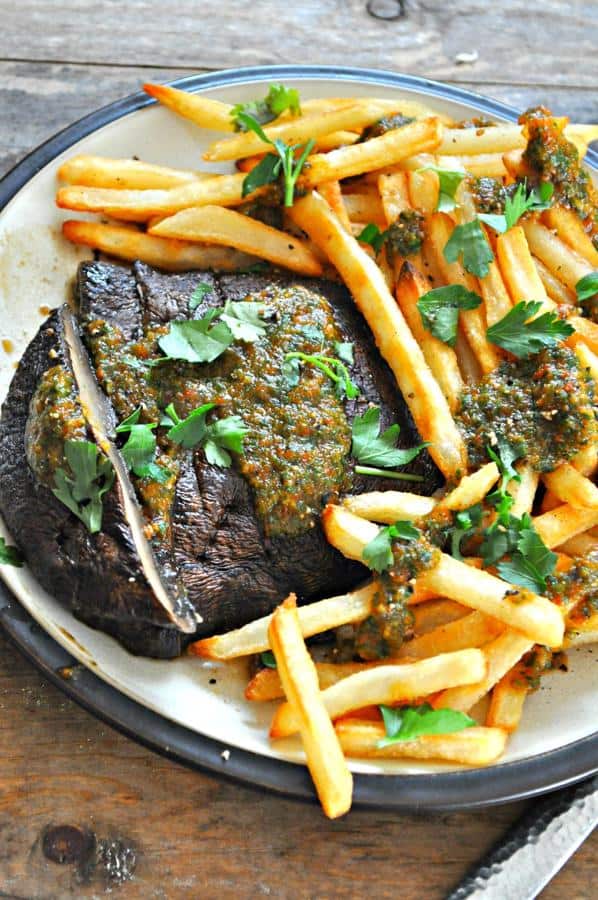 When you're looking for a traditional type of dish, this does the job and then some!
Make your perfect plant-based steak with this delicious recipe. Served with fries and any other accompaniment you can think of. You won't be disappointed!
Grilled Portobello Mushroom Burgers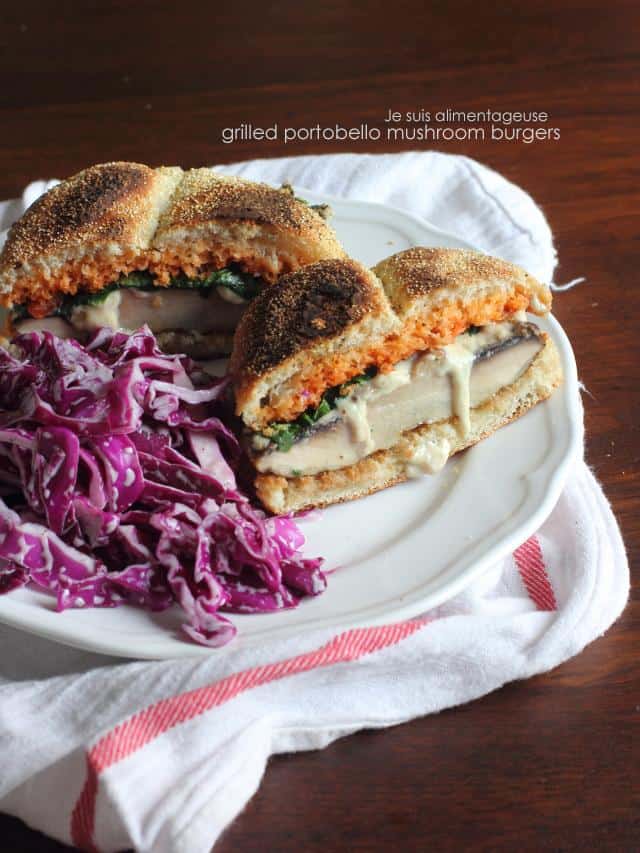 If you're looking for a vegan burger with minimal processing, grab this recipe.
Super easy and you'll be eating your delicious patty with all the trimmings in no time. Enjoy!
Portobello Mushroom Burger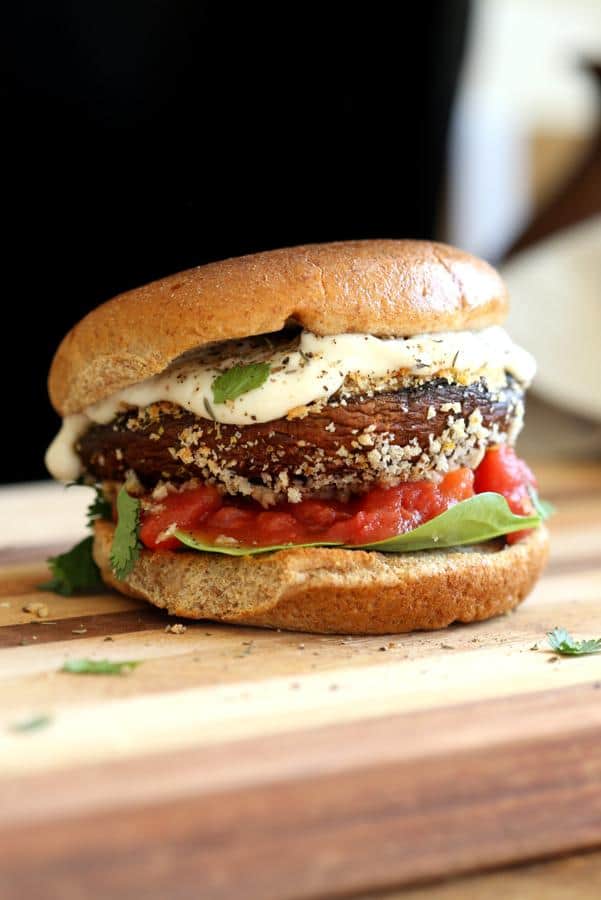 A straight up portobello mushroom burger!
The recipe is divided into different sections, you get to learn how to make vegan mozzarella cream, the breadcrumb coating and even a fantastic balsamic marinade.
This isn't just any portobello mushroom burger recipe, this is in a different league!
Roasted Poblano and Portobello Mushroom Quesadilla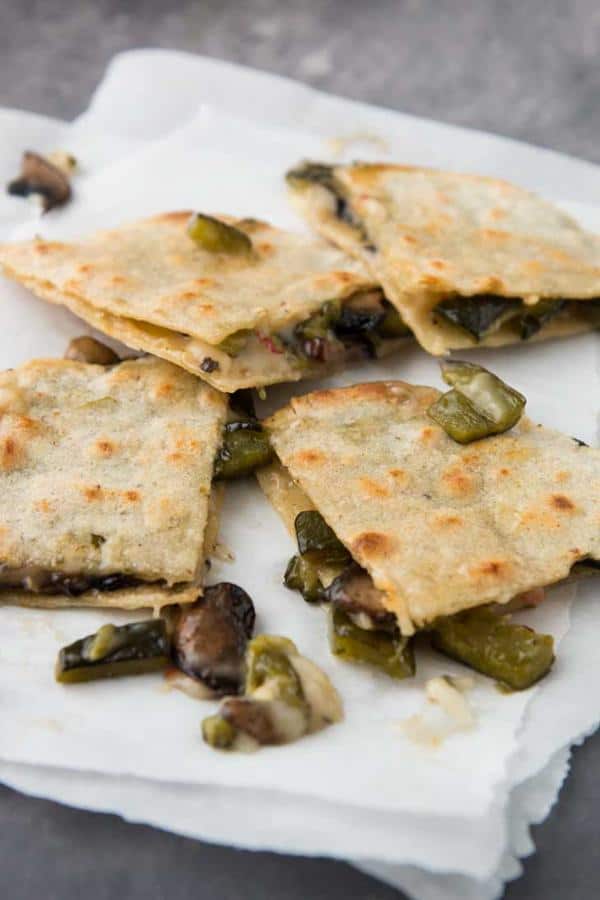 All my prayers have been answered! Not only a fantastic plant-based quesadilla recipe, but one including portobello mushrooms!
This is probably the most satisfying quesadilla recipe I have ever had.
The portobello mushroom and heartiness that I sometimes find missing in similar dishes. Make it, you won't be disappointed!
Smoky Portobello Mushroom Cassoulet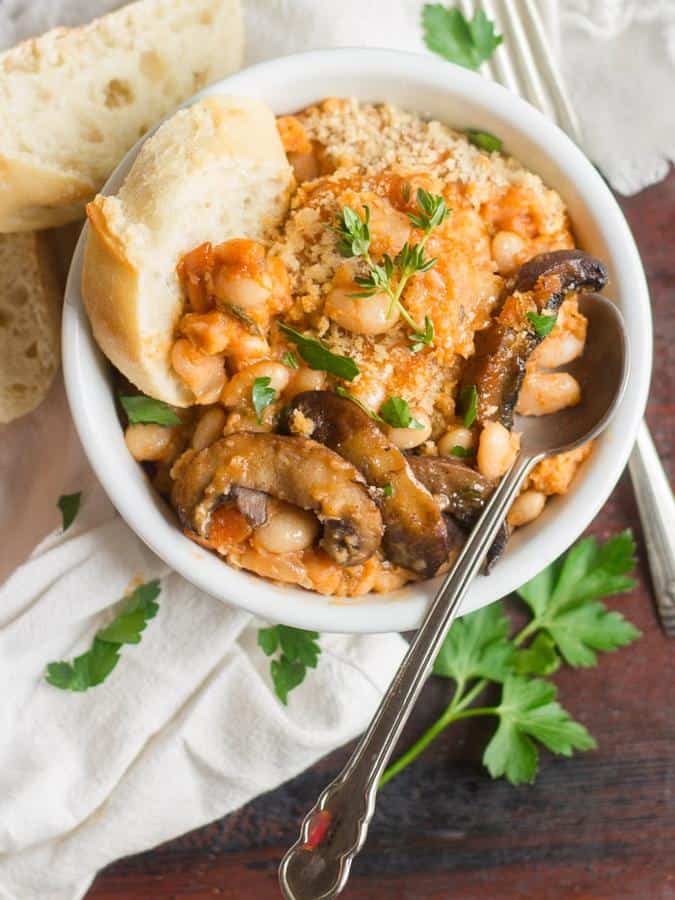 There's only one problem with this recipe, and that is the photo. The serving dish is far too small!
A delicious meal far too good to pass up. Super healthy and every mouthful has a myriad of flavors, textures and ingredients.
You do need about 2 hours and 30 minutes cooking time, although I can assure you every minute is worth the wait!
Portobello Mushroom Steaks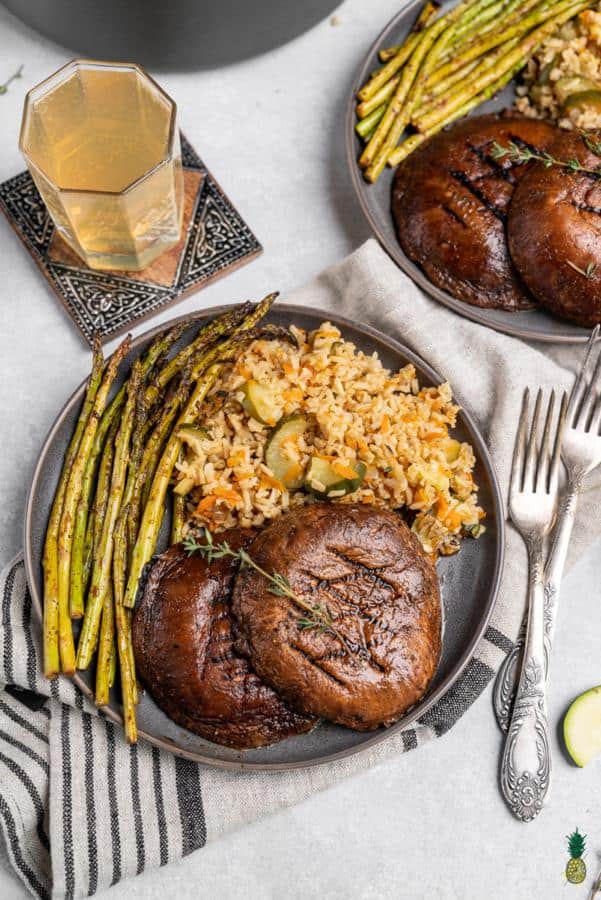 Delicious portobello mushroom steaks with this super easy recipe.
Sometimes with these types of dishes, the texture of the mushrooms isn't perfect.
But Jasmine and Chris have created a very special recipe where the mushroom is cooked to perfection. Make it, you won't be disappointed and that's a VegByte guarantee!
Roasted Portobello Mushrooms with Walnut Coffee Sauce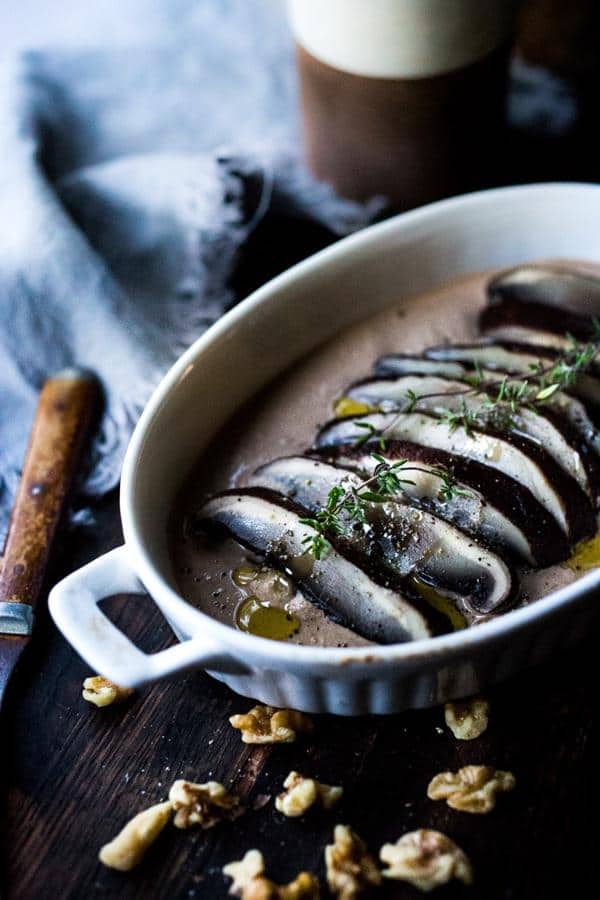 When you're looking for a dish you can present on the table, this would be exactly what you're looking for.
Yes, the mushrooms are cooked to perfection. The real star of the show is the walnut coffee sauce, two ingredients you think may not go together but believe me they certainly do.
Whether you're looking to impress or just treat yourself, this is what you need.
Spaghetti Squash Alfredo with Portobello Mushrooms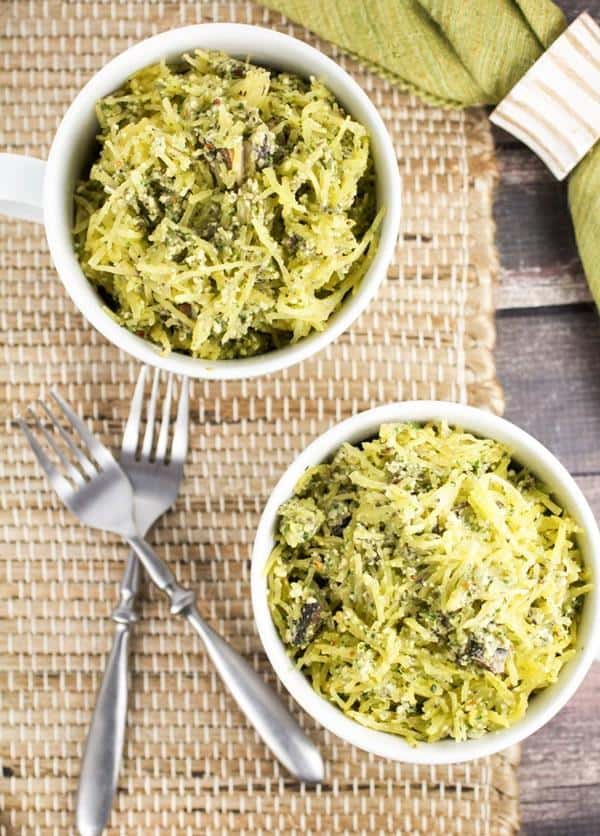 I know some people that have been too afraid to try pasta alternatives such as spiralized zucchini.
If you're one of those people, this is the recipe for you.
The mushrooms are the perfect accompaniment and make the spaghetti squash taste even better. Delicious and extremely satisfying.
Portobello Mushroom Veggie Wraps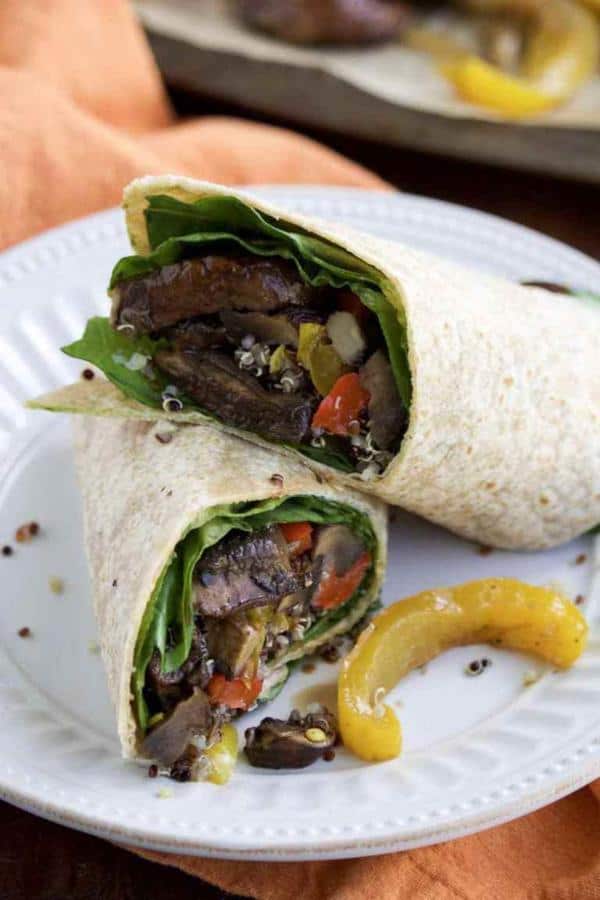 As I'm a big sandwich fan, wraps fit into that category, so I was excited to see this.
The secret of this recipe is the balsamic roasted mushrooms, not to mention all the other ingredients.
Whether it's Meatless Monday, or your meatless every day, this is the one for you!
Portobello Steaks with Pesto Aioli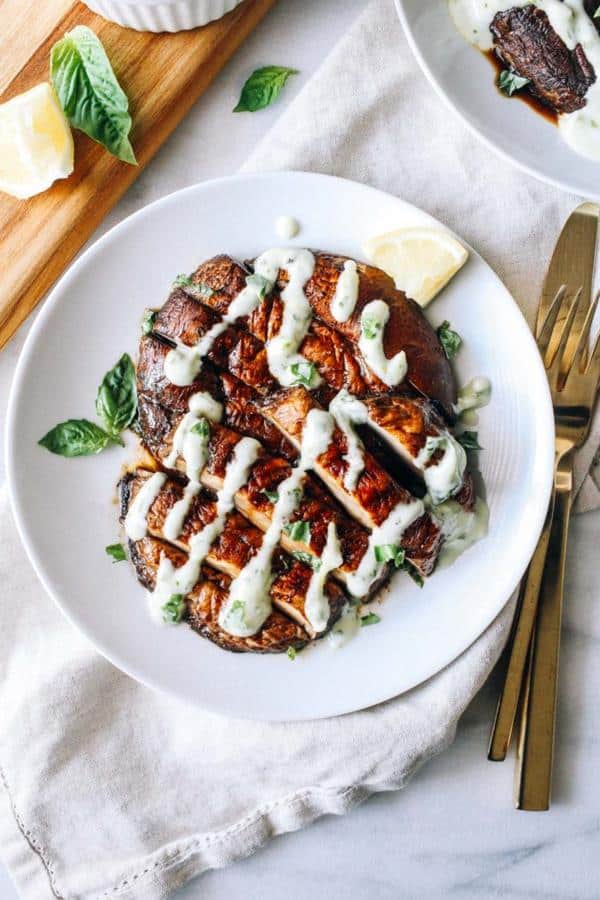 This recipe is absolutely delicious in so many ways.
The steaks are cooked to perfection and the pesto is something you have never had before, not like this. Easy to make and best of all, it's quick!
Vegan Portobello Pizza with Basil Cheese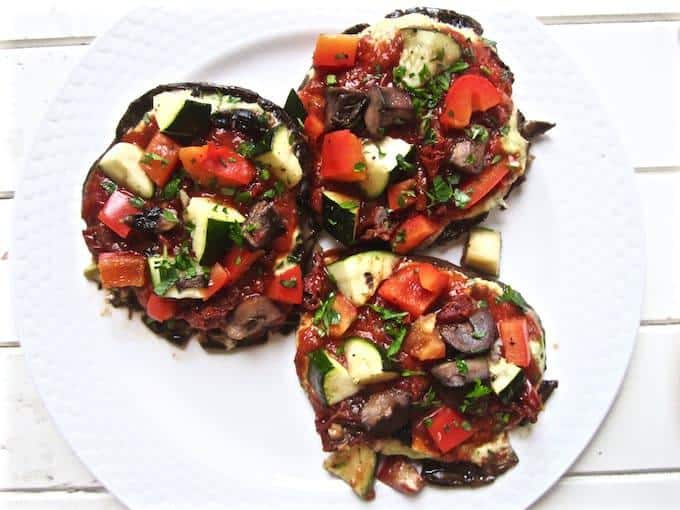 Mini pizzas using portobello mushrooms? Absolutely!
This gluten-free dish is great in so many ways. If you follow it, every step of the way then you are guaranteed a delicious meal.
Yet it's also versatile enough for you to add your own toppings. Either way, you win!
Grilled Vegetable Portobello Mushroom Tacos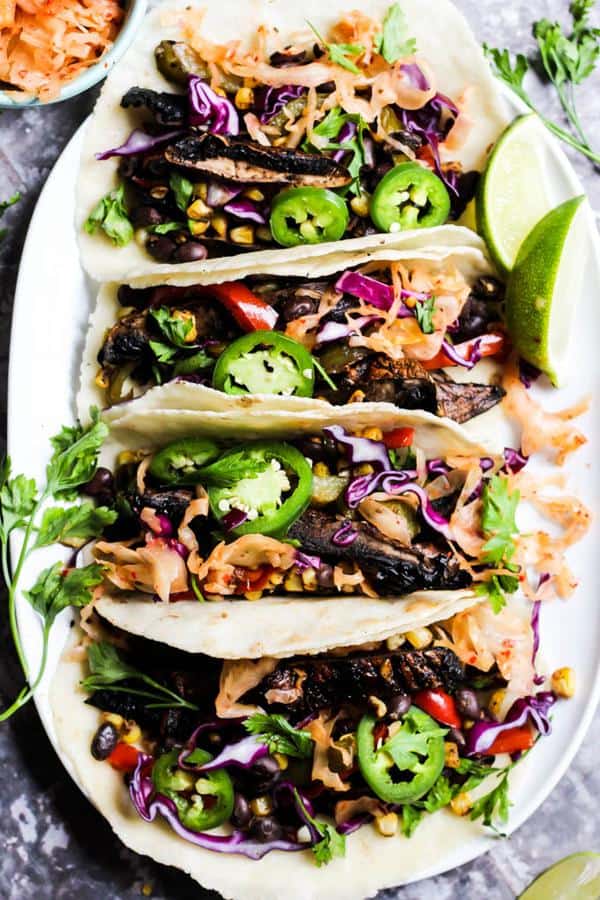 Portobello mushrooms, tacos, what's there not to like?
I love tacos and will find any excuse to feature and eat them!
The ingredients go so well together but the mushrooms add that extra touch of texture, flavor and satisfaction. Love it!
Portobello Mushroom and Broccoli Stir-Fry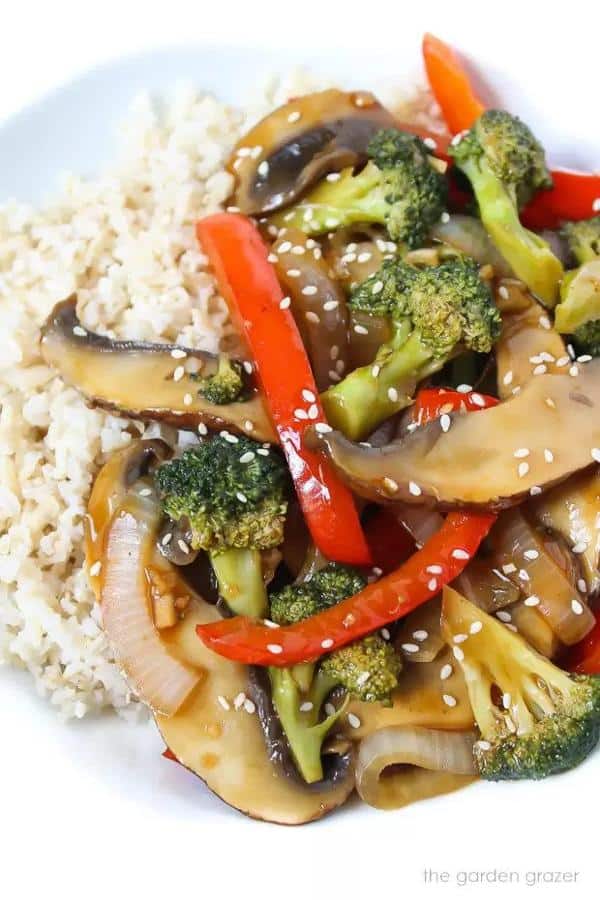 When you want a quick and satisfying stir-fry, hit this recipe!
This isn't just your everyday stir-fry with vegetables, it's very easy, super healthy and the portobello mushrooms add an extra layer of satisfaction you simply don't get if they were there.
Serve with your favorite rice or quinoa.
Miso Grilled Portobello and Kale Caesar Pitas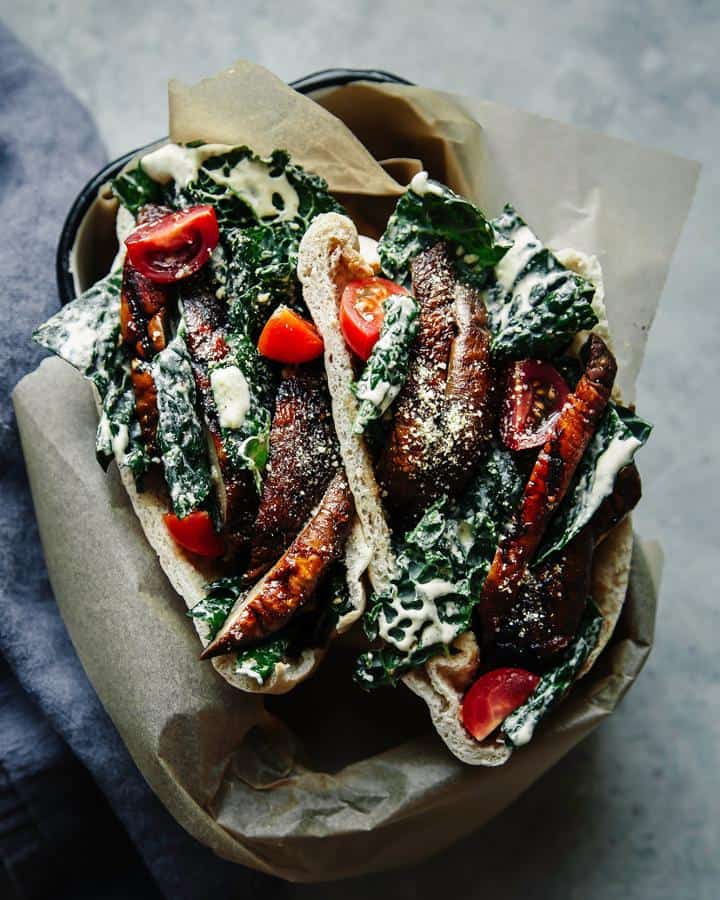 Well, what can I say!? Just take one look at that photo and it becomes evident words are not enough.
The best part is, you can easily create this, and it really does look stunning on the table.
If you want to create something that will be guaranteed to impress anyone and everyone, look no further.
Spiced Sweet Potato and Grilled Portobello Tacos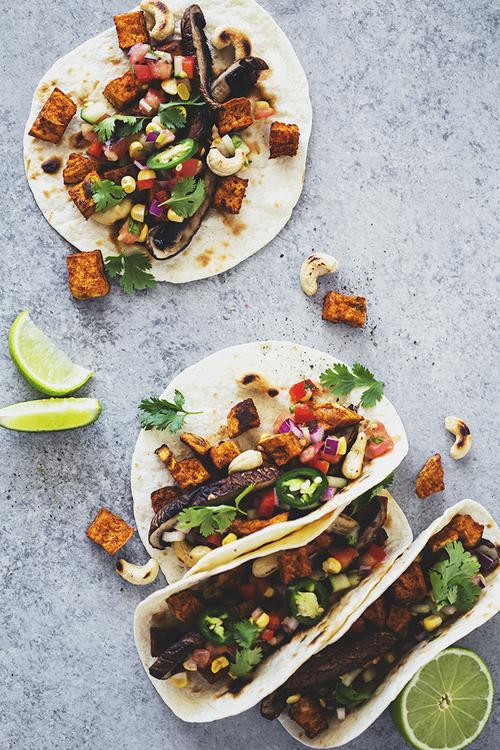 These tacos are just delicious!
Normally, when people add portobello mushrooms to tacos, they then add a few other ingredients.
Here you get that and in addition we have spiced sweet potato. Satisfaction guaranteed!
Reuben with Mandolined Portobello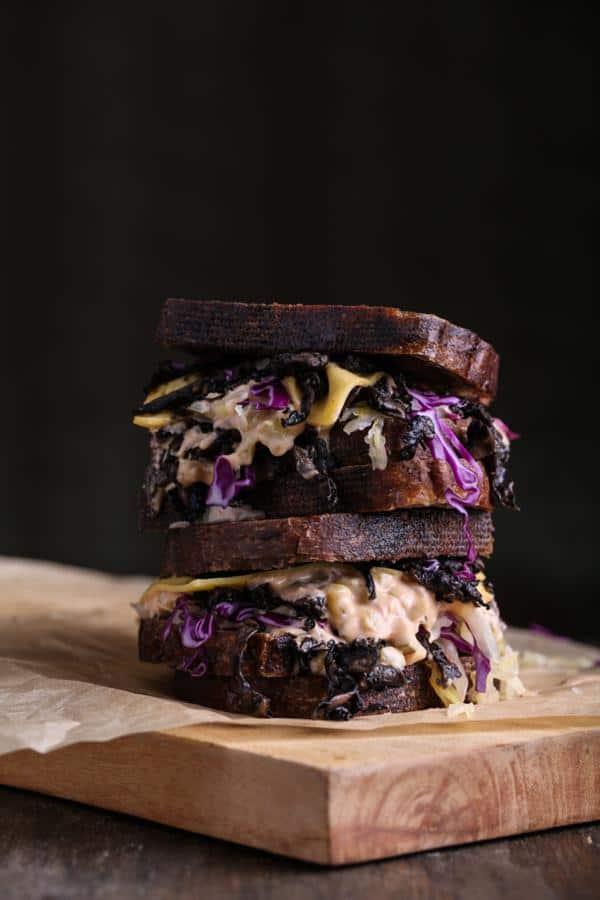 All I can say about this recipe is, wow! It looks like something became out of an expensive restaurant.
The recipe is divided into different sections for the mushrooms, the sauce, and how to serve. If you try one recipe from this list, make it this one!
Pulled Portobello Tacos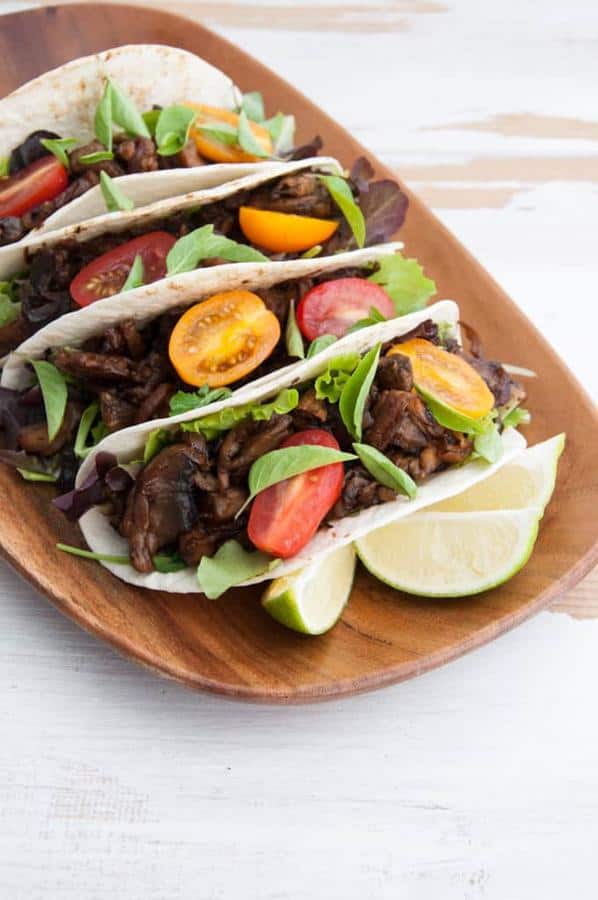 Jackfruit seems to be all the rage nowadays as a meat replacement, let's salute the portobello mushroom that's been around for much longer!
Never seen a recipe quite like this, the mushroom preparation is unique and works beautifully.
A great texture and works really well with the tacos. If you're a big fan of these mushrooms, this is a must!
Juicy Portobello Burgers with Vegan Blue Cheese and Caramelized Onions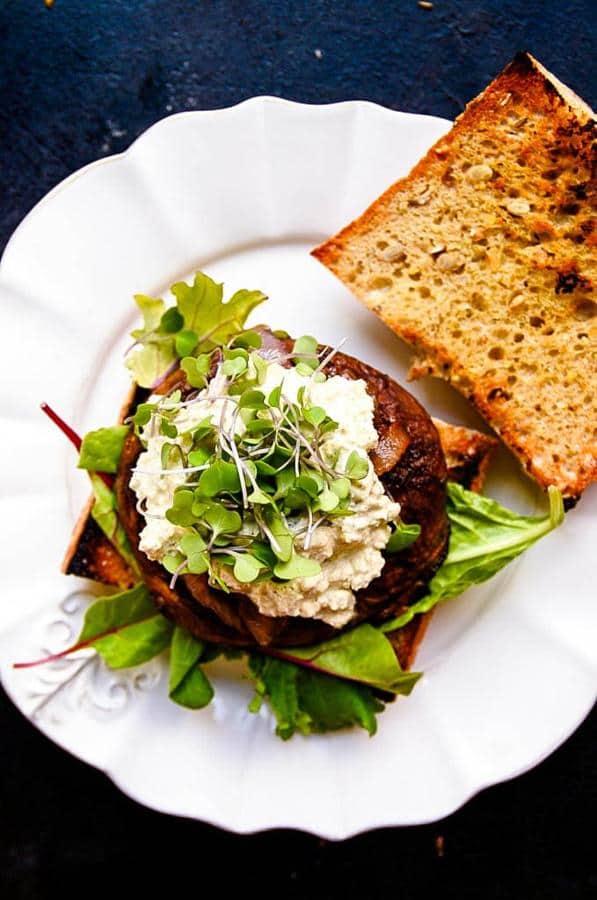 This recipe is so much more than just using portobello mushrooms as burgers.
You get to learn how to make vegan blue cheese and if that wasn't enough, you'll have caramelized onions in a way that you have never done so before.
Put them all together and you have a match made in heaven!
Portobello Mushroom Schnitzel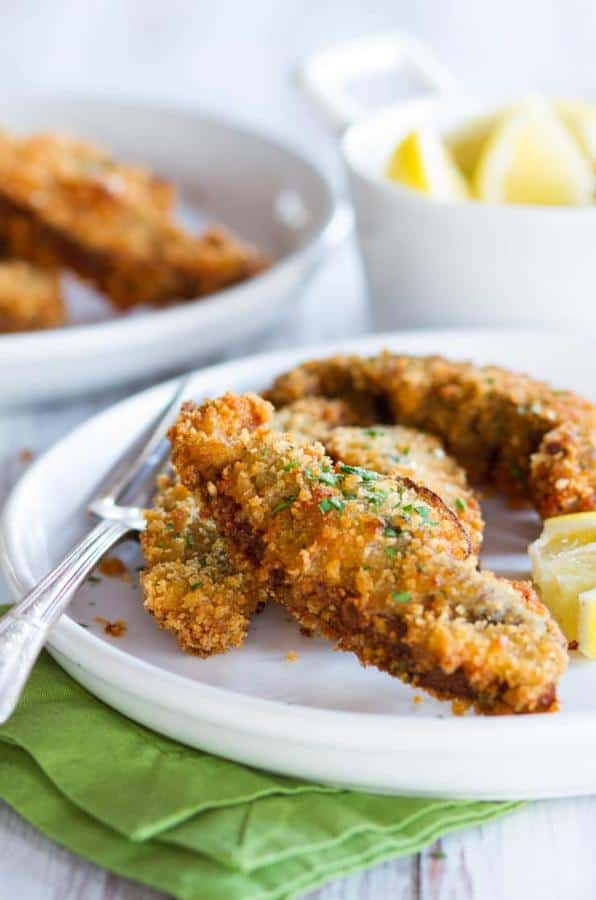 Plant-based Schnitzels are normally made of something processed, whether it's soy or some other kind of protein.
As much as I like them, I tried to stay away from processed foods on a day-to-day basis.
Looking at the picture, you may think you need an ingredients list as long as your arm and instructions are terribly complicated.
Neither can be further from the truth. Best of all, the author has included photos with the instructions, showing step-by-step how to do everything. Hand on heart, I love this recipe!
Wrapping Up
As you can see here, there's a lot more to portobello mushrooms than just putting one under the grill!
Whether you're looking for tacos, a burger or using the mushrooms as an ingredient in a dish, it's all covered here.
We created VegByte because this is the kind of resource we would've wanted when we first switched to a plant-based lifestyle.
Let us know which are your favorite recipes, we love hearing from you!
Buon appetito!